If you really wish to stand out from the rest then the metallic nail art designs are best for you. Not only are they shiny, shimmery and obviously attention catchers, they also make you look classy and feel gorgeous. These types of nail art designs are perfect for people who want to make a statement and stand out of the crowd.
Metallic manicures have become a popular trend nowadays, especially those with golden metallic stripes. Depending on the design, the stripes nails could be horizontal, vertical or in chevron styles. Modern fashion usually involves having these wonderfully eccentric and flashy nails as accessories. Many young girls are also at hype with metallic nails. The reason is because the nails are great for night time events and activities; the nails automatically give you a flashy and outgoing appearance.
However a lot of girls are getting confused on how one is able to recreate the metallic nail art designs that they would love to do on their nails. When you look at the metallic designs, they do seem to look very tricky to do. However, there are ways that one can follow to recreate the design that they wish to have. Depending on the designs, there is more than one way to successfully paint on your very own metallic nail art designs.
In this article, you will be shown two of the simplest and most practical ways wherein you can create your very own personalized metallic nail art designs. You can choose whichever color you would like on your nails. Even though you don't nail it on the first time, remember that with enough practice you can slowly learn the art of metallic nail art designing.
The color combination of the metallic polishes also matter and you should be aware of what goes with what color to avoid the design looking daft. The most popular polish would be silver because it is the natural color of metallic, but other shades have also risen to popularity such as gold, green, purple and so much more.
Method 1: Using Color Foil
Things that you need:
Nail foil of the color you want
Foil glue
Q-tip or any small stick that can help you when putting on the foil on your nails
Any color of nail polish for base and matte
Start off by cutting the nail foil according to the size of your nails. Before applying the glue on your nails, make sure that you have already coated your nails with your base color. This is to protect your nails from the glue. Apply it thoroughly and make sure it is dry. It is important that you use a matte polish since a shiny nail polish will not hold on to the glue as much.
When the glue has dries after applying it, it's time for the tricky part. The thing is you have to have measured carefully the size of the nails and the foil cut outs. It will be difficult for you to perfectly fit the metallic foil unto your nails. You will need the help of the Q-tip to straighten out the nail foil as you push it against the glue.
Once you have finished placing the metallic foil and securing it in place then you are all done!
Bear in mind that you can do this to get that full metallic effect on your nails, or you can simply cut out thin strips of metallic foil, depending on the design you have in mind. It's important that you measure well and fit the metallic foil perfectly.
A little patience and practice can very well help you a lot in crafting the perfectly shaped metallic foil that you need for your metallic nail art design.
Method 2: Metallic Nail Polish
Things that you need:
Base coat, any color
Metallic nail polish that you can readily buy from stores
Clear coat/polish
If you know a place where you can buy Metallic nail polish near your area then you are in great luck! It's as easy as coating a regular nail polish on your nails. There are many ways wherein you can get yourself quality metallic nail polish. One of the most popular is to buy online.
A lot of girls have this problem that they can't get metallic nail polish locally, which is what many prefer to go online and order their own metallic polishes.
Applying the polish is basically the same as you do with other nail polishes. It starts off with a base coat to protect your nails. Make sure that the base coat is dry before you apply the metallic coat on top.
Afterwards, apply the metallic coat thoroughly as you can on your nails. When it has dried you can then begin coating the top clear coat to preserve the design that you have made. After a few minutes and you are done! It's as simple as that.
Whatever method you choose, make sure that you go with what you feel you can do better. There are a lot more methods that you can find on blogs and more, some are even a bit risky such as using spray paint, but there are also precautions announced before you push through them.
What's important is that you know which methods suits you best and that you know the consequences when you are not too careful enough. Make it a priority to let your nails stay safe and healthy before considering any method that can potentially harm the growth of the nails.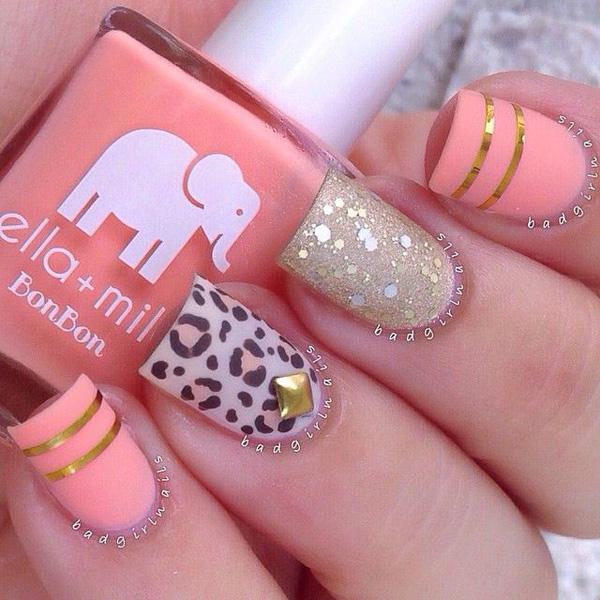 Play around with the metallic gold strips and add a delicate shine on the pink, leopard print and glitter nails.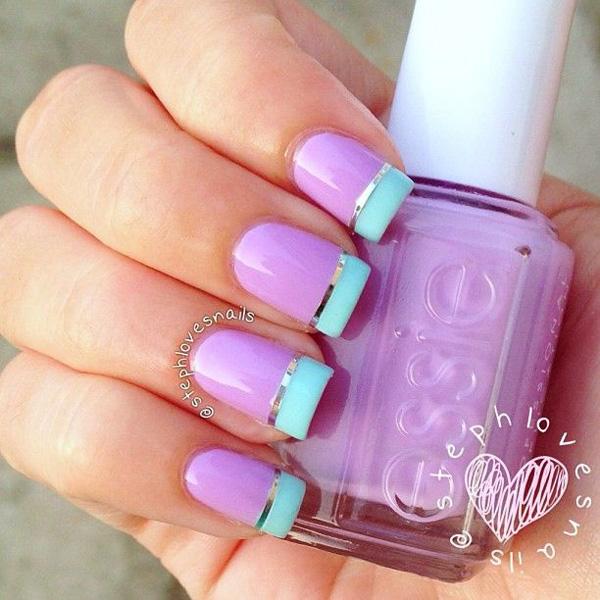 Spice up your French tips with thin silver metallic linings.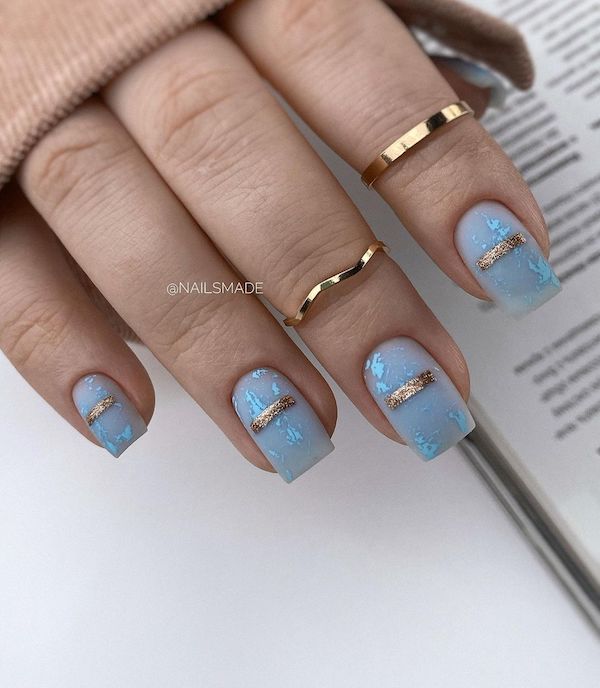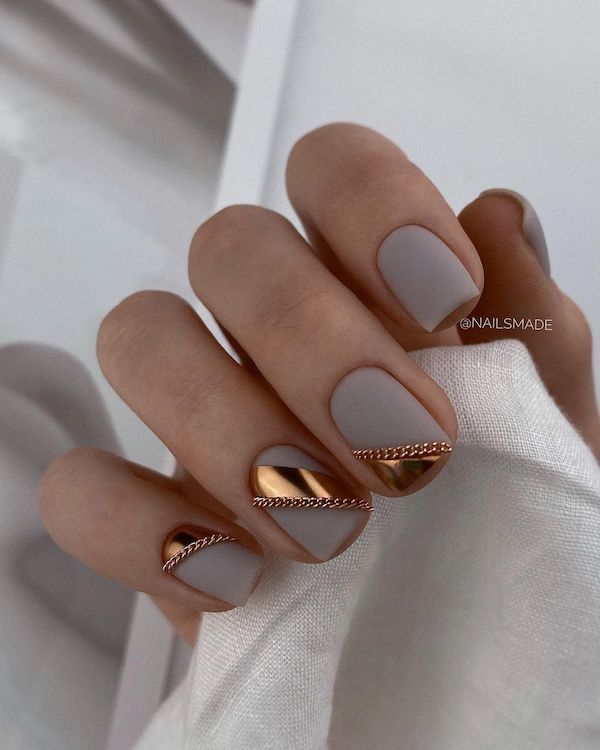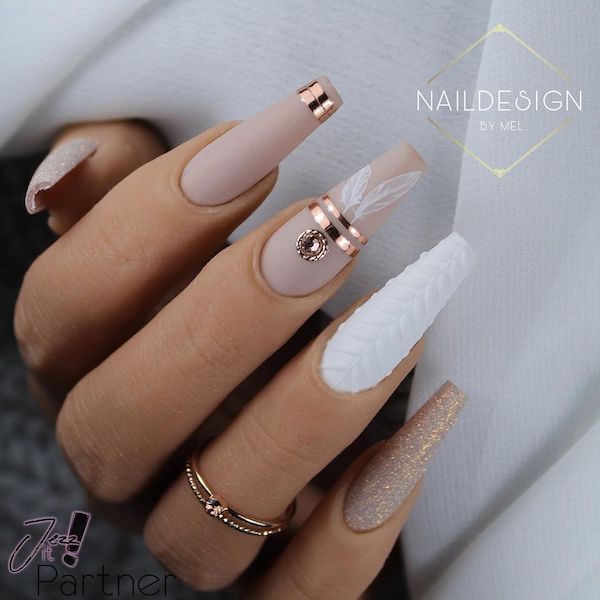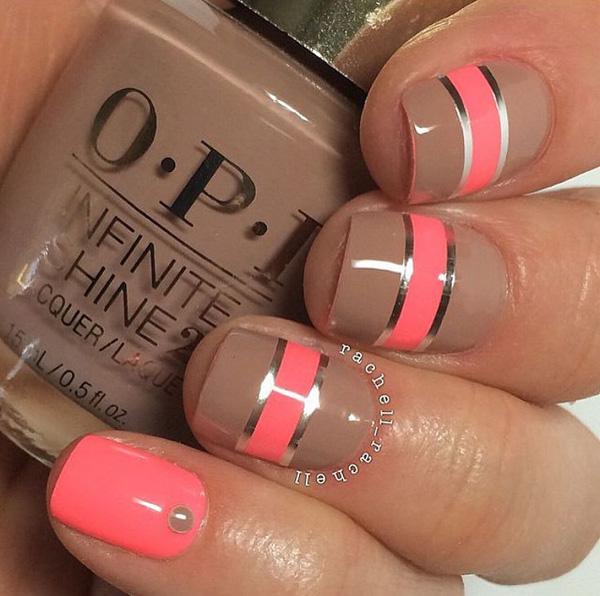 Add attitude to your nails by adding thin horizontal strips of metallic polish.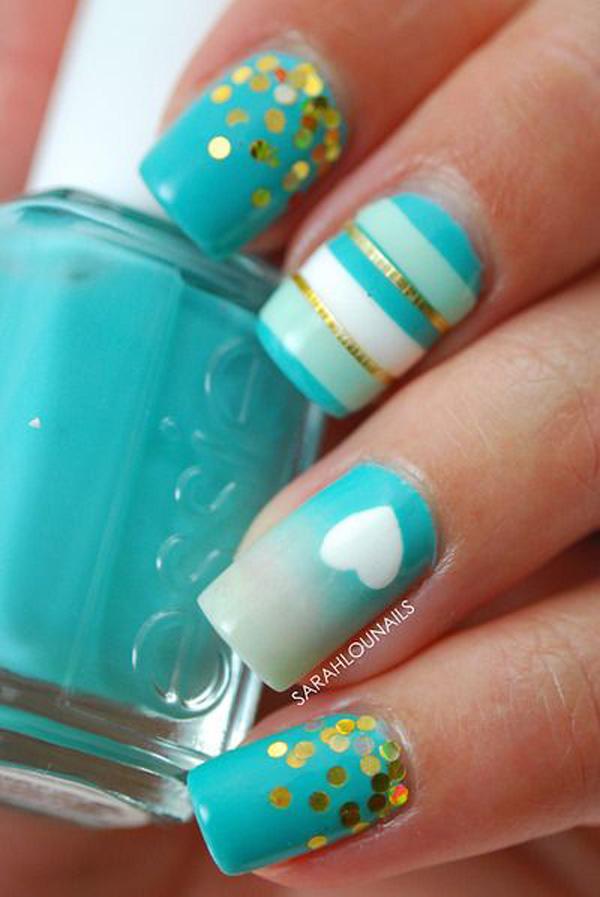 Gold stripes and cute little polka dots made by metallic foils on light blue nails.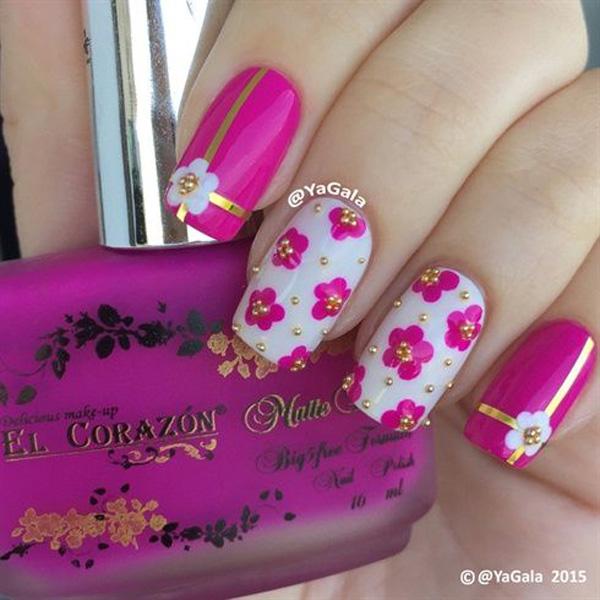 Nail art never looked more interesting with the addition of gold metallic foils to brighten the design.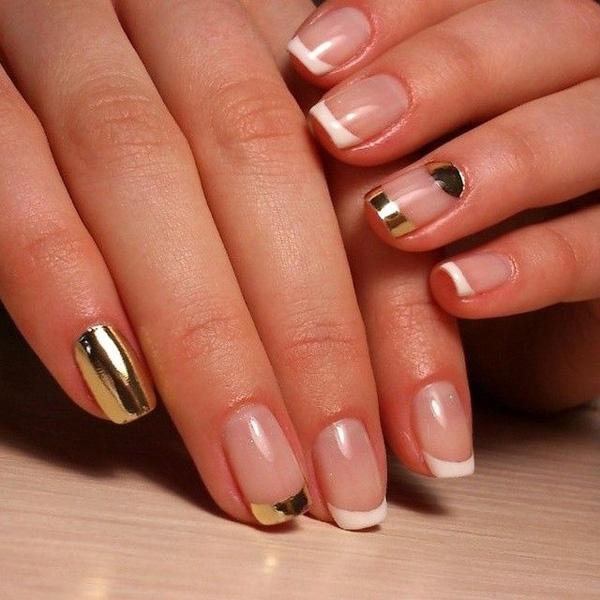 Glamorous looking French tips in clear, white and metallic polish.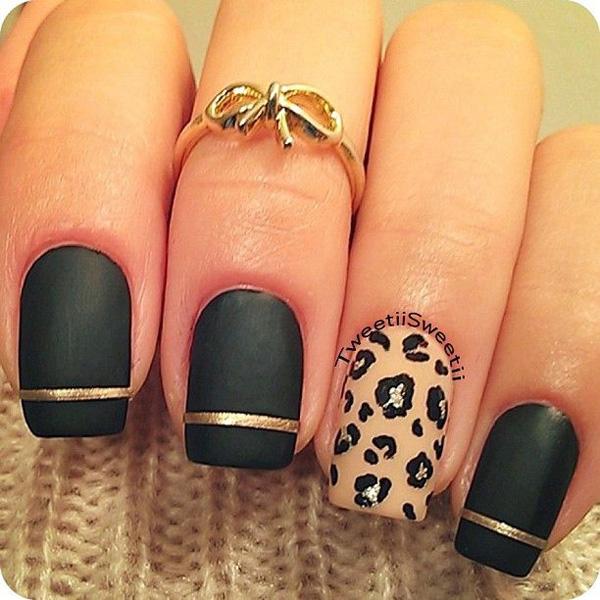 Place a gold colored metallic polish on your matte black nails to create an astonishing contrast with the leopard print nail.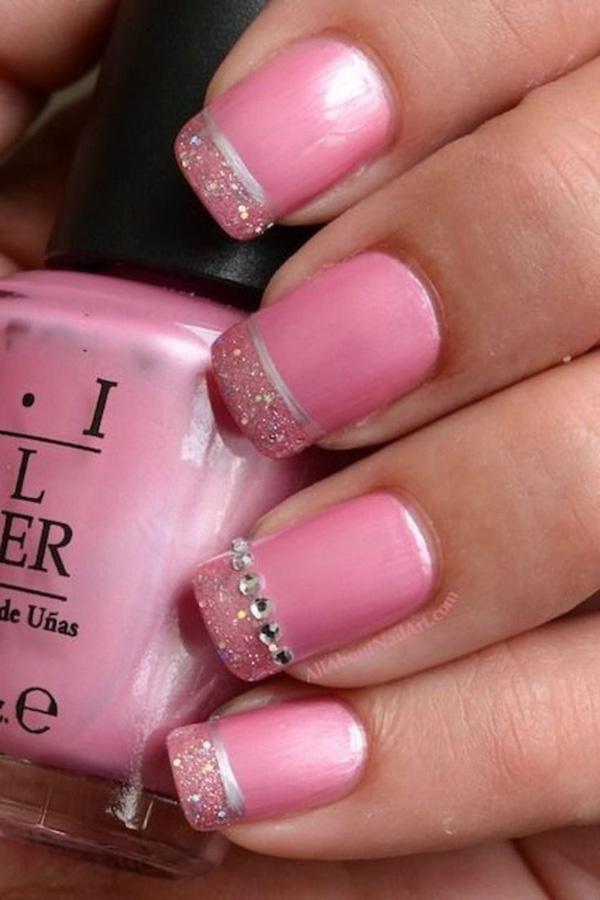 Cute little thin silver metallic strips adorn the pink themed French tips.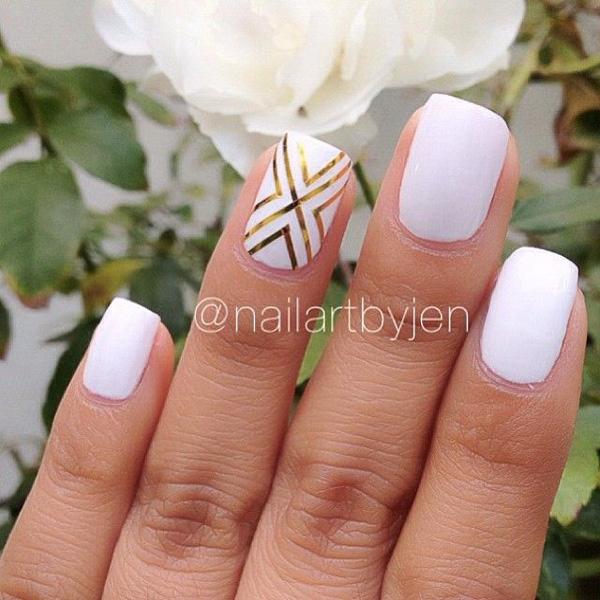 Create your own shapes using a metallic gold foil on your white matte nails.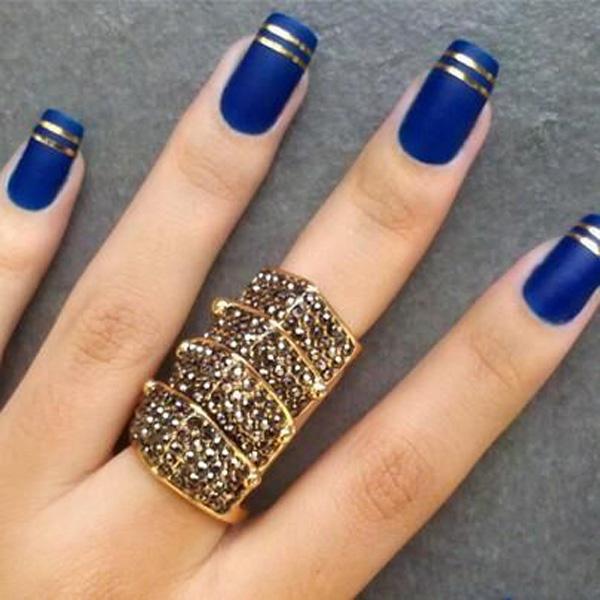 The thin gold stripes look simply amazing against the royal blue matte colored nails.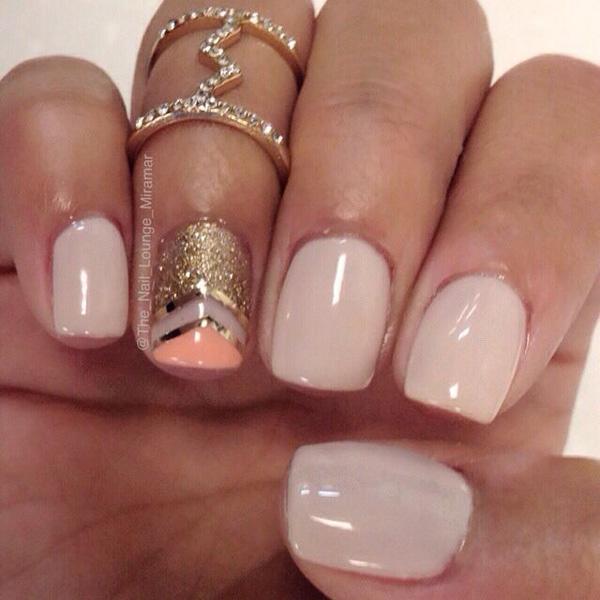 Add an accent to your nails by placing silver metallic foil with gold sparkles on top of a nude matte polish.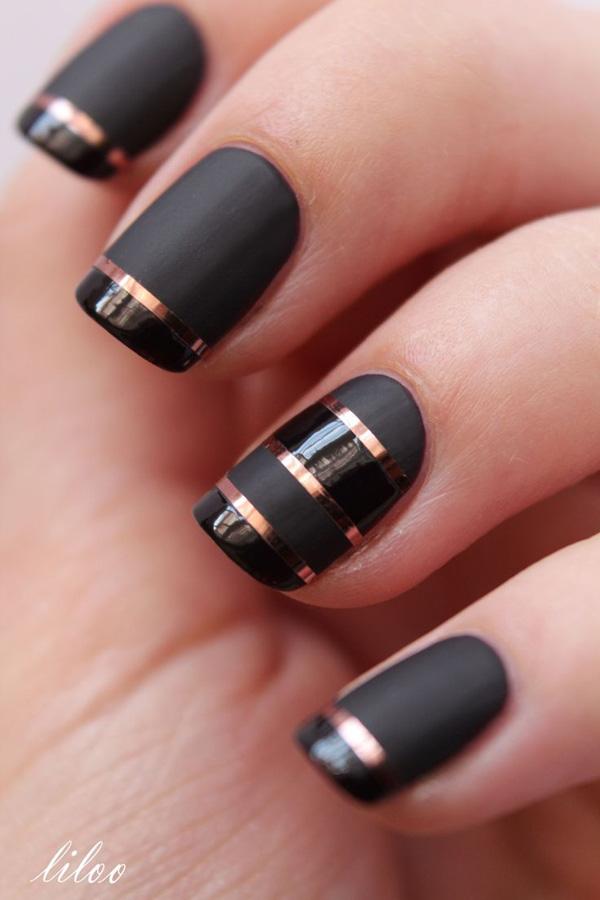 Black and gold have never looked so stunning with the combination of matte and metallic effect.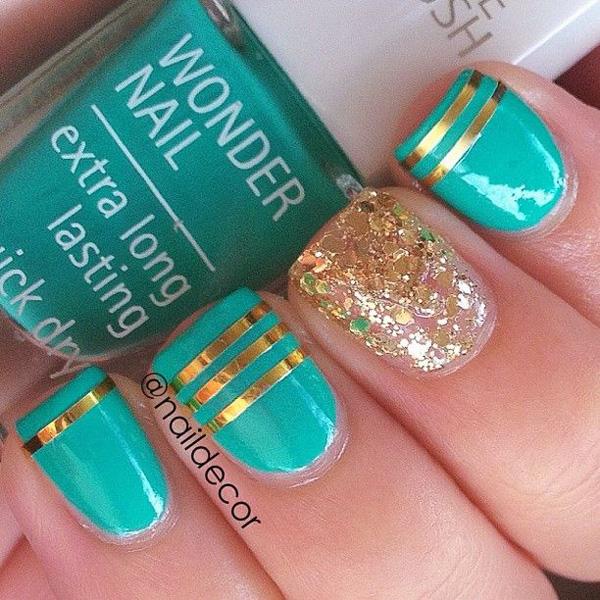 This green and gold ensemble looks just as perfect with the addition of metallic gold strips across the matte finish.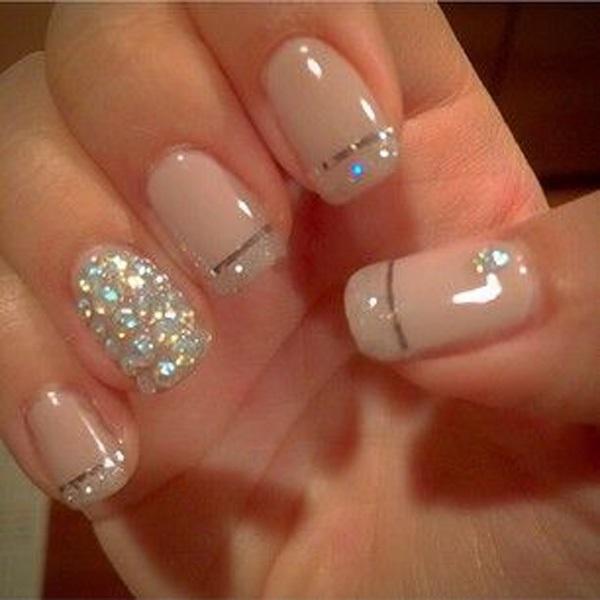 French tips are the most classic type of manicure, added with metallic lining makes them more beautiful.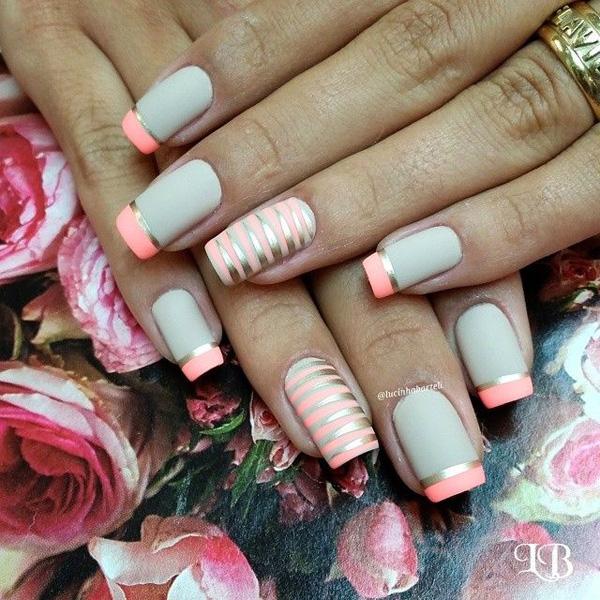 Add more attitude to your white and melon themed French tip with silver metallic strips on top.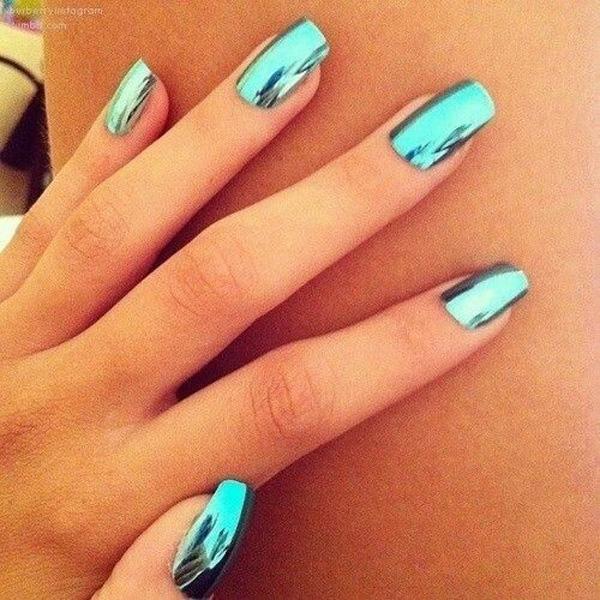 Metallic blue nails at its best, create an electric effect on your nails with this wonderful color.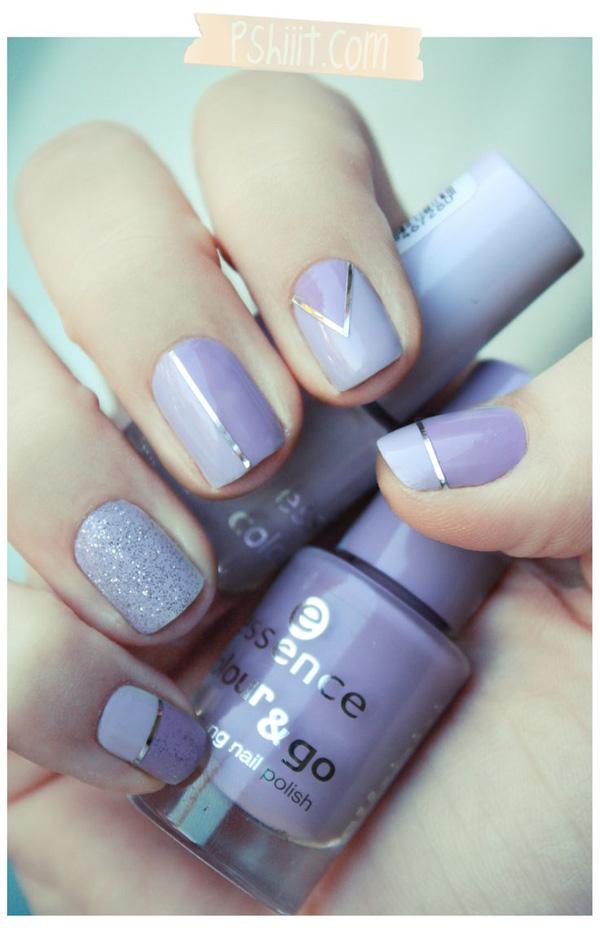 A periwinkle and metallic silver themed nail art design featuring a simple matte design with the metallic details added on top.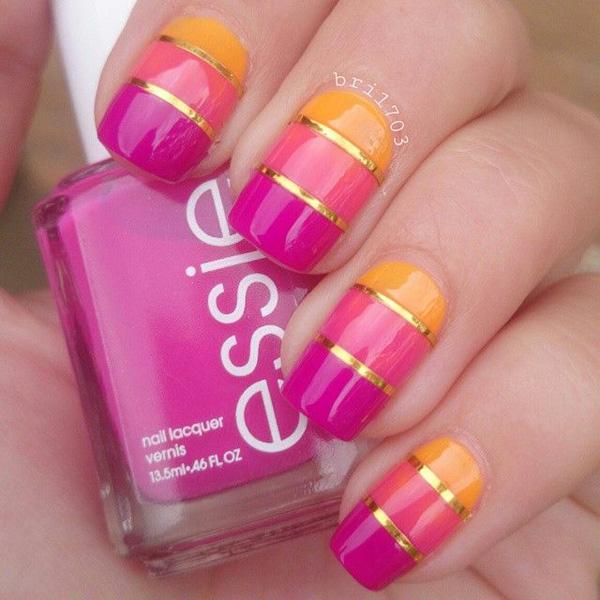 A tricolor metallic nail art design using shades of fuchsia, carnation pink and yellow orange; topped with strips of metallic gold.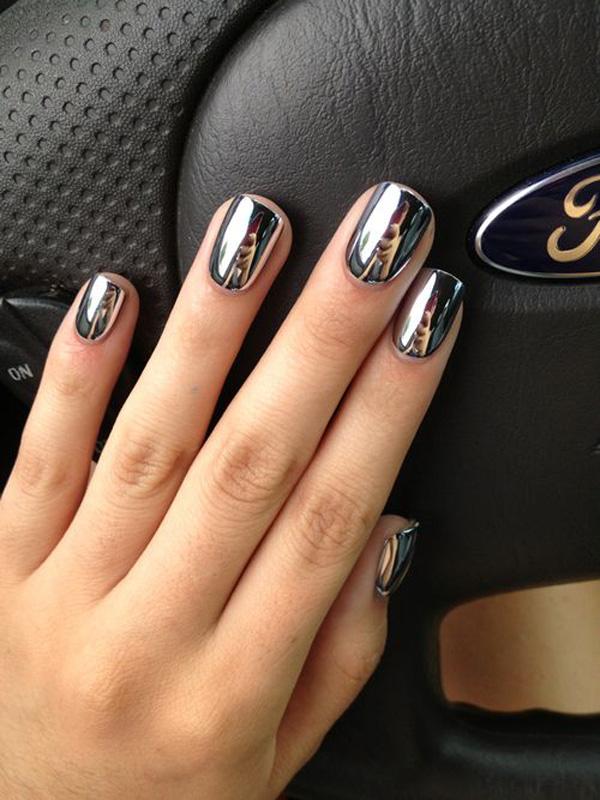 A classic metallic silver nail polish that simply catches the attention even from far away.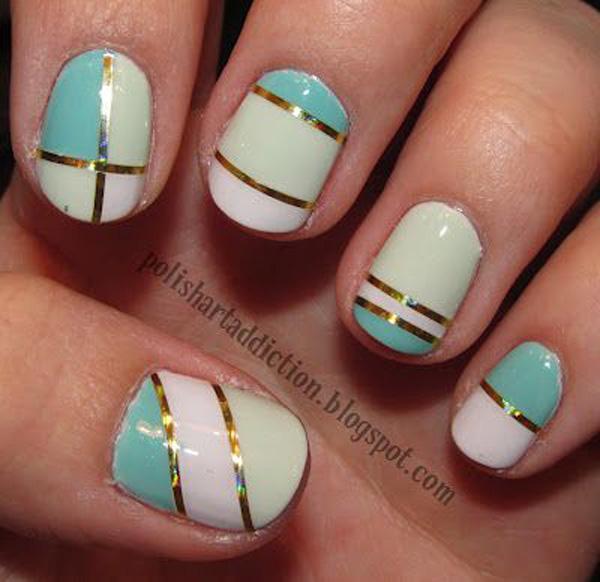 A cute and neat looking metallic inspired nail art design using baby blue, sky blue and white colors.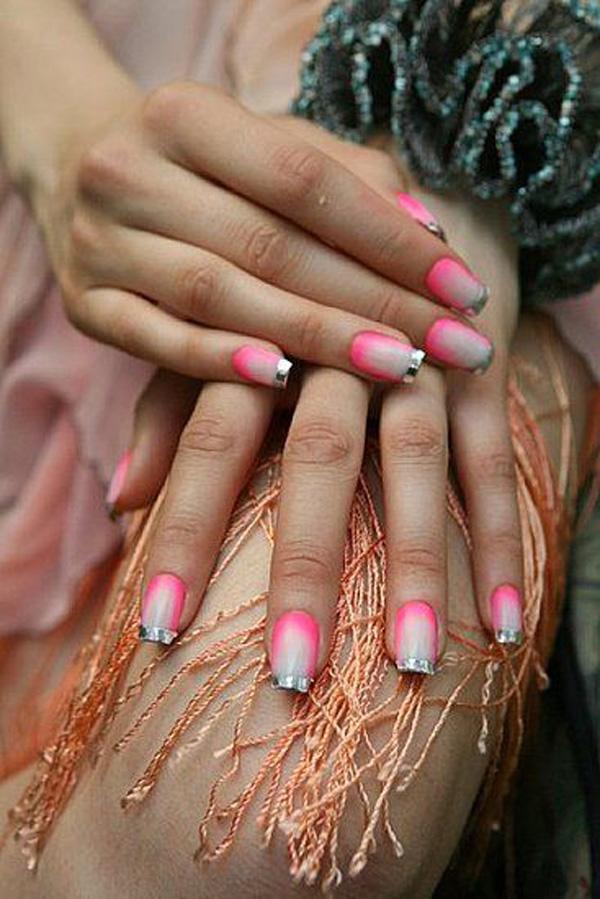 Create silver metallic French tips alongside a gradient pink polish to make your nails stand out more.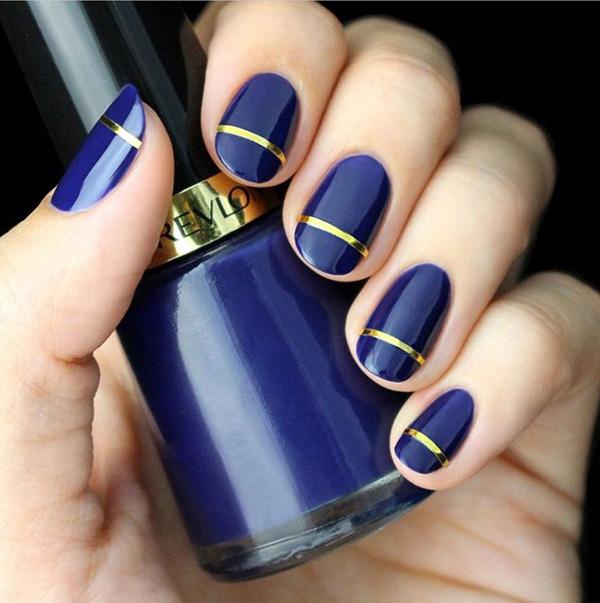 An elegant looking royal blue and gold themed matte polish with hints of metallic strips.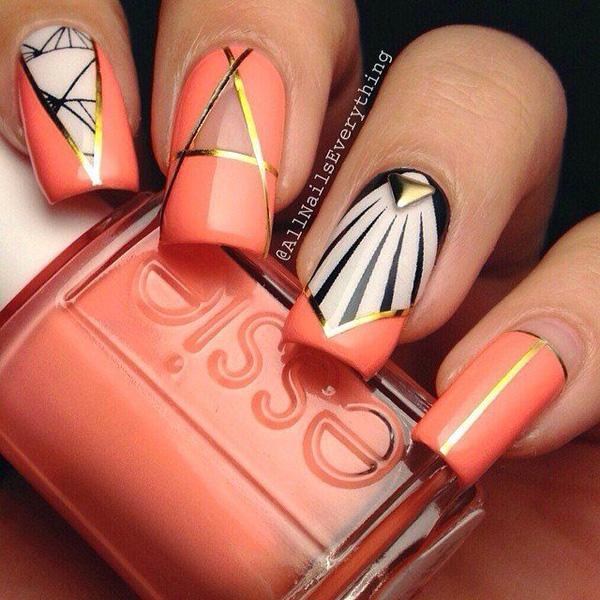 Tribal themed nails in melon, black and white colors as well as gold metallic strips added on top for effect.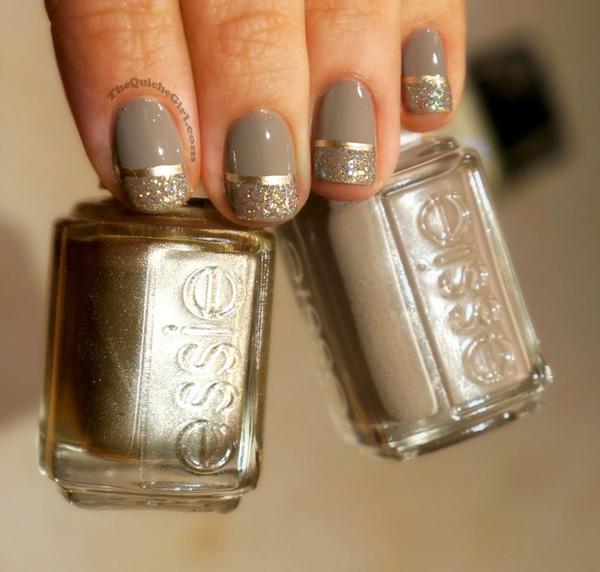 Matte glitter and metallic all in one; spice up your copper themed French tips with glitters and silver metallic polish.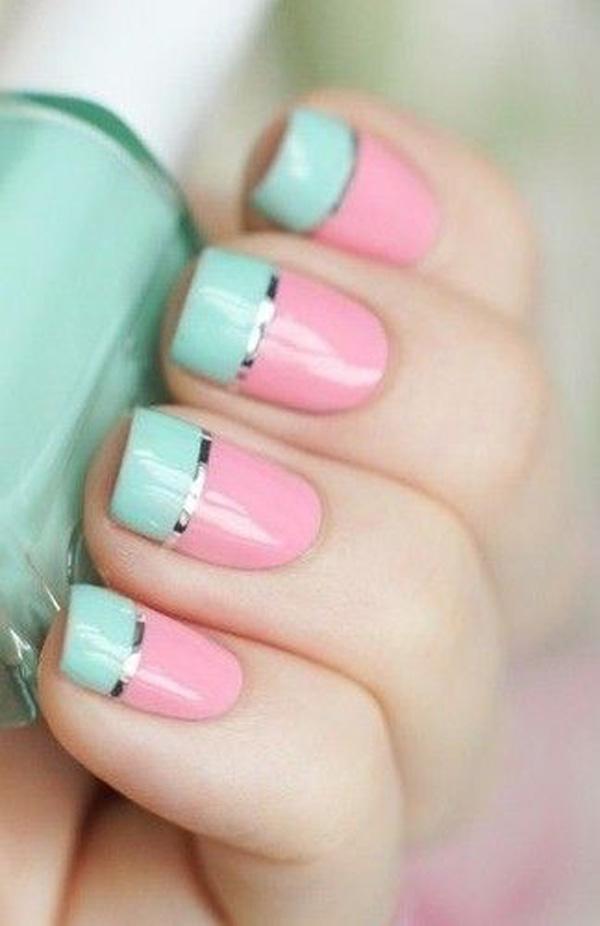 Cute baby pink and sea green polish with silver metallic strips as linings for the French tips.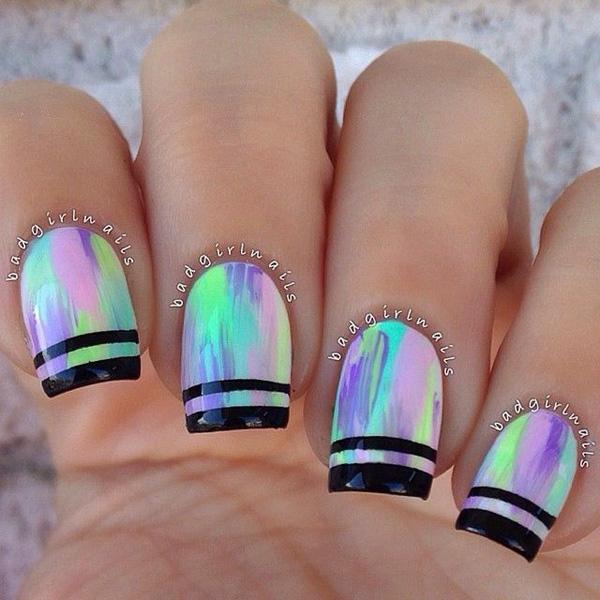 Coat your nails in multi color and add black metallic strips for the French tip and look absolutely cool.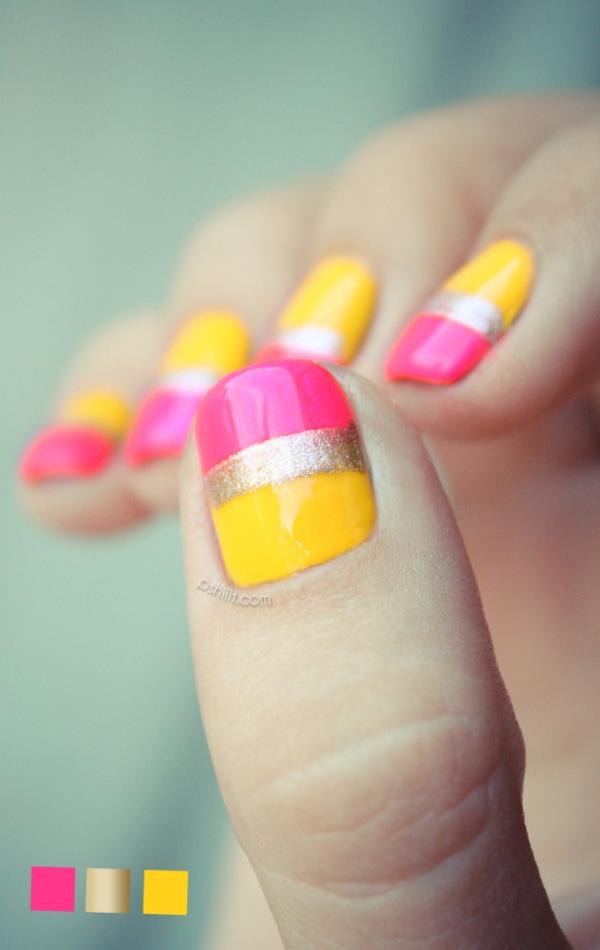 A fruity and adorable colored French tip using bright yellow and pink polish topped with a metallic gold strip.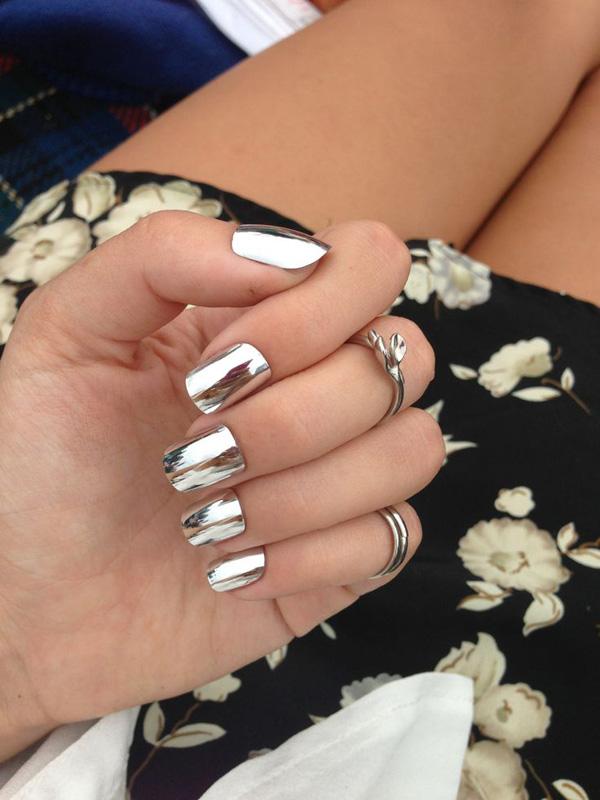 Coat your nails with an overall silver metallic foil and flaunt your very classic looking nails.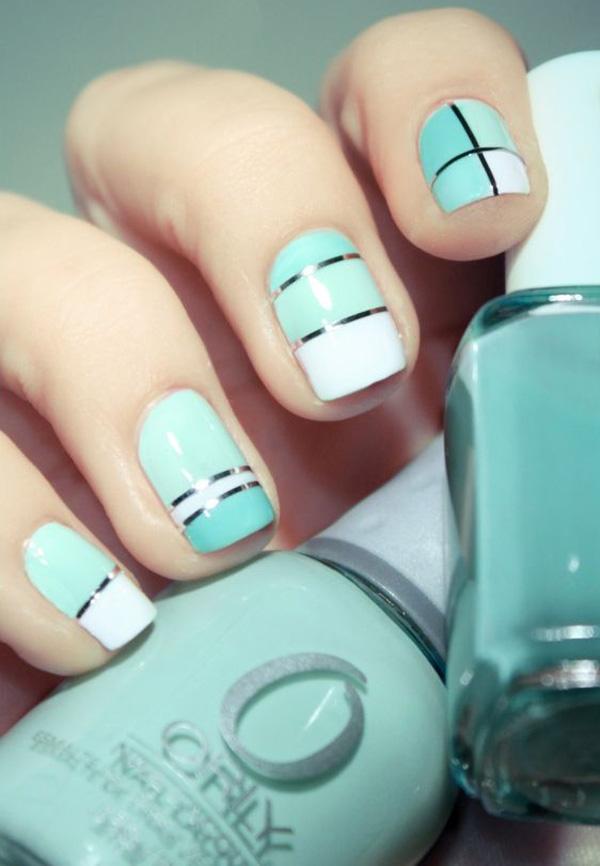 Thin strips of silver metallic foil in criss-crossing design adorn the sky blue and white ensemble of the manicure.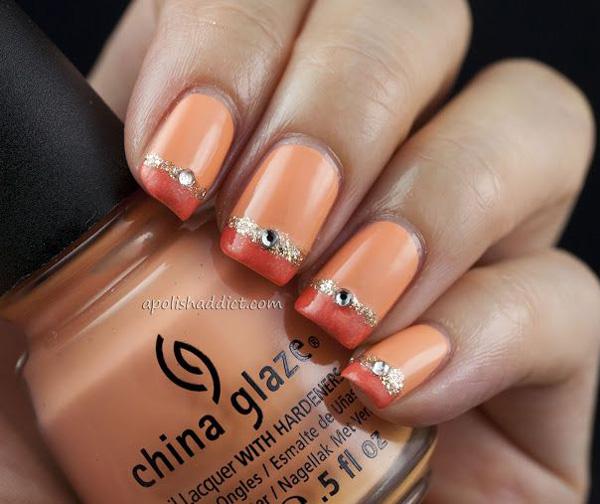 Add attitude to your French tip using silver metallic linings for the French tips adorned with silver beads that contrast with the nude colors.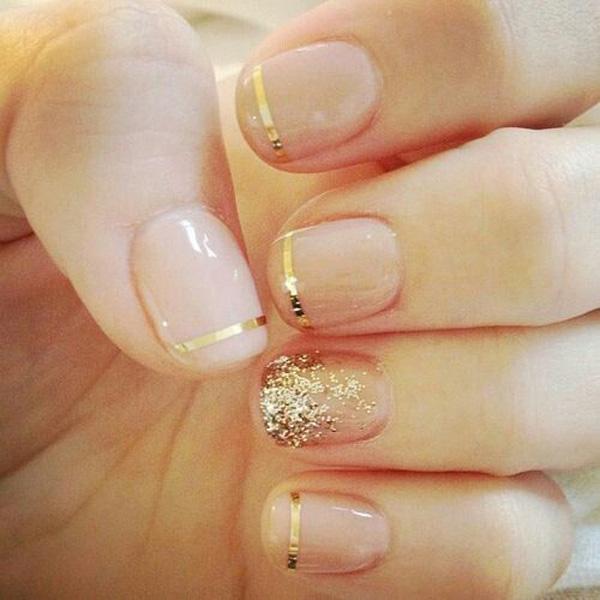 Take a look at this adorable clear and gold metallic themed French tip great for short nails.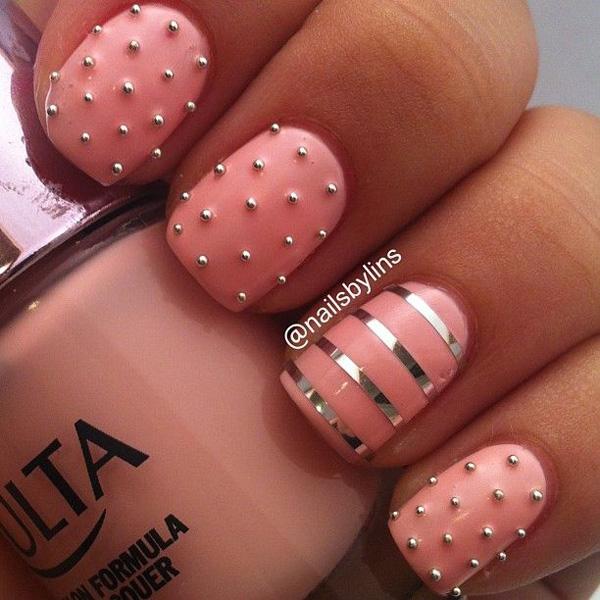 A sassy looking pink and silver themed nail art using silver metallic strips and silver beads as details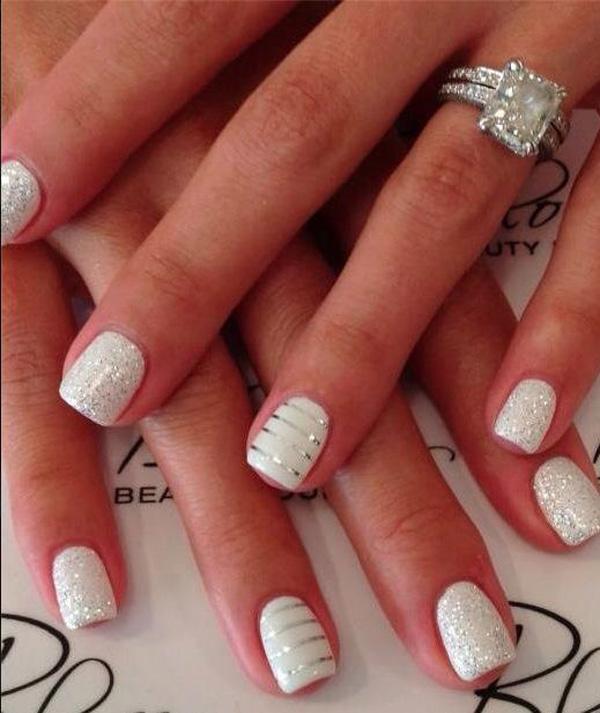 A matte white and silver coated nail art design making use of metallic silver strips as design on the top.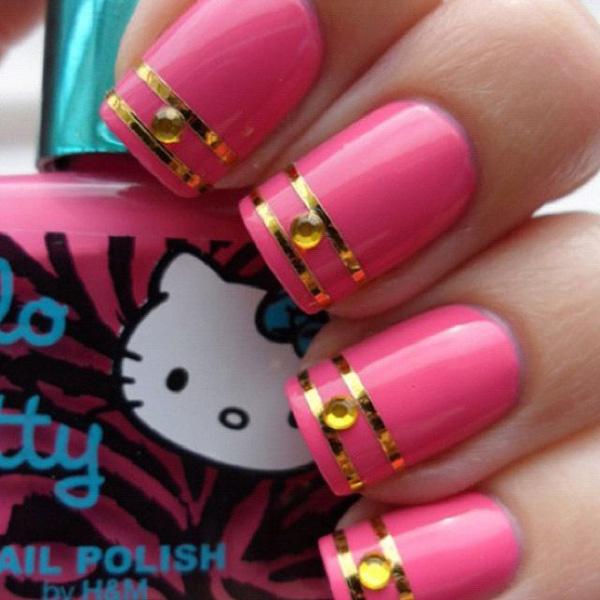 Metallic gold strips spread across a pink matte nail polish and topped with golden beads.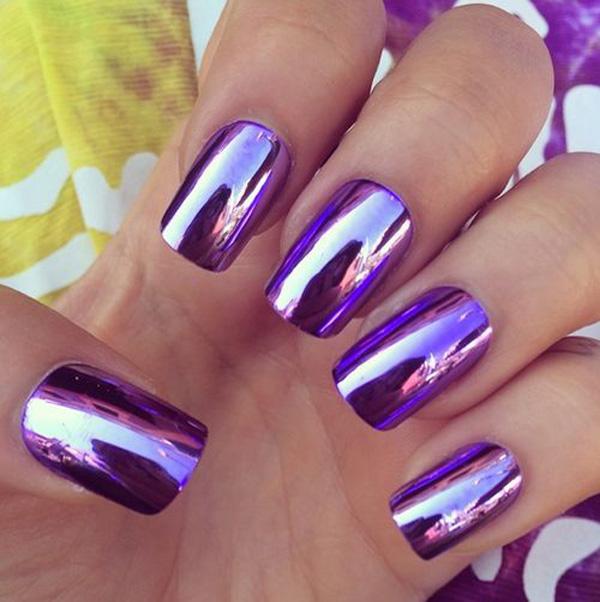 If you want to stand out check this metallic purple themed nail art using a carefully cut out metallic foil.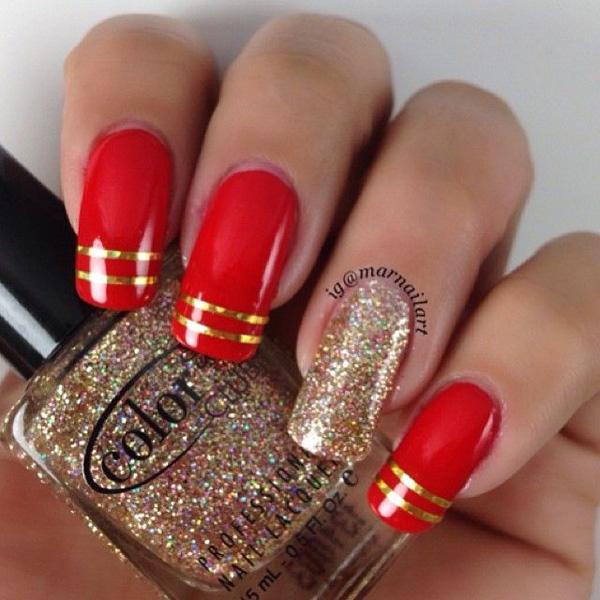 A red and gold inspired nail art design using a matte red polish, gold sparkles and of course, thin metallic gold strips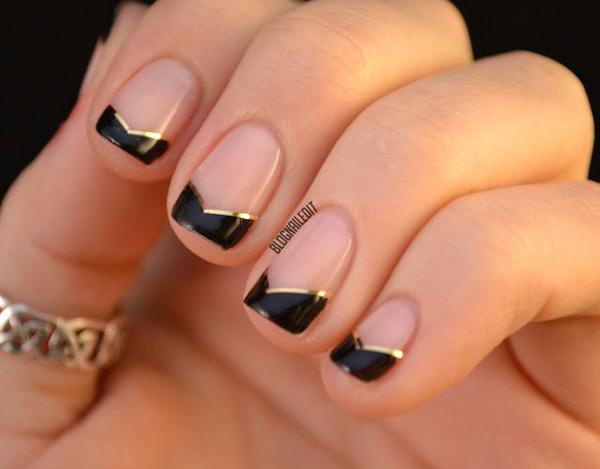 A rather minimalist French tip making use of black and metallic gold strips as lining.
Electric blue metallic foil nails that simply stand out during day and night activities; perfect for parties.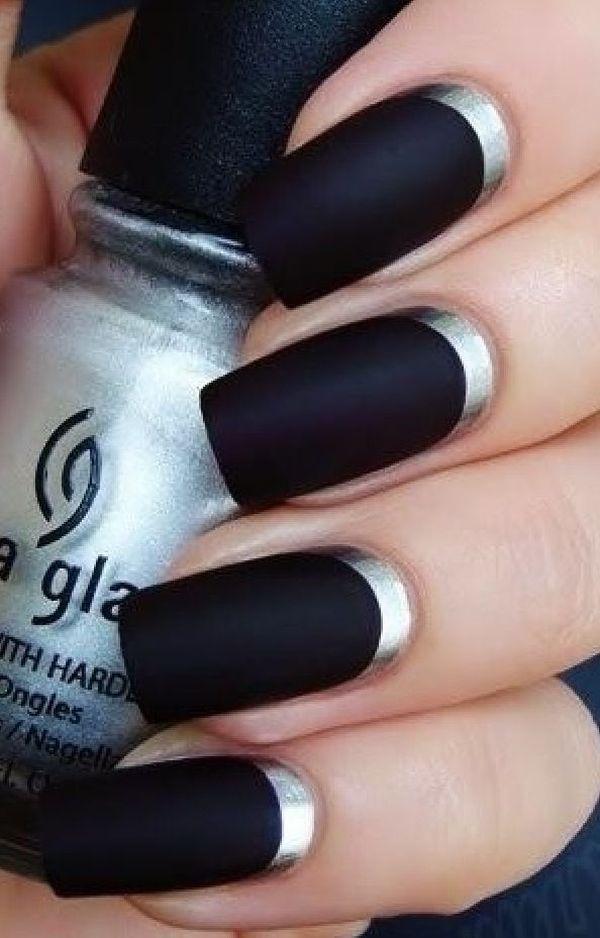 An artistic matte black and silver nail ensemble making use of metallic silver polish to cover the cuticle part of the nail.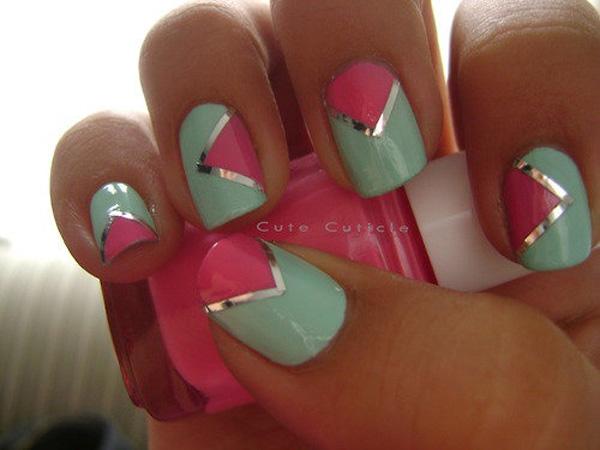 A playful nail art design making use of a sea green and pink color combination divided by silver metallic strips on top.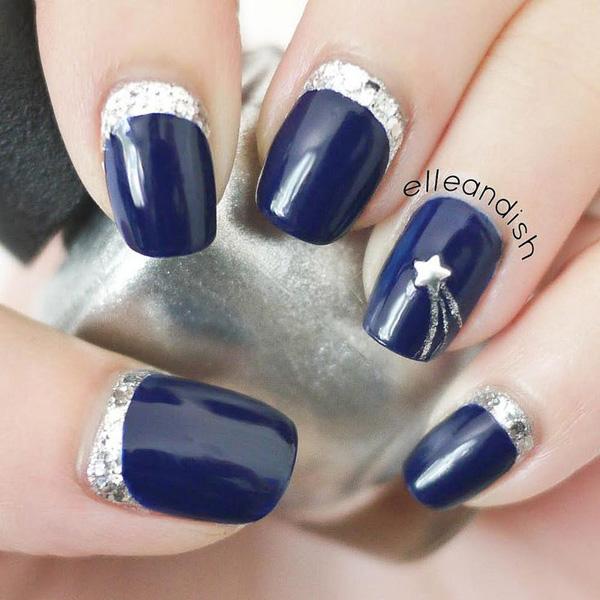 A shooting star inspired nail art using a royal blue polish for the matte and silver foil for the shooting star details and cuticle tips.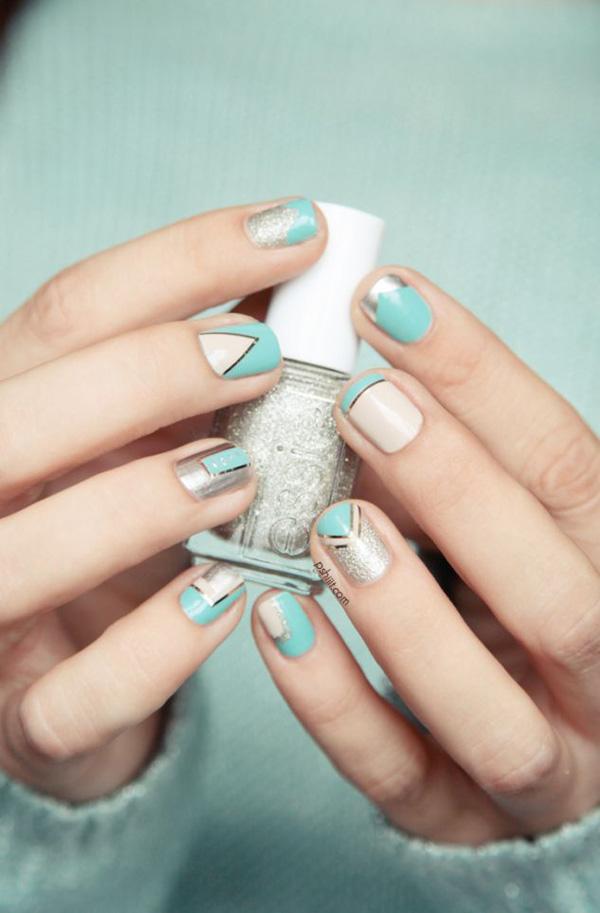 A pretty looking nail art design in bold shapes using baby blue and white polish with thin strips of silver metallic foil separating the shapes.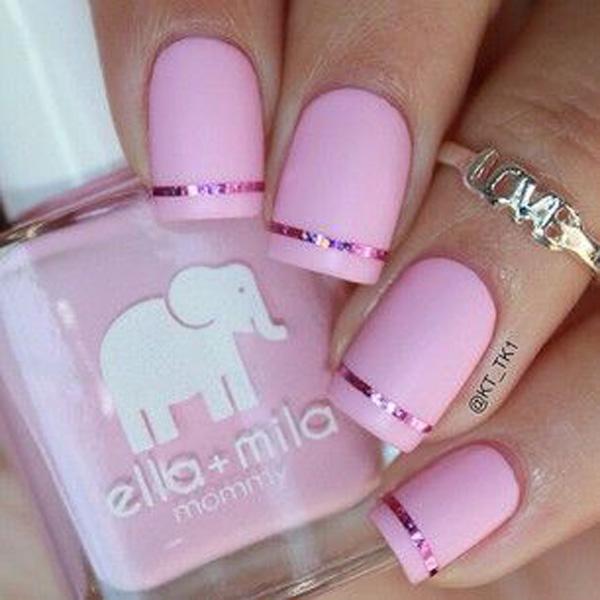 Coat your nails in baby pink matte color and add a simple strip of pink metallic foil for detail.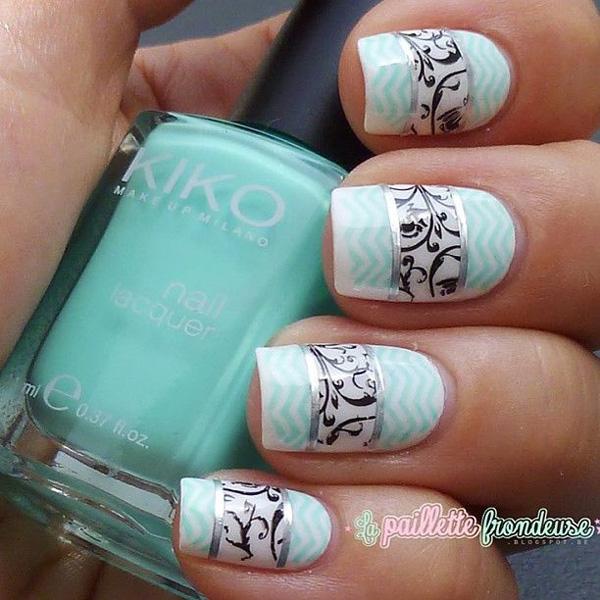 A creative take on tribal inspired nails using white, blue and black polish for the base color and for creating the details with help from metallic silver linings.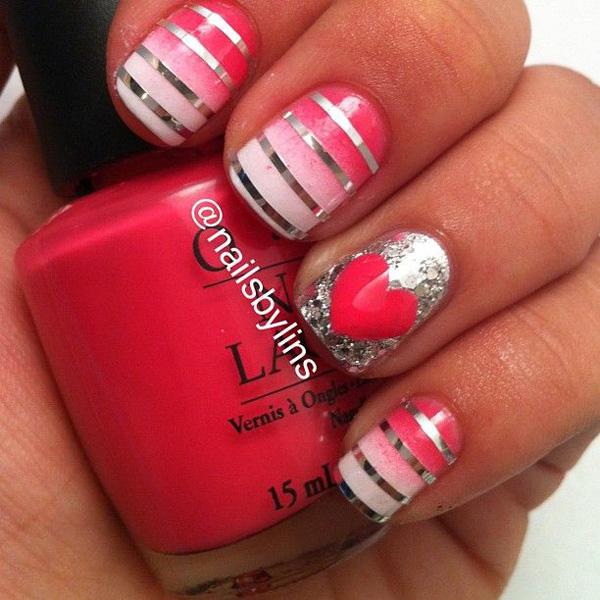 Gradient nail polish base using cherry and white and topped off with thin silver metallic strips and a cute cherry heart design.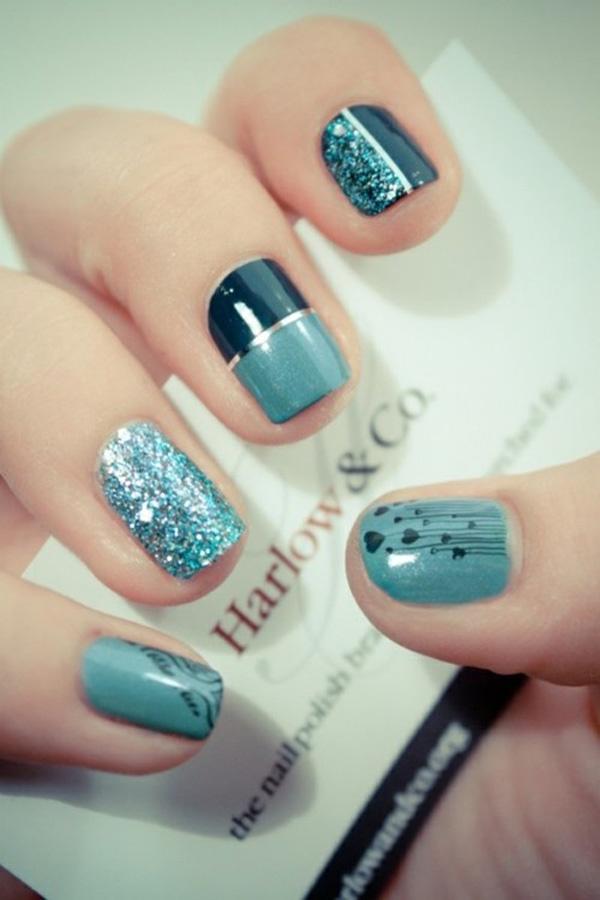 A very artistic nail art design making use of midnight blue and blue gray polish for the base and heart shape details; a silver thin metallic strip is used to separate the colors.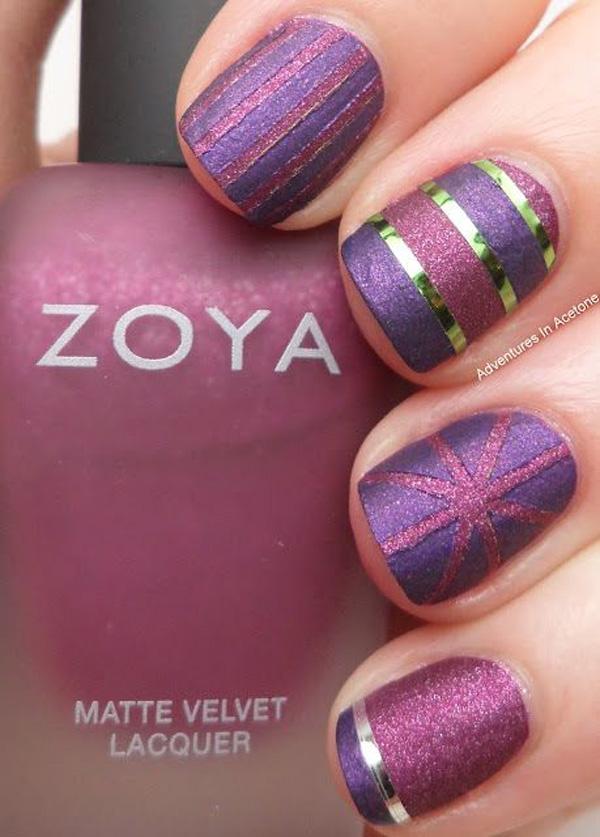 Sparkling pink and periwinkle polish used to detail playful lines and diagonals on the nails with the help of metallic gold strips.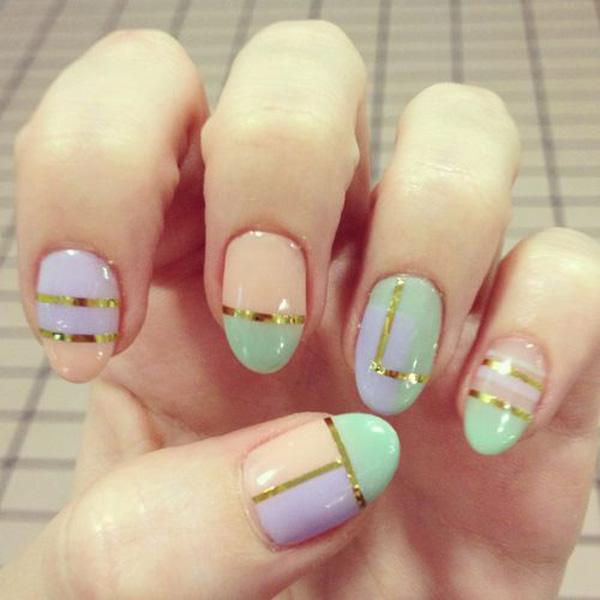 Adorable baby colored polishes in, nude, green and periwinkle topped by metallic gold strips to separate the colors.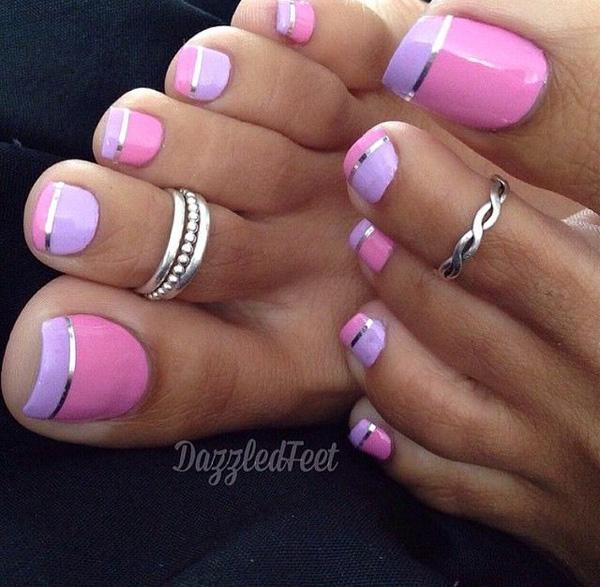 An alternating pink and periwinkle French tip for manicure and pedicure, separated by thin strips of silver metallic lines.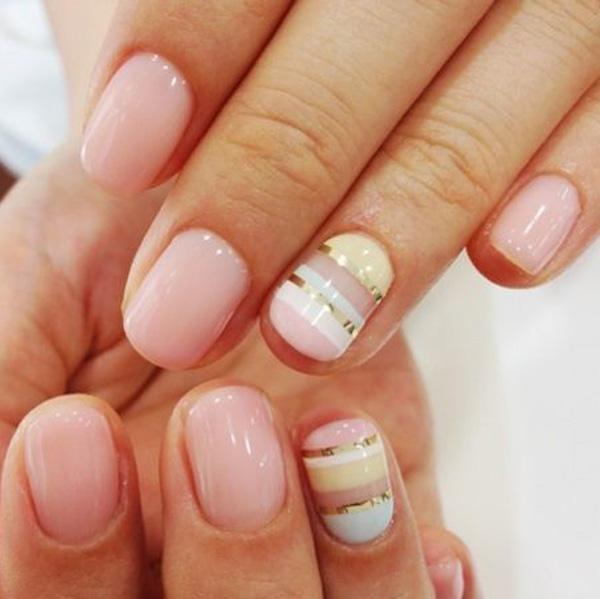 A simple yet beautiful looking nail design using clear coat as base with baby blue and cream polish added with thin metallic gold strips on top.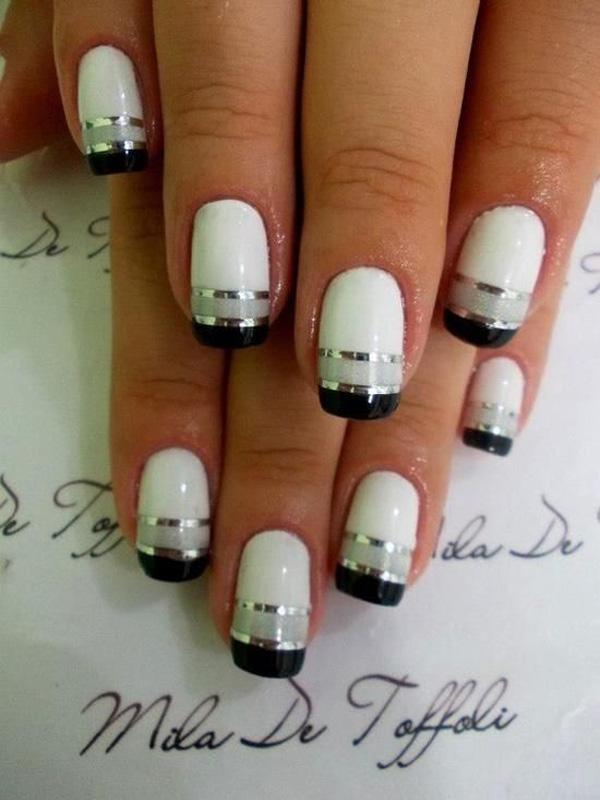 A black, gray and white ensemble creating a French tip separated by silver metallic strips for effect.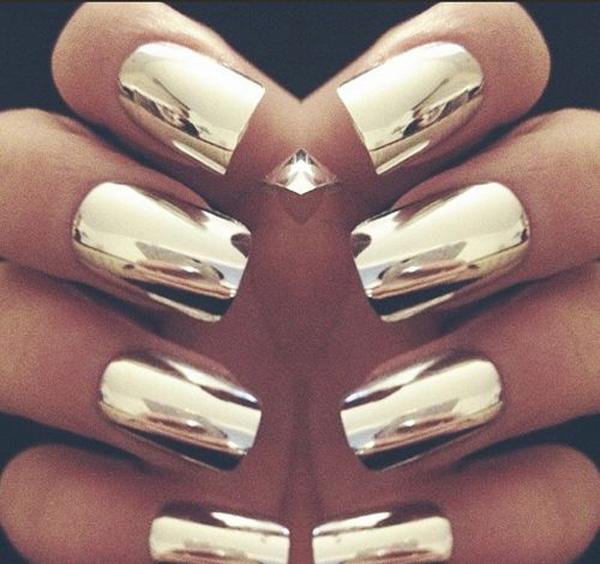 Create a statement by making a full gold metallic foil inspired nails.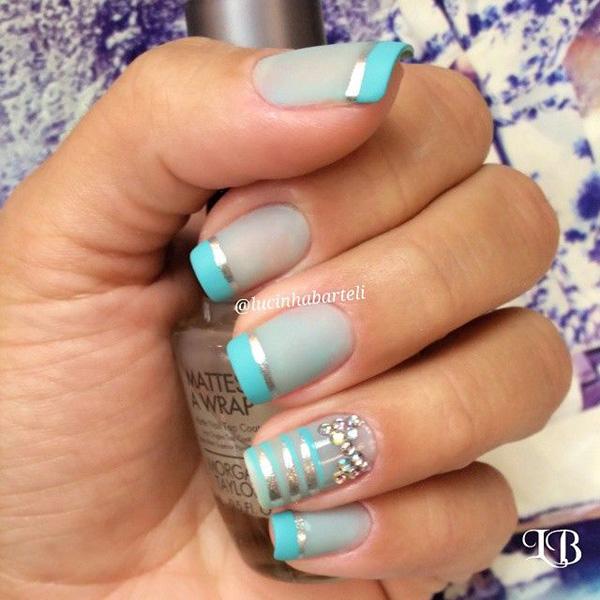 Blue gray and green blue themed French tips using silver metallic strips draped over the base as well as silver beads.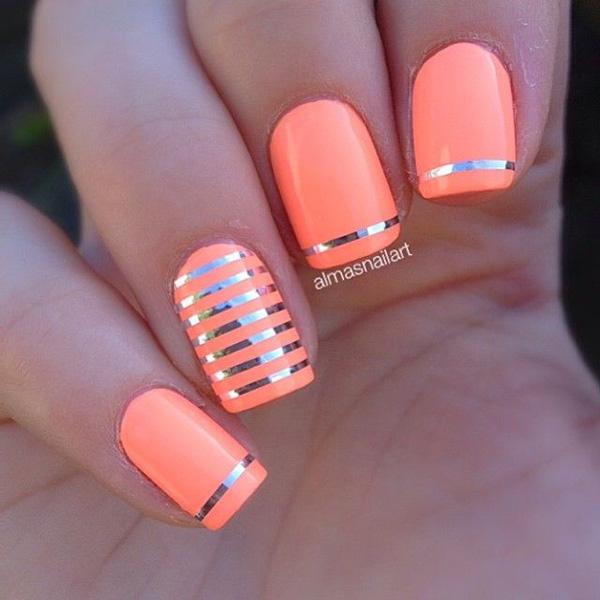 Neon orange matte colored nails with hints of silver metallic strips added on top for effect.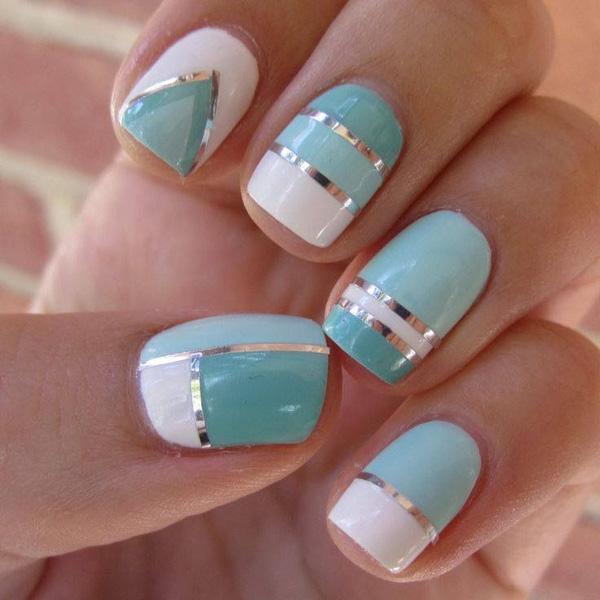 Blue and white ensemble separated by several thin strips of silver metallic foil to create various bold and fun shapes.