Tattoos have always been a way for people to express their beliefs, thoughts, and feelings. This permanent form of art is a window to a person's soul, depicting different emotions and experiences on their skin. One of the most popular tattoo designs is the Sacred Heart tattoo. This ancient symbol has a deep-rooted history and holds a significant meaning for many cultures. In this article, we will journey through the meanings of sacred heart tattoos and explore its different interpretations and designs.
Origins of the Sacred Heart Symbol
The symbol of the sacred heart has a long and fascinating history. It's believed to have originated in the Middle Ages, when people took the heart as the center of the human body and the source of all emotions and feelings.
In the 12th century, Saint Bernard of Clairvaux encouraged his followers to meditate on the sufferings of Christ, including the wound in his side where his heart is said to have been pierced. This devotion to the wounded heart of Christ spread throughout Europe and became a popular subject of art and iconography.
The image of the sacred heart as we know it today didn't emerge until the 17th century, when Saint Margaret Mary Alacoque had a vision of Christ showing her his divine heart, encircled by thorns and flames. She spread the devotion to the sacred heart throughout France and beyond, and the symbol became an enduring part of Catholic iconography.
In 1856, Pope Pius IX declared an official Catholic devotion, and a feast day dedicated to it. Catholics believe that the Sacred Heart of Jesus represents the divine love for humanity. It is also a reminder of Jesus Christ's sacrifice for our sins. The Sacred Heart often appears in art, as well as religious tattoo designs.
Symbolism and Meanings
The Sacred Heart is a religious symbol that originated from Christianity. It reflects the love, devotion, and sacrifice of Jesus Christ for humanity. The tattoo design with this symbol often depicts a heart with thorns, flames, or a cross at the top. The sacred heart tattoo may have different meanings and interpretations, depending on the person who wears it and their beliefs.
The heart in the tattoo represents love, compassion, and the seat of emotions. It signifies the passion and love Jesus had for humanity, which was so great that he sacrificed himself for them. The thorns represent the crown of thorns that Jesus wore during his crucifixion. And the flames represent the burning love of Jesus.
The cross at the top of the Sacred Heart tattoo represents the crucifixion of Jesus Christ. It serves as a reminder of his sacrifice and his love for humanity. The cross tattoo also symbolizes redemption and salvation, making it a powerful statement of faith.
Different Designs and Interpretations
The Sacred Heart tattoo design has different interpretations with different designs. You can choose your favorite design to reflect your individual beliefs and experiences. Each design has its unique features, and it is essential to understand their meanings before choosing one.
Eye with teardrops to sacred heart with the crown of thorns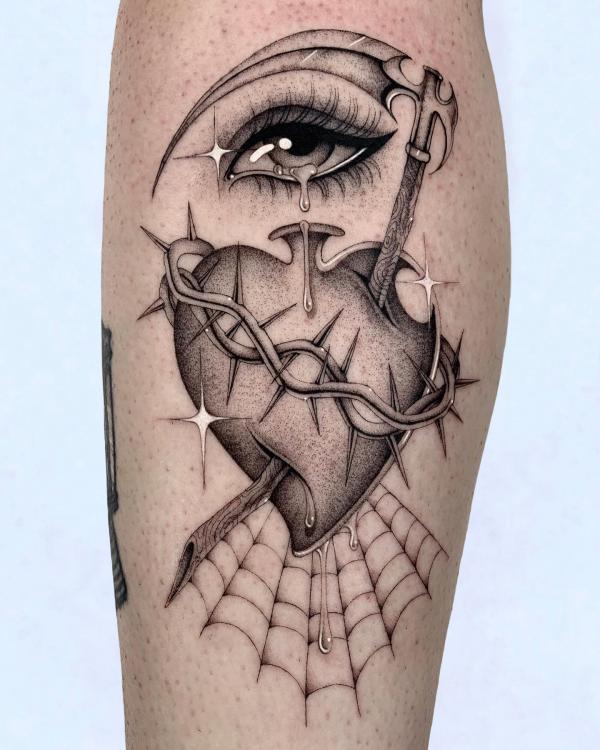 The black and white tattoo features a weeping eye with tears dropping down onto a sacred heart. The crown of thorns surrounding the sacred heart symbolizes the suffering of Jesus Christ, while the piercing of a dagger represents the pain and sacrifice necessary for redemption.
Divine Devotion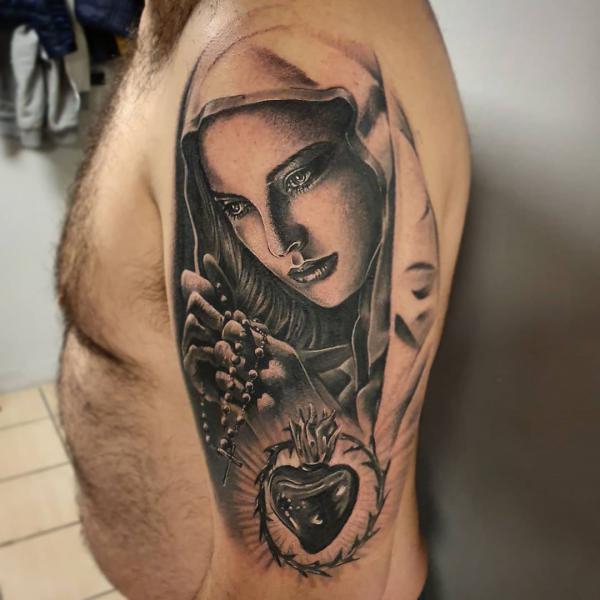 This half sleeve tattoo depicts an imagery of Virgin Mary and sacred heart in a realistic black and white style. The imagery speaks to the deep spiritual connection the wearer has to both the Virgin Mary and the holy symbol. It symbolizes the unwavering devotion of the wearer.
Eye of sacred heart chest tattoo for women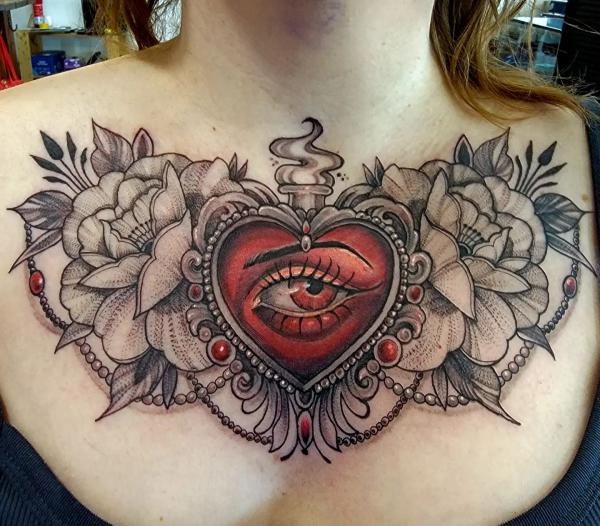 The chest tattoo features a noble sacred heart with delicate flowers surrounding it. The ink of eye in the heart represents the all-seeing and all-knowing nature of God. The elegant flowers add a feminine touch to the design and represent growth, renewal, and beauty.
Sacred heart with eye tattoo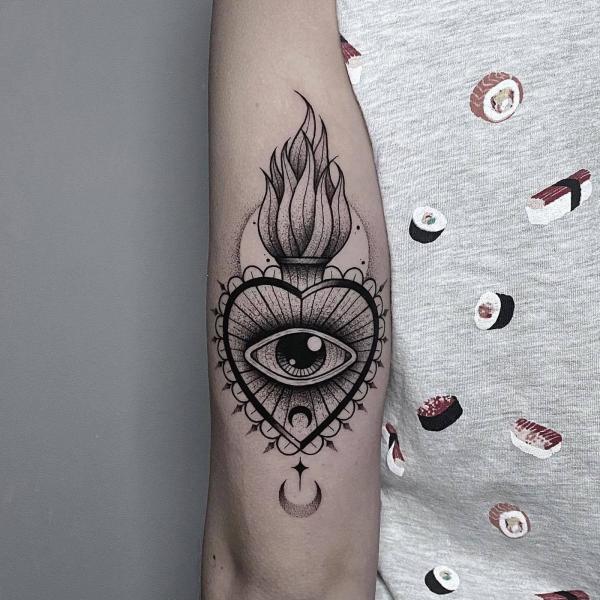 Gothic sacred heart tattoo with dagger
Heart of thorns hand tattoo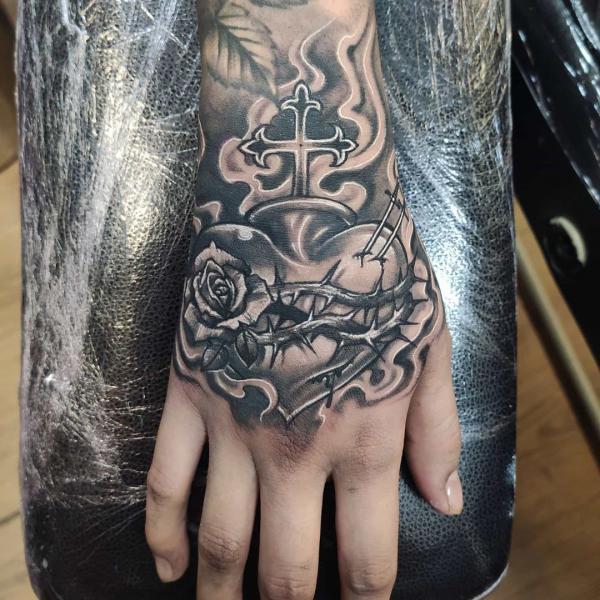 The hand tattoo depicts a sacred heart with thorns and a rose, done in a black and white style. The sacred heart is a symbol of devotion and divine love, while the thorns represent the pain and suffering that one may encounter in life. The rose, on the other hand, represents beauty, hope, and new beginnings. The black and white style signifies the contrast between light and dark, good and evil, and the balance between them. Overall, the tattoo conveys a message of strength, resilience, and the power of love to overcome adversity.
Holding a thorn sacred heart tattoo with halo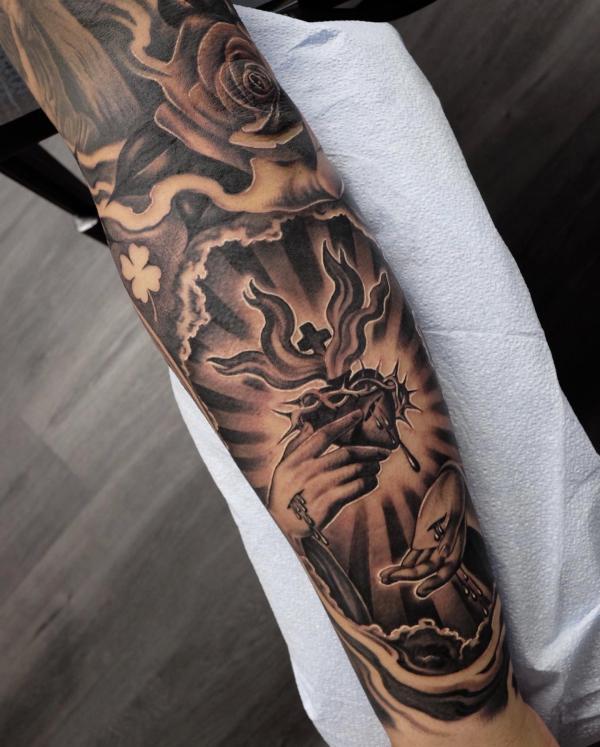 Holy heart with weeping eye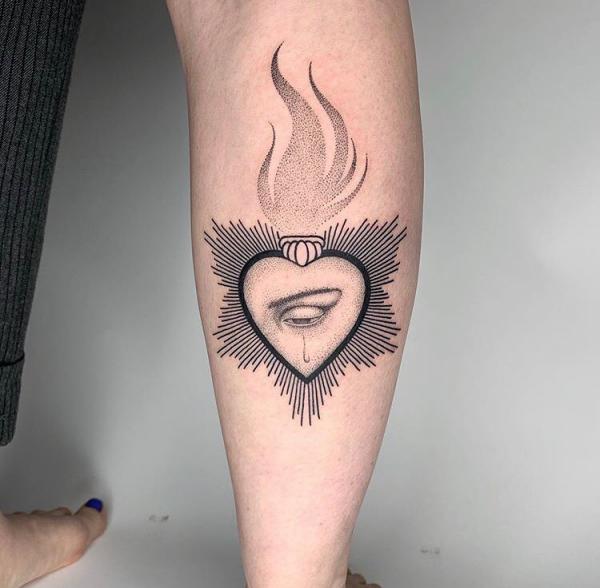 Locked sacred heart with keys and thron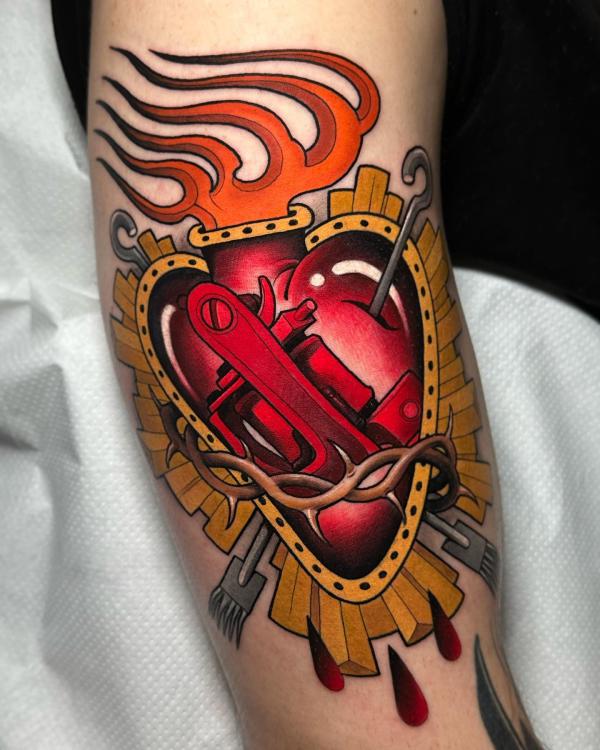 Negative space sacred heart and eye with teardrops
The sacred heart is depicted as a simple outline filled with negative space. Within the heart, there is a realistic eye with tears drop falling down. The use of negative space not only creates a striking visual effect but also emphasizes the importance of the eye, which represents wisdom and intuition. The tears suggests a sense of sadness or pain, but it also symbolizes the cleansing of emotions and the release of negativity.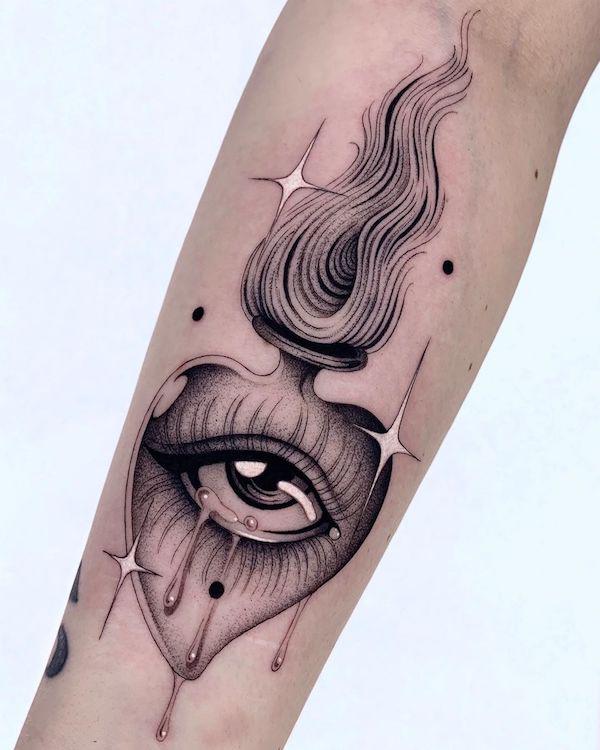 Neo traditional sacred heart tattoos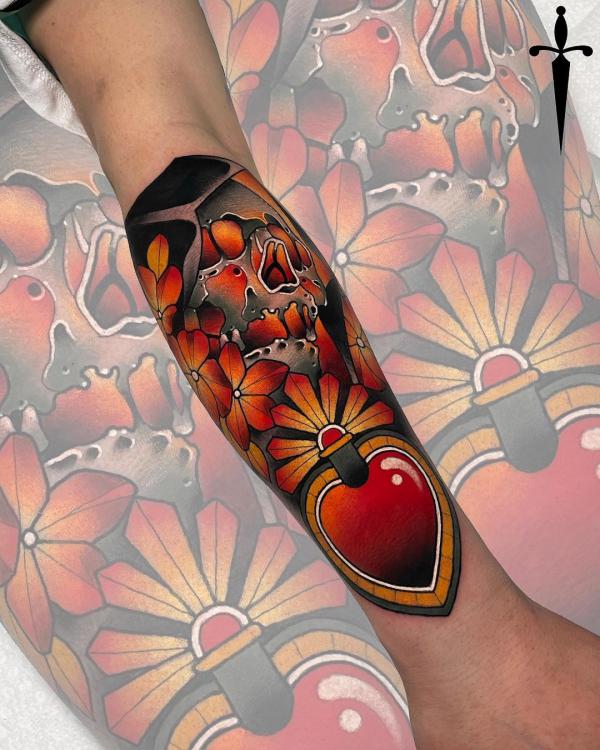 Neo traditional sacred heart tattoo with an origami boat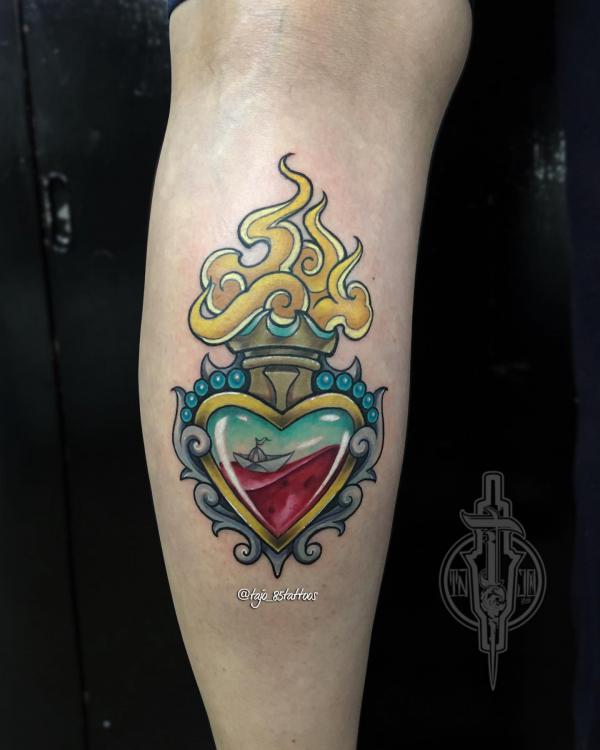 Old school sacred heart tattoo with a dagger and roses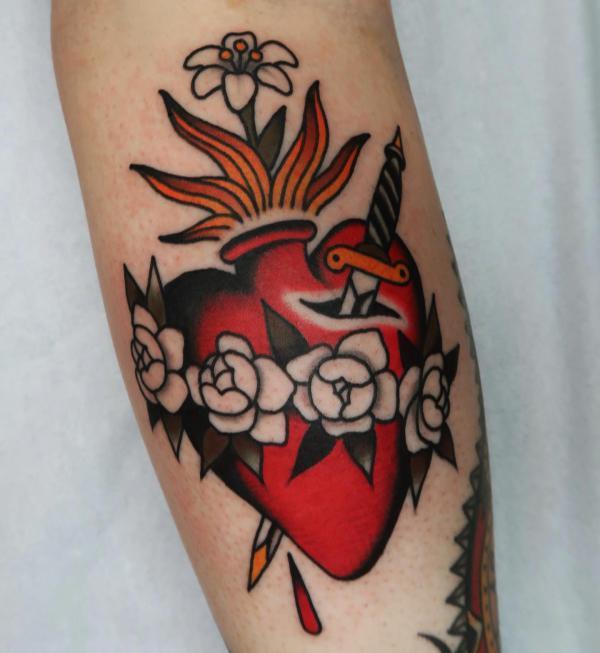 Plant a sacred heart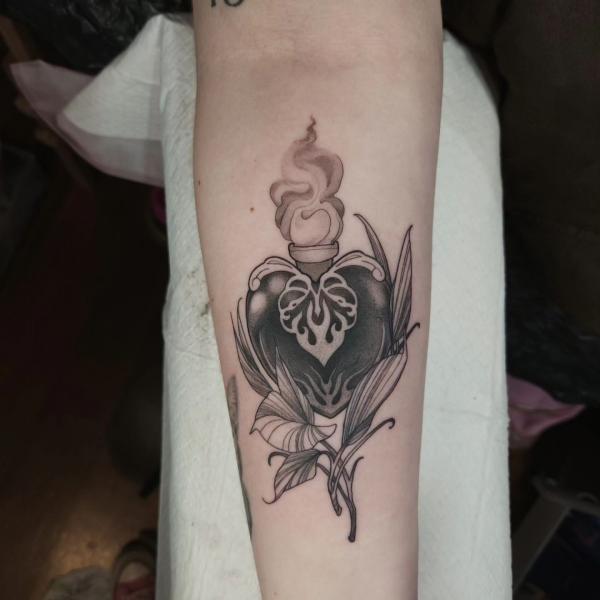 Praying hands and sacred heart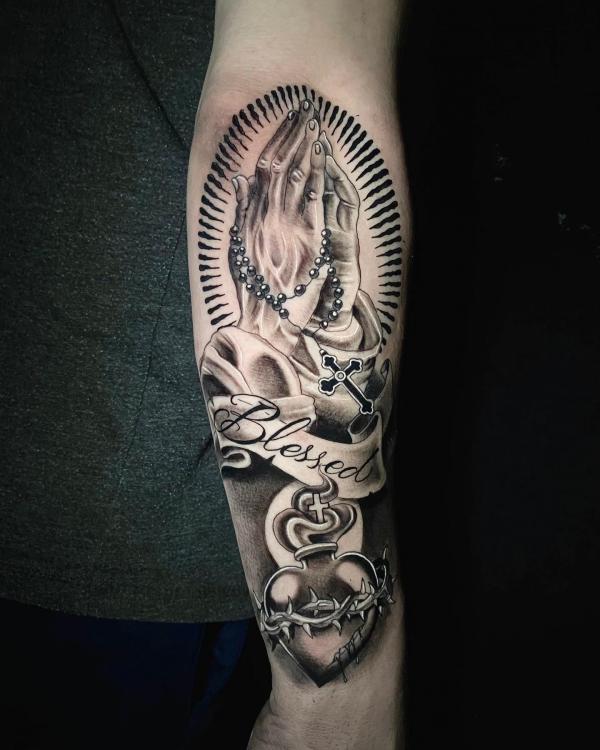 Rose and sacred heart with sword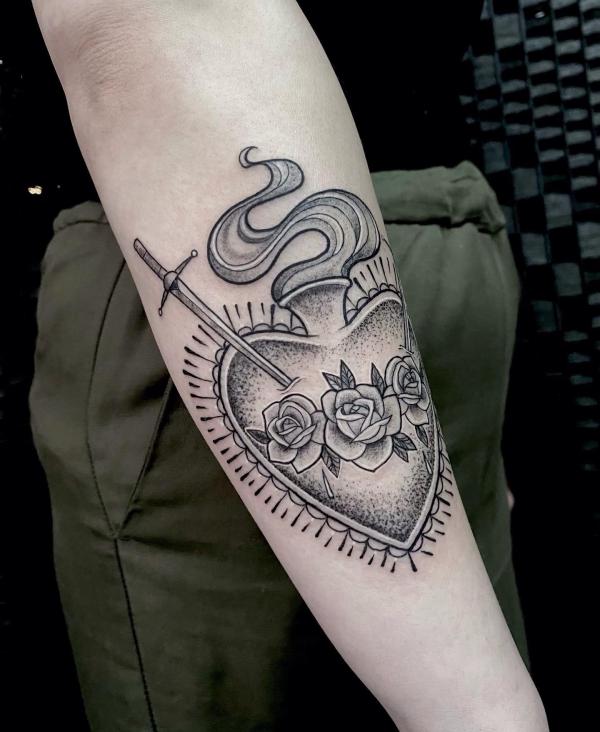 This tattoo design combines elements of romance and religion. The rose is a symbol of love, while the Sacred Heart represents Jesus's love for humanity. This tattoo design is often inked in a colorful and realistic style, making it an elegant and meaningful design.
Sacred heart half sleeve tattoo with blue rose and halo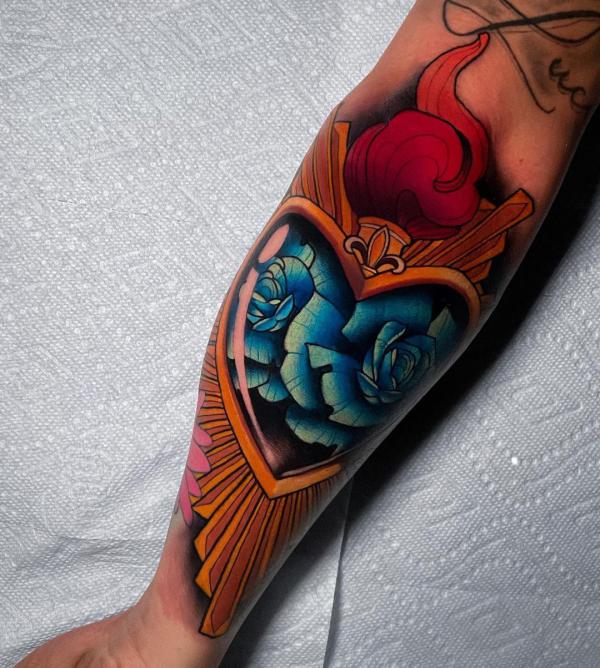 The half sleeve tattoo is a beautiful and meaningful design that combines multiple symbols. The blue rose, is a symbol of mystery and the unattainable. It is often associated with the impossible, the unattainable, or the mysterious. The halo is a symbol of holiness and divinity. Together, these elements create a powerful image that represents the idea of love, devotion, mystery, and holiness. The blue rose adds a touch of uniqueness and intrigue to the design, while the halo brings a sense of divinity and purity.
Sacred heart hand tattoo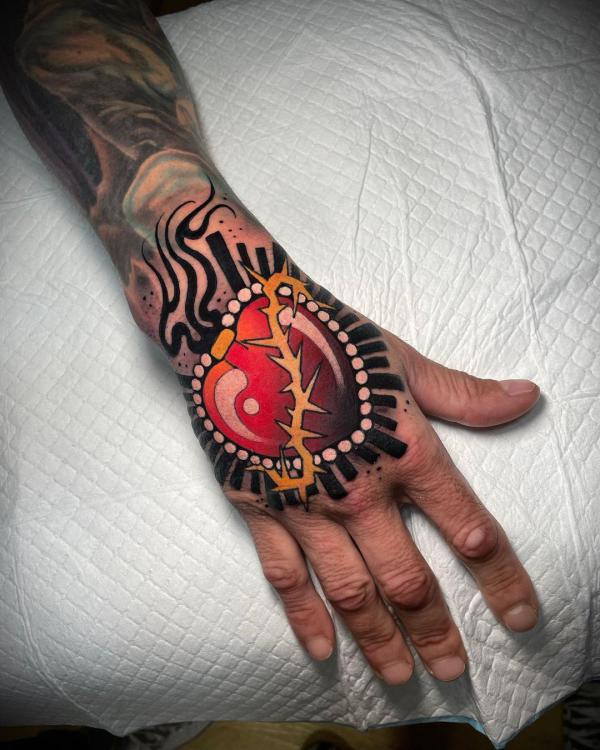 Sacred heart in hand with snake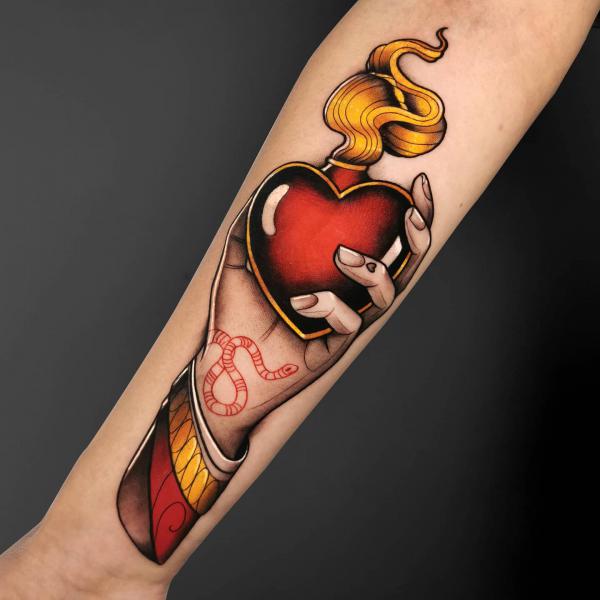 The tattoo depicts a hand holding a sacred heart. The heart is in bright, vibrant colors, giving it a sense of life and energy. The hand holding the heart is also in a similar fashion, with bold lines and vivid shades that make it stand out. Underneath the heart, there is a little snake, which looks as if it is protecting them.
Sacred heart neck tattoo with swords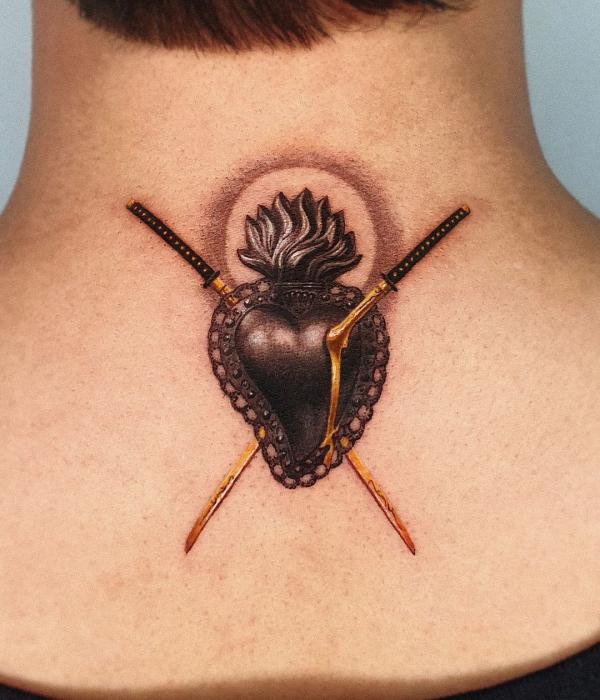 Sacred heart ink with daggers on forearm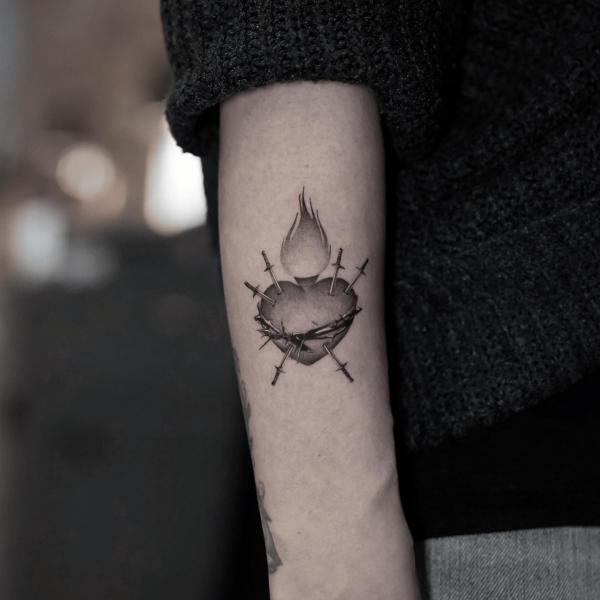 Side tattoo of a sacred heart with roses and dagger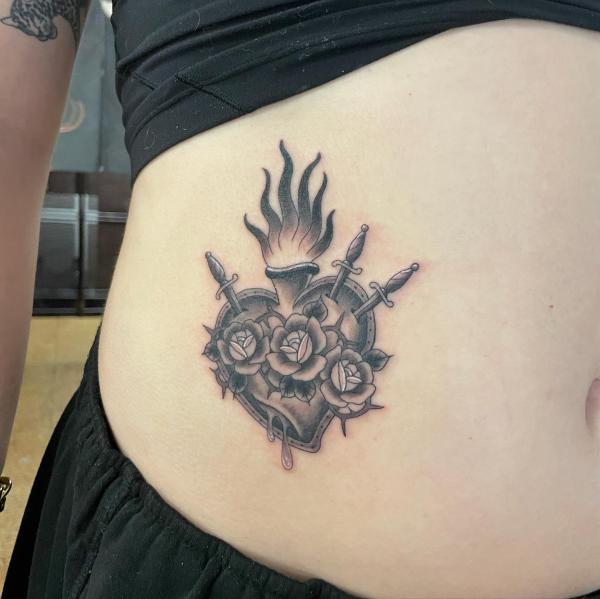 Silver Sacred Heart with halo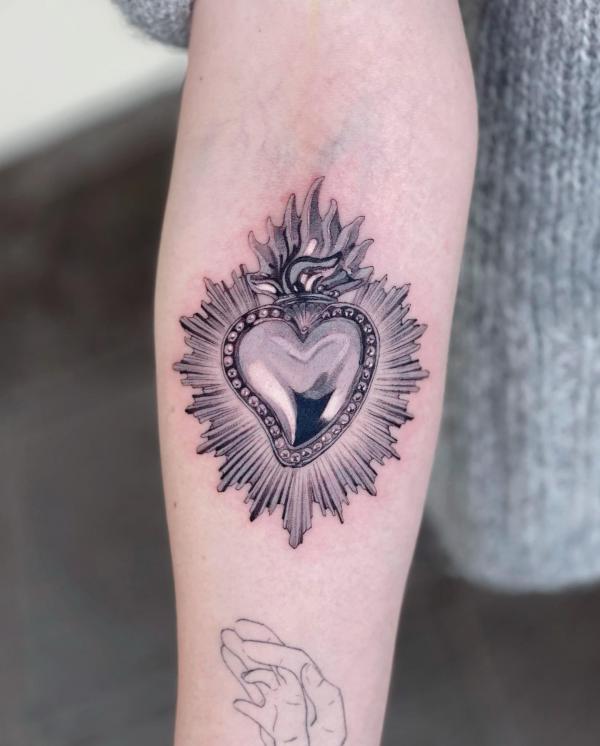 Stylish sacred heart shaped frame for women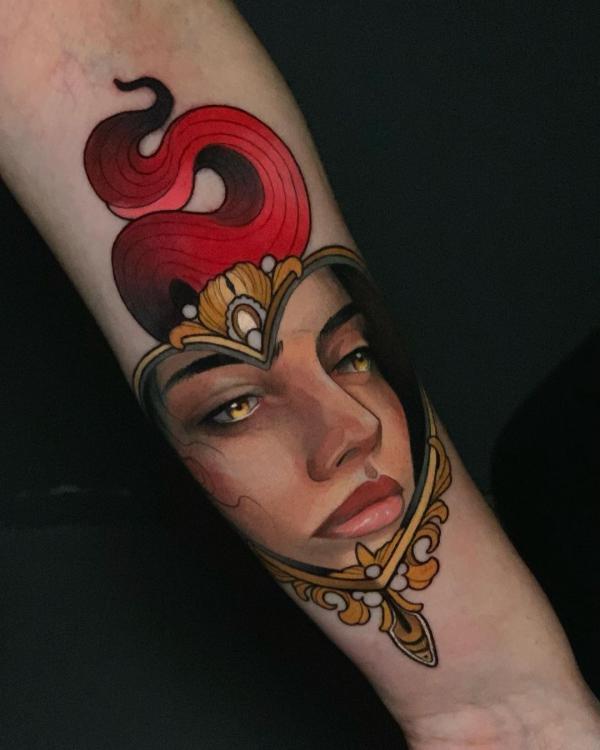 Stylized sacred heart with colorful flame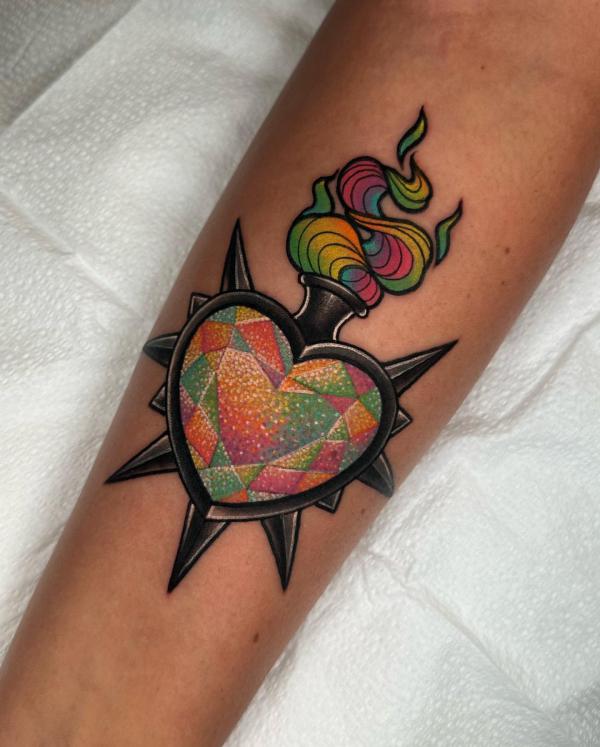 Sword through a sacred heart tattoos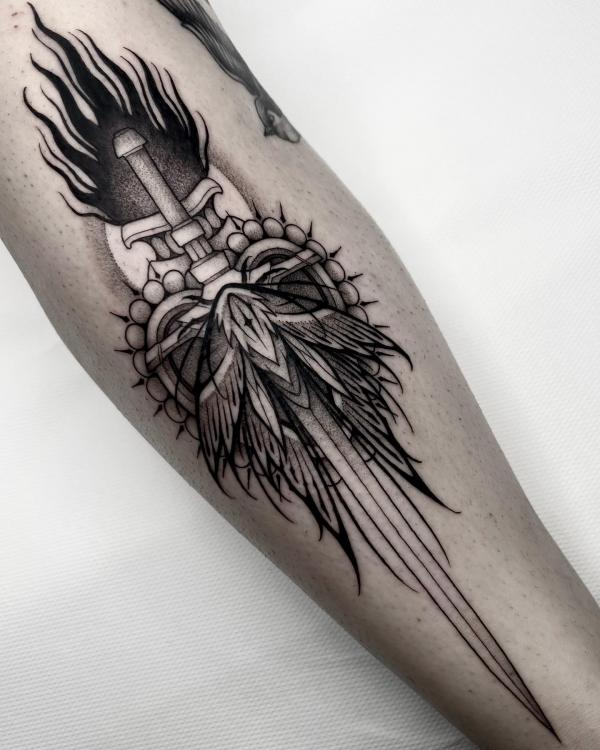 The silver sacred heart with daggers roses and halo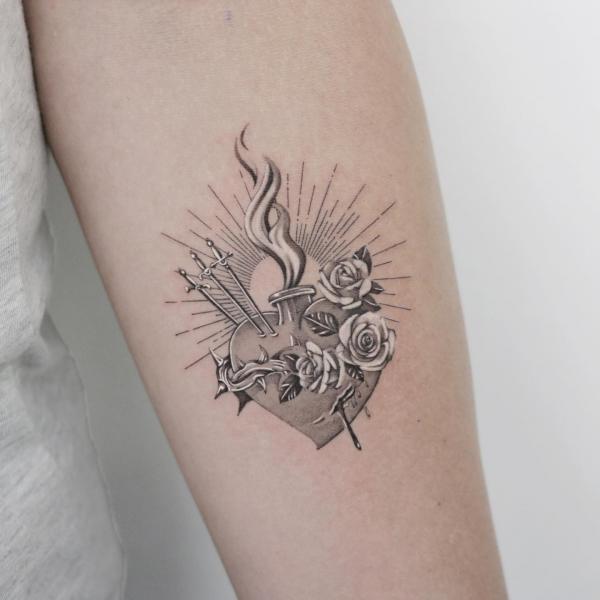 Thron sacred heart tattoo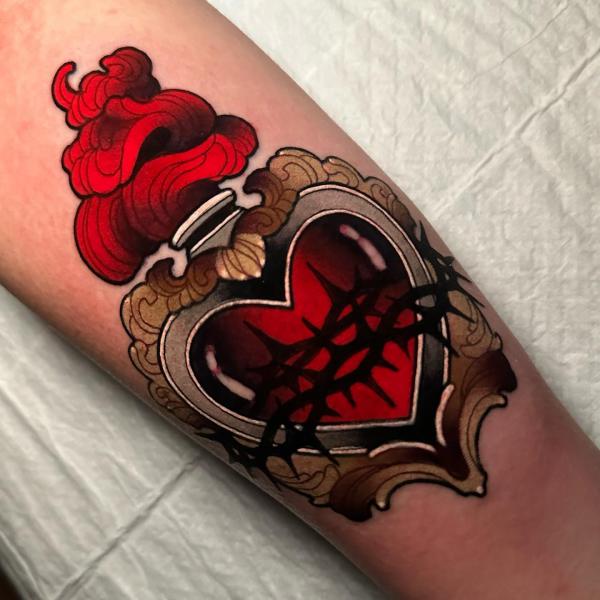 Thron sacred heart with red flame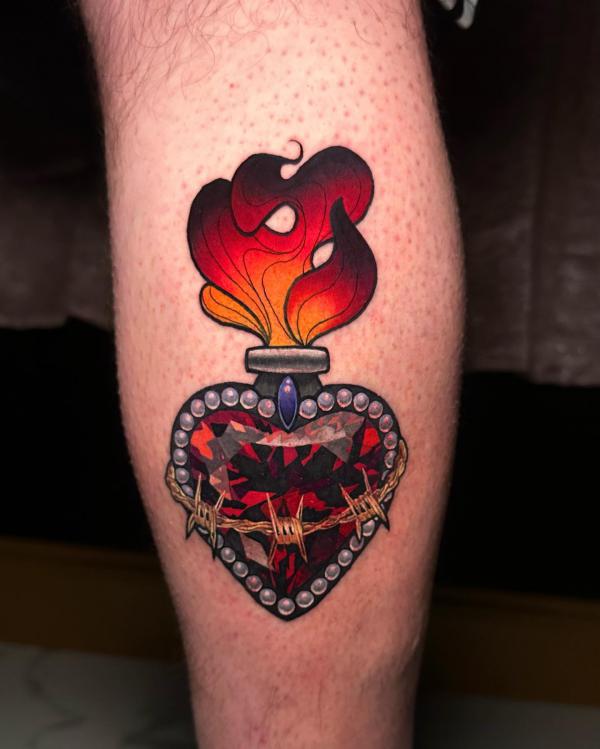 Traditional sacred heart tattoo with sparrows and womans face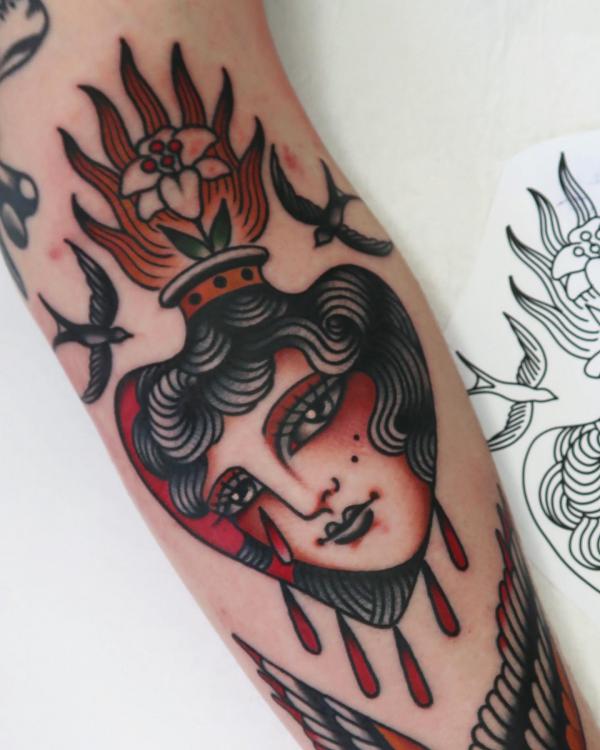 Two skeletons in the throned sacred heart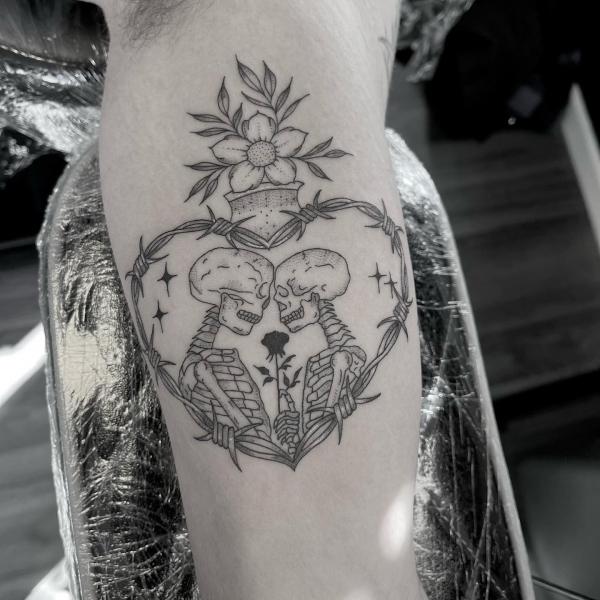 Ying Yang sacred heart tattoos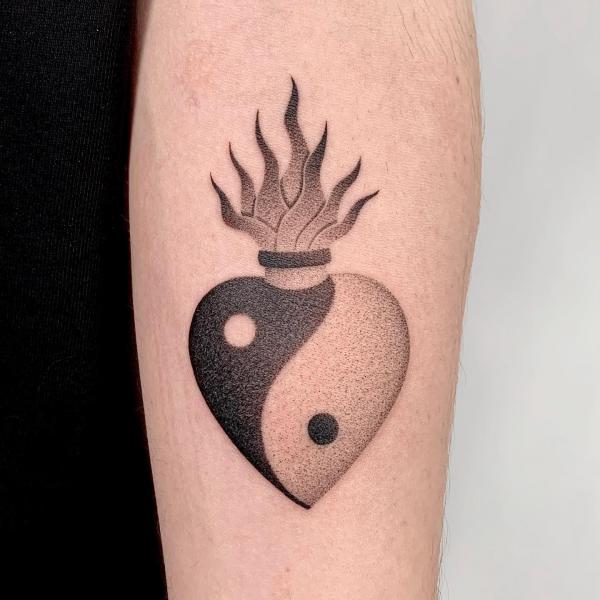 A dagger through a sacred heart ink in new school style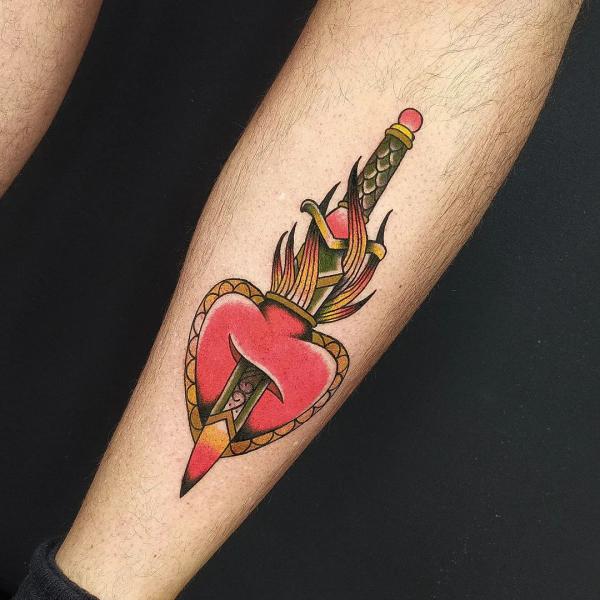 Always with me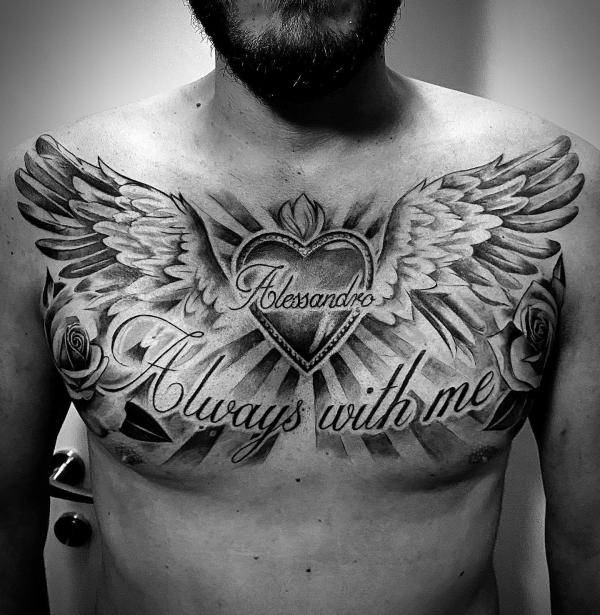 Black and gray sacred heart with skulls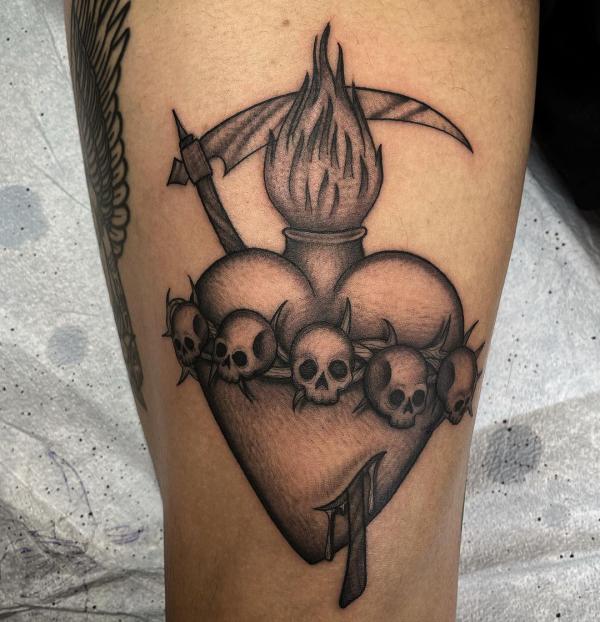 Black sacred heart with daggers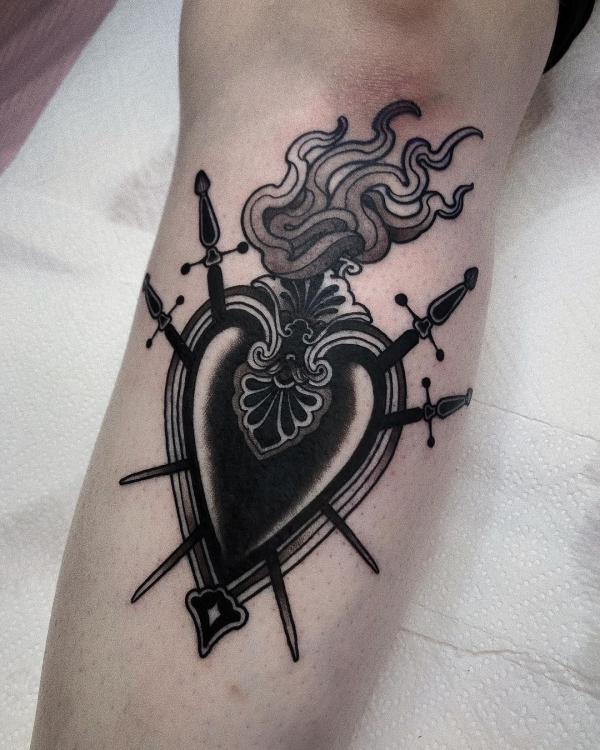 Blackwork of a sacred heart with throns and dagger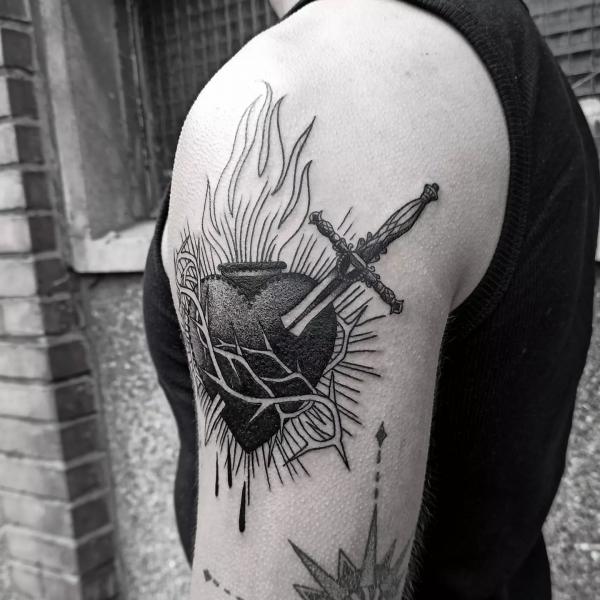 Cross and sacred heart with halo
This tattoo design is the most common and traditional style of Sacred Heart tattoo. It combines elements such as flames, thorns, and the cross, and it is usually inked as a large, bold design on the chest area. The traditional Sacred Heart tattoo is popular among those who are deeply religious and desire a tattoo that reflects their faith.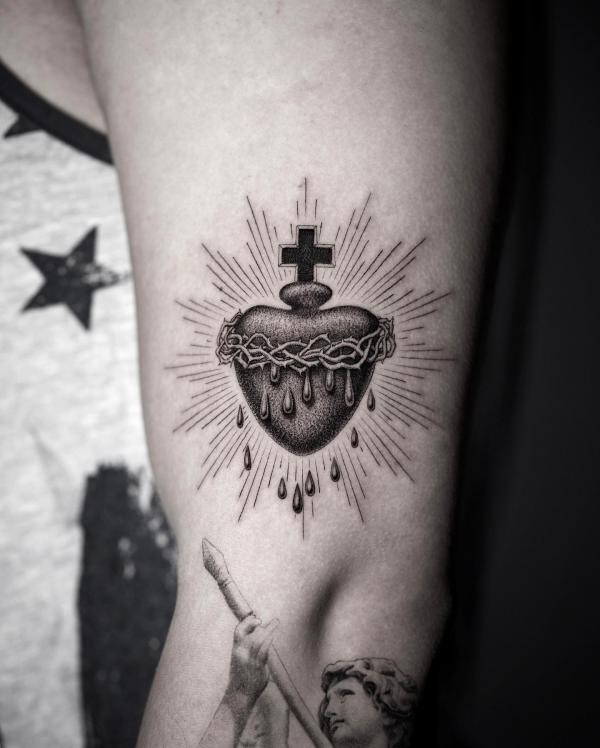 Dark sacred heart tattoo for mom
The realistic Sacred Heart tattoo design is a modern twist on the traditional style. It is detailed and lifelike, and it is often inked in a more natural color palette. This tattoo design can be personalized to include the sign of a loved one or a significant date, making it a sentimental and meaningful design.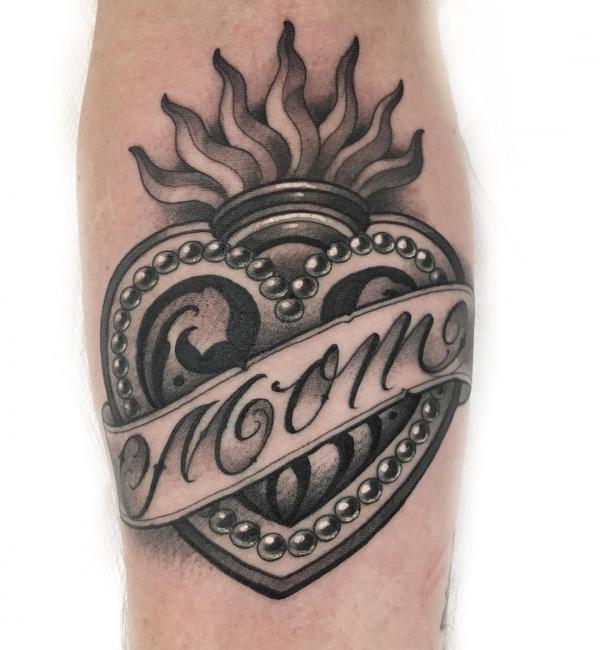 Diamond sacred heart with golden halo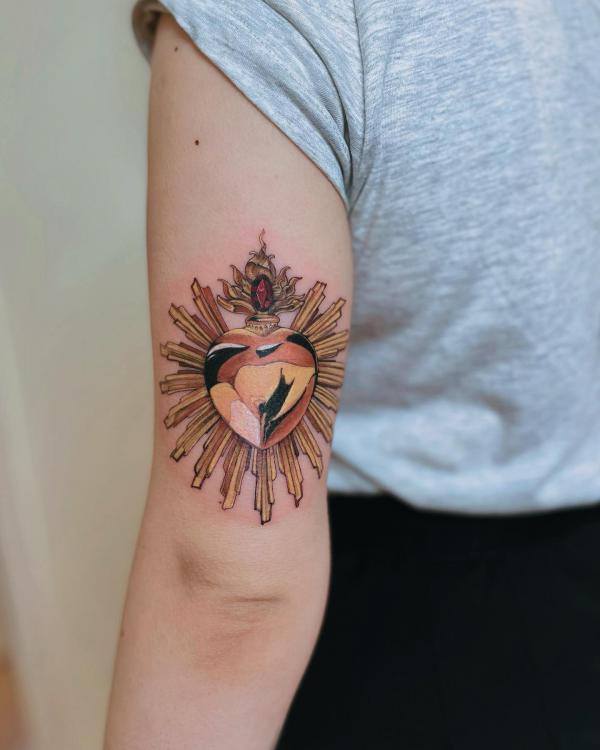 This tattoo is a symbol of spirituality, love, and devotion. The sacred heart is depicted with diamond style texture and golden halo surrounding it. The diamond represents purity, clarity, and strength, while the golden halo symbolizes enlightenment and divinity. This tattoo is a powerful and meaningful that represents faith, love, and devotion.
Angel wings sacred heart chest tattoo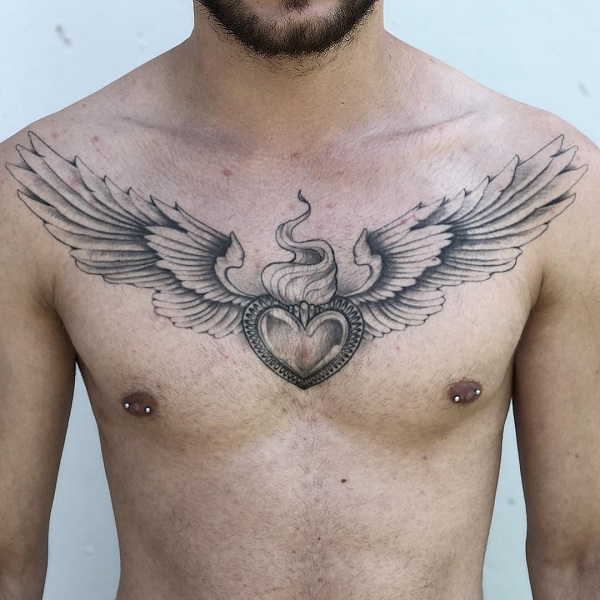 The Sacred Heart with wings is a popular design among those who believe that the tattoo symbolizes protection and guidance. The wings represent spiritual growth and the ability to persevere through difficult times. This tattoo design is often inked as a large chest piece or on the upper back.
Sacred heart finger tattoo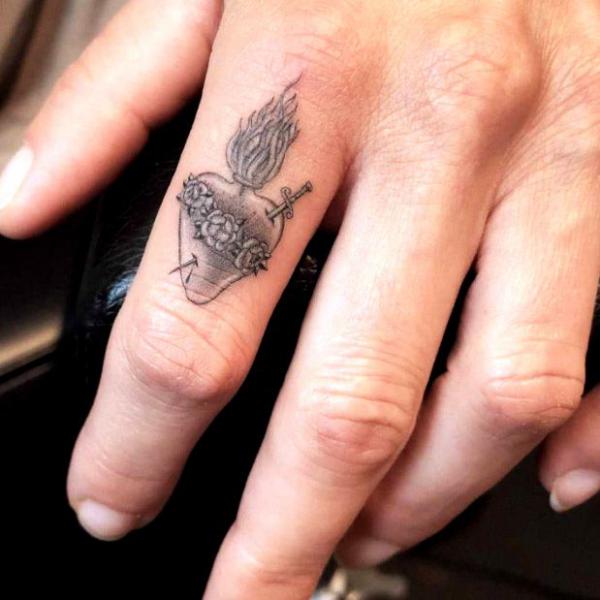 Finger tattoos, despite being small, make a big statement. The Sacred Heart design on a finger is an intimate display of faith, love, or sacrifice. This minimalist design depicts a dagger pierced a heart which is wrapped with roses, making it a subtle yet potent symbol.
Sacred heart skull tattoo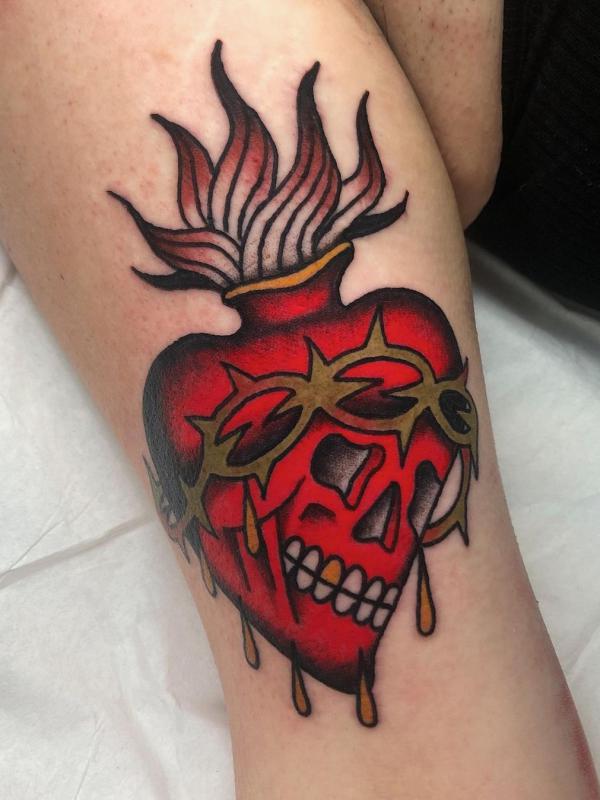 Pairing the Sacred Heart with a skull brings together two powerful symbols. This design often represents the juxtaposition of life and death, mortality and eternity, love and despair. It's a compelling reminder of the transient nature of life, with the Sacred Heart offering a beacon of divine love amidst the stark reality of mortality.
sacred heart tattoo with name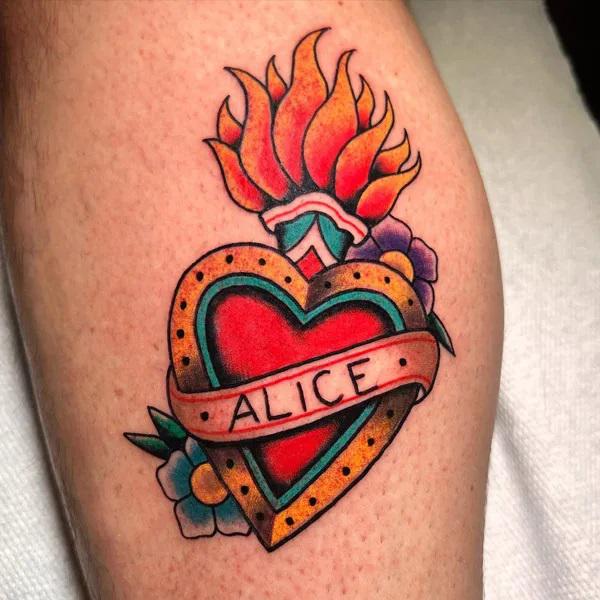 Adding a name to your Sacred Heart tattoo can turn it into a deeply personal tribute. This design is often chosen to honor a loved one, demonstrating a profound bond that touches the heart and soul. The name could be in a banner across the heart or encircling it, weaving your personal story into the Sacred Heart's rich symbolism.
Sacred heart with banner bearing the word Mom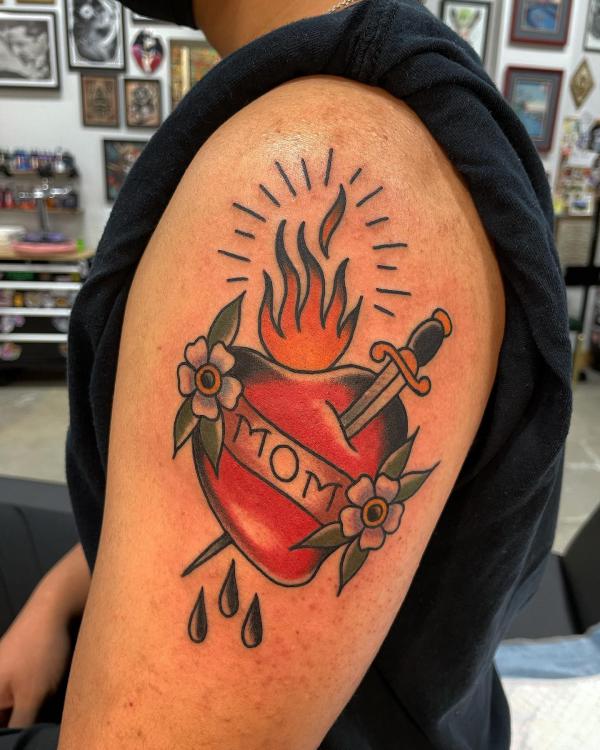 The Sacred Heart combined with a banner inscribed with "Mom" is a classic tribute to maternal love. This design captures the essence of a mother's unconditional love, likening it to the divine love symbolized by the Sacred Heart. It's a heartfelt homage to the guiding light and boundless affection that mothers provide.
Sacred heart with daggers and thorns tattoo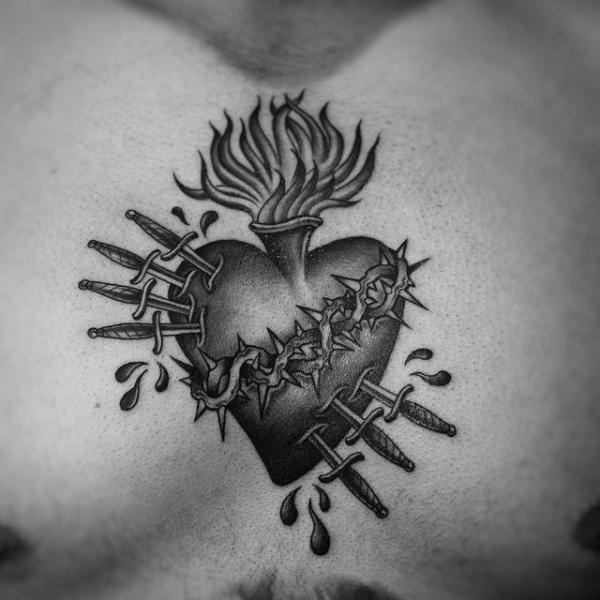 Thorns and daggers piercing the Sacred Heart create a striking depiction of suffering and sacrifice. This design could symbolize overcoming personal struggles or enduring pain for a greater cause. The thorns and daggers add an edgy aesthetic to the design, making it a captivating choice for those who appreciate the darker side of symbolism.
Sacred heart with flowers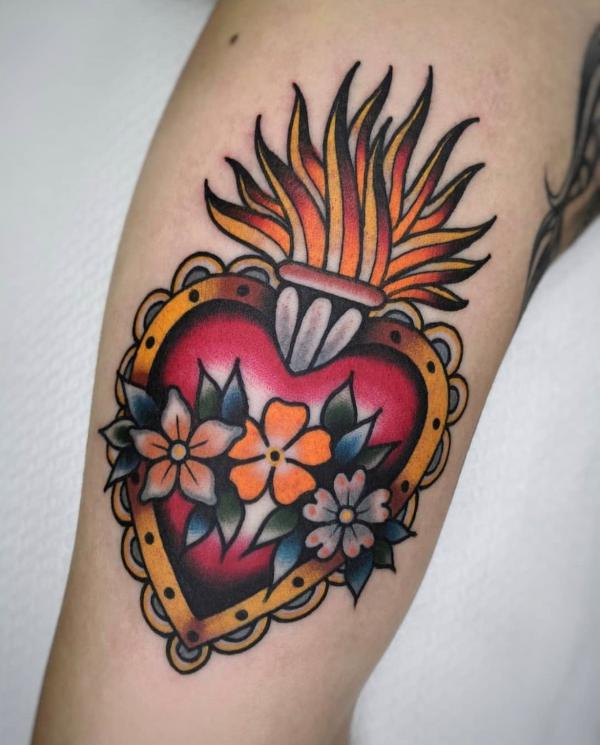 Incorporating flowers into a Sacred Heart tattoo adds layers of symbolism. Each flower brings its own meaning, creating a fusion of sentiments. For example, roses symbolize love and beauty, while lilies represent purity and grace. The blend of the vibrant Sacred Heart with the delicate allure of flowers results in a profoundly symbolic and visually stunning design.
Sacred Heart wrist tattoo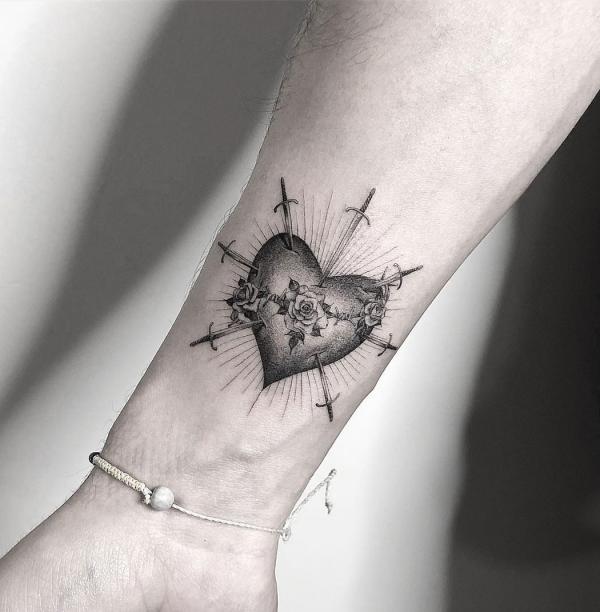 Positioning a Sacred Heart tattoo on the wrist ensures it's always visible, serving as a constant reminder of the design's significance. This location is ideal for those who want their tattoo to be a daily source of inspiration or affirmation of their beliefs.
Skeleton with sacred heart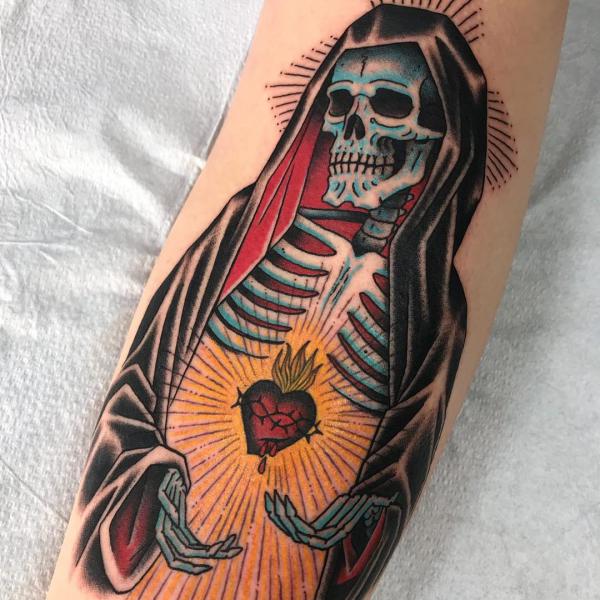 A skeleton holding a Sacred Heart merges the macabre with the divine. This design can symbolize the eternal nature of love, transcending the physical realm. It's also a potent reminder of mortality, the skeleton a stark contrast to the vibrant Sacred Heart.
Black and grey Jesus with sacred heart tattoo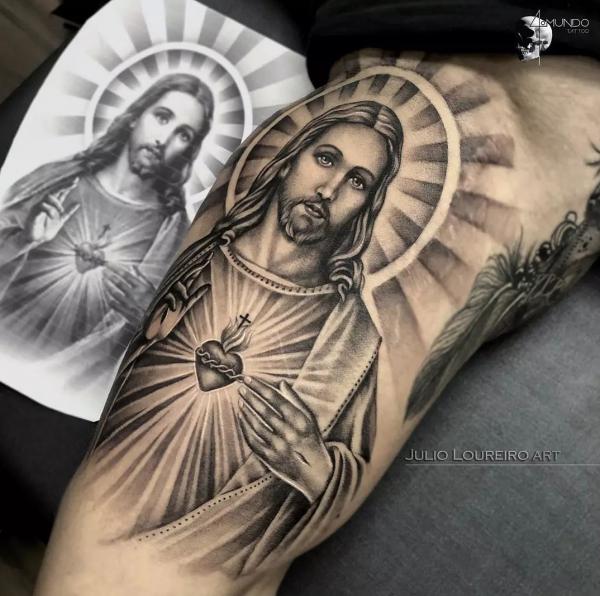 A black and grey tattoo of Jesus with the Sacred Heart is a powerful testament of faith. This design, steeped in religious symbolism, creates a striking image that captures both the divinity and humanity of Jesus. The monochrome palette enhances the dramatic impact, making every detail of the design stand out.
Death moth and sacred heart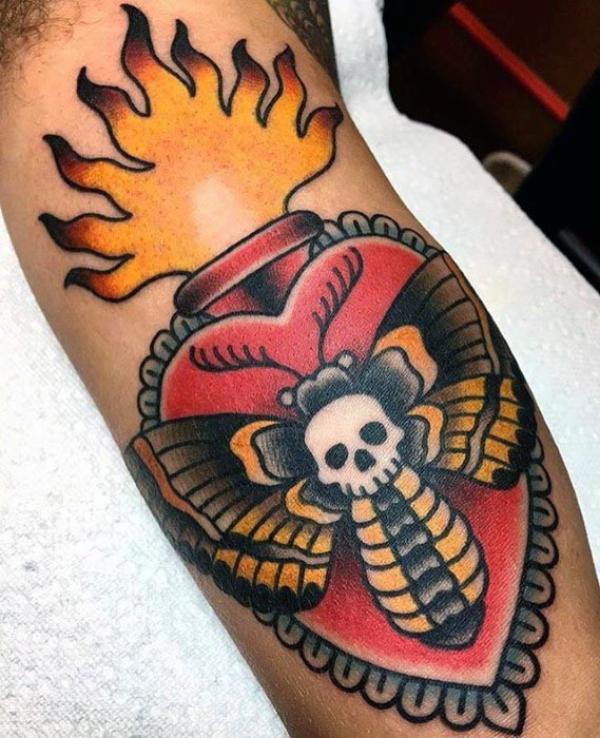 Pairing a death moth with a Sacred Heart combines symbols of mortality and divine love. The death moth, often associated with the soul's journey, complements the Sacred Heart's representation of eternal love and sacrifice. This design creates a compelling narrative of life, death, and enduring love.
Jesus and Virgin Mary with sacred heart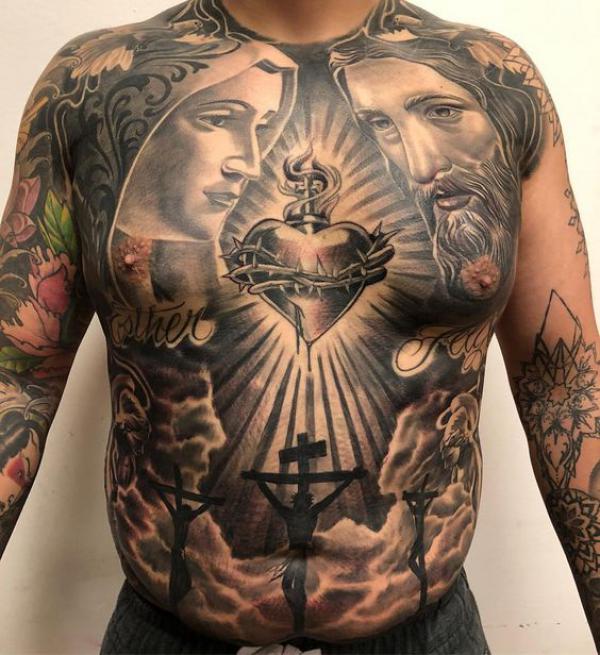 This design brings together two central figures of Christian faith, Jesus and Virgin Mary, with the Sacred Heart in the middle. This tattoo serves as a vivid testament to faith and divine love, capturing the spiritual bond between mother and son, and the compassionate hearts they share.
Jesus with sacred heart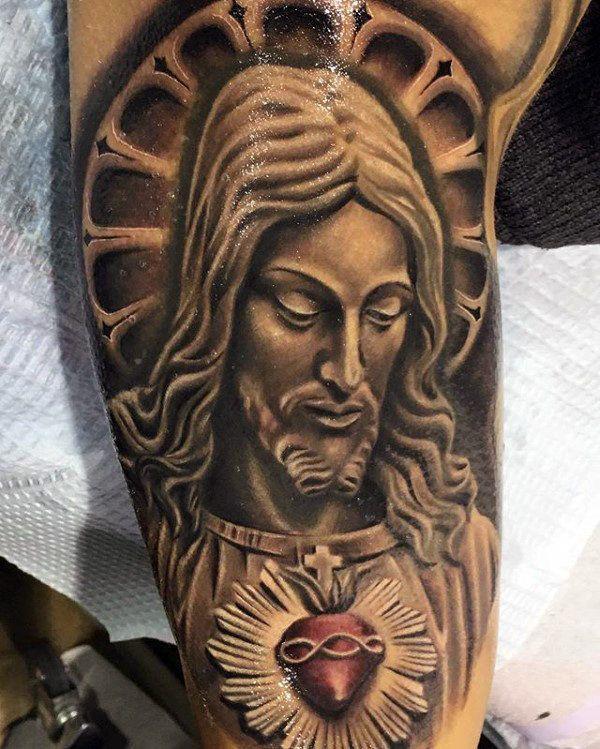 Jesus with the Sacred Heart underscores the essence of redemption and divine love. This design serves as a powerful reminder of Jesus's sacrifice and boundless love for humanity. It's a poignant representation of faith and devotion, a testament to the transformative power of divine compassion.
Lion head and sacred heart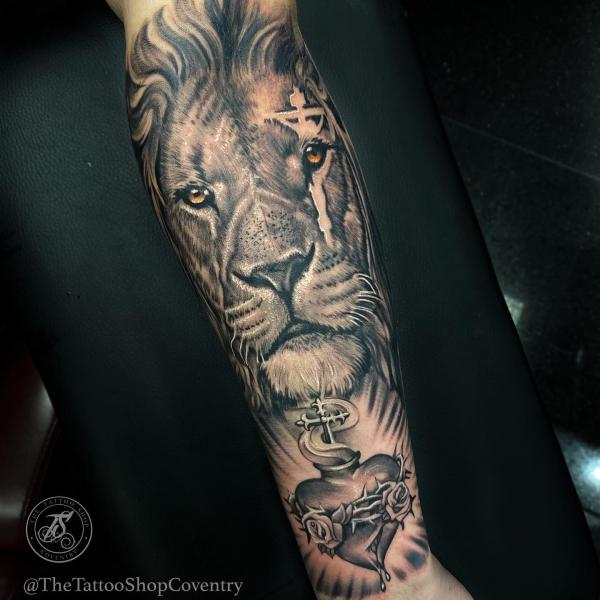 The Lion, a symbol of strength, courage, and royalty, merged with the Sacred Heart creates a compelling narrative. This tattoo design embodies the fierce power of love and the courage it takes to stay compassionate in a harsh world. It's a bold statement of heart-led bravery.
Low back Sacred heart with wings tattoo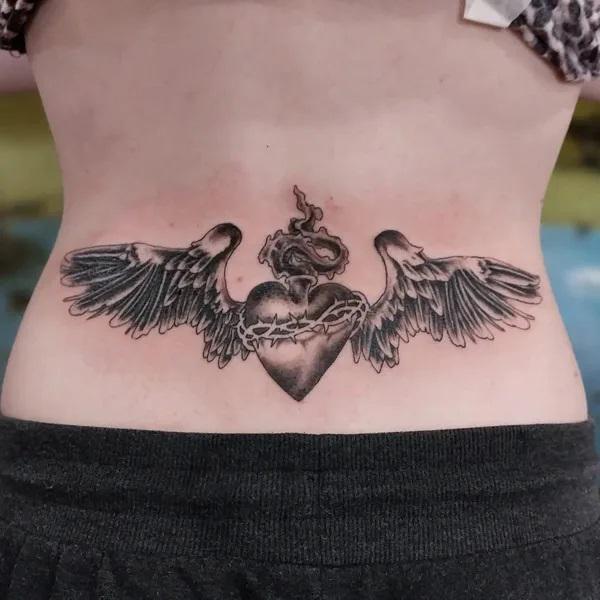 A Sacred Heart with wings design inked on the lower back is a symbol of divine love and freedom. The wings add an element of liberation, suggesting that love is the ultimate freedom. This design, with its captivating imagery, tells a tale of love's transformative power, helping us rise above worldly constraints.
Sacred heart and death moth tattoo on hands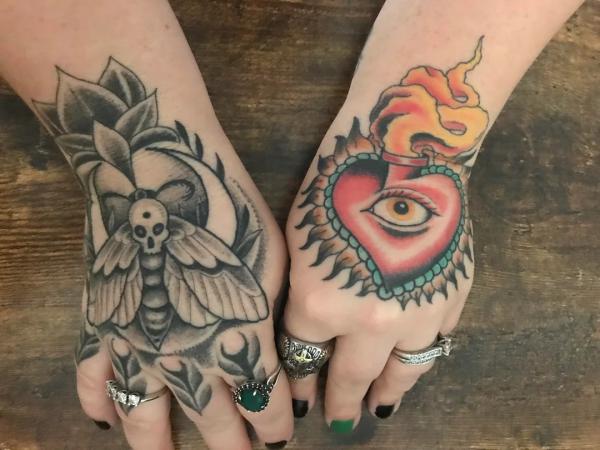 The combination of the Sacred Heart and death moth symbolizes the eternal nature of love, even in the face of mortality. When tattooed on hands, these symbols of life, death, and love serve as a constant reminder of our transient existence and the enduring power of love.
Sacred heart and dove tattoo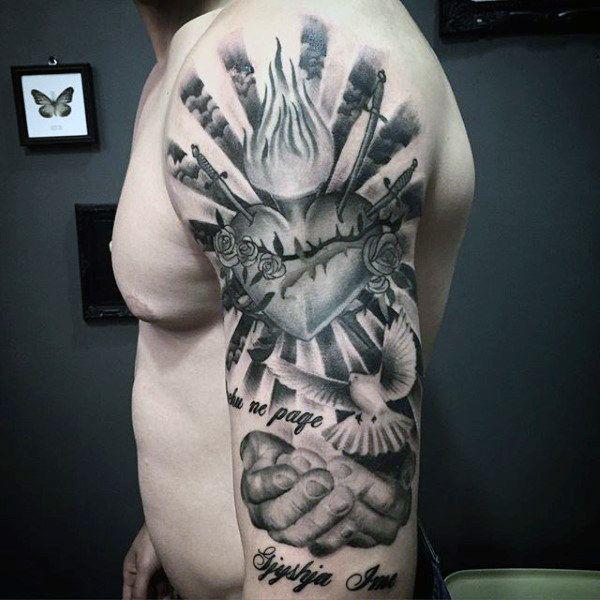 A dove, universally recognized as a symbol of peace, combined with the Sacred Heart, creates a serene and meaningful design. This tattoo embodies the idea that true love brings inner peace, tying together the concepts of divine love and tranquility in a harmonious visual narrative.
Sacred heart and rosary tattoo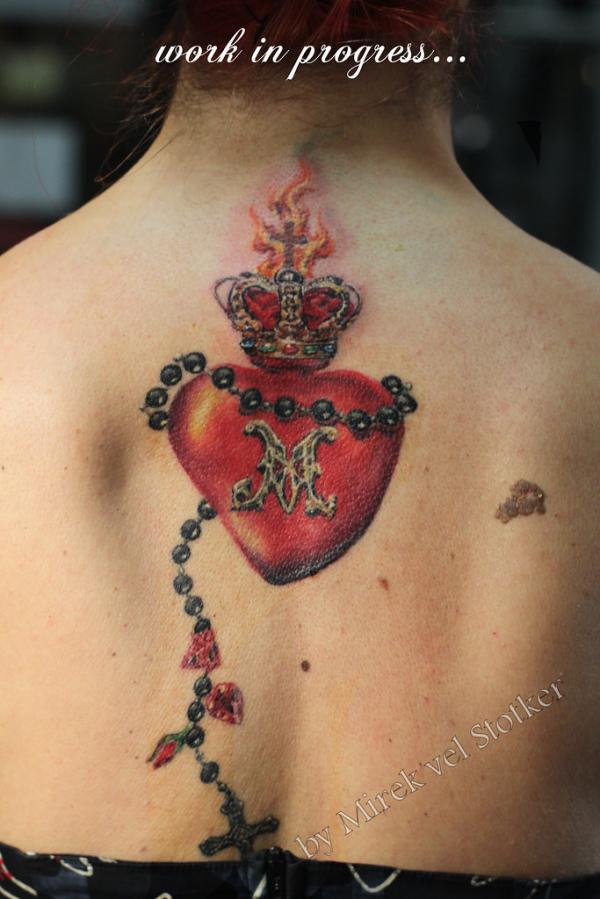 The Sacred Heart combined with a rosary is a powerful symbol of devotion and faith. This tattoo design serves as a personal testament to one's spiritual journey. It's a visual prayer, a reminder of the peace and comfort that comes from a deep, spiritual connection.
Sacred heart and snake tattoo
Pairing a snake, often associated with temptation and transformation, with the Sacred Heart, creates a dynamic narrative. This design can symbolize the struggle between earthly desires and divine love, or the transformative power of love in overcoming temptations.
Sacred heart and tiger head tattoo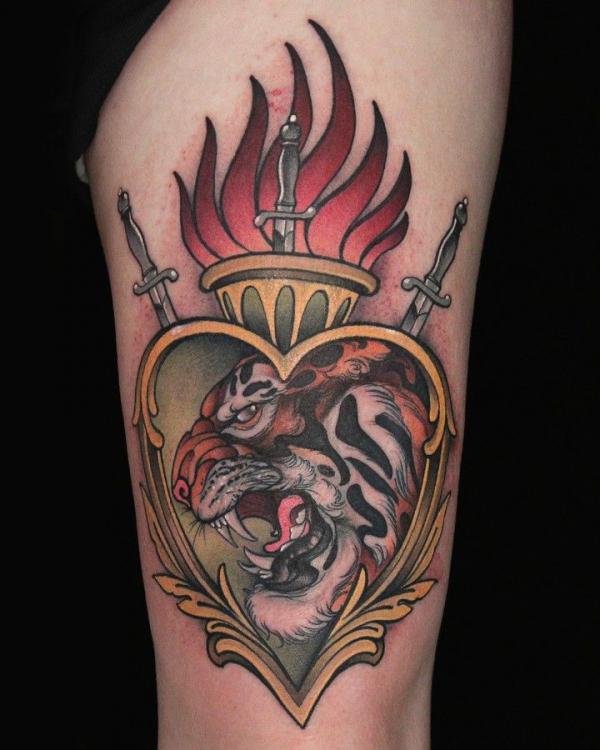 The fusion of a tiger head, a symbol of raw power and passion, with the Sacred Heart creates a visually striking tattoo design. This combination speaks volumes about the fierce nature of love, its strength, and its power to inspire courage and fearlessness.
Getting a tattoo: What to Consider
Before getting sacred heart tattoos, it's important to carefully consider a few key factors:
Placement: Where you choose to get your tattoo can greatly affect the overall look and feel of the design. Popular placements include the chest, upper arm, and forearm.
Size and Detail: The size and level of detail can vary greatly. Consider how much detail you want in your design, and how big you want it to be.
Pain and Healing: It depends on placement. Like any tattoo, a sacred heart tattoo can be painful to get and may take some time to heal. Be sure to talk to your tattoo artist about aftercare and any pain management options.
Caring for Your Sacred Heart Tattoo
Once you've got your tattoo, it's important to take good care of it to ensure it heals properly and retains its vibrant colors and detail. Some tips for caring for your tattoo include:
Keep it clean and dry: Gently wash your tattoo with soap and water and pat dry with a clean paper towel.
Avoid sunlight and water: Protect your tattoo from direct sunlight and avoid soaking it in water, such as when swimming or taking a bath.
Use aftercare products: Your tattoo artist may recommend specific aftercare products to help your tattoo heal properly.
Conclusion
In conclusion, Sacred Heart tattoos are a powerful symbol of love, faith, and devotion. This tattoo design is deeply rooted in Christian beliefs and holds a significant meaning for those who wear it. The Sacred Heart tattoo can be interpreted in different ways and customized to reflect a person's unique experiences and beliefs. Whether inked as a traditional design or a modern twist, the tattoo is a beautiful and meaningful way to express oneself and their faith.