Well-manicured nails not only beautify hands but are also a manifestation of a person's personality. Beauty accessories are not limited to clothes and make up. In fact nail art is gaining popularity around the globe. Women love to flaunt their fresh manicures with interesting designs ranging from simple stripes nail to outrageously odious to classically stunning patterns.
Women from all walks of life are embellishing and enhancing the beauty of their nails. Celebrities like Lady Gaga are famous for styling their nails with different accessories to create most intricate designs. Nail art does not only elevate the beauty of your hand but is a fashion statement in itself.
Some may think that creating nail art is a time consuming job. For beginners, it may take some time but once you ease into it, sky is the limit. Basic fingernail art is actually very easy to do. All you need is persistence and the right set of tools. A fresh manicure makes your hand look great but adding a nail art will make you look chic and stylish.
The practice of nail decoration has been around for some 5000 years. Traditionally, the people of India used henna to give color to their nails. As fashion industry prospered, nail polishes were introduced. Now, you have a huge variety of nail colors are available in the market. From bright shades to lighter subtle tones to loud glittery colors, you can get any shade imaginable.
It is also pertinent that you maintain your nail health. Applying cuticle oil every few days will keep your nails healthy. To maintain your nail art, apply a top coat after you get your nails done. Applying top coat after every few days gives a fresh look to your nails and also keeps your nail art protected from damage.
Initially, you will need few basic tools such as good quality nail polish. You can also use nail art pens. To embellish your nails, you can use stickers. Nail art stickers are available in a variety of designs, colors and themes. Some widely popular ones are gem stickers and lace stickers. Nail wraps are also a fun way of decorating your nails. Stencils are a great way of adding different designs to your collection. Once you have your basic supplies, lay them out neatly and start creating!
Stripes are probably one the most simple and classic way of decorating your nails. It gives a sleek and classy look to your personality. You will have the opportunity to create innumerable designs and patterns. You don't require stencils or wraps. Few sharp brushes and nail colors of your choice are all that you would need. With stripes, the probability of repeating same design is minimized and the possibilities are limitless.
In this post we have collected some of the easiest and coolest striped nail art designs to get you started. These are chic, stylish and simple designs that are easy to create even for beginners.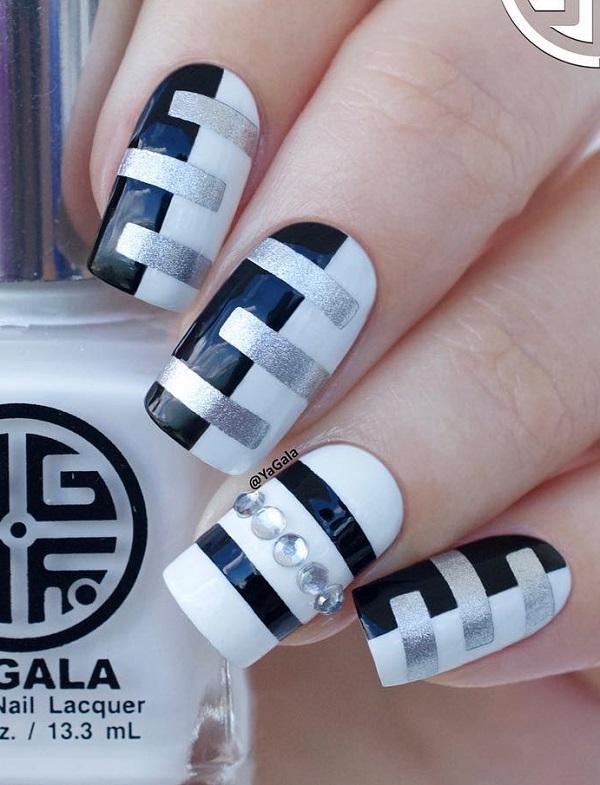 Black and white will never go out of fashion. Make stripes using black and white nail polish and just add a touch of glitter to get ultra modern finish.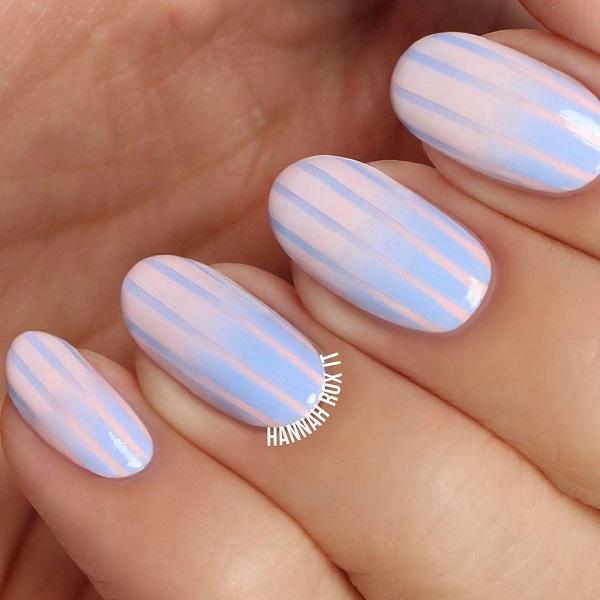 Source
Pastel stripes give a cool look. Subtle and unique combinations like these are modish, trendy and elegant.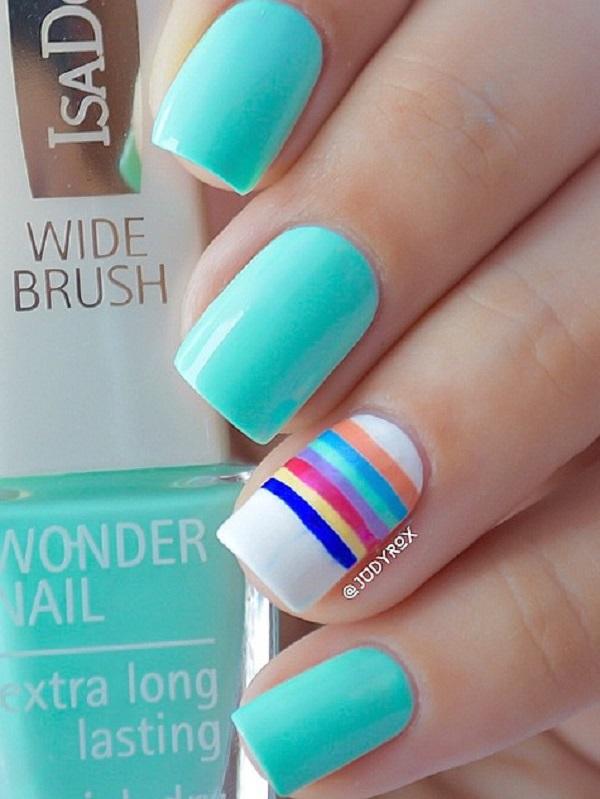 Aqua looks classic and cool especially in summers. Try something different by painting one nail in multi strips while the rest are painted with aqua nail color.
Source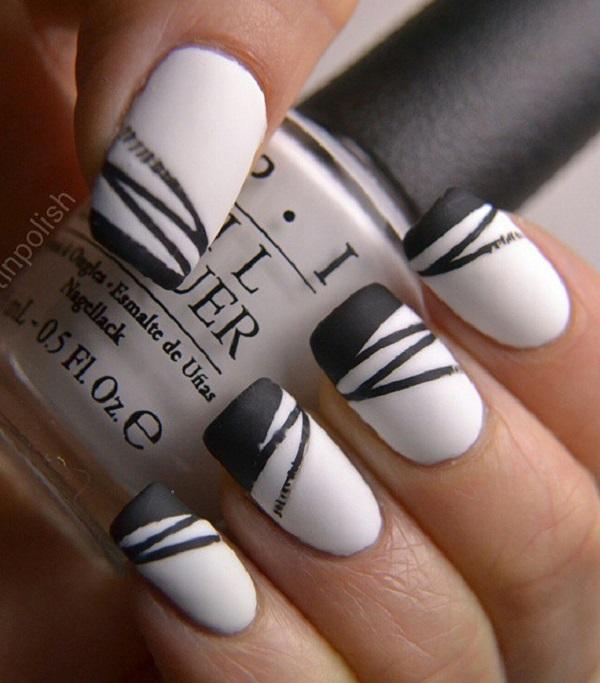 White nail color looks plain and boring. Make a fashion statement by adding black stripes!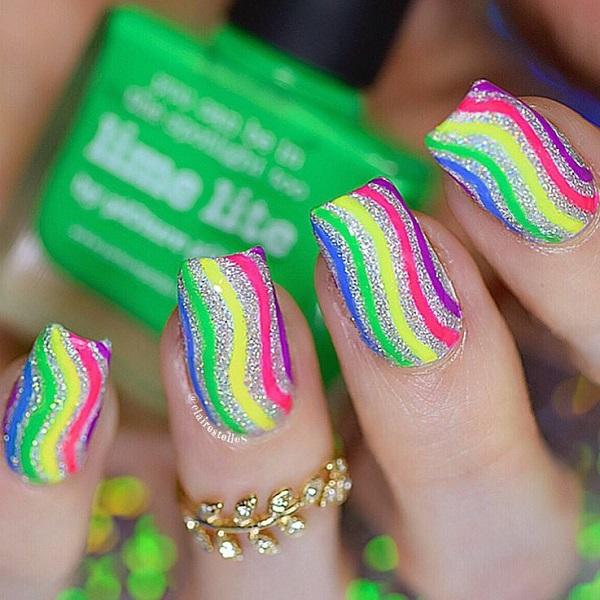 Visit a party wearing glittery nail color with multi-colored stripes. You are bound to stand out. These squiggly lines are easy to make and will go with any informal meet up.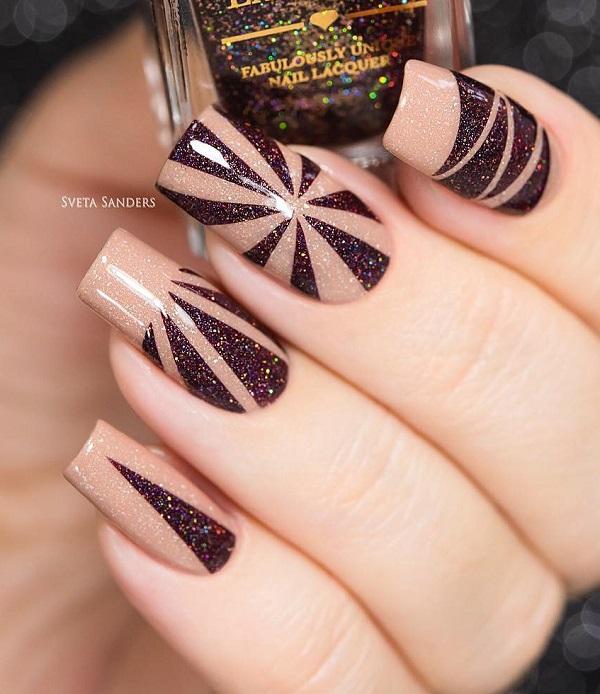 Make patterns with darker shades on beige base. Add different pattern to each nail and the result would be awesome!
Source
Black, white and red are a deadly combination. It makes you look fabulously fashionable and stunningly elegant at the same time.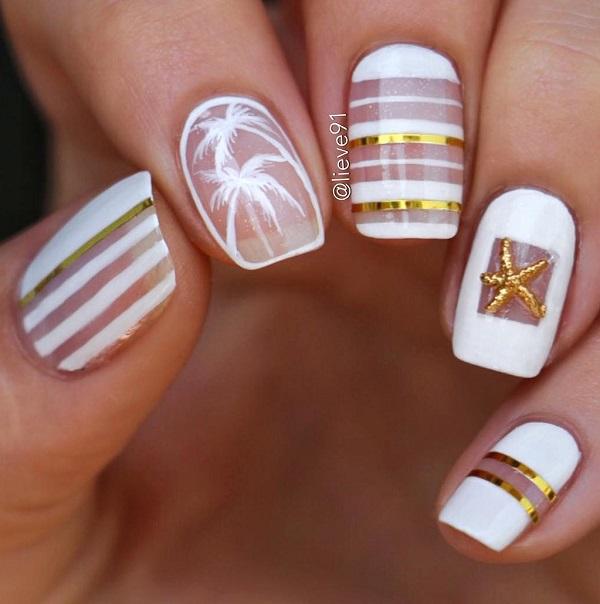 This design was artistically conceived by keeping summers in mind. Palm trees, star fish and the combination of colors remind of cool summer evenings.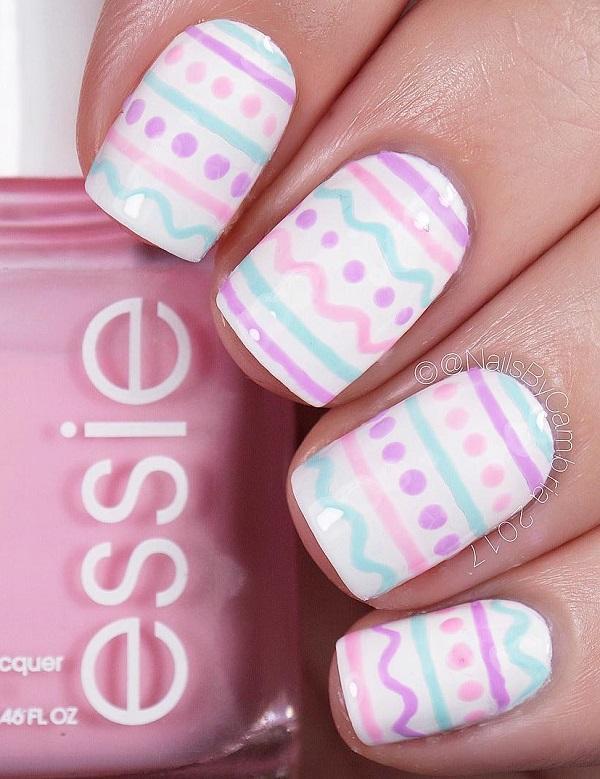 Decorate your nails with Easter colors. These colorful stripes are easy to make and fun to look at.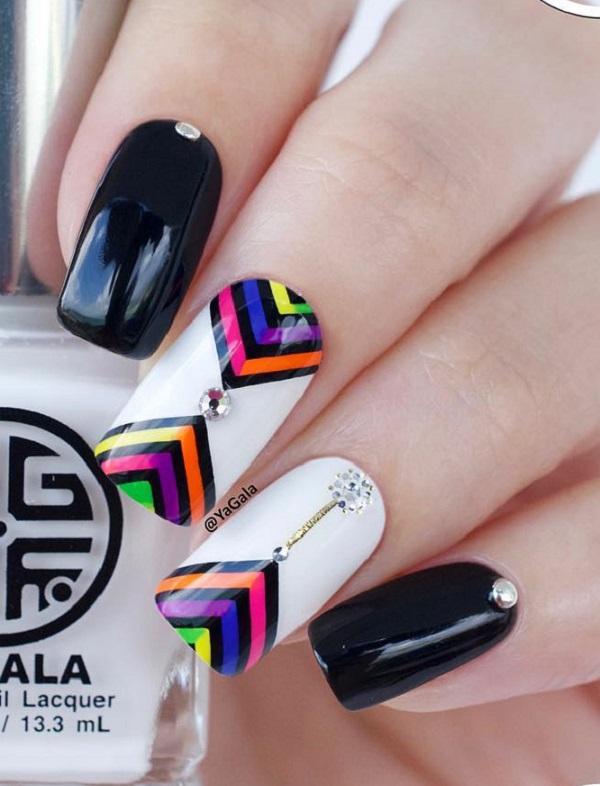 Simplest of designs can create marvels and leave you stunned, like this stripes nail art that looks very posh and swanky.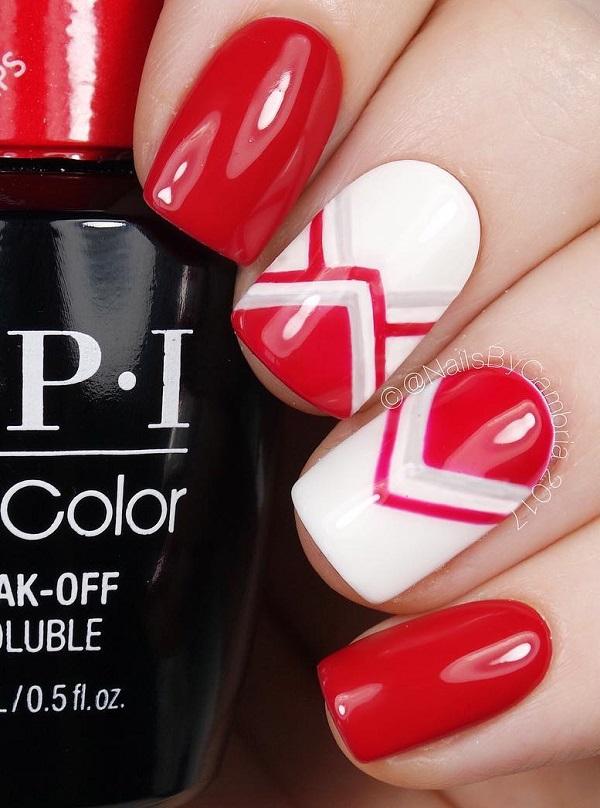 What could be a better way of supporting your team than by wearing your team colors? Beautiful sporty stripes have the power to elevate team spirit.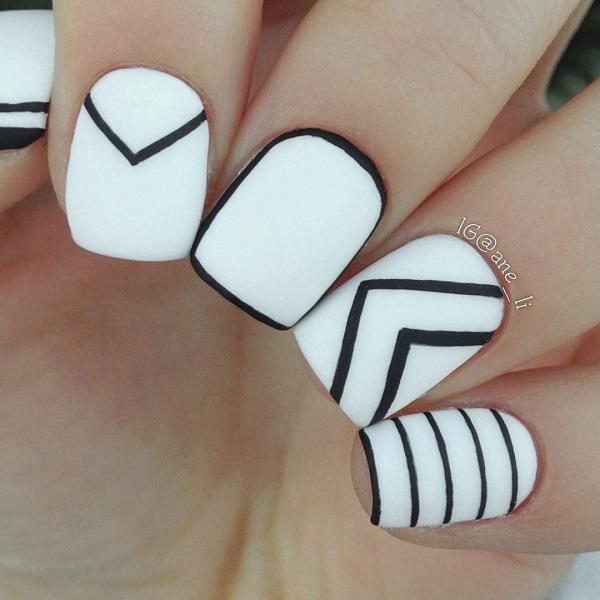 You can never go wrong with black and white. This design creates a mix and match pattern of monochrome nails.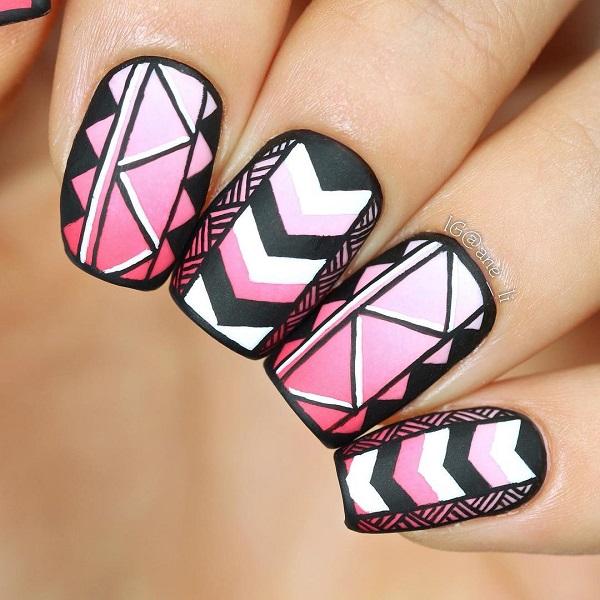 Intricate patterns create unique designs that are sleek and graceful. Subtle pink color has been highlighted beautifully with black nail color.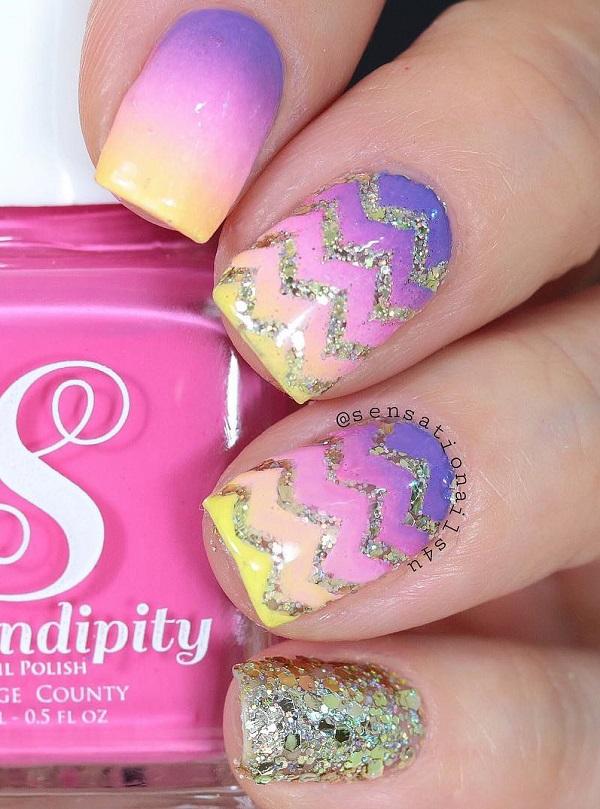 A stunning combination that is guaranteed to lift your mood. Add a sparkle to your day.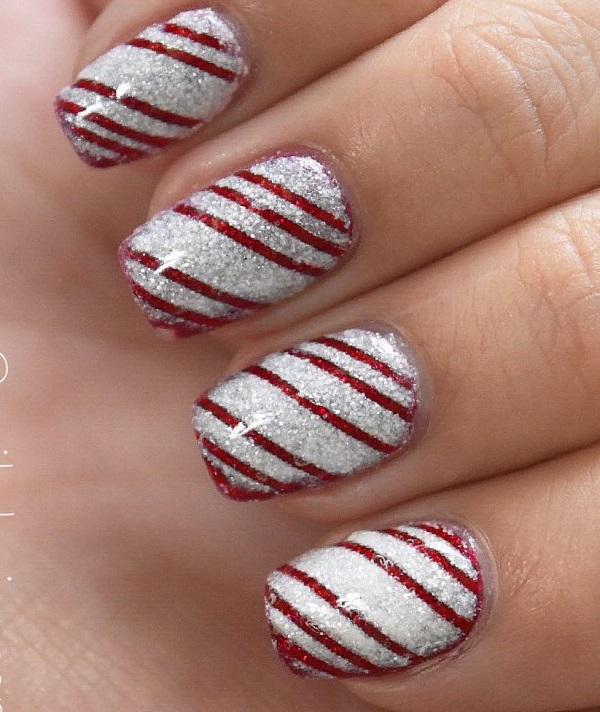 A perfect combination to showcase your holiday spirit. Red stripes have been highlighted beautifully on white base.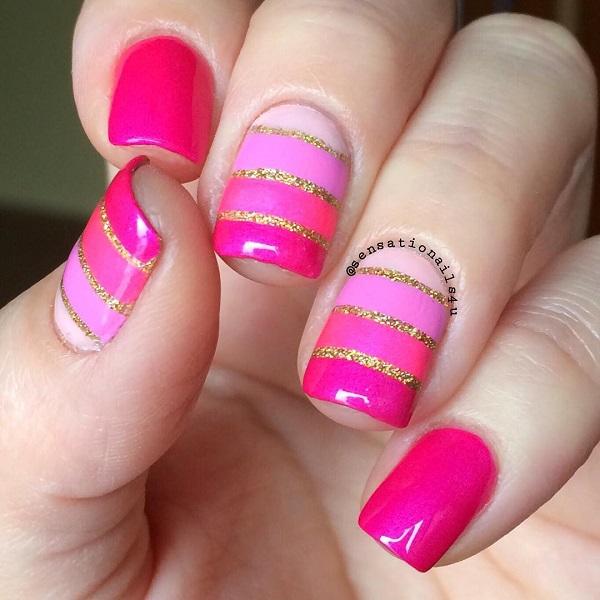 Create alluring contrasts of pink. Divide shades with gold glitter to get a shimmery effect.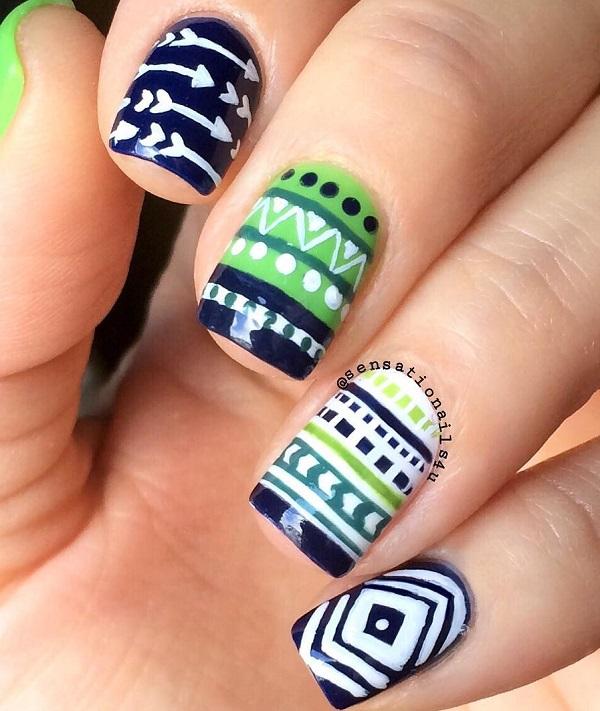 Green and blue are the colors of nature. They are bound to catch everyone's eyes. This native combination is perfect for a casual day out.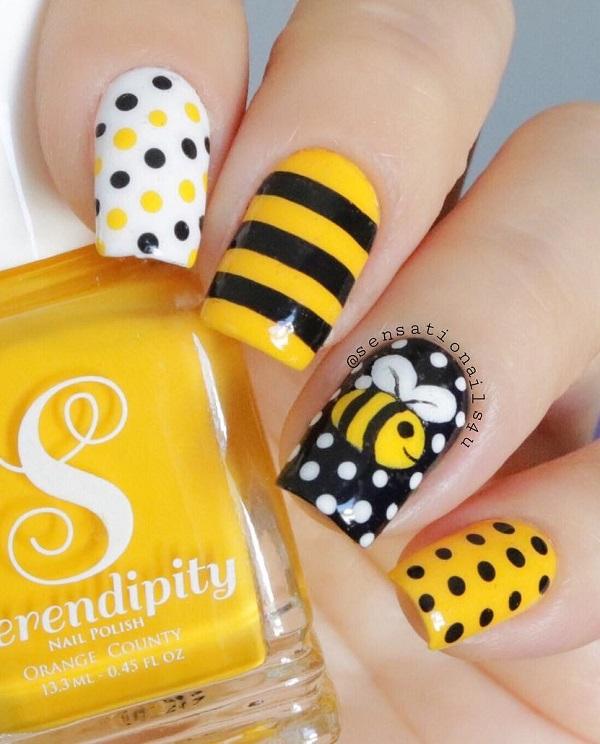 Its a love affair with honey bee. Get swanky and let your imagination loose!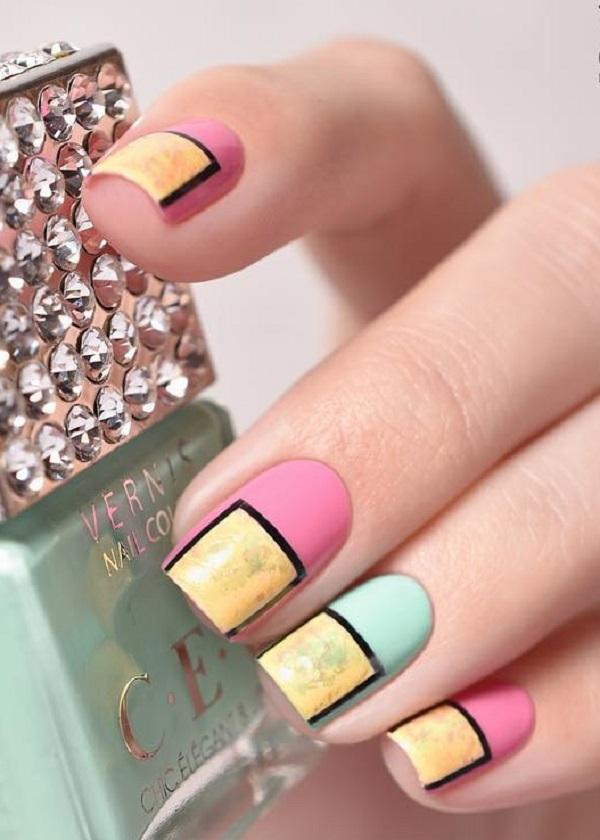 One of the best ways to enhance your perfectly French manicured nails.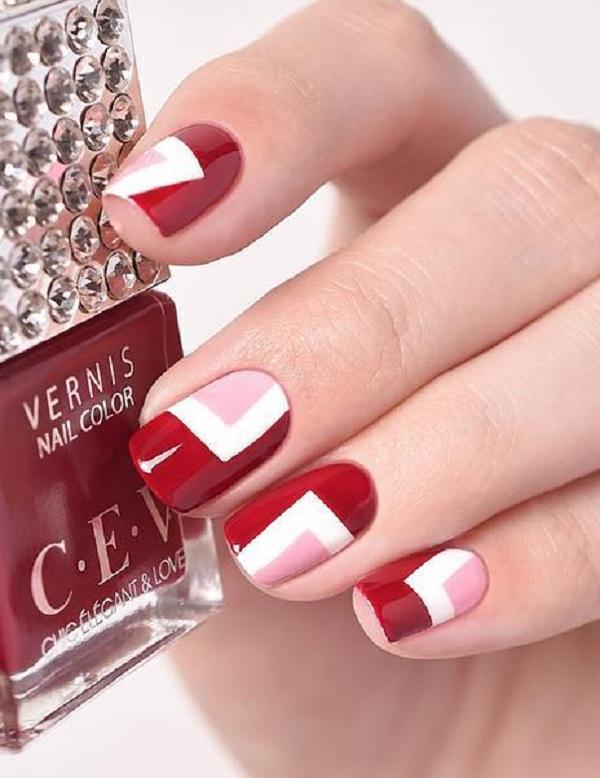 A stunning blood red looks perfect and will make you feel powerful. Forge pink and white corners to get a classy look.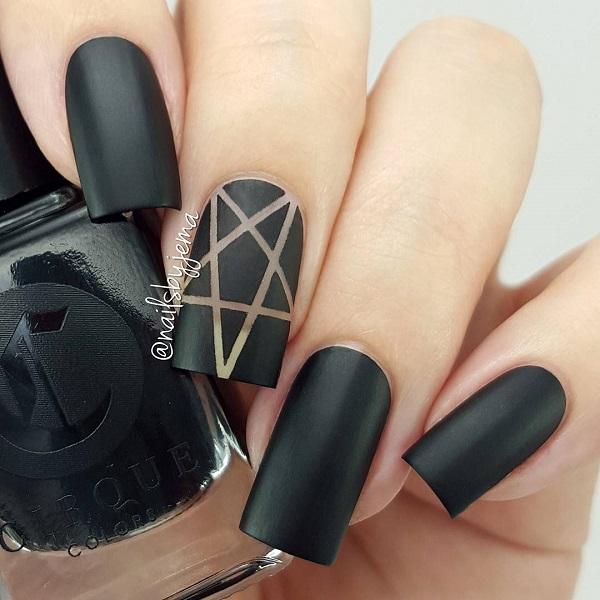 Source
Some may feel that black is a sinister color but this is not true. Black is actually more than a color. It is a sign of power and darkness. Fashion black with creative stripes to get a delicate look.
Love soccer? Showcase your soccer spirit with some amazing and sumptuous designs.
Source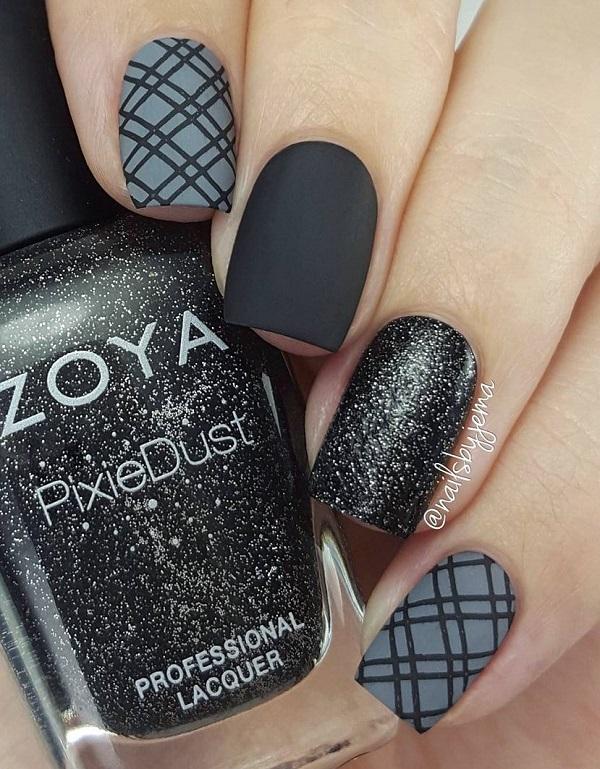 Get monochromatic effect by combining black and grey. Contrive crisp black stripes with the help of thin brush, to get a perfect finish.
Source
A Halloween inspired simple yet elegant theme. Keep it simple and stylish.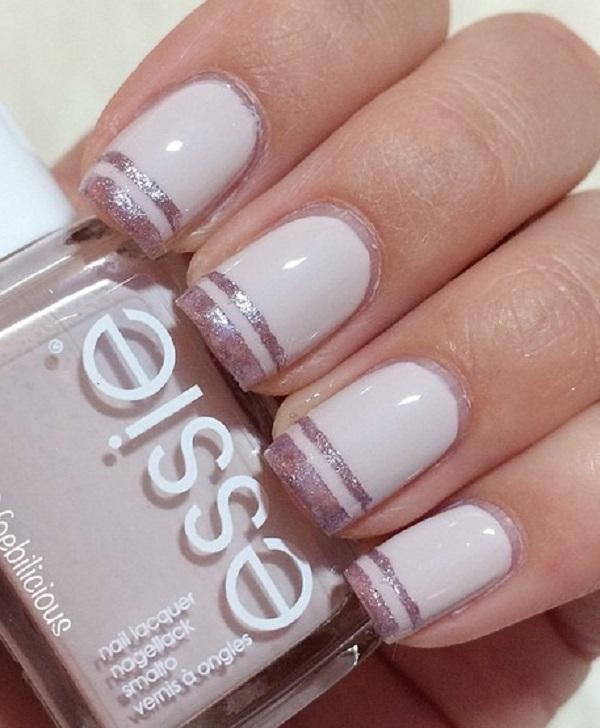 Add a touch of glitter to white polish. This will give you a delicate, chic finish.
Source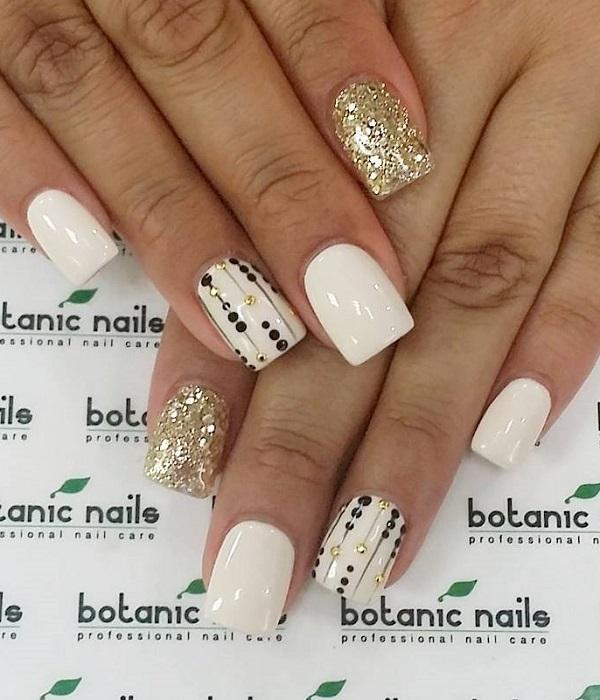 White and gold with a touch of black looks fantastic and go with almost any colored dress. Pamper your nails with this neat design.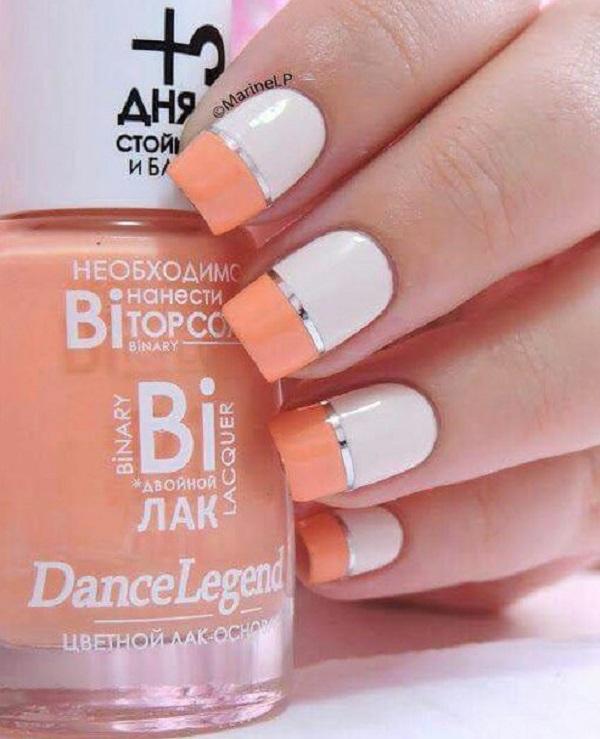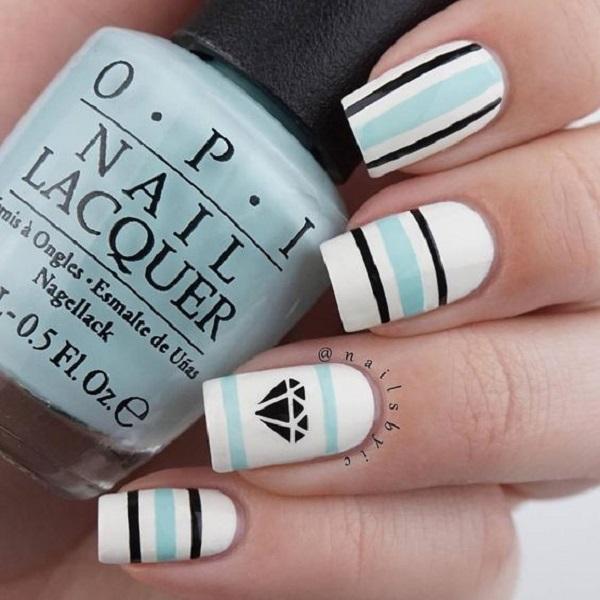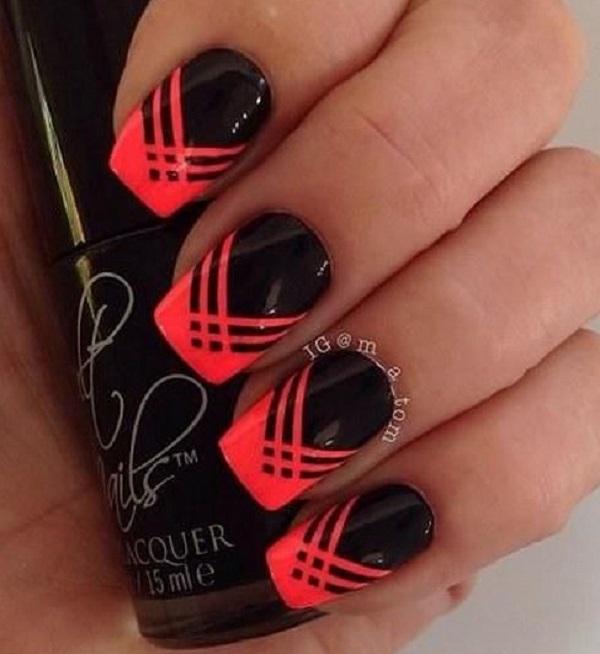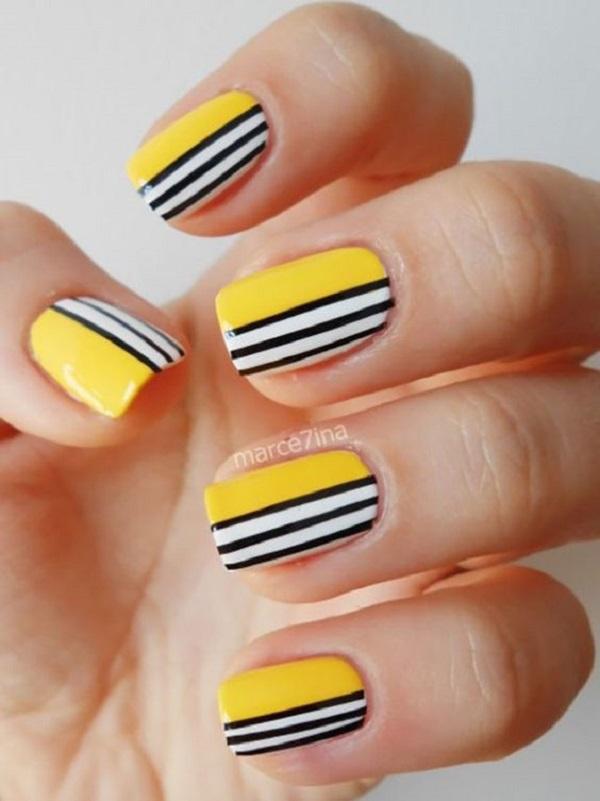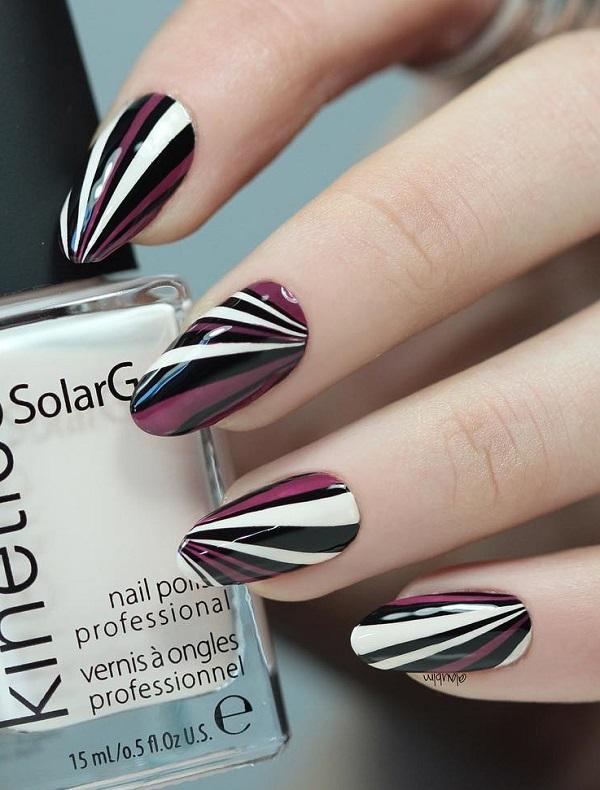 Source
Create abstract stripes with these graceful colors. It's a color combination that will make your hands feel modish and majestic.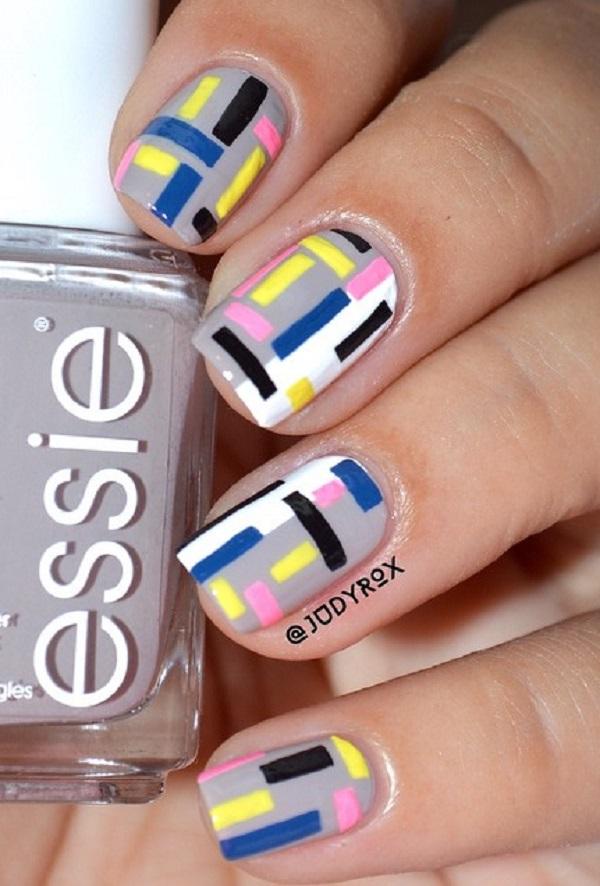 Give your otherwise boring grey nail color a fresher look by putting on colorful stripes.
Source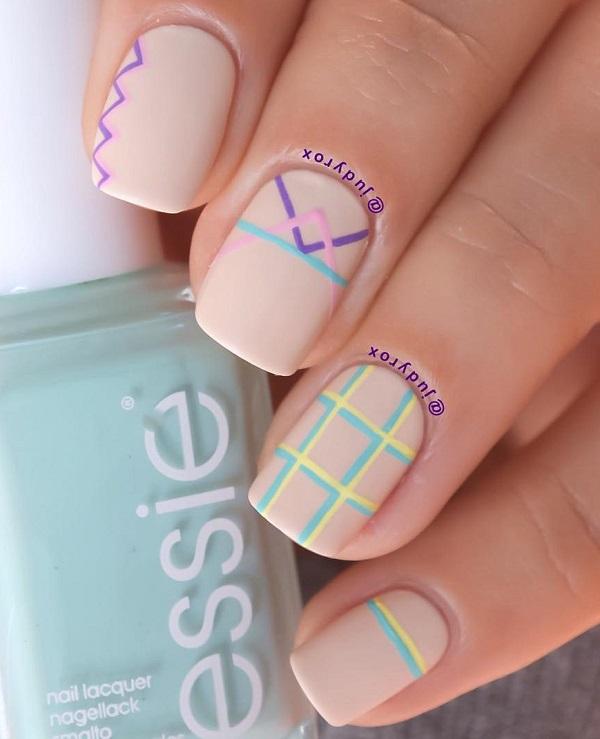 A nude base is best for any design. It elevates every color and goes especially well with lighter colors.
Source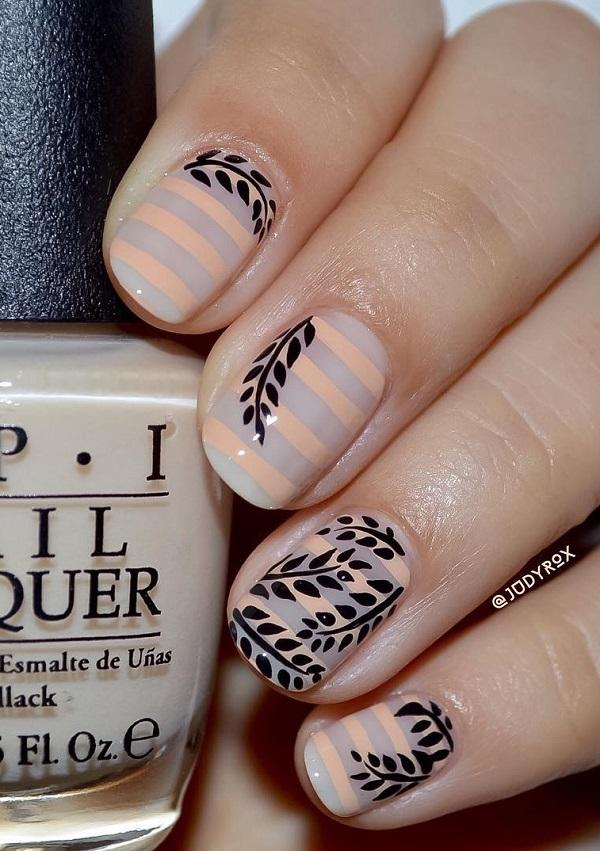 A combination of beige and nude perfectly enhances black leaves. It is a beautiful and creative design that speaks volumes about the artist's originality.
Source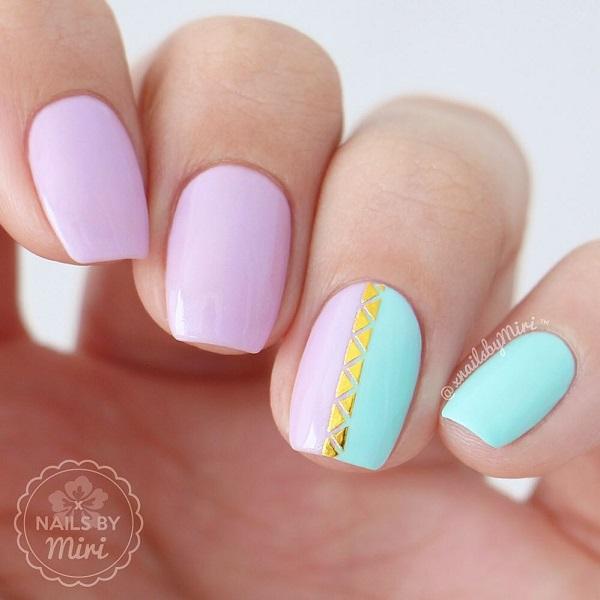 A simple and elegant combination of pink and mint. Put on gold stickers to get an extra touch and neat design.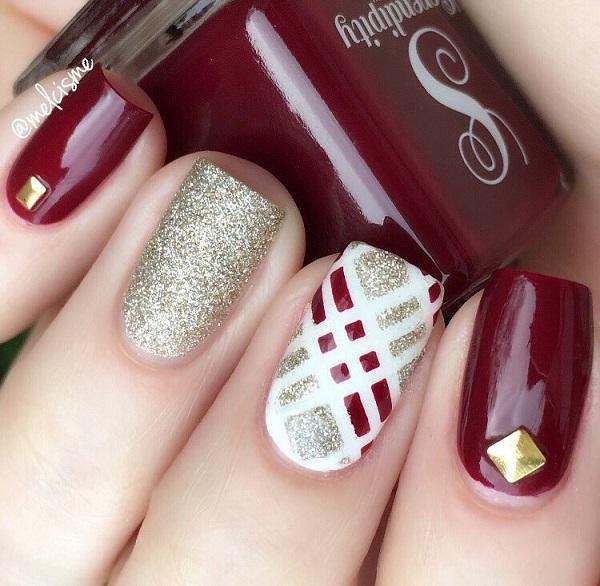 The maroon, white and silver combo with a dash of gold is sure to draw the eyes and awe of many.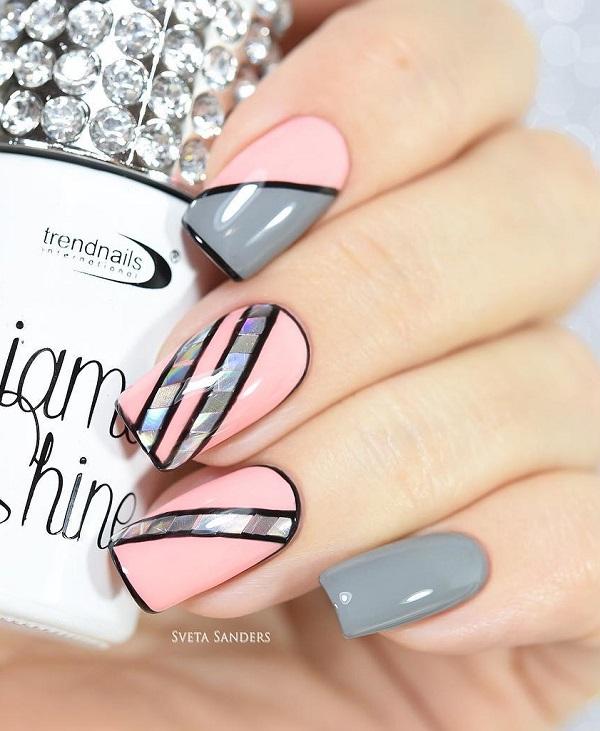 Simple yet elegant. This pink and gray with a black outline polish couples professionalism and beauty, flawlessly.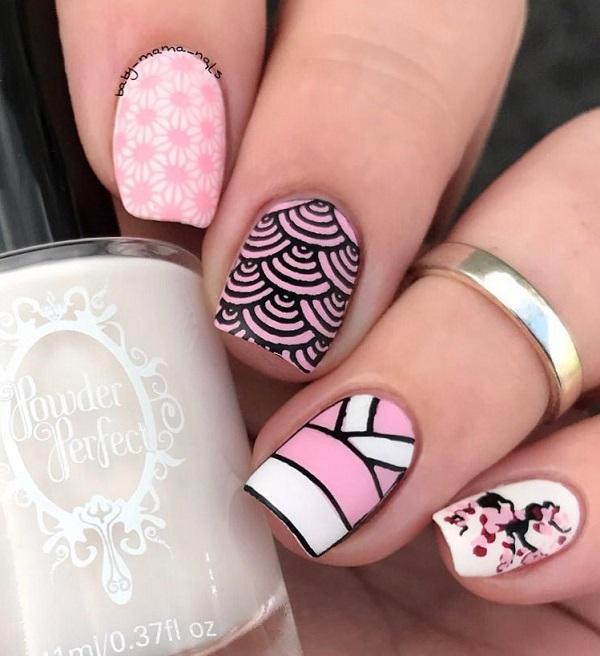 Incorporation of the Japanese art with classic stampers gives these nails an artistic look.
Source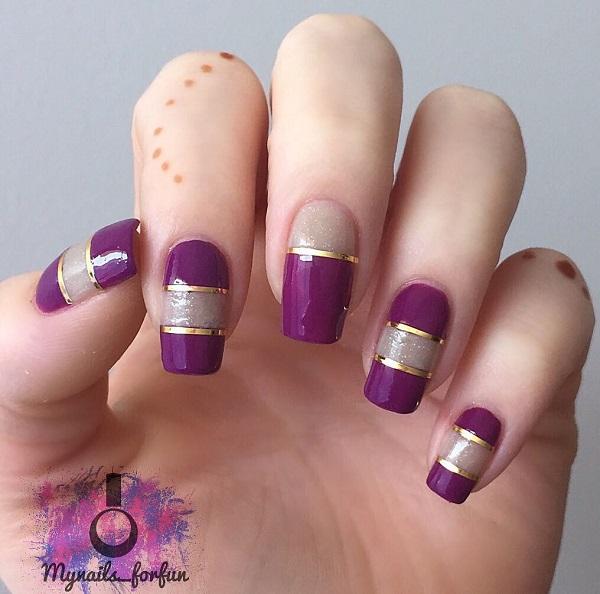 The beauty of simplicity never ceases to amaze. The purple and silver with gold lining is a perfect example.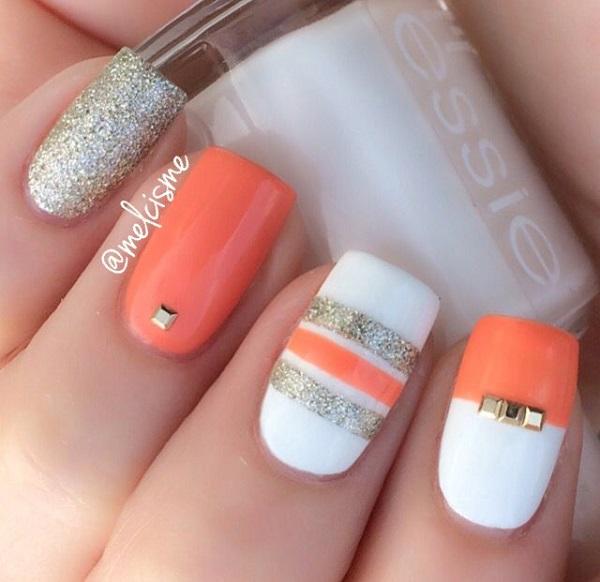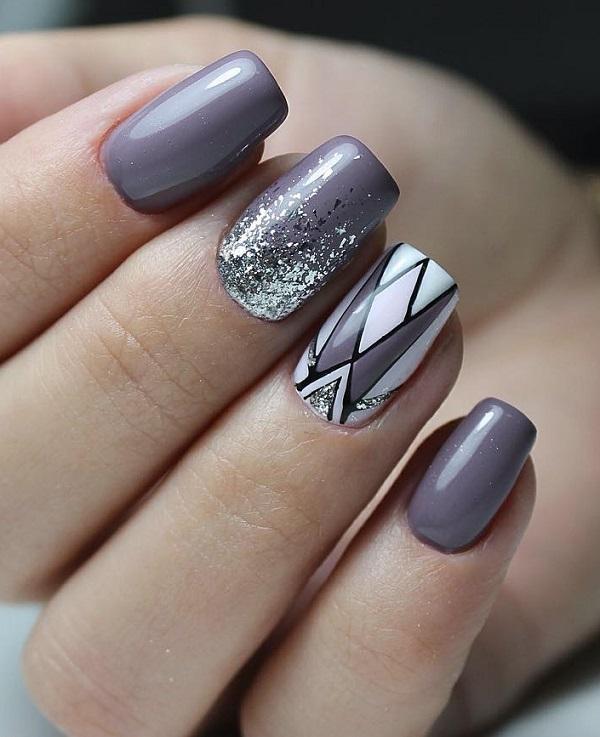 Gray, white and black in full, shapes and abstract. Awe-inspiring.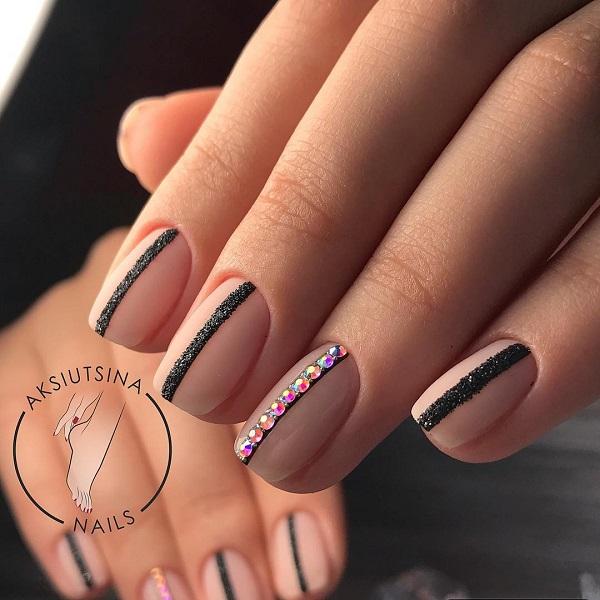 This delicate and exquisite design combines pink and simmering black. To add glamour put on some gem stones.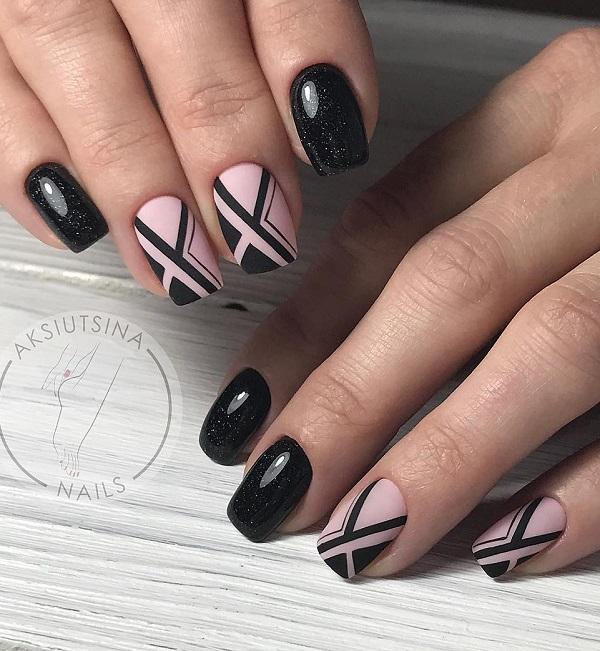 Using geometry to create beauty is a truly unique idea. This black and pink combo does not disappoint.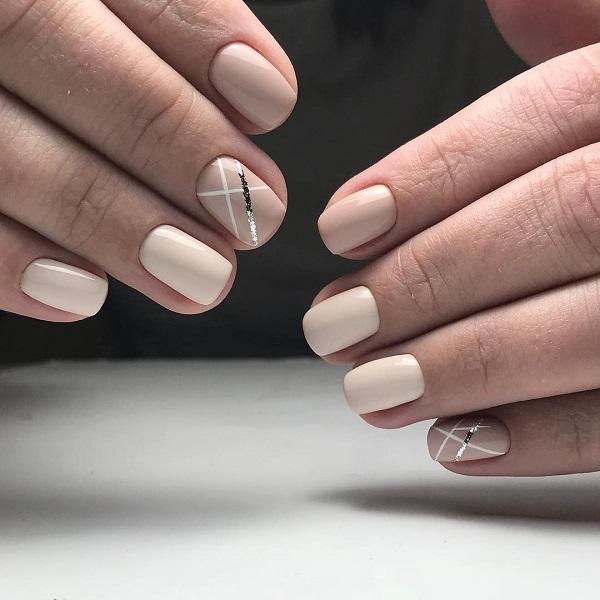 Basics are always the foundation for perfection. This modest peach and white polish is a throwback to the good old days.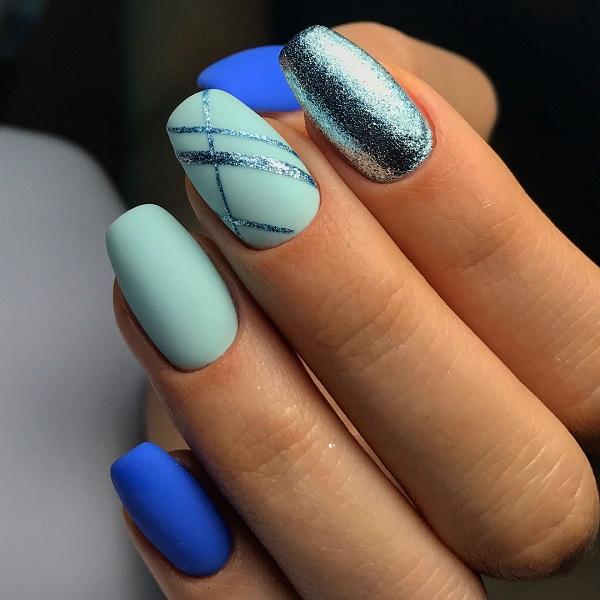 A good foundation can lead to an outstanding structure.
The underlying matte aqua and blue combined with a simple artistic design is a great show of beauty.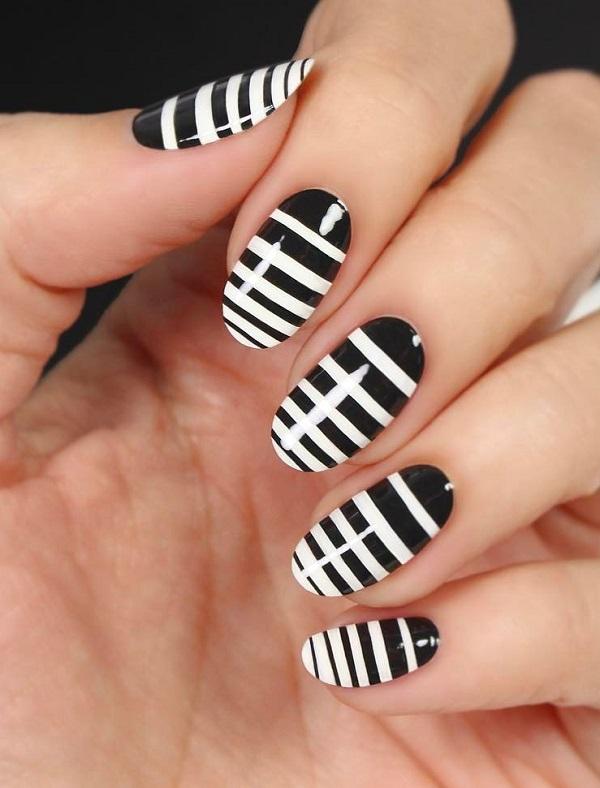 Who says monochromatic is dull? This black and white bar design is sure to prove them wrong.
Source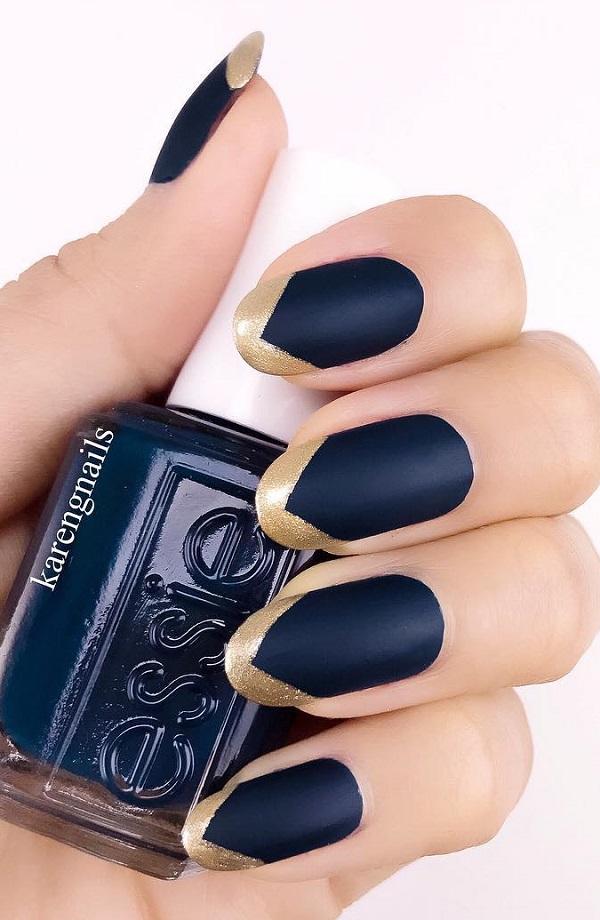 Get perfect matte finish with royal blue and gold. Keep it simple. Keep it light!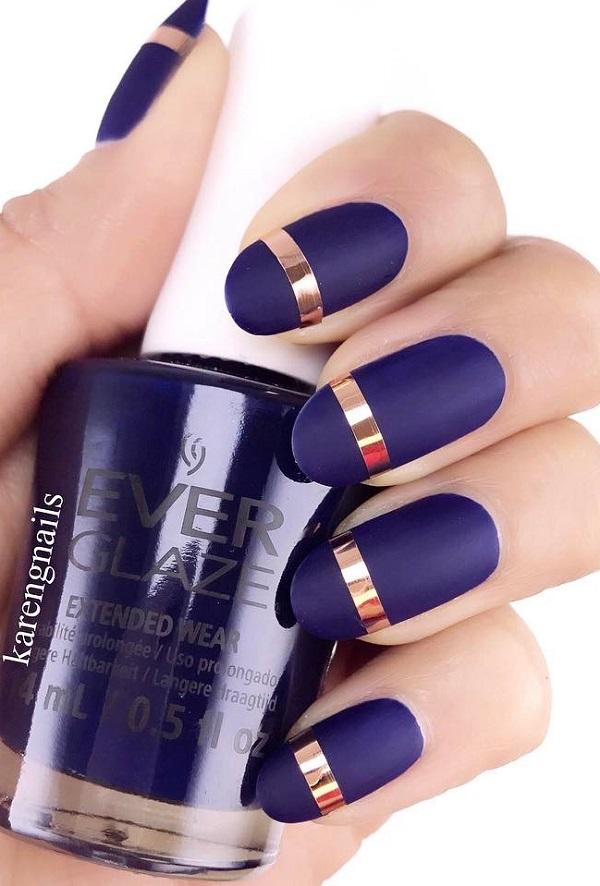 Rose gold and purple is a deadly combination.A purple base with a touch of rose gold stripe looks delicate and refined.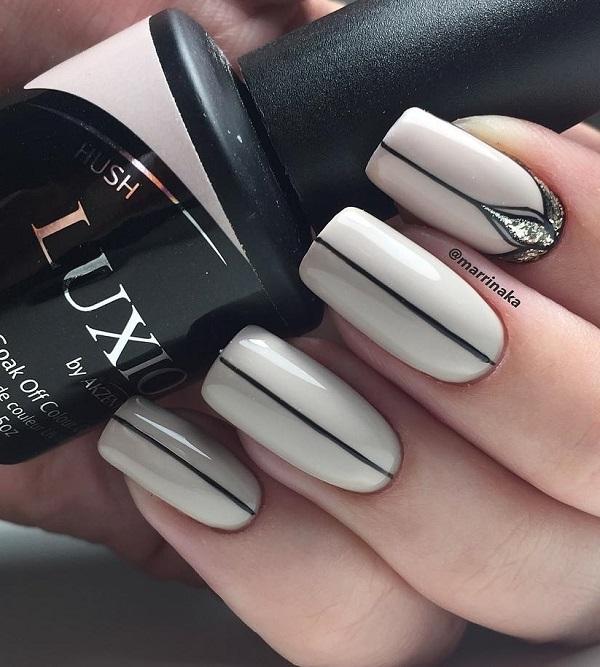 Nude base with a touch of black lines. This is a simple design that is perfect for beginners and good for those who are running late. You don't need to compromise on your looks. Just create something simple like this!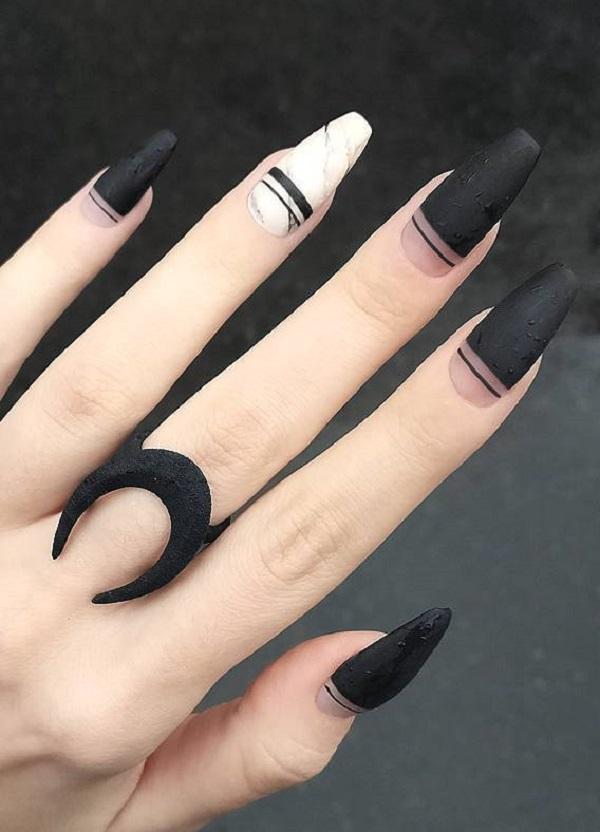 A sinister black design with a touch of white. Black is more than a color!
Source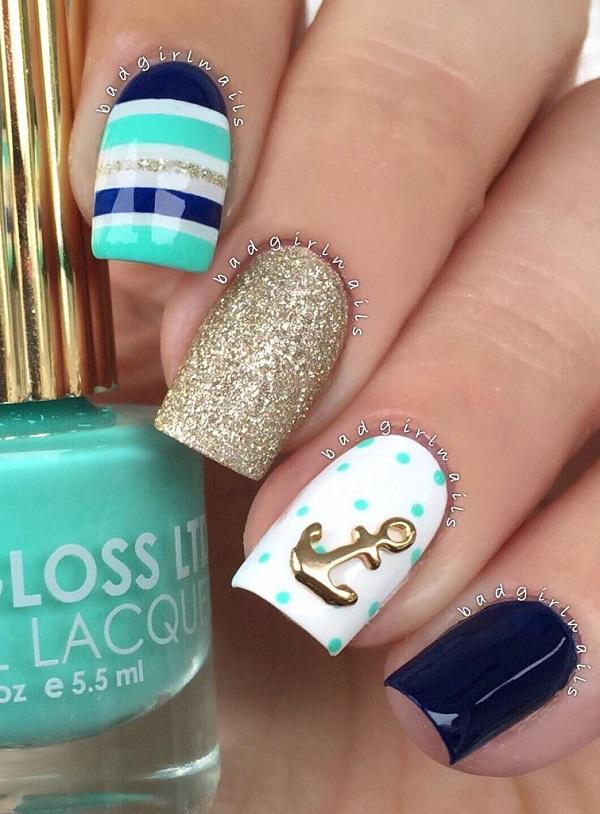 Go nautical! Use shades of teal blue and white to create sensational patterns.
In love with stripes? Here is another super fine combination to keep you going!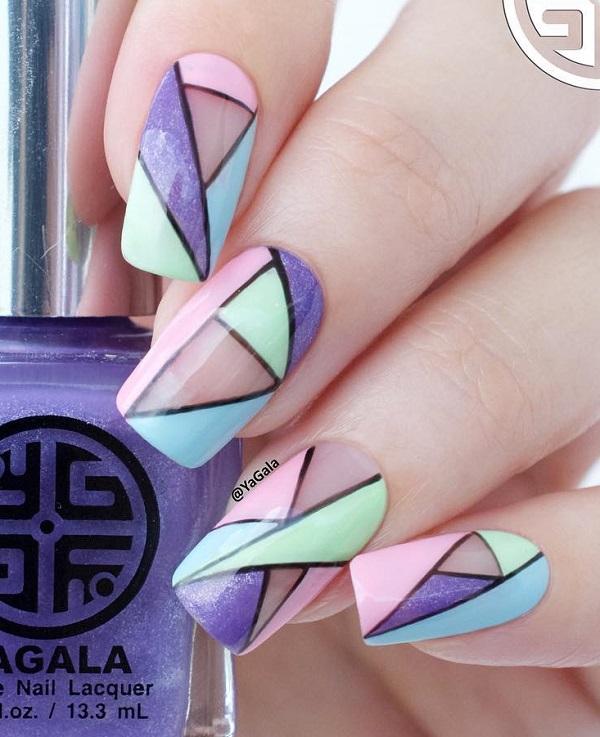 Geometric designs and nail art are a perfect combination. Improvise geometric shapes with different colors. Enhance edges with black nail color.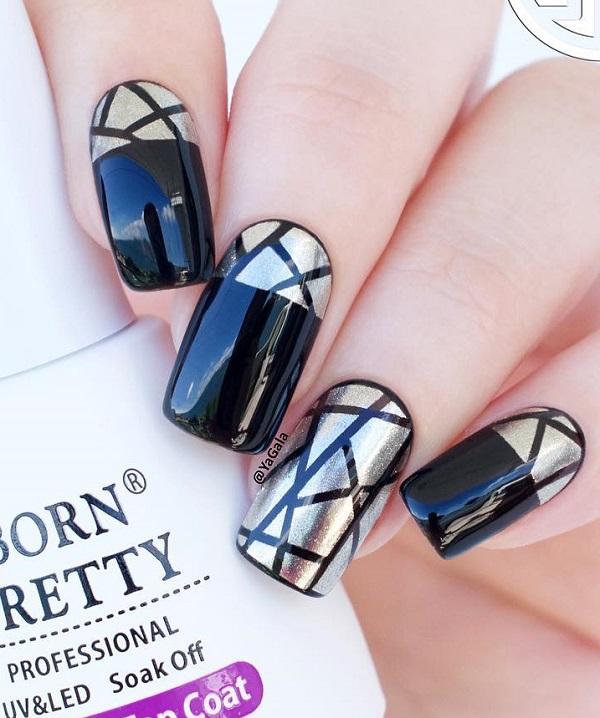 Combine black and gold in delicate pattern. You can get mirror effect by putting on a top coat on your base design.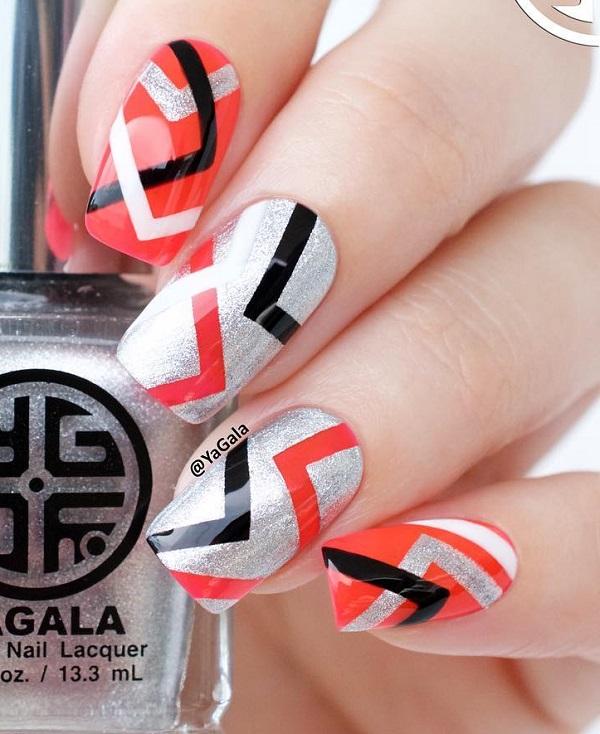 Forge stripes with black red white and silver. Put on a top coat to get perfect finish and make your design last longer.