The Greatest Feeling of All
Nothing could beat the feeling of staying at home. It's the place that makes you safe. It's the place where you can be who you are without limitations. You can simply wear your pajamas all day long and no one would judge you. Unless you have neighbors beyond your wall, you can sing all you want. You can have you own party and have fun. Even if your a great extrovert, home would always be the place you would end up in at the end of the day. But then we have work and we need to get out of the house for whatever appointments we need to do outside. It's fine. It's actually needed. But when you would get tired of having to work back and forth, think about ideas of working at home office that you never have the relaxation.
However, some people have the luxury to be able to stay at home most of the time. There are usually no schedules to follow; wake up anytime you want, eat anytime you want; watch TV or Netflix at some periods of the day. Mind you, they can do all that while still working and earning money to be able to pay the pills and even have some extra for guilty pleasures. Some careers doesn't need workplaces and even dealing with office mates personally. Being a writer is one or perhaps an online freelancer. They get to stay at home for the duration of their work.
When you know someone who has this kind of career, you would often see a part of their homes that they have transformed into a home office. Of course even if they are simply staying at home, they still need a proper place to work and have privacy especially when there are already kids in the house. It's like an upgraded version of that study table when you were still in school. Now however, it's a place you often revere as the place where you can get to live your life doing the job you love.
Transform your Home
Now how do you transform your home into the perfect place where you can live and work?
If you have a spare room, the task is easy. Create the place that you have in mind that will let you work with ease and comfort. If there aren't any rooms but there is a space in say, your bedroom, you could be able to transform it as your personal space for work. If you have basements or attics, these are perfect places to redecorate and build as your own home office. It's far from noise and interruptions while you can still travel to the kitchen or the living room in no time.
If you're having a hard time thinking of the ways you can transform these spaces in your home to an office, here are a few ideas to spark up your imagination.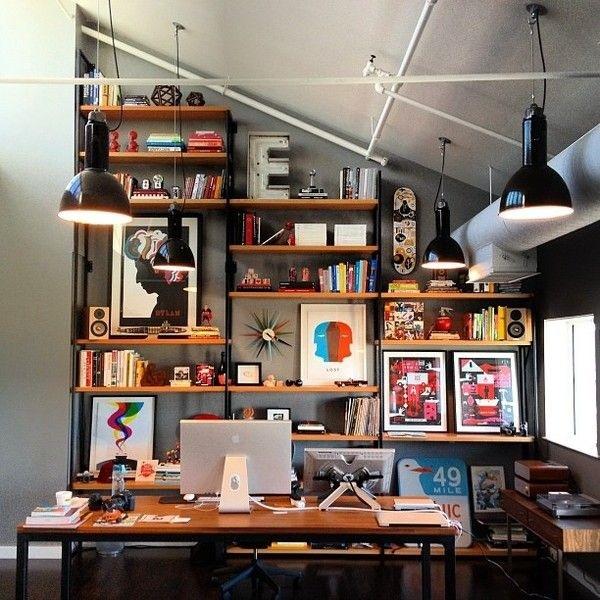 You can recreate this urban-electric decor design for your attic or basement or even a spare room. You can place all of your loved collections of pictures and books and other stuff in a cool shelf.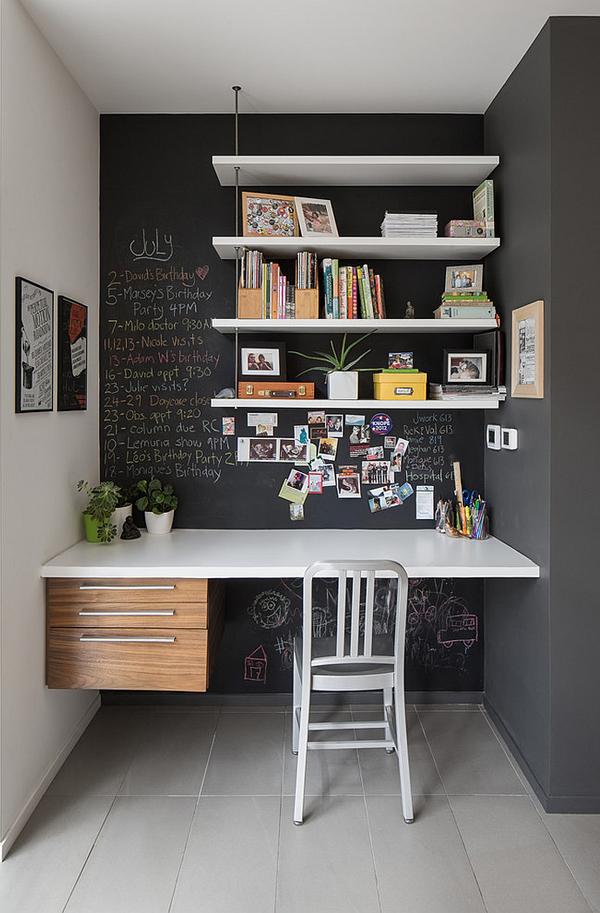 This cozy nook is what you really need when you always have tons of reminders. The wall is made of chalkboard so you can write the stuff you need to remember. Plus you can draw your own wall design whenever you want to.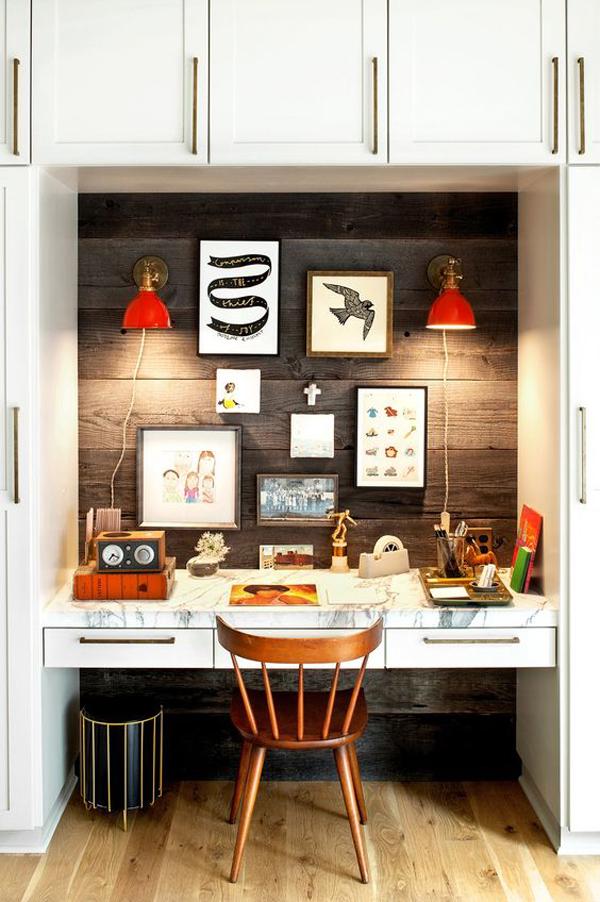 It doesn't mean that you only have that little space for your home office, you're going to let it sit dull and boring. Bring the place alive with decorations like your kid's drawings, some pictures, stuff you collected and of course, a cool lamp to brighten up the place.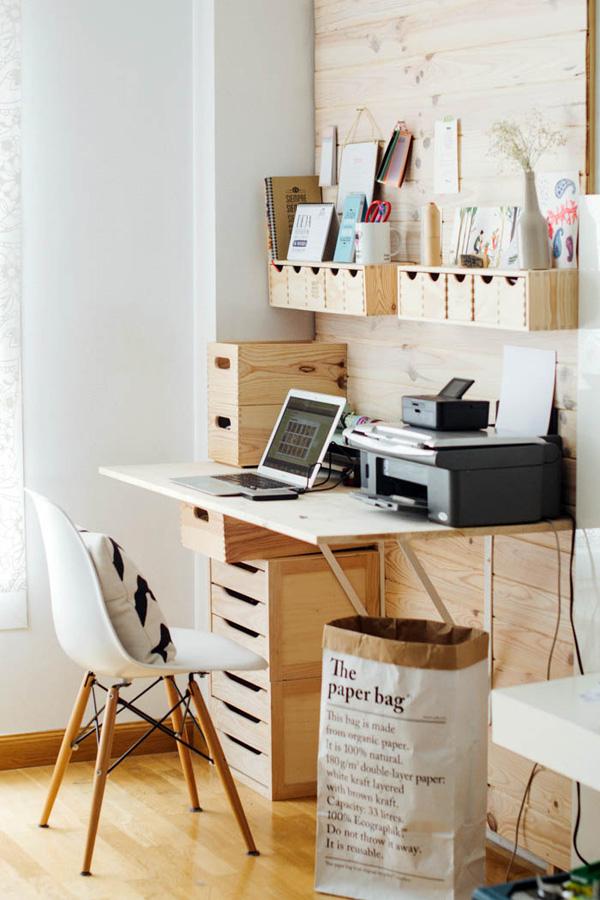 Organize all your stuff with mini shelves and drawers where you can put some important paperwork or the things you usually lose. A wooden theme would be refreshing to the eyes and can help you relax while you work.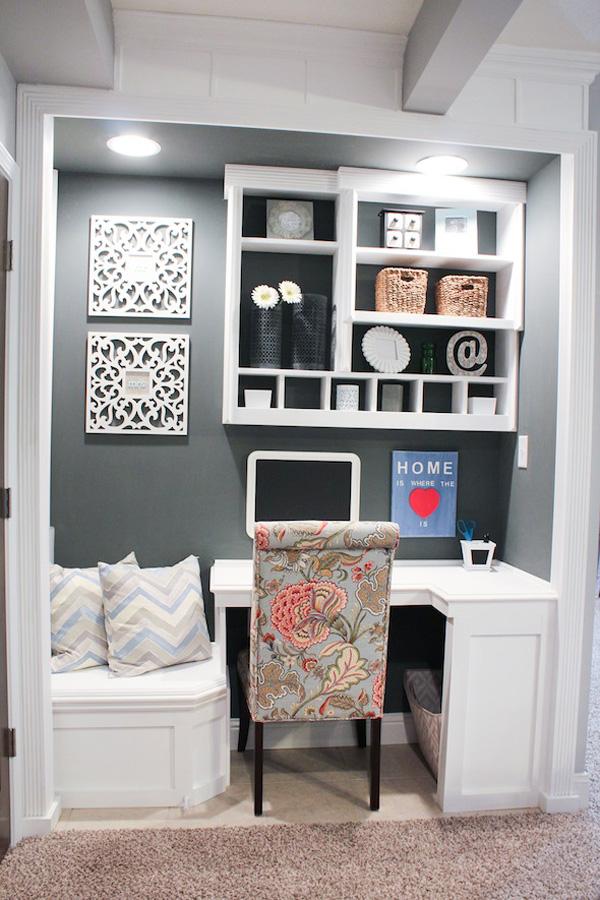 Now this home-office nook is what you can really call as both comfortable and refreshing. It's simple and yet elegant. You can do some clear thinking in here so it would be easier for you to work.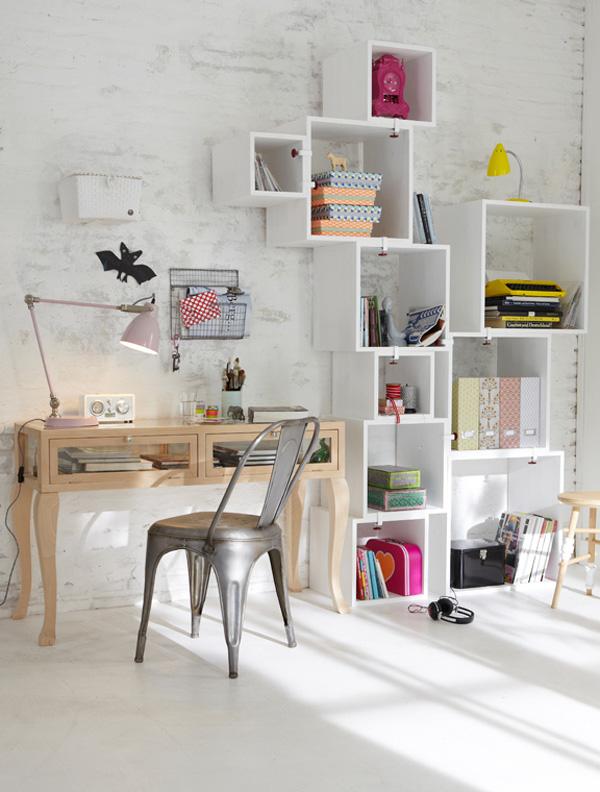 This chic and sassy interior design is what bloggers might need. It would give them inspiration with their work and they can show off their skills in creating a great place to work.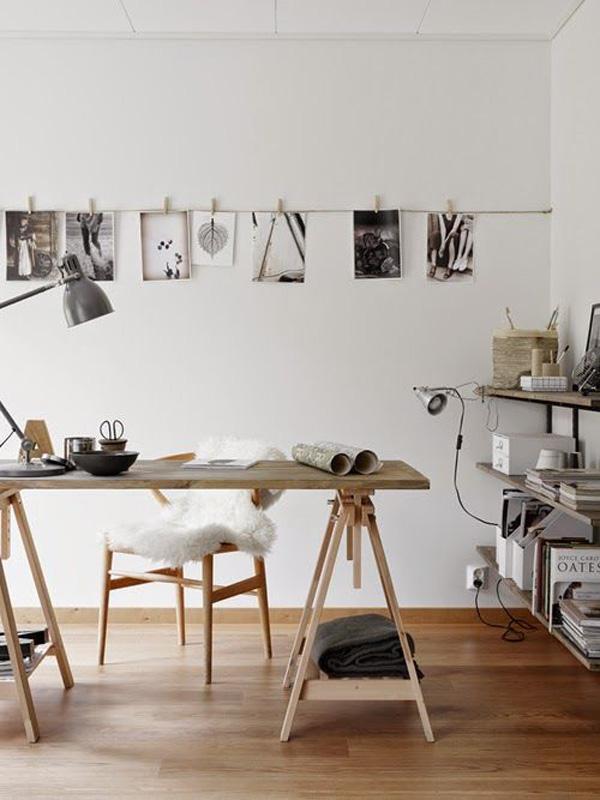 For everyone who loves photography, this is a perfect home-office idea that doesn't need a lot of decoration. Just some of your own shots, a perfect spot where there is sufficient light in the morning and cool lamps to help you when working at night.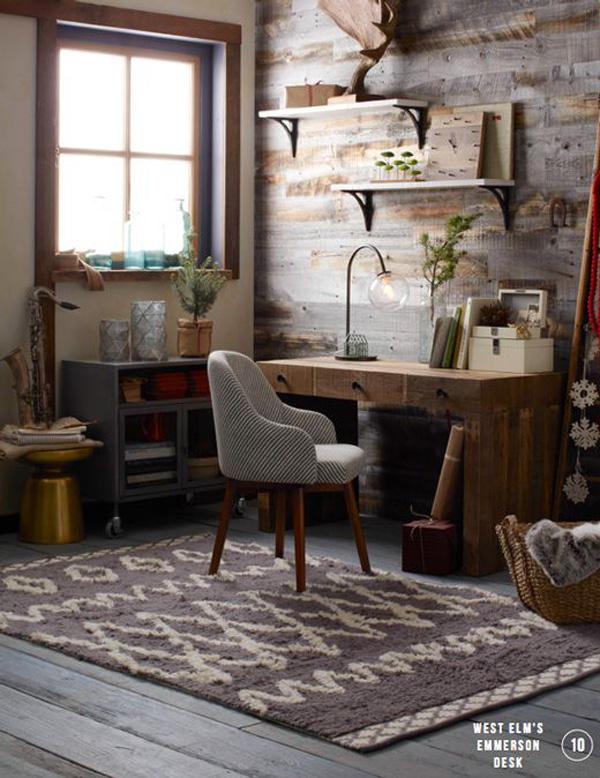 Plants are said to help improve the atmosphere in the place. Having some little plants in your workplace could help you relax and be more productive for your work.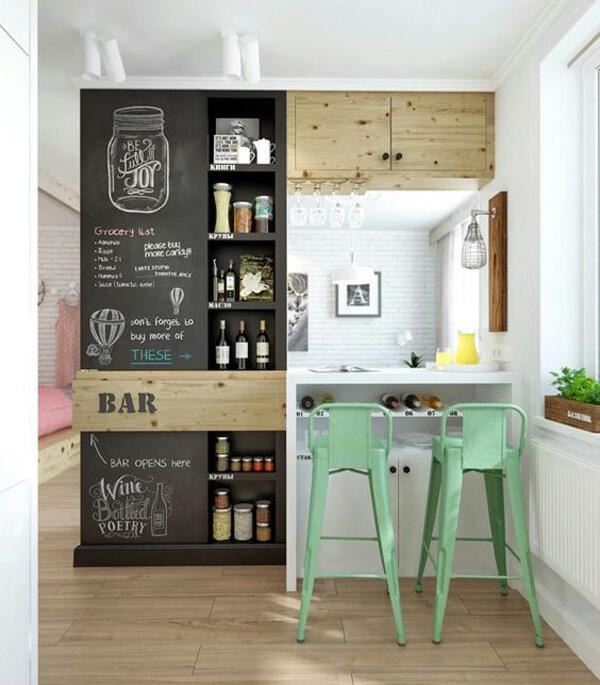 At first glance, it may be a little bar. But it could be more than that and become your personal work space. You have easy access to drinks so when your work gets a bit stressful, you can grab the best chardonnay you have and take a moment to chill.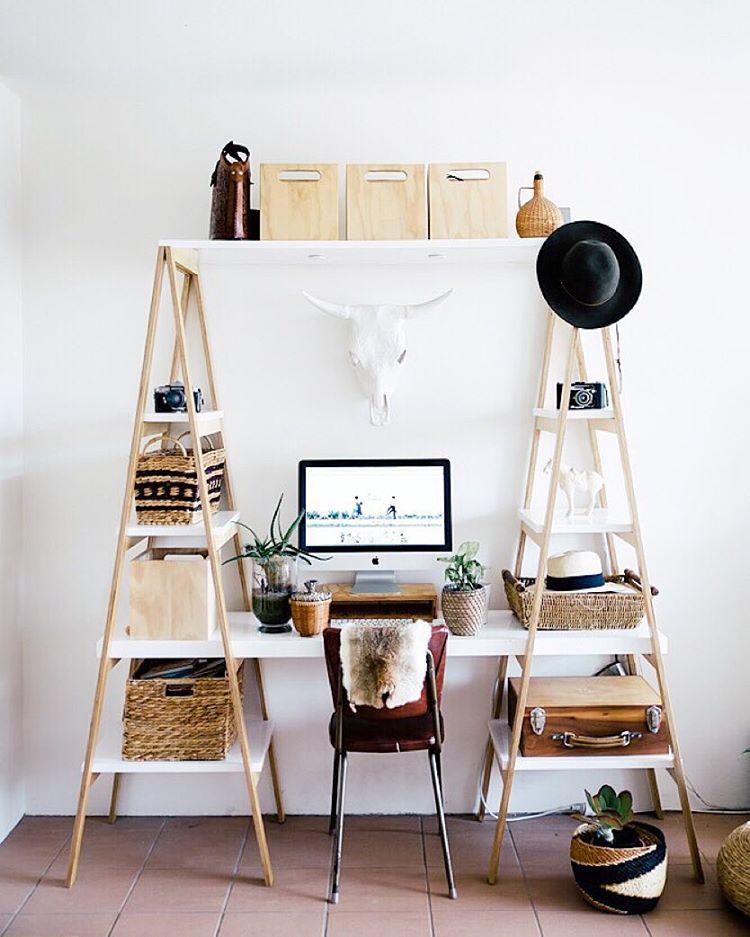 This unique home-office design could be a bit tricky to build on your own so if you can find a similar or great substitute for the shelf, it would be better. The pros of having this design is that you'll have more room for storage of documents and books you need for work while still being stylish.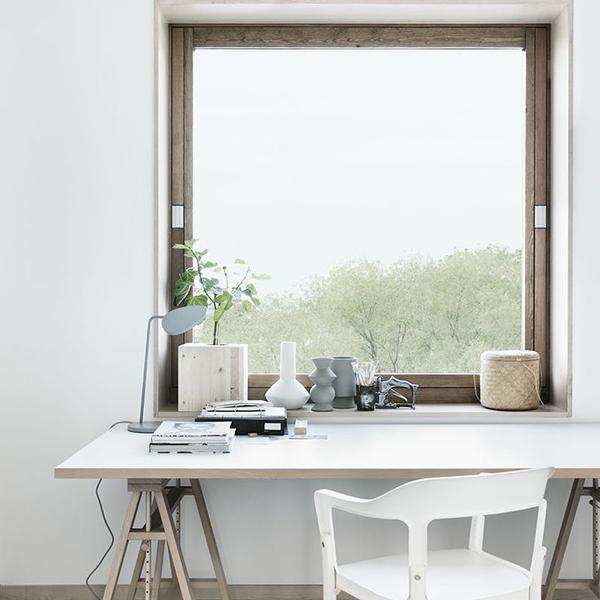 If you have that available space near the window, make that your work space. This is usually a great spot for writers as the view of the outside world (while not leaving the house) could actually give them inspiration in their work.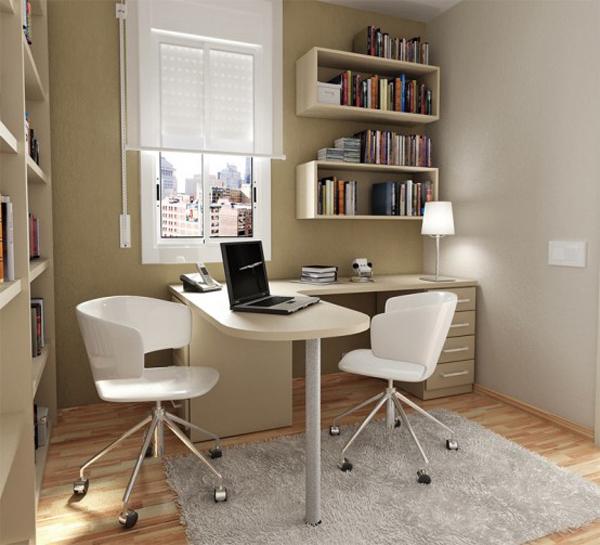 Even if your home-office isn't really that big, you could still make full use of it while still having enough space. Use creative bookshelves and organize them properly so you can maximize the use of your tiny space.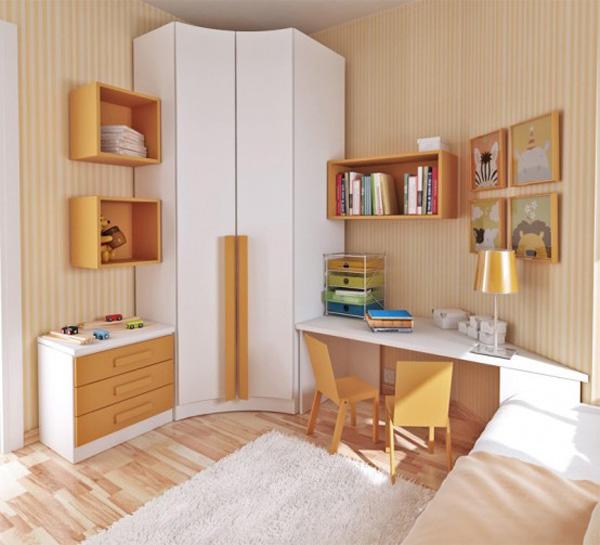 You can make that little area between your bed and your closet your little working area. It's much closer to your bed so anytime you want to take a quick break, it would be easy to lie down and then get back to work.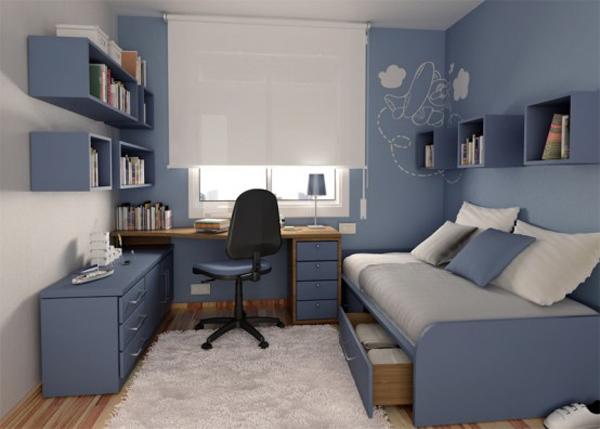 The color blue is refreshing to the eyes and it could make a space look wider. If you're office and bedroom is in one space, it would be much better to use blue to make the room bigger.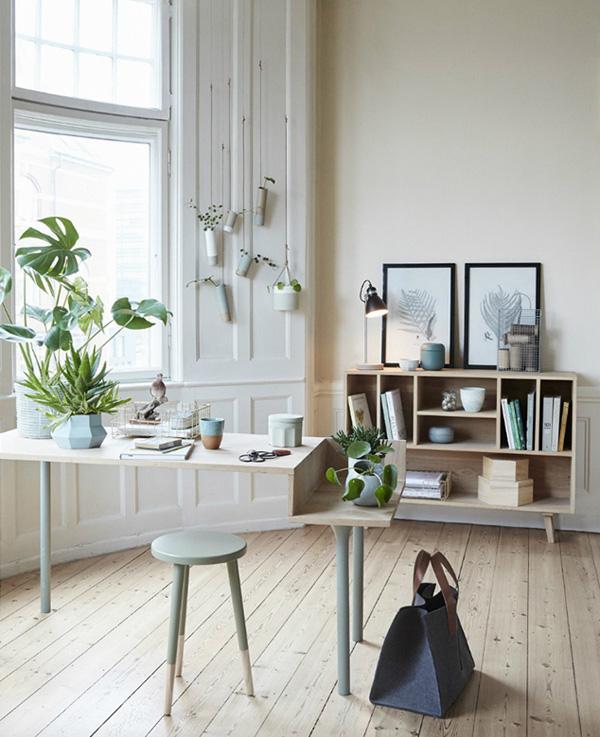 Another idea with putting plants inside your home office. It will look refreshing in pictures but it would be so much more in reality.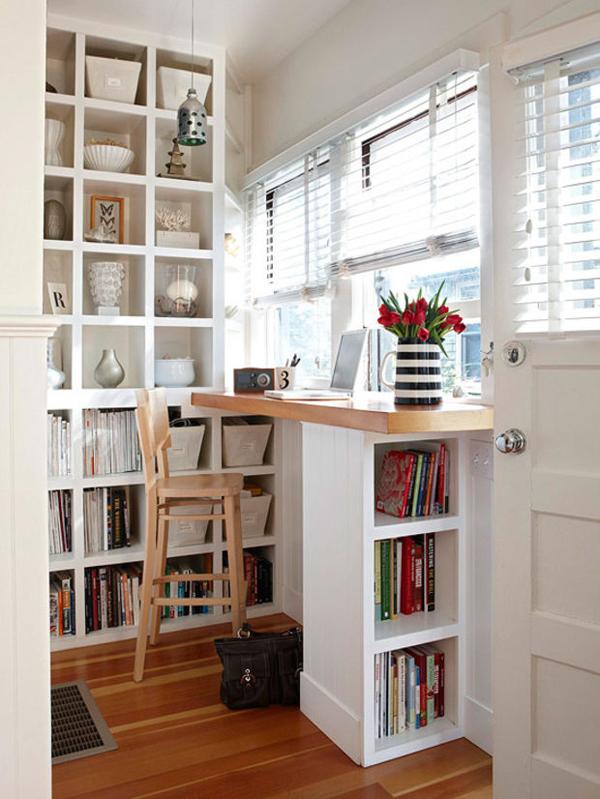 Turn that corner beside your door a space for you to get productive. You have the view of the people that can help inspire you with work. The floor to ceiling shelves would also help in organizing books and some decors.
Good lighting will help you work better. So be sure that you get the right lamps and lighting for your home office. Of course, get one that could work well with your interior.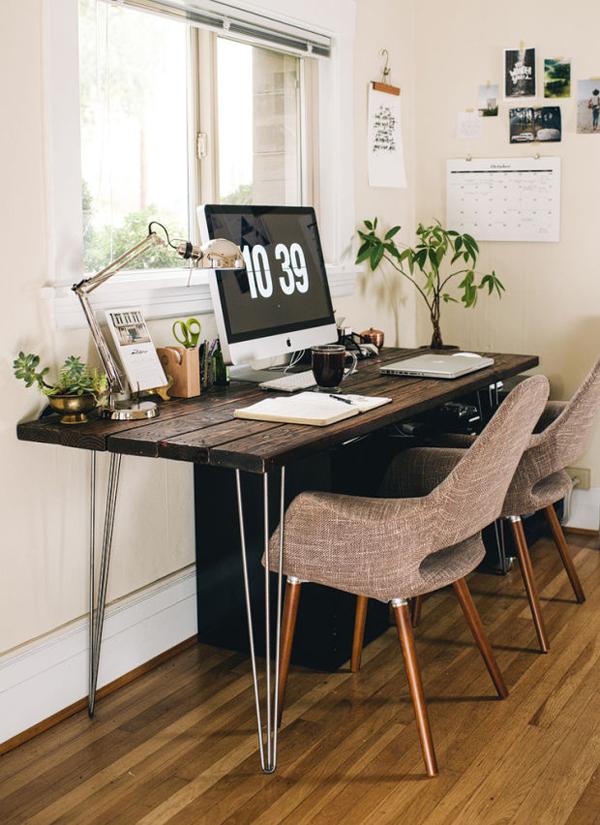 This cool and refreshing place will definitely help you relax even with all the deadlines you have to face.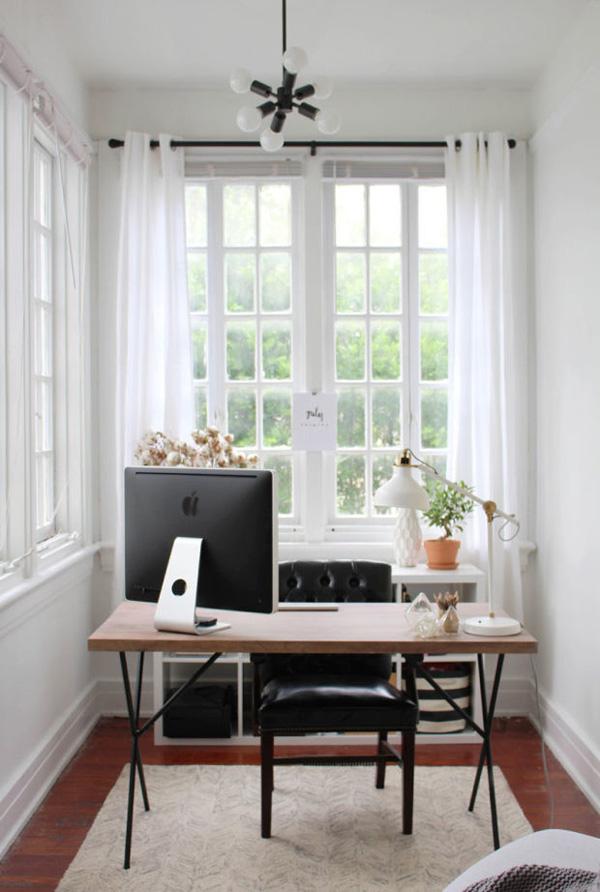 Simplicity is the key. You don't need anything fancy to make your home office much better. Sometimes enough space and light will bring so much improvement.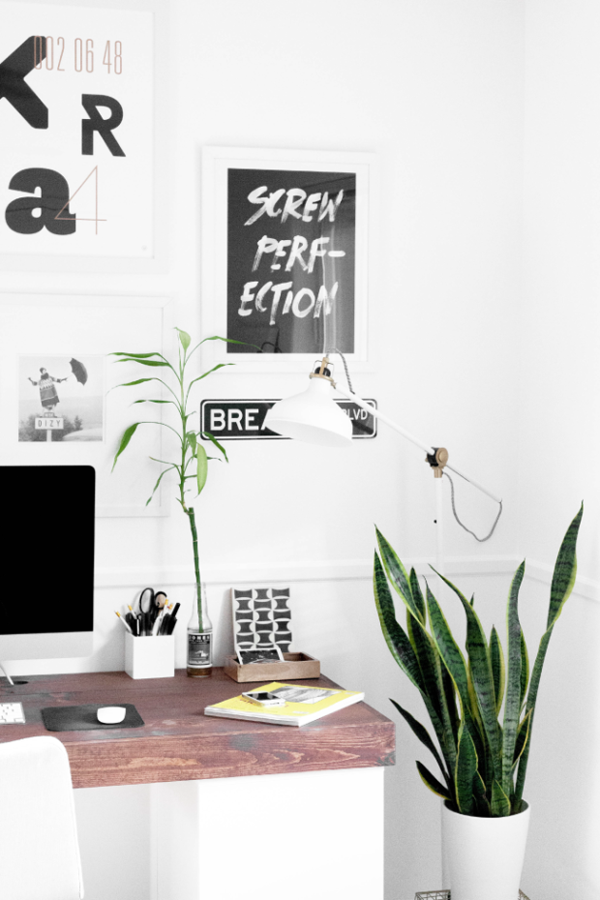 Good lighting. Plants. And quotes to keep you going on the days that work is hard. It definitely works.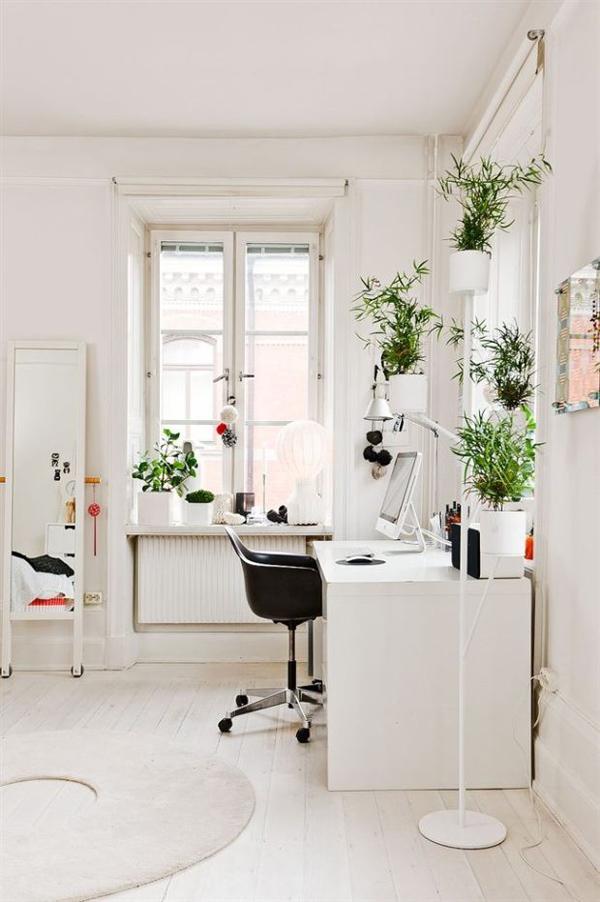 Green is a refreshing color while white makes a space look so much wider. Plus a pristine white room would satisfy your OCD side to feel calm and ready for work.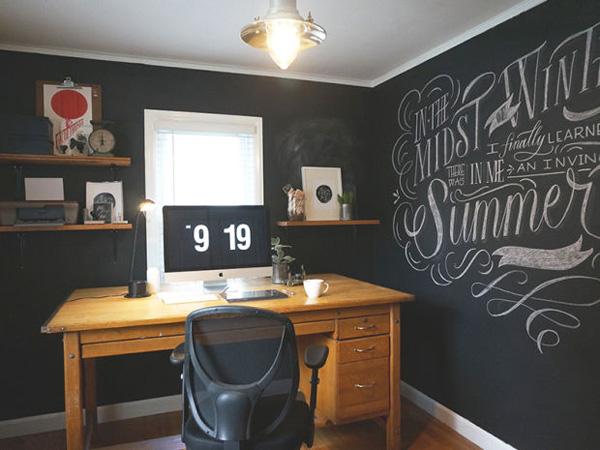 Another chalkboard wall room where you can create your own designs depending on your mood. It would give you some break on the stress of work.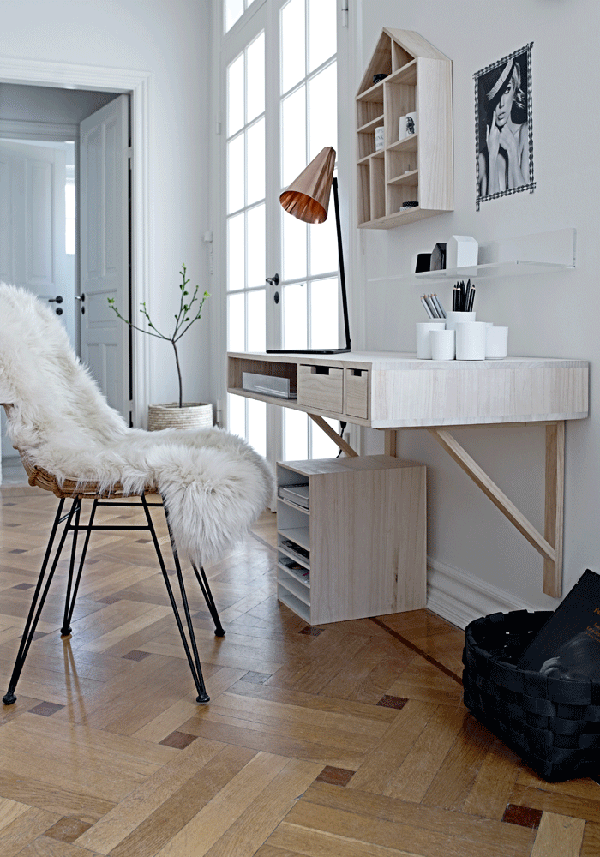 Sitting down all day, working could actually be very tiresome. But some cozy fur cover for your chair could help you relax. And of course, avoid the clutter in your desk since it would make you feel more stressed out.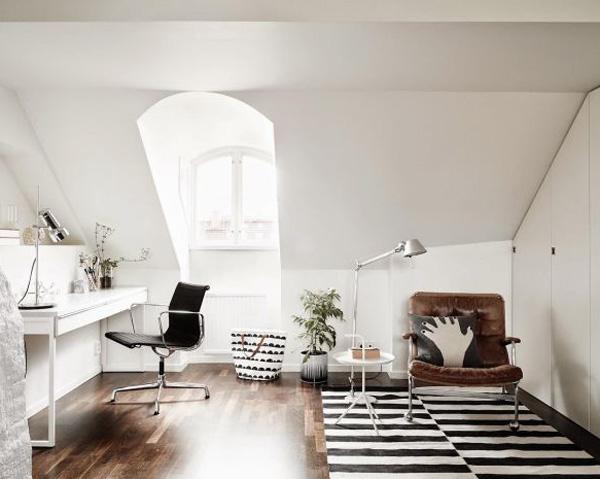 Another attic transformation idea. You have your own place for work in one side and a place for breaks and relaxation in the other. The main advantage of working at home.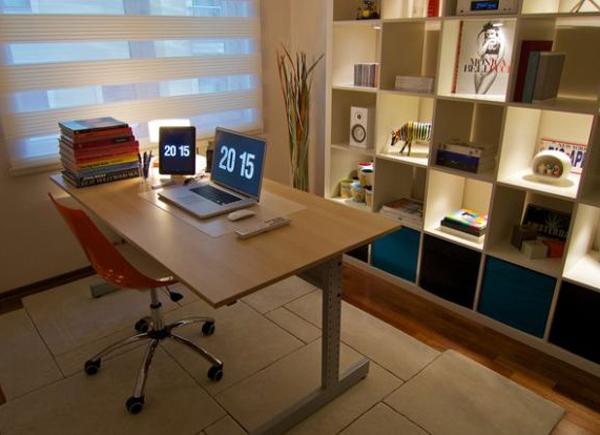 An urban style is perfect for an urban person like you.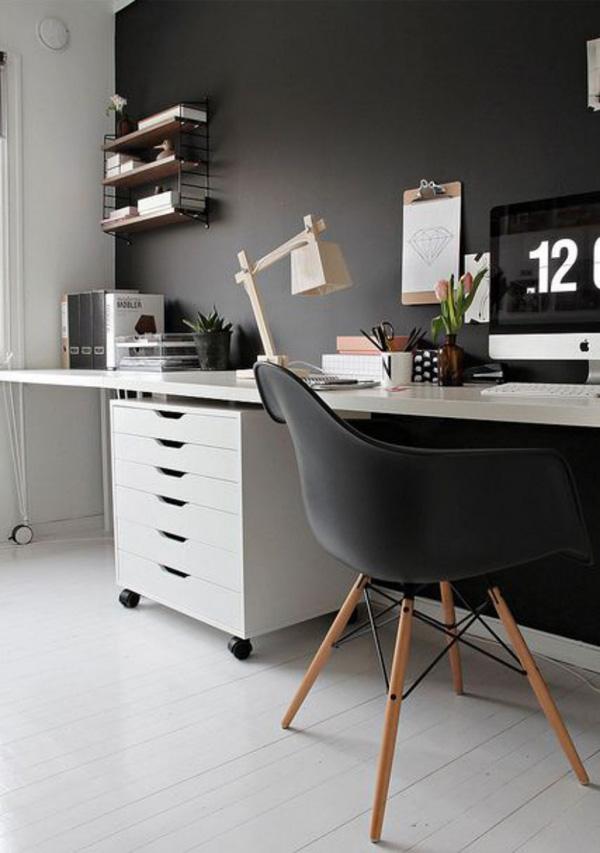 Black is an elegant color. And it's actually a color that won't be easily stained or dirtied so if you're always busy at work for thorough home cleaning chores, this could be a good color for you.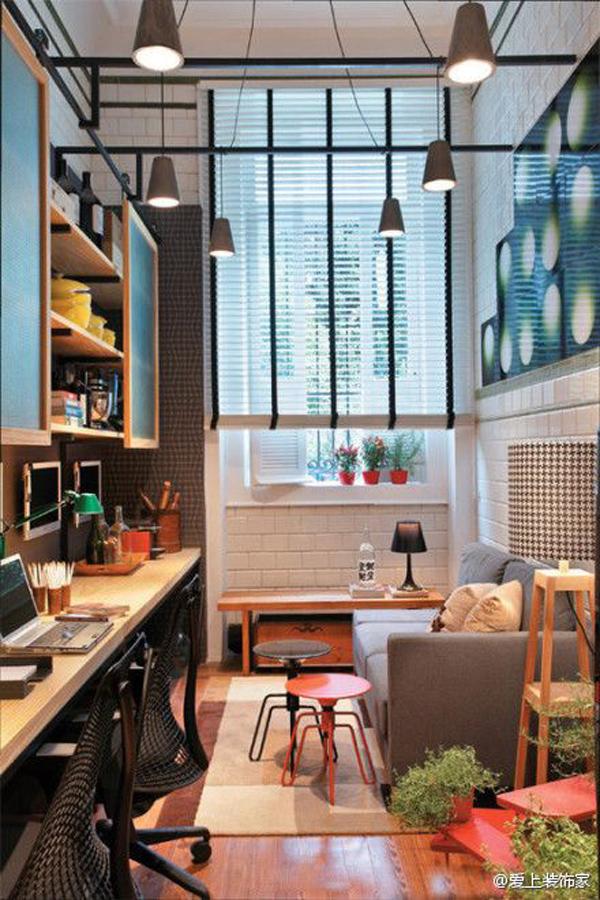 The perfect fusion of a workplace and a living room idea. Imagine needing a much needed break and then you would simply have to walk over to your comfy couch…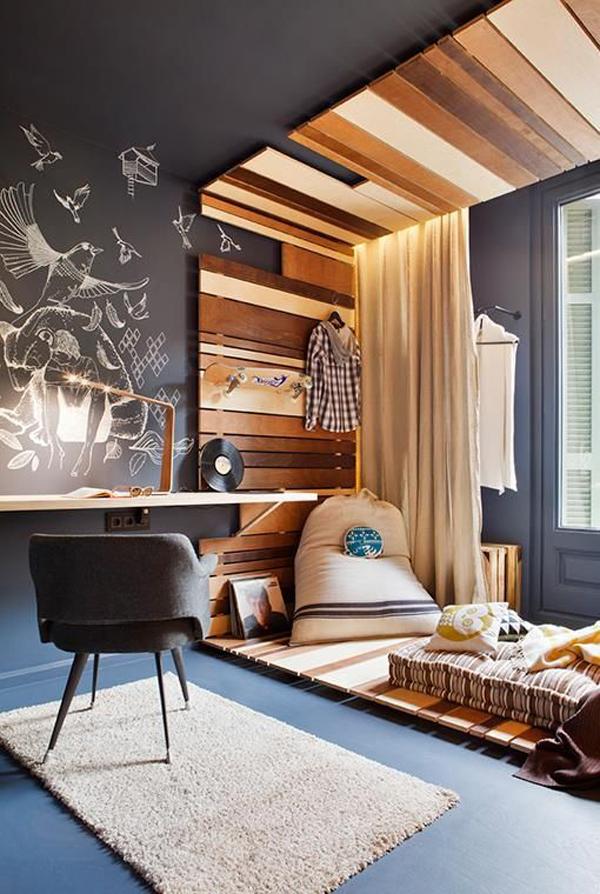 Nothing's more cozier than a space you can clearly call your own. It may be your home-office but you can come here anytime when you have no work and just have a relaxing time alone or with friends.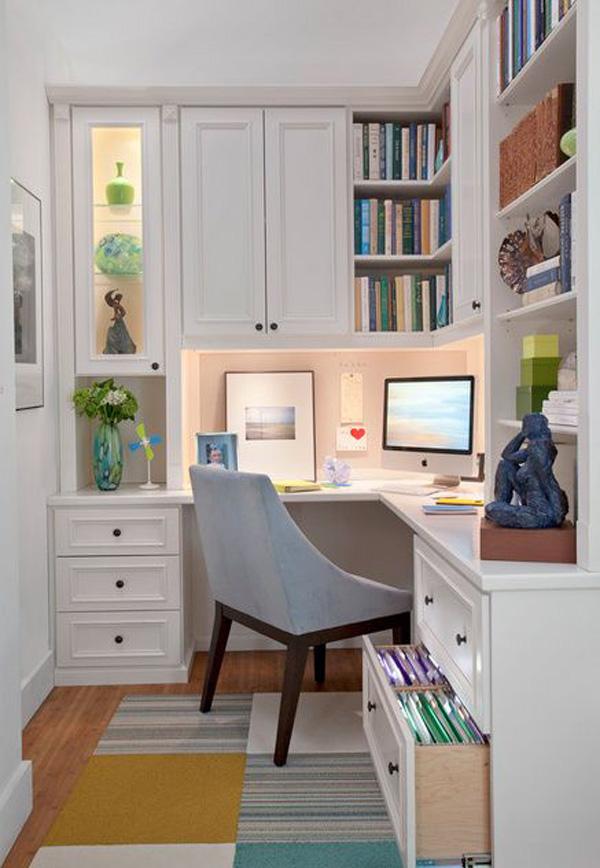 Having a hard time placing all of your books, stuff and work-related paraphernalia on your small home office space? A good shelf will help you solve the problem!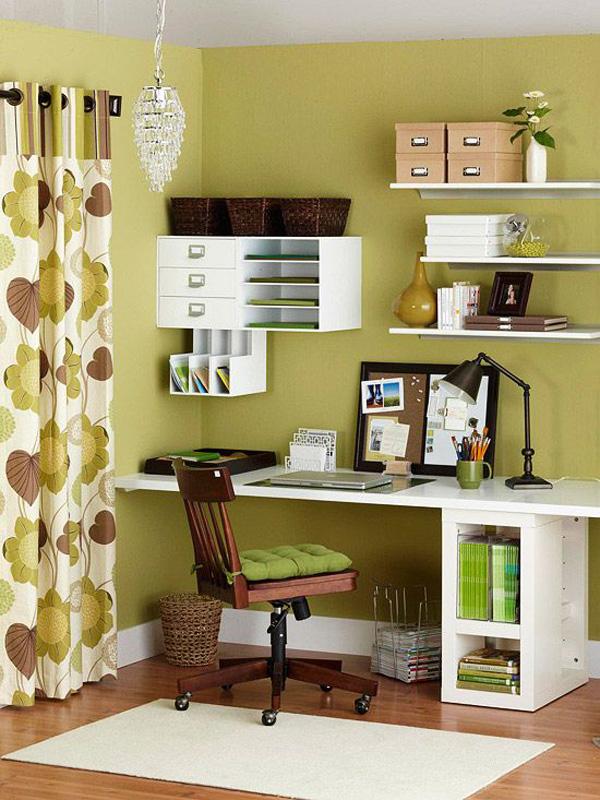 You will never know how organizing stuff would be able to help you become a more productive worker. Wall mounted shelves aren't just for decoration, they can help avoid the clutter in your desk so you will have more space for work. Good home pieces and curtains would then give you the feeling that you really are at home.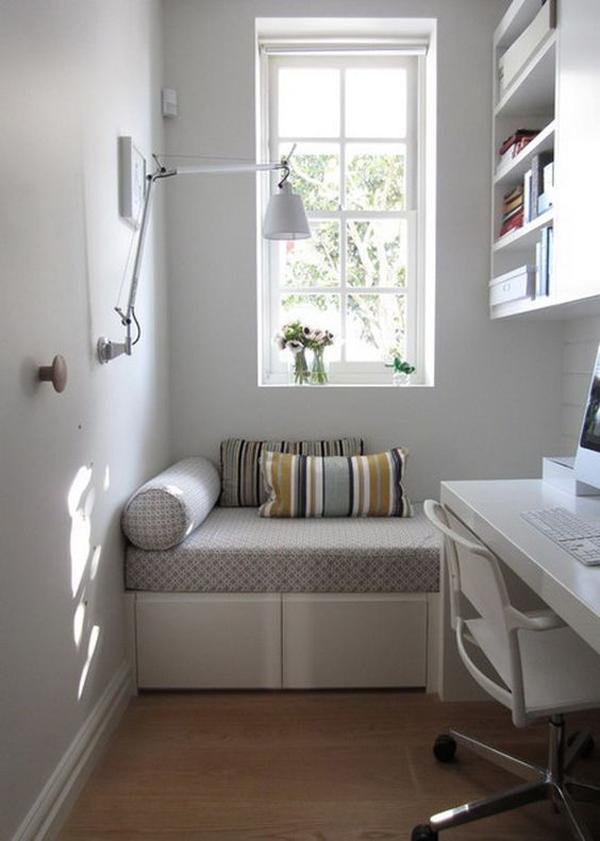 This comfy space is a must-have for every home-office. You wouldn't know when you need a little break time for work.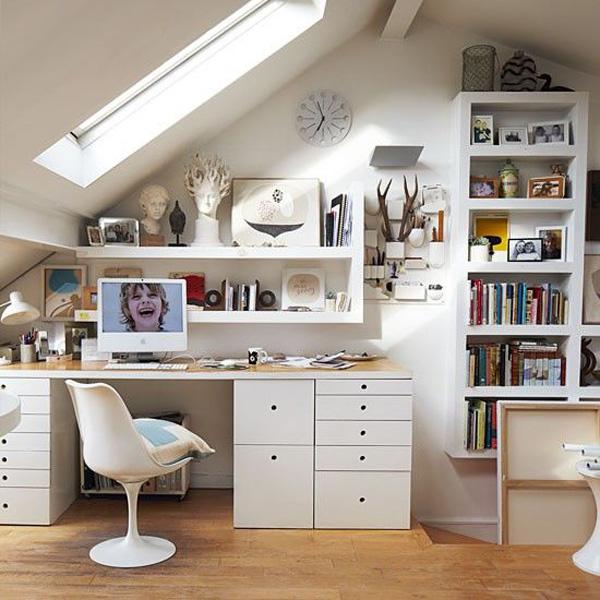 If you're transforming your attic into a workplace and you don't know where you'll place all those stuff you placed there before, don't worry. These might be good decorations for your home office.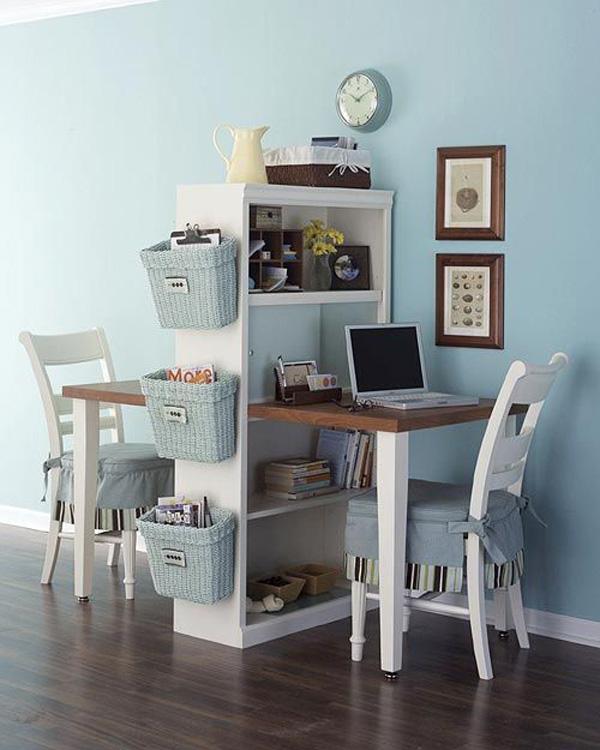 See how so little space could be used for two works spaces? It's simple with the help of the right furniture and placement.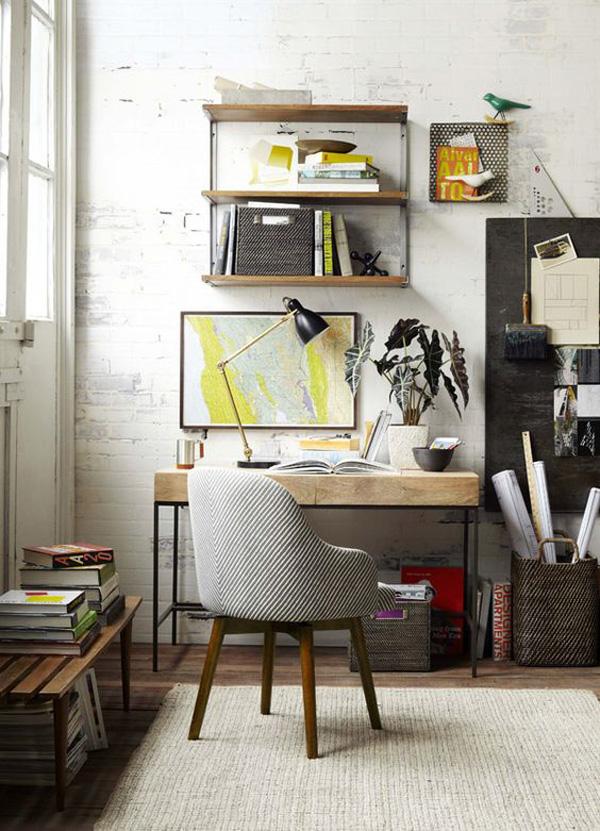 Baskets and wall mounted shelves could greatly help in organizing your stuff. Plus these are great pieces when it comes to interior design. of course don't forget a trendy and yet comfortable chair.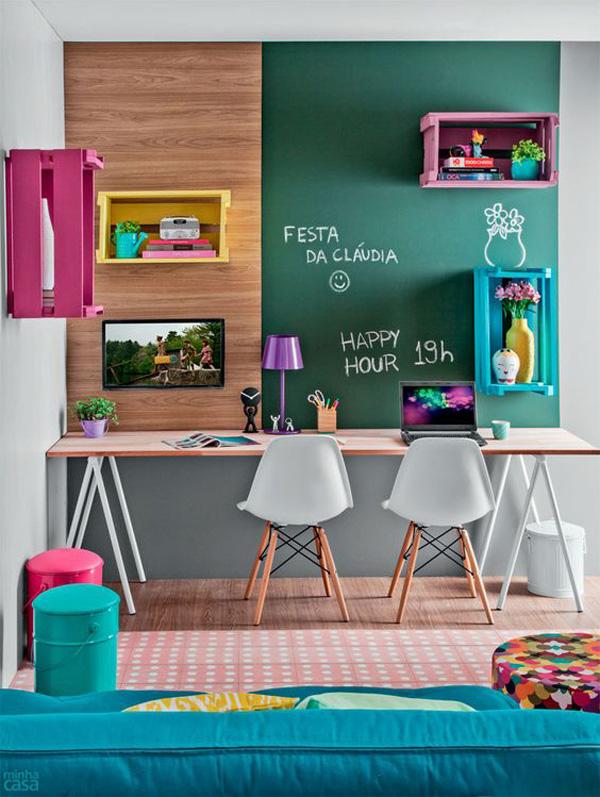 Don't be afraid to experiment in colors. Even if your room looks like a Kindergarten classroom, who cares? If it makes you happy and can help you relax while working, go for it!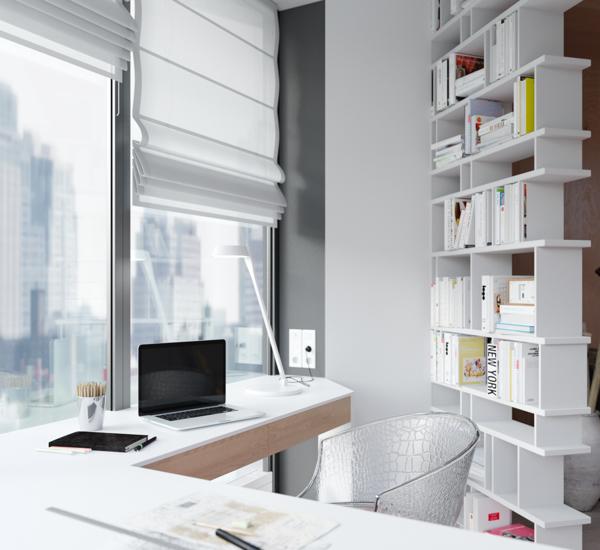 This classy modern design is perfect when you have that view to kill for.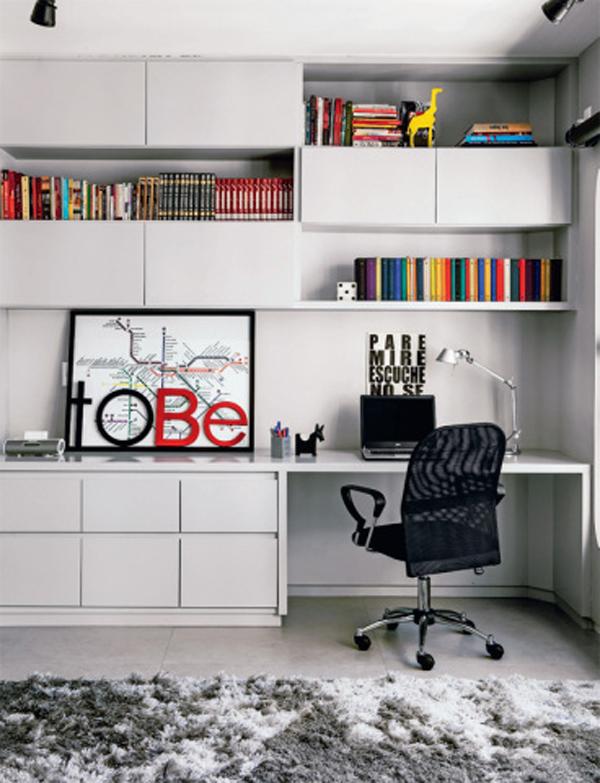 Your all black and white interior isn't really a bad choice especially when you want that subtle, clean and organized look. Your books and other decors could give your room life and color.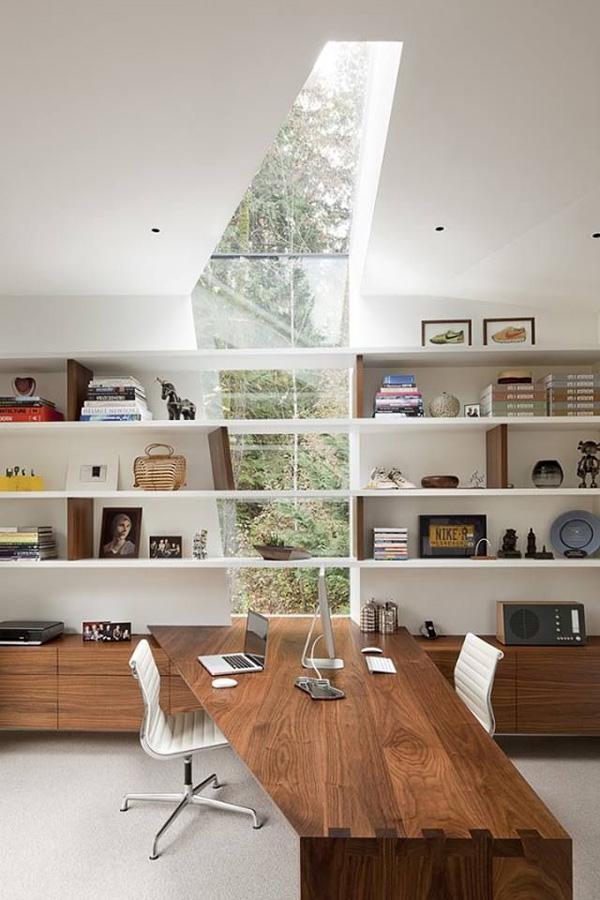 This excellent interior design work is seriously goals. Being able to see nature and its ways would definitely inspire you to work harder.
Source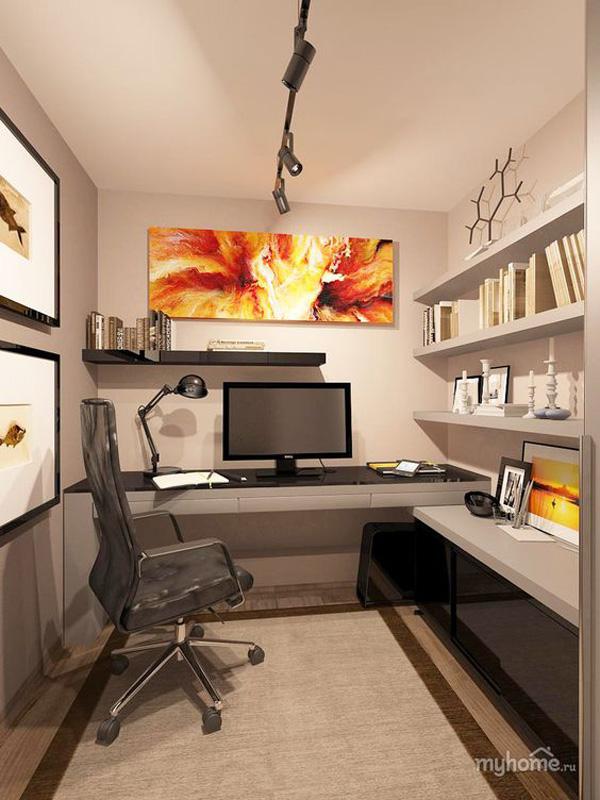 One fiery decor is all it takes to bring home office to life.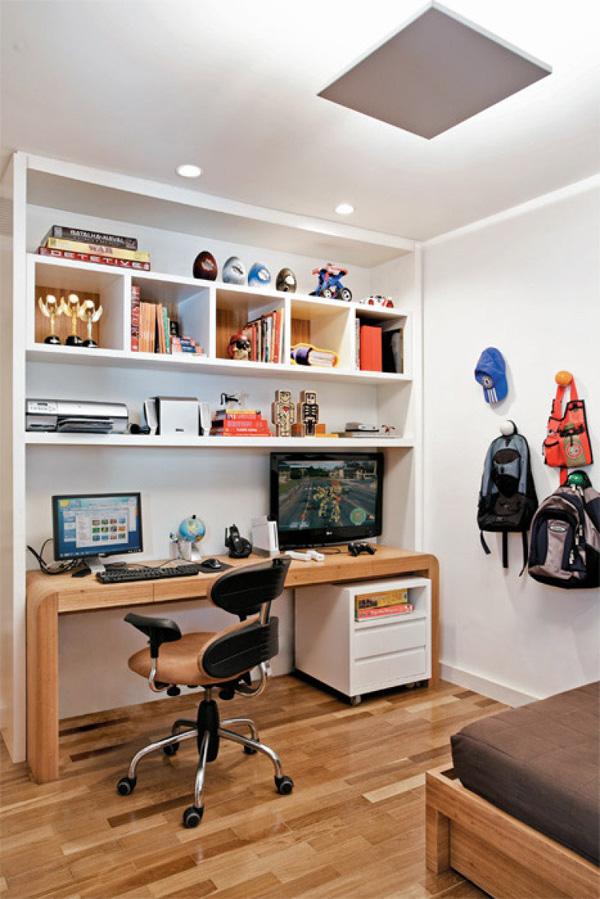 Work hard. Play harder. Bring your work place to the spot where you play your games. Experts actually say that playing before doing anything could help you improve what you're doing.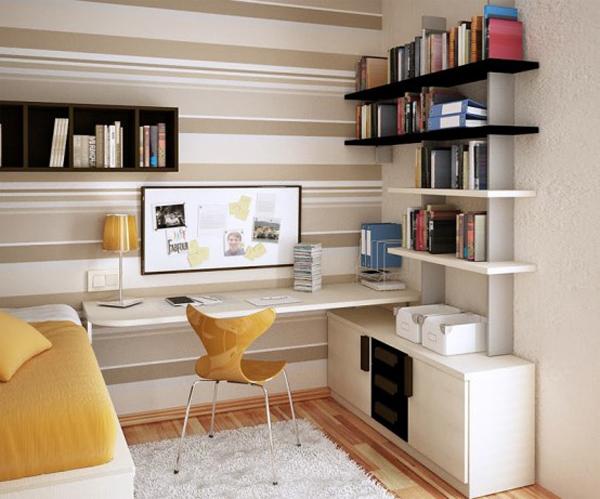 Even when you're at home, don't forget to have that board where you can post important schedules and work or appointments. Keep it close at your work place so you can take a glance anytime.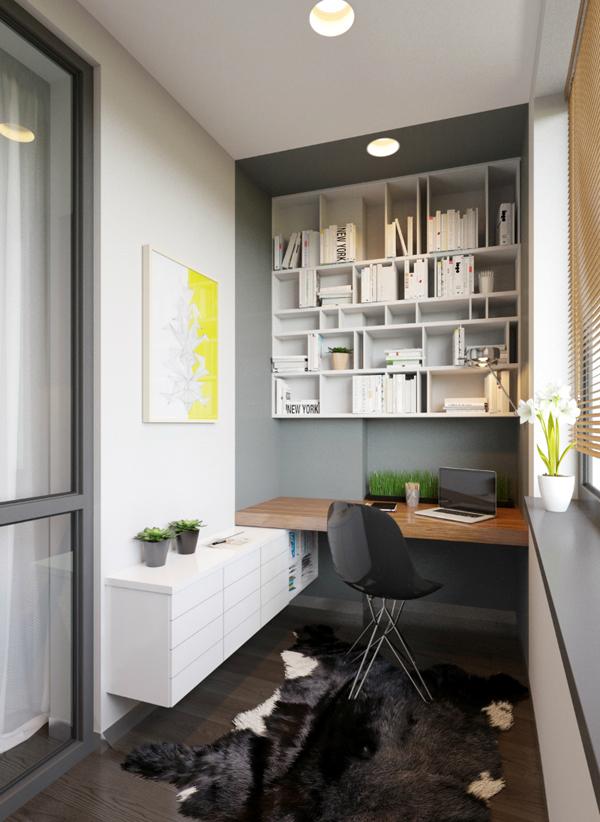 A rug would enhance the look and feel of your work place by probably 50%. It just makes places look classy.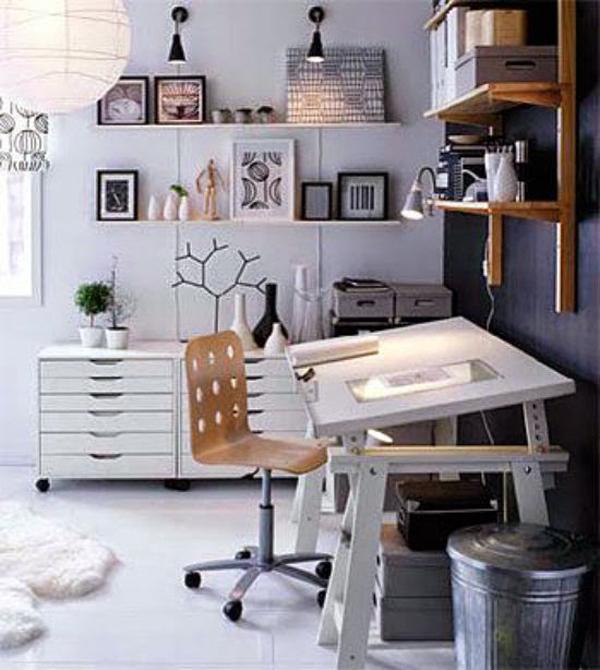 Of course always consider what type of work you have with your home office. Buy the most appropriate furniture and stuff for it and find the perfect spot in your home where you can set your office up.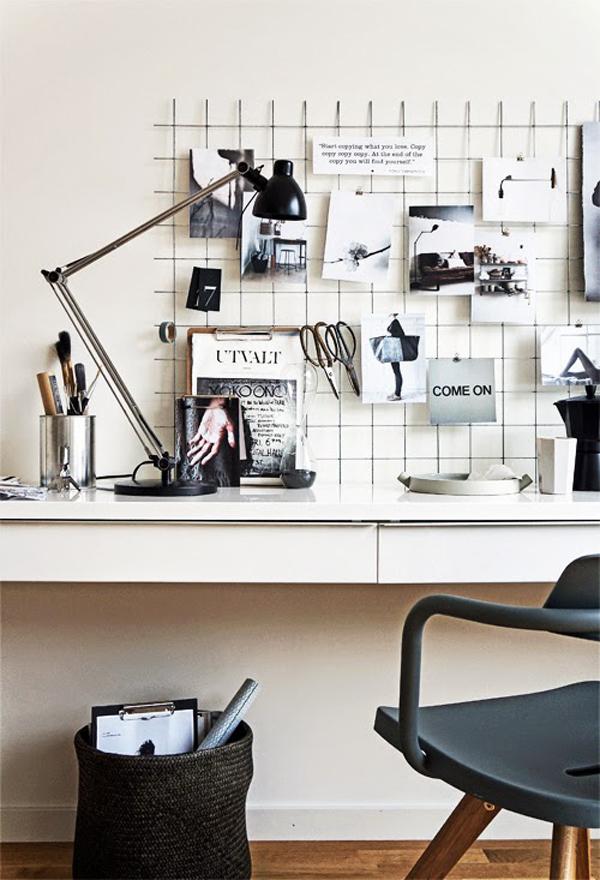 This cool mesh board design can actually help improve your work place. It can both be a decor as well as a means to organize your stuff.