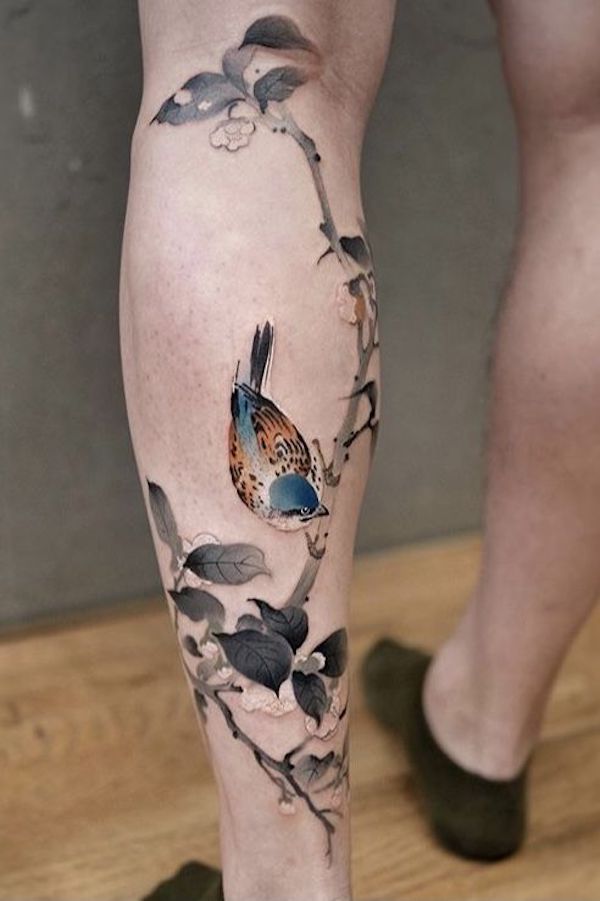 There are different ways to tell a story; 1) orally, where you tell it to people you know 2) through writing, where you create books or simple journals you can get back to and read anytime 3) through social media, which of course is probably the most popular these days where you share what's happening to you via your social media accounts and 4) through art, where imagination is important to relay your story. One form of art that lets you tell your tales is tattoo.
Tattoos, in all honesty, isn't that much accepted by quite a lot of people. There are always misconceptions with having drugs such as you're an ex-convict or a drug addict or just generally a good-for-nothing. People will not stop and listen or think about what you and your tattoos have to say. They would stop to criticize you and your way of storytelling. But the thing is, what and who you are isn't and shouldn't be based on your preference to have tattoos. It comes deep within you. So again, these are simply misconceptions. To really prove that, get that tattoo and let your actions speak for you.
Each tattoo has a different story. There are the general symbolism of tattoos. There are tattoos etched on your skin as a reminder of what you've gone through, what challenges you have overcome or what memories you want to go back to. Tattoos could also serve as your proof for an undying love for someone. Since it's permanent, it would mean you will always be proud to have them in your life. Some tattoos are symbols for movements like the semi-colon tattoo movement that is for people with mental health problems. Your tattoo could depend on these things or it could entirely be based on what you think it should represent.
Where to Place a Tattoo?
Any part of your body could be a canvas for a tattoo. It could depend entirely on you; on whether you want it hidden or not. The size and the design could also be factors where you will place a tattoo. If you're not really into pain (because tattoos will surely bring you some wincing moments especially when it's your first time), there are parts you can choose that won't be as painful as the rest. One of these parts is the calf.
Calves are usually a fatty area and this will help you feel less pain than in other places. Other benefits of placing a tattoo here is that it's elongated. You can do whatever design or story you want. If you're the type of person that wants to flaunt your tattoos, it's perfect as you can simply wear shorts and it would be revealed for the world to see. If there are times you would rather hide it, pants are always there for you. In addition, it has become a great fashion add-on. No need to wear funky stockings (usually for girls) as this could give your look an accent.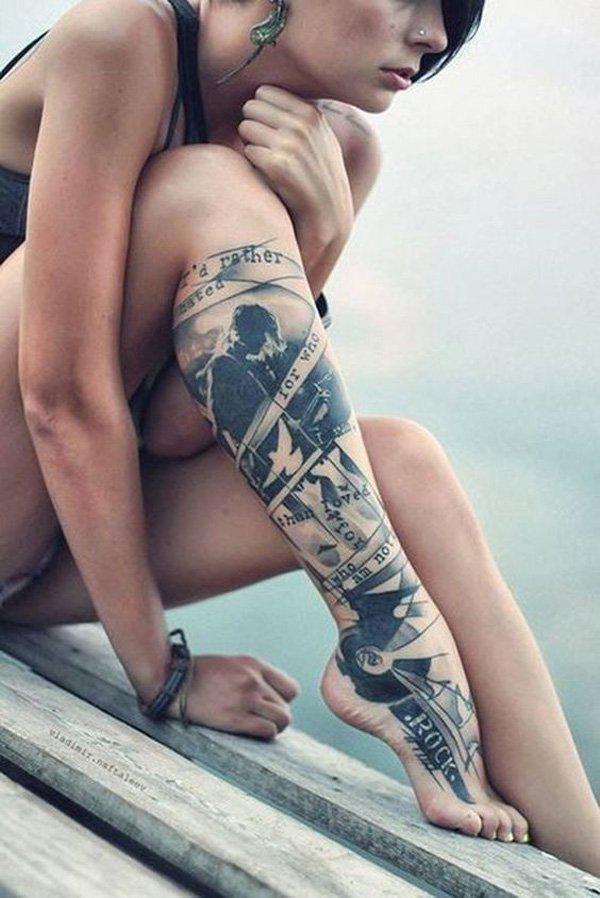 An amazing abstract calf tattoo design to show your love for Rock and Roll. It can definitely tone up your whole outfit as well.
Tell Your Story Through Art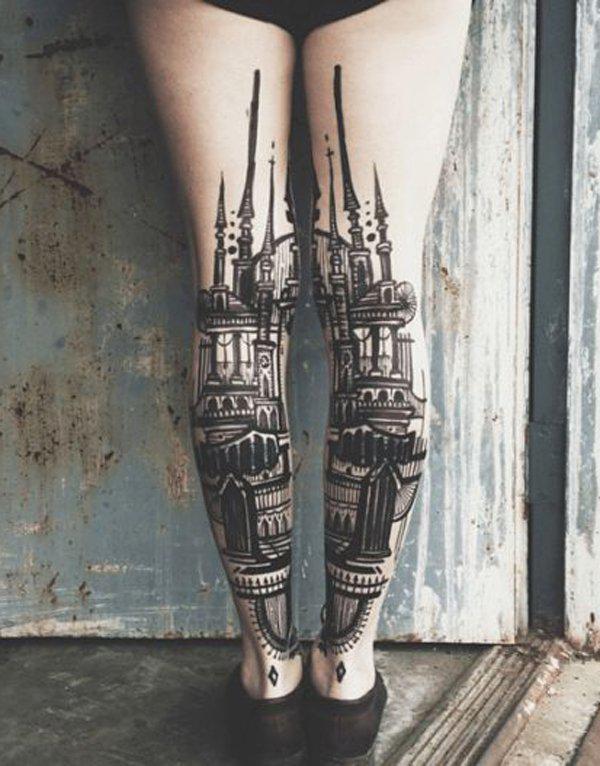 You can put a tattoo design of a palace, a church or any magnificent building you have always dreamed about visiting or you have visited and always wanted to remember. In this tattoo, it's placed on the backside and on both calves for a complete picture.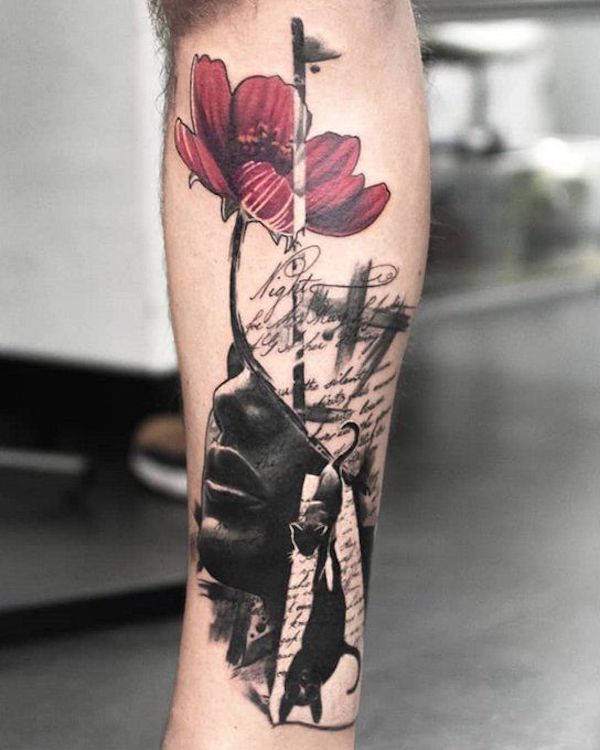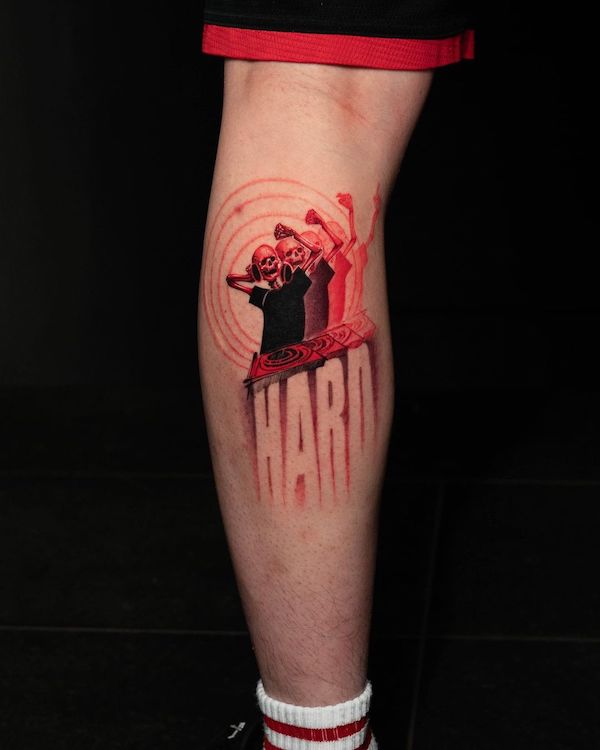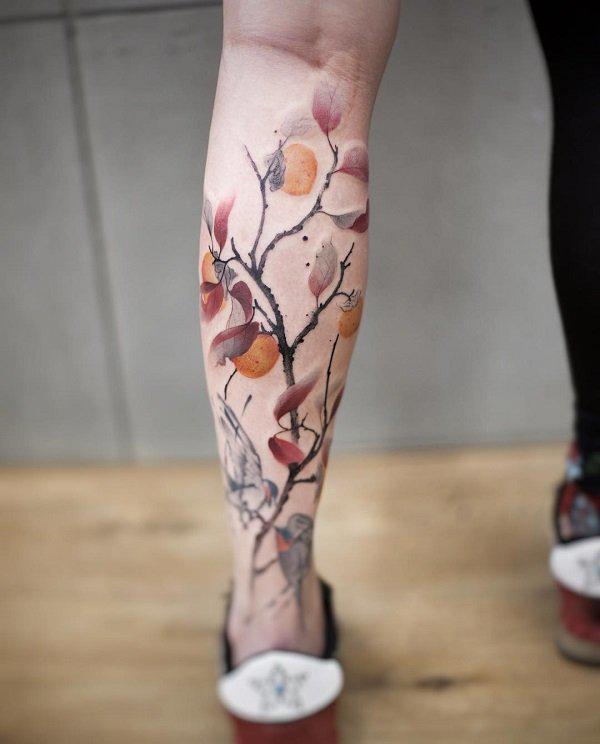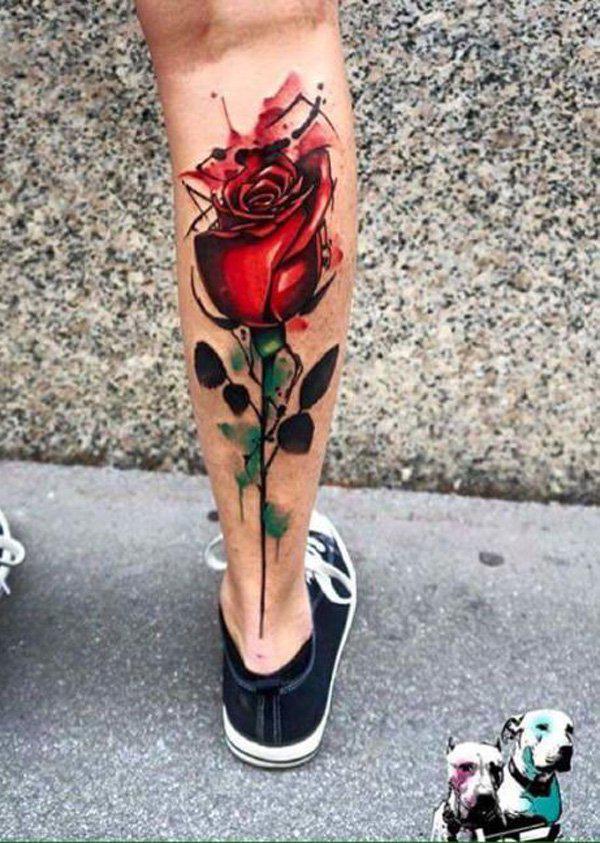 A rose tattoo generally symbolizes a love and passion. In terms of how the tattoo looks, it becomes extraordinarily beautiful with the vibrant color.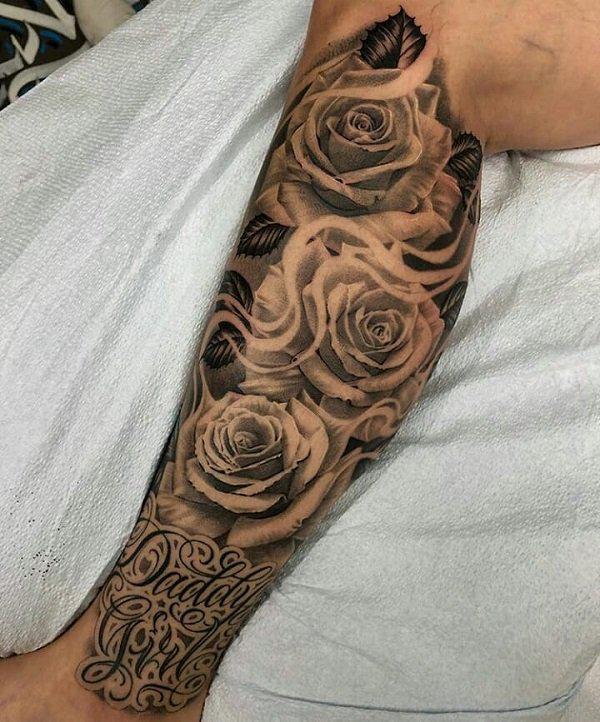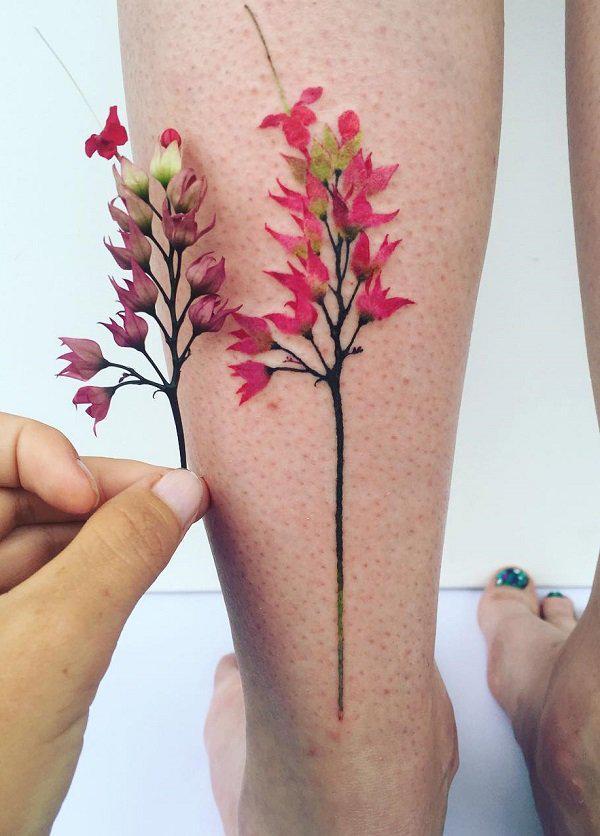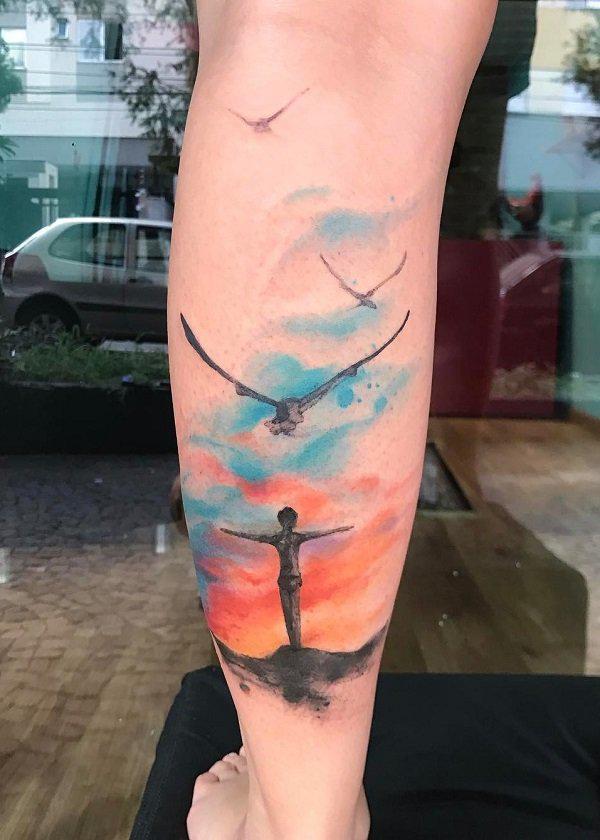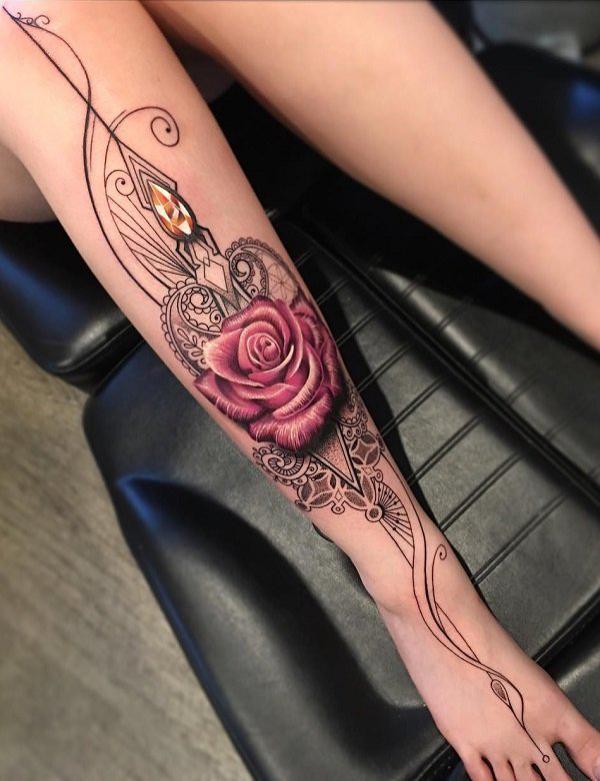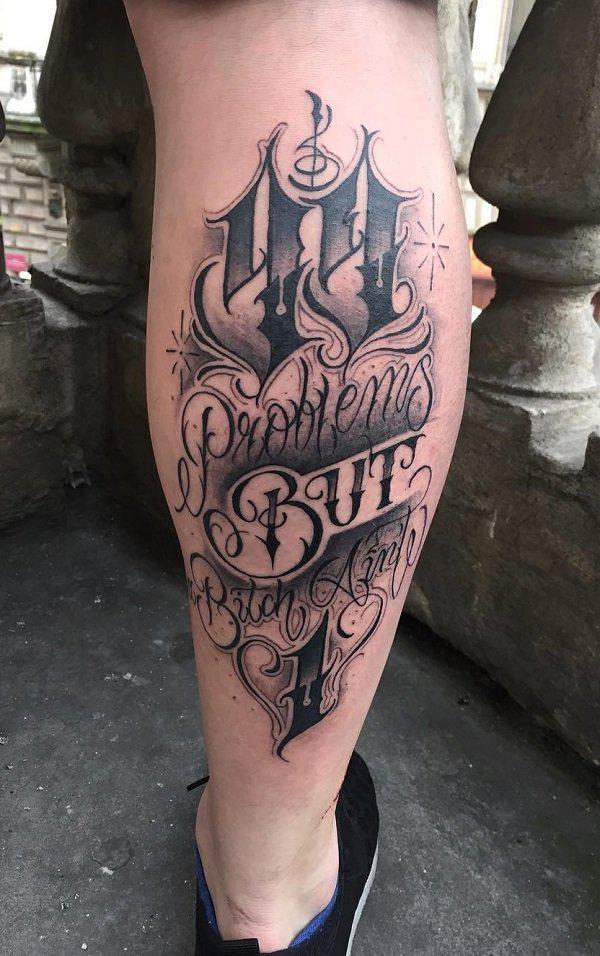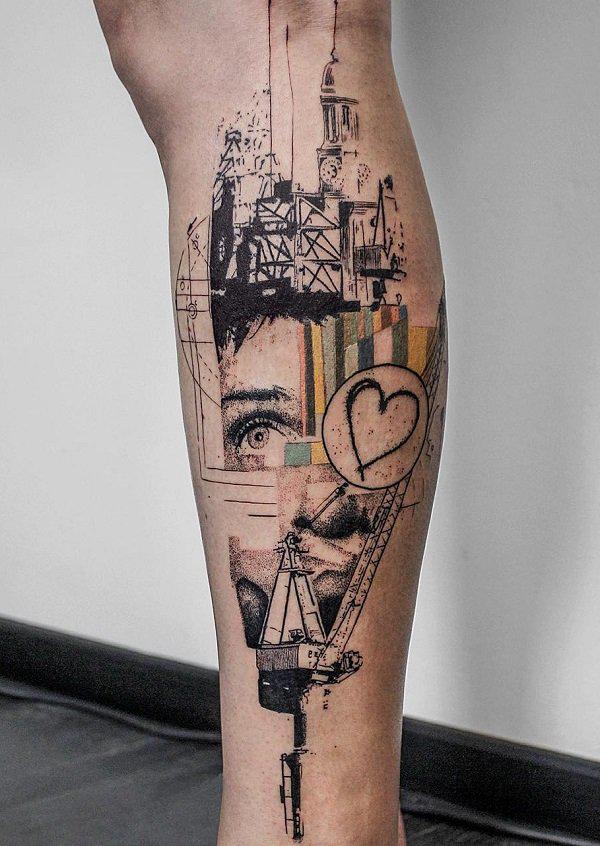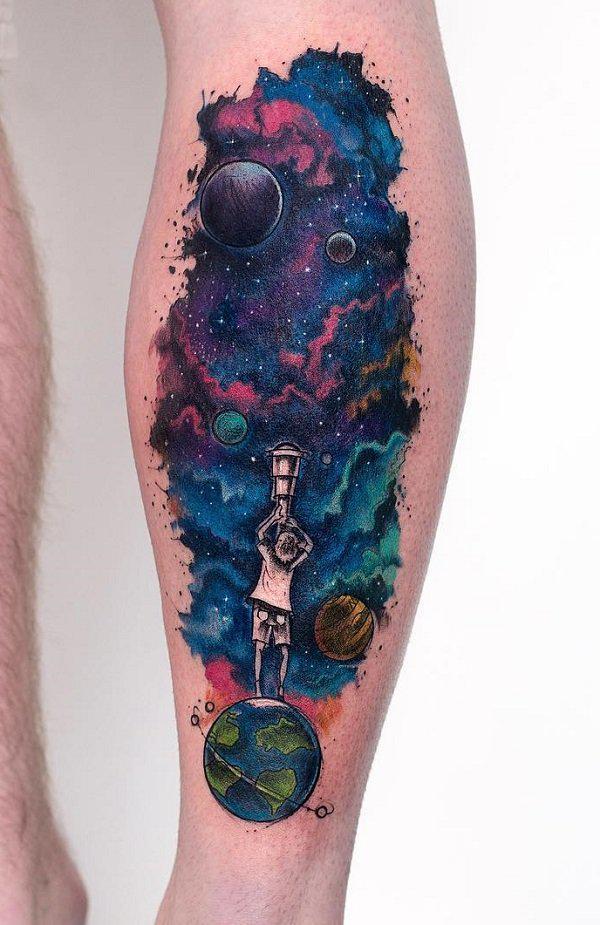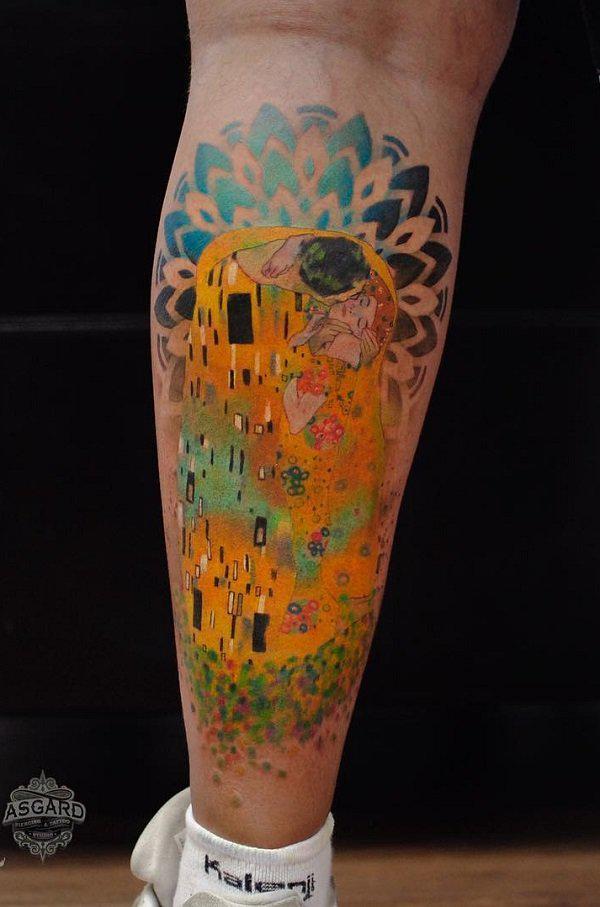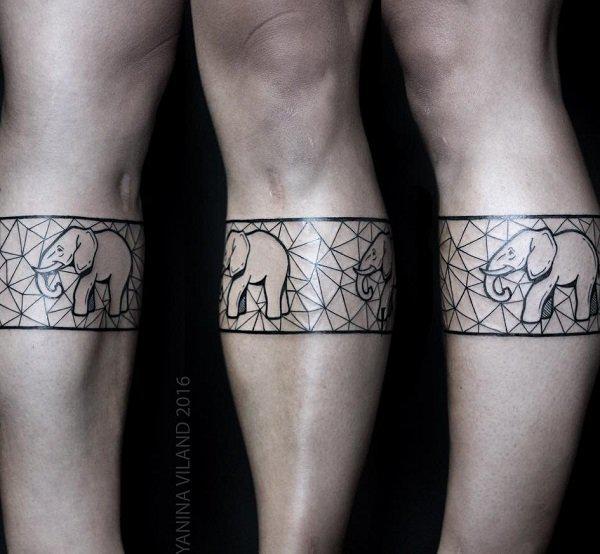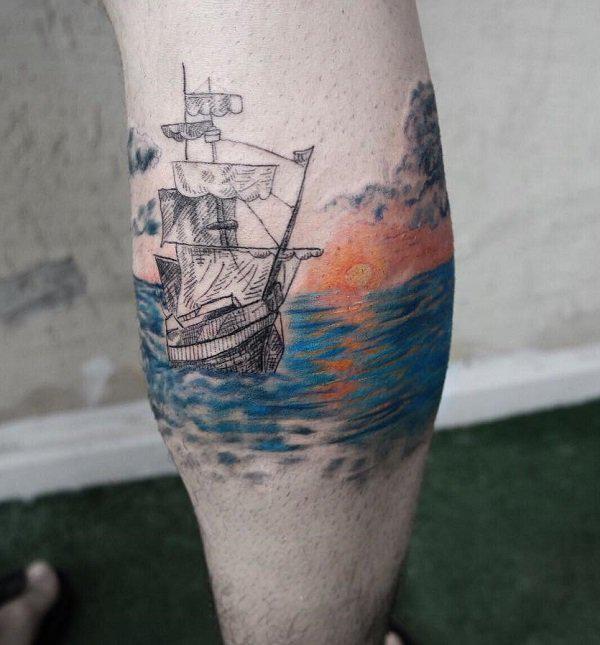 Boat with sunrise calf tattoo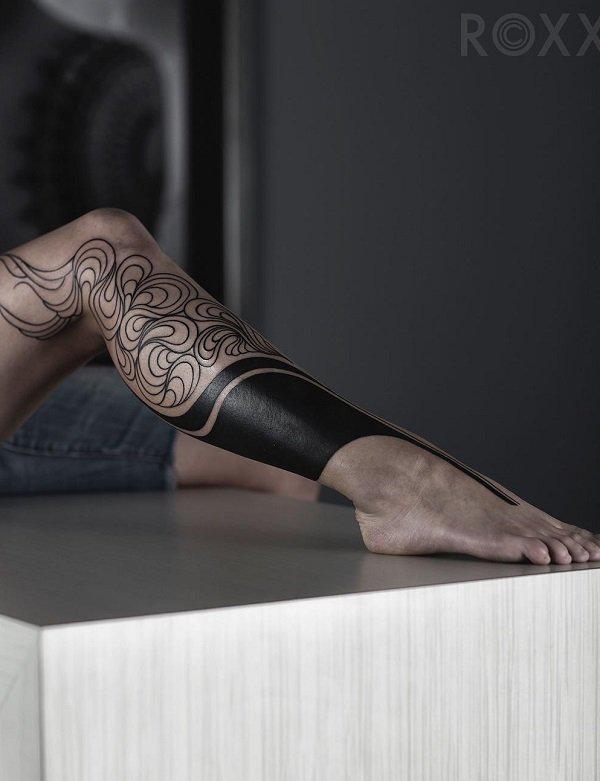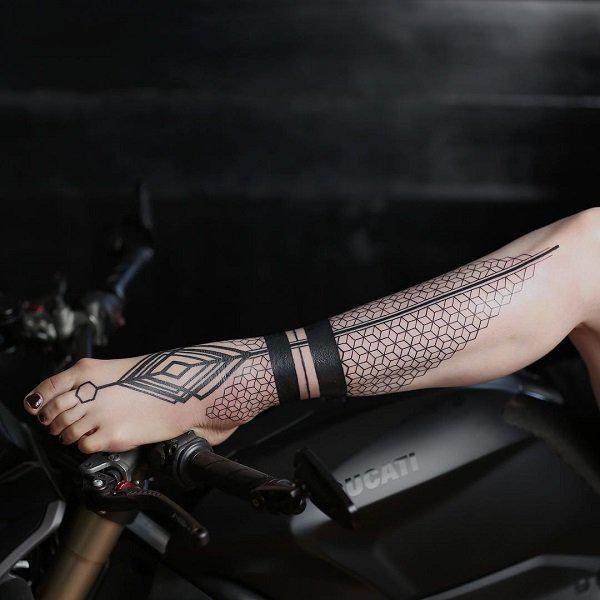 Source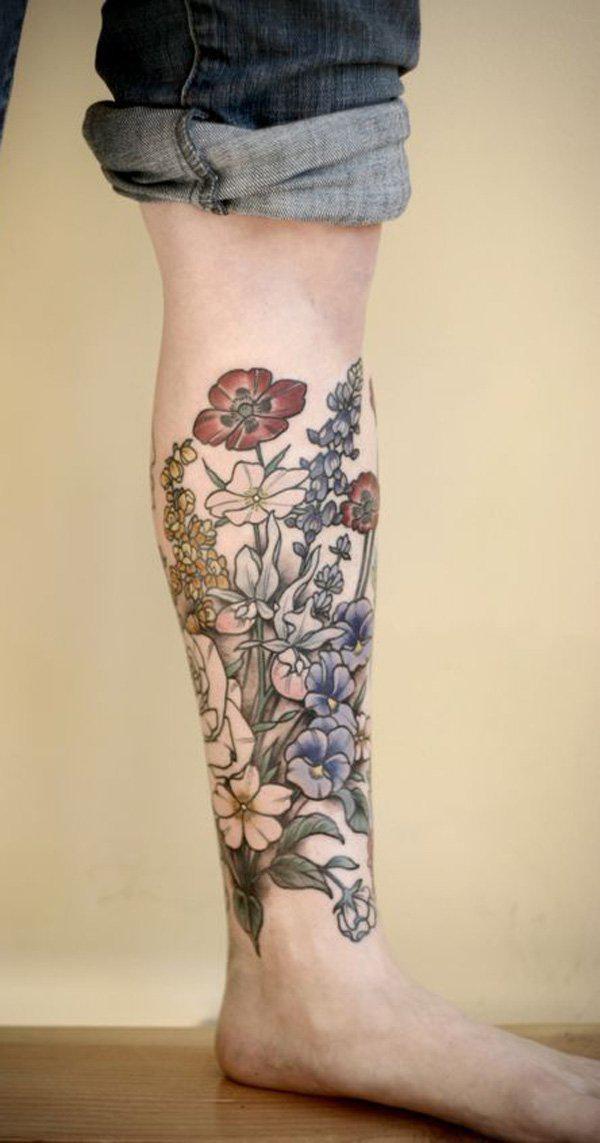 Flowers have different meanings. Each one could represent a part of your personality. So look for those flowers that can help you express who you are.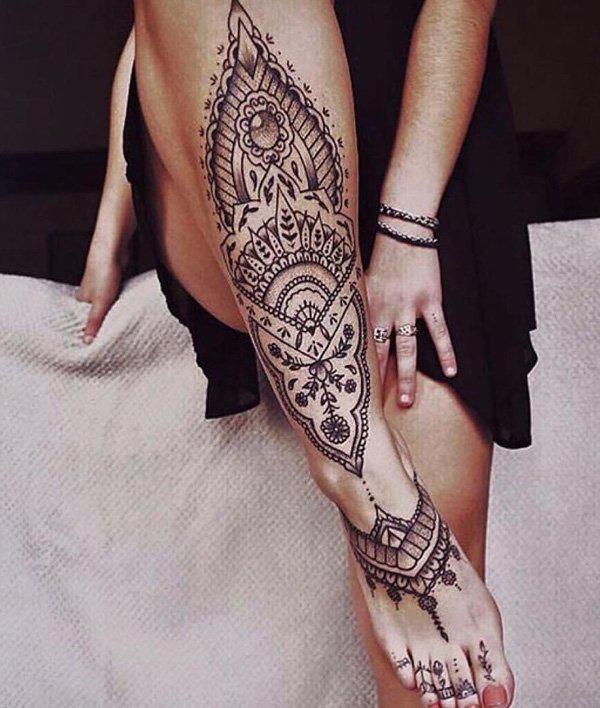 Mandala tattoos, besides the beauty of the design, is also a symbol for unity, completeness and eternity. However, it's very versatile in both meaning that you can give it it's own meaning as well as in design.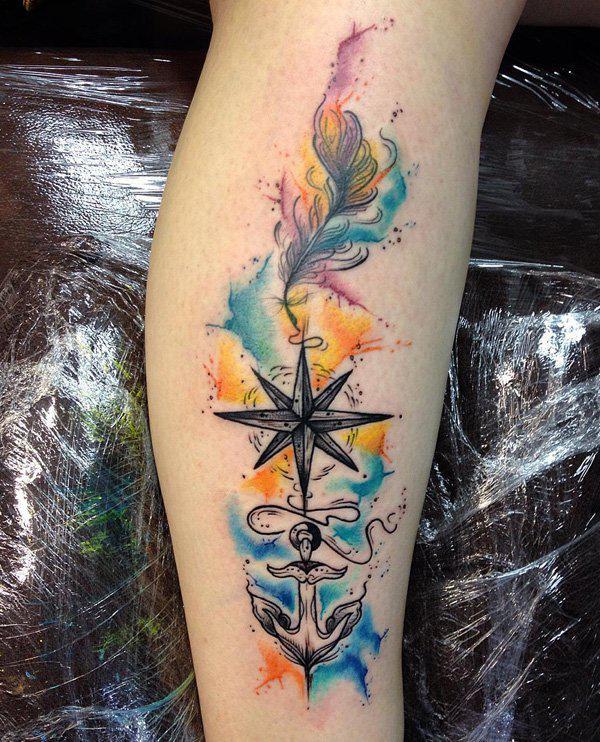 This is a beautiful watercolor tattoo of three different things with different meanings. Usually an anchor means loyalty and stability, a compass would represent direction and a feather are generally symbols of freedom.
If perhaps you have knowledge of tribal languages or you're a descendant of one, these kinds of tattoos are best for you. It could tell your story with beauty.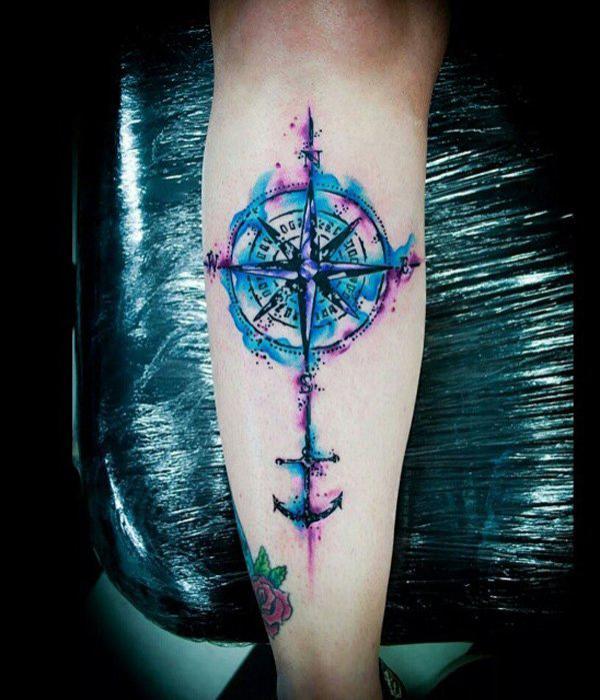 Another watercolor style tattoo that is not just lovely but also full of meaning. It's generally associated with directions and this could indicate the direction in life that you want to go to. Or perhaps, it could also mean your desire to travel.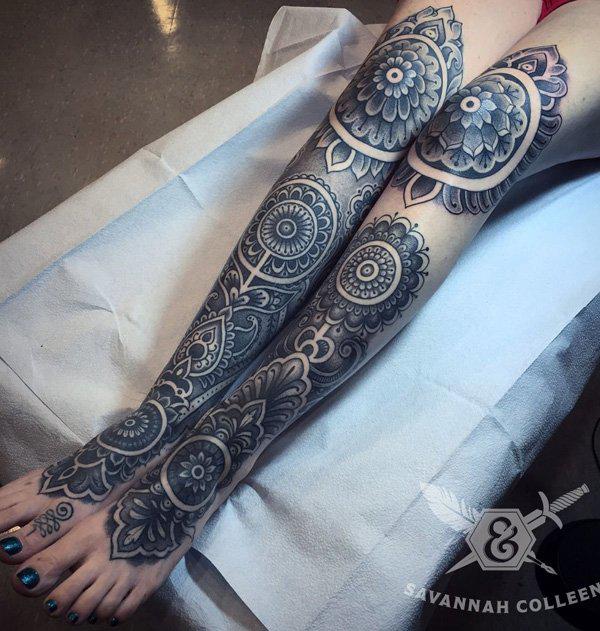 Another variation of a mandala tattoo but this one covers the entire front side of the calves and extends a bit to the knees and thighs. It could definitely work as part of your outfit.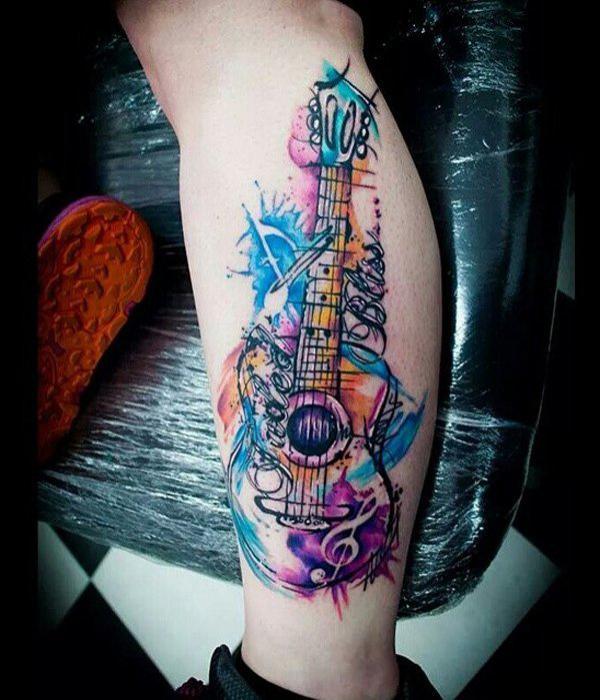 Watercolor styles are great to look at with the soft strokes and colors. Here's another watercolor tattoo design for music lovers.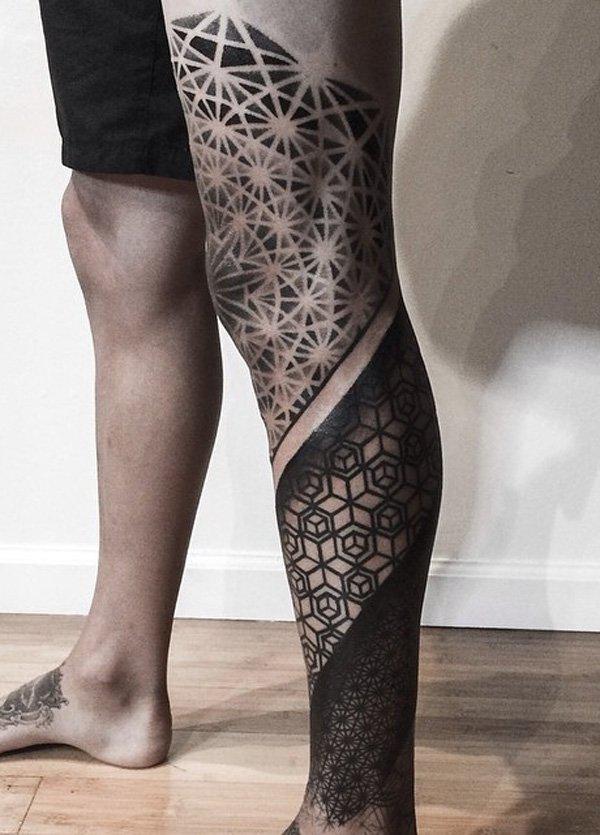 Here's a wonderful and eye-soothing geometric tattoo design for people who just want to share art and its wonderful forms.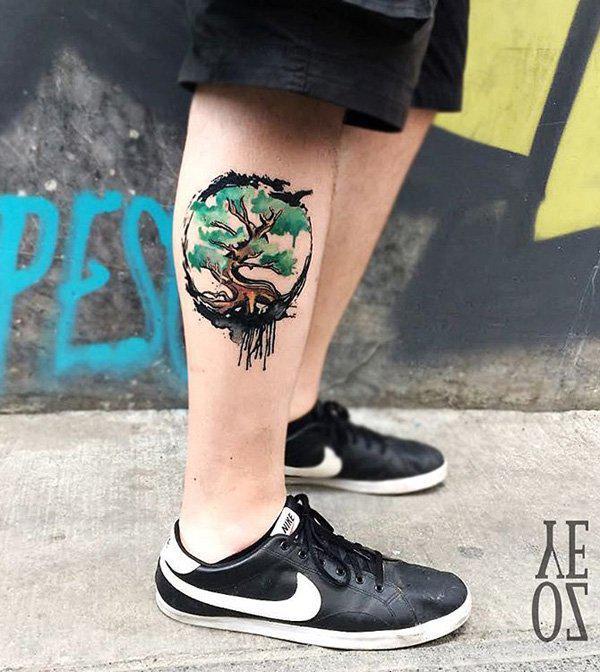 Another watercolor tattoo style of a tree design. Unlike the previous styles, this is smaller. But still, it holds a deeper meaning. Each tree has a different representation but it's generally linked to being able to withstand different weathers and cycles and still standing tall and proud.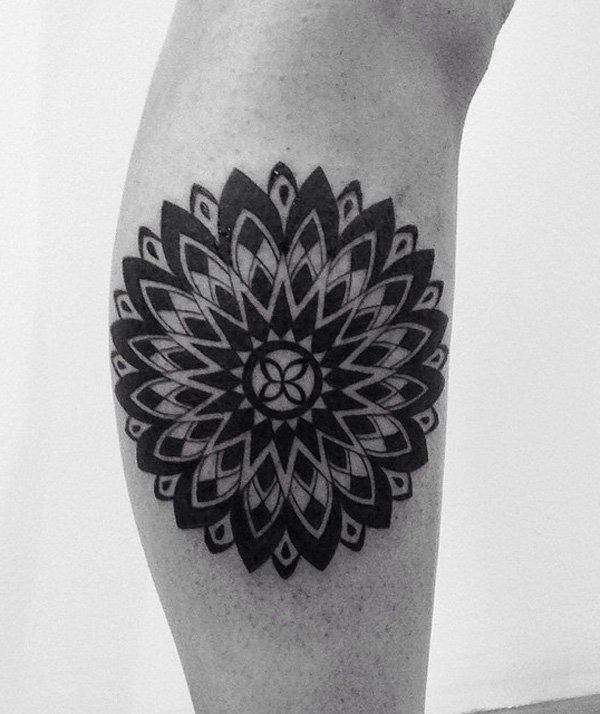 Another mandala tattoo. This one is much simpler and smaller but still makes a great tattoo design.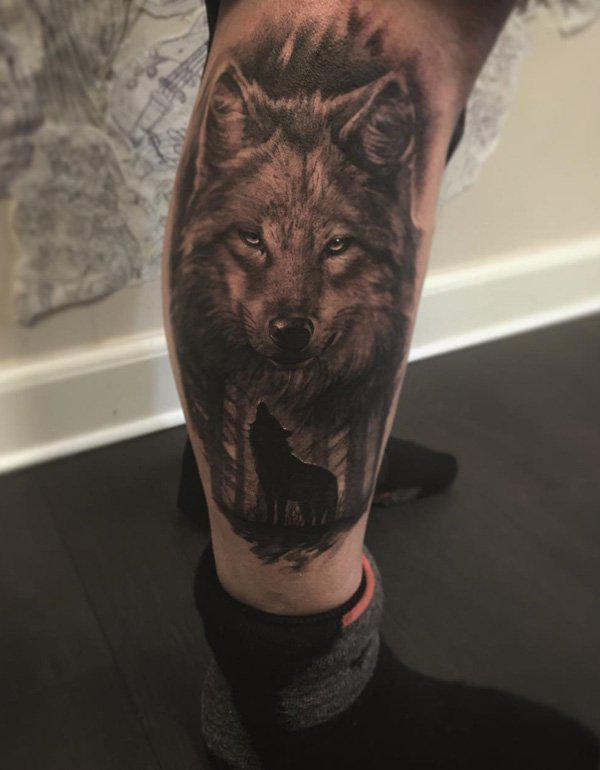 A wonderfully done wolf tattoo. Wolves could either be good or bad depending on who's viewing it and the tradition of the people. But usually, it's a sign of being strong and noble.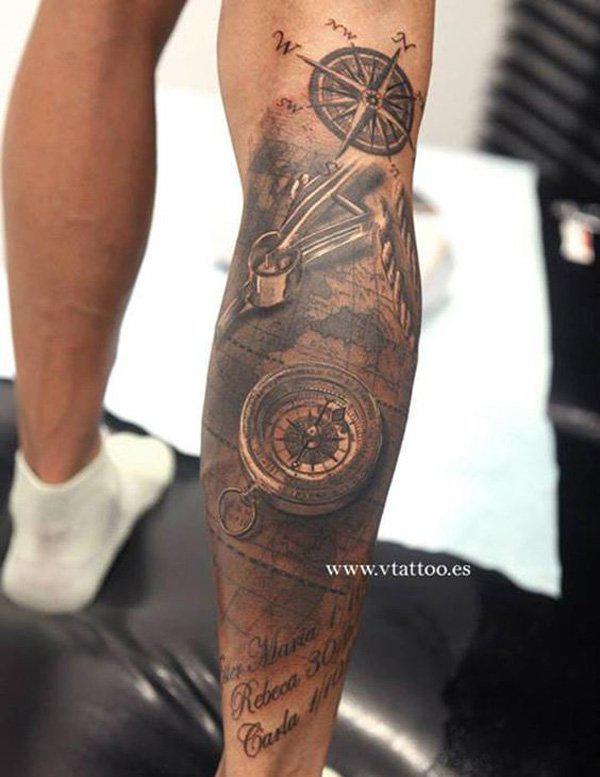 Nothing could be more beautiful than a 3D tattoo. It feels like your tattoo is alive and real. Plus, it's simply cool to look at.
Credit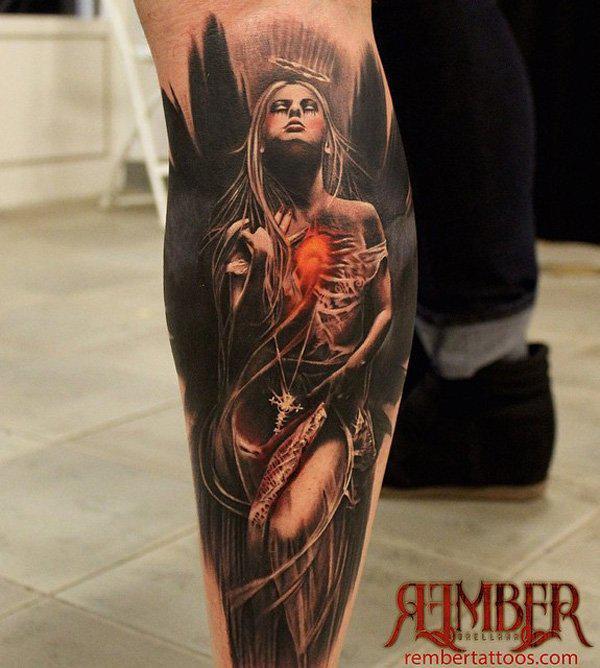 Angel tattoos have a wide variety of meanings to choose from. It could mean differently when a woman has it to that of a man. For example, it's usually calmness and serenity for women while it's more spiritual for men. Nonetheless, it could mean protection and love as well.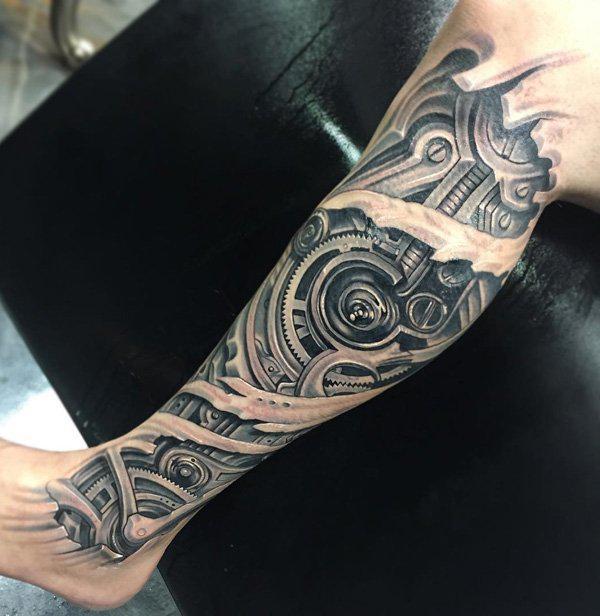 Here's another coold 3D mechanical gear design. These kinds of tattoos doesn't usually have any meaning but getting it for the sake of it looking cool isn't really a bad idea. In fact, it's a great design if you just want to get a tattoo.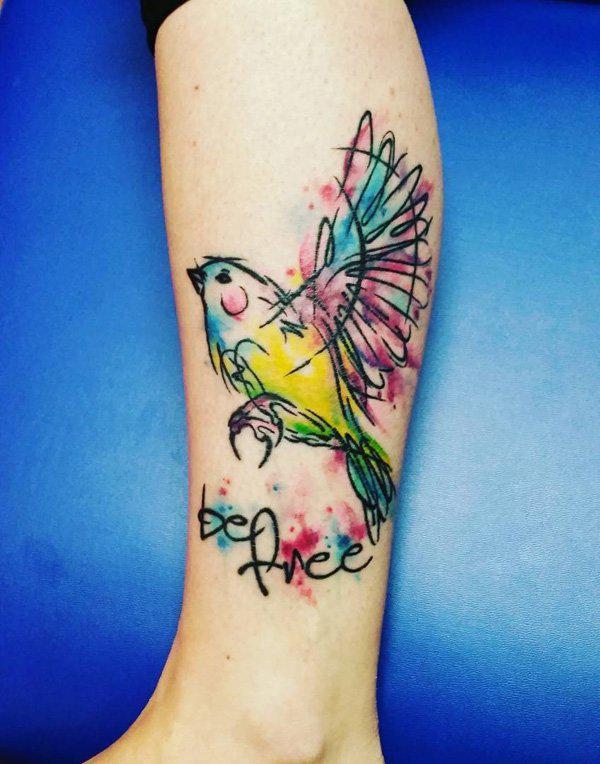 Birds as tattoos are usually a sign of freedom just as what the quote relays.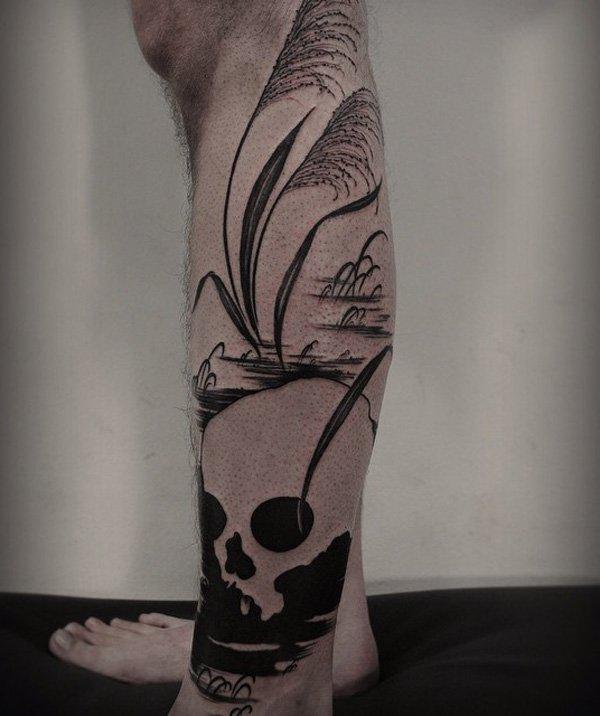 Skull tattoos are mostly linked to death; but it could also imply life or the cycle of life.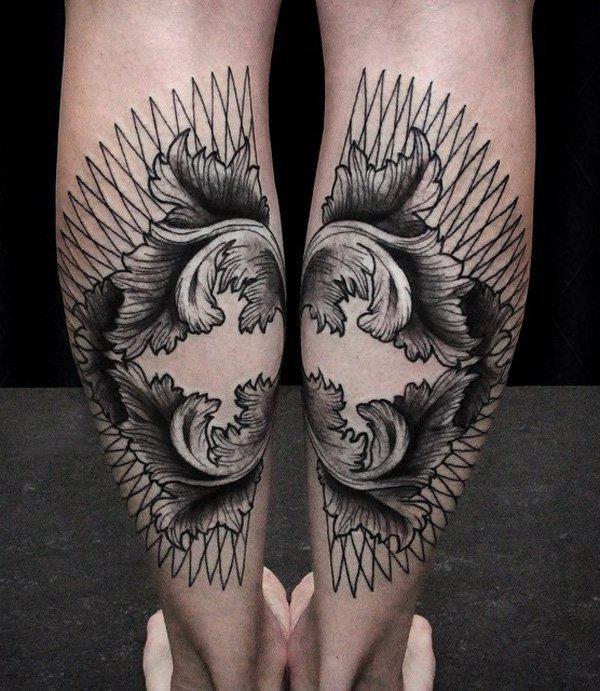 The great thing about calf designs is that you can create one big design and divide it into two so both your calves could have equal sides of one picture.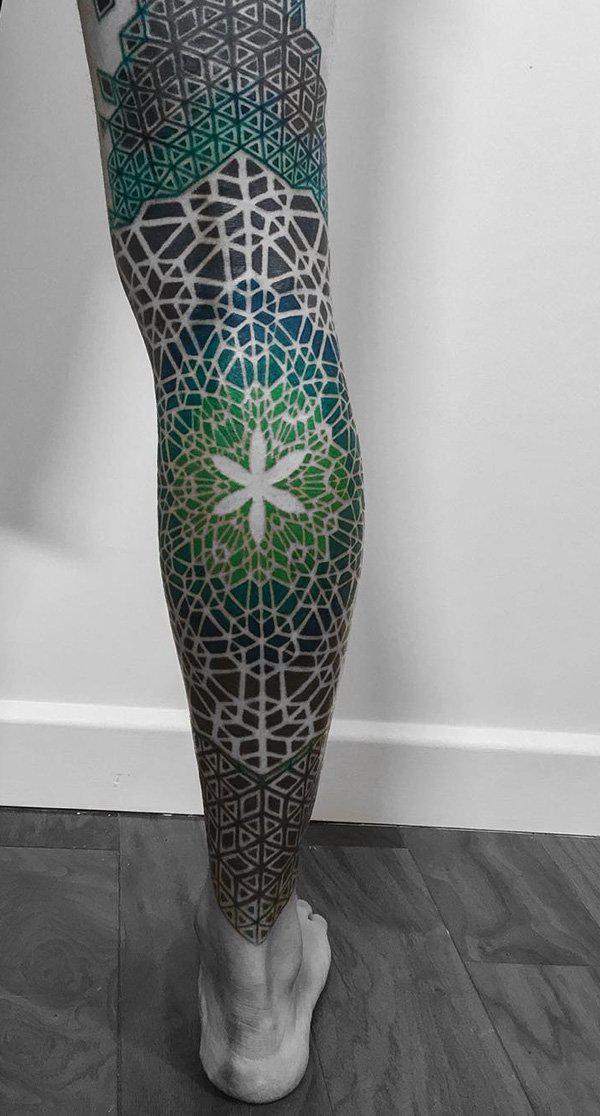 Another geometric tattoo design (now with vibrant colors for more appealing look) that you can have for you calves that extends to your thighs.
Abstract designs are one of the best ways to tell a story in an imaginative way. The story can vary for every person that looks at it which makes it a good way to keep everyone guessing. In addition, it's a great design to look at.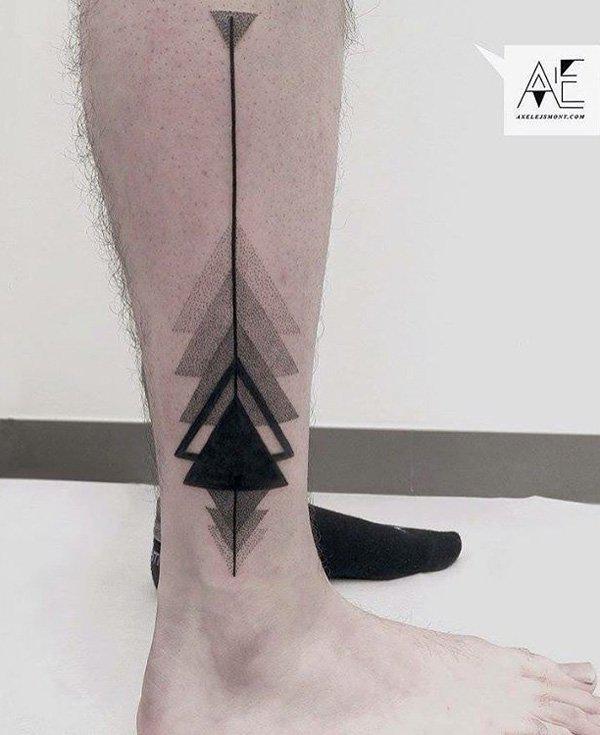 This design may look simple and it might not tell something at all. Then again, the story could depend on you. But simple as it may be, the details into making this tattoo is amazing and it has a somewhat soothing effect for the eyes.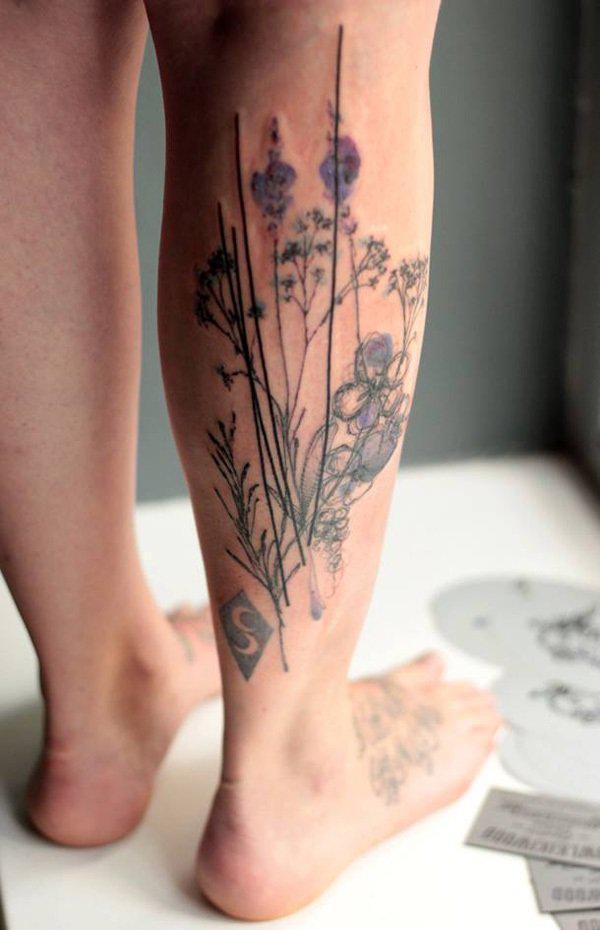 Females are usually the ones who get flower tattoos. But men don't have to be scared to get one especially when that flower is the best way to tell their message.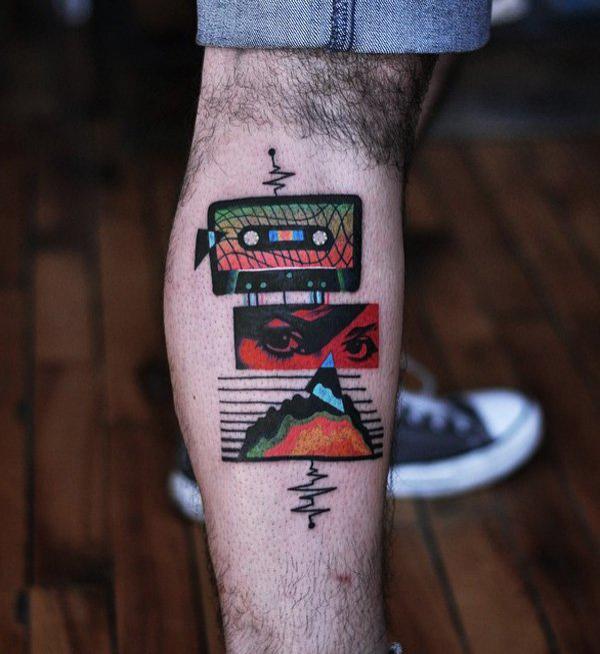 You can get inspiration for this wonderful urban design about things (and people) you are passionate about like your love for music, your love for someone and even your love for gathering new information.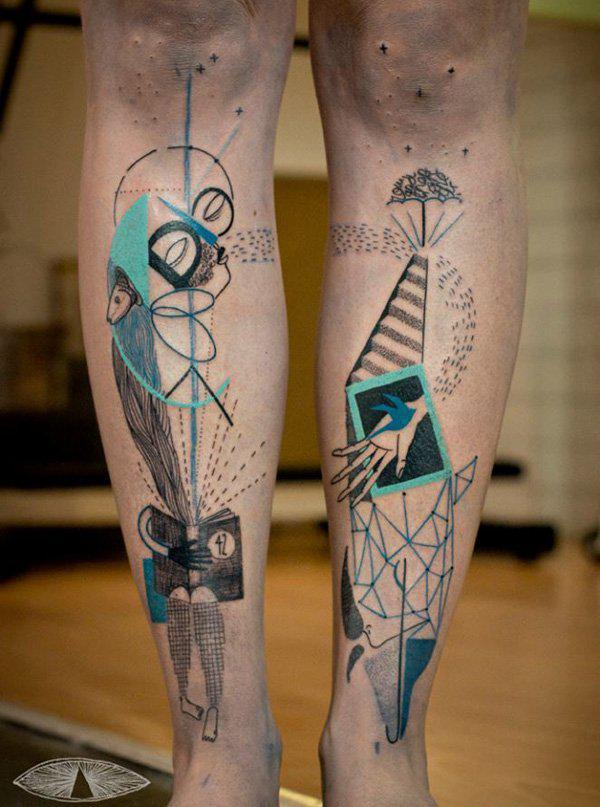 Another abstract design that could definitely look outstanding among other designs; even with hyper realistic or 3D ones.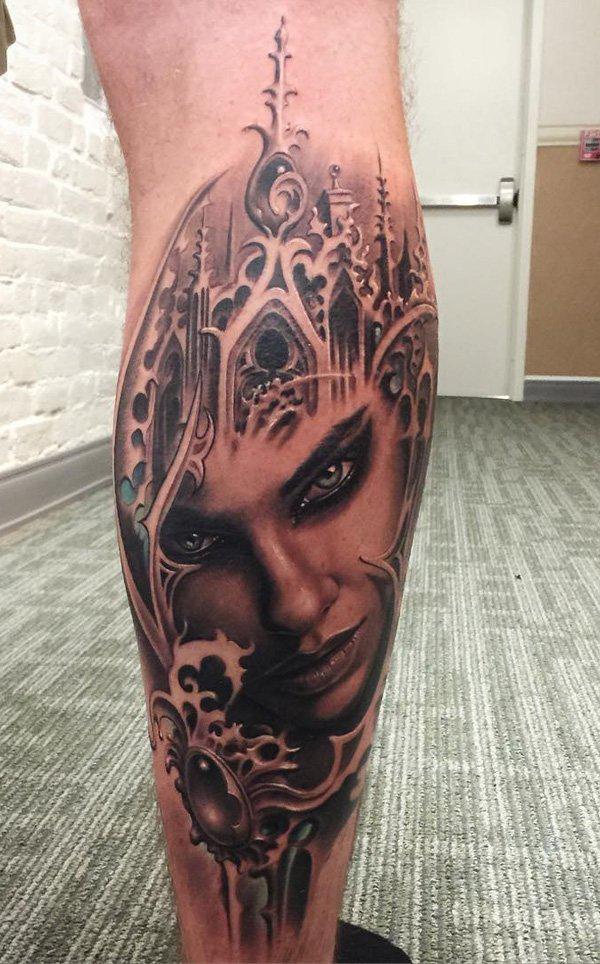 Portrait tattoos are usually memorials of people that you love. But it could also show part of yourself or perhaps it would simply what you want.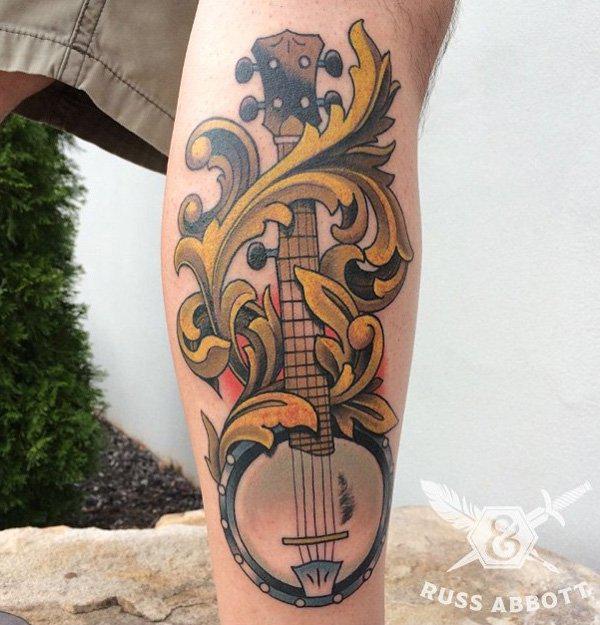 Another way to show off your love for music. There are different designs out there. It could be your design or perhaps your tattoo artist's. But do talk to them about the designs you are thinking of.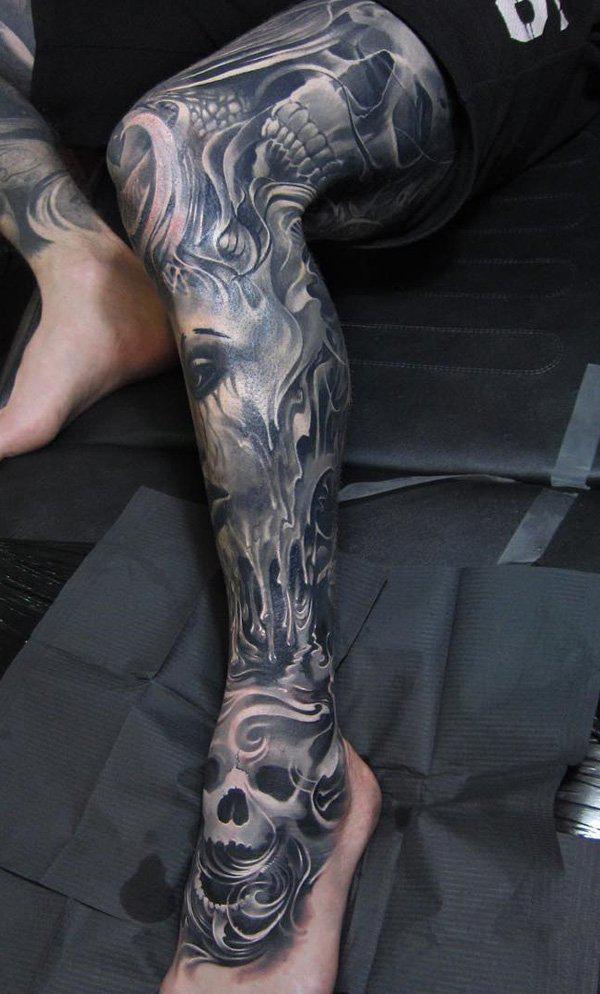 This surreal abstract design could be a little dark. But if you're into that kind of stuff, this might be a tattoo you are willing to get.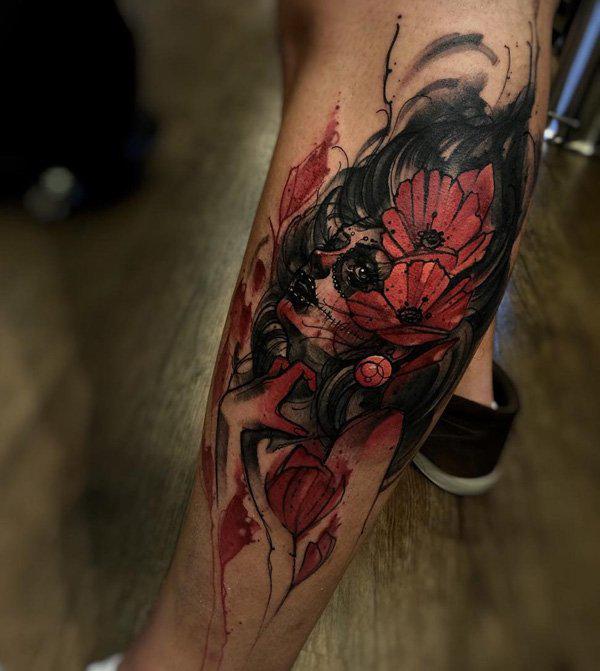 Gothic designs are still trendy and still on top of the list for tattoo lovers. These images may turn out quite dark and even disturbing but these are the usual ones that tell the deepest stories.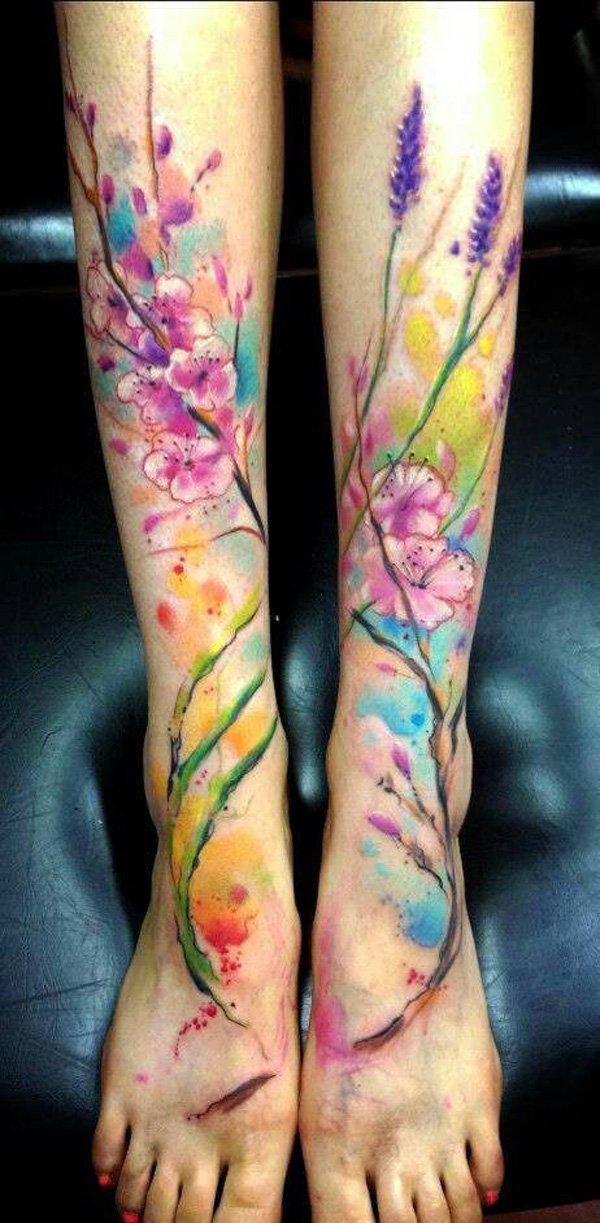 This lovely colorful watercolor flower tattoo is a great design for all women out there. Flowers mainly represent natural beauty and delicate nature.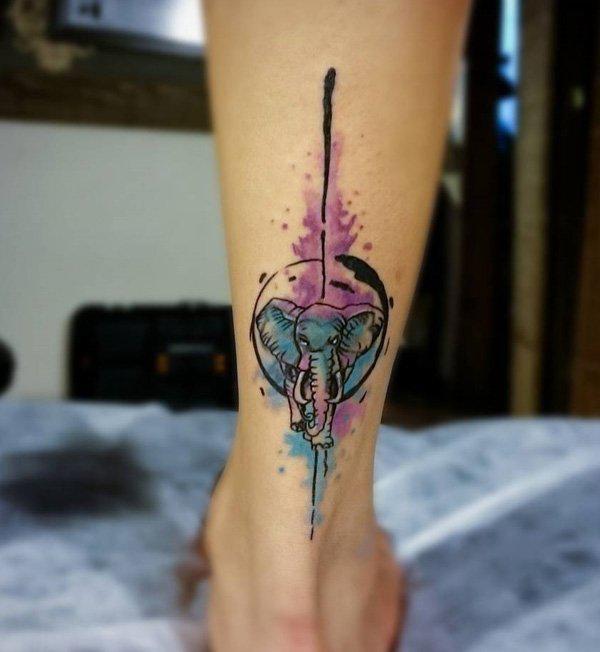 An elephant tattoo is the universal symbol for luck, strength and loyalty. Apart from that, they are deemed as animals with great wisdom as they can live a long life. And this watercolor calf tattoo is a unique but absolutely beautiful design for a tattoo.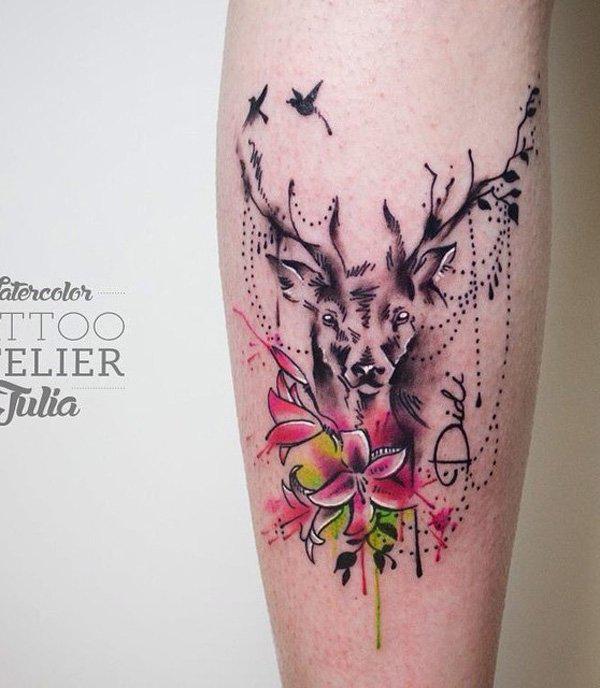 Deer are also one of the symbols of intelligence as well as love and peace. Alongside delicate flowers, it can show the quiet part of yourself.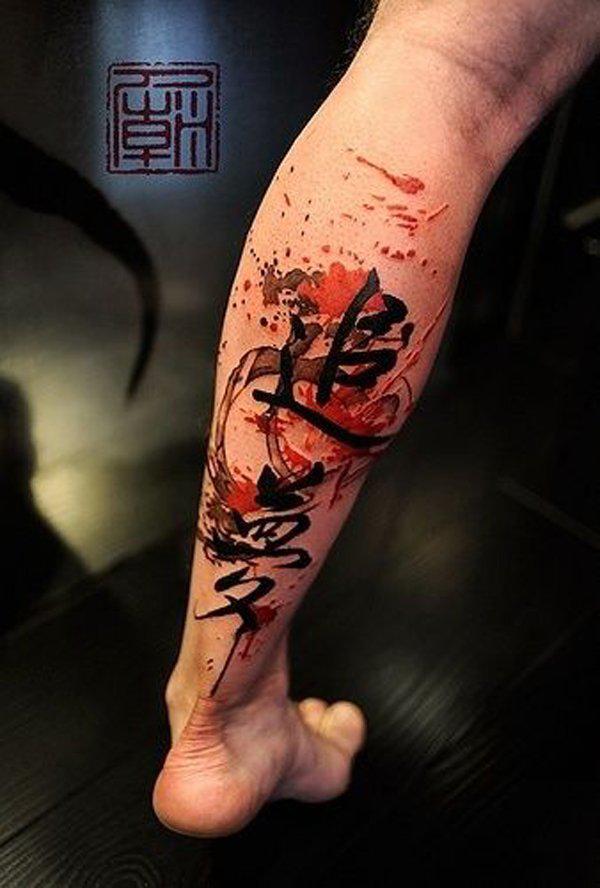 Another usual tattoo designs are Chinese characters. There are different characters that symbolizes different words; the choice is yours.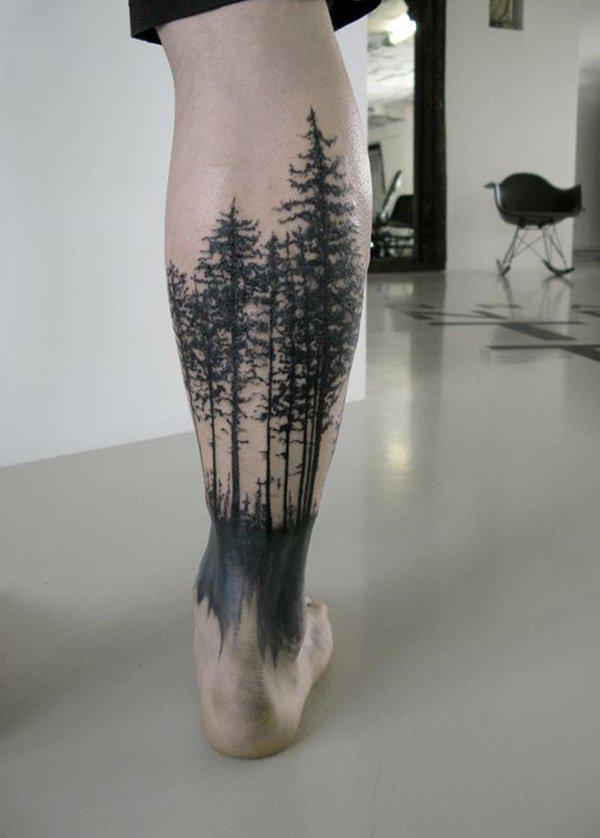 Forest tattoos are not just impressive tattoos; these also mean endurance and being able to stand tall and proud even with all the storms that comes.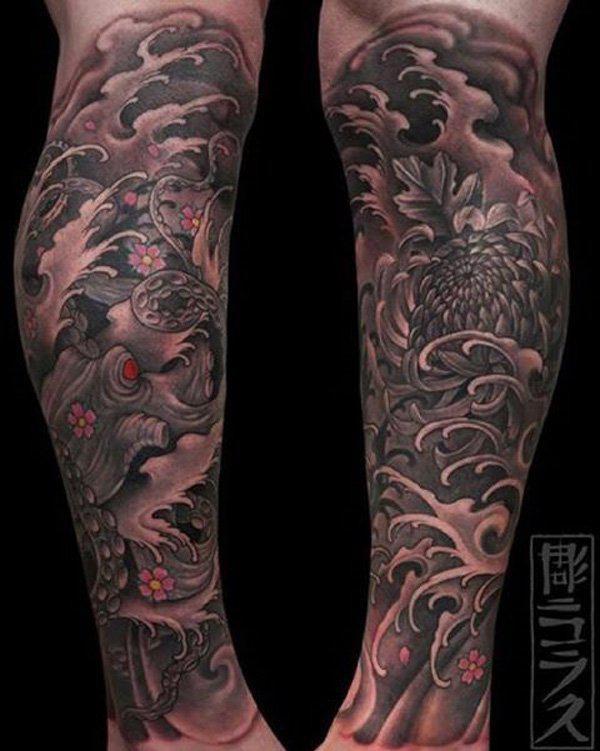 Japanese art tattoos are also very common in the tattoo world. They have a certain style that is both delicate and complex. In tattoos, no matter what design you choose, it's bound to stand out.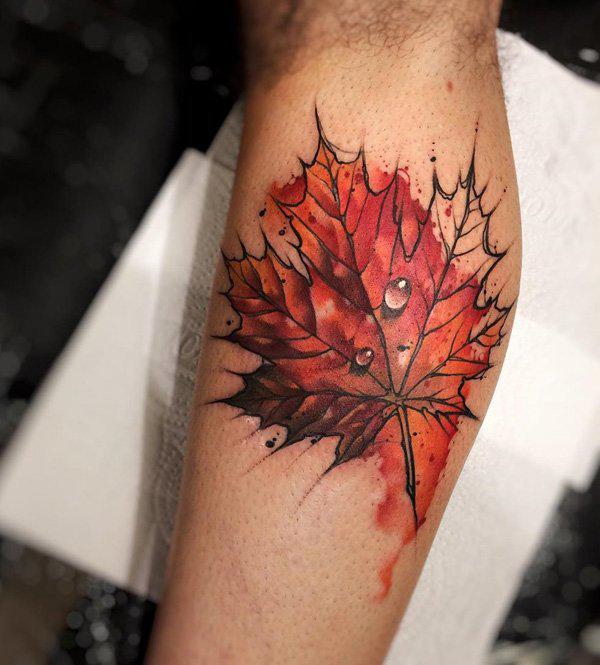 Maple leaves, although usually associated with Canada or perhaps pancakes and maple syrup, are in general symbols for reserve and relaxation. But pancakes with maple syrup is a great way to just chill as well.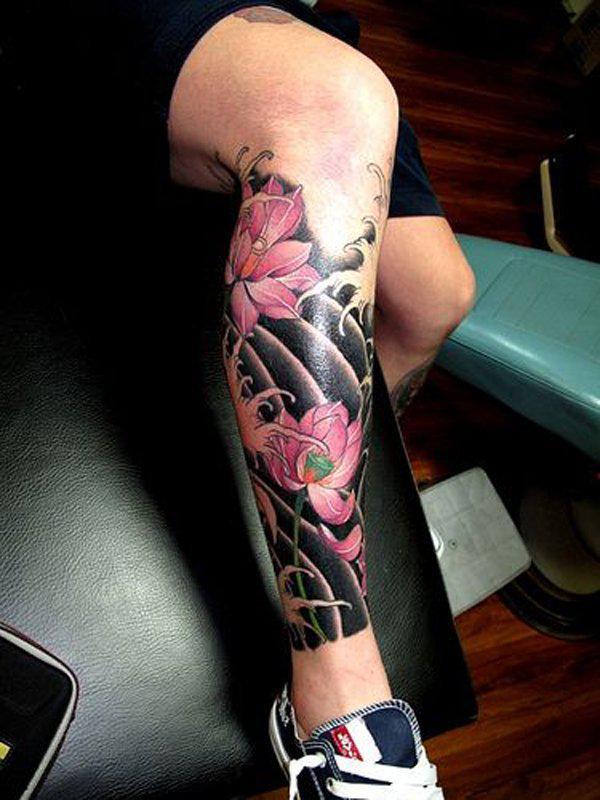 Lotus flowers have a lot of meanings in the world of tattoos. It depends on what country, what culture, what color and how the lotus flower is drawn. So before diving into a lotus tattoo design, be sure you know what it means.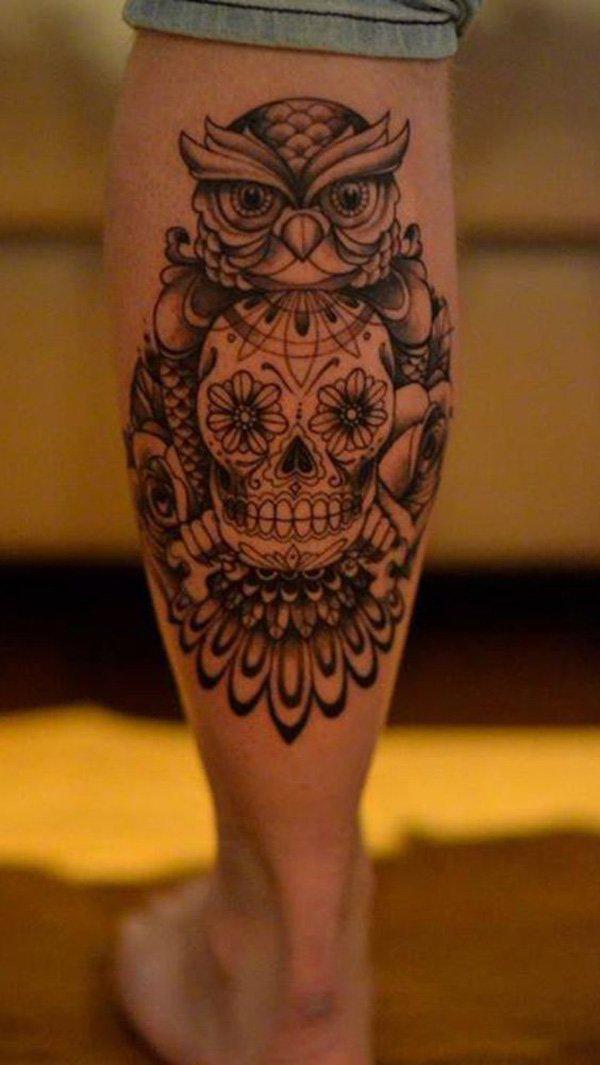 This beautiful owl and skull design could mean wisdom (for owl) and living life to the fullest (for the skull). Then again, the meaning could depend on what you perceive of it.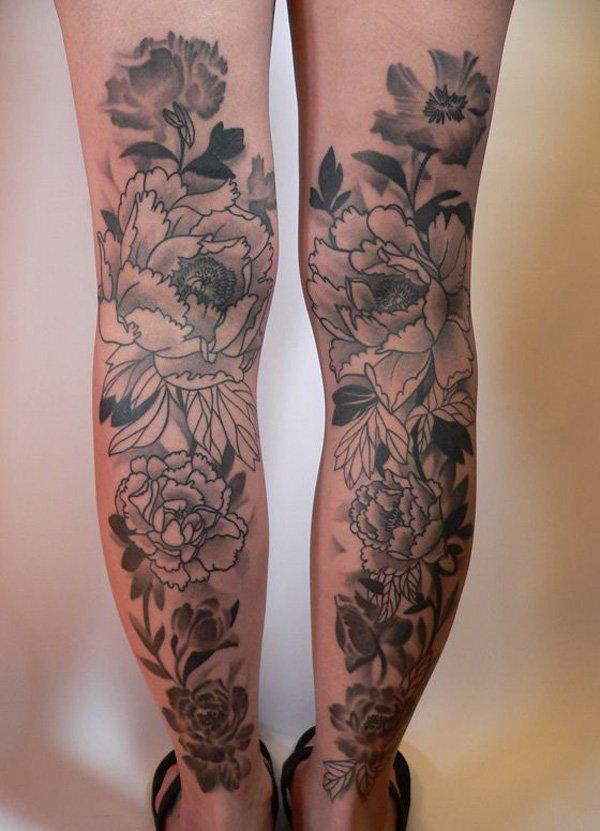 Another flower design that reaches to the lower part of the thighs. This kind of design is great not just for its meaning but it could be a sassy replacement for leggings or stockings.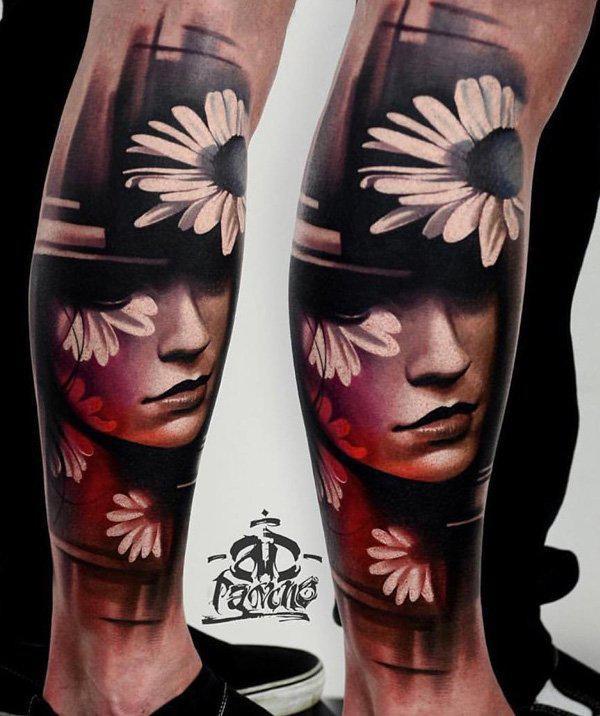 To be able to get a wonderfully made tattoo, you would need the help of a good tattoo artist. The 3D effect in this portrait design could be hard to achieve so be sure you speak with your artist first.
While roses are associated with love and passion, butterflies are commonly linked to rebirth and resurrection.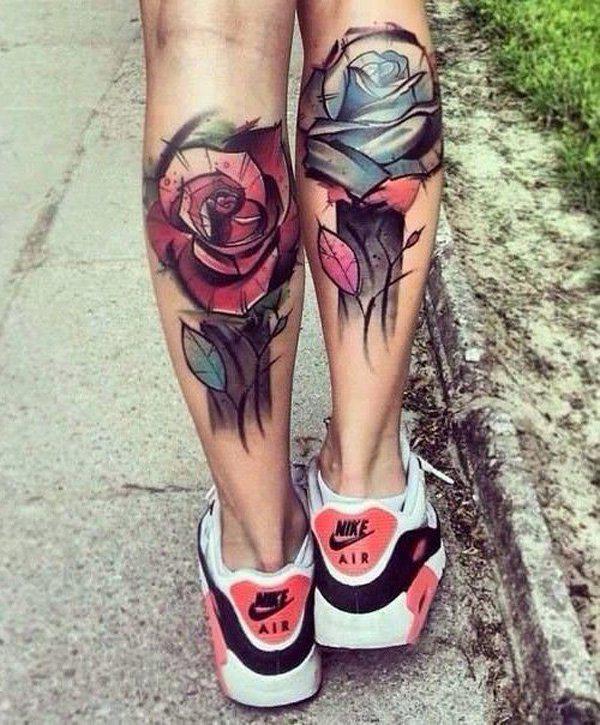 A perfect rose tattoo for women with great tattoo style. It's delicate and yet strong, just like all women out there.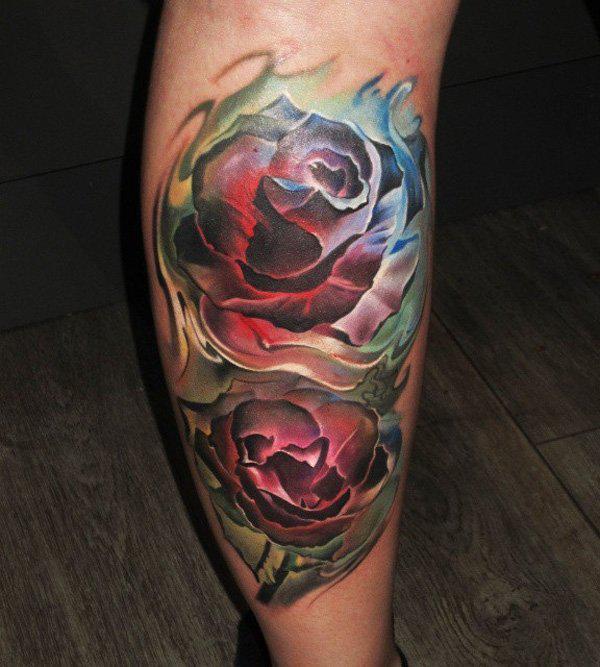 Another variation of a rose tattoo design so you can have a wide selection of how you can relay a story of love and passion.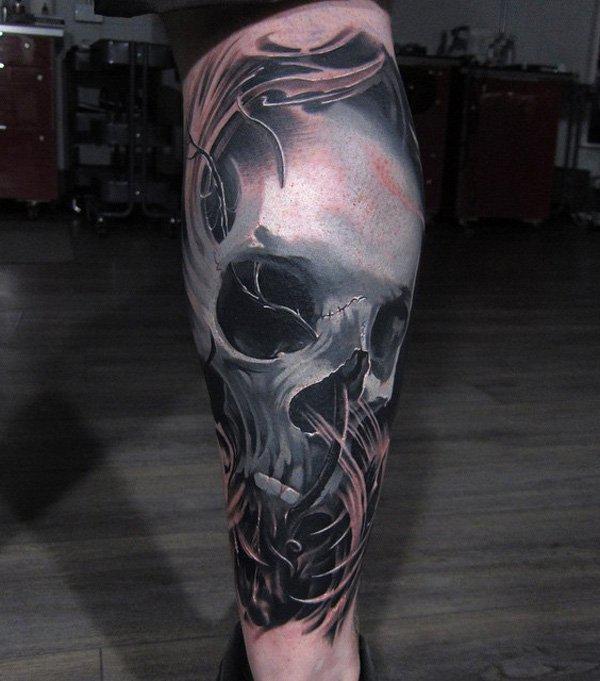 Earlier descriptions of skull tattoos show a brighter side to the design. However, it could really mean death and decay. It all depends on the manner of the design as well as the viewer.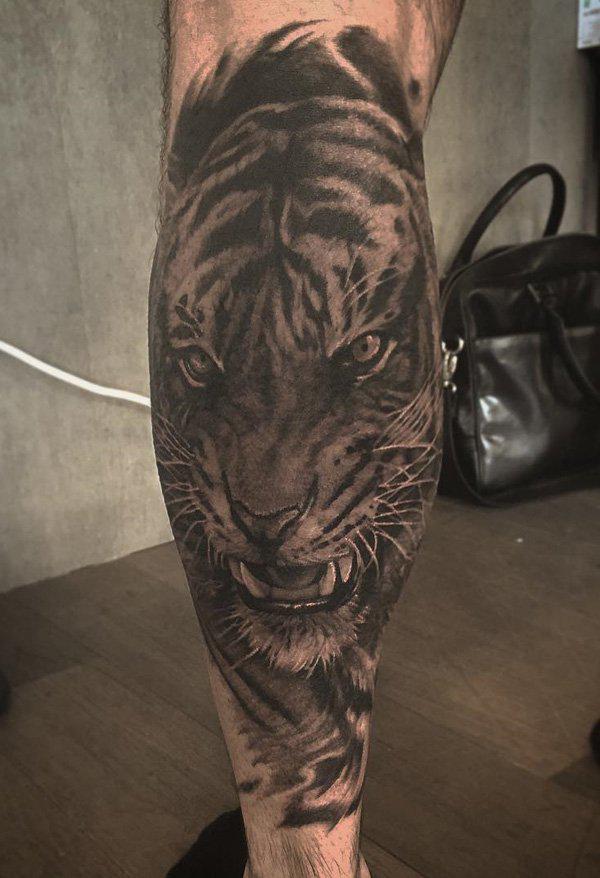 Wild and powerful. Ferocious and yet elegant. These are the words that can describe tigers. So getting this wonderful tattoo is the best way to associate yourself with these big felines.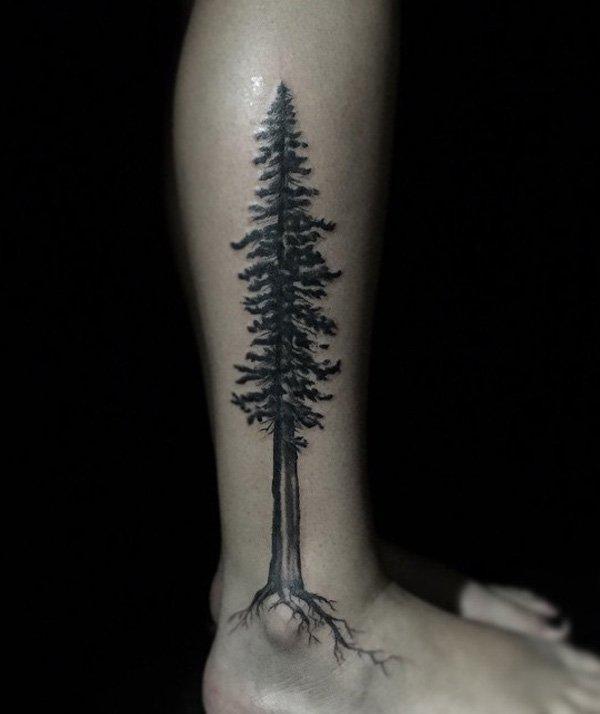 A lone evergreen could tell the story of your life; that no matter what harsh weathers and challenges comes, you are still able to stand strong.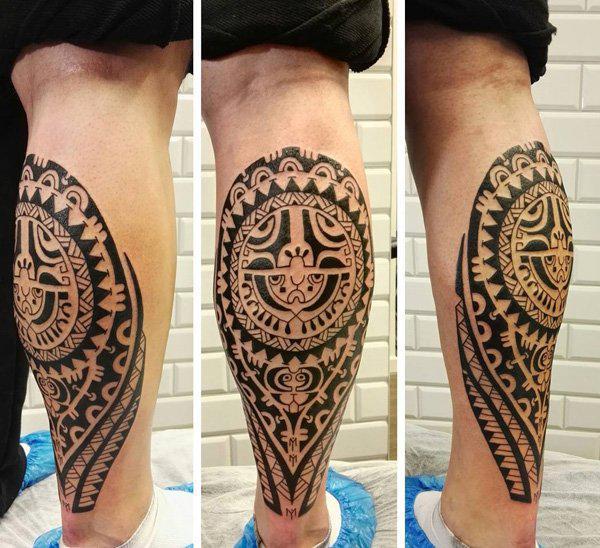 This tribal tattoo is more on tribal design than languages (compared to an earlier tribal tattoo). It shows usual features on tribal art that are beautiful and complicated.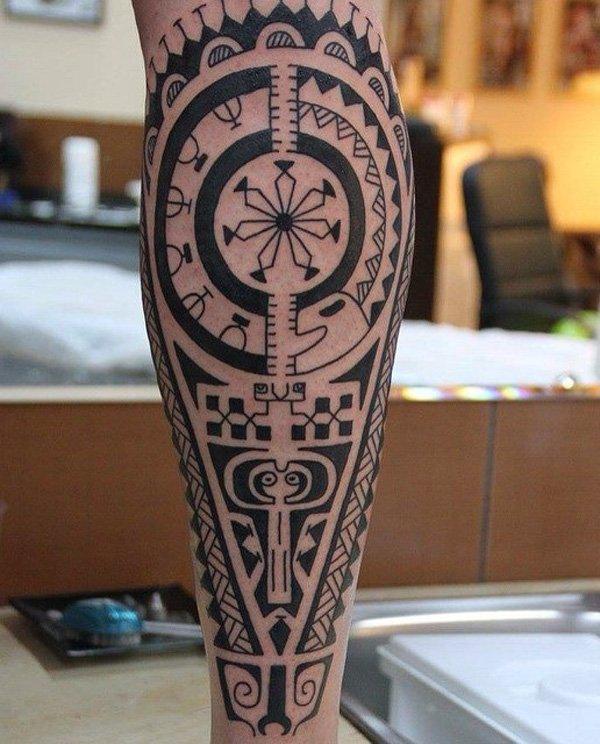 Another tribal tattoo design you can choose to get.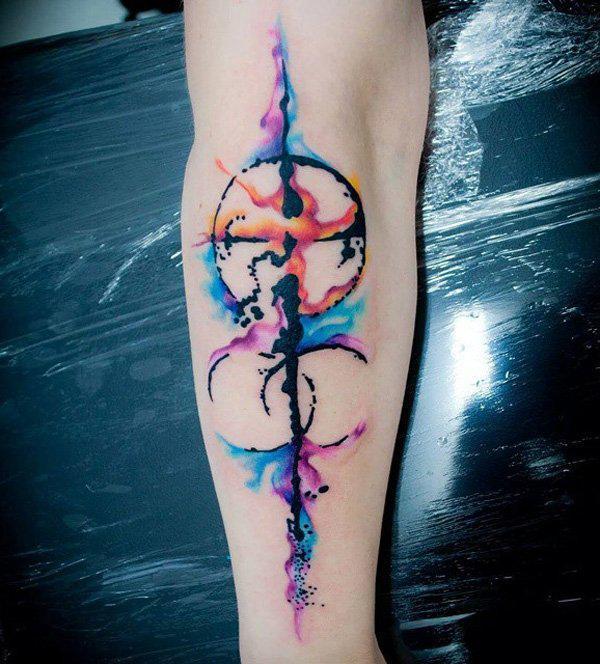 There may be no solid feature on this design but it's still a wonderful tattoo to have. What with the soft color and strokes brought to you by watercolor style design.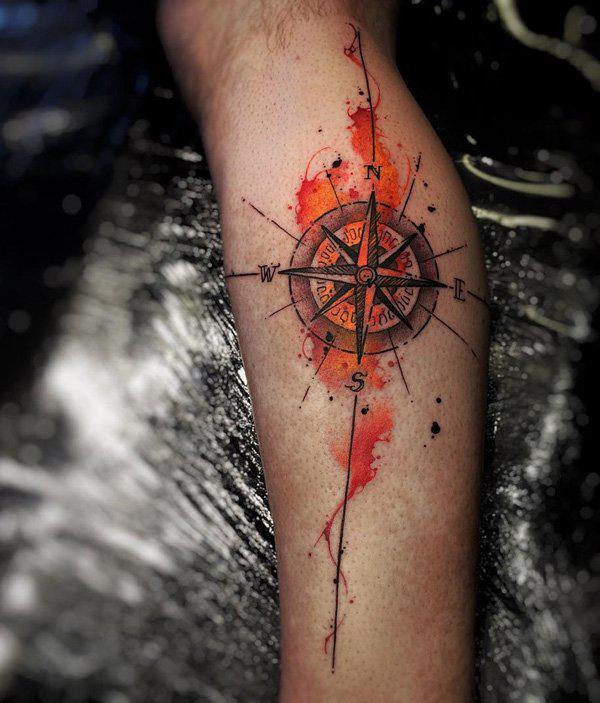 One more compass design that you could choose from. Apart from guidance, these compass tattoos are also symbols of protection and fortune.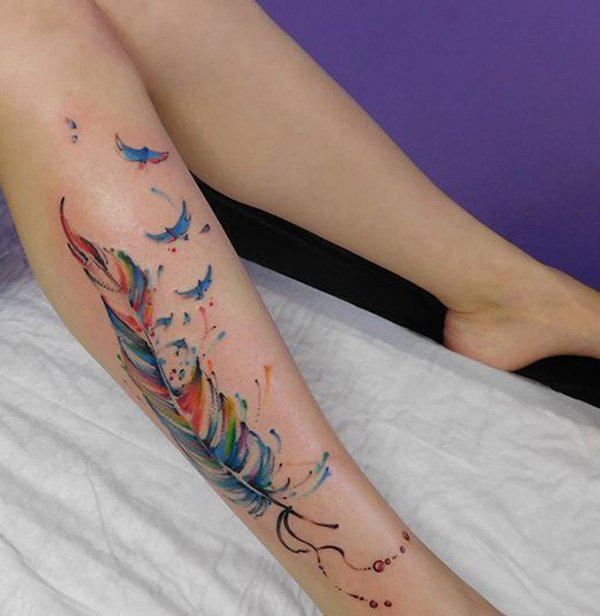 This colorful feather calf tattoo that turns into tiny birds can describe one thing: freedom.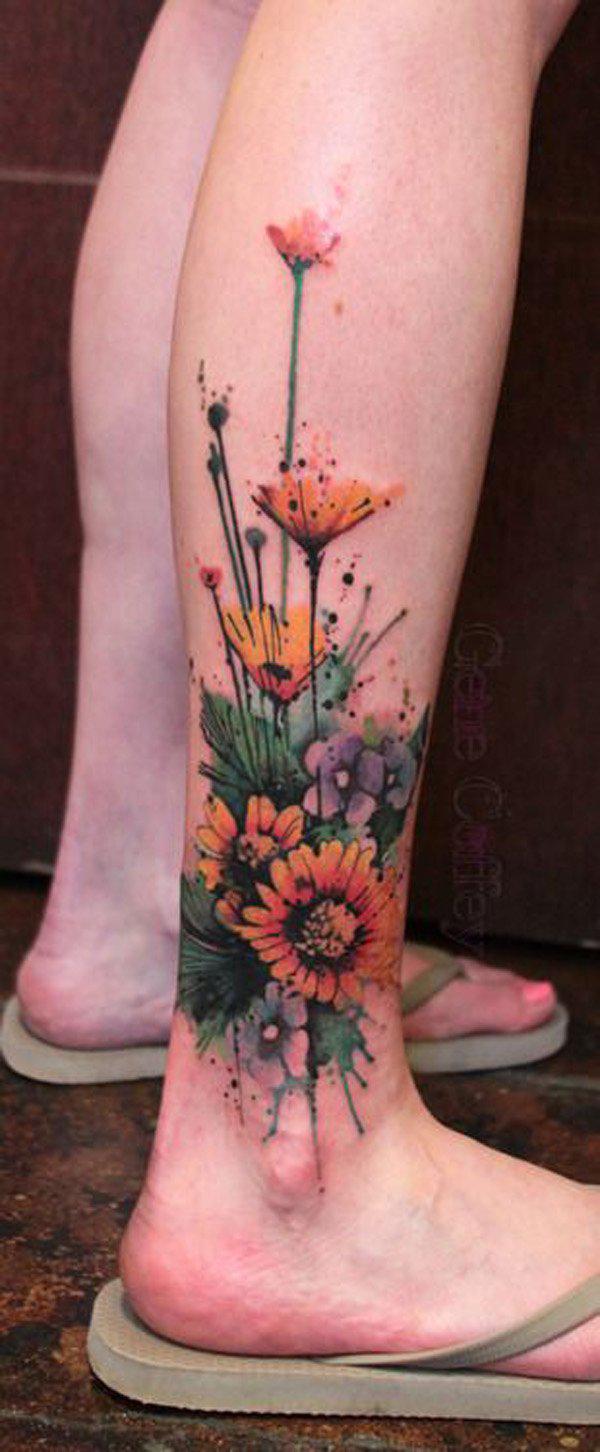 Sunflowers face the sun. Any time of the day, as long as there is the sun, they would face it. In symbolism, this could mean spirituality. Or of course, it could simply mean beauty and energy.