In the intricate world of tattoos, honeycomb designs have carved out a unique niche. These captivating motifs, filled with geometric harmony and natural beauty, are not just visually stunning but also steeped in symbolism, making a honeycomb tattoo a versatile choice that resonates with many. Let's delve into the allure of the particular geometric tattoos and discover why they have been creating a 'buzz' in the tattoo community.
Symbolic Significance of Honeycomb Tattoos
Unity and Teamwork
The honeycomb is a testament to the collective effort of the bee colony. Each cell is the result of cooperative work, symbolizing unity, community, and teamwork. A honeycomb tattoo can serve as a reminder of the power of collaboration and the strength of a community.
Structure and Efficiency
With its hexagonal cells, the honeycomb is an example of natural efficiency at its best. This structure uses the least amount of wax while providing the maximum storage space, symbolizing structure, balance, and strategic planning. A honeycomb tattoo can resonate with individuals who value these qualities in their personal or professional life.
Connection to Nature
The honeycomb is a product of the natural world and highlights the importance of bees in our ecosystem. A honeycomb tattoo can symbolize a deep connection to nature, a commitment to environmental conservation. It can also signify an appreciation for the often overlooked creatures that contribute to our ecosystem's balance.
Symbol of Abundance
Honey, the product stored within the honeycomb, has long been associated with sweetness, prosperity, and abundance in various cultures. So, a honeycomb tattoo can represent the desire for abundance or serve as a reminder to appreciate life's sweet blessings.
Honeycomb Tattoo Designs
Honeycomb tattoos blend two popular themes in tattoo art: geometry and nature. The honeycomb, with its perfectly symmetrical hexagonal cells, is an example of nature's geometry at its finest. This pattern can be both simple and complex, making it a versatile design that can fit a variety of styles, from minimalist to intricate, from abstract to realistic. Here is a list of designs that may inspire your ideas.
Honeycomb and flowers with bees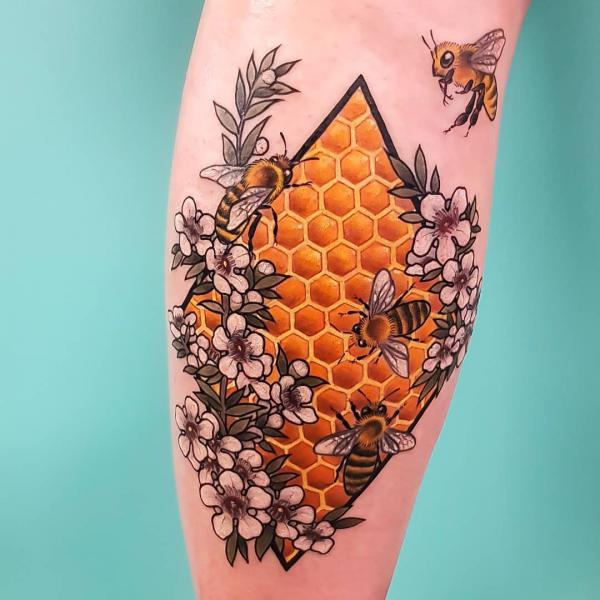 A honeycomb and flowers with bees is a vibrant design that's a testament to the beauty and productivity of nature. It's a lively piece that can serve as a daily reminder of the sweetness of life and the rewards of hard work and perseverance.
Neo tradition honeycomb and camellia tattoo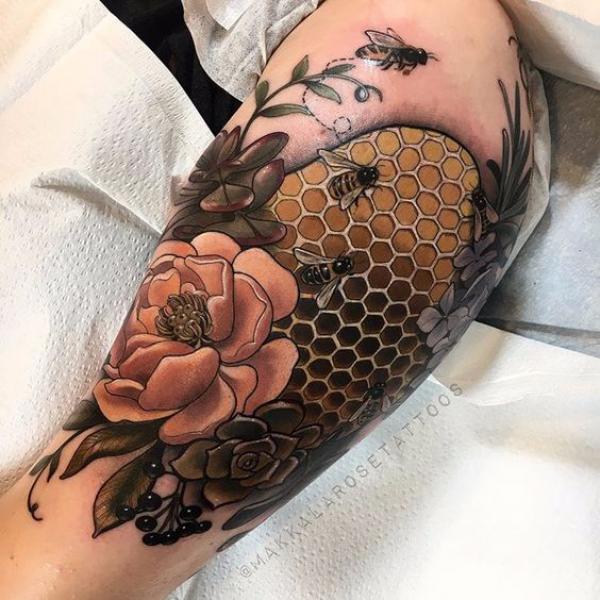 In a neo-traditional design, the honeycomb pattern is often combined with bold and vibrant elements like the camellia flower. Camellias symbolize admiration, perfection, and gratitude. This design is a colorful and expressive way to pay tribute to the beauty and perfection of nature.
Neo traditional honeycomb with flower and berry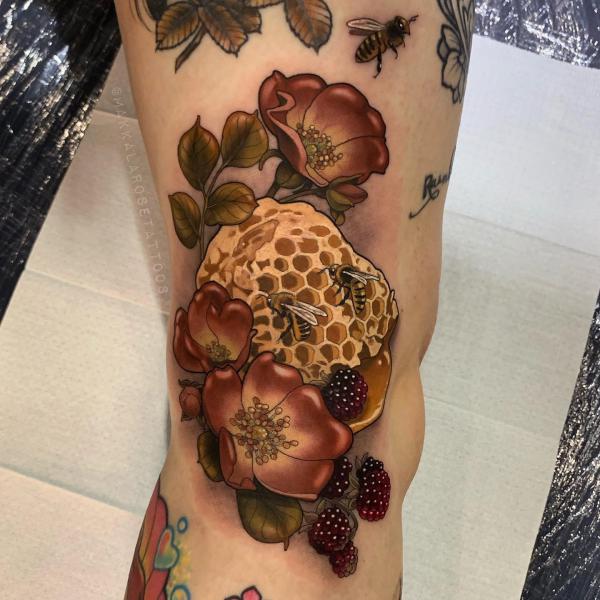 This vibrant design incorporates the honeycomb with flowers and berries. It's a vivid and eye-catching design, encapsulating the beauty, fertility, and abundance of nature.
Traditional honeycomb tattoo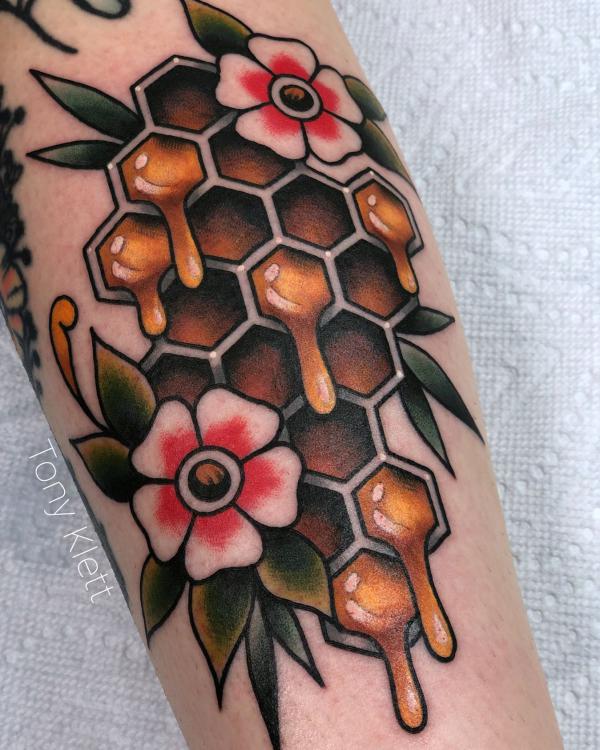 A traditional honeycomb ink design is a timeless piece. It can be a simple honeycomb pattern or combined with classic tattoo elements like roses, daggers, or banners. This design stands as a testament to the enduring allure of nature's perfection.
Honeycomb with fern and sunflower tattoo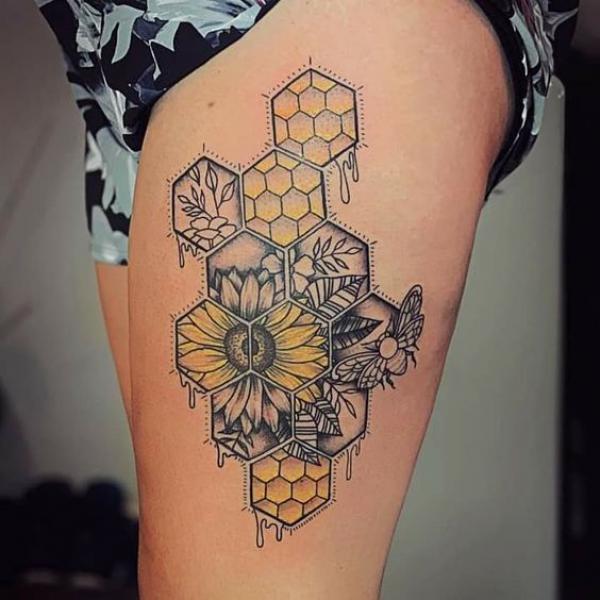 Combining honeycomb with different elements of nature, such as ferns and sunflowers, can create a stunning piece. Ferns symbolize new beginnings and eternal youth, while sunflowers represent adoration, loyalty, and longevity. Together with the honeycomb, this design conveys a message of growth, resilience, and positivity.
Honeycomb and honey jar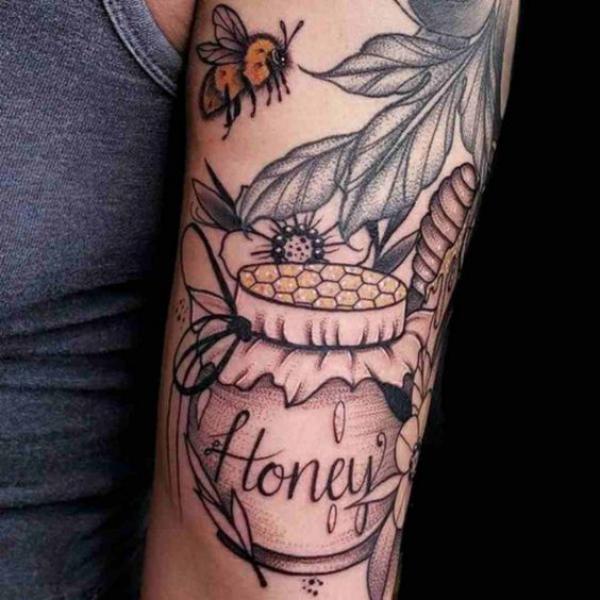 A honeycomb and honey jar ink design can symbolize the fruits of one's labor, celebrating hard work and success. It's a sweet reminder of the rewards that come from diligence and perseverance.
Honeycomb and landscape tattoo black and grey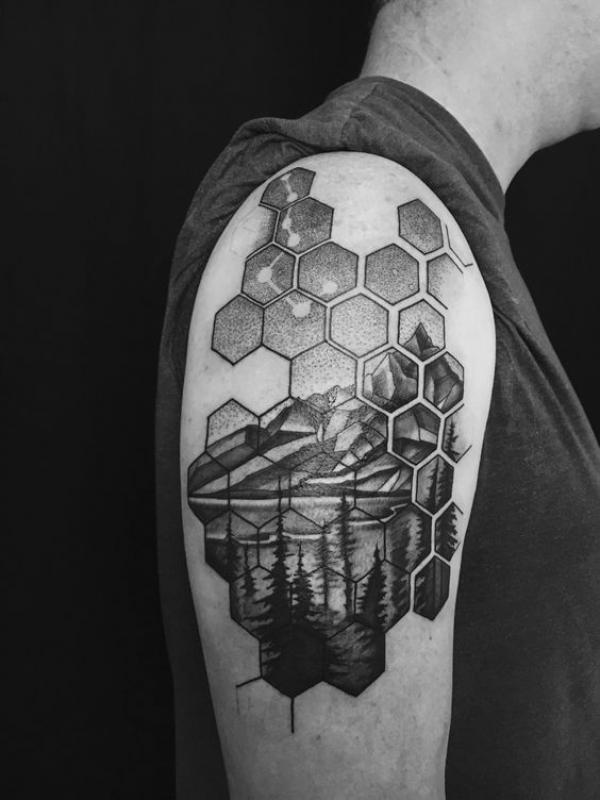 This design cleverly integrates a landscape within the honeycomb structure. It's a unique way to combine one's love for nature and the symbolism of the honeycomb. The black and grey tones add a moody and dramatic feel to it.
One honeycomb cell with a bee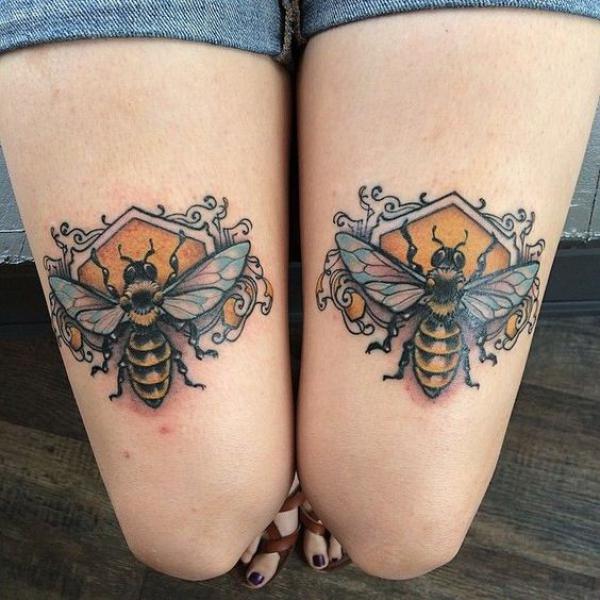 Sometimes, less is more. A single honeycomb cell with a bee can be a minimalist yet powerful design. The bee symbolizes community, brightness, and personal power. This small but mighty tattoo is a testament to the strength and resilience of nature and the individual.
Honeycomb blackwork tattoo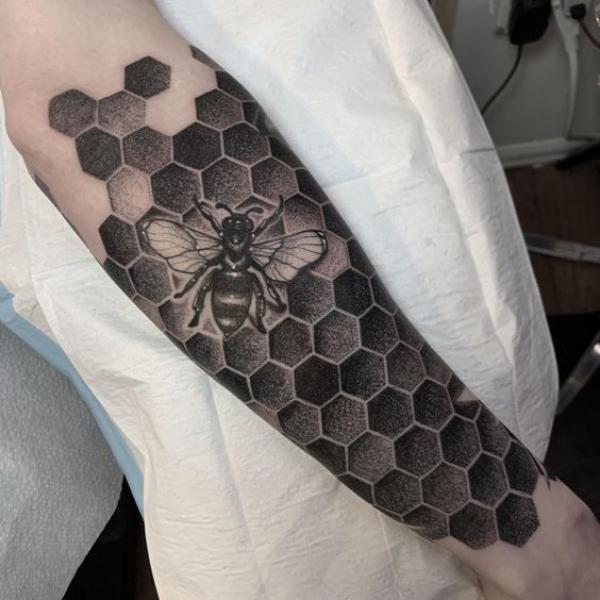 Blackwork is a style of tattooing that uses large amounts of black ink to create bold and striking designs. A honeycomb blackwork design can be a dramatic and impactful piece, signifying strength, courage, and determination.
Honeycomb and bees in a bottle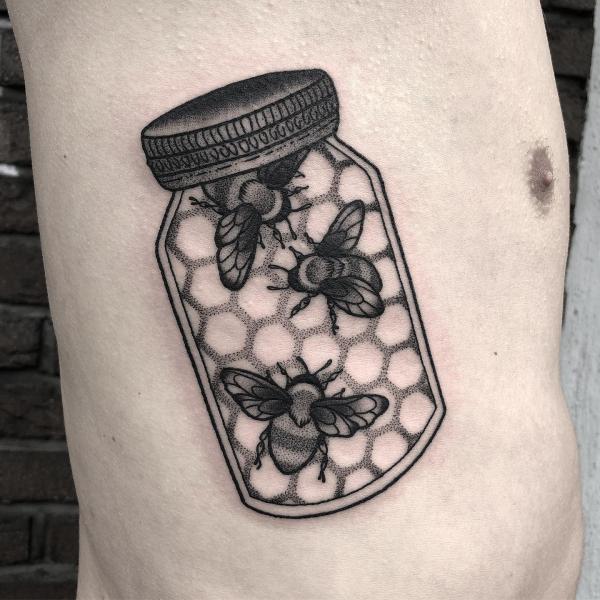 This design encapsulates a microcosm of nature within a bottle. It's a delightful representation of life's sweetness bottled up, signifying preservation and value. The bees add an extra layer of symbolism, representing hard work, teamwork, and productivity.
Rose in clock on honeycomb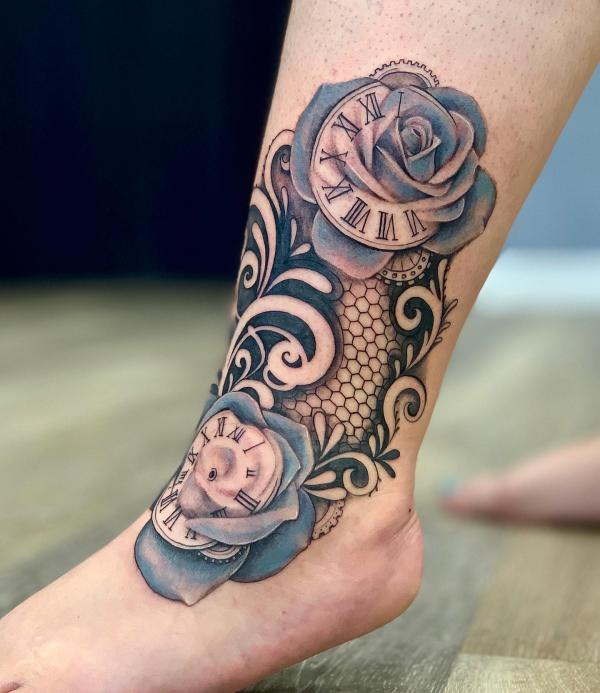 Incorporating a clock and a rose into the honeycomb design can symbolize the fleeting nature of time and the enduring beauty of love. It's a powerful reminder to appreciate the sweetness of the present moment.
Seed of life honeycomb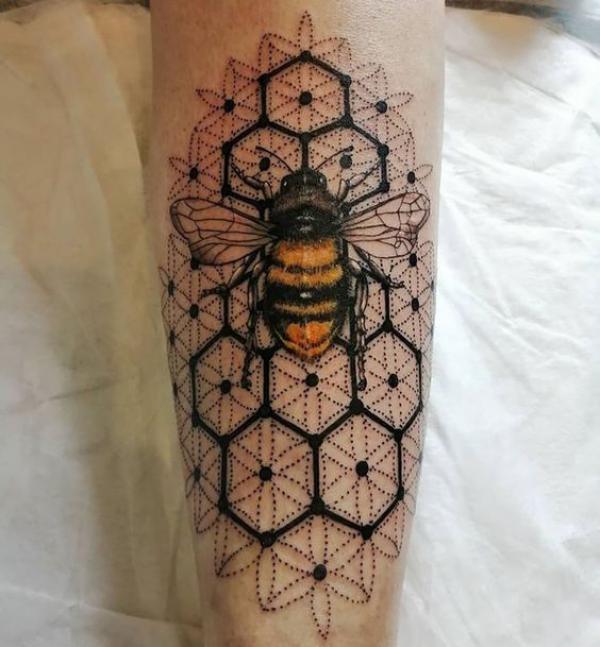 The 'Seed of Life' is a sacred geometric pattern representing the seven days of creation. Incorporating this design into a honeycomb tattoo can symbolize the interconnectedness of all life forms and the cyclical nature of existence.
Skull with honeycomb bee and honey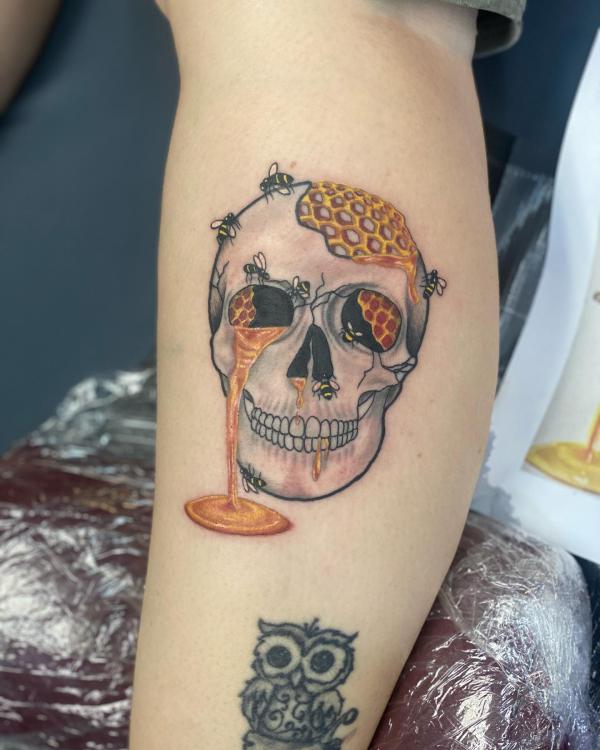 While a skull might seem like a macabre element, when combined with a honeycomb, bee, and honey, it serves as a reminder of the cyclicity of life and the sweetness that can be found even in dark places.
Heart with honeycomb tattoo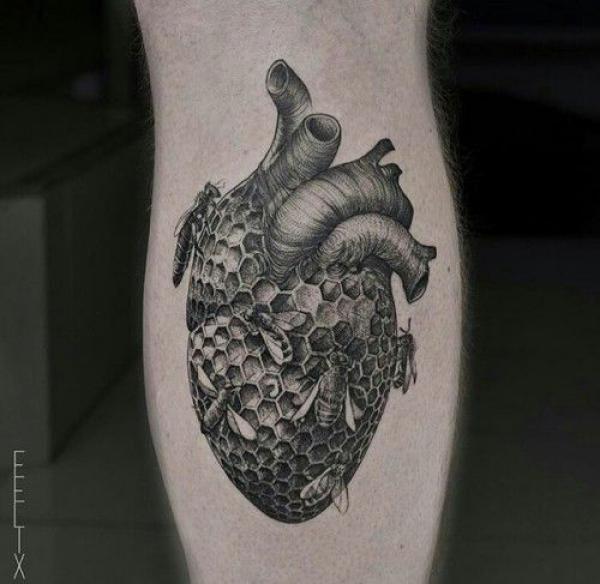 One of the most popular designs is the honeycomb heart. This design infuses the traditional heart symbol with a honeycomb pattern, signifying the sweetness of love and life. It's a unique take on the conventional heart tattoo, symbolizing the interconnectedness of love, life, and nature.
Hexagonal black and grey gradient tattoo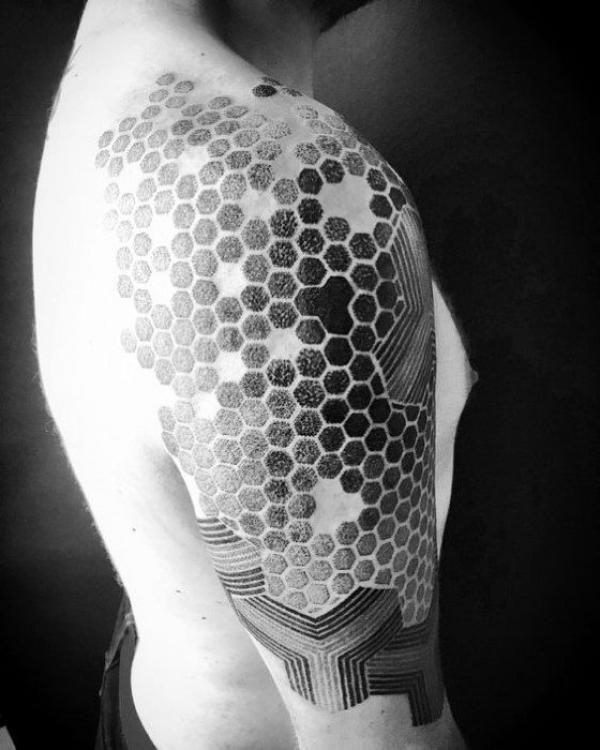 If you prefer something minimalist yet complex, consider a hexagonal black and grey gradient design. This design uses different shades of black and grey to create a 3D effect, giving depth and dimension to the honeycomb cells. It's a truly artistic piece that exemplifies the beauty of geometry in nature.
Two bees on honeycomb outline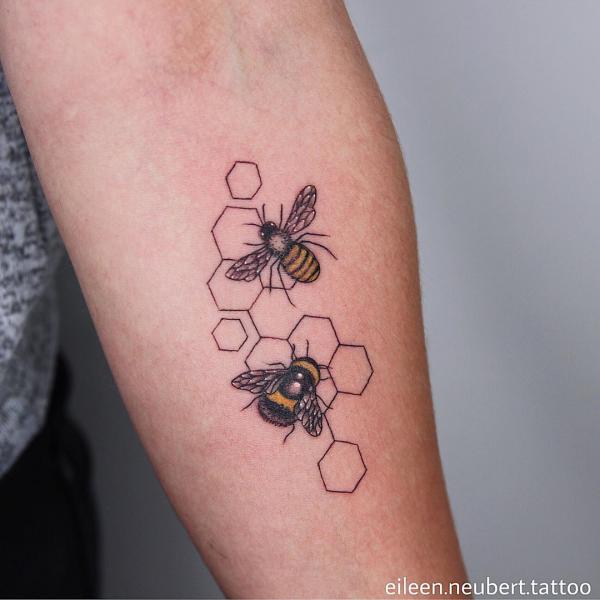 A honeycomb outline with two bees is a charming design signifying companionship, teamwork, and love. It's a sweet testament to shared work, shared dreams, and shared lives.
Watercolor Honeycomb and bee tattoo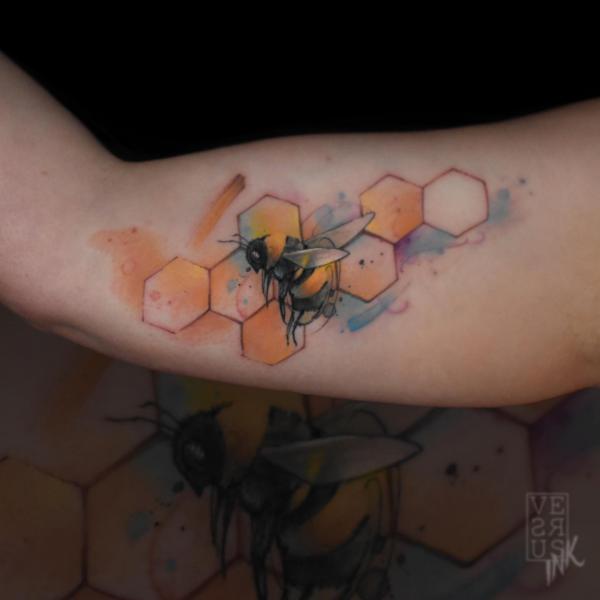 Watercolor tattoos mimic the effect of watercolor paints, giving a soft, ethereal feel to the design. A watercolor honeycomb and bee design is a beautiful blend of delicate colors and intricate details. This design embodies the beauty of nature and the hard work and unity represented by bees.
Watercolor honeycomb head tattoo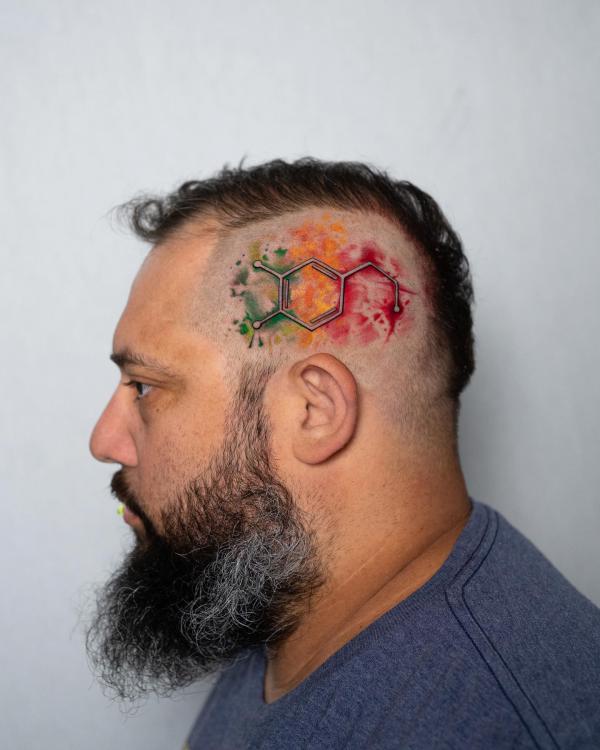 For those who prefer an unconventional placement, consider a watercolor honeycomb design on the head. This daring design creates a captivating visual effect, with the soft watercolor hues blending beautifully with the intricate honeycomb pattern. It's a bold statement of individuality and a love for nature's marvels.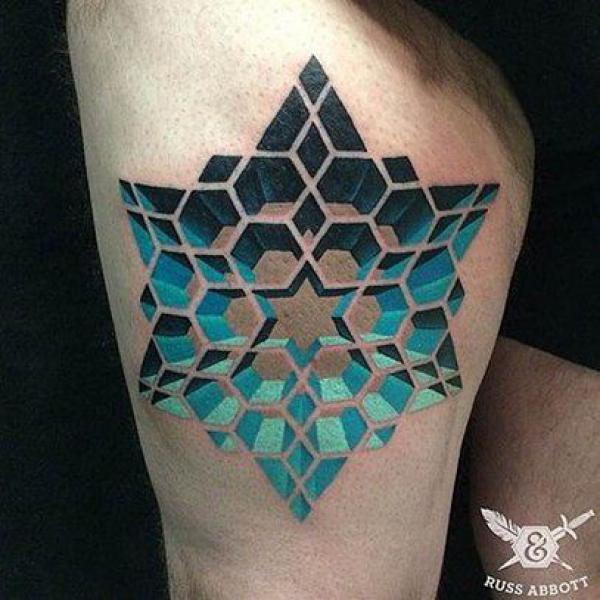 A 3D tattoo is a striking choice for those fascinated by the cosmos. The design combines the geometric perfection of honeycomb cells with the ethereal beauty of a star, symbolizing the interconnectedness of all things in the universe. It's a fantastic option for those who want a design that merges nature and astrology.
Honeycomb and Succulent with a bee tattoo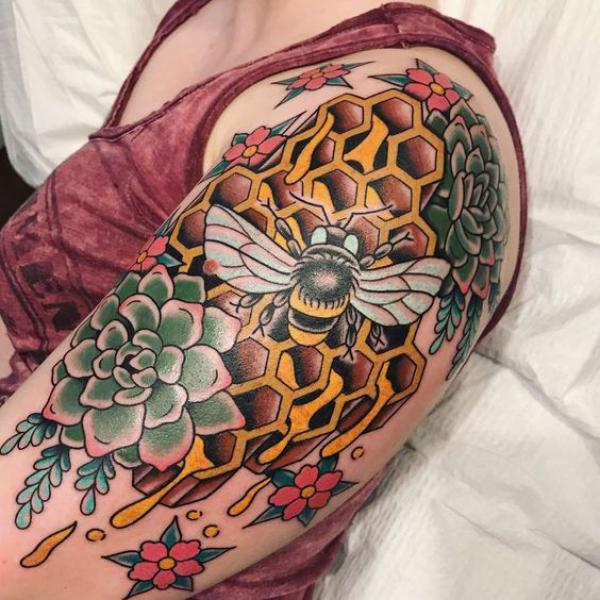 Combining a honeycomb with a succulent and a bee creates a truly unique design. Succulents symbolize enduring and timeless love, while bees represent hard work, community, and productivity. This design is a beautiful tribute to resilience and the sweet rewards of perseverance.
Honeycomb armband tattoo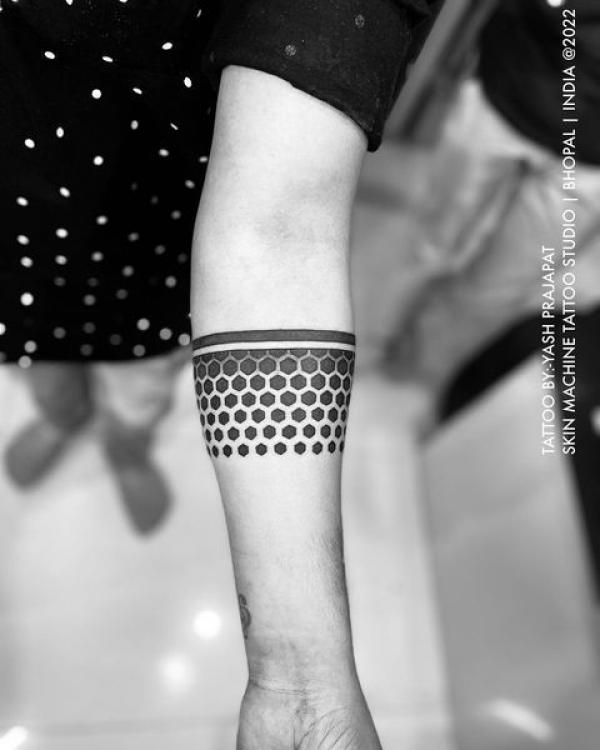 Armband tattoos are trendy due to their versatility and aesthetic appeal. A honeycomb armband tattoo is a stylish option that wraps the beauty of nature around your arm. It's a subtle yet effective way to wear a symbol of unity and interconnectedness.
3D mechanic honeycomb with daisy flowers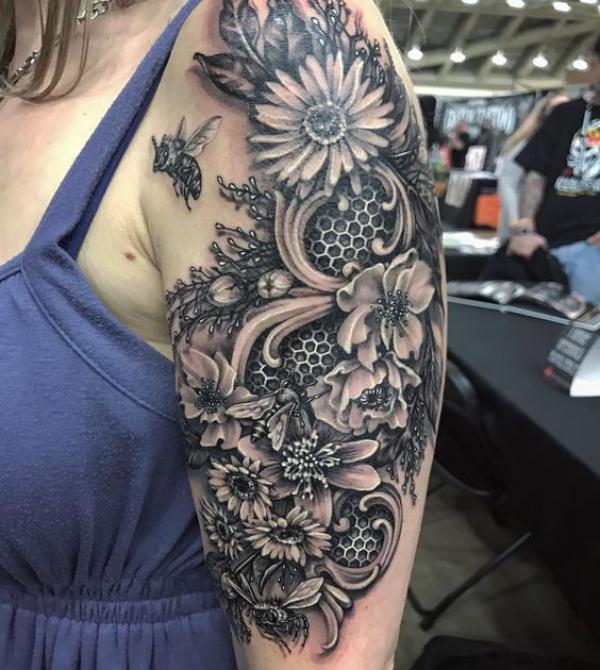 This design is a fascinating blend of natural and mechanical elements. The 3D mechanical honeycomb symbolizes the intricate workings of nature, while the daisy flowers add a touch of beauty and purity. It's a stunning representation of the harmony between nature and technology.
A bee approaching galaxy honeycomb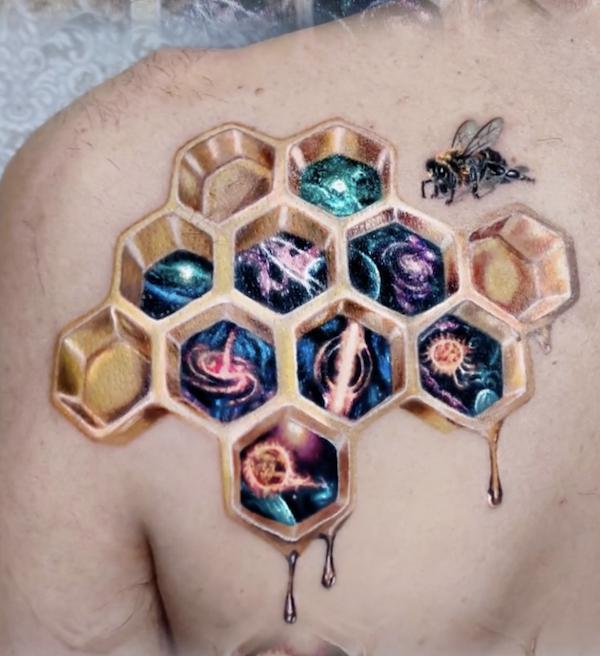 If you're a stargazer at heart, a bee approaching a galaxy honeycomb could be your perfect match. This design combines the cosmic beauty of a galaxy with the natural symmetry of a honeycomb and the diligent bee. It's an enchanting way to symbolize your quest for knowledge and your connection to the universe.
A bee on honeycomb with peony flowers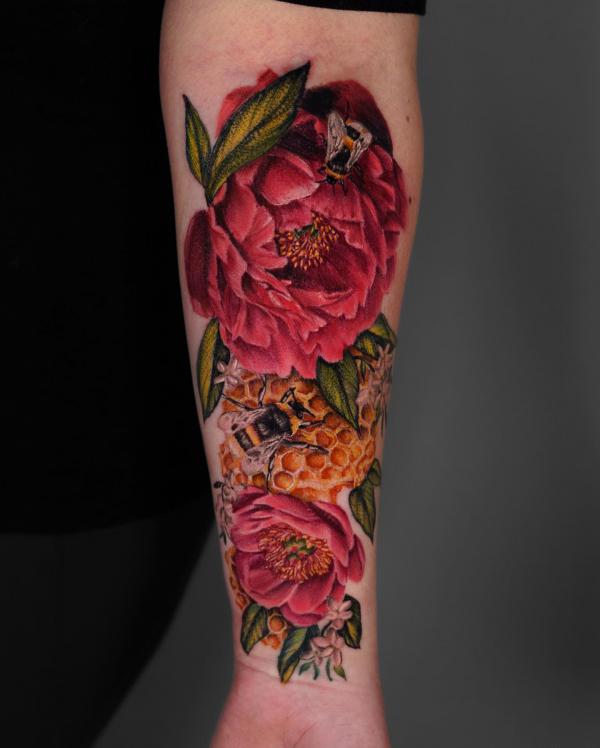 Peony flowers symbolize prosperity, honor, and romance. A bee on a honeycomb with peony flowers is a beautiful design that can signify prosperity resulting from hard work and dedication, and the romance inherent in nature's creations.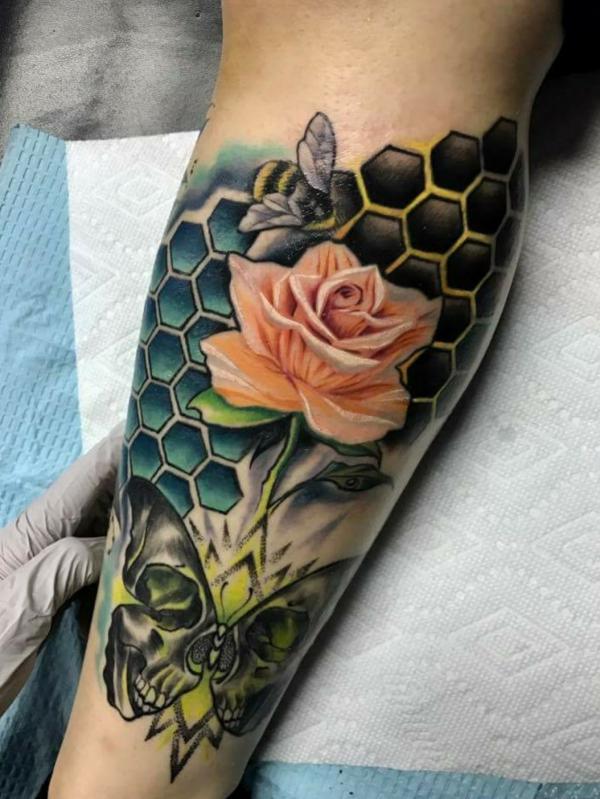 This design is a unique blend of symbolism. The honeycomb represents unity and interconnectedness, the pink rose symbolizes love and gratitude, and the butterfly skull can symbolize transformation and rebirth. It's an intricate design that tells a story of love, transformation, and unity.
A bee within a heart symbol on honeycomb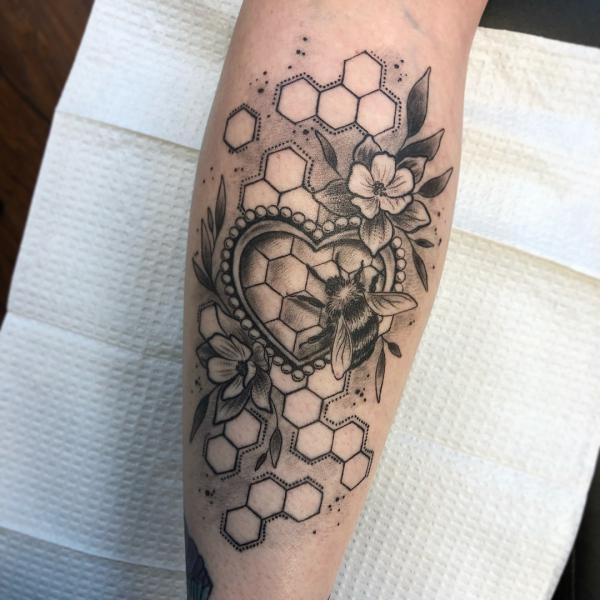 A bee within a heart symbol on a honeycomb is a sweet design that represents love and affection towards nature, and specifically, the hardworking bee. It's a gentle reminder of the sweetness that love brings into our lives.
Bee and heart shaped honeycomb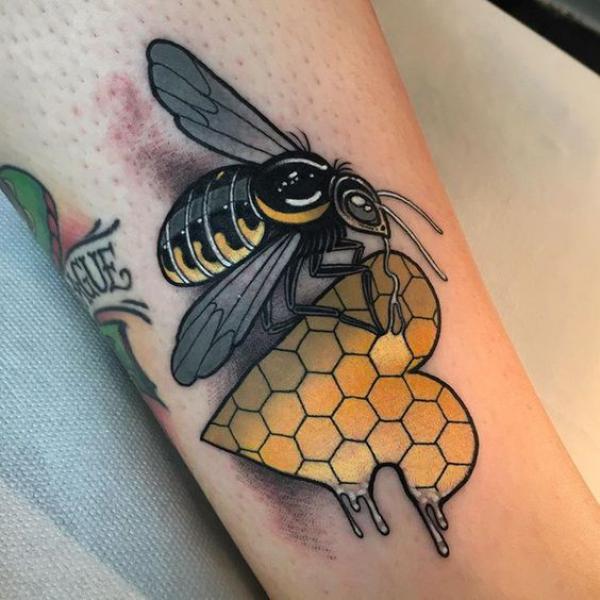 A bee and heart-shaped honeycomb design is a beautiful symbol of love and unity. This unique design can represent the idea that love, like a beehive, requires cooperation and teamwork to flourish.
Bee and honeycomb with wildflower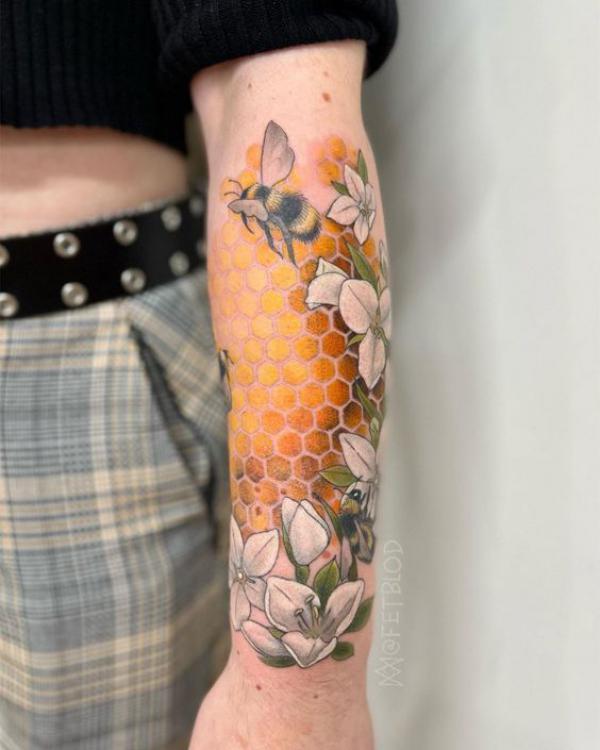 For the nature lovers out there, a bee and honeycomb with wildflower forearm tattoo is a perfect choice. Wildflowers symbolize resilience and freedom, making this a beautiful design that speaks to the strength and independence of those who wear it.
Honeycomb and lip with honey flowing down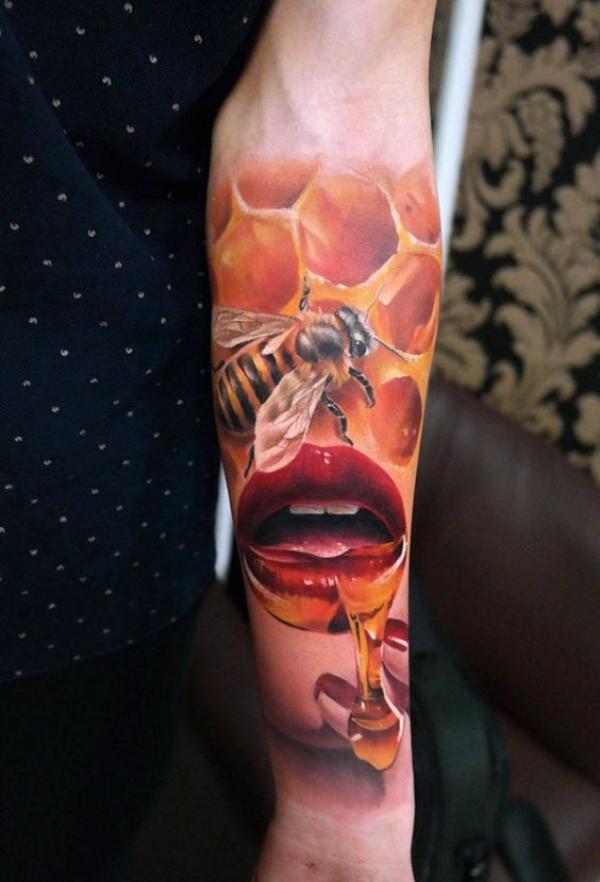 For a touch of whimsy and romance, consider a honeycomb and lip with honey flowing down. It's a playful design that represents the sweetness of words and the beauty of nature.
Honeycomb and Metatron's cube tattoo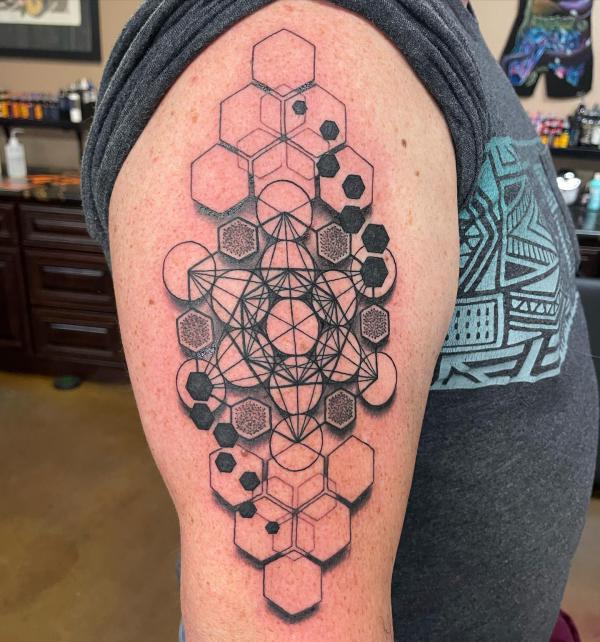 Metatron's Cube is a sacred geometric figure that consists of 13 equal circles with lines connecting the centers of each. Combining a honeycomb pattern with Metatron's Cube creates a visually striking piece that carries deep spiritual symbolism, representing the connection between the universe and the individual soul.
Bee with crown on honeycomb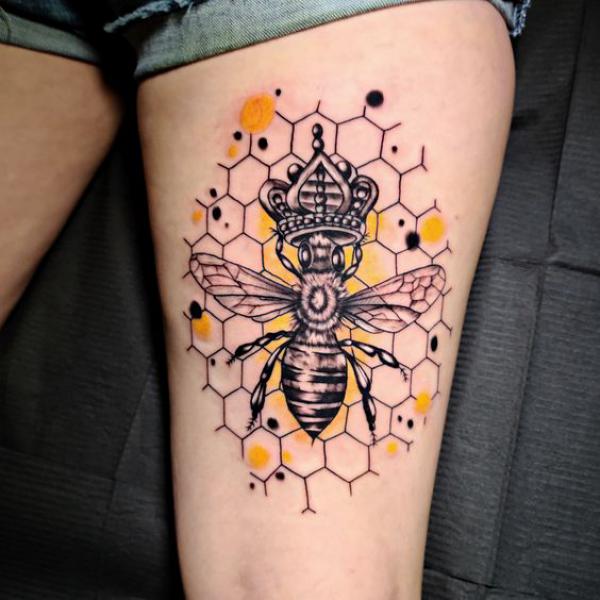 A bee with a crown on a honeycomb is a design that's teeming with symbolism. The bee represents hard work, community, and productivity, while the crown signifies royalty, authority, and control. This design could symbolize one's authority over their life and the fruits of their labors.
Black and grey bee on honeycomb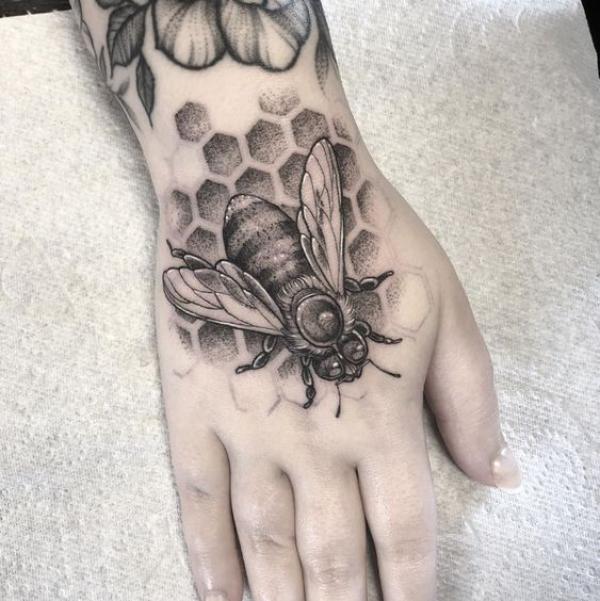 A black and grey bee on a honeycomb is a versatile design that can suit any style. The monochromatic palette gives the piece a timeless feel, while the intricate details of the bee and honeycomb add a delicate touch of beauty.
Bumble bee honeycomb tattoo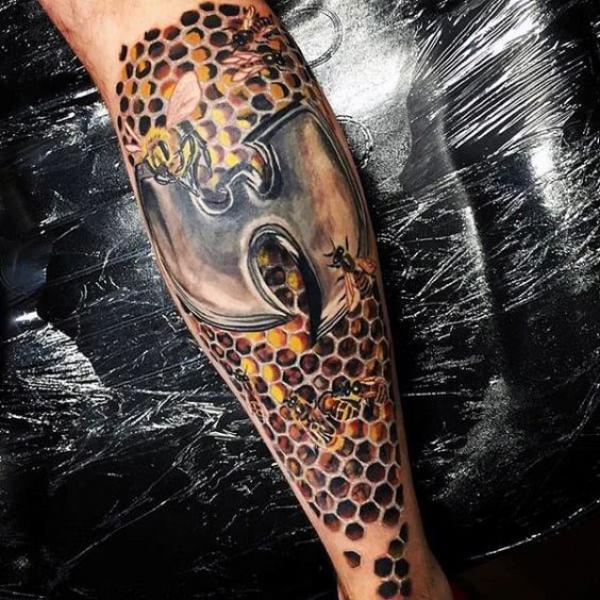 A bumble bee honeycomb tattoo is a sweet and simple design that pays homage to these industrious insects. Bumble bees are symbols of community, brightness, and personal power, making this a powerful design for those who value these traits.
Daisy and bee on honeycomb and cube patterns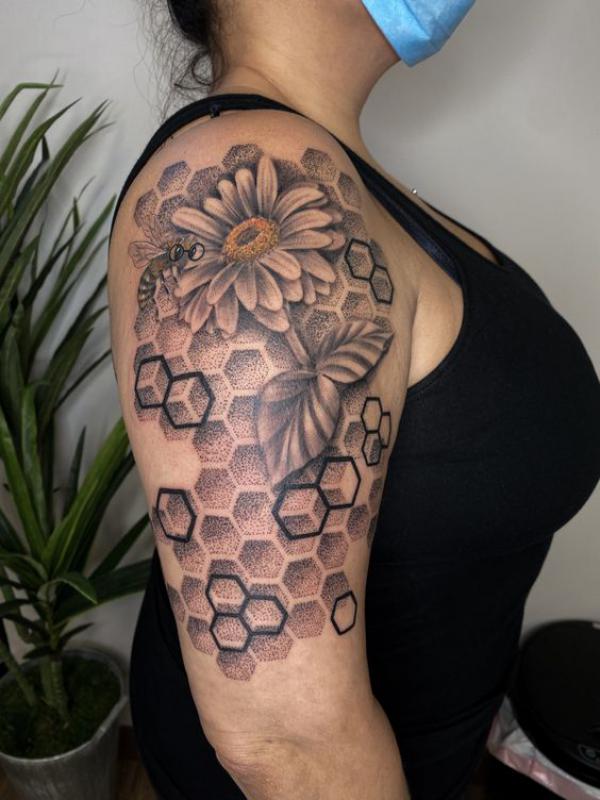 Daisies symbolize innocence, purity, and transformation. A daisy and bee on honeycomb and cube patterns create a visually captivating design that merges nature with geometry. It's a beautiful way to express one's love for nature and an appreciation for the harmony within it.
Death moth on honeycomb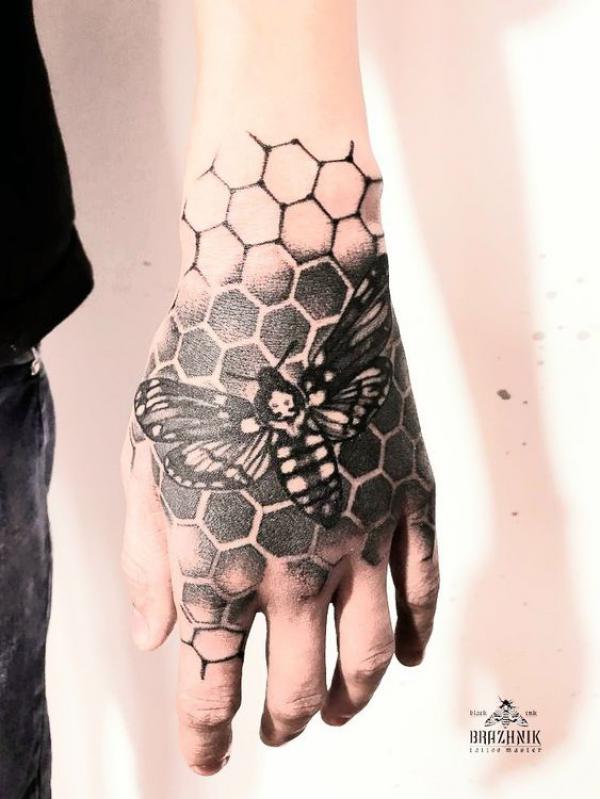 For a unique twist, consider a death moth on a honeycomb hand tattoo. While death moths often symbolize death, in a tattoo, they can also represent rebirth and transformation. Combined with the honeycomb, this design could symbolize the cycles of life and the sweetness that can be found even in dark times.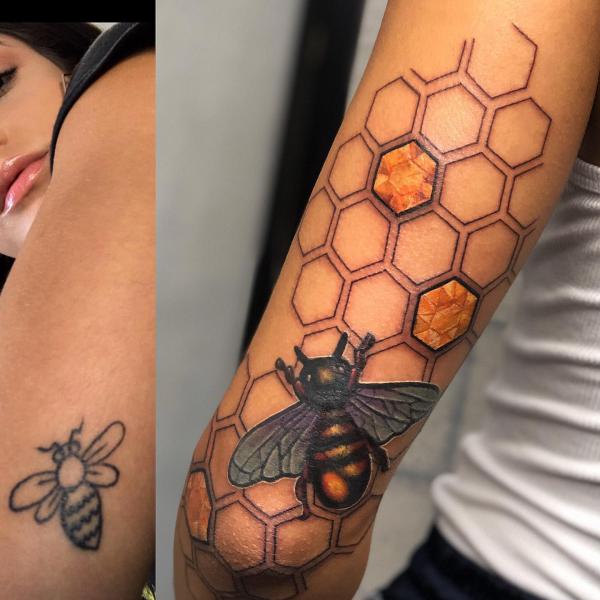 A honeycomb and bee design can make a fantastic cover-up tattoo. The intricate details of the honeycomb pattern and the bee can effectively mask an old tattoo, breathing new life into your ink. Plus, you'll be left with a design that represents hard work, community, and the interconnectedness of life.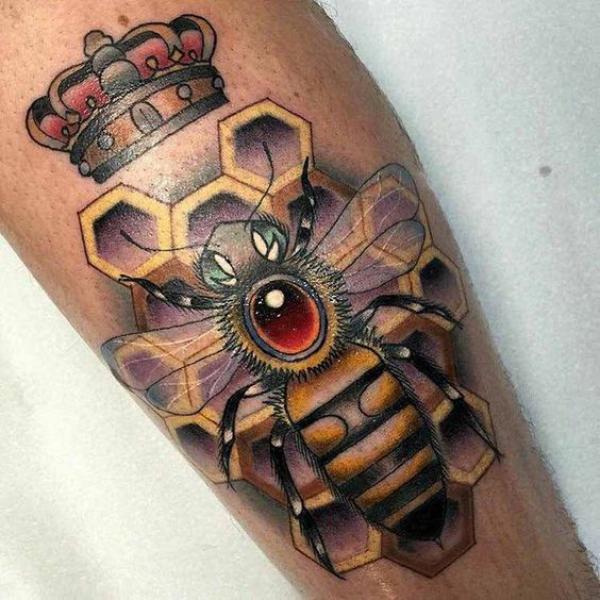 A honeycomb and bee with a crown tattoo is a regal design that combines natural beauty with royal symbolism. It's a statement piece that signifies the reign of nature, the sweetness of life, and the rewards of hard work.
Female face in honeycomb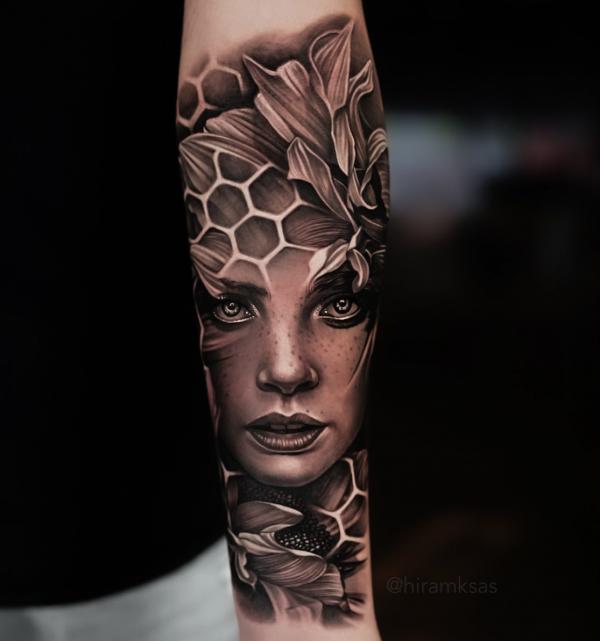 A female face within a honeycomb is an artistic and symbolic design. It could represent the power and beauty of femininity, the interconnectedness of humans and nature, or the sweet allure of mystery and intrigue.
Honeycomb and bee with mandala tattoo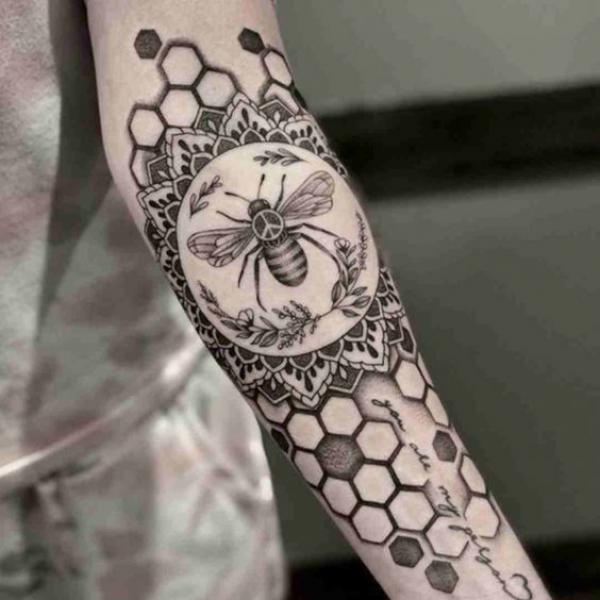 Mandalas are geometric patterns that symbolize the universe and the self. A honeycomb and bee with a mandala together is a design that's as visually captivating as it is symbolic. It's a testament to the harmony of nature, the universe, and the self.
Honeycomb and bee with poppy and lavender flowers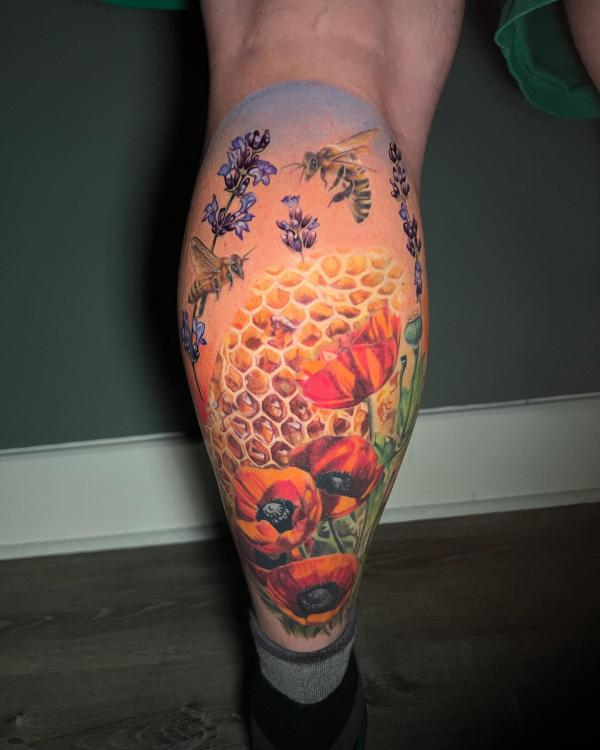 Poppies symbolize peace and rest, while lavender represents purity, silence, and calmness. A honeycomb and bee with poppy and lavender flowers calf tattoo is a beautiful piece that marries these symbols in a harmonious design. It's a calming and peaceful design, perfect for those who seek tranquility in their lives.
Geometric honeycomb dotwork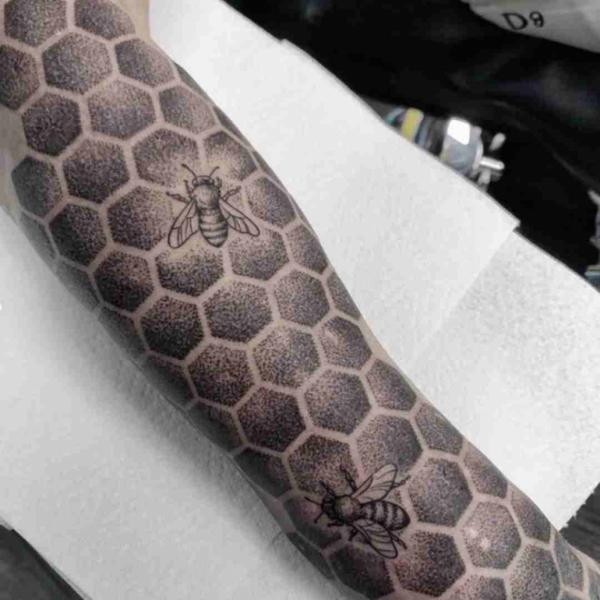 Dotwork is a tattoo style that uses tiny dots to create intricate designs. A geometric honeycomb dotwork tattoo is a detailed piece that showcases the geometric perfection of honeycombs. It's an artistic choice for those who appreciate the intricacies of nature and art.
Honeycomb Tattoo Placement Ideas
Tattoos are not just a form of body art. They're a way of expressing your personality, your interests, your beliefs, and even your love for the beautifully structured world of bees! If you're considering a honeycomb tattoo but aren't sure where to place it, you're in the right place. Let's explore some exciting and creative placement ideas for your honeycomb tattoo.
Back
The back is a broad canvas that can accommodate a large and intricate honeycomb design. A geometric honeycomb pattern sprawling across the back can make a stunning and bold statement. You can go for an expansive, detailed scene, perhaps incorporating bees or flowers, or stick to a minimalist design that focuses on the honeycomb itself.
Bee and honeycomb with flowers back tattoo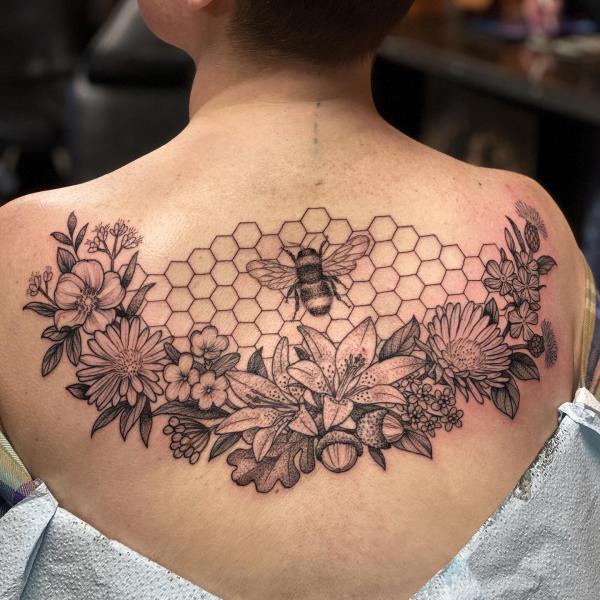 Underboob
The underboob area offers a unique and intimate location for a honeycomb tattoo. A design here can be easily concealed but also shown off in a bikini or crop top. A honeycomb pattern curving with the natural lines of your body can create a sensual and feminine tattoo.
Bee and honeycomb underboob tattoo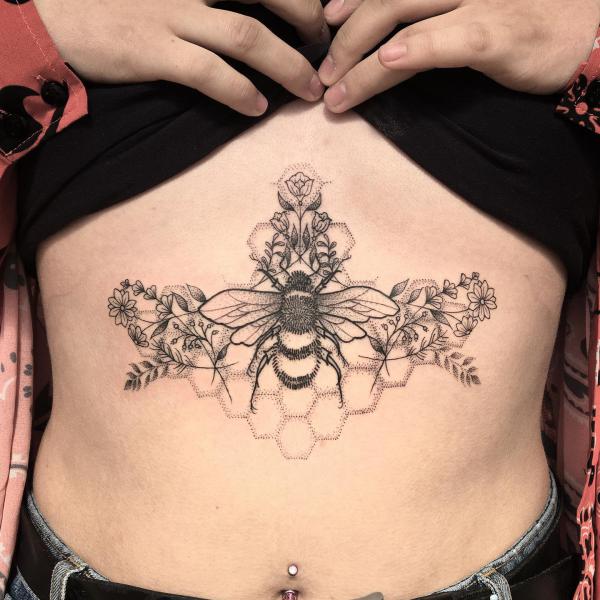 Foot
The foot might not be the first place you think of for a tattoo, but it can be an excellent location for a small, subtle honeycomb design. Whether it's a small cluster on the top of the foot or a pattern wrapping around the ankle, a honeycomb tattoo here adds an unexpected twist of intrigue.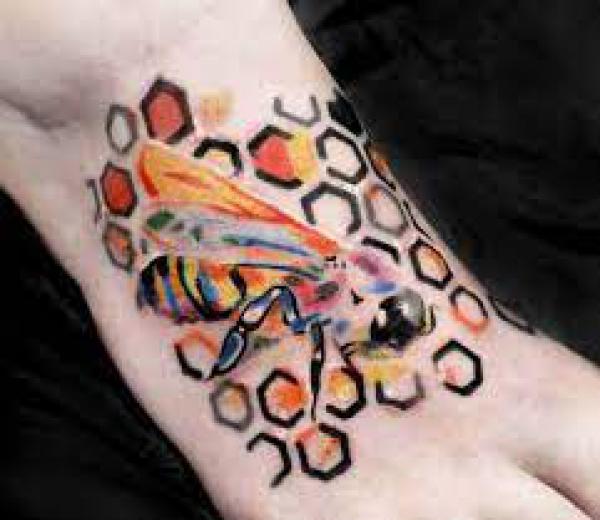 Forearm
The forearm is a popular location for tattoos, thanks to its visibility and ease of showcasing your design. A honeycomb pattern running along the length of the forearm can create a striking sleeve effect. You can even choose to incorporate other elements, like a bee or floral designs, to add to the visual interest.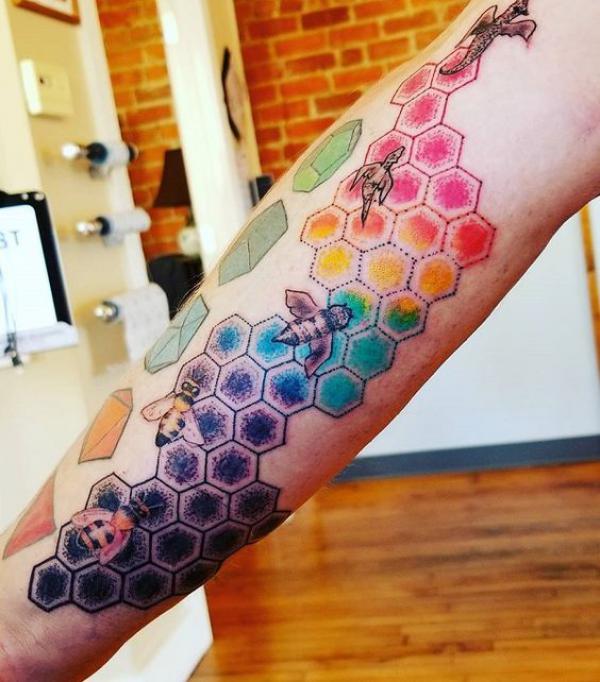 Hand
A honeycomb tattoo on the hand makes a bold statement. Given the hand's high visibility, a honeycomb design here shows off your love for this unique pattern to everyone you meet. It could be a small design on a finger or a larger pattern across the back of the hand.
Traditional honeycomb and rose hand tattoo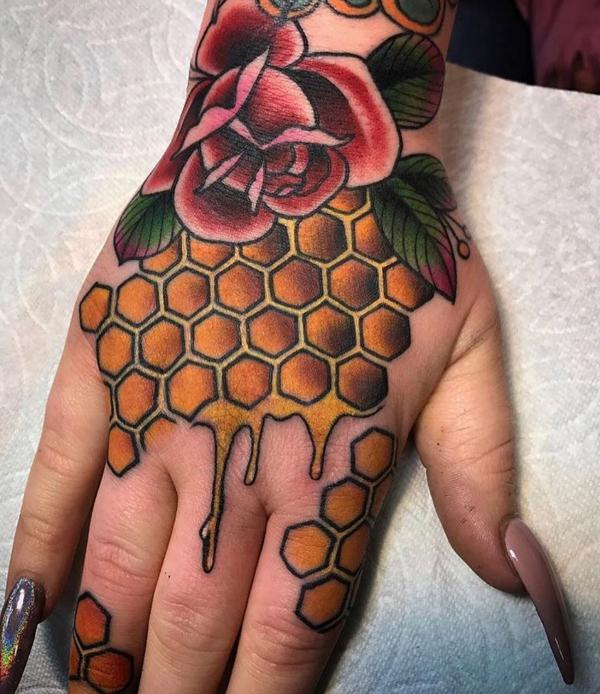 Calf
The calf is an excellent location for a medium to large tattoo. A honeycomb design here can be easily shown off or covered up, depending on your outfit. The broad, flat surface of the calf can accommodate a detailed honeycomb design, perhaps with a 3D effect for added depth.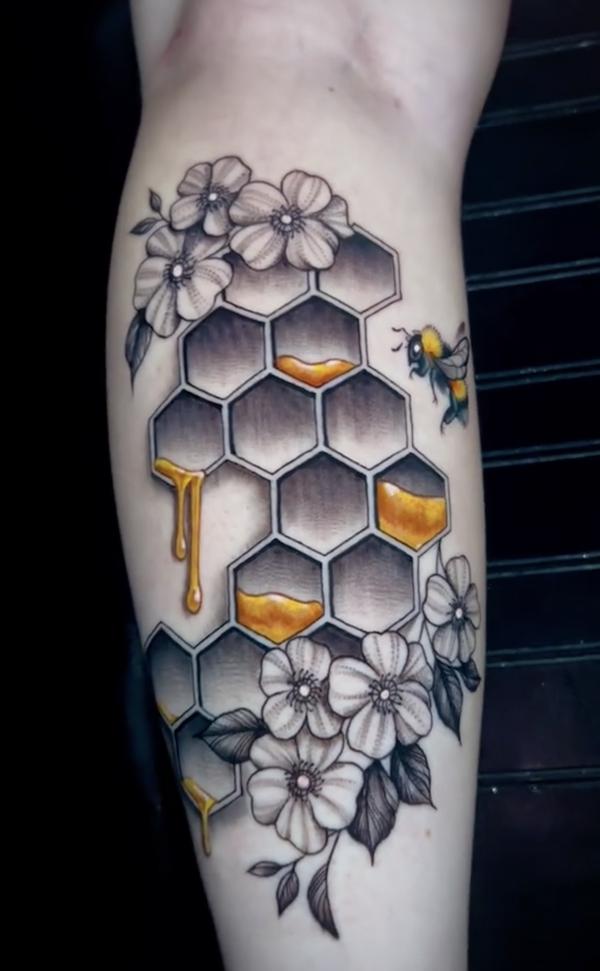 Spine
The spine offers a long, vertical space that is perfect for a column of honeycomb cells. This placement is both subtle and dramatic, allowing for a design that follows the natural line of your body. A honeycomb spine tattoo can be a beautiful and eye-catching choice.
Honeycomb and bee spine tattoo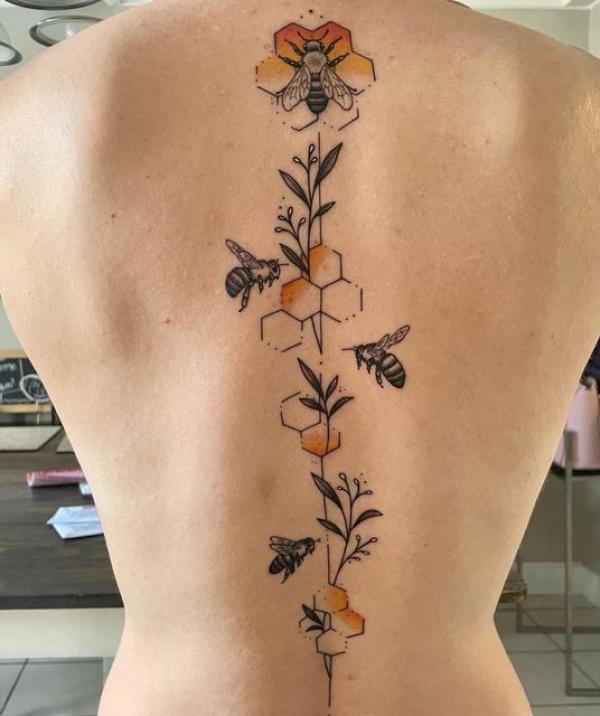 Behind the Ear
If you're looking for a small, discreet location for your honeycomb tattoo, consider behind the ear. A tiny honeycomb pattern here adds a touch of whimsy and intrigue. It's also easy to show off or hide depending on your hairstyle.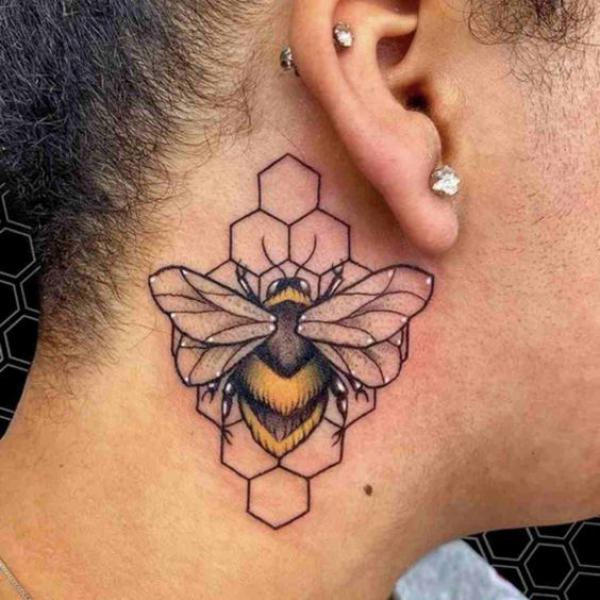 Shoulder
A honeycomb tattoo on the shoulder can be a bold and attractive design. Whether you choose a design that covers the entire shoulder or a small cluster of cells, a honeycomb pattern here can add a unique touch to sleeveless tops and dresses.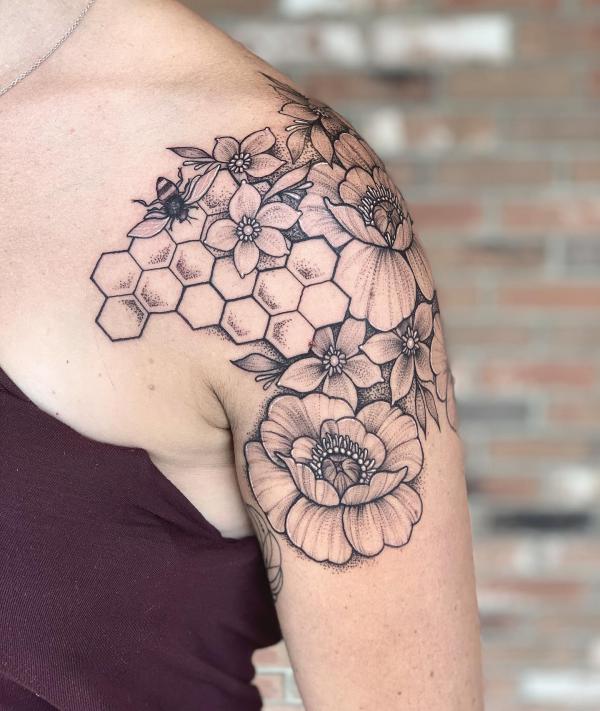 Knee
The knee is a less common location for tattoos, making it a unique choice for your honeycomb design. A honeycomb pattern encircling the knee can create an intriguing look. Or, consider a design on the upper or lower part of the knee for a less conventional placement.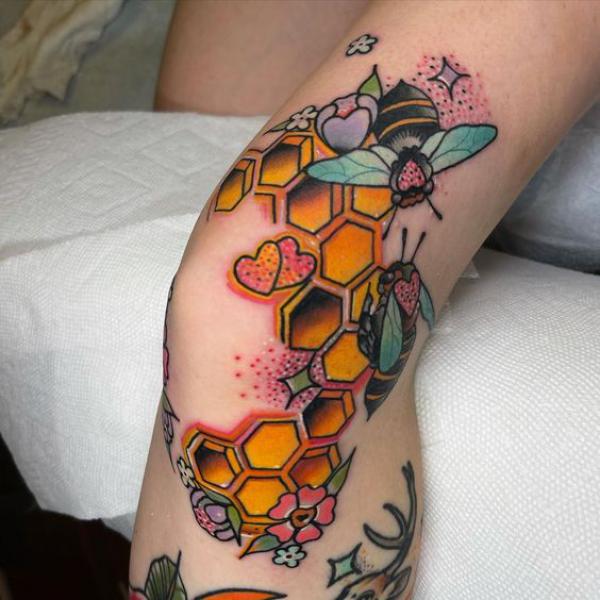 Full Sleeve
For those who love the honeycomb pattern and want to make a grand statement, consider a full sleeve honeycomb tattoo. This could incorporate other elements like bees, flowers, or honey drips, creating a comprehensive story on your arm. A full sleeve honeycomb tattoo is a bold choice and a definite conversation starter.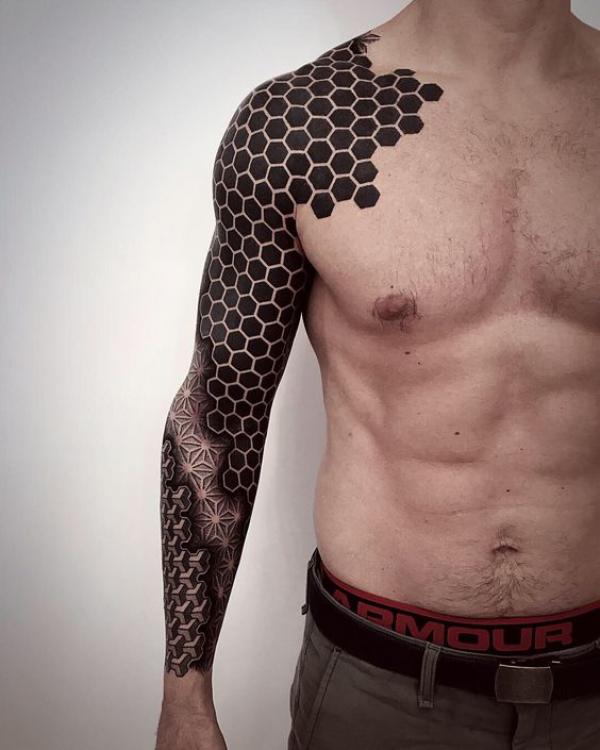 Conclusion
Honeycomb tattoos, with their blend of geometric and natural aesthetics, offer a unique choice for those seeking a tattoo that is both visually captivating and rich in symbolism. Their versatility in design and placement, along with their deep connections to themes of unity, structure, nature, and abundance, make them a sweet choice for a wide range of tattoo enthusiasts. Whether you're drawn to the visual appeal or the symbolic significance, a honeycomb tattoo is a beautiful way to carry a piece of nature's marvel with you wherever you go.