Humans have had a deep connection with nature since ancient times, and this is reflected in various art forms. One such form is tattoos – a permanent imprint on one's body that not only signifies personal style but also carries deep meanings. Among the numerous tattoo designs available today, tree tattoos have gained immense popularity worldwide. In this article, we will explore what tree tattoos symbolize, different designs, and their significance.
Symbolism of Tree Tattoos
Trees are a vital part of human existence – they provide oxygen, shade, and beauty to the world. In different cultures, they have been perceived as a symbol of life, growth, and resilience. Thus, a tree tattoo can depict various meanings, depending on the culture, the specific tree, and the design. Parts of trees have their symbolism in specific context:
Roots: The roots of a tree signify grounding, stability, and connection to one's ancestry and heritage. Roots spreading out of the ground and intertwining with other designs represent the interdependence of all living beings.
Leaves: Leaves represent growth, change, and hope. The changing colors of leaves in different seasons can signify the ever-changing nature of life.
Branches: Branches signify reaching out, growth, transformation, and extension of the self.
Trunk: The trunk represents strength, stability, and resilience. A tree with a broken trunk or multiple trunks could signify overcoming difficult times.
Extended Significance
In addition to the various meanings ascribed to tree tattoos, they also carry personal, emotional significance for the wearer. Some of the reasons people get tree tattoos are:
Family and Heritage: Trees are also associated with family and heritage, as our ancestors are often referred to as our "family tree." A tree tattoo can represent one's family roots and serve as a tribute to one's ancestors.
Growth and Strength: Trees are often seen as symbols of growth and strength, as they are rooted firmly in the ground and grow tall towards the sky. A tree tattoo can represent personal growth, resilience, and the ability to weather any storm.
Loss and remembrance: A tree tattoo is often used to mourn the loss of a loved one, with roots representing their connection to the person or object lost.
Life and Renewal: Trees are also a symbol of life and renewal, as they shed their leaves in the fall only to grow new ones in the spring. A tree tattoo can represent a fresh start, a new beginning, or a renewed sense of purpose.
Wisdom and Knowledge: Trees are often associated with wisdom and knowledge, as they have been around for centuries and have witnessed the passing of time. A tree tattoo can represent one's quest for knowledge or serve as a reminder of the valuable lessons learned throughout life.
Connection to Nature: Trees are an essential part of nature, and a tree tattoo can represent one's connection to the natural world. It can serve as a reminder to live in harmony with nature and to protect the environment.
Seasons and Change: Trees go through different seasons, and each season brings a new kind of beauty. A tree tattoo can represent the ever-changing nature of life, the cyclical nature of the universe, and the beauty of change.
Spirituality and Mysticism: Trees hold a special place in many spiritual and mystical practices, as they are believed to be a bridge between the physical and spiritual worlds. A tree tattoo can represent one's spiritual journey or serve as a symbol of divine connection.
Different Designs of Tree Tattoos
Tree tattoos come in all sizes and styles, ranging from minimalist designs to intricate full back pieces. No matter what style you choose, tree tattoos can be incredibly meaningful symbols that represent growth, strength, and resilience. We have collected 50 inspirational examples of different designs so you can find one that speaks to your unique style and personality!
Realistic pine tree tattoo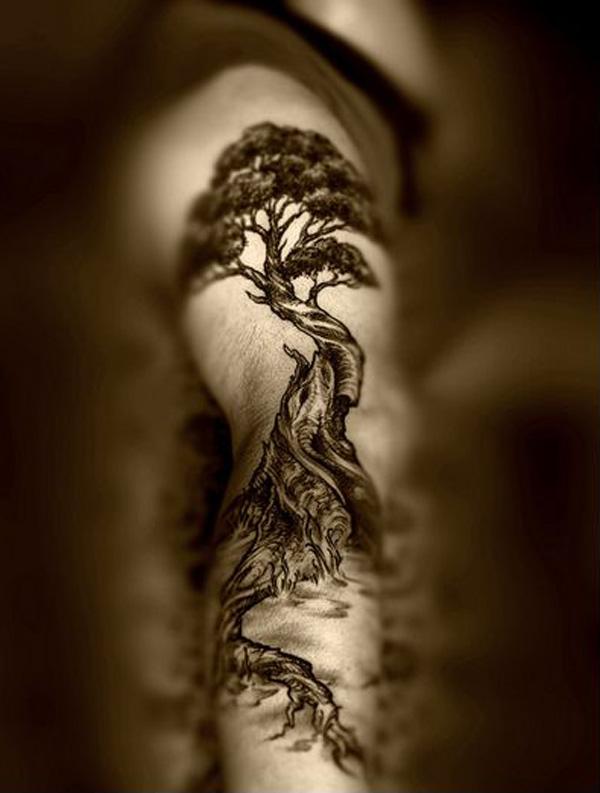 This realistic pine tree tattoo is a stunning and unique piece of body art that will be sure to turn heads. It features intricate details, from the needles on its branches to its deep hue, creating an image that looks almost lifelike. The placement on the arm allows for easy visibility and compliments the natural contours of the body. Overall, this tattoo is a stunning tribute to the great outdoors.
Birds flying from tree shoulder tattoo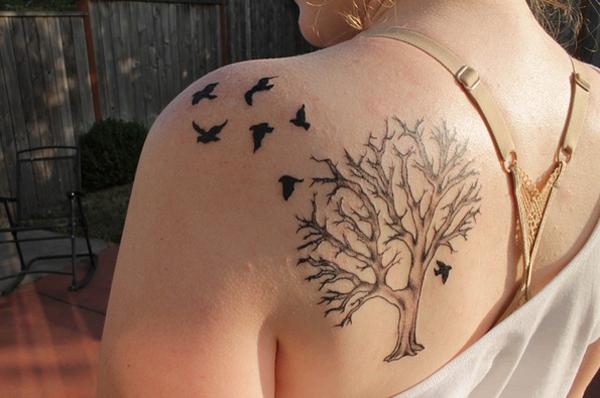 This birds flying from tree shoulder tattoo is a beautiful and meaningful piece of body art. It symbolizes freedom, hope, and ambition as the birds take flight into an unknown future. The silhouette birds combined with the tree of life create a stunning look that will have people admiring your artwork. This tattoo can also be customized to fit any size or shape you desire, making it perfect for anyone looking to express themselves in an unique way!
Family tree full back tattoo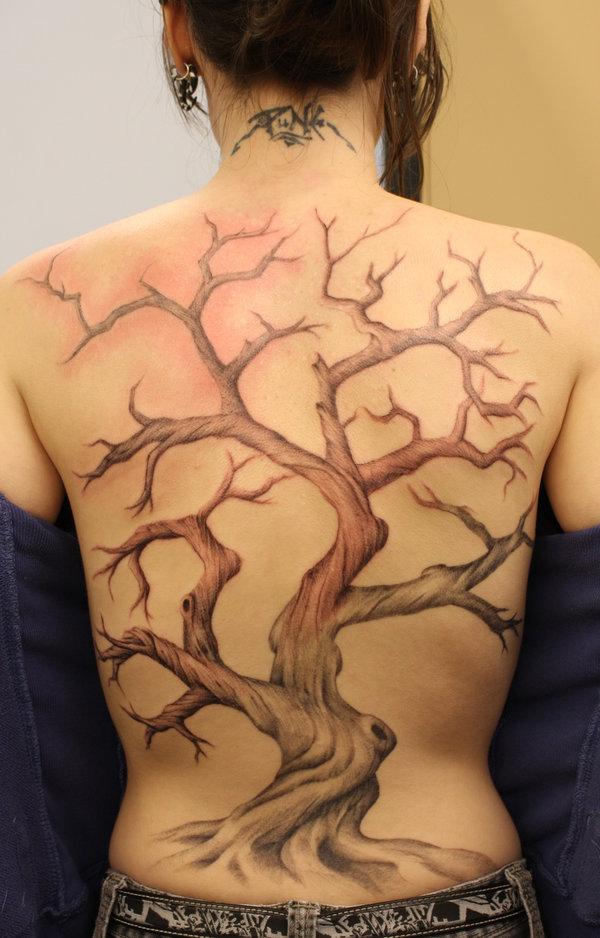 This stunning full back tattoo features an old tree without leaves, spanning the entire back. This unique design is a great way to honor your family heritage and show off your creative style. The intricate details of the tree bring out its beauty and make it stand out on any body canvas. With this beautiful piece of art, you can proudly display your family's history for years to come!
Willow tree side tattoo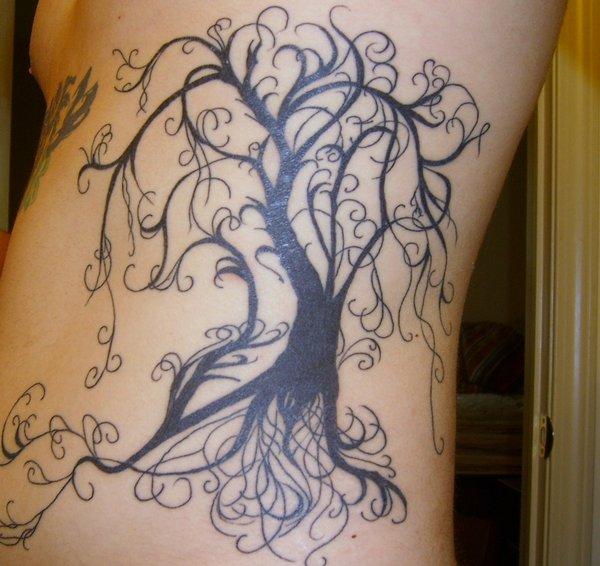 The graceful branches of the willow tree can symbolize strength, hope, and resilience in difficult times. Additionally, the roots of the tree often represent stability and grounding. So, this tattoo is perfect for those looking for an inspirational reminder that they have what it takes to get through life's challenges. With its elegant design and deep symbolism, the side tattoo is an excellent choice for anyone wanting something special on their body
Dead tree upper sleeve tattoo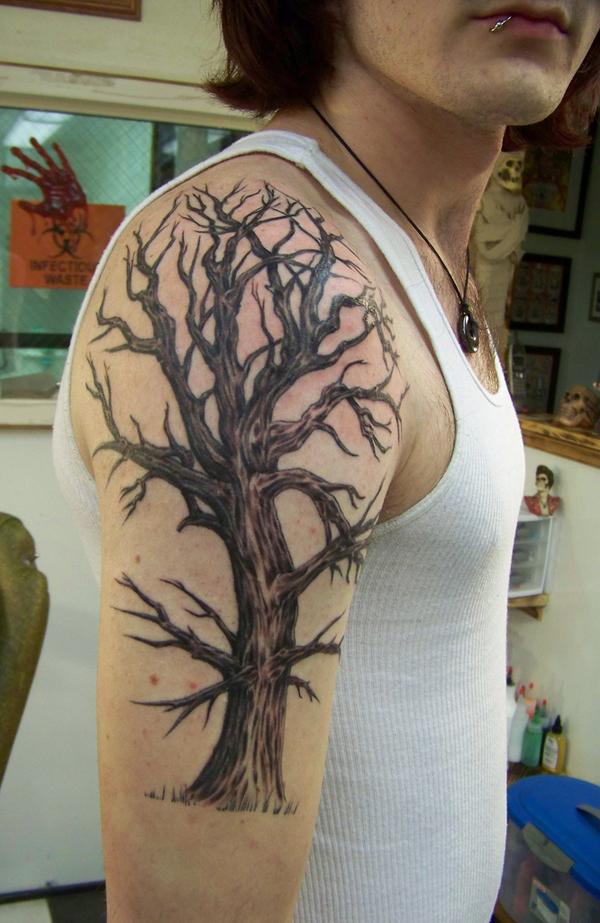 This dead tree tattoo features intricate details of the trees' branches and roots. The dark colors in this design create an eerie but beautiful look. This tattoo can be customized with additional elements such as birds or animals for added personalization and symbolism.
Large tree tattoo starting at stomach, branches cover neck.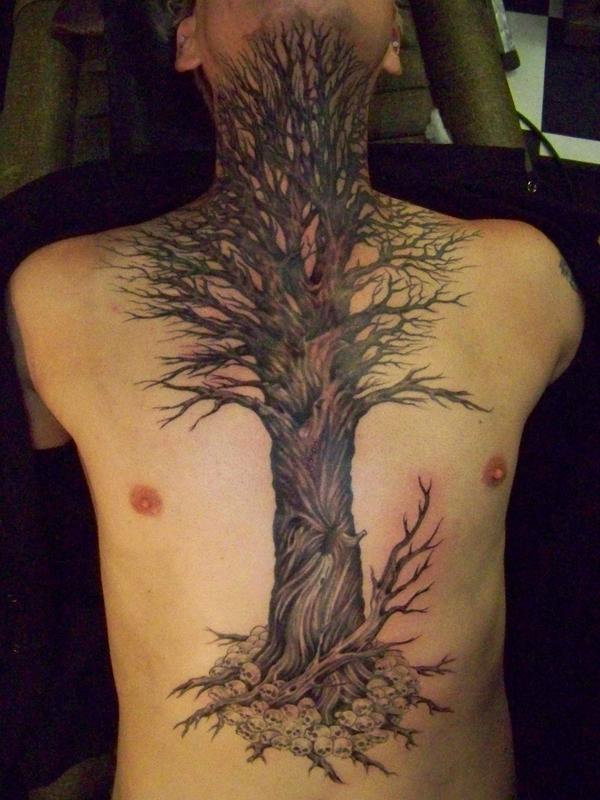 A tree tattoo can be symbolic of many things, including growth, strength, stability and life itself. It's also a great way to add some beautiful artwork to your body! This design begins at the lower abdomen area with its wide trunk extending up towards the neckline where it then branches off into smaller twigs which cover much of the chest and neck area as well as parts of shoulder blades. The beauty lies in how each branch is carefully crafted.
Tree & birds tattoo with Trinity symbol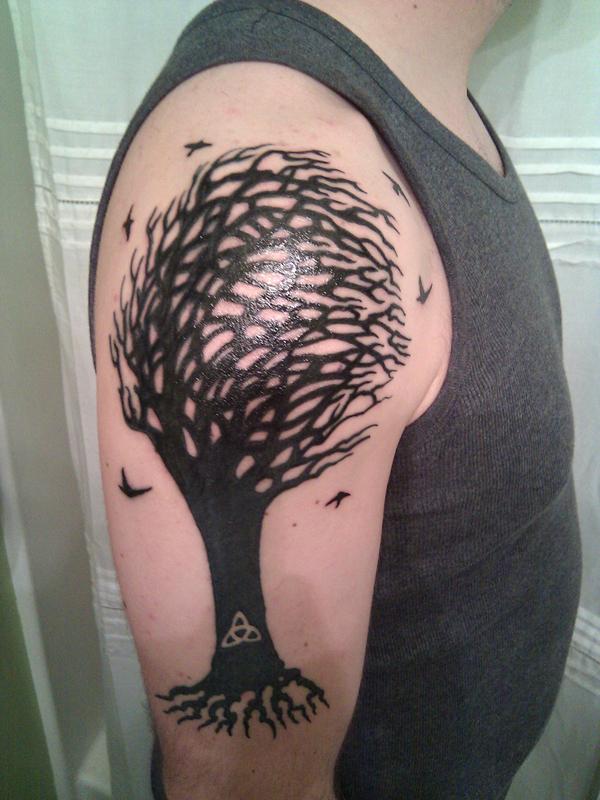 This upper arm tattoo is a meaningful representation of the strength and bond that the family of the wearer shares. The 6 birds represent each member of the family, while the symbol of the Trinity shows their faith in Christ. This tattoo serves as a reminder that no matter what to go through, there will be always each other's support and love.
Tree hand tattoo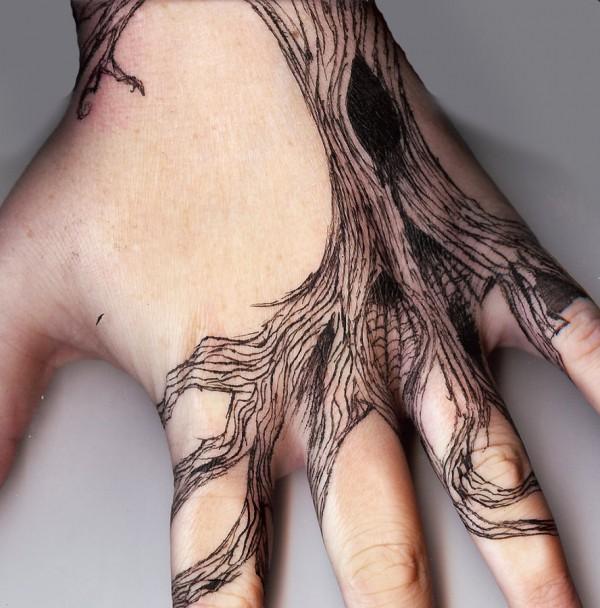 This beautiful tree tattoo is a stunning representation of nature and life. The intricate design begins with the base of the tree, which then branches out in detailed designs that lead to the root ends on the palm. This unique tattoo symbolizes strength and resilience, as well as a connection to something greater – an eternal bond with nature itself.
Guitar tree of life tattoo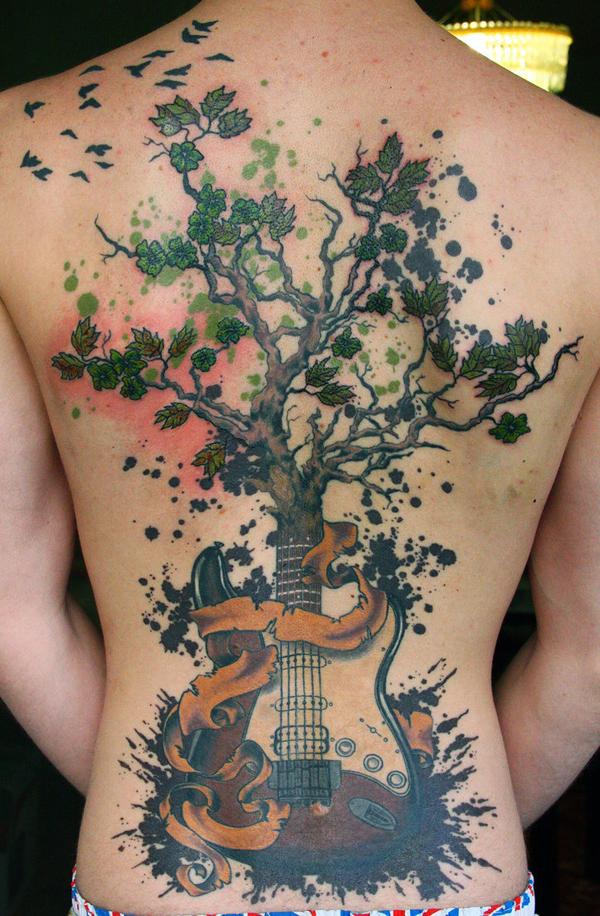 The Guitar Tree of Life tattoo is a unique and creative way to express your love for music. It features a tree with its roots growing out of an acoustic guitar, representing the interdependence of life and music. This tattoo symbolizes how we can use our passions to nurture our growth as individuals, while also connecting us all together through shared experiences in life and artistry.
Tree tattoo with birds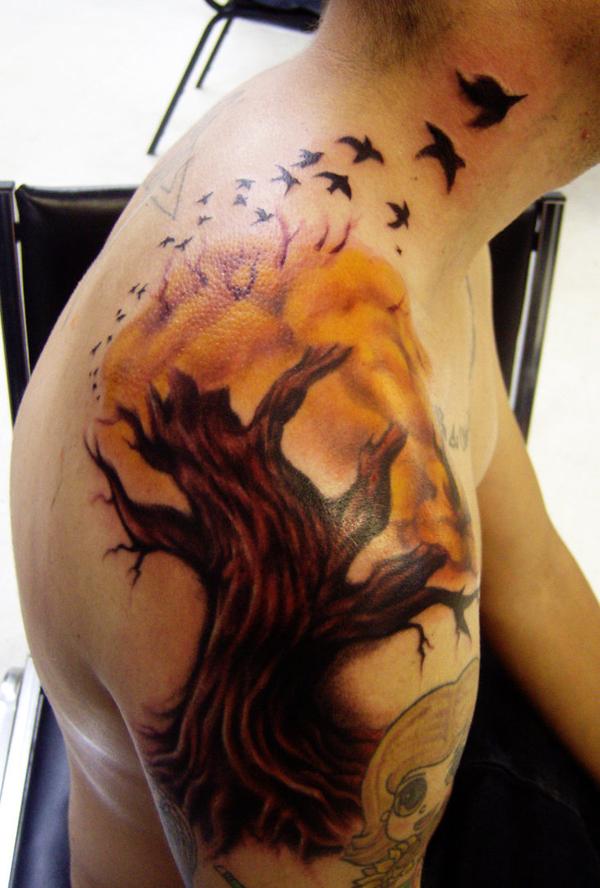 This shoulder tattoo is a beautiful and meaningful design. The trunk of the tree is depicted as dead, symbolizing death or transformation, while the flock of birds flying up the neck represents freedom and hope. The yellow clouds above it add an extra layer of symbolism to this piece. They represent optimism in spite of adversity. This unique tattoo will be sure to inspire its wearer every time they catch a glimpse at it!
Tree heart tattoo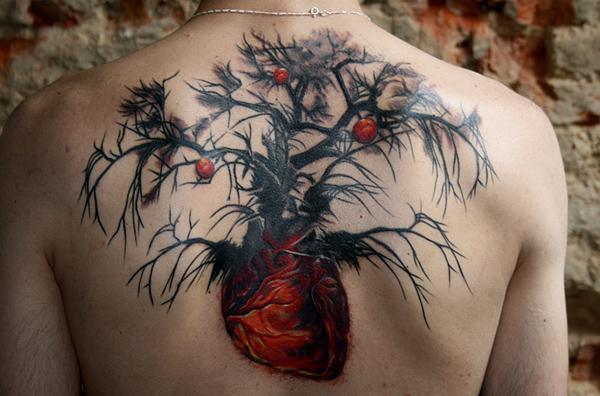 This amazing back tattoo is a beautiful representation of life and love. The tree is depicted growing out of a fresh human heart, with vibrant red fruits adorning its branches. It symbolizes the connection between nature and humanity, as well as our essential need to nurture one another in order to thrive. This meaningful design celebrates both individual growth and collective strength – making it an ideal choice for anyone looking for something special that speaks deeply about their values.
Tree tattoo for men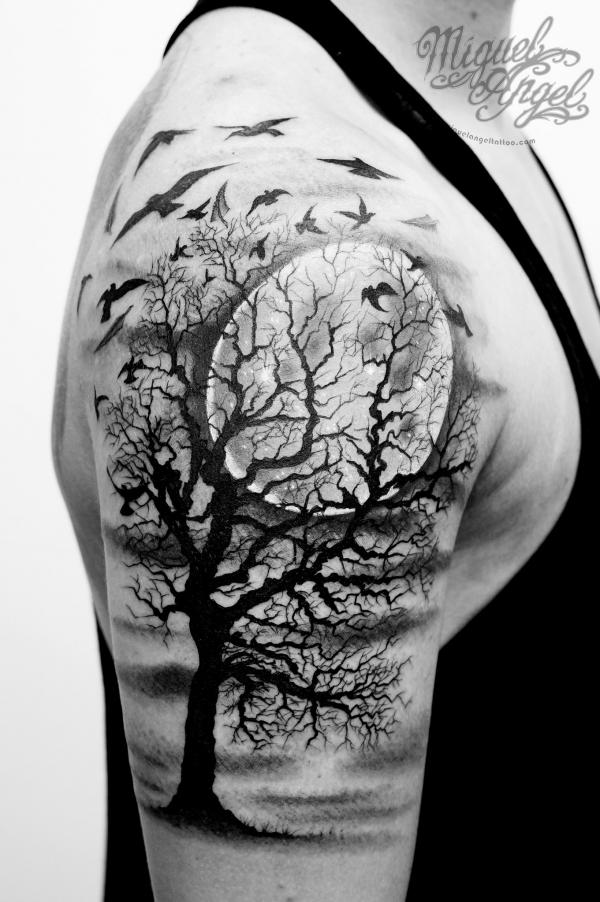 This dark-themed tattoo depicts a flock of birds, flying over an old tree under the light from a giant moon. The intricate details and bold colors make this tattoo stand out, creating an incredible visual effect that will be admired by all who see it. It's the perfect tattoo idea for men to express their inner strength while also showing their appreciation for nature and the beauty of life.
Celtic tree of life Tattoo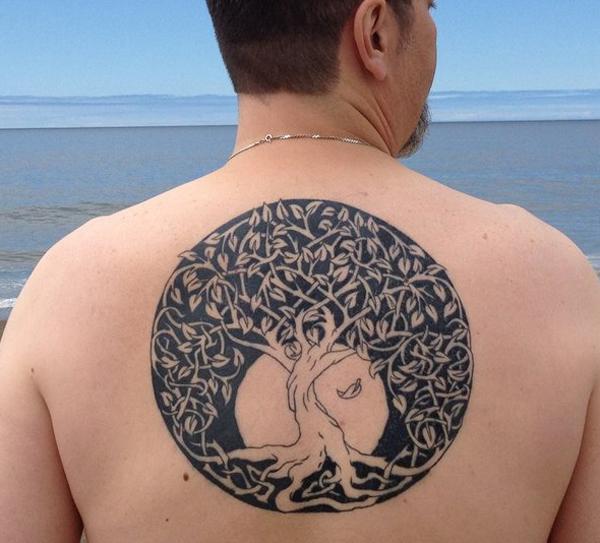 Tree shoulder tattoo for women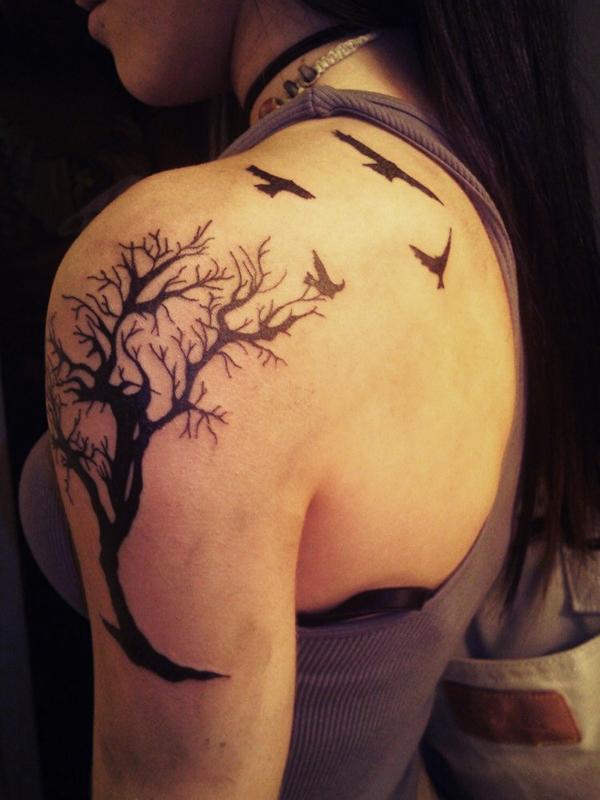 Female back tattoo of Quotes, a Tree, and a flock of birds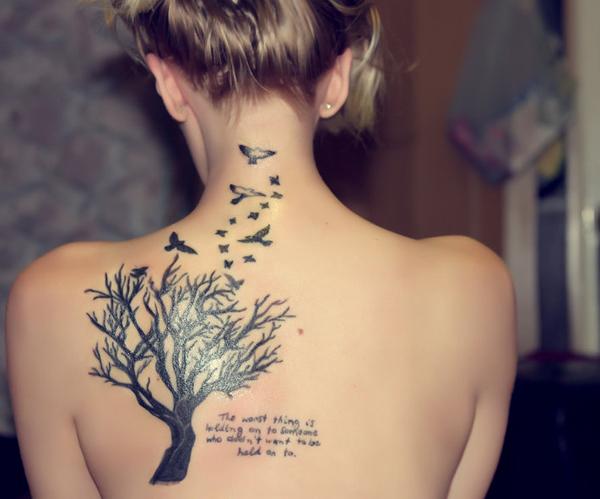 This female back tattoo is a beautiful representation of the quote "The worst thing is holding on to someone who doesn't want to be held on to." The tree and flock of birds symbolize freedom and liberation, while the quote serves as a reminder that we should all strive for independence in our lives. This meaningful tattoo combines aesthetics with an important message.
Gothic tree tattoo with birds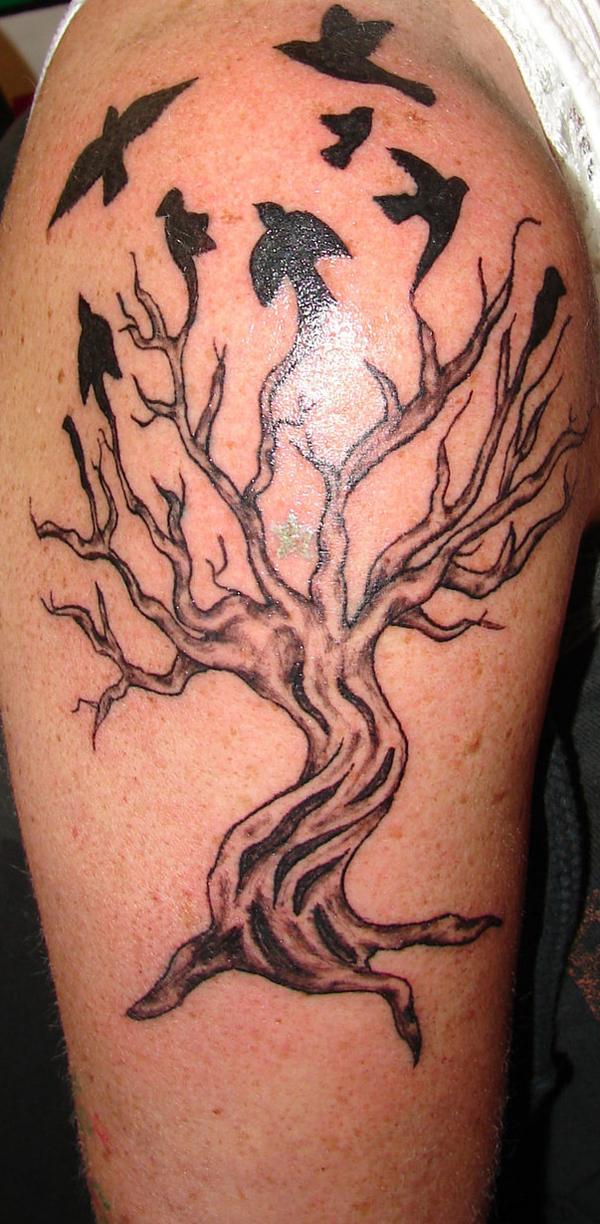 Old tree with fresh leaves side tattoo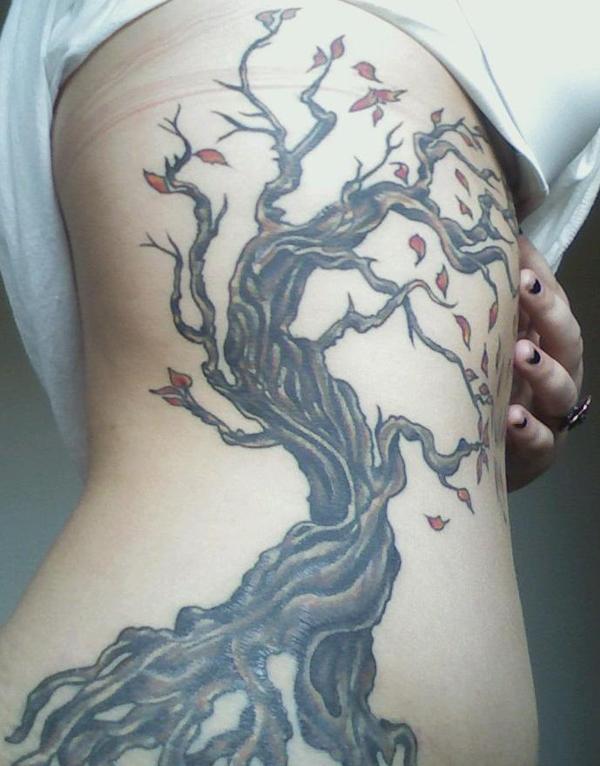 Full back Tree tattoo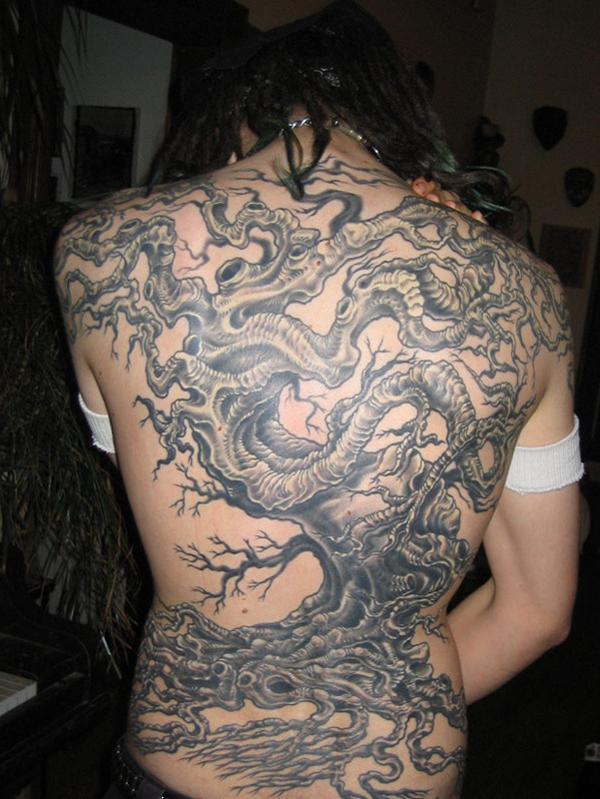 Oak tree Tattoo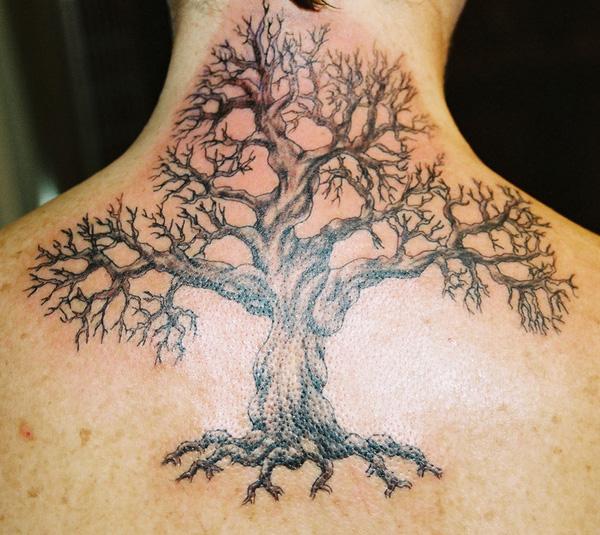 Old Tree Tattoo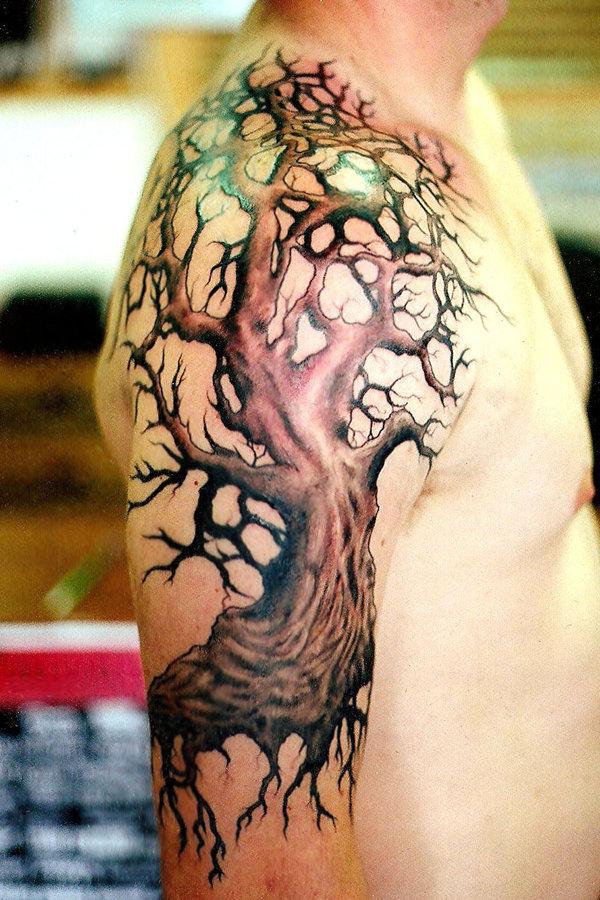 Gothic tree back tattoo for men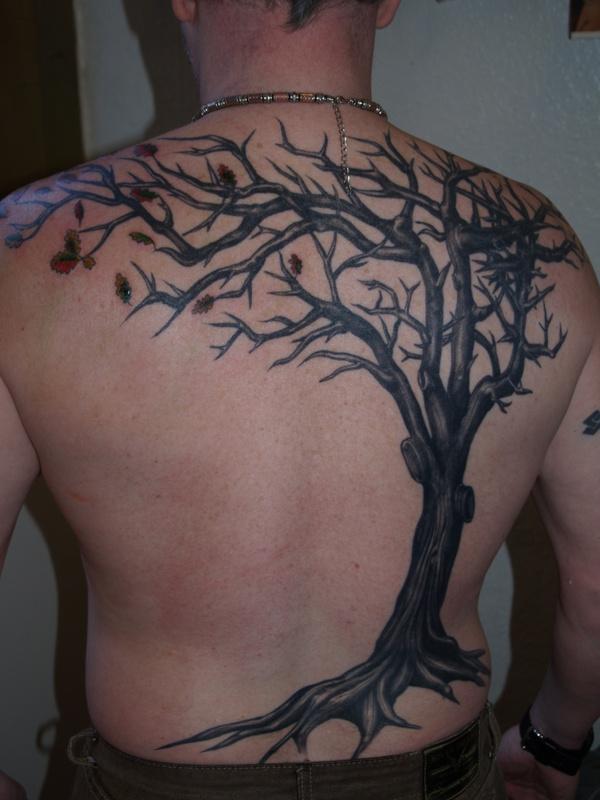 Apple Tree
Shoulder tattoo with branches and vibrant leaves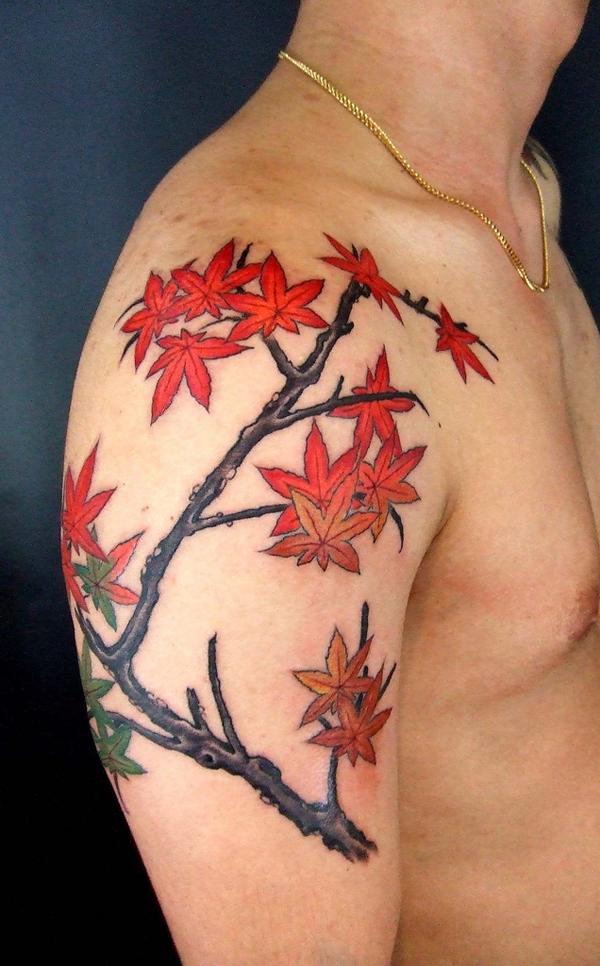 Women dancing tree tattoo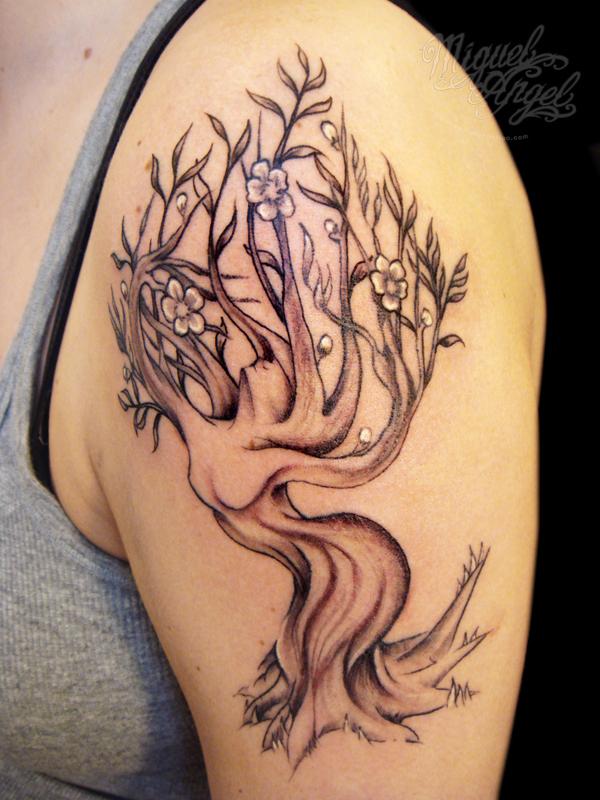 This unique arm tattoo is an example of creative body art that combines the beauty of nature with the grace of femininity. The trunk of the tree is depicted as a slim woman, while its branches are adorned with flowers, adding an extra layer to this stunning piece. This design symbolizes growth and strength in life, making it an ideal choice for women who want to express their inner power. It can also be a reminder that we all have our own individual journey in life and should take time to appreciate each moment along the way.
Colorful tree of life tattoo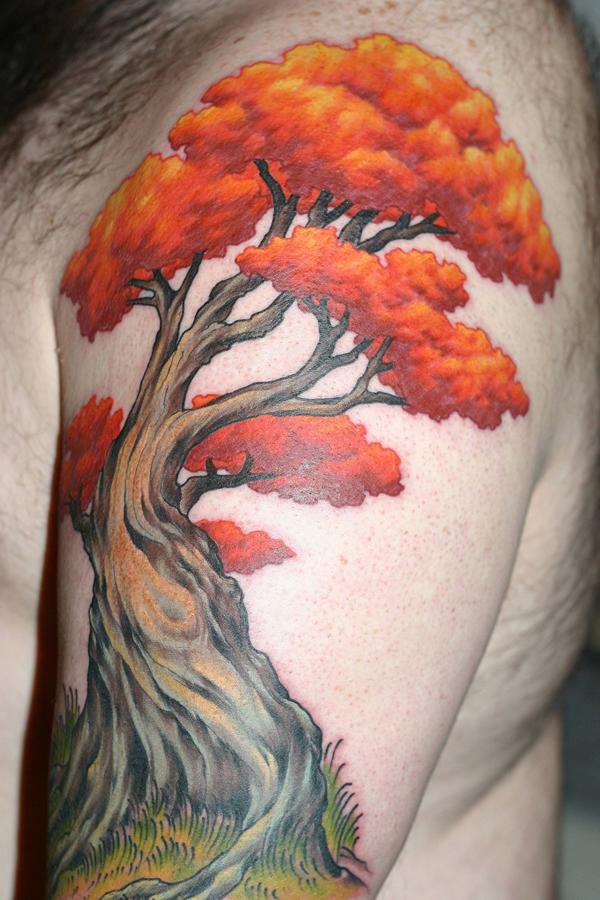 This amazing tree of life tattoo features a vibrant orange hue, with intricate cloud-like leaves that add an extra layer of beauty and complexity. It's the perfect way to express your connection to nature while also making a bold fashion statement. This versatile tattoo could represent many different things, such as growth, strength, balance or even rebirth. It's also symbolic of family ties and relationships with those we love most in our lives
Grey-colored tattoo of a tree of life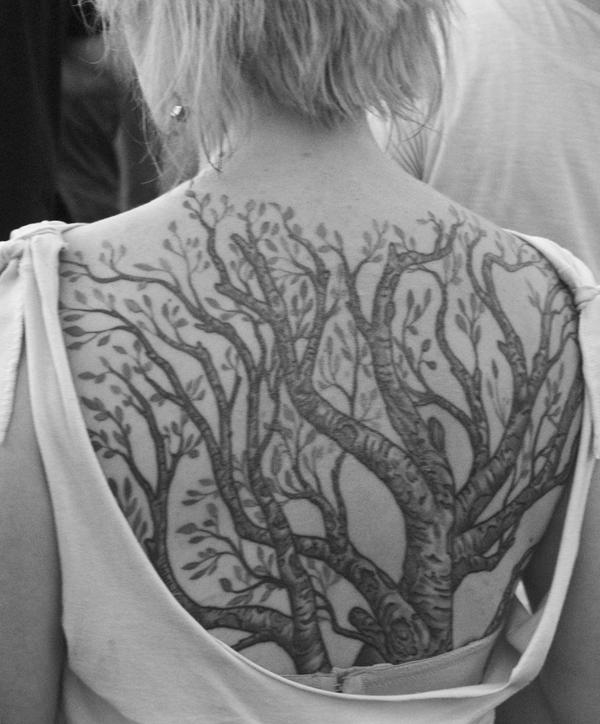 This back tattoo is an elegant choice for women who want to express their personal style and beliefs. This meaningful design can represent growth, strength, and connection to nature. It also serves as an inspiring reminder that all living things are connected in some way. The beautiful shading used in this type of tattoo makes it stand out from other designs while still being subtle enough not to be too overwhelming or distracting.
Tree of life forearm Tattoo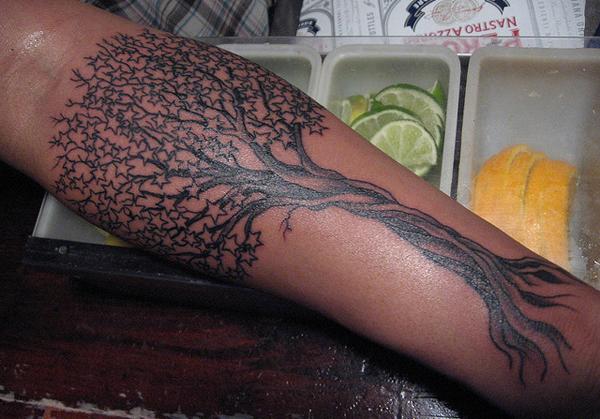 Family tree tattoo for women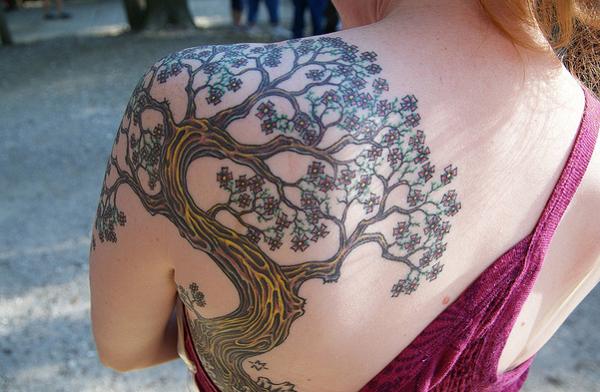 Gothic low back tree tattoo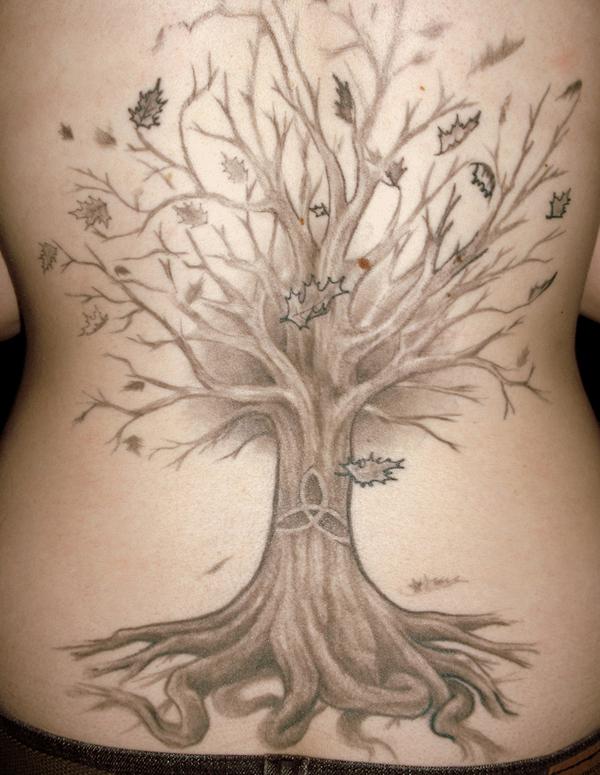 Small tree neck tattoo for female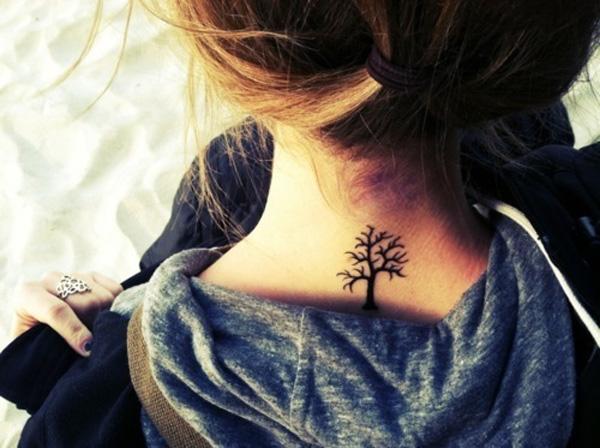 This small tattoo for a female can be a great way to express her inner beauty and strength. It is an elegant design that will look stunning on any skin tone or shape. The delicate branches of the tree represent growth, resilience, and determination. Furthermore, it's subtle enough not to be too overbearing but still stands out as unique and meaningful body art!
Shoulder tree tattoo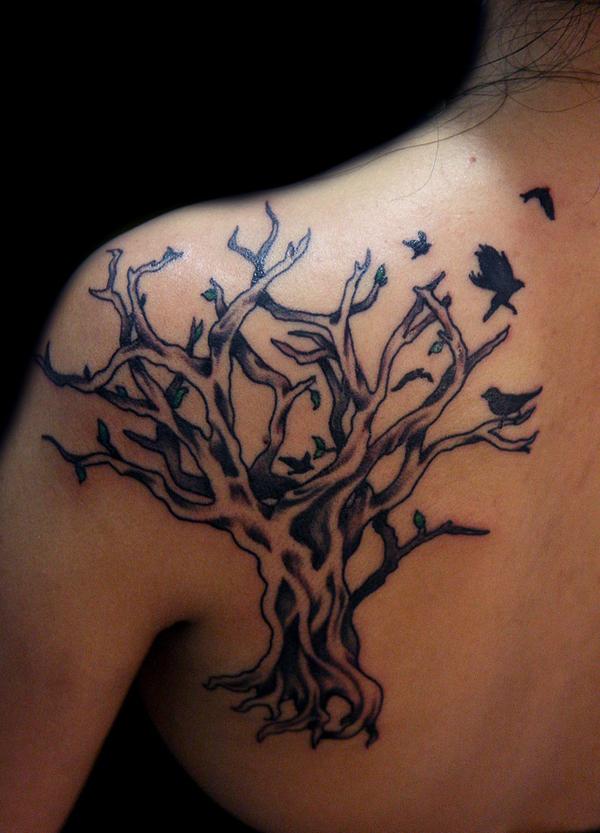 Large Tree Tattoo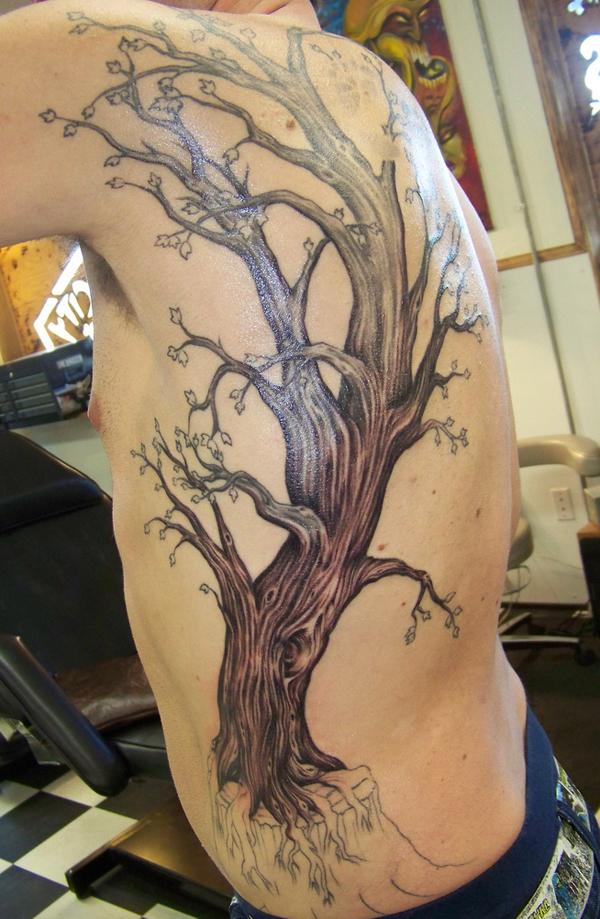 Family Tree Side Tattoo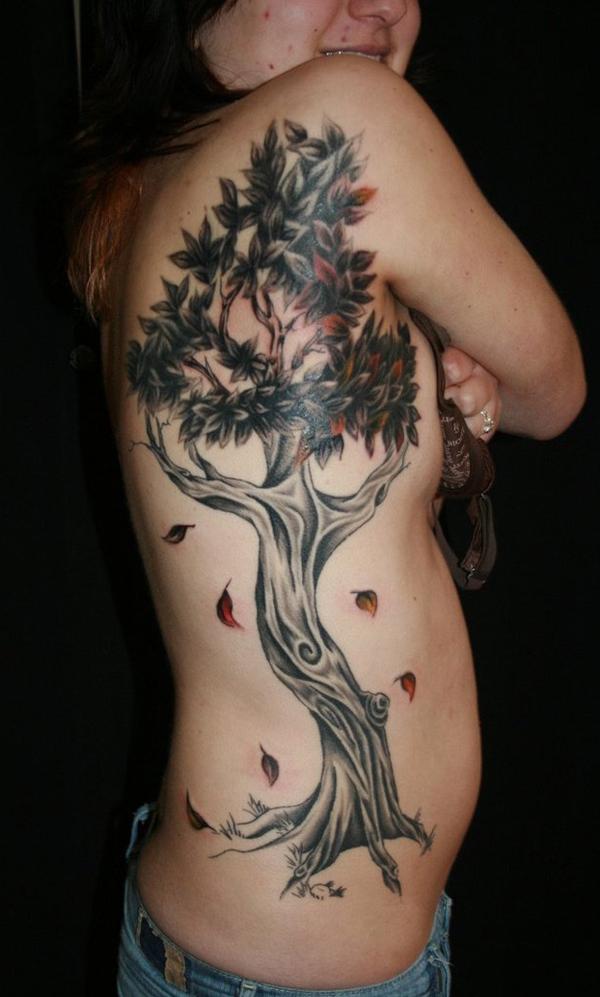 Ink of Tree with quotes by Mark Twain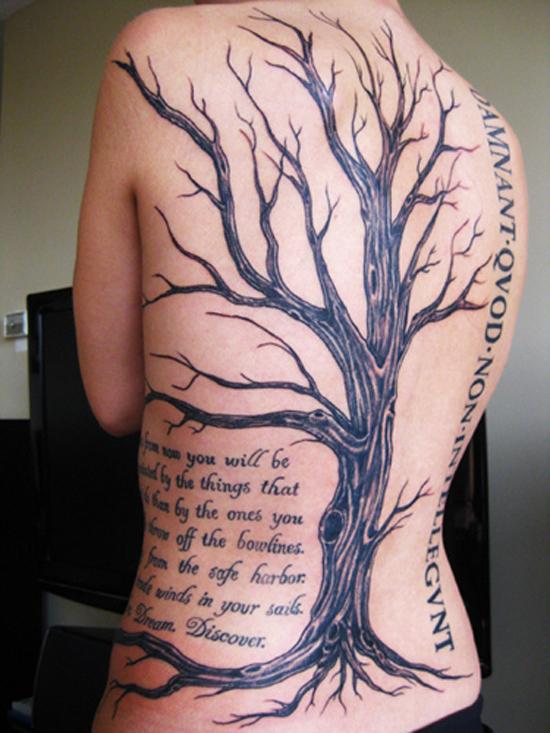 Twenty years from now you will be more disappointed by the things you didn't do than by the ones you did. So throw off the bowlines, sail away from the safe harbor. Catch the trade winds in your sails. Explore. Dream, Discover.
Full back piece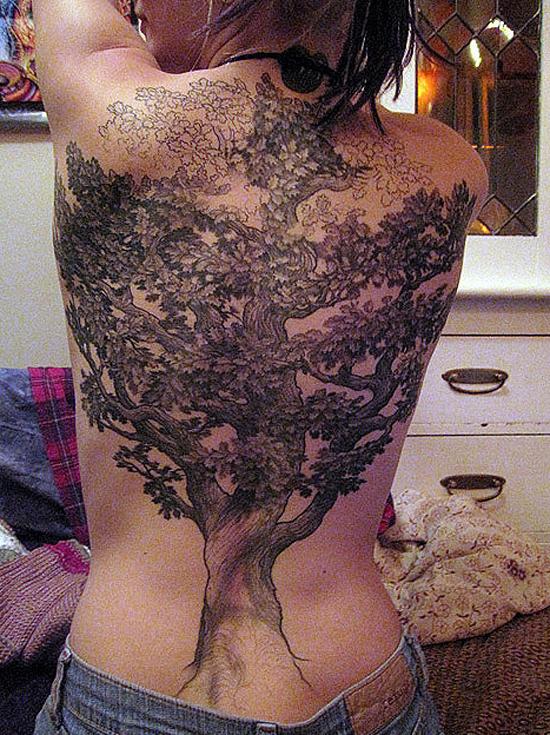 I Climbed The Tree tattoo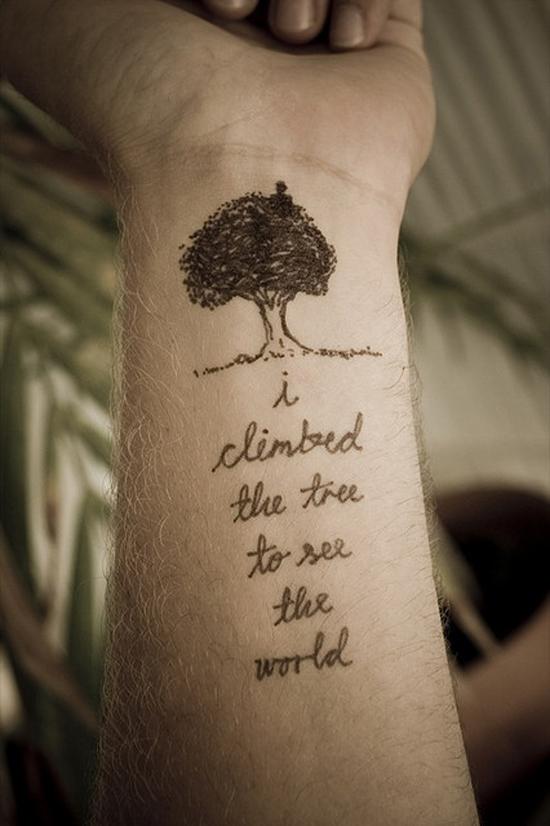 I climb the tree to see the world. An inspiring tattoo quote.
Tree of life wrist tattoo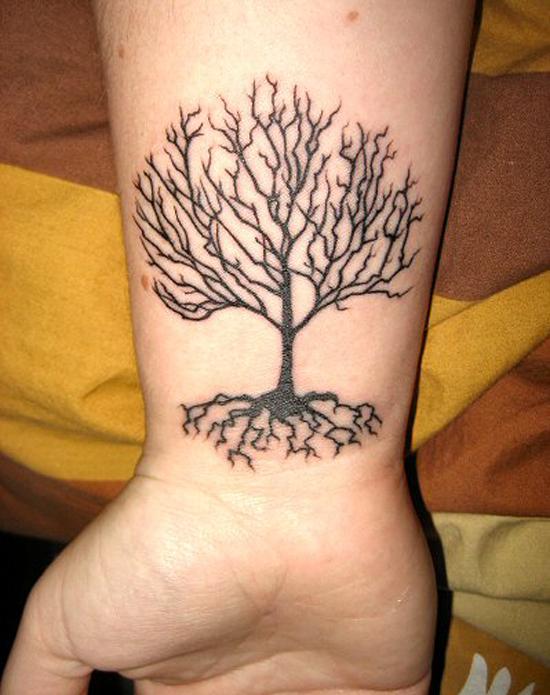 Balance of life tree tattoo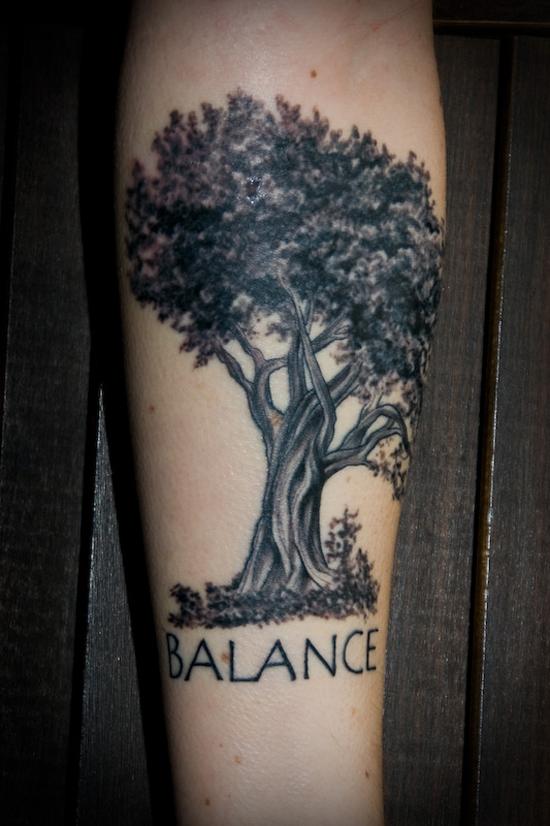 Small family tree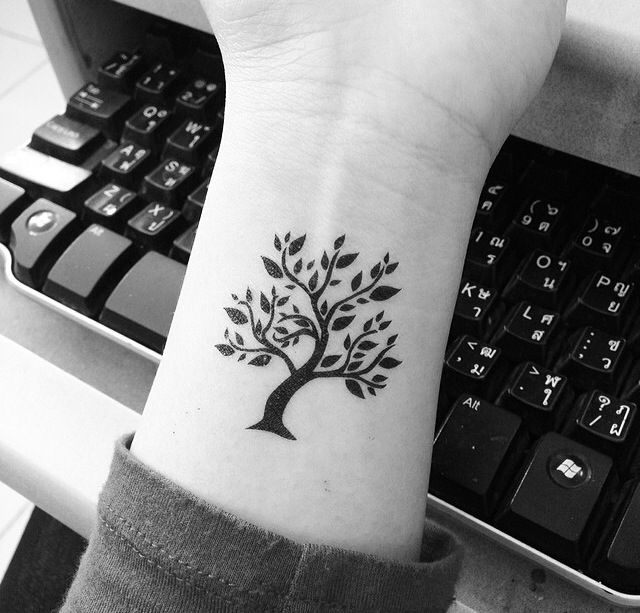 Cherry Blossom Back piece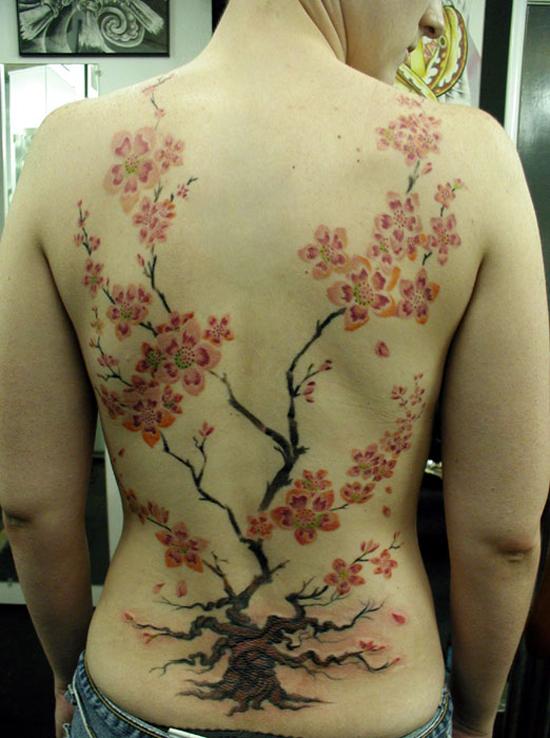 Tree tattoo for women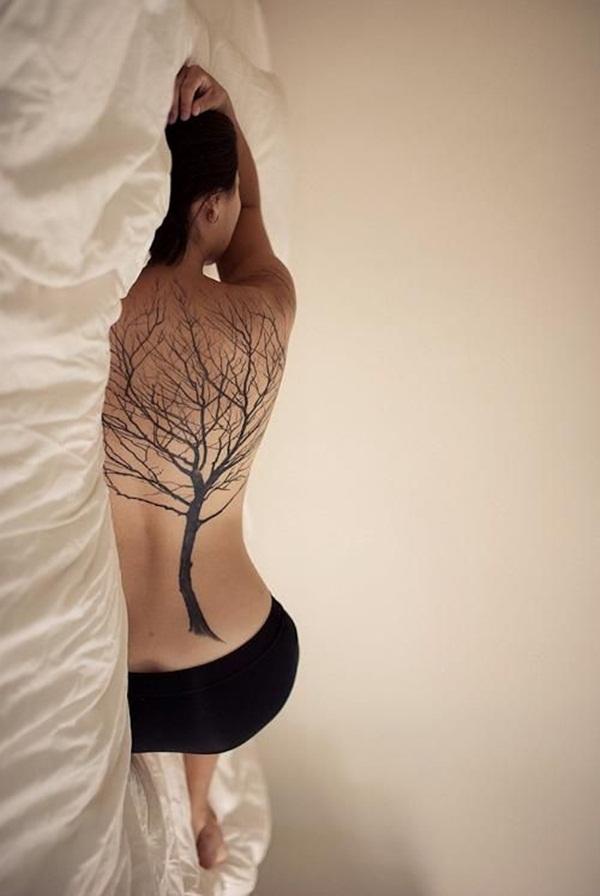 Eagle tree tattoo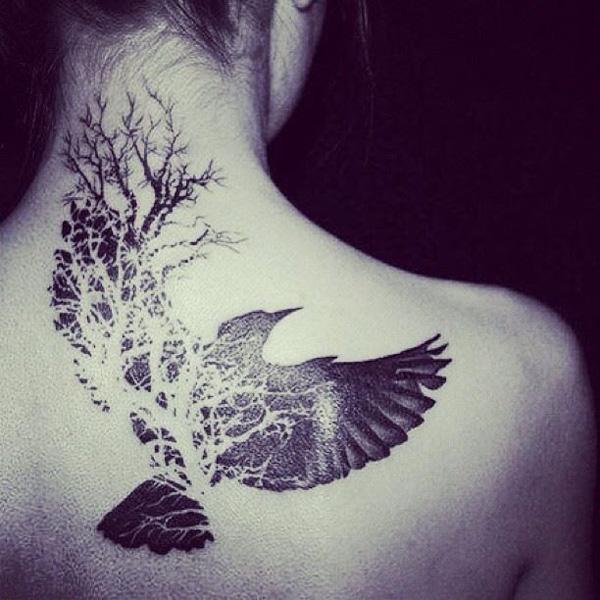 A tattoo of a flying eagle. Its wings trace the pattern of faintly wrinkled branches. Gradually a tree emerges along the branches。
Tiny tree of life neck tattoo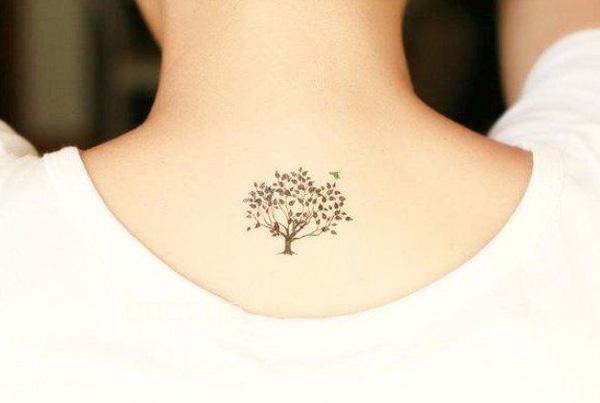 Wrist tattoo with a small tree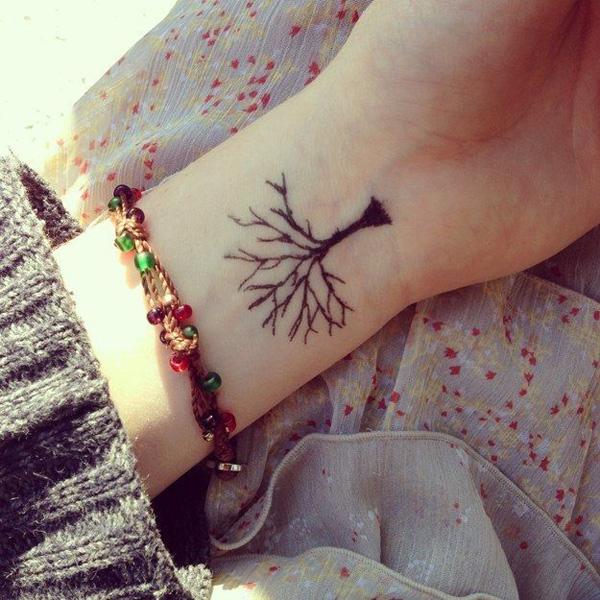 This cute wrist tattoo is the perfect choice for any girl who wants to add a touch of nature-inspired beauty to her look. The small tree design is both subtle and eye-catching, making it an ideal way to express your personality without being too flashy or overbearing. With its intricate details, this timeless design will be sure to stand out from the crowd in all of its graceful glory.
Pine trees forearm tattoo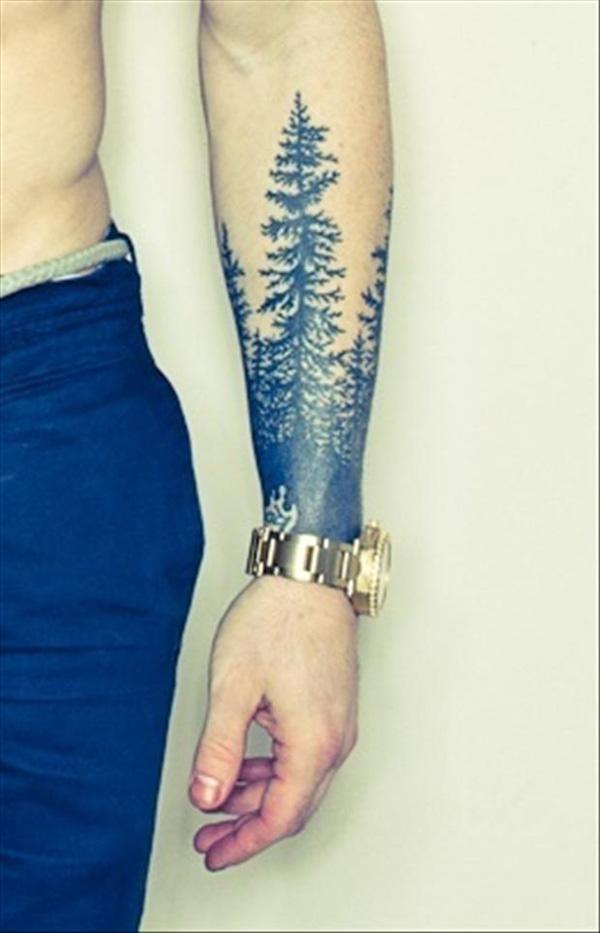 This unique forearm tattoo features two bushy pine trees drawn around the circumference of the arm. The design is intricate, with branches carefully crafted to create an amazing representation of these majestic evergreens. The use of shading and color brings depth to this piece, while its placement on the arm adds a touch of elegance and sophistication.
Conclusion
Tree tattoos carry different meanings, depending on the culture, style, and personal significance. They represent deep connections to nature, personal growth, and resilience. For those who choose to adorn their body with a tree tattoo, it is not only a fashion statement but also an embodiment of personal values and beliefs.