Have you ever thought about getting a tattoo that tells a story of resilience, hope, and rebirth? Just look to the great Phoenix. This bird is the perfect example of rebirth and life after death. It is more than just a tale. A Phoenix tattoo isn't just a piece of body art; it's also a sign of rebirth, determination, and success in the face of trouble. In this piece, we'll dive into the world of Phoenix, looking at their history, cultural significance, different designs, and meanings. So buckle up and get ready for an exciting journey!
A Brief History of the Phoenix
Before we delve into the fascinating bird tattoos, it's essential to understand the mythical creature at its core. The story of the Phoenix spans across different cultures, from Ancient Egypt and Greece to Rome, China, and Japan.
The Phoenix is a mythical bird that stands for life after death, immortality, and rebirth. As the legend goes, this magical bird lives for hundreds, if not thousands, of years before it burns itself into ashes. After its fiery demise, the Phoenix rises from its own ashes to begin a new, long life. This amazing cycle of dying and coming back to life makes the Phoenix an everlasting sign of resilience, hope, and transformation.
Symbolism and Meaning
A Phoenix tattoo can hold various meanings, depending on the wearer's cultural background and personal beliefs. Here are some of the most common themes:
Rebirth and Renewal: As the Phoenix rises from its ashes, it represents a fresh start after a significant change or setback. This powerful image can be an inspiring reminder that it's never too late to turn things around and start anew.
Strength and Resilience: The Phoenix is an indomitable force that overcomes adversity and comes back stronger than ever. It can symbolize one's fortitude and ability to rise above challenges, just like the mythical bird.
Immortality and Life After Death: As a creature that eternally lives, dies, and is reborn, the Phoenix represents the enduring cycle of life, death, and resurrection. Some people might see a Phoenix as a symbol of spiritual growth or an eternal connection to a lost loved one.
Popular Designs and Styles
The beauty of a Phoenix tattoo lies in the vast array of designs, styles, and interpretations available. Your body becomes a canvas to express your personal story and journey with this mythical creature. Let's take a look at some popular designs and styles:
Tribal Phoenix Tattoos
Tribal tattoos are known for their distinct lines, shapes, and patterns. A tribal Phoenix uses these bold elements to make a design that is both powerful and interesting. This style can be traced back to several ancient cultures, making it a fitting choice for a mythical creature with such a rich history.
Never Give Up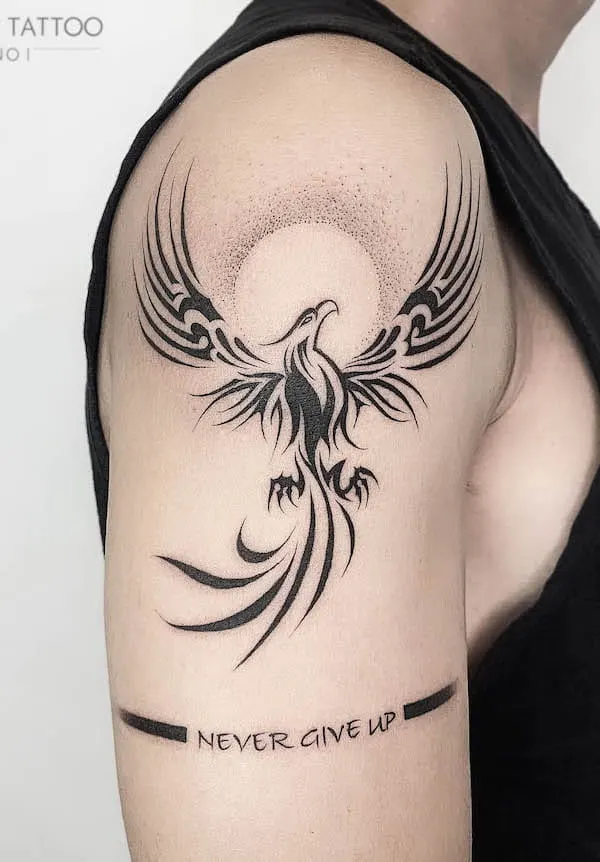 The tribal tattoo is a striking piece of body art that features the mythical bird with its wings outstretched, as if it's trying to soar up towards the sun. The intricate design adds depth and texture, making the piece a true work of art. The sun, which is done with negative space, and dotwork that gives the impression of rays of light shining outwards. Underneath the bird, there is an armband that reads "Never Give Up" in bold, black letters. This phrase serves as a powerful reminder to the wearer to persevere through life's challenges and to always keep pushing forward, no matter what. Overall, this tattoo is a beautiful and inspiring piece that is sure to turn heads and spark conversation.
Small tribal tattoo on back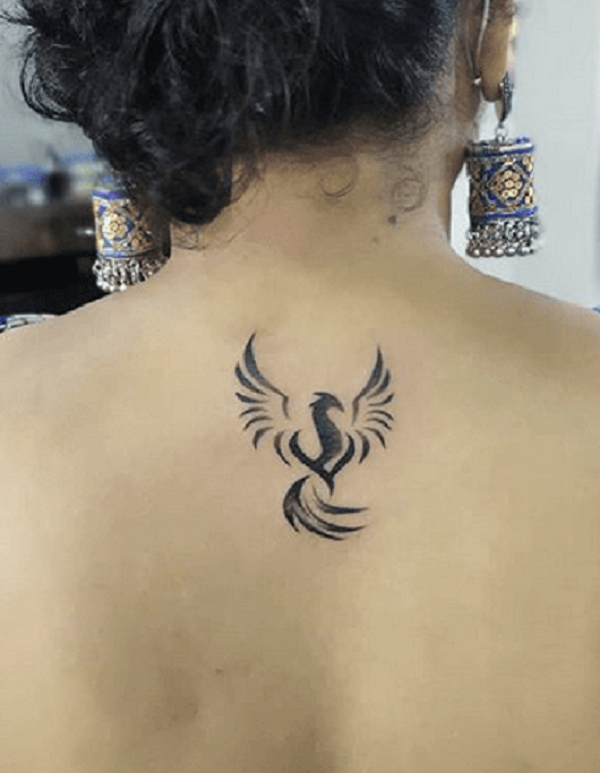 Tribal Back Tattoo for women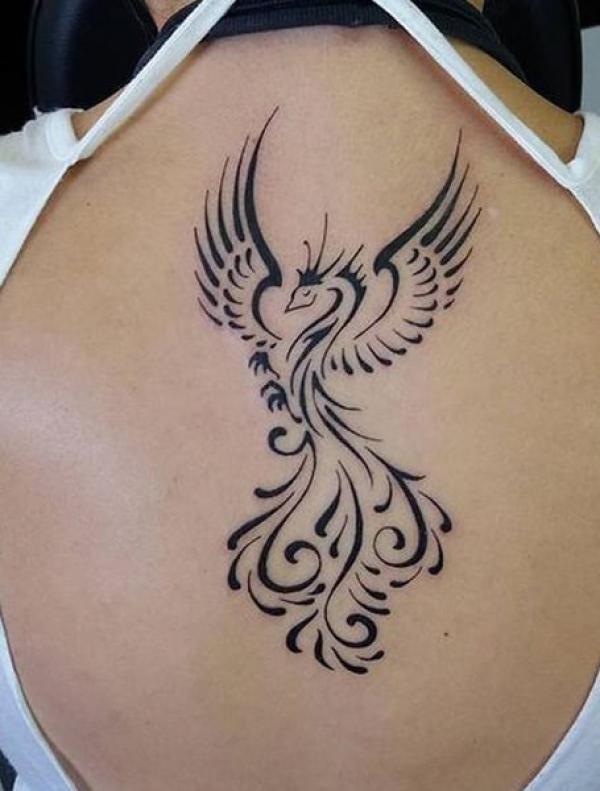 Large tribal phoenix tattoo on back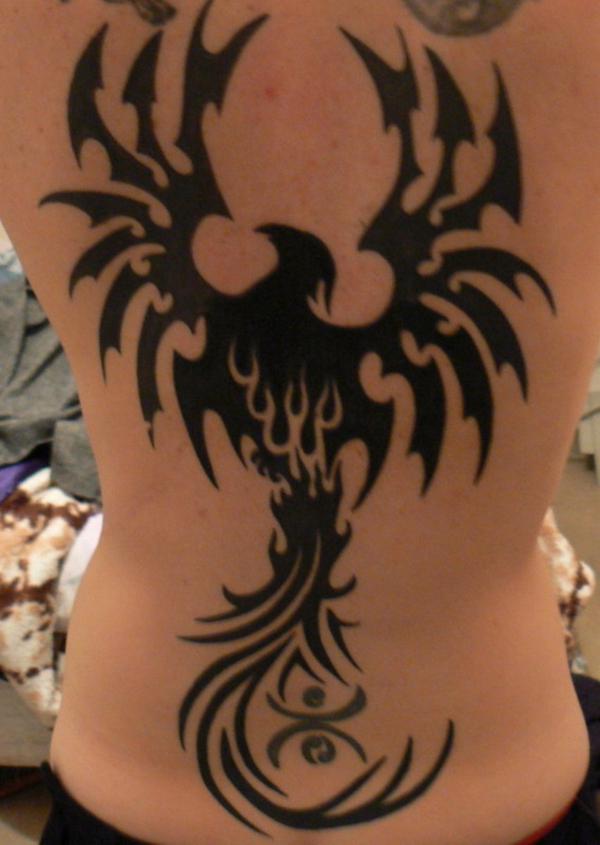 The beauty of simplicity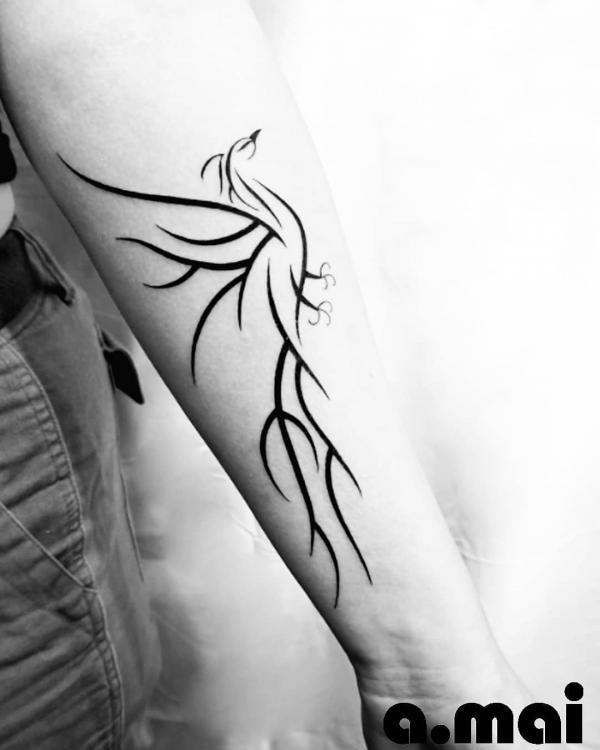 This piece is a pure line work design that features a minimalist depiction of the mythical phoenix bird. The tattoo uses only thin black lines, with no shading or color, which gives it a clean and simplistic look. The lines of the design flow smoothly and elegantly, creating a sense of movement and grace. The tribal style of the design adds an element of cultural significance.
Combination of tribal and watercolor styles for men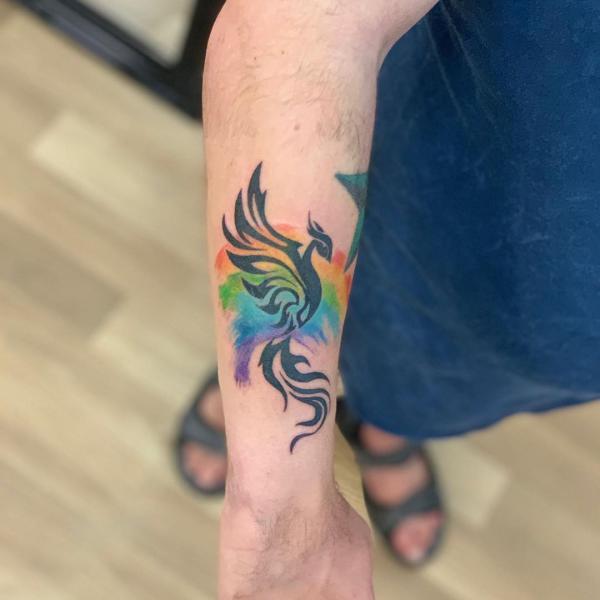 Phoenix spine tattoo for women
The Monochrome Phoenix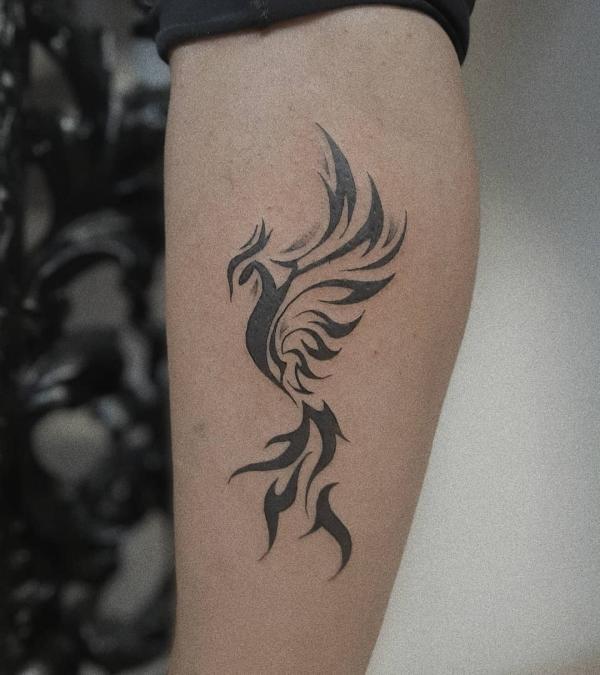 The forearm features a stylized image of a phoenix bird in black ink, creating a striking contrast. The tattoo design incorporate bold lines and swirling shapes to create a tribal look. With its wings spread, the phoenix symbolizes rebirth and renewal.
Black and red tattoo with phoenix on back in tribal style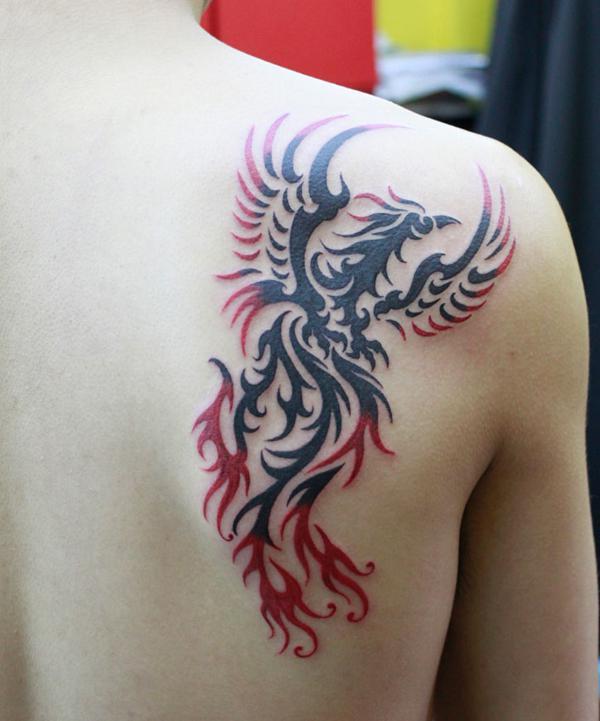 Watercolor Phoenix Tattoos
If you're looking for a more artistic and expressive approach, a watercolor tattoo might be just the ticket. This style mimics the delicate blending of hues and brush strokes in a watercolor painting, creating a dreamy and ethereal effect. The vibrant colors and fluid lines can capture the essence of the Phoenix's fiery plumage and bring it to life on your skin.
Watercolor Phoenix Forearm Tattoo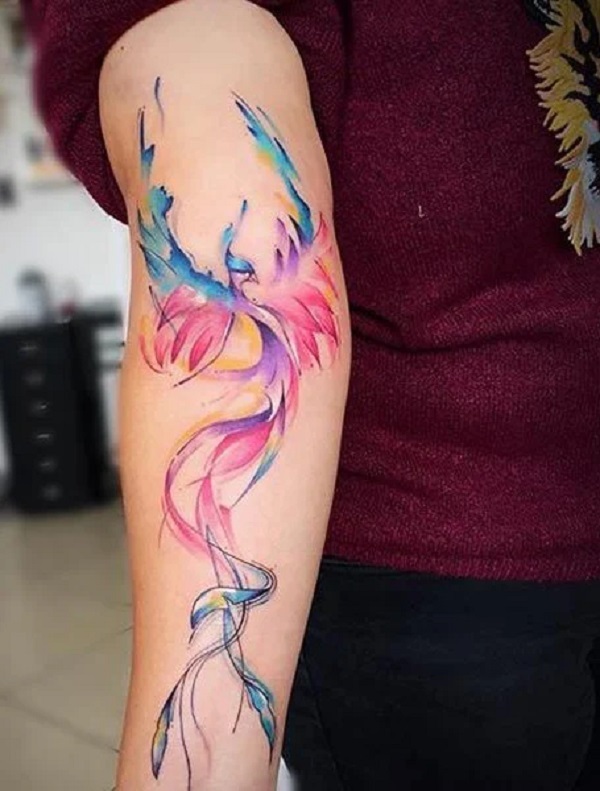 Colorful phoenix on the spine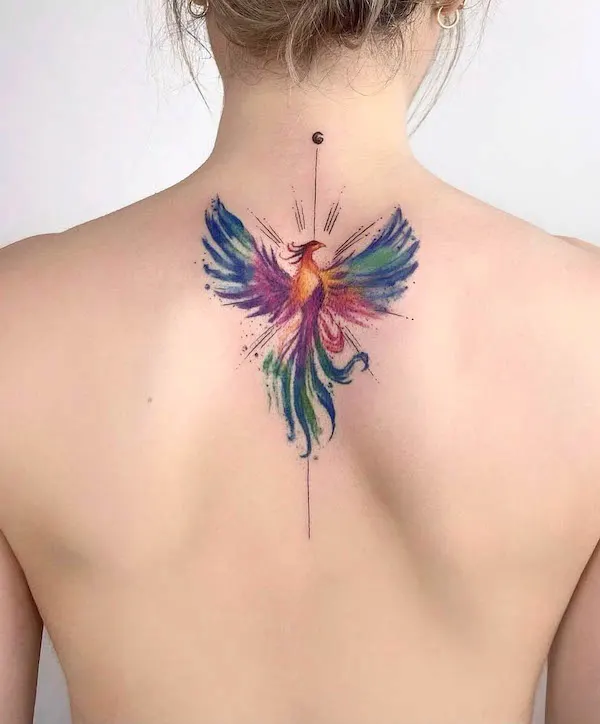 Watercolor phoenix sleeve tattoo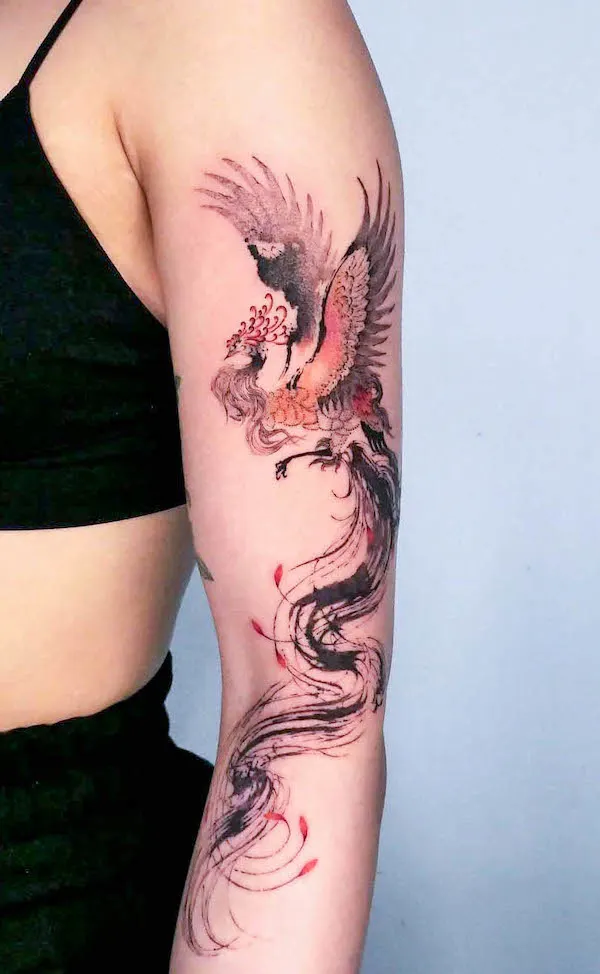 Colorful Phoenix Arm Tattoo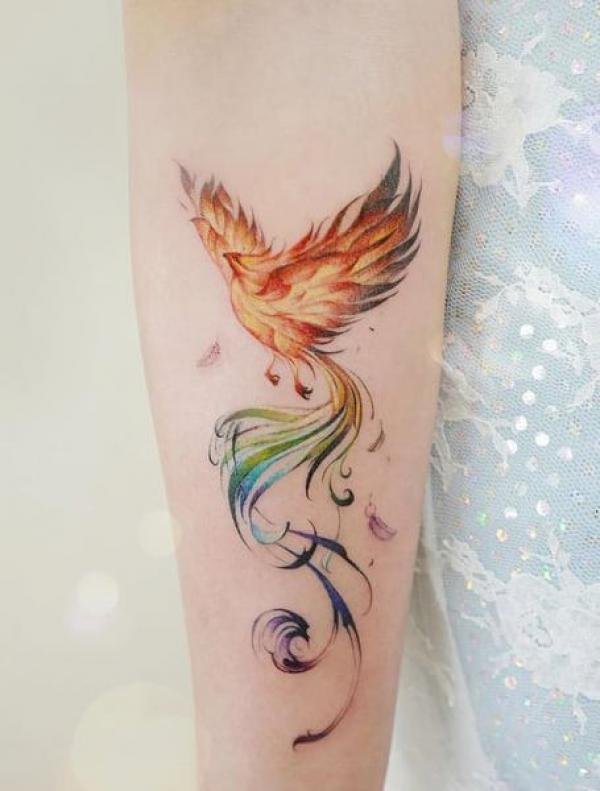 Watercolour full arm tattoo for women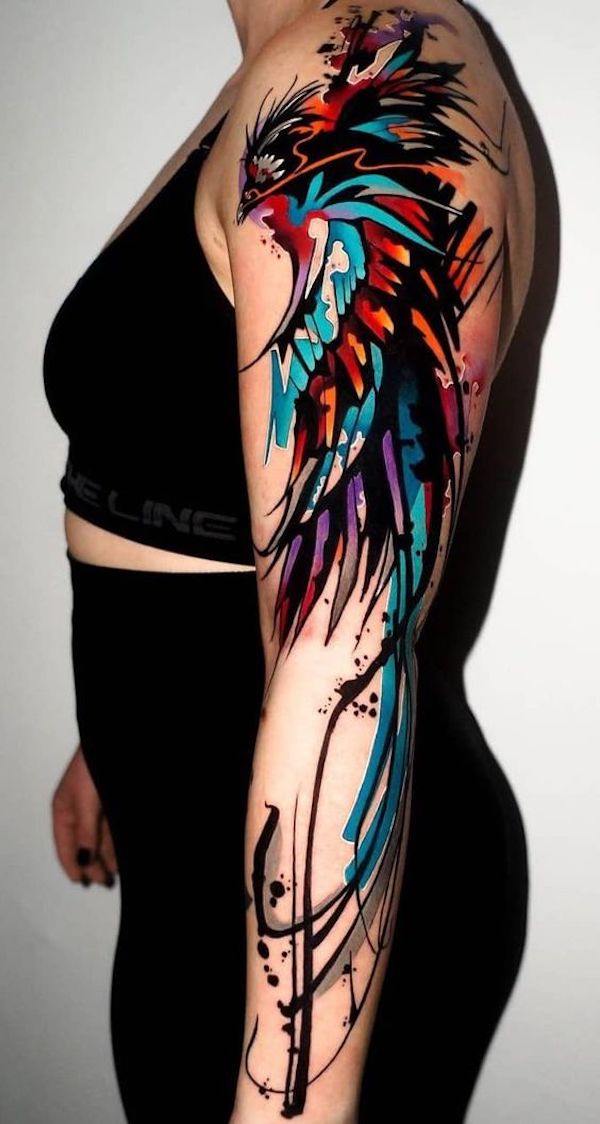 Cool phoenix leg Tattoo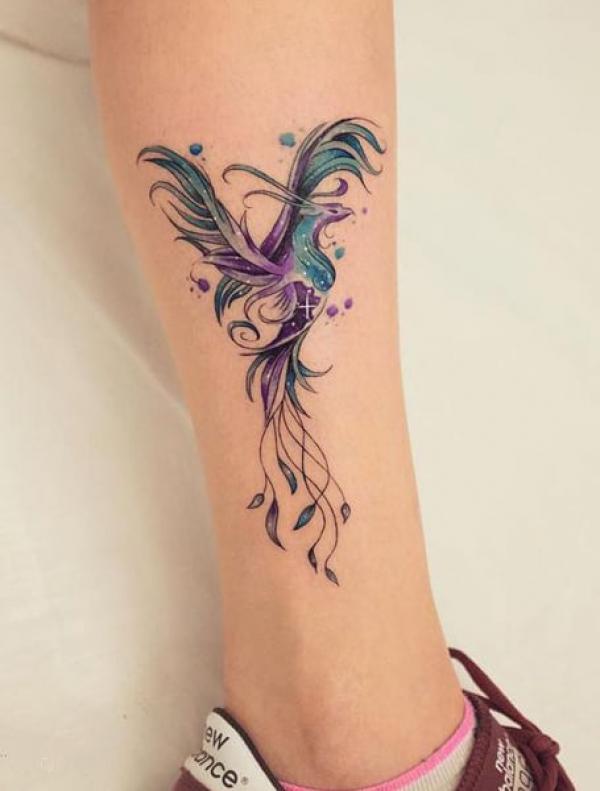 Watercolor phoenix tatoo on thigh for women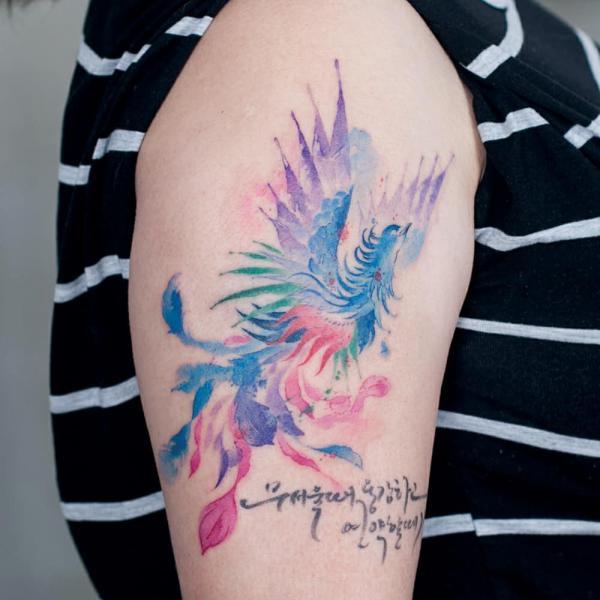 Watercolor phoenix tattoo on forearm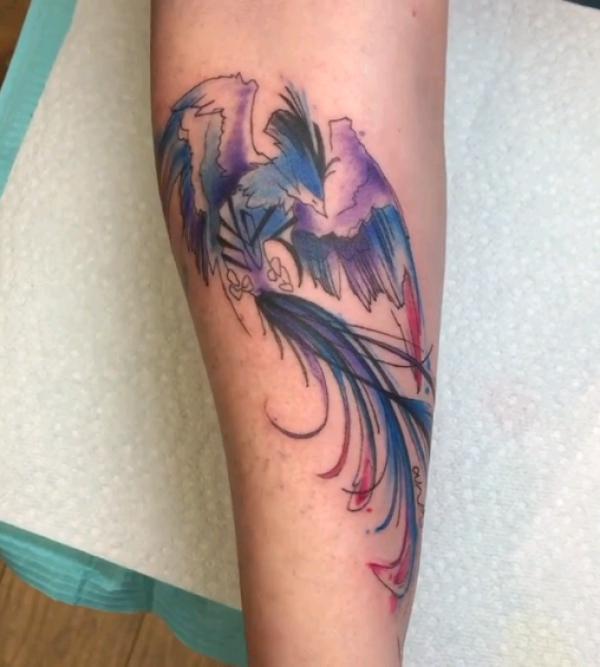 Fire phoenix tattoo back tattoo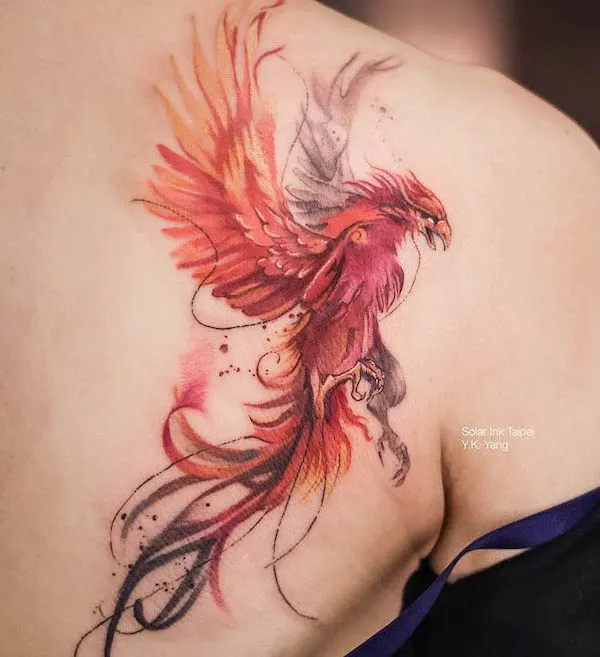 Japanese Phoenix tattoos
The Phoenix is a mythical bird that is called "Hou-ou" in Japan. It represents rebirth, renewal, and life. In Japanese mythology, it is said that the Phoenix will be reborn from its own ashes. This makes it a strong symbol of change and strength. Japanese Phoenix tattoos are often depicted with vibrant colors and intricate designs, featuring the bird with its wings spread in flight, surrounded by flames or other elements of nature. These tattoos can be found on many parts of the body, including the back, chest, and arms, and are often chosen by those seeking to express their resilience, courage, and hope for a new beginning.
Japanese red phoenix full back tattoo for women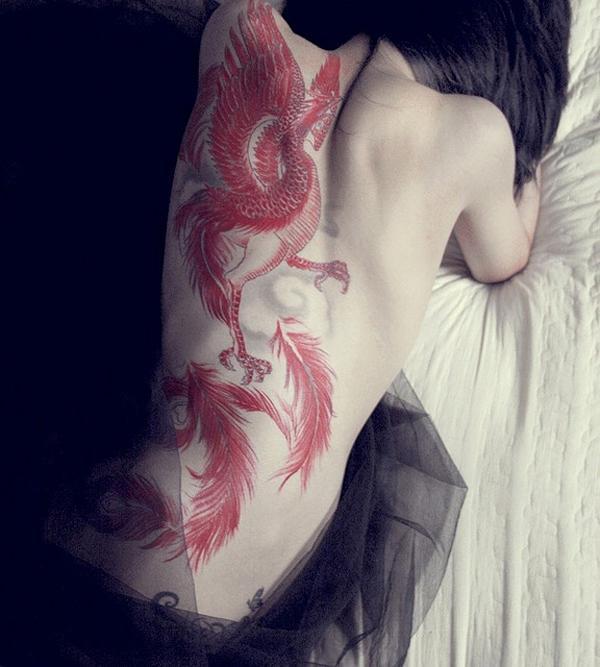 Traditional Japanese style phoenix tattoo on full back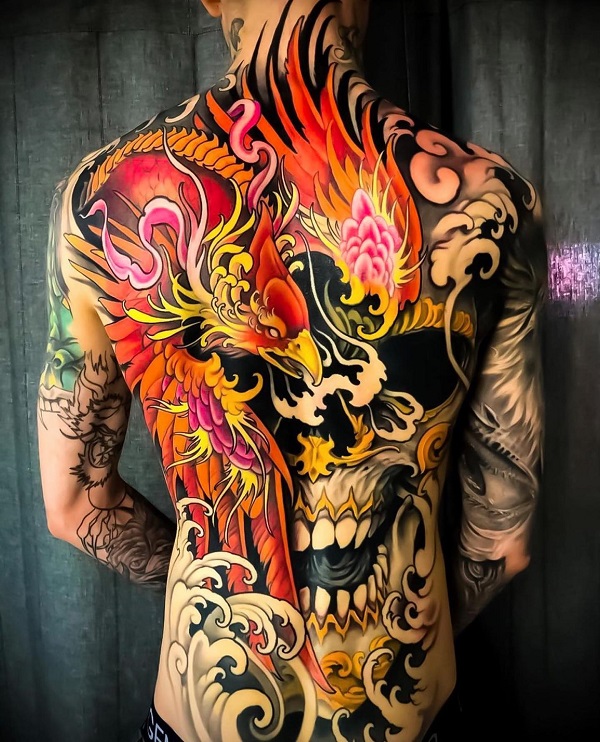 Waves of Life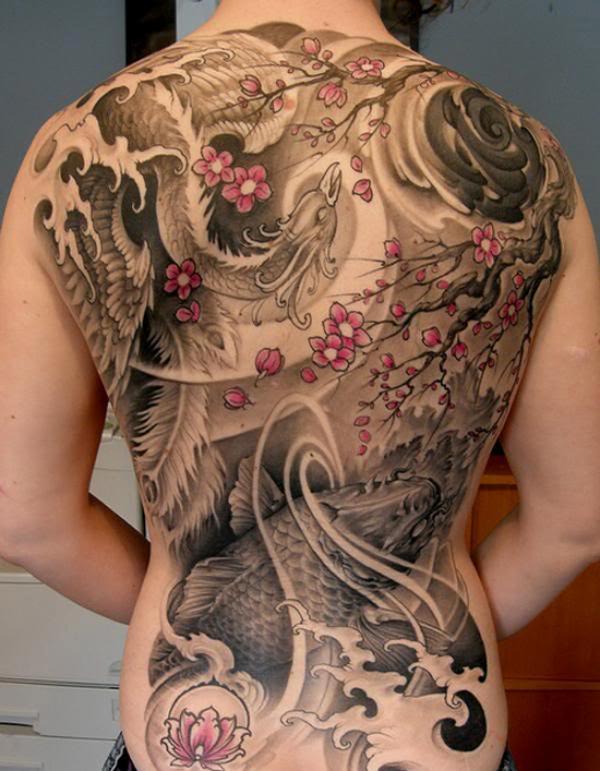 The Japanese traditional tattoo is a stunning piece of art that adorns the entire back of the individual. The phoenix, ocean waves, Koi Fish, and cherry blossom, are intricately woven together to create a beautiful and meaningful design. It represents the ebb and flow of life, the cycles of death and rebirth, and the importance of perseverance and determination in the face of adversity.
Japanese fullsleeve tattoo with phoenix in black and white style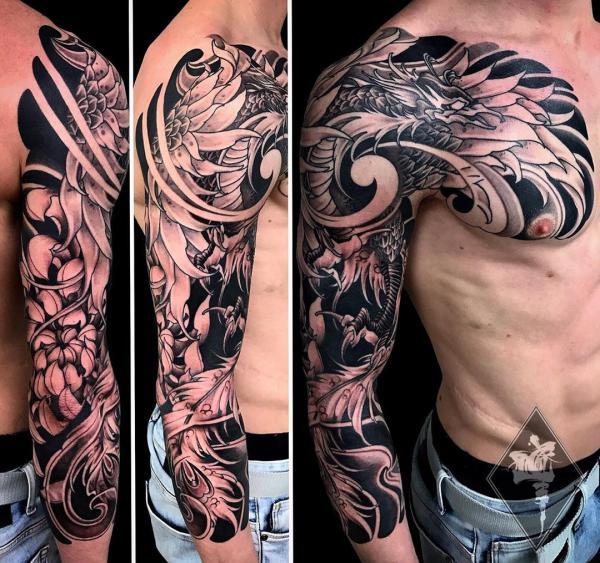 Dynamic fullback tattoo with Phoneix cloud reflecting Japanese tradition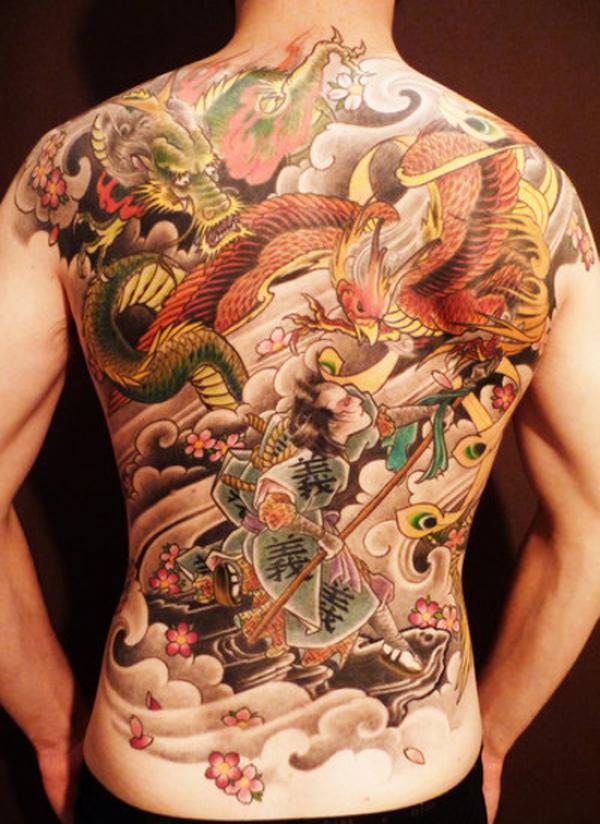 Japanese Phoenix tattoo on full back for women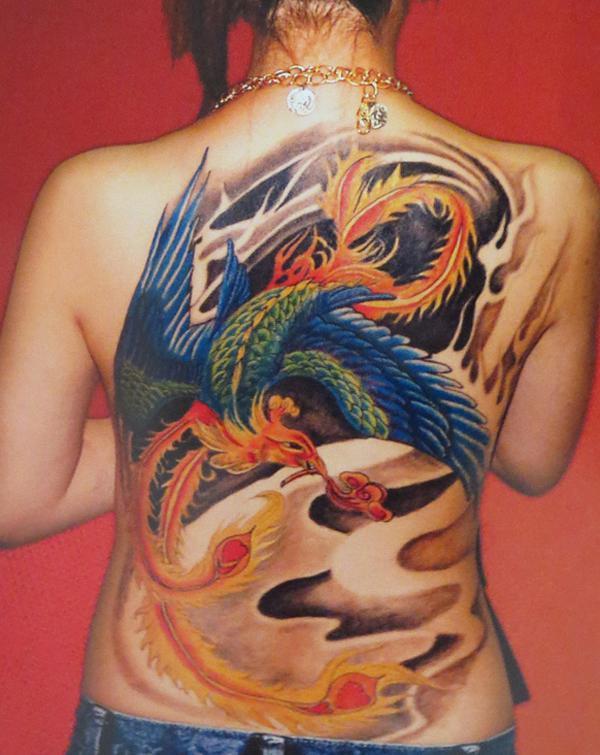 Fullback Japanese phoenix tattoo for men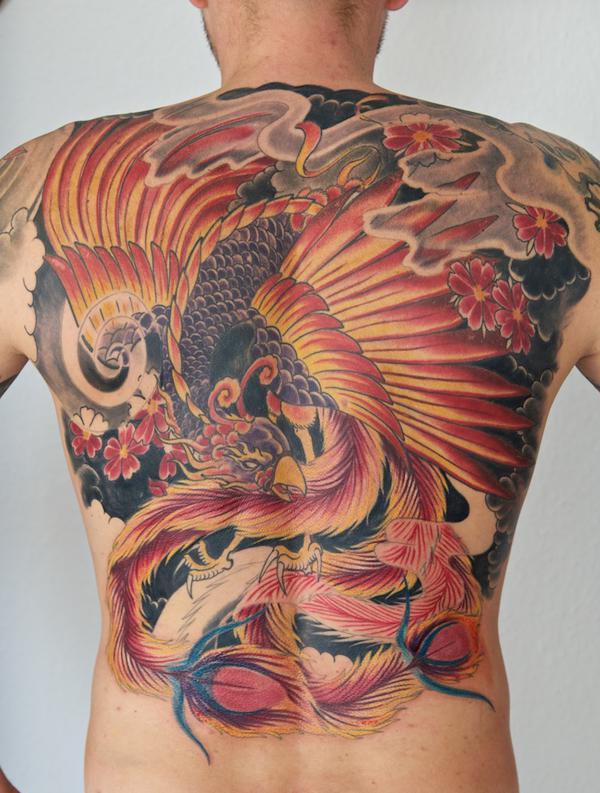 Realistic Phoenix Tattoos
For those who value attention to detail and lifelike imagery, a realistic tattoo is an excellent option. This style aims to recreate the mythical phoenix bird with stunning accuracy, using intricate shading and a 3D effect to make it appear as if the Phoenix is emerging from your skin.
Black and white half sleeve tattoo for men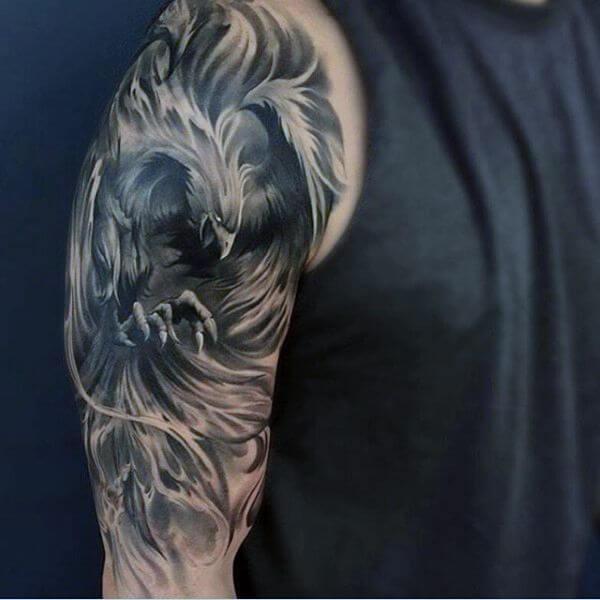 Rising Beauty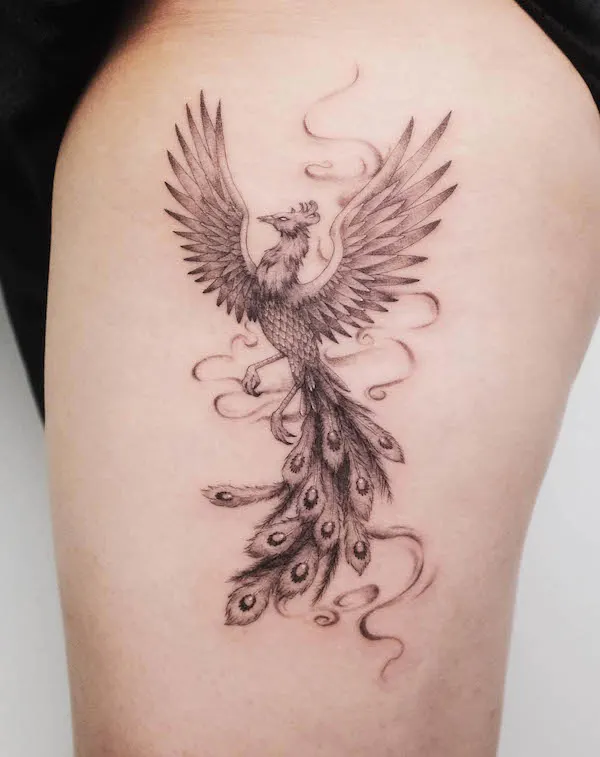 The tattoo design combines the majestic beauty of a phoenix with the elegance of peacock feathers. Inked on the thigh of a woman, this tattoo symbolizes the rebirth of beauty and the resilience of the human spirit. At the center of the design is a stunning phoenix, with its feathers in vibrant dedicate shades. The bird's wings outstretched upwards, as if announcing its triumphant return.
Phoenix and lovers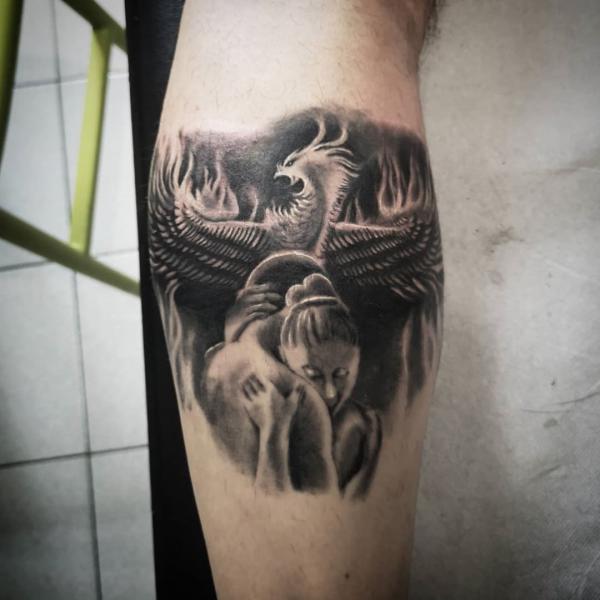 Realistic phoenix tattoo on upper arm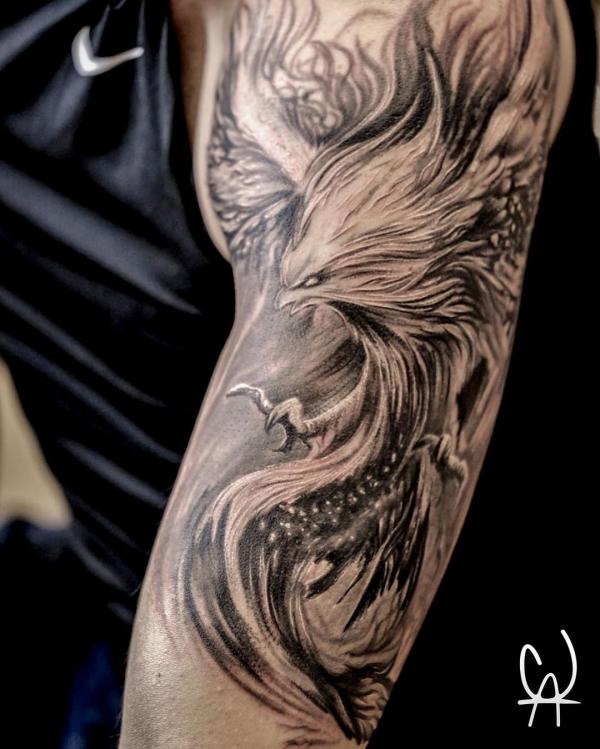 Fiery Resurrection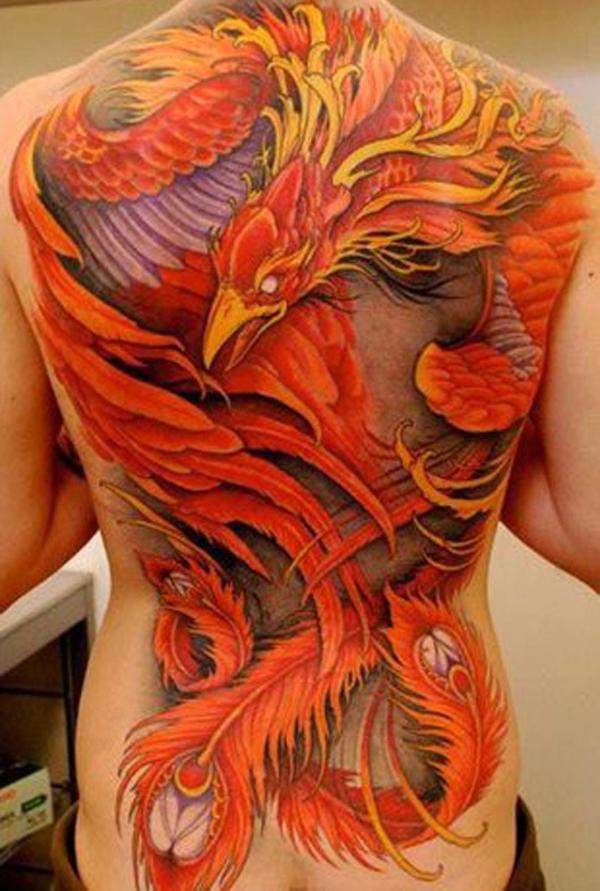 The vibrant colors of the mythical bird come to life, with deep oranges, fiery reds and rich yellows blending seamlessly together. The intricate details of the feathers are painstakingly rendered, creating a texture so lifelike that you can almost feel the softness of the bird's plumage. The bird's eyes seem to stare surroundings, and its open beak is ready to grasp anything that comes its way.
Yin Yang Phoenix tattoos
Yin Yang Phoenix tattoos are a stunning representation of balance and harmony. These tattoos typically feature two phoenix birds, one in a dark color and the other in vibrant colors. These tattoos often depict the dark phoenix with shades of black, which represent the yin energy associated with darkness, femininity, and introspection. On the other hand, the vibrant phoenix is often portrayed in bright colors like red, orange, and yellow, representing the yang energy associated with light, masculinity, and action.
Watercolor Yin Yang tattoo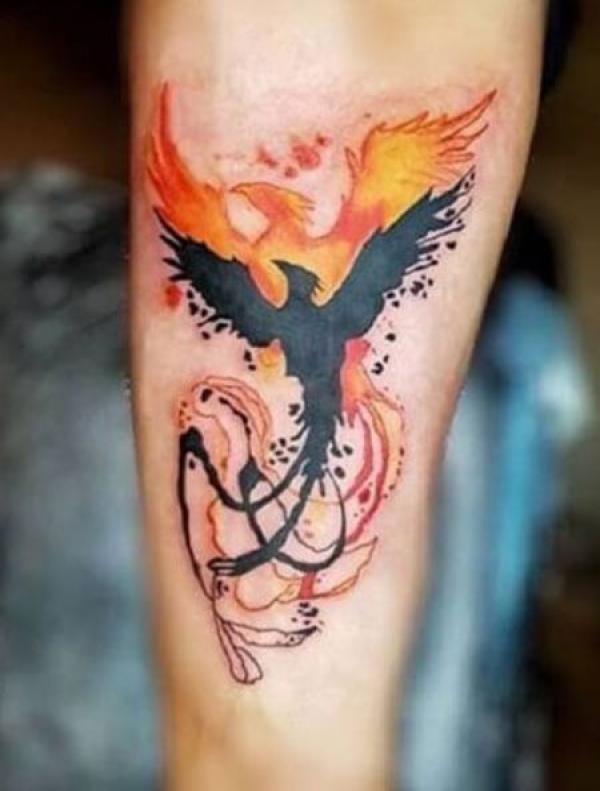 Black and red Yin Yang tattoo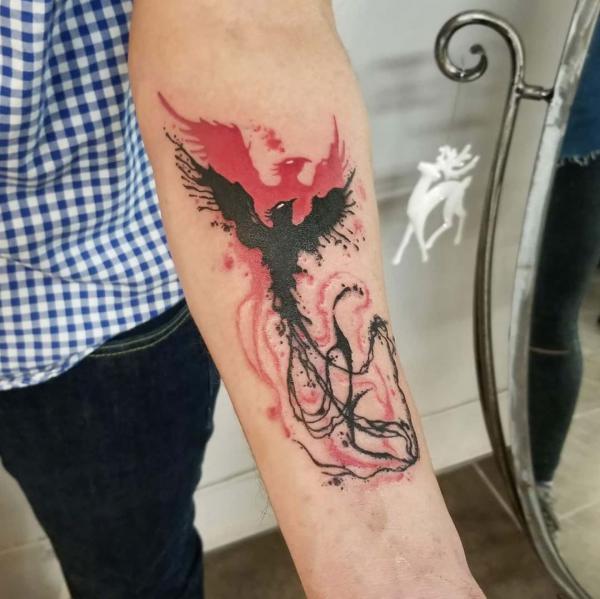 Abstract Phoenix Tattoo
An abstract Phoenix tattoo offers a unique and creative twist on the classic design. By incorporating bold colors, geometric shapes, or unconventional patterns, you can transform the traditional Phoenix into a modern and eye-catching work of art.
Simple abstract phoenix line work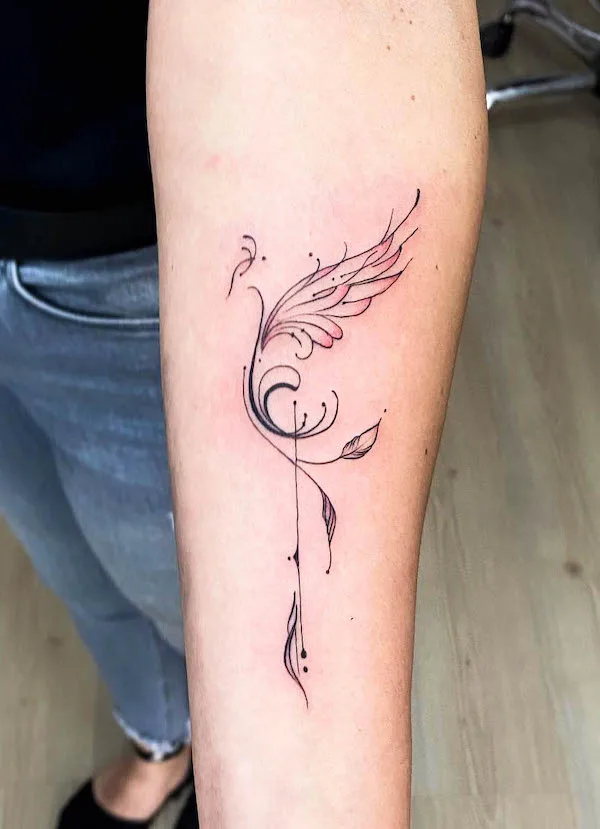 Geometric phoenix constellation tattoo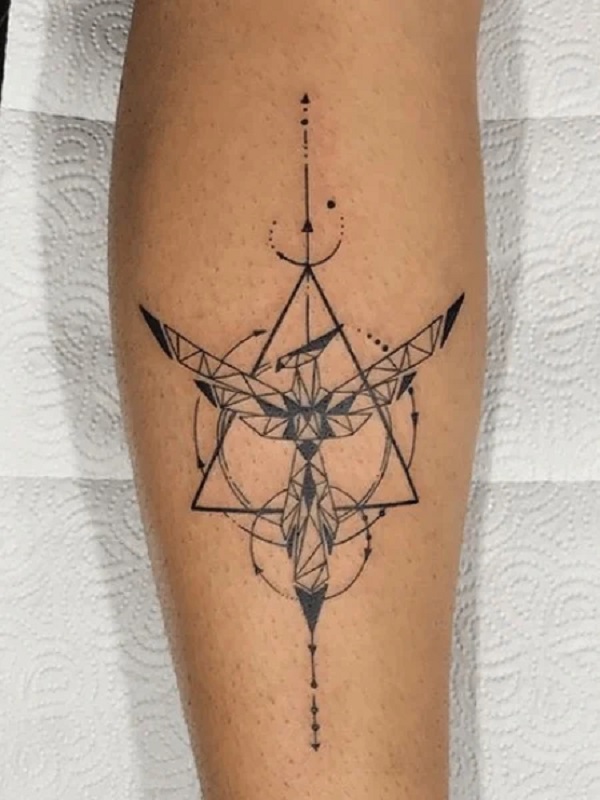 Phoenix line work tattoo with feathers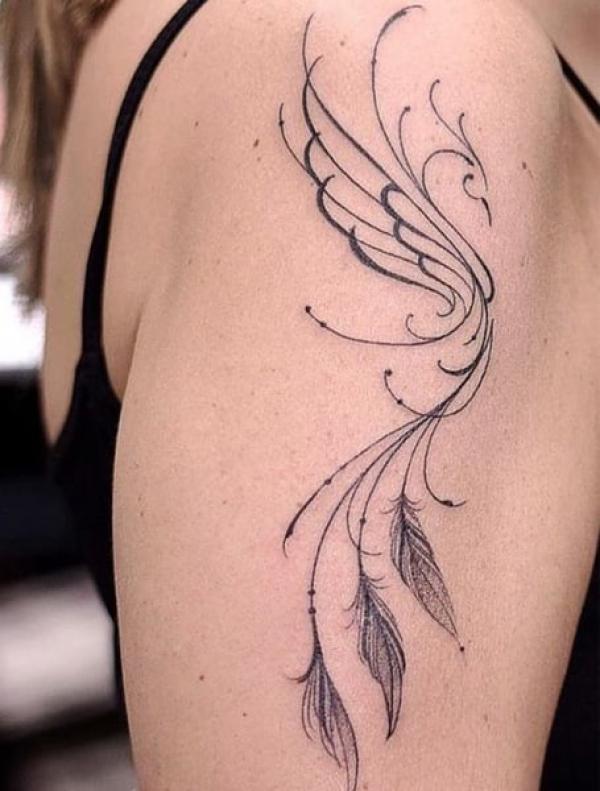 Small phoenix tattoos
Small phoenix tattoos are popular for their simplicity and elegance. You can be easily hide or display depending on the your preference. These tattoos feature clean lines and minimal shading, allowing the beauty of the phoenix image to shine through. Whether placed on the wrist, ankle or behind the ear, the minimalist tattoo can serve as a constant reminder of the wearer's strength and resilience.
Minimalist phoenix ankle tattoo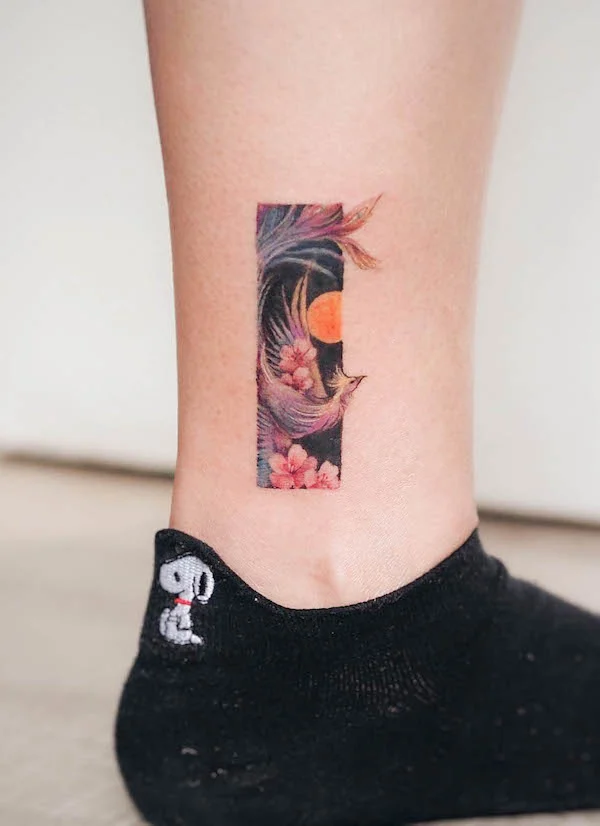 The minimalist tattoo design features a vertical composition with a phoenix, flowers, and moon. The phoenix is depicted in elegant, light purple, with a focus on its wingspan, as if it's about to fly out of the confining space . The flowers are delicate and understated, adding a softness to the overall design. The use of black ink in the background creates a sense of depth and dimension.
Phoenix and wave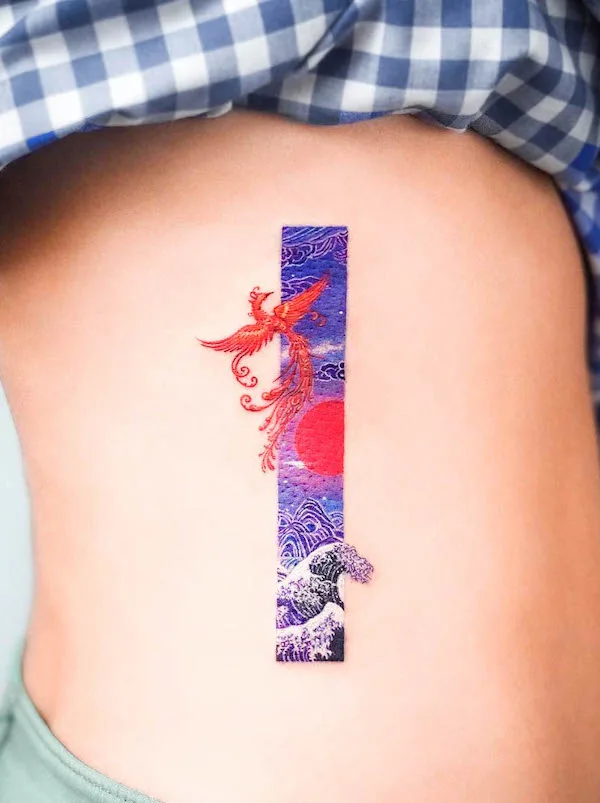 Black and gray collarbone tattoo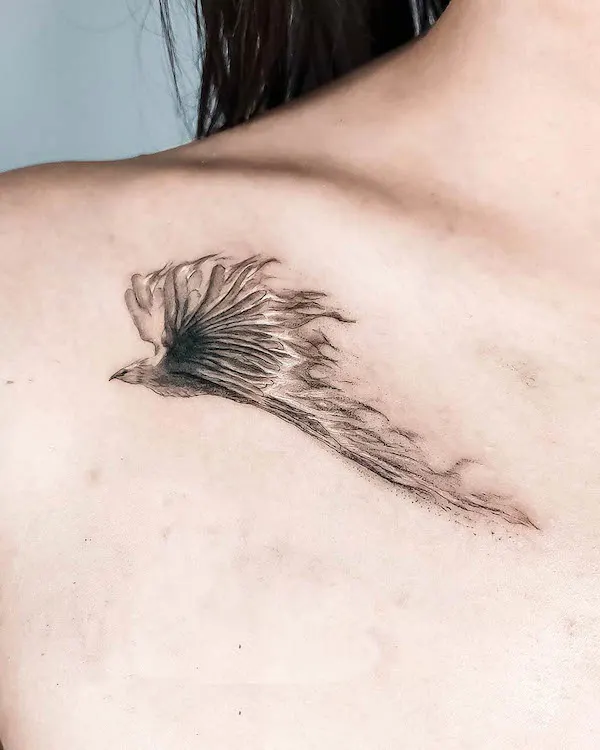 Small phoenix on ankle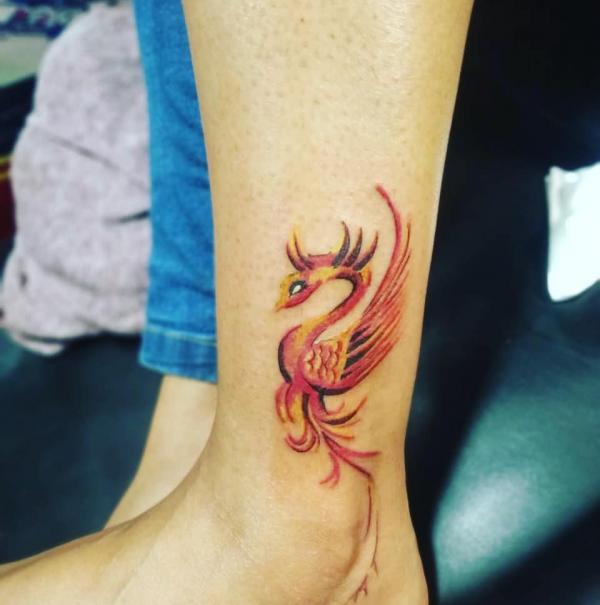 Beautiful phoenix tattoo for women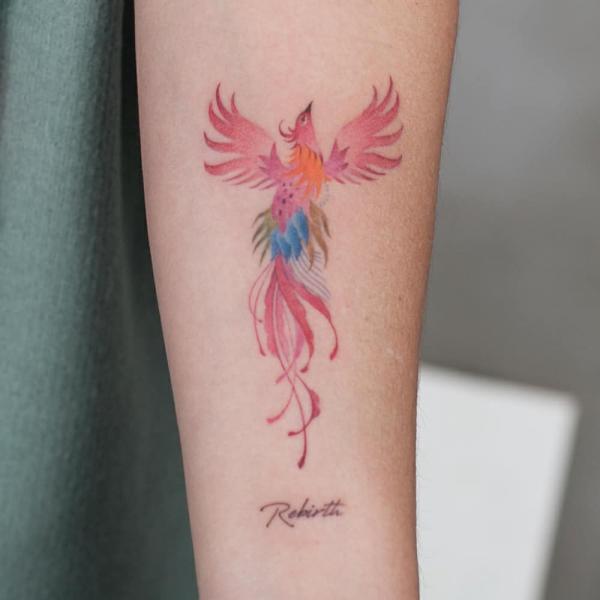 More stunning designs
Mesmerizing phoenix tattoo on upper arm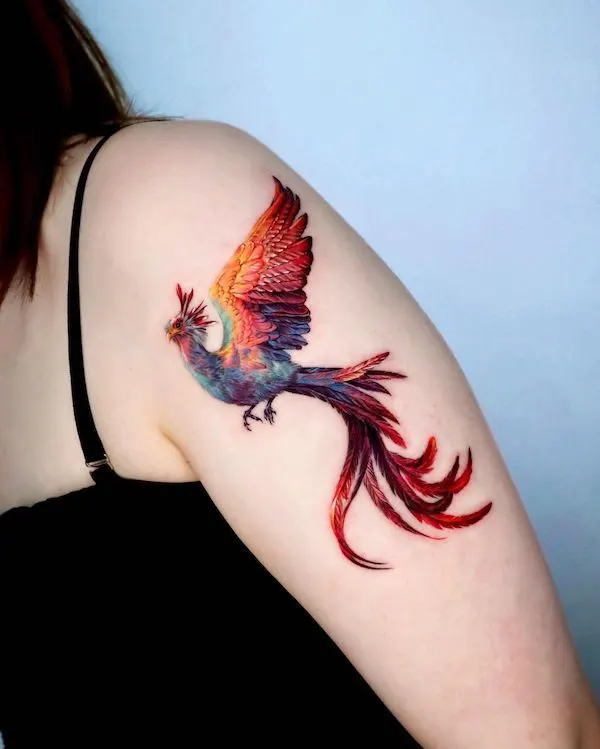 This colorful tattoo features a vibrant bird with outstretched wings, flying freely from the ashes in a burst of flames. The phoenix is portrayed in bright shades of red, orange, and yellow, giving the design depth and texture. The striking image captures the beauty and power of this mythical creature.
Phoenix chest tattoo for man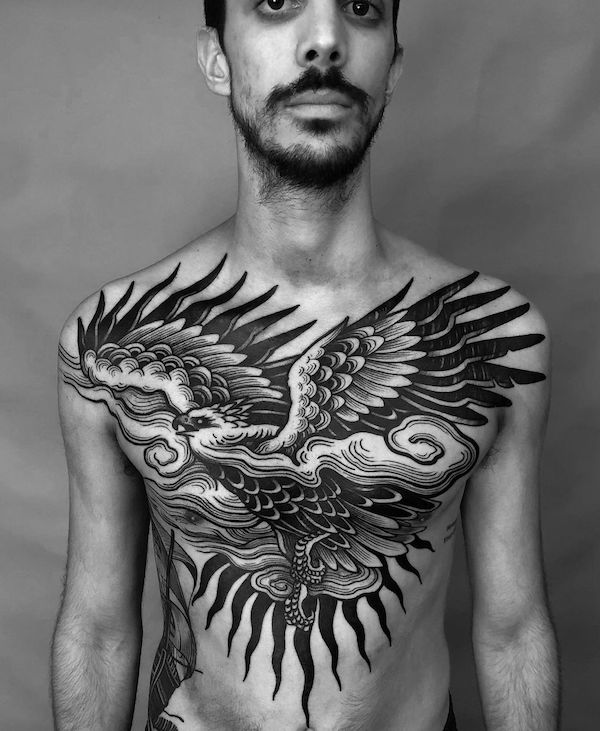 Firing phoenix tattoo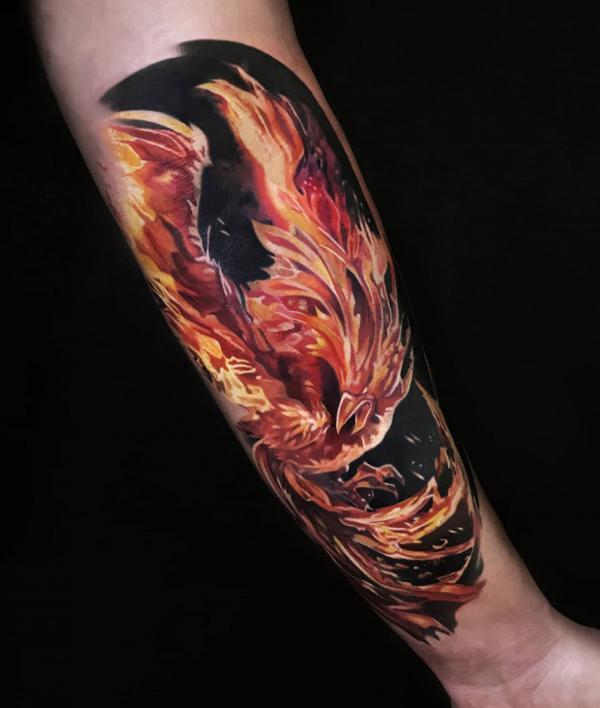 This forearm tattoo is a stunning piece of body art that showcases the mythical bird in all its fiery glory. The tattoo features a phoenix in vivid shades of colors, which give the impression of flames bursting from its body. The background is highlighted with black ink, which adds depth and dimension to the design. The placement on the forearm makes it a bold statement piece that is easily visible. Overall, the Firing Phoenix Tattoo symbolizes new life and renewal.
Watercolour Phoenix tat on back for women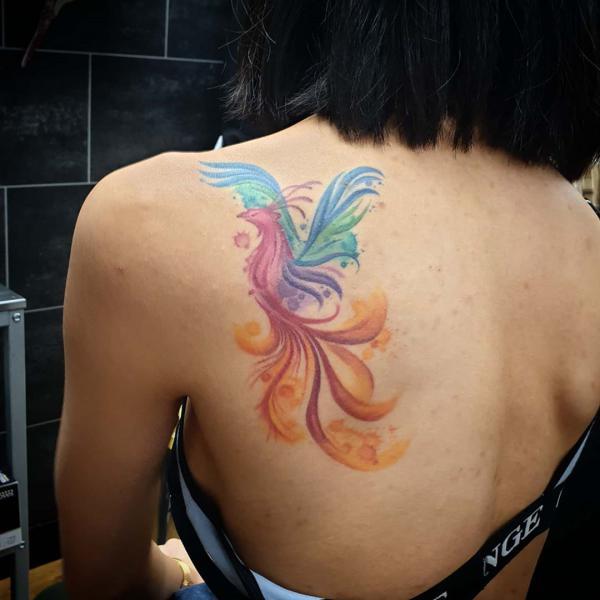 Colored phoenix tattoo on forearm for girl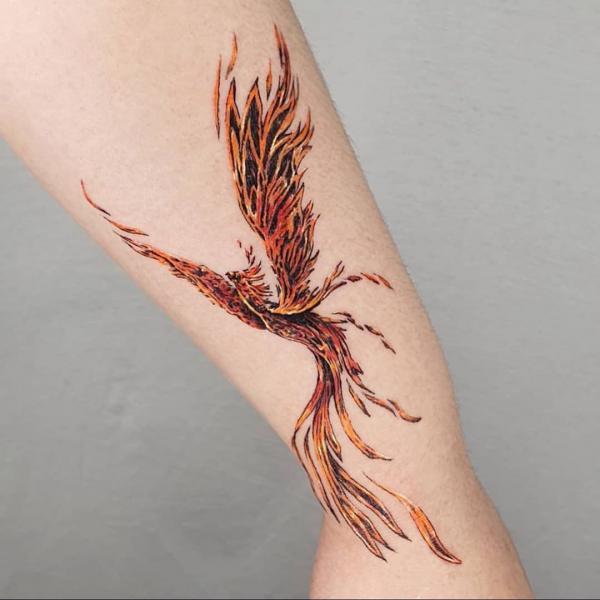 Phoenix and Plum blossom tattoo on back in Chinese ink style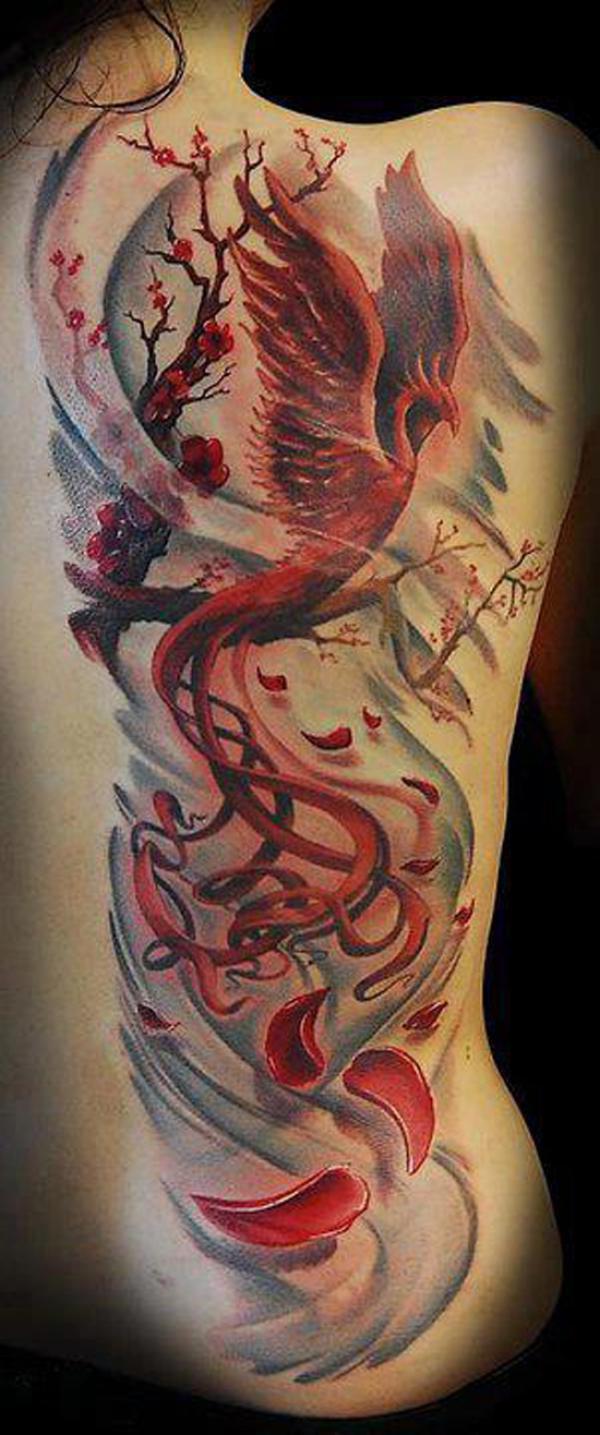 This back tattoo is a beautiful and meaningful design that combines two important symbols in Chinese culture. The Plum blossom represents resilience and perseverance, as it is a flower that blooms in the cold winter months. With Phoenix, these two symbols create an inspiring image that is associated with overcoming adversity and emerging stronger than before.
Phoenix tattoo in old school style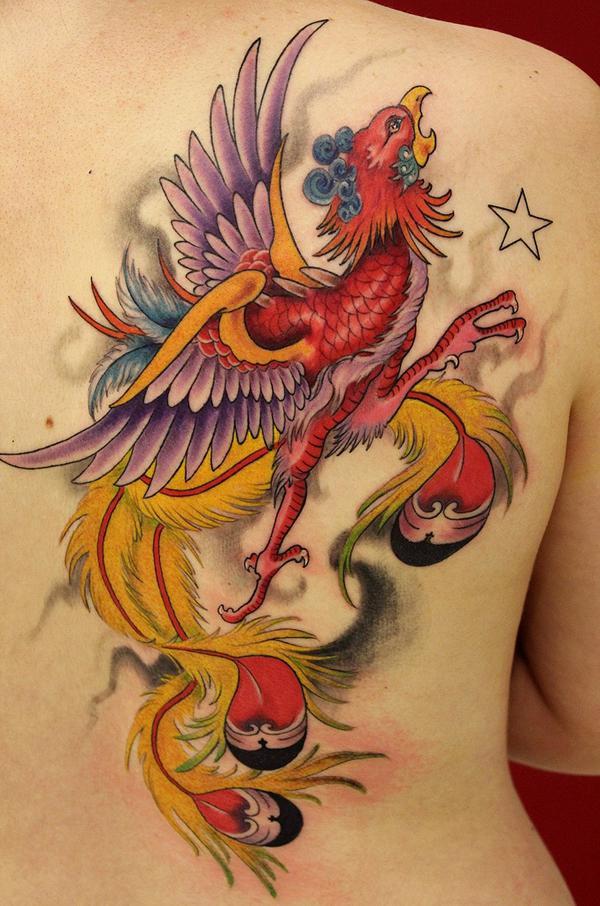 The old school tattoo style typically features a vibrant and colorful design. The bird phoenix is depicted with outstretched wings, its beak open in a triumphant cry. Its feathers, portrayed in shades of red, orange, and yellow, symbolize the fire from which the bird is reborn.
Glowing phoenix rib tattoo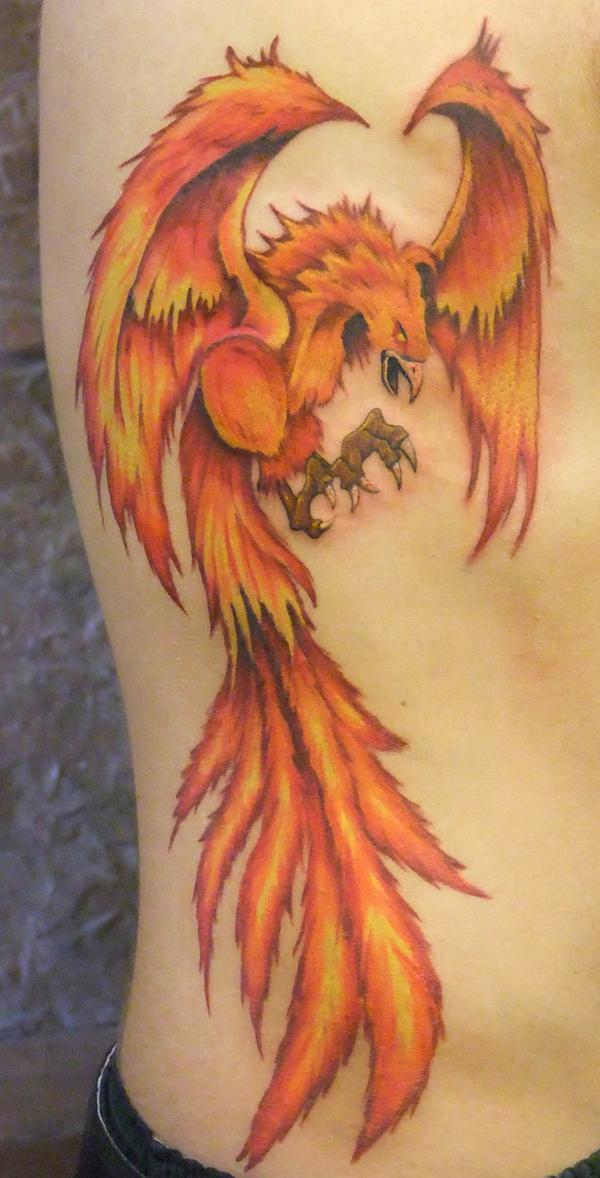 Beautiful Phoenix tattoo on full back for Women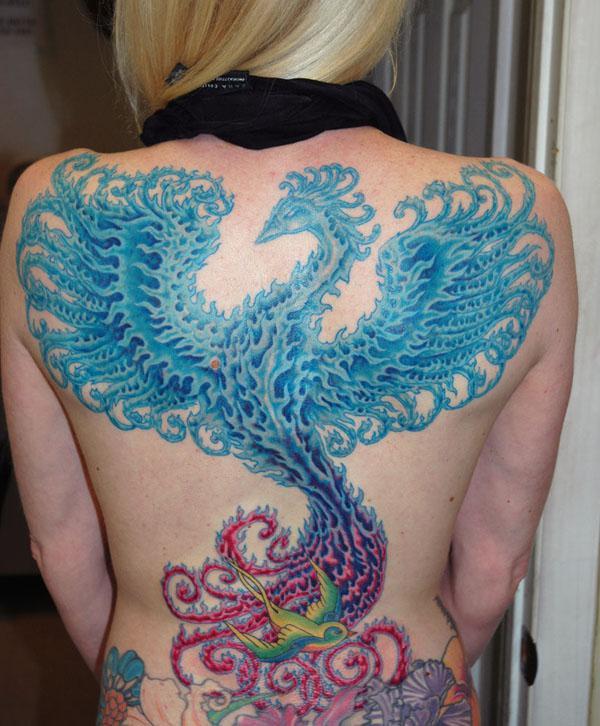 The Dance of Life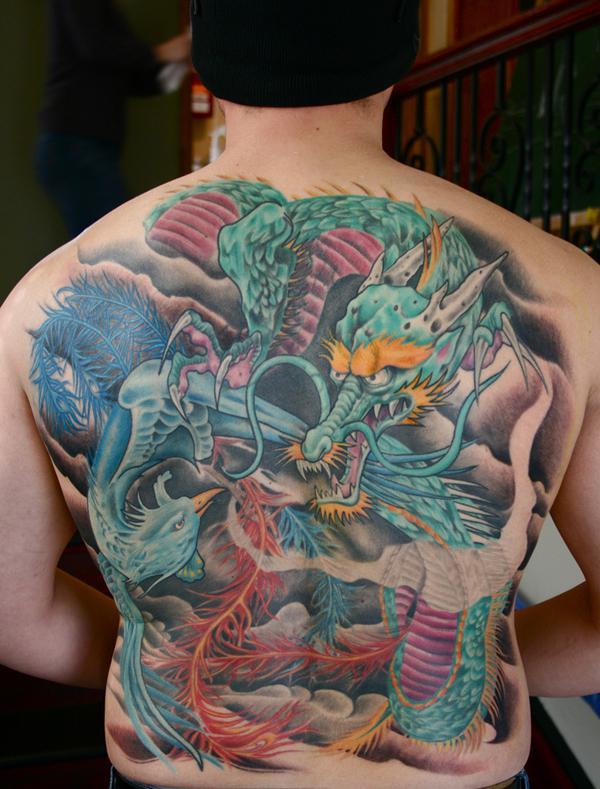 The full back tattoo depicts a stunning and intricate scene featuring a dragon and a phoenix in realistic style. The two mythical creatures are facing each other, as if engaged in a fierce battle or perhaps a dance. The sky behind them is a stunning shade of black, with wispy clouds that add to the dreamlike quality of the scene. The attention to detail and realism in this tattoo is truly impressive.
Watercolor tattoo phoenix on back for women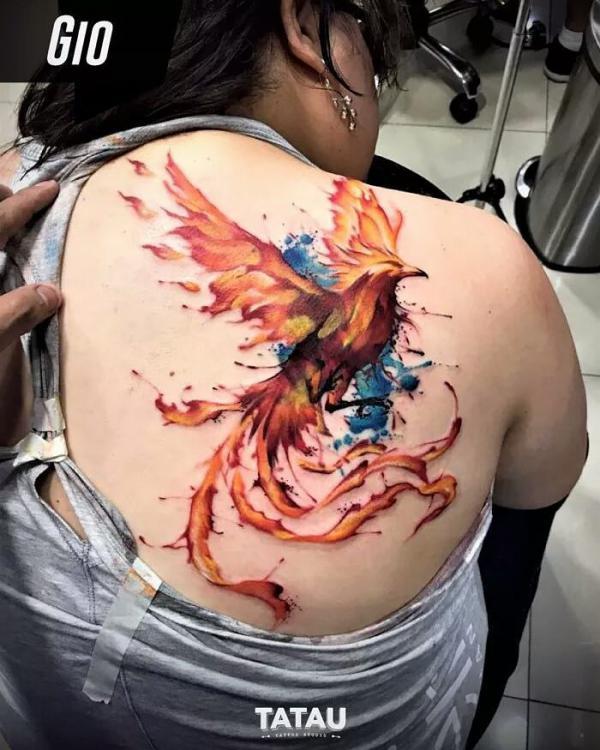 A phoenix soaring through the cosmos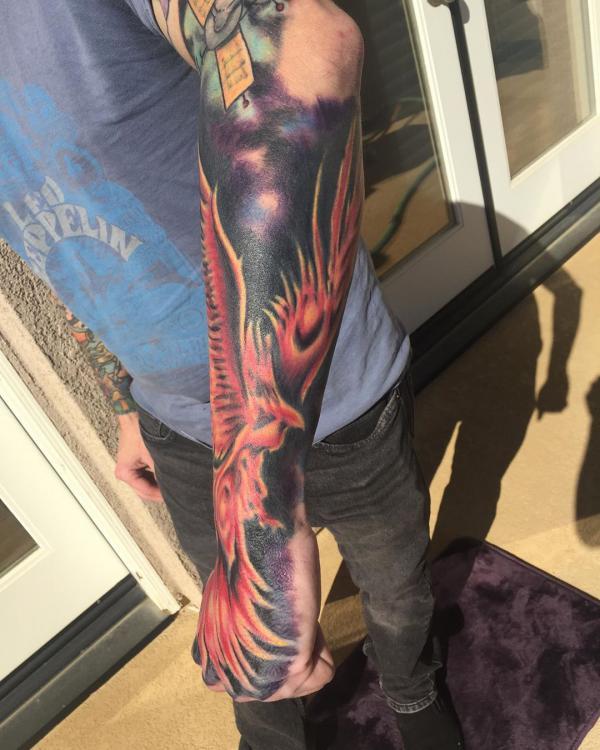 Glowing Phoenix fullback tattoo for women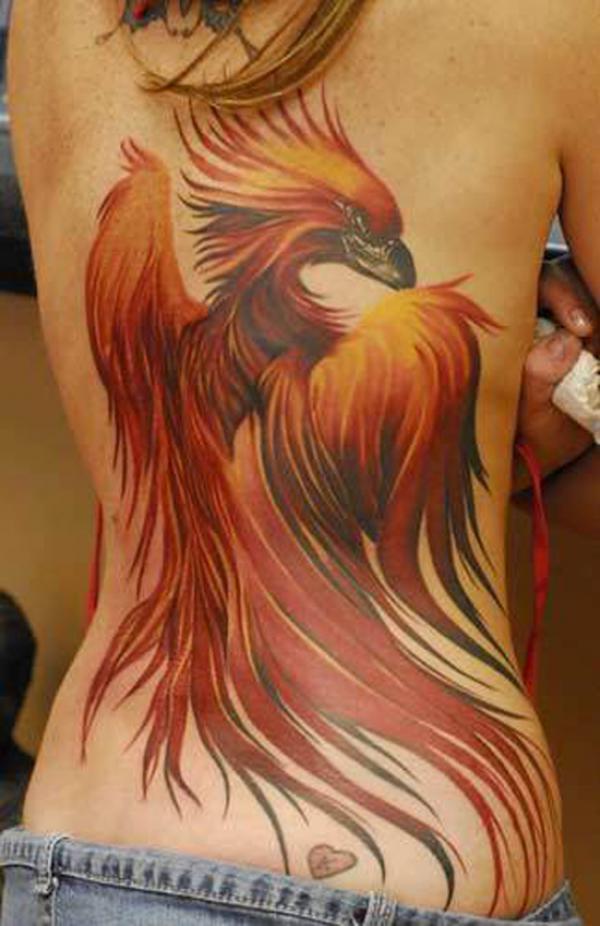 Colorful phoenix ink on thigh for women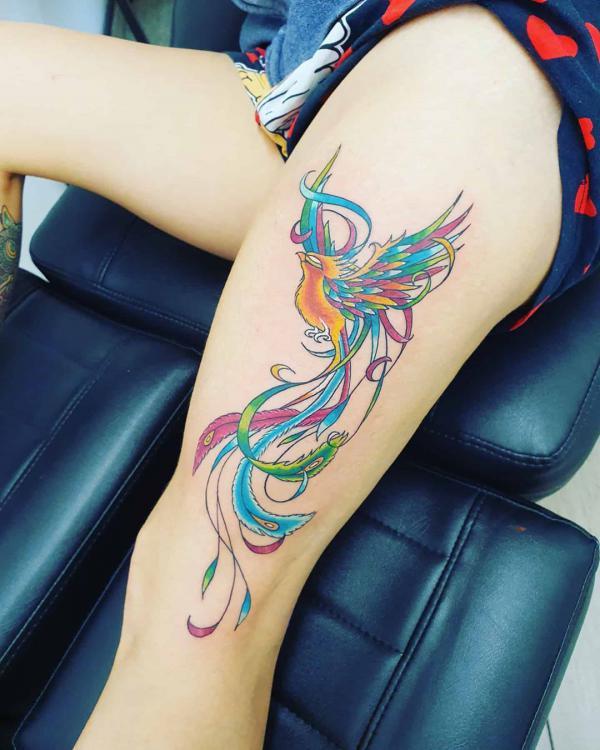 Phoenix tattoo on rib for men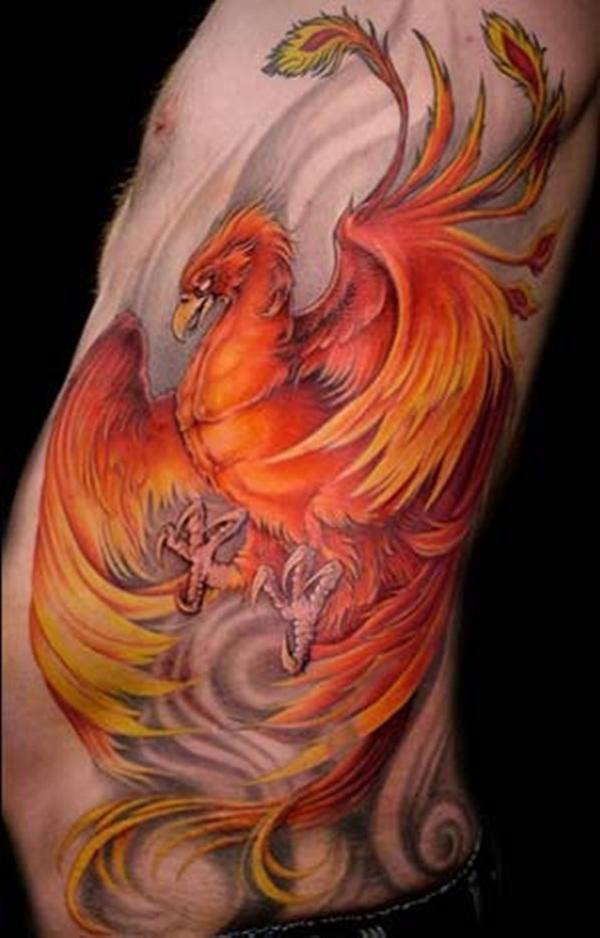 >
Black and white full back phoenix tattoo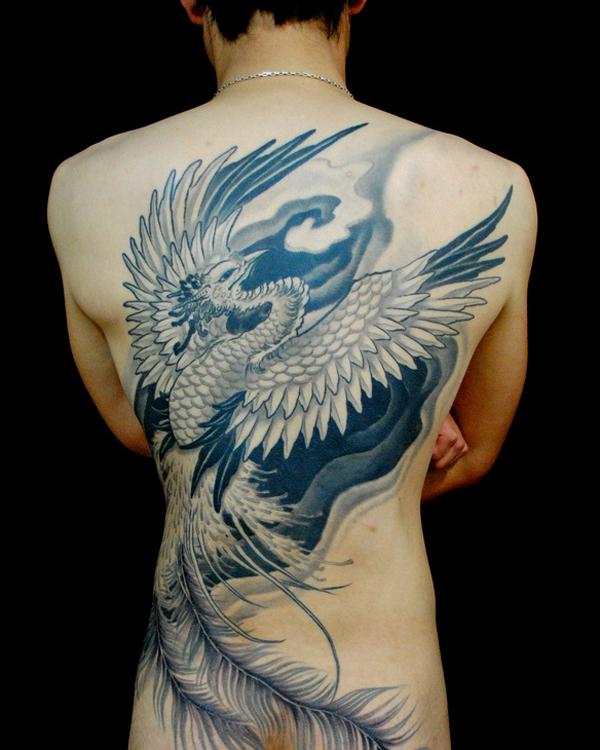 Large phoenix in splatter paint style for women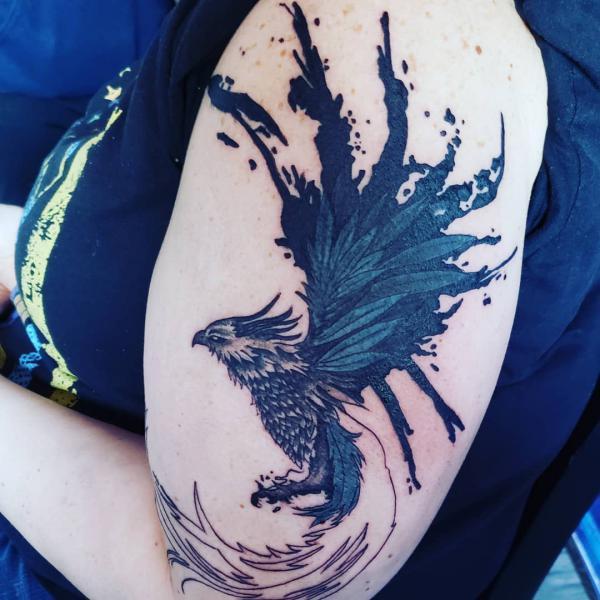 Falling Phoenix on back for women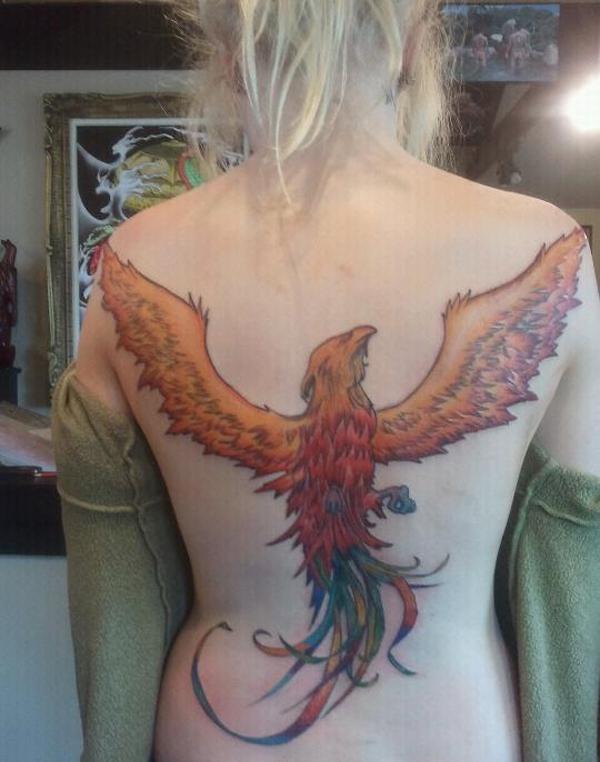 Stunning phoenix chest tattoo for men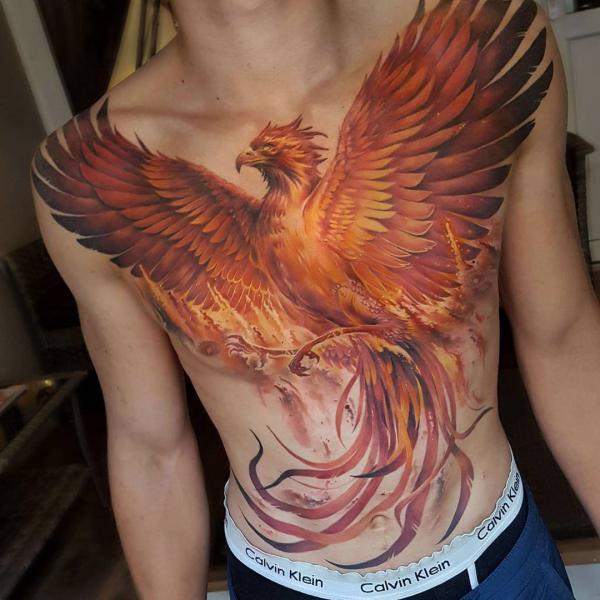 Phoenix tattoo inspired by Fawkes from Harry Potter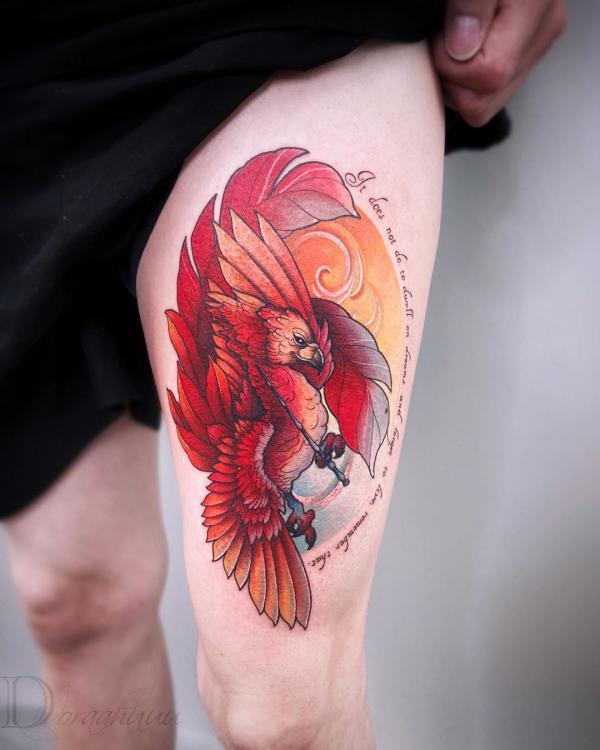 This bird tattoo is a stunning and meaningful design that captures the essence of this magical bird. Fawkes, the loyal companion of Albus Dumbledore, is a particularly beloved and iconic representation of the creature. This tattoo is a beautiful and meaningful way to express the love for the Harry Potter universe.
Colored phoenix dotwork tattoo on forearm for men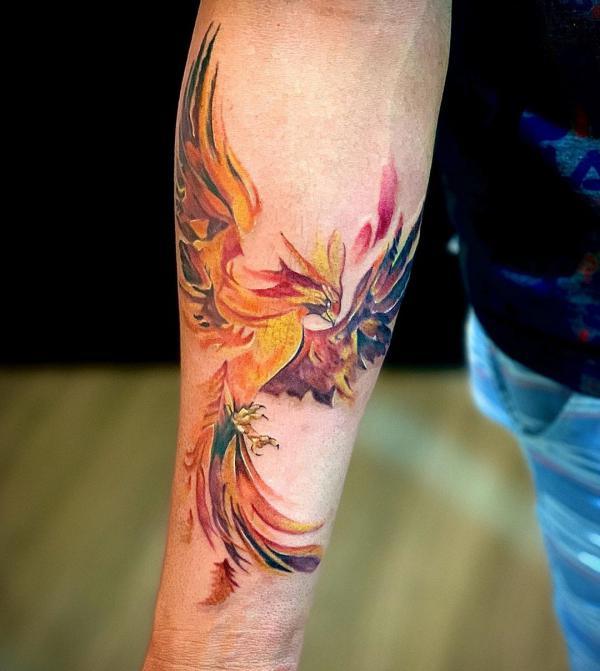 Placement Ideas
Choosing the perfect spot can be as crucial as selecting the right design and style. Here are some popular placement ideas:
Back: The back offers plenty of space for a large, detailed Phoenix tattoo, allowing you to showcase the intricate design in all its glory.
Arm: A Phoenix ink can wrap around the arm, creating a captivating sleeve design. This placement also allows you to display or conceal the tattoo as desired.
Chest: If you want to make a bold statement, you might want to get a Phoenix tattoo across your chest. This prominent placement can be a sign that you have a deep connection to the bird and all of its powerful qualities.
Leg: With ample space for an elaborate design, a Phoenix ink on the leg can transform this part of the body into a canvas for storytelling.
Conclusion
A Phoenix tattoo is more than just ink on skin; it's a symbol of resilience, rebirth, and unwavering strength. When you carry the image of the Phoenix with you, it's a constant reminder that no matter how hard life may get, you have the power within you to persevere and rise above.
So, are you ready to take flight with a Phoenix tattoo? As you start this journey, keep in mind that the style, pattern, and placement of your tattoo are very personal choices that show your unique relationship with this mythical creature. In the end, a well-crafted tattoo can serve as an inspiring testament to the human spirit's indomitable power.
FAQ
Q: What do phoenix tattoos symbolize?
A: Phoenix tattoos symbolize rebirth, resurrection, and renewal. The phoenix is a mythical bird that is said to rise from its own ashes. It is a symbol of being able to get over challenges and start anew.
Q: Is a phoenix tattoo feminine?
A: In Chinese culture, Phoenix represents femininity. However, Phoenix tattoos are not inherently feminine or masculine. They are a popular tattoo choice for both men and women.
Q: What does a phoenix tattoo mean in Chinese?
A: In Chinese mythology, the phoenix is known as Fenghuang and is a symbol of high virtue, grace, and prosperity. It is often depicted alongside the dragon, representing the balance of yin and yang.
Q: What does a fiery phoenix tattoo mean?
A: A fiery phoenix tattoo typically represents passion, strength, and power. The fires around the phoenix can also stand for transformation and rebirth.
Q: What does a Japanese phoenix represent?
A: In Japanese mythology, the phoenix is known as Ho-oh and is a symbol of good fortune, longevity, and prosperity. It often features with vibrant colors and intricate patterns, representing the beauty and complexity of life.