Butterfly skull tattoos may seem like an unlikely combo – something that signifies beauty and fragility against a figure of death and morbidity. But, isn't life full of such paradoxes? The mere fact that one can't exist without the other makes this mesmerizing design the very essence of life itself. In this article, we will explore the mesmerizing world of butterfly skull tattoos and the meanings behind the powerful imagery.
The Butterfly: A Powerful Symbol of Transformation
Throughout history, butterflies have been cherished for their beauty and grace. They're often associated with life, transformation, and change. A butterfly's metamorphosis from a crawling caterpillar into a beautiful, fluttering creature is truly a marvel of nature. Thus, they're often a symbol of hope, new beginnings, and the cycle of life.
The Skull: A Reminder of Mortality
Skulls, on the other hand, are symbols of death and everything that's fleeting. They serve as a haunting reminder of our mortality – that our time on this earth is brief. But, skulls are far from being just morbid and ominous figures. They're also a symbol of freedom, resilience, and overcoming obstacles. They remind us to live with no fear and embrace life to the fullest.
The Fusion: Butterfly Skull Tattoos – An Artistic Expression of Life and Death
Now, what happens when you bring these two powerful symbols together? You get a butterfly skull tattoo! These tattoos are an ode to both life and death, embodying the delicate balance between the two. They serve as a profound reminder of our mortality, but also, the potential for growth and transformation.
From Pain to Beauty: The Butterfly Skull
Every life knows pain, whether physical or emotional. Like a butterfly emerging from their cocoon, we too can conquer our personal adversities to reach new heights of beauty and grace. A butterfly skull tattoo reminds us that even in the darkest times, there's always a chance for renewal and growth. The beauty of roses, for example, growing in a graveyard shows that there's always hope for flourishing, even after death.
So, consider getting a butterfly skull tattoo as a celebration of your ability to rise above life's challenges and transform into the best version of yourself. It's the perfect design for those who believe that growth comes with pain.
Personalizing Your Butterfly Skull Tattoo
When you decide to get a butterfly skull tattoo, the possibilities are endless! Whether big or small, intricate or minimalist, your design should reflect your unique personality and beliefs. Here are some great ideas to inspire you:
Colors: A Splash of Life
Adding color to your butterfly skull tattoo brings life and vitality to the design. Butterflies come in stunning colors and patterns, so you can create a striking piece by integrating vivid hues. For example, a monochrome skull adorned with bright, colorful butterflies instantly injects life and hope into what could be an otherwise grim symbol.
The Sugar Skull: A Celebration of Life
Who says skulls have to be dark and somber? Why not celebrate life with a vibrant sugar skull inspired butterfly tattoo? This Day of the Dead symbol perfectly showcases the balance of life and death – a colorful and ornate skull adorned with intricate designs, usually featuring flowers and butterflies.
Delicate Details: Filigree and Lace
Combine the delicate nature of butterflies and the boldness of skulls by merging them with intricate lace or filigree patterns. This sophisticated design adds depth and complexity to your butterfly skull tattoo, making it an eye-catching piece.
Nature's Charm: Blooming Flowers
Incorporating flowers alongside your butterfly skull tattoo symbolizes the cycle of life, growth, and change. Opt for roses as a symbol of beauty and love or choose sunflowers for their resilience and positive energy. Whatever you choose, the contrast between the skull and the blossoming flowers adds a unique touch to your design.
Hidden Butterflies: A Subtle Statement
If subtlety is your style, consider incorporating butterflies into the skull design itself. This can be done by adding delicate wings to the skull, making the butterfly feature a subtle yet essential part of the design. Another option is to have butterflies coming out of the skull's eye sockets or mouth, symbolizing the release and flight of the soul after death.
Design Ideas of Butterfly Skull Tattoos
Half butterfly half skull
This design brings together two halves of a whole – one half being a delicate blue butterfly, and the other, a somber skull. The tattoo artist can play around with the colors and details to create a powerful contrast that screams balance and duality of life.
Half butterfly half skull
In this design, one half of the image is a beautiful butterfly, while the other half is half face of a skull. This represents the duality of beauty and darkness or life and death. This creative twist on the traditional skull tattoo will undoubtedly be an eye-catcher.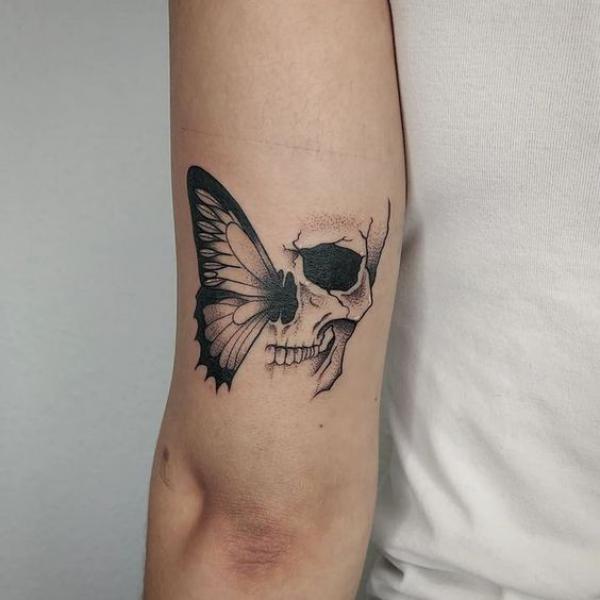 Half skull and half butterfly
Take the half butterfly half skull design a step further by having both sides blended together in a seamless way. This will emphasize the harmony between the light and dark aspects of life. This design works well for any size tattoo and can easily be done on any part of the body mentioned earlier.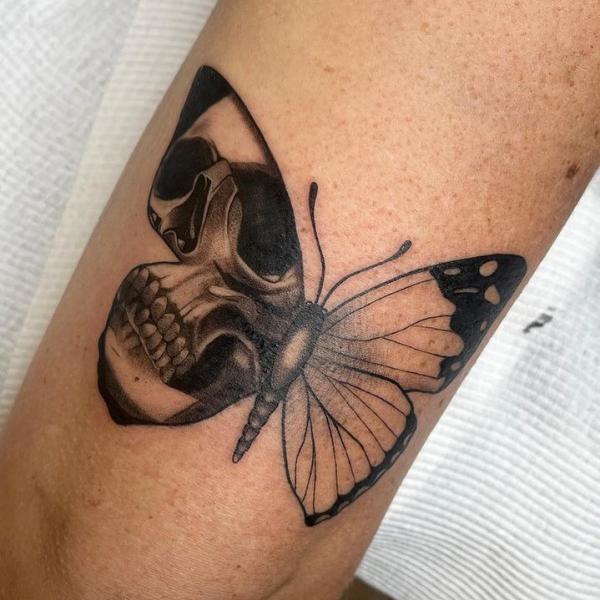 Half skull half butterfly arm tattoo
Get your dual personality on display with an arm tattoo that showcases the juxtaposition of life and death. This combo represents the idea that regardless of our differences or dualities, there is always a balance. Arm tattoos of this design command attention and symbolize power.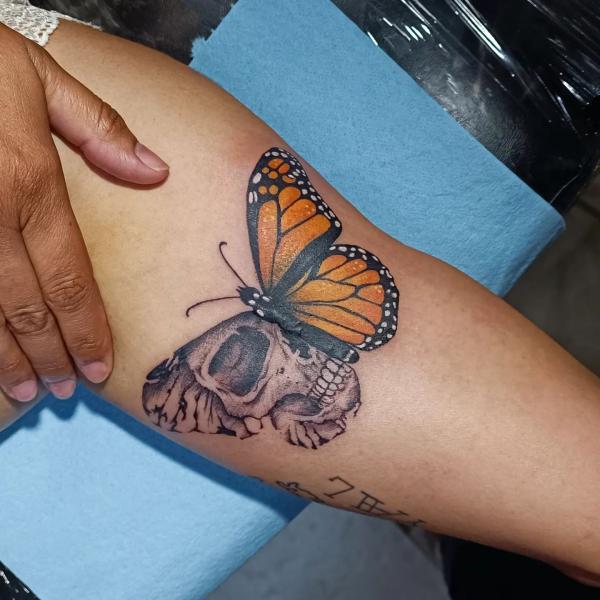 Skeleton with butterfly tattoos
A striking tattoo design that comprises a full skeleton (or part of it) adorned with beautiful blue butterflies fluttering around or resting on the bony structure. It's the perfect embodiment of life and death, united in an enchanting dance of symbiosis.
Skeleton with rose and butterflies
Show off your love for the delicate beauty of roses and the celestial dance of butterflies with this timelessly elegant design. Whether you opt for a black and white or color piece, this tattoo is sure to be a captivating conversation starter.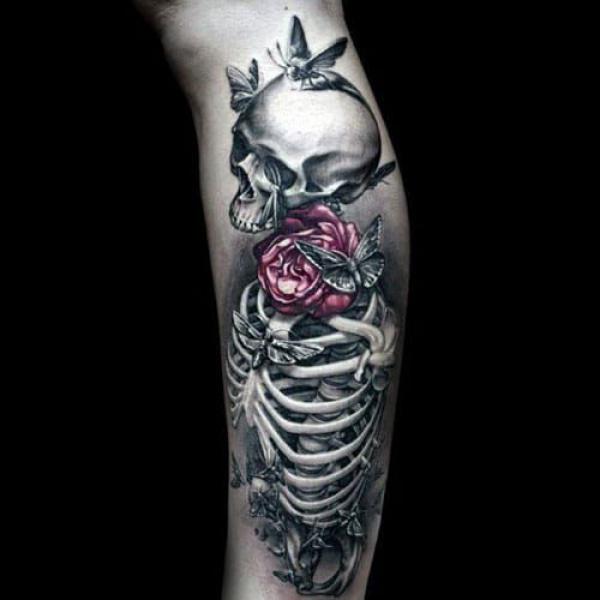 Three butterflies flying over a skeleton
Symbolize the ongoing journey of personal transformation with this evocative design: three butterflies, a powerful symbol of change, are set above a skeleton, a reminder of the temporal nature of life. Let this tattoo inspire you to embrace change and live life to its fullest.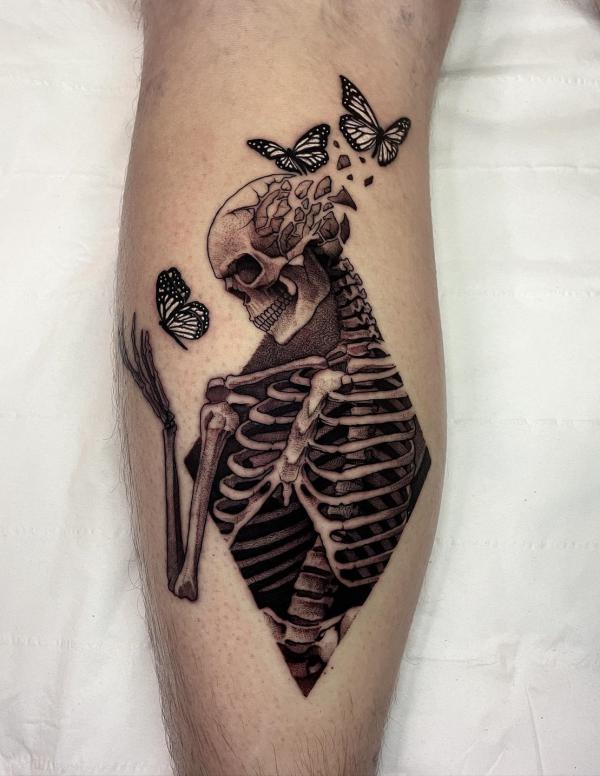 Skeleton lovers with butterflies
Celebrate the power of love and its ability to transcend the boundaries of life and death with this moving design. A pair of skeletons, locked in an eternal embrace, are surrounded by a flutter of colorful butterflies. This tattoo acts as a beautiful reminder of the enduring connection between love and the human experience.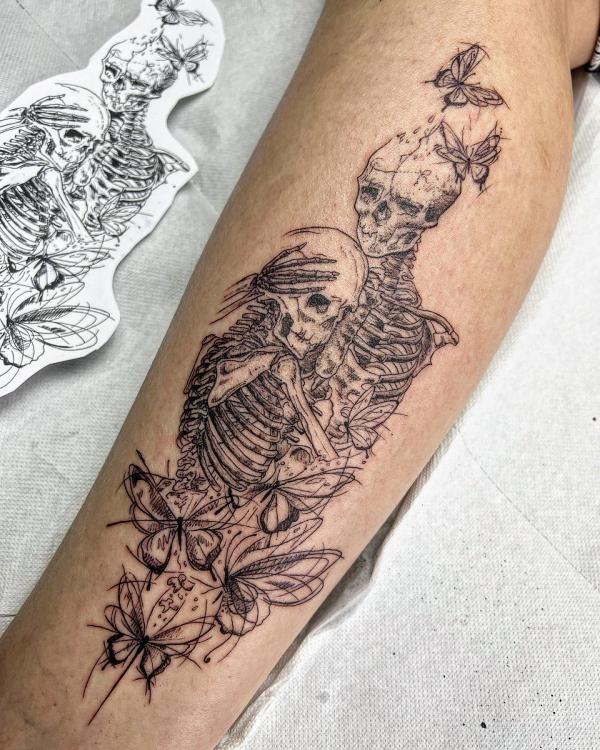 Skeleton with butterfly tattoo for women
Looking for something uniquely feminine and subtly enchanting? A graceful butterfly gently perched on a delicately rendered skeleton offers a perfect blend of beauty and edge. This design is the ideal choice for women seeking a tattoo that is both soft and powerful.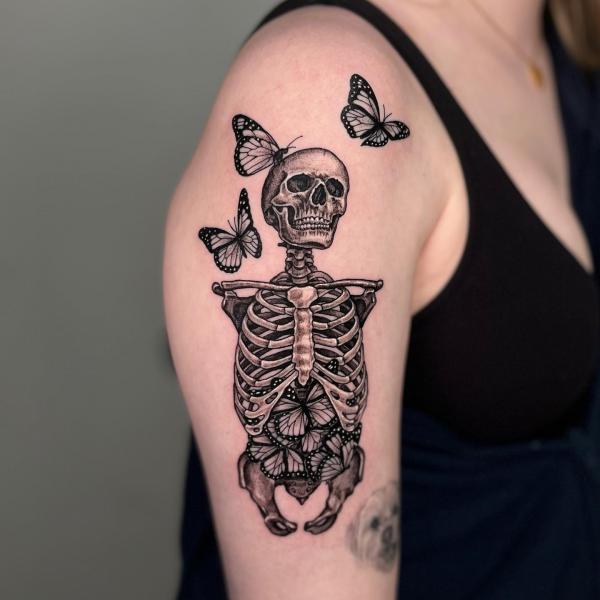 Butterfly skull with dagger tattoos
Throw in a deadly dagger to the mix, and you've got a daring and formidable design that's bound to garner a second glance! The dagger piercing through the butterfly skull symbolizes the idea of rebirth, asserting that metamorphosis is an essential part of the cycle of life and death.
Skull butterfly with two daggers
Unleash your inner rebel with a killer tattoo design – a skull butterfly with two badass daggers on the back! This deadly combination symbolizes the delicate balance between life and death, all the while showcasing your fearless spirit. Ready to take your ink game to the next level? Then this fierce design might be just what you need.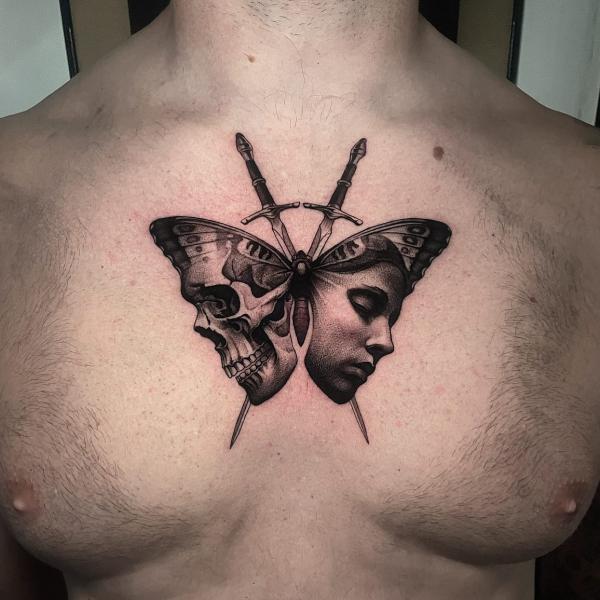 A sword through a skull encircled with butterflies
Imagine a majestic sword piercing through a skull, all surrounded by a circle of enchanting butterflies. This awe-inspiring design signifies the power of life and transformation in the face of adversity. Looking for a tattoo that embodies your resilience and determination to rise above life's challenges? Search no more – this piece has got you covered.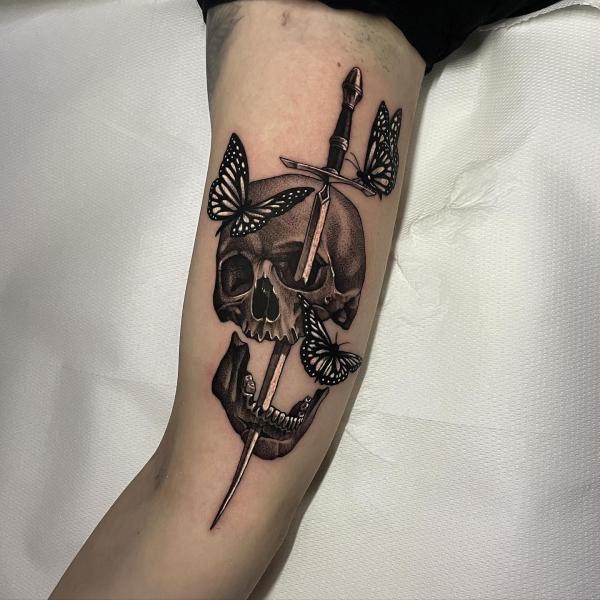 Skull Butterfly with Flower Tattoos
For a more feminine touch, encircle your blue butterfly skull tattoo with an assortment of vibrant flowers. This adds even more depth to the theme of life and death, weaving in the element of rejuvenation. It will only amplify the interpretation of your dreamy tattoo design!
Roses and skulls within butterfly
Dare to capture the essence of life and death by wearing the blooms of roses set within the framework of a butterfly subtly incorporating a skull. This beautiful design is packed full of symbolism, as it represents the fragile balance between life, death, and rebirth.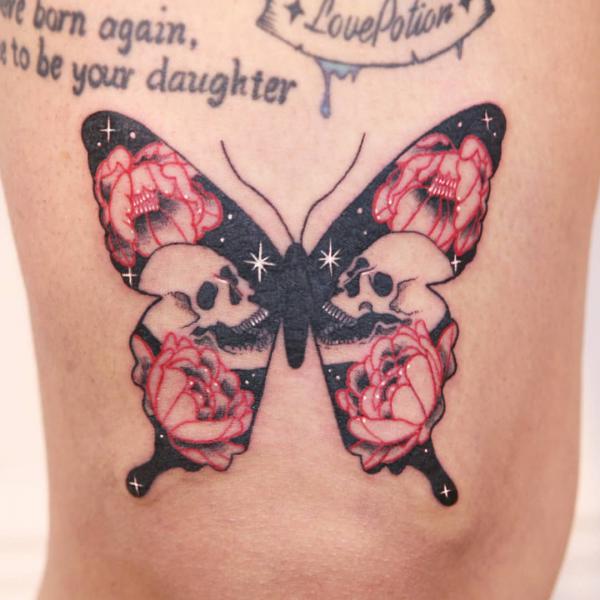 Skull with flower and butterfly
Create a stunning vision of the delicate interplay between life and death with this intricate tattoo design. A beautiful butterfly perched atop an intricately detailed skull and surrounded by soft petals combines these powerful symbols in an enchanting work of art.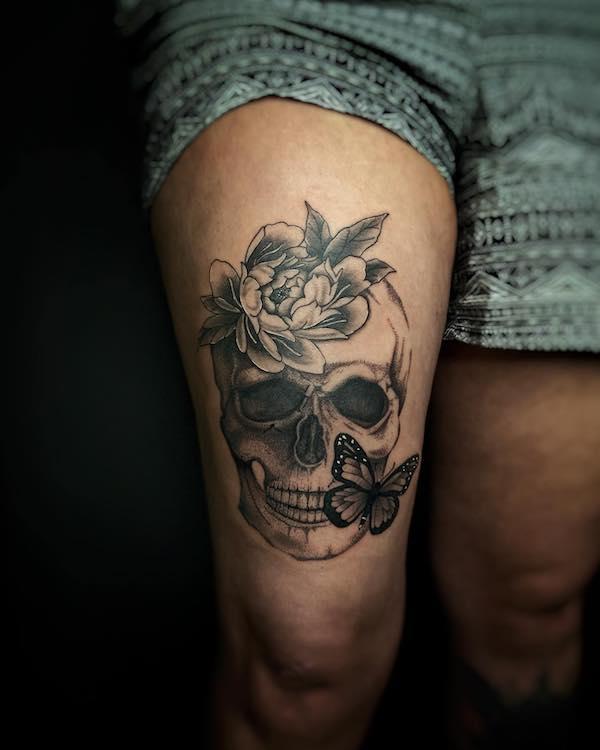 Skull with rose feather and butterfly
Celebrate the beauty of nature's elements – flowers, feathers, and butterflies – with this striking design. Upon a skull background, the rose and feather elements serve to remind us of the delicacies of life, while the butterfly represents transformation.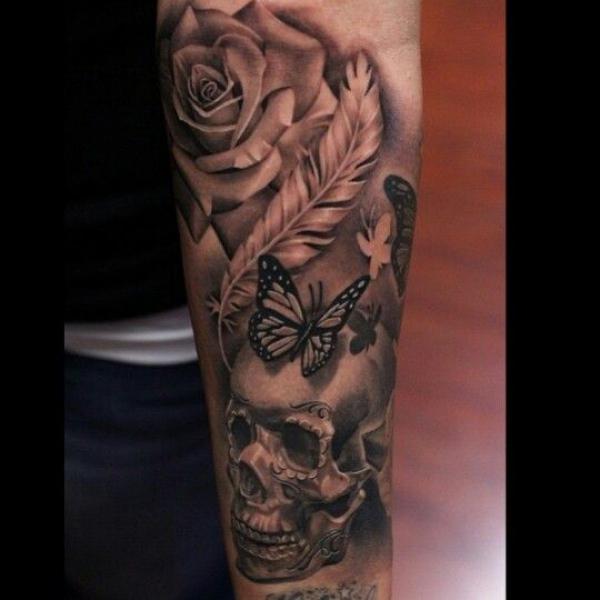 A skull surrounded by rose and butterfly full sleeve tattoo
Turn your arm into an exquisite canvas with this opulent design. A masterpiece of artistry, this full sleeve tattoo showcases an awe-inspiring scene of a skull enveloped by lush roses and mesmerizing butterflies. This tattoo proves that ink is more than just skin deep – it is an expression of your soul.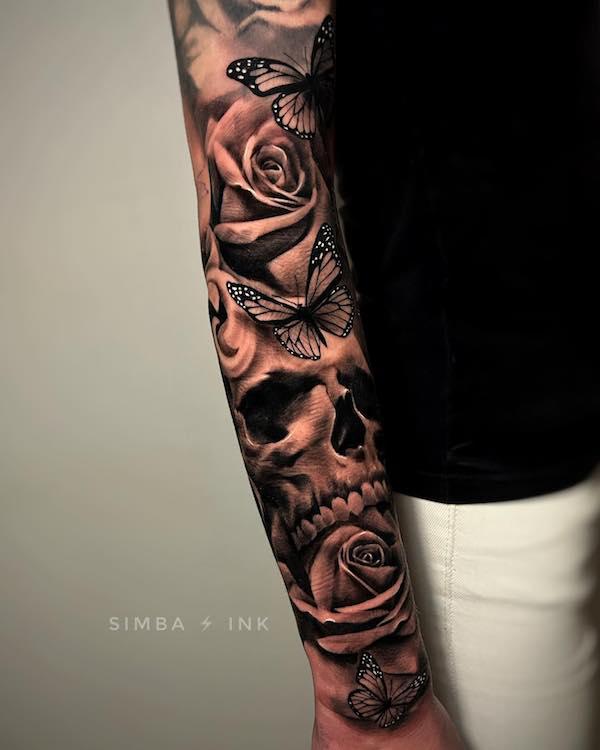 Butterfly perched on skull with roses
Symbolize your yearning for redemption and growth with this breathtaking tattoo design. A vibrant butterfly poised upon a skull and ensconced within a bed of roses showcases the delicate balance between life and death, hope and despair, pain and healing.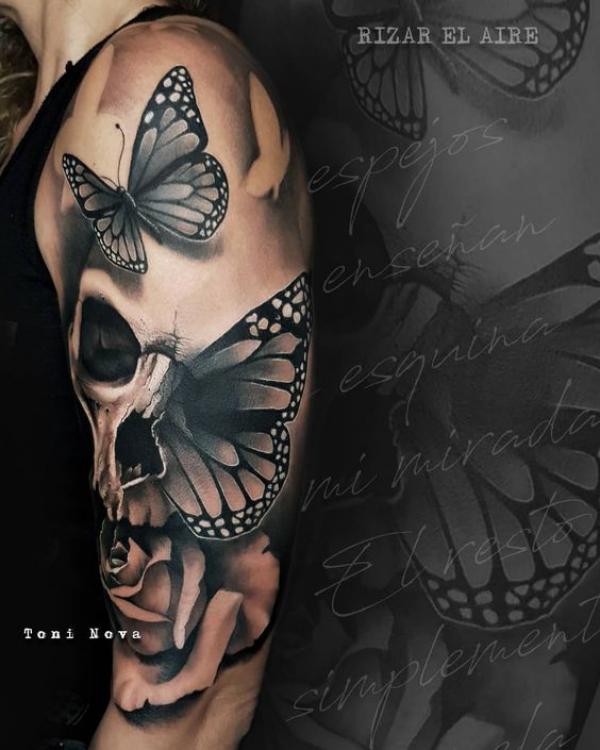 Forearm and hand tattoo of a rose and a butterfly perched on skull
Embrace the full spectrum of your unique personality with this mesmerizing forearm and hand tattoo. This eye-catching design brings together the elegance of a rose, the transformative power of a butterfly perched upon a skull. It is a striking proclamation of your independence, individuality, and resilience.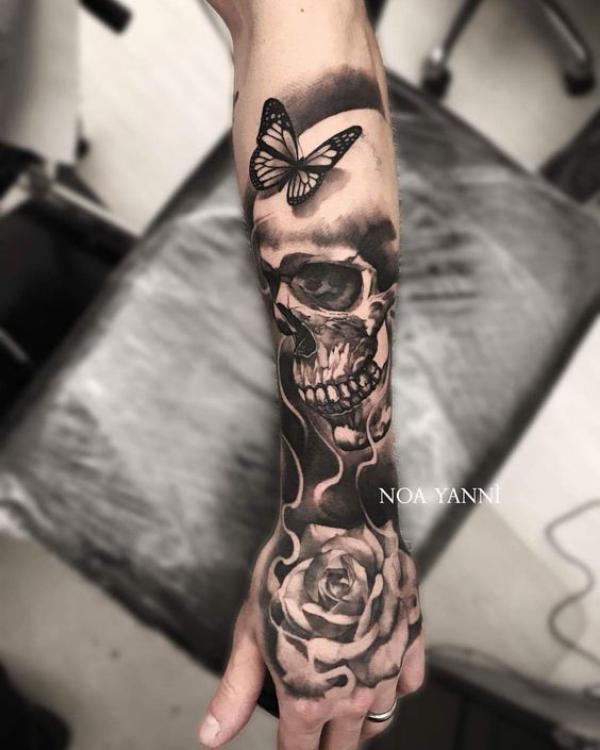 More butterfly skull tattoos
Eye and a butterfly perched on skull
How about a design that mesmerizes with its mystique and depth? Picture an all-knowing eye with a beautiful butterfly perched on an enigmatic skull. This intriguing combination represents wisdom and the passage of time, reminding us that life is full of mysteries waiting to be unraveled. Give your ink collection a touch of magic and ponder the unknown with this captivating piece.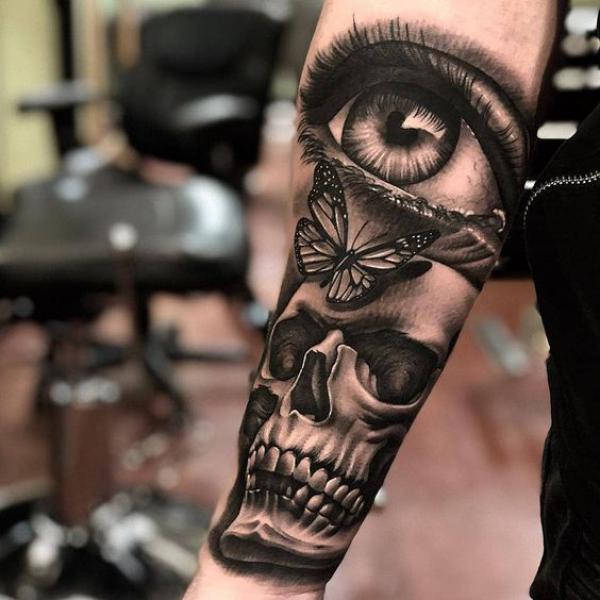 Gothic skull butterfly tattoos
Add some spooky elegance to your tattoo repertoire with a gothic skull butterfly design. This hauntingly beautiful piece fuses the grace of a butterfly with the enigmatic charm of a skull, creating a unique blend of romance and darkness. Let your ink tell a story of passion, mystery, and transformation with this spellbinding piece.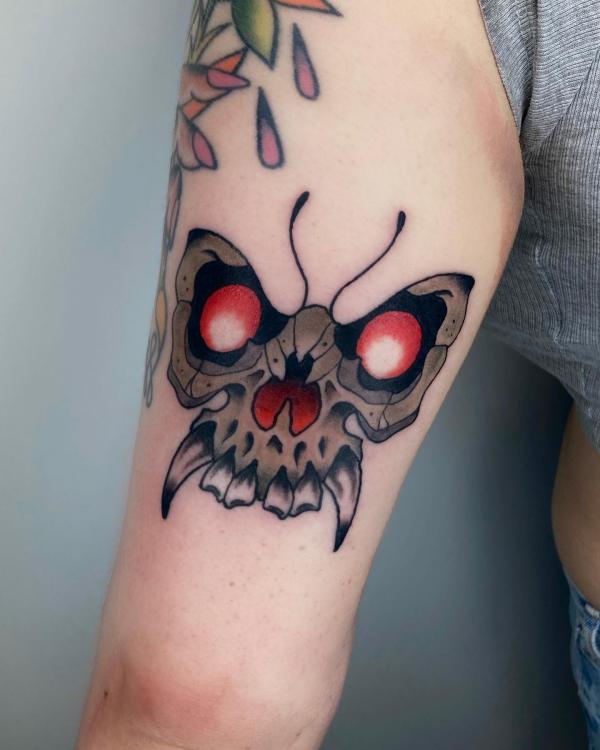 Monarch butterfly with a skull inside
Dare to be different with a tattoo that reimagines the classic monarch butterfly. Instead of the typical pattern, this mesmerizing piece showcases a skull within the wings, heightening the contrast between life and death. Embrace the power of transformation and rebirth with this striking design that'll leave a lasting impression.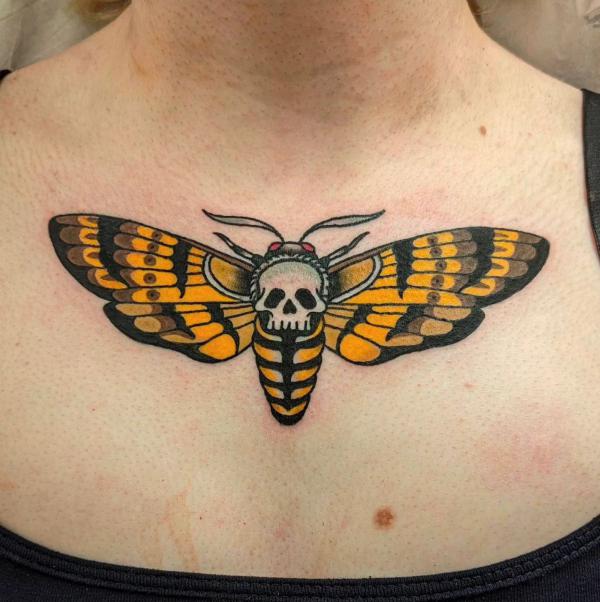 Sketchy skull butterfly thigh tattoo
Sometimes, less is more – and this sketchy skull butterfly design is a perfect example. With a minimalist, hand-drawn feel, this thigh tattoo exudes a sense of raw beauty and vulnerability. Step out of the confines of traditional ink and show your free-spirited side with this intimate, artistic tattoo.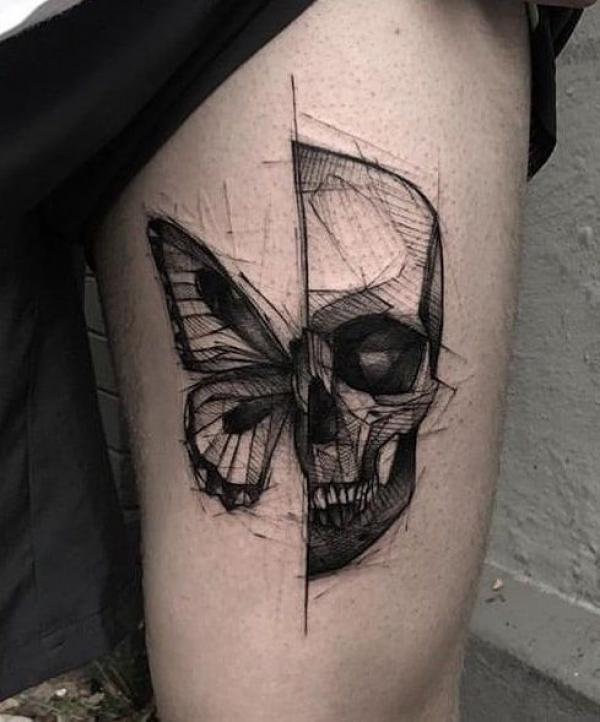 Skull butterfly above knee
Why not switch things up and let your ink play with the spatial boundaries of your body? A captivating skull butterfly tattoo above the knee is not only a unique placement but also a stylish way to express your individuality. Get inked with a design that tells the world you're not afraid to embrace change and challenge the norm.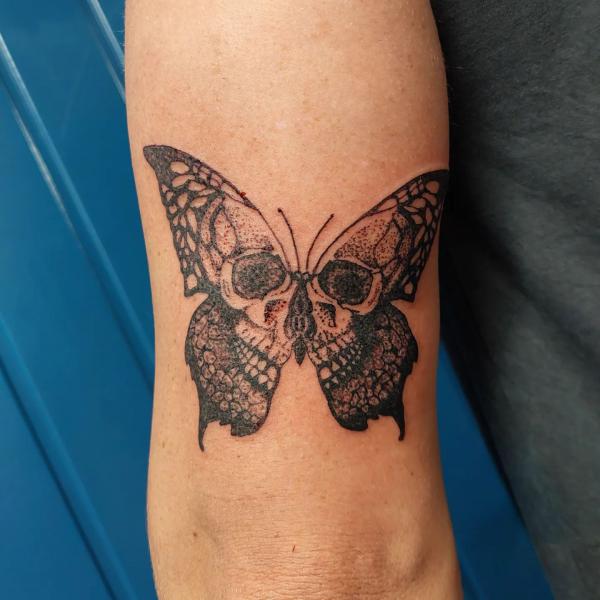 Skull butterfly intertwined with snake
Seldom do you come across a tattoo design so rich in symbolism – meet the skull butterfly, intertwined with the serpentine allure of a snake. This exceptional piece showcases the cycle of life, death, and rebirth in captivating detail. Take your tattoo game to new heights with this show-stopping design that'll turn heads and spark conversations.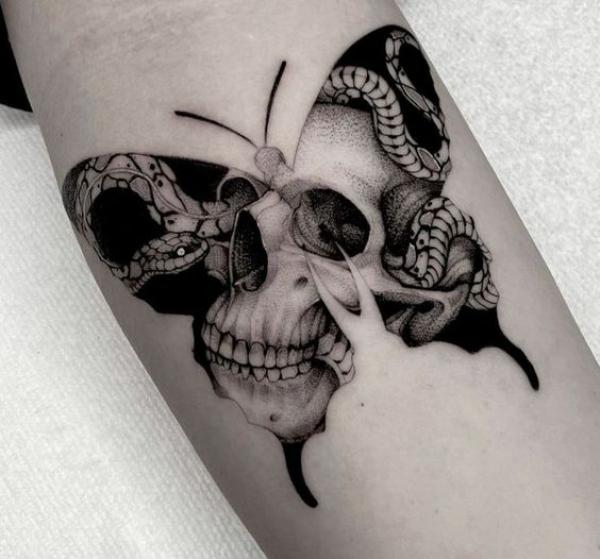 Skull with butterfly wings
What could be more powerful than a fusion of two iconic symbols into one stunning piece? Behold, the skull with butterfly wings tattoo – a statement of the eternal interplay between life and death. With its beautiful, intricate details, this mesmerizing design will serve as a constant reminder of life's transient yet transformative nature. Let your ink tell the story of a soul on an adventurous journey, transcending the borders of time.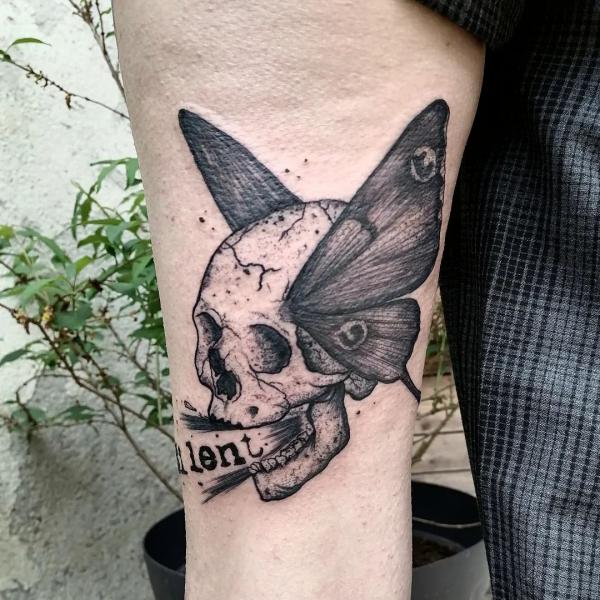 Three butterflies perched on a smoking skull
Talk about a tattoo that packs a punch – picture three entrancing butterflies perched on a smoking skull. This one-of-a-kind piece symbolizes the fragile balance of life amidst the chaos and uncertainty. It's a reminder of the power to rise above adversity and transform oneself, no matter the circumstances. So why not celebrate life's fleeting moments with this extraordinary ink?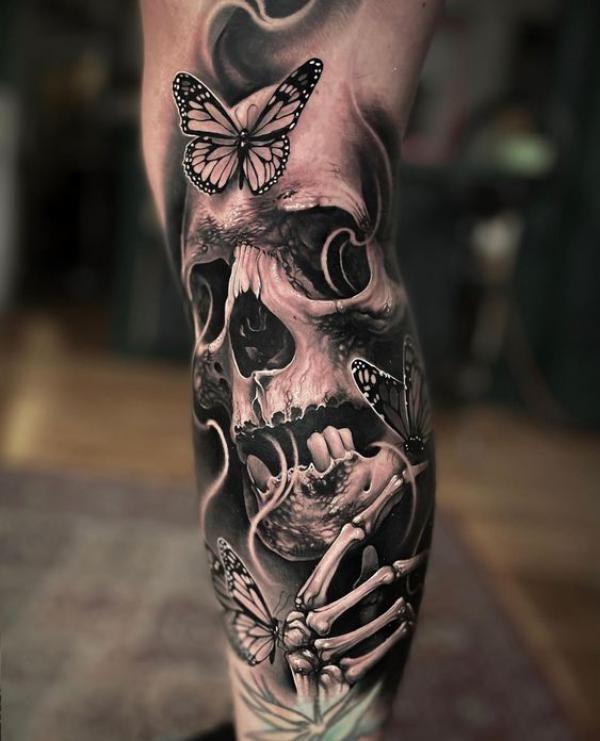 Two skulls within a butterfly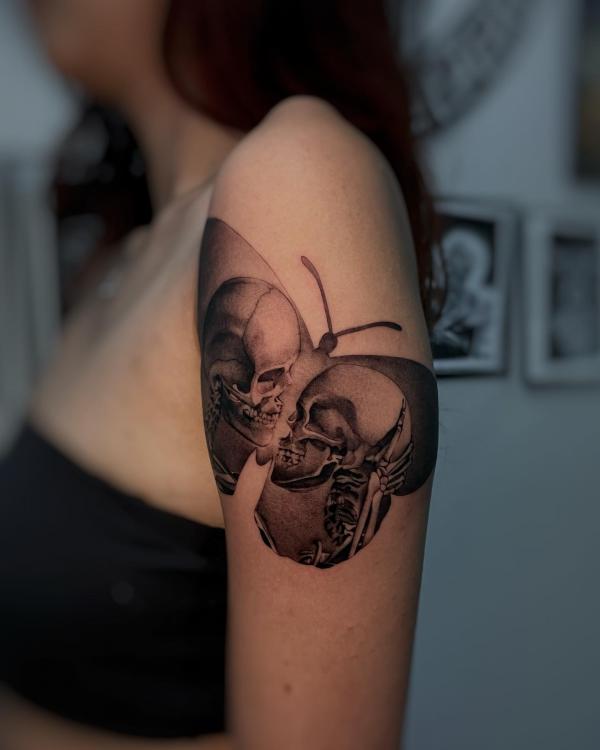 3D skull and butterfly sleeve tattoo
For those who love art and realism, a 3D skull and butterfly sleeve tattoo is a great option. The crisp designs and intricate details give the tattoo an uncannily realistic look. The artist's skillful use of shading and highlighting techniques helps create the illusion of depth and three-dimensionality, making it an eye-catching and mesmerizing tattoo design. Wear this proud piece of art on your sleeve, and you're sure to leave everyone in awe of your taste.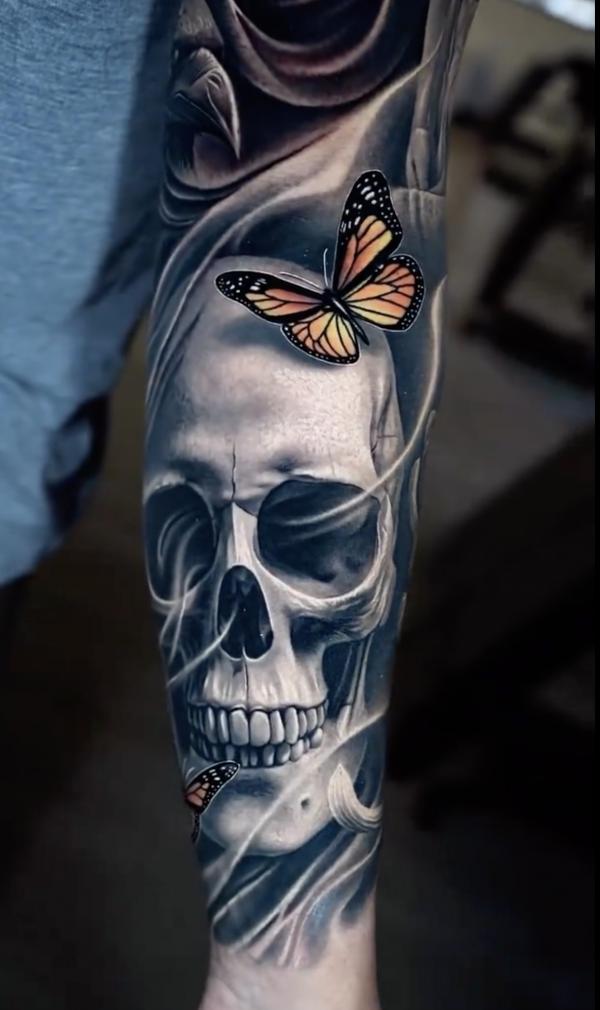 A butterfly with double wings and skulls
Give your butterfly tattoo an innovative twist by designing it with double wings and skulls. This unique tattoo design can represent duality, metamorphosis, and transformation. The butterfly can symbolize rebirth and change, while the skulls within its double wings signify the yin and yang of life and death. A fantastic conversation starter, this uncommon tattoo concept is both beautiful and philosophical.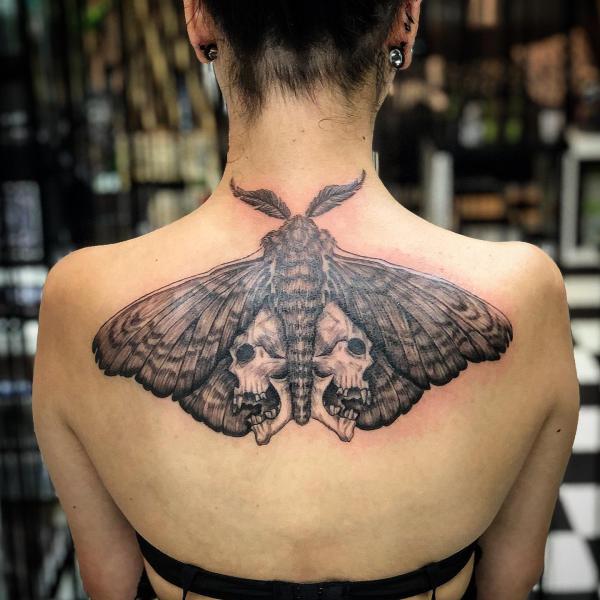 A dark butterfly with skull inside
Looking for something intriguing and dark? Consider a dark butterfly tattoo with a skull hidden within its pattern and shape. This tattoo has a slightly sinister feel, giving it a Gothic charm that draws attention. It's a bold choice for those with a love for the mystical and macabre.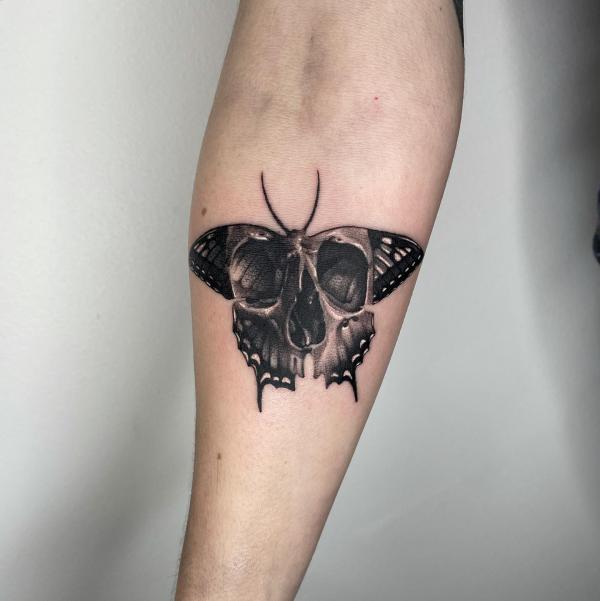 A skull encircled with fern and butterfly shoulder tattoo
Escape into nature's enchanting wonders with a skull encircled by a fern and butterfly shoulder tattoo. The design is an impressive blend of elegance and edge. It captures the viewer's attention with its breathtaking attention to detail, as the butterfly and fern create a beautiful frame around the skull. A tattoo connoisseur would certainly appreciate this masterpiece of ink.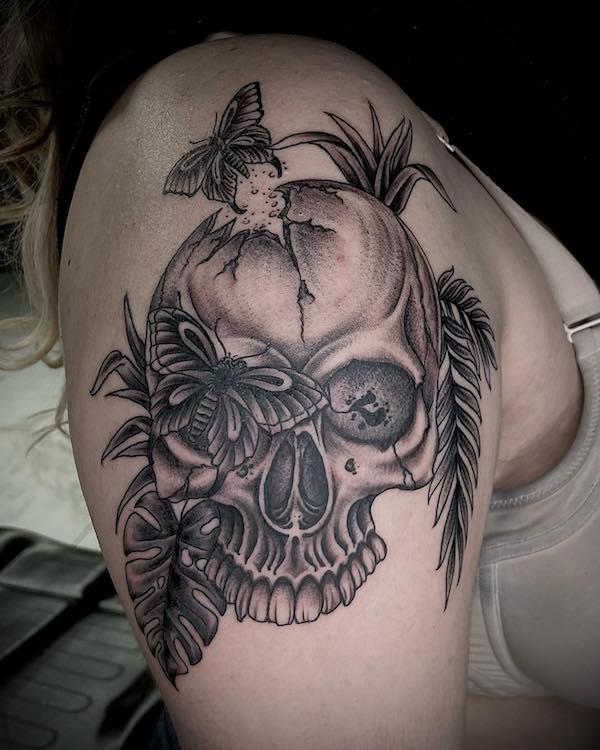 A skull surrounded by butterfly rose and cross
If you're a fan of the classic skull, rose, and cross tattoos with a twist, this design is perfect for you. A skull surrounded by a butterfly, rose and cross creates an elegant and symbolic design. The butterfly signifies transformation and rebirth, while the rose represents love and passion. The cross serves as a religious symbol or signifies sacrifice and salvation. All these elements come together to form a powerful, multi-layered tattoo concept.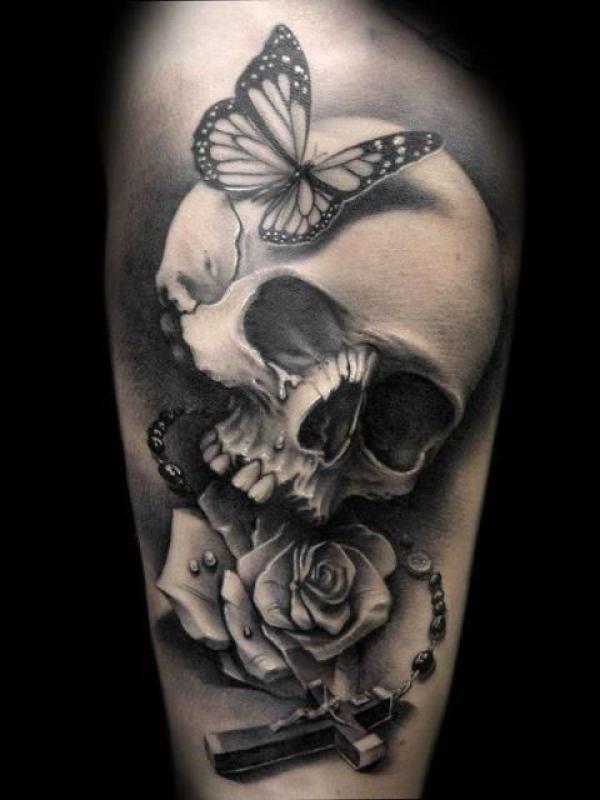 Bleeding skull with butterfly
Consider a bleeding skull with a butterfly perched on it for a tattoo with a raw and powerful vibe. The design is an eye-catching graphic that depicts the delicate balance of life and death, beauty and pain. One can only admire the mystery of this intriguing and bold tattoo.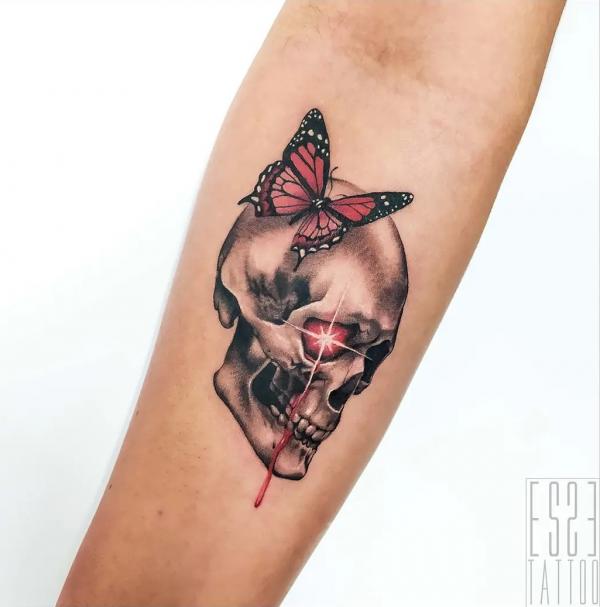 Butterflies perched on a woman's face and skull
Add an air of mystery to your tattoo by having butterflies perched on a woman's face and skull. The tattoo's realistic look makes it both unique and a touch eerie. It symbolizes the beauty of transformation and the delicate balance of life and death. If you want your tattoo to be exceptional and alluring, look no further.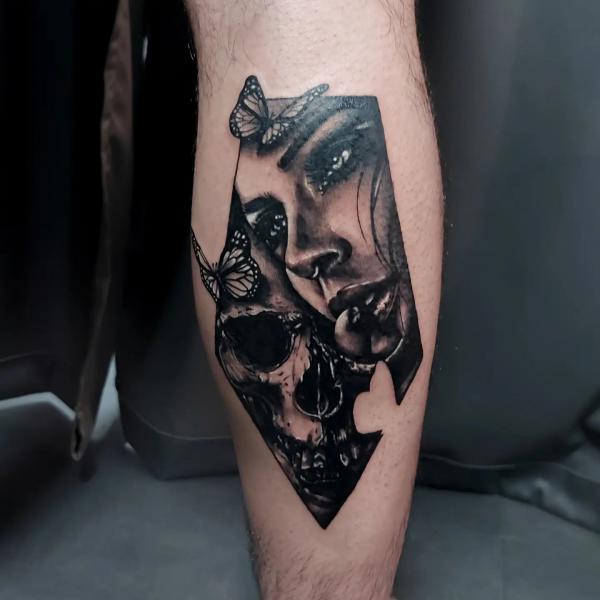 Butterfly and skull with a realistic eye
A captivating tattoo idea would be to combine a butterfly and skull with a realistic eye as the focal point. The eye represents insight, clarity, and vision, inviting the onlooker to ponder deeper meanings of life. This striking design is sure to turn heads and get people talking about the stories behind the remarkable tattoo.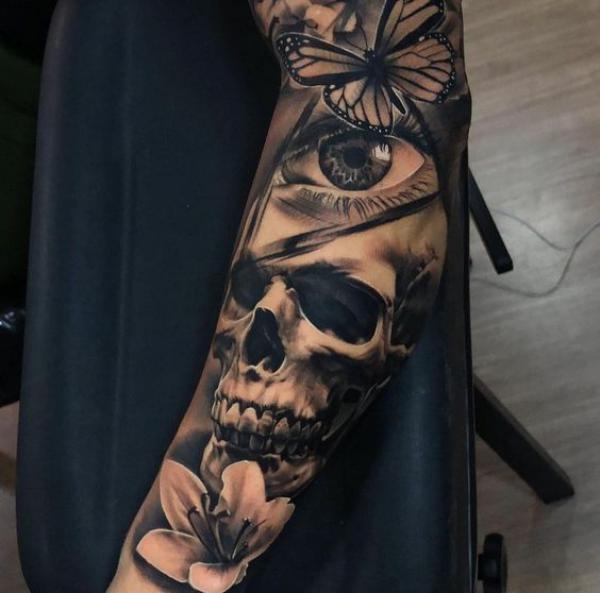 Butterfly skull with a red triangle warning sign
Unleash your edgy side with a butterfly skull tattoo and a red triangle warning sign incorporated into the design. This tattoo acts as a reminder of life's dangers and unpredictability, and the need to be cautious in your journey. The combination of beauty, symbolism, and danger makes it a powerful and intriguing tattoo one can flaunt with pride.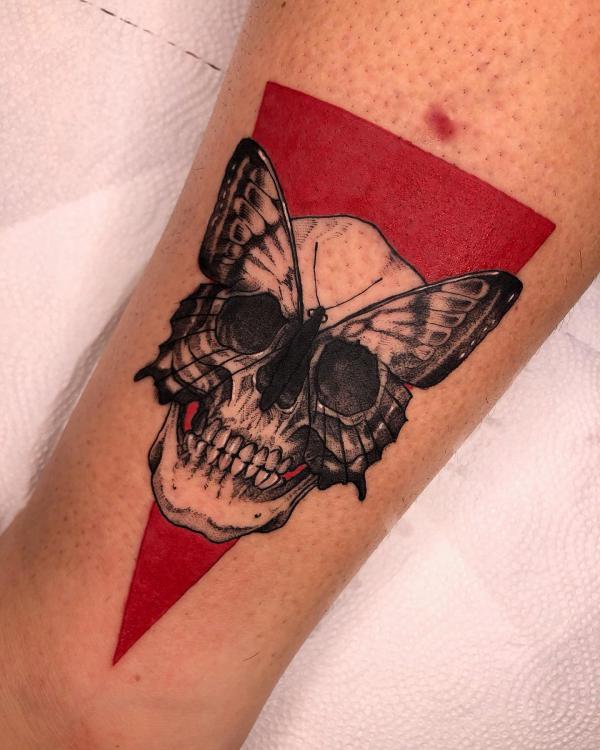 Placement Ideas: Where to Rock Your Butterfly Skull Tattoo
Now that you've decided to get a butterfly skull tattoo, let's talk about where it would look best.
Shoulder blade
Skull butterfly shoulder blade tattoo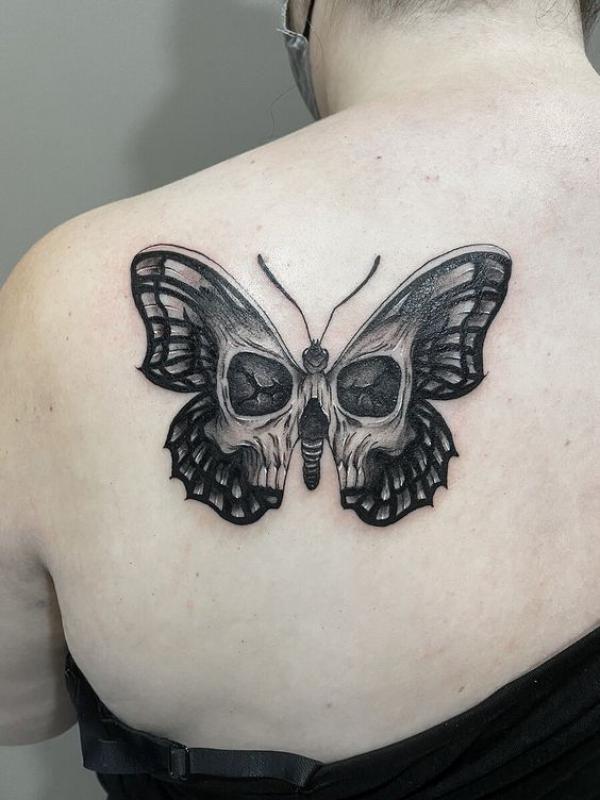 Leg
A leg tattoo is a popular choice, as it offers ample space for the artist to showcase their creativity. Plus, it's both discreet and easy to show off. Simply roll up your pants or put on some shorts to flaunt your inked beauty! Whether you choose the thigh, calf, or ankle, a butterfly skull tattoo on your leg is an elegant choice indeed!
Skull rose and pink rose leg tattoo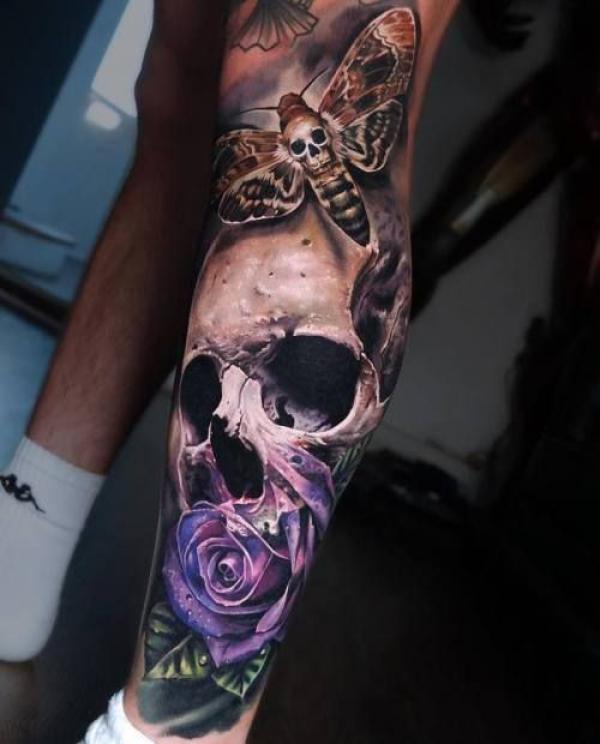 Neck
If you've got a flair for the dramatic, a neck tattoo is where it's at! A tiny butterfly skull tattoo peeking out from below your hairline adds a mysterious touch to your ensemble, keeping people guessing about the complete design. Alternatively, you could go full throttle and get a larger tattoo extending across the nape of your neck, reveling in the attention you're bound to grab.
Skull with wings of butterfly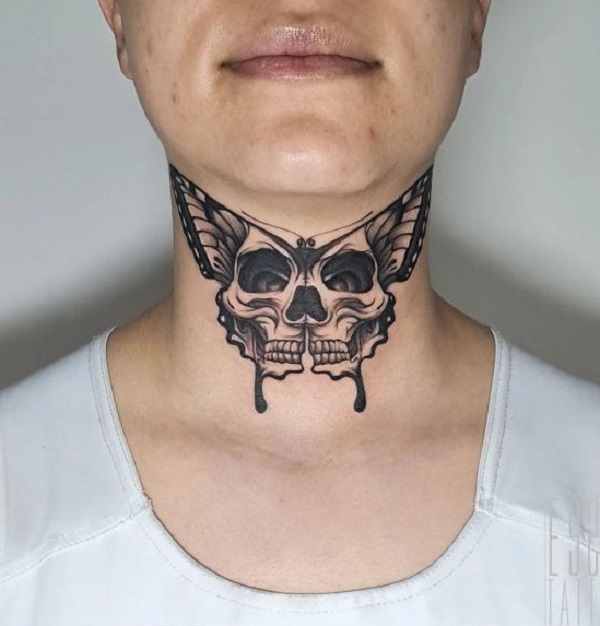 Chest
Want something intimate and bold? A chest tattoo is for you! This location allows for a larger, more intricate tattoo, while still remaining concealed when desired. A butterfly skull tattoo placed in the center of your chest (right above your heart) makes for a perfect symbol of life, death, and transformation resting close to your heart.
Symmetric skull butterfly chest tattoo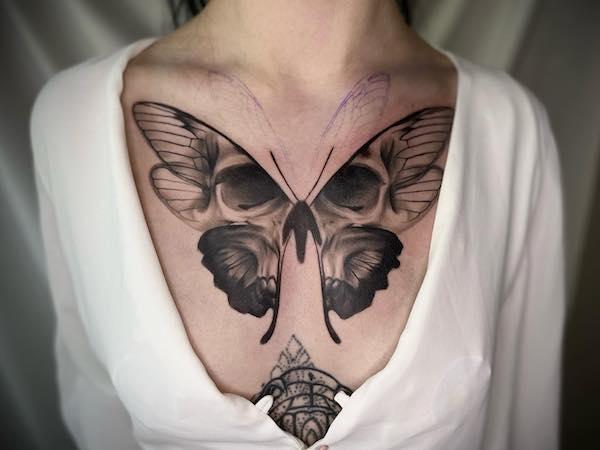 Inner elbow
For a small, quirky tattoo that catches the eye when you move, consider the inner elbow. It's an unusual placement choice, meaning your butterfly skull tattoo will truly stand out. Plus, it's an excellent conversation starter!
Symmetric skull butterfly inner elbow tattoo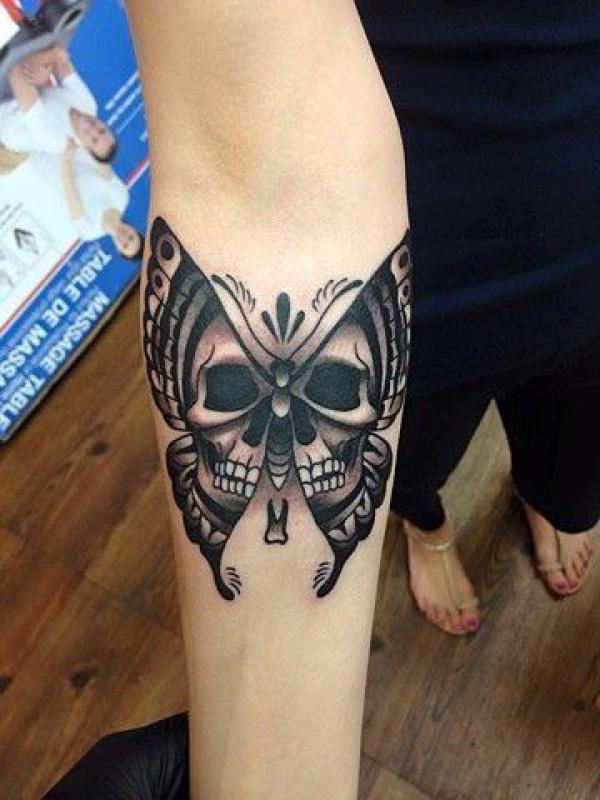 Wrist
The wrist is a popular spot for a butterfly skull tattoo because it allows you to showcase your art to the world and yourself. Every time you catch a glimpse of your tattoo, you'll be reminded of the duality of life and the beauty within the darkness. Plus, it's a great conversation starter when meeting new people!
3D skull butterfly wrist tattoo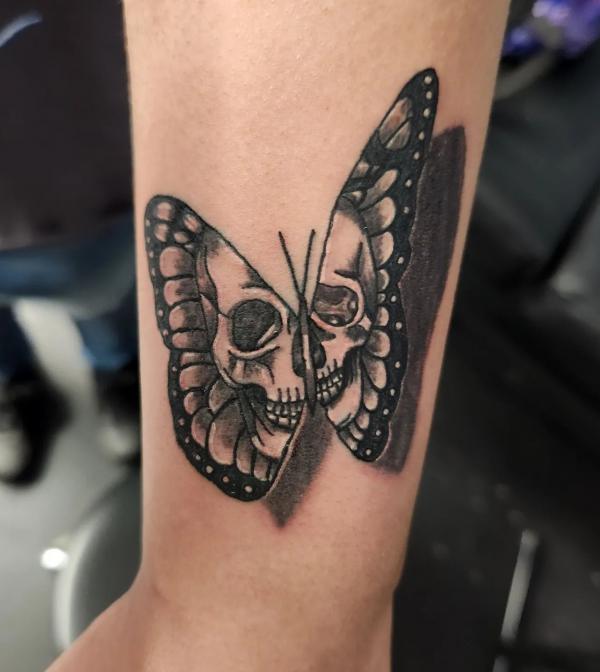 Back
If you're seeking a larger, more intricate design, the back is an ideal area for your butterfly skull tattoo. The availability of more space allows for detail, creativity, and a bigger statement piece that can spread its wings across your back.
Double skull butterfly back tattoo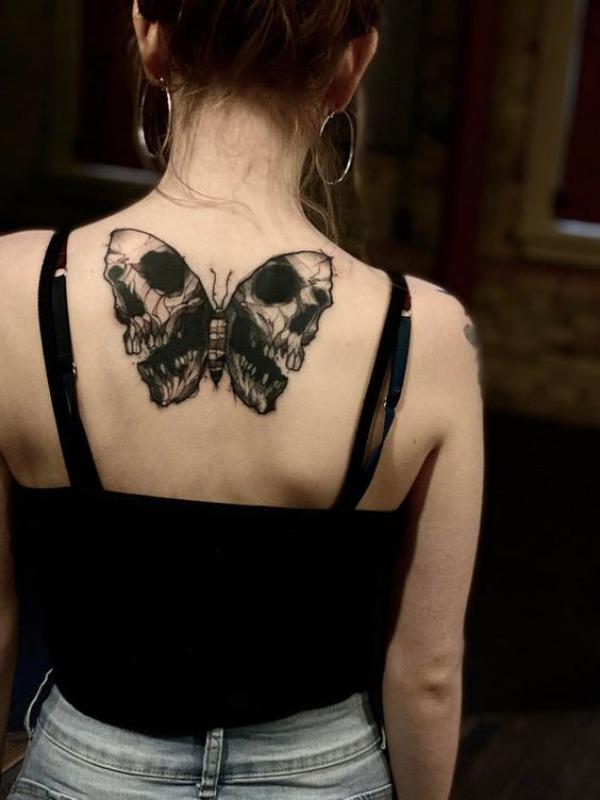 Forearm
Following suit of the wrist area, the forearm is a perfect spot to show off your butterfly skull tattoo. Whether you have other tattoos or not, it is a great central location to have it visible to the world, without the worry of it clashing with other pieces. Additionally, forearm tattoos always come with an added confidence-boosting element.
Pineapple skull and blue butterfly tattoo on forearm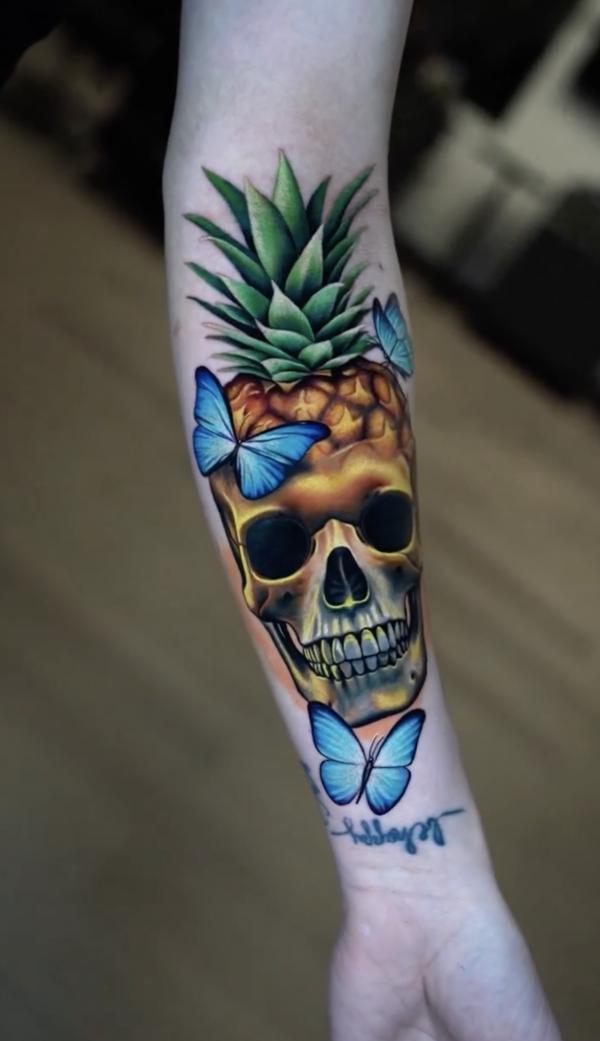 Hand
Last but not least, we have the hand. Although a more painful spot to have the tattoo done, the final result will be stunning and something you can look at every single day. Hand tattoos, in general, have a sense of edginess and uniqueness, and choosing a butterfly skull design will only amplify its impact.
Skull butterfly hand tattoo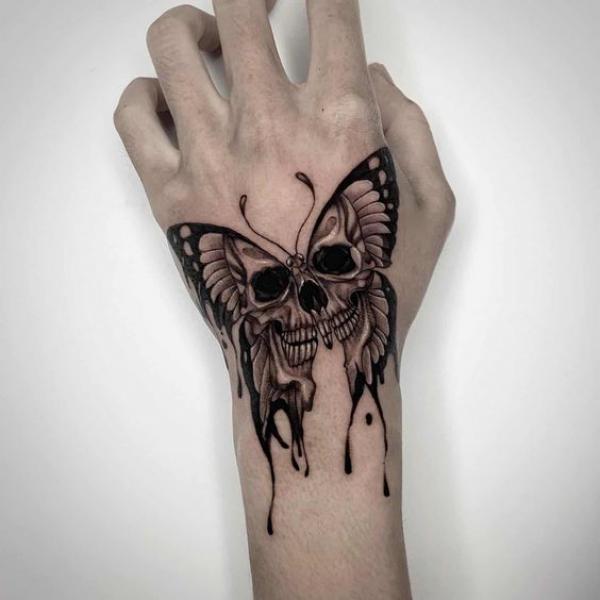 Conclusion
In the end, butterfly skull tattoos are not just another design to add to your collection. They're a powerful and meaningful representation of the dual nature of life and death. They remind us of the ephemeral beauty of all things, while also encouraging us to embrace personal growth and transformation.
FAQ about butterfly skull tattoos
Q1: What does a skull butterfly tattoo mean?
A: A skull butterfly tattoo is a unique and beautiful design that combines two seemingly opposing elements. The skull represents the concepts of death, mortality, and the impermanence of human life. Conversely, the butterfly symbolizes transformation, rebirth, and the soul's ability to change and grow. When these two symbols come together in a tattoo, it generally conveys the ideas of human's fleeting existence and their capacity for metamorphosis, both physically and spiritually. The skull butterfly tattoo can also embody the idea of carpe diem, which means "seize the day" or live life to the fullest.
Q2: What does the death butterfly tattoo mean?
A: The death butterfly tattoo, as its name suggests, carries strong connotations of mortality, change, and the cycles of life and death. This design often features a butterfly adorned with dark, Gothic, or otherwise somber aesthetic elements to emphasize the connection to mortality and the afterlife. A death butterfly tattoo can signify a person's belief in the inevitable cycles of life, or it can represent a personal connection to death, such as overcoming a period of intense grief or illness. This tattoo can also symbolize the ability to adapt and transform in the face of life's challenges, ultimately leading to growth and renewal.
Q3: What does the skull moth mean?
A: The skull moth tattoo is another fascinating design that combines death and transformation. Moths, like butterflies, undergo a process of metamorphosis in order to become the creatures that we see. The skull symbolizes death and mortality, while the moth often represents growth, transformation, and the pursuit of light in times of darkness. The skull moth may also be specifically inspired by the "Deaths-head Hawkmoth," which bears a skull-like mark. A skull moth tattoo can convey the notions of embracing change and acknowledging the transient nature of life while seeking light and hope amid life's uncertainties.
Q4: Is a butterfly skull tattoo bad luck?
A: It's essential to understand that the meaning and symbolism behind tattoos are often subjective and personal. While there may be traditional or cultural beliefs associated with the images, a tattoo's significance ultimately depends on the individual who wears it.
In the case of a butterfly skull tattoo, the combination of life, death, transformation, and rebirth can hold personal meaning that might not be considered "bad luck." Some may view this combination as a symbol of resilience, growth, and the cycles of life, while others might see it as a reminder to live life to the fullest. It's entirely up to the individual to determine whether a butterfly skull tattoo carries a negative or positive connotation for them.