When you take in hand the main feminine tools such as powder and brush for applying it, eyeliner, mascara and beautiful multicolored eye shadows, watch your face as a canvas for painting. This season will be allowed to play with colors, but you will need a little inspiration for pretty face makeup ideas. Makeup is here to highlight what is the best on you and to hide what you want to be hidden. On you is to be imaginative and, please – do not be afraid to experiment.
Strobing – contouring of the face is something that has prevailed recent months in make-up trends. There can't be great face make up without great-facial contouring, and for this it is necessary to be equipped with adequate brushes for contouring and right highlighters, concealers and darker powder. On YouTube you can find a lot of tutorials for facial contouring. How will you contour your face depends primarily of the shape of your face, because rules for contouring are different for different shapes of face.
Makeup your face parts
And now your eyes! For eyes makeup you need to be a real little artist! Professional makeup artists here let their imagination run wild. On the runway, you can see the extremes: from the complete absence of shadows on the eyes that are just highlight with mascara or eyeliner, to the beautiful variety of colors that overlap one another. Metallic shades and shadow with sequins and glittery eyeliner are modern and will be a hit for an exit in the club, or an important ceremony. Put just a little tinsel and there is glamorous look for you. Smokey eyes are trend valid for seasons. It is modern and gives a little mystery to your look.
As to your lips makeup, it all depends on how much you put makeup on the eyes. It is important that if the accent is on your eyes, lips should be more discreet and vice versa. Shades of natural color of the lips are hit but and extems of the other side – black, brown and dark purple. The darker shades of lipstick are an absolute hit, especially matte shades of lipstick. Red remains " in the game" because it is a classic. You just have to find a shade of red that best suits your skin tone. From fashion magazines lipsticks with sequins were transferred to the streets. Eyeliner remains in vogue. Many designers didn't use it this season or use it in minimum, while others very much use it and pulled those seductive lines above the eyelids or below lower eyelids.
Natural eyebrows are very popular, and even a bit neglected are great. Comb them, and the minimum fill with pencil, shadow or eyebrow gel on places where are rarer. Also on the runways and in magazines dominate bleached eyebrows with various preparations. However, personally I do not like it to wear. Long eyelashes are modern, and when you leave your home, do not forget the mascara in two or three layers, and for some important ceremony choose artificial eyelashes wisely integrated with the rest of the make-up.
Pretty Face Makeup Ideas
But perhaps it is better to end my story and let you enjoy the gallery that we have carefully prepared for you. I would remind you that in hill of make-up preparations do not forget and do not lose your real face (in every sense). I will emphasize that what is always in fashion is your natural look and natural beauty. So do not forget the proper care of your skin because the makeup is removed at night and what only remains is your bare face. Therefore, devote to your face special care.
This lady has very nice face makeup ideas for going out in the evening in a bar, club or at an event. These strong matte shades of lipstick are extremely modern and sparkles on eyes will always give your outfit a glamorous look.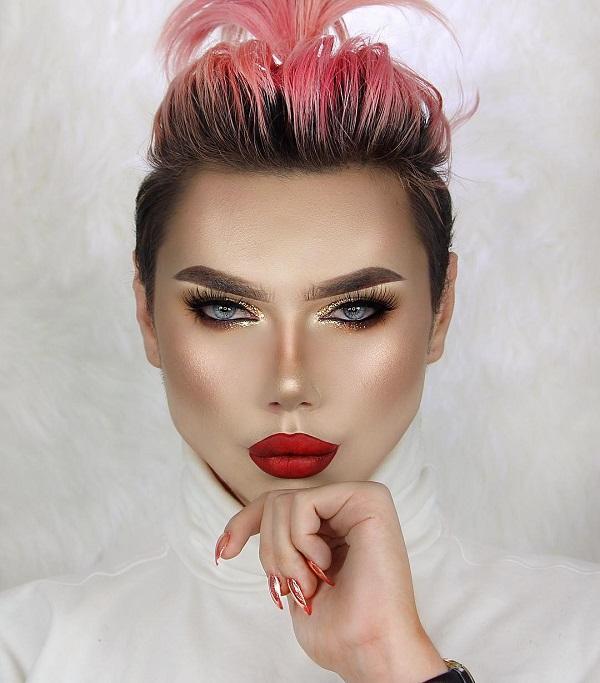 Red lipstick
Show your confidence and consider the ideas with the red lipstick makeup in celebrity style. You just need to choose the shade that suits you best.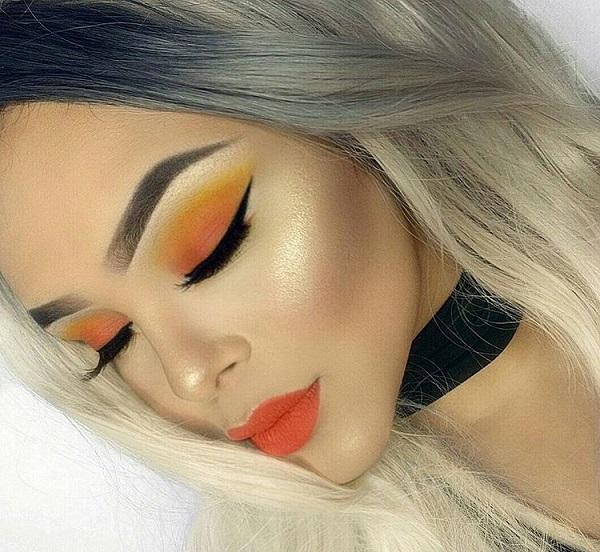 Orange shadow
Eyeliner is still a good choice for brave women. It let your eyes and your eyes will look bigger. Orange shadow can very effectively emphasize blue eyes. What brilliant face makeup ideas!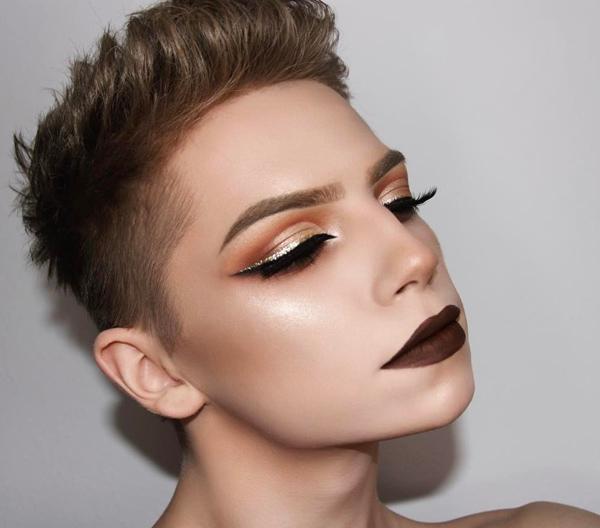 They say that women who love to discover the neck and wear short hairstyles and chignons are not ashamed of their sexuality and like to seduce. A steady hand is needed for applying eyeliner. If you have a darker ten, glittery eyeliner above, consider the face makeup ideas with the classic black will give sensuality to your view.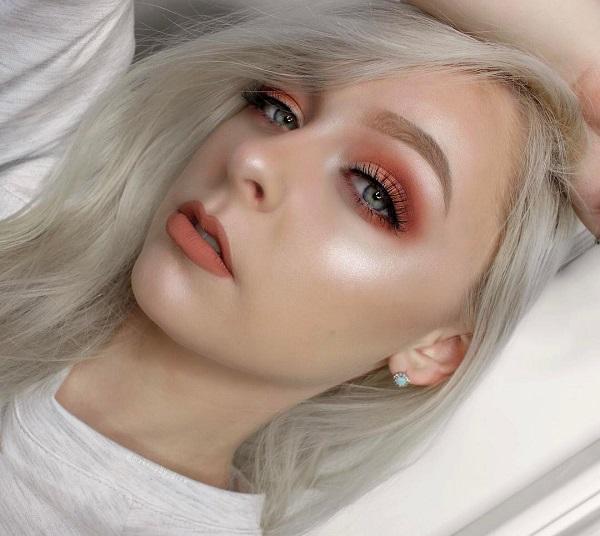 As I already mentioned, here's an example how beautiful shades of orange nicely stands to blondes and blue-eyed girls.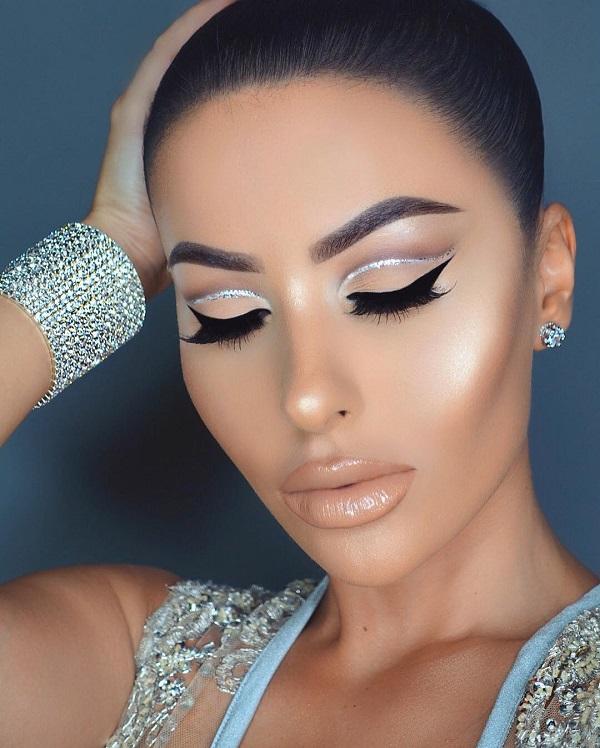 When you highlight eyes with eyeliner or eye shadow, it is nice that lips be less conspicuous, so choose a nude shade and gloss over that because it will make your lips fuller.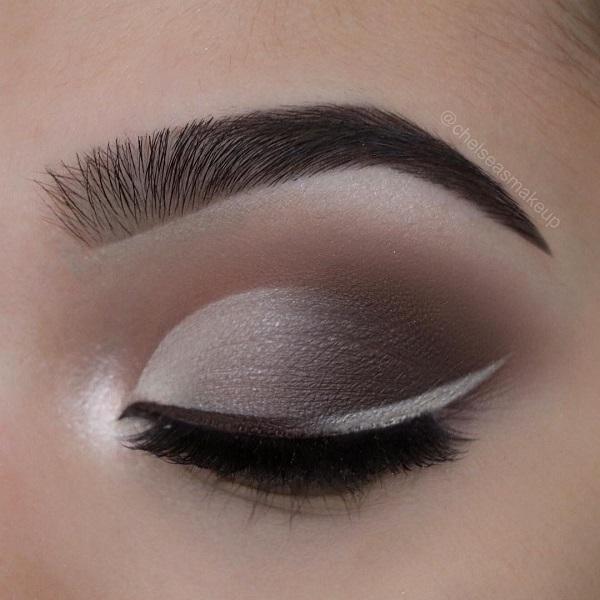 Nice contrast between shades of eyeliner and shadows of eye shadow. Smokey eyes are always in fashion so you can not go wrong with it.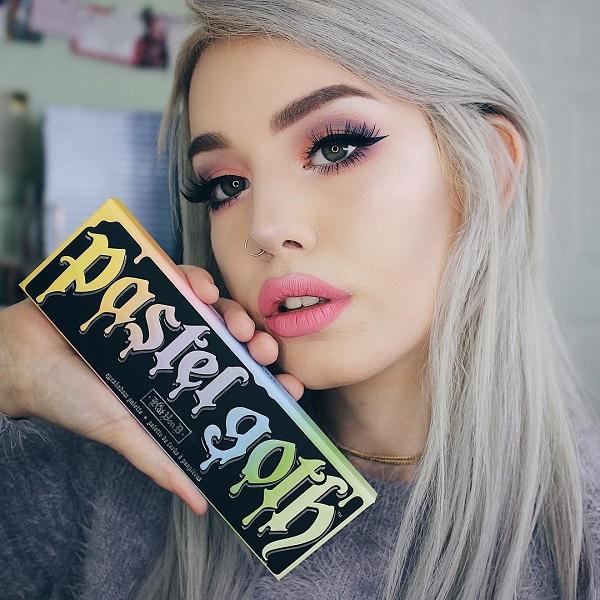 Face makeup ideas for blondes
For blondes definitely are great gentle pink shades. Blush and lipstick in pink shades, plus a nice shadow applied in this color will be a real hit. Serve with the example on the picture. The effect is even better if you have green or blue eyes that emphasize them with eyeliner, and even slightly purple shadow on the edge of the eye.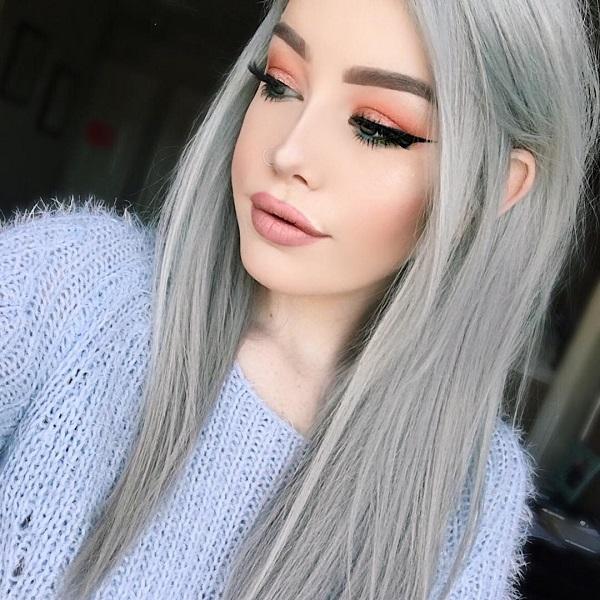 Gray hair is in the last year or two, become a real hit. Blogger, various models and celebrities happily accepted this trend. Gray hairs are no more reason for stressing, if they occur simply repaint all your hair in this color and enjoy in this trend!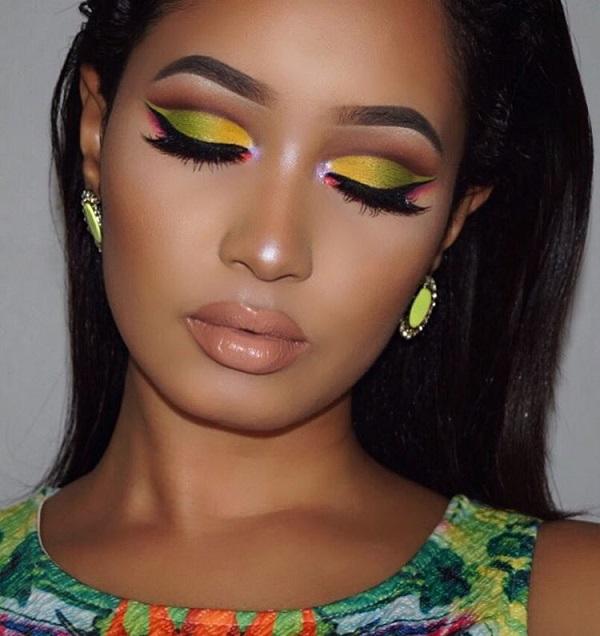 Yellow and green eye shadows nice suit to brunettes (we can see here how successfully carries it this brunette of dark complexion). Peach-colored blush on the cheeks and lipstick in color of coral or gentle nude color will be nice for this combination.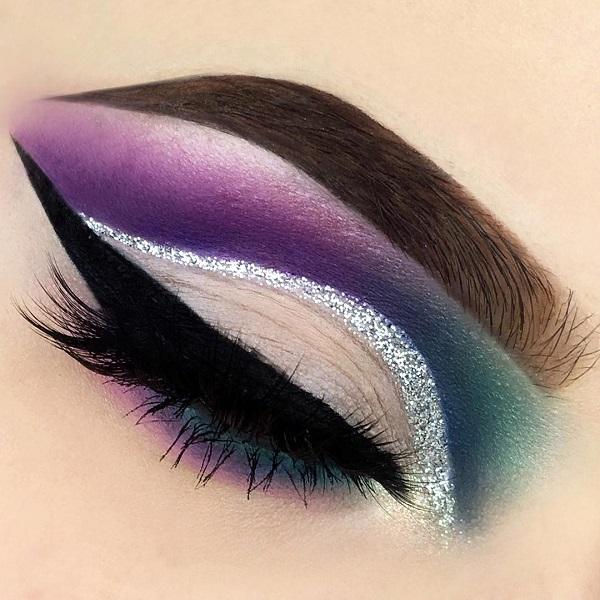 If you're going to a ceremony and have a wardrobe of
similar shades you will for sure shine with this makeup. We must not forget the eyebrows which must be finely drawn, where are rare to fill gaps and to have a good shape. For something like this it is best to visit a professional makeup artist. He will make you look flawless.
Facial contouring is a modern technique in makeup that perfectly highlights the parts of the face that is good to emphasizes and camouflage those who need to be less conspicuous. For good contouring get even better brushes for this purpose, highlighter and the darker shade of foundation.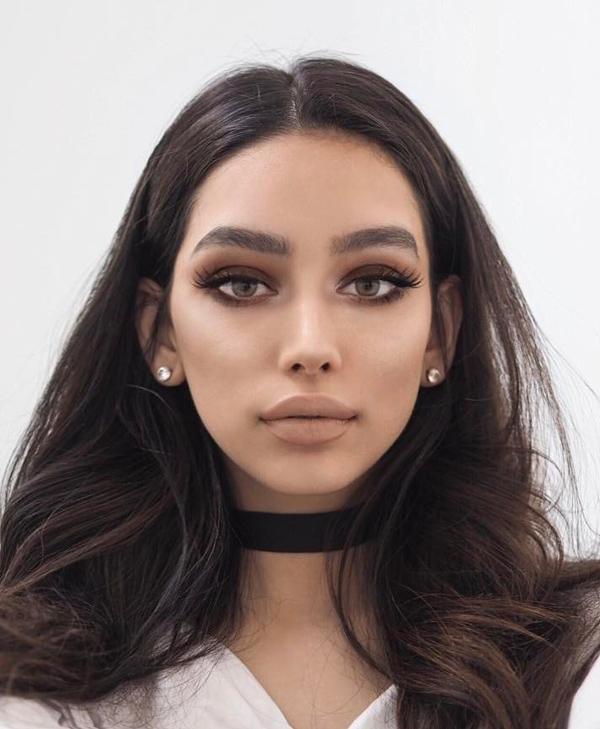 Face make ideas for people with brown hair
If you have brown hair, brown shadows, gray shadows, color of brick will nicely stand with your hair. Actually, it is important to combine eye shadow with a tan, hair color and clothing … Depending of the complexion and all outfit you can wear pink shadows combined of course with the blush and lipstick in shades that are related to this.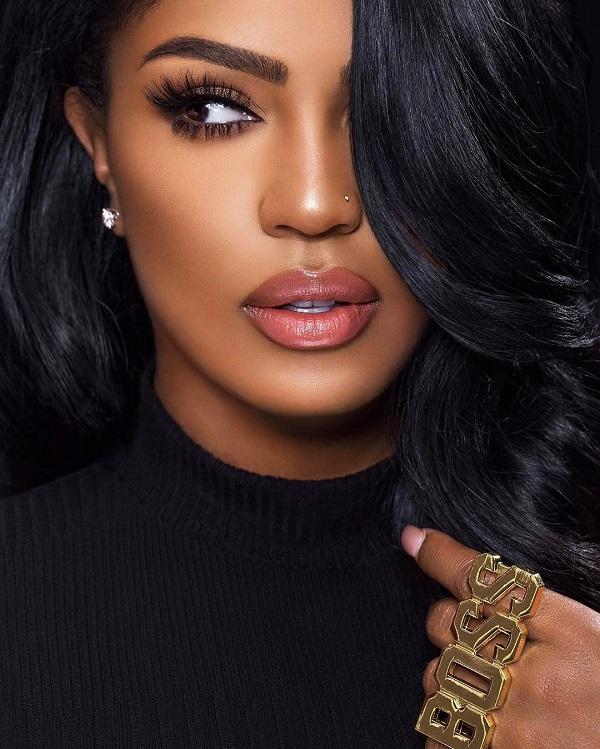 The trick for full lips is simple. On the lips, first apply foundation – powder that will make your lipstick lasts longer. Pen that is 1 or 2 shades darker than the color of lipstick, draw the edges of the lips. Fill lips with lipstick, gloss over it and your lips will certainly look fuller.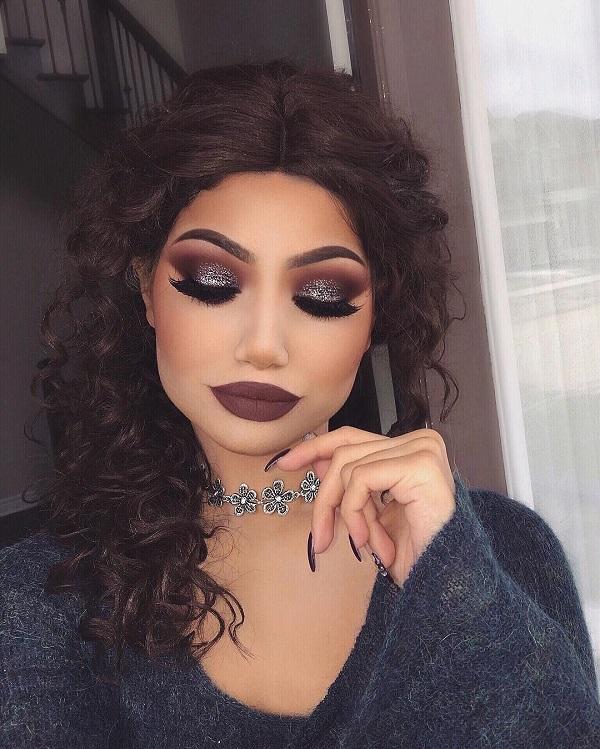 This lady looks very seductive because of this makeup. Sequins give a glamorous note to all look and dark matte lipstick is a bit Gothic and look mysterious.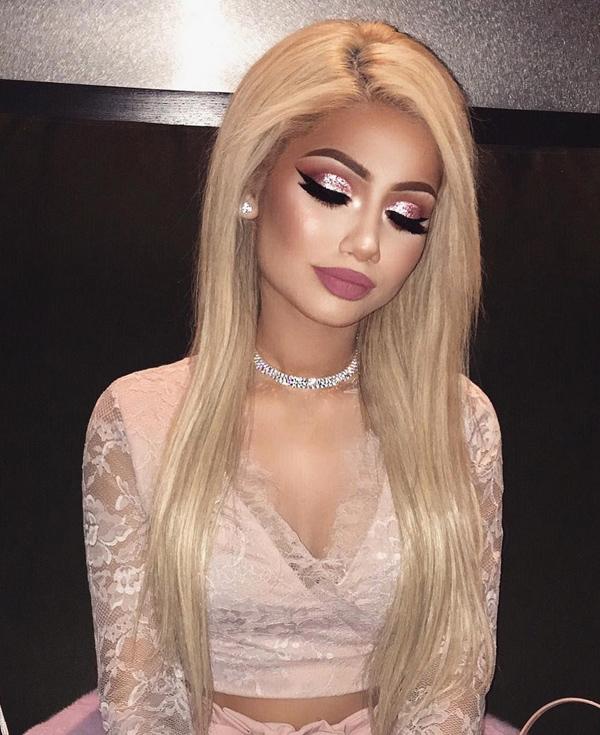 This young lady is ready to go in the club. Hair color, makeup, complexion and wardrobe everything is perfectly combined.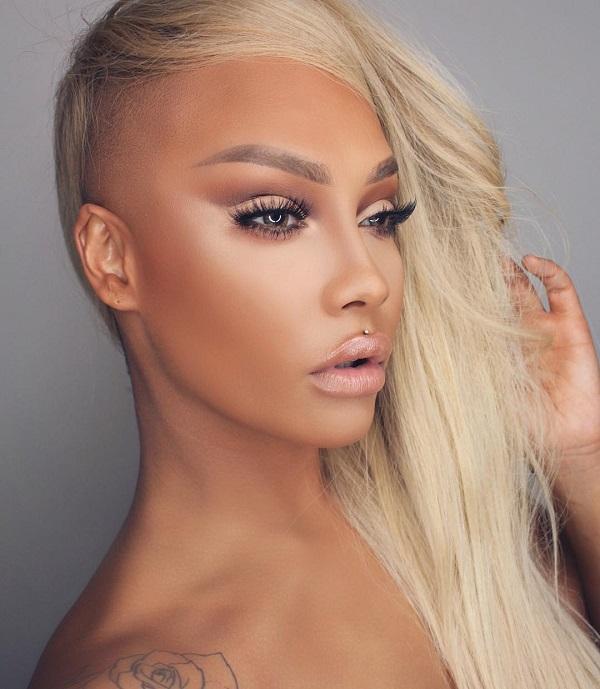 Face makeup ideas inspired by Japanese drawing
Japanese drawing eyebrows is a popular method of embellishment eyebrows. On this way you'll save time every morning because you won't have to draw them. But before this procedure it is best to talk with good beauticians and agree whether it is advisable for you, and what form is best for you. Only that way you will prevent to be unhappy later.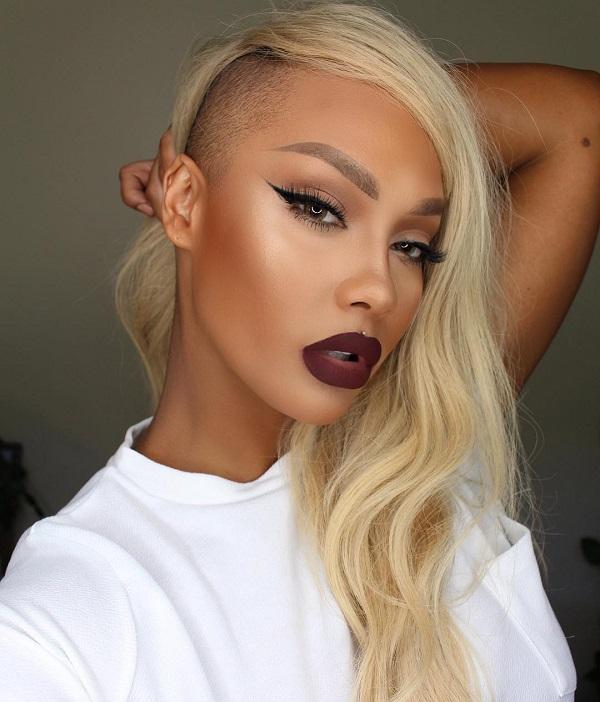 There are examples where the Japanese drawn eyebrows in this way last for a year and a half but also and happens those where, after a few months is necessary to refresh the color because it a little faded.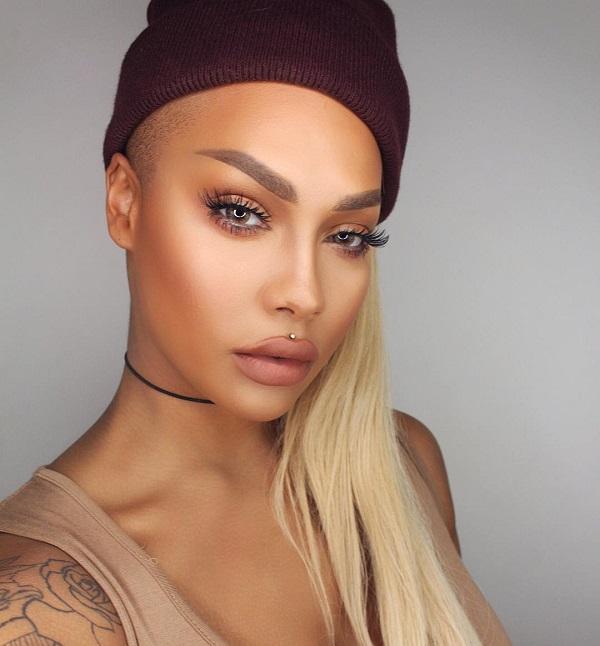 Japanese drawing eyebrows is not a painful technique, when pulling out her natural brows women also feel a little pain. In these modern techniques before and during the drawing is used anesthetic so that the pain is minimal.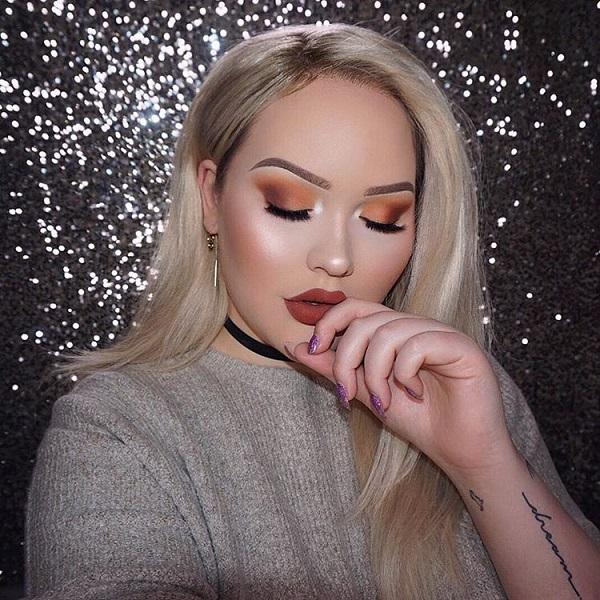 For a long time is abolished rule where the color of the lips and nail polish must be the same or very similar.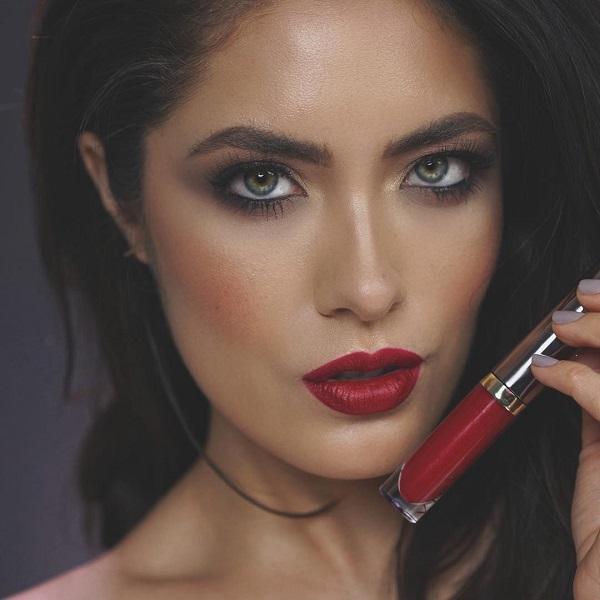 Red lipstick in the world of face makeup is one of classic ideas like a little black dress in the world of fashion industry.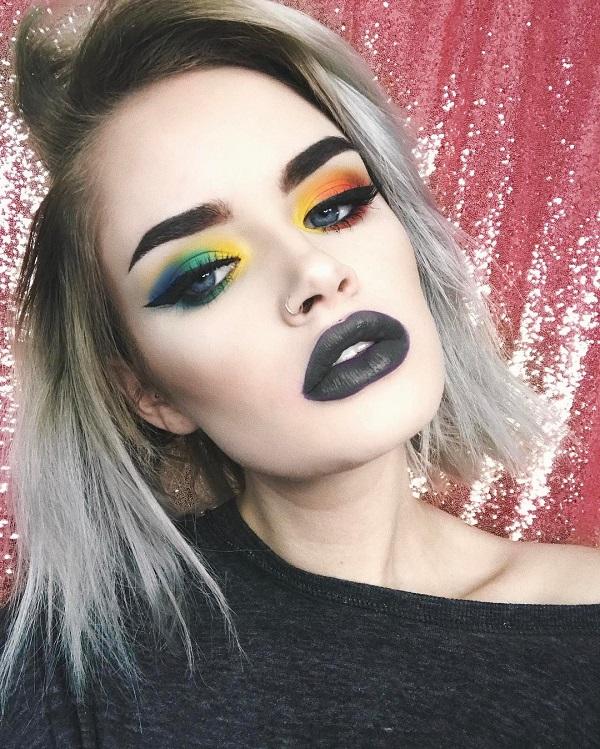 Rainbow colors on your eyes that will spill over into one another is especially popular with the younger generation.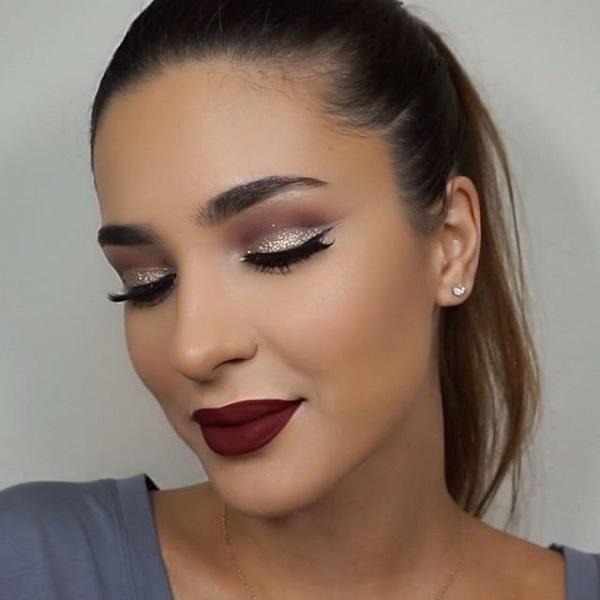 Natural eyebrows are extremely popular, even if you neglect them a little, do not worry. It is trendy.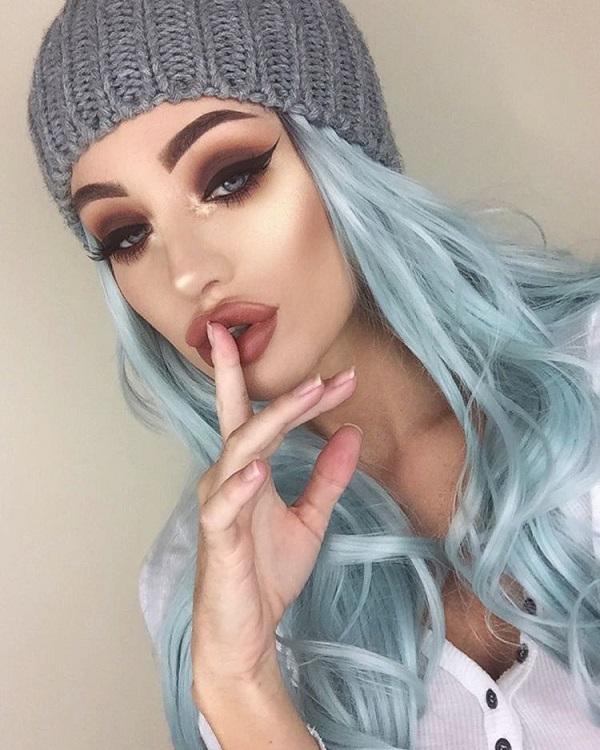 Earth tones are modern for a long time and even when it comes to makeup. The best about them is that almost to everybody stand perfectly.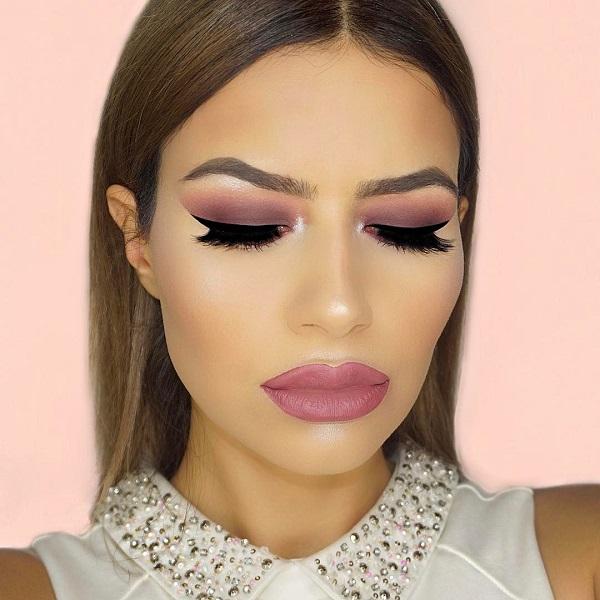 Purple eye shadows and brown hair go well together. During the day decide for a matte tones and in the evening you can choose sequins.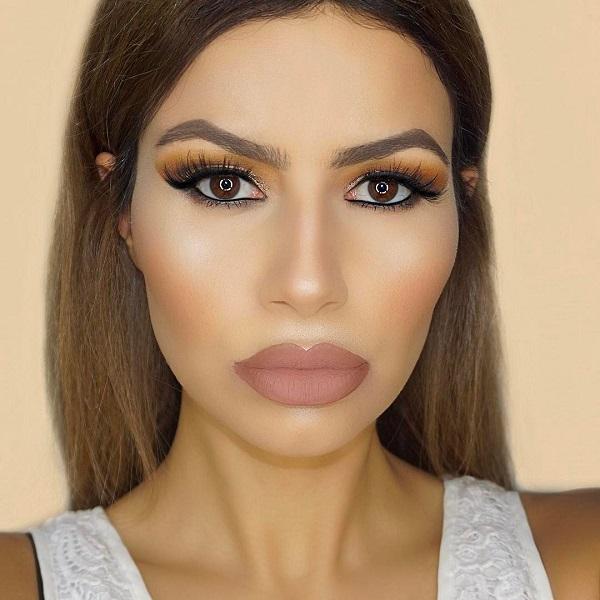 Dark skinned ladies with earth tones can not go wrong at all. If you are one of them, select those colors for daily variations and a job, a shadow of cheerful colors choose for a coffee with a friend or going out in a club.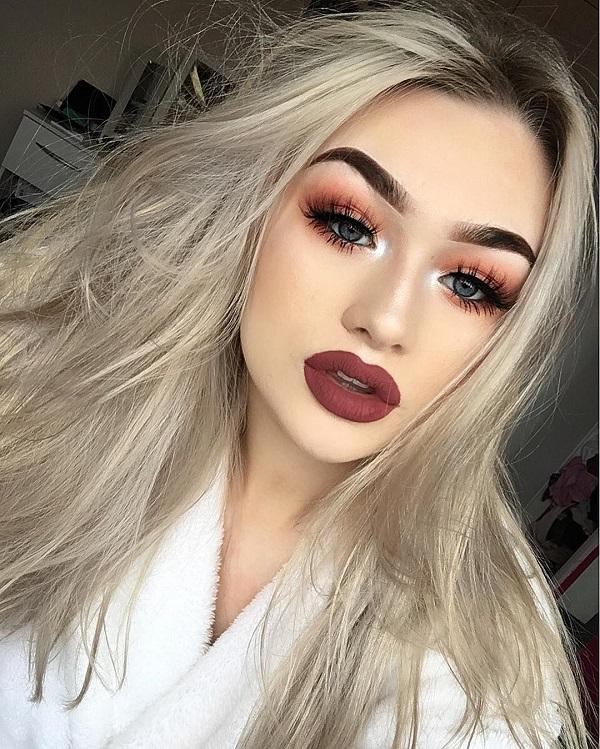 Long eyelashes, either artificial or natural stress the view and you will be more seductive. Also, if you want to highlight your eyes, you can decide to upgrade lashes. It is a technique where on natural eyelashes beautician stick with glue in black color or colorless artificial eyelashes made of natural or artificial hair.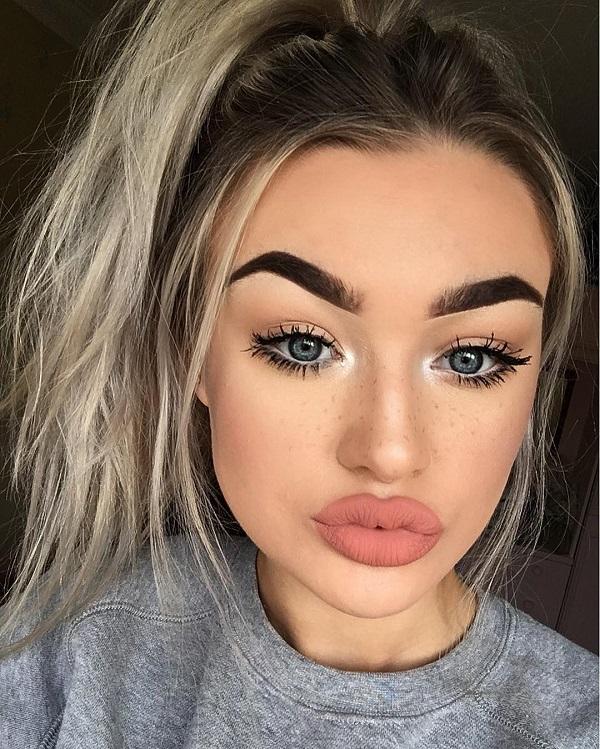 Upgraded lashes last a little bit longer than two weeks. This technique will make it thicker and longer. Of course, as with any procedure for which we decide we should not exaggerate.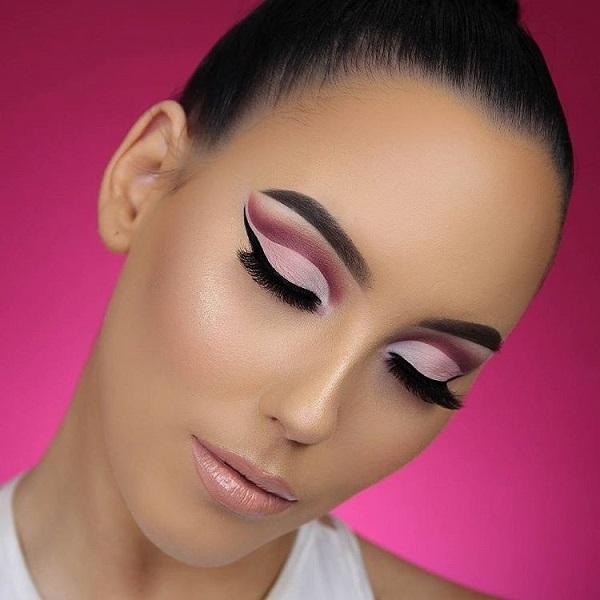 If you want your make-up look flawless on your face you have to nurture your skin, because it is important your look also when you remove makeup. It is mandatory to remove your makeup before going in bed especially if you are older than 27 years, and make sure that in the morning and evening on the face apply moisturizing cream.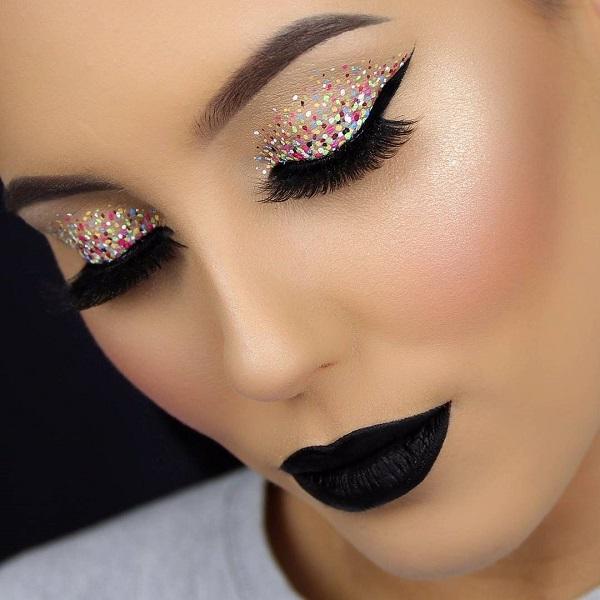 On runways ruled definitively in the previous fashion shows black lipstick. The designers were inspired by the Gothic and they decided not just for black clothes but for black lipstick and eye shadow also. Strong appearance of black lipstick this lady eased with tinsels in different colors on eyes.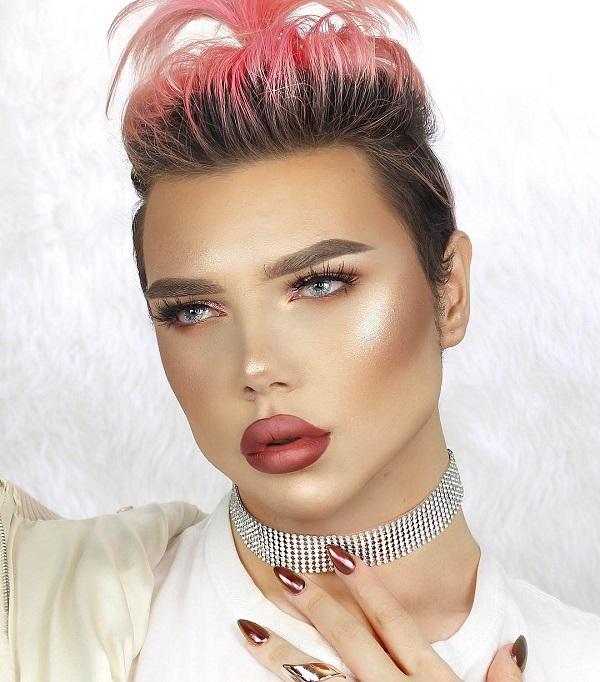 Ladies with very thin lips in the modern world very often opt for injections of hyaluronic acid to plump lips. The procedure takes about ten minutes and beauticians use anesthetic. The results of first or second time last for a year longest, and later treatments much longer last.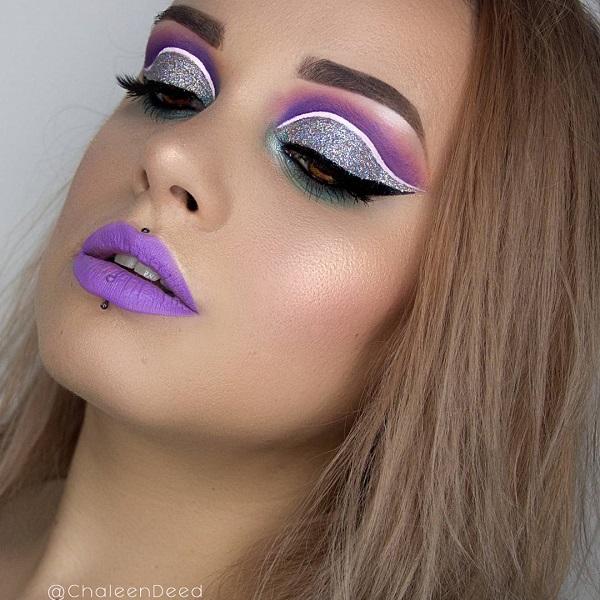 Black eyeliner perfectly goes with the silver glitter on the eyelids. Be sure to put on the lashes mascara or even faux eyelashes. Purple does not diminish glamorous look but a little bit alleviates shine of silver eye shadow.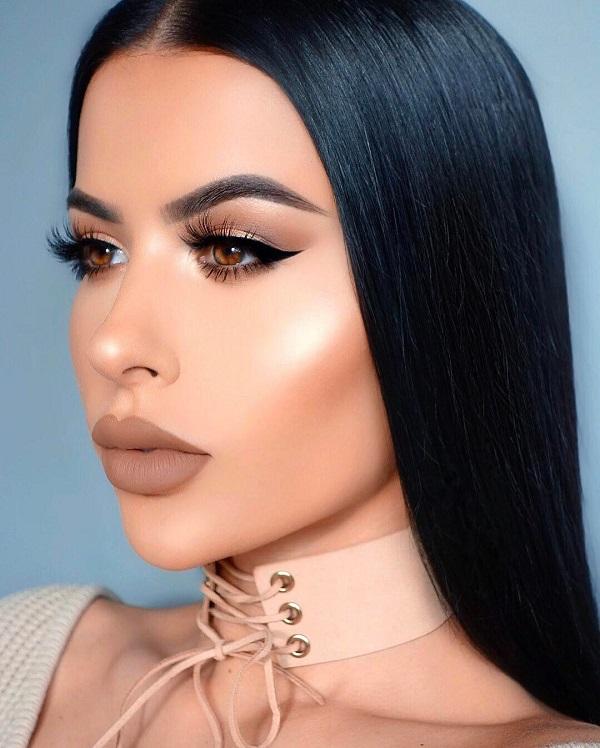 Choker necklaces are back in a big way. What will from trend of '90 also return remains to be seen…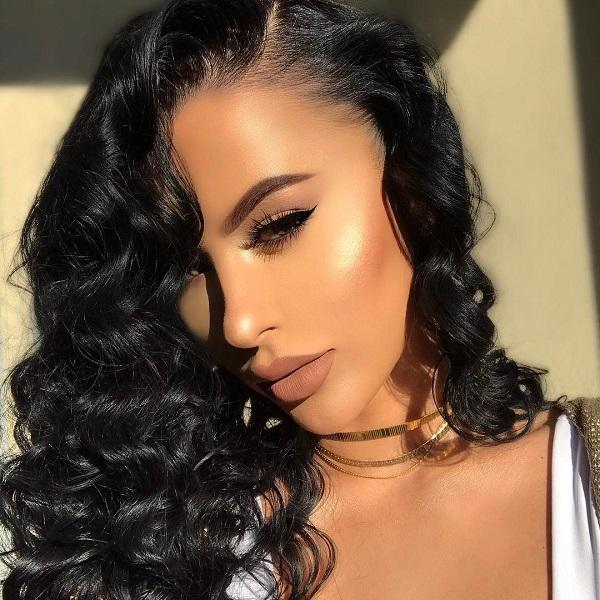 If you are dark-haired dark-skinned girl choose brown, purple, pink shades that will mitigate the strong and impressive appearance of your black hair.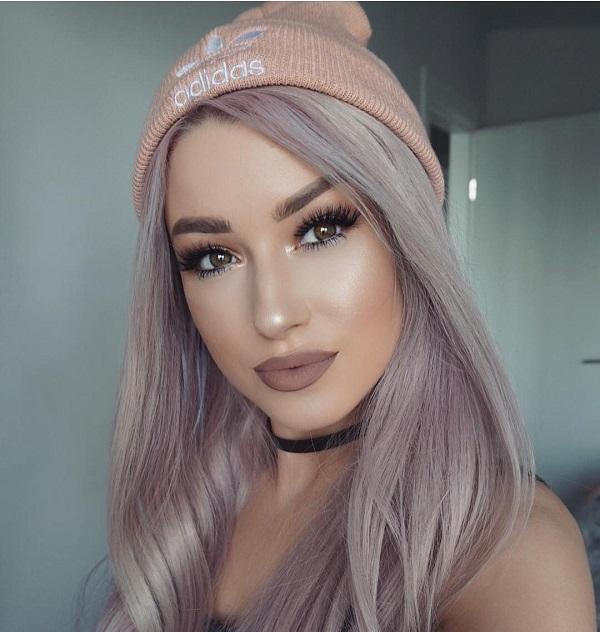 To keep you face skin flawless, do not forget that on the face once or twice a week apply a face mask.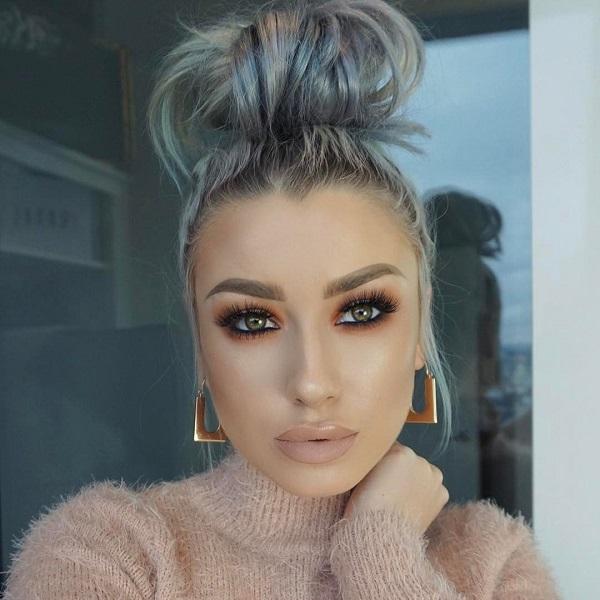 If you wear a bun you need to put earrings. Both will give to your appearance dose of elegance, seduction and glamour. Afford that to you, you deserve that.

The madness of ombre style in hair coloring didn't decrease and women simply adore him. It is a popular for seasons. And here's how effective lipstick makes it more modern.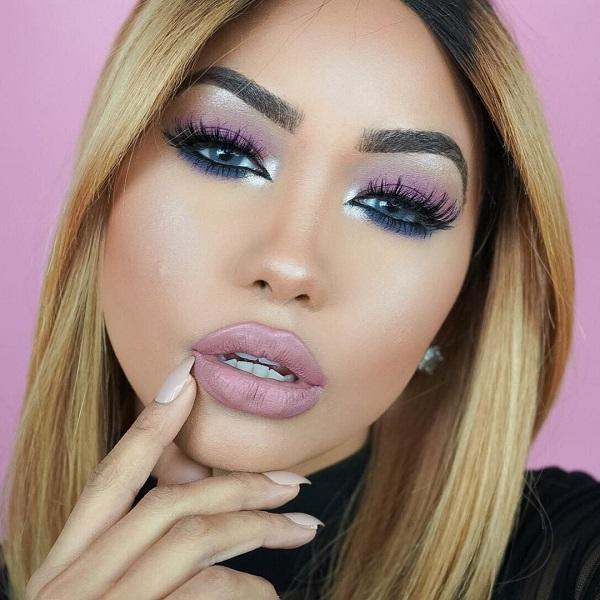 I personally have always liked this style of inflicting eye shadow. On the upper eyelid goes purple or pink color and on the lower eyelid dark or light blue. At the same time you don't need eyeliner, mascara is just enough.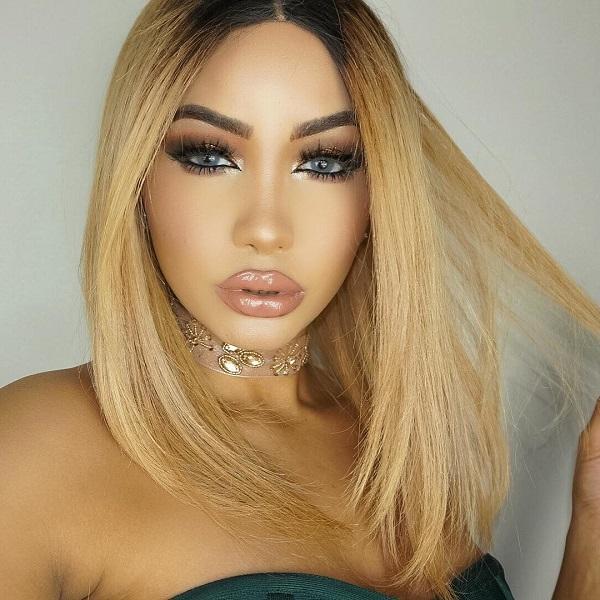 I somehow reduce the use of crayons in recent years from when I'm using eyeliner. But it was always stylish and contributes to our makeup. Still be careful with it, if you have smaller eyes do not put crayon on the inside of the eyelid. Put it around, below lashes. On that way your eyes will look visually larger.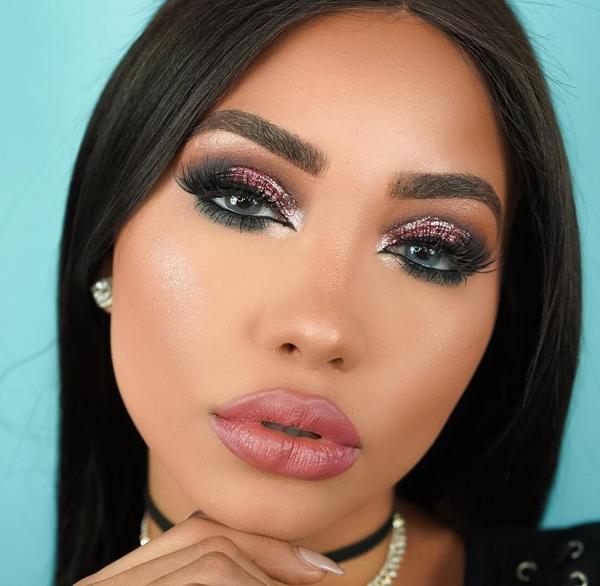 If you want your face look cared it is important to use scrubs. That way you get rid of dead skin cells and impurities.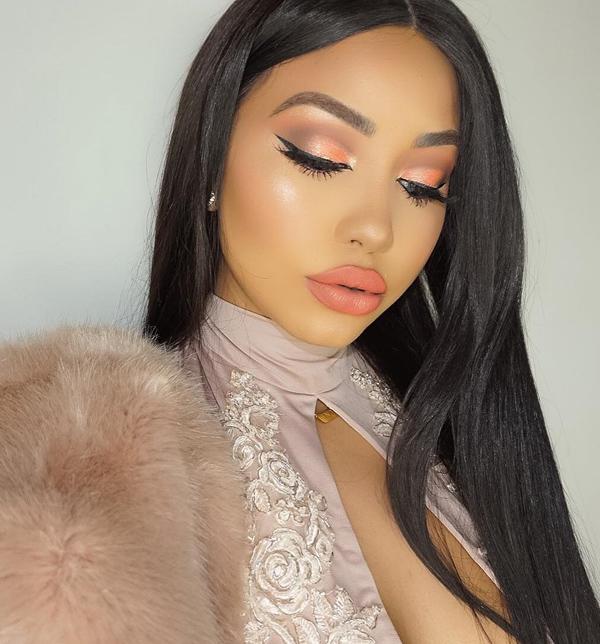 Thin eyebrows are out for a long time. Orange shades with fine transitions and lipstick in a similar shades are a real hit for every dark-skinned beauties.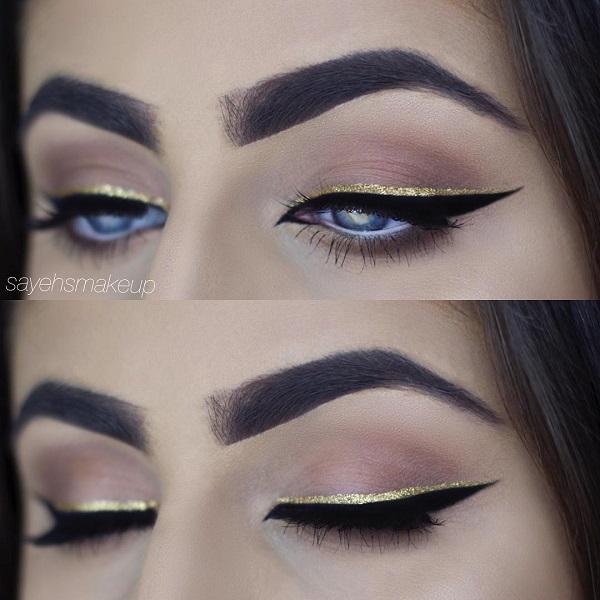 Very discreet shadow on the eyelids. Above a finely drawn black line of eyeliner is another with glittery eyeliner. Very sensational and impossible to miss. Eyebrows have modern shape and thickness, very precisely worked out.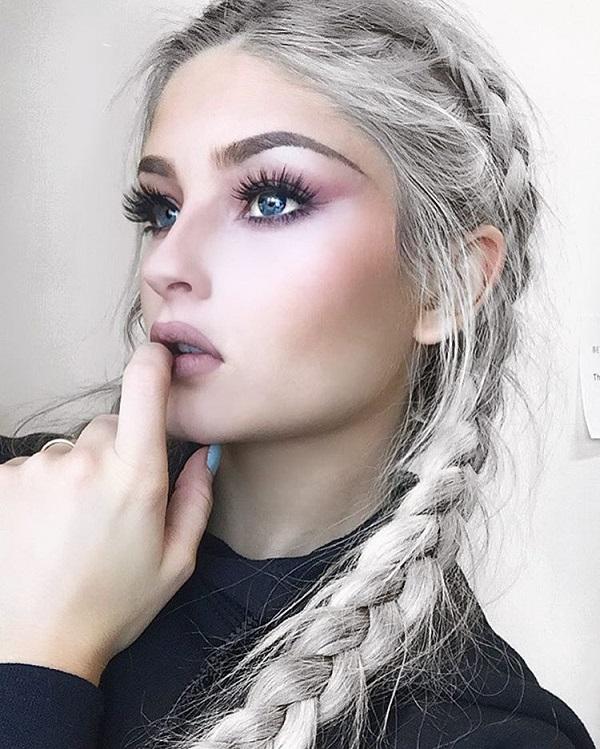 Here's a great example how many pink shadow contributes to blue eyes which are more expressive. Optional hairstyles and inconspicuous makeup are always a good choice for daily variation.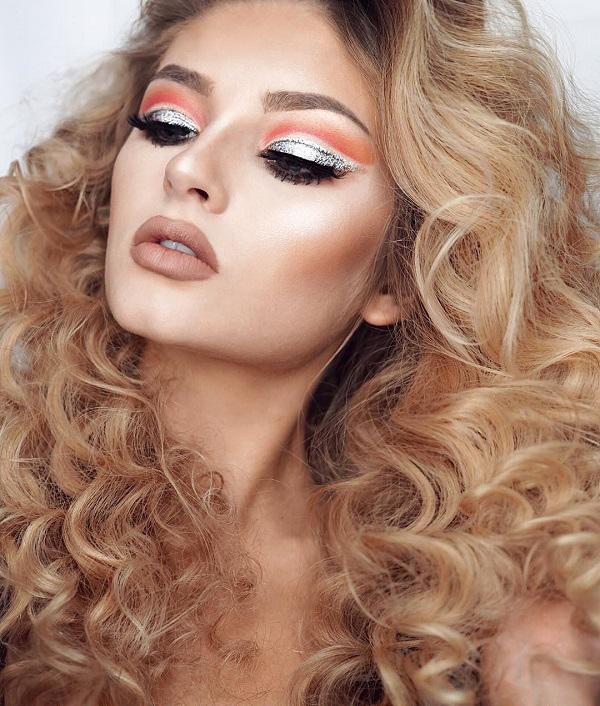 This lady is so sensual, ranging from hair to makeup, so there, where she is going, will certainly be major.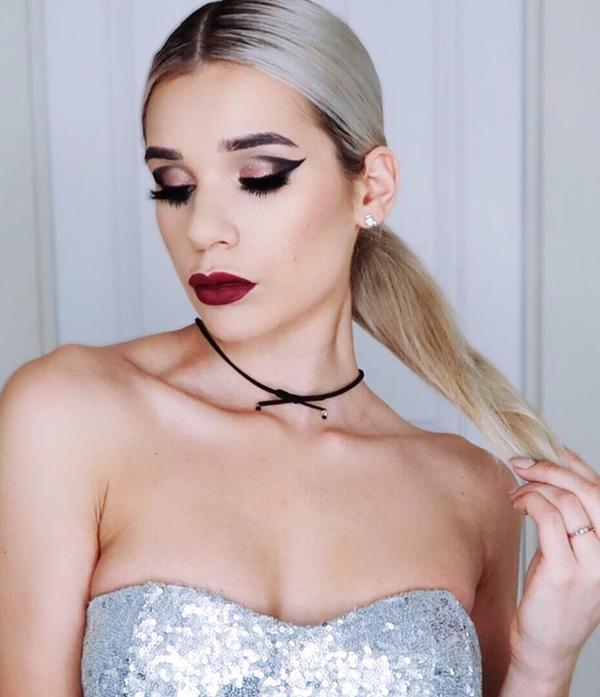 Blonde hair with the protrusion is a common option of ladies from all over the world for a long time.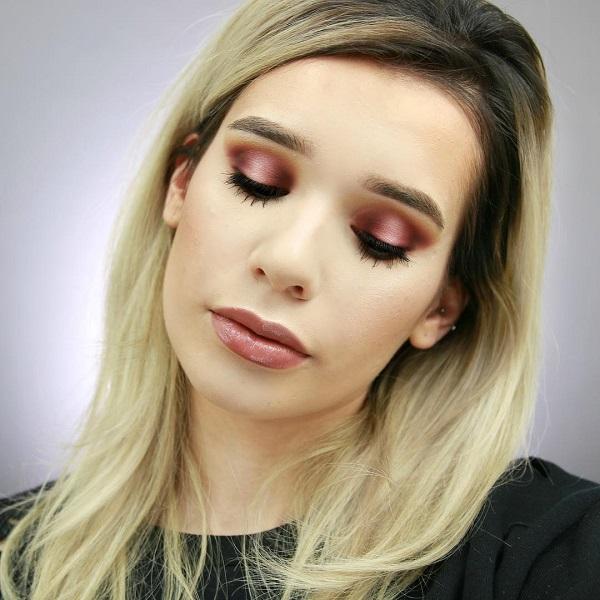 Face mask that would refresh your skin is possible to make using ingredients that we all have in our kitchen. A lot of tutorials about that subject exists on YouTube channel. Sometimes it is enough just to put honey on your face or cucumbers and hold about 20 minutes.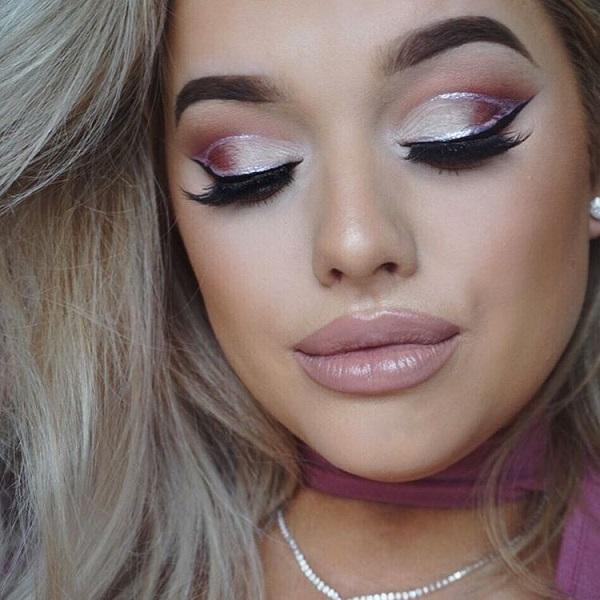 To adequately care your skin you must first check which type of skin you have, whether it is oily, dry or normal. Various types of skin have different needs.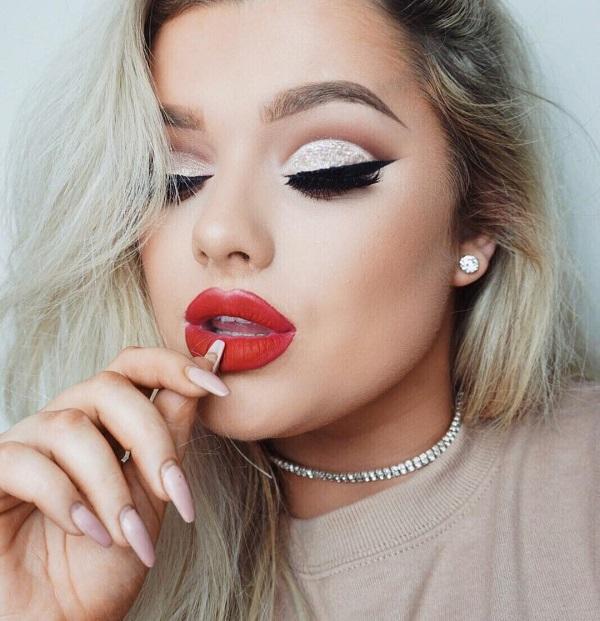 Even you decided for discreet shades of eye shadow and discreet jewelry, with red lipstick you will certainly shine.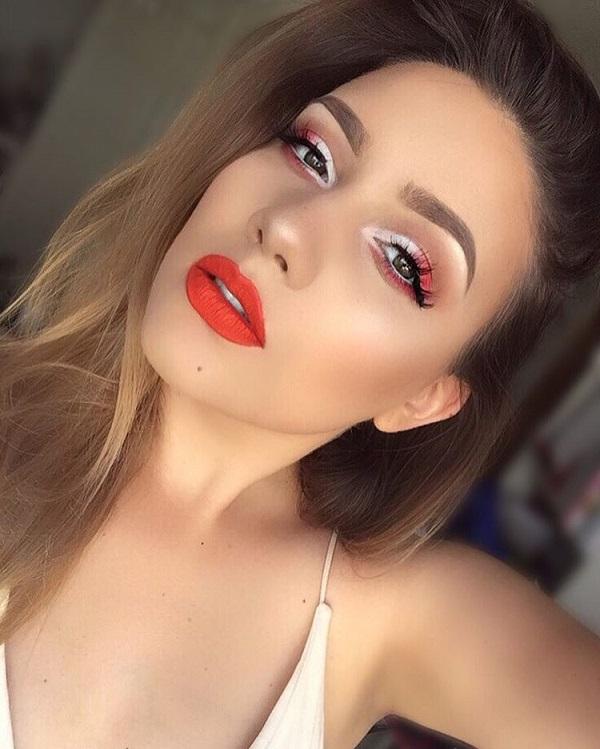 If beige, white or pearly shades you put in internal corners of the eyes your look will seem fresh and rested.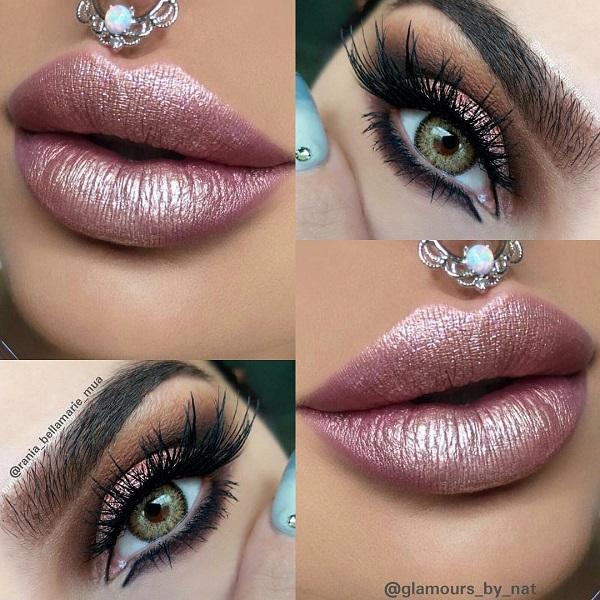 It is very important when you make up the eyelashes with mascara to avoid the formation of lumps because of the excessive amount of mascara.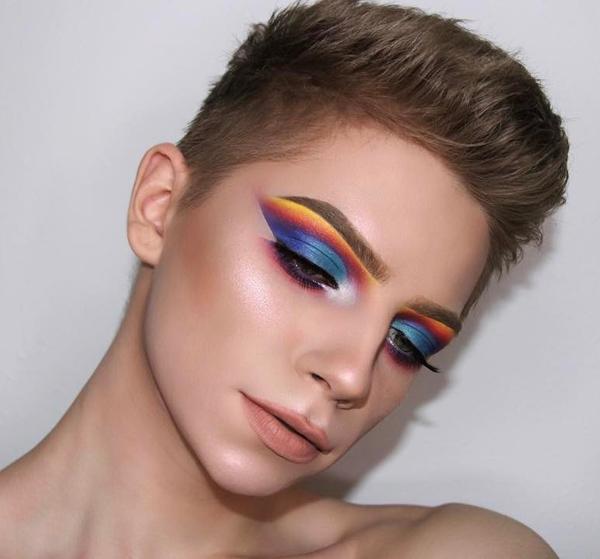 For me this is a very bold color combination of eye shadow. If I had to choose I would chose it for a hot summer evening because it reminds me a bit of the sunset.
It is very important that while removing make-up we do it with pH neutral preparations for removing make-up in order not to further stress it.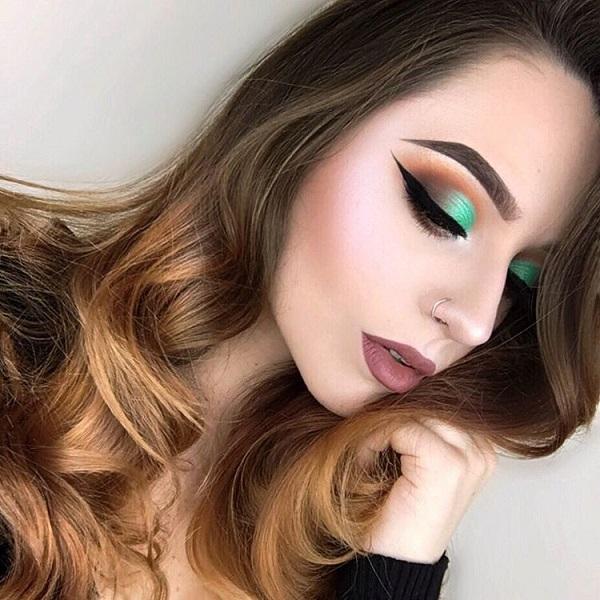 Green and blue shades are great for brown-haired ladies. Avoid if you have blue eyes blue shadow to use because it will not at all contribute to their emphasis.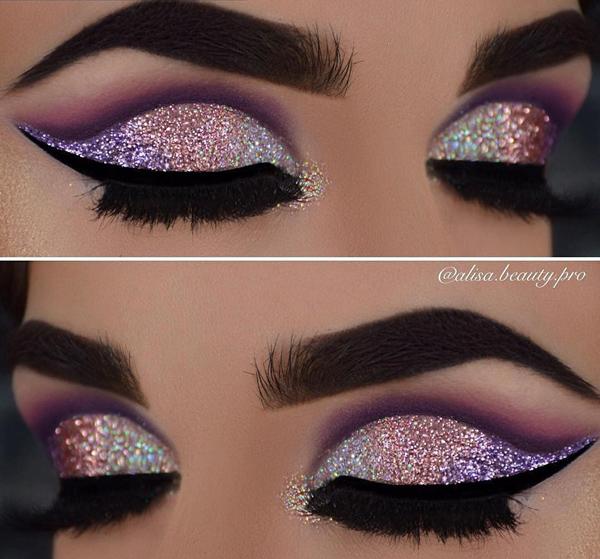 I mostly like the purple color. It looks good on everyone, brunette, brown-haired girls and blondes. If you choose it for day use it in matte tones and with tinsels for evening outings.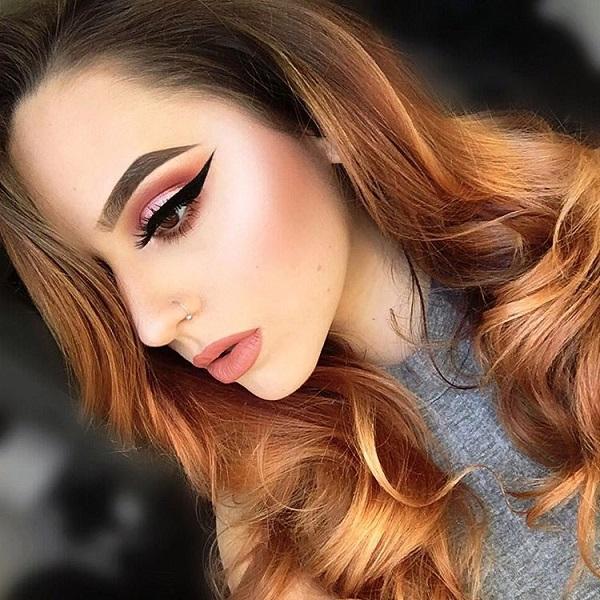 Gentle colors like apricot color are modern. But here we have an effective line drawn with eyeliner which gives seductive note to the makeup.