Hello Kitty is undoubtedly one of the most popular cool cats around the world. Spanning decades, this little hello kitty has gone all out from television, toys, social media and nail design. If you're one of the many enthusiasts out there you'd be glad to know that there are plenty of ways where you can express your love for this fabulous feline.
From clothes, Hello Kitty has stepped up into the world of Nail Art fashion! Nowadays it's easy to spot Hello Kitty nail art tutorials that you can do on your own. You can take your pick from the many cute and cool designs of Nail Fashion gurus that have been posted online. What's best is that these tutorials can be found online and learned for free. All it takes is a bit of patience and an eye for detail. You will find out that in no time you'll be donning set of amazing Hello Kitty nails by your own.
Who can try out Hello kitty Nail art designs?
1. Of course the Hello Kitty design is not only restricted for fans alone. Anyone who has a penchant for beauty and having well kept hands is welcome to try them out. In today's fashion industry, it's not the clothes alone that can make a statement. More and more ladies make it a point to have their nails decorated too.
2. Hello Kitty isn't only for kids; teenagers also love her as well as adult women who'd like to rock the adorable cat in various fashion statements. Whether you want to look cute, cool, Goth, vintage and so on, there's no restriction at all. It's pretty easy when combined with just enough artistic abilities. There has been a lot of amazing Hello Kitty nail art designs that grace the social media pages.
3. If you like art and would like to experiment through nails, this kind of designs is a perfect ground to test out your artwork. You can combine designs and add a bit of your own flavor. It makes Nail Art fashion, fun, interesting and a great way to learn new techniques.
Below are 50 interesting Hello Kitty Nail art designs that might pique your interest. You can scroll through them and look at the options that you can choose from. Treat yourself to this burst of Hello Kitty goodness and take your pick on which fun and exciting design that will be your very own signature of nail design!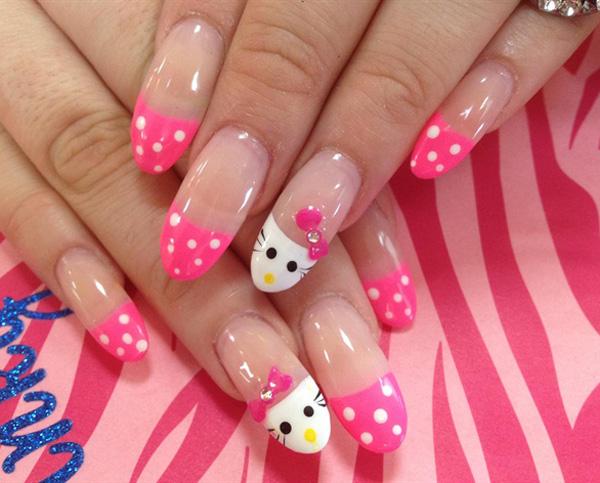 Cute Hello Kitty inspired nail art design in hot pink and white shades. The polka dot tips and the cute faces are simply adorable that they can make your nails stand out. The iconic pink bows of Hello Kitty are also added and look adorable.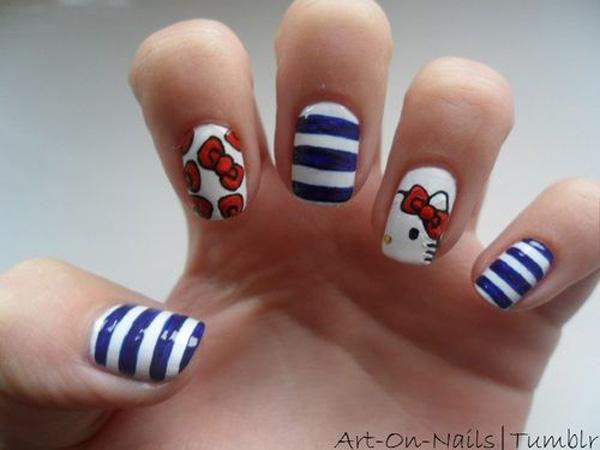 A classic white, blue and red nail art. Using the original color combination of Hello Kitty this manicure design is just perfect for the lovable kitty. The playful horizontal blue stripes and red bows make it a great looking Hello Kitty nail art even from afar.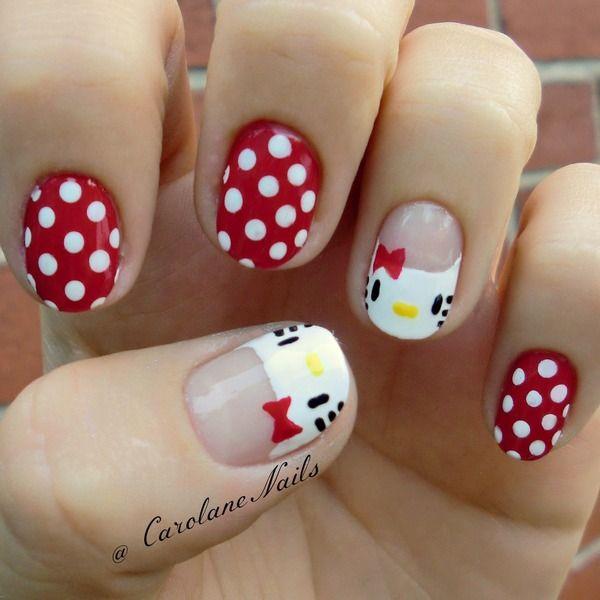 Cute and simple. The white and red shades topped with polka dots and Hello Kitty's cute face is simple charming. Very creative and can be done by anyone with just a little bit of practice and lots of love for Hello Kitty.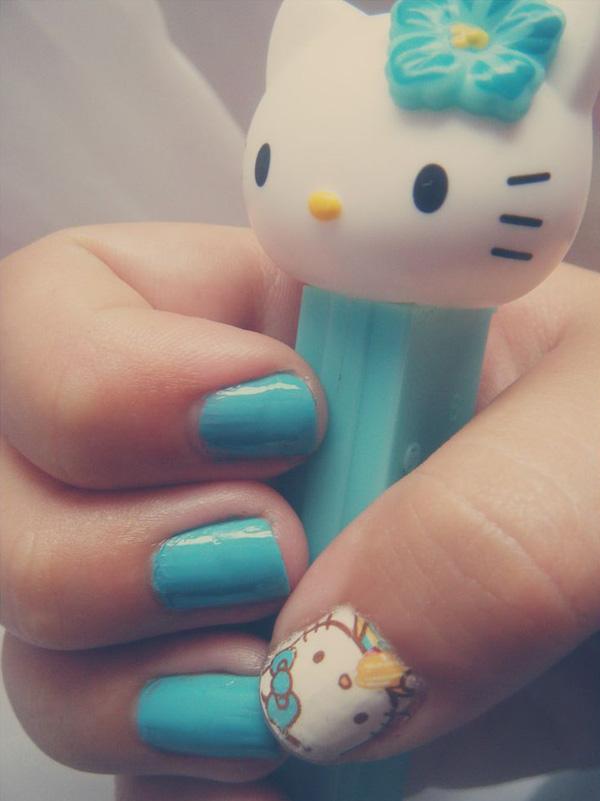 Make way for blue Hello Kitty! This homey looking nail art designs plays with a matte blue color and a signature Hello Kitty pattern on the thumb nail. Nicely done and does not require a lot of designing, making it easier for you to try it on your own nails.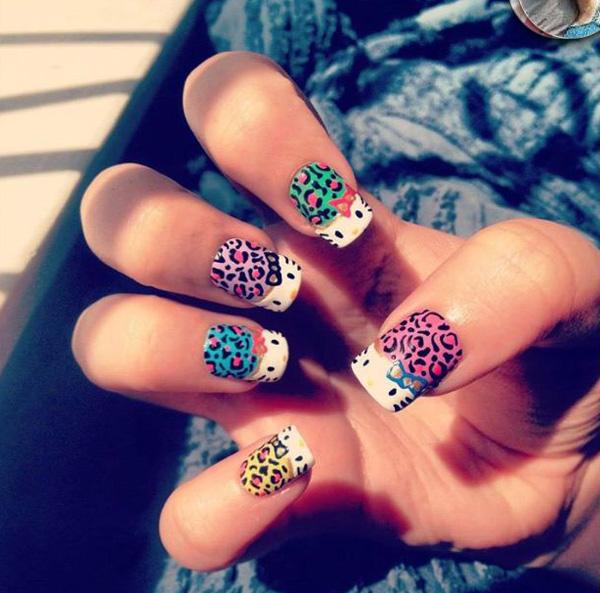 Colorful and wild! Leopard spot inspired in combination with Hello Kitty and you get these dangerously amazing nail art fashion! French tipped with Hello Kitty faces, the splash of various neon colors also look good on each nail.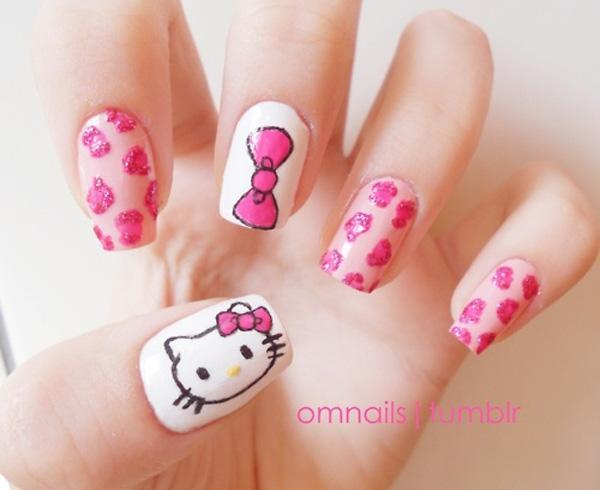 Don't you just love this simple and clear Hello Kitty design? Hello Kitty and her signature bow are highlighted over a white matte nail polish on this design. The rest of the nails use a clear polish with a splash of pink sparkles that simply jump out.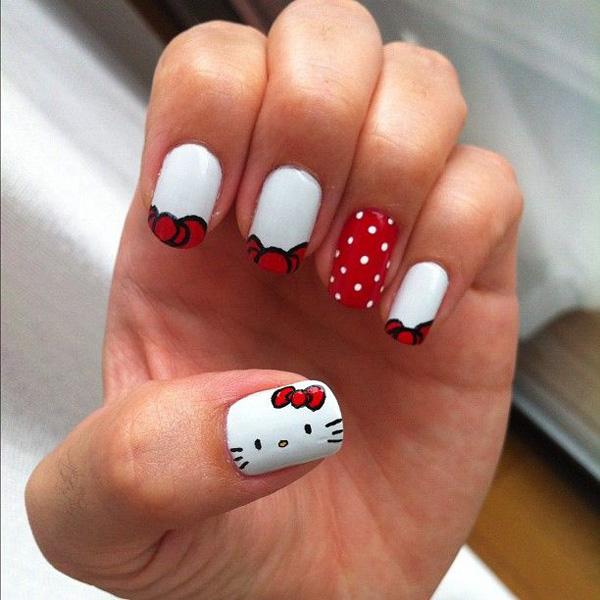 Peek a boo, I see a red ribbon, who is it? It's Hello Kitty! A very cute and candid nail art design incorporating red and white shades. A red nail is further highlighted with adorable dots of white.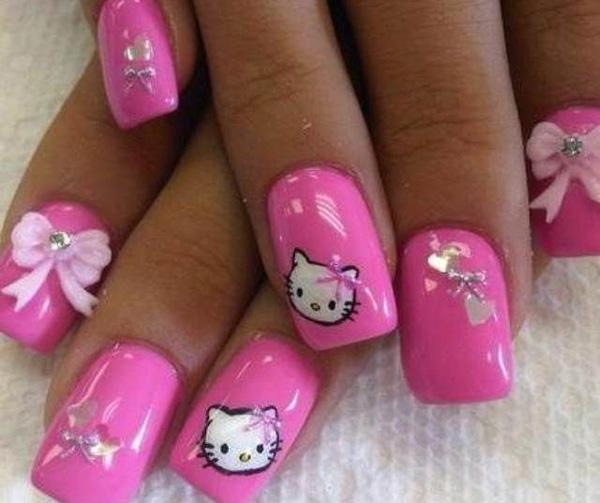 Be blown away in pink with this overly cute and girly Hello Kitty nail art design. The look features a plain pink background adored with pink bows in all sizes. Of course to top it off are Hello Kitty's cute faces painted candidly across the nails.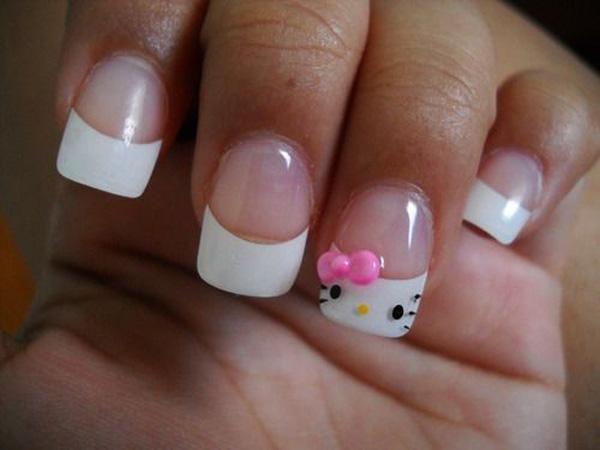 If you're looking for a simple French tip then this Hello Kitty design is perfect for you. The nails are tipped in white with an occasional Hello Kitty face and pink bow. Finished in clear nail polish this nail art is great for girls who are always on the go.
You can feel that kitty growling with this leopard inspired nail art design. Tipped in gold dust with pink and black spots, it's truly an eye catching pattern. The Hello Kitty tip and silver bow also manages to stand out from the rest of the nails.
These fun looking nails look very creative but using bold bright colors. It plays around with various shapes and angles of Hello Kitty painted on each nail differently. They look real fashionable and can go with just about any outfit you may have.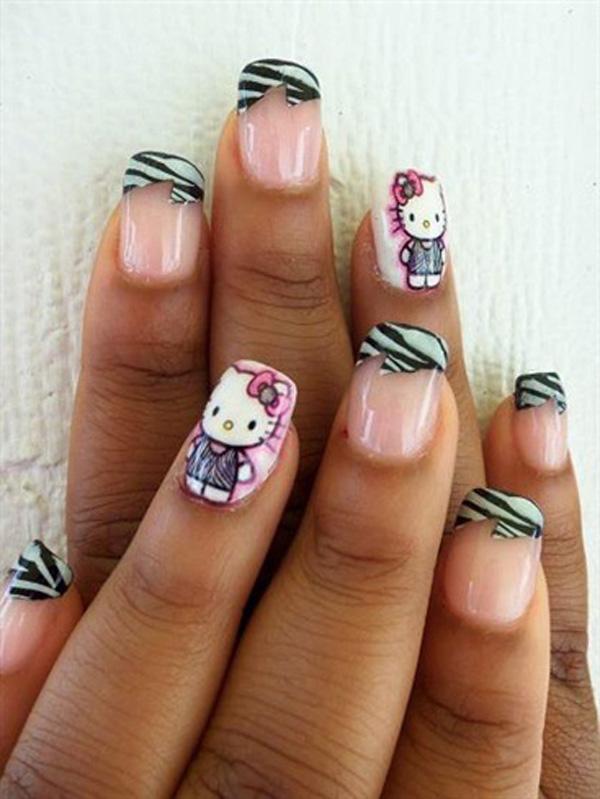 A zebra themed tip over a clear polish plus Hello Kitty at the side makes a perfect design combo! This adorable and cute Hello Kitty nail art design brings funky and the cute all together. Very unique and slightly has a tribal feel to it, it's a nail art design you wouldn't mind trying out.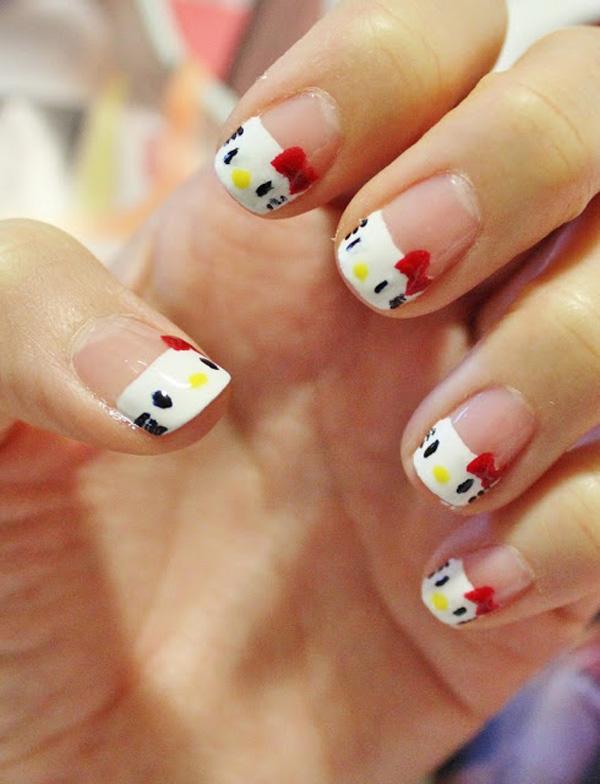 Hello Kitty French tips for everyone! When you want to don a fairly simple yet stand offish Hello kitty nails then don't hesitate to try this amazing looking design! The uniform Hello Kitty faces gives an almost effortless impact on the French tips.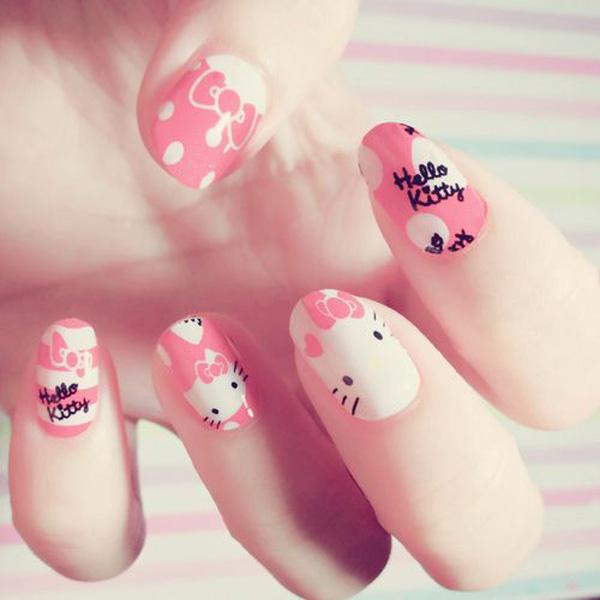 Talk about hip and chic nails! Pink is surely glowing on this Hello Kitty themed nail art design and from whichever angle you look at it; this one's a real head turner! Adorned with pink and white shades that form Hello Kitty faces and bows, the overall look is totally cute. A classy effect is also added with the black Hello Kitty typography.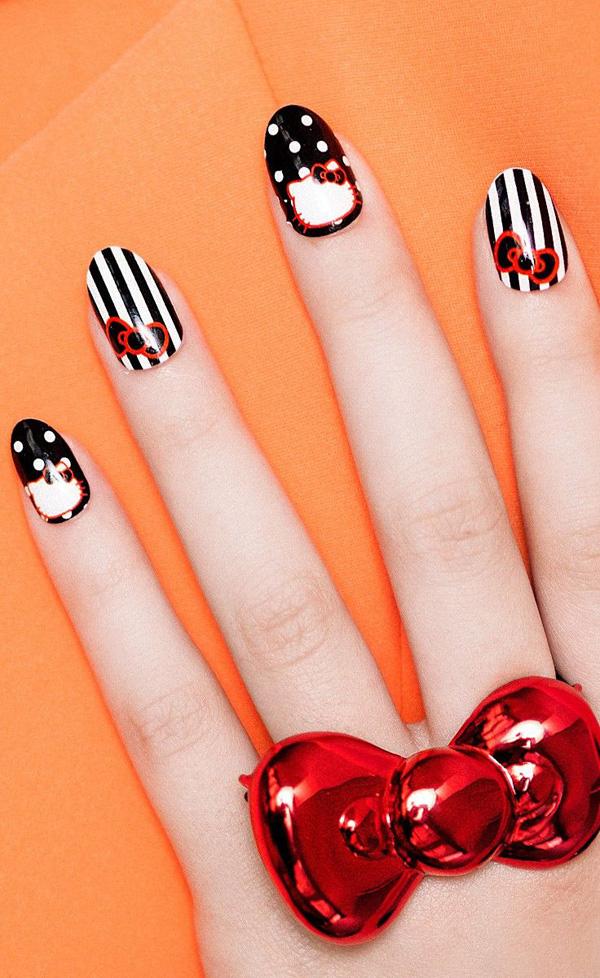 Who says Hello Kitty wouldn't look so chic and sexy on ones fingernail? This Hello kitty nail art design proves it otherwise. Nails filled in with bold colors of black, red and white, this is a nail to do when you want to look fresh and hip! The design plays around with stripes, bows and polka dots, further highlighting the almost silhouette Hello Kitty in white and red strokes.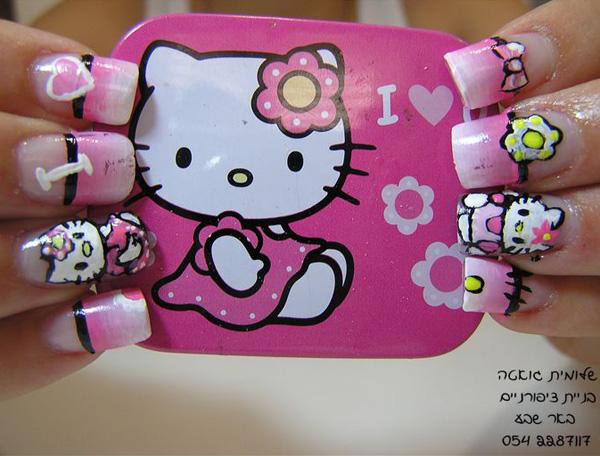 Coat your nails with pretty pink Hello Kitty characters and gradients and pose with your favorite Hello Kitty merchandise. Don't you just love how the nails add a bit of personality by writing I heart Hello Kitty on top of the pink and white gradient polish.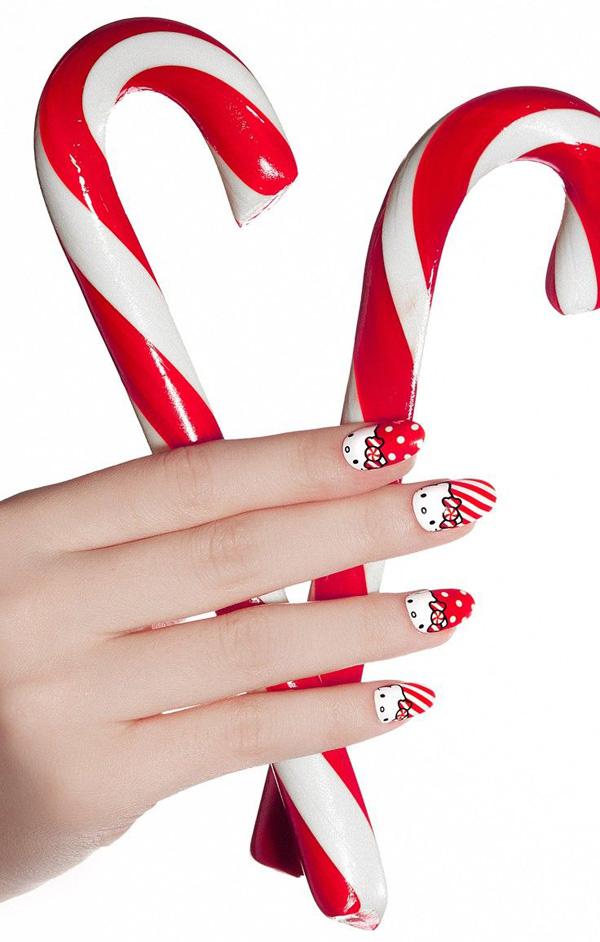 Check out this amazing Christmas Hello Kitty inspired nails. Coated in bright red nail polish, you can see the face peeking out of the bottom of the nails. The tips are painted with white polka dots over a base of red polish with stripes representing sweet candy canes.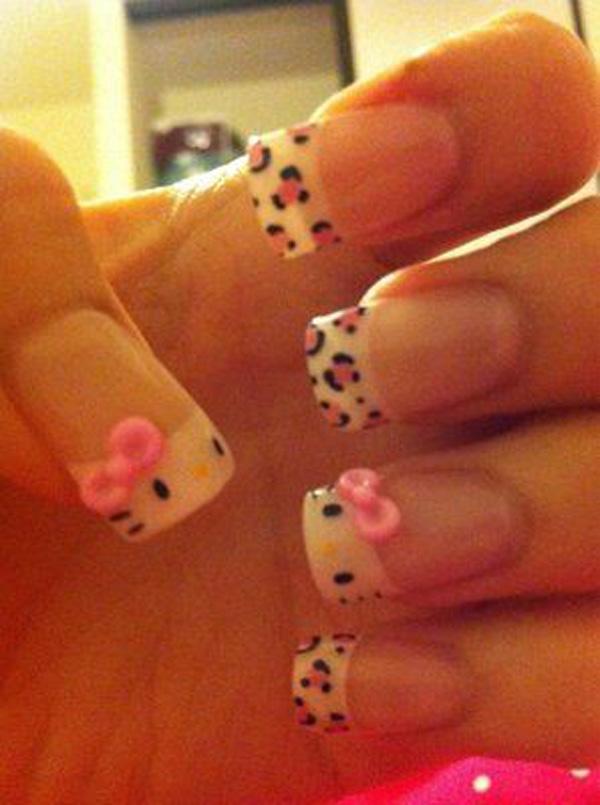 Tip your nails with Hello Kitty and leopard prints! This nail art is so cute and adorable as Hello Kitty appears on the tips of your nails with her cute little pink bow and whiskers on top. Simple, easy to create and more importantly, looking fabulous.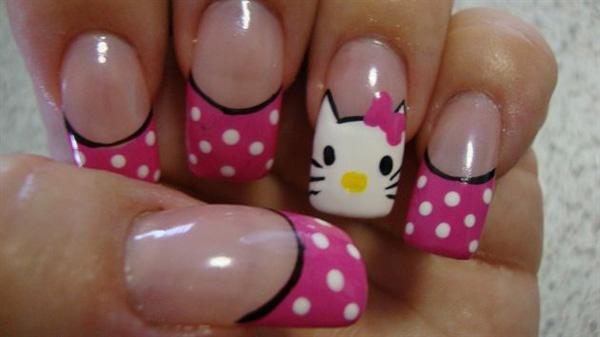 Coat your nails in deep pink and clear polish with white polka dots and Hello kitty's adorable face. Lined with black acrylic and topped with Hello Kitty's pink bow, this is simply a must do for Hello kitty enthusiasts.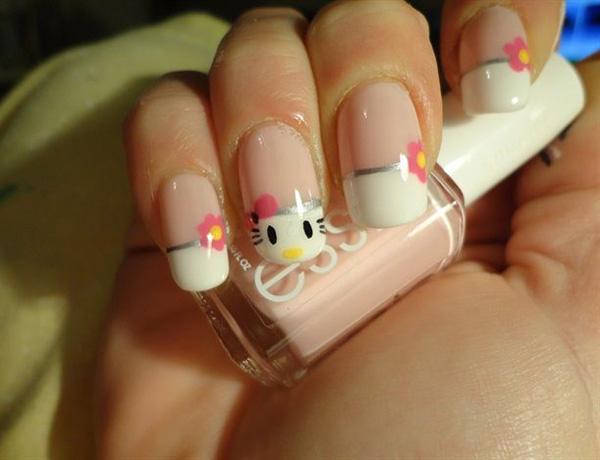 Work your way on your nails with this inspiring work of art. Play around with white, silver and clear polish to give your nails a clean and simplistic Hello Kitty fashion look. The pink flowers added make it even cuter as one nail dons the face of the beloved feline adored with her pink bow.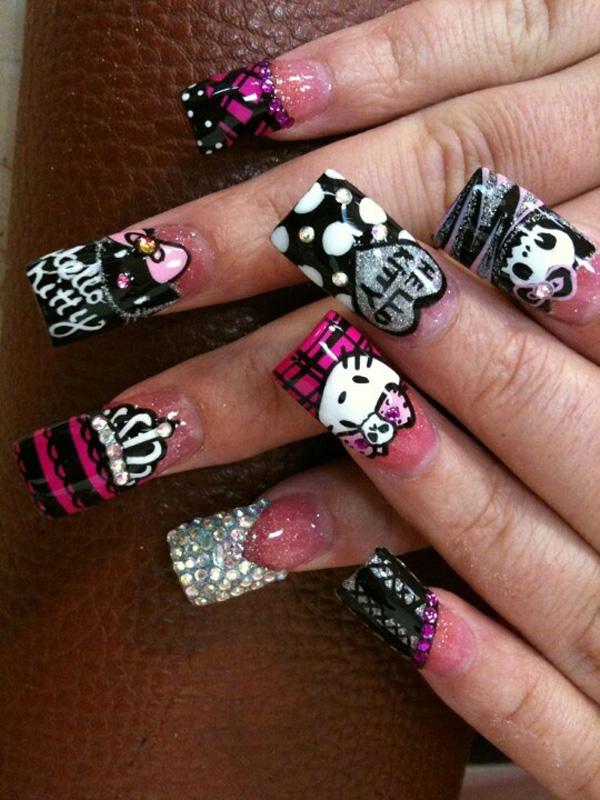 Tribal Hello Kitty nails that will rock your outfit! Look at these amazing colors, bold shapes and Hello Kitty peeking here and there all throughout the nails. An artsy combination of laces, polka dots, typography and glitter. Silver beads topping off the polish that simply look classy.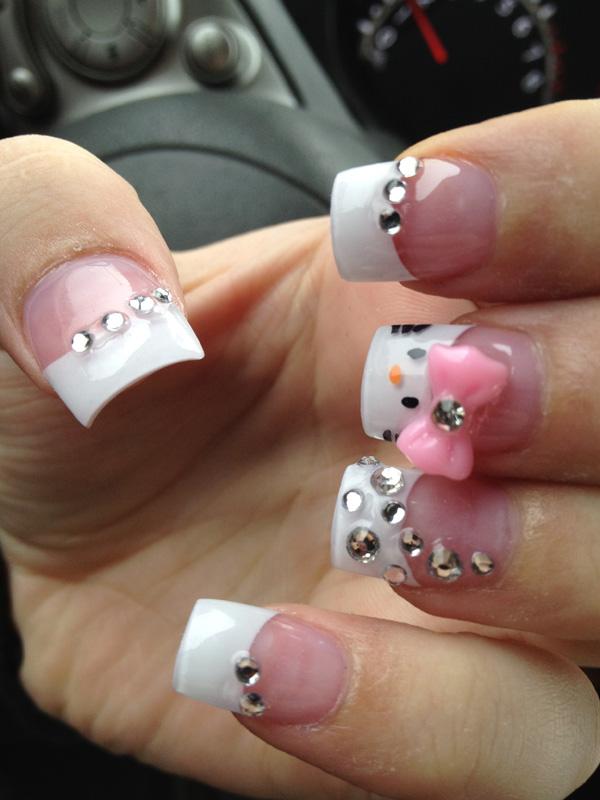 A very cute and simple Hello Kitty nail design for square shaped nails. The nails are French tipped in white and lined with silver beads. They are further coated in clear polish and added with Hello kitty details such as Hello Kitty's face and ribbon, further topping off with more silver beads to complete the look.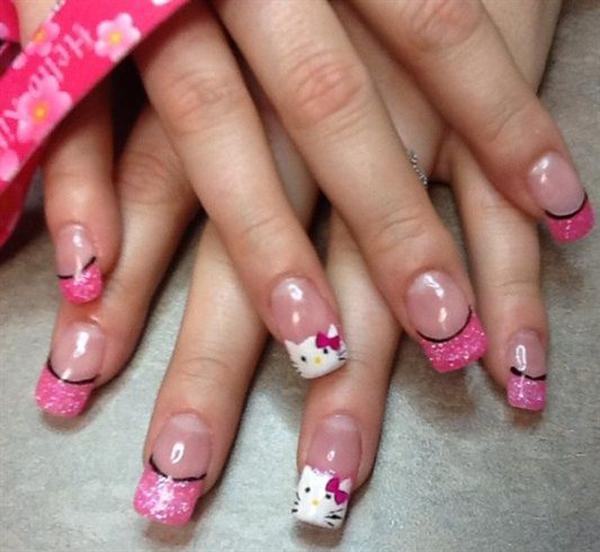 Tipped in pink glitter polish and lined with black acrylic, the nails also add an adorable Hello Kitty face and are coated over with clear polish. Great for going to parties with friends or outdoors and you want to flaunt how cute your nails look like.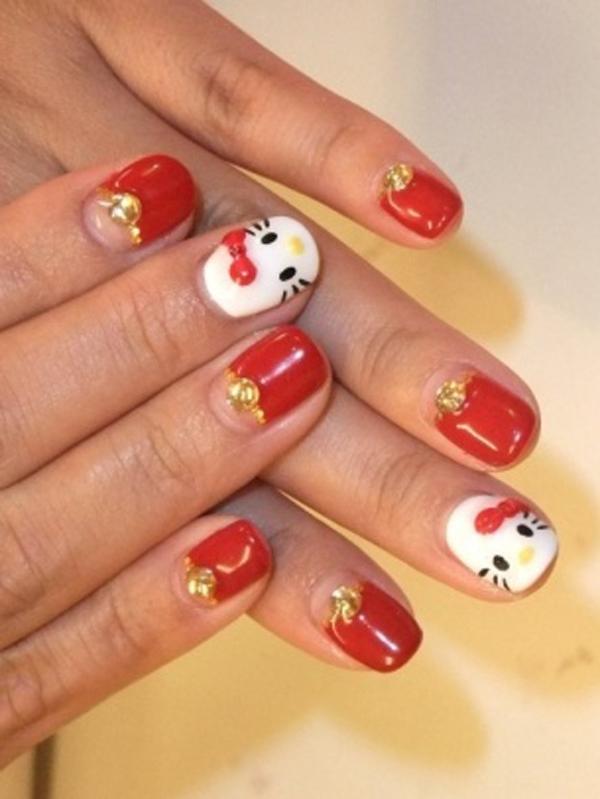 An adorable Hello Kitty Nail Art design for girls with shorter nails. Coated in red and white shades, the nails are also painted with gold accents lining the red polish apart from the clear coating. Looking elegant and sophisticated overall.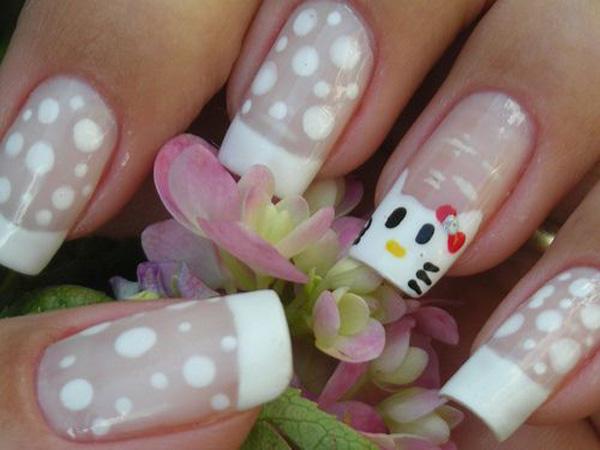 White Polka dots nails with white coated French tip, adorned by a charming Hello Kitty. The polka dot design is then coated with clear nail polish to add just the right shimmer and smooth feeling on the nails. Perfect for summer outings and walks on the beach.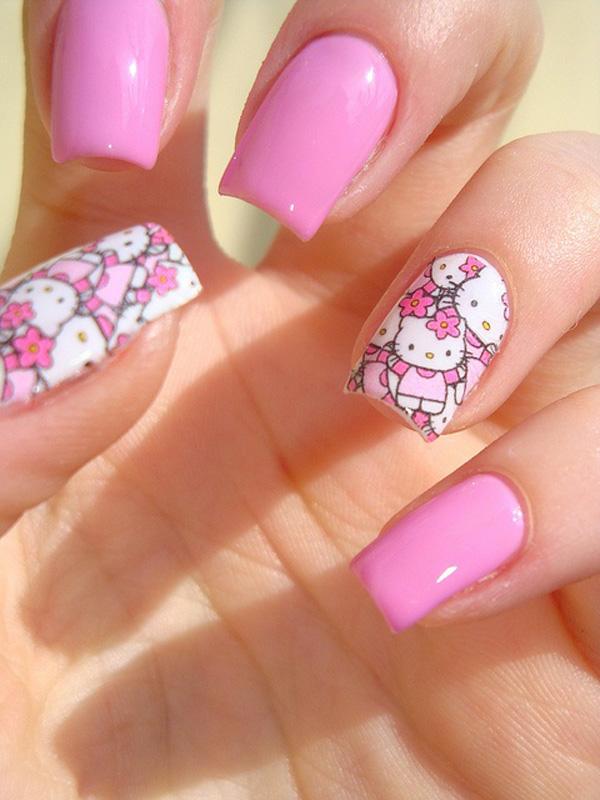 Flaunt your nails with this matte pink Hello Kitty nail art do which is simply amazing! The cute collage of Hello Kitties on two of nails is rather unique and very artsy. To protect the paint from being ruined, they are then coated on top with clear nail polish.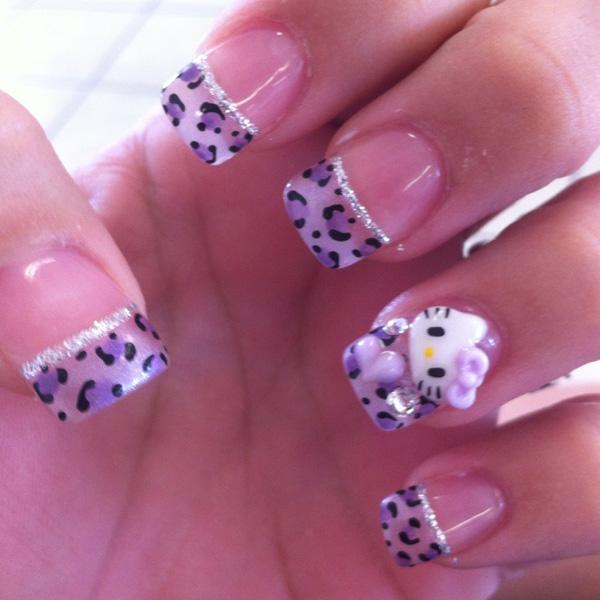 Cute Periwinkle Leopard nails that are French tipped and topped with hearts, bows and a very charming Hello Kitty. The tip is then lined with silver dust and coated off with clear nail polish to further add to the smoothness of the nails.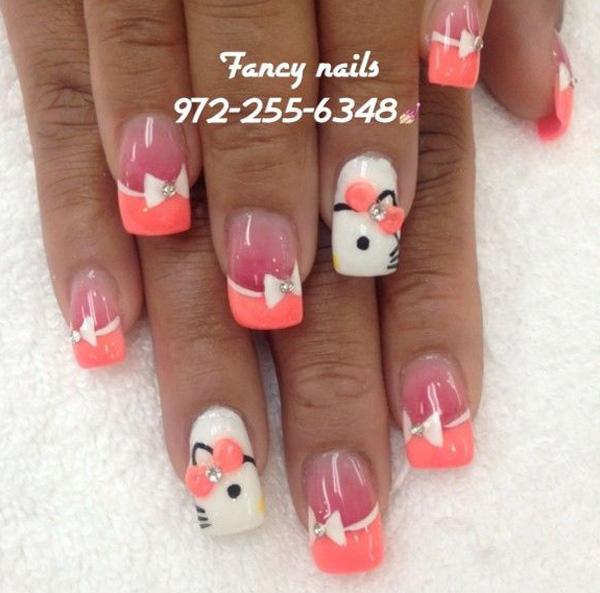 Fashionable light salmon tipped nails, lined with white acrylic that tie itself into a bow and topped with silver beads. A Hello Kitty face is also painted with her iconic light salmon colored bow and silver bead. The shine and glimmer of the nails owes thanks to the light coating of clear polish over the design.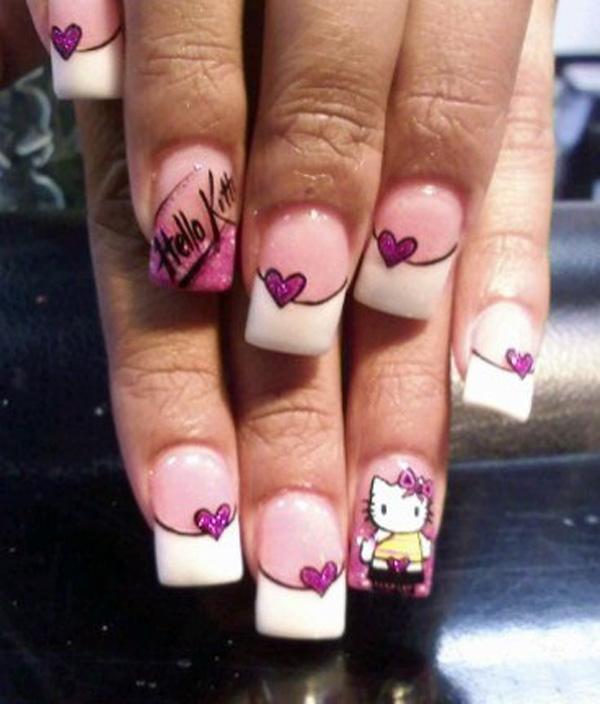 A hip and funky nail art fashion for square shaped nails with a hint of Hello Kitty. Fabulous looking nails in white French tip lined with black polish and magenta hearts. A touch of Hello Kitty, typography and glittery pink tipped nails makes this a wonderful nail do when going out to hang with your friends.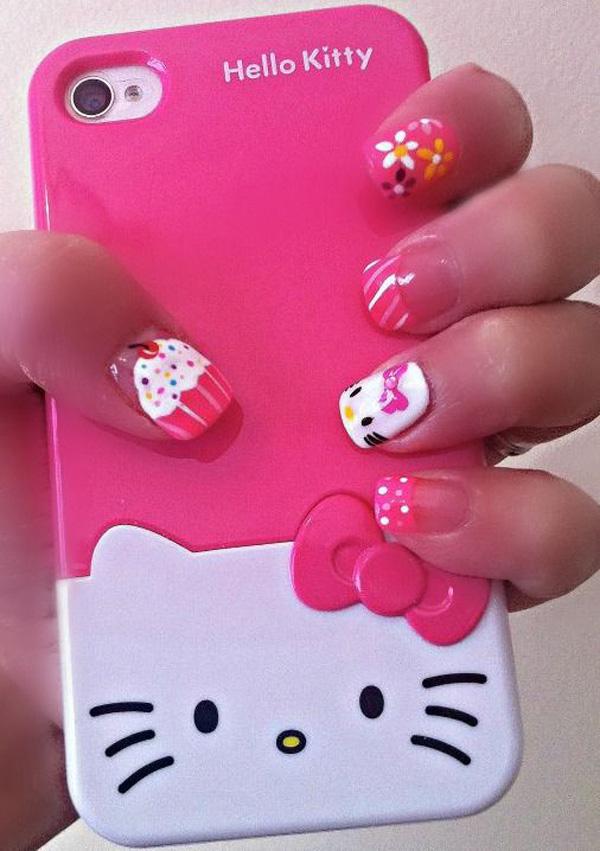 Cute and sweet! Perfect Hello Kitty nails for shorter than usual manicures. Don't you just love the bright and colorful shades that play around the different designs on each nail? From a pink and white muffin with multi-colored sprinkles to a floral nail, striped tip nail and finally Hello Kitty herself.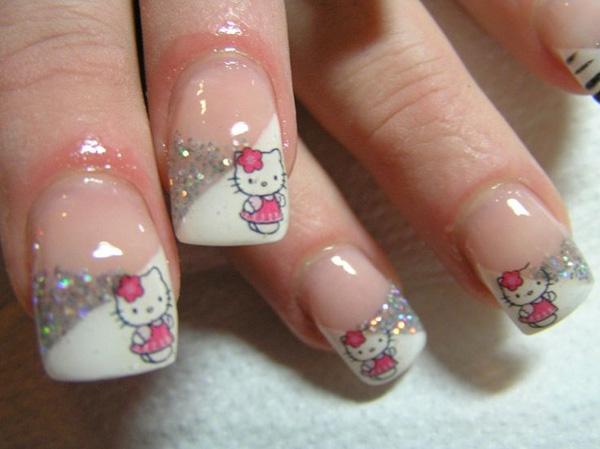 Look rad with this awesome combination of white and silver dust polish, and of course, with a little bit of Hello Kitty on the side, you can never go wrong! Coated with clear polish on top, the white shade is diagonally draped over the silver glitters forming a French tip. On the tip is Hello Kitty in her pretty pink dress.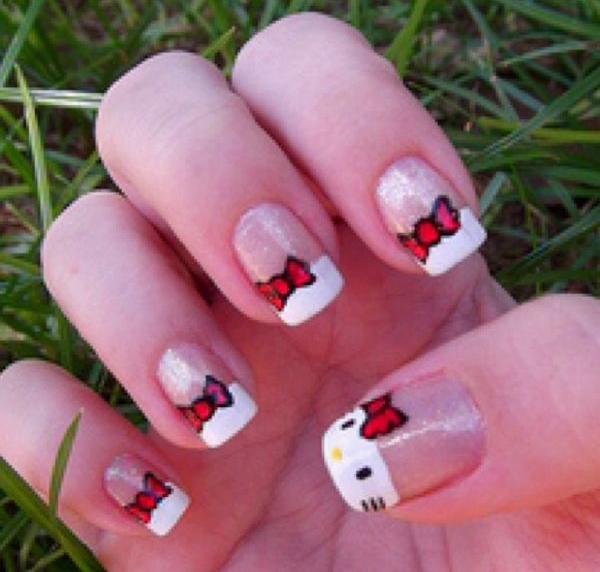 Adorable white French tips topped with Hello Kitty red bows and a Hello Kitty face for the thumb nail. The nails are then coated with clear polish to emphasize the shimmer and smoothness of the nail. Very simple yet the attention to detail of using Hello Kitty's notable colors and accessory is simply genius.
Shout a roar with these zebra nails plus Hello Kitty. Black and gray shades of nail polish come together to form zebra stripes across the nails. It is then tipped with a light pink shade and topped with silver and white beads to complete the glamorous look.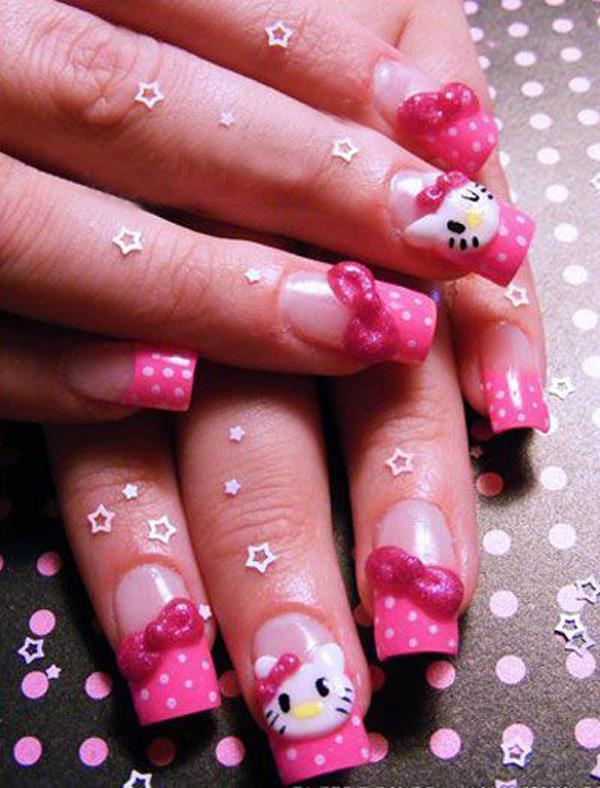 Running out of ideas for your long square nails? This pink polka dot French tip and Hello Kitty nail art design might just be what you're looking for. Hello Kitty and her pink bow is used to line the French tips coated with clear nail polish in order to give out the shine it need. For further effect you can also add silver details on your fingers such as little hearts and stars.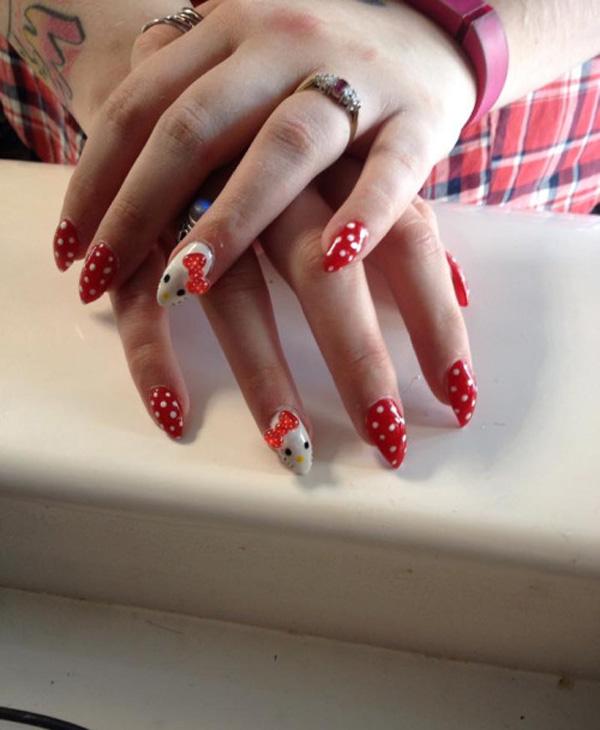 Go all out with red and white polka dot nails! Perfect for your fabulous stiletto nails in white matte painted with little cat's face and topped with her red polka dot ribbon. Great nails if you want to make a statement.
Enjoy this fresh looking hello Kitty white and clear French tips that are very cute and adorable. Perfect for an everyday do. Each nail is them coated with clear polish to keep the design from being destroyed. Small accents of beds and bows are also added for a better effect.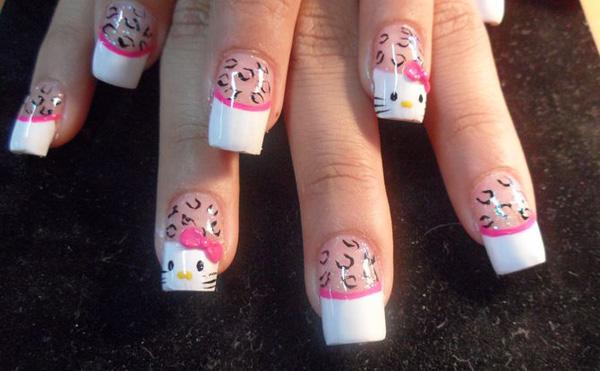 Add more attitude to your nails with these Hello Kitty French tips and leopard inspired nails! Tipped in white and lined with black acrylic, the nails are then painted with black leopard prints and coated with clear polish to preserve the details.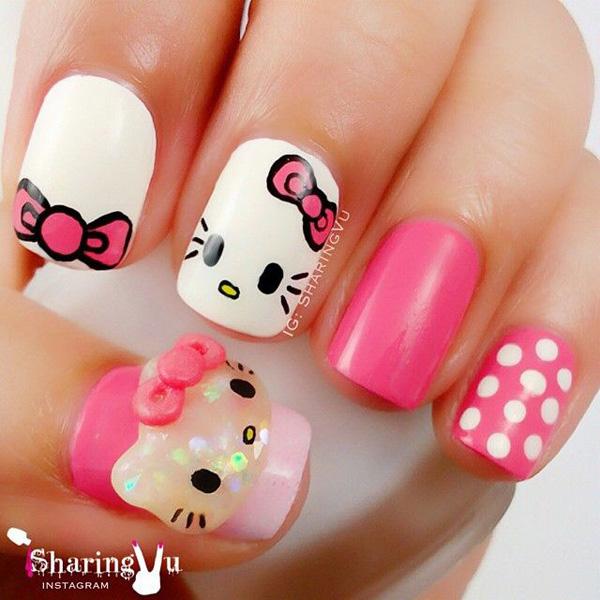 Light up your nails with this pretty in pink nail ensemble! Matted in white and pink, special Hello Kitty details are added such as Hello Kitty's pink bows and cute face. White polka dots are also painted to divert from the plain colors of the other nails.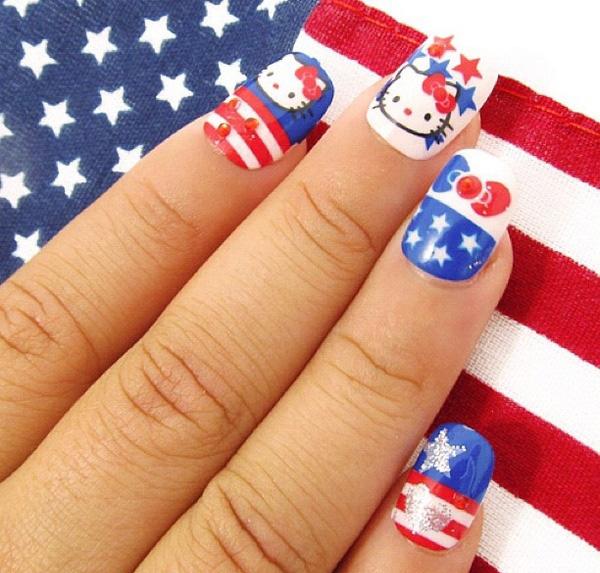 American Hello Kitty adorned in stars and stripes, this American flag inspired Hello Kitty nails look absolutely stunning. The colors are bright and bold and easy to detect from afar. Hello Kitty is also color coded to resemble the American flag.
Cats and dots. This simple yet adorable nail art fashion is all about black and white. Coated in plain white background, the nails are then painted with black polka dots and cute cat faces to create an absolutely feline statement.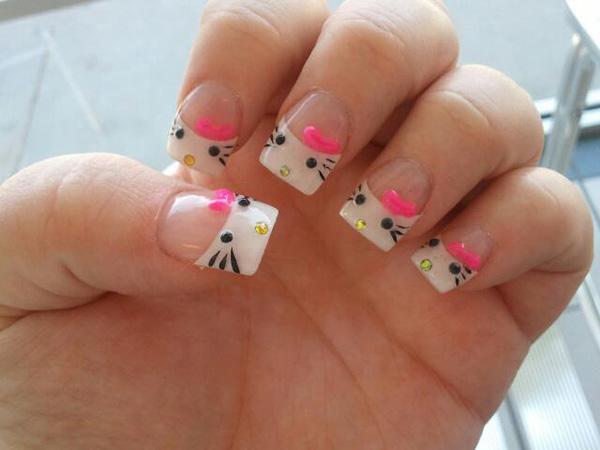 More hello kitty French tips for you to enjoy! The nails are coated in white French tip design with Hello Kitty faces on it. They are then topped with pink Hello Kitty bows to complete the adorable cat look!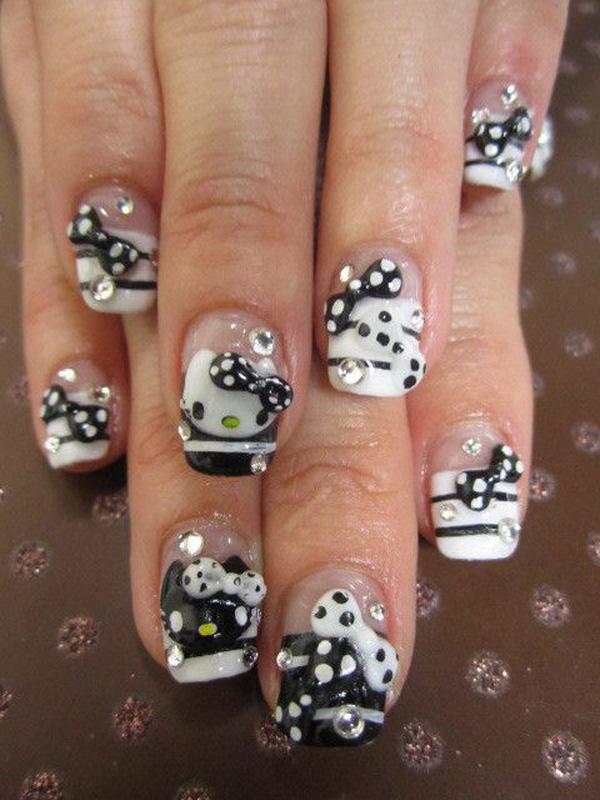 Rock your outfit with this stunning black and white themed Hello Kitty nails! Backed with black and white stripes and topped with cute Hello Kitty faces and polka dot bows. If you want to stand out and make a statement then this is the nail art to go!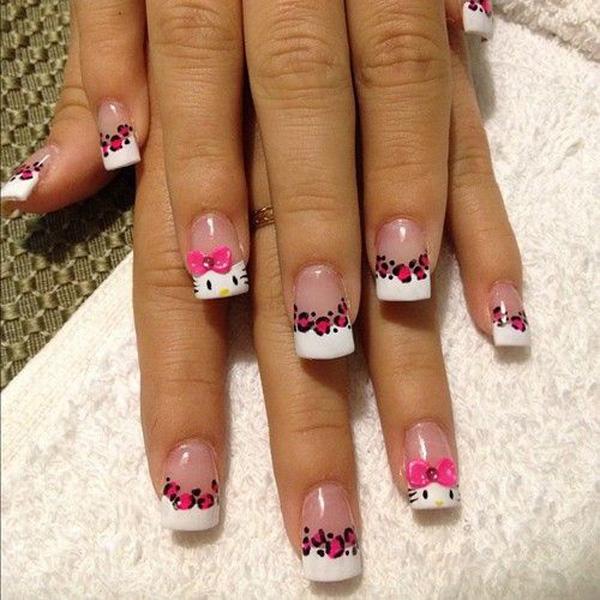 Cute Hello Kitty faces and leopard prints! This is what this nail art is all about. White French tips lined with pink leopard prints and topped with Hello Kitty faces and pink bows and it's all done. The design is then coated with clear polish to protect the design and give the nails a shimmering look.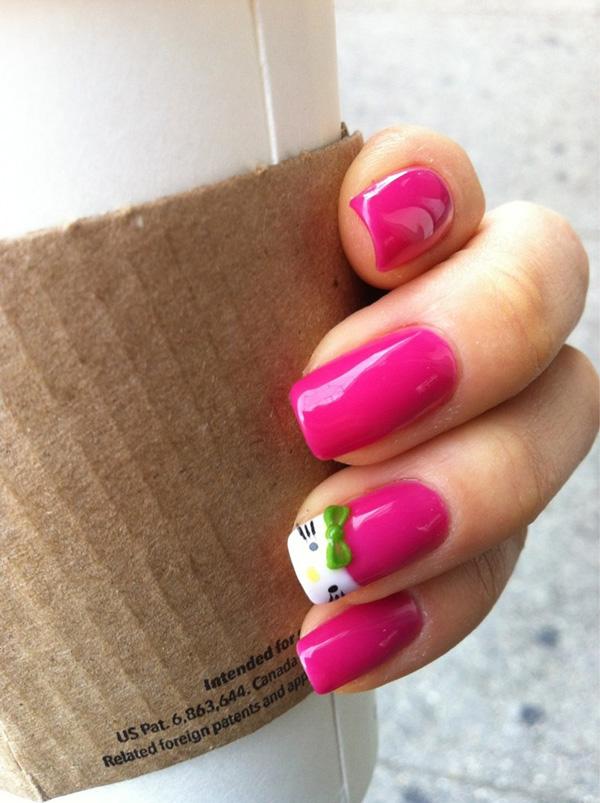 Have fun with this minimalist inspired Hello Kitty nails. The nails are painted in matte dark pink color and a lone Hello Kitty French tip is added. The Green bow is then placed at the top to grab attention and make noise away from the rather warm nail design.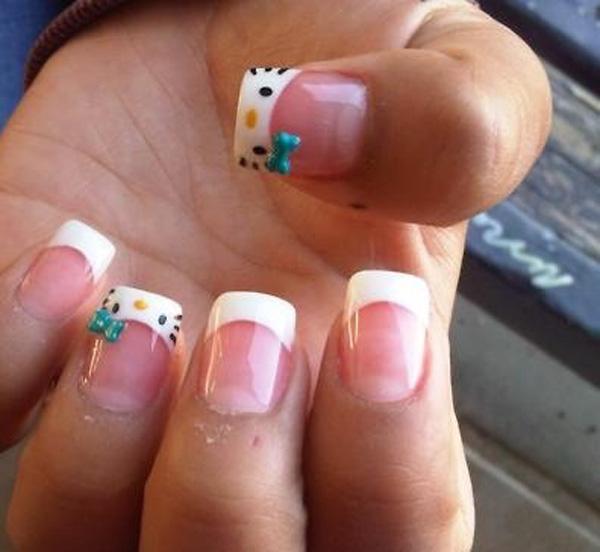 If you have square nails then why don't you consider having this simple but elegant nail design? Simple white French tips with an occasional Hello Kitty face topped with an adorable green bow. For the finishing the nails are covered with clear nail polish to make the coats last longer.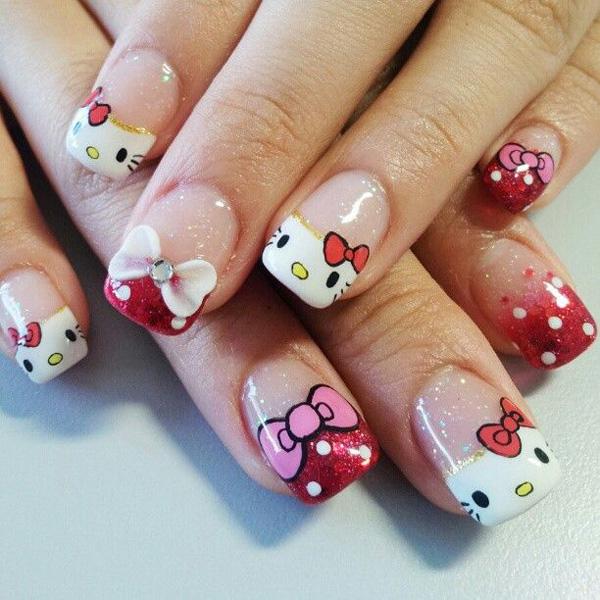 Creative and cute! These red and white themed nails plus Hello Kitty herself looks absolutely gorgeous. The fashionable nails are painted in glittery red and white French tips, topped with Hello Kitty faces for the white tip and polka dots for the glitter red tip. For a more classic effect red bows are placed on top, secured by a bead and coated with clear glitter.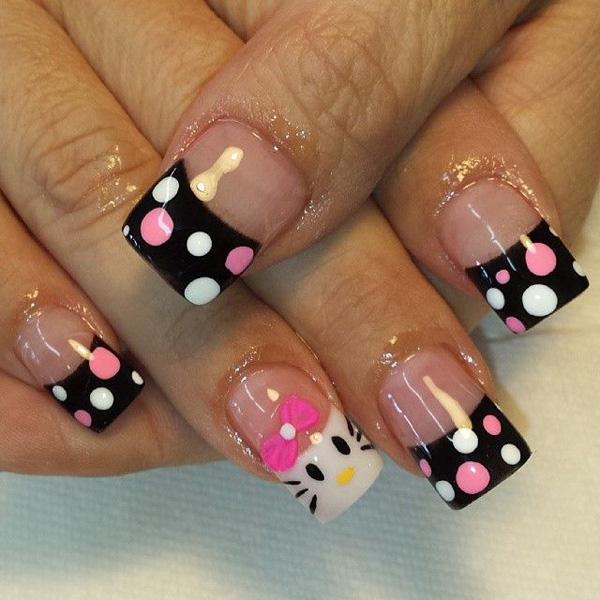 It's a turn from the usual pink and white French tips as these nails rock the black tips. Topped with salmon and white polka dots with an occasional Hello Kitty white French tip, they look stunning. The nails are then coated in clear polish to retain their designs for a longer amount of time.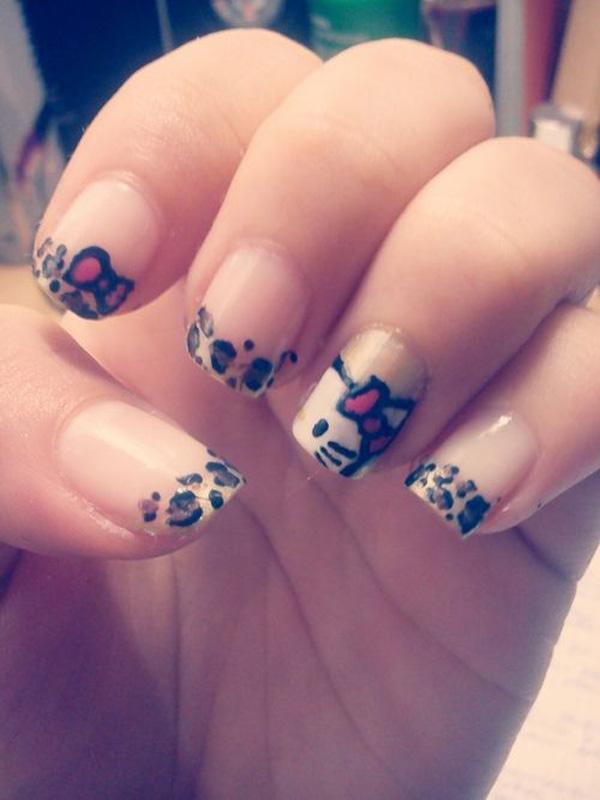 Have you hear of leopard tips? If not then this is what you're missing. Fashionable nails that have black and pink leopard prints with Hello Kitty on the side. Simple yet looks amazing. Perfect for your everyday look and outfit.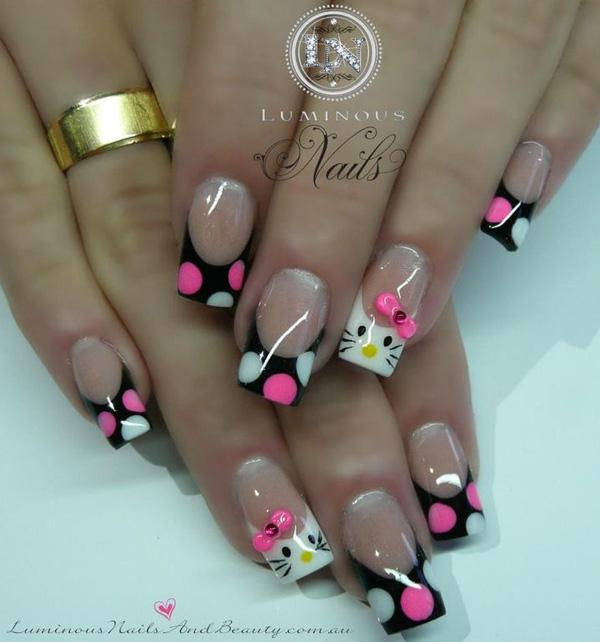 Another version of the black French tip nail art fashion, A sole Hello Kitty white tip topped with her cute pink bow with the rest of the tips topped with white and pink polka dots. It looks very feminine despite the dark colors that were used.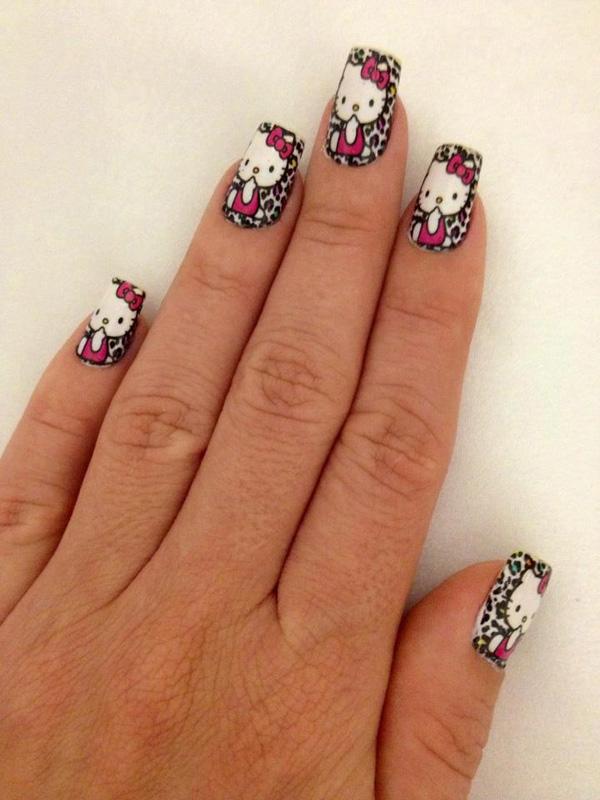 Go all the way with leopard prints on this leopard nail art featuring Hello Kitty! The nails are painted in white background and adorned with black and pink playful leopard spots all over! The Hello Kitty character painted on top of it makes it even better and more eye catching.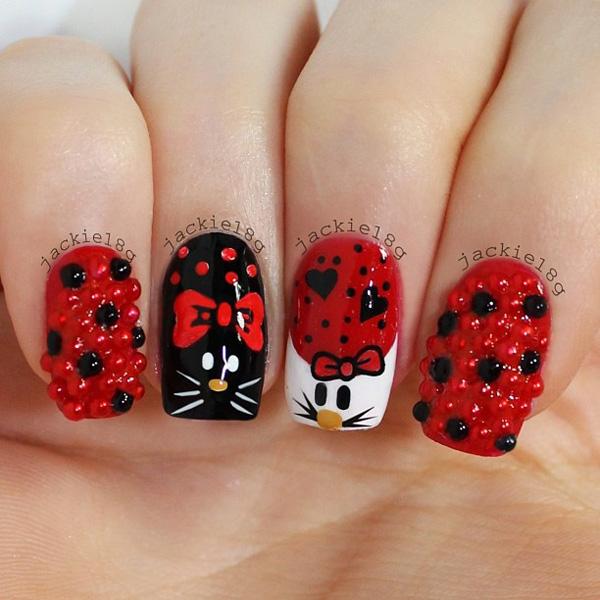 Feisty in red, white and black! Don't you just love at how bold and powerful the colors and shapes are on this Hello Kitty design? Painted in plain red and black acrylic, the nails are then adorned with black and red beads as well as black heart shapes then black and red polka dots. Hello Kitty's cute face is also painted in white and black color contrasting the background.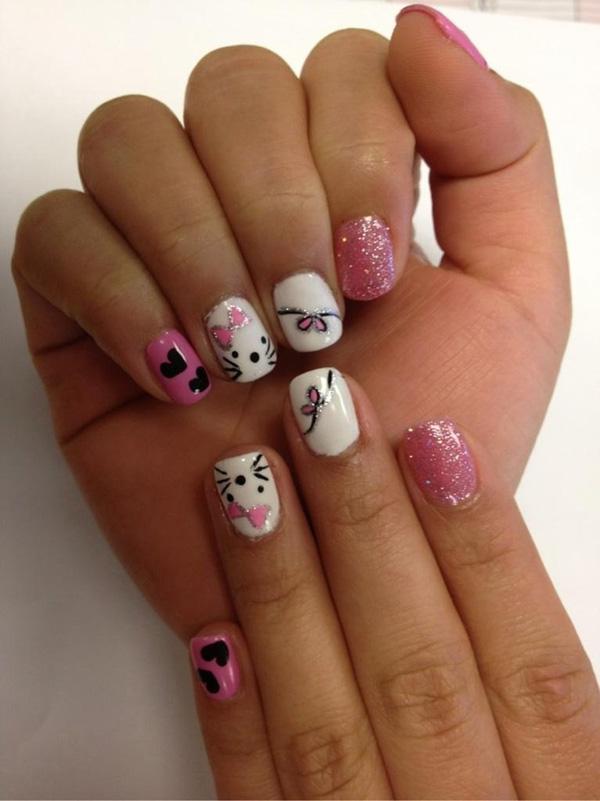 Be posh in pink and white! Matted in white and pink, the nails are then detailed with lines, pink bows, little black hearts and Hello Kitty faces and pink bows. Cute and very adorable, there is also an occasional dab of pink glitter nails so that the look is complete.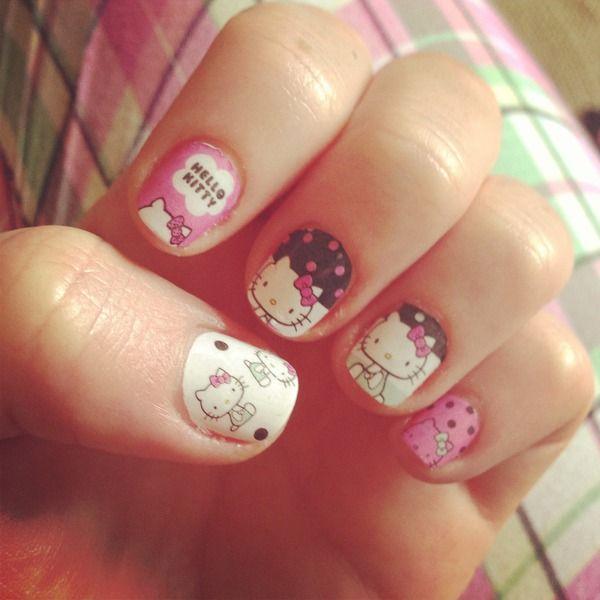 If you like authentic looking Hello Kitty prints on your nail then this one is just perfect! The art style on the nails is simply adorable as it plays with a simple plain background of white, pink and black then topped with various Hello Kitty poses as well pink and black polka dots. Very artsy look perfect for the very artsy you.