Purple is the color for women. If you want your nails to go royal and magic, purple nail art could be your good choice. Groomed nails are not only important for chic appearance, but also convey rich meanings such as extravagance and dignity. There are a lot of reasons to make the color prominent in your manicure.
Meaning of purple nails
The purple is the combination of powerful red and energetic blue. Globally, it is selected as the official color of International Women's Day. The violet color is also vibrant and playful. In many of fairy tales, the princess and sorceress often have purple dresses.
Many people associate this color with spirituality and nobility. The room where Richard Wagner composed his works was painted in purple because it encouraged his creativity and gave him inspiration. Purple nail art reveals the meaning of ambition.
Paint your nails in purple style
If you love the color, you may want to try the style in your nail manicure. Purple nails goes well with many other colors and embellishments. Dark neutrals match well with light purple tones. If you wan addition effects, consider to embellish with rhinestones, glitter or stickers.
As for the nail shapes, purple color works well with almost all nail shapes, such as French nail tips, Oval nails and square nails, etc.
Purple nails design ideas
Before you can visit your favorite salon or FIY for your purple nail manicure, Let's enjoy the inspirational design ideas with this magical color!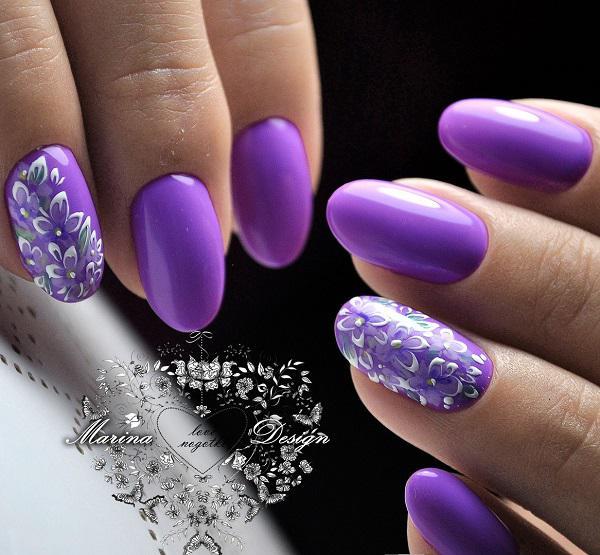 Classic floral purple
Stylish floral pattern adds a sense of gentle on the purple background. A perfect design for your Spring manicure or attending party..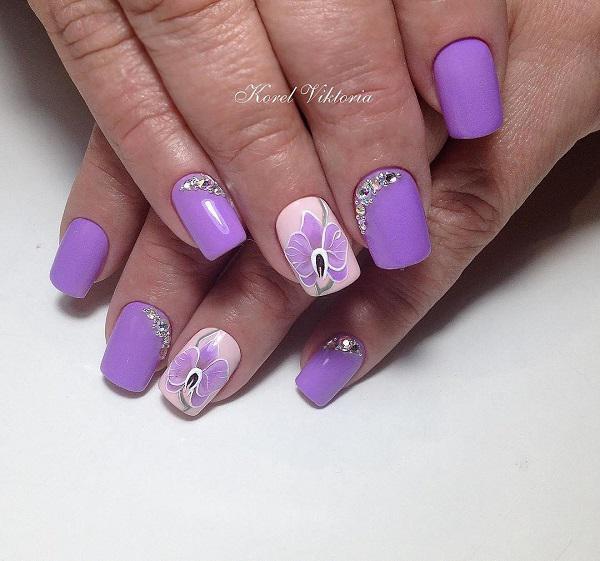 Purple Base with rhinestones
Adequate length of the nail is very important for every working woman.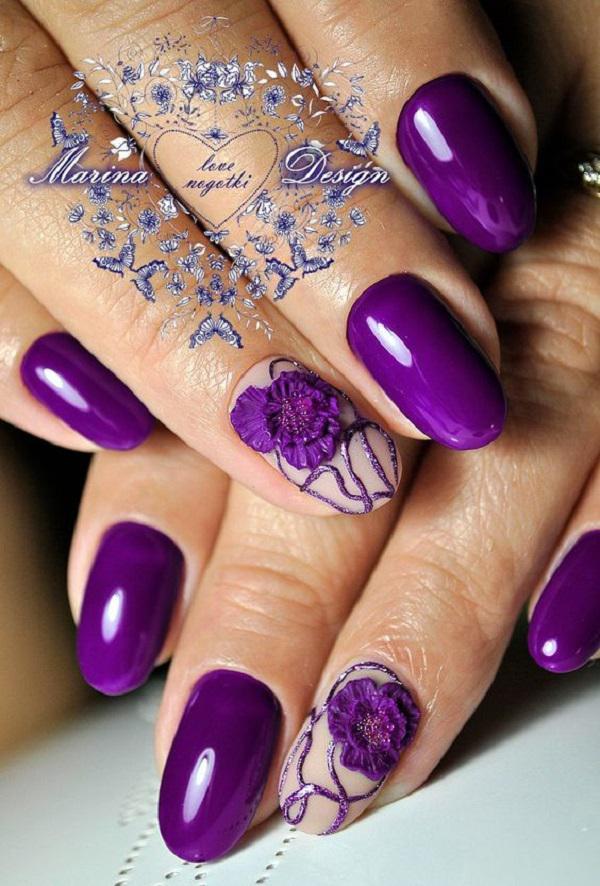 Royal purple flower
Extravagant purple color is a common choice of young and seductive ladies who know what they want.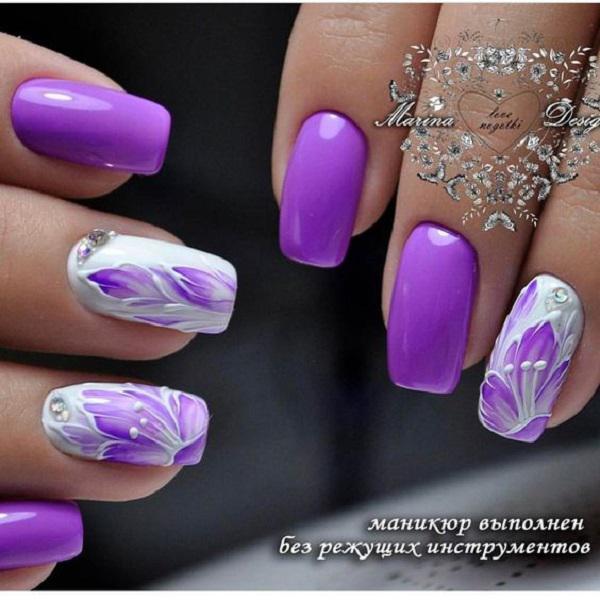 Combination of purple and white
This spring, beautifully combined purple and white color will be a delightful choice. Let purple be dominate and white to have function of refilling and making whole manicure much more interesting!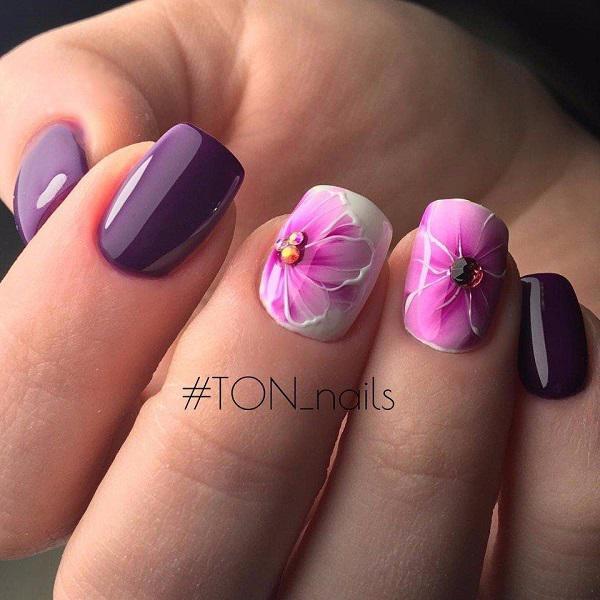 Floral motifs are reserved for this time of year so that one nail on both hands be free to decorate with these motifs.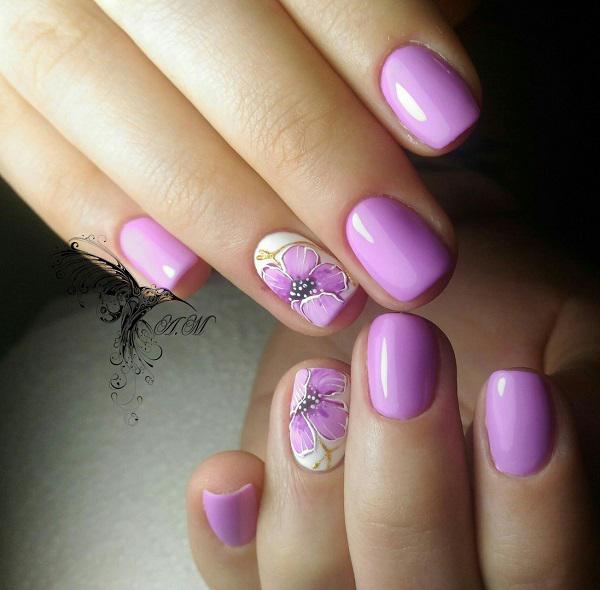 Bright shades of purple color are very easy for combining and you can take it on any occasion!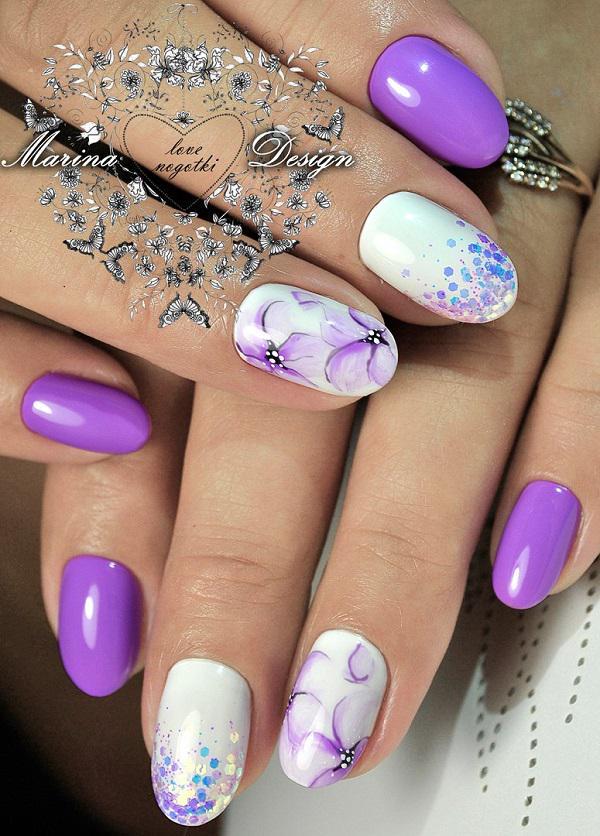 Shiny rhinestones are almost always in fashion and never stopped to be a decoration of manicure.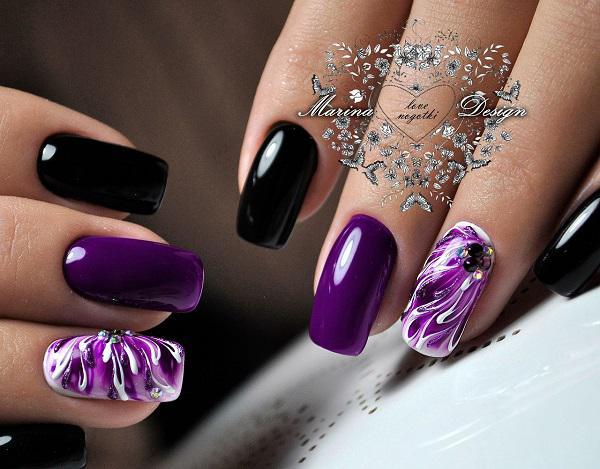 Black is always in fashion. Black can be easily combined so that professionals from the world of manicures and this time black color perfectly have interwoven in the spring.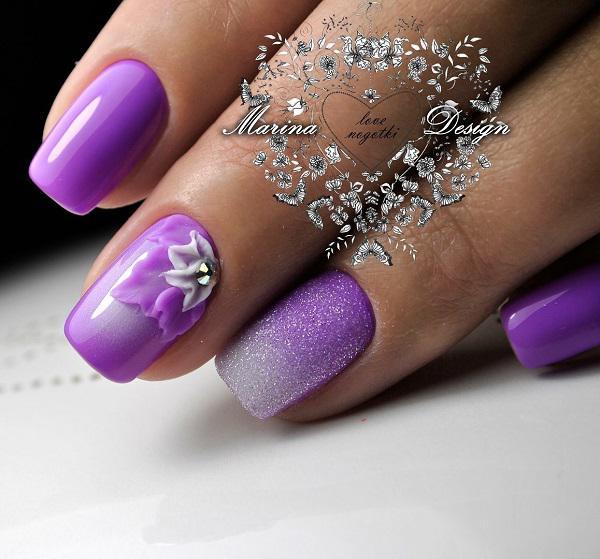 Diamond shine on the fingernails, clothing or jewelry will make your every combination more glamorous.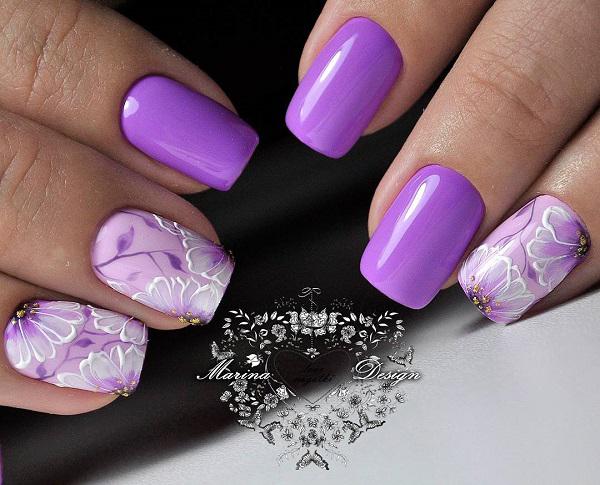 Nails may be a small canvas on which the professionals from the world of manicures will show their skills.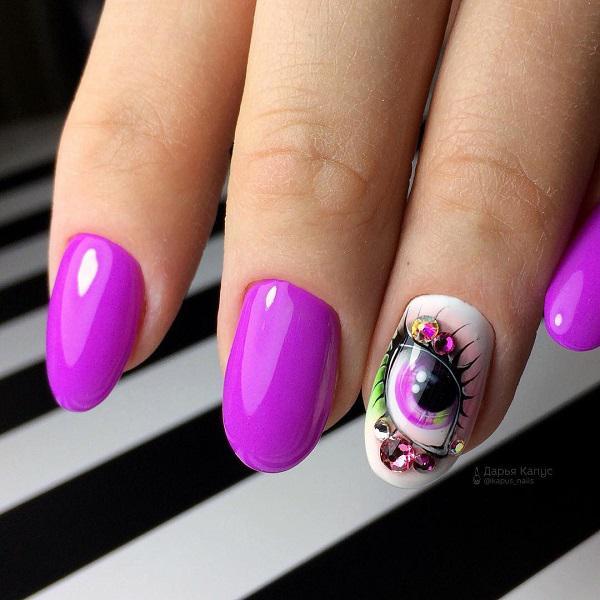 If nails you arrange alone in your home, you often forget to treat the cuticle. Do not neglect them, because tidy cuticles will only contribute to better appearance of your hands.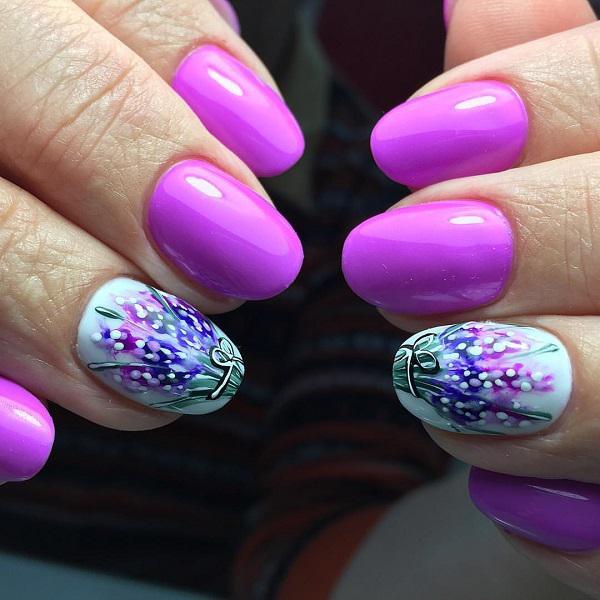 On the ring finger nail white color is used as a nice background for a small vase full of spring flowers. There are no strict lines of the frame so that you can own and very easy paint it.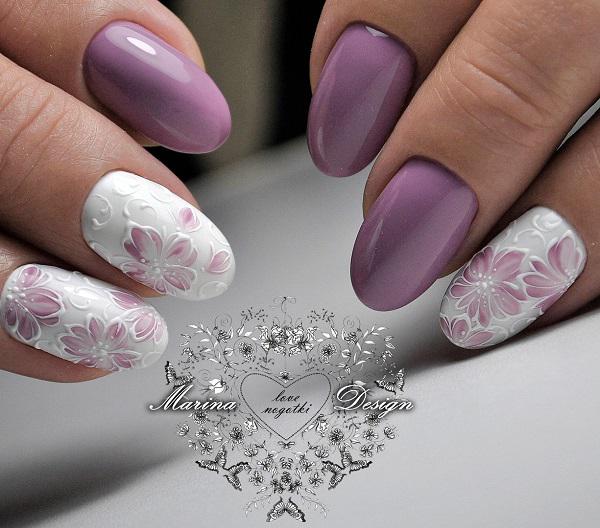 Inconspicuous shades of purple that I would even ranked in the nude color, will be a good selection of ladies with refined style.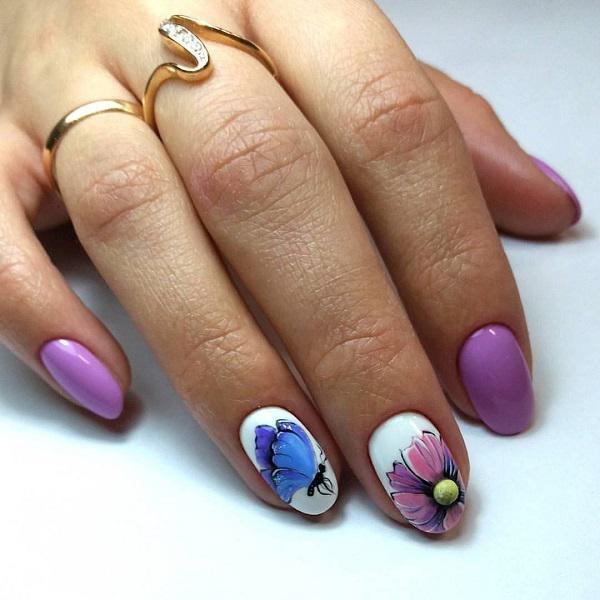 Although in this manicure dominates purple, the biggest attention attracts yellow color in the middle of flower and blue butterfly wings. That proves that the life is made of details, and they are very important for good luck!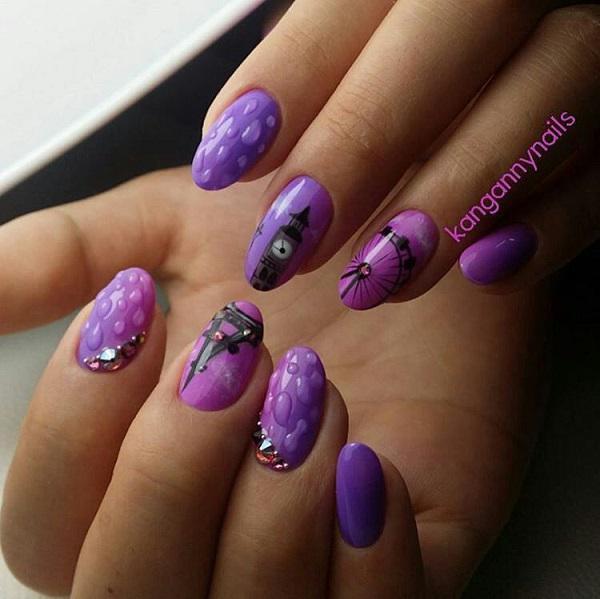 Nail stickers
Cute stickers you can buy and decorate your nails like these shown (Eiffel Tower, Big Ben …). Add to that dewy drops and a few discreet rhinestones in the corner of the nail.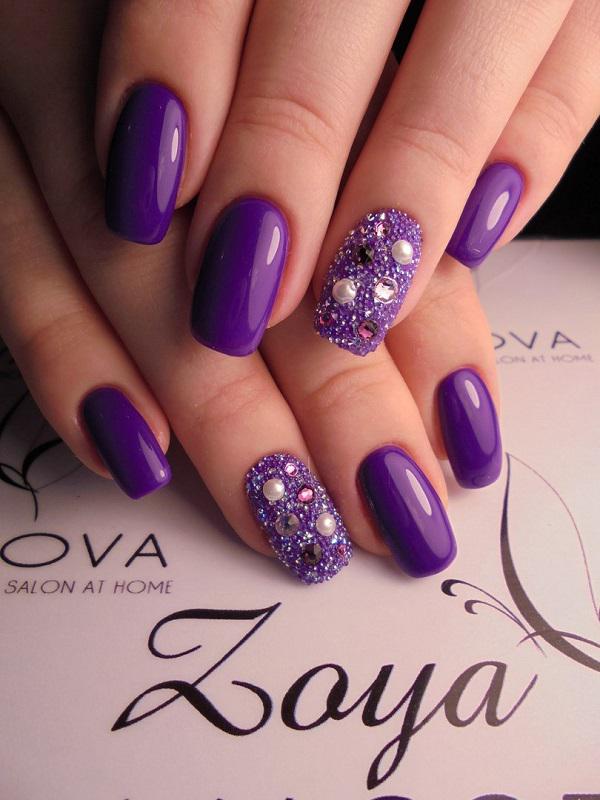 This lady also have chosen royal purple shade and complement it with the various rhinestones!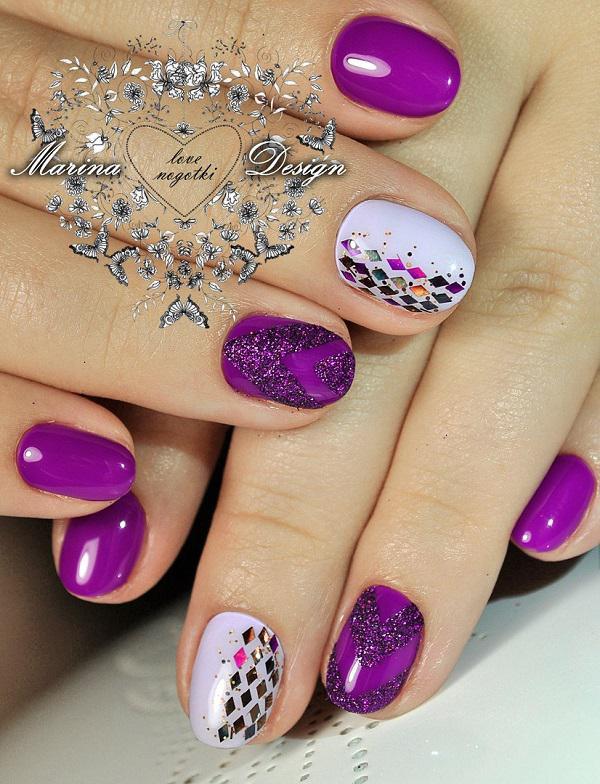 Sequins are a nice touch. You do not have the entire nail sprinkle with them, you can do it in some form such as these arrows on the photo.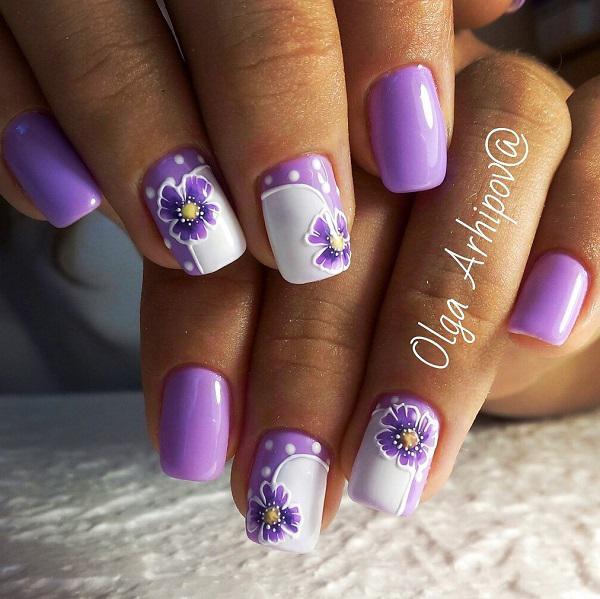 I do not remember the year in which people didn't wear polka dots, they are always interesting and engaging in hot days!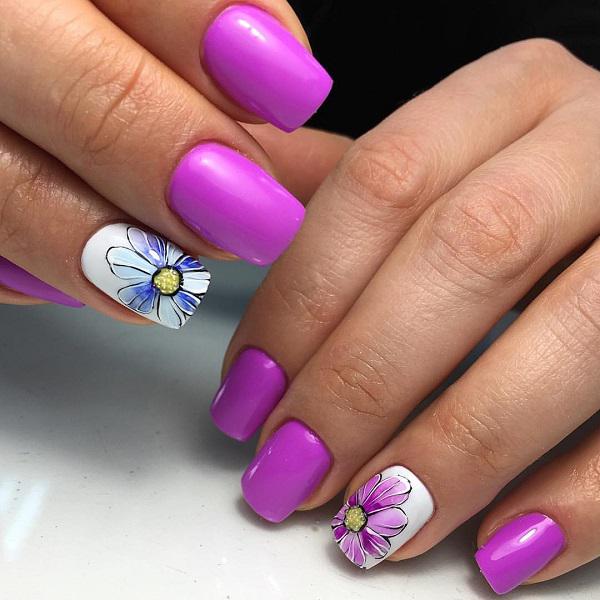 In perfumeries you can find special creams for the care of the cuticle and prevent their occurrence. These creams often contain vitamins that will encourage the rapid growth of your nails.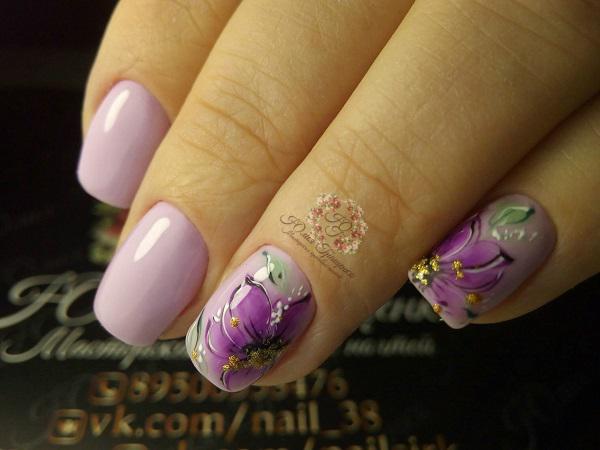 The golden color that is popular in all seasons, even if in small quantities is used will enrich your manicure.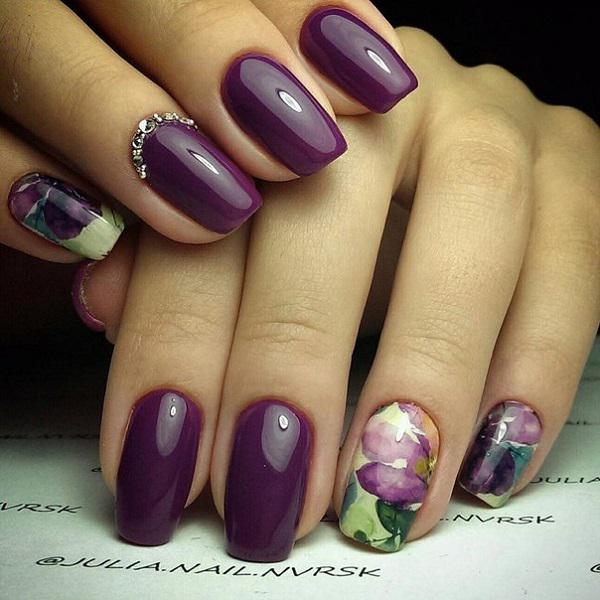 Strengthen the hue with zircons decor
Silver zircons are equally effective detail as drawn details on the other three nail.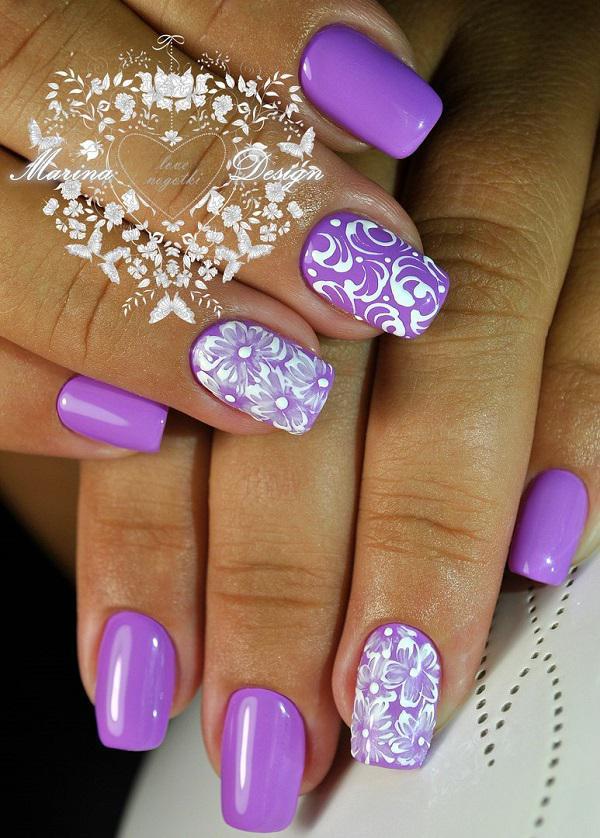 The purple color is noble in nature, and it signifies the unity and uniqueness.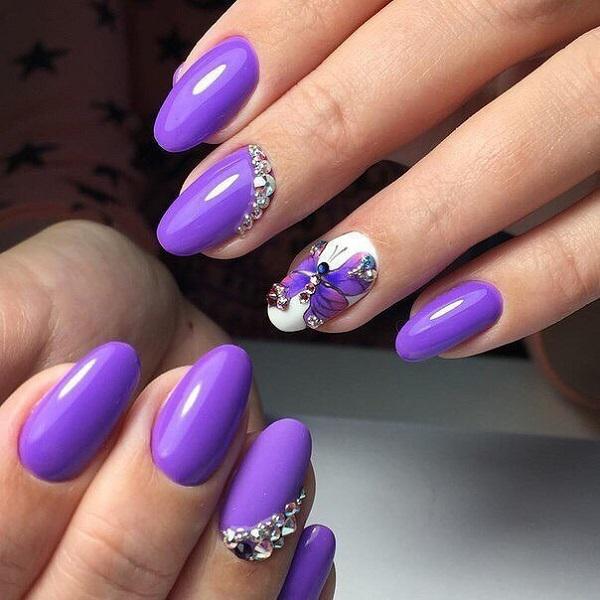 Matte colors are still popular, and can be beautifully combined with colors that contain high gloss.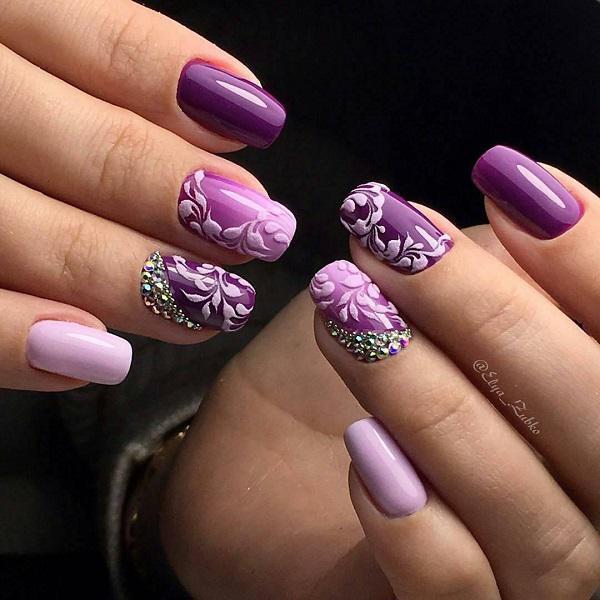 Lavish floral pattern
This nail is embossed with extravagant flower pattern in a very bright purple shade. Additionally, the rhinestones are a supplement in this combination.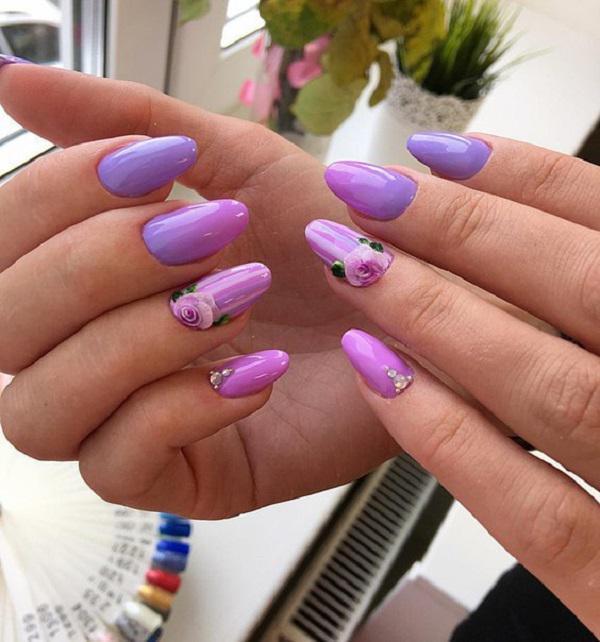 Pink to purple Ombre nails
Ombre is still a good choice, especially professionally expressed with smooth transitions between darker and lighter colors.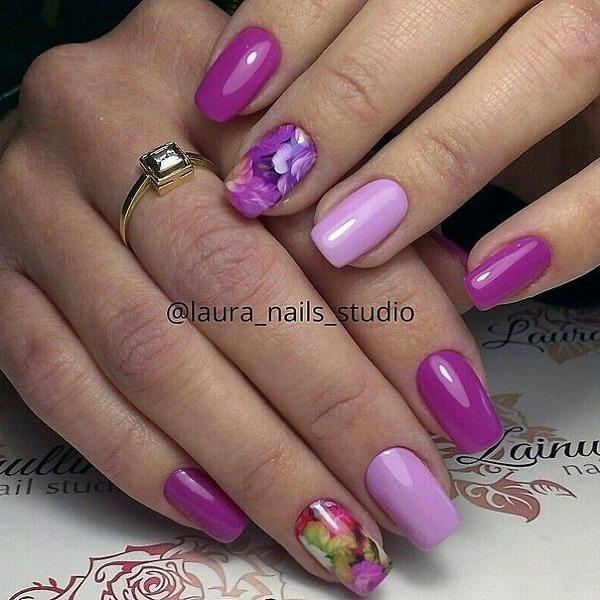 For well cared hands constantly use cream that suits your skin, because the hands are trademark of real ladies.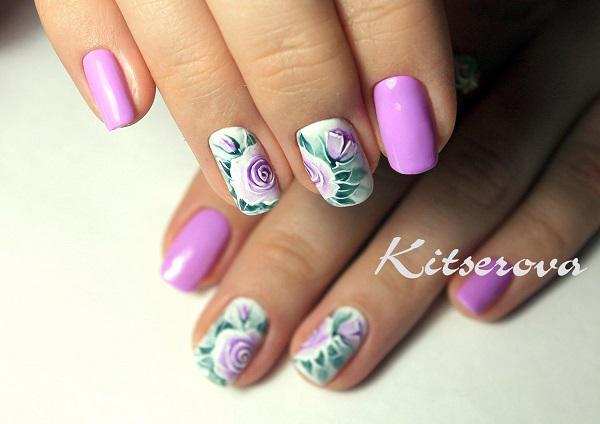 Be real trendsetters and wear beautiful spring manicure in purple color proudly this spring.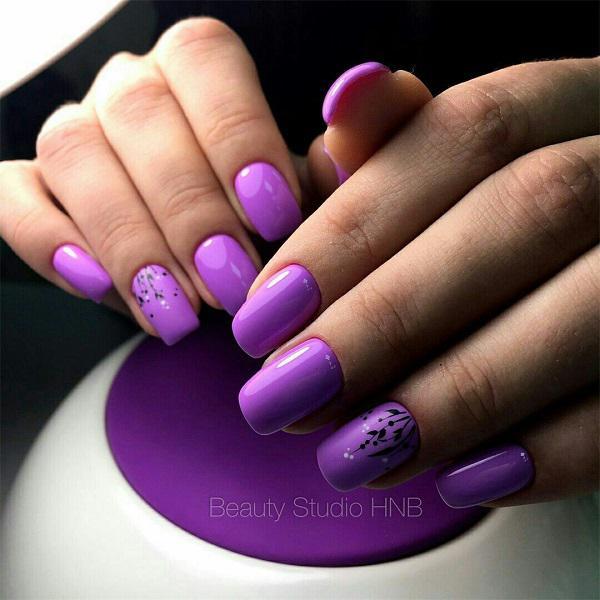 If in life we wait for the big things to enjoy them, then perhaps we will never enjoy. Life is consisted of small things, they give a special touch to our daily lives just like these black bouquet in this manicure.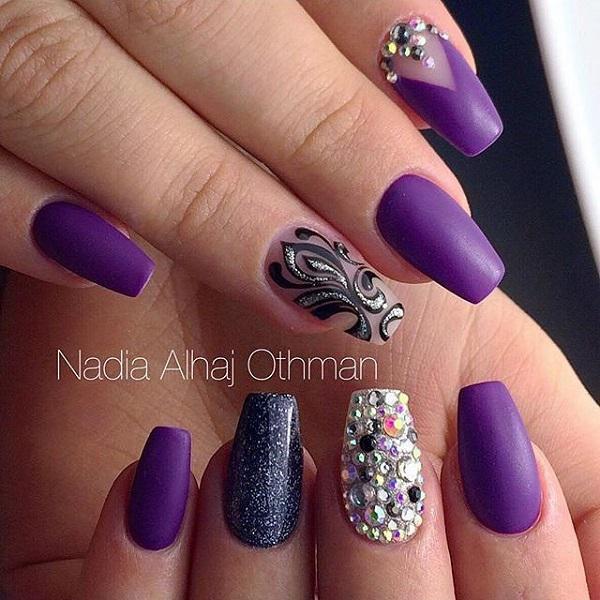 Another combination of matte color and sparkling rhinestones which ennobled it.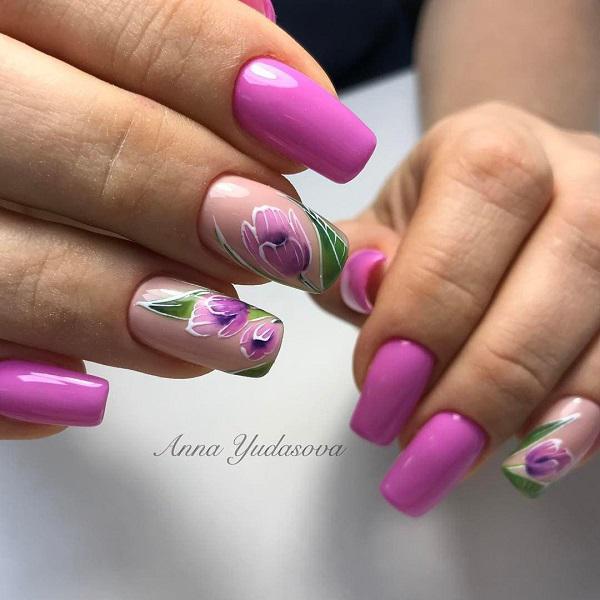 The sophistication and elegance… With it a woman should shine always.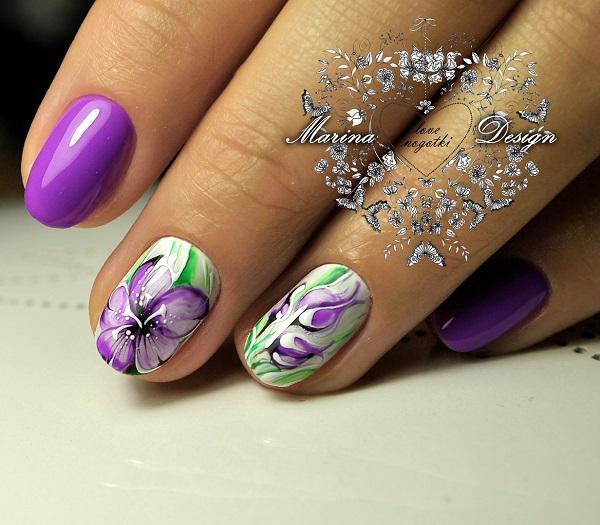 What are those spring color combinations without even the small details in green.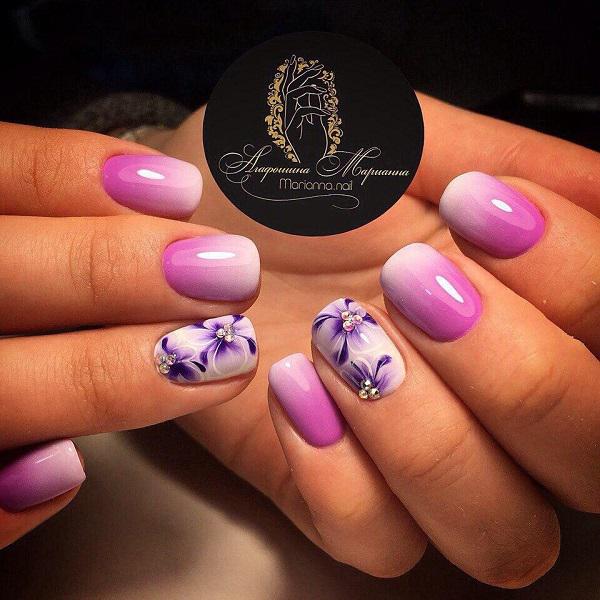 This manicure is often choice of the fairer sex, the root of the nail is in darker shade that slowly becomes brighter and brighter until the top of the nail.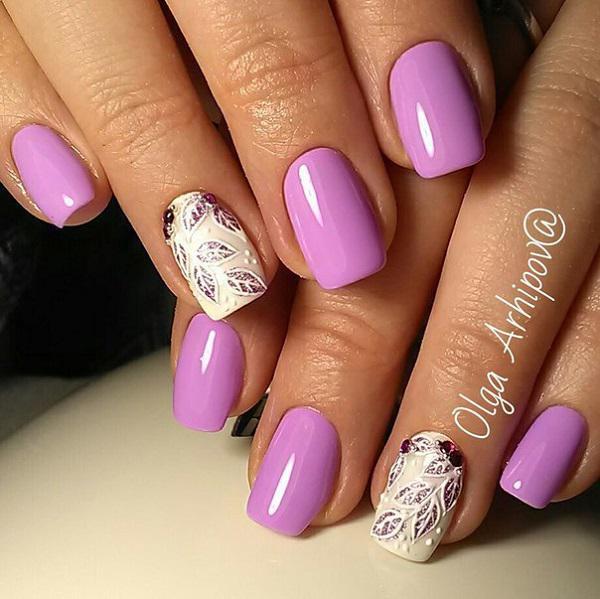 For whatever the length of the nails you decide, purple color will suit them.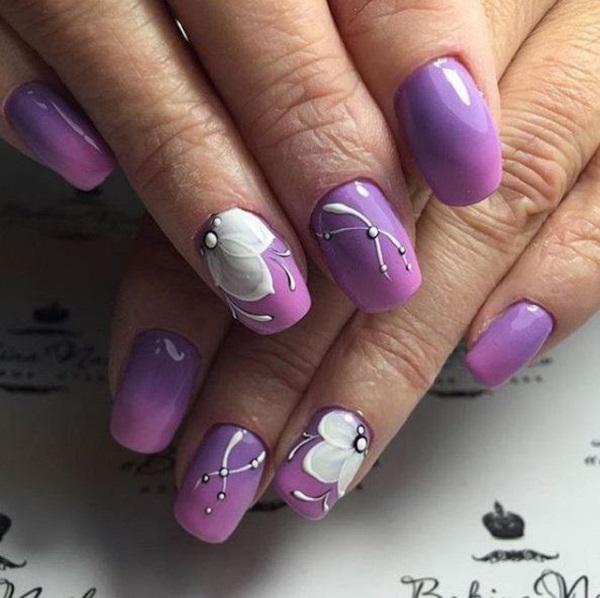 Gentle ombre with white motifs for the irresistible hands.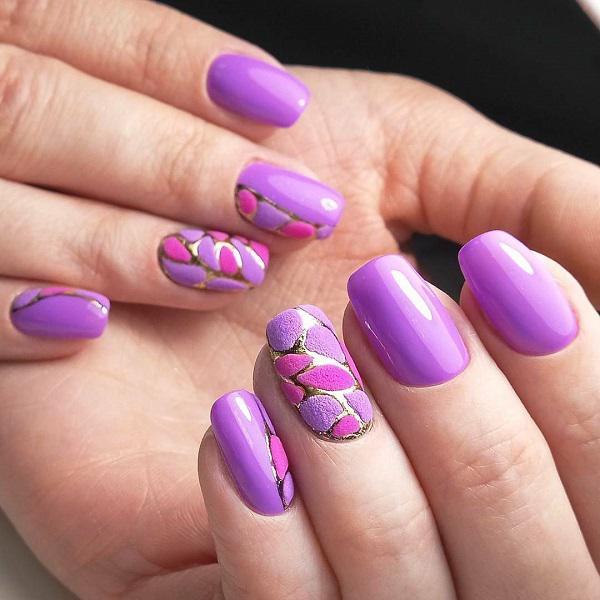 Metallic colors are modern for seasons so you can very wise fit it into this year's spring manicure.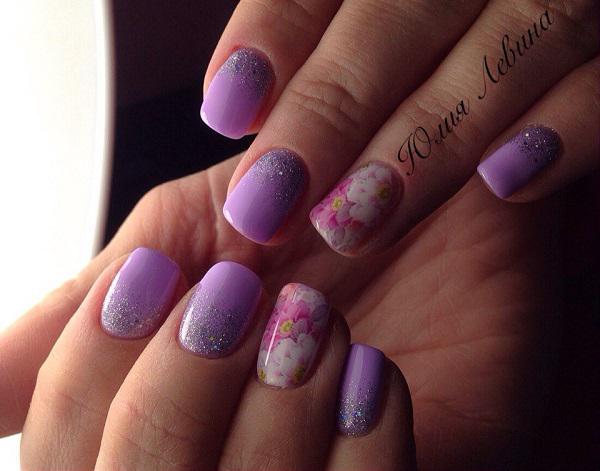 Gray, black, white, pink color will complement your purple manicure very nicely.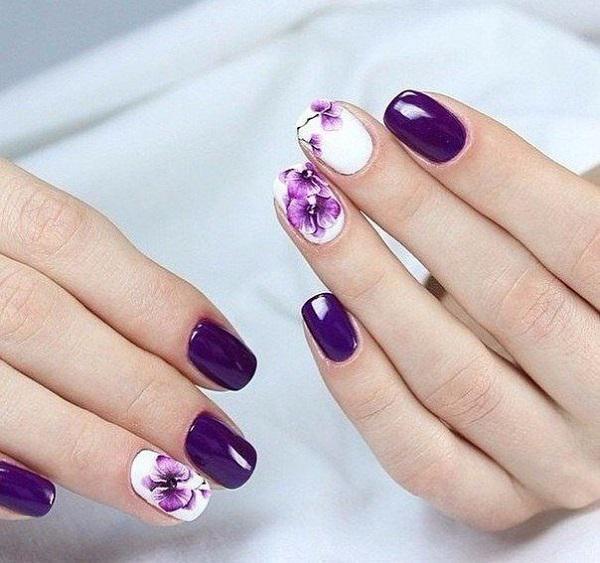 When you are choosing your manicure choose it according to your lifestyle, just so you will shine in all your glory.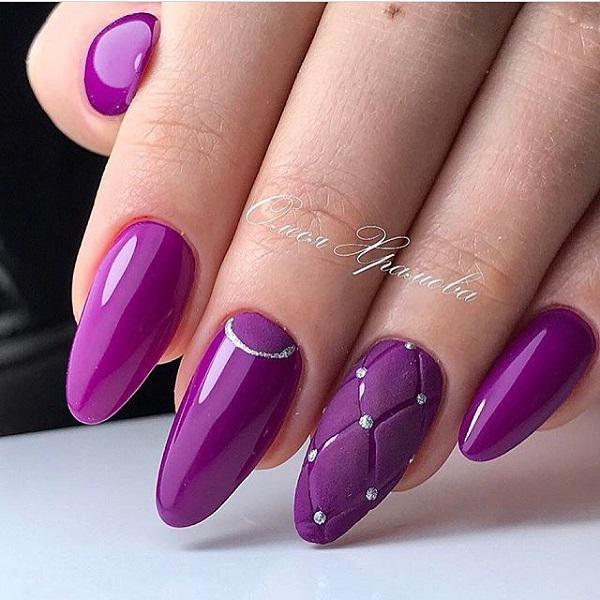 Draw on the occasional nails design that is interesting, add a silver line and silver rhinestones. It will refresh it.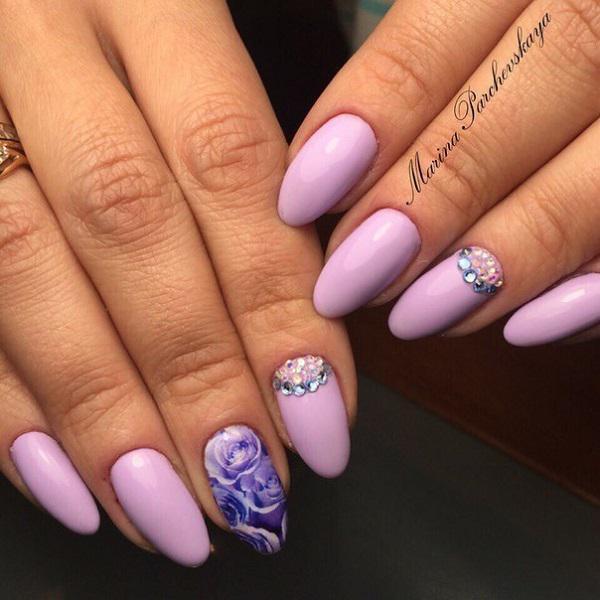 If you have weak nails, and you love long nails, it is best to upgrade them. On that way you will get the strength and length and you will be more satisfied.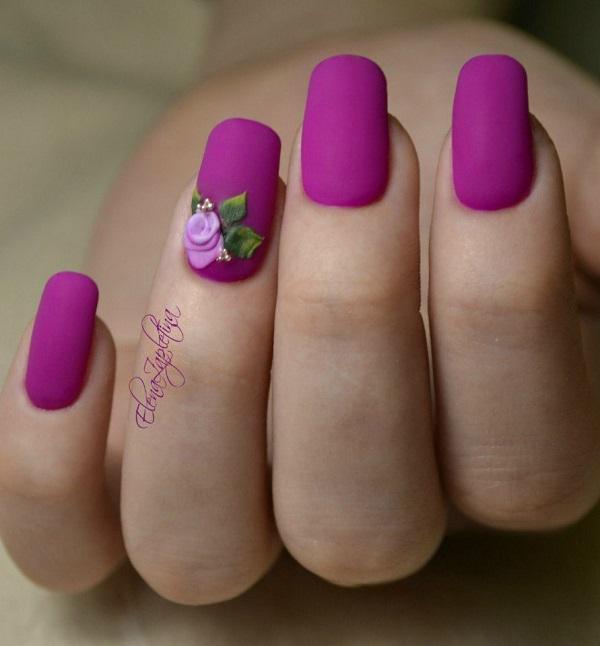 Stylish purple matte nails
Nails in a matte color will give a stylish look to your hands, and a dose of elegance.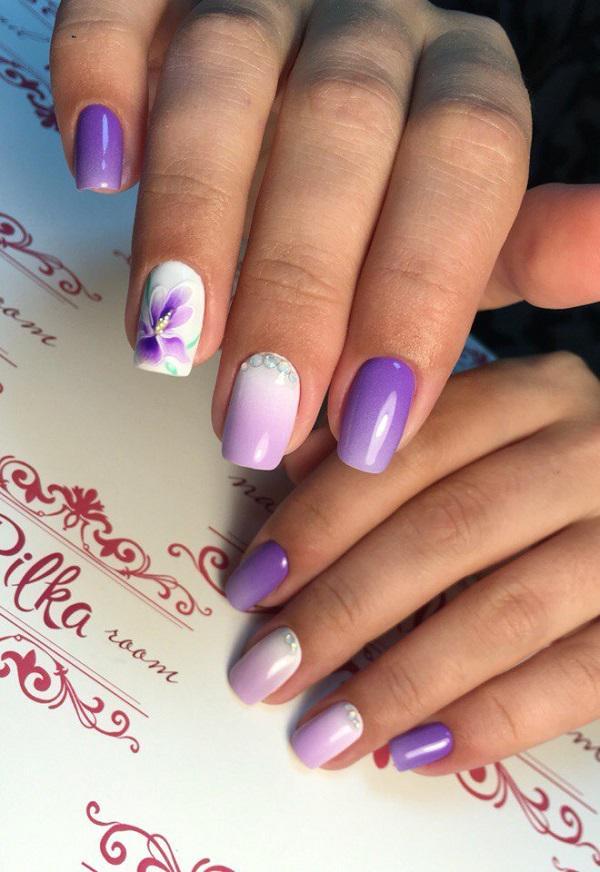 If you are unsure in what color to paint the nails, look meaning of colors, you could find yourself in some of it.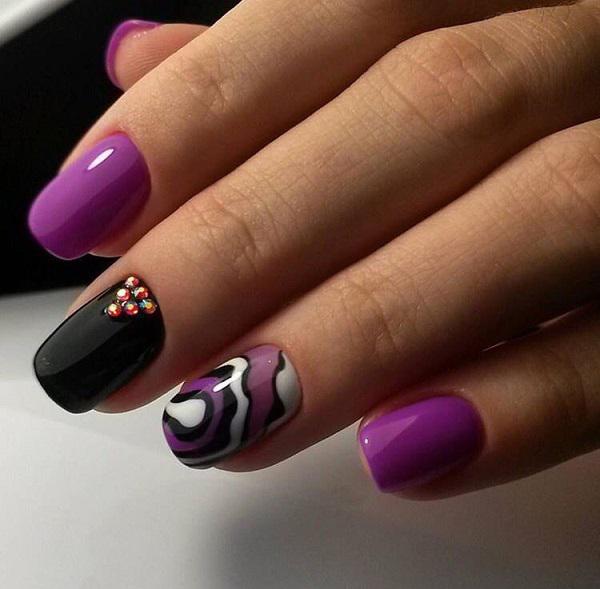 Combination of black and white
Black and white can be nicely combined with every other color, as well as with the purple color!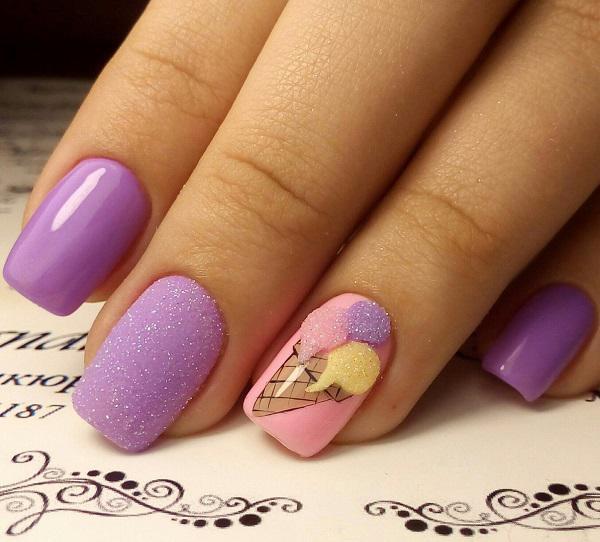 The trademark of the summer is the ice cream. Why, in that case, would not be found as a decoration on your nails?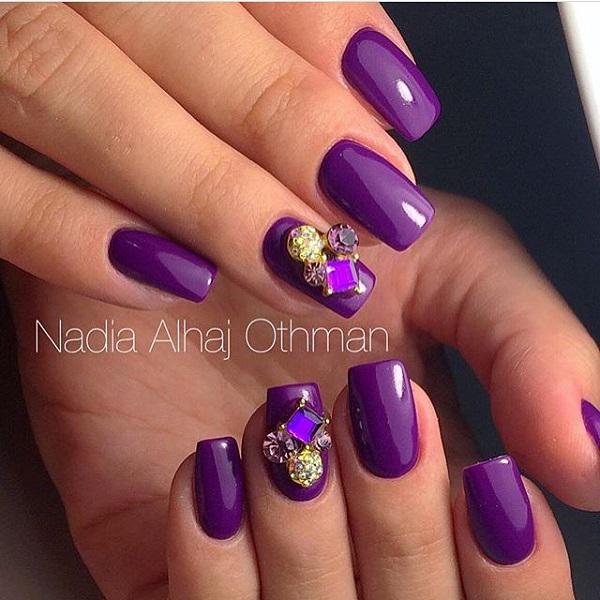 Great rhinestones like these in the picture will give your nails a gorgeous glamorous look.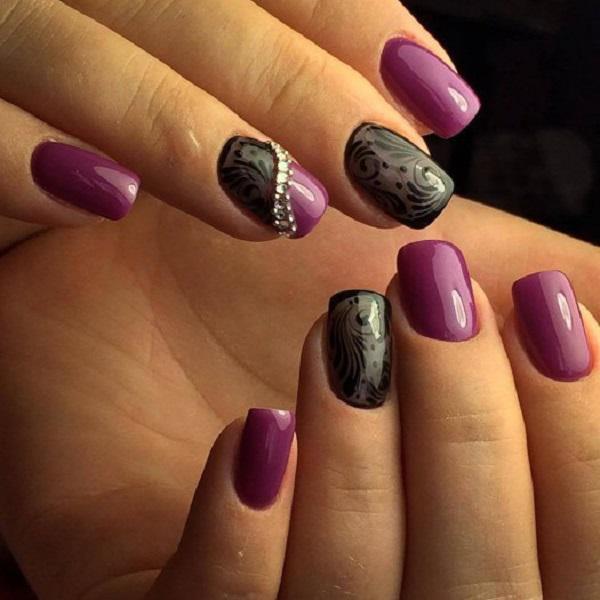 The elegant patterns in an elegant black color will be a beautiful decoration of your purple manicure and silver details will give an additional touch of elegance!