Nowadays tattoo prevails over the world for its versatility of expression and presentation. Now matter what interests or hobbies, more and more people are inclined to use their body parts as canvas to get their tattoos. Arm tattoos are often eye-catching which are beyond their visibility. You can always discover inspirational designs that blow your mind.
On the other hand, there's less room for regret since your arms are relatively difficult to hide. Therefore, you need to be careful to avoid tattoo cover up. It's huge commitment when come to get a tattoo. So it's absolutely necessary to perform due diligence on the study.
Arm tattoo designs come in different styles, sizes and colors. Depending on the placement, you may come up different strategy. It's always helpful to approach a skilled artist for advice.
Arm tattoos For men
A wolf under the moon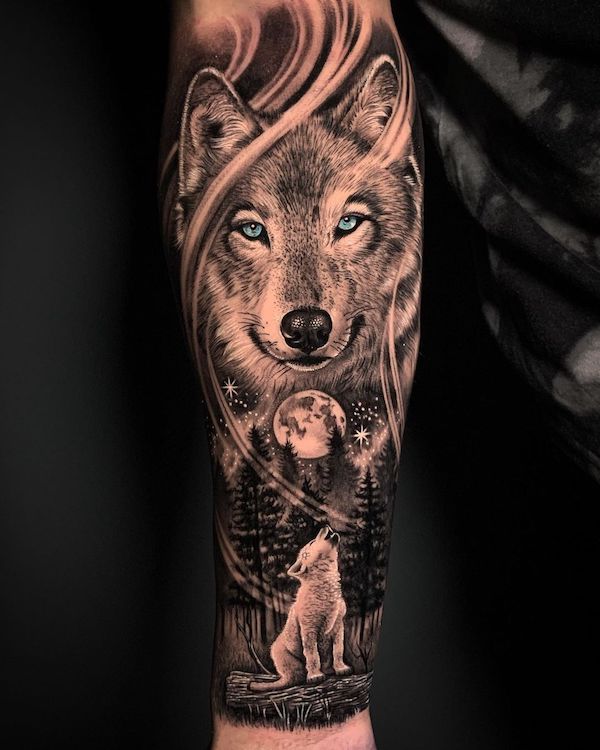 The centerpiece of the tattoo is a realistic wolf head on the forearm, which is an incredibly striking and bold image. The addition of the night sky with the moon and stars underneath adds a sense of mystery and atmosphere to the design. The small wolf yelling to the moon or the wolf above near the wrist is a great addition, as it creates a sense of continuity and balance within the design. Overall, this tattoo is a powerful and evocative piece of art that will surely turn heads and spark conversation.
Wave arm band tattoo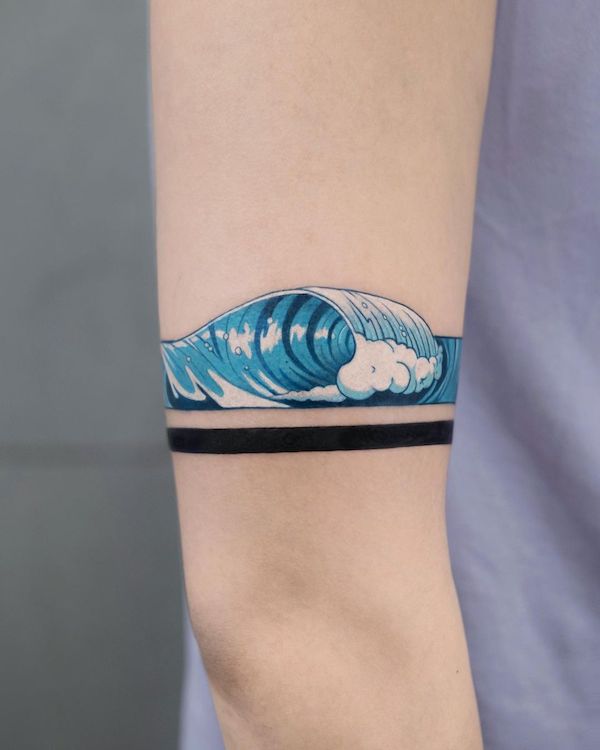 This design features a blue wave that is drawn along a black stripe that encircles the arm like a band. The blue wave creates a striking contrast against the black stripe, making it stand out and catch the eye. The wave itself is a symbol of power, strength, and resilience, as it is able to overcome obstacles and continue moving forward.
The placement of the tattoo on the arm creates a sense of continuity and flow, as if the wave is constantly in motion. The design is also relatively small and simple, making it a great option for someone who wants a subtle yet meaningful tattoo.
Skeleton and owl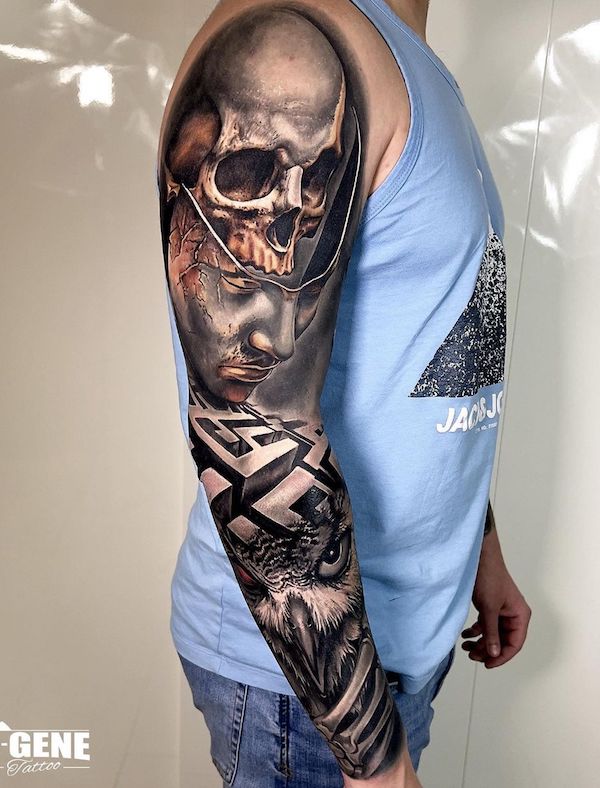 Starting at the top of the arm, this tattoo features a skull and half of a human head seamlessly portrayed together. Moving down the portrait, the 3D symbols add a sense of depth and complexity to the design. On the forearm, a realistic owl with vigilant eyes is a powerful and evocative image, which adds a sense of mystery to the design.
A crawling snake on forearm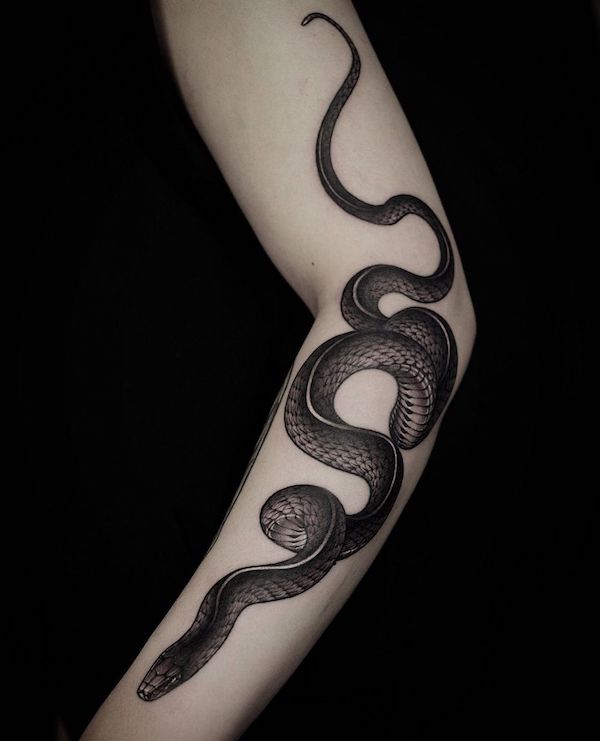 The tattoo features a black serpent that is writhing and crawling its body on the forearm. The snake is a powerful and often feared symbol in many cultures, representing transformation, rebirth, and healing. The way the snake is coiled and winding around the arm creates a sense of movement, as if the snake is alive and in motion.
Aztec woman full arm tattoo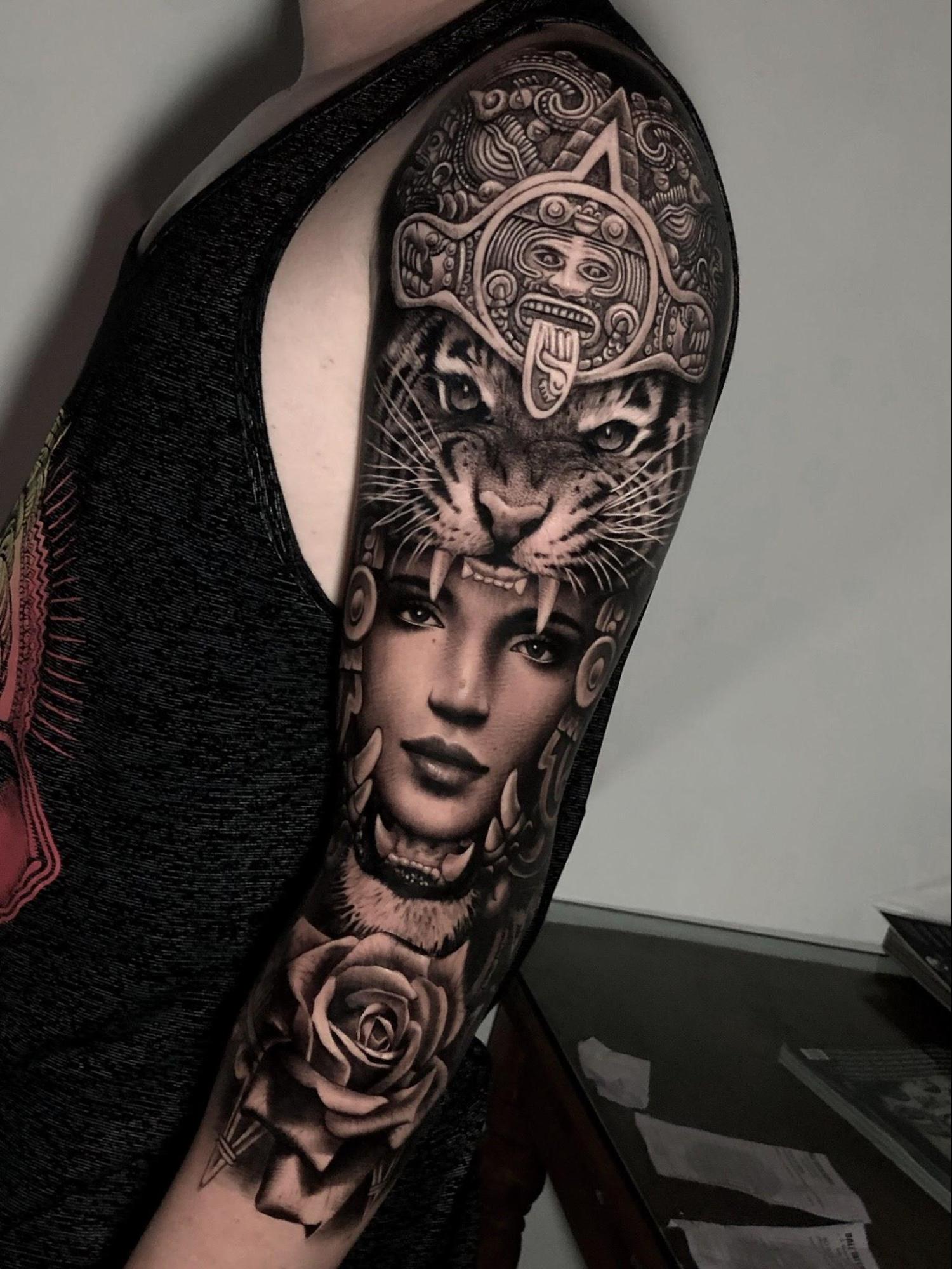 Bible verse tattoo Anything is possible for him who believes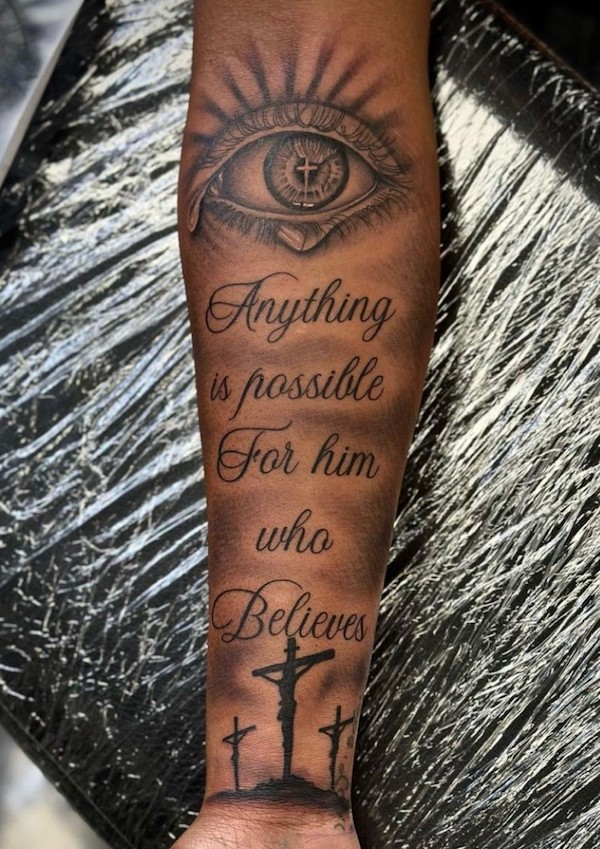 The arm tattoo you described features an eye with a small cross in the center of the pupil. The addition of the cross adds a layer of religious symbolism. The phrase "Anything is possible for him who believes" is located below the eye and serves as a message of hope and inspiration. Overall, this tattoo is a meaningful piece of art that celebrates faith, belief, and the power of the human spirit.
Black and white Japanese tattoo with geisha and cherry blossoms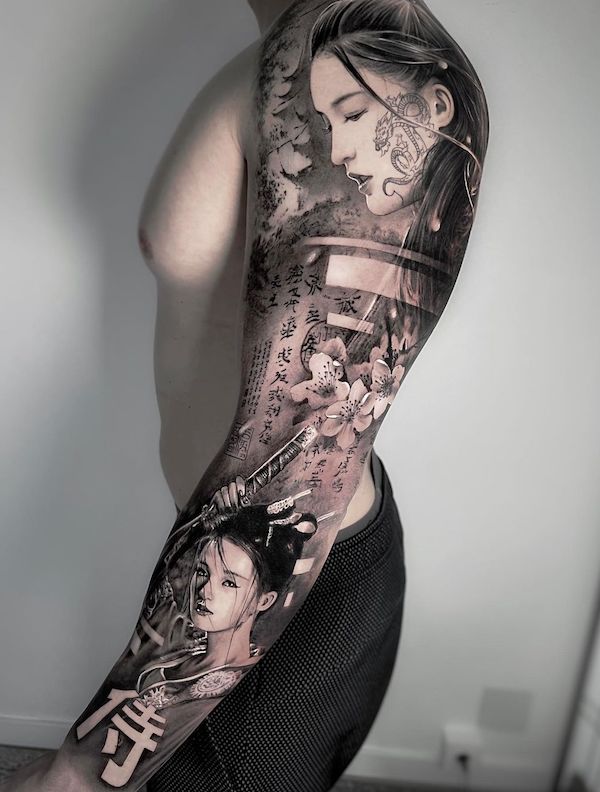 This tattoo features a modern take on traditional Japanese art, with a geisha and cherry blossoms covering the entire arm. The geisha is delicately rendered in black and white, with intricate details that suggest both fragility and strength. The cherry blossoms add a touch of femininity to the design, with their delicate petals and soft curves.
Clouds full arm blackwork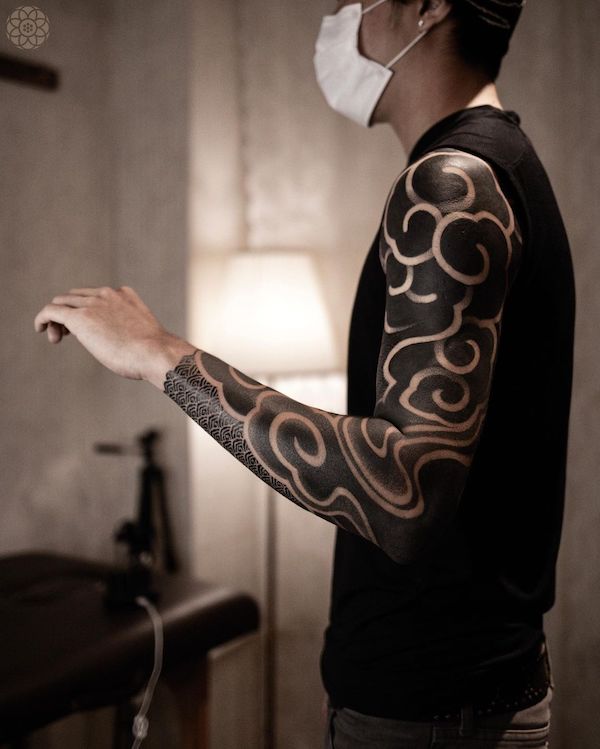 This tattoo design is a stunning example of blackwork tattoo art, featuring a dramatic and intricate image of clouds that wraps around the entire arm. Additionally, The level of detail and shading in this tattoo is truly impressive, with the artist using a variety of line weights and techniques to create a sense of depth and texture within the design. The clouds themselves are a symbol of freedom, openness, and the endless possibilities of the sky. Furthermore, The swirling shapes and patterns create a sense of movement and flow, as if the clouds are constantly shifting and changing.
Cross with wings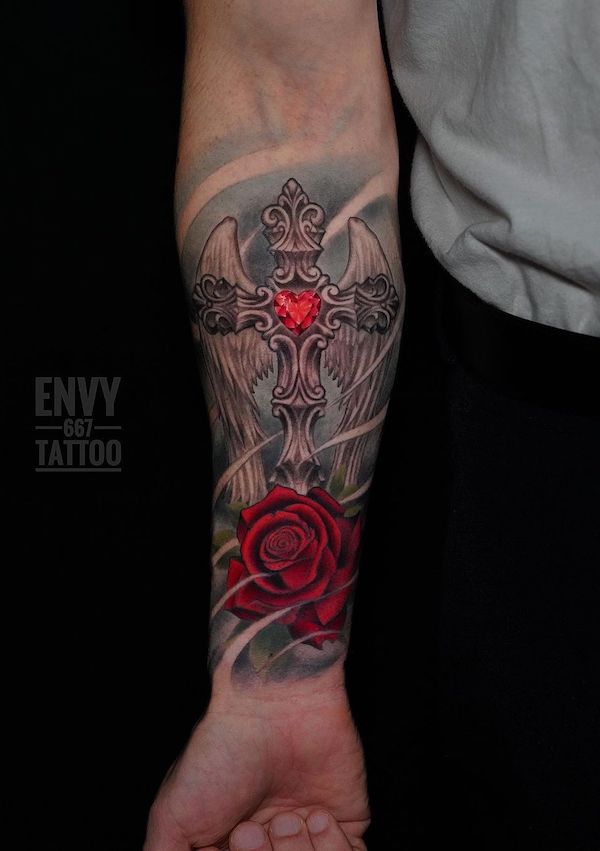 The tattoo you described features a stylish cross on the inner forearm. The cross is adorned with wings on both sides, which creates a striking and powerful image. The center of the cross features a red diamond, which adds a pop of color. Underneath the cross, there is a red rose, which is a classic symbol of love and passion. The addition adds a touch of beauty and elegance to the design. The placement of the tattoo on the inner forearm makes it a very personal and intimate piece of art, as it is always visible to the wearer.
Electrifying lightning and rolling clouds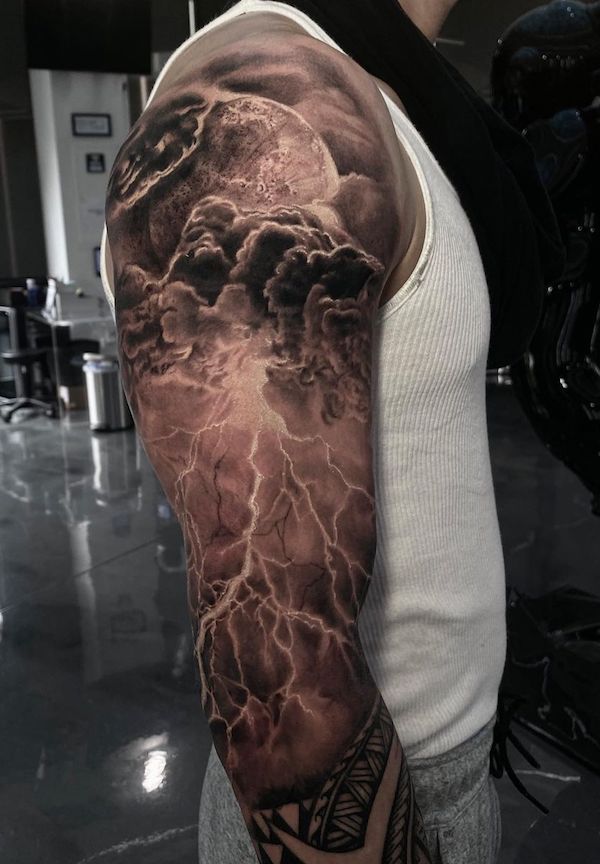 The tattoo features a dramatic and exciting scenery of rolling, dark and foreboding clouds with a sense of movement and energy. Crackling and sparking with power, lightning emerges from the clouds in a net of electrifying energy. This combination creates a symbol of power, energy, and the raw forces of nature. Celebrating the beauty and power of nature, this bold and striking tattoo is sure to make a statement and draw attention wherever it is placed on the body.
Eye between a clock and praying hands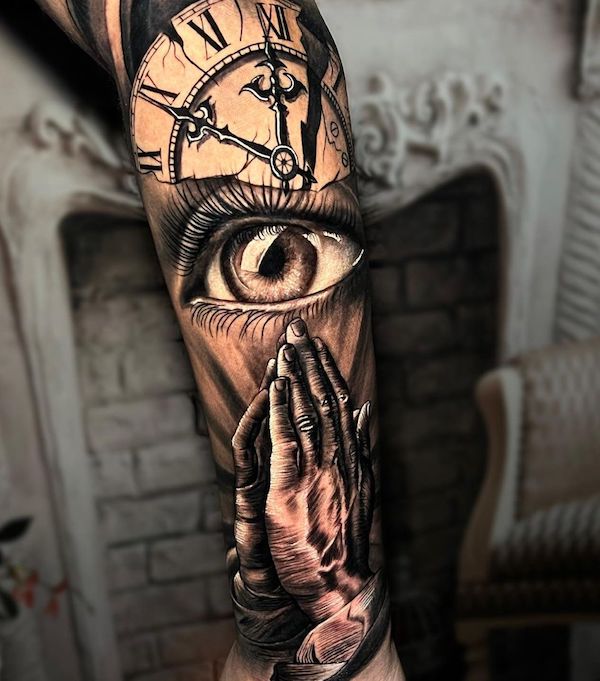 This tattoo is a stunning blend of three realistic motifs: a clock, an eye, and praying hands. The clock signifies the passage of time and the value of savoring every moment. The eye, situated between the clock and the praying hands, represents vigilance and awareness of one's surroundings. The praying hands symbolize faith, spirituality, and the act of prayer.
Geometric blackwork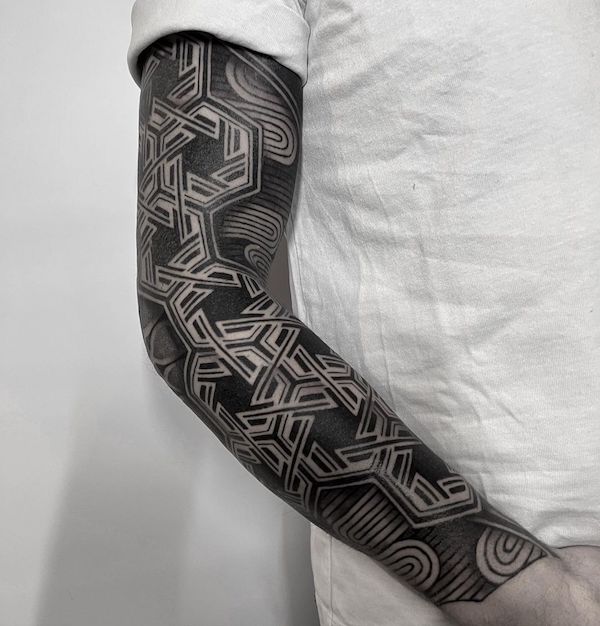 The tattoo is a black canvas featuring a series of geometric shapes created in a blackwork style. The shapes are simple, bold, and clean, with sharp angles and precise lines. The black canvas creates a striking contrast against the skin, catching the eye. Blackwork style tattoos typically use only black ink, emphasizing the graphic look without shading or color. This style highlights geometric designs, emphasizing their clean lines and sharp angles
Jesus nailed to the cross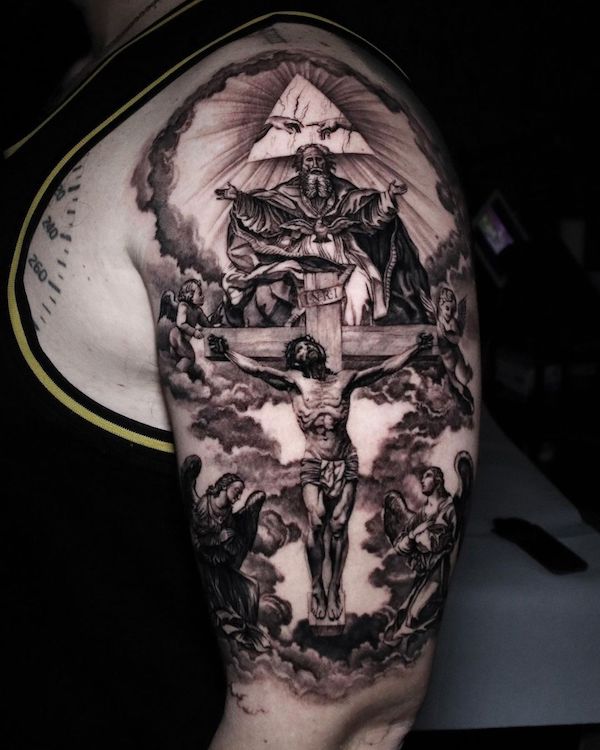 Lion king arm tattoo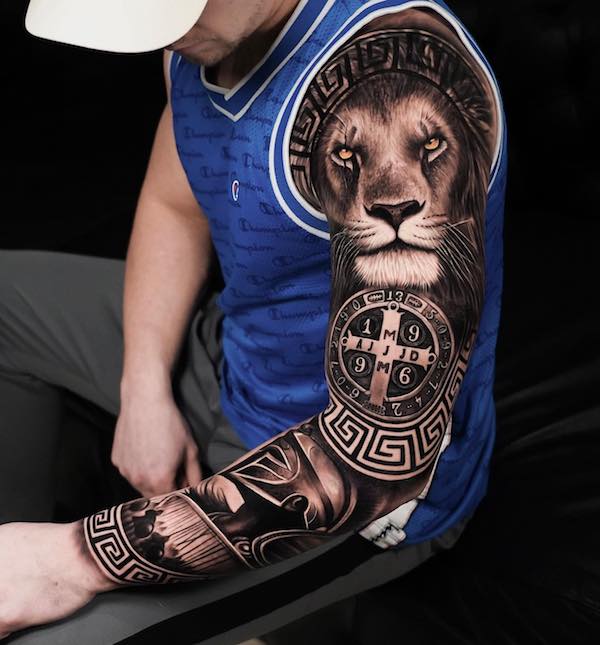 This tattoo you mentioned features a lion wearing a crown and armor, covering the full length of the arm. The lion is depicted in great detail, with its fur, mane, and facial features all rendered in a realistic and lifelike style. The addition of the crown and armor gives the lion a regal and powerful appearance, as if it is a king leading its army into battle.
Mechanical arm tattoo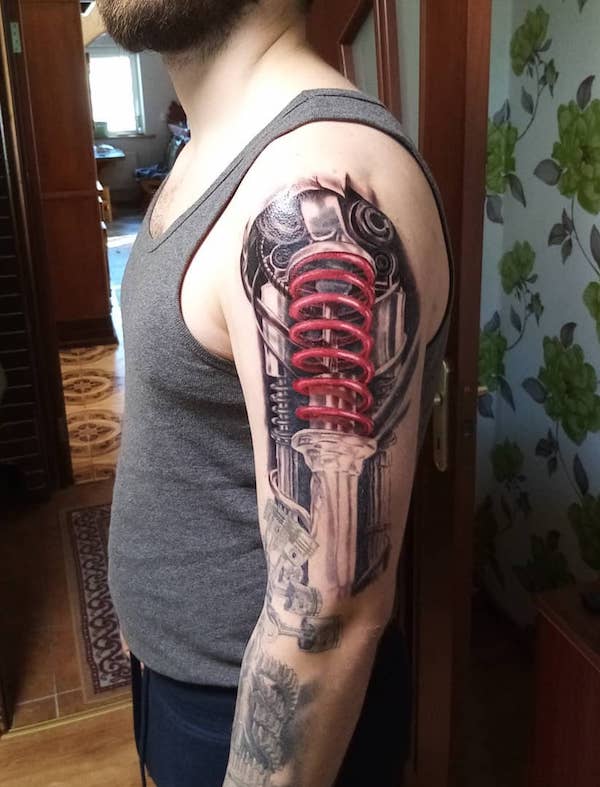 The tattoo features a steampunk-inspired design that incorporates various mechanical elements. The centerpiece of the tattoo is a series of springs and transmission parts that are arranged in a visually striking and intricate pattern. The use of these mechanical elements gives the tattoo a sense of depth and complexity, as if the design is made up of many intricate parts working together in perfect harmony.
Medusa forearm tattoo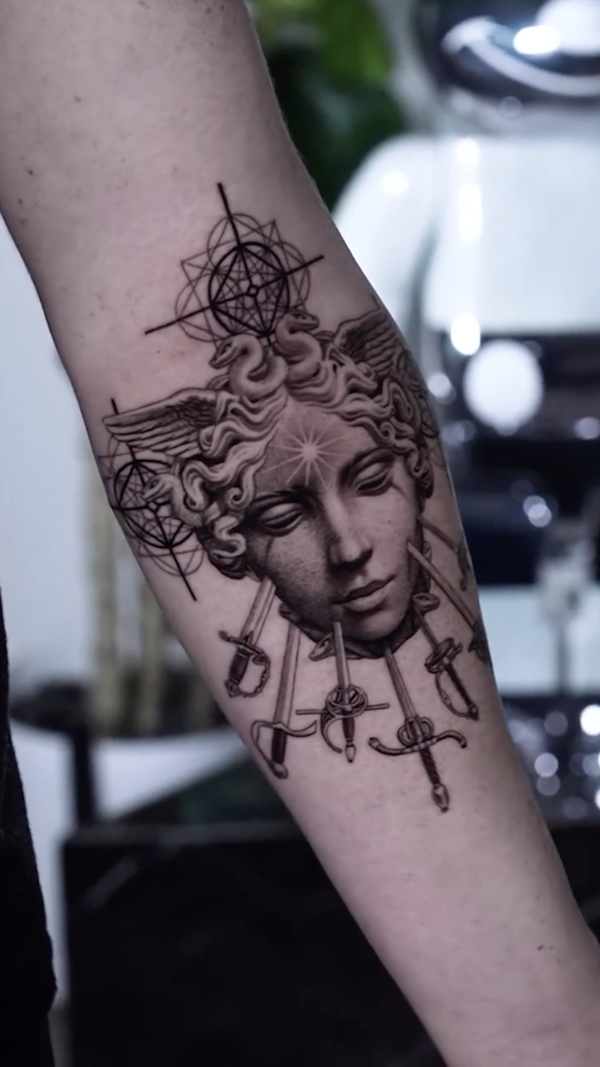 Robotic arm tattoo with intricate mechnical parts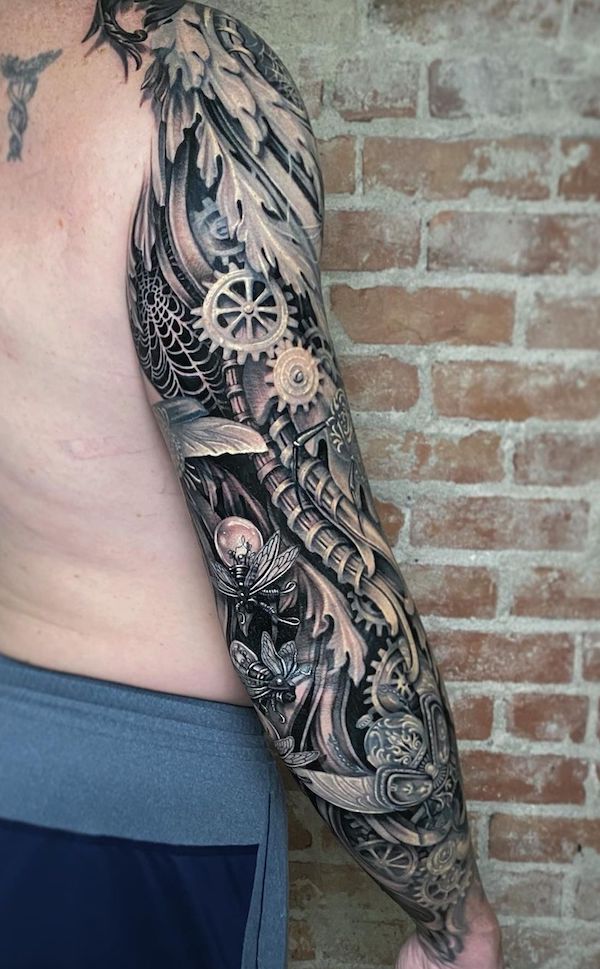 Robotic arm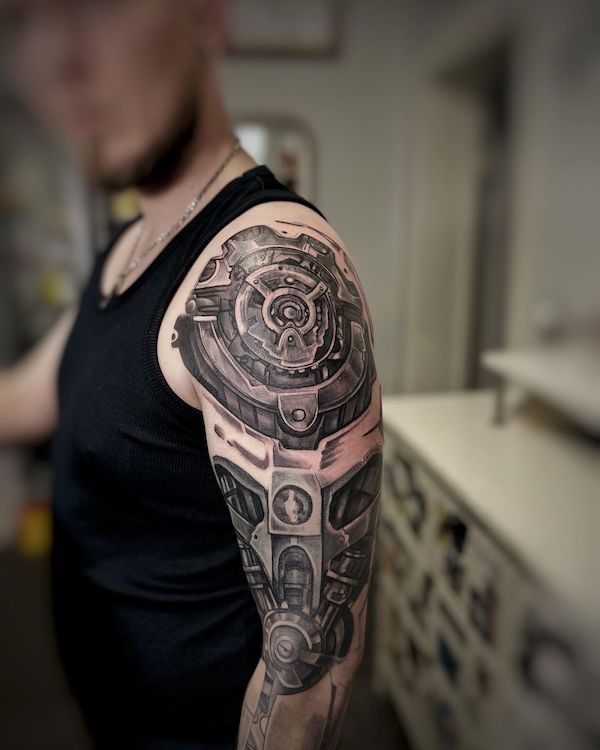 Angel Wing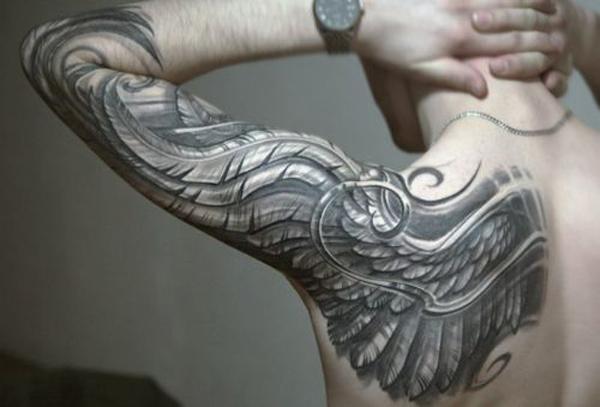 Angel is one of popular tattoo ideas for women. However, it also fits to men if it is created in masculine style. Actually, when angels appeared to people in the Bible, they were always seen as men. This piece imitates the real wing which extends from shoulder to upper arm. It's absolutely cool.
Polynesian Tattoo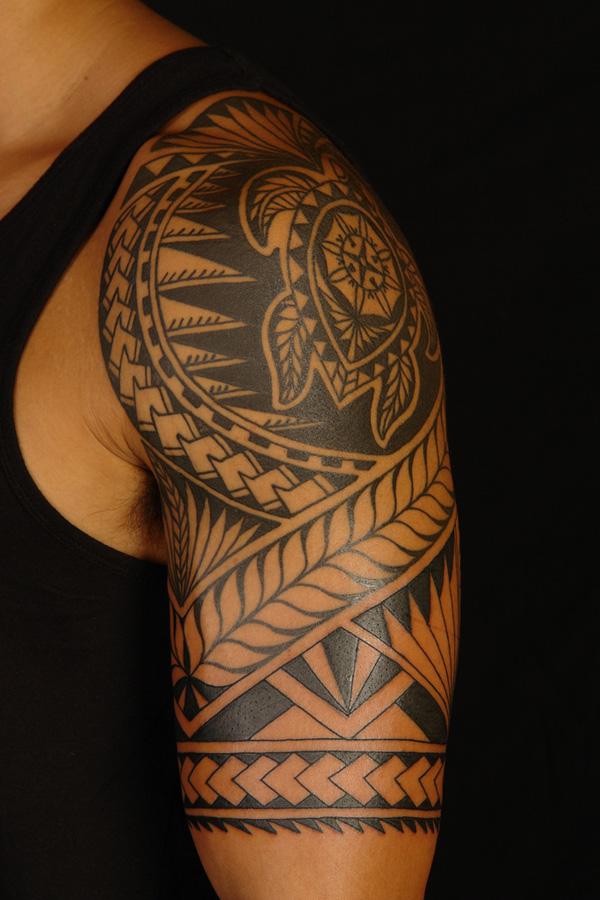 Polynesian tattoos usually feature stylized geometrical patterns or symbols, reflecting deepest culture identity to the owners. However, placement plays important role in the traditional tattoos. For example, shoulders and upper arms are associated to strength and bravery. So it's always the choice of men to have the masculine tattoo.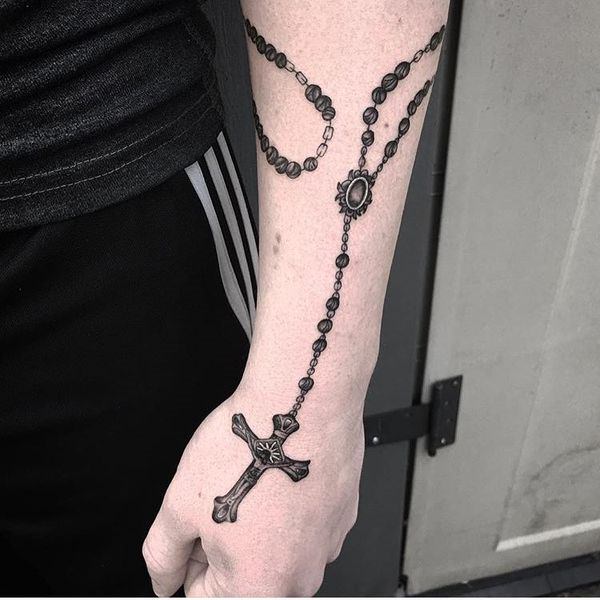 This meaningful tattoo features a rosary and cross on the arm, with the cross extending to the hand. The intricate details of this design make it impressive, while its spiritual symbolism speaks to those who want to express their faith in an artistic way.
Stylized cartoon ink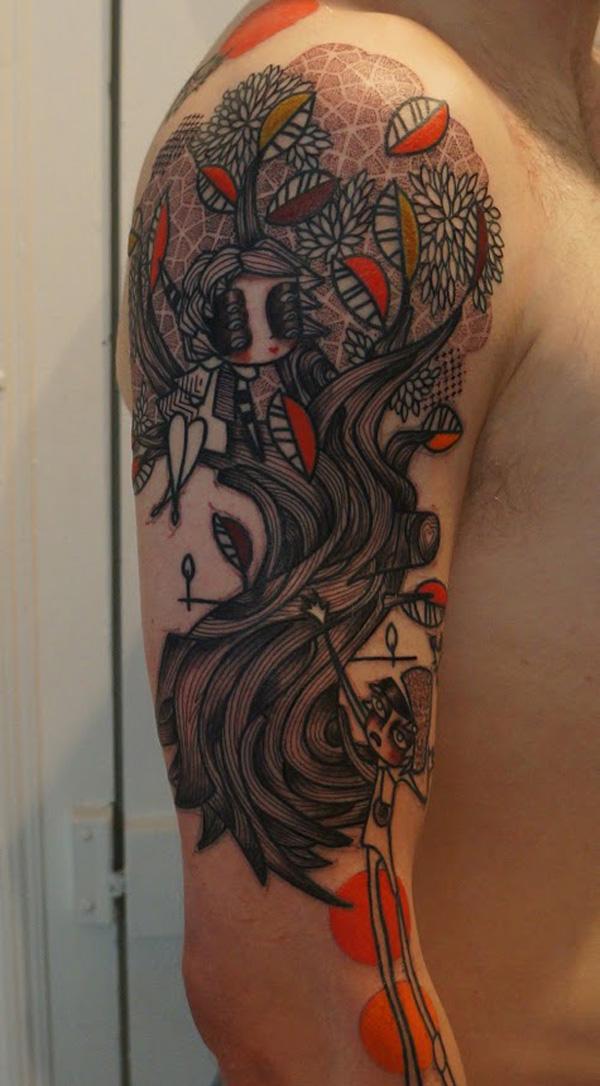 Fox graffiti upper sleeve tattoo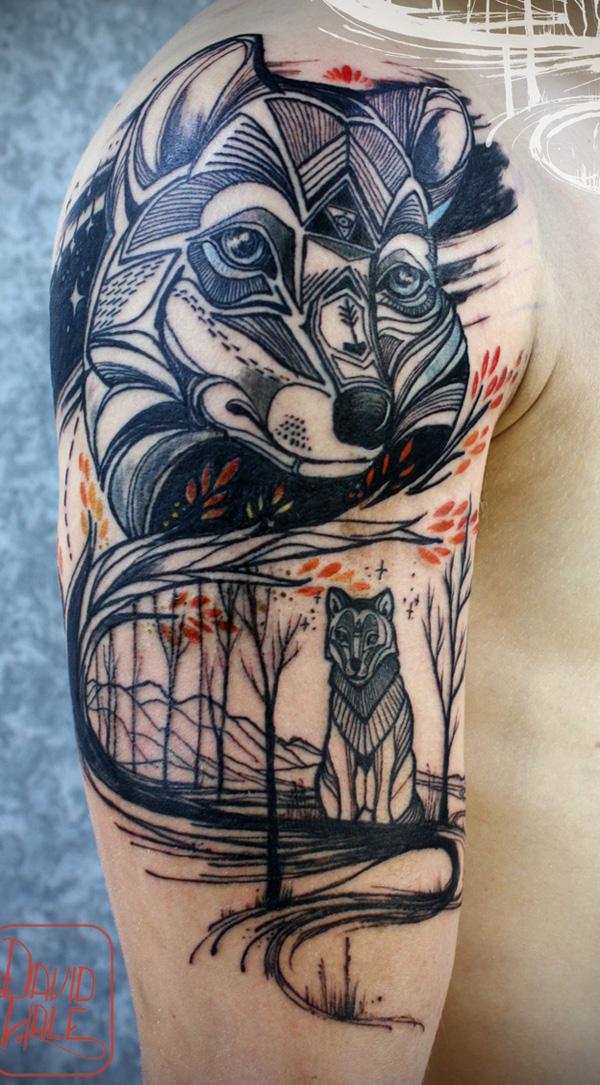 Red rose and love scripts tattoo on inner bicep tattoo for Women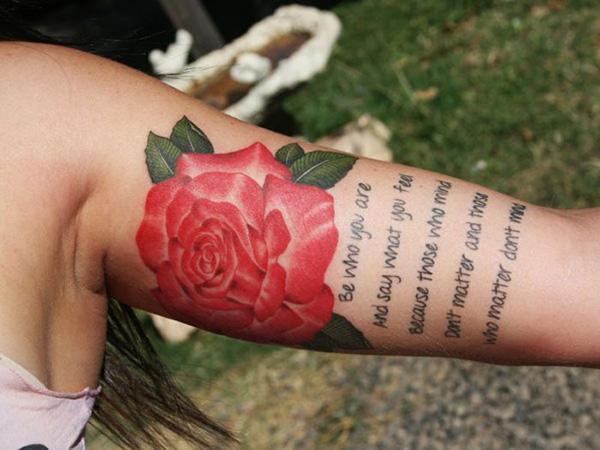 Intricate full sleeve tattoo with intricate scripts and warning signs for men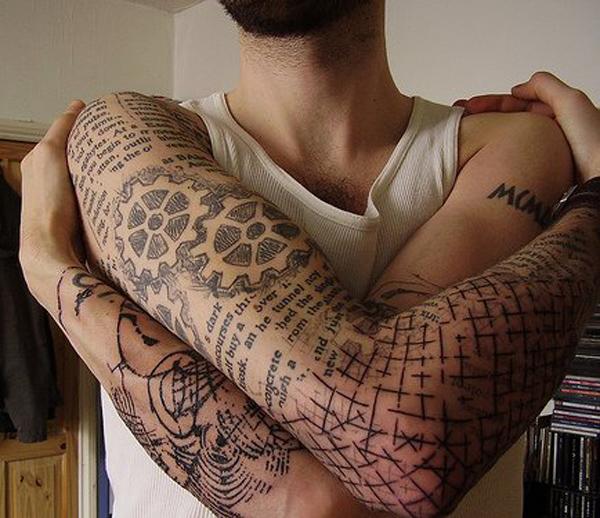 3D wolf from broken skin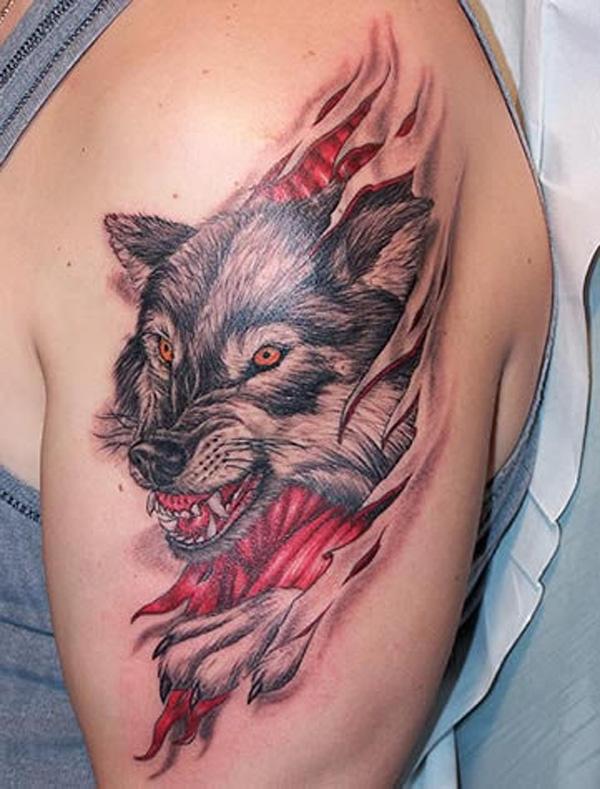 Realistic model T Ford car tattoo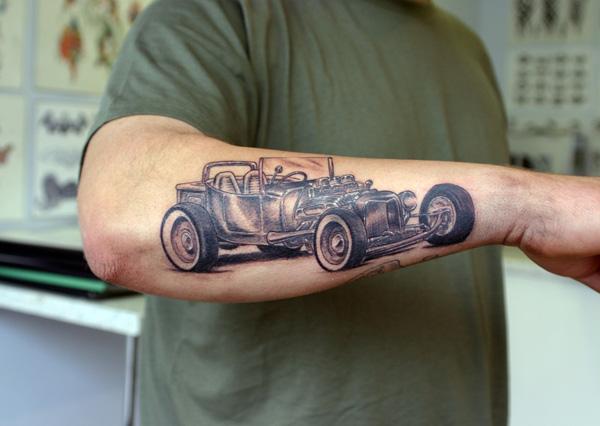 Abstract tattoos come in different forms. For instance, this piece goes visionary by combination of line work and cubism. The elegance of the stylized flowers and geometric shapes makes the tattoo the best idea for women.
Lettering with rose tattoo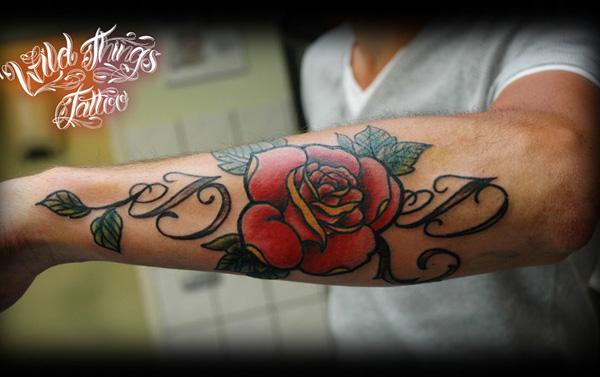 Hummingbird tattoo in watercolor style
Despite of its small size, the hummingbird could be the best ink idea for girls. The bird is born with its ability that can fly forward and backwards, and tirelessly in its pursuit of finding sweetness. So to get a hummingbird tattoo is to live positive and honor the small things in life. The blend of watercolors looks quite fascinating with splashes to enhance the overall outlook of the design.
Skull and brush stroke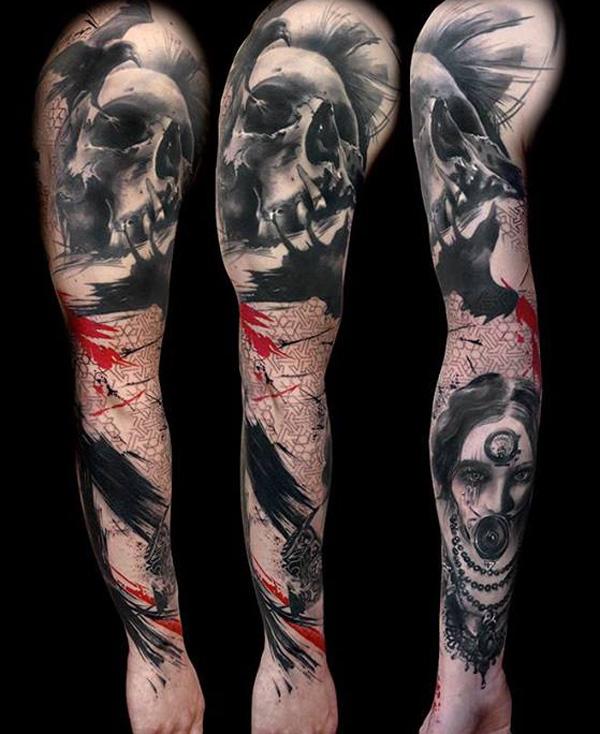 Full sleeve tattoo with bride, skull and spooky faces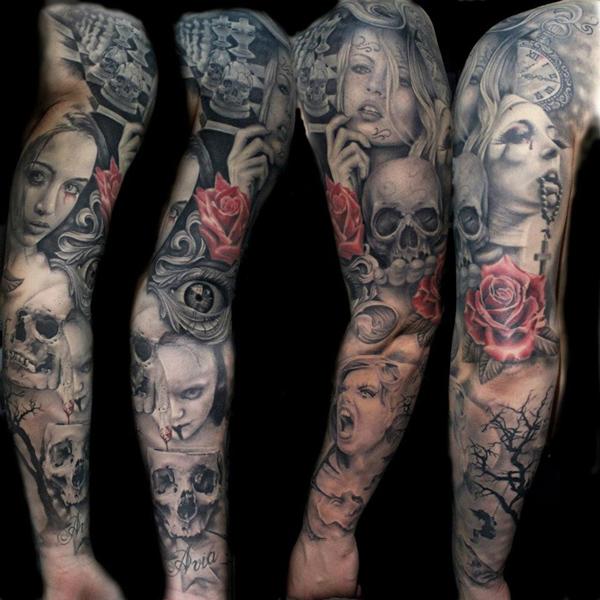 Watercolor flower arm tattoo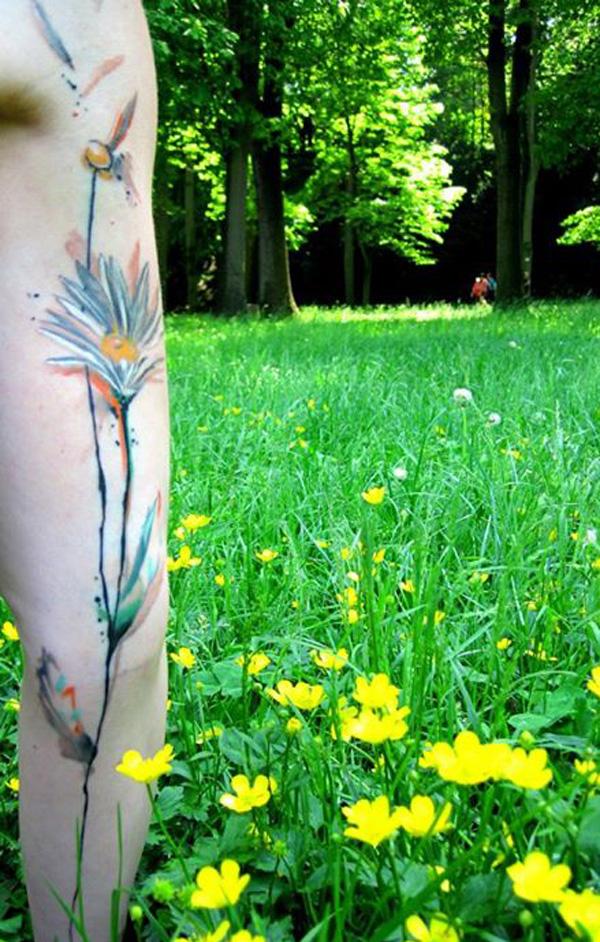 Silhouette birds full sleeve tattoo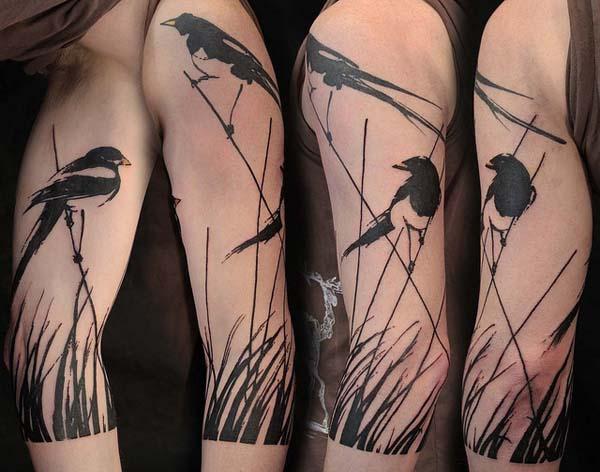 Pirate skull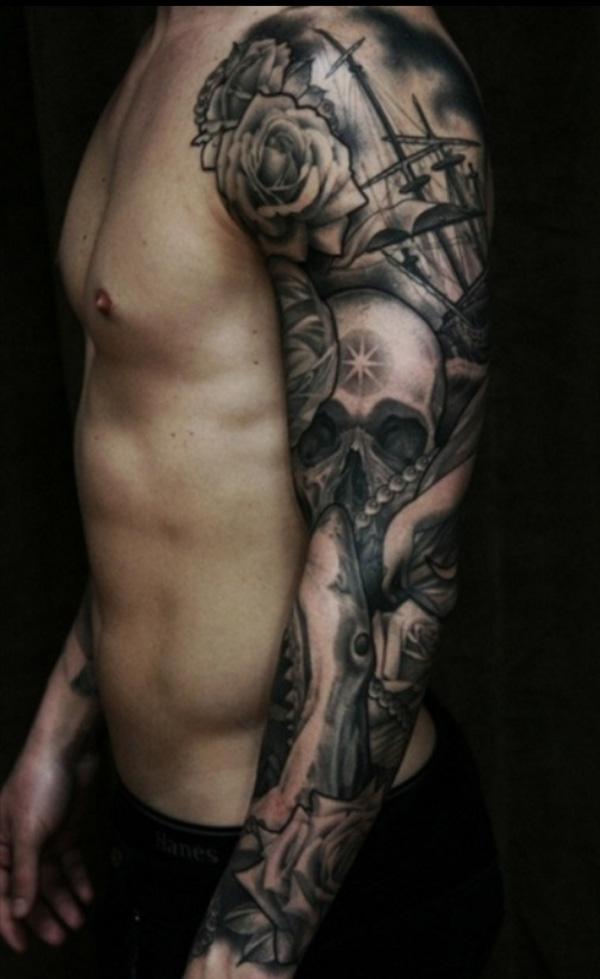 Polynesian full sleeve tattoo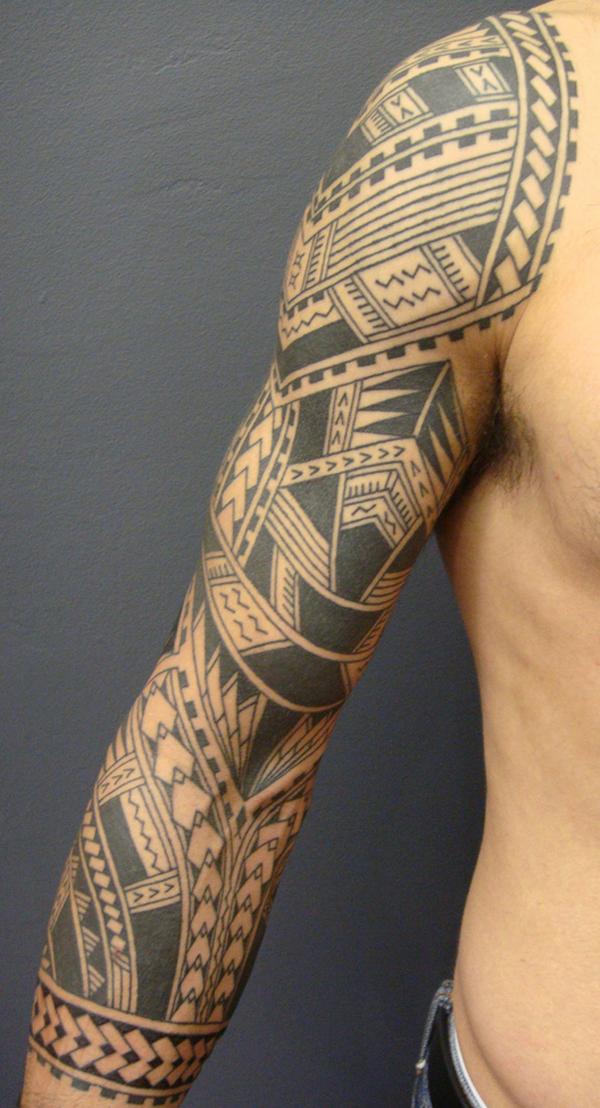 Tree of life – life begin again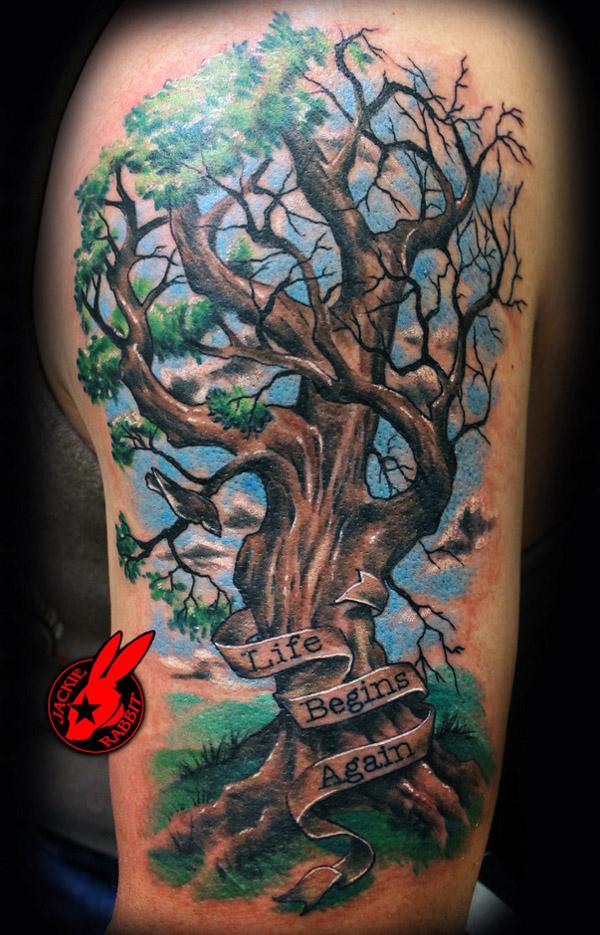 Japanese woman forearm tattoo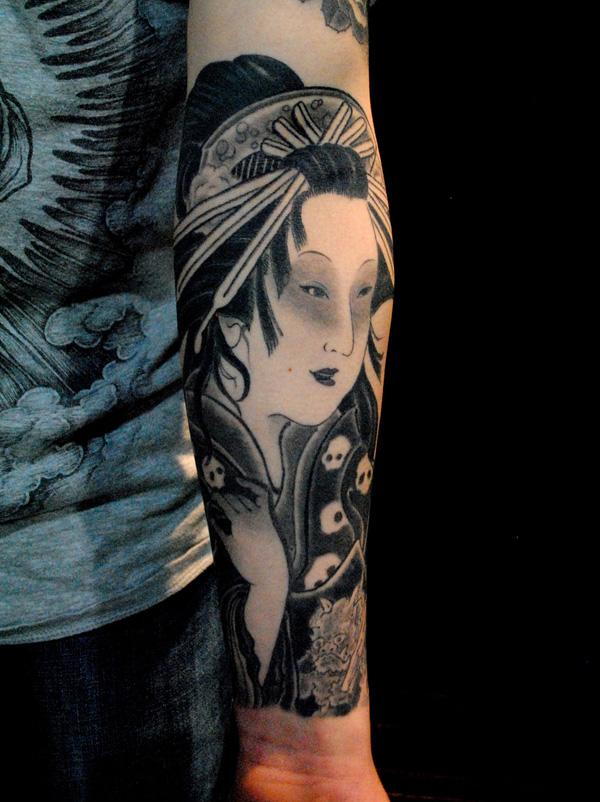 Surreal Tattoo full sleeve tattoo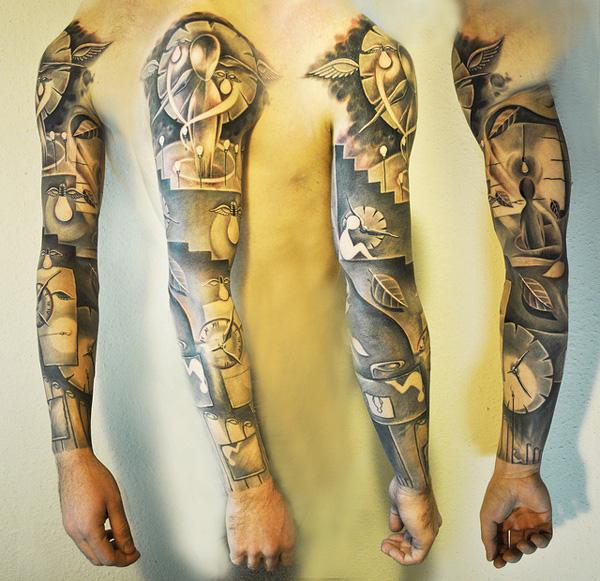 Jacky Hanya arm tattoo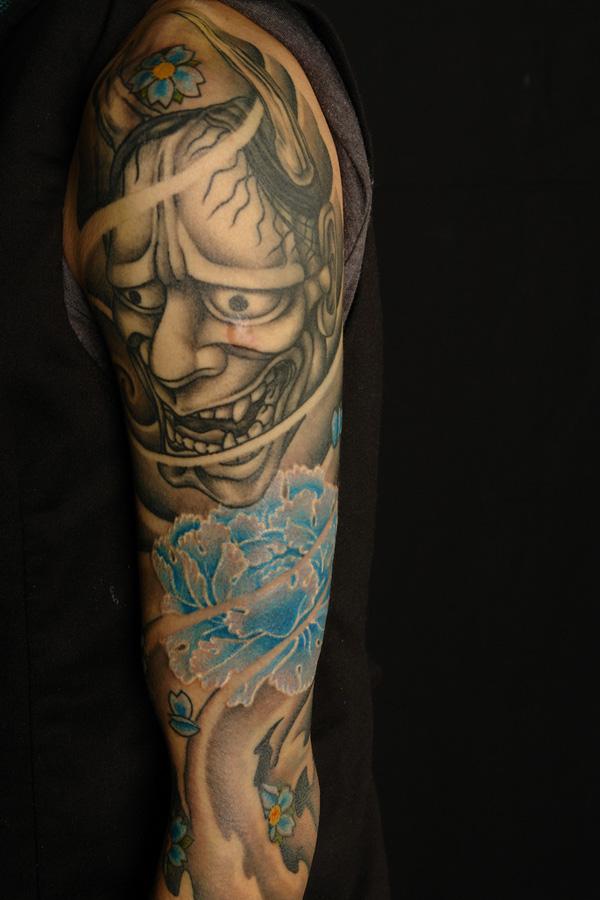 Little Girl and Cherry Blossoms Tattoo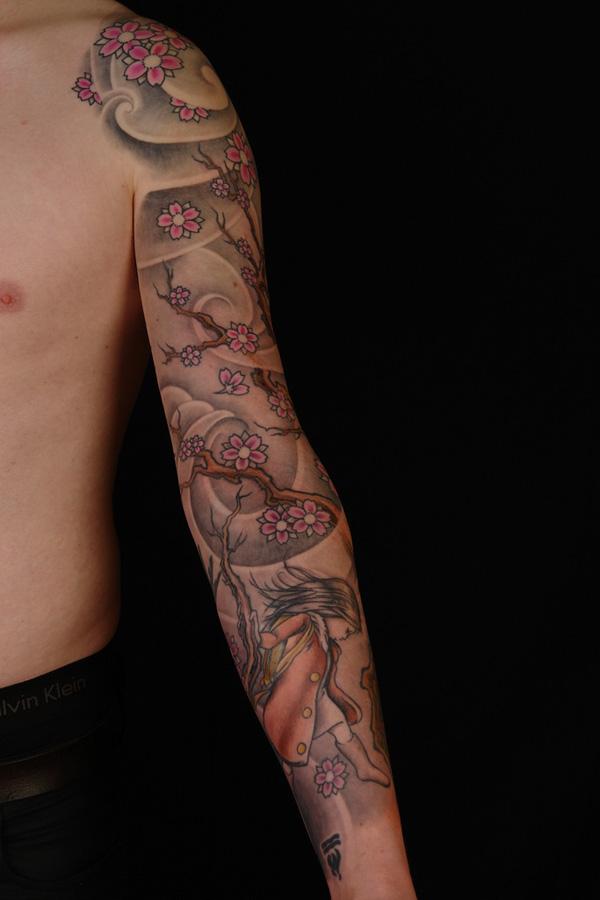 City Landscape sleeve tattoo for men
Carnation flowers tattoo with gray shading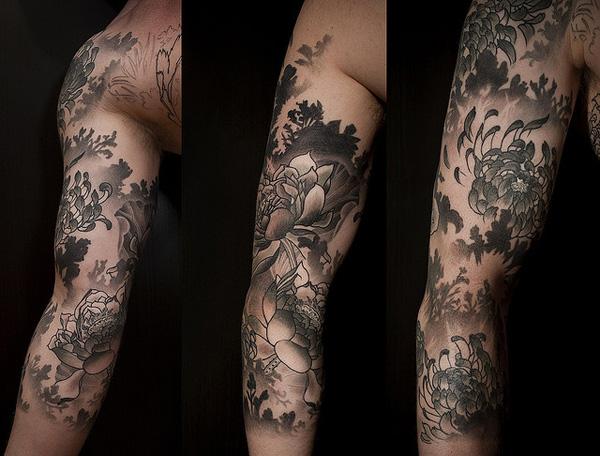 WestCoast music half Arm Tattoo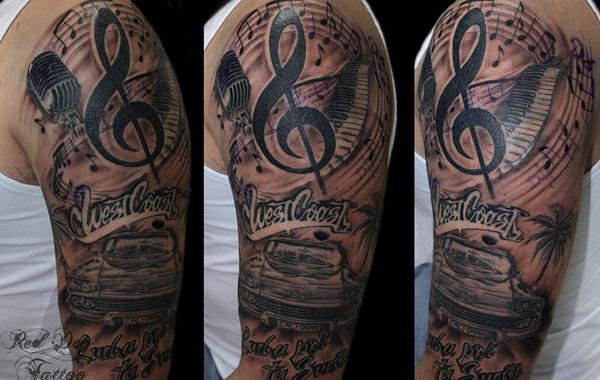 Virgin Mary and bible verses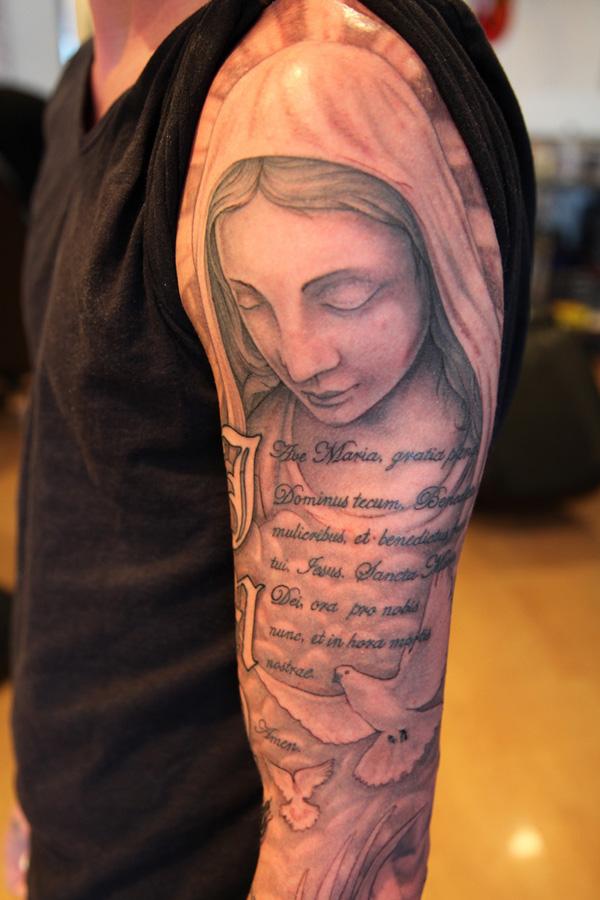 Intricate half sleeve tattoo for men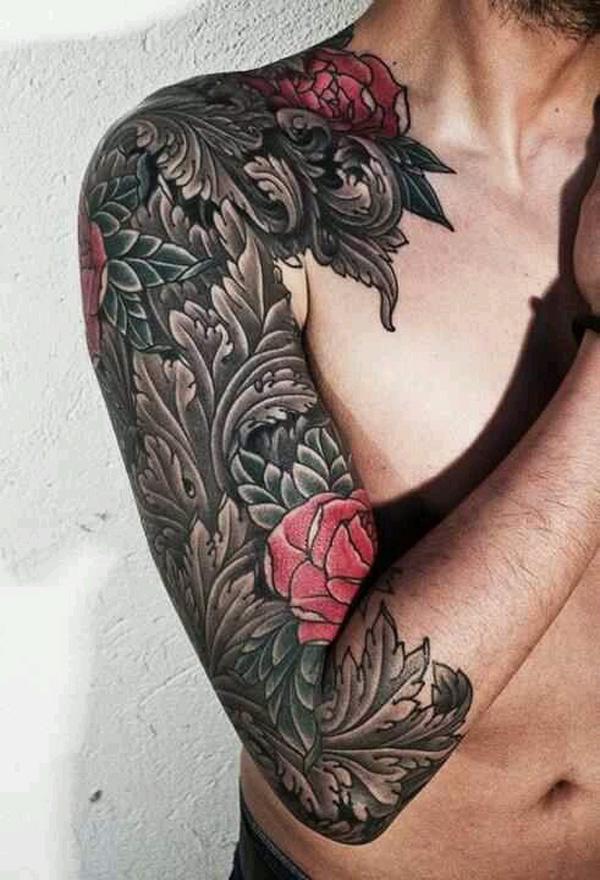 Rose tattoo for Dad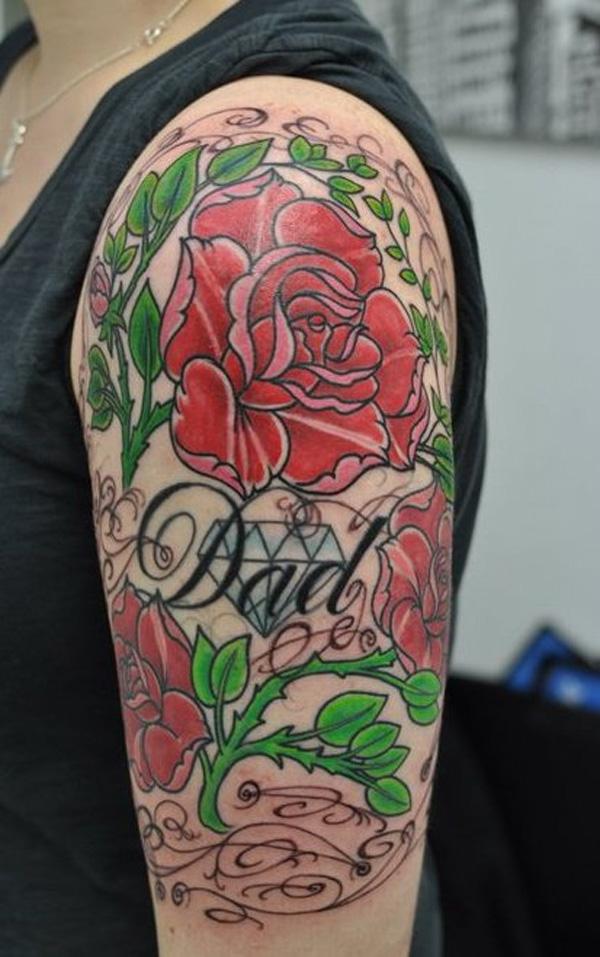 Enchanting woman portrait tattoo in grayscale on inner forearm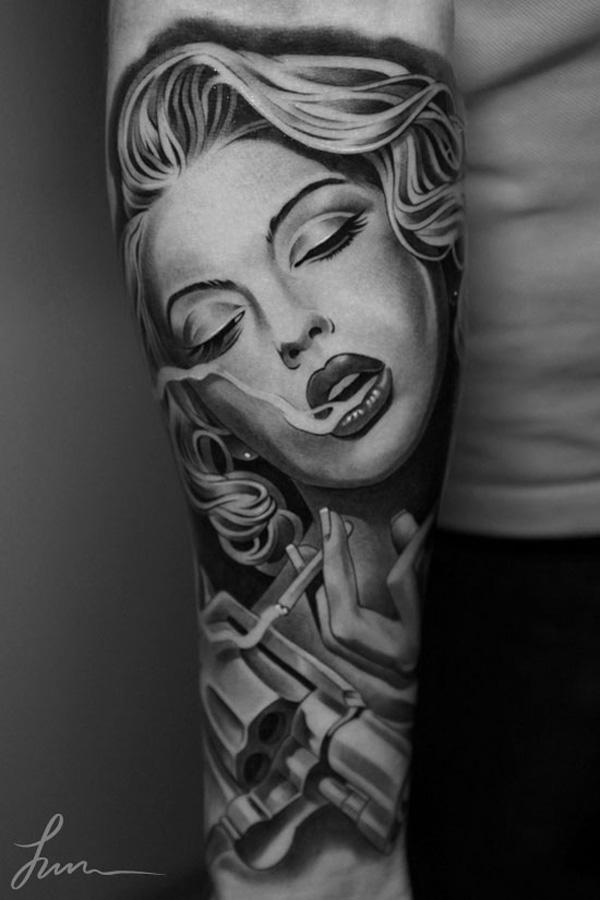 Black and gray bird inner bicep tattoo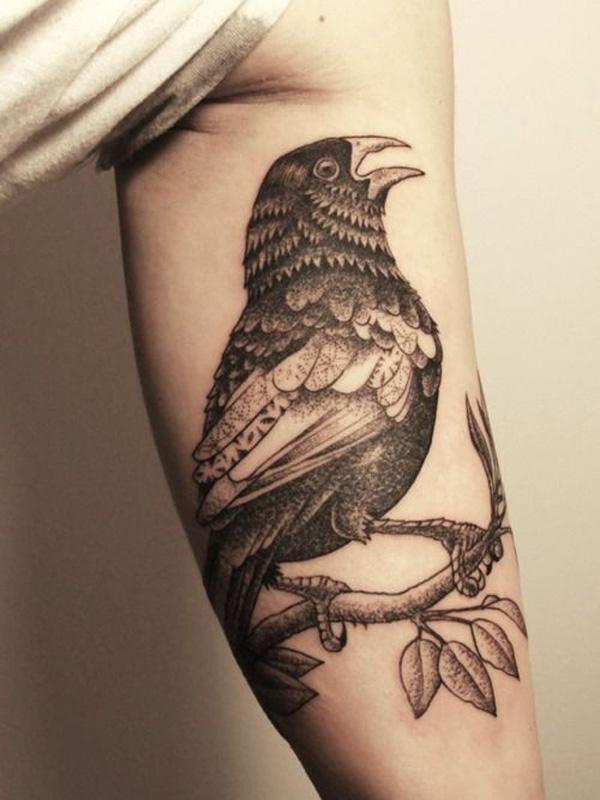 Scripts forearm tattoo – Until I discovered cooking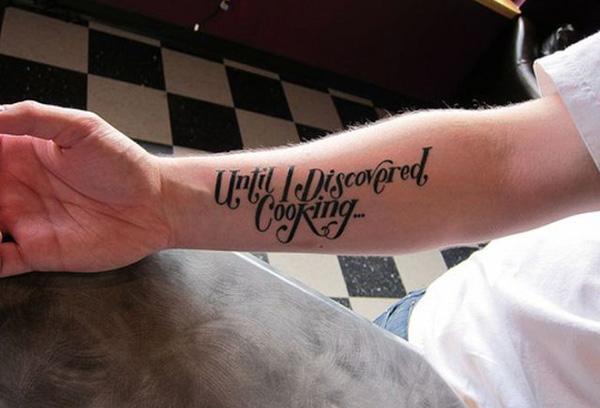 Funny tattoo – Laugh Now and Cry faces on upper arm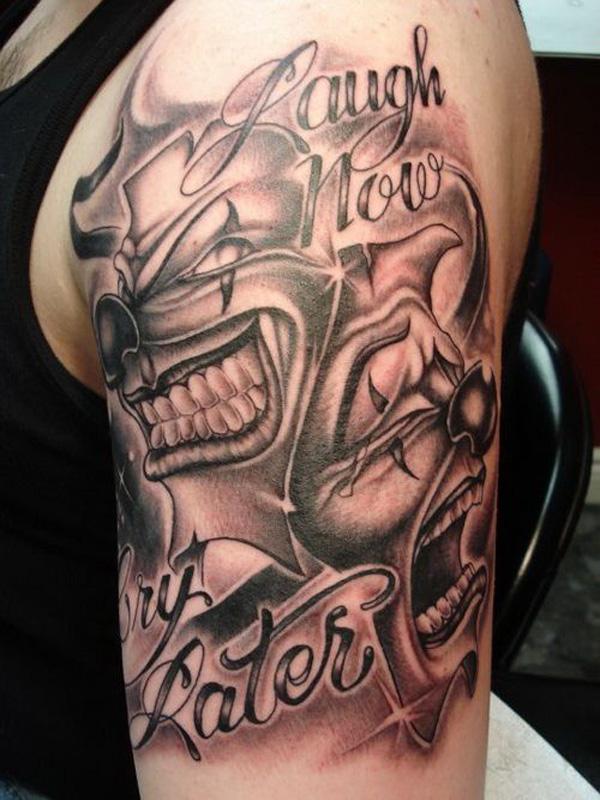 Praying Hands with cross arm tattoo designs for men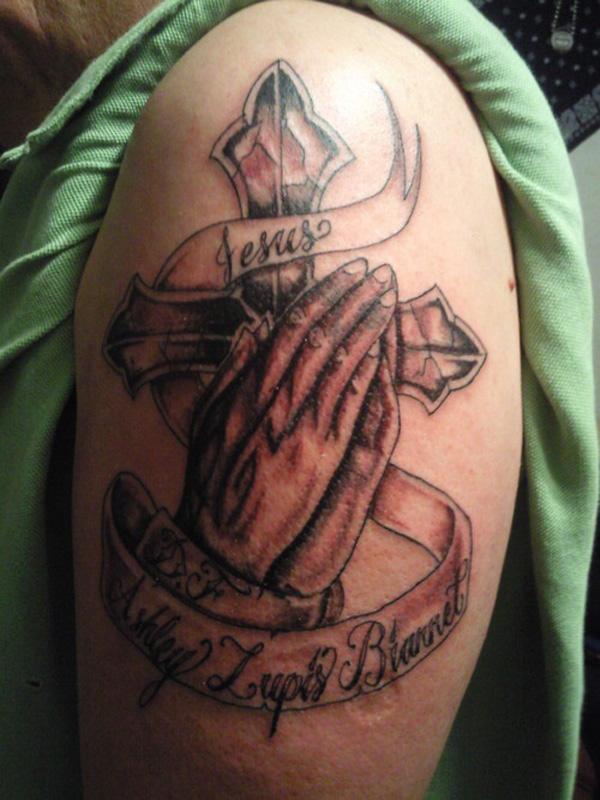 Inner Arm Tattoo with Quotes For Women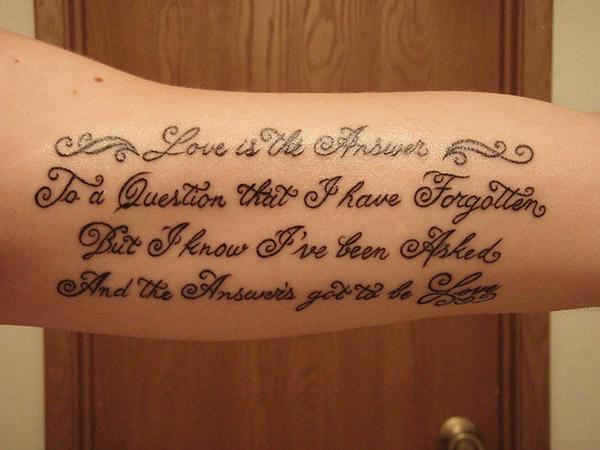 Love is the answer. To a question that I have Forgotten. But I know I've been asked. And the answer's got be elect.
Skull and motivational words arm tattoo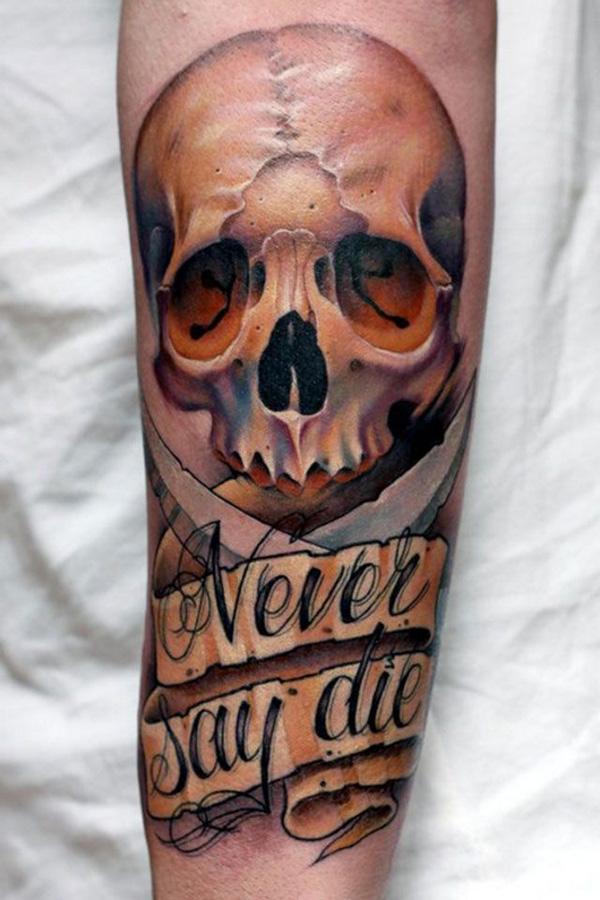 This striking skull tattoo is a powerful reminder to never give up. Featuring the iconic phrase "Never Say Die", this bold and meaningful design serves as a daily reminder that no matter how difficult life can be, it's important to stay determined in order to achieve your goals. The skull symbolizes courage in adversity, making it a great tattoo for motivation during hard times..
Dragon and cloud tattoo on upper arm for men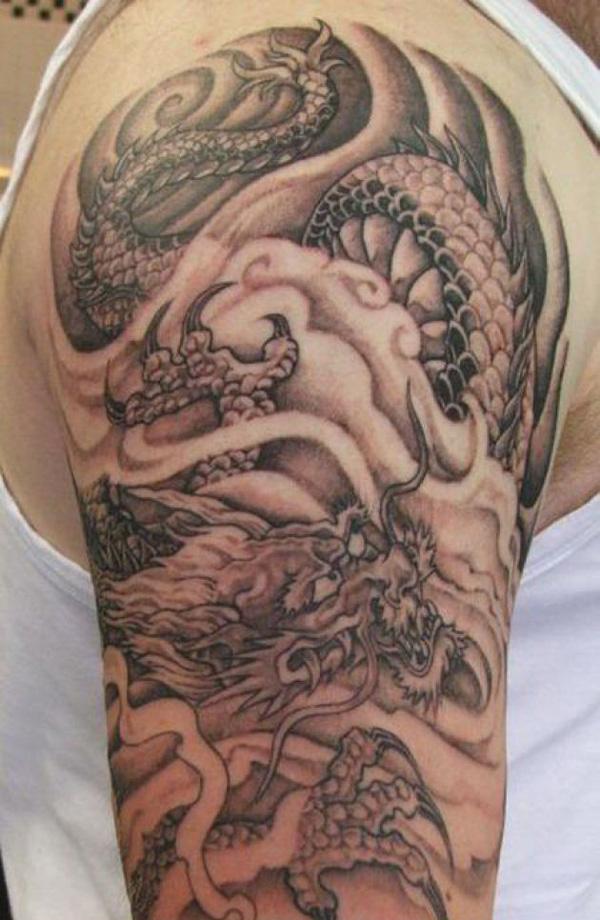 Arm tattoos For women
Dragon arm tattoo in vibrant colors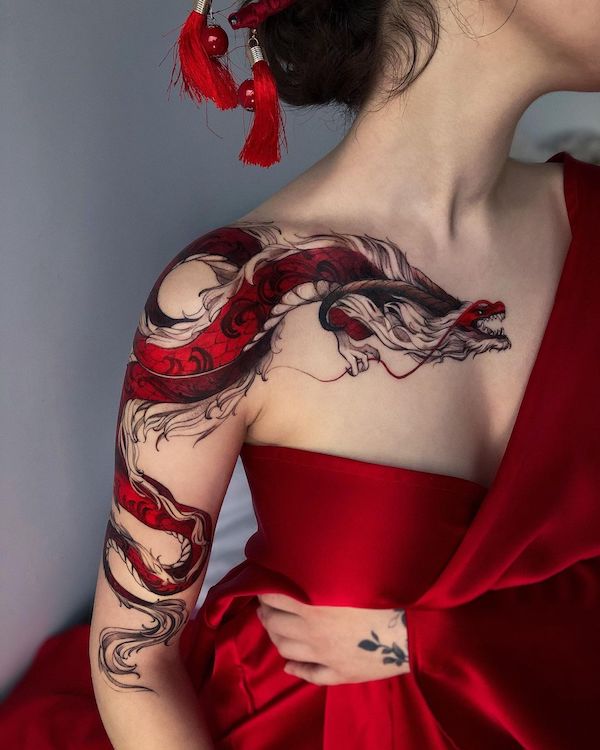 Dense woods tree tattoo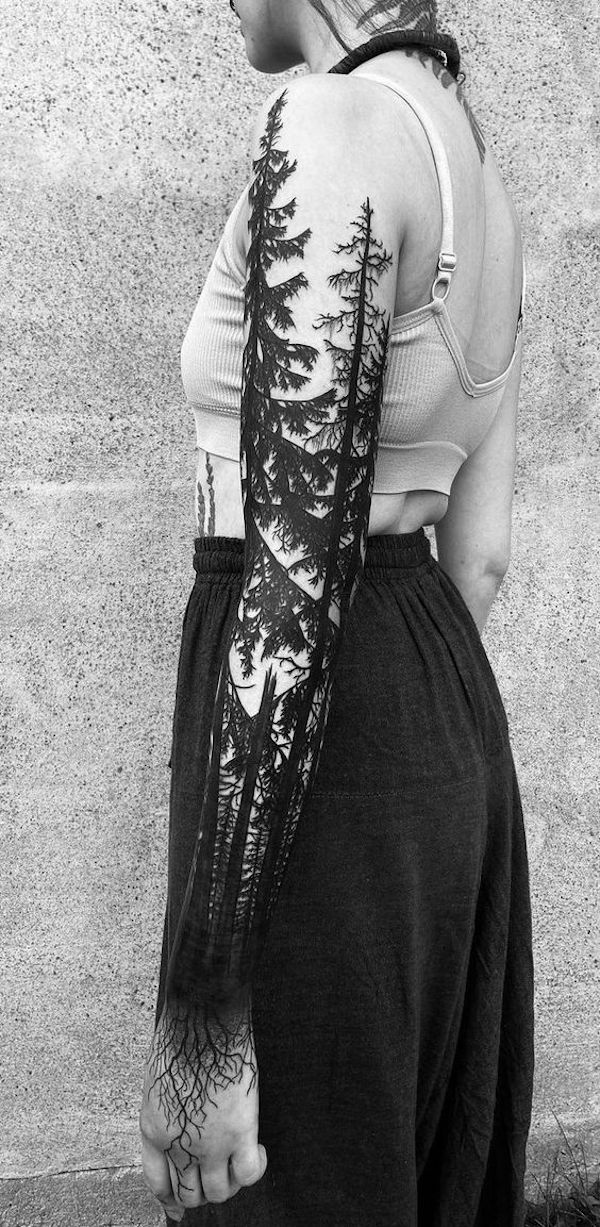 3D butterflies on upper arm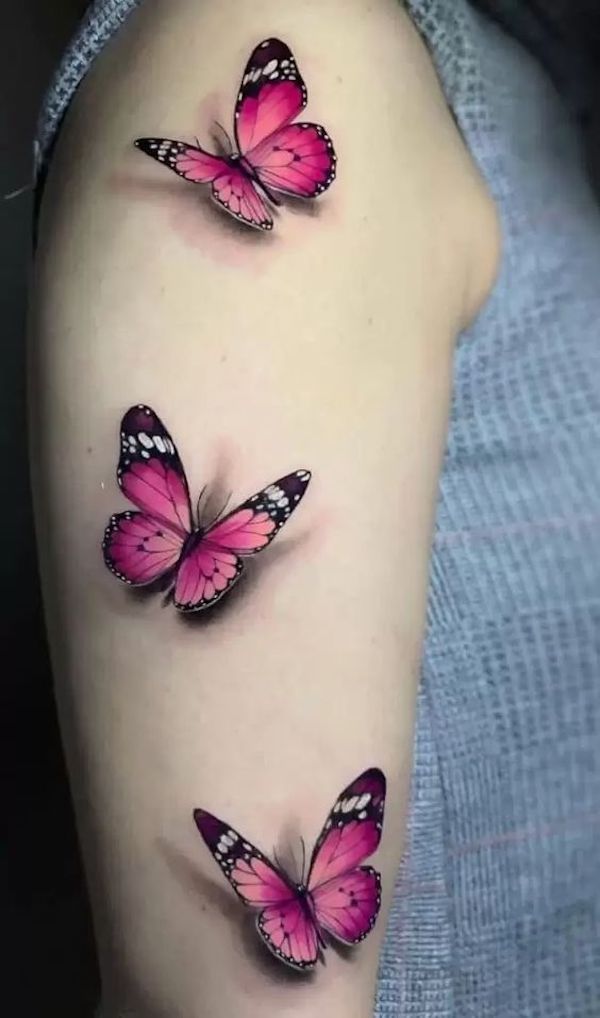 Black and white snake and flower tattoo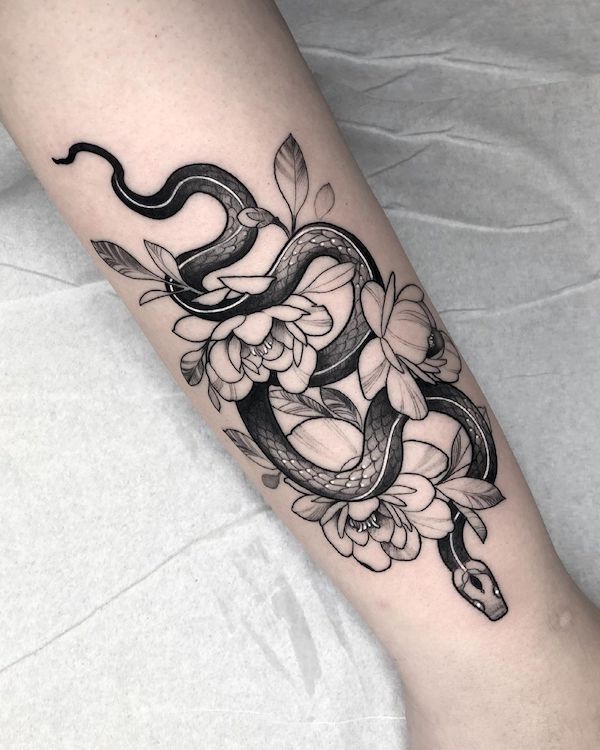 Colorful Octopus tattoo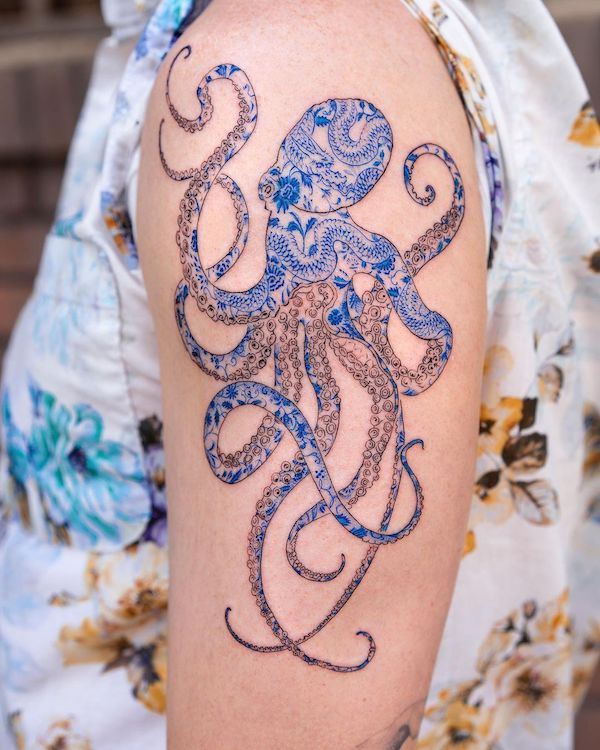 Dragon arm tattoo in vibrant colors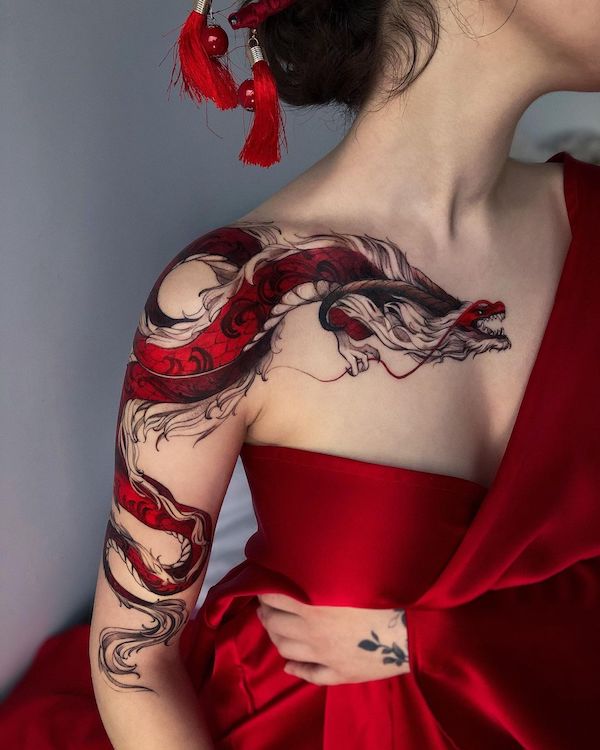 Snake intertwined with flowers tattoo female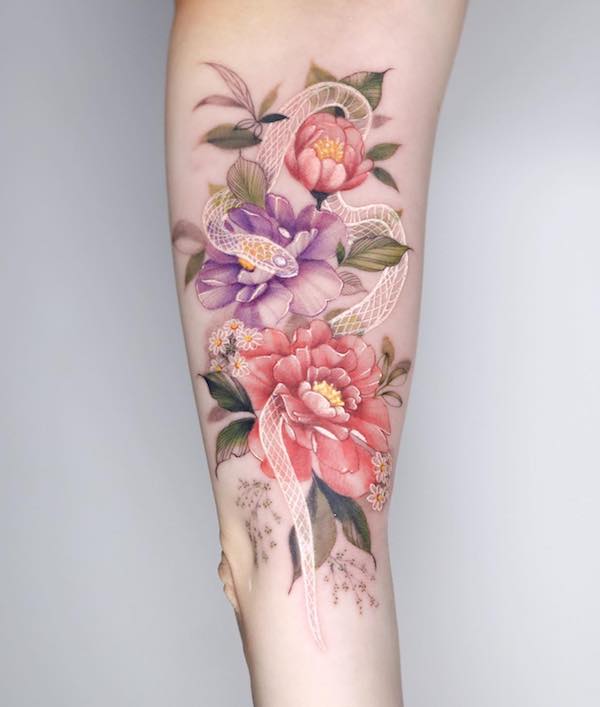 Watercolor eagle tattoo on forearm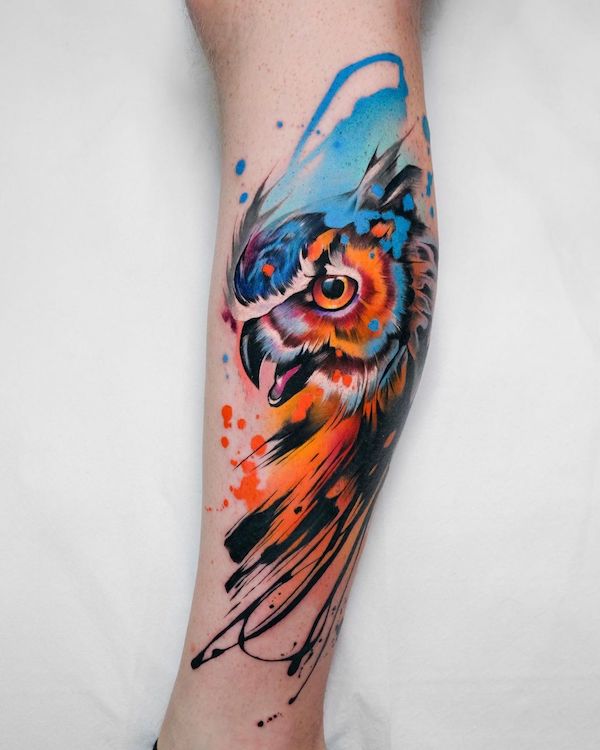 Watercolor Rose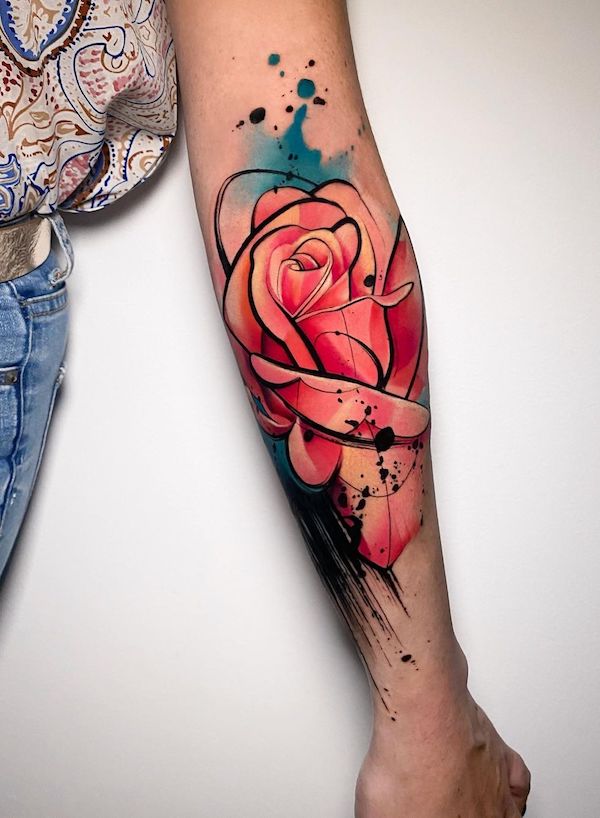 Dragon intertwined with arm tattoo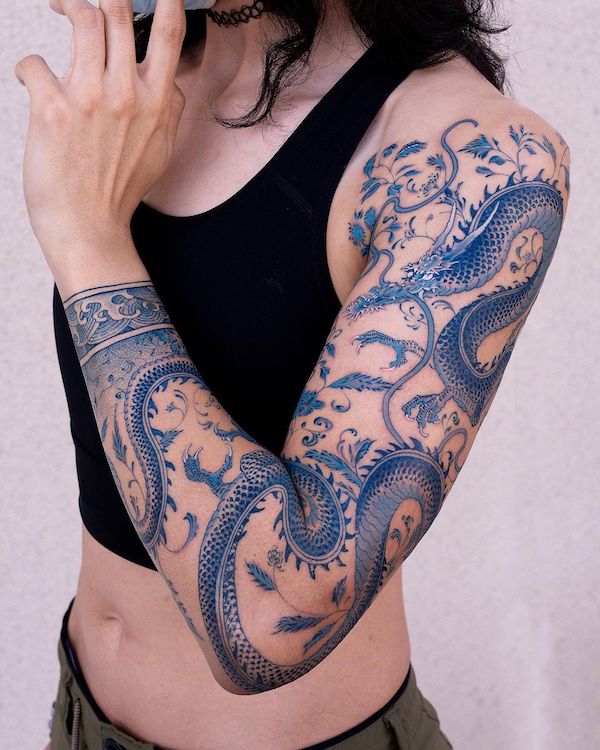 Dragon intertwined with flowers
Elegant flower tattoo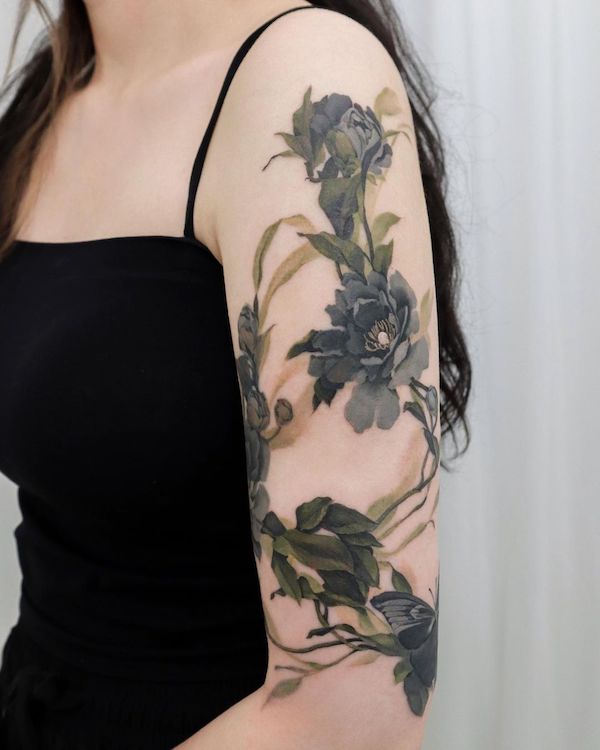 Floral tattoo in Chinese painting style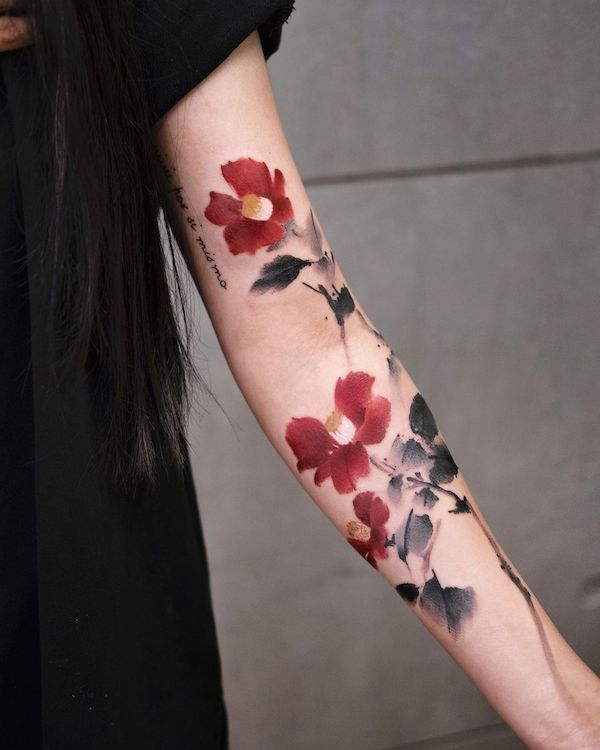 Four realistic butterflies on forearm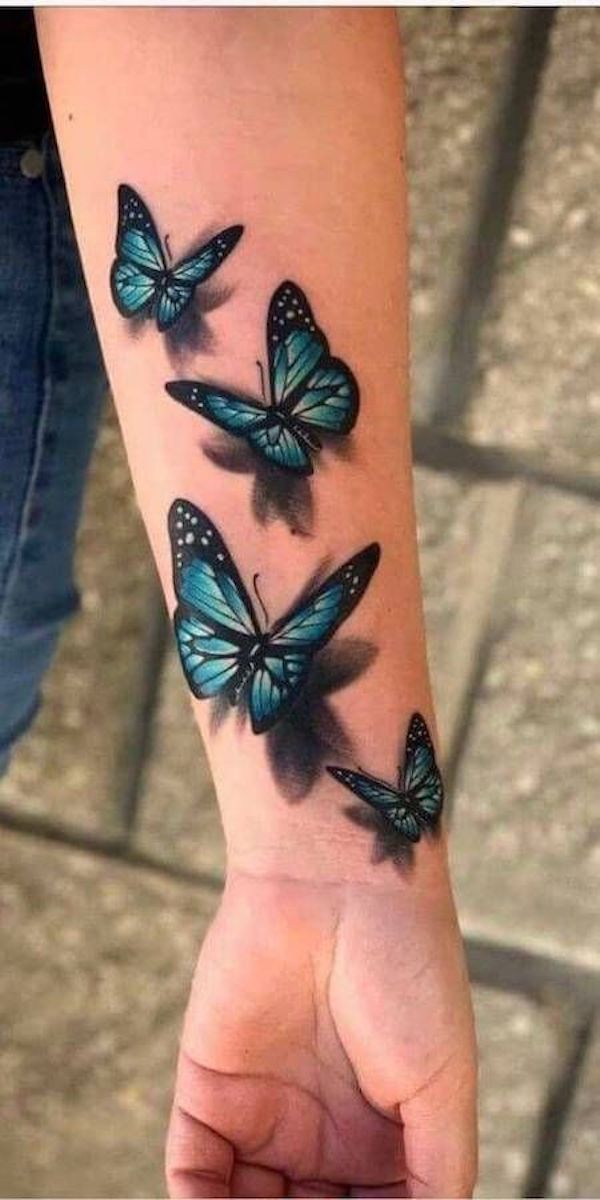 Four sunflowers family tattoo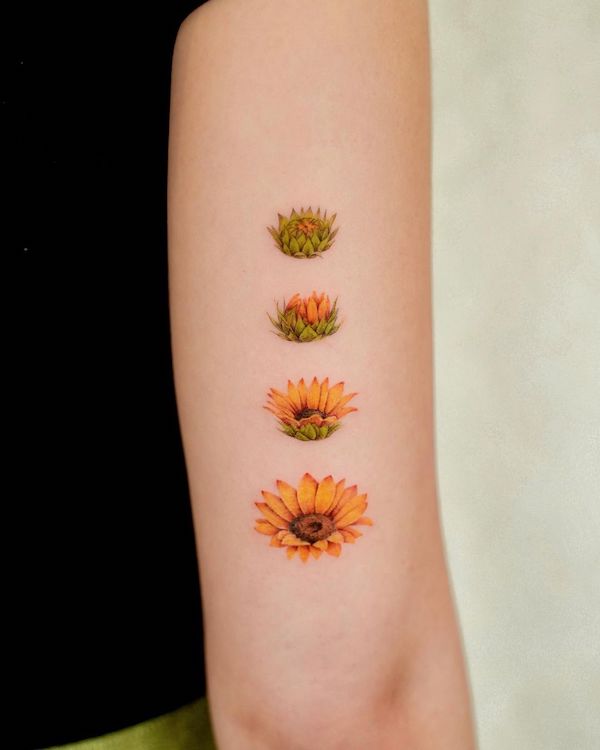 Full sleeve tattoo for women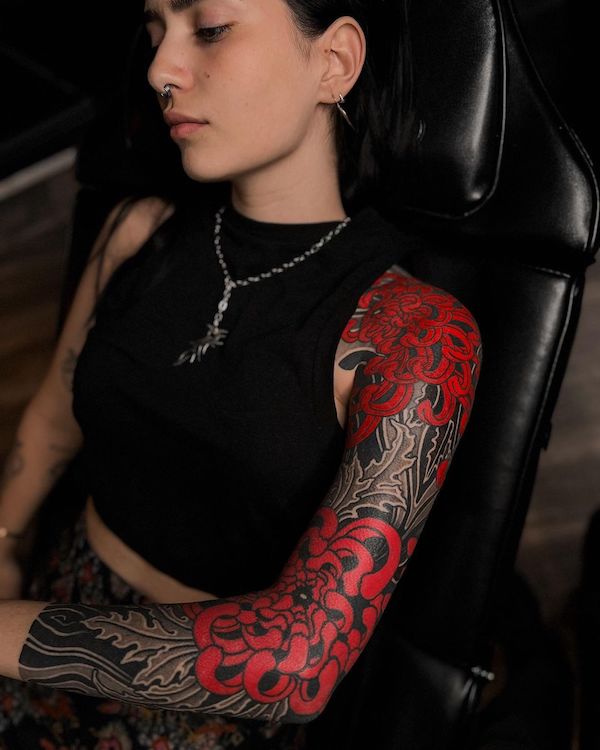 Ladybug and constellation forearm tattoo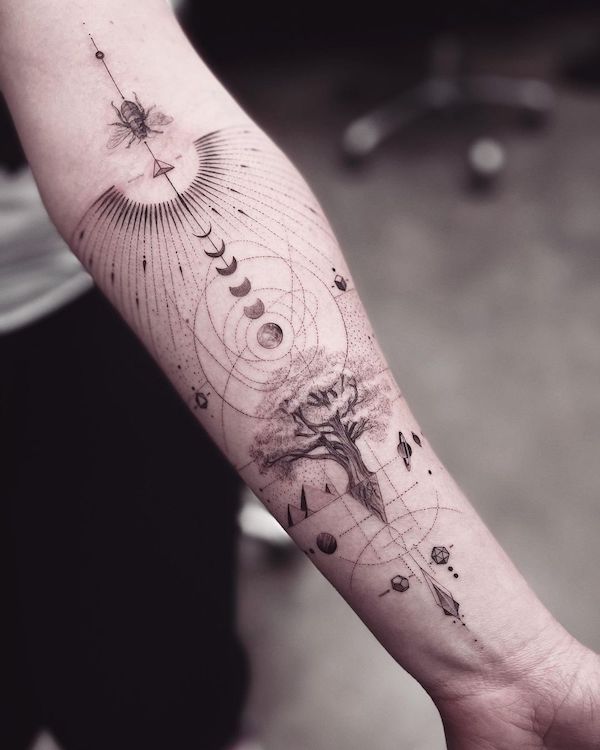 Let them arm tattoo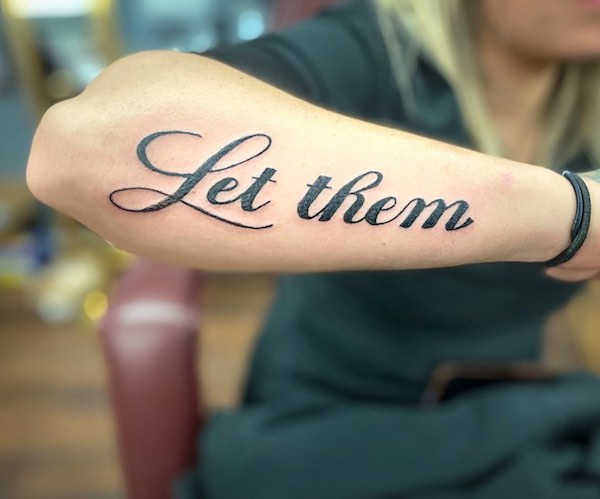 Snake and flower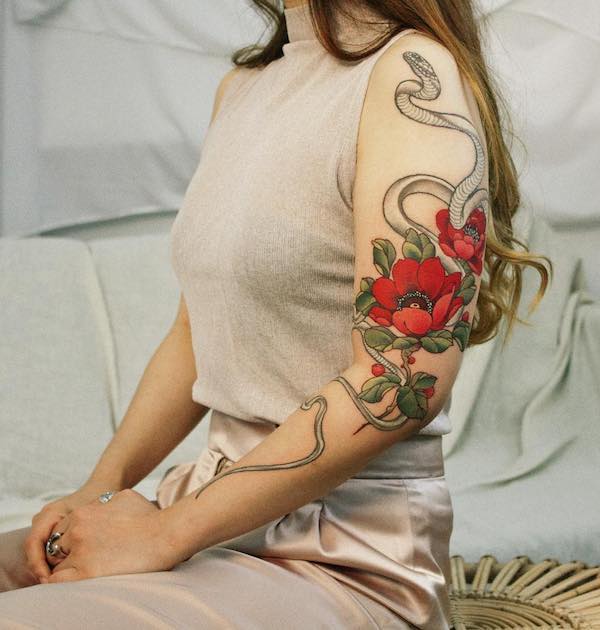 Snake arm band
Red rose with hips and horns arm tattoo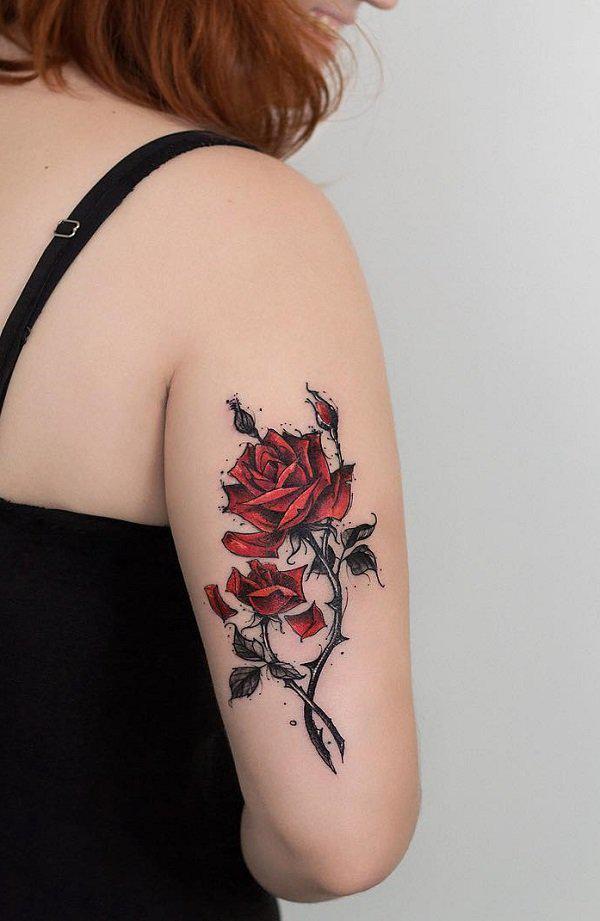 This gorgeous rose tattoo is a stunning representation of the beauty of femininity. The intricately detailed flower highlights the delicate curves and strength that can be found in women. With its bold lines, intricate details, and vibrant colors this tattoo is sure to stand out as a beautiful symbol of womanhood for years to come.
Black and white mandala tattoo for women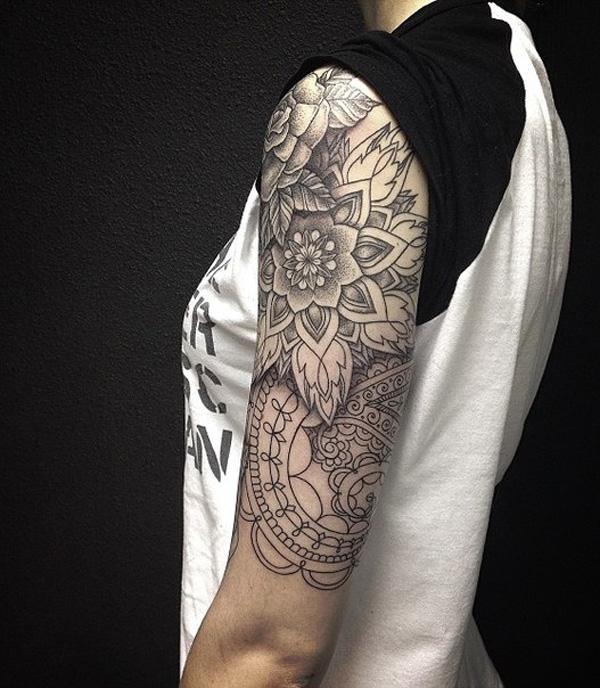 Bee and peony sleeve tattoo in gray wash style for women

Snake arm tattoo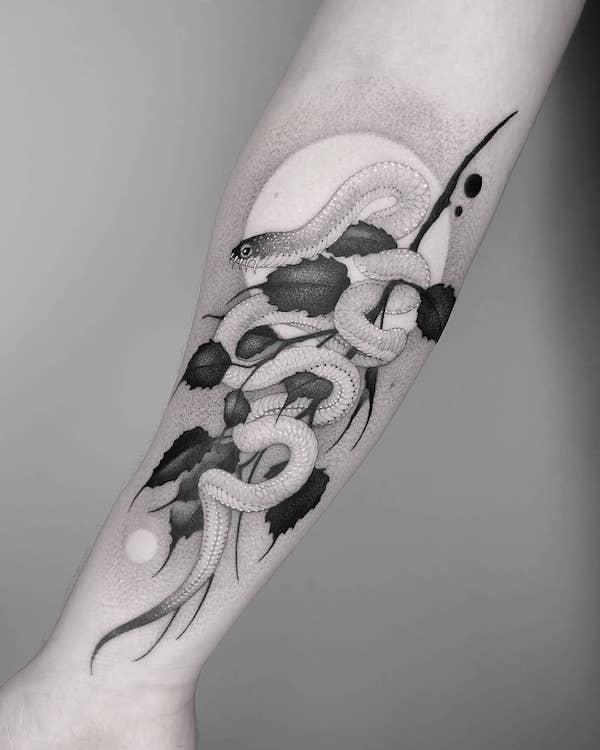 Elegant line work with rose, birds and scripts on full arm for girls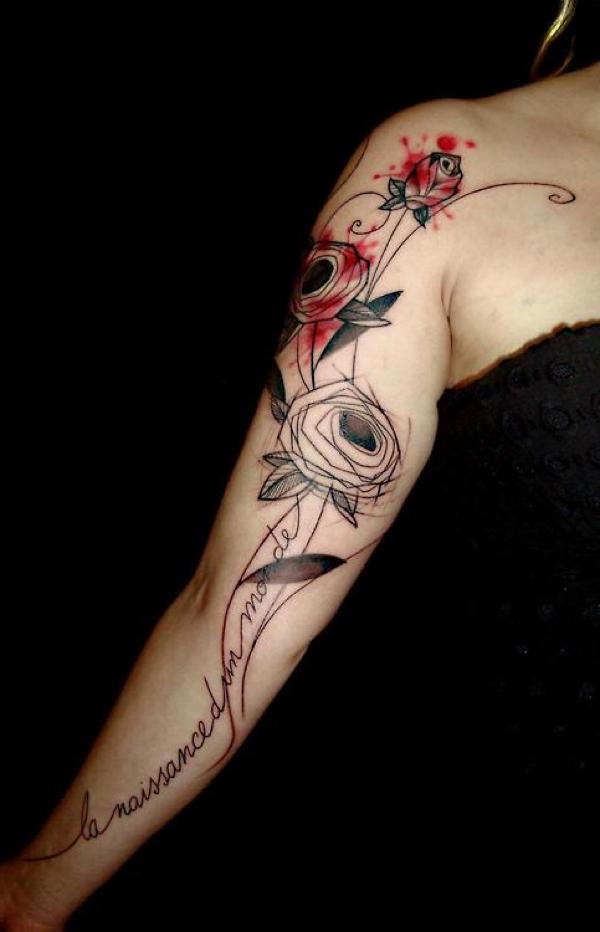 Snake wrapped around arm tattoo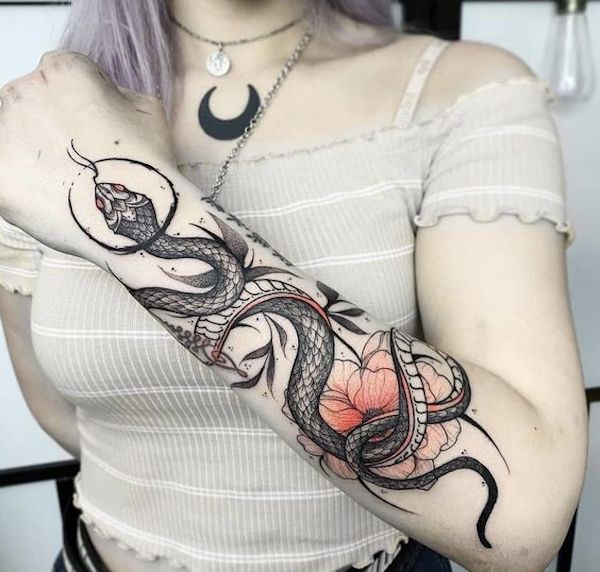 Dream catcher arm tattoo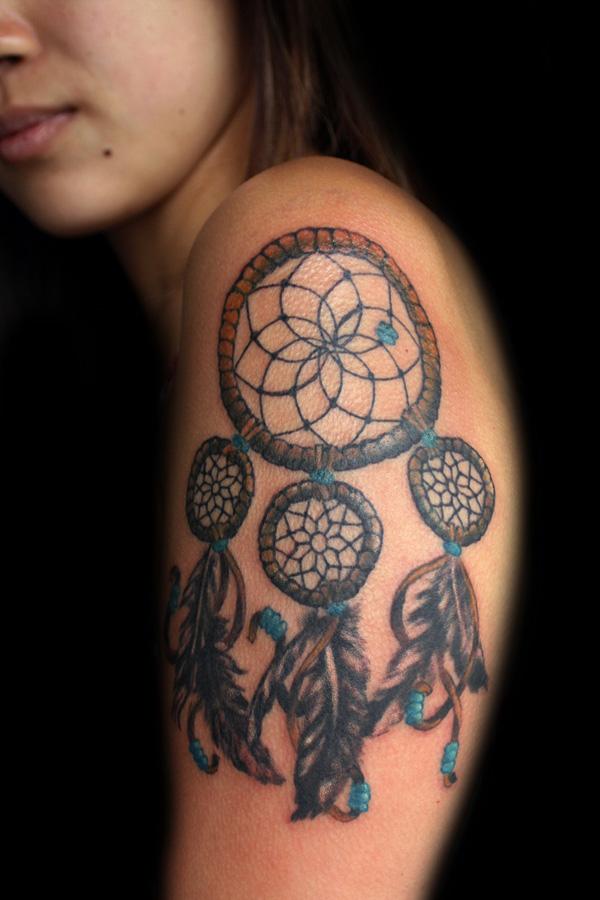 Dem lovato birds arm tattoo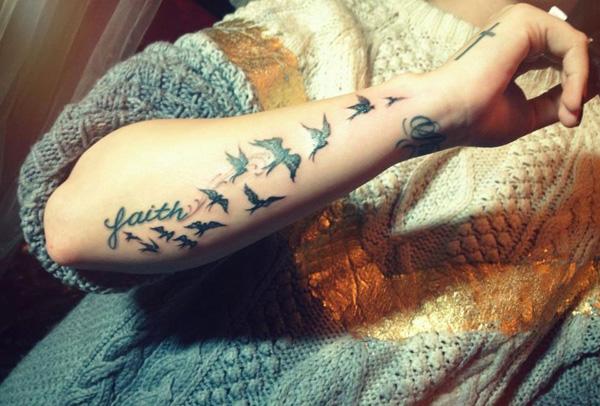 Watercolor feather tattoo on arm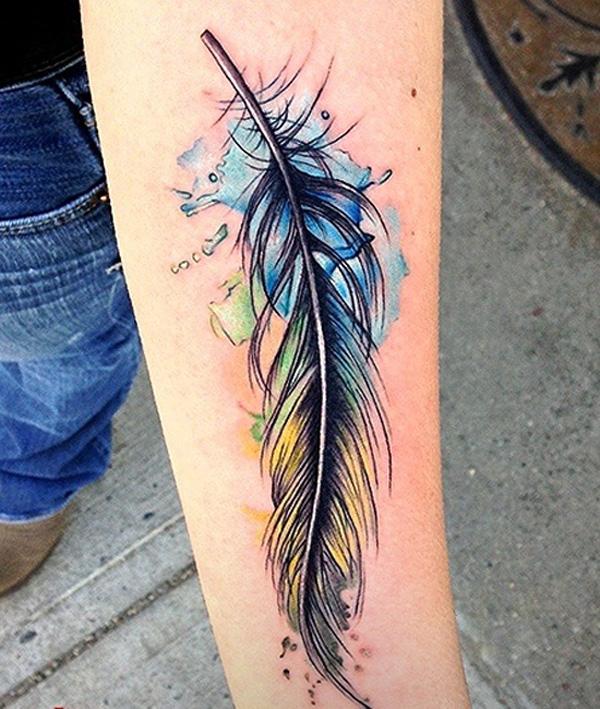 Dream catcher arm tattoo for girls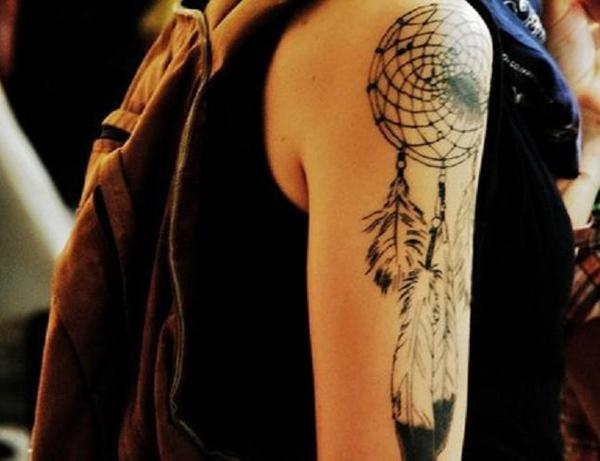 Black and gray anchor tattoo on arm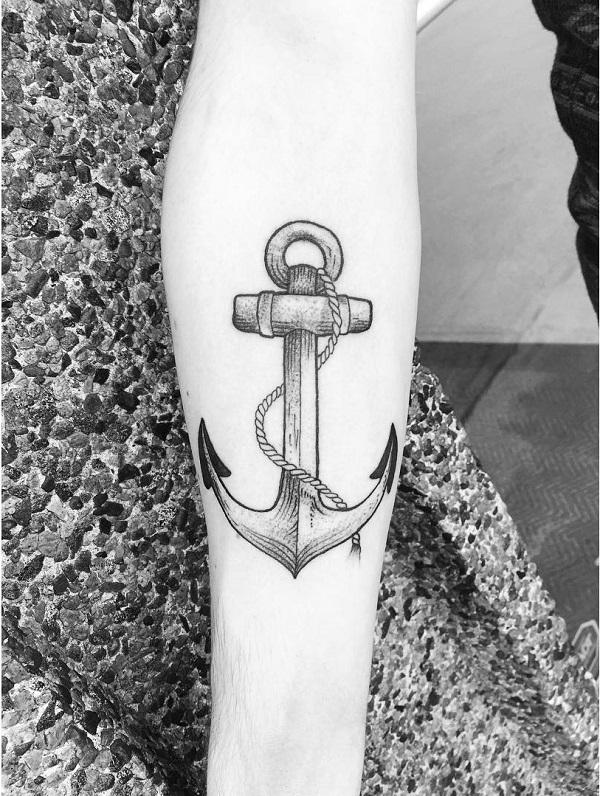 This black and gray anchor tattoo is a stunning piece of body art. It features a simple anchor with a sharp hook, as well as rope that has been wrapped around it in an artistic way. The detailed shading gives this classic symbol of stability and safety added depth, making for an impressive piece that will be admired by many.
Colored full sleeve tattoo for women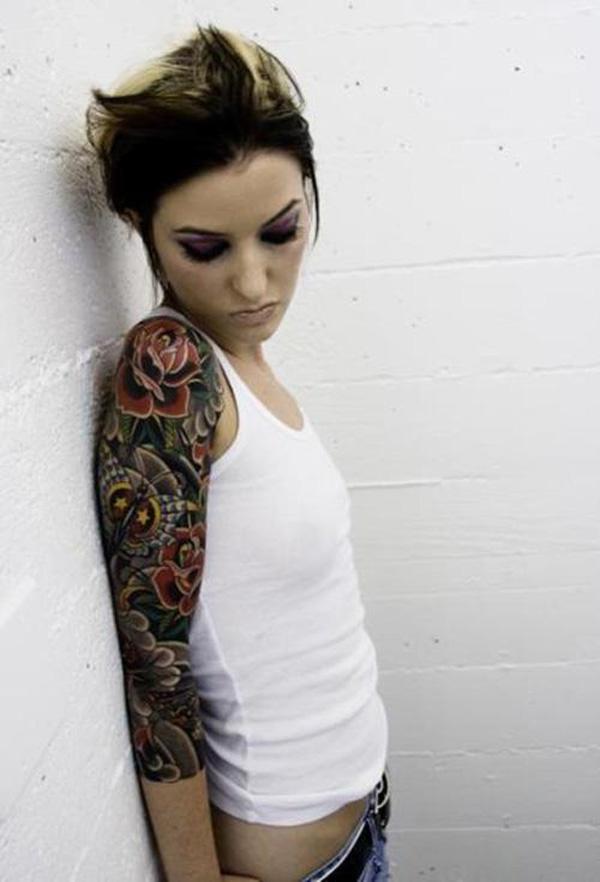 Cubist tattoo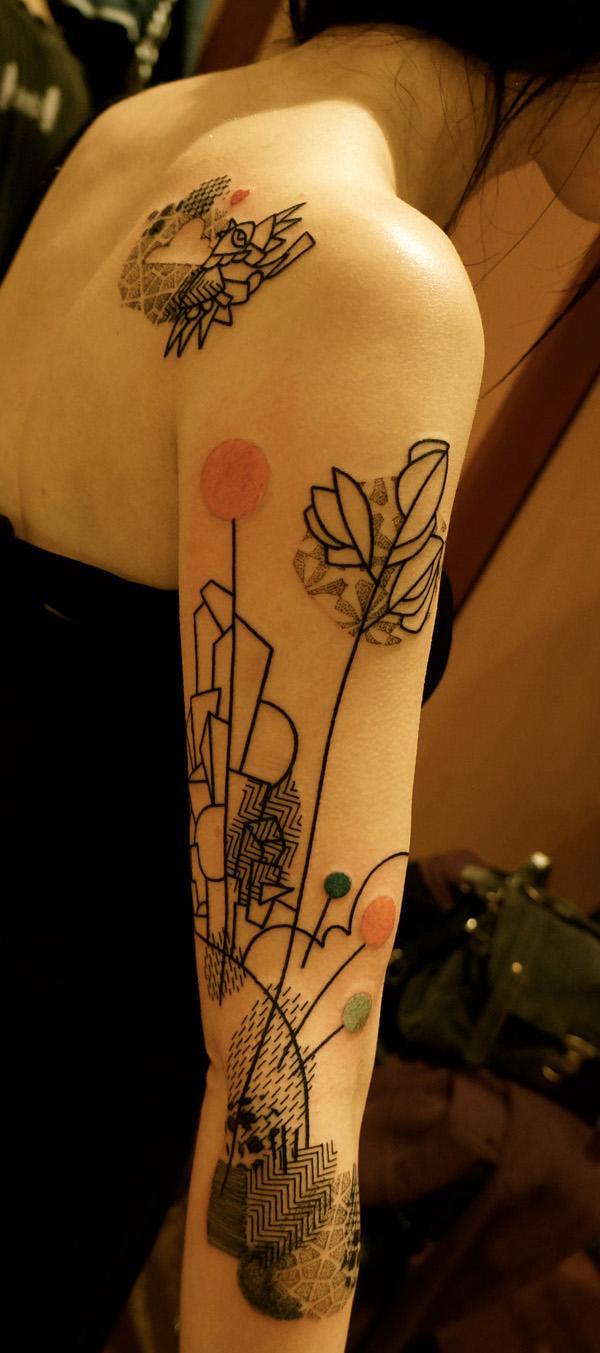 Watercolor daisy flowers tattoo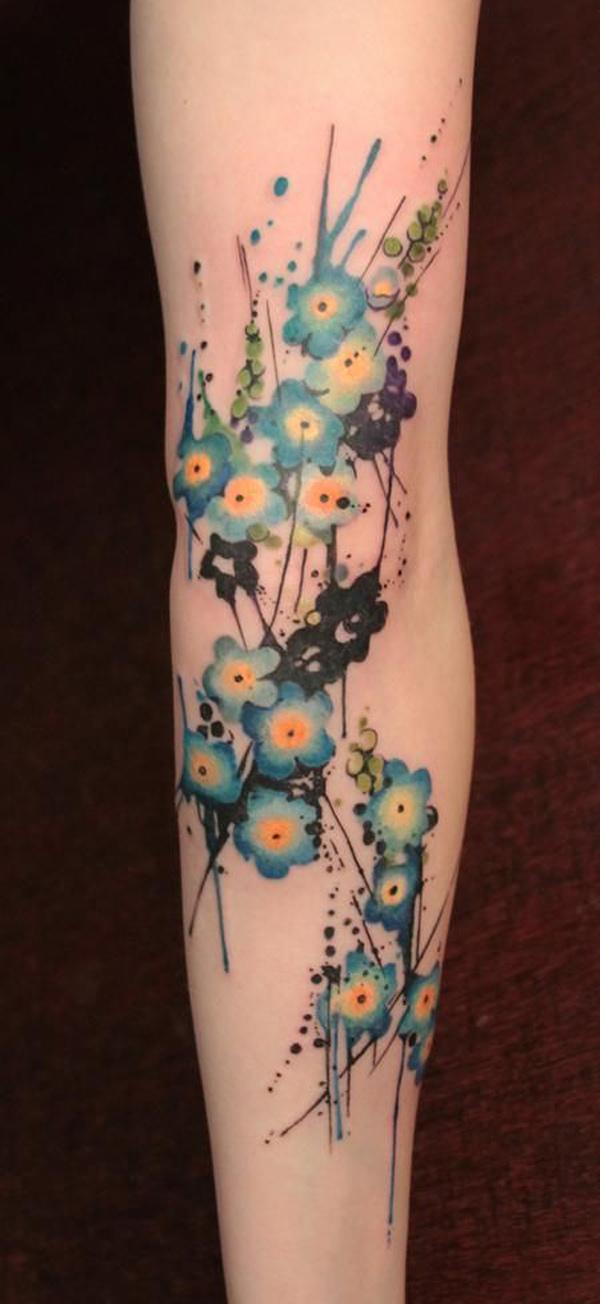 Black and gray Rose sleeve Tattoo

Floral sleeve tattoo for sportswomen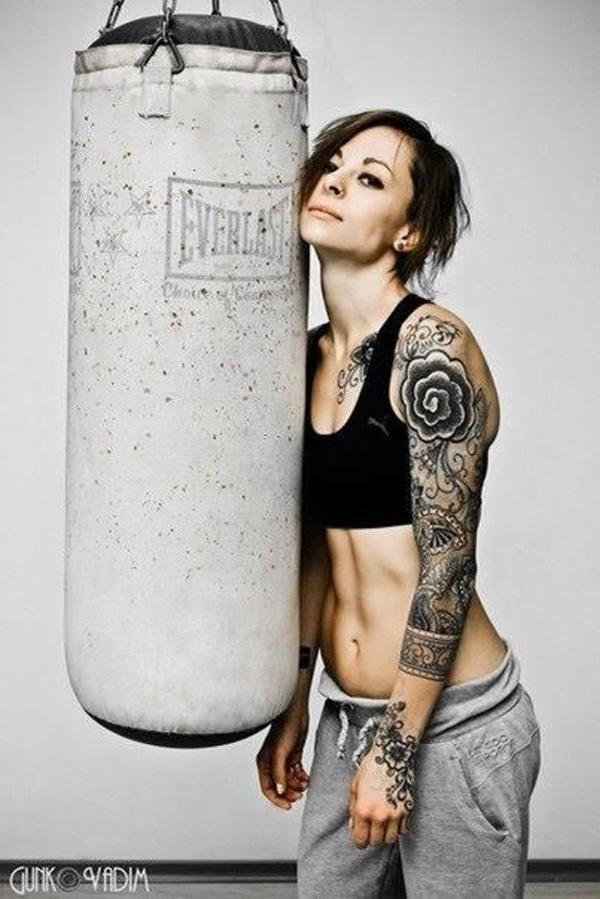 Black and grey roses tattoo on upper arm for women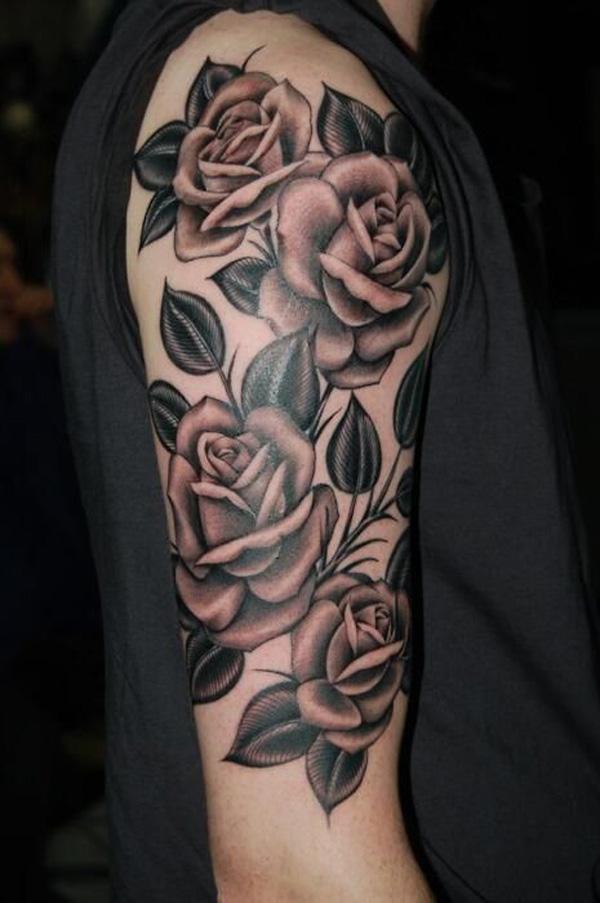 cartoon arm tattoo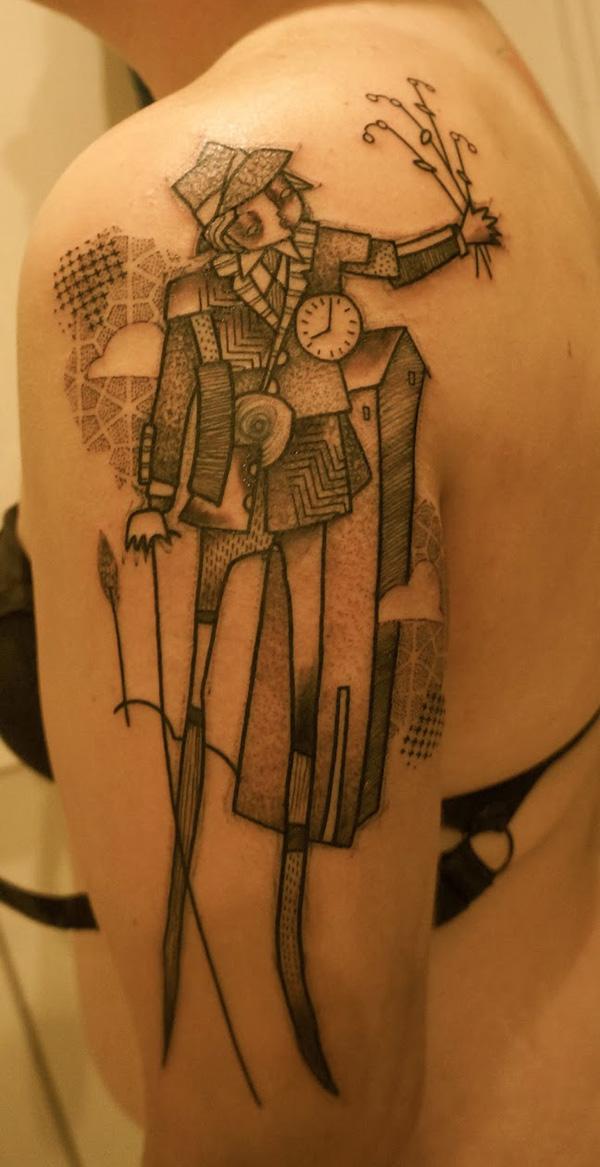 Colorful Hummingbird butterfly and poppy tattoo for women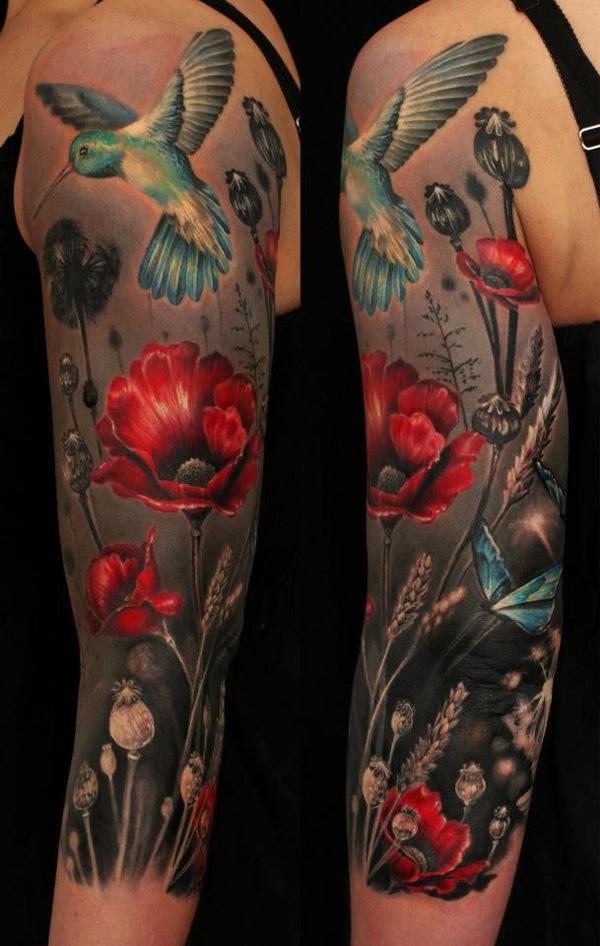 white ink mandala tattoo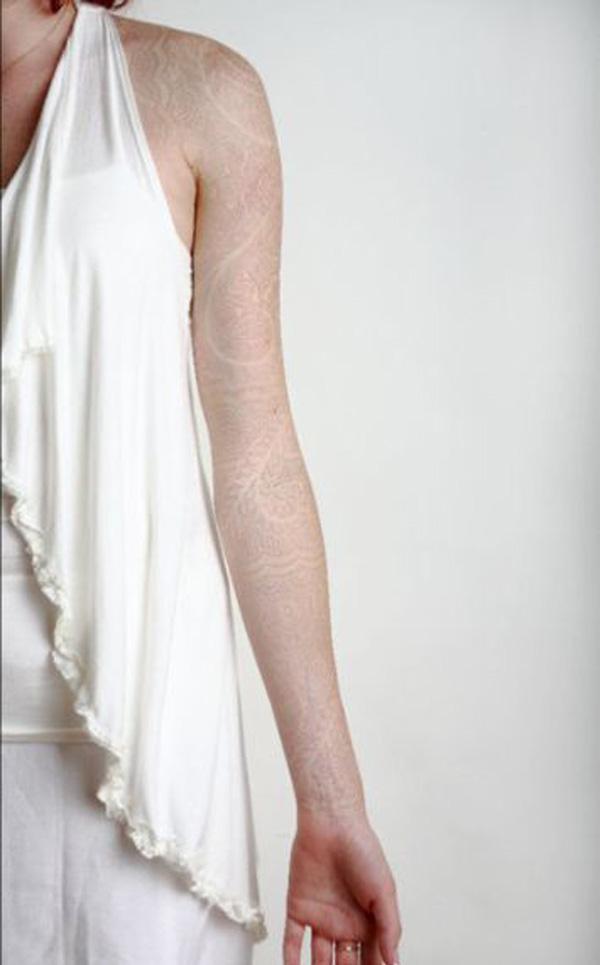 Intricate rose full sleeve tattoo for women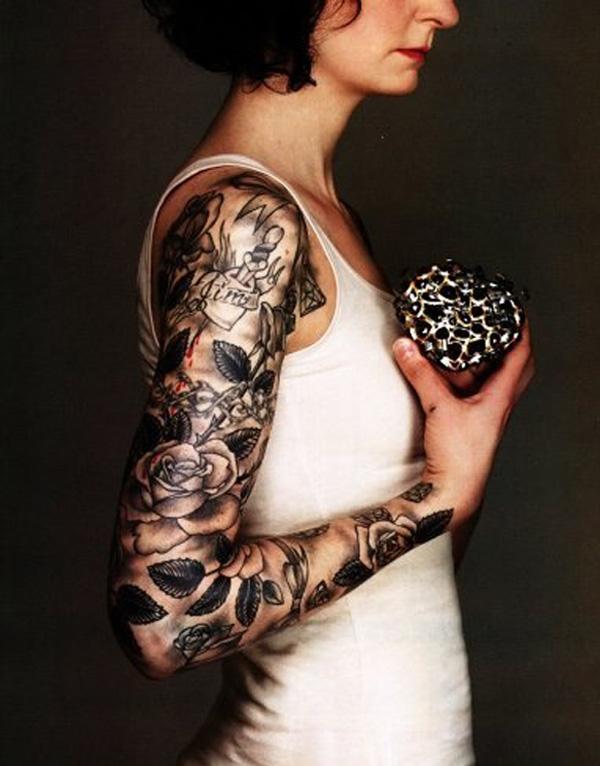 Black and white octopus and lily tattoo for women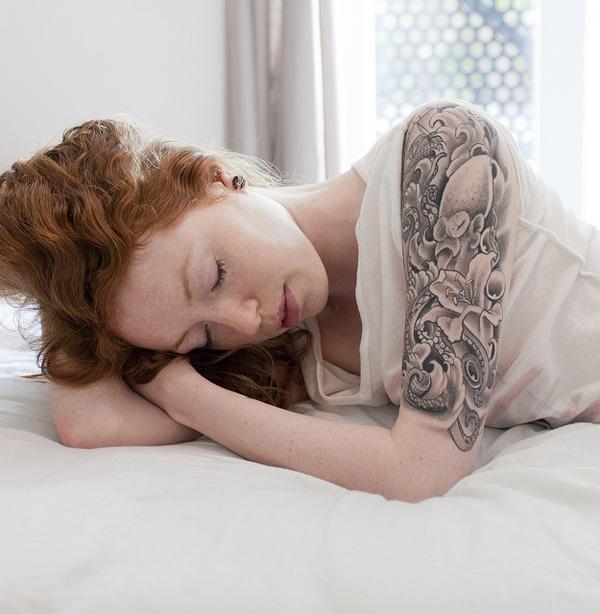 Fox arm tattoo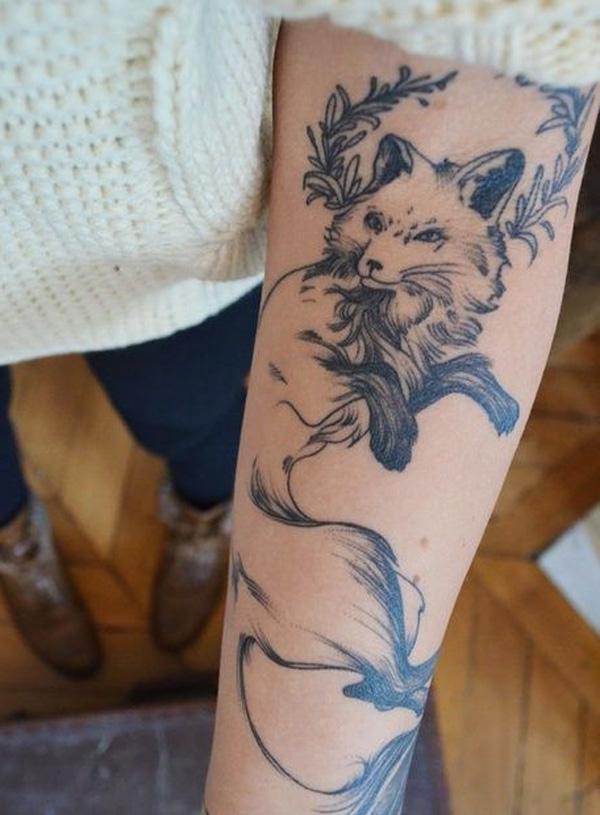 Symmetric Mandala forearms matching tattoo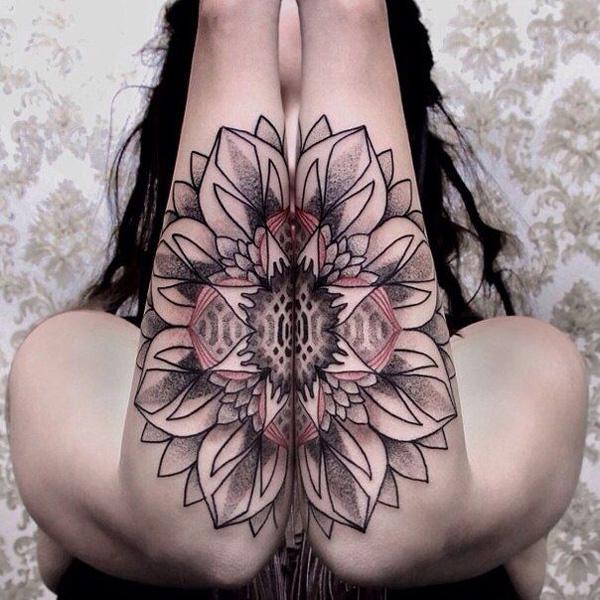 Quotes tattoo on forearm – Feel the rain on your skin