The anchor tattoo is a classic tattoo design that has been around for a long time and has a lot of meaning behind it. The anchor has been a part of maritime and seafaring culture for hundreds of years. It stands for strength, security, and staying power. In this article, we will delve into the history and its origins. We'll also look at its cultural significance and the many different versions and meanings of this popular design.
History and Origins
The anchor tattoo has a long and rich history dating back to the early days of seafaring. The earliest recorded instances of anchor symbols date back to ancient Greece, where the anchor was a popular emblem used in art and architecture to represent the gods Poseidon and Neptune. In ancient Rome, the anchor was also used as a symbol of hope and steadfastness, an image that was adopted by early Christians as a symbol of faith.
During the Age of Exploration, when sailors went into uncharted waters in search of new places and wealth, the anchor became even more important. The anchor symbol became a potent reminder of home, representing the sailors' hopes of returning to their loved ones in safety after long and perilous voyages. The anchor also came to represent a sense of stability and security in a chaotic and unpredictable sea, an image that resonated with seafarers of all backgrounds.
In the 18th and 19th centuries, the anchor tattoo began to gain popularity among sailors as a symbol of their profession and way of life. The anchor was often accompanied by other nautical motifs such as ropes, compasses, and ship wheels, which further reinforced the seafaring theme. This kind of tattoo also served as a badge of honor among sailors, representing their bravery and skill in navigating the treacherous waters of the open sea.
Cultural Significance
The anchor tattoo has taken on new meanings and ideas in popular culture. In music, the anchor has been a sign of stability and grounding. It represents the stable points in our lives that keep us rooted even as the tides of fate change. The anchor is a famous fashion motif that you can find from clothes to jewelry to home decor.
Different designs with meanings
The anchor tattoo comes in many different variations and styles, each with its own unique meaning and symbolism. Here are 60 examples we collected for your inspiration.
Colorful traditional style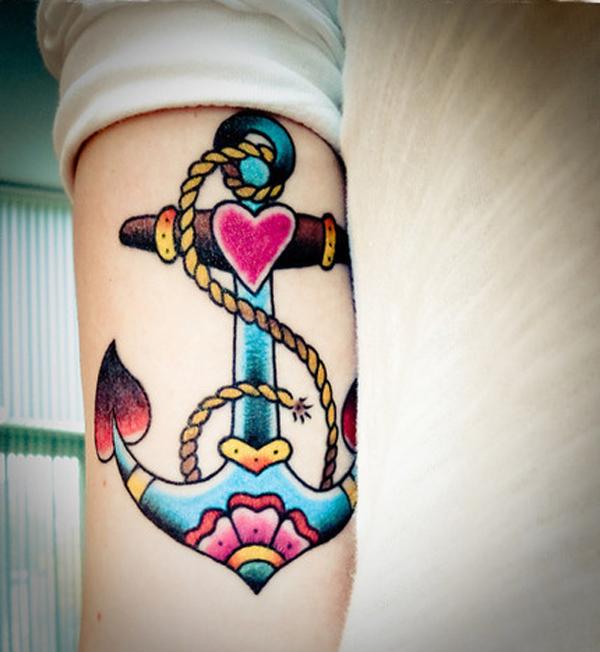 This traditional-style anchor tattoo pops with vibrant colors and a feminine touch. The intricate details and bold lines give it a classic feel while the playful hues add a modern twist. Perfect for those looking for a fun and girly design with a nautical theme.
Girly anchor tattoo
This tattoo is a black and white anchor design on the thigh, with a feminine touch. The lines are clean and the shading is well executed, giving it a polished look. The design is subtle and elegant, perfect for those who want to show off their love for the sea in a more delicate way.
Steel Anchor intertwined with rope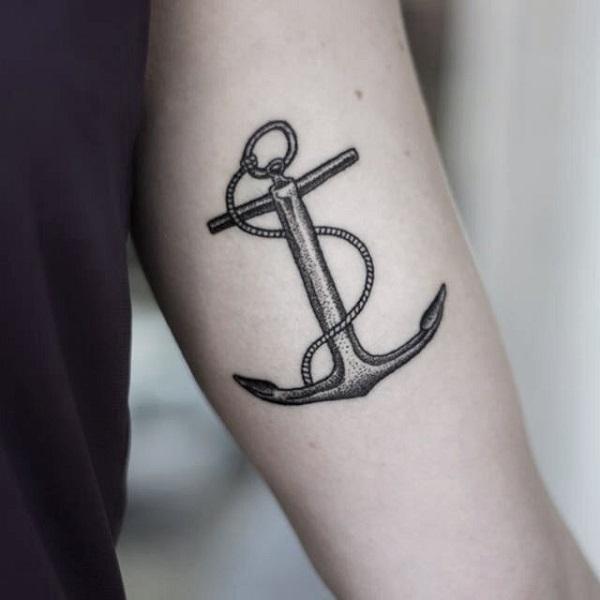 The steel anchor and rope in this tattoo on the upper arm give it a nautical look. The rope stands for the trip and the adventure, while the anchor stands for stability, strength, and being rooted. The two together make for a strong and meaningful tattoo pattern.
Trash Polka ink of anchor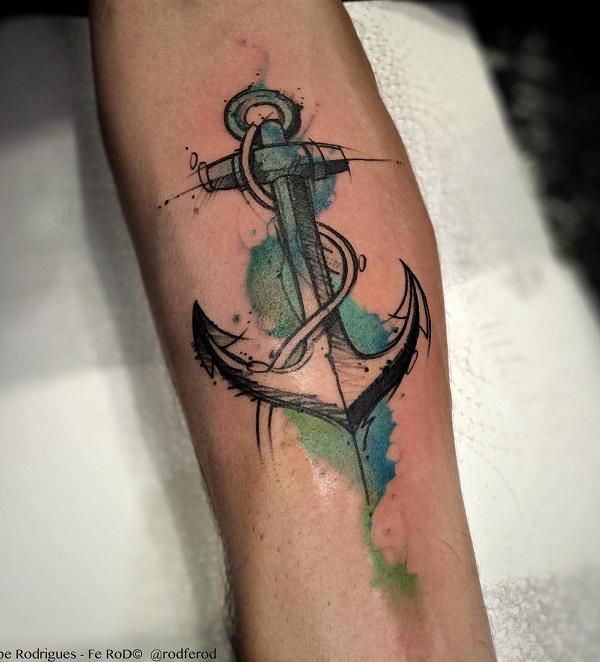 The Trash Polka styled tattoo is marked by bold black lines, paired with a green watercolor splash. This striking style combines black imagery with abstract elements, creating a unique visual impact. The anchor symbolizes stability and grounding, while the watercolor splash adds a touch of fluidity and movement. The result is a dynamic and eye-catching design.
Anchor with golden rope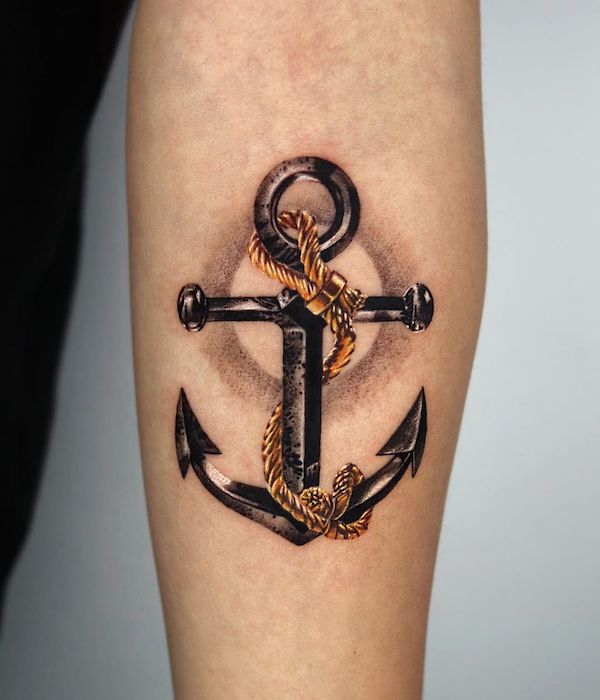 This arm tattoo is a classic nautical design symbolizing stability and strength. The rope adds a touch of elegance and luxury to the traditional anchor image, making it a popular choice among sailors.
Linework – Simple Anchor on the calf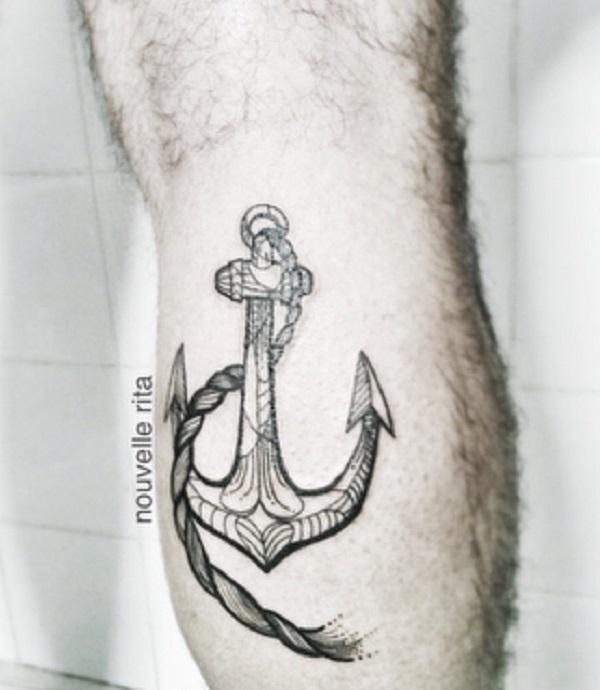 This calf tattoo depicts an anchor with rope done in a linework style. The design is simple yet impactful, with clean lines and minimal shading. The anchor symbolizes stability and grounding, while the rope adds texture and movement.
Anchor with flowers with faint colors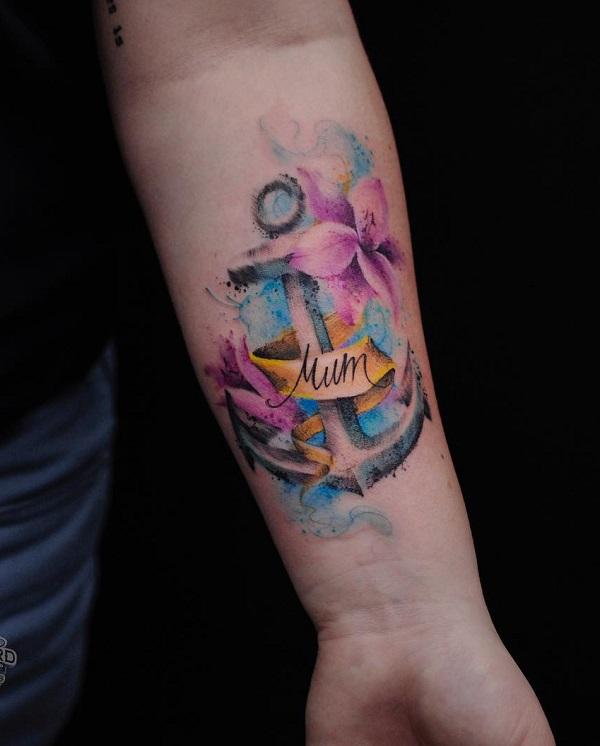 This tattoo features an anchor adorned with delicate flowers in soft hues. The combination of the nautical symbol with the floral elements creates a beautiful and unique design. Despite the muted colors, the tattoo is still eye-catching and carries a sense of depth and meaning.
Anchor and compass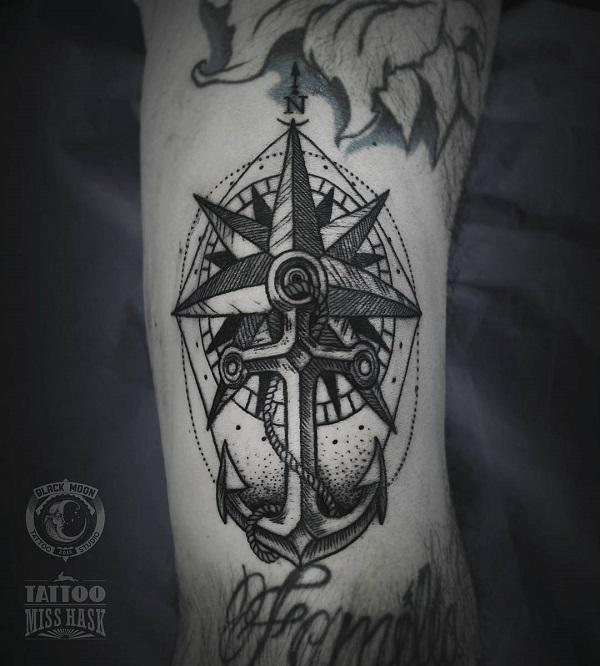 Compass and anchor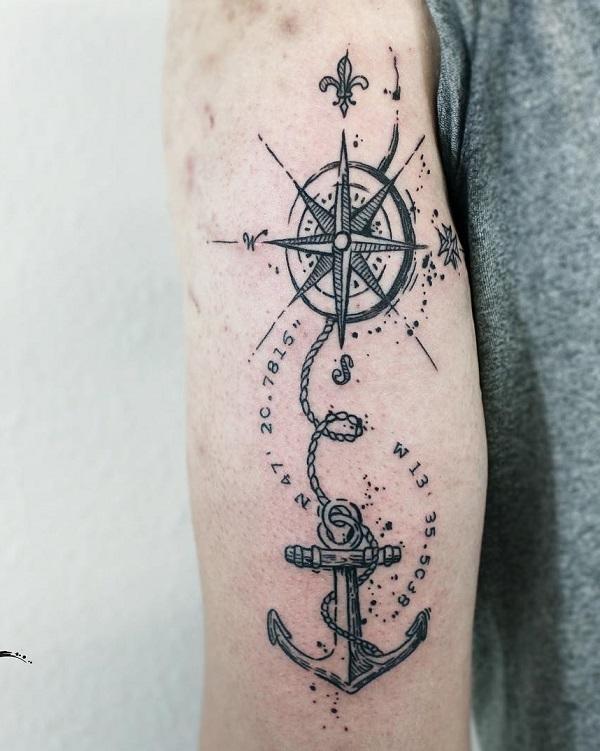 Back tattoo in traditional style for women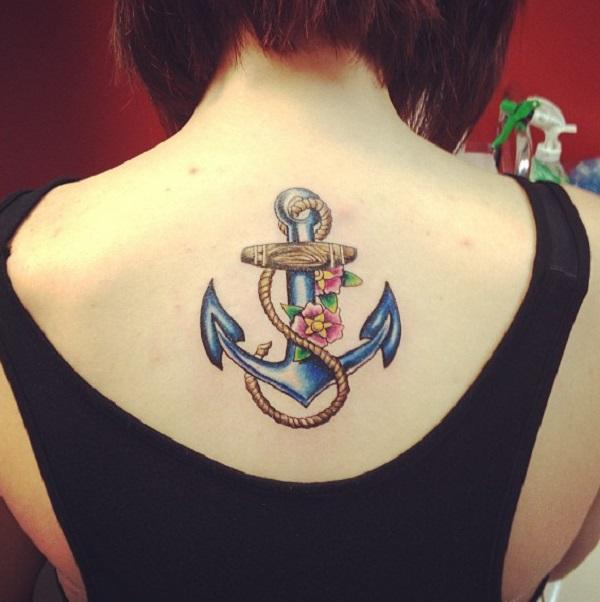 This back tattoo features a central anchor with a rope wrapped around it. The vibrant colors create a striking design that symbolizes stability, strength, and a love of the sea.
Anchor in swirls of waves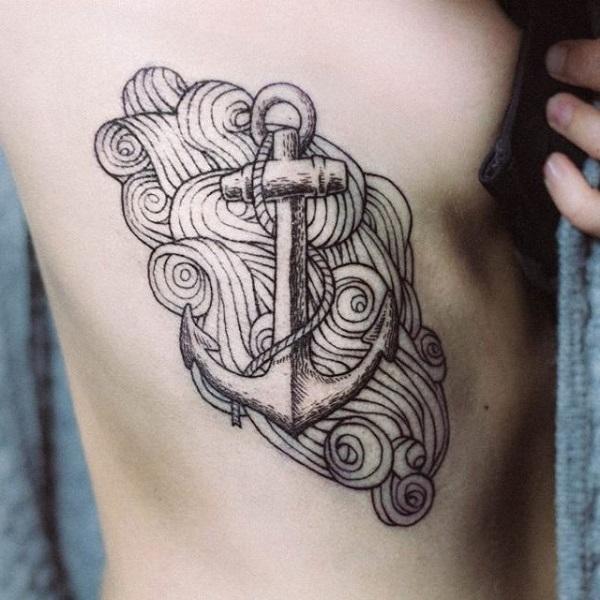 This piece features an anchor and abstract swirls that resemble waves, tattooed on the side. The design evokes a sense of movement and fluidity, as if the wearer is anchored amidst a sea of waves.
AFBN Anchor tattoo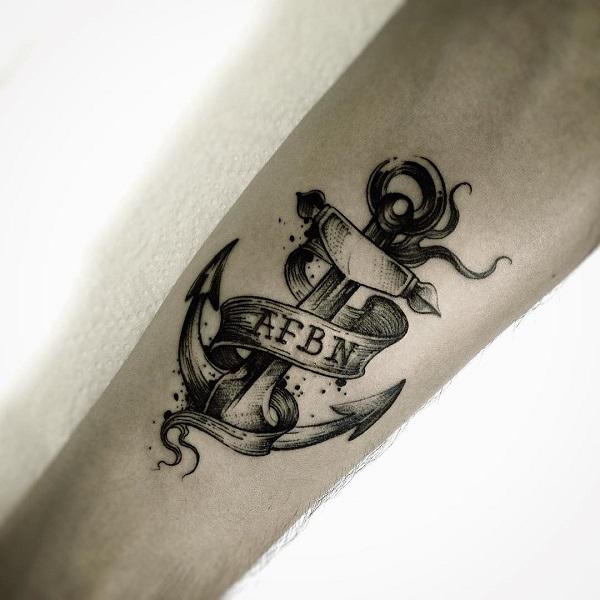 Embroidery anchor and steering wheel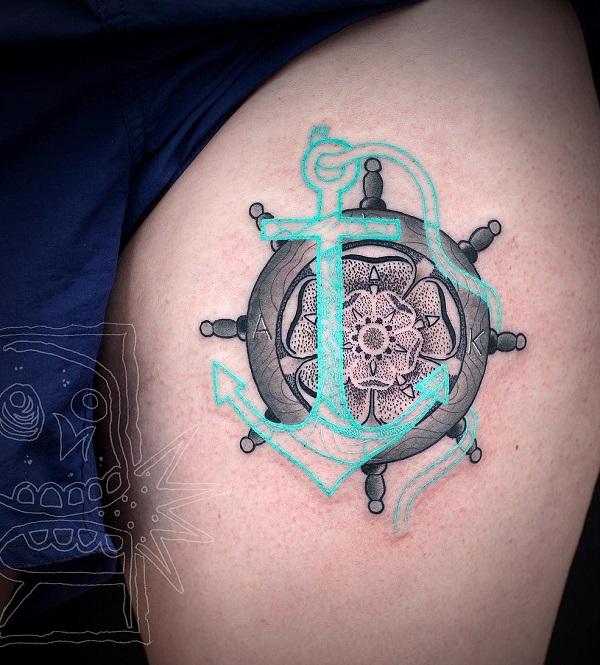 This thigh tattoo features a folded design of an embroidery anchor positioned above a black and white steering wheel. The anchor is in a pastel blue color, adding a touch of pop to the piece. The tattoo's design is compact and features intricate details, making it a unique addition.
Wrist ink with anchor dropping to water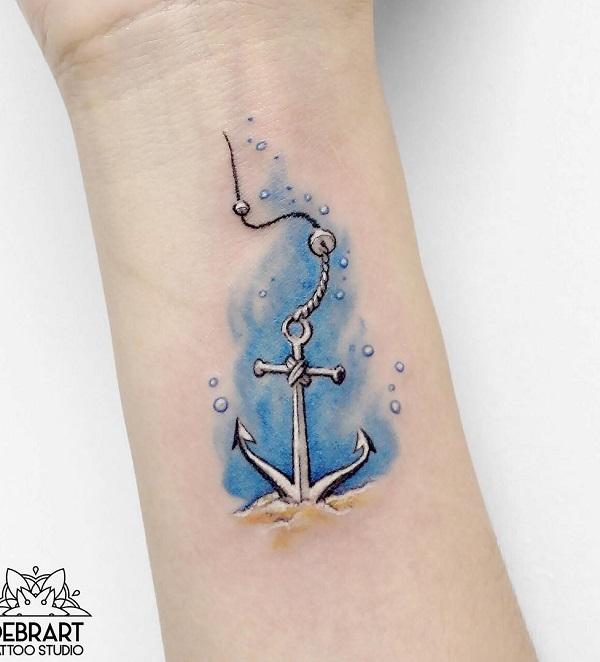 This wrist tattoo depicts an anchor dropping into water with a watercolor background and clear droplets. The moment is captured with intricate detail, showcasing the delicacy of the anchor's chain and the ripples in the water. Watercolor canvas also adds a dreamy quality to the piece while the droplets add a sense of realism.
Anchor and swallow under the moon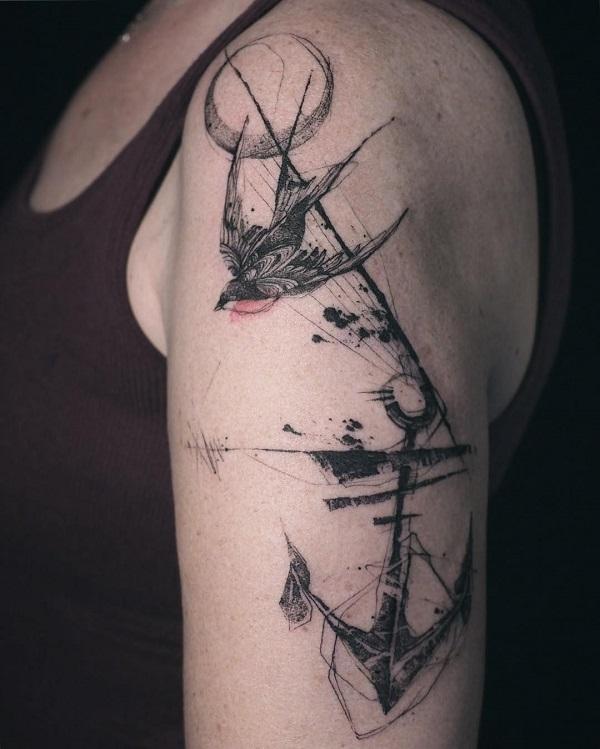 This sleeve tattoo depicts an anchor with a swallow flying above it. All is set against a moon backdrop. This type of tattoo is popular among both men and women. And it can be customized in a variety of ways to reflect personal meaning and style.
Anchor and flower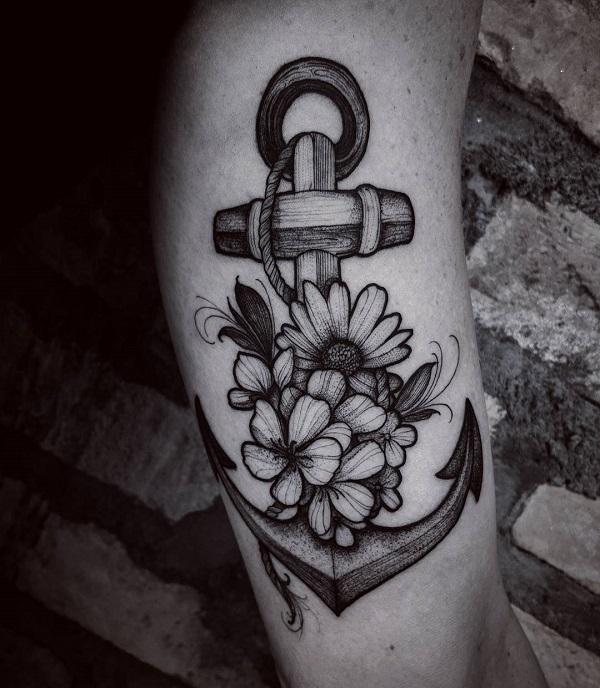 Black and Gray Anchor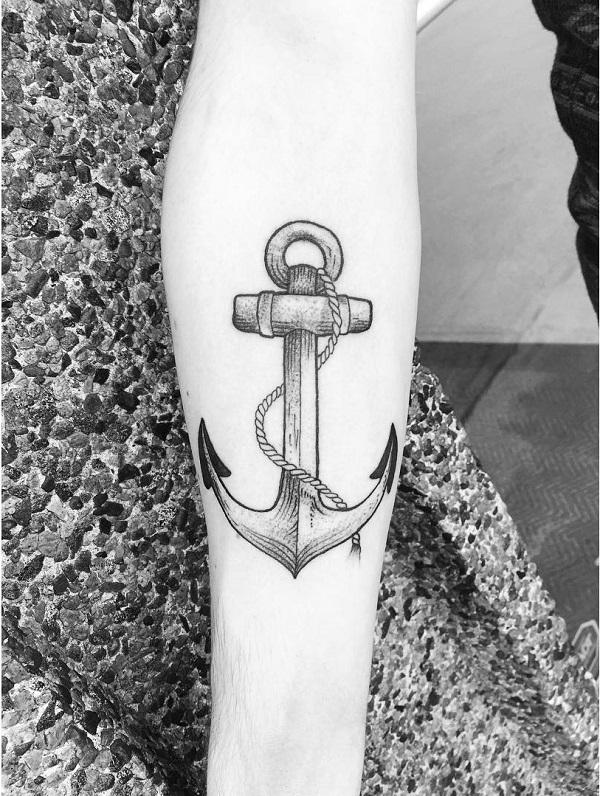 A black and gray anchor is a common nautical sign that is often shown in tattoos and other forms of art. The anchor is a symbol of stability, strength, and safety, and the black and gray color scheme adds a feeling of sophistication and elegance. People who have a connection to the sea or who want to be anchored to something important in their lives like this style.
Cursive words with Anchor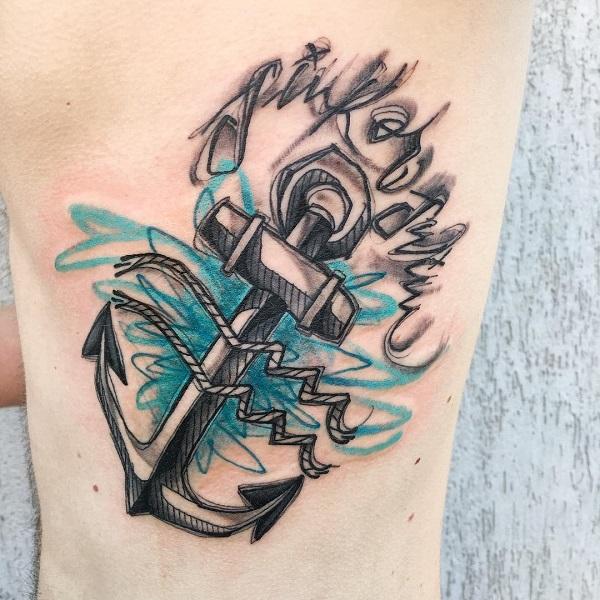 Birds and anchor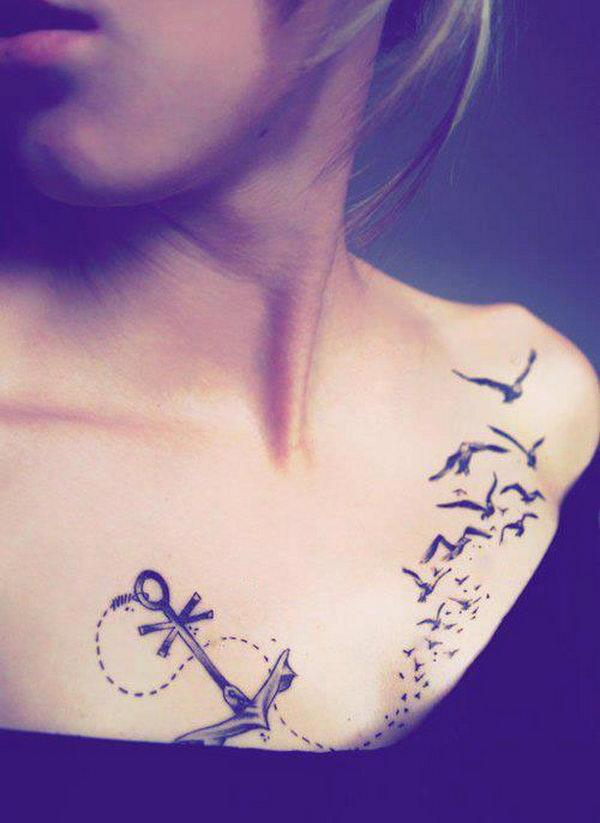 The chest tattoo shows birds and an anchor, great for girls wanting a maritime look. The anchor means stability and strength, while the birds signify freedom and spirituality. Together, they make a powerful image, reminding you to stay grounded while chasing dreams.
1965 DE VALOR monedas tattoo
The anchor tattoo with a ribbon and the Spanish phrase. The Spanish phrase translates to "1965 of value coins," possibly referencing the year the dimes were minted or acquired.
Mandala styled anchor on back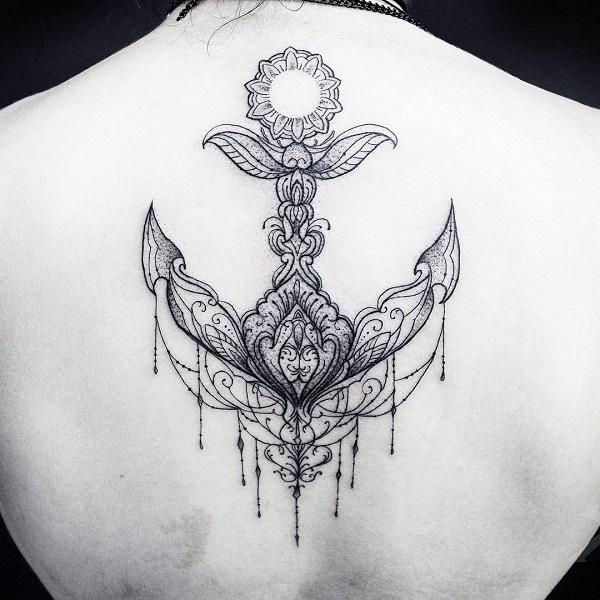 This tattoo design features an anchor in the center, styled with intricate mandala linework. Hanging from the anchor are pendants, adding a touch of elegance and femininity to the design. Perfect for women who want a meaningful tattoo that blends traditional nautical imagery with intricate designs.
Rose and anchor on hand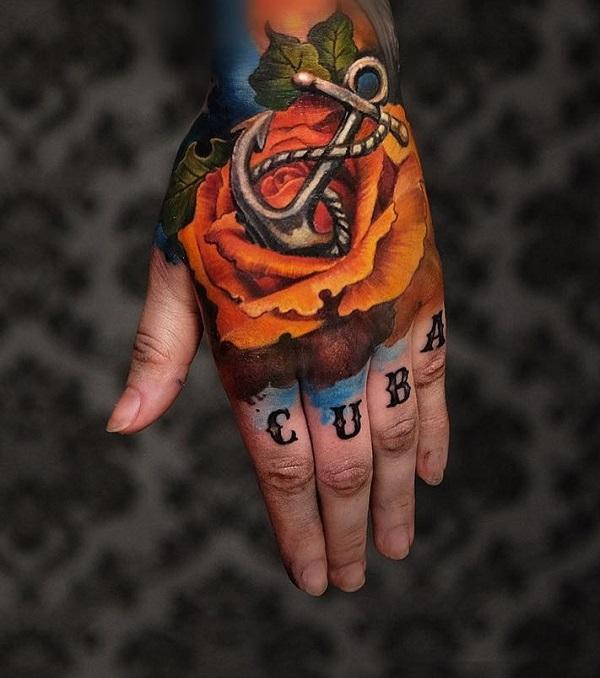 A stunning tattoo covers the entire hand. The design features a realistic rose with delicate petals, and a small anchor nestled amongst them. The shading and detail work are exceptional, giving the tattoo a three-dimensional quality. The natural contours of the hand are incorporated seamlessly into the design. Overall, it's a beautiful and unique piece of body art that is sure to turn heads.
Anchor tattoo with letters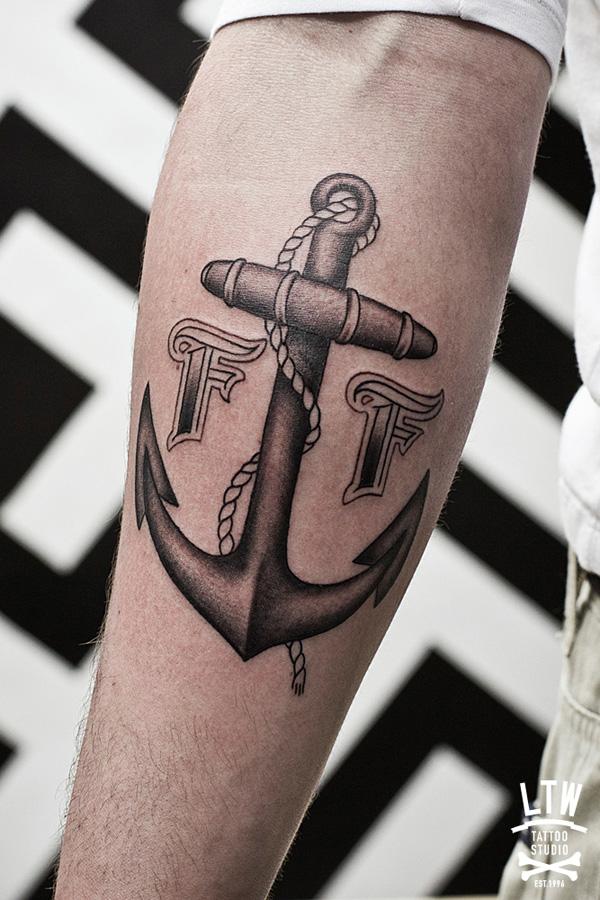 This tattoo depicts an anchor tattoo with two letter "F"s on either side. The anchor symbolizes stability and strength, while the letters can represent anything from family members' names to a personal motto. The combination of these elements creates a meaningful and visually appealing tattoo that is both timeless and versatile.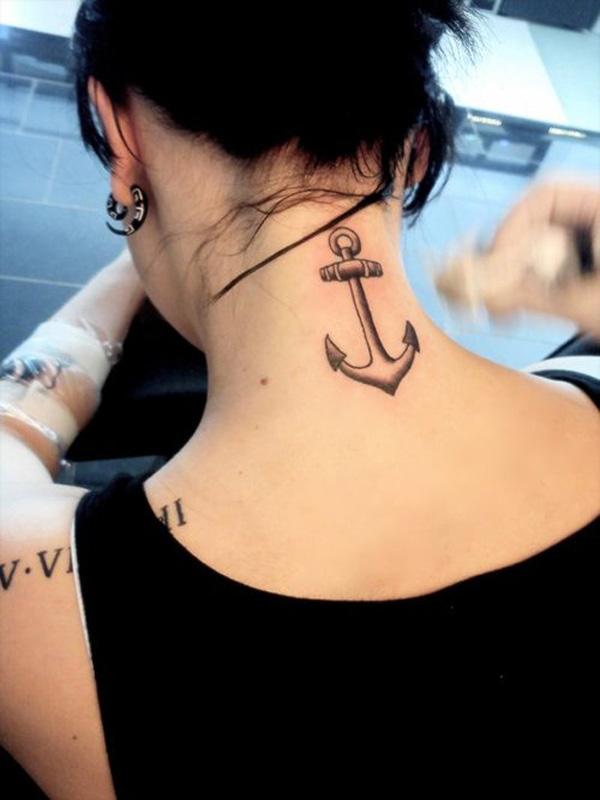 Happiness only real when shared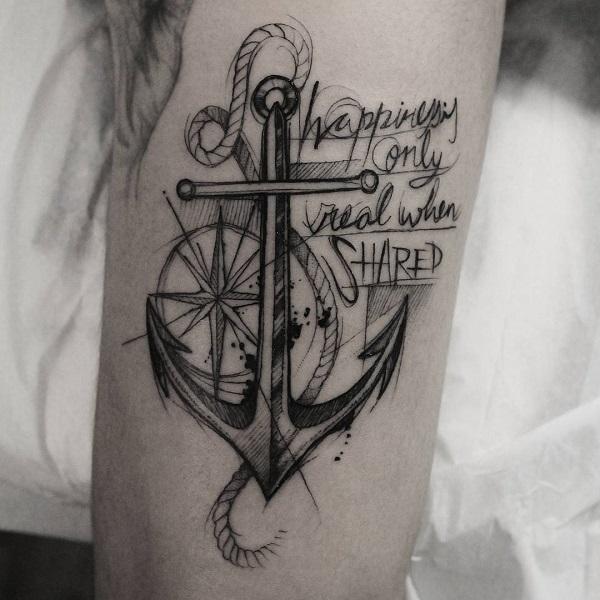 Anchor intertwined with octopus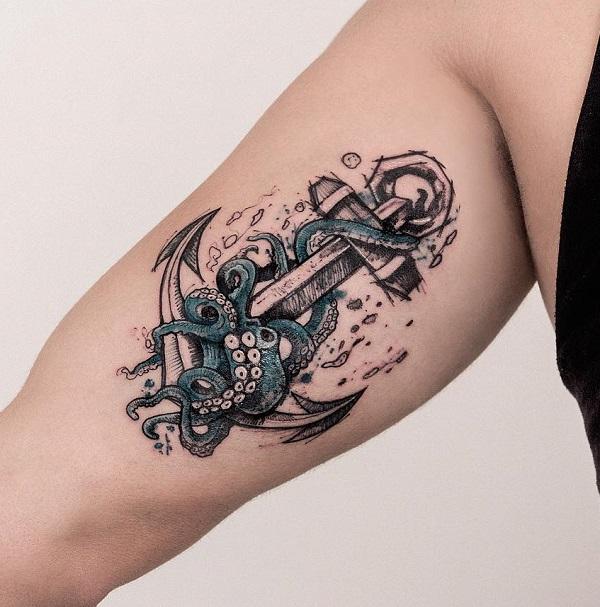 The Octopus Anchor tattoo design is a unique and striking design that incorporates two very different symbols. The anchor represents stability and grounding, while the octopus symbolizes intelligence and adaptability. This tattoo design is often done in bold colors, with shading that accentuates the details of both motifs.
Anchor and lighthouse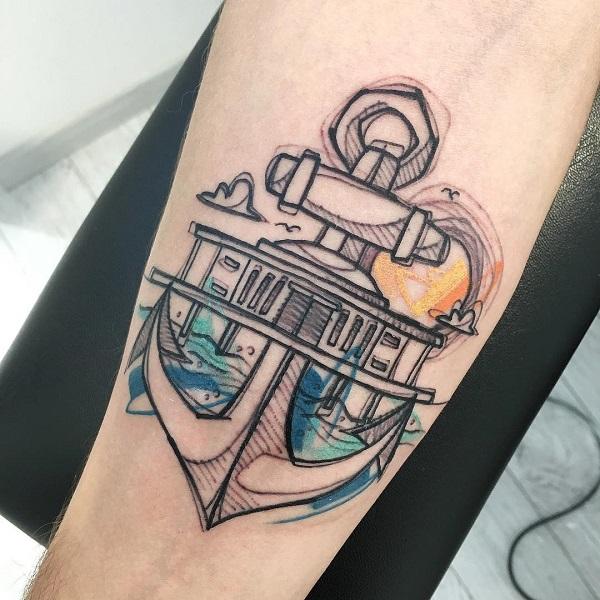 An anchor and lighthouse tattoo is a design that brings together two well-known sea symbols. The anchor stands for strength and security in rough water, while the lighthouse stands for safety and direction. With its bold lines and bright colors, the drawing style gives the design its own unique look. Overall, this tattoo is a beautiful reminder of how important security and direction are in life.
Watercolor style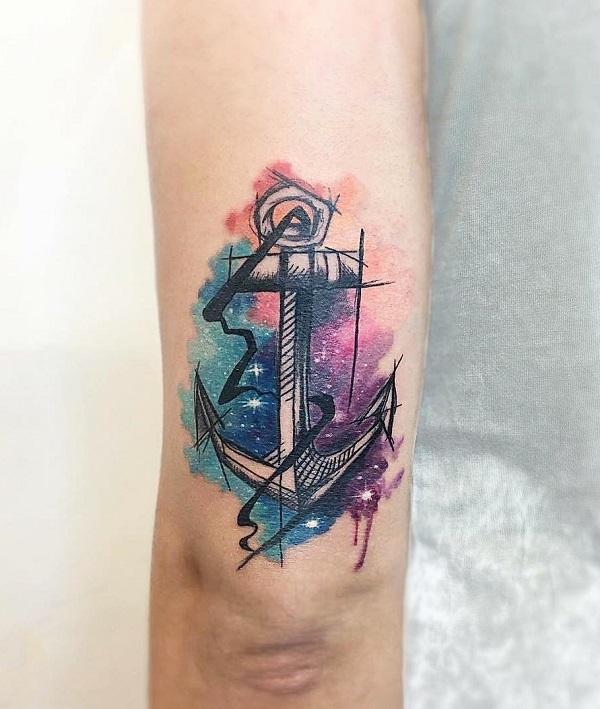 Boat and anchor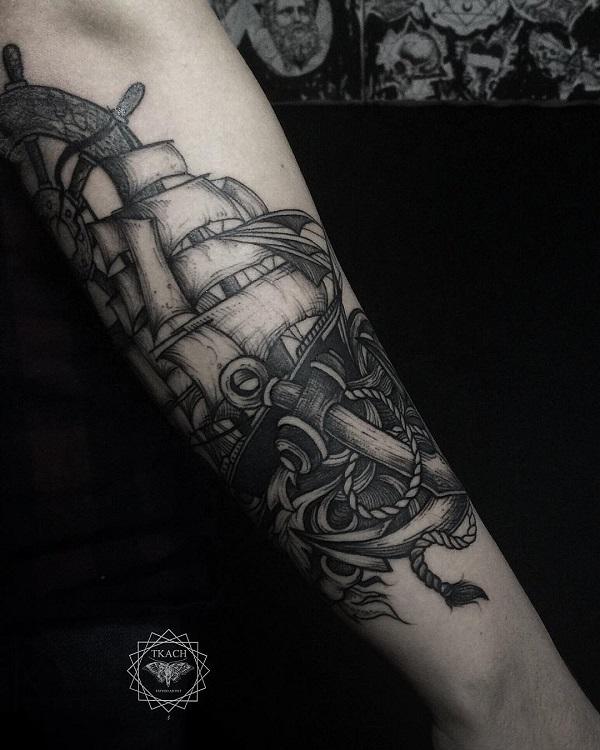 This black and white boat tattoo is a detailed and intricate piece. This tattoo features a boat with an anchor incorporated on arm. The boat appears to be a vintage sailing vessel with intricate details on the sails and hull. It represents adventure and journey, while the anchor represents stability and grounding. The use of black and white shading adds depth and contrast to the tattoo, making the anchor and boat stand out. Overall, it's a stylish and classic design for those who love the sea.
Anchor with large water droplets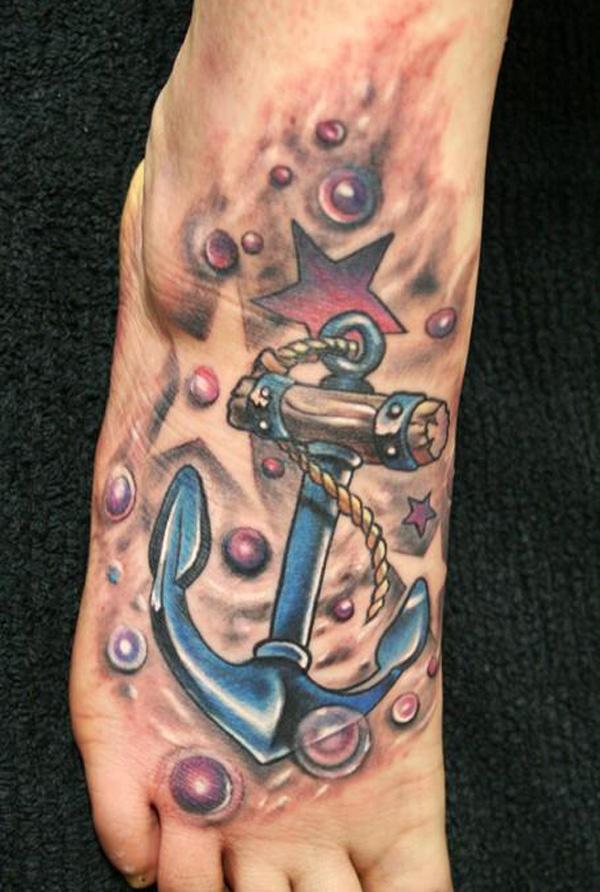 This traditional anchor tattoo on the foot has big water droplets that make the pattern more interesting. Bright colors are used to stand out against the skin in a striking way. The anchor is a sign of stability and strength, and the water droplets are a reminder of the trip and the problems that must be overcome along the way. Overall, a piece of body art that is both beautiful and important.
Old School Ink of Anchor and Rose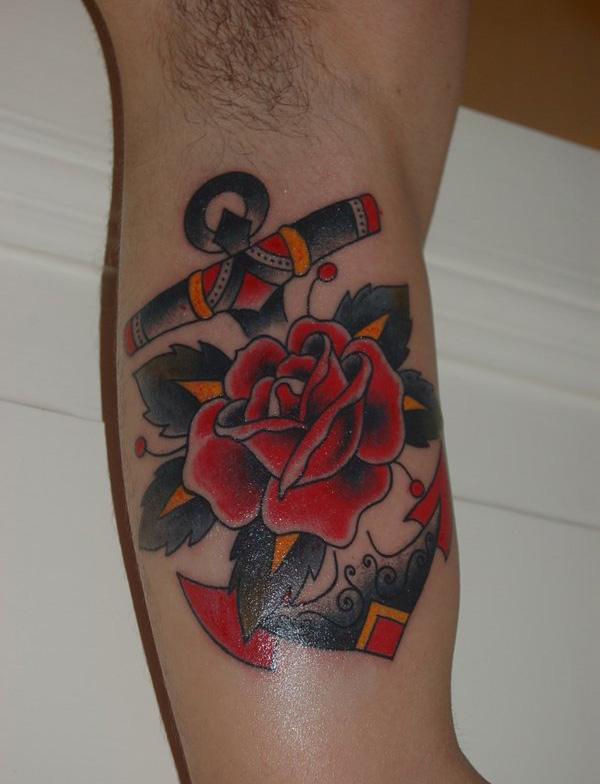 Anchor and pocket watch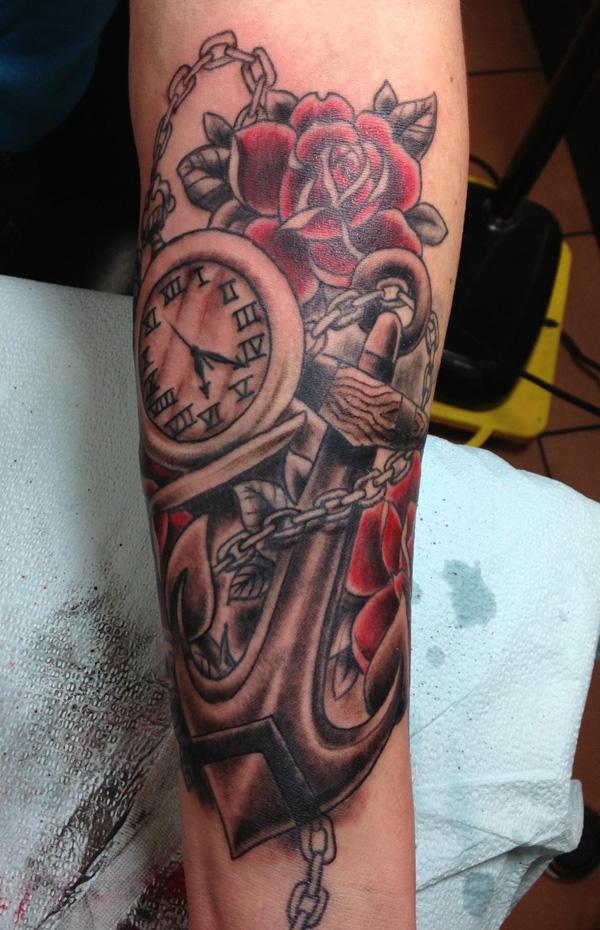 Stylized devil angel swallow and anchor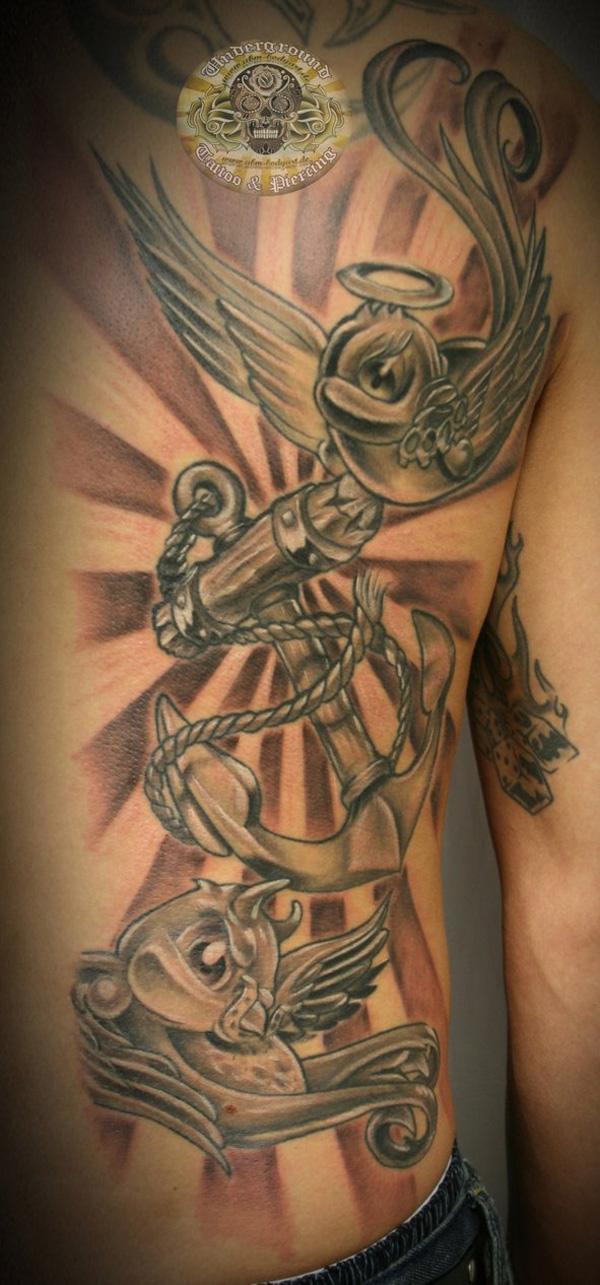 Anchor and roses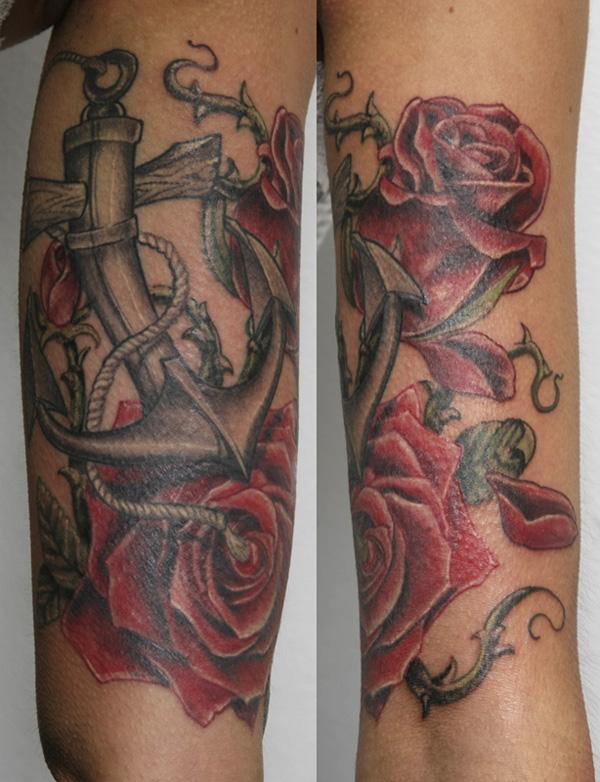 This tattoo features a dark shaded anchor accompanied by vibrant red roses. The contrast between the two colors creates a visually striking design.
Chest ink with Anchor and roses
Anchor and swallow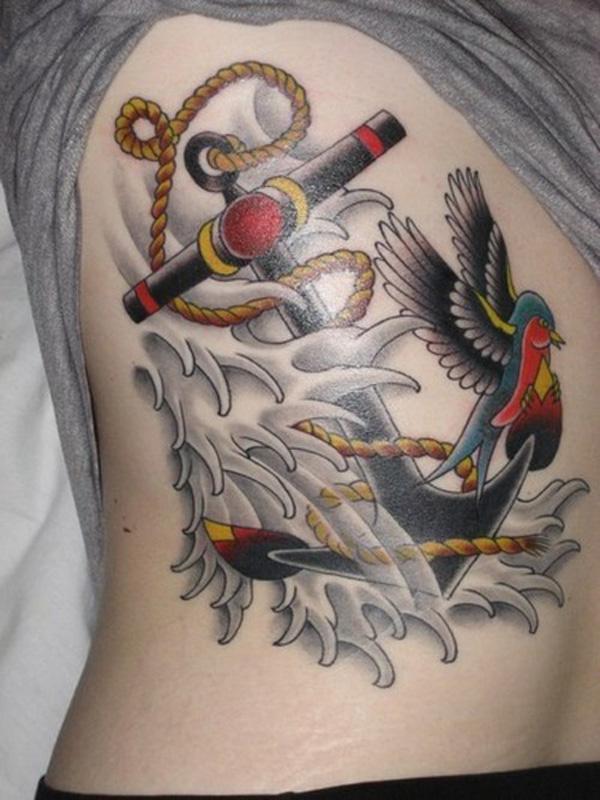 The traditional tattoo design incorporates an anchor and swallow in waves on the side, with vibrant colors like red, blue, and green. A white wave is used to create contrast and depth. This tattoo is ideal for those who appreciate tradition and the ocean.
Anchor intertwined with with rope on neck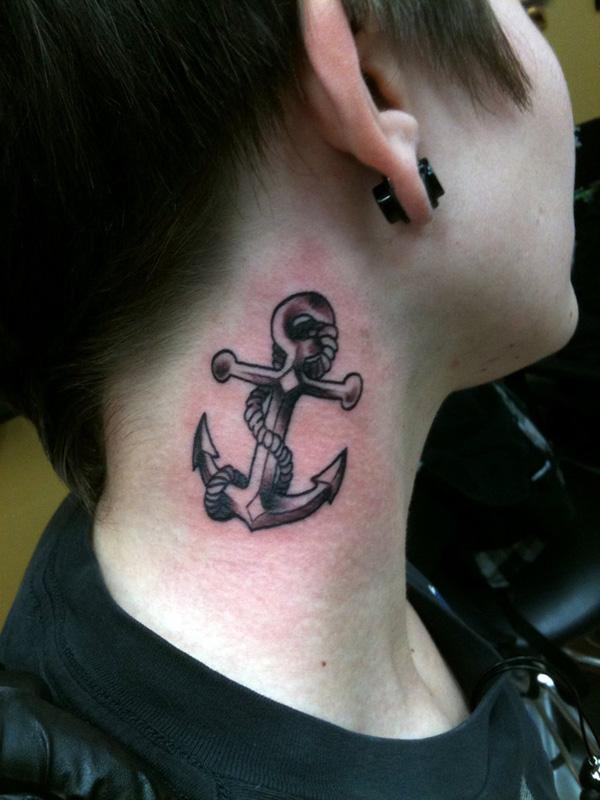 This tattoo is a classic nautical themed design with an anchor intertwined with rope on the neck. The placement on the neck creates a striking and bold effect, making it a popular choice for those seeking a statement piece.
Old school anchor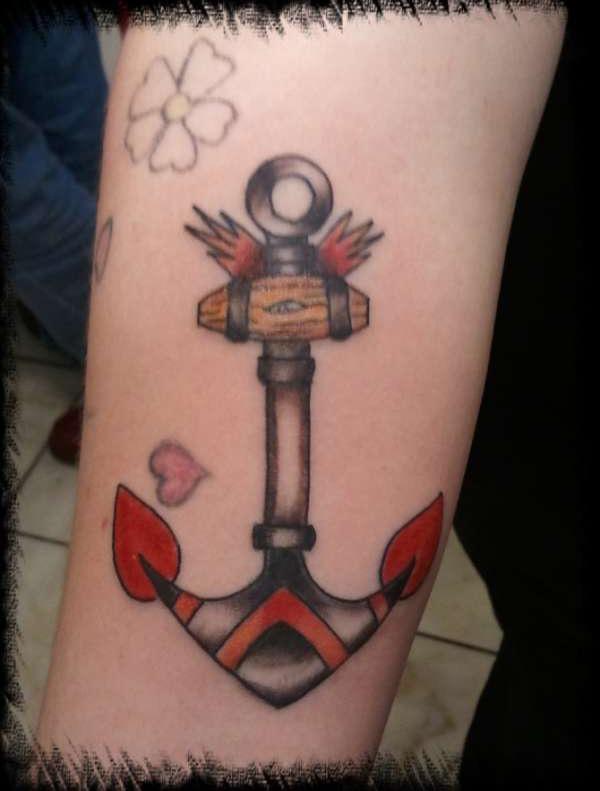 Gorgeous Anchor with ribbon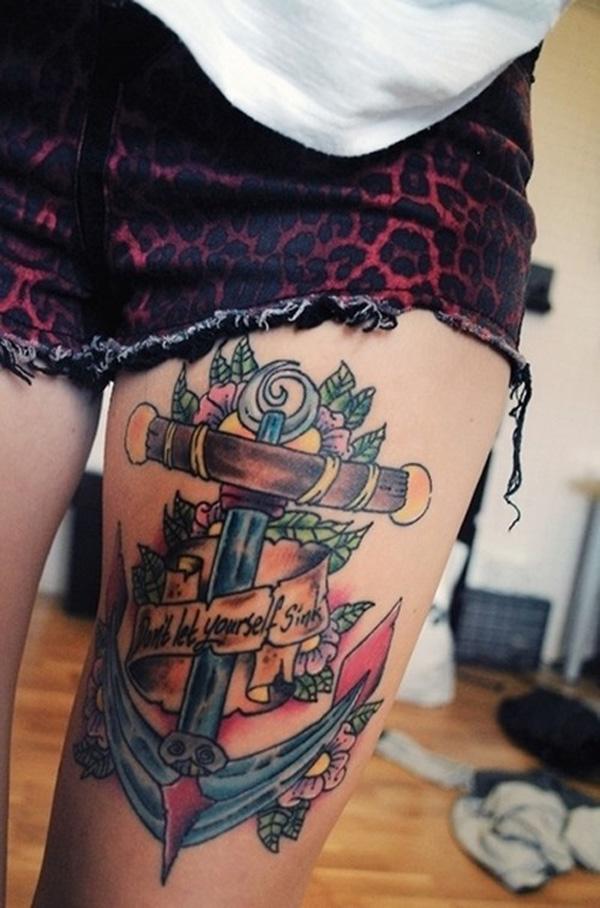 The gorgeous anchor tattoo on the Leg features a beautifully detailed anchor with a ribbon wrapped around it. The ribbon bears the inspiring quote "Don't let yourself sink". This design is both stylish and meaningful, serving as a reminder to stay afloat and never give up.
Black Anchor Tattoo
Girly anchor tattoo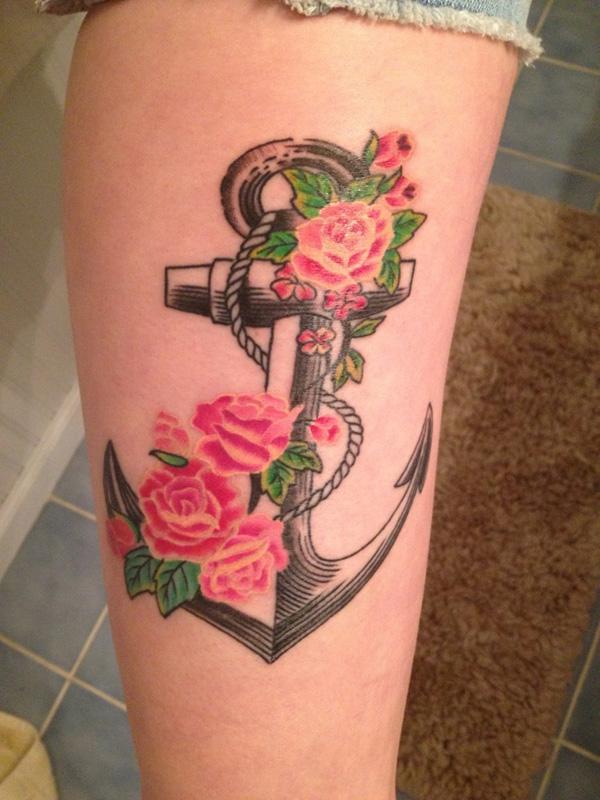 source
Old school anchor and roses custom tattoo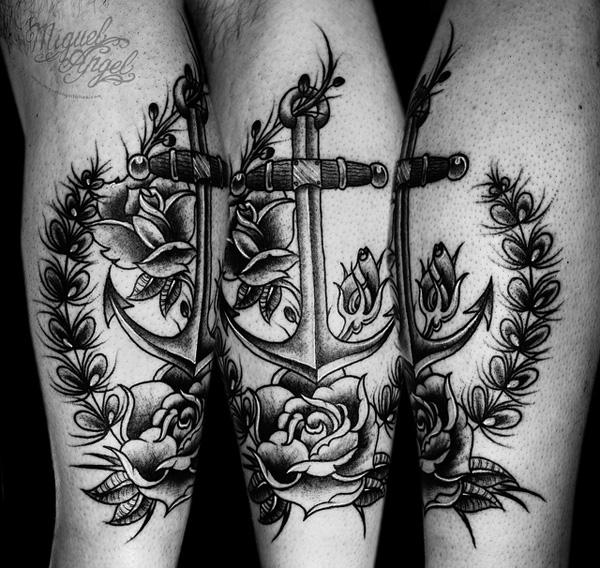 Skull and wings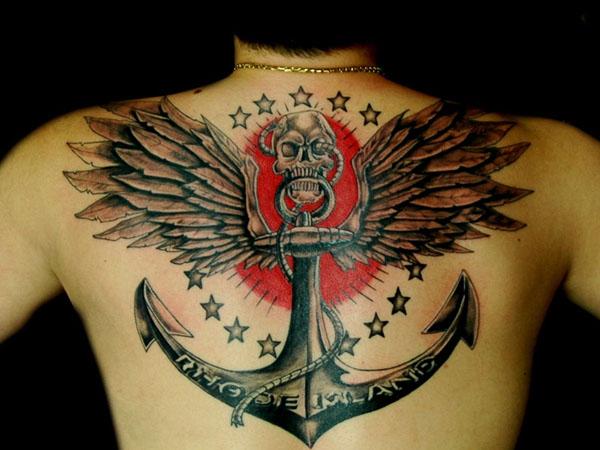 Small anchor tattoo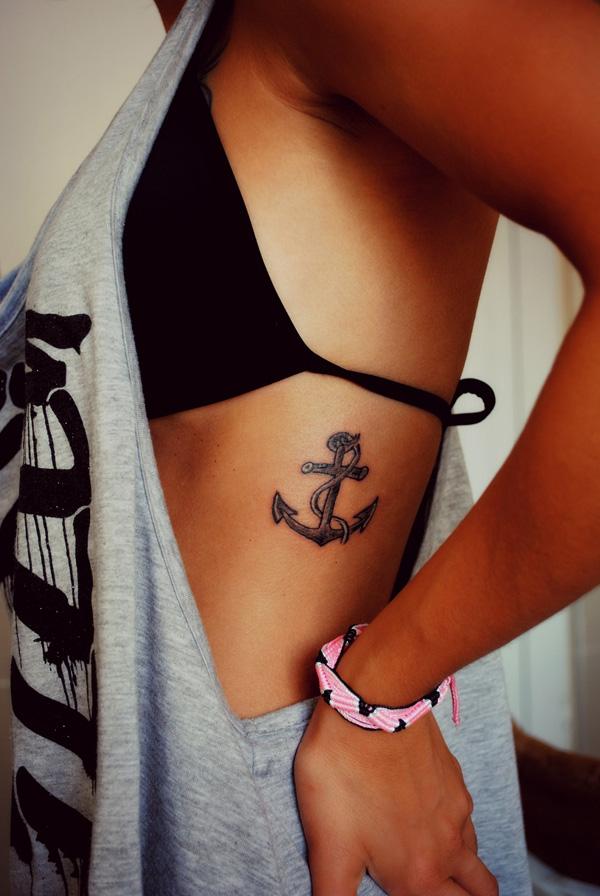 This small tattoo on a female's side can represent stability, strength, and a love for the ocean. It can also symbolize hope, grounding, and a connection to one's roots. The design can be minimalist and delicate or bold and colorful.
Anchor sleeve tattoo for men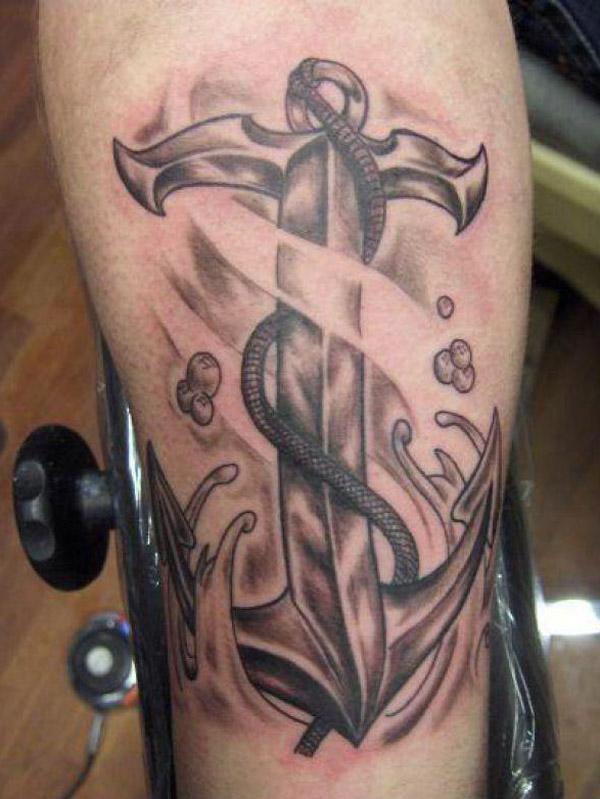 The anchor sleeve tattoo captures the moment of the anchor dropping into the water with a splash, rendered in black and white. Utilizing negative space, this design creates a striking contrast between the bold lines of the anchor and the white space around it, emphasizing the power and weight of the anchor. This tattoo design is perfect for those seeking a masculine and nautical-inspired aesthetic.
NAVY anchor design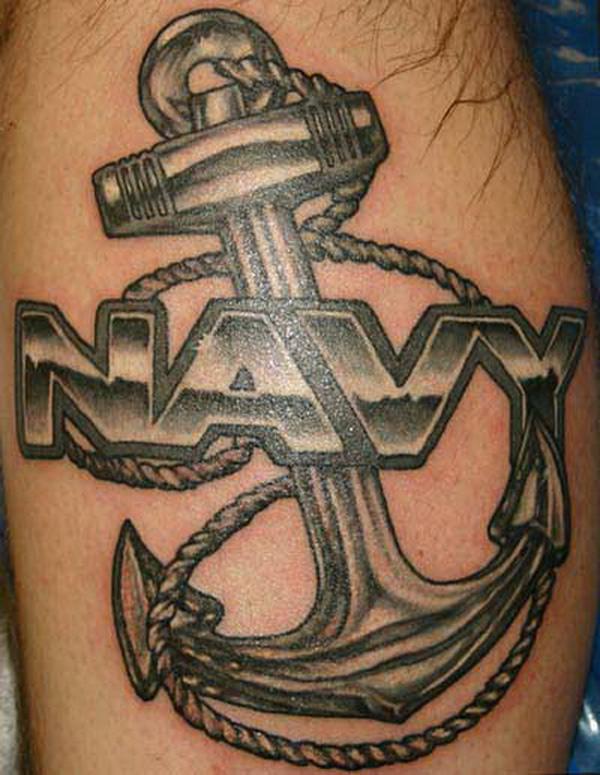 An anchor tattoo is a classic design symbolizing stability and strength. Adding the word "NAVY" to the anchor design can represent one's affiliation or admiration for the naval branch. The bold lettering complements the anchor's bold lines, creating a powerful image. This tattoo can also serve as a tribute to loved ones who have served in the Navy.
Rose and anchor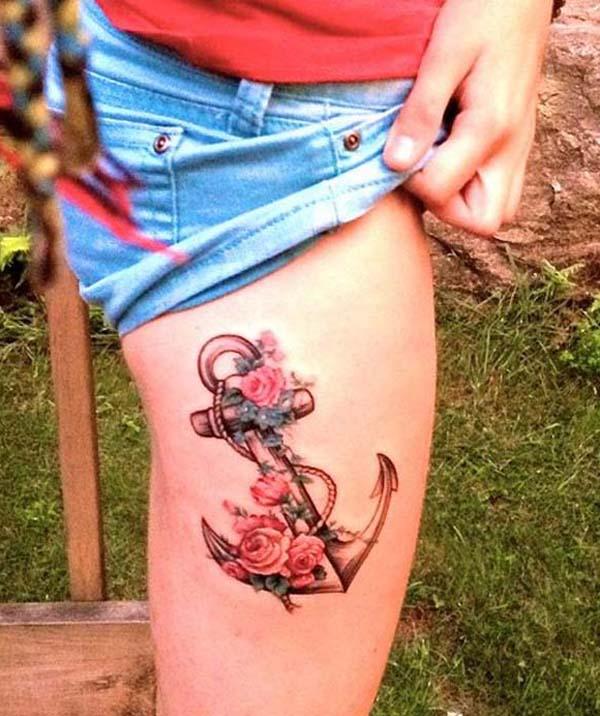 This girly tattoo features a vibrant anchor design adorned with pink roses on the leg. Not only does the anchor symbolize stability and strength, but the roses also add a touch of femininity and beauty. Together, they create a unique and eye-catching design that represents both power and grace. Therefore, it's perfect for those looking to showcase their strength and femininity in a bold and beautiful way.
Infinite symbol with small anchor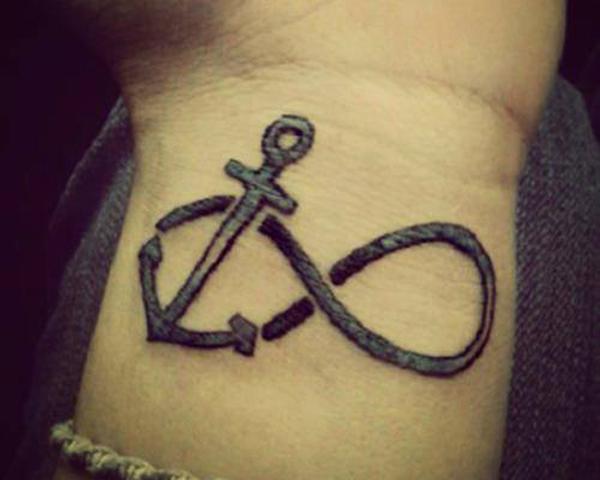 This wrist tattoo features an infinite symbol with a unique twist – the curve of the symbol is connected by a small anchor. The infinity symbol represents endless possibilities, while the anchor symbolizes stability and strength. Together, they create a powerful message of perseverance through life's ups and downs. The placement on the wrist makes it a subtle yet meaningful reminder to stay grounded and keep pushing forward.
Anchor and feather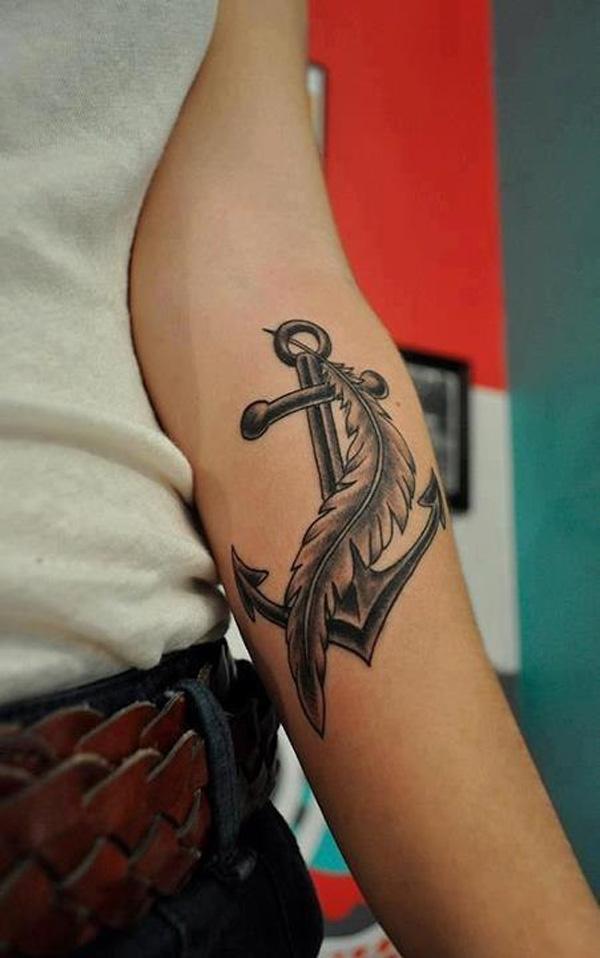 Wrapped with rope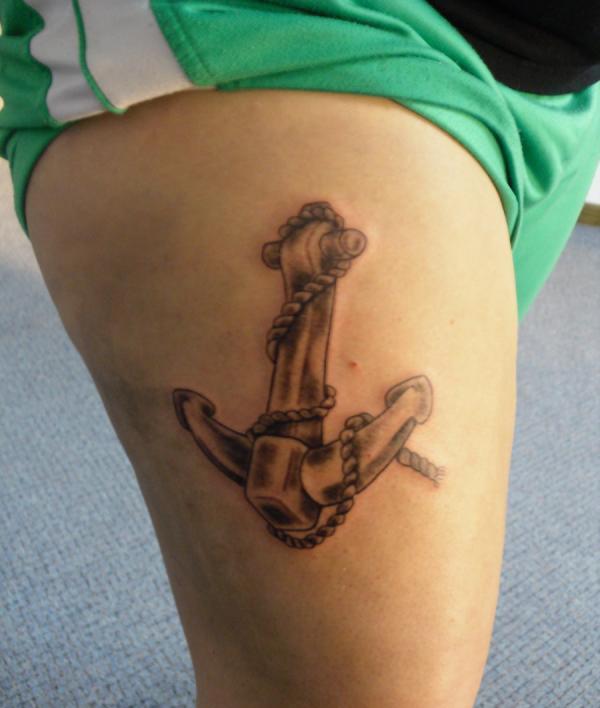 thigh tattoo depicts a wooden anchor wrapped in rope. The placement on the thigh is a popular choice as it allows for a larger canvas to showcase the intricacies of the design. The wooden texture of the anchor gives it a rustic and natural look, while the rope adds an element of authenticity to the overall aesthetic.
Anchor Waist Tattoo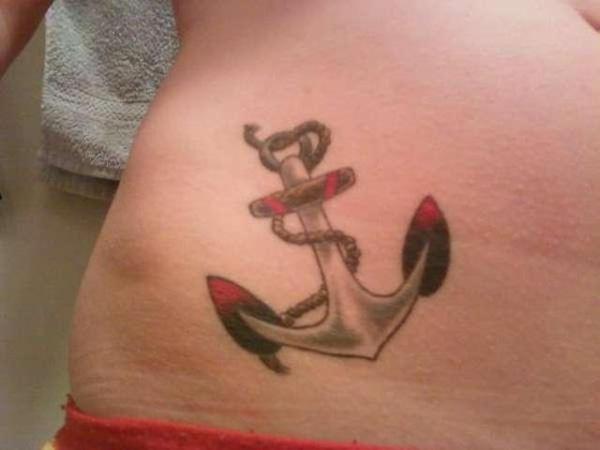 Girly thigh tattoo with anchor and flowers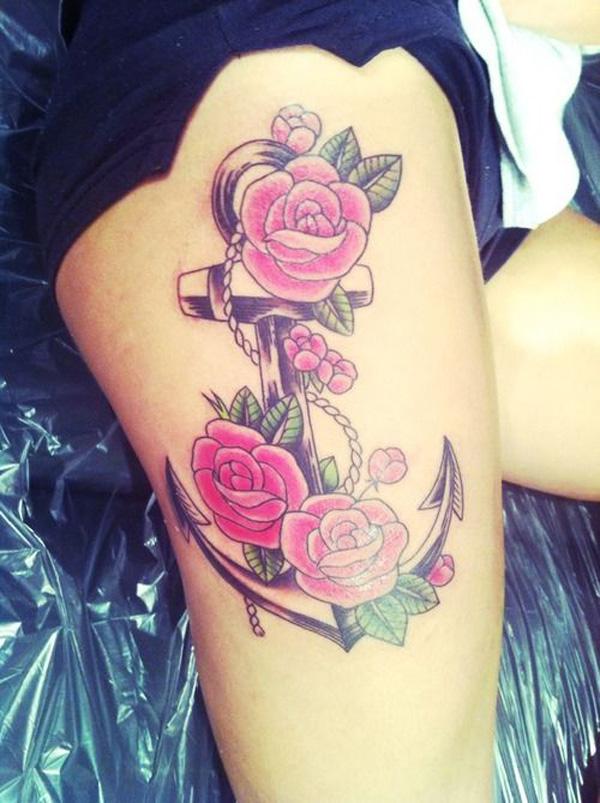 Rosary ankle tattoo with pendants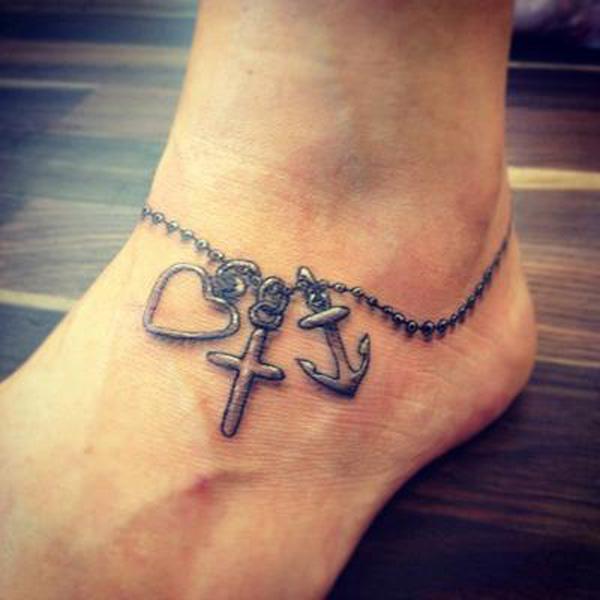 This tattoo on the foot is a realistic-looking rosary with a heart, cross, and anchor as pendants. The mix of holy and nautical themes gives the piece more depth and meaning. The heart is a sign of love, the cross is a sign of faith, and the anchor is a sign of hope. Overall, this tattoo is a beautiful way to show what you believe in and what you value.
Small anchor wrist tattoo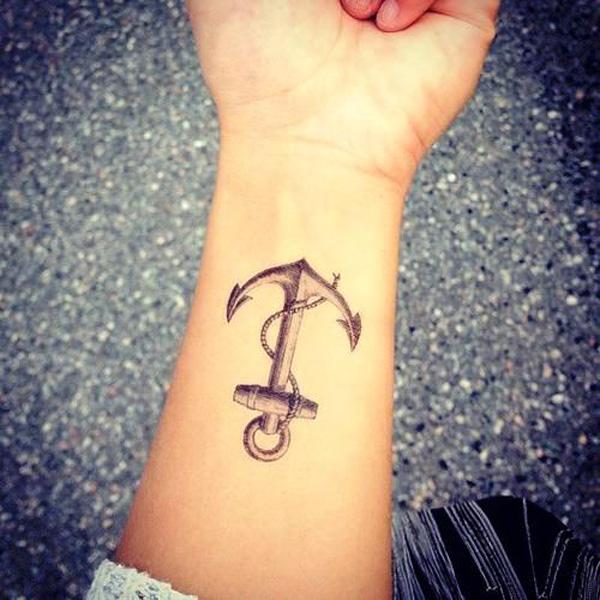 Cute anchor finger tattoo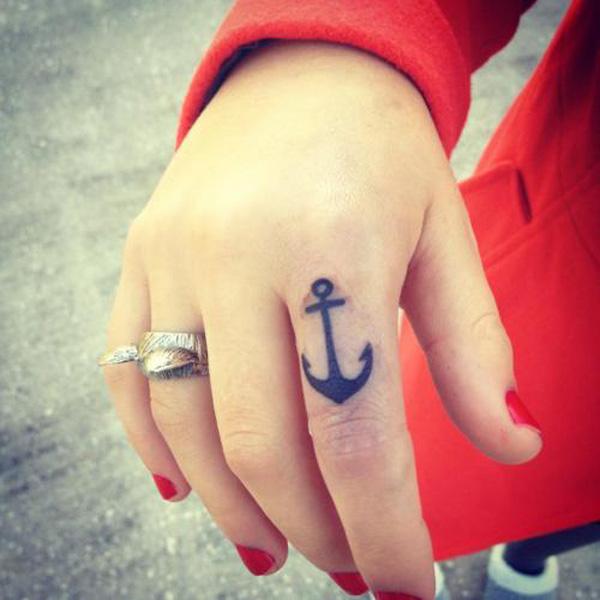 Rosary ankle tattoo with anchor on foot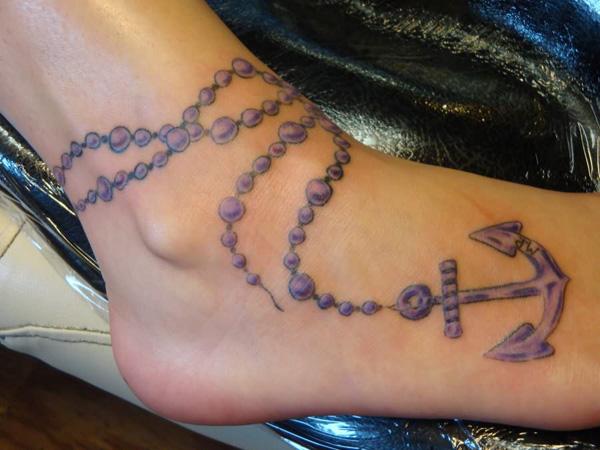 Rosary tattoo with anchor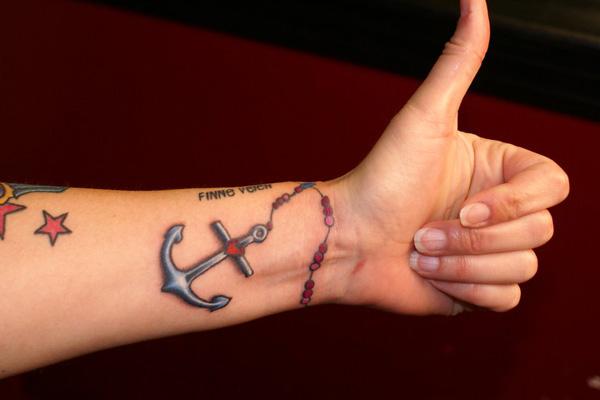 Foot tattoo with anchor in traditional style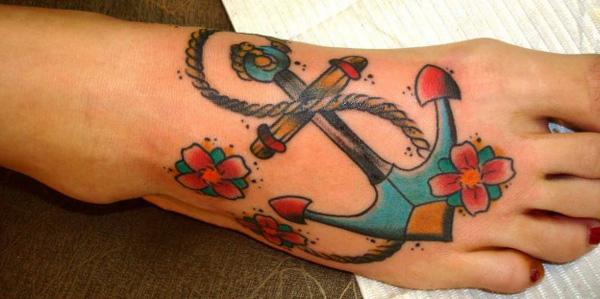 Traditional Anchor Tattoo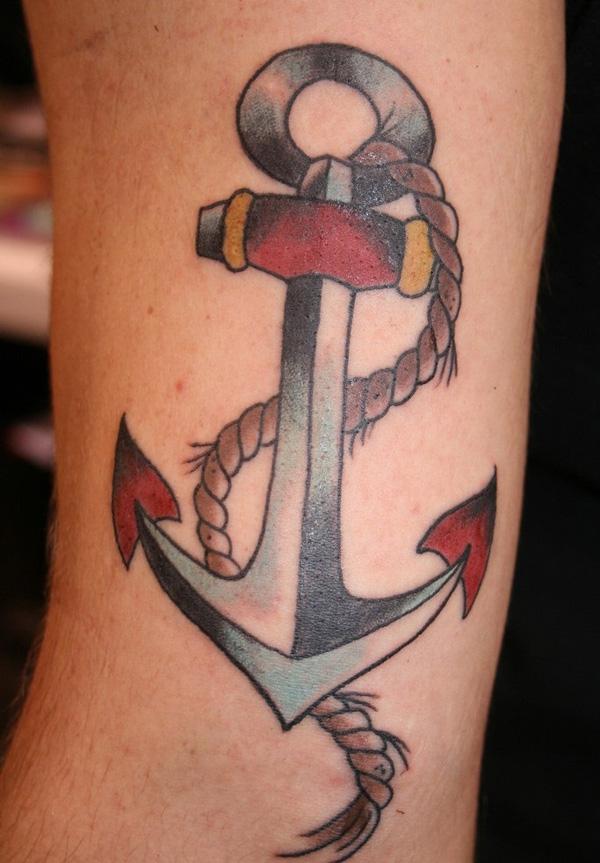 Realistic anchor tattoo with roses in 3D effect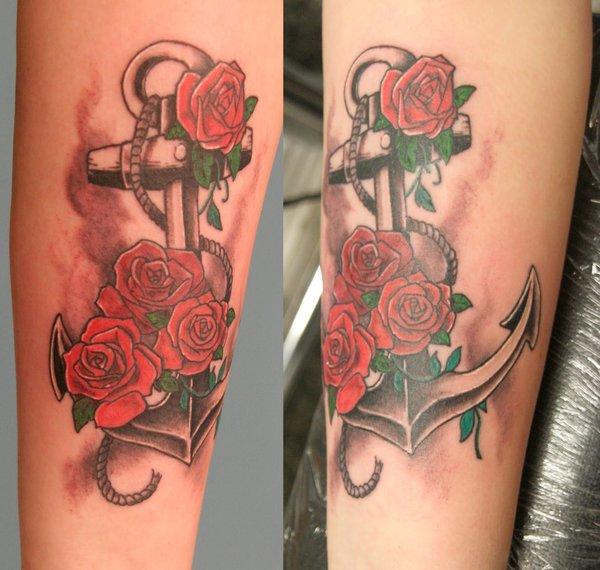 This tattoo incorporates realistic roses and a 3D effect, resulting in an eye-catching design. The attention to detail creates a lifelike appearance, making it a unique and memorable piece of body art.
In conclusion, the anchor tattoo is a classic and popular design that has caught the attention of sailors and people who don't go to sea for hundreds of years. Whether the tattoo is seen as a sign of strength, loyalty, or direction, it is a powerful reminder of the sea's power and the importance of those who face its depths. The anchor tattoo is a beautiful and important addition to any collection, no matter if you choose a traditional design or a new take on it.