Mechanical tattoos, the intriguing fusion of art and technology, have carved a unique niche in the world of body art. These tattoos merge the raw aesthetics of machinery with the fluidity of human form, creating a stunning juxtaposition that's both visually striking and deeply symbolic.
Understanding Mechanical Tattoos
Mechanical tattoos, as the name suggests, are tattoos that incorporate elements of machinery into their design. Gears, cogs, pistons, wires, and circuits become part of the human canvas, transforming the skin into a blend of biology and technology.
The roots of mechanical tattoos can be traced back to the biomechanical art movement of the late 20th century, where artists began to explore the synthesis of organic and mechanical elements. As this movement spilled over into the world of tattoos, it evolved into a distinctive genre that combined the old-school craft of tattooing with the cutting-edge aesthetics of machinery and technology.
The Art of Mechanical Tattoos
Creating a mechanical tattoo requires a high degree of artistic skill and creativity. The tattoo artist must not only understand the intricate details of mechanical components but also be able to integrate them seamlessly into the human form. The result is a tattoo that looks less like a flat image and more like a three-dimensional piece of machinery embedded in the skin.
The design aspects of mechanical tattoos are diverse and intricate. Gears and cogs are common elements, often portrayed in motion to give a sense of dynamism. Wires, tubes, and circuits add a technological flair, while pistons, screws, and levers lend a robust, industrial feel.
The true artistry of mechanical tattoos lies in creating the illusion of biomechanical integration. The tattoo isn't just an image—it's a part of the wearer, a machination that seems to pulse with their heartbeat, flex with their muscles, and breathe with their skin.
The Technology Behind Mechanical Tattoos
Mechanical tattoos are a testament to how far tattoo technology has come. The use of 3D technology in tattoo design has been a game-changer, allowing tattoo artists to create designs that look convincingly three-dimensional. Shadows, gradients, and color transitions are used to add depth and volume, making the mechanical components look like they're an integral part of the wearer's body.
Precision and accuracy play a crucial role in mechanical tattoos. Every gear tooth, every wire curve, every screw thread needs to be meticulously crafted to create a believable illusion. This requires not just artistic skill but also a deep understanding of mechanics and technology.
Popular Mechanical Tattoo Designs
Biomechanical Tattoos
Biomechanical tattoos are a popular choice in the realm of mechanical tattoos. These designs blend mechanical elements with organic forms, creating the illusion of a body that's part-human, part-machine. The result is a tattoo that's as visceral as it is visually stunning.
Steampunk Tattoos
Steampunk tattoos are a delightful fusion of Victorian aesthetics and industrial machinery. These designs feature elements like steam engines, gears, cogs, and clockwork, all rendered with a quaint, vintage charm. Steampunk tattoos are a nod to a bygone era, a tribute to the mechanical marvels of the past.
Robot-Inspired Tattoos
Robot-inspired tattoos are a fun, futuristic choice. These designs range from cute, cartoonish robots to complex, realistic androids, all carrying a sense of whimsy and technological wonder. Robot-inspired tattoos are a celebration of our fascination with artificial intelligence and our dreams of a tech-driven future.
Cyborg-Themed Tattoos
Cyborg-themed tattoos take the concept of biomechanical integration to the next level. These designs portray the wearer as a cyborg, a being that's part-human, part-machine. With their intricate mechanical details and bold, futuristic aesthetics, cyborg-themed tattoos are a powerful statement about our relationship with technology.
Piston and velocity gauge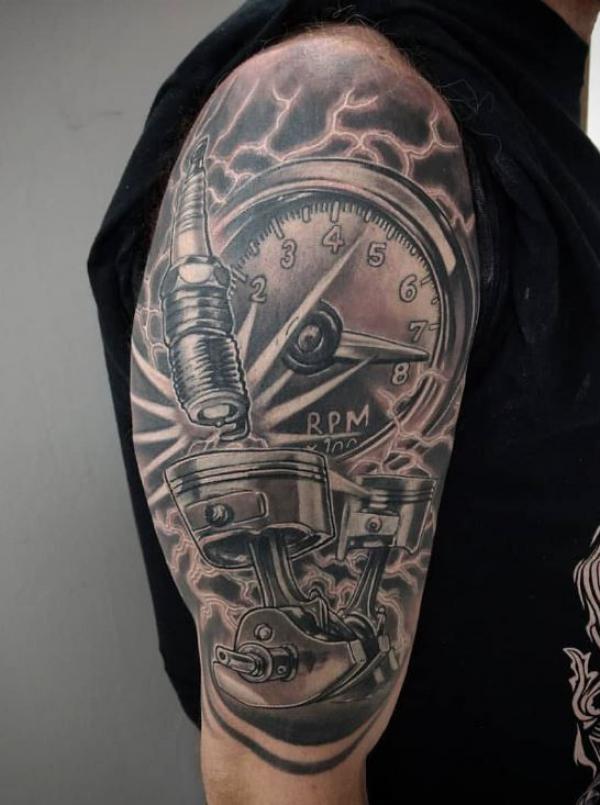 The piston, an essential part of an engine, symbolizes force, while the velocity gauge signifies speed. When combined, these elements create a dynamic design that resonates with lovers of speed and mechanics. This tattoo can be detailed with a realistic touch or stylized for a more artistic look.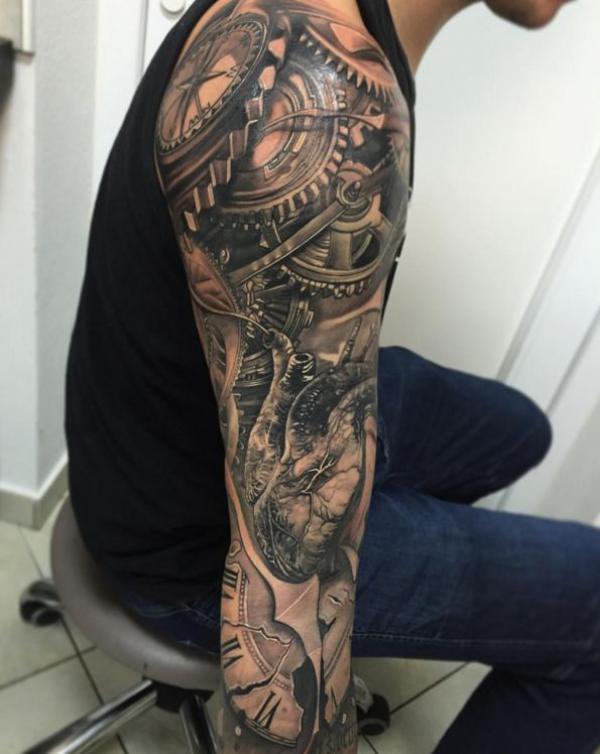 This design is a stunning example of biomechanical art. By combining realistic mechanical components with the organic form of a human heart, this full sleeve tattoo creates a striking contrast. The intertwining of mechanical and natural elements signifies the intricate connection between humans and technology.
Realistic micrometer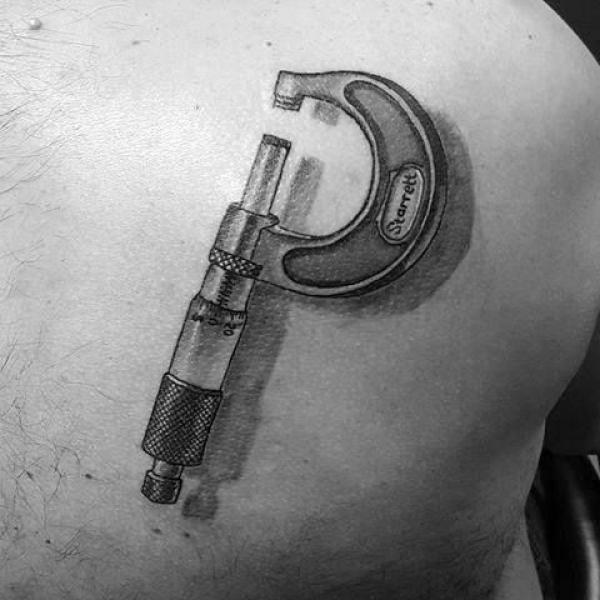 A micrometer, a tool used for precise measurements in engineering, can form the basis of a fascinating tattoo design. A realistic micrometer tattoo showcases not only the wearer's appreciation for precision tools but also their dedication to precision and accuracy in all aspects of life.
Realistic piston on blue watercolor backdrop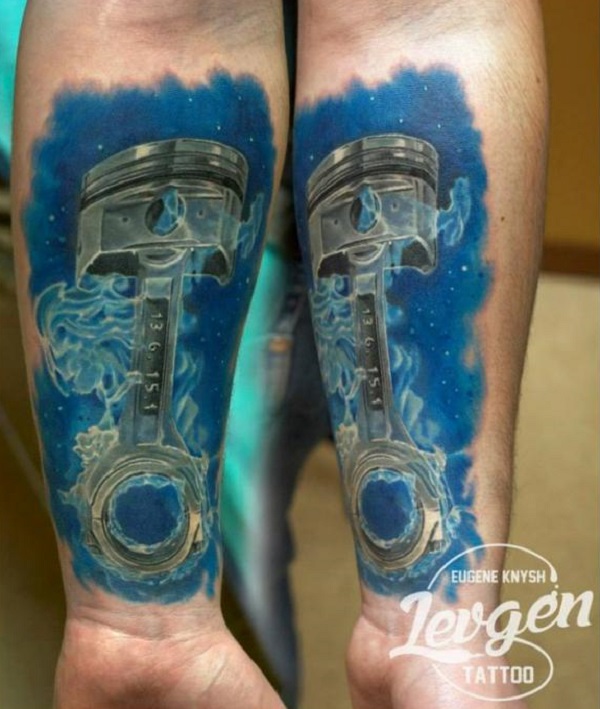 The combination of a realistic piston with a vibrant blue watercolor backdrop creates a visually striking tattoo. The blue backdrop provides a stunning contrast to the intricate metal details of the piston, making the tattoo pop. This design is an artistic homage to industrial beauty.
Realistic spark plug tattoo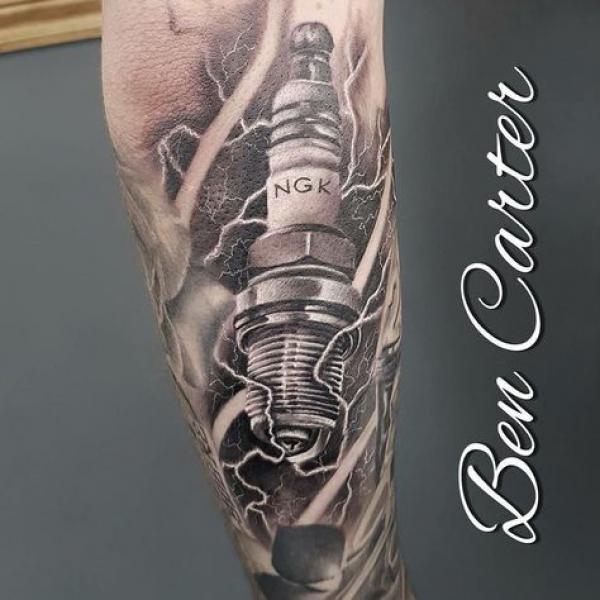 A spark plug, vital for igniting engines, can make for a vivid and meaningful tattoo. The realistic depiction of this small but crucial component demonstrates a deep appreciation for the intricacies of mechanical design. It can also symbolize the spark of life, creativity, or inspiration.
Realistic wrench and screwdriver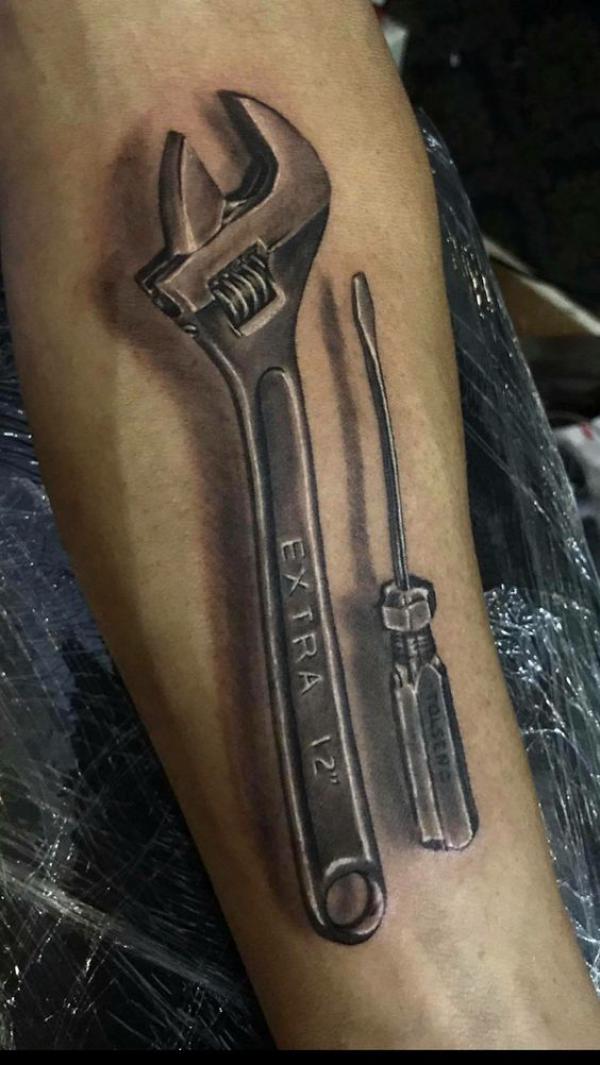 A wrench and screwdriver are classic symbols of manual work and craftsmanship. A tattoo featuring these tools can depict a love for hands-on work and the satisfaction derived from building or repairing machines. Rendered realistically, this design can be both visually striking and deeply symbolic.
Robot cyborg full sleeve tattoo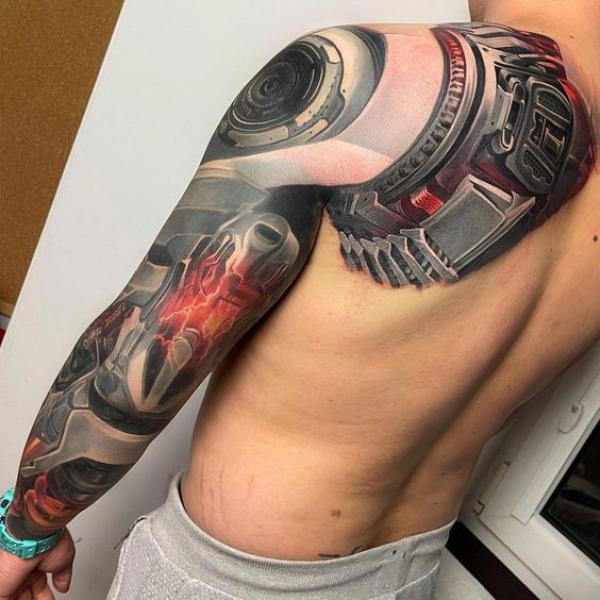 A full sleeve tattoo featuring a robot cyborg is an impressive display of artistic skill and a love for futuristic themes. This design can be as complex and detailed as you want, with circuitry, gears, and metallic elements intertwined with human anatomy to create an awe-inspiring cybernetic design.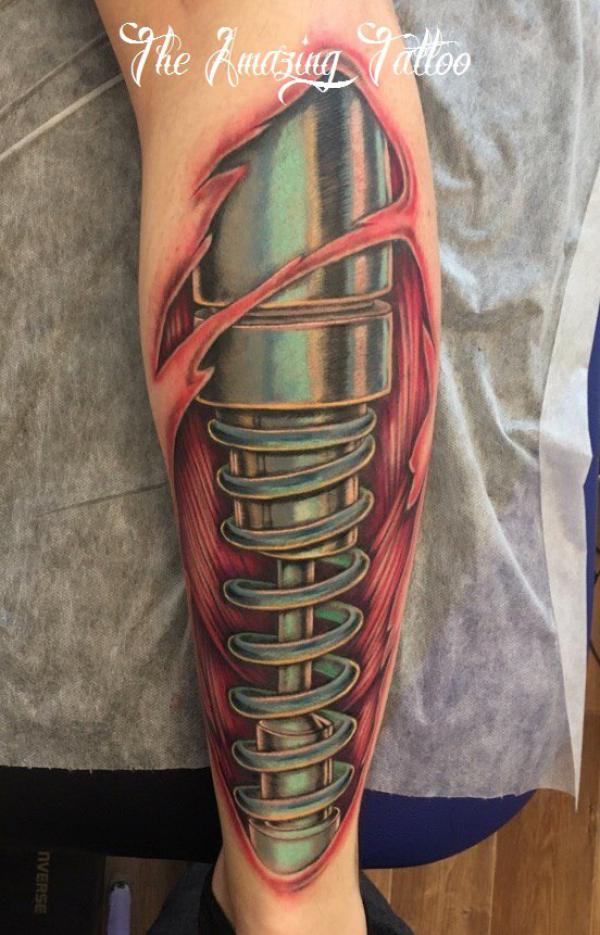 A shock absorber tattoo is a unique choice for automotive enthusiasts. Placed on the leg, this tattoo can have a dual significance – representing both the mechanical component and its analogous function in the human body. The design can be rendered realistically or stylized, depending on personal preference.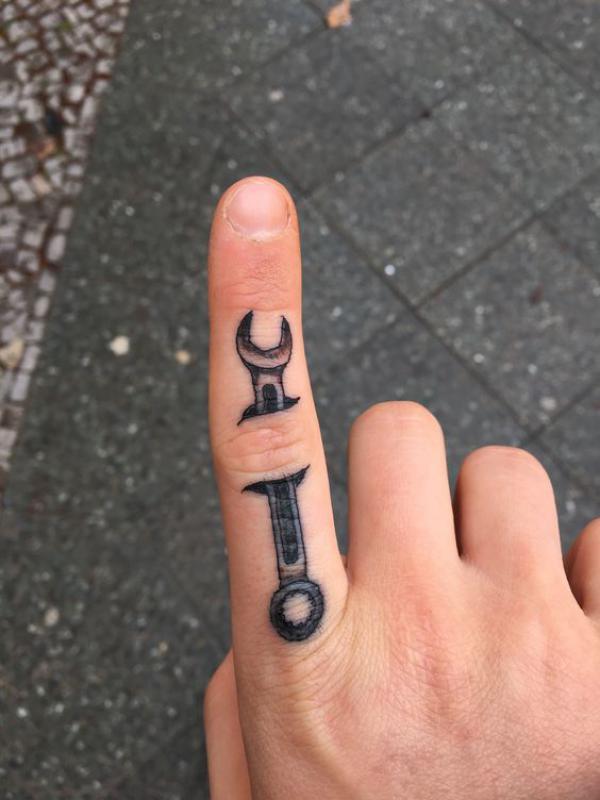 A small mechanical wrench tattoo on the finger is a minimalist way to express a love for mechanics. Despite its size, this design can hold deep personal significance and serve as a constant reminder of the wearer's passion for craftsmanship.
Traditional mechanical tattoo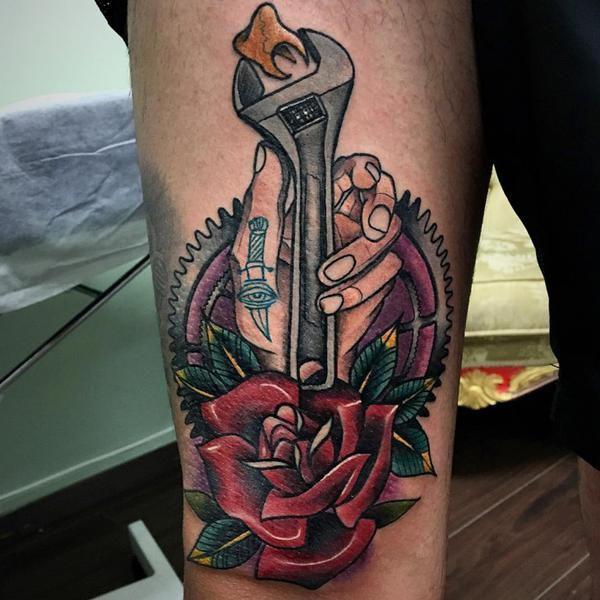 A traditional mechanical tattoo usually includes classic imagery such as gears, cogs, and pistons, often combined with bold lines and vibrant colors characteristic of traditional tattoo art. These designs are timeless and can be customized to reflect personal tastes and interests.
Traditional spark plug with wings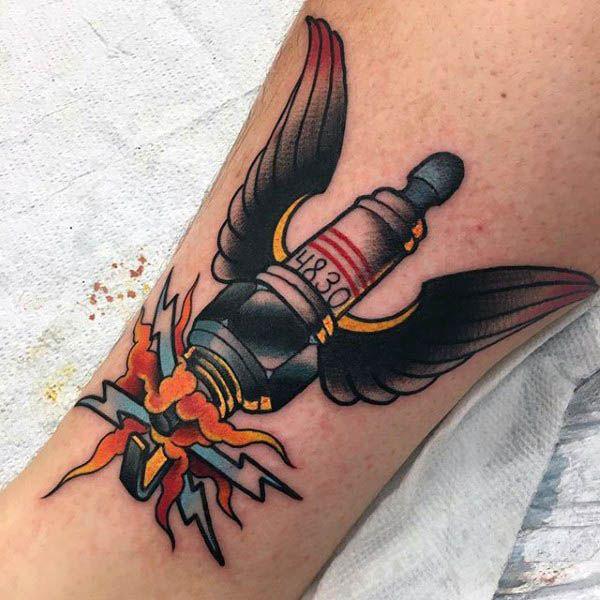 Adding wings to a traditional spark plug design can symbolize swiftness and freedom. The spark plug represents the spark of life or creativity, while the wings can signify the ability of these sparks to fly high and free. This design combines traditional tattoo elements with mechanical imagery for a unique look.
Turbocharger and pressure gauge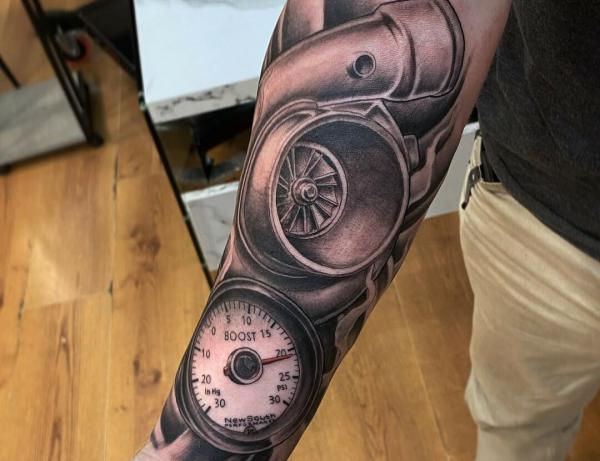 A turbocharger and pressure gauge tattoo is an excellent choice for car enthusiasts. The turbocharger symbolizes power and speed, while the pressure gauge represents control and precision. Together, they make a potent symbol for those who love the thrill and precision of high-performance vehicles.
Turbocharger hand tattoo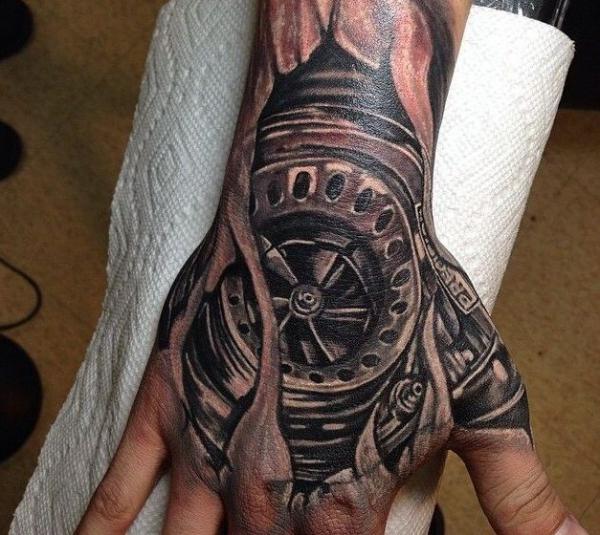 A turbocharger tattoo on the hand is a bold and visible statement of a love for speed and power. This design is an eye-catching way to express passion for cars and mechanical engineering.
Turbocharger skull tattoo sleeve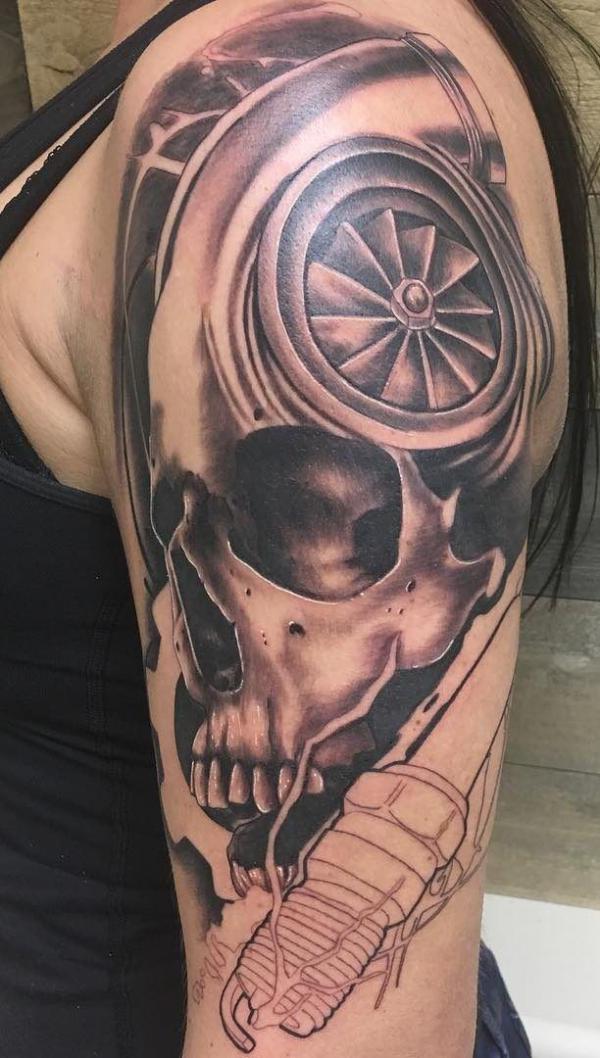 This piece is a robust mélange of power and mortality, the turbocharger symbolizing force and the skull reminding us of our fleeting existence. With intricate detailing, this sleeve design is a bold statement that's sure to catch eyes.
Vernier caliper and micrometer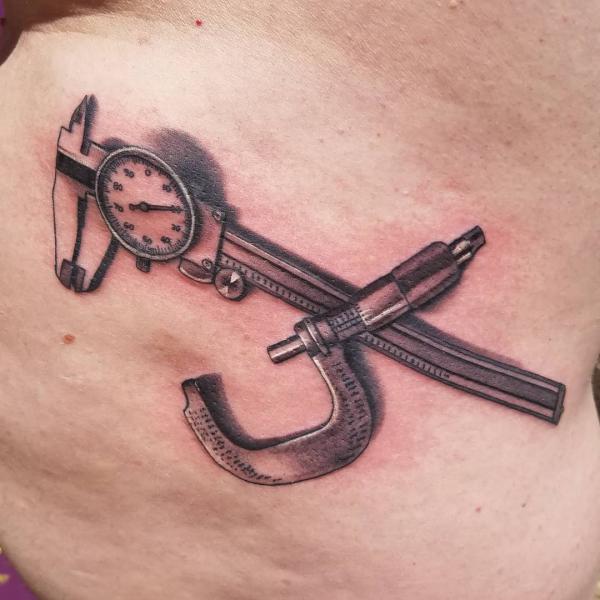 The vernier caliper and micrometer tattoo is a nod to the precision of mechanical engineering. The caliper, used for measuring physical dimensions, and the micrometer, employed for minute measurements, together signify the meticulous attention to detail inherent in mechanical work. This design is a tribute to precision, making it perfect for those who value accuracy in their craft and life.
Watercolor mechanical keyboard tattoo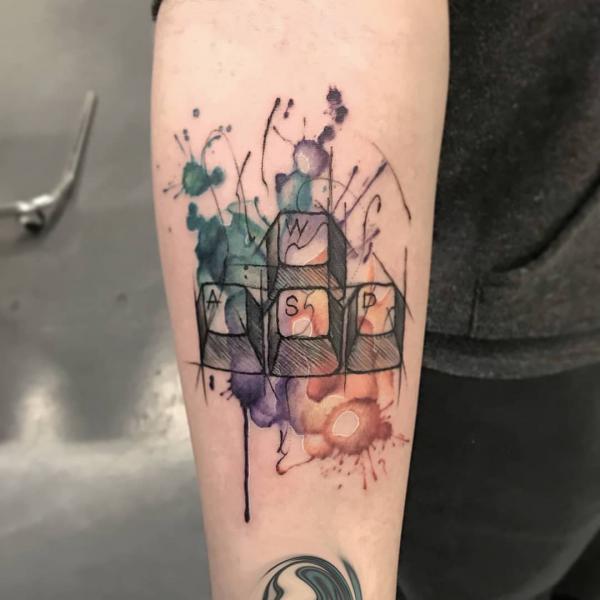 A watercolor mechanical keyboard tattoo takes a modern spin on the mechanical tattoo trend. The keyboard is a symbol of technology and communication, while the watercolor effect adds an artistic flair. This design is ideal for those who want to express their connection to the digital world in a colorful and creative way.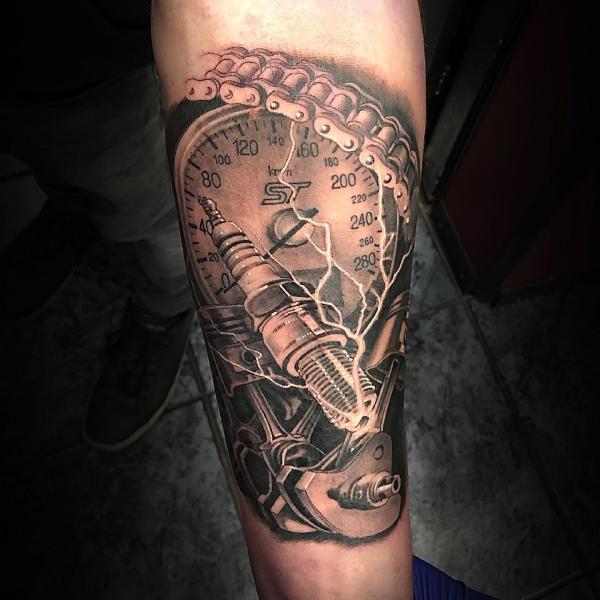 The auto mechanic forearm tattoo is an emblem of craftsmanship and dedication. Featuring common tools of the trade like wrenches, screwdrivers, or gears, this design is a testament to the hard work and skill of mechanics. It's a great way to wear your profession or passion on your sleeve—quite literally!
Gear Mechanical sleeve tattoo
The sleeve tattoo is a classic choice in the realm of mechanical designs. Gears, the heart of many machines, symbolize interconnectivity and teamwork. A sleeve tattoo filled with intricately designed gears can signify the wearer's appreciation for these concepts and their application in everyday life.
Bearing assembly arm tattoo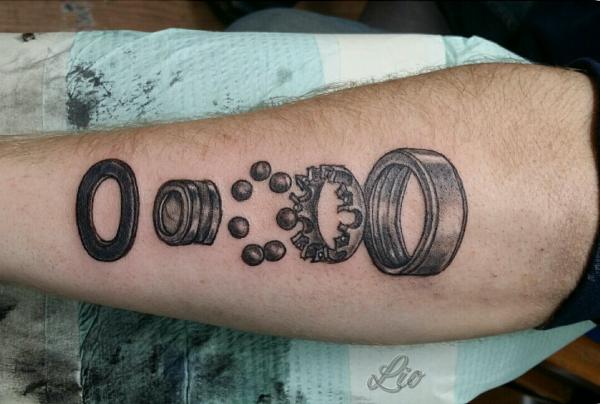 A bearing assembly arm tattoo is a unique design that showcases the beauty of mechanical parts. Bearings, which reduce friction in machines, can symbolize smooth transitions and ease of movement in life. This design is a great conversation starter and a distinctive choice for those drawn to less conventional designs.
Clock mechanical forearm tattoo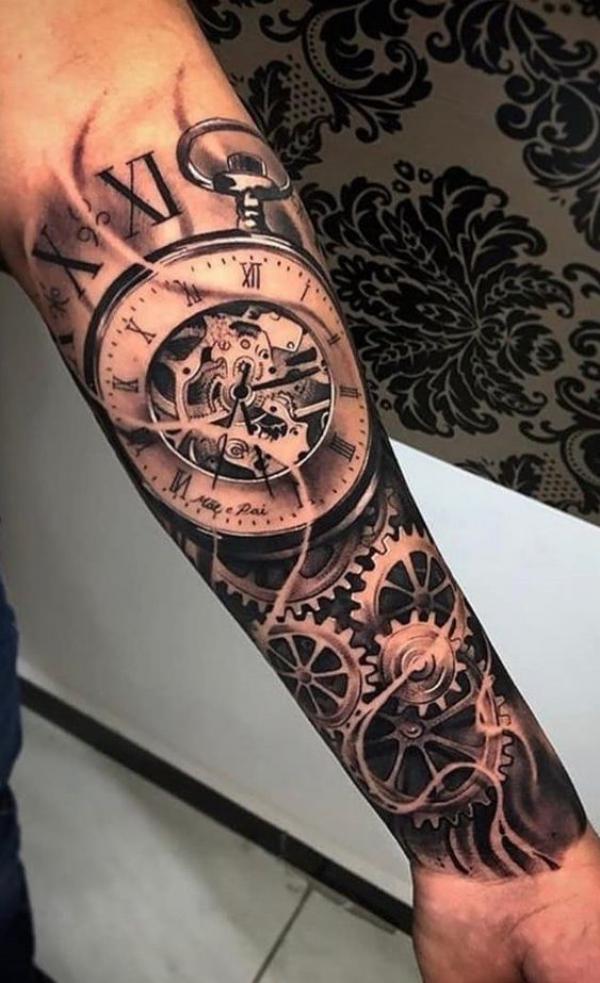 The clock mechanical forearm tattoo is a popular design that fuses the aesthetic appeal of clocks and mechanics. Clocks are a universal symbol of time and its relentless march forward, while the mechanical elements provide a visually stunning backdrop. This design is rich in meaning and visual appeal.
Clock mechanics with eye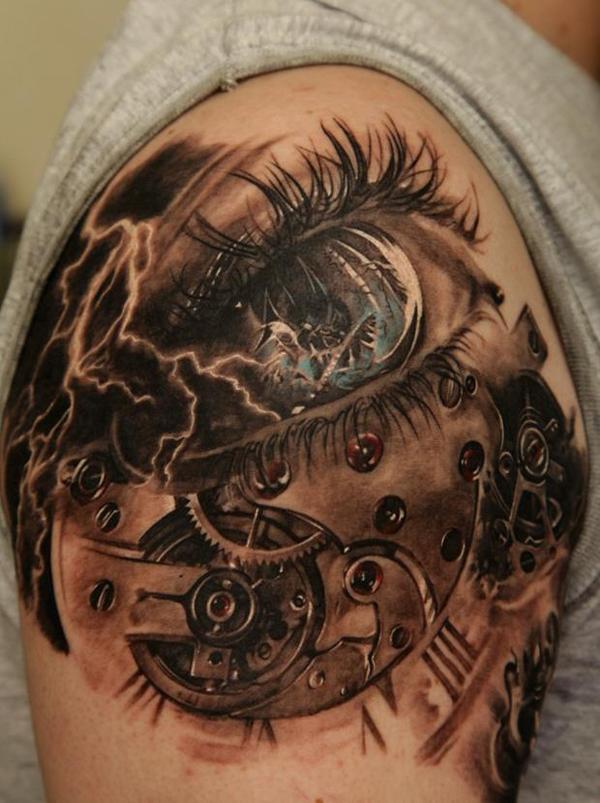 Adding an eye to the clock mechanics tattoo design adds another layer of symbolism. The eye can represent insight and clarity, creating a profound contrast with the relentless, impersonal passage of time symbolized by the clock. This design is a thoughtful choice for those seeking a tattoo with depth.
Compass mechanical hand tattoo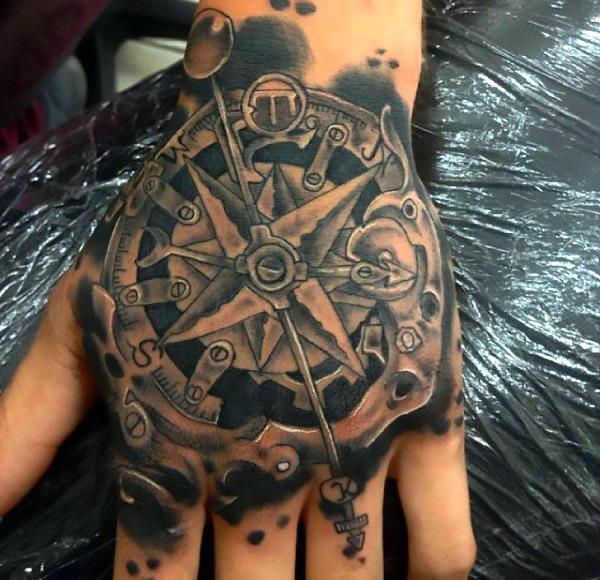 Connecting rod with skull half sleeve tattoo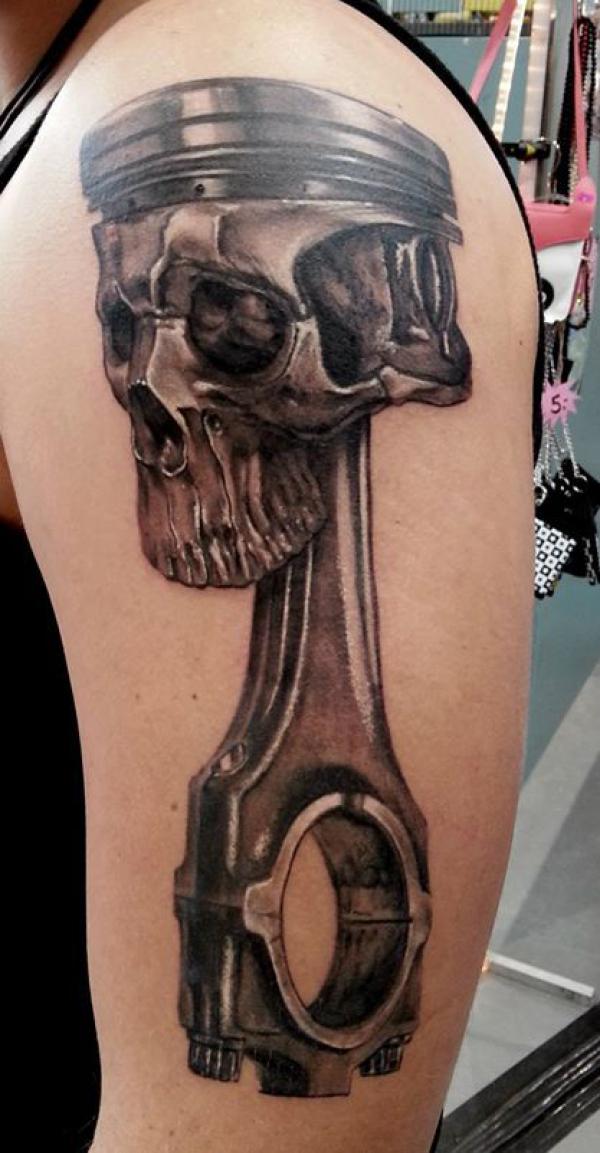 Crank shaft sleeve tattoo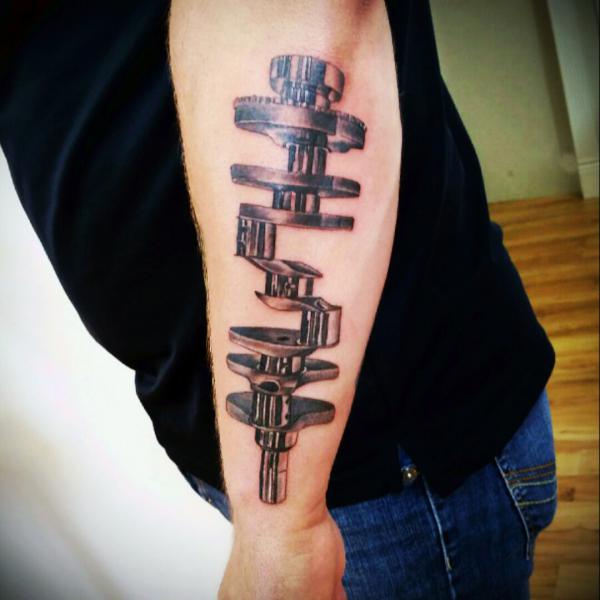 A crank shaft sleeve tattoo is a visually engaging design that showcases the beauty of machinery. The crankshaft, the part of an engine which translates reciprocating linear piston motion into rotation, is a symbol of transformation and movement. This design is ideal for those who appreciate the intricate workings of machinery.
Engine forearm tattoo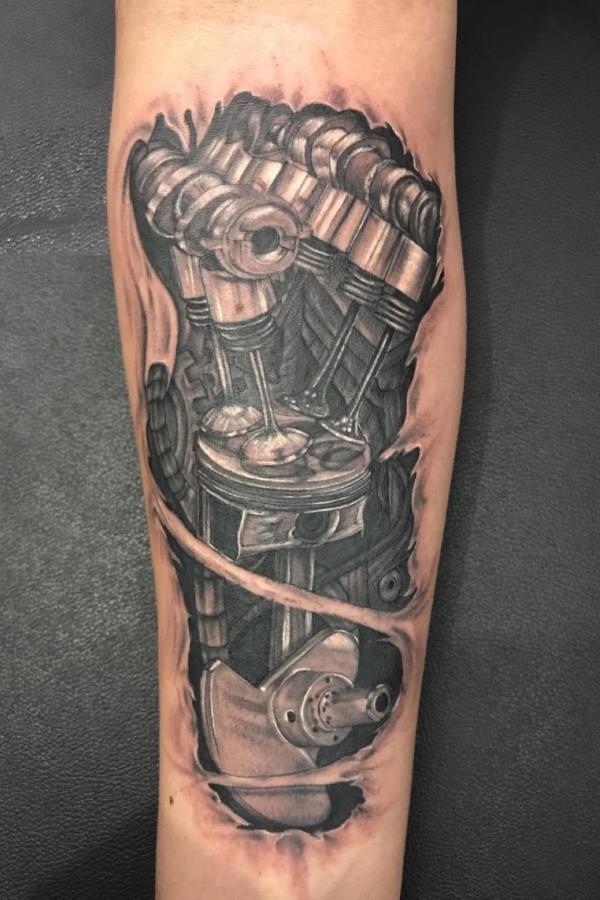 An engine forearm tattoo is a bold choice that displays a love for machines and their power. The engine, the heart of any vehicle, represents power, energy, and the complexities of mechanical design. This tattoo can be as detailed or stylized as desired, making it a versatile choice for any mechanical enthusiast.
Gear train and spring half sleeve tattoo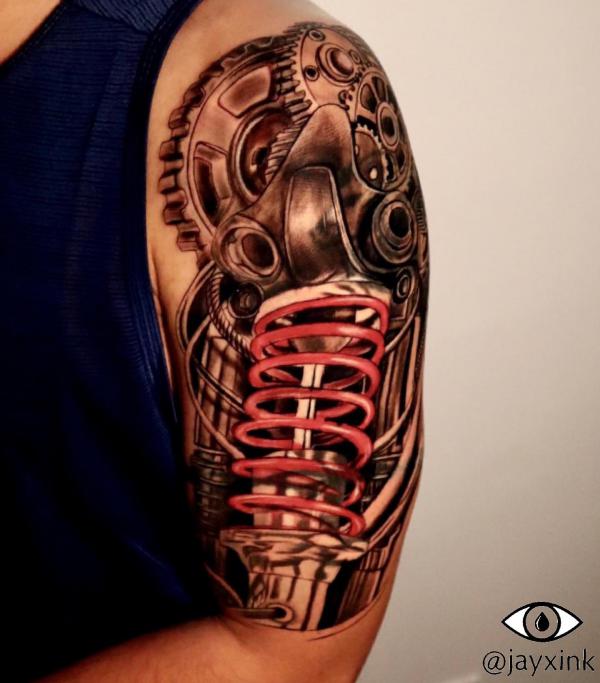 The gear train and spring half sleeve tattoo is a design that combines motion and elasticity. The gear train, a group of gears that work together to transmit motion, and the spring, a symbol of elasticity and potential energy, together create a design that's both visually captivating and symbolically rich.
Geometric hourglass with gears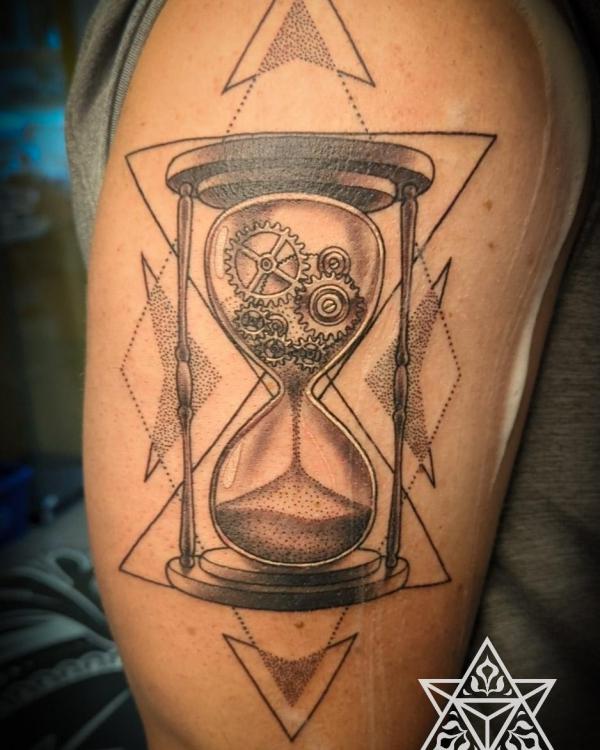 The geometric hourglass with gears tattoo is an intricate design that blends the symbolism of time with mechanical engineering. The hourglass represents the unstoppable flow of time, while the gears add a layer of complexity and movement. This visually striking design can serve as a reminder of the intricate dance of time and human innovation
Half lion face half mechanics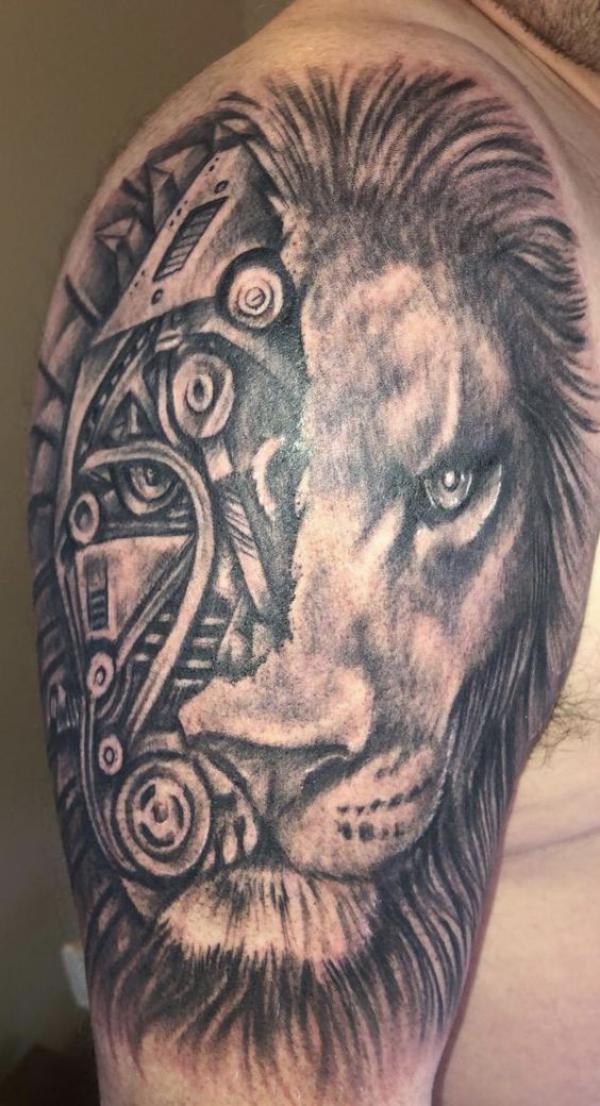 Embodying the fusion of nature and technology, the half lion face, half mechanics tattoo is a powerful design choice. The lion, a symbol of courage and strength, combined with mechanical elements, creates a compelling contrast. This design is a bold statement of resilience and the power of both the natural and mechanical worlds.
Mechanical robot arm tattoo
The mechanical robot arm tattoo is a nod to the future. As technology continues to evolve, robots and their mechanical components have become symbolic of progress and innovation. This design can be a tribute to the possibilities brought about by technological advancement and the potential for human and machine integration.
Mechanical gear shoulder blade tattoo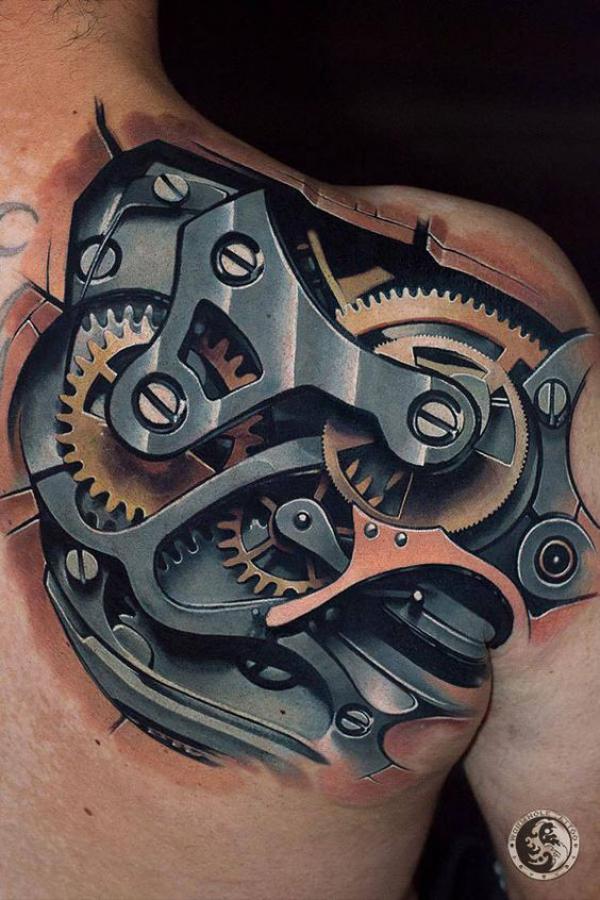 The mechanical gear shoulder blade tattoo is a unique display of appreciation for the intricate beauty of machines. Gears, essential in many mechanical systems, symbolize interconnectivity and cooperation. When placed on the shoulder blade, this design can serve as a symbol of personal strength and resilience, much like the gears that keep a machine running smoothly.
Mechanical leg tattoo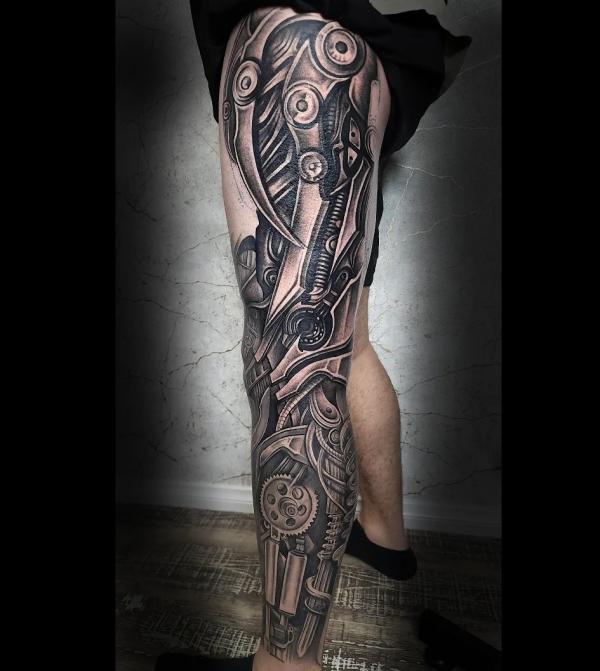 Mechanical leg tattoos are a bold choice for those who want to celebrate the synergy of human anatomy and mechanical design. These tattoos can range from biomechanical designs that blend human musculature with gears and pistons, to abstract representations of mechanical components. They serve as a testament to the similarities between the human body and machines—both are complex systems designed for motion and function.
Mechanical transmission system tattoo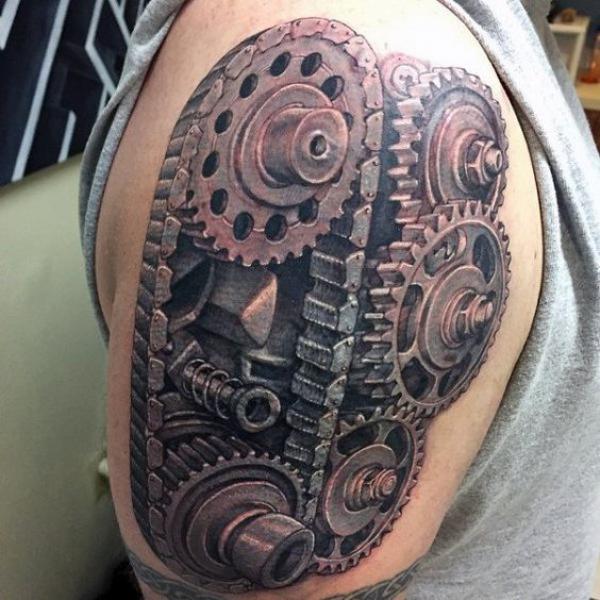 The mechanical transmission system tattoo is a design choice that screams "gearhead." The transmission system, a critical component in vehicles, represents power and the transfer of energy. This tattoo can be a tribute to the intricate engineering that goes into every mechanical system, embodying a love for mechanics and vehicles.
Mechanical heart engine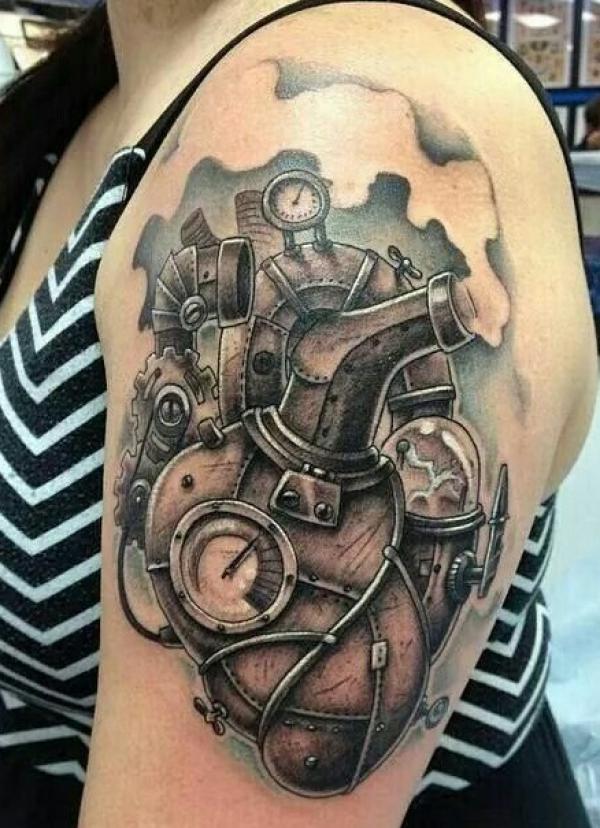 The mechanical heart engine tattoo is a profound representation of life and mechanics. The heart engine, an amalgamation of the human heart and an engine, symbolizes the life-giving power of both the human body and machines. This design can signify the harmony between humans and technology, and our reliance on both for survival.
Mechanical drawing of an air plane bicep tattoo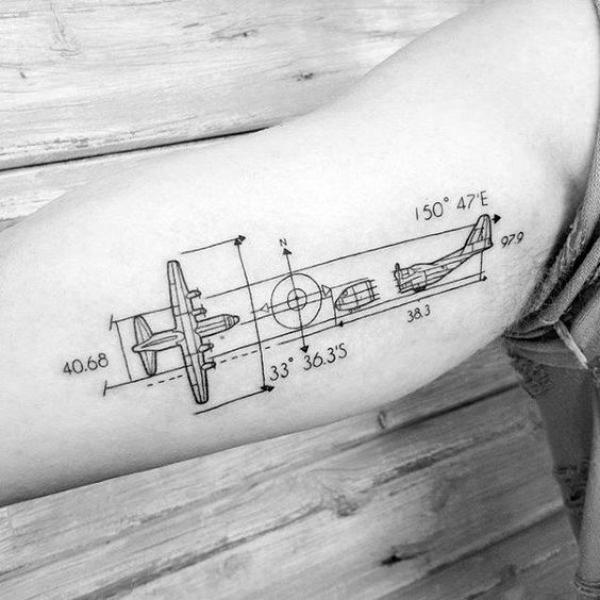 For aviation enthusiasts, the mechanical drawing of an airplane bicep tattoo can be a perfect match. This design showcases the complexity and beauty of aircraft design. It's a testament to human ingenuity and the ability to conquer the skies.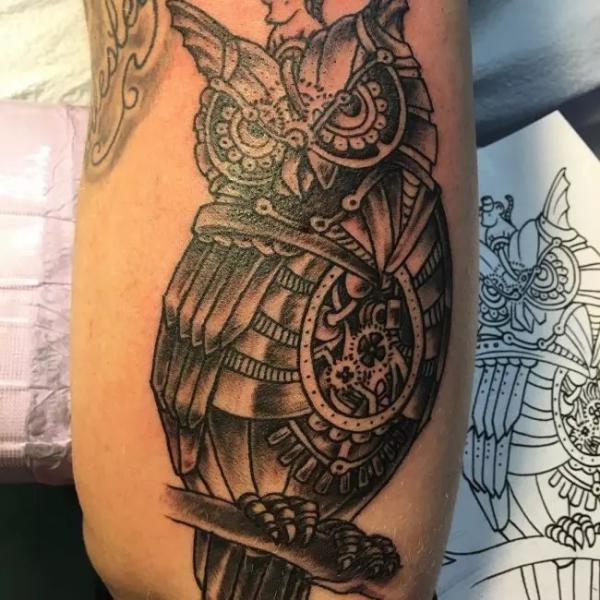 The mechanical owl tattoo combines nature and mechanics in a visually stunning design. The owl, a symbol of wisdom and knowledge, when rendered in a mechanical style, becomes a symbol of technological advancement and intelligence. This design is an artistic representation of the harmony between nature and technology.
Mechanical piston and connecting rod line work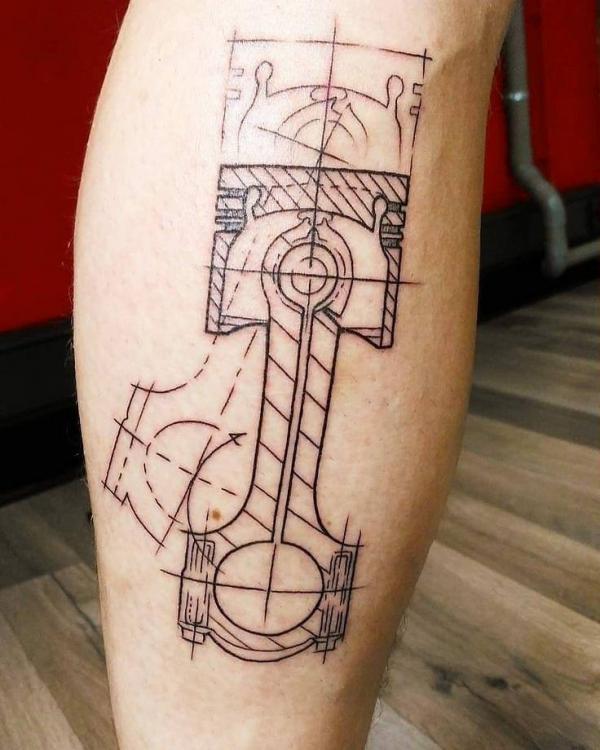 The mechanical piston and connecting rod line work tattoo is a minimalist yet powerful design. The piston and connecting rod, essential parts of engines, can symbolize power, motion, and the complexities of mechanical design. Rendered in line work, this tattoo can be a subtle expression of love for mechanics.
Mechanical lion with rose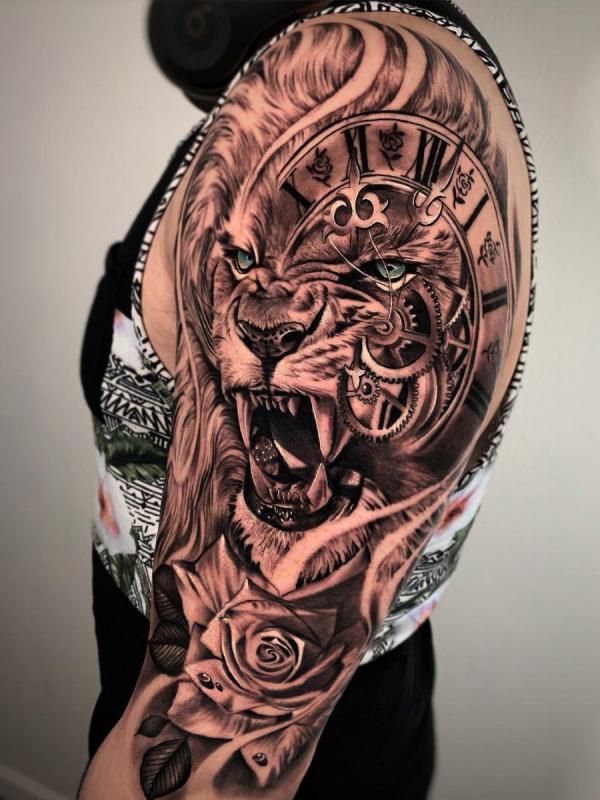 The mechanical lion with a rose tattoo is a design where power meets beauty. The mechanical lion, a symbol of strength and courage, paired with a rose, a symbol of beauty and love, creates a compelling contrast. This design is an artistic representation of the balance between toughness and tenderness.
Nautical mechanical tattoo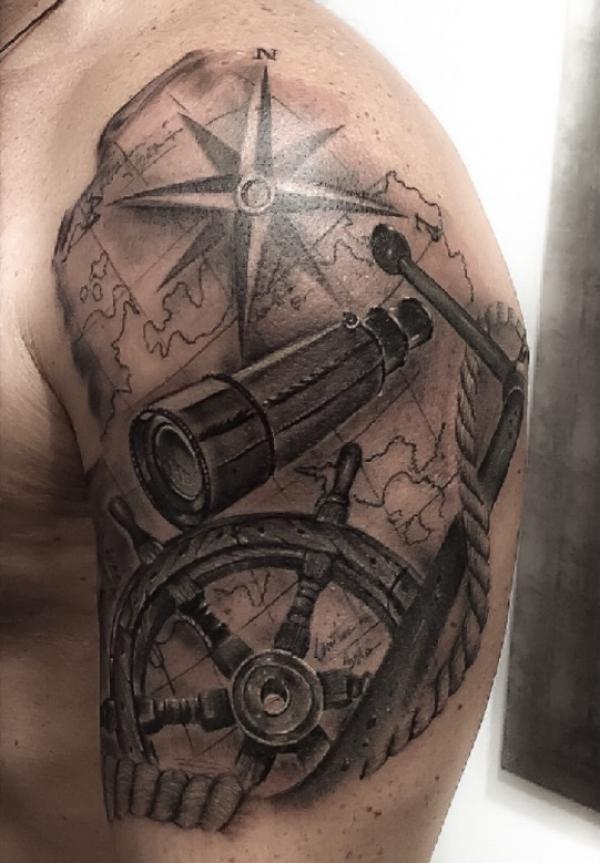 A nautical mechanical tattoo combines the symbolism of nautical elements with mechanical design. This design could feature mechanical versions of anchors, ship wheels, or compasses. It's an ideal choice for those who have a love for the sea and an appreciation for the mechanical aspects of naval technology.
Pipe wrench forearm tattoo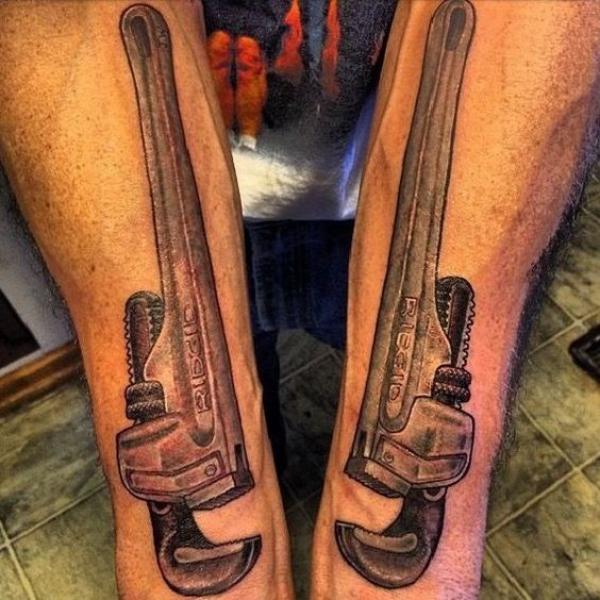 The pipe wrench forearm tattoo is a practical and visually appealing design for those who appreciate the tools of the trade. The pipe wrench, a common tool in many mechanical jobs, symbolizes hard work and craftsmanship. Placed on the forearm, this tattoo can be a tribute to manual labor and the satisfaction derived from it.
Piston and connecting rod with word CAT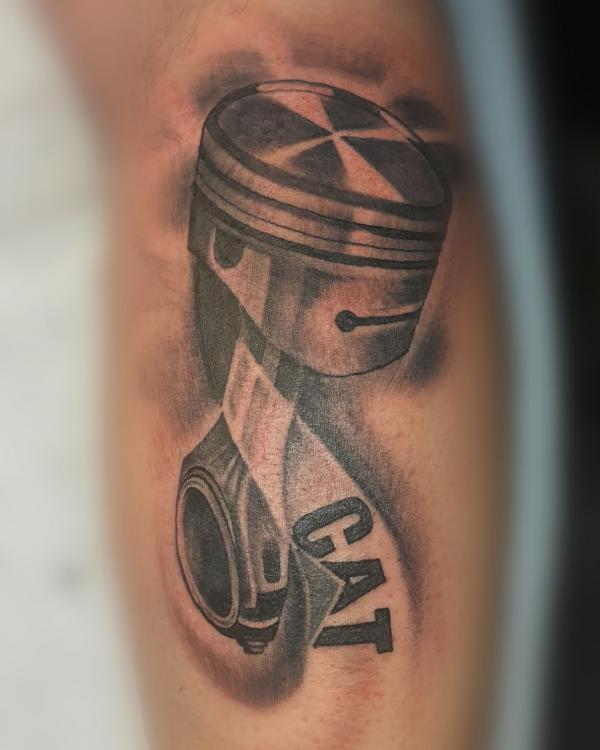 A piston and connecting rod tattoo with the word CAT is an excellent choice for fans of Caterpillar Inc., the American machinery company. This design can symbolize a love for heavy machinery and the power and reliability associated with the CAT brand. It's a bold and unique way to display brand loyalty and appreciation for high-quality machinery.
Choosing the Right Mechanical Tattoo
Choosing the right mechanical tattoo involves considering several factors. The design is crucial—it should resonate with you, whether it's a steampunk gear, a biomechanical organ, or a robot portrait. The placement and size of the tattoo also matter, as they can affect the level of detail and the visibility of the design.
Finding the right tattoo artist is equally important. Look for an artist who specializes in mechanical tattoos and has a portfolio that impresses you. Remember, a mechanical tattoo is a complex piece of art that requires a skilled hand, so choose your artist wisely.
Conclusion
Mechanical tattoos are more than just body art—they're a testament to our technological journey, a fusion of tradition and innovation, a symbol of our complex relationship with technology. As we continue to explore the intersection of art and technology, mechanical tattoos will undoubtedly continue to evolve, pushing the boundaries of what we thought possible in the world of tattoos.
So next time you're considering a tattoo, why not think about going mechanical? It's not just about getting a tattoo, but about embracing the future, celebrating the present, and paying homage to the past. It's about becoming a living piece of art, a fusion of skin and machinery, a testament to the beautiful complexity of the human-technology symbiosis.