Tattoos are everywhere these days. From the minimalist stick-and-poke pieces to the elaborate, life-sized portraits, ink is definitely in. But among the crowded designs out there, owl tattoos stand out as one of the most popular and captivating choices. Owls have always been a symbol of wisdom, spirituality, and knowledge. In this article, we will go through the meanings behind the animal tattoos, some design ideas, and how to choose the perfect owl tattoo for you.
Owls in different cultures
But first, let's take a closer look at owls as animals. Unlike other birds, owls are nocturnal hunters, relying on their powerful vision, acute hearing, and silent flight to catch prey in the darkness. Their eerie, otherworldly screeches have sent chills down many a spine. This combination of fascinating and frightening traits has made the owl the stuff of legends, mythology, and folklore for centuries.
The Ancient Greeks
For the Ancient Greeks, the owl represented wisdom, knowledge, and scholarship – and it's all thanks to Athena, the goddess of wisdom herself. Legend has it that Athena chose the owl as her companion due to its keen mind and insightful nature. The little owl, Athene noctua, can perch on her shoulder in countless depictions of Athena.
Owl tattoos inspired by Ancient Greek mythology symbolize your pursuit of wisdom and desire for knowledge. If you're someone who values intelligence and learning, this meaning of an owl tattoo may resonate with you.
Native American Tribes
In various Native American tribes, owls were revered as symbols of insight and vision. They were believed to have the power to see what others cannot, making them a source of guidance and protection. Some tribes even associated owls with the ability to foresee future events or communicate with spirits.
Native American tattoos with Owl often represent the wearer's spiritual connection or quest for clarity and guidance. They can also embody mystical qualities or be a symbol of the power to pierce through the darkness, both metaphorically and literally.
Hinduism
In Hinduism, owls are regarded as the vahana, or vehicle, of Lakshmi – the goddess of wealth, fortune, and prosperity. As such, owl tattoos can be seen as a symbol of good luck and abundance.
If you feel drawn to this meaning, an owl tattoo inspired by Hindu iconography may be the perfect way to bring more prosperity and fortune into your life.
The Celts
The Celts, particularly those in Wales and Scotland, imbued the owl with mysticism and believed it had magical powers. They also saw it as a symbol of transformation – like the way the nocturnal bird soared through the darkness, the Celts believed that owls could help souls transition from one realm to another.
Owl tattoos inspired by Celtic mythology can represent your connection to the magical and mysterious aspects of life. They also make a unique and powerful statement about transformation, growth, and the ability to navigate life's darkest times.
Aztec Culture
In Aztec culture, the owl often signifies the underworld and death. However, this doesn't mean that owl tattoos in this context are solely about doom and gloom. The meaning of Aztec tattoos with the owl could be also associated with new beginnings and rebirth.
So, if you're going through a significant life change, an owl tattoo can symbolize your acceptance of the past and readiness to embrace the future. It serves as a reminder that with every ending, a new beginning awaits.
Japanese Folklore
For the Japanese, owls (or "fukuro" in their language) are thought to bring good fortune and protect against evil. People often keep owl figurines in their homes, businesses, or even cars as an amulet to ward off bad luck.
Owl tattoos inspired by Japanese folklore demonstrate your desire to attract good fortune and protect yourself from negativity.
The symbolism and meanings of owl tattoos
Owls have been a highly revered animal since ancient times, in a variety of cultures. Below are some of the most common meanings associated with owl tattoos.
Wisdom and Knowledge
One of the primary reasons people opt for owl tattoos is their representation of wisdom and knowledge. The owl's nocturnal nature, excellent vision in the darkness, and distinctive "thinking" expression all served to underscore its association with intelligence and insight.
Mystery and Magic
The owl's ability to see in the night also connects it to mysteries, secrets, and magic. The enigmatic allure of the owl makes it an excellent tattoo choice for those who feel connected to the mystical aspects of life.
Transition and Transformation
The owl is a creature of the night and is often seen as a symbol of transition and transformation. Similar to the butterfly or the phoenix, the owl represents significant change or rebirth in a person's life. It acts as a reminder of the importance of embracing new chapters and personal growth.
Protection
Native American tribes viewed the owl as a symbol of protection, invoked in rituals to ward off evil spirits or negative energy. By getting an owl tattoo, you may feel a sense of security and protection surrounding you.
Freedom and Independence
Owls are solitary creatures, often seen perching alone in lofty treetops or flying independently through the dark night sky. Their solitary nature may symbolize a desire for freedom and independence in our own lives.
Different Owl styles
Owl tattoos come in a variety of styles, from traditional designs to vibrant watercolor pieces. Here, we will go through some of the most popular tattoo styles.
3D
3D tattoos are a relatively newer trend that has been gaining popularity in recent years. These tattoos are designed to create an illusion of three-dimensionality, making the tattoo appear more vivid and lifelike. Since owls are fascinating creatures with intricate details, they make for exceptional 3D tattoo subjects. A well-done 3D owl tattoo looks like the owl is about to take flight from your skin.
3D Owl tattoo with a dimensional effect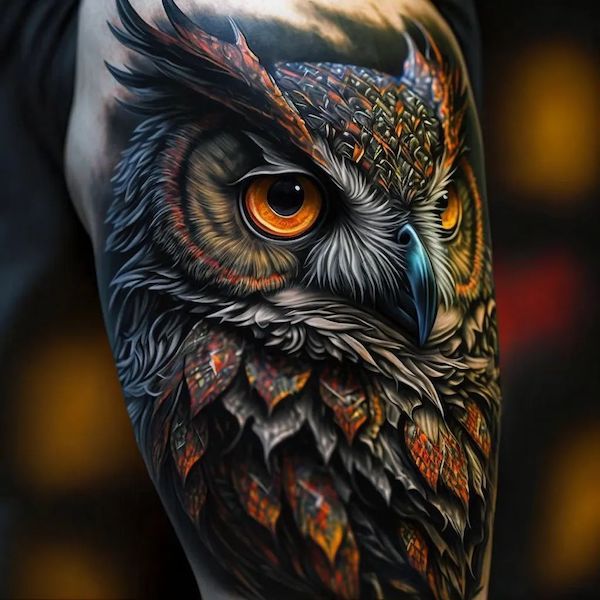 3D Owl Tattoo on Chest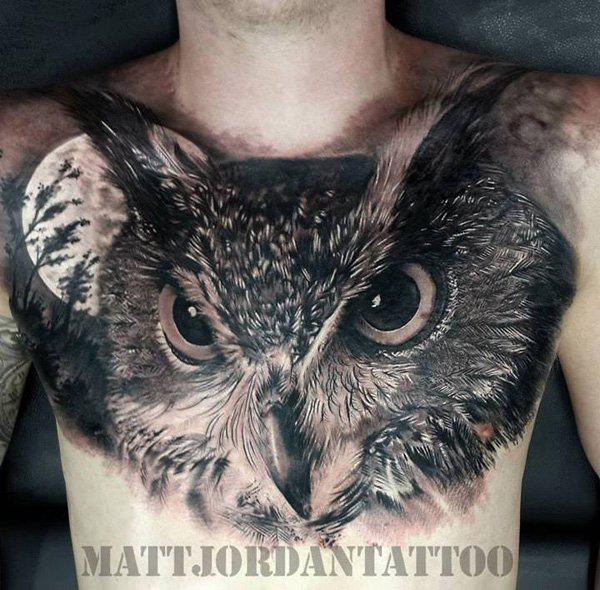 Geometric Owl Tattoos
If mathematics and artistry share a common love language, it's undoubtedly geometric tattoos. An owl tattoo composed of intricate patterns, shapes, and lines creates an irresistible visual harmony. Try assembling different geometric shapes into an owl design or opt for a symmetrically balanced geometric owl that's as soothing as it is striking.
A stylized owl with cubes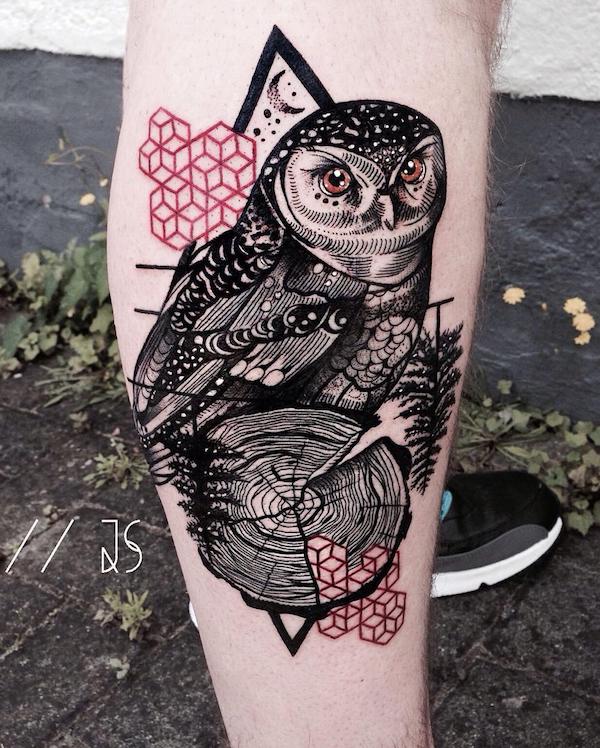 A symmetrically balanced geometric owl design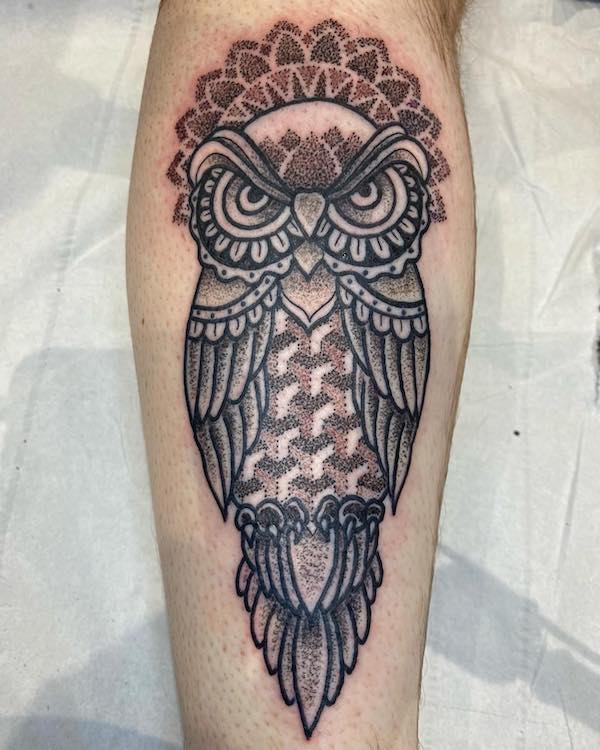 An intricate mandala forearm tattoo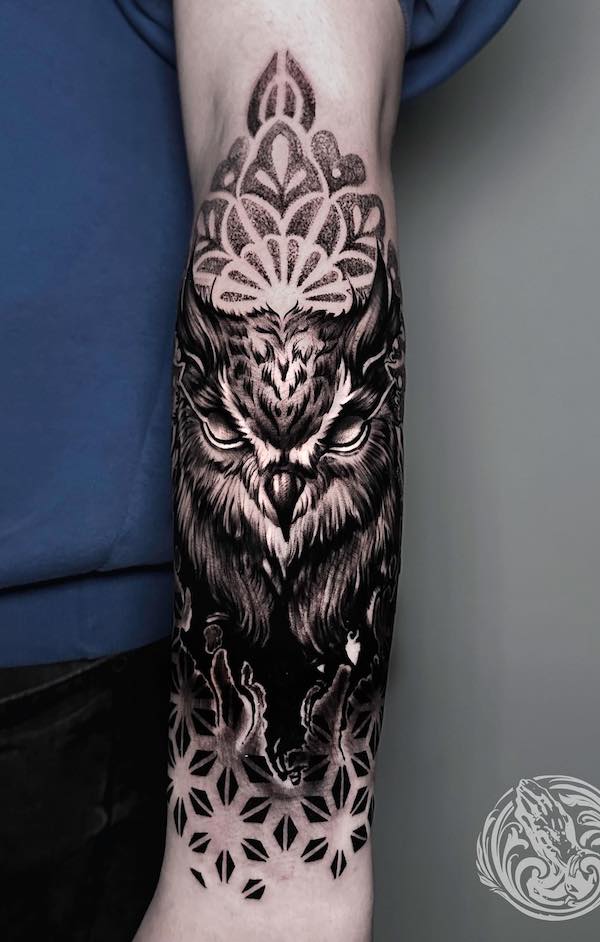 An owl made up of geometric shapes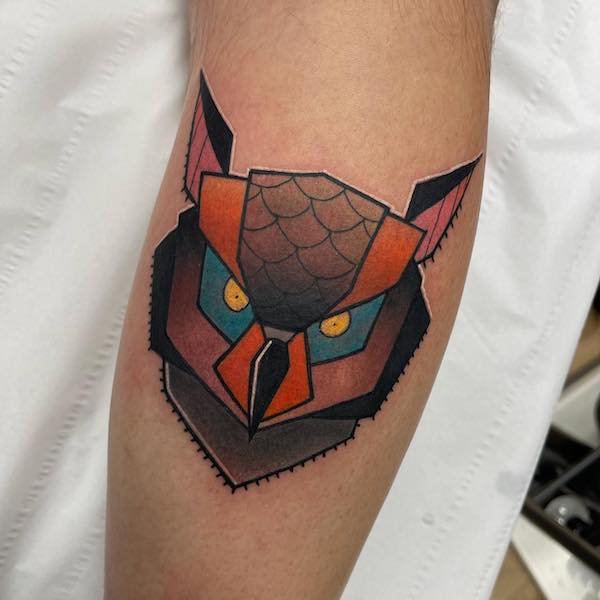 An owl with geometric patterns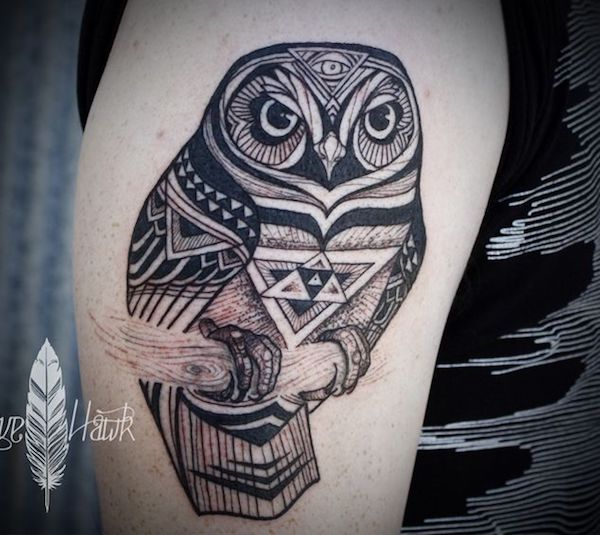 Geometric linework owl tattoo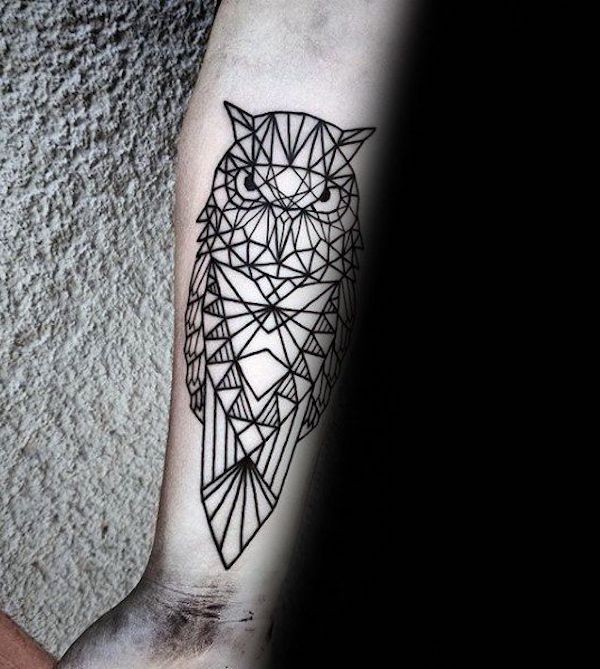 Geometric owl head and landscape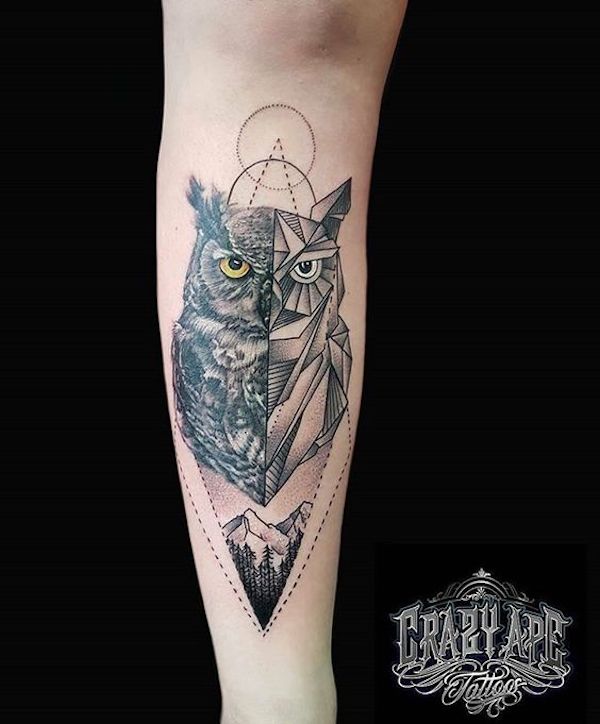 Mandla inspired owl tattoo on upper arm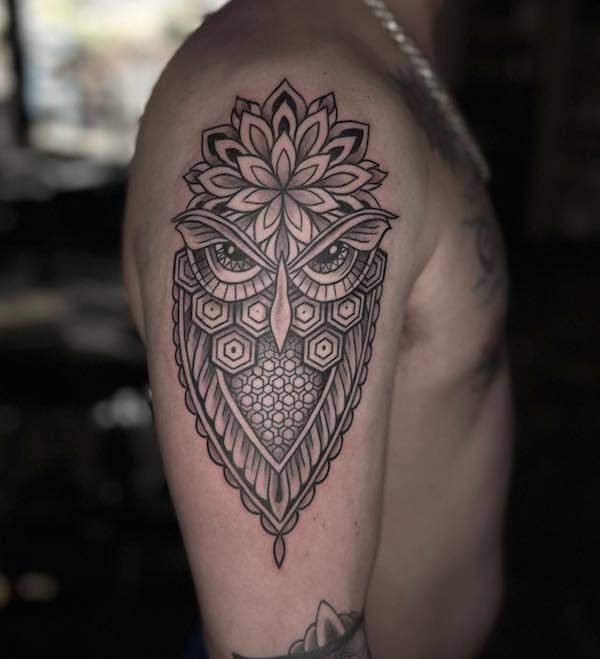 Owl head on manadala backdrop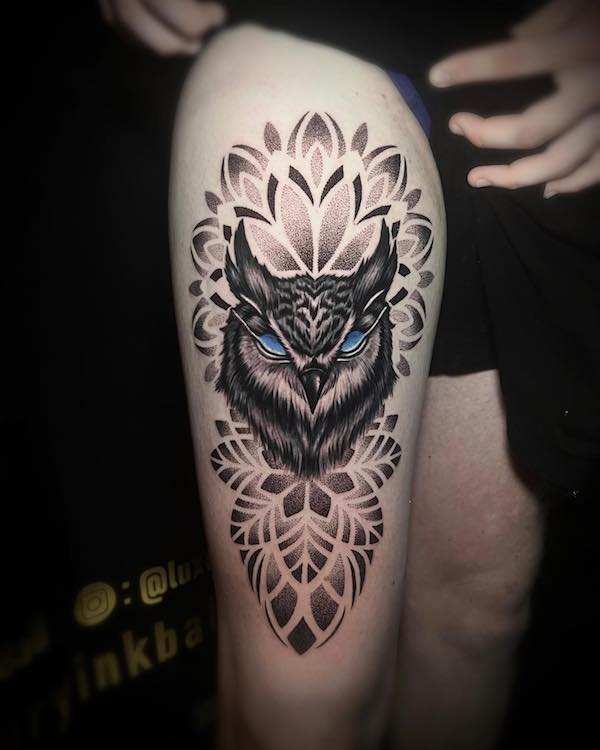 Sketchy
As its name suggests, sketchy owl tattoos mimic the style of a sketch or drawing. The design features seemingly unfinished lines, simulated pencil markings, and an overall abstract appearance. Every individual's preference for a sketchy tattoo will vary, with some choosing a slightly more polished look and others going for an entirely abstract and unrefined appearance. Sketchy owl tattoos are perfect for those who admire the art of drawing and wish to have a tattoo that pays homage to this style while also showcasing the mystique of owls.
Black and gray owl perching on the branch with pendant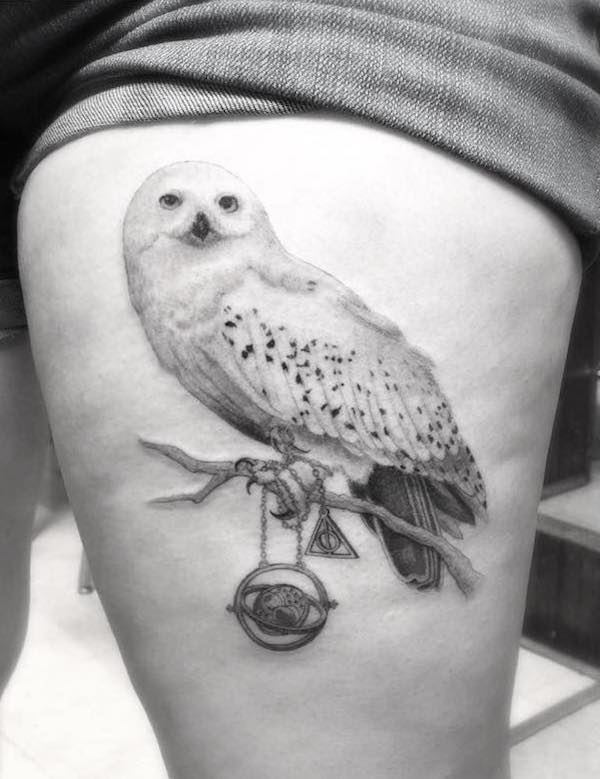 Crosshatched Owl perched on a branch
Owl with a crosshatch effect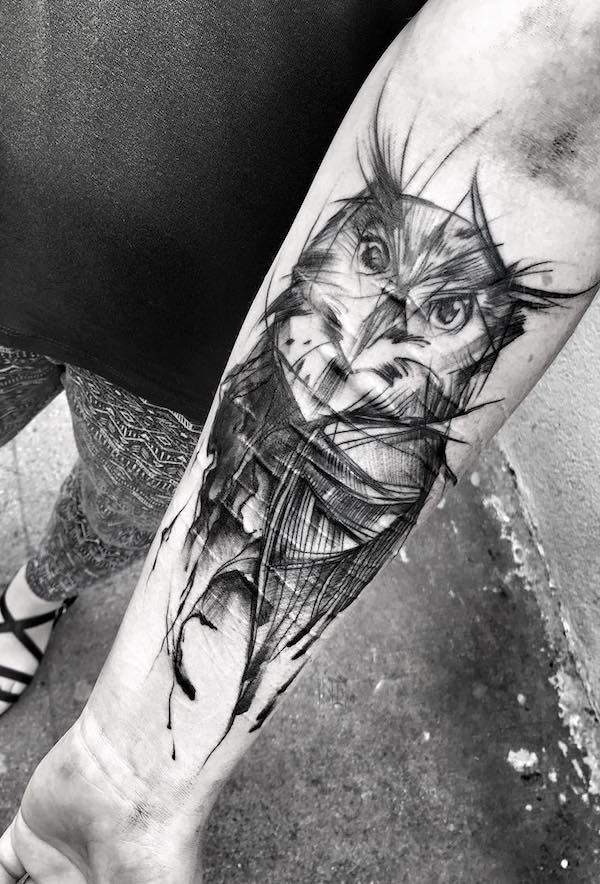 Sketchy Owl with antlers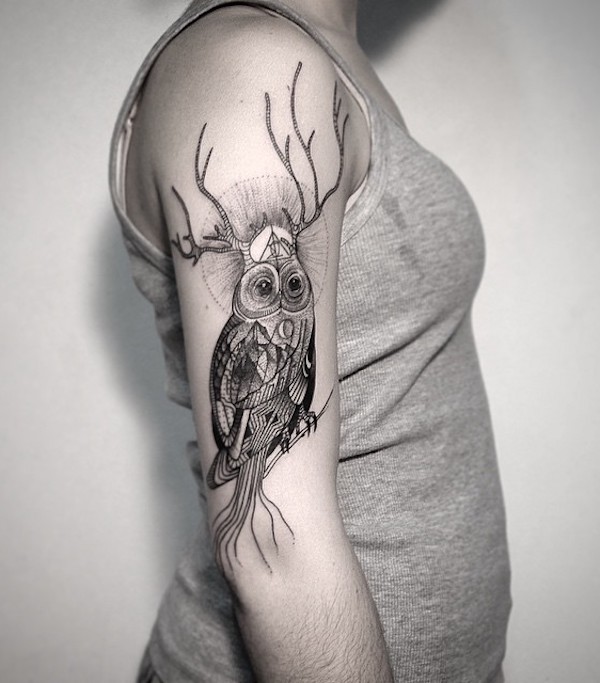 Steampunk
Steampunk is a style of art that takes ideas from the Victorian age and combines them with modern technology. Owl tattoos in Steampunk style often depict owls with mechanical elements, such as gears, cogs, and metallic features. The design could also include steam-powered machinery, clocks, or other industrial components.
These tattoos merge the mystique of owls with the Victorian charm and the inventive spirit of steampunk. A steampunk tattoo with owl is a great choice for individuals seeking an original and bold design that is both intriguing and eye-catching.
Portraying an owl with mechanical steampunk inspired features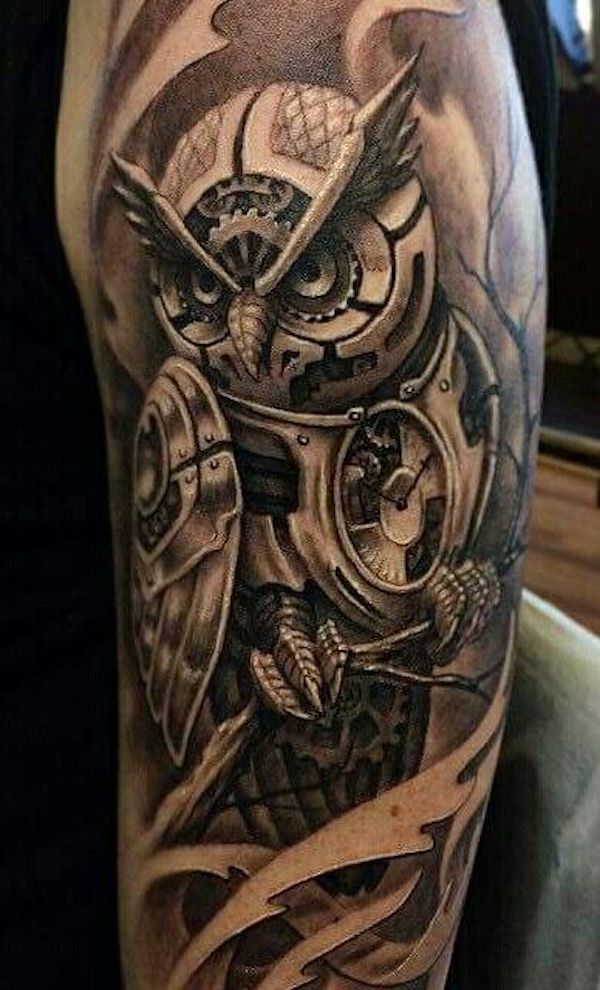 Owl Clockwork Tattoo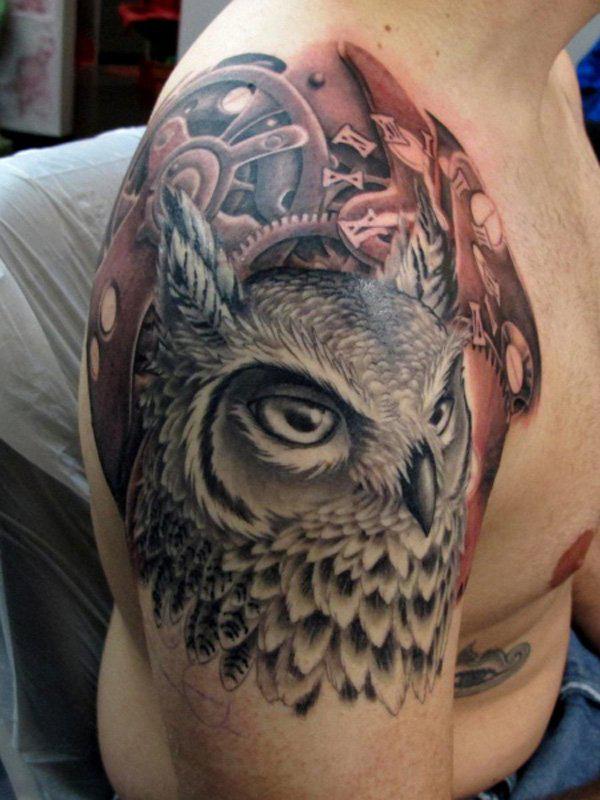 Embellishing an owl design with steampunk accessories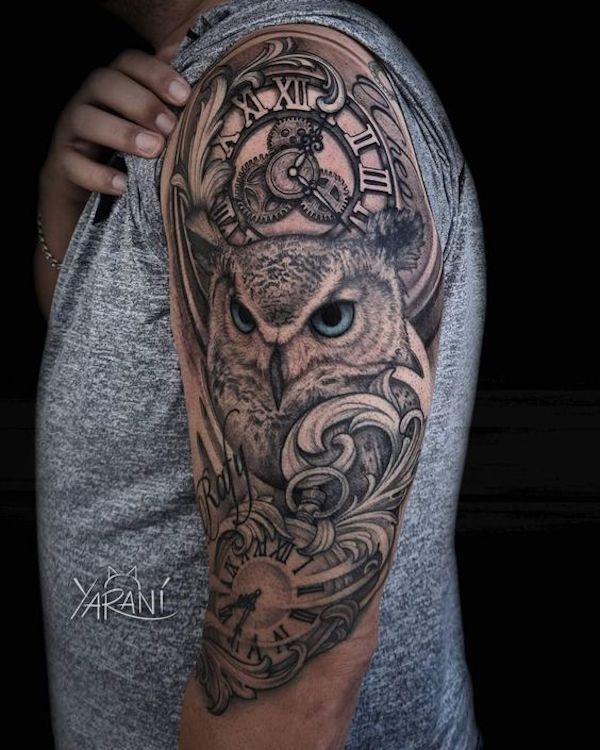 An owl perched on a steampunk clock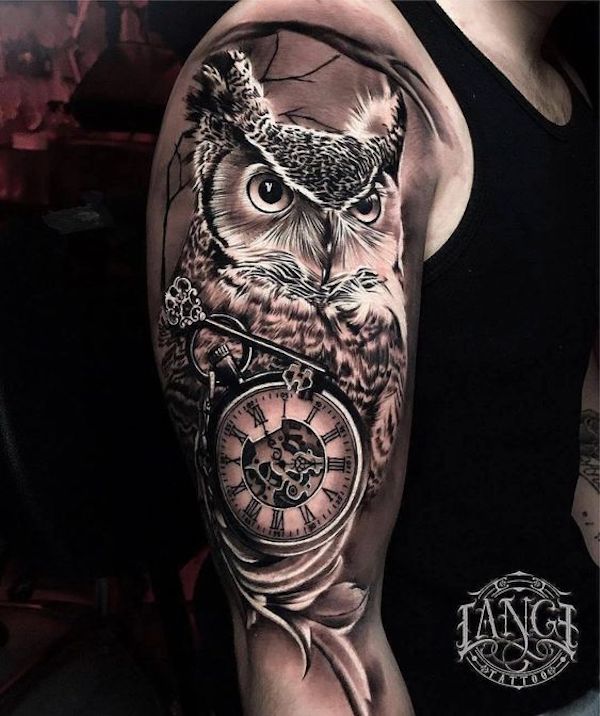 Traditional style
Traditional owl tattoos involve a design that follows the classic tattooing style. This often includes bold lines, vibrant colors, and a more cartoonish appearance. Traditional owl tattoos often incorporate other traditional designs, such as flowers or banners with text.
Neo traditional Owl tattoo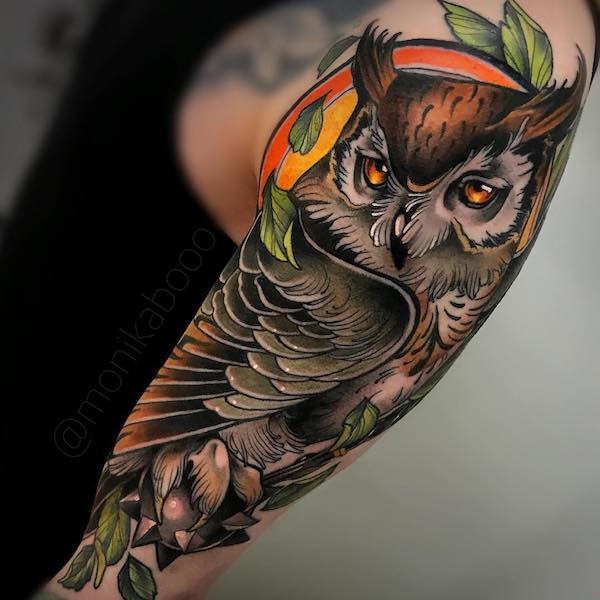 Traditional owl with swirls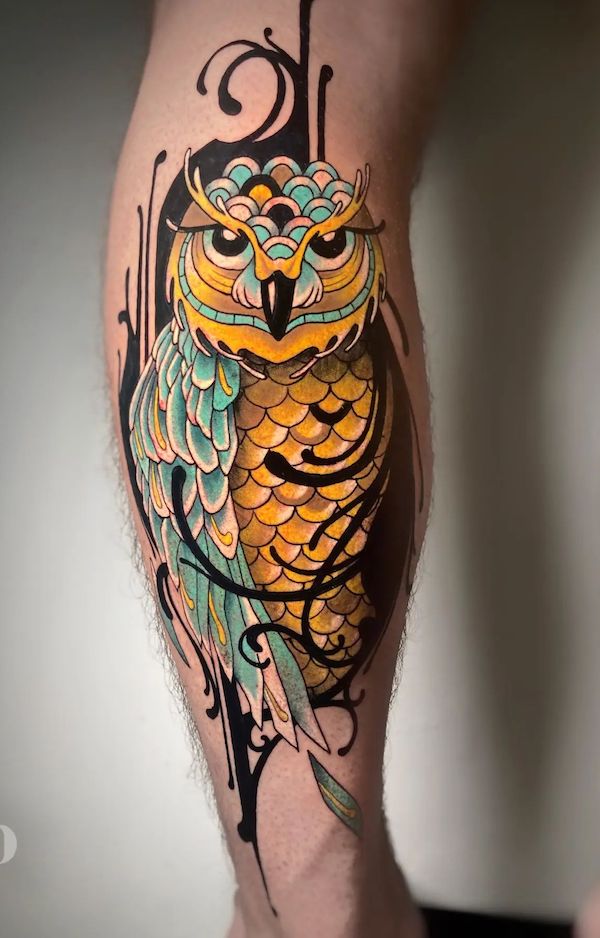 Owl with leaves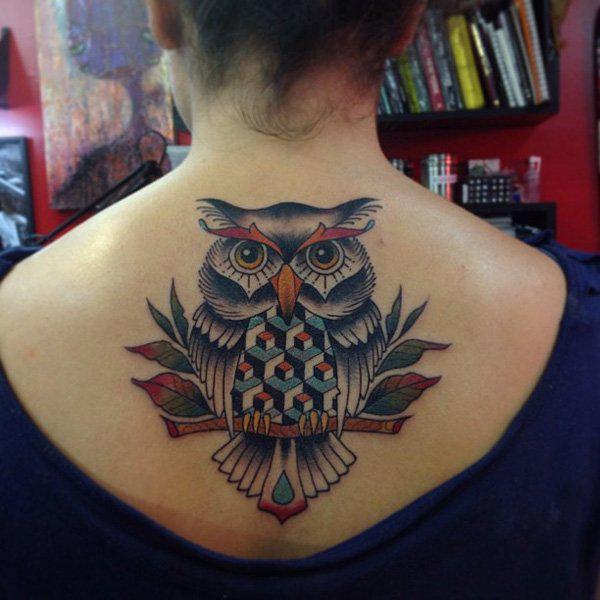 Gothic owl design idea in neo-traditional style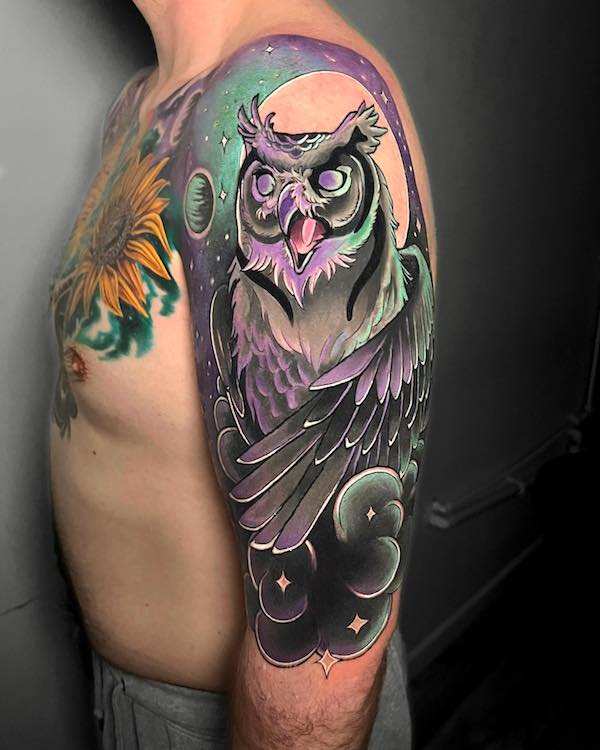 New school owl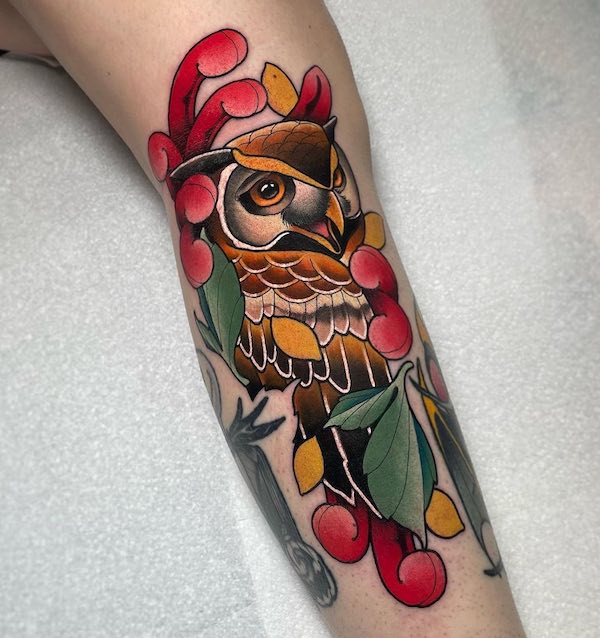 Realistic
For tattoo enthusiasts interested in photorealistic artwork, a true-to-life depiction of an owl may be their choice. Realistic tattoo can be quite large, often occupying significant portions of the arm, leg, or torso. An experienced tattoo artist can capture the intricate details of the owl's feathers, eyes, and beak, creating a visually stunning and lifelike representation of this magnificent bird.
Owl and chess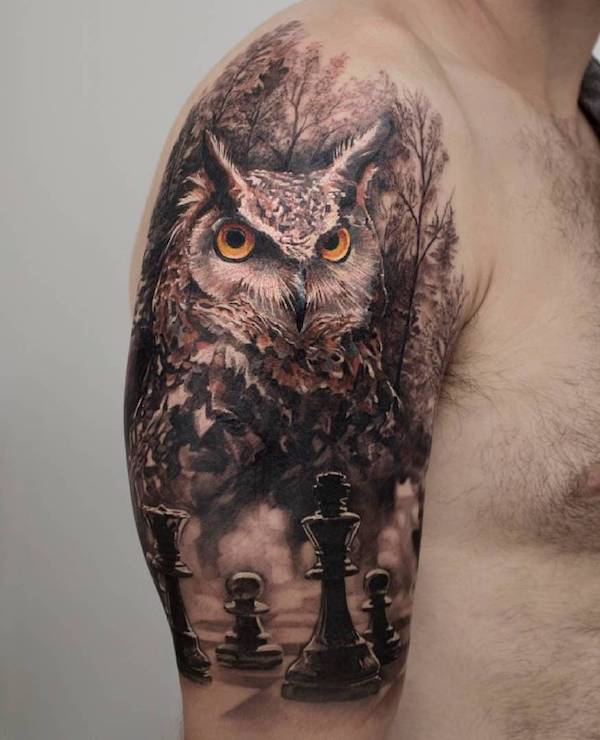 Owl with deep piercing eye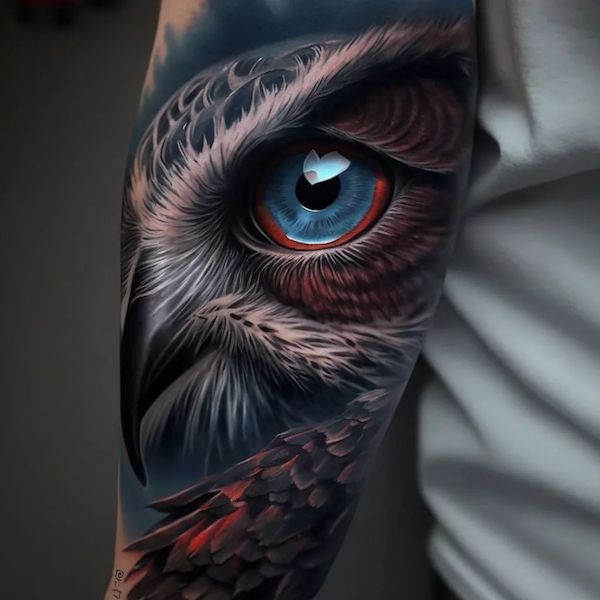 Realistic should blade owl tattoo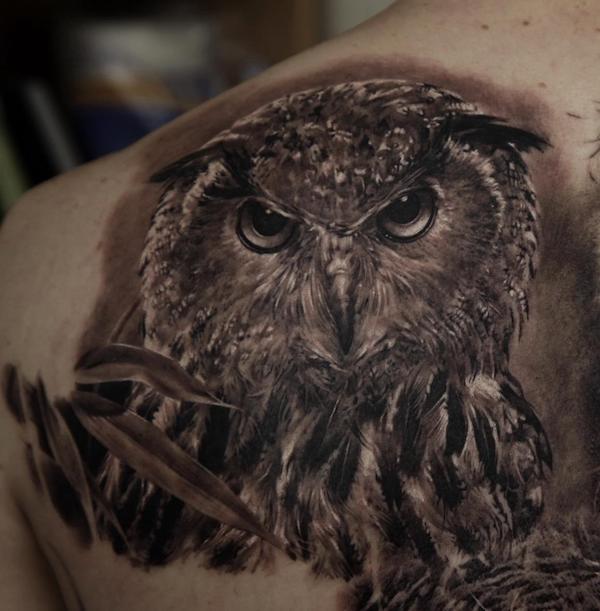 An owl with its mouth open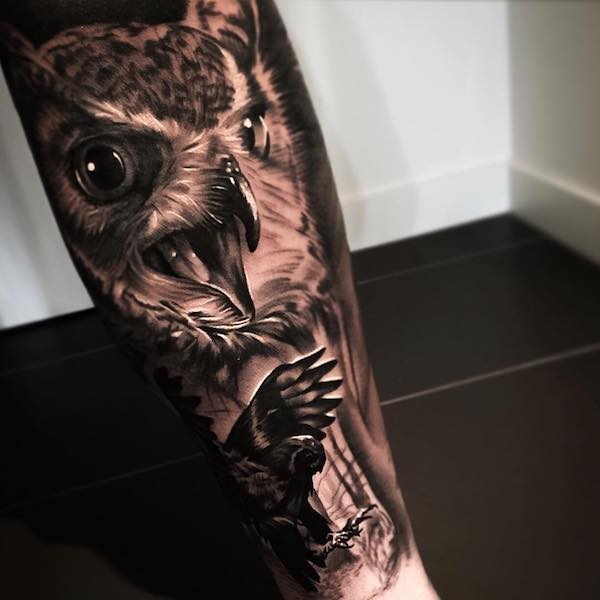 Tribal Owl Tattoos
Tribal designs invoke the spirituality and symbolism of indigenous cultures. A tribal owl tattoo often uses intricate black-ink patterns and bold lines to create a symbolic representation of the owl. This design is often chosen by those with a strong connection to their ethnic heritage or those seeking to evoke a sense of ancient history and tradition.
armband tattoo with owl eyes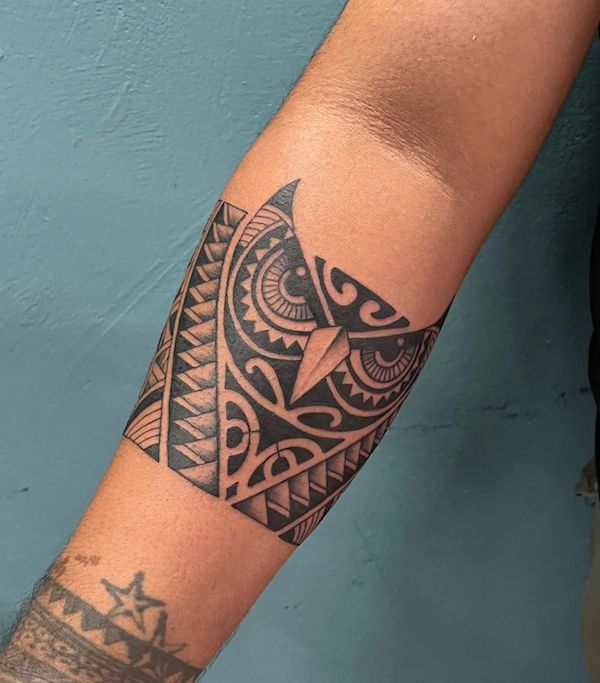 geometric Tribal owl tattoo
Tribal owl back tattoo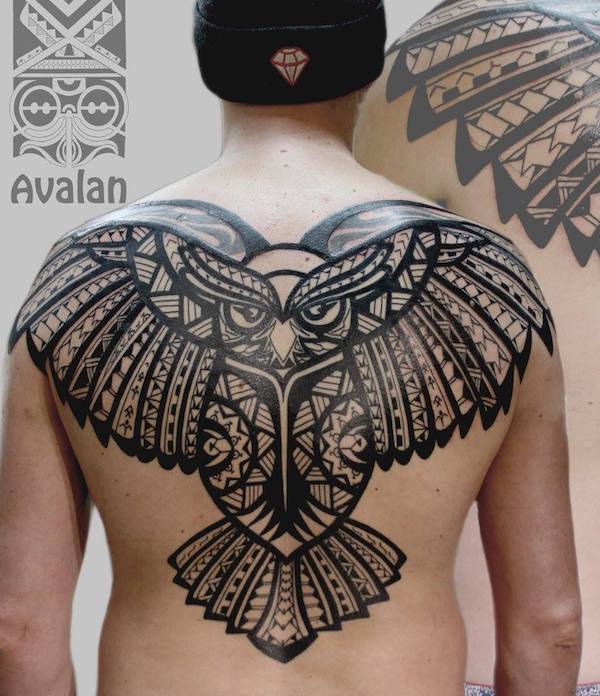 Realistic and tribal symmetrical owl tattoo on chest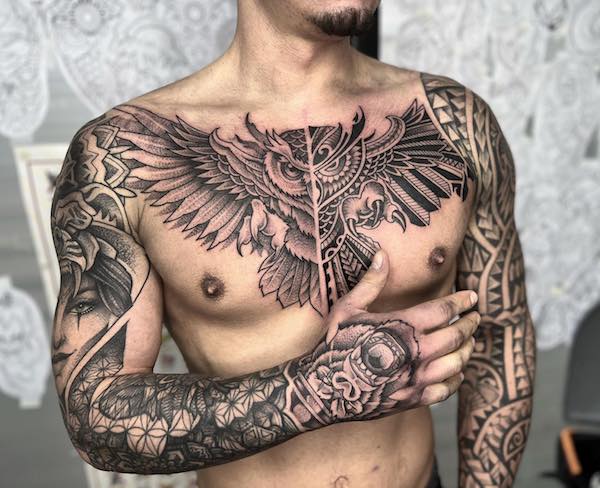 Tribal owl with Maori patterns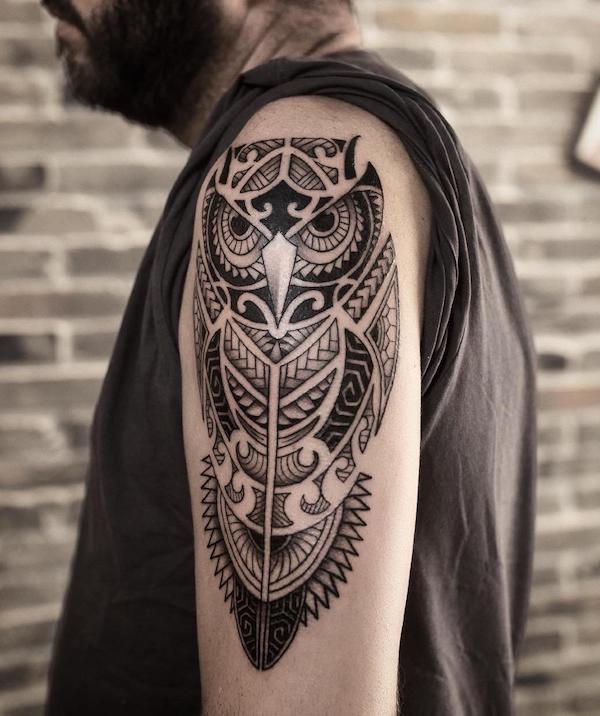 Vintage Owl Tattoos
Vintage owl tattoos are perfect for those who appreciate a more old-school approach to art. Choose designs that hark back to the Victorian era, or opt for sailor-style owl tattoos for a touch of nostalgia. An antique compass or a tattered parchment can also be seamlessly integrated into your vintage owl tattoo.
An owl with spreading wings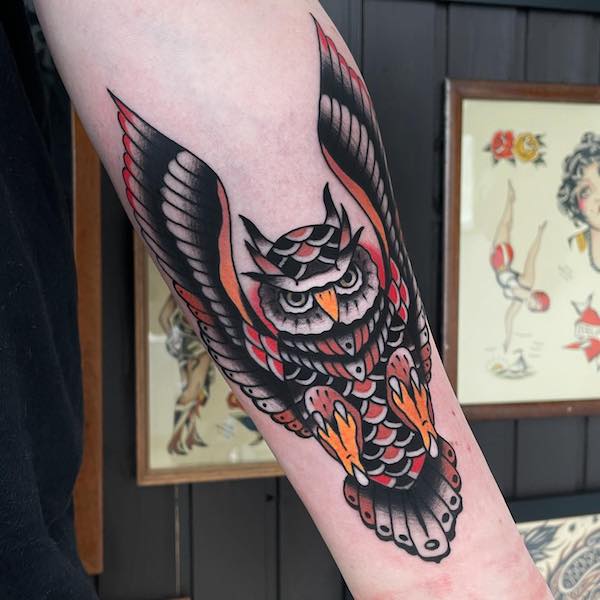 Mandala Owl with pendant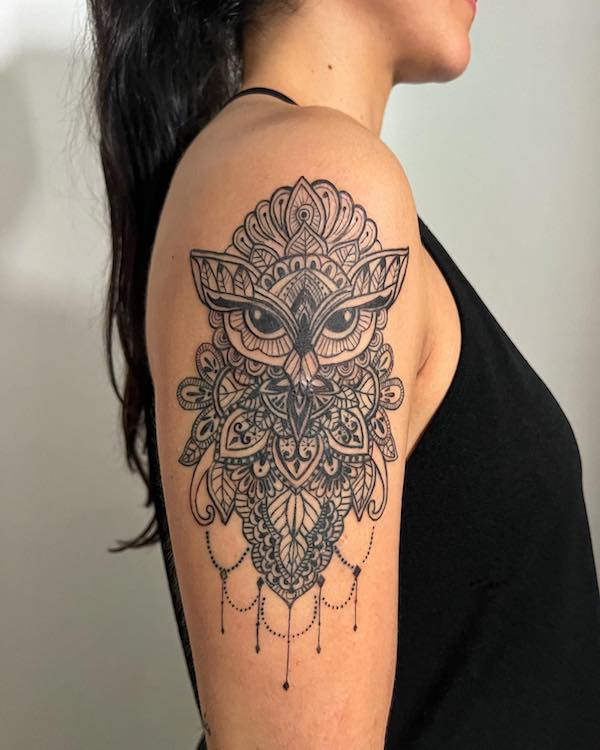 All roads lead home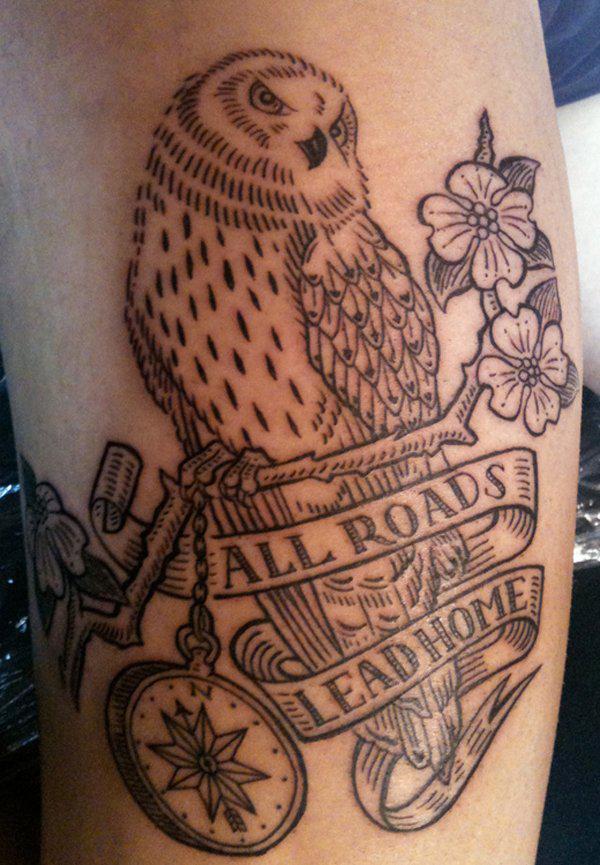 Neo traditional owl with flower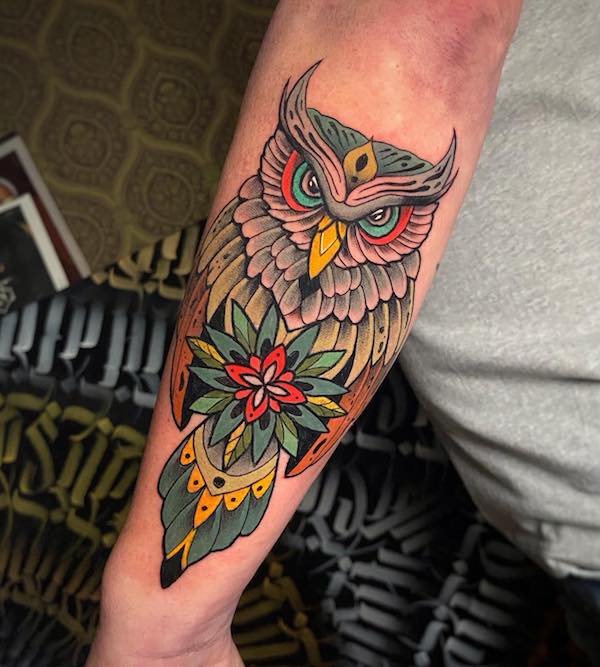 Old school owl and anchor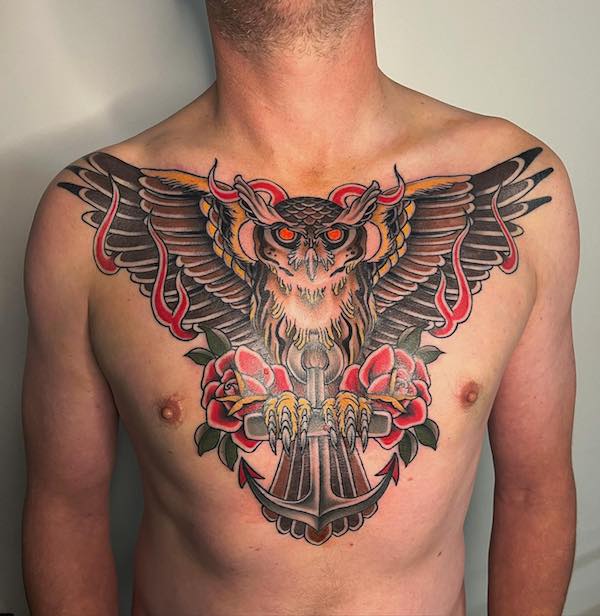 Owl head with stars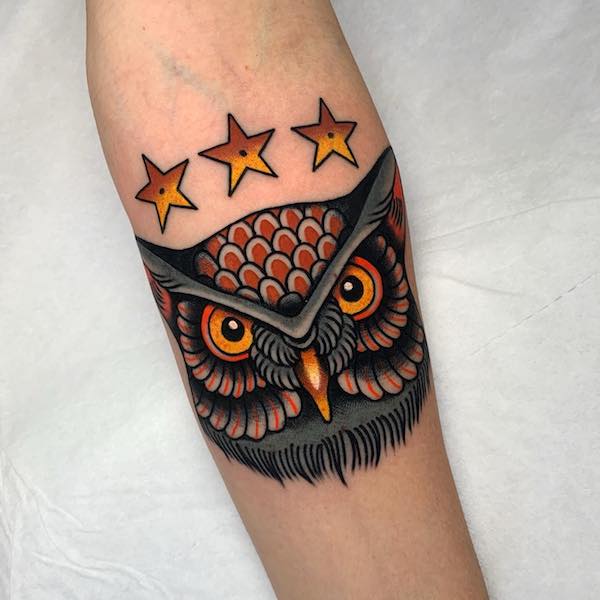 Victorian owl perched on lamp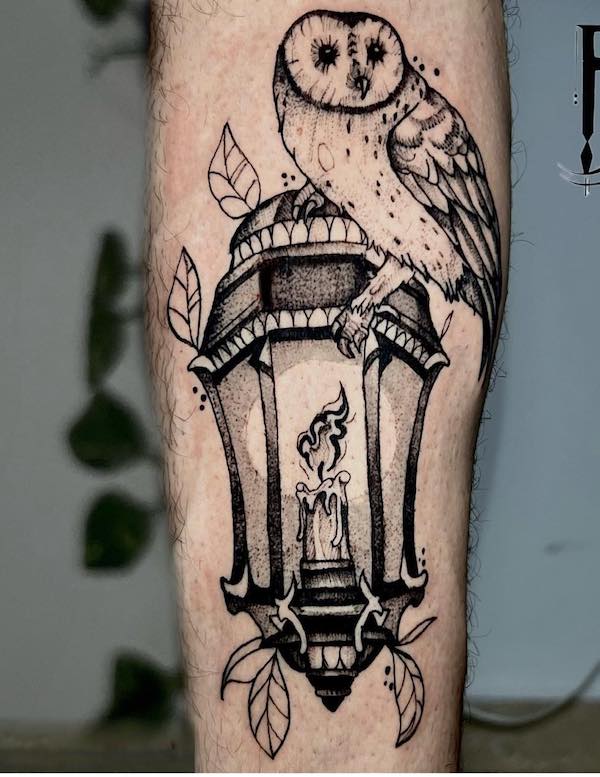 Watercolor Owl Tattoos
Watercolor tattoos are the ultimate in modern, artistic expression. By combining an ethereal owl design with a splash of vibrant colors, you can create a stunning, one-of-a-kind masterpiece. Picture a dreamy owl with colorful watercolor accents, or an owl surrounded by mesmerizing watercolor splatters – the possibilities are endless.
A whimsical owl blended with watercolor brushstrokes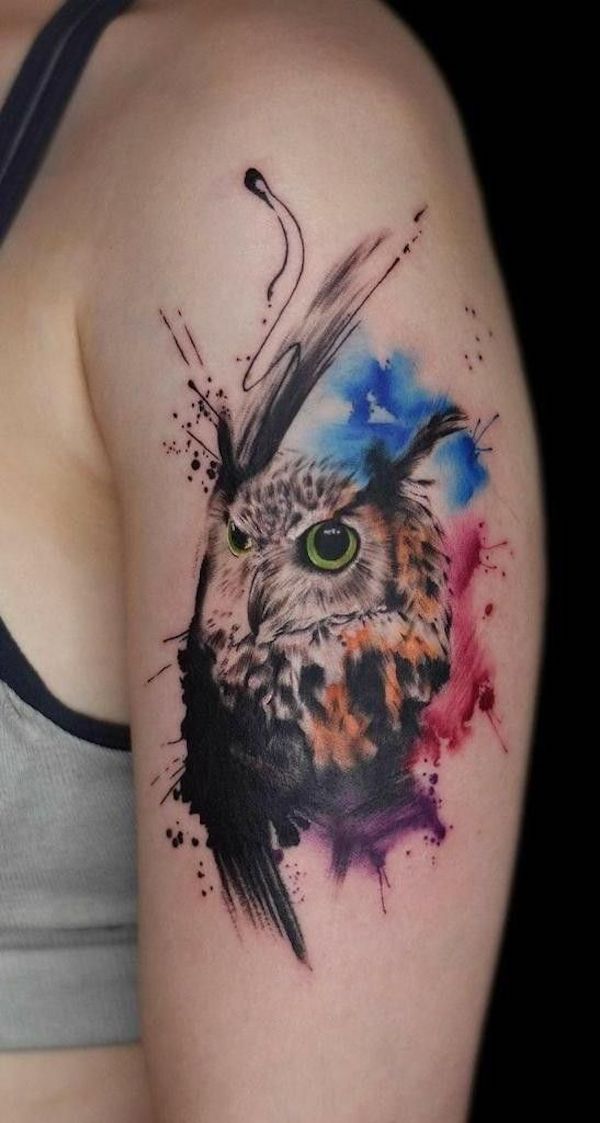 Cartoonish owl in watercolor style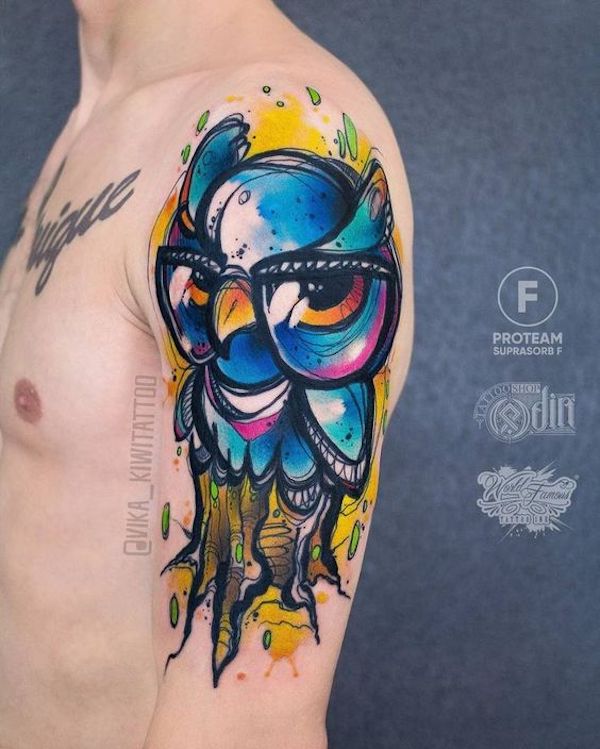 A dreamy owl with birds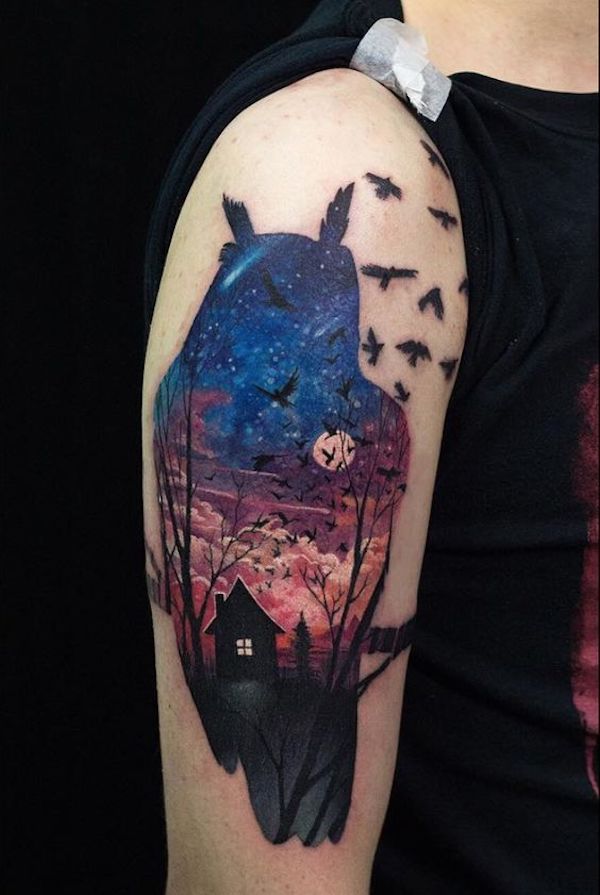 Incorporating vivid watercolor ladscape in an owl tattoo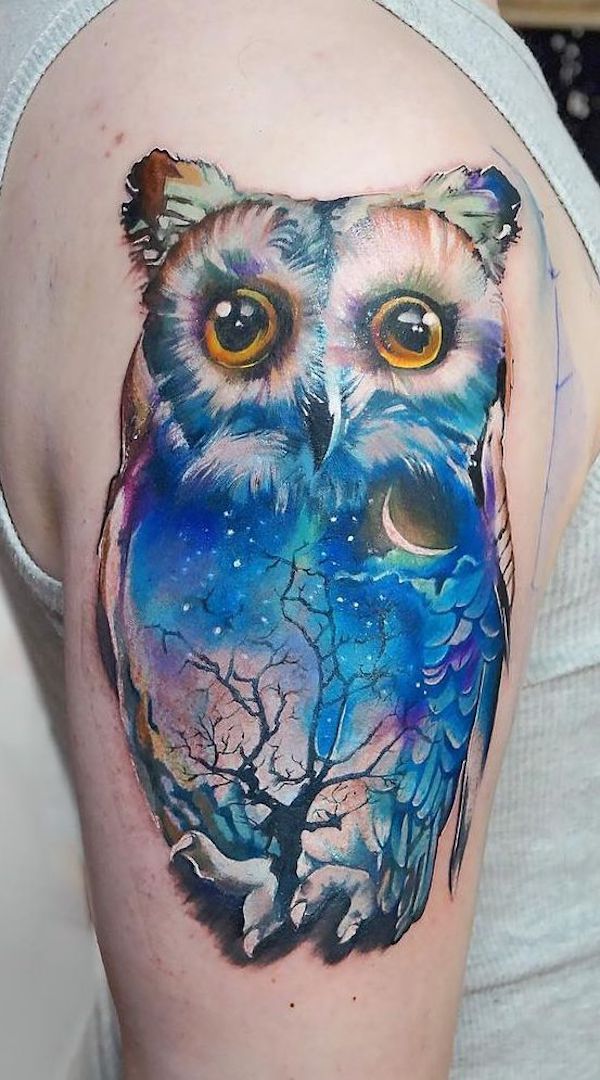 An artistic owl with watercolor splatters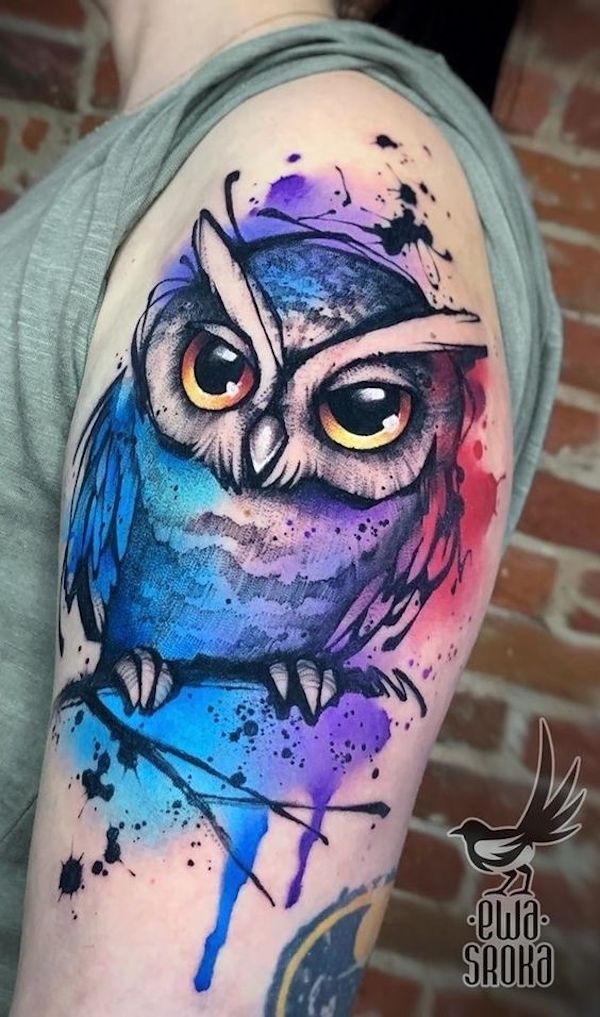 Owl head with brushstroke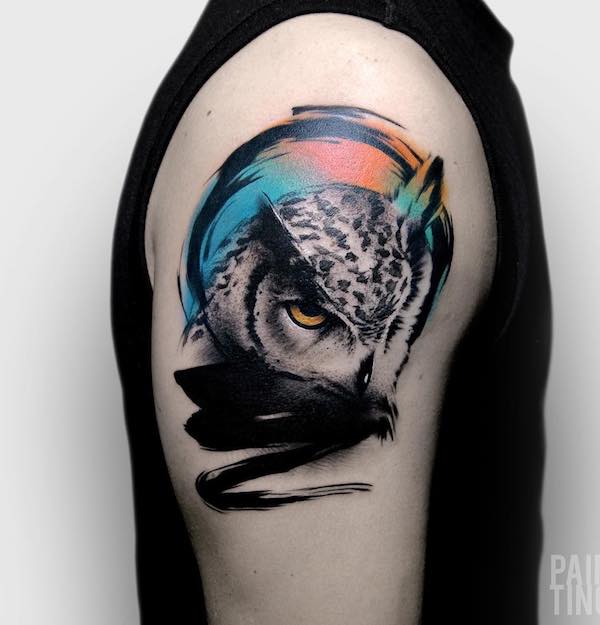 Owl with blue eyes and lettering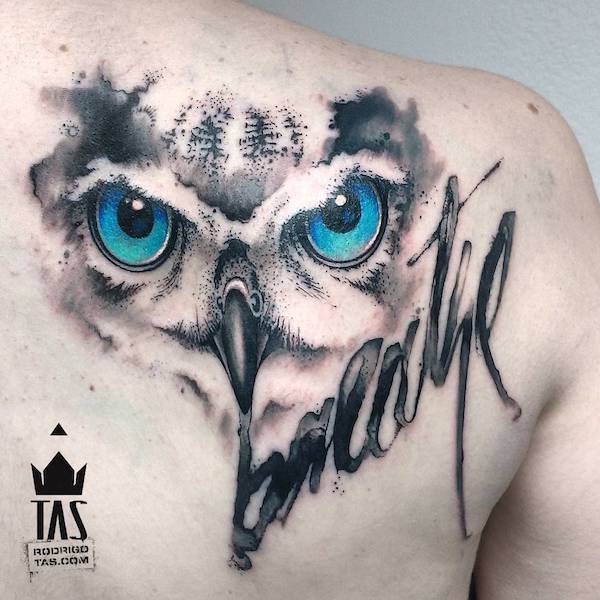 Watercolor owl with splashes upper arm tattoo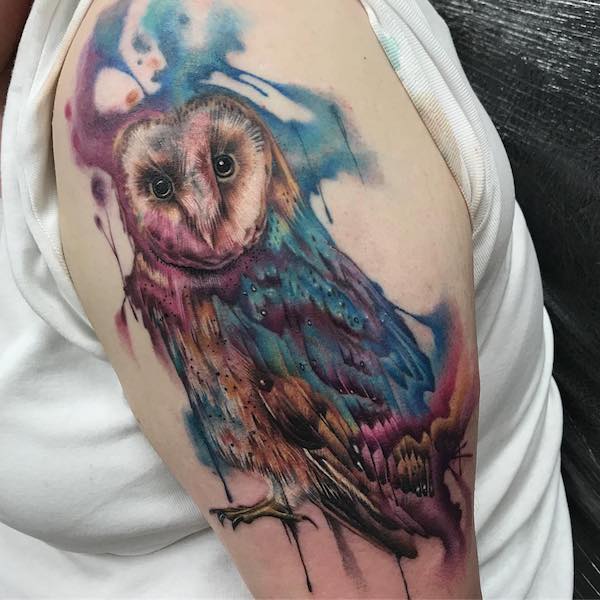 Gothic
Gothic-themed tattoos delve into a darker, more mysterious realm. In the case of owl tattoos, the gothic style usually incorporates dark imagery, such as moonlit or gloomy backgrounds, or other macabre components like skulls or dead trees.
Gothic owl tattoos can also be more subtle and simply involve the owl appearing more menacing or somber. These tattoo designs are perfect for individuals who are drawn to the darker beauty of life or those seeking a tattoo that captures the nocturnal nature of the owl.
Creepy owl with wings spreading over the back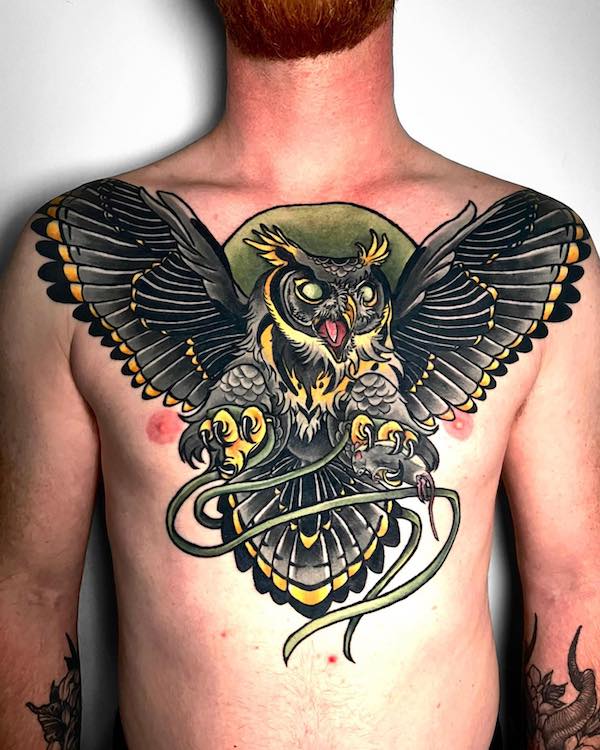 Gothic owl with tribal wing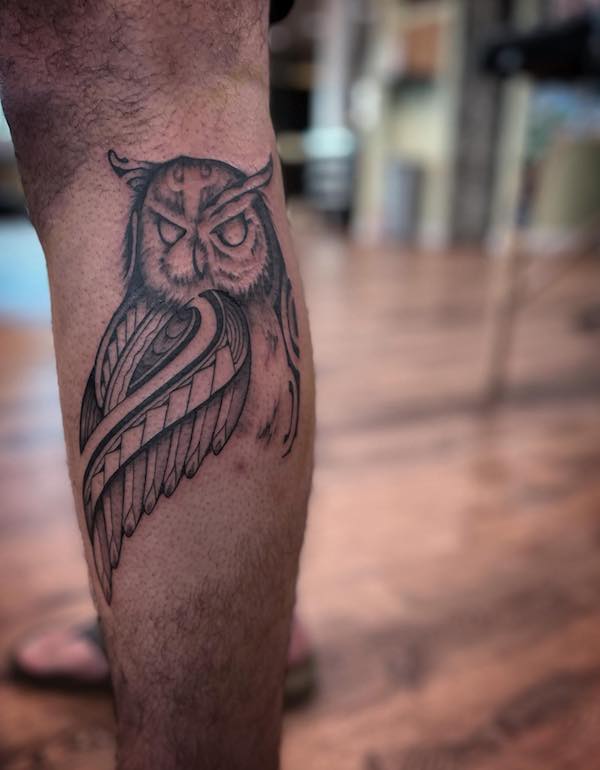 Spooky woman with owl headdress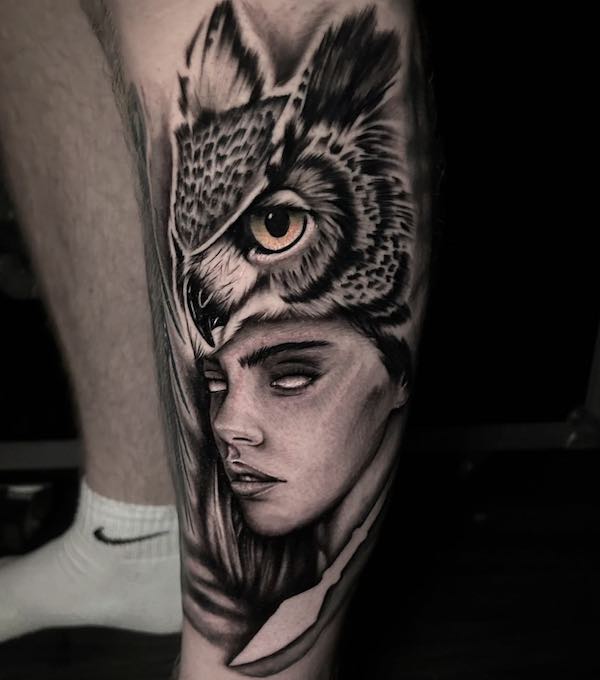 Placement
Owl tattoos are versatile in terms of placement. You can place your tattoo on different locations such as back, chest, forearm. Here are some examples.
back
Many favor the back as an ideal location for owl tattoos, especially for larger and more intricate designs. The back provides a broad canvas, allowing for the possibility of incorporating many details or even adding a background scene. Tattoos on the back can easily be covered, which may be an important consideration for those with conservative workplaces. A large, detailed owl tattoo on the back can create a striking visual impact when displayed.
Armor owl back tattoo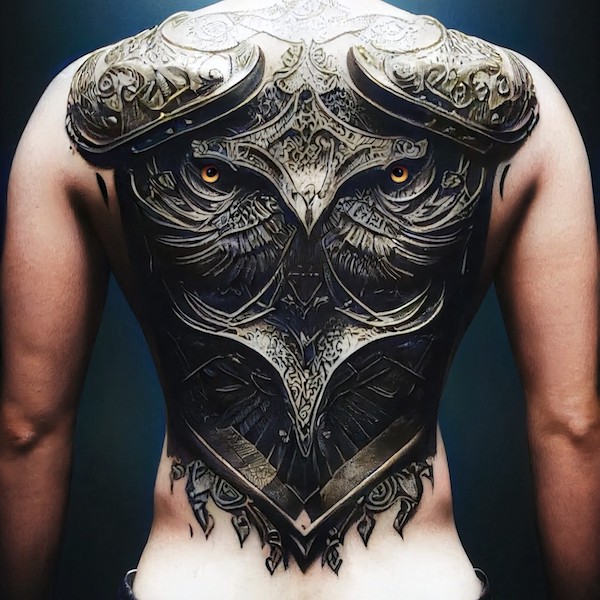 Guard of life journey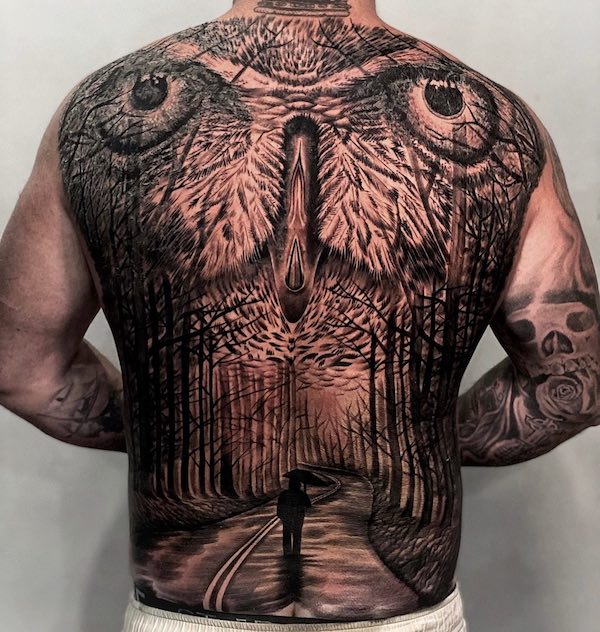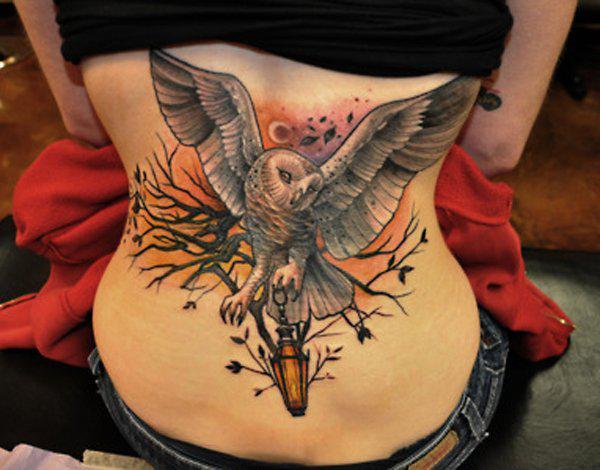 Realistic Owl tattoo on back with shadow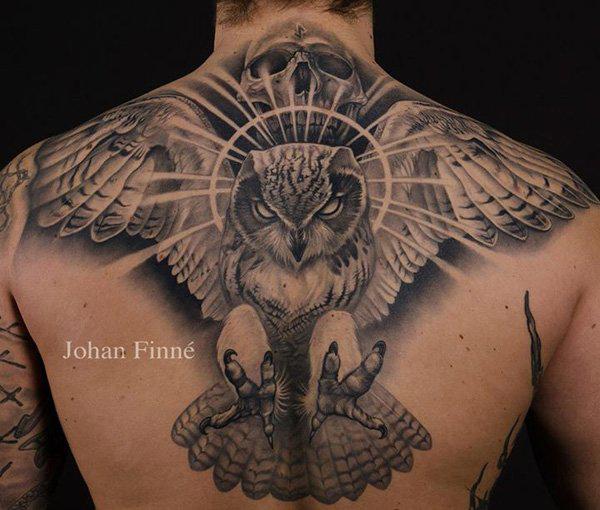 Owl with symmetrical wings on back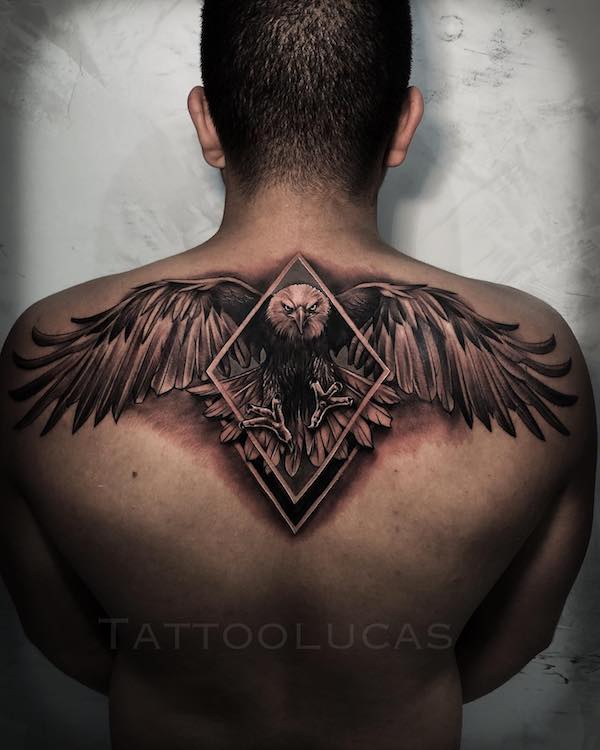 Hand
The hand is a bold location for an owl tattoo. It is often a choice for smaller designs or for those looking to make a statement. As the hand is consistently visible, tattoos in this location serve as a reminder of the personal symbolism behind the tattoo. Hand tattoos often require more touch-ups than other locations, as they can be prone to fading due to the skin's exposure and frequent movement.
Love of life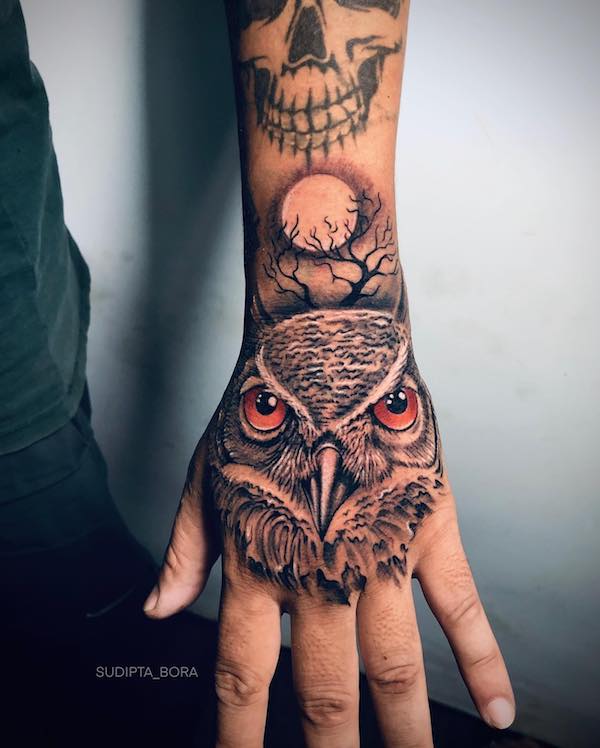 Owl head tattoo design idea with piercing eyes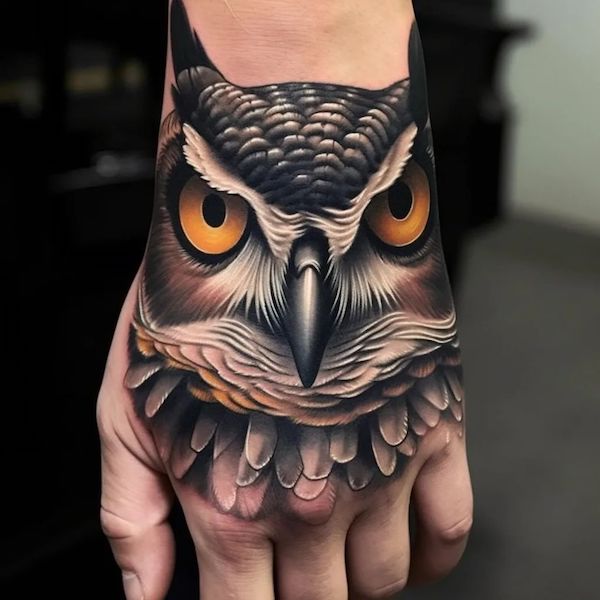 Realistic Owl head with Viking letters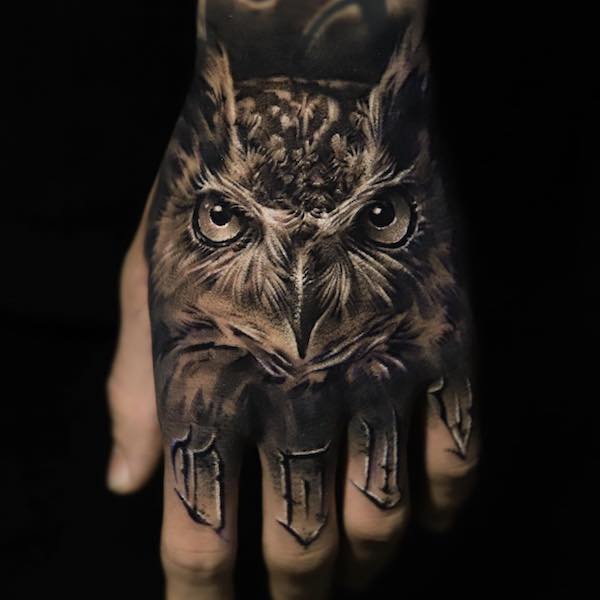 Finger
Finger tattoos have experienced a surge in popularity in recent years, with small, minimalist designs taking the center stage. A tiny owl tattoo on the finger can serve as a discreet yet meaningful tribute to the symbolism of the owl. However, finger tattoos often require multiple touch-ups as they are prone to fading due to the skin's thinness and constant exposure.
owl finger tattoo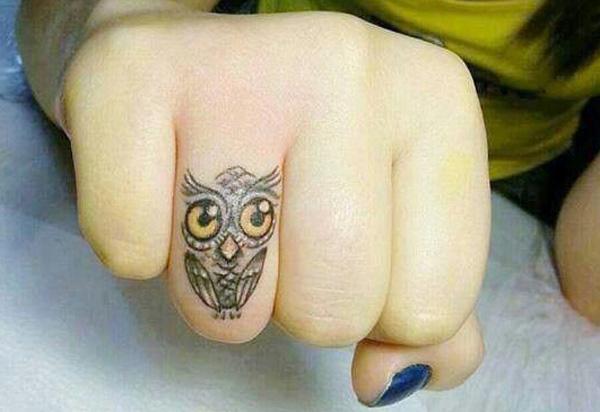 Forearm
Forearm tattoos are a popular choice for owl tattoos, particularly for designs that have a vertical aspect. Whether the tattoo wraps around the arm or sits on the inner or outer forearm, this location allows the wearer to regularly admire their tattoo and easily showcase it to others.
An owl forearm tattoo with vivid watercolor splatters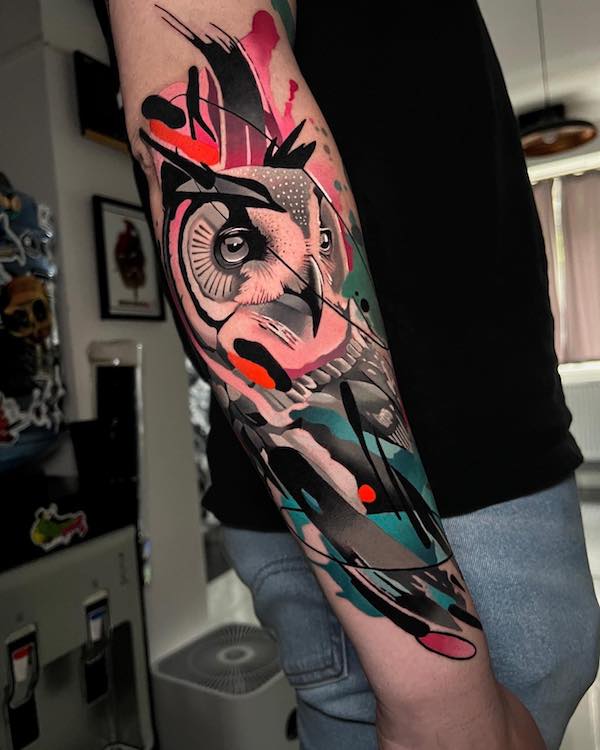 Mandala owl forearm tattoo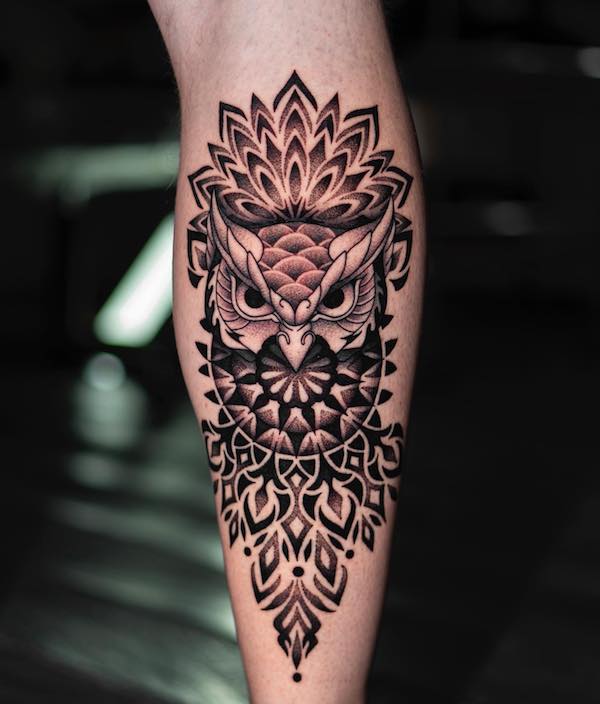 Feather and owl head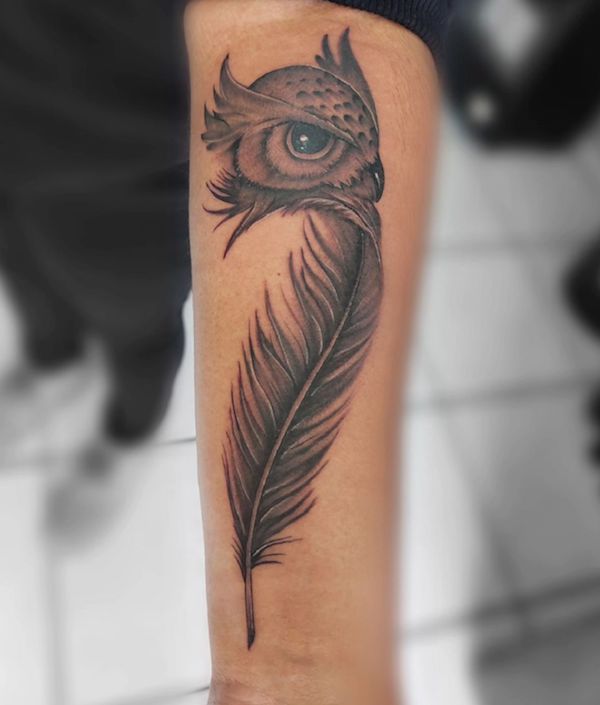 leg
The leg is another suitable canvas for an owl tattoo. Like the back, the leg offers ample space, particularly in the thigh area. This location can accommodate designs with a considerable level of detail and can be easily concealed or revealed as desired. Additionally, a leg tattoo remains visible to the wearer, allowing them to enjoy their tattoo regularly.
Fusing steampunk gears in an owl leg tattoo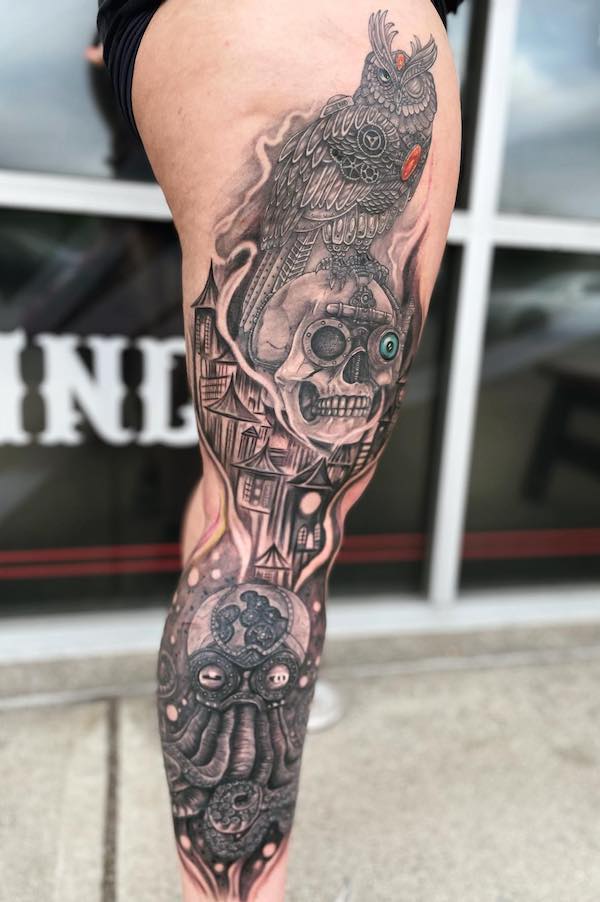 Hourglass and owl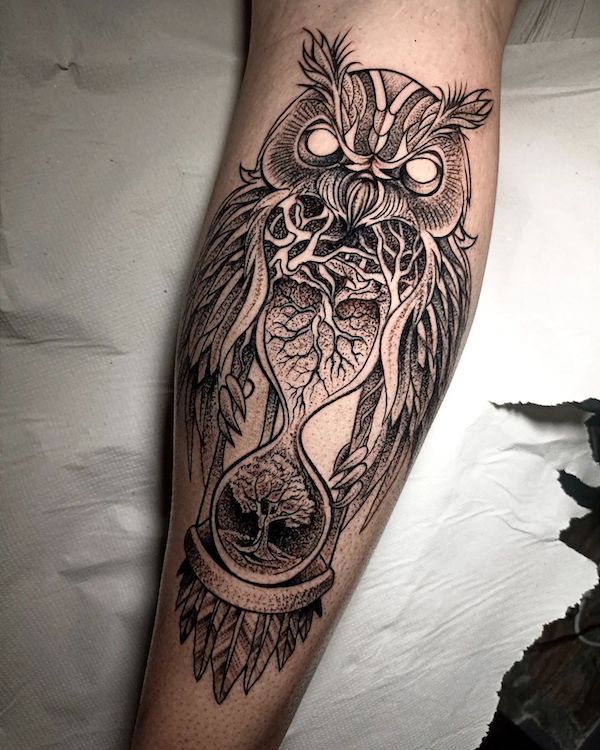 Watching flying of younger generation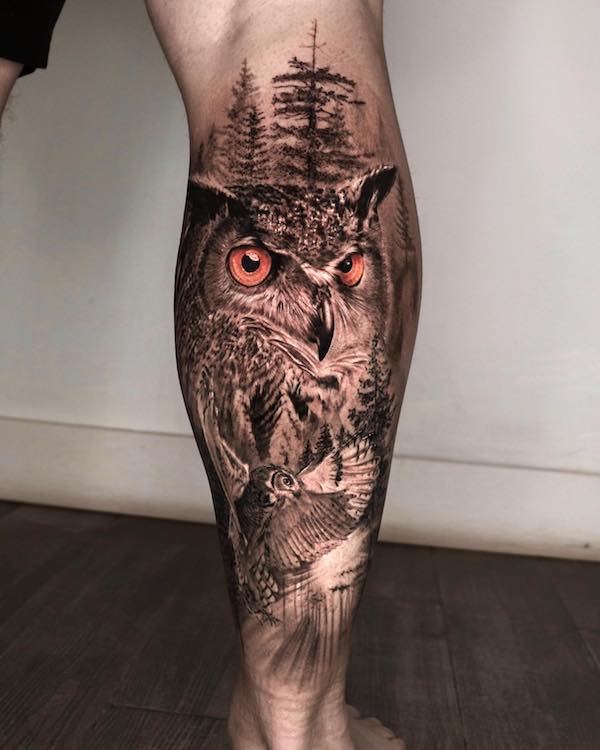 neck
Neck tattoos are often perceived as bold and daring. A smaller owl tattoo placed on the nape of the neck or along the side can be a striking choice, particularly for those who prefer to keep their tattoos more personal or intimate. Neck tattoos are easily concealed with hair or clothing, yet can be freely displayed when desired.
Land watcher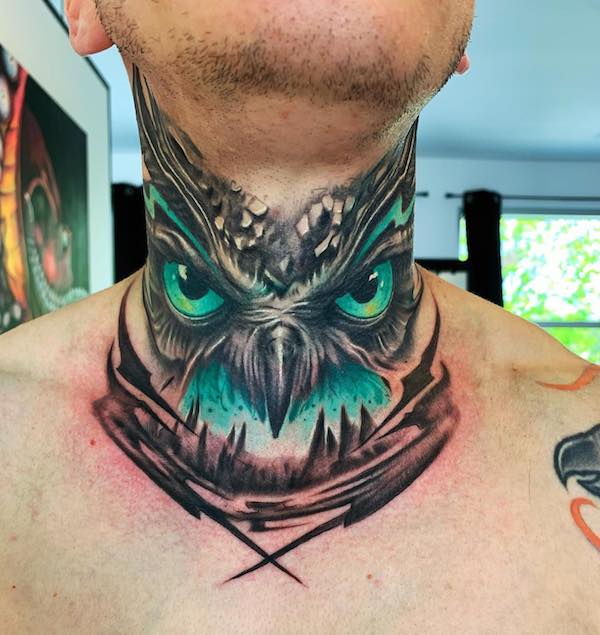 Owl head with swirls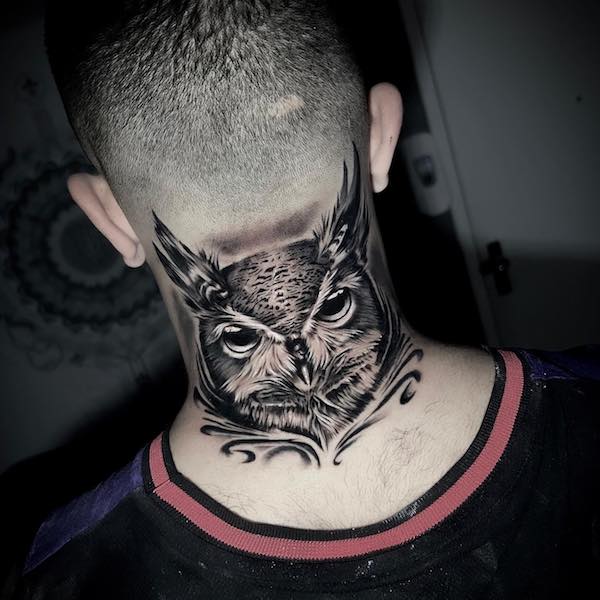 Owl's eye tattoo on the side of neck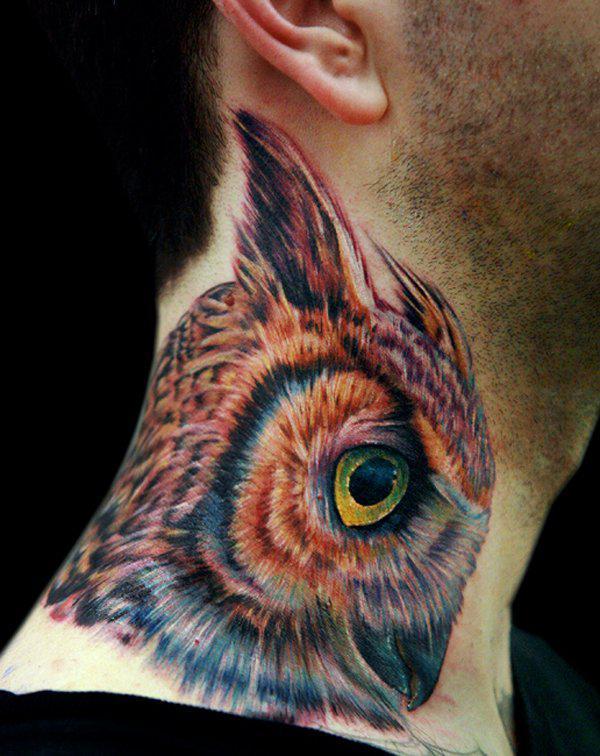 sleeve
An owl tattoo sleeve entails a comprehensive tattoo design that covers the entire arm, from the shoulder to the wrist. The owl can be a central element in a themed sleeve or seamlessly integrated into a composition of other objects, designs, or patterns. Sleeve tattoos can take multiple sessions to complete, but the end result is a cohesive and impressive work of body art.
Fox and owl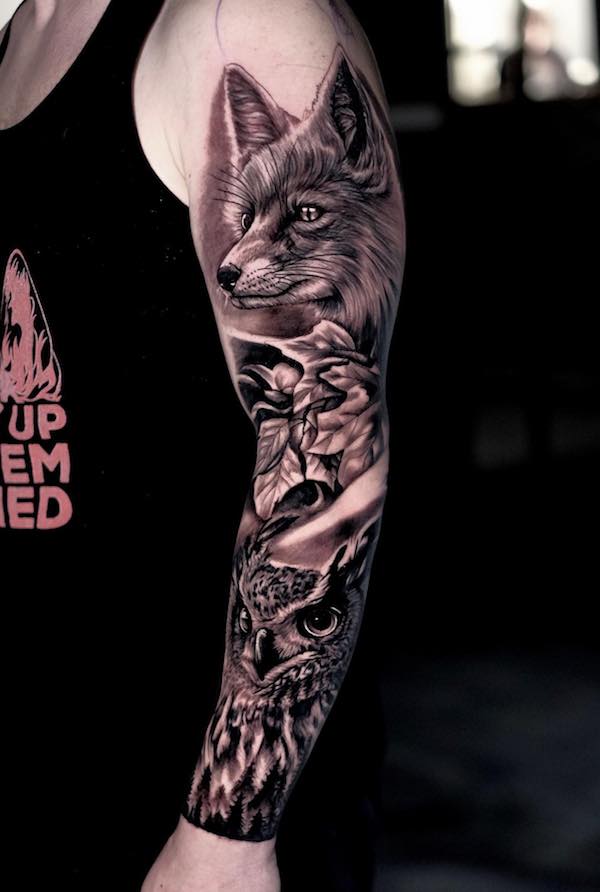 Route 66 half sleeve tattoo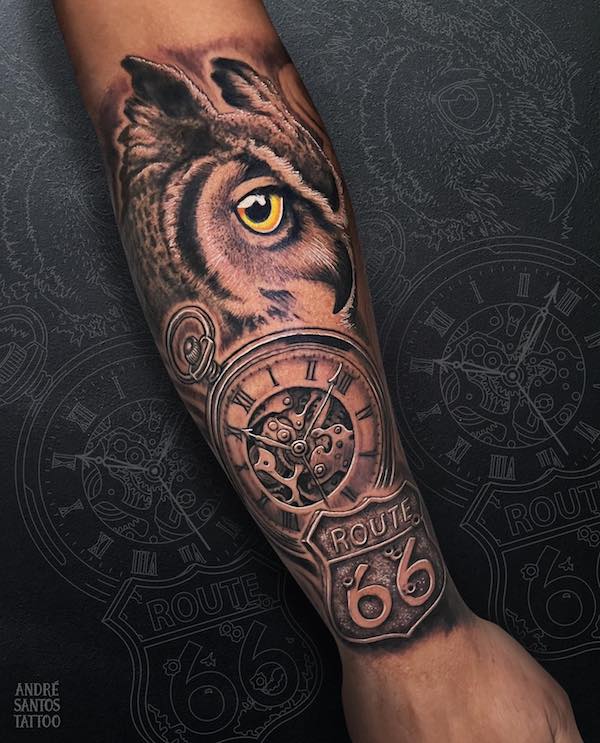 Watching passage of time and navigation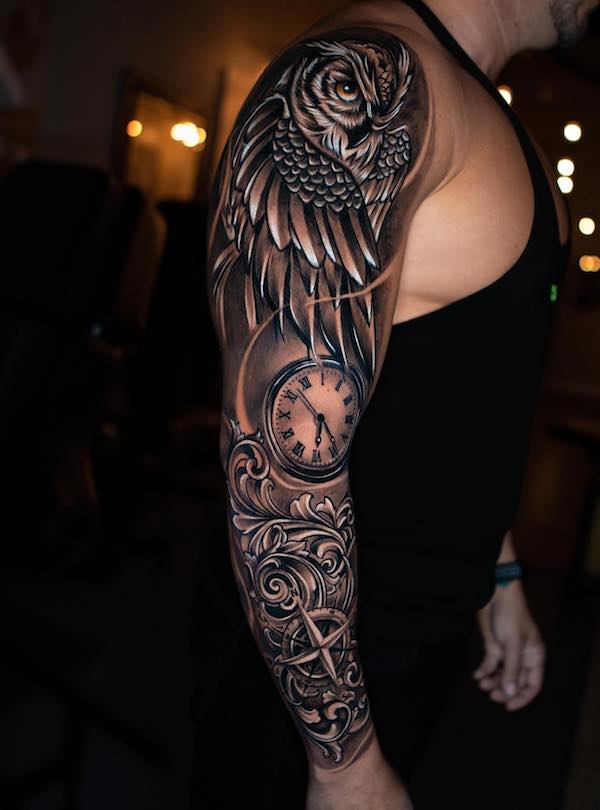 A stylized owl with feathers
Design Ideas
Mythological Owl Tattoos
Owls are associated with mythology across many cultures, especially with the Greeks, Romans, Hindus, and Celts. For instance, the ancient Greeks revered Athena, the goddess of wisdom, strategy, and warfare, who was strongly linked with owls. In this context, an owl tattoo can represent wisdom, knowledge, and learning acquired through hard experiences.
Mythological owl tattoos often feature ornate details and decorative elements reminiscent of the associated culture. They can either showcase the owl alone or with other elements from myths and legends. Such tattoos can be made more personal by incorporating other mythological elements, symbols, or details unique to an individual's belief system or mythology.
Athena with owls wing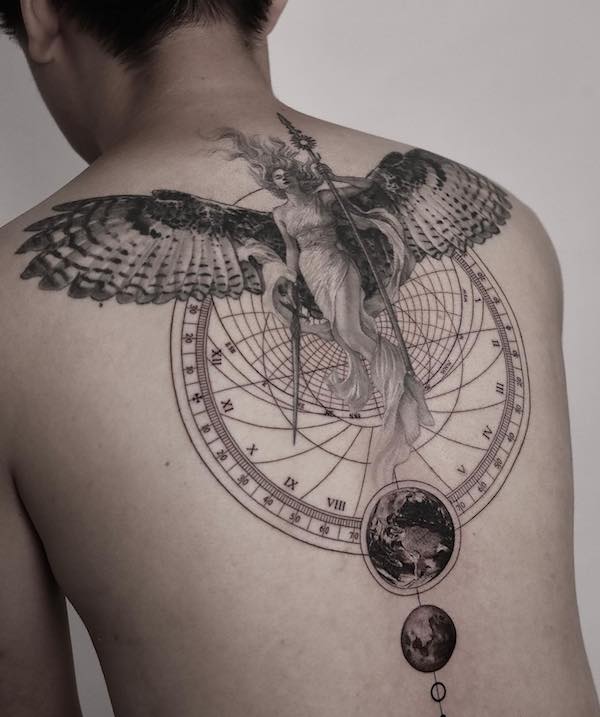 Indian woman with owl headdress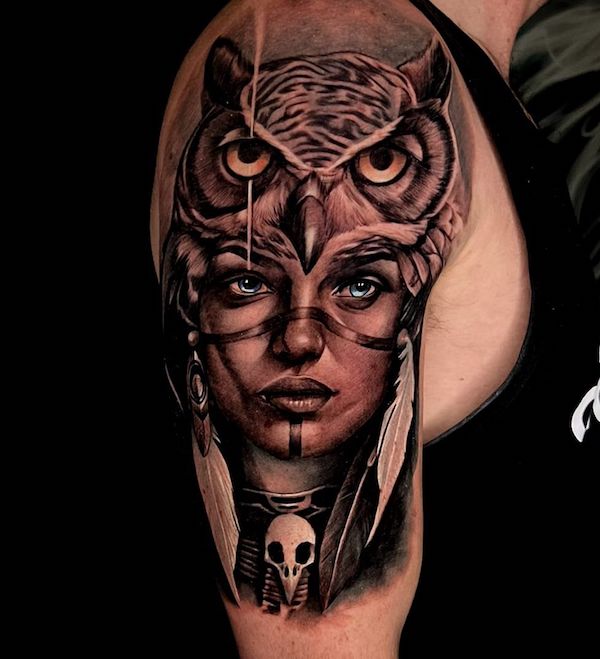 Raven and owl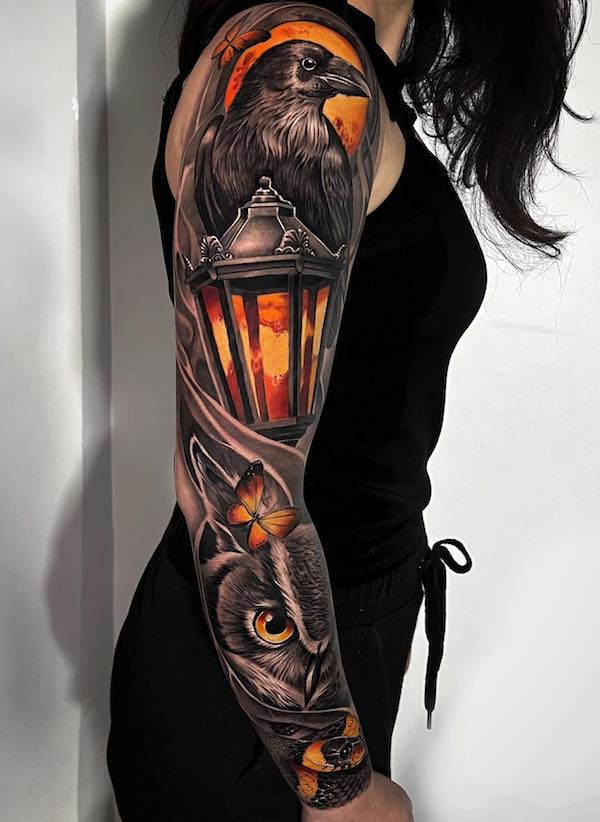 An Victorian Owl perched on branch with a key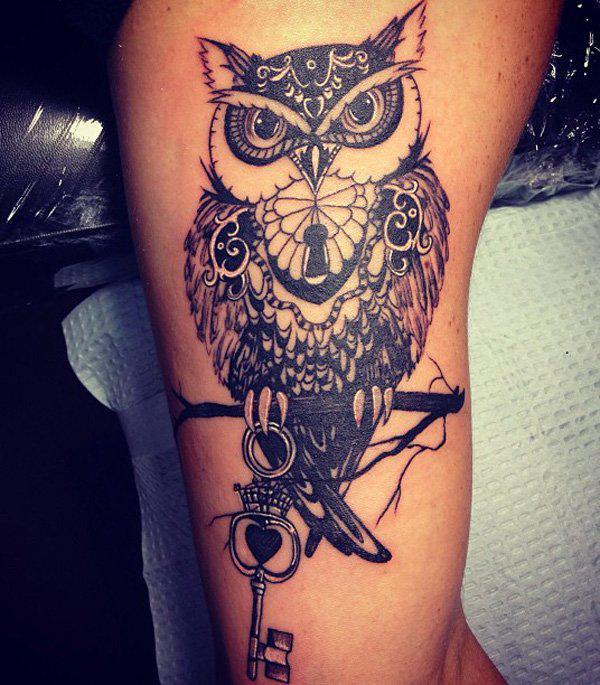 Native American girl with owl headdress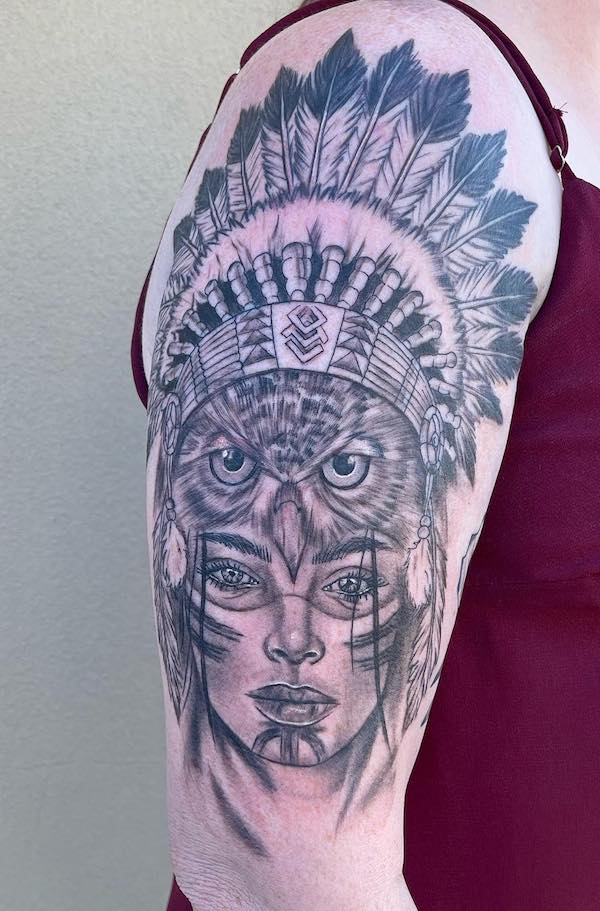 All Seeing Eye Owl tattoo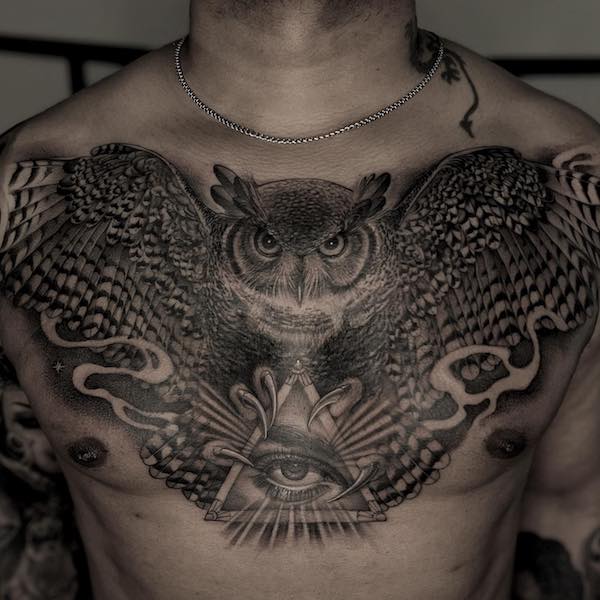 Girl with owl headdress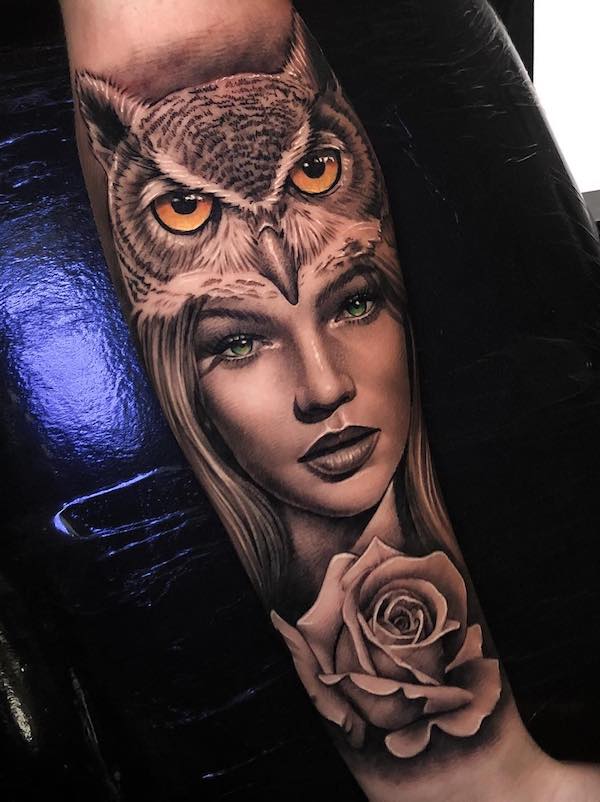 Eye of Providence with Owl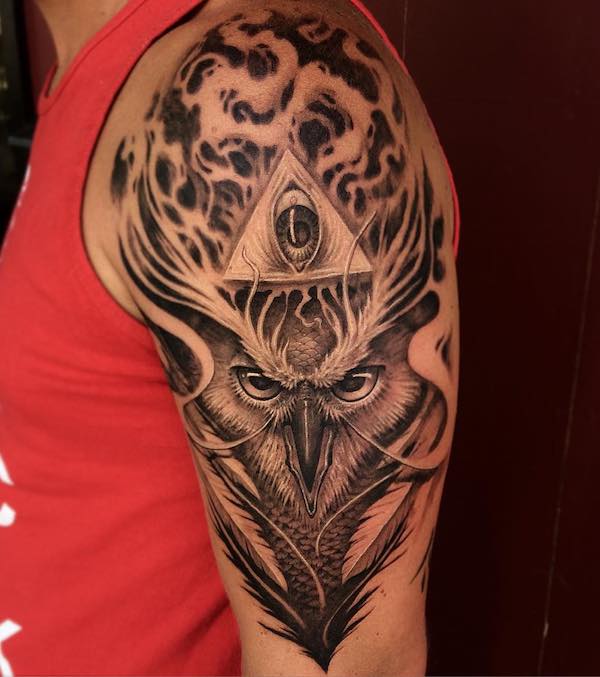 A Native American inspired owl design with dreamcatcher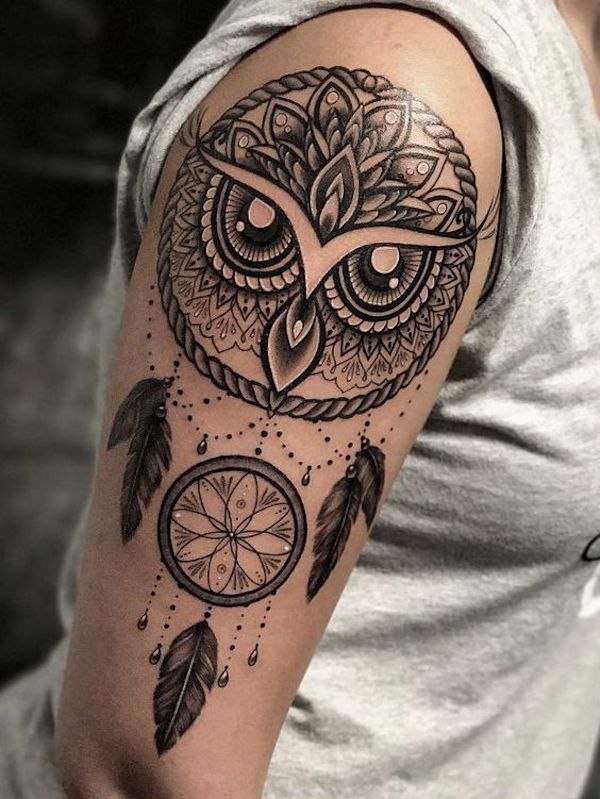 This dreamcatcher tattoo design draws inspiration from Native American symbolism, featuring a prominently etched owl within the dreamcatcher's circle. The owl, a traditional emblem of wisdom and knowledge, seamlessly merges with the protective allure of the dreamcatcher. The detailed feathers and intricate web add depth and intensity to the design. This dreamcatcher tattoo is a unique amalgamation of cultural storytelling and personal philosophy, making it an excellent choice for men seeking meaningful body art.
Infusing an owl tattoo with prominent Norse symbols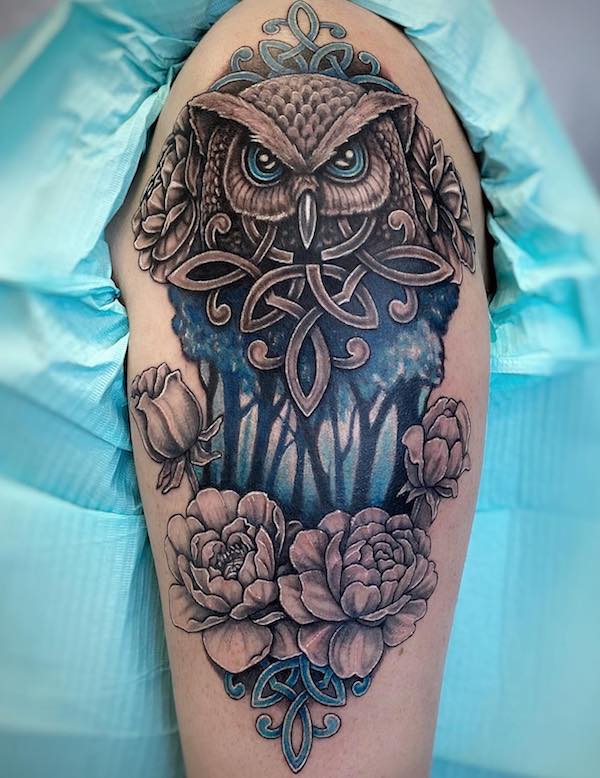 Celtic Owl Tattoos
Celtic culture has long been a treasure trove of inspiration for tattoo artists around the globe. An owl tattoo adorned with Celtic elements such as knots, crosses, or the Tree of Life creates a striking blend of enchantment and history. Consider intertwining a Celtic cross and an owl design, or featuring the Celtic crescent moon with an owl for a truly mesmerizing piece.
Celtic triskele tree of life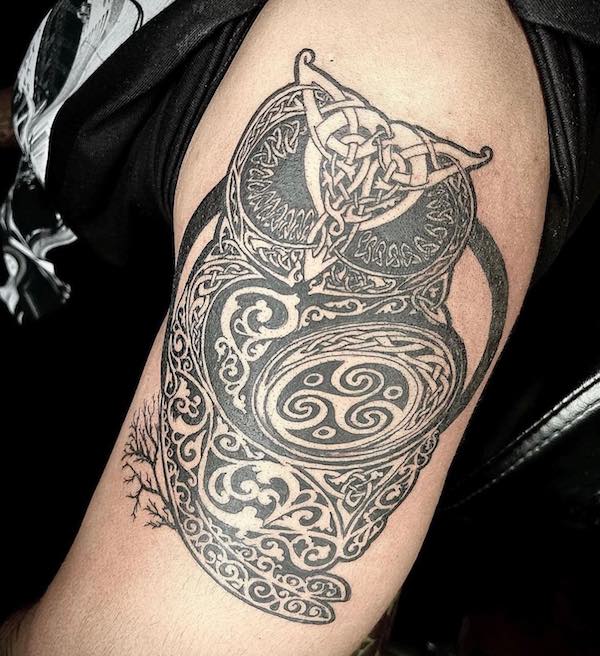 Triquetra knot owl tattoo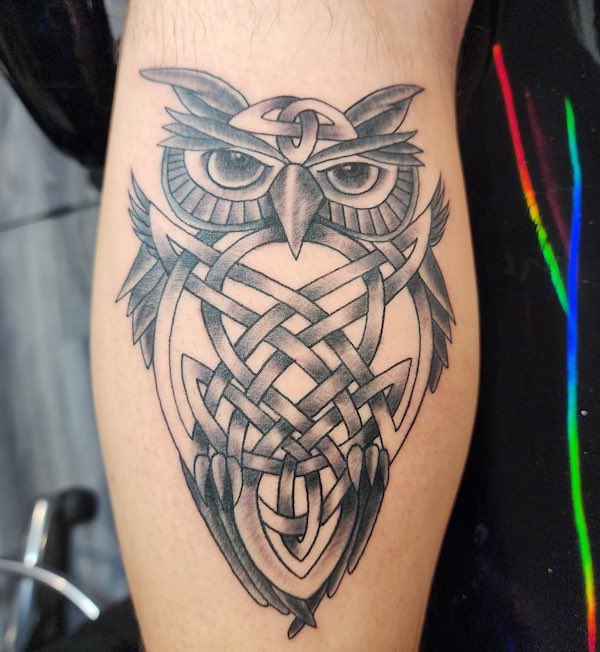 Celtic owl with love knot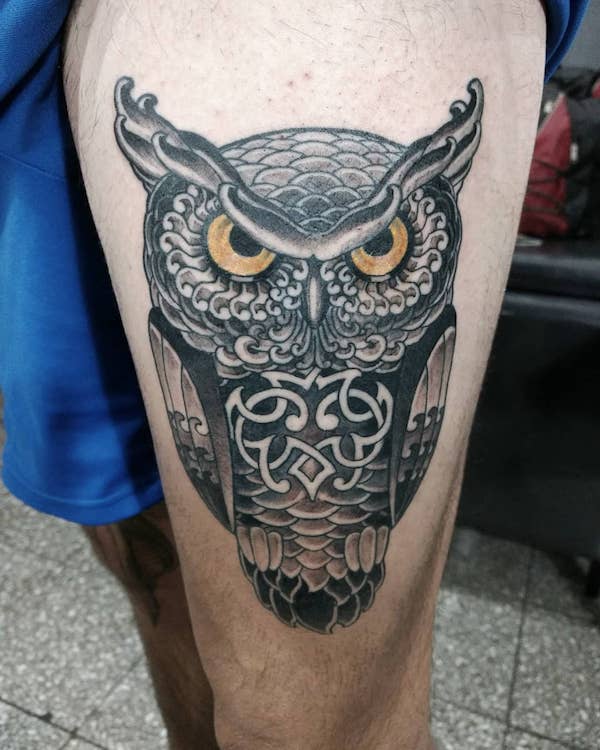 Celtic owl chest tattoo with valknut and tree of life symbols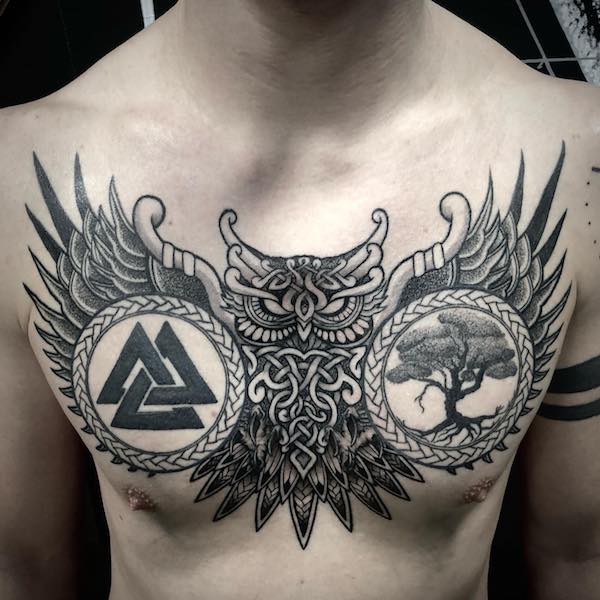 A stylized owl chest tattoo in Celtic style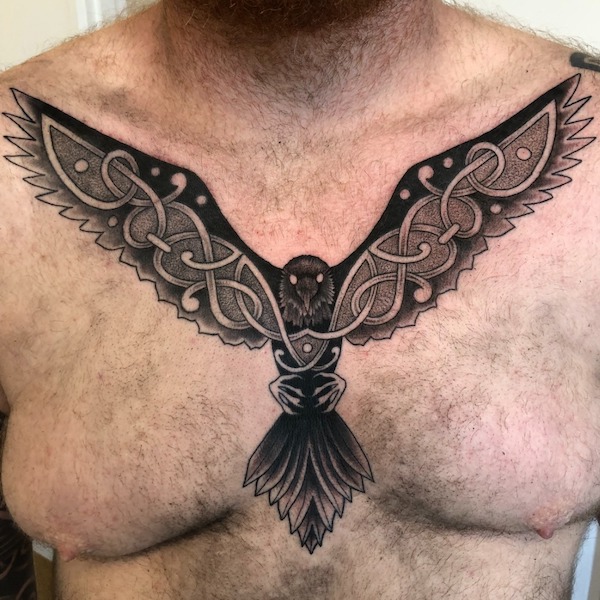 An owl perched on a Celtic tree of life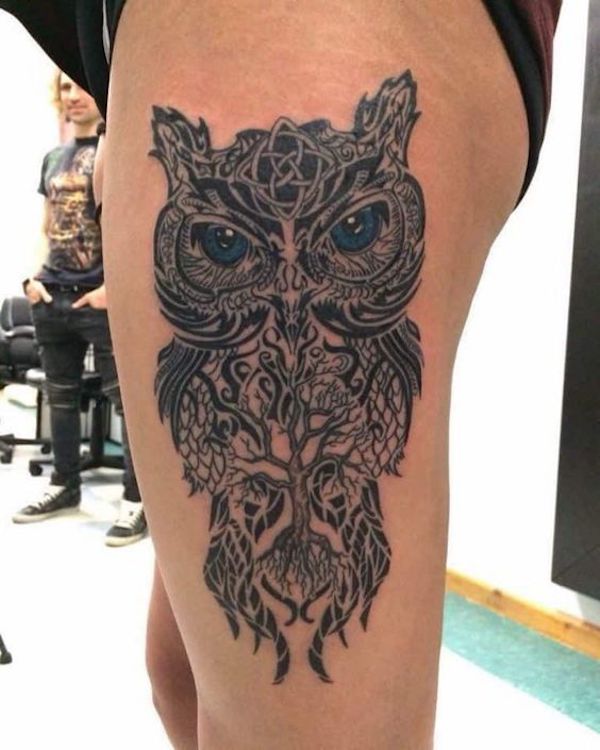 Black owl with Celtic knot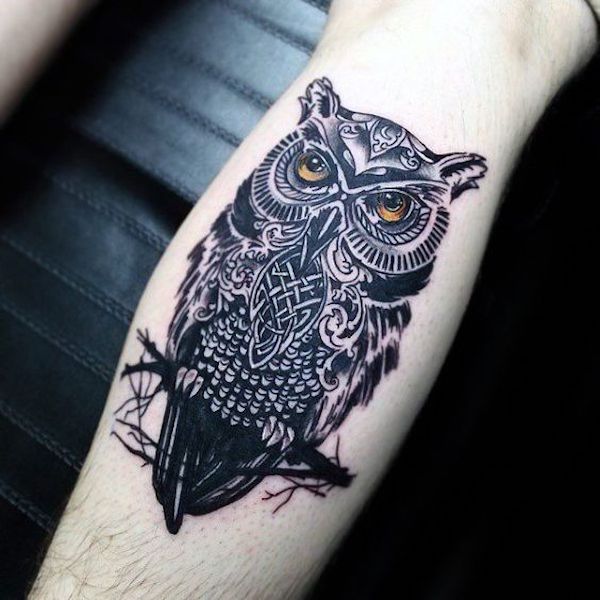 Celtic knot back tattoo with ankh symbol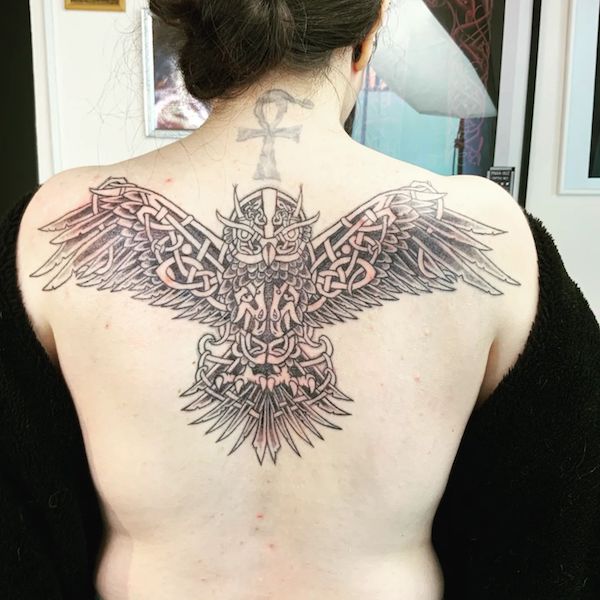 Black and white Celtic knot owl tattoo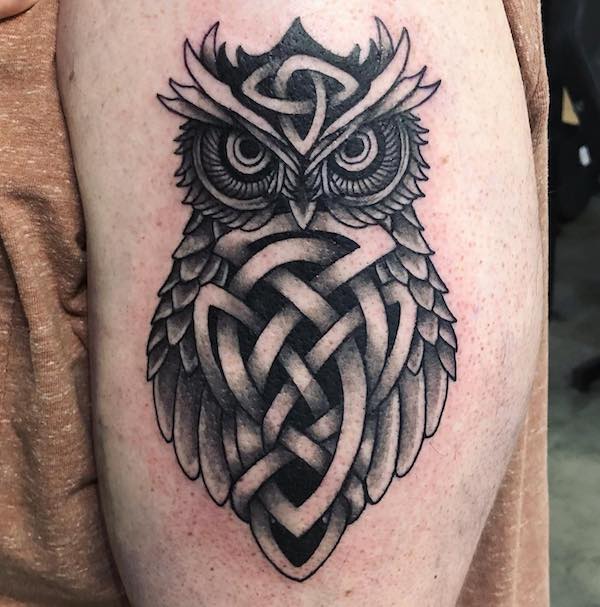 A Celtic triskele adorned owl tattoo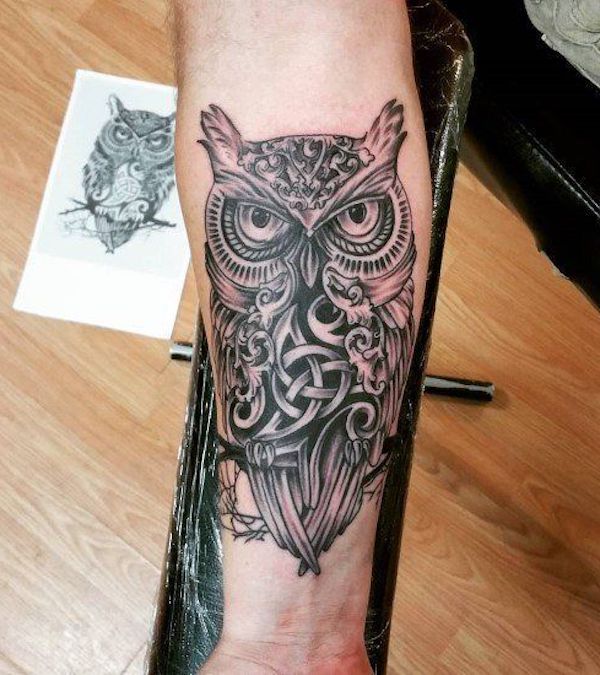 A Celtic owl perched on a branch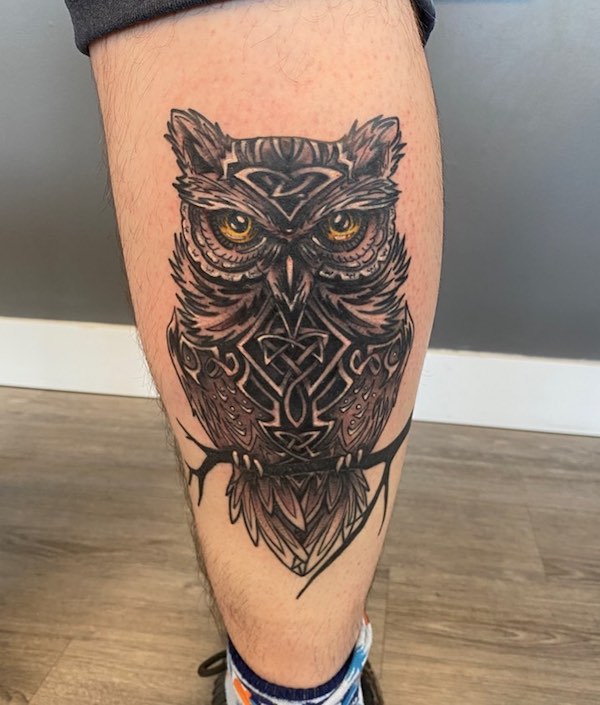 Celestial Owl Tattoos
The celestial owl tattoo combines the mystery of the night sky with the mystique of the owl. These tattoo designs usually feature an owl framed by or with elements of the stars, moon, or planets. The owl is a guide in the darkness. It also represents intuition, wisdom, and the ability to navigate the unknown.
Celestial owl tattoos typically focus on richly detailed imagery, often with a touch of surrealism. They can be beautifully captivating designs that draw the eye to the intricacy of the work. This tattoo idea is perfect for individuals who have a deep connection with the night sky or seek guidance in the mysteries of life and the cosmos.
Galaxy owl tattoo with hexagon backdrop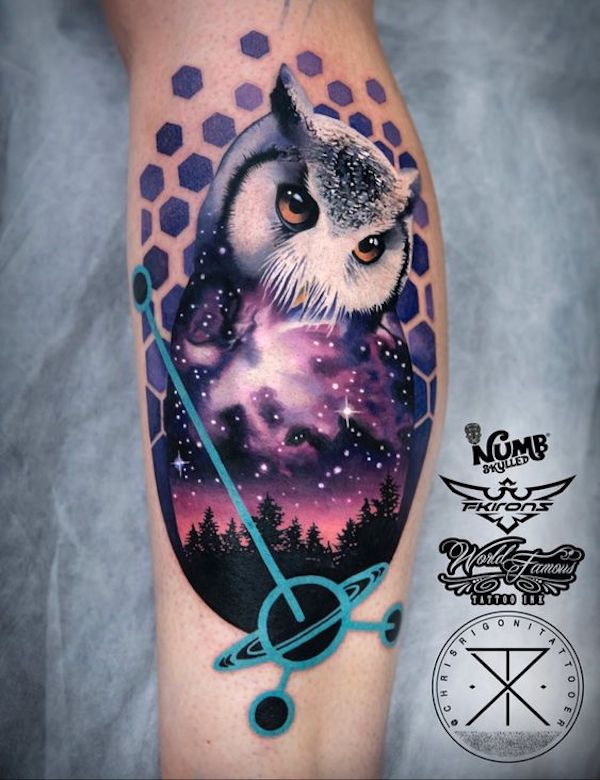 An owl perched on flower crescent moon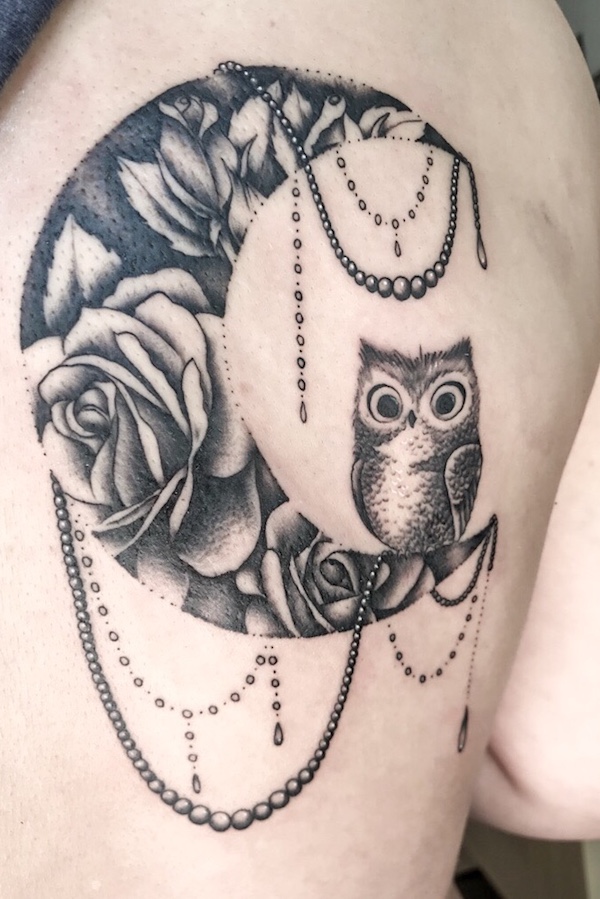 Depicting an owl amidst a starry night sky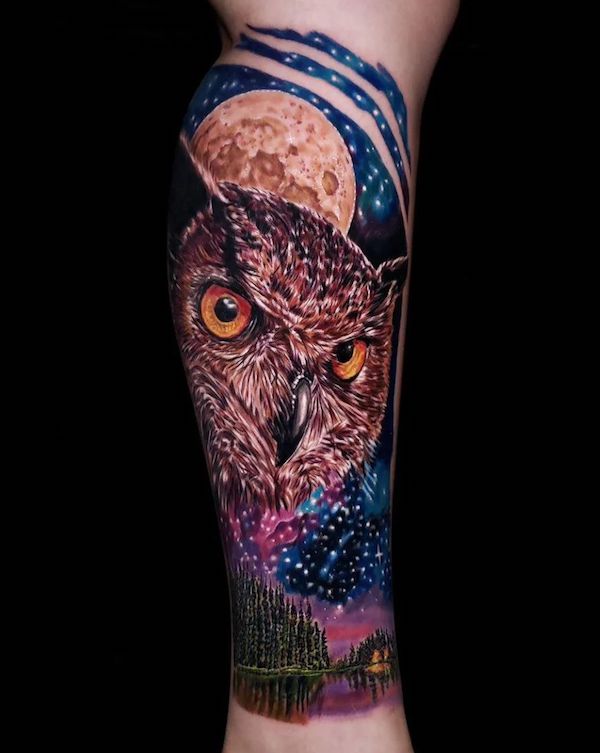 Melting sun with owl portrait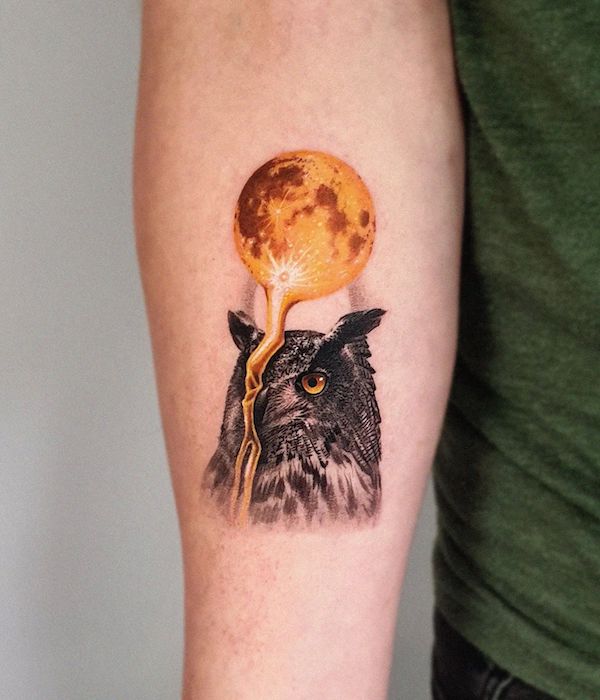 A celestial owl and fantansy world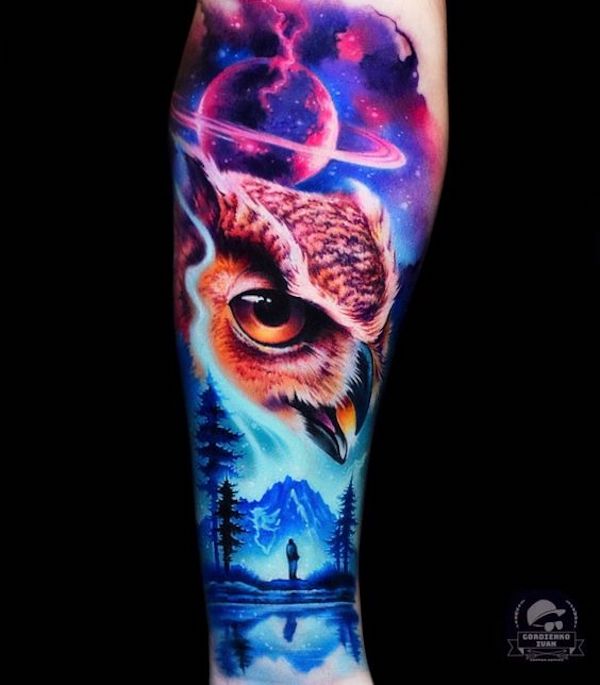 Clock and Owl
Combining an owl with a clock creates a tattoo design that represents the passage of time and the wisdom gained from it. Clock and owl tattoos remind us that although time is precious, it is wise to use it wisely. These designs often feature a well-detailed owl, either holding or perched on a clock.
You can make clock and owl tattoos as complicated as you want by adding gears, Roman numbers, or other details. They can have a vintage or steampunk aesthetic, depending on the chosen elements and style. This type of tattoo might resonate with those who value the importance of time and the learning experiences that accompany life's journey.
Realistic Owl and vintage clock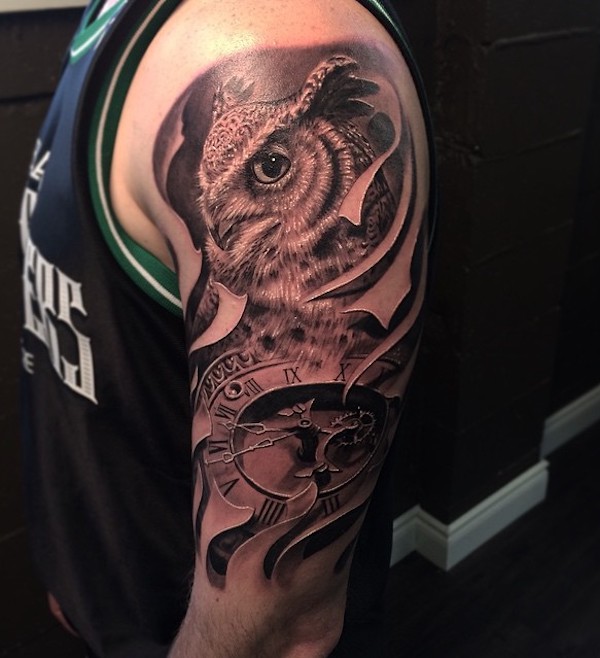 Owl and steampunk clock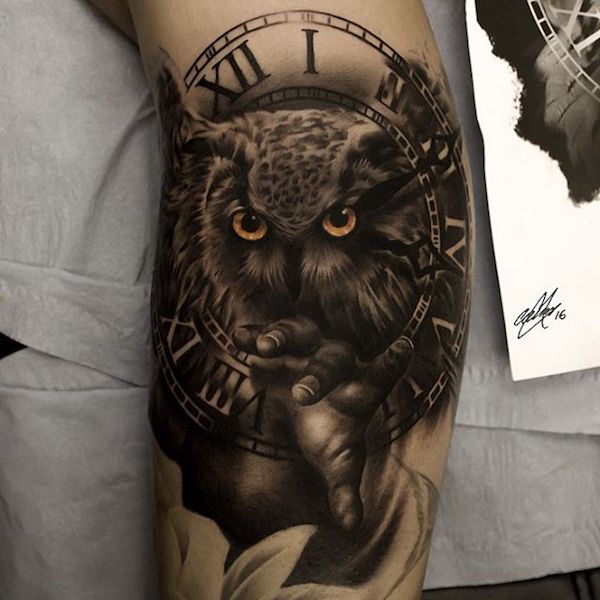 Owl and passage of time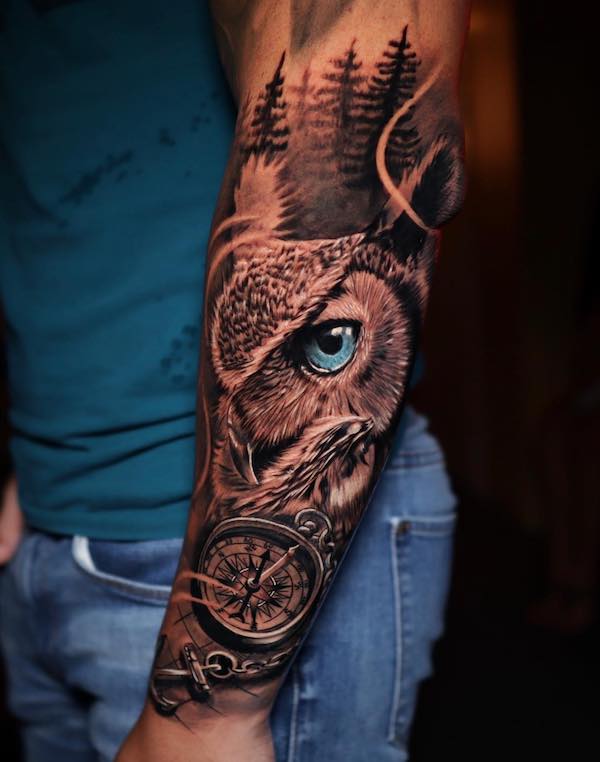 Brown owl and broken clock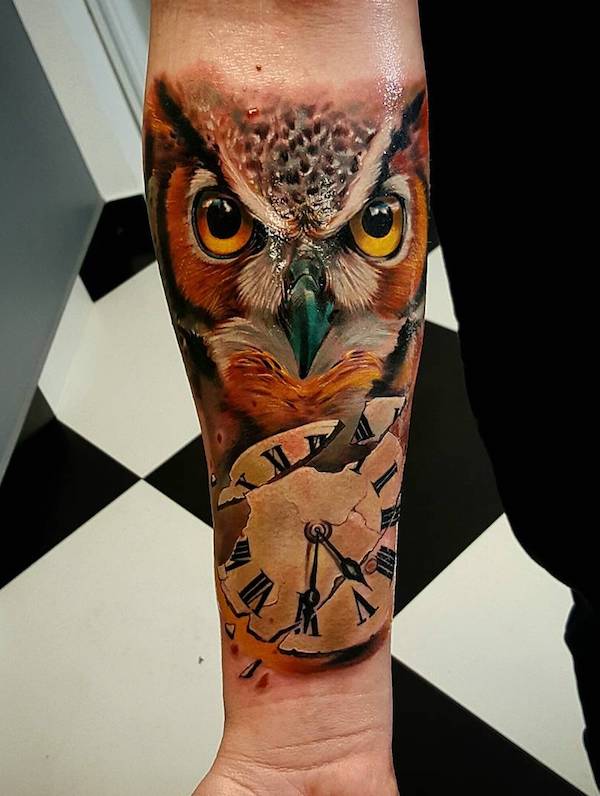 Compass and Owl
A compass and owl tattoo design symbolize guidance, wisdom, and finding one's path in life. The owl, as a symbol of wisdom, complements the compass, which represents direction and navigation. Together, they create a powerful message of wisdom guiding us through life's journey.
The design of compass and owl tattoos varies greatly, as some are more ornate with elaborate compass faces, while others showcase minimalist compass shapes. Alternatively, the owl can be flying with the compass, perched on it, or incorporated into it. This type of tattoo is ideal for those in need of direction or who find solace in wisdom guiding them through uncertain times.
Adventurer owl with compass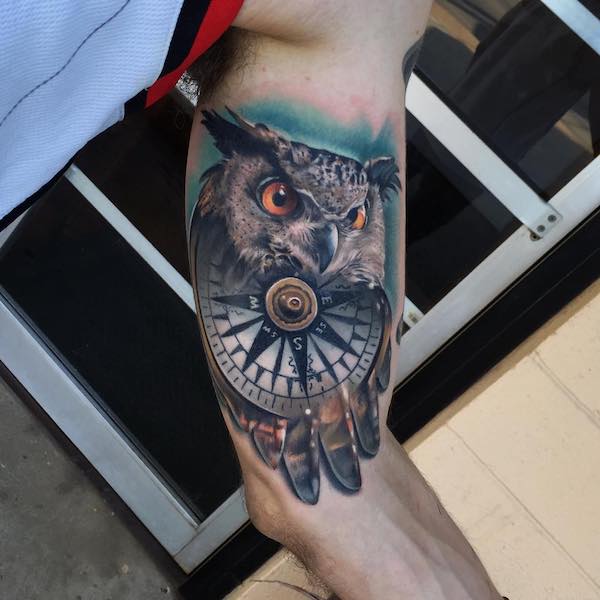 Floral Owl Tattoos
Flower symbolism often pairs well with the inherent meanings behind owl tattoos. Floral owl tattoos combine the wisdom, mystery, and depth of the owl with the beauty, delicateness, and meanings associated with various flowers. This tattoo design can be tailored in terms of the choice of flowers, colors, and the style giving ample room for personalization, and creativity.
In a floral owl tattoo, the owl is often the focal point with flowers either surrounding it, protruding from it, or woven into its form. The chosen flowers' unique symbolism can further enhance the message behind the tattoo, such as incorporating roses for love and passion or cherry blossoms for renewal and the fleeting nature of life.
An owl perched on a blossoming cherry blossom branch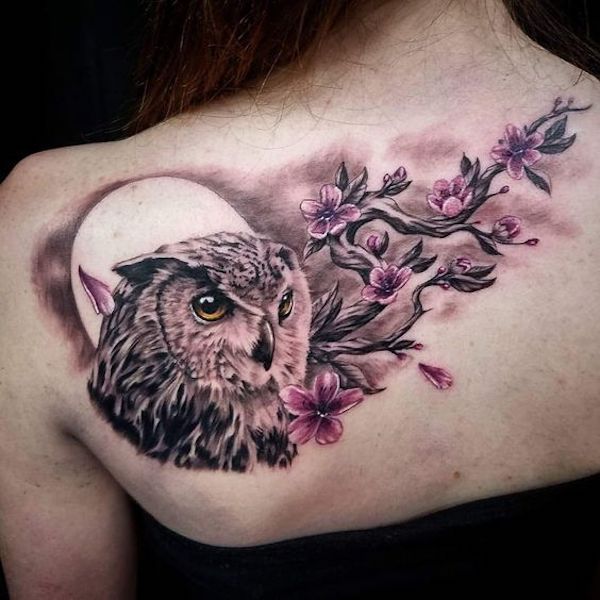 Gothic owl surrounded by fern and rose
Lily flower and owl tattoo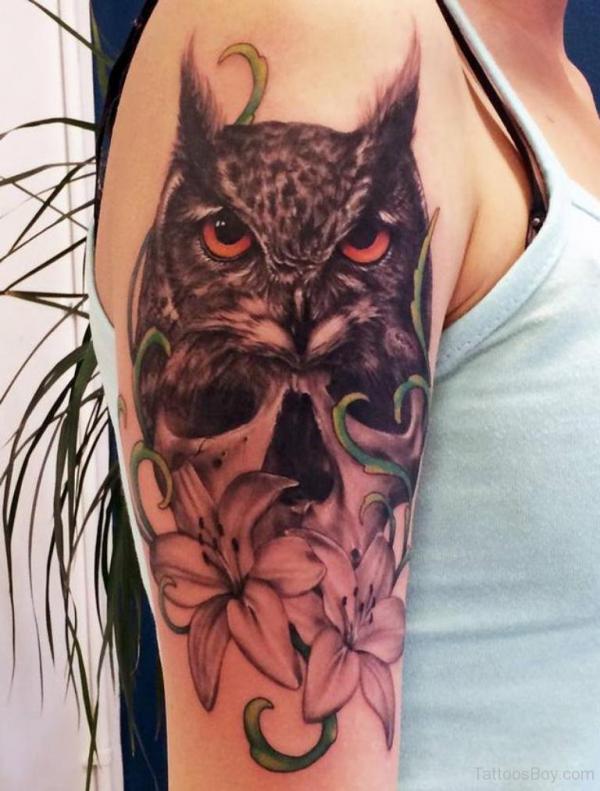 Realistic owl and roses wrapped with ribbon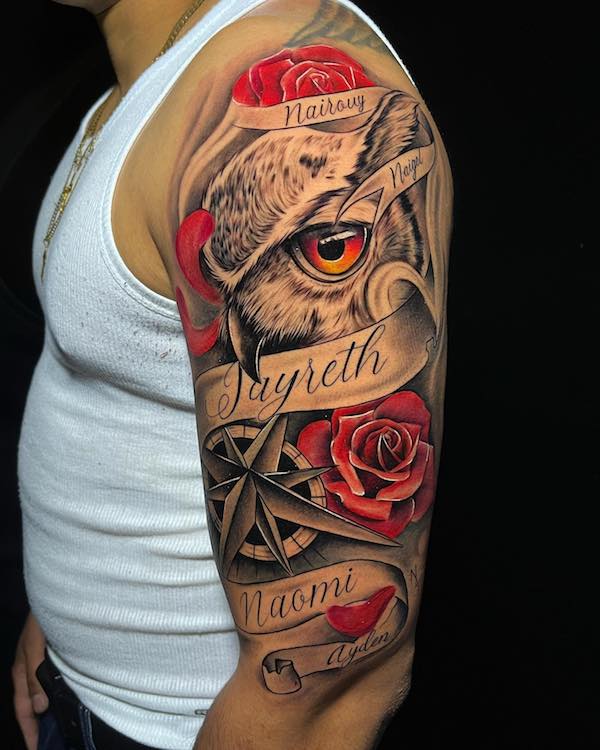 Swirl outline of Owl with flowers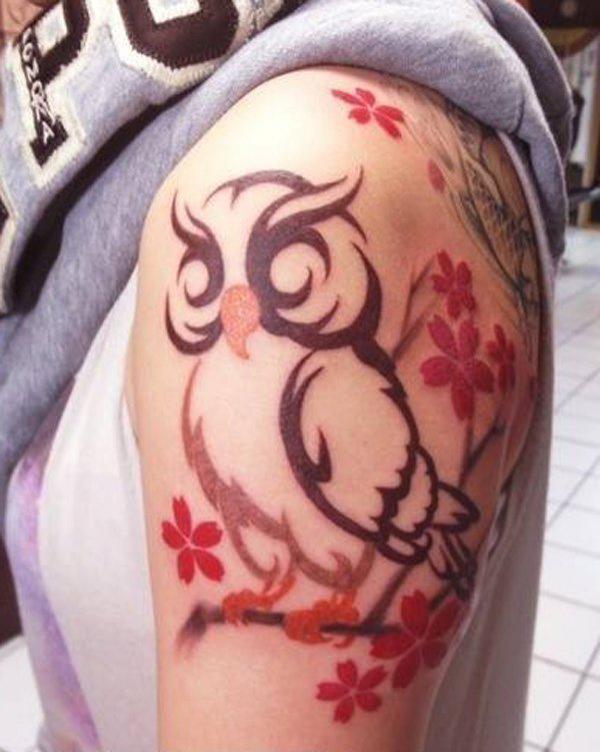 An Owl perched on a branch with flowers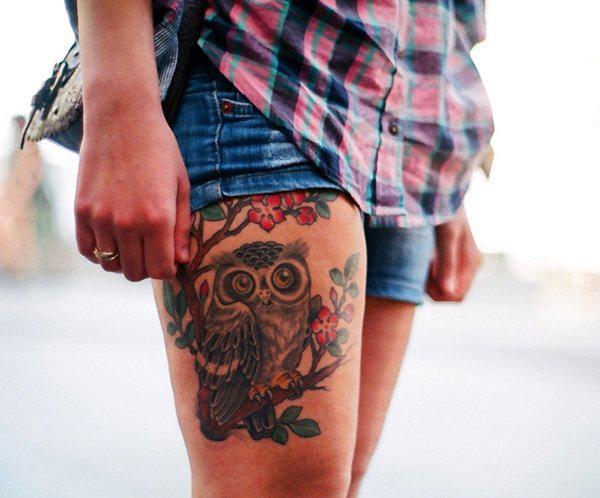 Realistic owl surrounded by flowers on thigh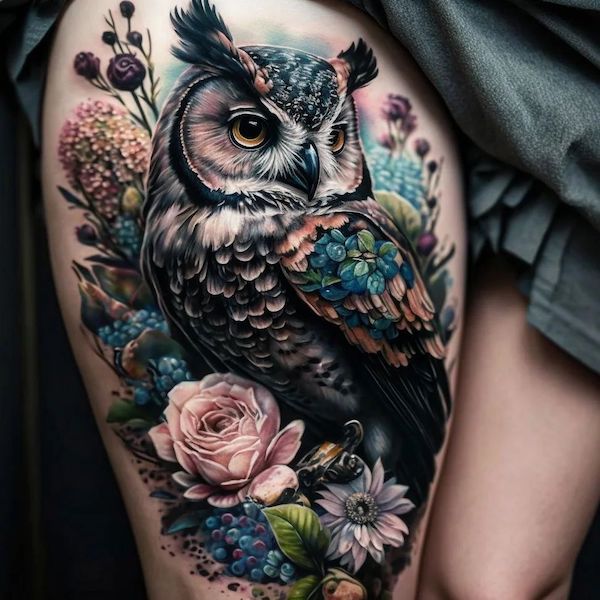 Rose and owl
Vigellent owl and bird of paradise flower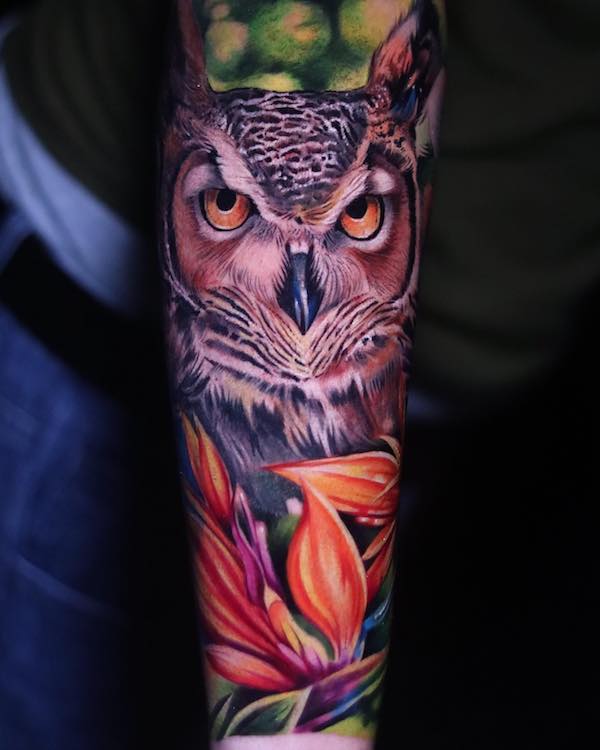 Vintage roses and owl forearm tattoo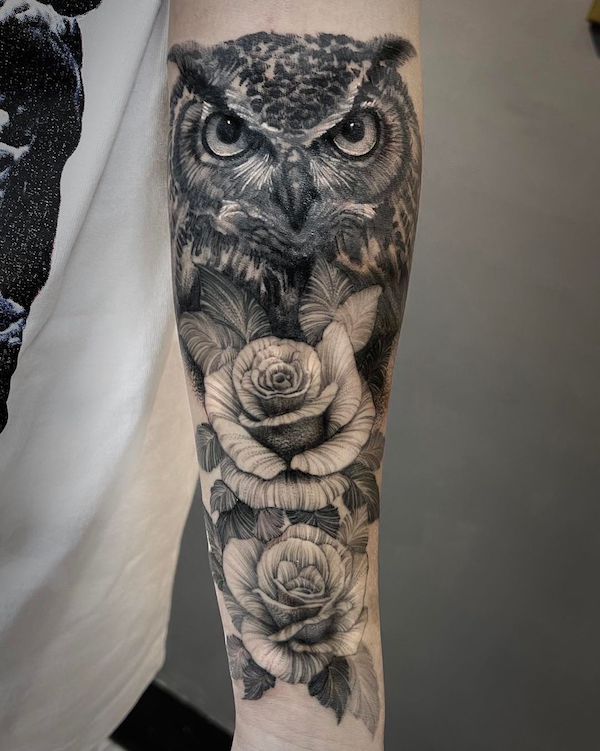 Literary Owl Tattoos
Book lovers can appreciate the combination of owls and literature in a tattoo. Owls are often associated with knowledge, wisdom, and learning, which makes them a fitting symbol for bibliophiles. Literary owl tattoos often feature the owl perched on, flying with, or surrounded by books, scrolls, or pages.
There are endless design possibilities for literary owl tattoos. They may include quotes from favorite books, incorporate book characters, or showcase specific genres or authors. This type of tattoo serves as an homage to the love of reading and the knowledge and enlightenment gained from it.
Owl messanger flying away form castle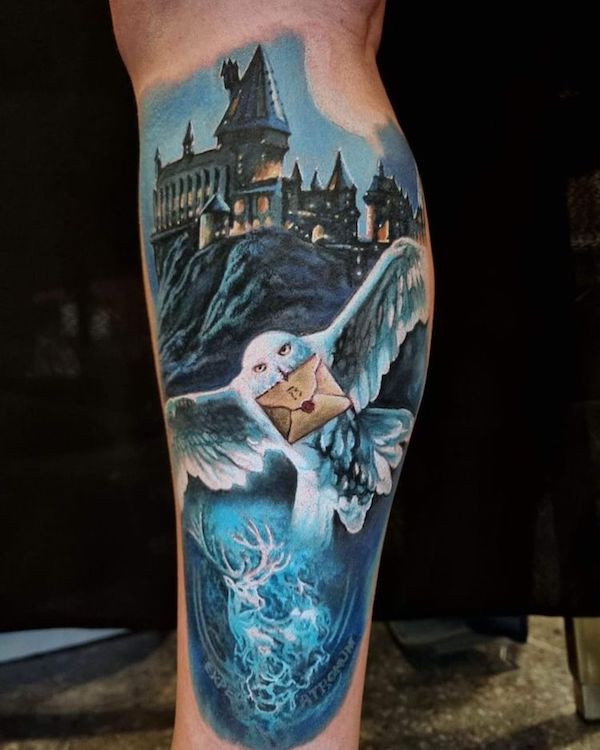 Featuring an open book as a perch for an owl tattoo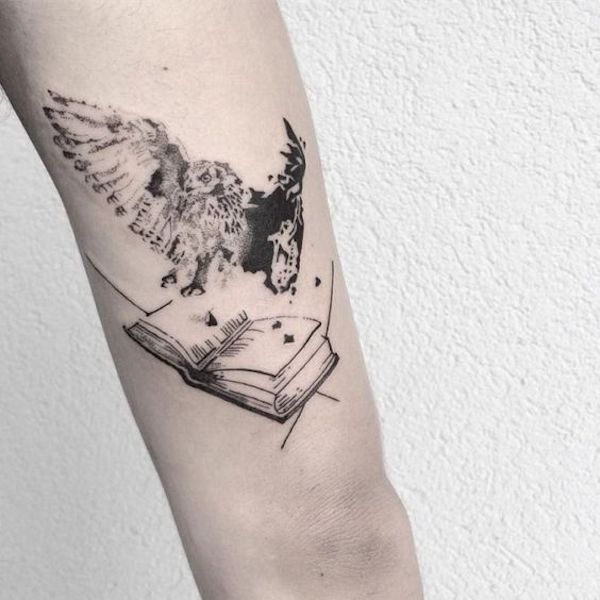 Featuring an books as a perch for an owl tattoo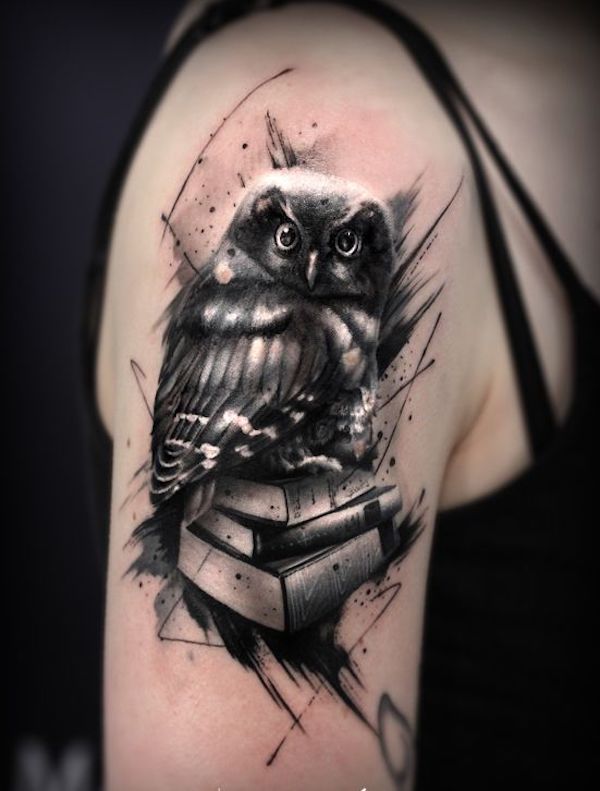 An owl sitting on books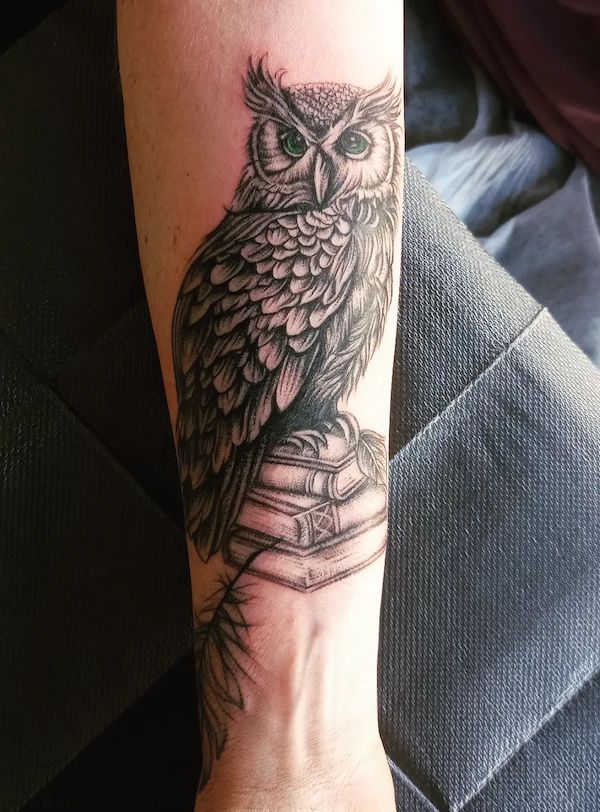 Owl in Nature Tattoos
Owls have a strong connection with nature, and a nature-themed owl tattoo celebrates this bond. In this type of design, there are owls surrounded by things like mountains, woods, or bodies of water. The owl might be perched in a tree, swooping down to catch its prey, or watching over its surroundings from a high vantage point.
Nature and owl tattoos are a beautiful representation of harmony, balance, and the cycle of life. They can serve as a reminder of personal connections to the natural world or the need for preservation and sustainability. Additionally, designing such a tattoo can be further tailored to represent the wearer's favorite natural elements or settings.
Watching the passage of time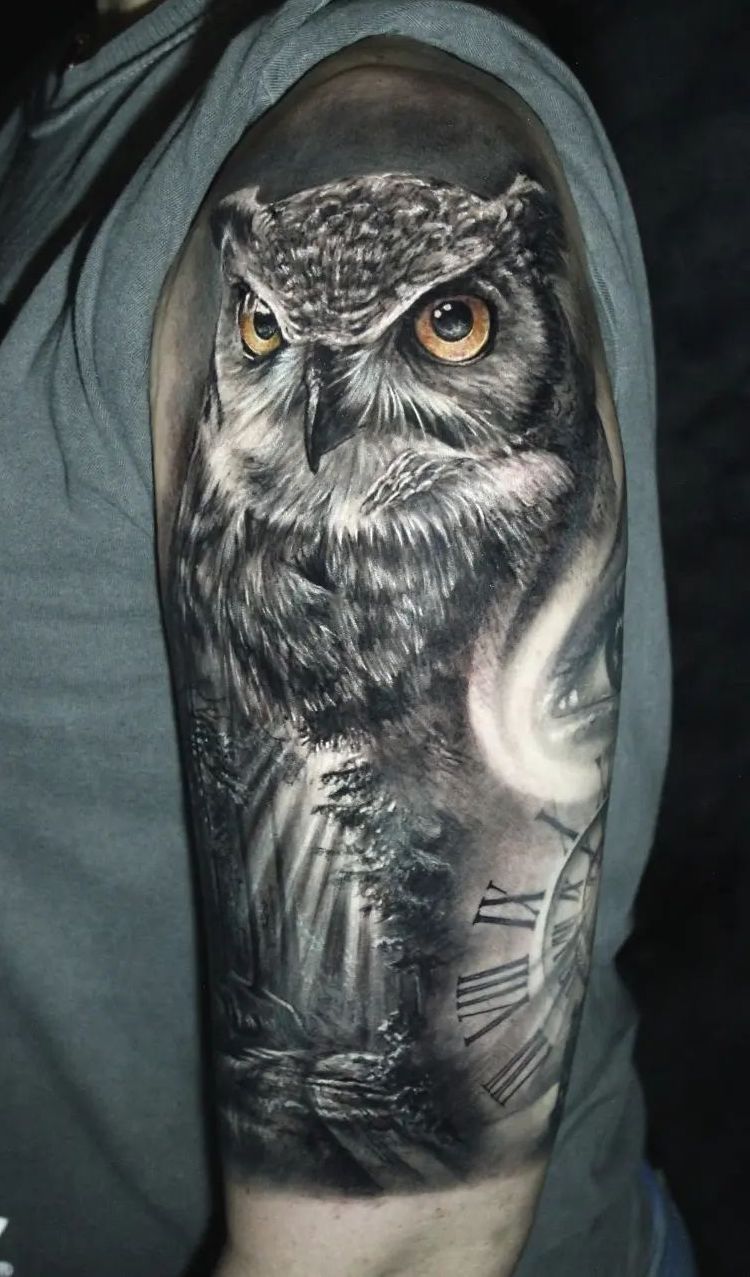 Watching the beautiful lanscape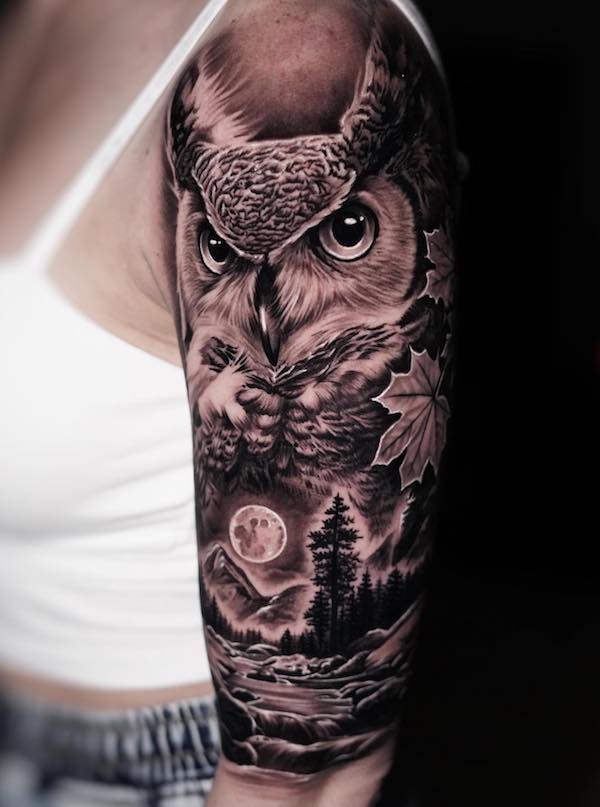 Owl and butterfly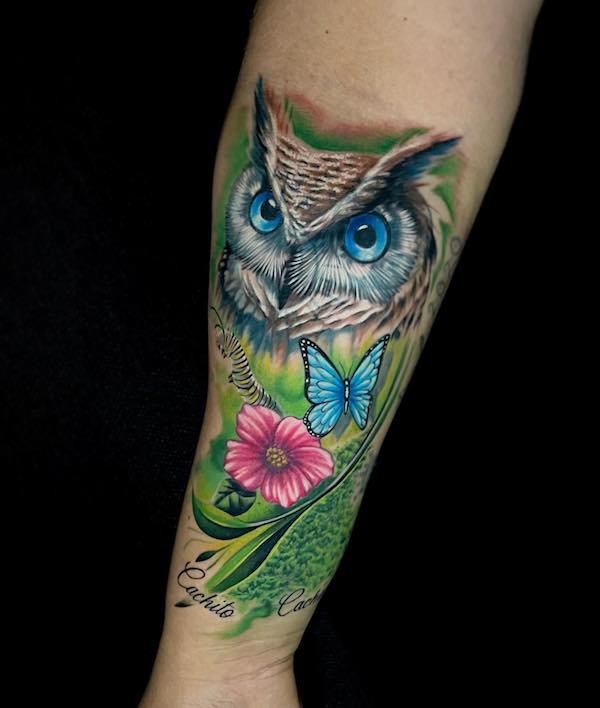 Owl with tree of life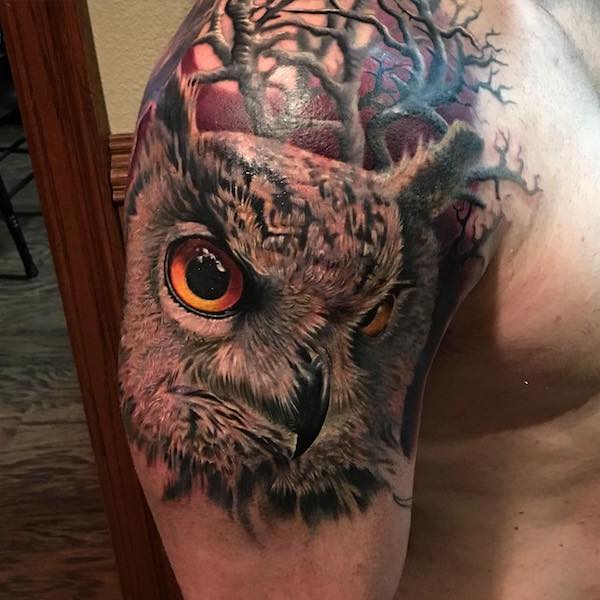 Eyel of forest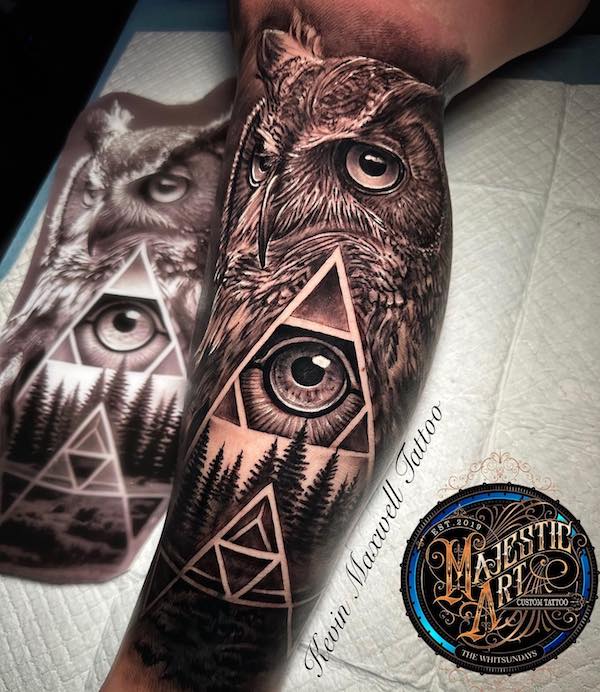 Forest Call
Eagle and owl forearm tattoo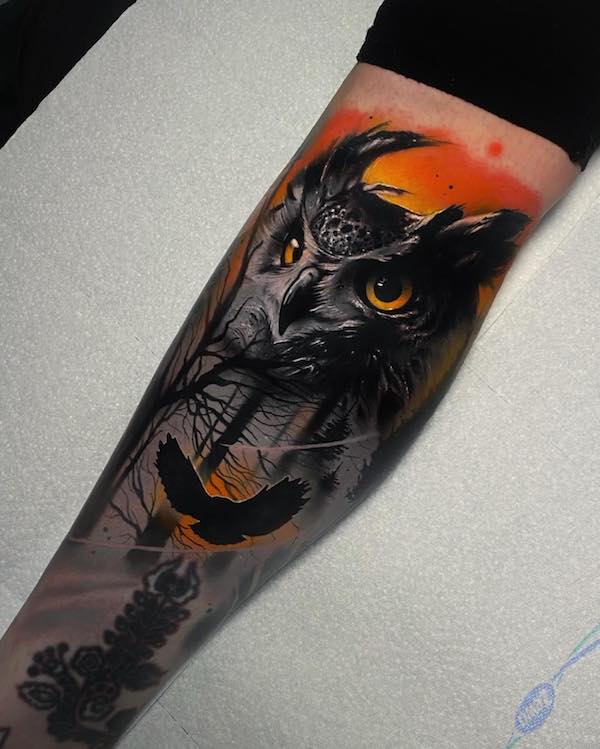 crescent owl and forest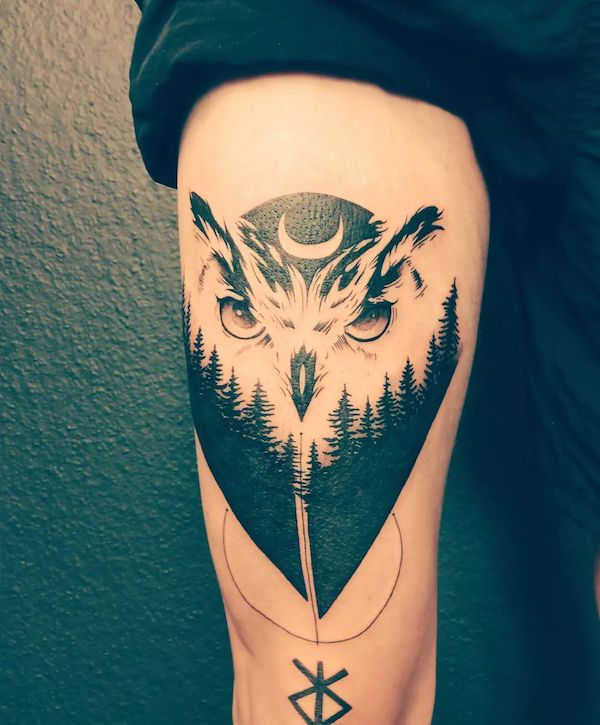 Skull and Owl Tattoos
Mixing an owl with a skull creates a striking and powerful tattoo design. Skulls often represent mortality and the passage of time, while owls symbolize wisdom and knowledge. Together, they represent the idea of embracing mortality and learning from the finite nature of life.
Skull and owl tattoos can have intricate details, including both realistic and stylized skull forms. The contrast between life and death embodied in these designs can be enhanced by including additional elements such as flowers or leaves, symbolizing life, love, or regeneration.
Tribal owl and skull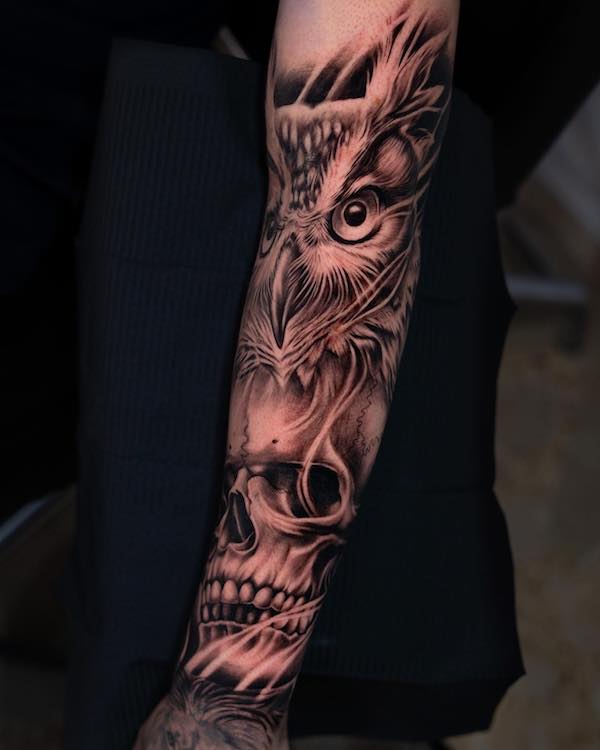 Stylized skull and owl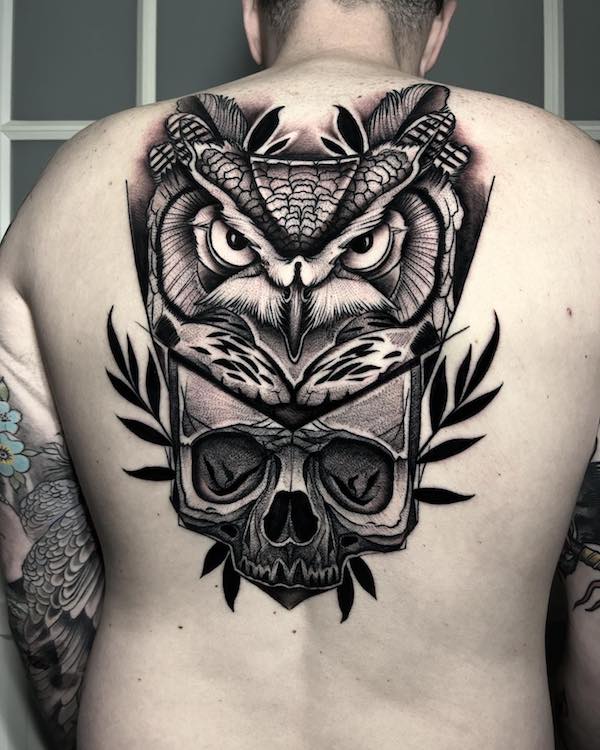 Skull with owl headdress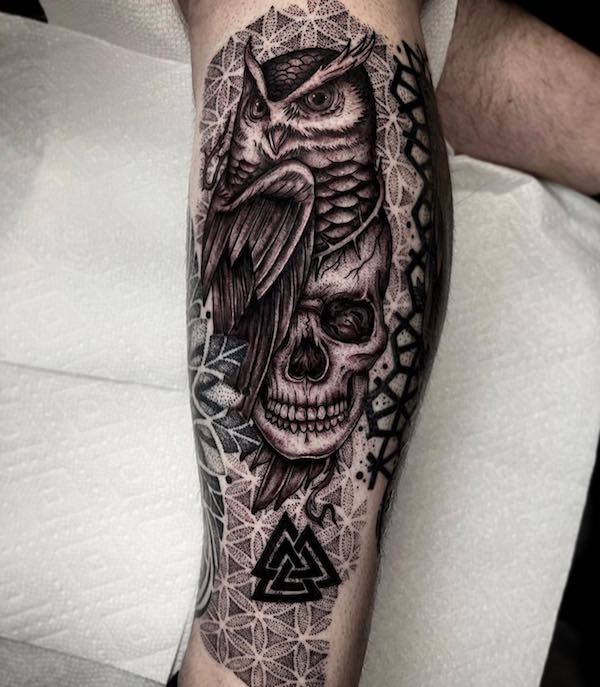 Skull and owl in traditional syle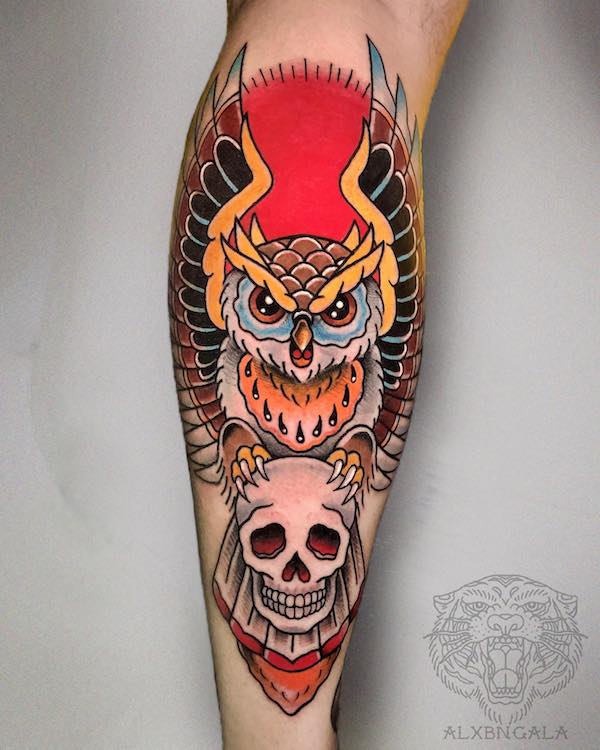 Owl with goat skull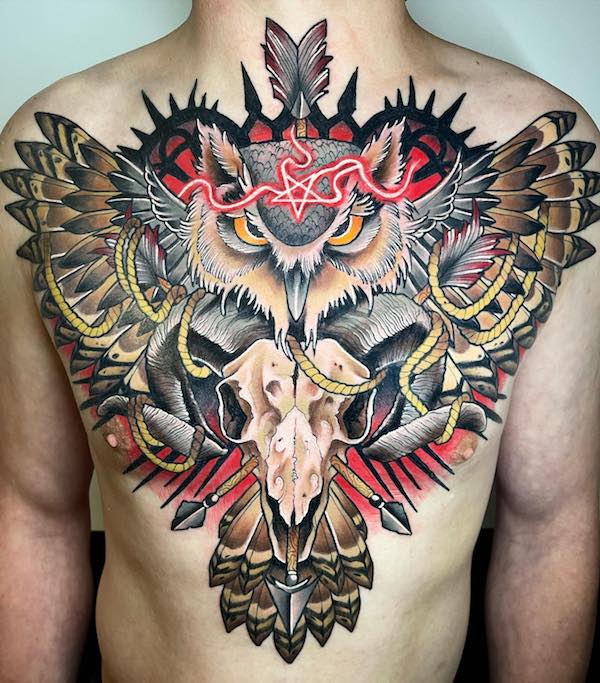 Small Owl Tattoos
Not all owl tattoos need to be large and elaborate. Small owl tattoos are perfect for those who desire a minimalist design that still carries a strong message. Small designs can retain detail and complexity while remaining subtle and discrete.
You can place a small tattoo almost anywhere on the body, such as the wrist, ankle, or behind the ear. These petite designs are ideal for those new to tattoos or simply seeking a symbol that holds great meaning without taking up too much space.
Tribal owl head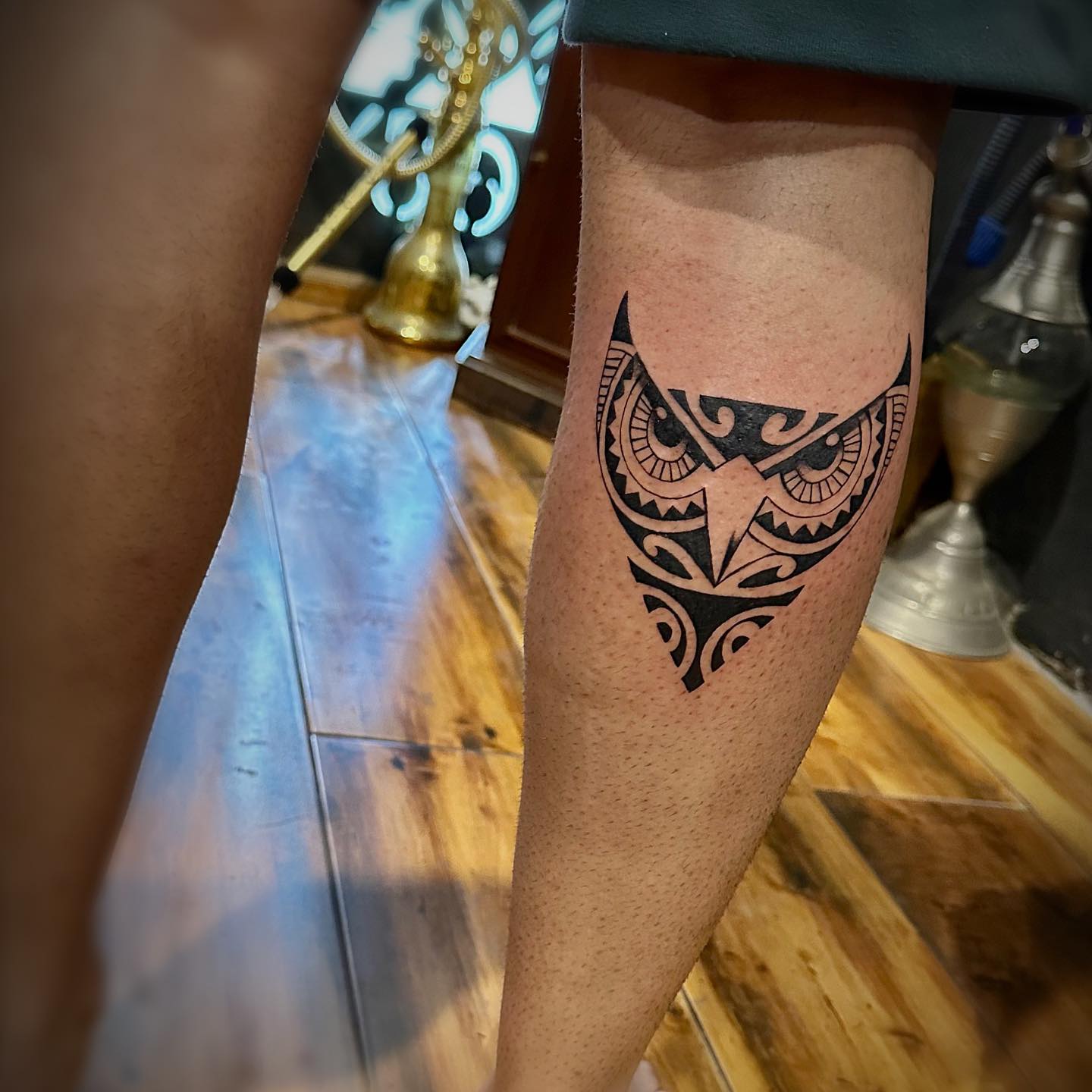 Small owl scissors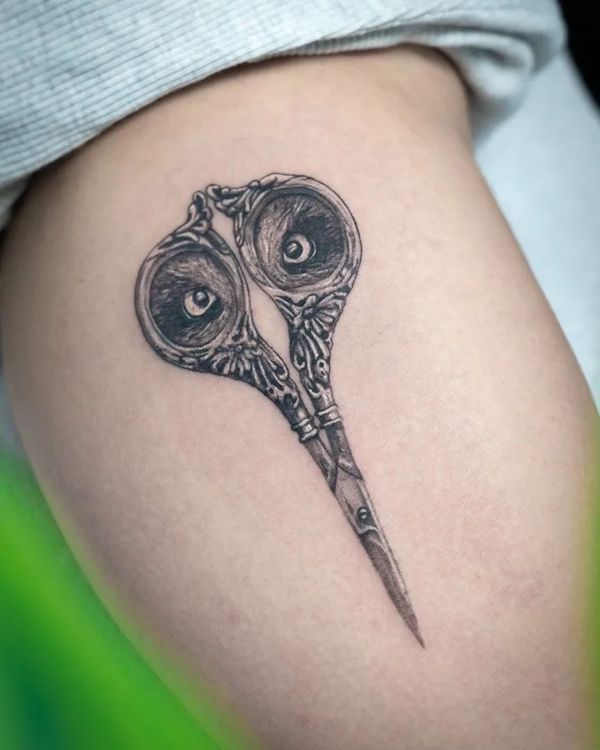 Family love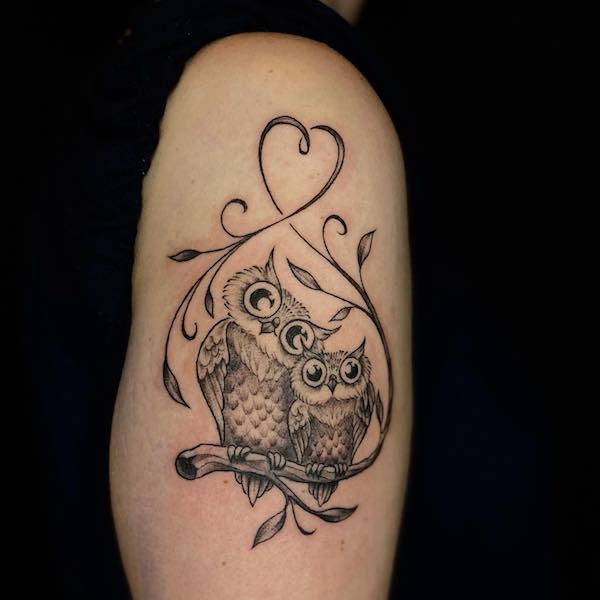 Baby owl under crescent moon.jpg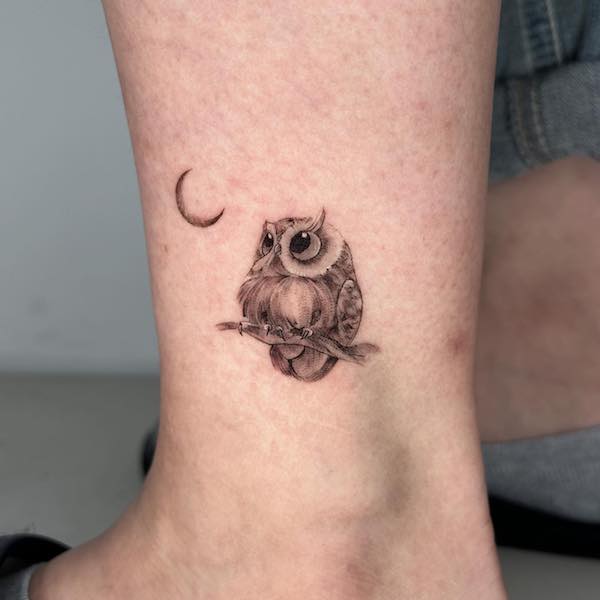 Never Loose Hope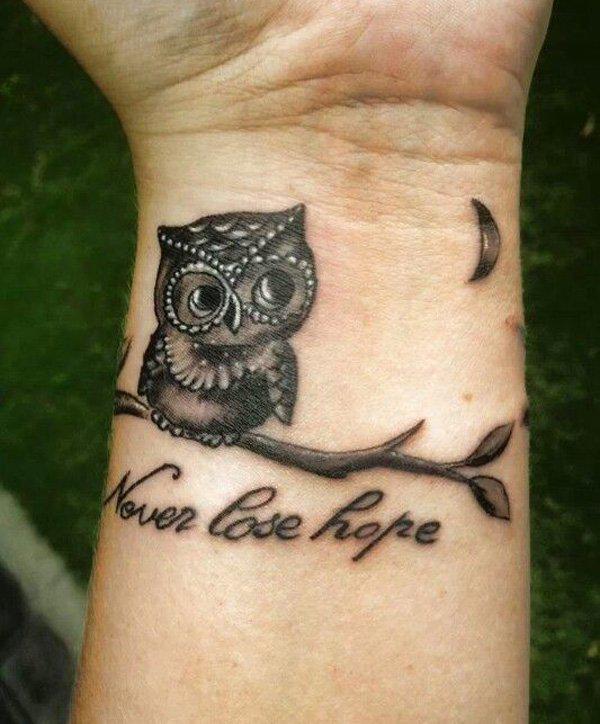 Cute Owl perching on a branch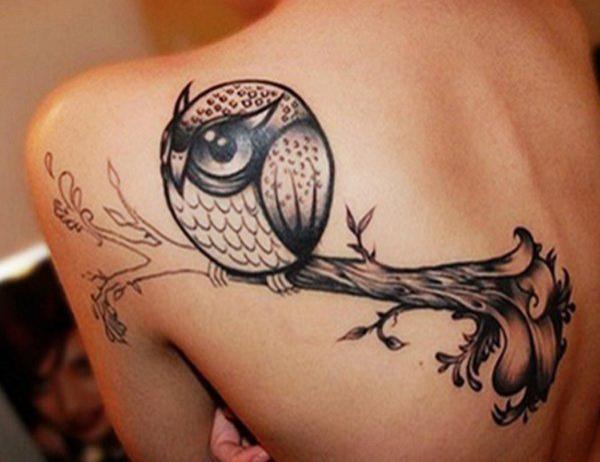 Tree of life Owl tattoos
The tree of life holds great symbolism across numerous cultures, often symbolizing the connection between the earth, heavens, and the cycle of life. Pairing an owl with the tree of life in a tattoo unites wisdom, knowledge, and the interconnectedness of all things.
whimisical owl under the moonlight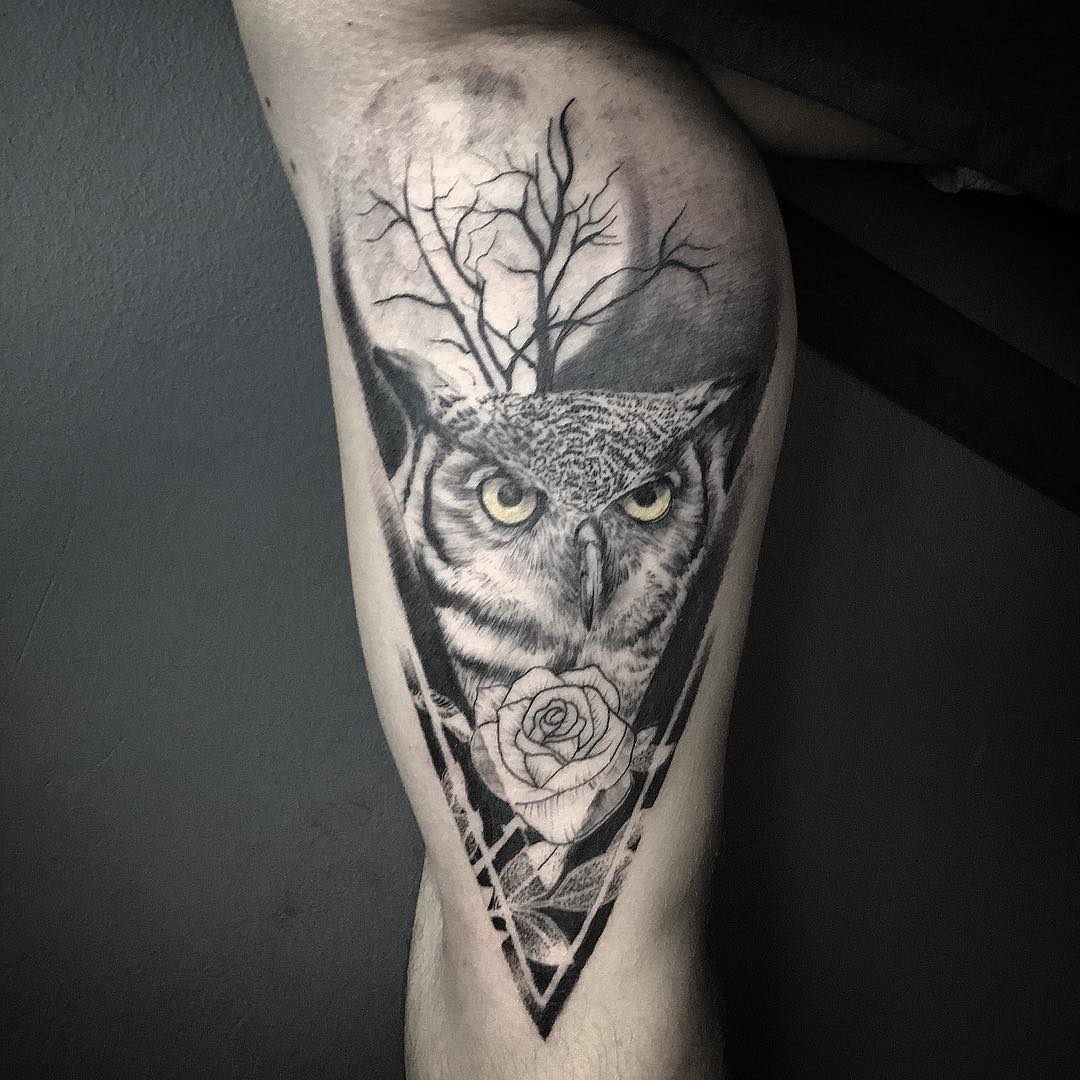 Monitor tree of life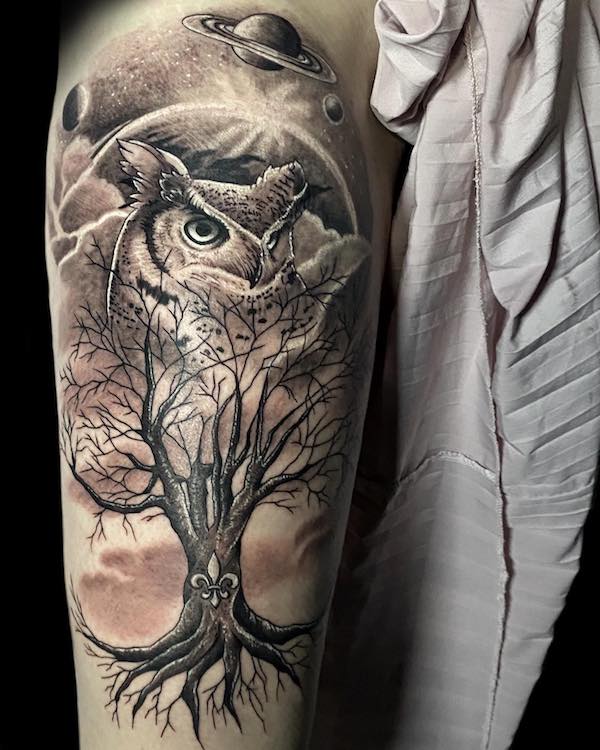 Tips for choosing the perfect owl tattoo design
When considering an owl tattoo, keep the following tips in mind to ensure you choose the perfect design for you:
Think about the meaning: Consider the symbolism of owls and decide what resonates with you. This can help guide your choice of design.
Do your research: Look at various owl tattoo designs to get an idea of what you might like. Pinterest, Instagram, and tattoo artist portfolios are all excellent resources for inspiration.
Consider the location: Think about where you want your owl tattoo to be placed on your body. This might affect the size and design of your tattoo.
Choose the right color scheme: If you plan on incorporating color into your owl tattoo, consider which colors you prefer and how they will complement the design.
Consult with a professional: Once you have an idea of what you want, consult with a tattoo artist to get their input and suggestions. They can help you finalize your design and bring your vision to life.
Consider your pain tolerance: Some areas of the body are more sensitive than others. If you have a low pain tolerance, you may want to choose a location that is less painful to tattoo.
Take your time: Do not rush into getting an owl tattoo. Instead, take the time to find the perfect design and tattoo artist for you. Remember, a tattoo is permanent, and you want to be sure that you are making the right choice.
Conclusion
Owl tattoos are a beautiful and meaningful way to express yourself through ink. With so many design options and symbolism options, there is an owl tattoo to suit just about anyone. Whether you choose a realistic, geometric, or traditional design, an owl tattoo is sure to be a timeless and cherished addition to your body art collection.
FAQ about Owl tattoos
Q1. What does an owl tattoo symbolize?
Owl tattoos have become increasingly popular over the years. And they symbolize a variety of things, depending on the cultural context in which they appear. In some cultures, the owl is a symbol of wisdom and knowledge, while in others, it is often associated with magic and mysteriousness. For example, the ancient Greeks believed that the owl was a symbol of Athena, the goddess of wisdom, who was often depicted with an owl on her shoulder. Owls signifies intuition, the ability to see through deception, and the power of observation, which makes them a popular choice for tattoos meant to symbolize protection or strength.
Q2. What does the Athena owl tattoo mean?
The Athena owl tattoo is a symbol that represents the goddess Athena's characteristics of wisdom and knowledge and her powerful abilities as a warrior. The owl often appears in depictions of Athena, as it is considered her sacred animal. Those who choose to get an Athena owl tattoo may do so to pay homage to these qualities and to connect with the ancient wisdom and power they represent. Some people may also see the Athena owl tattoo as a good luck symbol, as the ancient Greeks believed that owls were a sign of good fortune.
Q3. Are owls bad luck or good luck?
Many cultures consider owls as a symbol of good luck and people believe that encountering them brings blessings and protection. The ancient Greeks believed that owls were a sign of good fortune and associated them with wisdom and intelligence. In some Native American cultures, owls are seen as messengers of the spirit world and are considered to be protectors of the people. However, in some cultures, owls are associated with darkness and mystery and are considered to be a bad omen. Therefore, how one perceives owls and their connection to luck depends on the cultural context in which they appear.
Q4. Where do you put an owl tattoo?
A: The placement of an owl tattoo depends on the individual's preference and the design of the tattoo. Some popular locations for owl tattoos include the shoulder, back, chest, forearm, and thigh. The size of the tattoo may also influence the placement, as larger designs may require more space on the body.
Q5. Why do girls get owl tattoos?
A: Girls, like everyone else, get owl tattoos for a variety of reasons. Some may be drawn to the symbolism of wisdom and knowledge, while others may find the owl to be a powerful and mysterious animal. Owl tattoos can also be a fashion statement, with their intricate designs and unique meanings making them a popular choice for body art. Ultimately, the reason someone chooses to get an owl tattoo is personal and individual.