Roses, with their undeniable allure and rich symbolism, have long been a favorite subject in the world of body art. When etched on the back, a rose tattoo can create a striking statement piece that's both personal and deeply meaningful. In this article, we'll delve into the world of rose back tattoos, exploring a variety of breathtaking designs and styles that you can consider for your next tattoo.
The Allure of Rose Tattoos
Rose tattoos have stood the test of time, maintaining their popularity across different cultures and eras. The rose's universal appeal lies in its dual nature: it's beautiful yet thorny, delicate but resilient – much like life itself. This dichotomy makes rose tattoos a versatile choice, capable of representing a range of emotions and experiences.
Classic Rose Back Tattoo
There's a timeless appeal to the classic rose design, with its bold lines, vibrant colors, and intricate details. A large, single rose, etched in the center of the back or between the shoulder blades, can create a powerful visual impact. The design can be tailored to your preference – it could be a fully bloomed rose, a budding flower, or even a rose with its stem and thorns.
Traditional eagle and rose tattoo on back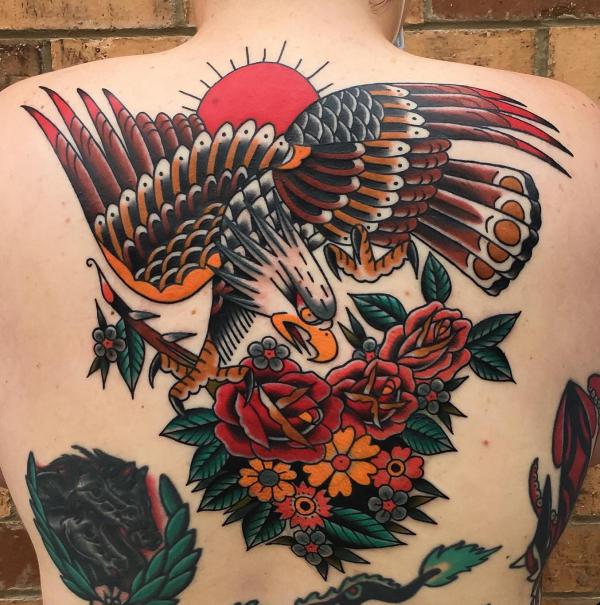 Rose Vine Back Tattoo
A rose vine back tattoo, with its elegant cascading design, can create a stunning piece of body art. The vine can start from the lower back, winding its way up, with roses blooming at different points. This design can symbolize growth and progression, making it an excellent choice for those who view their life journey as a continuous climb.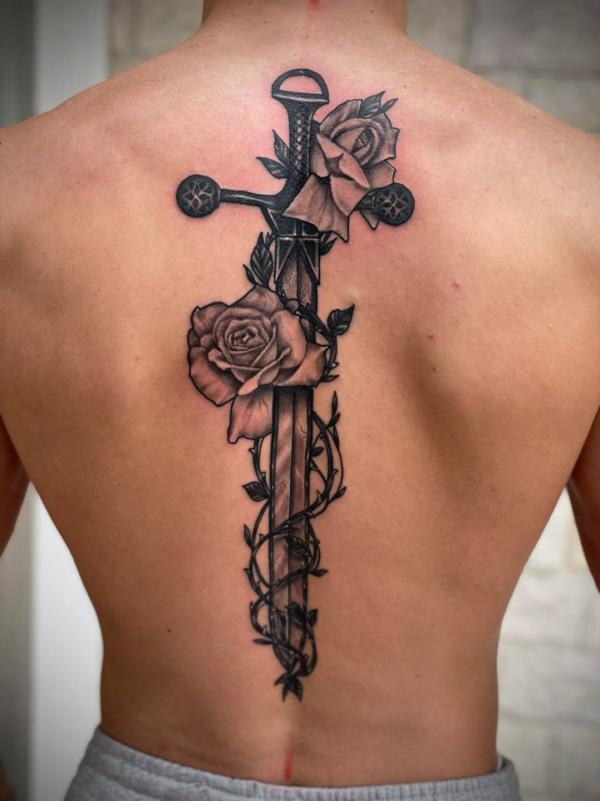 Rose and Butterfly Back Tattoo
Combining a rose with a butterfly can add a touch of whimsy to your tattoo. The butterfly, with its symbol of transformation, perfectly complements the rose's beauty and resilience. This design can depict the butterfly hovering over the rose or perched delicately on a petal, creating a dynamic and visually appealing scene on your back.
Purple crescent moon with roses and butterfly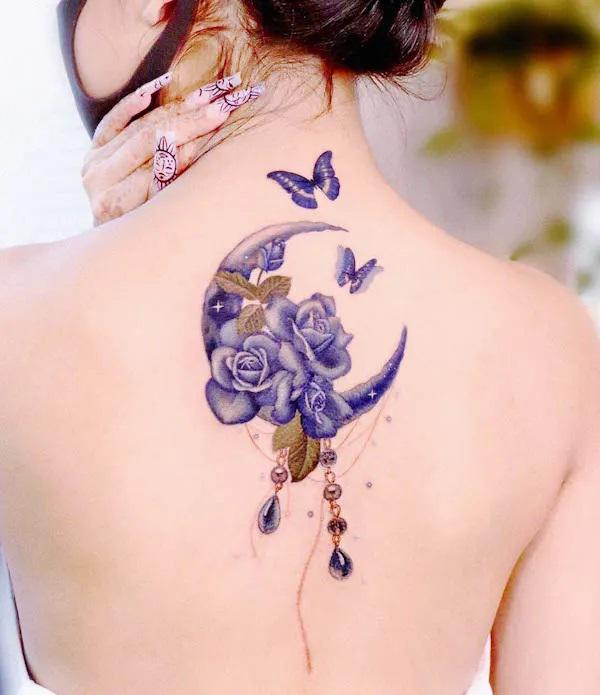 Red and pink roses on black lace with butterflies tattoo on one side of back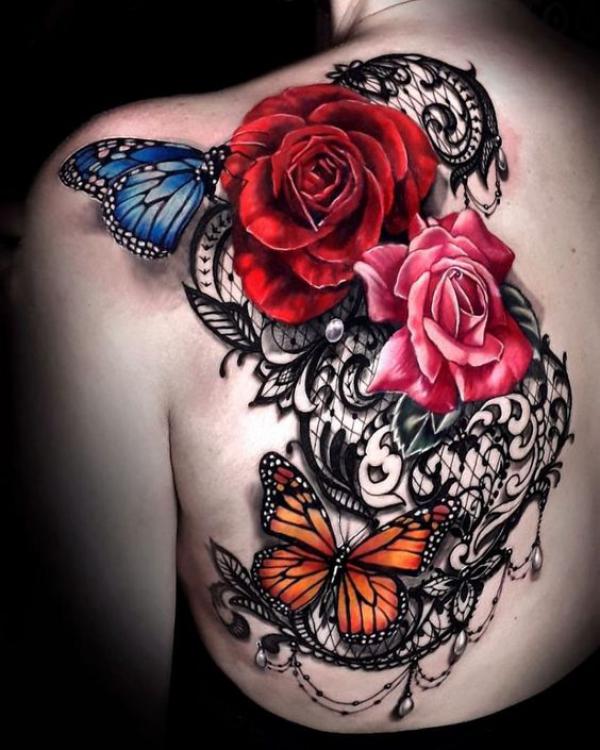 Black and grey rose with blue butterfly tattoo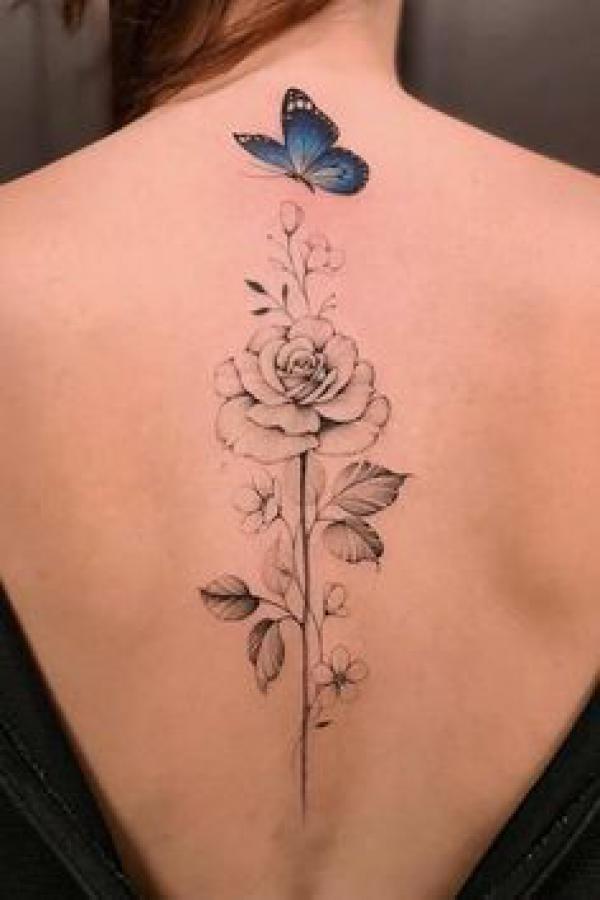 Large butterfly with pink roses and pocket watch back tattoo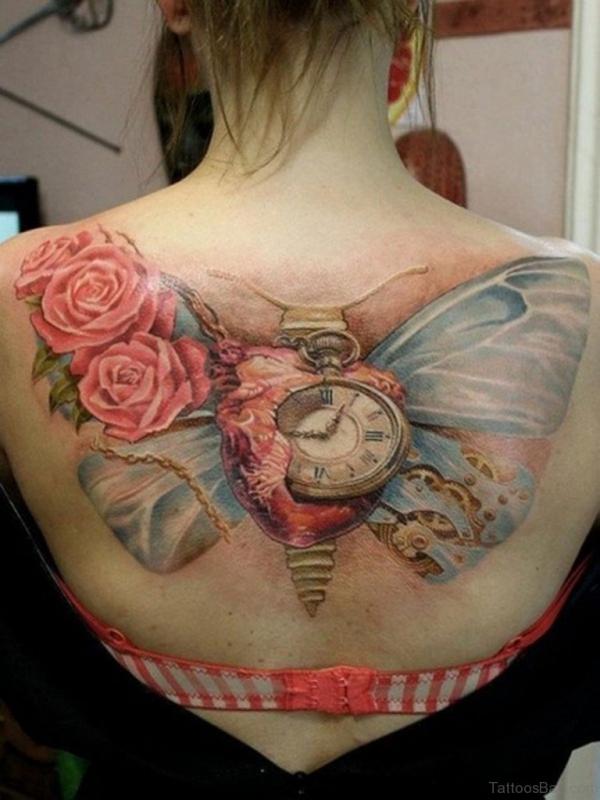 Rose and Skull Back Tattoos
A rose and skull back design can create a striking and thought-provoking piece of body art. This design fuses the beauty of the rose with the macabre symbol of the skull, creating a powerful contrast. It can signify the duality of life and death, making it a compelling design choice for those drawn to deeper, philosophical themes.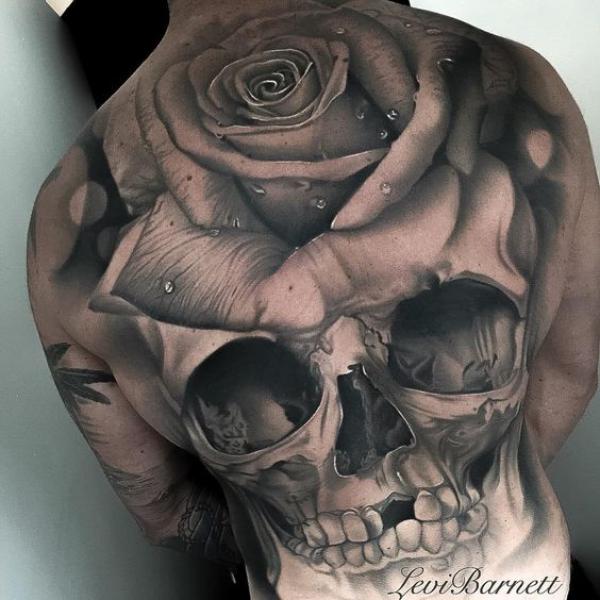 Stylized skull and two hands holding blue rose tattoo full back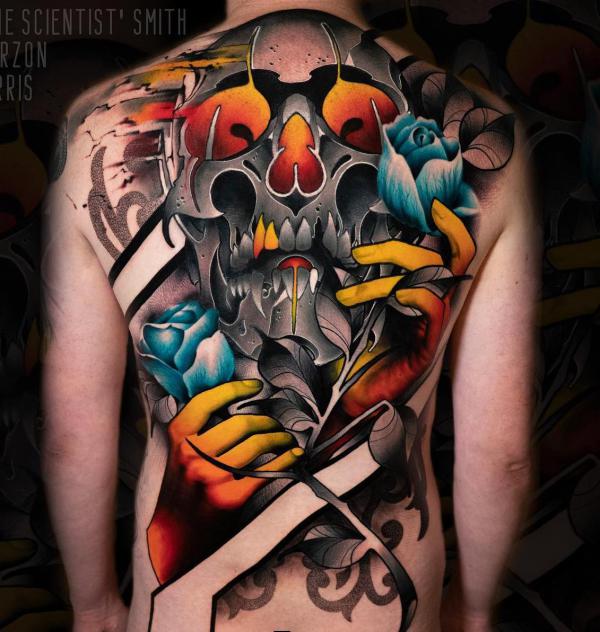 Large skull and rose full back and hip tattoo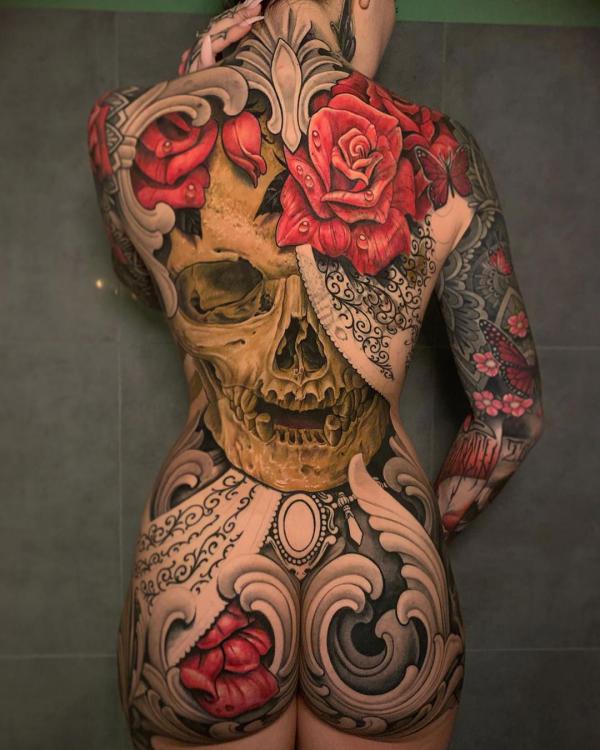 Rose and Clock Back Tattoo
Combining a rose with a clock in a tattoo can create a symbolic and visually captivating design. The clock can serve as a reminder of the fleeting nature of time, while the rose can represent beauty and life. This design can serve as a poignant reminder to appreciate the beauty in each moment.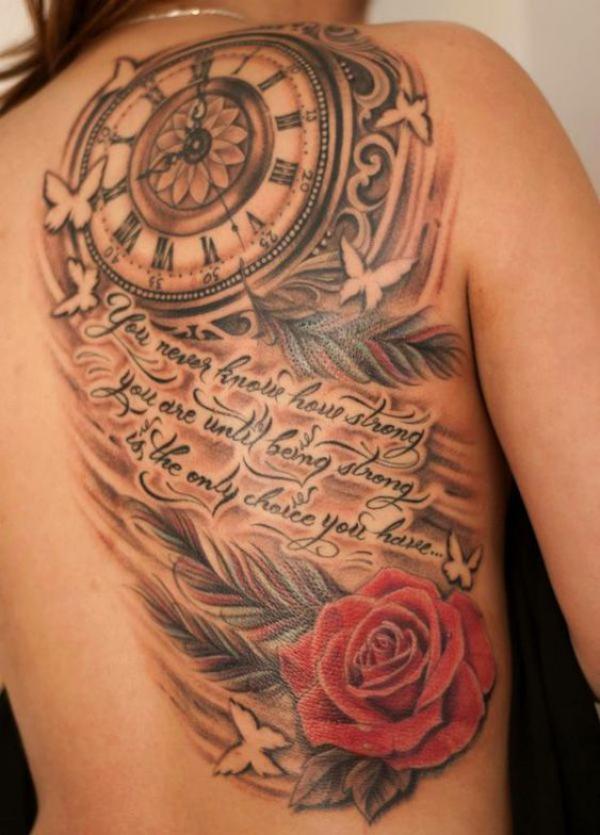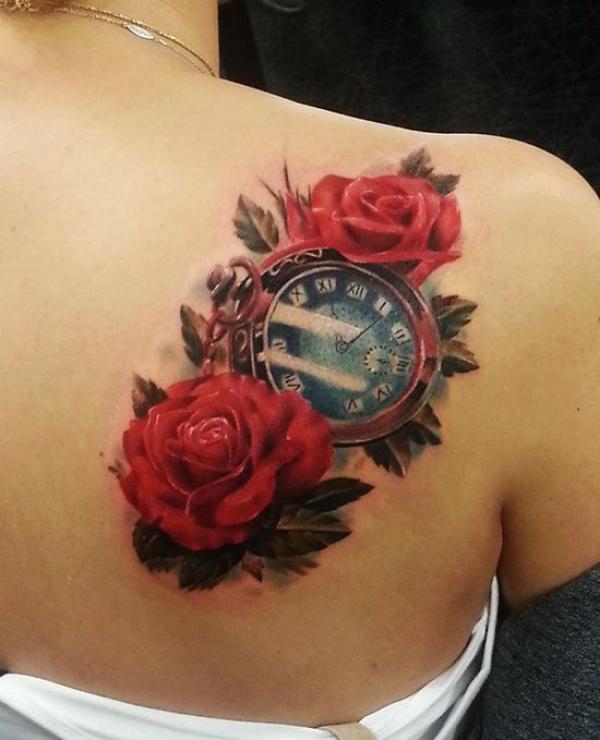 Black and Grey Rose Back Tattoo
For those who prefer a subtler, more understated aesthetic, a black and grey rose back design can be a perfect choice. This design uses shading and tonal variations to bring the rose to life. Despite the lack of color, the detailed artwork can create a realistic and visually striking rose on your back.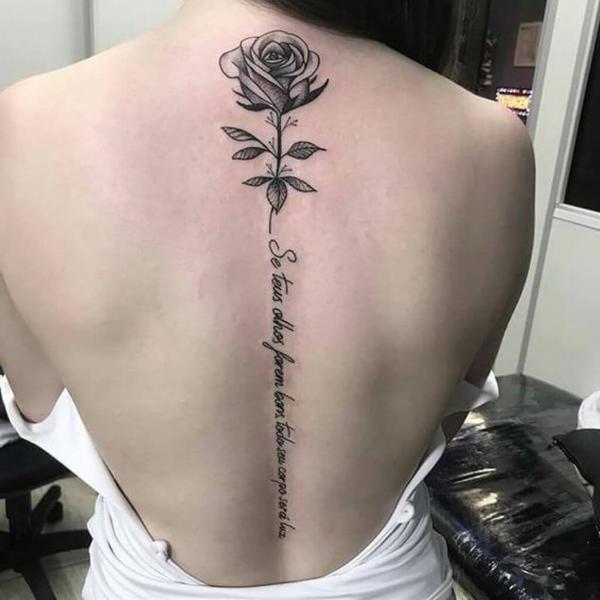 Watercolor Tattoo
A watercolor rose back design can create a vibrant, artistic piece of body art. The design mimics the free-flowing, blended colors of watercolor painting, making the rose look like a beautiful splash of colors on your back. This style is perfect for those who wish to express their creativity and appreciation for art.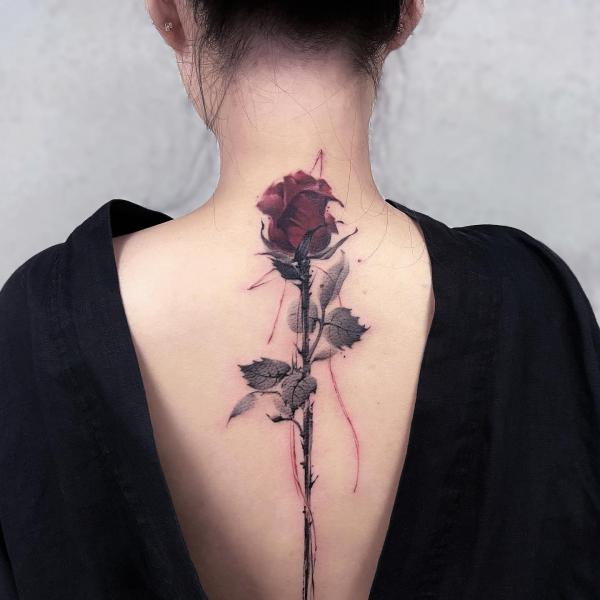 A geometric rose back tattoo can create an intriguing and modern piece of body art. The design uses geometric shapes and lines to form the image of a rose. This fusion of natural and geometric elements can create a unique, abstract representation of a rose, making it a great choice for those who prefer contemporary tattoo styles.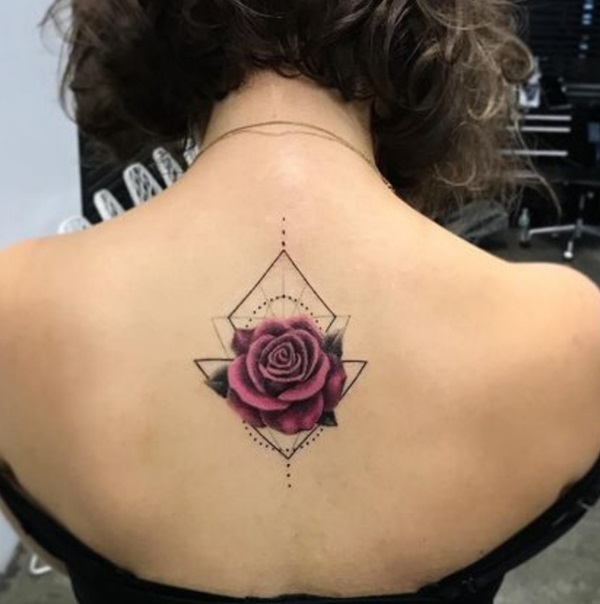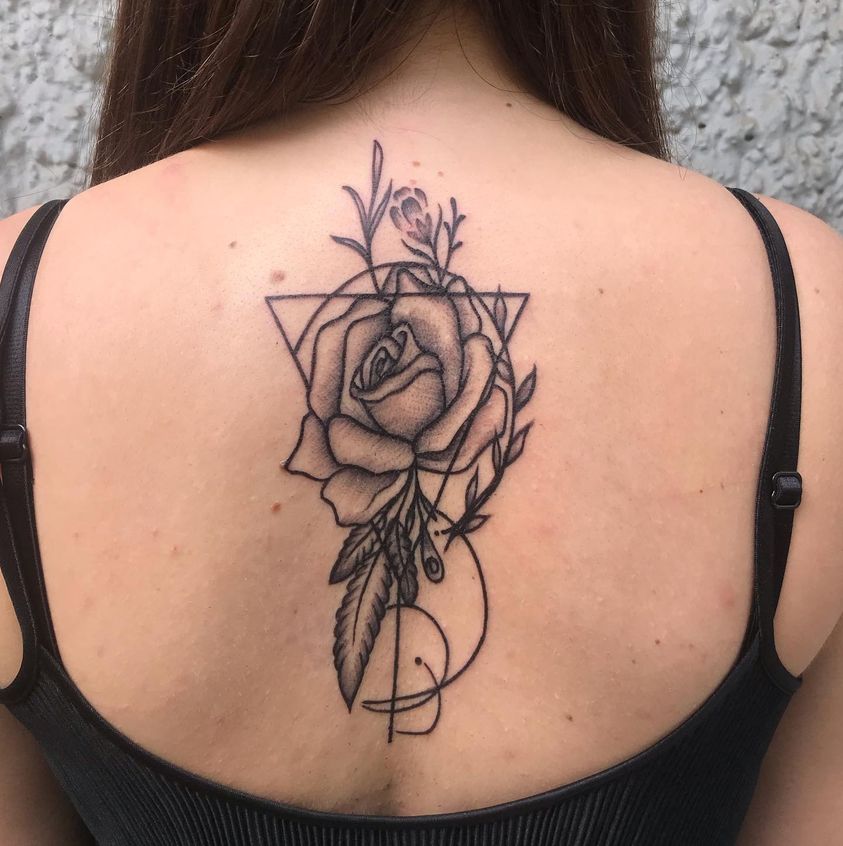 Red rose with bracelet back tattoo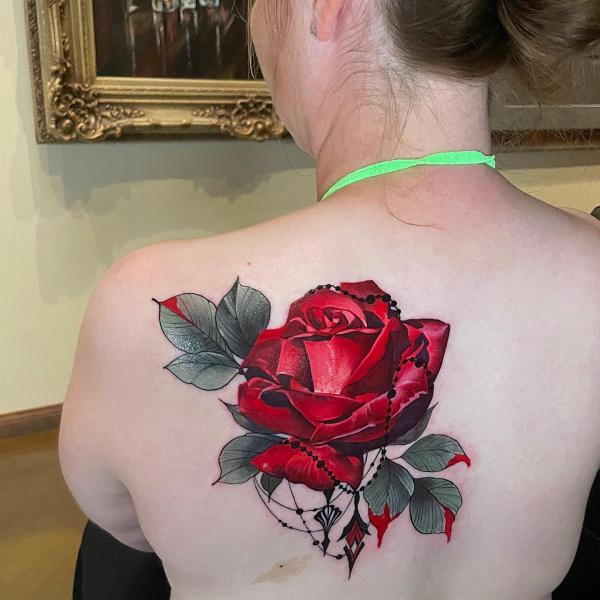 The rose, detailed and vibrant, forms a stunning visual contrast against the skin. This design can be tailored to your liking by incorporating different styles of bracelets – think strings of pearls, a chain-link bracelet, or a charm bracelet. This design marries elegance with a dash of rebellious spirit, making it a unique choice for a back tattoo.
Rose and arrow tattoo with quote back tattoo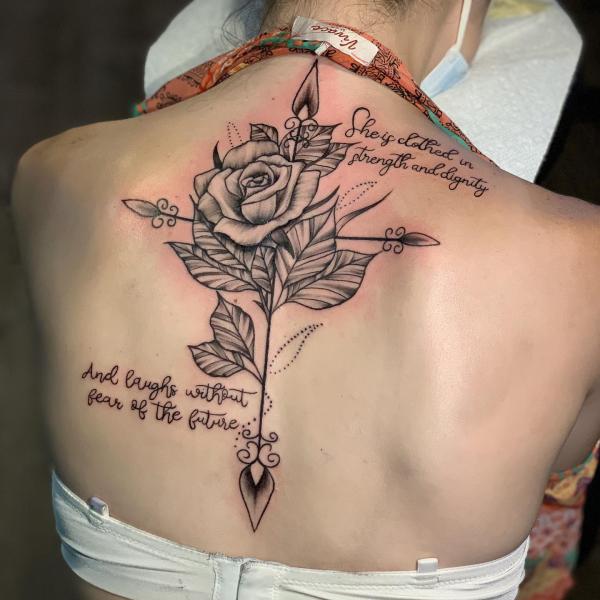 An arrow can add a dynamic touch to a red rose back design, creating a design that's both visually appealing and symbolic. The arrow could appear as if it's piercing the rose, or it could be depicted as part of a bow and arrow set, with the rose serving as the bow. Add a meaningful quote to this design, and you've got a tattoo that's not only visually striking but also deeply personal.
Rose and leopard shoulder blade tattoo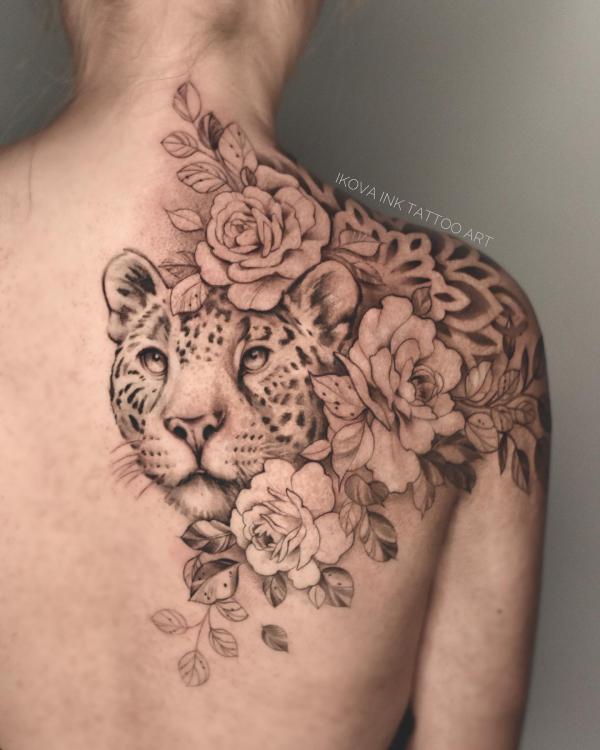 This design could depict a fierce leopard prowling through a field of roses or a leopard with a rose clutched in its jaws. The contrast between the predatory leopard and the delicate rose creates a visually compelling piece of body art that's sure to turn heads.
Rose and wolf tattoo on one side of back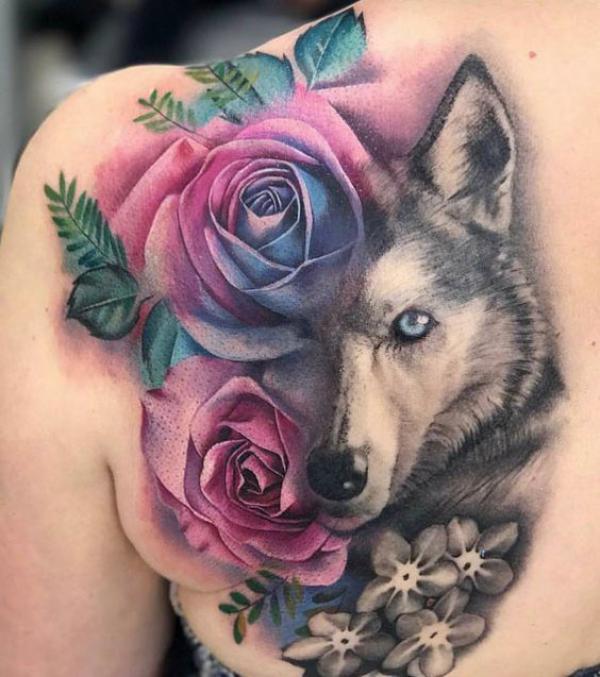 A rose and wolf design on one side of the back can make a powerful statement. The wolf, a symbol of strength and loyalty, pairs perfectly with the passionate red rose. This design can show the wolf encircled by a wreath of roses or a wolf with a rose held gently in its mouth. This design is perfect for those who identify with the wolf's spirit and the beauty of the rose.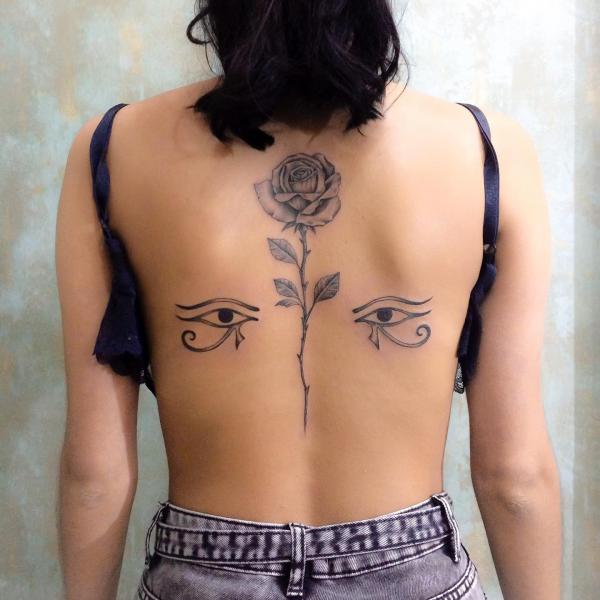 For those interested in ancient Egyptian mythology, a design featuring a red rose with the Eye of Ra and the Eye of Horus can be a fascinating choice. The Eyes, known as ancient symbols of protection, can be intertwined with the rose, creating a design that's both visually captivating and steeped in symbolism.
Roses heart back tattoo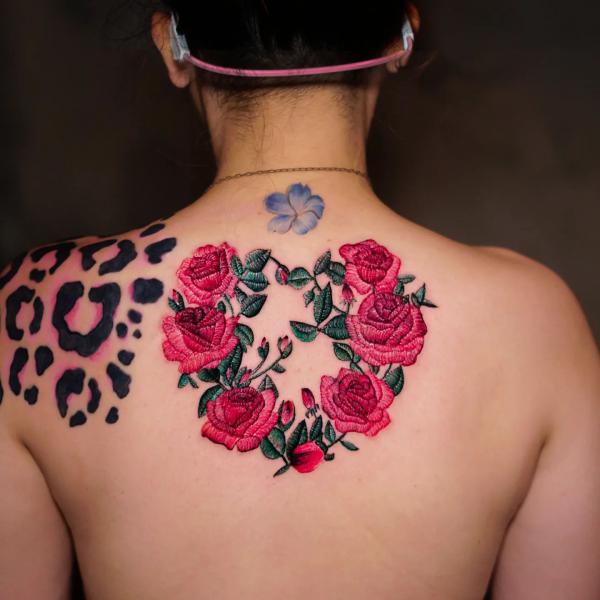 For a truly romantic and bold statement, a roses heart back design can be a great choice. This design features a heart formed by a cluster of red roses. The roses can be arranged in a way that the heart shape is visible, creating a unique and visually stunning piece of body art.
Single pink rose back tattoo with name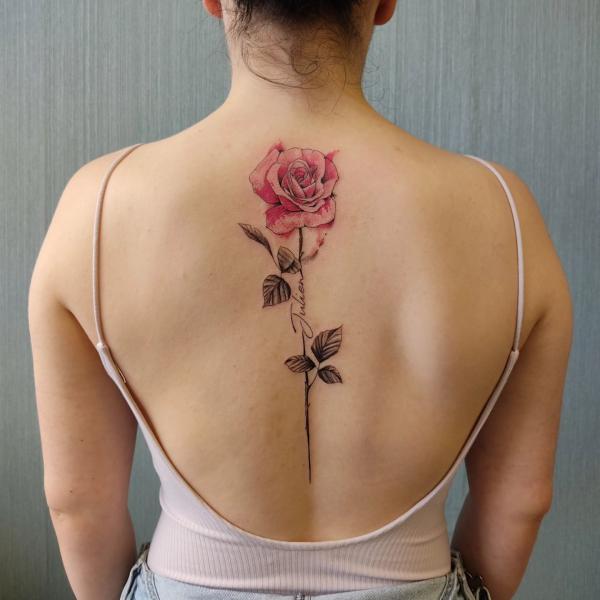 A single pink rose design on the back, accompanied by a name, can make a beautiful and meaningful design. The design can feature a realistically rendered pink rose, with the name flowing along the stem or etched below the bloom. This design is perfect for honoring a loved one or commemorating a special relationship.
Two roses with stem on the side of back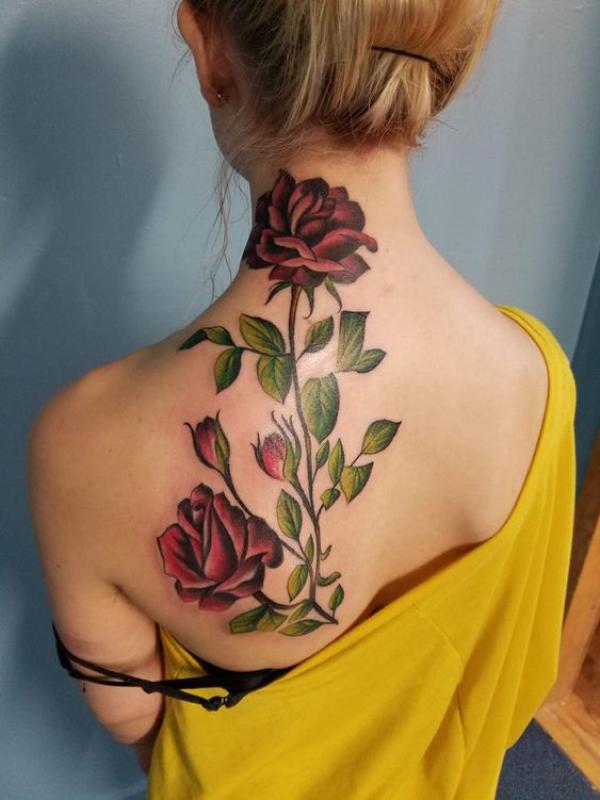 Two red roses with their stems intertwined can make a captivating side back design. This design could represent two individuals bound together, making it a beautiful symbol of a deep connection. Whether it's an ode to friendship, love, or family ties, this design can be a beautiful way to express your bond.
Vibrant red shoulder blade tattoo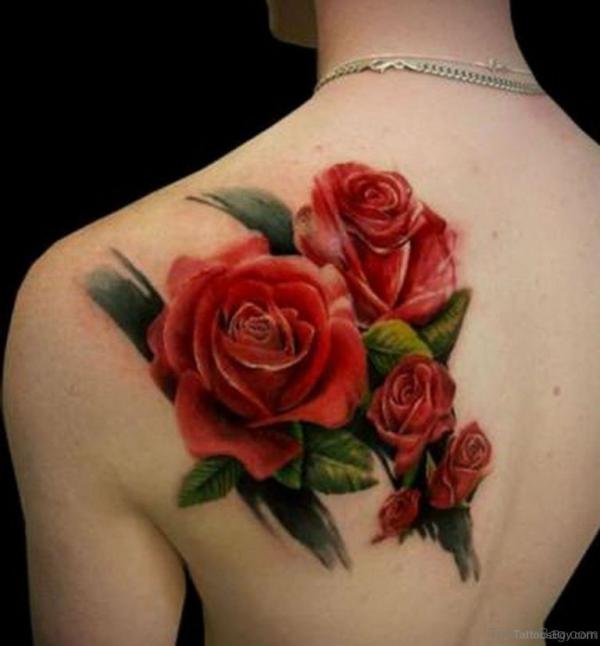 A single, vibrant red rose on the shoulder blade can make a bold, yet elegant statement. Imagine a meticulously crafted rose, its petals unfolding in a burst of color, nestled on your shoulder blade. This design can be tailored to your preference – it could be a fully bloomed rose or a rosebud just beginning to open. Either way, it's a powerful expression of individuality and beauty.
A stem of red rose tattoo with thorns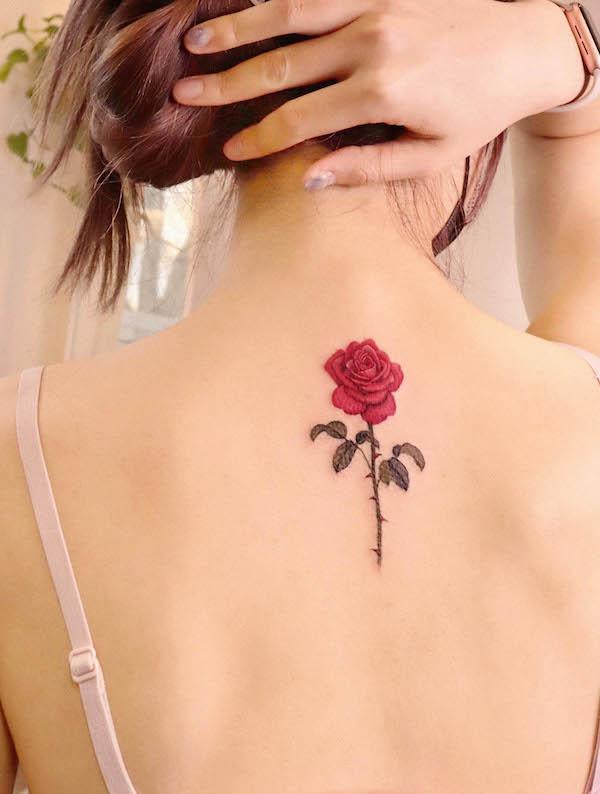 This design extends the length of the back, with the rose bloom at the top and the stem with thorns trailing down. The thorns add a touch of edginess to the overall design, creating a beautiful contrast against the soft petals of the rose.
Alice In Wonderland tattoo with white rabbit caterpillar and red roses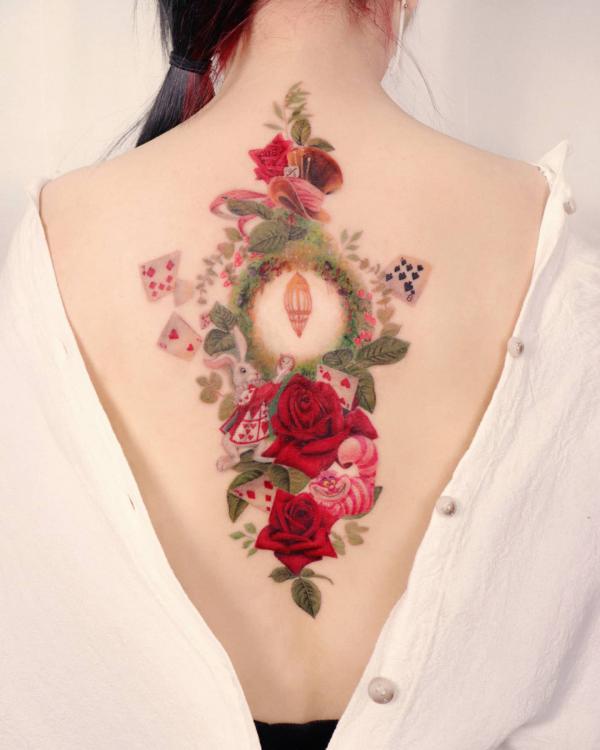 Fans of Lewis Carroll's "Alice in Wonderland" will love this whimsical design idea. This tattoo could feature characters from the beloved story, such as the White Rabbit and the Caterpillar, surrounded by lush red roses. The vivid imagery and playful theme make this tattoo a unique and enchanting choice.
Golden rose tattoo on upper right of back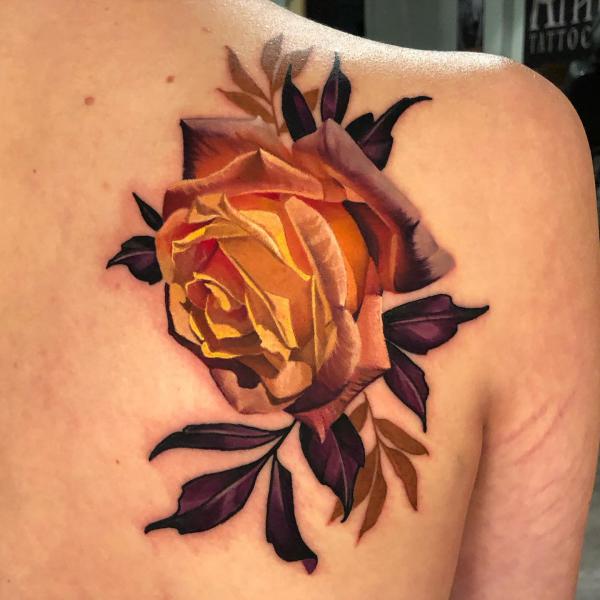 For a glamorous twist, consider a golden rose design on the upper right of your back. The golden rose, rendered with warm tones and intricate detail, can create a stunning piece of body art. This design takes the classic rose tattoo and elevates it to a new level of sophistication and allure.
Greyscale rose and daisy with fern tattoo on upper back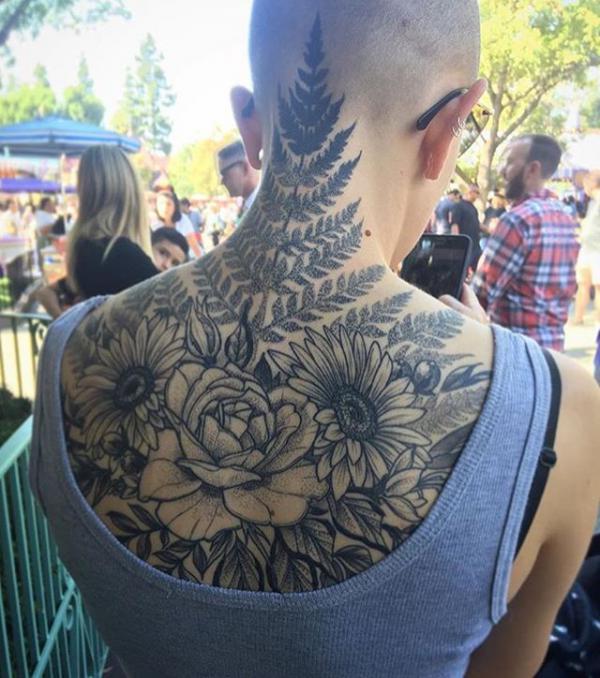 A greyscale design featuring a rose, daisy, and fern can create an elegant and visually intriguing piece of body art. This design uses shades of black, white, and grey to bring the flowers and fern to life. The mix of different flowers adds variety and depth to the design, making it a unique choice for a back tattoo.
Pink and grey rose with stem back tattoo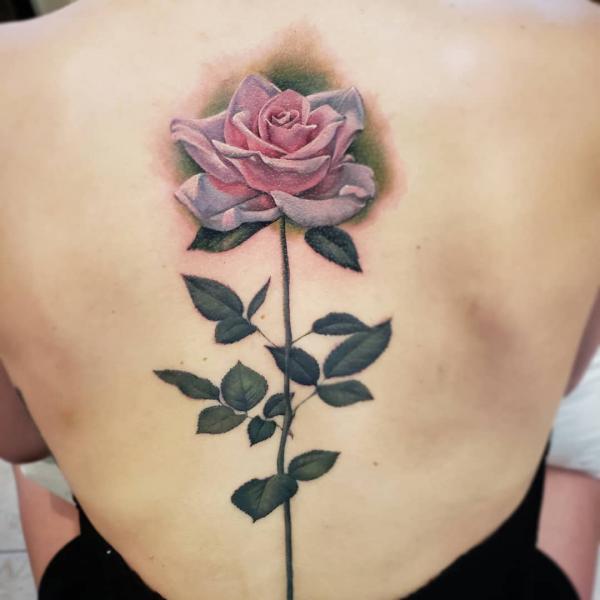 A pink and grey rose with stem back design can create a romantic and soft look. The design uses shades of pink for the rose and grey for the stem and leaves, creating a beautiful contrast. This gentle color palette can produce a tattoo that's both visually appealing and filled with tender sentiments.
Red rose and black stem back tattoo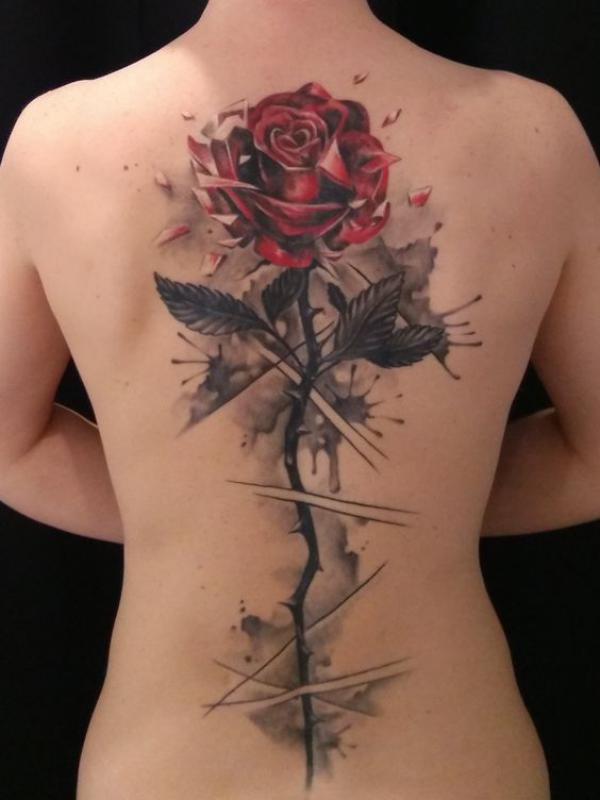 A red rose with a black stem can make a visually striking statement on your back. The bold red of the rose contrasts dramatically with the black stem, creating an image that's both visually captivating and symbolic. This design can be a powerful expression of resilience, beauty, and the complexity of life.
Blue Rose Back Tattoos
A blue rose, while not found in nature, is a stunning and unique choice for a tattoo. Picture a vivid blue rose etched on your back, a play of color and contrast that's sure to turn heads. Whether you prefer a large, detailed blue rose or a smaller, more delicate design, this can be a remarkable and distinctive piece of body art.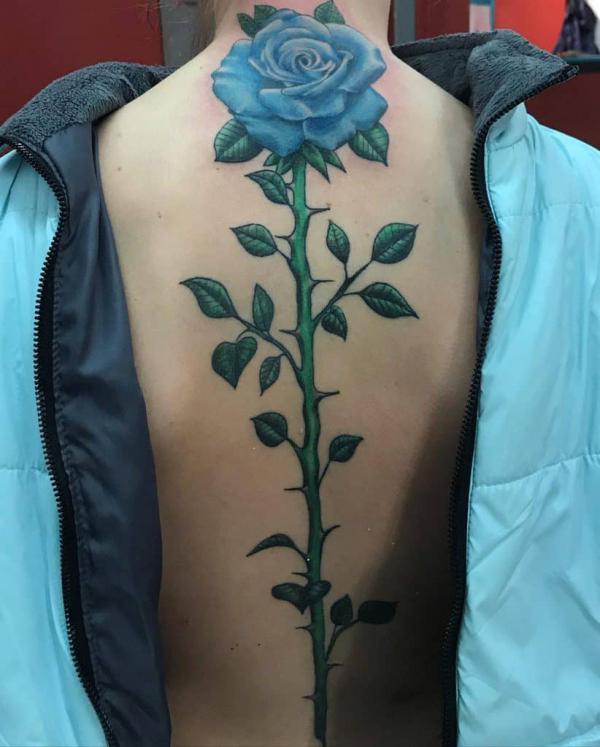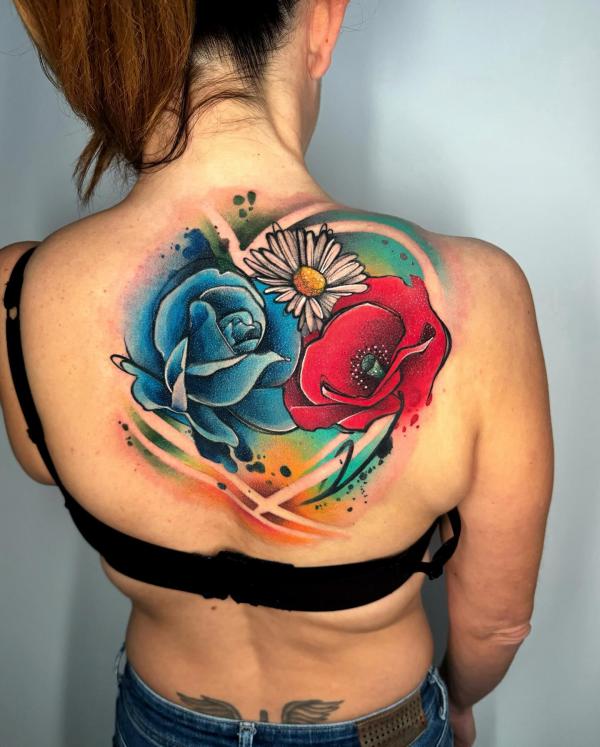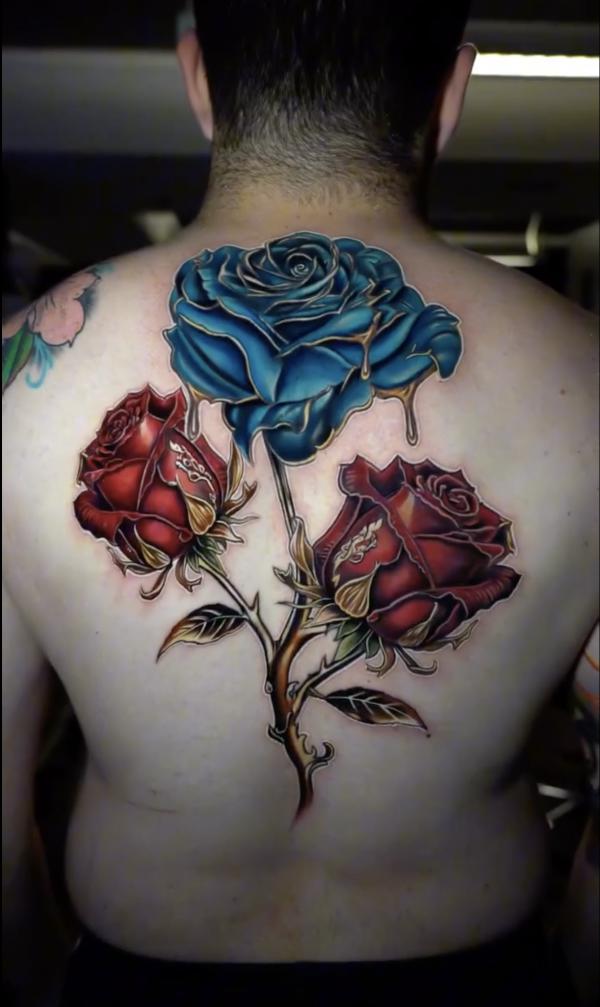 Rose and Dragon Back Tattoos
Combining a red rose with a dragon can create an impressive and visually captivating back tattoo. Imagine a fierce dragon entwined in a bed of blooming red roses. This design can be customized to your liking, from a fire-breathing dragon surrounded by roses to a more serene scene of a dragon nestled in a rose garden.
Rose and dragon tattoo back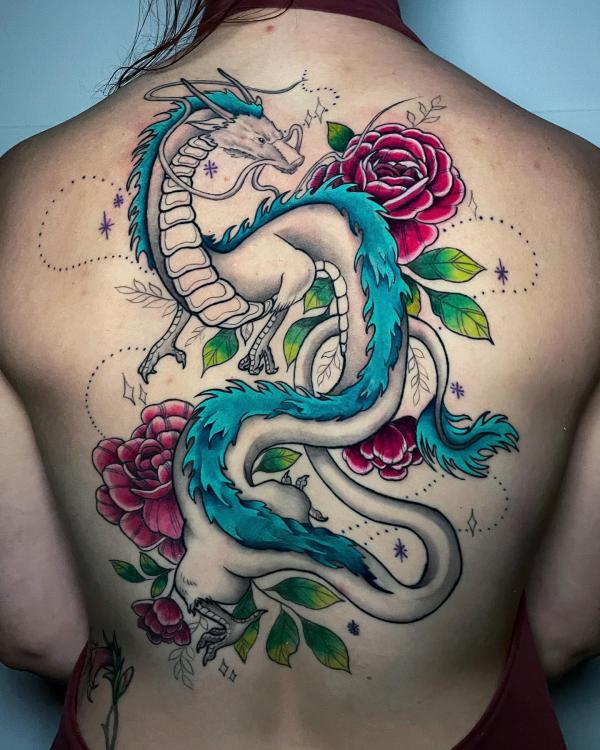 Red rose and dragon tattoo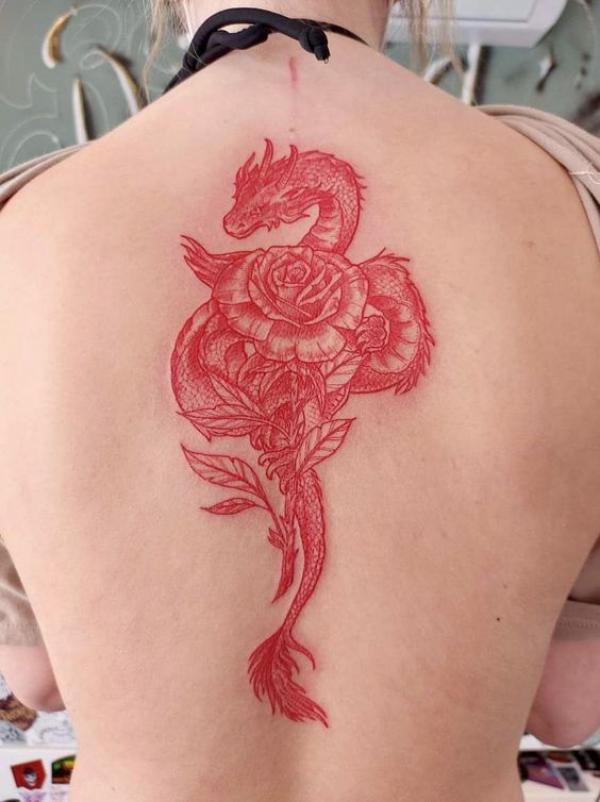 Rose Back Full Back Tattoos
For those looking to make a bold statement, a full back design featuring red roses can be a striking choice. This design can cover your entire back with a lush, vibrant garden of roses. The size of this tattoo allows for incredible detail and complexity, making it a true masterpiece of body art.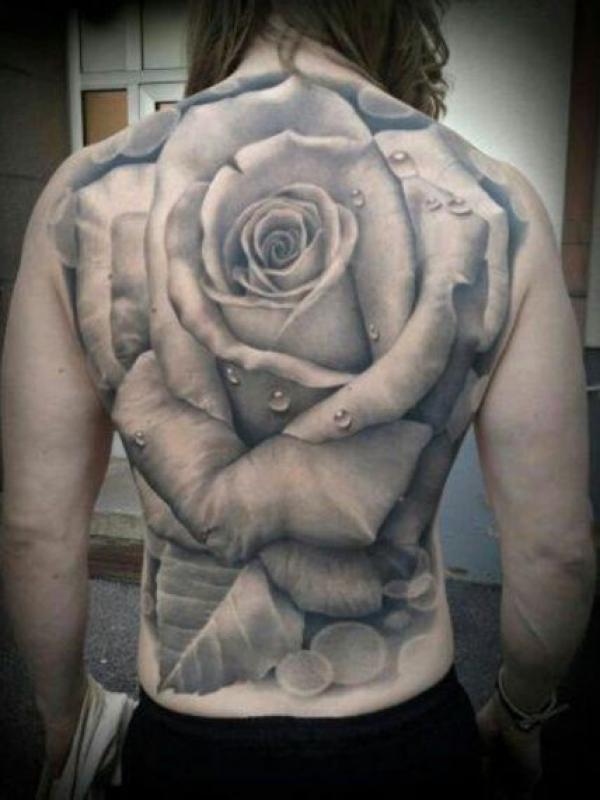 Realistic lion face and clock tattoo with dove and rose full back tattoo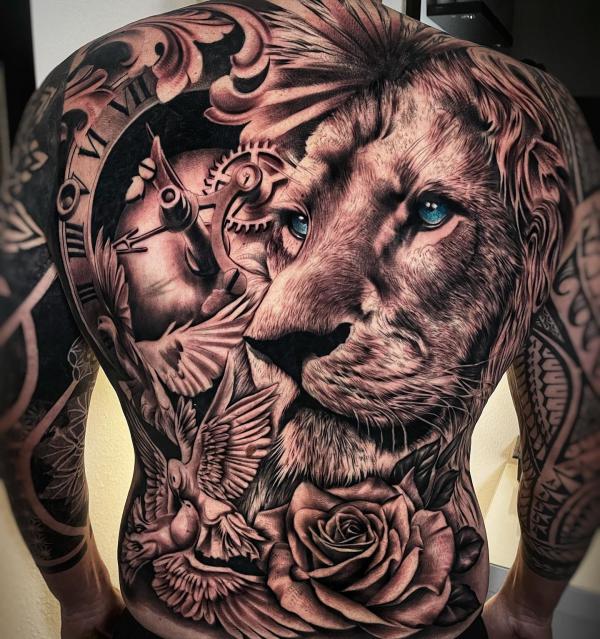 Black and white traditional tattoo rose heart dagger kids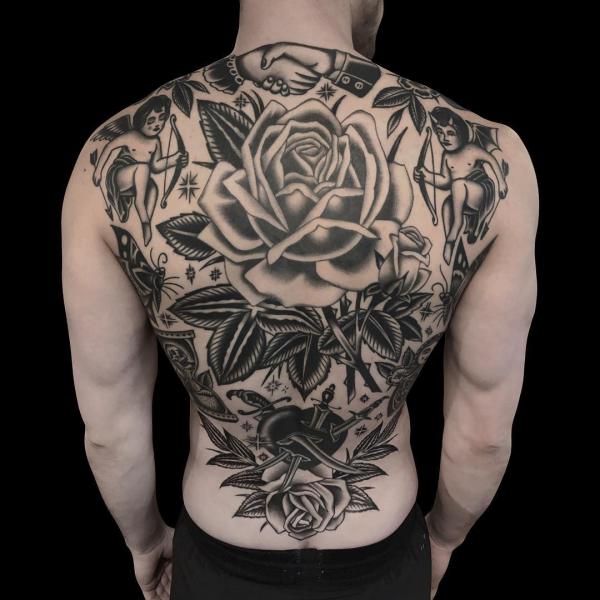 Greyscale pistol and rose on wings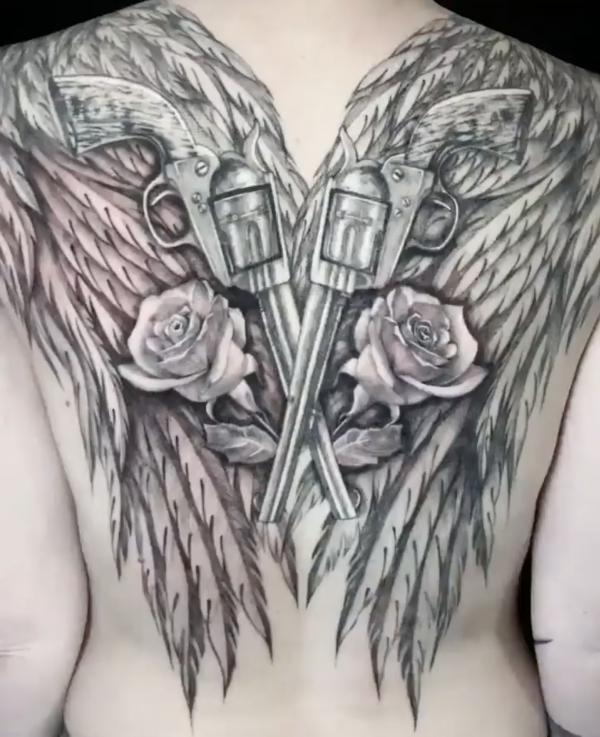 Money rose tattoo full back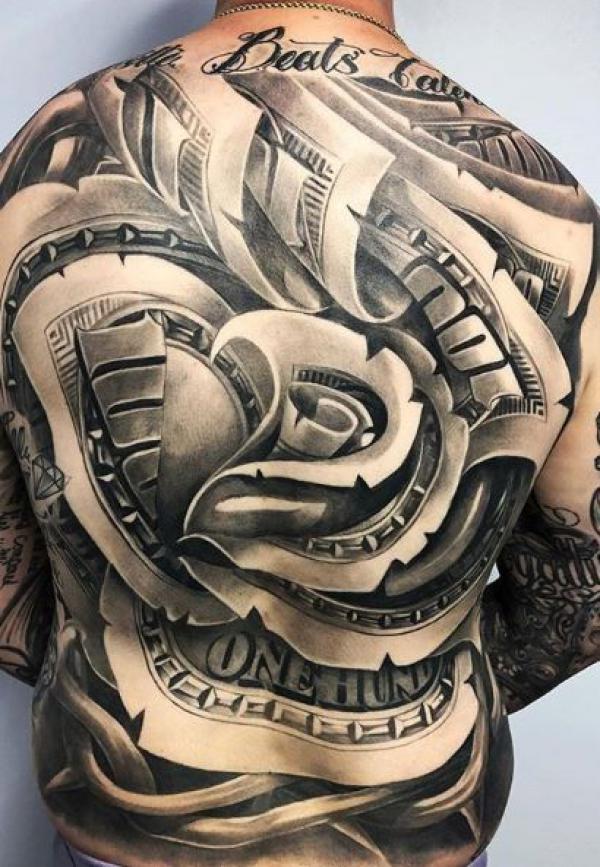 Rose and Snake Back
A red rose and snake back tattoo can create a compelling piece of body art. This design could show a snake slithering among the roses or a snake with a rose clutched in its jaws. The contrast between the softness of the rose and the sinuous form of the snake makes for a visually stunning and unique design.
Fine line rose and snake tattoo on the back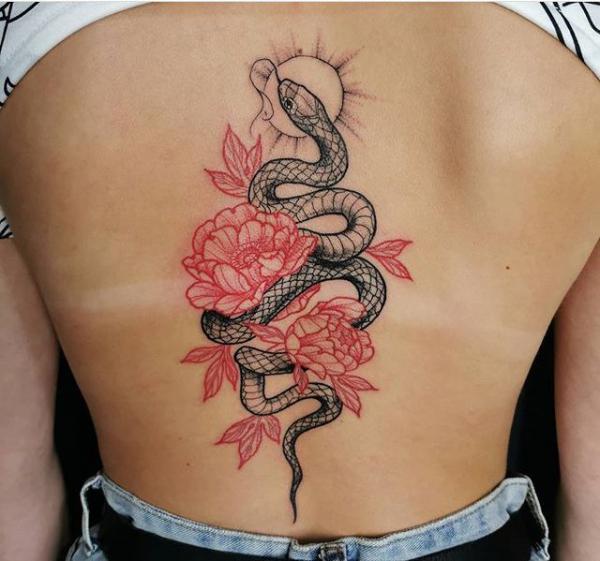 Red rose and snake tattoo on back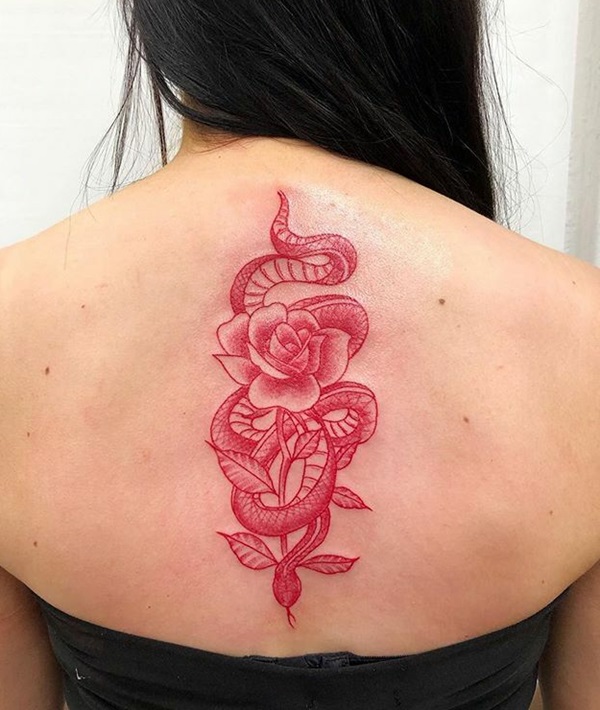 Black and grey rose and snake tattoo on back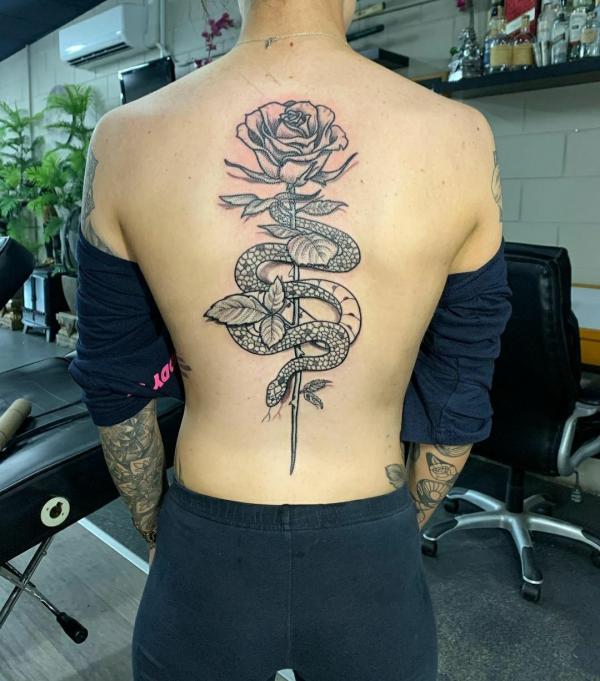 Dark snake and rose back tattoo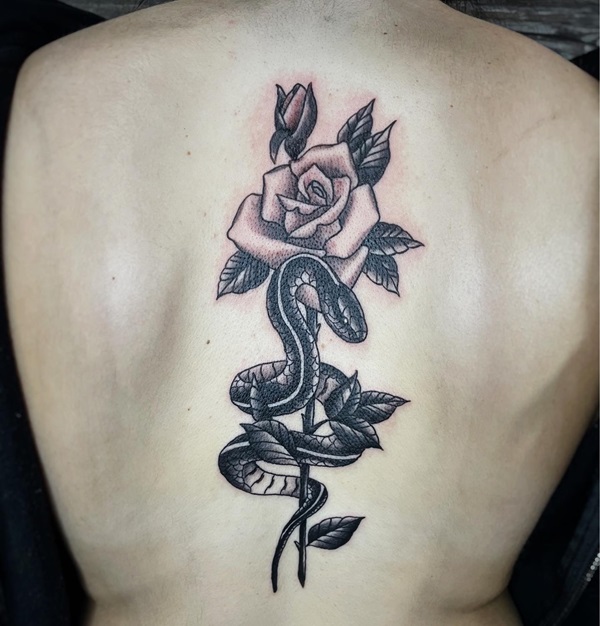 Rose Back Spine Tattoos
A red rose spine tattoo can be a beautiful and delicate choice for a back tattoo. This design can feature a single rose or a series of roses trailing down the spine. The linear nature of this design works in harmony with the curves of the back, creating a visually pleasing and balanced piece of body art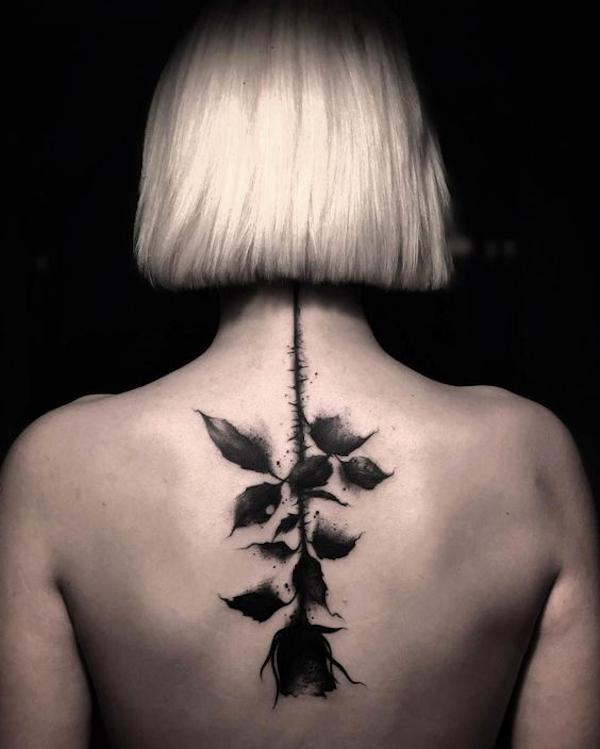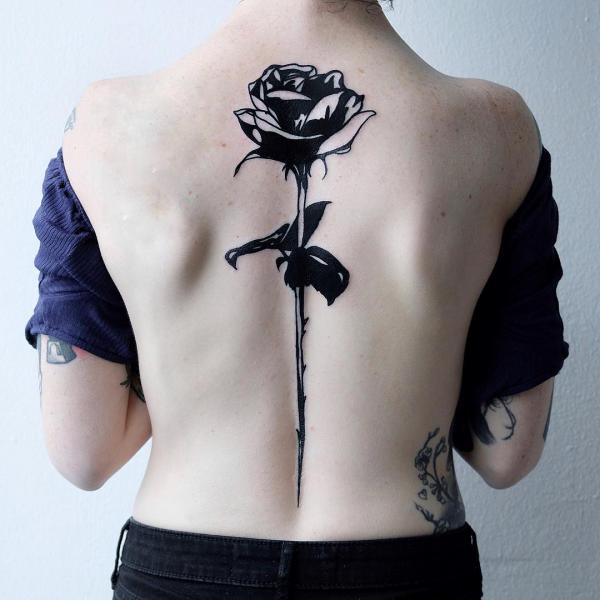 Rose line work tattoo with words along spine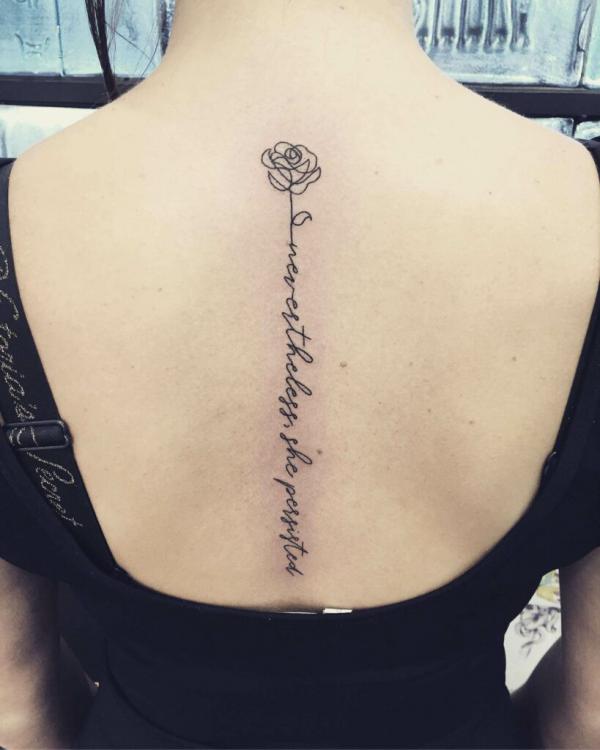 Black ink rose and eye tattoo on back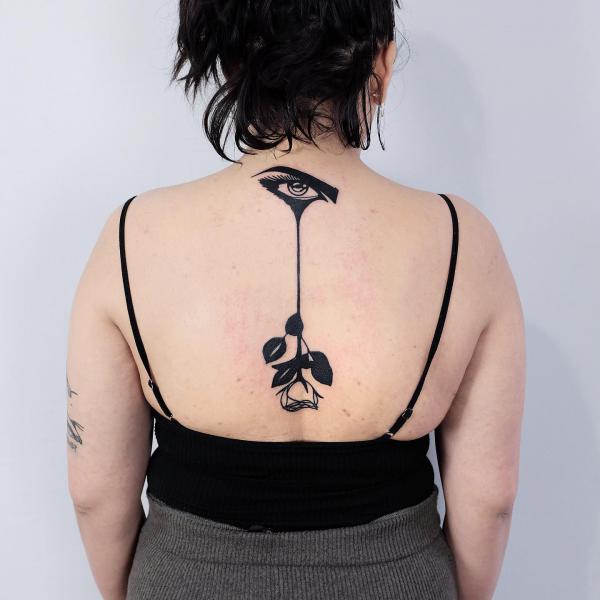 Conclusion: The Art of Choice
Choosing a rose back tattoo is a deeply personal decision that should be guided by your individual tastes, preferences, and what you want your tattoo to symbolize. From the classic rose to a rose combined with other elements, there's a myriad of designs to choose from.
Whether you prefer the timeless appeal of a classic rose, the whimsical charm of a rose and butterfly, the philosophical depth of a rose and skull, or the modern twist of a geometric rose, there's a rose back tattoo design that's perfect for you.
Remember, your tattoo is a personal expression of your individuality, so don't be afraid to customize these designs to reflect your unique style and story. So take your time, explore your options, and when you're ready, let your chosen rose tattoo bloom beautifully on your back.