Tattoos are a language, a deeply personal form of expression that speaks volumes about the wearer. They are a canvas of stories, beliefs, and passions, inked permanently on the skin. One of the most popular and enduring designs is the rose hand tattoo. It's a bold choice and represents an array of emotions and messages. But what does a rose tattoo on the hand symbolize? Let's delve into the layered meanings behind this captivating tattoo design and why understanding these meanings is so important.
Historical Significance of Rose Tattoos
Rose tattoos have roots in various cultures, revealing a fascinating history. In ancient Rome, roses were associated with Aphrodite, the goddess of love, symbolizing beauty and passion. They were a sign of respect for the divine. Meanwhile, in Christian symbolism, the rose represented the Virgin Mary's purity and the blood of martyrs.
In the world of sailors and pirates, a rose tattoo represented a beloved left behind, a reminder of love and life during their perilous voyages. And in the East, roses were seen as emblems of balance, promise, and new beginnings. Thus, the historical symbolism of rose tattoos is as diverse as the cultures they originate from.
The Rose as a Symbol
A rose is not just a rose when it comes to tattoos. It's a symbol loaded with meaning, and this meaning can shift dramatically with color and number.
A red rose is a universal symbol of love and passion, while a white rose often signifies purity and innocence. A yellow rose might indicate friendship and joy, and a black rose often symbolizes death, loss, or mourning. The pink rose is for grace and admiration, and the orange rose represents enthusiasm and fascination.
The number of roses also plays a role in the interpretation. One rose can symbolize love at first sight, while two roses might represent mutual love and respect. A bouquet of roses is typically used to denote gratitude or profound love and respect.
Hand Tattoos: A Bold Statement
There's something uniquely daring about hand tattoos. The hand, always visible and always in motion, is a perfect canvas for a statement piece. A rose hand tattoo is not just a design; it's a declaration, a way to wear one's heart, quite literally, on one's sleeve.
Hand tattoos also come with their societal and cultural perceptions. In some circles, they're seen as rebellious or counter-cultural. However, in today's more accepting society, they can be viewed as deeply personal, artistic expressions of the individual.
Meaning of Rose Hand Tattoos
A rose hand tattoo beautifully combines the symbolism of the rose and the audaciousness of the hand placement. It becomes a beacon of one's chosen values, a symbol of love, passion, purity, or defiance, depending on the person's interpretation. It's a visible commitment to a belief, an emotion, or a memory – a constant reminder written in permanent ink.
Styles of Rose Hand Tattoos
One of the beauties of rose hand tattoos is their versatility. There is a rose for every hand, a design for every story.
Realistic
As the name implies, this style aims for a lifelike representation. A realistic rose is a testament to the tattoo artist's skill and the wearer's love for detail.
Realistic rose tattoo with water droplets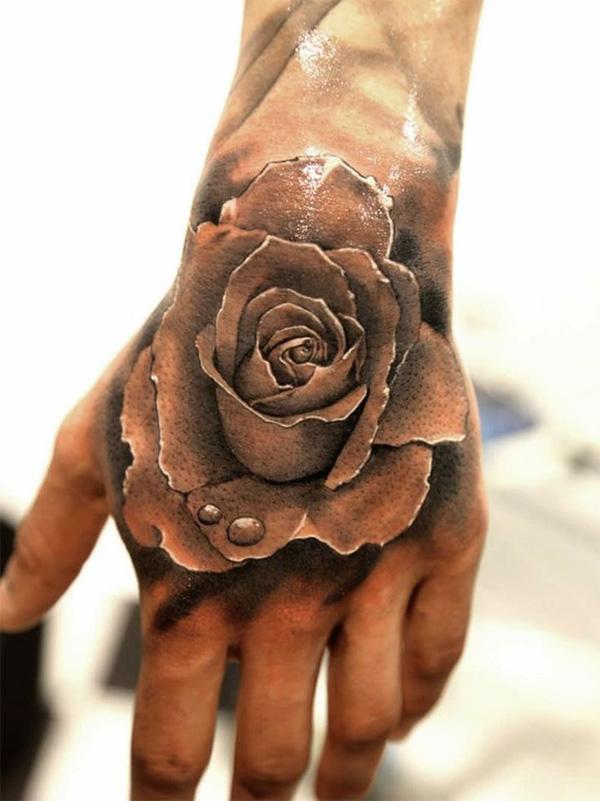 Realistic red rose hand tattoo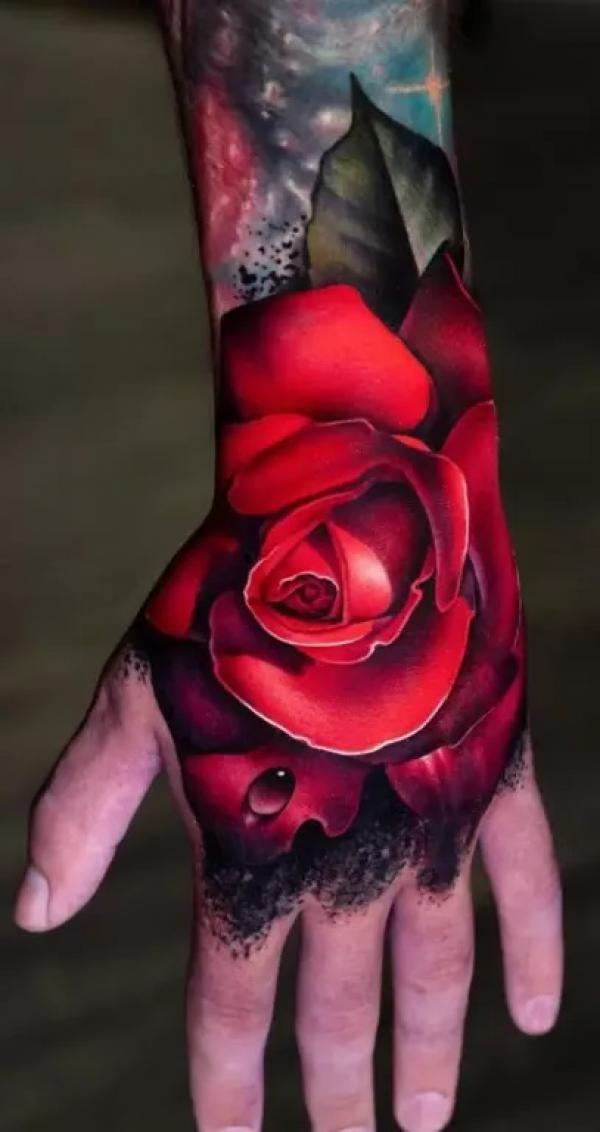 Realistic rose with water droplets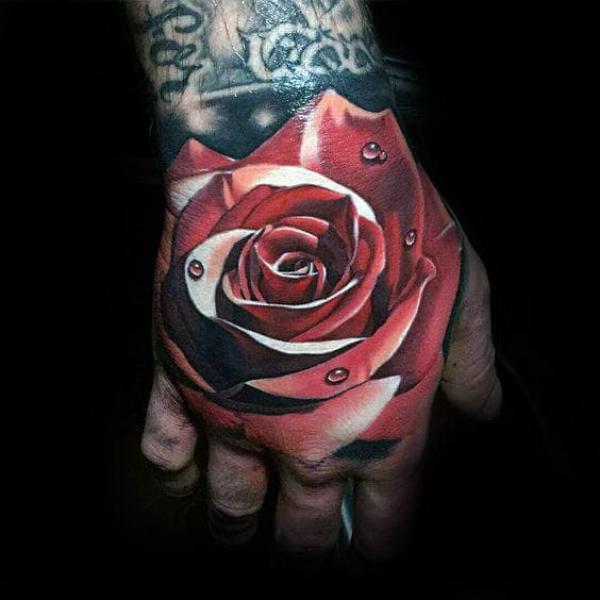 Dotwork
This style uses tiny dots to create the design, giving a shaded, three-dimensional look. A dotwork rose can look both delicate and intense.
rose hand dotwork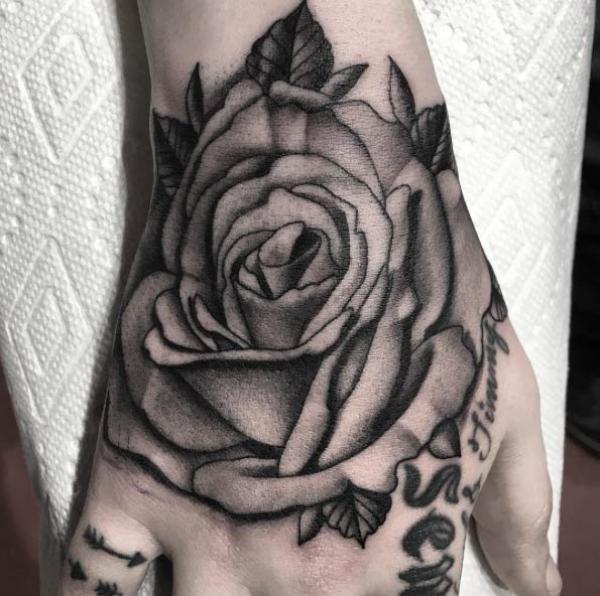 Rose dotwork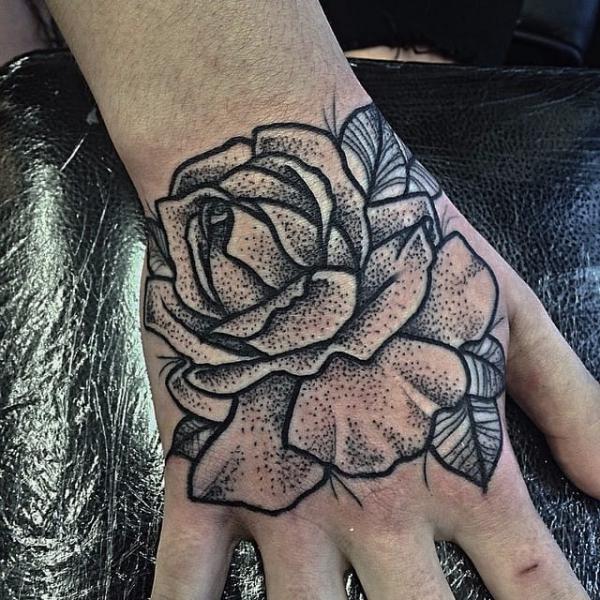 Traditional
Bold lines, clear images, and a limited color palette characterize this style. It's the classic sailor's tattoo, telling stories of love and adventure.
Rose and swallow tattoo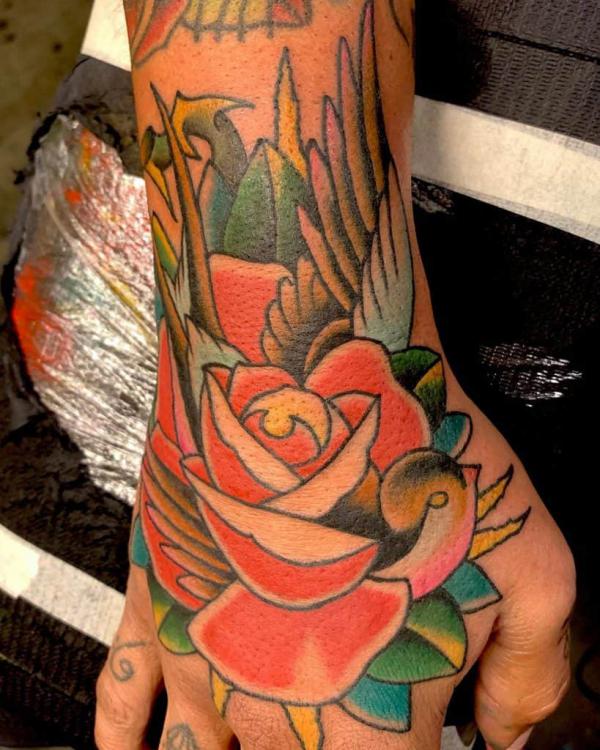 Watercolor
This style mimics the fluid, colorful look of a watercolor painting. A watercolor rose is vibrant and artistic, a bloom of color on the skin.
Watercolor rose hand tattoo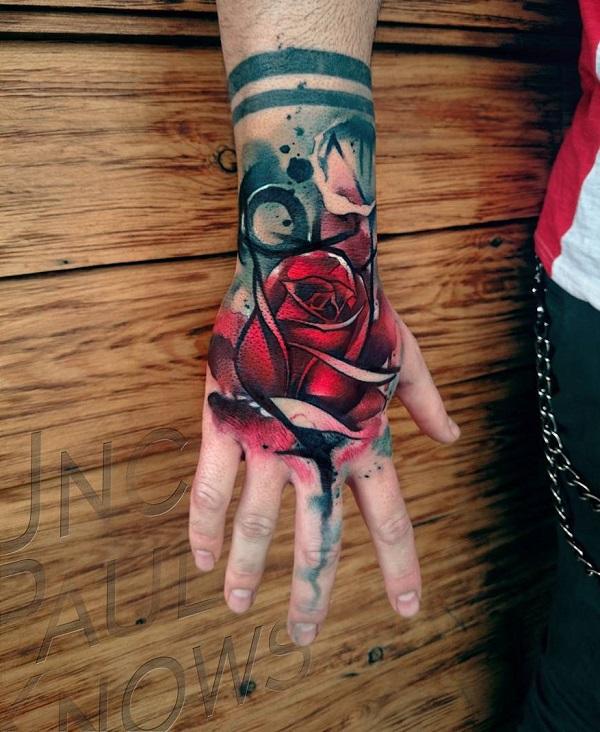 Outline
This style uses just a simple outline to depict the rose. It's minimalist, modern, and allows the symbolism to take center stage.
rose outline tattoo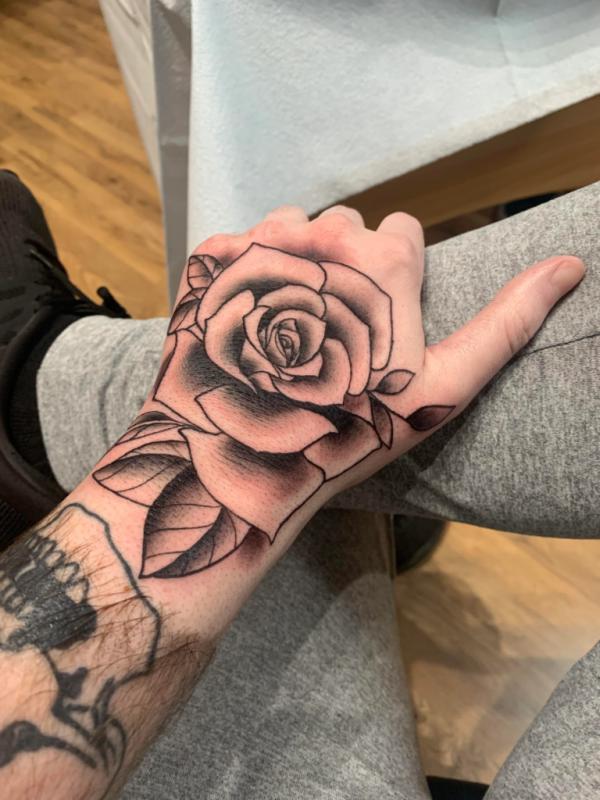 Fine line rose palm tattoo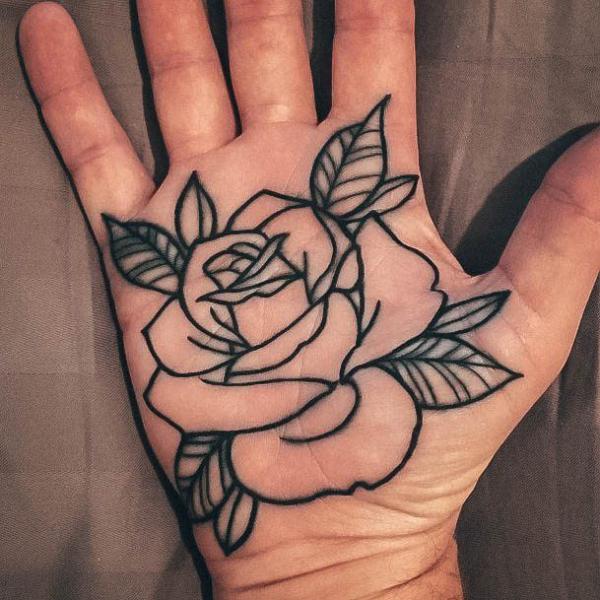 Rose Hand Tattoos in Different Colors
Rose tattoos can be as diverse as the people who wear them, particularly when color comes into play. The color can add layers of depth to the design. It also carries its own unique symbolism, allowing the wearer to make a personal statement that is as vibrant and varied as the spectrum of colors themselves.
Red Rose
The red hand rose tattoo is perhaps the most traditional of all. It's renowned for symbolizing love, passion, and romance. This vibrant hue makes a bold statement, and it's often chosen by those who wear their hearts on their sleeves — quite literally in this case.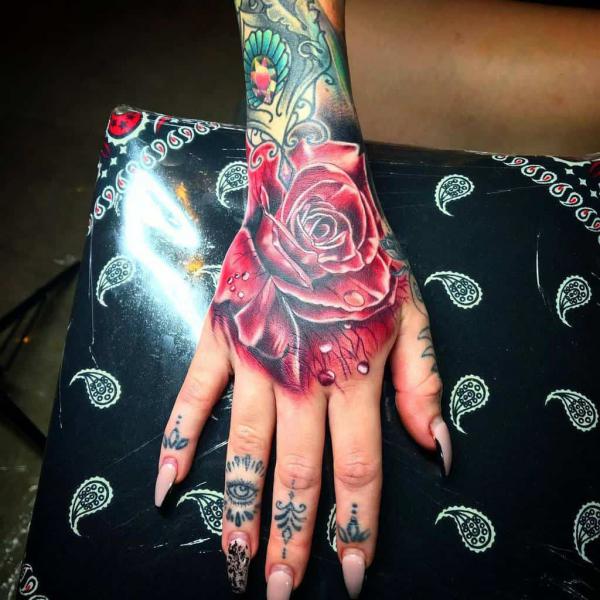 Yellow Rose
Yellow rose hand tattoos are a breath of fresh air and sunshine. They're often associated with joy, friendship, and optimism. With its sunny disposition, a yellow rose tattoo can serve as a constant reminder to look on the bright side of life.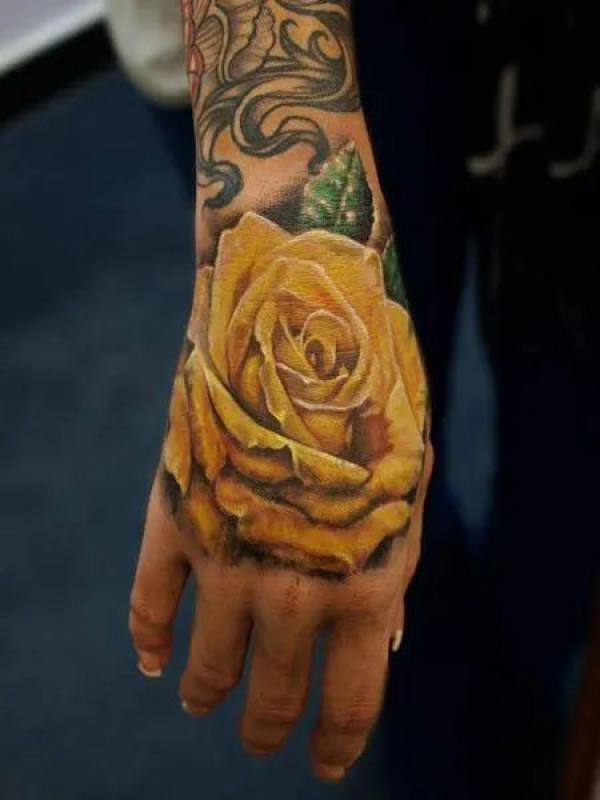 Blue Rose
Blue roses do not occur naturally, which lends an air of mystery and allure to blue rose hand tattoos. They can symbolize the impossible or the unattainable, making them an intriguing choice for dreamers, innovators, and those who dare to imagine the unimaginable.
Blue rose hand tattoo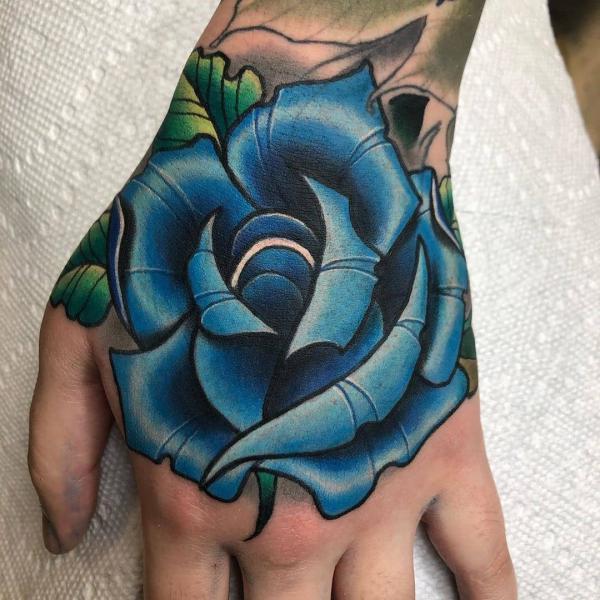 Purple Rose
Purple rose hand tattoos can be truly striking. The color purple has long been associated with royalty, luxury, and sophistication. A purple rose tattoo might be the perfect choice for anyone who wants to convey a sense of elegance and majesty.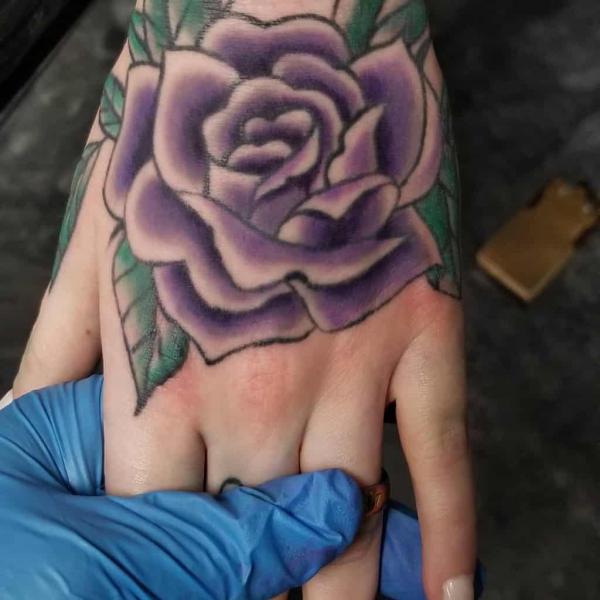 Orange Rose
Orange rose hand tattoos convey energy, enthusiasm, and a zest for life. They can represent a fiery spirit and a strong desire to live life to the fullest. This is a color that truly stands out, making an orange rose tattoo a vibrant choice.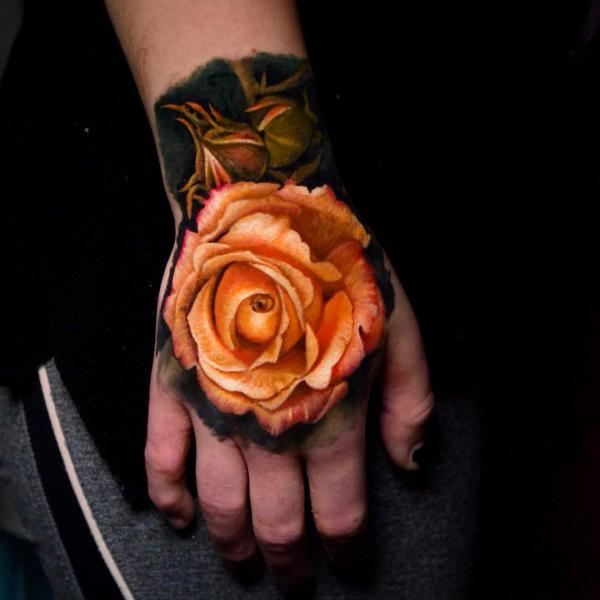 Black Rose
Black rose tattoos are a timeless classic. They often symbolize loss, death, or mourning, but can also represent rebirth or the beginning of something new. This color has a profound depth and intensity, and a black rose tattoo can be a powerful symbol of personal transformation."
Black ink rose hand tattoo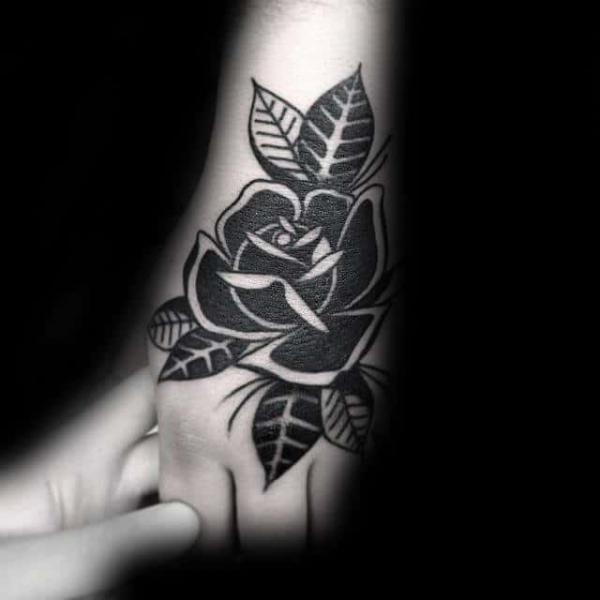 Pink Rose
Pink rose hand tattoos are delicately beautiful. They often symbolize femininity, elegance, and sweetness. The color pink can also represent love and kindness, making a pink rose tattoo a lovely choice for someone who values these qualities.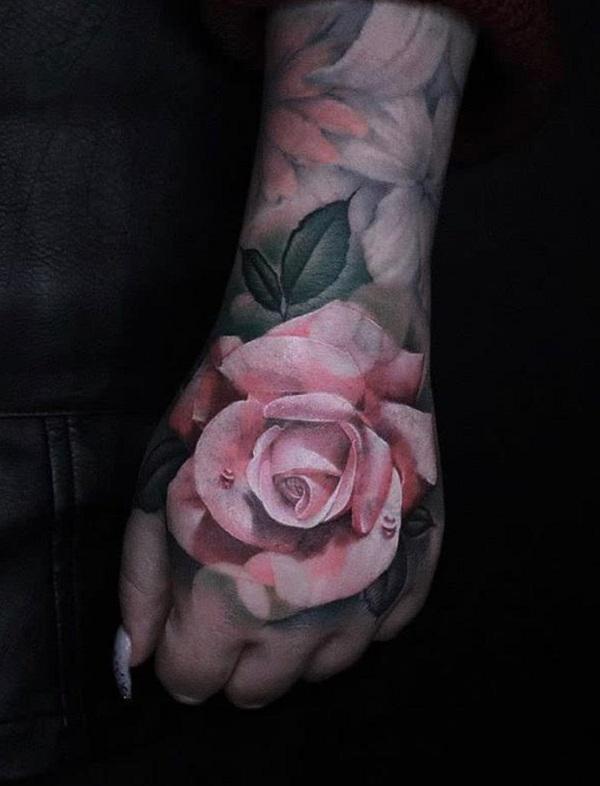 Pink rose with water droplets
Rainbow Rose
Rainbow rose tattoos are a feast for the eyes, and they carry a powerful message of inclusivity and acceptance. With their vibrant array of colors, they often symbolize LGBTQ+ pride. A rainbow rose tattoo can be a beautiful way to make a statement about love, diversity, and equality.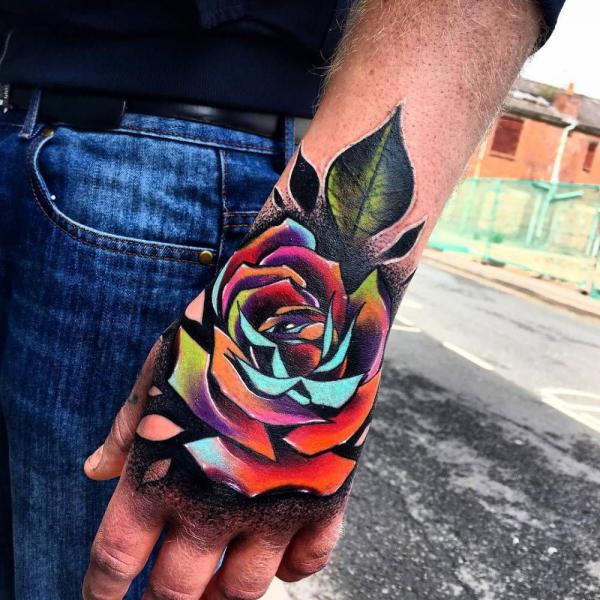 Black and Grey Rose
Black and grey rose tattoos offer a sophisticated and timeless appeal. They can be seen as a nod to the tradition of old-school tattooing while carrying a depth and realism that can be truly stunning. This style can symbolize the balance between light and dark, making it a meaningful choice for many.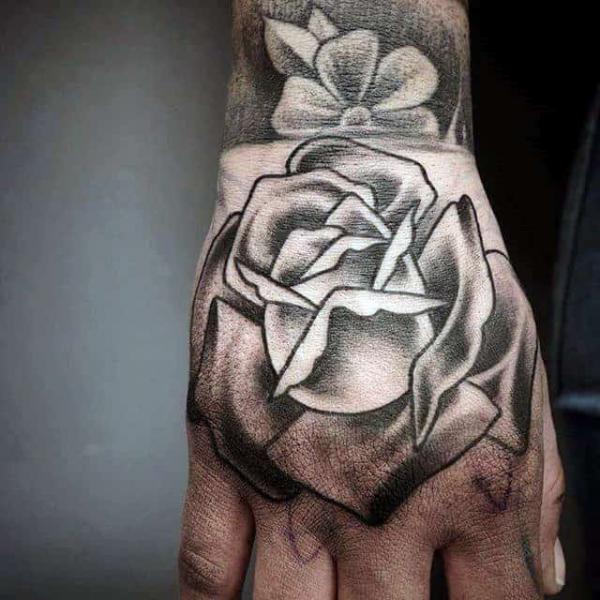 Black and grey skull with rose ink design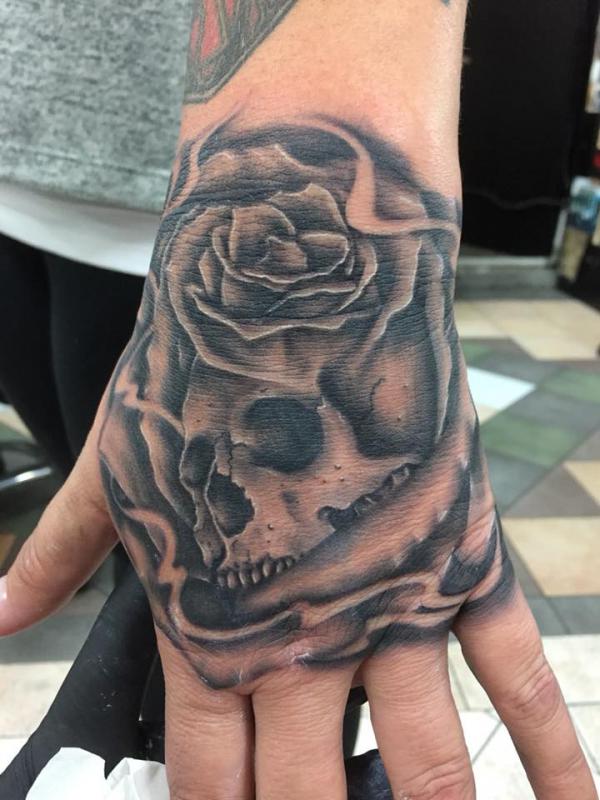 Popular Rose Hand Tattoo Designs
There are countless designs for rose hand tattoos, each with its unique symbolism.
Origami rose hand tattoo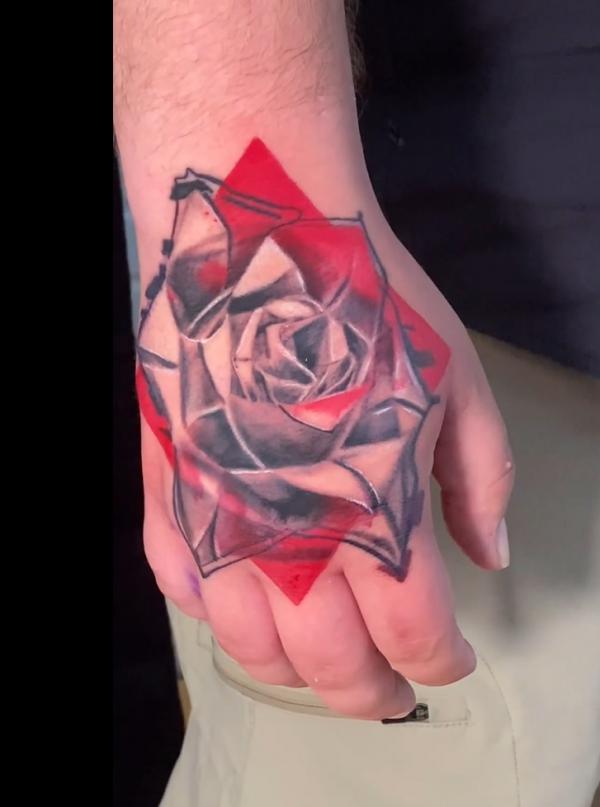 Consider an origami rose tattoo for a design that combines simplicity and elegance on the hand. The geometric lines of the origami rose contrast beautifully with the organic curves of the hand, creating a tattoo that's both aesthetically pleasing and meaningful.
Pink rose and galaxy hand tattoo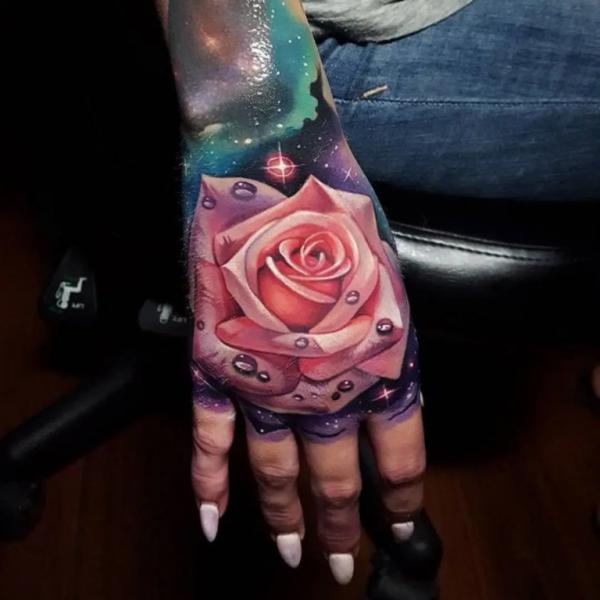 For those who wish to wear the cosmos on their hands, a pink rose and galaxy design could be a perfect idea. The vibrant hues of the rose juxtaposed with the swirling colors of a galaxy can make for a truly breathtaking piece of art that speaks of universal love and wonder.
Praying hands with rosary and cross entwined with roses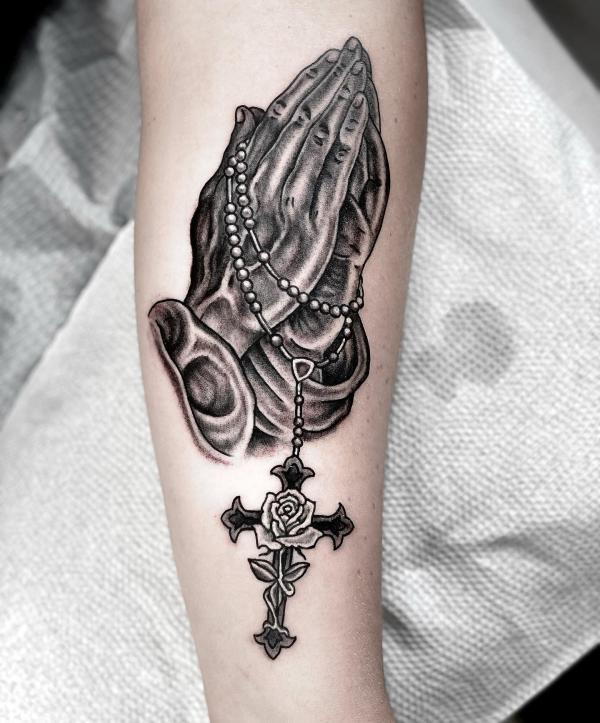 This design brings together faith, hope, and devotion. Praying hands with a rosary and roses tattoo can be a powerful symbol of spiritual belief intertwined with love and sacrifice. It's a design that tells a poignant story of prayer and resilience.
Red rose and negative space cross on spider webs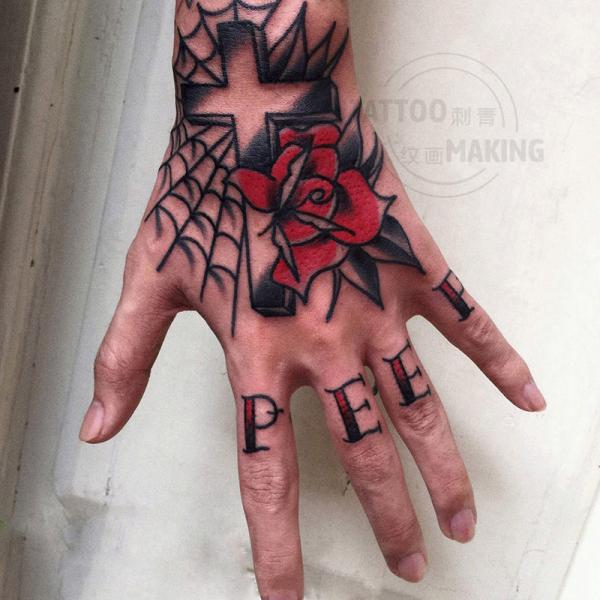 A red rose combined with a negative space cross on spider webs can make for a compelling tattoo. This design can represent a struggle for salvation or a triumph over adversity. The dramatic imagery of this tattoo is sure to turn heads.
Red rose with eye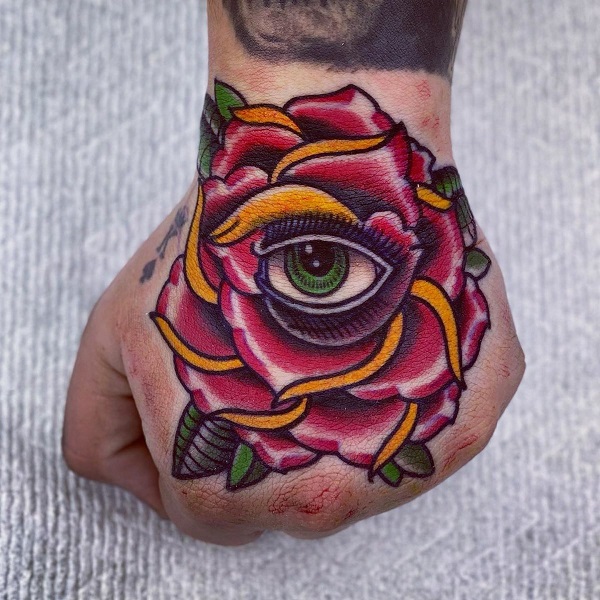 A red rose with an eye can be a fascinating symbol of perception and understanding – the eye sees all, while the rose symbolizes passion and emotion. This design can serve as a thought-provoking reminder of the need to look beyond the surface.
Rose and anchor tattoo on hand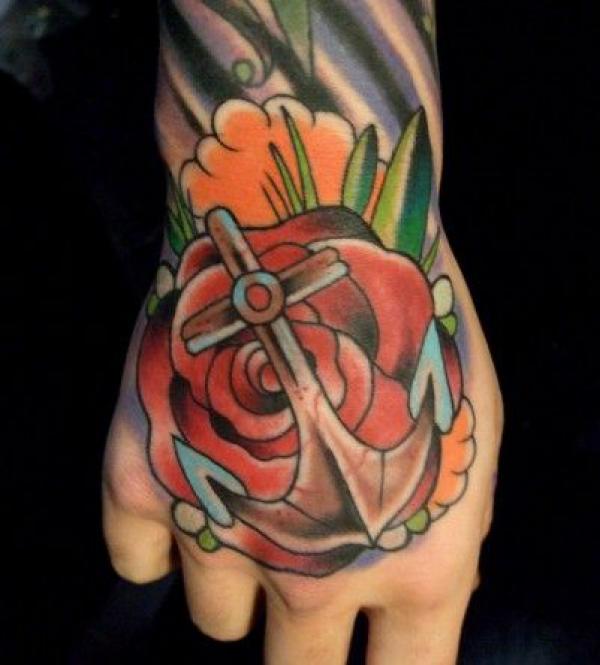 The rose and anchor tattoo is a classic design that carries a strong nautical theme on the hand. It could represent a love that gives one a sense of stability and keeps one grounded, just like an anchor. It's a timeless design with a deeply personal message.
Rose and compass tattoo on hand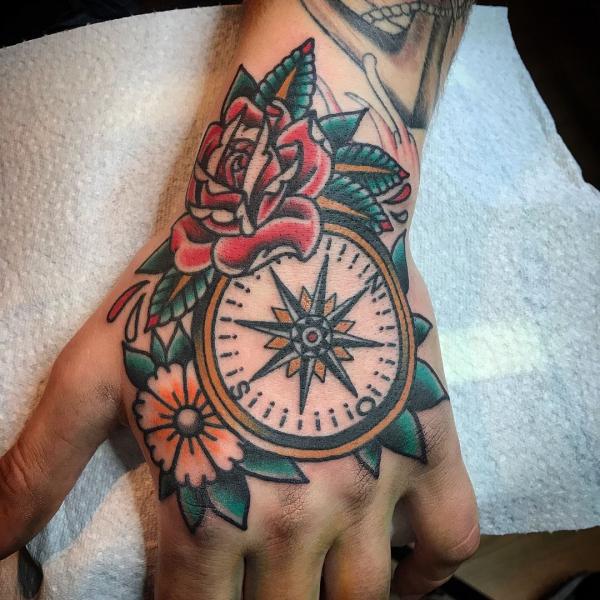 A rose and compass hand tattoo is a perfect design for the adventurers at heart. It can symbolize a journey guided by love and passion. Every time you look at your hand, you'll be reminded of the path you've chosen and the love that guides you.
Rose and diamond tattoo on hand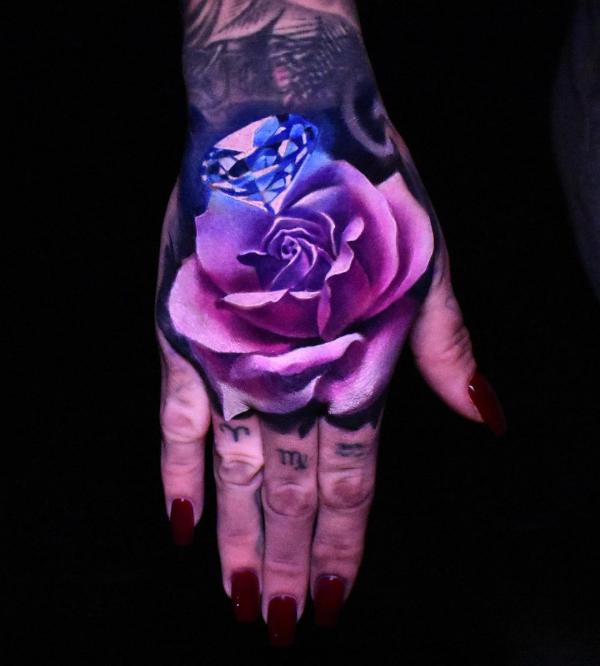 Combine the beauty of a rose with the luxury of a diamond in a hand tattoo. And you've got a design that screams sophistication and elegance. This design can symbolize a love that is as enduring and precious as a diamond.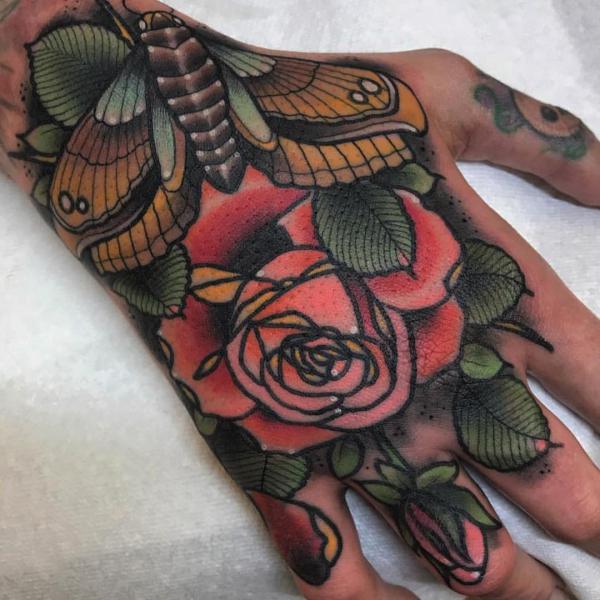 A rose and moth design can be an intriguing choice. This design could symbolize the attraction to beauty, even in the face of danger, just as a moth is drawn to the flame. It's a tattoo design that tells a captivating story.
Rose and skull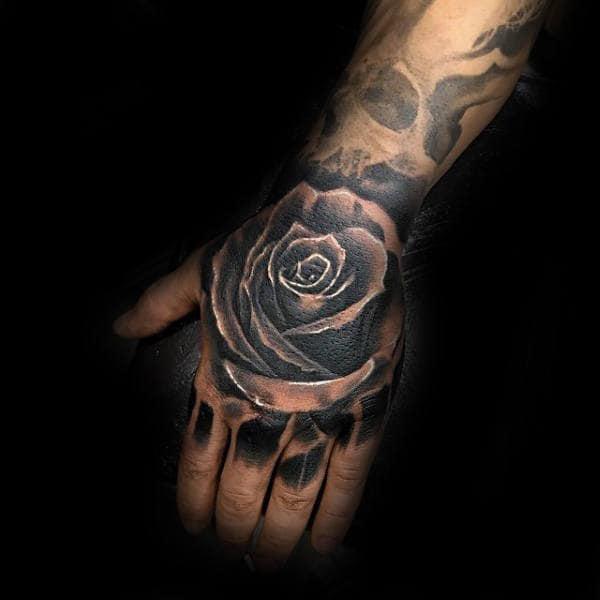 A rose and skull hand tattoo can be a potent symbol of life and death, love and loss. This design serves as a reminder of the transient nature of life and the eternal power of love.
Rose Clock tattoo on hand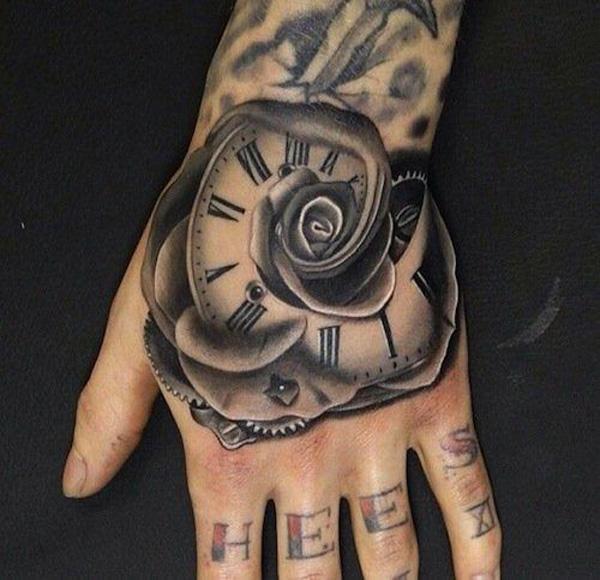 A rose clock hand tattoo combines the symbol of love with the relentless march of time. It's a design that reminds us to cherish every moment and love passionately and fully.
Rose hand tattoo with skeleton fingers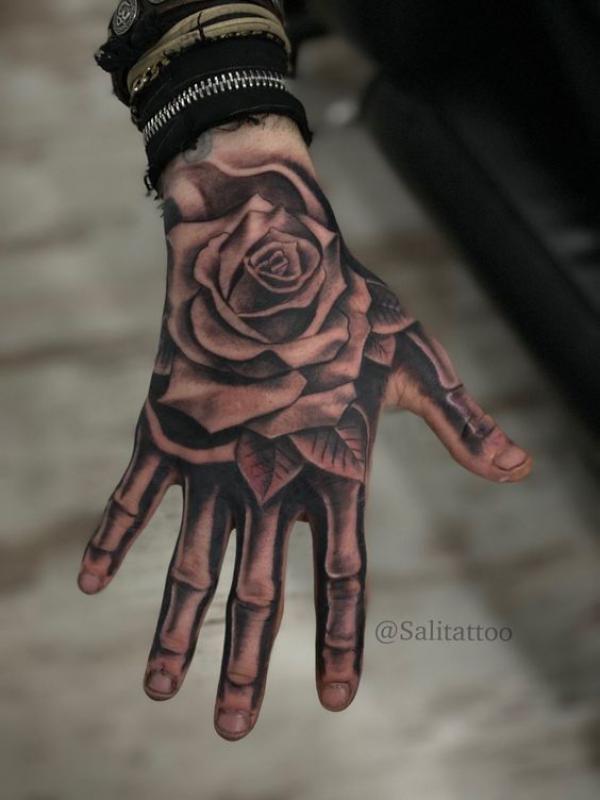 A rose hand tattoo design with skeleton fingers can offer a striking balance between beauty and mortality. The rose adds a touch of elegance and softness, while the skeleton fingers introduce an element of intrigue. This design can be a compelling way to display an appreciation for the duality of life and death.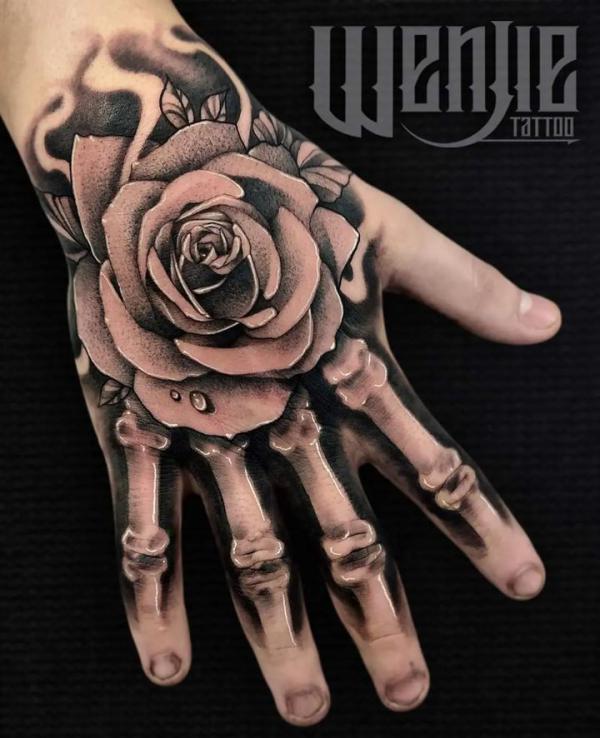 This design takes the rose skeleton hand concept a step further by introducing a waterdrop on the petal. The waterdrop can symbolize purity and renewal amidst the enduring skeleton hand and blooming rose, creating a multi-layered design that's visually and symbolically captivating.
Rose skeleton hand tattoo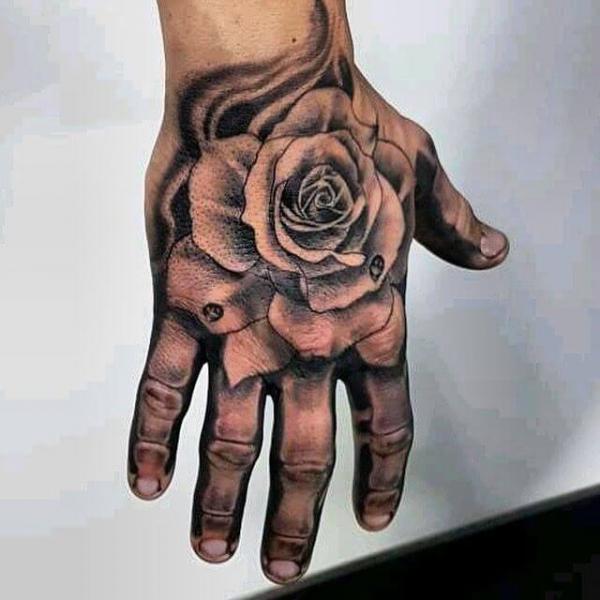 A rose skeleton design is a classic design that never loses its appeal. The juxtaposition of the delicate rose with the skeletal hand creates a powerful image that can symbolize the transient nature of beauty and the inevitability of mortality.
Rose and anchor hand tattoo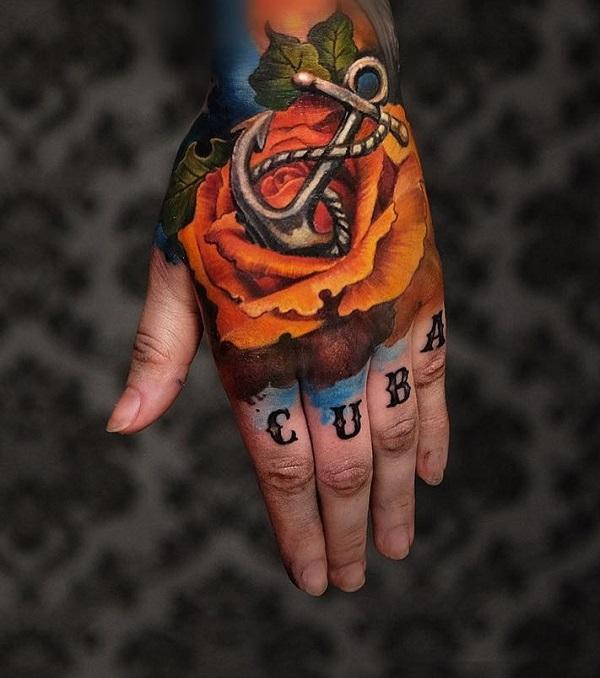 The rose and anchor is a tattoo idea for those seeking a design that represents stability and love. The design adds an interesting visual twist to this traditional design, creating a dynamic and engaging image.
Roses and Lace hand tattoo for female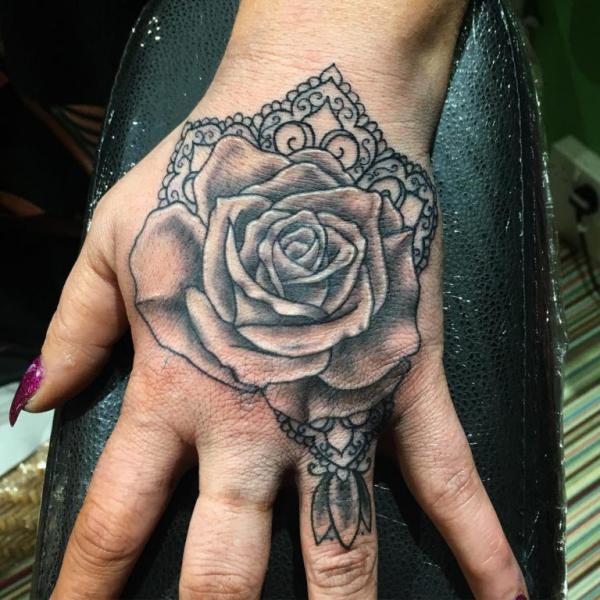 For those seeking a design with a feminine touch, the roses and lace tattoo is a beautiful choice. The intricacy of the lace combined with the softness of the roses creates an elegant and feminine design that can symbolize beauty, delicacy, and strength.
Skull rose hand tattoo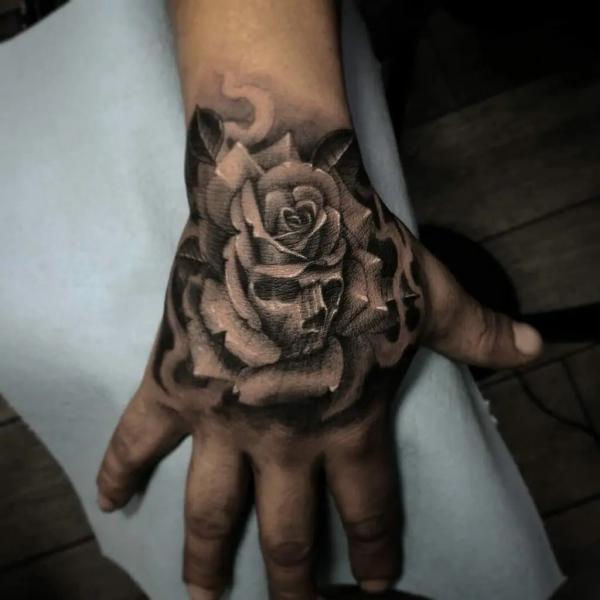 A skull rose hand tattoo is a bold and intense design. The skull can symbolize mortality and the ephemeral nature of life, while the rose represents love and beauty. This combination creates a striking design that serves as a reminder of the beauty in life, even in the face of death.
Small rose hand tattoo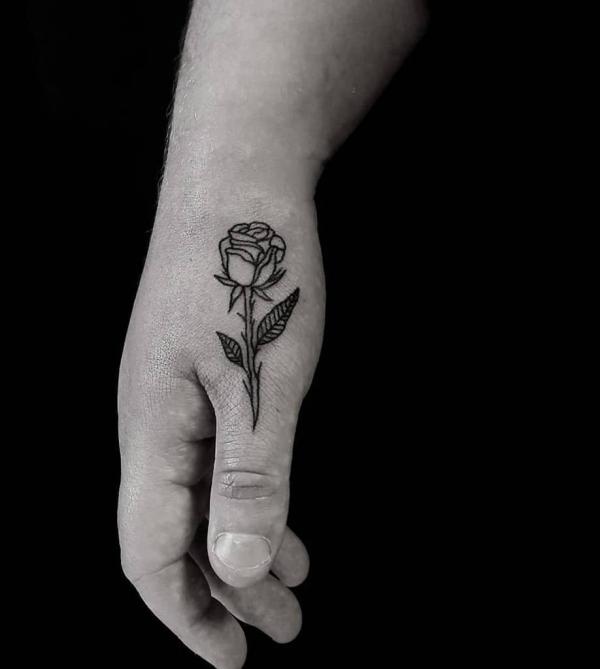 For those who prefer a more subtle design, a small rose tattoo can be a perfect idea. This minimalist design can still carry a significant meaning, representing love, passion, or beauty in a simple yet elegant way.
snake and rose hand tattoo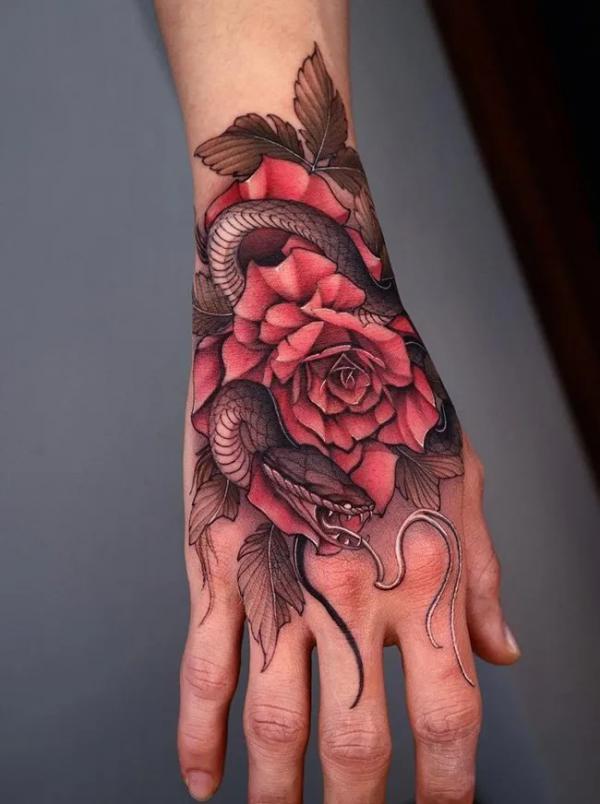 The snake and rose tattoo is a dynamic and complex design. The rose symbolizes love and beauty, while the snake can represent transformation, rebirth, or even temptation. This combination creates a compelling design that tells a story of passion, transformation, and potential danger.
Vibrant red roses with cherry hand tattoo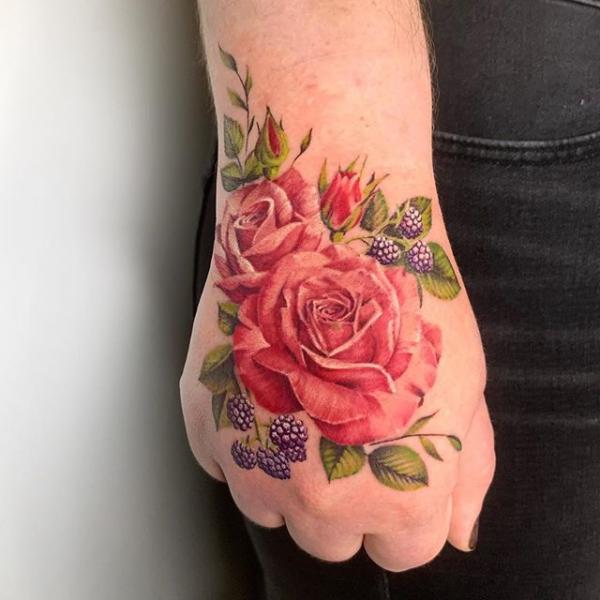 A red roses and cherry together is a display of life, vitality, and sensuality. The cherries add a playful touch to the design, symbolizing the sweet fruits of life and love, while the red roses represent passion and desire.
Yellow rose and skeleton hand in coffin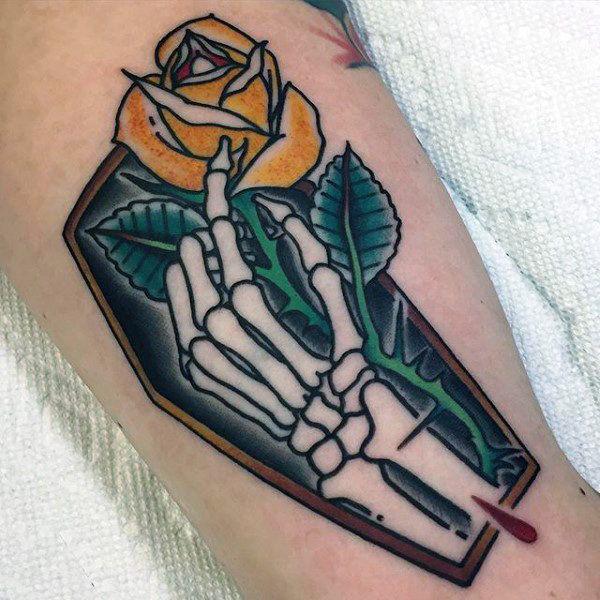 The yellow rose and skeleton hand in coffin design is a macabre yet intriguing tattoo idea. The yellow rose can symbolize friendship, joy, and new beginnings, while the skeleton hand in the coffin is a stark reminder of mortality. This design can be a potent symbol of life, death, and the joy in between.
A smoking money rose on hand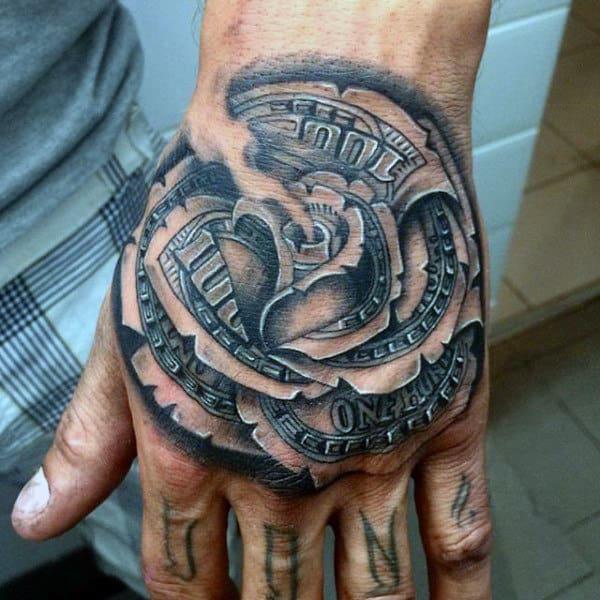 The smoking money rose hand tattoo weaves a captivating narrative about wealth and the temporary gratification it can bring. The smoking money rose can symbolize the fleeting nature of material wealth, making it a potent reminder of what truly holds value in life.
A stem of rose tattoo on hand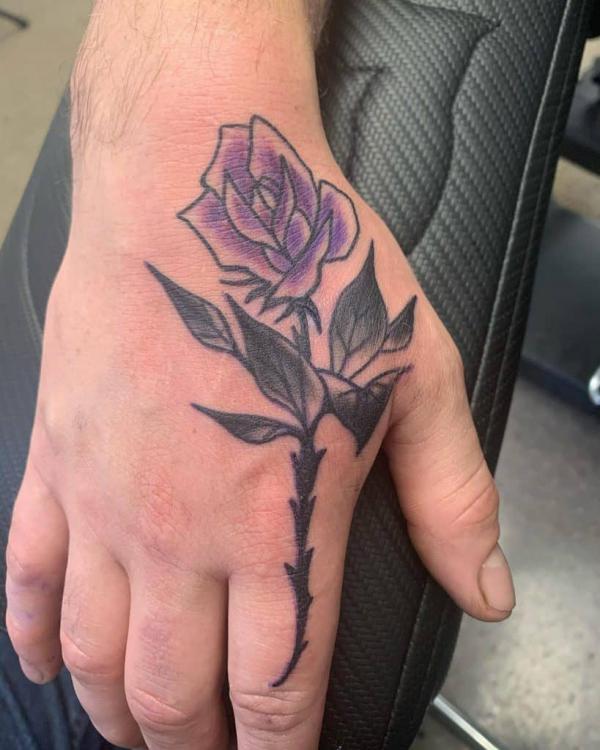 For those who favor simplicity, a stem of rose tattoo can be a beautiful and elegant choice. This minimalist design can symbolize love, beauty, and the strength that comes from being rooted and resilient.
All seeing eye rose hand tattoo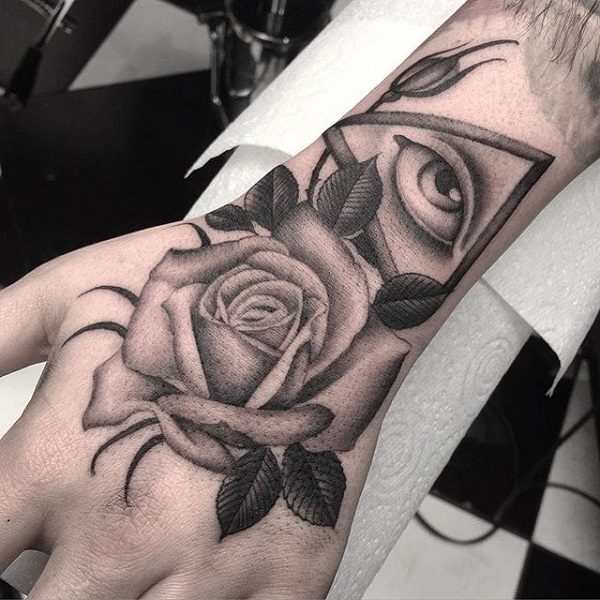 The all seeing eye with rose is a design rich in symbolism. The rose can represent passion and love, while the all seeing eye can signify wisdom, protection, or spiritual insight. This intriguing design can serve as a constant reminder to seek deeper understanding and truth.
Blue rose and butterfly hand tattoo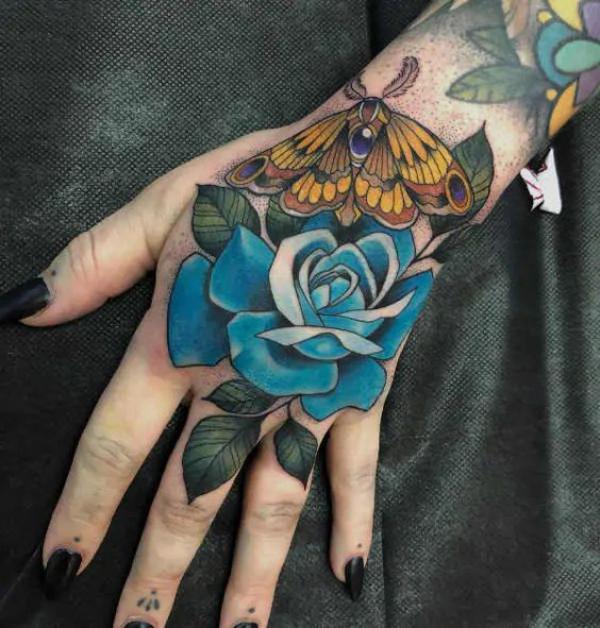 A blue rose and butterfly hand tattoo can be a stunning visual spectacle. The blue rose, often seen as a symbol of the unattainable or the mysterious, paired with the butterfly, a symbol of transformation and beauty, creates a design that's as meaningful as it is beautiful.
Blue Rose with eye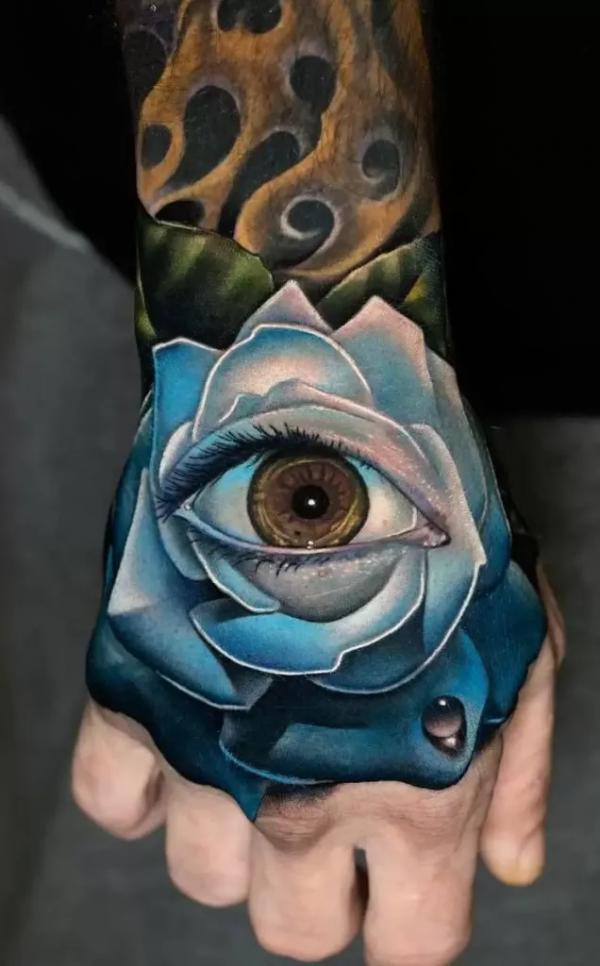 The blue rose with eye tattoo on the hand offers another layer of intrigue. The eye within the blue rose could represent a quest for truth and understanding, even amidst the mysteries and complexities symbolized by the blue rose.
Burning rose hand tattoo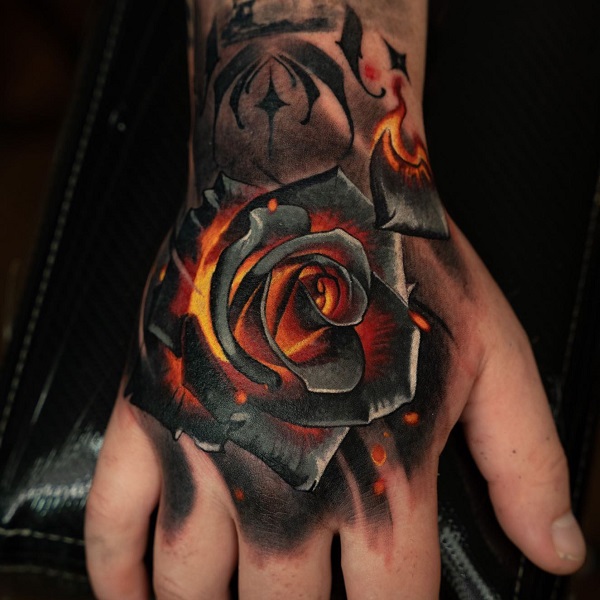 A burning rose could be a potent symbol of intense love or passion. The burning rose can signify a love so powerful that it consumes, or a passion that burns bright and relentless.
Dagger and rose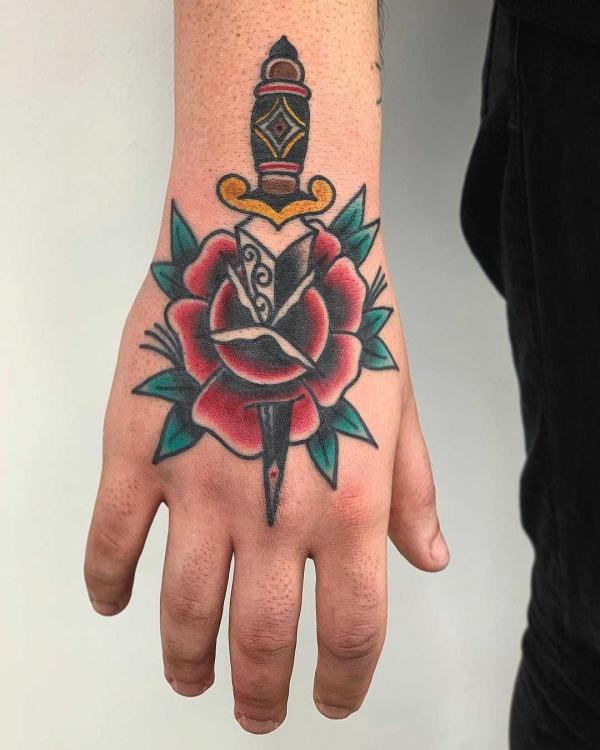 A dagger through a rose is a design that exudes boldness and intensity. The rose can symbolize love and beauty, while the dagger can represent courage, sacrifice, or even danger. This design tells a tale of love entwined with bravery or risk.
Dark rose with thorn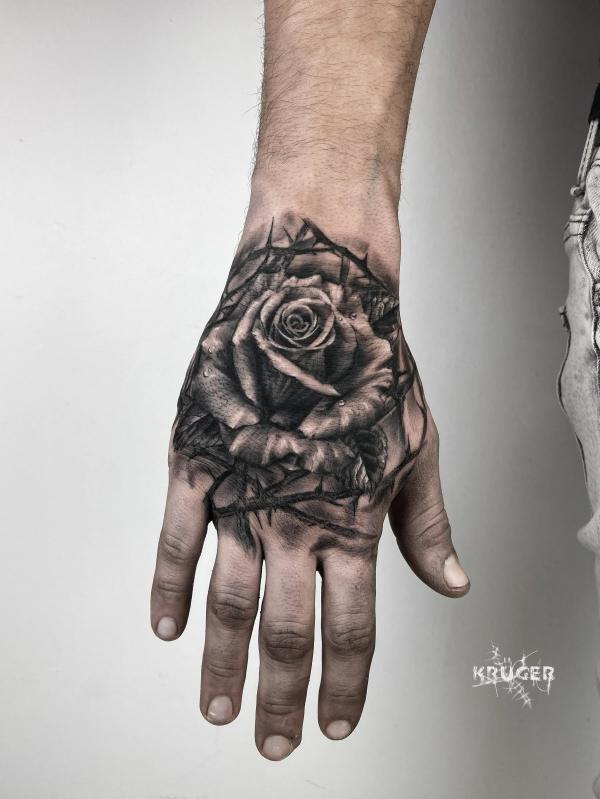 A dark rose with thorn can be a beautiful yet poignant design. The dark rose can signify love, beauty, or even sorrow, while the thorn can symbolize the pains and struggles that often accompany these emotions.
Elegant rose and lace tattoo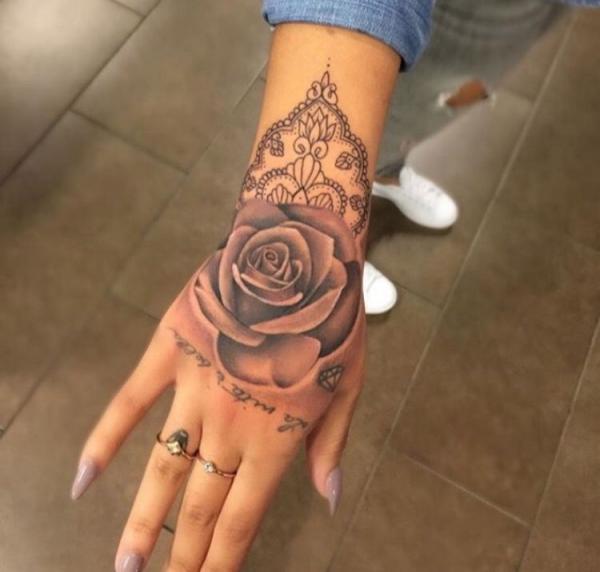 The hand tattoo is a design that exudes femininity and grace. The intricacy of the lace coupled with the beauty of the rose creates a delicate and sophisticated design that can symbolize beauty, femininity, and strength.
Flaming rose hand tattoo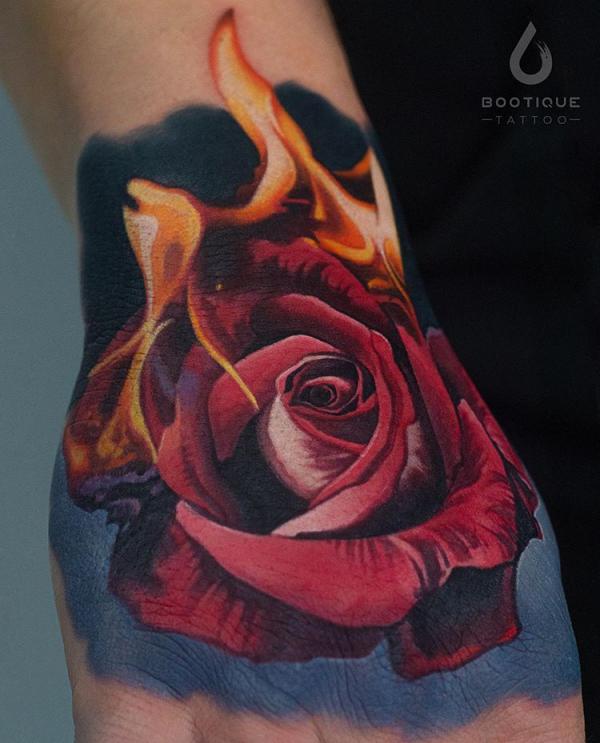 A flaming rose is a design that encapsulates passion and intensity. The flaming rose can serve as a powerful symbol of a passion that's alive and burning, a love that's intense and fiery.
Galaxy rose hand tattoo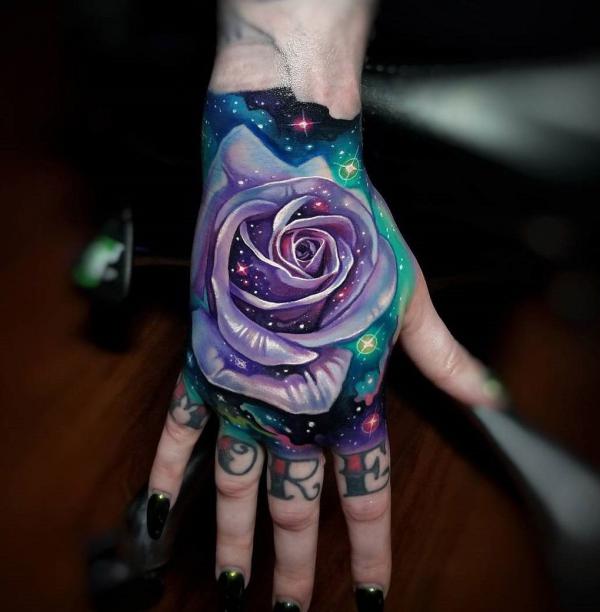 The galaxy rose hand tattoo is a design that's truly out of this world. The galaxy within the rose can symbolize the vastness of love or passion, the mysteries of the universe, or the endless possibilities that life holds.
Money Rose with word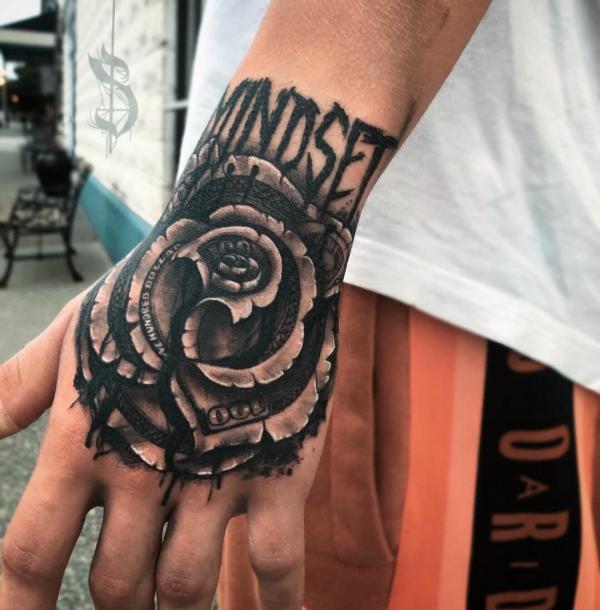 A money rose with the word 'Mindset' hand tattoo can be a powerful affirmation of the importance of a positive and growth-oriented mindset. This design can serve as a constant reminder that wealth is not just about material riches, but also about the wealth of the mind.
Conclusion
Rose hand tattoos are a testament to the wearer's courage and individuality. They are a beautiful blend of historical symbolism, personal meaning, and artistic expression. Each style, each design tells its uniquestory, mirroring the wearer's personality and beliefs. And while roses may wither, these inked blossoms endure, symbols of timeless beauty and resilience. They remind us that, just like every rose has its thorn, every person has their story. So, the next time you see a rose hand tattoo, remember, it's more than just a pretty design; it's a window into the wearer's soul.