Hand tattoos have become increasingly popular in recent years not only because of their visible location but also the variety of designs one can choose from. To get you inspired for your next tattoo, we have curated a list of creative hand tattoo ideas and aspects.
Factors to consider when choosing a hand tattoo
When it comes to hand tattoos, there are countless design options to choose from. However, it's essential to carefully consider some of the important aspects before your choosing a specific design. Some elements to think about include:
Size: Smaller, more detailed designs may fade faster or blur over time, so consider a design that will age well.
Flexibility: Keep in mind that your hands are constantly moving, which can affect the appearance of your tattoo. Choose a design that can "flow" with the natural contours of your hand.
Significance : Select a design that carries personal meaning or reflects your individuality, style, and values.
Social Stigma :While they're growing in popularity, hand tattoos still carry some social stigma, mainly due to misconceptions and stereotyping. Ask yourself how it might impact your career or relationships, and whether you're comfortable with these potential challenges.
Simplicity: Hand tattoos can be more painful and challenging to heal, so a simpler design may be more suitable for first-timers.
Placement Considerations
Hand tattoos offer versatile placement options. Even for the small body part, there are different areas to consider when it comes to get a tattoo. Some popular placements include:
Back of the hand : The largest area to work with, the back of the hand, is ideal for expansive designs, intricate patterns, or detailed illustrations. .
Knuckles : One of the most noticeable placements, tattoos on the knuckles can be bold and eye-catching.
Fingers : Finger tattoos have become increasingly popular, but this area is more suitable for small designs.
Palm : A unique and daring choice for hand tattoos, palm tattoos can be beautiful , but may fade more quickly.
Creative hand tattoo design Ideas
There's a world of possibilities when it comes to designing a hand tattoo. Let's explore some awe-inspiring ideas to help you create the perfect design that resonates with your personality and style.
Botanical Hand tattoos
Botanical tattoos have become popular, drawing fans of both art and nature. These tattoos feature various plant and flowers, symbolizing life, growth, and beauty.The intricate patterns are not only beautiful to look at, but they also have important meanings. This makes them a special and unique way for the wearer to show who they are. Among the myriad of ideas, we will discuss the Root of Life, Fern, and Willow Leaves designs.
Root of life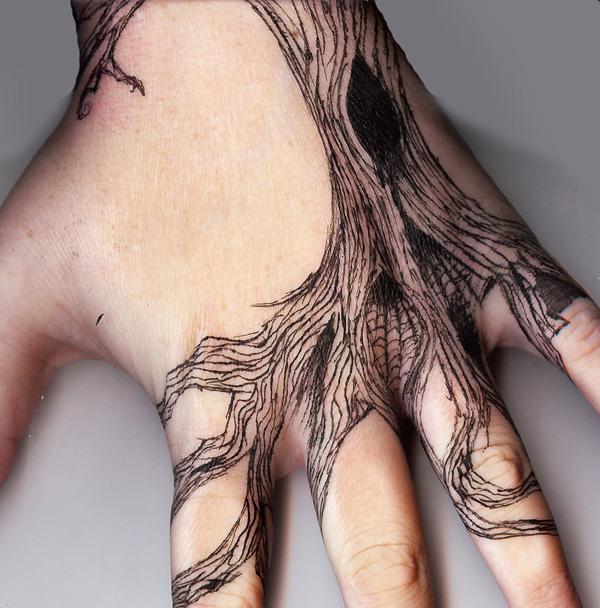 The design features extensive roots that extend from the fingers and intertwine with them. It symbolizes the concept that life originates from the earth and our connection to nature. This tattoo serves as a reminder of our profound connection with nature and the need to remain grounded and rooted.
Fern tattoo for women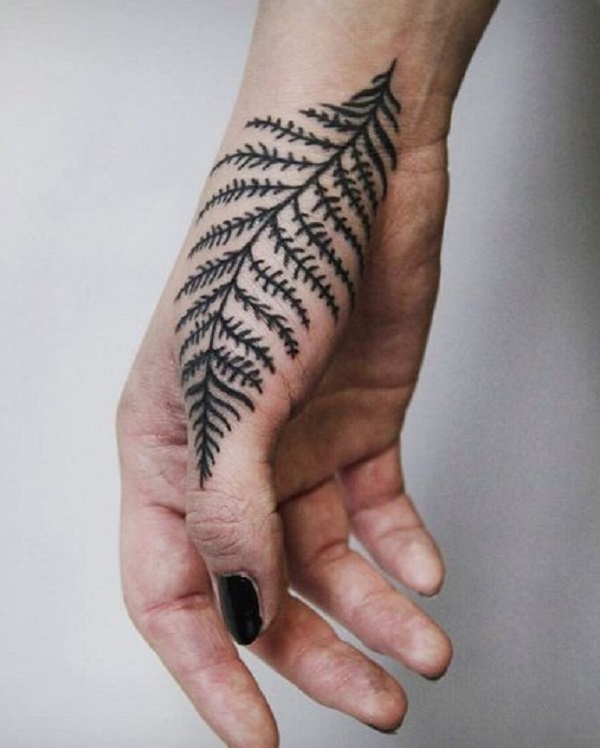 Women love fern tattoos for their exquisite and delicate appeal. The design features elegant fern leaves that cascade from wrist to the ring finger, emphasizing the foliage' exquisite natural beauty. Ferns frequently stand for development, change, and fresh starts. A fern tattoo may represent the wearer's growth, acceptance of change, and success in life.
Willow leaves
The flowing, thin leaves of the willow tree fall down the hand and fingers in this tattoo. Willow trees are a sign of being strong, able to change, and in tune with nature. Willows are linked to healing, magic, and mental balance in many different cultures. This design also shows how inner power, spiritual harmony, and the beauty of nature can come together to make a beautiful whole.
Matching Hand tattoos
Matching tattoos are a unique and personal way for individuals to express their connection and individualistic style. They involve inked designs on both hands, which can either be symmetric to create an integrated picture or two symbolically linked motifs. These tattoos are highly customizable, allowing people to showcase their creativity and love for intriguing designs.
Creature face tattoo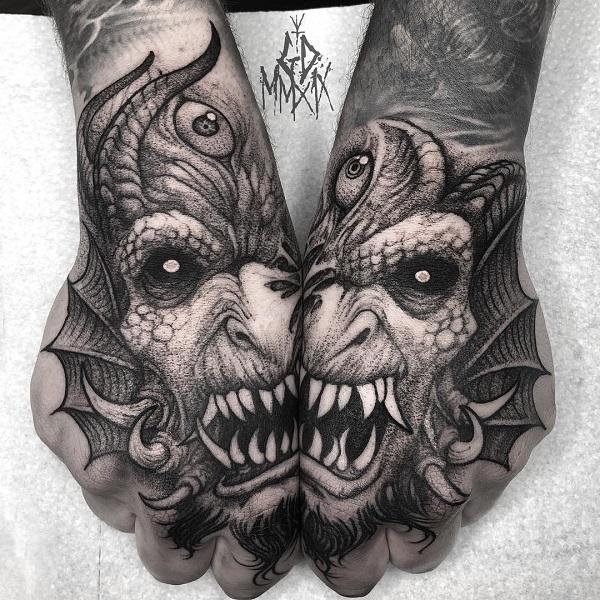 A creature's face tattoo consists of two halves of a face, each inked on one hand. When the hands come together, they form a complete, fantastical visage.
Salvador Dali eye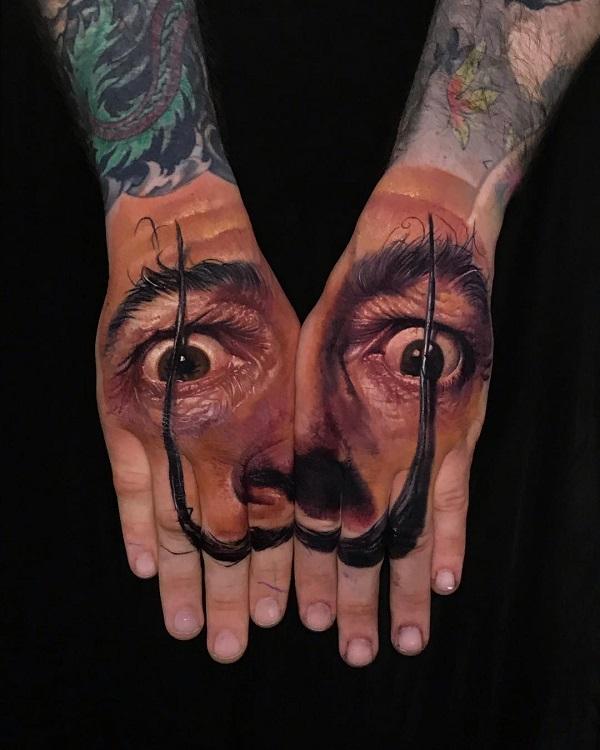 This tattoo features the portrait of Salvador Dali , highlighting the eyes of the artist. One half is tattooed on each hand, together, forming an astonishing face of the artist.
Matching Castles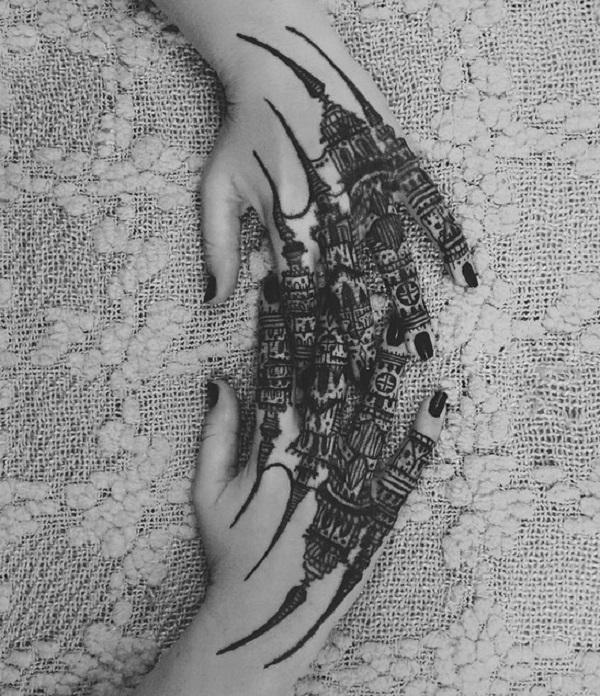 Matching castle tattoos depict grand, intricately detailed castles on each hand.
Hands – Skull and Rose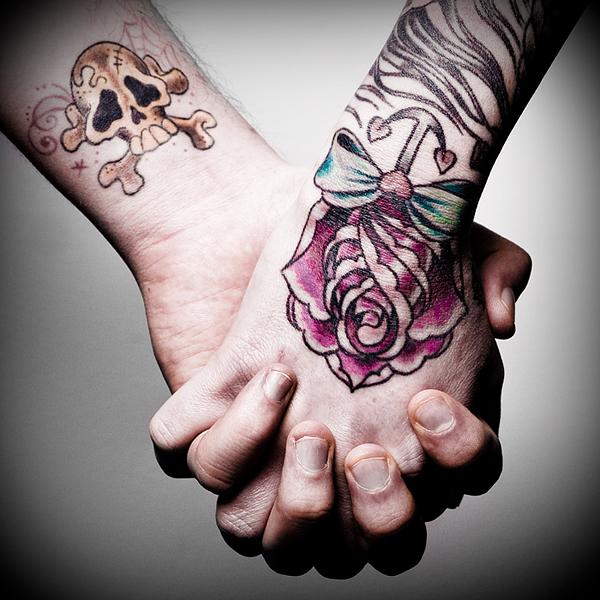 This tattoo features a rose on one hand and a skull on the other wrist. This pairing could symbolize the duality of life and death, or the contrast between beauty and decay. It emphasizes the presence and balance of opposing forces in life.
Matching Butterfly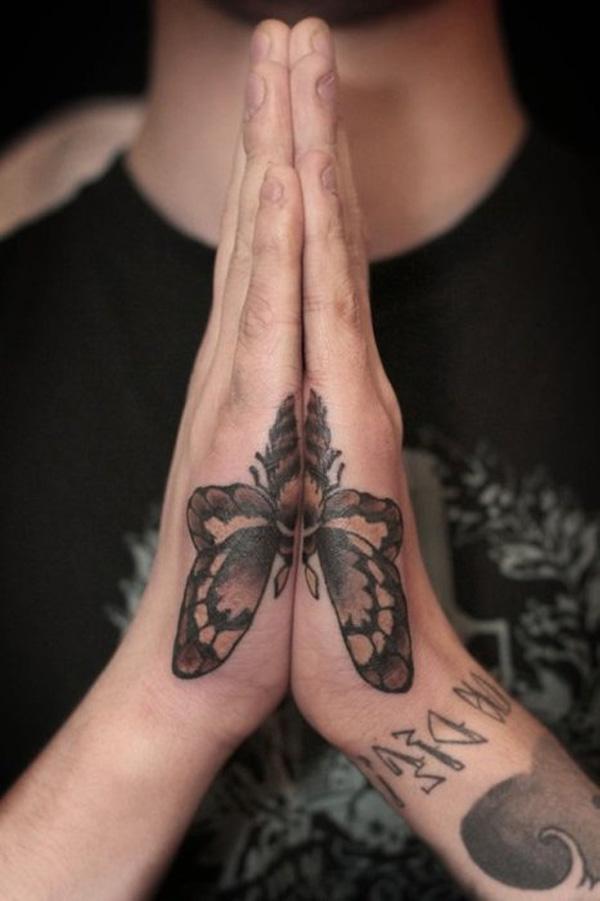 A matching butterfly tattoo showcases one wing on each hand, which forms a complete butterfly when hands are placed side by side. This elegant design represents transformation, new beginnings, and the beauty of nature.
Moon and Son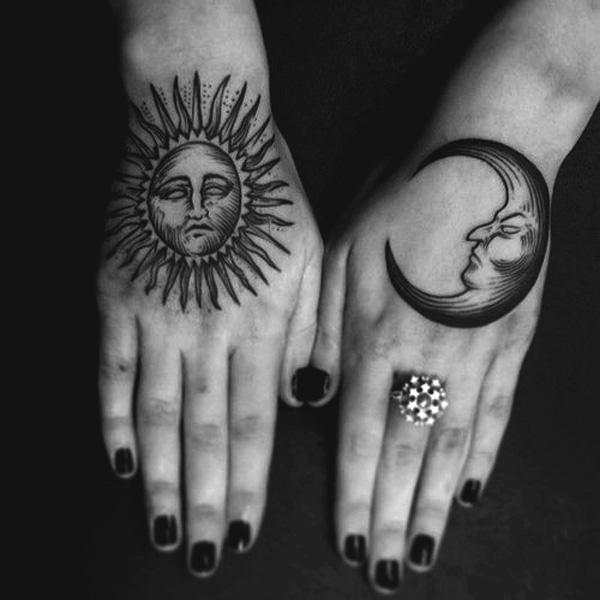 The moon and sun tattoo is a popular celestial combination that represents the harmony between opposites. One hand features the sun face, symbolizing energy and light, while the other has the moon, showcasing tranquility and darkness. Together, they emphasize the balance of opposing energies in the universe.
White Ink
Spider white ink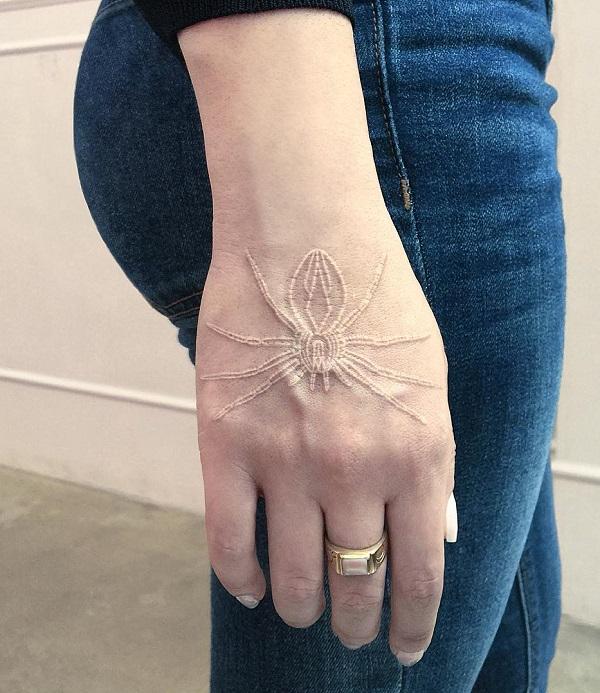 Paisley white tattoo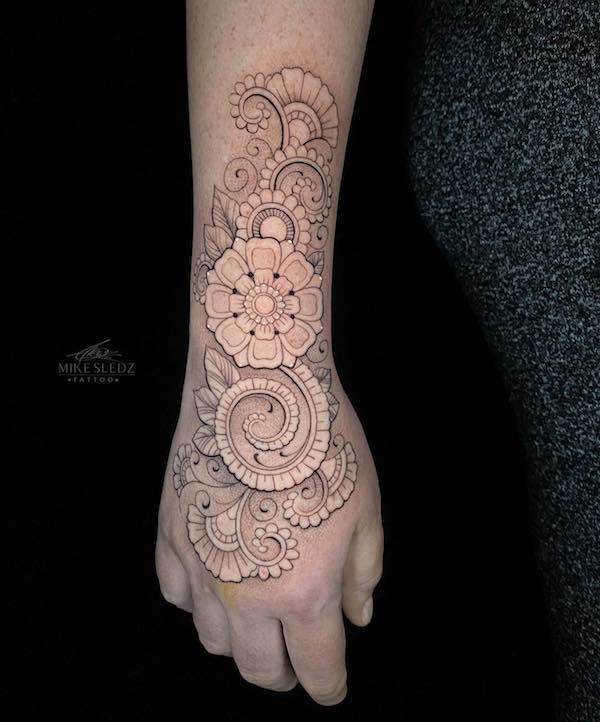 Hand tattoos with eye
Eye tattoos are becoming increasingly popular as they symbolize protection, wisdom, and spirituality. These designs often hold deep meanings for the wearer, making each tattoo a unique reflection of their personal journey. With a variety of styles available, there's a perfect eye tattoo for everyone.
Mandala eye on hand
This design incorporates the intricate patterns of a mandala with the spiritual symbolism of an eye. In addition to being aesthetically pleasing, this tattoo fosters a sense of inner peace and harmony by creating a link to the wearer's true identity.
Tearing eye encircled with thorns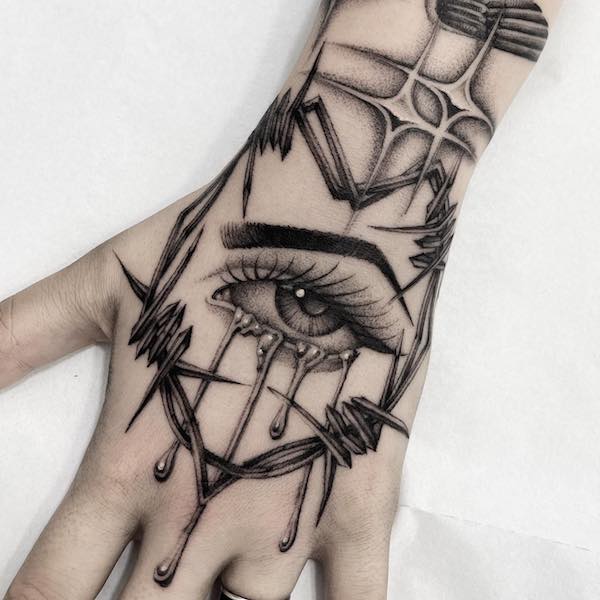 This fiercely emotive tattoo depicts an eye shedding tears, surrounded by a circle of thorns. The design represents the strength in overcoming hardships and finding beauty in struggles and pain.
Watching the rose in spiderweb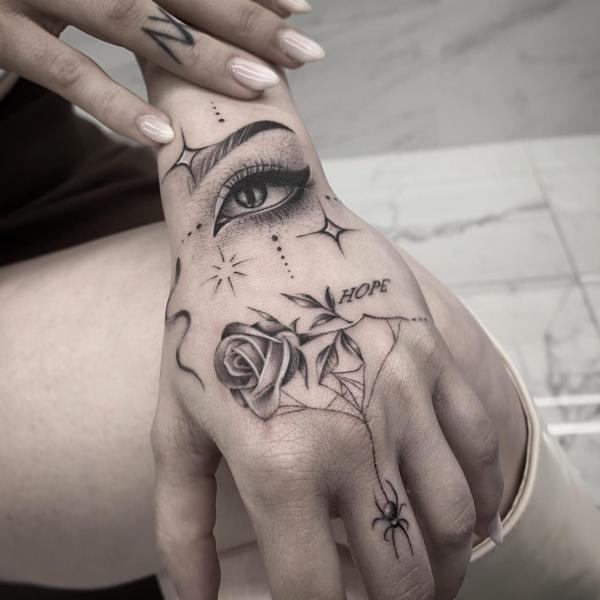 In this design, an eye watches a rose ensnared in a spider's web. This tattoo symbolizes the delicate balance between beauty and danger, illustrating life's often complex and unpredictable nature.
Cloud and eye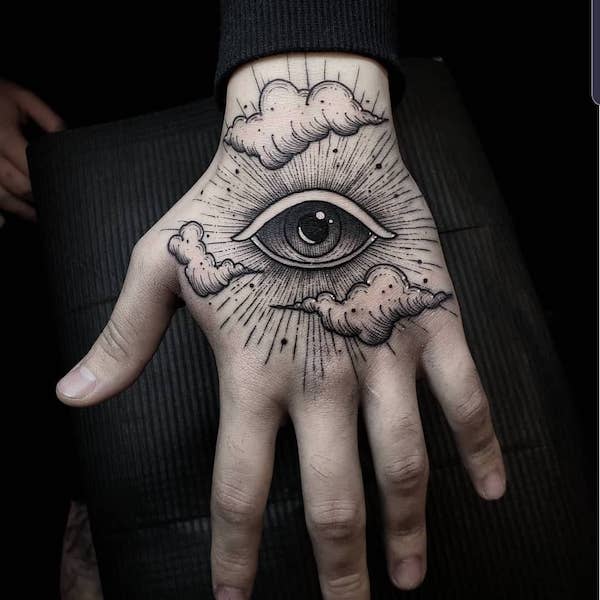 Featuring an eye surrounded by clouds, this tattoo signifies divine guidance and the notion that a watchful presence is always nearby. It also conveys a sense of mystery and dream-like wonder.
Eye of Providence with negative swils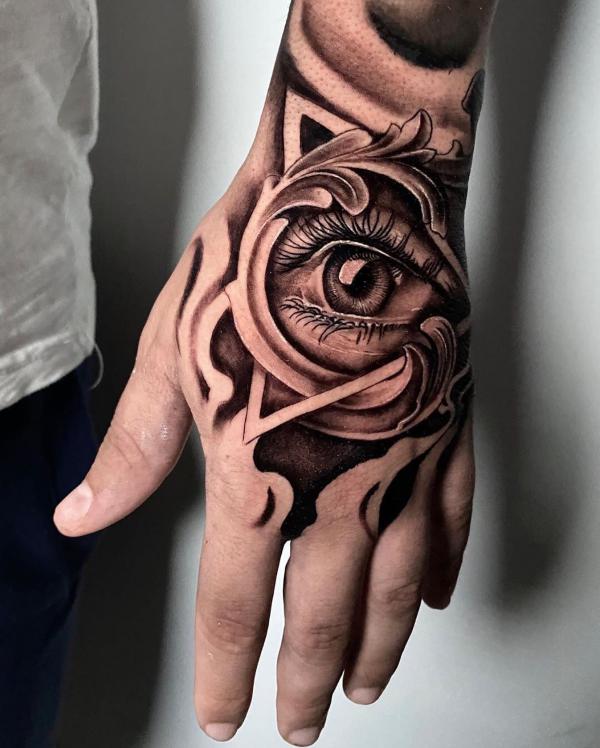 The Eye of Providence, an eye within a triangle, signifies God's watchful presence. In this design, it is given a modern twist with the addition of negative space swirls. This striking design acknowledges the duality of the universe and the balance between the seen and unseen.
Realistic eye on hand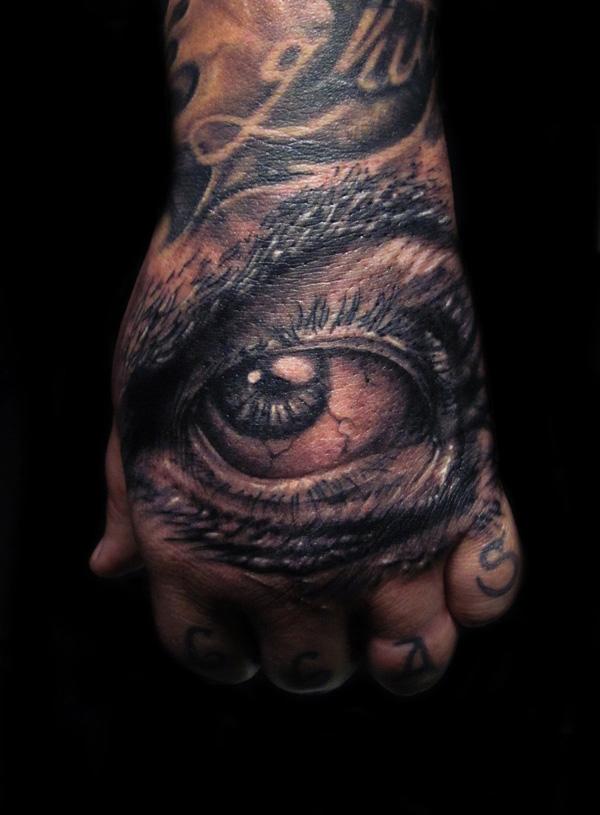 A highly detailed and realistic eye tattooed on the hand showcases the artist's incredible skill while signifying wisdom, protection, and the ability to "see" deeper truths beneath the surface.
Eye of Providence with halo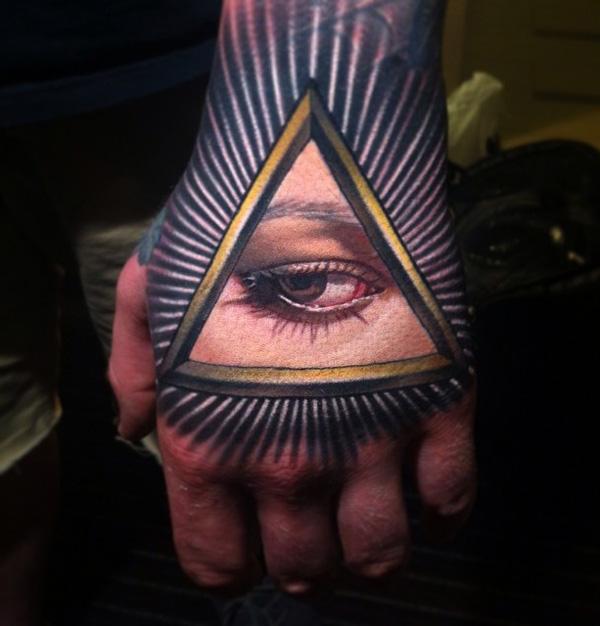 Adding a halo to the traditional Eye of Providence design elevates its spiritual significance, symbolizing divine protection and guidance. This meaningful tattoo serves as a beacon of hope and faith for the wearer.
Spiderweb
Spiderweb tattoos are a unique and interesting form of body art that often represent a person's battle or growth through a hard time in their life. This complicated design, which is usually found on the hand, can mean different things to different people, such as persistence, strength, and freedom from past ties. These tattoos are great for people who like the delicate look of a spider's web or who want to show how they have grown and changed on their skin. This captivating ink is still a popular choice for people who want an important and eye-catching hand tattoo. There are many interesting design options to choose from.
A web covered skull tattoo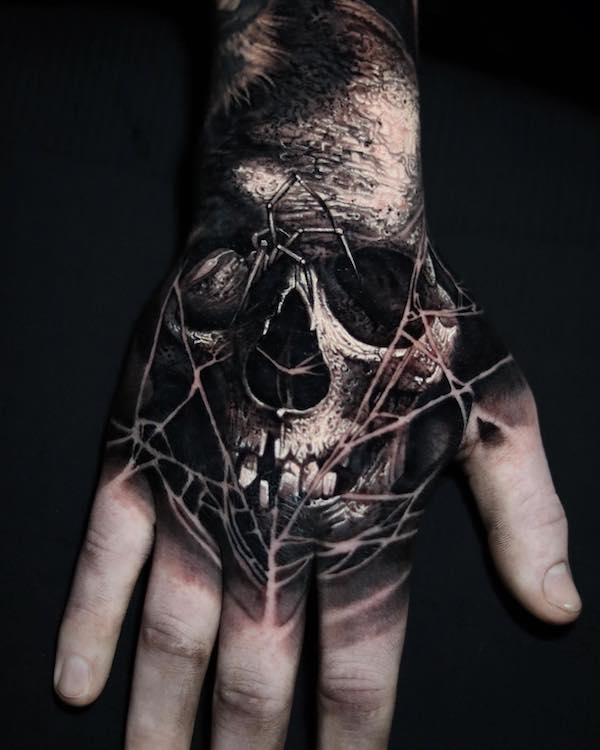 The web-covered skull tattoo is a strong combination of two well-known symbols: death and strength. The skull represents the unstoppable flow of time and the certainty of death, while the web on top shows how a person can keep going even when things are hard. This beautiful tattoo design is a powerful reminder that life is temporary and that strength is made in the fires of difficulty.
Hand bones encased by spiderweb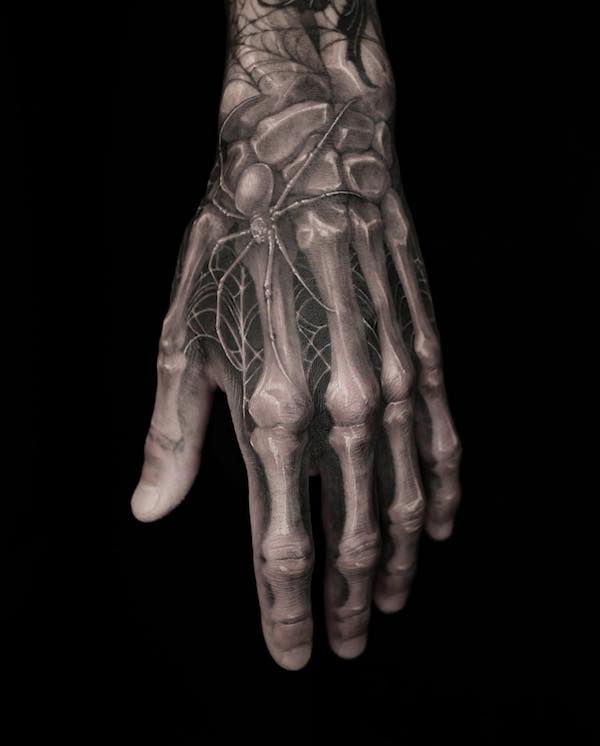 A tattoo of hand bones wrapped in a spiderweb shows how strong and vulnerable you can be at the same time. The complex web shows that there is a fine line between being fragile and being strong, which is the basis of human dexterity. This unique pattern stands for the inner strength you need to keep going and change with a world that is always changing.
A butterfly caught in a spiderweb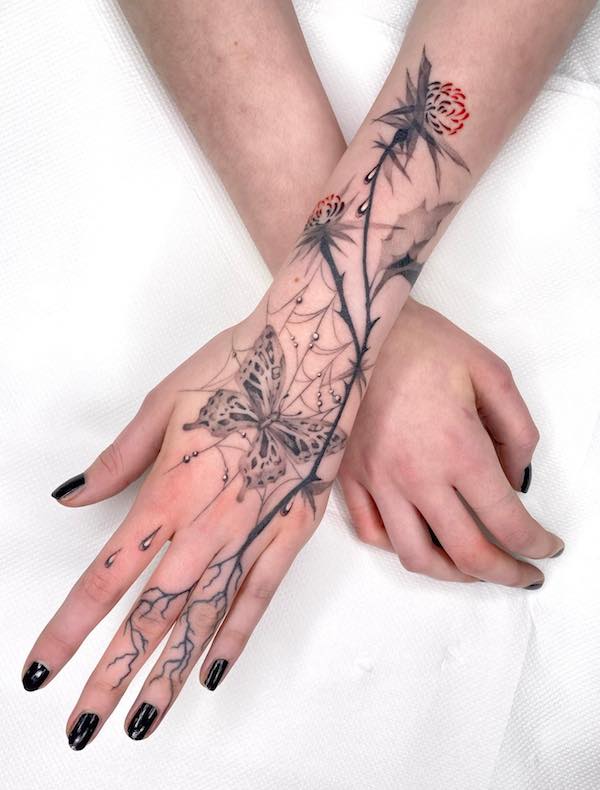 The picture of a butterfly caught in a spiderweb shows how the beautiful and fragile can be in contrast to the strong and complicated. This tattoo design represents the fight to stay alive and the cycle of life. The butterfly is a symbol of change, and the web is a reminder of the problems we may face along the way.
A spiderweb encircled with iron thorn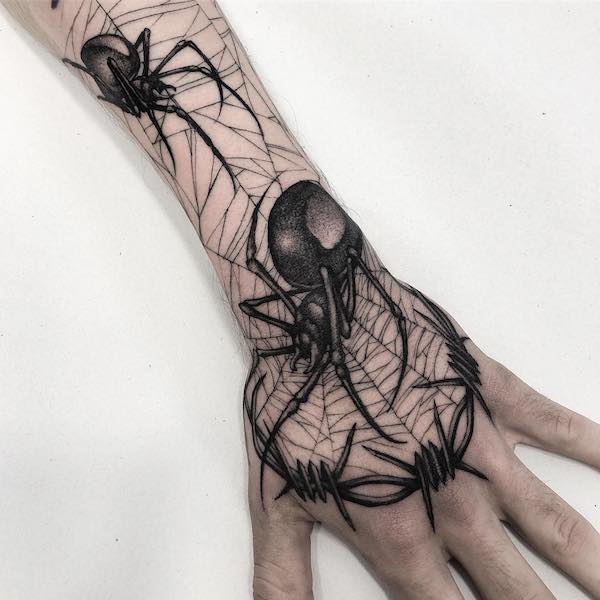 The spider tattoo is a beautiful design that blends the elegance of a spiderweb with the strength and toughness of iron thorns. This combination represents the unwavering strength of a person who has been through hard times and come out better, as shown by the iron thorns. The contrast between the delicate web and the strong, protected thorns makes for a powerful image of persistence and growth.
Cool hand tattoos
Cool tattoos are an incredible way to showcase your creative side and make a statement. With cool designs, your skin becomes a canvas for stunning, unique art that's constantly visible and a reflection of your personality. Whether you prefer intricate, detailed designs or simple patterns, there's a perfect cool hand tattoo out there to suit everyone's taste. Not only are these tattoos eye-catching, they also exude an aura of confidence and individuality. So if you're ready to make a bold statement with body art that won't go unnoticed, these tattoos should definitely be on your radar.
Spinning planets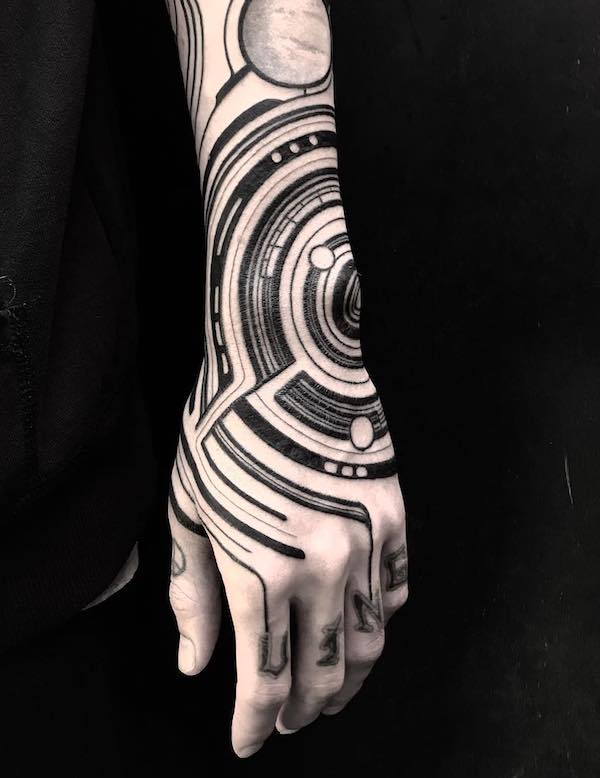 Spinning planets tattoos are inspired by celestial bodies aligning in a beautiful dance across the cosmos. Often featuring intricate and detailed planet designs, these tattoos represent the vastness of the universe and our connection to it. They evoke a sense of wonder, mystery, and exploration, making them an excellent choice for those with a fascination for what lies beyond our mortal realm.
Spiral dots
Spiral dots tattoos embrace minimalism while still making a striking impact. Featuring an elegant series of dots that gradually increase in size and follow a spiral pattern, these tattoos can symbolize growth, eternity, or the passage of time. Their simplicity adds a subtle yet striking touch to your hand, making them a popular choice for modern tattoo enthusiasts.
Disney castle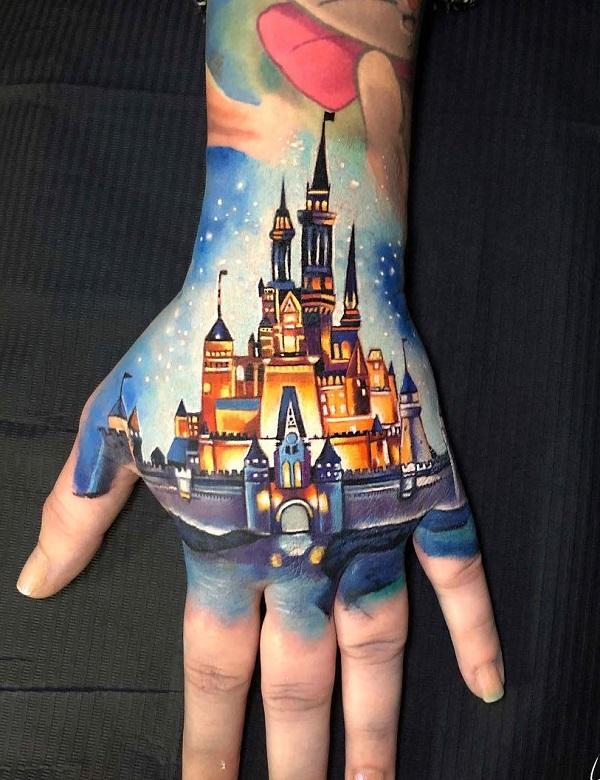 A Disney castle hand tattoo is perfect for those who believe in the magic of fairy tales and wish to carry a piece of their childhood with them always. This enchanting design showcases the iconic castle from various Disney movies and can be detailed with personal touches, such as your favorite characters or meaningful quotes. It's a whimsical reminder to always dream big and believe in the power of imagination.
Pentacle Armor hand Tattoo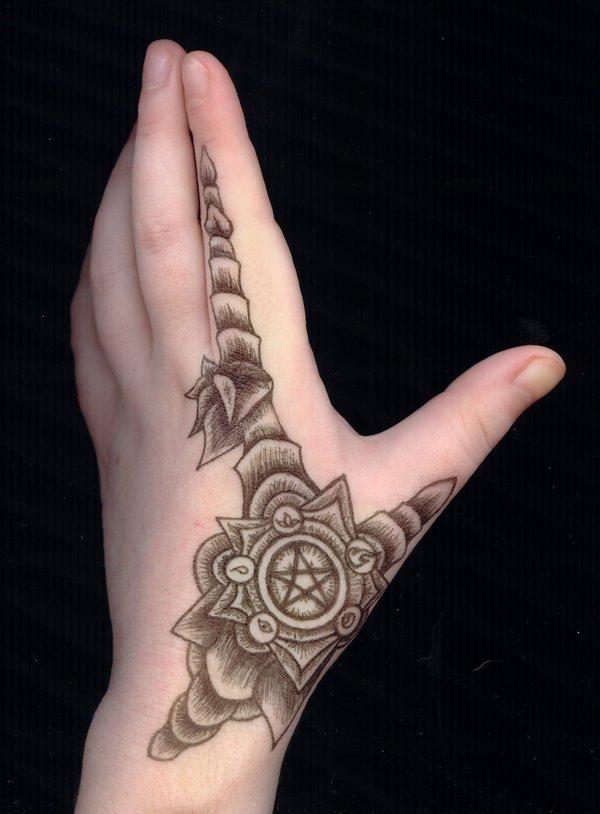 Realistic tattoo machine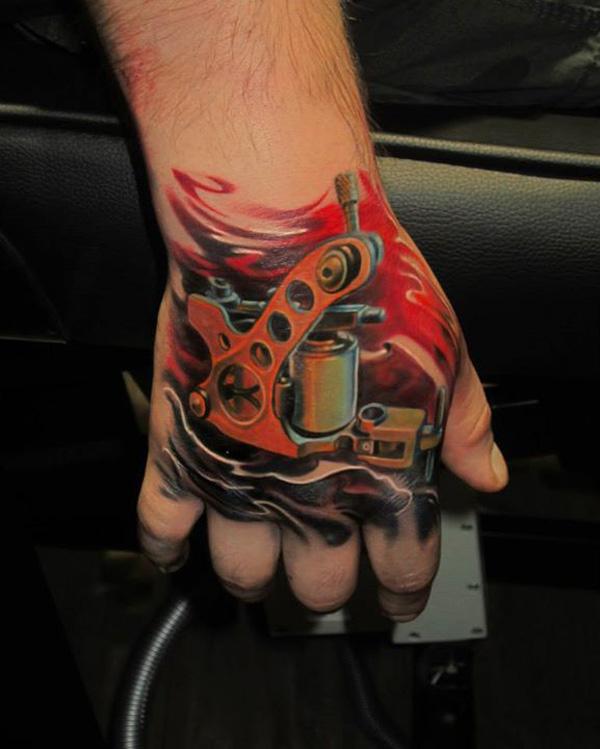 Realistic portrait of a woman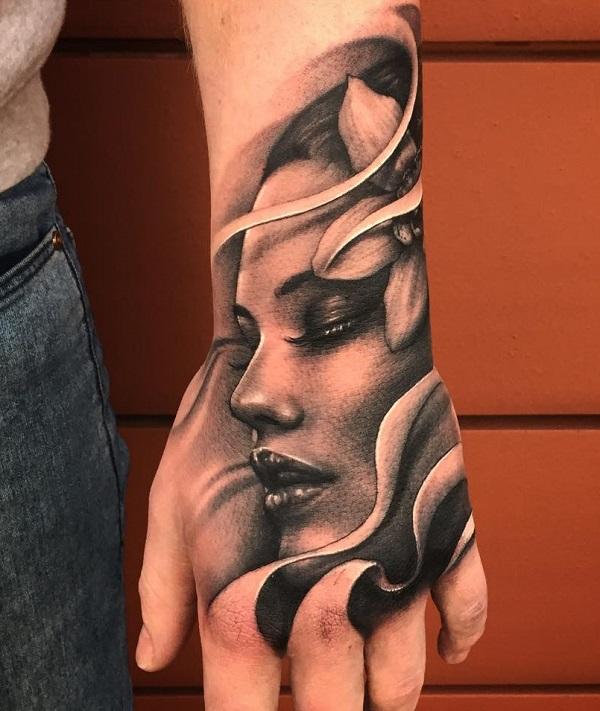 Skull hand tattoos
Skull tattoos are a popular form of body art that signifies various meanings, such as toughness, mortality, and fearlessness. Usually associated with a rebellious attitude, these designs can be customized to suit one's personality and taste. Here are some of the captivating skull hand tattoo designs.
Skull surrounded by spider webs of roses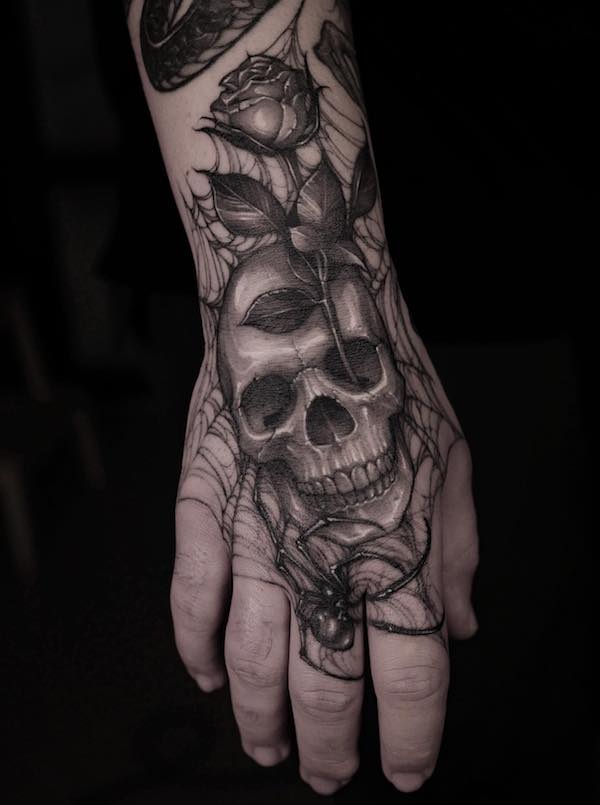 This design features a menacing skull surrounded by roses and spider webs, representing the balance between beauty and decay or life and death. The roses add a colorful and delicate touch to the otherwise sinister tattoo.
Skull with nails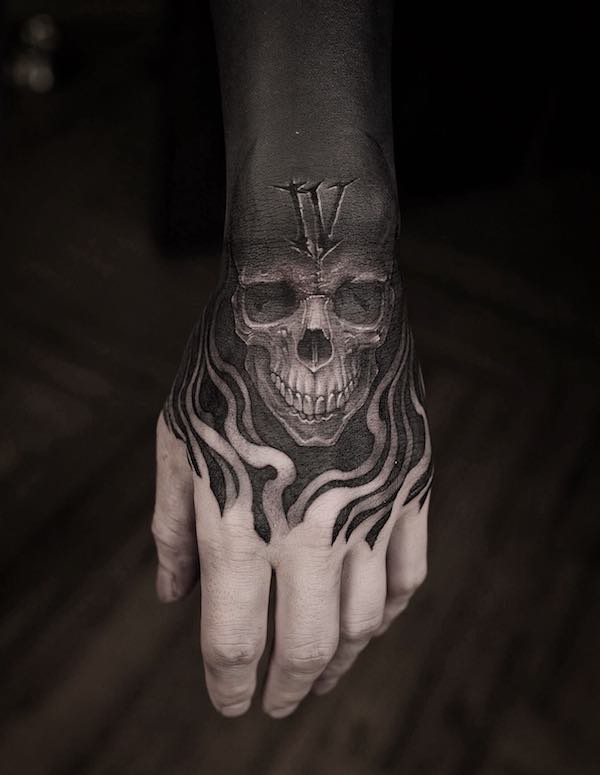 Skull with nails incorporates piercing nails into the skull, symbolizing pain and suffering, making it a powerful visual statement others will notice.
Mandala skull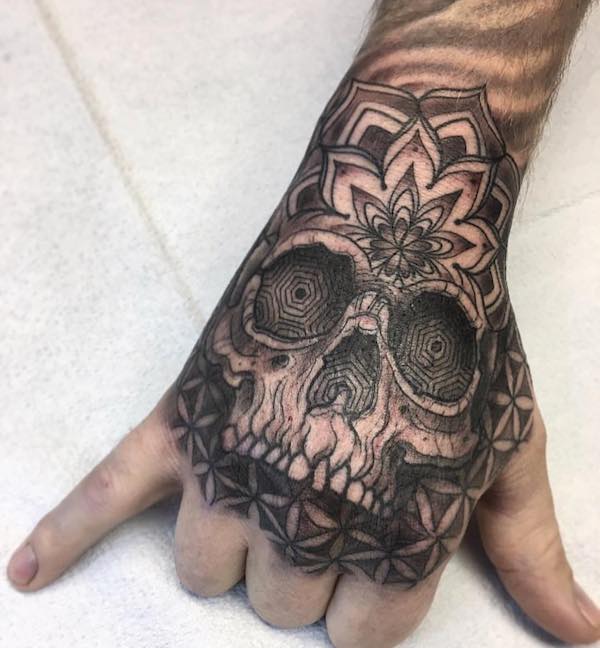 A mandala skull design merges the intricate patterns of the mandala with the skull's symbolism. The mandala represents the universe and the cyclical nature of life, combining harmony and balance with the skull's darker themes.
Skull and face matching tattoos on hand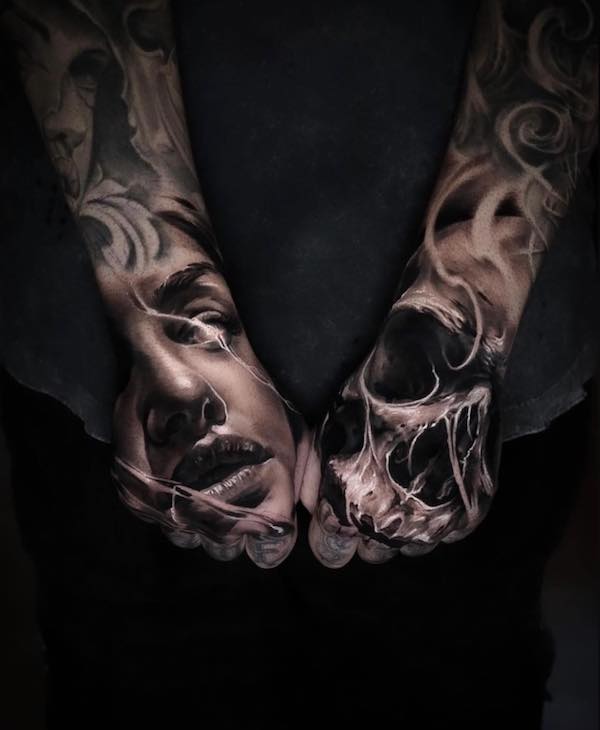 An innovative twist on the classic skull imagery is to have a matching tattoo of a human face and skull on each hand. The two images portray the duality of life and death and make an impactful statement when seen together.
Skull entwined with Cloud and stars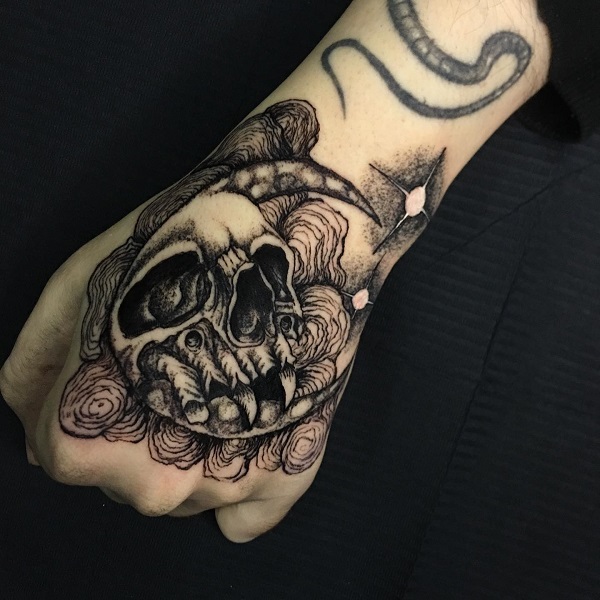 In this eye-catching design, a skull is entwined with clouds and stars, illustrating the celestial connection between life and the afterlife. The surreal imagery is reminiscent of heavenly themes and transcendent ideas.
Skull entwined with thorns of rose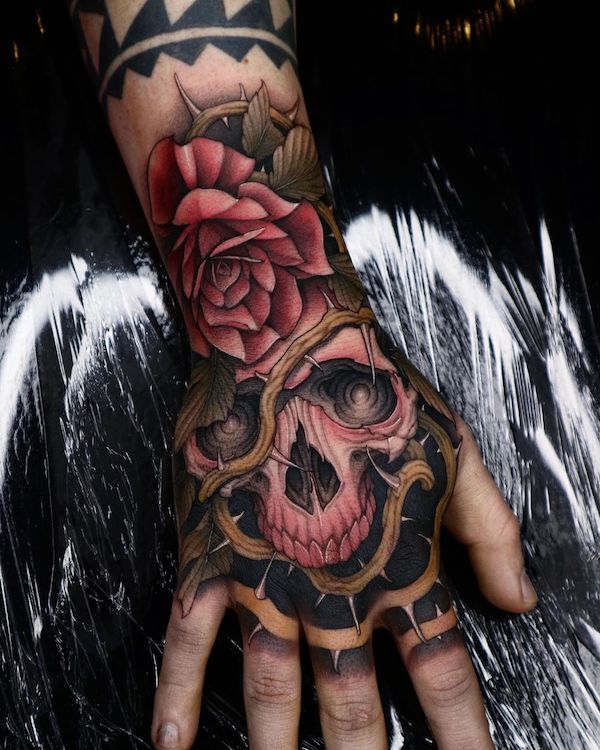 A skull entwined with rose thorns captures a harmonious blend of the darker, grim aspects of life and the gentleness and beauty of the rose. The thorns follow the skull's contours, enhancing its rugged structure while symbolizing endurance and perseverance.
Gothic skull on hand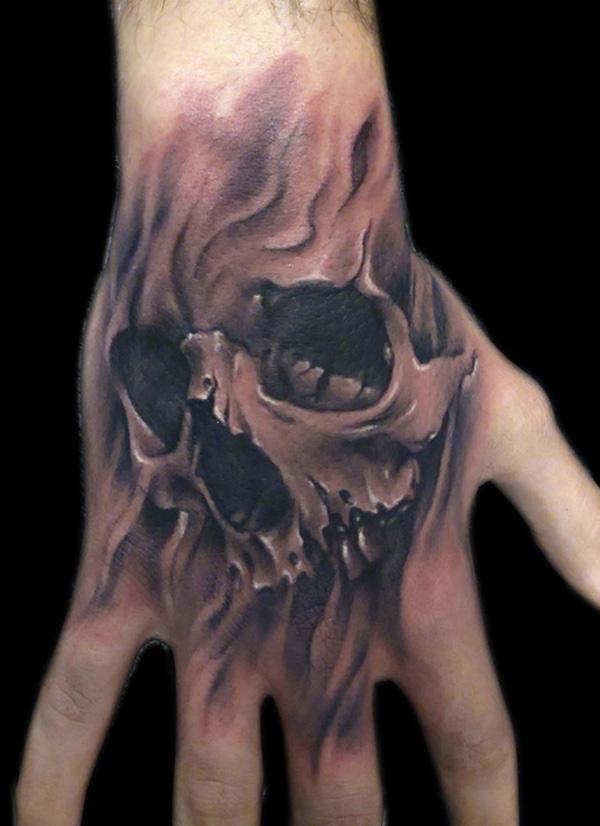 True to its name, a gothic skull design adds a mysterious touch to hand designs. This distinctive design incorporates gothic architectural elements like arches, spires, or crucifixes, providing a sense of grandeur and antiquity.
A black and white skull with mandala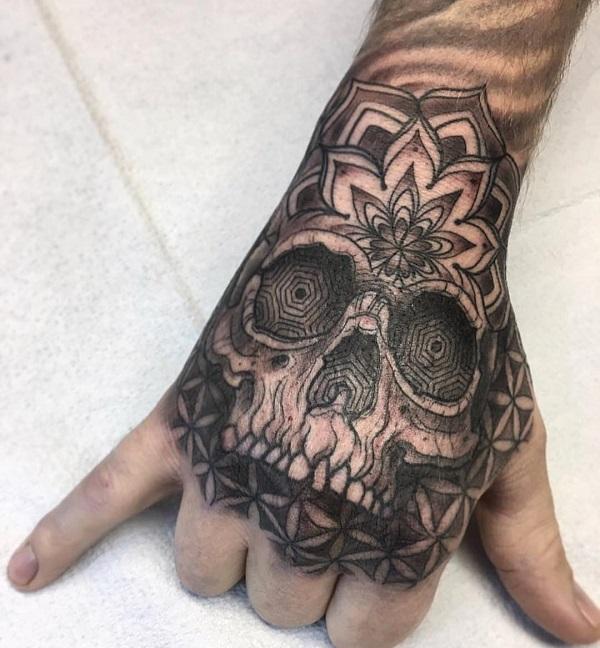 A black and white skull with a mandala hand tattoo is an intricate fusion of bold imagery and delicate, spiritual patterns, ideal for those seeking a profound and attention-grabbing piece of art.
Skull in rose with thorns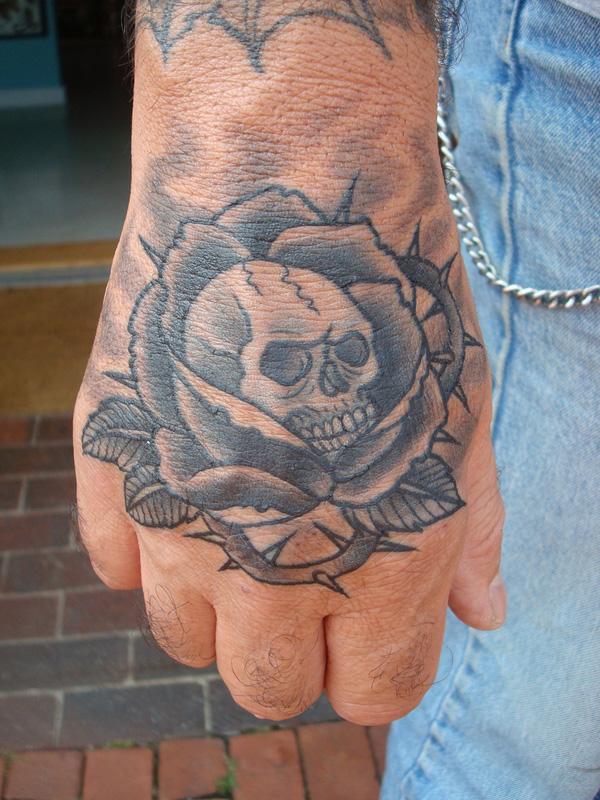 The skull in rose with thorns design encloses the skull within the beautiful petals of a rose, signifying the duality of life and death and the inherent beauty in the transient nature of existence.
Half Skull half face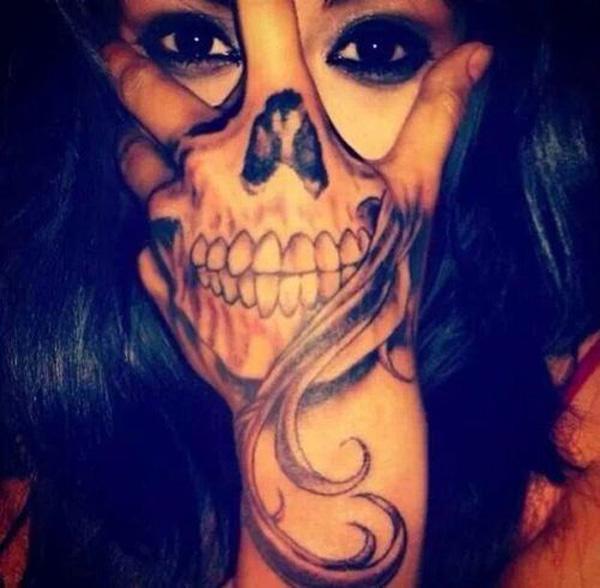 This design depicts half skull on the hand. When putting the hand in front of the face, it forms a complete image of half skull half face. Typically, one half represents life and the other death, exemplifying the dichotomy between the two realms.
Mythical and cultural
Mythical and cultural tattoos hold significant importance as they represent a person's beliefs, heritage, and interests. They incorporate symbols, figures, and designs that allow individuals to convey their personal stories and values. These tattoos not only serve as beautiful pieces of art but also carry fascinating histories and meanings that withstand the test of time.
Eye of ra tattoo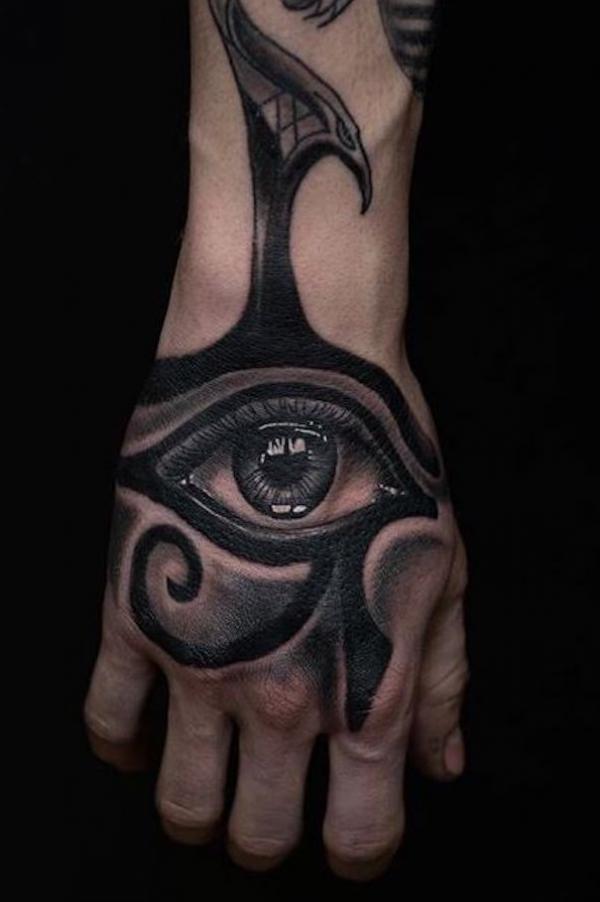 The Eye of Ra is an ancient Egyptian symbol representing the protective power of the sun god Ra. This tattoo symbolizes protection, strength, and endurance; it is often seen as a guardian against evil, a symbol of enlightenment, and spiritual vision.
Japanese Hannya mask tattoo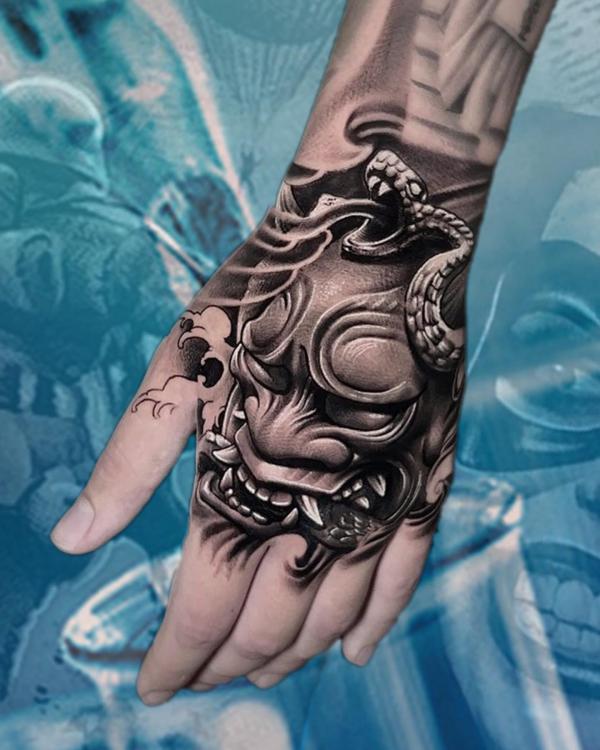 Hannya mask tattoos originate from Japanese Noh theatre and represent a jealous and vengeful woman turned into a demon. These tattoos signify the duality of human nature, symbolizing both the beauty and darkness within us.
King tut tattoo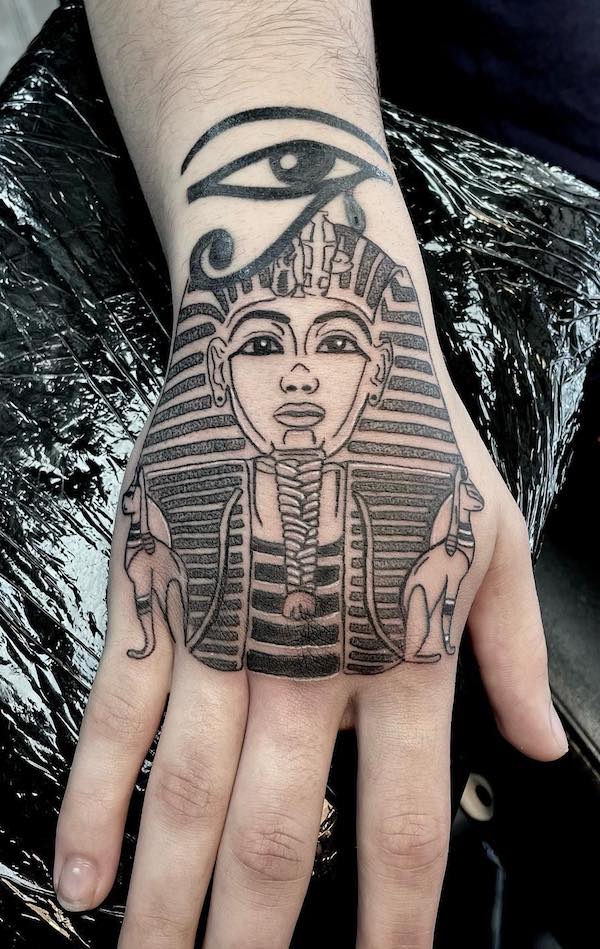 King Tutankhamun, the Egyptian pharaoh, is known for his legacy and the luxurious treasures found in his tomb. A King Tut tattoo symbolizes wealth, power, and the mysteries of ancient Egypt.
Medusa hand tattoo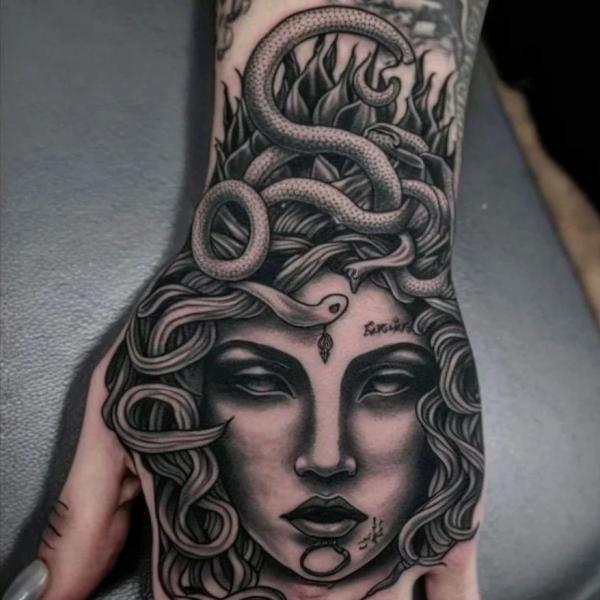 Medusa is a mythical Greek creature, a woman with snakes for hair, who could turn anyone to stone with her gaze. A Medusa tattoo symbolizes feminine power and resilience, as well as personal transformation and growth.
Native American woman with war paint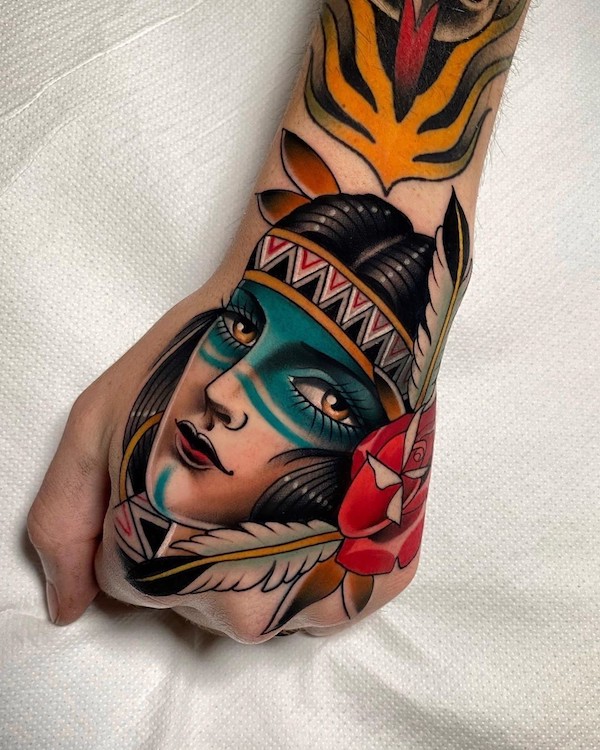 This Native American tattoo features a woman's portrait adorned with war paint, representing strength, courage, and the rich tradition of Native American culture.
Ankh Symbol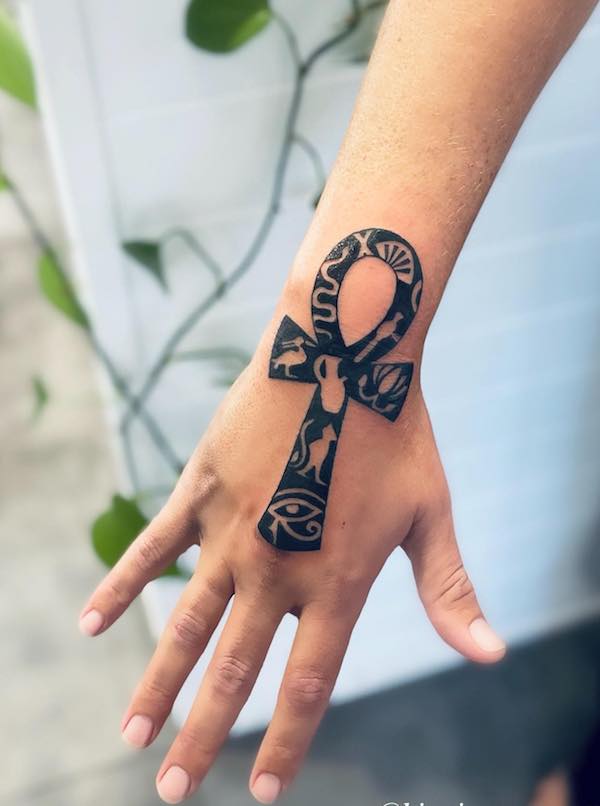 The Ankh is an ancient Egyptian symbol resembling a cross with a loop at the top. The Ankh represents eternal life, symbolizing rebirth, regeneration, and the union of opposites.
Anubis with Ankh Symbol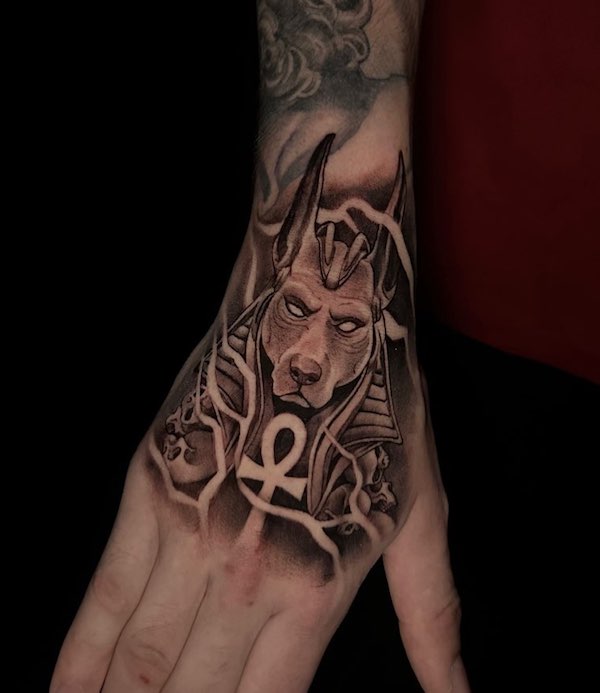 Anubis, the god of death and embalming in ancient Egypt, is often depicted holding the Ankh symbol. This combination represents the balance between life and death, serving as a reminder of our mortality and the afterlife.
Aztec Sun of God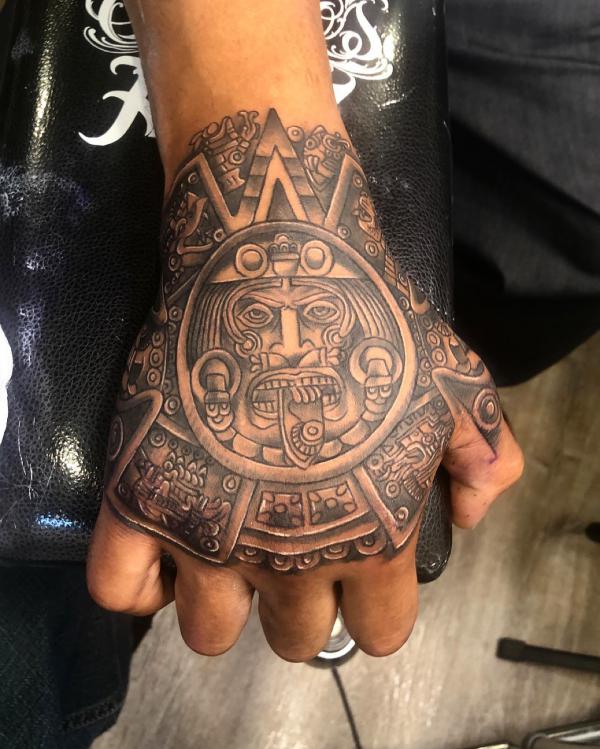 This Aztec tattoo honors the Sun of God, Tonatiuh, believed to protect and provide the people with warmth and light. This design symbolizes life, energy, and power.
Carved eye of Horus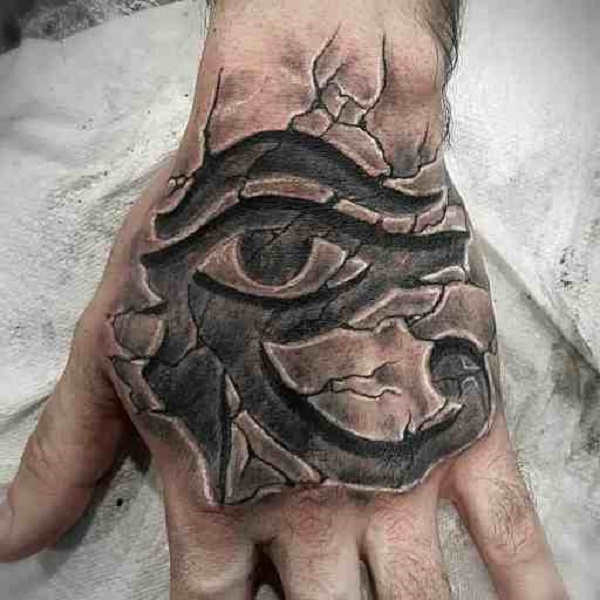 The Eye of Horus, a crucial element in Egyptian mythology, symbolizes protection, health, and royal power. A carved eye of Horus tattoo showcases intricate detailing represents the watchful gaze of the gods.
Celtic knot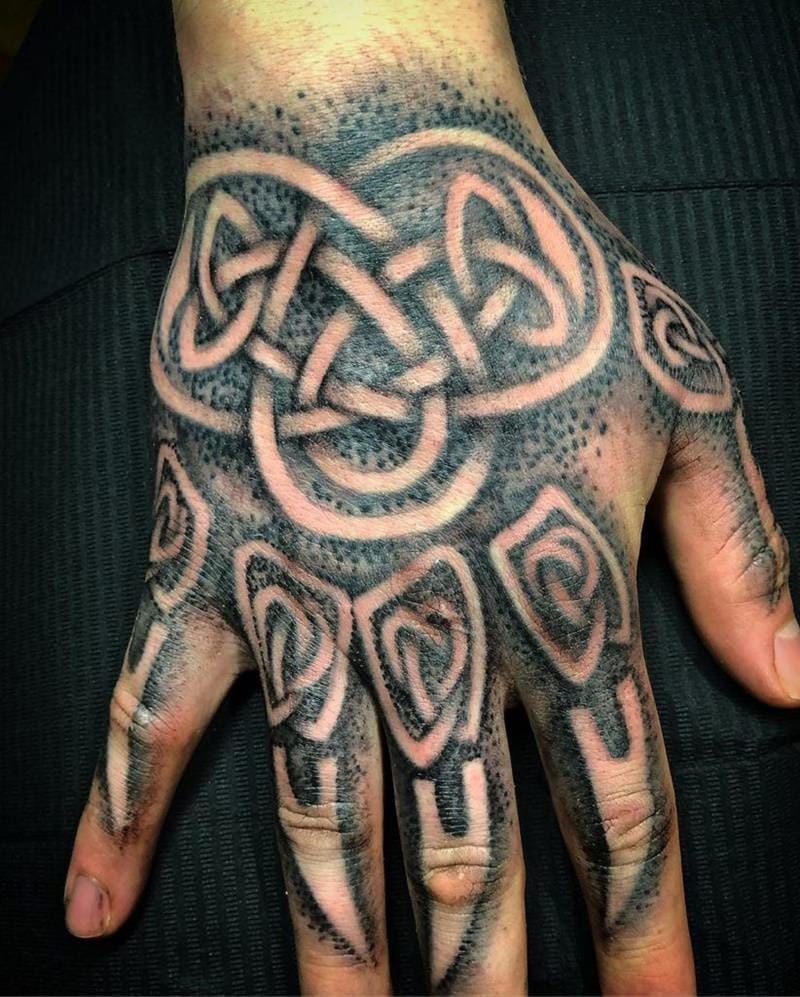 Celtic knots are intricate patterns intertwined with no visible beginning or end. These tattoos symbolize eternal love, friendship, and the interconnectedness of all things.
Floral hand tattoos
Floral tattoos are a stunning and creative way to express oneself through body art. With intricate designs and vibrant colors, these tattoos not only showcase the beauty of nature but also can hold personal meaning or symbolism. Ranging from classic roses to exotic blooms, these tattoos can be customized to each individual's preferences. With their diverse array of styles, floral hand tattoos continue to flourish in popularity, making them an excellent choice for those looking to make a bold and meaningful statement.
Rose by using negative space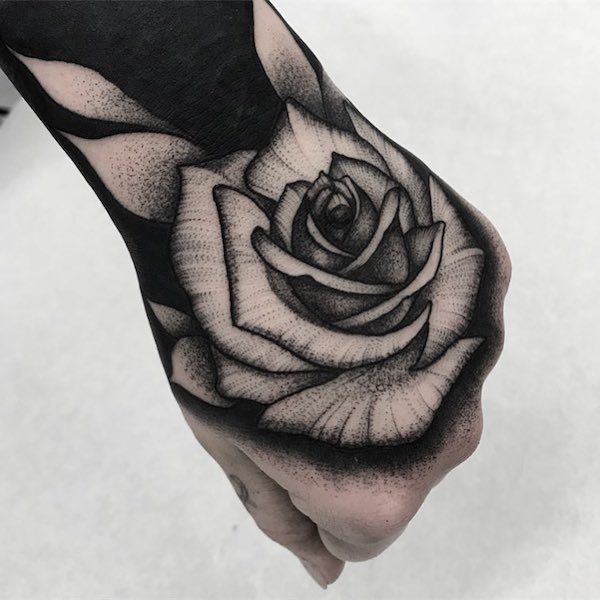 This unique design features a rose created by using negative space, which showcases the natural beauty of the skin's tone. The artist masterfully outlines the petals and leaves, allowing the un-inked skin to form the shape and details of the flower. This innovative approach results in an elegant and understated tattoo.
Chrysanthemum blackwork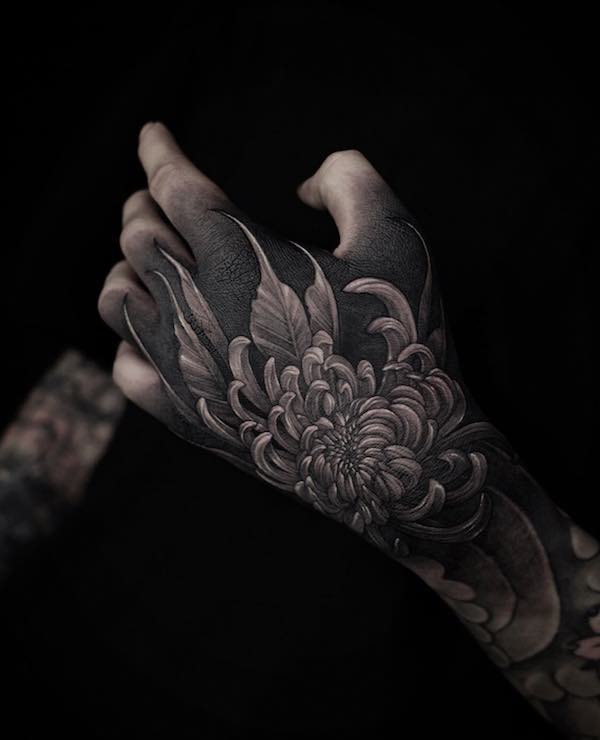 Bold and intricate, this design consists of rich, dark ink and exceptional line work. The tattoo artist skillfully incorporates black shading within the bloom, creating an eye-catching piece that reflects the chrysanthemum's symbolism for rejuvenation and longevity.
Epiphyllum flower on black canvas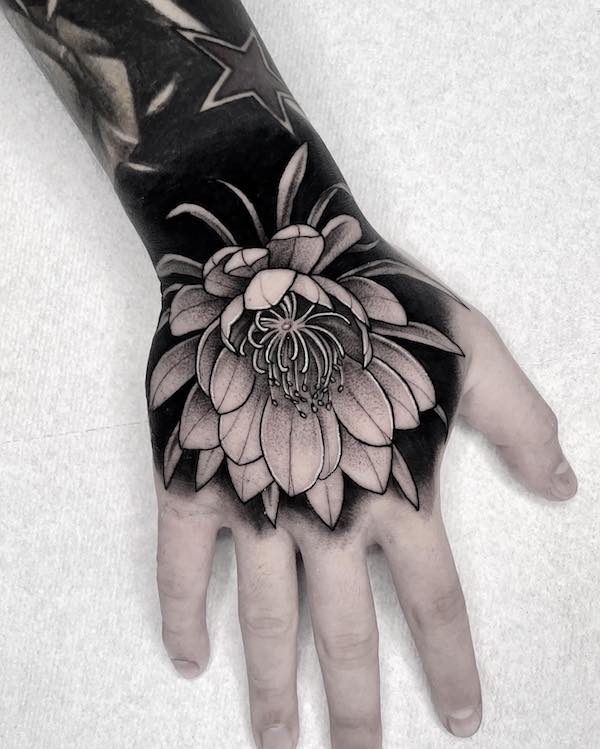 An epiphyllum flower, also known as the orchid cactus, is captured in this captivating tattoo placed on a contrasting dark background. This unique design highlights the flower's stunning, delicate petals and vibrant colors, resulting in a breathtaking work of art.
Full hand peony tattoo in black and white style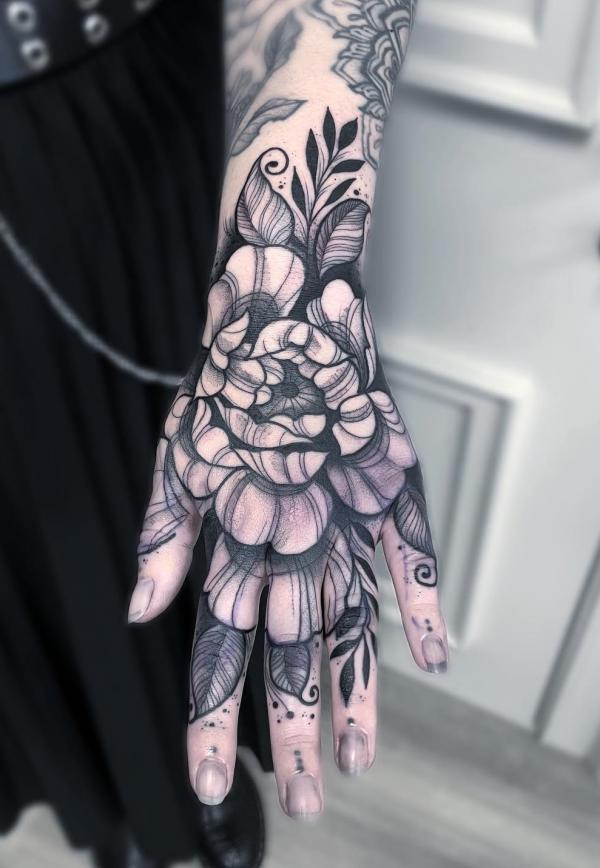 This bold and elaborate design completely covers the hand, featuring a large peony blossom in a striking black and white style. The meticulous shading and intricate details bring the flower to life, creating a mesmerizing statement piece that pays homage to the beauty and power of the peony.
Lily flower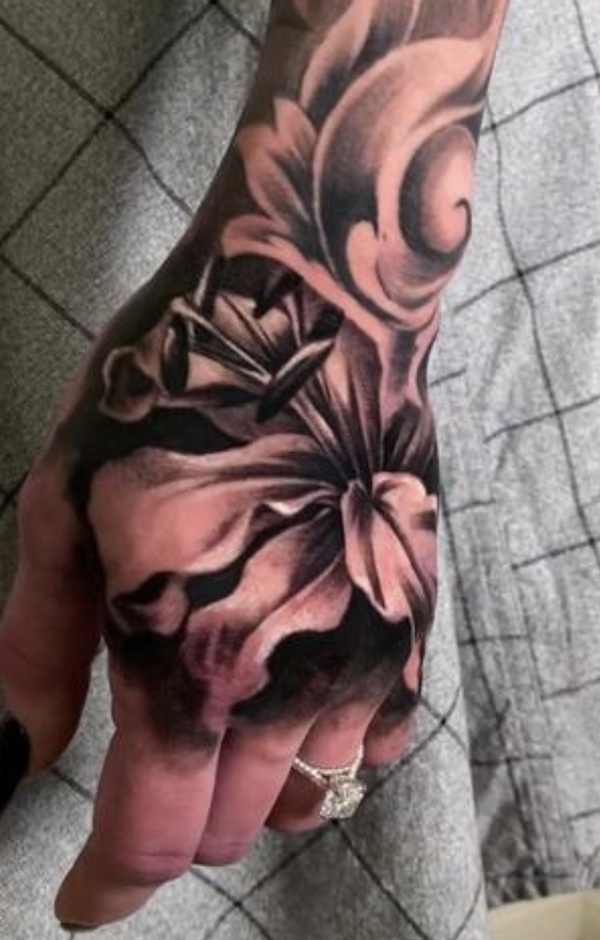 A symbol of purity and grace, this tattoo design features the elegant beauty of a lily flower. With flowing lines, delicate shading, and a simple yet stunning color palette, this design highlights the natural elegance of the blossom.
Red and white tulip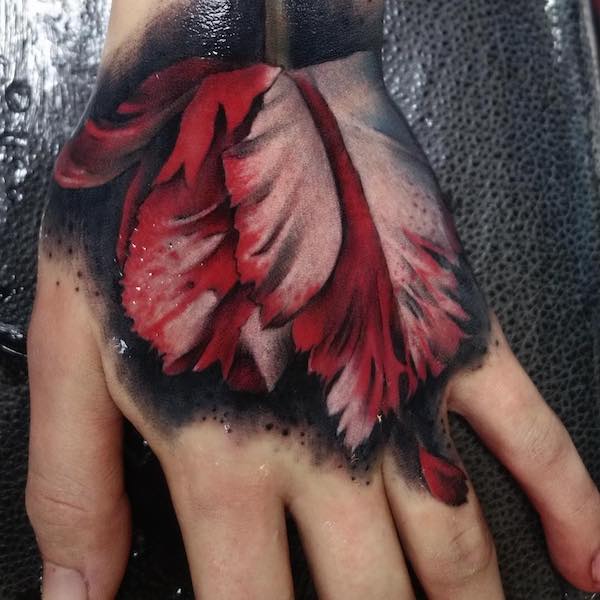 A colorful and striking design, this tattoo features a red and white tulip bloom. The vivid colors contrast beautifully with the skin, creating a bold statement that expresses the unique beauty and resilience of the tulip.
Red peony with dark leaves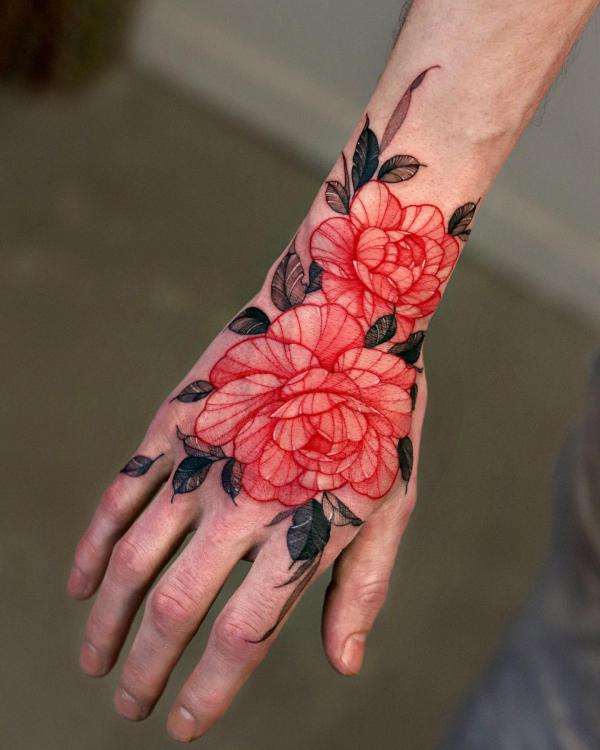 In this deeply symbolic design, a red peony is accompanied by contrasting dark leaves. The vivid color and intricate details showcase the deep love and prosperity associated with the flower, making this a truly special and meaningful piece.
Blue rose hand tattoo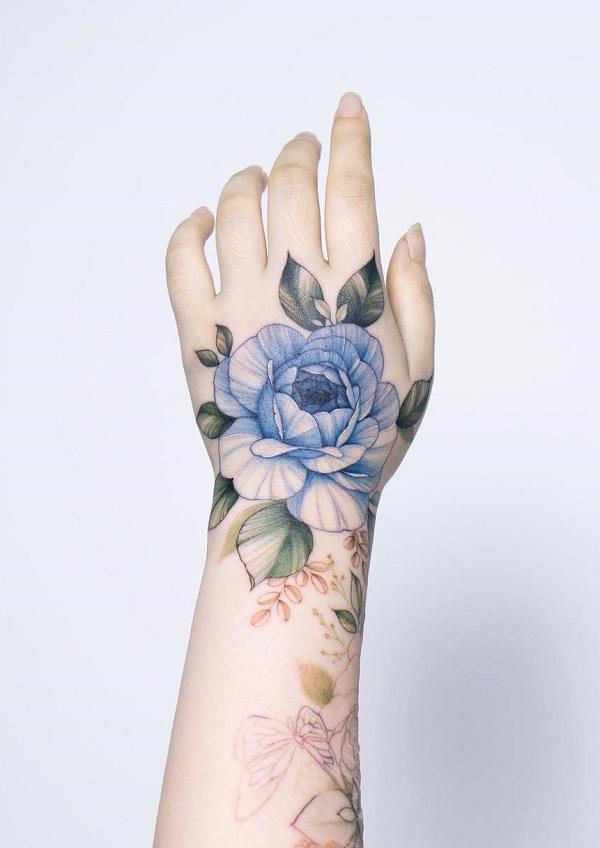 A fusion of mystery and sophistication, this blue rose tattoo offers a unique take on a classic floral design. The rich shades of blue evoke a sense of royalty and enchantment, making for a captivating and alluring tattoo choice.
Watercolor rose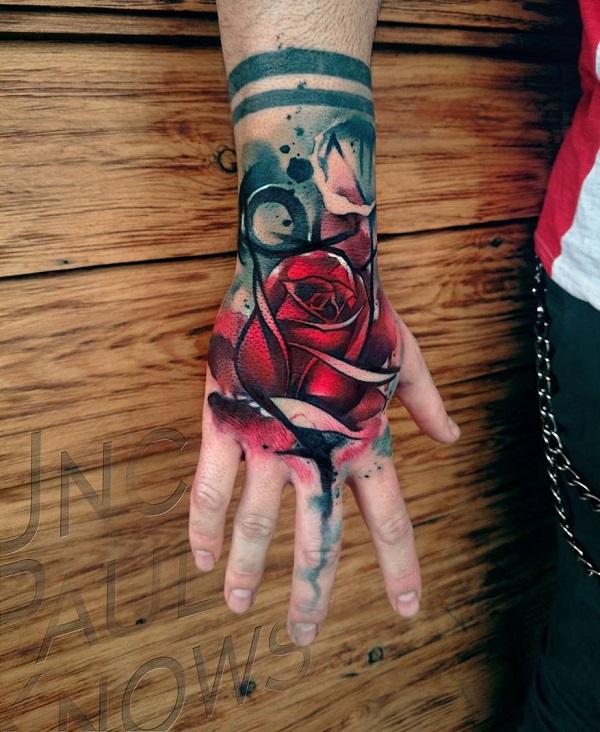 This dreamy design features a delicate rose rendered in a soft watercolor style. The subtle blend of colors and gentle brushstrokes evoke an ethereal quality, capturing the essence of the rose's timeless beauty.
A drop of dew falls on a black and gray rose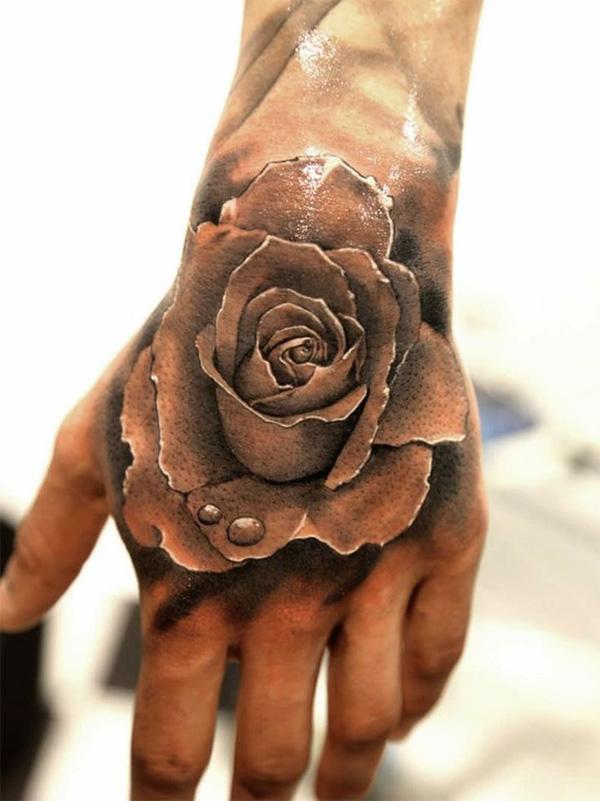 This tattoo design captures the beauty and fragility of nature in a stunning way. The black and gray rose symbolizes the balance between light and dark, while the dewdrop represents life and renewal. The striking contrast between the delicate dew and the bold rose creates a visually appealing design that seamlessly blends both power and vulnerability.
Red rose hand tattoo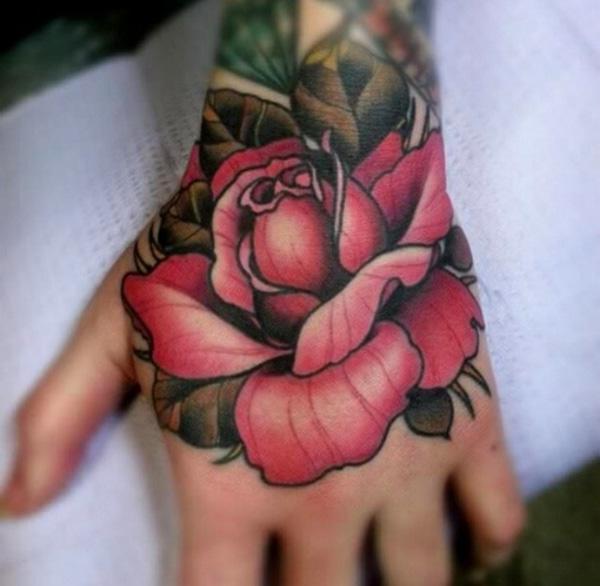 The red rose is a classic and meaningful symbol, representing love and romance. It is a popular choice for anyone looking to express their passion and devotion. The vibrant red color on a hand tattoo adds depth and beauty to the design and is sure to catch the eye.
Dandelion Hand Tattoo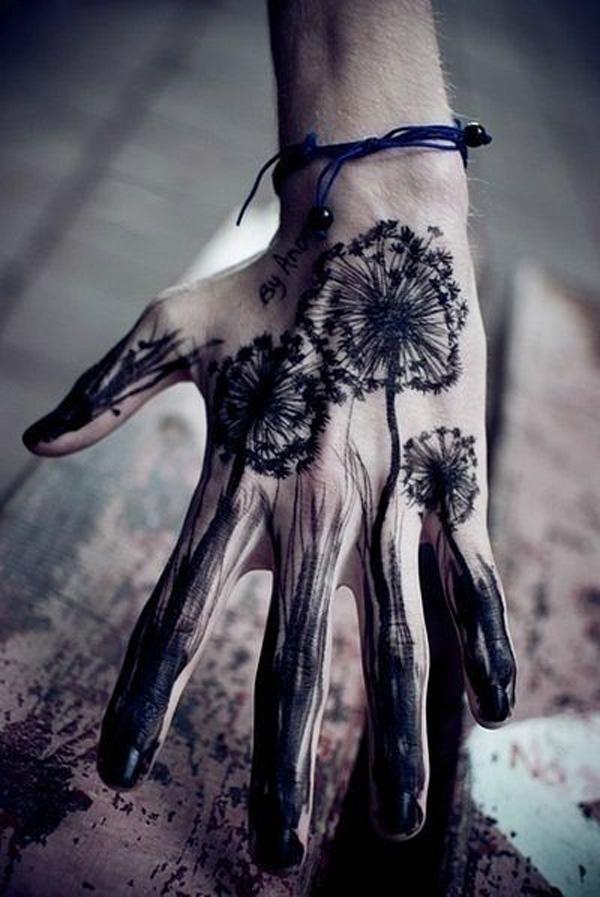 Dandelions, often associated with wishes and dreams, make for a whimsical and charming tattoo design. The dandelion hand tattoo symbolizes hope and the belief in one's ability to achieve their goals. The intricacy of the seed patterns and the fluffy white feathers add a touch of elegance to the tattoo.
Dotwork flower hand tattoo for women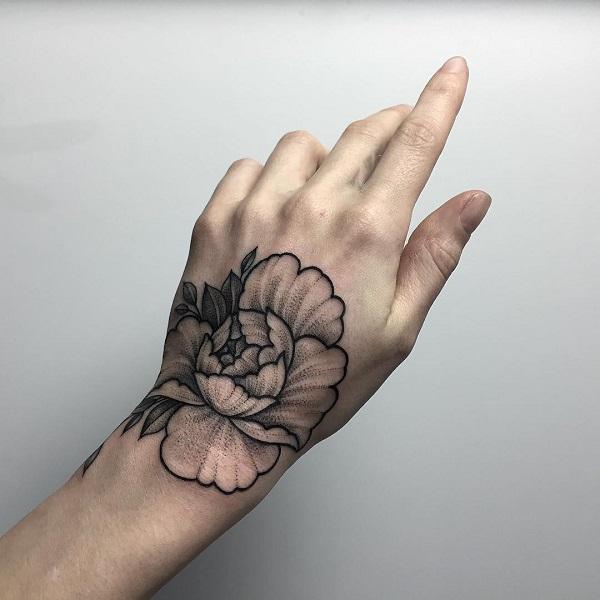 The dotwork technique used in this tattoo design gives it a delicate, almost lace-like appearance. Intricate shading creates depth and adds an air of sophistication to the beautiful floral design. This tattoo is perfect for women looking for a subtle yet stunning statement piece.
Blue rose hand tattoo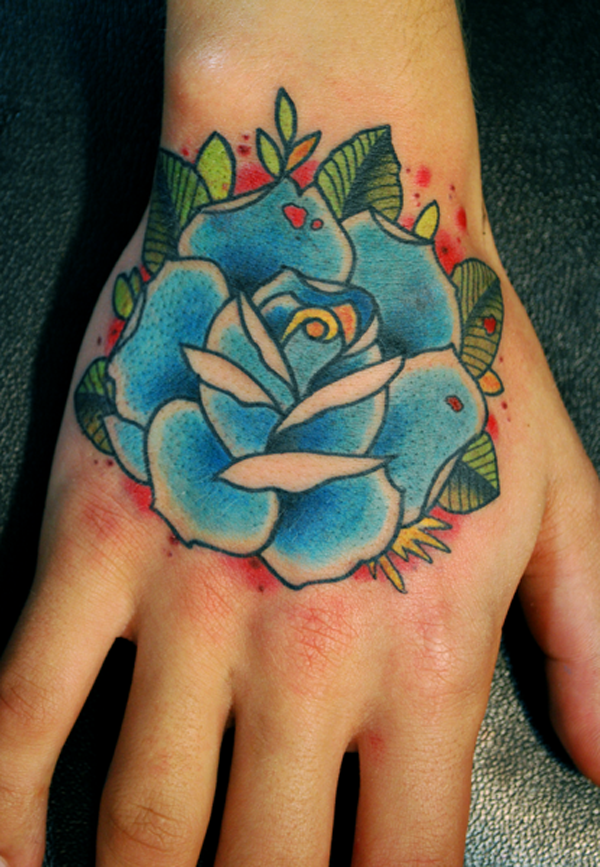 The blue rose represents the impossible and the unattainable. This unique twist on a classic design makes it an ideal choice for those who dare to dream. The rich blue color of the rose stands out boldly on the hand, adding a touch of mystery and intrigue.
Black and white rose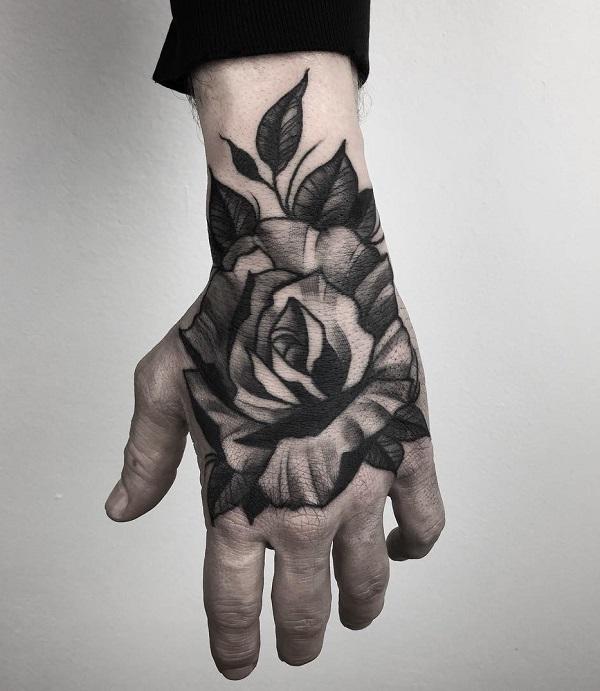 The timeless black and white rose tattoo serves as a testament to the enduring beauty of this classic design. The high contrast and attention to detail make it stand out, while the classic symbolism remains evident. It is perfect for those who appreciate elegance and simplicity.
Rose dotwork on hand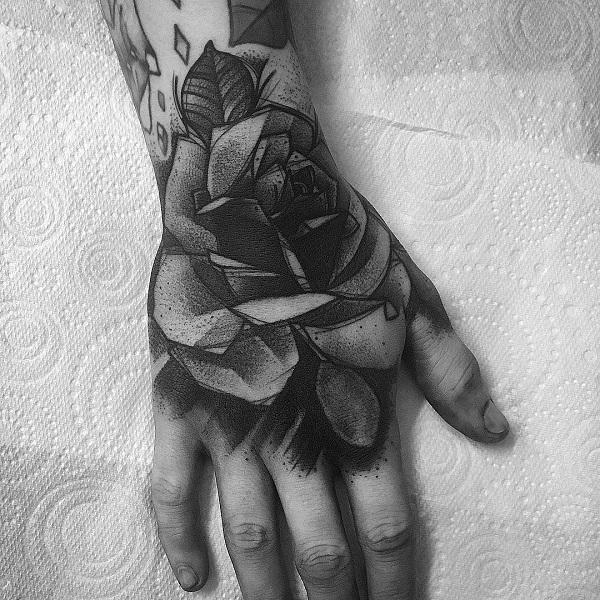 Rose dotwork tattoos incorporate precise dots to create intricate shading and texture. The result is an incredibly detailed design that allows the rose to shine as the centerpiece. This eye-catching tattoo blends traditional rose symbolism with modern artistry.
Red rose tattoo on Hand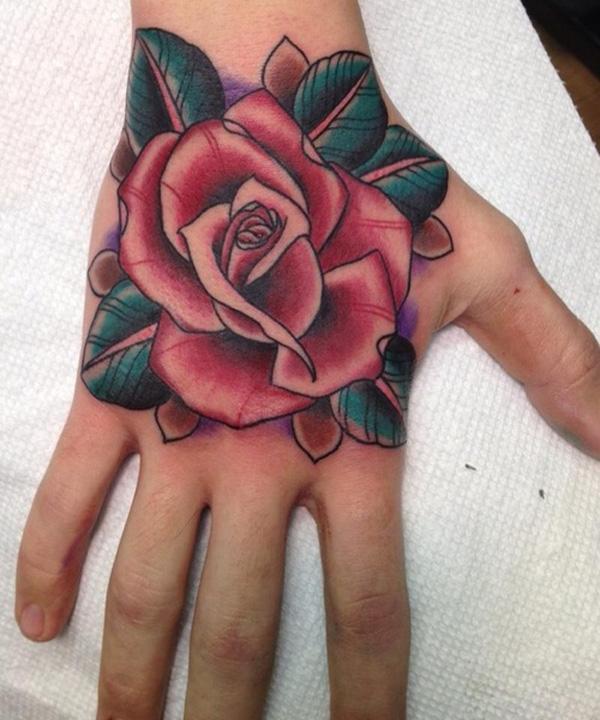 Striking and captivating, the red rose tattoo on the hand is a bold statement of passion and devotion. The vivid red hue of the rose adds a pop of color and life to the design, while its placement on the hand ensures it is always in view.
3D Red Rose Tattoo on Hand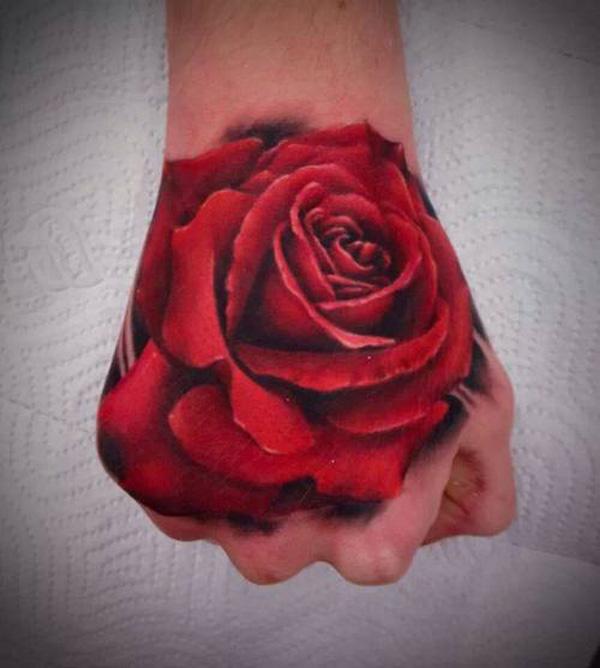 The 3D red rose tattoo takes artistry to a new level, with realistic shading and intricate detail that seem to bring the flower to life. This stunning tattoo captivates the attention of onlookers and offers a beautiful, everlasting reminder of the power of love and devotion.
Black and white lily Flower Hand Tattoo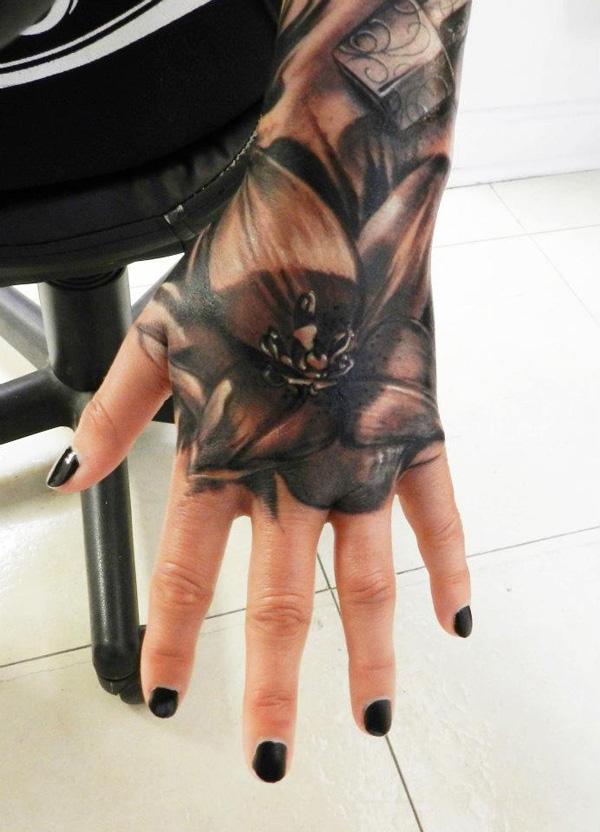 The elegant lily flower hand tattoo in black and white is a symbol of purity and grace. The striking contrast between the white petals and black stamens give the design a unique and sophisticated look. The lily's gentle curves and delicate petals make it a lovely addition to any hand.
Nautical hand tattoos
Nautical tattoos are a popular choice for body art enthusiasts, inspired by maritime history and symbols of the sea. These tattoos often showcase an artistic and meaningful representation of one's love for the ocean and its vast mysteries. With designs ranging from anchors to compass roses, these tattoos are visually stunning and easy to customize to personal tastes and preferences. They also serve as a reminder of the strong connection many individuals have with seafaring, whether it be through family history or personal experiences.
Rose and anchor hand tattoo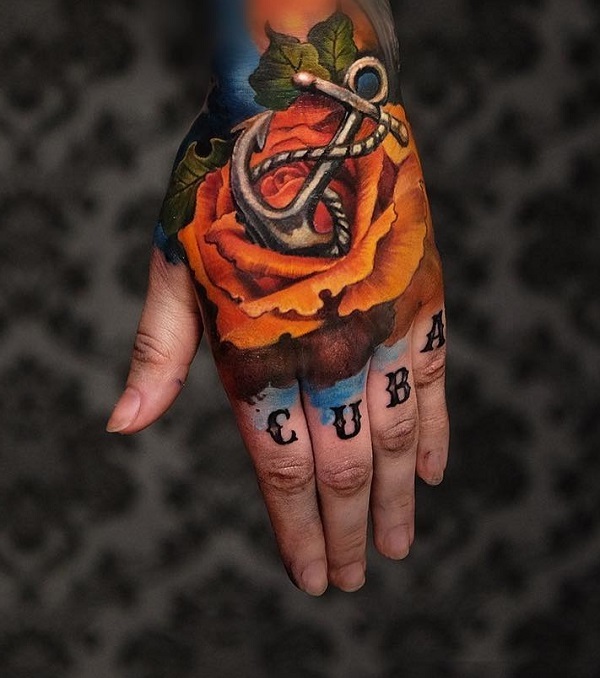 The rose and anchor tattoo design is a classic symbol of both beauty and strength. The anchor, often accompanied by an intricately designed rose, represents stability and a connection with the sea, while the rose symbolizes love and beauty. This tattoo can be seen as a reflection of one's inner strength and passion, with the sea and love intertwined in an elegant design.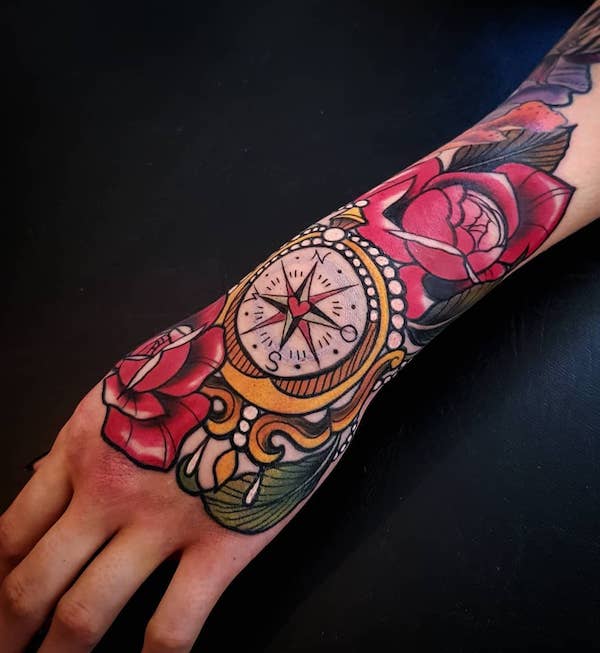 A traditional rose and compass tattoo captures the essence of seafaring navigation and exploration. The compass represents guidance and direction, while the rose signifies the beauty and romance of the unknown. This design represents the adventurous spirit of those who seek their own path in life, guided by the stars and their own ambitions.
Compass rose and leaves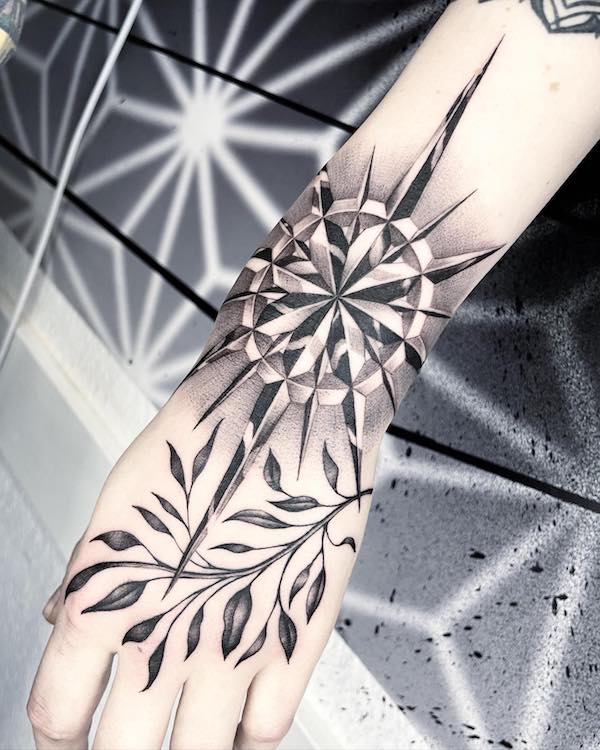 In this design, the compass rose is surrounded by graceful leaves, adding an organic, floral touch to nautical themes. This composition portrays the idea of nature's influence on human exploration and the unity between the earth and sea. This tattoo design serves as a reminder of the balance necessary for a harmonious existence with our environment.
Eye of compass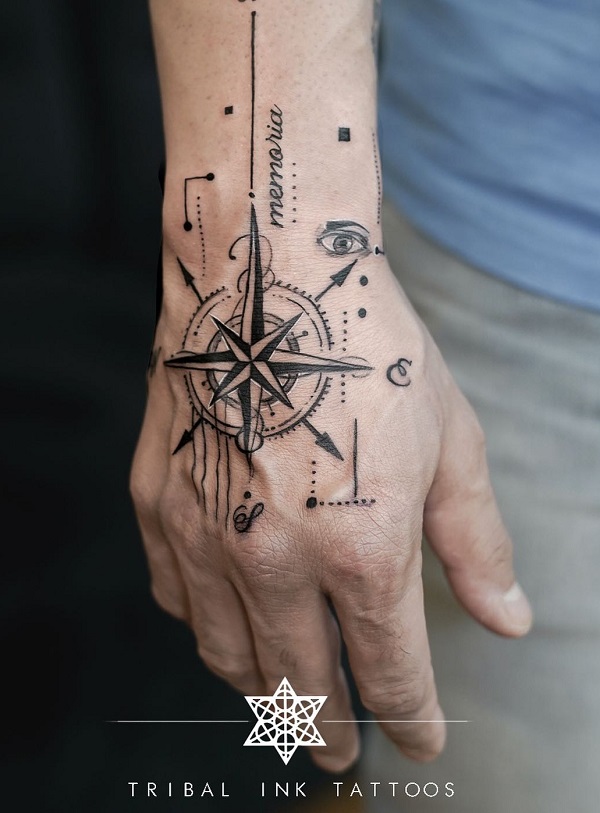 The eye of the compass tattoo features a mysterious, all-seeing eye within the center of the compass rose. This design symbolizes not only guidance through life's journey but also a sense of protection and a watchful presence. This tattoo serves as a unique spin on the traditional nautical compass, invoking notions of spiritual guidance and wisdom from the ocean's depths.
Japanese hand tattoos
Japanese tattoos have a rich history and are a true expression of unique artistry. These tattoos often encompass complex, intricate designs, painstakingly inked by master tattoo artists. Steeped in tradition, symbolism, and cultural significance, these tattoos range from patterns, foliage, and animals to mythological creatures and legendary figures. The level of precision and detail in these tattoos elevates them beyond simple ink, making them wearable pieces of art that showcase creativity and individuality.
Hannya and chrysanthemum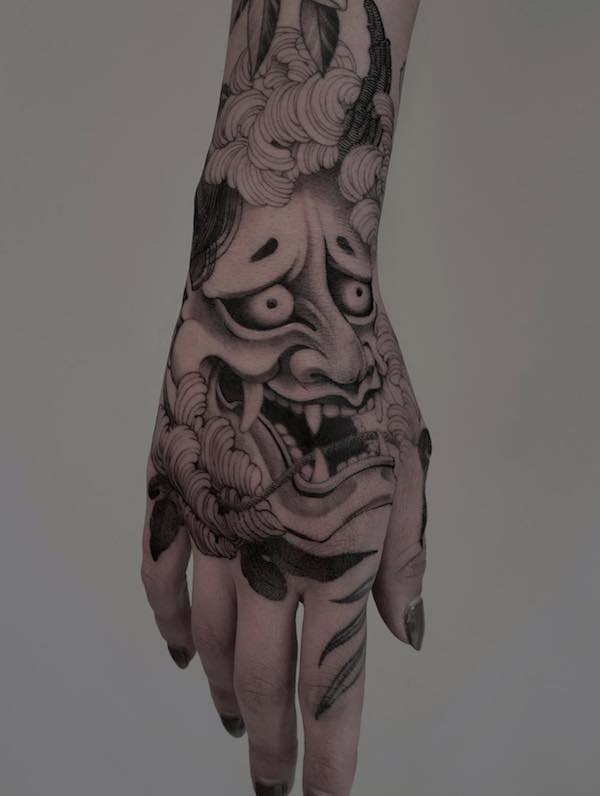 In this particular design, the Hannya mask – a Noh theater mask – represents a woman transformed into a demon by jealousy and anger. The accompanying chrysanthemums symbolize elegance, beauty, and regeneration, creating a powerful contrast between the two elements. This combination illustrates the human struggle between destructive emotions and the desire to rise above them, as well as the potential for change and rebirth.
Japanese chrysanthemum hand tattoo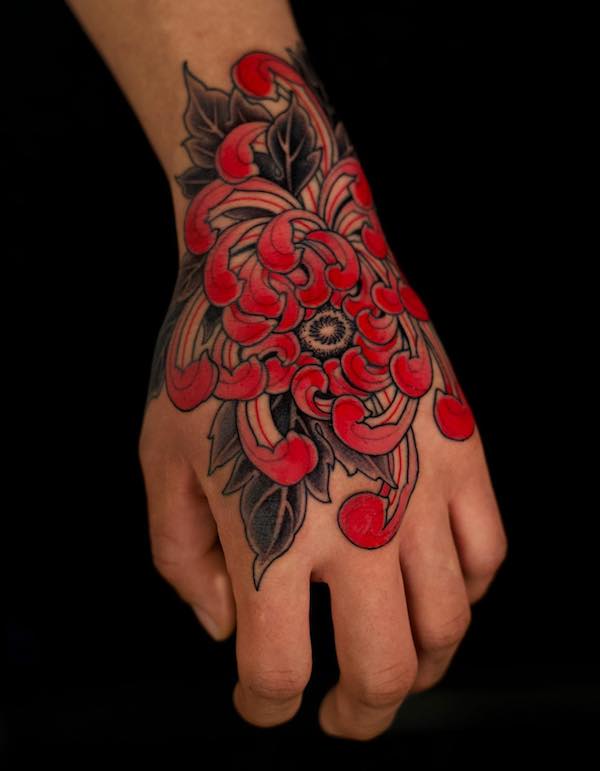 Deeply rooted in Japanese culture, the chrysanthemum – or "kiku" – is a symbol of longevity, rejuvenation, and nobility. The intricate petals radiating from the flower's center represent the sun and the unity of the Japanese people. The tattoo captures the beauty and strength of this revered blossom, showcasing the skill and precision of the artist.
Japanese dragon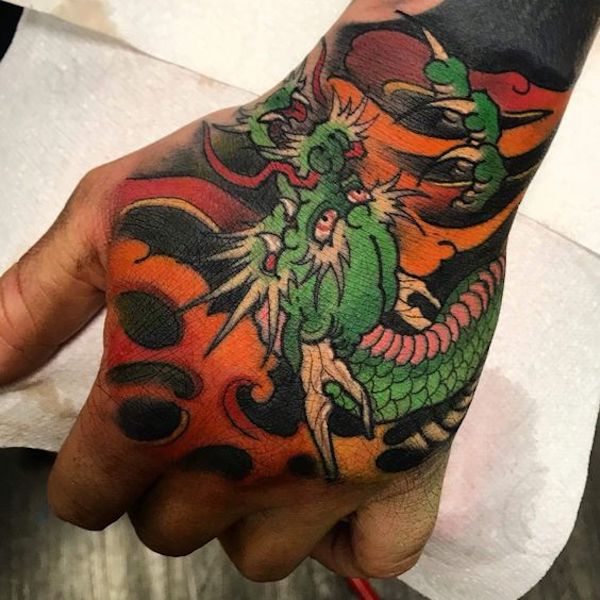 A mythical and powerful creature, the Japanese dragon is a symbol of strength, wisdom, protection, and prosperity. Highly revered in Japanese folklore, these dragons are often depicted as large, serpentine creatures with bold, intricate scales and fierce expressions. A Japanese dragon hand tattoo symbolizes personal power and the ability to overcome adversity and harness life's energies.
Lotus and Koi fish tattoo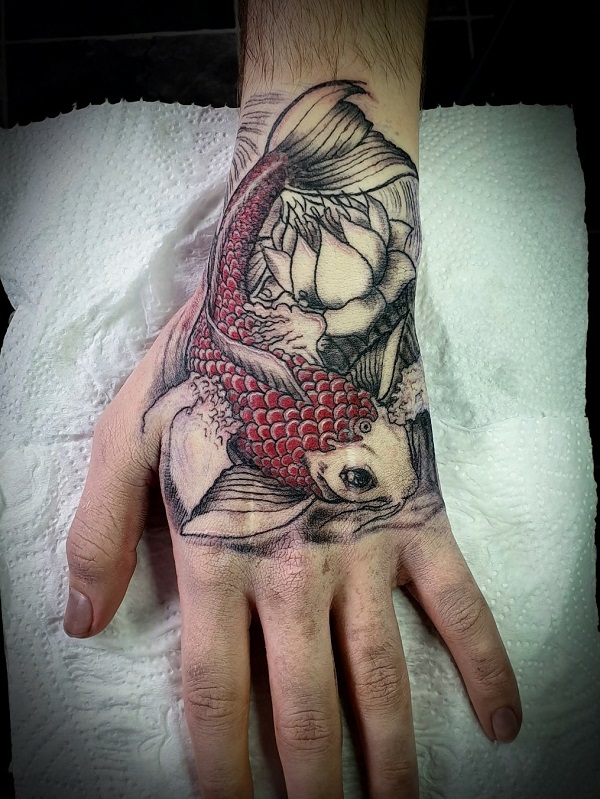 A popular symbol in Japanese art, koi fish are associated with perseverance, strength, and good fortune. The tattoo features the majestic fish – often adorned with vibrant colors and scales – swimming against the current, representing the resilience and determination to overcome life's obstacles and achieve success.
A crane flying over sun and sea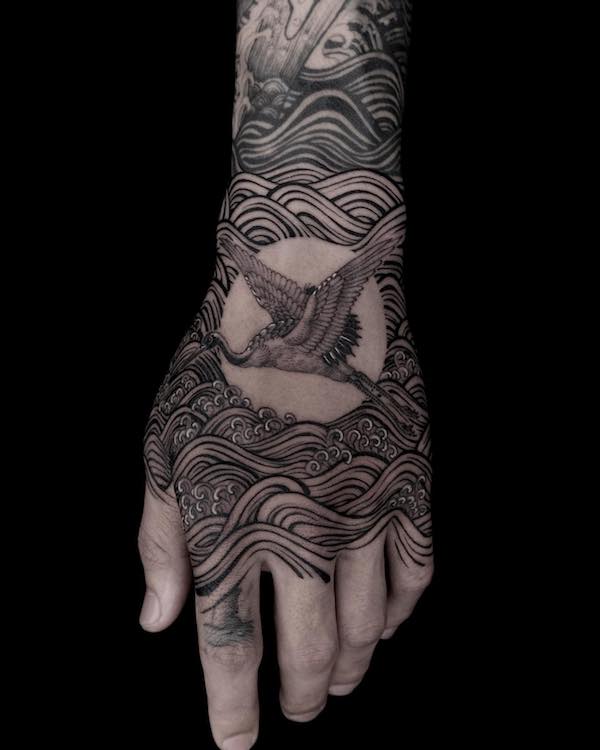 The crane is a symbol of longevity, good fortune, and happiness in Japanese culture. In this design, the graceful bird can be seen soaring above the sun and sea, symbolizing the freedom and joy found in overcoming life's challenges. The merging of these elements creates an inspiring image of hope, resilience, and rebirth.
Foo dog hand tattoo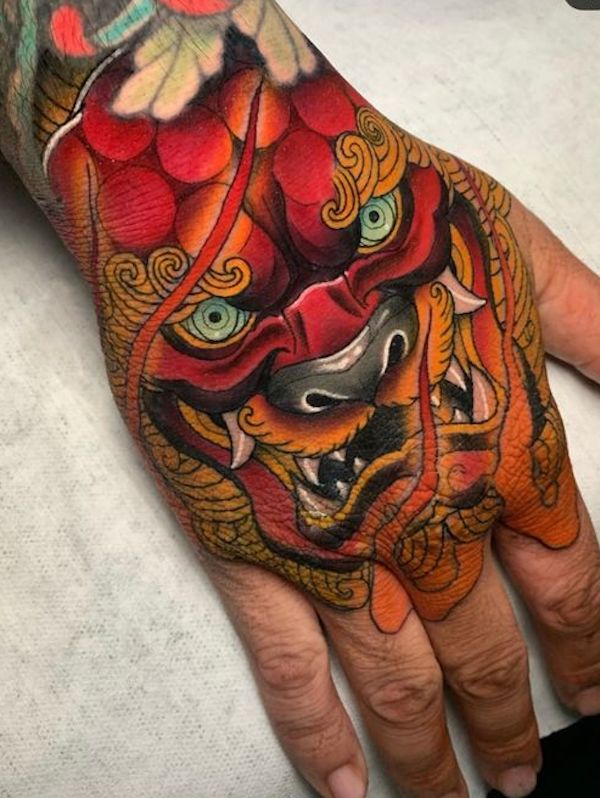 Despite its name, the Foo dog is actually a fierce and protective lion, often seen guarding temples and homes in Japan. These mythical creatures are considered symbols of strength, protection, and prosperity. A Foo dog hand tattoo displays a powerful and intricate depiction of this guardian, demonstrating the tattoo artist's skill and mastery of the iconic design.
Small hand tattoos
Small tattoos are a unique and subtle way to express oneself through body art. They are ideal for individuals who desire a more discreet design, easily concealed in professional settings. And they are also suitable for those who initially want to enter the world of tattoos. With a myriad of designs and possibilities, these tattoos can be meaningful, intricate, or dainty while offering a personal touch.
Simple abstract hand tattoo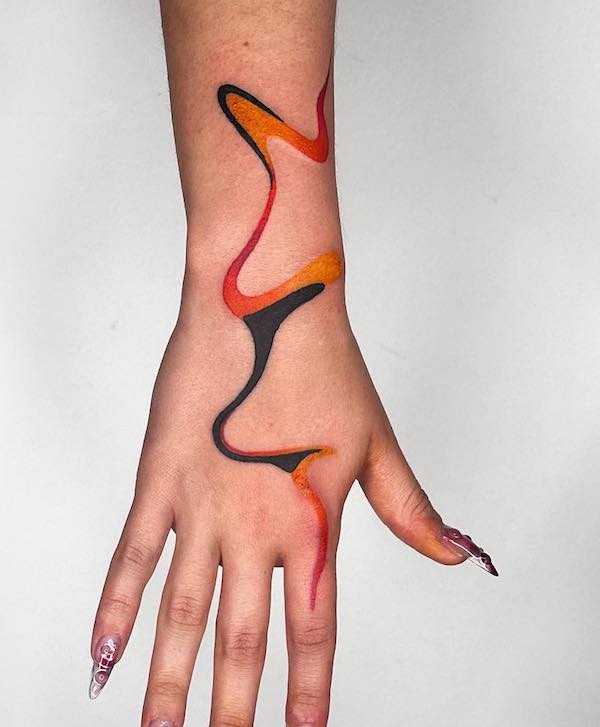 This design features a delicate, soft swirling lines that add a touch of abstract. The simplicity and elegance represents one's personal identity, creativity, or connection to a specific concept or emotion.
Sword with wings hand tattoo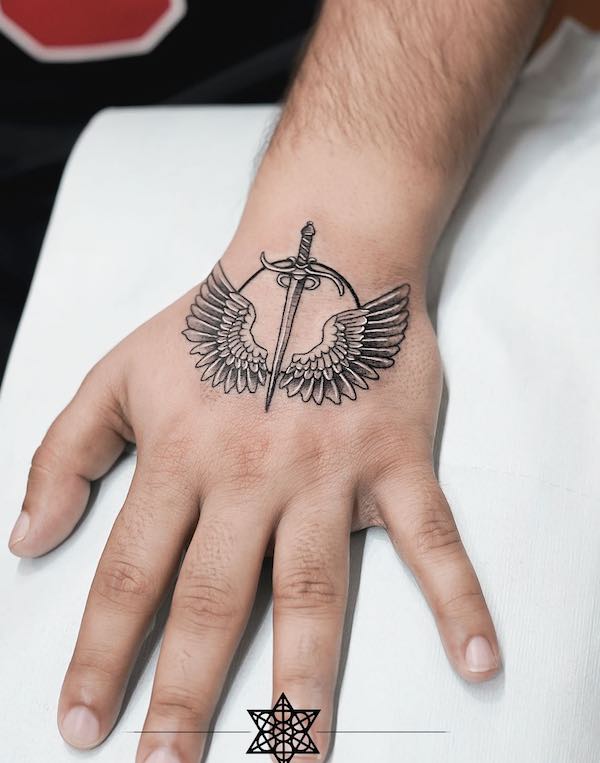 This design showcases a sword surrounded by wings, often symbolizing freedom and strength. As a protective symbol, it may represent an individual who is strong-willed and courageous, defying the odds and obstacles in their life with resilience.
A dagger pierced through a heart
A popular symbol, this tattoo represents the age-old theme of love, heartache, and betrayal. A dagger piercing a heart serves as a reminder of love and the resilience to overcome emotional pain.
Crossed daggers with rose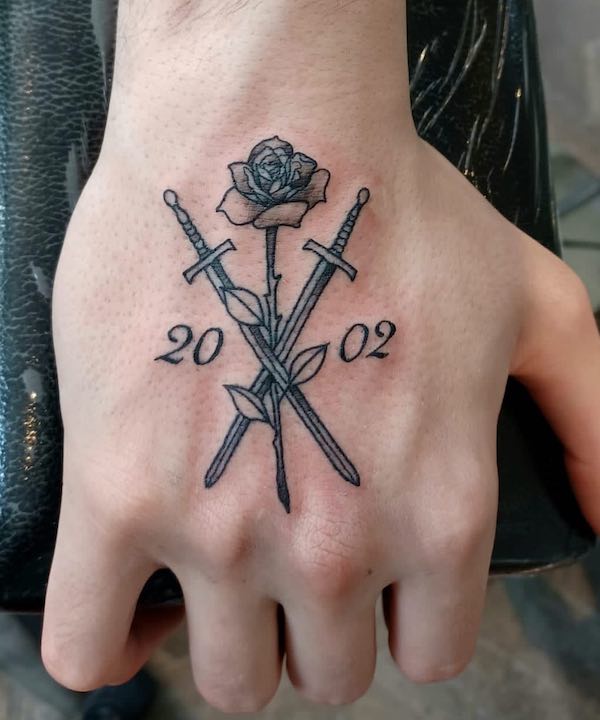 This design merges nature and weaponry, representing the balance between beauty and strength. The crossed daggers signify protection and power, while the rose embraces love, compassion, and vulnerability, creating a harmonious juxtaposition.
minimalist lotus flower amulet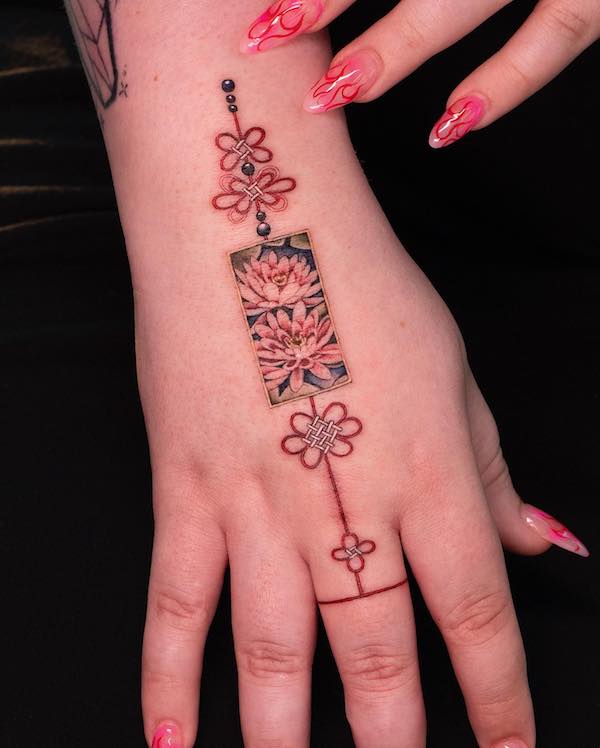 The lotus flower, a symbol of purity, spirituality, and rebirth, is depicted in a minimalist style in this small hand tattoo. Its elegant lines and curves showcase the delicate beauty of the lotus, holding amulet-like properties, serving as a reminder of personal growth, healing, and inner strength.
Whimsical
Whimsical tattoos provide an element of playfulness and self-expression, as they can be easily spotted and often call attention. These tattoos allow individuals to showcase their creative side by incorporating interesting designs and themes reflecting personal tastes. From vibrant colors to intricate patterns, these tattoos not only turn heads but also serve as daily reminders of one's unique identity or personal philosophy. Despite their visible nature, they are becoming increasingly popular as more people embrace this small yet statement-making art form on their hands.
Double faces in Neo-traditional style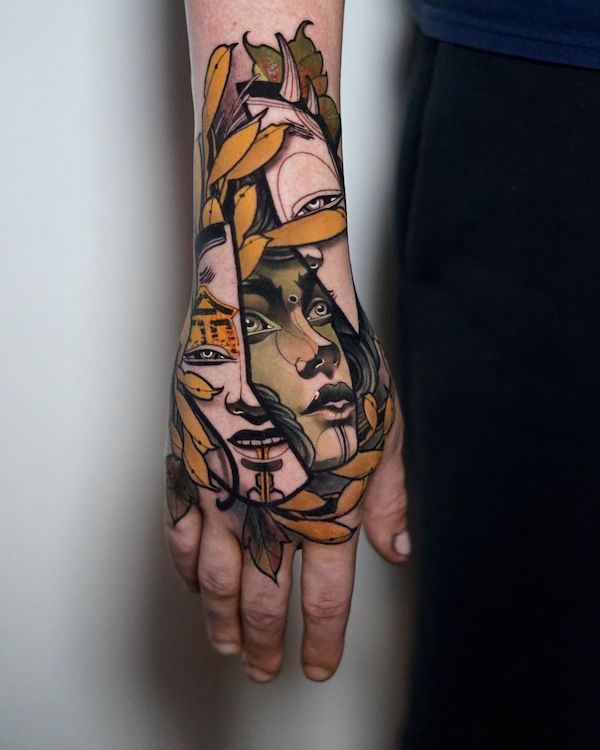 The double faces in a Neo-traditional style hand tattoo marries contemporary design with old-world elements, creating a striking and impactful visual. This design typically features two contrasting faces – one representing joy or brightness and the other depicting a darker or more somber emotion. The Neo-traditional aesthetic gives this tattoo a dash of whimsy, while the duality of emotions serves as a reminder that life is a complex journey of highs and lows.
A woman's face accompanied with poker and dice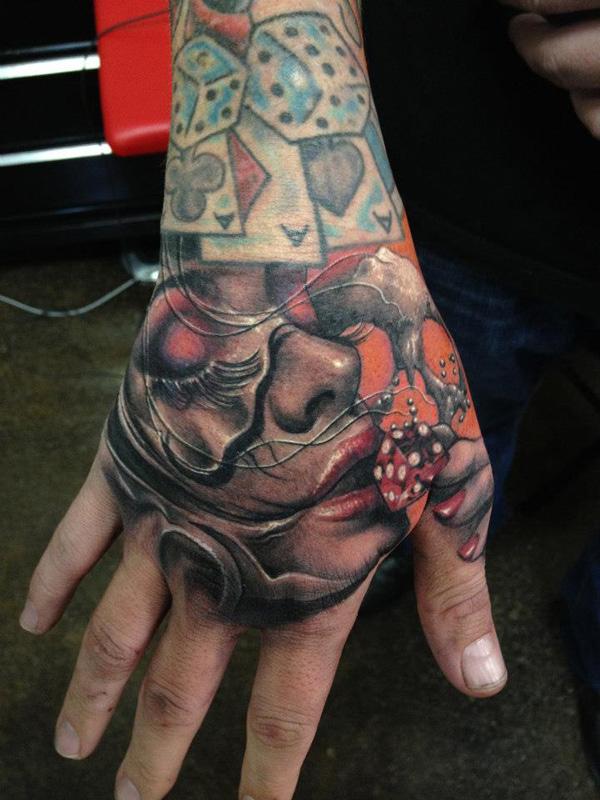 This whimsical hand tattoo includes the portrait of an enchanting woman's face, intertwined with symbols of poker and dice. This design exudes a mysterious, adventurous allure that reflects a love for risk-taking and games of luck. The captivating juxtaposition of the elegant facial features with mischievous objects symbolizes the playful nature of life and one's ability to embrace uncertainty.
Swallows. Flowers & sun. Black and gray tattoo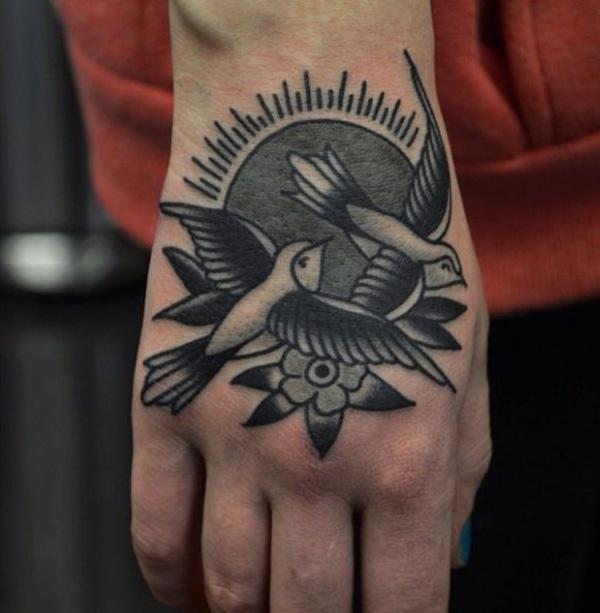 A black and gray tattoo featuring swallows, flowers, and the sun gives off a timeless, classic vibe while staying true to its whimsical nature. Swallows represent freedom and eternal love, while flowers symbolize growth and transformation. The sun, a symbol of light and life, ties these themes together, creating an enchanting story of personal growth, love, and life's continuous journey. By incorporating these elements and using a muted color palette, this design embraces whimsy with a touch of elegance.
Hand tattoos for women
Hand tattoos have become increasingly popular for women in recent years. This unique and creative form of body art allows women to express themselves and showcase their individuality. Tattoos on the hands can be subtle and small or bold and intricate, but they always make a captivating statement. Women can choose from a wide array of stunning designs and styles to adorn their hands, from delicate floral patterns to eye-catching geometric shapes. No matter the choice, a hand tattoo will empower a woman to wear her personality and passion on her sleeve, or rather, her hand.
Baroque wrist bracelet down to hand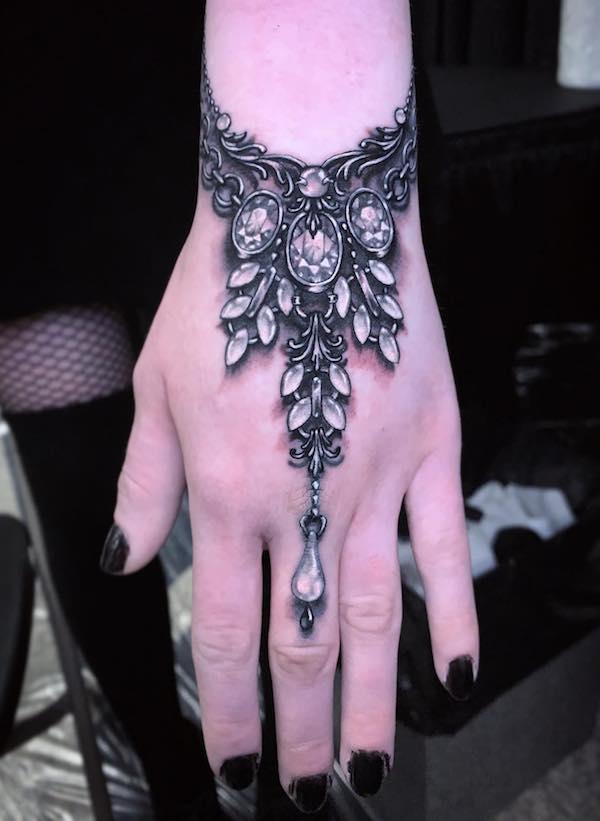 This intricate design resembles a decorative bracelet extending from the wrist down to the fingers. It features ornate Baroque elements such as swirls, curves, and patterns, exuding a touch of elegance and sophistication.
chrysanthemum with Chinese tassel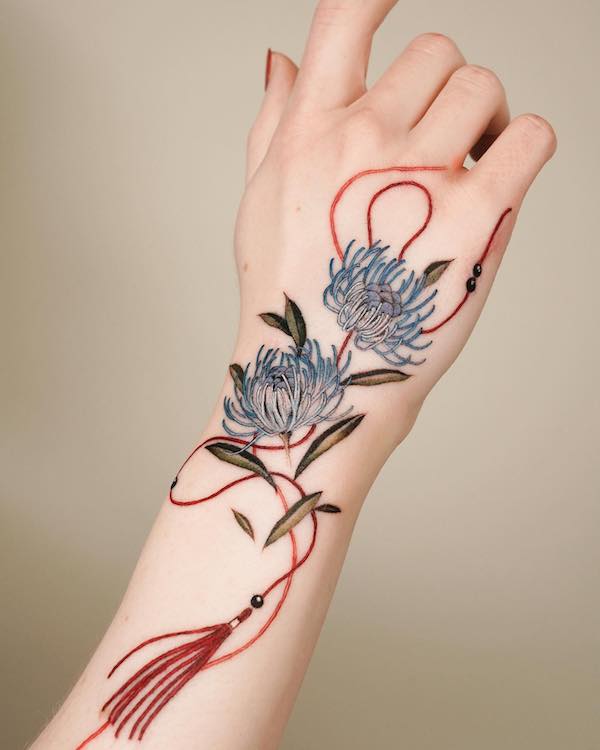 This beautiful tattoo features a stunning chrysanthemum flower accompanied by a delicate Chinese tassel that hangs gracefully. This traditional design represents nobility, beauty, and resilience.
Deer and sun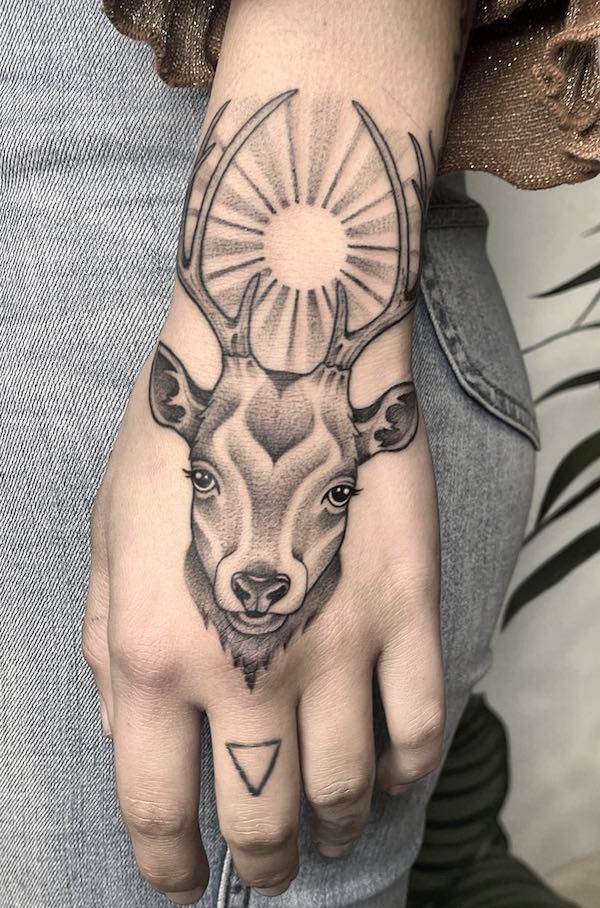 A serene and enchanting design, the deer and sun tattoo symbolizes nature, innocence, and gentleness. The combination of these two elements creates a whimsical and dreamy visual.
Henna Tattoo on Hand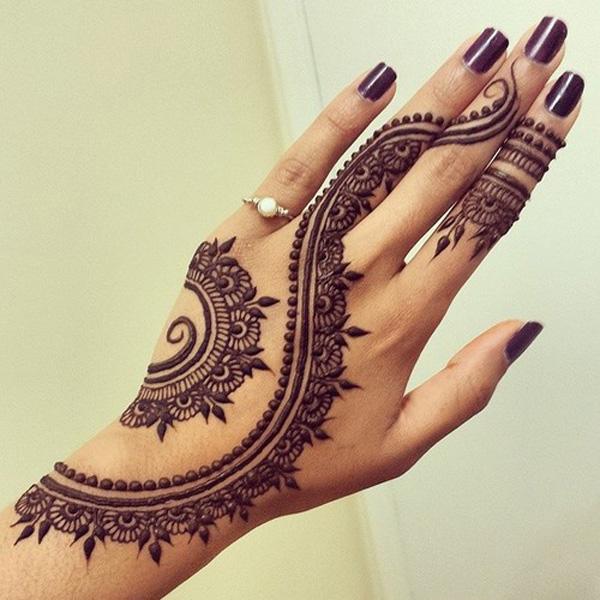 A temporary yet striking option, the henna tattoo boasts intricate patterns and designs inspired by Indian, African, and Middle Eastern traditions, adding a touch of exoticism and mystique to your style.
The henna tattoo is a temporary but visually captivating choice. It features elaborate designs influenced by traditions from India, Africa adding a touch of exoticism and mystique to your style.
Lotus hand tattoo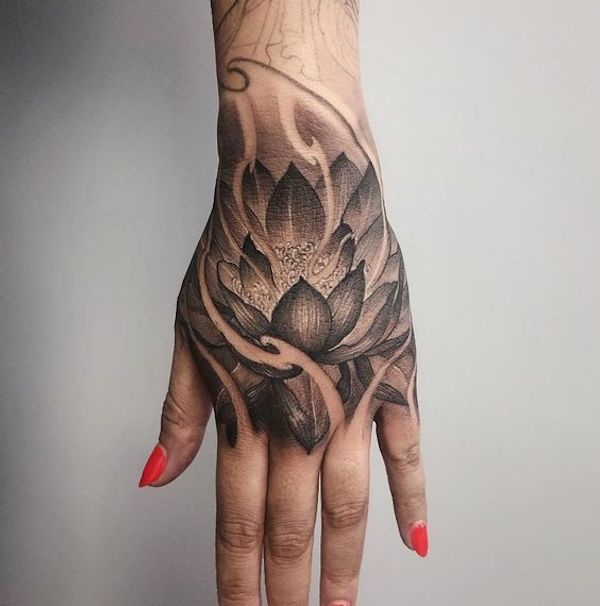 A lotus tattoo embodies spirituality, purity, and rebirth. This elegant and symbolic design can be as detailed or minimalist as desired, making it a versatile choice for women.
Rose outline with silhouette leaves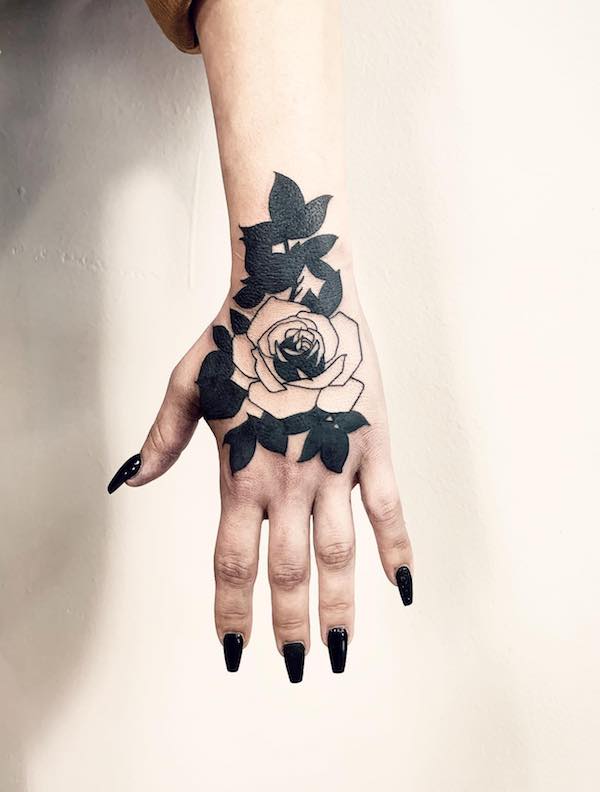 This subtle and graceful design consists of a simple rose outline accompanied by silhouette leaves. It creates a romantic and feminine look perfect for those who prefer a more delicate touch.
Small iris hand tattoo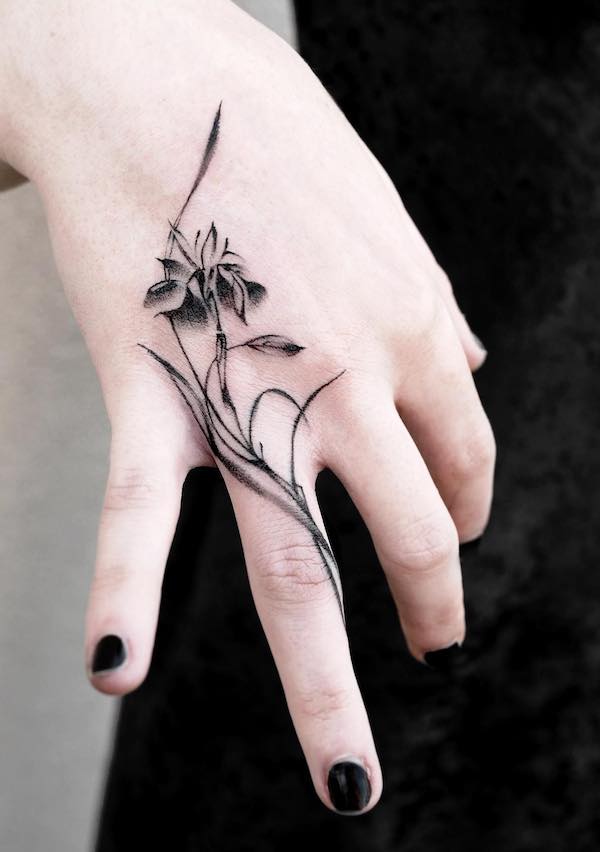 Iris represents faith, hope, and wisdom. So the small tattoo is a lovely choice for women looking for a meaningful design that is minimalistic yet gorgeous .
Abstract slim lines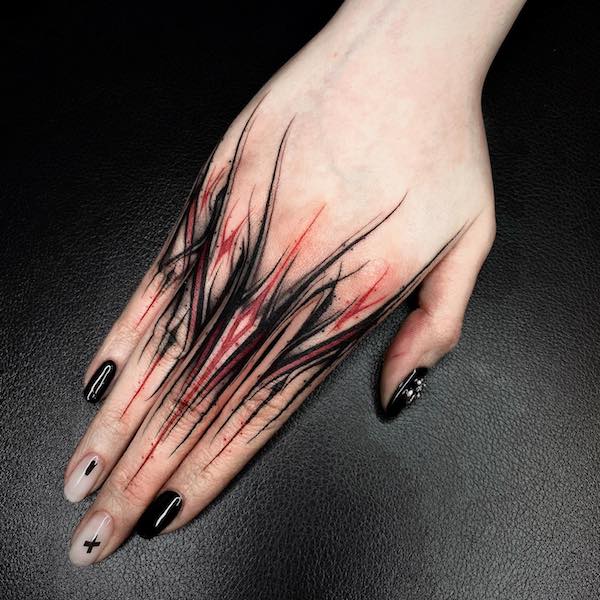 This sleek and modern tattoo features slim, abstract lines that elegantly snake around the hand. Its simplicity makes it an ideal choice for anyone seeking a chic and contemporary hand tattoo.
Rose and leaves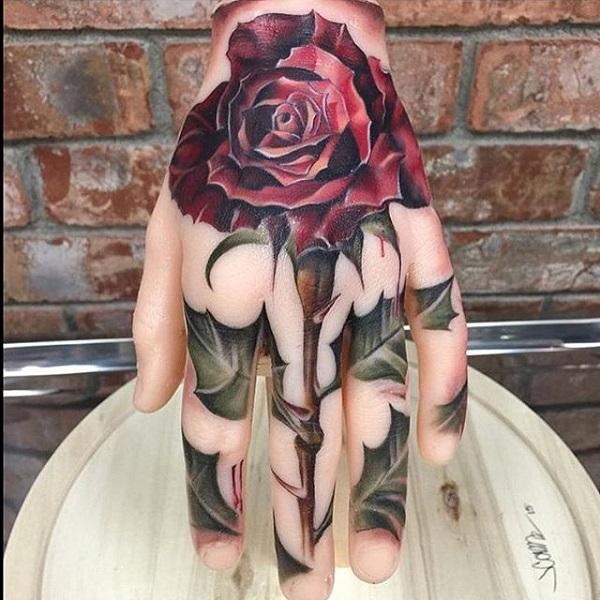 A classic and timeless option, the rose and leaves tattoo showcases the beauty and elegance of this beloved flower. The leaves enhance the design, adding a touch of natural charm.
Flower blackwork using negative space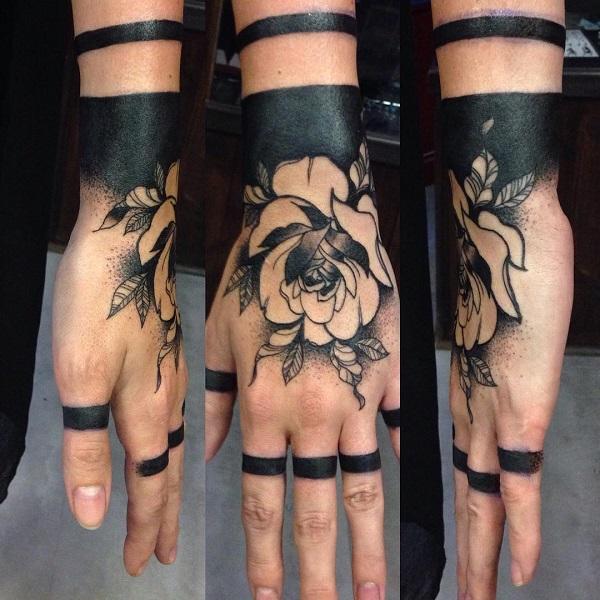 This bold and intriguing tattoo features floral designs in black ink, using negative space to create an eye-catching and unique visual effect. This edgy style is sure to turn heads and make a lasting impression.
Butterfly hand tattoos
Butterfly tattoos are a beautiful way to showcase your appreciation for nature and symbolically represent personal growth, transformation, and the fleeting nature of time. These versatile designs can be customized to your individual style and preferences, incorporating various colors, shapes, and elements. These tattoos can be found in a range of artistic styles, from traditional to tribal, and even new school designs. Popular design elements for a butterfly tattoo could includes the crescent moon, stars, and hearts, signifying the connection between the natural world and the cosmos.
Traditional butterfly hand tattoo with crescent moon and stars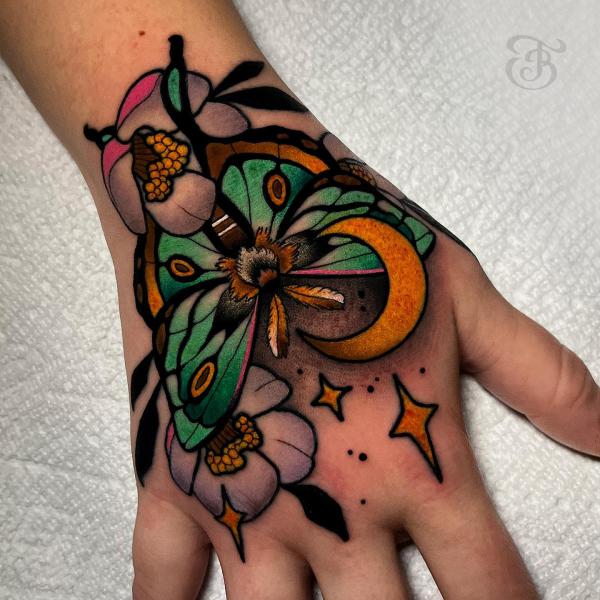 This enchanting design showcases a butterfly gracefully resting on the crescent moon, surrounded by twinkling stars. This tattoo blends the magic of the celestial world with the beauty of nature. The traditional style uses bold lines and rich, saturated colors, reminiscent of old school tattoo design, giving it a timeless appeal.
A black and gray butterfly under the moon light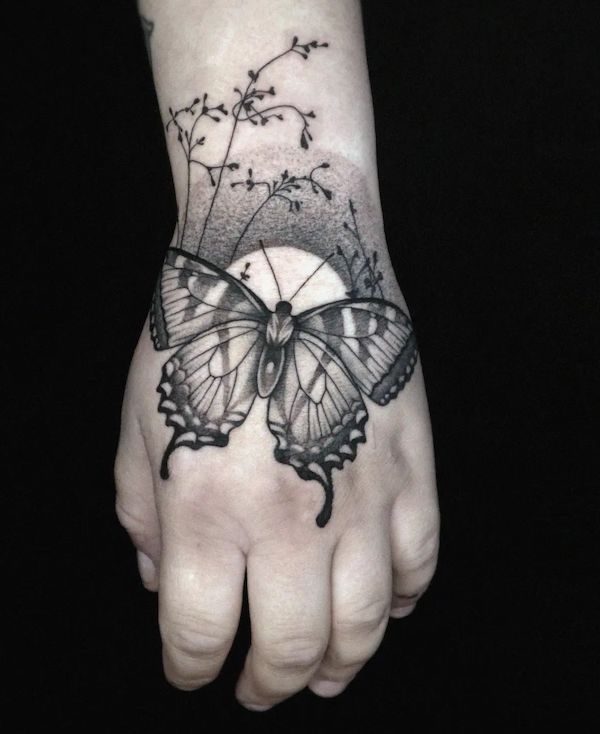 This elegant design epitomizes the beauty of simplicity. It features a butterfly in stunning black and gray shades as if illuminated by the soft light of the moon. The delicate shading gives this tattoo an air of graceful, making it perfect for those seeking a more understated aesthetic.
A pink butterfly with crescent moon and star hand tattoo in new school style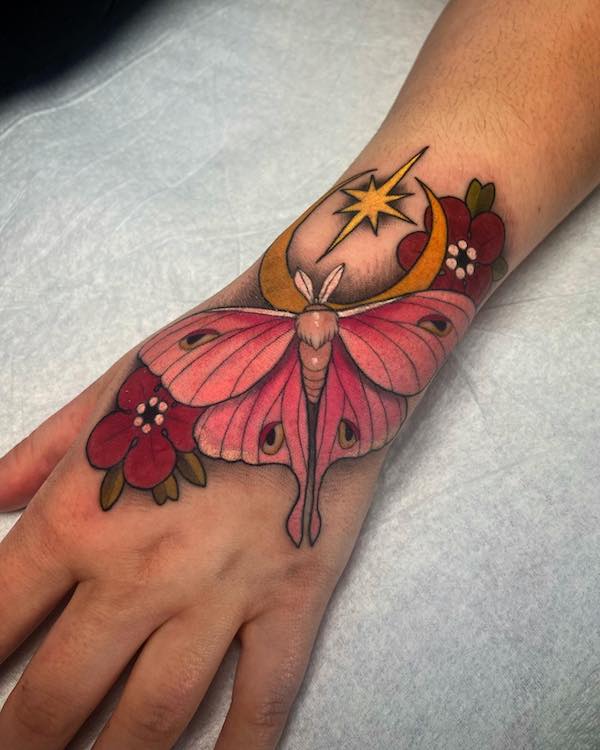 Playful and modern, this new school style butterfly hand tattoo boasts a vibrant pink butterfly perched on a crescent moon, accompanied by a single shining star. The bold colors, exaggerated shapes, and uneven lines create a whimsical atmosphere, perfect for those who love a fun and contemporary aesthetic.
A butterfly in the center of heart-shaped symbol with halo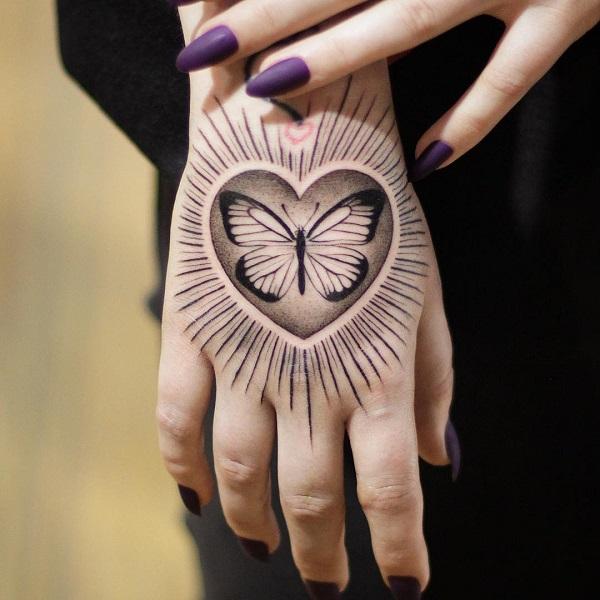 A heartwarming emblem of affection, this design features a butterfly nestled within a heart-shaped symbol, complete with a glowing halo. This tender tattoo celebrates love for both nature and ourselves, symbolizing the importance of self-love and self-care in our transformative journey.
Moths Tattoo on Hand for Women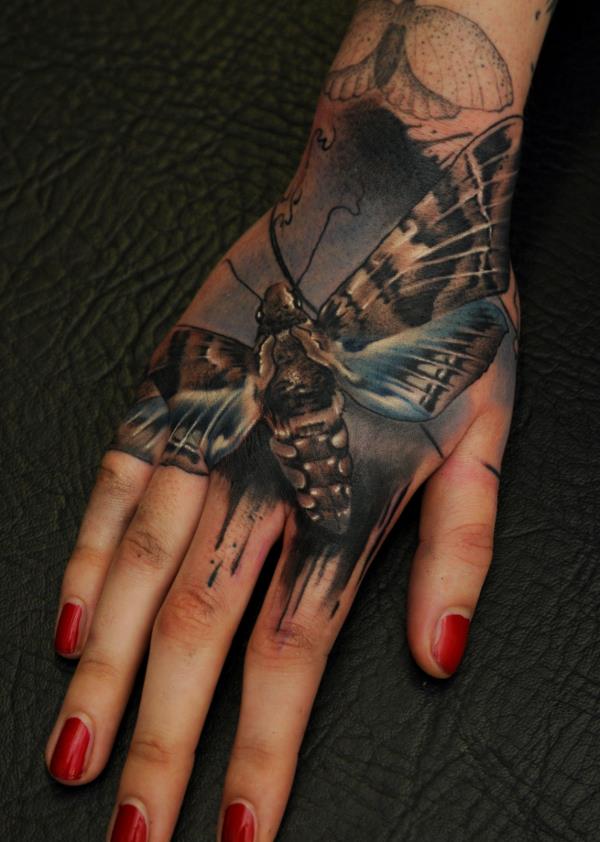 A fresh take on the butterfly hand tattoo, this design features enchanting moths instead of butterflies. The moths symbolize mystery, intuition, and inner strength, making it a unique and empowering option for women. Coupled with delicate details and intricate shading, it is visually captivating and personally meaningful.
Traditional butterfly tattoo on Hand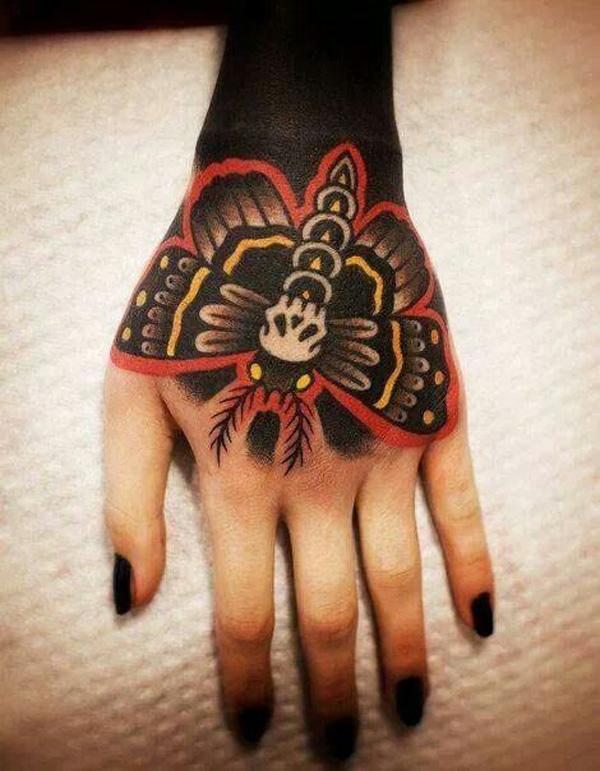 Showcasing the classic elegance of traditional tattoo art, this design features a vibrant butterfly with gracefully curling antennae and precisely outlined wings. With its bold colors and striking linework, this tattoo is a true masterpiece that conveys the incredible beauty and power of nature, celebrating the unique symbolism of the butterfly.
Animal hand tattoos
Animal tattoos are a unique and creative way to express one's personality, style, and individuality. These intricate designs often showcase your favorite animal or one that holds special meaning to you. They can have a profound impact on your self-expression, especially when crafted by a skilled tattoo artist who brings the animal to life with stunning realism and detail. Animal hand tattoos are versatile, allowing for a wide range of styles, from realistic to traditional and even 3D. Let's explore some of the popular examples.
Realistic elephant head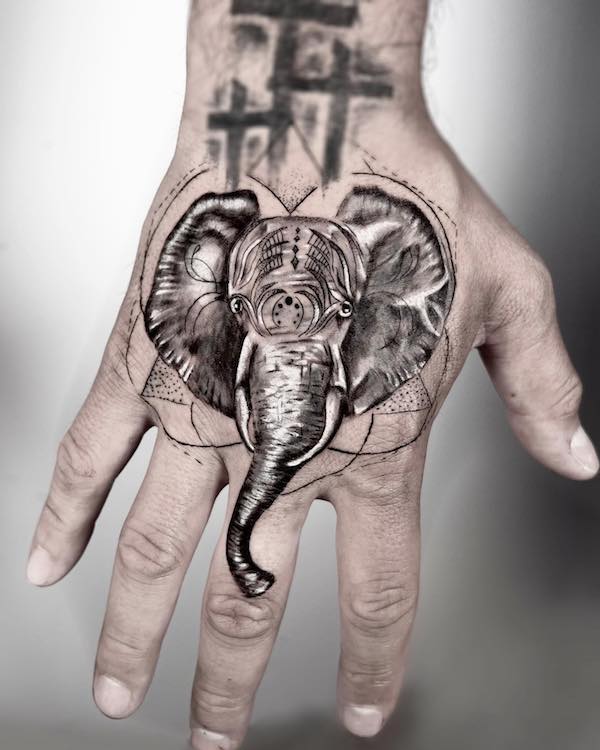 This design captures the majestic and wise essence of an elephant in striking detail. Elephants are known for their memory and intelligence, making this tattoo a perfect representation of strength and mental fortitude.
Spinning eagle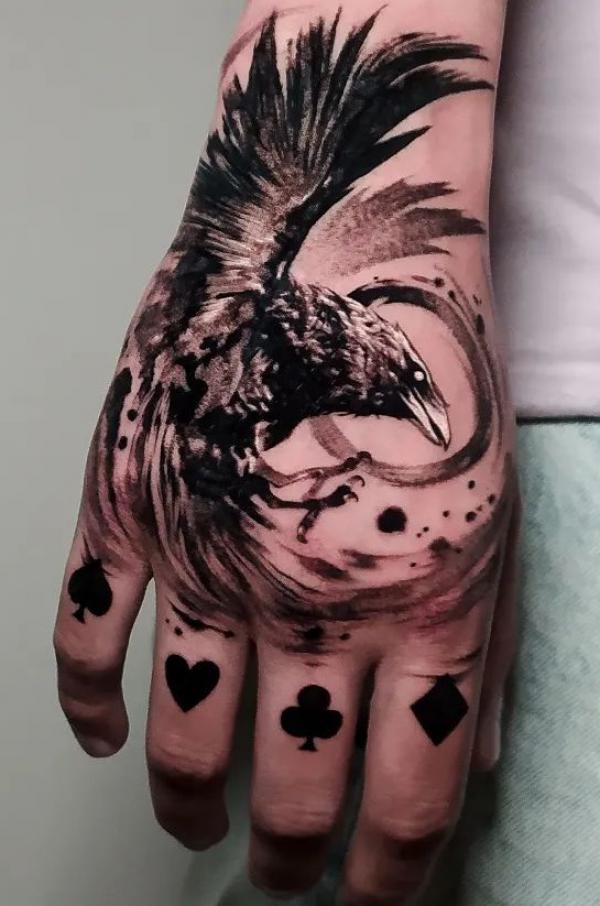 The spinning eagle hand tattoo demonstrates the freedom and power associated with this iconic bird. Its outstretched wings and curved beak are done with precision, showcasing the eagle's fierce nature and ability to soar above obstacles.
Traditional tiger hand tattoo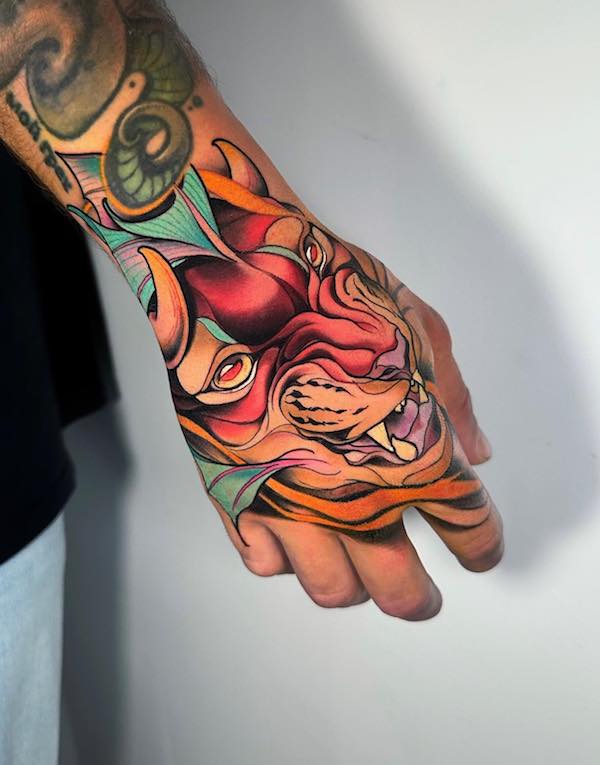 The tiger is a symbol of bravery, power, and passion. This traditional design displays bold lines and striking color that exemplify these characteristics and make for an eye-catching tattoo.
3D dog hand tattoo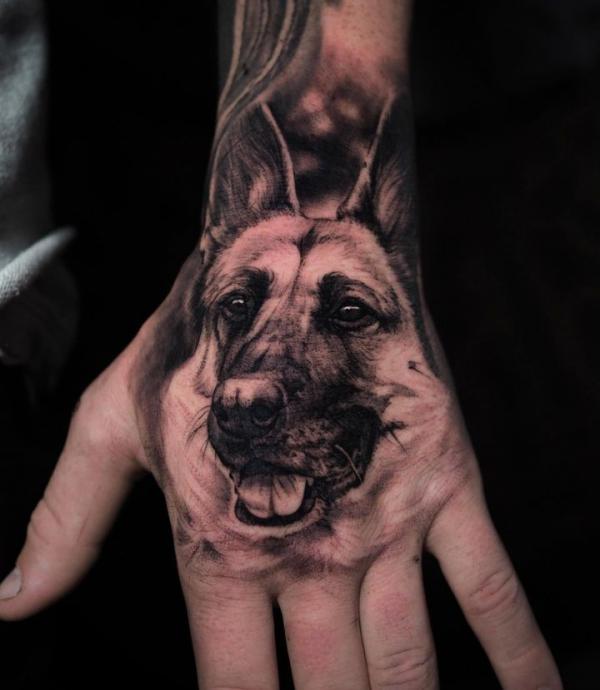 A 3D dog tattoo can display immense detail and dimension, making it look as if the dog is realistically perched on your hand. This tattoo is perfect for dog lovers and can be personalized to resemble a specific breed or beloved pet.
A snake hidden in chrysanthemum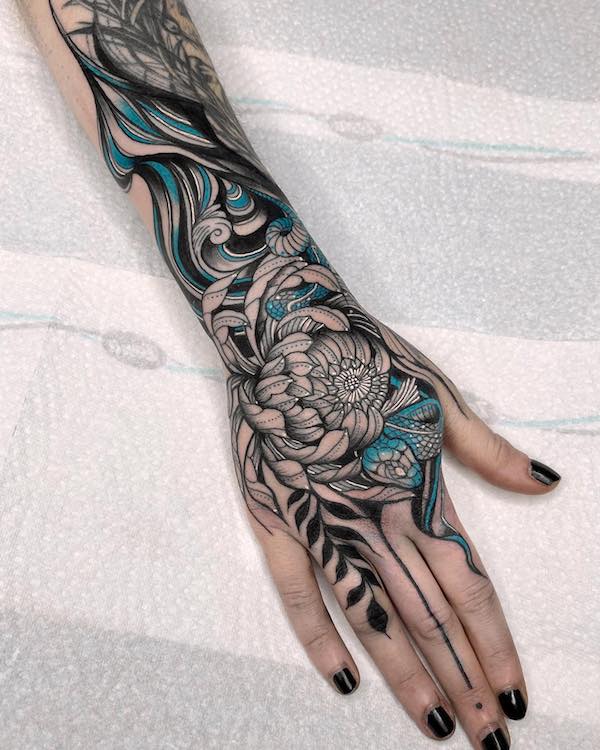 This elegant and mysterious tattoo design features a snake hidden within the petals of a chrysanthemum. The snake symbolizes transformation and rebirth, while the chrysanthemum is a symbol of longevity and beauty, making it a compelling and unique tattoo choice.
Snake and chrysanthemum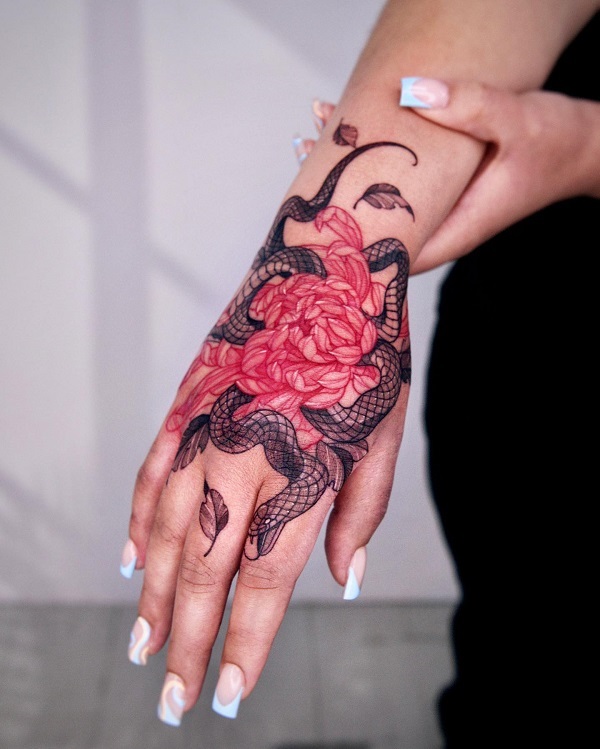 3D owl head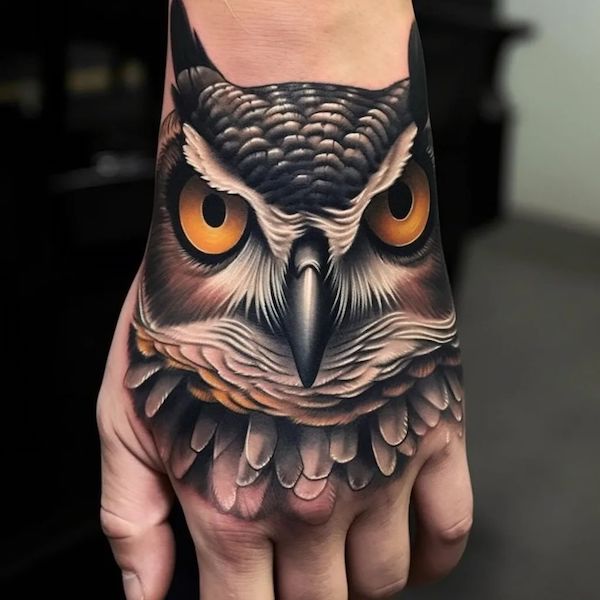 An intricately detailed 3D owl head tattoo conveys wisdom and knowledge. The striking realism and depth make this tattoo appear as if the owl is perched on your hand, ready to share its insights with the world.
A cat roaring with open mouth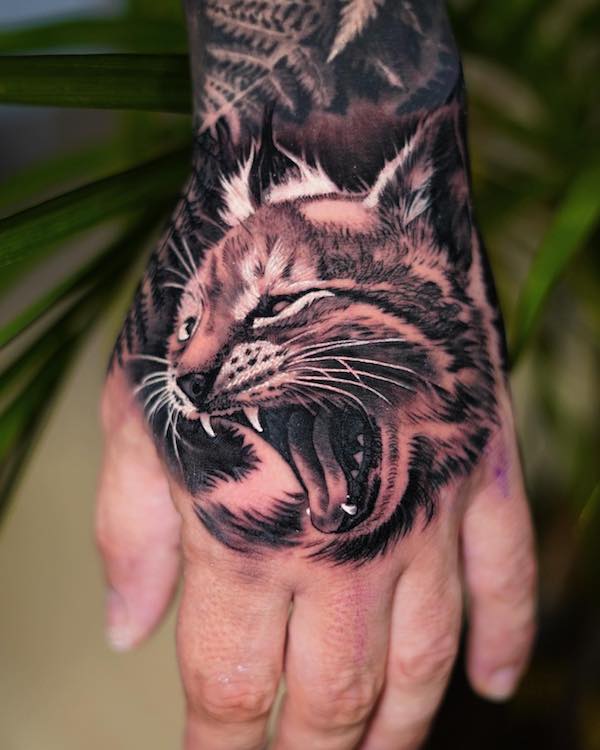 This tattoo showcases the fierce and independent spirit of a cat. With its mouth open, the design captures the raw emotion and intensity behind a cat's roar, making it an excellent choice for those who identify with these powerful qualities.
A pair of eagles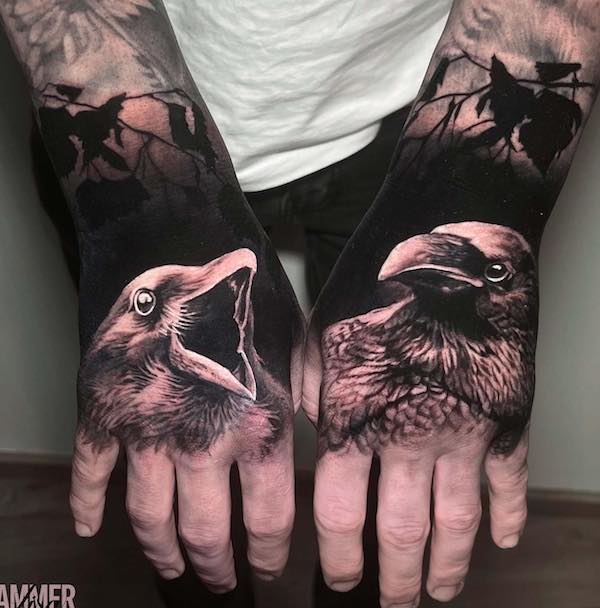 A pair of eagles is a powerful and striking choice for an animal tattoo, symbolizing strength, courage, and freedom. With their impressive wingspan and majestic presence, these graceful birds instantly attract attention when inked on the hand. The artistic rendition of their strong talons and unwavering gaze perfectly represents a fearless, independent spirit.
Owl face in new school style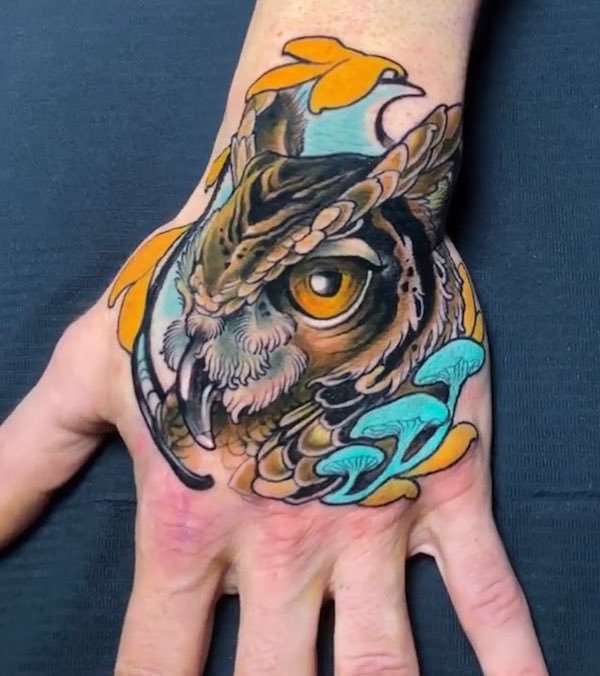 An owl face tattoo in the contemporary "new school" style is a quirky take on the traditional wisdom symbol. This design incorporates bright colors and exaggerated features, like large eyes and exaggerated feathers, to give the owl an imaginative and fun personality. Perfect for those looking to showcase their creativity and playful side while still honoring the wisdom within them.
Realistic and colorful hairy dog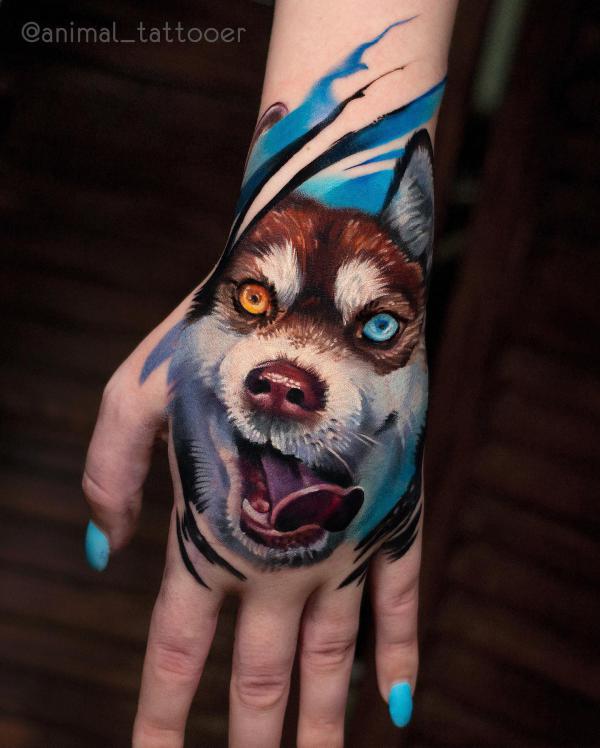 For dog lovers, a dog tattoo is an ideal way to pay homage to their beloved pets. The intricate details in their fur, combined with their expressive eyes and lively personality, create a vibrant and endearing design that showcases unconditional love and loyalty.
A realistic lion head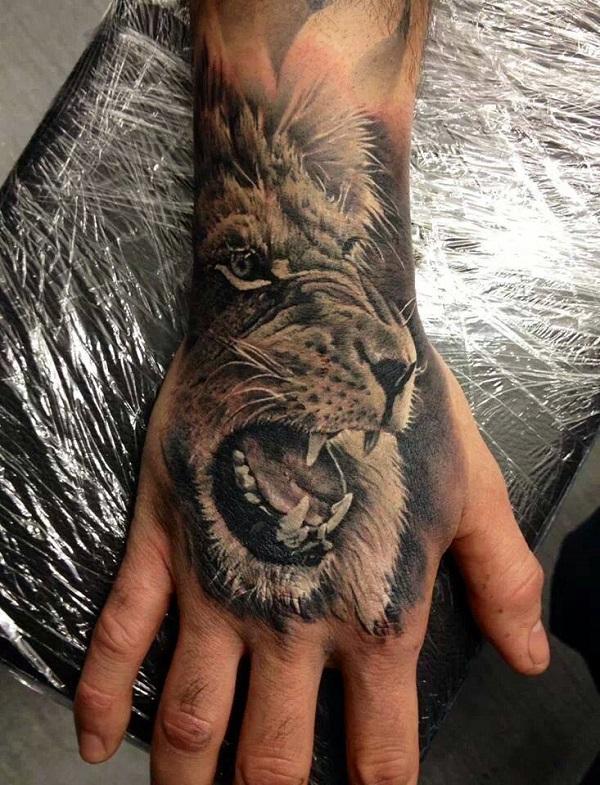 The lion head tattoo presents the ultimate symbol of pride, bravery, and confidence. The intricate details in its fur and mane make a bold statement, reminding the wearer to face challenges head-on with courage and self-assurance.
Owl face on hand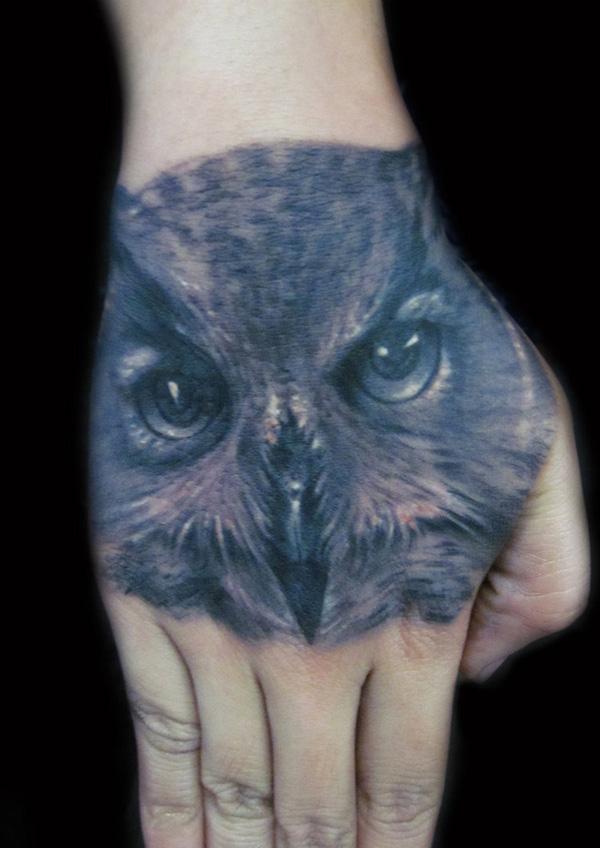 An owl face tattoo is a powerful symbol of wisdom, knowledge, and intuition. This design features large, penetrating eyes that see through the darkness, helping the wearer to trust their instincts and make sound decisions in life.
Cute Dog Tattoo on Hand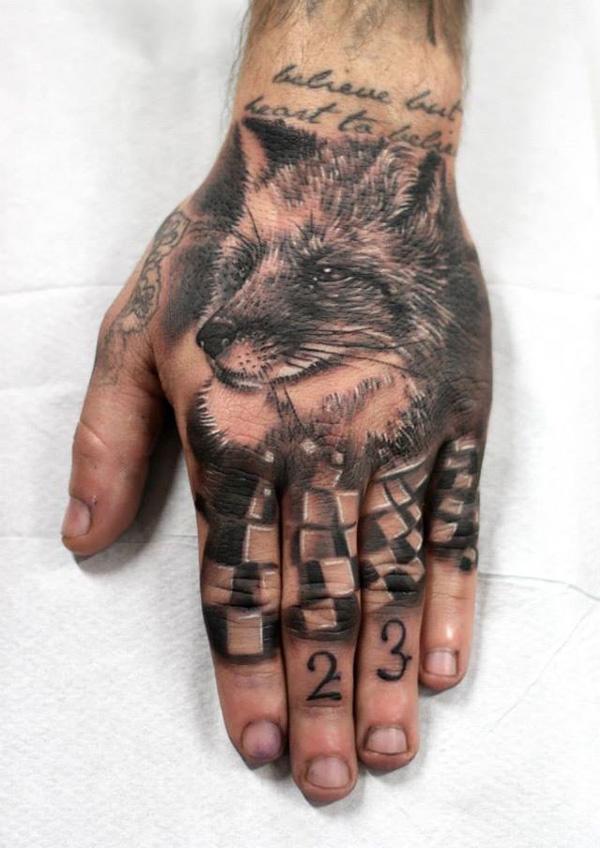 The cute dog tattoo captures the playful, charming personality of man's best friend. With its endearing expressions and mischievous twinkle in its eyes, this tattoo celebrates the special bond between humans and their canine companions.
Owl Tattoo on Hand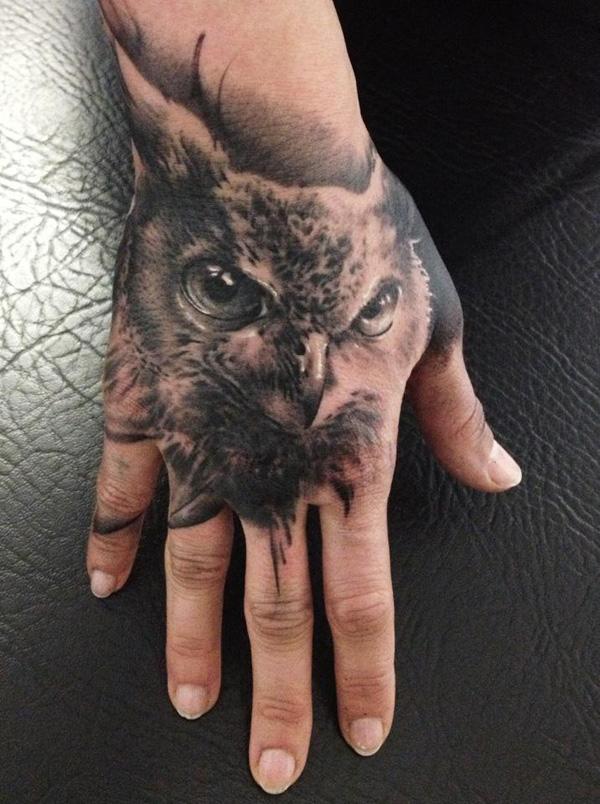 With its large, all-seeing eyes and beautiful feather patterns, an owl tattoo makes a bold statement about the wearer's strength in intuition and wisdom. As a symbol for guidance and protection, this design is perfect for those who value insight and clarity in their daily lives.
Deer Tattoo On Hand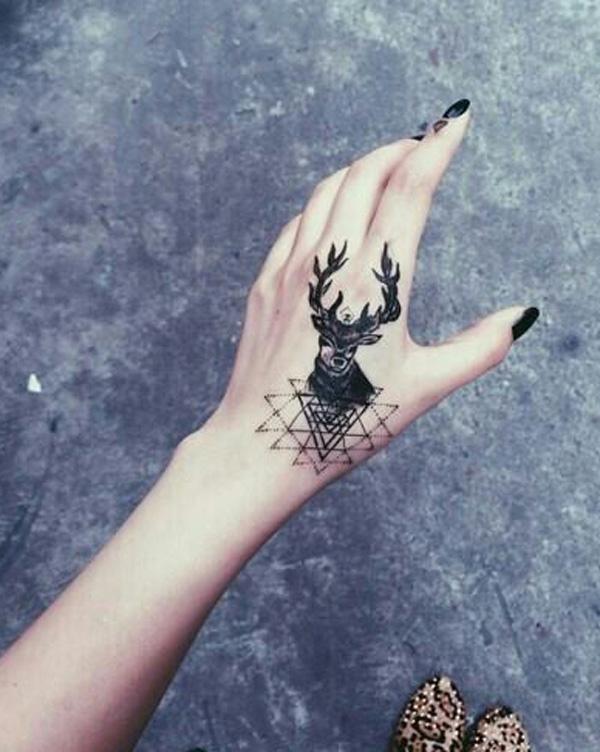 A deer tattoo is a graceful and elegant choice that symbolizes gentleness, sensitivity, and a strong connection to nature. The delicate features of the deer, like its slender legs and soft gaze, are a reflection of the wearer's gentle spirit and their bond with the natural world.
Scripts and lettering
Life goes on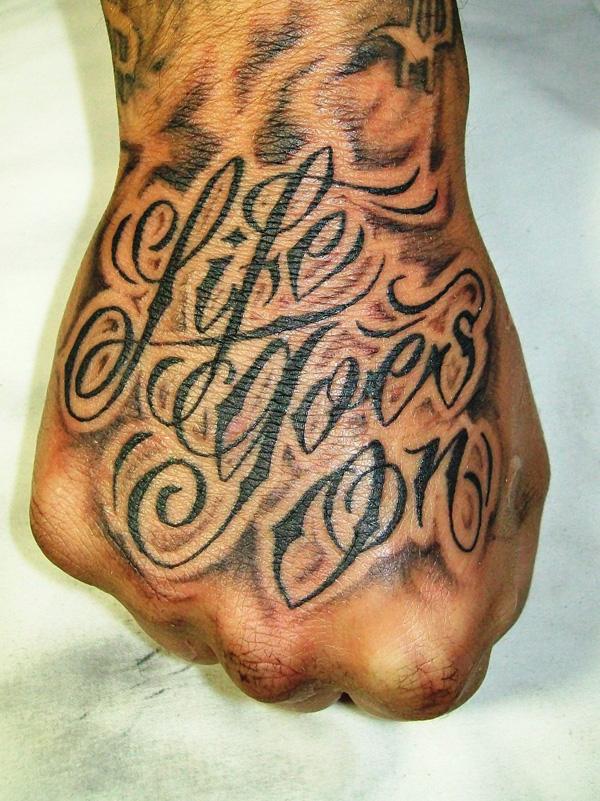 Tale as old as time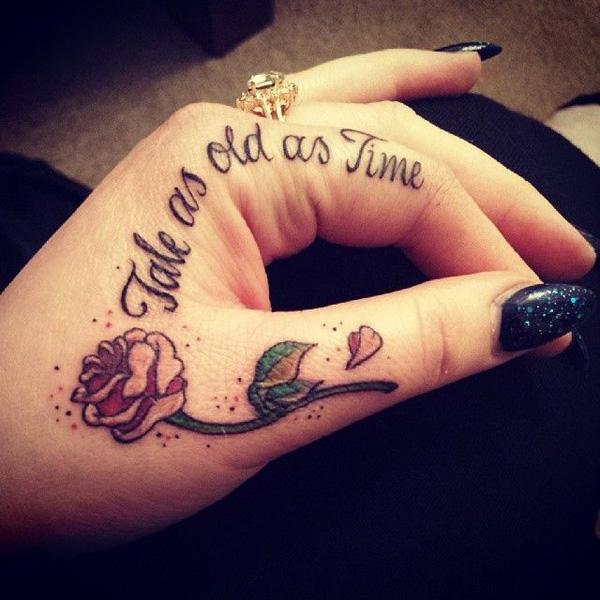 Well Made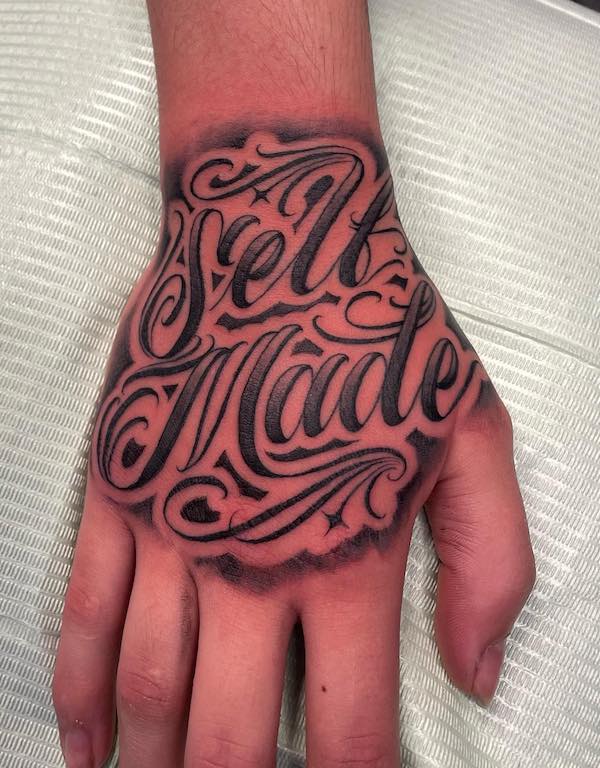 Geometric hand tattoos
Geometric tattoos are a creative and stylish way to show who you are and how creative you are. Many of these intricate designs take traditional patterns and symbols and give them a modern twist. The result is a one-of-a-kind piece of art. From sacred geometry to colorful mandalas, these hand tattoos give people who love symmetry, unity, and the beauty of mathematical principles in art a wide range of options.
Flower of life sacred geometry tattoo
The flower of life tattoo is a powerful sign that shows how all living things are connected. This ancient geometric pattern is made up of circles that overlap and are evenly spaced. The result is a flower-like design that shows how everything in the universe is linked. When worn on the hand, it shows that the person has a connection to the natural world, understands spiritual knowledge, and respects how all living things are connected.
Hand blackwork with intricate geometric patterns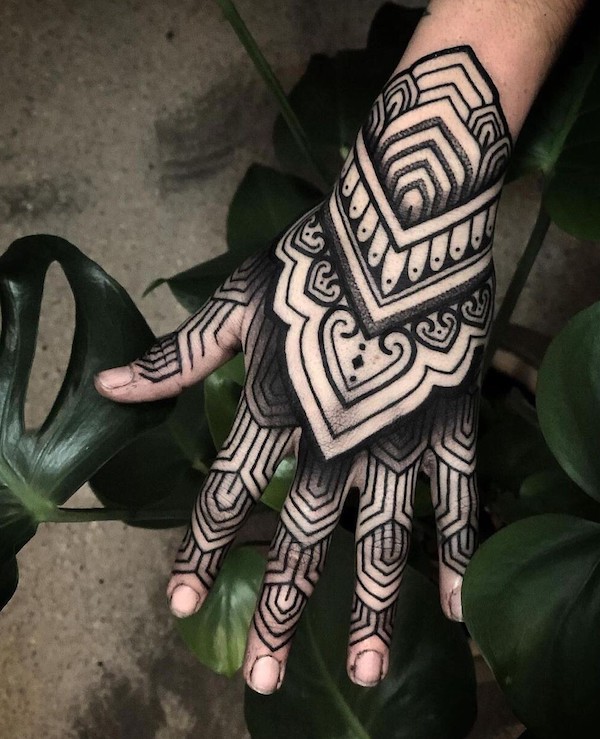 Blackwork tattoos utilize heavy black ink to create bold, eye-catching designs. In this example, various geometric patterns and shapes combine to form an intricate and visually striking piece. The deep contrast between the black ink and the wearer's skin makes the design a powerful statement piece on the hand.
A skull with rose behind iron web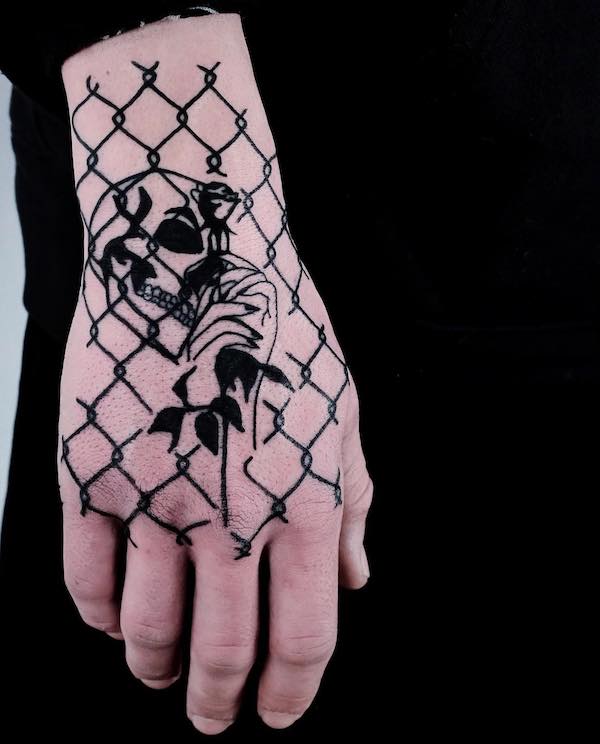 This unique design showcases a detailed human skull with a beautiful rose resting behind it. The iron web serves as a sturdy yet elegant backdrop, providing balance and contrast to the overall composition. This tattoo symbolizes the duality of life and death, representing the temporal nature of existence and the eternal beauty within it.
Bee and honeycomb tattoo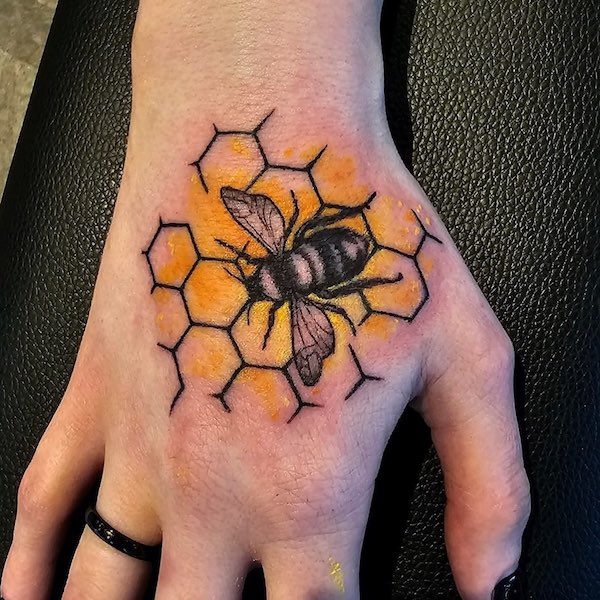 As a symbol of community, hard work, and abundance, the bee and honeycomb tattoo represents the wearer's appreciation for collective effort and natural harmony. The precise geometric shapes of the honeycomb perfectly demonstrate how nature itself is an artist, creating order and symmetry from chaos.
Butterfly on hexagon backdrop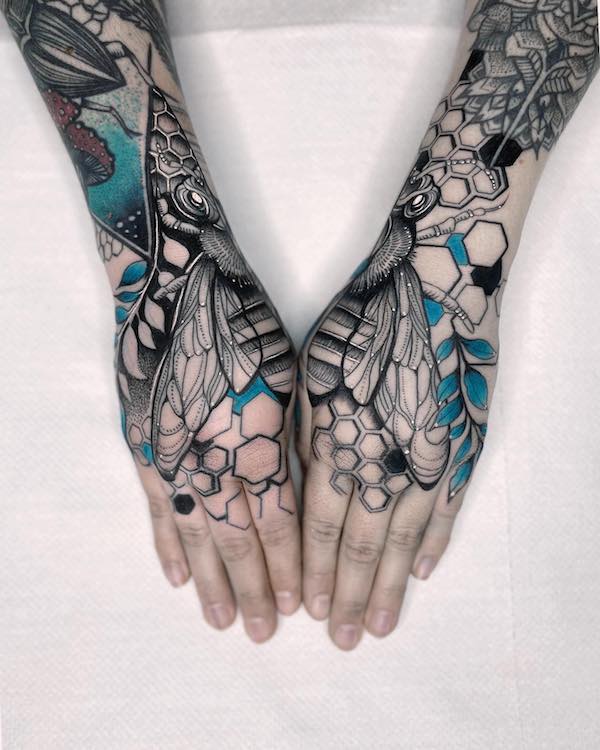 Rising from a hexagonal backdrop, the butterfly in this design represents transformation, growth, and rebirth. The geometric starkness of the hexagon contrasts with the organic shape of the butterfly, signifying the wearer's ability to balance structure and creativity.
Abstract celestial planets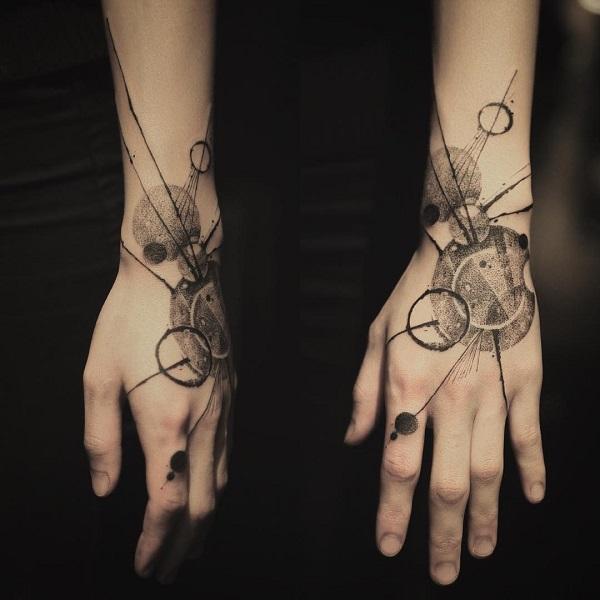 This abstract tattoo is a creative nod to the secrets of space, astrology, and the cosmos. Planets and other celestial bodies are shown by tiny geometric patterns and shapes that overlap. The result is a beautiful piece that shows how big and amazing the universe is.
Colorful Geometric Mandala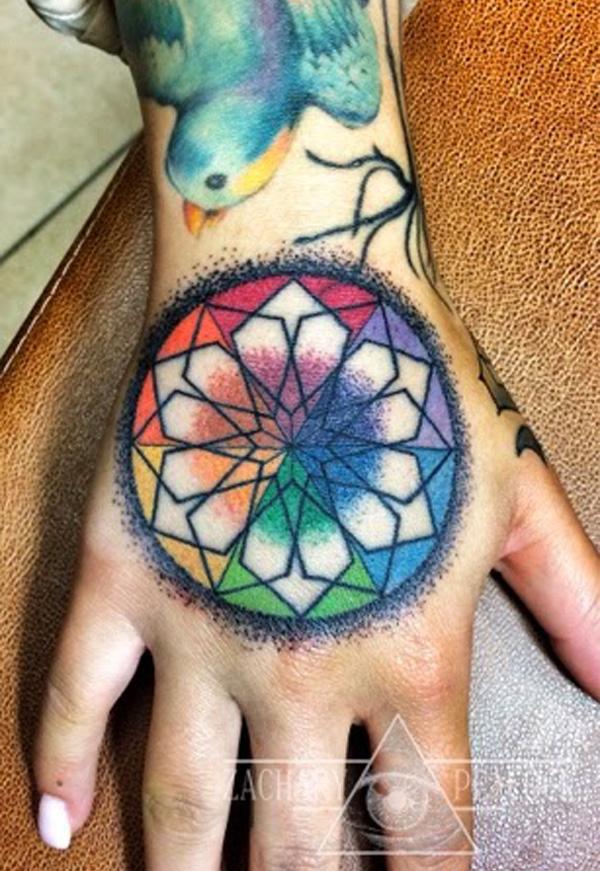 Mandalas are intricate designs that symbolize the universe's harmony and balance. A colorful geometric mandala tattoo features vibrant hues, combining the beauty of geometry with the spiritual significance of the mandala. This design is a vivid and unique representation of the wearer's connection to a larger cosmic balance.
Mandala pattern with Dzogchen symbol in the center
A mandala pattern with the Dzogchen symbol at its heart balances the spiritual philosophies of Tibetan Buddhism with the intricate geometry that mandalas share. The Dzogchen symbol serves as a visual reminder of the practice's goal: attaining a state of complete and spontaneous awareness.
Spiral flower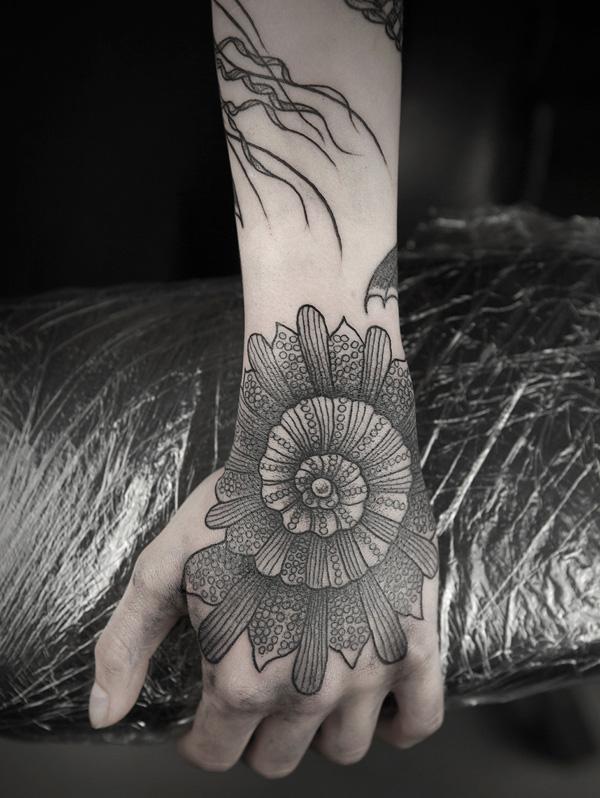 The spiral flower tattoo intertwines the beauty of nature with the mathematical elegance of spirals. This design celebrates natural patterns found throughout the universe, demonstrating the interconnectedness and harmony of every living thing.
Faith and religious
Faith tattoos hold a special place for many spiritual individuals. These designs not just serve as a constant reminder of their beliefs, but also beautifully capture the essence of their faith. As a form of self-expression, these tattoos often depict various meaningful symbols and figures. From sacred hearts with thorns to divine portraits of Jesus and the Virgin Mary, these hand tattoos are a remarkable blend of art and spirituality.
Heart of thorns hand tattoo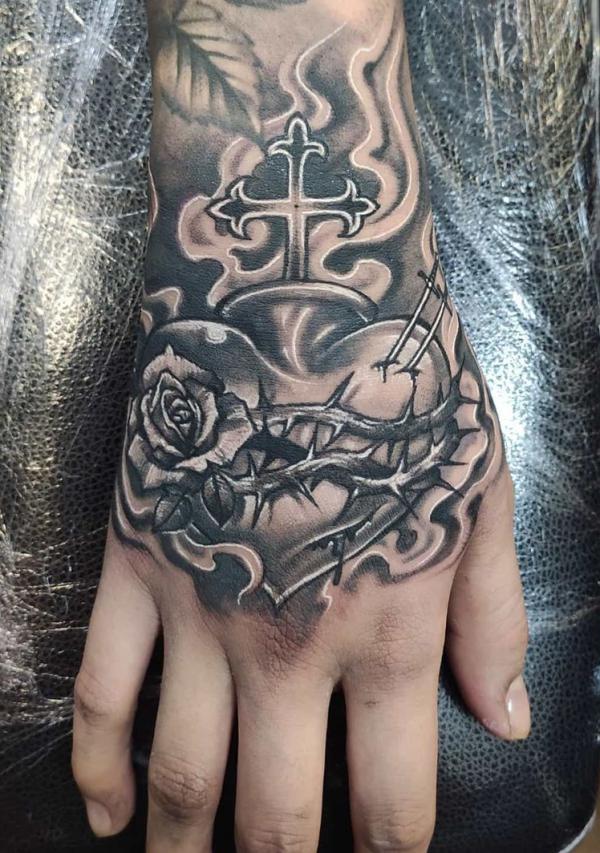 The heart of thorns tattoo features a detailed heart with a crown of thorns wrapped around it. This design symbolizes Christ's sacrifice and the love he holds for humankind. The thorns represent pain and suffering, while the heart signifies the forgiveness and mercy that Jesus offers.
Jesus with thorns tattoo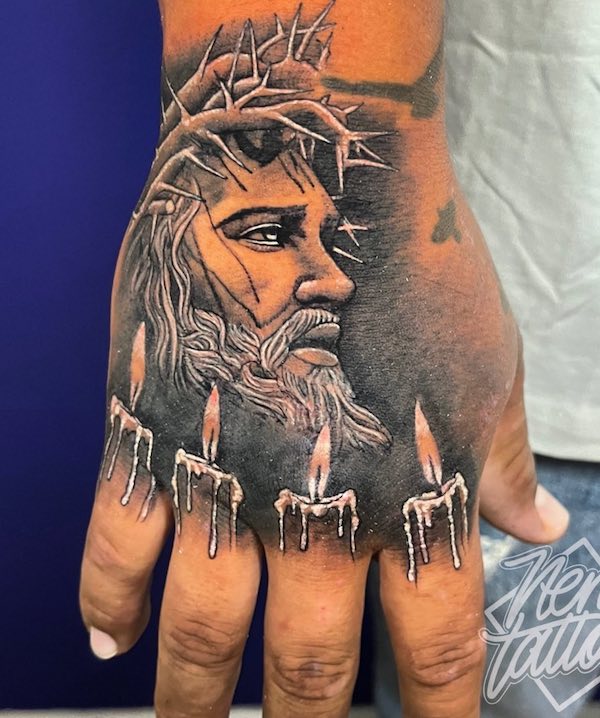 This hand tattoo portrays a striking image of Jesus Christ with a crown of thorns on his head. It is a solemn reminder of the immense pain he endured for the sake of humanity's redemption. It serves as a representation of unwavering faith.
Virgin Mary hand tattoo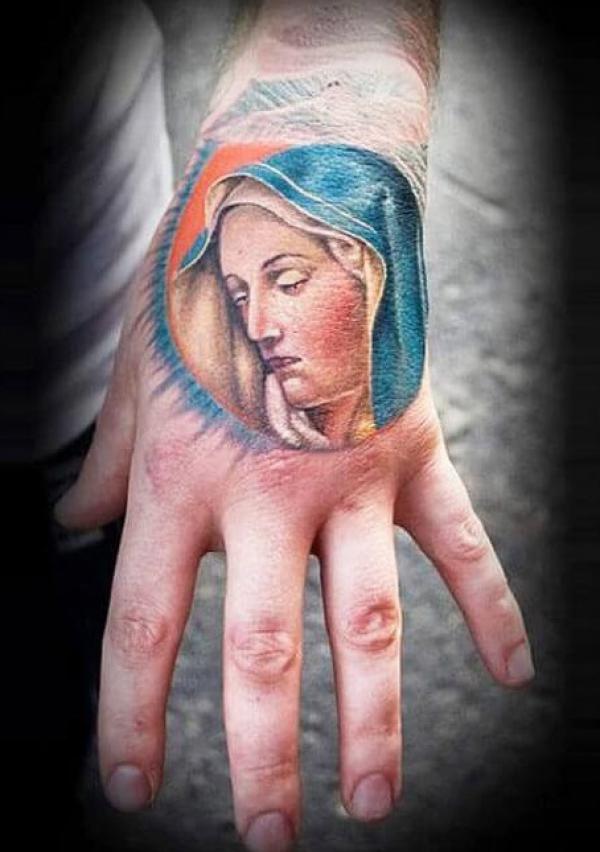 This design captures the comforting presence and divine beauty of Mother Mary. The Virgin Mary reminds us of her compassion, love, and the central role she plays in Christianity.
A cherub and Jesus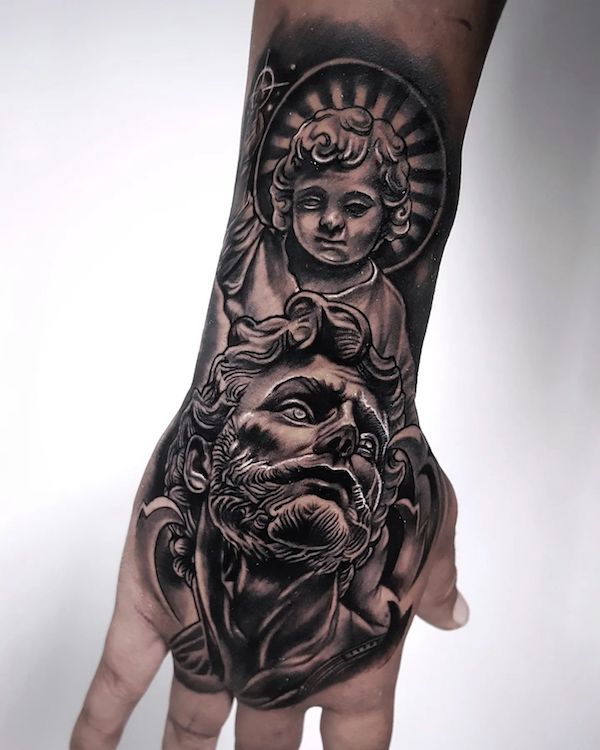 This intricate tattoo highlights a touching image of a cherub alongside Jesus Christ, signifying divine protection and guidance. This design is both awe-inspiring and serves as a constant reminder of the love and grace that surround believers in their faith.
A dagger pierced in a sacred heart with thorns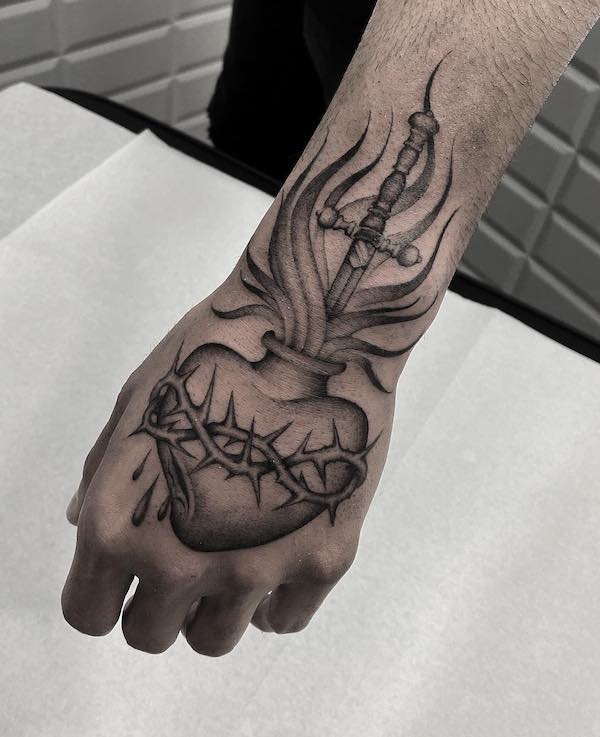 Featuring a sacred heart surrounded by thorns and pierced by a dagger, this tattoo is a powerful symbol of Christ's unyielding love and sacrifice. It represents the pain and suffering Jesus endured and his ultimate triumph, thus evoking deep emotions for those with a strong connection to their faith.
Clock and Timepiece
Clock and timepiece tattoos are a popular choice for those looking to make a unique statement with their body art. These tattoos often symbolize the importance of time, cycles of life, and the wearer's relationship with the passage of time. With a wide range of designs available, from realistic to abstract, these hand tattoos can be tailored to an individual's preferences and personal connection to the theme.
Eye in the center of clock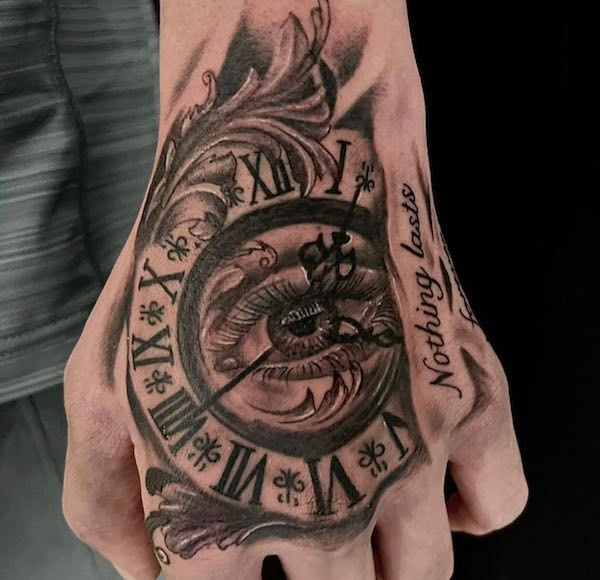 Tattoos with an eye in the center of a clock face are often seen as a reminder of the all-seeing nature of time. It can symbolize an appreciation for the past, present, and future moments in our lives. It can also represent the idea that time never stops watching us.
Realistic clock on hand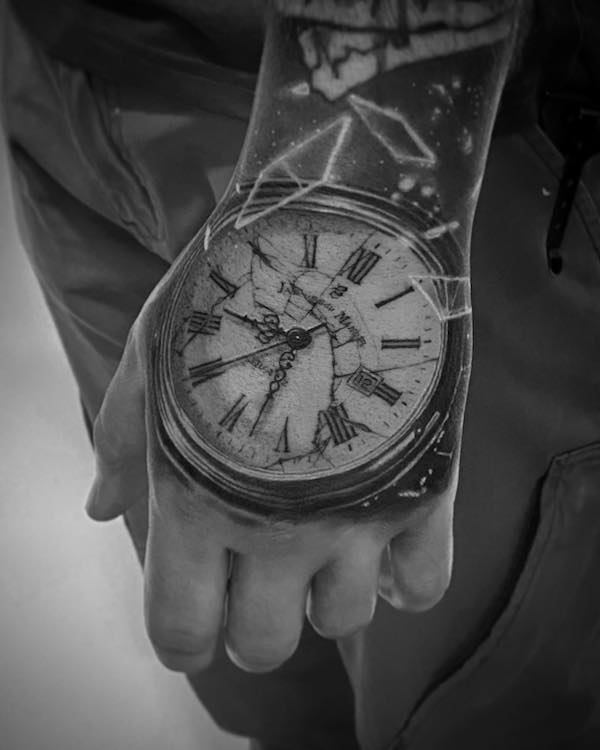 These tattoos typically feature a detailed clock on the hand, highlighting the intricate inner workings of timekeeping devices. Realistic clock tattoos can serve as a reminder that time is constantly in motion and that we must value each moment.
A man carrying a big clock on his back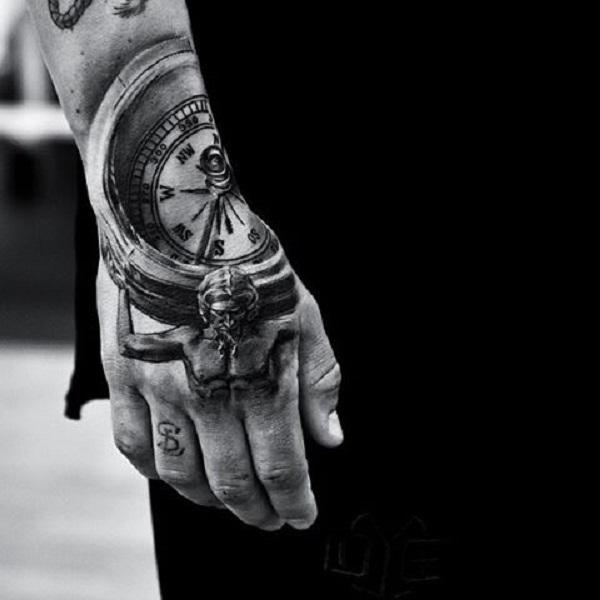 This design depicts the burden of time, suggesting that time weighs heavy on one's shoulders. It serves as a reminder of the responsibilities and choices we have in managing our time, as well as the fleeting nature of life.
Smart rabbit letting us know the time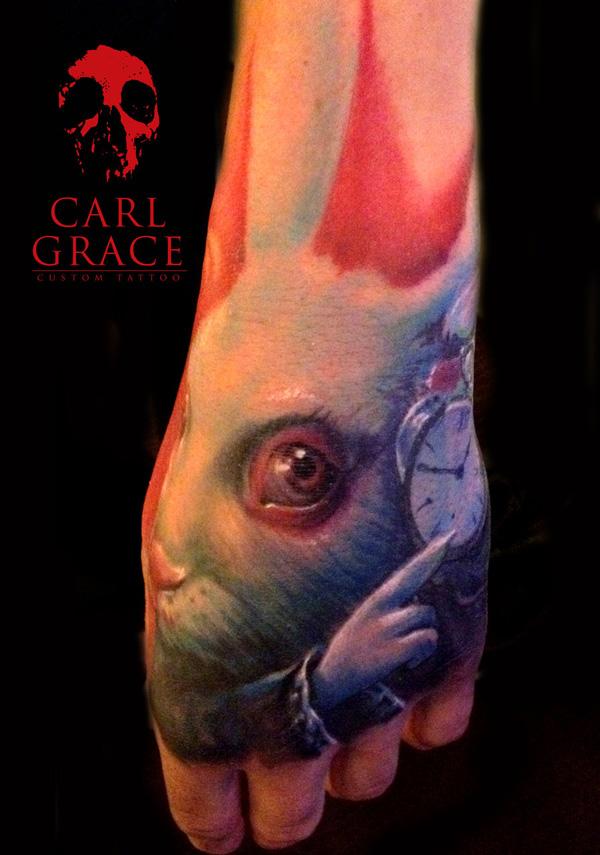 Incorporating a cunning rabbit into the timepiece design adds a whimsical element, perhaps referencing the White Rabbit from Lewis Carroll's "Alice in Wonderland." This tattoo can symbolize the hectic nature of time and the importance of staying alert and adaptable.
Vintage rose clock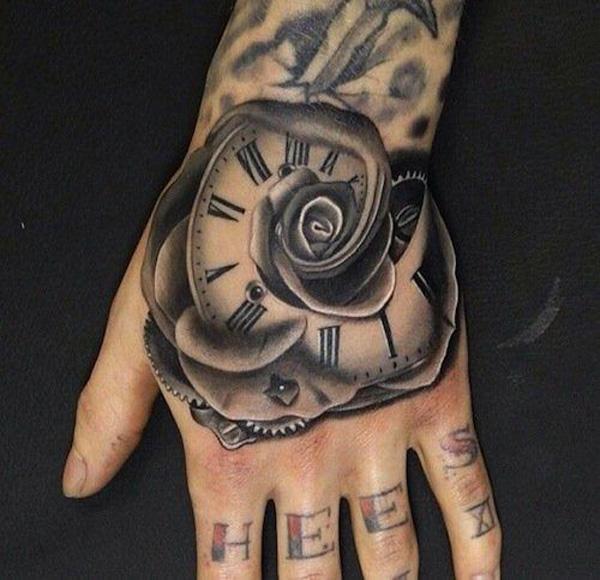 A rose clock tattoo combines the beauty of flowers with the symbolism of time. This design can represent the cycles of life and the delicate, transient nature of the moments we experience, just like the fleeting beauty of roses.
Owl and Watch Tattoo on Hand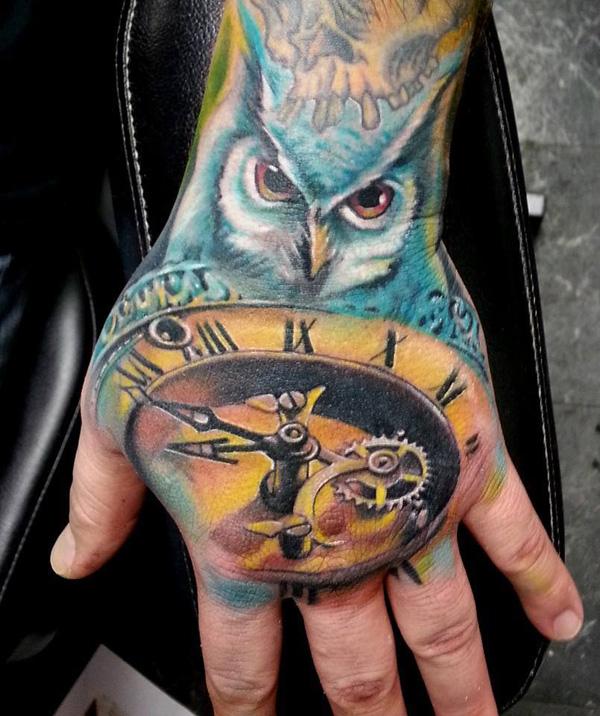 Owls are often associated with wisdom and knowledge, so an owl and watch tattoo symbolizes the importance of using our time wisely. It serves as a reminder to spend each moment in pursuit of greater understanding and learning.
Bell tower with clock on hand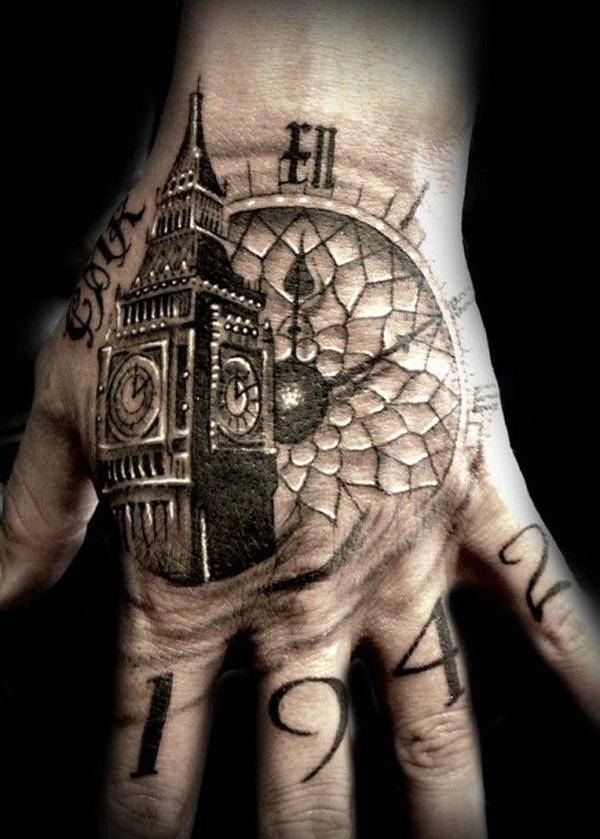 Featuring a bell tower with a clock showing a specific time, this tattoo signifies the importance of significant moments in our lives. It can represent a cherished memory or the time when a life-changing event occurred.
3D hand tattoo in baroque style with a tiny watch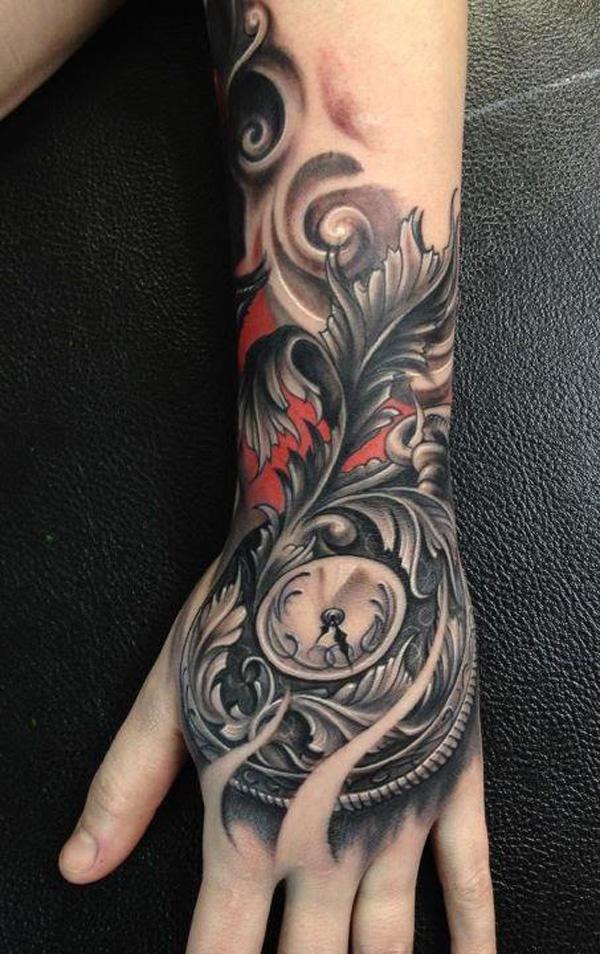 A 3D tattoo in the ornate Baroque style, featuring a small watch, adds an element of depth to the timepiece design. This tattoo carries an air of sophistication, representing the elusiveness of time and the wearer's appreciation for elegance.
Portrait hand tattoos
3D Portrait Hand Tattoo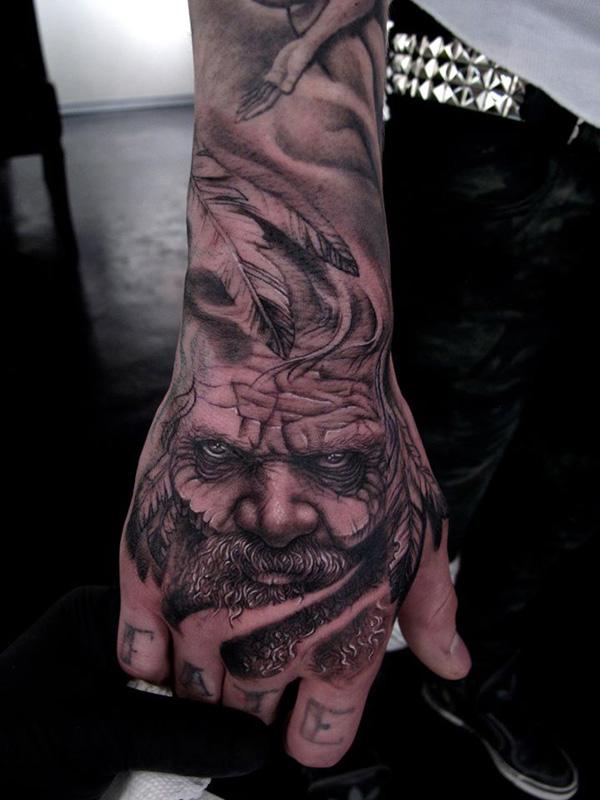 A woman portrait with cigarette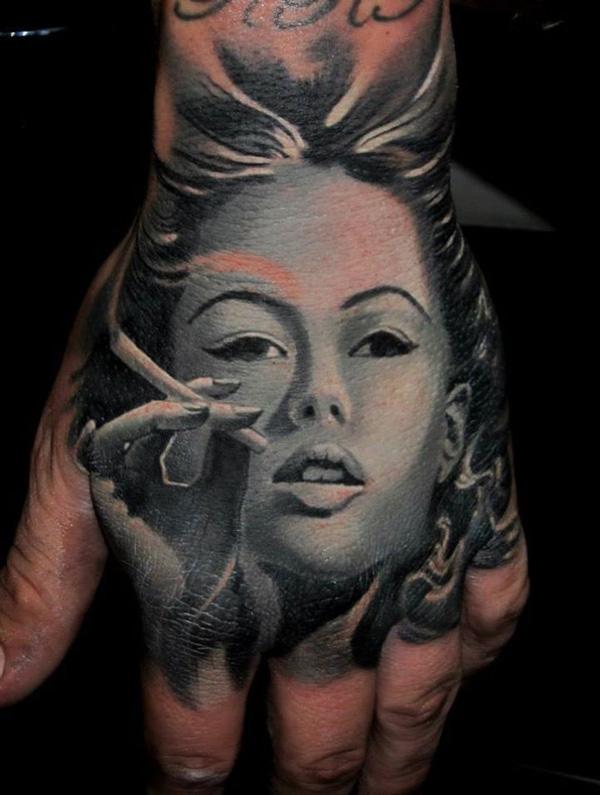 Tribal hand tattoos
Hand Tattoo with Polynesian patterns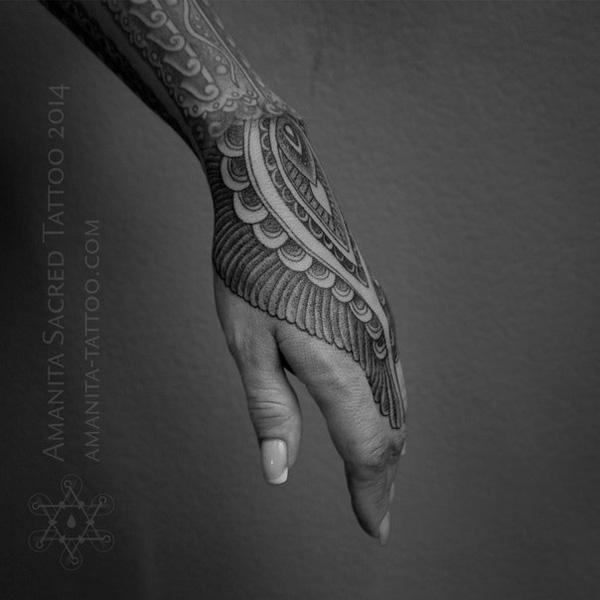 Polynesian Tribal hand tattoo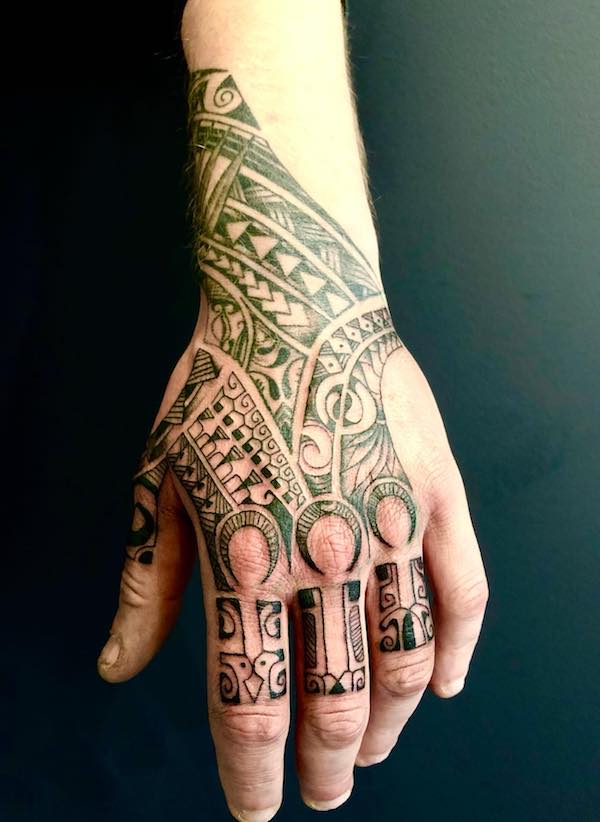 Palm hand tattoos
Peace Henna Mandala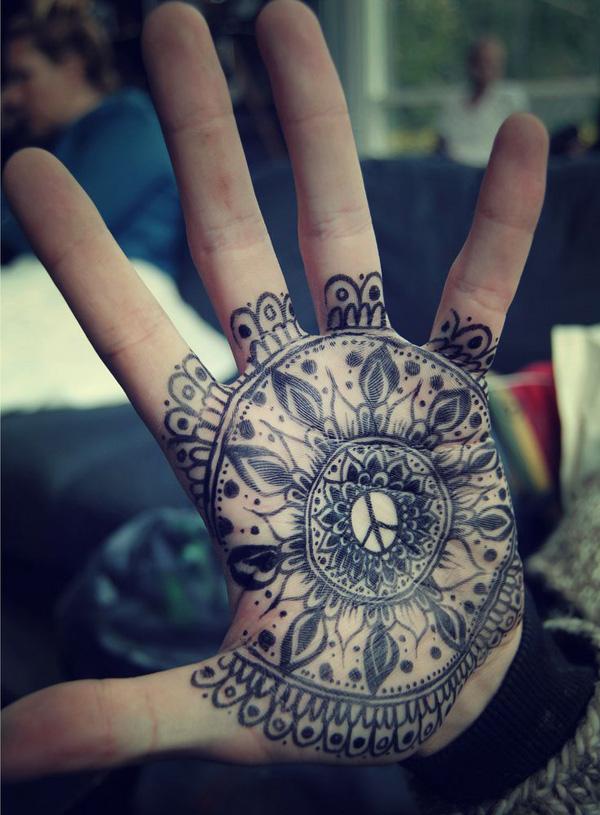 Floral palm tattoo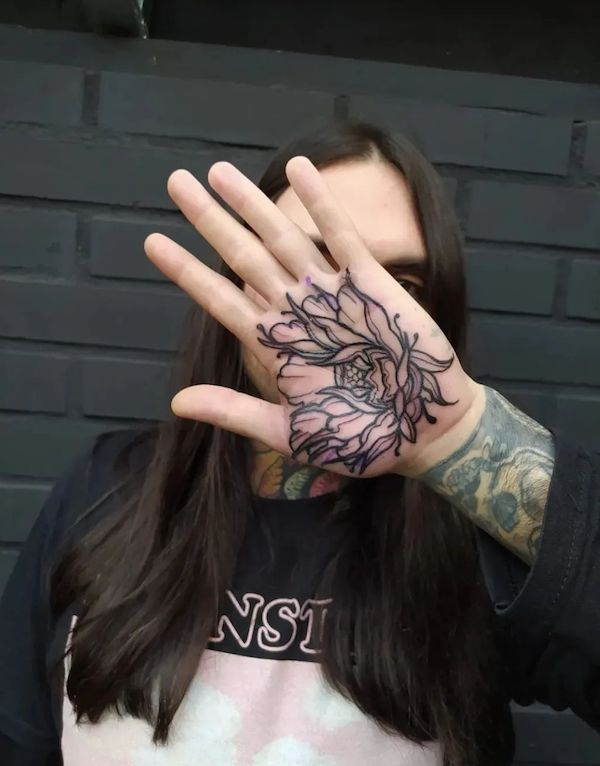 Double heart palm tattoo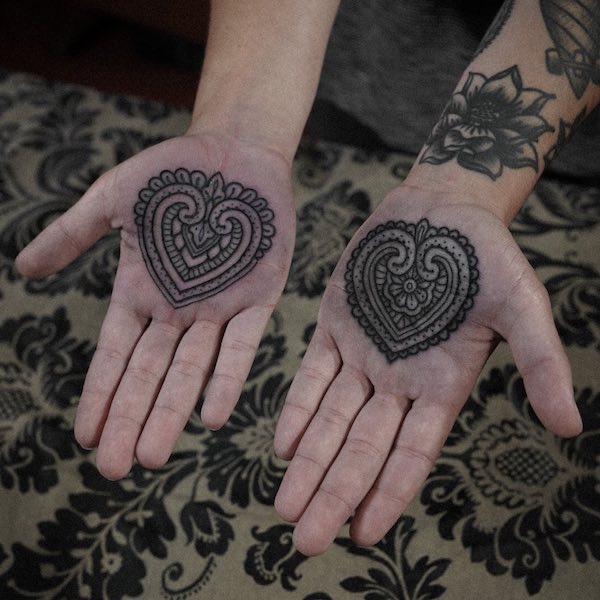 Conclusion
Hand tattoos can hold personal meaning, cultural significance, or they can be a way to show who you are. If you want to get a tattoo on your hand, do some study on designs, where you want it to go, and different design ideas to make sure you end up with a beautiful tattoo. Hand tattoos can be a beautiful and important addition to your body art collection, as long as you're ready for the challenges and potential stigma that come with them.
FAQs about hand tattoos
Q. Which tattoo looks good on hand?
A. The type of tattoo that looks good on your hand depends on your personal preference, skin tone, and hand shape. It is essential to consider the size, intricacy, and the colors you would prefer in the design. Generally, popular hand tattoo styles include realistic designs, small symbols, or floral designs. What looks good on hand is a design that can "flow" with the natural contours of your hand.
Q. What is the most popular hand tattoo?
A. The most popular hand tattoos often vary as tattoo trends and styles change over time. Currently, popular hand tattoo designs include mythical and cultural elements, geometric design, floral patterns, and small symbols. Popular placements for hand tattoos are on the fingers, back of the hand, and wrist. These tattoos that convey a sense of individuality and personal meaning tend to remain popular choices.