Skull tattoos are a popular choice among tattoo enthusiasts the world over, and for good reason. There's a certain allure to the foreboding and eerie imagery of skulls that transcends cultures and generations. But beyond the aesthetic appeal, skull hand tattoos often carry deep and profound meanings. Let's delve in and explore the symbolism and significance behind them.
The Symbolism of Skulls in Tattoos
Skulls in tattoos are often immediately associated with death and mortality. However, these symbols are far from being one-dimensional. They hold a rich tapestry of meanings that can be both personal and universal.
A Reminder of Mortality
The skull, as a symbol of death, serves as a stark reminder of our mortality. This meaning traces its roots back to ancient cultures where skulls were used in rituals and art to symbolize the cycle of life and death. In this context, a skull hand tattoo can serve as a personal memento mori, a Latin phrase that translates to "remember you must die." It's not a morbid reminder but rather a call to live one's life to the fullest, knowing that our time here is finite.
Symbol of Rebellion and Resilience
For others, a skull represents rebellion and resilience. It's an icon of counterculture and a symbol against the establishment. The skull has been the emblem of many rebellious groups throughout history, from pirates to punk rockers. A skull hand tattoo can signify a person's resilience in the face of adversity, their willingness to go against the grain, and their undying spirit of rebellion.
A Celebration of Life
Ironically, skulls are also seen as a celebration of life. In many cultures, especially in Mexico's Day of the Dead (Día de los Muertos), skulls are colorful and festive symbols used to honor and remember the deceased. The skull, in this sense, is not a symbol of death but of life, memory, and love. A person with a skull hand tattoo might be celebrating the memory of a loved one, or simply expressing their appreciation for life itself.
The Significance of Hand Tattoos
The hand is a highly visible part of the body, and choosing it as the location for a tattoo is a decision loaded with significance.
A Bold Statement
Tattoos on the hand are hard to hide and are always in the viewer's line of sight. This makes them a bold statement piece. The wearer is intentionally making their tattoo a part of their identity that they present to the world. In the case of skull hand tattoos, it's a powerful way to express the meanings associated with the skull.
Symbol of Control and Power
The hand is also a symbol of control and power. It's what we use to interact with the world around us, to create, to work, and to express ourselves. A skull hand tattoo, in this context, can symbolize the wearer's control over their own life and death, or their resilience and power in the face of adversity.
The Allure of Skull Hand Tattoos
The unique appeal of skull hand tattoos lies in their ability to embody paradoxes. They represent life and death, rebellion and resilience, fear and celebration. They're deeply personal yet universally understood symbols. Moreover, their placement on the hand adds another layer of boldness and visibility to their meanings.
Expressing Individuality
The skull hand tattoo is a distinctly individualistic expression. Even though skulls are common in tattoo art, the design, style, and accompanying elements can make each tattoo uniquely personal. It's a way for the wearer to communicate their views on life, death, resilience, and rebellion in a way that's uniquely their own.
Sign of Strength and Bravery
Getting a tattoo on the hand is not for the faint-hearted. It's an area with a lot of nerve endings, which makes the tattooing process more painful than other parts of the body. Additionally, because of its visibility, a hand tattoo can also lead to judgments and stigma. Thus, choosing to get a skull hand tattoo can be seen as a sign of strength and bravery.
Inspiring Skull Tattoo Designs
Skull hand tattoos come in a range of designs, each with its own visual appeal and symbolic undertones.
Traditional Skull Hand Tattoo
Traditional skull hand tattoos often feature bold lines, vibrant colors, and classic iconography. They capture the rebellious spirit and bold aesthetics of the old-school tattoo style. However, black ink traditional tattoos are also popular these days.
Traditional black ink skull with rose tattoo on hand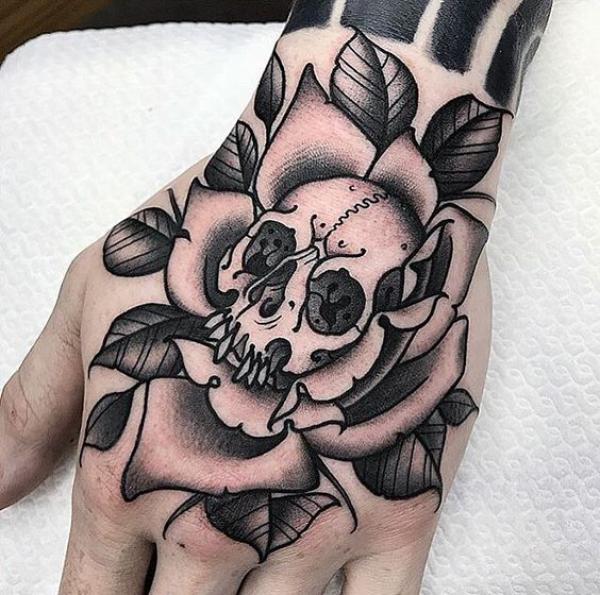 Skull encircled with spider web tattoo traditional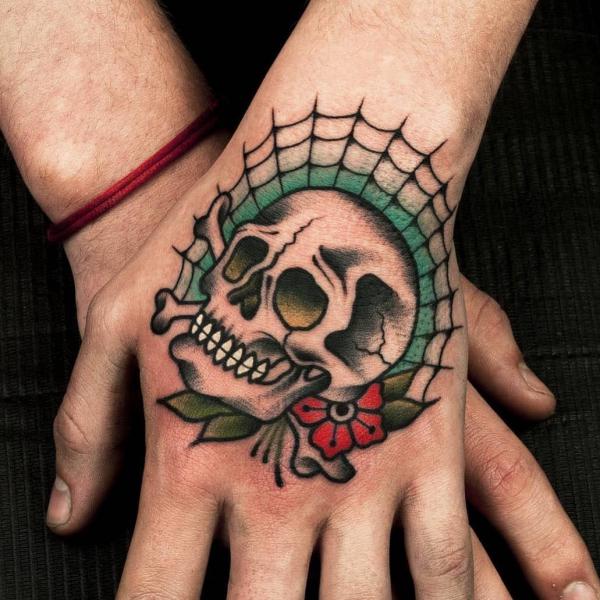 Realistic Skull Hand Tattoo
For those seeking a more lifelike representation, realistic skull tattoos are a popular choice. These designs showcase the intricate details of the skull, adding a touch of macabre beauty to the hand.
realistic skull hand tattoo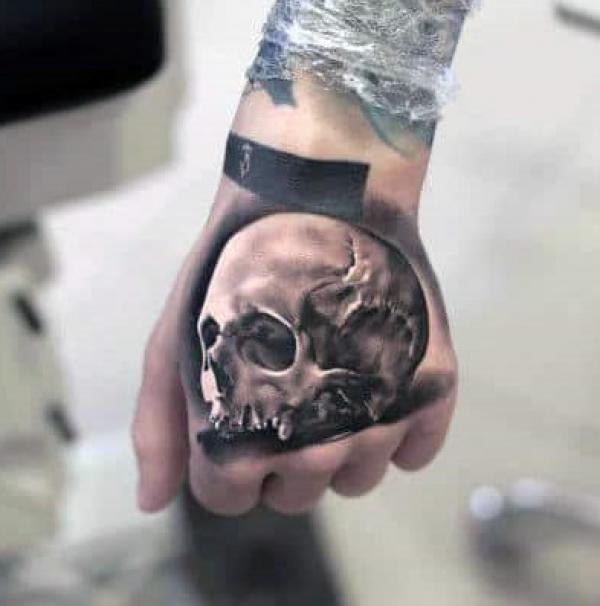 Skull with realistic eye tattoo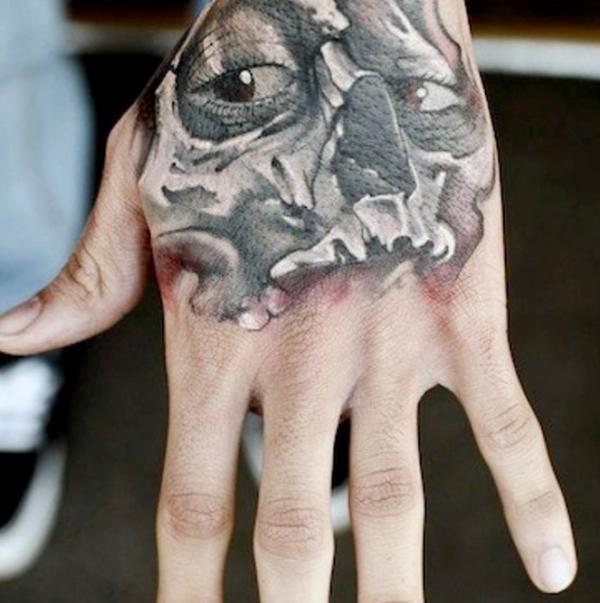 Realistic skull and gun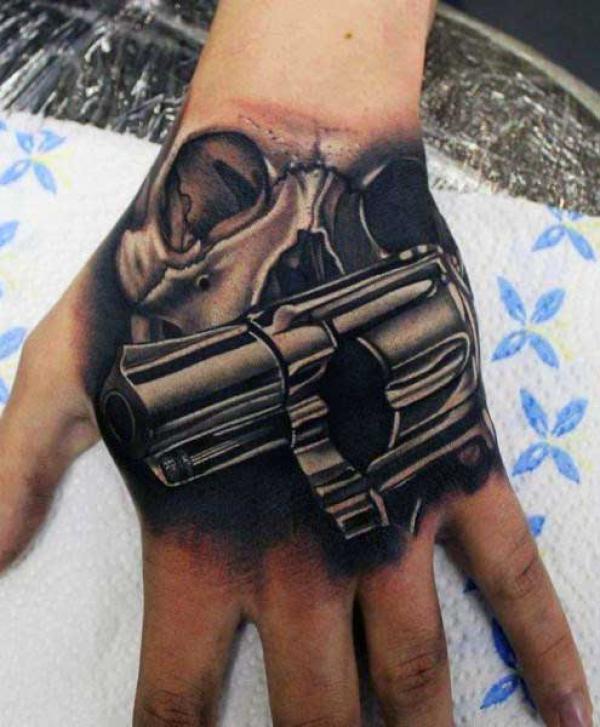 Realistic skull tattoo with red stroke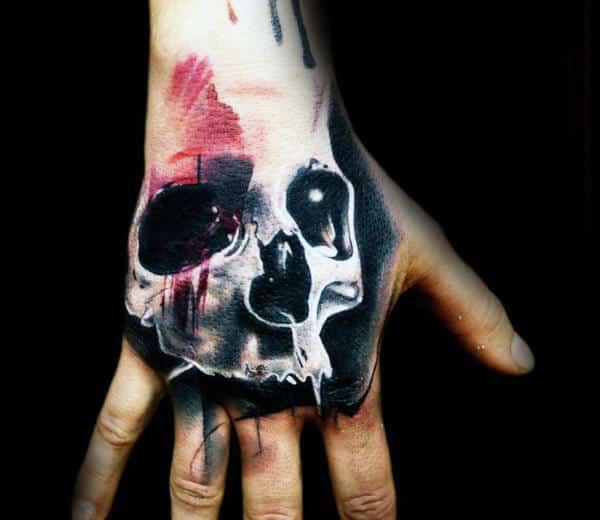 Sugar Skull Hand Tattoo
Sugar skull tattoos are inspired by the colorful and ornate calaveras of the Mexican Dia de Los Muertos. These designs are typically vibrant and elaborate, often incorporating floral elements and intricate patterns.
Sugar skull with flowers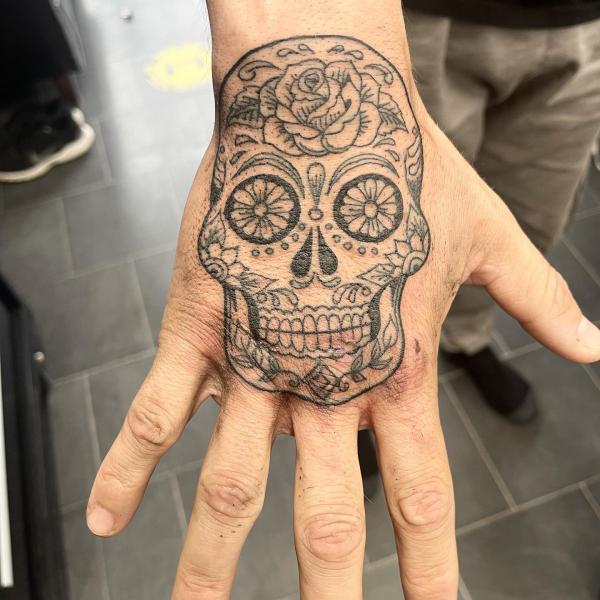 Skull and Rose Hand Tattoo
The combination of skulls and roses is a classic in tattoo art. The skull symbolizes death or the passing of old ways, while the rose represents beauty, love, and new beginnings. Together, they signify the beautiful transformation that comes with change.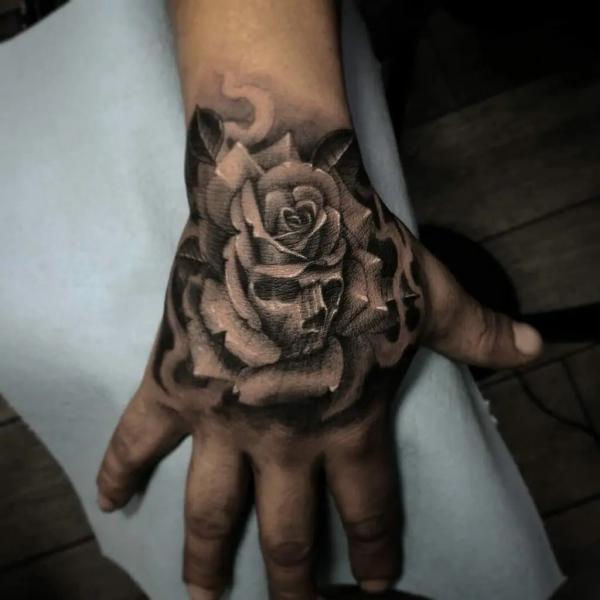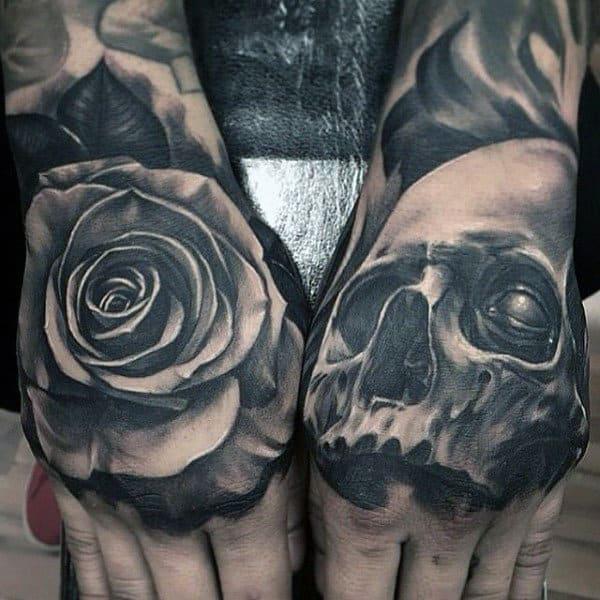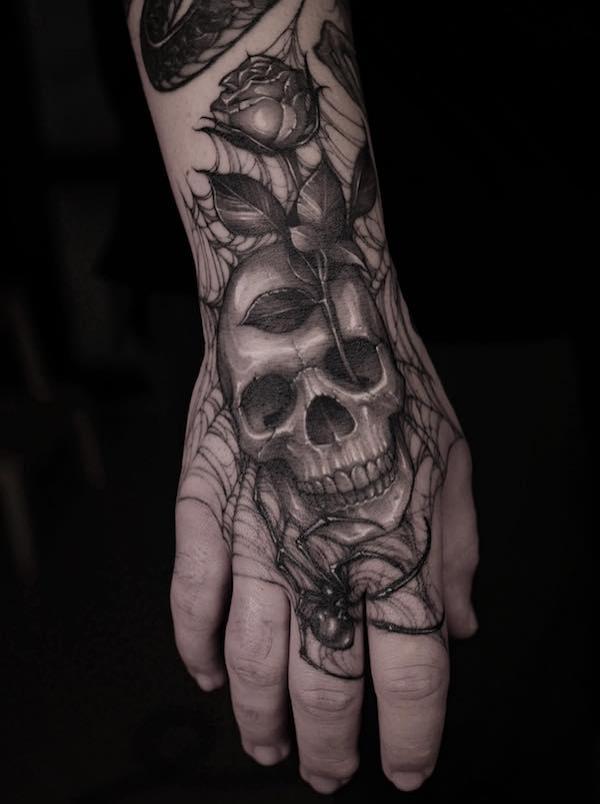 Rose and skull entwined with thorns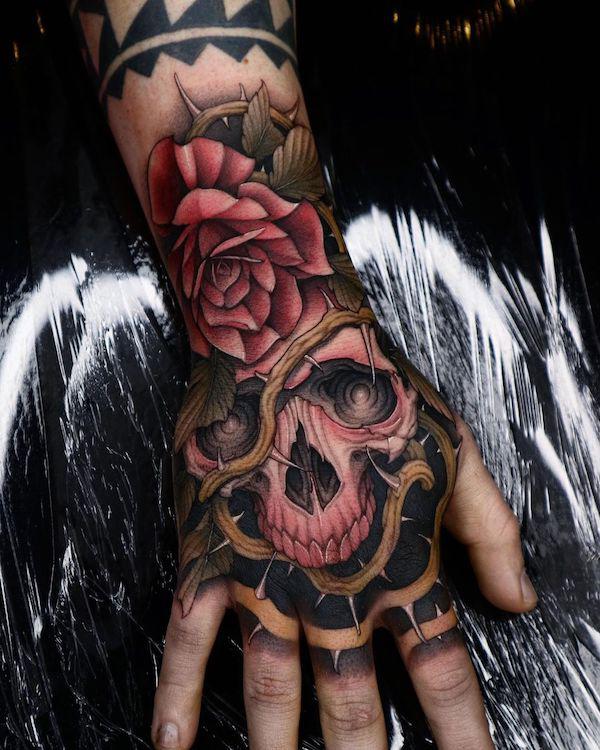 Skull and roses with thorn hand tattoo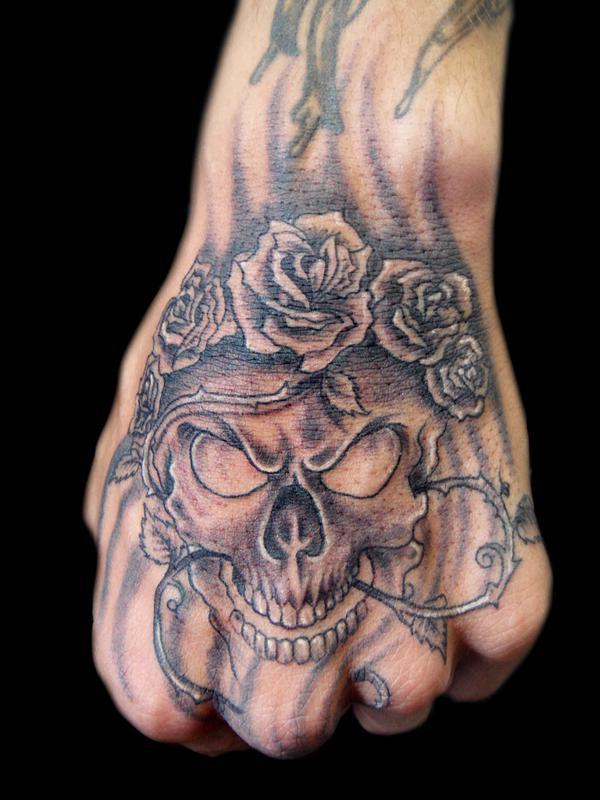 Aztec Skull Hand Tattoos
Aztec skull tattoos are a beautiful blend of history, culture, and artistry. The Aztecs held a deep respect for the symbolism of skulls, viewing them as symbols of life, death, and rebirth. These tattoos often incorporate intricate patterns, geometric shapes, and traditional Aztec symbols, creating a striking homage to this ancient civilization.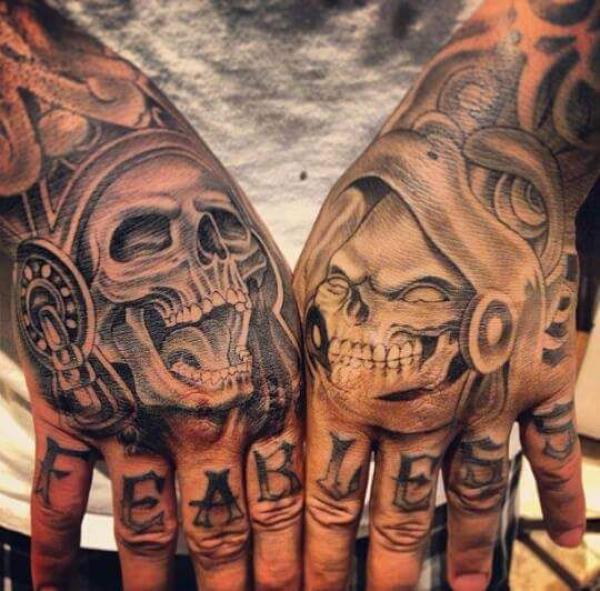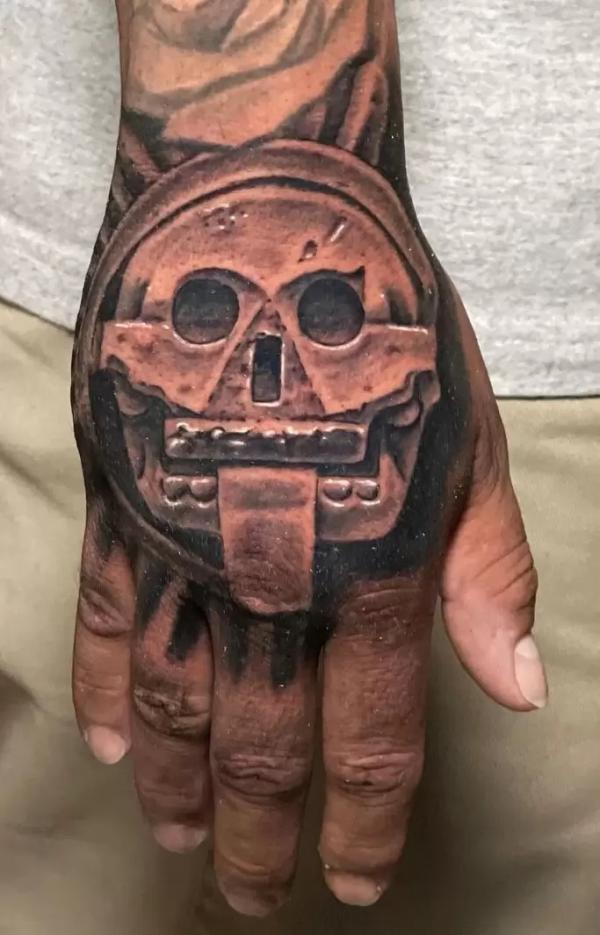 Flaming Skull Hand Tattoos
If you're looking for an ink design that's visually striking and packed with meaning, flaming skull tattoos are a fantastic choice. A flaming skull can symbolize transformation and change, much like a phoenix rising from the ashes. The flames add an element of intensity and passion, making this design a powerful statement piece.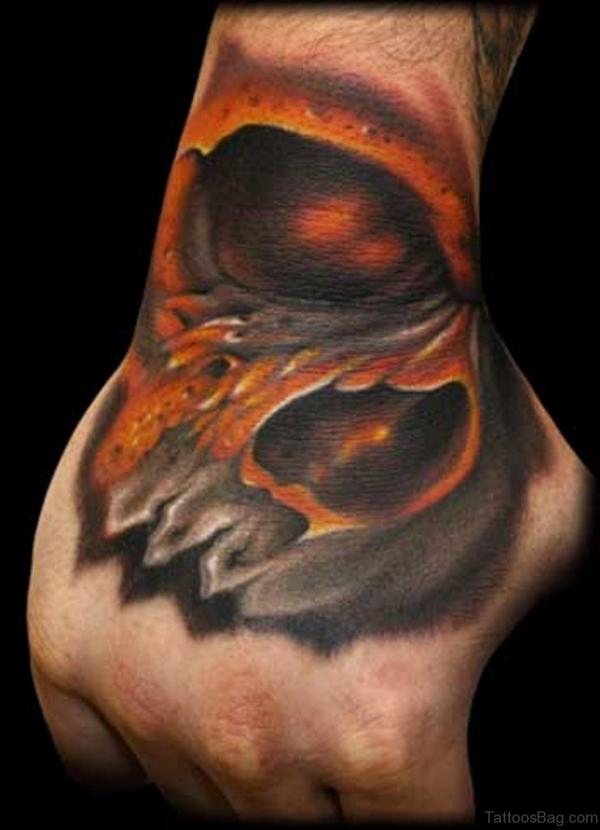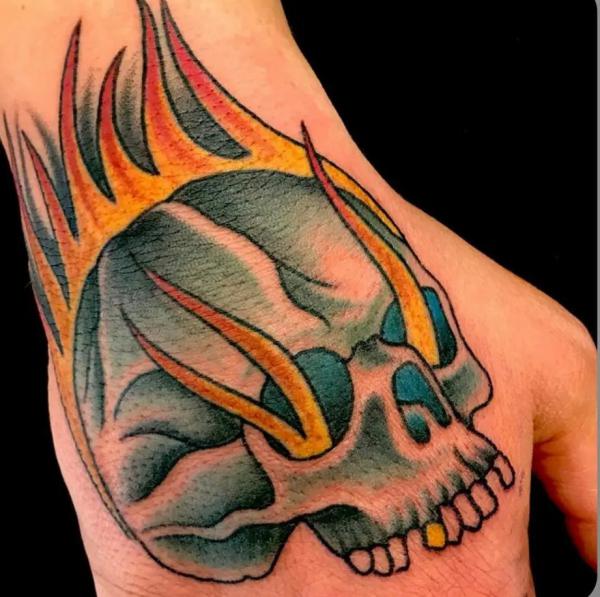 Burning skull hand tattoo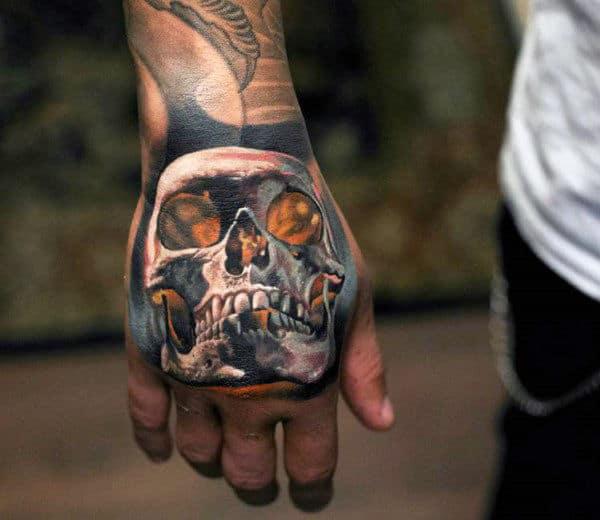 Firing skull hand tattoo black and grey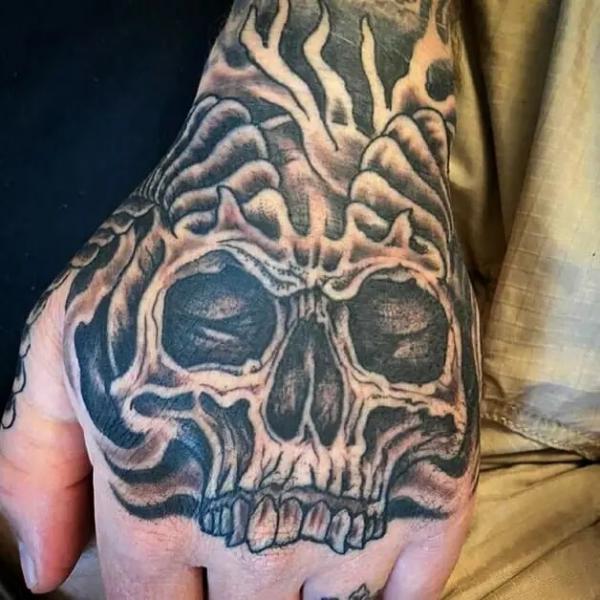 Indian Skull Hand Tattoos
Indian skull hand tattoos offer a unique blend of cultural symbolism and stunning visuals. Often depicted with a traditional Indian headdress, these life and death tattoos can be a respectful nod to Native American culture . It's essential, however, to approach such designs with respect, ensuring they don't appropriate or disrespect the culture they draw from.
Traditional native American skull chief hand tattoo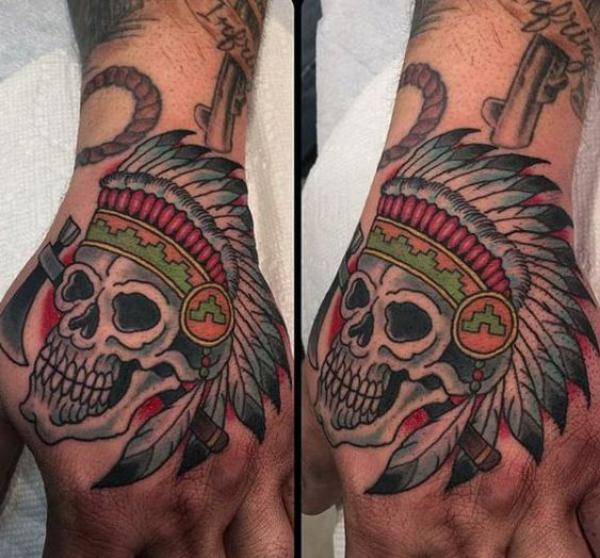 Skull cowboy and Indian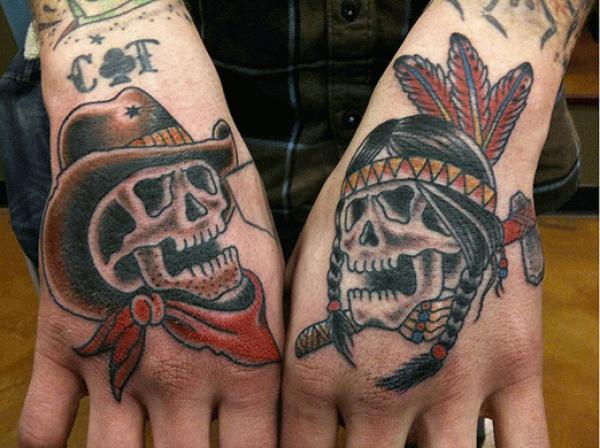 Pairing a skull with a rose creates a stunning juxtaposition of life and death. Roses are often associated with love, beauty, and life, making them a beautiful contrast to the skull's symbolism of mortality. This combination can represent the delicate balance between life and death, the beauty in transience, or the idea that love transcends mortality.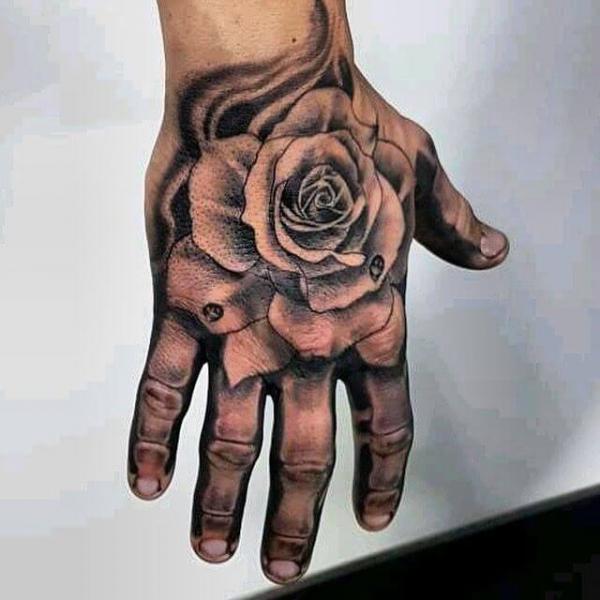 White rose on skeleton hand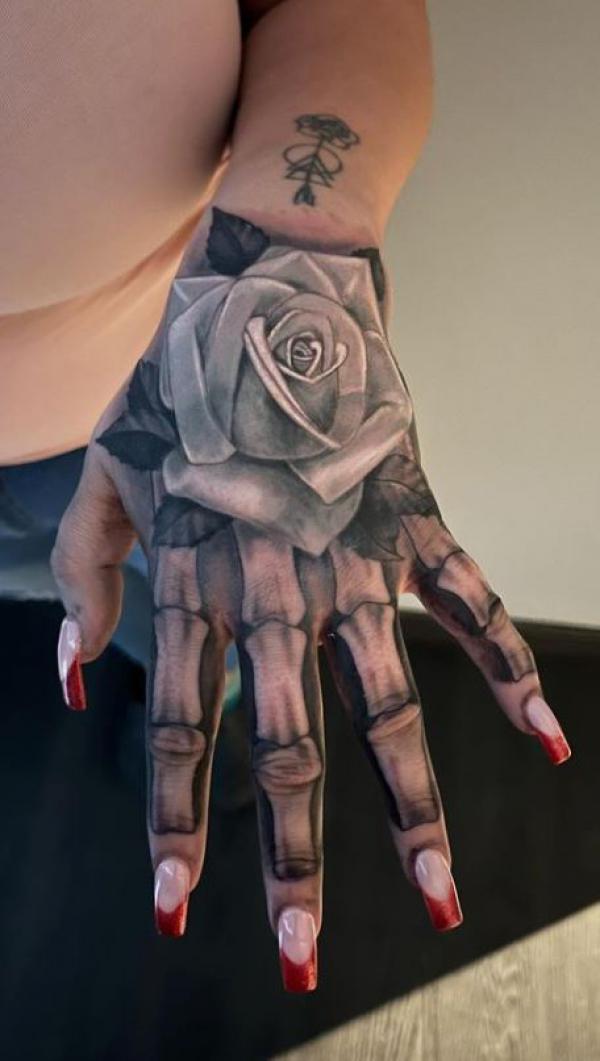 Rose skeleton hand tattoo with water drop on petal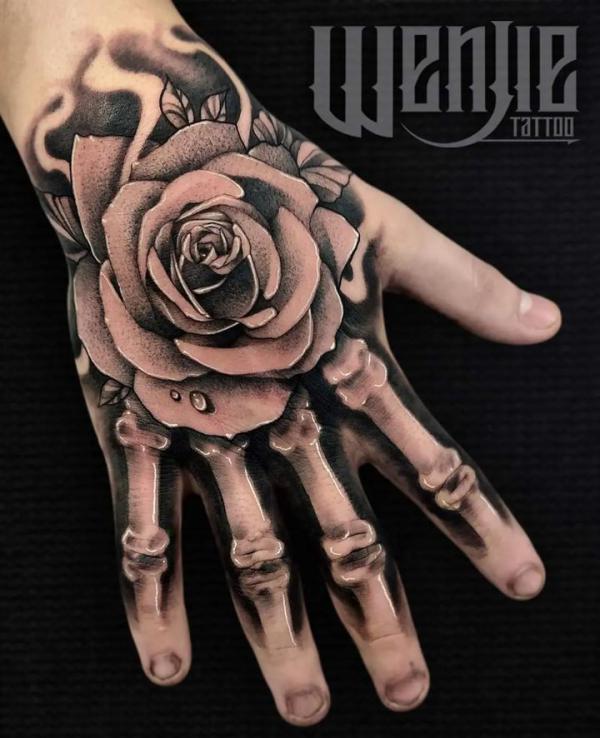 Skull and Clock Hand Tattoos
A skull paired with a clock is a striking visual metaphor for the passage of time and the inevitability of mortality. Clocks, with their relentless ticking, are a constant reminder of time's forward march. Pairing this with a skull creates a poignant reminder to seize the day and live life to the fullest.
Skull and Clock Hand Tattoo with name and year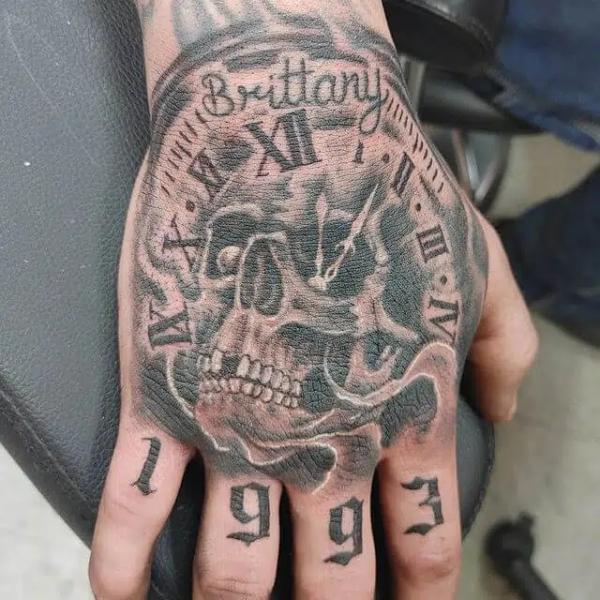 The skull represents mortality, while the clock signifies the relentless passage of time. Adding a name and year can memorialize a significant life event or honor a loved one, making this tattoo a poignant reminder of the transient nature of life and the lasting impact of relationships and experiences.
Skull with clock tattoo on hand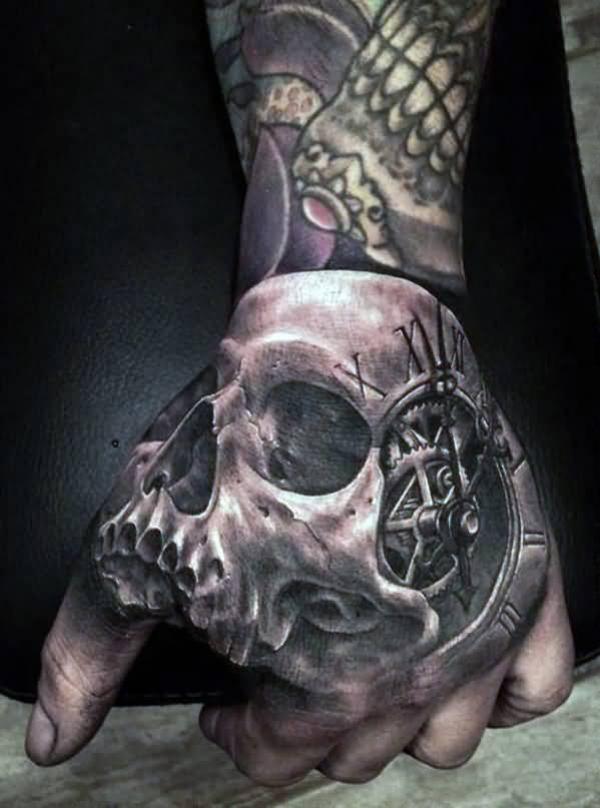 Skull and Human Face Tattoos
If you're willing to make a bold statement, consider getting matching tattoos on both hands, featuring a skull on one and a human face on the other. This design can symbolize the duality of life and death, the outer self versus the inner self, or the contrast between who we are and how we are perceived. This powerful design is sure to turn heads and spark conversations.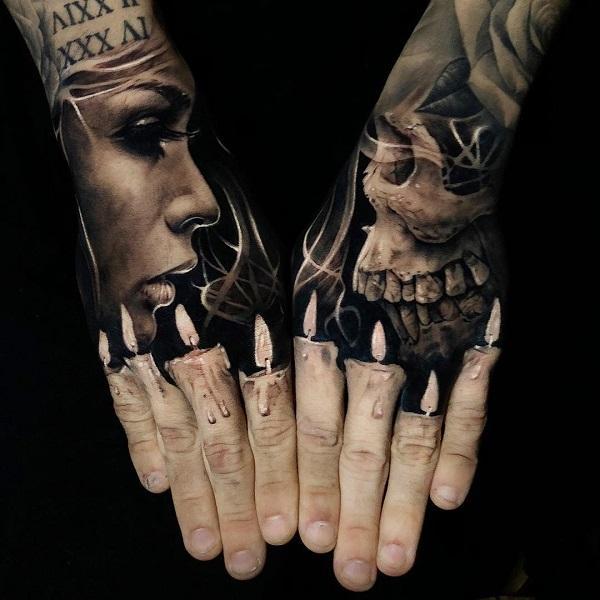 Tearing face and skull hand tattoos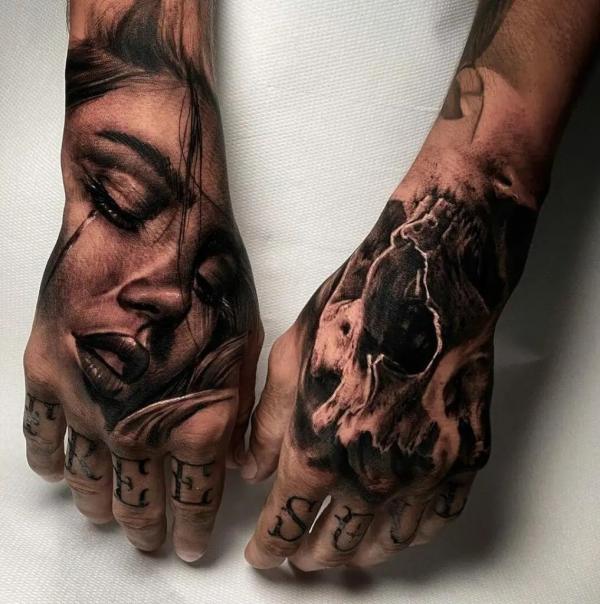 Realistic Skull and face matching tattoos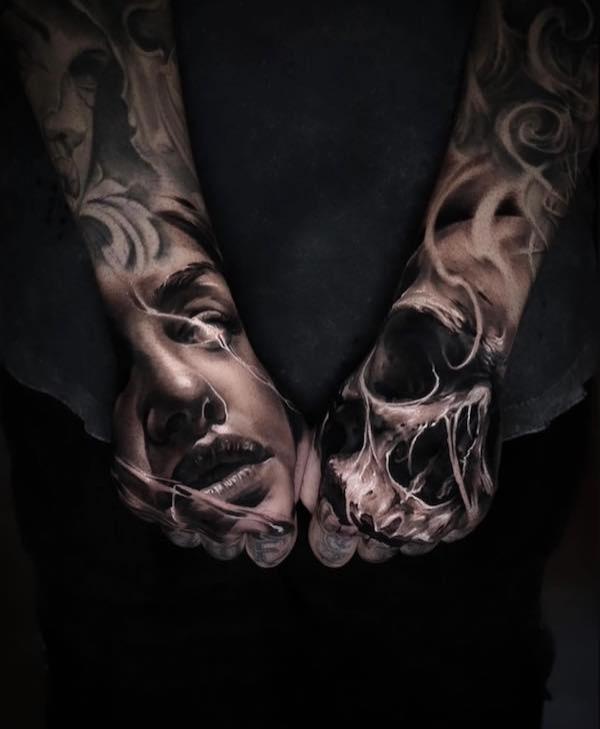 Neo traditional skull hand tattoo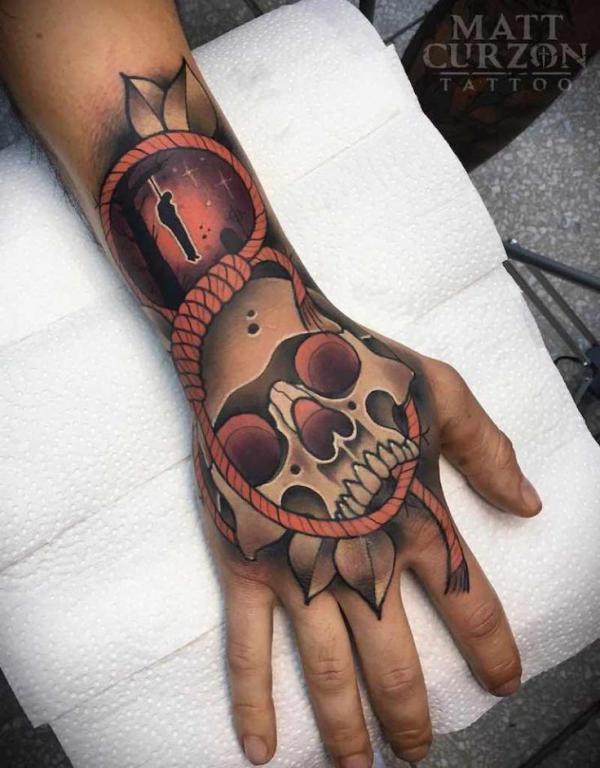 Neo-traditional tattoos take the classic elements of traditional tattooing and infuse them with modern techniques and styles. A neo-traditional skull ink design on hand is bold and colorful, featuring thick lines, vibrant colors, and elaborate details. This style allows for a creative interpretation of the classic skull, making your tattoo a unique piece of body art.
Mandala skull hand tattoo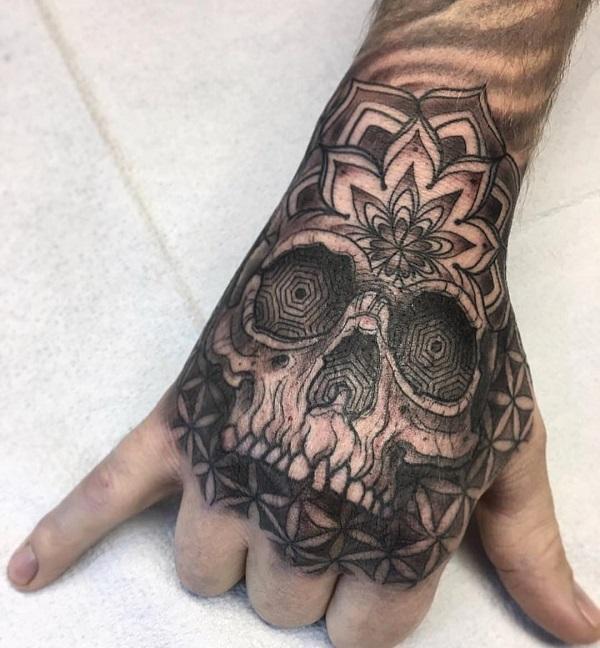 Mandala designs are intricate and symmetrical, drawing inspiration from Hindu and Buddhist traditions. Combining a skull with a mandala design creates a striking juxtaposition of life and death, spirituality and mortality. The intricate patterns add a layer of complexity to the skull, making this design a visually stunning work of art.
Retro skull and Greek key tattoo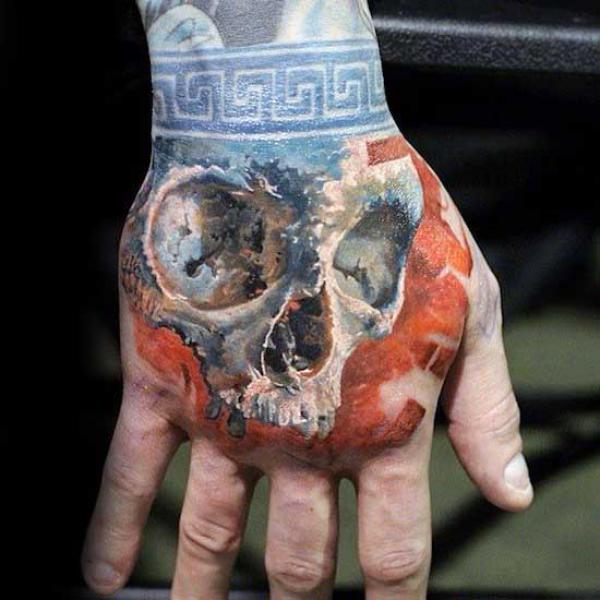 The Greek key or meander is an ancient decorative border constructed from a continuous line, shaped into a repeated motif. Pairing this with a retro-style skull creates a unique tattoo that blends ancient symbolism and vintage aesthetics. This design can represent the eternal cycle of life and death, with the Greek key symbolizing infinity or the eternal flow of things.
Sketchy skull hand tattoo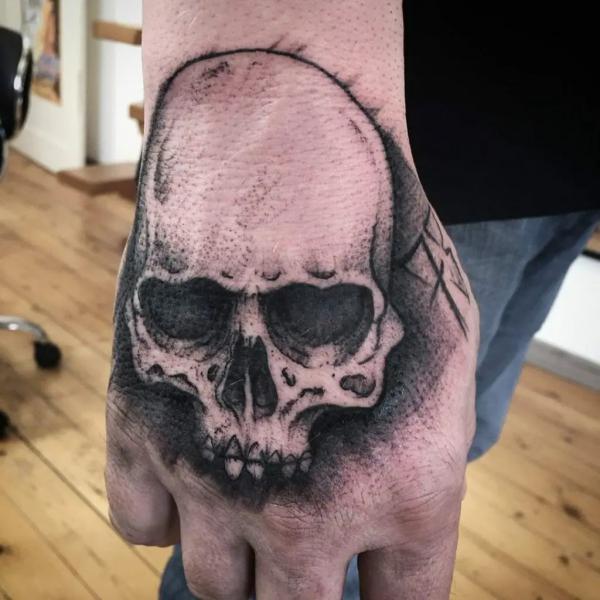 If you're looking for a less traditional, consider a sketchy style skull tattoo on your hand. This style mimics the look of a pencil sketch, creating a raw and unrefined aesthetic. It can make your tattoo look like a piece of art straight out of an artist's sketchbook, adding a unique and creative touch to your hand.
Skull with blue flowers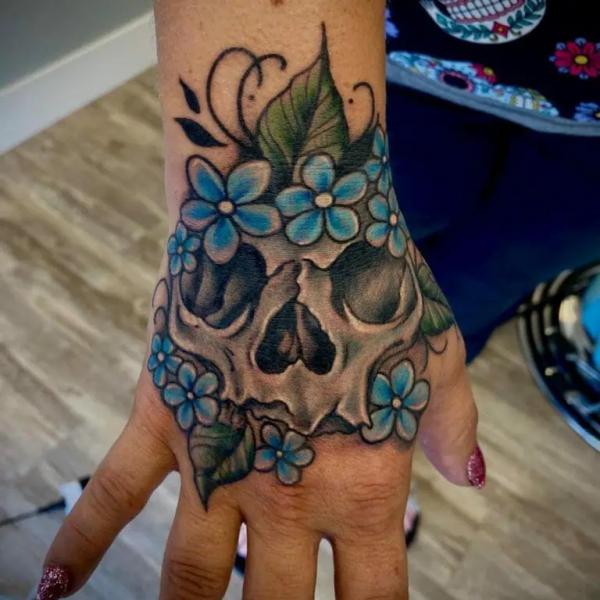 A skull adorned with blue flowers creates a beautiful contrast between life and death. Blue flowers often symbolize inspiration, hope, and beauty. Pairing them with a skull can represent the beauty in mortality, or the hope that comes from acknowledging our finite existence.
Skull hand tattoo with crown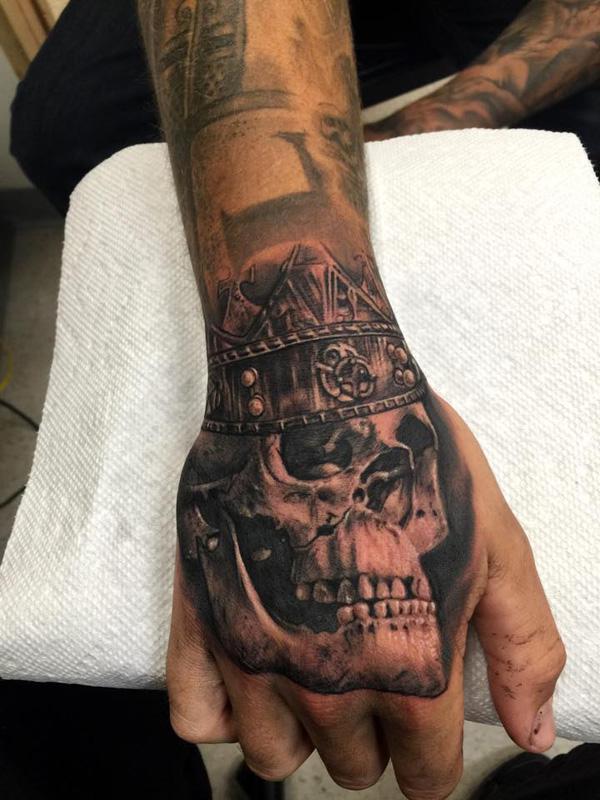 A skull with a crown adds an element of regality and power to the design. The crown can symbolize leadership, authority, or overcoming challenges. It's a powerful way to express your inner strength, resilience, and sovereignty over your own life.
Skull tattoo with UV light on hand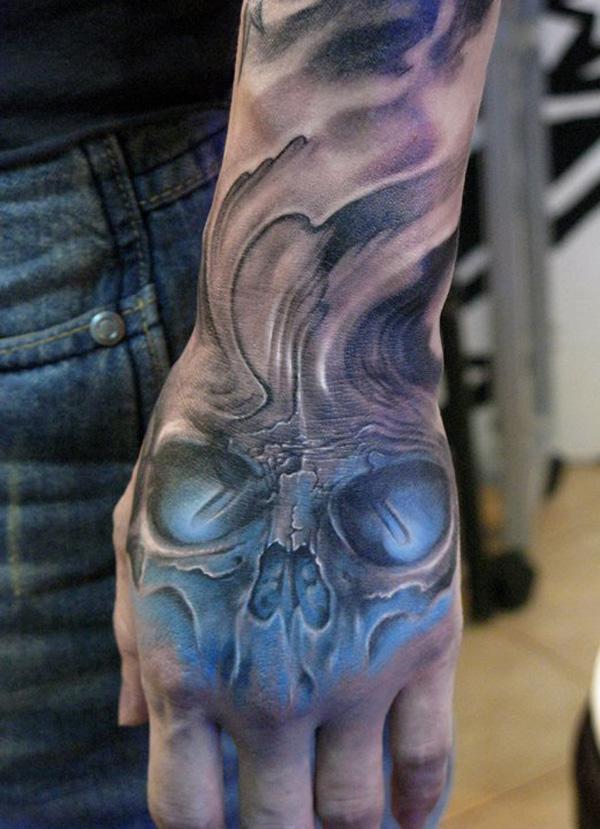 For a truly unique and modern take, consider incorporating UV ink. A skull tattoo with UV light can create an ethereal, glowing effect that comes to life under blacklight. It's a fun and unique way to make your tattoo stand out, while keeping the classic symbolism of the skull.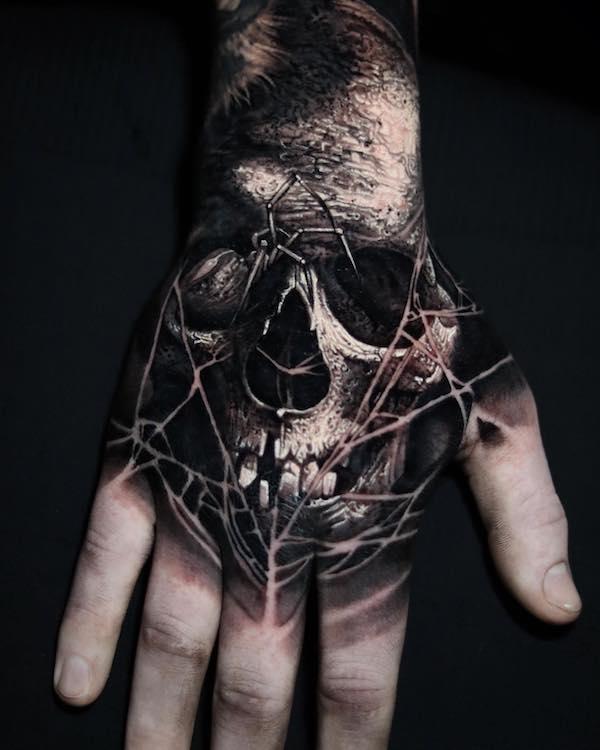 A skull with a spider web tattoo is a classic design with a slightly eerie edge. The spider web can symbolize fate, mystery, or the intricate web of life and death. This design can give your skull tattoo a touch of the macabre, making it a perfect choice for fans of gothic aesthetics.
Skull with thorn crown hand tattoo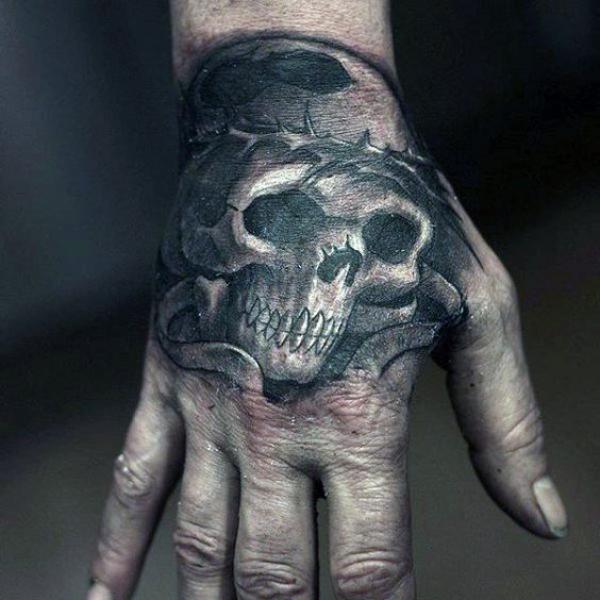 A skull with a thorn crown can hold deep spiritual symbolism. The thorn crown is often associated with sacrifice, suffering, and redemption. This design can represent personal struggles, sacrifices, or the concept of finding beauty in pain.
Spooky skull with green light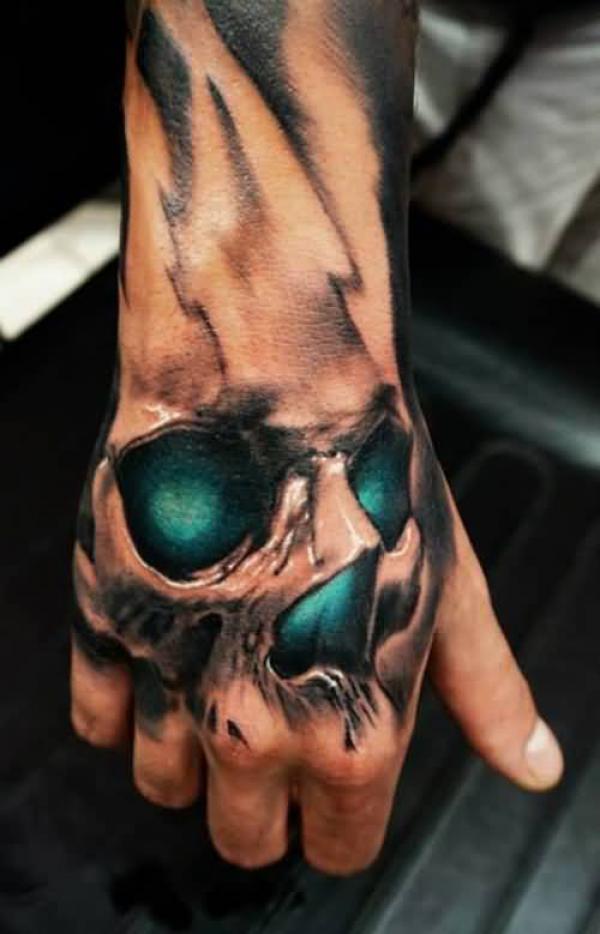 A spooky skull with green light can create an eerie and captivating aesthetic. The green light can give the skull a ghostly glow, adding an element of the supernatural to your tattoo. This design is perfect for those who want their skull tattoo to have a bit of a spooky edge.
viking skull hand tattoo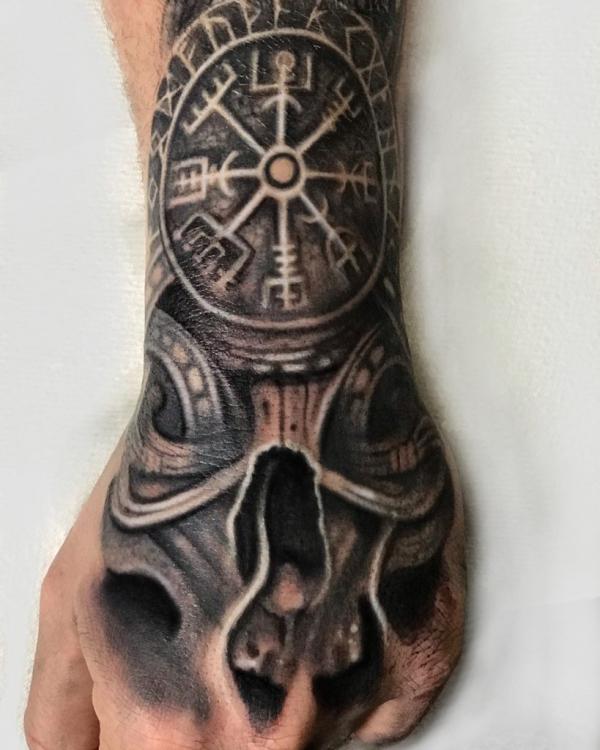 A Viking skull hand tattoo with a rune compass, or Vegvísir, combines history, mythology, and symbolism. The Viking skull can represent bravery, resilience, or a warrior spirit, while the rune compass is a symbol of guidance and protection. This design can be a powerful symbol of your inner warrior, guiding you through life's battles.
666 skull hand tattoo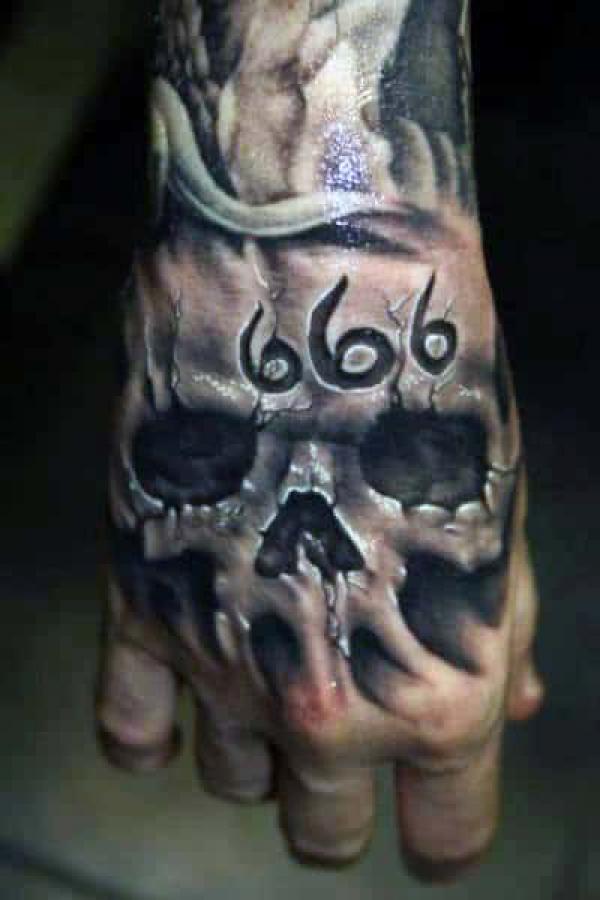 The number 666, often associated with rebellion or the unconventional, combined with the skull, a universal symbol of mortality, creates a design that's rich in symbolism and drama. This tattoo speaks to those who embrace the unconventional and aren't afraid to make a bold, defiant statement. It's about acknowledging mortality and challenging societal norms, all in one compelling design.
A skull in wind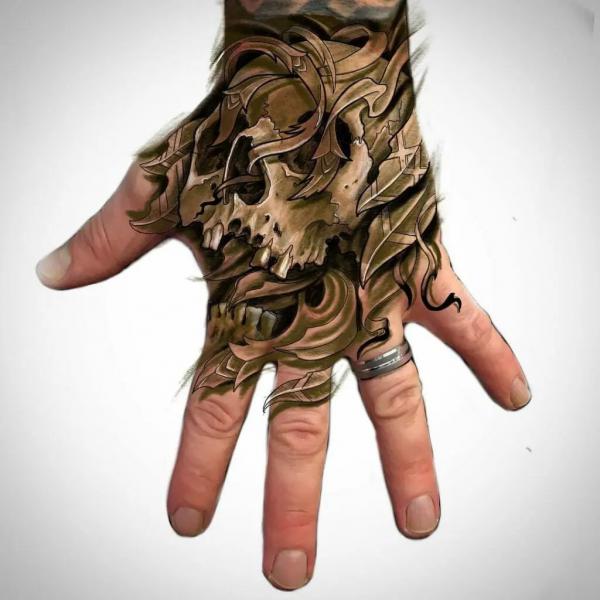 A skull tattoo with leaves blowing in the wind provides a poetic interpretation of life's transience. The skull is a classic symbol of mortality, while the wind-blown leaves can symbolize change, impermanence, or the fleeting nature of life. This design can be a beautiful and subtle way to express profound existential themes.
Animal skull with flowers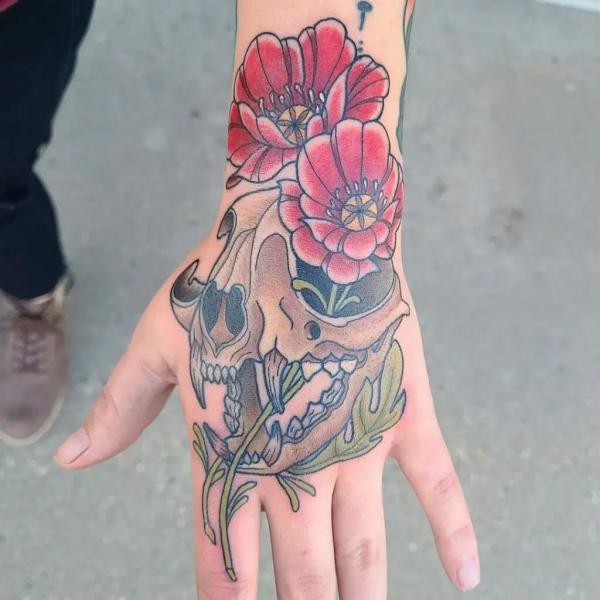 An animal skull with flowers can be a captivating design that blends the natural and the symbolic. The animal skull may represent the primal, wild aspects of human nature, while the flowers can symbolize life, beauty, or rebirth. This combination can create a powerful contrast and a unique interpretation of the life-death cycle.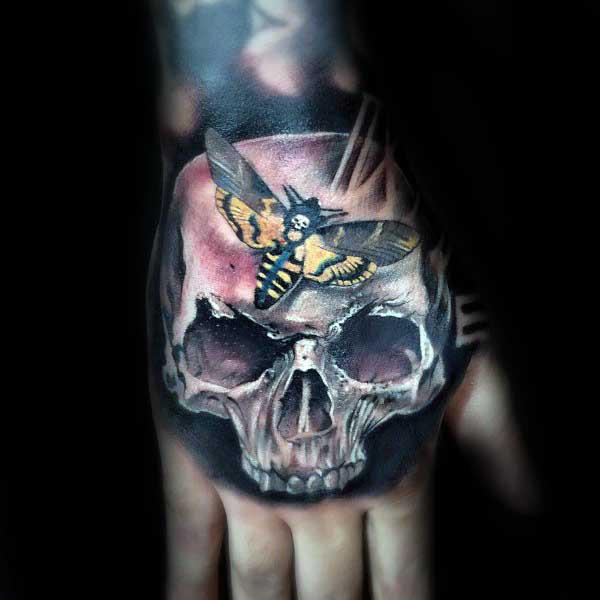 A black and grey skull with a death moth can be a striking and slightly eerie tattoo design. The death moth, often associated with death and the afterlife, complements the skull's symbolism perfectly. In a black and grey tattoo, this combination can create a haunting, gothic aesthetic that's sure to stand out.
Black and grey skull with thorn crown hand tattoo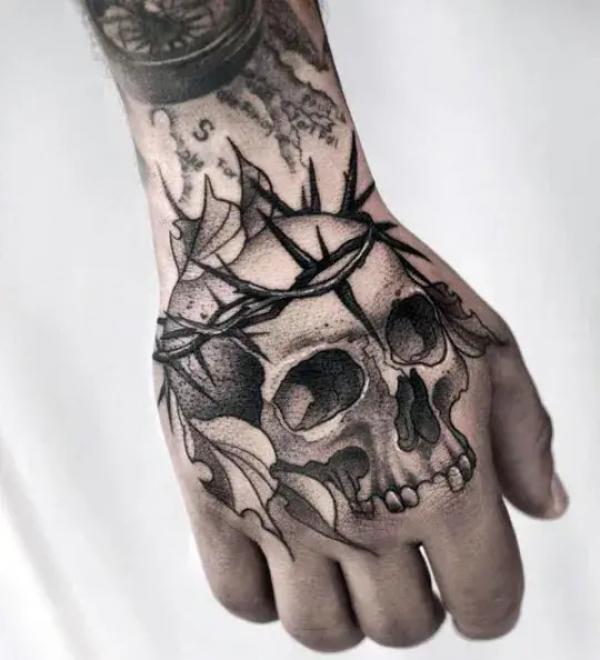 A black and grey skull with a thorn crown can be a deeply symbolic and visually striking choice. The thorn crown often symbolizes sacrifice, suffering, or redemption. When paired with a skull, it can represent overcoming adversity, personal struggles, or the concept of sacrifice.
Cloudy skull hand tattoos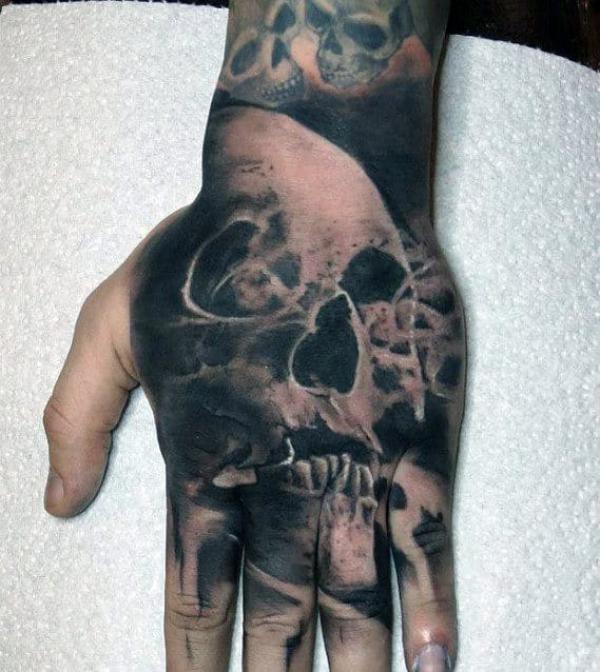 A cloudy skull hand tattoo can create a dreamy, ethereal aesthetic. The clouds can symbolize mystery, change, or the realm of the subconscious. This design can be a unique way to express the mystery and impermanence of life, with the skull serving as a reminder of our mortality.
Cracked skin skull hand tattoo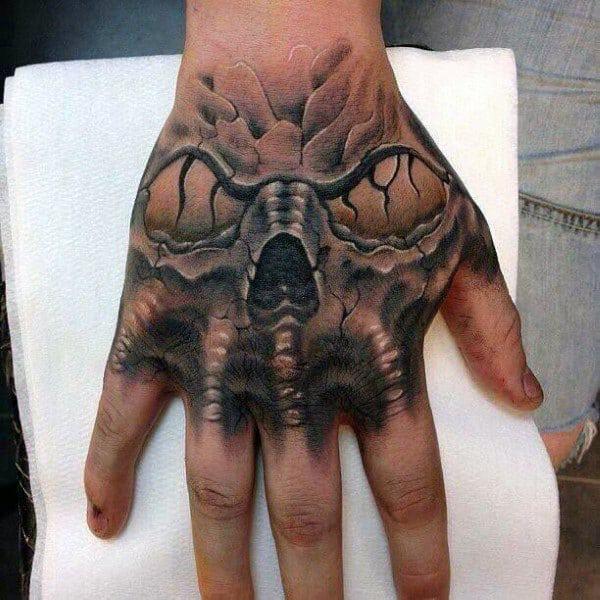 A cracked skin skull hand tattoo can make a bold visual statement. This design creates the illusion that your skin is cracking to reveal a skull underneath, symbolizing the idea that beneath our external appearances, we all share the same fate. This can be a powerful and daring way to express existential themes.
Fake skull hand tattoo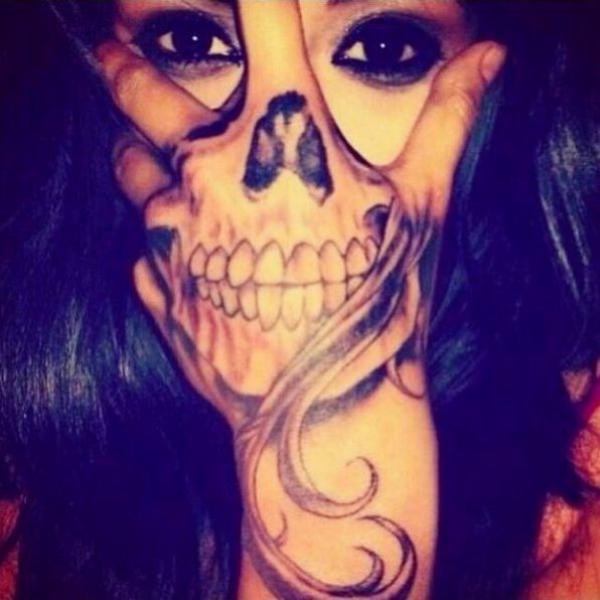 Don't let the term "fake" fool you – a half skull hand tattoo is a real design, it's just designed to create a unique visual effect. When placed on the hand in such a way that it forms half a skull, this design takes on an eerie quality when the hand is held up to the face, with your eyes completing the image. This tattoo is all about illusion and perspective, creating a captivating and slightly macabre aesthetic that's sure to intrigue. It's perfect for those who appreciate the unusual and enjoy playing with perception.
Galaxy skull hand tattoo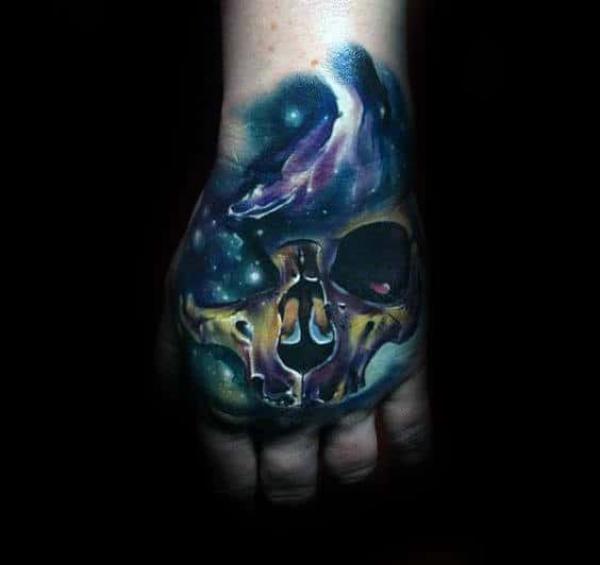 A galaxy skull merges the earthly and the cosmic. The skull represents our earthly existence, while the galaxy can symbolize the vastness of the universe, the unknown, or endless possibilities. This design can express a sense of wonder and curiosity about the universe, and our place within it.
Gothic skull hand tattoo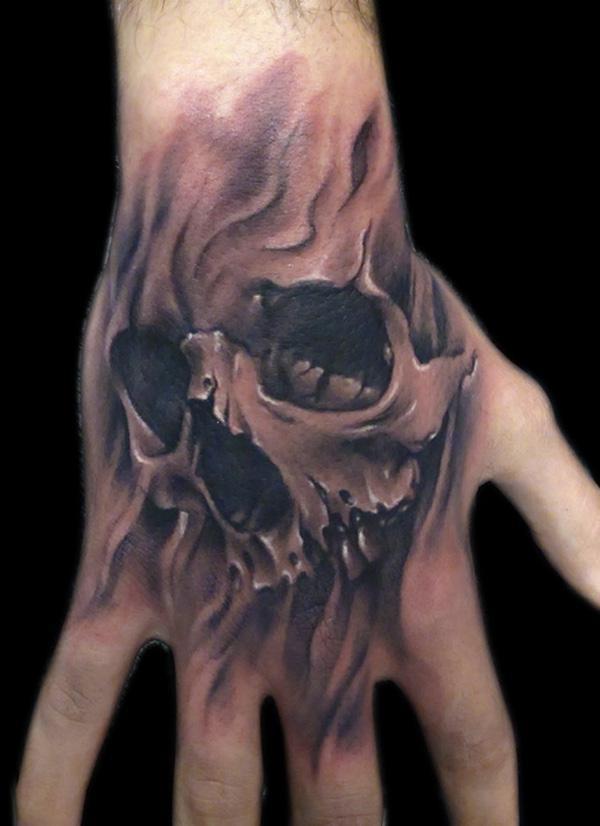 A gothic skull hand tattoo can create a dark, mysterious, and slightly eerie aesthetic. Gothic designs often feature intricate details, dramatic contrasts, and elements of the macabre. This style can give your skull tattoo a unique edge that's sure to captivate.
Grim reaper skull hand tattoo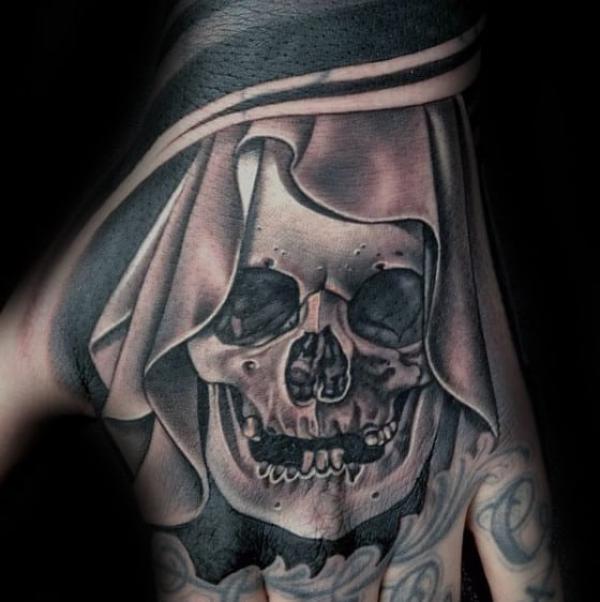 A grim reaper tattoo with a skull can be a bold and powerful design on the hand. The grim reaper, often associated with death and the passage of time, can serve as a stark reminder of our mortality. This design can be a daring way to express your awareness of life's impermanence.
Human heart skull hand tattoo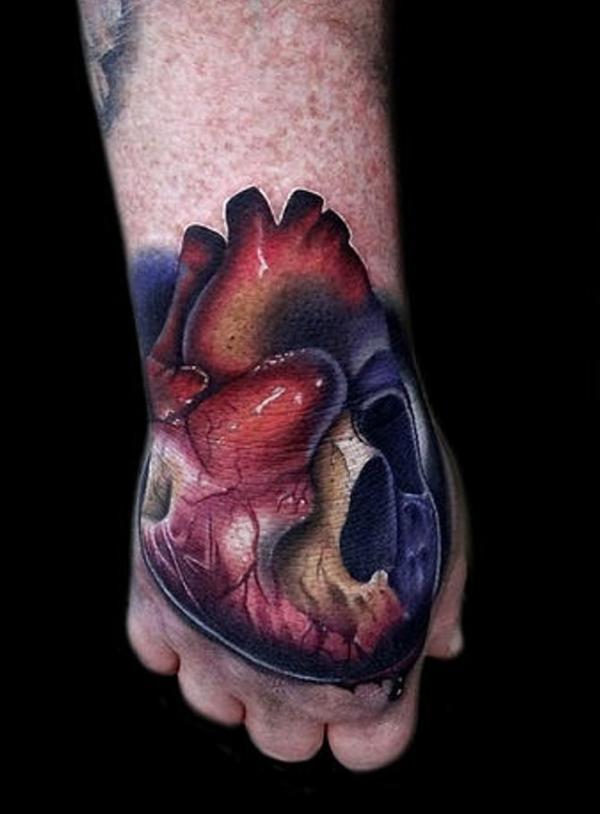 A human heart skull hand tattoo merges two powerful symbols. The heart can represent love, life, or emotion, while the skull symbolizes mortality. This design can express the idea that love and emotion are as intrinsic to human life as death itself.
Conclusion
Skull hand tattoos are more than just striking pieces of body art. They're potent symbols loaded with meanings that can range from reminders of mortality to symbols of rebellion and resilience, from a celebration of life to expressions of individuality and signs of strength. Ultimately, the specific meaning of a skull hand tattoo will depend on the wearer's personal interpretation and the narratives they wish to convey. So, the next time you see a skull hand tattoo, know that there's a deep story etched into the wearer's skin, a story as complex and fascinating as the symbol itself.