Diving into the world of tattoos, one cannot escape the magnetic allure of designs inspired by the gods and goddesses of Greek mythology. Among the pantheon, Poseidon, the God of the Sea, holds a commanding presence. His image adorns the bodies of many tattoo enthusiasts, beckoning us to delve deeper into the meanings behind Poseidon tattoo ideas. So, let's embark on this voyage together, exploring the symbolism and iconography of Poseidon in skin art.
The Symbolism of Poseidon tattoo
Before we can understand the tattoo, we need to understand the man, or rather, the god. In Greek mythology, Poseidon was one of the twelve Olympian gods, ruling over the vast seas. He was a figure of immense power and respect, feared and revered by those who dared to navigate his waters.
Poseidon: The God of the Sea
As the God of the Sea, Poseidon represents the mystery, beauty, and ferocity of the ocean. He embodies the dichotomy of the calm sea, tranquil and serene, and the stormy sea, violent and unpredictable. A Poseidon tattoo, hence, can symbolize a person's connection to the sea, maybe as a sailor, surfer, or just someone who finds peace in the ocean's rhythm.
Poseidon: A Symbol of Power and Strength
Portrayed as a robust figure wielding a trident, Poseidon is the quintessential symbol of raw power and strength. To control the sea, with its untamed waves and unfathomable depths, one needs an unmatchable force. Those who choose a Poseidon tattoo often want to embody this strength, signaling their own inherent power and resilience.
Poseidon and Life's Unpredictability
Much like life, the sea is unpredictable. It can be calm one moment and stormy the next. By ruling over such an entity, Poseidon becomes a symbol of life's unpredictability. A tattoo of Poseidon might be chosen by someone who has weathered life's storms, standing tall as a testament to their endurance.
Poseidon's Iconography in Tattoos
Poseidon tattoos are rich in symbolism, and several common elements often accompany the god's image in these designs.
The Trident
Poseidon's trident is as iconic as the god himself. A three-pronged spear, the trident is a symbol of Poseidon's power and authority over the sea. In tattoos, the trident can represent power, control, and sovereignty.
Horses and Waves
Poseidon is often depicted with horses, a nod to his creation of the first horse in Greek mythology. Horses in Poseidon tattoos often symbolize strength, freedom, and the spirit of conquest. Incorporated with waves, it further emphasizes Poseidon's dominion over the sea, illustrating the god's dual nature of being both creator and destroyer.
Meaning of Poseidon Tattoo Designs
If you're in search of a tattoo idea that holds deep meaning, look no further than Poseidon, the God of the Sea. With each idea telling a unique story, these tattoos are a testament to the strength, power, and unpredictability of both the ocean and life itself. Now, let's explore some popular Poseidon tattoo designs and their interpretations.
Medusa and Poseidon tattoo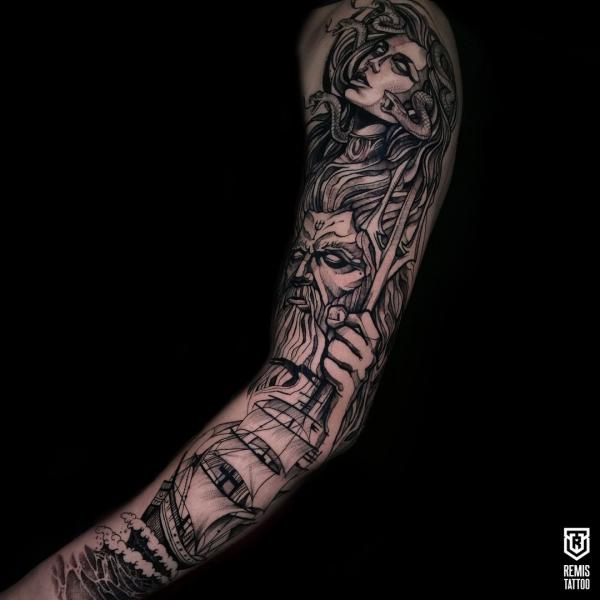 A portrait of Medusa, Poseidon holding a trident, and a boat in a wave, the picture is a stunning display of Greek mythology. This design captures the complex relationship between Poseidon and Medusa, while also showcasing Poseidon's reign over the sea. Every detail in this tattoo speaks volumes, from Medusa's captivating gaze to the mighty Poseidon's firm grip on his trident.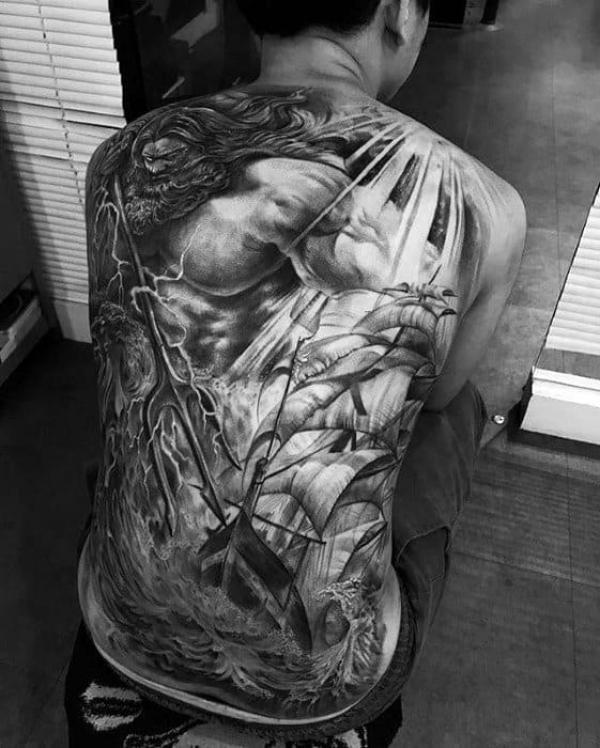 A Poseidon trident pointing to a boat in the wave is a powerful portrayal of the sea god's dominion over the ocean. Rendered in black and grey, this realistic design brings a sense of depth and drama. It's as if you're carrying a stormy sea tale on your back, with Poseidon himself leading the narrative.
Poseidon Wielding His Trident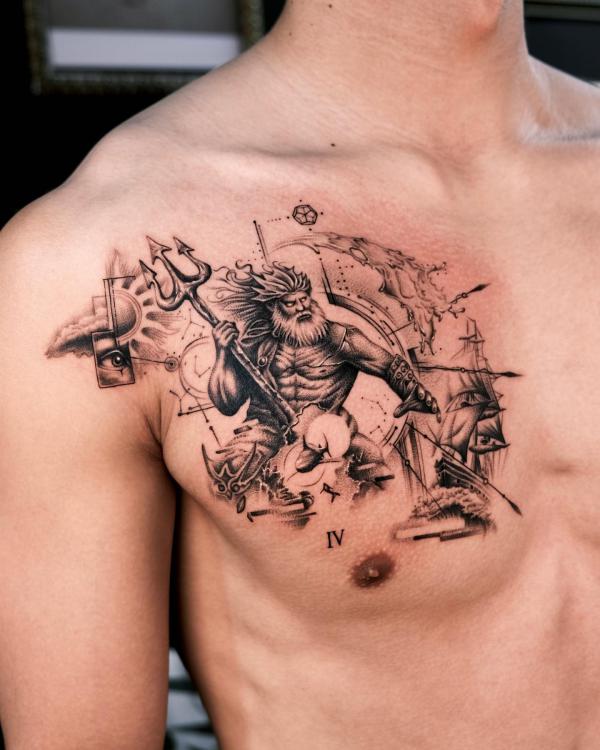 The Poseidon chest tattoo offers a dynamic and intense representation of the sea god's power. With Poseidon holding his trident, poised and ready for battle, this design symbolizes courage, resilience, and strength. Placed on one side of the chest, it makes a bold statement and serves as a constant reminder of one's inner warrior.
Poseidon drawing tattoo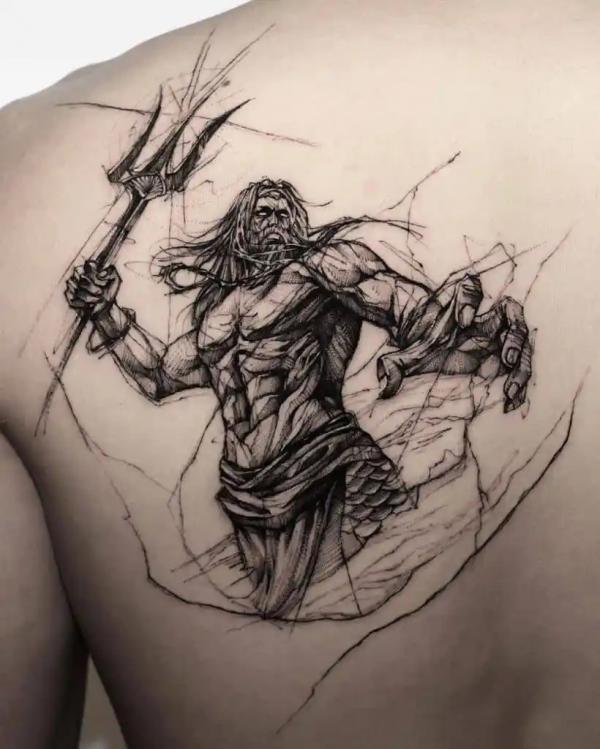 If you're looking for something less traditional and more artistic, a sketchy Poseidon with a trident spear could be the perfect idea. This design, reminiscent of a quick pencil sketch, brings a unique, creative twist to the classic Poseidon image. It's a great way to showcase both your love for art and your affinity for Greek mythology.
Poseidon face tattoo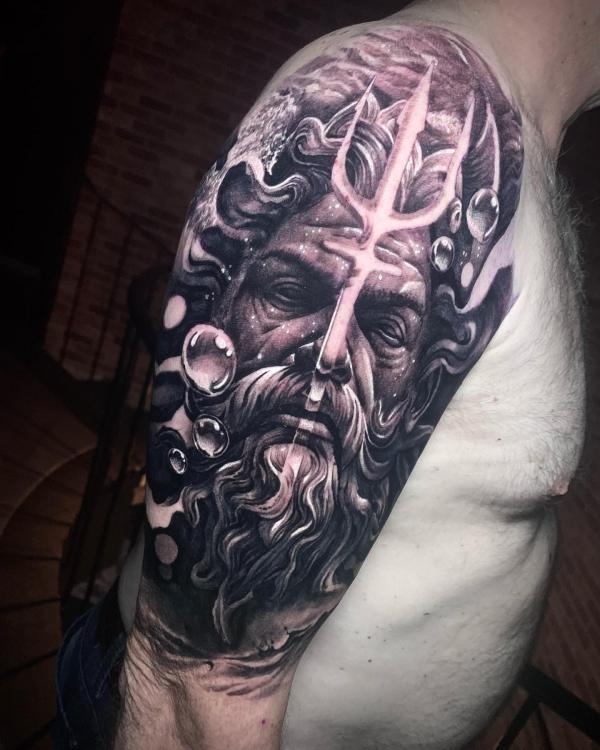 A tattoo design featuring Poseidon's face emerging from a wave can be a striking display of the god's commanding presence. Whether you opt for a realistic or stylized rendition, this design brings together the mystery of the sea and the power of Poseidon in a captivating visual narrative.
Poseidon god with trident sleeve tattoo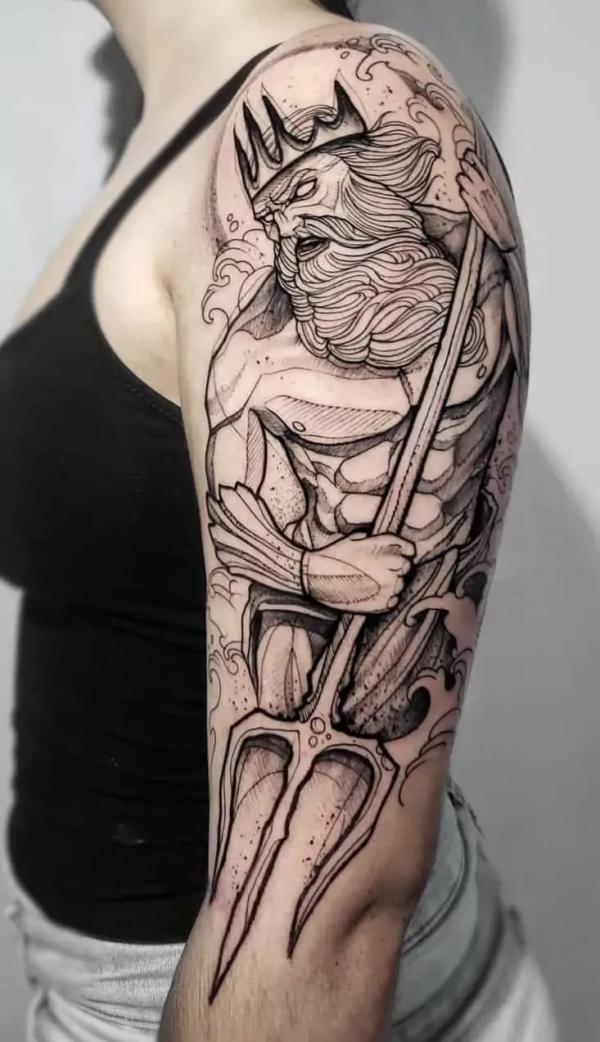 A sleeve tattoo featuring Poseidon with his trident is a popular design idea that truly captures the sea god's might. This design wraps around your arm, making a bold statement. With Poseidon's powerful image, you're sure to wield a sense of strength and authority wherever you go.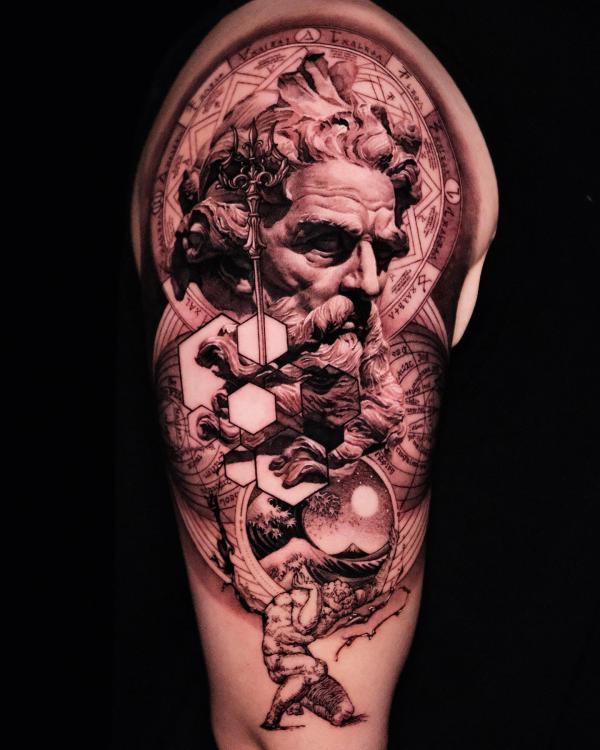 A half sleeve Poseidon design is a great way to showcase the sea god without committing to a full sleeve. This design can feature Poseidon in various forms, perhaps holding his trident or emerging from the sea, offering a dynamic and visually appealing design.
Poseidon hand tattoo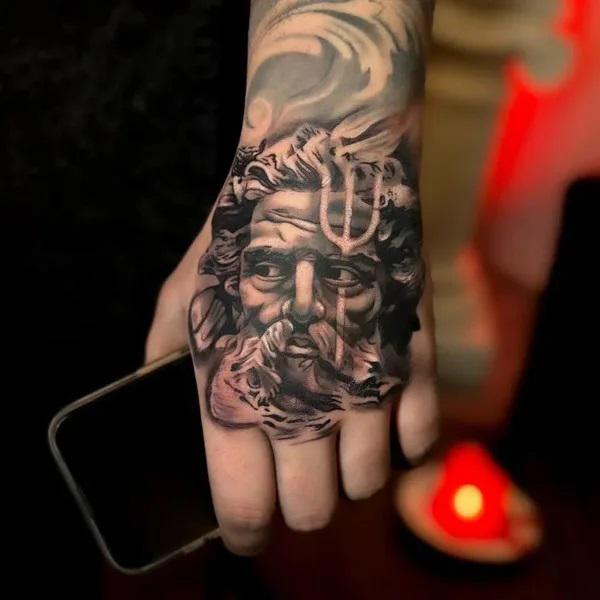 A hand tattoo can be a small yet powerful display of the sea god. This design might feature Poseidon's face, his trident, or even a small scene depicting a story from Poseidon's mythological adventures. It's a constant reminder of the sea god's strength and your connection to him.
Poseidon leg tattoo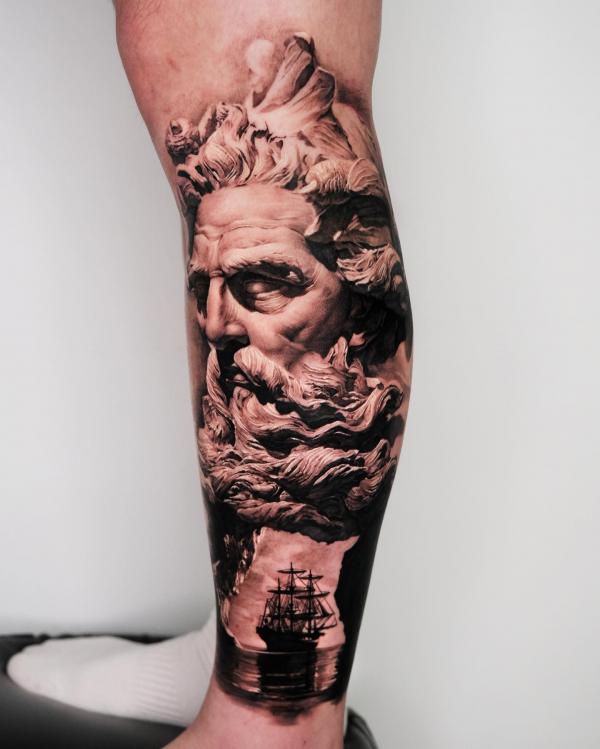 The double exposure leg tattoo features a portrait of Poseidon and a scene of a peaceful sea with a boat. This design blends two images into one, offering a unique perspective on the sea god's narrative.
Poseidon symbol tattoo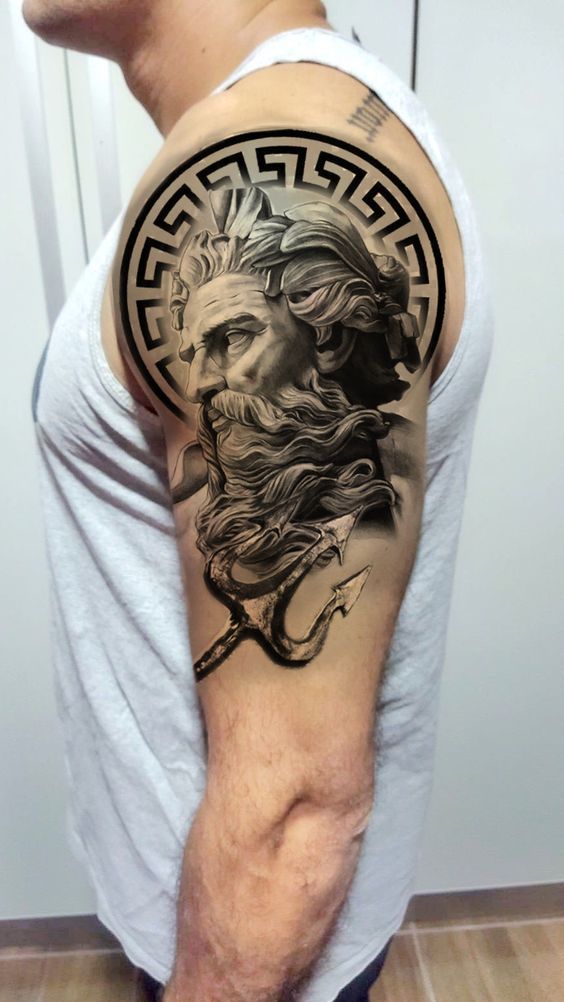 A tattoo featuring a portrait of Poseidon between a Greek Key circle and a trident is a symbolic homage to the god of the sea. The Greek Key, or Meander, represents infinity or the eternal flow of things. This design ties together the key elements associated with Poseidon, creating a tattoo that's rich in symbolism and Greek mythology.
Poseidon thigh tattoo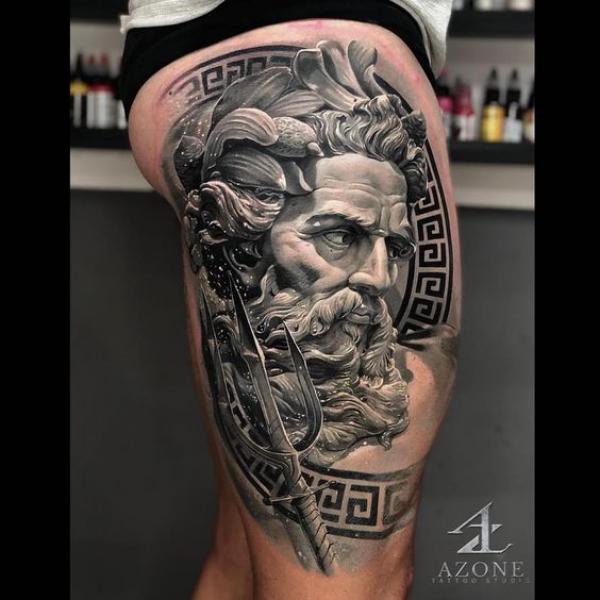 A thigh tattoo that looks like a 3D image of Poseidon and has parts of the Greek key and trident is very cool. This design makes a real statement, bringing Poseidon's strong image to life in a way that looks almost real. The Greek key, which stands for infinity or the never-ending flow of things, and Poseidon's trident, which is a symbol, give the design depth and meaning. This tattoo is more than just a picture of a face; it tells a story about power, life, and authority.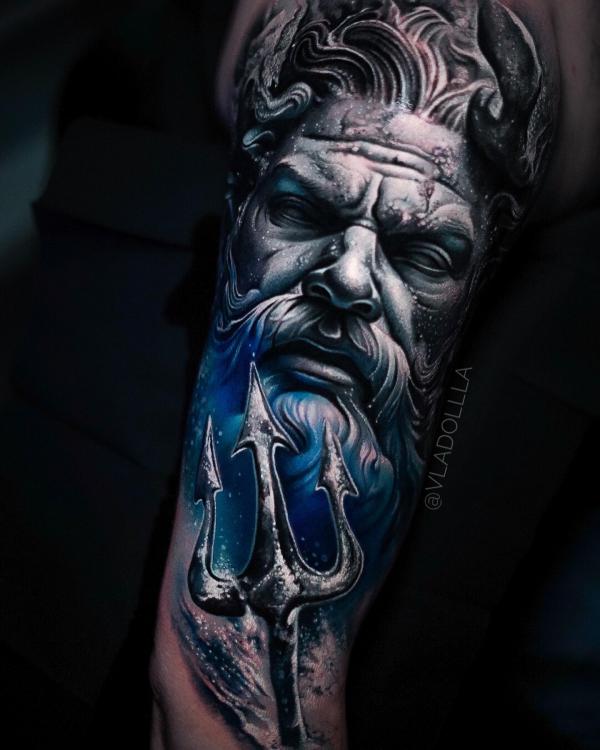 The trident is one of Poseidon's most well-known signs. A Poseidon trident tattoo is a strong and simple way to show respect for the sea god. It looks good in any size or place on the body, and you can make it as easy or complicated as you want. This sign alone has a lot of power because it shows that Poseidon rules the sea and is very strong.
Realistic Poseidon holding a trident in lightning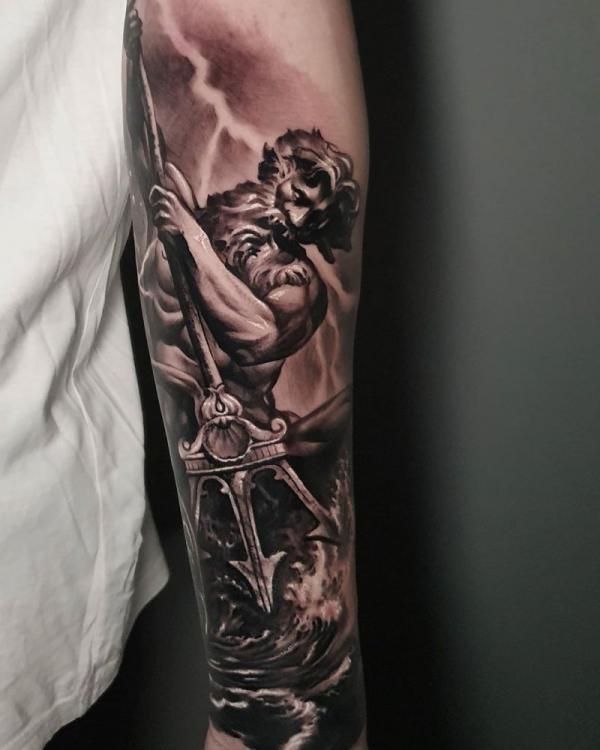 A realistic tattoo of Poseidon holding his trident in the middle of a lightning storm is a dramatic and powerful choice for a design. It shows that Poseidon is in charge of not only the sea but also storms. This design shows how strong Poseidon is and how wild and random nature's power is. It's a powerful picture of a stormy scene that shows power and dominance.
Simple Poseidon tattoo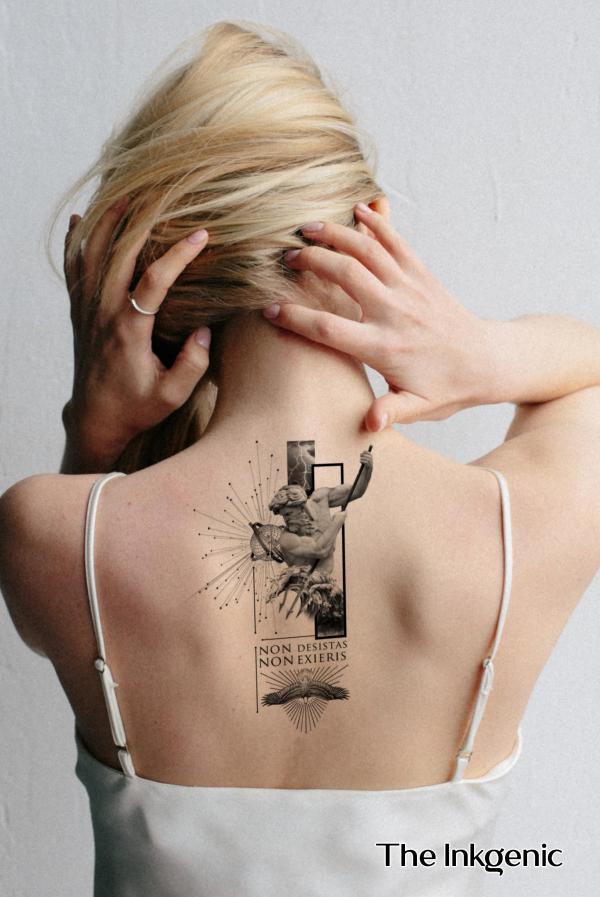 A simple tattoo can be just as impactful as a more complex design. This could be a minimalistic representation of Poseidon's face, a small trident, or a Greek key. Sometimes, less is more, and a simple tattoo can be a subtle yet effective tribute to Poseidon's power and dominion.
Traditional Poseidon tattoo black and grey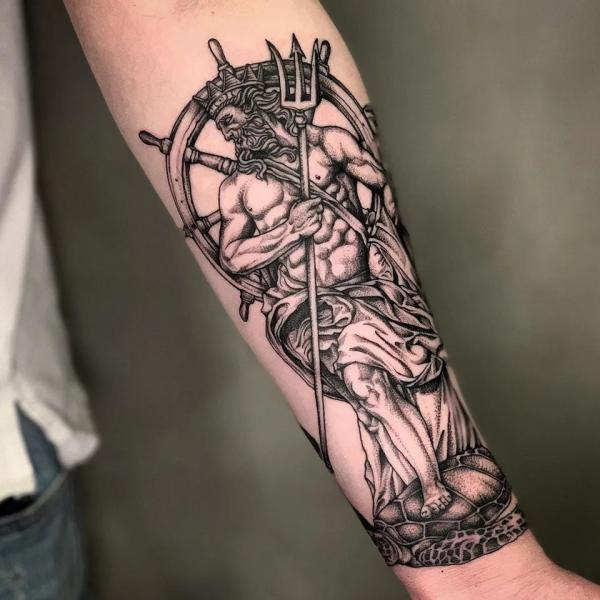 A traditional black and grey tattoo depicting Poseidon before a helm and holding a trident in hand is a classic and timeless design. This tattoo tells a story of guidance and control in times of chaos and uncertainty, symbolized by the stormy sea. It's a visual narrative that puts the sea god in the driver's seat, steering through the storm with unwavering resolve.
Traditional Poseidon tattoo Old school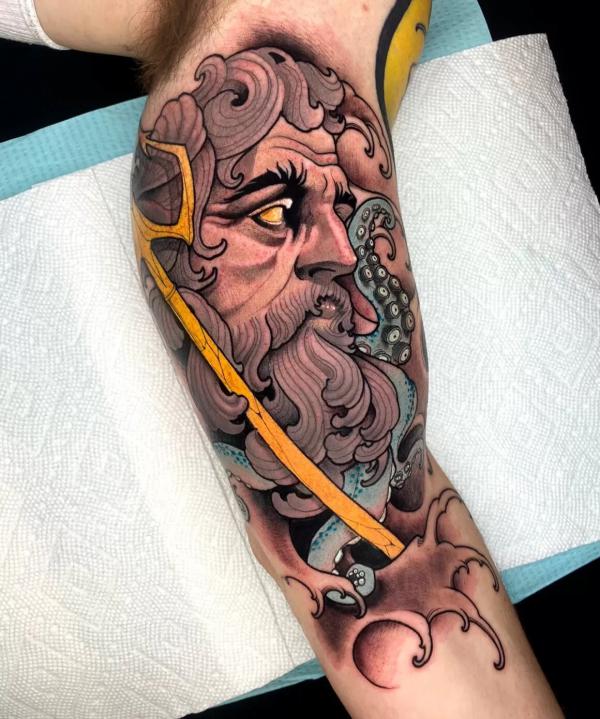 An old school traditional Poseidon tattoo takes you back to the roots of tattoo art, with bold lines, limited color palettes, and iconic imagery. This style adds a vintage touch to the powerful image of Poseidon, making it a unique tribute to the sea god. It's a design that's rich in history, both in terms of tattoo art and Greek mythology.
Zeus and Poseidon tattoo sleeve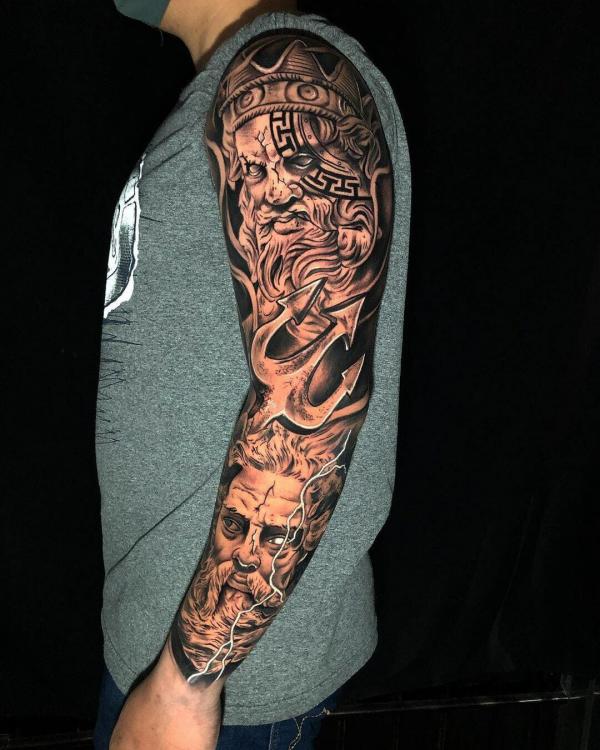 Combination of Zeus and Poseidon is an epic display of power and mythology. With Zeus, the God of the Sky, and Poseidon, the God of the Sea, this design represents a meeting—or clash—of titans. It's a dynamic narrative that takes over your arm, creating a stunning visual story of power, authority, and mythology.
Zeus and Poseidon tattoo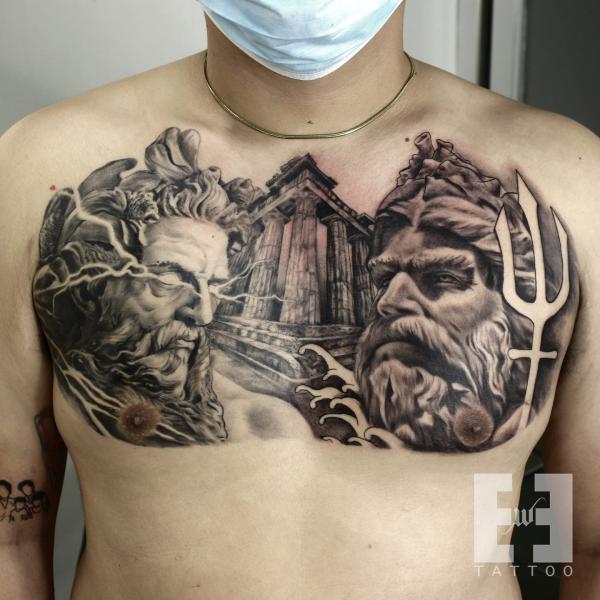 A tattoo featuring Zeus and Poseidon brings together two powerful forces. Whether you opt for a full scene or a simple design featuring symbols associated with both gods, this tattoo is a testament to strength, power, and the divine. It's a design that commands attention and respect, just like the gods it represents.
Zeus and Poseidon with horse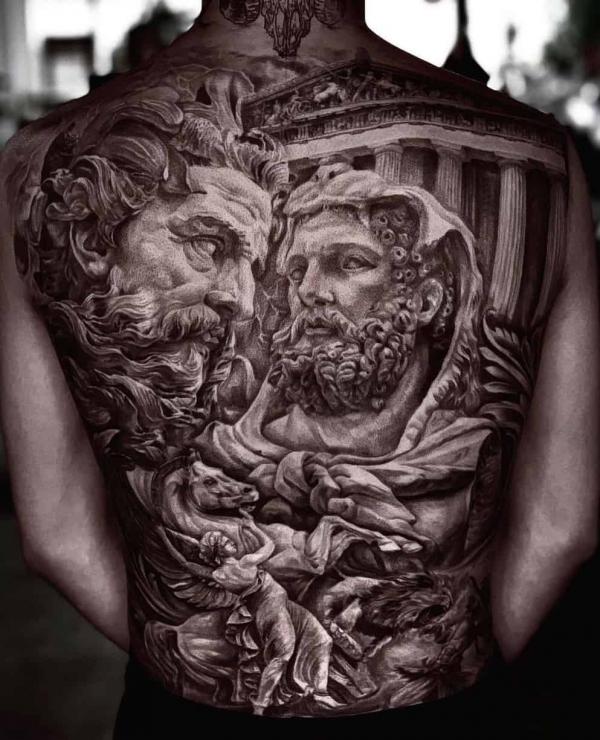 A tattoo design featuring Zeus and Poseidon with a horse adds another layer of meaning to the divine duo. In Greek mythology, Poseidon was also known as the 'tamer of horses,' and horses were seen as symbols of power and status. This design creates a compelling narrative that ties together different aspects of Greek mythology.
Zeus Poseidon Hades tattoo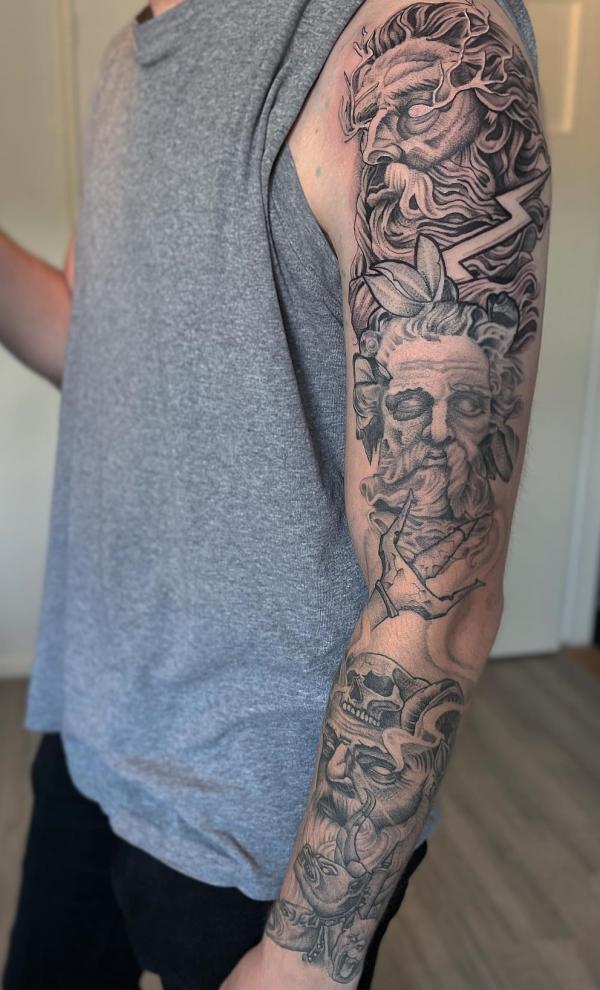 A tattoo featuring Zeus, Poseidon, and Hades represents the three most powerful gods in Greek mythology. Zeus, the ruler of the sky, Poseidon, the ruler of the sea, and Hades, the ruler of the underworld, make for a divine triad. This tattoo design is a bold display of power, authority, and respect for Greek mythology.
Geometric Poseidon forearm tattoo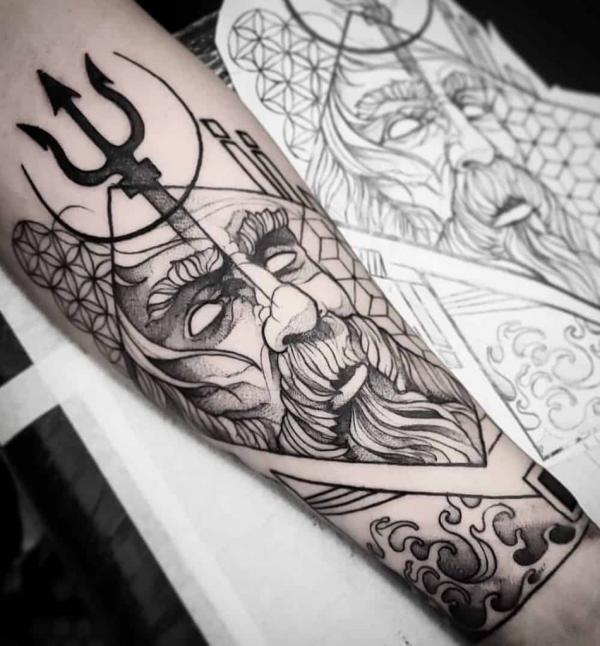 A geometric tattoo on the forearm gives the classic image of the sea god a new look. This design is a stylized version of Poseidon. It is made up of geometric shapes and lines. It is a unique mix of old mythology and modern art, which makes it a unique and visually appealing choice for a tattoo.
Poseidon with Sea Creatures
Poseidon surrounded by sea creatures, such as dolphins, sharks, or octopuses, emphasizes his connection with the sea. This design could appeal to those who share a similar bond or have a deep respect for marine life.
Poseidon in a Stormy Sea
An image of Poseidon amidst a stormy sea can be a powerful representation of overcoming challenges. This design might be preferred by someone who has faced and conquered life's adversities, using them as stepping stones to grow stronger.
Poseidon with Horses
A Poseidon tattoo featuring horses can symbolize the spirit of freedom and the strength to confront life's challenges head-on. It can be a fitting choice for those who value their independence and possess a strong will.
Choosing Your Poseidon Tattoo
When it comes to choosing your Poseidon tattoo, it's essential to understand the symbolism behind the design. Poseidon tattoos are more than just stunning pieces of art; they are representations of power, strength, resilience, and a deep connection with the sea.
Consider how these meanings align with your personal experiences and values. The design that resonates with you the most will be the one that mirrors your journey and aspirations. Remember, a tattoo is a reflection of your identity, so choose a design that speaks to your soul.
Conclusion
Poseidon tattoos, with their deep symbolism and powerful imagery, make for compelling body art. They encapsulate the strength and unpredictability of the sea, mirroring the ebb and flow of our lives. Whether you're drawn to the sea's mystique or resonate with the symbol of strength and resilience, a Poseidon tattoo can be a meaningful expression of your personal narrative. So make yourchoice, ride the wave, and let Poseidon guide you on your tattoo journey.
Decoding the waves, we've discovered that Poseidon tattoos are a powerful testament to the human spirit's strength and resilience. As we navigate the seas of our lives, we might find ourselves drawn to the figure of Poseidon, a constant reminder of our power to weather the storms. For the sea, much like life, is a mix of calm days and tempestuous nights, and it's our ability to sail through that truly defines us.
So, whether you're a seasoned sailor battling the high seas, a beach lover drawn to the ocean's rhythmic lullaby, or a warrior braving life's storms, a Poseidon tattoo might just be the symbol you need. A symbol of strength, resilience, and an unbroken connection with the deep, azure sea. After all, what better way to tell your story than with the God of the Sea himself etched onto your skin?
Remember, our bodies are merely the canvas of our experiences. And each tattoo is a stroke of ink in the masterpiece of our existence. So, let Poseidon be the muse, guiding the artist's hand, as you paint your story, one tattoo at a time.