What if a single, beautifully rendered image could say more about you than a thousand words? That's the power of a tattoo, a permanent testament to your personal narrative, woven into your skin. In the world of tattoo art, one flower that's making waves for its elegance and symbolism is the lilac. Lilac tattoos are not just aesthetically pleasing, but they're also deeply meaningful, evoking a variety of emotions and ideas. Let's delve into the world of lilac tattoo designs and their meanings.
The Allure of the Lilac
Lilacs, scientifically known as Syringa vulgaris, are stunning flowers native to the Balkan Peninsula. They're not just captivating to the eyes, but also to the nose, with their intoxicating scent that signals the arrival of spring.
In a tattoo, lilacs can be depicted in various ways, from a singular sprig to a full bouquet, or even incorporated into a larger composition. Because of their unique shape and vivid violet hue, they add a striking touch to any tattoo design.
Symbolism and Meaning of Lilac Tattoos
Lilacs are steeped in symbolism. The color lilac itself is often associated with the first stirrings of love, known as "puppy love". But there's more to the lilac's symbolism than just its color.
Early Beginnings and Renewal
Lilacs bloom in early spring, a time when the world is shaking off the winter chill and bursting into life. This makes them a potent symbol of renewal, rebirth, and new beginnings. Thus, a lilac tattoo can serve as a beautiful reminder of personal growth or a fresh start.
Love and Romance
In Victorian times, giving someone a lilac was considered a reminder of an old love. Hence, lilac tattoos often symbolize love and romance. They can represent a love that remains strong, an old love that's not forgotten, or the hope of new love.
Serenity and Tranquility
Lilacs have a calming, serene vibe about them. Their sweet scent is often used in aromatherapy to help relax and reduce anxiety. As a tattoo, lilacs can symbolize peace, tranquility, and the desire for a calm mind.
Lilac Tattoo Designs
One of the most appealing aspects of lilac tattoos is their versatility. They can be adjusted to suit various styles, from realistic to abstract, tiny to large, and everything in between. Their vivid colors can be beautifully rendered in watercolor style, while a blackwork lilac can highlight the intricate details of the flower. However, deciding on a tattoo design is a deeply personal process. Here are a few ideas and styles that you might consider when thinking about a lilac tattoo.
Single Stem Lilac
A single stem of lilac can be a subtle, elegant choice. Even with its simplicity, it can carry all the symbolism of the flower, making a powerful statement. This design is perfect for those who prefer minimalistic designs.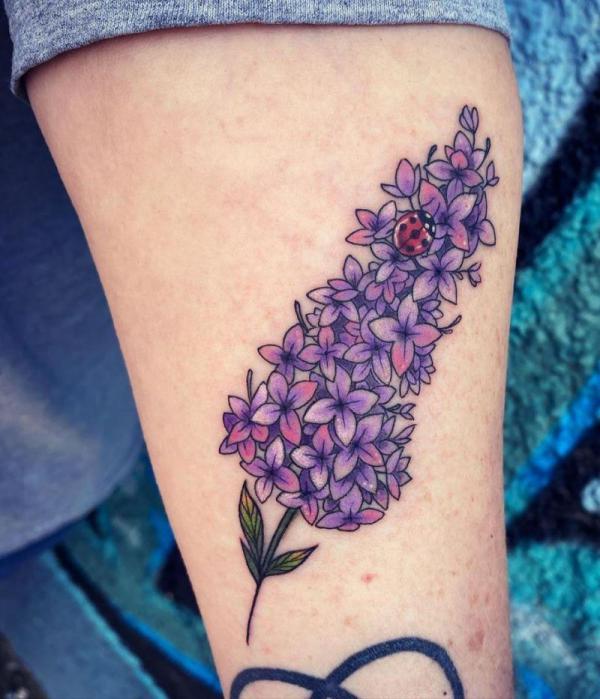 Vintage lilac line work tattoo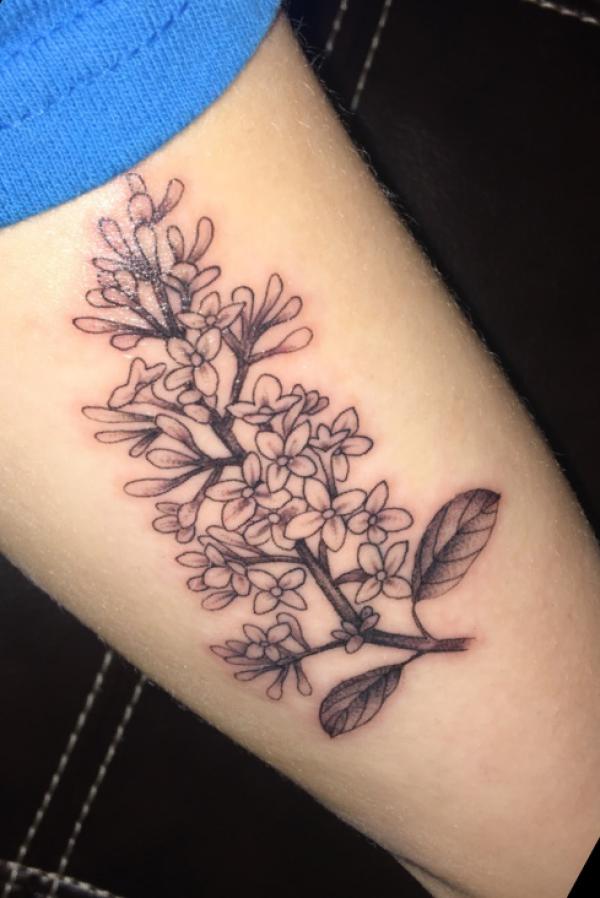 Vibrant purple lilac tattoo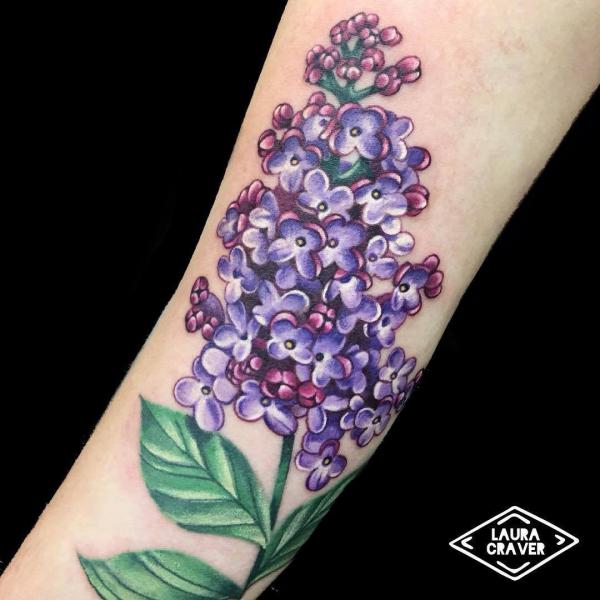 Lilac Bouquet
A bouquet of lilacs is an excellent choice for a more prominent piece. It usually includes rich details and lush colors, which can create a stunning effect. This design works well on larger areas like the back, chest, or thigh.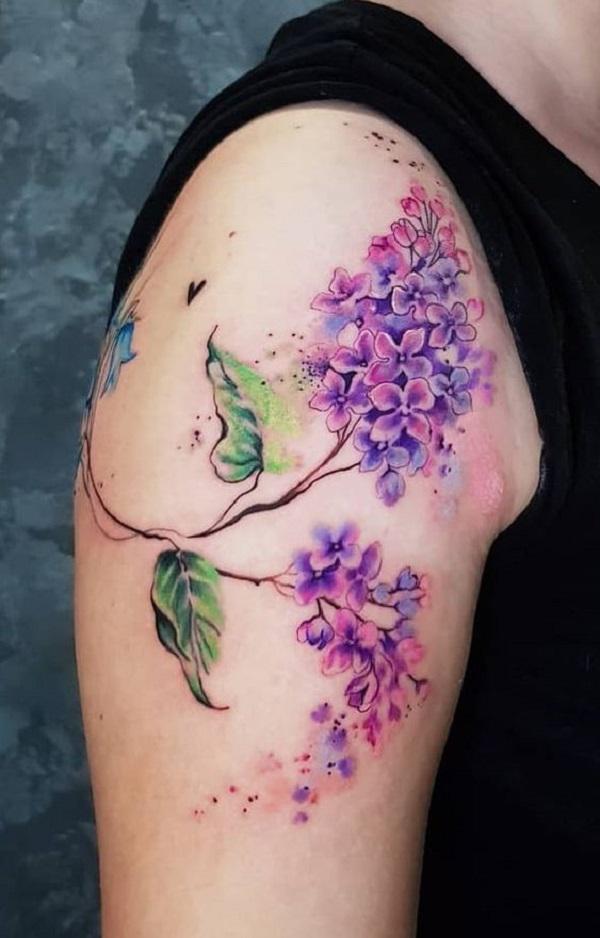 Anemone peony lily of the valley lilac shoulder tattoo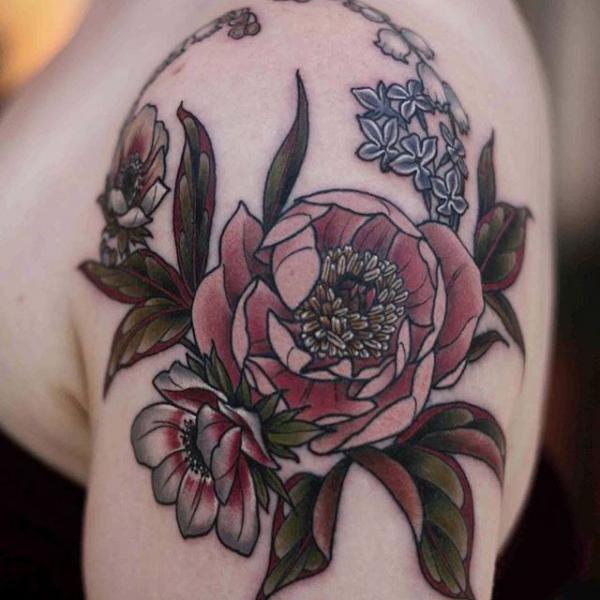 Lilac and Bird
Pairing a lilac with a bird, such as a hummingbird or a dove, can add another layer of meaning to your tattoo. Birds often symbolize freedom, hope, or spiritual growth, which can complement the symbolism of the lilac.
Lilac and hummingbird tattoo on thigh
Lilac and sparrow tattoo under sun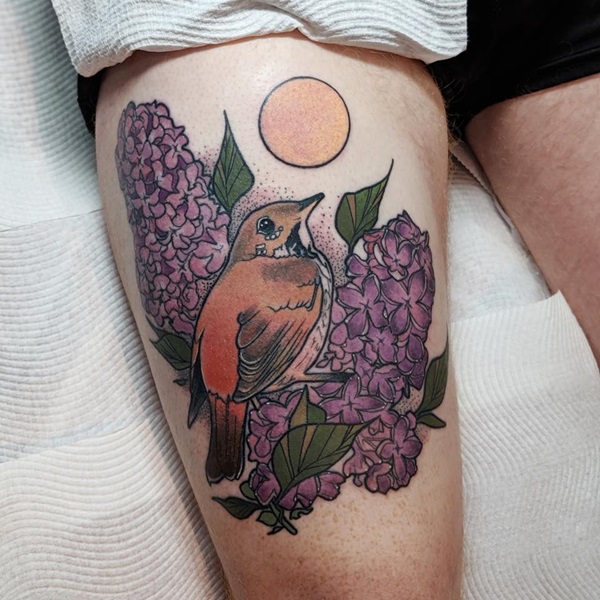 Black and Grey Lilac Tattoos
Despite their vibrant colors of lilac flowers, a black and grey tattoo can emphasize the flower's shape and texture. This style is perfect for those who prefer a more classic and timeless aesthetic.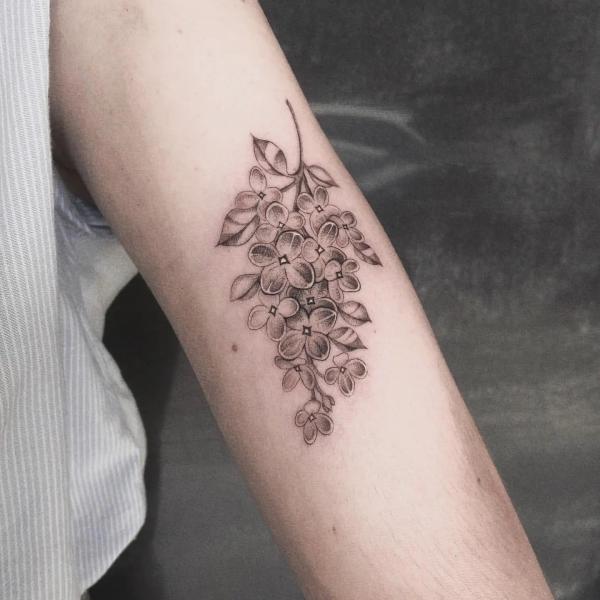 A lilac paired with a butterfly adds dynamism and a sense of transformation to the tattoo. This design symbolizes change, rebirth, and the fleeting, ephemeral nature of beauty.
Lilac heart tattoo with butterfly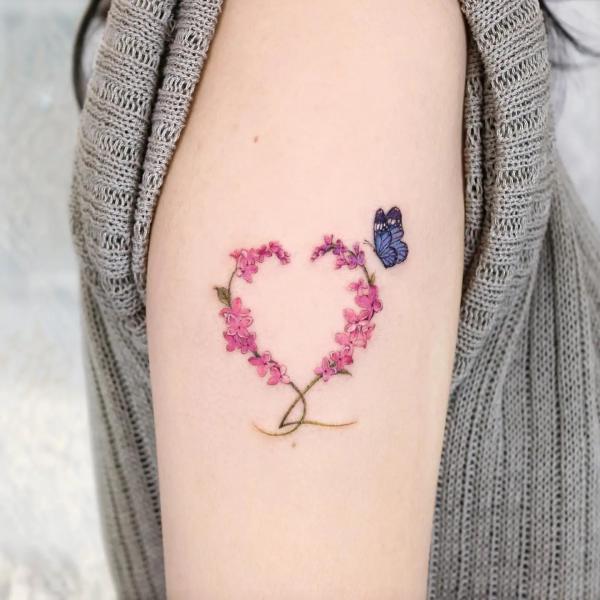 Pocket watch butterfly with lilac flower tattoo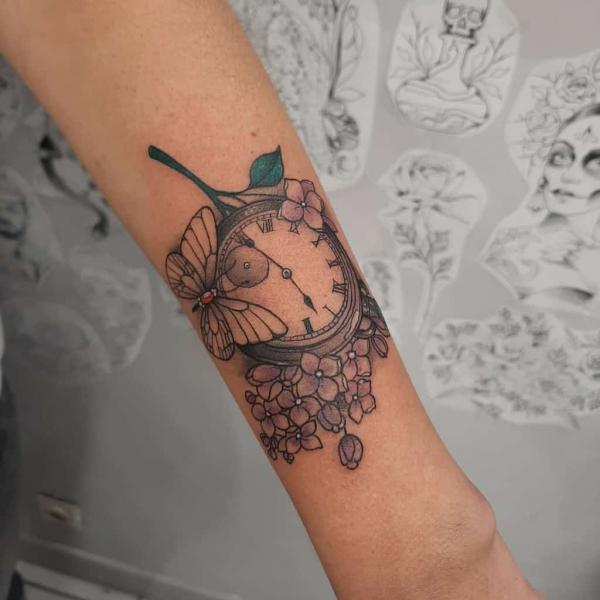 Lilac Watercolor Tattoos
Watercolor tattoos have a unique, painterly charm. A lilac rendered in watercolors can be a vibrant and artistic expression of your personality. The watercolor technique can also add a dream-like quality to the tattoo, enhancing the symbolism of the flower.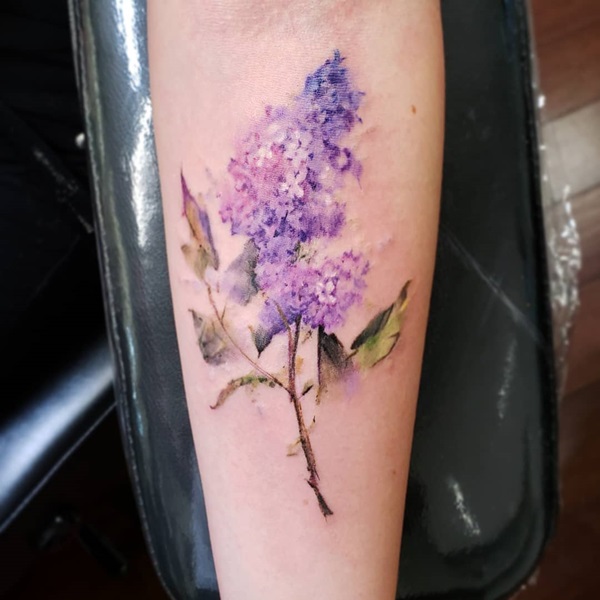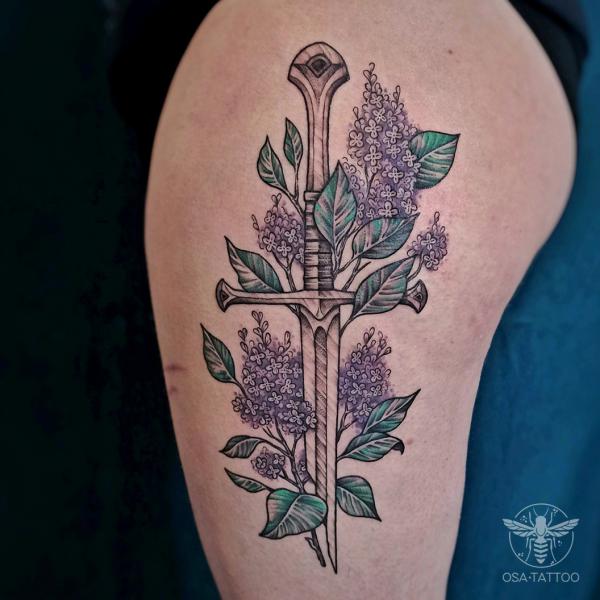 The sword, an emblem of strength, courage, and resilience, juxtaposed with the lilac, a symbol of love and passion, creates a striking balance. This design idea is perfect for those who wish to express the duality of their nature: soft yet strong, gentle yet fierce.
Lilac clavicle tattoo with quote Lets just wait and see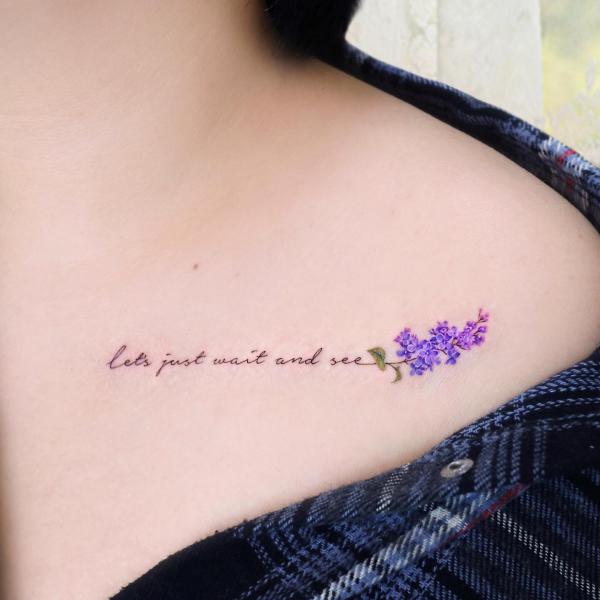 A lilac paired with the quote "Let's just wait and see" can serve as a beautiful reminder of patience and the allure of life's unpredictability. The clavicle placement offers an elegant display for this design, making it a captivating statement piece.
Lilac flower tattoo with star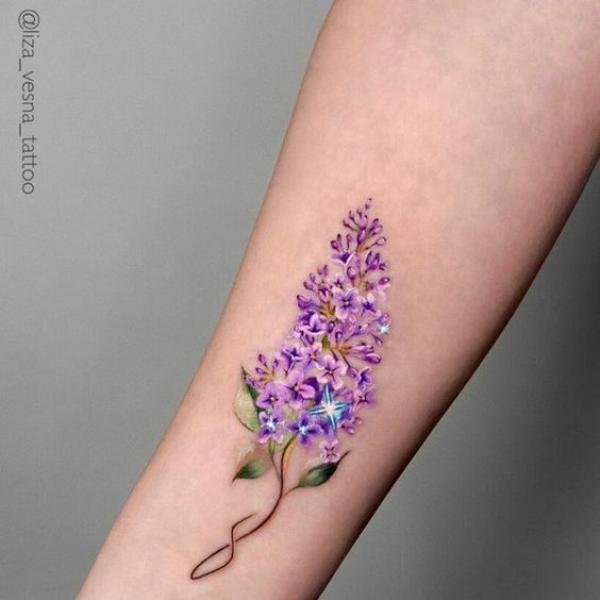 Incorporate a touch of celestial magic into your design with a lilac flower and star tattoo. The star can symbolize guidance, hope, and ambition, while the lilac echoes themes of love and confidence. This design is a charming way to celebrate your dreams and journey.
Lilac with date and paw print tattoo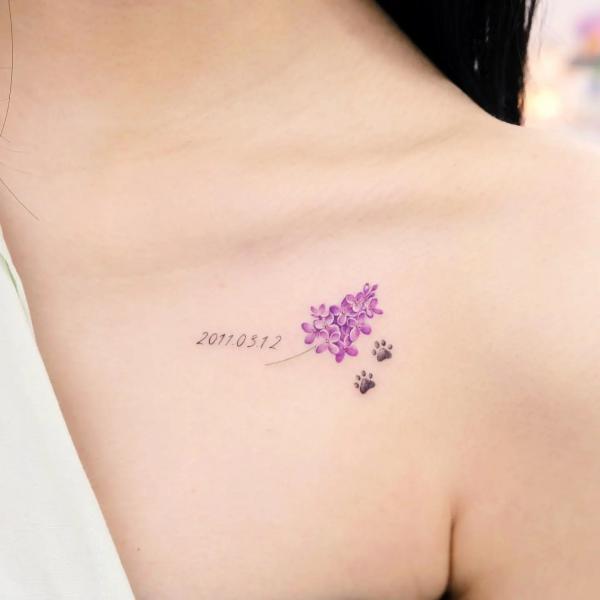 A lilac paired with a significant date and a paw print can be a heartfelt tribute to a beloved pet. This design can serve as a beautiful reminder of the love and companionship shared with your furry friend.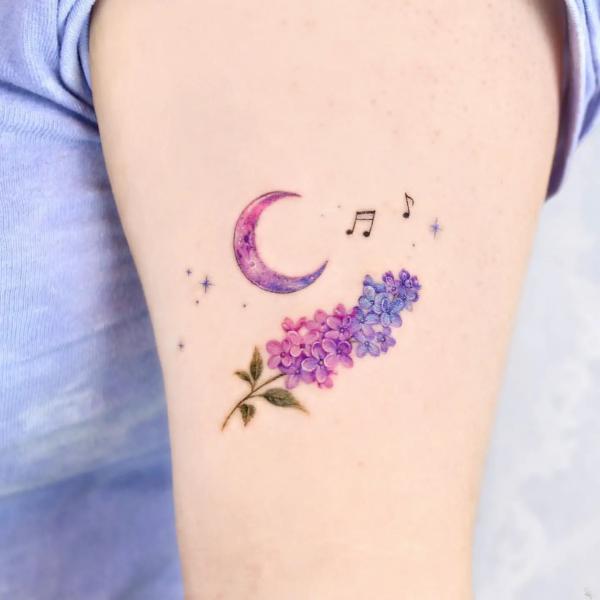 Combine your love for music and the mystical with a design that features a lilac, music notes, a crescent moon, and stars. This design can be a testament to your passion for music and your fascination with the cosmos, creating a visual symphony on your skin.
Minimalist lilac tattoo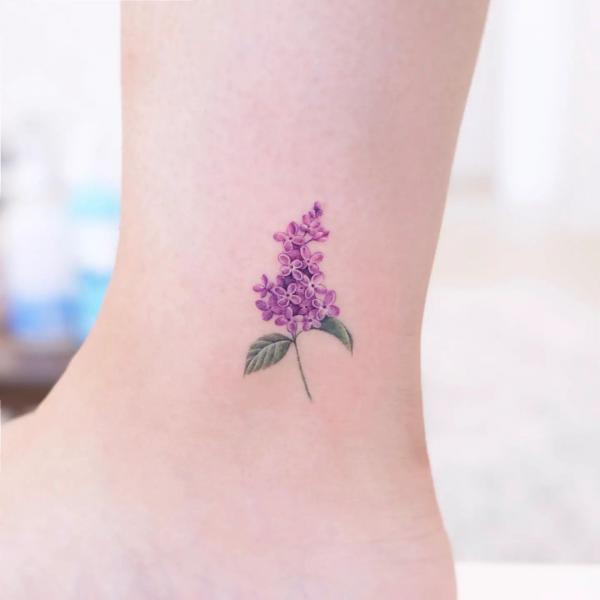 For those who prefer a less-is-more approach, a minimalist lilac can be a perfect choice. A simple, line-drawn lilac can convey elegance and subtlety, proving that sometimes, simplicity can make the strongest statement.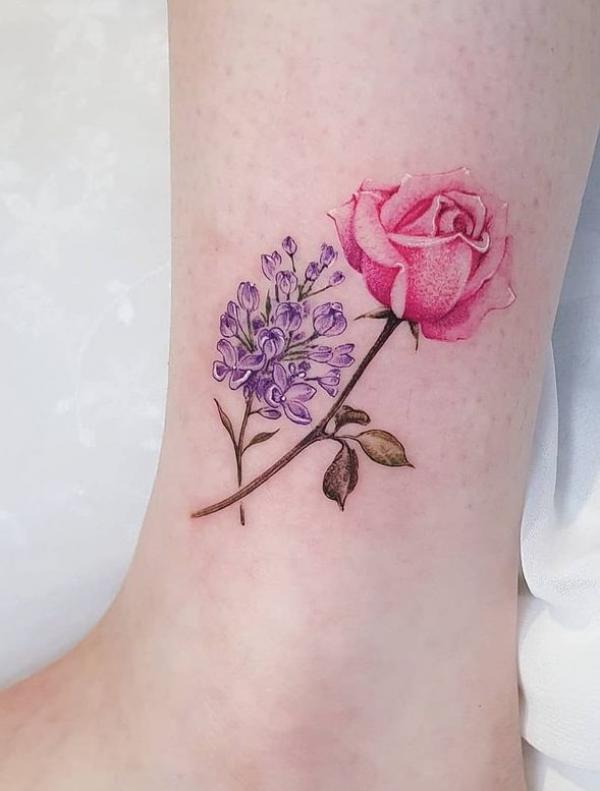 A purple lilac and pink rose ink design can be a vibrant display of color and symbolism. The combination of these two flowers can represent love, passion, and friendship, creating a design that's as meaningful as it is visually stunning.
Rabbit and Lilac tattoo with quote Be Good All Day Half the Night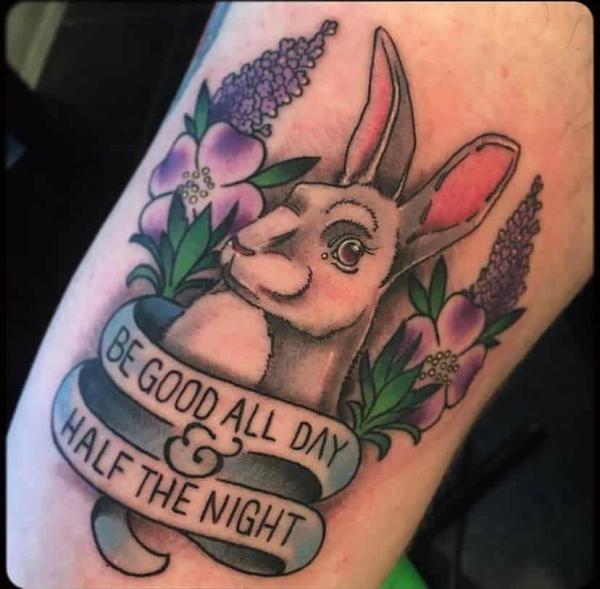 A rabbit and lilac paired with the quote "Be good all day, half the night" can be a whimsical and playful design. The rabbit, often associated with luck and abundance, alongside the lilac, creates a unique design that's sure to spark conversations.
Traditional lilac flower tattoo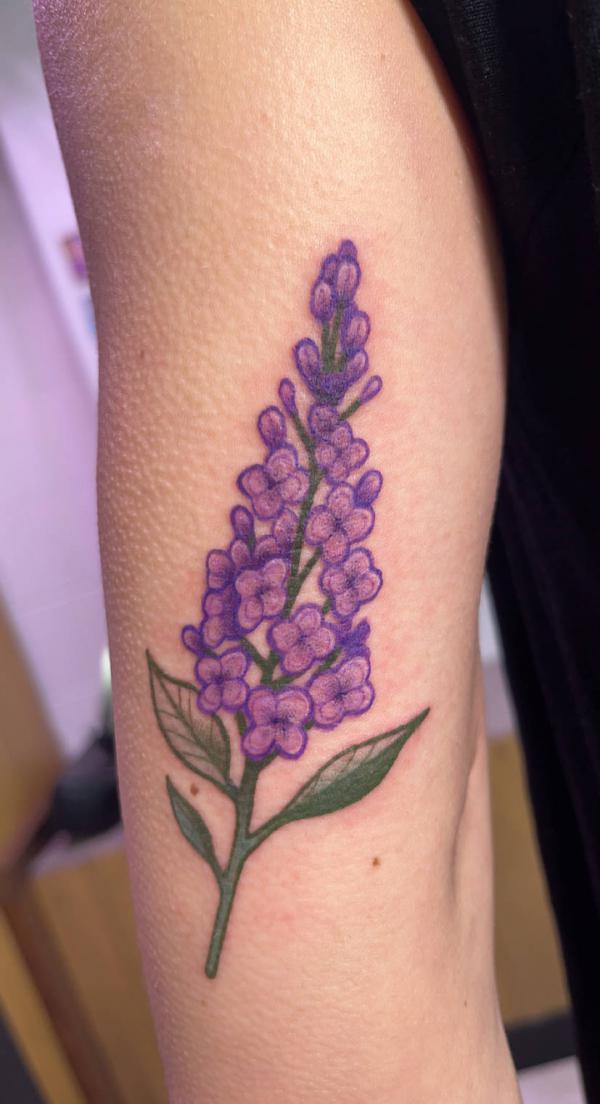 Traditional tattoo style, known for its bold black outlines and restrained color palette, gives the lilac a timeless appeal. This approach ensures the lilac design stands out, promising a design that remains fashionable regardless of changing trends.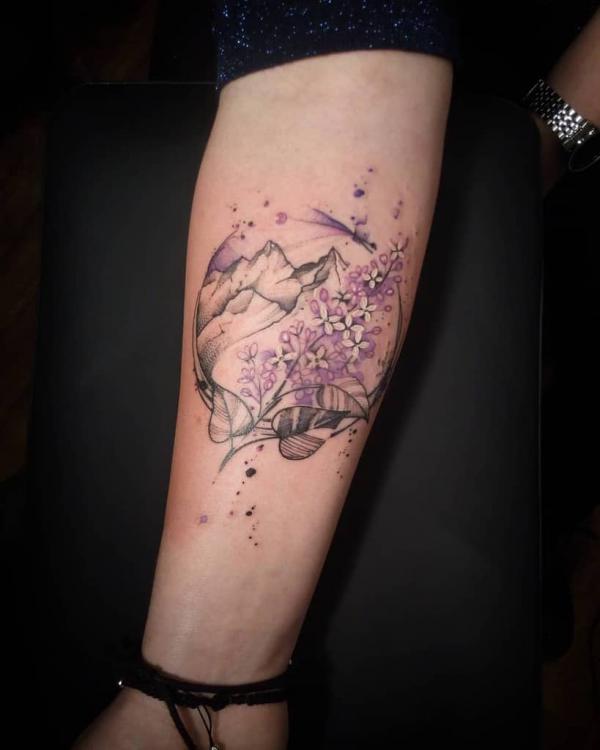 A watercolor lilac and mountain range design can create a breathtaking landscape on your skin. The watercolor technique can provide a dreamy, ethereal quality to the design, making it a unique artwork that represents your love for nature and adventure.
Geometric lilac and all seeing eye tattoo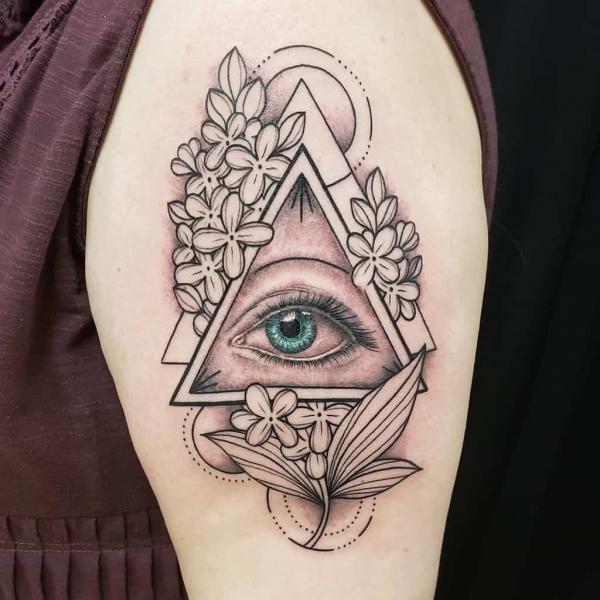 For a design that's truly outside the box, consider a geometric lilac and all-seeing eye design. The geometric elements can add a modern, edgy feel, while the all-seeing eye, a symbol of protection and wisdom, can add depth and symbolism to the design.
Hydrangea daisy and lilac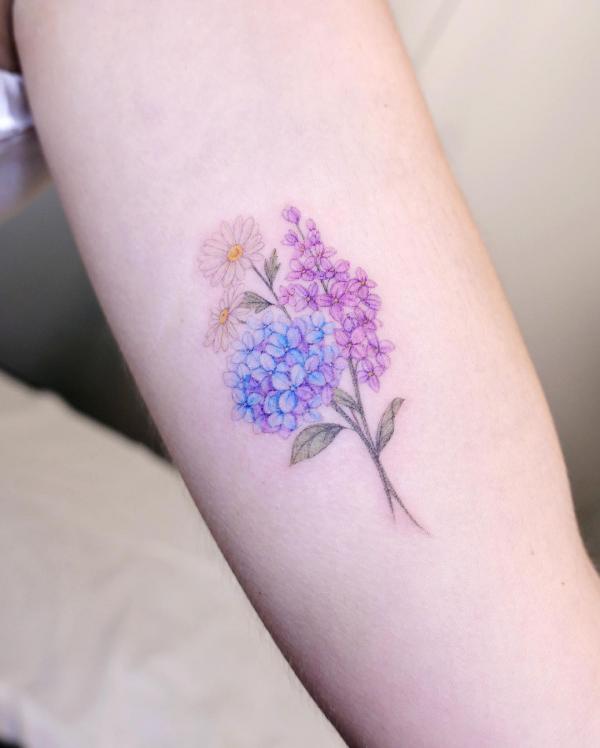 Meld the sophistication of the hydrangea with the innocence symbolized by the daisy in your tattoo design. Adding the passionate lilac to this blend results in a visually stunning floral spectacle that's truly a feast for the eyes. This design can be a vibrant expression of your love for nature and its beautiful creations.
Lilac and anemone tattoo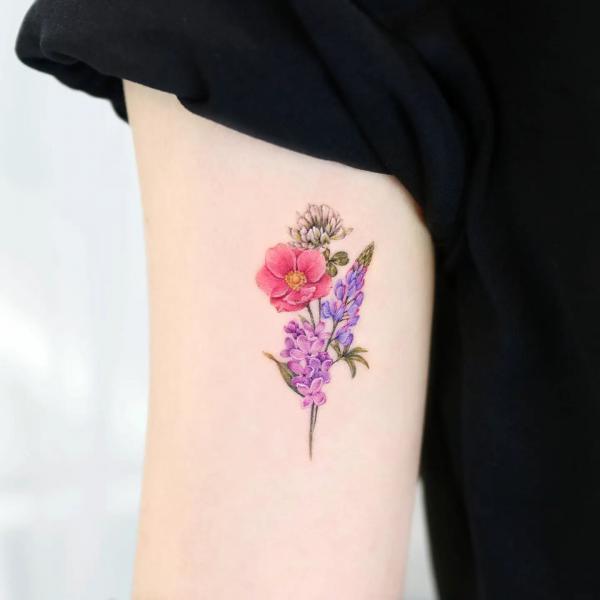 Anemones are flowers that symbolize anticipation and excitement. Pair them with lilacs in your tattoo design to create a piece that speaks of hope, excitement, and love. This combination could be a beautiful reminder of the thrill of life's journey.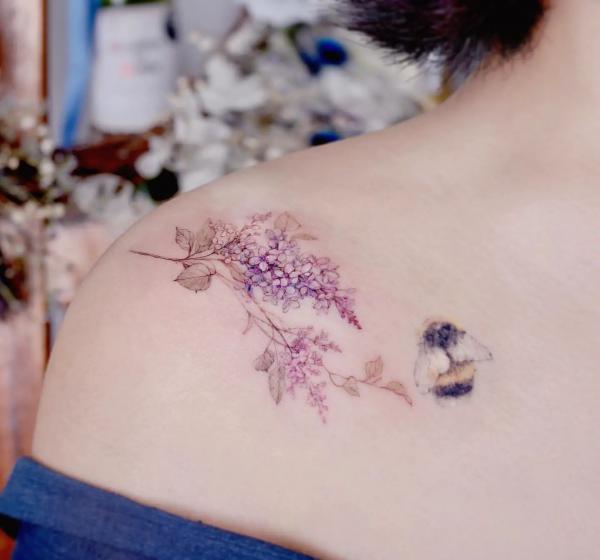 A lilac and bee can be a charming representation of harmony and productivity. The bee, a symbol of industriousness and teamwork, paired with the lilac, can create a design that's both visually captivating and rich with symbolism.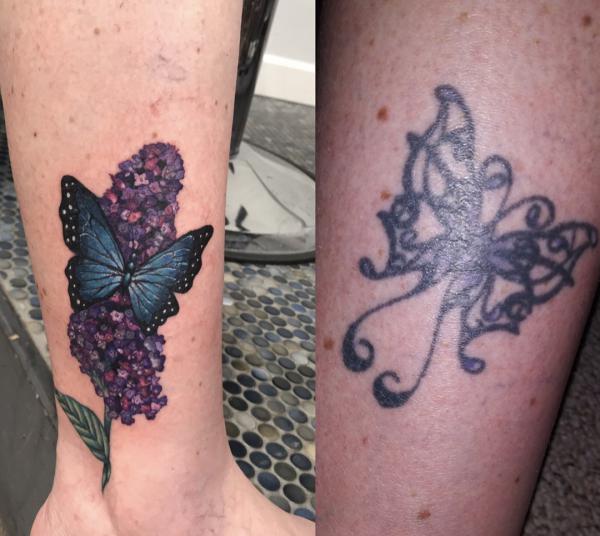 If you're looking for a cover-up design, consider a design that features a lilac and a butterfly. The butterfly, a symbol of transformation and rebirth, can be a fitting image for a cover-up, symbolizing your ability to transform and evolve.
Lilac and fox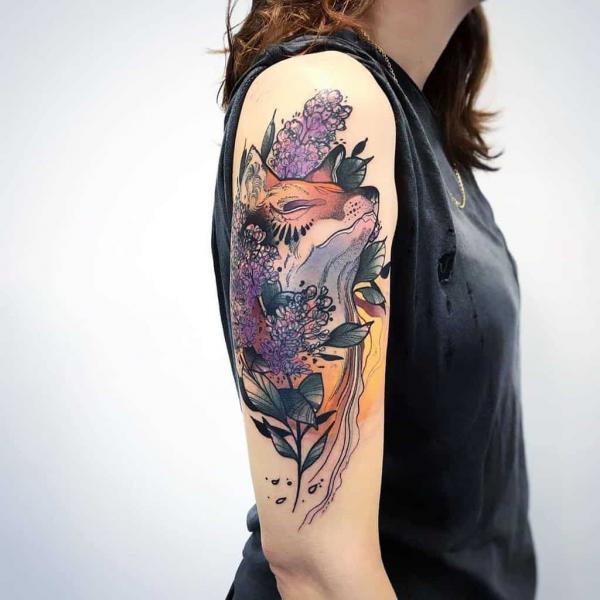 A lilac and fox tattoo can be an enchanting and playful design. The fox, often associated with cunning and wisdom, paired with the lilac, can create a design that tells a story of intelligence and love.
Lilac and negative space roses tattoo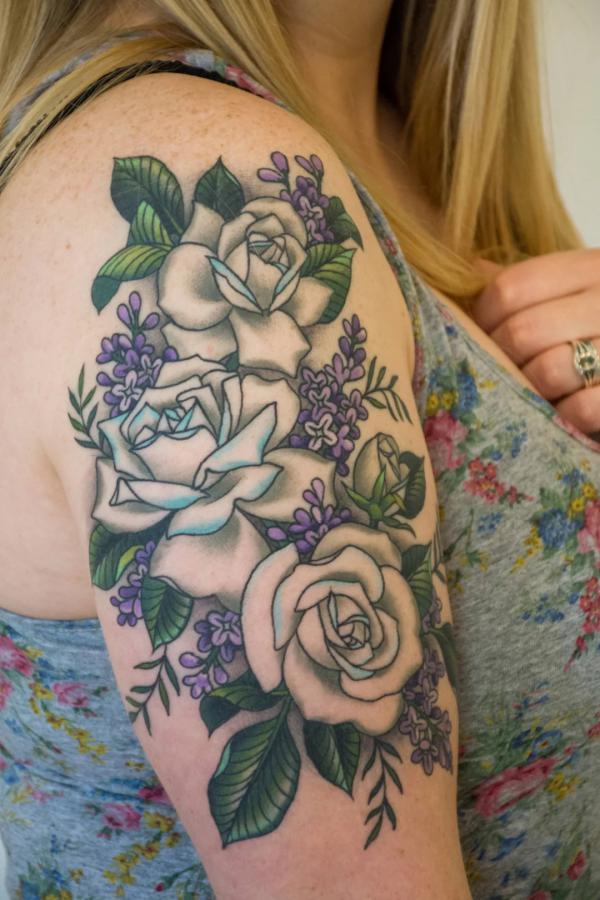 For a modern and artistic design, consider a lilac and negative space roses design. Negative space tattoos use the skin to form an image, in this case, roses. Paired with a beautifully inked lilac, this design can be a striking piece of art.
Lilac and rose tattoo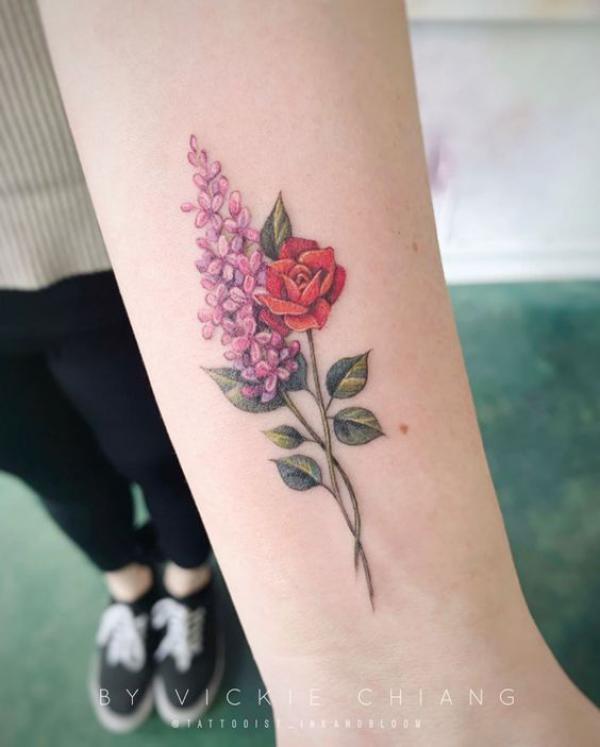 A lilac and rose piece can be a classic and romantic design. Both flowers have long been symbols of love and passion, making this combination a beautiful testament to these powerful emotions.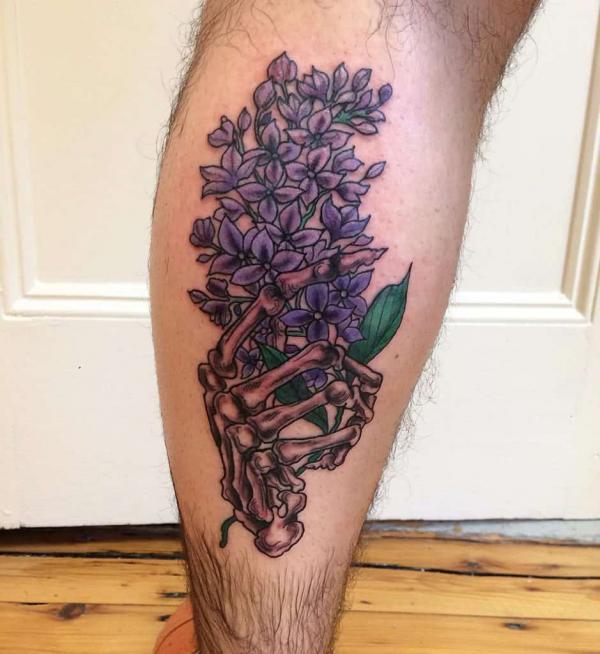 For those who like a touch of the macabre in their tattoos, a lilac and skeleton hand design can be a striking choice. This design can symbolize the juxtaposition of life and death, beauty and decay, creating a deeply symbolic and visually compelling piece.
Lilac and snake tattoo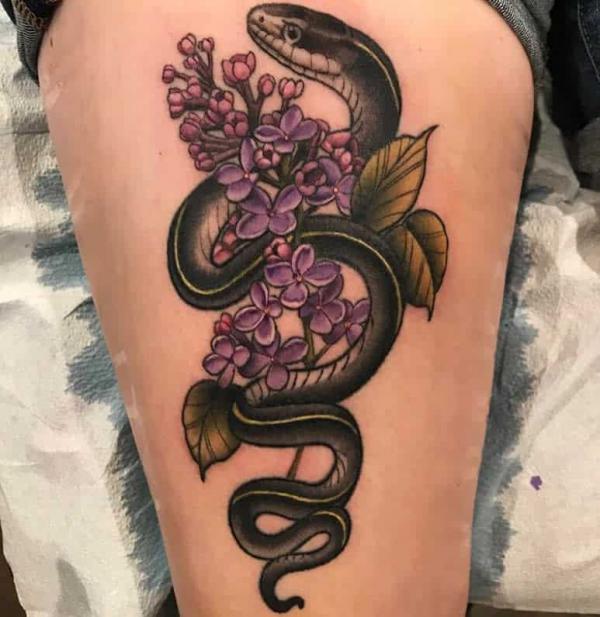 A lilac and snake design can be a potent symbol of transformation and renewal. The snake, often associated with rebirth because of its ability to shed its skin, paired with the lilac, can create a design that speaks of change and growth.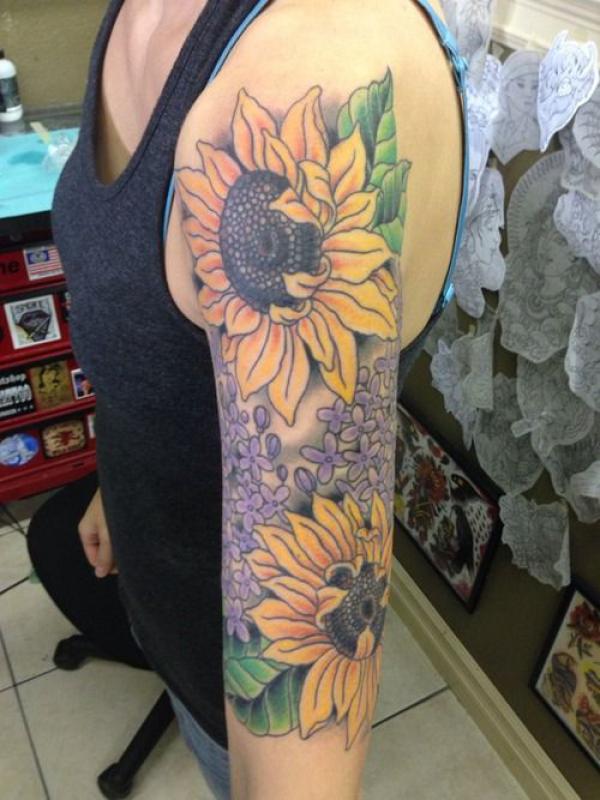 A lilac and sunflower piece can be a radiant design that symbolizes happiness, warmth, and love. The sunflower, with its sunny disposition, alongside the lilac, creates a design that's sure to brighten your day every time you look at it.
Lilac Tattoo Placement
The beauty of lilac tattoos is that they can be placed almost anywhere on the body. Smaller designs work well on the wrist, ankle, or behind the ear. Larger designs can be on the shoulder, back, or thigh. The choice of placement depends on your comfort level, how conspicuous you want your tattoo to be, and how the design fits and flows with your body.
Thigh
A thigh tattoo gives you a generous canvas to work with, making it ideal for larger, detailed designs. Opt for a sprawling lilac tattoo that cascades down your thigh, or a more intimate design tucked away on the upper thigh. This placement is especially good if you prefer keeping your tattoo a private affair, only revealed on your terms.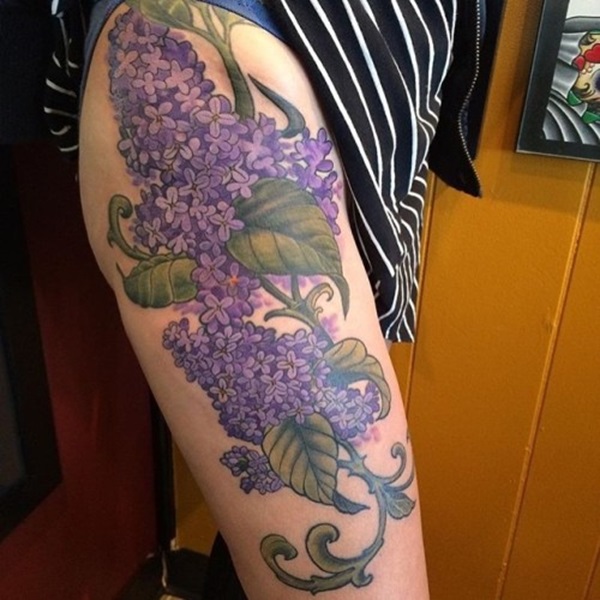 Back
Your back is like a broad canvas waiting to be filled with art. A lilac tattoo on your back can range from a small, minimalist design at the nape of your neck to an elaborate, full-back piece. This area is perfect for those who want to make a bold statement with their body art.
Forearm
A lilac tattoo on the forearm ensures your design is always in sight. This placement is perfect for smaller, delicate designs that you want to show off. With this location, your lilac tattoo will become a part of your daily aesthetic, visible in your everyday interactions.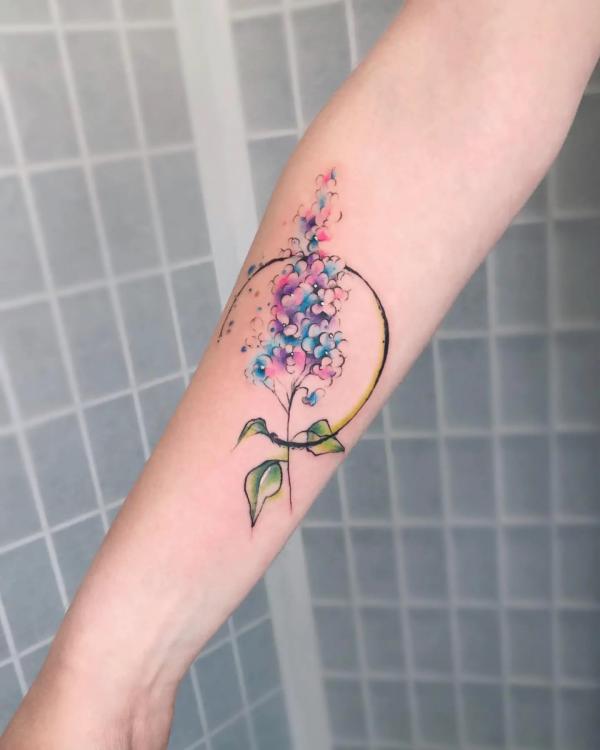 Full Sleeve
If you're ready to commit to a large-scale piece, consider a full sleeve lilac tattoo. This could involve a single, sprawling lilac design, or a collection of smaller designs with the lilac as the focal point. Full sleeve tattoos are conversation starters, making them an excellent choice for those ready to make a bold statement.
Lilac daisy and bee hedgehog full sleeve tattoo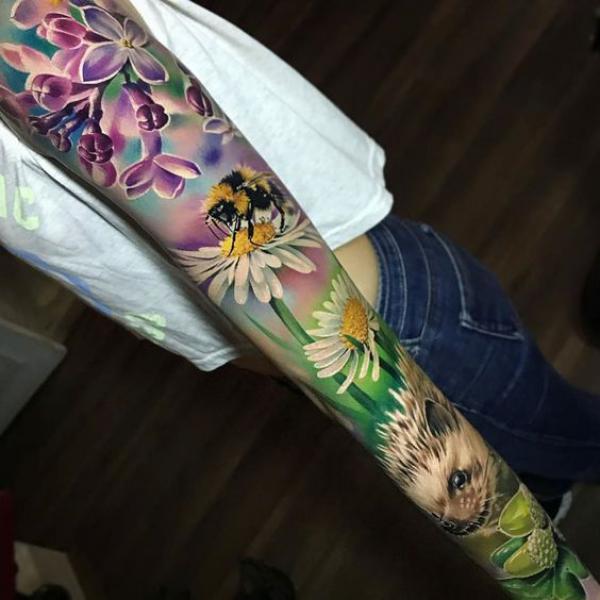 Arm
The arm is a balanced middle ground in terms of visibility and size. An arm tattoo can be easily displayed or hidden, depending on your outfit. This flexibility makes it a popular choice for many. A lilac design on the arm can be a simple, standalone piece or part of a larger, more complex design.
Purple lilac arm tattoo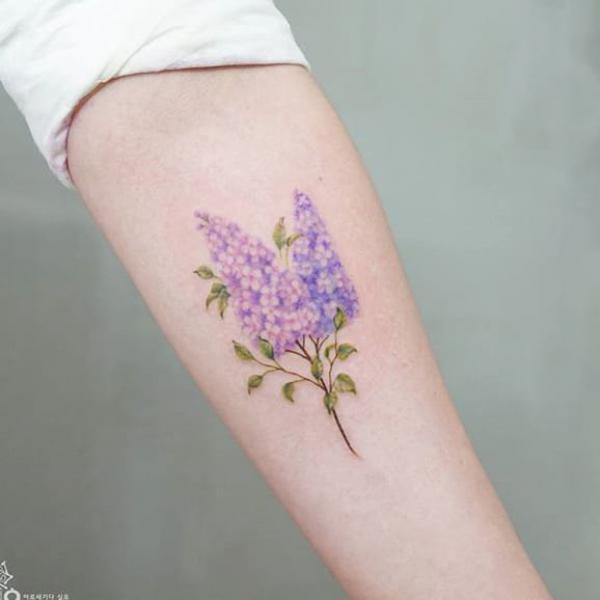 Ankle
Ankle is a delightful spot for those who prefer subtlety. This placement is perfect for a small lilac design, adding a touch of elegance to your look. Ankle tattoos have a certain charm and are a perfect choice for your first tattoo or if you prefer a more discreet design.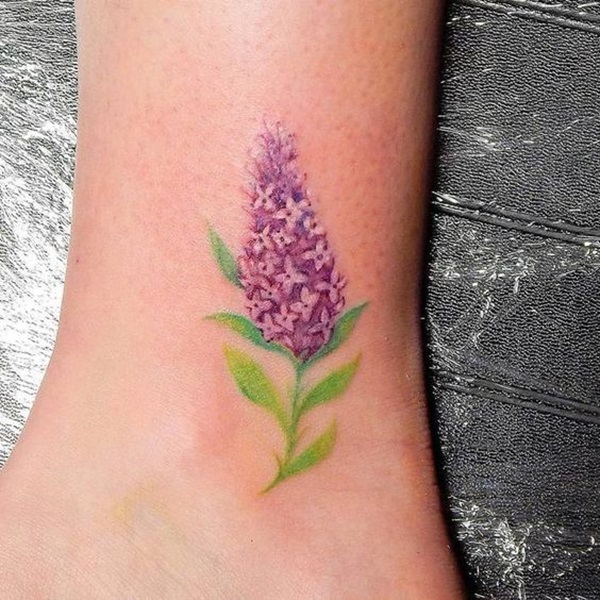 Bicep
A bicep tattoo can make a striking statement. This placement is ideal for a medium-sized lilac design. It's a popular choice for those who like to show off their tattoos in casual settings but need the option to cover them up in more formal or professional situations.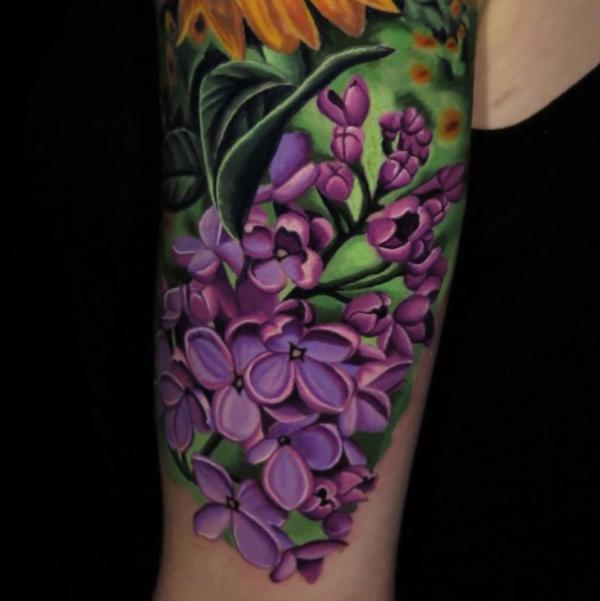 Lilac outline bicep tattoo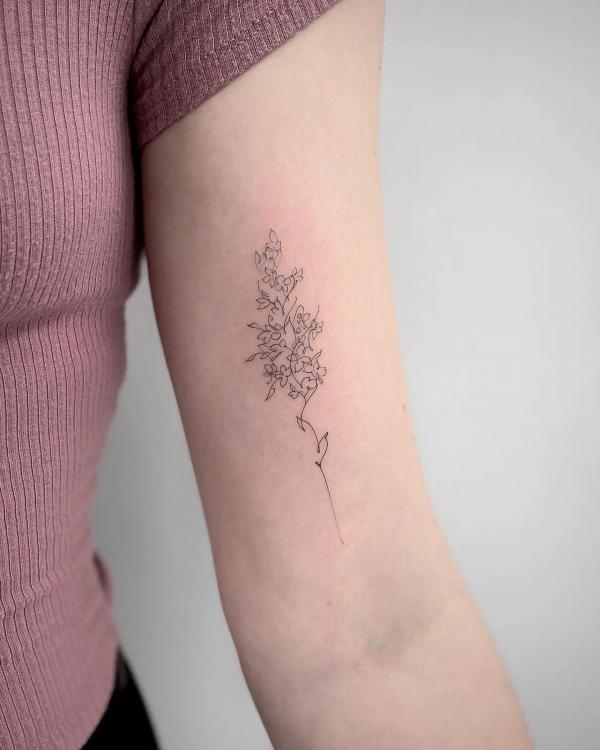 Wrist
The wrist is an ideal location for a lilac tattoo if you want something constantly in view. A wrist tattoo serves as a daily reminder of the beauty and elegance that the lilac represents. This area is perfect for small, delicate designs that add a touch of sophistication to your overall look.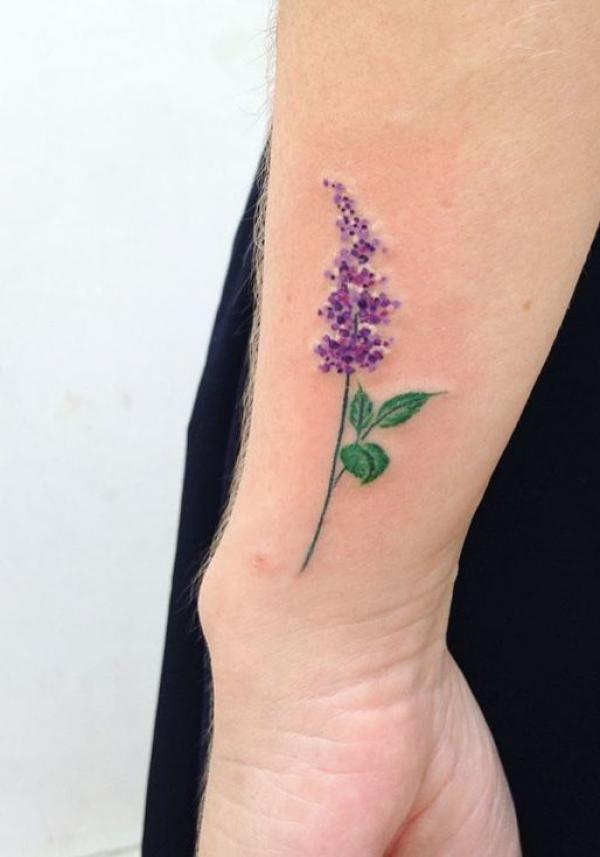 Closing Thoughts
Lilac tattoos are more than just beautiful designs; they're a unique blend of aesthetic appeal and profound symbolism. Whether you're drawn to the lilac's connection to love and romance, its symbolization of renewal and growth, or its promise of tranquility, a lilac tattoo can be a powerful way to express your personal journey.
Remember, choosing a tattoo should never be rushed. Take your time to find a design that resonates with you and find an artist who understands your vision. After all, a tattoo is a commitment — a piece of art that you'll carry with you for life.