In the realm of body art, thigh tattoos have carved out a unique corner. They're bold, they're beautiful, and they're undeniably expressive. Their popularity isn't merely a fleeting trend, but a testament to their ability to serve as a powerful medium of personal expression. This guide is your window into the world of thigh tattoos, exploring placement, ideas for both men and women, and the expressive potential of these stunning pieces of body art.
Understanding Tattoo Placement
The thigh is a versatile canvas for tattoos, offering ample space and flexibility that few other areas can match. When you choose to get a thigh tattoo, you're not just deciding on a design, but also on how it will interact with your body's shape, movement, and contours.
Outer Thigh
The outer thigh is a popular choice. It provides a large, flat space for intricate designs and is ideal for tattoos you want to show off when wearing shorts or skirts, but easily conceal under pants.
Inner Thigh
Inner thigh tattoos are a more intimate choice, hidden away unless you choose to reveal them. This location is perfect for smaller, more personal designs that you prefer to keep private or share with only a select few.
Full Thigh
Full thigh tattoos are ambitious and bold, covering the entire thigh from knee to hip. These pieces allow for comprehensive designs that can wrap around the leg, creating a 360-degree work of art.
Each location offers unique advantages, and your choice will depend on your personal comfort, the visibility you desire, and the specifics of your chosen design.
Thigh Tattoo Ideas for Men and Women
When it comes to thigh tattoos, the sky is truly the limit. With so much space to work with, you can let your imagination run wild. However, if you need some inspiration, here are some ideas.
Rose tattoos
When we think of roses, we often associate them with love, beauty, and passion. A rose tattoo can be a powerful symbol, embodying these sentiments and more. Rose thigh tattoos can range from a simple, single bloom to a sprawling vine of roses, offering a variety of options for your personal aesthetic.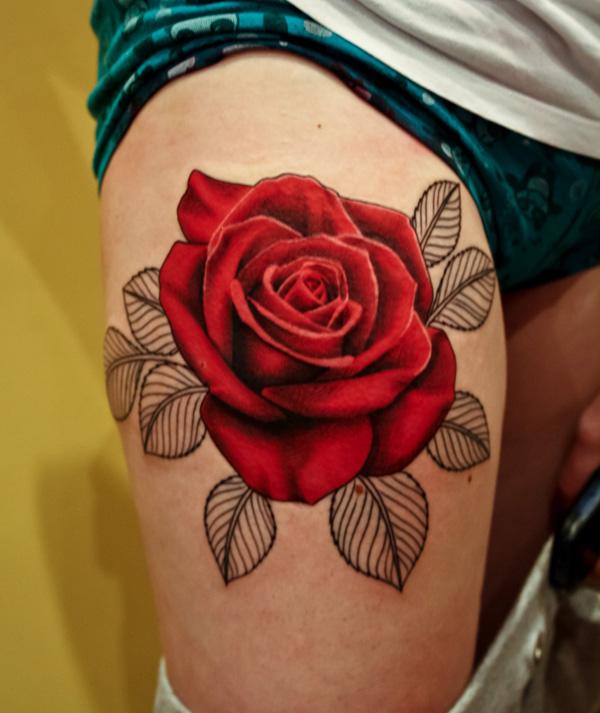 Single watercolor rose flower tattoo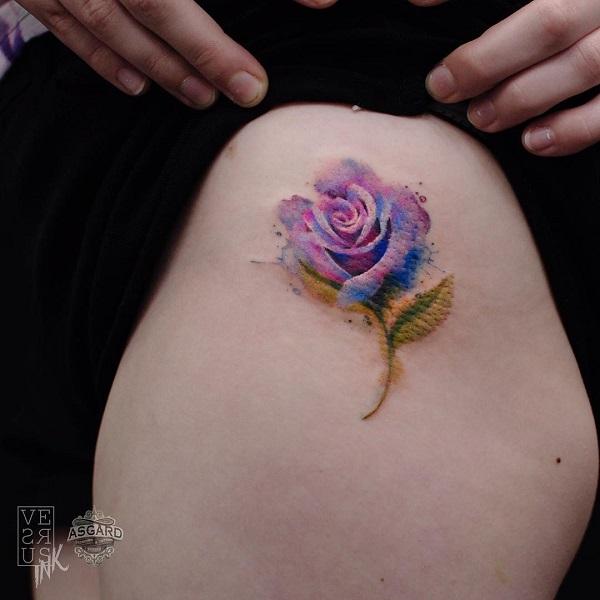 Rose with female face tattoo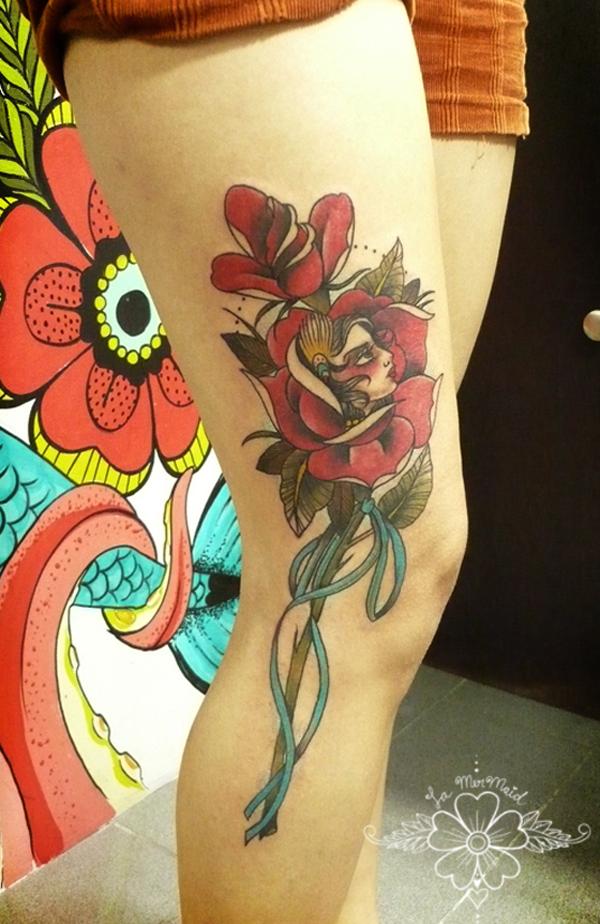 Skull and rose tattoo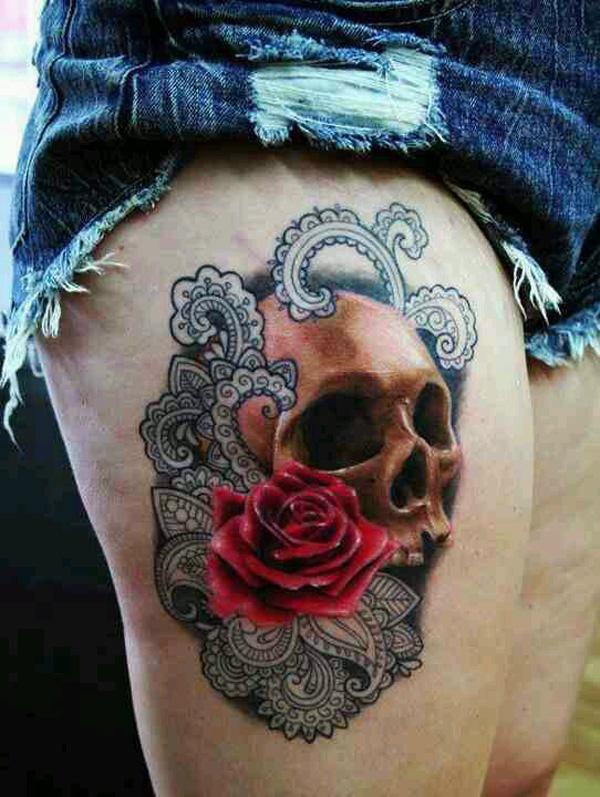 clock and roses tattoo
Feminine thigh tattoos
Feminine thigh tattoos can be as delicate or bold as you desire. Themes often include floral designs, intricate lace patterns, or even dainty script quotes. These tattoos can serve as a celebration of femininity, individuality, and strength, making a statement that is both personal and empowering.
Lace garter tattoo with red bow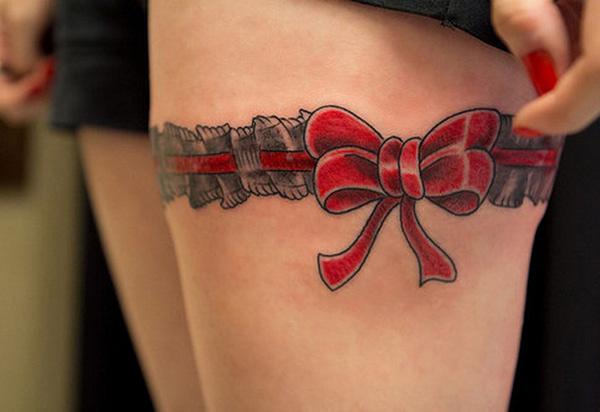 Dark ribbon and leg corset tattoo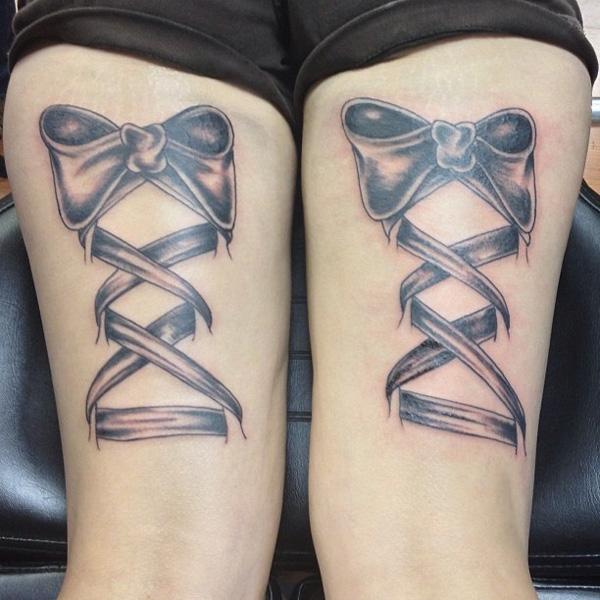 Geometric garter dotwork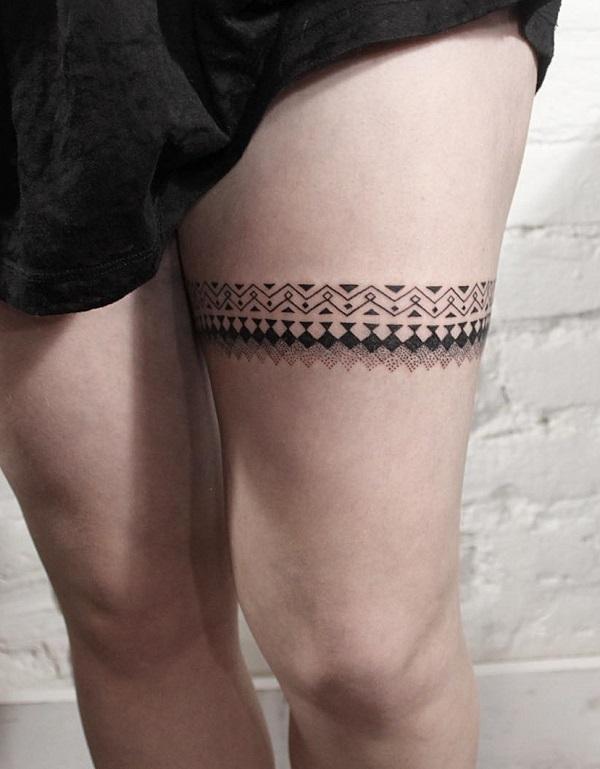 Knot Garter with dreamcatcher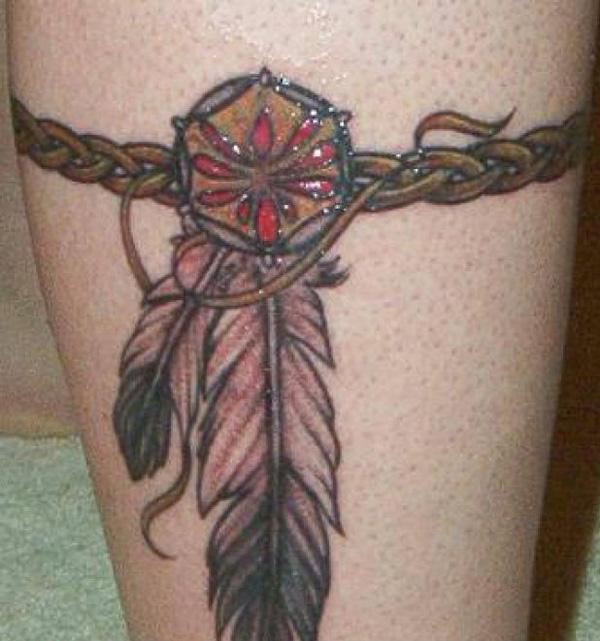 A knot garter tattoo featuring a dreamcatcher can be a unique and aesthetically pleasing design. The knot garter, often associated with femininity and allure, combined with the dreamcatcher, creates a design that symbolizes protection, femininity, and personal strength.
Lace garter thigh tattoo black and grey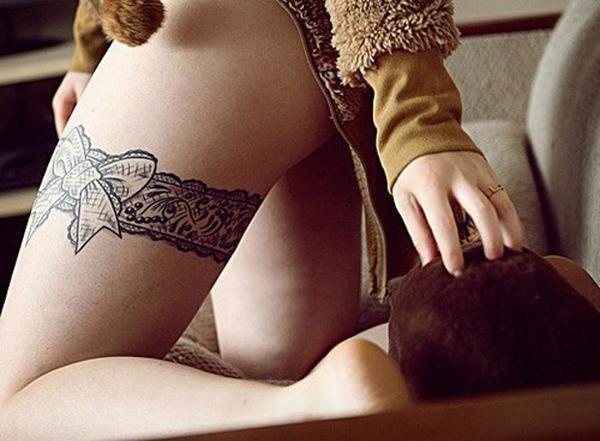 Tattoo Gun and lace garter ink design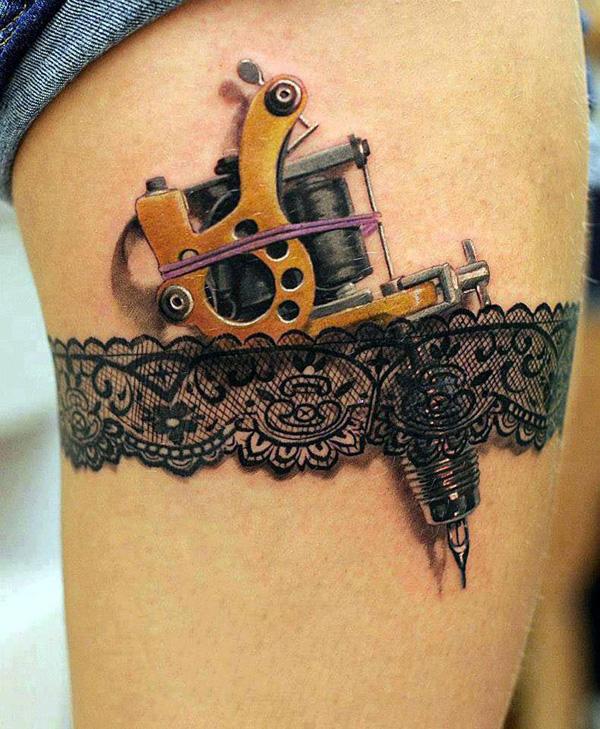 Music elements thigh tattoos
For the music lovers out there, why not let your thighs sing? Music elements like musical notes, treble clefs, and even sheet music can make captivating thigh tattoos. These designs can represent your passion for music, a favorite song, or even a memorable concert.
Amazing thigh tattoo with female face, butterfly and music notes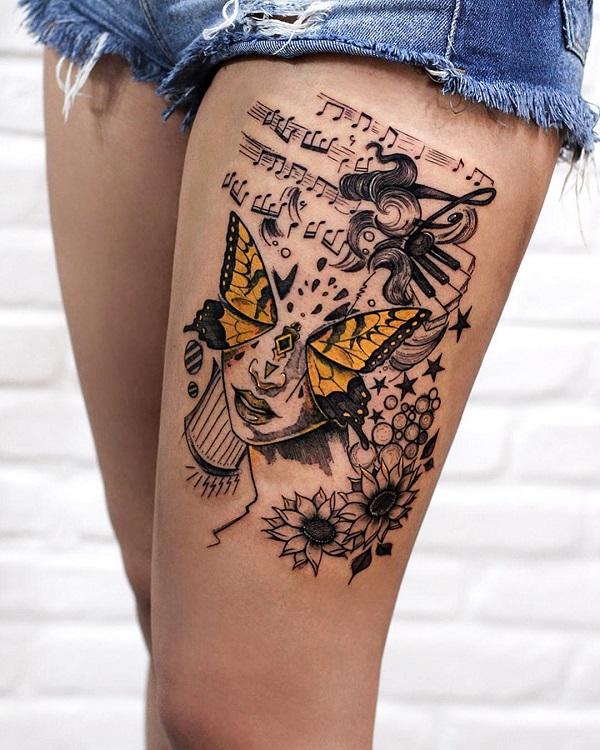 Music staff and bird tattoo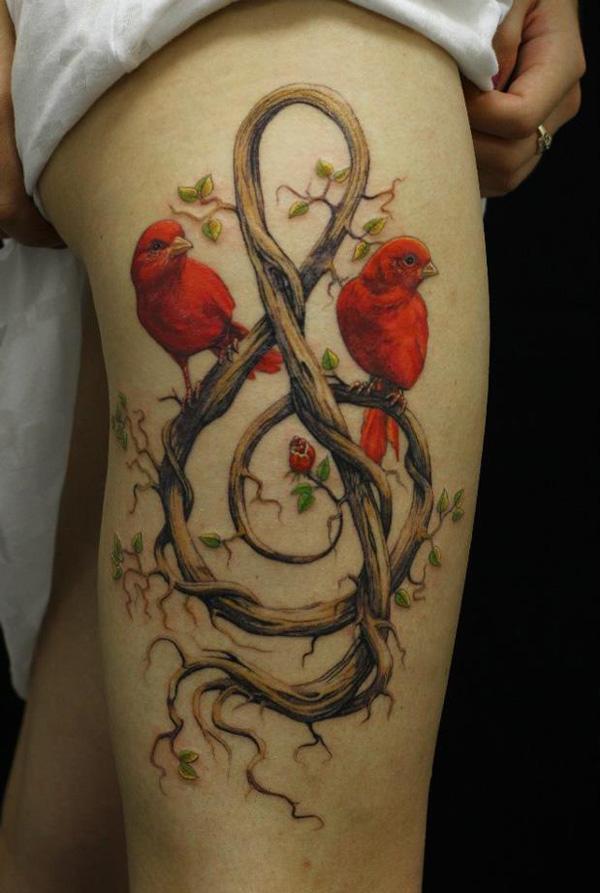 A realistic land camera ink design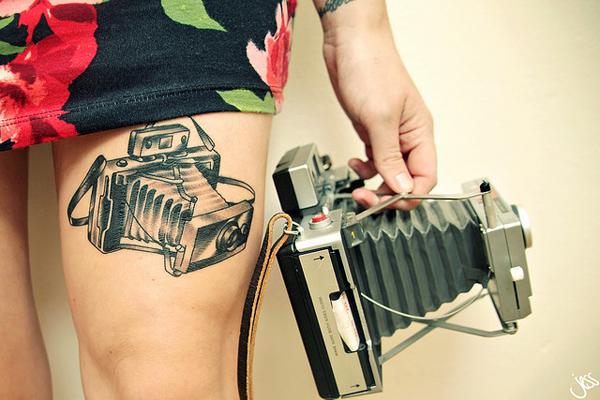 Retro phonograph thigh tattoo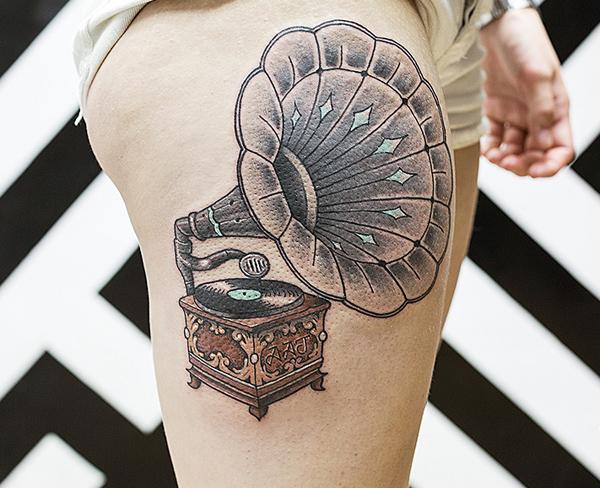 Flower thigh tattoo
Flowers provide a wealth of inspiration for thigh tattoos. From a cluster of cherry blossoms to a grand sunflower, each bloom carries its own symbolism. A flower thigh tattoo can serve as a personal emblem, representing growth, transformation, or the beauty of life.
Daisy and Tinker bell tattoo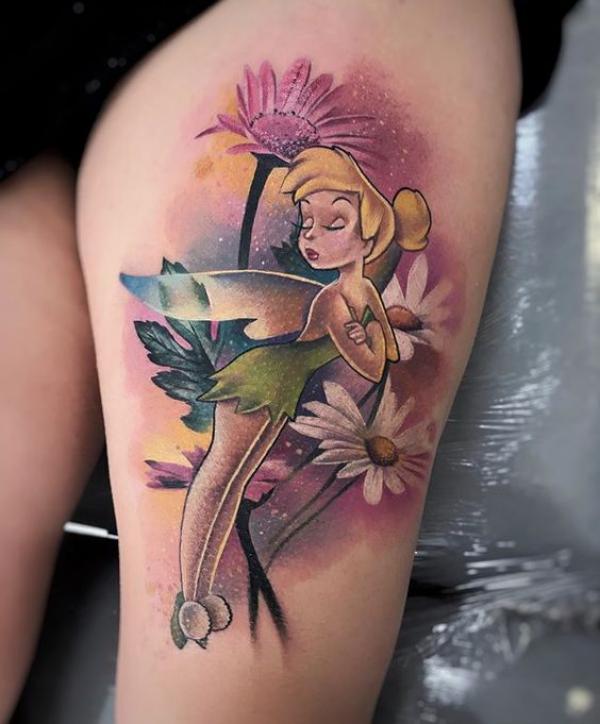 Daisy chrysanthemum and daffodil flowers tattoo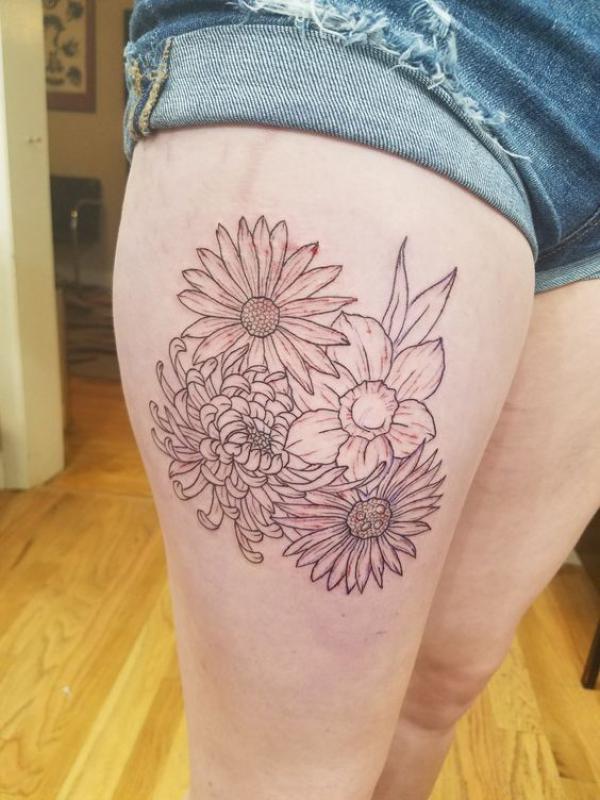 Gorgeous Floral Thigh Tattoo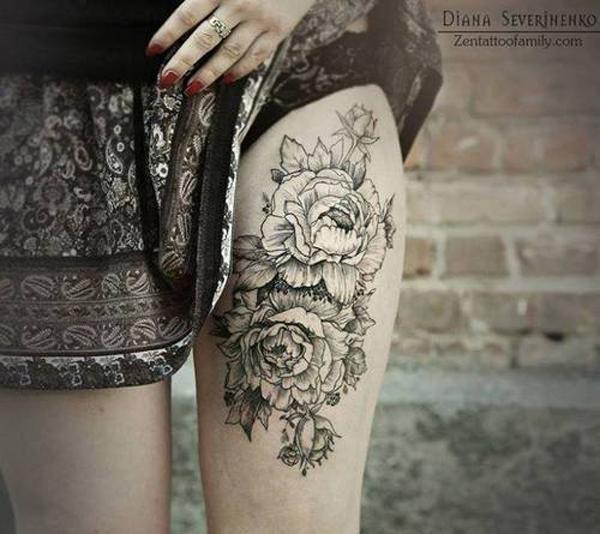 White cherry blossom ink design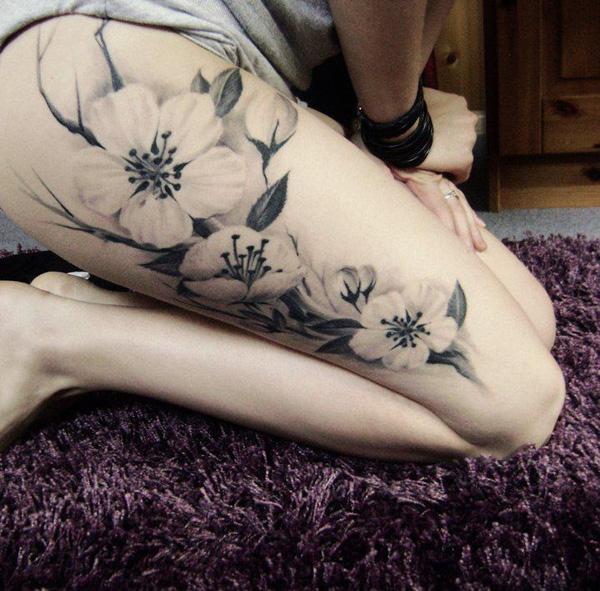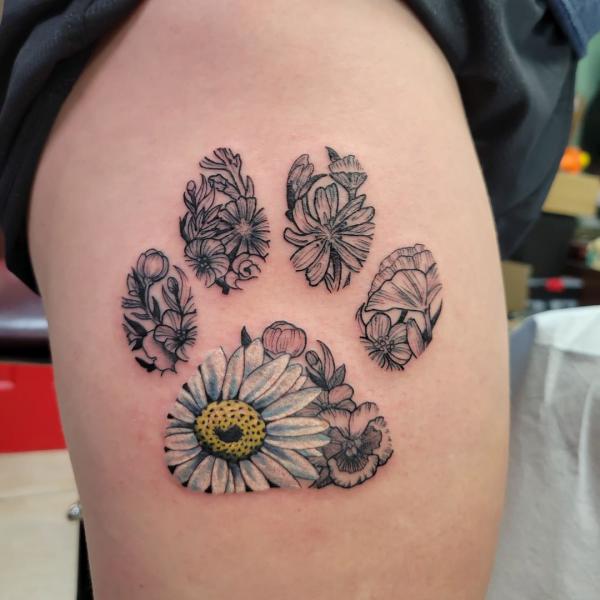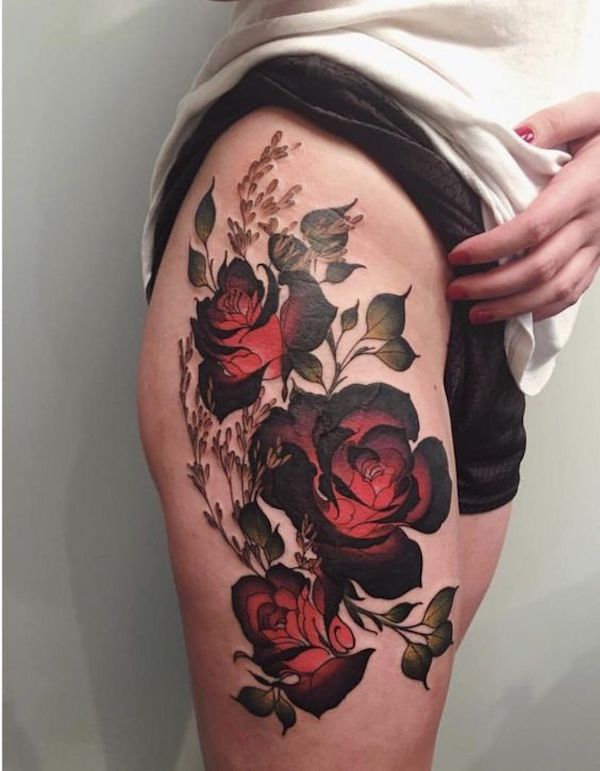 Lily and forget me not flowers tattoo for girls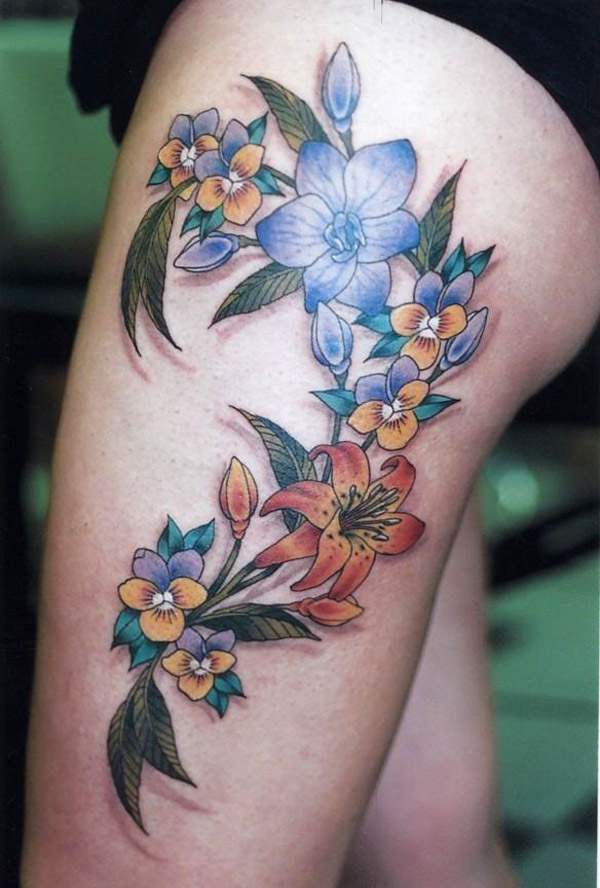 Paisley daisy thigh tattoo
Maple and daisy flowers with butterfly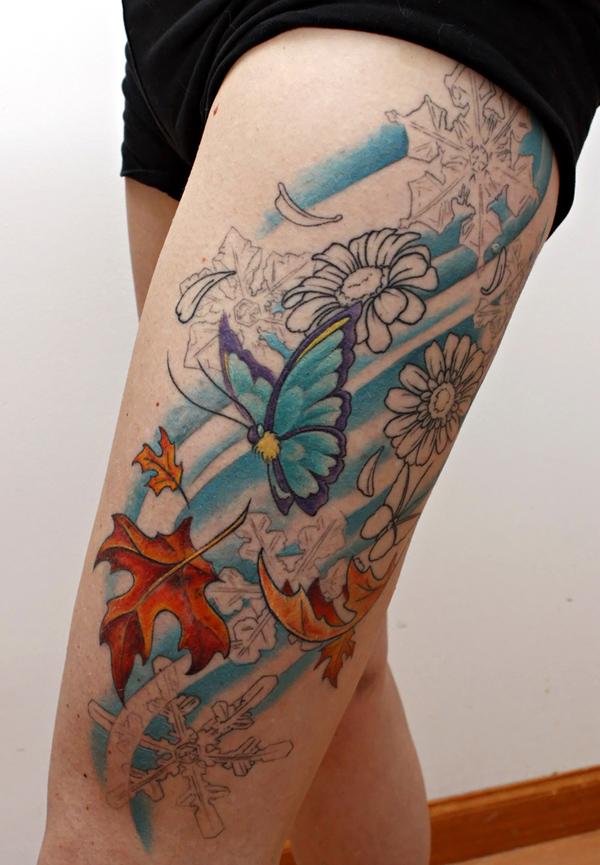 Lily thigh tattoo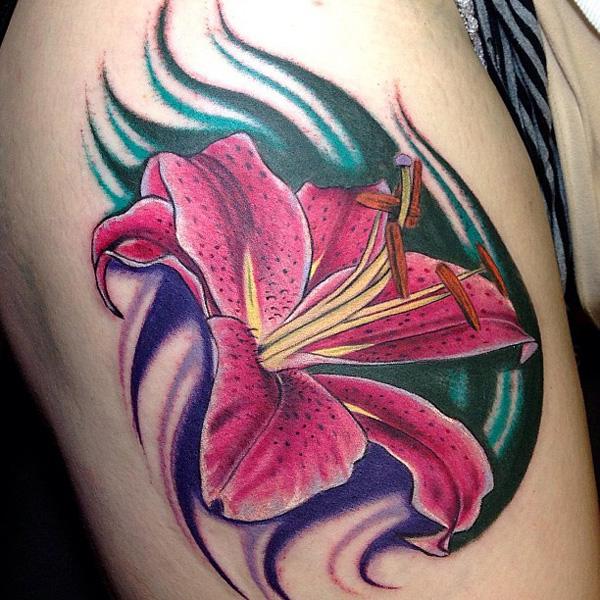 Beautiful violet flowers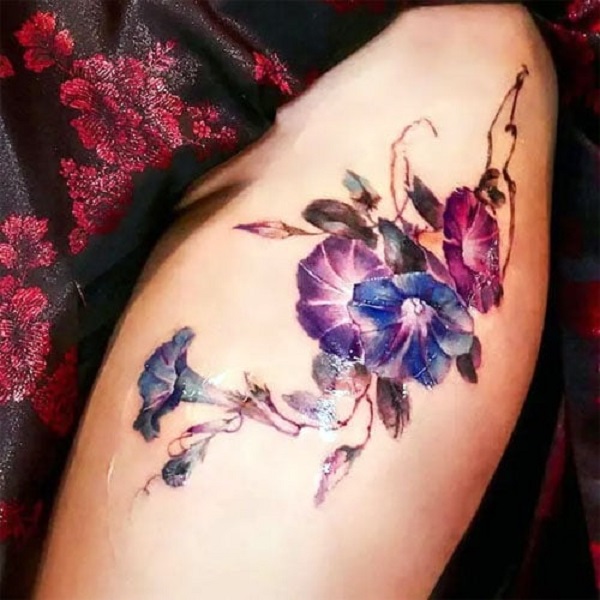 Sunflower and ladybug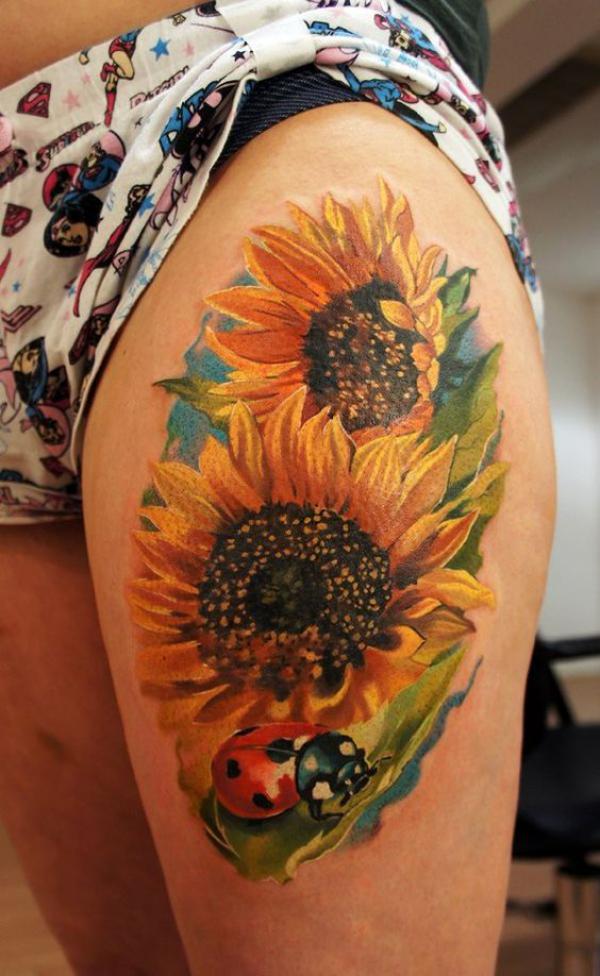 Burning lotus tattoo on thigh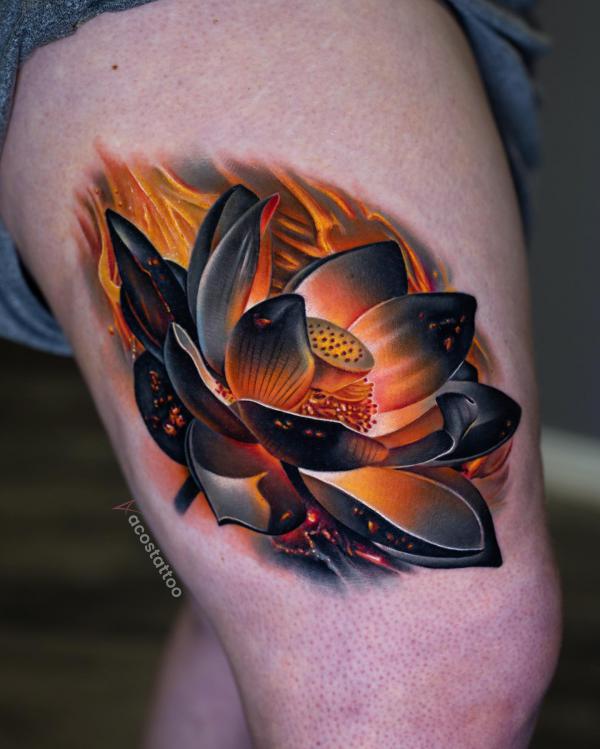 Thigh Lotus Tattoo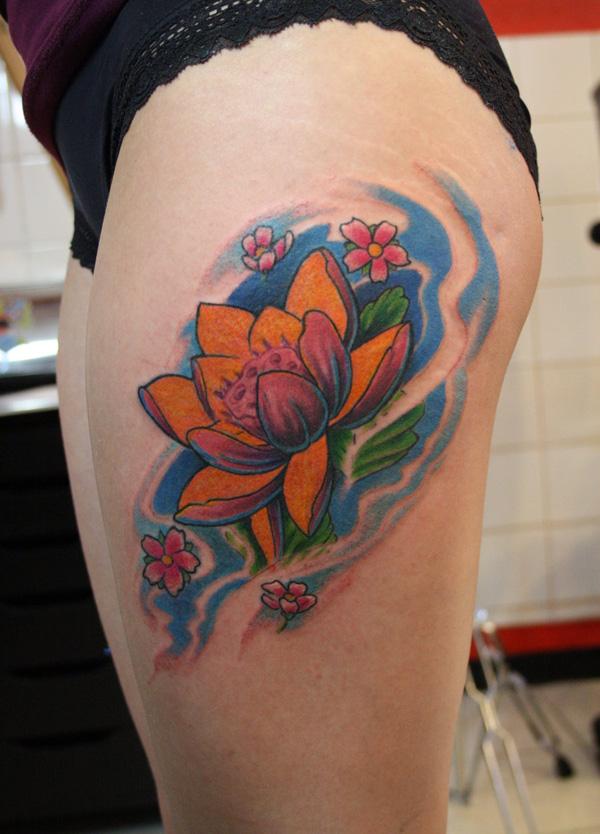 The thigh, less sensitive and spacious, is ideal for larger, detailed lotus designs. Its visibility can be easily controlled, making it a popular choice for more private individuals.
Black and grey Flower thigh tattoo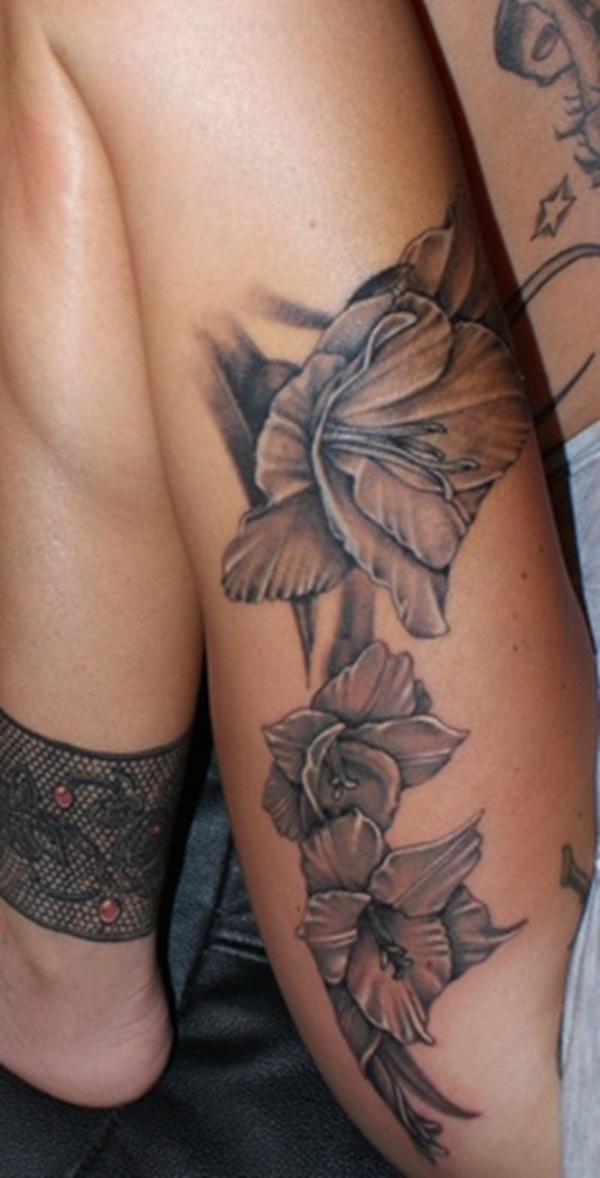 Pink Sunflower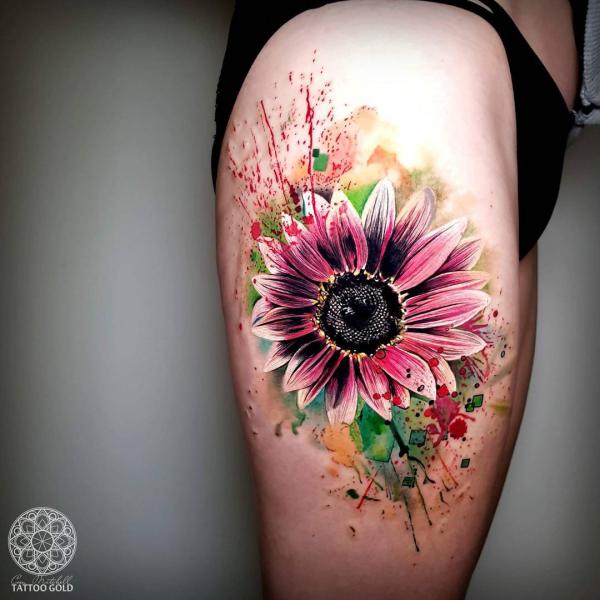 Orchid mandala tattoo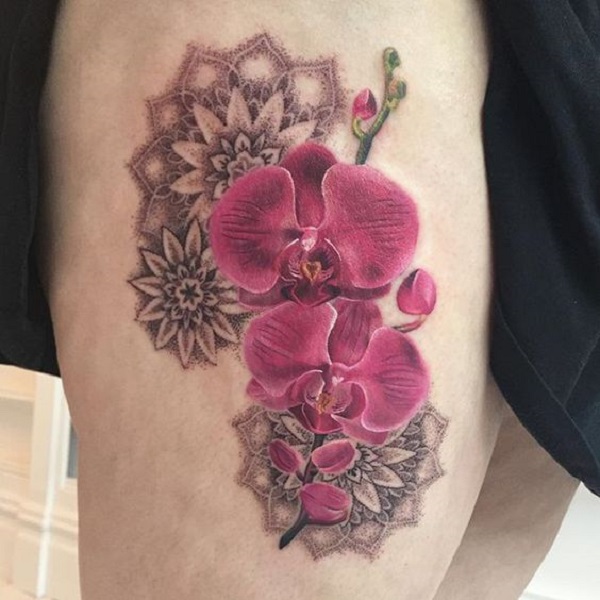 Daffodil and chrysanthemum thigh tattoo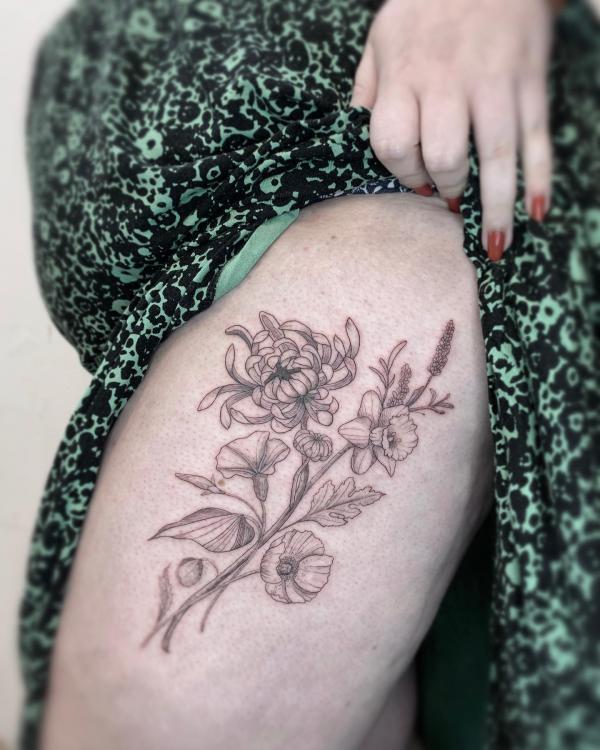 Luna moth over sun and moon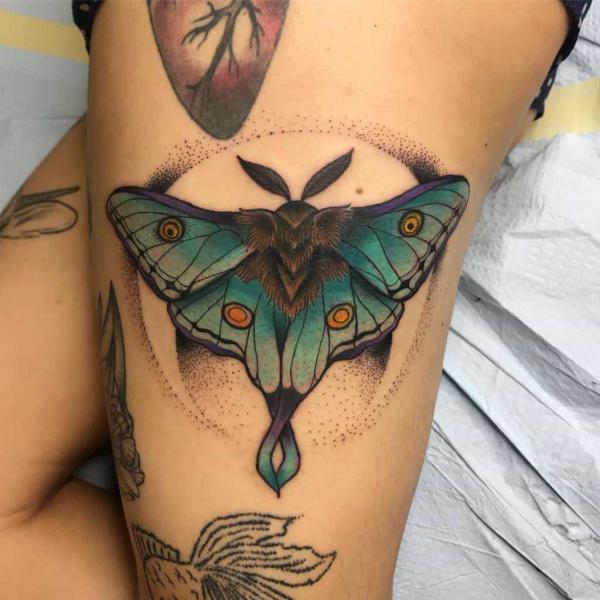 A luna moth perched over a sun andmoon tattoo is a celestial design that celebrates the balance between light and darkness, as well as the beauty of transformation and growth. This enchanting composition features the luna moth, a symbol of metamorphosis, hovering above the sun and moon, which represent the duality of life and the cyclical nature of time. Ideal for those who appreciate celestial imagery and the symbolism of moths, this luna moth over sun and moon tattoo is a captivating piece of body art that showcases the harmony between these powerful celestial bodies.
Luna moth with eyes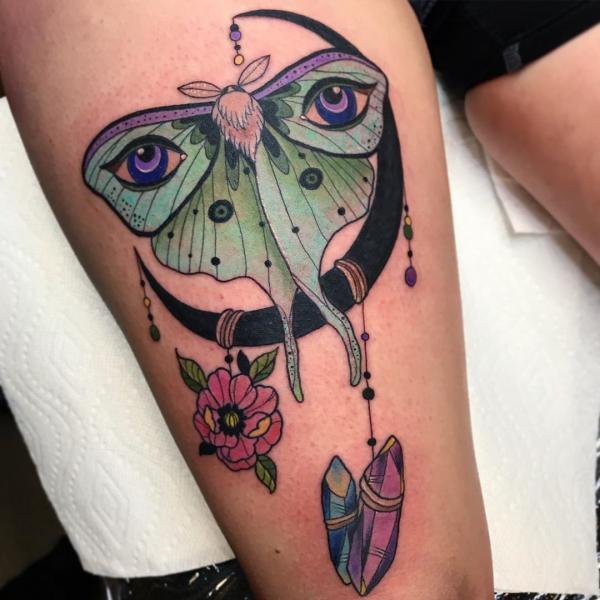 A skeleton hand holding a daffodil and daisy side thigh tattoo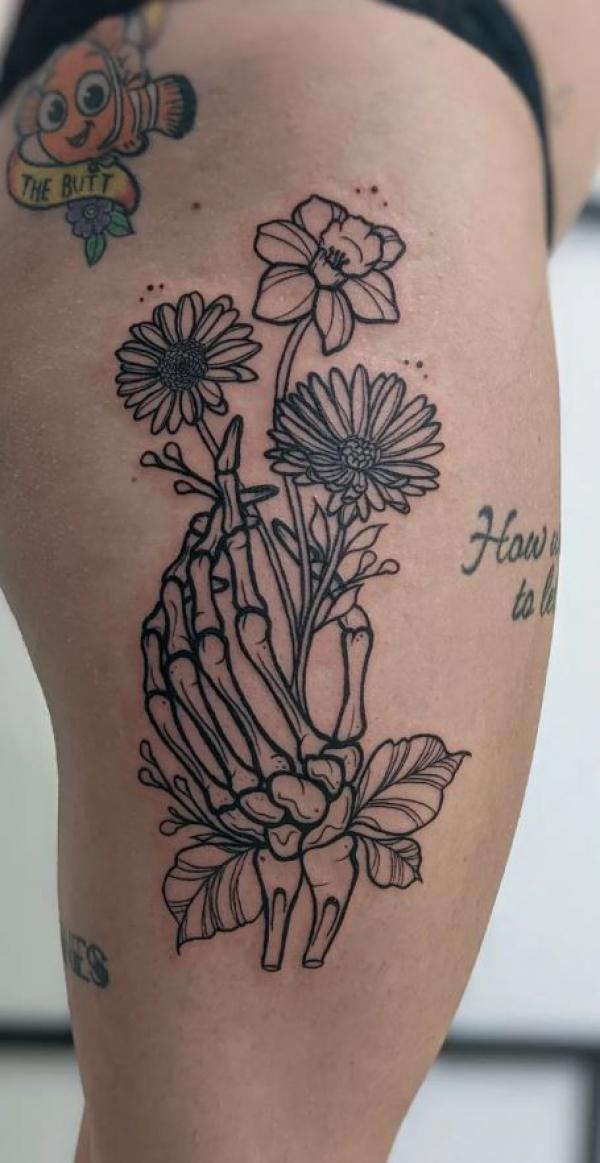 Sunflower and human face side thigh tattoo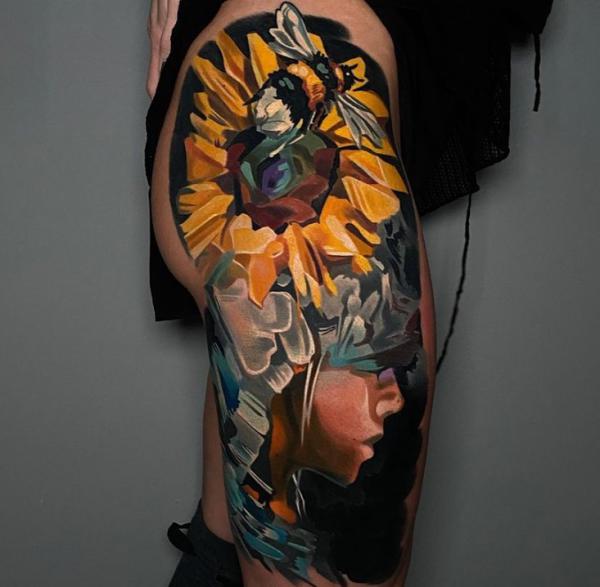 Starting from the side of your hip and reaching down to your thigh, a sunflower tattoo merging with a human face is a truly unique and impressive design. Symbolizing the deep connection we have with nature, this tattoo is a powerful piece of art that will surely make a bold statement.
Animal thigh tattoos
Animal tattoos can symbolize various traits and characteristics. A fierce tiger might represent strength and courage, while a graceful swan could symbolize elegance and tranquility. An animal thigh tattoo can be a personal totem, embodying the traits that resonate with you most.
Scorpion and scorpio glyph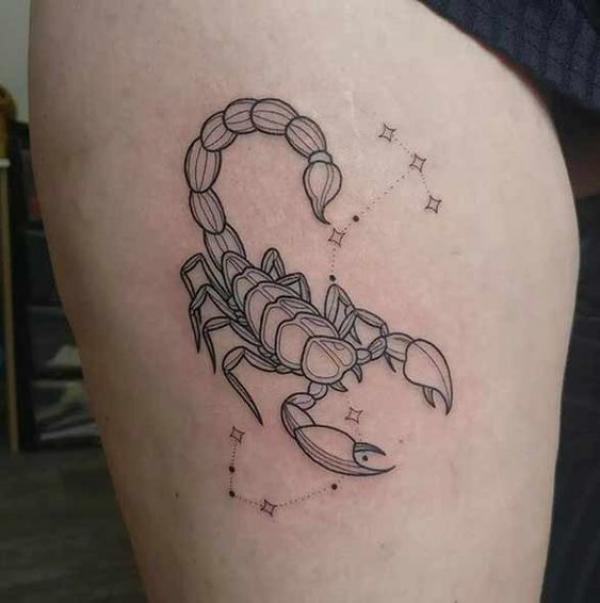 Japanese Koi fish tattoo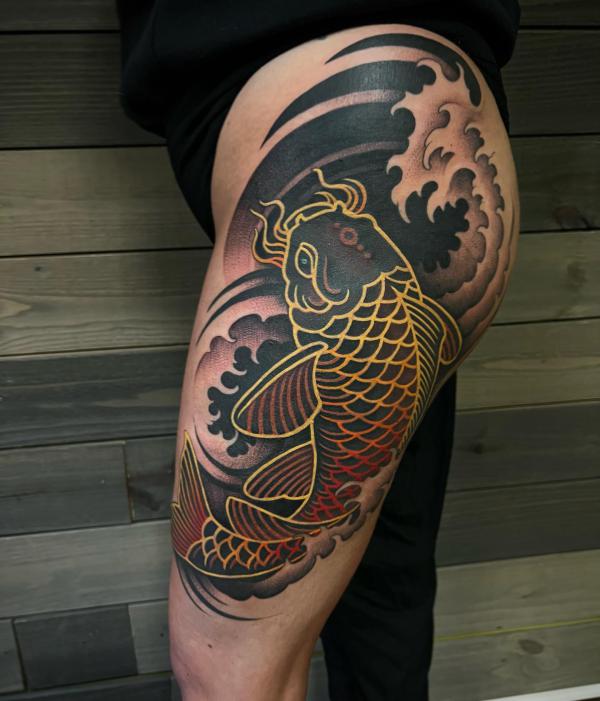 Black and white Swan and lotus drawing tattoo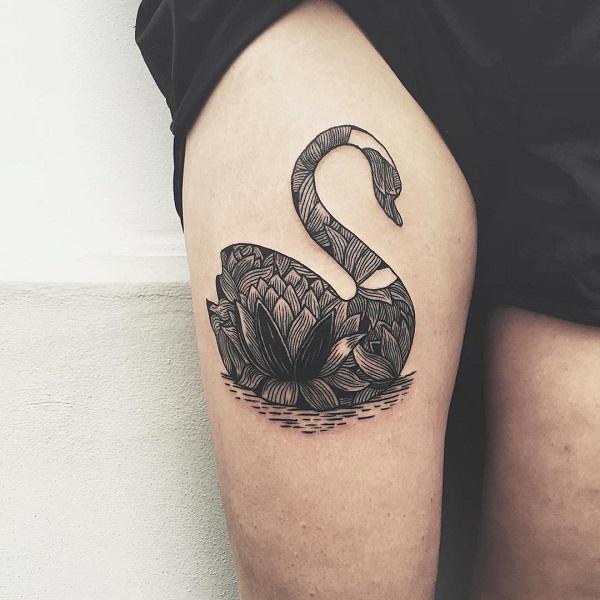 Mandarin Duck and willow thigh tattoo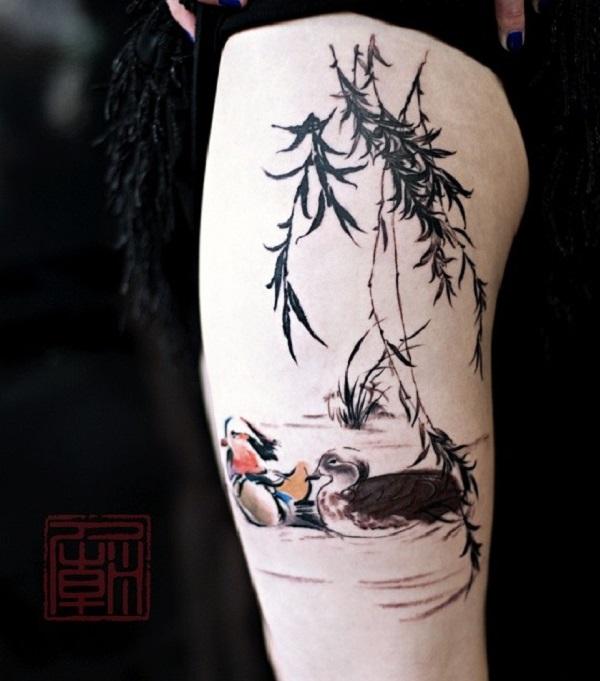 A realistic Cat sitting on swirl frame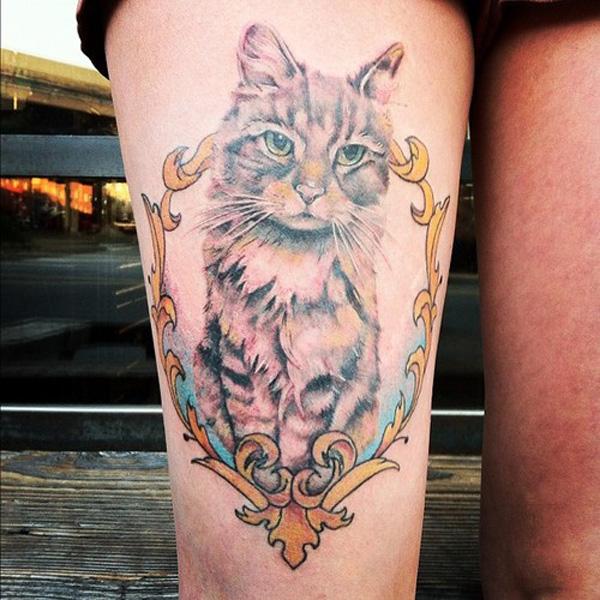 King of the Forest – Dear with crown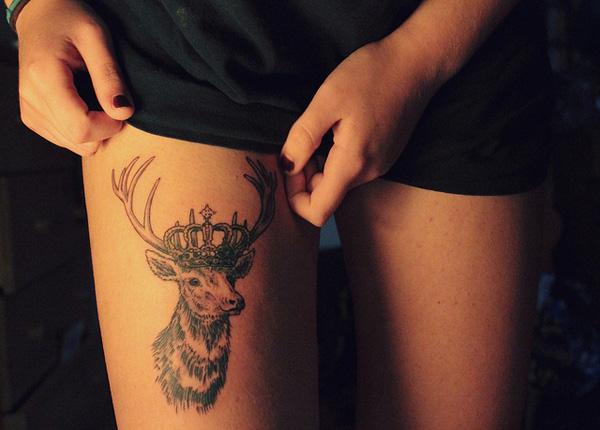 Black and grey Owl and deer tattoo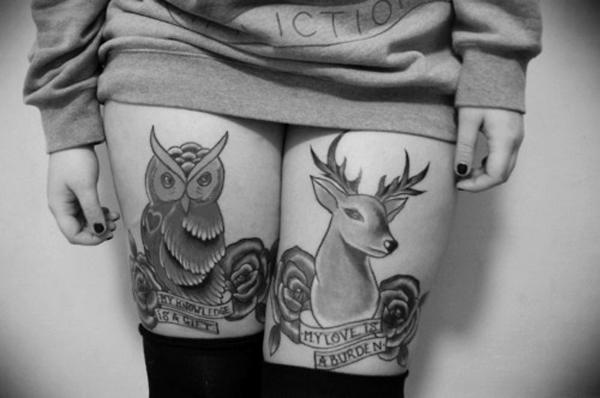 Traditional Owl design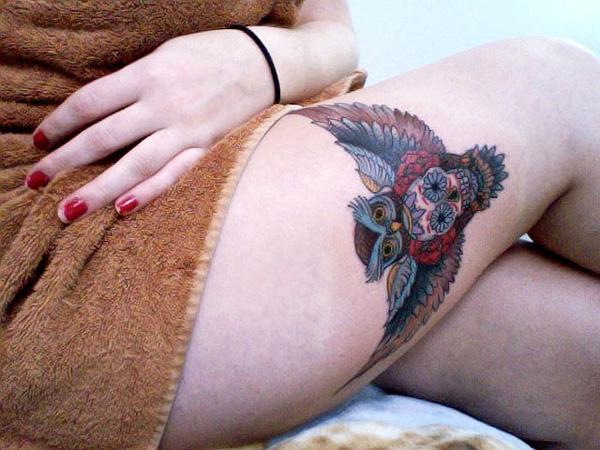 Realistic fox thigh tattoo
Black and white chameleon and floral thigh tattoo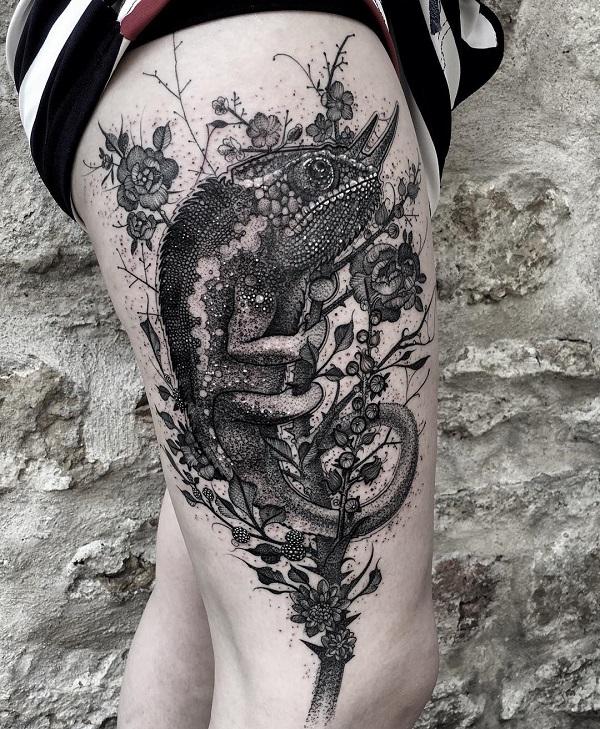 Vintage Owl with a key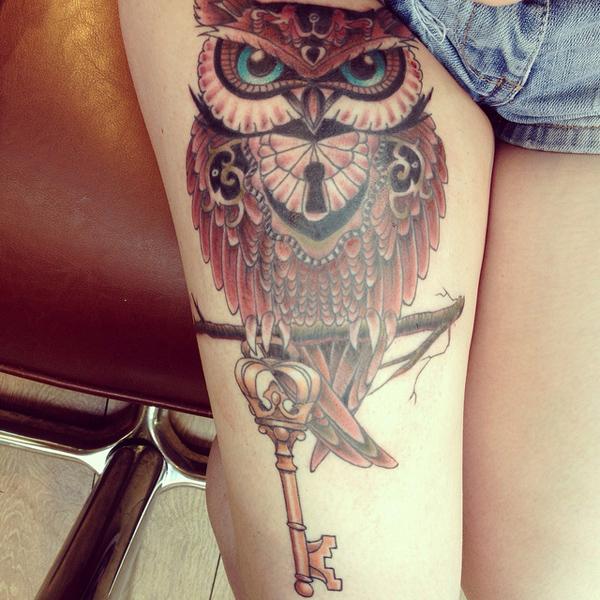 Bird and deer head surrounded with flowers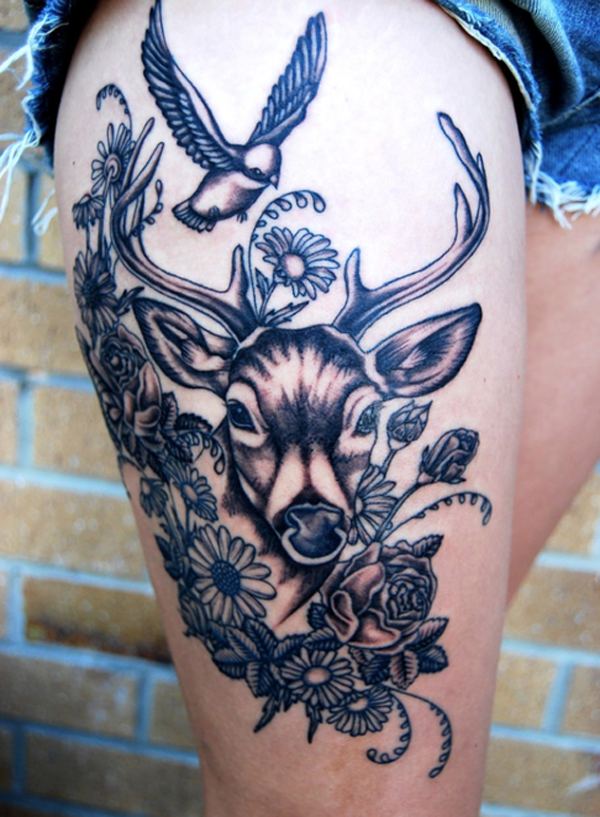 Two swallow birds perched on branches frame tattoo
Half lion and half sunflower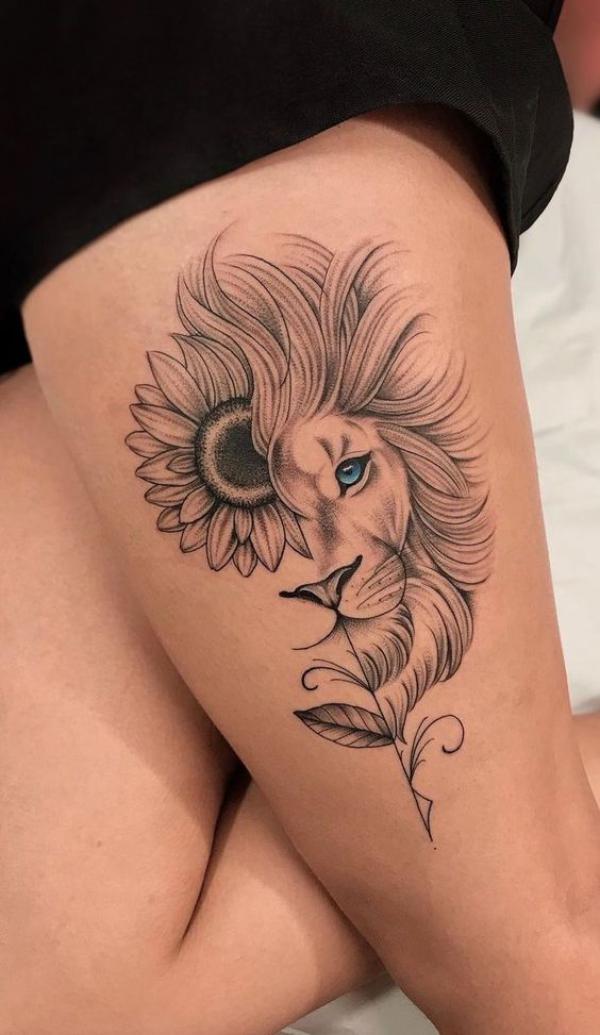 Bull head surrounded with mandala flowers and pearls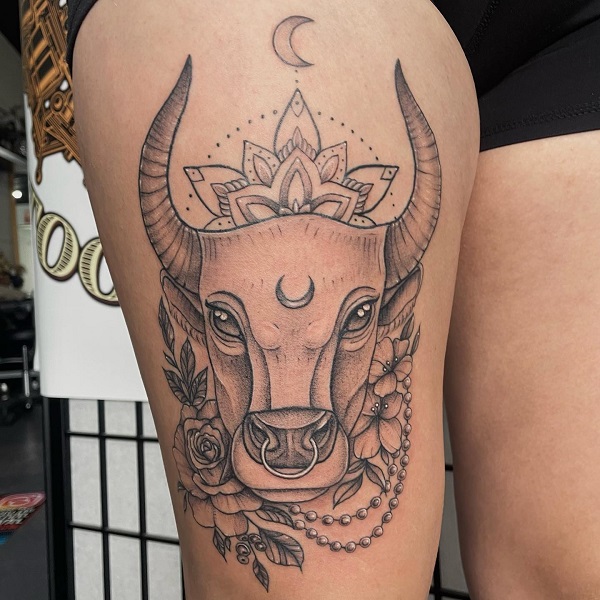 Green koi and black and white daisy tattoo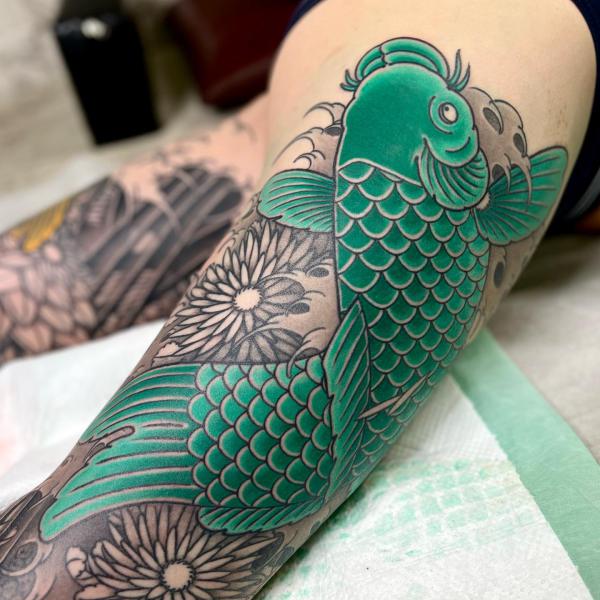 Upper thigh tattoos
Pisces glyph and Flowers tattoo on upper thigh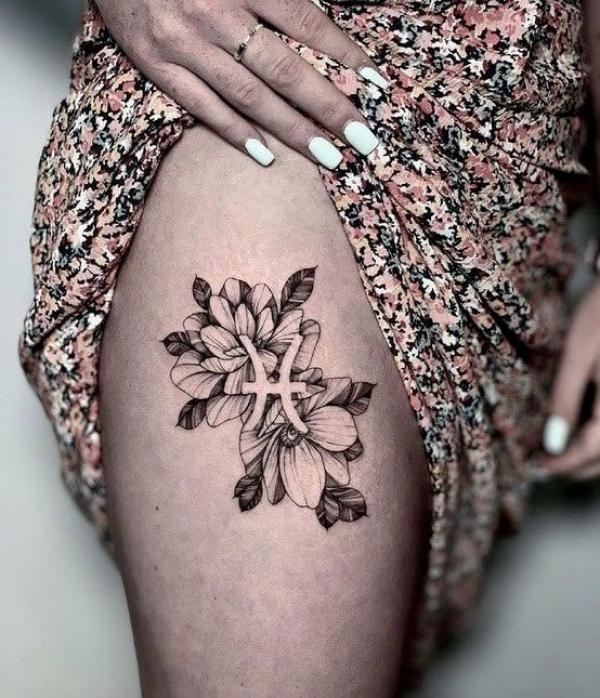 Iron thorn and scorpion thigh tattoo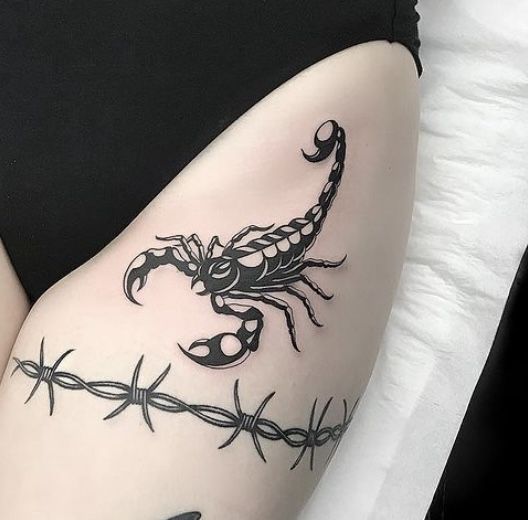 The design of iron thorns encircling the thigh with a scorpion beside is an edgy, intense choice. This design could be symbolic of overcoming hardship and adversity, with the scorpion serving as a symbol of resilience and the iron thorns representing life's challenges.
Red spider lily and black and white koi fish tattoo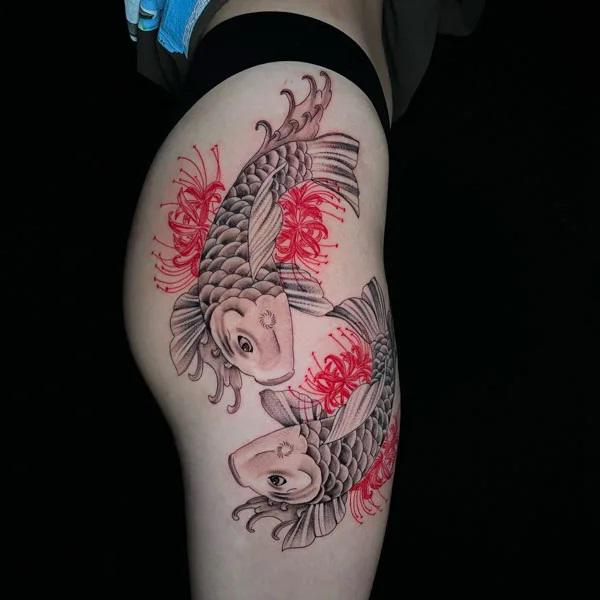 Imagine two koi fishes, rendered in black and white, swimming side by side, surrounded by red spider lilies. This tattoo design symbolizes luck, perseverance, and love, along with the captivating allure of the Spider Lily. It's a perfect piece for those who appreciate Japanese culture and the grace of these stunning aquatic creatures.
Pisces koi fish tattoo on the side of hip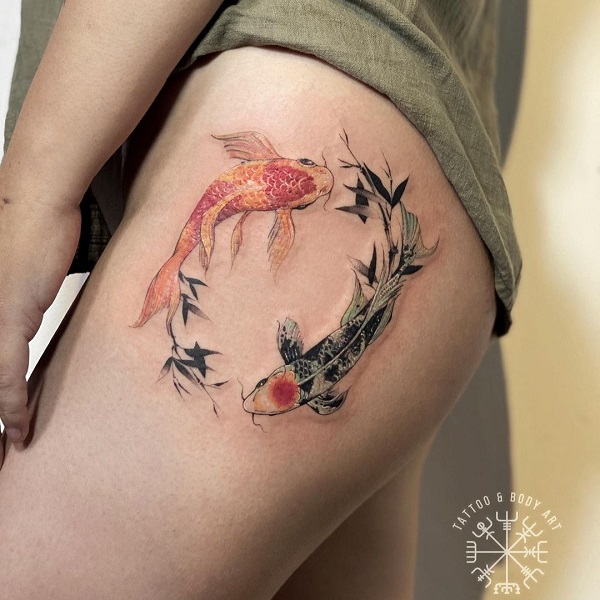 Sunflower and peony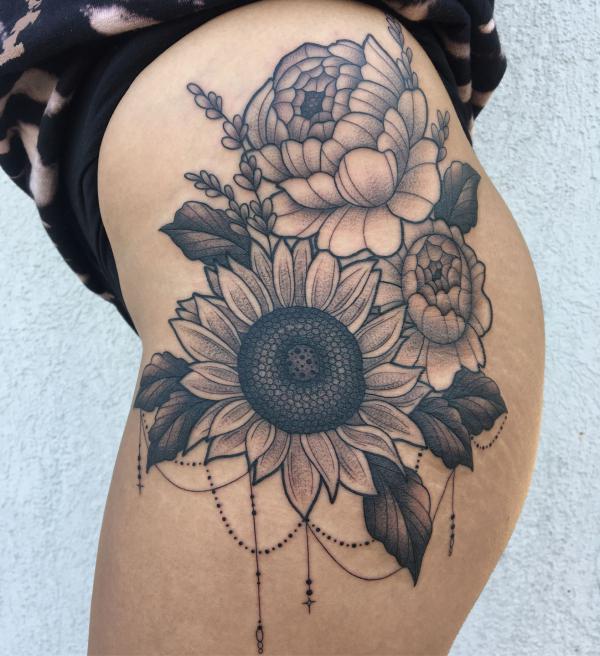 Fine line koi fish tattoo on upper thigh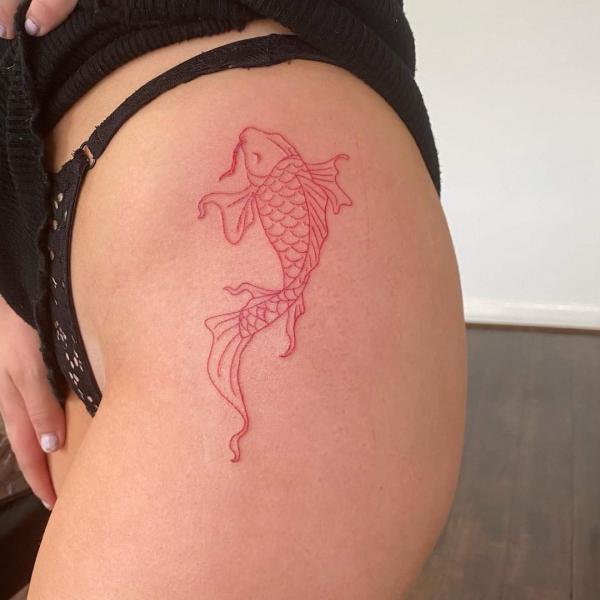 Sunflower clock tattoo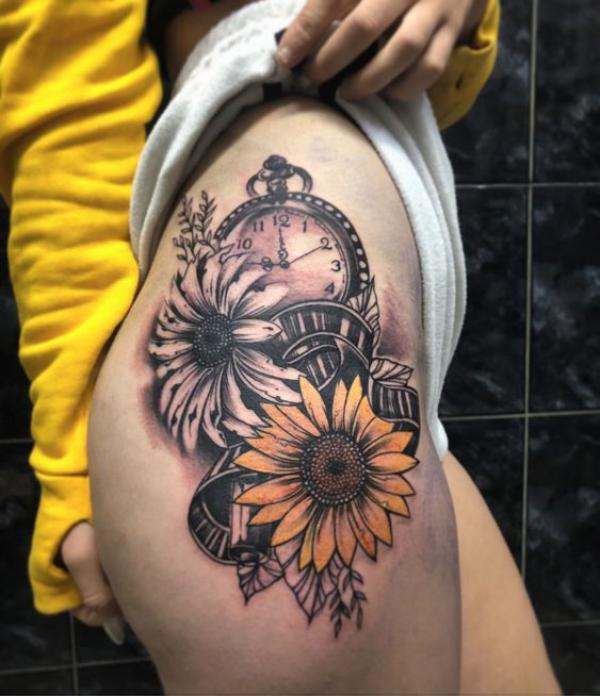 Thigh tattoo above knee
The area above the knee provides a unique canvas for your tattoo. This placement can accommodate a variety of designs, from a simple band of tribal art to a detailed portrait. A thigh tattoo above the knee can be a dynamic visual statement, transforming this often-overlooked area into a showcase of your personal style.
Small pirate ship above the knee tattoo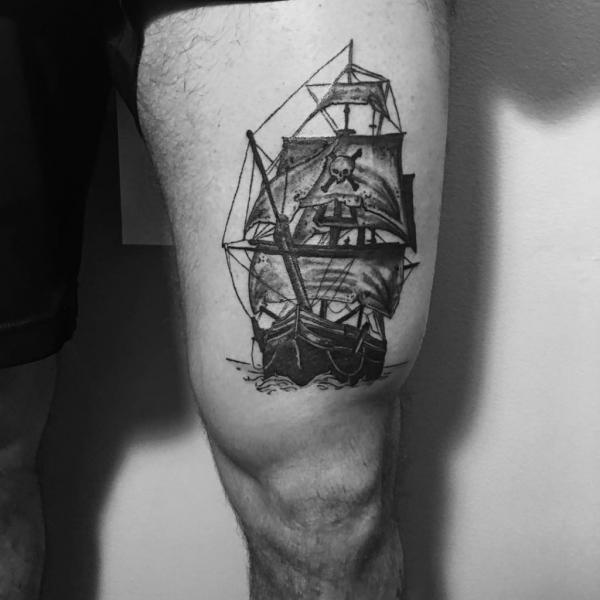 Traditional black and red rose tattoos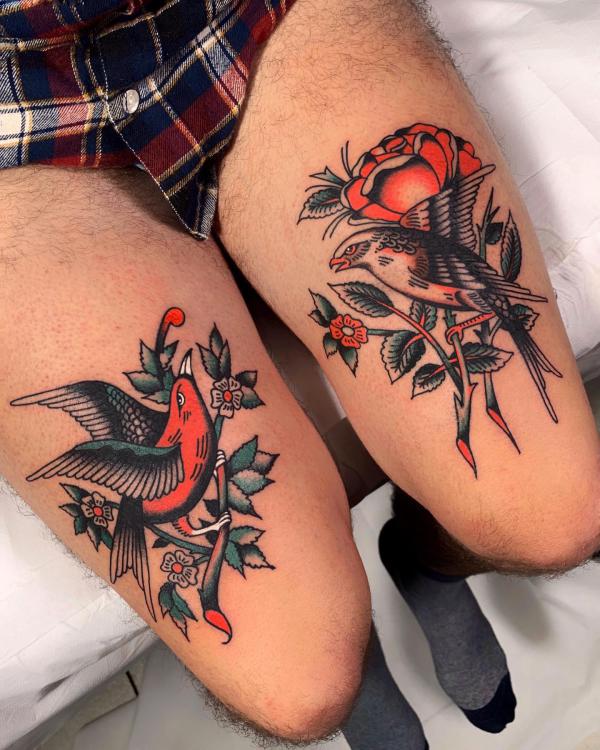 Black and red are classic colors in traditional tattooing, and they work particularly well in rose designs. The black offers stark, bold lines, while the red provides a vibrant contrast that brings the rose to life. Whether you opt for a single rose or a bouquet, this color combination is sure to make a statement.
Geometric Luna Moth with eyes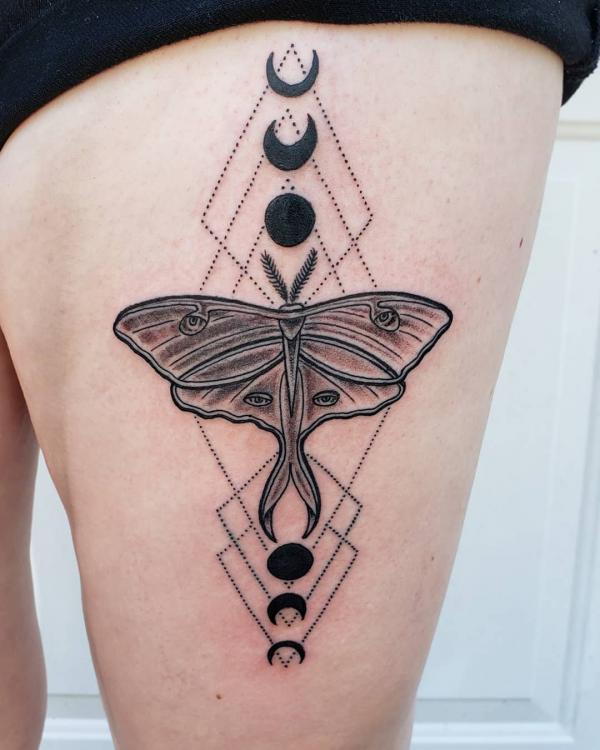 Disney dream catcher tattoo above knee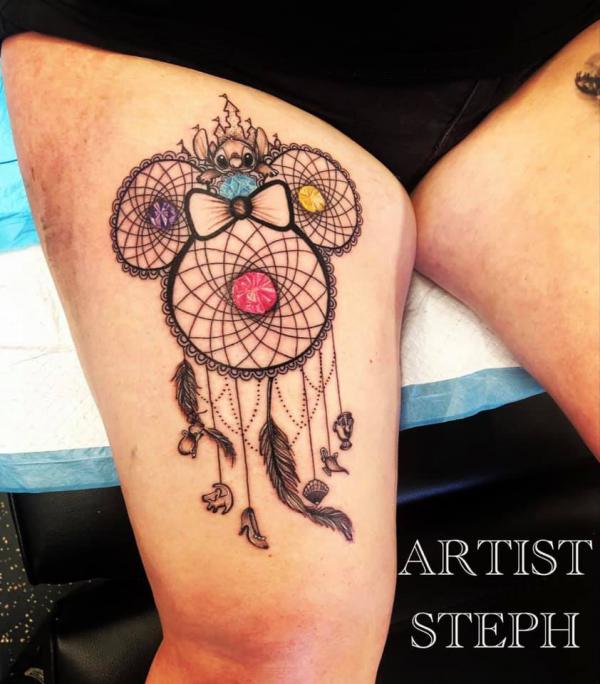 A Disney dreamcatcher design, where three wheels are arranged to render a stylized Mickey Mouse figure, adds a touch of magic and nostalgia to the traditional dreamcatcher design. This playful take on the dreamcatcher is a perfect choice for Disney lovers, symbolizing the protection of childhood dreams and the magic of imagination.
Snake thigh tattoo
Snake tattoos are rich in symbolism, representing transformation, mystery, and rebirth. A snake thigh tattoo can be a striking design, whether it's a coiled serpent ready to strike or a slithering snake winding its way up your thigh.
Japanese Chrysanthemum with entwined fierce snake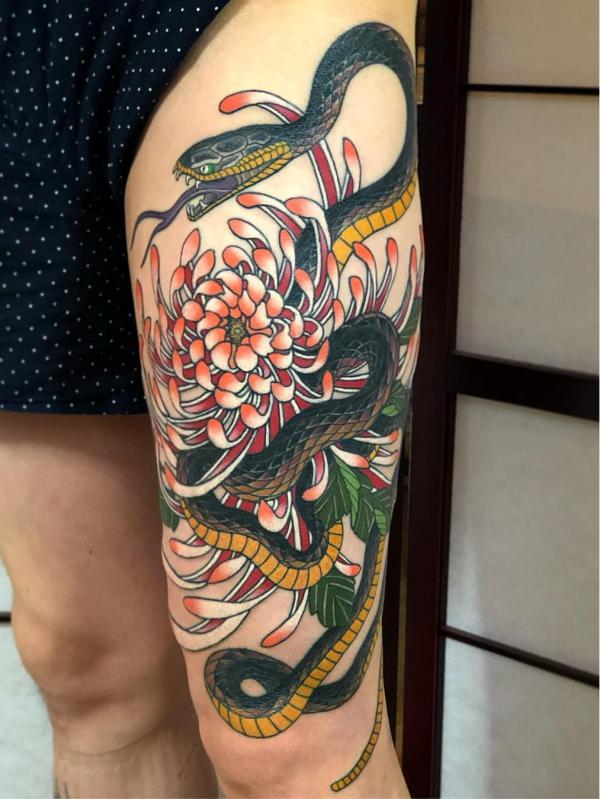 A tattoo that combines a Japanese chrysanthemum with an entwined fierce snake creates a striking and symbolic design. The snake represents transformation, wisdom, and rebirth, while the chrysanthemum symbolizes purity and balance. This powerful tattoo is an excellent choice for those looking to showcase the duality of nature and the harmony between contrasting forces.
A serpent entwined with roses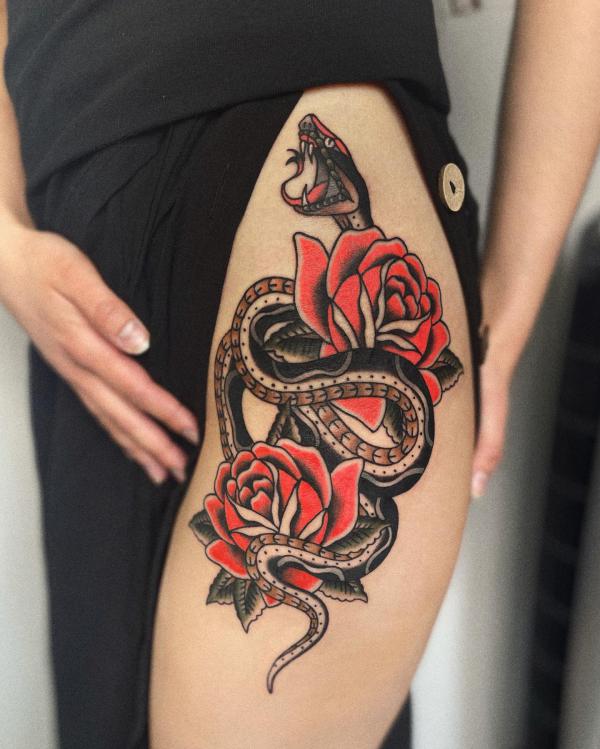 A mouse and mushrooms entwined with a snake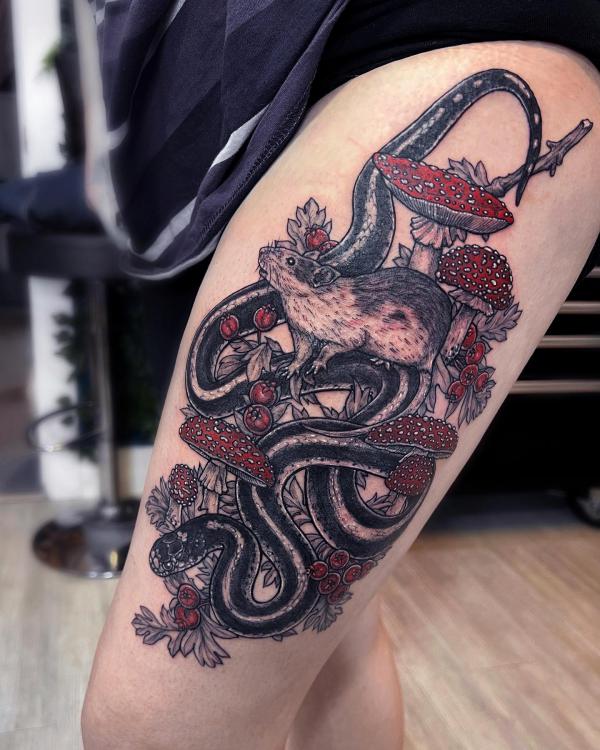 A thigh tattoo featuring a mouse and mushrooms entwined with a snake can be a striking representation of the connection of life. This concept highlights the delicate balance between predator and prey and the cycles of life and death that exist within nature. Additionally, the snake can symbolize rebirth and renewal, while the mouse and mushrooms evoke feelings of playfulness and curiosity. This design is an excellent choice for those who appreciate the complex dynamics of the natural world.
dragon thigh tattoo
Dragons are powerful mythical creatures, symbolizing strength, wisdom, and protection. A dragon thigh tattoo can be a dramatic piece, with the dragon's sinuous form flowing along the contours of your thigh. Whether you choose a fiery Western dragon or a more serene Eastern counterpart, a dragon tattoo can be a majestic addition to your body art.
Red Chinese dragon thigh tattoo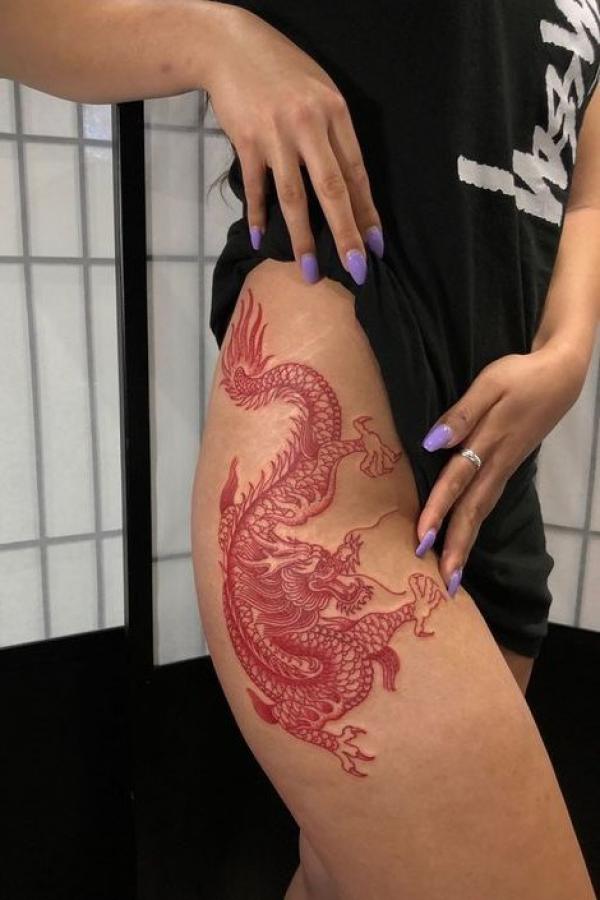 Demon slayer surrounded by Spider lily dragon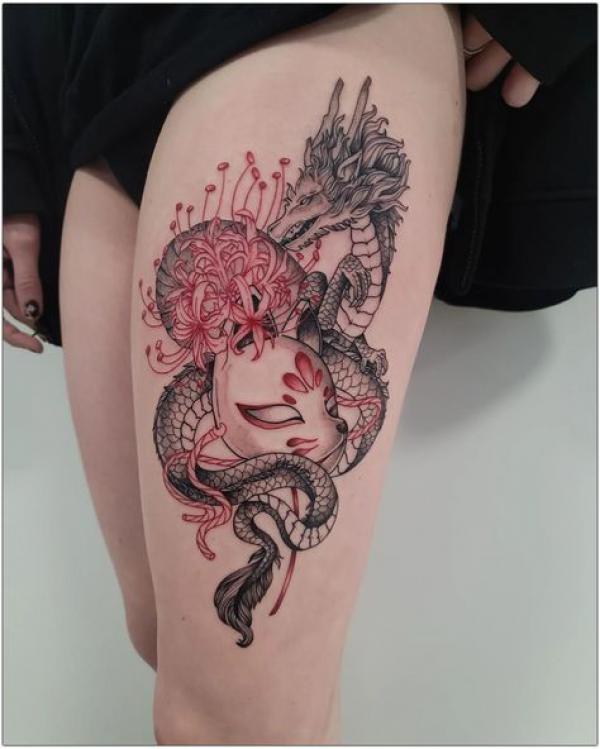 Thigh tattoos American traditional
American Traditional tattoos, also known as Old School, are characterized by bold lines and vibrant colors. Common themes include anchors, roses, and eagles. An American Traditional thigh tattoo can be a vibrant homage to this classic style, adding a timeless appeal to your ink.
Traditional pirate ship with lightning bolt tattoo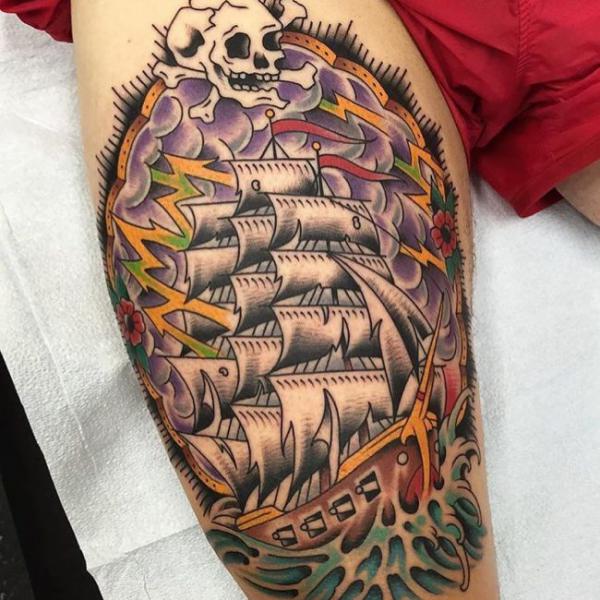 American traditional Rose goat skull thigh tattoo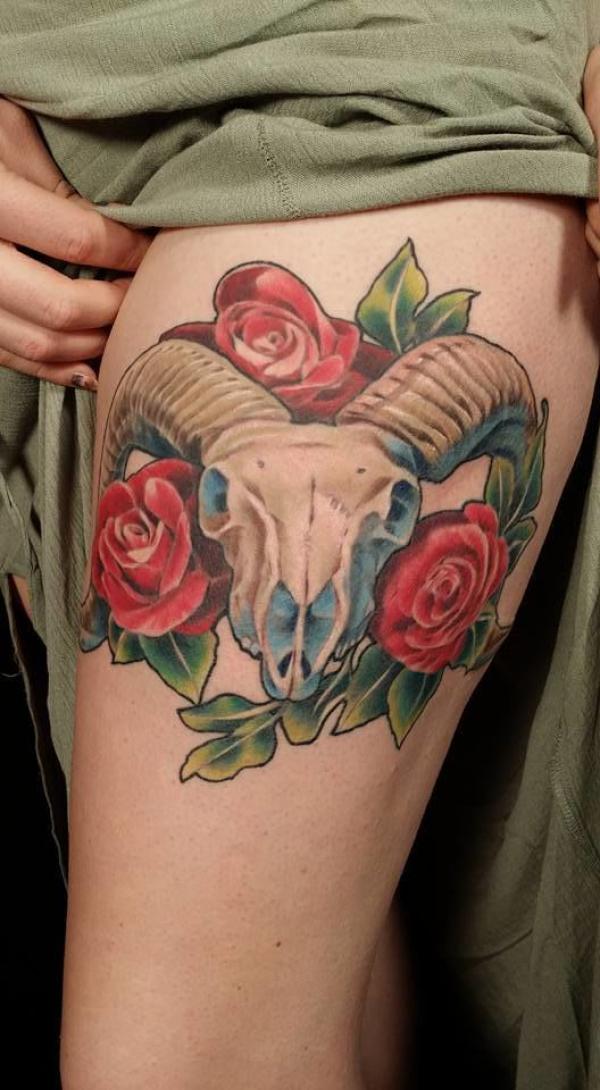 Traditional rose and swallow Tattoo on Thigh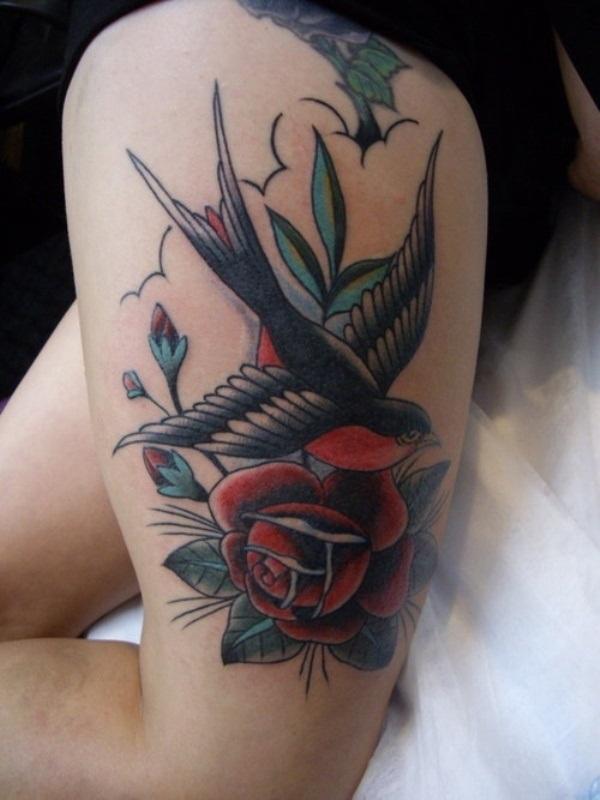 Wanderlust Sunflower thigh tattoo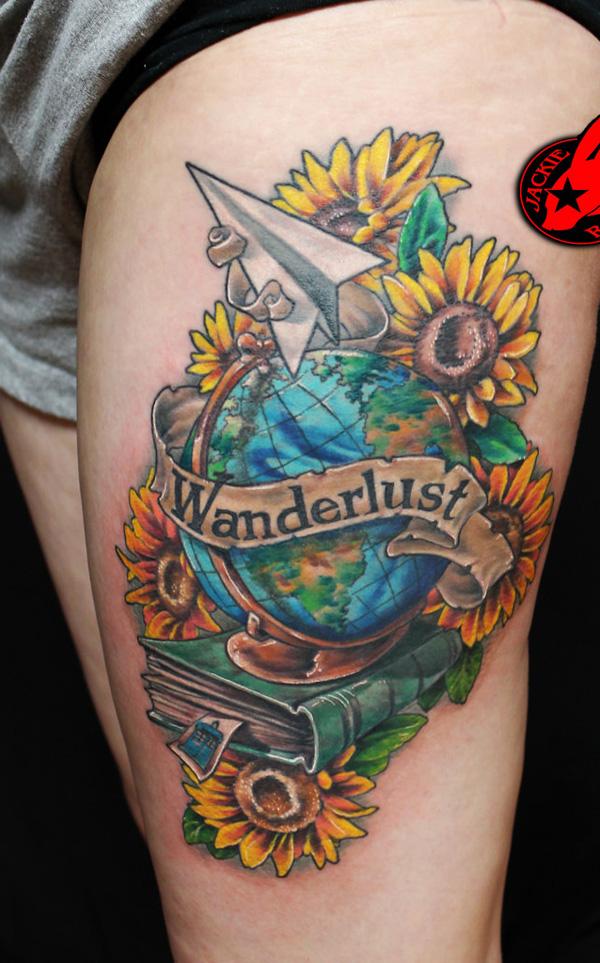 Traditional horse head and rose thigh tattoo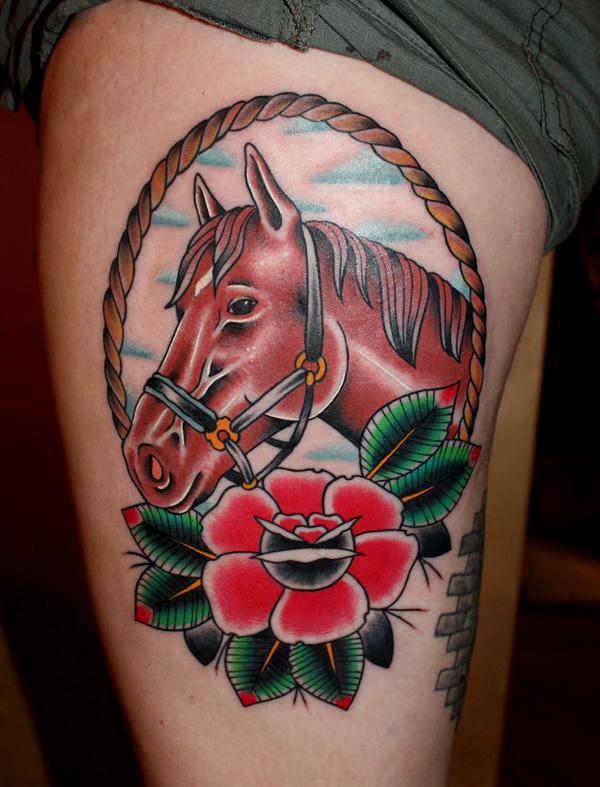 Thigh tattoos Neo traditional
Neo Traditional tattoos build upon the classic American Traditional style, adding a modern twist with more detail and a broader color palette. A Neo Traditional thigh tattoo can be a unique piece, merging the old with the new for a truly distinctive design.
Neo traditional pirate ship thigh tattoo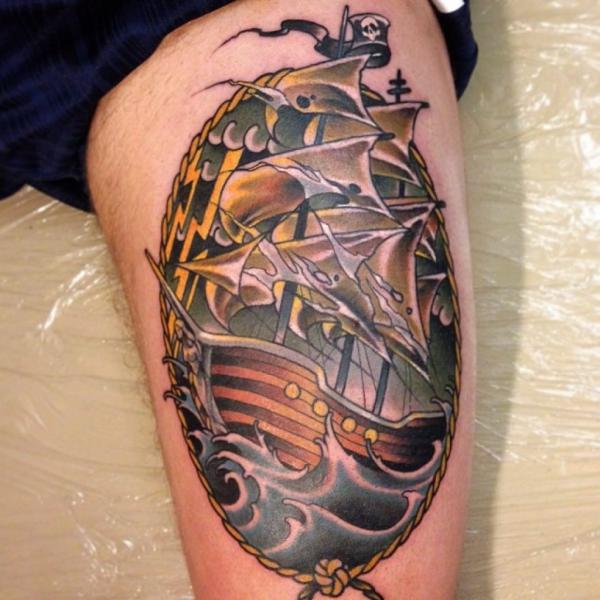 A tiger head embraced by petals of chrysanthemum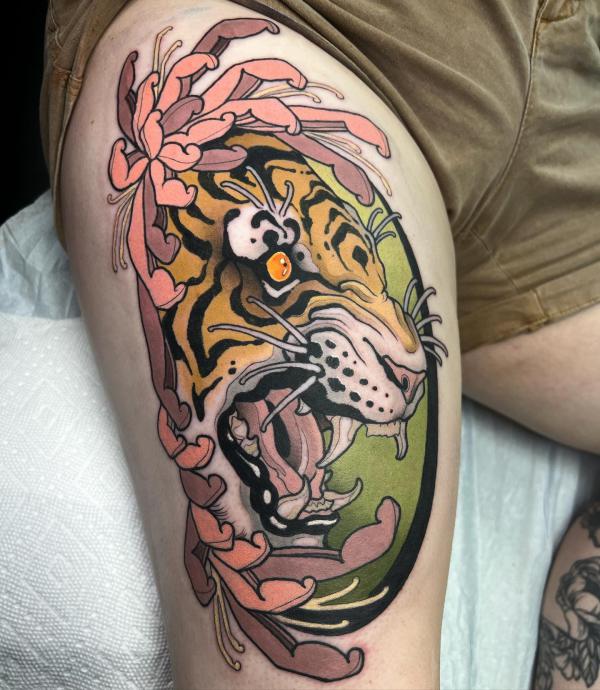 A tattoo featuring a tiger head embraced by petals of chrysanthemum creates a fierce and stunning design. The tiger, a symbol of strength, courage, and power, is perfectly complemented by the chrysanthemum's elegance and grace. This visually impactful tattoo is a great choice for those who want a design that showcases the harmony between strength and beauty.
Neo traditional oni mask tattoo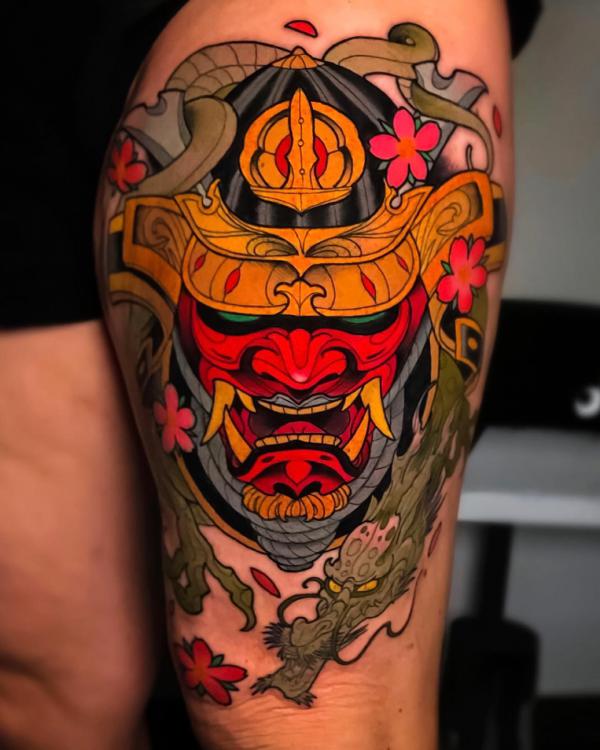 The Neo Traditional style Oni mask tattoo is a bold fusion of classic and modern. With its vibrant colors and intricate detailing, it's a contemporary spin on traditional Japanese art, blending the old and the new beautifully.
Thigh tattoos for men
While thigh tattoos have often been considered more feminine, more men are embracing this area for their body art. From tribal designs to geometric patterns, there's a myriad of thigh tattoo ideas for men. These tattoos can be a powerful form of self-expression, defying gender stereotypes and embracing individuality.
Realistic oni samurai thigh tattoo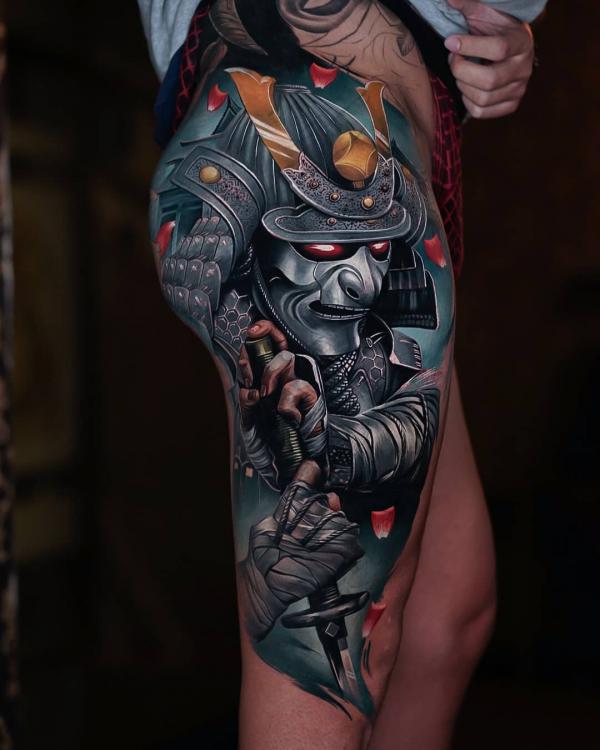 This design brings the mythical Oni Samurai to life on the canvas of the thigh. Its realism and detailed artistry make it a captivating piece.
Poseidon thigh tattoo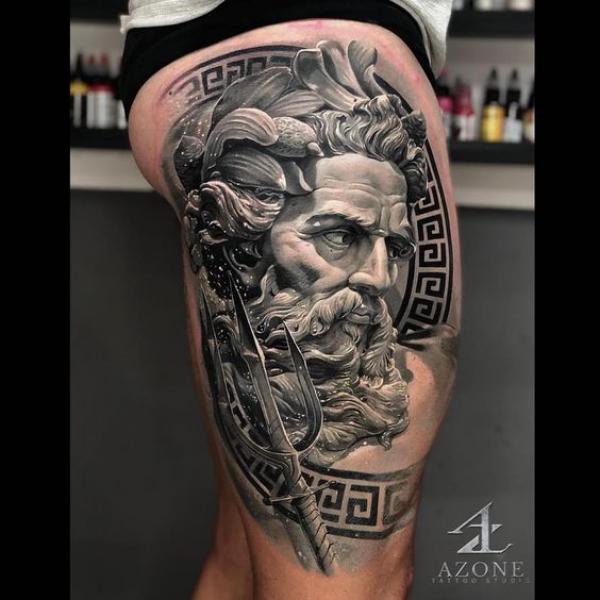 A thigh tattoo that looks like a 3D image of Poseidon and has parts of the Greek key and trident is very cool. This design makes a real statement, bringing Poseidon's strong image to life in a way that looks almost real. The Greek key, which stands for infinity or the never-ending flow of things, and Poseidon's trident, which is a symbol, give the design depth and meaning. This tattoo is more than just a picture of a face; it tells a story about power, life, and authority.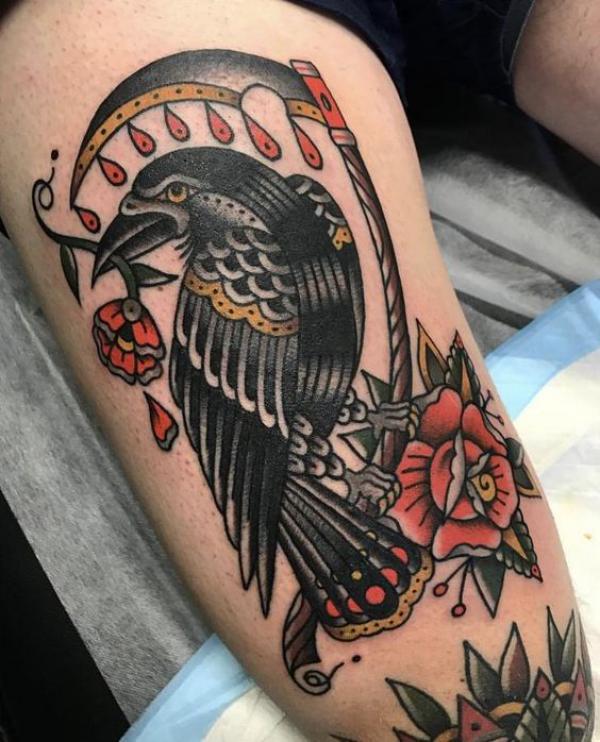 A raven sitting on the rose-decorated Grim Reaper's scythe is a very symbolic tattoo for people who like dark art or are interested in folklore and mythology. Ravens are often linked to mystery, secrets, and the unknown, while the scythe is a symbol of change and the way life goes through cycles. The roses add a touch of love and beauty, balancing the light and dark themes.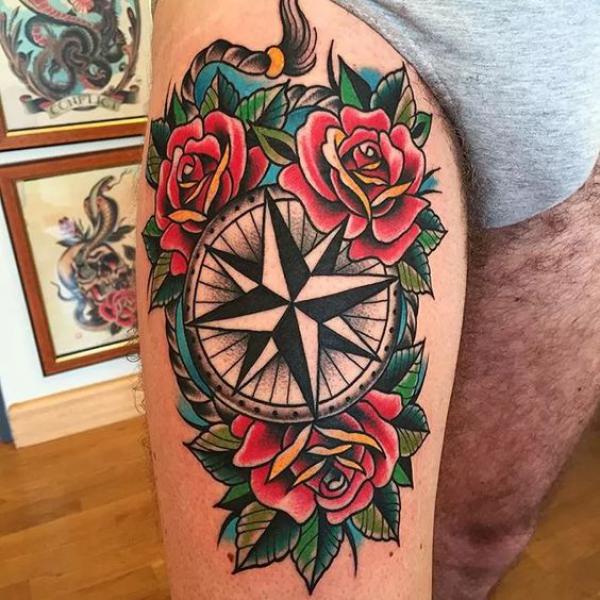 The compass is a sign of direction and discovery, and roses are a sign of love and beauty. Together, they make a tattoo pattern that shows a journey of love or the exploration of life with love as the guiding force. This style is especially appealing to romantics and people who like to try new things.
Wolf thigh tattoo
A wolf is more than just a wild animal; it's a symbol of instinct, intelligence, and freedom. A wolf thigh tattoo can be an emblem of your untamed spirit, whether it's a solitary wolf howling at the moon or a pack of wolves symbolizing unity and loyalty. For those who identify with the profound symbolism of this majestic creature, a wolf thigh tattoo can be a powerful statement.
Nordic wolf thigh tattoo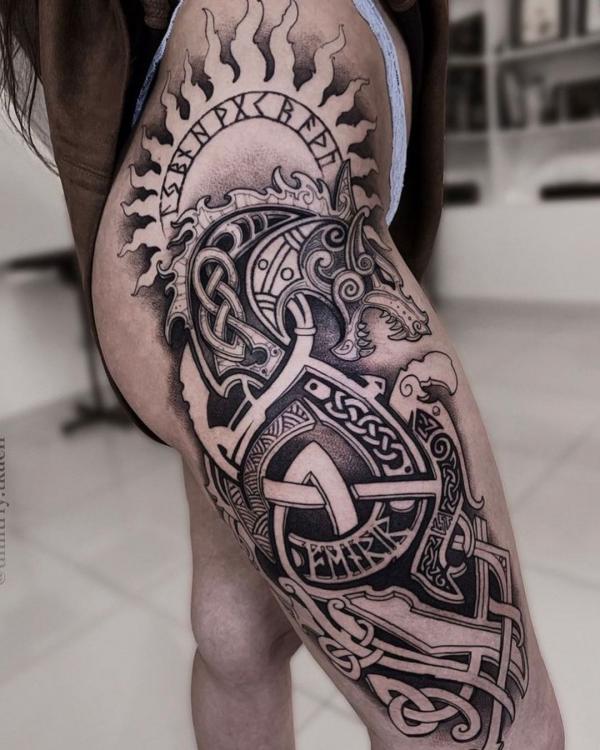 Elephant thigh tattoo
Elephants symbolize strength, wisdom, and longevity in many cultures. An elephant thigh tattoo can serve as a reminder of these qualities, whether it's a realistic representation or a stylized design. From a majestic, full-bodied elephant to a playful depiction of a mother and calf, an elephant thigh tattoo can be a tribute to this awe-inspiring creature.
Elephant dream catcher tattoo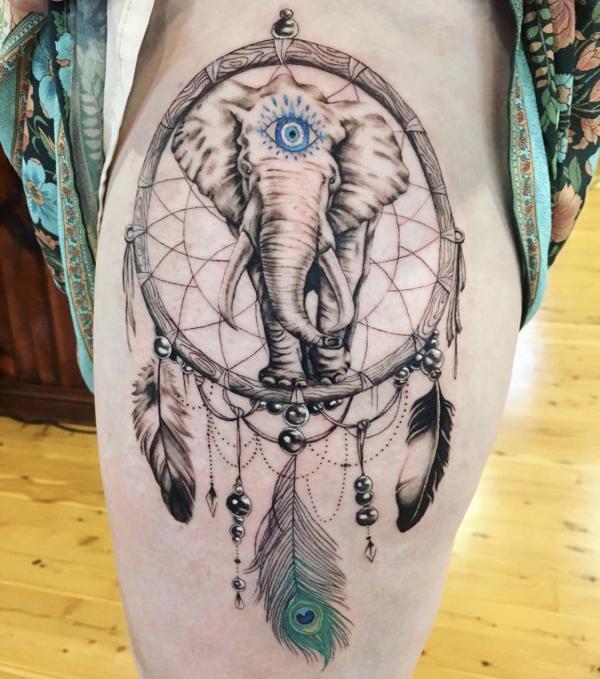 An dreamcatcher with an elephant tattoo design blends the strength, wisdom, and loyalty symbolized by the elephant with the protective and spiritual qualities of the dreamcatcher. This can be a compelling design for those who share a connection with these powerful symbols.
Elephant Entwined with Octopus thigh Tattoo for Men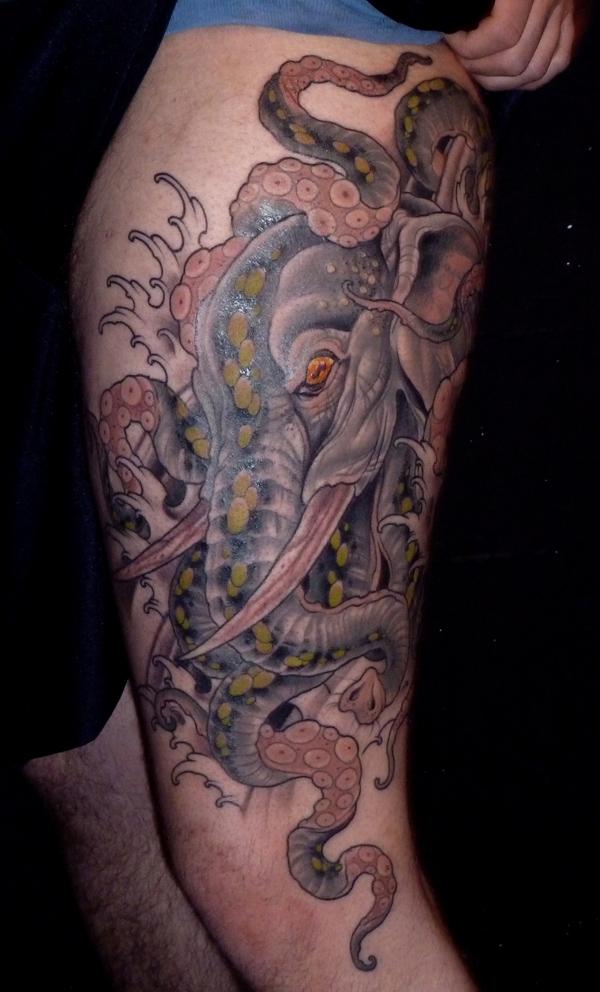 An elephant entwined with an octopus is an intriguing design, blending the terrestrial power of the elephant with the mysterious allure of the octopus. The leg provides ample space for this elaborate design, making it a bold choice for men.
Flowers and Leaves Decorated Elephant Line Work Thigh Tattoo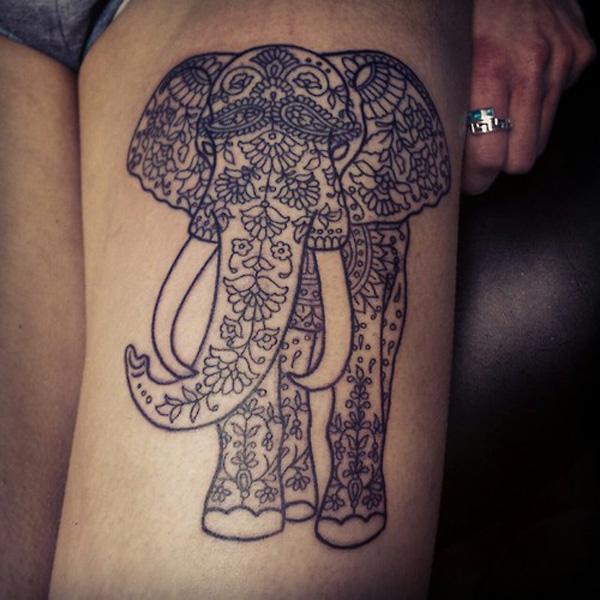 An elephant decorated with flowers and leaves is a beautiful choice for a thigh tattoo. The floral elements add a touch of femininity, while the line work emphasizes the elegance of the elephant.
Geometric elephant head tattoo on thigh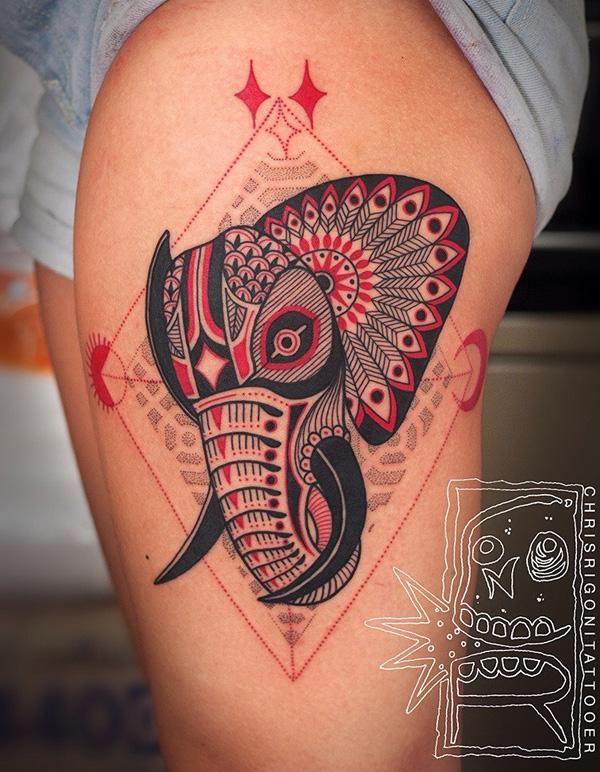 A decorated elephant head illustration tattoo is a unique and artistic choice. The decorations can be personalized to suit your style, making this design a truly one-of-a-kind piece.
Small thigh tattoo
Small thigh tattoos are perfect for those who prefer a subtler approach to body art. These designs can be as simple as a tiny heart or star, or as intricate as a small mandala or an emblematic glyph. Despite their size, small thigh tattoos can hold immense personal significance and can be easily concealed or displayed depending on your mood.
Chinese knot with Spider lily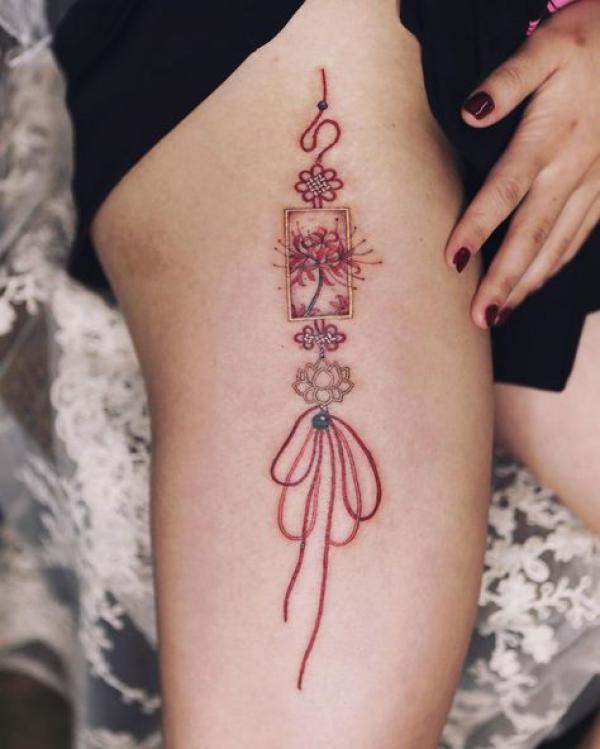 A Chinese knot, symbolizing good luck and longevity, paired with a Spider Lily, makes an interesting and visually pleasing thigh tattoo. This design combines cultural symbolism with natural beauty, making it an eye-catching piece that also brings good fortune.
Blue orchid and pink peony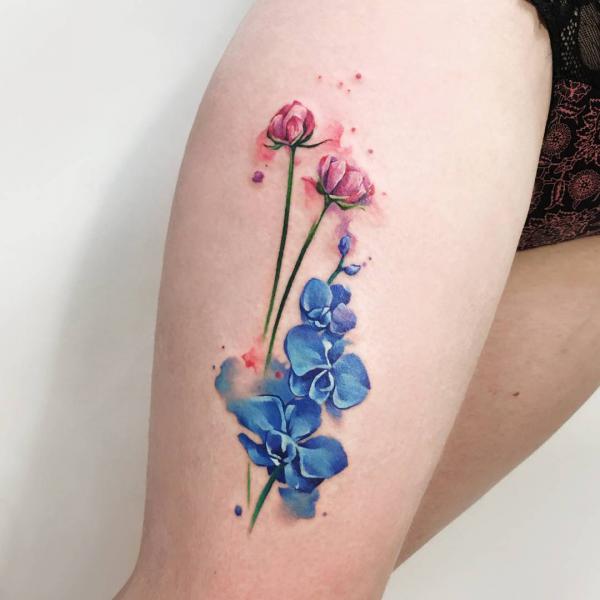 The combination of a blue orchid and a pink peony could make for a captivating tattoo. The contrast between the striking blue orchid and the soft pink peony could symbolize a balance between strength and gentleness.
Wolf dream catcher tattoo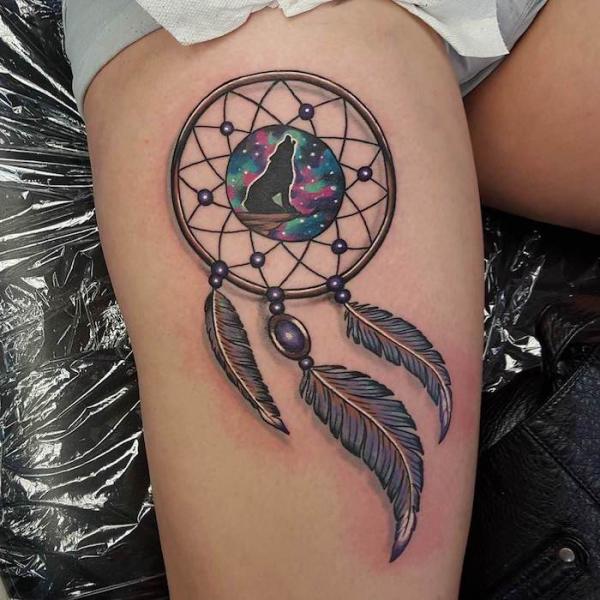 Single red goldfish thigh tattoo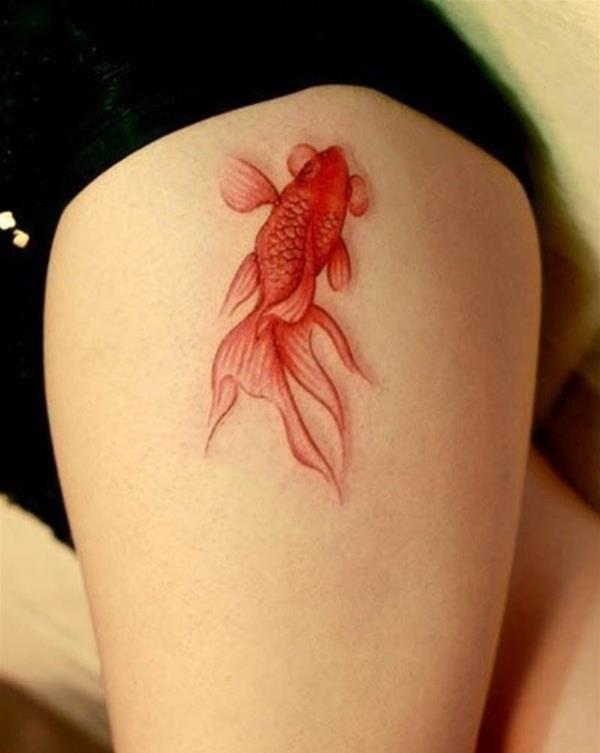 Tree of life thigh tattoo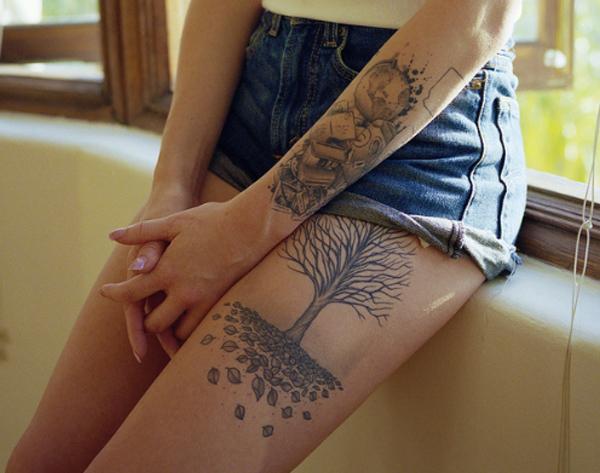 Ballet Dancer silhouette thigh tattoo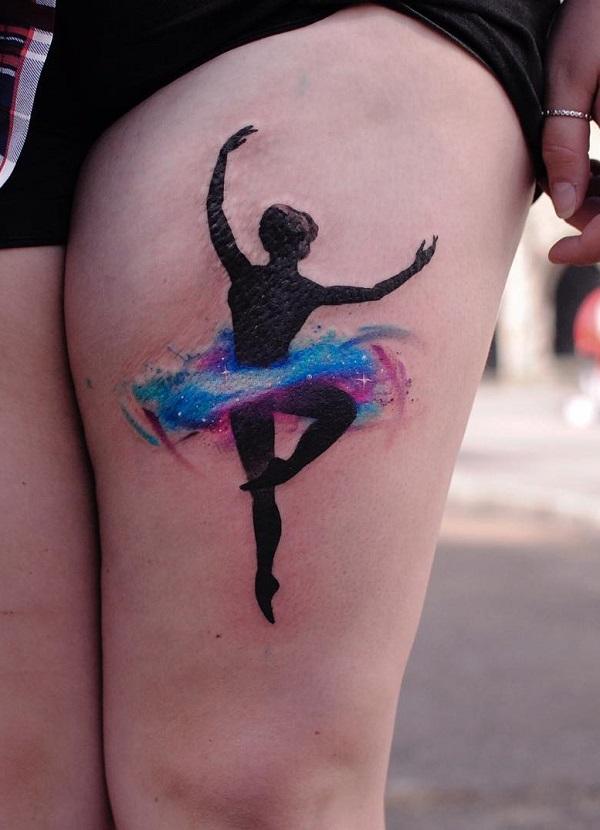 Moth and candle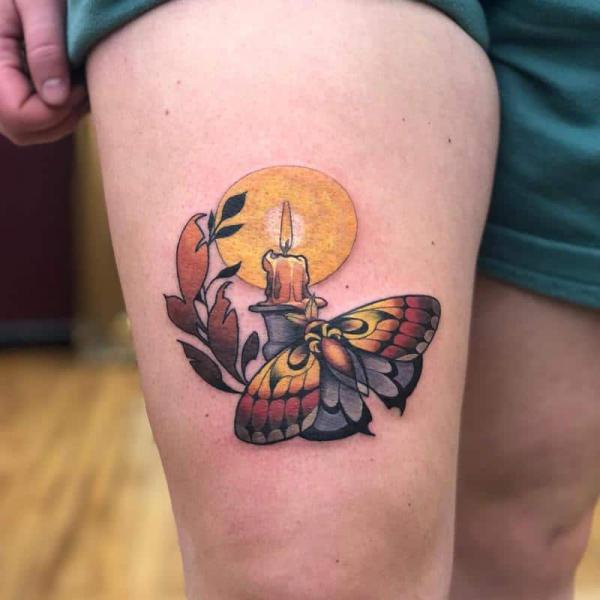 A moth and candle tattoo is a poetic design that captures the moth's attraction to the warm, flickering light of a candle flame. The moth, a symbol of transformation and growth, is beautifully complemented by the candle, which represents hope, illumination, and the passage of time. This design can be rendered in various styles, from detailed and realistic to more stylized and minimalist. A moth and candle tattoo is perfect for those who appreciate the allure of the night and the magnetic pull between these two timeless symbols.
Mushrooms grown out of a spiral shell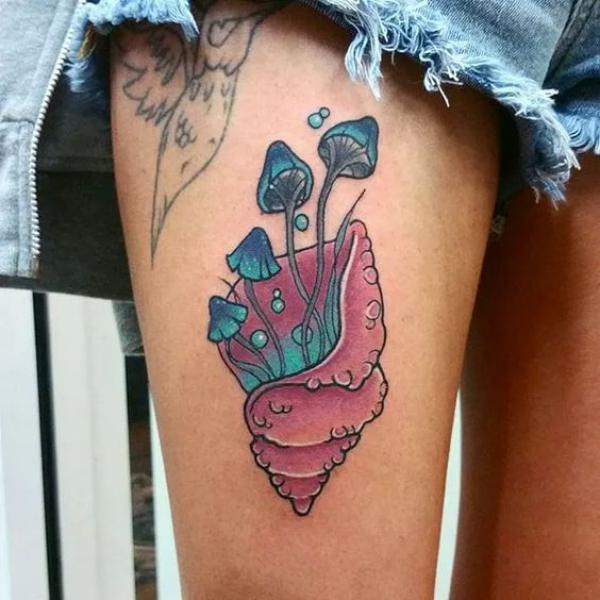 A spiral shell serves as an enchanting canvas for mushrooms to emerge from within a tattoo design. This concept blends the ocean's treasures with the forest's gems, creating a harmonious fusion of two distinct ecosystems. The spiral shell adds a touch of whimsy and otherworldliness to the design, while the mushrooms help ground the image in the magic of the natural world. This tattoo idea is an excellent choice for those who are drawn to both the sea and the forest.
Dream catcher thigh tattoos
Dream catchers, believed to protect against negative dreams, make beautiful and meaningful tattoos. A dream catcher thigh tattoo can be a captivating design, with the intricate web and hanging feathers offering endless customization options. Whether you believe in the charm's protective qualities or simply appreciate its aesthetic appeal, a dream catcher tattoo can be a dreamy addition to your thigh.
Stylish dreamcatcher thigh tattoo with flowers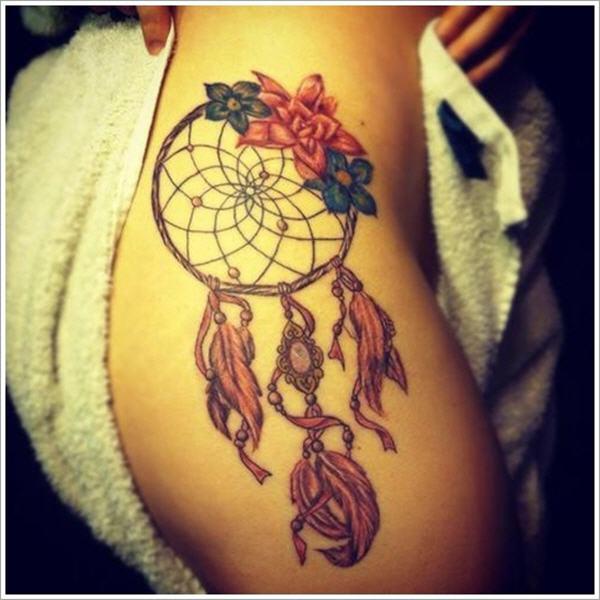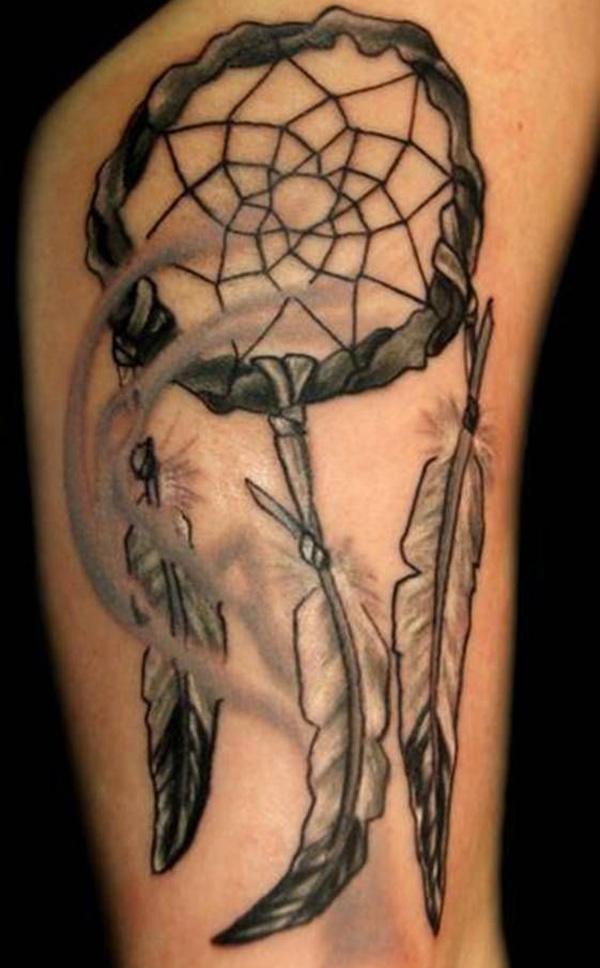 Dream catcher tattoo on leg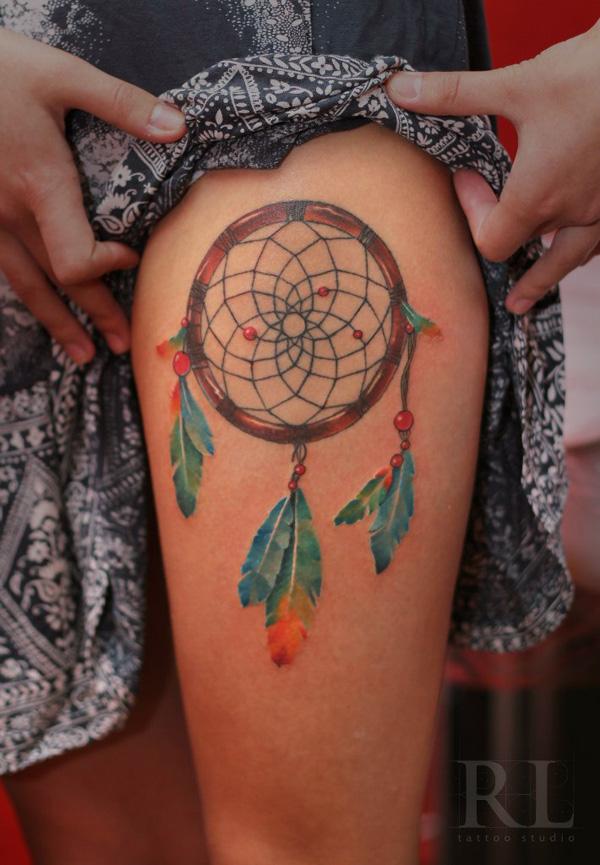 Dream Catcher Tattoo On Thigh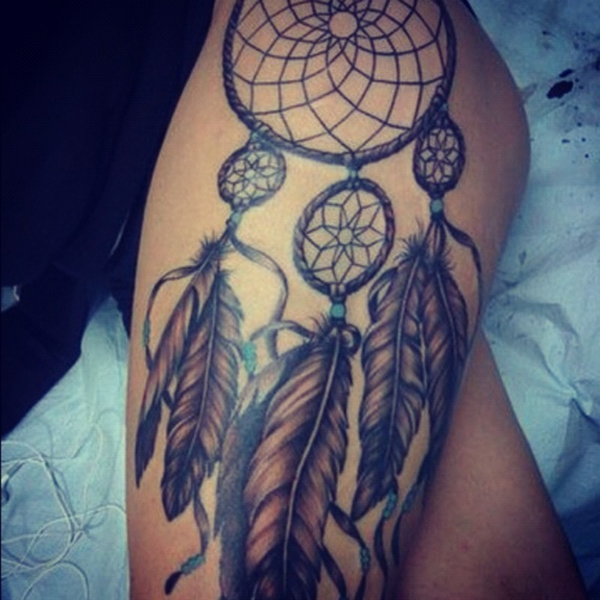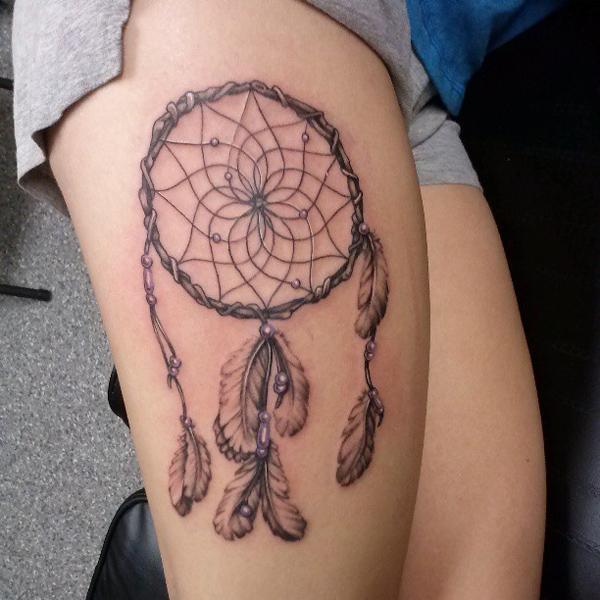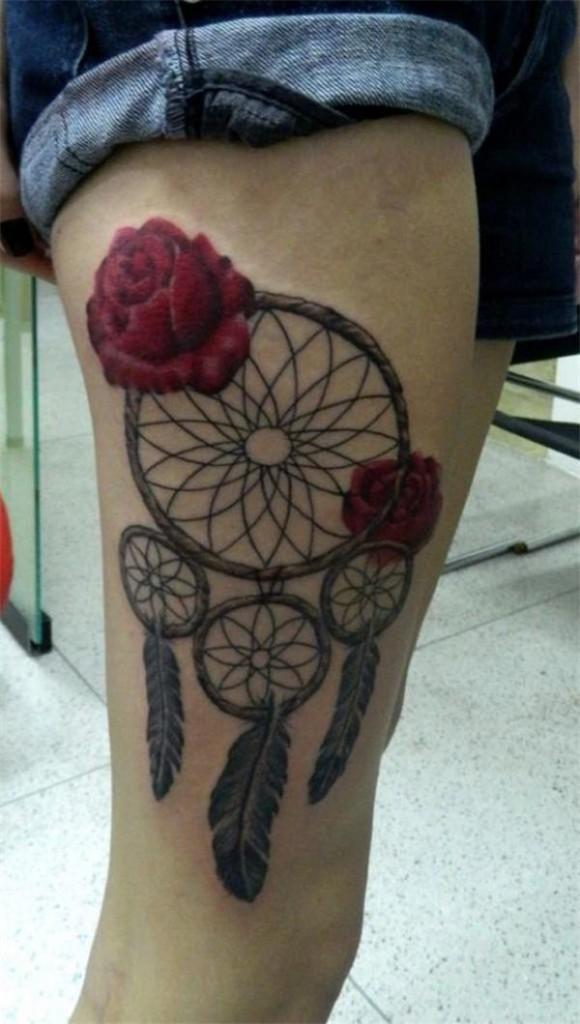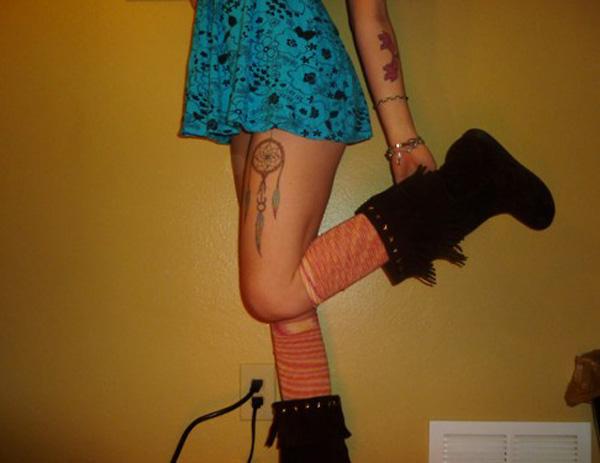 Native American dreamcatcher leg tattoo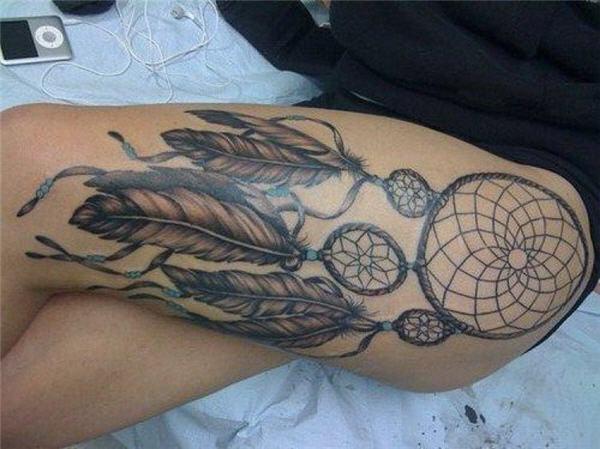 Incorporating the Seed of Life, a symbol of creation and fertility, into a mandala dreamcatcher design can create a spiritual and meaningful tattoo. This design represents the birth of dreams and the cycle of life, growth, and renewal.
Lily dream catcher tattoo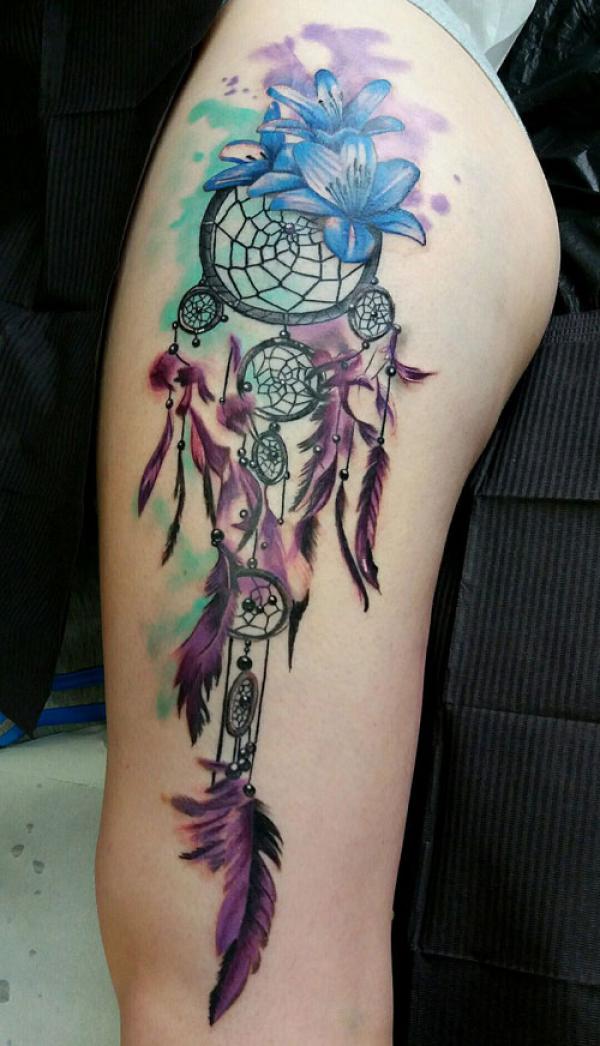 Incorporating lilies into a dreamcatcher design can add an extra layer of elegance and meaning. The lily, symbolizing purity and renewal, paired with the dreamcatcher, creates a tattoo design that signifies the nurturing of pure dreams and personal renewal.
Colorful dreamcatcher tattoo
A colorful tattoo can add a vibrant and creative touch to your body art. The use of various colors can symbolize the diversity of dreams and the colorful spectrum of life experiences.
Skull dream catcher tattoo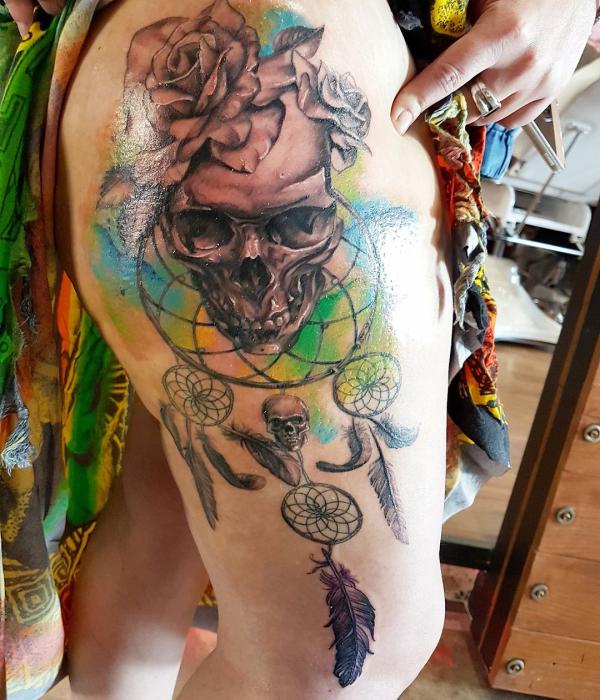 A skull dreamcatcher tattoo can be a bold and intriguing design. The skull, symbolizing life's ephemerality, combined with the dreamcatcher represents fleeting dreams. This design emphasizes the need for safeguarding positivity and underscores the transient nature of life.
Sunflower dream catcher tattoo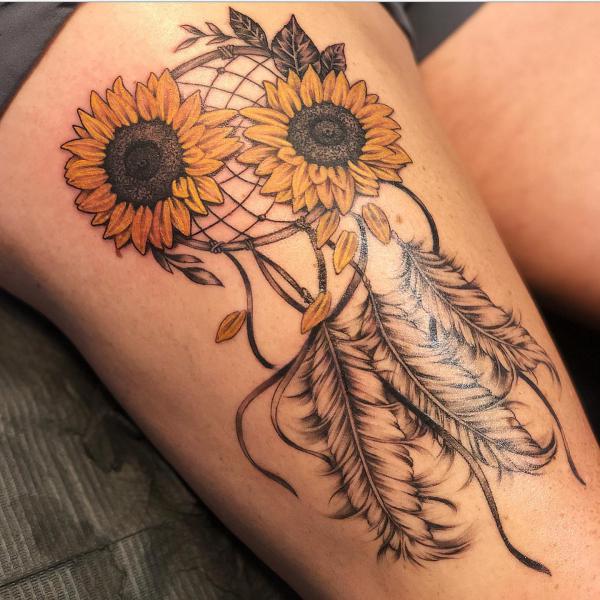 Incorporating a sunflower into a dreamcatcher design can result in a bright and cheerful tattoo. The sunflower, which is known for its loyalty and love, adds a layer of hopeful symbolism to the dreamcatcher's protected meaning.
dream catcher bear paw tattoo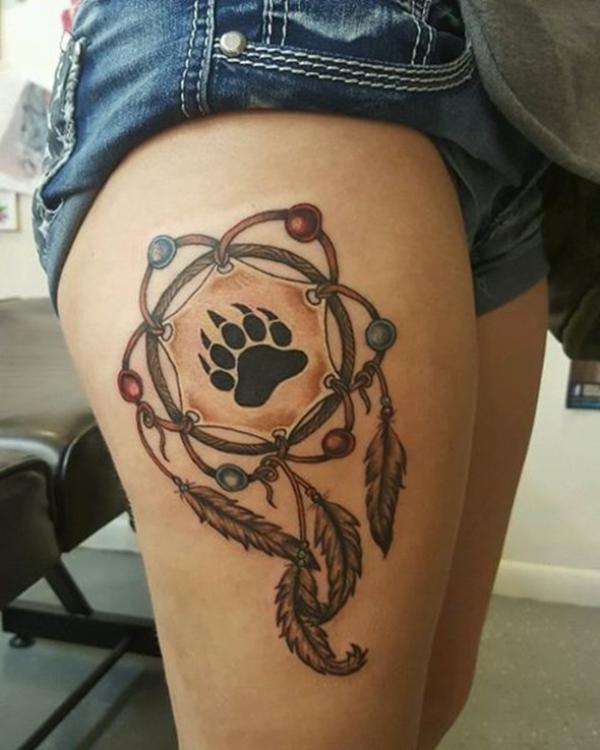 A dreamcatcher design featuring a bear paw can make a powerful and symbolic body art. The bear paw, a symbol of strength, confidence, and grounding, enhances the dreamcatcher's protective qualities, creating a design that signifies strength, protection, and spiritual grounding.
Mandala dreamcatcher thigh tattoo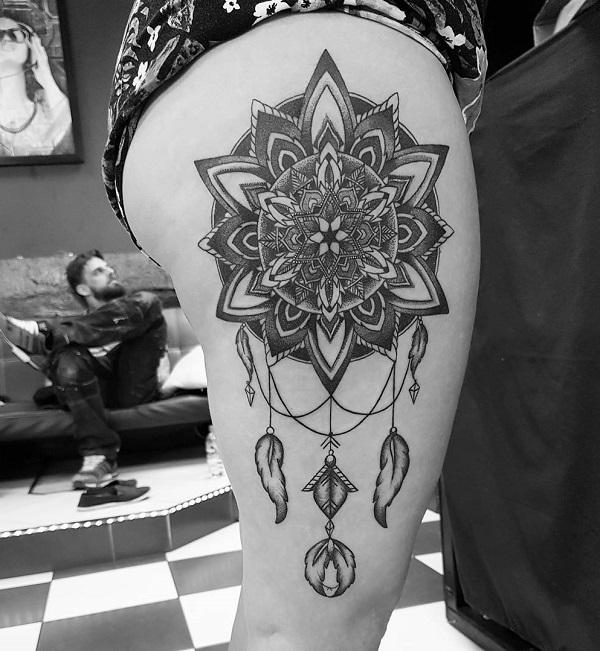 A mandala dreamcatcher design, with its intricate patterns and spiritual symbolism, can be a beautiful testament to personal growth and self-realization. The mandala pattern adds a dramatic touch to the protective symbolism of the dreamcatcher.
Dream Catcher tattoo with name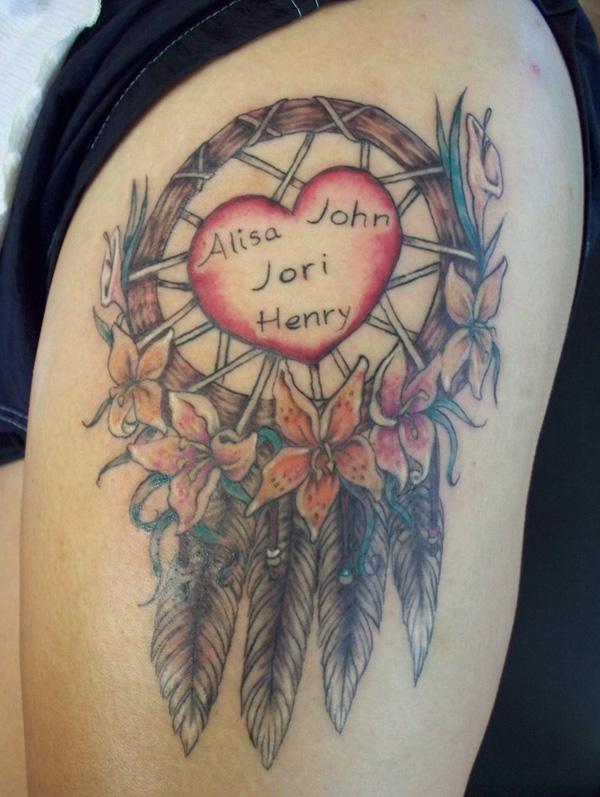 Incorporating a name into a dreamcatcher design can create a personalized piece of body art that conveys protection and appreciate towards a loved one. This design can serve as a constant reminder of the significant person and the positive energy they bring into your life.
Deer skull dreamcatcher tattoo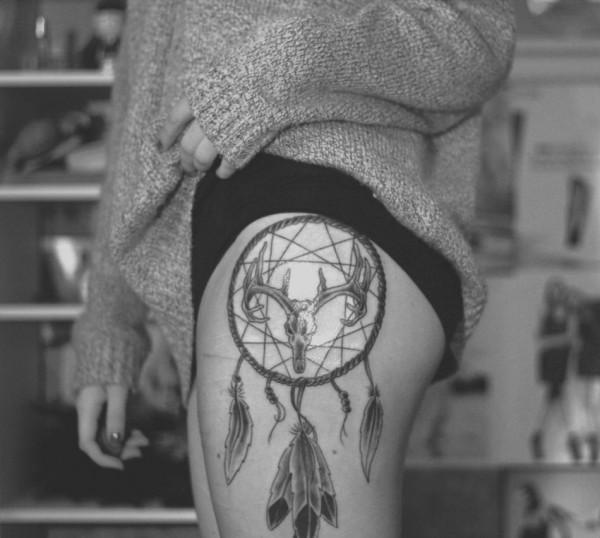 A deer skull incorporated into a dreamcatcher design creates a powerful and intriguing piece. The deer skull, often associated with life and death cycles, resilience, and spiritual connectivity, can add depth to the dreamcatcher's protective symbolism.
Crescent moon and mandala dreamcatcher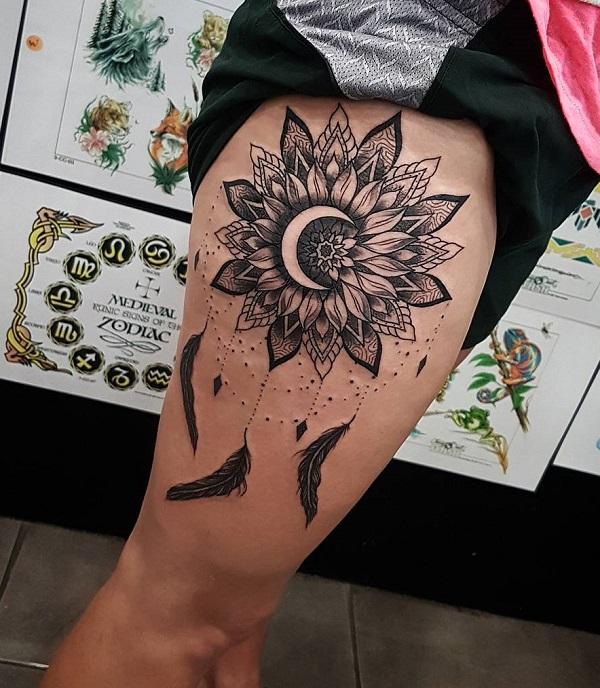 Nautical thigh tattoo
For those who feel a deep connection to the sea, a nautical thigh tattoo might be the perfect choice. These designs can include a range of maritime elements, from anchors and ship wheels to compasses and lighthouses. A nautical thigh tattoo can serve as a reminder of your love for the ocean, your passion for exploration, or even a significant sea-faring journey.
Compass rose dream catcher tattoo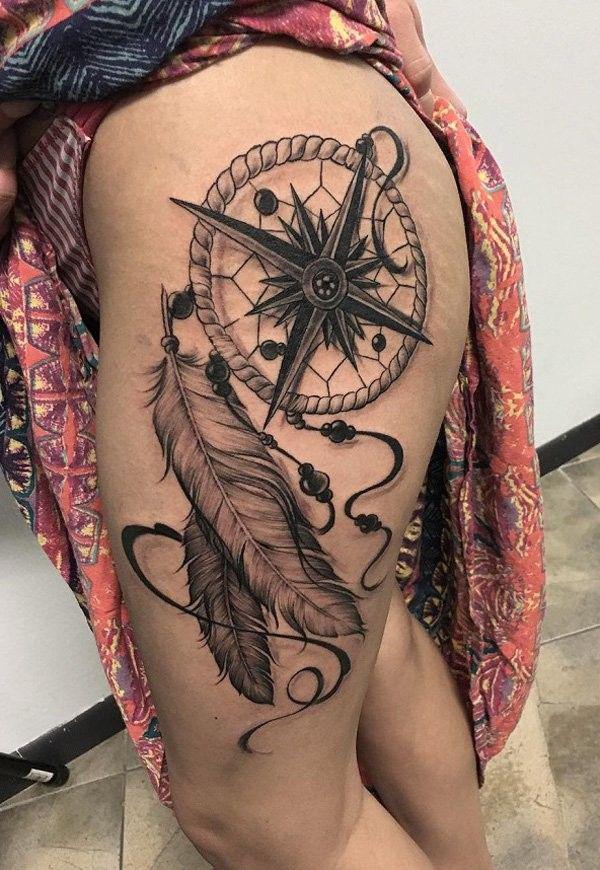 Combining a compass rose with a dreamcatcher can create an ink design that symbolizes guidance and protection. This design is a constant reminder of life's journey and the importance of staying true to one's path, with the dreamcatcher offering protection along the way.
Traditional anchor and rose thigh tattoos for girls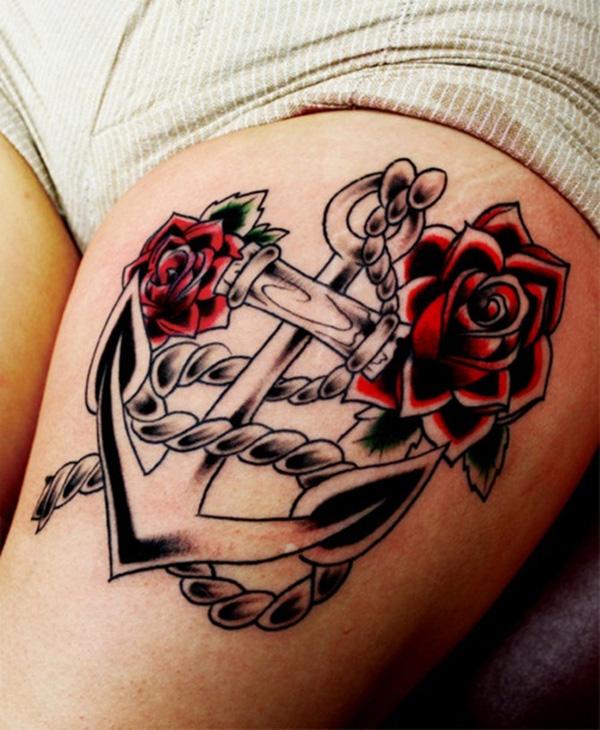 Anchor with bow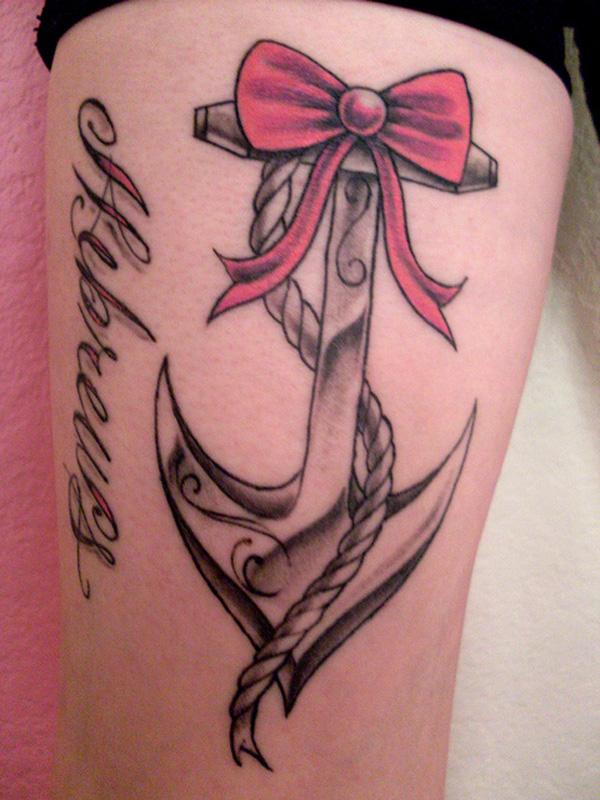 Ship wheel with anchor tattoo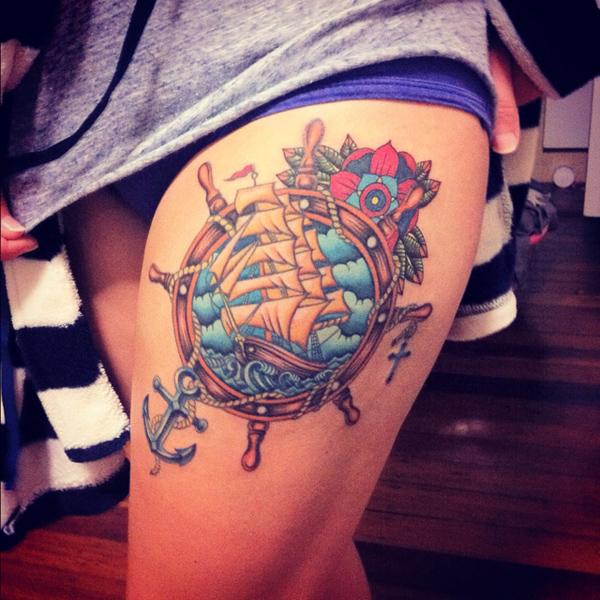 Vintage anchor tattoo thigh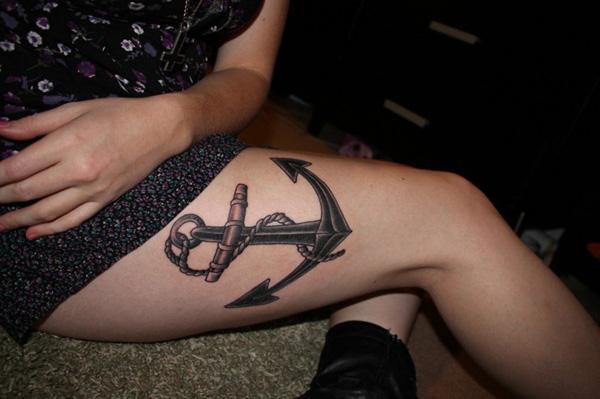 Ram Skull thigh tattoos
Ram skulls, often associated with determination and drive, can make striking thigh tattoos. These designs can be a powerful symbol of your unyielding spirit, whether it's a simple black and white design or a more detailed, color-filled piece. A ram skull thigh tattoo can be an emblem of your resilience, making a bold statement on your skin.
Ram skull adorned with daisy and leaves
Bull Skull thigh tattoos
Like the ram skull, the bull skull is a potent symbol, representing strength and transformation. A bull skull thigh tattoo can be a testament to your personal growth, signifying the obstacles you've overcome and the changes you've embraced. Whether you choose a minimalist design or a detailed piece, a bull skull tattoo can be a compelling addition to your thigh.
Bull Skull with Moon
Adding a moon to your bull skull tattoo can create a connection to the celestial realm and symbolize the cyclical nature of life. The moon is often associated with intuition, emotion, and the feminine energy.
A bull skull surrounded with nature elements cactus flowers mountain and moon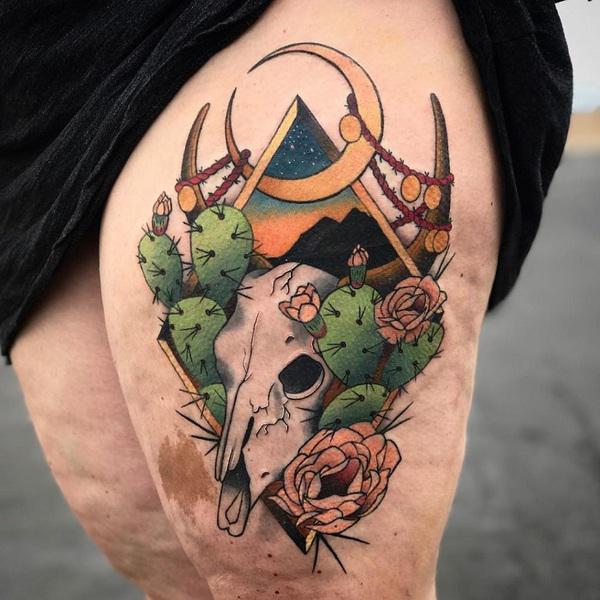 A bull skull immersed in flowers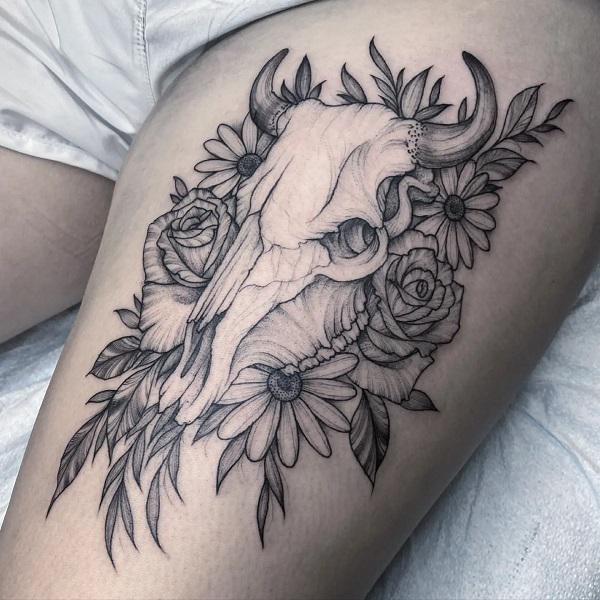 Bull Skull with Sun
A sun motif in your bull skull tattoo can represent vitality, energy, and the life force that drives us forward. The sun, a symbol of power and masculinity, can create a striking contrast with the skull, representing the balance between life and death.
Bull skull and shining sun tattoo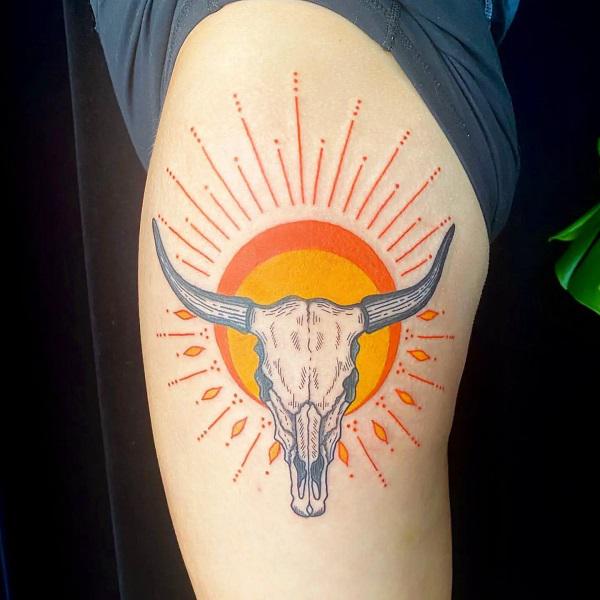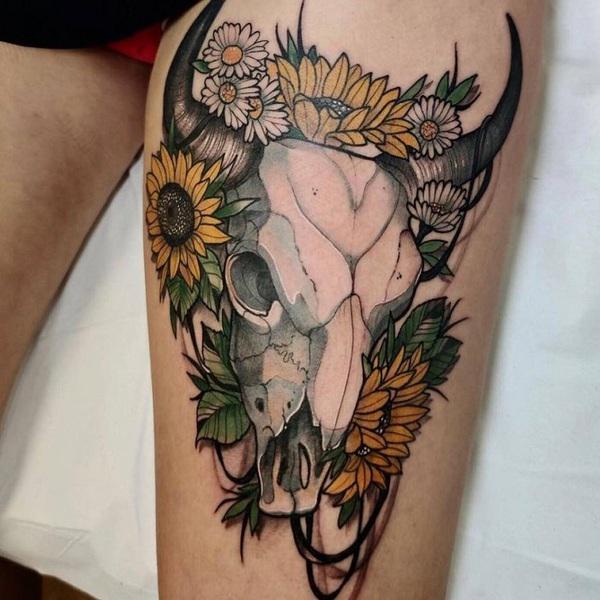 Taurus skull with sunflower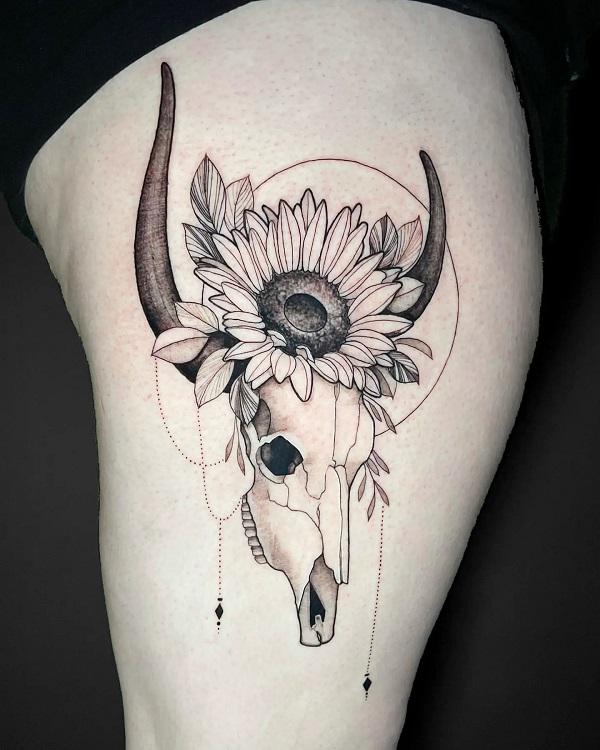 Dragonfly thigh tattoos
Dragonflies, with their delicate wings and iridescent colors, can make enchanting thigh tattoos. Often associated with transformation, adaptability, and self-realization, a dragonfly thigh tattoo can serve as a personal emblem of your journey towards self-discovery. Whether it's a solitary dragonfly or a group of them fluttering together, these designs can add a dash of whimsy to your thigh.
Dotwork with a dragonfly on balanced triangles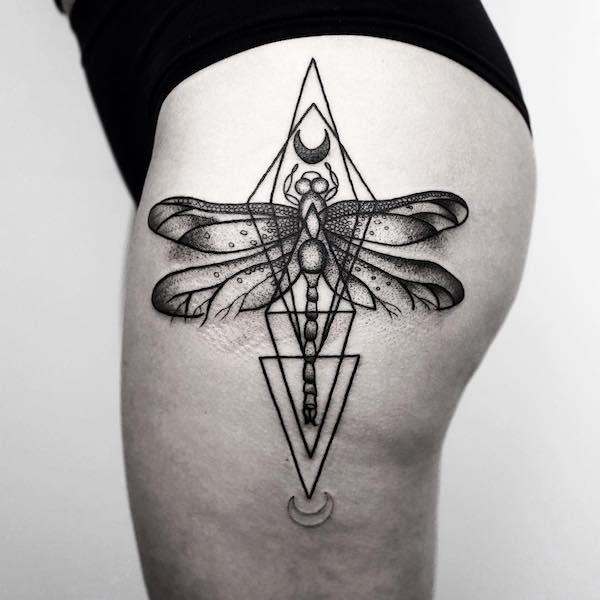 Constellation and dragonfly thigh tattoo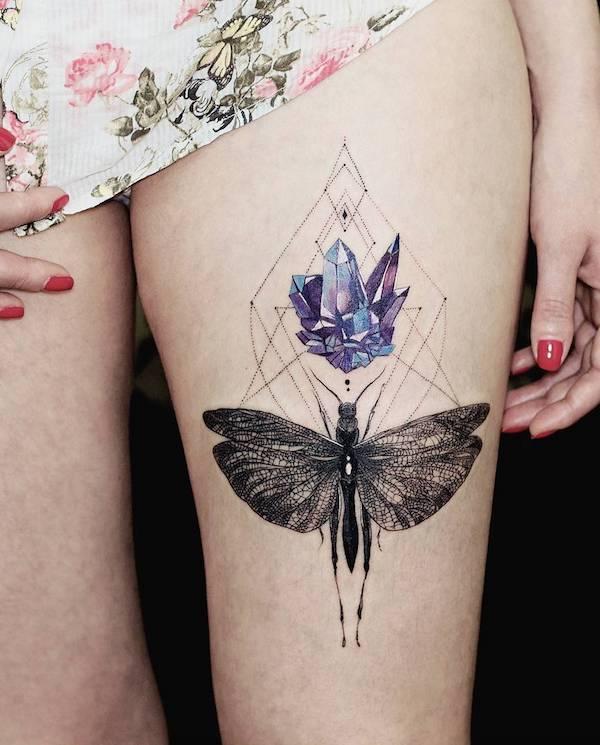 Abstract thigh tattoos
If you prefer designs that defy traditional boundaries, abstract thigh tattoos are an excellent choice. These tattoos can be a riot of colors and shapes, creating a unique piece of art that is open to interpretation. An abstract thigh tattoo can be a reflection of your creativity and individuality, making a bold and distinctive statement.
Abstract female face and bull head tattoo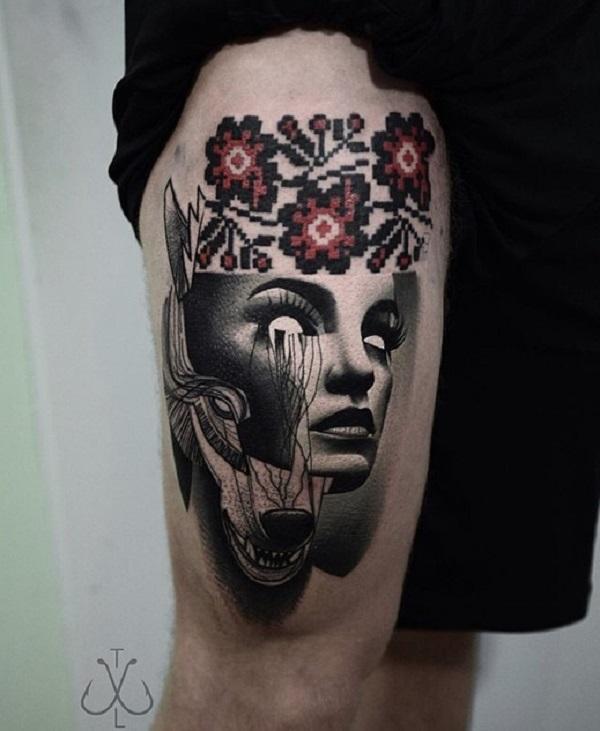 A walking Cat silhouette on watercolor backdrop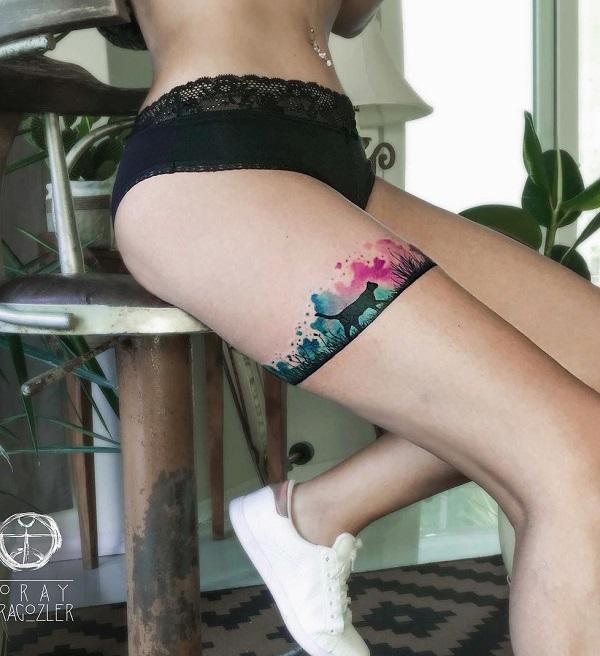 Illustration portrait and geometric tattoo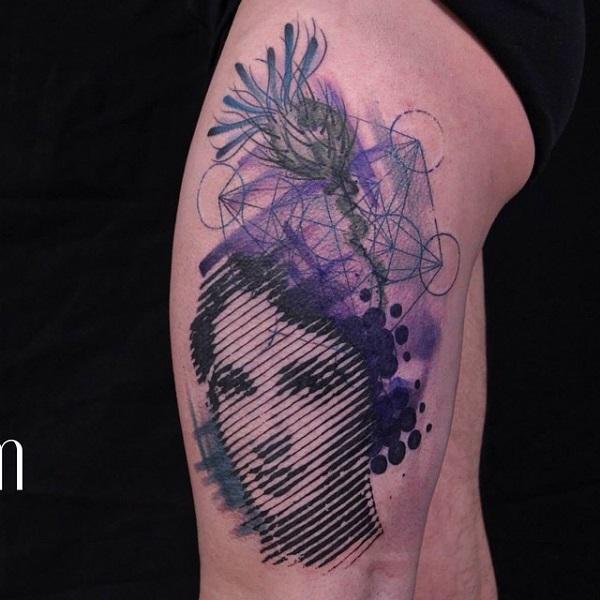 Watercolor female portrait with flower of life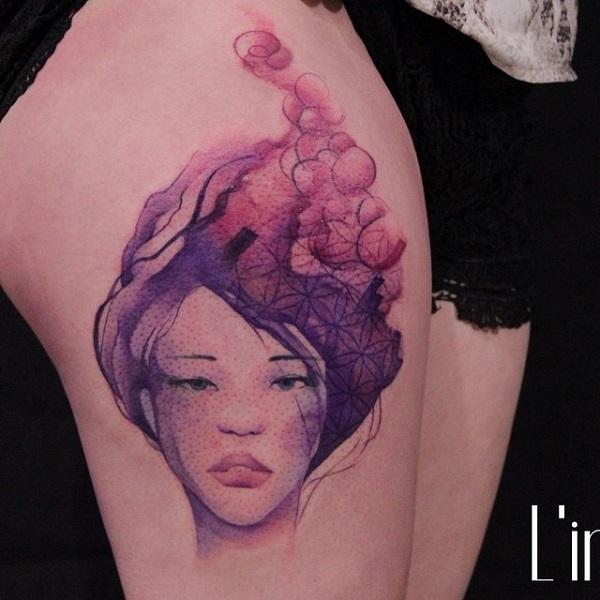 Tribal thigh tattoos
Tribal tattoos, with their bold lines and geometric patterns, can make dramatic thigh tattoos. These designs can be a nod to your heritage, a symbol of your personal beliefs, or simply an appreciation of the tribal art style. A tribal thigh tattoo can be an impressive piece, adding a sense of strength and tradition to your body art.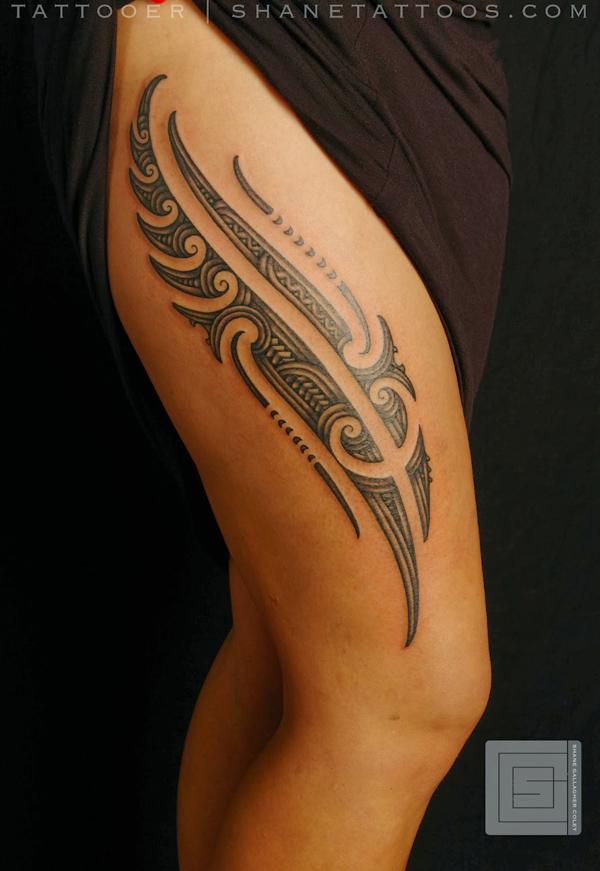 Watercolor thigh tattoos
Watercolor tattoos bring the beauty of watercolor paintings to the world of body art. These designs often feature vibrant colors and fluid shapes, creating a tattoo that looks like a brush-stroke masterpiece. A watercolor thigh tattoo can be a stunning piece, transforming your thigh into a living canvas.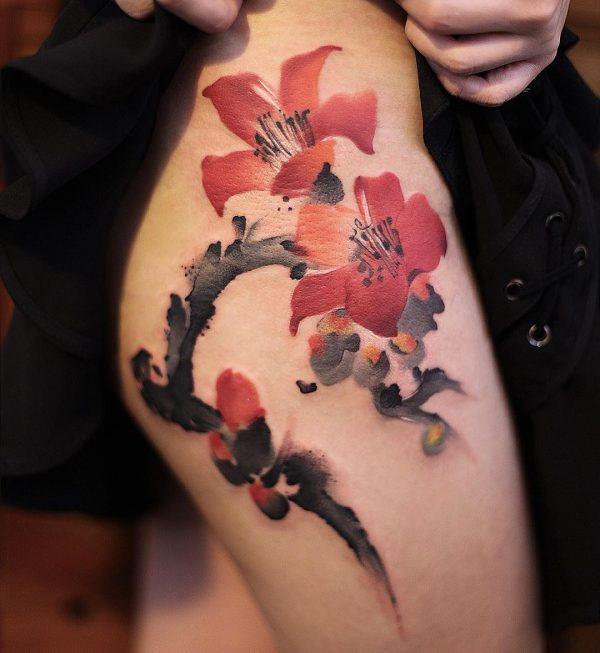 Lotus flower bracelet tattoo on thigh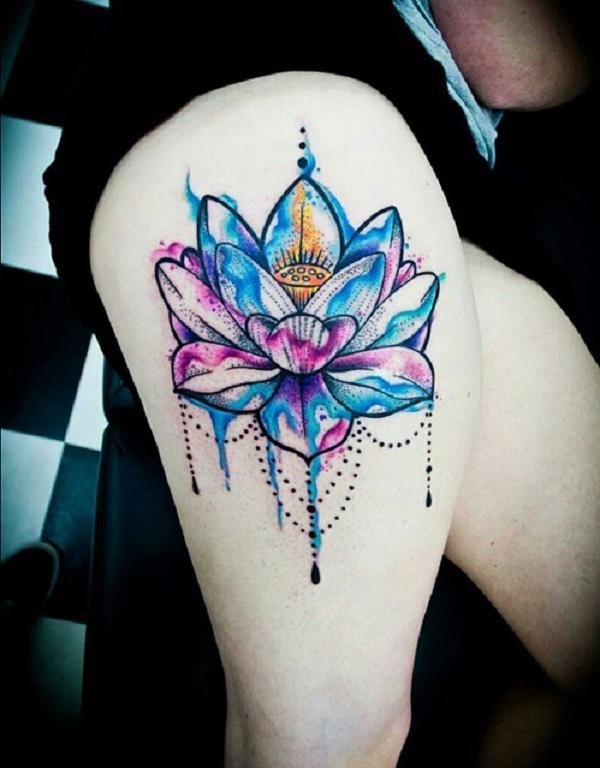 The lotus flower bracelet tattoo, in watercolor style, gracefully adorns the thigh with its vibrant hues. The delicate lotus blooms encircle the thigh like a beautiful bracelet, symbolizing purity and enlightenment. The watercolor style adds a soft and artistic touch, creating a captivating and feminine design that celebrates the beauty of the lotus and personal transformation.
Watercolor dreamcatcher tattoo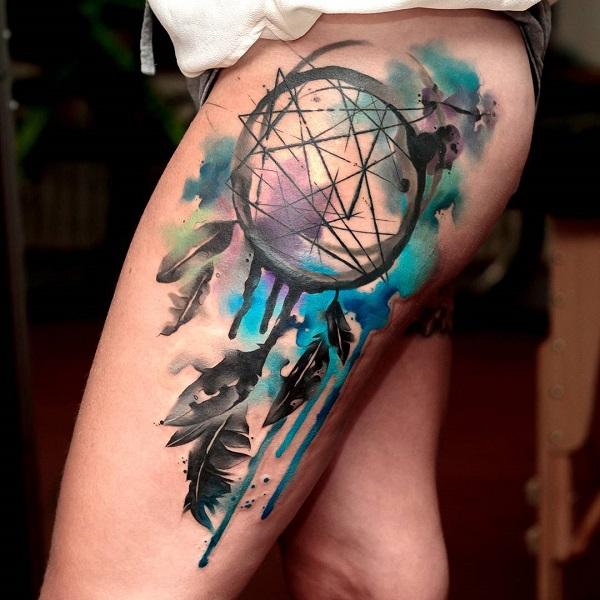 Lettering thigh tattoos
Words hold immense power, and a lettering thigh tattoo can be a profound way to express your thoughts, beliefs, or feelings. Whether it's a favorite quote, a motivational phrase, or a significant name, these tattoos can be a personal mantra etched onto your skin. From elegant script fonts to bold block letters, a lettering thigh tattoo can be a unique expression of your personal narrative.
Hand-made Font lettering thigh tattoo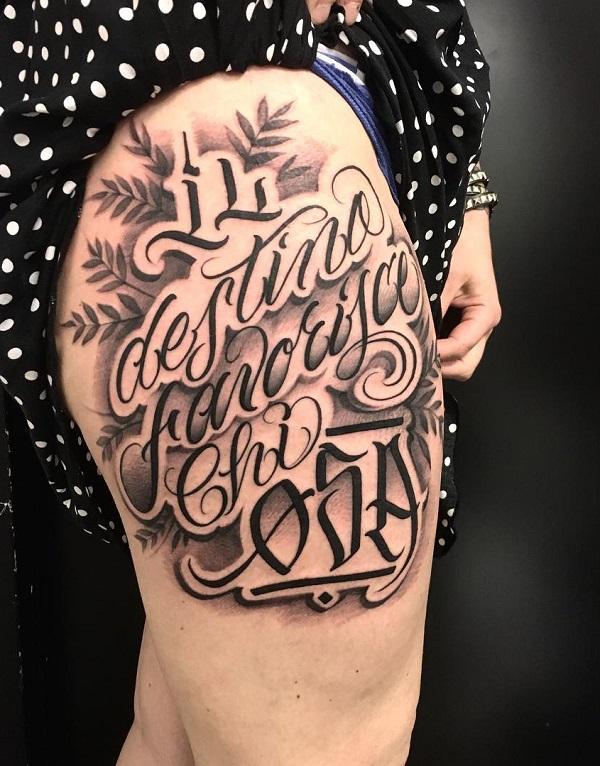 Conclusion
Thigh tattoos are more than just ink on skin. They're a form of self-expression, a piece of art that you carry with you always. Whether you choose a design that's bold and visible, or small and intimate, it's a way of telling your story, of wearing your identity on your skin.
If you're considering getting a thigh tattoo, take the plunge. Collaborate with a talented tattoo artist to create a design that's uniquely you. And remember, a tattoo is not just about the end result, but the journey of self-exploration and expression that leads you there. Embrace that journey, and let your thigh tattoo be a testament to your individuality and the narrative that is uniquely yours.