Have you ever seen those cute nails with creative Gingham and plaid nail designs? You see them and might think to yourself, how are they able to make such straight lines? It looks so tedious to do and one slight mistake would destroy the entire design. So you ask yourself again, do I need to be an expert to pull off this nail art design?
The answer is no, all you need to have is a bit of creativity and some sticker strips! Yes sticker strips are the answer to your budding dilemma. Remember those stickers that you use to make your French tip curve flawless? Those are the exact things that you need to be able to make your very own plaid nail art design.
The difference between Gingham and Plaid Nails
Gingham and Plaid are well known check patterns used in nail polish as well as fabric and clothing. Gingham is always is white plus another color. Plaid can be checks with any combination of colors. The lines in gingham have the same width, and the lines in plaid have different widths.
What you need to make Gingham and Plaid Nail Art Designs
Paintable nail stickers
White polish as base
A combination of nail polish colors you would like to use for the design
Clear nail polish for finishing
Cuticle scissors
Painting on the design
First, apply base coat on the nails. Usually it is white, or you could still go for any type of color you feel like using. Apply the base coat to all of your nails so that you can protect them. You would need 2 or more coats to achieve a matte color for the base.
After which you can begin cutting your stickers into strips. It depends on you when you want your strips to be thick or thin, you can base it on your design so that you can cut out the strips correctly. You can paint six to ten strip sections of the nail sticker sheet to achieve the plaid design. After painting on with your desired color, let the polish dry for about ten minutes before peeling them off your base coat. When you are satisfied with the way the design has turned out you can now begin placing the vertical stripes. You can add another color or go with a darker shade of the initial strips. Some gingham and plaid designs play on different colors while some stick to the same hue.
The length of the vertical strips depends on the length of your nail and you can carefully secure the stickers before cutting off the excess. Make sure to apply a clear top coat to protect the older strips before painting on the nails again. Repeat the same procedure on the vertical strips as you did with the horizontal strips. After applying a final clear coat on the vertical lines, you are done!
You can now sit back and marvel at your very own personalized Gingham and Plaid Nail Art design! If you're running out of ideas and colors to use, you can always go online and check on websites that can offer you various plaid nail art designs to use. You can even watch videos on how some other complicated color combinations are made. It's a fun and easy nail art design that you should definitely try out.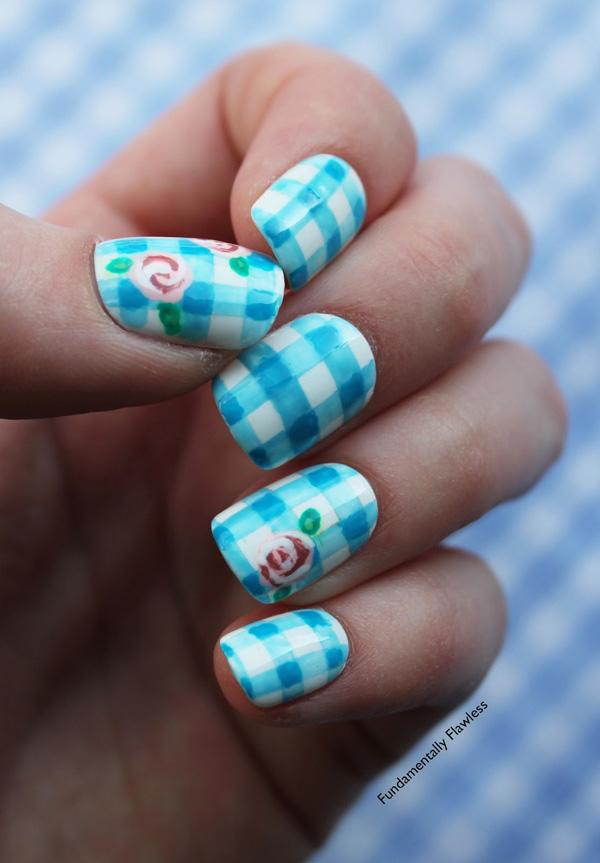 Pretty and homey gingham nail art design. The base coat used is white and topped with baby blue stripes as well as baby pink colored roses.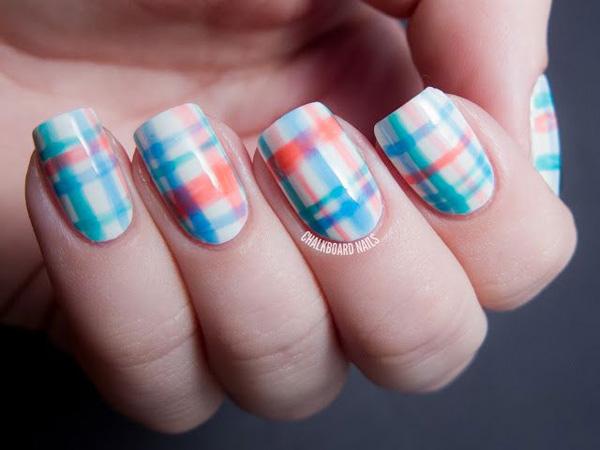 A cool combination of white and orange stripes over a white base coat. this plaid design looks simple and clean.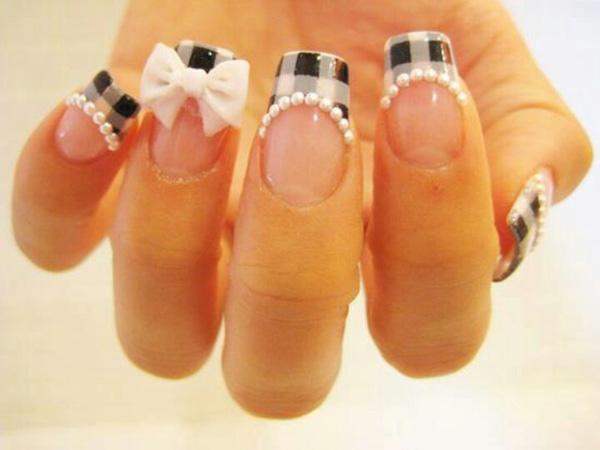 Adorable French tip design. The colors are a combination of a white base topped with black and gray stripes to fill the nail tip. Additional white beads and ribbons are paced for a cuter effect.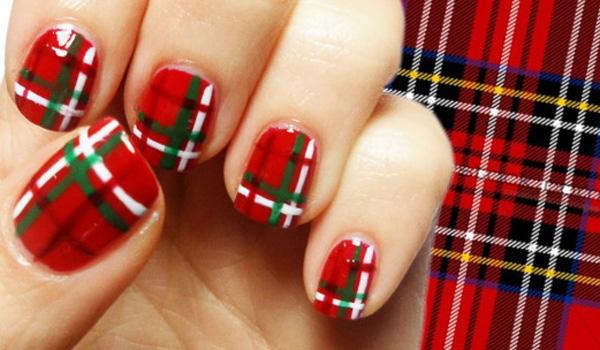 Red plaid nails with white and green dot lines
Check out this red, white and green combination. Using red as the base coat, strips of green, white and a bit of black is painted over to create a stunning plaid nail art design.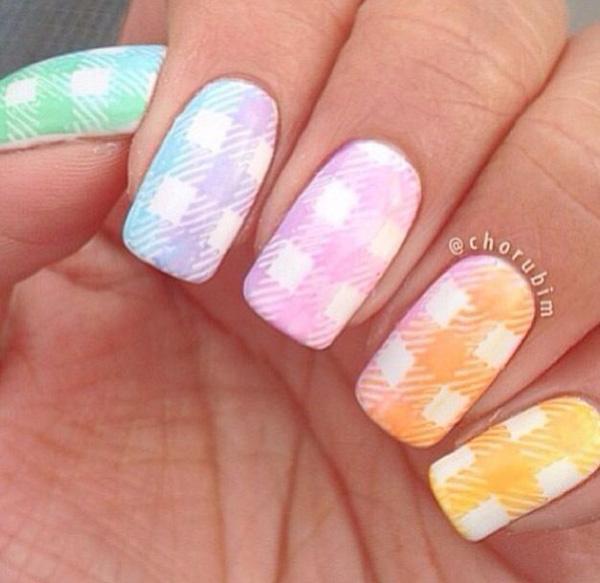 Rainbow Gingham nails with gradient effect
Look at this awesome gradient inspired plaid nail art design. Using a white base coat, the nails are then topped with gradient nail polish colors in stripes overlapping each other.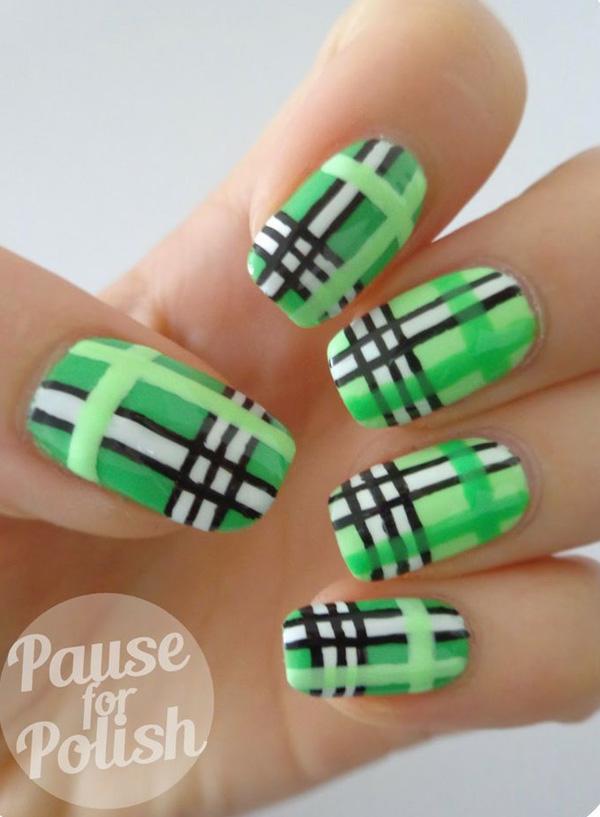 Green plaid nails with black and white stripes.
Fresh looking greens! This nail art design uses a mint green polish as base coat topped with black, white and light green stripes to create a plaid effect.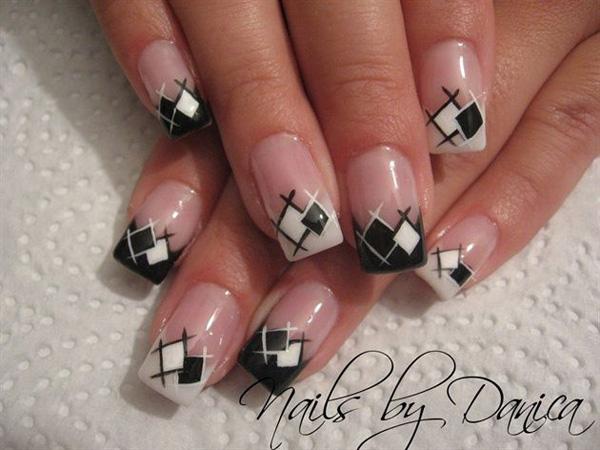 A white and black combination of gingham inspired French tips. The white and black colors are painted in inverse to reveal the striped design.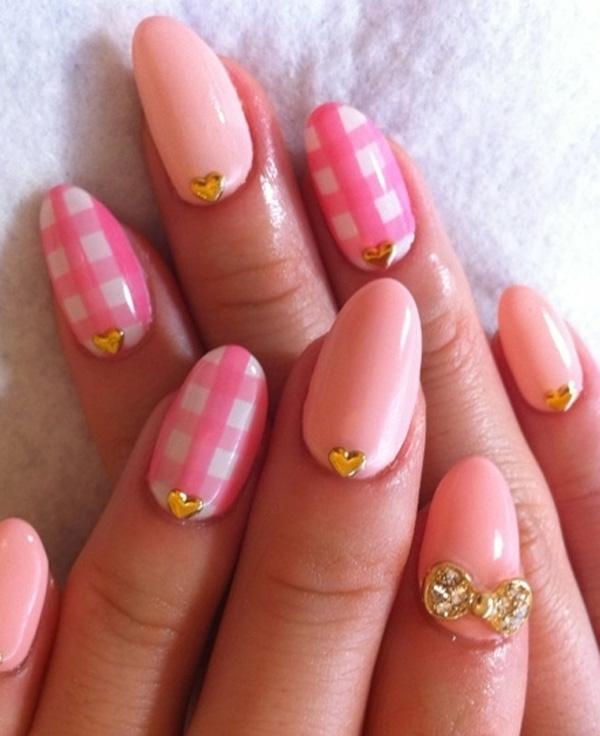 A cute gingham design in pink nail polish. Topping the design are adorable little yellow hearts.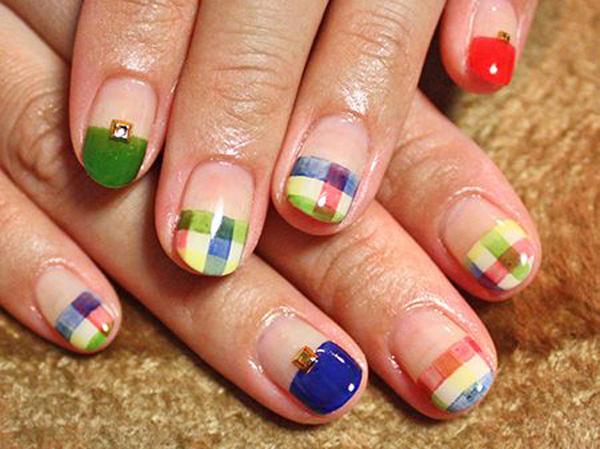 Multi colored gingham designed French tips. Gold beads are placed on top of the French tip design along with a combination of blue, green, white and melon colors.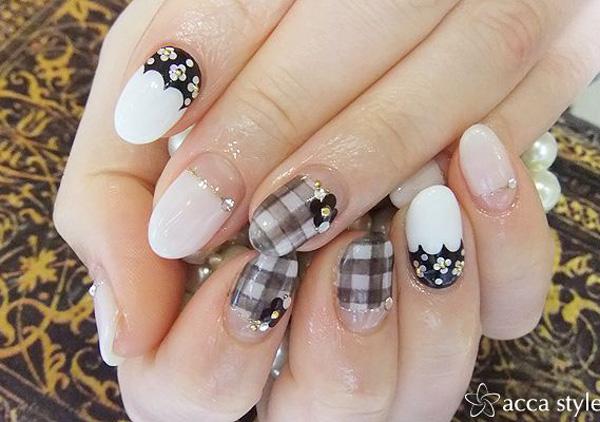 A classy looking black and white inspired gingham nail design. Using white matte as base color the nails are also topped with floral beads and drawings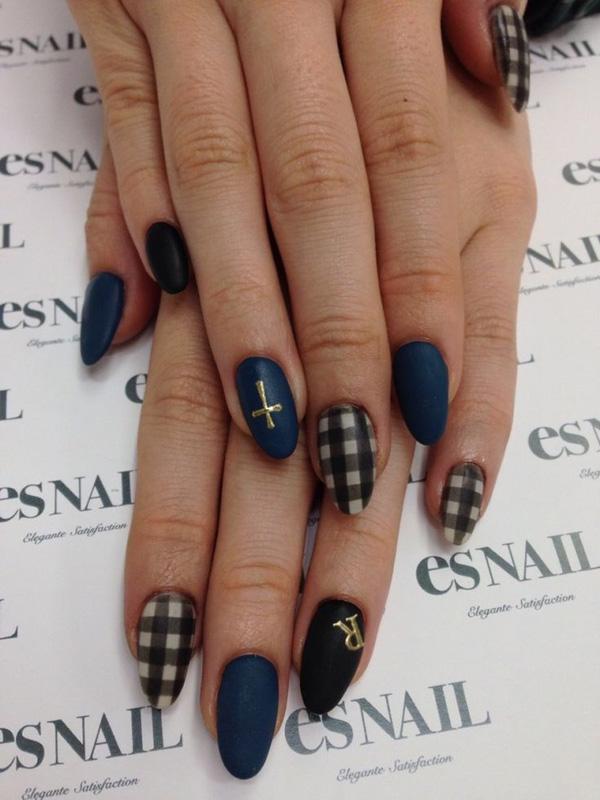 Elegant looking gingham nail art design in gray, black, blue and gold color combinations. The matte and stripes give a great look on the nails as well as the gold letter accent on top.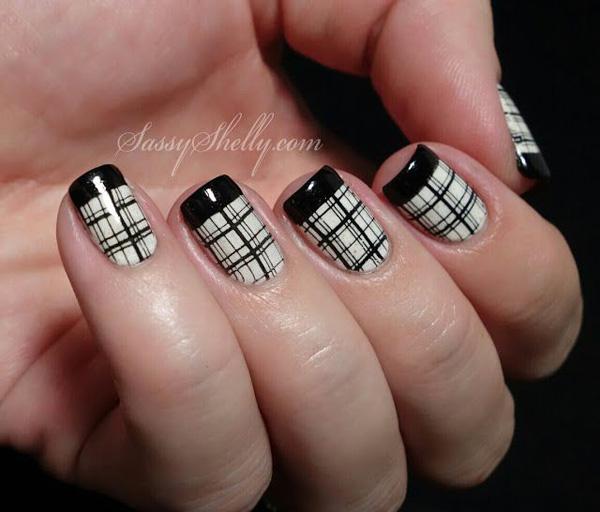 Plaid nail art design in black and white polish. In order to add more fascination with the design black polish is used to highlight the French tip on the nails.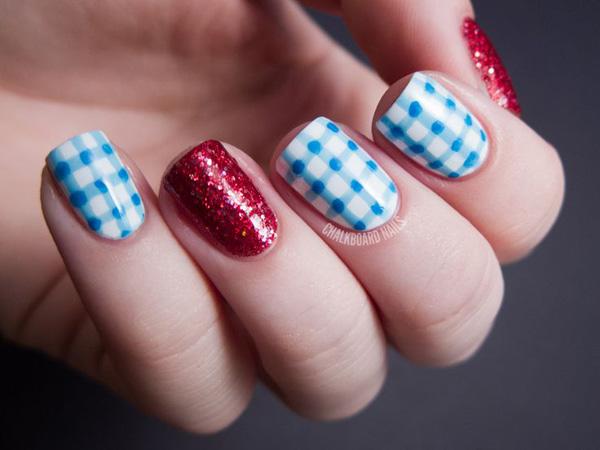 Baby blue, white and red gingham nail art design. The baby blue and white stripes are complimented with a matte red sparkling nail polish.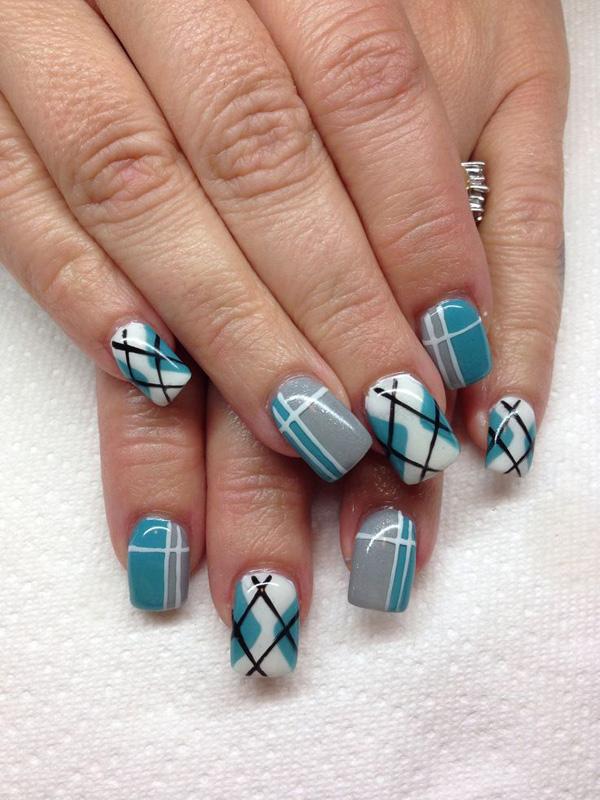 A cute and quirky looking plaid nails art design. The fresh color combination of white, green blue, gray and black colors are visually appealing and simply jump out of the nails.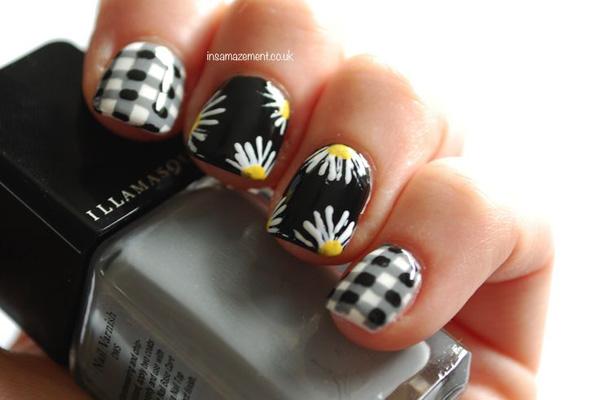 Gingham and floral inspired nail art design. Using black, white and yellow color combinations, the stripes as well as the flowers are very well highlighted on top of the black matte base color.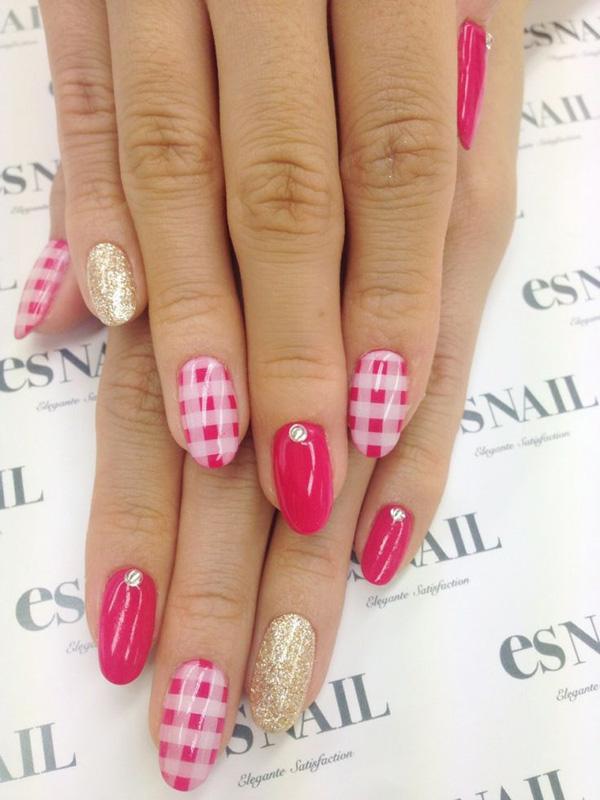 A chic looking hot pink gingham nail art design. Apart from the stripes, a matte pink color is also used as well as a gold sparkle polish plus tiny silver beads topping the design.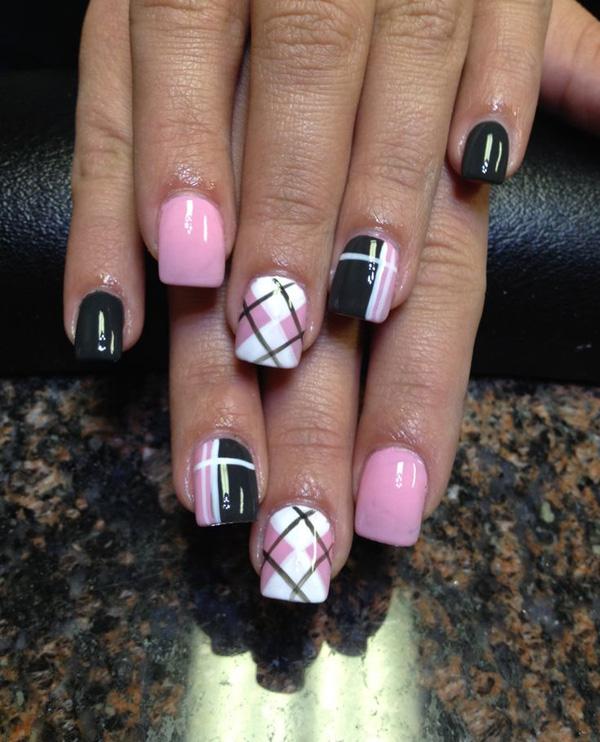 Baby pink, white and black nail polish combination. Arranged to form a plaid nail art design, the nails are also painted with matte white and baby pink colors.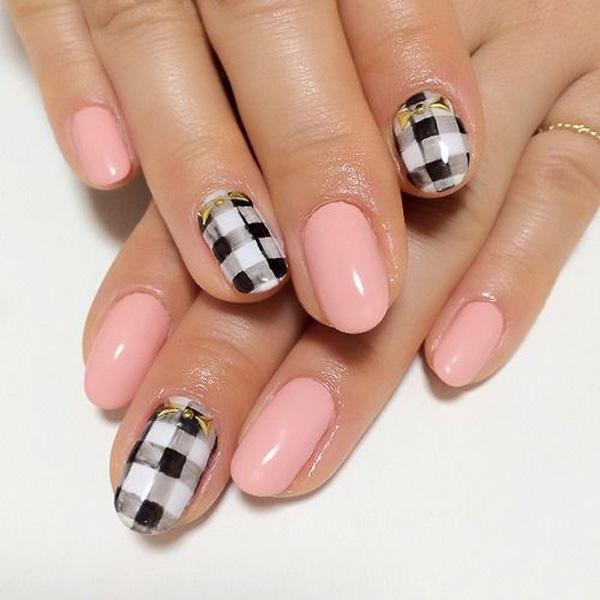 An elegant and simple gingham nail art design. The nails are painted consecutively with black and white gingham design as well as a melon colored matte polish topped with a gold colored detail.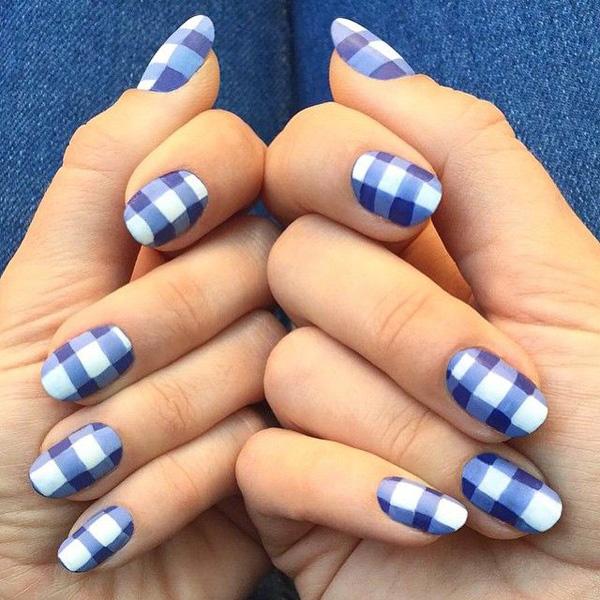 Cute blue and white gingham inspired nail polish. The design looks very clean and fascinating at the same time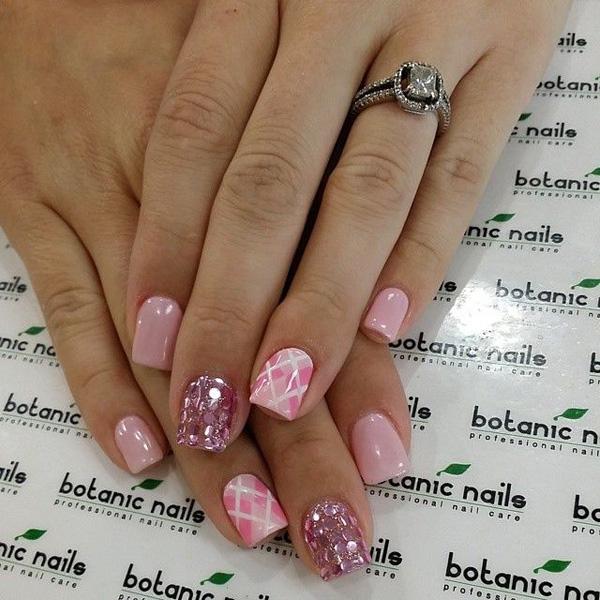 Take a look at this sparkling plaid nail art design. Using various hues of pink plus sparkles, this nail design is surely a head turner.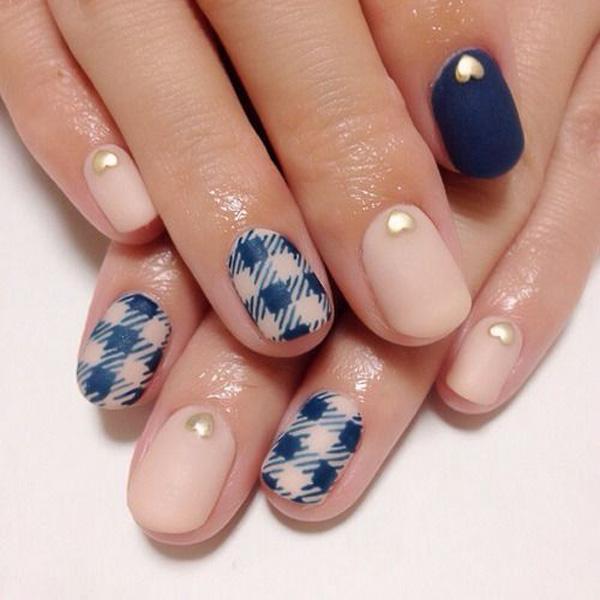 A cozy combination of gingham and matte nail art design. Using a nude color as base coat, stripes are then painted on top of the nails while the other nails are coated on matte with a heart shaped gold detail on top.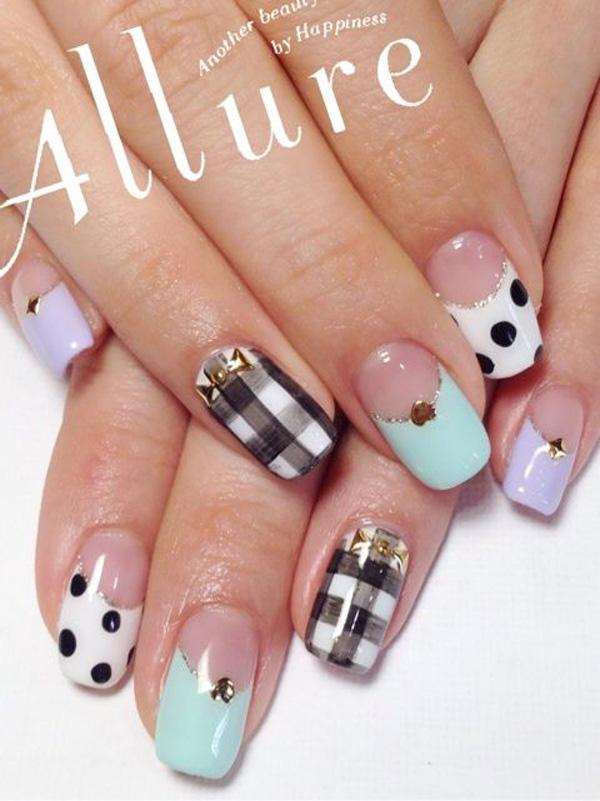 A fun looking combination of gingham, polka dots and French tip designs. Using clear, white, black and baby blue polish, tiny gold details are also placed on top of the design for added effect.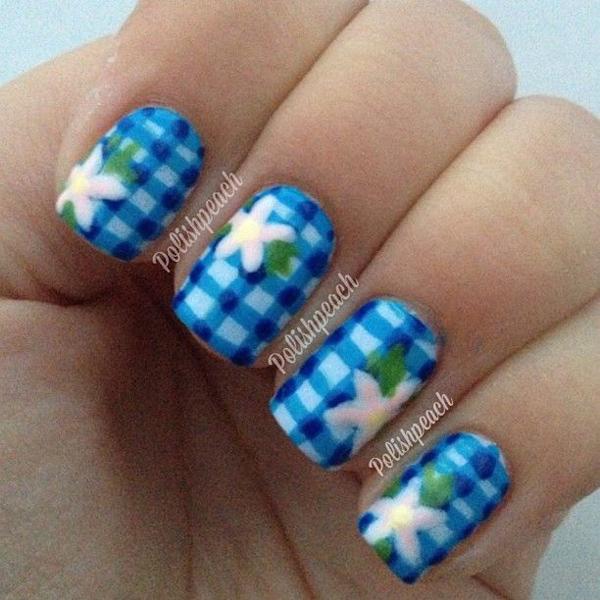 Aqua blue and white color combinations. After creating a gingham design, tiny white flowers are then painted on top to make the design even cuter.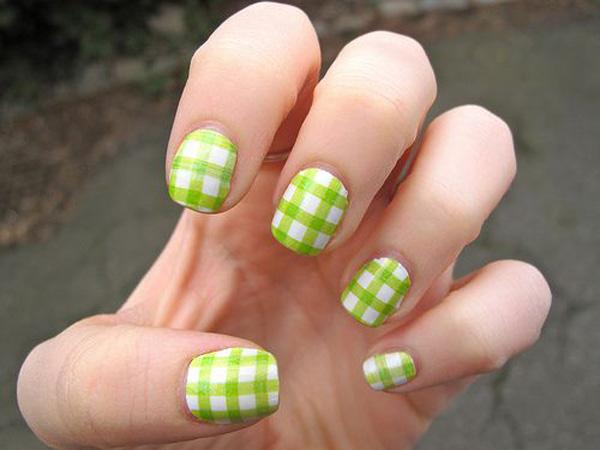 A leafy green gingham inspired nail art design on top of a white matte polish. This design looks absolutely adorable and fresh, perfect for the summer season.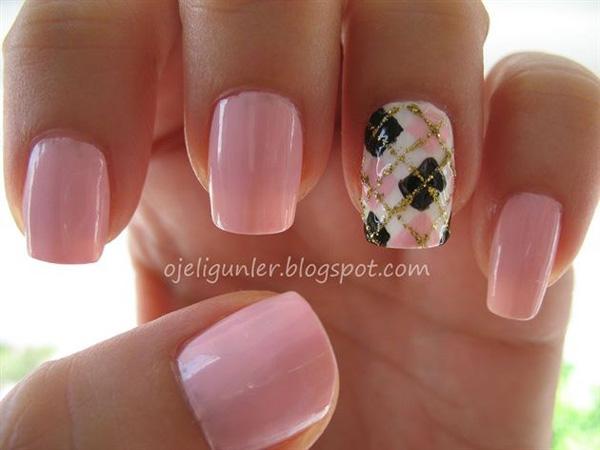 A pretty and detailed plaid nails art design. The design uses a combination of baby pink, white, black and thin strips of gold to complete the overlapping stripes.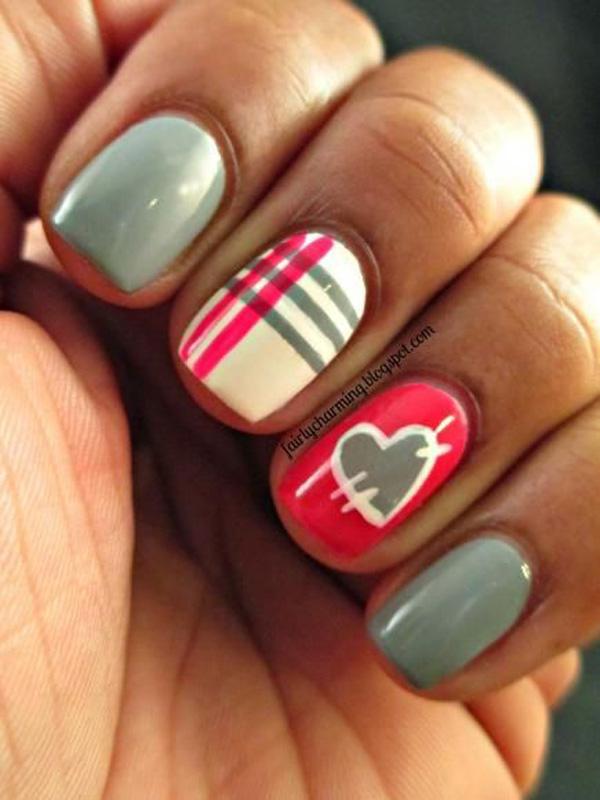 A fun and bold looking plaid nail art design. The blue gray, white and red color combination of the polish make great looking contrast from each other and the tiny heart accent makes it even better.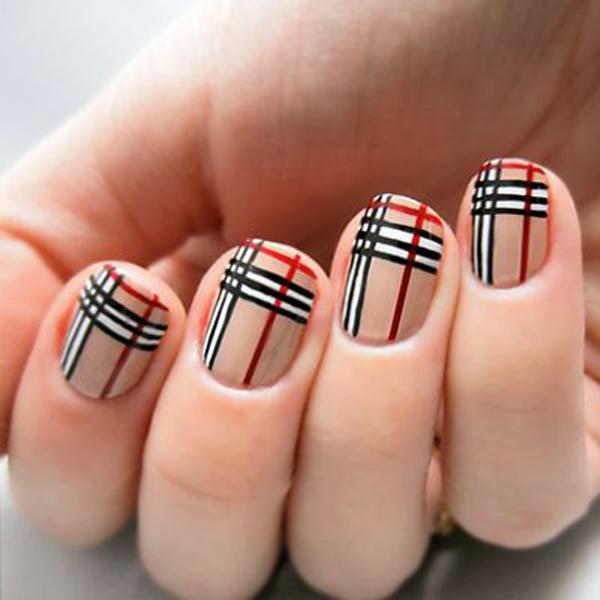 A uniform and clean looking plaid nail art design. The nails use nude color as base coat while adding black, white and red strips across and over the base color to complete the plaid design.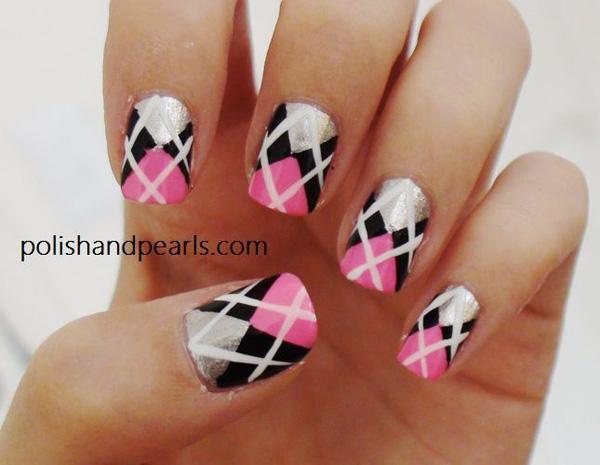 Be flashy and colorful with this plaid nail art design. The design uses a color combination of white, black, silver and pink polish to finish the smashing overall look.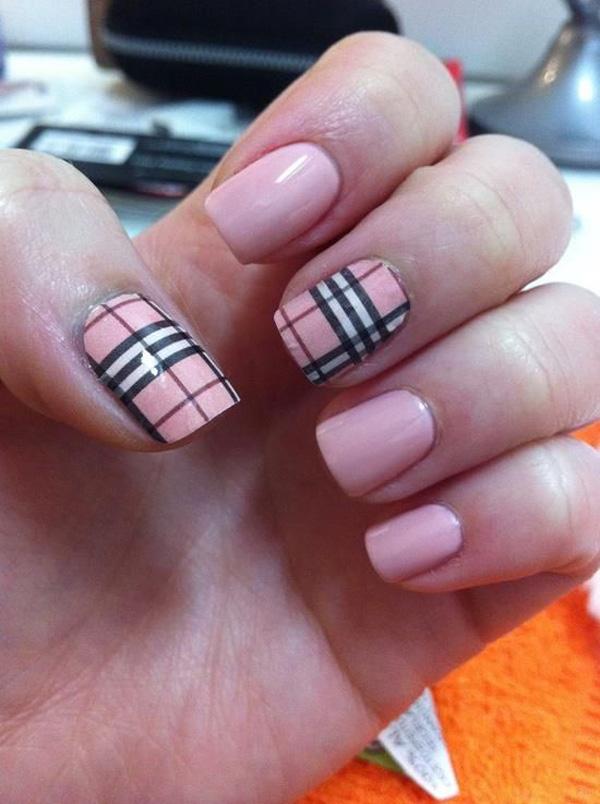 Check out this rather modest and cute looking plaid nail art design. The nails are coated with baby pink matte colors as well as using black and white polish as the thin and thick strips on top.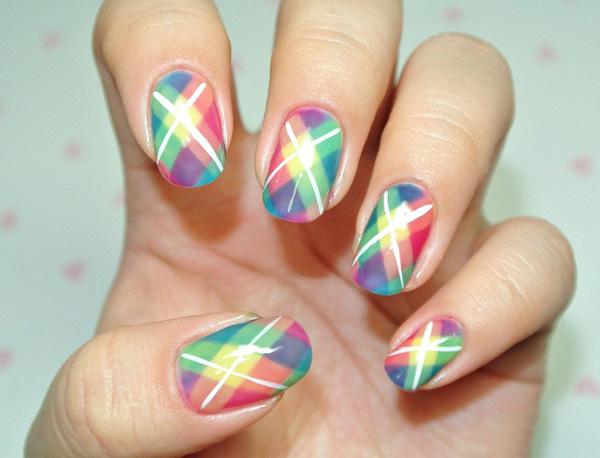 Multi colored plaid nail art design. The design uses a variety of bright colors such as yellow, green, orange, red, violet and blue for that fun and crazy effect.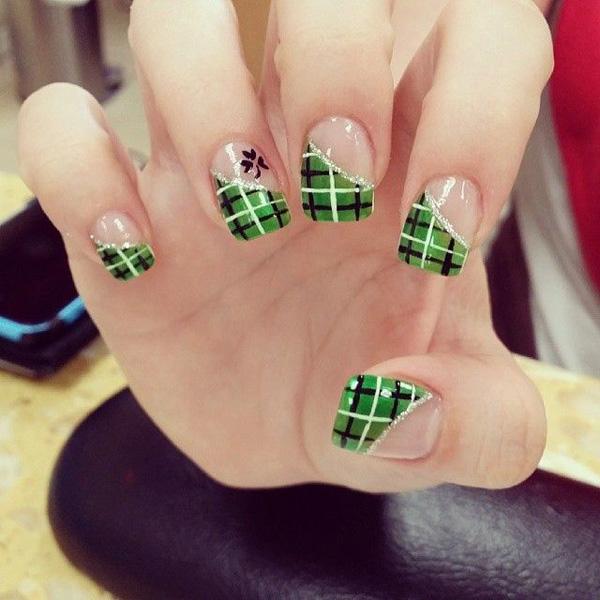 What do you get when you play around with French tips? You get this amazing plaid French tip nail art design. The design uses green, white and black polish as well as a thin line of silver sparkles and heart shaped details on top.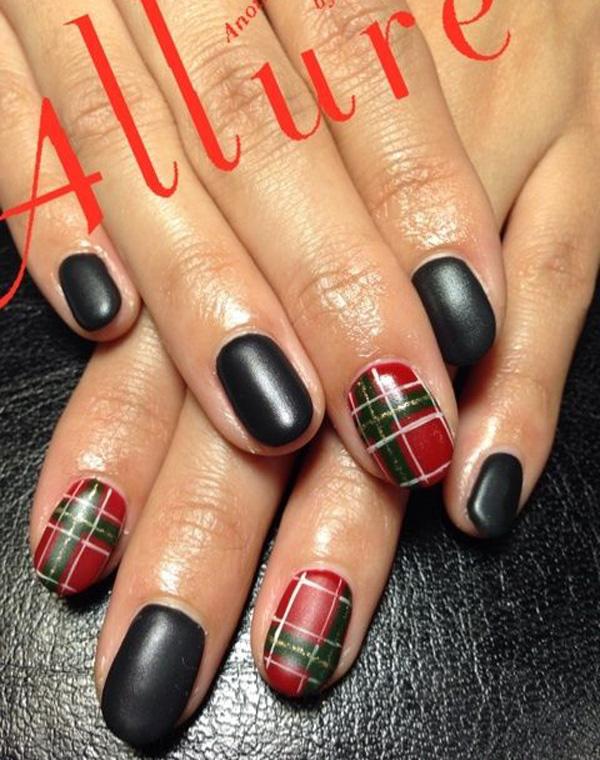 Stay cool and collected with this black, red, white and green ensemble. Arranged in a plaid and matte design, the nails look absolutely classy and stunning.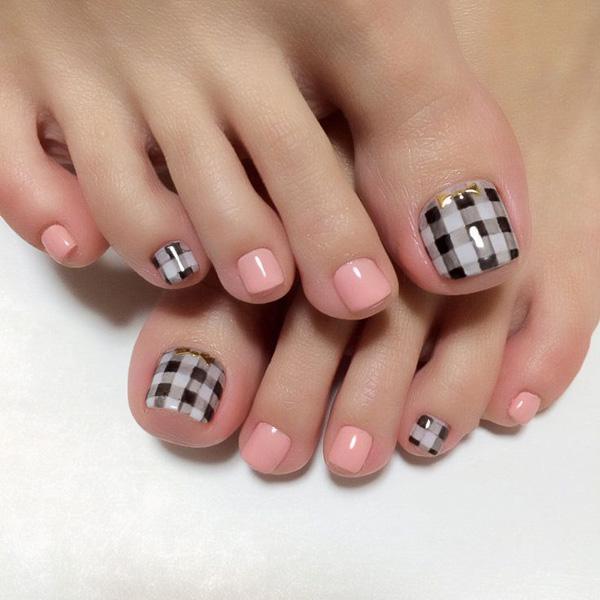 A lovely gingham inspired pedicure. Using melon colored nail polish as well as black and white colors for the strips; the design gives an adorable baby look on the nails.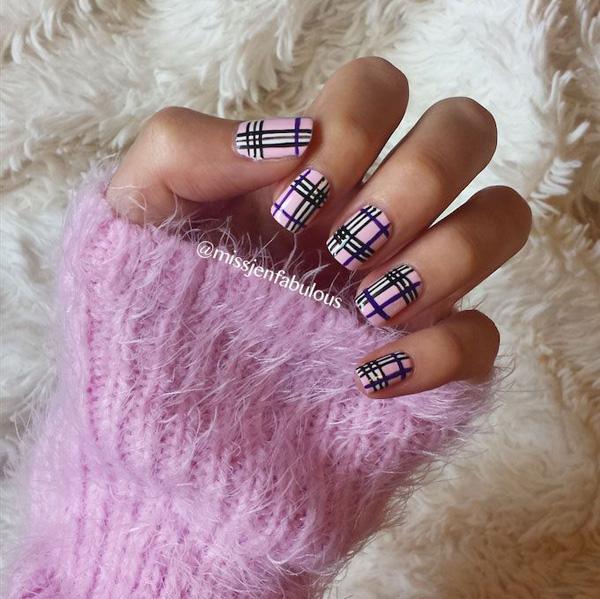 A cute looking purple inspired plaid nail art design. This design uses colors such as periwinkle, purple, black and white to complete the flashy purplish look.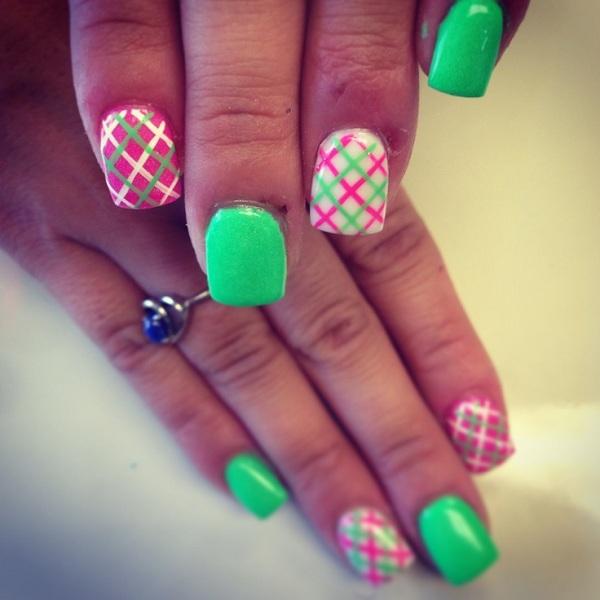 diagonal plaid nail art