When you think of tattoos, beautiful landscapes may not be the first thing that comes to mind. But the truth is, landscape tattoos can be incredibly unique and stunning! From breathtaking mountain scenes to calming beach vistas, there are so many options when it comes to creating a stunning piece of art on your skin.
Whether you're looking for something subtle or something bolder and more eye-catching, we've got 40 beautiful landscape tattoo ideas for you! Whether it's an intricate watercolor painting or a simple black line drawing – these designs will surely make heads turn.
For those who prefer minimalistic designs with lots of negative space – try out a single tree silhouette set against an expansive sky. Or perhaps opt for two trees intertwined together in perfect harmony as they reach towards the clouds above them? If nature has always been your muse then why not get creative with some abstract shapes inspired by flowers and plants? The possibilities are endless!
For those who love adventure, consider getting one (or several!) mountain range tattoos that span across multiple body parts like arms or legs; this way each time someone looks at your ink they'll feel like they're taking part in an epic journey through majestic peaks! Finally if beaches have always been close to your heart then why not go all out with some tropical island vibes featuring everything from palm trees swaying in gentle breezes over white sand shores up until sunsets blazing behind deep blue waters…the choice is yours!
No matter what design speaks most closely to you, these 40 beautiful landscape tattoo ideas will surely add color and life into any dull wardrobe ensemble while also serving as reminders about how gorgeous our planet really is every single day no matter where we find ourselves on its surface. So don't wait any longer: start planning out which design best suits YOU today because life's too short NOT express yourself through amazing artwork etched onto skin forevermore :)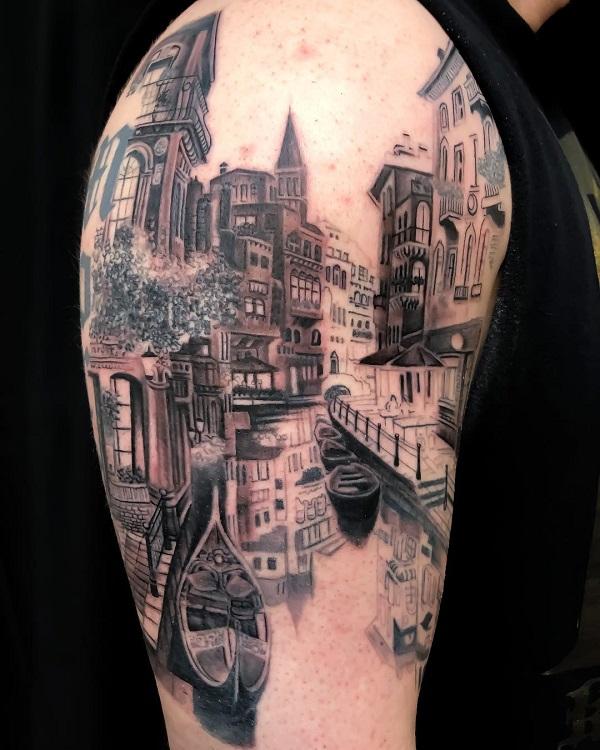 Venice is the most romantic city in the world. If something unforgettable happened to you also there, present some part of your body for such a masterpiece.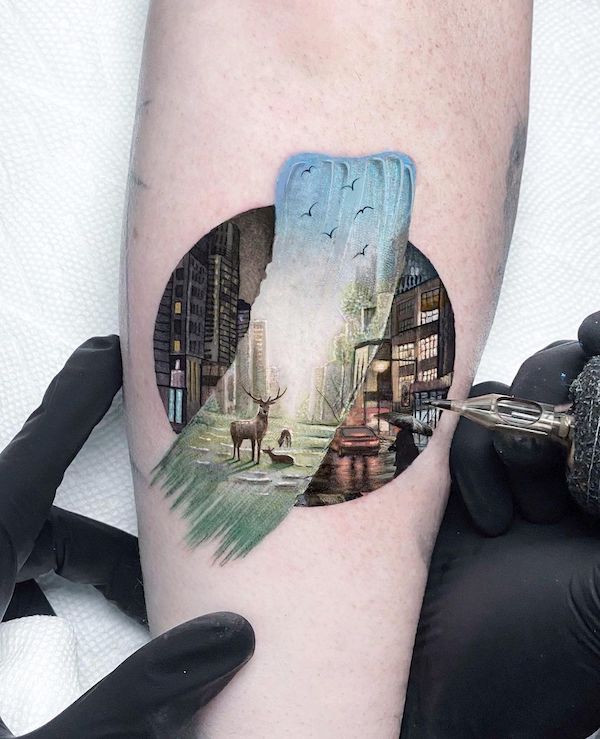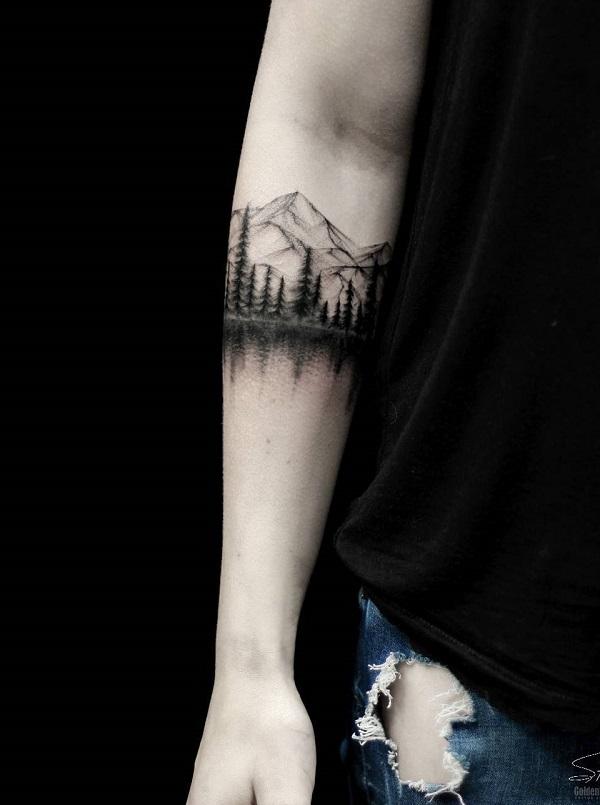 Memories of large and bright cities are unforgettable, but the memories provided by mountains, the water, or environment in general are much more memorable.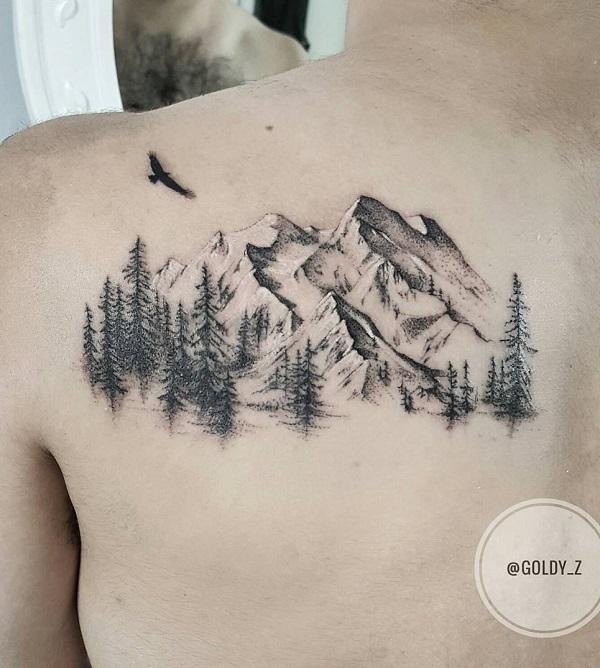 This is the part of the body in which the tattoo is most done by ladies, but it is not a rarity among the members of a stronger sex.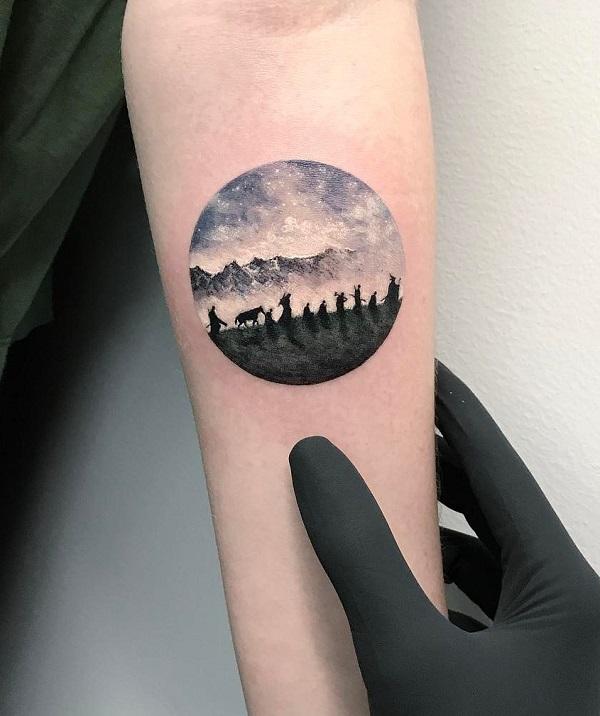 Enrich your life, gain richness that can not be lost. Travel!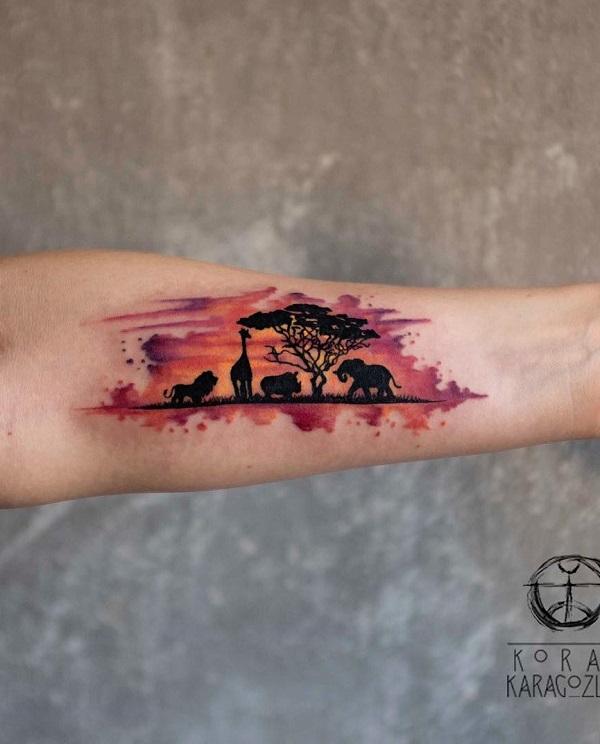 Many people dream of going to Africa, going to the safari, to see all these magnificent animals.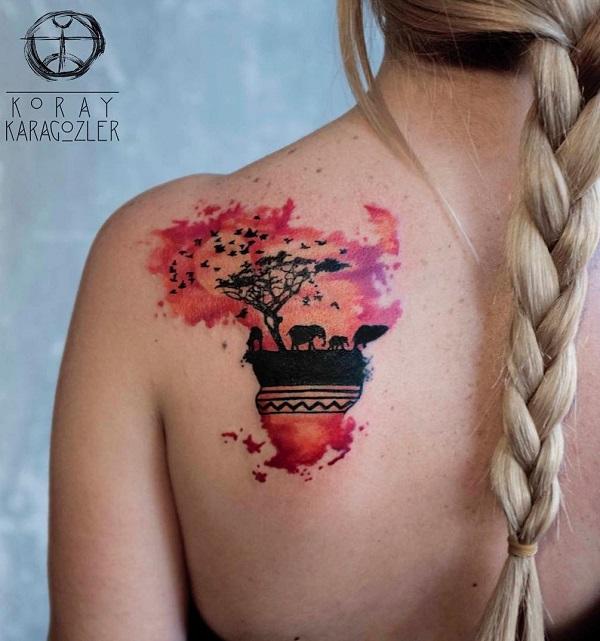 Who once visited this beautiful continent will forever remember it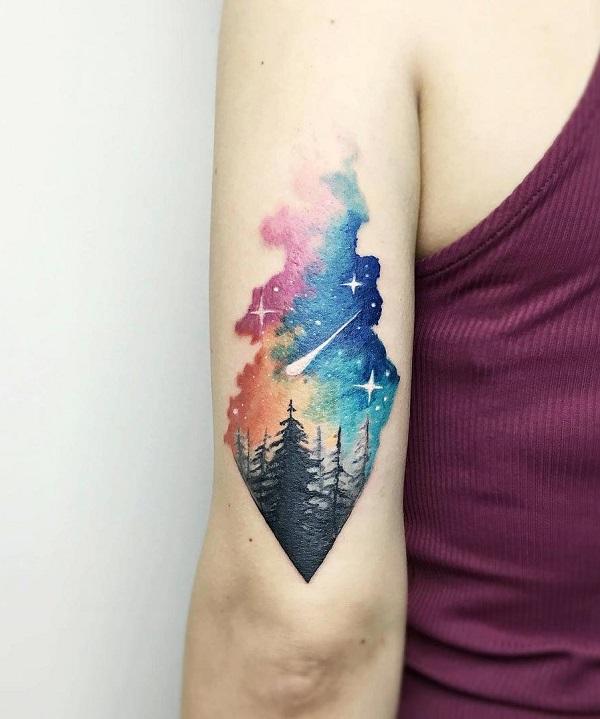 Nature and landscape tattoo enthusiasts frequently choose a tattoo of a celestial night sky.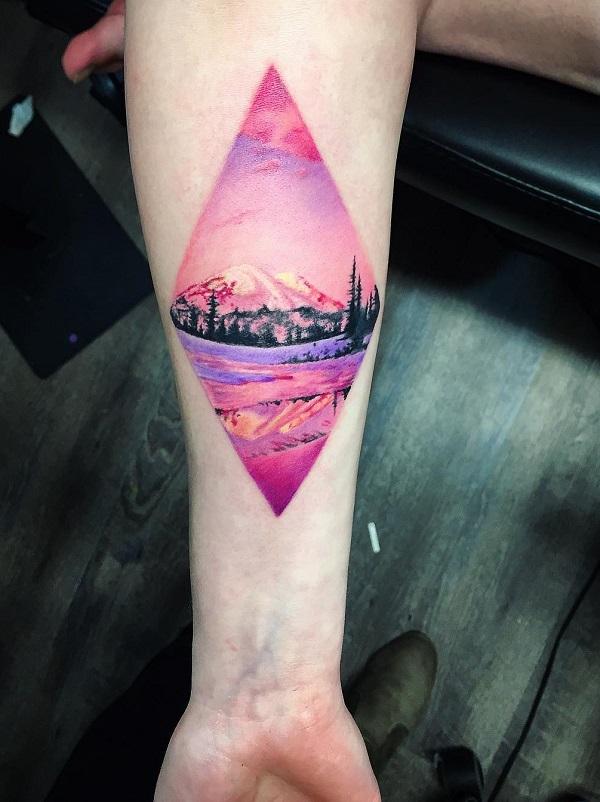 Choose a picture of a landscape, but don't put it on the whole hand; instead, put it on a portion of the hand in the shape of something like a diamond, a circle, or a cube.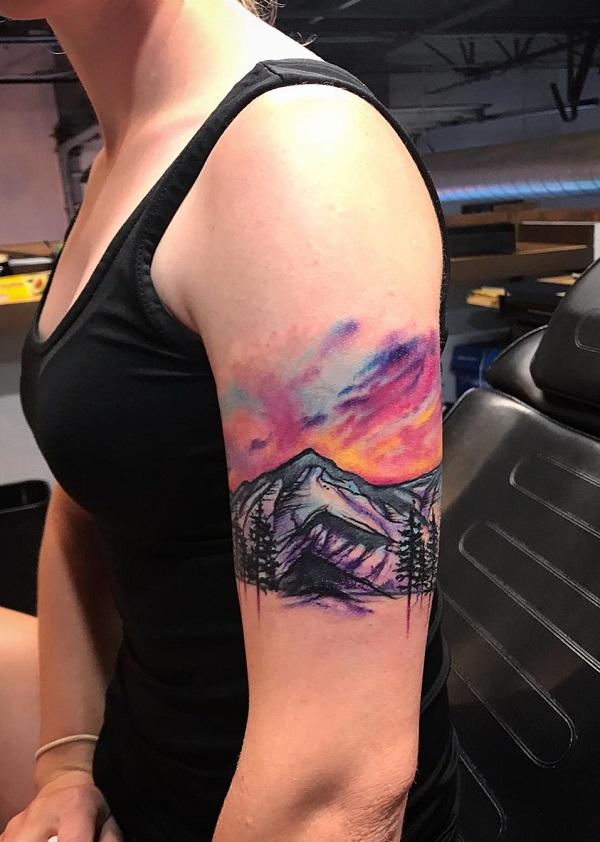 If you are a mountain climbing fan, surely a mountain with special memories for you, will stand great on your shoulder.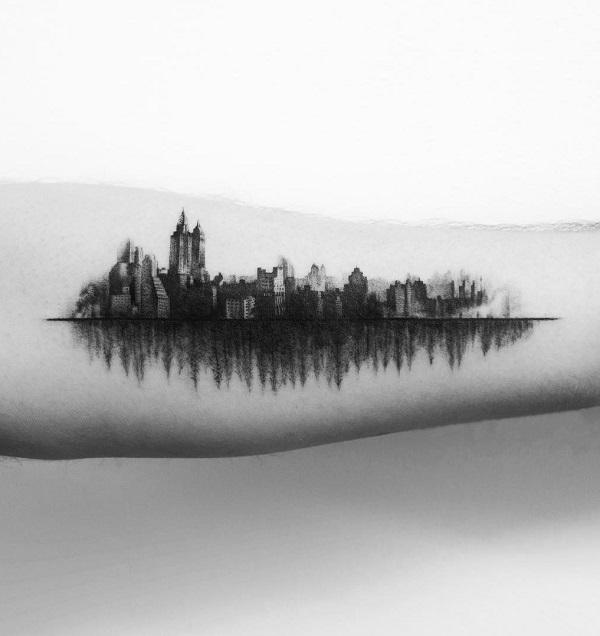 A very interesting tattoo with a strong message. On the one side there is a city, and on the other, a beautiful forest. Think about that.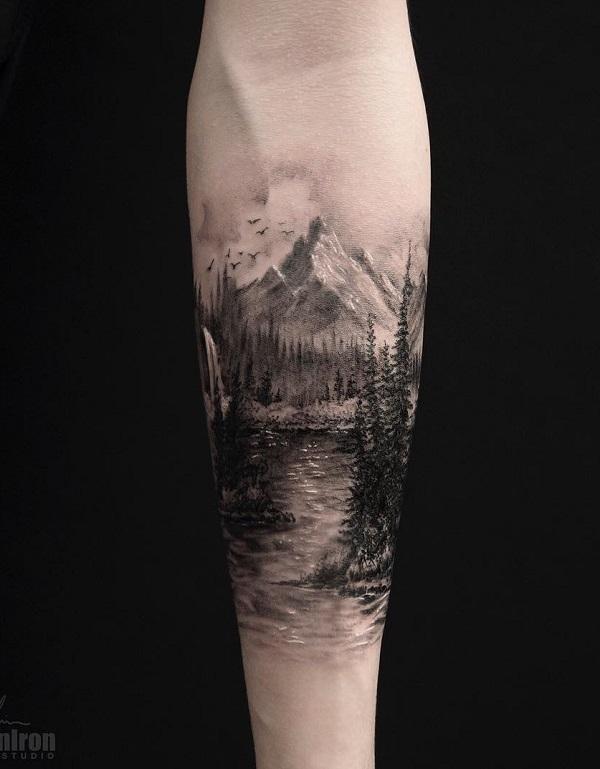 You can visit hundreds of cities, but I am sure that nothing can provide such peace as nature.
For many people favorite tattoos are black, they look more serious and mystical. It is a personal impression and it must not be accurate.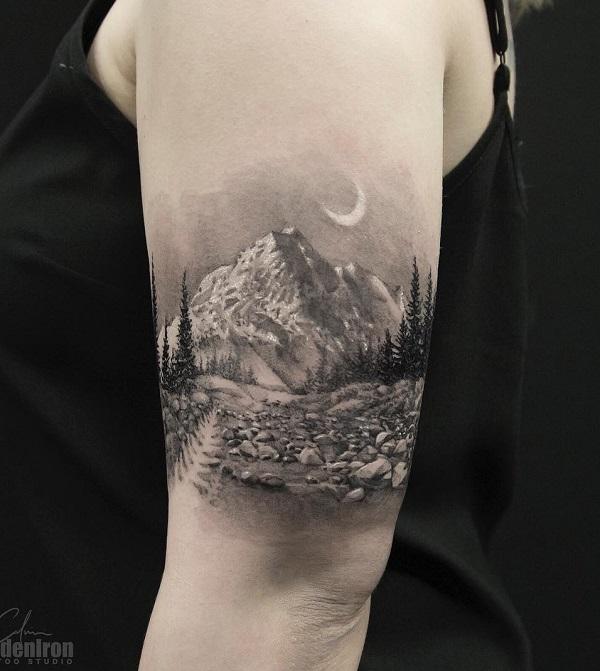 While we discover the new world, we travel from within.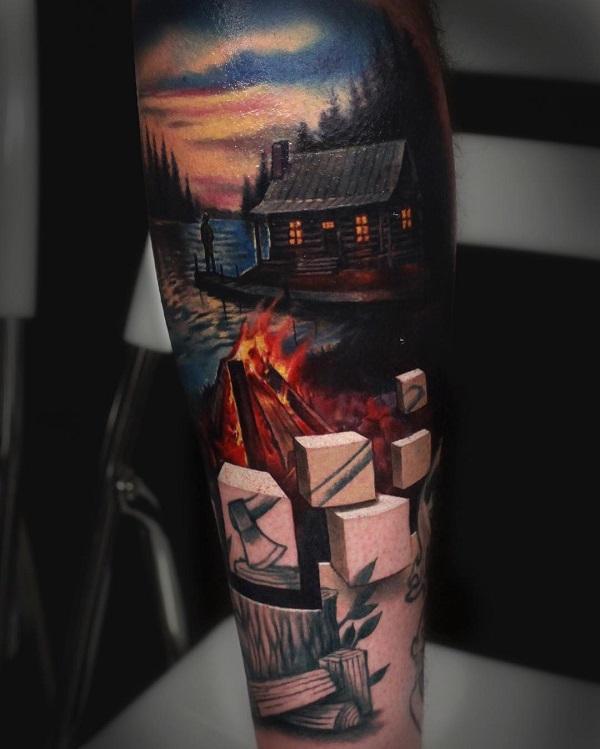 Every trip is adventure for itself. If you visit famous cities and places, take a walk along those side streets, look for something more than what is offered in travel agencies, even if you do not know what exactly it is.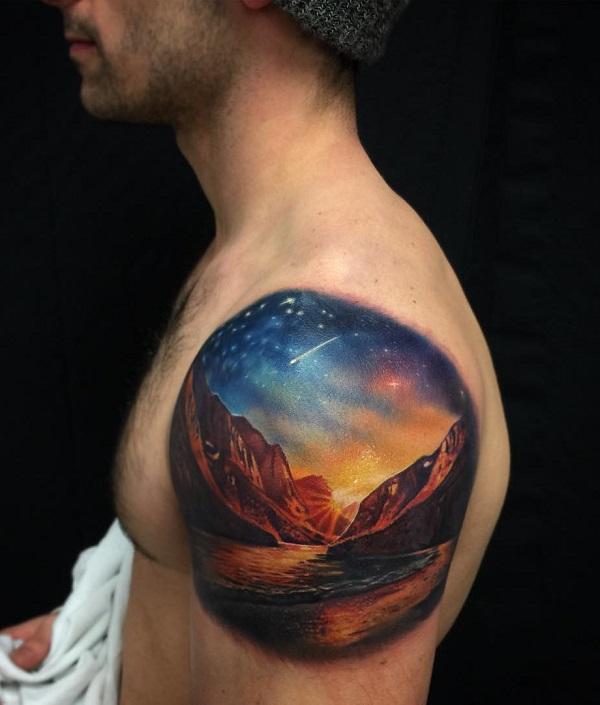 Enjoy some sunrise or twilight. Furthermore, observe the start of the new day and its conclusion. It's a magical and always distinct experience.
Source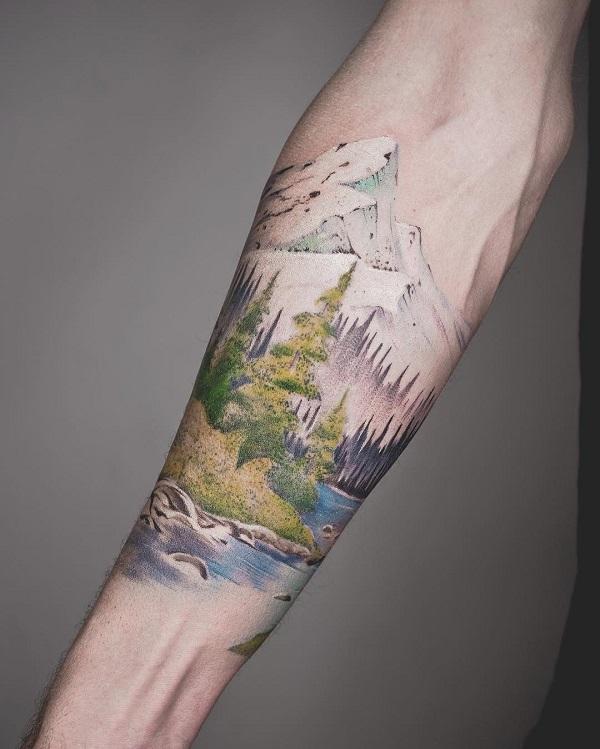 A beautiful tattoo done in soft, understated colors. Tattoo is very effective, despite the fact that the colors are not particularly striking.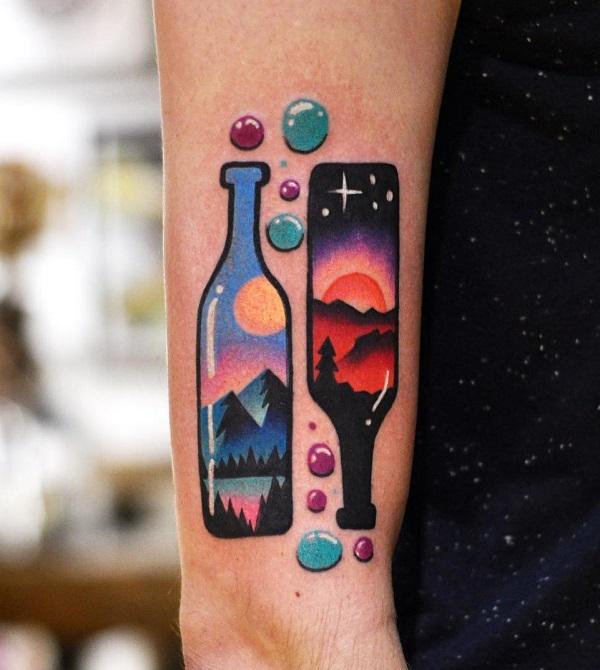 Another sunrise and sunset, this time creatively placed in two bottles.
Sharp straight lines and regular shapes are what adds extra mystique to this tattoo along with the chosen colors.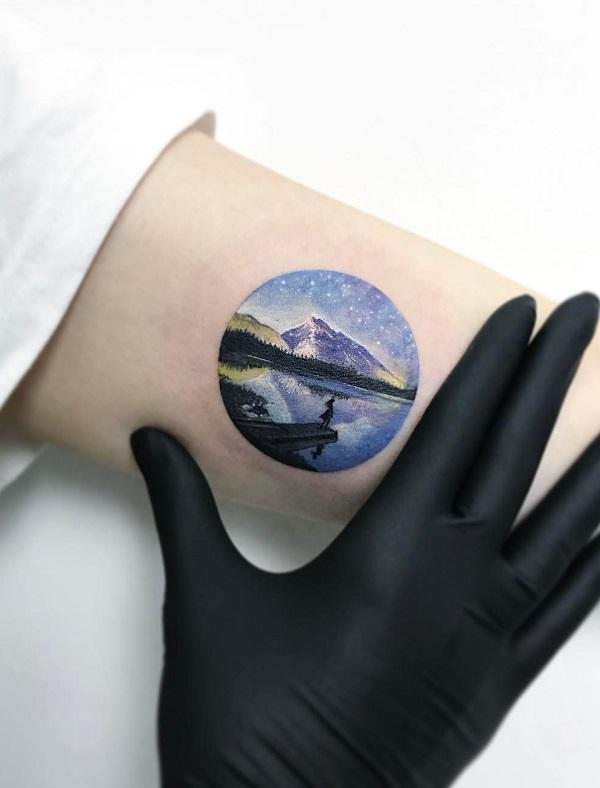 Small but very attractive picture. The real masterpiece of tattoo master.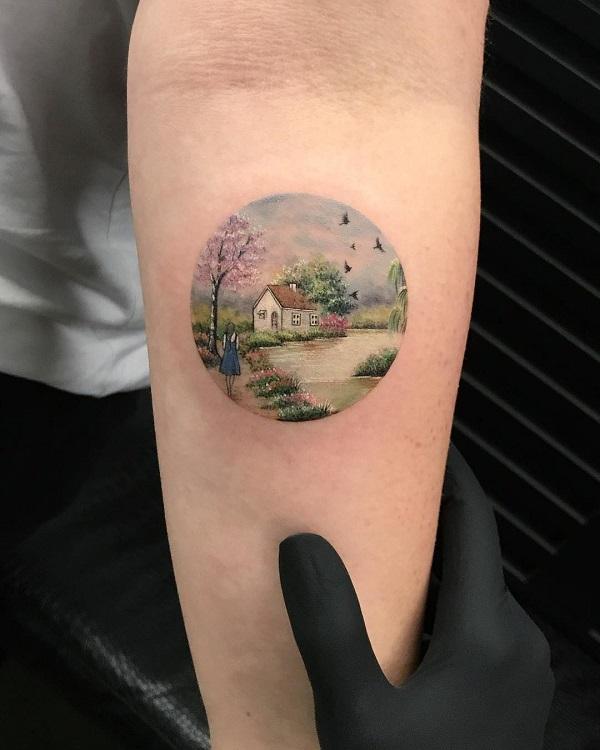 As for the previous one, and for this tattoo, you need the skillfully hand of a real artist.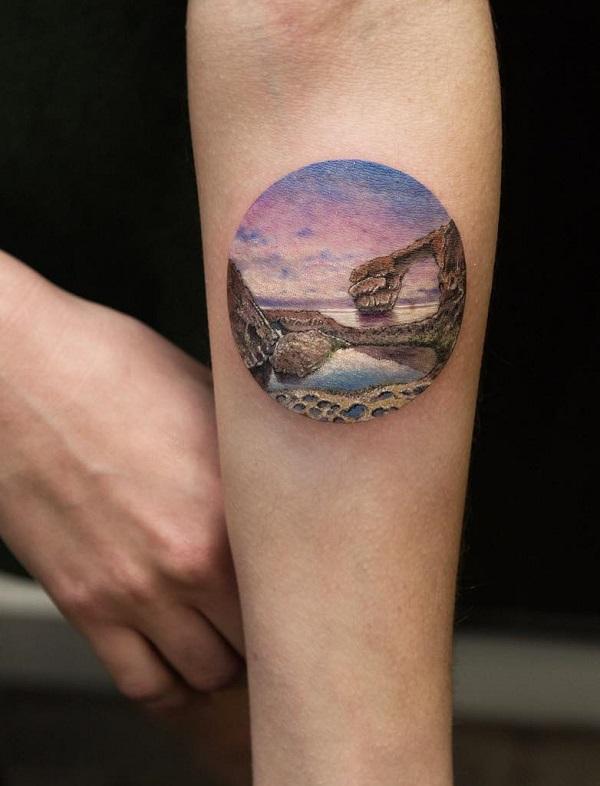 Bridges connect people and areas. Bridges are common inspiration for many artists.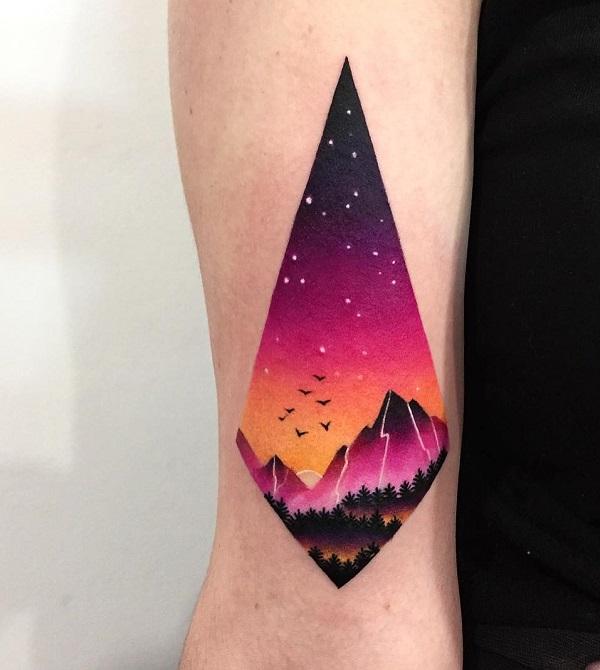 "Do not tell me how educated you are, but how much you traveled", said Prophet Muhammad.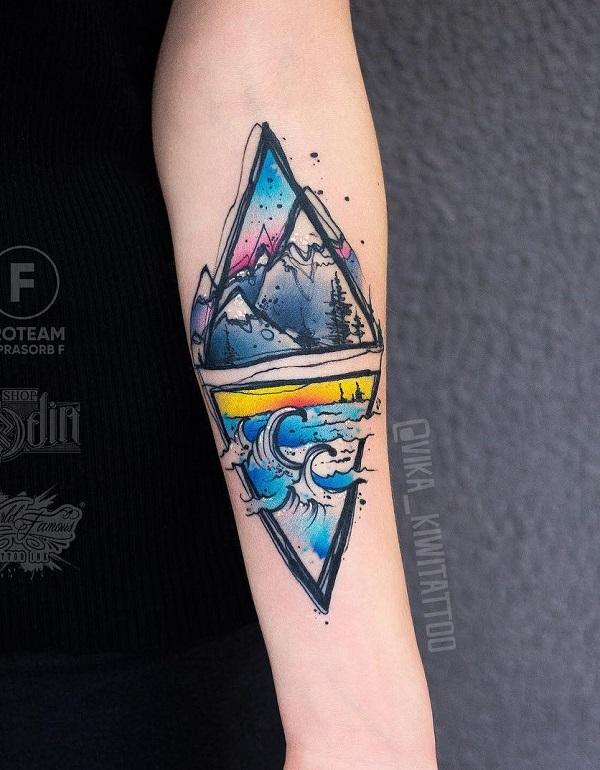 When we travel, we become more tolerant. By getting to know the people of some country we can greatly break the prejudices we have about them and start to love the language we may not like.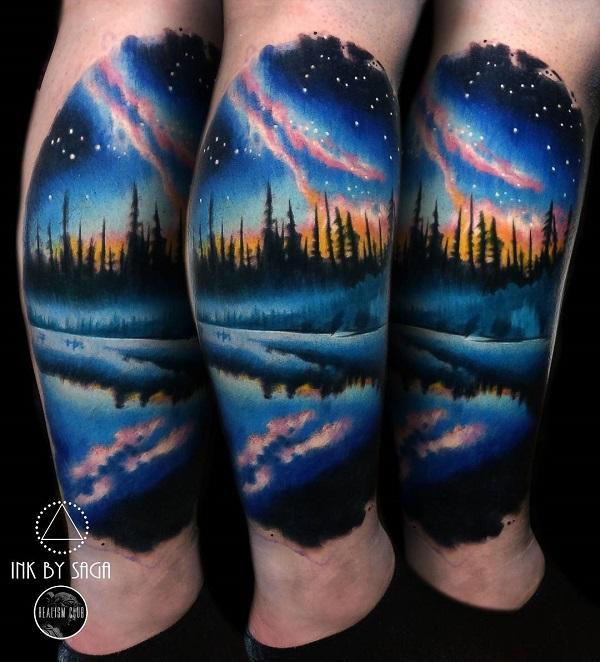 You do not have to travel thousands of miles to feel happiness and tranquility. Travel at least ten kilometers from the city where you live and it will please you, you can't imagine how much.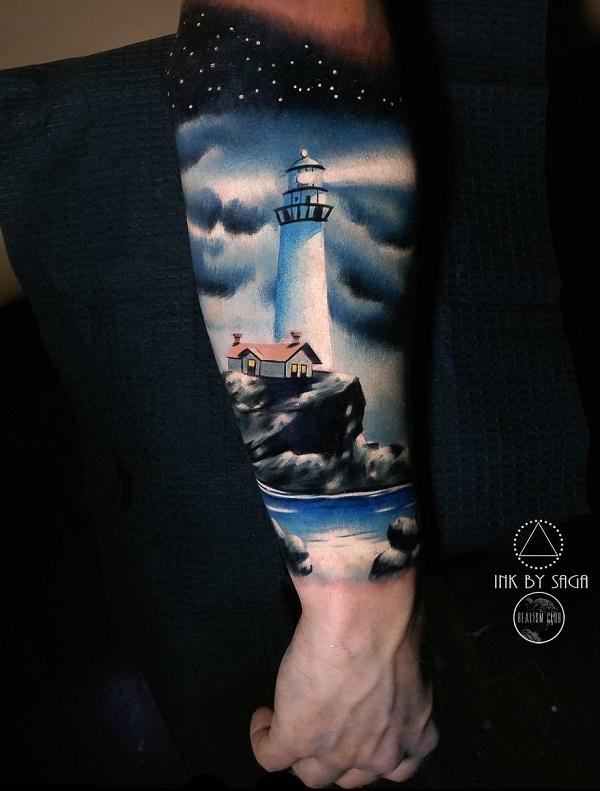 Today, people often do not see places that visit because of huge need to photograph everything and praise friends. Much more important are photographs in the brain and heart than the ones recorded with the camera. Experience the place, let the camera rest a bit.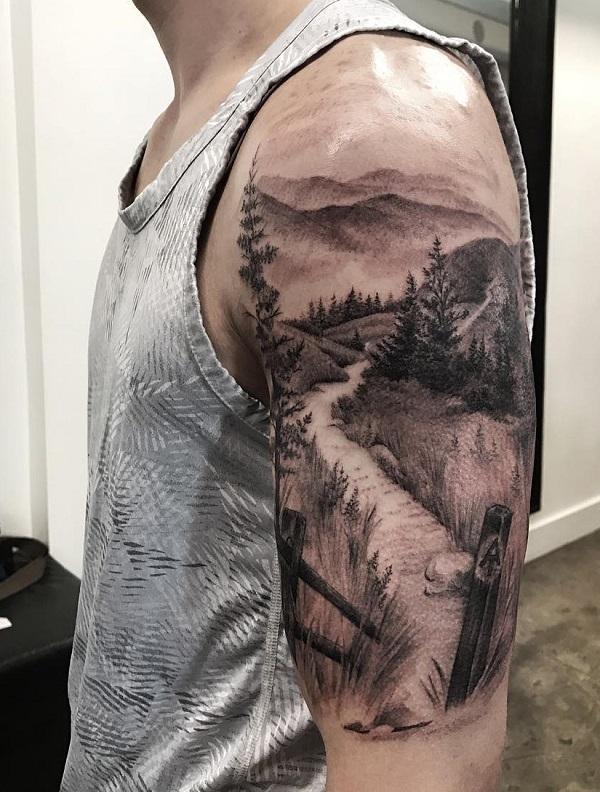 Do not travel only because you want take new photos, but to get a new unforgettable experience.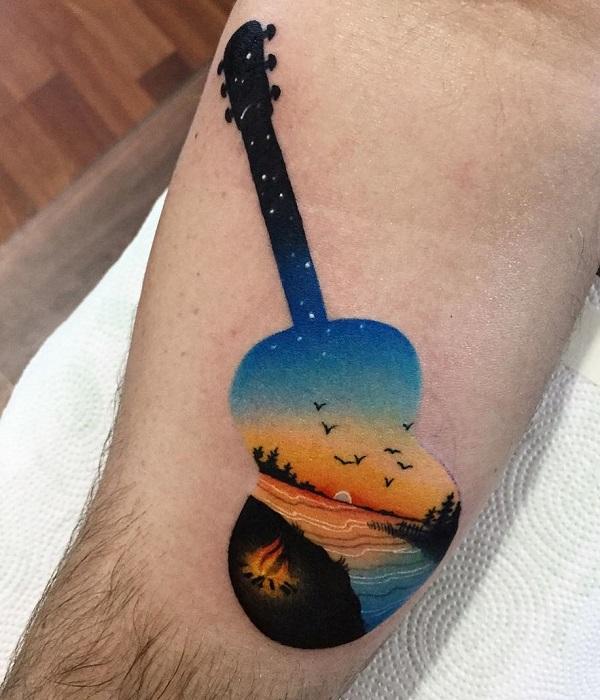 A tattoo in the shape of a guitar and a sunset certainly reminds us of the romantic moment we experienced somewhere.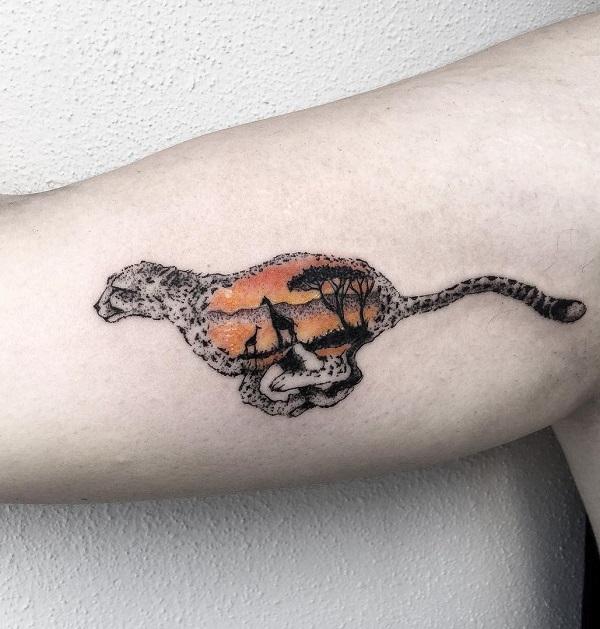 Very original picture on which you will immortal this beautiful continent.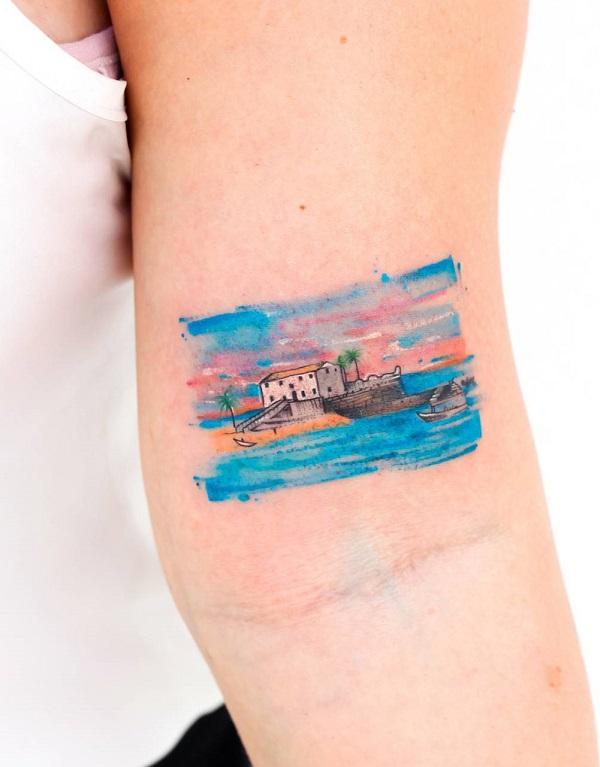 When you are far enough away from everyday life, you have a better insight into the life you live, the friendships you have, family relationships…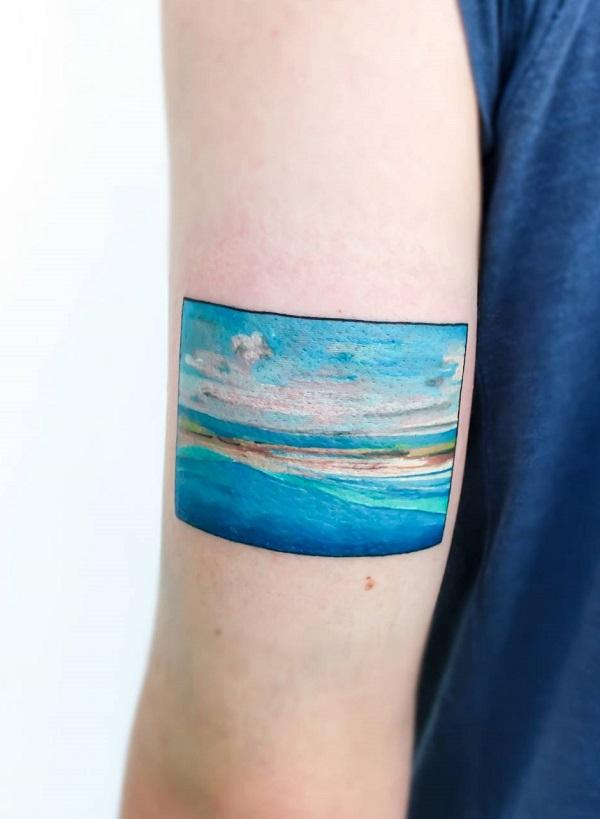 The research showed that workers who used vacations for travel were more productive at work.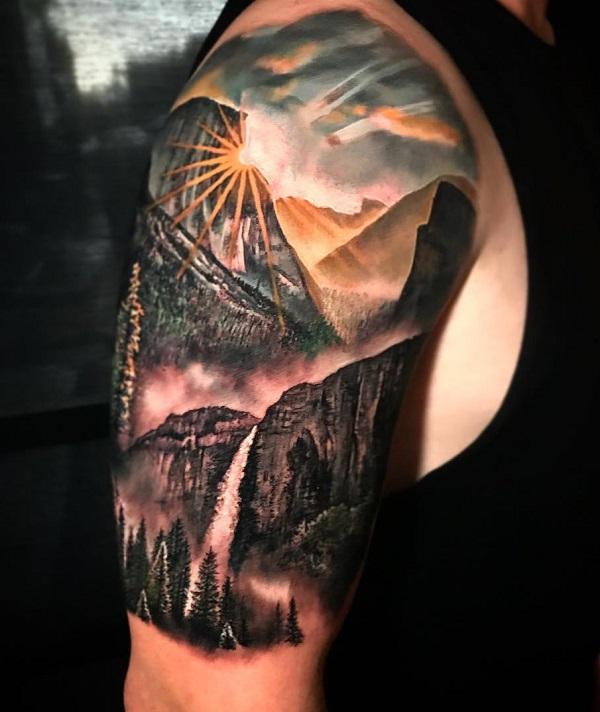 Travel improves our moral values and the inclination towards conflicts is decreasing.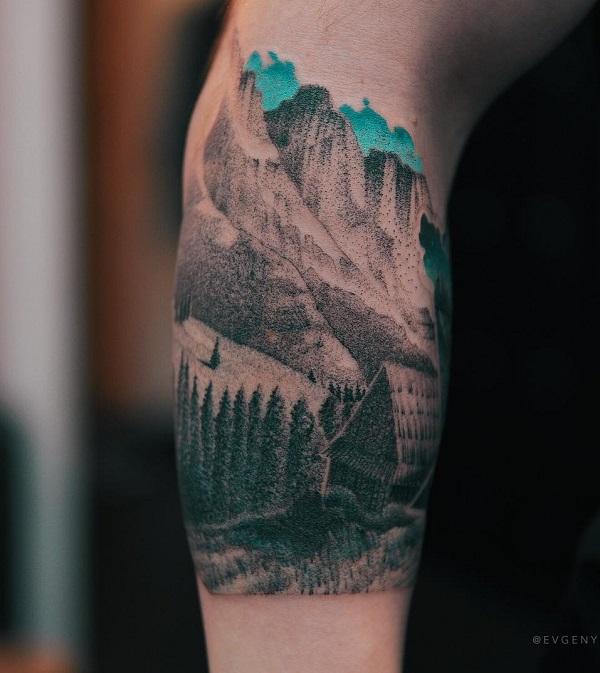 While sporting the tattoo of a tree, even though you have a fixed residence, you are not restricted to staying in just one location; instead, you travel to many different locations. You are not a plant at all.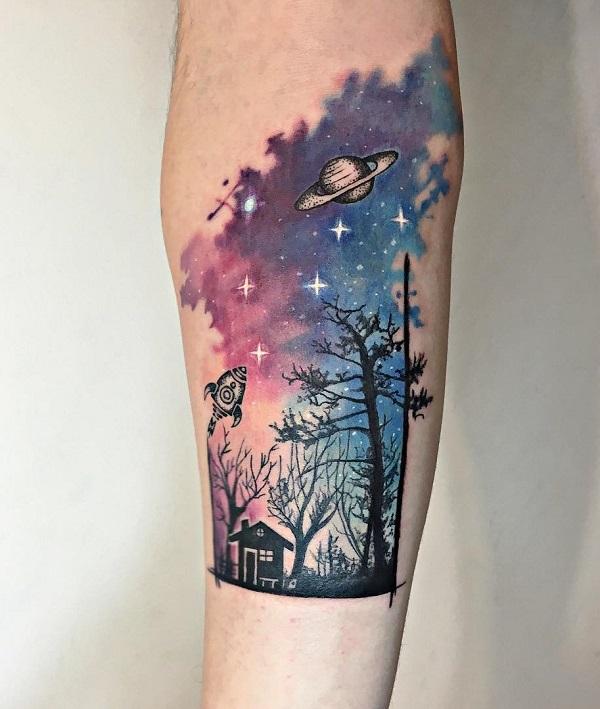 Tattoos in blue and pink color are very common choice of many people.This combination of colors is evergreen like combination of black and white.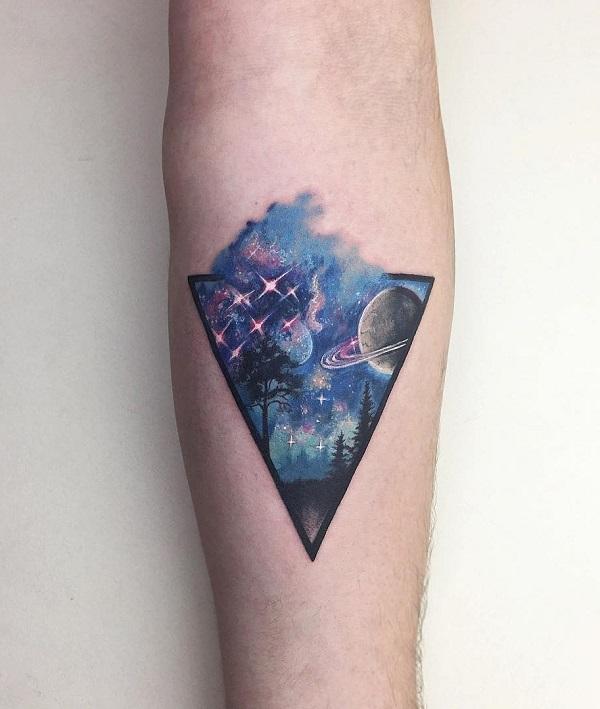 Fans of astronomy, telescope and stars often like it to paint on the body.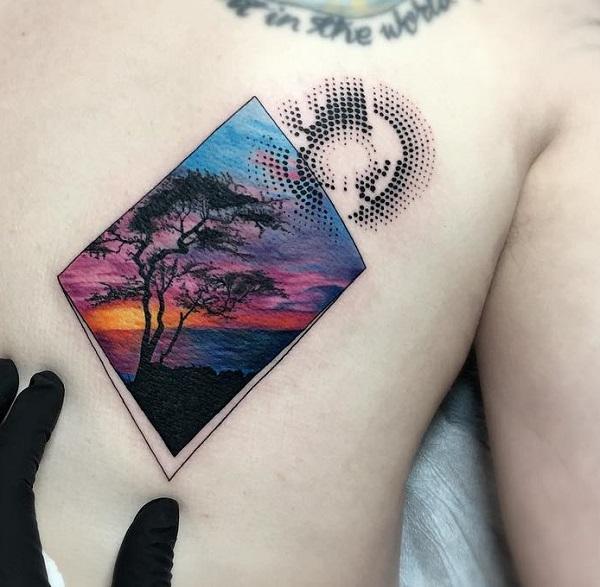 Do you like this postcard from place where you traveled?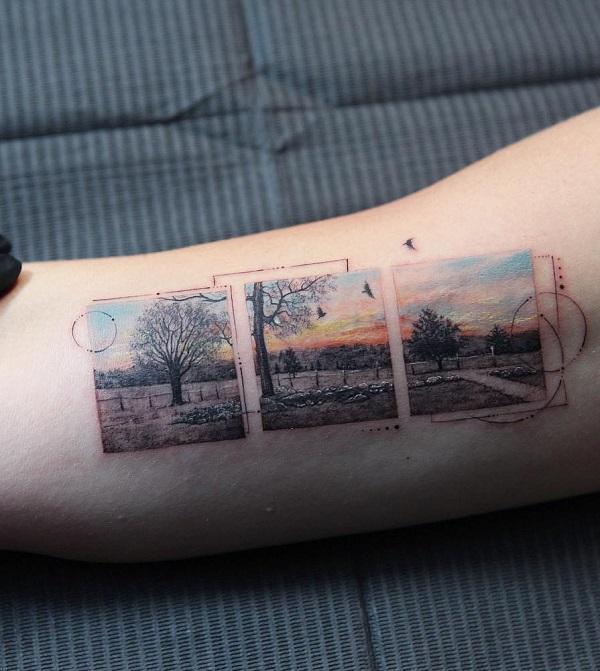 You will never lose these photos.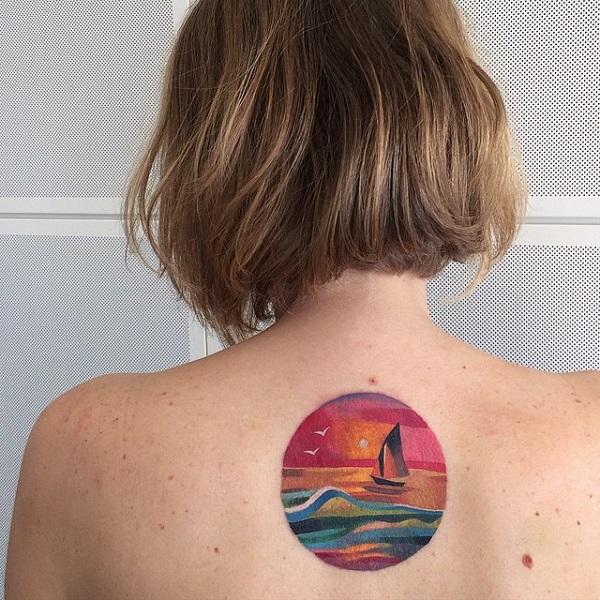 Ladies like small tattoos on the upper side of the back. It is very sexy.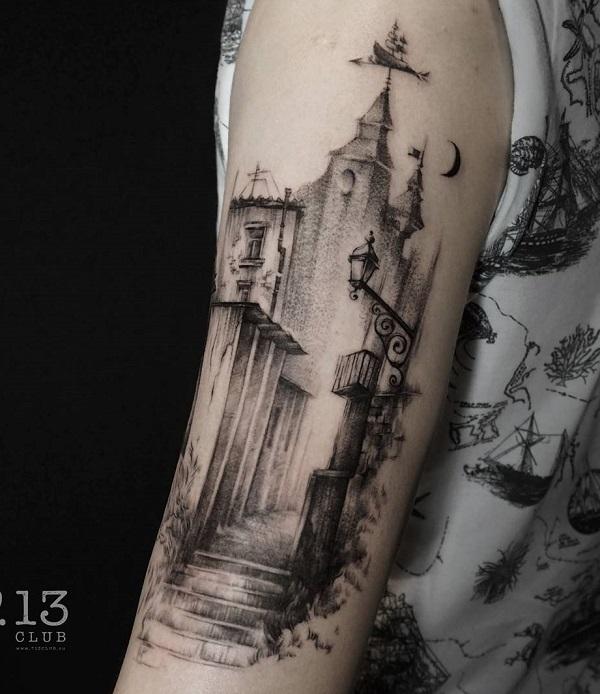 Wherever we travel, whenever we travel, whether or not, consciously or not, we learn and we grow.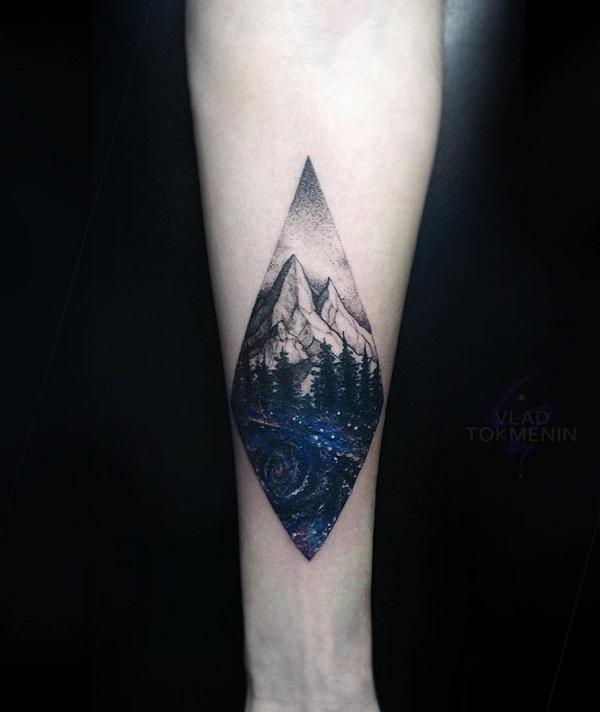 It would be great if we could travel whenever we want to. Most often that is impossible, and therefore the days when you visit new destinations forget about everything and live only those moments.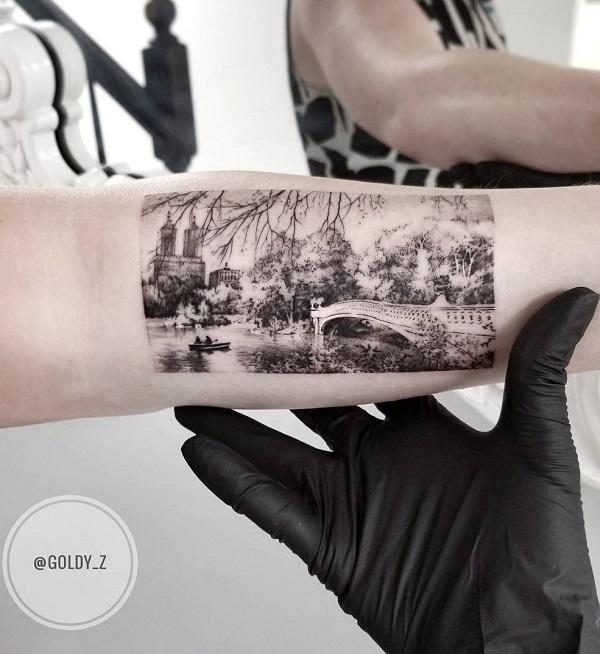 Another tattoo of a landscape that resembles a postcard. Very gentle and very romantic postcard.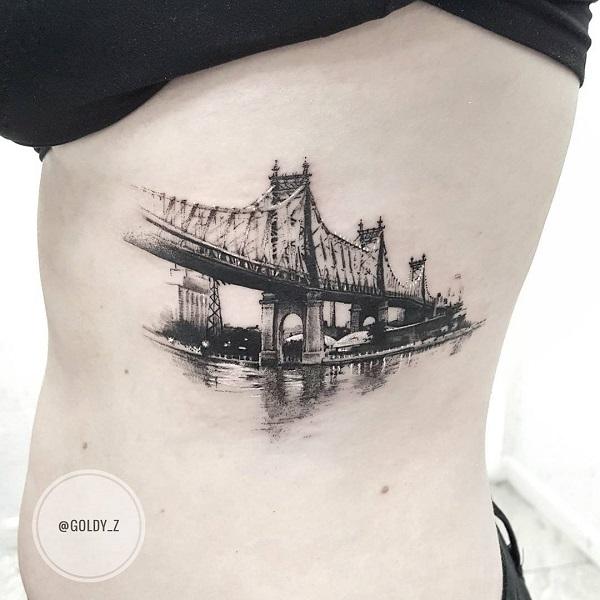 Bridges are always magnificent and symbolize man's desire to overcome difficulties and obstacles, to connect people, cities, states and cultures.