The jasmine flower, with its delicate petals and intoxicating fragrance, has charmed individuals across cultures and centuries. Its mesmerizing beauty and deep symbolism make it a popular choice for tattoos. This article will take you on a journey through the enchanting world of jasmine tattoo designs. If you're considering getting inked with this captivating bloom, or simply curious about its allure, read on!
The Symbolism of Jasmine
Jasmine is not just a flower; it's a symbol laden with rich meanings. In various cultures, jasmine represents love, beauty, sensuality, and purity. It's often associated with the divine feminine, making it a powerful emblem for those who wish to celebrate femininity in its many forms.
In some Asian cultures, jasmine is seen as a symbol of motherhood and affection, while in others, it represents nobility and wealth. This multifaceted symbolism adds depth and personal significance to a jasmine tattoo, making it more than just a pretty design.
Jasmine Flower Tattoo Designs
As varied as the people who wear them, jasmine tattoo designs can range from minimalist and subtle, to vibrant and intricate. Let's explore some design ideas that can help you find the perfect design.
Realistic Jasmine with honeybee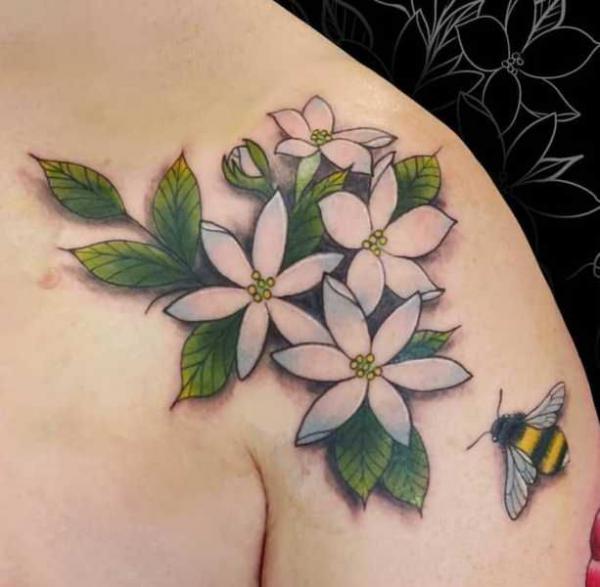 A realistic jasmine with a honeybee tattoo is a beautiful way to pay homage to nature. It's not just about the bloom; it's about the intricate relationship between flowers and pollinators. This design is perfect for the shoulder, where the bee can seem to be in mid-flight, buzzing towards the irresistible jasmine.
Minimalist Jasmine Tattoos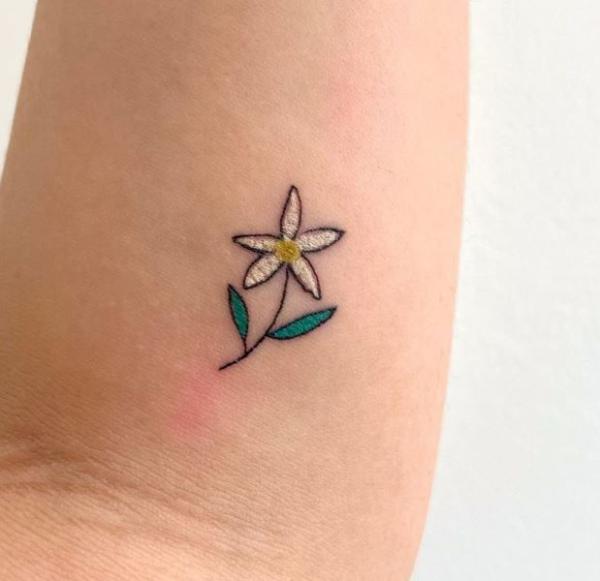 For those who prefer simplicity, a minimalist jasmine piece can be an excellent choice. These designs often feature a single jasmine bloom or a small cluster of flowers, rendered in black or grayscale for a timeless look. The minimalist approach highlights the jasmine's elegant form, creating a tattoo that is subtle yet impactful.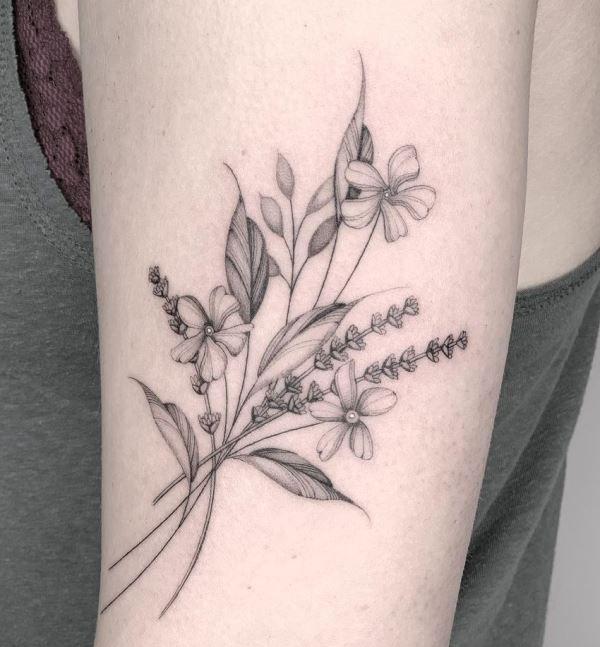 The combination of jasmine and lavender can be a visual delight. Both flowers are beloved for their beauty and fragrance, and together, they can represent a blend of love (jasmine) and tranquility (lavender). When rendered in black and grey, this design takes on a classic, vintage feel that can add a touch of nostalgia to your ink.
Realistic Jasmine Tattoos
If you're a fan of detail, a realistic jasmine design might be just the thing. These designs capture the intricate beauty of the jasmine bloom with remarkable accuracy. They can be a stunning tribute to nature's artistry, and a symbol of your appreciation for the natural world's intricate details.
Traditional Jasmine and Sun Tattoo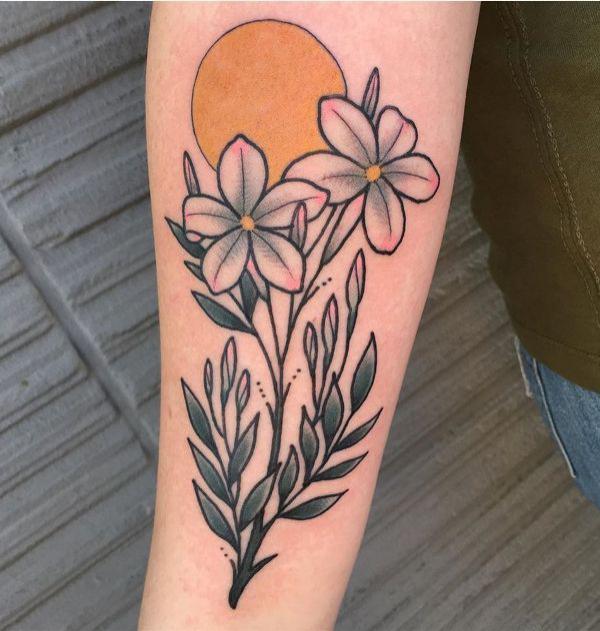 A traditional jasmine and sun tattoo can be a radiant emblem of warmth, vitality, and love. The sun, with its life-giving light, pairs beautifully with the jasmine's symbolism of love and beauty. This design can be a poignant reminder of the power of love to illuminate even the darkest corners of life.
Jasmine and hummingbird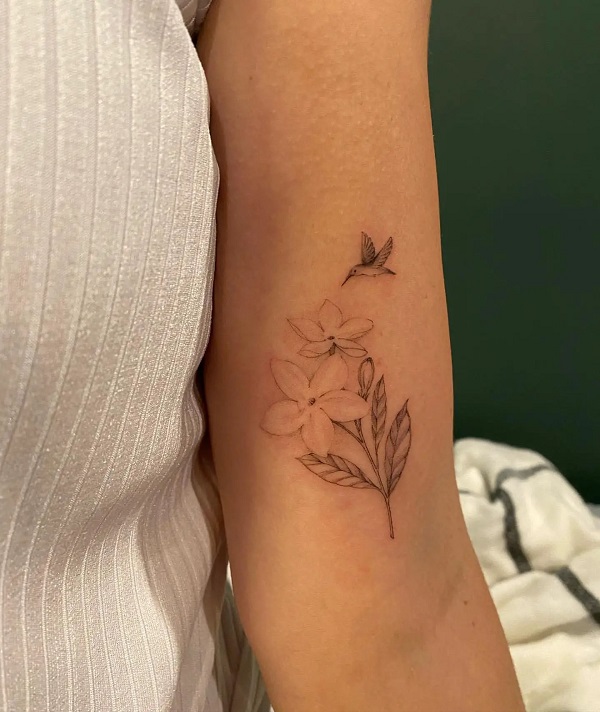 The hummingbird, a symbol of joy and playfulness, paired with the elegant jasmine, creates a stunning ink design. The bird's dynamic energy contrasts beautifully with the serene stillness of the flower, creating a visual metaphor of balance between calmness and activity.
Geometric Jasmine tattoo forearm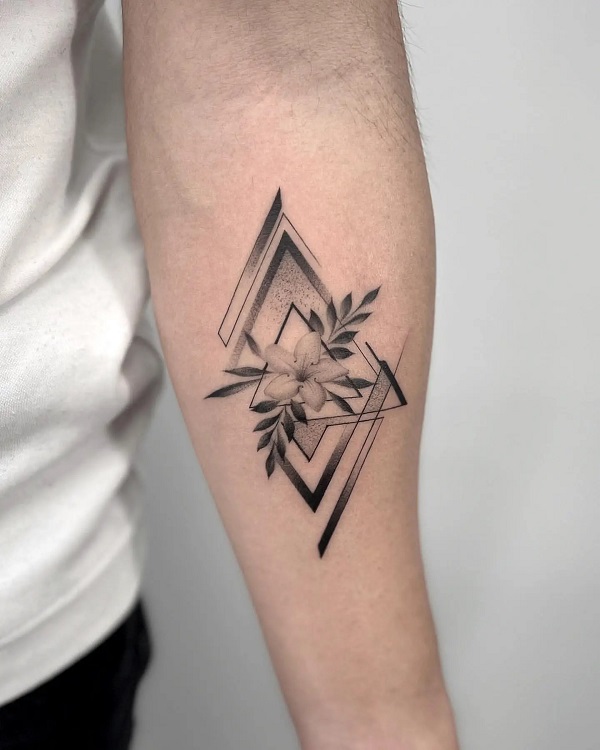 For a more modern, abstract take, consider a geometric jasmine tattoo. This design combines the soft, organic lines of the flower with sharp geometric shapes, creating a striking contrast. The forearm is an excellent placement for this design, allowing the shapes and lines to follow the arm's natural contours.
Jasmine flower with name tattoo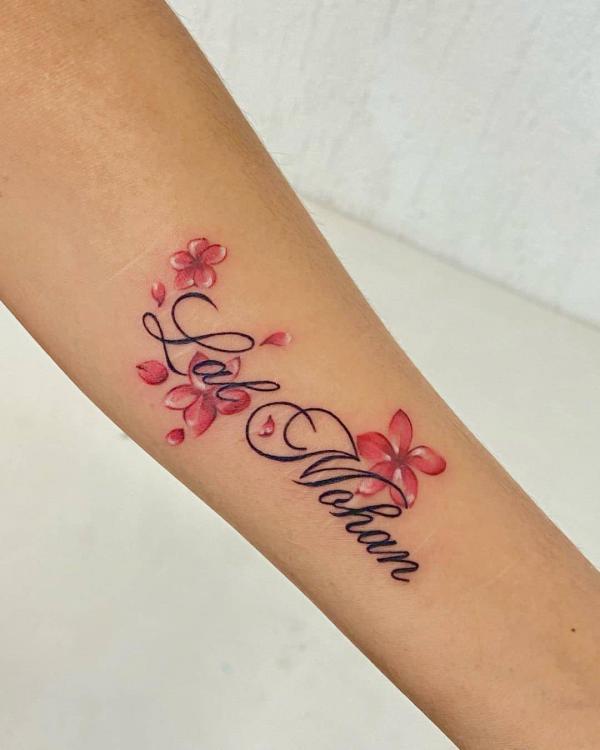 A jasmine flower combined with a name can be a beautiful tribute to a loved one or a way to carry a piece of your identity with you. The name can be woven into the stem, encircling the bloom, or floating like a whisper among the petals.
Jasmine vine tattoo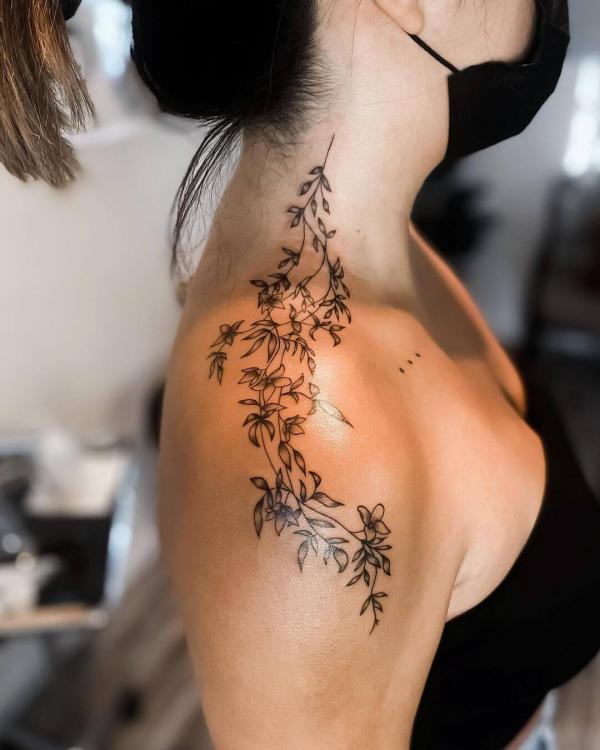 A jasmine vine design can be a sophisticated choice, with the vine's elegant tendrils snaking their way around your skin. This design can be adaptable to any part of the body, either as a small design or a larger piece that wraps around your arm, leg, or torso.
White Jasmine flowers with green leaves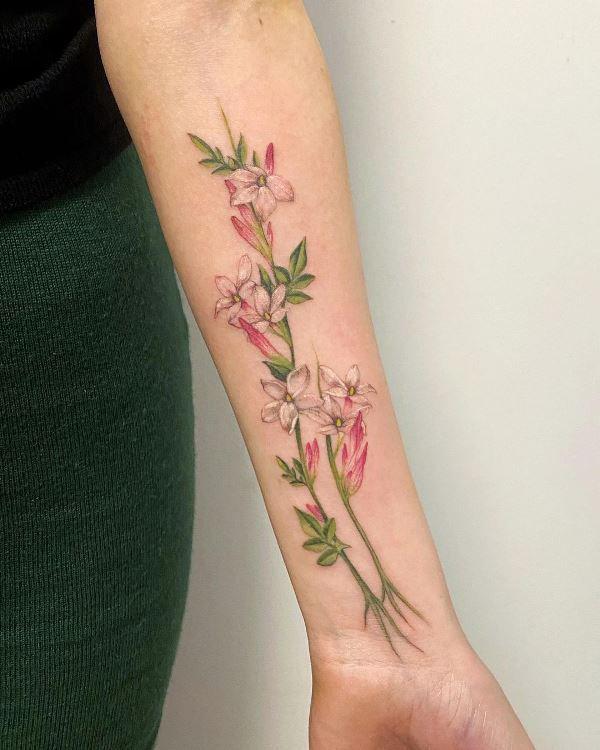 A design of white jasmine flowers with green leaves can be a refreshing splash of color. The white blooms symbolize purity, while the green leaves add a burst of life and growth. This design can pop beautifully on any skin tone.
Jasmine and half female face outline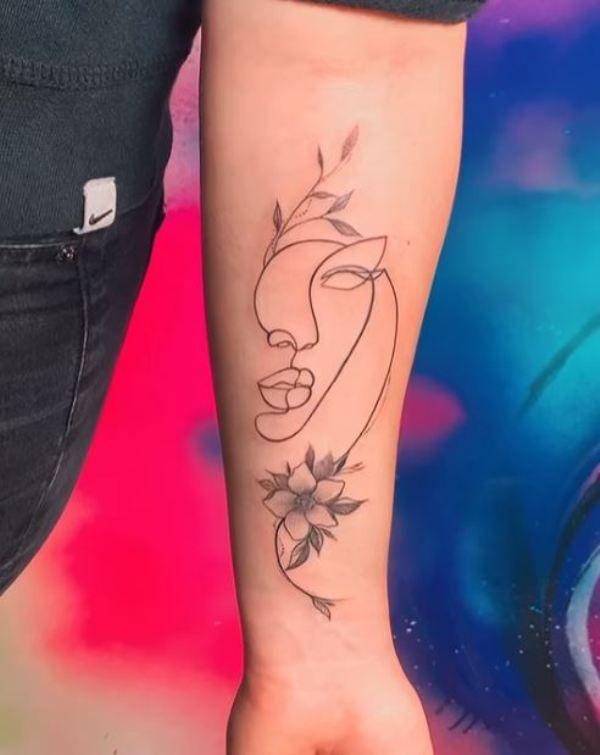 A jasmine ink design combined with the outline of a female face is a powerful symbol of femininity and beauty. It's a design that speaks volumes, showing the deep connection between nature and humanity.
Watercolor Jasmine tattoo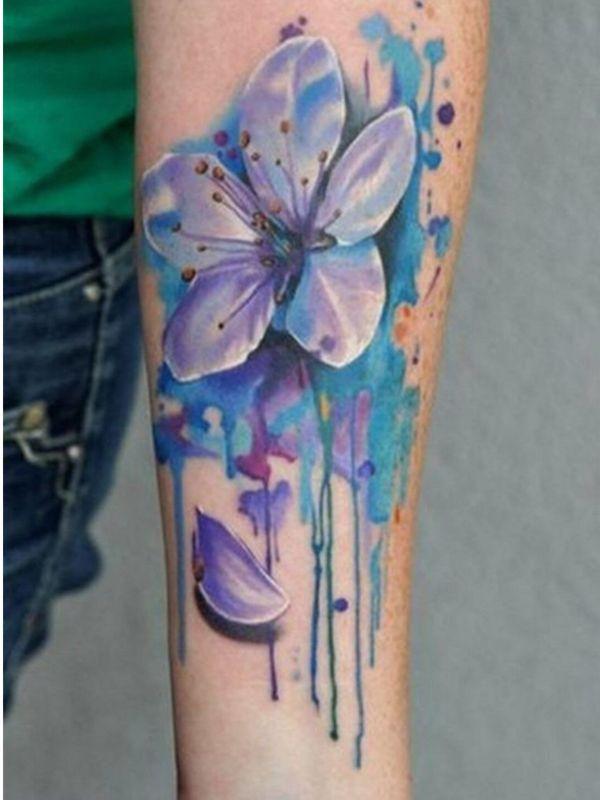 The watercolor technique, with its soft, flowing colors, can give a tattoo a dreamy, ethereal quality. The almost translucent petals can appear to be a watercolor painting come to life on your skin.
Jasmine with a butterfly tattoo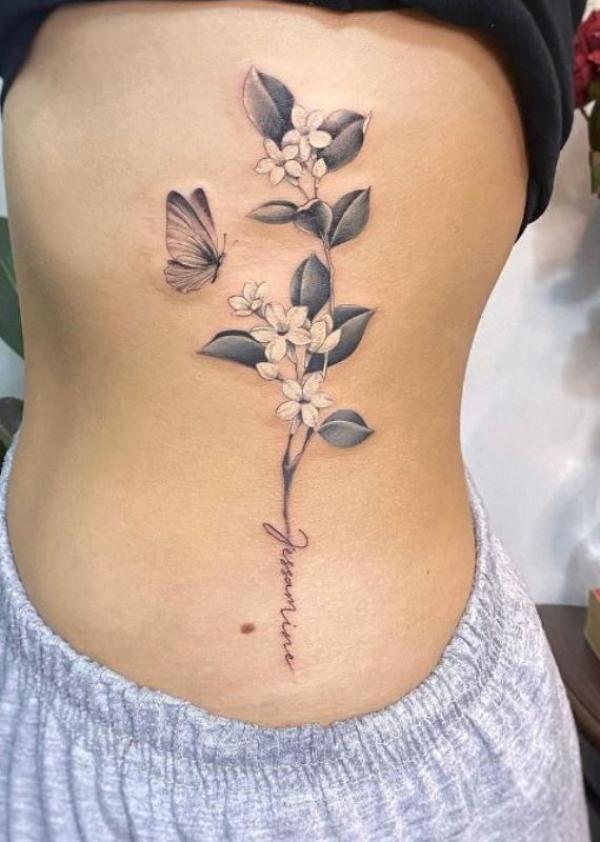 A butterfly, with its symbol of transformation, paired with a jasmine flower, can create a design that tells a story of growth and change. It can be a beautiful reminder of your own personal transformation or your capacity to change and grow.
Blue Jasmine flower tattoo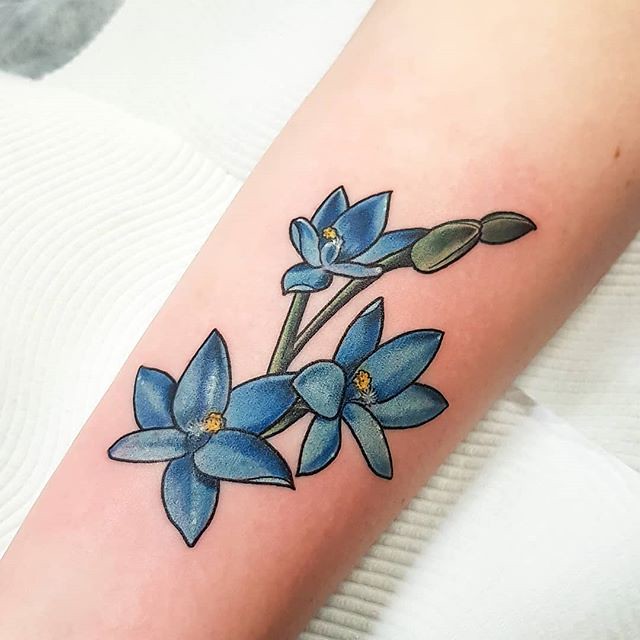 Why not go for a blue jasmine flower tattoo? While jasmine flowers are typically white, a blue jasmine can be a unique twist. Blue can symbolize tranquility, wisdom, or faith, adding another layer of meaning to your tattoo.
Jasmine armband tattoo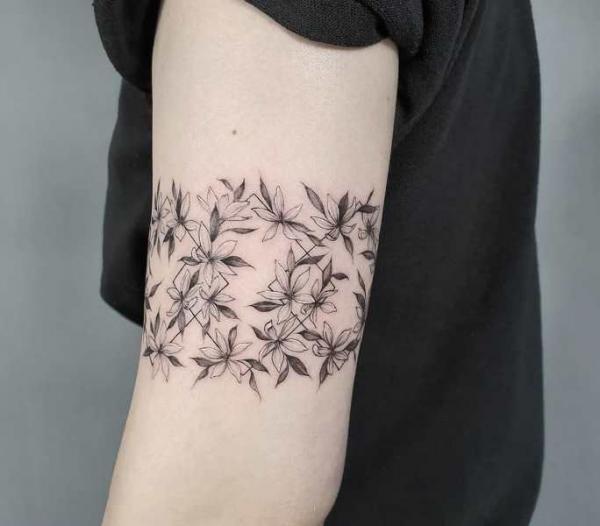 A Jasmine armband design can be an elegant adornment. The flowers can be inked in a continuous loop around your arm, creating a band of blossoms. This design is both visually striking and richly symbolic.
Single Jasmine flower tattoo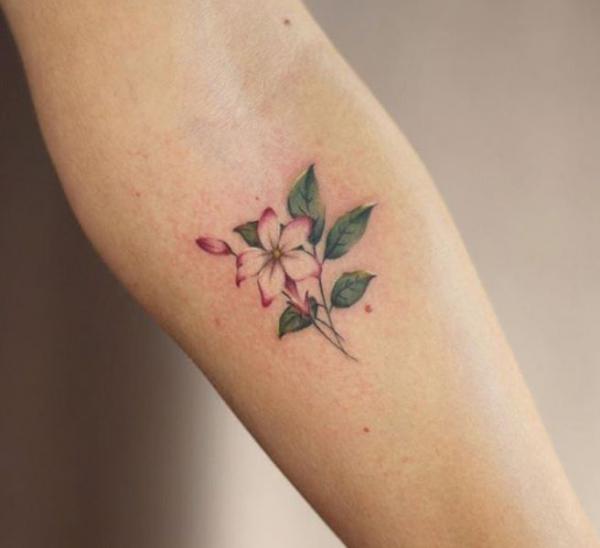 A single jasmine flower can be a minimalist yet powerful design. The single bloom can symbolize a singular focus on love and beauty, making a bold statement in its simplicity.
Jasmine and iris tattoo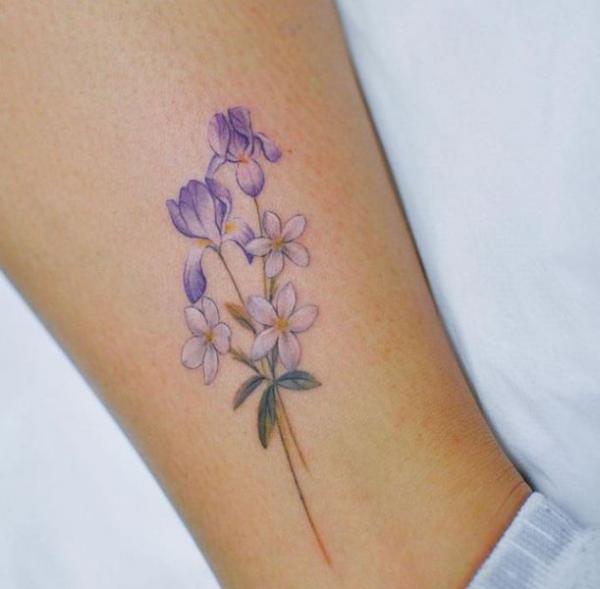 Pairing a jasmine with an iris in an ink design can create a gorgeous floral spectacle. While the jasmine represents love and sensuality, the iris symbolizes wisdom and hope. Together, they can form a beautiful emblem of love's wisdom and the hope of beauty.
Black and grey Jasmine back tattoo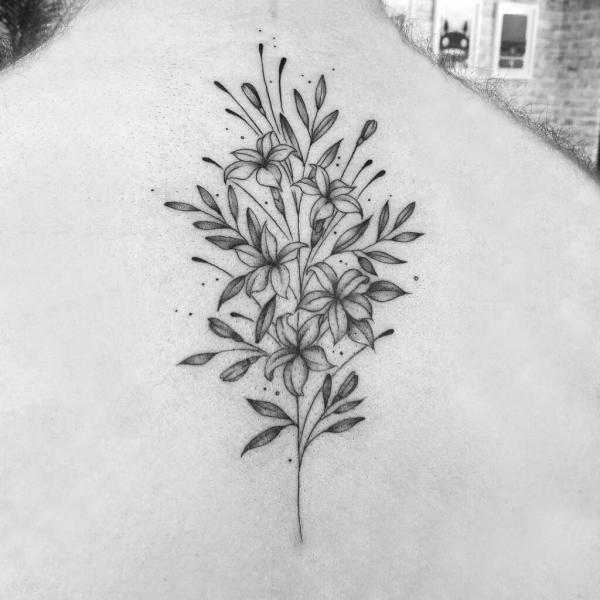 For a classic, timeless aesthetic, consider a black and grey jasmine tattoo on your back. This design can make a bold statement, with the monochrome tones allowing the intricate details of the jasmine blooms to take center stage.
Feminine Jasmine tattoo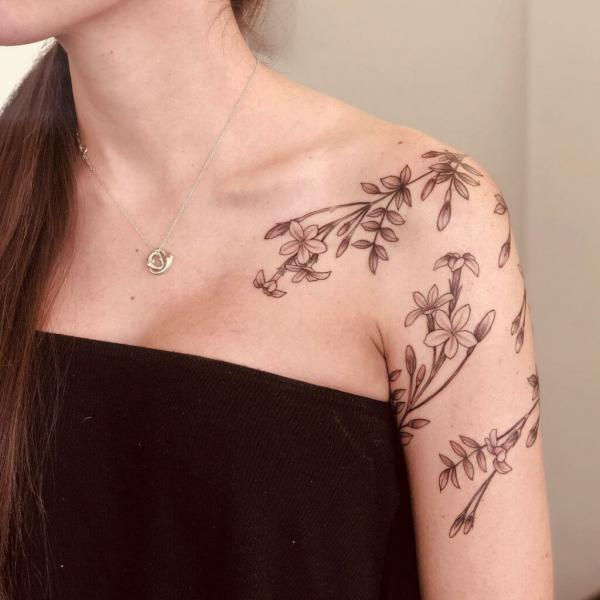 Jasmine flowers are often associated with femininity due to their delicate appearance and cultural symbolism. A feminine jasmine piece could incorporate other elements traditionally associated with femininity, creating a design that celebrates womanhood in all its forms.
Fine line Jasmine tattoo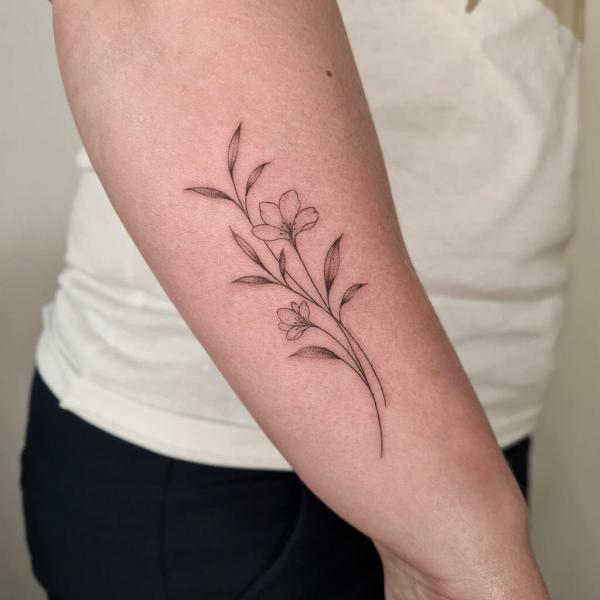 Fine line tattoos are known for their subtlety and elegance, and a fine line jasmine design can be truly exquisite. This style brings out the delicate beauty of the jasmine flower, creating a tattoo that is both minimalistic and intricate.
White Jasmine tattoo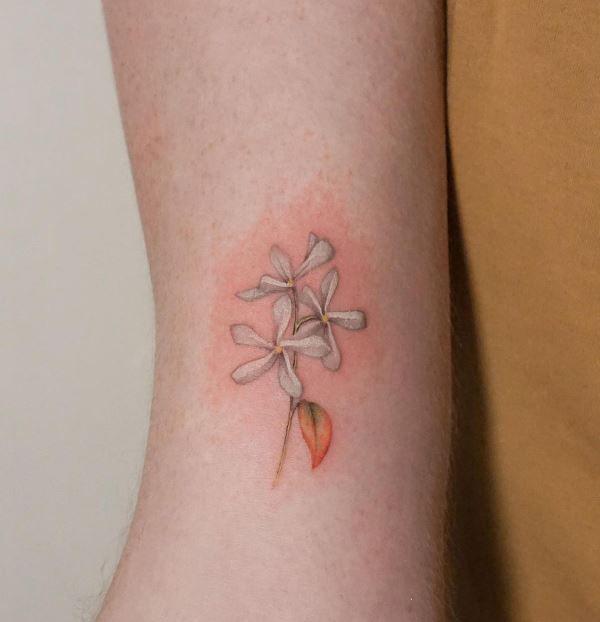 A white jasmine can be a stunning and unique choice, particularly for those with darker skin tones where the white ink will pop. White jasmine is traditionally associated with purity and innocence, making this a meaningful choice as well as a visually striking one.
Jasmine and spiral shell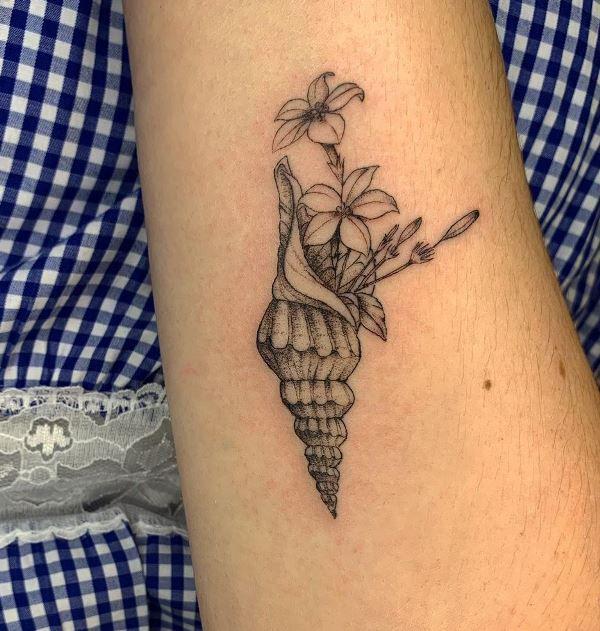 The combination of a jasmine flower and a spiral shell in an ink design can symbolize the intersection of land and sea, or nature and life's cyclical nature. The spiral shell, with its association with journey and change, complements the jasmine's symbolism of love and beauty, creating a design that tells a story of love's journey and the beauty of change.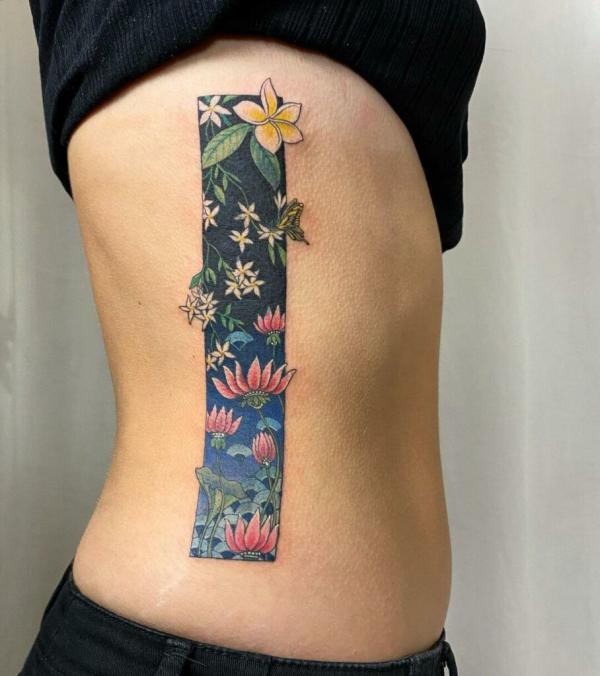 A jasmine and lotus combinaiton can be a richly symbolic and visually captivating choice. The lotus, a symbol of enlightenment and rebirth, pairs beautifully with the jasmine's associations of love and sensuality, creating a tattoo that speaks to spiritual love and awakening.
Jasmine outline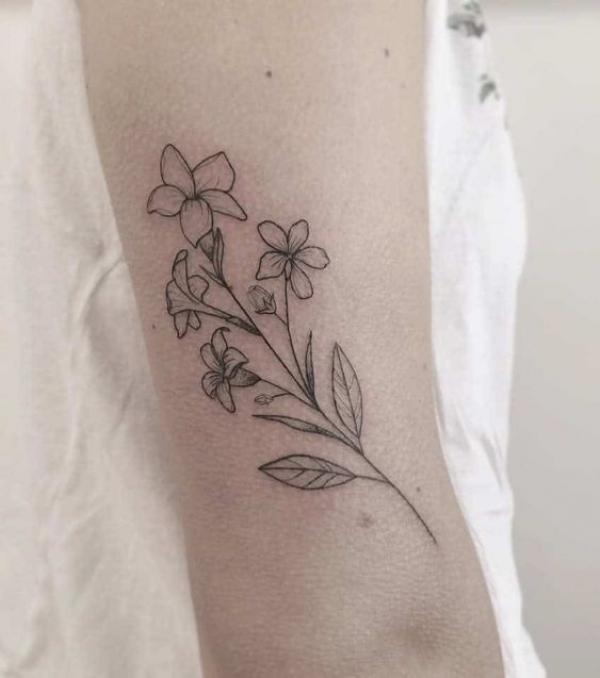 This design focuses on the jasmine's form, creating a silhouette that captures the flower's elegance in its simplest form. It's a minimalist approach that can be strikingly beautiful in its simplicity.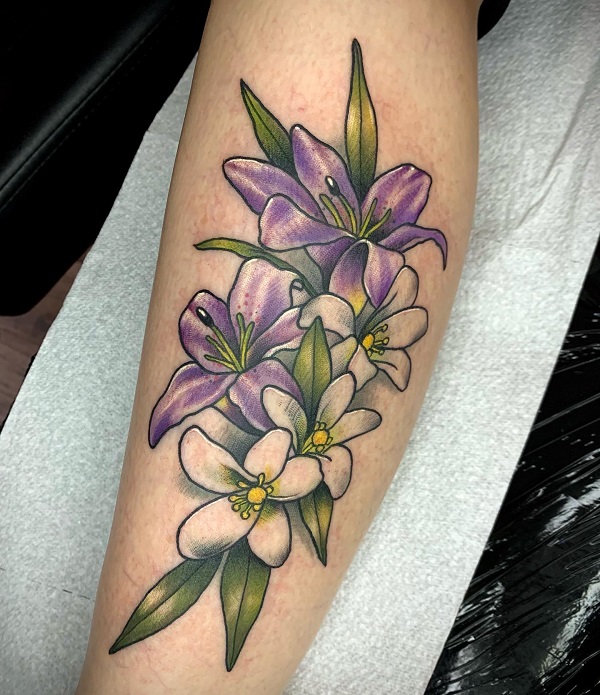 Pairing a jasmine with a lily in a design can be a beautifully potent symbol. The lily, often associated with rebirth and purity, combined with the love-symbolizing jasmine, creates a design that encapsulates the rebirth of love or the purity of deep affection.
Placement Ideas for Jasmine Tattoos
The location of your tattoo can add another layer of meaning to your design. Here are some placement ideas for jasmine tattoos that consider visibility, pain levels, and the design's size.
Shoulder
A jasmine tattoo on the shoulder can be a beautiful choice, especially for larger designs. It's a relatively low-pain area and offers ample space for intricate details.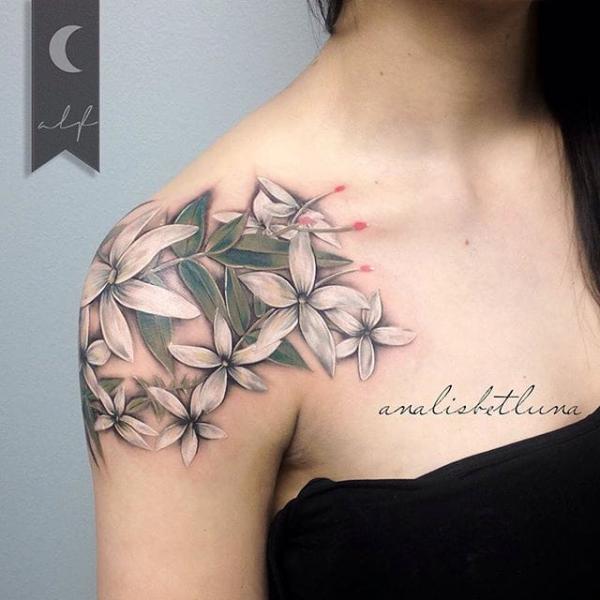 Jasmine forearm tattoo
For a tattoo that you can admire anytime, consider the forearm. A jasmine design can wrap gracefully around this area, creating a stunning visual effect.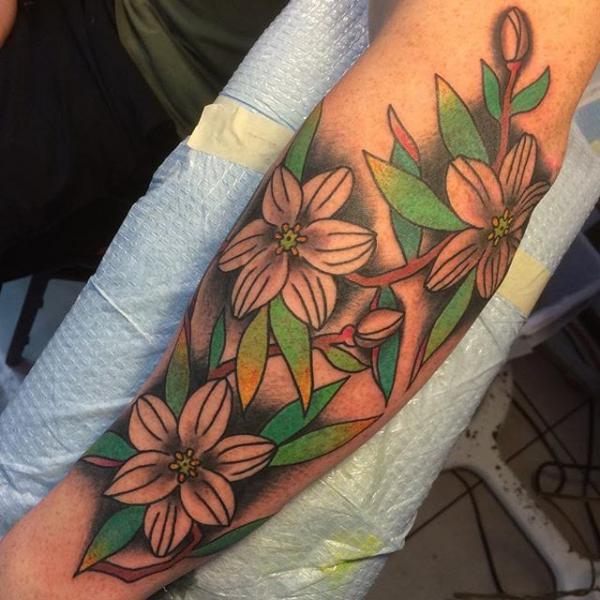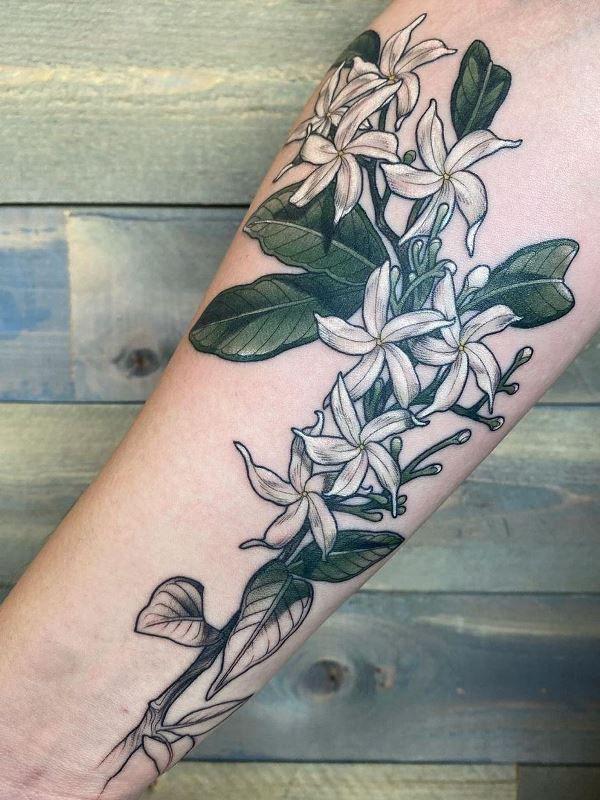 Back
The back provides a large canvas for a more elaborate jasmine tattoo. It can accommodate sprawling floral scenes or large, detailed depictions of jasmine blooms.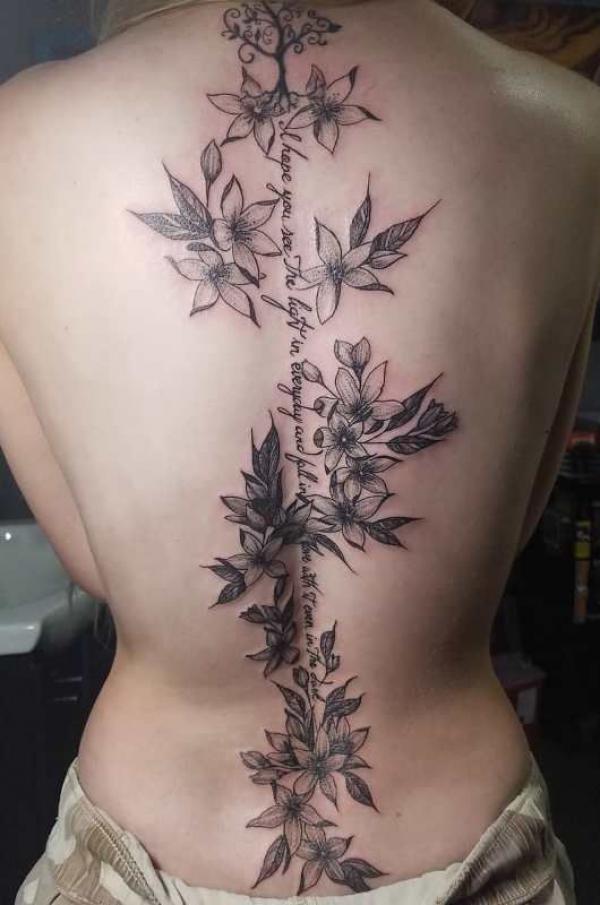 Ankle
An ankle tattoo can be charming and discreet. A small jasmine design here can be a delightful surprise, peeking out from under your trousers or socks.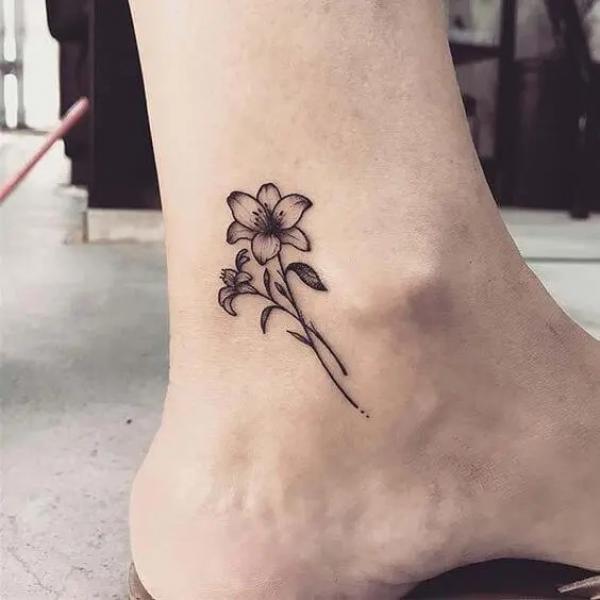 Wrist
A wrist tattoo is visible and intimate. A minimalist jasmine design here can be a constant reminder of the love, beauty, or purity that you wish to embody.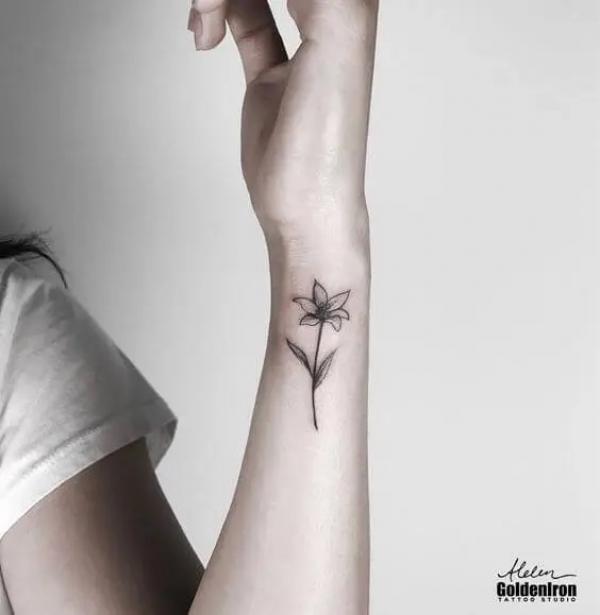 Above Elbow
The space above the elbow can be an excellent spot for medium-sized designs. A jasmine tattoo here can make a style statement without being overly conspicuous.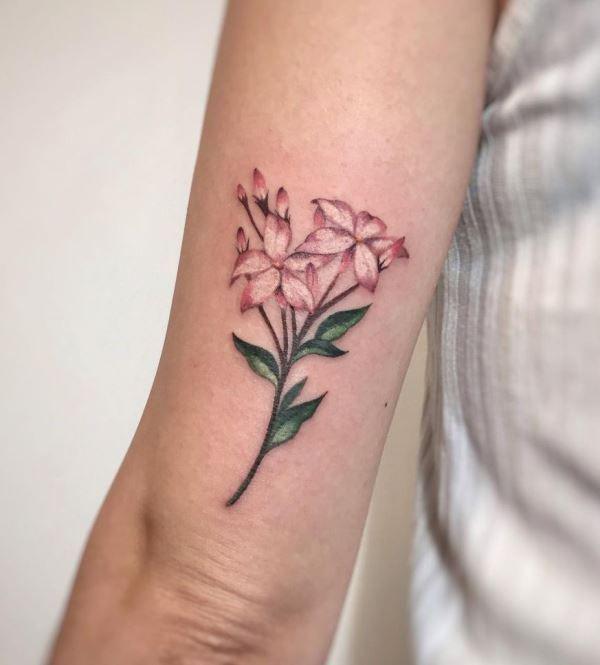 Conclusion
Jasmine tattoo designs are as diverse and enchanting as the meanings they represent. Whether you choose a minimalist jasmine bud, a detailed realistic bloom, or a radiant jasmine and sun duo, your tattoo can be a personal testament to the beauty, love, and strength you carry within.
Remember, these suggestions are merely a starting point. With your tattoo artist, don't hesitate to modify, combine, or expand on these ideas to create a design that truly mirrors your connection to the jasmine flower. After all, your tattoo is your personal canvas to ink your own symbolism. So, embrace the journey, and happy inking!