Tattoos have become a popular form of self-expression, allowing individuals to showcase their unique personalities and beliefs. One design that has gained significant attention in recent years is the chameleon tattoo. Chameleons, the masters of camouflage in the animal kingdom, have fascinated humans for centuries. Their vibrant color changes, swift movements, and distinctive appearance make them a symbol of mystery, adaptability, and change. In this article, we will explore the meaning behind chameleon tattoos and why they have become such a sought-after choice.
The Meaning Behind Chameleon Tattoos
A chameleon tattoo is more than just a beautifully intriguing piece of body art. It's a profound statement about the wearer's connection to nature and respect for its myriad of creatures. The chameleon, with its unique ability to change color and blend with its surroundings, reflects the wearer's adaptive nature and willingness to embrace change.
Adaptability: The Chameleon's Survival Mechanism
In the wild, chameleons use their color-changing ability primarily as a survival mechanism. It's a tool they employ to hide from predators, hunt prey, and communicate with other chameleons. This remarkable talent has led to the chameleon being associated with adaptability and transformation.
In the context of a tattoo, this adaptability could signify the wearer's flexibility in the face of life's challenges. It could represent a person's ability to change their approach to suit different circumstances. Or it could also symbolize their journey through significant life transformations.
Symbol of Transformation
Beyond its ability to blend in, the chameleon undergoes physical changes as well. It sheds its skin periodically, symbolizing transformation and growth. So, chameleon tattoos can serve as a reminder of personal growth and the continuous process of self-improvement. They can represent a desire for change and a willingness to embrace new experiences. The tattoo wearer may see themselves as someone who is constantly evolving and striving to become their best version.
The Chameleon and Spiritual Insight
In many cultures, chameleons are believed to possess spiritual insight. Their ability to perceive their environment in a unique way, thanks to their panoramic vision and independently moving eyes, has made them a symbol of wisdom and foresight. A chameleon tattoo could, therefore, serve as a reminder to the wearer to look at things from different perspectives.
The Chameleon as a Symbol of Individuality
Chameleons are solitary creatures, comfortable in their own skin and independent. They don't follow the crowd, choosing instead to forge their unique paths. For enthusiasts who value their individuality and independence, a chameleon tattoo could be the perfect design to express these qualities.
The Richness of Chameleon Tattoo Designs
Just as chameleons come in various shapes and sizes, so too do chameleon tattoos. The chameleon's vibrant color palette opens up a world of possibilities for tattoo designs. From vibrant, multi-colored designs to more minimalist, monochrome designs, there's a tattoo design to suit every style. The choice of colors can further enhance the tattoo's symbolism. For instance, a green chameleon might stand for growth and renewal, whereas a red one could symbolize passion and courage.
Neo traditional chameleon wearing a magic hat tattoo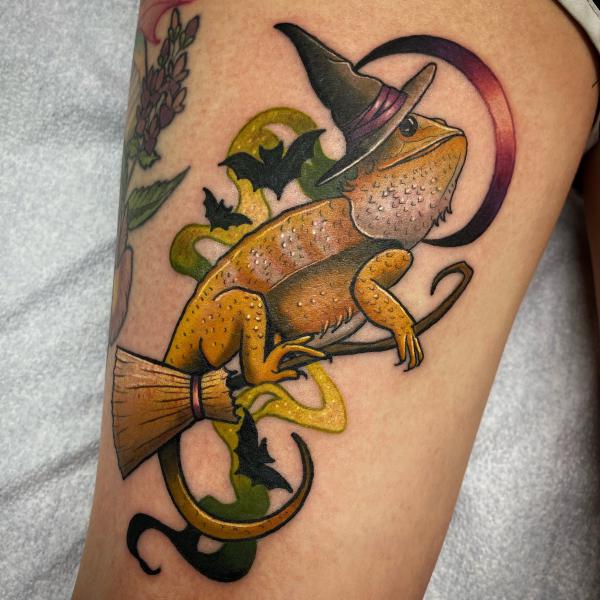 A chameleon wearing a magic hat adds a whimsical, fantastical twist to a neo-traditional design. This playful design can serve as a nod to the chameleon's magical color-changing abilities and its enigmatic nature.
Chameleon eating mosquito tattoo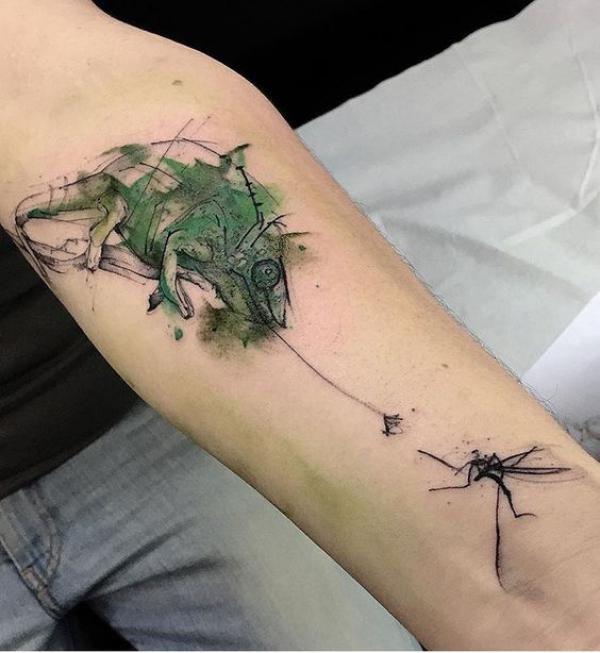 A chameleon eating a mosquito can make for a dynamic and visually impressive ink design. This design captures the chameleon's lightning-fast tongue in action, creating a vivid scene of nature's drama right on your skin. It's a testament to the chameleon's adaptability and survival skills.
Chameleon on a dead trunk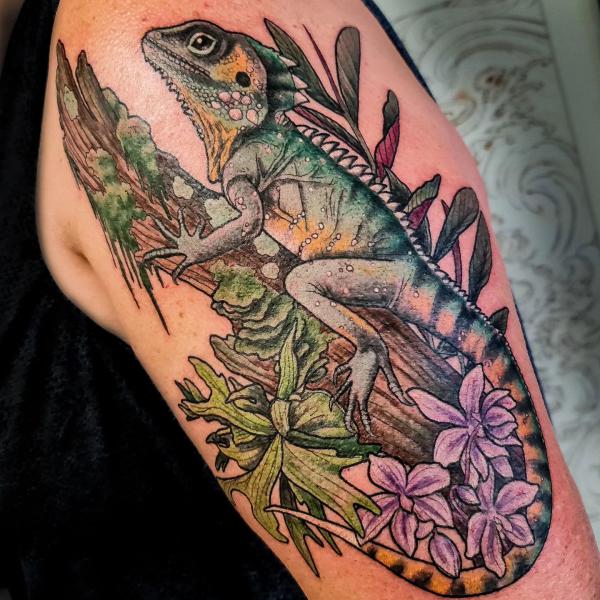 A chameleon on a dead trunk depicts a stark contrast between the vibrancy of the chameleon and the lifelessness of the trunk. This design can serve as a powerful reminder of life's impermanence and the continuous cycle of life and death.
Chameleon on an arrow drawing tattoo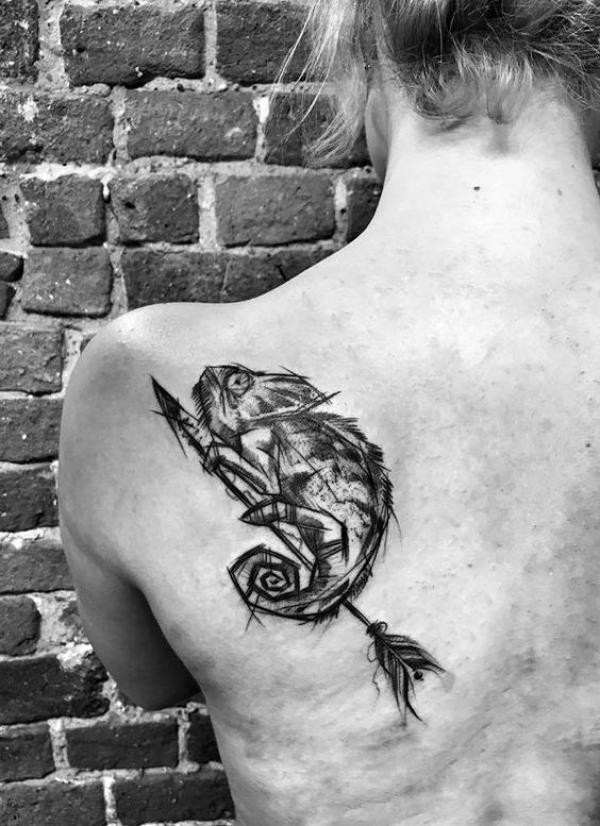 A chameleon perched on a drawn arrow can symbolize direction, movement, and focus. The arrow adds an element of dynamism to the design, while the chameleon's presence suggests adaptability even amidst change and progress.
Chameleon outline tattoo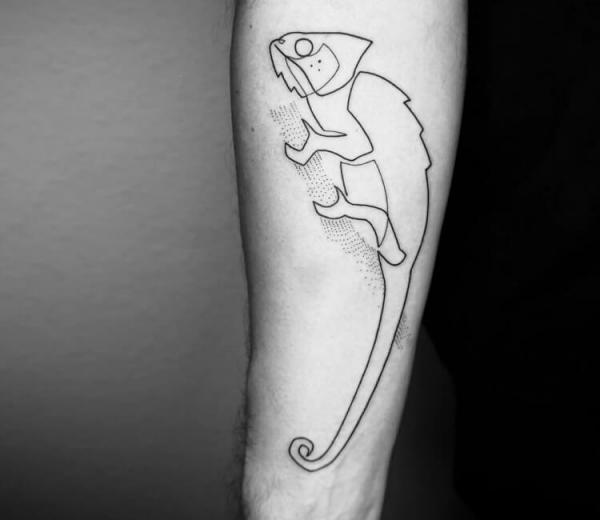 For those who prefer a minimalist approach, a chameleon outline design can be an elegant choice. Its simplicity and subtlety can underscore the chameleon's distinct shape and silhouette in a sleek, modern way.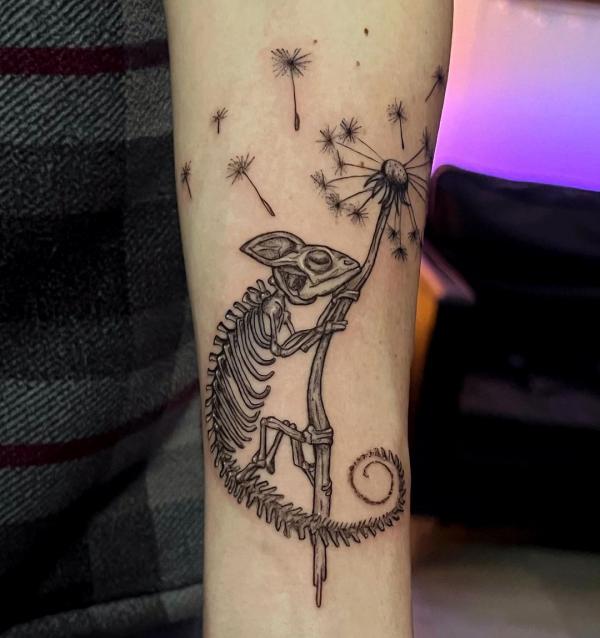 A chameleon skeleton with a dandelion can be a striking and thought-provoking design. The delicate dandelion adds a touch of whimsy and contrast to the chameleon's skeletal form, creating a unique blend of the natural and the surreal.
Chameleon with fern tattoo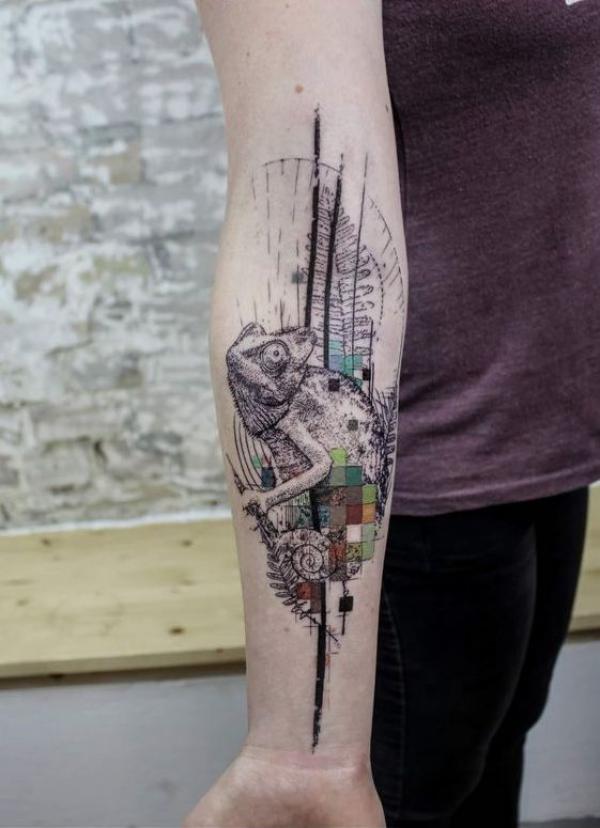 A chameleon nestled within lush ferns can depict the creature in its natural habitat. The ferns add a degree of depth and texture to the tattoo, creating a rich, detailed tableau that celebrates the beauty of the natural world.
Cute chameleon tattoo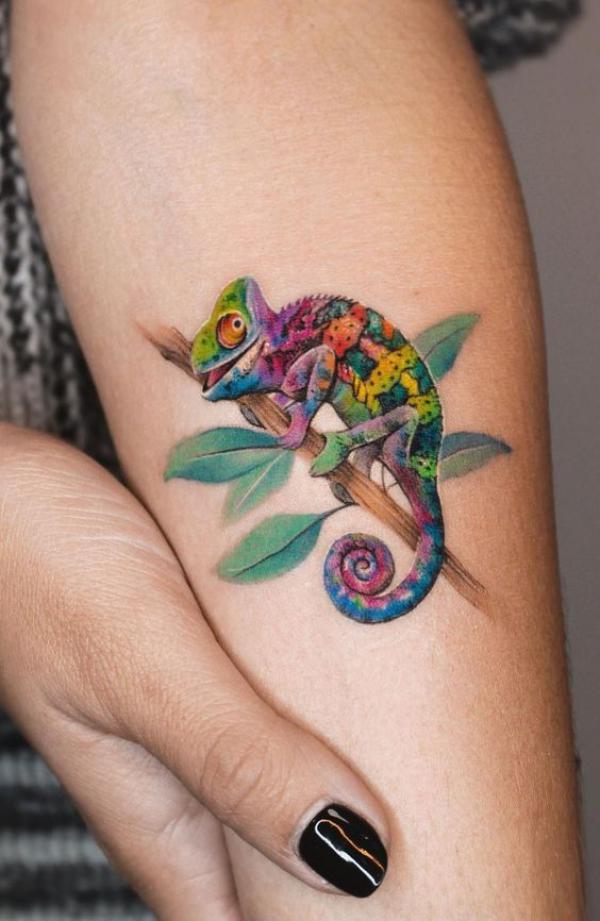 A cute chameleon tattoo, with its exaggerated features and vibrant colors, can bring a dash of charm and whimsy to your body art. This design can serve as a playful reminder of the joy and wonder found in nature's creations.
Mandala chameleon on a branch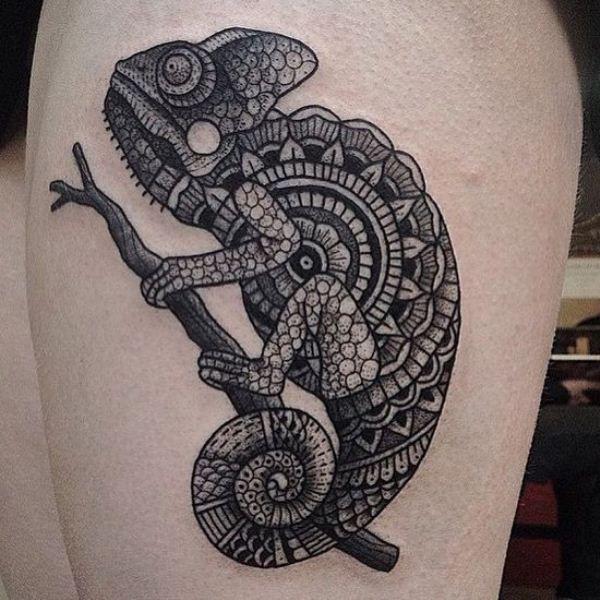 A mandala chameleon on a branch blends the intricate geometry of mandala art with the chameleon's natural form. The result is a visually stunning design that combines symbolism, spirituality, and nature in a harmonious blend.
Minimalist chameleon tattoo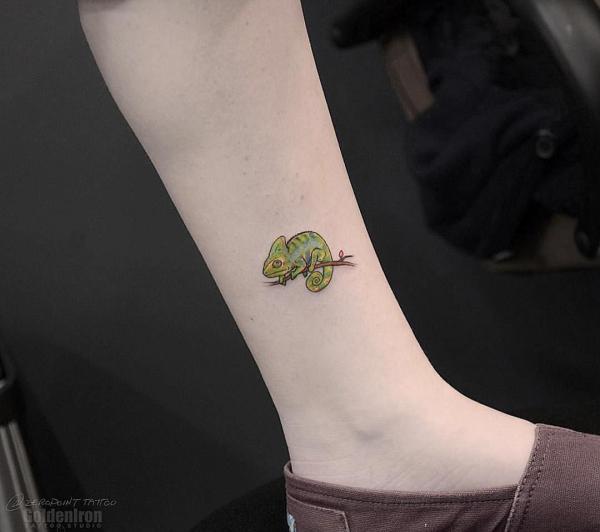 A minimalist chameleon tattoo, with its clean lines and pared-down design, is a modern take on this classic symbol. This design is a testament to the fact that sometimes, less is indeed more.
Neo traditional chameleon opening its mouth tattoo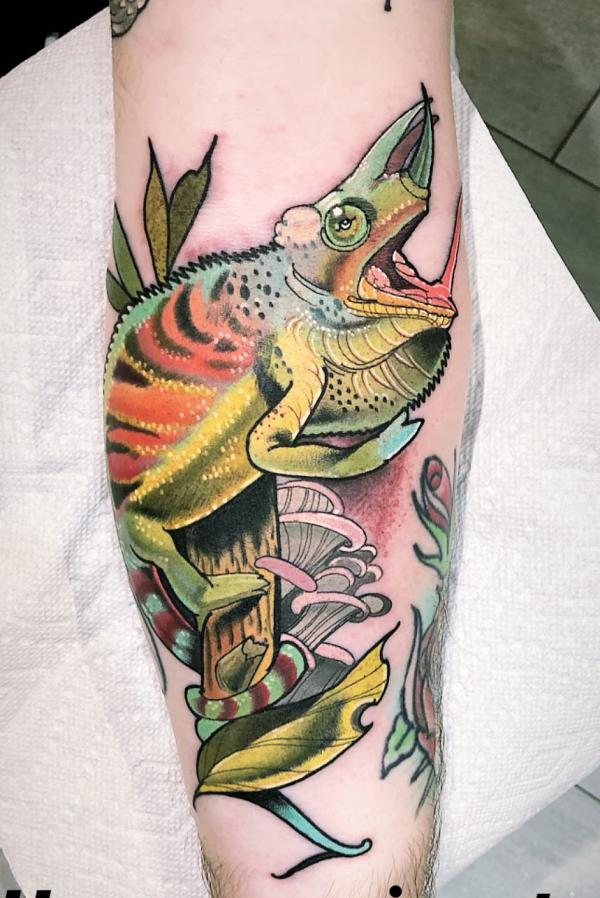 In a neo-traditional chameleon design, the chameleon is depicted with its mouth open, ready to snap up its prey. This design captures the chameleon's predatory side, adding a dose of drama and intensity to the tattoo.
Neon chameleon on branch tattoo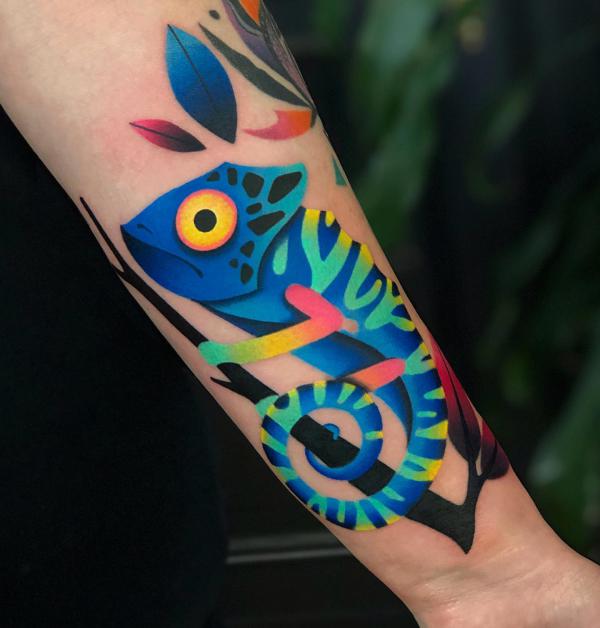 A neon chameleon on a branch is a riot of colors. This design celebrates the chameleon's vibrant color palette, creating a visually striking design that's sure to turn heads.
Realistic chameleon tattoo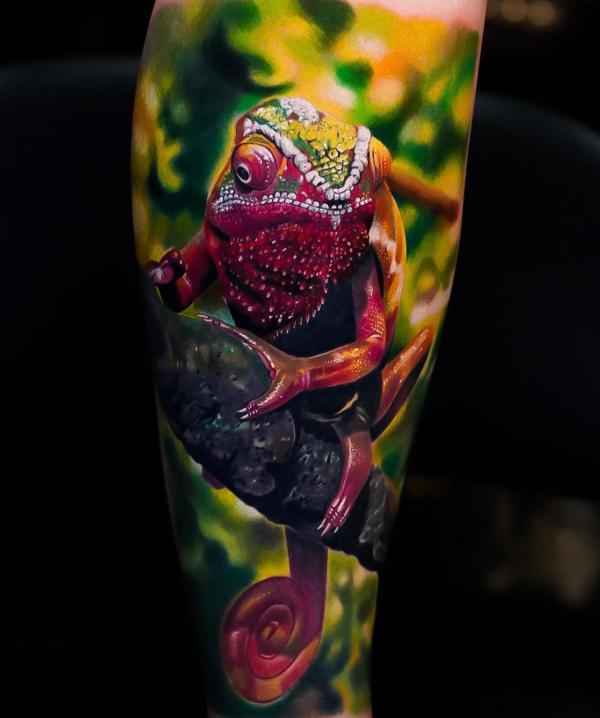 A realistic chameleon design captures the creature in meticulous detail, from its textured scales to its distinctive eyes. This design is a tribute to the chameleon's unique physical characteristics and its unparalleled beauty in the animal kingdom.
Sketchy chameleon and sun tattoo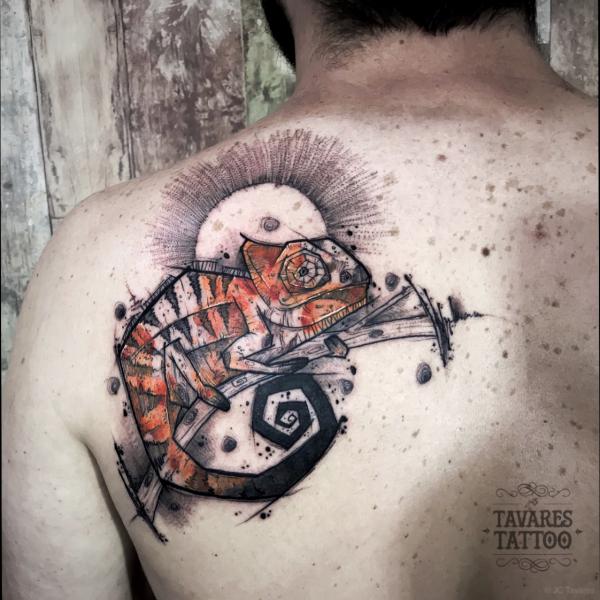 A sketchy chameleon basking in the sun is a compelling design that combines the chameleon's natural form with the symbolic power of the sun. This design can symbolize growth, energy, and the life-sustaining power of nature.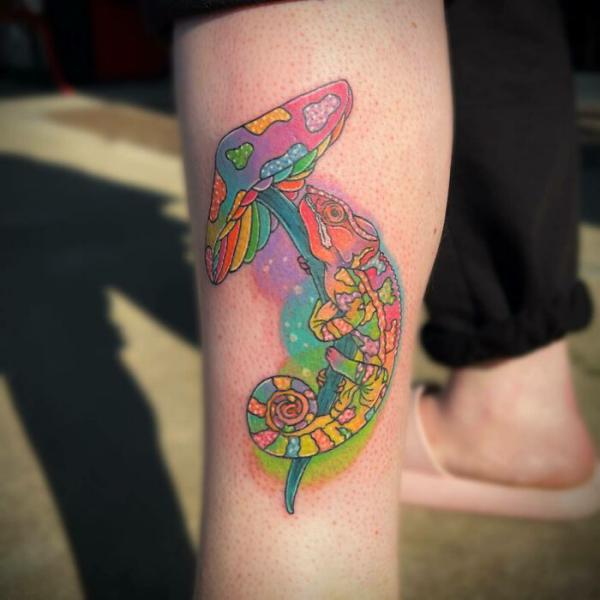 A stylized chameleon perched on a mushroom creates a whimsical and dreamy image. This design embraces the fantastical elements of nature, creating a vibrant scene that's sure to captivate the imagination.
Traditional chameleon tattoo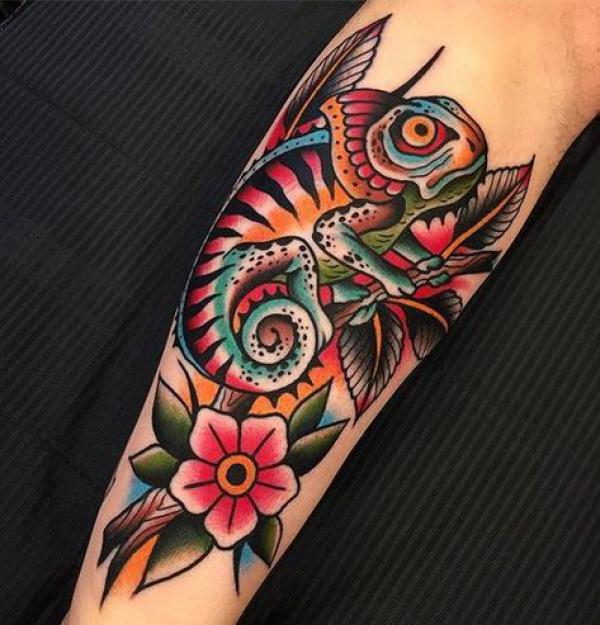 A traditional chameleon ink design celebrates the chameleon's basic form and essential features. It's a timeless design that pays homage to the art of tattooing and the natural beauty of the chameleon.
watercolor chameleon tattoo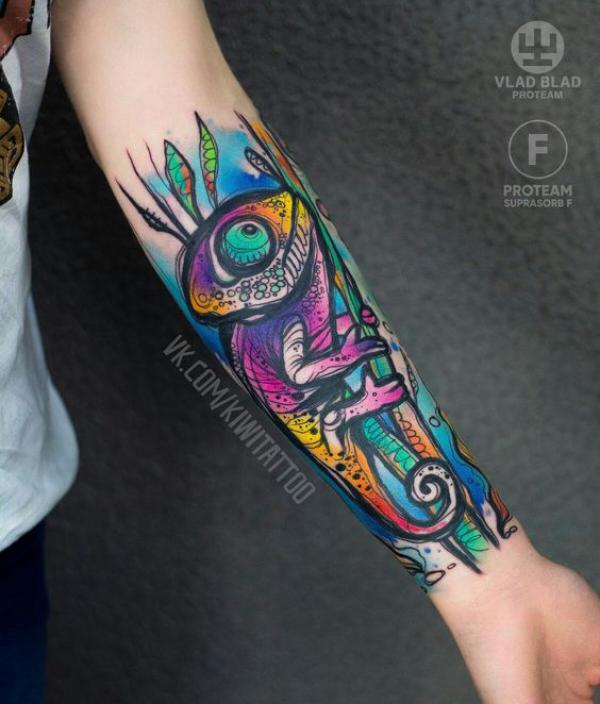 A watercolor tattoo uses soft, blended colors to create a design that resembles a watercolor painting. This style emphasizes the chameleon's vibrant color palette, resulting in a tattoo that's both visually stunning and artistically impressive.
A chameleon holding a bush tattoo watercolor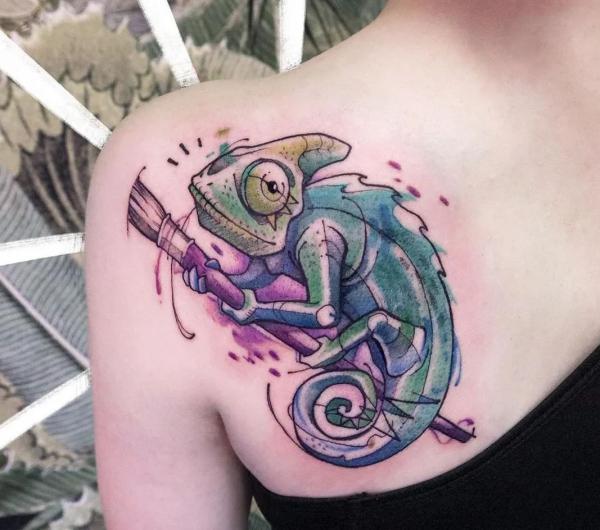 A chameleon holding a bush, rendered in watercolor, is an intriguing design. The bush adds a layer of visual interest and can symbolize growth, renewal, and the interconnectedness of all life.
Abstract chameleon line work on green watercolor backdrop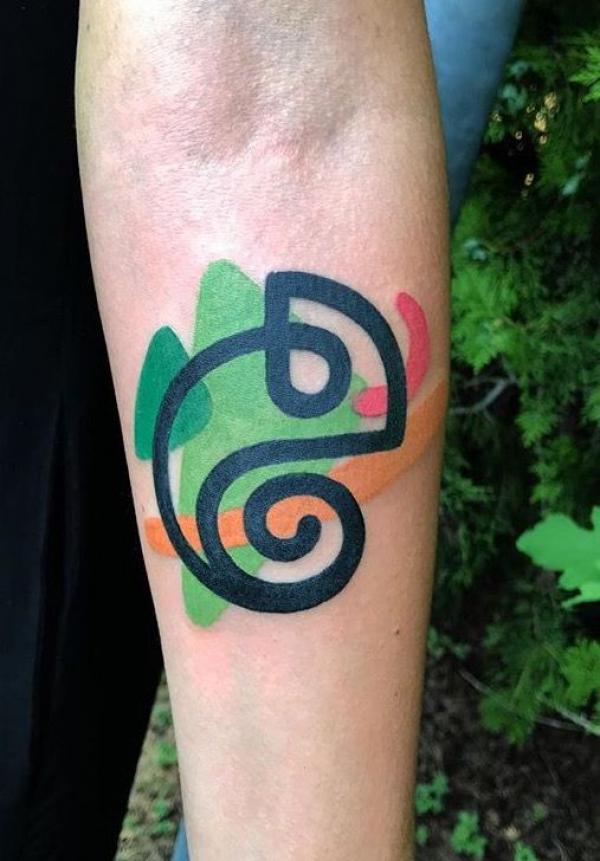 An abstract chameleon line work against a green watercolor backdrop is a modern and artistic design. It combines the simplicity of line work with the vibrancy of watercolor, creating a unique and captivating piece of body art.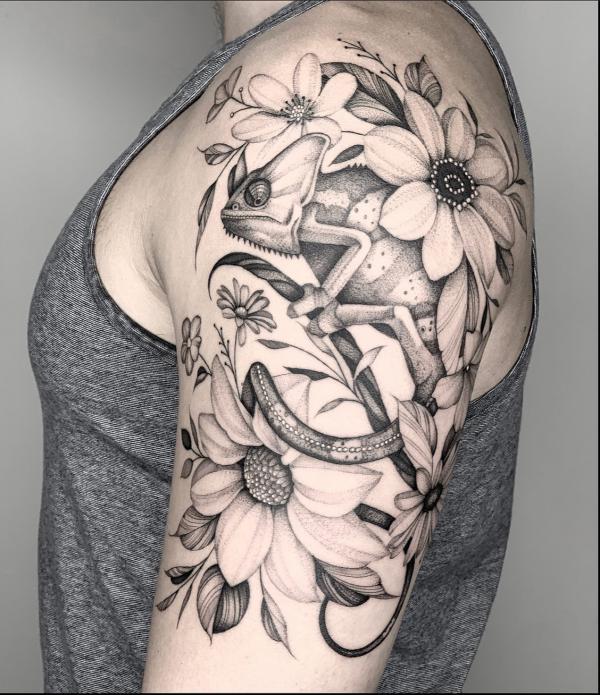 A black and grey chameleon surrounded by daisy flowers creates a striking contrast between the monochrome chameleon and the vibrant daisies. This design can be extended into a full sleeve, creating a detailed and visually impressive scene.
Blue and red chameleon on mandala background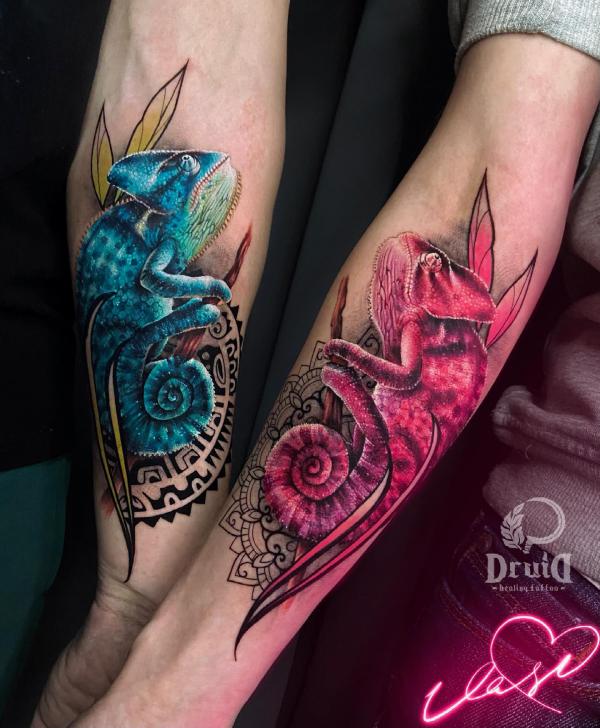 A blue and red chameleon against a mandala background is a vibrant and symbolic design. The mandala adds a spiritual dimension to the design, while the blue and red chameleon stands out against the intricate background.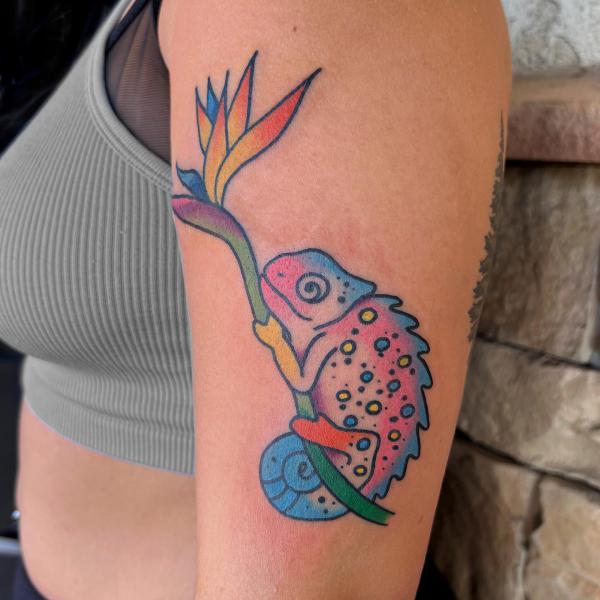 A chameleon paired with a bird of paradise flower creates a vivid and exotic scene. This design celebrates the diversity and beauty of nature, capturing the essence of the tropics on your skin.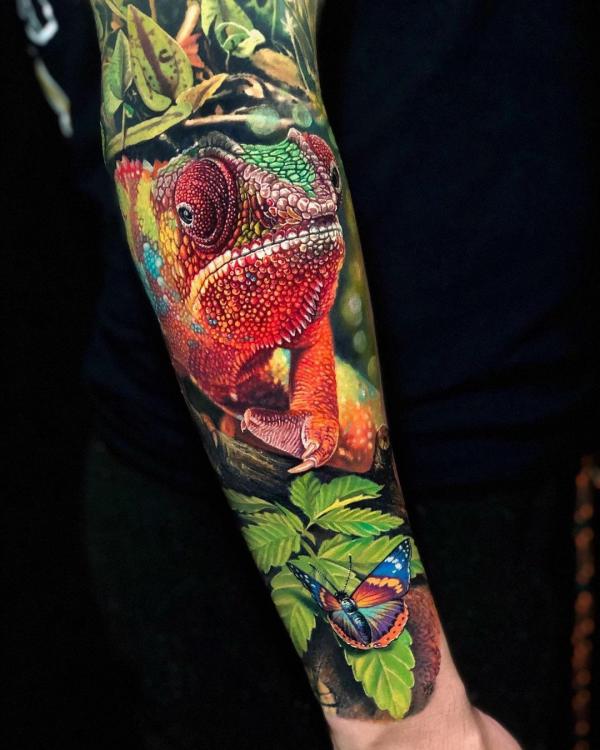 A chameleon interacting with a butterfly can symbolize transformation and adaptation. This design, full of color and life, can serve as a beautiful reminder of the capacity for change and growth.
Chameleon and lycoris tattoo
A chameleon paired with a lycoris, or spider lily, creates an enchanting and unique ink design. The lycoris adds a touch of exotic beauty to the design, while the chameleon brings an element of mystery and intrigue.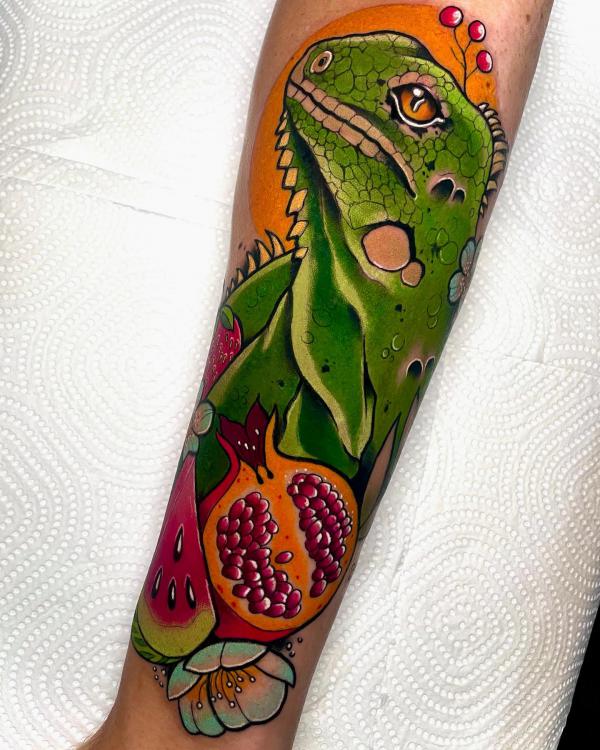 A chameleon with a pomegranate introduces a rich symbolism into the design. The pomegranate, known for its abundance of seeds, can symbolize fertility and prosperity, while the chameleon represents adaptability and change.
Chameleon and rose hips realistic tattoo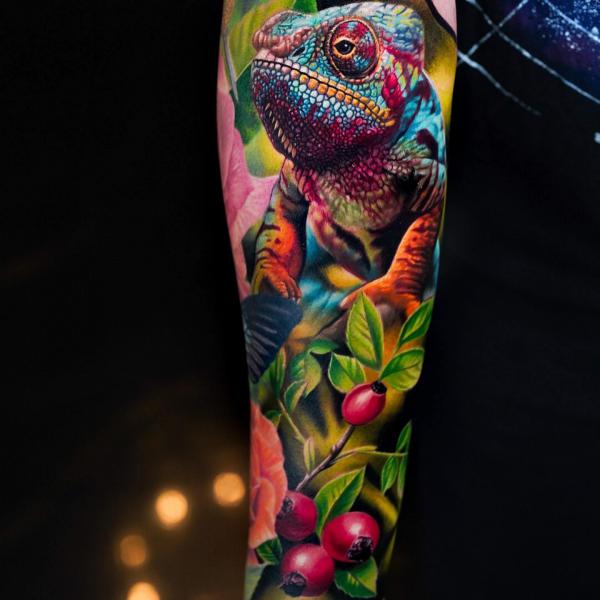 A realistic chameleon with rose hips offers a glimpse into the natural world. This design can serve as a tribute to nature's beauty, with the rose hips adding a touch of color and interest to the design.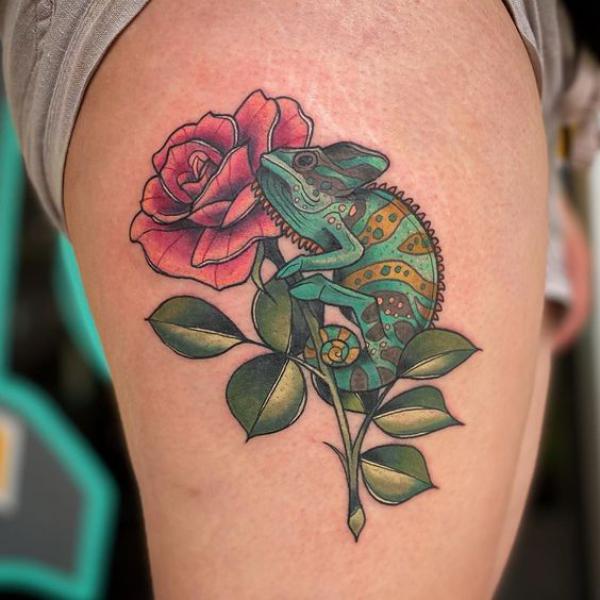 A chameleon with a rose combines the unique beauty of the chameleon with the classic elegance of the rose. This design can symbolize the delicate balance between uniqueness and tradition, individuality, and conformity.
Chameleon branch tattoo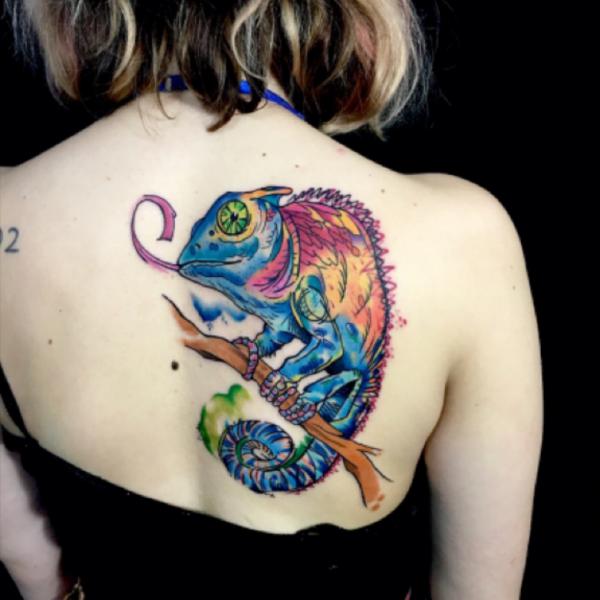 A chameleon on a branch is a simple but effective design that captures the chameleon in its natural habitat. It's a classic design that can be customized in numerous ways to suit your personal style.
Chameleon Tattoo Placement Ideas
The location of a tattoo speaks volumes about the wearer's personal style. Chameleon designs, with their unique shape and vibrant colors, offer a world of possibilities when it comes to placement. Let's explore some popular ideas for placements that will turn your body into a dynamic canvas of self-expression.
Forearm
The forearm serves as a fantastic canvas for your tattoo. Its elongated shape compliments the chameleon's long body, allowing for a detailed, eye-catching design. A chameleon tattoo on the forearm is highly visible, making it an excellent choice for those who wish to proudly display their vibrant piece of body art.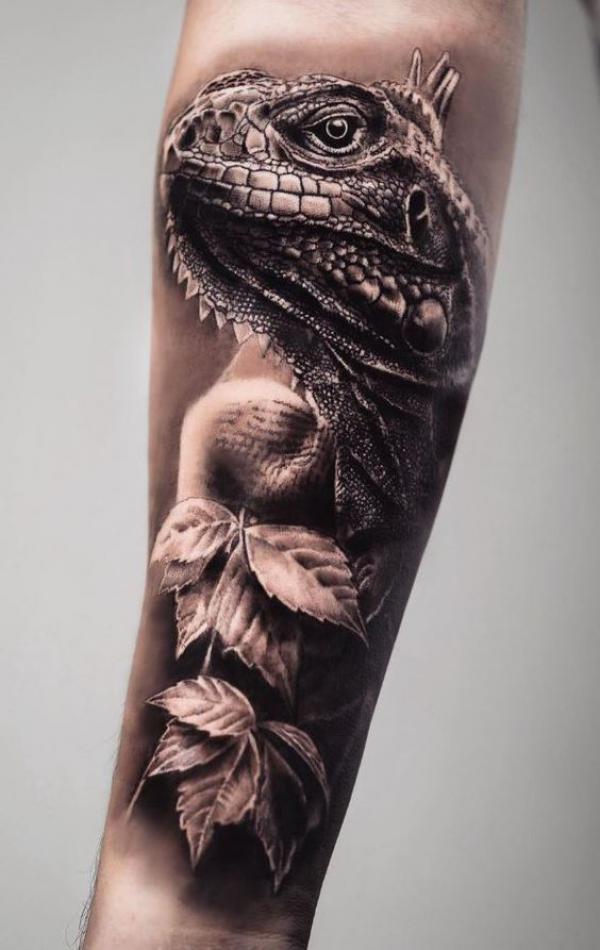 Ankle
For a subtler approach, consider the ankle. A small chameleon tattoo on the ankle can be a delightful surprise, a little secret only revealed when you choose. It's an ideal location for those who prefer a more discreet tattoo placement that can be concealed easily if needed.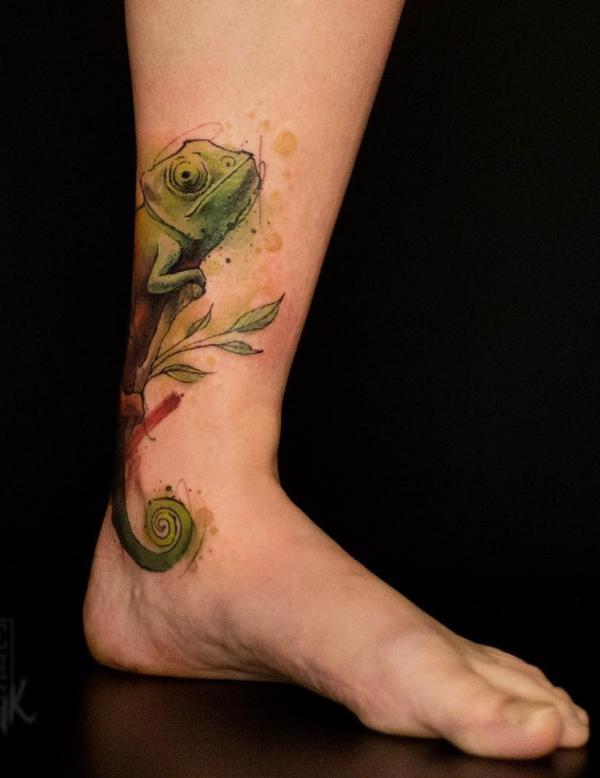 Calf
The calf, with its generous space and vertical orientation, is another excellent location for a chameleon tattoo. The design can be inked to appear as if the chameleon is climbing up your calf, creating an appealing visual effect.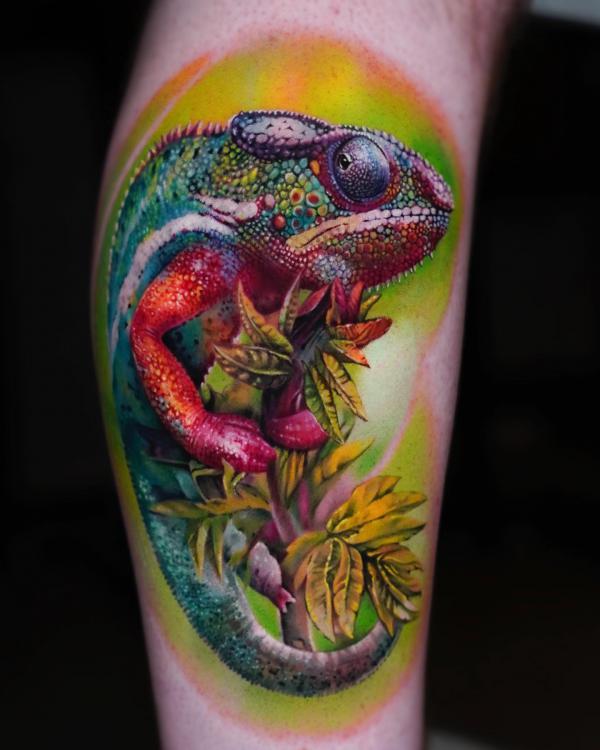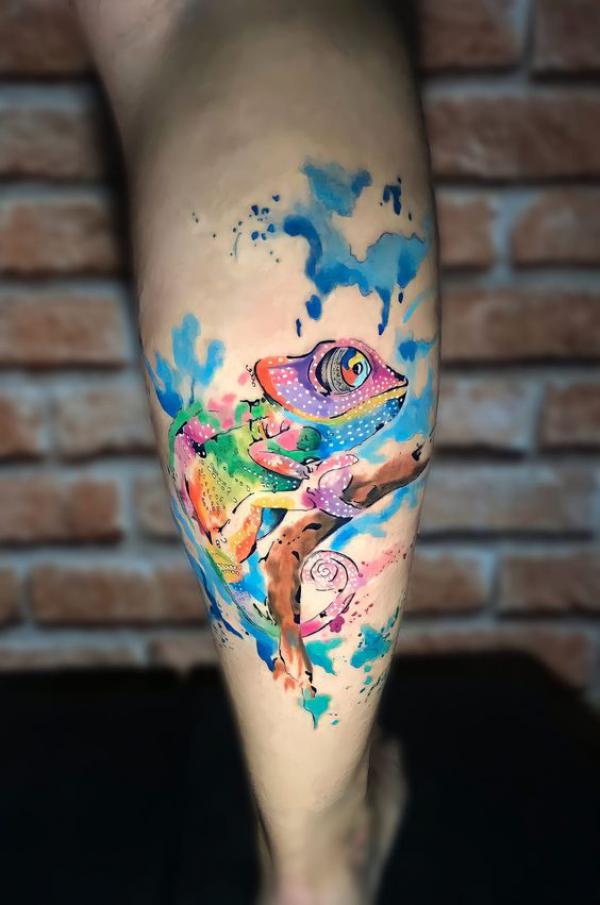 Hand
The hand is a bold choice for a chameleon tattoo. A chameleon inked on the hand can serve as a striking emblem of your personality. It's a location that ensures your tattoo is often in sight, a constant reminder of your affinity for this unique creature.
Chameleon line work hand tattoo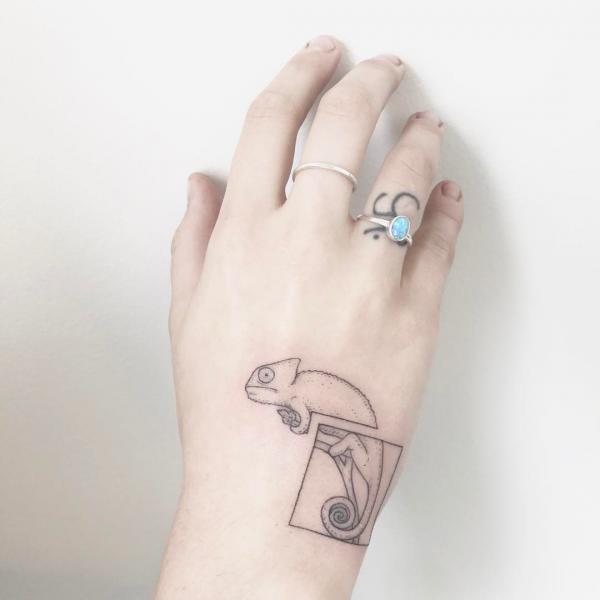 Shoulder Blade
The shoulder blade provides a broad, flat surface that can serve as a backdrop for a larger, more detailed chameleon tattoo. A chameleon inked across the shoulder blade can appear as if it's clinging to the edge of your shoulder, adding a dynamic element to the design.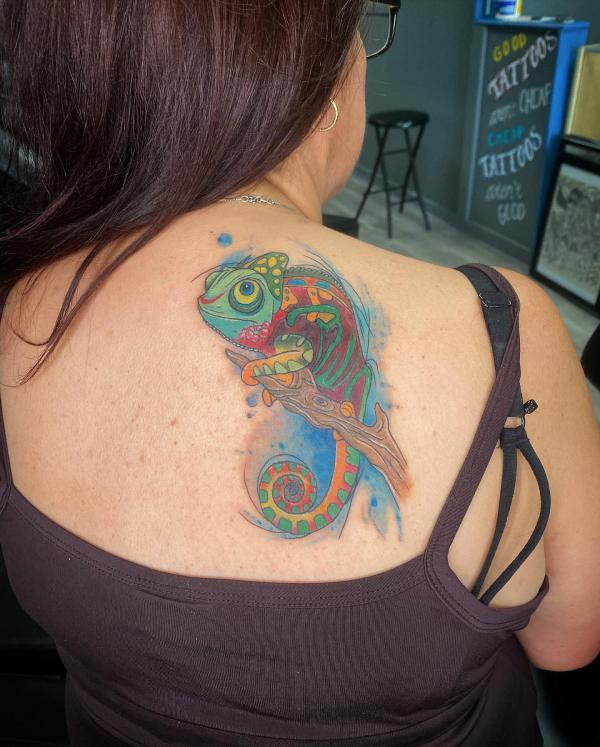 Thigh
The thigh offers a generous canvas for a larger chameleon tattoo. There's ample space to incorporate a detailed background, perhaps a leafy branch for the chameleon to perch on, creating a captivating scene that tells a story.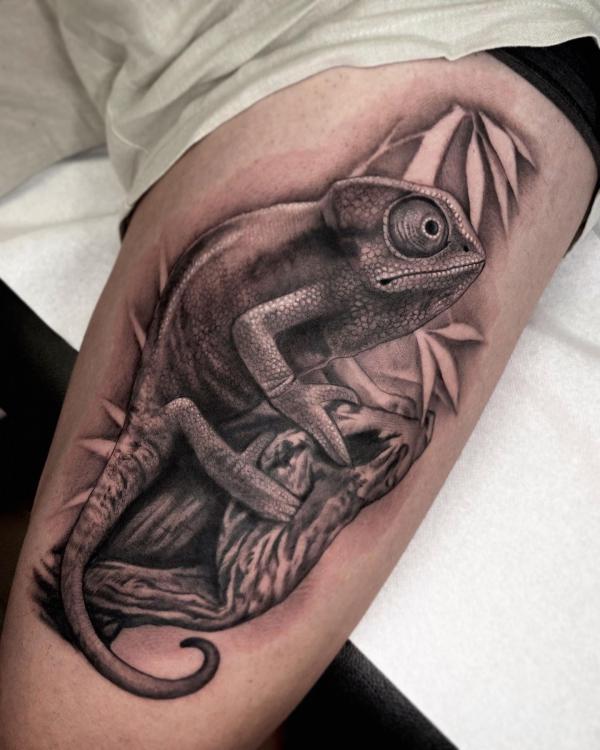 Leg: A Lengthy Display
The leg, with its length and width, offers a unique placement for a chameleon tattoo. A chameleon can be designed to wrap around your leg, or it can be inked to appear as if it's ascending from your ankle to your thigh, providing a lengthy display of this amazing creature.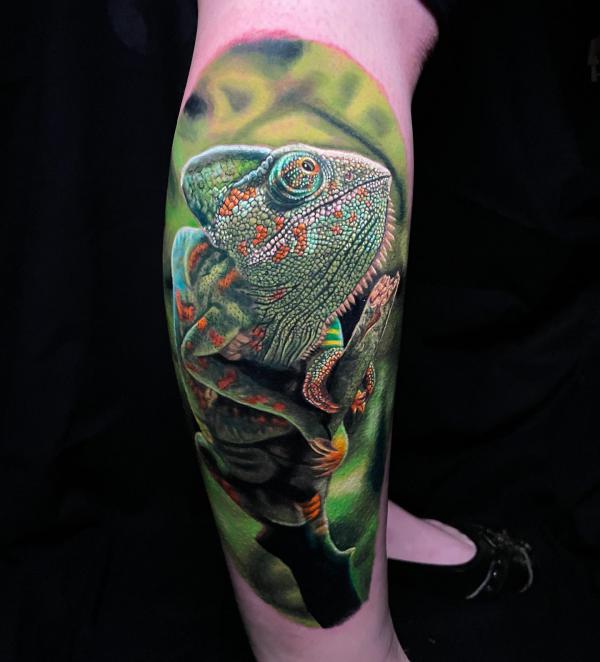 Panda with frog and chameleon leg tattoo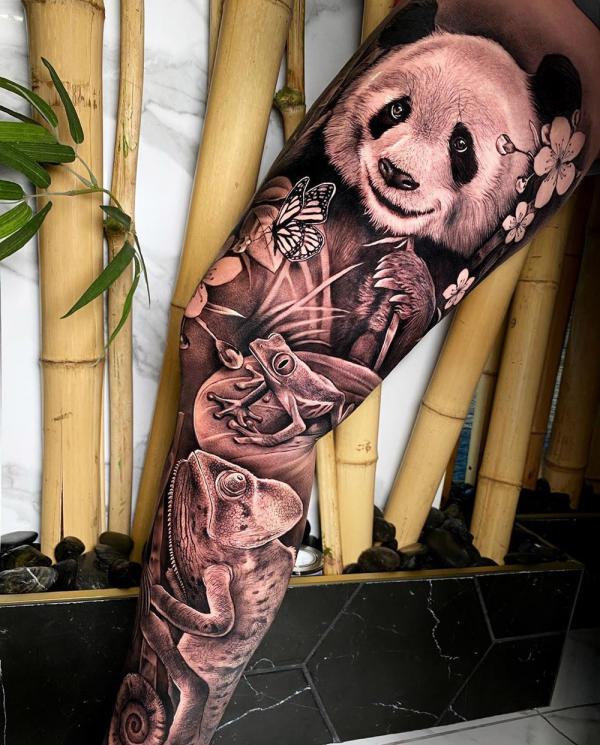 Sleeve
A sleeve tattoo allows you to tell a fuller story. A chameleon can be the centerpiece of a jungle-themed sleeve, surrounded by other elements like tropical flowers, vines, and other creatures, creating a rich, vibrant tableau on your arm.
Realistic female face and chameleon tattoo sleeve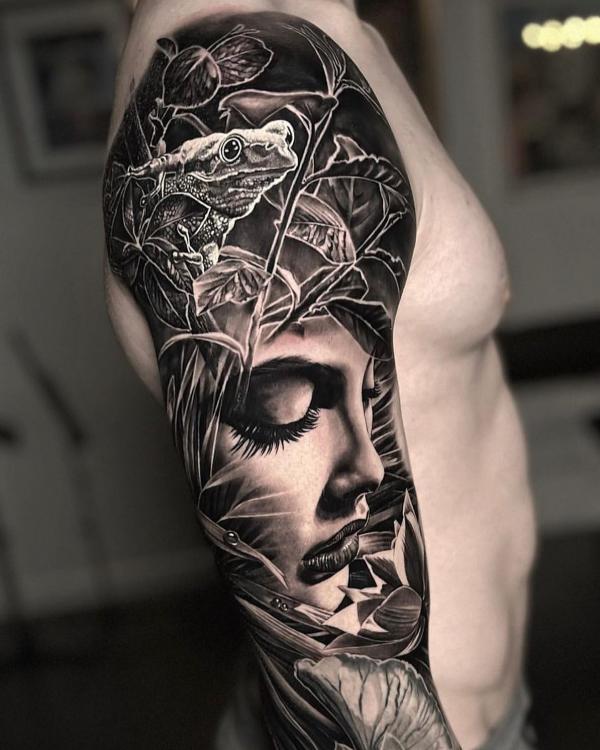 Neck
A chameleon tattoo on the neck makes a noticeable declaration. This placement is perfect for those who aren't afraid to make a bold statement. A chameleon inked on the side of your neck can peek out from under your hair, adding intrigue and allure to your tattoo.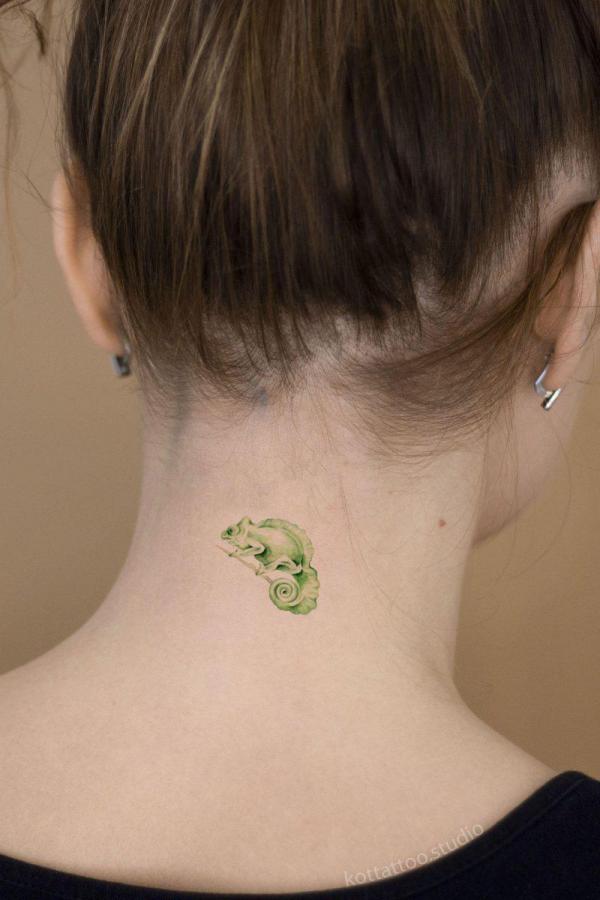 Head
The head, though not a common choice, can serve as the ultimate canvas for a chameleon tattoo. This placement is truly for the brave and the bold. A chameleon inked on the side of the head or behind the ear could serve as a striking conversation starter.
Traditional chameleon head tattoo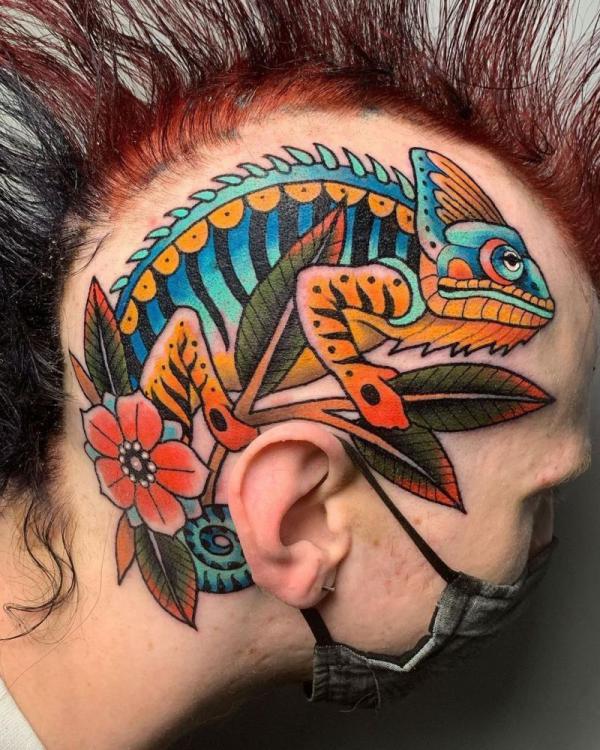 Final Thoughts
A chameleon tattoo is a powerful symbol of adaptability, transformation, individuality, and insight. This unique design encapsulates the wearer's deep-rooted bond with nature and their life's voyage. It mirrors their skill to adjust and transform in response to their unique circumstances.
Remember, the meaning of a chameleon tattoo can vary greatly depending on the wearer's personal interpretation and experience. Whether you're drawn to the chameleon for its vibrant colors, its unique abilities, or its spiritual significance, this design is sure to make a bold and meaningful statement.
In the world of ink designs, where each carries its own story and symbolism, the chameleon stands out as a symbol of change and adaptation. It's a reminder that just like this remarkable creature, we too have the ability to adapt, transform, and blend into whatever life throws our way. So, if you're seeking a design that truly embodies your journey, a chameleon tattoo might just be the perfect choice.