Daisies – these cheerful, delicate blossoms are much more than just pretty flowers. Over the centuries, they have held deep symbolism across cultures. Daisy tattoos are a perennial favorite choice for those seeking a meaningful and visually appealing piece of body art. In this article, we're going to delve into their various designs with interpretations and symbolic meanings. So, buckle up and join us on this journey of exploration!
The Daisy: A Symbol with Many Meanings
The humble daisy, with its radiant petals surrounding a golden heart, has long been admired for its beauty and simplicity. But underneath this simplicity lies a world of meanings and symbolism. Let's start by understanding what a daisy represents in a broader sense.
Symbol of Innocence and Purity
Daisies are traditionally associated with innocence, purity, and virtue. In Christian art, they are often used to symbolize the Virgin Mary's innocence and chastity. A daisy tattoo can, therefore, serve as a reminder to stay pure in thoughts and actions, and to maintain a certain innocence in one's worldview.
Emblem of Love and Loyalty
In Victorian times, daisies were used in a "loves me, loves me not" game, where each petal plucked would determine a lover's interest. As such, daisies have become symbolic of love, loyalty, and trusting relationships. If you're a romantic at heart, a daisy tattoo could be a nod to your belief in love and commitment.
Sign of New Beginnings and Transformation
The daisy's life cycle is a fascinating process of transformation. It closes its petals at night and reopens them to greet the new day. Because of this, daisies are often associated with new beginnings, rebirth, and transformation, making a daisy tattoo an excellent symbol of personal growth and change.
Diving Deeper: Daisy Tattoo Meanings by Color
While the design is crucial, the color of your daisy tattoo can also significantly influence its vibe and symbolism. Let's explore different colored flower tattoos and see how different hues can add a personal touch to your body art.
Blue Daisy Tattoos: A Splash of Serenity
Blue daisy tattoos are a refreshing divergence from the traditional white and yellow daisy. The color blue is often associated with calmness, serenity, and wisdom. A blue daisy can symbolize tranquility and peace, making it a perfect choice for those seeking a soothing element in their body art. Whether it's a pale, sky-blue or a deep, oceanic blue, a blue daisy tattoo can be your personal emblem of peace.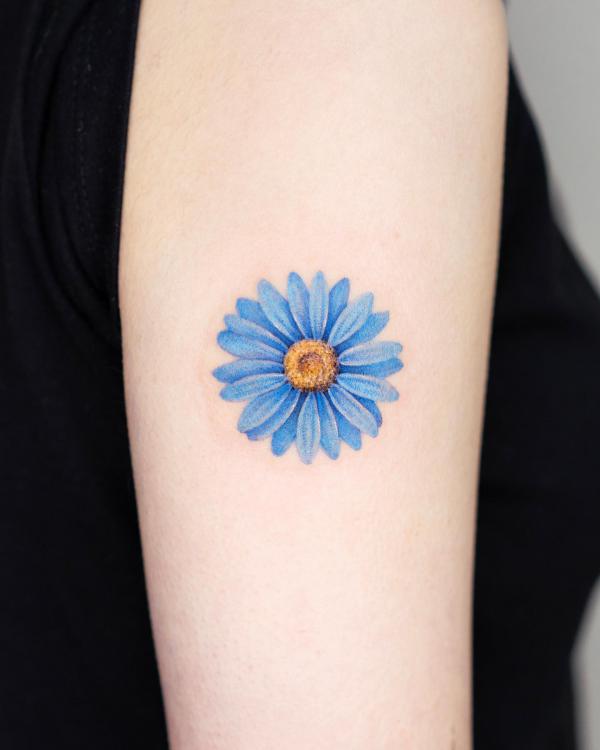 Red Daisy Tattoos: Radiating Passion
Red is a color that screams passion, intensity, and love. It's a bold choice, designed to stand out and make a statement. A red daisy tattoo can symbolize strong emotions, fervor, and a zest for life. If you're looking to add a vibrant and passionate touch to your body art, a red daisy tattoo might just be the perfect pick. It's a vivid reminder of your fiery spirit and the love that fuels your life.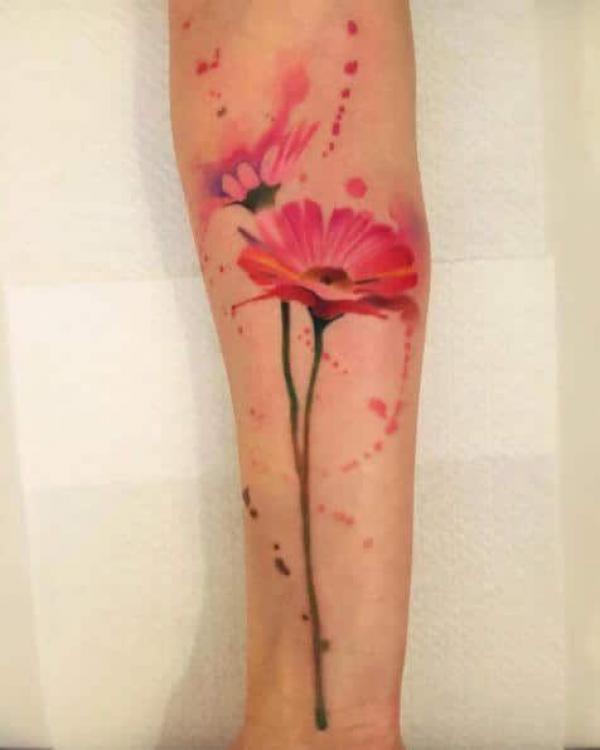 White Daisy Tattoos: Pure and Simple
The white daisy is a classic symbol of innocence, purity, and simplicity. A white daisy tattoo can serve as a reminder to maintain clarity in thoughts and purity in actions. This tattoo might appear simple, but its symbolism is profound. The white daisy tattoo is perfect for individuals who appreciate minimalism and want to carry a symbol of purity and innocence with them wherever they go.
White daisy ink design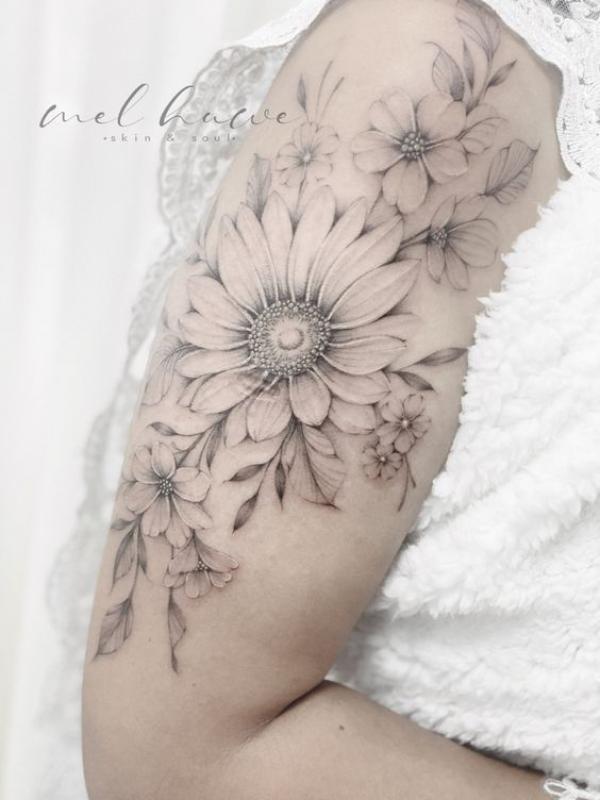 Two white daisy flowers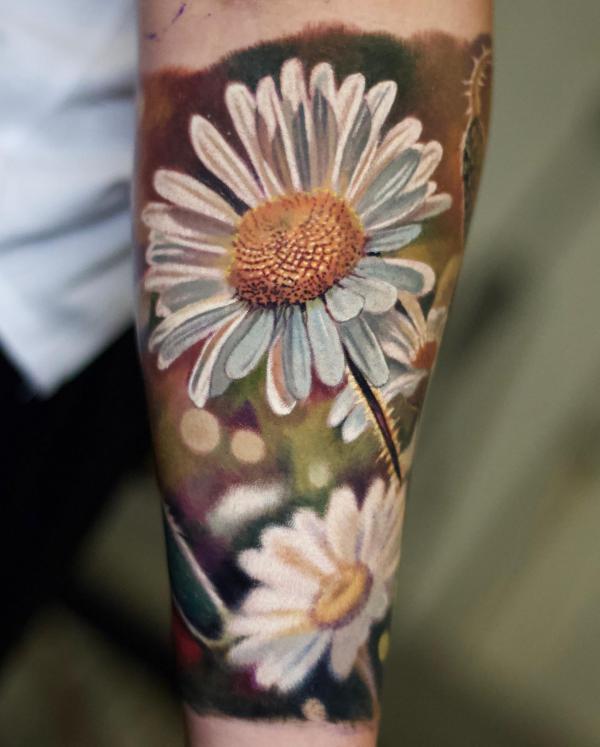 Yellow Daisy Tattoos: Sunshine on Skin
Yellow daisies are synonymous with happiness, joy, and positivity. They are like a little sunflower, radiating warmth and cheerfulness. A yellow daisy tattoo can be a permanent dose of sunshine, a reminder to stay optimistic and joyful in life's journey. If you're someone who loves to spread positivity and embrace the brighter side of life, a yellow daisy tattoo is a perfect way to express it.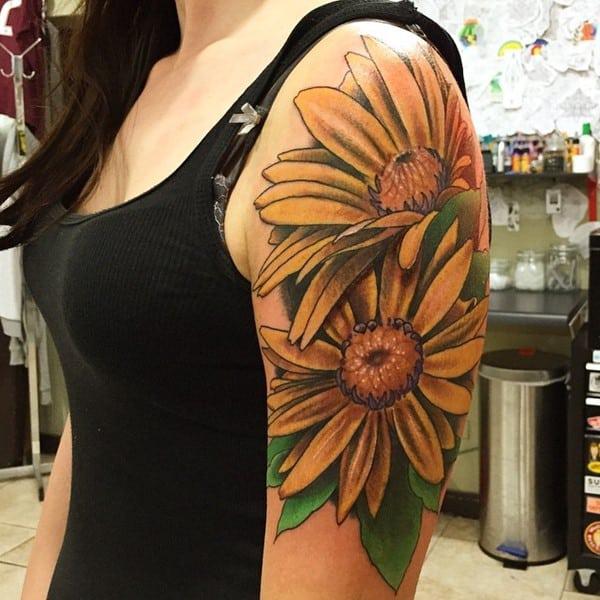 Purple Daisy Tattoos: A Touch of Royalty
Purple daisies are not very common in nature, but they are a popular choice in the world of tattoos. The color purple is often associated with royalty, mystery, and spirituality. A purple daisy tattoo can symbolize dignity, pride, and accomplishment. This unique and striking tattoo can be a symbol of your inner strength and spiritual growth. It's an excellent choice for those who wish to stand out and express their individuality.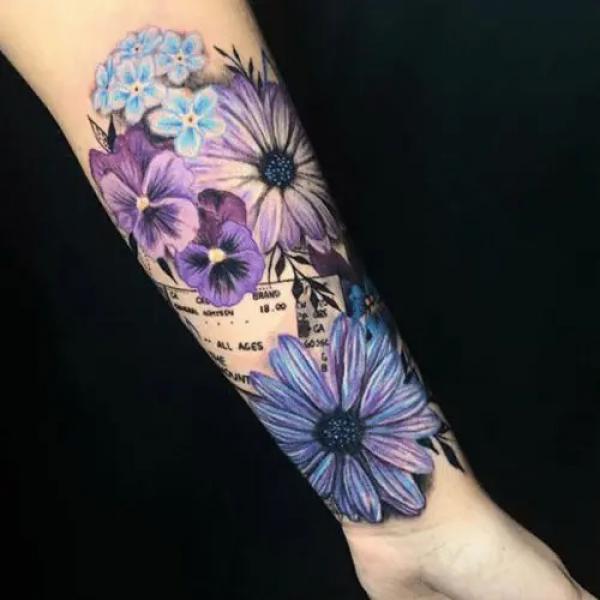 Daisy Tattoos in Different Cultures
Different cultures around the world have their own interpretations of daisies, which can add another layer of meaning to your daisy tattoo.
Celtic Culture
In Celtic culture, daisies symbolize the spirits of children who passed away. The Celts believed that these flowers were the children's spirits, spreading joy and happiness on earth. A daisy tattoo can, therefore, be a tribute to a lost child or a symbol of the innocent, childlike joy that we often forget in adulthood.
Norse Mythology
In Norse mythology, the daisy is Freya's sacred flower. Freya is the goddess of love, beauty, and fertility, and her flower symbolizes childbirth, motherhood, and new beginnings. A daisy tattoo can be a powerful symbol for mothers or those embarking on a new journey in life.
Roman Mythology
In Roman mythology, the nymph Belides transformed into a daisy to escape the attention of Vertumnus, the god of seasons. As such, the daisy symbolizes modesty and discretion. A daisy tattoo can be a reminder to stay humble and modest, no matter what life throws your way.
Different Daisy Tattoo Designs
In the vibrant world of tattoo artistry, daisy tattoo designs hold a unique charm and versatility. These designs, rich in symbolism and artistic charm, range from whimsical representations to deeply personal narratives. Here, we explore a variety of daisy tattoo designs, each showcasing the daisy's emblematic purity and resilience in a distinct light.
A silver daisy in the sky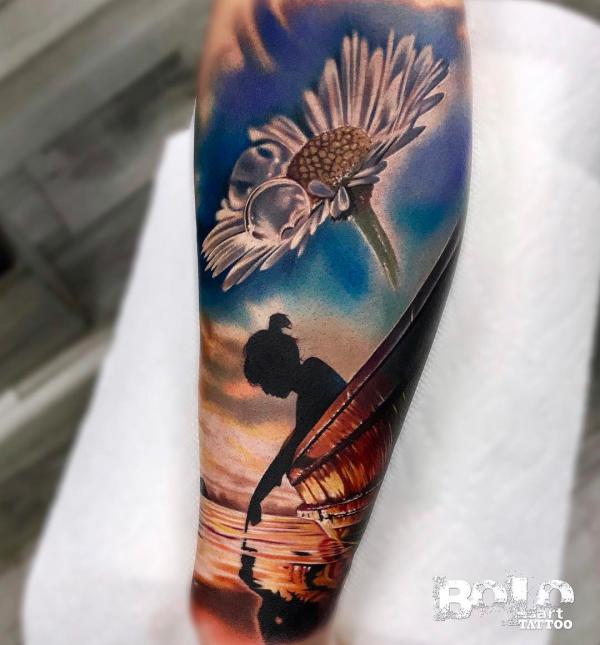 A silver daisy in the sky is an enchanting design that combines the earth and the cosmos. The daisy represents humility and beauty on earth, while the silver color and the sky symbolize the vastness and mystery of the universe. It's a beautiful representation of one's small yet significant place in the universe.
Daisies and swan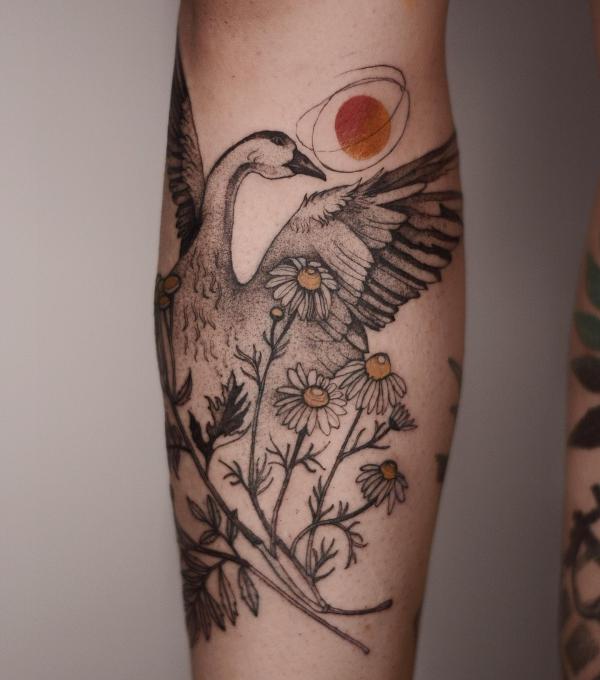 The combination of daisies and a swan in a tattoo design is both elegant and symbolic. While daisies stand for innocence and purity, swans represent grace, beauty, and love. This tattoo could be a beautiful depiction of your graceful and pure spirit, making a statement on your arm with its intricate design.
Daisy and an arrow tattoo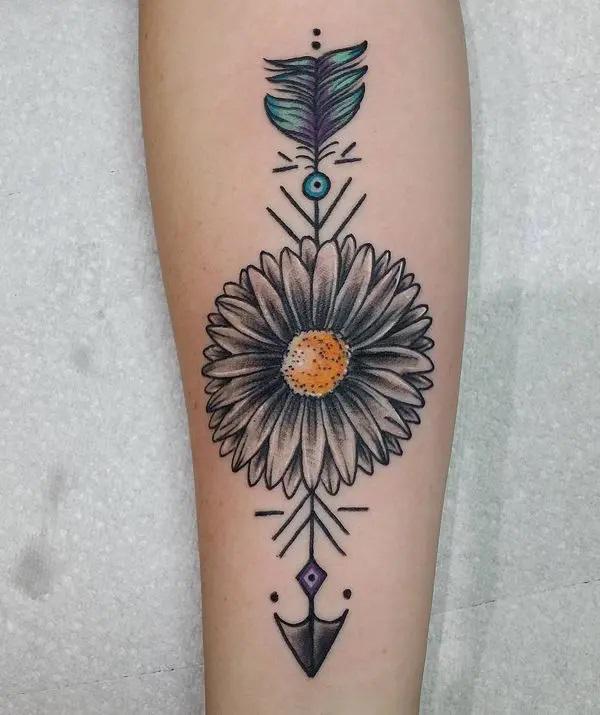 An arrow piercing a daisy makes for a striking design. The arrow represents direction, force, and movement, while the daisy symbolizes innocence and purity. This contrast can symbolize the struggles and challenges one has to face to maintain their innocence and purity.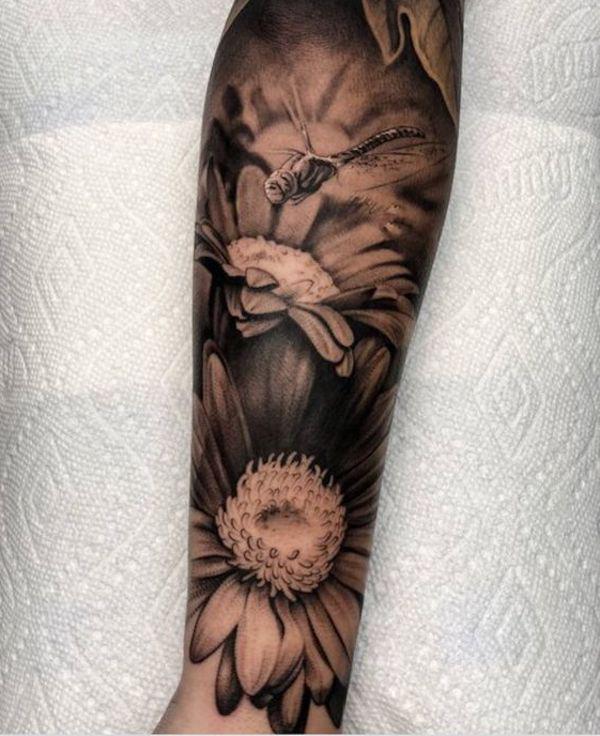 The realistic ink design featuring a daisy and a dragonfly is a visual treat. Dragonflies symbolize change, transformation, and self-realization. Paired with a daisy, this design can represent personal growth and transformation.
Dark skull with white daisy tattoo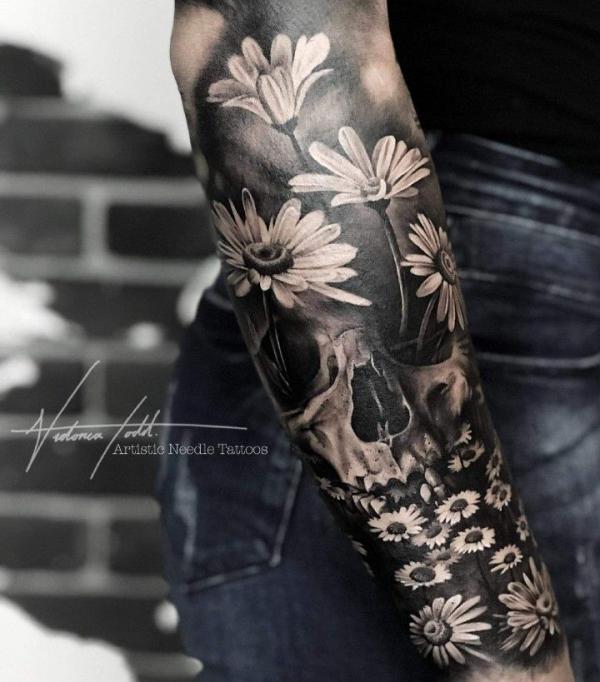 A blackwork skull adorned with white daisies strikes a powerful contrast between life and death, beauty and decay. This design can symbolize the cycle of life and the beauty that lies within every stage.
Daisy and forget me not tattoo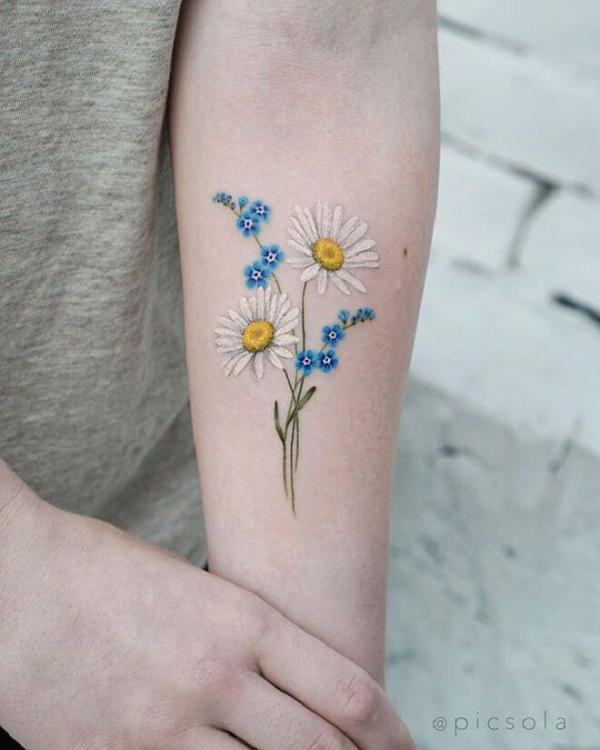 The combination of white daisies and blue forget me not flower can symbolize innocent love and remembrance. It's a gentle reminder of the memories and people we hold dear and a testament to undying love and friendship.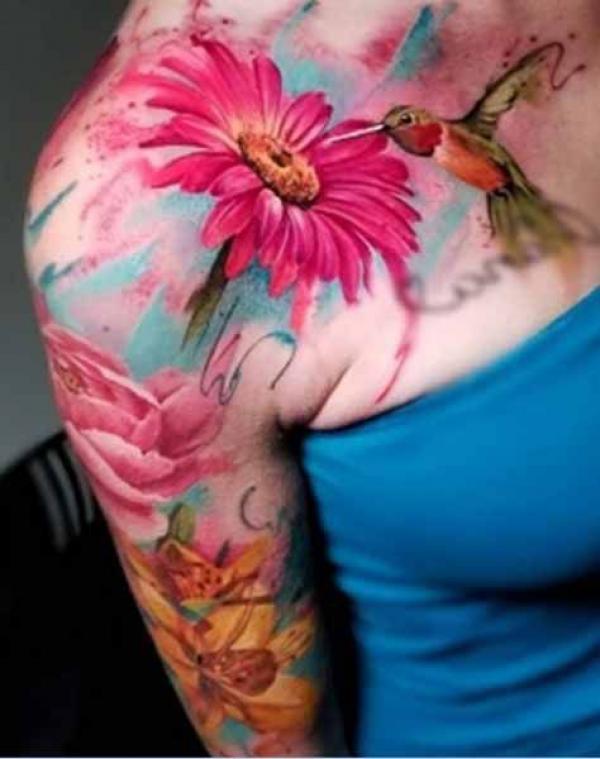 Featuring a hummingbird sipping nectar from a daisy, this tattoo can symbolize energy, joy, and life's sweetness. It's a beautiful design that captures the harmony between flora and fauna, making a vibrant statement on your shoulder.
Female face with daisy and butterfly
The full sleeve tattoo depicts realistic female faces adorned with daisy and butterfly. It can symbolize transformation, beauty, and the feminine spirit. This tattoo can be a tribute to femininity, strength, and resilience.
Daisy and campanula tattoo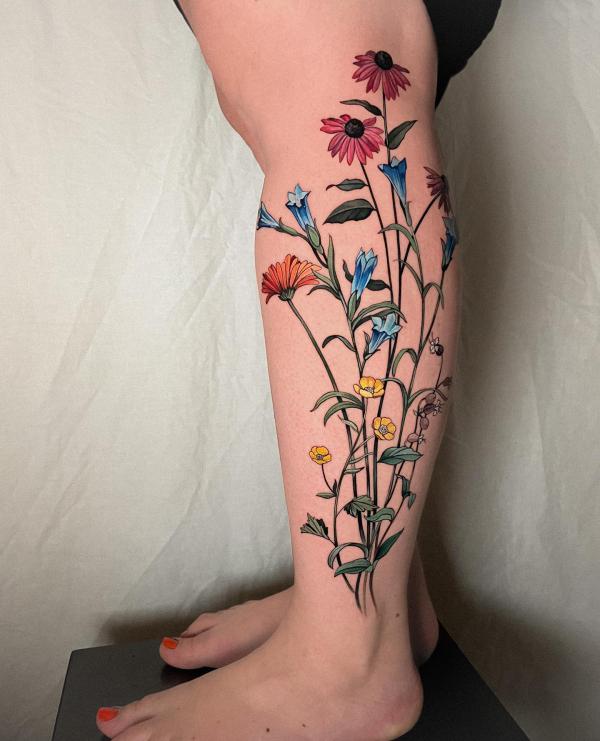 Pairing daisies with campanulas, also known as bell flowers, can represent innocence, humility, and everlasting love. Placed on the lower leg, this tattoo can be a subtle and beautiful symbol of your beliefs and personality.
Daisy and Celtic Knot Motherhood tattoo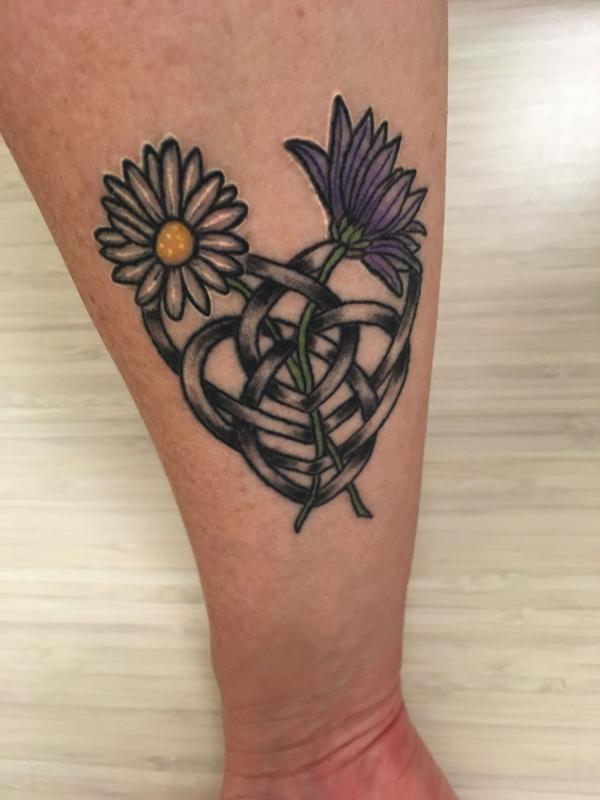 A tattoo featuring a daisy flower and a Celtic knot forming a heart shape is packed with symbolism. It can represent the bond between a mother and her child, making it a beautiful tribute to motherhood and unconditional love.
For every hello there is a goodbye tattoo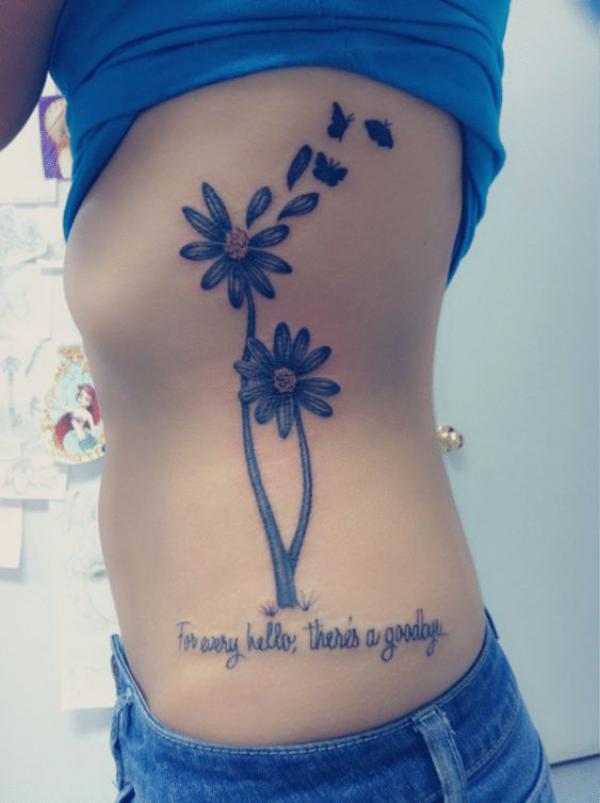 Incorporating a quote "For every hello, there is a goodbye" with daisies can symbolize the transience of life. It's a gentle reminder of the cycle of meeting and parting that is an inherent part of life.
Daisy and daffodil shoulder blade tattoo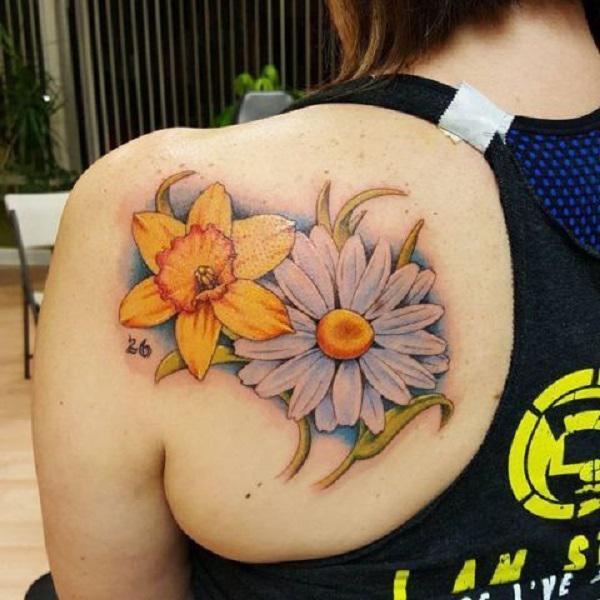 A tattoo featuring daisies and daffodils can symbolize innocence, purity, new beginnings, and rebirth. Placed on the shoulder blade, this tattoo can be a symbol of personal growth and new beginnings.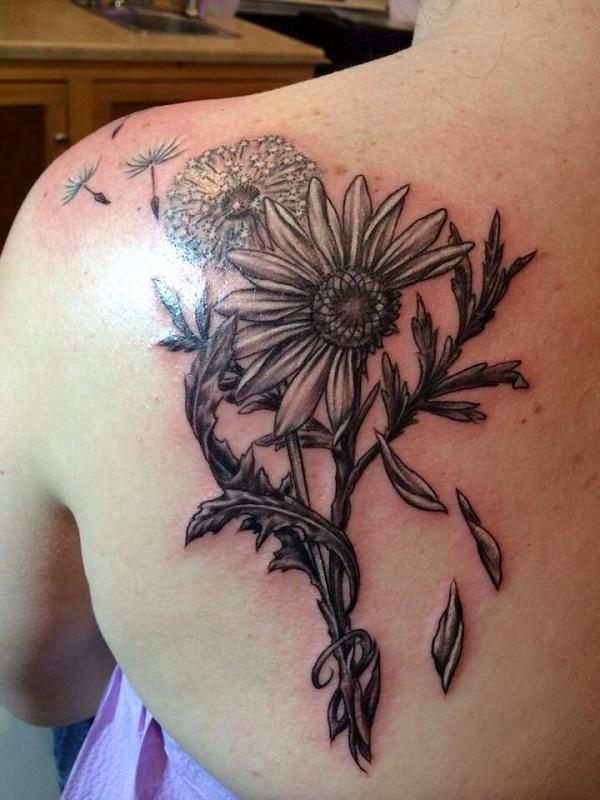 A dark design featuring daisies and dandelions can symbolize innocence, transformation, and resilience. Dandelions, known for their ability to thrive in challenging conditions, can add a layer of resilience and survival to the tattoo's meaning.
Half butterfly half daisy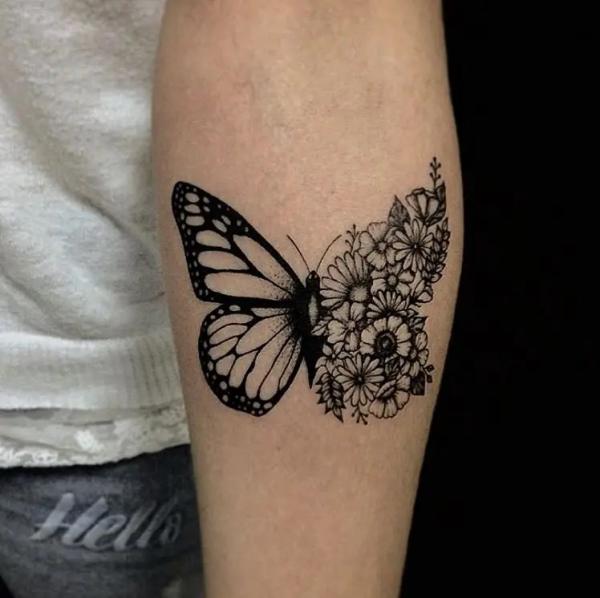 A butterfly tattoo with half its wing depicted as daisy flowers is a beautiful symbol of transformation and innocence. It's a creative representation of the beauty of change and growth.
Daisy and delphinium tattoo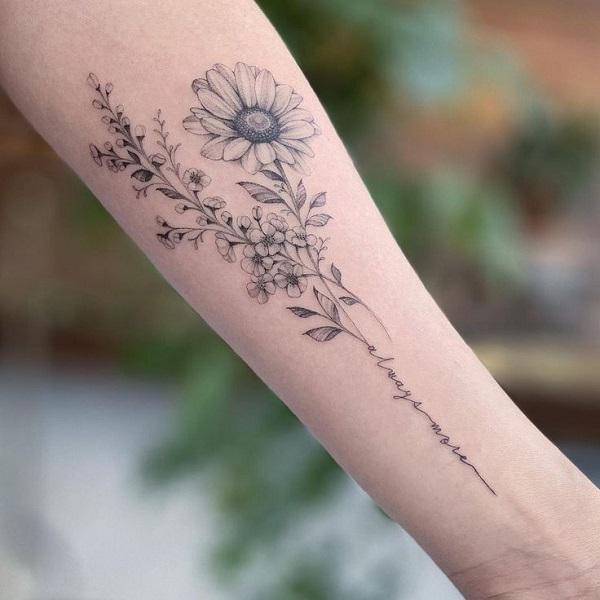 A daisy combined with delphiniums creates a ink design that's both visually stunning and rich in symbolism. Delphiniums represent positivity, openness, and light-heartedness. A daisy and delphinium tattoo could symbolize a positive and pure outlook on life.
Half daisy half mandala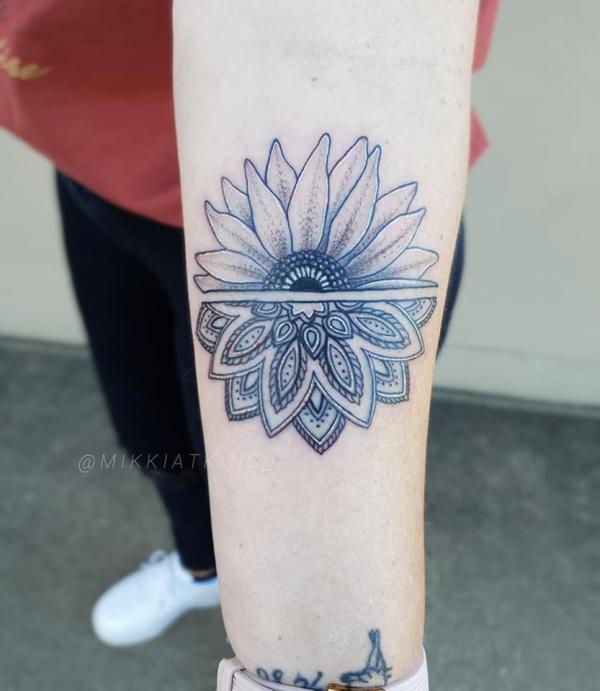 Imagine the simplicity of a daisy merging with the complexity of a mandala. That's exactly what a half daisy half mandala tattoo brings to the table. This design can symbolize balance and harmony, marrying the purity of a daisy with the spiritual significance of a mandala.
Daisy with date tattoo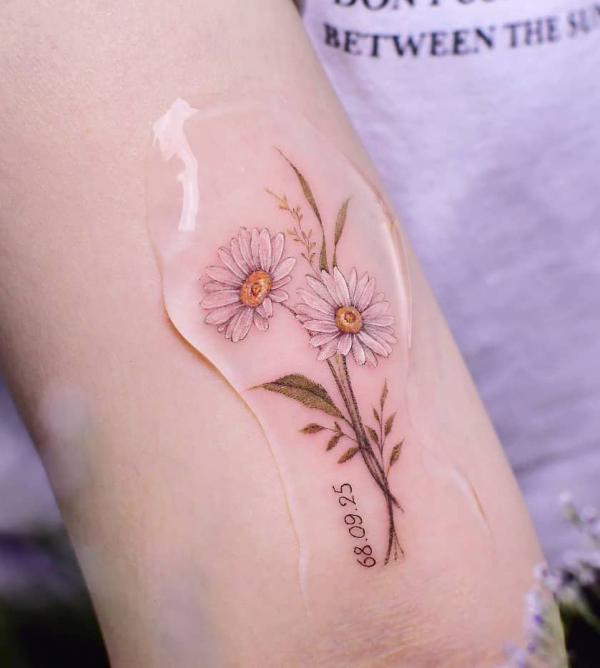 A daisy with a significant date incorporated into the design makes for a deeply personal ink design. This could commemorate a significant event, like a birth or anniversary. It's a beautiful way to keep a special date close to you at all times.
Daisy with moon and stars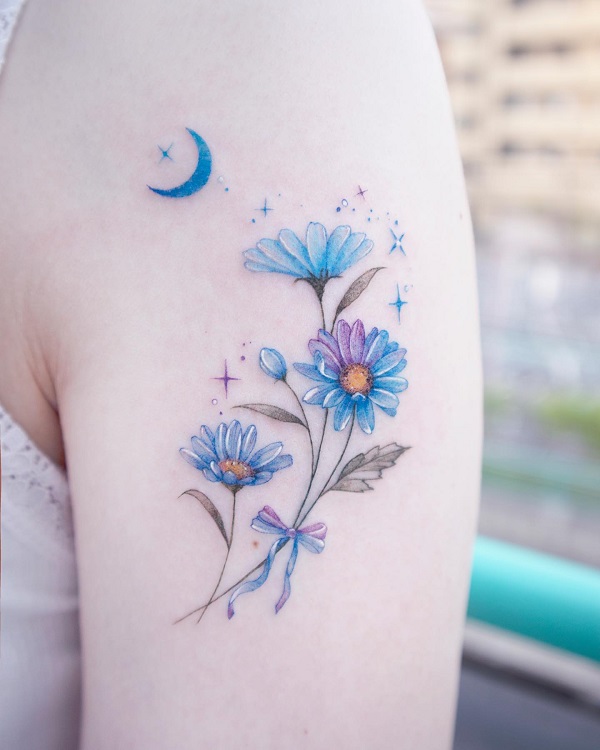 A daisy combined with a moon and stars can create a dreamy, mystical design. The moon and stars tattoo often symbolizes mystery, change, and aspiration. This design can represent the purity of one's dreams and aspirations.
Lamp surrounded with daisies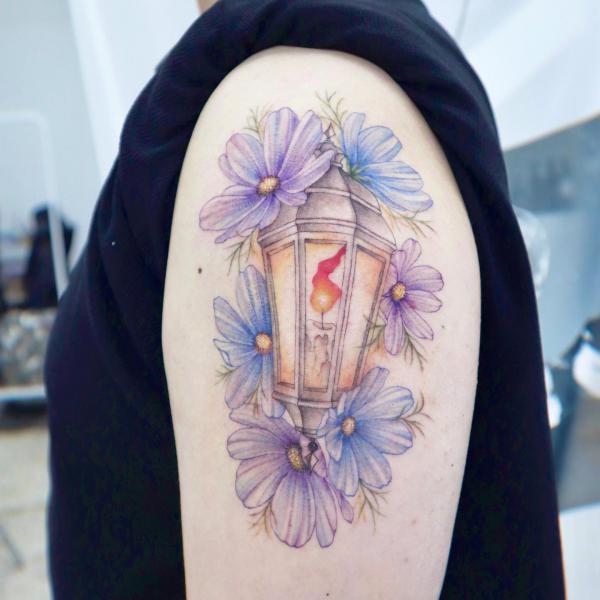 A lamp surrounded by daisies is a unique and imaginative tattoo design. The lamp can symbolize guidance, knowledge, and wisdom, while the daisies can represent purity and innocence. This design could represent the light of wisdom shining brightly amidst innocence.
Lily and daisy with butterfly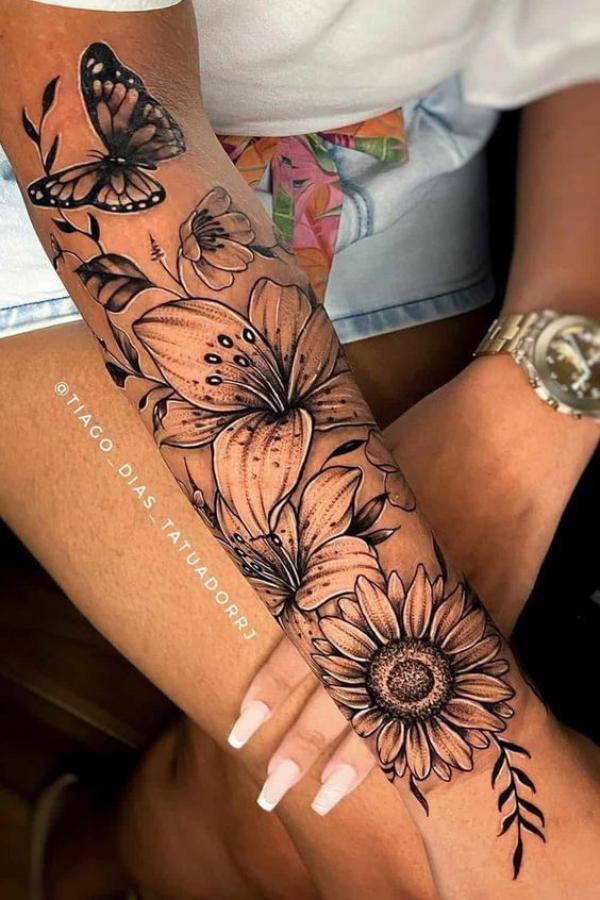 An ink design combining a lily, daisy, and butterfly is a visual delight with deep symbolism. While lilies often symbolize purity and commitment, butterflies represent transformation and change. This design might represent the journey of transformation while staying committed to one's innocence.
Marigold and daisy tattoo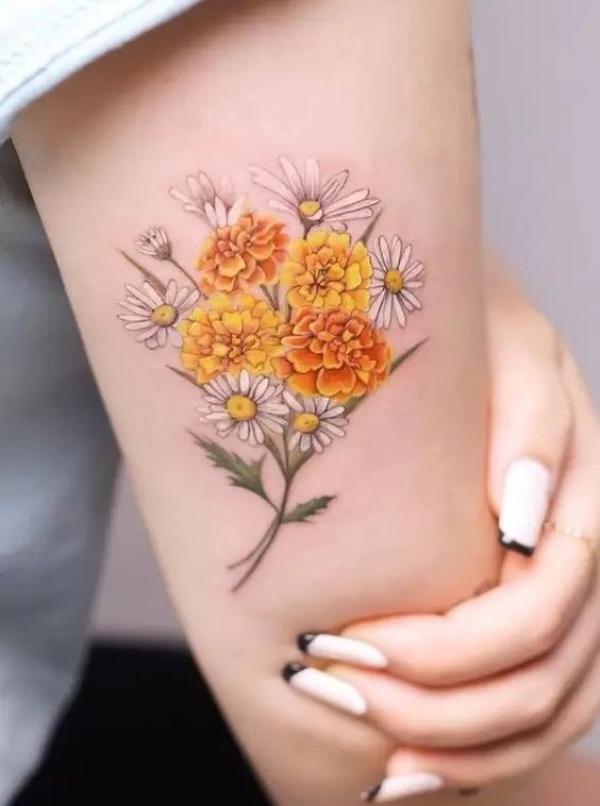 A marigold and daisy together offer a splash of color and a wealth of symbolism. Marigolds are often associated with the sun and are seen as symbols of passion and creativity. Paired with daisies, this design could symbolize the passion and creativity that stem from a place of purity.
Purple daisy and butterfly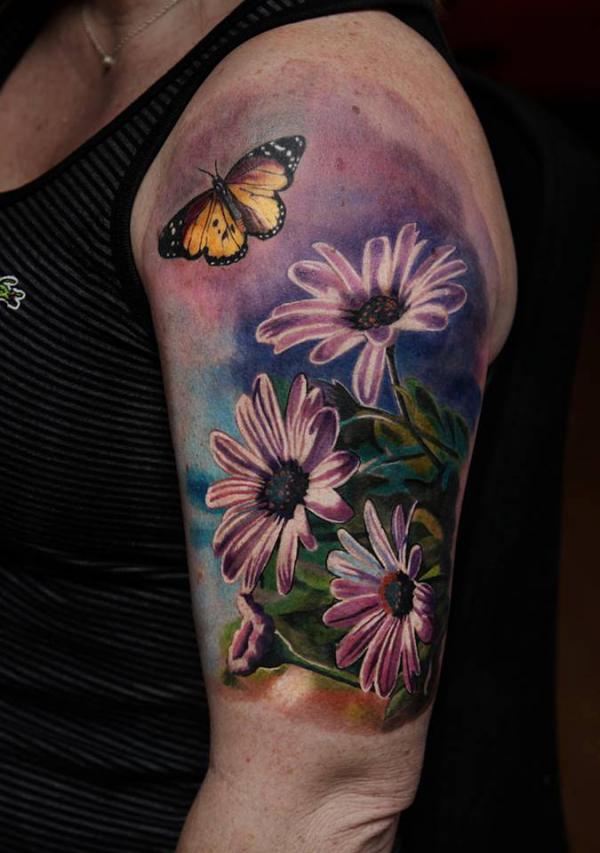 The pairing of a purple daisy with a butterfly creates a design that's vibrant and full of meaning. Purple daisies often symbolize dignity and elegance, and butterflies symbolize transformation. This design could symbolize the elegant transformation one goes through in life.
Rose and daisy feather tattoo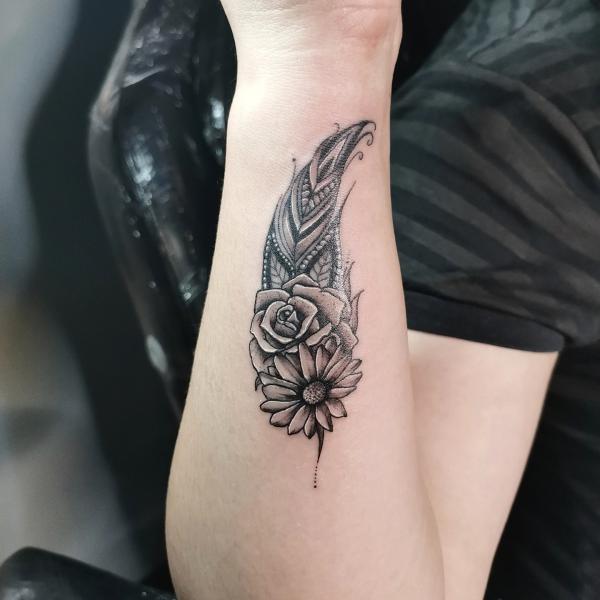 A rose and daisy feather is a blend of beauty, purity, and freedom. While roses often symbolize love and passion, feathers symbolize freedom and inspiration. This design could represent the love and passion one has for their freedom.
Daisy armband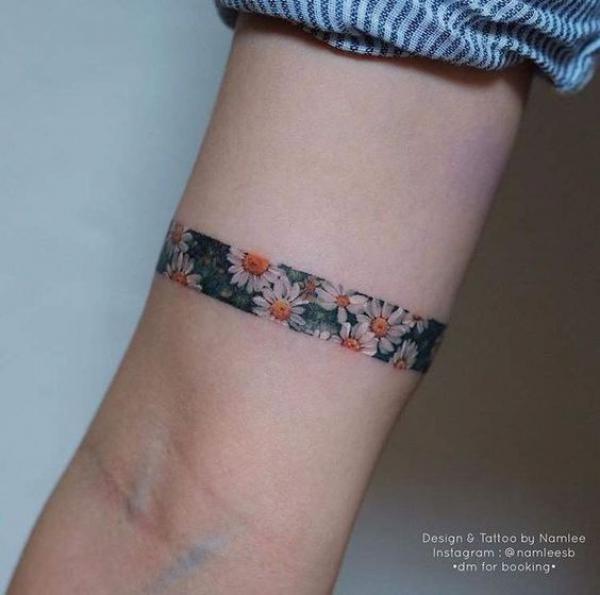 The daisy armband tattoo is a stylish way to wear the symbolism of a daisy. It can be a continuous band of daisies around the arm, symbolizing an unbroken cycle of purity, innocence, and new beginnings.
Daisy collar tattoo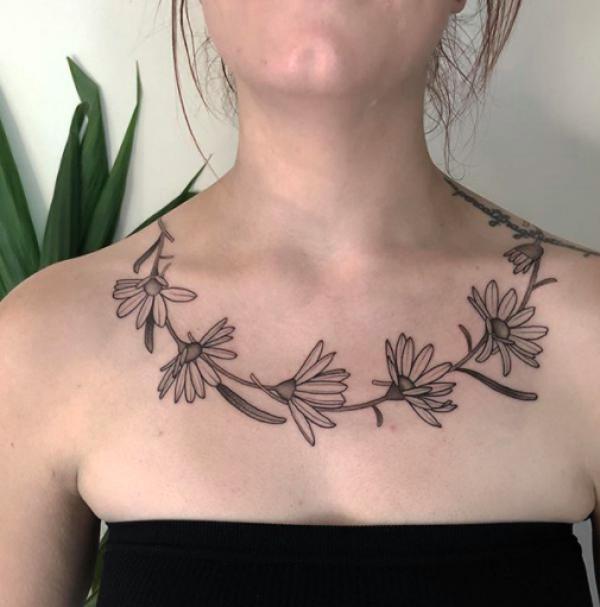 A daisy collar is a stunning choice for those seeking a delicate yet bold statement. As a symbol of innocence and purity, the daisy chain draped around the collarbone creates a balance between vulnerability and strength. The contrasting black and white ink adds depth to the design, enhancing the daisy's natural beauty.
Violet and daisy tattoo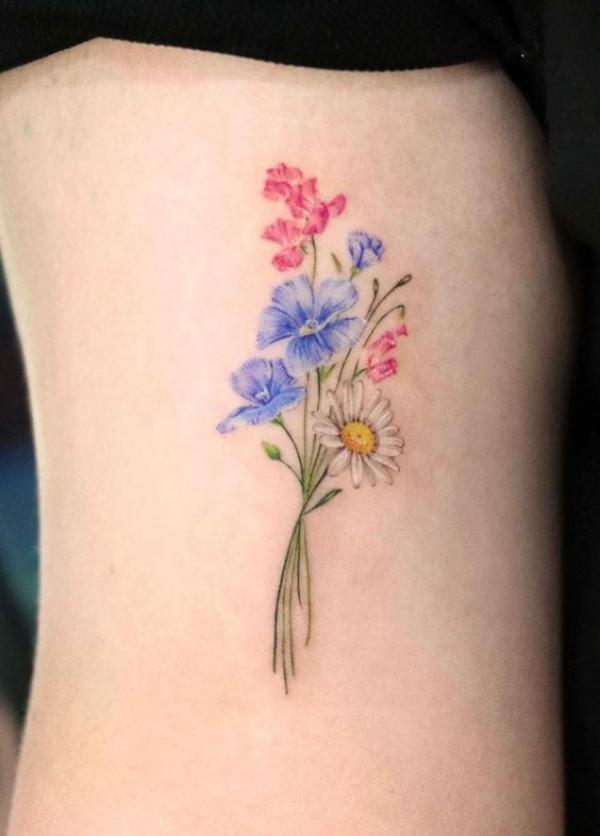 Incorporating a violet with a daisy design merges two powerful symbols. While the daisy represents purity and innocence, the violet stands for tranquility and peace. This combination creates a serene design, perfect for someone seeking balance and calm in their life.
Daisy flowers around the arm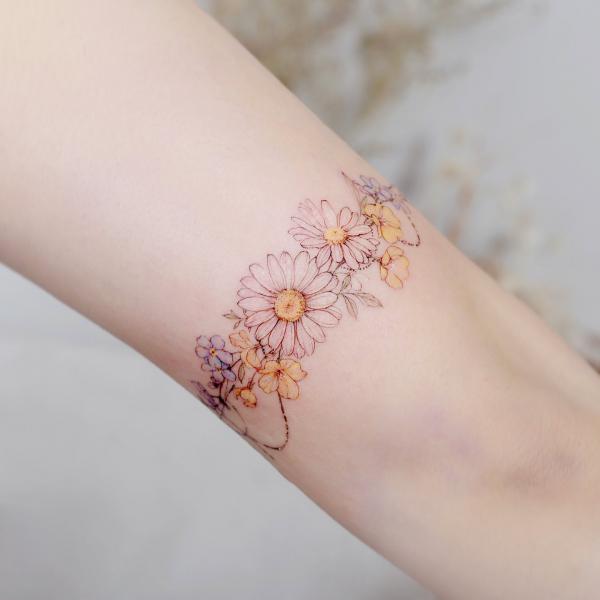 Wrapping around the arm, the chain of daisies forms a floral band, symbolizing unity and the circle of life. This design is a perfect choice for those who appreciate the simplicity and symmetry in nature.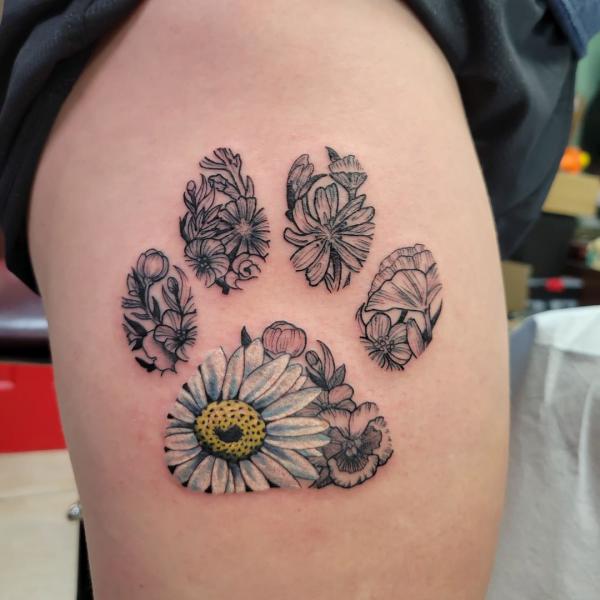 A daisy flowers paw print ink design is a heartfelt way to honor a beloved pet. The combination of the paw print, a symbol of loyalty and companionship, with the innocence of the daisy, creates a powerful tribute that's both personal and touching.
White daisy and blue stroke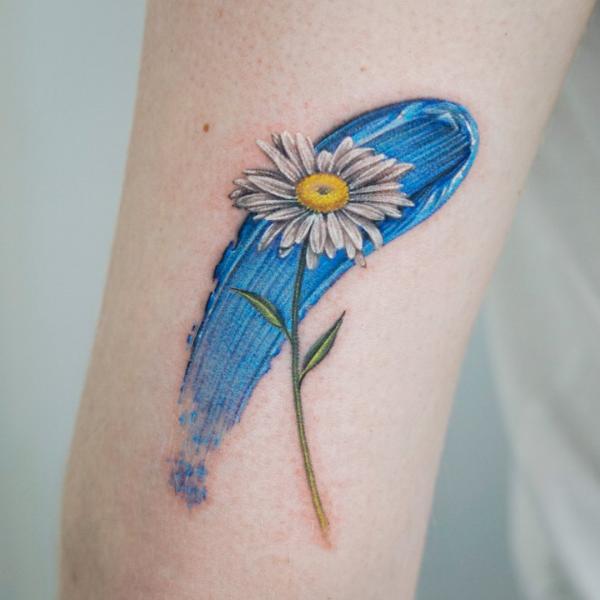 The white daisy and blue stroke tattoo is a vibrant and eye-catching design. The stark contrast between the pure white daisy and the bold blue stroke captures the viewer's attention, symbolizing the striking contrasts and vibrant diversity in life.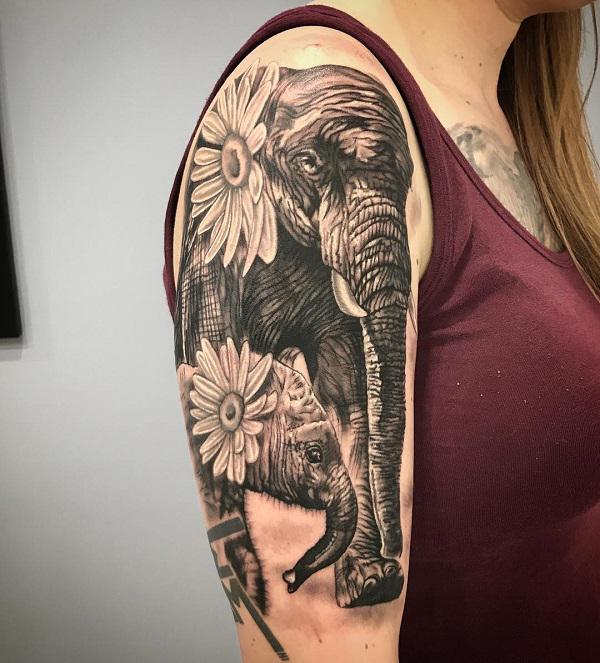 The elephants adorned with daisy flowers is a beautiful portrayal of strength and gentleness. The elephant, a symbol of power and wisdom, adorned with daisies, represents the harmony between strength and innocence. It's an empowering design for anyone who identifies with these dual qualities.
Whoopsie daisy tattoo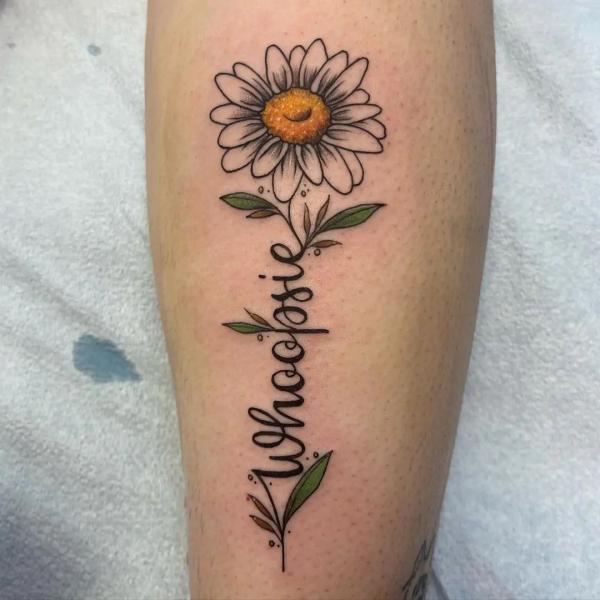 The daisy with the word whoopsie is a playful yet profound design. It captures the essence of resilience, reminding us that life's missteps are just opportunities for growth. It's a perfect choice for someone with a positive and optimistic outlook on life.
A bouquet of flowers in bottle including rose daisy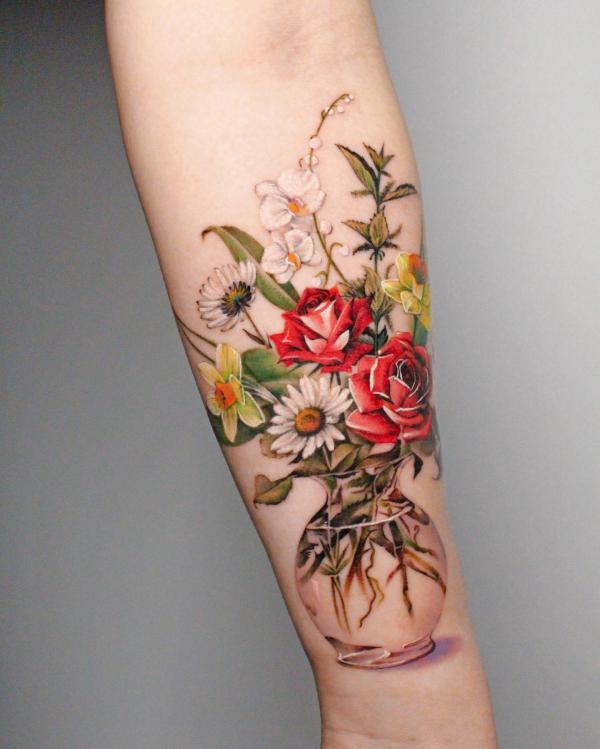 The vivid tattoo design features a bouquet of flowers, including a rose and a daisy, inside a bottle. It symbolizes the preservation of beauty and the fleeting nature of life, a poignant reminder of the importance of cherishing every moment.
A butterfly near poppy daisy and berry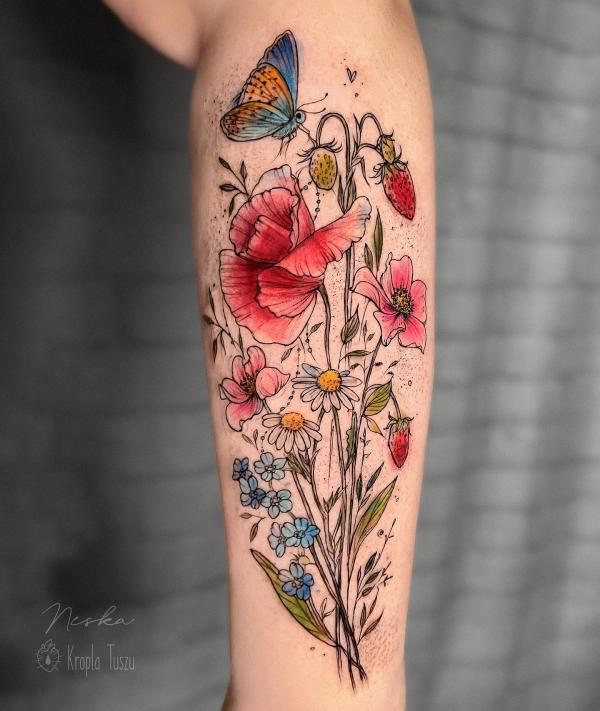 The ink design featuring a butterfly near a poppy, daisy, and berry is like a miniature garden on the skin. Each element adds its own symbolism – transformation (butterfly), remembrance (poppy), innocence (daisy), and sweetness of life (berry). This design is a perfect choice for nature lovers.
Daisy growing from light bulb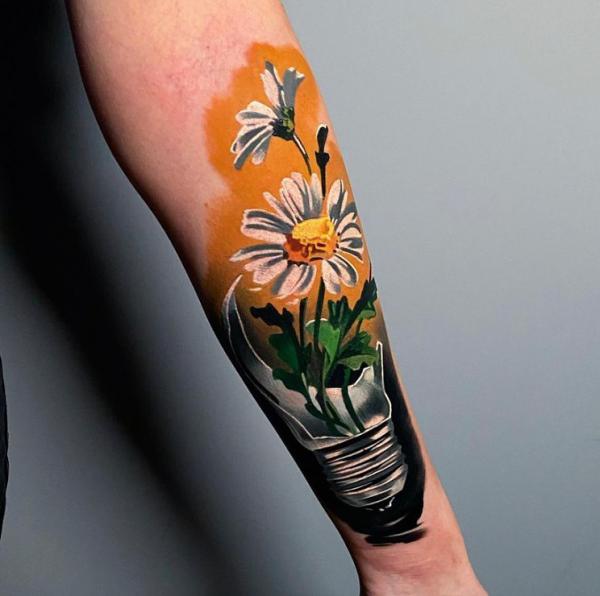 A daisy sprouting from a light bulb is an ink design that perfectly embodies the concept of ideas blooming into beautiful realities. It serves as a constant reminder that creativity and innovation can lead to beautiful outcomes.
Daisy heart tattoo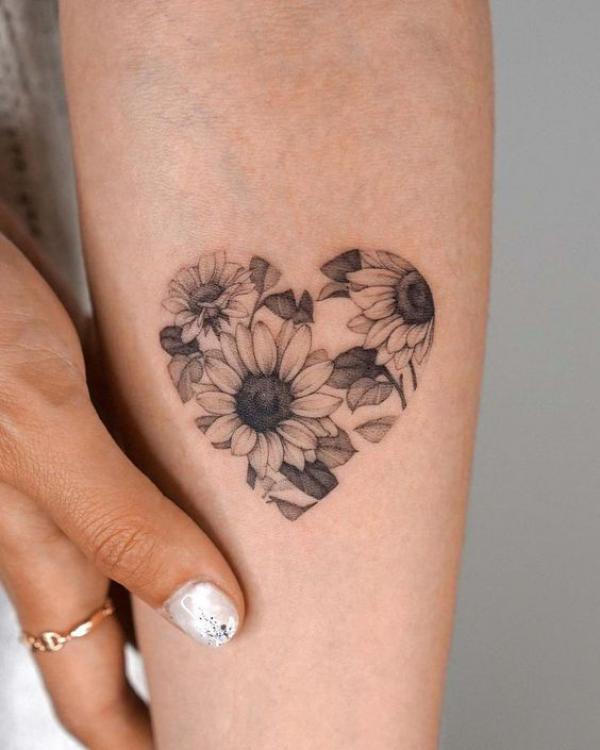 The daisy heart is a sweet and simple representation of love and affection. It signifies a love that is pure and innocent, just like the daisy itself. This design is an excellent choice for those who want to carry a permanent reminder of love on their skin.
Daisy lavender and a bee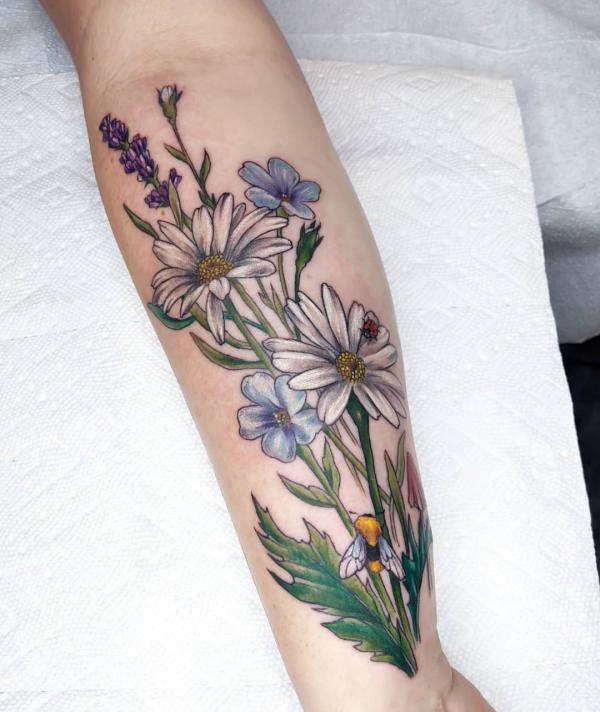 A picture featuring a daisy, lavender, and a bee creates a harmonious depiction of nature's beauty. The bee, hovering around the daisy and lavender, symbolizes productivity and community, while the daisy denotes purity, and the lavender signifies serenity. This tattoo is a beautiful celebration of nature's harmony and symbiosis.
Abstract daisy men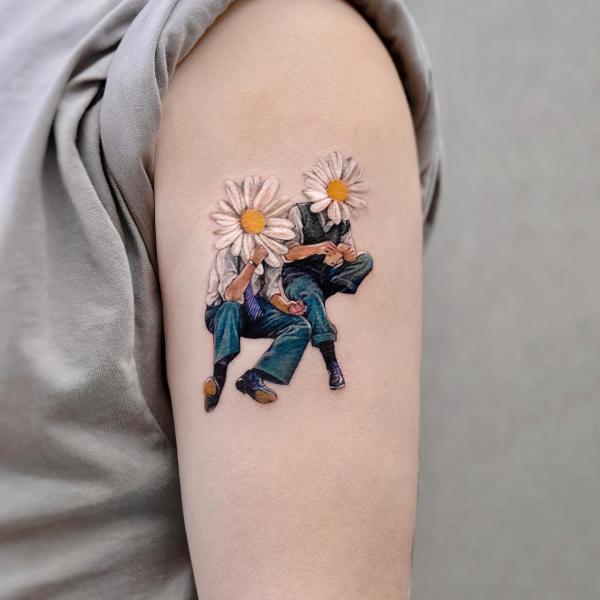 The arm tattoo, featuring two men with daisy flowers as their heads, is an intriguing and visually compelling design. This whimsical piece embodies the powerful connection between humans and nature while highlighting the daisy's representation of innocence and purity.
Black and white butterfly and daisy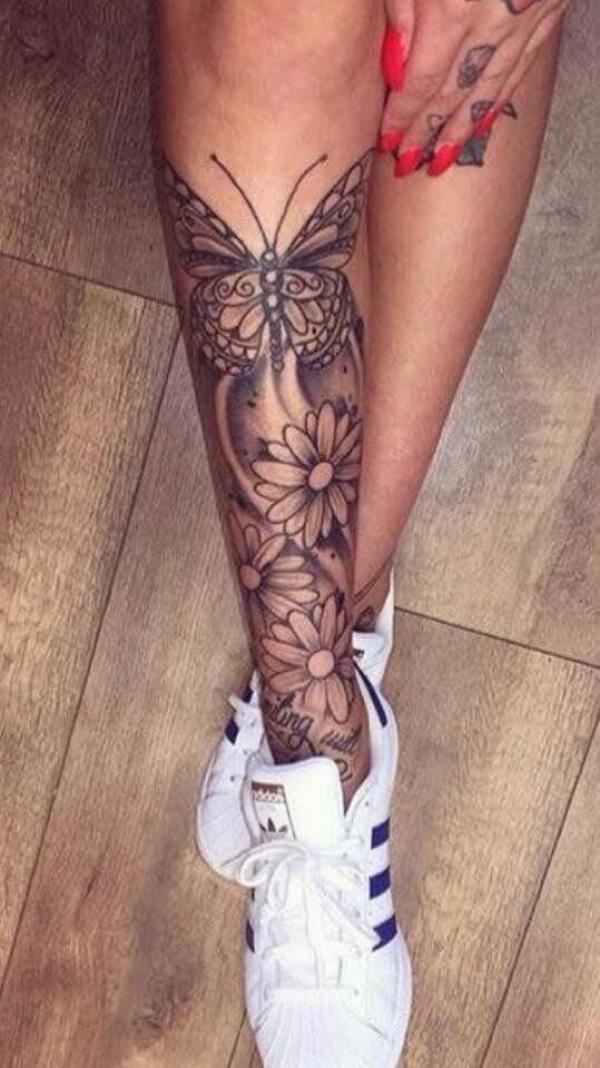 In a butterfly and daisy ink design, the dance between the butterfly and the daisy is highlighted in a monochrome palette. The butterfly, a symbol of transformation and change, paired with the resilient daisy, creates a captivating narrative of growth and evolution.
Daisy tattoo with quote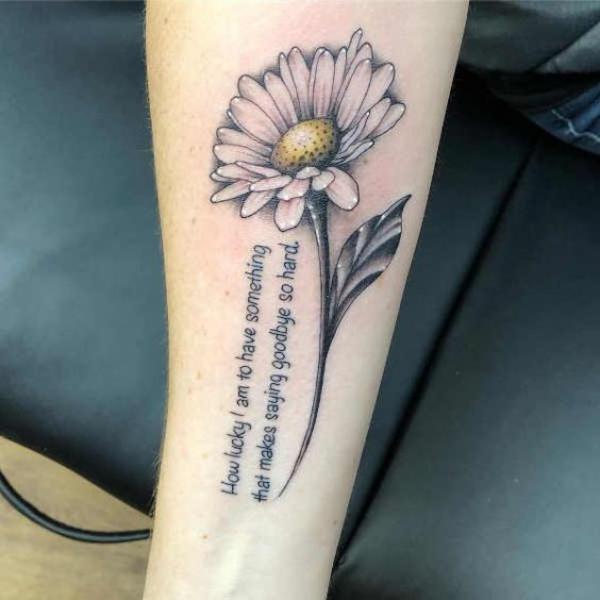 A daisy design accompanied by the quote, "How lucky I am to have something that makes saying goodbye so hard," is a deeply personal design. The daisy, symbolizing innocence and purity, paired with this heartfelt quote, presents a powerful tribute to love and loss.
Daisy tattoo with words as stem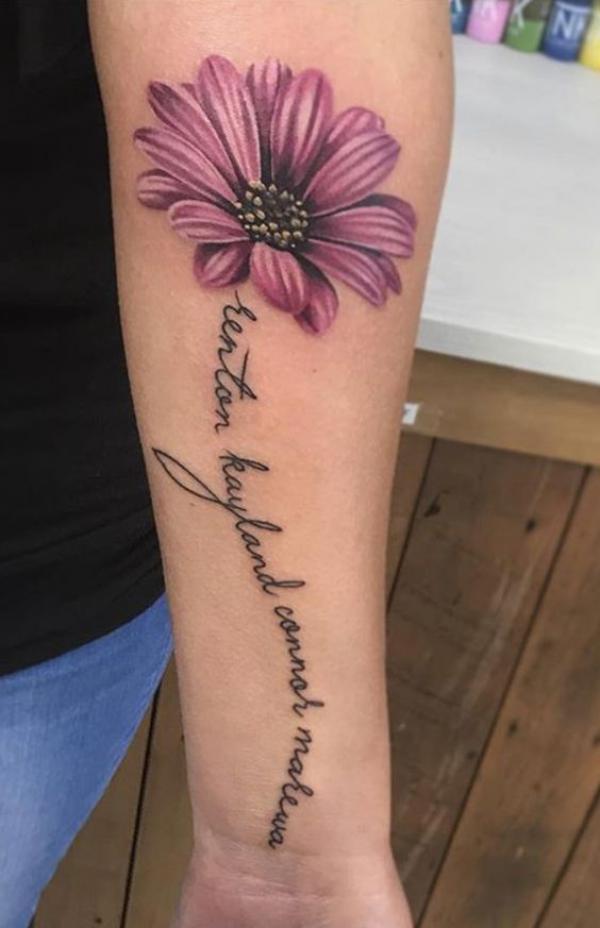 A daisy with words forming the stem is a beautiful blend of visual and literary art. The words might represent a name, a cherished quote, or a personal mantra, turning the daisy into a metaphor for the growth and blossoming of an individual's life story.
Black and white daisy and wild flowers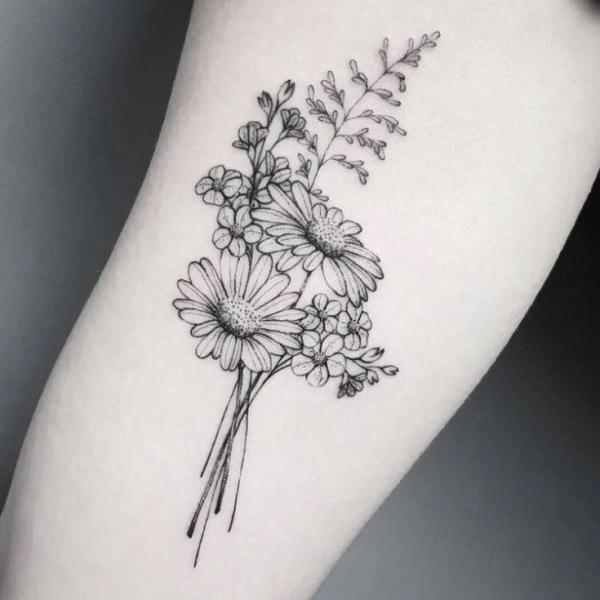 The combination of the simple daisy with the untamed beauty of wildflowers creates a vivid contrast. This tattoo symbolizes the balance between innocence and wild, untamed nature.
Daisy and morning glory tattoo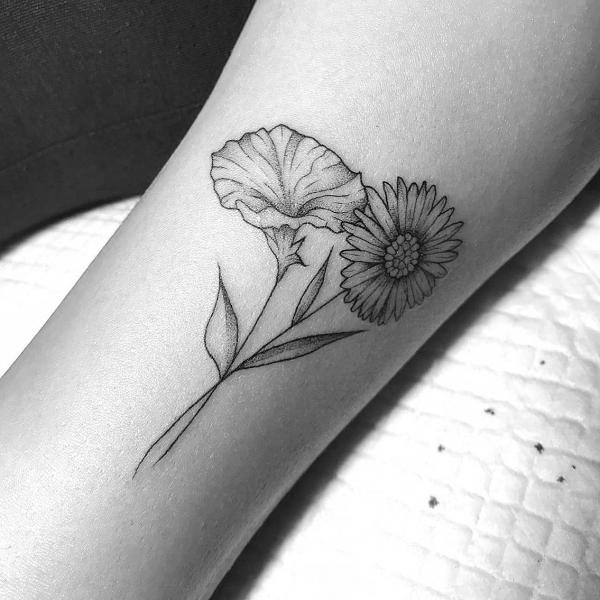 The daisy and morning glory ink design is a celebration of new beginnings. The morning glory, known for its habit of blooming at the start of the day, alongside the daisy, creates an inspiring narrative of hope and the joy of fresh starts.
Black daisy and compass tattoo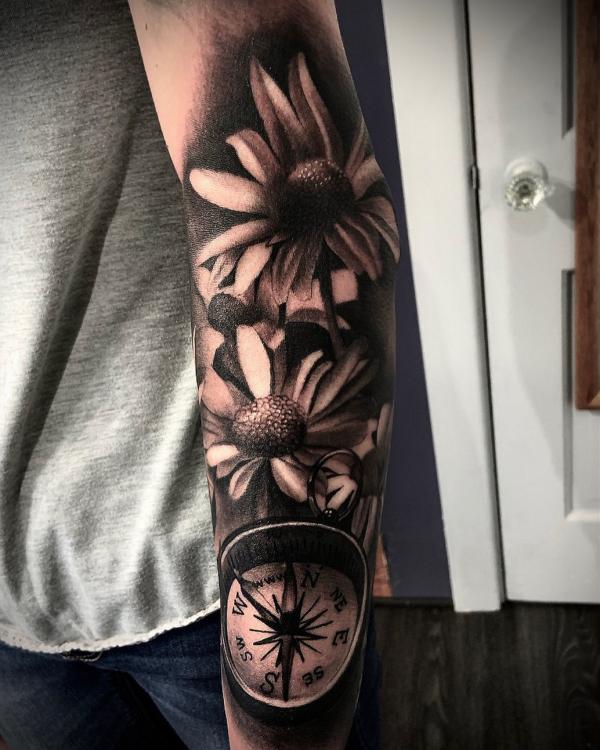 In the realistic tattoo, the compass, a symbol of guidance and navigation, is paired with the daisies, a symbol of purity and innocence. This design is a powerful emblem for those who view their moral compass as guided by their purity of heart.
Daisy semicolon tattoo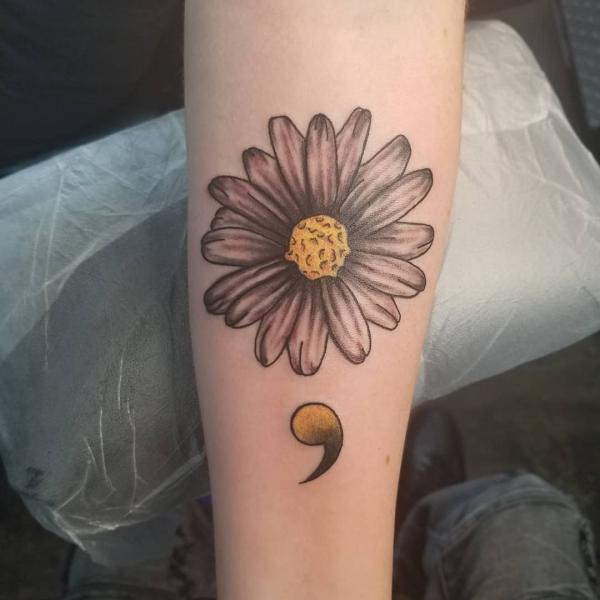 The daisy semicolon tattoo is a poignant symbol of mental health awareness and suicide prevention. The semicolon, symbolizing a pause rather than an end, paired with the resilient daisy, forms a powerful testament to the endurance of the human spirit.
Daisy tattoo with name as stem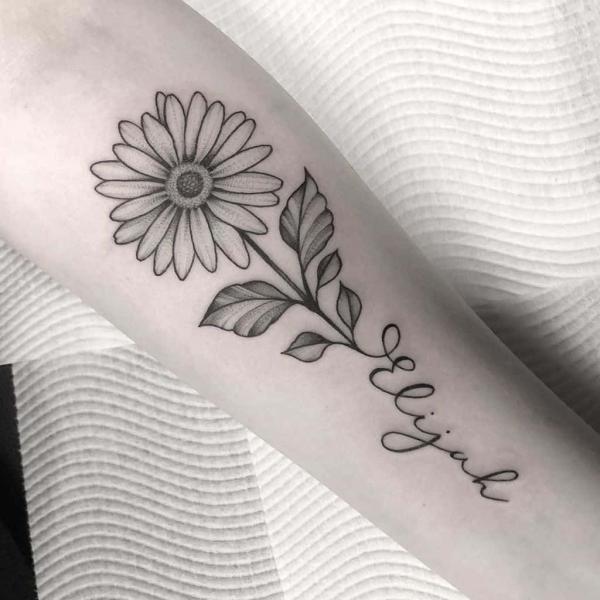 A daisy with a name forming the stem is a beautiful way to commemorate a loved one. The name gives the daisy a personal touch, transforming it into a living tribute to the named individual.
Book with daisy and fern tattoo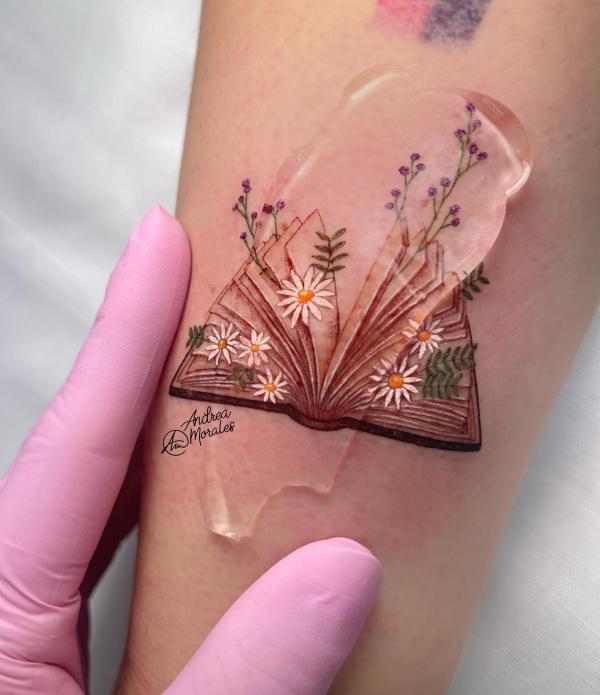 A book with a daisy and fern tattoo is a perfect choice for book lovers and nature enthusiasts alike. The book symbolizes knowledge and adventure, the daisy represents purity, and the fern stands for sincerity and magic. This design beautifully blends the love for nature and literature.
Daisy and sunflower tattoos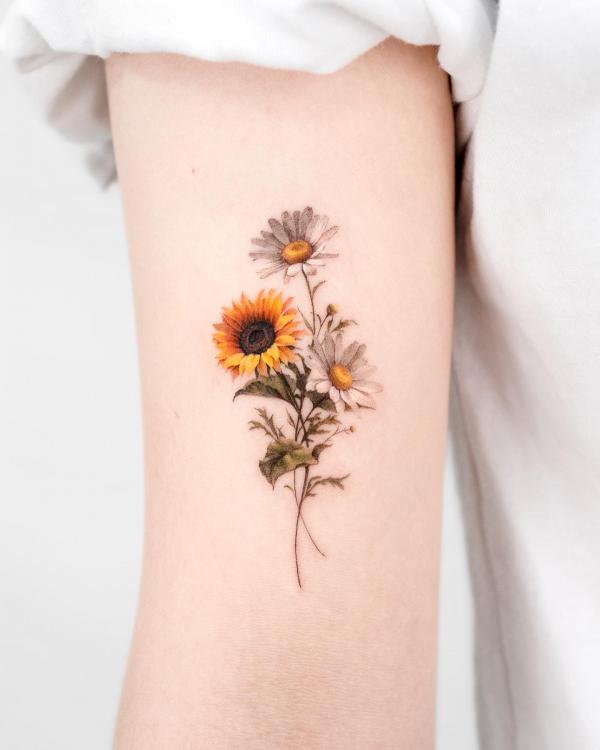 The flowers tattoo is a burst of joy on the skin. The sunflower, known for its cheerful disposition and its tendency to follow the sun, alongside the daisy, creates a bright and positive design that's sure to bring a smile to anyone's face.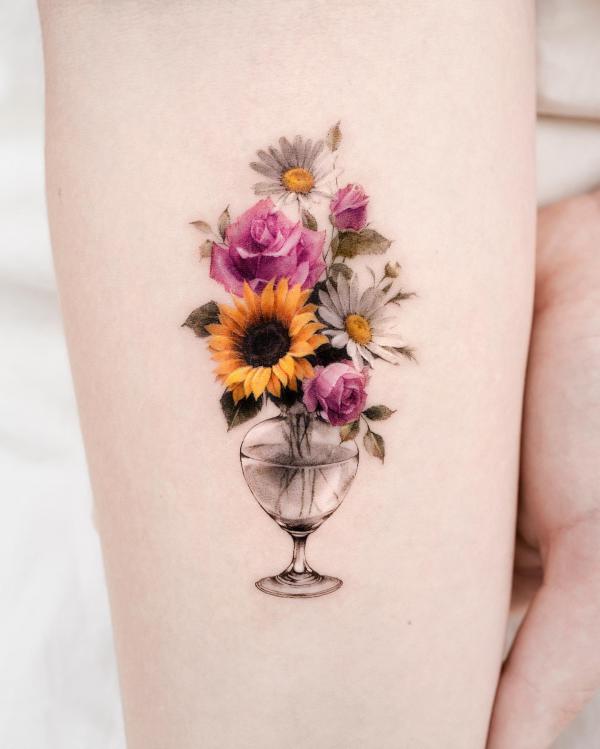 Butterfly and daisy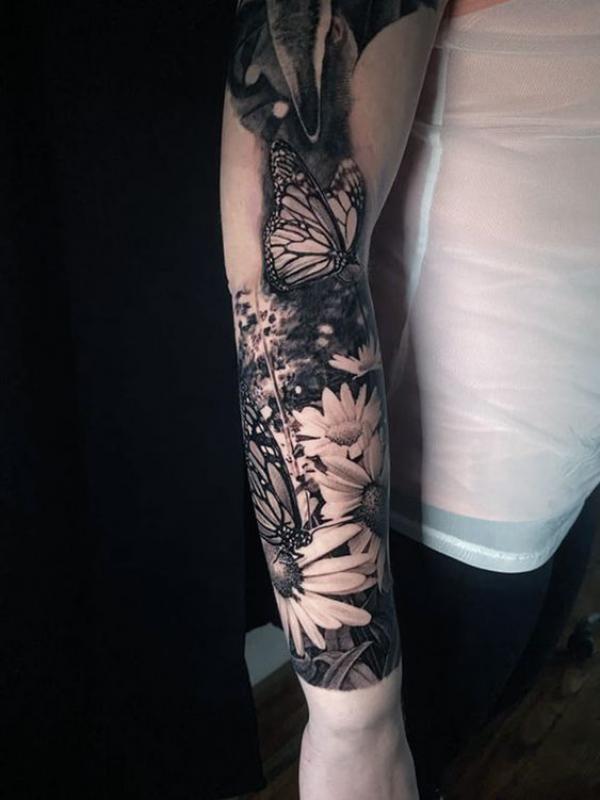 The butterfly and daisy design is a vivid depiction of transformation and purity. The butterfly, a universal symbol of change and metamorphosis, fluttering around the daisy, an emblem of innocence, creates a compelling narrative of personal growth and evolution.
Daisy and stroke heart tattoo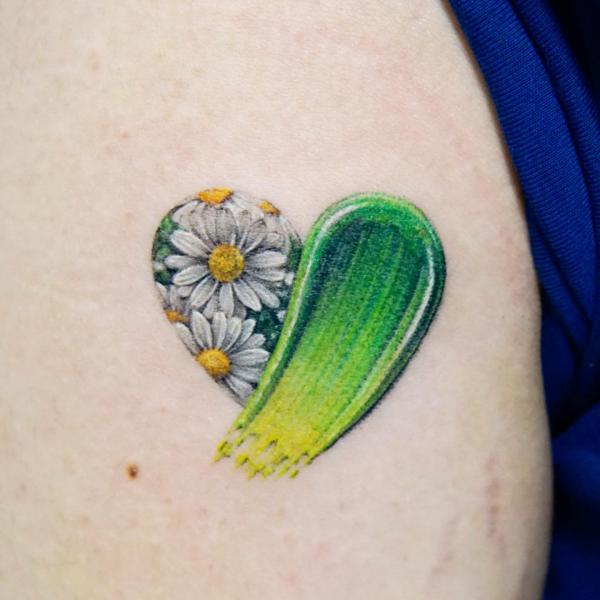 A daisy and stroke heart is a beautiful expression of love and affection. The heart symbol, a simple and modern representation of love, combined with the innocent daisy, creates a tender and minimalist narrative of love in its purest form.
Butterfly and daisy under sunset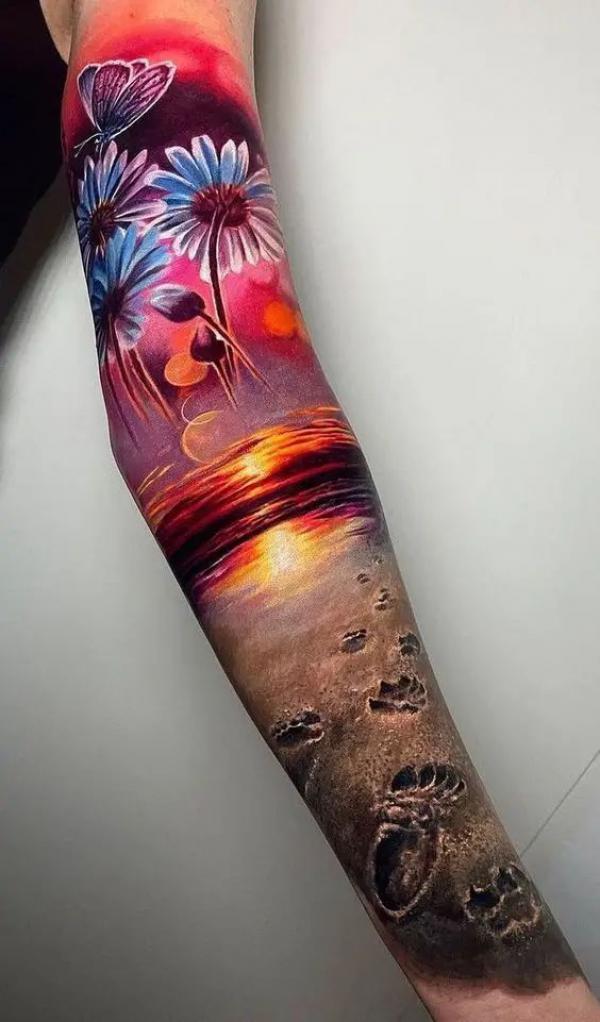 The vibrant full sleeve tattoo features a butterfly and daisy flowers in a picturesque scene of sunset. The setting sun, symbolizing closure and the end of a phase, highlights the butterfly and daisy's symbolic dance, creating a narrative of transformation at the day's end.
Daisy and tulip with a sparrow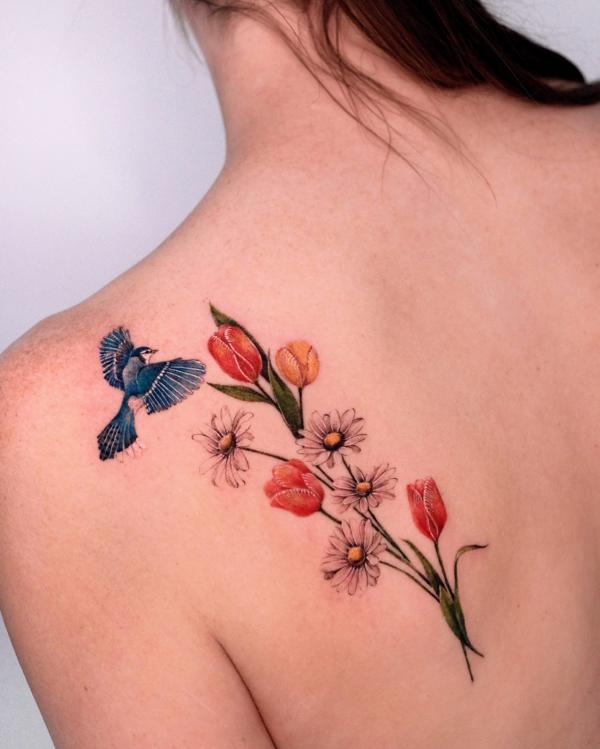 A sparrow near daisy and tulip flowers presents a charming scene of nature in harmony. The sparrow, symbolizing joy and protection, flying over the daisy and tulip, symbols of innocence and perfect love respectively, weaves a delightful story of love, joy, and purity.
Daisy and vine tattoo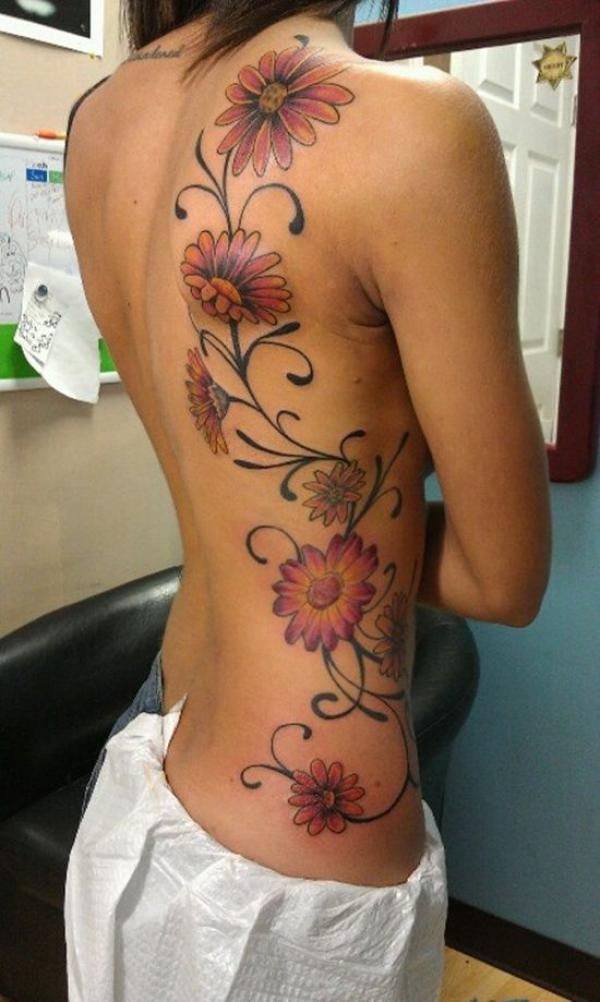 The back tattoo is a wonderful choice for those who love organic and natural designs. The vine, representing connection and eternal life, intertwined with the daisy, creates a dynamic design that reflects life's interconnectedness.
Carnation and daisy tattoo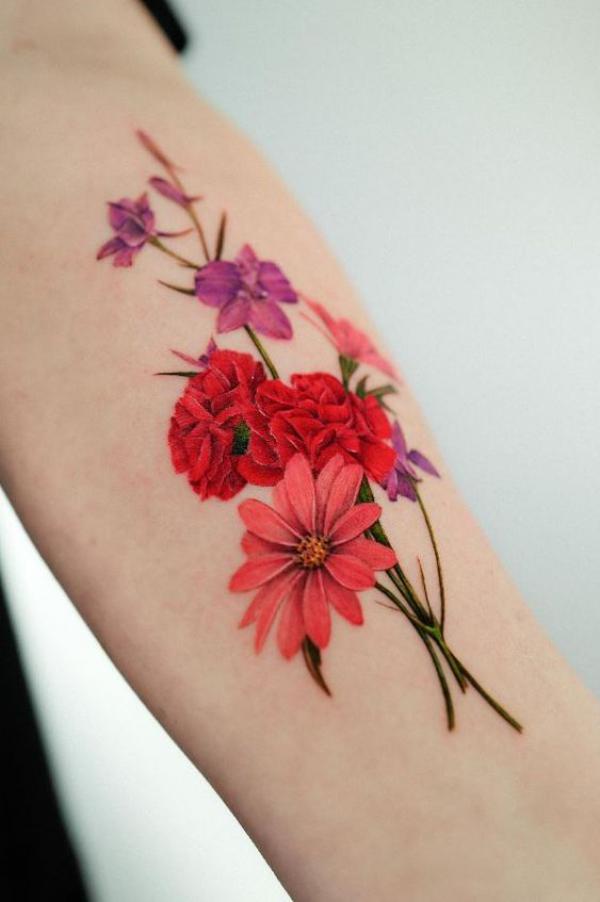 The carnation and daisy design is a beautiful blend of two popular flowers. The carnation, known for its symbolism of love and admiration, paired with the daisy, creates a visually stunning and symbolically rich design that speaks of pure love and admiration.
Daisy and peony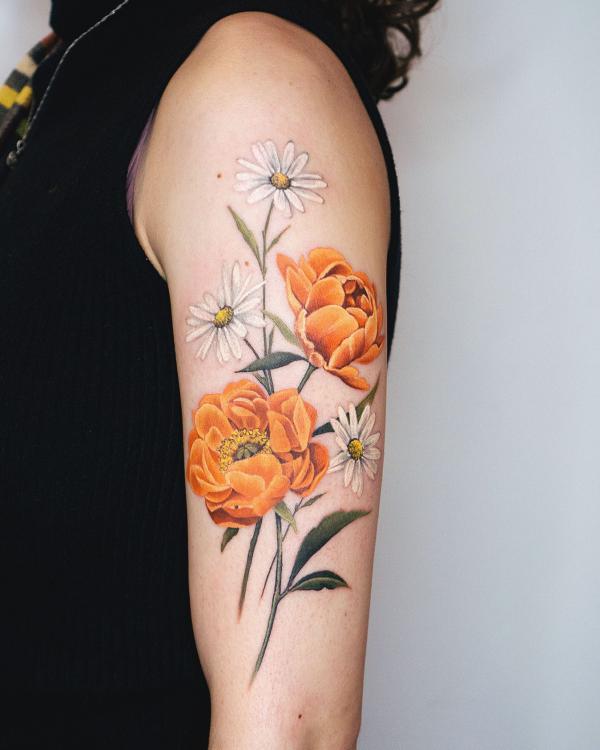 A daisy and peony tattoo is a lush and vibrant design. The peony, often associated with wealth, prosperity, and honor, alongside the humble daisy, creates a striking balance, symbolizing the harmony between modesty and prosperity.
Daisy and rainbow tattoo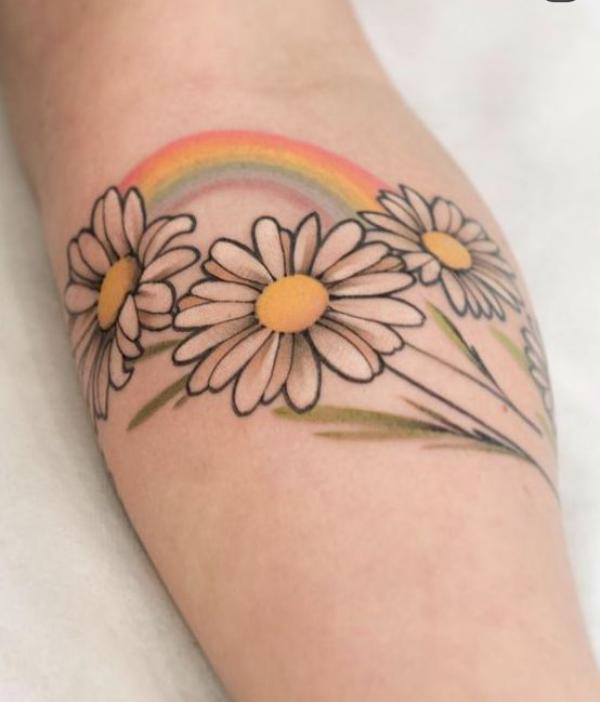 Featuring a daisy and a rainbow, this tattoo is a burst of joy and positivity. The rainbow, a symbol of hope and diversity, arching over the daisy, forms a bright and cheerful design that brings a smile to the face and a warmth to the heart.
Cat silhouette with daisy flowers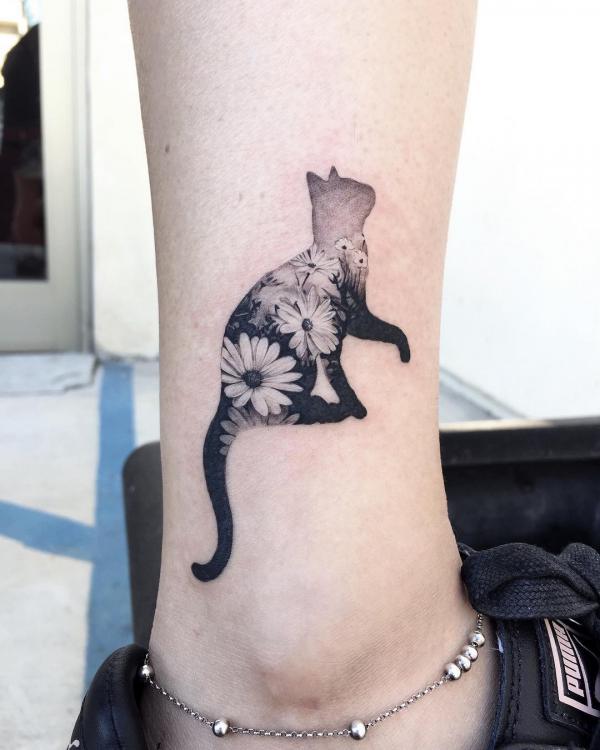 The cat silhouette with daisy flowers is a charming design for cat lovers. The silhouette of the cat, a symbol of mystery and independence, surrounded by daisies, creates a playful and endearing design that captures the captivating charm of our feline friends.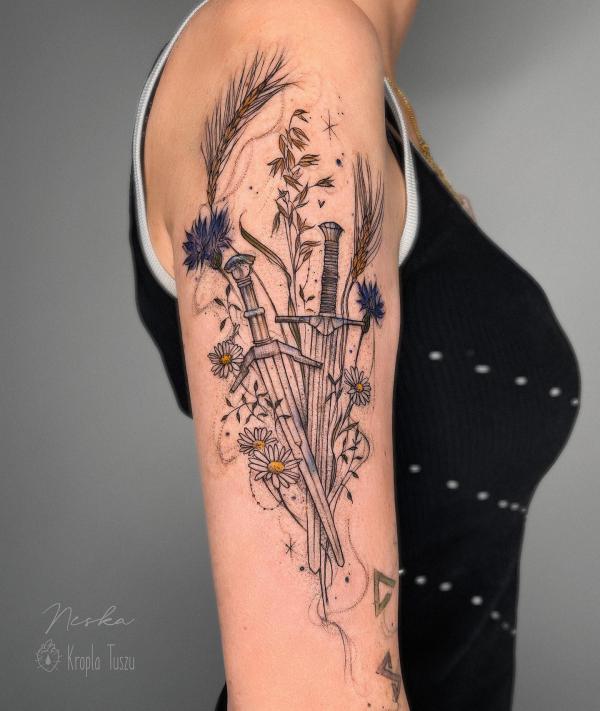 The striking design combines the softness of the daisy with the sharpness of the sword. The sword, symbolizing power and protection, juxtaposed with the daisy, creates a powerful narrative of defending innocence and purity.
Daisy and tiger face tattoo for men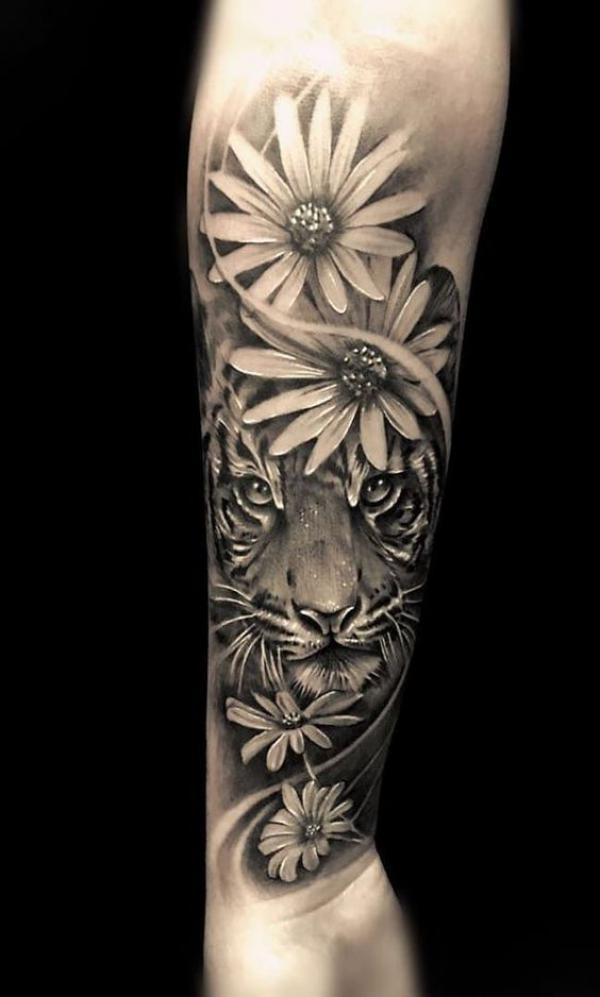 The forearm tattoo is a bold and powerful design. The tiger, a symbol of strength and bravery, alongside the daisy, forms a unique combination that represents the power of maintaining purity and innocence amidst life's challenges.
Chrysanthemum and daisy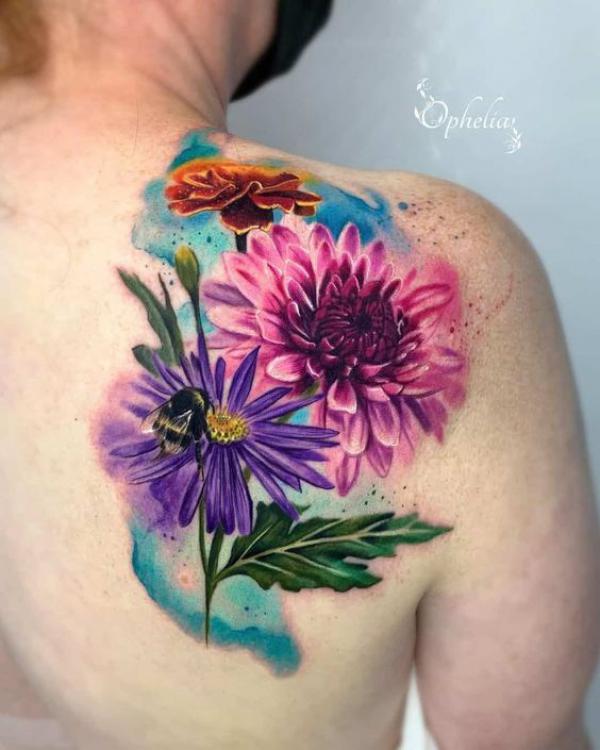 The chrysanthemum and daisy tattoo is a harmonious blend of two beautiful flowers. The chrysanthemum, symbolizing longevity and rejuvenation, paired with the pure daisy, creates a design that speaks of a fresh start and a long, fulfilling life.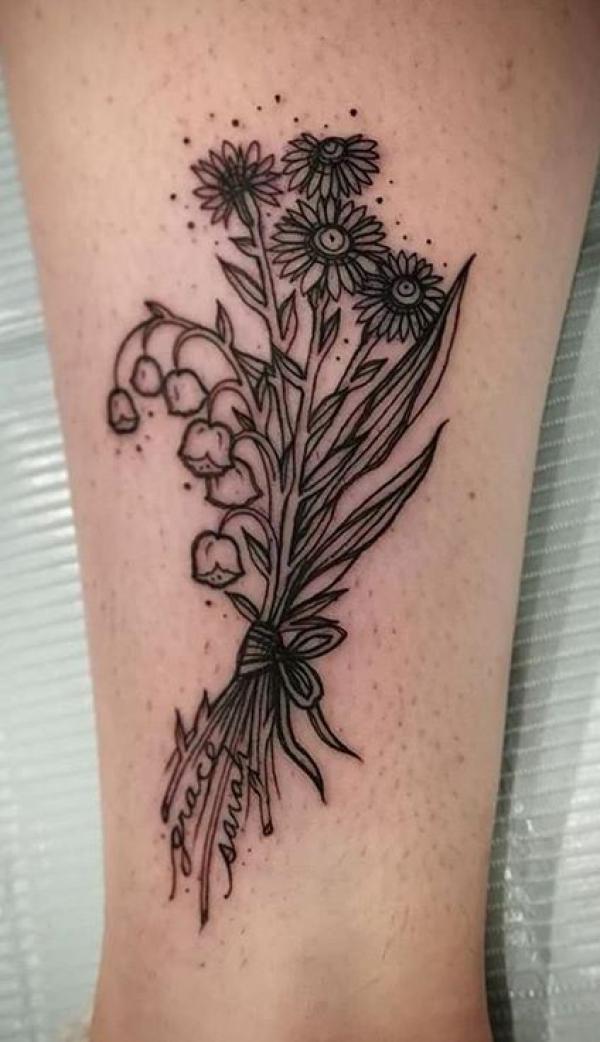 A daisy and lily of the valley design is a gorgeous representation of humility and innocence. The lily of the valley, a symbol of humility and a return to happiness, combined with the daisy, creates a gentle narrative of happiness found in humility and purity.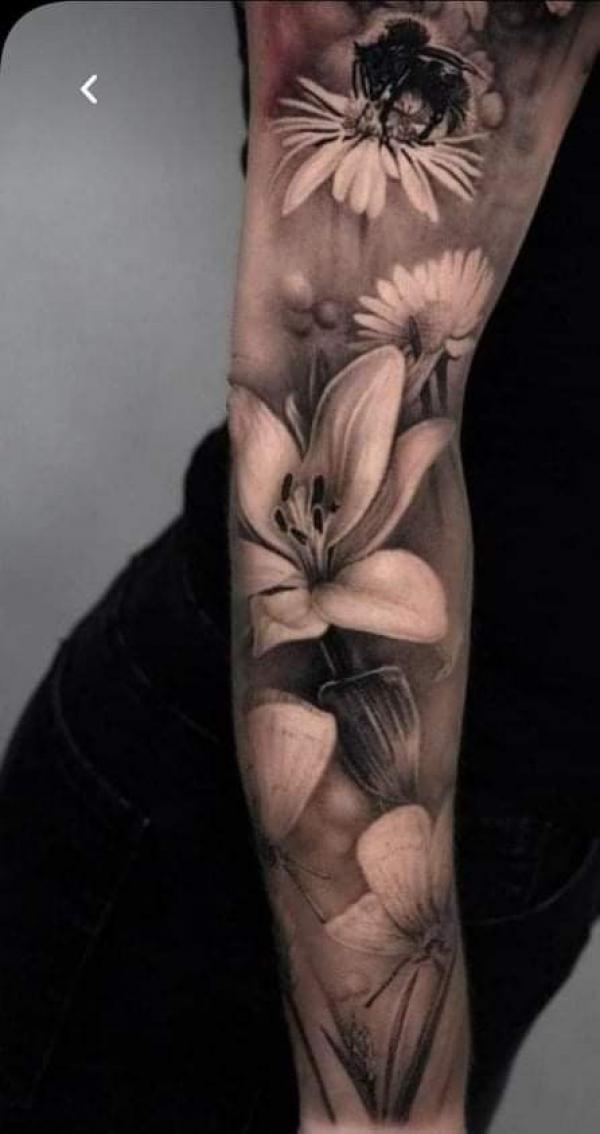 The black and grey realistic tattoo is a beautiful combination of innocence and love. The lily, often associated with love and commitment, paired with the daisy, forms a design that beautifully symbolizes pure, innocent love.
Clock and compass with daisy flowers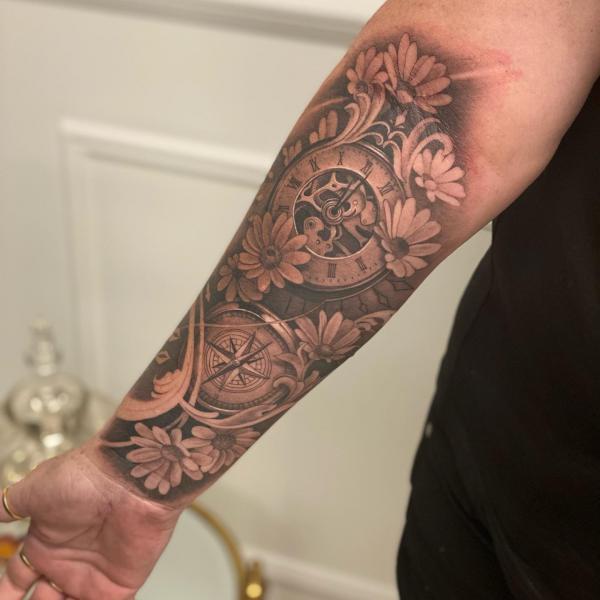 A clock and compass with daisy flowers ink design is a powerful symbol of guidance and the passage of time. The clock represents the fleeting nature of time, and the compass symbolizes direction and guidance, both adorned with daisies to signify purity and innocence.
Daisy and mouse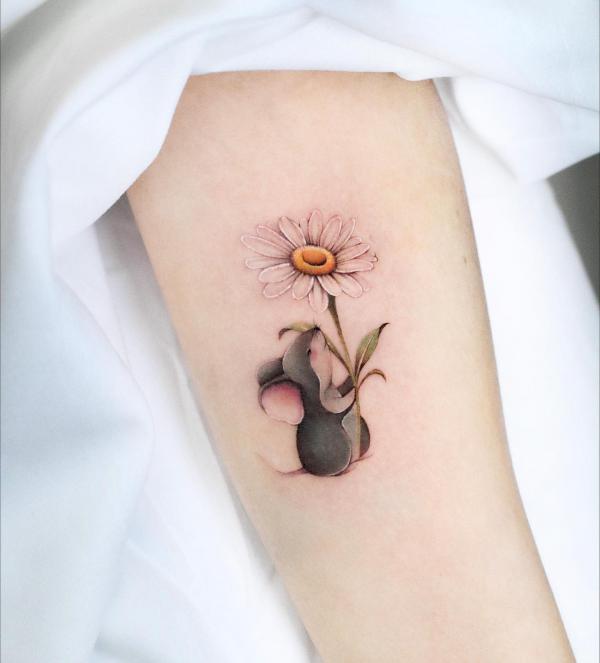 The daisy and mouse tattoo is a whimsical design for those with a playful spirit. The mouse, often symbolizing resourcefulness and adaptability, paired with the daisy, tells a story of innocence and adaptability in the face of life's challenges.
Daisy and paw print tattoo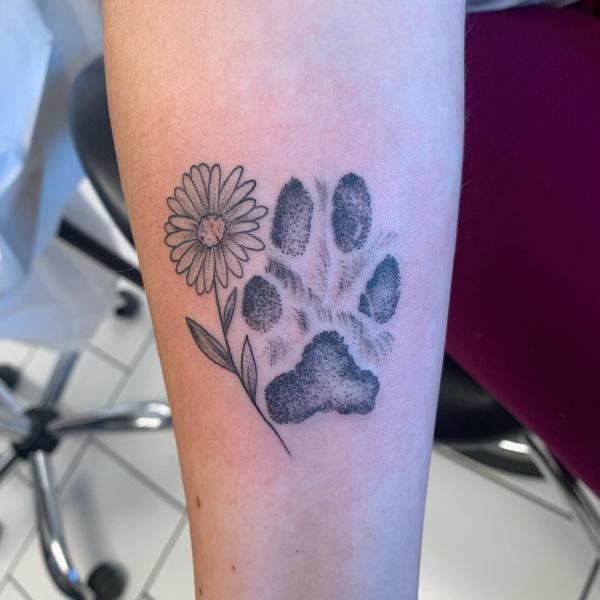 A daisy and paw print tattoo is a beautiful tribute to our beloved pets. The paw print represents our furry friends, and the daisy adds a touch of purity and innocence, making this design a perfect way to remember a cherished pet.
Clover and daisy matching tattoos for sisters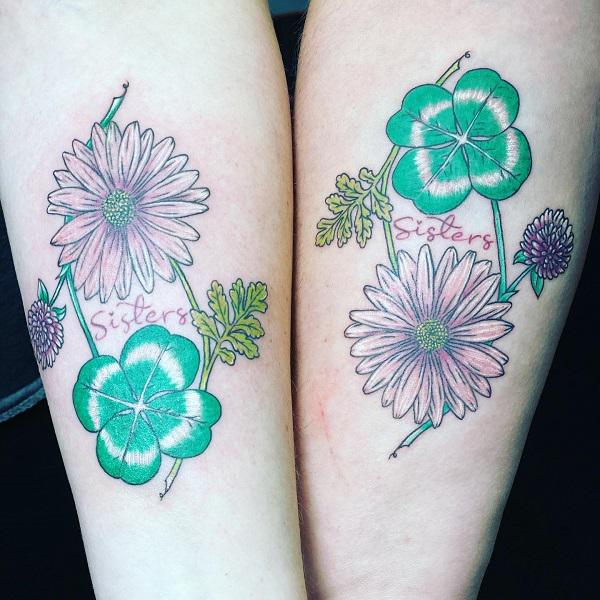 The matching tattoos are a wonderful way to symbolize sisterly love. The clover, a symbol of luck and prosperity, intertwined with the daisy, represents the pure love and luck of having a sister by your side.
Daisy and aster flower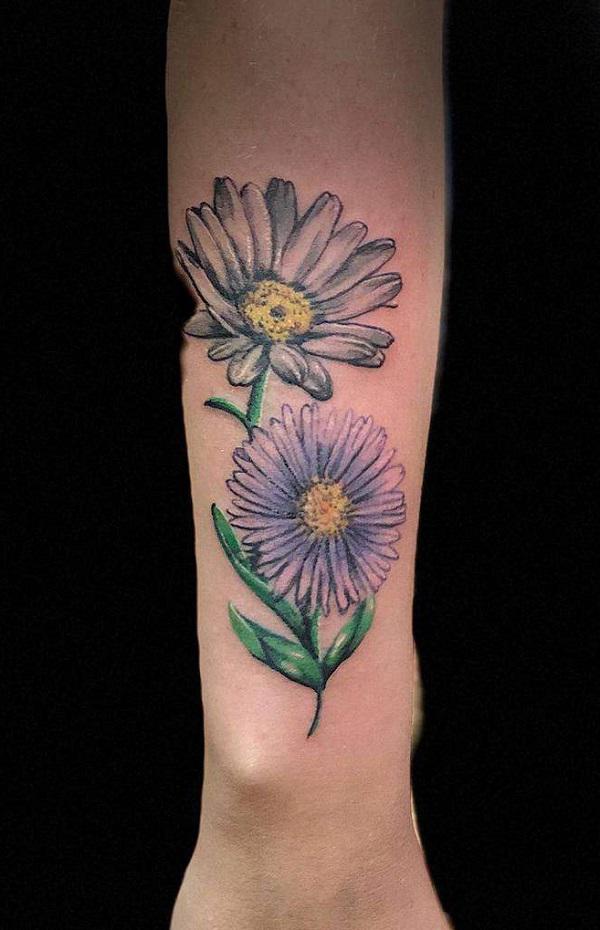 The daisy and aster flower tattoo is a cosmic blend of innocence and wisdom. The aster, a symbol of wisdom and a love of learning, beside the daisy, creates a design symbolizing the quest for knowledge and the purity of this journey.
Daisy and bee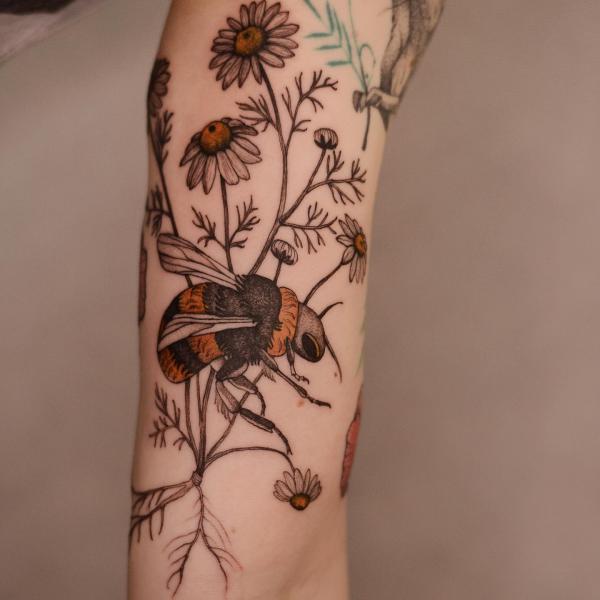 The daisy and bee tattoo is a lively depiction of nature's symbiosis. The bee, a symbol of hard work and community, hovering over the daisy, paints a vibrant picture of the beauty and harmony found in nature.
Crescent moon with daisy and butterfly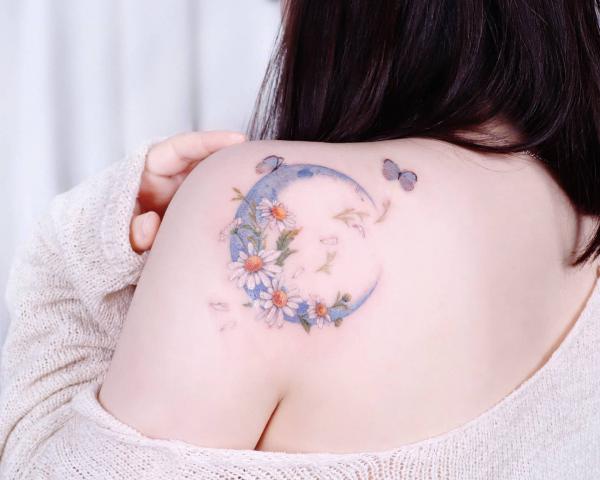 A crescent moon with a daisy and butterfly tattoo is a magical portrayal of transformation and purity. The butterfly, symbolizing transformation, and the daisy, under the soft light of the crescent moon, creates a design that speaks of growth and purity under the moon's watchful gaze.
Daisy and bird tattoo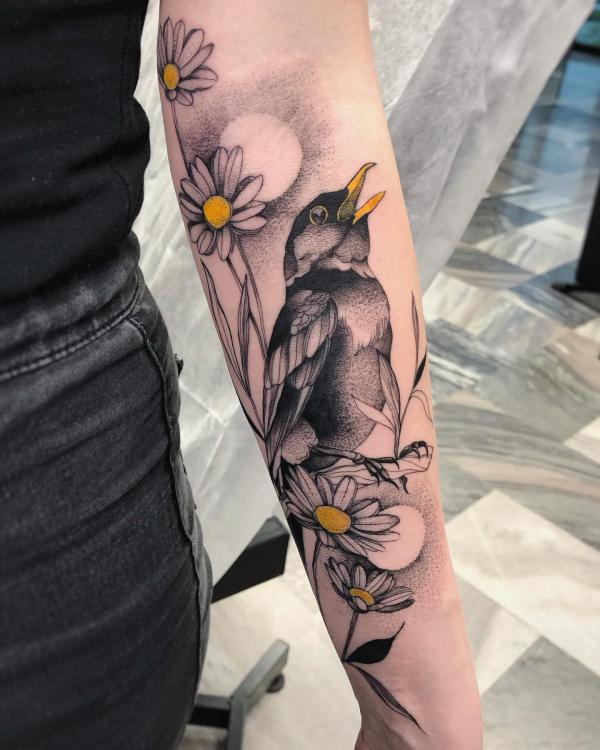 The whimsical tattoo is a charming design that combines the purity of the daisy with the freedom symbolized by the bird. This design tells a lovely story of the freedom to maintain one's innocence and purity amidst life's journeys.
Daisy and book tattoo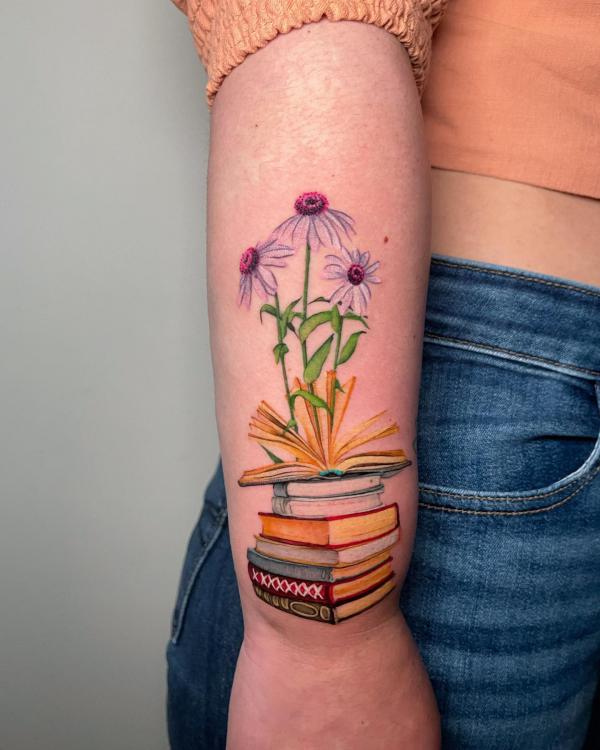 The forearm tattoo is a perfect choice for the book lovers. The book, symbolizing knowledge and adventure, paired with the daisy, forms a design that beautifully blends a love for learning with the purity of the pursuit of knowledge.
The Artistic Journey of Daisy Tattoo Styles
Daisy tattoos, a popular choice for body art enthusiasts worldwide, encapsulate elegance, purity, and strength. These charming motifs can be styled in an array of designs, each with its unique allure. From realistic to minimalist, traditional to watercolor, drawing, outline, and dotwork, there's a breadth of daisy tattoo styles to explore. Let's take a closer look at these fascinating styles.
Realistic Daisy Tattoos
Realistic daisy tattoos are a testament to the artist's skill, as they aim to mirror the intricate details of a real-life daisy. From the delicate petals to the textured center, these tattoos are a captivating sight to behold. They often appear 3-dimensional, creating the illusion of a fresh daisy gently resting on your skin. The realistic style brings life and depth to the tattoo, making it a favorite for those who appreciate the finer details and texture of a daisy.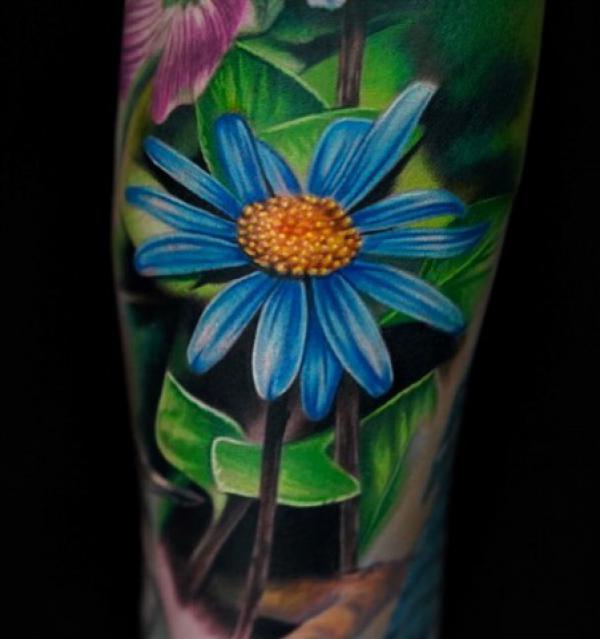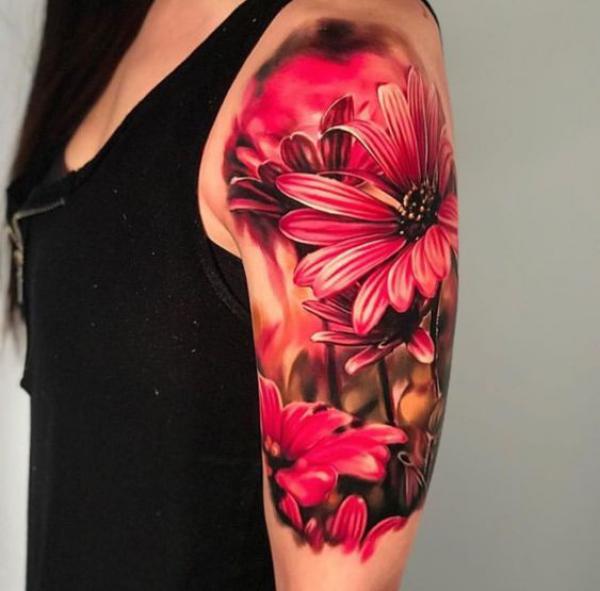 Minimalist Daisy Tattoos
In contrast to the complexity of realism, minimalist tattoos are marked by their simplicity and subtlety. They often involve a straightforward, unadorned depiction of a daisy, using clean lines and minimal shading. Despite their simplicity, minimalist daisy tattoos can convey a strong, profound message. They're an excellent choice for those seeking a subtle yet powerful tattoo. Remember, sometimes less truly is more!
Minimalist daisy flower clavicle tattoo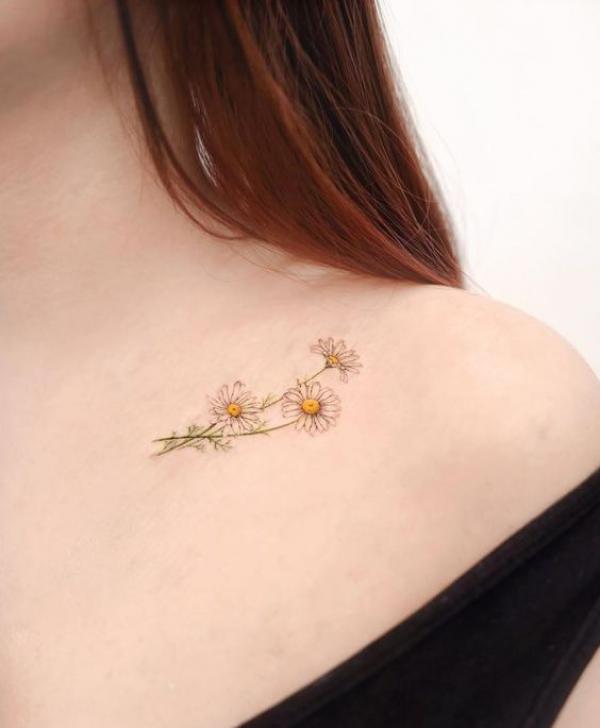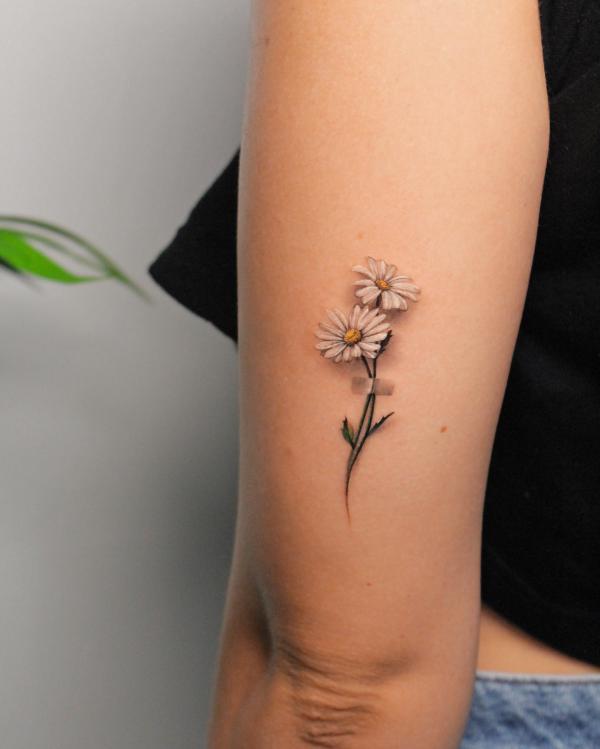 Traditional Daisy Tattoos
The traditional style, often referred to as "old school," is characterized by bold lines, vibrant colors, and iconic symbols. Traditional daisy tattoos typically feature a bold, colorful design, often accompanied by other classic tattoo elements like anchors, skulls, or swallows. They're a fantastic option for those who enjoy vintage aesthetics and want their tattoo to pop with color and boldness.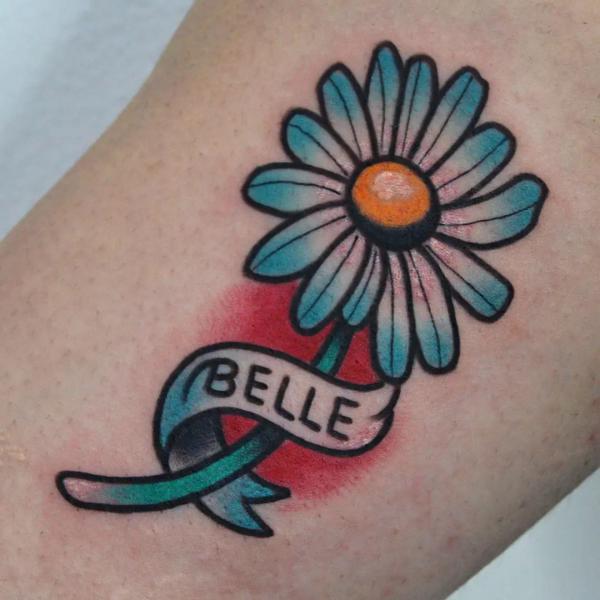 Watercolor Daisy Tattoos
Watercolor tattoos are a relatively recent trend in the tattoo world. This style mimics the look of a watercolor painting, complete with soft colors, gradients, and a dreamy, fluid appearance. Watercolor daisy tattoos often show off a splash of vibrant hues, with the daisy seeming as though it has been delicately painted onto the skin. This style is perfect for those who want their tattoo to be a fluid, vivid piece of art.
Yellow watercolor daisy tattoo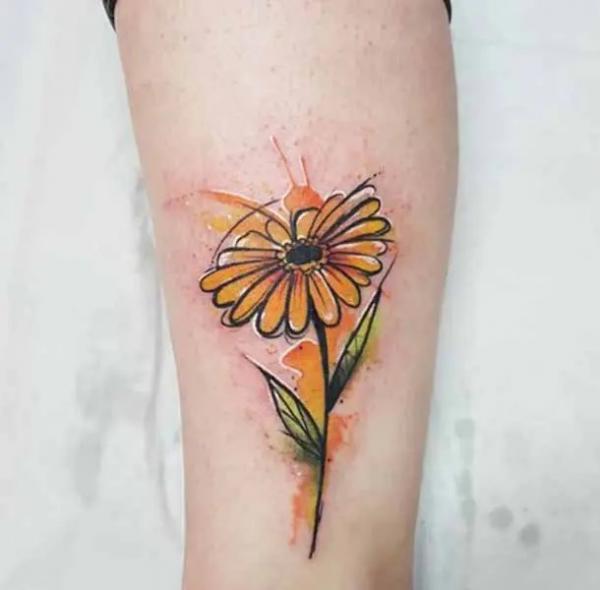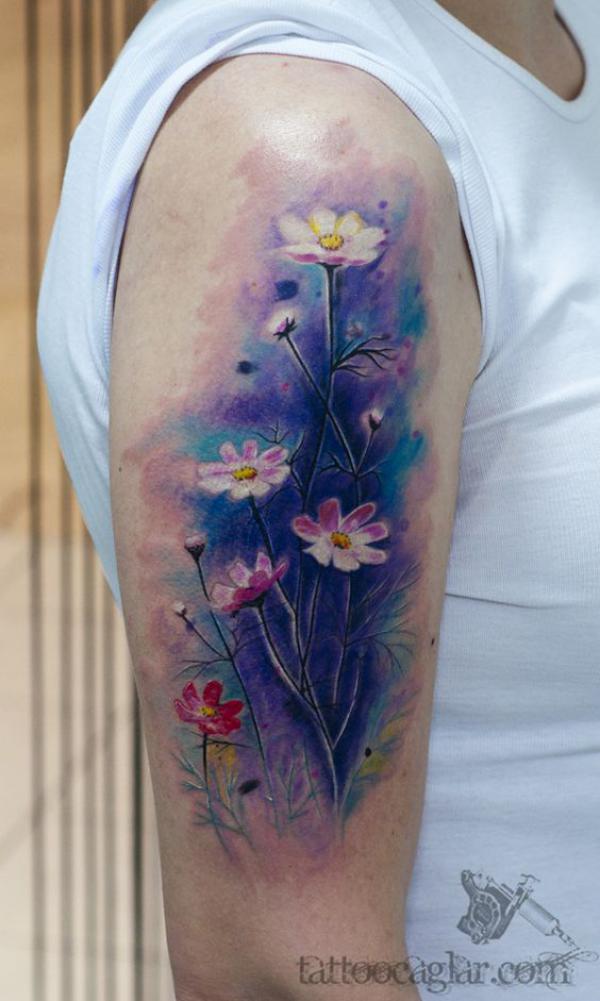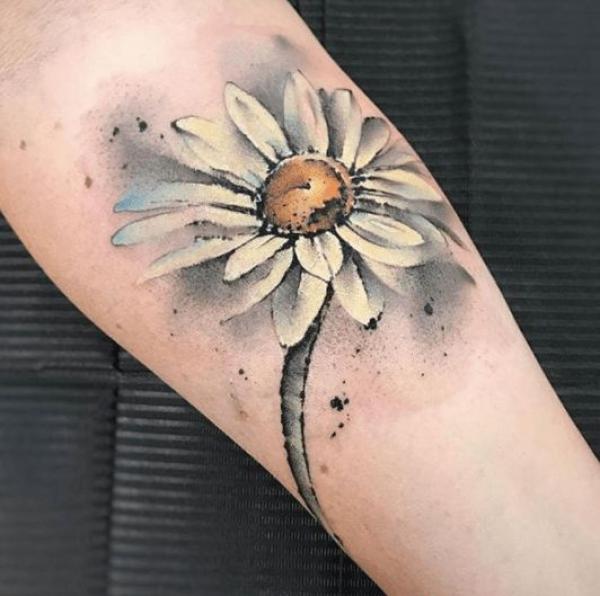 Drawing Daisy Tattoos
Drawing-style daisy tattoos often resemble a sketch or a doodle straight from an artist's notebook. With freehand lines and shading, these tattoos have a unique, personalized feel. The drawing style can range from a detailed, intricate sketch to a simple, rough doodle, making it a versatile choice. It's a great option for those seeking a tattoo that feels intimate and personal, like a piece of art drawn just for them.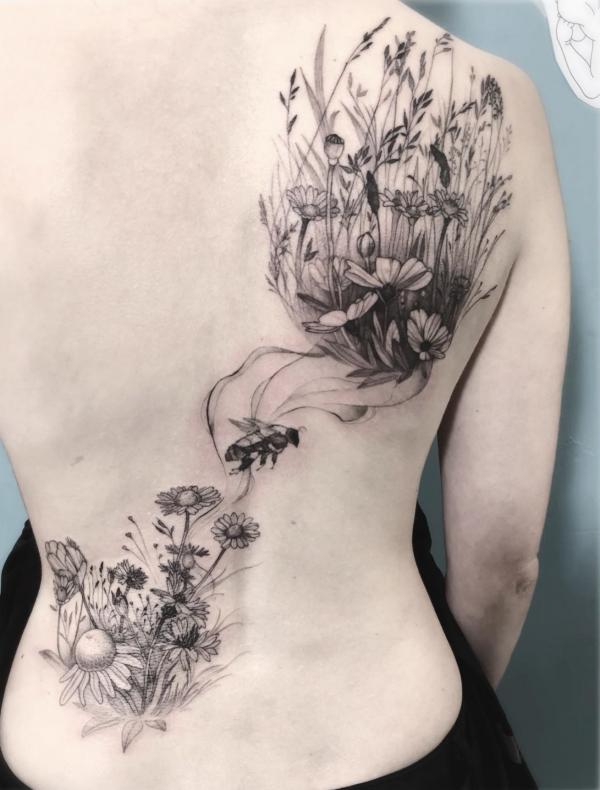 Outline Daisy Tattoos
Outline daisy tattoos are characterized by their stark, unfilled outlines. These designs generally involve a simple line drawing of a daisy, with no shading or color. The result is a crisp, clean tattoo that can be both subtle and striking. This style is suitable for those who appreciate the beauty of simplicity and want a tattoo that's straightforward yet impactful.
Daisy flower tattoo outline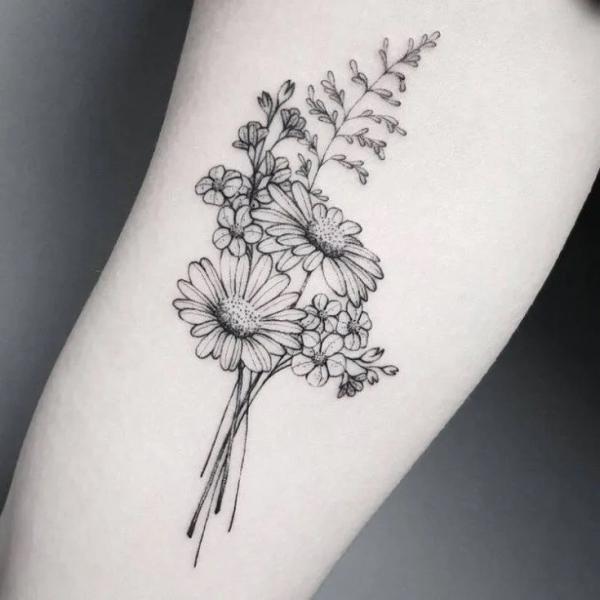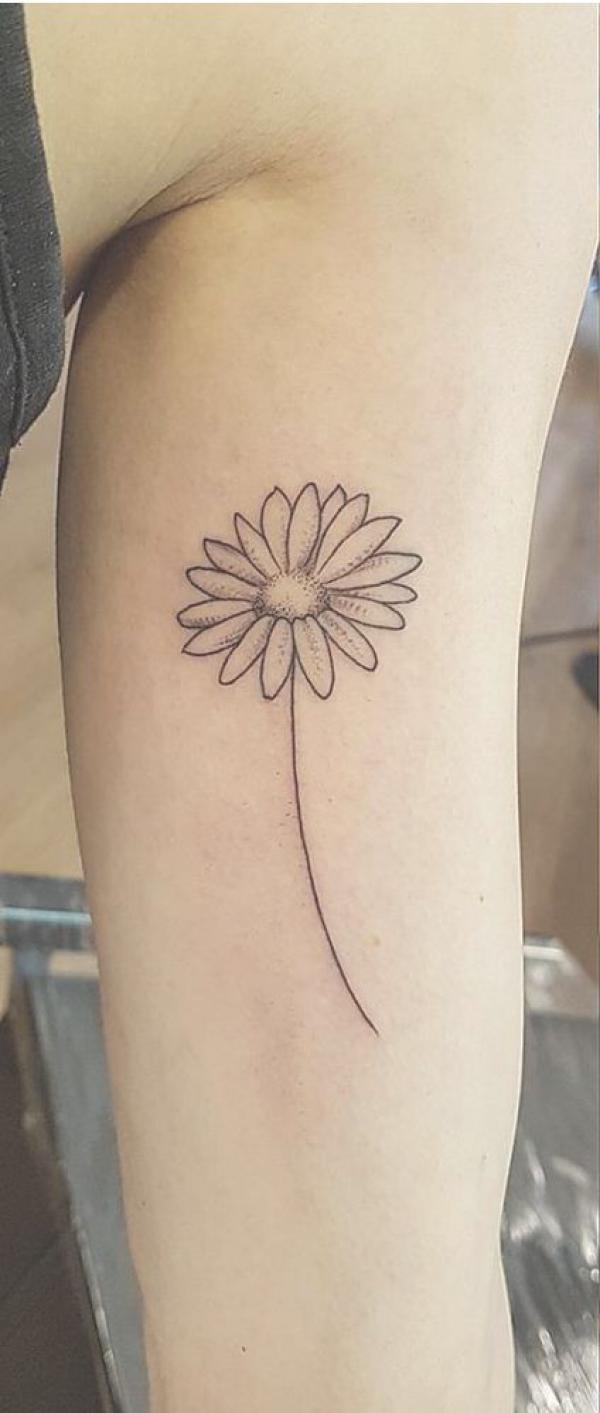 Dotwork Daisy Tattoos
Dotwork daisy tattoos involve intricate designs created entirely from tiny dots. The artist uses these dots to build up shading and texture, creating a detailed, hypnotic effect. With their mesmerizing detail and unique appearance, dotwork daisy tattoos are an excellent choice for those who want a tattoo that's truly a work of art.
Daisy and sun tattoo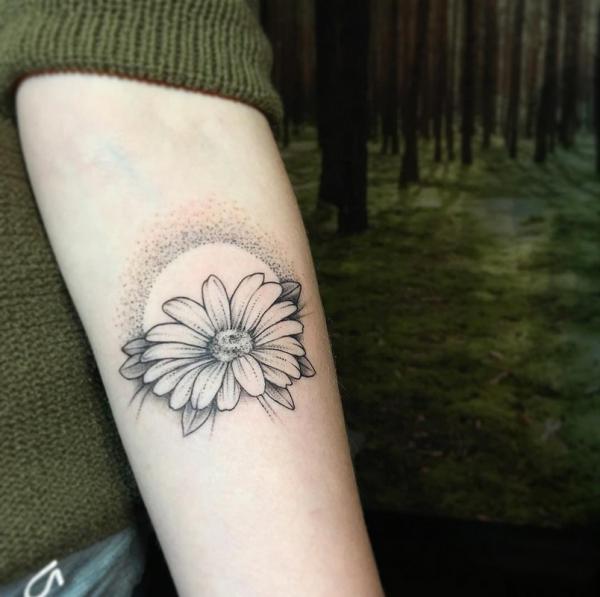 Daisy and snake dotwork under moon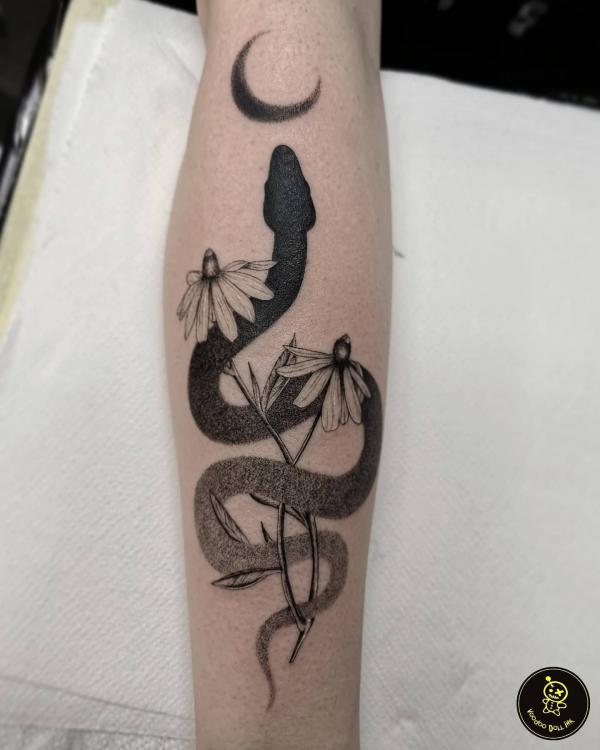 Perfect Placement Ideas for Daisy Tattoos
Choosing the right placement is as critical as selecting the design itself. It can greatly influence the tattoo's aesthetics and the message it conveys. Here let's talk about some of the most popular spots with examples for daisy tattoos, making your decision a bit easier and more informed.
Finger Daisy Tattoos
Finger tattoos are trendy, thanks to their subtlety and charm. A delicate daisy tattoo on your finger can be a discreet yet powerful style statement. Whether it's a minimalist daisy on the side of your finger or a small, detailed flower on your ring finger, finger daisy tattoos are a chic way to make an impression. They're perfect for those who appreciate understated elegance and wish to carry their daisy with them wherever they go.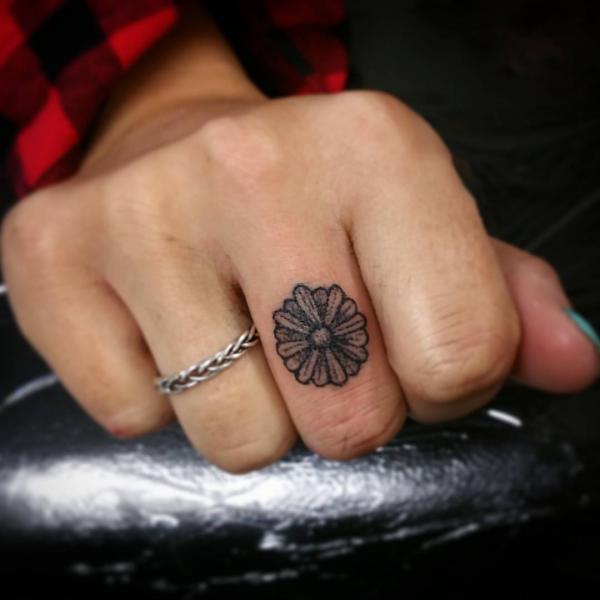 A stem of daisy finger tattoo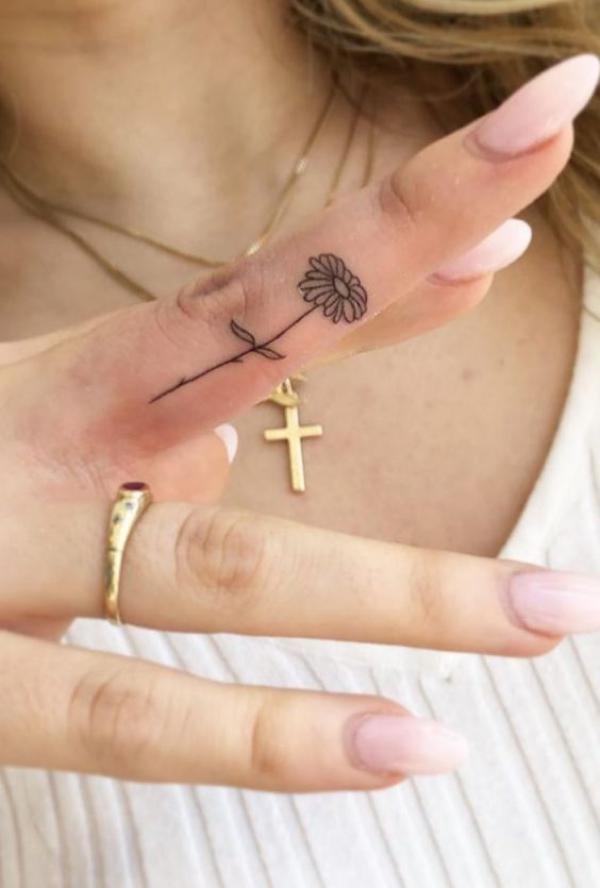 Above Elbow Daisy Tattoos
Above the elbow is another favorite spot for a daisy tattoo. This location offers a spacious canvas, allowing for more extensive and detailed designs. Picture a blooming daisy with intricate petals unfolding on your upper arm. This placement is also versatile, with the option to extend the tattoo into a full or half sleeve later on. Above elbow daisy tattoos are a great choice if you're looking for a statement piece that's easy to show off or hide, as needed.
Black and white daisy tattoo above elbow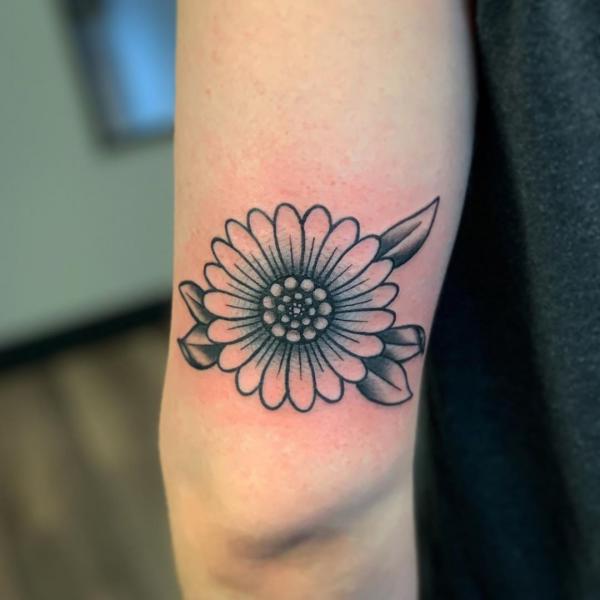 Shoulder Daisy Tattoos
Shoulder daisy tattoos are a classic choice. The rounded surface of the shoulder enhances the circular shape of the daisy, creating a harmonious look. Whether it's a single daisy or a bouquet, a shoulder tattoo is a great way to showcase your style. They're particularly appealing for those who enjoy a somewhat private tattoo that can be easily covered or revealed with a change of clothing.
Fine line daisy shoulder tattoo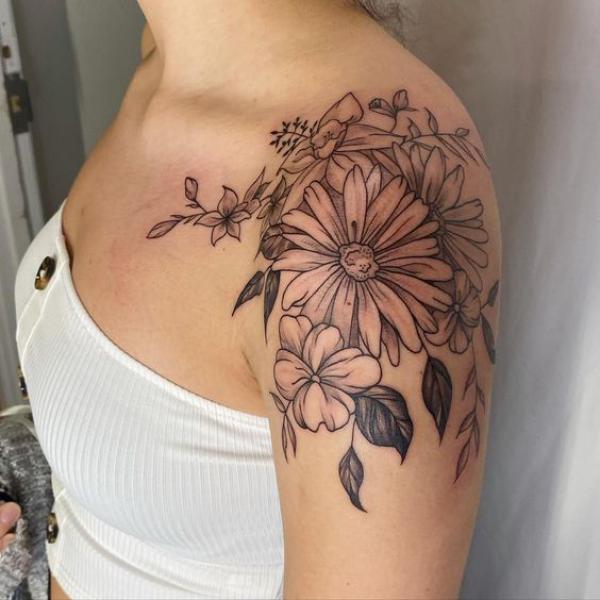 Single white daisy tattoo on shoulder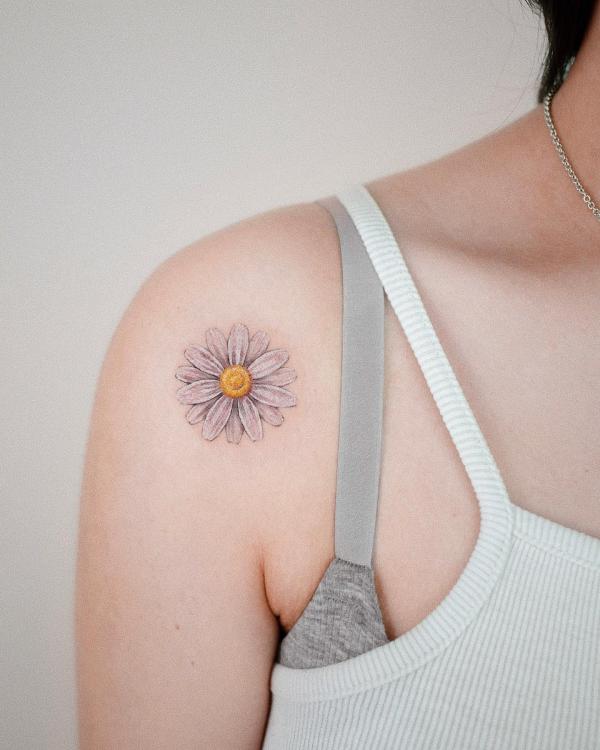 Large daisy shoulder tattoo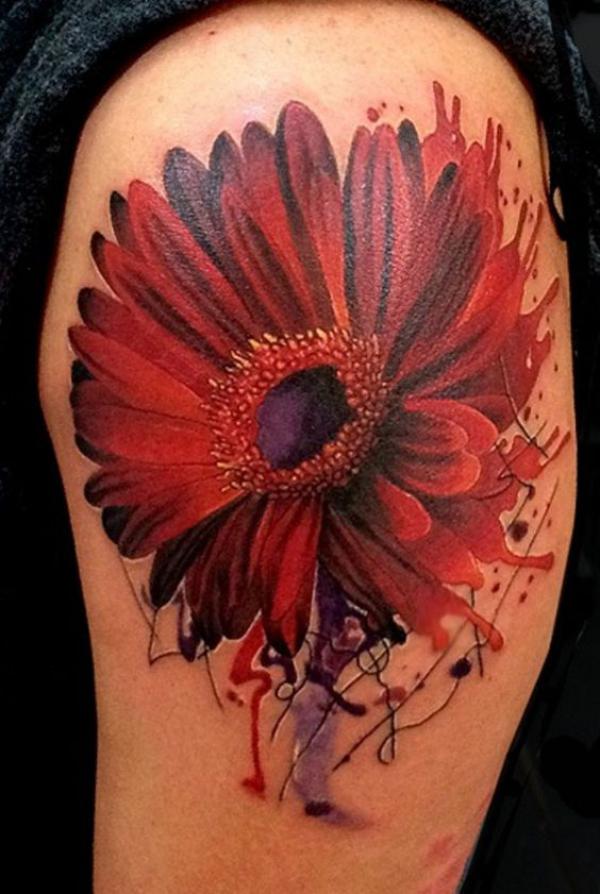 Forearm Daisy Tattoos
Daisy tattoos on the forearm are striking and very visible. The forearm provides ample space for a variety of designs, from a single, simple daisy to a complex, realistic depiction or a chain of daisies wrapped around like a bracelet. This placement is ideal for those who want their tattoo to be seen and appreciated, making it a constant source of inspiration.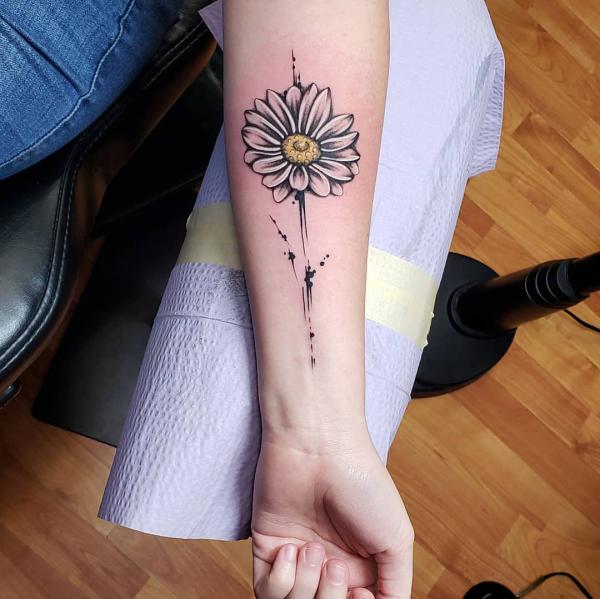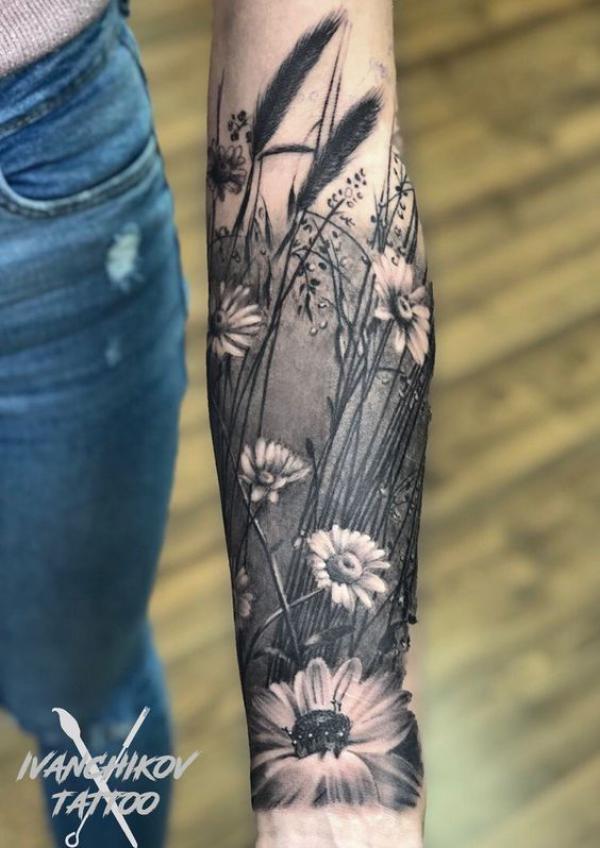 Daisy and rose forearm tattoo for women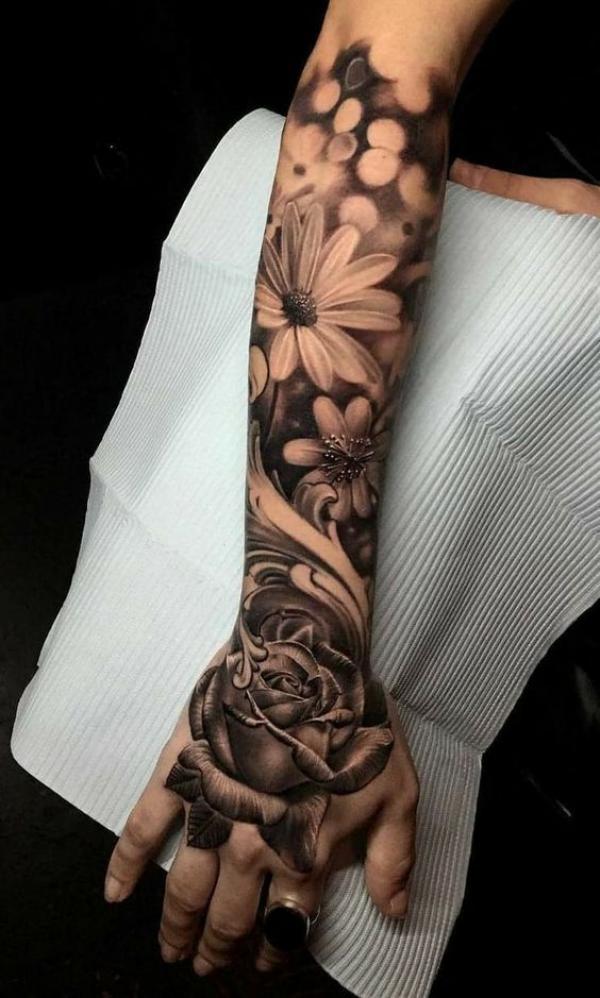 Thigh Daisy Tattoos
Thigh daisy tattoos are known for their seductive appeal. The thigh offers a large canvas for your daisy tattoo, making it suitable for more intricate and detailed designs. A daisy tattoo here can be a personal secret or a bold statement, depending on your choice of clothing. It's an excellent option for those who want a more intimate tattoo placement.
Daisy and Tinker bell thigh tattoo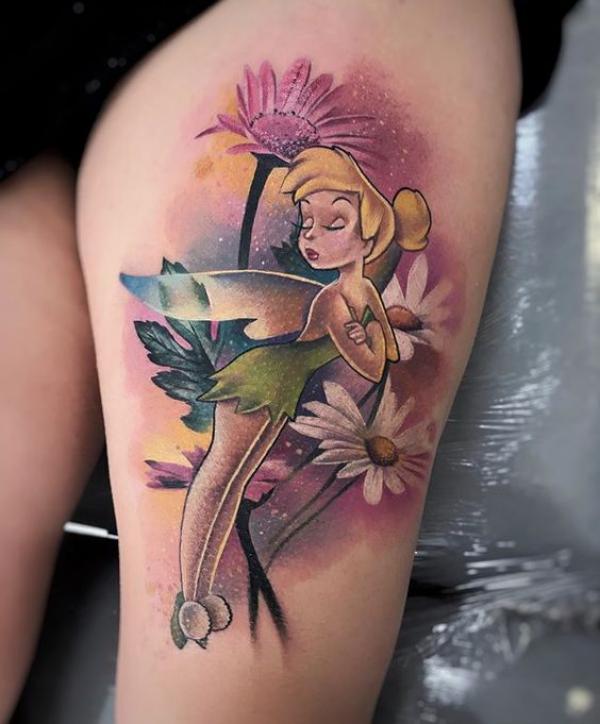 Daisy chrysanthemum and daffodil thigh tattoo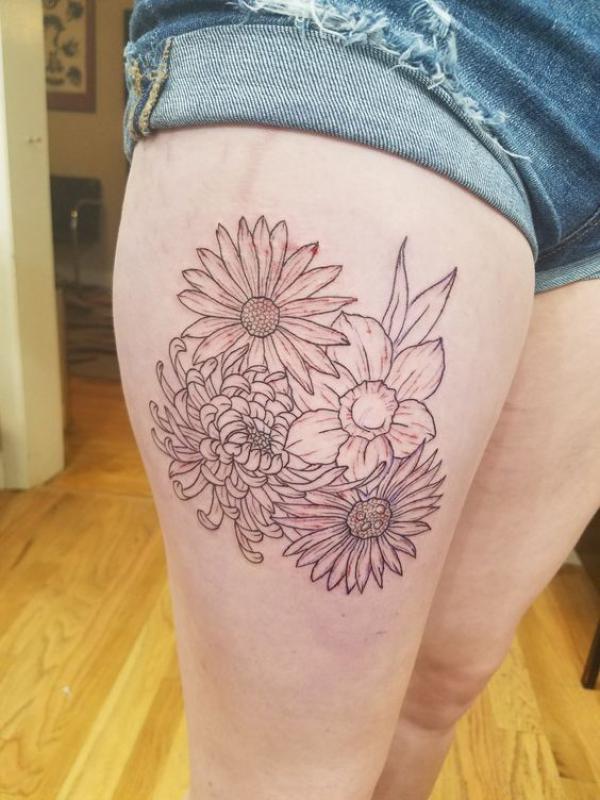 Spine Daisy Tattoos
A daisy tattoo running down the spine can be an incredibly eye-catching and unique style. This vertical placement complements the length of the daisy stem, creating a beautiful alignment with your body. From a small, single daisy at the nape of your neck to a row of daisies trailing down your spine, this placement is a stunning choice for a tattoo that's both personal and dramatic.
Daisy with name spine tattoo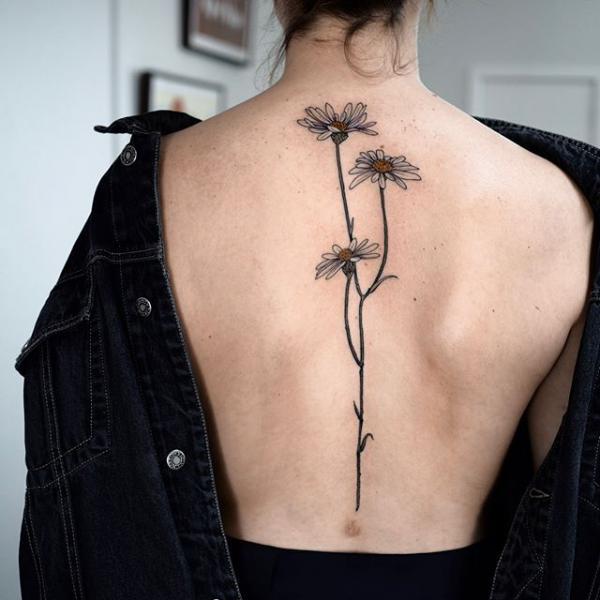 Calf Daisy Tattoos
Calf daisy tattoos are a popular choice for their visibility and versatility. This placement allows for creative designs, from a small, subtle daisy to a larger, more detailed piece. A daisy tattoo on your calf can be a fun and playful way to express your style, easily displayed or hidden depending on the situation.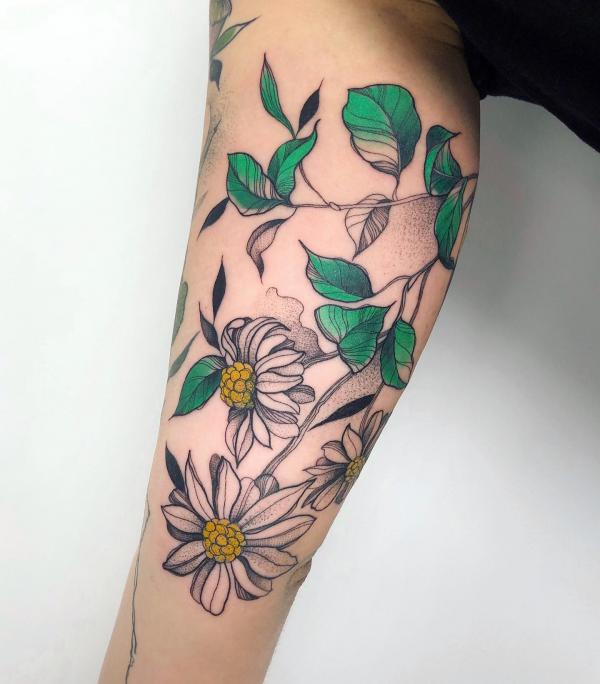 Collarbone Daisy Tattoos
Collarbone daisy tattoos are a delicate and romantic choice. This location, near the heart, is often associated with things we hold dear. Whether it's a minimalist daisy chain or a single, detailed flower, a daisy tattoo on your collarbone can be a beautiful and meaningful addition to your body art.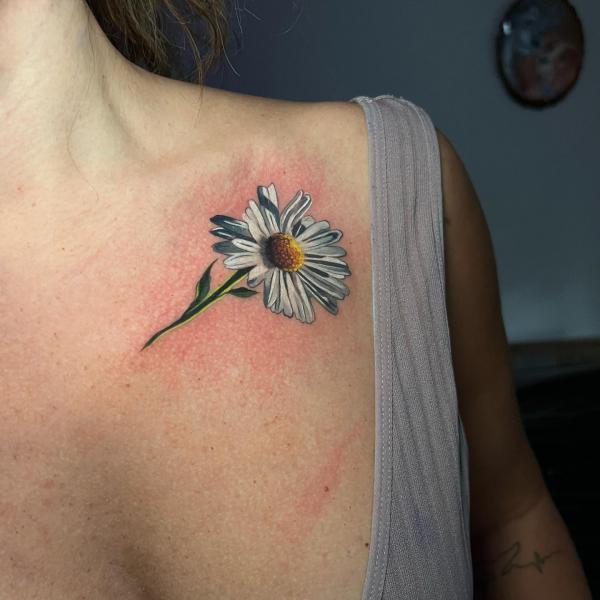 Foot Tattoos: Walking with Art
Foot tattoos are both discreet and captivating. The foot provides an exciting canvas that can carry everything from a delicate, minimalist design to a more intricate, detailed piece. Whether it's a statement piece on the top of your foot or a hidden gem on your sole, foot tattoos offer a unique blend of visibility and privacy, making your steps a little more meaningful.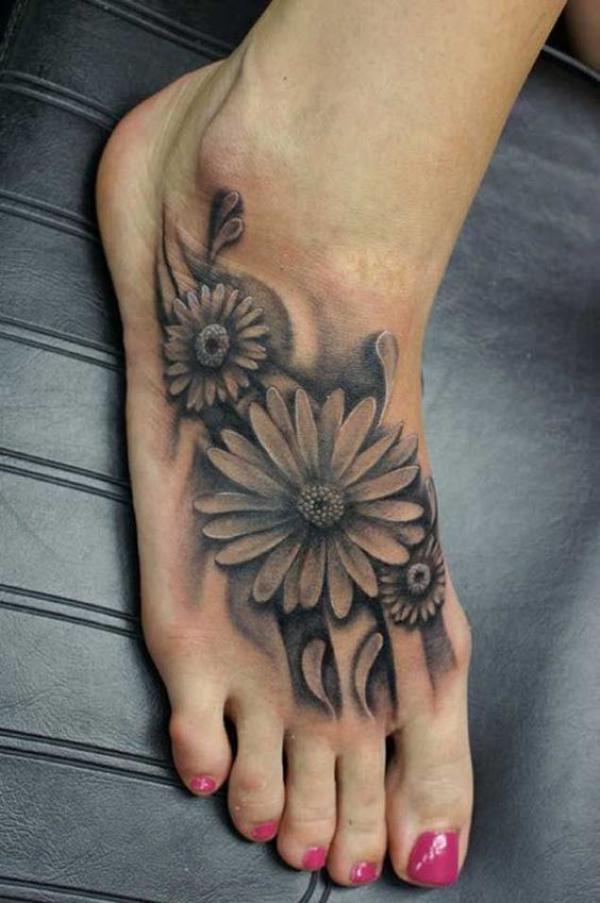 Neck Tattoos: Bold and Beautiful
Neck tattoos are a bold choice, synonymous with courage and individuality. Whether it's a small symbol at the nape of your neck or a full piece extending up to your ear, neck tattoos are undoubtedly eye-catching. They're a great way to express your daring side and make a powerful style statement.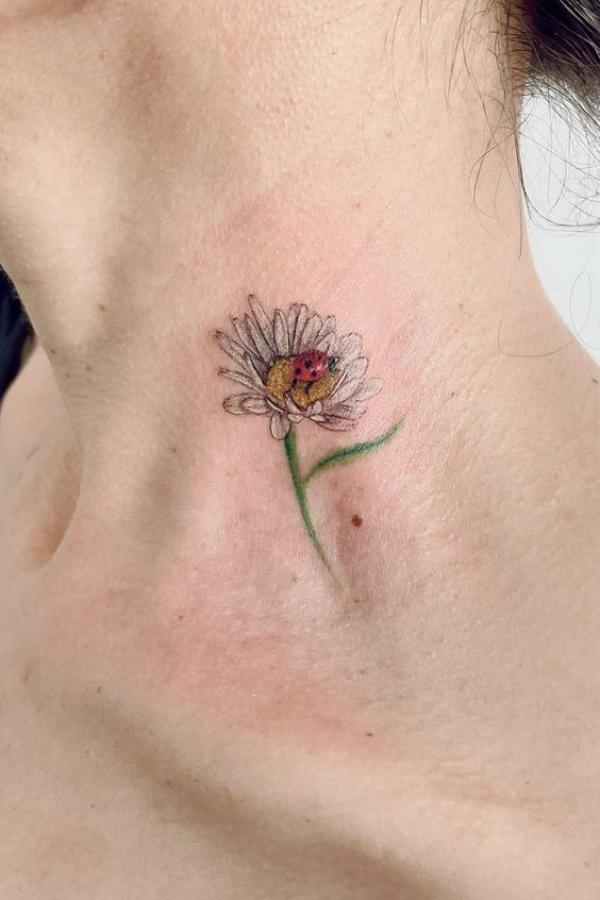 Behind Ear Tattoos: Whispering Stories
Behind-the-ear tattoos are a perfect blend of subtlety and surprise. This spot is ideal for small, delicate designs that hold personal significance. From a simple symbol to a tiny, detailed image, tattoos in this area can be your little secret or a surprising element to share when you tuck your hair behind your ear.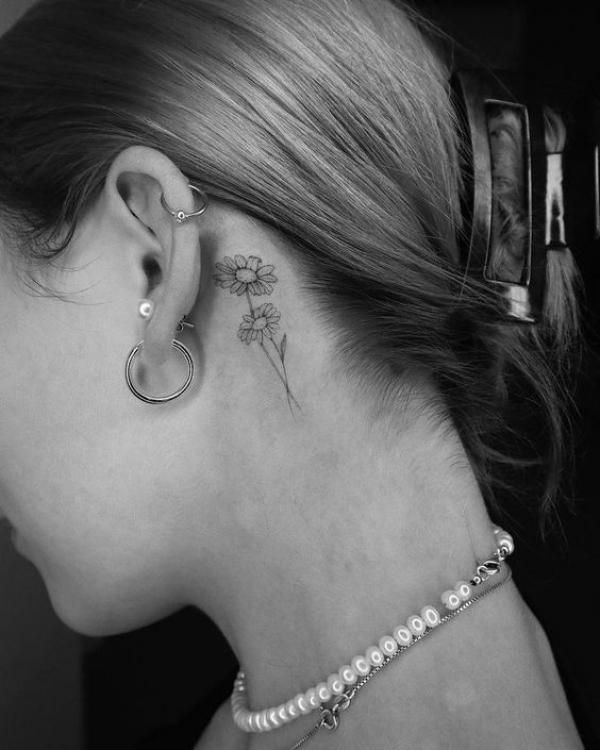 Side Tattoos: Embracing Curves
The side of the body offers a large, curved canvas that's perfect for creative and intricate designs. Side tattoos can beautifully trace your body's contours, creating a stunning visual effect. Whether it's a simple quote or an elaborate scene, side tattoos can be both private and provocative, depending on your attire.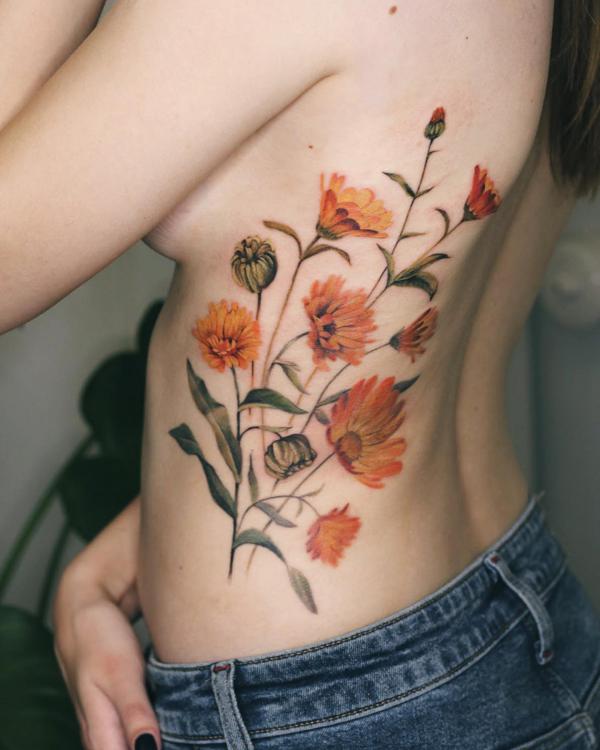 Full Sleeve Tattoos: A Canvas of Stories
Full sleeve tattoos are a commitment to art. They transform your entire arm into a vibrant tapestry of stories, symbols, or themes. With a full sleeve, you have ample space to blend several elements into an integrated design, creating a captivating visual story that's hard to miss. It's a fantastic choice for those who aren't afraid to wear their stories on their sleeves—literally!
Lilac daisy and bee hedgehog full sleeve atattoo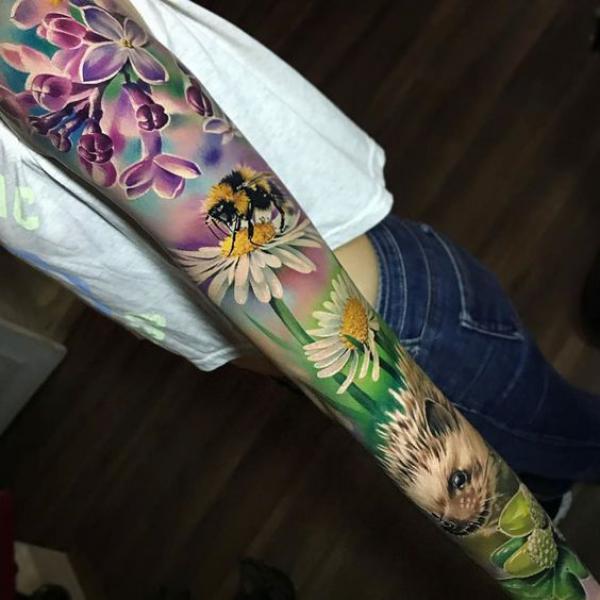 Ankle Tattoos: Subtle Elegance
Ankle tattoos are synonymous with elegance and subtlety. This location is perfect for a small, delicate design that can be easily concealed or revealed. Whether it's a tiny symbol, a short quote, or a small floral design, an ankle tattoo can be a chic, personal expression that accompanies each step you take.
Small daisy ankle tattoo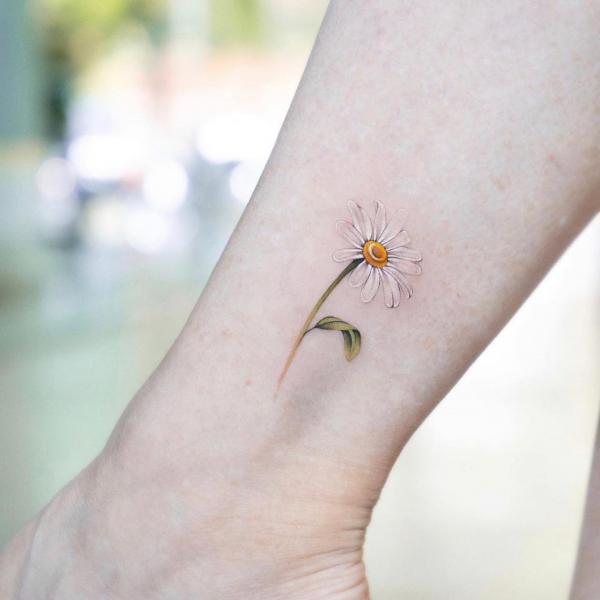 Hydrangea and daisy ankle tattoo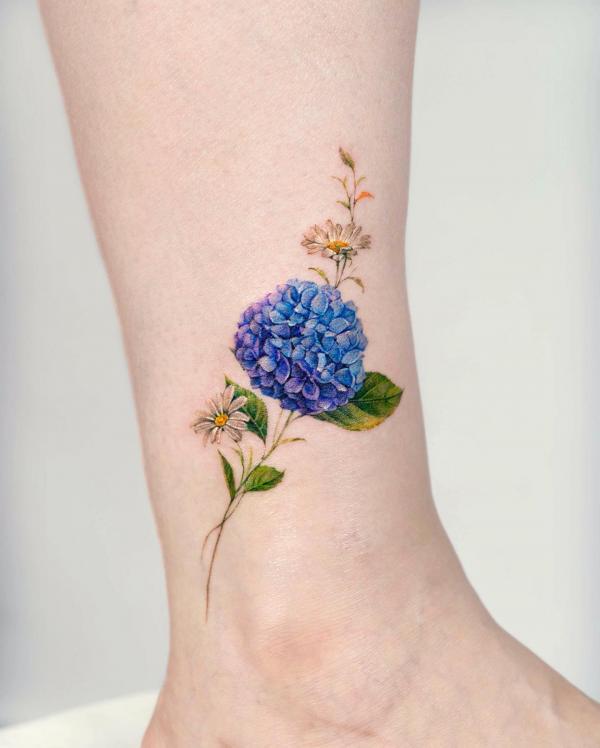 Minimalist daisy ankle tattoo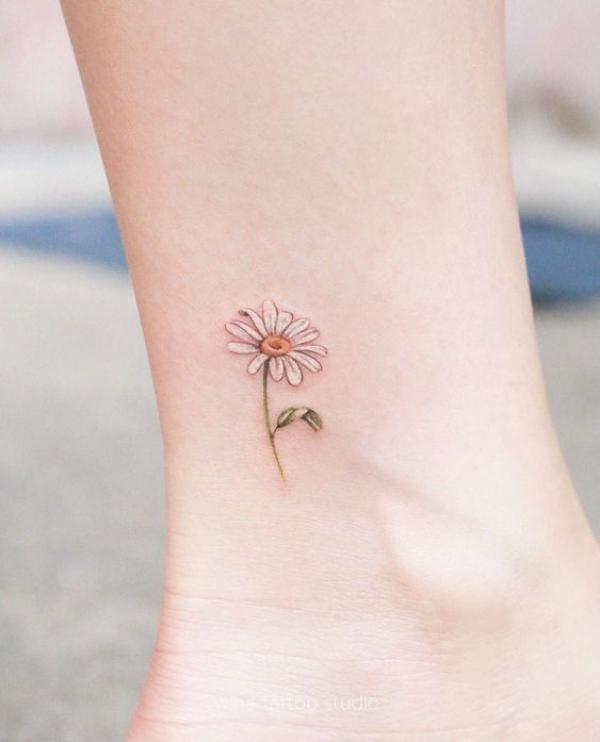 Single daisy ankle tattoo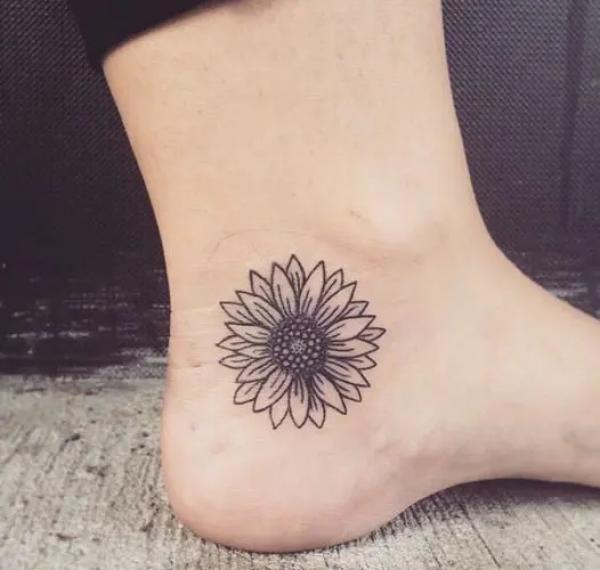 Leg Tattoos: Bold Statements
Leg tattoos offer a broad canvas for your creative expressions. From the thigh to the shin and calf, there's plenty of space for large, detailed designs. Whether it's a portrait, a scene, a pattern, or a symbol, leg tattoos are a bold, creative choice for those who love to stand out.
Rose and daisy leg tattoo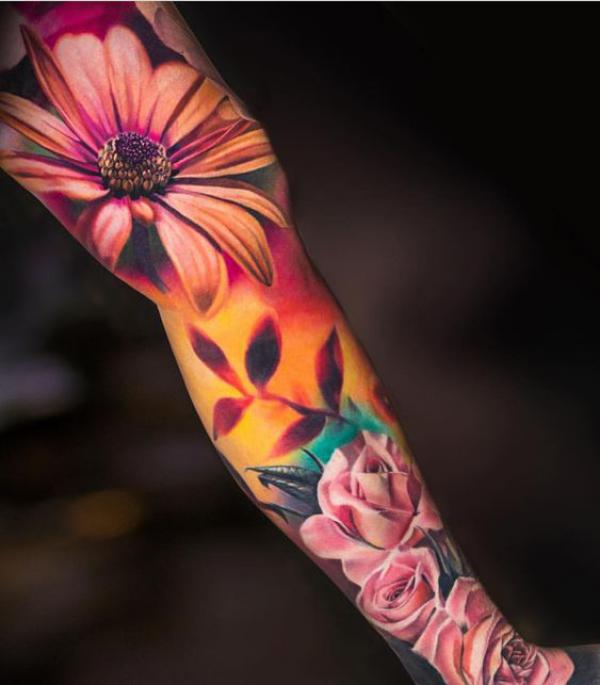 Shoulder Blade Tattoos: Between Strength and Softness
Shoulder blade tattoos are a popular choice due to their versatility and aesthetic appeal. This location is perfect for medium to large designs, from symbols to portraits to scenes. Shoulder blade tattoos can be a personal secret under your clothes or a striking image to show off in a sleeveless top or dress.
gerbera daisy shoulder blade tattoo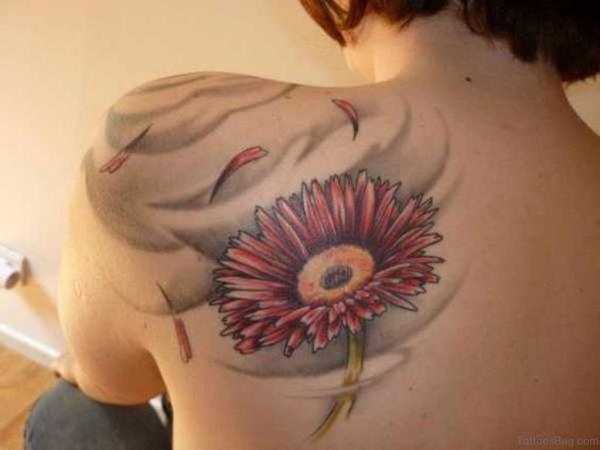 Daffodil and daisy shoulder blade tattoo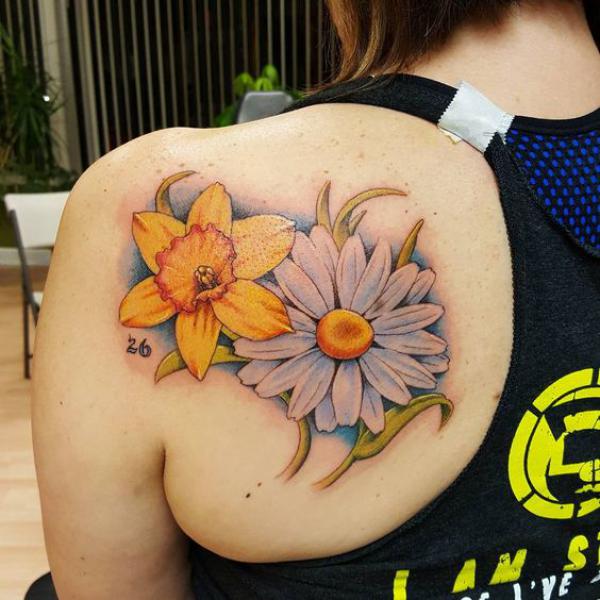 Back Tattoos: A Personal Canvas
Finally, back tattoos are like a hidden mural. The back provides the largest uninterrupted canvas on your body, perfect for elaborate and detailed tattoos. From a small, meaningful symbol at the base of your neck to a full-back masterpiece, back tattoos are a powerful way to express your individuality.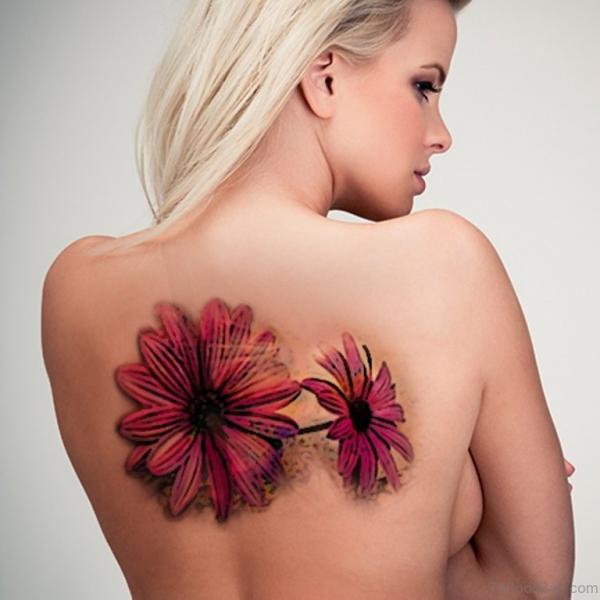 Conclusion
As we've seen, daisy tattoos can hold a wealth of meanings, from innocence and purity to transformation, love, and more. The beauty of these tattoos lies in their versatility – the color, design, and personal significance can all be customized to make your daisy tattoo unique to you.
The daisy's symbolism extends across cultures, adding depth and richness to its interpretation. Whether you connect with the Celtic belief of childlike joy, the Norse association of new beginnings, or the Roman value of modesty, a daisy tattoo can be a powerful personal symbol.
Remember, the ultimate meaning of your daisy tattoo is a deeply personal matter. It's a reflection of your journey, beliefs, and experiences. Whether it's a symbol of transformation after a significant life change, a tribute to love and loyalty, or a reminder of innocence and purity, your daisy tattoo will be a personal emblem that holds a significance only you truly understand.
In the end, the daisy's multifaceted symbolism makes it a beautiful and powerful choice for a tattoo. It's a testament to the complexity of life, embodying our journey through innocence, love, transformation, and personal growth. So, if you're considering a daisy tattoo, rest assured – this humble flower can carry a world of meaning on your skin.