Wave tattoo ideas are becoming increasingly popular, and it's not hard to see why. With their fluid lines and cool colors, wave tattoos embody the power and beauty of the ocean while also resonating deeper meanings. Whether you're drawn to a simple wave design or a more complex work of art, there's no shortage of inspiration out there. In this article, we'll explore some of the different meanings behind wave tattoos, as well as considerations for placement and possible combinations with other motifs.
Connections to wave in various cultures
From ancient times to the present day, waves have been an integral part of many cultures and histories around the world. From Native American tribes who believed that waves represented spiritual energy to modern-day surfers who use them for recreation, it's clear that humans have always had a strong connection with water and its powerful movements.
In some cultures, such as those in Ancient Greece and Rome, people viewed large oceanic swells as signs from gods or other divine entities. This belief was so pervasive that sailors would often offer sacrifices before embarking on long voyages across the sea in order to ensure safe passage back home. Waves were also seen as symbols of strength by early civilizations like Polynesians; they believed they could harness their power by riding them on canoes or rafts made out of wood logs lashed together using vines or twine ropes.
The relationship between humans and wave has evolved over time but remains just as strong today—especially among surfing communities who rely heavily upon these natural forces for entertainment purposes. Surfers are able to experience a unique form of freedom when gliding along atop a wave's crest—it is this feeling which continues draw more people into this exciting sport every year! Additionally, research shows that spending time near oceans helps reduce stress levels due to both physical activities involved in swimming and surfing itself plus simply being surrounded by calming sounds associated with crashing waves against shorelines.
What does a wave tattoo symbolize?
While they can mean different things to different people, wave tattoos are generally associated with the ocean and its many aspects. Here are some of the most common meanings behind this kind of tattoos:
Peace and Tranquility. Given the relaxing and peaceful nature of the ocean, it's no surprise that waves are often associated with feelings of tranquility, calmness, and peace. By getting a wave tattoo, some people want to express their love for the serenity of the ocean and its therapeutic effects.
Power and Danger. The ocean is also known for its immense power and potential danger. Therefore, waves can be interpreted as symbols of strength, courage, and fearlessness. They can also represent overcoming obstacles, especially overcoming one's fear of the unknown.
Eternal Change and Flow. The constant movement and ever-changing nature of waves have also led them to be symbols of transformation and flow. A wave tattoo can signify personal change and growth or simply remind us to go with the flow of life.
Connection to the Ocean. For those who love the ocean and all the creatures that live in it, getting a wave tattoo can be a way of showing their connection to the natural world. It can also represent one's passion for surfing, swimming, or any other water-based activities.
Placement Considerations
When it comes to placement, wave tattoos can be versatile, and there are several ways to approach it. Here are some popular points to consider:
The Forearm One of the most popular areas is the forearm. This placement provides plenty of space for larger designs and the option to wrap the wave around the arm, allowing for a more dynamic and flowing image.
The Chest Another popular option is the chest, which provides plenty of canvas for larger and more detailed designs. Here, a wave tattoo can flow across the chest or be centered over the heart, symbolizing the connection between the person and the ocean.
The Back The back is an excellent canvas for larger designs as well. A back piece featuring a wave can be framed by other elements such as mountains, sunsets, clouds, or other oceanic creatures.
The Ankle For a smaller and more subtle choice, the ankle is a popular location. A small, delicate wave tattoo can be a beautiful and discreet way to express one's connection to the ocean.
Combinations with Other Motifs
While a wave tattoo can be stunning as a standalone design, combining it with other motifs can create a more personalized meaning and a unique piece of art. Here are some ideas:
Fish and Marine, Life Animal motifs such as sharks, dolphins, whales, turtles, and other marine creatures can create a more significant ocean theme. For instance, a wave tattoo can incorporate a shark swimming beneath it, symbolizing the power and danger of the ocean.
Sunset and Sunrise. Sunsets and sunrises can be blended with waves to express the beauty and peacefulness of the ocean. The sunset/sunrise can merge seamlessly into a wave, creating a stunning visual representation of the connection between the natural world and the person.
Florals and Moon. Floral motifs and the moon can be added into the wave tattoo to create a peaceful and meditative interpretation. For example, a wave tattoo can include a small boat or anchor combined with flowers or the moon, to represent a calm and peaceful life on the ocean.
Wave tattoo ideas for men and women
For those looking for unique and creative wave tattoo ideas, then here is the collection that is perfect for your inspiration! From intricate designs featuring multiple waves to minimalist single-line waves with added symbols like anchors or stars – there's something here that will be sure to fit any personality.
A Surfer between Ying Yang whale and wave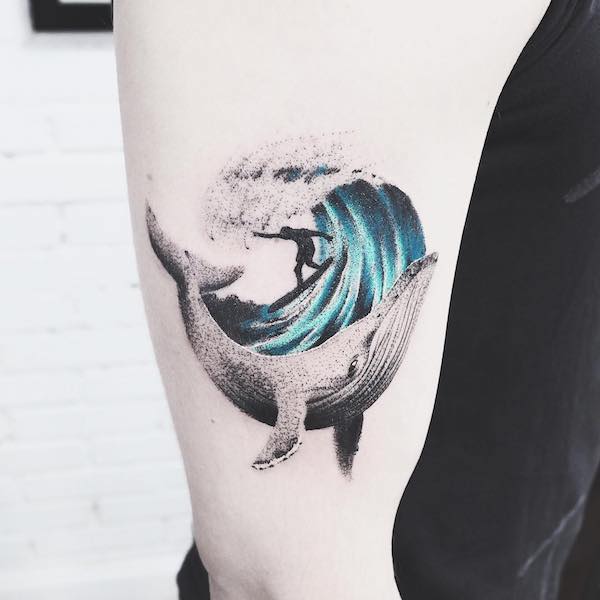 This sleeve tattoo is a truly remarkable piece of art that beautifully captures the spirit of surfing. The focal point, in the center, features an expert surfer surrounded by a leaping whale and rolling waves. The dark and green colors used to create two Ying Yang motifs give this design an elegant yet eye-catching look that will be sure to turn heads wherever you go! Furthermore, its intricate details on each element create an interesting visual story for all who behold it.
Ying Yang wave and sun shining tattoo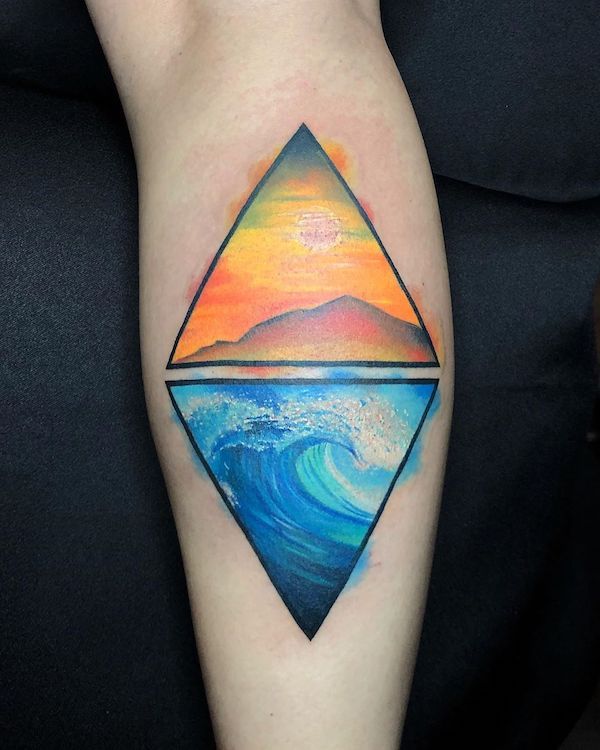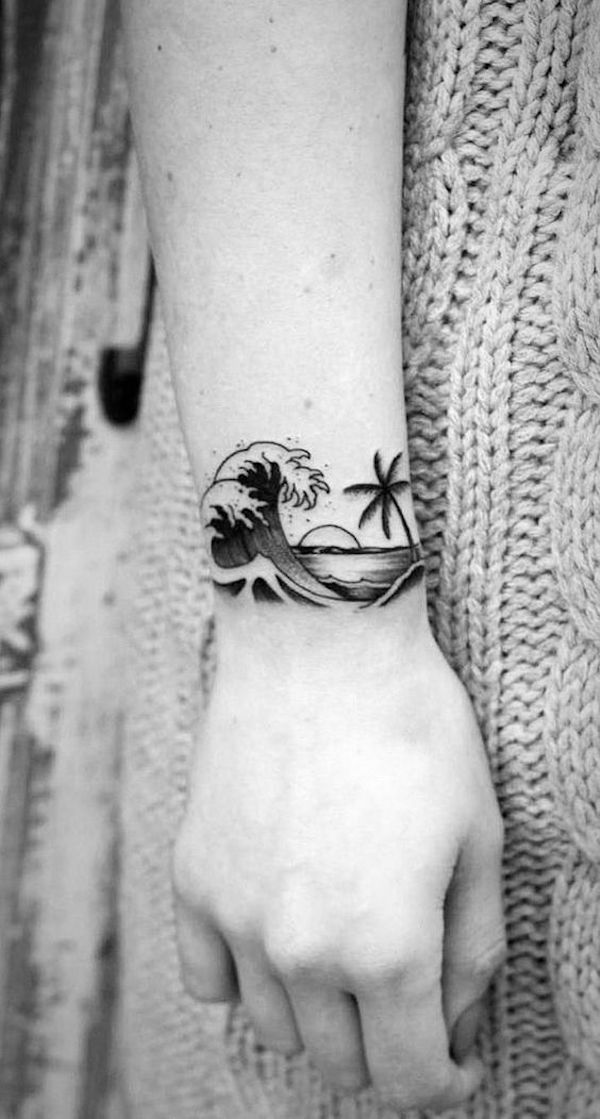 This wrist tattoo is a beautiful combination of sun, wave and beach, palm tree. It's an eye-catching design that captures the beauty of nature in a creative way. The sun symbolizes life and energy while the wave represents strength and power. The sandy beach brings to mind peaceful moments spent on the shoreline while the tall palm tree stands for growth and stability. This unique design is ideal for those who want to show their appreciation for nature with meaningful body art!
Waves under the sunshine forearm tattoo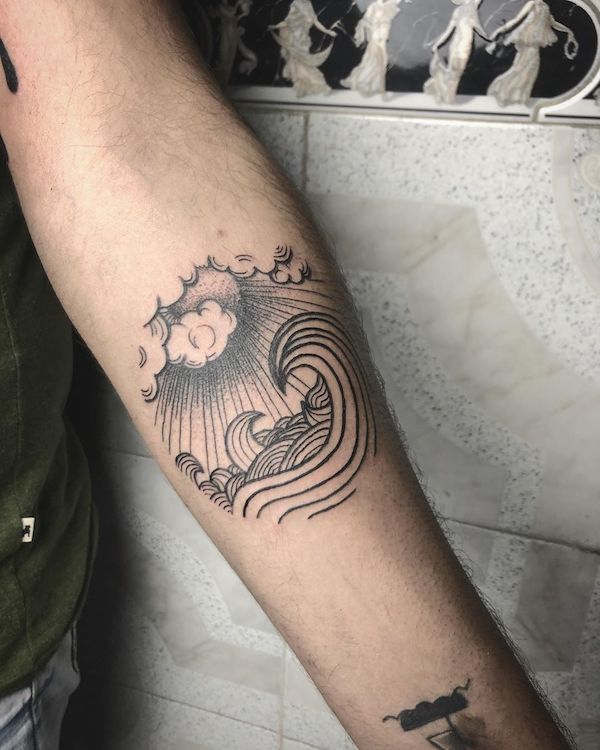 Wave in cup small tattoo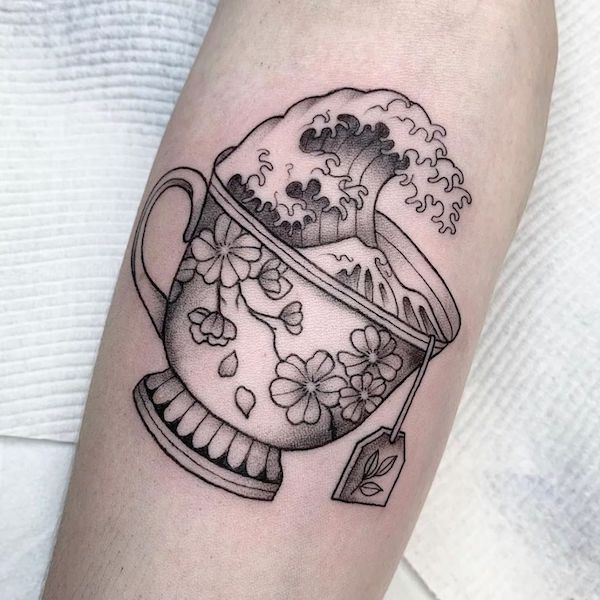 Wave hair for David Statue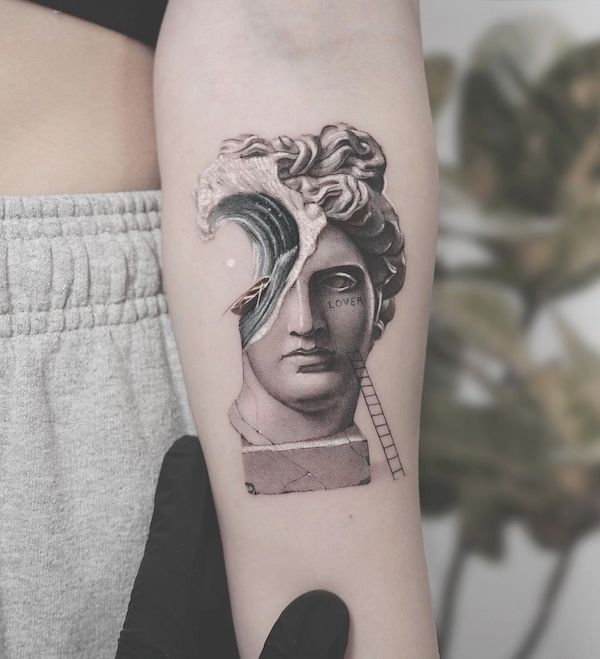 Watercolor wave and sun tattoo on ankle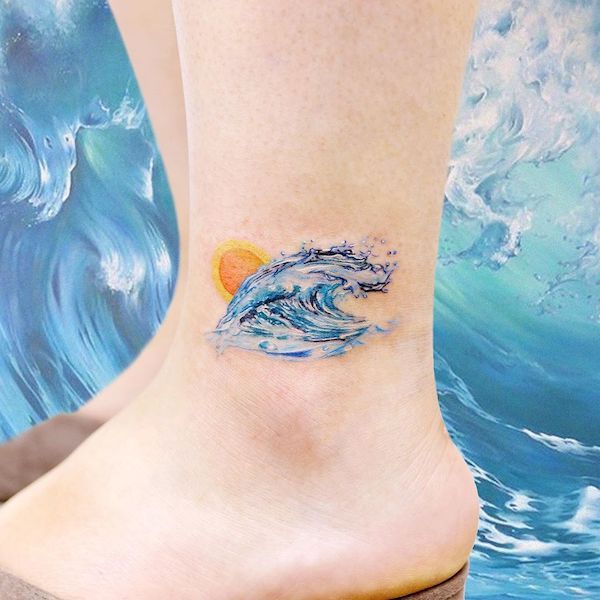 Upper arm blackwork with wave and floral designs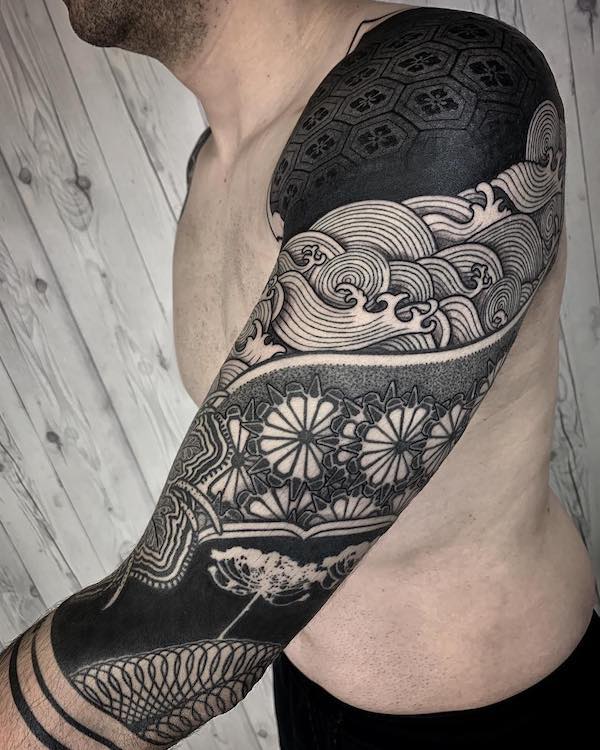 Yingyang tattoo in watercolor with waves and sunlight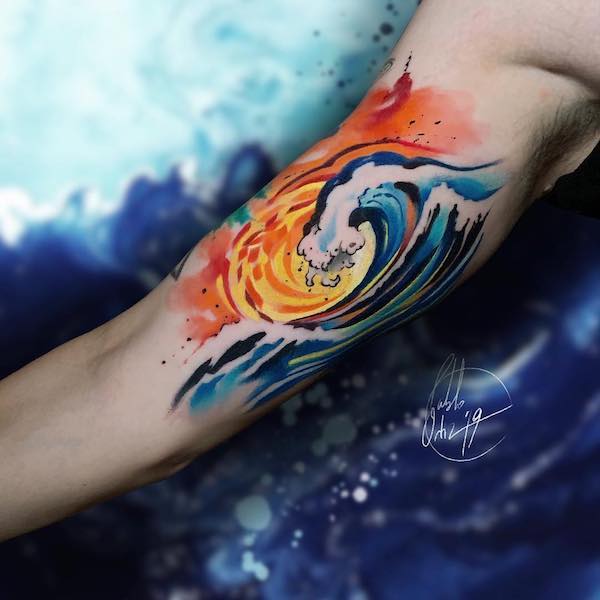 This beautiful Yingyang tattoo in watercolor depicts a perfect balance of energy and harmony. The blue waves represent the calming, cool energy while the fiery sunlight represents passion and power.
Tattooed woman with wave around her body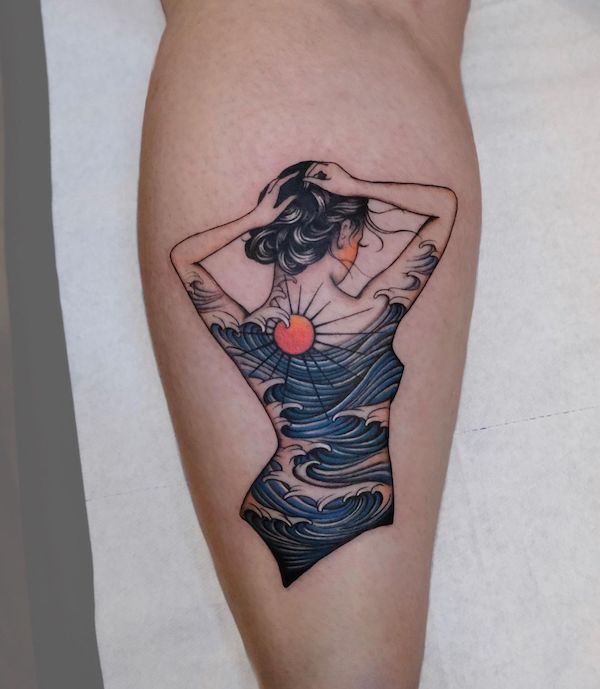 Tattoo of a tiny foot wave in tribal design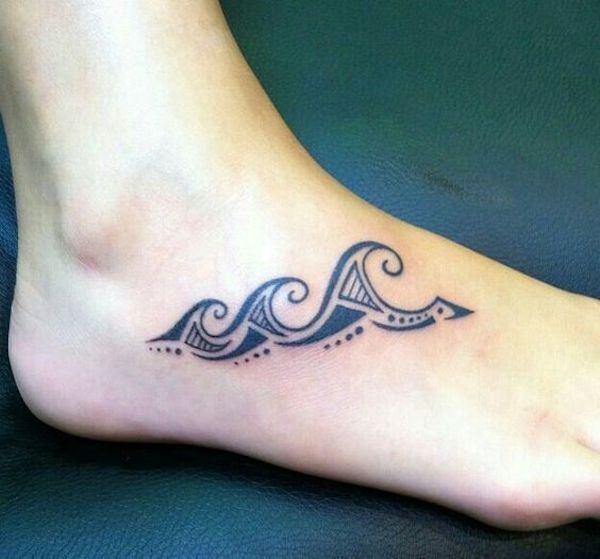 This unique tattoo in tribal design is the perfect way to express your individual style. Not only does this tattoo represent your free spirit, but it also serves as a reminder of how small our presence is on Earth compared to its vastness and power. This meaningful statement piece will inspire you every time you look at it!
Small wave tattoo on back female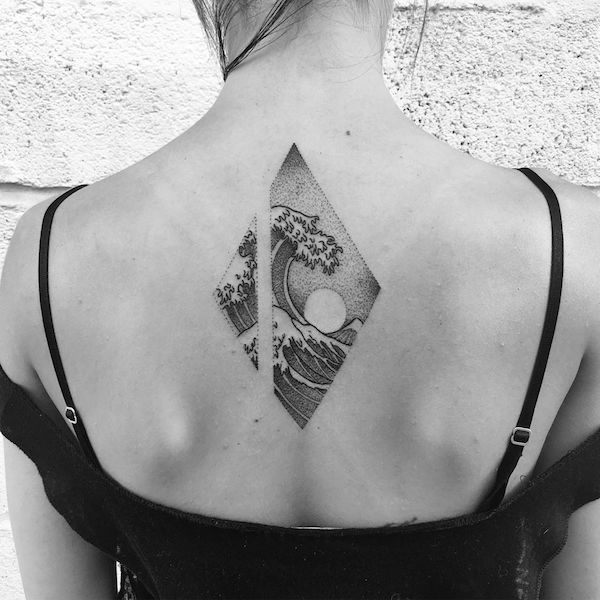 Wave and cloud back tattoo for women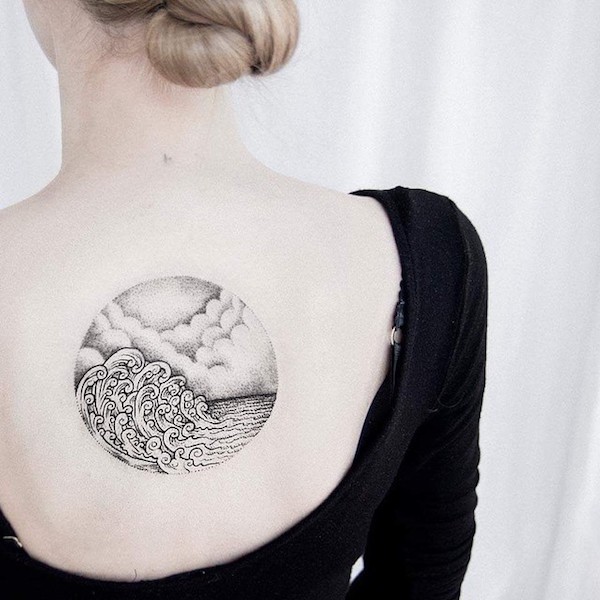 This intricate design combines the beauty of nature with an abstract pattern, creating an artistic piece that is sure to turn heads. The combination of two different patterns create depth and movement, making it easy for anyone to appreciate its unique aesthetic.
Upper arm tattoo of a palm branch and a wave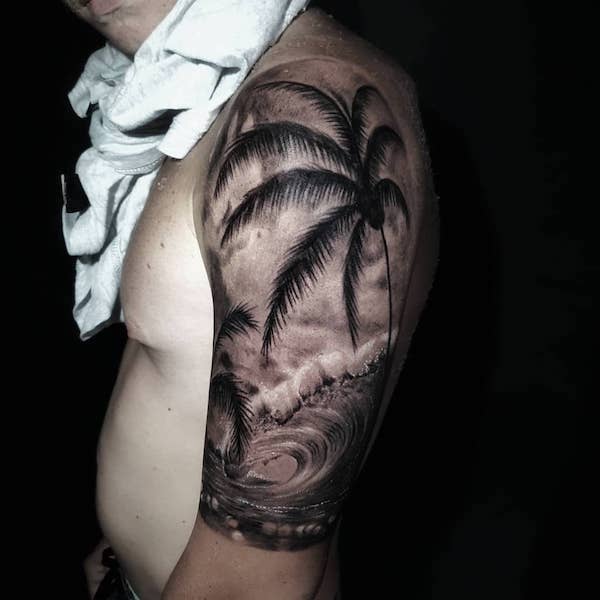 This upper arm tattoo is a stunning combination of two natural elements: a palm branch and wave. The intricate detailing of the leaves and branches, along with the bold lines of the wave, creates an eye-catching effect. This beautiful piece symbolizes peace and tranquility while also providing an artistic representation of nature's beauty all in one.
Small wave chest ink female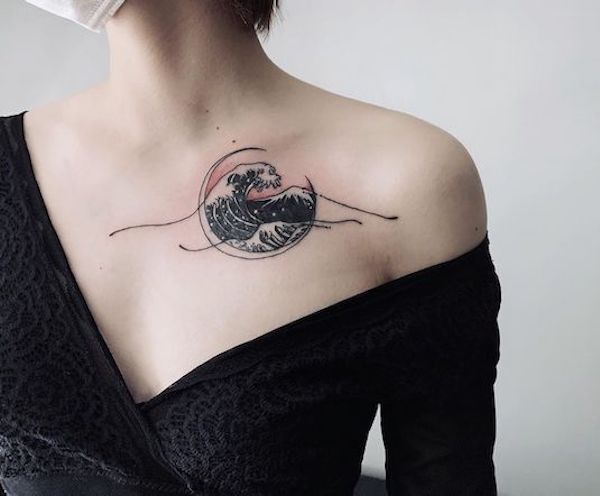 Sailboat tattoo in the waves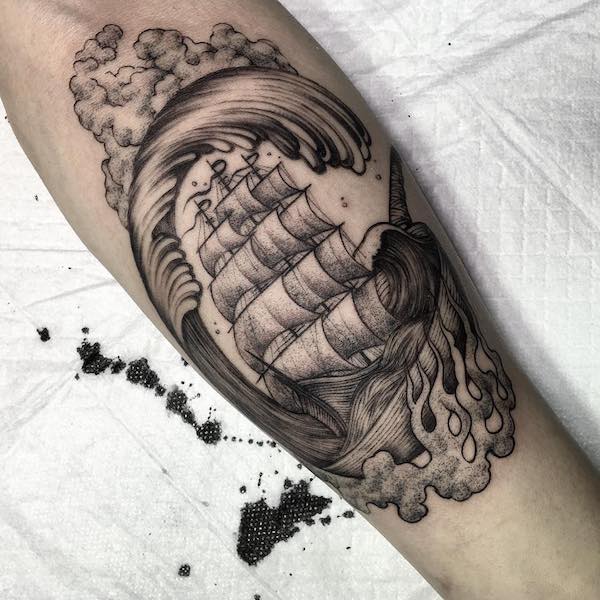 Realistic wave forearm ink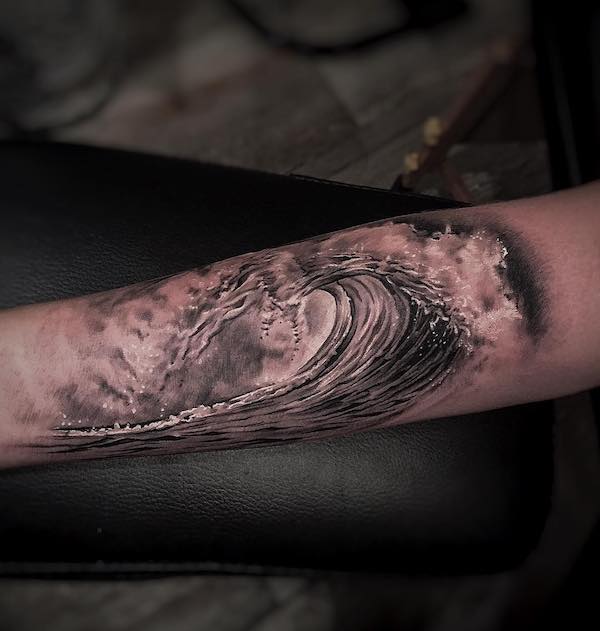 Realistic forearm tattoo with waves bridge and shoreline.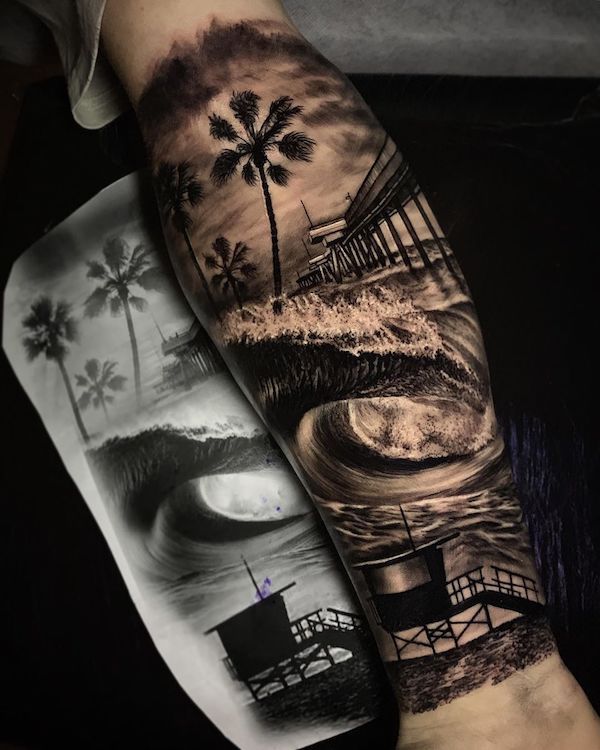 This realistic forearm tattoo is the perfect choice for men looking to add a touch of nature-inspired art to their body. Featuring detailed waves, a bridge, and a shoreline, this tattoo will make a bold statement that is certain to attract attention.
Powerful wave on calf in realistic style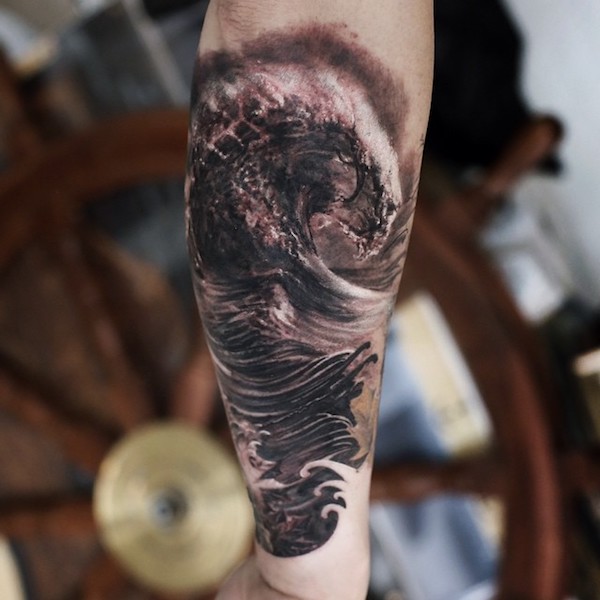 Minimalist wave tattoo on outer forearm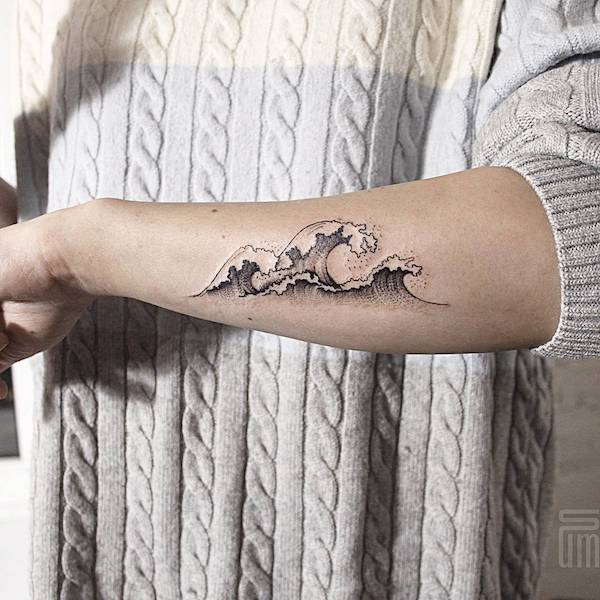 This minimalist tattoo on the outer forearm is a subtle and stylish way to express your individual style. The simple design adds an elegant touch to any outfit, while still being cute. The small size of the tattoo ensures that it won't be too overwhelming or distracting, making it perfect for those who want something minimal yet meaningful.
Great wave tattoo with water droplets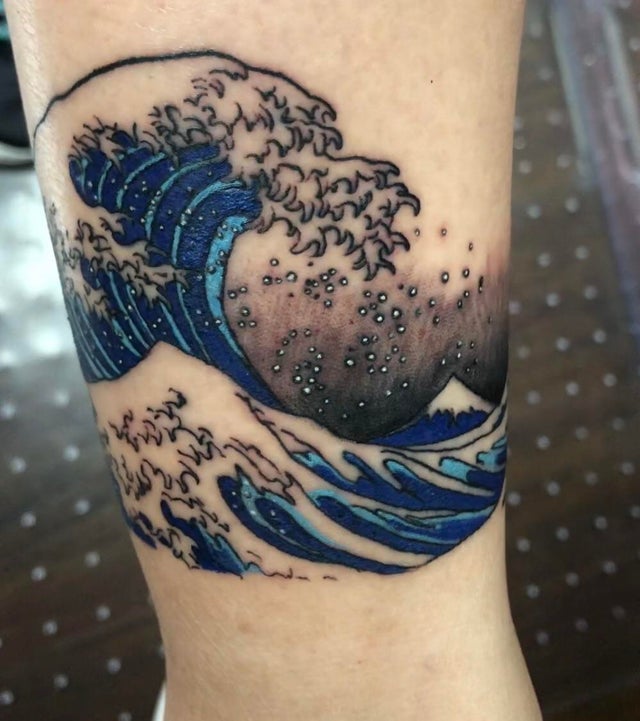 Great Wave painting tattoo on forearm
Minimalist tattoo of wave and cloud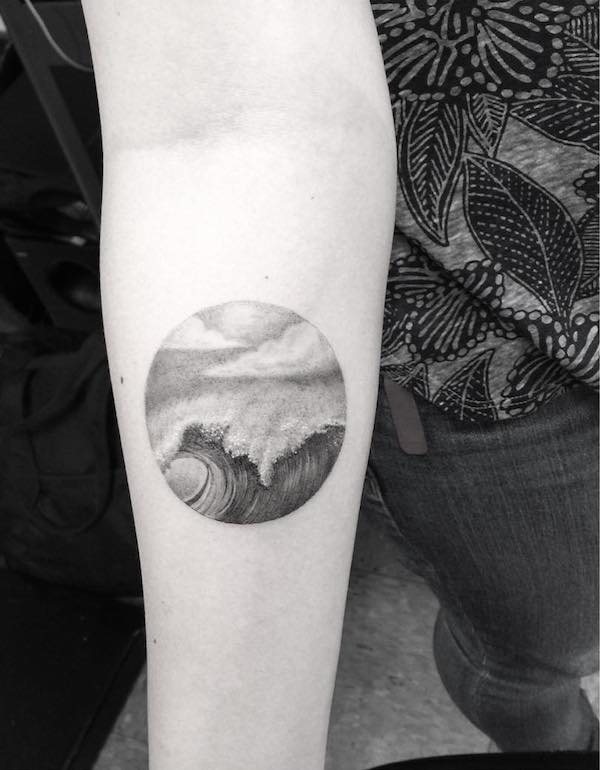 Miniature ink of Great Wave in black and gray style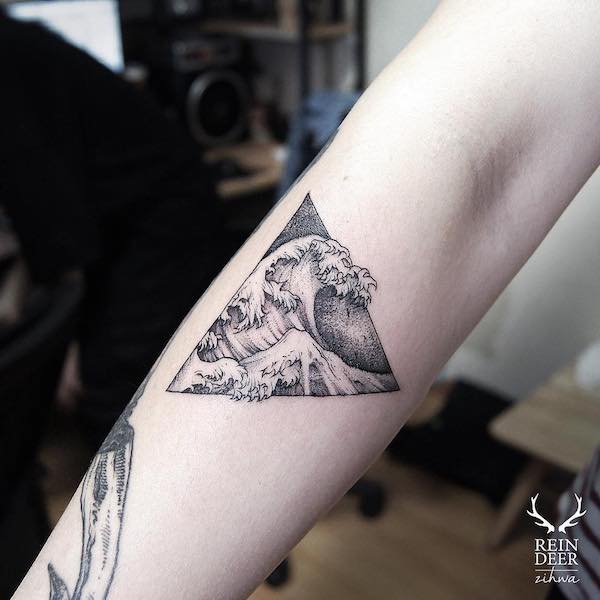 This miniature tattoo is a unique and stunning piece of art. The intricate details capture the beauty and power of this classic Japanese woodblock print, with its crashing waves, foamy crests, bold lines, and subtle gradations
Matching tattoos with waves and sun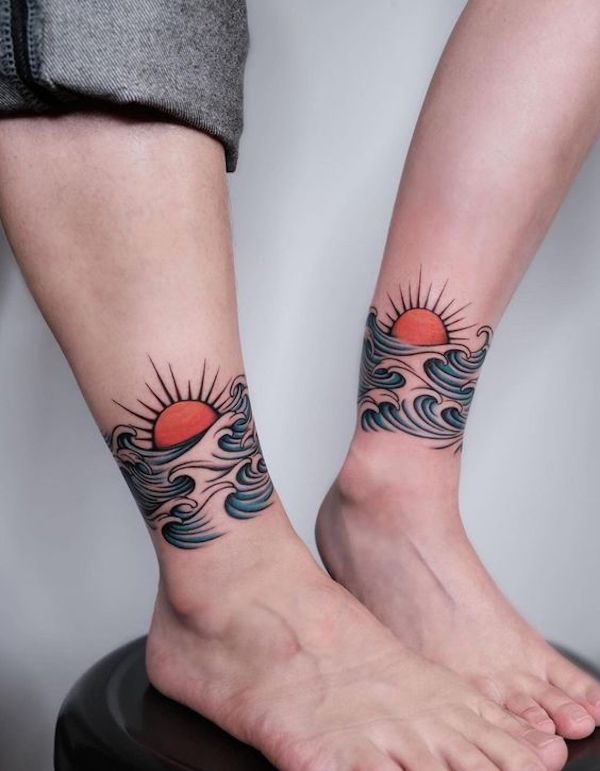 Massive wave under the sun forearm tattoo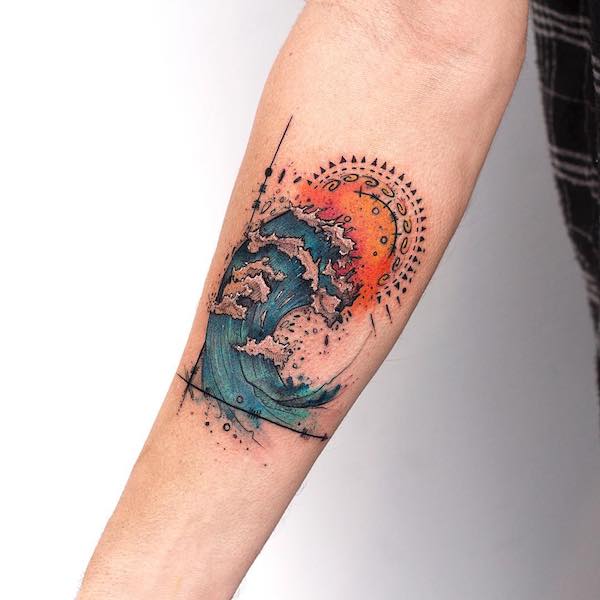 Lighthouse and wave at night forearm tattoo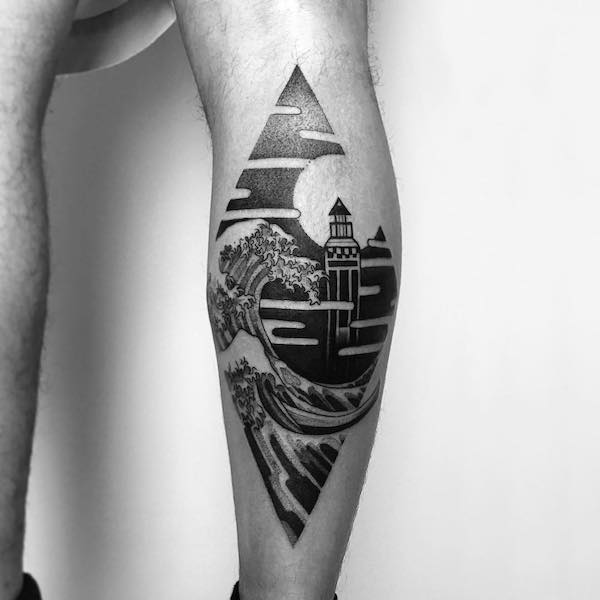 Japanese thigh tattoo with Great Wave female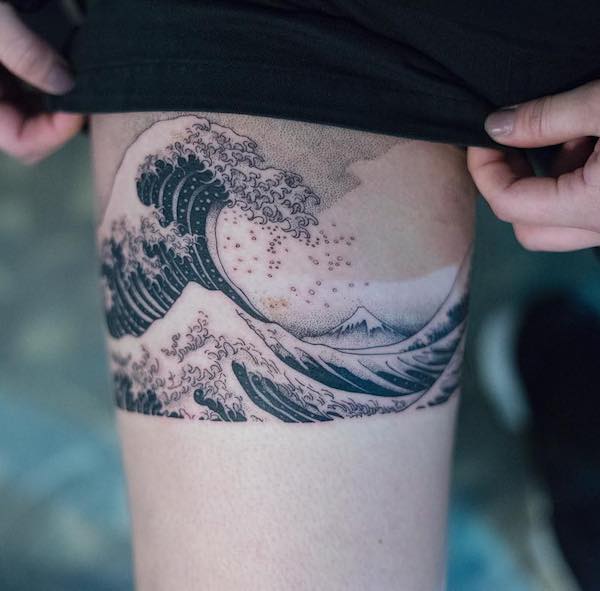 This stunning Japanese tattoo is a beautiful and unique way to express your style. The bold colors capture its powerful energy and evoke an emotional response from viewers. This unique work of art speaks to both those familiar with traditional Eastern artwork as well as those who appreciate modern interpretations of classic designs.
Impressive Great wave tattoo on back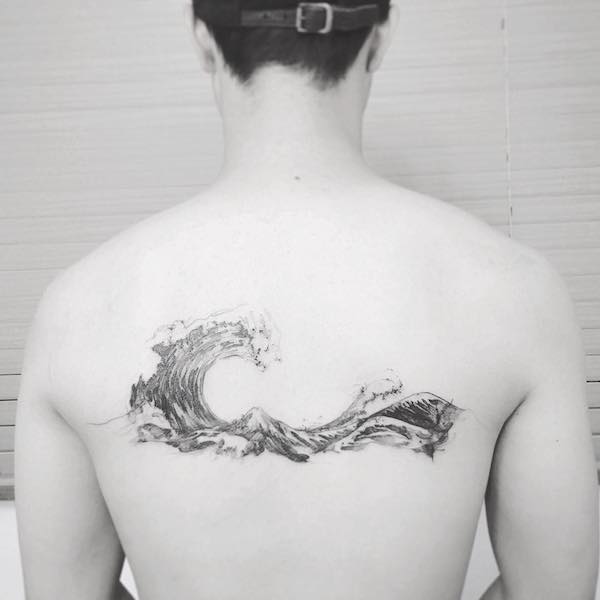 Guitar tattoo with one end melting into waves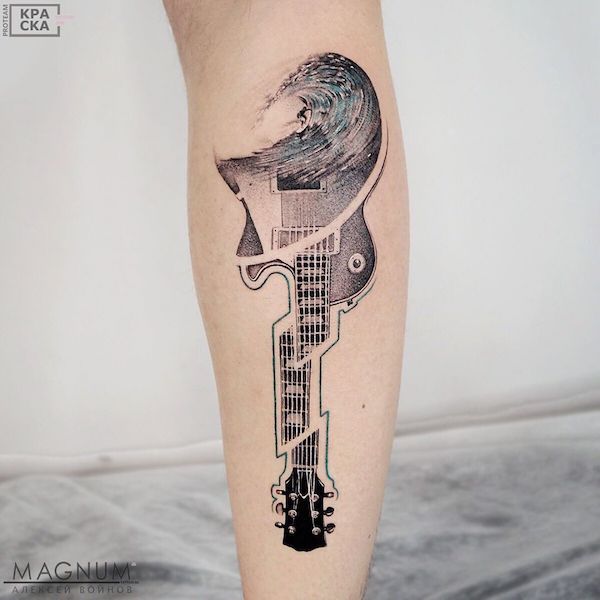 Great wave with geometric cubes under the stars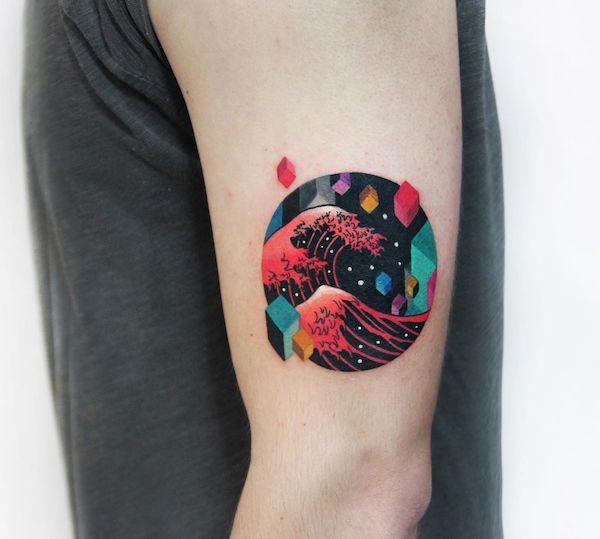 Armband tattoo with black and white waves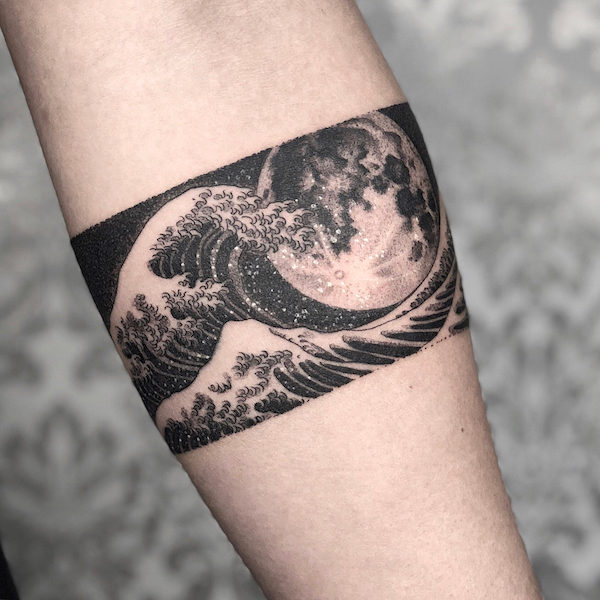 Great wave foream tattoo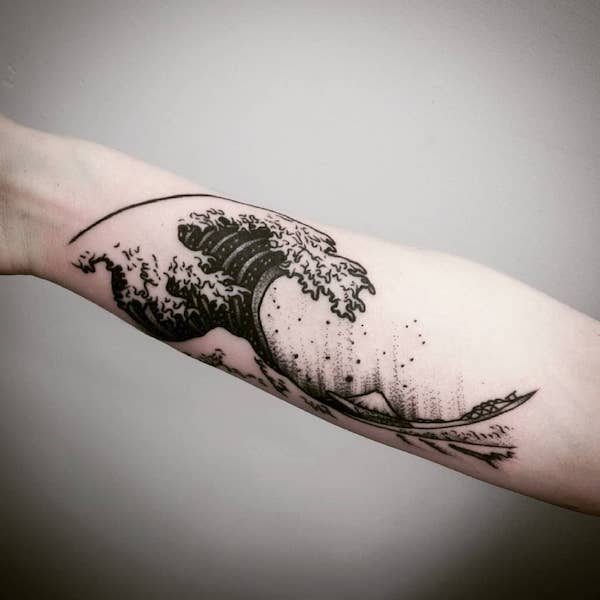 Forearm tattoo with a monochrome wave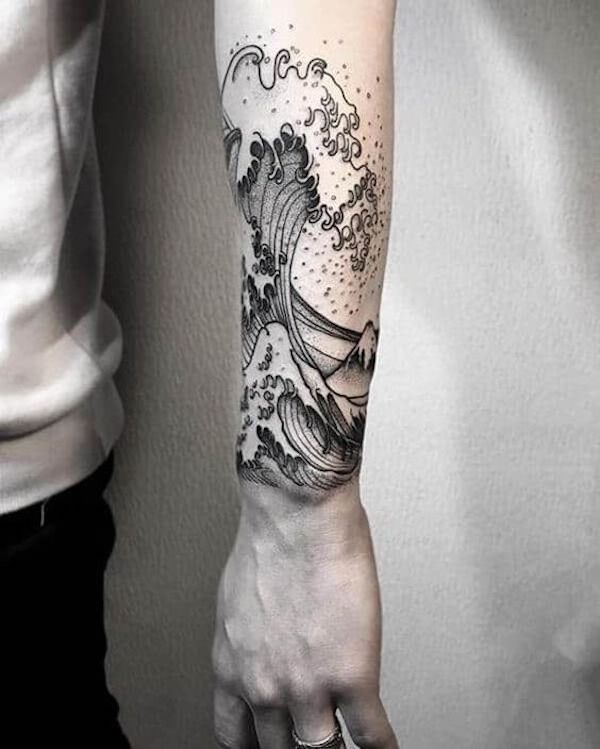 Blue wave small tattoo on outer forearm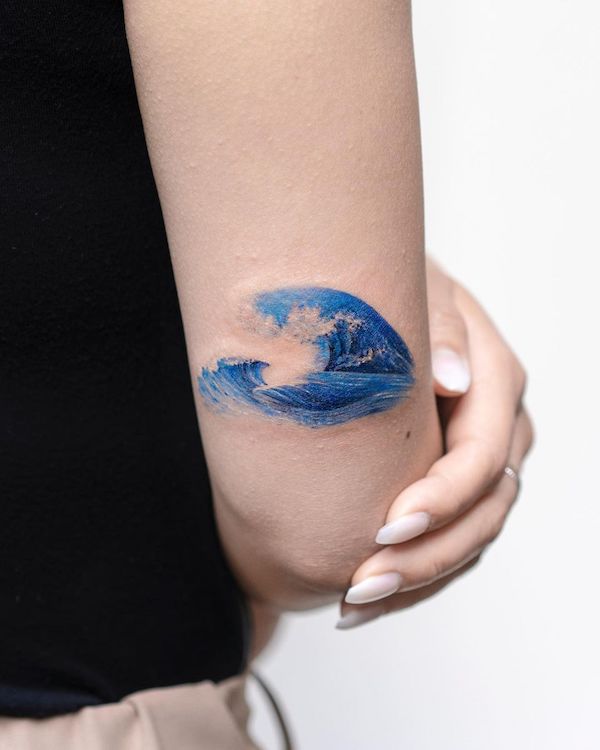 Forearm tattoo of Great Wave in black and white style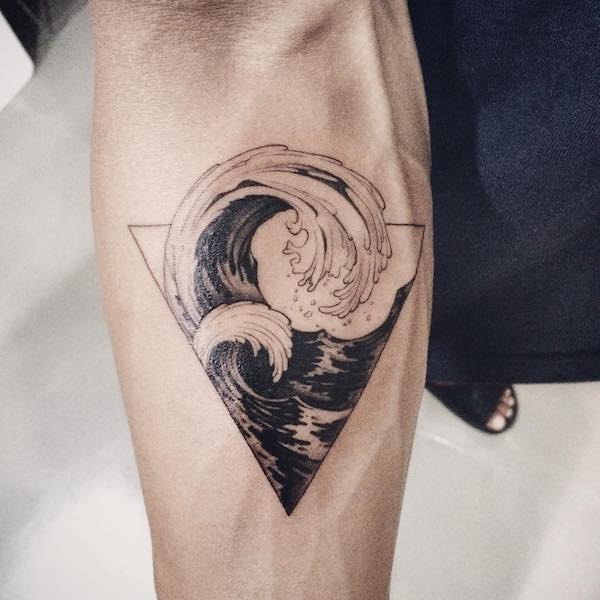 Evening glow of beach in great wave with dolphin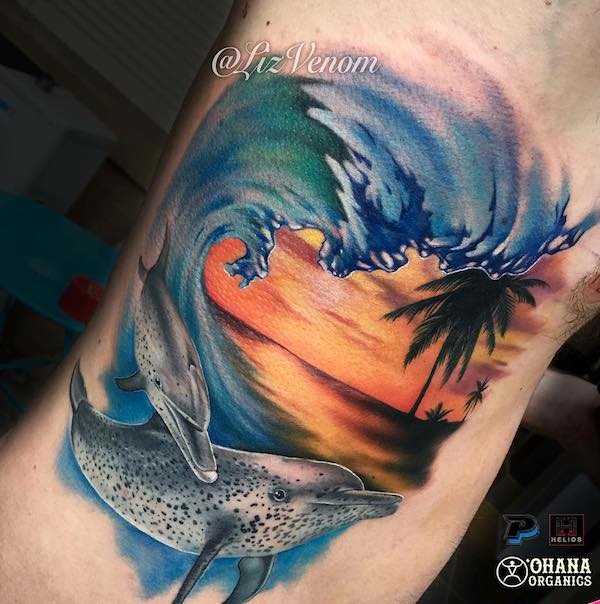 This beautiful tattoo depicts an evening glow of a beach in the great wave with a dolphin. The vibrant colors and intricate details create a stunning image that captures the beauty of nature and its inhabitants. Furthermore, the serene scene brings to mind peacefulness, relaxation, and joy.
Elbow tattoo with black and white wave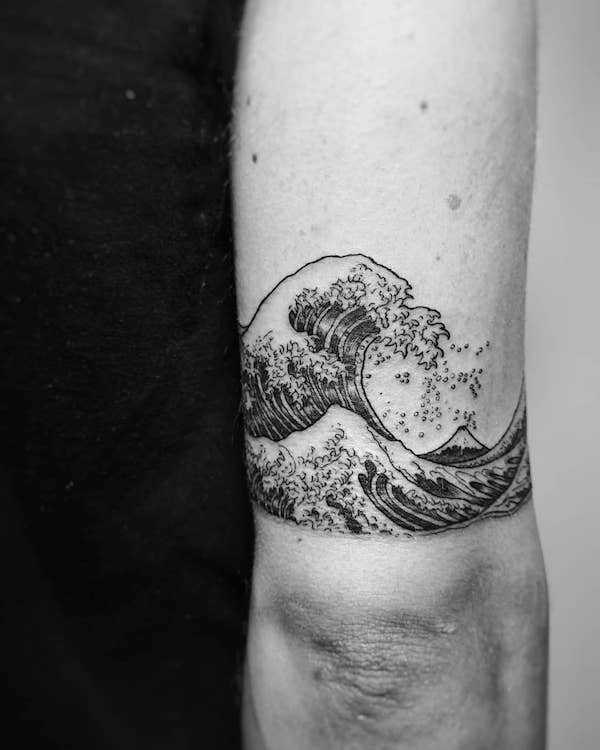 Cute wave rib tattoo with pendants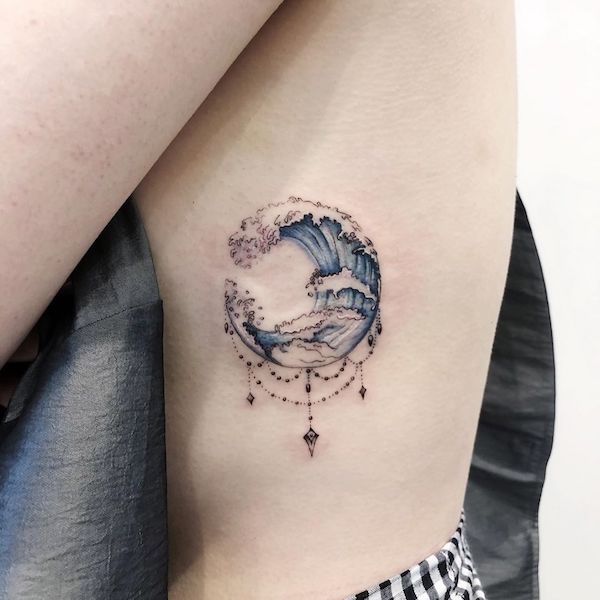 Colorful tattoo of massive wave under the sun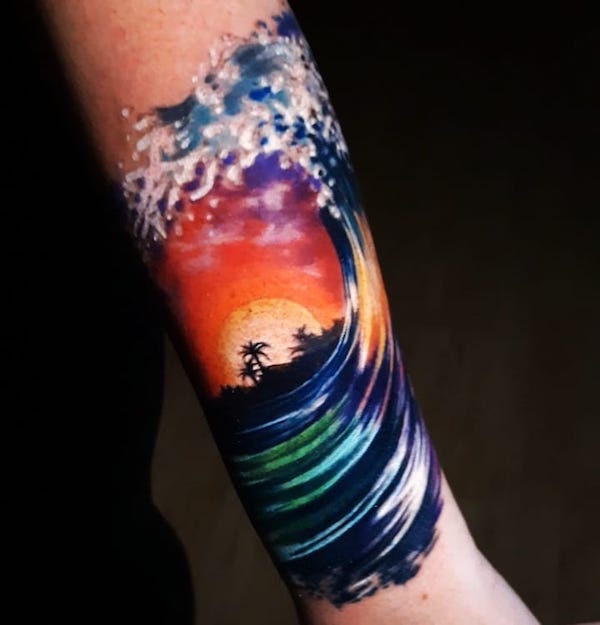 This forearm tattoo is an eye-catching and unique design that would look great on any man. The bright colors will make it stand out, while the intricate details of the wave add to its beauty. It's a bold statement that conveys strength, power and confidence!
Armband tattoo with white and blue waves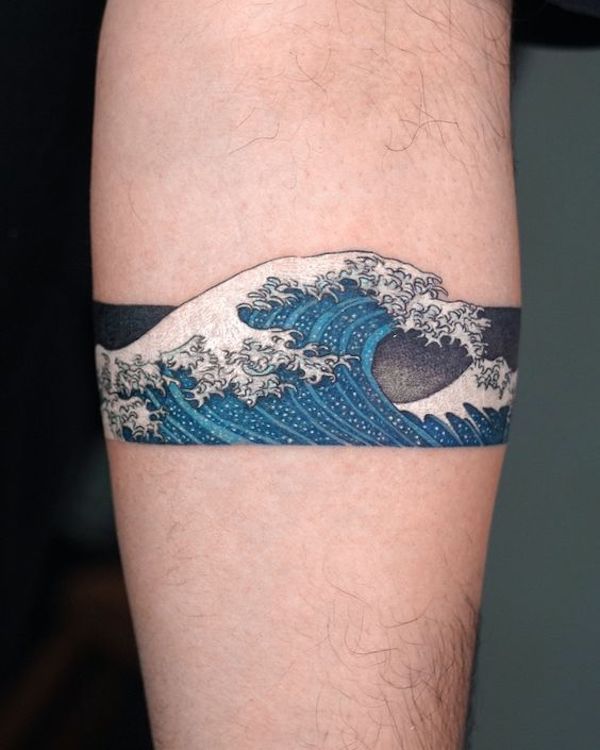 Colorful sleeve tattoo with Great Wave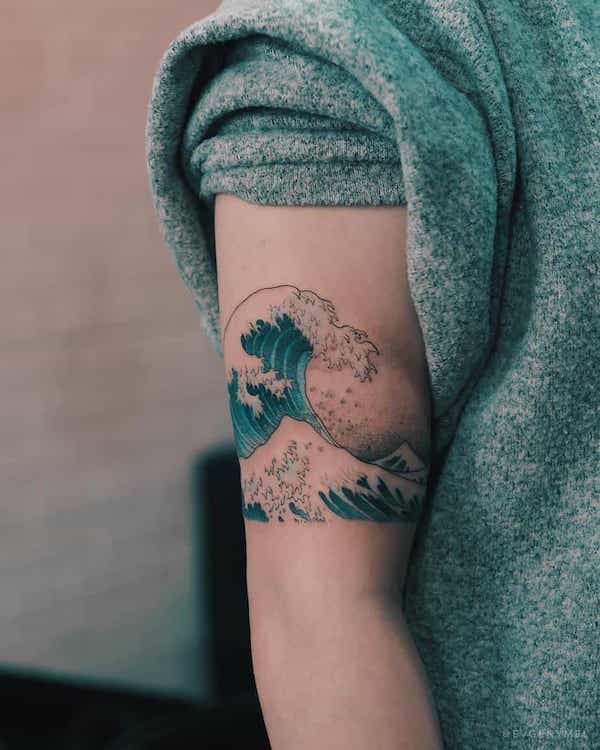 Blue waves tattoo watercolor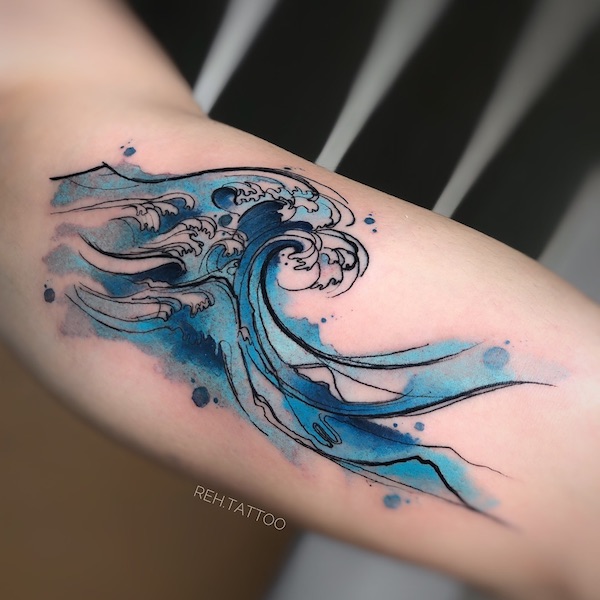 Black and white wave ankle tattoo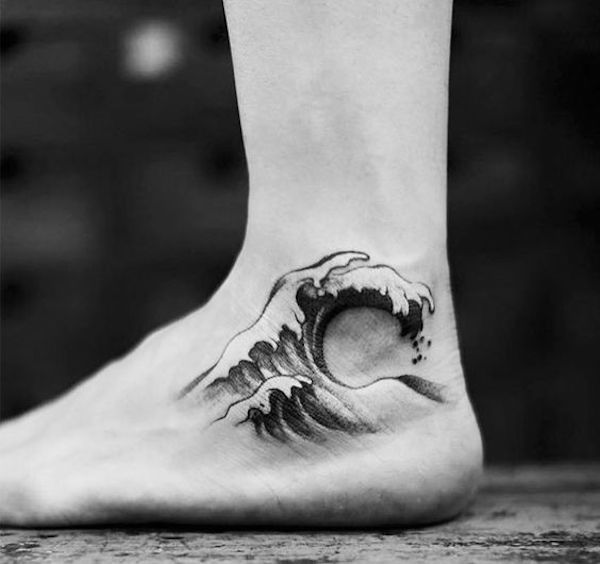 Black and gray waves shoulder tattoo female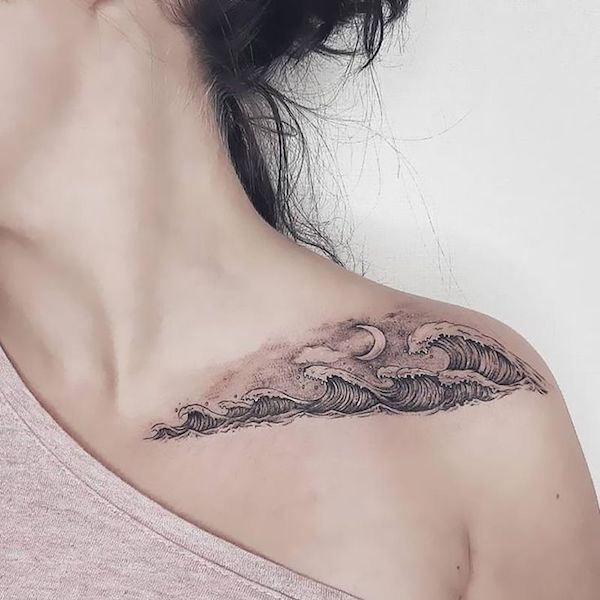 The black and gray shoulder tattoo is a stunning choice for women. This type of tattoo design adds an eye-catching element to any outfit, as the intricate lines and swirls create a beautiful contrast against the skin. The subtlety of this style gives off an air of mystery while also making it unique. Whether you're looking for something bold or more understated, this shoulder tattoo can be tailored to fit your individual taste perfectly.
Bat man in Great Wave arm tattoo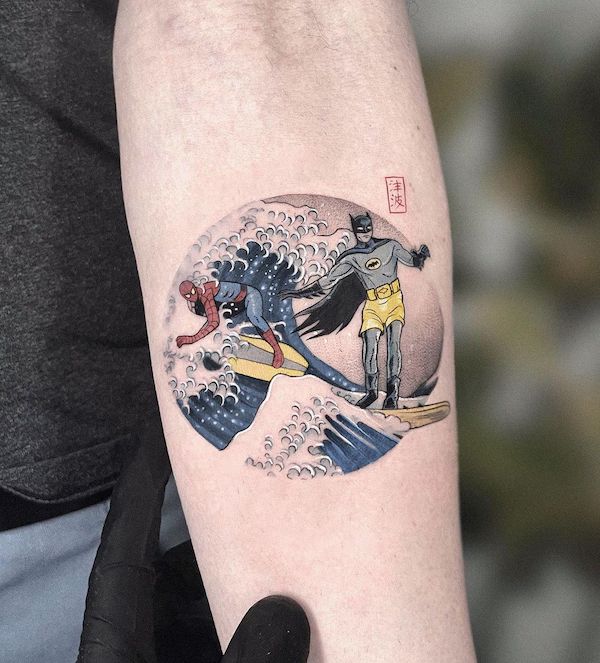 The Bat Man and Great Wave arm tattoo is a popular choice among those looking for a stylish statement. This iconic image of the Dark Knight combined with the powerful imagery of Hokusai's famous woodblock print creates an eye-catching design. The combination of these two elements makes it perfect for expressing strength, courage and justice while also providing an aesthetically pleasing look.
Armband Great Wave tattoo for women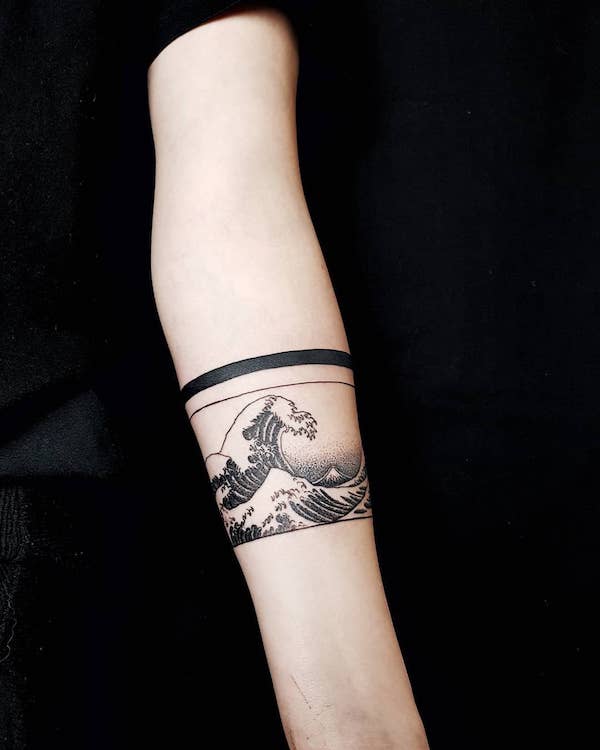 Ankle tattoo with wave and whales tail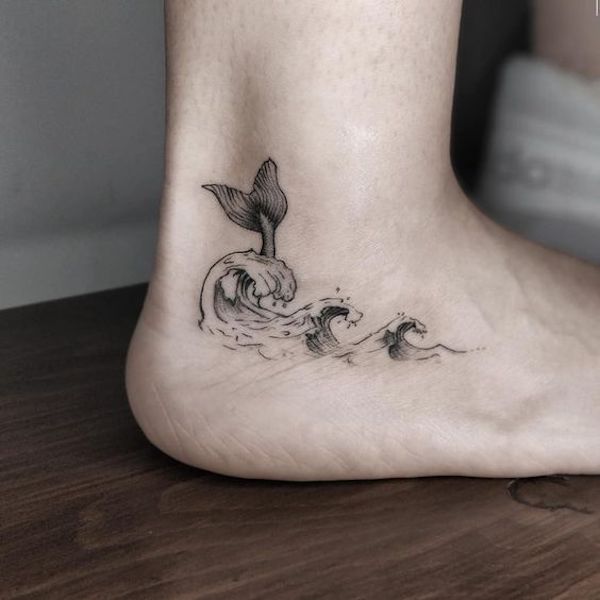 Abstract wave tattoo on upper arm for men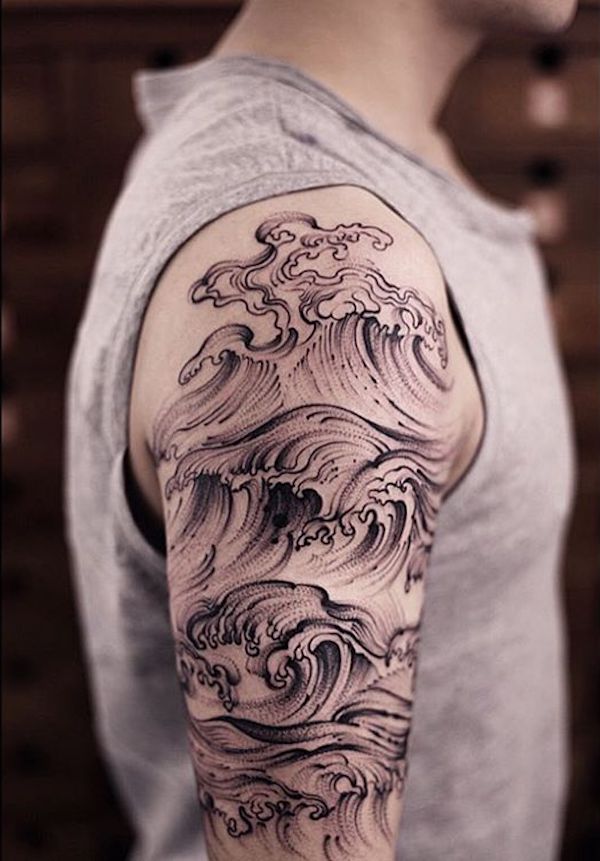 For men seeking a unique and stylish tattoo, an abstract tattoo on the upper arm is an excellent option. This design offers ample creative possibilities, enabling you to personalize your look with vivid hues and detailed patterns. Depending on the design, this ink's placement can be subtle or eye-catching, making it perfect for men who wish to create a bold statement through their body art.
Blue wave clavicle tattoo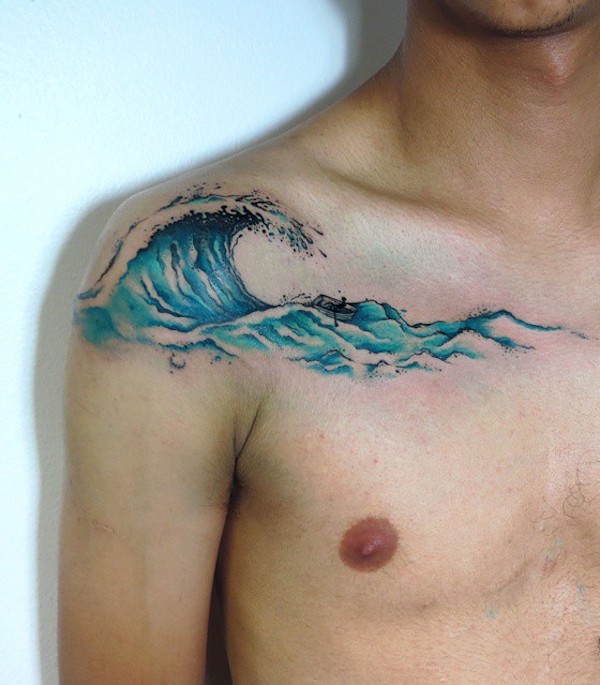 This beautiful clavicle tattoo features an intricate design that captures the movement and beauty of ocean waves, creating a unique and eye-catching look. The placement on the collarbone gives this tattoo an elegant touch. With its gorgeous color palette and bold design elements, this tattoo will be sure to make heads turn wherever you go!
FAQs about getting a wave tattoo
Are wave tattoos only suitable for surfers or people who love the ocean?
No. Anyone can get a wave tattoo, regardless of their relationship with the ocean or any water activities. The meaning behind the tattoos can be subjective and personal to each individual.
What is the best size for a wave tattoo?
The size of your wave tattoo will depend on your preference and where you want it placed. Consider the placement on your body and what size would be suitable for that area.
Do wave tattoos require any special aftercare?
Generally, aftercare for wave tattoos is the same as with any other tattoos. Follow the aftercare instructions provided by your tattoo artist, such as keeping the area clean and applying ointment. It is also essential to avoid exposing your tattoo to direct sunlight or soaking it in water.
Are wave tattoos painful to get?
The pain level for getting a tattoo will vary depending on your pain tolerance and the location of the tattoo. However, getting a tattoo, in general, can be uncomfortable or painful, but the result is worth it for many people.
Can I personalize my wave tattoo design?
Yes. A wave tattoo design can be personalized to your taste or have additional elements added, such as marine life or floral motifs. Work with your tattoo artist to create a unique design that resonates with you.
Is it necessary to have a deep connection or understanding of the ocean to get a wave tattoo?
No. While a connection to the ocean can be a motivating factor, it's not necessary to have a deep connection to or knowledge of the ocean.
How long does it take to get a wave tattoo?
The time it takes to get a wave tattoo will vary depending on the size and complexity of the design. Generally, smaller and simpler designs can take an hour or less, while larger and more complicated designs can take several sessions and months to complete.
How do I choose the right tattoo artist?
Choose a tattoo artist with experience and ask to see their portfolio to ensure their quality and style fit what you want for your tattoo.
Can I get a wave tattoo in color or keep it black and grey?
Wave tattoos can be done in color or black and grey. The choice is up to you and can be determined by the overall aesthetic you are going for as well as your personal preference.
Can I get a wave tattoo covered up or removed if I change my mind about it?
Yes. If you decide to change your mind about your wave tattoo, you can choose to cover it up with another tattoo or have it removed through laser tattoo removal. But it's essential to note that tattoo removal can be painful, expensive, and can require multiple sessions to remove entirely.
Final thoughts In conclusion, a tattoo is a beautiful and versatile design that can hold many meanings and personal significance. Whether you're a surfer or just someone who loves the ocean, a wave tattoo can serve as a reminder of the connection to the natural world and the infinite possibilities that life has to offer. With its simple lines or expansive details, the motif is worth considering as a way to express yourself through ink.