Neck tattoos are becoming increasingly popular among both men and women, as they offer a unique way to express yourself. From small designs to full neck pieces, there is no shortage of bold and creative ideas that you can choose from. But before getting your own neck tattoo, it's important to take the time to consider all the details – including pain levels.
Are neck tattoos painful?
Wondering how painful a neck tattoo is? It depends on the location, but most people find that areas around the collarbone or lower down towards the shoulders cause little discomfort. However, those who have sensitive skin may experience more pain than usual when having these areas worked on. On the other hand, if you opt for an area closer towards your nape or even behind your ear – then expect some serious discomfort due its proximity with nerve endings!
Popular neck tattoos Styles and Placement
Small Neck Tattoos Female: For ladies looking for something subtle yet stylish at same time, small tattoos are perfect choice! Whether its tiny stars alongside of her jawline or delicate flowers cascading down her shoulder blades–these smaller sized designs still pack plenty of personality without being too overwhelming visually speaking. Plus they're also great option if this is first time going under needle since minimal amount ink used means less chance feeling any major amount pain afterwards either!
Full Neck Tattoos: If want go big (literally) then full-neck piece definitely way make statement about who are what stand for! These types intricate designs often cover entire back part head, stretching from one ear another. While such large scale works art can take bit longer complete , results will certainly worth wait once finished up look like masterpiece painted directly onto body itself .
Side Neck Tattoos Male: Guys wanting add bit edge style should consider adding side-neck tat. This type of design usually consists of a single word phrase written across the upper portion of the chest near the collarbone area. It makes a big impact while remaining relatively easy to maintain over a long term basis compared to larger designs found elsewhere on body parts such as arms and legs, etc. The process involves few lines and should be bearable, with little hurt during the application procedure and aftercare period following a successful session.
Side Neck Tattoos Female: Ladies seeking feminine touch try out side-neck tats featuring floral motifs hearts butterflies etc. These types dainty patterns typically stretch lengthwise along bottom half face. It is an excellent way for ladies to express themselves while still maintaining a subtle yet stylish look.
Creative and Bold Neck Tattoo Ideas
If you are looking for inspiration for a neck tattoo, consider the 60 creative and bold designs featured here. From intricate floral designs to full neck Japanese style, there is something to suit every style. Whether you want something small and subtle or large and striking, these tattoos offer plenty of ideas that will help make your decision easier. Plus, with so many options available it's easy to find an original design that perfectly expresses who you are as an individual!
A tarnished ribbon and bow design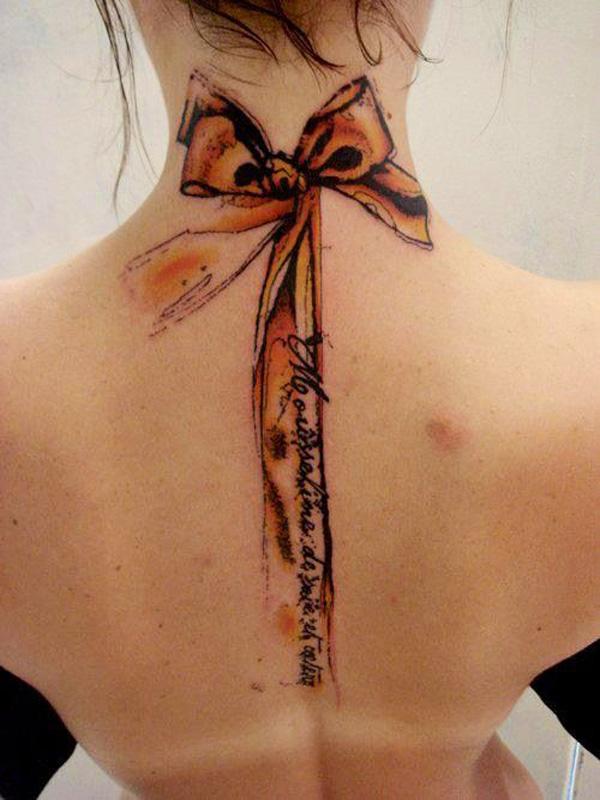 This unique watercolor tattoo features a tarnished ribbon and bow design on the back of the neck. The soft colors add a touch of elegance to this timeless piece, while its subtle blemishes give it an aged look. This intricate design is sure to be an eye-catching addition that will draw attention for years to come.
Small ribbon tattoo with dark shade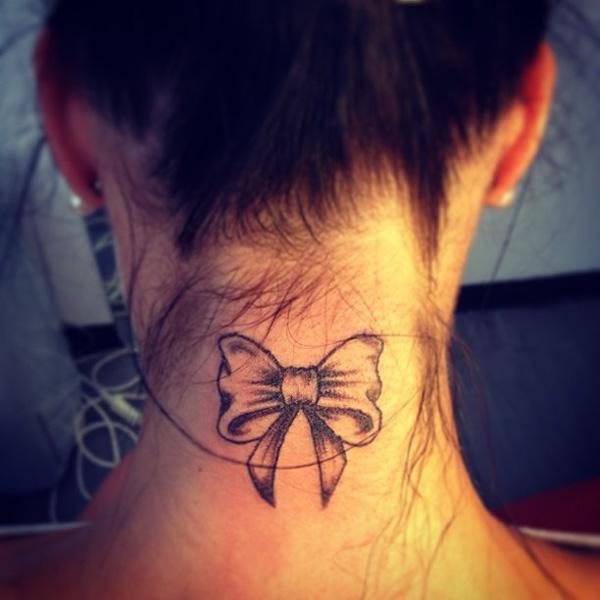 This small ribbon tattoo is a great way to make a subtle statement. The dark shade of the ink gives it an edgy look, making it perfect for anyone who wants something unique and eye-catching but not too flashy. It's also versatile enough to fit any style or personality, from classic and timeless to modern and bold. No matter what your individual taste may be, this small ribbon tattoo will add just the right touch of personality without being overbearing.
Tribal ink of a cute Cat for female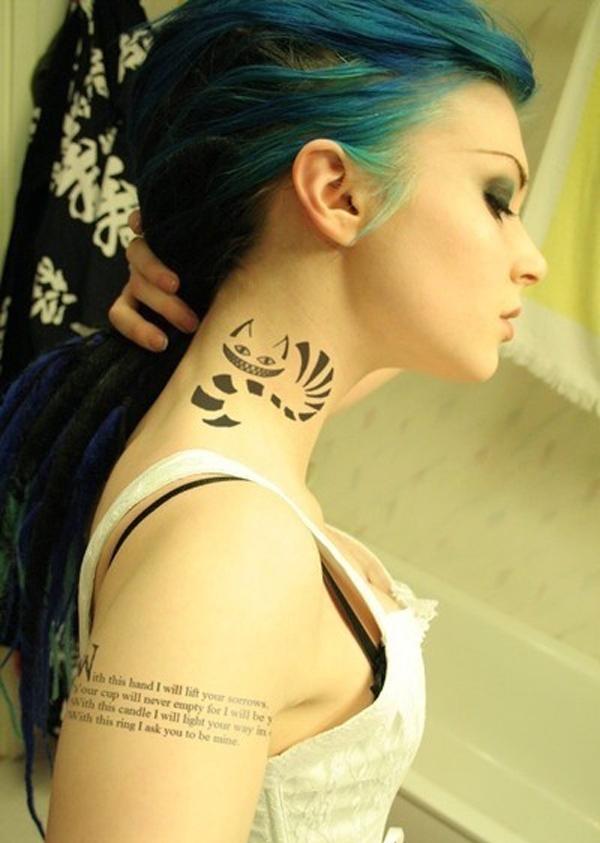 This stylish and fun tattoo design features an adorable cat with intricate tribal detailing that will make any girl stand out from the crowd. The bold black lines provide a striking contrast against skin tones, while the delicate details add subtle beauty and grace. Whether you choose to get this tattoo on its own or as part of a larger piece, it is sure to be admired by all who see it!
Full neck tattoo with intricate graphics and lettering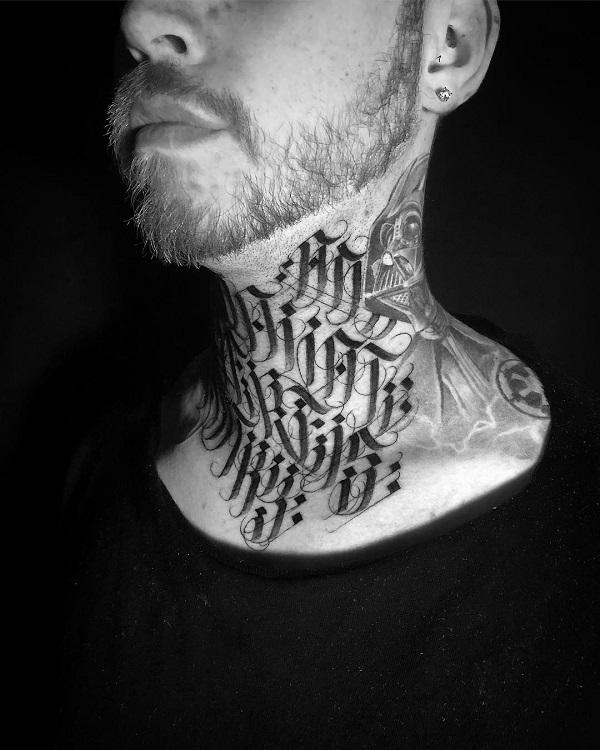 This full neck tattoo is a perfect way to showcase your masculinity. The bold design features shapes, colors, and fonts that will draw attention wherever you go. With its unique blend of artistry and style, this tattoo makes a powerful statement about your personality that's sure to turn heads wherever you go.
Smart wing tattoo with blessing word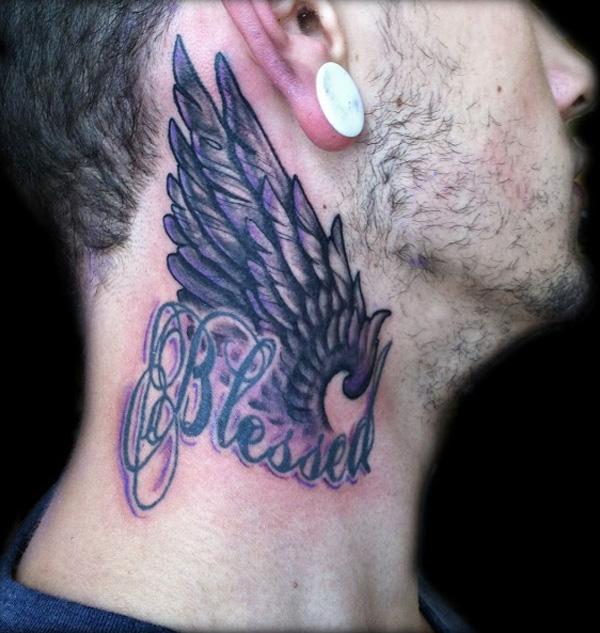 The design features a beautiful wing, along with the meaningful phrase "blessed" inscribed on it. This tattoo will be sure to make you feel empowered and inspired, while also reminding yourself of your spiritual beliefs. It is perfect for anyone looking for something unique that conveys their personal message in a stylish way!
Realistic red rose with green leaves tattoo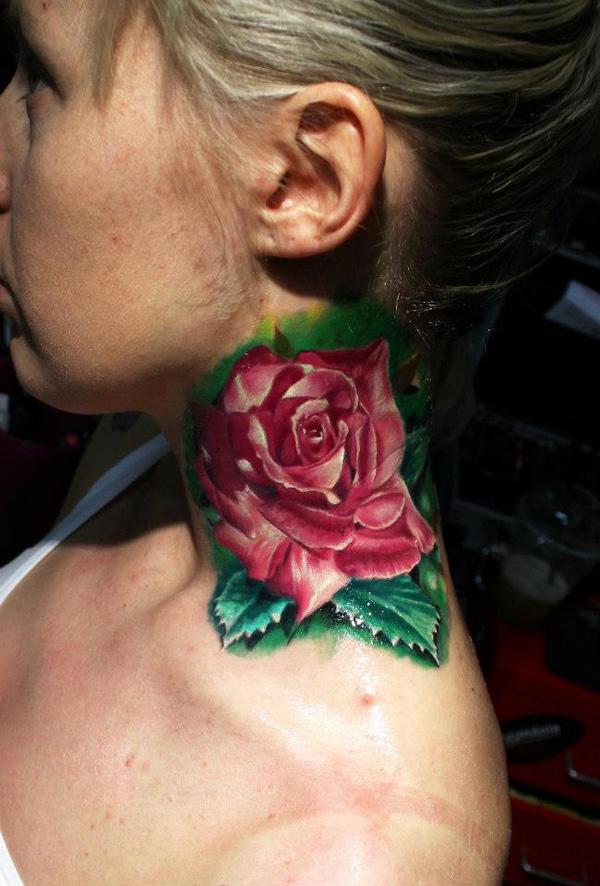 The realistic tattoo can be used to symbolize love, beauty, or strength, and it adds a touch of femininity to any outfit. The vibrant colors are sure to stand out against any skin tone while still being subtle enough that it won't overpower your look. This classic yet modern design will never go out of style and can serve as a reminder for years to come about the power within you!
Love-themed monogram tattoo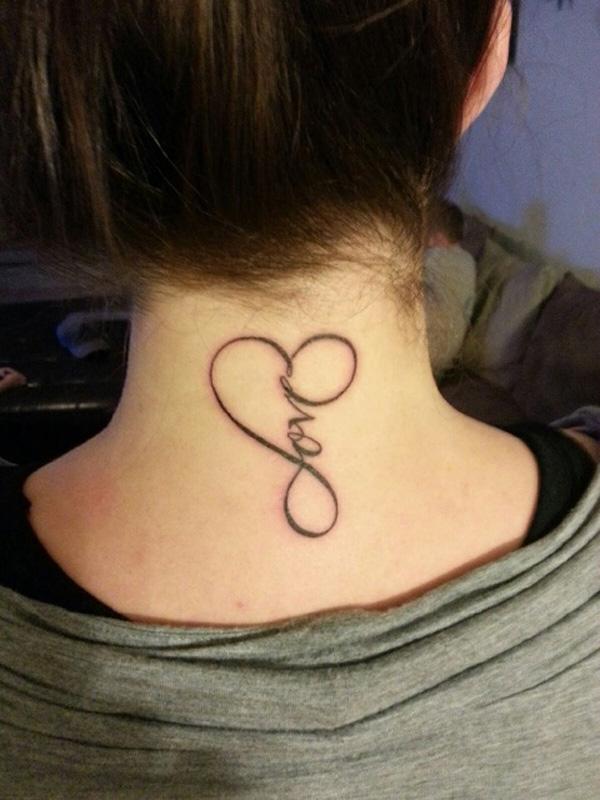 This charming tattoo design incorporates two letters from the word "love" into a heart shape. This simple design is ideal for anyone who desires a tattoo that is not overly complicated or difficult to get. Feel free to add a colored background if you desire greater contrast.
Fox illustration tattoo with flowers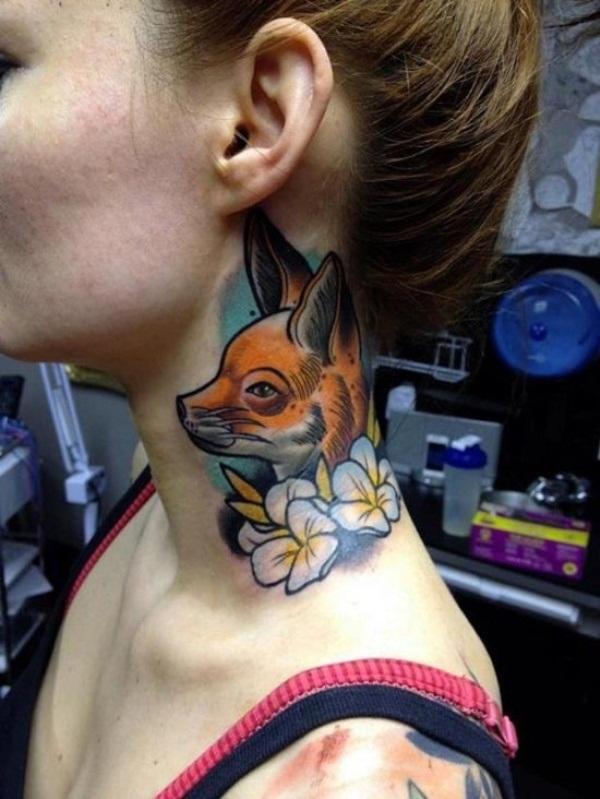 This fox tattoo is smart because its face follows the wearer's. The stunning piece shows a clear and colorful picture of the animal surrounded by bright flowers in brown, blue, and white. The way the colors work together makes a striking effect that everyone who sees it can't help but admire.
Two feathers tied together tattoo behind the ear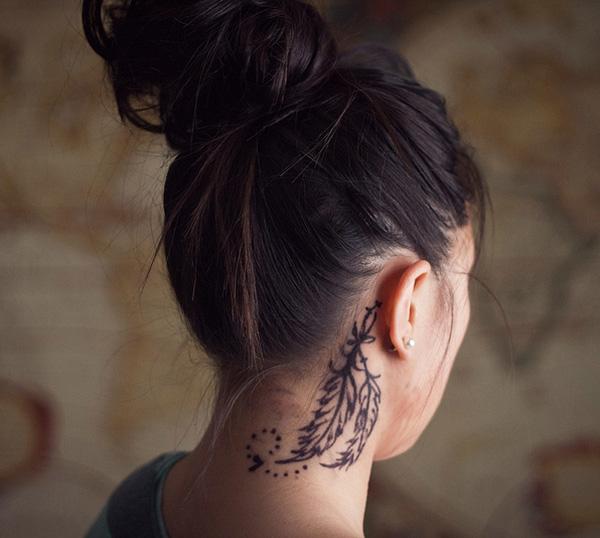 This side neck tattoo is a unique and stylish way to express yourself. The combination of the two feathers, which are often associated with freedom and spirituality, creates an eye-catching design. The placement of this tattoo behind the ear allows for subtlety while still making a bold statement about who you are as an individual.
Full neck tattoo of Japanese crane and cherry blossoms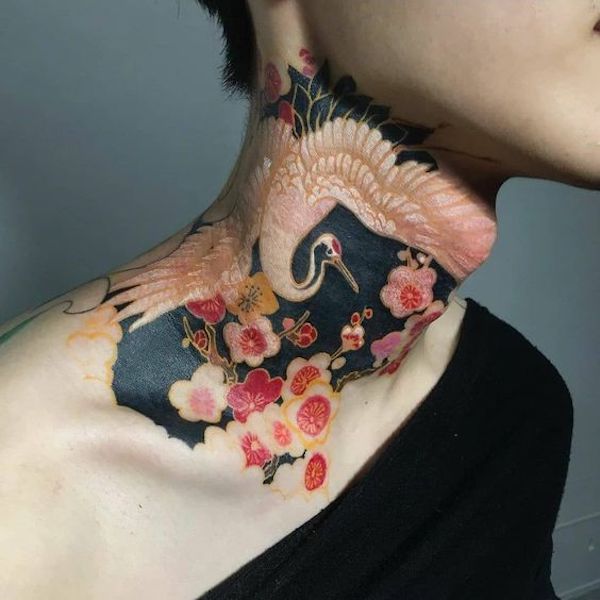 A Japanese crane and cherry blossoms tattoo that goes all the way around the neck. The intricate design wraps around the neck in an elegant pattern, with vibrant colors that bring out the beauty of both elements. The combination of crane and cherry blossoms holds deep cultural significance, as they represent good fortune and longevity in Japan. This unique tattoo will add a touch of sophistication to any look while also conveying meaningful symbolism for its wearer.
Panther with roses illustration tat on neck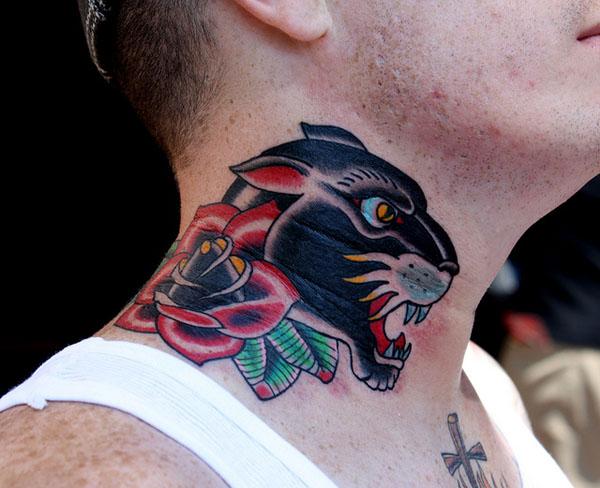 The intricate details of the black panther and vibrant colors of the roses bring this design to life, creating an eye-catching look that will turn heads wherever it is seen. The symbolism behind this tattoo speaks to strength and beauty, making it a meaningful choice for anyone looking for something special to adorn their skin with.
Ankh symbol tattoo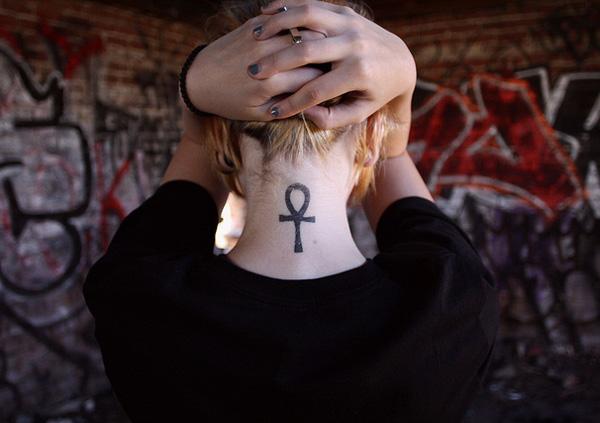 The ankh symbol is sometimes referred to as the key of life or the key of the Nile, representing eternal life in Ancient Egypt. And this placement of the tattoo allows for it to be easily viewed by others while still being discreet enough that she can choose when to show it off. With its intricate details, this eye-catching design will surely draw attention from those who appreciate body art.
Female Portrait covered by stripes tattoo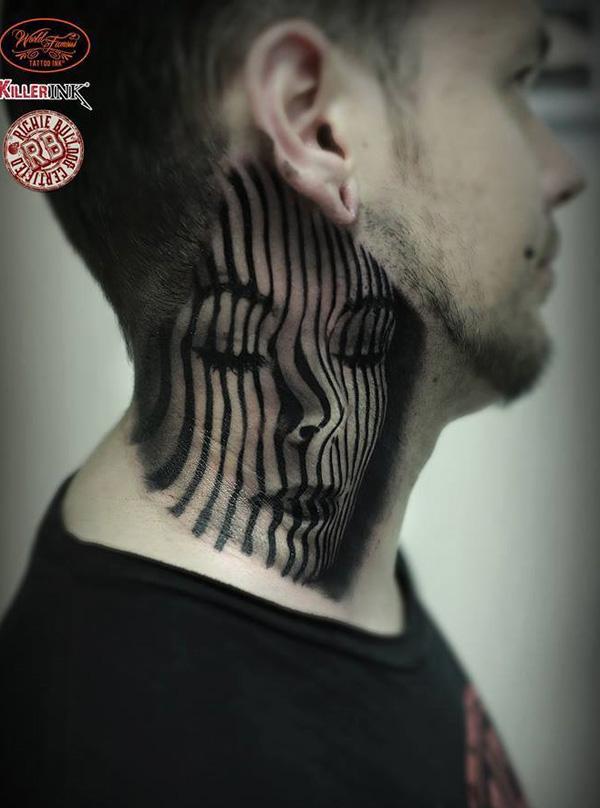 Realistic crimson rose tattoo for men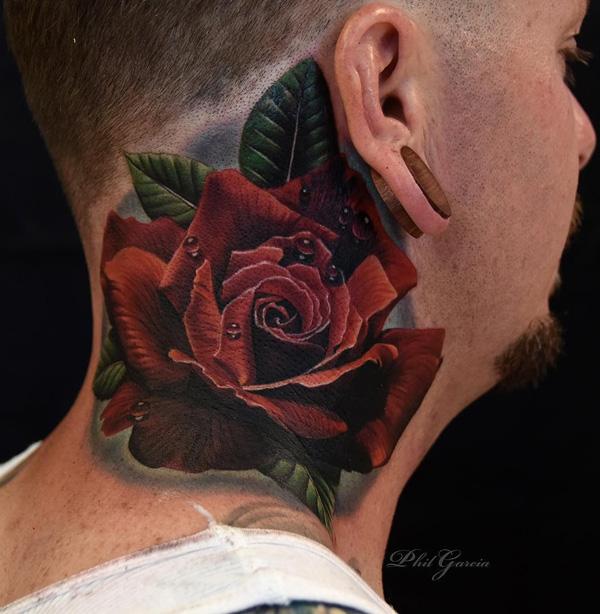 The deep red color symbolizes passion, strength, and courage while the intricate details of this natural flower give it an air of sophistication. This type of tattoo can be placed anywhere on the body but looks especially striking when placed on an arm or chest. It's a timeless design that will always look stylish no matter what fashion trends come and go over time.
3D female portrait clip tattoo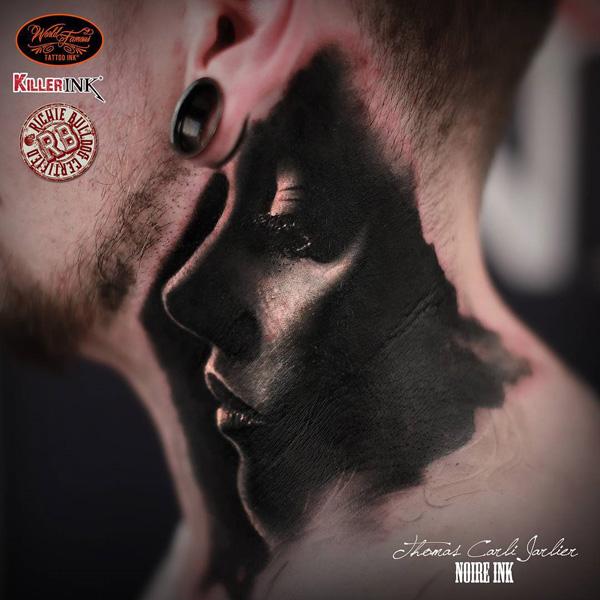 Awesome mandala shawl tattoo for women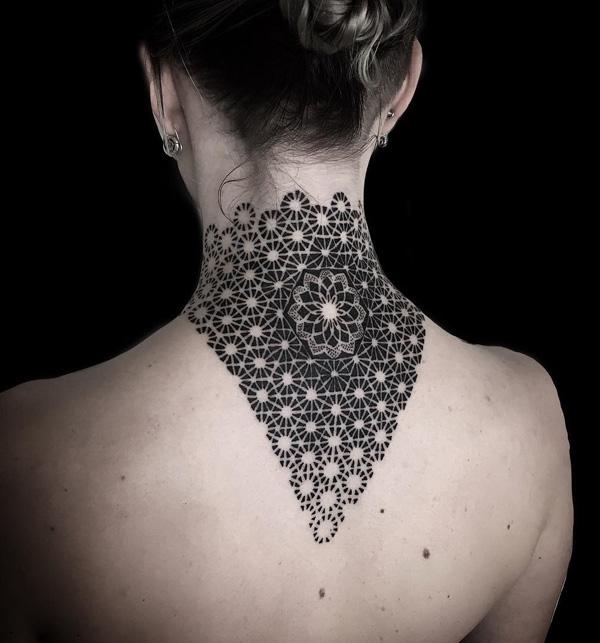 Symmetric shawl tattoo with flowers and mandala for women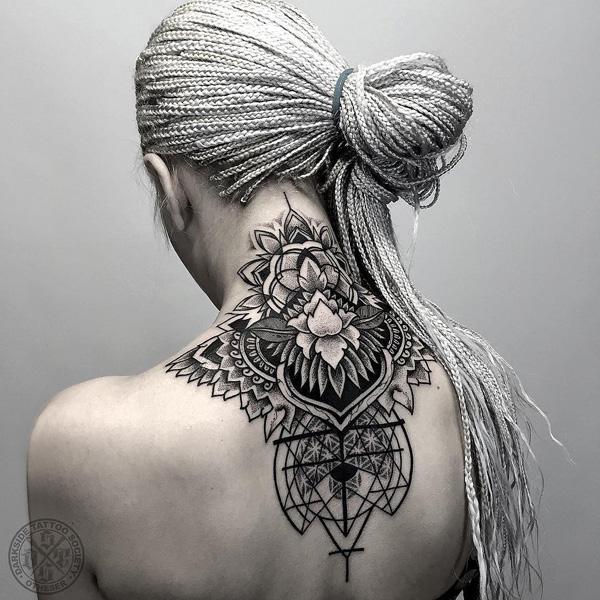 Cool neck tattoo with female portrait and symmetric roses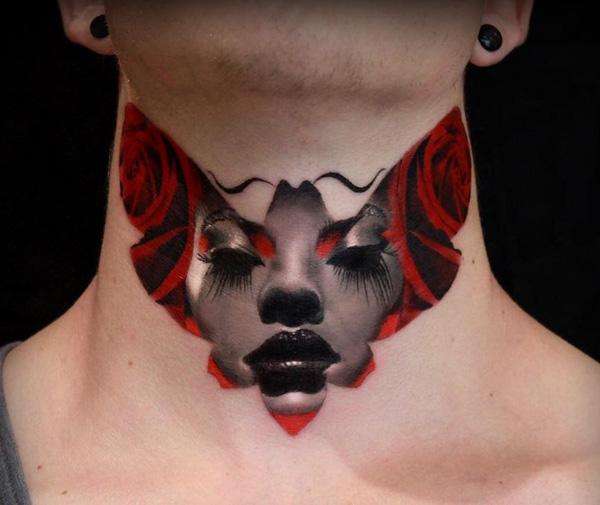 Crescent flower and butterfly tattoo with black shades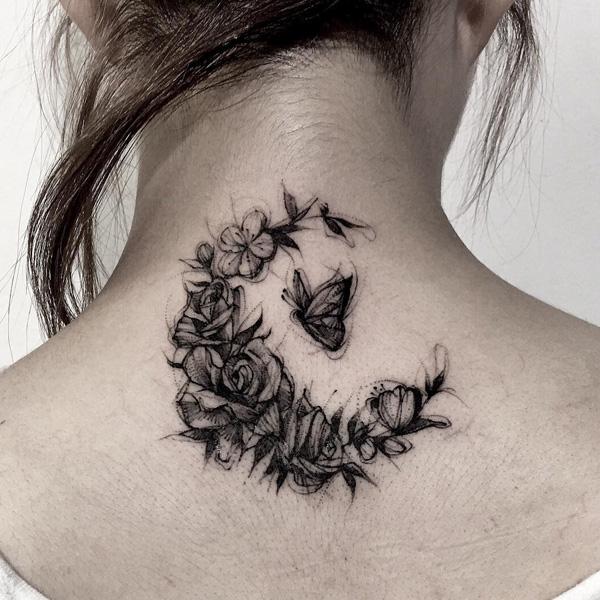 Elegant flowers neck tattoo for women
Blackwork of a flower for men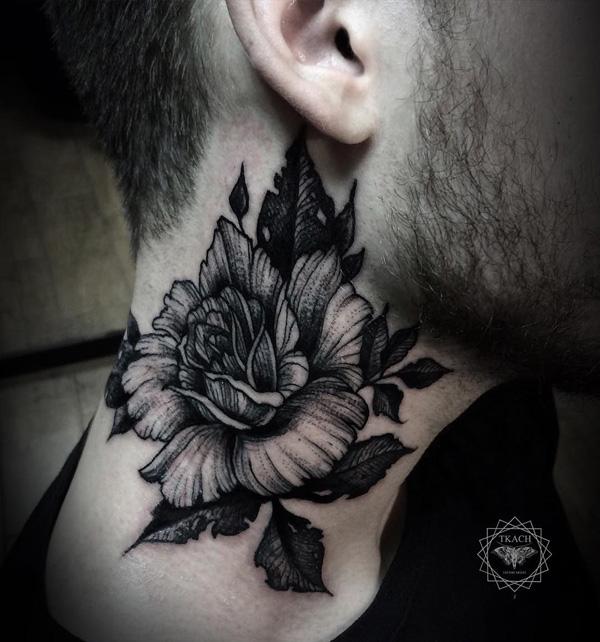 Black and white Mandala inspired tattoo for female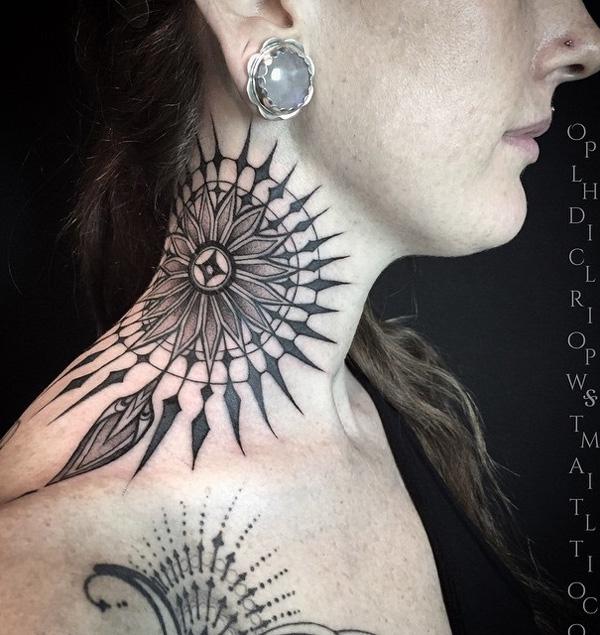 Font lettering tattoo with swirls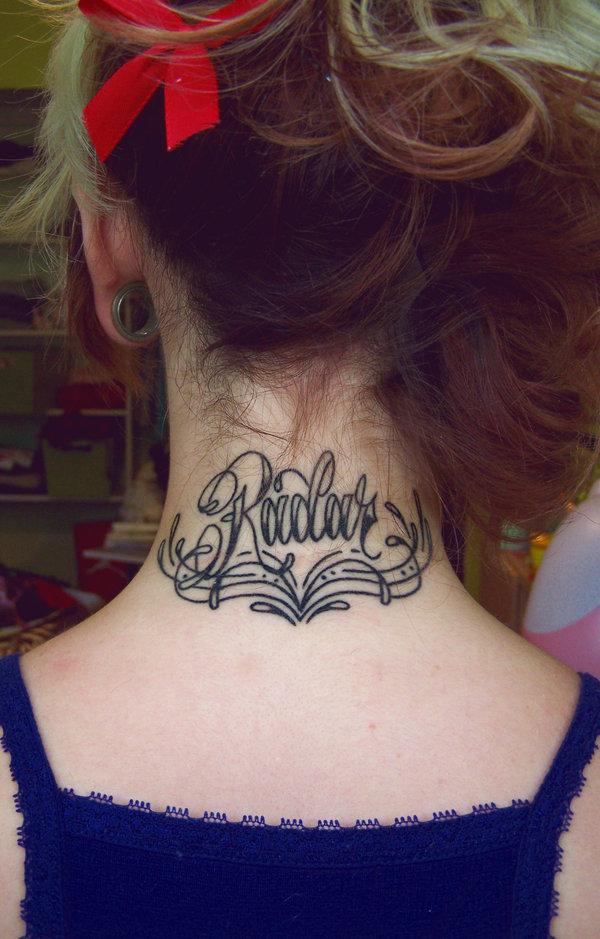 Ship tattoo in black and white for guys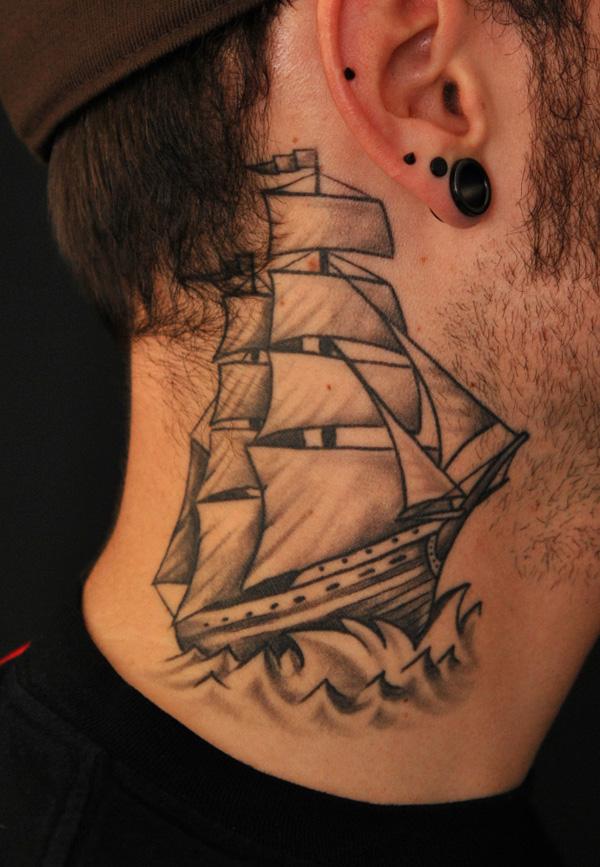 Cross tattoo with wings on the back of neck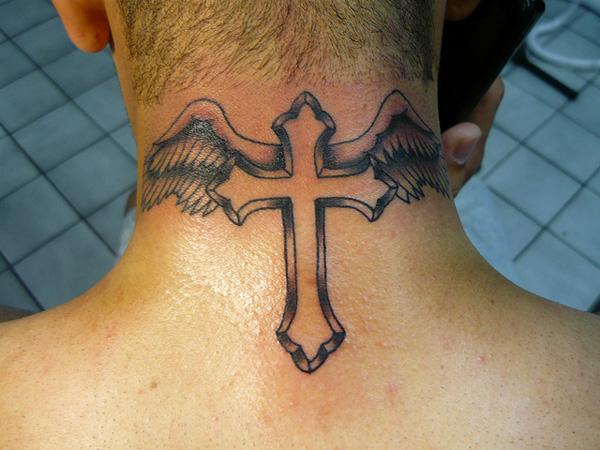 Quotes tattoo from Harry Potter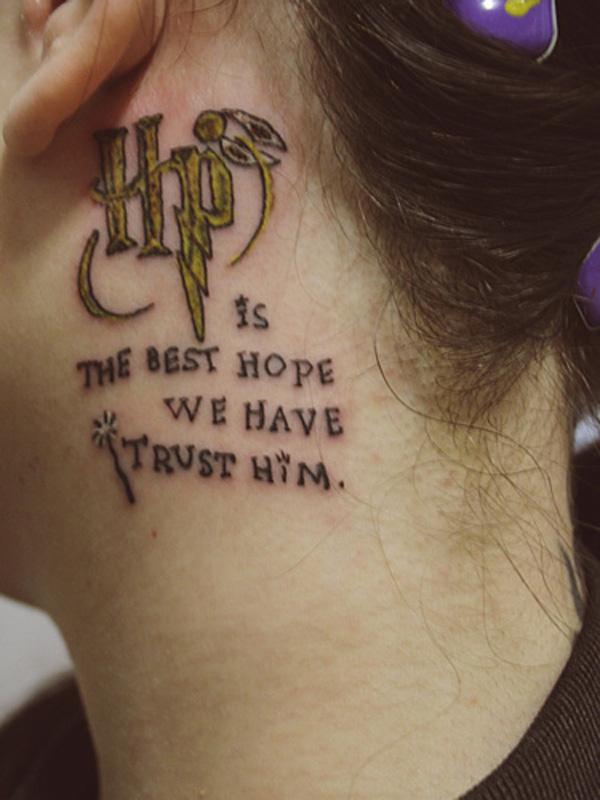 Harry is the best hope we have. Trust him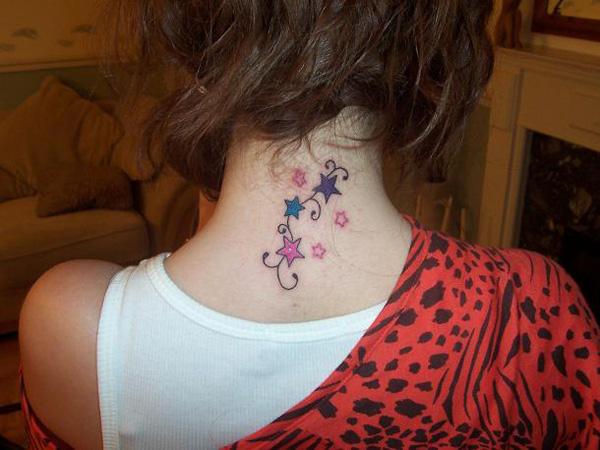 Star tattoos on neck
Infinity neck tattoo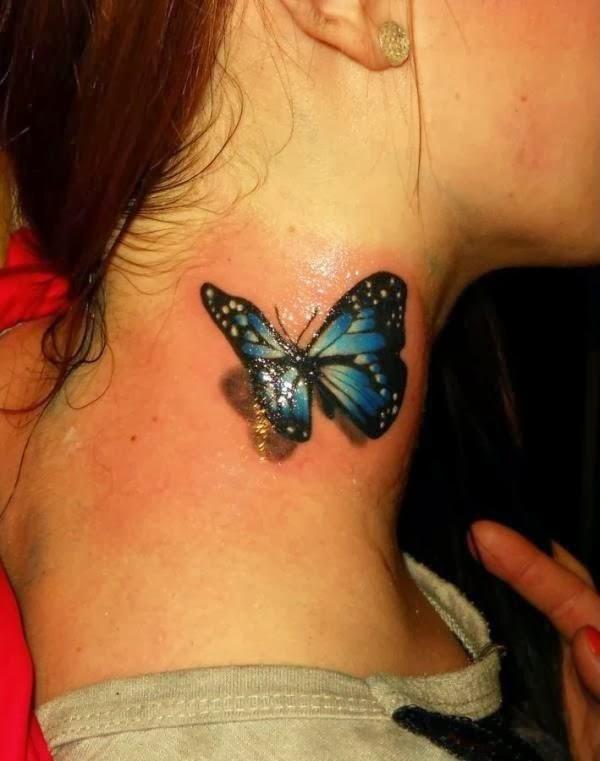 3D colorful realistic butterfly tattoo on neck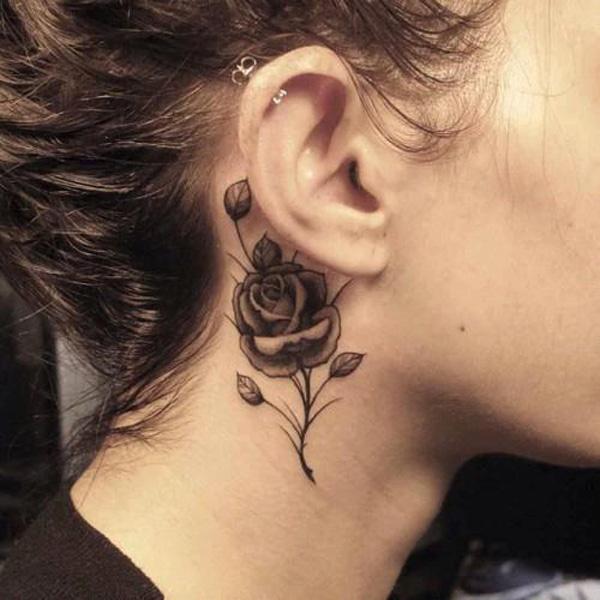 Small black and white rose tattoo on neck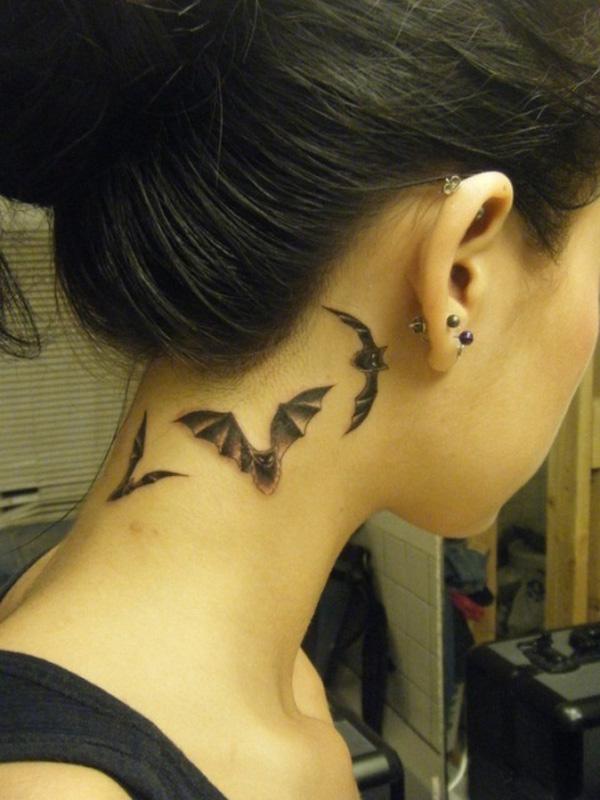 Cute Bat Tattoos on Neck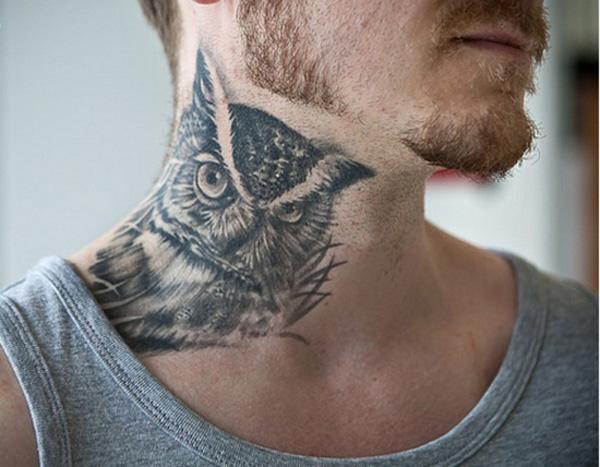 Owl tattoo on neck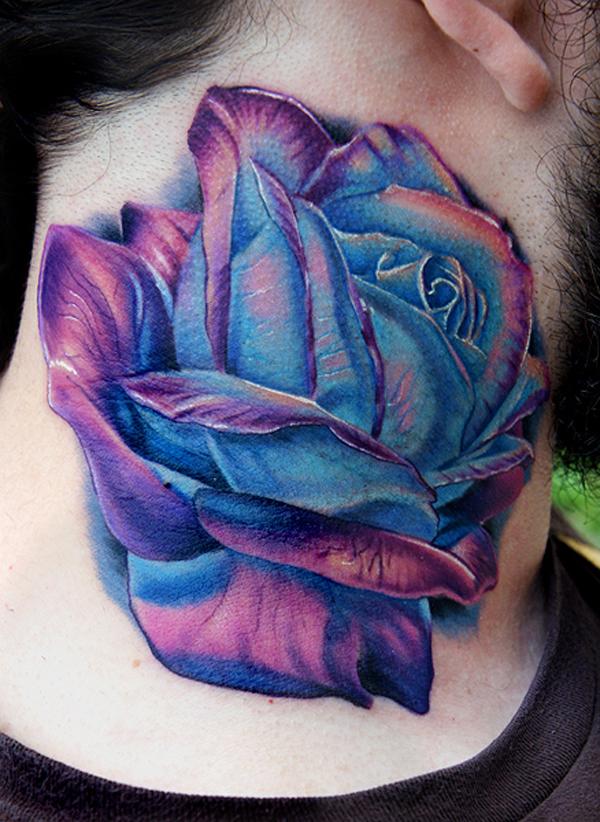 Rose on neck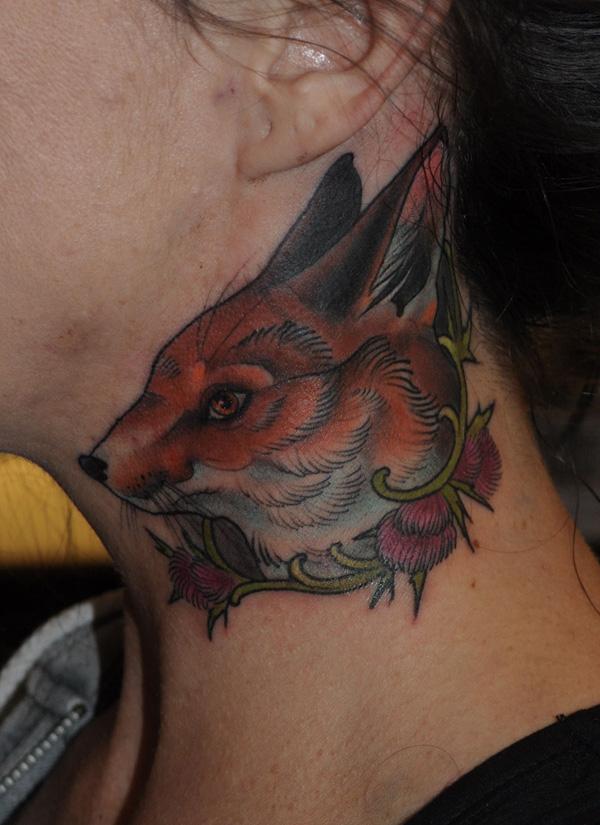 Fox tattoo on neck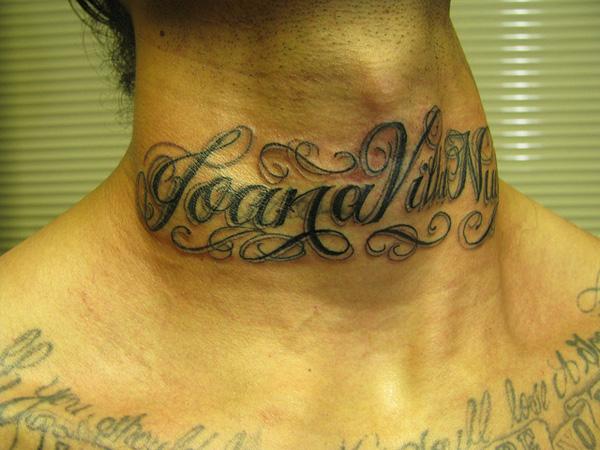 Name on neck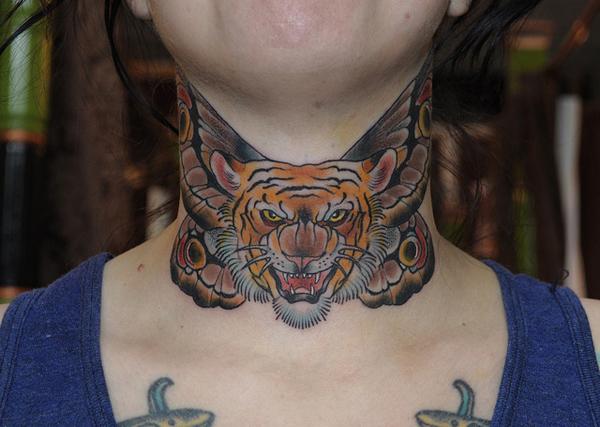 Tiger tattoo on neck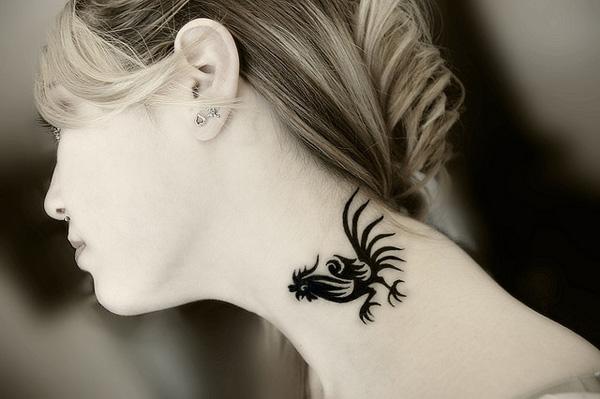 Cock on neck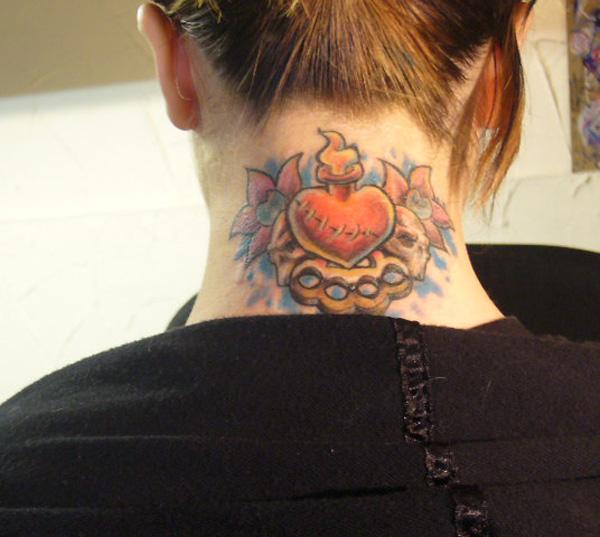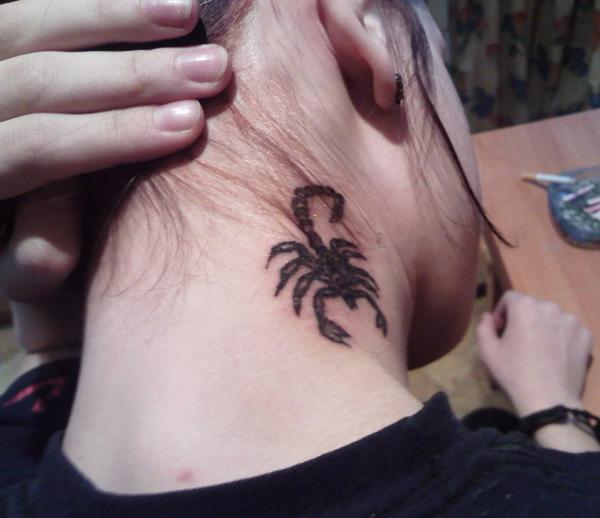 Old school ship tattoo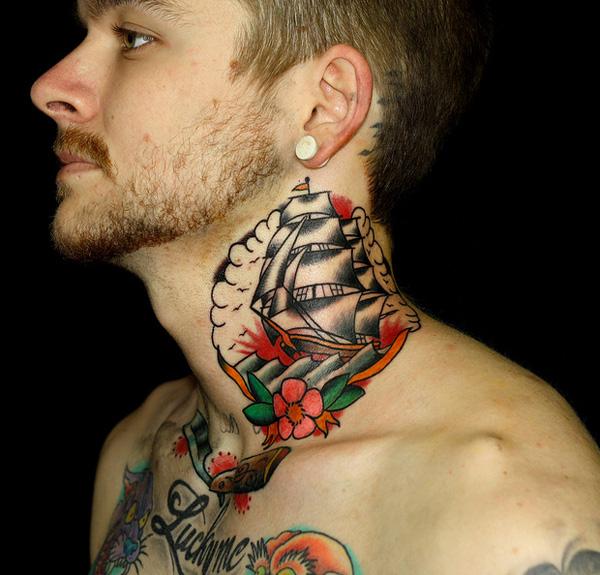 Stylish Key tattoo on neck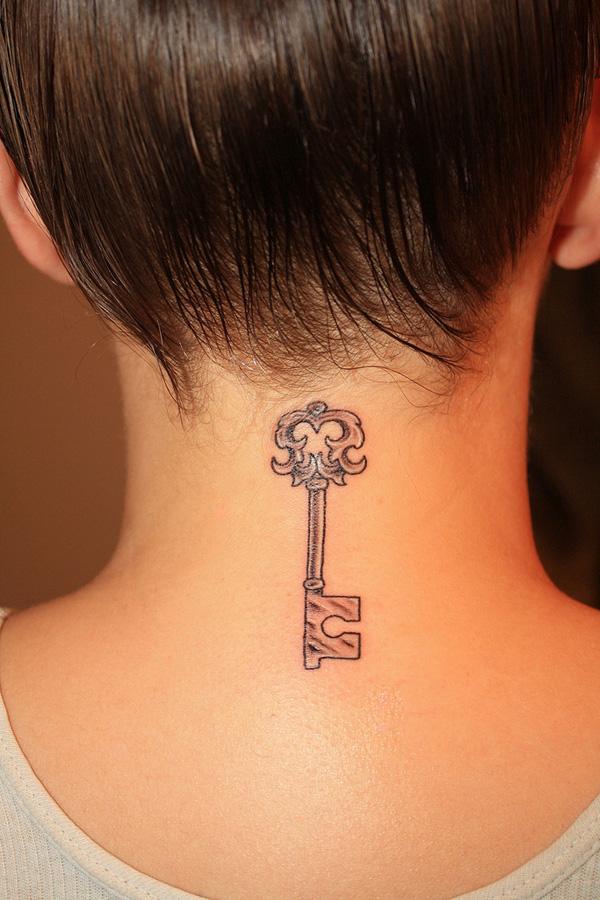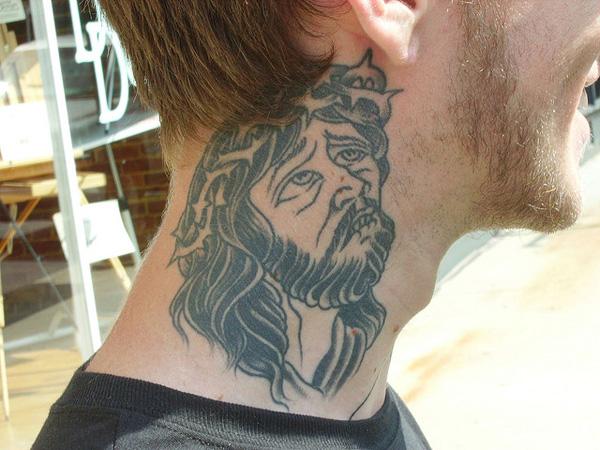 3D Spider Tattoo on Neck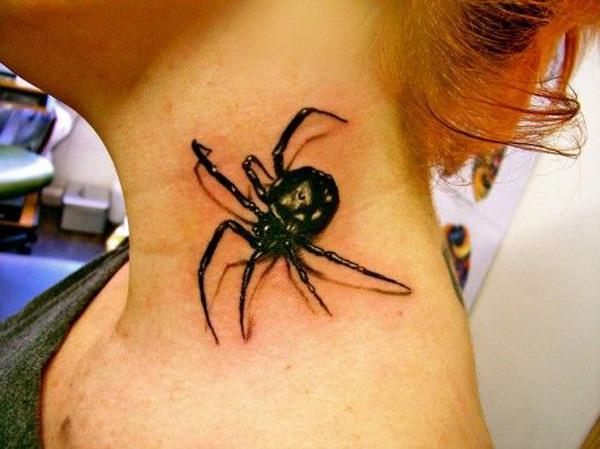 Camera tattoo on back neck for girls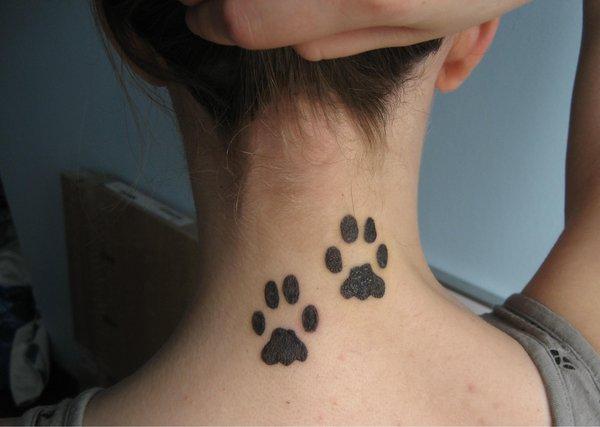 Owl Head Tattoo On Men Side Neck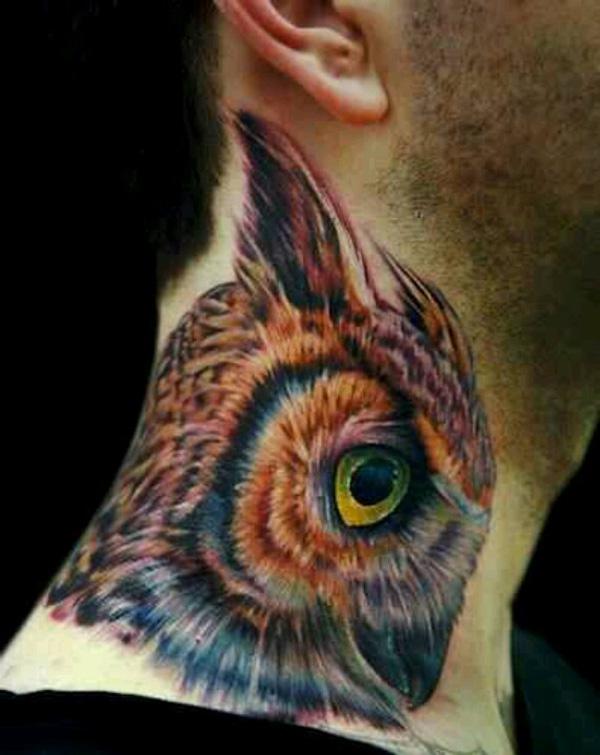 Cool Neck Tattoo Ideas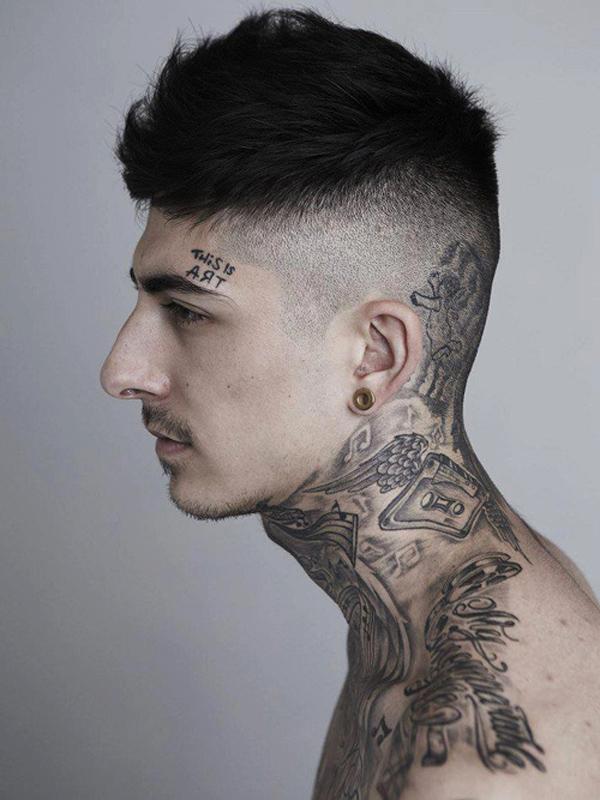 Bird tattoo on neck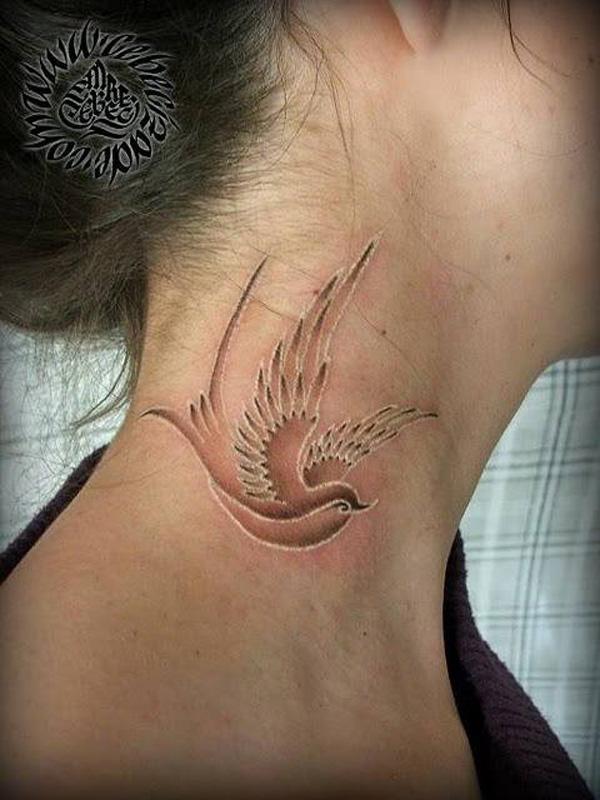 Hand and rose tattoo on neck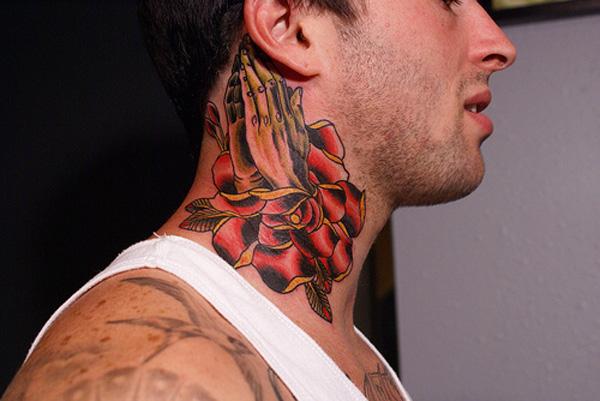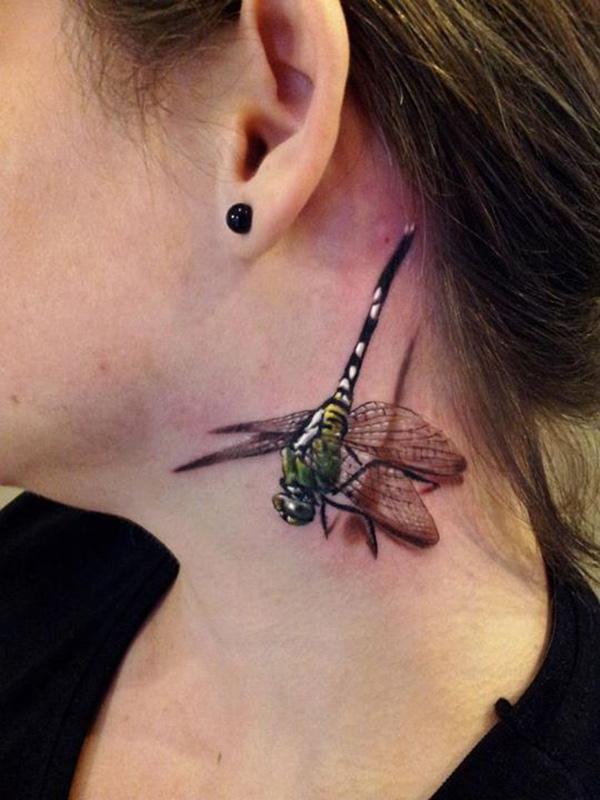 Small Butterfly Tattoo on neck
Dreamcatcher Tattoo on neck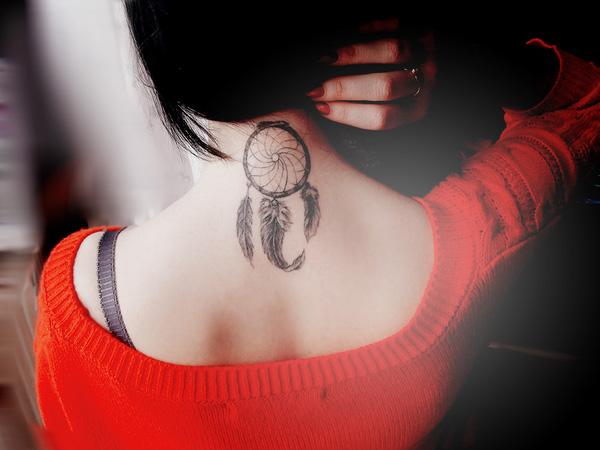 Crimson rose and skull with wings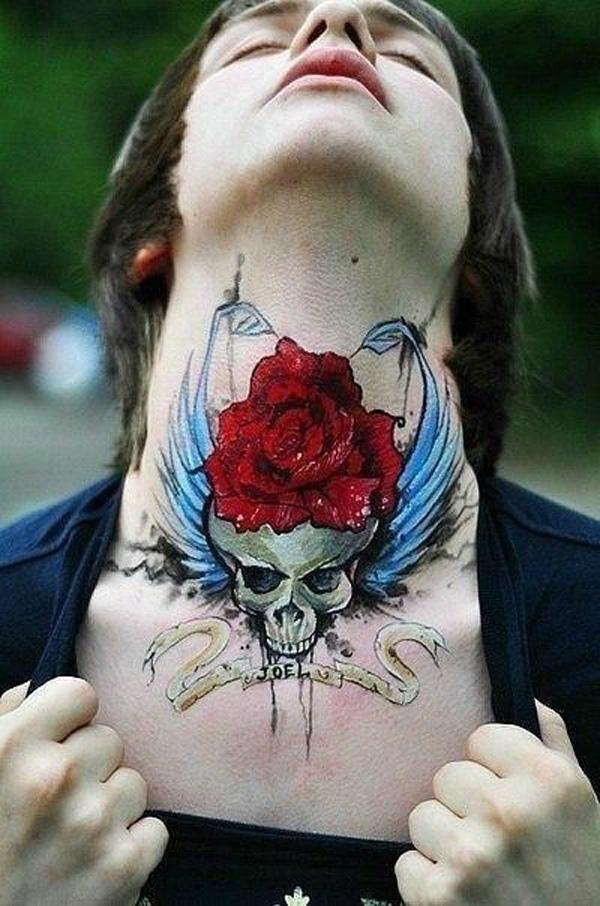 Stunning Owl, claw and rose tattoo on the neck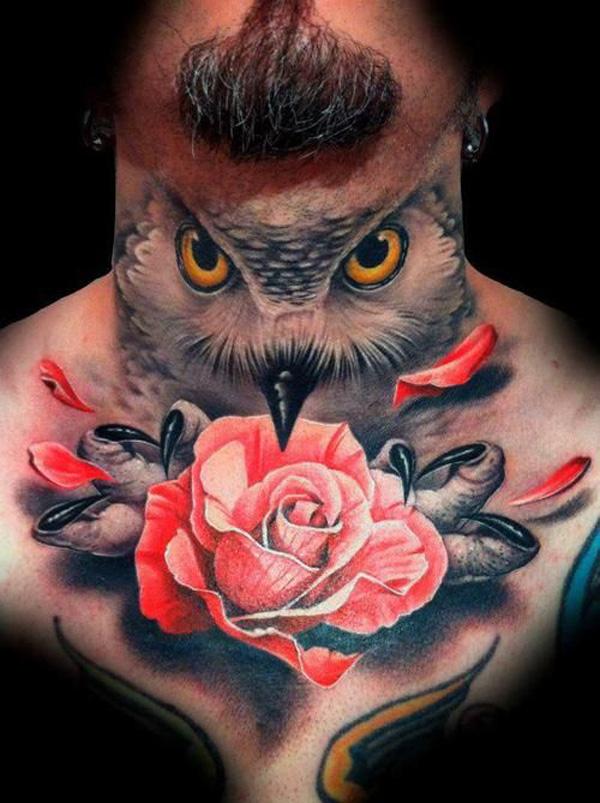 Mandala Shawl Tattoo on the back of the neck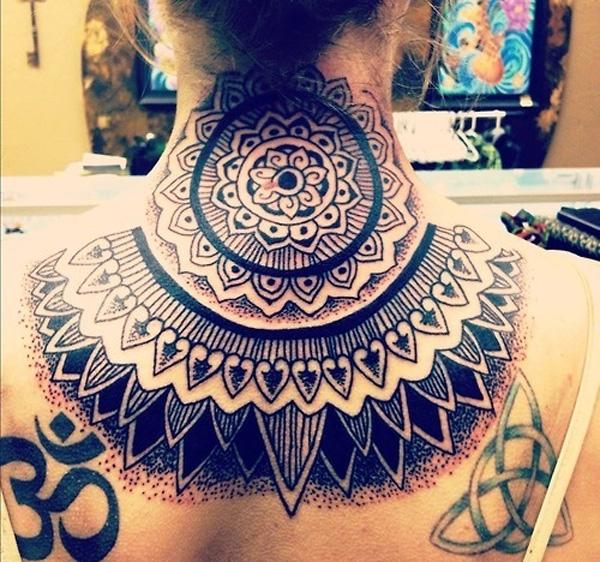 This intricate design consists of a circular pattern that wraps around your neck like a shawl, creating an eye-catching visual effect. The vibrant colors used in this type of tattoo can be customized to fit any individual's personal style, allowing you to make it truly yours. Not only does this type of tattoo look beautiful but it also carries deep spiritual meaning for many people; making it the perfect choice for those looking to celebrate their faith or spirituality in an artistic manner.
Infinite symbol with faith lettering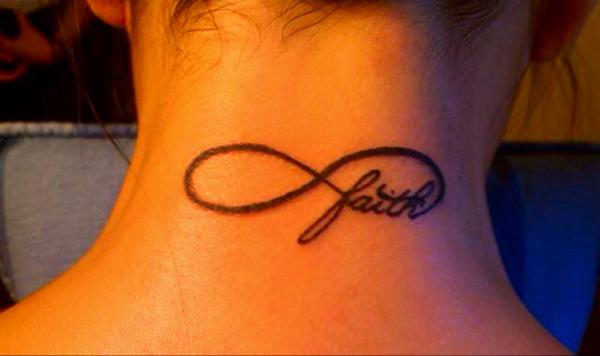 This simple yet beautiful neck tattoo features an infinite symbol with faith lettering. The intricate detail of the design makes it a timeless piece that will never go out of style. The boldness of the lettering give it a powerful look, while still maintaining its subtlety and gracefulness. It's perfect for anyone looking to make a statement without being too loud or overwhelming in their appearance.
Black and grey eagle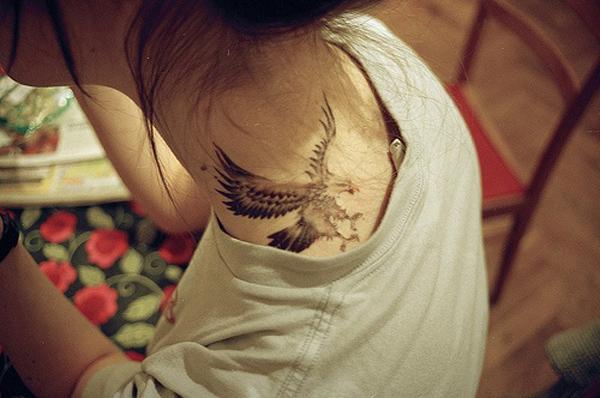 Motivational word Fighler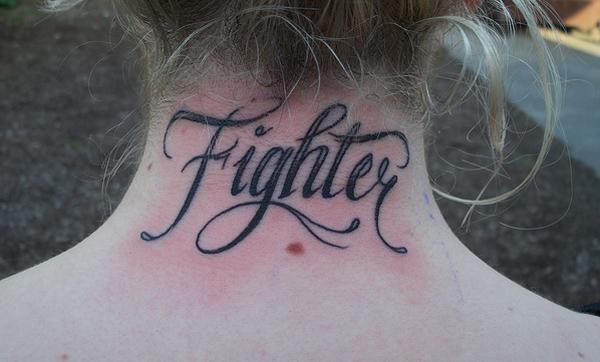 Snow white tattoo on neck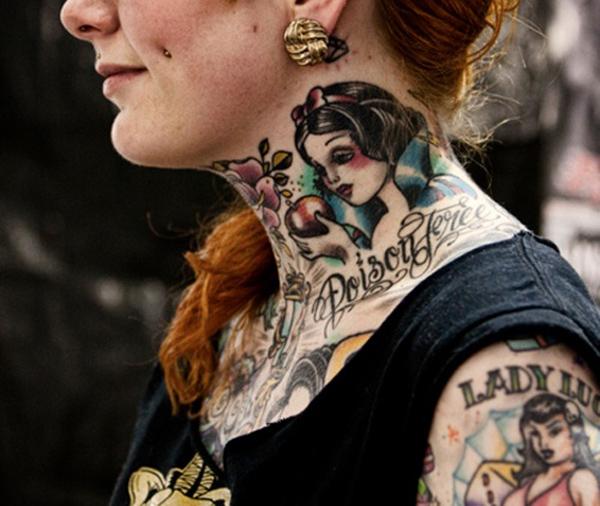 Maori Tribal Inspired Tattoo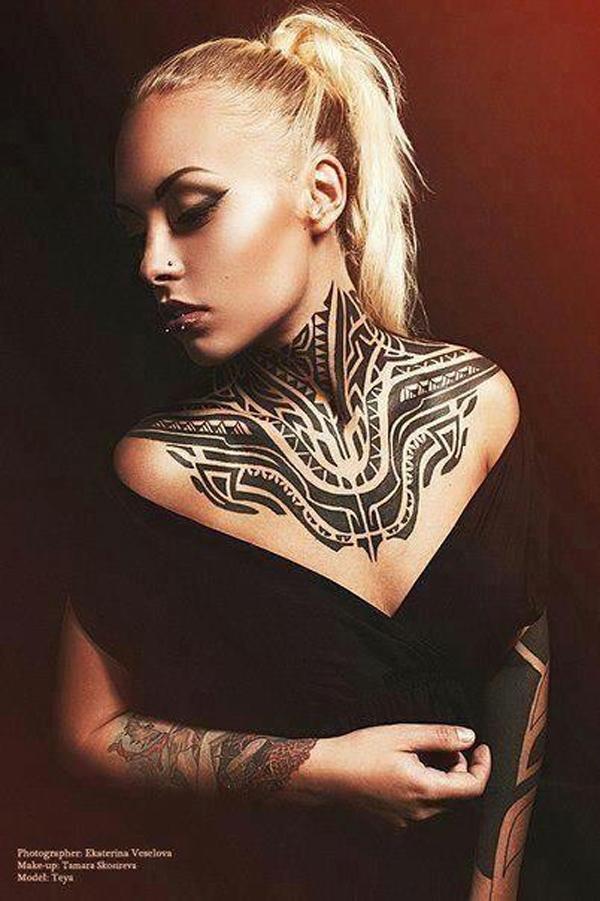 A Large Butterfly Spreading the neck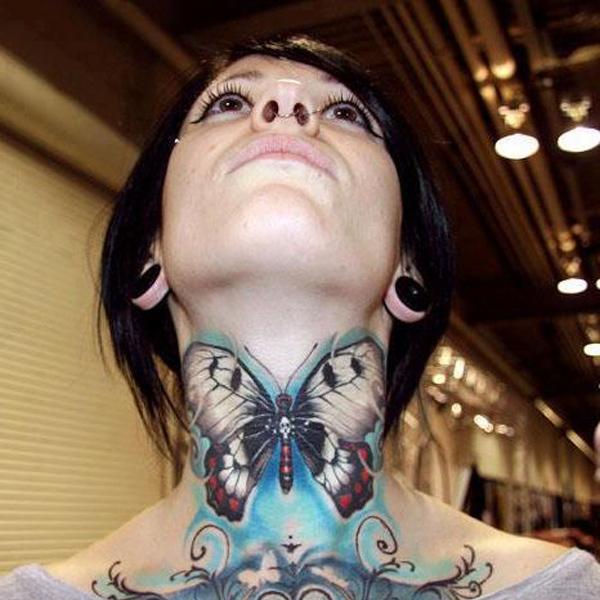 Skull and Rose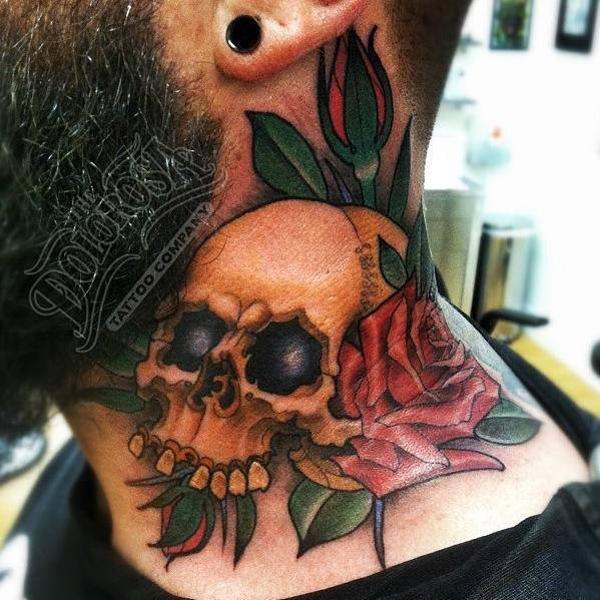 Men who choose to get a skull and rose tattoo often make a bold statement with this unique piece of body art. This combination symbolizes life and death, which can be seen as an acknowledgement that life is fleeting. The location itself also adds to the dramatic effect, since it's visible yet still hidden from view at certain angles. With its powerful imagery and striking placement, this type of tattoo has become increasingly popular among men over the years due to its edgy aesthetic appeal.
Three sparrows along the hairline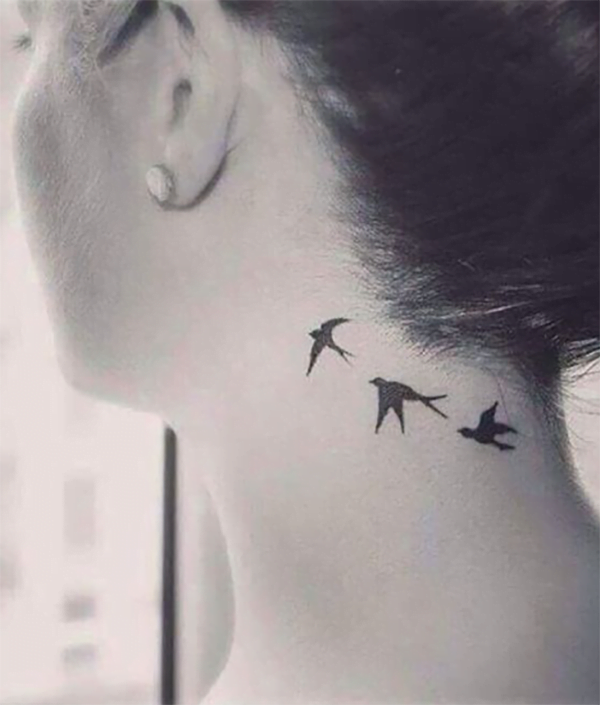 The amazing tattoo is a subtle and stylish way to express the personality of the wearer. Small tattoos like these can be hidden in the placement, but still remain visible enough for those who want to admire them. With this design, the wearer is able to make a bold statement without having an overly large tattoo that may not be accepted in certain professional settings. The beauty of this small ink lies in its versatility. It can speak volumes while remaining understated and elegant at the same time.
A Realistic Black and Grey Statue of Liberty Neck Tattoo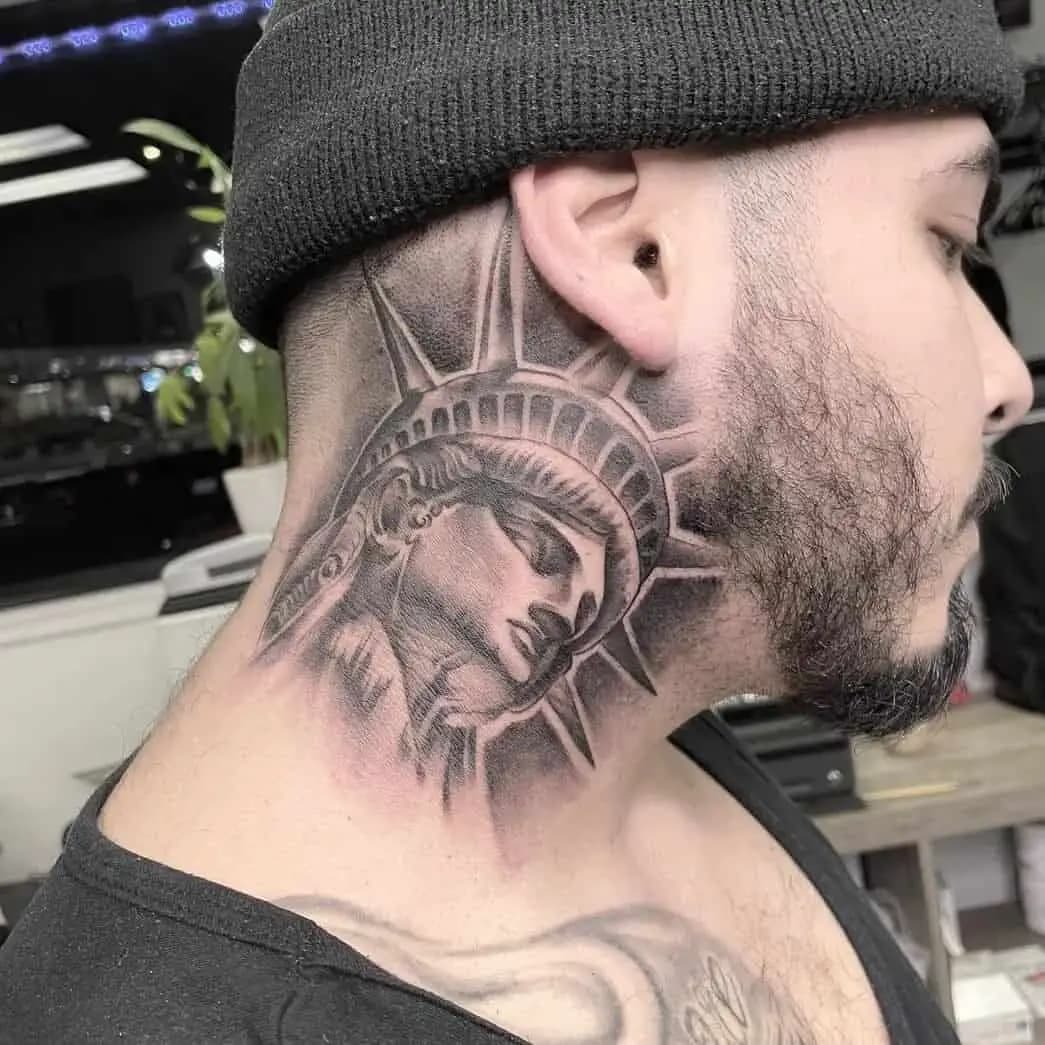 The Statue of Liberty tattoo is a great way to show your patriotism. This iconic symbol represents freedom, justice, and democracy and its detailed shading gives it an extra level of realism. It's one of the most popular neck tattoos due to its versatility. You can proudly wear it during special occasions or keep it hidden when needed. Its timeless beauty will remain stylish for years to come!