The clover, or shamrock, is universally recognized as a symbol of good luck. But did you know that it carries a multitude of deeper meanings? A clover tattoo can be a charming and meaningful addition to your body art collection. This article explores the symbolism of the clover and provides a variety of design ideas for your next clover tattoo.
Clover Tattoo: A Symbol of Luck
A clover tattoo, especially a four-leaf clover, is best known as a symbol of luck. The rarity of finding a four-leaf clover in a sea of three-leaf varieties has led many cultures to associate it with good fortune. This emblem of luck can serve as a daily reminder to seek and appreciate the good luck in your life.
Clover and Irish Tradition
The clover, specifically the three-leaf variety, holds a special place in Irish culture. Also known as the shamrock, it is said to have been used by Saint Patrick to explain the concept of the Holy Trinity. A clover tattoo can signify your connection to Irish heritage or your appreciation for Celtic history and symbolism.
Four Leaves, Four Meanings
In addition to luck, each leaf of the four-leaf clover holds a unique meaning: hope, faith, love, and luck. A tattoo of a four-leaf clover can be a reminder to nurture these essential aspects of life.
Symbolism of Clover Tattoos
So, what does a clover tattoo mean? The answer is, it can mean different things to different people. However, some common themes associated with clover tattoos include:
Good Luck: As mentioned earlier, the clover is believed to bring good luck, protection, and prosperity. People who get a clover tattoo may be seeking a little bit of luck in their lives, or they may be celebrating a successful event or milestone.
Spirituality: The clover is a symbol of spiritual growth and enlightenment. It represents the connection between the physical and spiritual worlds, and the pursuit of spiritual growth and understanding.
Nature: The clover is a symbol of nature and the natural world. It represents the cycle of life, death, and rebirth, and the interconnectedness of all living things.
Love: The clover is also a symbol of love and friendship. The three leaves of the clover represent the three aspects of love: passion, intellect, and spirit.
Strength: The clover is a hardy plant that can grow in challenging conditions. It represents strength, resilience, and the ability to thrive in the face of adversity.
Clover Tattoo Styles
With its simple and recognizable shape, the clover lends itself to a variety of tattoo styles. Here are some design ideas to inspire your clover tattoo.
Traditional Clover Tattoo
The bold lines and vibrant green hues of a traditional clover tattoo give it a classic look. This style can be a testament to your love for traditional tattoo aesthetics and the symbolism of the clover.
Shamrock with the words Luck of the IRISH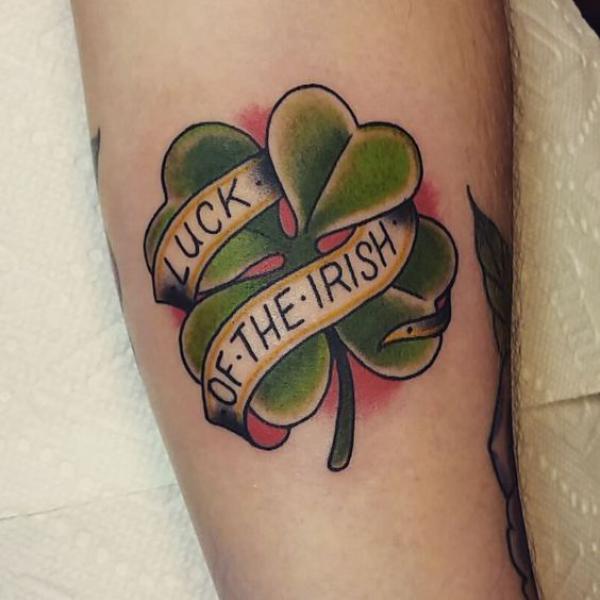 This design marries the iconic shamrock with a beloved phrase. The "Luck of the Irish" tattoo can be a proud statement of Irish heritage or a fun way to carry a bit of luck wherever you go.
Traditional hand with a clover tattoo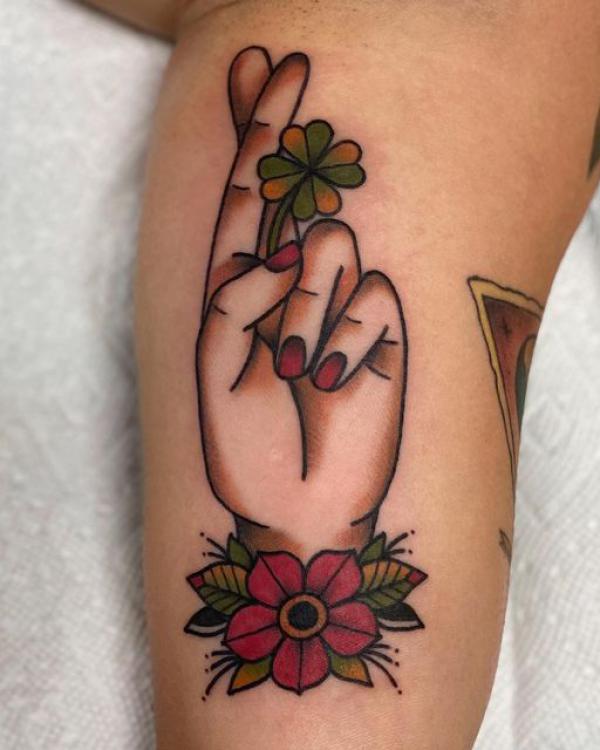 Three-leaf and Four-leaf clover tattoo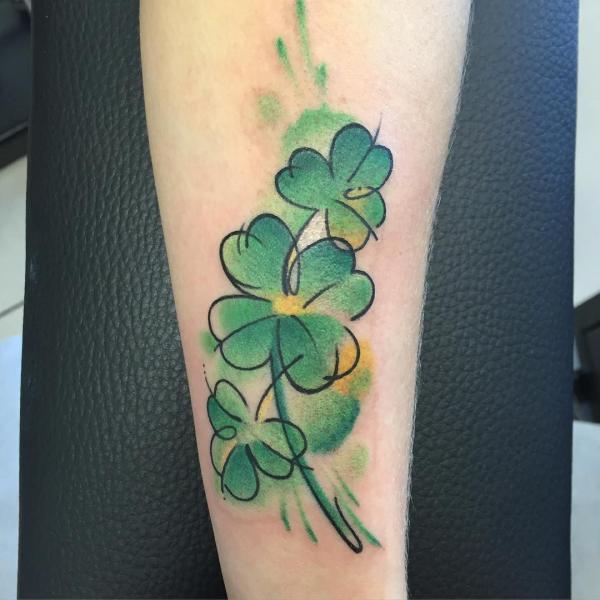 The three-leaf and four-leaf clover piece offers a classic design with a twist. Whether you prefer the traditional Irish shamrock or the universally recognized four-leaf clover, this tattoo can be a charming addition.
Watercolor Clover Tattoo
A watercolor clover tattoo is a delicate and creative take on this symbol. The soft, free-flowing colors give the design a dreamy quality, making it a perfect choice for those who appreciate the artistic and the whimsical.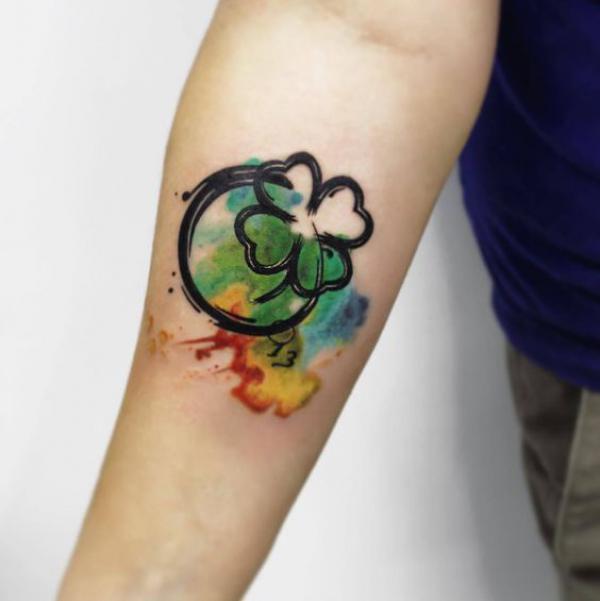 Geometric Clover Tattoo
For a modern take on the clover, consider a geometric design. This style incorporates shapes and lines to create a unique and visually intriguing clover tattoo.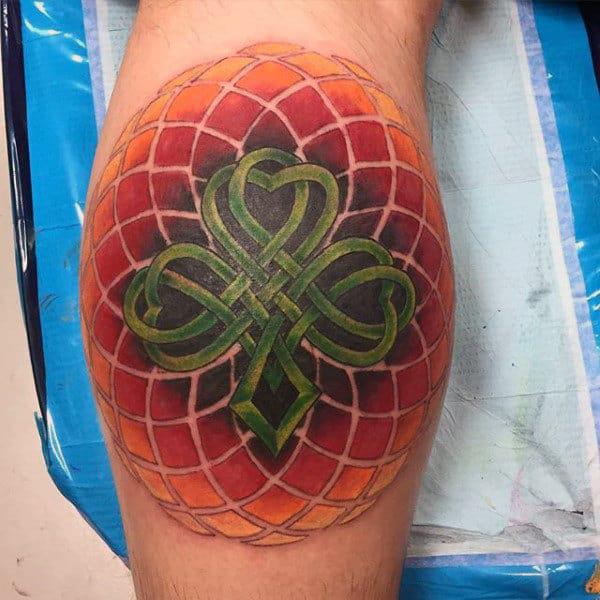 Minimalist Clover Tattoo
A minimalist clover tattoo is a simple and elegant choice. This understated design can serve as a subtle reminder of the clover's symbolism.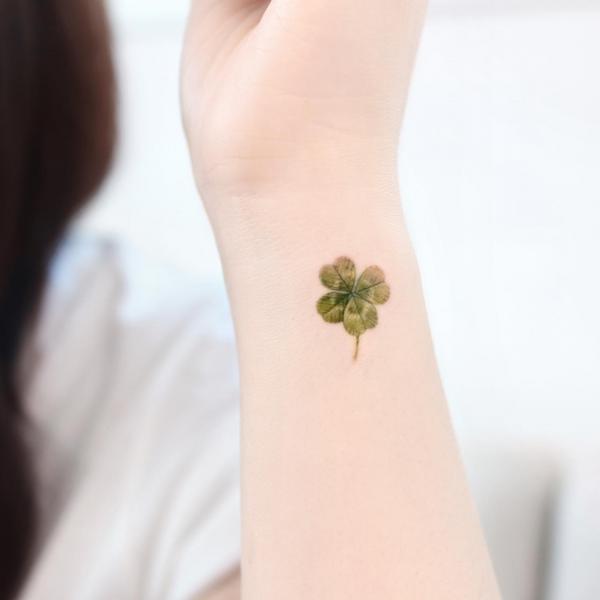 3D Clover Tattoo
A 3D clover tattoo uses shading and perspective to give the illusion of depth. This realistic design can be a visually captivating expression of your affinity for the clover.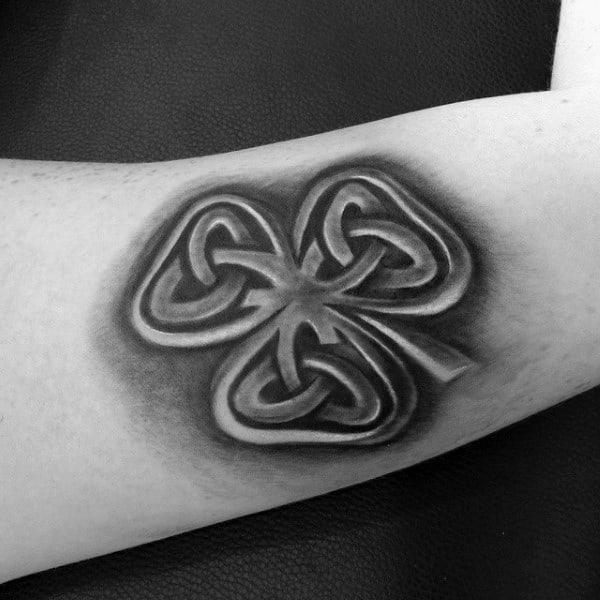 Clover Tattoo Designs
Beyond the classic solitary clover, there are many ways to incorporate additional elements and meanings into your clover tattoo design.
The ladybug is another symbol of good luck. Pairing a clover with a ladybug can double the good fortune and create a charming design.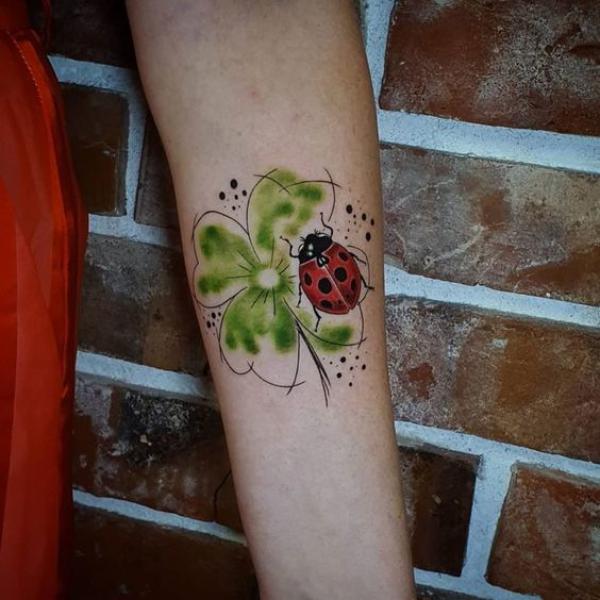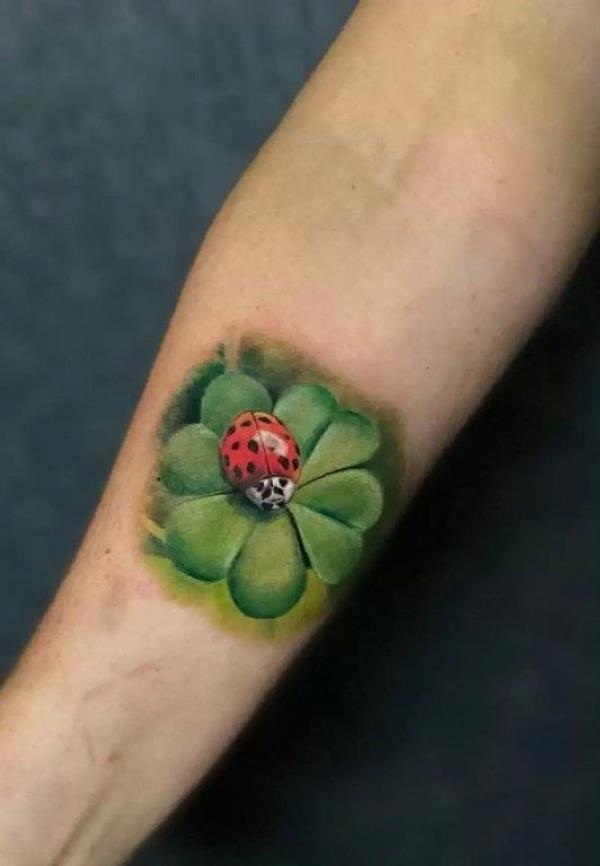 Clover and Celtic Knot Tattoo
Combining a clover with a Celtic knot can create a powerful symbol of your Irish heritage. The intricate design of the Celtic knot adds a layer of complexity to the straightforward clover.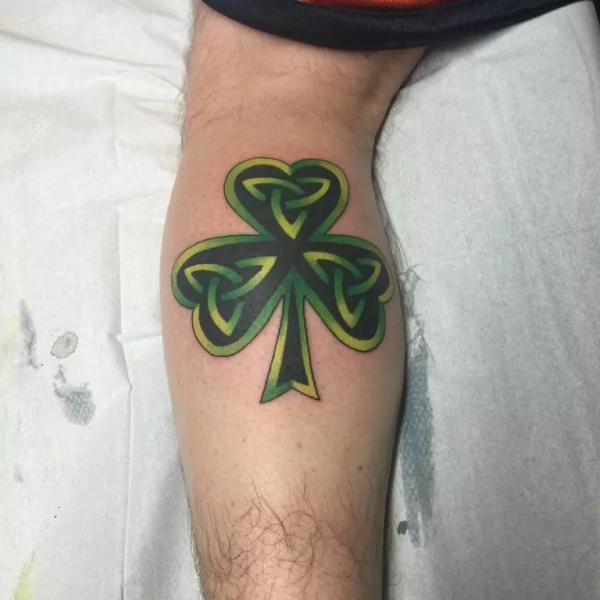 The trinity knot shamrock calf piece is a striking blend of Celtic symbolism and modern design. The calf offers a perfect canvas for this intricate design, allowing the details of the trinity knot and shamrock to be fully appreciated.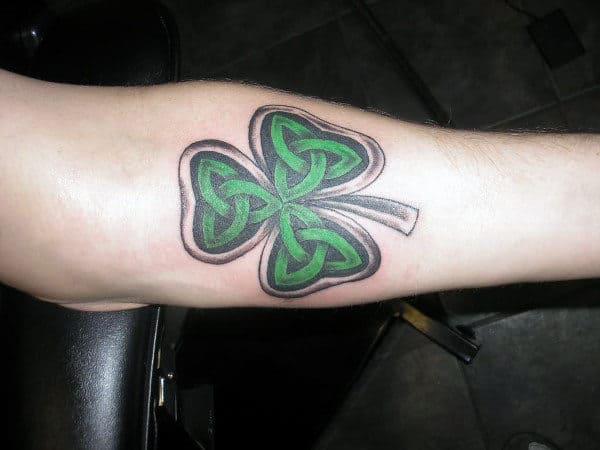 This design offers a smaller adaptation of the trinity knot shamrock, perfect for the forearm. This placement ensures your tattoo is in a visible location, allowing you to showcase the beautiful interplay of the trinity knot and shamrock.
Celtic knot clover tattoo with phrase Fighting Irish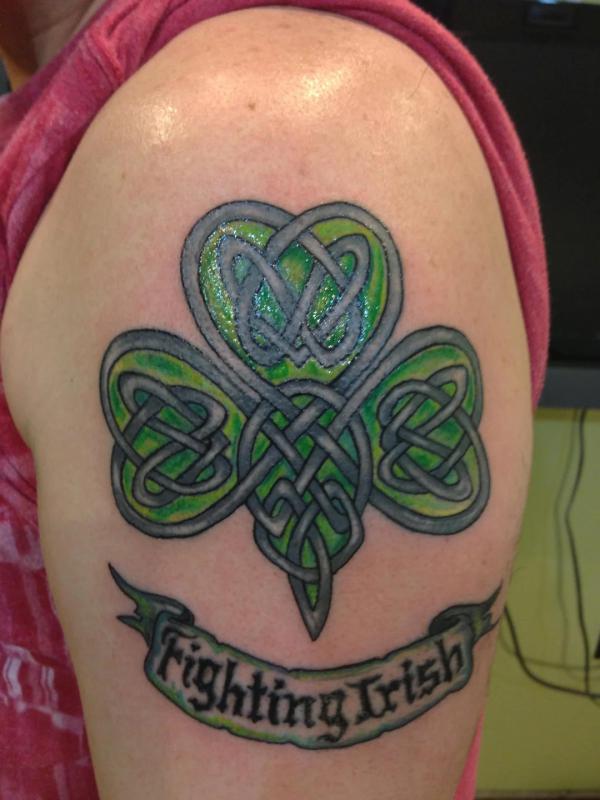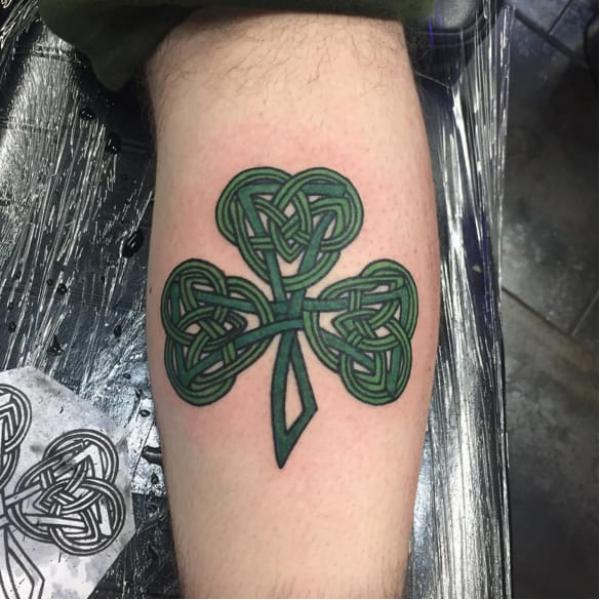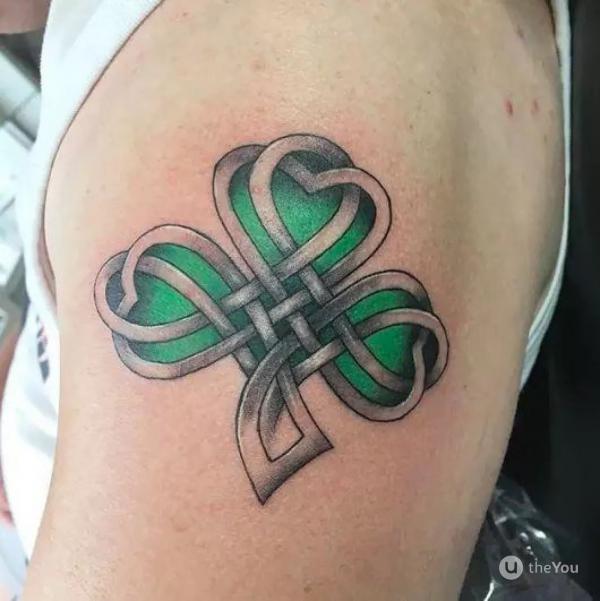 Cool trinity knot shamrock tattoo on arm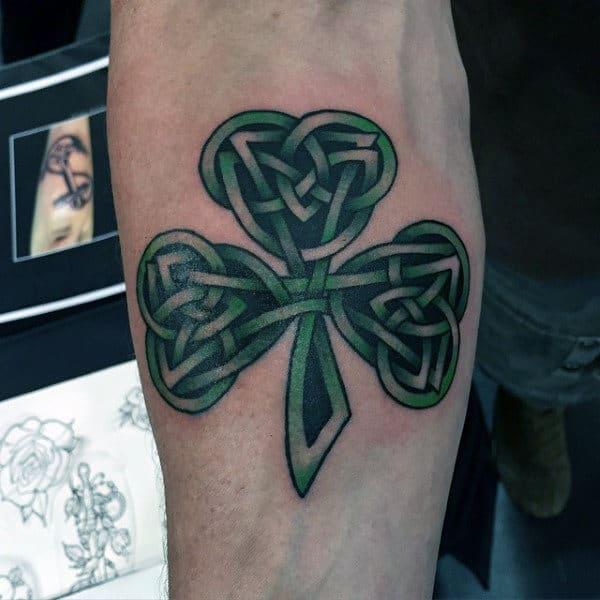 This design brings a cool edge to the classic trinity knot shamrock tattoo. The arm provides a great space for this design, allowing the intricate details of the trinity knot shamrock to shine.
Small tribal trinity shamrock wrist tattoo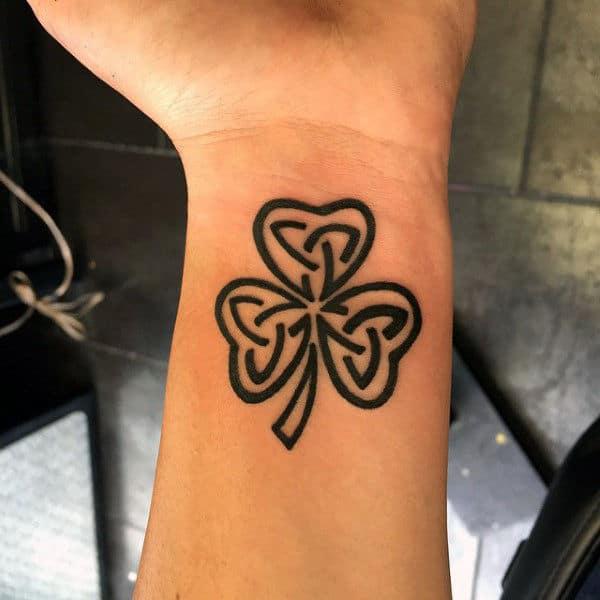 This design takes the trinity shamrock and adds a tribal twist. As a smaller design, it's ideal for the wrist. The tribal elements add an extra layer of uniqueness, making this tattoo a conversation starter.
Clover with Butterfly Tattoo
A butterfly represents transformation and new beginnings. A clover and butterfly tattoo can symbolize good luck on your journey of change and growth.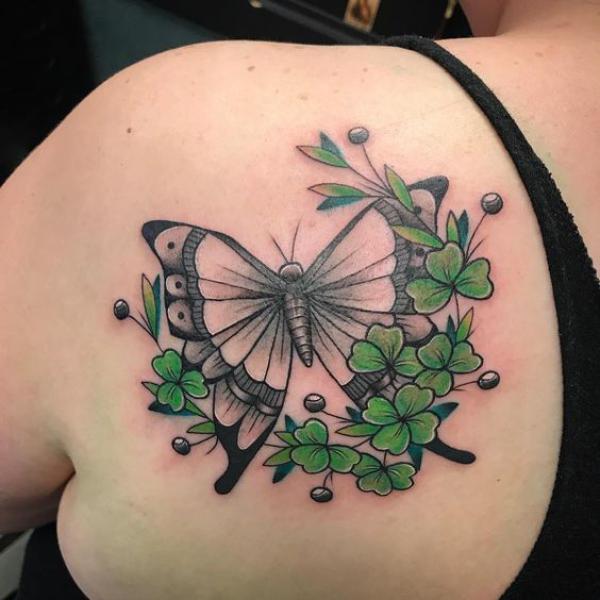 A heart represents love and emotion. A clover with a heart tattoo can symbolize the luck of finding love or the importance of loving oneself.
Heart tattoo with shamrock and butterfly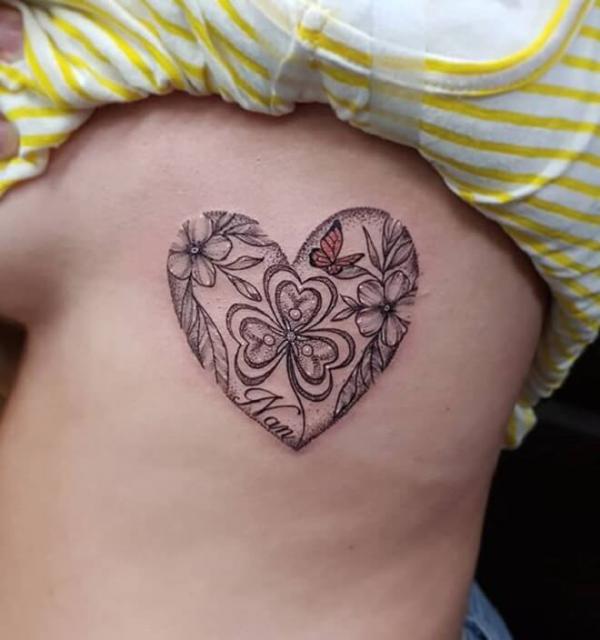 This design is a beautiful fusion of love, transformation, and luck. The heart, shamrock, and butterfly elements can create a colorful and meaningful tattoo. Consider the shoulder, back, or thigh for this design, as they offer ample space for a detailed and vibrant depiction.
Love clover tattoo with word lucky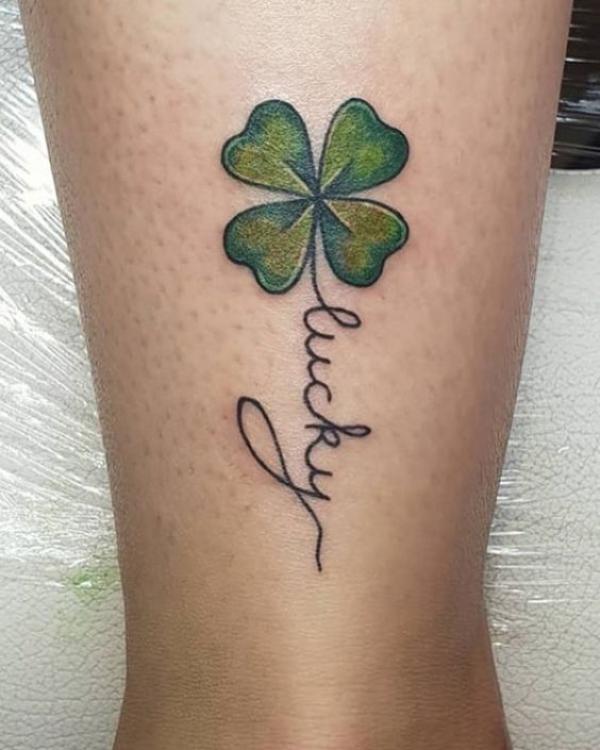 A love clover tattoo with the word "lucky" is a sweet and straightforward design. This tattoo can be a daily reminder of love and luck. Ideal locations for this design include the wrist, ankle, or collarbone.
Four leaf clover love tattoo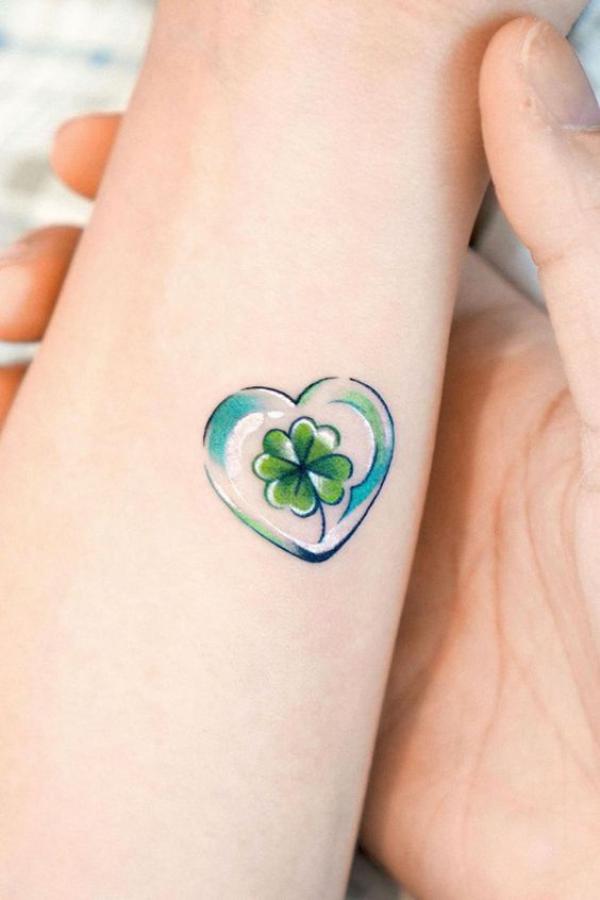 A four-leaf clover love design is a romantic take on the traditional clover piece. This design can be placed anywhere on the body, from the forearm to the ankle, making it a versatile choice.
Four leaf clover on a crystal heart symbol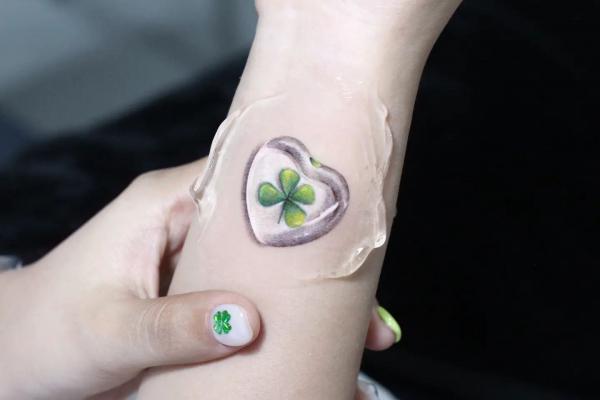 This design combines the luck of a four-leaf clover with the beauty of a crystal heart. This intricate design can be a stunning piece on larger areas such as the back or thigh.
Carved Clover Tattoos
A carved clover ink design has a unique, three-dimensional effect that adds depth and intrigue. The intricate detailing and shading can give the tattoo a realistic look, almost as if it's carved into your skin. This design works well on larger areas such as the shoulder, back, or thigh, where the fine details can be fully appreciated.
Four leaf clovers with names carved tattoo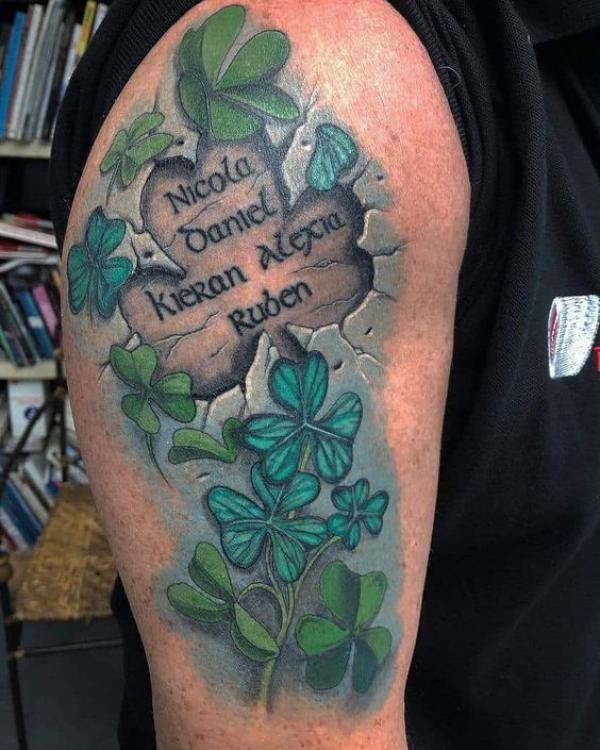 The four-leaf clovers piece with names carved into them is a unique and personalized design. It could be the names of loved ones, important dates, or words that hold special meaning to you. This design can be as intricate or as simple as you like, making it a flexible choice for various tattoo sizes and placements.
Ripped skin clover tattoo with words Irish Pride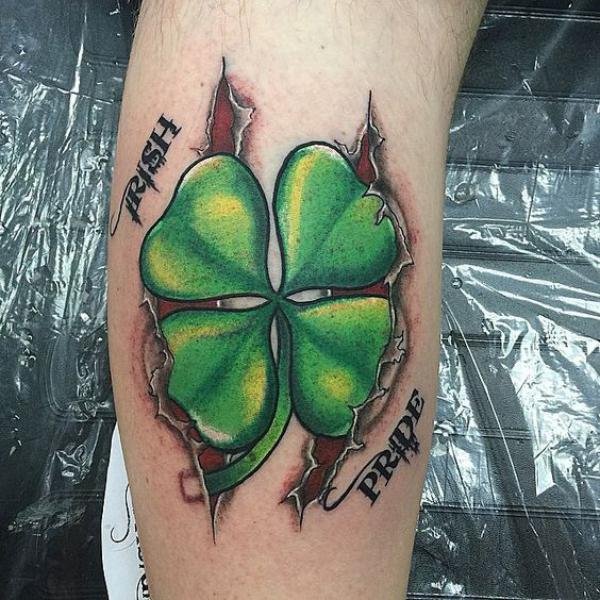 A ripped skin clover piece with the words "Irish Pride" is a bold and powerful design. This design offers a three-dimensional effect, conveying a sense of the tattoo bursting from beneath the skin. It's a striking way to showcase your heritage or love for all things Irish.
Black and grey cracked skin shamrock tattoo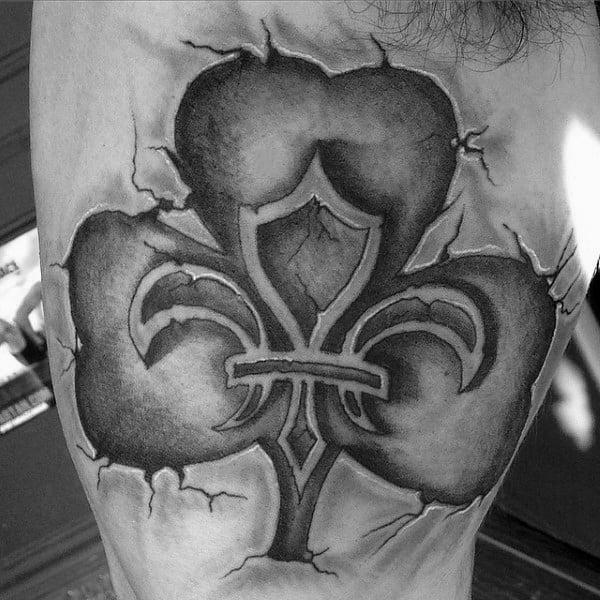 A black and grey cracked skin shamrock is a unique design that offers a blend of tradition and edge. This design uses the illusion of cracked skin to reveal the shamrock beneath, creating a striking visual effect.
Carved shamrocks with words
Combining a clover with an anchor can symbolize stability amidst the ups and downs of life. This design can fit well on your forearm, calf, or chest. Each element can be clearly distinguished, and the design can be easily shown off or concealed, as per your preference.
Greyscale anchor and green shamrocks tattoo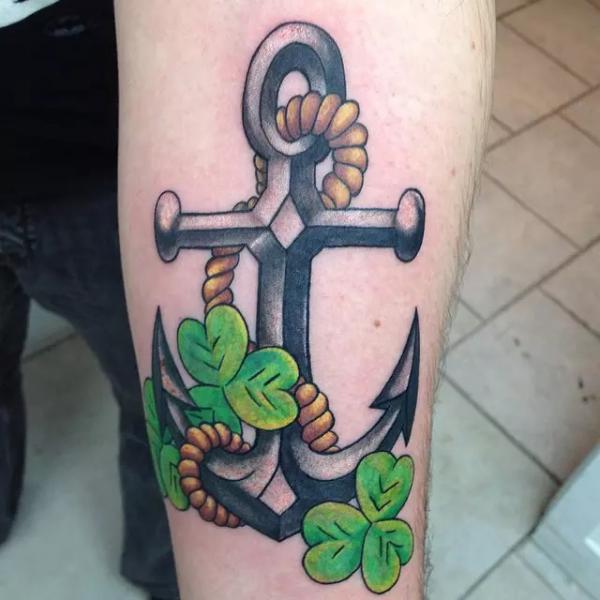 Shamrock with compass and anchor tattoo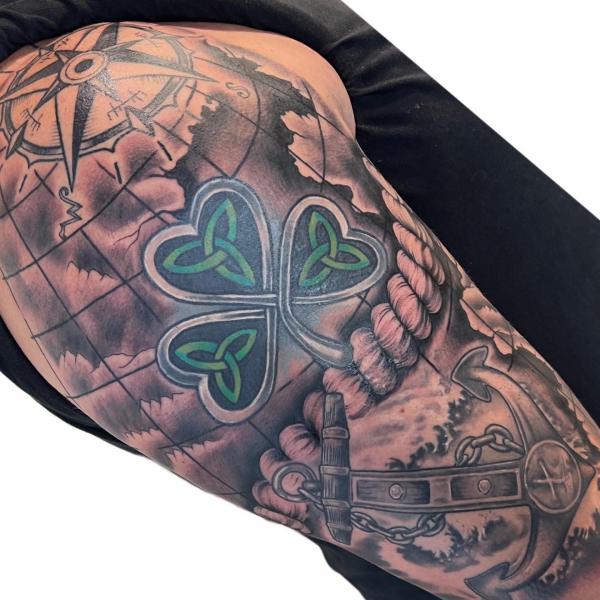 Stylish anchor with Four leaf clover side tattoo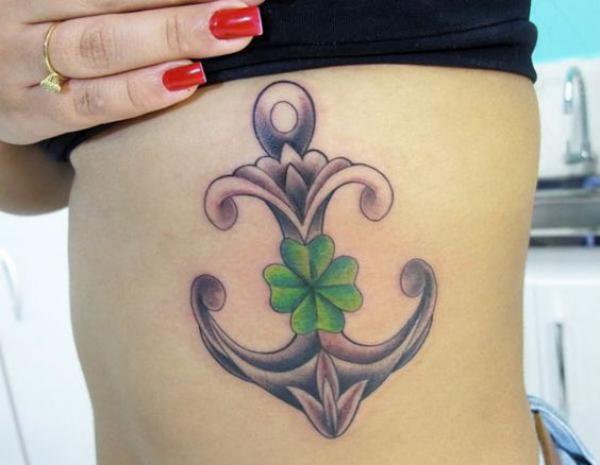 Anchor and Irish clover tattoo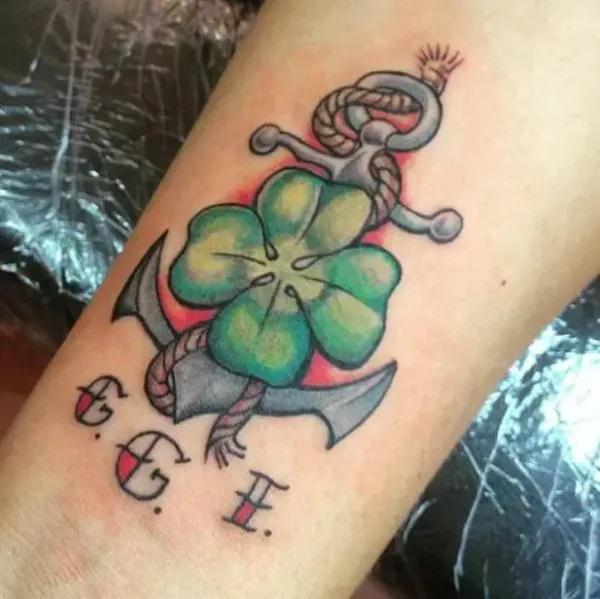 Anchor with Four leaf clover Tattoo black and grey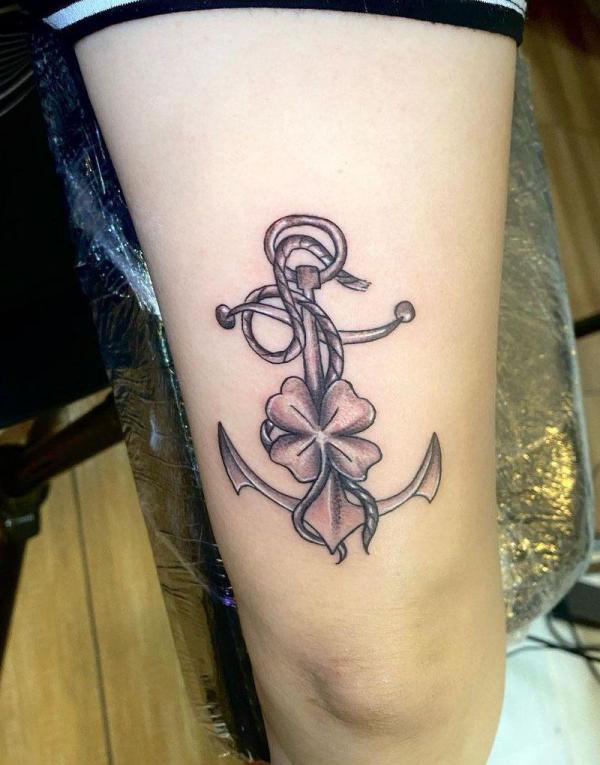 Clover and Cross Tattoos
A clover and cross piece is a powerful symbol of faith and good fortune. The design can be adapted to suit various styles, from simple and minimalist to intricate and detailed. The inner wrist, forearm, or back are all excellent locations for this design.
Cross and shamrock carved tattoo on forearm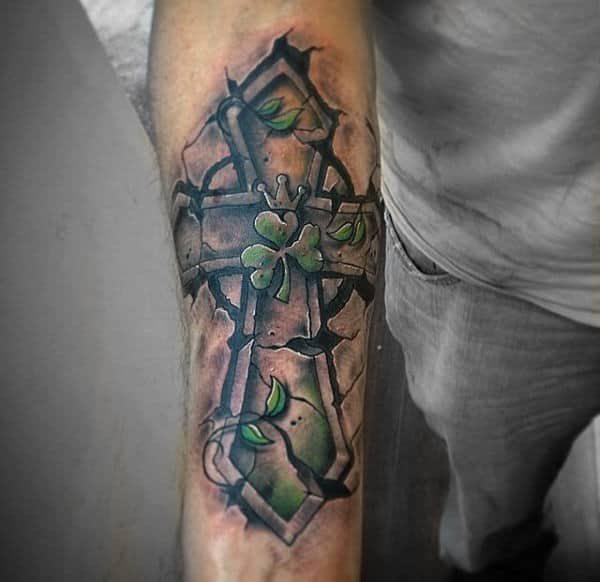 Celtic cross with shamrock tattoo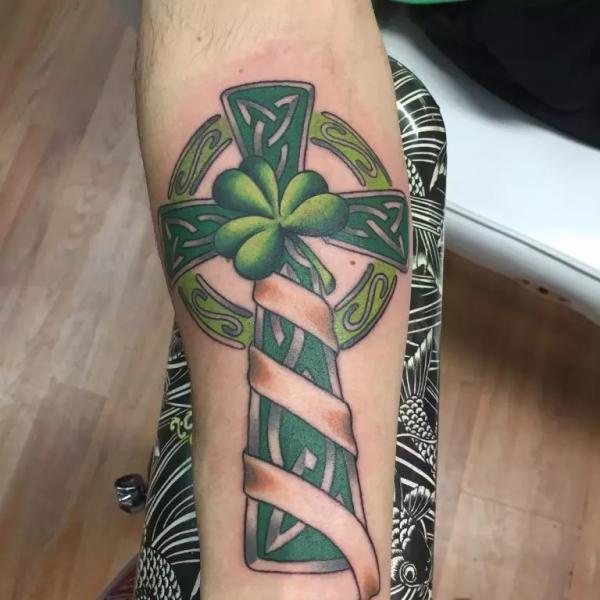 Four leaf clover and cross tattoo for Mom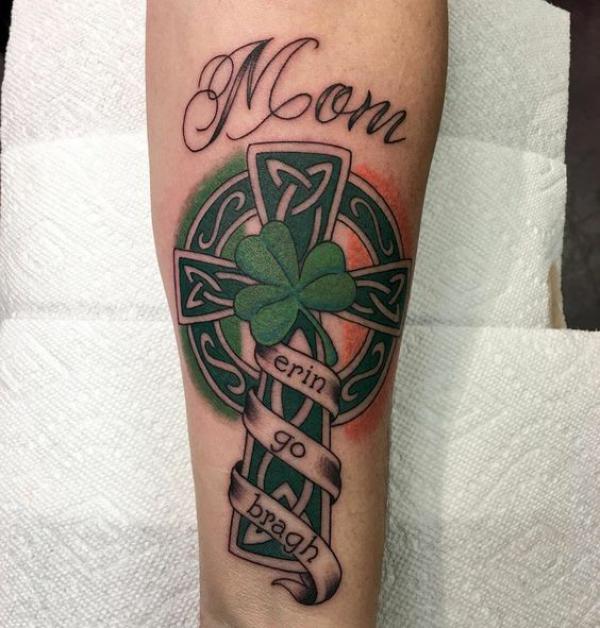 Celtic cross with four leaf clovers tattoo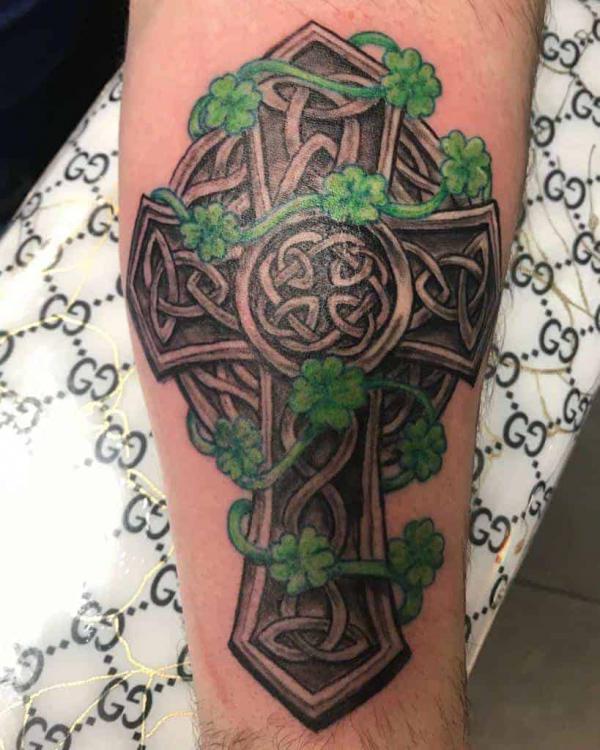 Celtic cross with shamrock tattoo with word Faith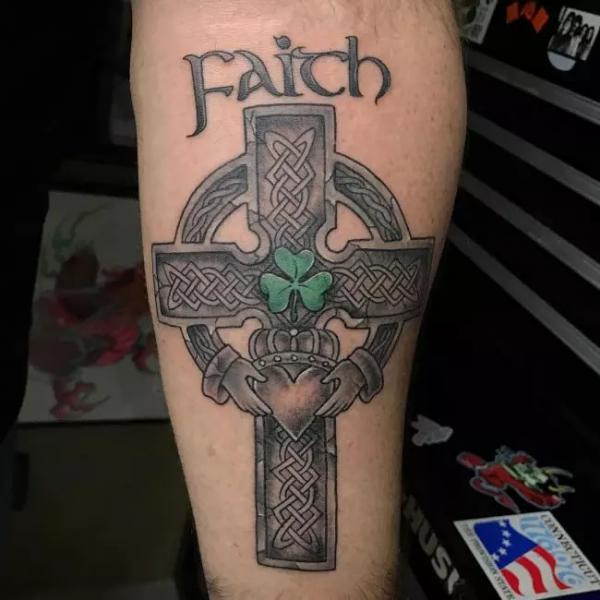 Clover and Flower Tattoos
A fusion of a clover and flowers can create a beautiful, nature-inspired piece. This design is versatile and can be adapted to include your favorite flowers. Consider placing it on your shoulder, thigh, or back, where there's enough space for a detailed floral design.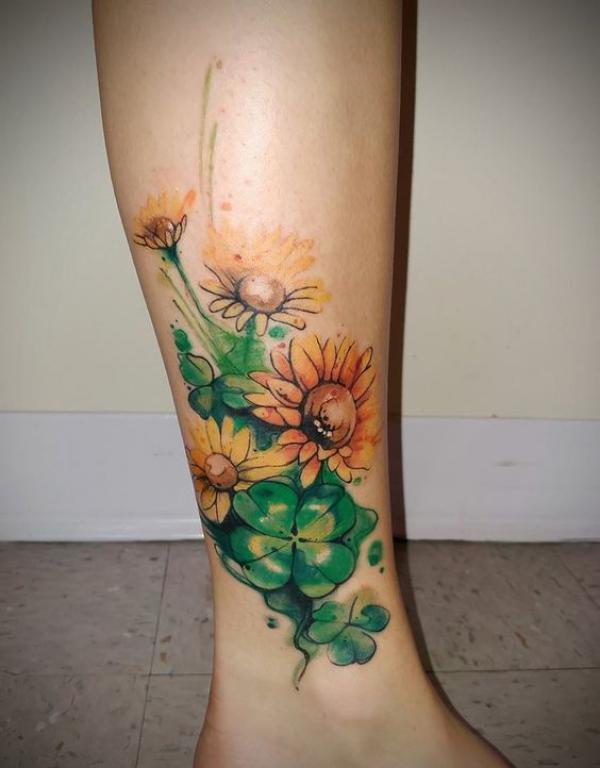 Four leaf Clover and Iris flower tattoo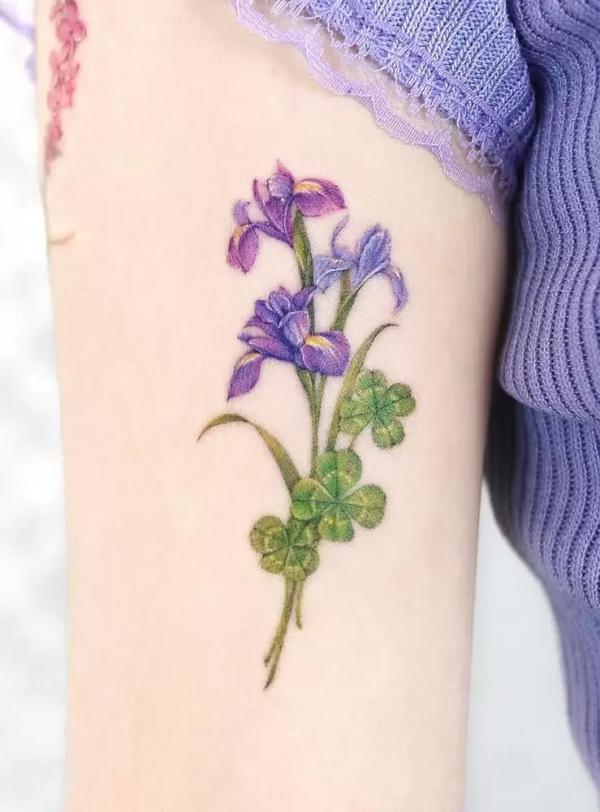 Clover and Harp Tattoos
The clover and harp design is a nod to Irish heritage. The rich details of the harp complement the simplicity of the clover. This design can make a striking statement on larger areas such as the back, thigh, or calf.
Traditional harp with clovers and thistle tattoo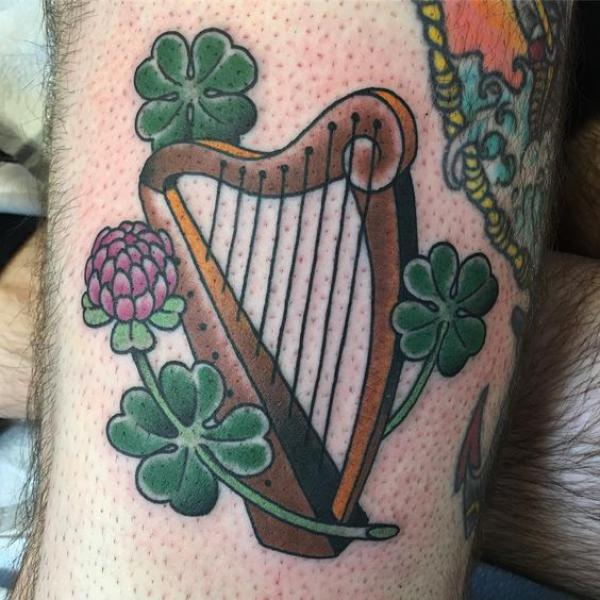 Traditional Irish harp with shamrock tattoo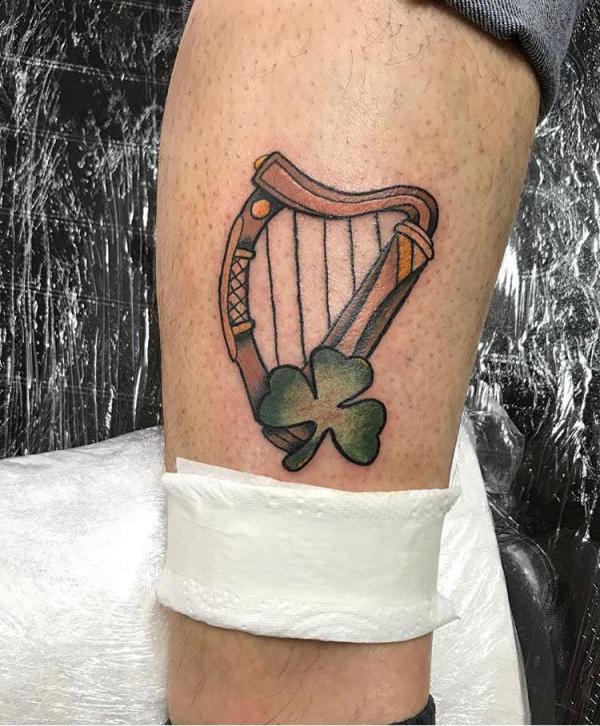 Irish Harp and Shamrock Tattoo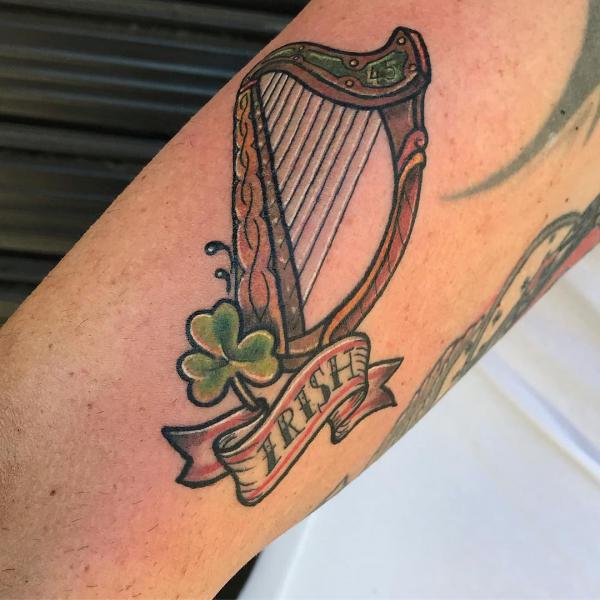 Clover and Horseshoe Tattoos
The combination of a clover and horseshoe can double the luck. This design is flexible and can fit well on the forearm, ankle, or shoulder. Add color or keep it in black and white, either way, this design is a crowd-pleaser.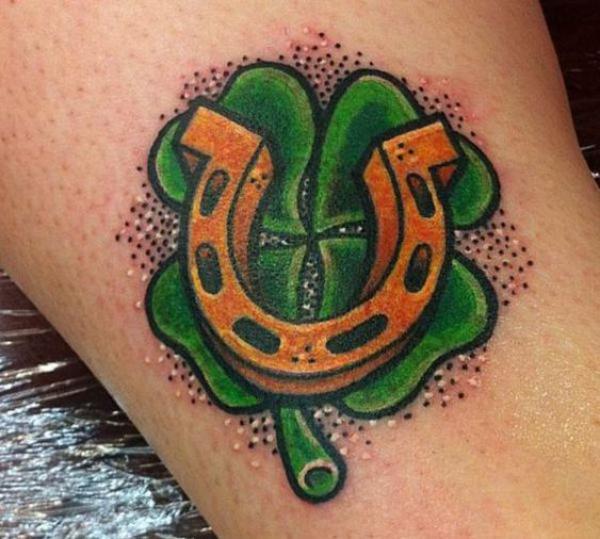 Four leaf clover and horseshoe tattoo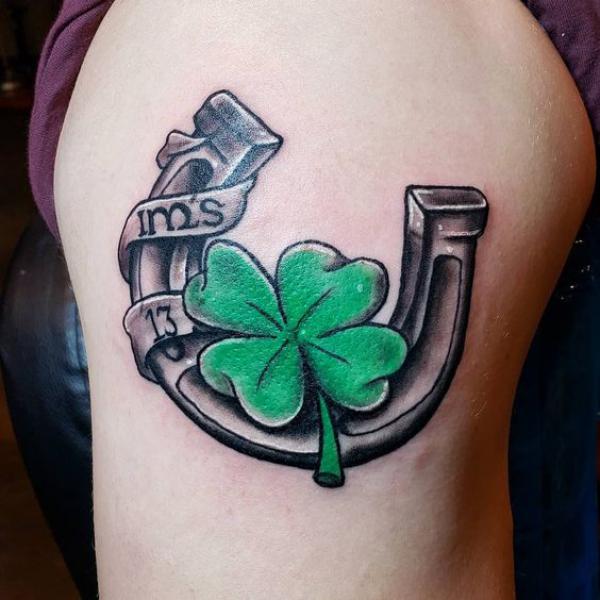 Vintage shamrock and horseshoe shoulder tattoo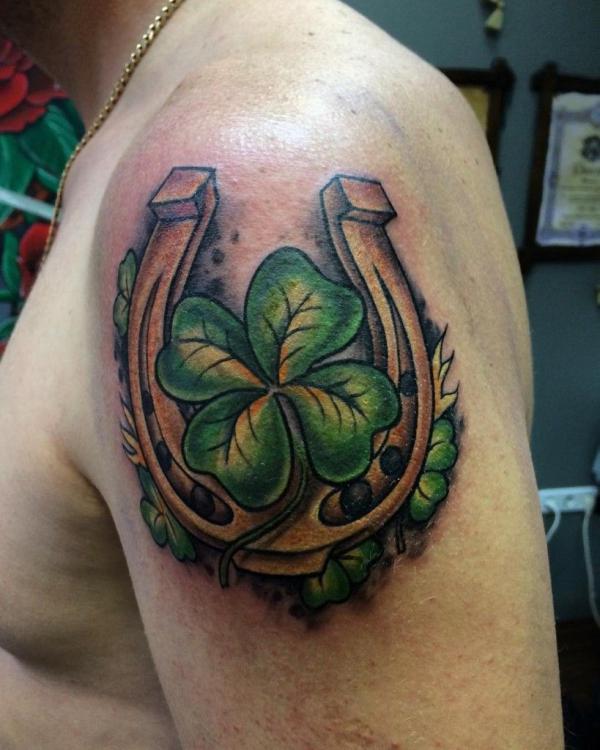 Clover and horseshoe tattoo on upper back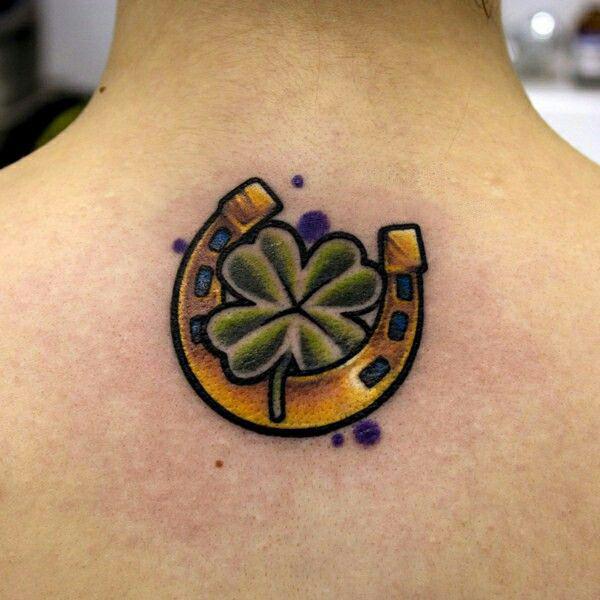 Clover and Skull Tattoos
A clover and skull ink design can be a unique way to balance themes of life and death. This design can stand out on the arm, thigh, or back. The juxtaposition of the skull and clover can create an intriguing visual effect.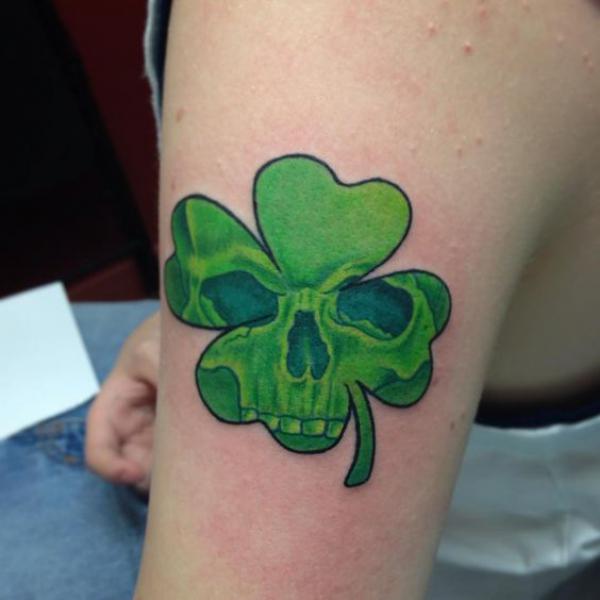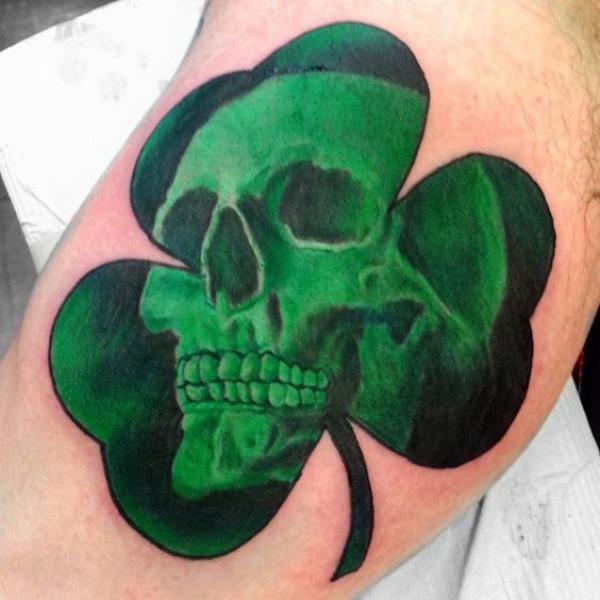 Grey skull tattoo with four leaf shamrock face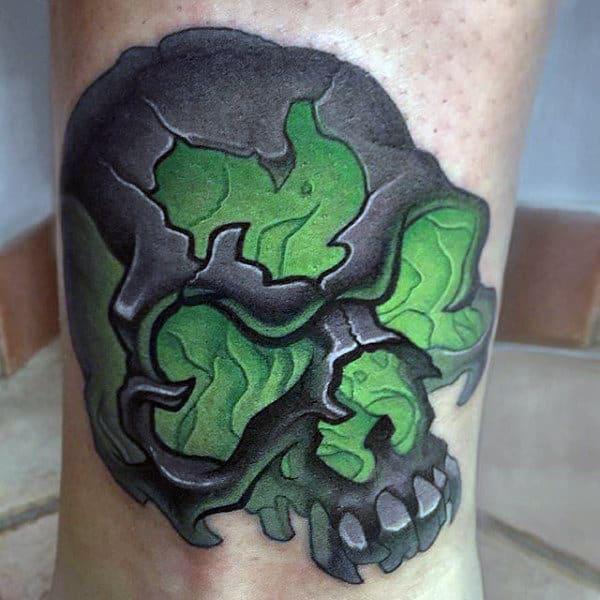 shamrock skull tattoo on arm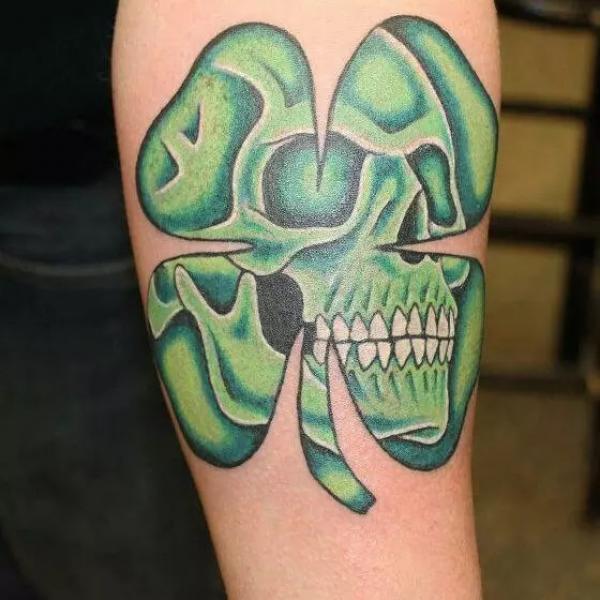 Skull with shamrock tattoo with words Grin Go Bravy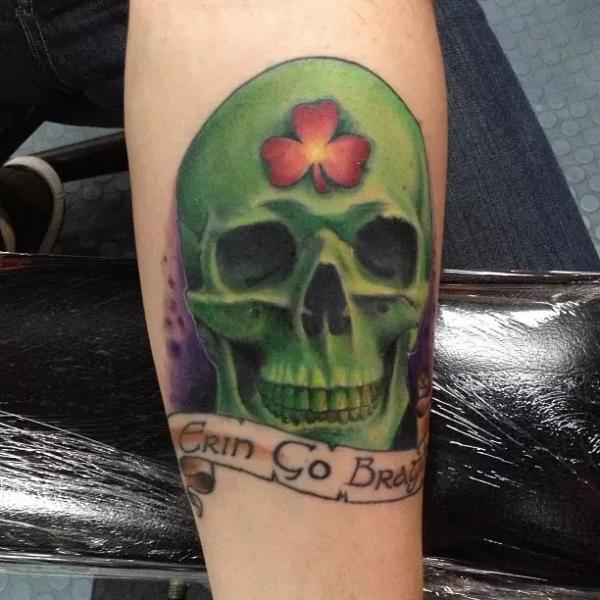 Four leaf shamrock skull tattoo on bicep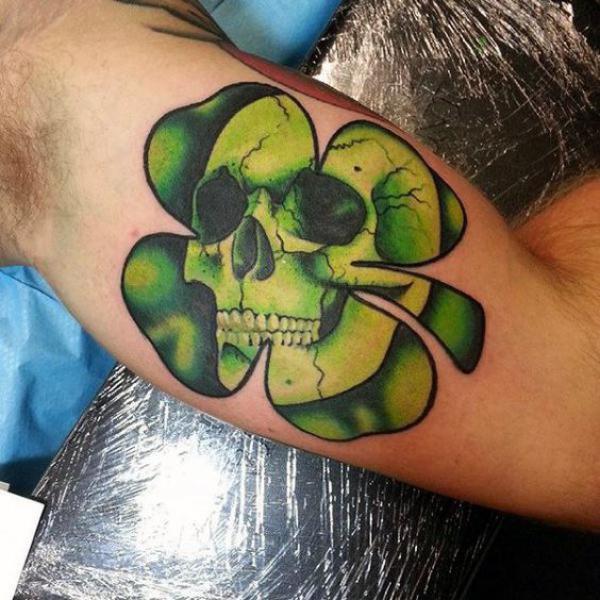 Clover and Star Tattoos
Pairing a clover with stars can create a design that's out of this world. This design brings together symbols of luck and dreams. It can work well on various areas of the body, including the forearm, back, or ankle.
Black and grey shamrock and stat tattoo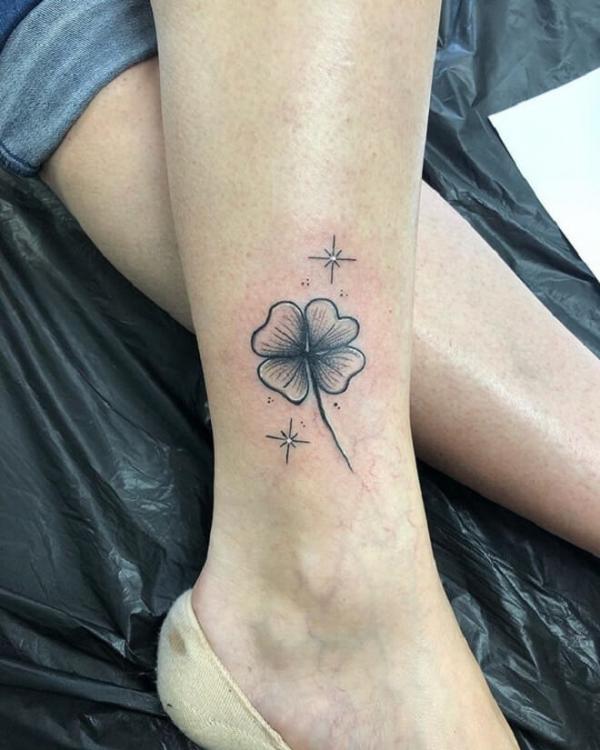 Negative space four leaf clover with stars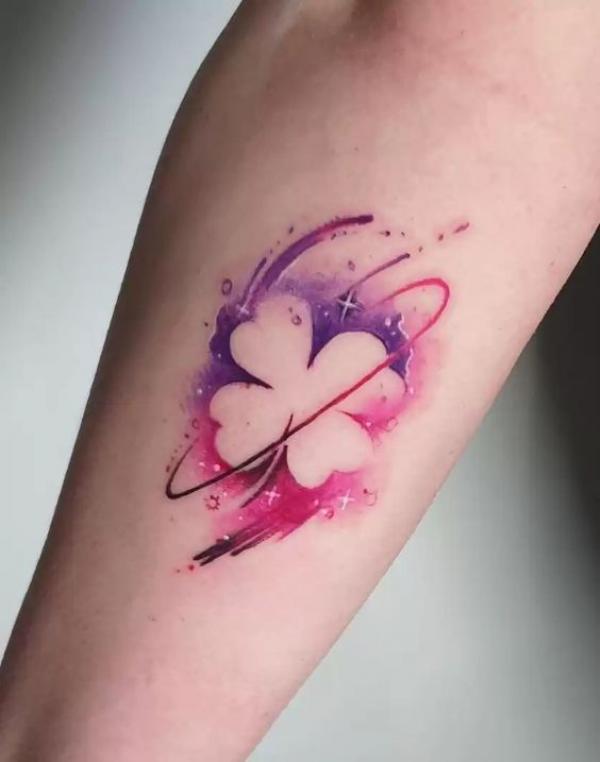 Clover and Thistle Tattoos
A clover and thistle design can be a nod to Celtic heritage. This design can be quite detailed, so consider larger areas such as the back, chest, or thigh. The contrast between the soft clover leaves and the prickly thistle can create a visually appealing effect.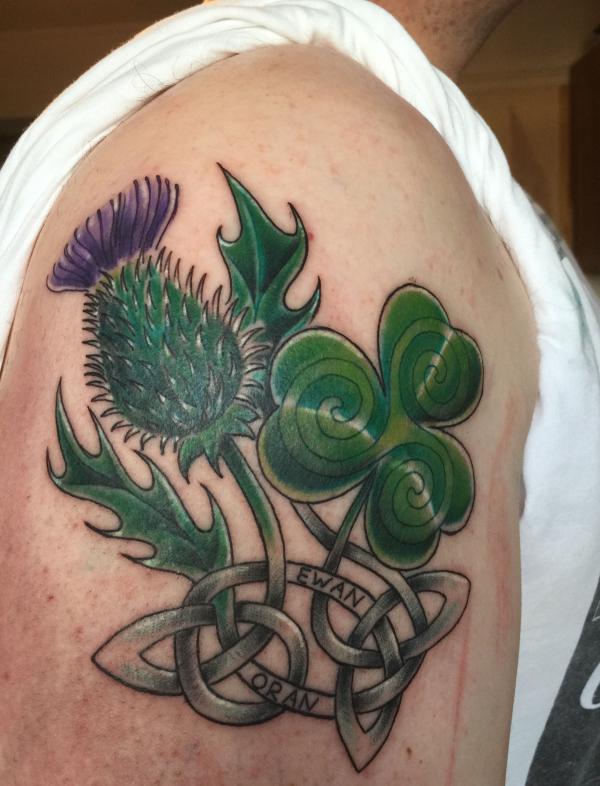 Shamrock and thistle tattoo with word Teaghlach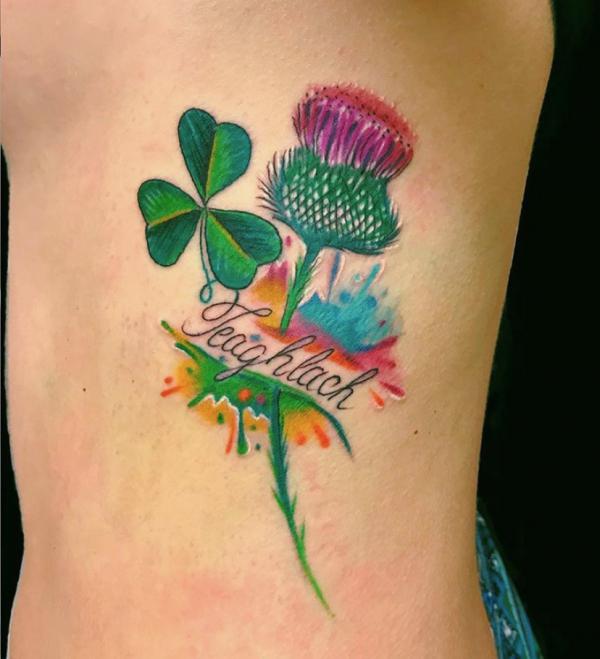 Shamrock and Thistle tattoo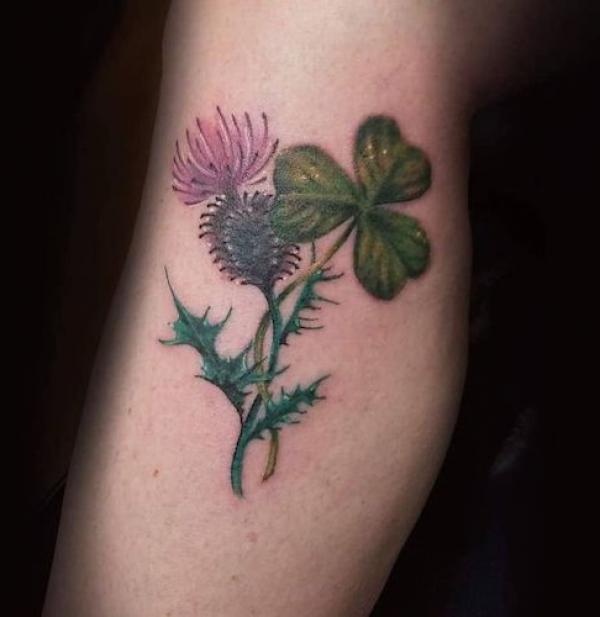 Black and grey shamrock thistle tattoo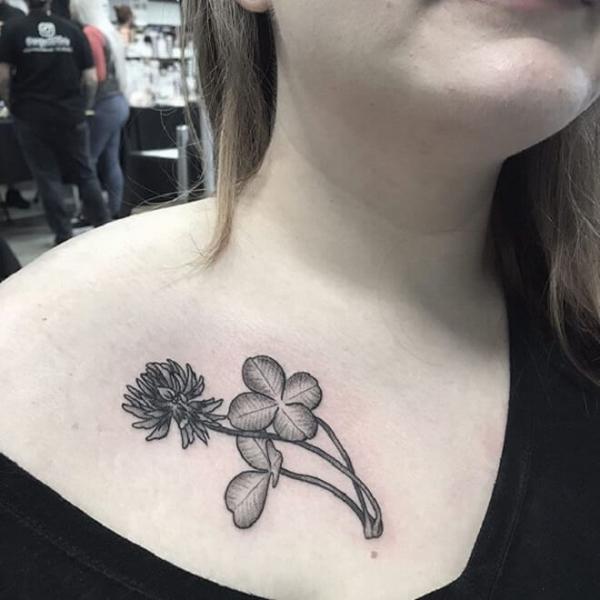 Clover Outline Tattoos
A simple clover outline can be a minimalist's dream. This design is subtle and can fit just about anywhere on your body. Consider the wrist, ankle, or behind the ear for this simple yet impactful design.
Shamrock line work tattoo on the back of neck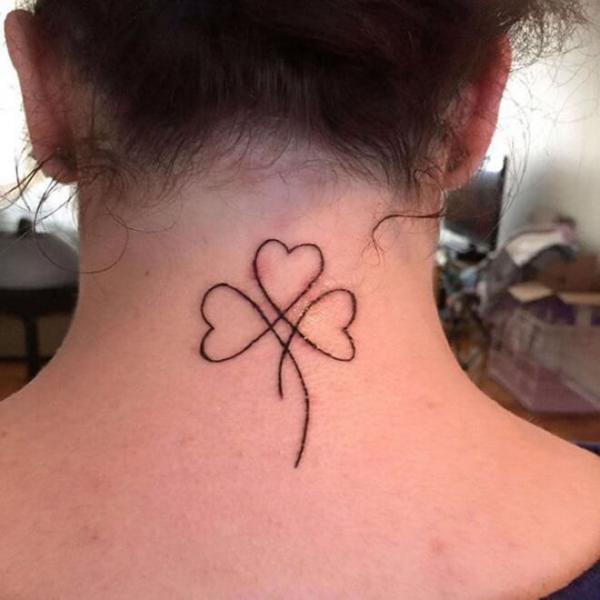 shamrock outline tattoo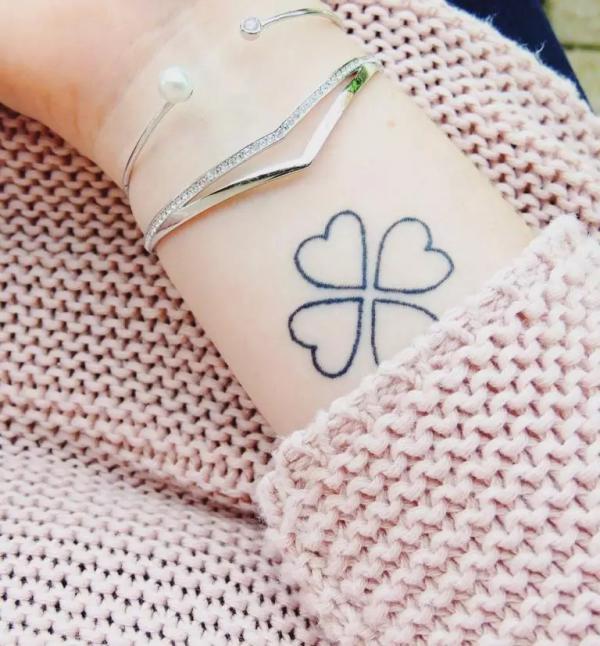 Mother and daughter clover tattoo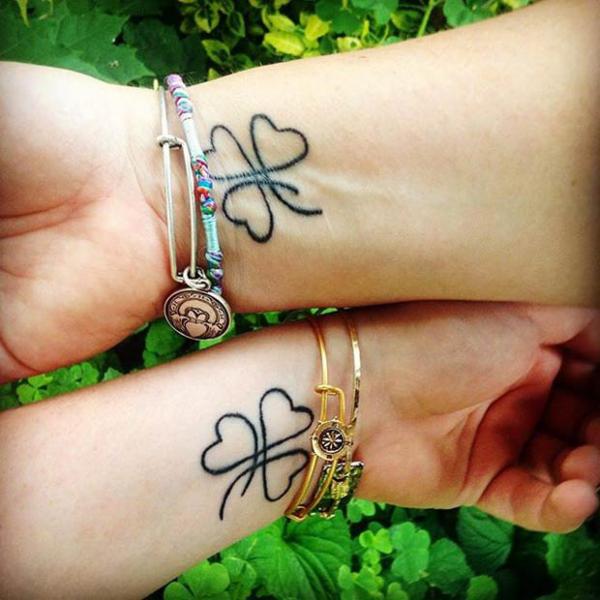 Clover and Flag Tattoos
Combining a clover with a flag can be a powerful expression of national pride. Consider the upper arm, back, or thigh for this design. The vibrant colors of the flag can make this tattoo a standout piece.
Shamrock Irish flag tattoo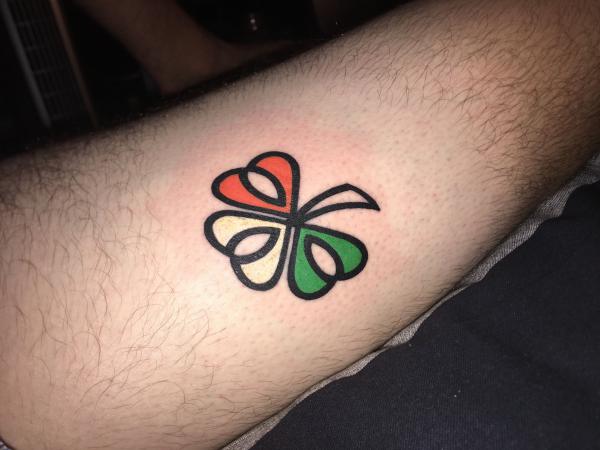 Clover and Irish flag tattoo on foot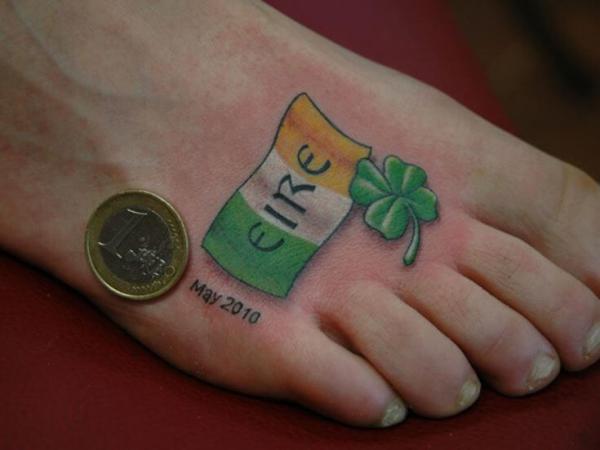 Shamrock with Irish flag tattoo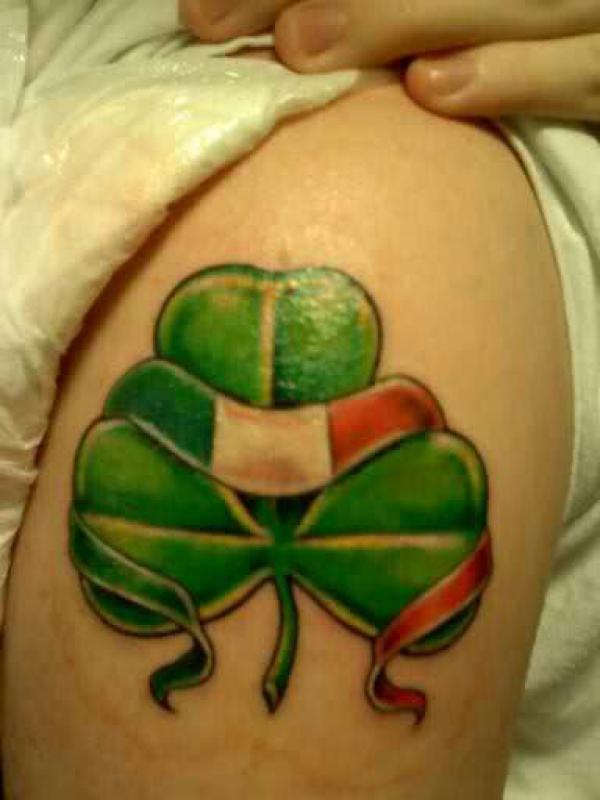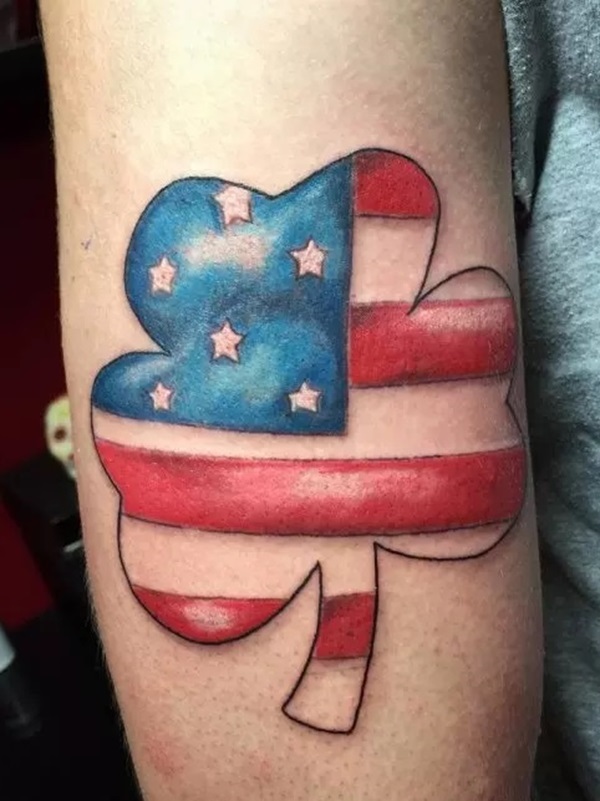 Golden Clover Tattoos
Embracing the luck of the clover with a touch of luxury, golden clover designs offer a unique and modern twist on the traditional design. The gold hue can be a symbol of wealth, prosperity, or simply a stylistic choice. This design looks stunning on various parts of the body, from the forearm to the back, adding a touch of luxury to your body art.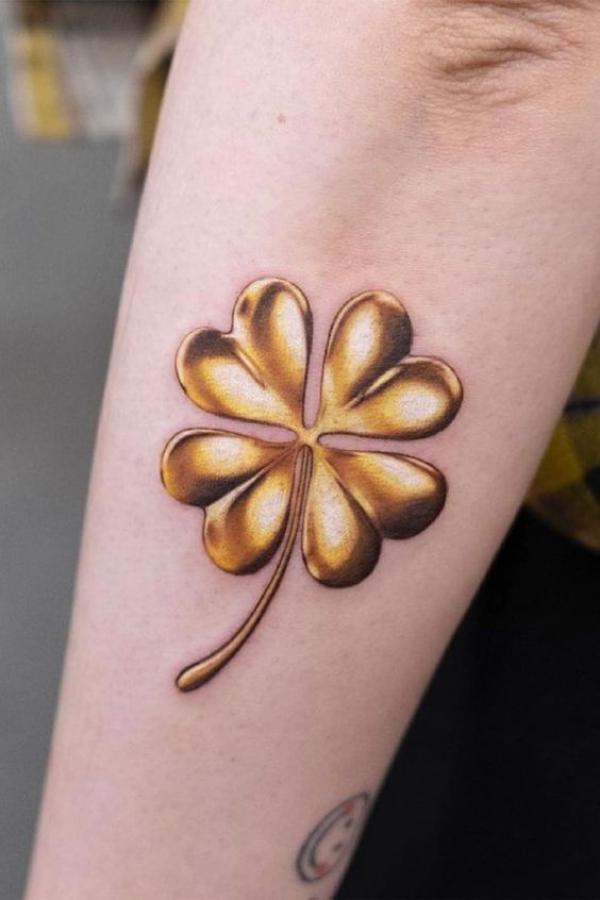 Golden four leaf clover with love petals and diamond tattoo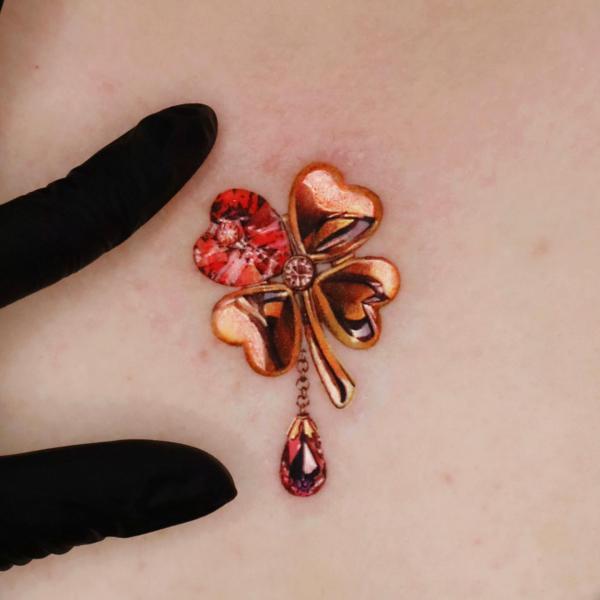 Bird and shamrock with words Make My Own Lock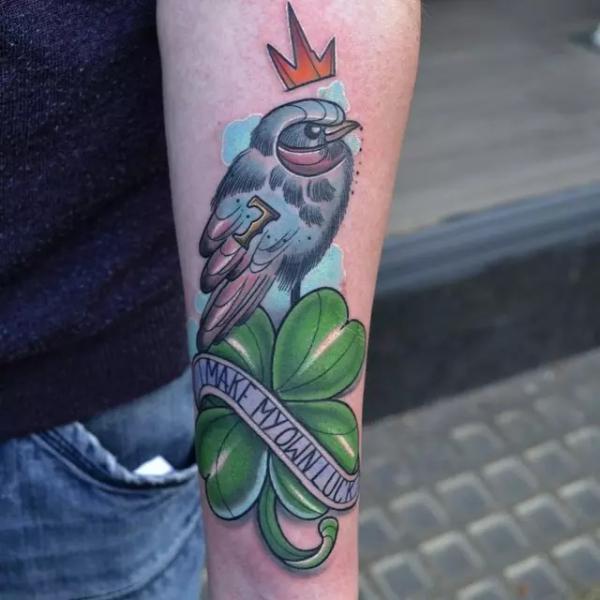 This design combines the free spirit of a bird, the luck of a shamrock, and an empowering mantra. With its multiple elements, consider a larger canvas like the back, chest, or thigh. This gives each component its due attention and allows for a full, detailed depiction.
Black and grey four leaf clover tattoo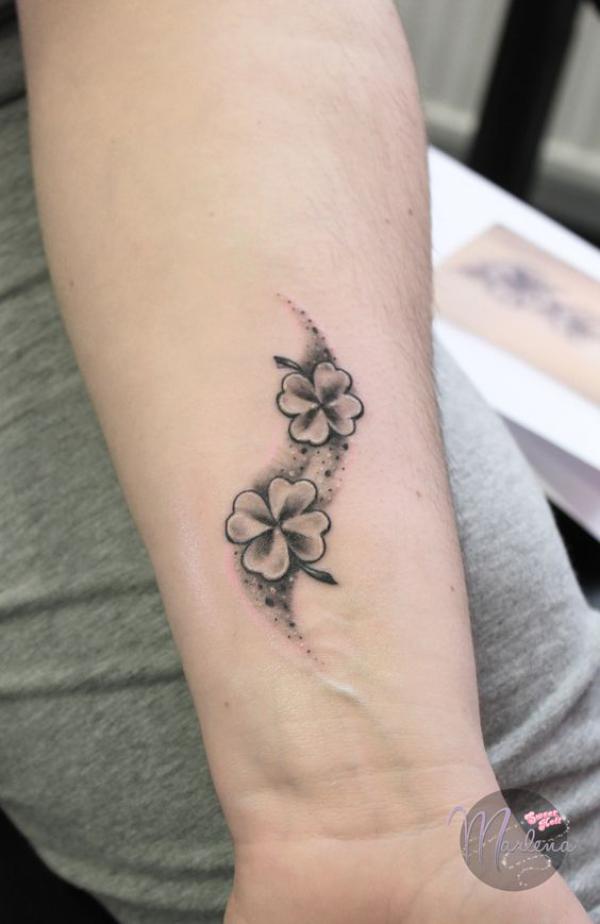 The contrast of a black and grey clover can create a striking, timeless look. The forearm, calf, or shoulder are perfect placements. These locations offer enough space for a detailed, shaded design and ensure your stunning monochromatic clover gets the visibility it deserves.
Clover tattoo with words Love Hope Faith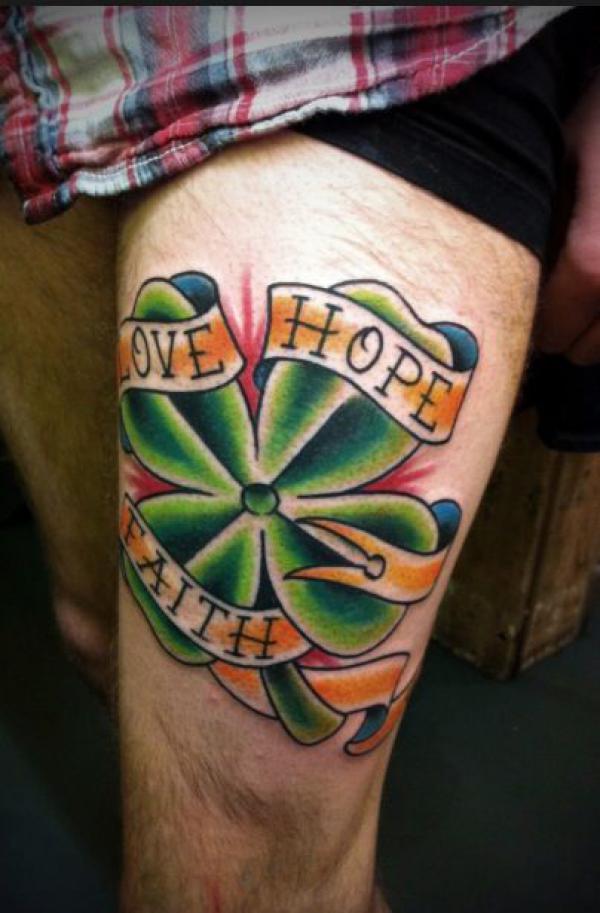 Integrating words with your clover design can add an extra layer of meaning. Whether you choose to place it along the inner wrist, forearm, or on the shoulder blade, this design is a unique way of expressing your values and carrying them with you.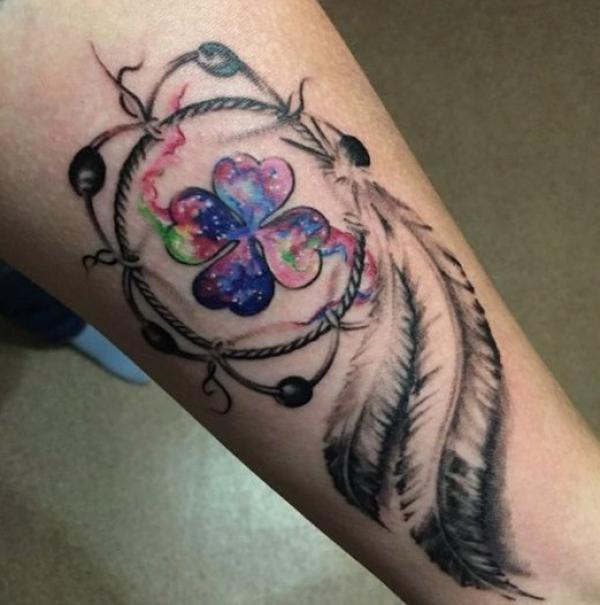 Mixing the luck of the clover with the protective symbolism of a dream catcher creates a compelling design. The back or thigh, with their ample space, are ideal for this intricate design. It invites attention and conversation, making it a memorable piece.
Green four leaf clovers tattoo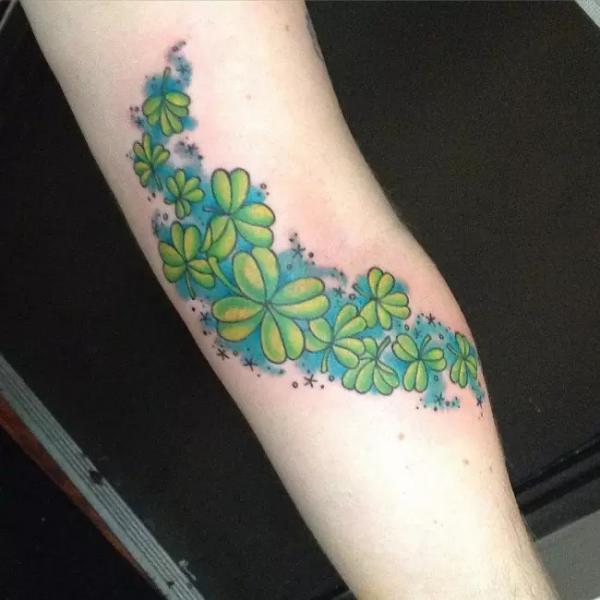 A classic green clover design is vibrant and eye-catching. Think about placing your green clover on your ankle, wrist, or behind the ear. These placements allow for a pop of color to peek through, adding a charming surprise element to your look.
Tribal four leaf clover tattoo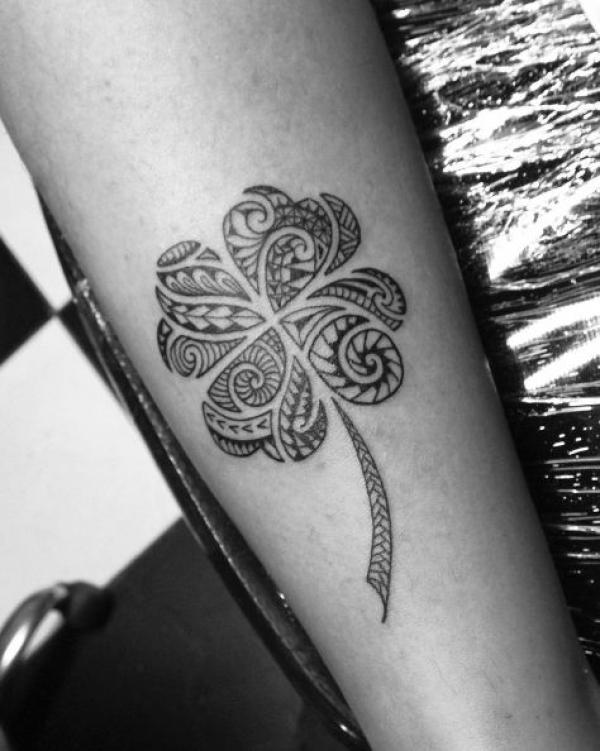 For those who enjoy a bolder aesthetic, a tribal clover design can be a perfect choice. A tribal clover design will look impressive on larger areas like the shoulder, chest, or back. These locations can accommodate the intricate linework and bold shapes common in tribal designs.
White ink four leaf clover tattoo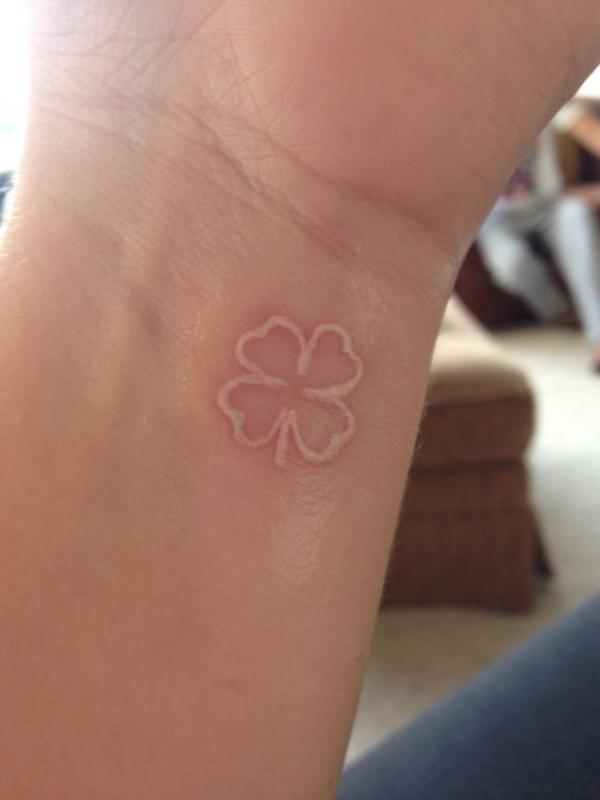 White ink tattoos offer a subtle, unique take on the traditional clover design. The inner wrist, finger, or behind the ear are perfect for showcasing this minimalistic style. The white ink gives the tattoo a barely-there look, making it a little secret you carry with you.
A small four leaf clover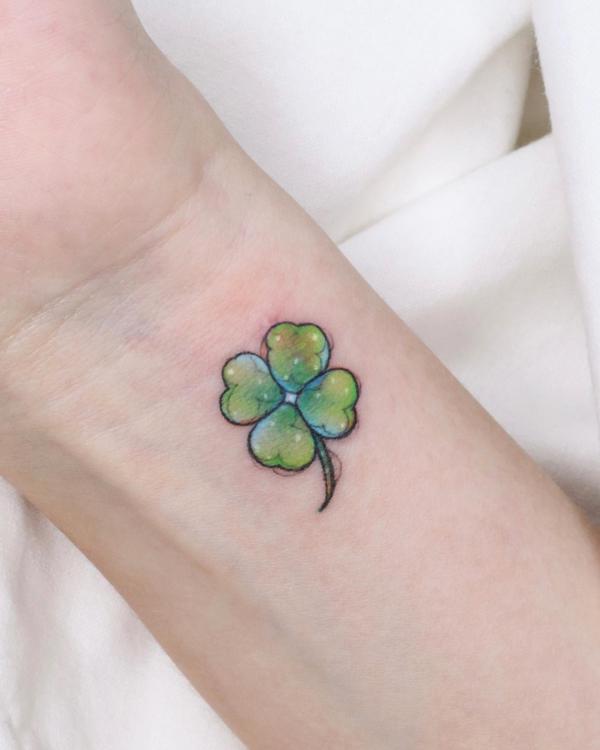 The simplicity of a small clover design shouldn't be underestimated. Ideal for first-timers or those who prefer understated designs, this tattoo can be placed virtually anywhere. The wrist, ankle, or neck are popular choices for small tattoos due to their visibility and the ability to cover them when needed.
Clover Tattoo Placement Ideas
The placement of your clover tattoo can enhance its meaning and visibility. But where should you place this symbol of serendipity? Let's dive into some of placements and explore some exciting locations.
Chest
A chest tattoo never fails to make a bold statement. It's an area large enough for detailed artistry, but intimate enough to keep personal. A clover tattoo on the chest, located near the heart, can symbolize the luck you hold close to yourself.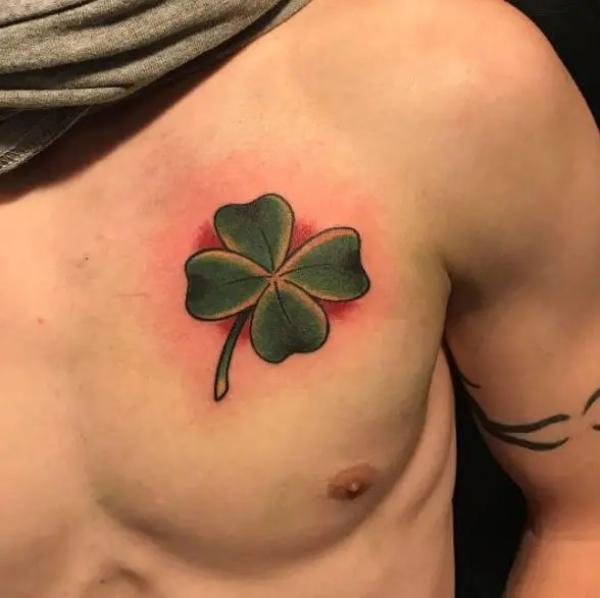 Neck
The neck is a place where a clover tattoo can truly shine. Whether you opt for a small, delicate clover at the nape or a bolder piece on the side of your neck, this location is sure to give your tattoo an elegant edge.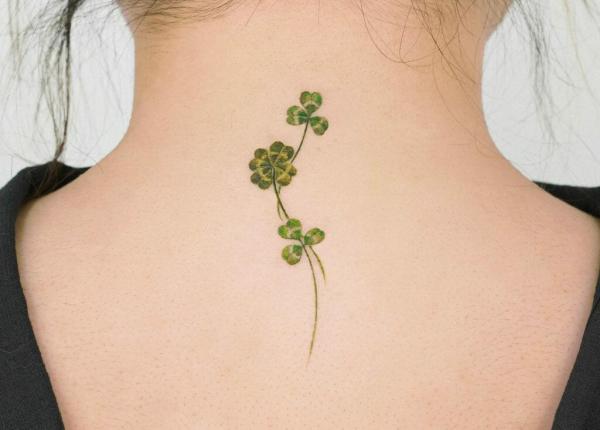 Behind the Ear
The area behind the ear is perfect for those seeking a more subtle, whimsical look. A small clover tattoo here can be a sweet secret, visible only when you choose to reveal it by pulling your hair back.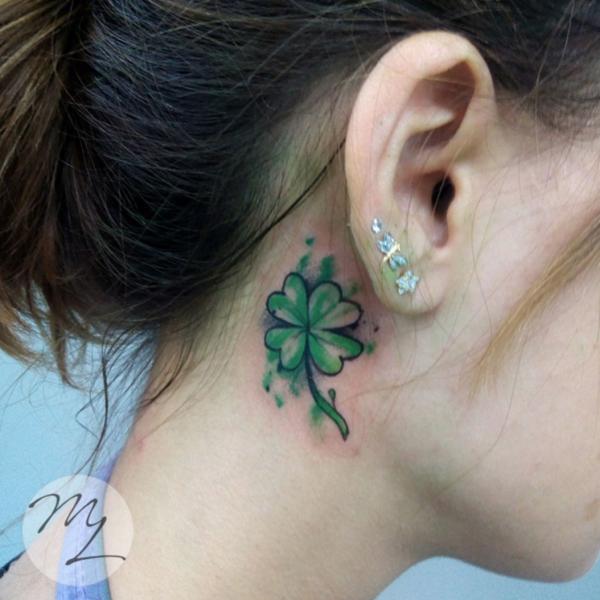 Ankle
Ankle tattoos are trendy, and a clover design fits perfectly into this category. It can be a small, simple design that adds a touch of character to your ankle or a more intricate piece that wraps around it, a lucky charm always with you on your journey.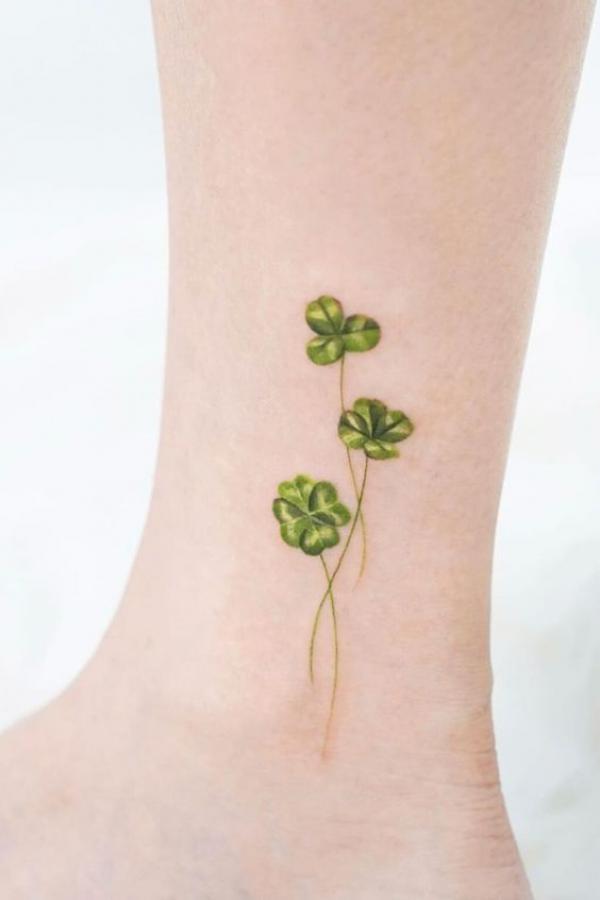 Forearm
The forearm is an excellent canvas for a clover tattoo. Visible and bold, it's a place where your tattoo can truly make a statement. A single clover or a string of them winding around your forearm can be a constant reminder of your good fortune.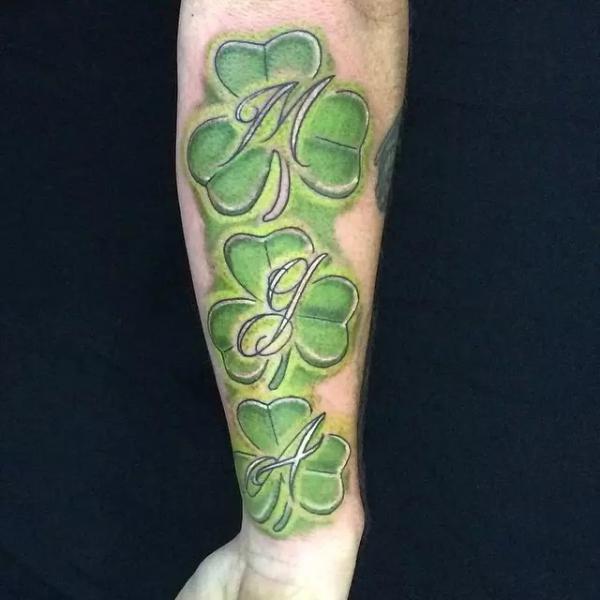 Clavicle
The clavicle, or collarbone, is a fashionable and chic location for a clover tattoo. A small, delicate clover here can add an element of intrigue. Plus, it looks incredibly stylish peeking out from under a collar or off-shoulder top.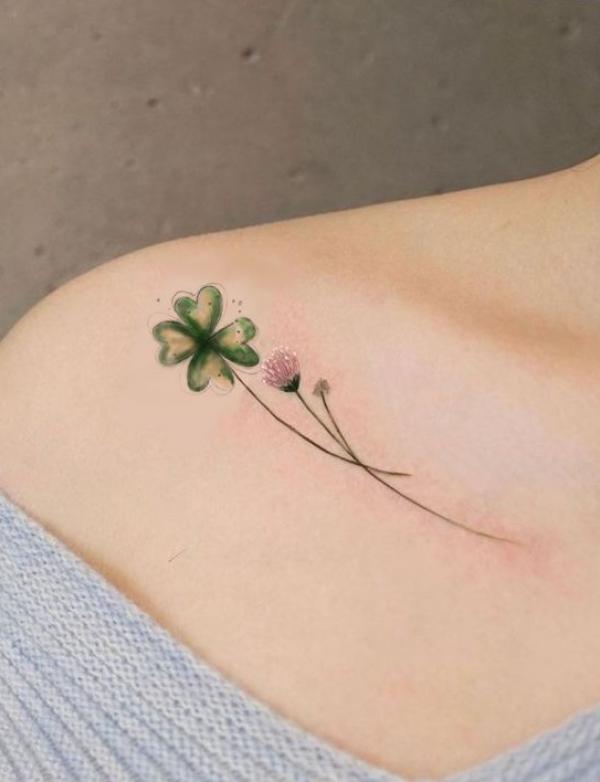 Finger
Finger tattoos have a unique appeal. They're subtle, yet visible, making them perfect for small designs like a clover. Whether on the inside of your finger or adorned on the side, a clover tattoo here is a low-key way to carry your luck with you.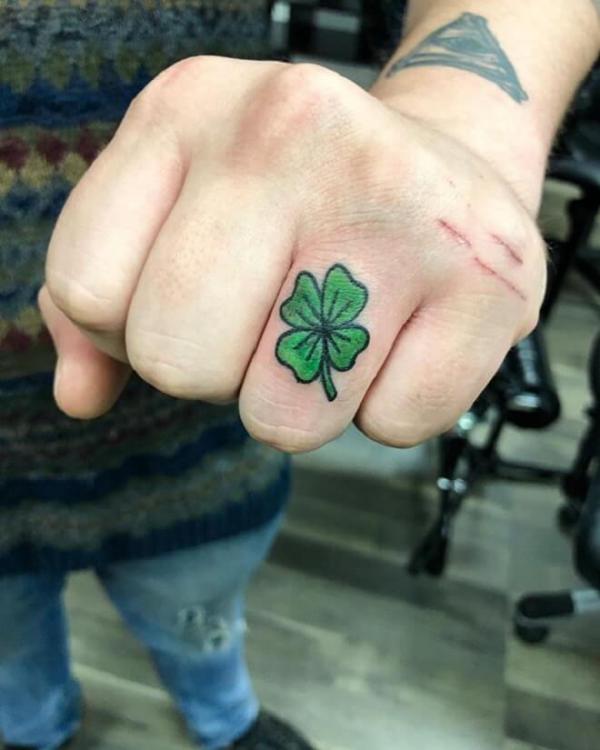 Wrist
The wrist is a popular location for small, meaningful tattoos. A clover design here can serve as a constant reminder of the good luck charm you carry with you. It's a visible location, great for those who want to show off their ink regularly.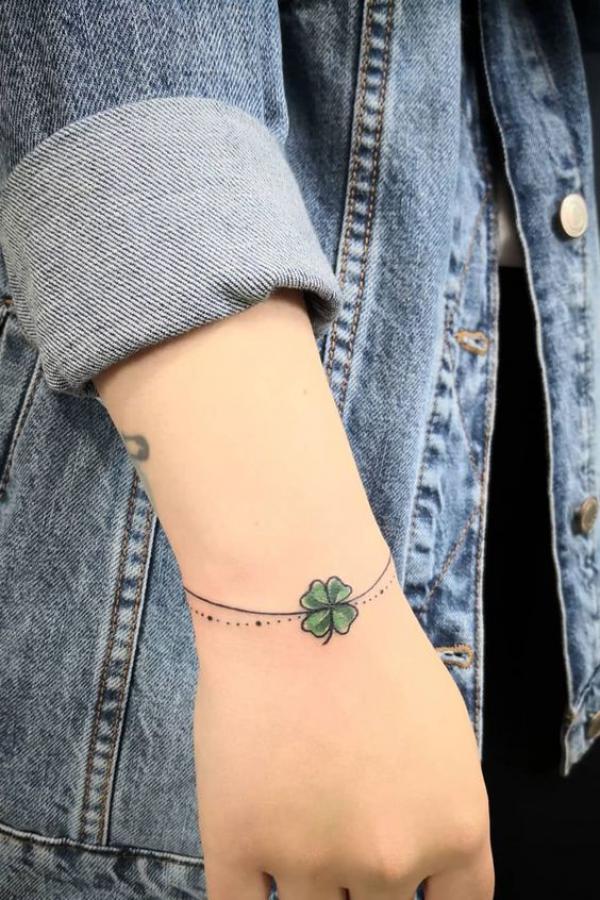 Shoulder
A clover tattoo on the shoulder gives you ample space for a larger, more detailed design. Whether it's a single clover or a cluster, this placement can add a touch of charm to your upper body.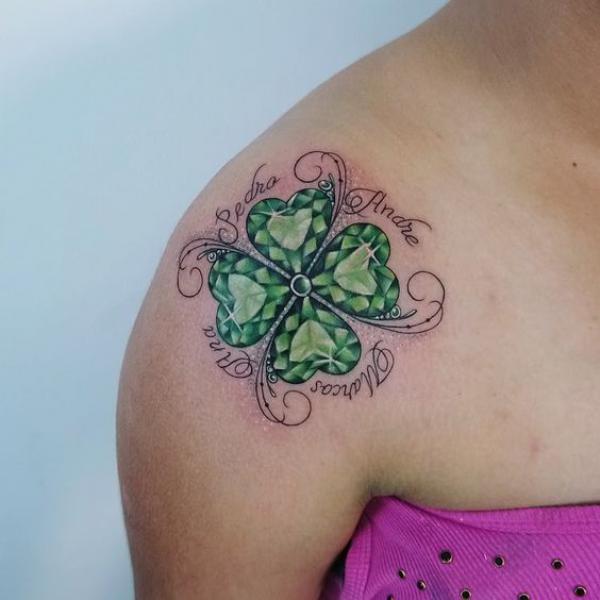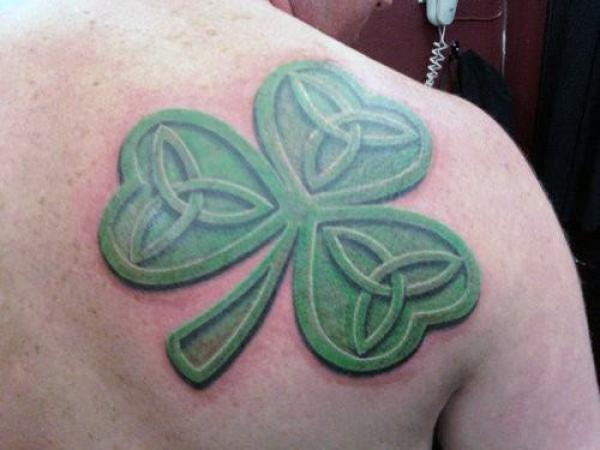 Calf
The calf is a striking location for a clover tattoo. With plenty of space for a larger design, a clover on the calf can be a bold way to express your love for this lucky symbol.
Conclusion
In conclusion, a clover tattoo is a versatile and meaningful choice for your next piece of body art. Whether you're drawn to its symbolism of luck, its Irish roots, or the personal meanings you ascribe to it, a clover tattoo can be a delightful and charming addition to your tattoo collection. Remember, the most important aspect of any tattoo is that it resonates with you and your personal journey. Happy inking!