Flower tattoos are always favorite tattoo design ideas for women as most of them are the symbol of feminine beauty. As a flower with strong oriental cultural significance, peony flowers often appear in the tattoo designs of Chinese style and Japanese tattoos. In modern designs, peony tattoos are mostly portrayed in beautiful styles and popular in women's tattoos. The peony is such amazing flower in the culture of Japan and China, peony tattoos are always meaningful in their designs.
Meanings of Peony in Different Culture
The English word, peony came from the word Paeon (or Paeeon). In Greek mythology, Paeon was the physician of the Olympian gods and a student of Asclepius, the Greek god of medicine and healing. Asclepius was jealous of the popularity of his student; Zeus, the god of sky and thunder and the ruler of the Olympians of Mount Olympus, saved Paeon from the wrath of Asclepius by turning him into the peony flower.
With its large, elegant, broad-spreading petals and popularity in the culture and daily life, the peony has long been considered as the floral symbol of China and "the king of flowers". A peony represents wealth and honor. It also embodies the omen of love and prosperity. A lot of places, poets, songs are named with the prefix of peony, like Peony River, a city in the north of China. Peonies are also popular elements in the traditional art works and crafts, such as embroidery and porcelain. During the Qing Dynasty of China, the government appointed Paeonia suffruticosa as the national flower in 1903. Although it lost the status with the change of the government, there is still debate in China on whether to re-grant it the title or not.
In traditional Japanese tattoo, the peony flower is called botan. The traditional motif kara-jishi, a Japanese mythological animal is almost always paired with botans, depicted in a masculine devil-may-care style rather than a feminine quality. This is rare case a flower tattoo exclusively representing the quality of men.
Although peonies are cultivated in many colours, white, red, yellow and purple, the peony tattoos are often depicted in deep red color or dark color. Most of them are feminine designs inked on sleeves, rib or back, etc.
Variety of Peony Tattoo Designs
Black and grey peony thigh tattoo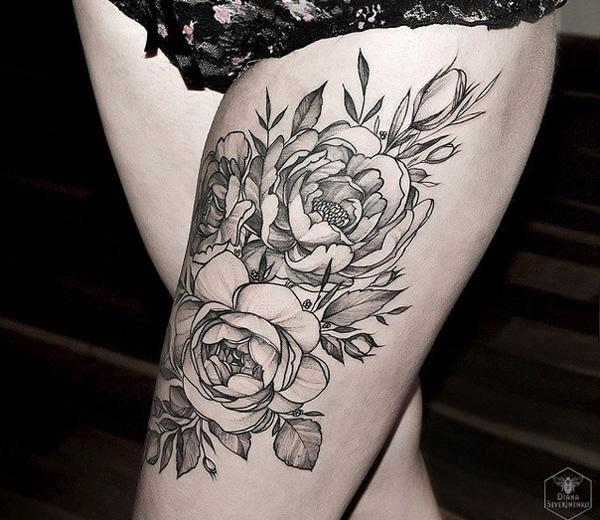 Tattooed women with a red peony tatt on shoulder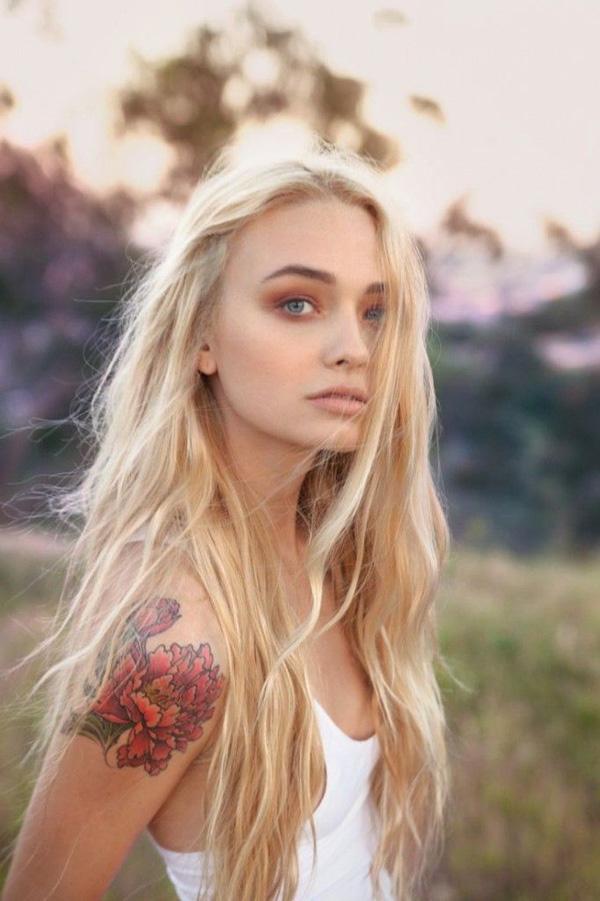 The red peony with green levies looks cute – a bold idea for a girl or woman for her first tattoo.
Black and white peony tattoo on thigh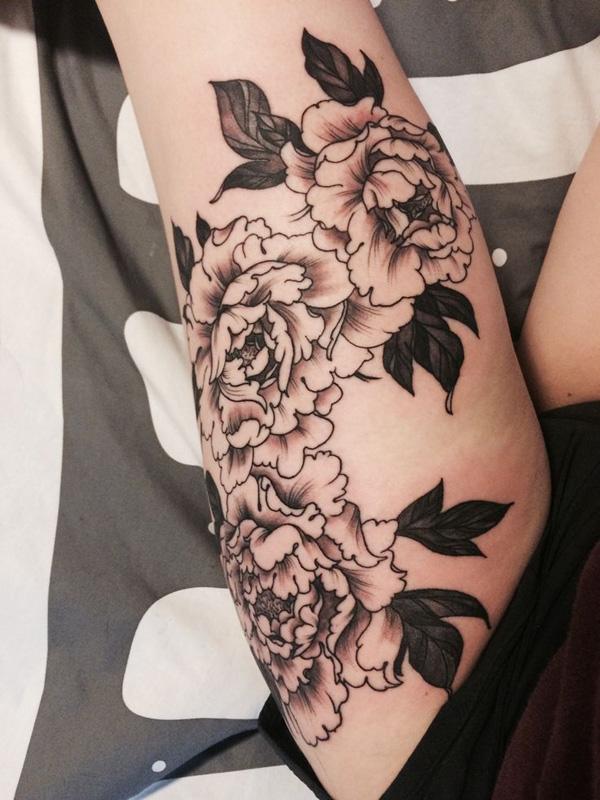 The deep colored peony tattoo is the signage of saturated love. A charming and sexy thigh tattoo.
Vibrant Peony with feathers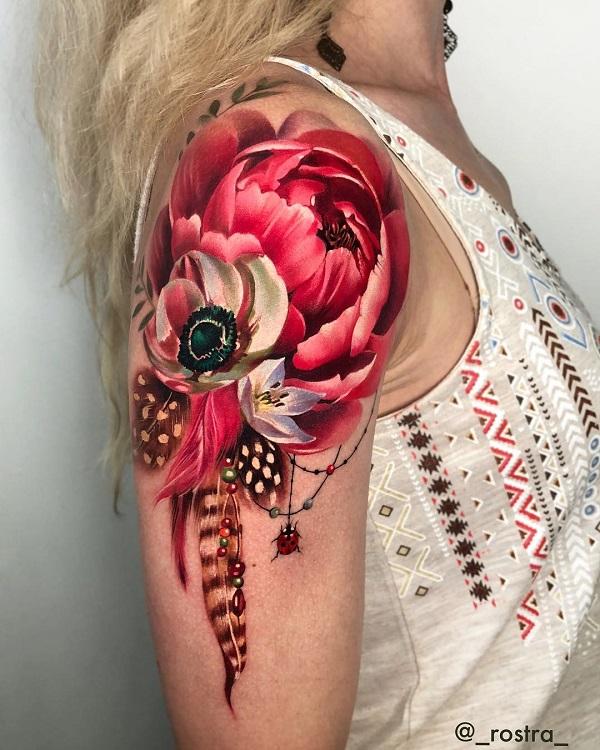 Peony with feathers is a popular tattoo idea among women. The colorful peony, symbolizing prosperity and honor, is beautifully accompanied by delicate feathers, adding a touch of softness and freedom. This design fuses natural elements to create an artwork that embodies strength, femininity, and an adventurous spirit.
Watercolor peony shoulder blade tattoo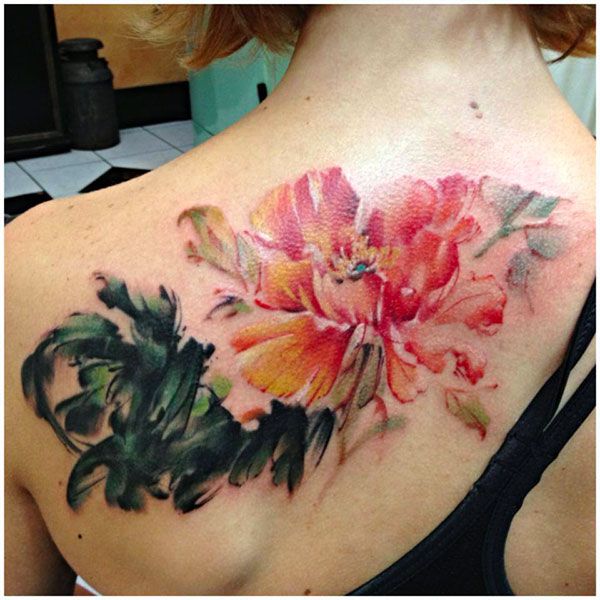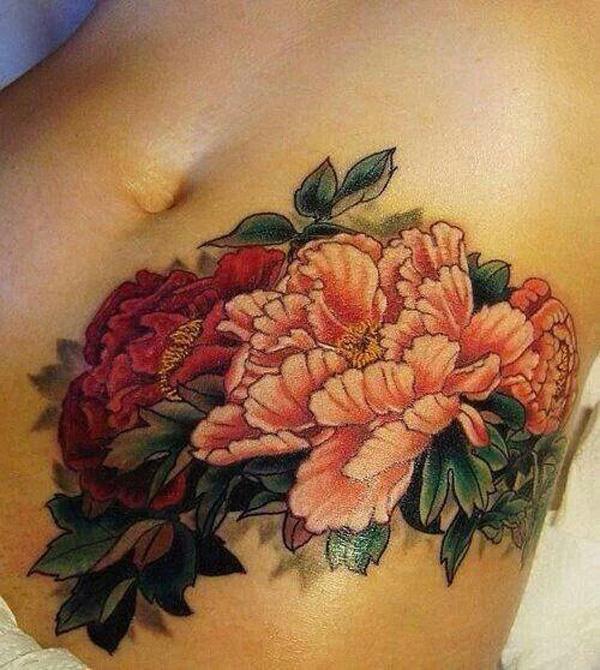 The colorful tattoo is rendered in realistic style. The vibrant color is beautiful and a symbol of prosperity. You never regret to have a tattoo by an excellent artist.
Black and white peony rib tattoo. "Rose without thorns".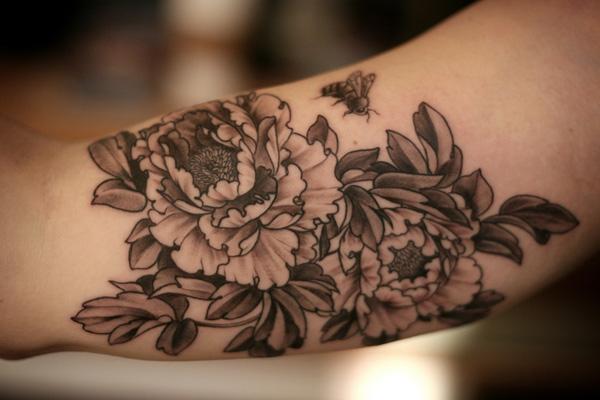 Peony and bee

This black and grey tattoo design features a peony and a bee on the upper arm. The monochromatic scheme reflects a timeless elegance, while the interaction between the peony and the bee tells a story of symbiosis and harmony in nature. The design is a beautiful mix of strength and softness, embodying a balance that's visually captivating and deeply symbolic.
A Red Peony between two black and grey ones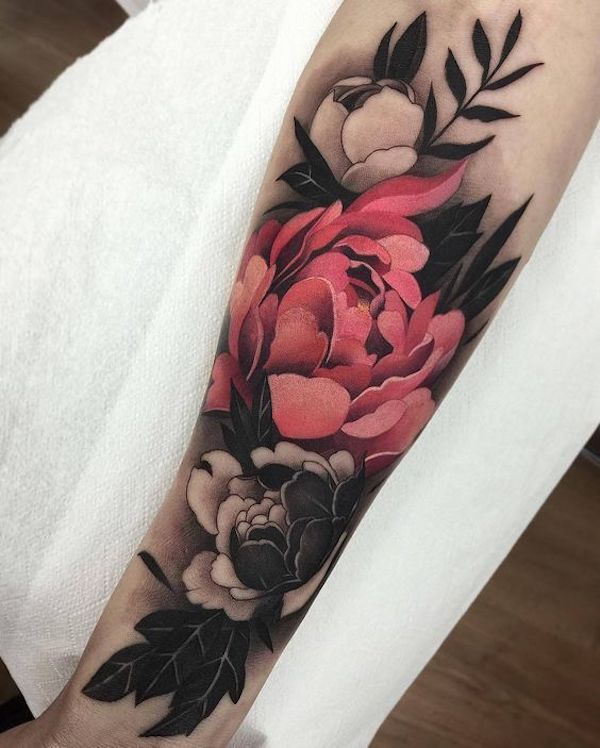 Peony flower outline on shoulder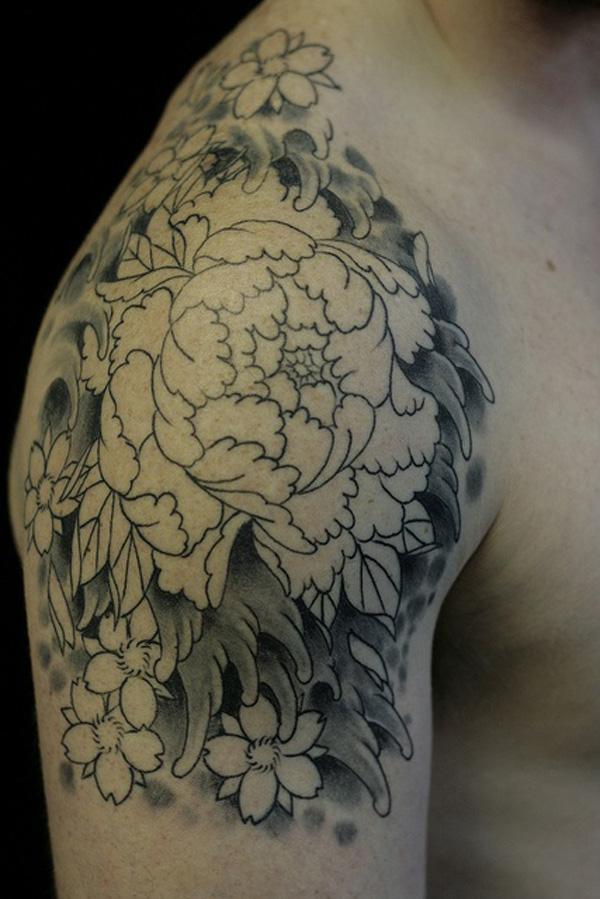 A bird perched on a branch of peony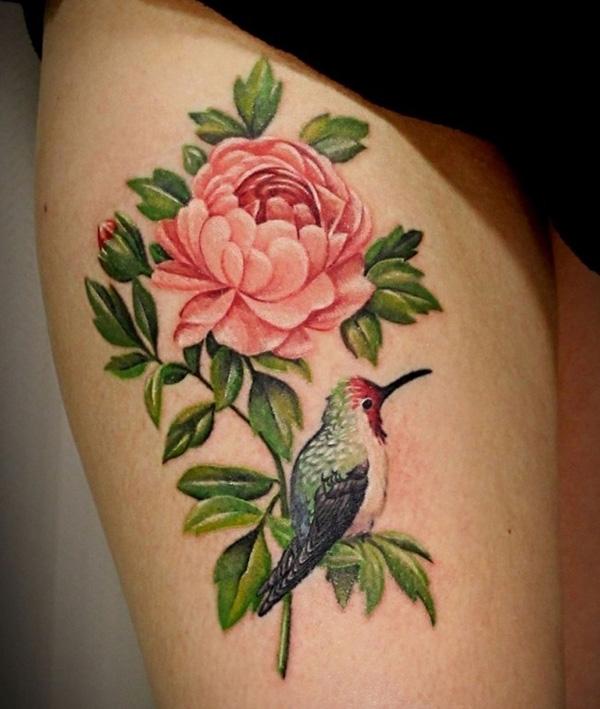 Peony and daisy outline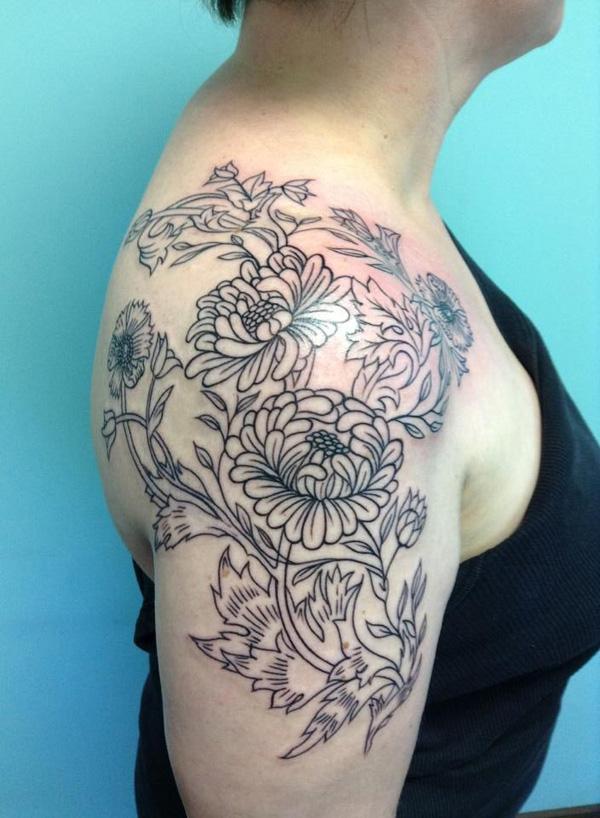 Colorful peonies on branches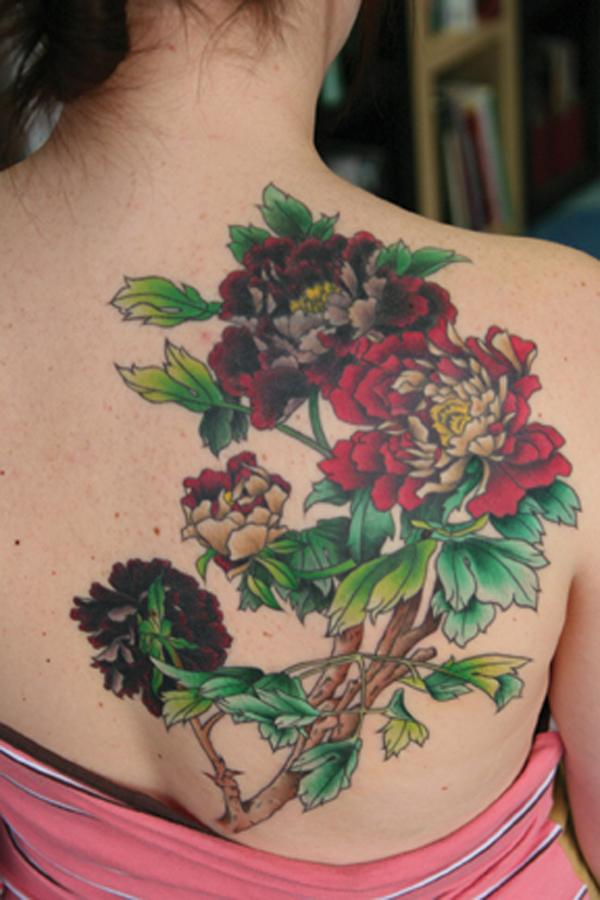 A single peony tattoo on shoulder blade in black and white style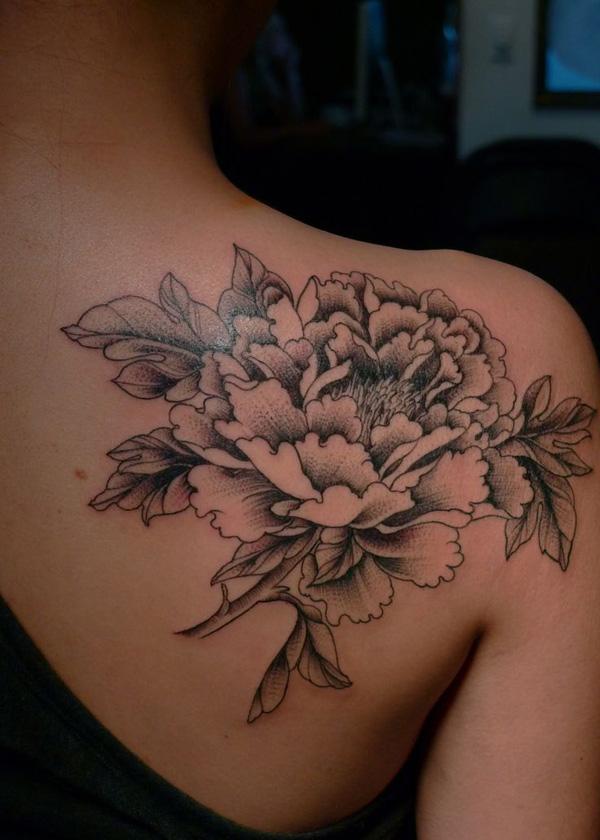 This tattoo design features a single peony on the shoulder blade, rendered in a timeless black and white style. The monochromatic palette lends a classic, understated elegance to the design, while the intricate detailing of the peony showcases an impressive artistic skill. This tattoo perfectly encapsulates beauty, fragility, and resilience, making it a truly alluring piece of body art.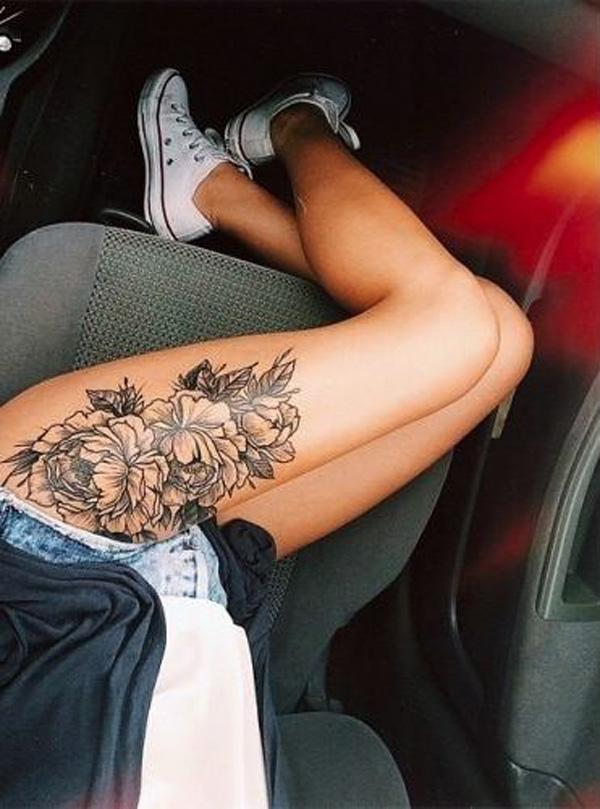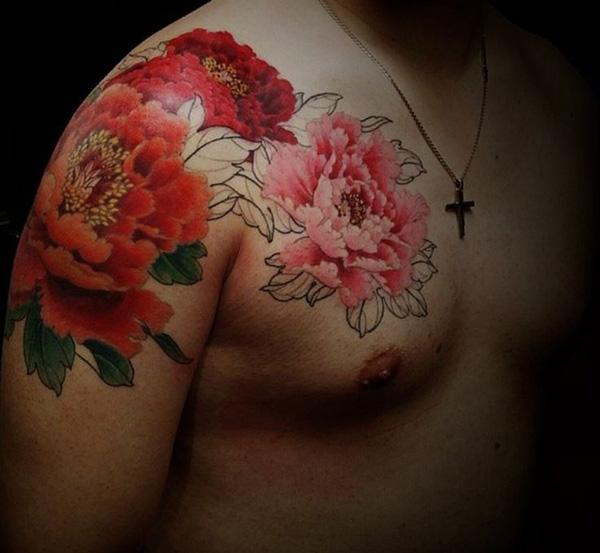 Peonies and a bird with bracelet in its beak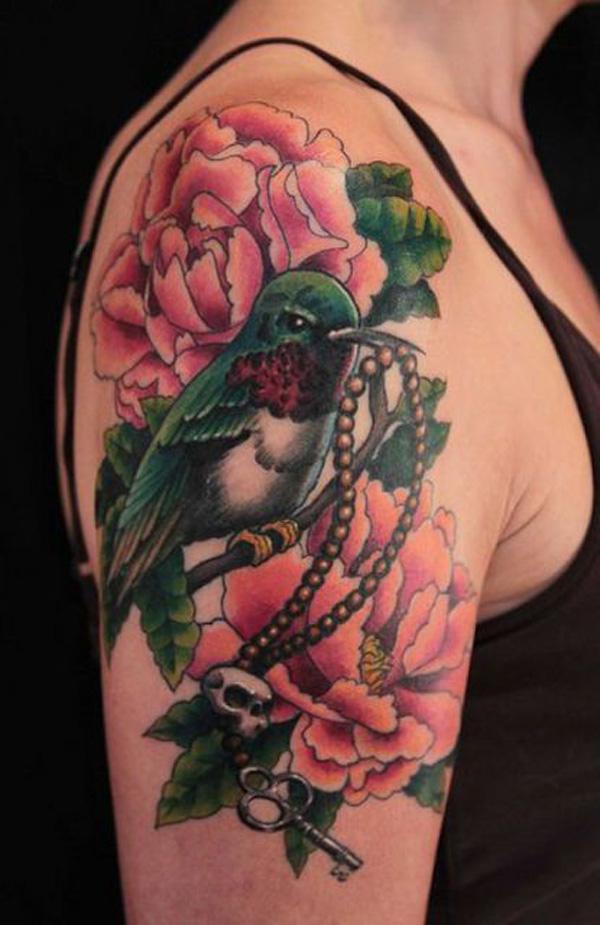 Purple and red peonies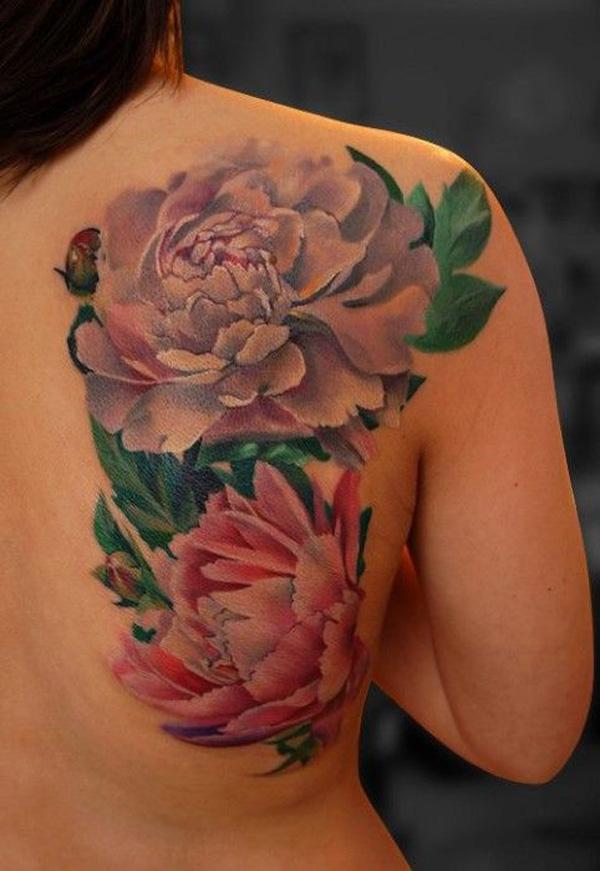 Artistic rendering of peony flowers of the back tattoo. I almost took it as an oil painting at the first glance.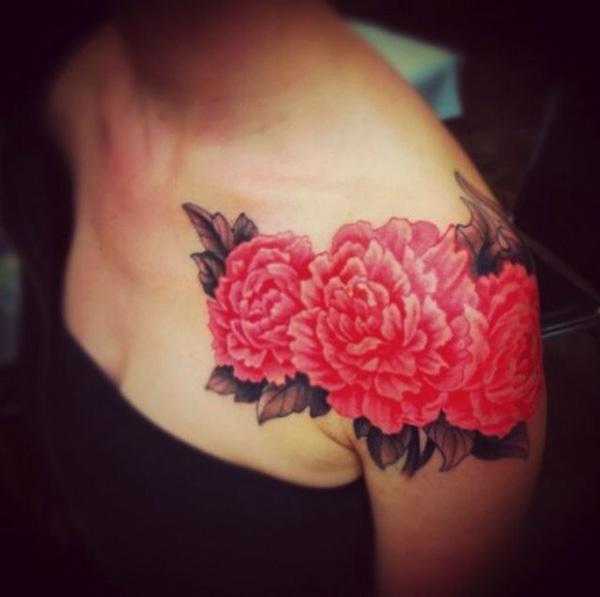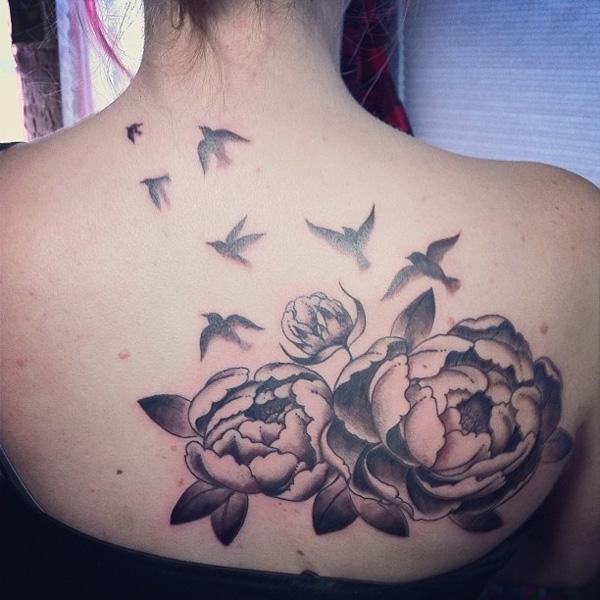 Traditional Japanese peony sleeve tattoo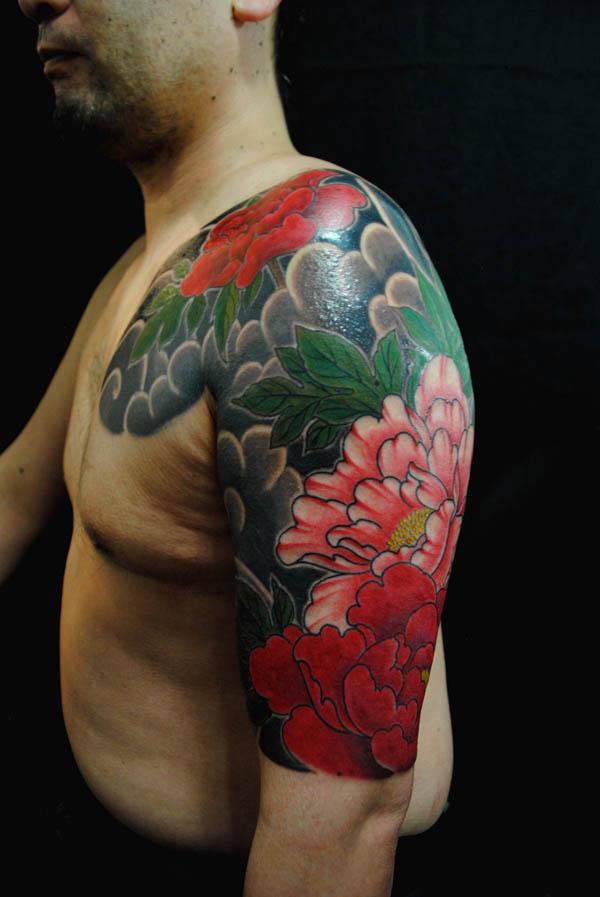 Masculine peony flowers tattoo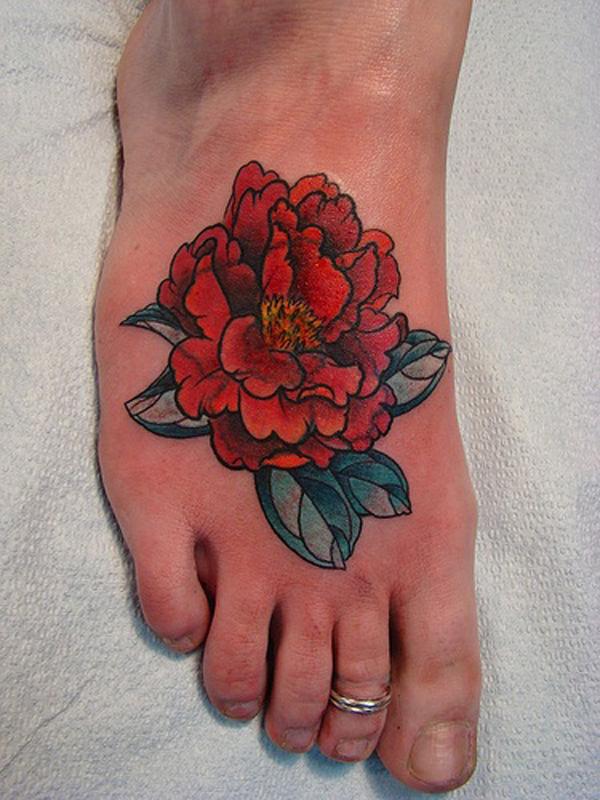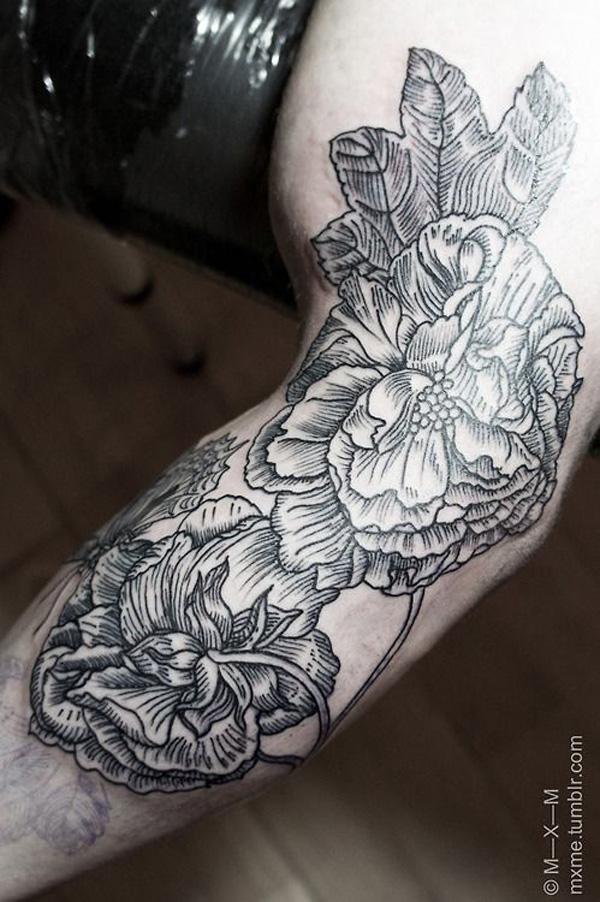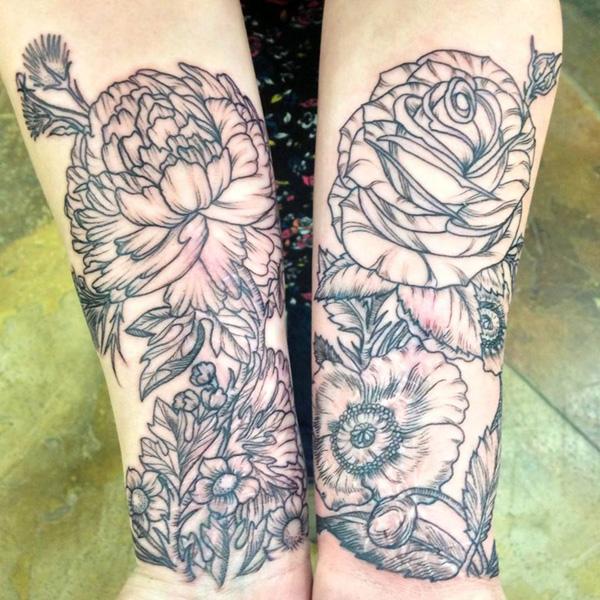 Butterfly and peony low back tattoo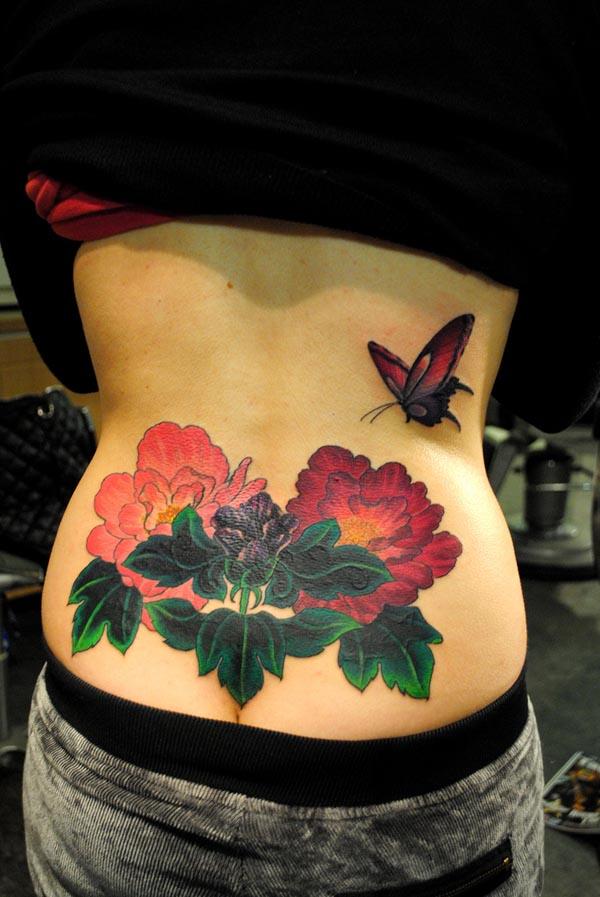 This low back tattoo showcases two vibrant red peonies, surrounded by lush green leaves. Beautifully positioned above these blossoms, a butterfly is captured mid-flight, adding a sense of whimsy and lightness to the striking botanical design.
A serpent slithering through pink and violet peonies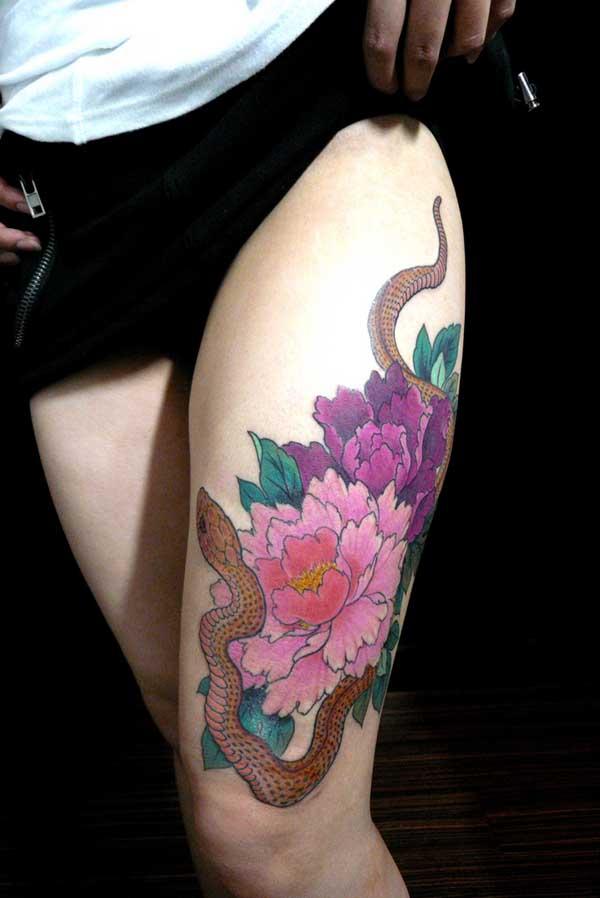 This tattoo design intricately portrays a serpent slithering through a bed of pink and violet peonies. The juxtaposition of the soft, delicate flowers against the fierce and agile serpent creates a compelling visual narrative, symbolizing the delicate balance between beauty and danger, gentleness and power, ultimately manifesting as a masterpiece of body art.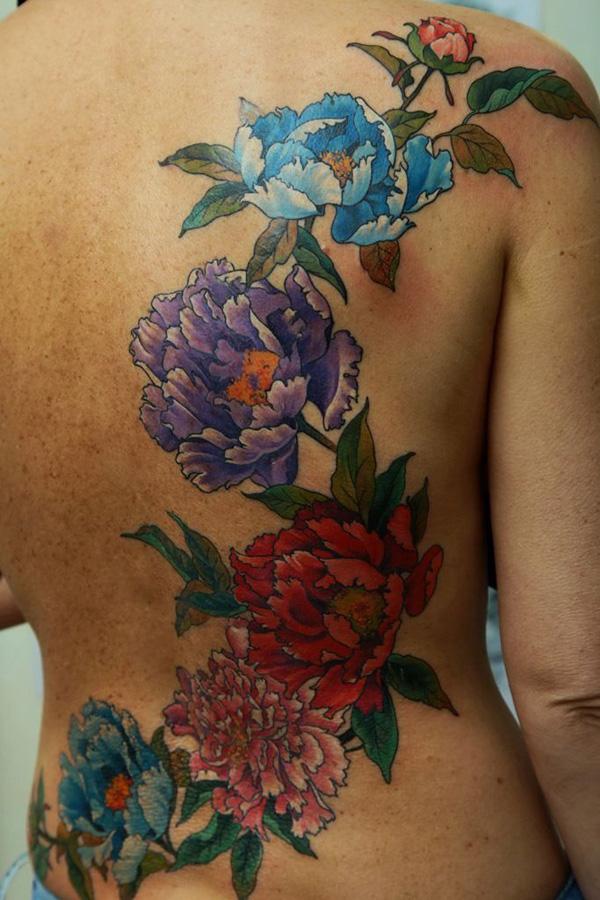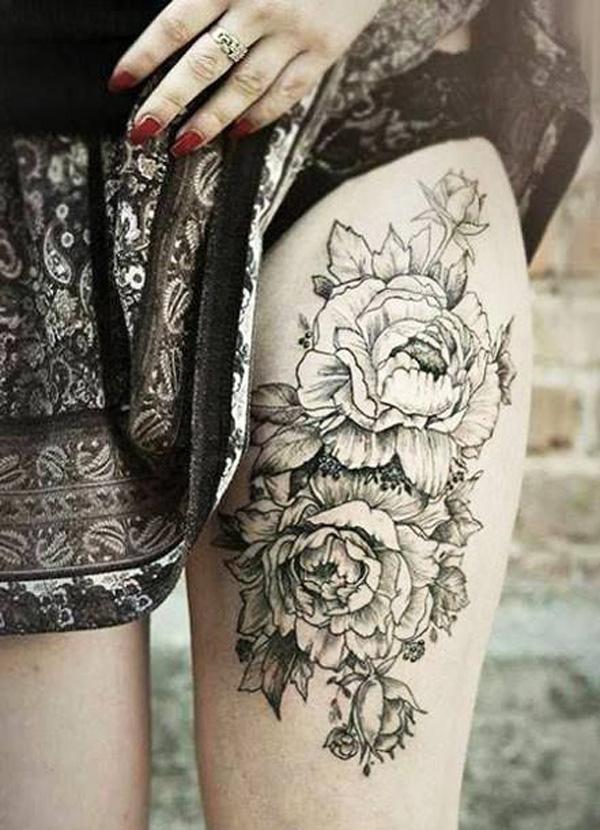 Peony tattoo on thigh tattoo. Love the contrast between the skirt and tattoo.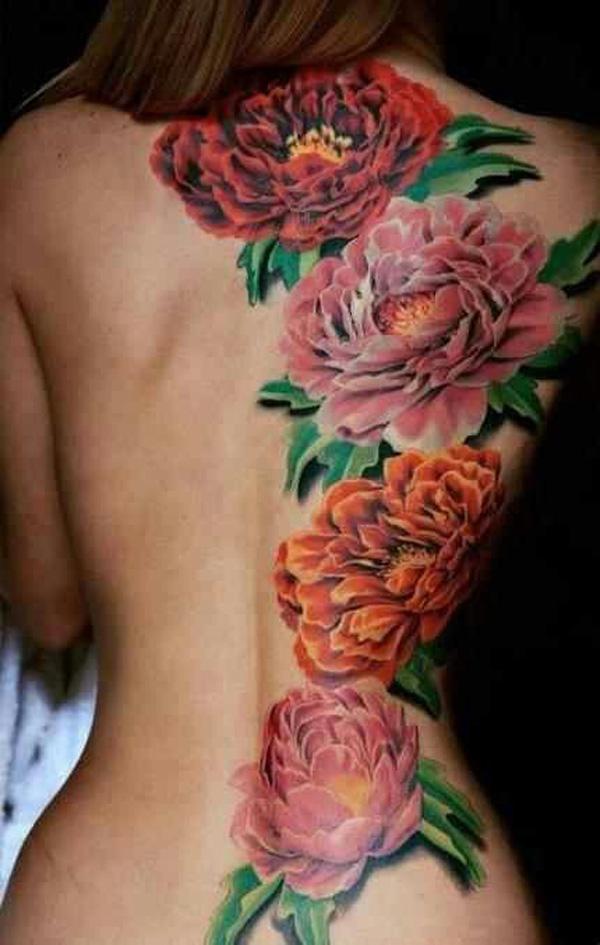 Decorate your body with the vibrant peony tattoos.
Peony flower with bud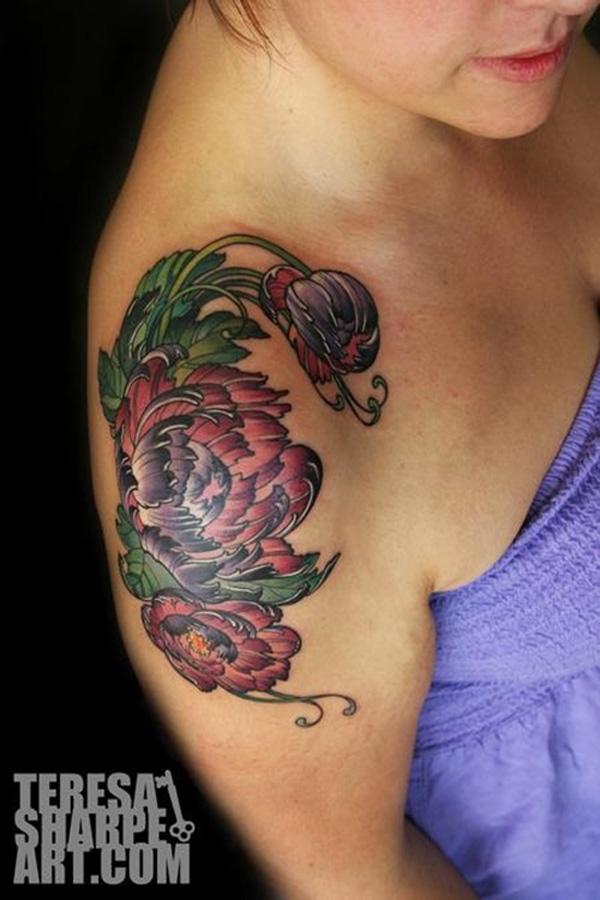 Dark ink peony on head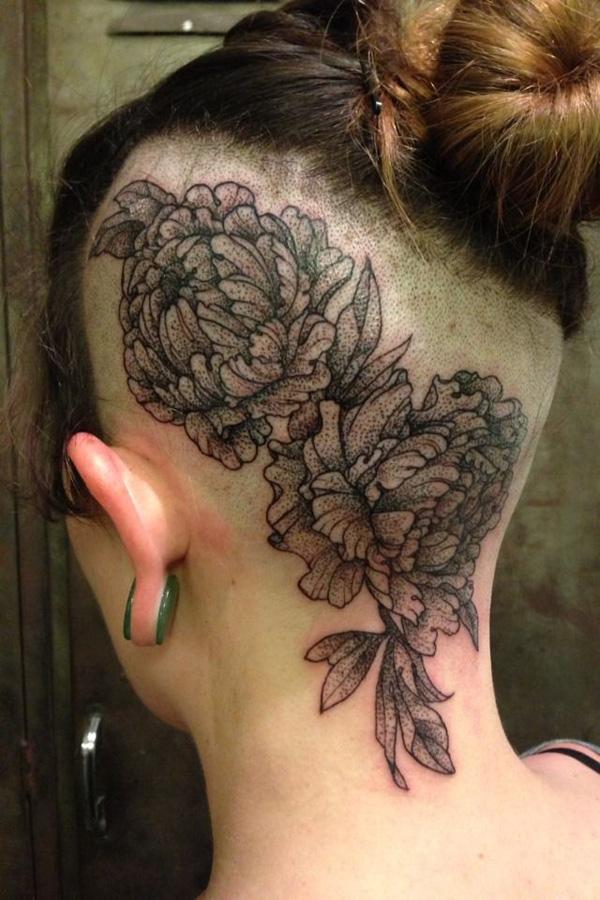 This audacious design features a dark ink peony on the head, a bold statement of individuality and strength. The peony, rendered in deep, rich tones, exudes a sense of mystery and allure. Despite its placement, the design maintains an essence of elegance, symbolizing resilience and evoking a unique artistic charm.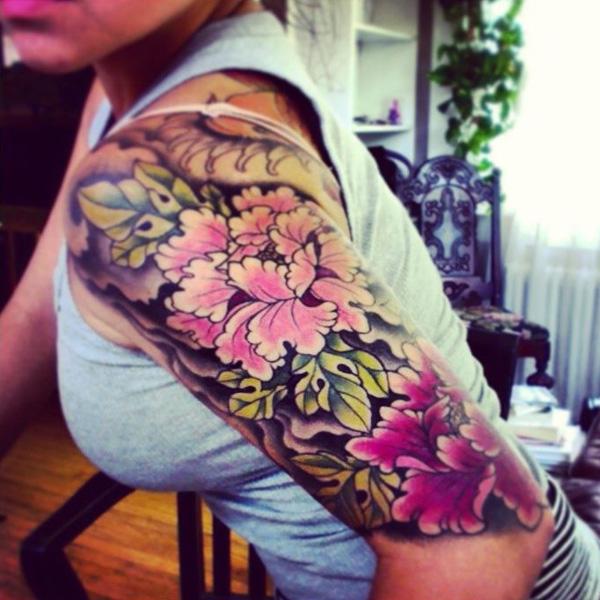 A single purple peony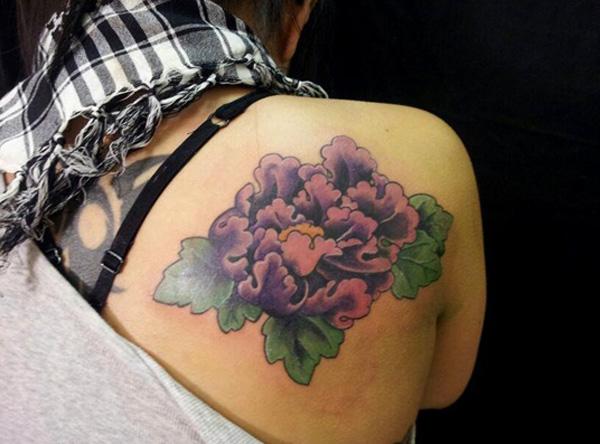 Blue and purple peonies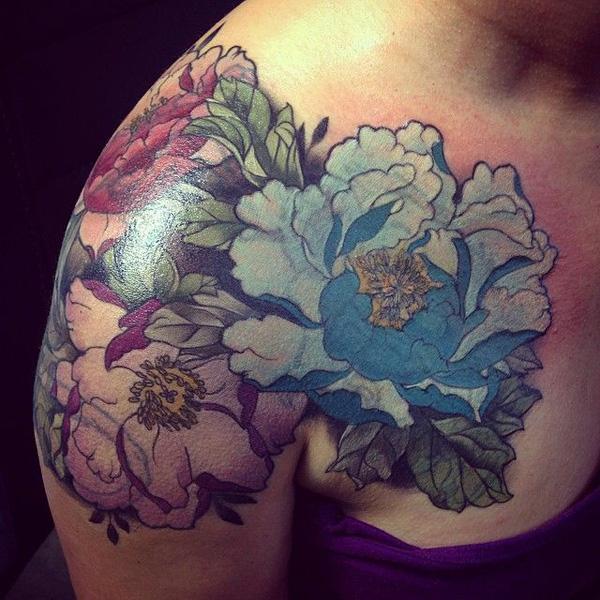 Black and grey peony flower on shoulder blade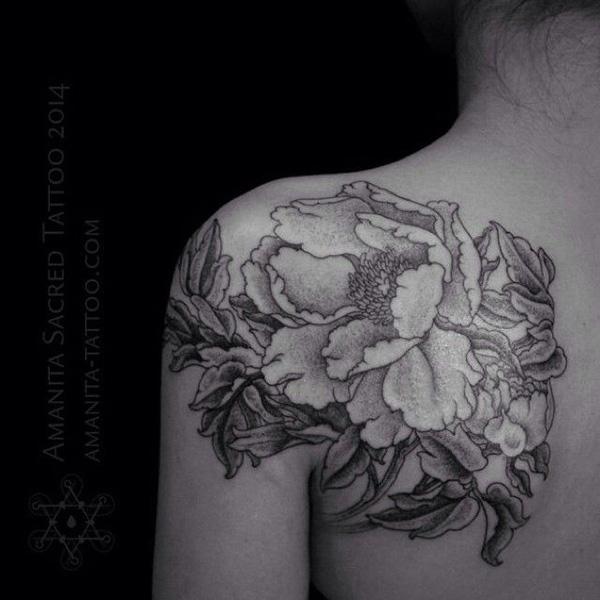 Japanese peony upper arm tattoo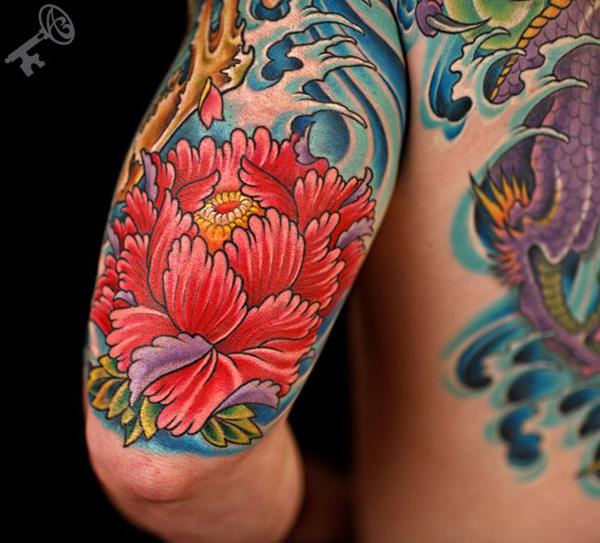 The Japanese peony design reveals a vibrant red peony, depicted as if floating in water. This design combines traditional Japanese aesthetics with the deeply symbolic peony, embodying notions of prosperity and bravery. The water element adds a dynamic touch, suggesting adaptability and flow, resulting in a captivating and deeply meaningful tattoo.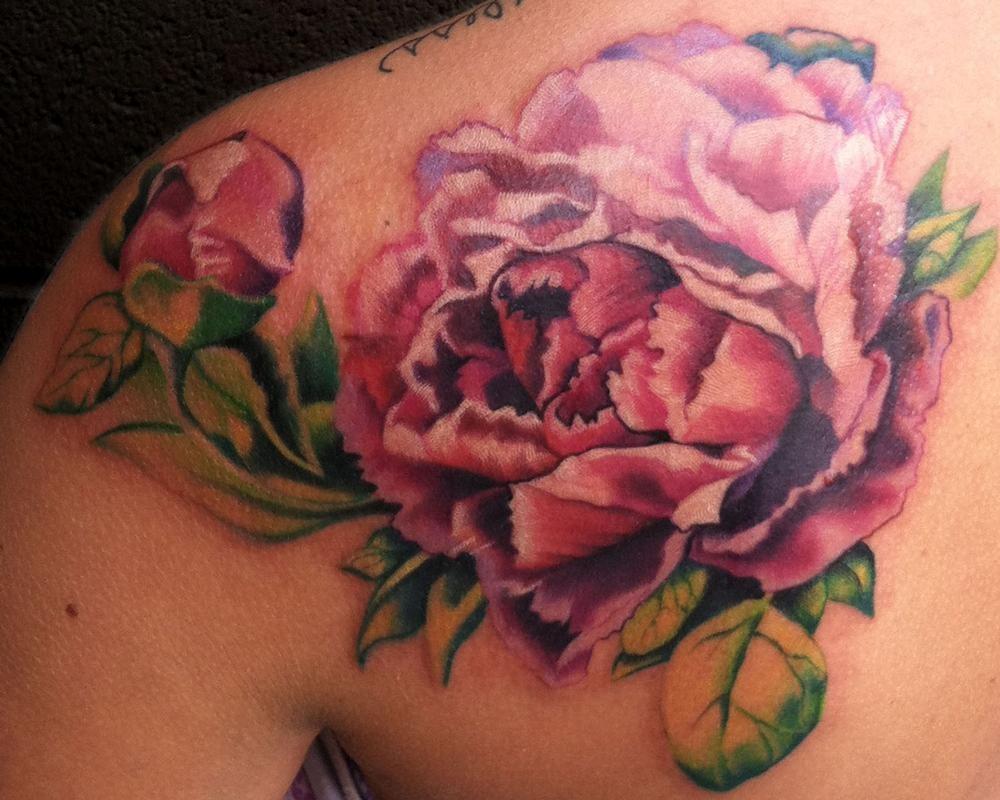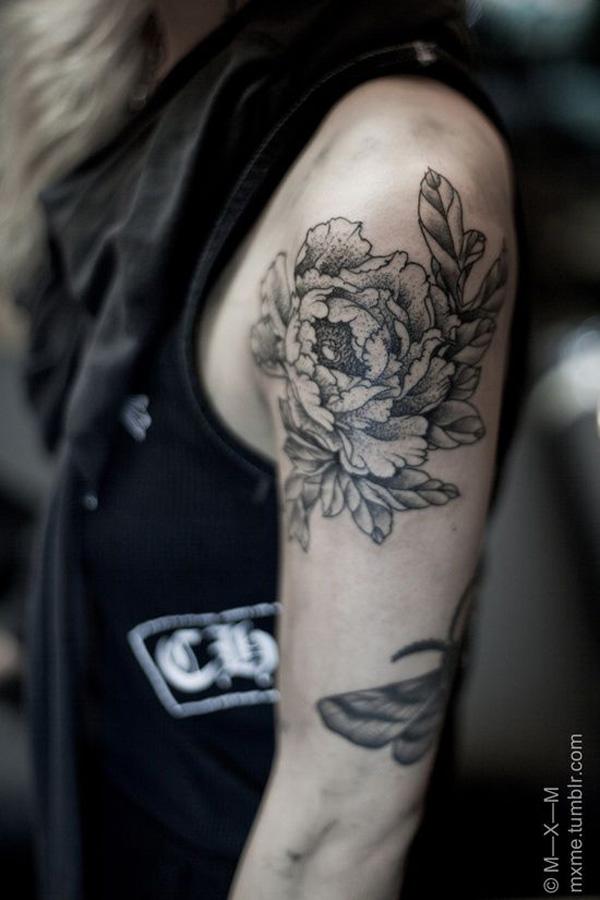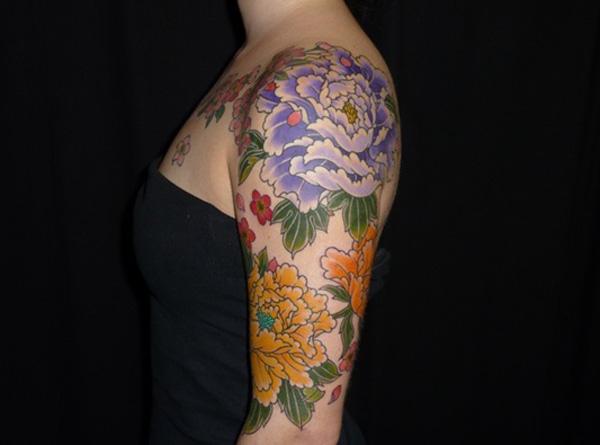 Traditional peony flower tattoo half sleeve tattoo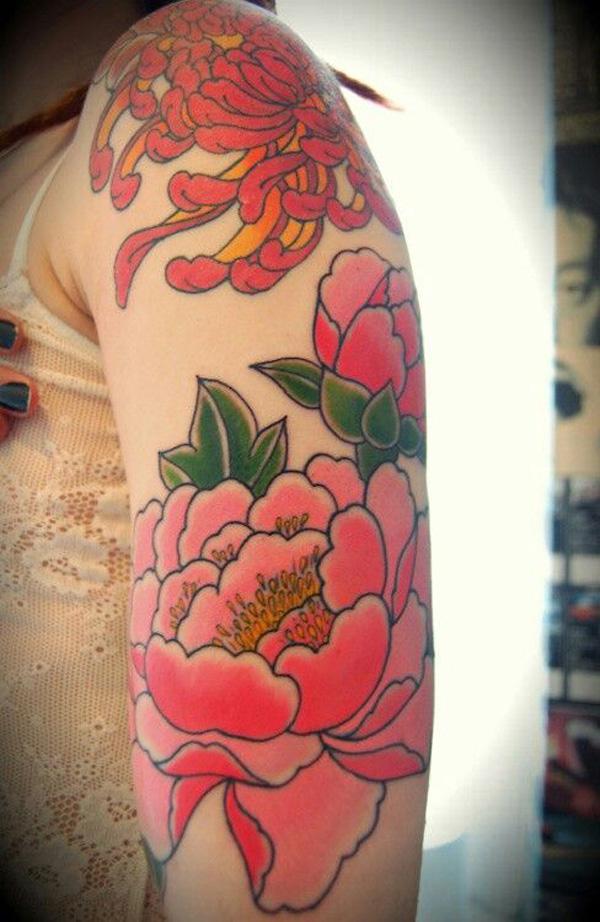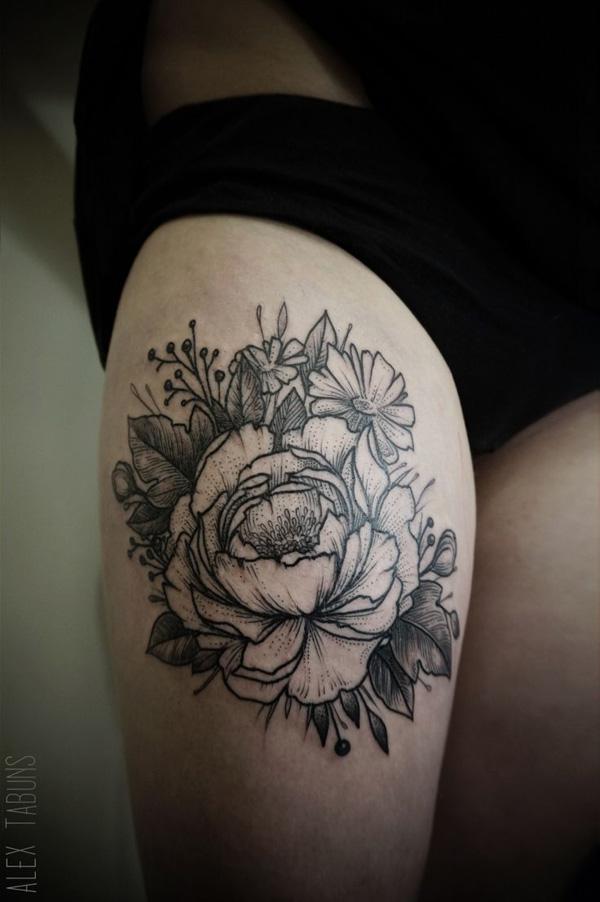 Peony and wild flowers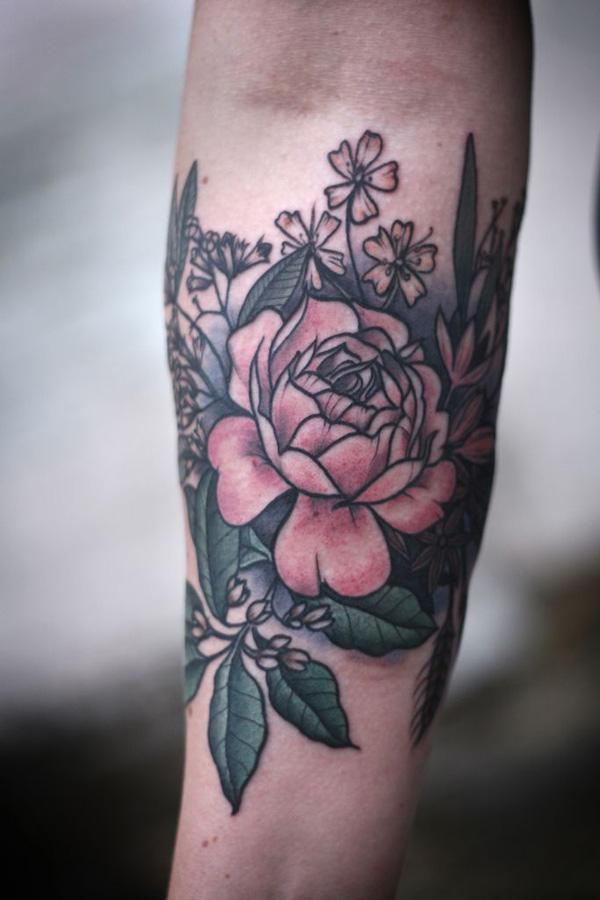 Red peony with leaves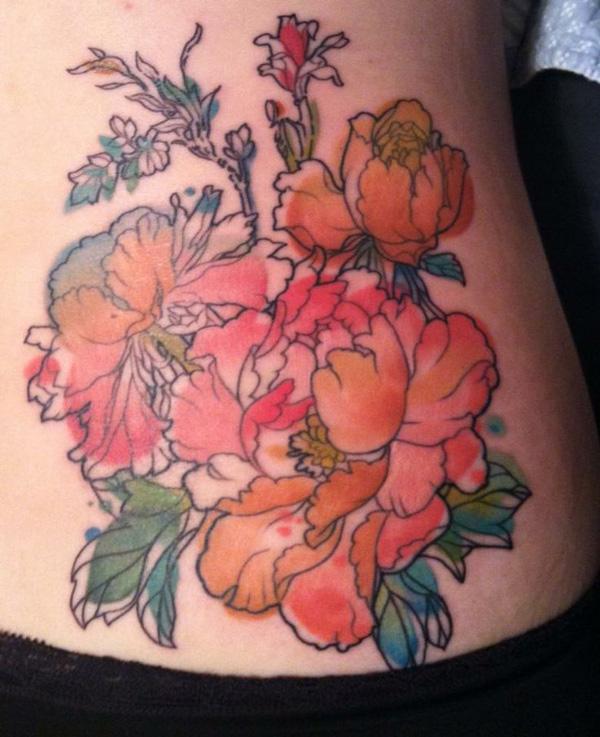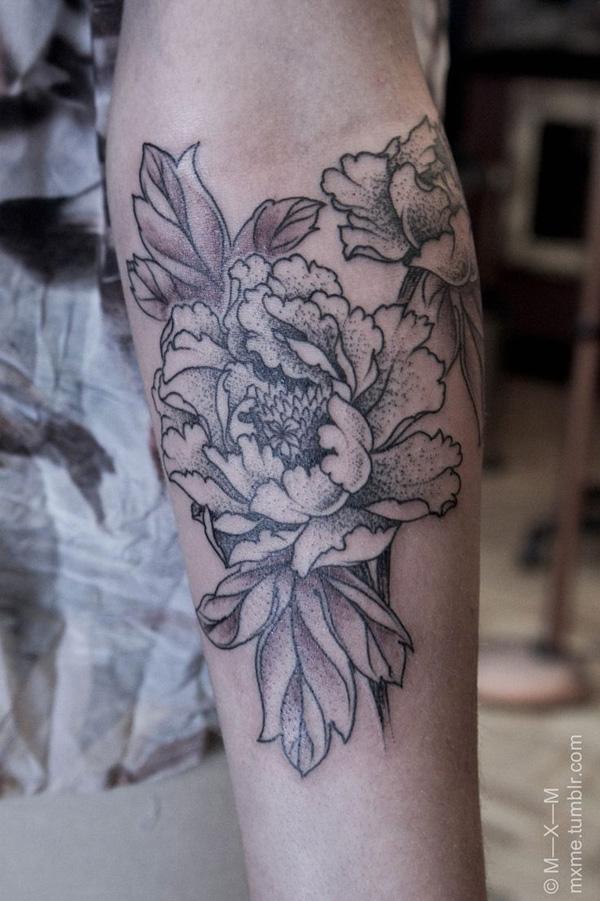 Gorgeous peony tattoo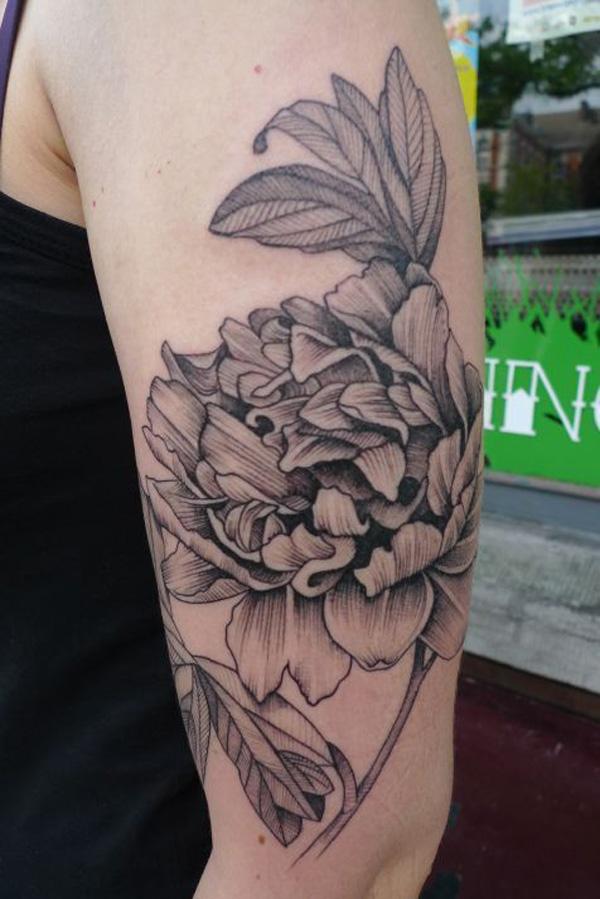 This gorgeous tattoo is a breathtaking display of artistry. It features a cascade of beautifully illustrated peonies on upper arm. Each flower is rendered with meticulous detail, creating a sense of depth and realism. This design is not just a tattoo, but a wearable work of art that embodies elegance, strength, and individuality.
Crescent moon peony tattoo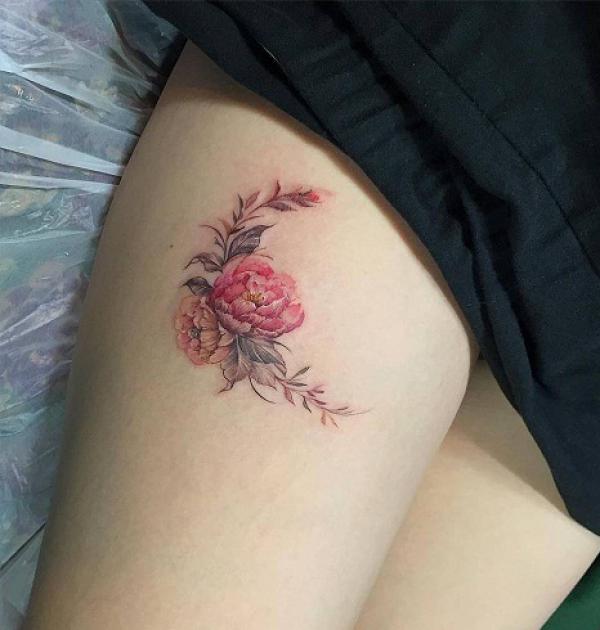 Nothing says unique and mystic quite like a crescent moon peony tattoo. This design fuses the beauty of two small peonies at the center with leaves artistically arranged to form a crescent moon. It's a wonderful way to symbolize growth and transformation, as the moon cycles mirror the stages of life.
Fine line peony chest tattoo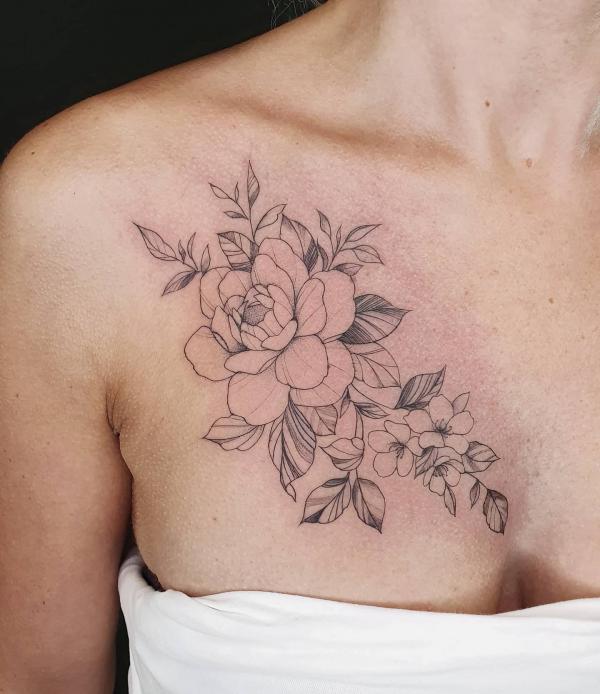 Fine line tattoos are known for their delicate, intricate designs. And when paired with a peony, the result is nothing short of spectacular. A fine line peony chest tattoo encapsulates both the softness of the peony and the strength of the human heart. It's a subtle yet bold statement of elegance and resilience.
Mandala peony dotwork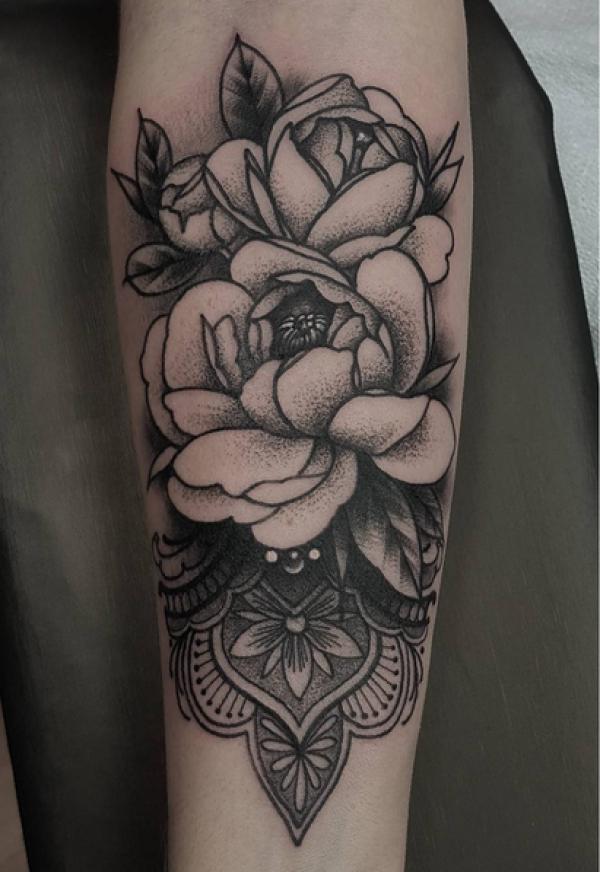 A mandala peony dotwork combines the complexity of a mandala with the simplicity of a peony. With a peony in negative space on a black mandala backdrop, it's a mesmerizing play of light and dark, order and chaos. This design is a beautiful testament to the harmony of opposites.
Minimalist peony tattoo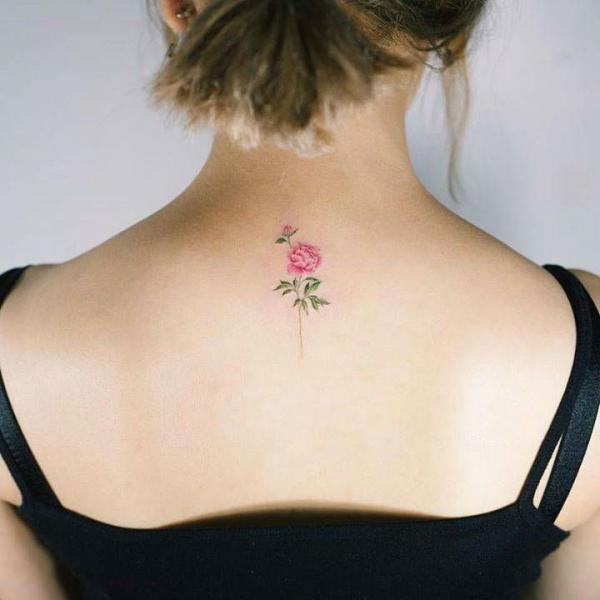 A minimalist tattoo on the spine is perfect for the person looking for a discreet, yet meaningful tattoo. The simplicity and elegance of the peony, outlined along the spine, not only accentuates the natural line of the body but also signifies inner beauty and strength.
Neo traditional peony tattoo for women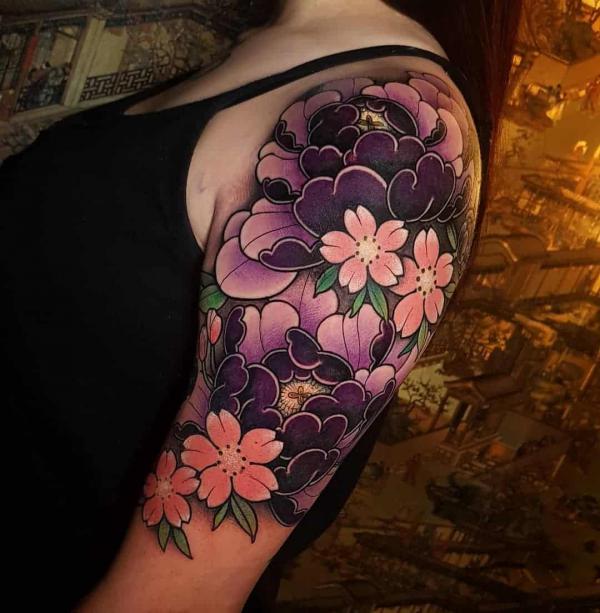 The neo-traditional tattoo is a vibrant, feminine design that combines traditional tattoo elements with modern techniques. With a purple peony on the upper arm, it's a striking blend of old and new, a statement of timeless beauty and personal empowerment.
Peony and chrysanthemum
A peony and chrysanthemum blackwork tattoo is a bold fusion of Eastern symbolism. With the peony representing wealth and honor, and the chrysanthemum symbolizing longevity and rejuvenation, it's a powerful reflection of life's richness and durability.
Small peony ankle tattoo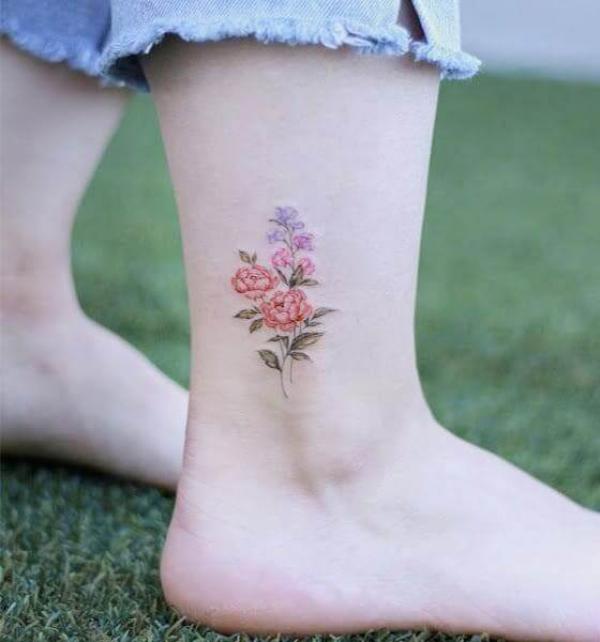 For those who prefer a smaller, more delicate design on ankle, a small peony is a perfect choice. A bouquet of peony flowers can serve as a daily reminder of love, prosperity, and the beauty that lies in small packages.
Sunflower and peony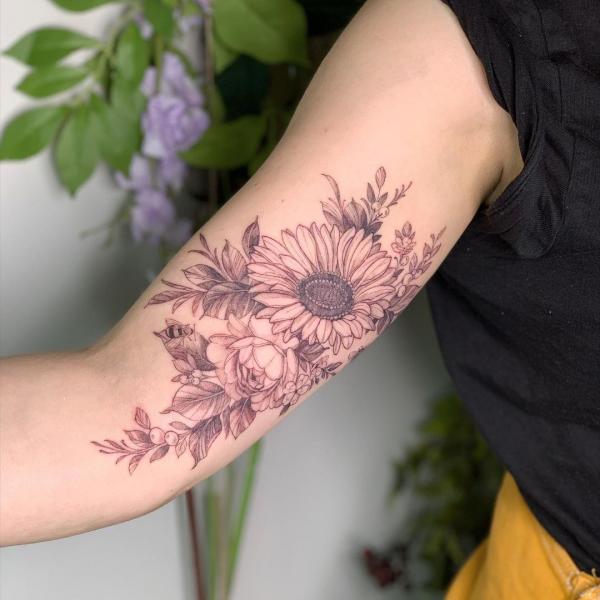 The peony and sunflower tattoo on the bicep is a vibrant, colorful design that blends two beloved blooms. With the sunflower symbolizing adoration and longevity, and the peony representing beauty and honor, it's a dynamic statement of positivity and strength.
Yellow peony knee tattoo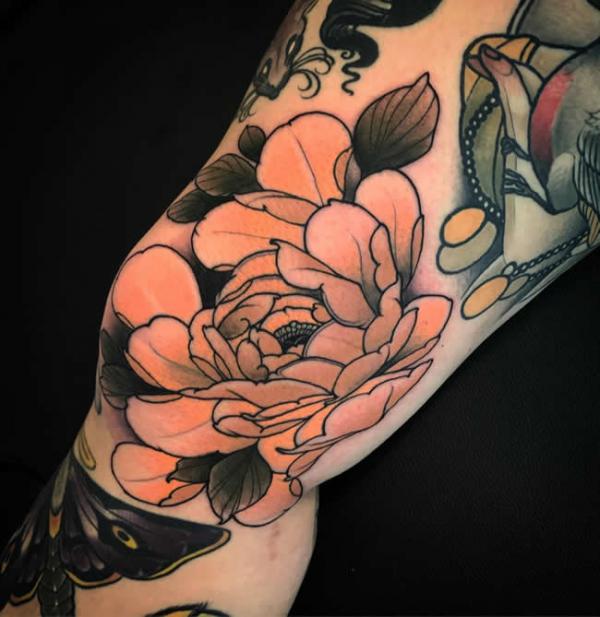 The neo-traditional knee tattoo is a striking way to showcase this beautiful flower. The yellow peony symbolizes wealth and prosperity, while the knee tattoo placement makes it a standout piece. It's a bold statement of personal style and self-expression.
American traditional skull and peony tattoo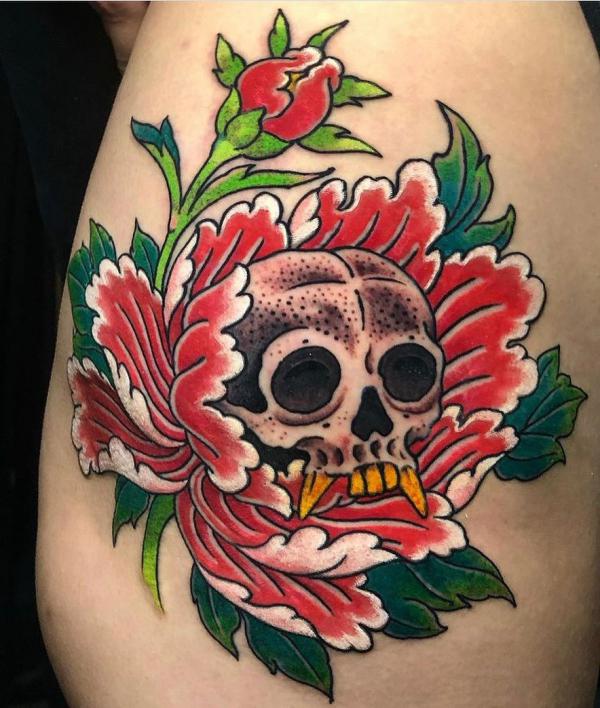 An American traditional skull and peony tattoo is a daring design that blends the edgy symbolism of a skull with the delicate beauty of a peony. With the skull embraced by peony petals, it's a potent symbol of life, death, and the beauty that lies in between.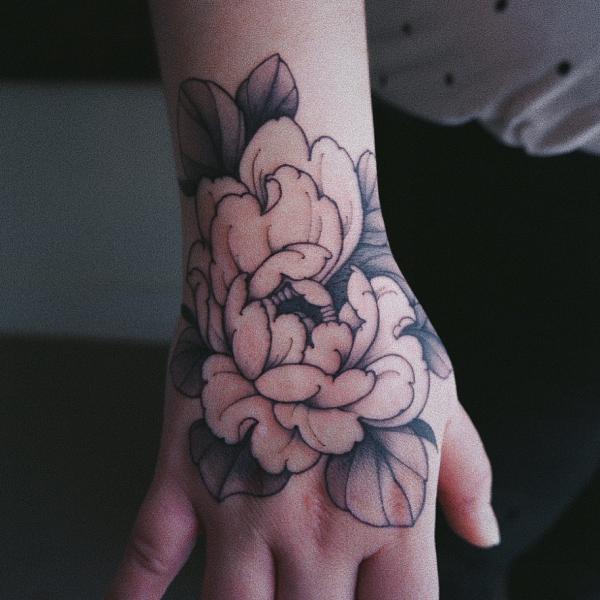 A black and white ink of peony is a stunning design that showcases the peony's timeless elegance. The contrast between the black and white adds a dramatic touch, making it a captivating work of art.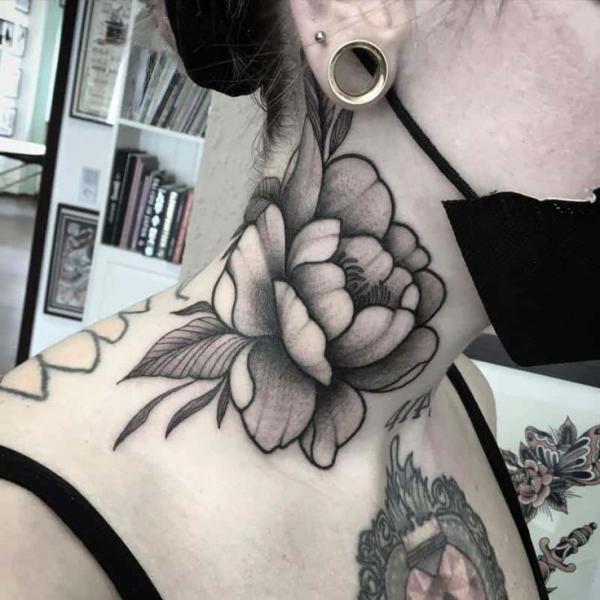 Another black and white option is a striking and personal statement. The peony, positioned at the nape of the neck, serves as a symbol of strength and beauty, a testament to the wearer's resilience.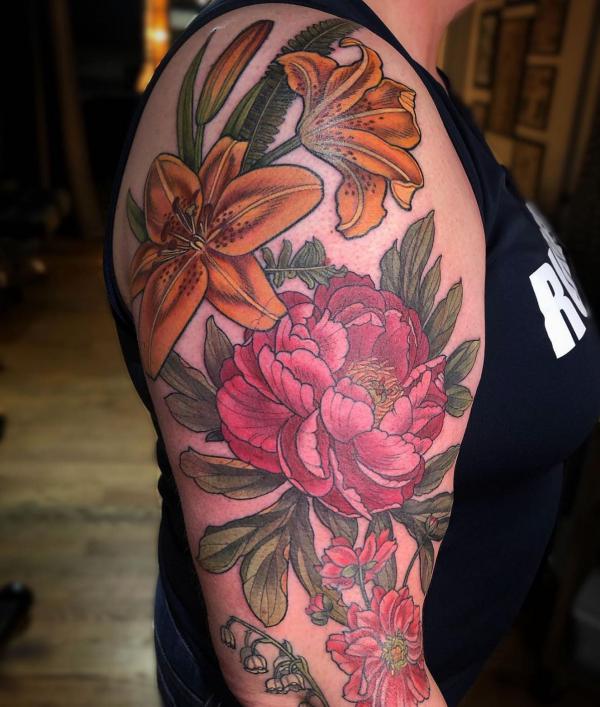 This half sleeve tattoo design pairs colorful peonies and lilies in a stunning botanical display. The vibrant hues of the flowers create a lively and dynamic artwork that wraps around the arm. The pairing of peony and lily, both rich in symbolism, evokes notions of prosperity, purity, and renewal. This beautiful design is a vibrant celebration of nature's beauty on the canvas of skin.