A rose, with its delicate petals and intoxicating fragrance, epitomizes beauty and love. Yet, this exquisite flower also bears thorns, a symbol of defense, pain, and resilience. Together, the rose and its thorns create a striking balance, encapsulating both the allure and the perils of love and life. This article delves into the symbolism and design options of the rose with thorns tattoo, a powerful emblem of beauty, strength, and resilience.
The Symbolism of the Rose with Thorns Tattoo
Before we delve into the design ideas, let's take a moment to understand why the rose with thorns is such a compelling tattoo choice.
Beauty and Pain
A rose with thorns tattoo beautifully encapsulates the duality of life. The rose represents beauty, love, and passion, while the thorns symbolize hardship, loss, and pain. This tattoo reminds us that beauty often comes with a cost, and love can carry pain. But it also reassures us that despite the thorns, we still reach out for the rose, for its beauty is worth the risk.
Strength and Resilience
Thorns are a rose's defense mechanism, protecting the flower from harm. In a tattoo, thorns can symbolize strength, resilience, and the ability to protect oneself. They serve as a reminder that we, too, can endure life's hardships and safeguard our wellbeing.
Rose with Thorns Tattoo Design Ideas
Now that we've delved into the symbolism, let's explore some exciting design ideas of a rose with thorns tattoo.
Single Rose with Thorns tattoos
Consider the elegance and powerful symbolism of a single rose with thorn tattoo design. This design captures the essence of the rose and its thorns in a beautifully minimalistic way. It combines the soft, delicate petals of a rose in full bloom with the sharp, edgy thorns along its stem, creating a striking contrast.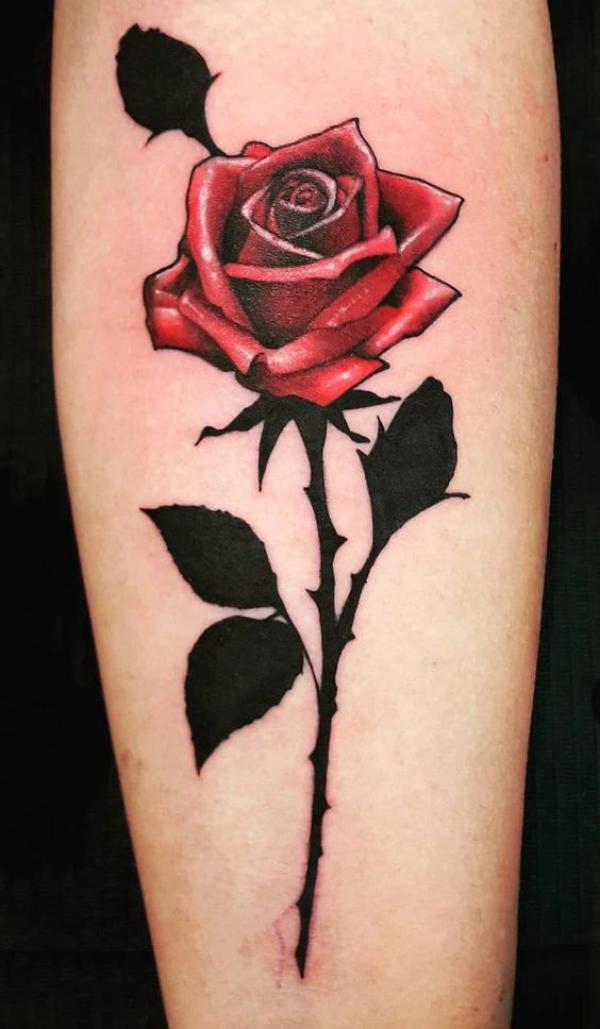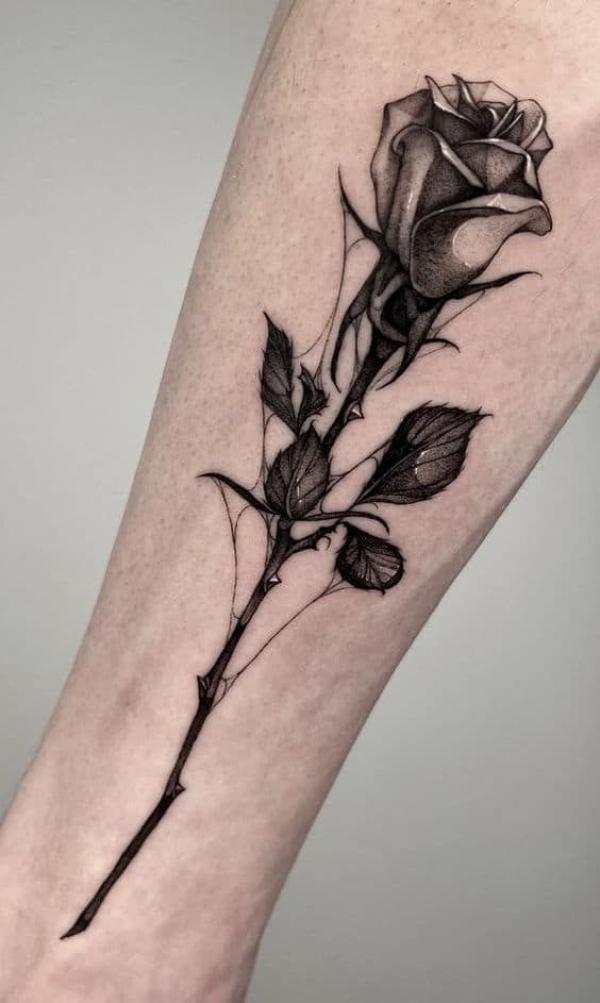 Small rose with thorns infinity tattoo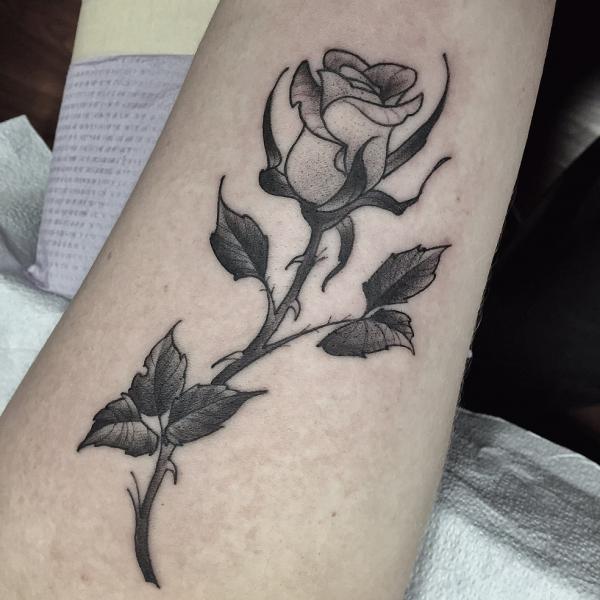 Traditional Red Rose with Thorns
The classic design of a red rose with thorns is a timeless choice. The vibrant red of the rose can be beautifully contrasted with dark, sharp thorns. This traditional design can be tailored to fit anywhere on the body, from a small tattoo on the wrist to a large piece on the back or chest.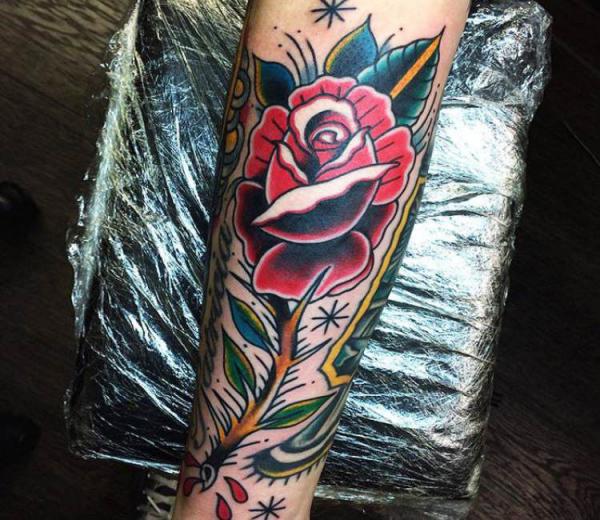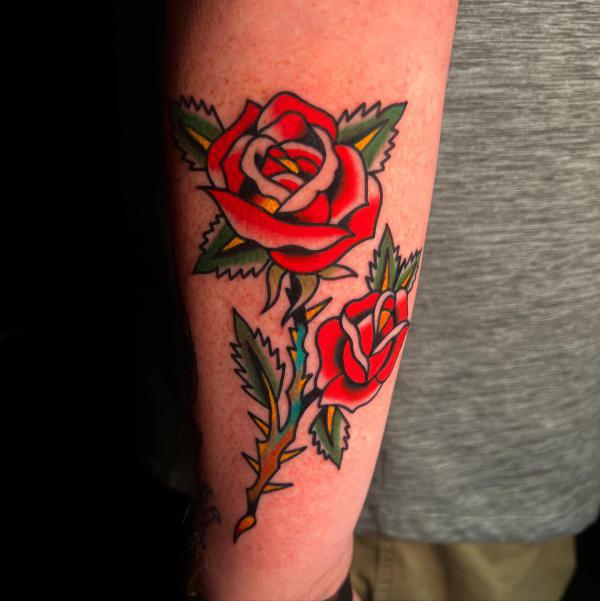 Classic rose and thorns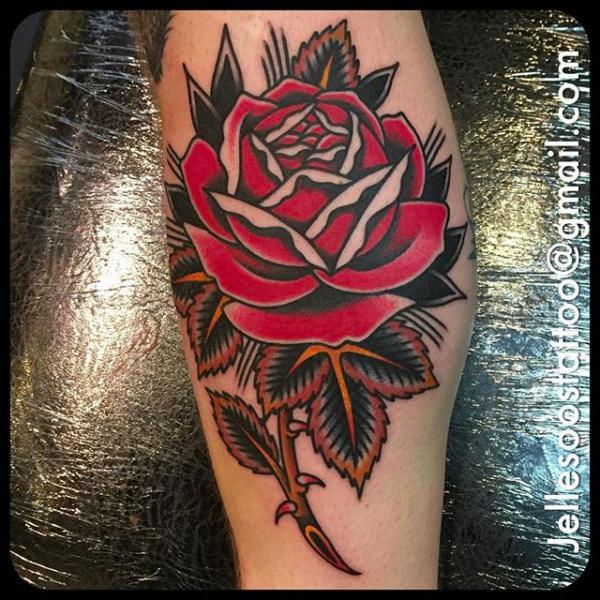 Traditional a hand holding a rose with thorns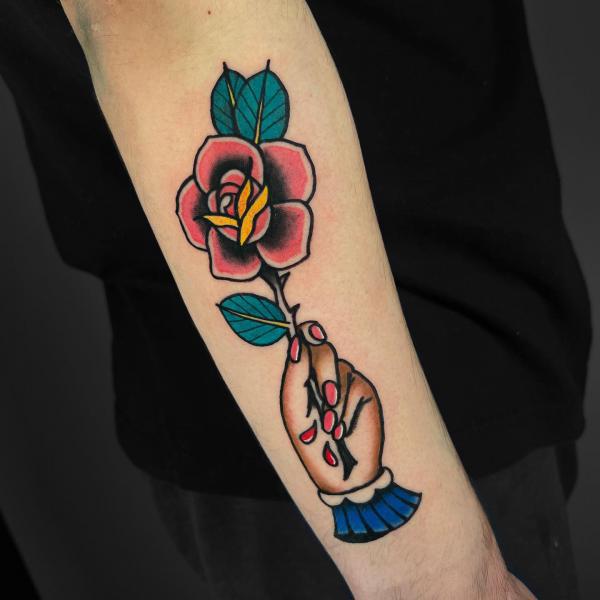 Traditional grape and wine cup tattoo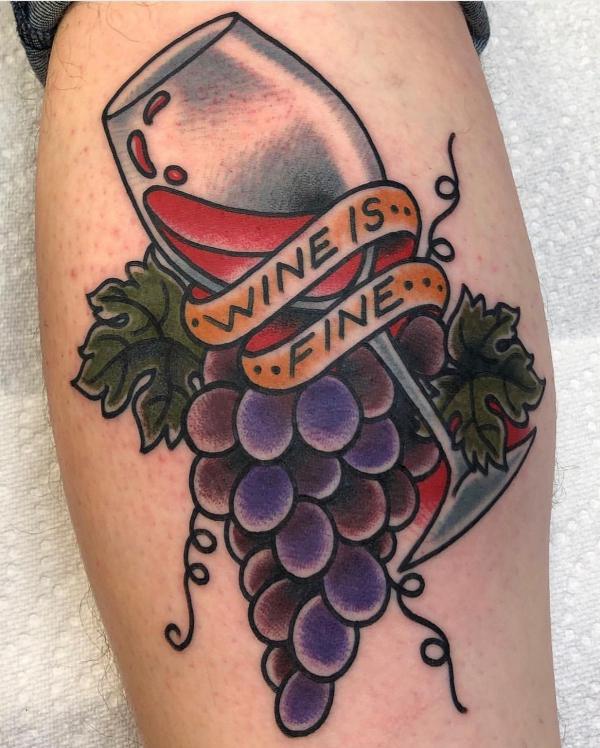 Vibrant red rose with thorns tattoo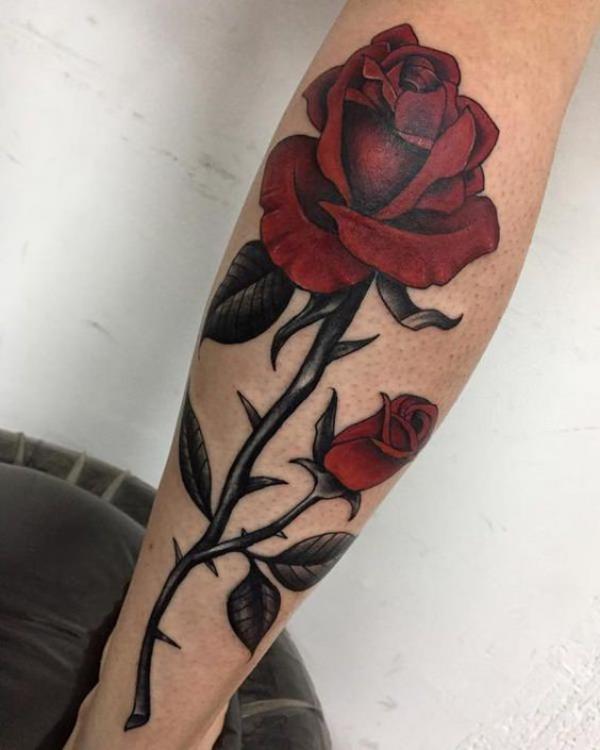 Dark rose with thorns tattoo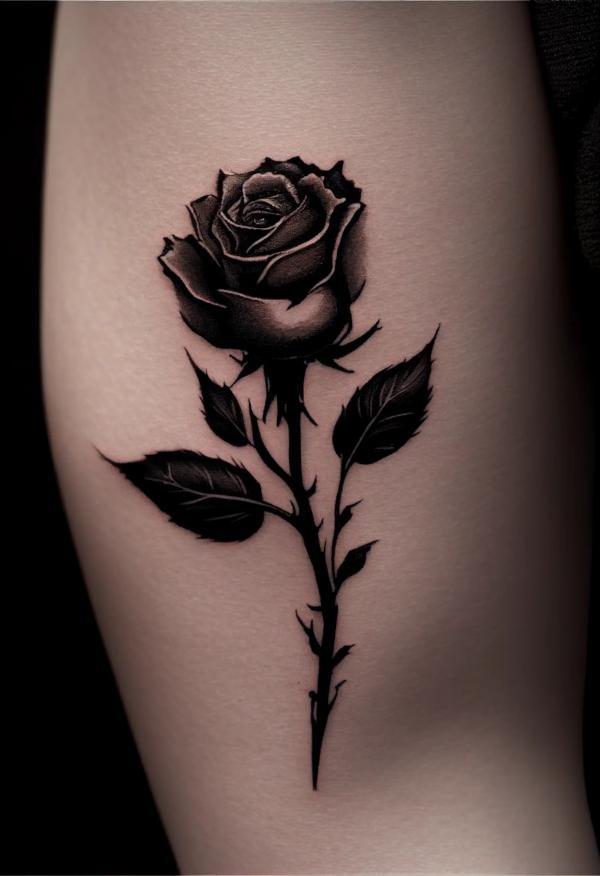 Minimalist rose with thorns tattoo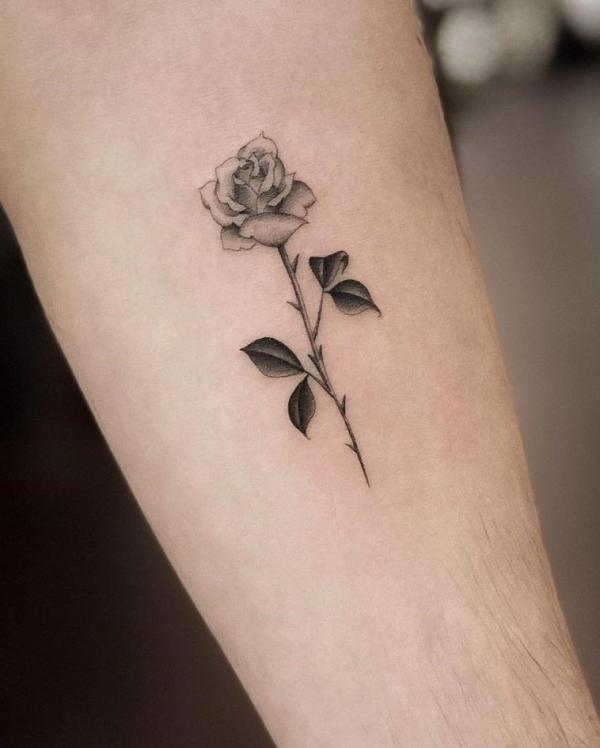 Black and Grey Rose with Thorns
For a less conventional design, consider a black and grey rose with thorns. This design has a more somber and mysterious feel than the traditional red rose, making it a perfect choice for those drawn to darker aesthetics.
Black and grey rose with thorns and words last night we kissed goodbye you are gone i bleed until dawn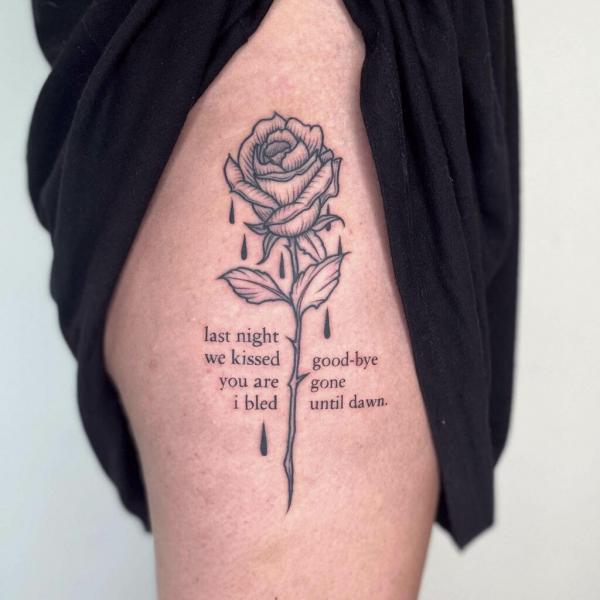 Rose with Thorns and Skull
A rose with thorns and skull tattoo is a powerful symbol of life, death, and rebirth. The skull, a universal symbol of mortality, combined with the rose and thorns, creates a stunning juxtaposition of life's beauty and pain with the inevitability of death.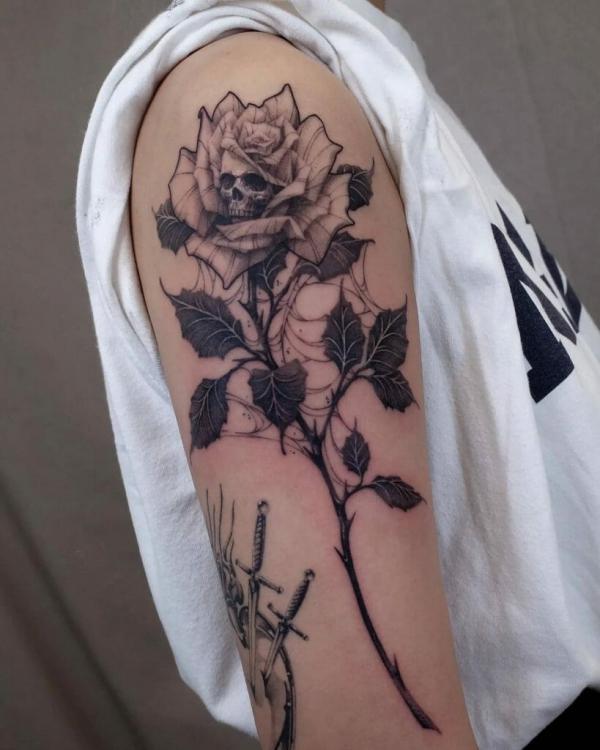 Black and white rose with thorns and skull tattoo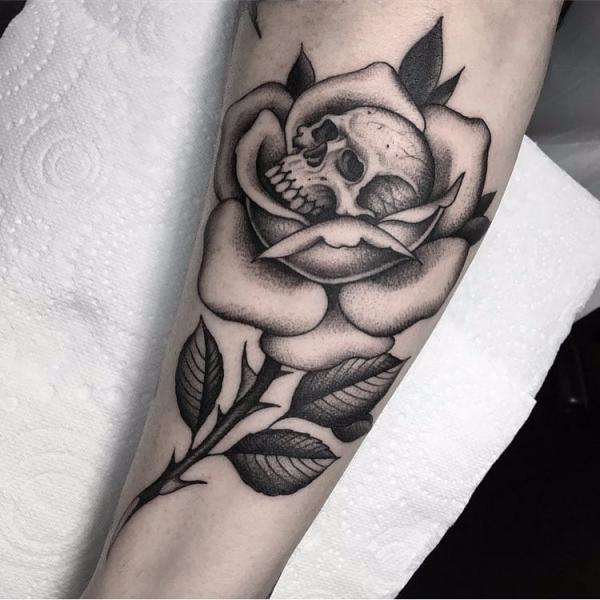 Rose with Thorns and Snake
A rose with thorns and snake tattoo combines several potent symbols. The snake can represent transformation, wisdom, or temptation, adding a layer of complex symbolism to the beauty and pain represented by the rose and thorns.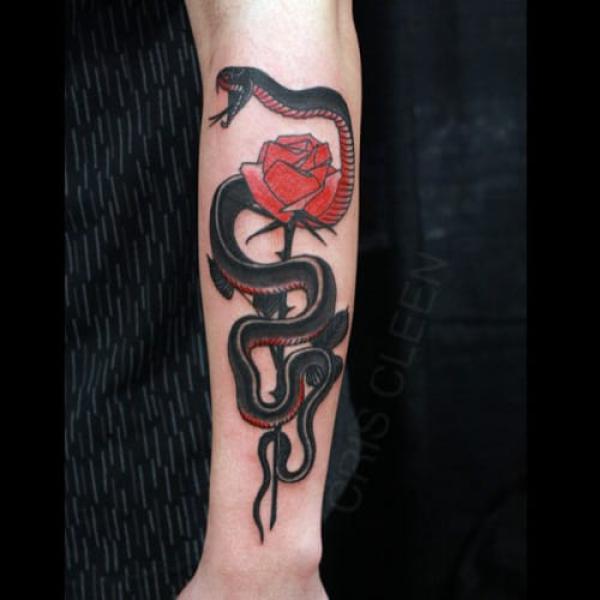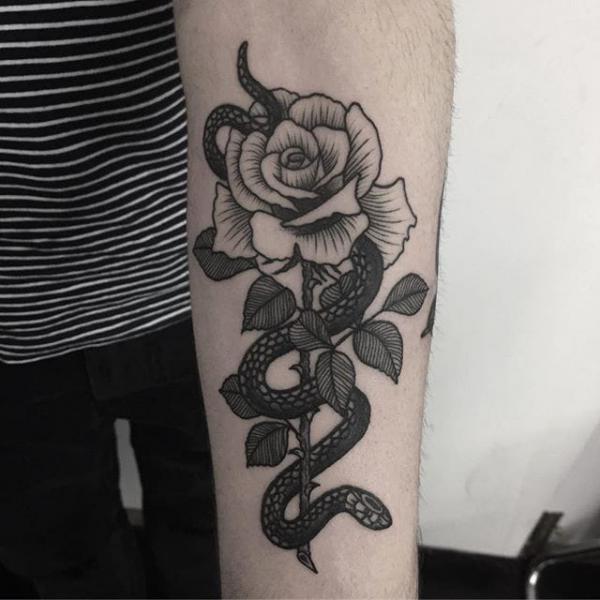 Rose with Thorns and Dagger
Incorporating a dagger into your rose with thorns tattoo can add an element of danger and courage. The dagger can symbolize protection, bravery, or a warrior spirit, complementing the strength and resilience symbolized by the thorns.
Black and grey rose with thorns and dagger tattoo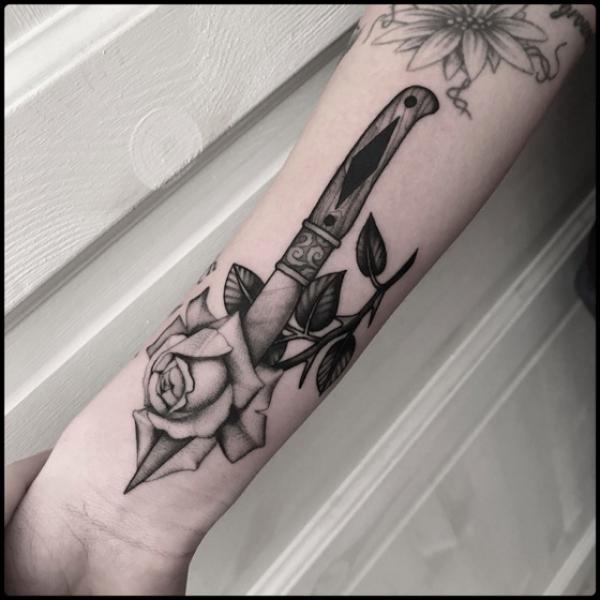 A skeleton hand holding a blue rose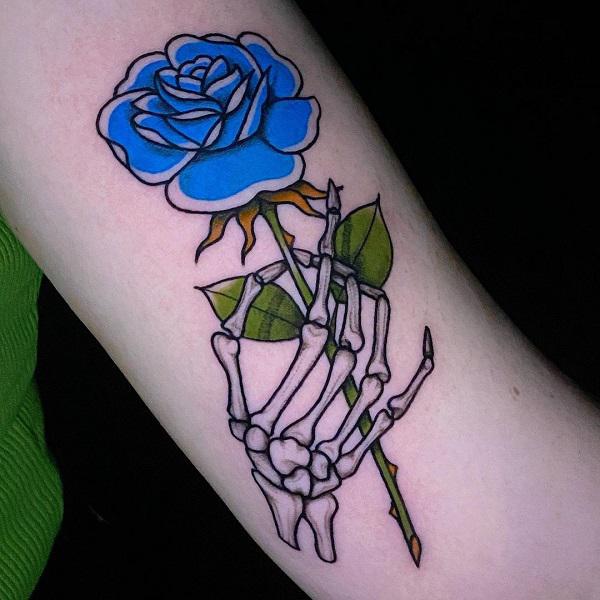 A skeleton hand holding a blue rose creates a dynamic and unique design. This tattoo merges the symbolism of life and death with the mystery and uniqueness of a blue rose. It's a bold choice that captures the viewer's attention and speaks volumes about the duality of existence.
Black rose with thorns tattoo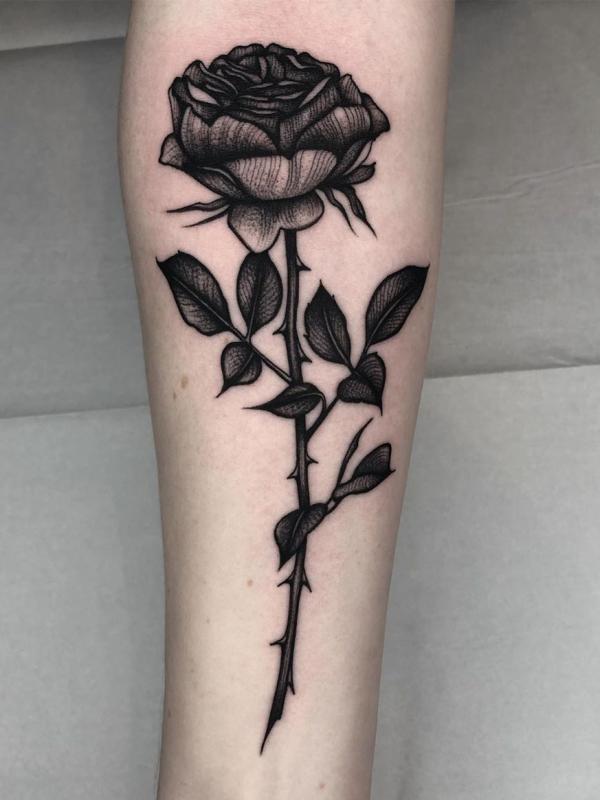 A black rose with thorns design is a striking piece of art. The black rose, often associated with significant transformations or the end of a phase, combined with the thorny challenges of life, creates a potent symbol. This design can be both visually arresting and deeply symbolic, reflecting your resilience and adaptability.
Blue rose with thorns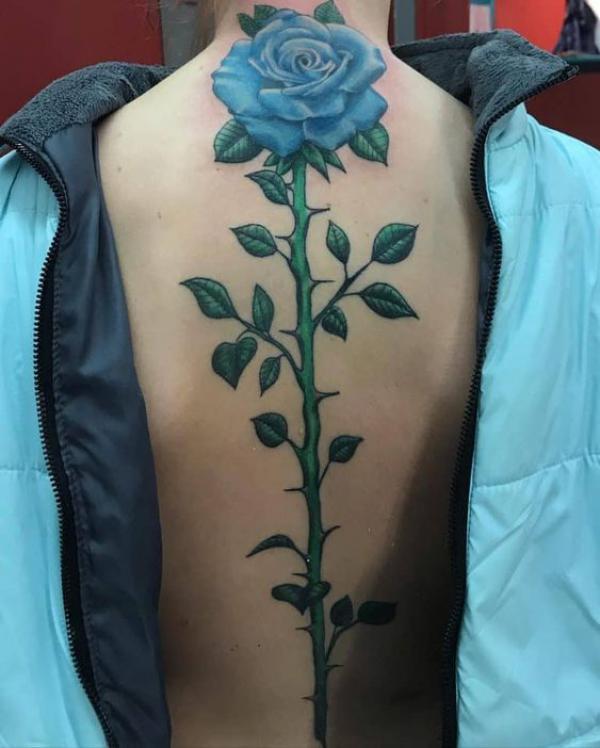 A blue rose with thorns design is a nod to the unattainable and the mysterious. The blue rose, a symbol of that which is nearly unreachable, paired with thorns, represents the hardships we overcome in pursuit of our dreams. This design is a beautiful testament to the pursuit of the extraordinary, despite life's many obstacles.
Dark rose with thorns and barbed wire tattoo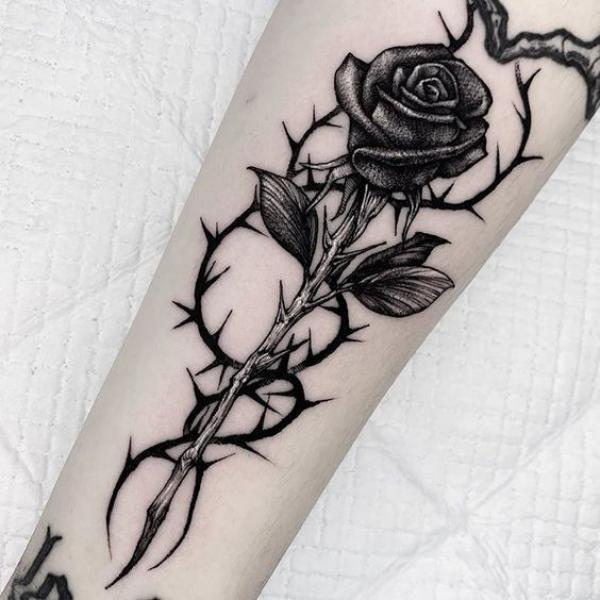 Combine a dark rose with thorns and barbed wire for a tattoo that's steeped in grit and symbolism. This design can represent a struggle, a battle fought and won, or the resilience and toughness of the human spirit. It's a powerful image that can be both a personal reminder and a message to the world about your strength.
Red rose and thorns tattoo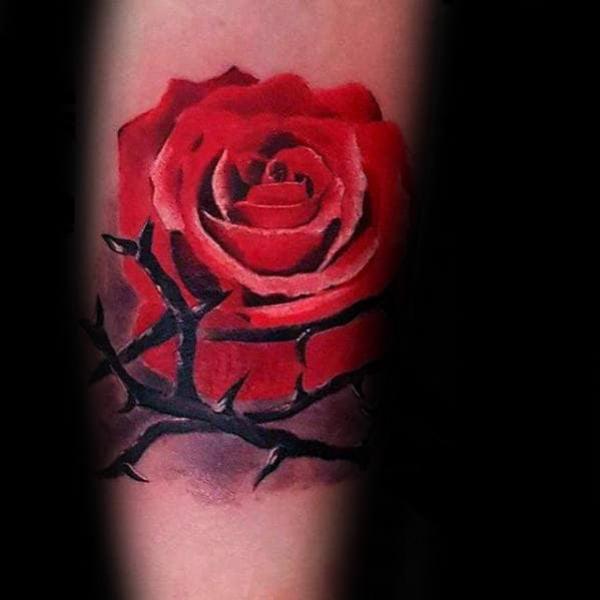 A red rose and thorns design is a classic design with a rich symbolism. The red rose, a symbol of love and passion, juxtaposed with the thorns of hardship, encapsulates the dichotomy of life. This design is a beautiful way to express the concept that love, like life, is filled with both beauty and pain.
Rose outline with thorns and name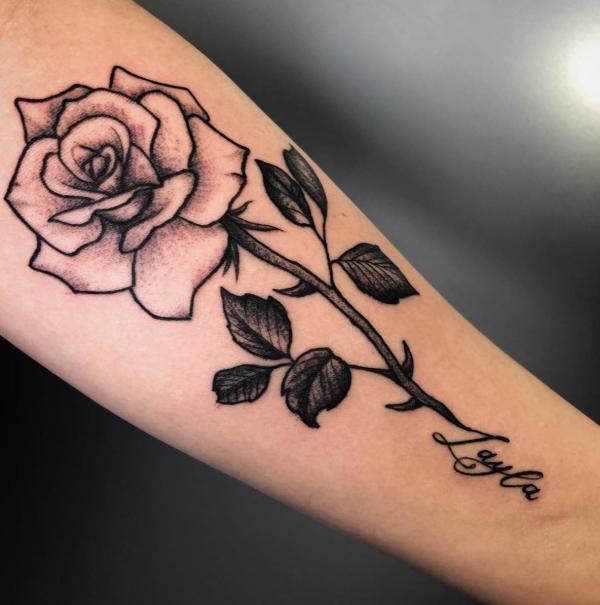 For a more personalized touch, consider a rose outline with thorns and a name. This design is simple yet meaningful, allowing the name to take center stage. It's a wonderful way to honor a loved one or express your personal journey through the symbol of the rose and its thorns.
Roses with thorns calf tattoo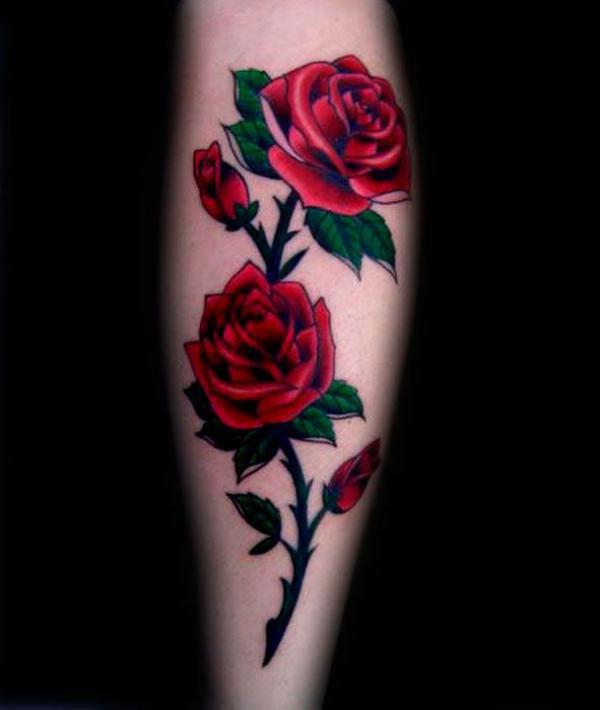 A roses with thorns calf design is an eye-catching design. This placement allows for a larger design, and the natural contours of the calf can enhance the tattoo's visual appeal. A vine of roses winding up your calf can be a beautiful representation of growth and resilience.
Watercolor grapes and vines tattoo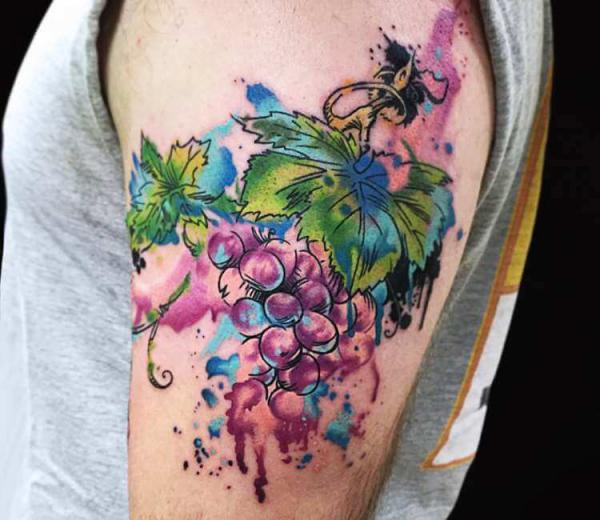 For a unique twist, consider a watercolor grapes and vines design. This design is a colorful, artistic interpretation of the vine, adding the element of grapes to the traditional rose and thorns. It's a refreshing take on the classic design, adding a splash of color and creativity.
Yellow rose with black stem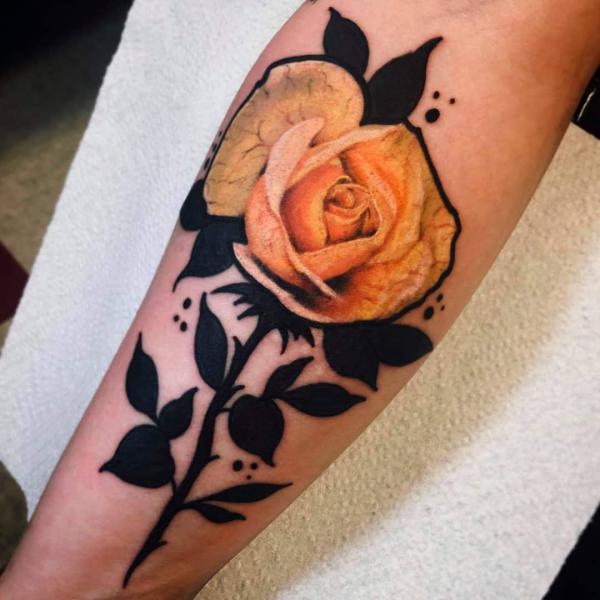 A yellow rose with a black stem tattoo is a vibrant and unique design. The yellow rose represents friendship and joy, while the black stem and thorns hint at the challenges that often accompany these relationships. This design is a bright and beautiful tribute to the friendships that help us navigate life's thorny paths.
Placement Ideas for Rose with Thorns Tattoos
Deciding to get a tattoo is only the first step in your inking journey. The next big question is, "Where should you place it?" The placement of a tattoo can enhance its visual impact and tie into its personal significance. Here are some creative ideas for placing your rose with thorns tattoo.
Back Tattoos
The back is a fantastic canvas for a rose with thorns tattoo, especially if you're considering a larger or more detailed design. The broad expanse lends itself to sprawling, intricate tattoos, allowing you to fully express the beauty of the rose and the sharpness of the thorns. Whether it's a single rose or a full bouquet, a back tattoo can make an impressive statement.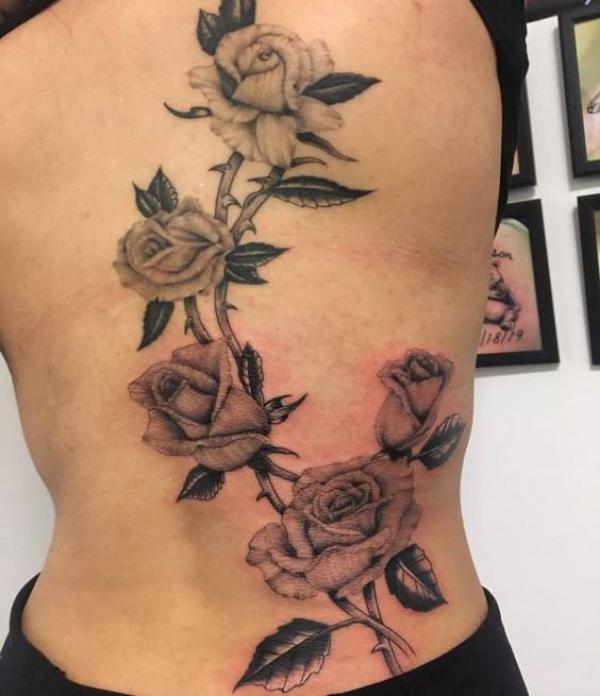 Side Tattoos
The side of the body is another excellent location for a rose with thorns tattoo. This placement can create a dynamic, flowing design that follows the natural curves of your body. Imagine a winding rose vine, its thorns sharp, its flowers blooming, splayed across your ribs or hip. It's a perfect choice for a tattoo that's both personal and striking.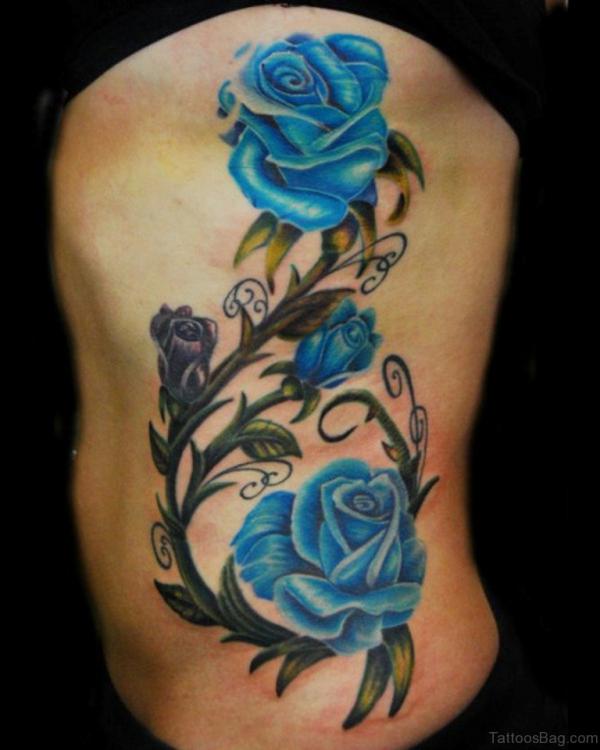 Forearm tattoos are popular for a reason. They're highly visible, yet easy to cover if the situation calls for it. The shape and orientation of the forearm also offer an interesting canvas for your tattoo artist, allowing for both horizontal and vertical designs. Whether it's a single rose with thorns or a whole vine, a forearm tattoo is sure to draw the eye.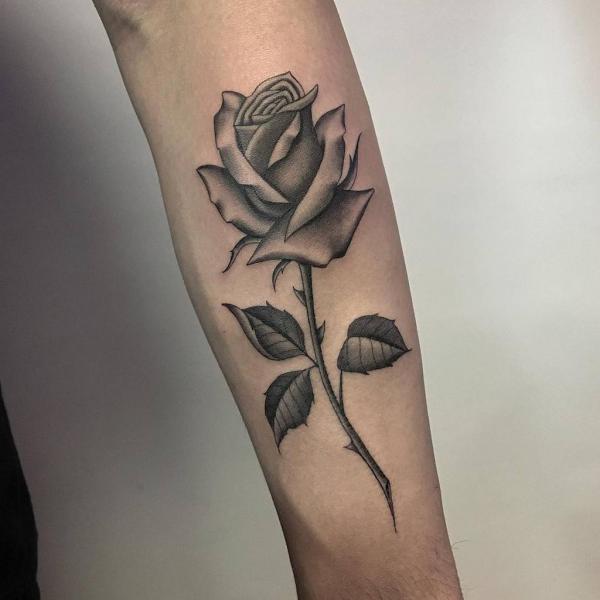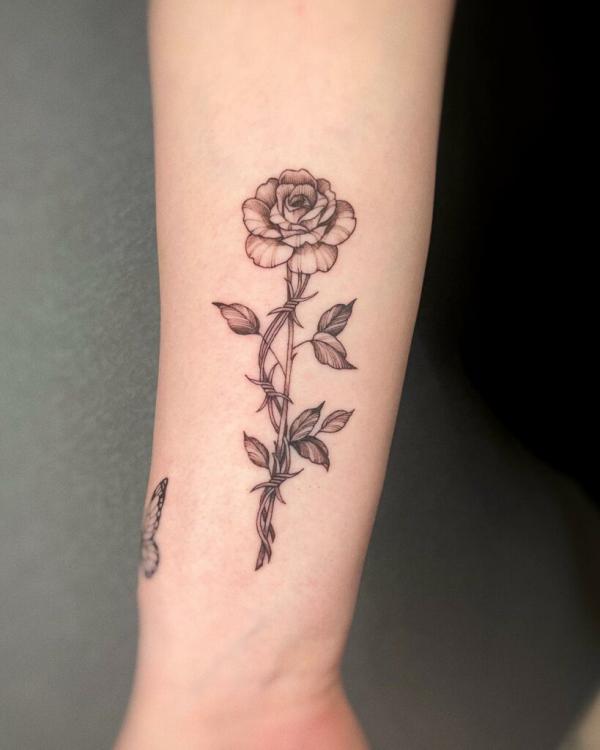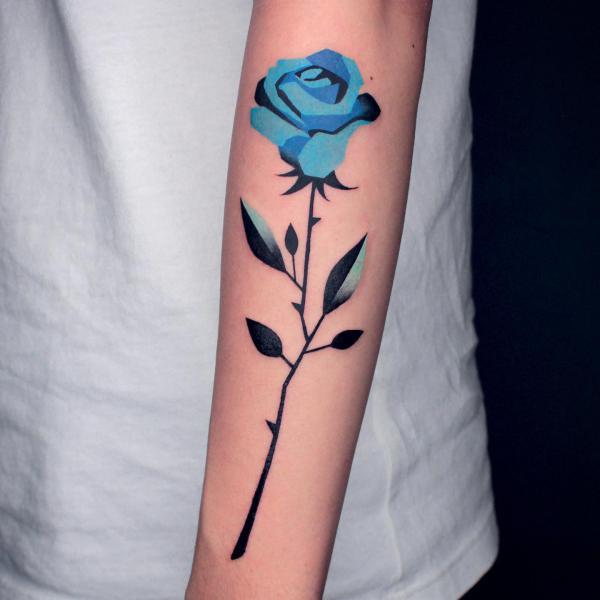 Thigh Tattoos
If you're looking for a placement that's a little more discreet but still allows for larger designs, the thigh might be the perfect spot. A rose with thorns tattoo on the thigh can be easily covered or shown off, depending on your mood and the occasion. This placement is ideal for those who prefer keeping their artful expressions a bit more private.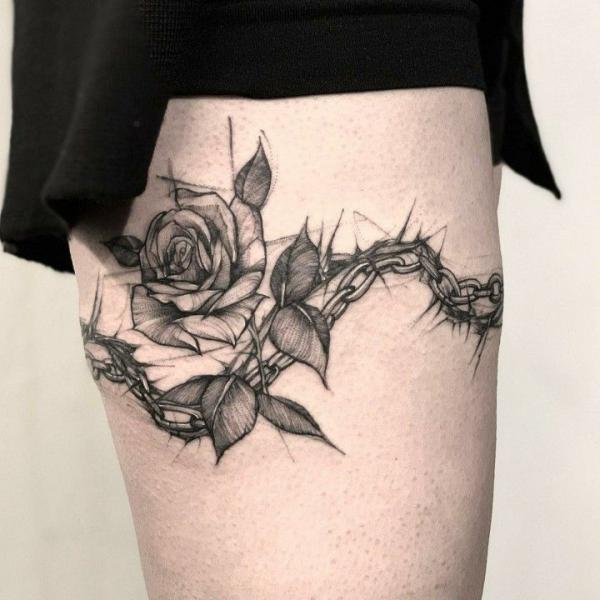 Spine Tattoos
The spine offers a unique and elegant placement for a tattoo. A single rose stem with thorns, traced along the length of your spine, can be both delicate and daring. This placement is ideal for a minimalist design that still packs a visual punch. Plus, the vertical alignment naturally lends itself to the elongated form of a rose stem.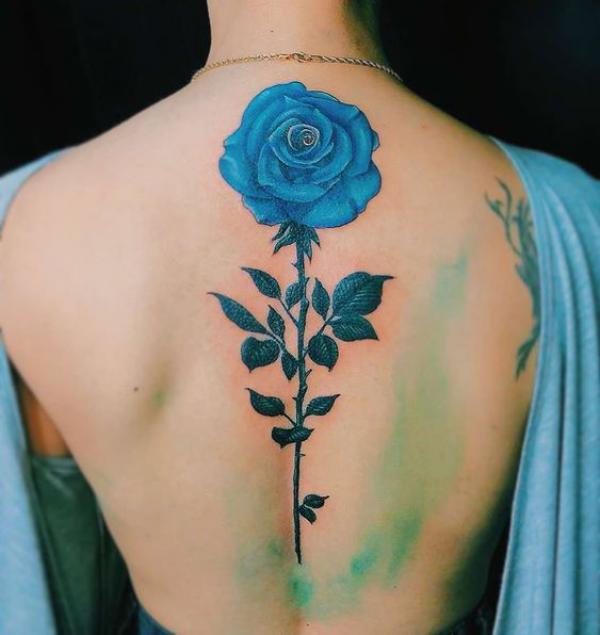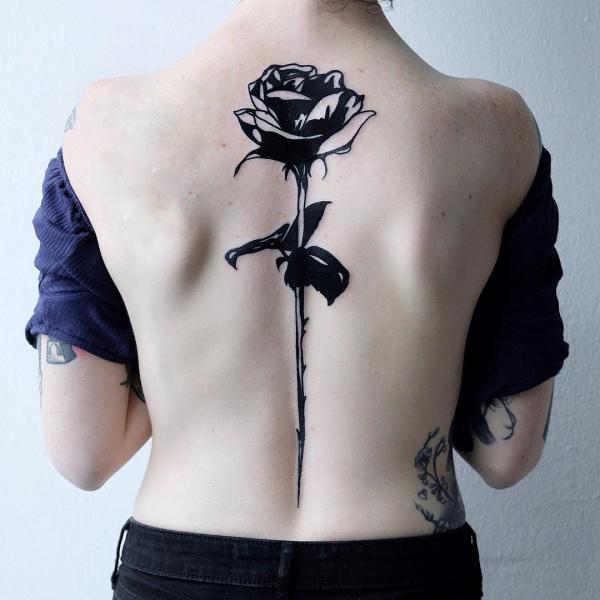 Clavicle Tattoos
The clavicle, or collarbone, is a great spot for a more subtle, yet highly visible tattoo. A small rose nestled on the clavicle can accentuate your bone structure and draw attention to the upper part of your body. It's a fantastic way to show off a design that's simple, yet full of meaning.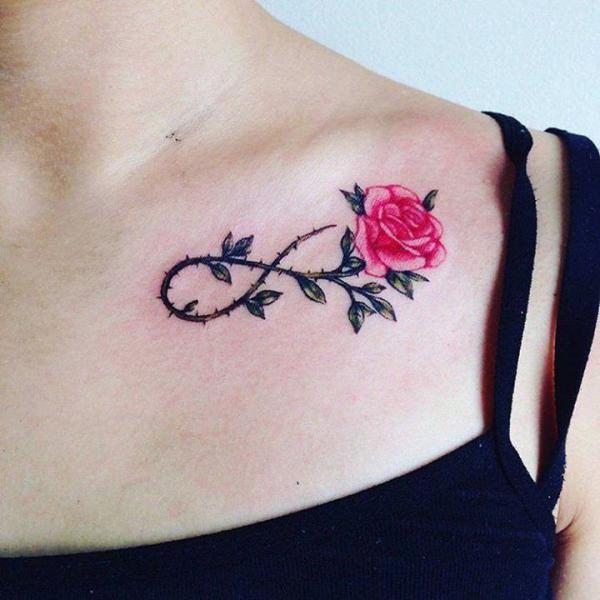 The hand is a bold choice for a rose with thorns tattoo. Every time you reach, write, or gesture, your tattoo will be on display. This placement is perfect for those who want their tattoo to be in the spotlight. Although a rose tattoo on the hand will be smaller due to the limited space, it can still be detailed and eye-catching.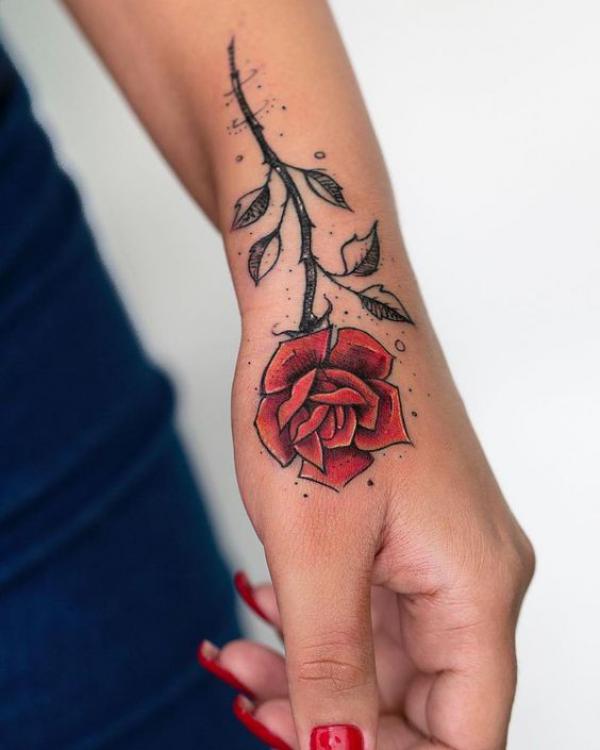 Finger Tattoos
A small rose with thorns wrapped around your finger like a ring can be a stylish and unique choice. It's a subtle placement that can still carry a lot of weight. A finger tattoo is a great way to keep your rose with thorns close at hand, a constant reminder of the beauty and strength it represents.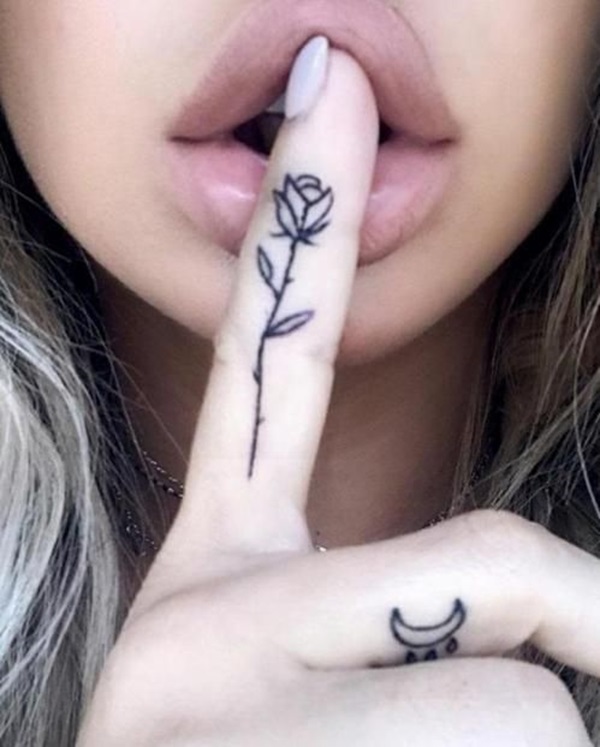 Making Your Rose with Thorns Tattoo Unique
Your tattoo should be as unique as you are. Here are a few ways to personalize your tattoo.
Choose a Different Rose Color
Roses come in a variety of colors, each with its own symbolism. A yellow rose represents friendship, a white rose symbolizes purity, and a pink rose signifies admiration. Choosing a different color for your rose can add a personal touch to your tattoo.
Add a Personal Symbol
Incorporating a personal symbol into your tattoo can make it uniquely yours. This could be anything meaningful to you, from a letter or number to a small symbol or icon.
Get a Custom Design
Working with your tattoo artist to create a custom design is perhaps the best way to ensure your rose with thorns tattoo is unique. A skilled artist can take your ideas and inspirations and turn them into a one-of-a-kind tattoo.
Conclusion
A rose with thorns tattoo is more than just a design. It's a philosophy, a statement, a way of life. It reminds us that life is full of contradictions. It's about embracing the thorns while reaching for the rose, acknowledging the trials while celebrating the triumphs.
In the end, life, like a rose with thorns tattoo, is a beautiful masterpiece, a blend of moments that are as diverse as they are interconnected. So, whether you're thinking about getting your first tattoo or adding to your collection, consider the rose with thorns. It's a design that resonates with the human spirit and stands the test of time.
Remember, a rose with thorns tattoo is more than skin-deep. It's an emblem of the beauty that often comes from struggle, a symbol of resilience, and a testament to the human capacity to embrace and overcome life's thorns. After all, it's the thorns that make the rose all the more beautiful.