The world of tattoos is a vast canvas of creativity, personal expression, and cultural symbolism. One design that captures all these elements beautifully is the koi fish. Feminine small koi fish tattoos, in particular, have become a popular choice among women, embodying a delicate balance of strength, femininity, and aesthetic appeal. This article will dive into the enchanting universe of these miniature works of art, exploring their meaning, their allure, and how they epitomize the modern woman's spirit.
The Koi Fish: A Symbol of Strength and Perseverance
Originating from East Asian culture, the koi fish is a symbol steeped in myth and folklore. This vibrant creature is revered for its tenacity and determination, often swimming upstream against all odds. As a tattoo, it represents overcoming adversity, resilience, and ambition. Women, through the ages, have embodied these qualities, making the koi fish a fitting symbol of female strength.
The Allure of Feminine Small Koi Fish Tattoos
In the world of body art, small koi fish tattoos are making waves. They offer a delicate rendition of the powerful koi, combining strength and grace into a dainty package. These tattoos are more than just a style statement—they're a testament to the wearer's resilience, ambition, and love for beauty.
Aesthetics and Adornment
Small koi fish tattoos are striking in their simplicity. Their small scale allows for a high level of detail, creating a miniature masterpiece on the skin. The koi's vibrant colors—often a mix of oranges, reds, whites, and blacks—are a visual delight, adding a pop of color to the design.
Versatility and Placement
The versatility of small koi fish tattoos is another appealing factor. They can adapt to almost any part of the body. Whether it's a tiny koi swimming on a wrist or a playful one darting along the ankle, the tattoo can be tailored to fit and flatter the chosen location.
The Feminine Touch
Small koi fish tattoos are not just about aesthetics—they're about expressing the feminine spirit. The graceful lines of the koi, combined with its symbolic significance, resonate with many women. Here's how these tattoos embody feminine qualities:
Resilience and Determination
The koi's journey upstream mirrors the challenges that women often face. A small koi fish tattoo is thus a powerful symbol of a woman's resilience and determination to overcome obstacles.
Beauty and Elegance
The koi, with its vibrant colors and fluid movements, is a creature of beauty. In a small tattoo, this elegance is captured in a subtle, understated manner, embodying the grace and allure of femininity.
Individuality and Self-Expression
Each koi fish tattoo is unique, much like the woman who wears it. Whether it's through the choice of colors, the style, or the placement, these tattoos are a form of self-expression, allowing women to showcase their individuality.
The Art of Small Koi Tattoos: Styles and Designs
Small koi fish tattoos can be rendered in a variety of styles, each offering a unique interpretation of this symbolic creature.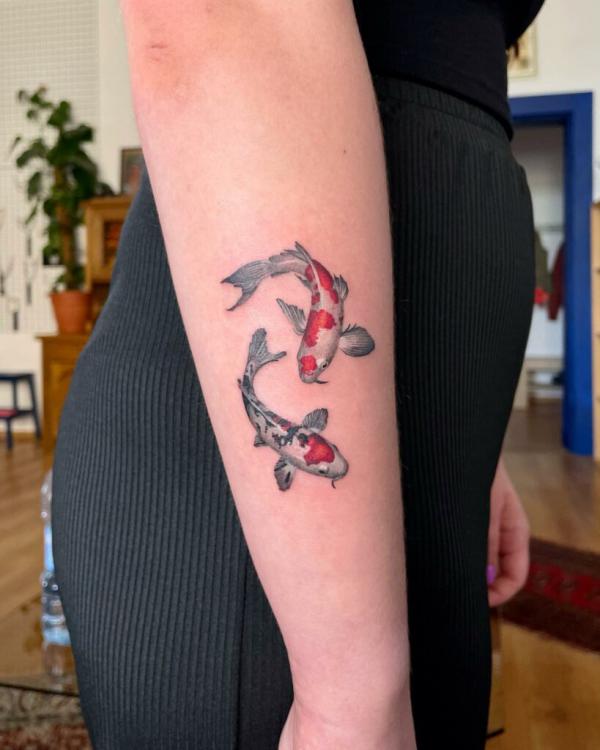 This design features two koi fish swimming together in the same direction. The red and grey hues give it a soft, feminine touch, while the position of the fish represents unity, companionship, and shared goals.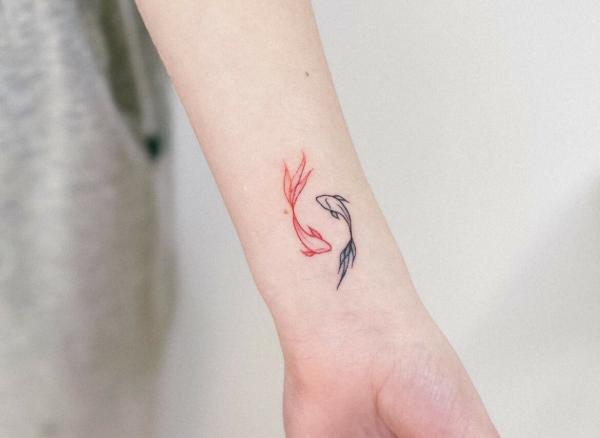 A simple, minimalist koi fish on the wrist can be a powerful symbol. It's discreet yet meaningful, perfect for those who prefer subtler tattoos. The Pisces symbol of two fish swimming in opposite directions can be integrated into this design, symbolizing balance and duality.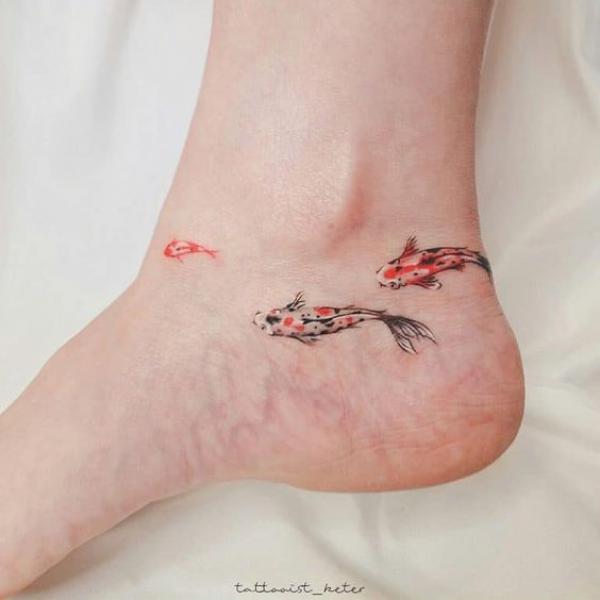 This design features a small koi fish leading two larger ones. It's a beautiful depiction of leadership and guidance, making it a unique and thoughtful choice.
Two koi fish and bamboos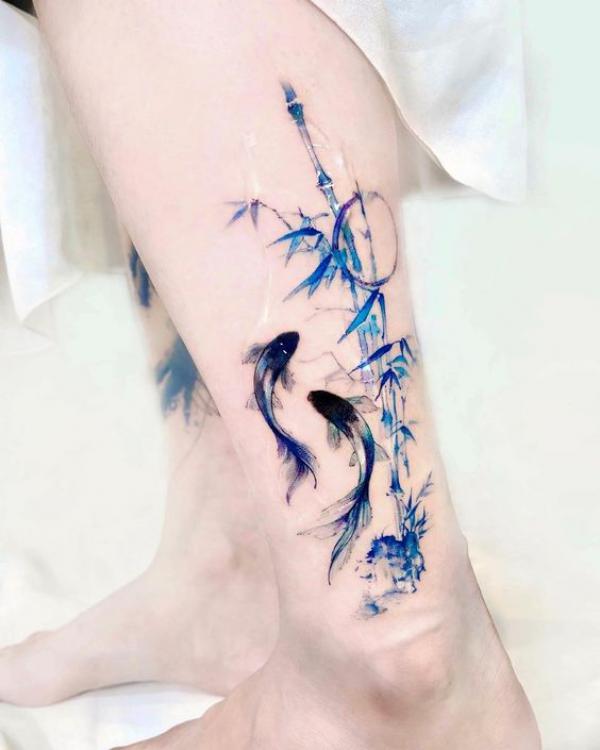 This feminine design has a touch of Chinese ink style, combining the imagery of koi fish and bamboo. The bamboo adds an element of strength and flexibility to the symbolism of the koi fish.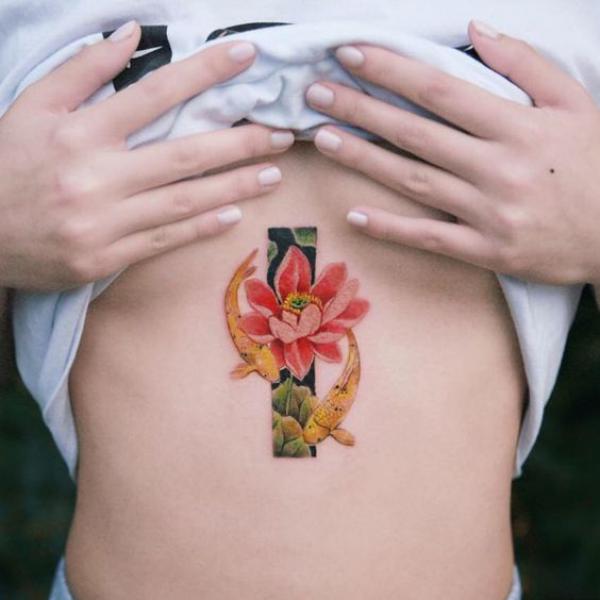 Two koi fish swim around a lotus flower on a background of rectangular flower patterns in this striking design. The lotus flower, a symbol of purity and enlightenment, enhances the meaning of the koi fish, creating a complex and richly symbolic tattoo.
Black and red two koi fish tattoo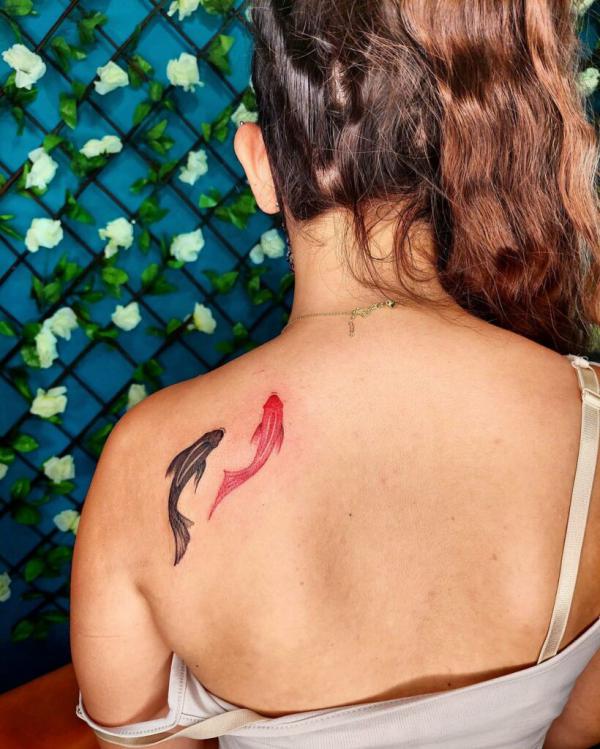 This cute design on the shoulder blade features two koi fish swimming together, representing companionship and mutual support. The contrast between the red and black fish can symbolize balance and harmony.
Black and white koi fish shoulder tattoo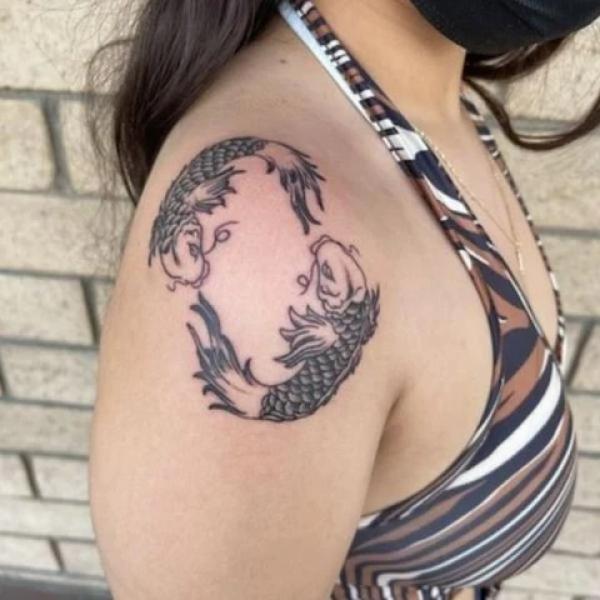 This tattoo design features two fish swimming in a circle, representing the cyclical nature of life and the balance between opposing forces. The black and white contrast adds a dramatic touch to the design.
Black koi fish and flower tattoo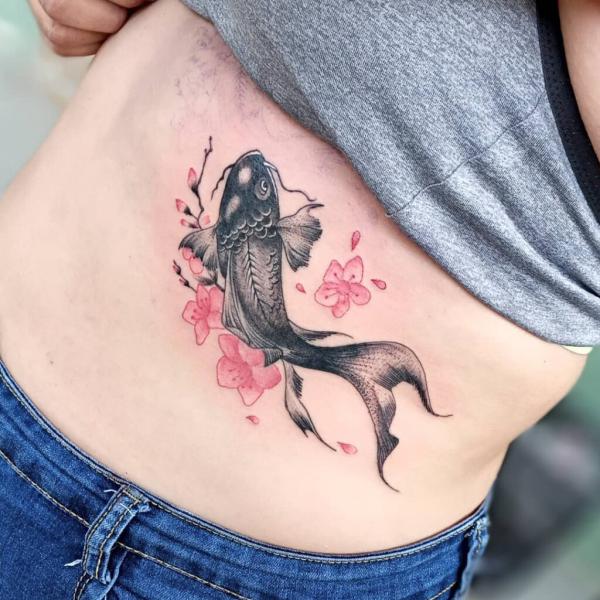 Combining the image of a koi fish with a flower can create a deeply symbolic and feminine design. The flower can be chosen based on its own unique symbolism, adding another layer of meaning to the tattoo.
Black watercolor koi fish tattoo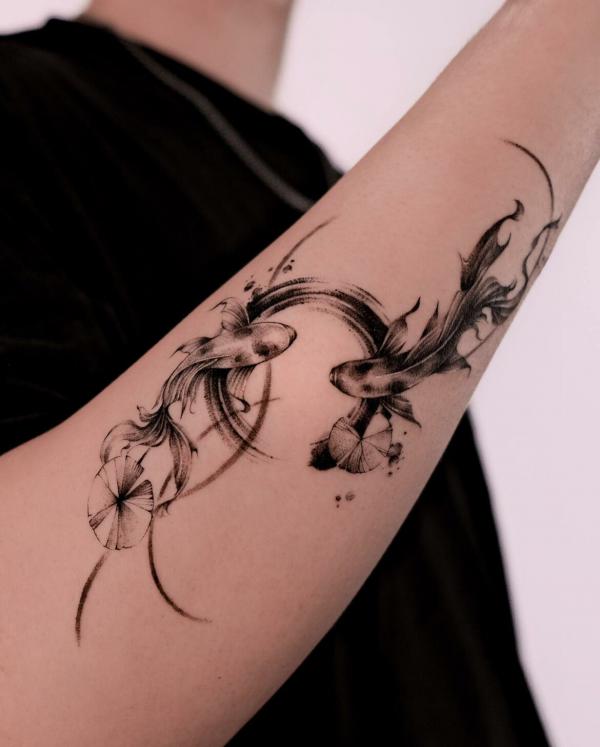 The watercolor style lends a soft, dreamy quality to the koi fish tattoo. The black ink gives the design a modern, artistic feel, making it a perfect choice for creative souls.
Cherry blossom and koi fish tattoo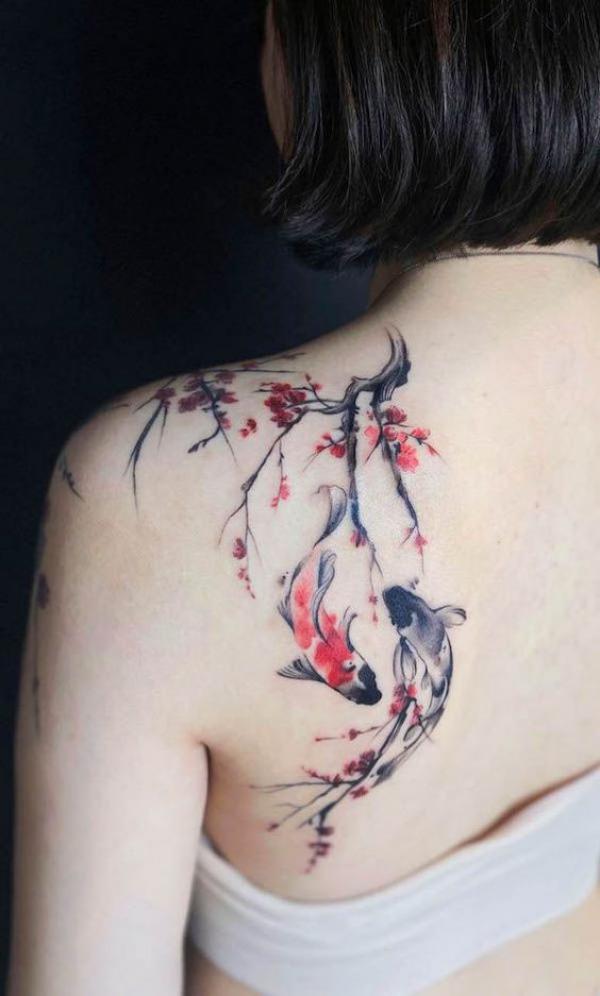 This design combines the strength and resilience symbolized by the koi fish with the transient beauty of cherry blossoms. Two koi fish, one red and one black, swim in different directions against a backdrop of cherry blossoms and branches. The watercolor style adds a soft, dreamy quality to the design, making it a perfect choice for those who prefer a more delicate and feminine look.
Colorful two koi fish thigh tattoo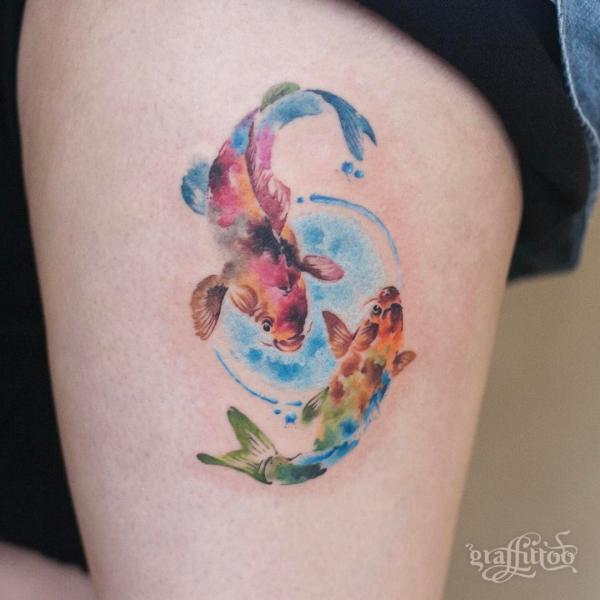 This design features two koi fish swimming in opposite directions against a blue circular background. The vibrant colors make this design pop, while the opposing directions of the fish can symbolize balance and harmony, or two forces moving against each other.
Cute koi fish tattoo for girls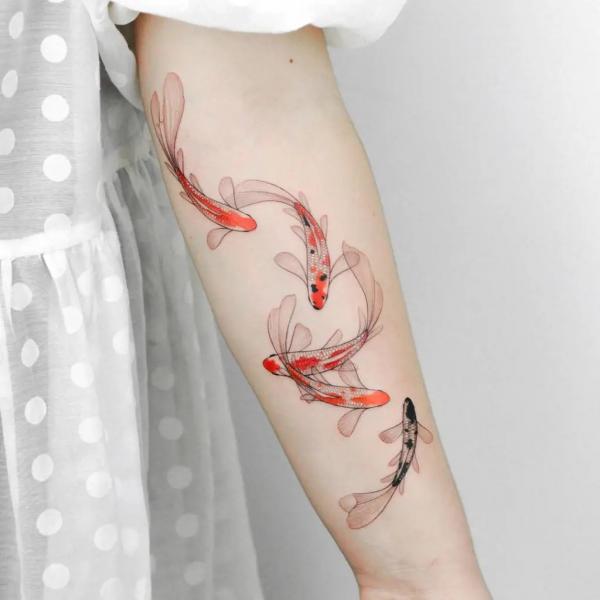 This design features four koi fish swimming along the forearm, their tails transparent and flowing. It's a playful and cute design that doesn't skimp on depth and meaning, making it a fantastic choice for younger girls or those who prefer a more whimsical style.
Elegant two Koi fish side tattoo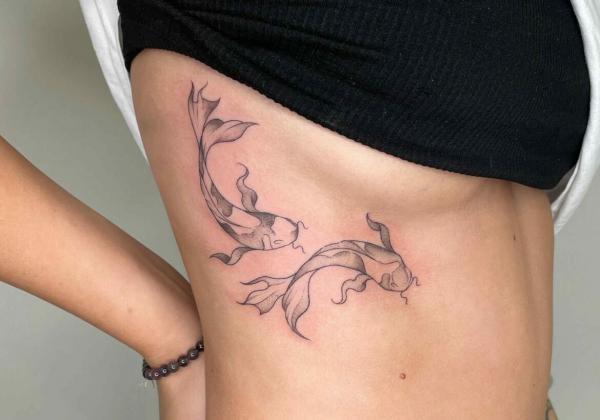 For those who prefer an elegant, understated look, consider a design of two koi fish in a light and transparent style. The translucency of the design gives it a delicate and ethereal feel, while the side placement allows for a more private and intimate tattoo.
feminine small koi fish tattoo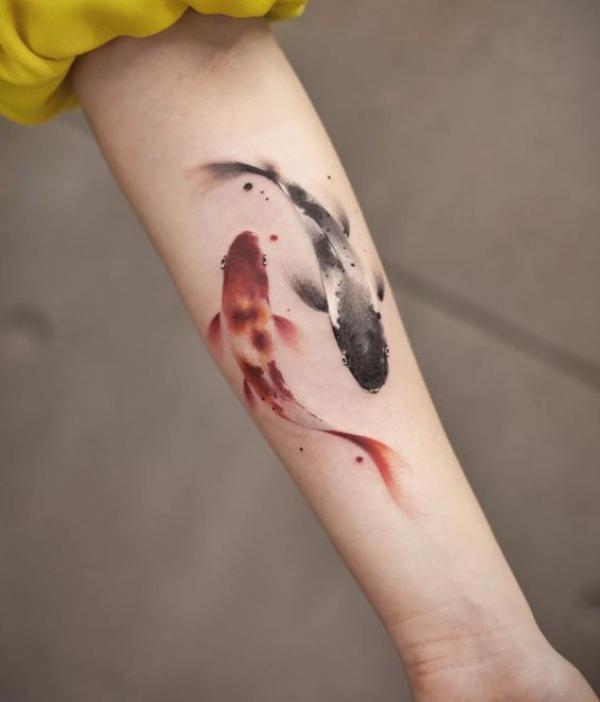 This design, done in a watercolor style, features two koi fish, one black and one red, swimming in opposite directions. The contrasting colors and opposing directions can symbolize duality or balance, and the watercolor style adds an artistic touch.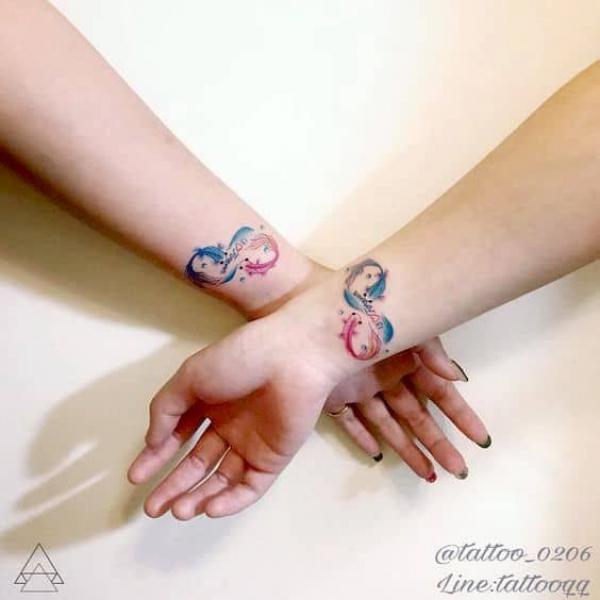 This design is perfect for couples or best friends. It features two koi fish swirling into an infinity symbol, each tattoo placed on a wrist. It's a unique take on the classic infinity symbol tattoo, adding a layer of meaning with the koi fish.
Koi fish infinity with date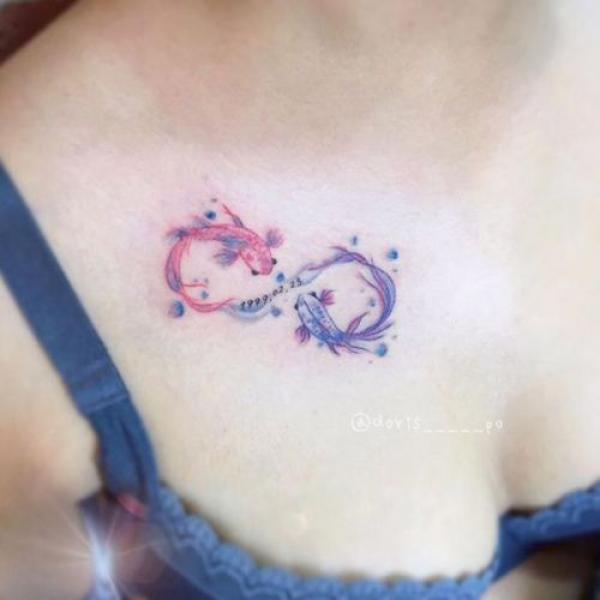 Similar to the previous design, this one incorporates a date into the infinity symbol formed by two koi fish. It's an excellent way to commemorate a significant date or anniversary, and the clavicle placement gives it a feminine touch.
Koi fish white ink tattoo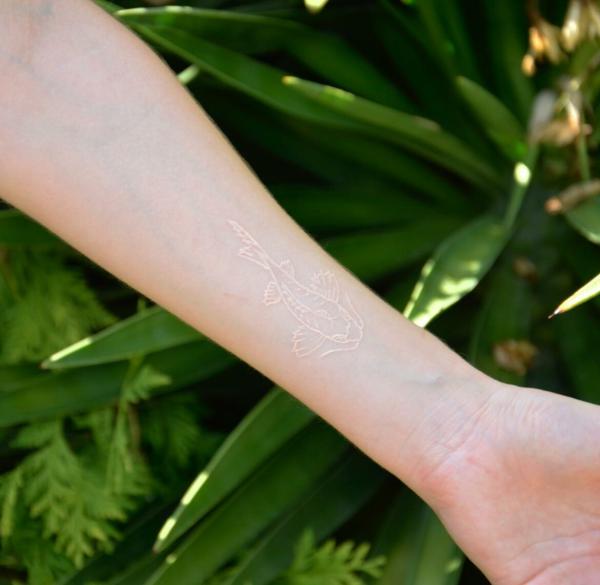 For those who prefer a more subtle or minimalist approach, a white ink tattoo of a koi fish on the forearm can be a stylish choice. The white ink gives the design a soft, almost ghostly appearance, making it a unique and understated option.
Koi Fish with flowers under sun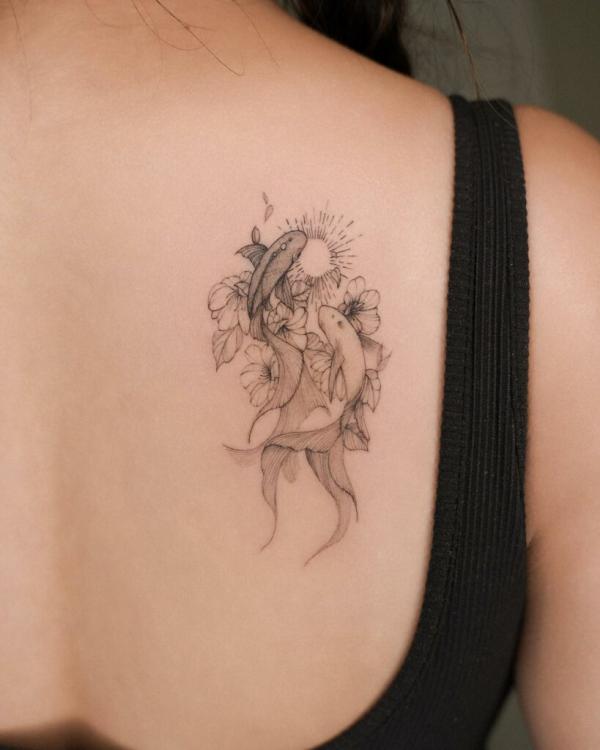 This design, done in black and grey, features a koi fish swimming among flowers under a sun. It's a beautiful scene that combines various elements of nature, and the black and grey style gives it a classic, timeless feel.
Koi Fish Yin Yang tattoo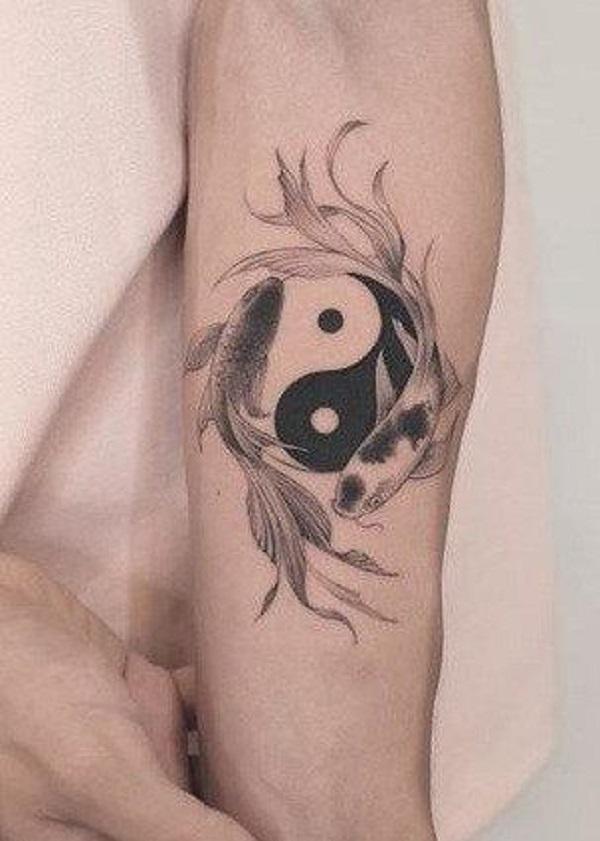 This design takes the classic symbol of balance—the yin yang—and incorporates two koi fish. Each fish swims around the circle of the yin yang, creating a visually balanced and symbolically profound design.
minimalist koi fish tattoo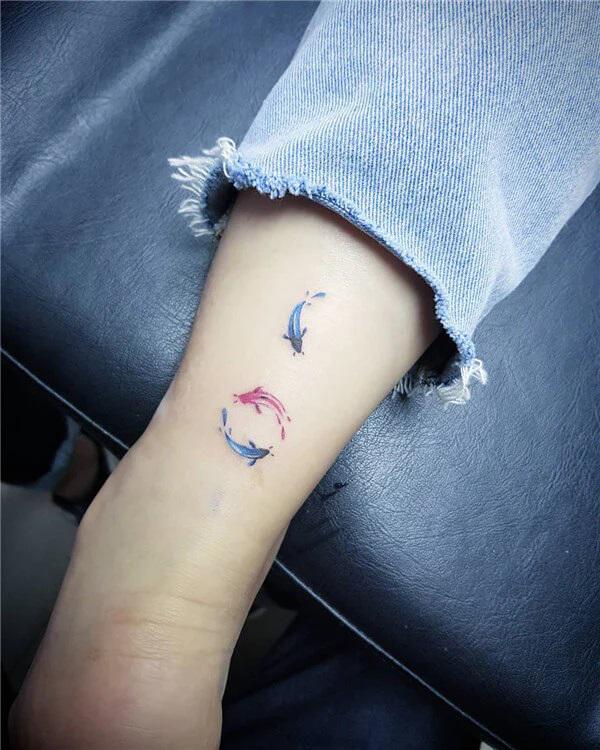 This minimalist design features two koi fish swimming in a circle, with a third one swimming beside them. It's a subtle and simple design that carries a wealth of meaning, making it a perfect choice for those who prefer a minimalist aesthetic.
Conclusion: A Celebration of Feminine Strength
Feminine Small koi fish tattoos are more than just a trend in body art. They are a celebration of feminine strength, resilience, and beauty. These miniature masterpieces, with their rich symbolism and aesthetic appeal, encapsulate the spirit of the modern woman—strong, graceful, and unafraid to express herself. As we continue to navigate the currents of life, these tattoos serve as a beautiful reminder of our inner strength and our ability to overcome.
So, whether you're a tattoo aficionado or a newbie, consider the small koi fish tattoo. It's not just a design—it's a statement, a story, and a piece of art that you carry with you, always.