In the vivid realm of body art, flowers command a distinct presence. They captivate not only with their inherent beauty but also with their profound symbolism. Among these botanical designs, the Morning Glory flower tattoo stands out, an emblem that encapsulates the fleeting beauty of life and the enduring power of love.
Morning Glory, a flower that blossoms and fades within the span of a day, encapsulates life's transience. It's a radiant spectacle at sunrise that quietly retreats as dusk descends. This ephemeral beauty has become a muse for many tattoo enthusiasts. Let's delve deeper into the symbolism of Morning Glory tattoos and understand why they resonate with many individuals.
The Profound Language of Morning Glory
The Morning Glory, through its characteristics, conveys a profound narrative. It symbolizes love, mortality, and renewal. These themes echo the reality of human existence and the emotions we experience.
Love That Intertwines
Morning Glory is synonymous with love and affection. The way the vines twist and twine as they grow symbolizes tight bonds and strong connections. In its depiction, it signifies love — beautiful, intense, and sometimes ephemeral, much like the bloom of the flower itself.
Embracing Mortality
The unique lifecycle of this plant has made it a symbol of mortality. Like human life, the Morning Glory's existence is brief yet beautiful, a stark reminder of life's fleeting nature. It encourages us to seize each day, just as the Morning Glory seizes the sunlight.
The Cycle of Renewal
Lastly, Morning Glory is a representation of renewal. Each day, new flowers bloom, symbolizing the continual cycle of life and the opportunity to start anew.
These themes often influence the decision to get a Morning Glory tattoo. The ink serves as a constant reminder of these elements, a silent yet poignant nod to life's constants and inherent beauty.
Cultural Significance of Morning Glory Tattoos
The symbolism of Morning Glory isn't confined to its natural characteristics. Its cultural significance, particularly in China and Japan, enhances the depth of these tattoos.
The Chinese Connection
In China, the Morning Glory is a symbol of marital bliss, love, and affection. Frequently depicted in art and literature to represent lovers, Morning Glory tattoos have gained popularity among couples or those celebrating their love.
The Japanese Interpretation
In Japan, the Morning Glory, known as "asagao," signifies brief love and life's transience. It echoes the Buddhist concept of "mono no aware," or the awareness of impermanence. This interpretation has inspired many to opt for Japanese-style Morning Glory tattoos, often as part of a larger, intricate design.
These cultural interpretations add a personal touch to Morning Glory tattoos, resonating with the wearer's beliefs, experiences, or aspirations.
A Palette of Morning Glory Tattoo Designs
Morning Glory tattoos come in a myriad of designs, each with its unique charm and symbolism. Some are drawn to the simplicity of a single bloom, its solitary beauty speaking volumes. Others find intrigue in the intricate patterns of Morning Glory vine tattoos, a stunning visual representation of growth and connection.
These designs are popular as they allow the wearer to express complex narratives or emotions in a visually captivating way. They're not mere tattoos; they're stories etched on the skin, silent yet eloquent.
Morning glory and sparrow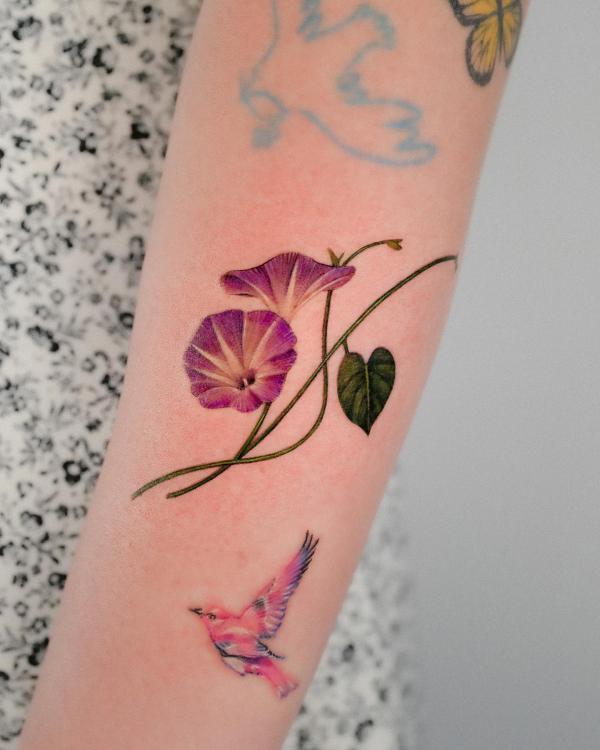 Pairing a Morning Glory with a sparrow creates a symbolic harmony of nature. The Morning Glory, with its emblematic representation of love and the fleeting nature of life, complements the sparrow's symbolism of freedom and joy. This design often depicts a sparrow perched on a Morning Glory vine, creating a visually stunning narrative of life's beautiful ephemerality and boundless freedom.
Morning glory and vine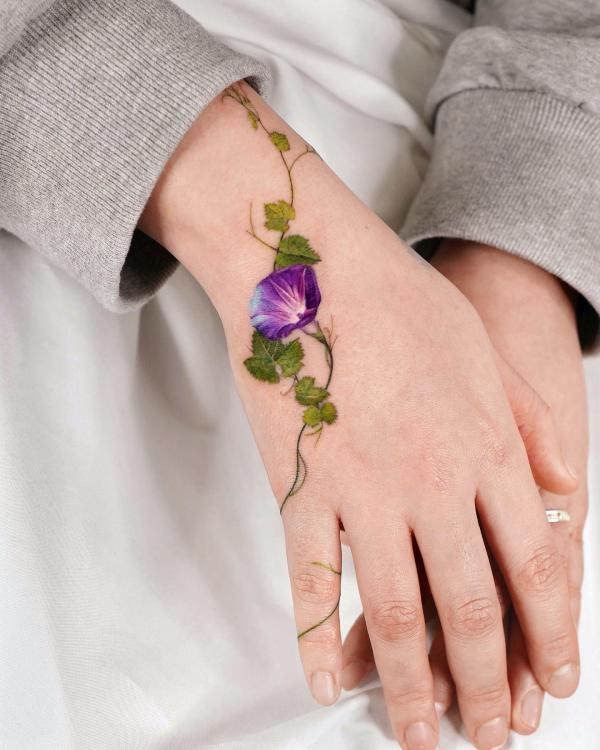 The Morning Glory vine tattoo is a popular choice thanks to its intricate beauty. The twining vine symbolizes connection and growth, echoing the strength of relationships and personal evolution. It's a versatile design that can be adapted to any part of the body, gracefully following the curves and contours of the skin.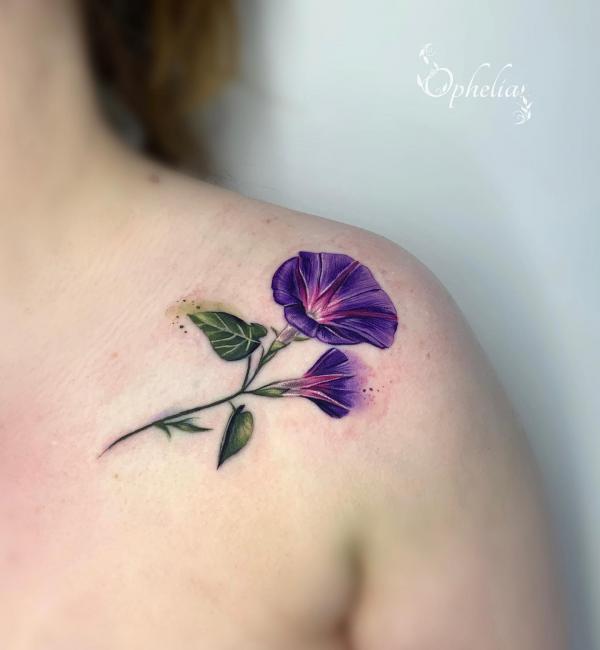 The delicate clavicle serves as an excellent canvas for the radiant Morning Glory. The bloom's vibrant colors and beautiful outline stand out against the clavicle's subtle contour, creating a visually striking piece. This design is a silent ode to love and life, sitting close to the heart.
Morning glory forearm tattoo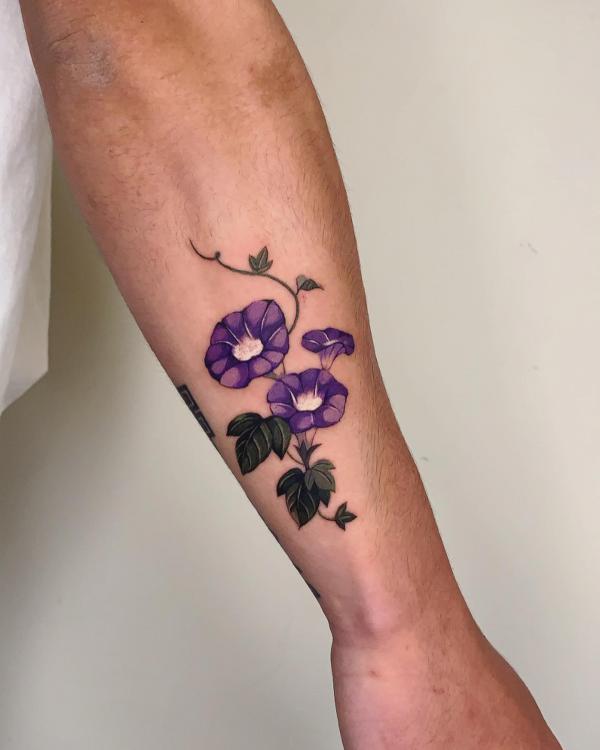 The forearm, with its ample space, allows for larger, more detailed Morning Glory designs. Whether it's a single bloom or a twining vine, the design stands out, making a bold statement. A Morning Glory forearm tattoo acts as a constant reminder of the transient nature of life and the beauty of seizing each day.
Morning glory outline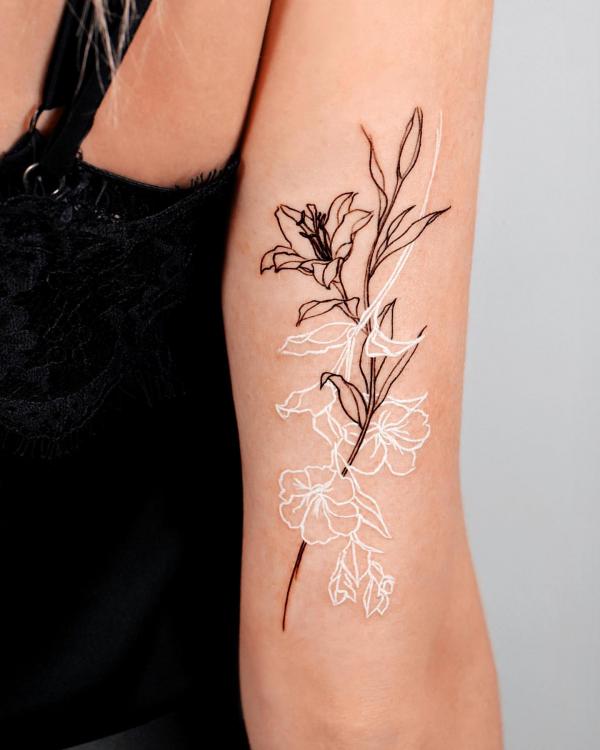 For those who appreciate simplicity, the Morning Glory outline is an ideal choice. This minimalist design captures the flower's silhouette, focusing on its shape and form. Despite its simplicity, the outline holds the same profound meanings, serving as a subtle, elegant symbol of love, mortality, and renewal.
Morning glory rose and aster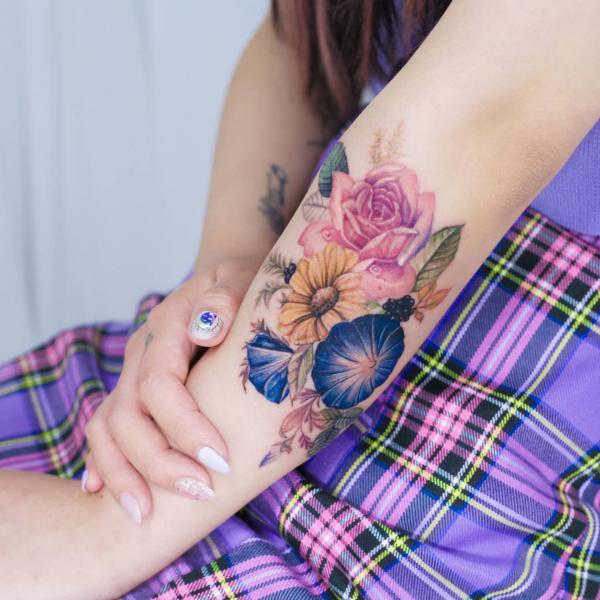 A combination of Morning Glory, rose, and aster creates a floral medley of symbolism. Morning Glory signifies fleeting love, the rose is a universal symbol of eternal love, and the aster represents patience. This triad creates a beautiful narrative of love's various phases, making for a richly symbolic and visually appealing design.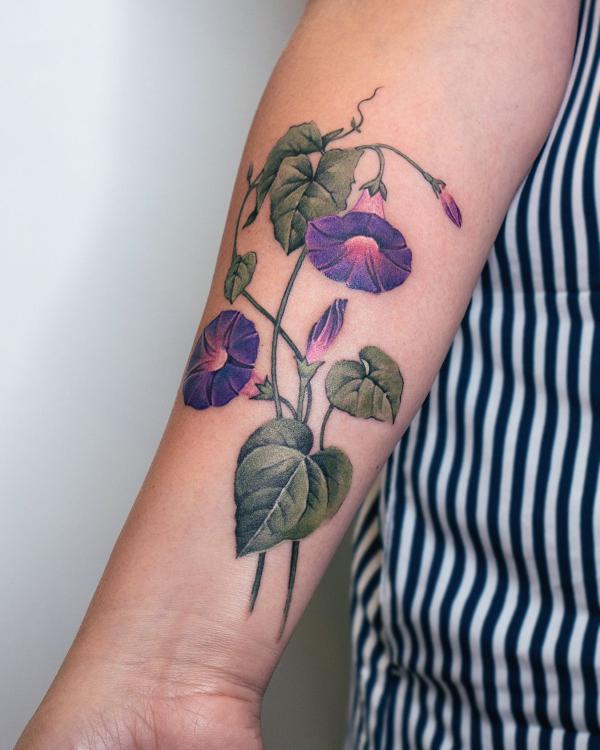 The upper arm, a popular spot for larger tattoos, is an excellent location for Morning Glory designs. Whether it's a sprawling vine, a cluster of blooms, or a detailed single flower, the upper arm provides enough space for these designs to truly shine. This placement is especially popular for a Morning Glory sleeve tattoo.
Purple Morning glory sleeve tattoo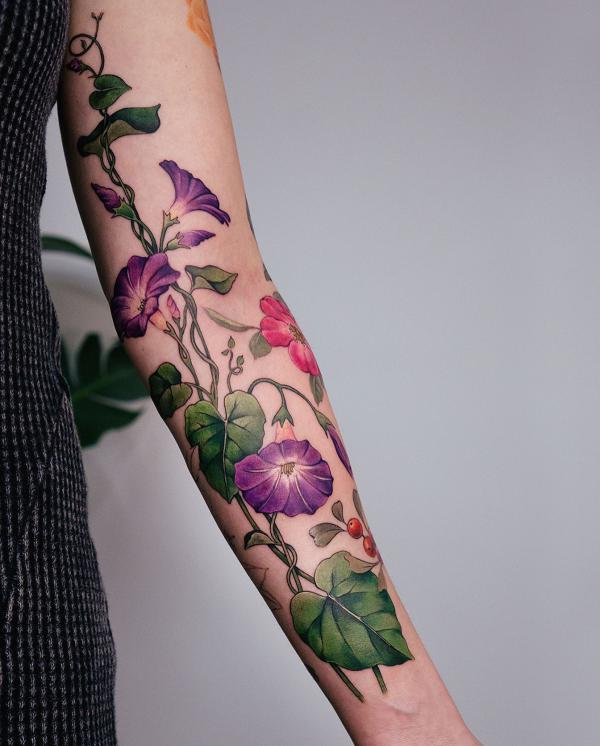 The sleeve tattoo, covering the entire arm, offers a grand canvas for an elaborate Morning Glory design. A purple Morning Glory sleeve tattoo, with its vivid hues and intricate details, is a stunning visual spectacle. The vibrant purple, paired with the intricate details of the vine and flowers, creates a captivating narrative of love and life on the skin.
Small morning glory tattoo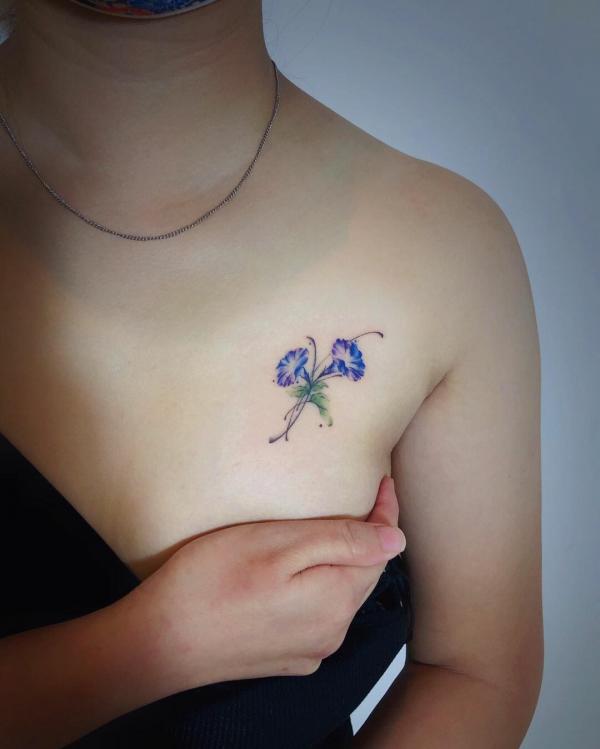 Small Morning Glory tattoos, despite their size, carry the same profound symbolism. These designs can fit almost anywhere and are perfect for those seeking a subtle, delicate piece. Often, these designs focus on a single, beautifully rendered Morning Glory bloom, making a quiet yet potent statement.
Watercolor butterfly and Morning glory tattoo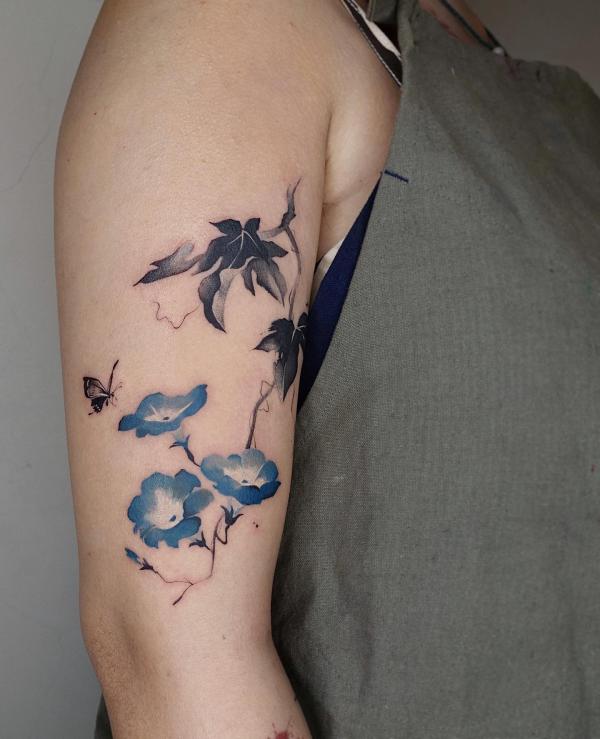 The combination of a watercolor butterfly and Morning Glory is a visual treat. The watercolor technique gives the tattoo a soft, dreamy look, while the butterfly adds an extra layer of symbolism, representing transformation and new beginnings. This design is a poetic fusion of symbols, encapsulating the beauty of change, the transience of life, and the power of love.
Watercolor morning glory and rose tattoo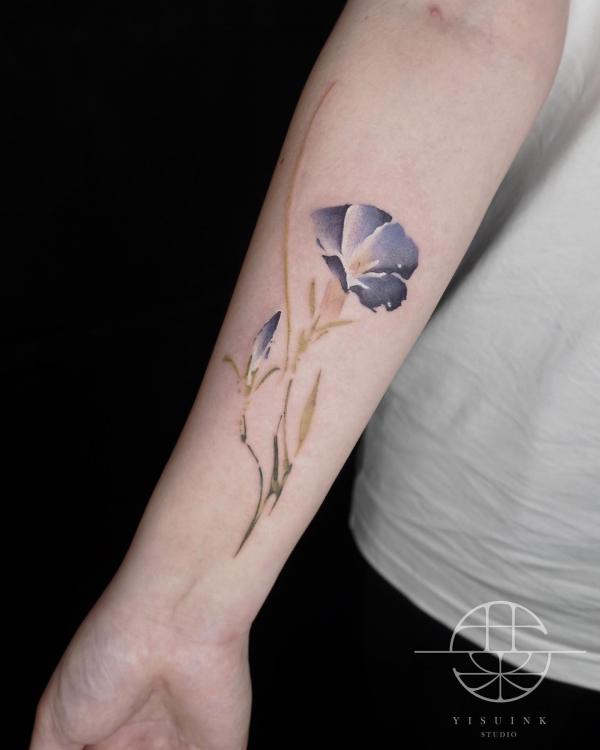 When the charm of Morning Glory combines with the timeless elegance of a rose, the result is a Watercolor Morning Glory and Rose tattoo. The watercolor technique adds a soft, ethereal quality to the design, making it seem as if the flowers have been painted on the skin with a delicate brushstroke. This pairing creates a beautiful contrast, symbolizing the transient nature of love (Morning Glory) and endless affection (Rose).
Black and grey morning glory and daisy tattoo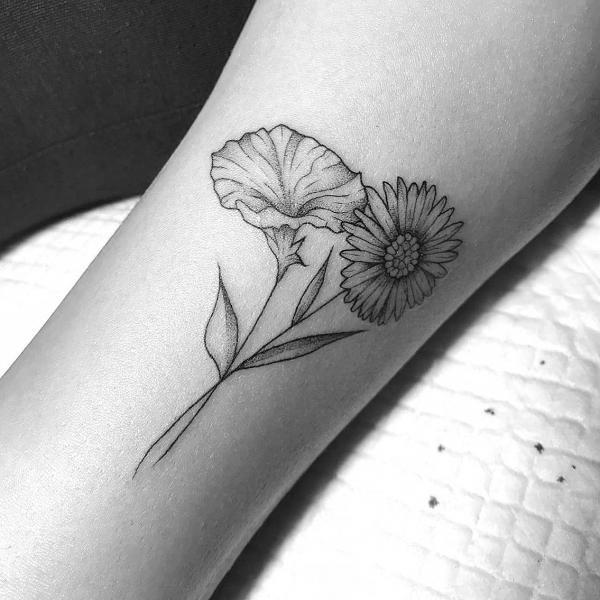 The pairing of Morning Glory with a Daisy in a Black and Grey tattoo design is a stunning mix of symbolism and contrast. While the Morning Glory stands for ephemeral love and mortality, the Daisy symbolizes innocence and purity. The black and grey palette adds a classic touch, making the design stand out with its simplicity and depth.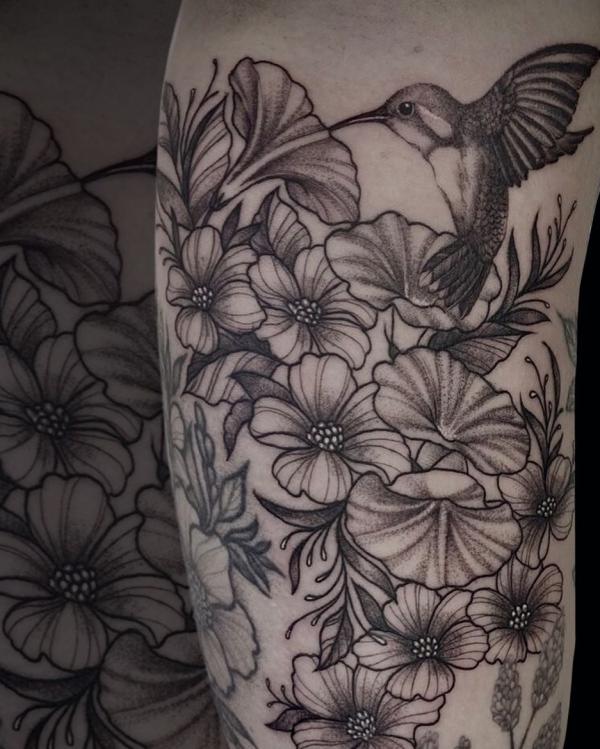 A Black and Grey Morning Glory and Hummingbird tattoo design offers a serene depiction of nature. The hummingbird, symbolizing enjoyment of life and lightness of being, perfectly complements the Morning Glory's representation of seizing the day. The monochromatic palette brings a sense of sophistication and timelessness to this dynamic design.
Blue morning glory flower tattoo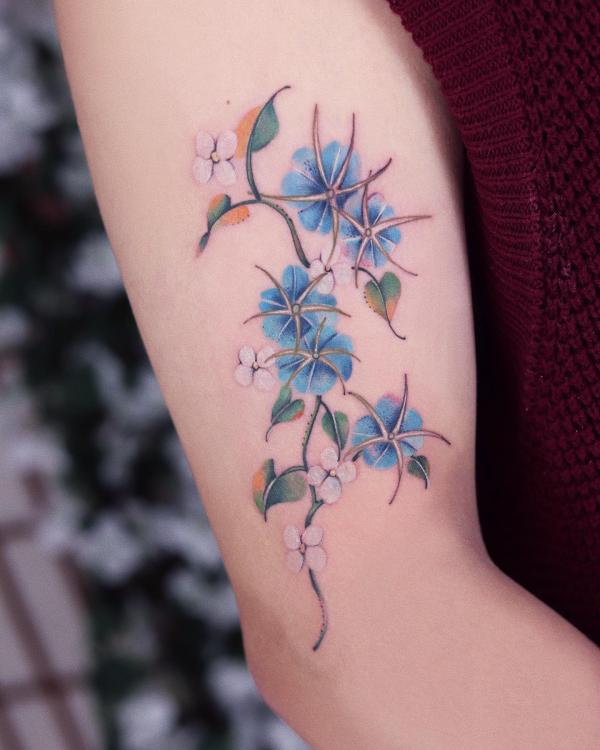 A Blue Morning Glory flower tattoo is a vibrant expression of love and life. The blue color intensifies the design's visual appeal, making it a captivating piece. This design brings a splash of color and a powerful symbol of the fleeting nature of life to any part of the body.
Green and yellow morning glory flower tattoo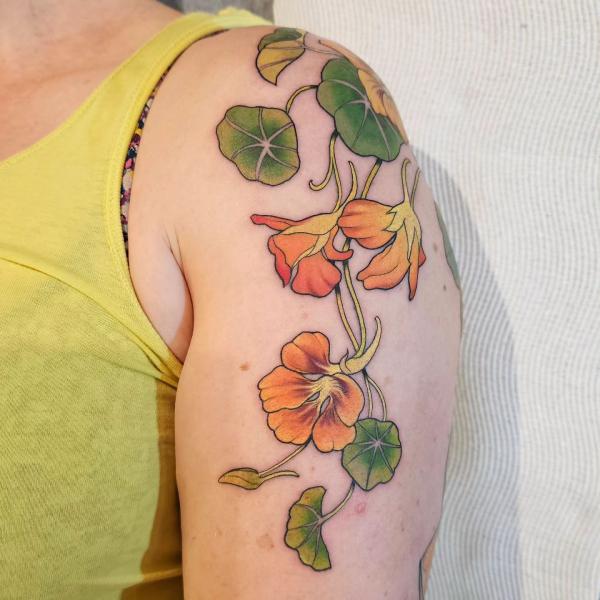 The Green and Yellow Morning Glory flower tattoo is a burst of sunshine on the skin. The yellow flower symbolizes friendship and happiness, while the green leaves and vines represent growth and renewal. This design radiates positivity, making it a beautiful and inspiring choice.
Morning glory and aster tattoo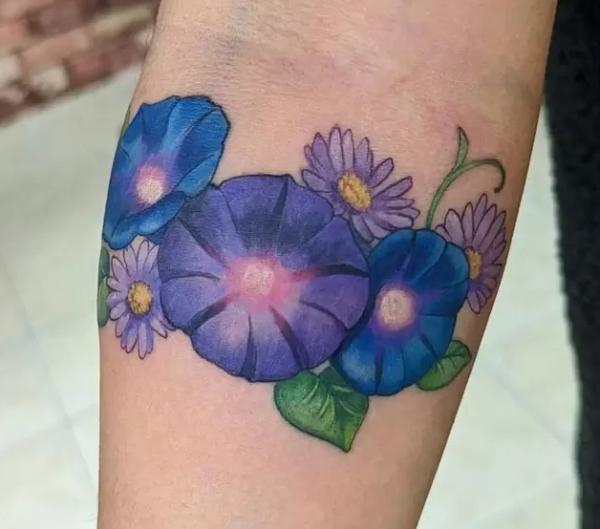 A Morning Glory and Aster tattoo design is a personalized tribute to those born in September, as both are birth flowers of this month. This design intertwines themes of love, life's transience (Morning Glory), and patience (Aster), creating a beautiful narrative of personal growth and self-discovery.
Morning glory and bird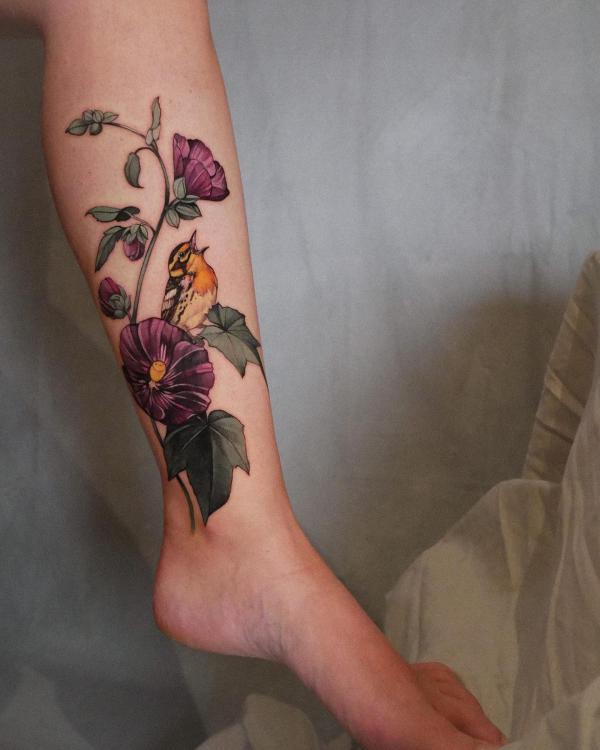 A Morning Glory and Bird ink design is a harmonious blend of nature and symbolism. The bird, often a symbol of freedom and perspective, pairs well with the Morning Glory's association with love and life. This design speaks volumes about the wearer's love for freedom, life, and personal growth.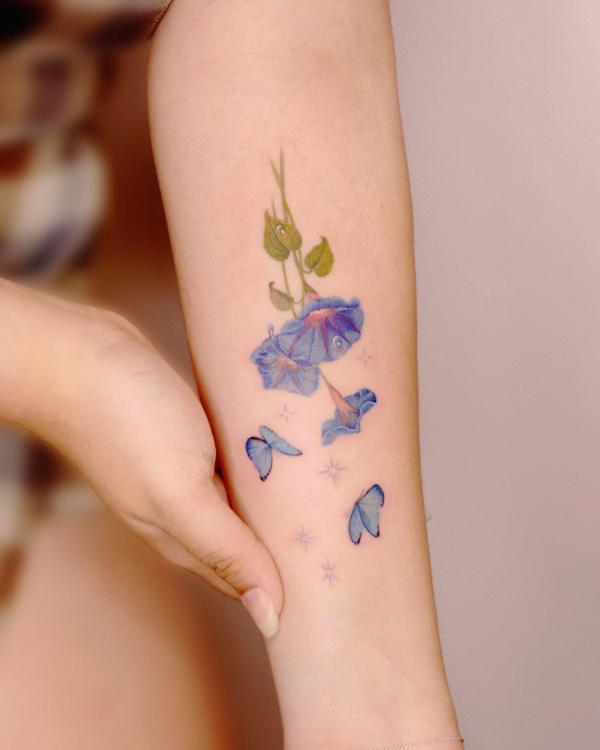 The Morning Glory and Butterfly tattoo design is a visual poetry of transformation and life's fleeting beauty. The butterfly symbolizes change, resilience, and hope, creating a powerful synergy with the Morning Glory's representation of ephemeral love and life. This design is a vivid reminder of life's constant evolution.
Morning glory and calla lily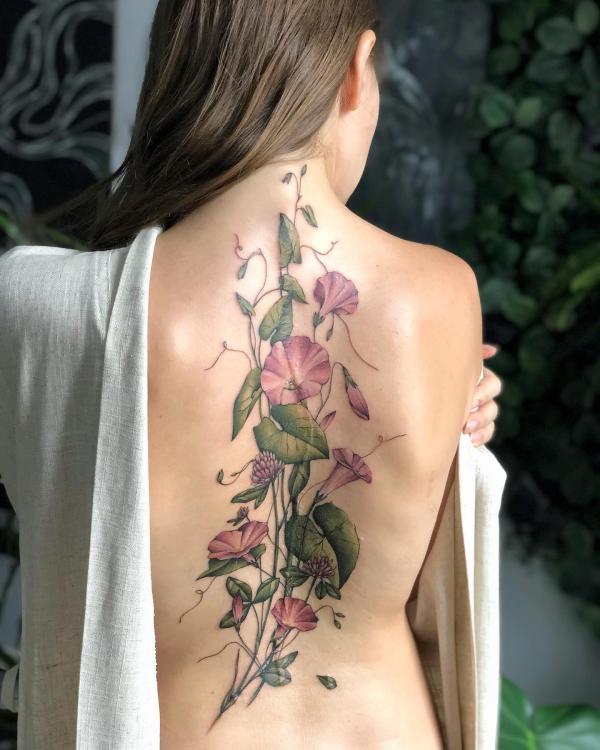 When combined with a Calla Lily, the Morning Glory design becomes a symbol of majestic beauty and transient love. The Calla Lily, known for its associations with purity and rebirth, adds a layer of depth to the Morning Glory's symbolism. This design is a stunning reflection of life's purity and the transient nature of love.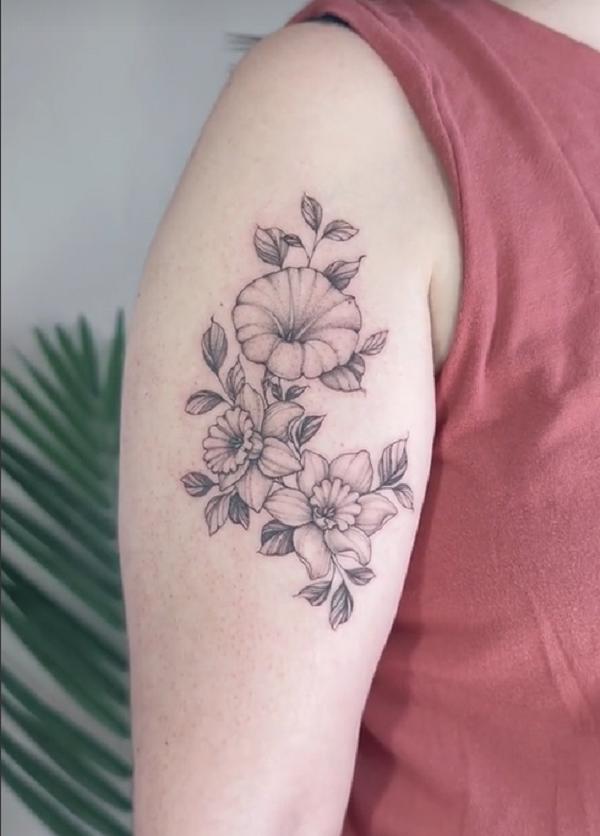 A Morning Glory and Daffodil ink design is a celebration of new beginnings and fleeting love. The Daffodil represents renewal and inner reflection, perfectly complementing the Morning Glory's representation of ephemeral love and life. This design is a beautiful ode to introspection and personal evolution.
Morning glory and rose tattoo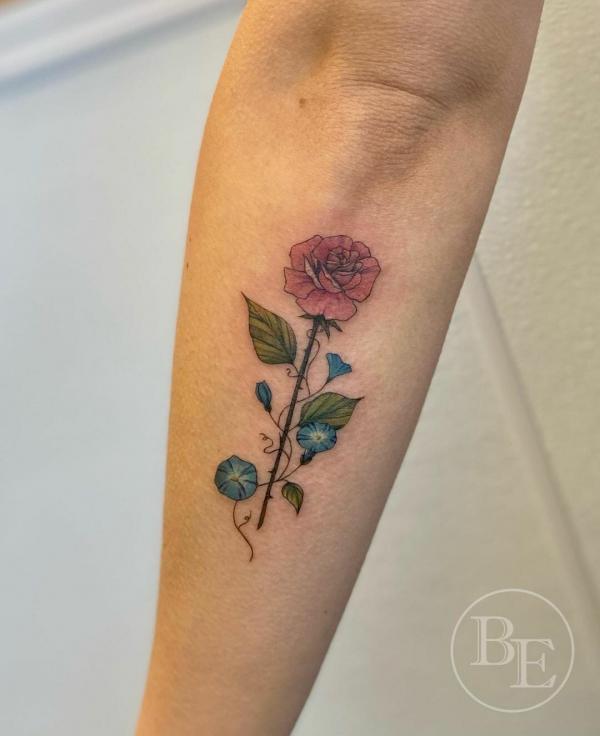 The morning glory and rose design is a powerful depiction of love in its various forms. While the Morning Glory stands for fleeting love, the Rose symbolizes eternal love. This design is a beautiful contrast and balance, embodying the complex nature of love in a visually stunning manner.
Choosing the Right Tattoo for You
Choosing a Morning Glory tattoo design is a deeply personal decision. It's about finding a design that resonates with your story, a symbol that represents the narratives you carry within.
Consider what the Morning Glory signifies for you. Is it about love? Mortality? Renewal? Or all three intertwined? Your interpretation will guide your choice.
The size, color, and placement of the tattoo also matter. Some prefer large, colorful tattoos that capture the Morning Glory's vibrant hues, while others opt for subtle, monochromatic designs. Placement depends on personal preference and the intended visibility of the tattoo. Popular locations include the arm, shoulder, back, and ankle.
The Resounding Impact
Morning Glory tattoos are much more than aesthetic choices. They're forms of self-expression, silent tributes, or constant reminders of personal beliefs or experiences. They carry a piece of the wearer's story, providing a glimpse into their inner world.
For some, a Morning Glory tattoo might serve as a reminder to cherish each day, to live and love fully despite the transience of life. For others, it could symbolize a significant personal transformation, a period of growth, or a bond that has deeply influenced their life.
These tattoos have the ability to touch hearts, evoke emotions, and resonate on a deeply personal level. They serve as a silent expression of the wearer's life journey, etched forever on the skin.
Conclusion
In the end, Morning Glory tattoos are a beautiful paradox, embodying the fleeting yet eternal nature of life. They tell a tale of love and mortality, of renewal and rebirth. They capture the ephemeral beauty of existence, reminding us to seize each day, just as the Morning Glory seizes the sunlight.
The symbolism, the cultural significance, and the myriad of designs make Morning Glory tattoos a fascinating choice for tattoo enthusiasts. Whether it's a simple bloom or an intricate vine, whether it's paired with another symbol or stands alone, each Morning Glory tattoo holds a unique meaning for its wearer.
So if you're considering a Morning Glory design, remember, you're not just choosing a design. You're choosing a narrative, the echoes of a story that resonates with your journey. And in its beauty and symbolism, you'll find a piece of yourself.