Leg is the limb to support body. If you want tattoo less visible, you may consider lower part of the body. Extra benefit for leg tattoo is its larger area compared with sleeve tattoo. If diving in tattoo ideas of this placement, you will find the same mind-blowing designs to those on arm.
Placement of leg tattoos
What talking about leg tattoos, we refer to tattoos inked on thigh, calf (back of the lower leg), shinbone (front of the lower leg) or full leg.
The thigh has three sets of strong muscles in its back, front and inside position. So you are expected to experience less pain in this area. As it's more private in terms of placement, thigh tattoos are seen very popular for women.
The calf is another part of leg rich in muscles. So this is also an area for large or sophisticated design. On the opposite side of the calf is shinbone. Some people reflected extreme pain when tattooing in this area. Some said it's bearable and didn't hurt much at all.
If you select full leg tattoo, all the leg is your canvas.
Leg tattoo ideas
People may get overwhelmed with various ideas when starting to get a leg tattoo. Actually, it's the same practice as getting a tattoo on other parts of body, find out a tattoo idea with meaning to reflect one's personality or preference. Most people choose a tattoo of bigger size considering larger area of leg. We also see a small tattoo on the location, which looks cute and lovely.
In this post, let me unveil the collection of incredible leg tattoos for you. Hope you will find inspiration if you are considering to get one.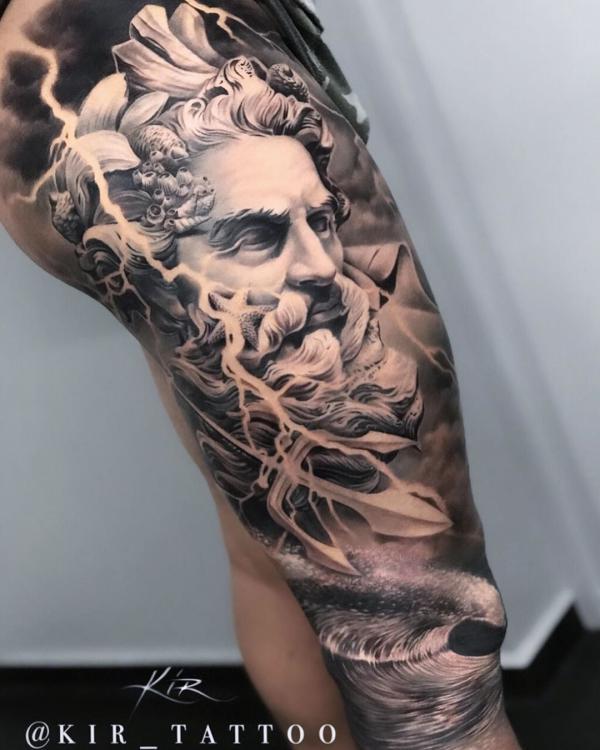 Greek or Roman statue inspired leg tattoo in realistic black and grey style
This tattoo takes advantage of large area of thigh. From the hip to the knee is painted the portrait of Rome or Greek statue in the lightning day. Although the period of history has passed for thousands of year, the weathered statue tells a great deal of the historical events that took place. I am not sure of exact meaning of this portrait. However, it's always good example to pay tribute to the influential history to get this kind of tattoo.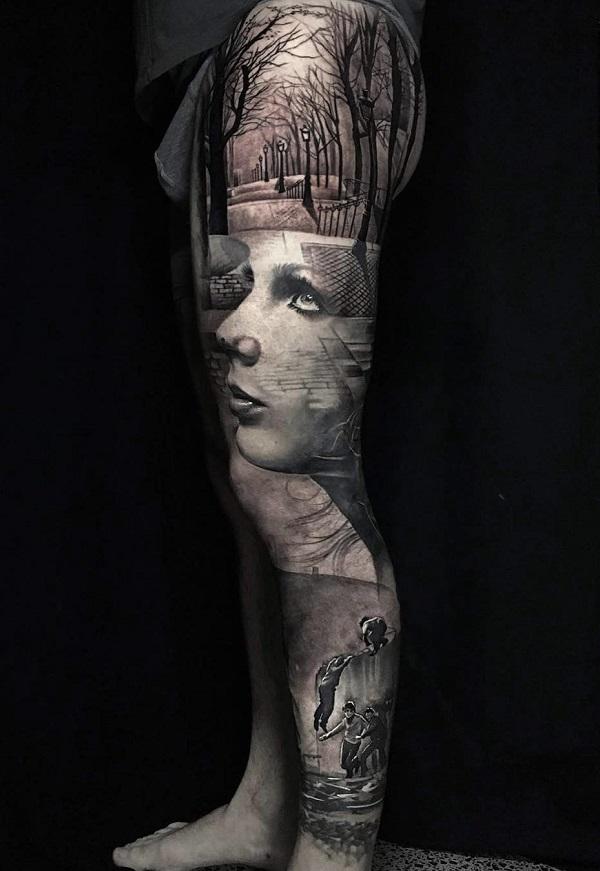 Black and white surrealistic full leg tattoo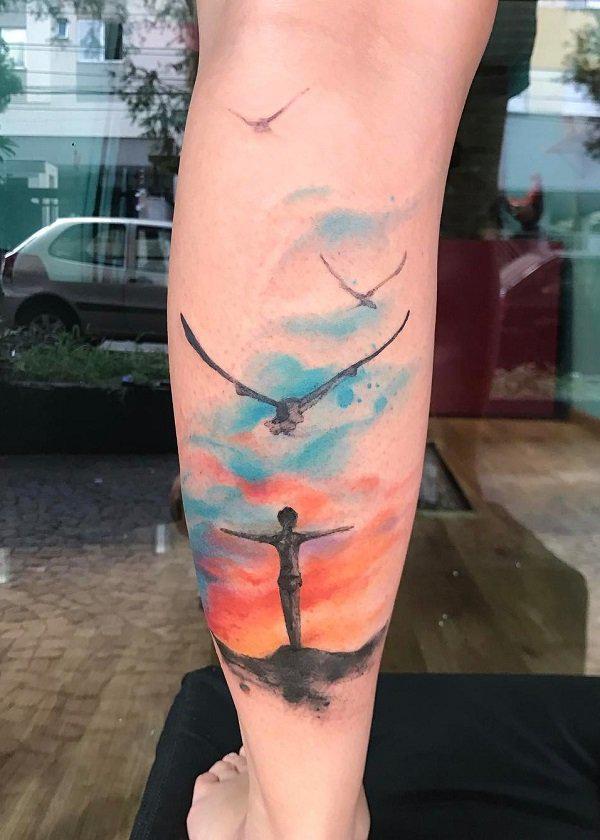 I want to fly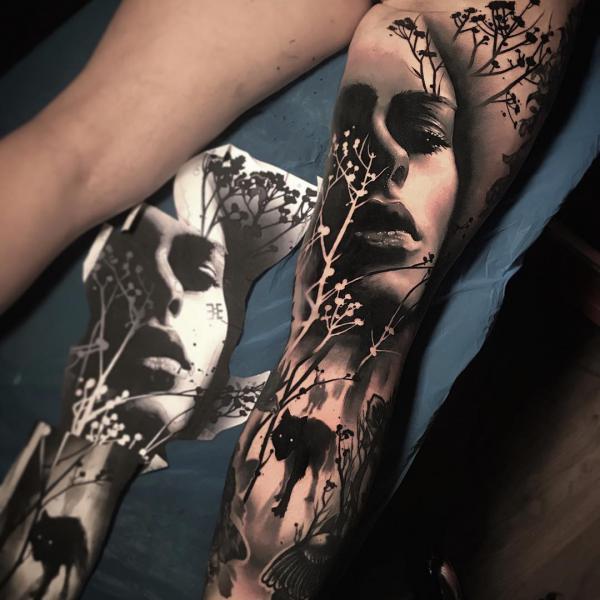 Forest call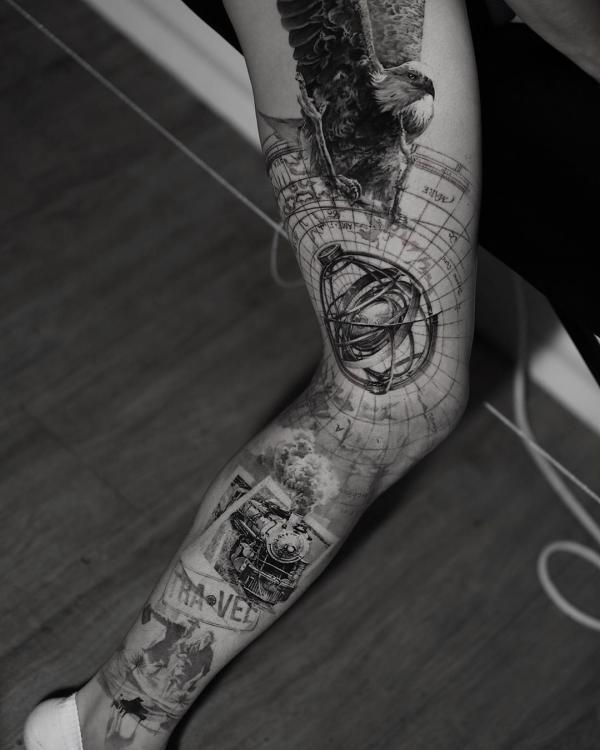 Full leg tattoo for travel lover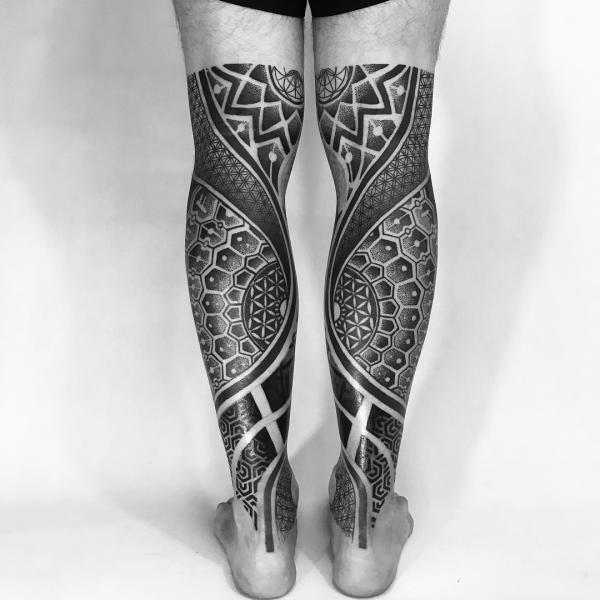 Mandala themed duo leg tattoos
Some people may be discreet in selecting the size or area when come to get their first tattoos. However, every chunk of empty area could be canvas for the tattoo hardcore. Instead of focusing on one leg, this piece paints symmetric mandala patterns on the two legs. There is so much detail in the geometric dotwork.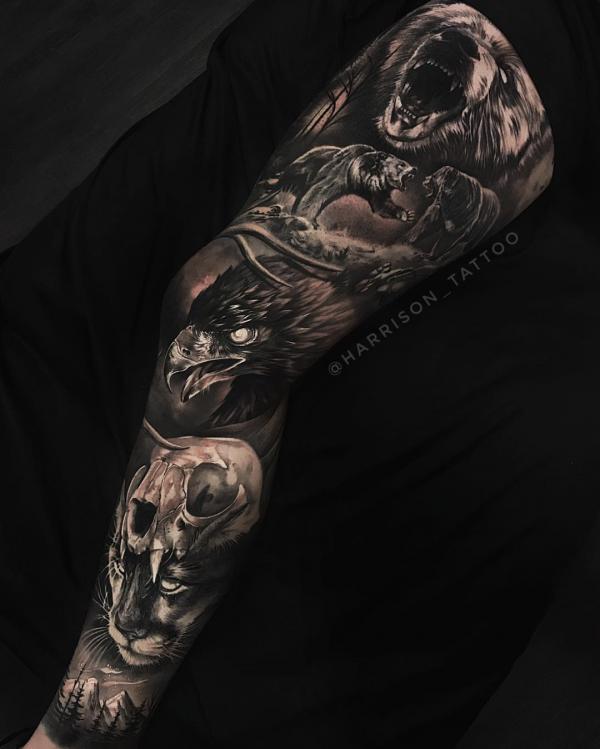 Realistic dark tattoo with motifs of gorilla bears eagle and skull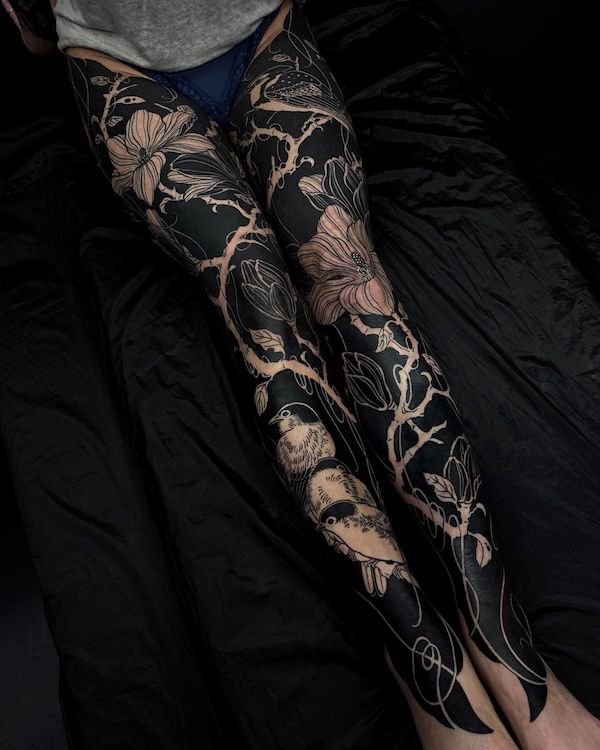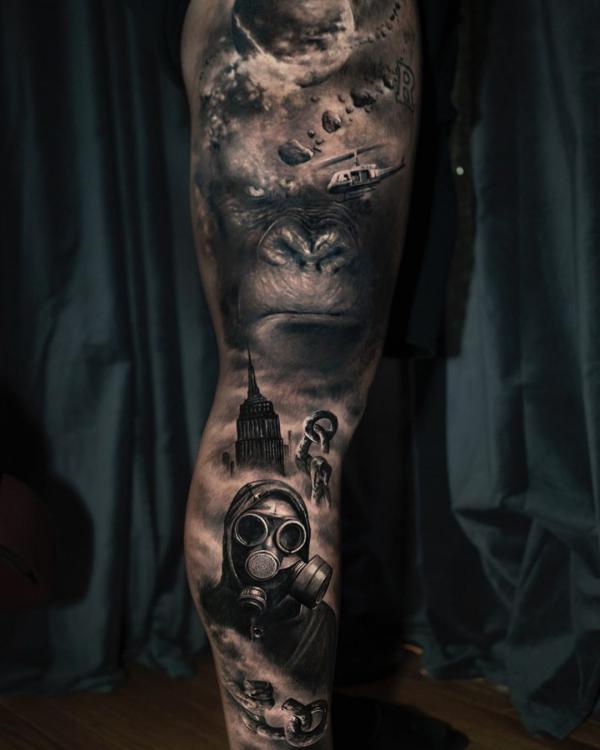 King Kong film inspired tattoo in grey scale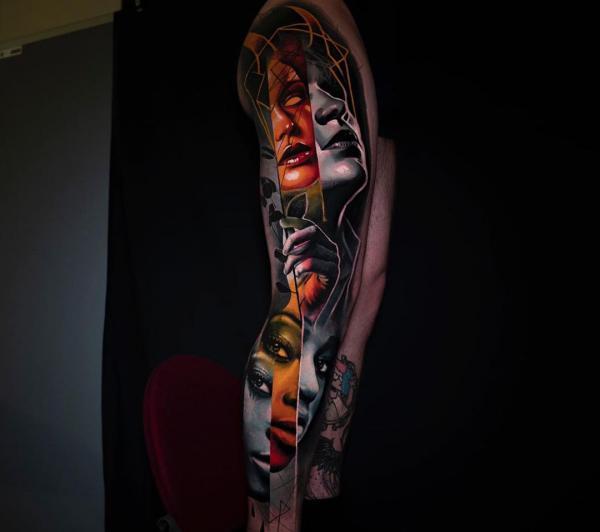 Mutiple faces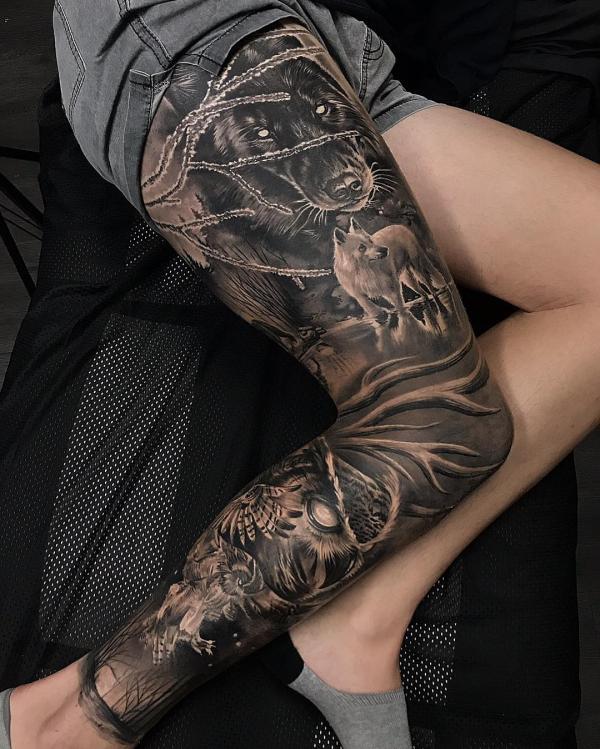 Black and grey animal full leg tattoo with bear wolf and feather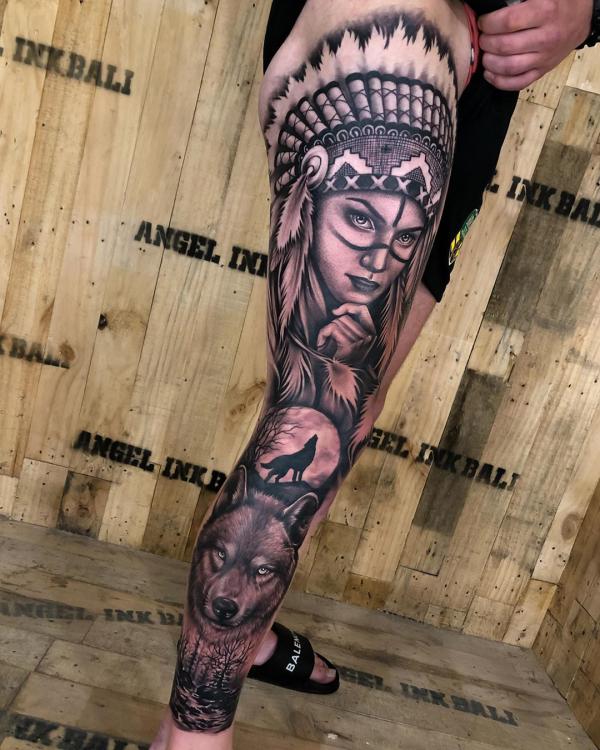 Native American portrait tattoo on full leg with motifs of feather and wolf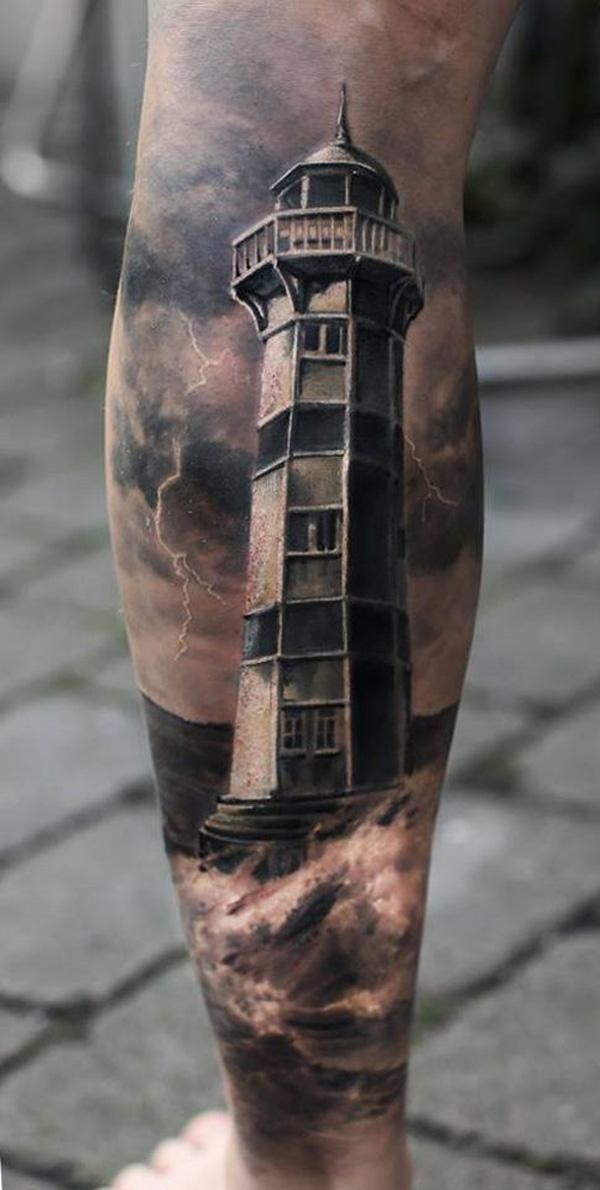 Black and white Lighthouse Tattoo on calf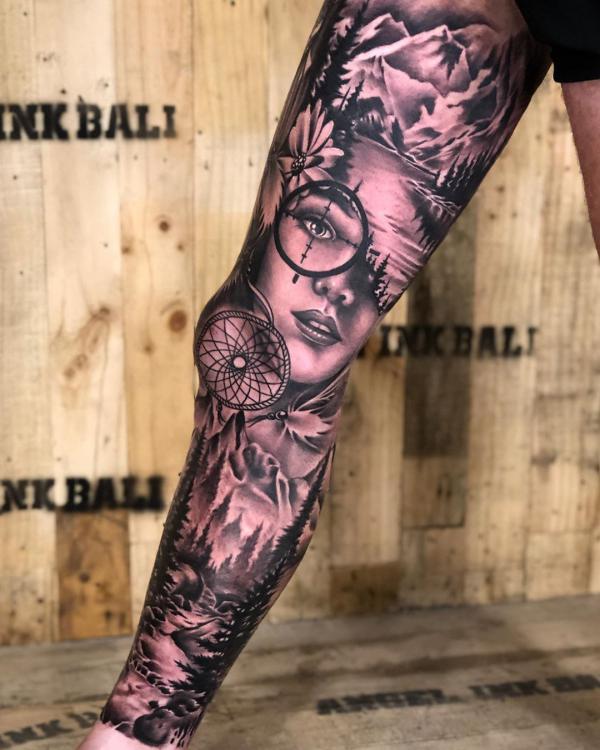 Black and gray landscape tattoo with mountains forest and dream catcher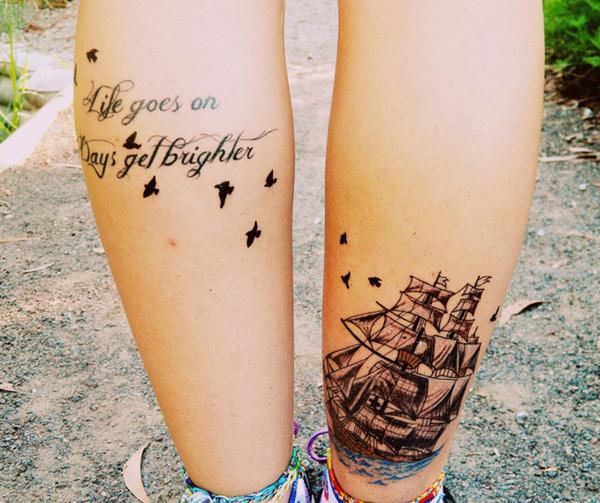 Liife goes on days get brighter quotes and boat matching tattoo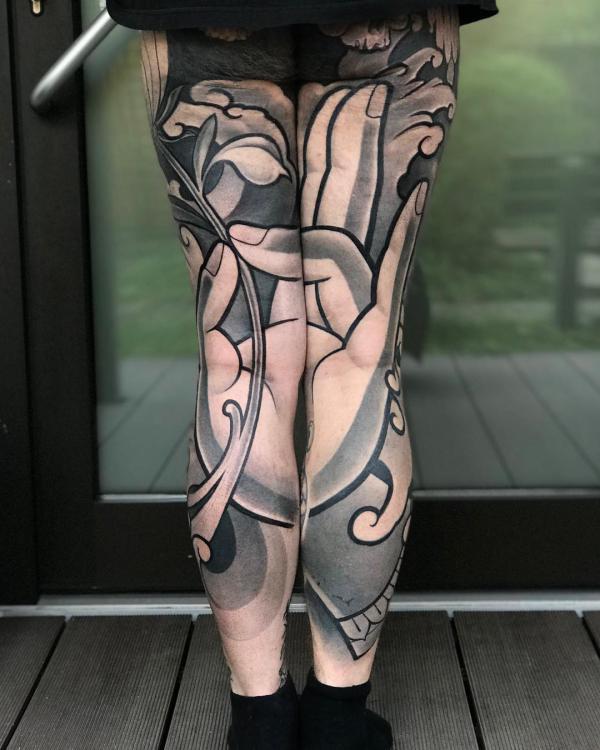 Buddhism inspired Japanese tattoo on two legs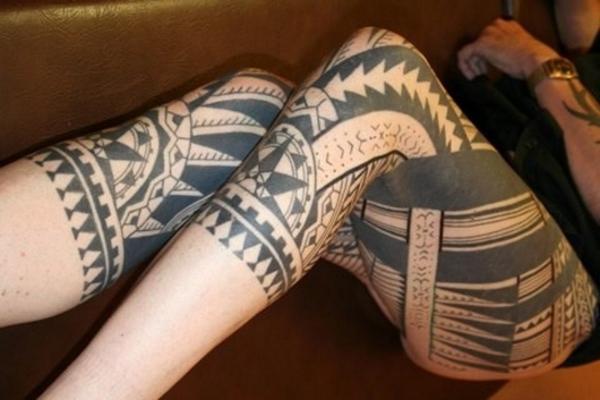 Polynesian designs look great on the leg. These tattoos often created by freehand technique, meaning tattoo artist draws them without the original sketch by inspiration. Ornate patterns smoothly flow around the foot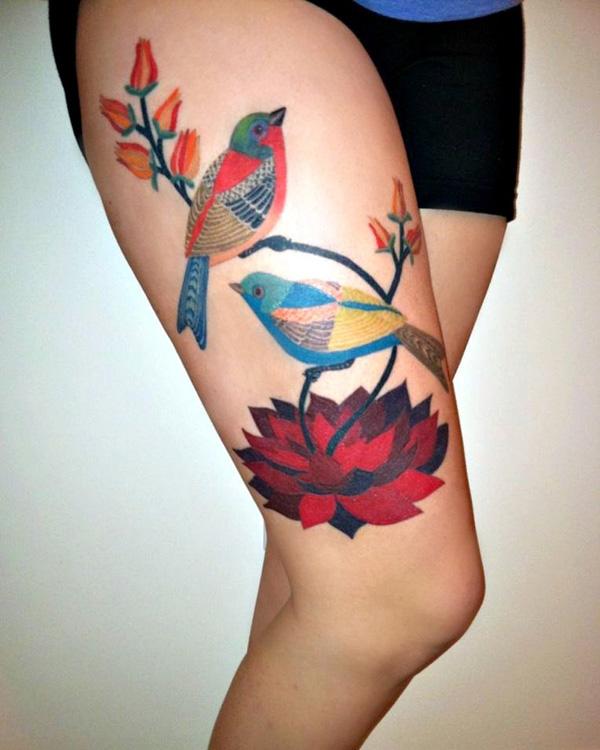 Beautiful illustration leg tattoo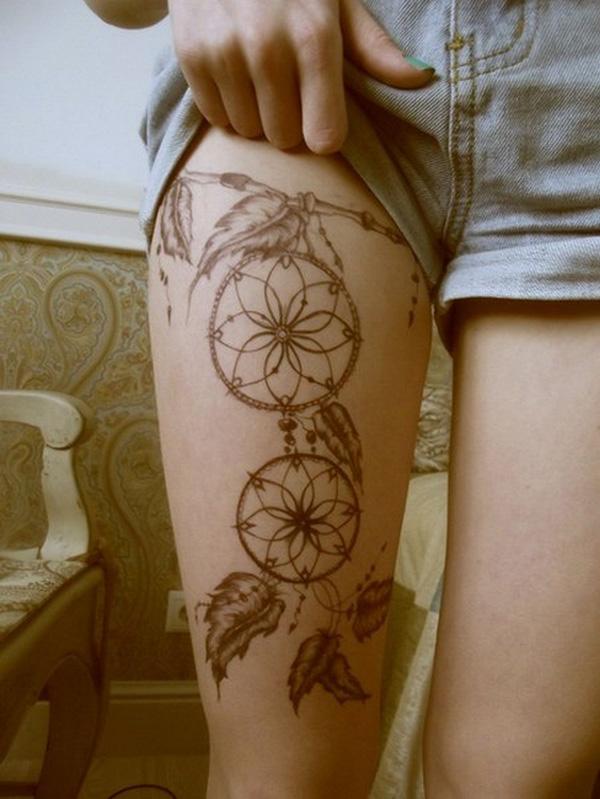 Dreamcatcher tattoo on leg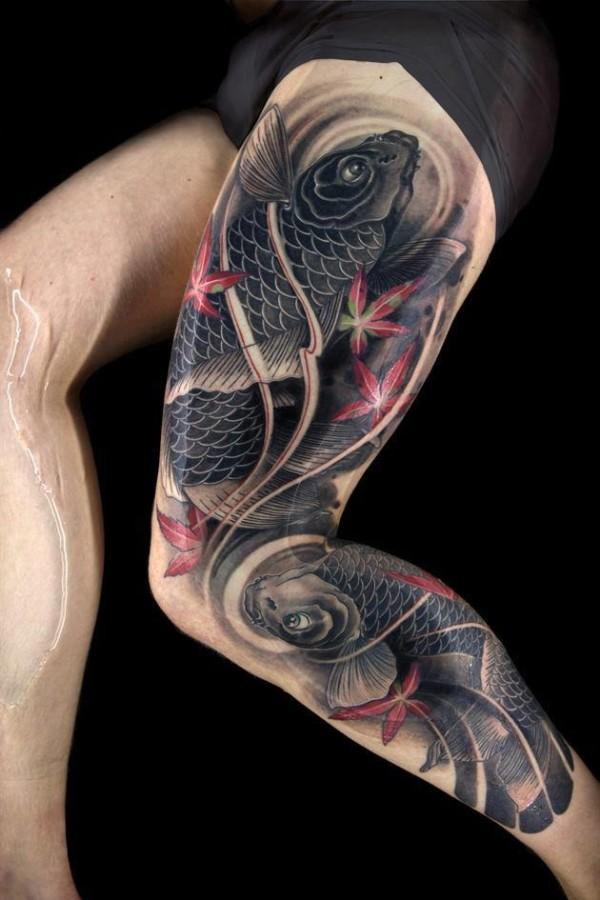 Koi fish
2 Koi fishes cover full canvas of leg decorated with small flowers. Japanese culture inspired tattoo brings us strong impression of surrealism design. The tattoo image perfectly matches the profile of thigh and calf.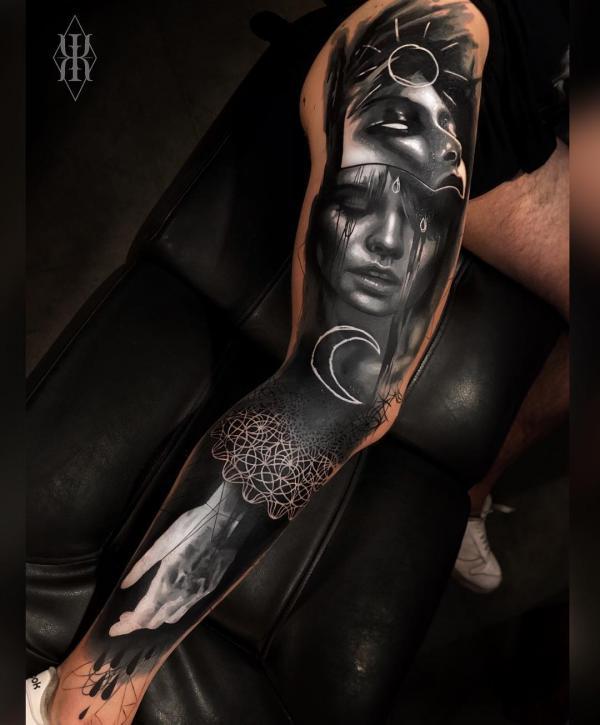 Fake arm gray wash full leg tattoo
white and lace tattoo on leg
Many girls choose lace tattoo to decorate their thighs. This tattoo looks elegant and feminine and can be done either in color or in black and white ink. Often lace complement with the image of a revolver or a pistol.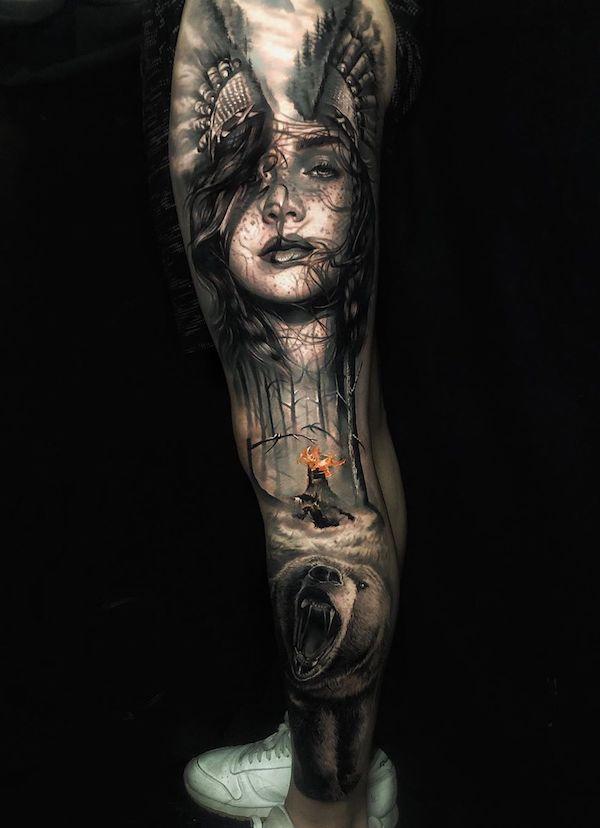 Fantastic full leg tattoo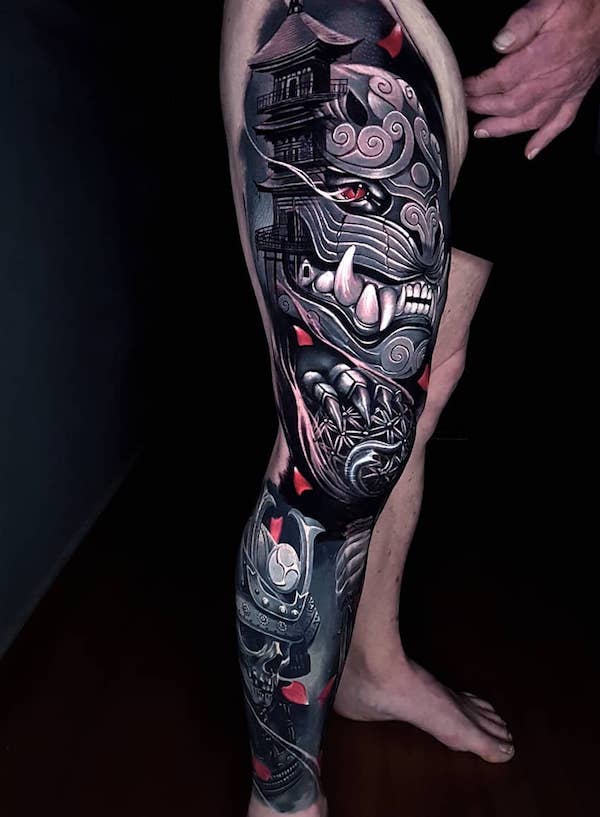 Awesome full leg foodog tattoo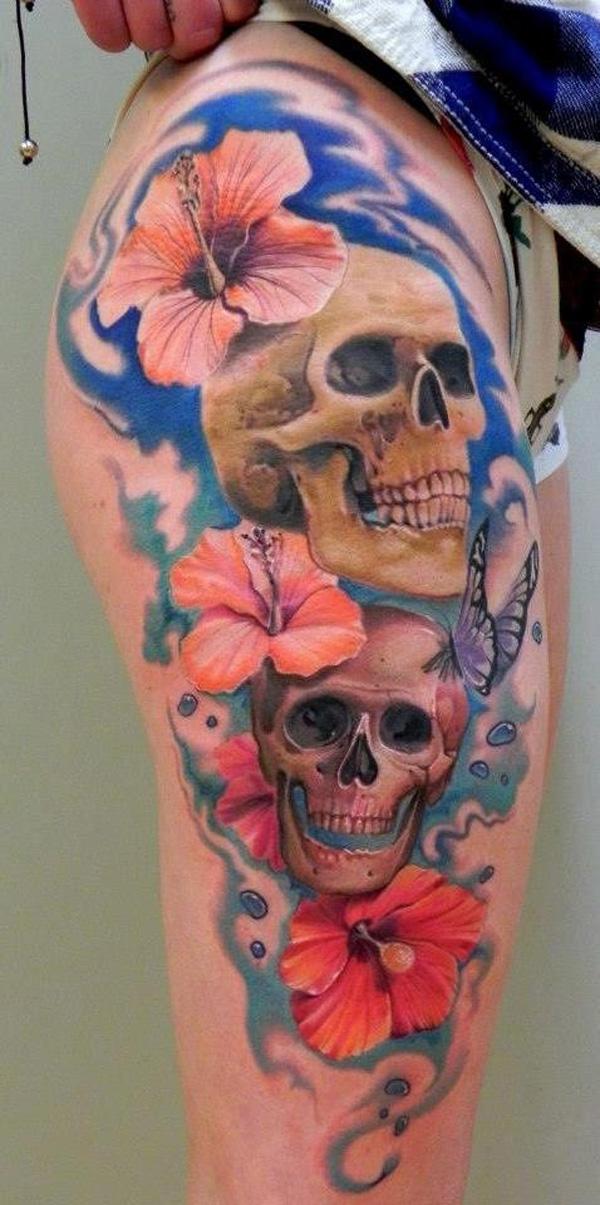 Skull and flowers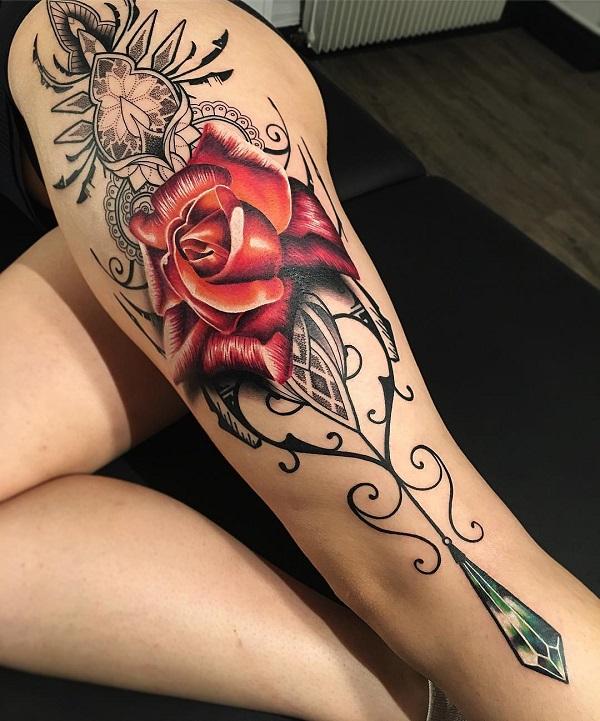 Amazing Rose and mandala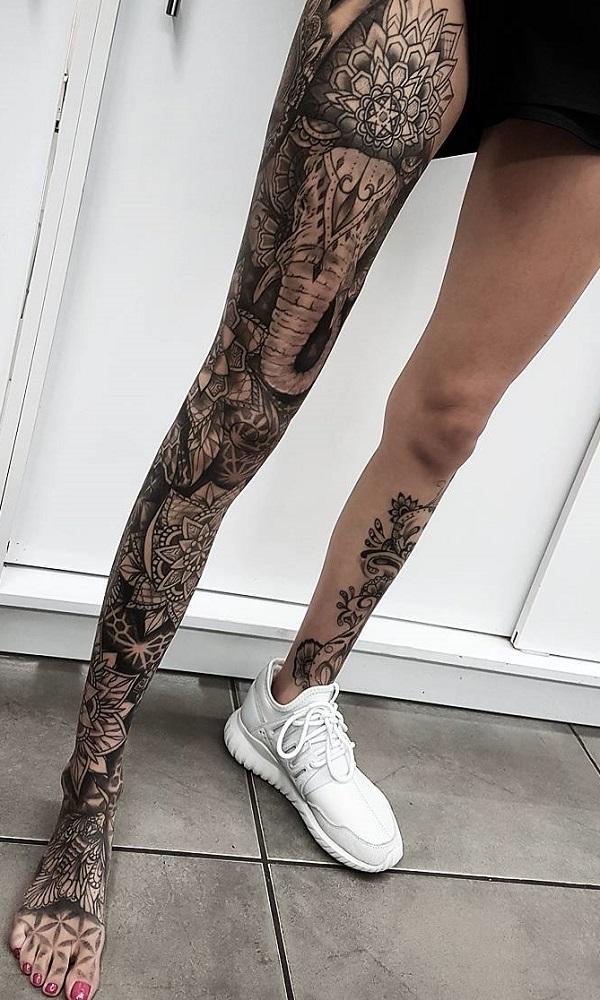 Elephant and mandala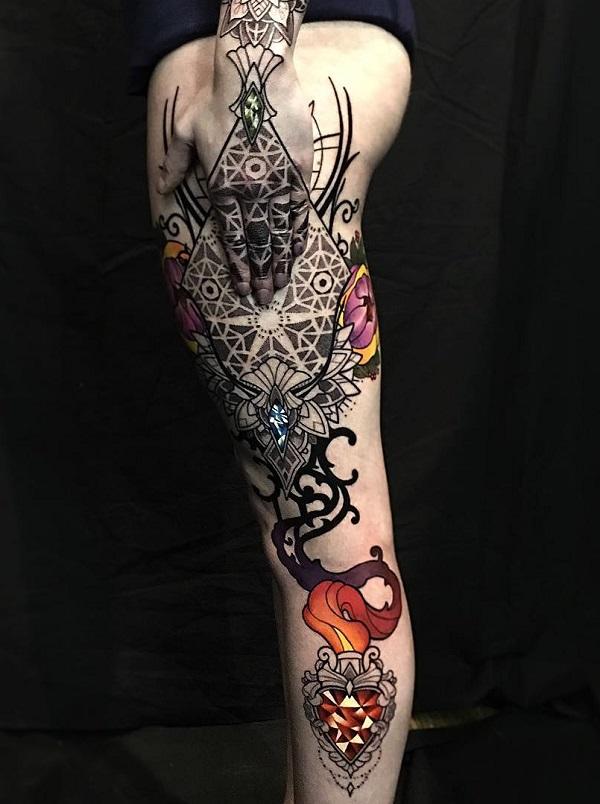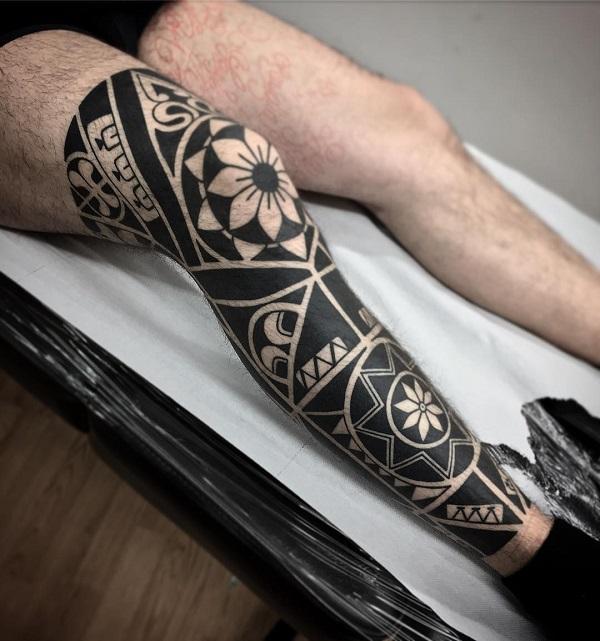 Tribal design for man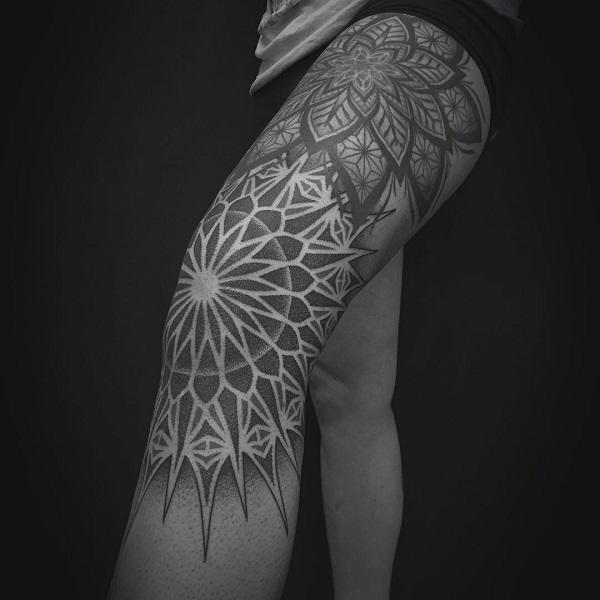 Mandala love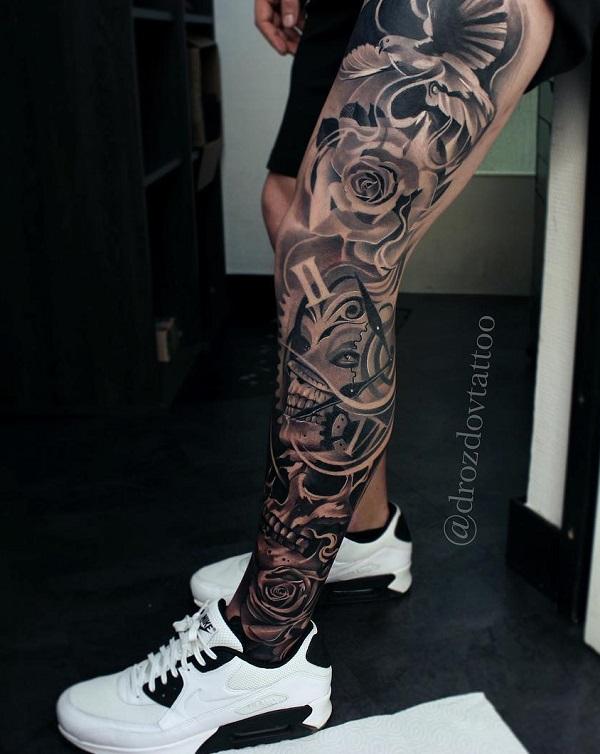 Black and white tattoo with dove, flowers and skull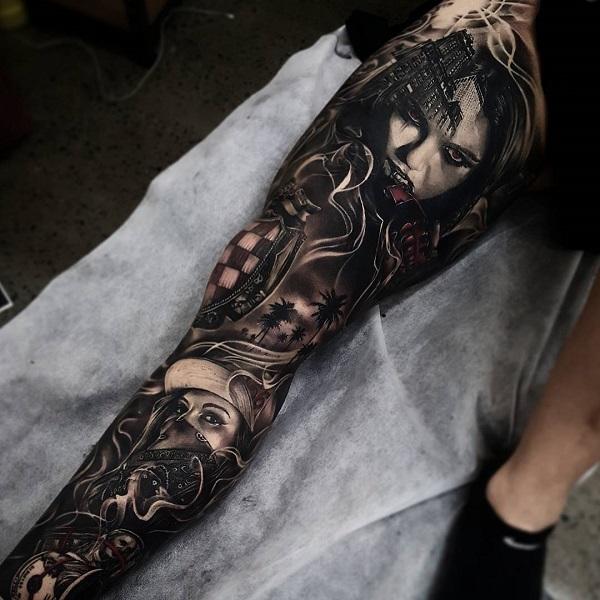 3D full leg design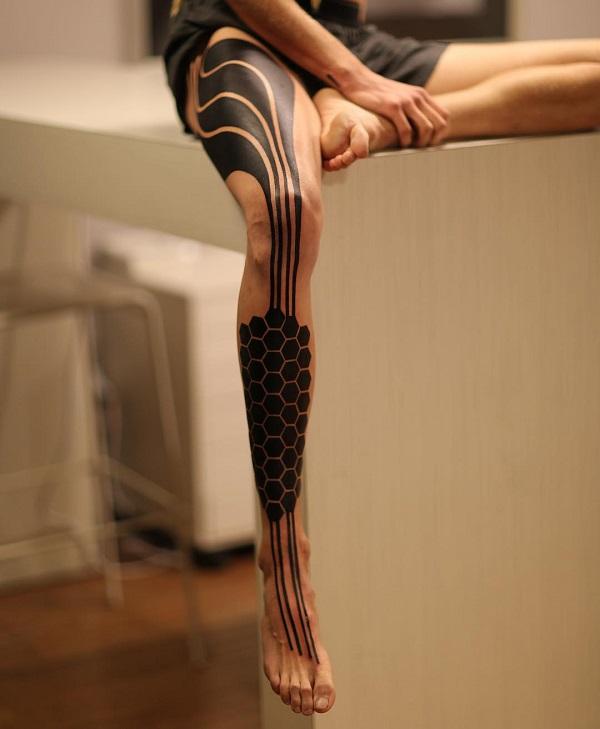 Abstract blackwork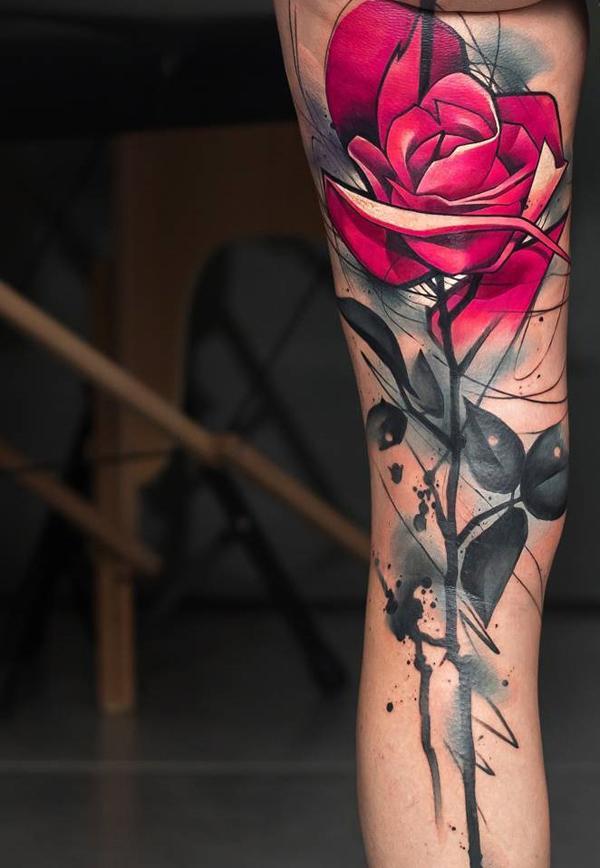 Rose love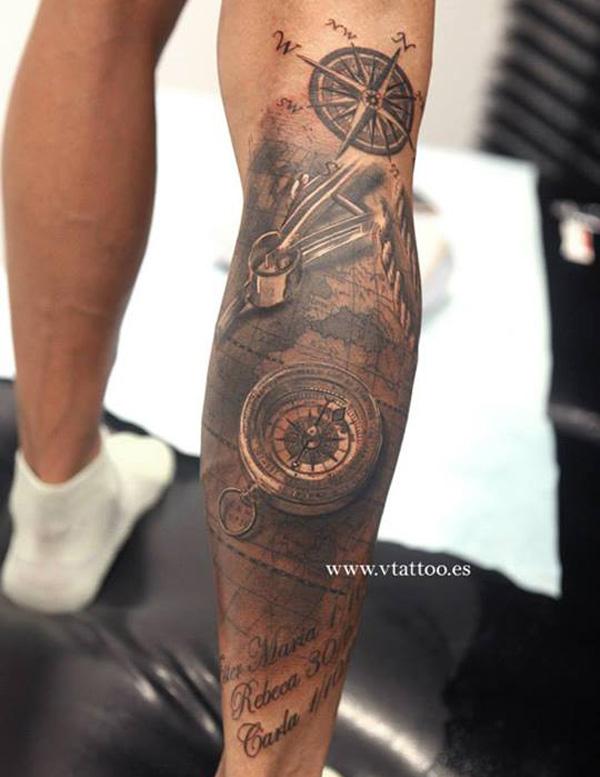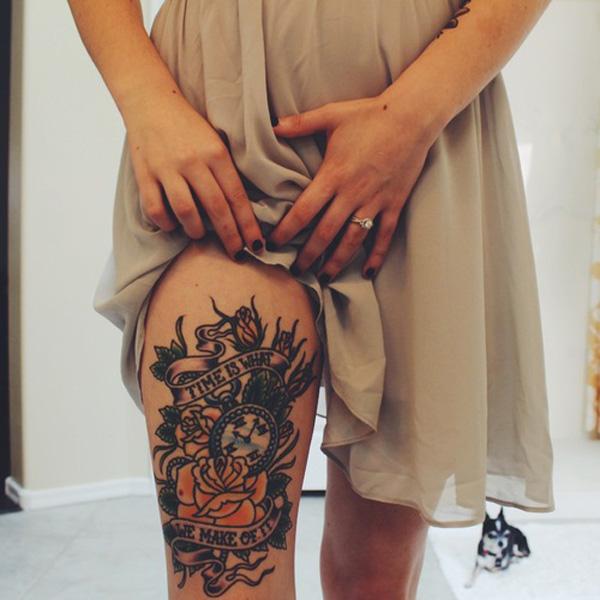 Leg Tattoo
Women's hips are also perfect for large tattoo in the traditional American style. Tattoos in color looks the best on this part of a body. The more colorful picture, the better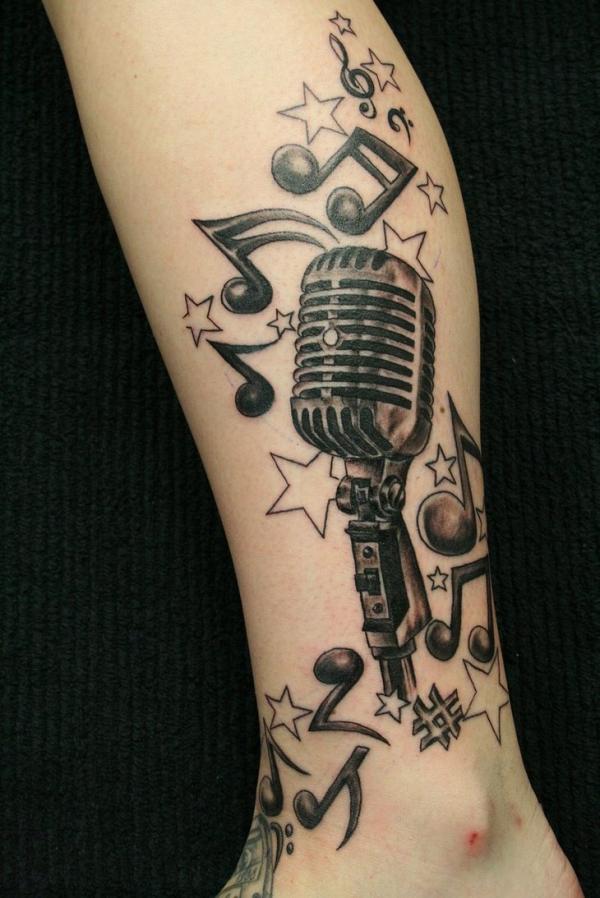 Music themed tattoo
Tattoos dedicated to music very often decorate the leg. This may be everything starting from a musical notes and ending with the instrument or microphone. These types of tattoos are very popular among men.
source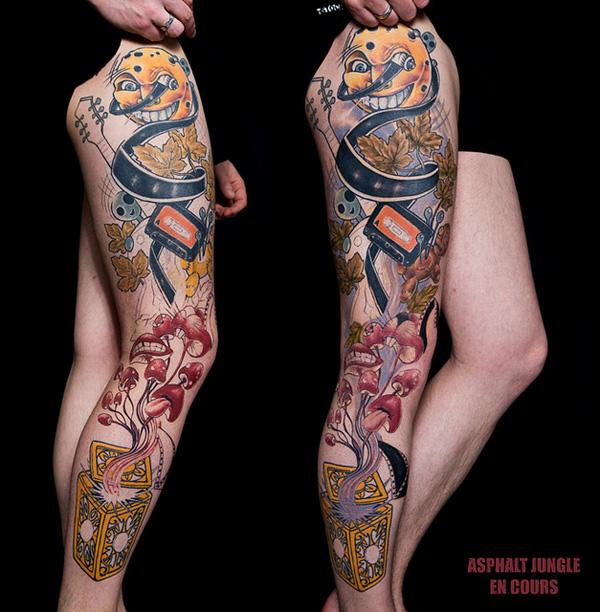 Cartoon themed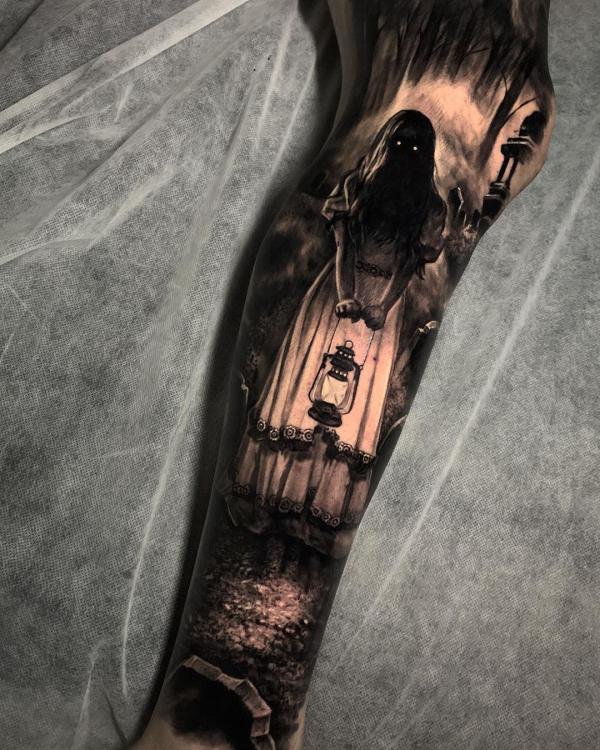 Alice in wonderland inspired Gothic tattoo in dark style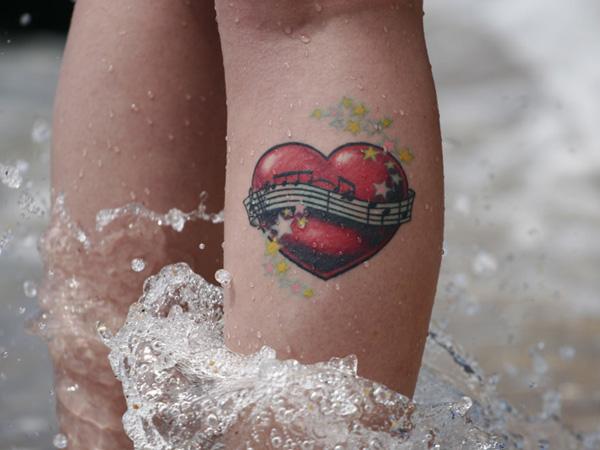 Music in the heart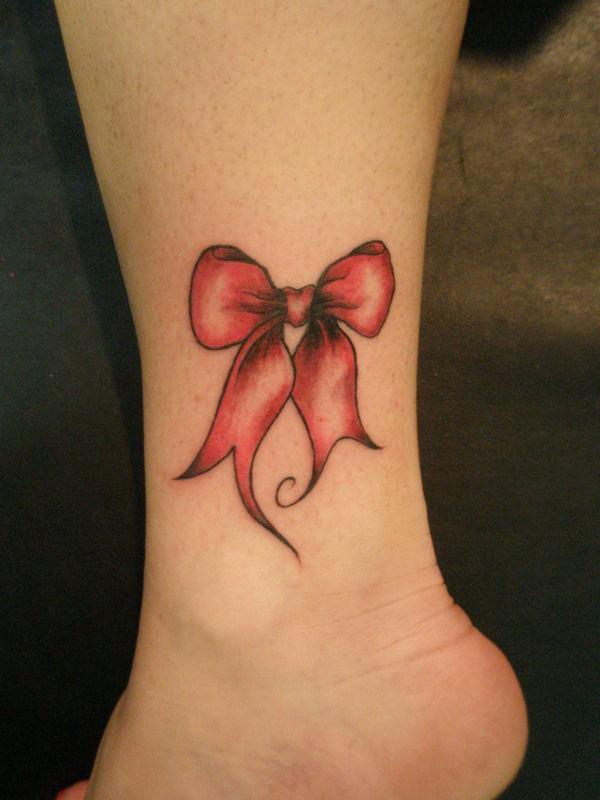 Bow tattoo at ankle
Bows are as common as lace. Girls prefer to tattoo bows on the back of the thighs or on the side of the leg. Most of the time for creation of a bow tattoo artist will choose bright, almost neon shades.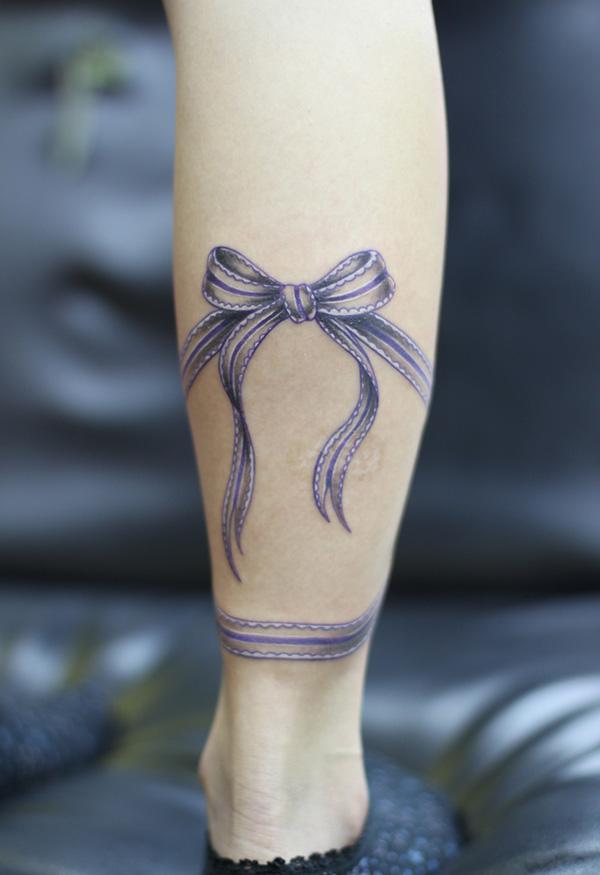 Color lace tattoo
Roses, quotes and compass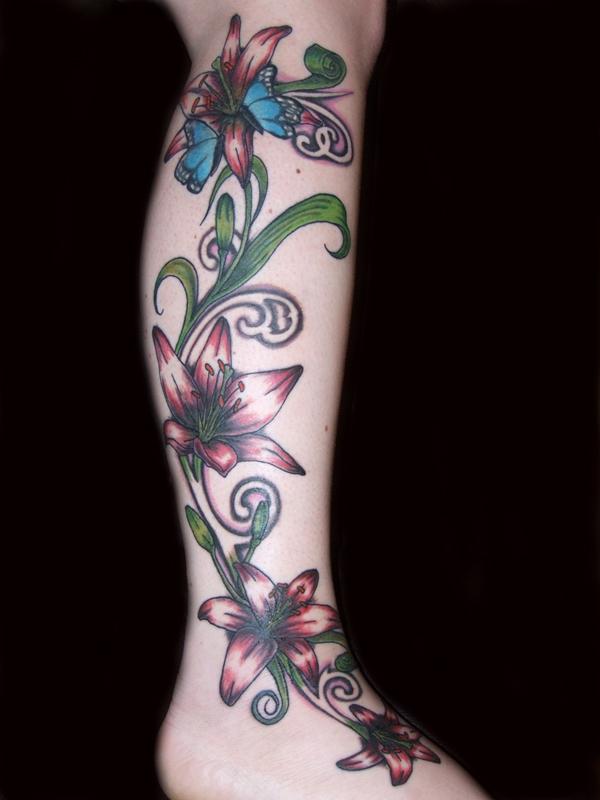 Lily flowers with swirls from calf to foot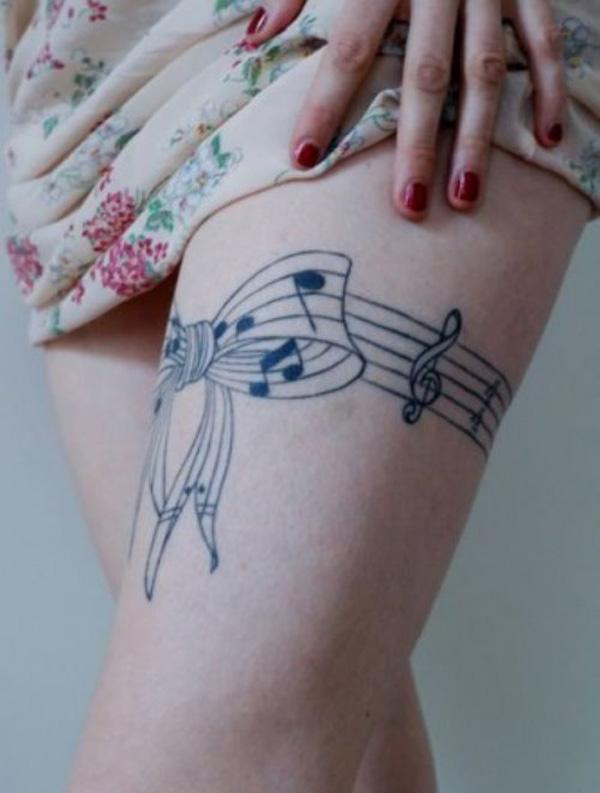 Music notes and bow tattoo in outline style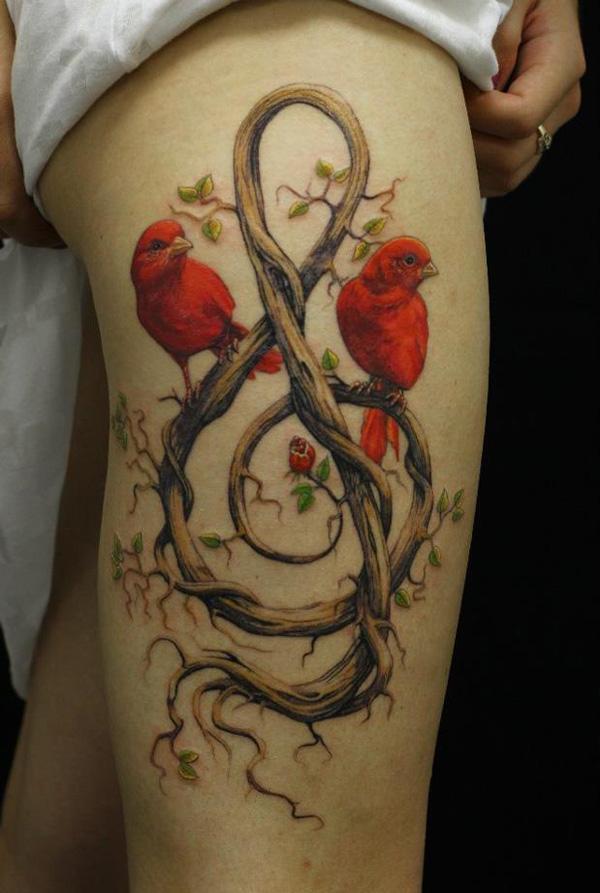 Music tattoo with birds
The front of a thigh is ideal for large and detailed tattoos. This is why many tattoo artists are advised to choose realism for a tattoo on the hip. And if girls would rather choose to tattoo beautiful birds, flowers or colorful butterflies, guys will probably prefer compass, cars or wild animals.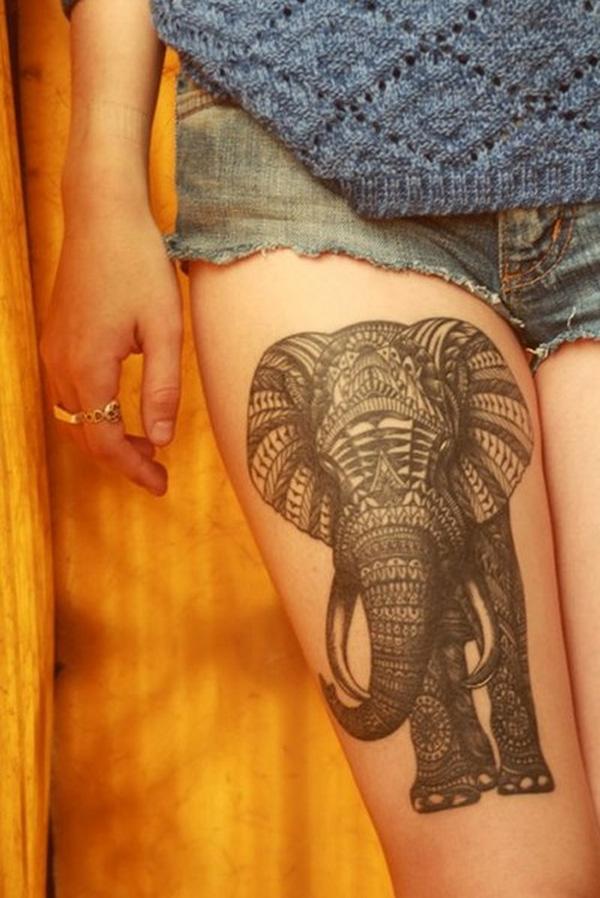 The front of the thigh is an amazing zone to have a stylish graphic tattoo (as the vintage elephant on the photo). Typically, these tattoos are chosen by creative and imaginative people. A tattoo like this one represents the individuality of the owner in a unique way.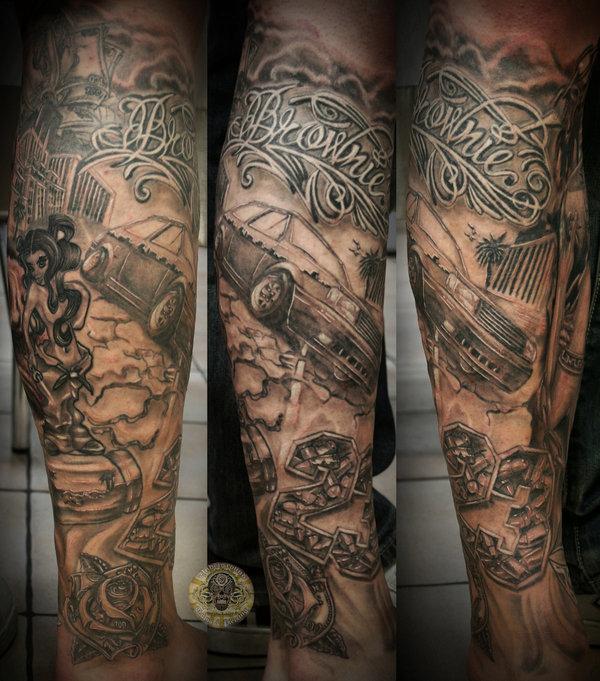 Final chicano car girl leg
Powerful tattoo made in Chicano style. The founders of this style are considered Latinos that went to live in the United States. Classical Chicano tattoo is created in black and grey ink and depicts beautiful girls, money, cars, weapons and religious symbols.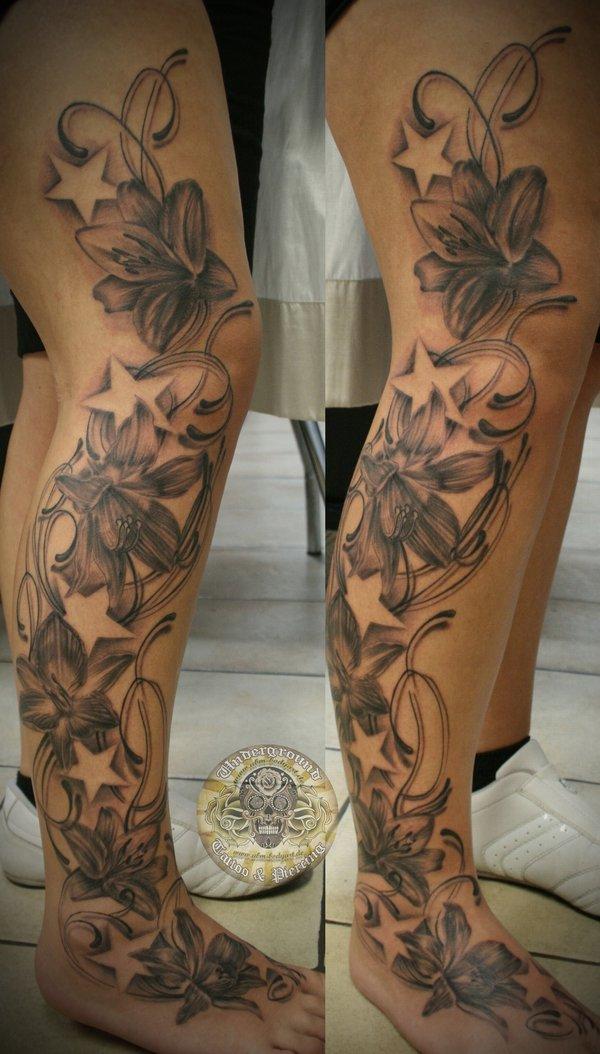 Lilies stars wine tat
Simple combination of abstract pattern with beautiful flower buds is an excellent choice for a tattoo on a leg. These tattoos can be created in black and gray ink or in color. Best in realism, they can be senseless decoration or a symbol of something dear to the owner, such as love or friendship, depending on chosen flower.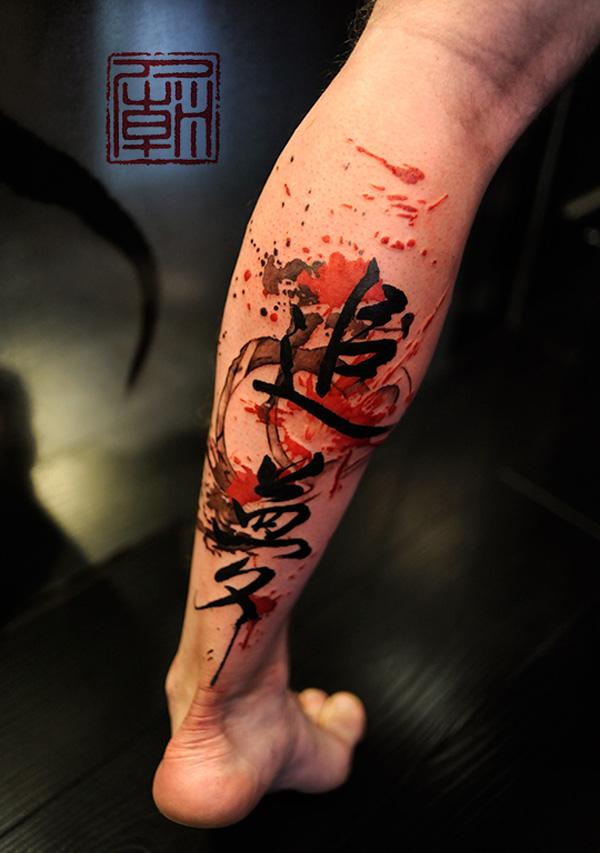 Felix. Splattered
Chinese characters are one of the most popular tattoos in the world. Having won the hearts of many people with its mystery and richness of meaning, now Chinese characters even have their haters. However, with the original approach, you can get a pretty unusual tattoo, as in the photo above.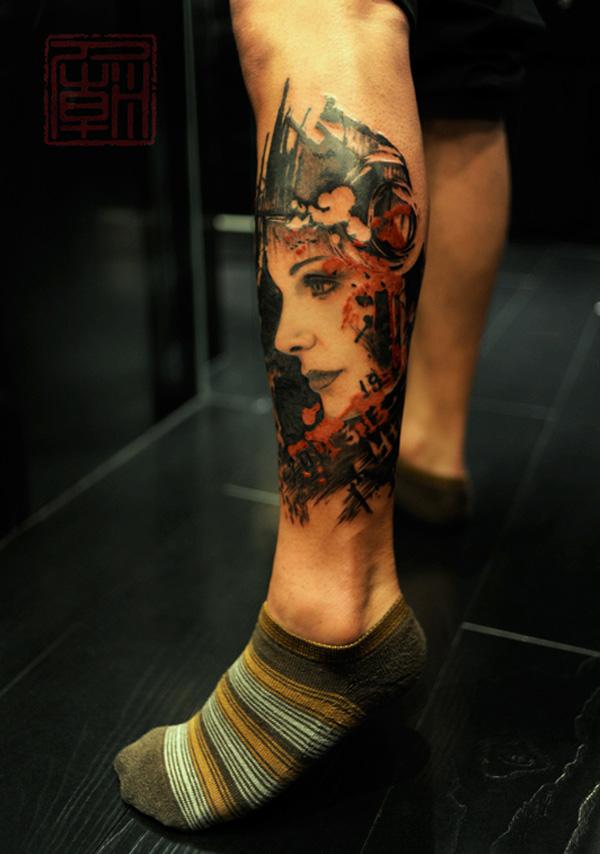 Freshly Done – Ming's Girl
Portrait done in realistic trash polka style. This very extravagant and picturesque tattoo style was created by two artists from Germany – Volko Merschky and Simone Plaff. They usually characterized trash polka as a combination of nature and abstract, realism and trash, past, present and future – all in one. With all its complexity and aggressive black and red colors, trash polka slowly becomes one of the favorites among tattoo fans.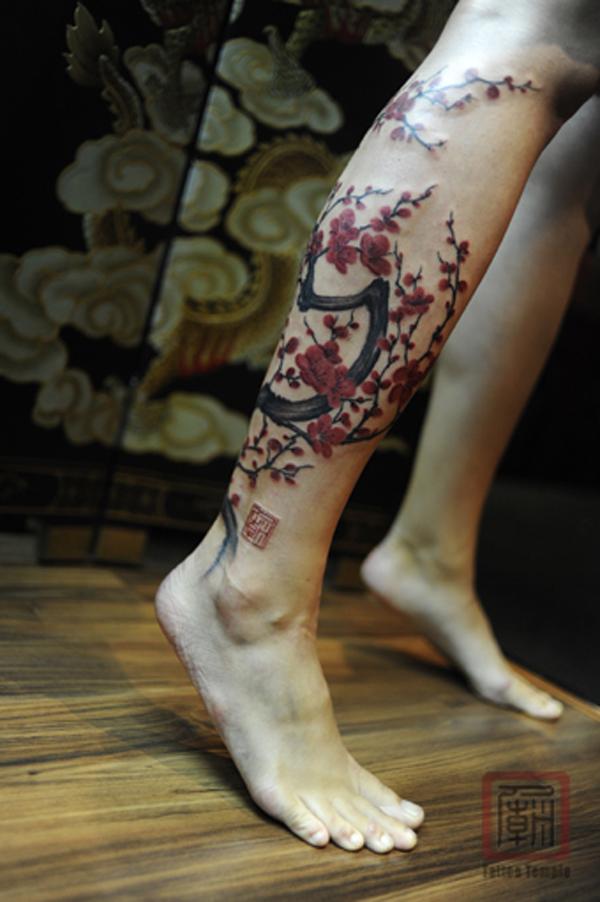 Cherry Blossom Tree tattoo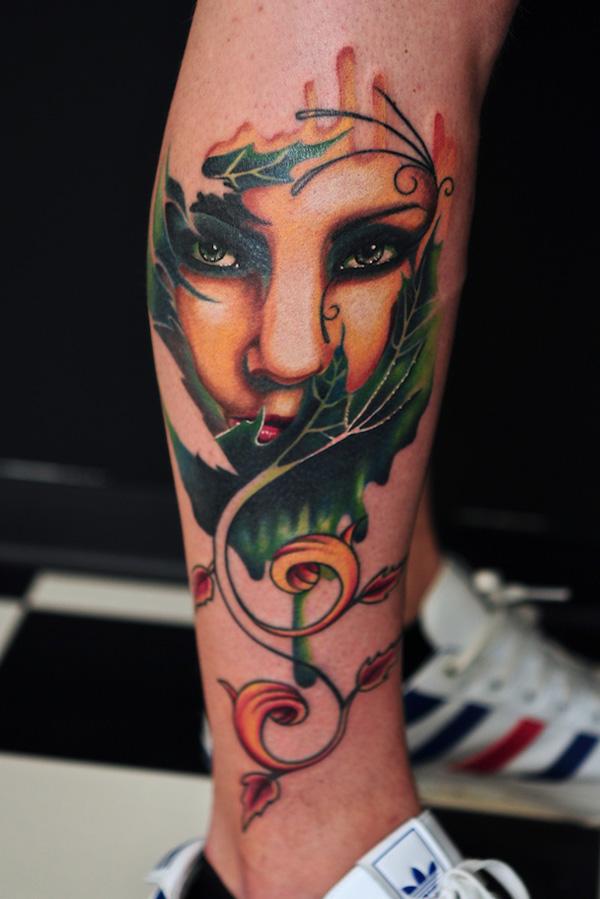 Woman in leaves
The firing woman in green leaves is sending the message of perseverance and unyieldingness.
source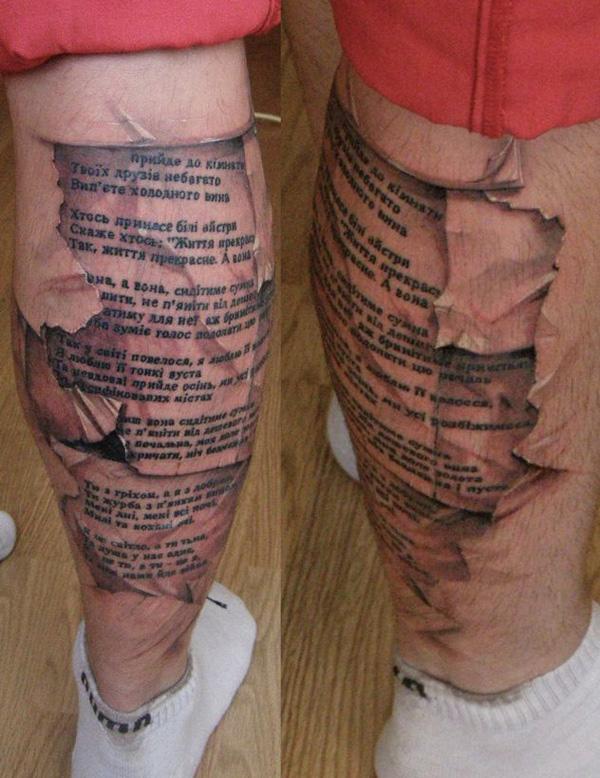 Broken skin poem leg Tattoo
One of the most popular tattoo ideas is lettering tattoo rendered in quotes or letters. The calf is ideal location for chunk of words such as poems. To make the tattoo artistically appealing, special effect or motifs are often integrated in the design. For example, the broken skin effect is used to strengthen the meaning of text.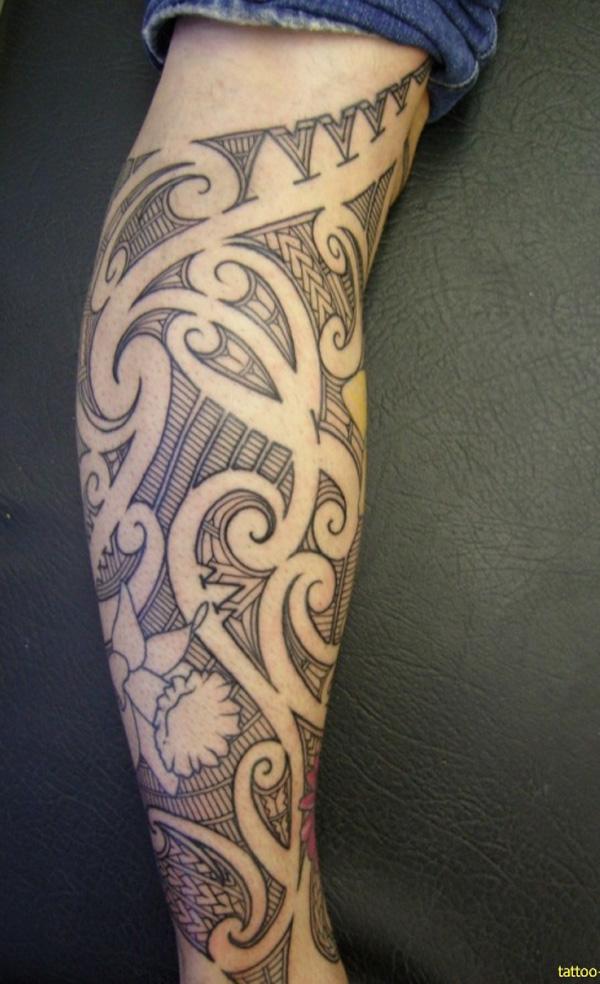 Cris Maori Inspired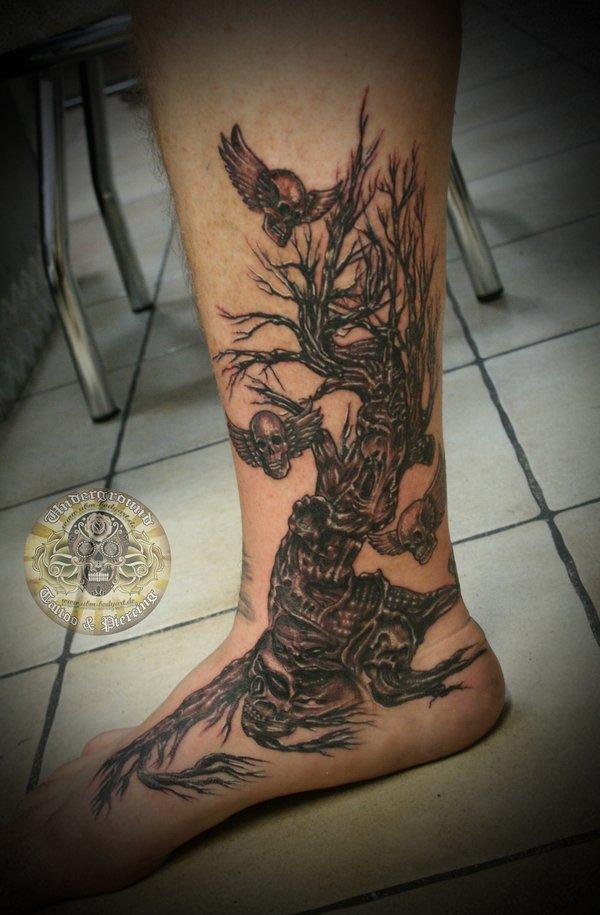 Horror tree skull tattoo
Very contrast tattoo created in black and gray style. Tattoo that goes from foot to the leg is perfect for such sketches with a lot of smooth lines. However, this part of the body needs an enhanced care while healing and because this zone of a leg regenerates fast, tattoo here may require further correction.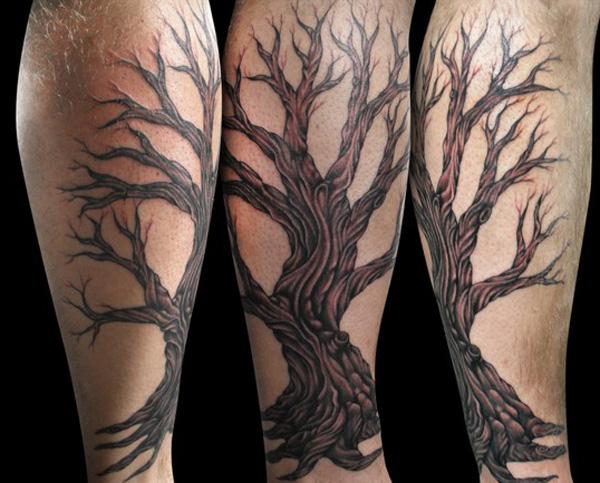 Tree of life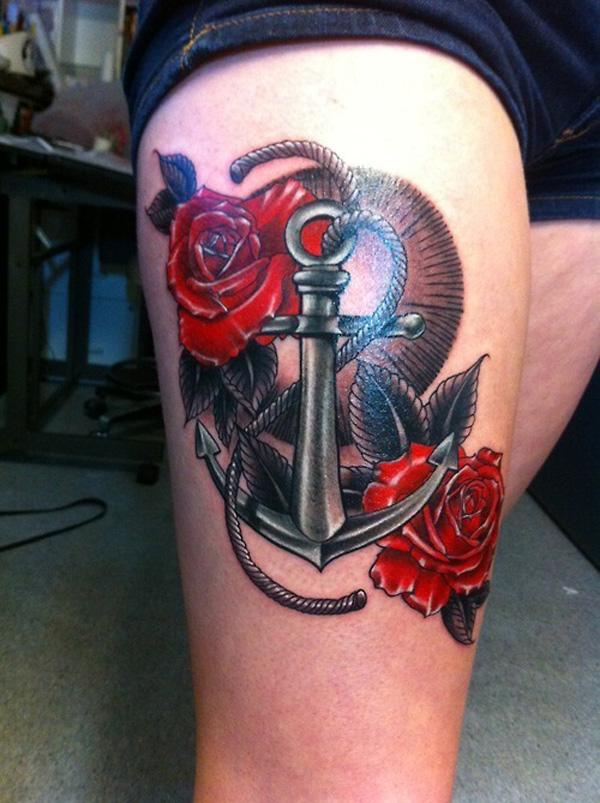 Anchor and Rose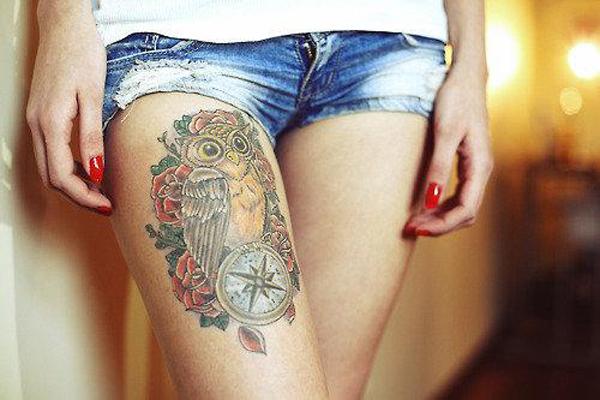 Owl and roses
Charming tattoo in the form of an owl created in traditional American style. Recently owls gained enormous popularity among girls, and it is the front of the thigh that became a favorite place for the application of this tattoo. Often owl tattoos complement by image of a compass, clock or colorful flowers.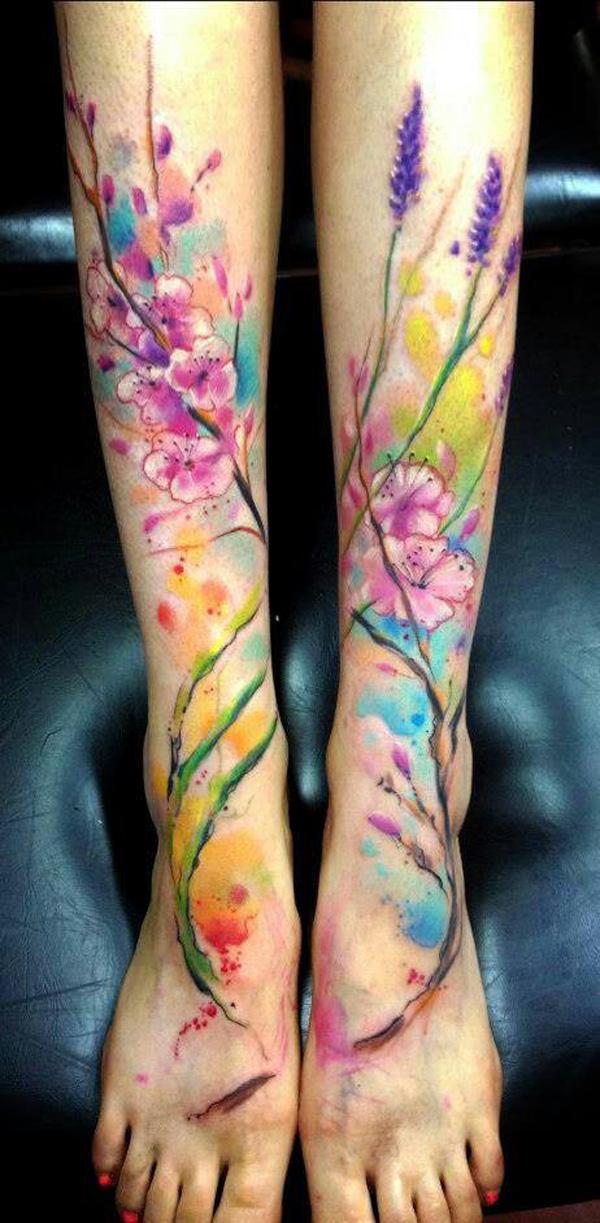 Cherry blossoms and lavender with colorful
Watercolor tattoo. One of the new trends in tattoo art, but loved by many already. Watercolor tattoo style prefers both girls and guys. Often, these tattoos created with a bright shades of pink, blue, yellow, green, etc. As for the sketch, it can be everything from beautiful flowers to romantic flocks of birds and animal portraits.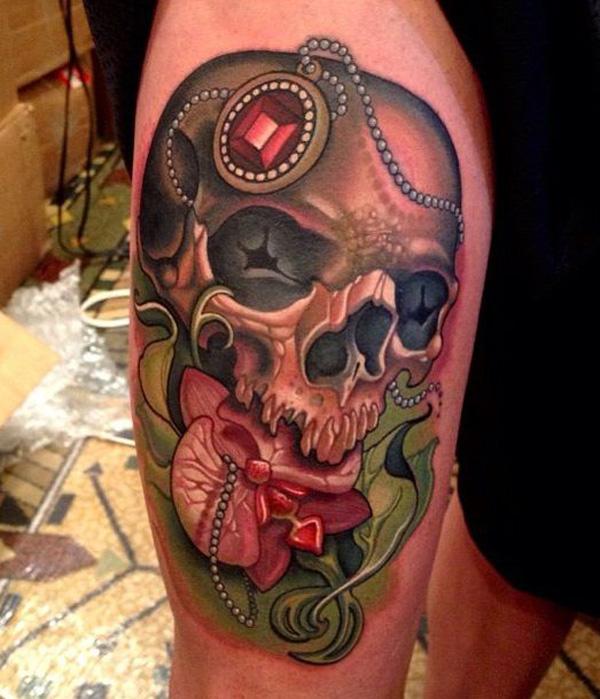 Colorful sugar skull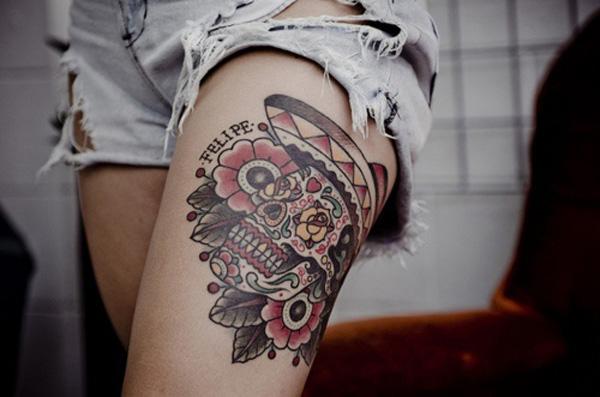 Sugar Skull thigh tattoo for girl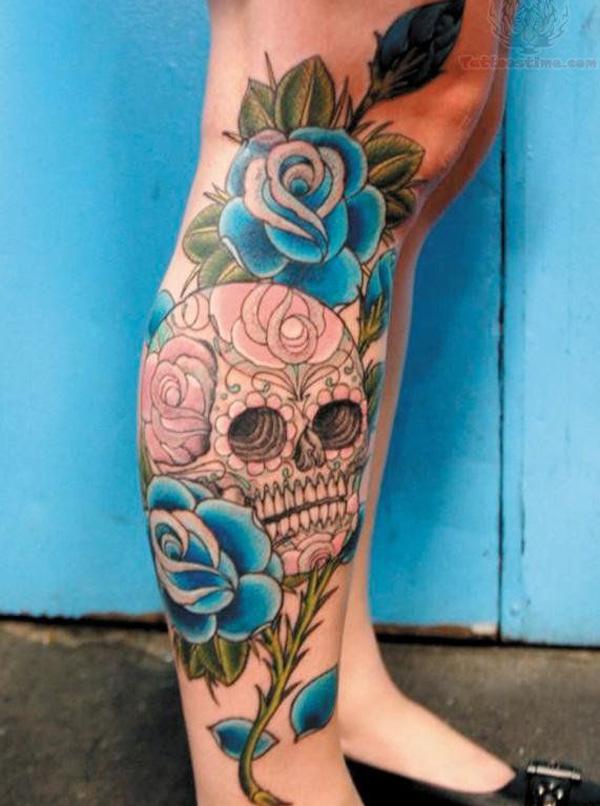 Emotional love
This tattoo contains sugar skull paired with roses and rendered in traditional tattoo style. The motifs of this kind always evoke the meaning of emotional love.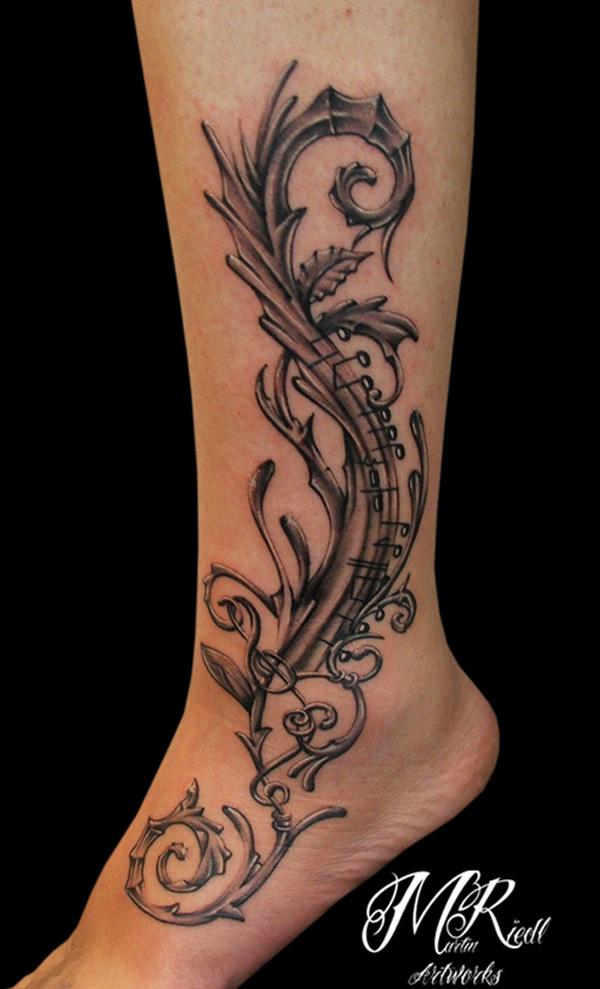 Dynamic tattoo Notes leg tattoo
A fantastic tattoo design creates dynamic view for audience. It looks like music notes, flower or a Saxophone on the leg.
source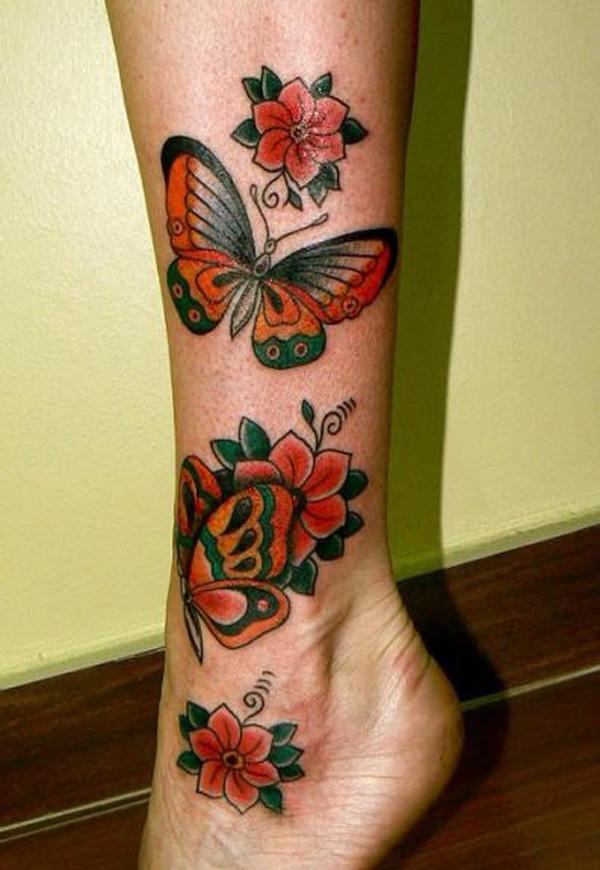 Butterfly and flowers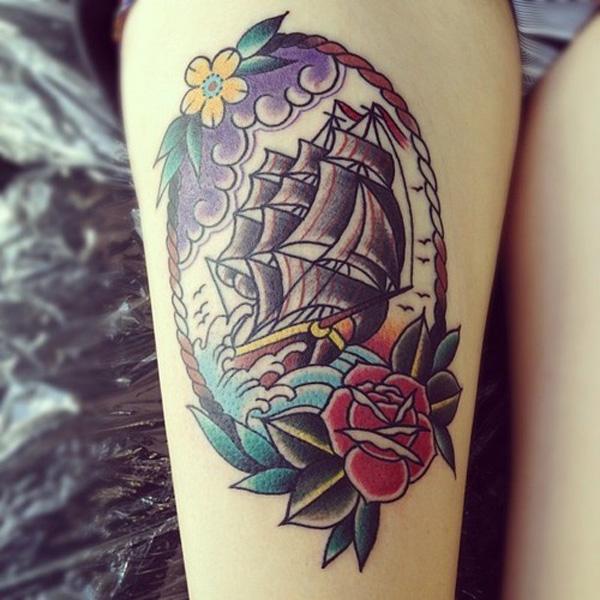 Traditional ship on leg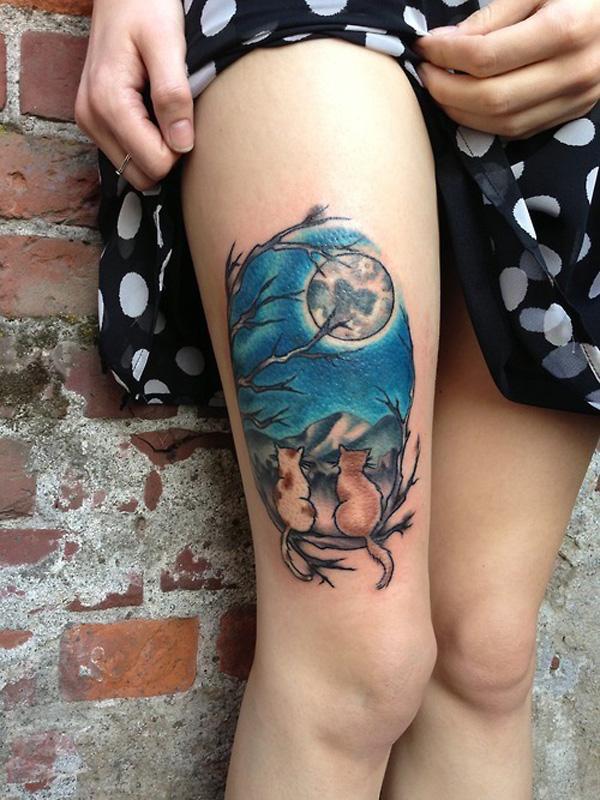 Moon Cats Thigh Tattoo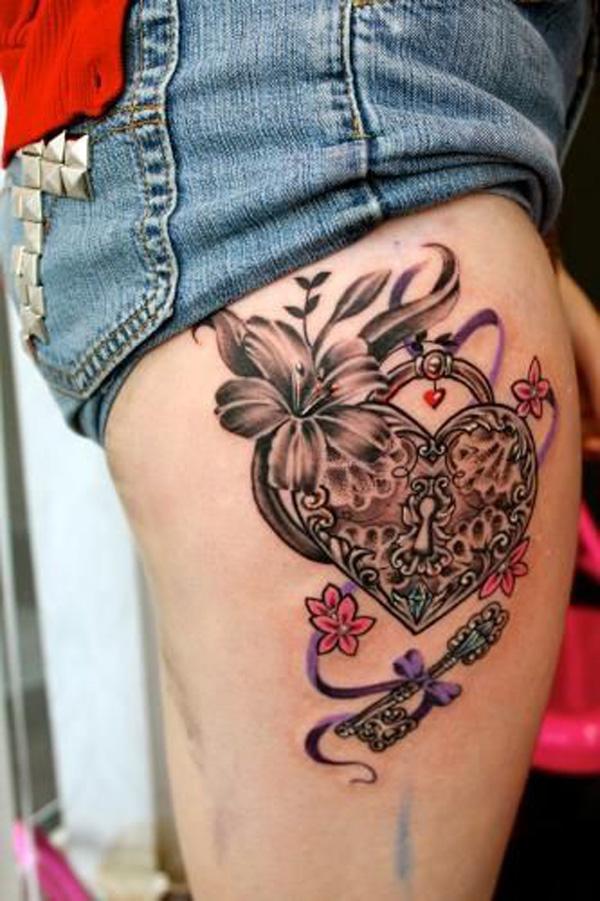 Heart + Key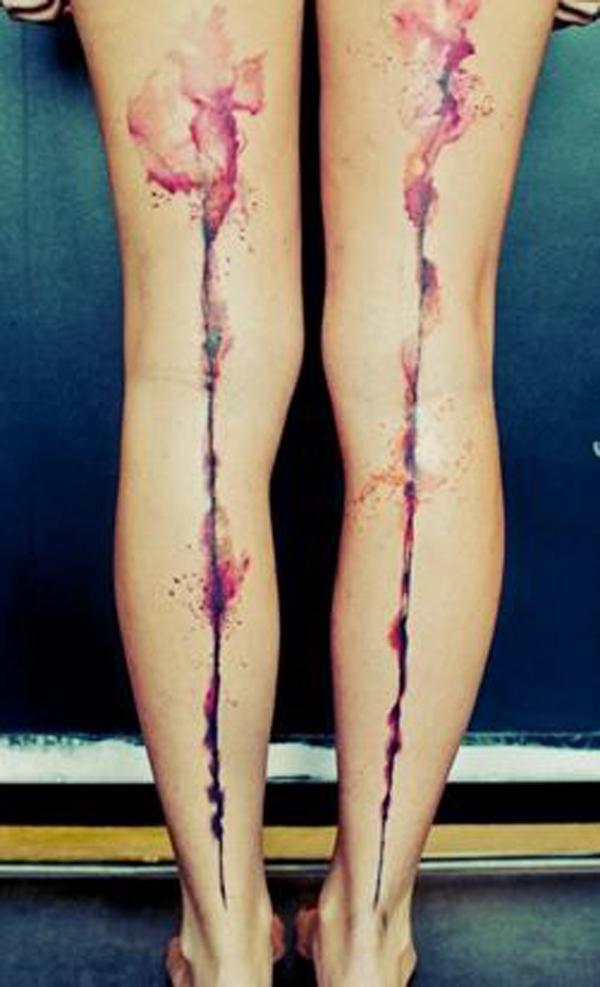 Abstract Watercolour tattoos on leg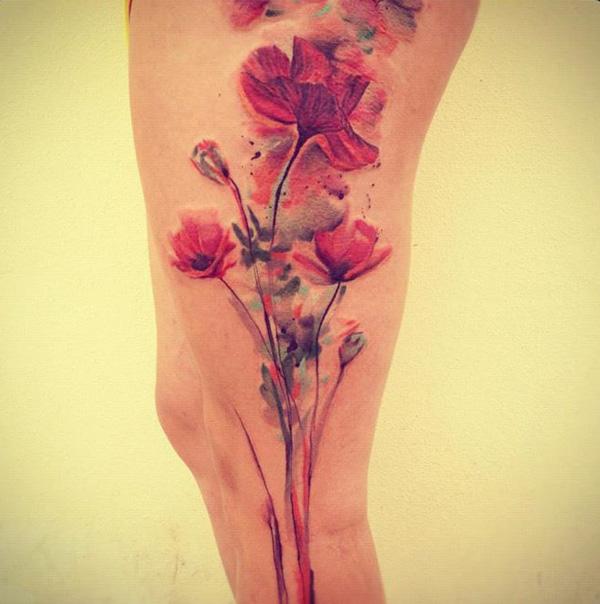 Flowers in Watercolour style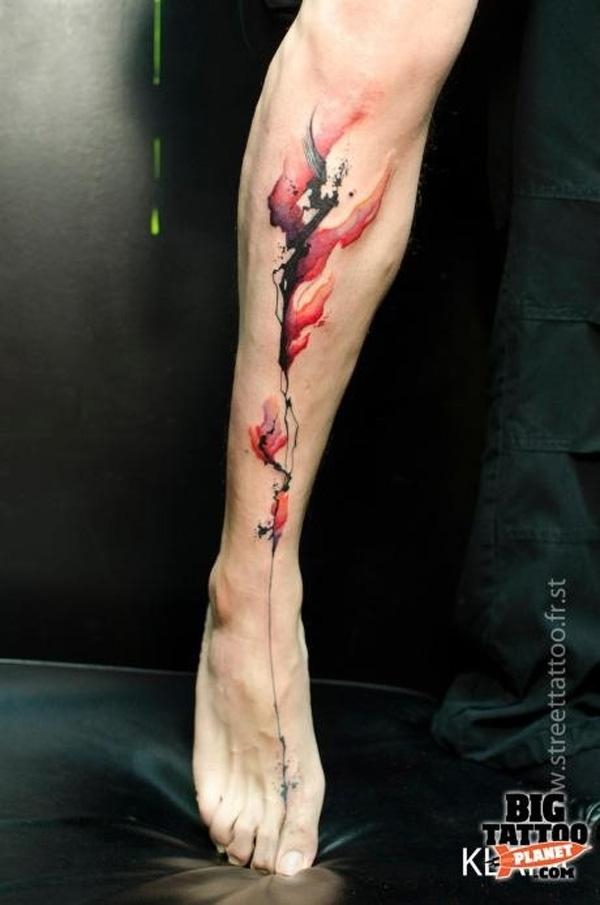 Watercolour tattoos on leg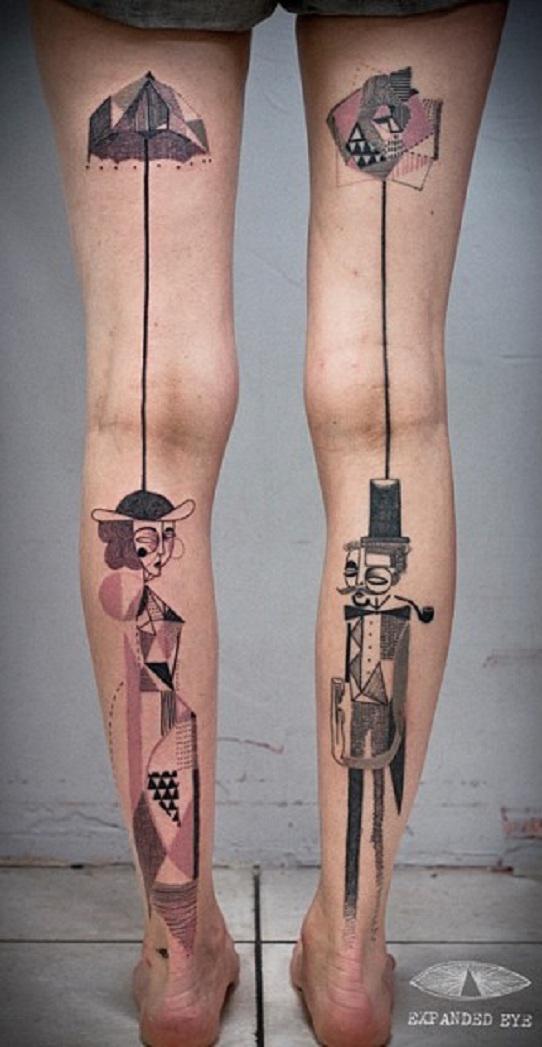 Duo leg tattoos in cubist illustration style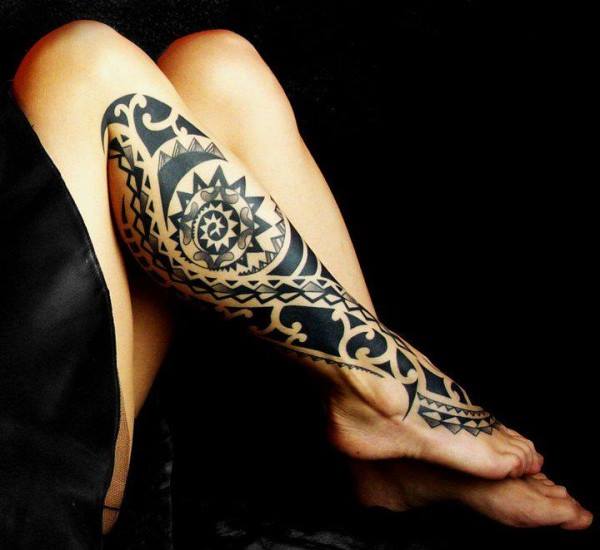 Tribal style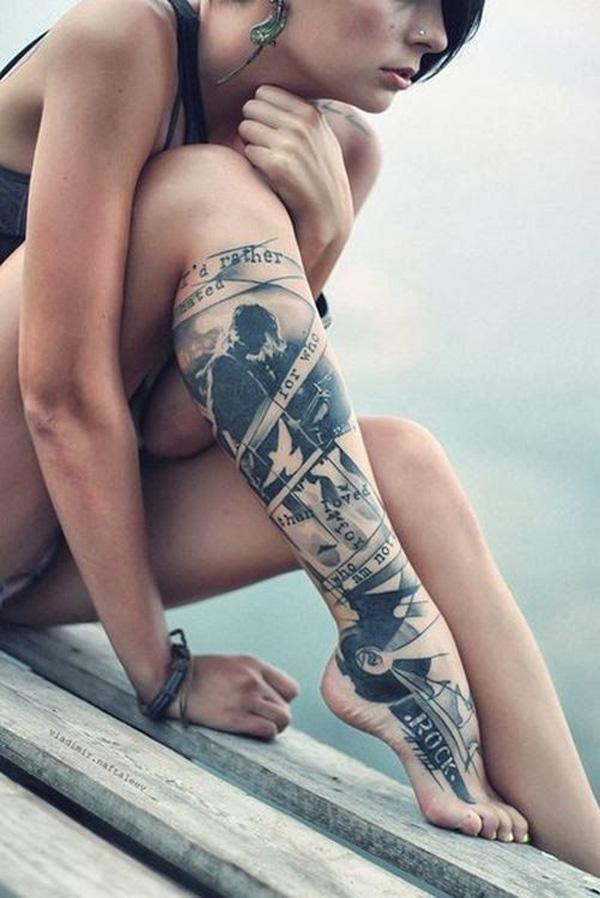 Amazing calf tattoo in abstract style to honor Rock and Roll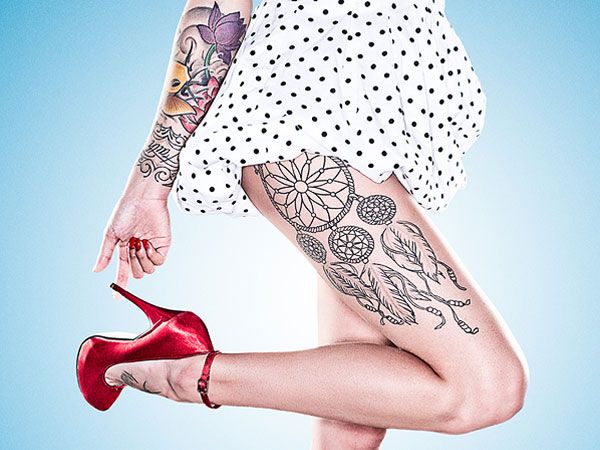 dream catcher tattoo
The dreamcatcher, a signage which comes from native American, is overwhelmingly loved by girls as it's cute and meaningful.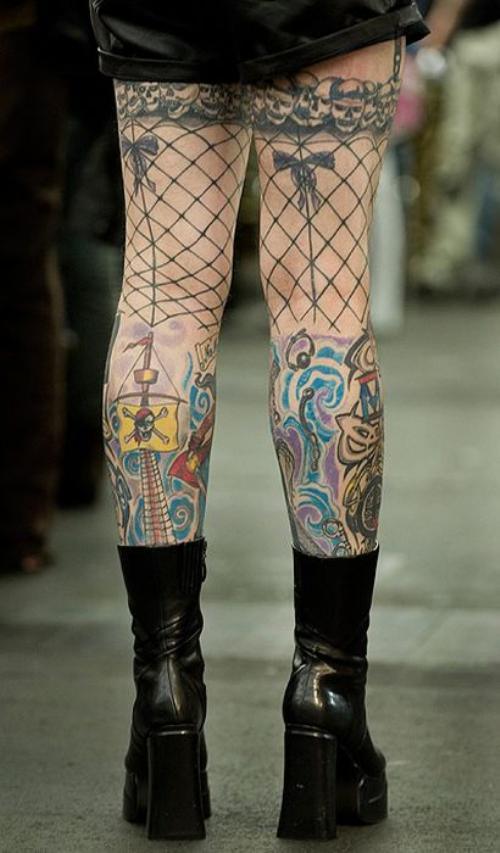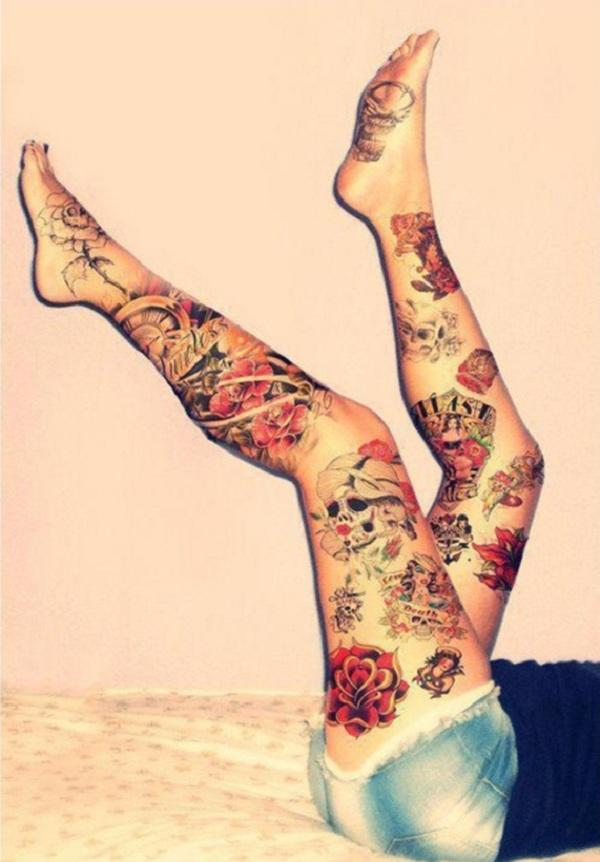 full leg tattoo for women
Detailed colorful tattoo design from hip to foot.
Jack Skellington dotwork on leg