Hydrangea tattoos are more than just a popular trend; they're a deeply symbolic form of body art. This hardy flower, with its clusters of vibrant blooms, has traveled across centuries and cultures to find a place on our skin and in our hearts. The hydrangea's story is one of transformation, resilience, and enduring beauty. When etched as a tattoo, it becomes a deeply personal symbol, telling a unique story of the wearer.
The Hydrangea: An Overview
The hydrangea, a native of southern and eastern Asia and the Americas, is a versatile plant that has been a part of human culture for hundreds of years. The plant's genus name, Hydrangea, comes from the Greek "hydor", meaning water, and "angeion," meaning vessel. This name refers to the plant's need for substantial amounts of water and its cup-shaped fruit.
Aesthetically, hydrangeas are known for their large flower heads, often heart-shaped, composed of smaller individual flowers. Their colors range from shades of blue, pink, lavender to white, and sometimes they even feature multiple hues in a single flower head. This kaleidoscopic display of colors has made the hydrangea a beloved addition to gardens worldwide.
Symbolism and meaning of Hydrangea Tattoos
In the world of floriculture, every flower has a unique meaning. The hydrangea's symbolism varies across different cultures and times, making it a fascinating choice for a tattoo.
Humility and Gratitude
In traditional Asian cultures, particularly Japan, the hydrangea is associated with humility, gratitude, and understanding. It's believed that a Japanese emperor gifted hydrangeas to the family of a maiden he loved as an apology for neglecting her in favor of his empire. Because of this, the hydrangea came to symbolize sincere heartfelt emotions and apologies.
Transformation and Change
Hydrangeas are intriguing plants because they change color based on the soil's acidity. A hydrangea planted in acidic soil blooms blue, while one in alkaline soil blossoms pink. This transformation mirrors the human journey, where experiences and environments shape us. A hydrangea tattoo could symbolize personal growth, change, and adaptability.
Abundance and Prosperity
With their full, lush flower heads, hydrangeas are often associated with abundance and prosperity. They can represent the fullness of life, a wealth of emotions, or material well-being. A hydrangea tattoo might symbolize a life lived fully and richly.
Enduring Grace and Beauty
Despite their delicate appearance, hydrangeas are hardy plants. They can withstand different climates and bloom year after year. This resilience paired with their undeniable beauty makes the hydrangea a symbol of enduring grace and beauty. A hydrangea tattoo can serve as a reminder of one's inner strength and grace in all life's seasons.
The Allure of Hydrangea Tattoo Designs
Hydrangea tattoos are popular for their visual appeal and layered meanings. Their intricate details make them a fantastic choice for someone who appreciates fine art and design. The broad array of colors also offers a lot of creative options. From a single hydrangea bloom to a lush bush full of flowers, there are endless ways to design a hydrangea tattoo that resonates with you.
Blue hydrangea and butterfly with stars tattoo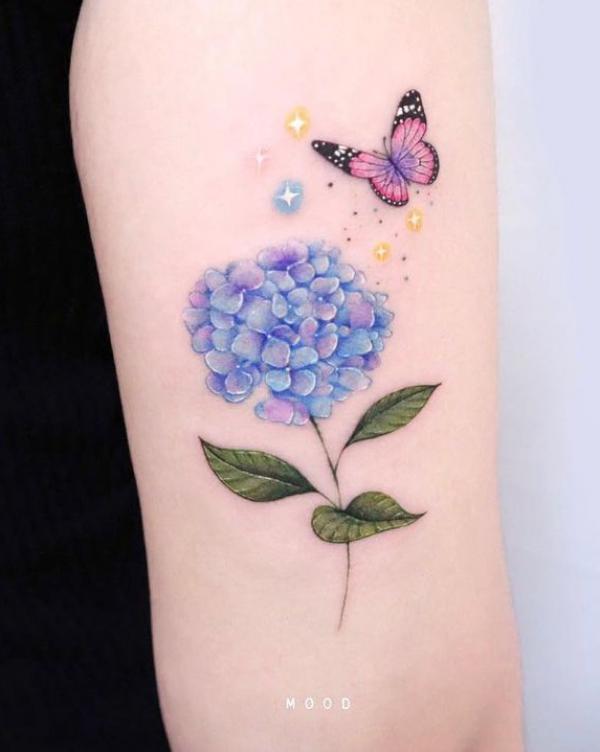 This design combines the gentle beauty of a blue hydrangea with the freedom symbolized by a butterfly, embellished with twinkling stars. The blue hydrangea denotes understanding and abundance, while the butterfly represents transformation. This vibrant design can be a visual metaphor for personal growth and the magic of life's journey.
Hydrangea with vine infinity tattoo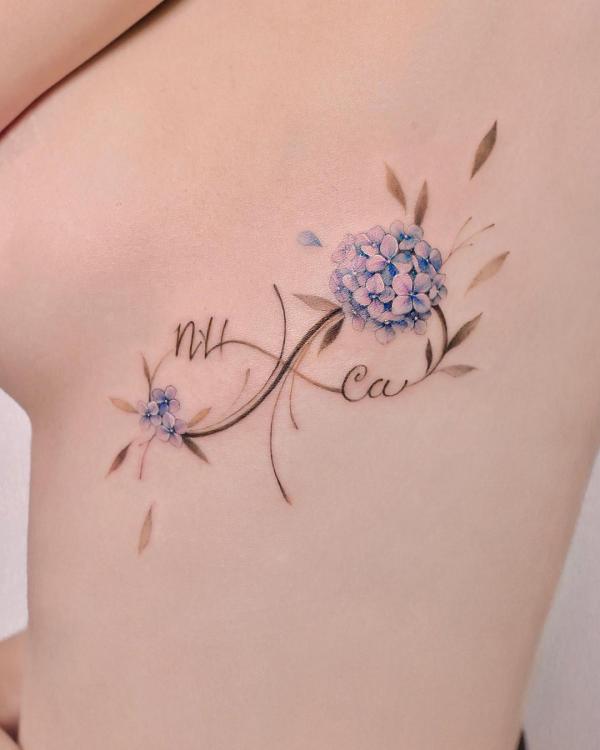 Marrying the hydrangea's symbolism with the infinity symbol, this design represents eternal abundance and prosperity. The hydrangea blooms on an infinity vine, signifying the beauty of unending life cycles and transformations. The colors and size are customizable, allowing you to make this design uniquely yours.
Hydrangea with words Tattoo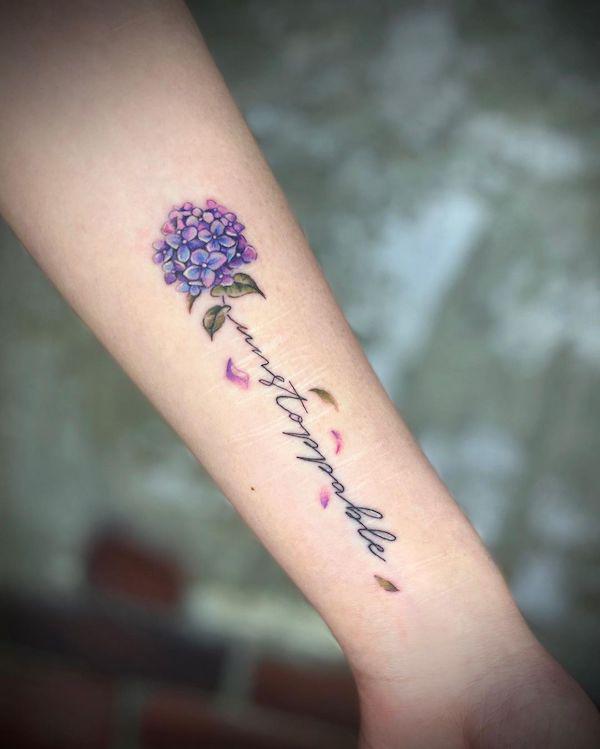 Words add a personal touch to any tattoo. When combined with a hydrangea, the design becomes a powerful statement piece. The word could be a name, a mantra, or a phrase that holds personal meaning. The hydrangea blooms around the word, symbolizing the beauty and growth that stems from these personal sentiments.
Minimalist hydrangea tattoo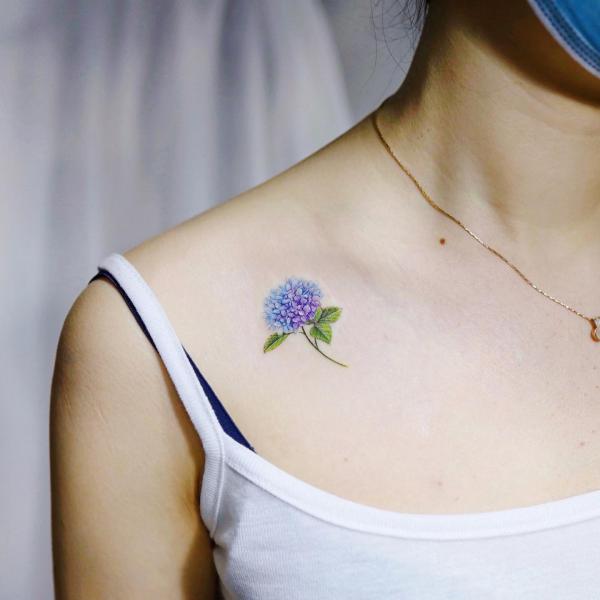 For those who prefer simplicity, a minimalist hydrangea tattoo could be the perfect choice. This design focuses on the hydrangea's basic shape, small size. Despite its simplicity, it still captures the essence of the flower and its symbolism, making a subtly powerful statement.
Pink hydrangea tattoo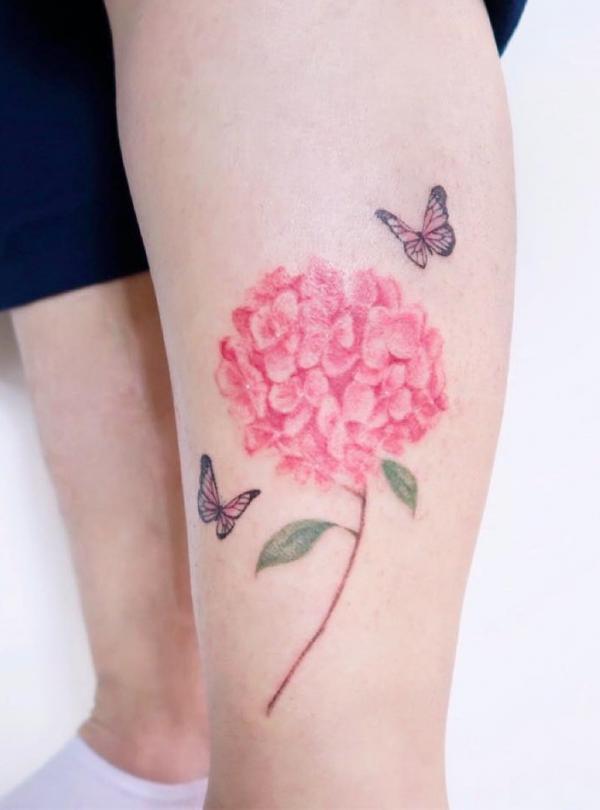 A pink hydrangea is a vibrant choice that symbolizes love and sincerity. The pink hues add a touch of romance to the design, making it an expressive piece of body art. Whether you prefer a minimalist design or a detailed one, a pink hydrangea tattoo can be a lovely symbol of your heartfelt emotions.
Purple hydrangea tattoo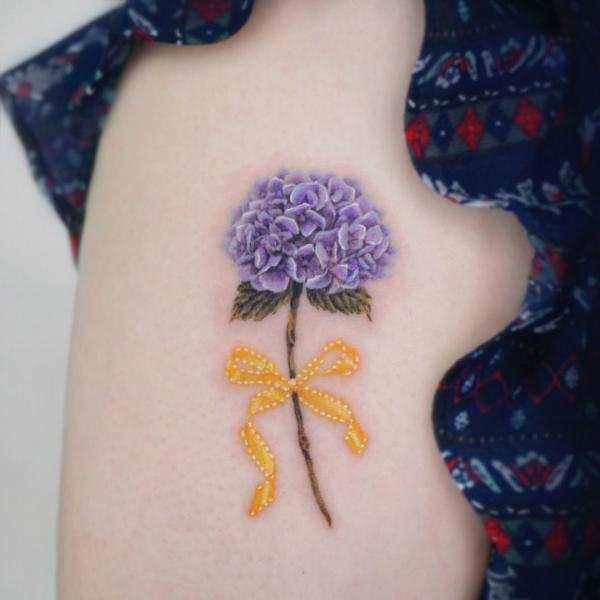 A purple hydrangea stands out with its rich, royal hues. Purple hydrangeas are often associated with a desire to deeply understand someone. This design can be a beautiful symbol of love, understanding, and the quest for deeper connections.
Realistic hydrangea tattoo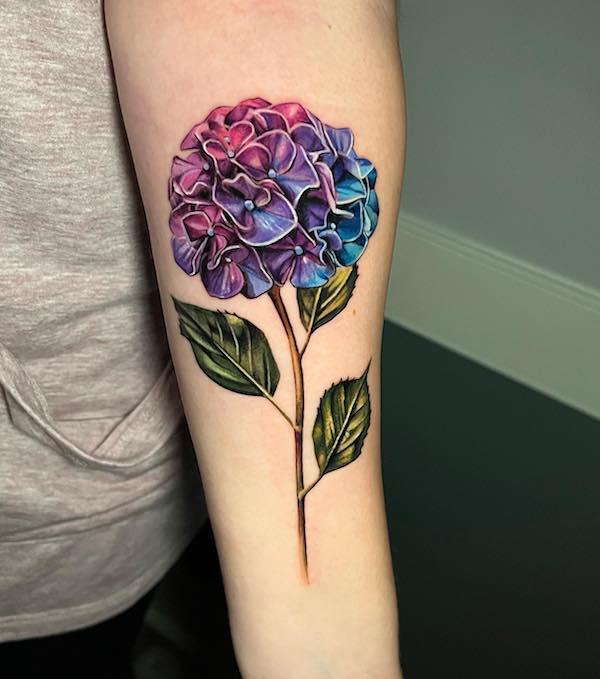 A realistic hydrangea tattoo captures the flower's intricate details, creating a piece of art that looks almost photographic. This design is perfect for those who admire the natural beauty of hydrangeas and want to portray them as authentically as possible.
Red hydrangea tattoo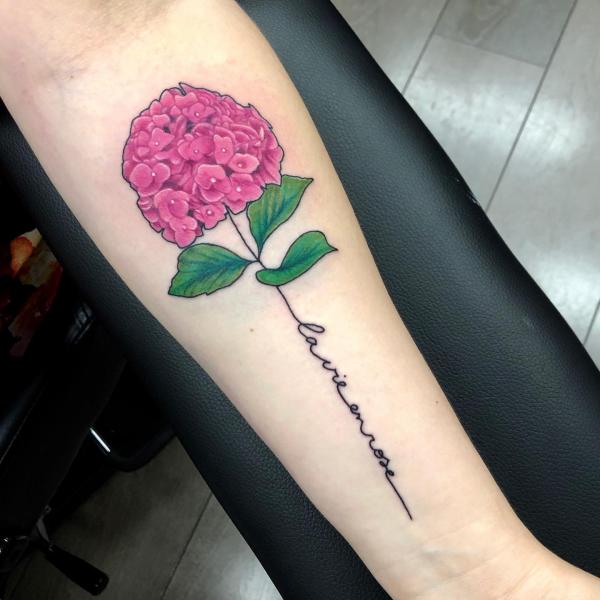 While red hydrangeas are less common in nature, they make for striking tattoo designs. The bold red color symbolizes powerful emotions like love and passion. A red hydrangea tattoo could be a bold declaration of your fervent feelings or aspirations.
Simple cat outline and dainty hydrangea tattoo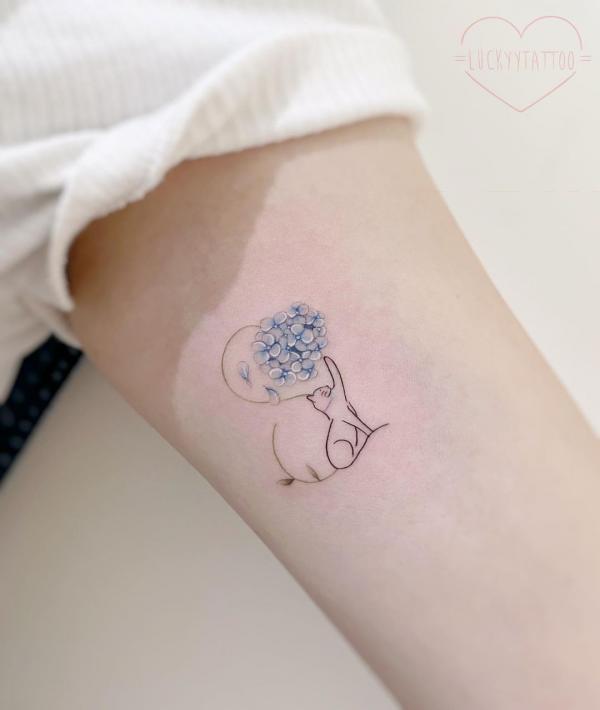 Combining a simple cat outline with a dainty hydrangea blooms creates a charming and whimsical design. It's an excellent choice for cat lovers and those who appreciate the delicate beauty of hydrangeas. This tattoo can symbolize grace, independence, and a love for nature.
Single hydrangea tattoo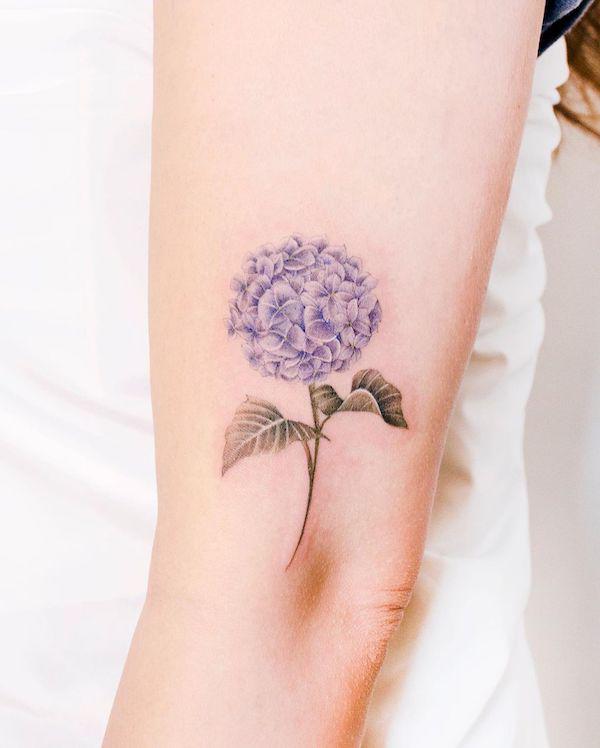 A single hydrangea tattoo can serve as a powerful symbol of personal growth and transformation. It can be done in any color and style, from minimalist to realistic, making it a versatile design choice.
Traditional hydrangea tattoo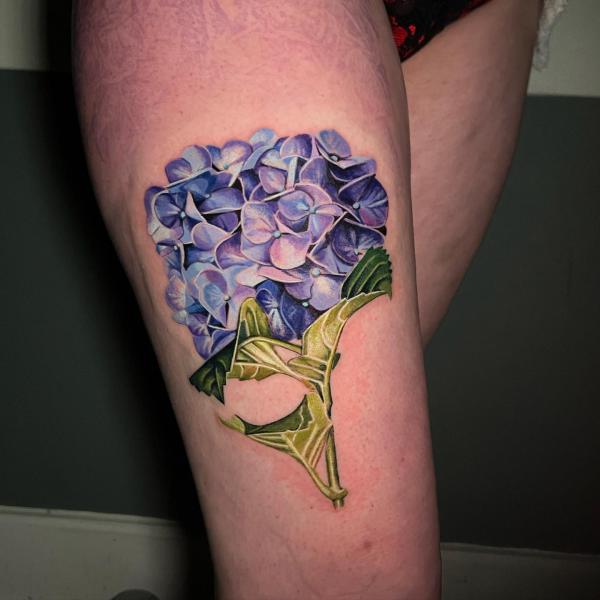 Traditional tattoos are known for their bold lines and vibrant colors. A traditional hydrangea tattoo, especially in purple, is a beautiful fusion of a classic tattoo style and the hydrangea's symbolism. It's a striking design choice for those who appreciate the timelessness of traditional tattoos.
Watercolor hydrangea tattoo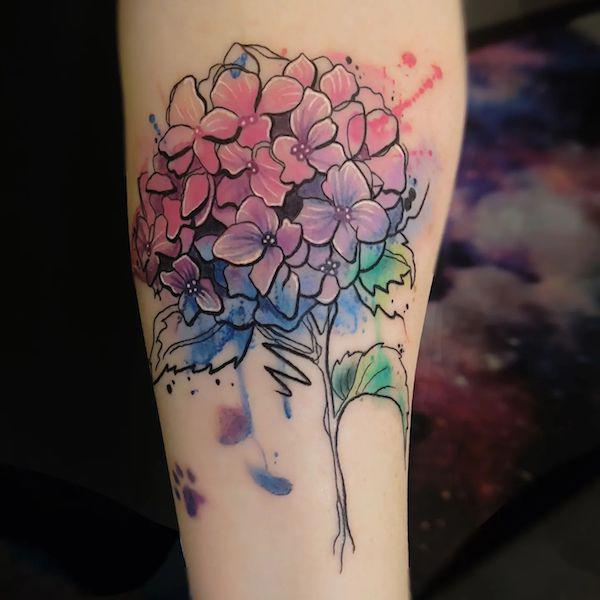 Watercolor tattoos are known for their soft, flowing colors that mimic a watercolor painting. A watercolor hydrangea tattoo captures the flower's delicate beauty in a dreamy, artistic way. This design can add a touch of whimsy and creativity to your body art collection.
Whale covered with hydrangea petals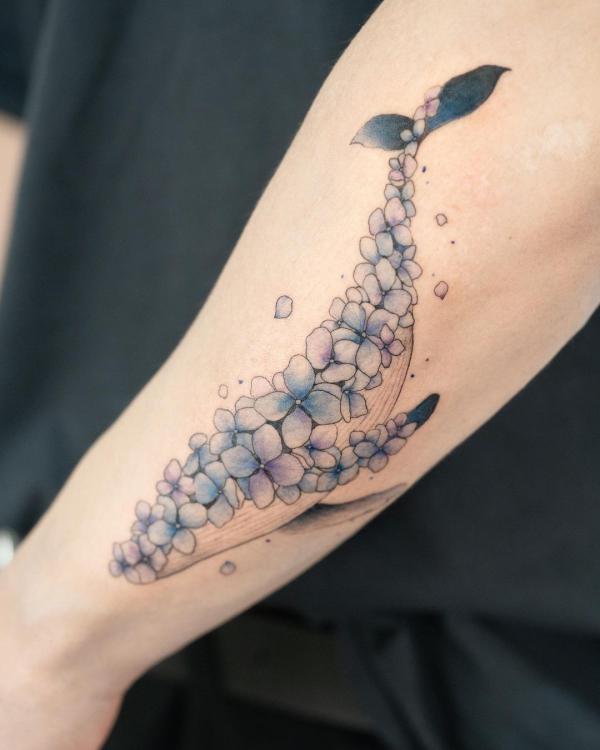 This unique design melds the majesty of a whale with the beauty of hydrangea petals. It's a creative way to symbolize your connection with nature and your appreciation for its wonders. This design's size and complexity make it a statement piece that's sure to turn heads.
A snake entwined with the stem of a hydrangea flower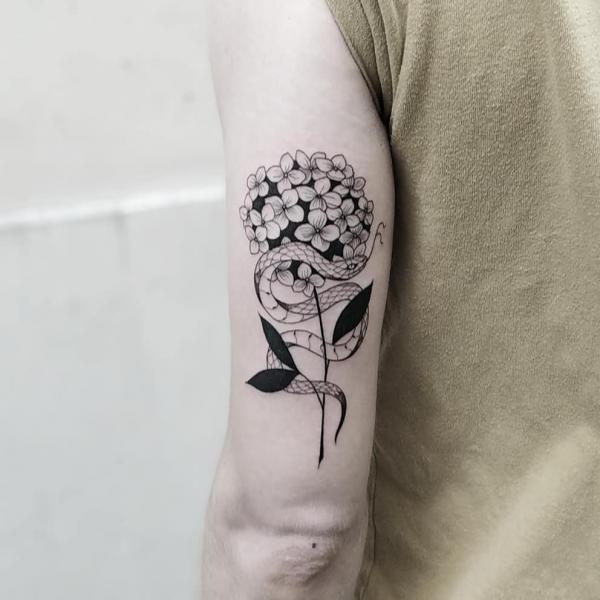 A snake entwined with a hydrangea stem is a potent symbol of transformation and rebirth. Snakes are known for their ability to shed their skin, signifying renewal. When combined with the hydrangea's symbolism of growth and change, this design becomes a powerful emblem of personal evolution.
Black hydrangea foot tattoo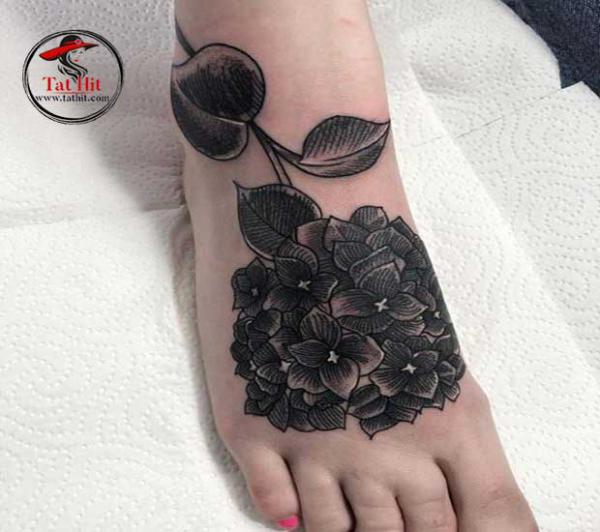 For lovers of monochromatic art, a black hydrangea ink design can be a chic and elegant choice. The black ink adds a bold touch to the hydrangea's detailed silhouette, making it a striking design. The foot, with its distinct shape, adds an appealing dimension to this tattoo option.
Blue hydrangea tattoo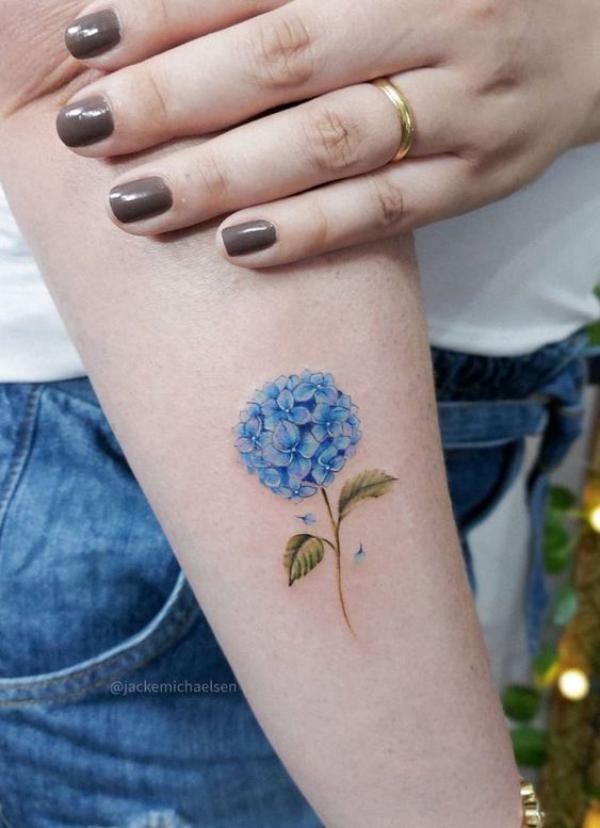 A blue hydrangea ink design, with its soothing shades, can be a calming and beautiful piece of body art. Symbolizing understanding and patience, this design can serve as a personal reminder of the importance of these virtues in your life.
Crescent moon with hydrangea petals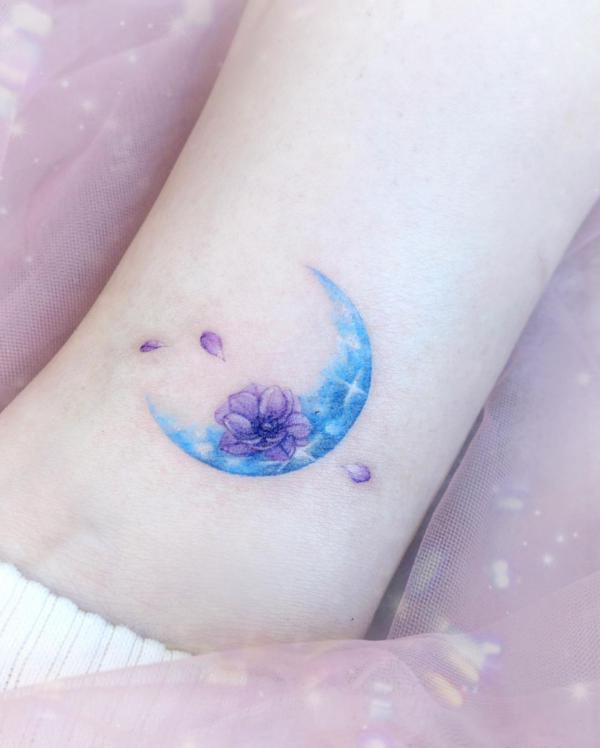 A crescent moon adorned with hydrangea petals creates a dreamy, mystical ink design. The moon is often associated with femininity and cycles of change, while the hydrangea signifies transformation and growth. Together, they form a poetic symbol of evolving beauty and strength.
Hydrangea daisy and lilac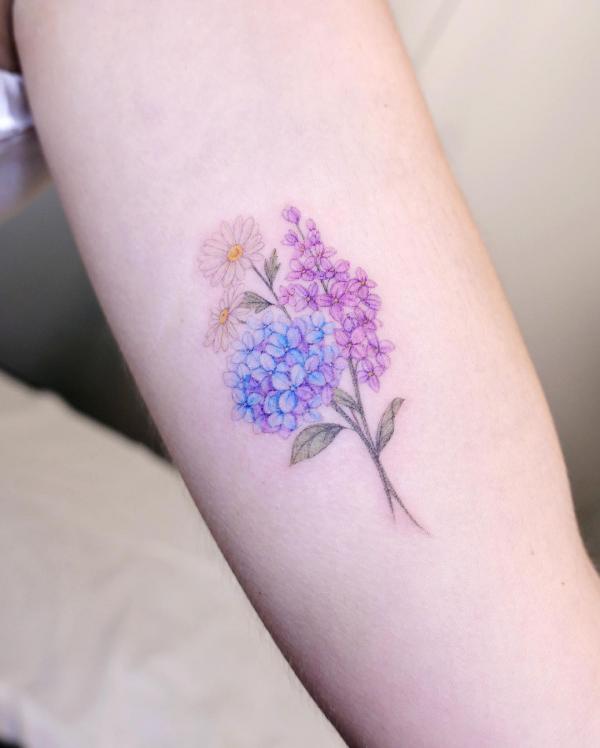 A bouquet of hydrangea, daisy, and lilac offers a burst of colors and a blend of symbolisms. The hydrangea represents understanding, the daisy symbolizes innocence, and the lilac signifies first love. This design can be a beautiful expression of love, purity, and empathy.
Fine line hydrangea tattoo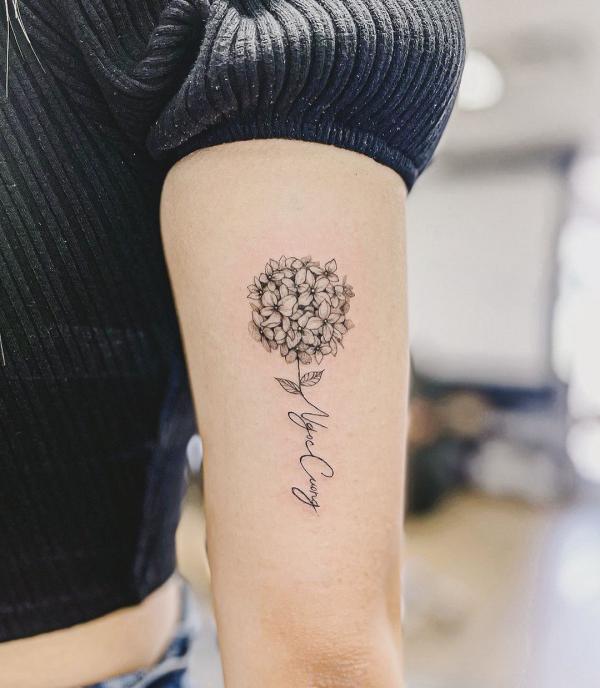 Fine line tattoos are revered for their delicate and intricate details. A fine line hydrangea design captures the flower's complexity in an elegantly minimalist way. It's a subtle yet impactful design that can suit any part of the body.
Geometric hydrangea tattoo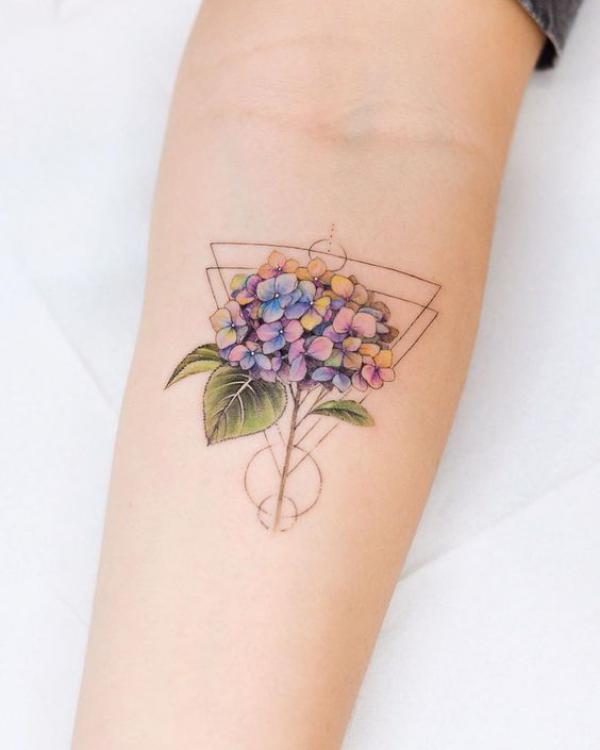 A geometric hydrangea combines the natural beauty of the flower with the structured elegance of geometric shapes. This design can symbolize the harmony between nature and structure, making it an intriguing choice for those who appreciate the blend of order and chaos.
Hydrangea and butterfly tattoo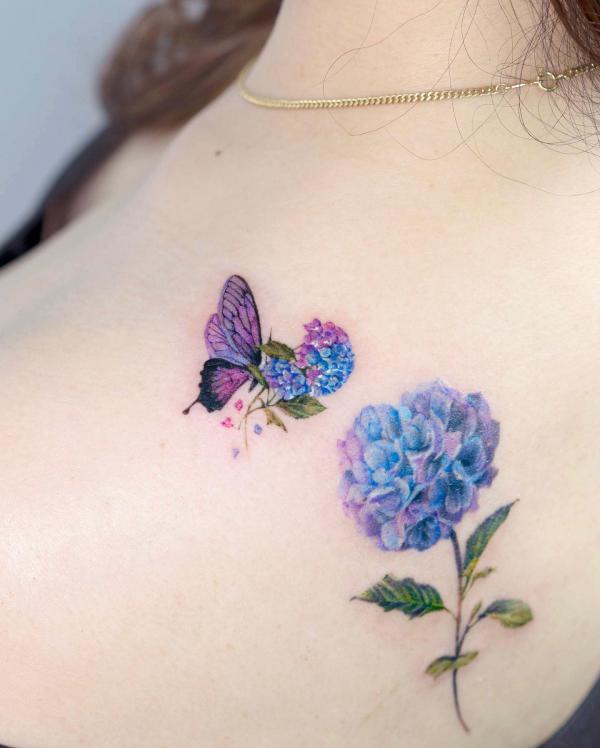 Pairing a hydrangea with a butterfly can create a tattoo full of color, life, and symbolism. Both elements represent transformation and change, making this design a potent symbol of personal growth and evolution.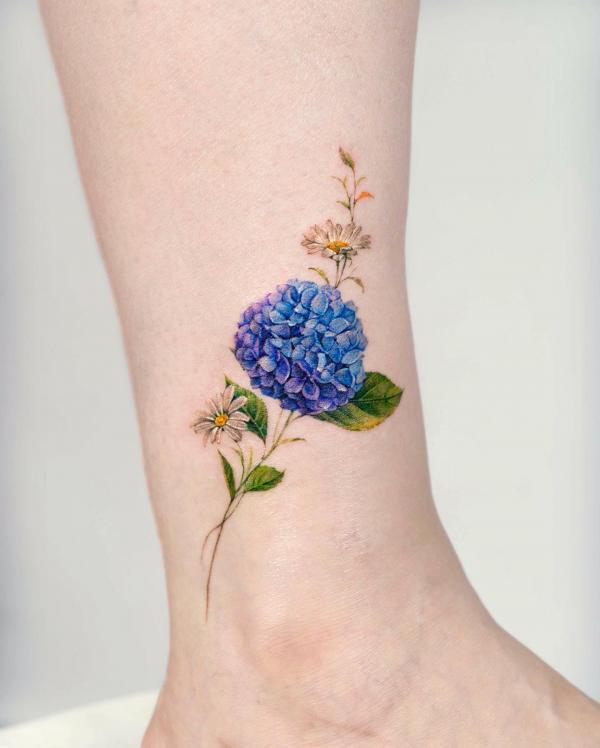 A hydrangea and daisy combination is a charming combination of two beloved flowers. While the hydrangea symbolizes understanding and abundance, the daisy represents innocence and purity. This design can be a beautiful expression of these sentiments, created in your choice of colors and styles.
Hydrangea and hummingbird tattoo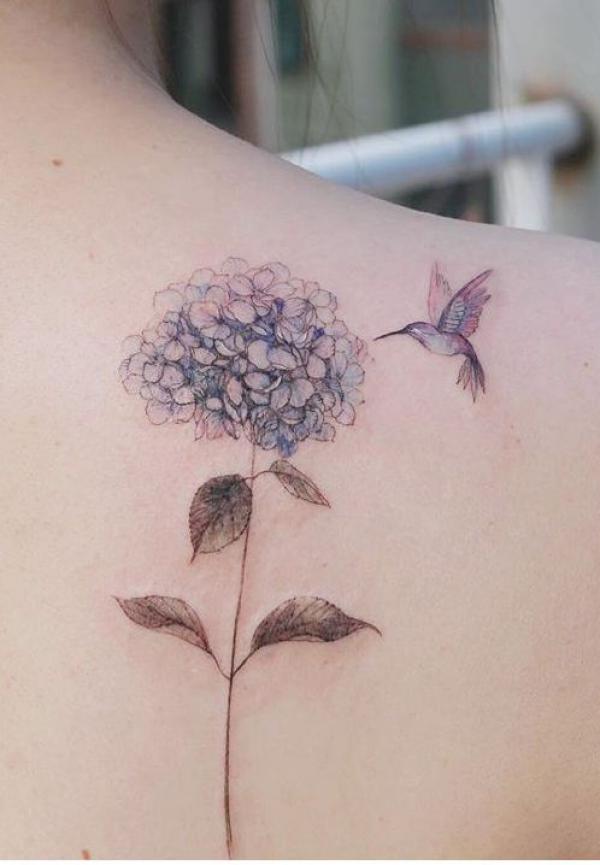 A hydrangea and hummingbird ink design brings together two symbols of life's vibrancy. The hummingbird, known for its energy and agility, complements the hydrangea's representation of abundance and understanding. This design can serve as a vivid reminder of life's beauty and dynamism.
Hydrangea and Hummingbird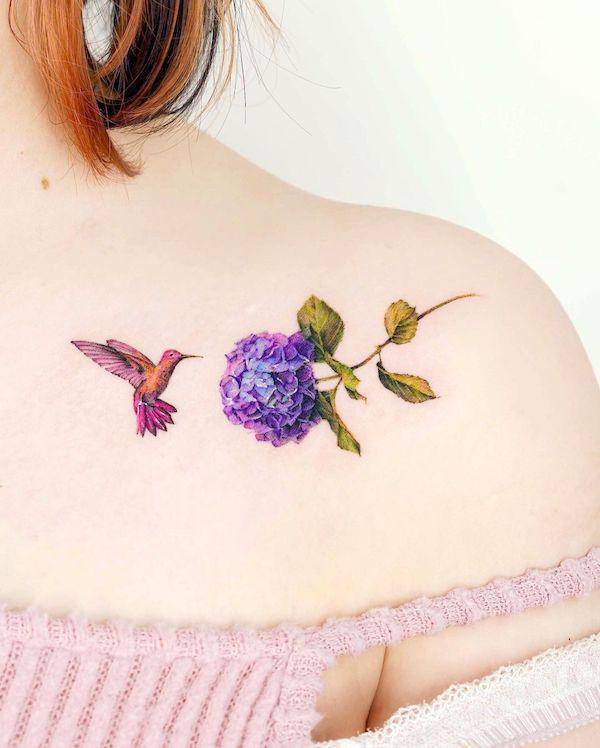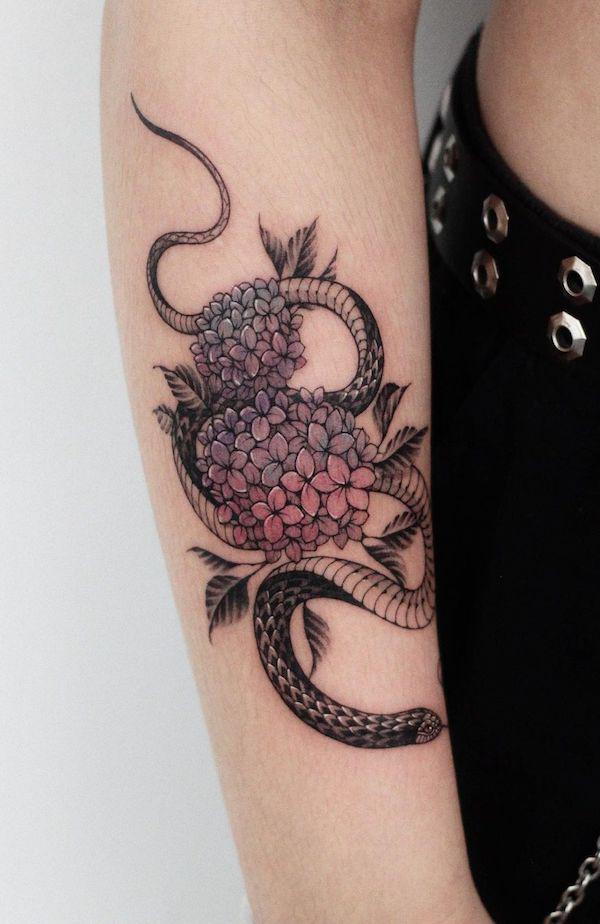 Combining a hydrangea with a snake creates a powerful symbol of transformation and rebirth. The snake, renowned for its ability to shed its skin, echoes the hydrangea's message of growth and change. This design can be a compelling emblem of personal evolution.
Hydrangea and Sunflower Tattoo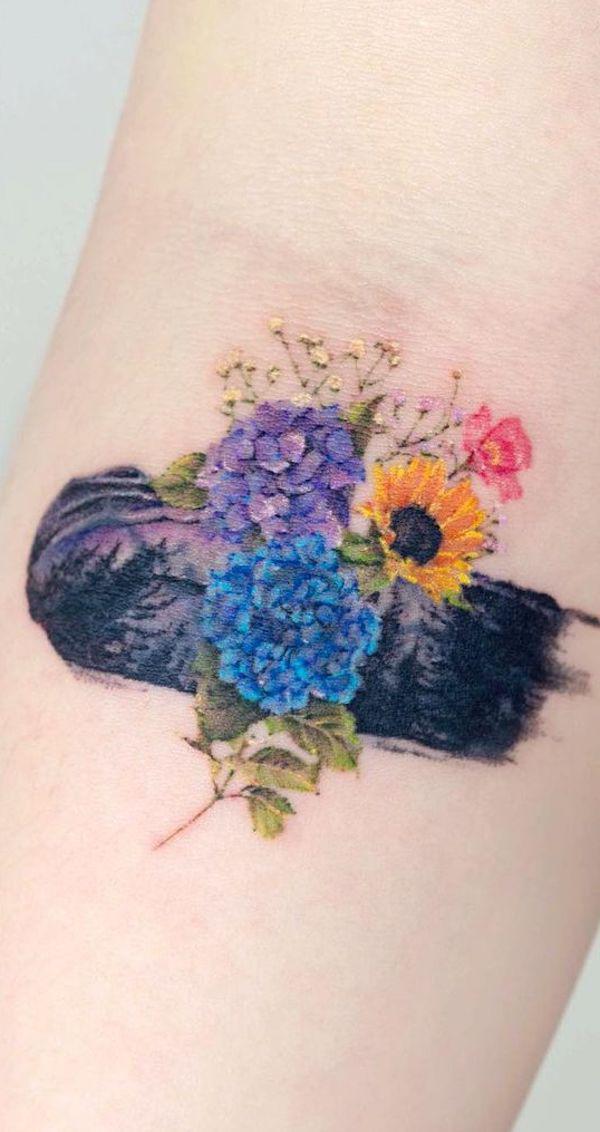 A hydrangea and sunflower design is a bright, sun-soaked composition. The sunflower, with its sunny disposition and orientation towards the sun, symbolizes adoration and loyalty. Paired with a hydrangea, this design can represent a harmonious blend of understanding, abundance, and unwavering loyalty.
Hydrangea cover up tattoo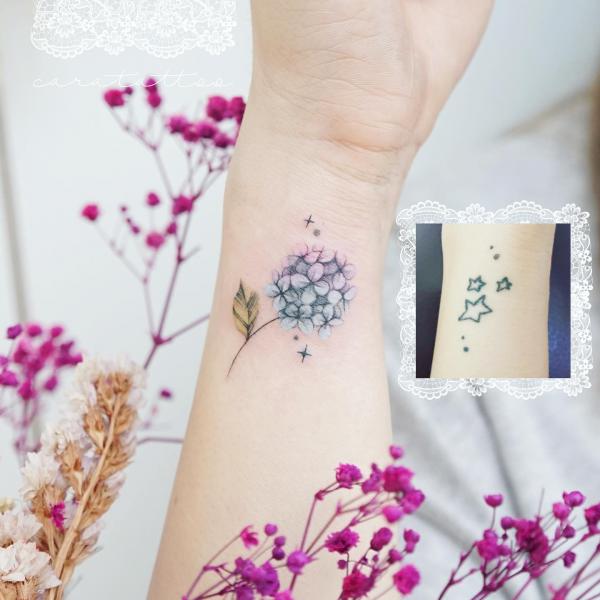 A hydrangea cover-up tattoo can be a fantastic option if you're looking to reinvent an old or unwanted tattoo. The flower's intricate details and bold colors can effectively camouflage the underlying design, breathing new life into your skin art while symbolizing personal growth and renewal.
Hydrangea daisy rose bouquet with butterfly tattoo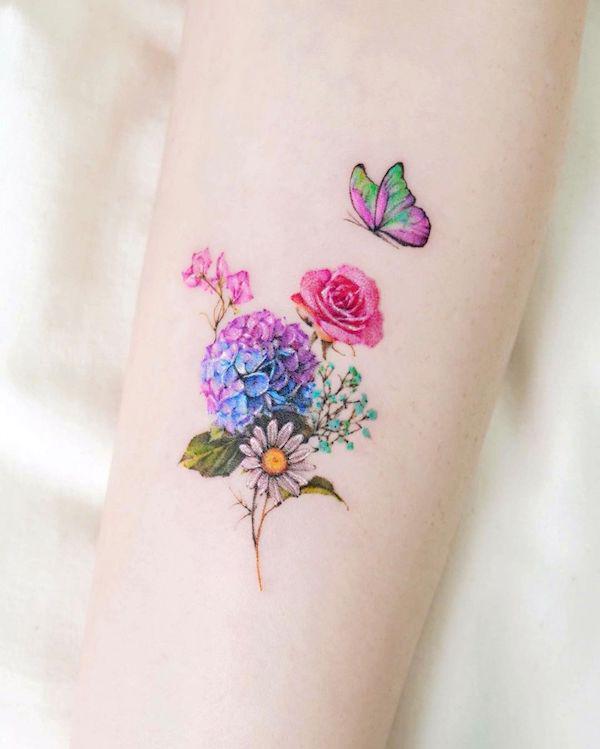 This design combines a hydrangea, daisy, and rose into a vibrant bouquet, accentuated by a fluttering butterfly. Each flower brings its own symbolism to the mix, creating a rich tapestry of meanings. This tattoo can be a beautiful representation of love, transformation, and the beauty of life.
Hydrangea flower with quote Have Courage and Belief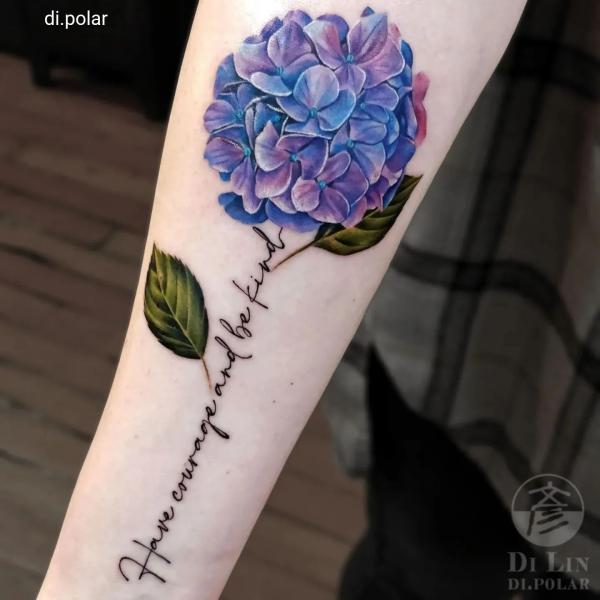 A hydrangea tattoo coupled with the empowering quote "Have Courage and Belief" can serve as a constant reminder of resilience and self-belief. The hydrangea, symbolizing understanding and abundance, alongside this quote, can create a powerful statement of personal strength and optimism.
Hydrangea hot air balloon tattoo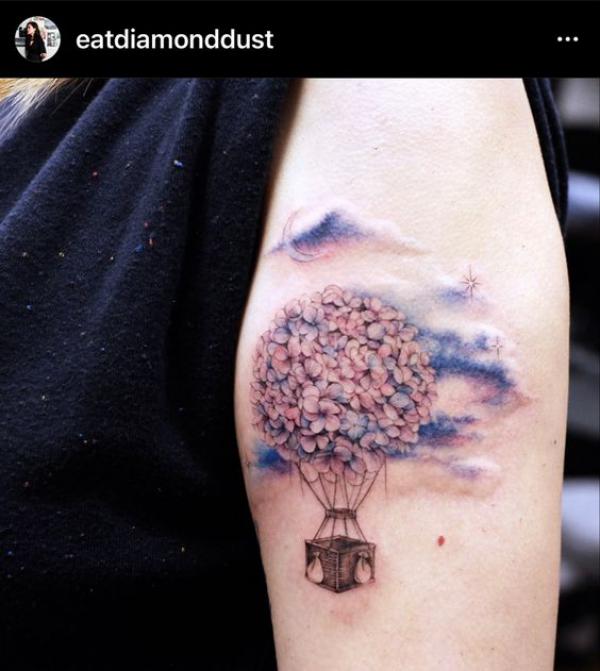 A hydrangea hot air balloon tattoo is a whimsical and creative design. The hydrangea's vibrant blossoms can form the balloon, symbolizing rise and transformation, while the basket represents grounding. This tattoo can be a fun, visual metaphor for staying grounded while reaching for your dreams.
Hydrangea in a bottle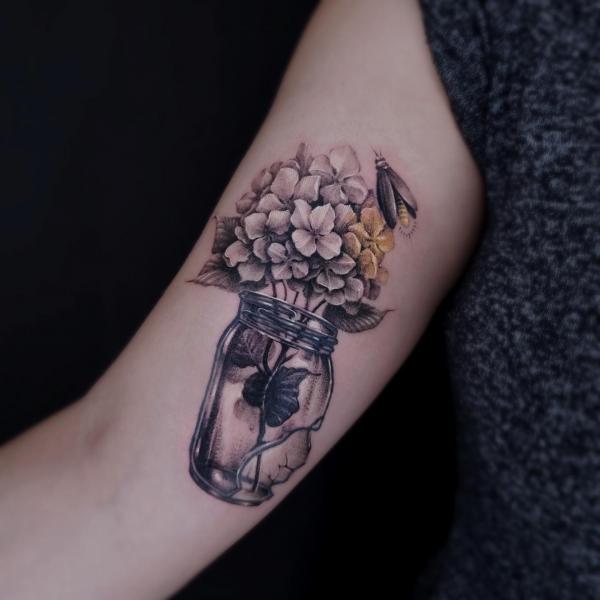 A hydrangea in a bottle tattoo encapsulates the flower's beauty in a unique way. The bottle can represent preservation, while the hydrangea stands for understanding and abundance. This design can symbolize the preservation of beautiful moments and lessons in life.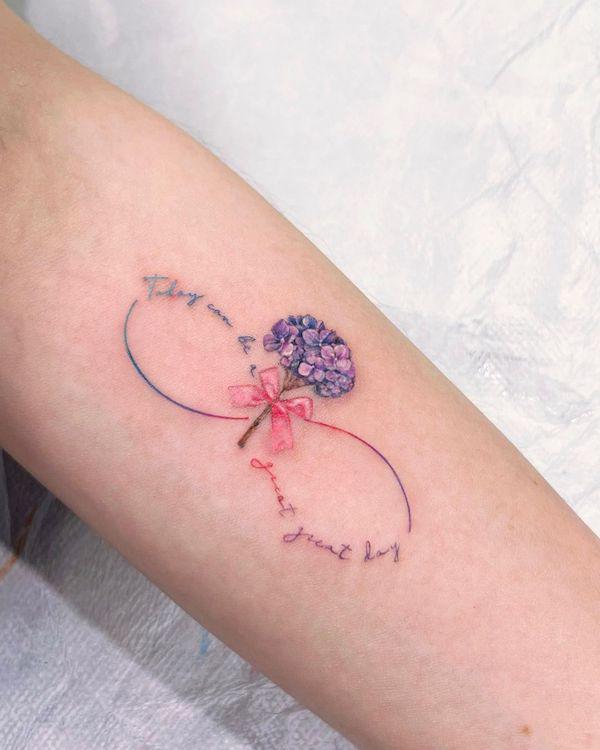 Incorporating a hydrangea into an infinity symbol creates a stunning design representing endless growth and transformation. The hydrangea's blossoms can be intertwined with the infinity symbol, creating a beautiful fusion of symbolism that speaks to infinite understanding and abundance.
Hydrangea love symbol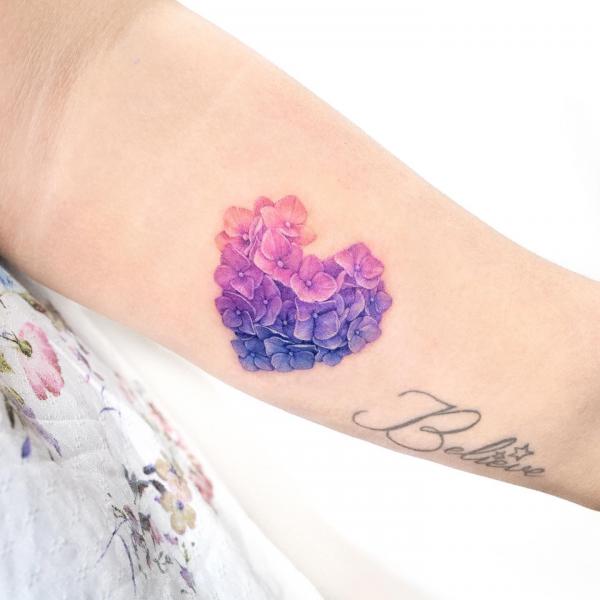 A hydrangea love symbol can be a touching expression of heartfelt emotions. The hydrangea's lush blooms, combined with a symbol of love, can create a romantic piece of body art. It's a tender reminder of love's beauty and the joy of sharing that love with others.
Hydrangea outline on watercolor backdrop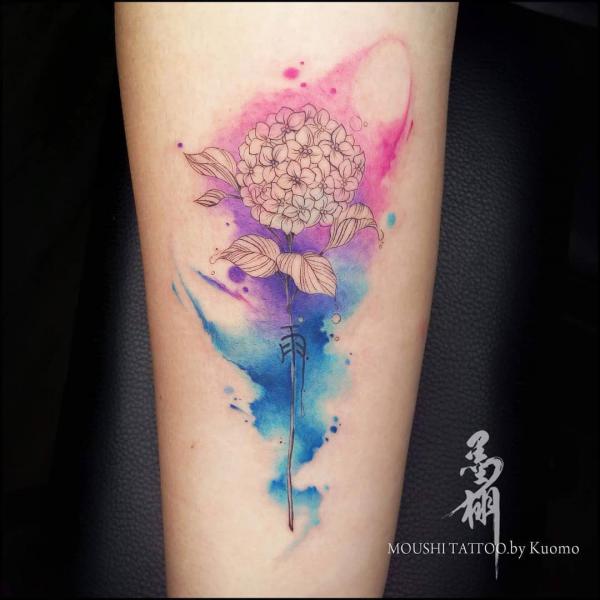 A hydrangea outline set against a watercolor backdrop can be a visually striking design. The watercolor backdrop adds a splash of color and artistic flair, while the hydrangea outline keeps the flower's intricate details in focus. This design can be a beautiful blend of artistry and nature.
Hydrangea tattoo black and white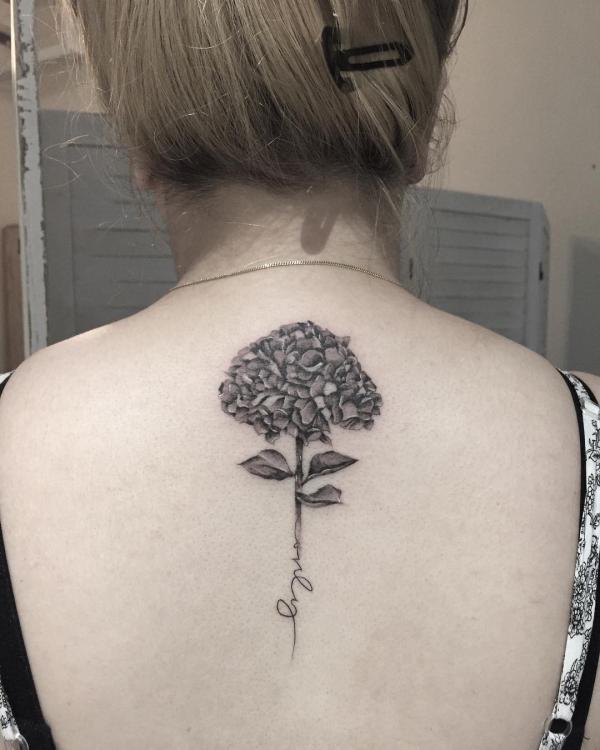 A black and white hydrangea tattoo offers a timeless, monochromatic take on the flower. The absence of color brings out the hydrangea's intricate patterns, making it a bold and elegant choice. This design can be a chic symbol of understanding, growth, and transformation.
Hydrangea tattoo sleeve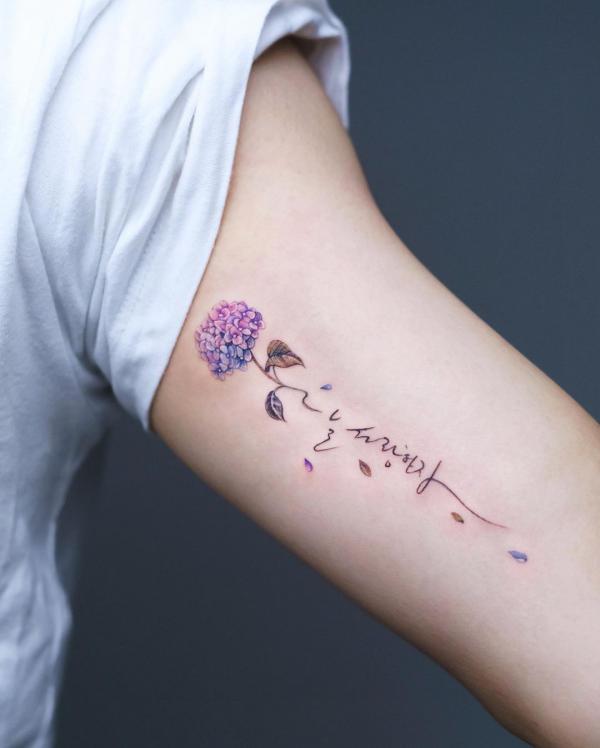 A hydrangea tattoo sleeve can be a vibrant and detailed display of body art. With the hydrangea's lush blossoms spanning the length of your arm, this design can make a striking statement about personal growth and understanding.
Hydrangea teddy bear tattoo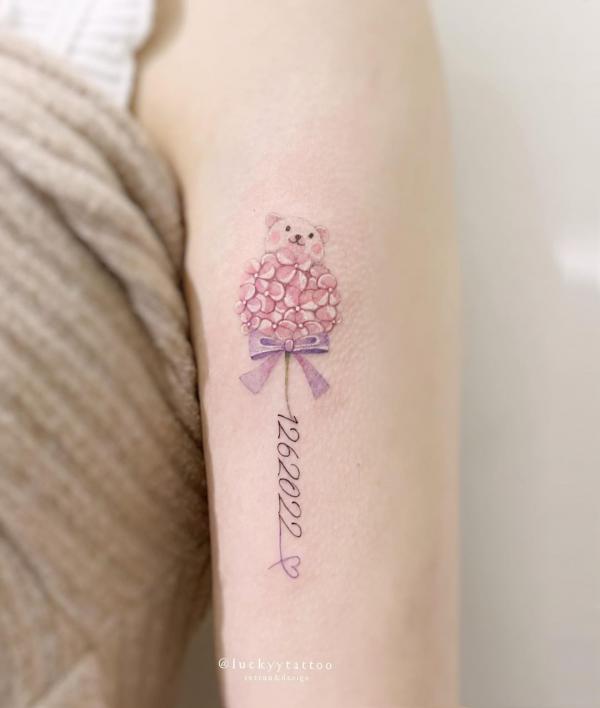 A hydrangea teddy bear tattoo is a unique and endearing design. The teddy bear, a symbol of comfort and childhood, paired with the hydrangea, can represent a sense of nostalgia and the appreciation for life's simple joys.
Hydrangea with bee and hummingbird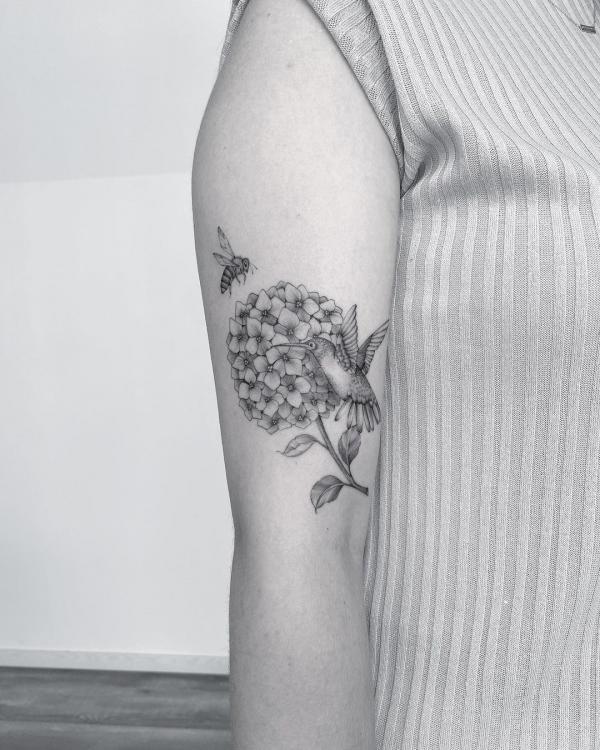 A hydrangea design featuring a bee and a hummingbird brings together symbols of abundance, hard work, and joy. This lively design, full of action and color, can be a vibrant reminder of life's beauty and the rewards of hard work.
Hydrangea with falling petals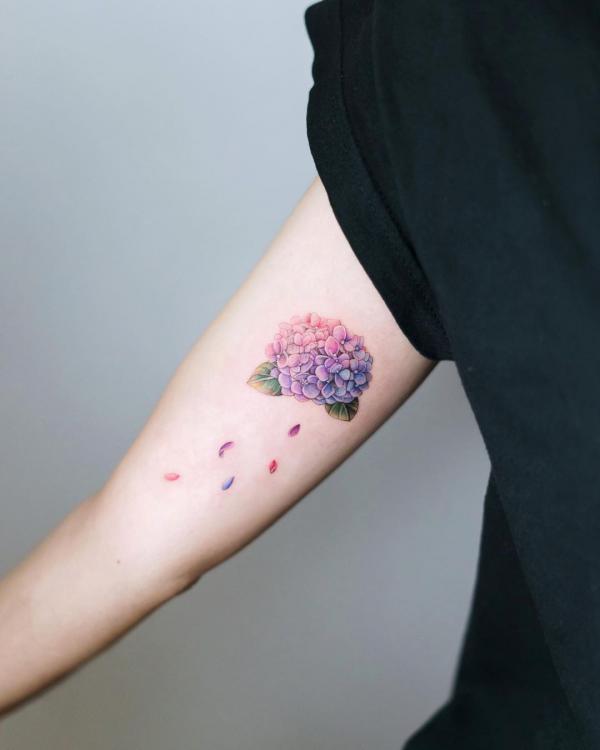 A hydrangea with falling petals can be a poignant symbol of the fleeting nature of beauty and the cycle of life. It's a reminder to appreciate every moment and embrace change as an integral part of growth.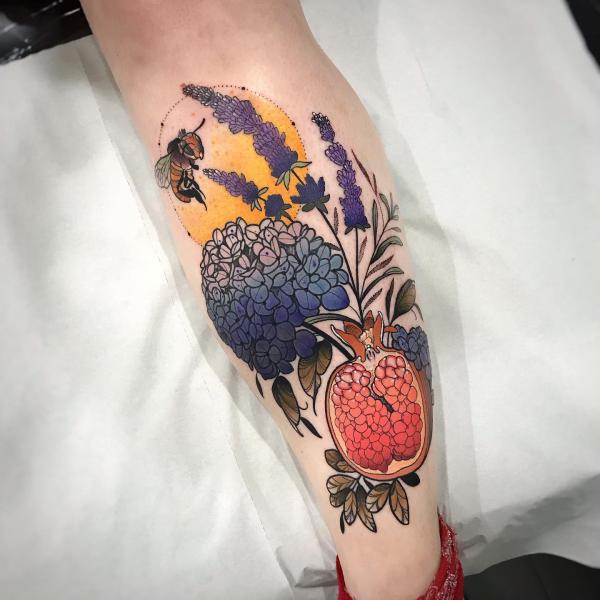 Hydrangea Tattoos Placement Ideas: A Bloom on Your Body
When you think of body art, what comes to your mind? Beauty? Individuality? A personal narrative? For many, a tattoo is a permanent expression of their soul's whispers. One such captivating design that's creating a buzz in the tattoo world is the hydrangea tattoo. Its exquisite clusters of heart-shaped flowers represent gratitude, grace, and beauty. But where should you place this alluring piece of art? We have some fantastic suggestions for you.
Ankle
An ankle tattoo is a delicate choice for those who prefer low-key, subtle body art. The hydrangea, with its intricate design, is a perfect fit for this placement. It gives you the chance to carry a piece of your personality with you, subtly peeking out from your ankle. A small hydrangea tattoo here can be your little secret, a personal symbol known only to you or those you choose to share it with.
Small hydrangea tattoo on ankle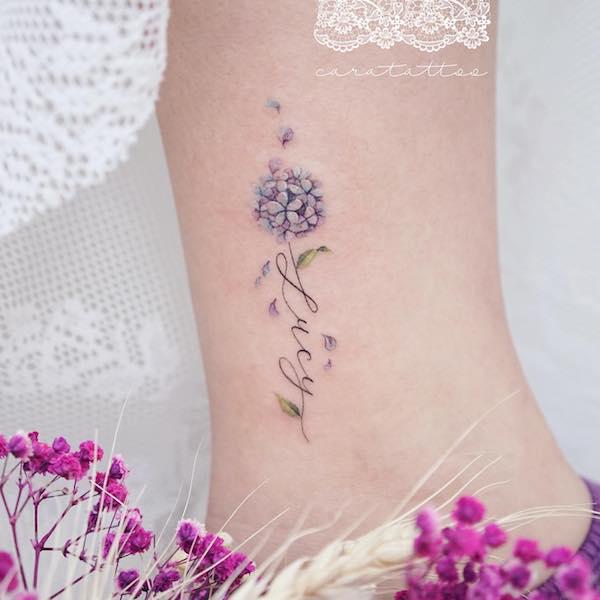 Back
The back is a grand canvas for a larger, more elaborate hydrangea tattoo. Picture a cluster of hydrangea blossoms sprawling across your back, their vibrant colors contrasting with your skin. It can be a stunning piece of art, telling a story that's uniquely yours. The back offers enough room to incorporate other elements, like a butterfly or a quote, making your hydrangea tattoo a part of a larger, more complex narrative.
Hydrangea and butterfly back tattoo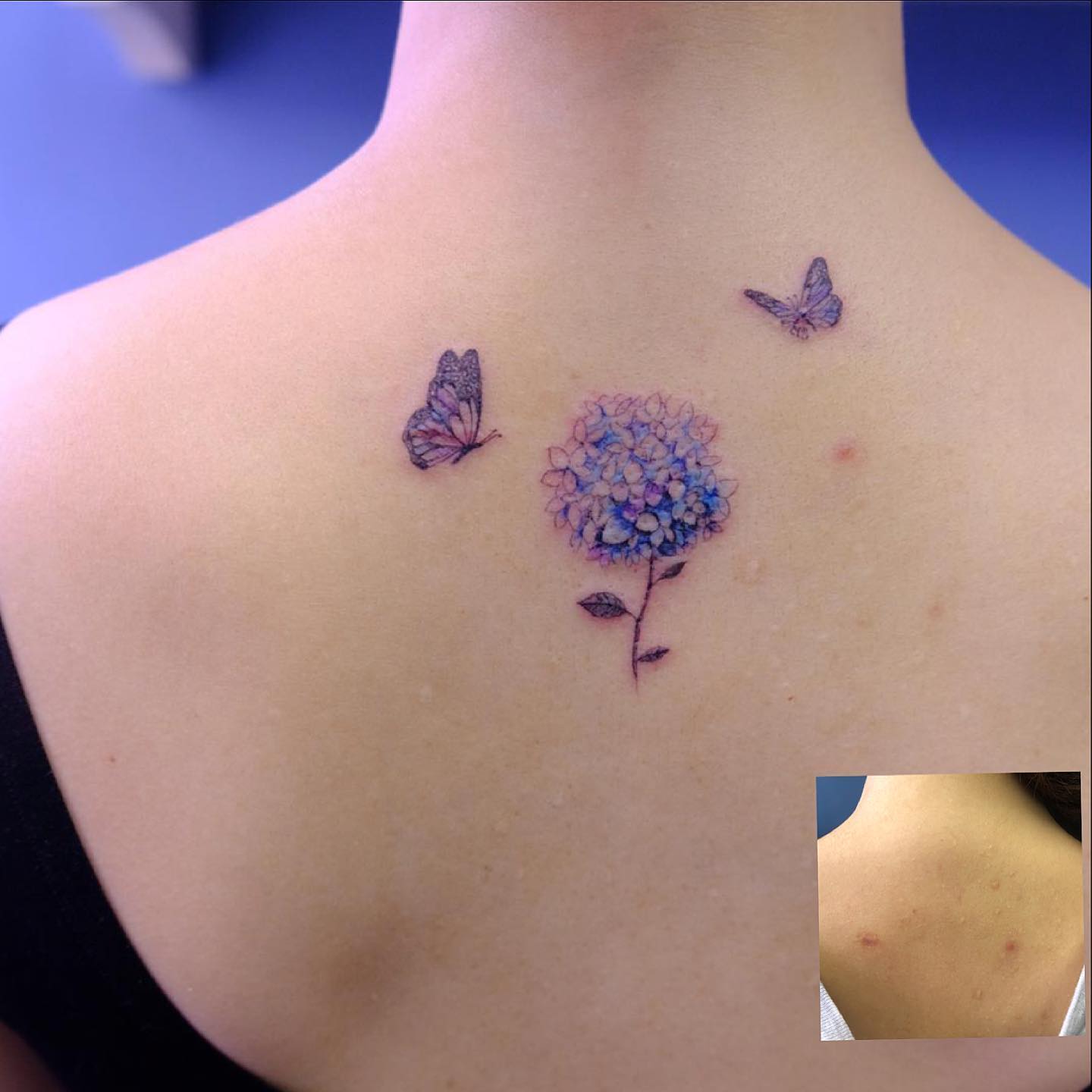 Clavicle
The clavicle, or collarbone, is a popular choice for those who want their tattoos to be visible yet elegant. A hydrangea tattoo here is a bold statement of beauty and grace. It's there for the world to see, yet it carries an air of sophistication. Tiny hydrangea blooms can trail along your collarbone, or a single, large bloom can rest subtly above it, creating an aesthetic that's both striking and chic.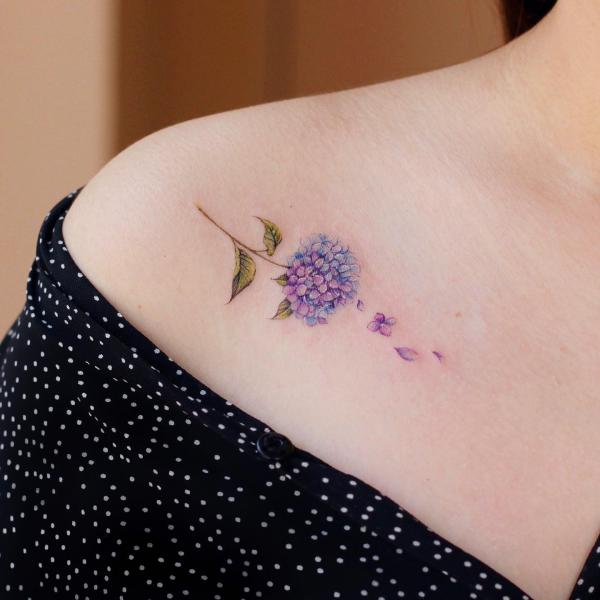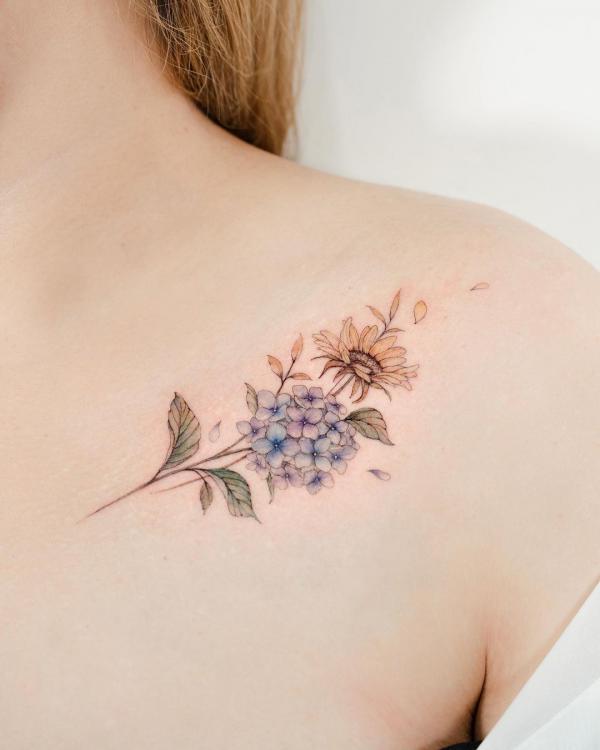 Wrist
Your wrist is always in view, making it an ideal spot for a tattoo that you want to appreciate every day. A hydrangea tattoo on your wrist is like carrying a piece of art at hand. It's a constant reminder of the beauty in life, the grace in gratitude, or whatever personal meaning the hydrangea holds for you.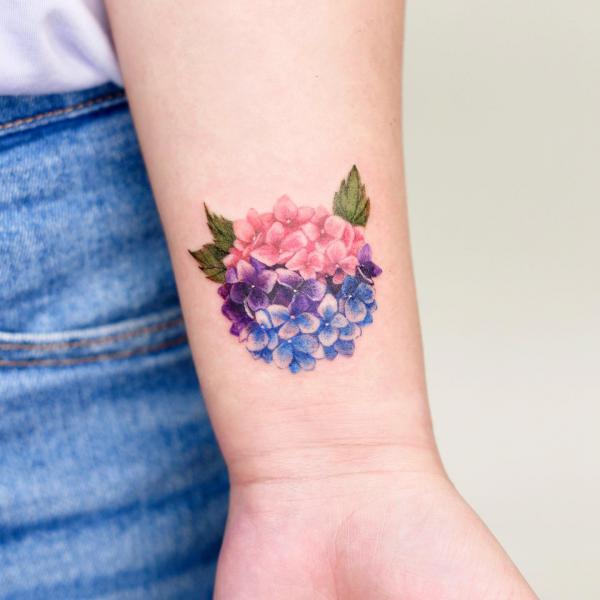 Bicep
The bicep, a symbol of strength, can be an interesting contrast to the soft, graceful hydrangea. A hydrangea tattoo on your bicep can symbolize the strength in softness, the power in beauty. It's a constant reminder that strength doesn't always mean hardness; it can be found in grace and gratitude as well.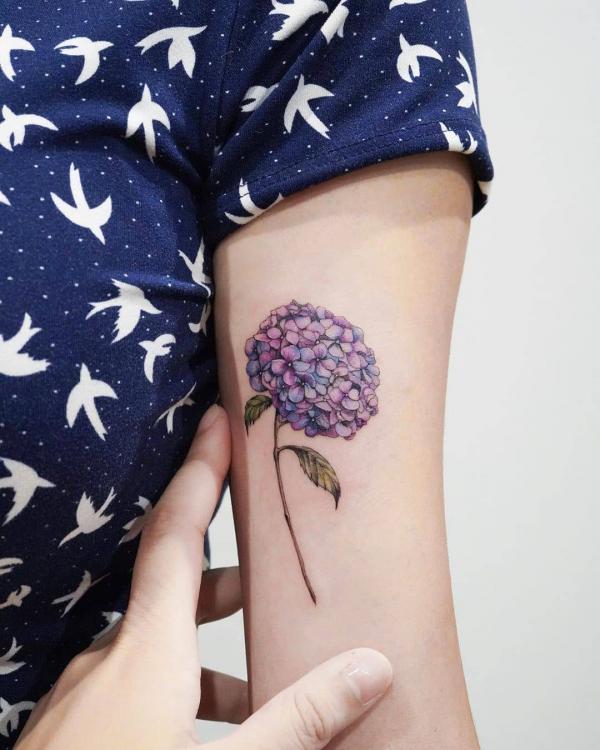 Forearm
The forearm offers a great space for a medium-sized hydrangea tattoo. It's easily visible, giving you the chance to showcase your hydrangea in full bloom. Imagine a cluster of hydrangeas on your forearm, their vibrant colors on display for you and others to appreciate. It's like carrying a bouquet of flowers with you, wherever you go.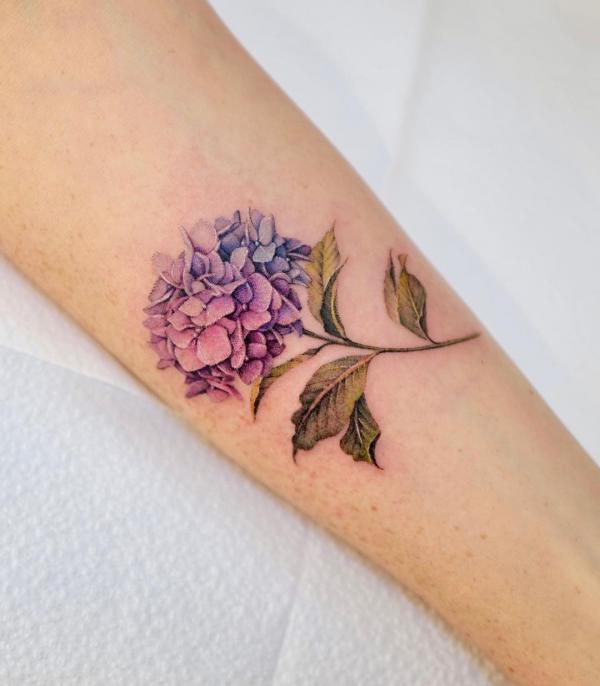 Spine
A vertical hydrangea tattoo along the spine is a stunning choice. It's a line of beauty running down your back, a cascade of hydrangea blooms that only reveals itself when you choose to show it. It's a powerful yet personal statement, a symbol of your unique journey.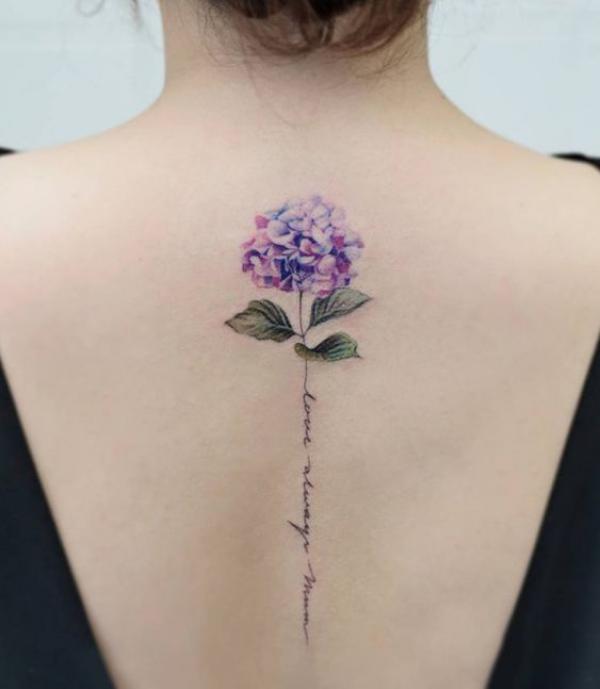 Behind the Ear
A small hydrangea tattoo behind the ear is whimsical and charming. It's like a secret bloom, a whisper of beauty that's heard only by those who come close. This placement is perfect for those who favor subtlety and elegance in their body art.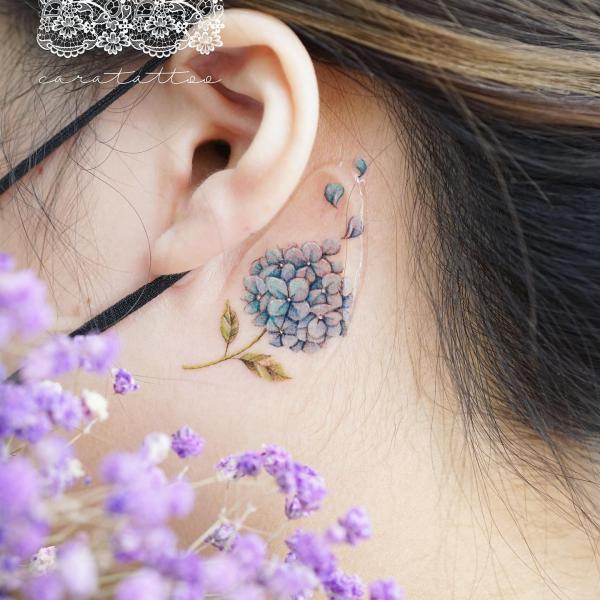 Shoulder
A hydrangea tattoo on the shoulder is like a blossom resting on your cap. It's a beautiful way to adorn your body, a piece of art that adds to your individuality. Whether it's a small cluster of hydrangea blooms or a large, single bloom, a shoulder tattoo is a stunning choice.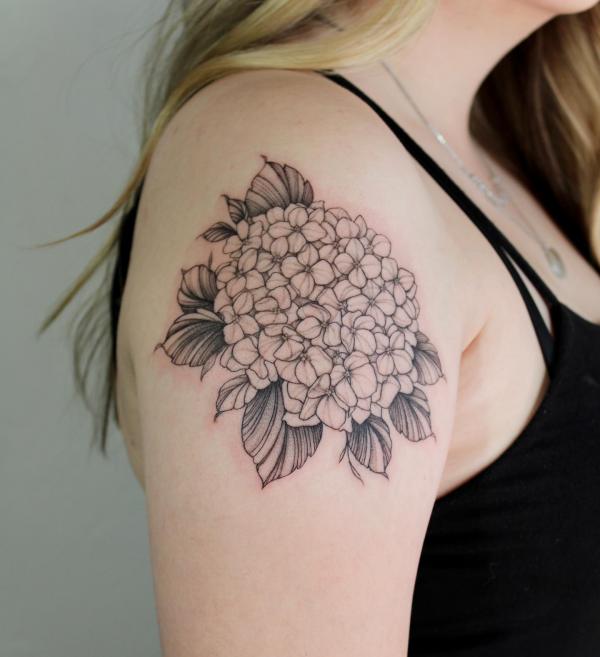 Conclusion
The hydrangea tattoo's beauty lies not just in its visual appeal, but also in its depth of meaning. Whether it's a symbol of change and transformation, a reminder of resilience and beauty, or a statement of abundance and prosperity, a hydrangea tattoo can tell a powerful story. Just as the flower blooms in different colors depending on its surroundings, your hydrangea tattoo can reflect your unique journey and the experiences that have shaped you. It's a personal, artistic expression that connects you with nature and with your own inner self.