Today, we're setting sail on a voyage into the fascinating world of pirate ship tattoos. These powerful and intricate designs have surged in popularity, capturing the imagination of tattoo enthusiasts worldwide. But what makes these maritime masterpieces so captivating? To answer that question, we need to delve into their rich symbolism, historical roots, and diverse design elements.
Pirate ship tattoos are more than just ink on skin; they're a visual storytelling medium, a statement of personal beliefs, and a tribute to a bygone era. They can stir up images of high-seas adventure, speak of an individual's rebellious spirit, or symbolize a deep-rooted connection to maritime history or pirate lore. Let's hoist the anchor and embark on this exploration together.
The Origin of Pirate Ship Tattoos
Pirate ships are notorious symbols of maritime piracy, a phenomenon that has persisted from ancient times until today. These vessels were not only transportation means for pirates but also their homes and war machines. They were equipped with cannons and other weapons, and typically faster and more maneuverable than the ships they pursued and attacked.
Historically, some pirate ships became almost as famous as the pirates who sailed them. For instance, there's the mighty "Queen Anne's Revenge," commanded by the fearsome Blackbeard, and "The Whydah," the flagship of "Black Sam" Bellamy. These vessels became symbols of the pirate era, representing both the terror they instilled and the freedom they embodied.
The pirate ship tattoo, much like the fearsome vessels they depict, has a storied history. These tattoos stem from maritime customs, where sailors would adorn their bodies with ink as a rite of passage. They viewed this act as a display of reverence for the sea and a protective charm against its manifold perils. So, these tattoos became a symbol of power, adventure, and the thrill of the open sea!
Meaning and Symbolism of Pirate Ship Tattoos
As with any tattoo, the meaning behind a pirate ship can be as varied as the individuals who wear it. However, there are common themes and symbols associated with these tattoos.
Adventure and Freedom
Firstly, a pirate ship tattoo often symbolizes a love for adventure and a sense of freedom. Pirates were the original outlaws, living life on their own terms, unbound by the rules of society. They sailed the seven seas, charted their own course, and answered to no one. This spirit of adventure and freedom is a powerful draw for many who choose a pirate ship tattoo.
Rebellion and Non-conformity
Pirate ship tattoos also represent rebellion and non-conformity. Pirates were the ultimate rebels, defying authority and breaking the rules. A pirate ship tattoo can be a way of expressing a rebellious streak, a refusal to conform to societal norms, and a desire to live life on your own terms.
Resilience and Survival
The harsh and often dangerous life at sea forced pirates to be resilient, resourceful, and brave. As such, pirate ship tattoos can symbolize a struggle for survival, a battle against adversity, or a testament to personal strength and resilience.
Nostalgia and Romance
Let's not forget the romantic allure of the pirate life, popularized by literature and cinema. Pirate ship tattoos can embody a sense of nostalgia for this romanticized era, a longing for simpler times when life was a grand adventure, and the world was full of undiscovered treasures.
Design Elements and Styles of Pirate Ship Tattoos
When it comes to design, pirate ship tattoos offer a vast sea of possibilities. They can be large, covering an entire back or chest, or smaller designs suited for arms, legs, or other areas. The intricacy of the design can also vary, from simple, stylized representations to highly detailed, realistic portrayals.
Common elements often included in these tattoos are sails billowing in the wind, pirate flags (typically the skull and crossbones, or "Jolly Roger"), cannons ready for battle, and even skeletal imagery, symbolizing death and danger.
Various tattoo styles can be used to depict pirate ships. Traditional style tattoos often use bold lines and vibrant colors, while realistic tattoos aim for a lifelike representation, complete with shading and detailed artwork. Neo-traditional tattoos, on the other hand, blend elements of both, offering a modern twist on classic designs.
Inspiring pirate ship tattoo designs
Pirate ship tattoos offer immense versatility in terms of design ideas. The diverse design elements can range from the ship itself to the surrounding sea and sky. The creative expression can be tailored to fit virtually anyone who's pursing unique design. Here is our collection of inspiring examples.
Black and grey pirate ship tattoo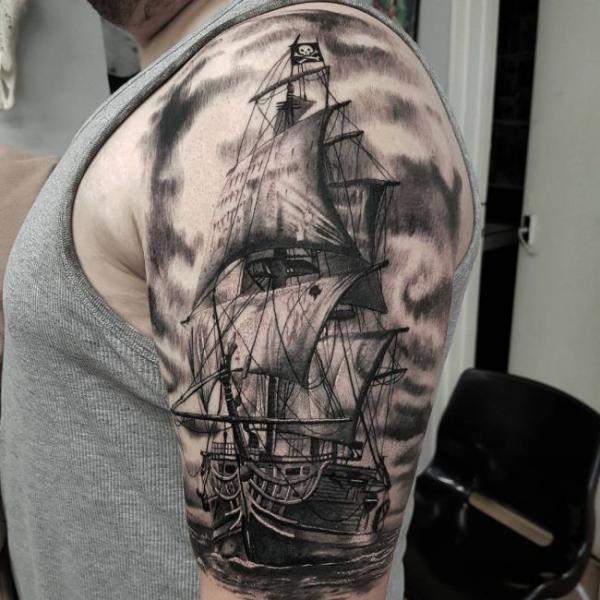 The monochromatic palette of black and grey can lend a dramatic and atmospheric touch to a pirate ship ink design. The absence of color can highlight the intricate line work and shading, bringing the ship, the roaring seas, and the stormy skies to life. This style can evoke a sense of mystery, danger, and the relentless pursuit of freedom, much like a pirate's life
Pirate ship line work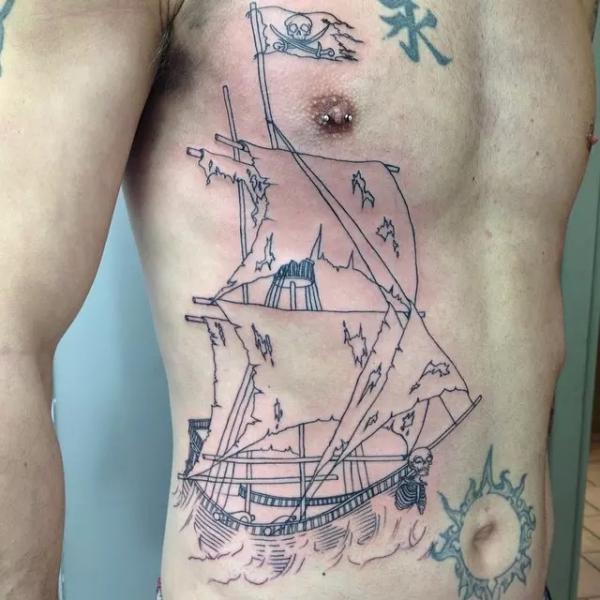 Begin your tattoo voyage with the simplicity and elegance of line work. A line work pirate ship tattoo relies on clean, crisp lines to create an image that's both striking and minimalistic. This design, devoid of color and shading, can be a subtle yet powerful tribute to the open sea and the rebellious spirit of piracy.
Pirate ship outline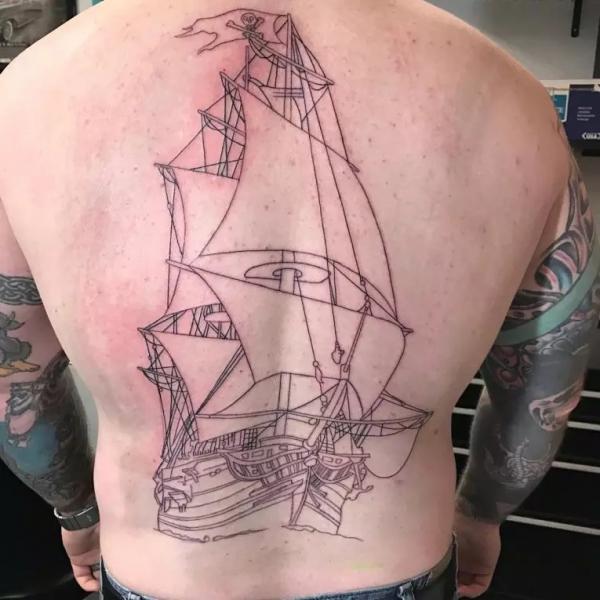 If you're looking for a larger and more dramatic canvas, consider a pirate ship outline design on the back. This design can be as detailed or as simplified as you like, with the outline of the ship standing stark against the skin, creating a bold and captivating visual.
Pirate ship tattoo with quote sic parvis magna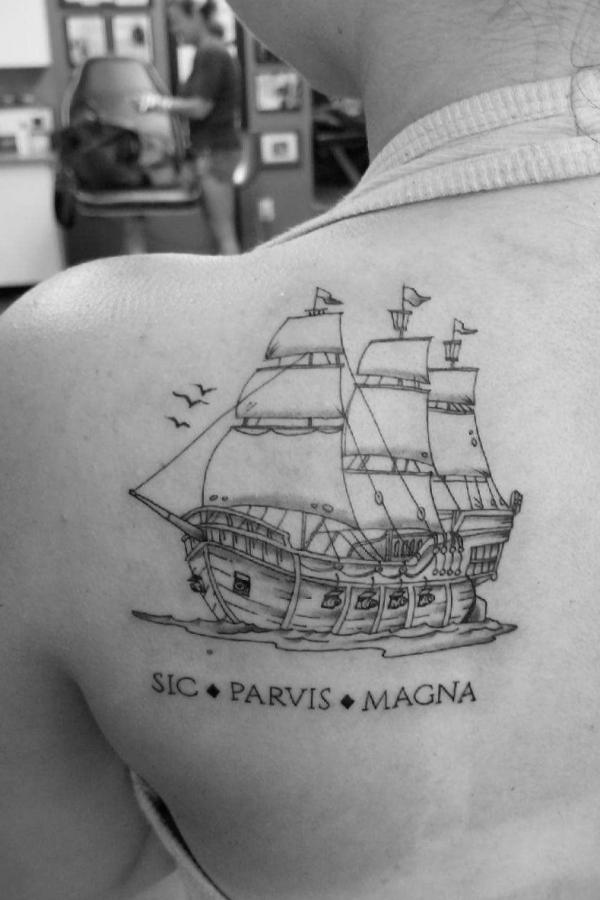 Add depth and personal meaning to your pirate ship tattoo with a quote. "Sic Parvis Magna," Latin for "greatness from small beginnings," is a fitting testament to the humble beginnings and daring adventures of pirates. This design can symbolize your personal growth and the great potential that lies ahead.
Pirate ship with crossed dagger skull flag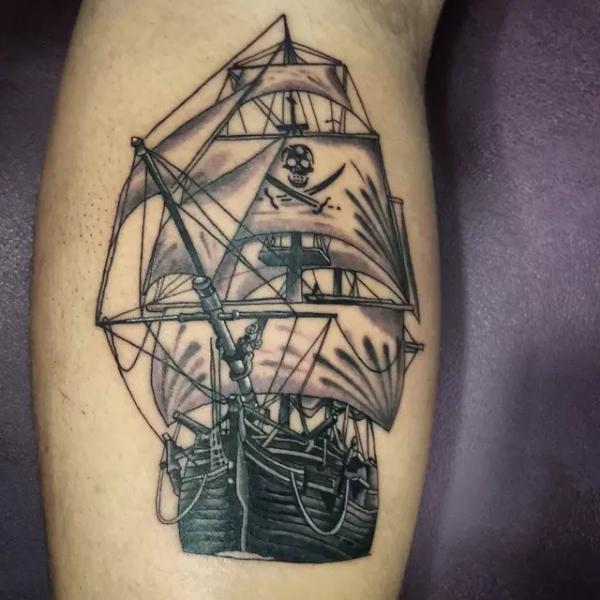 Embrace the classic symbolism of piracy with a pirate ship tattoo featuring a crossed dagger skull flag. This design, with its menacing skull and crossed daggers, evokes the danger and defiance that pirates are known for. It's a design that tells tales of high-risk adventures and a life lived on one's own terms.
Pirate ship with jolly roger flag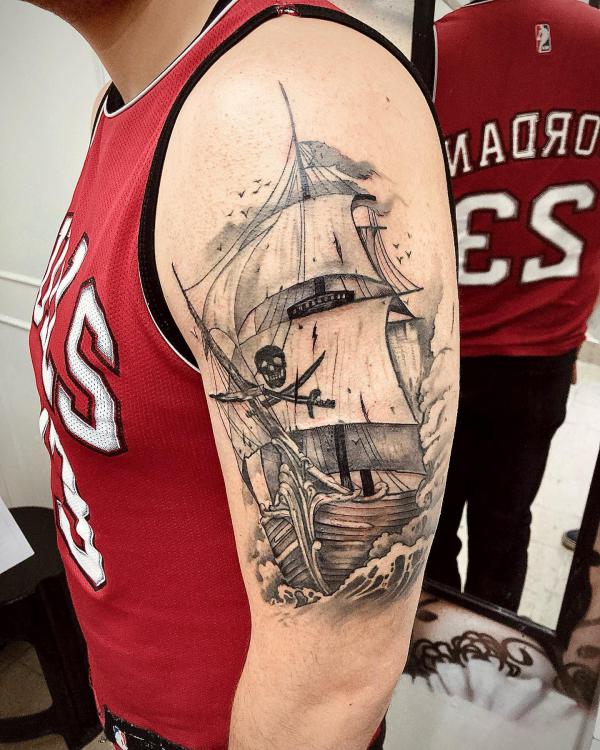 The Jolly Roger, with its skull and crossbones, is the most iconic emblem of piracy. A pirate ship tattoo with a Jolly Roger flag can be a daring expression of rebellion, freedom, and the unsettling allure of death. It's a design that speaks volumes, telling tales of ferocious sea battles and untamed spirits.
Pirate ship with torn sail and flag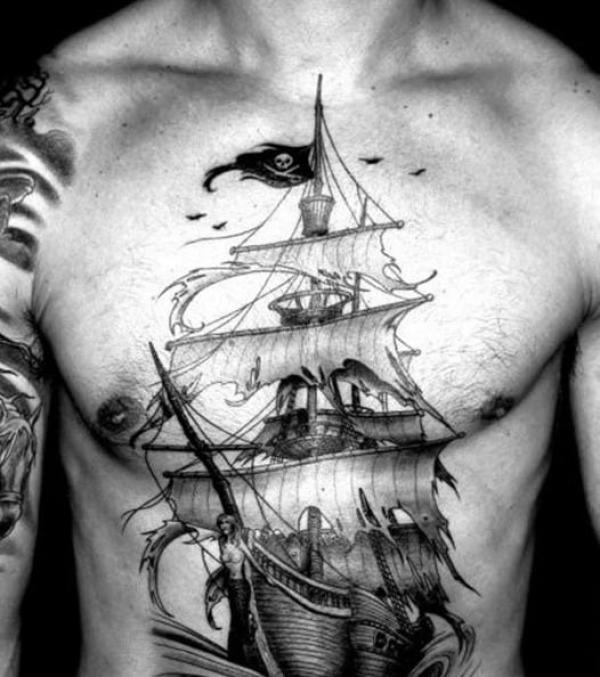 Symbolizing the trials and tribulations of a pirate's life, a pirate ship tattoo with a torn sail and flag can be a powerful embodiment of resilience and survival. This design captures the tumultuous journey of a pirate ship, weather-beaten and battered, yet standing tall amidst the chaos of the sea.
Rose and pirate ship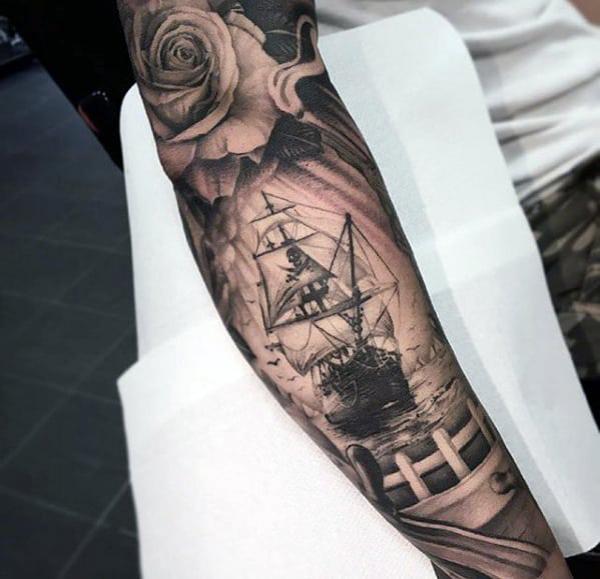 Combine the ruggedness of a pirate ship with the elegance of roses for a sleeve tattoo. This design, filled with rich imagery and symbolism, can be a beautiful juxtaposition of strength and beauty, danger and love, creating a captivating narrative on your skin.
Simple pirate sailing ship tattoo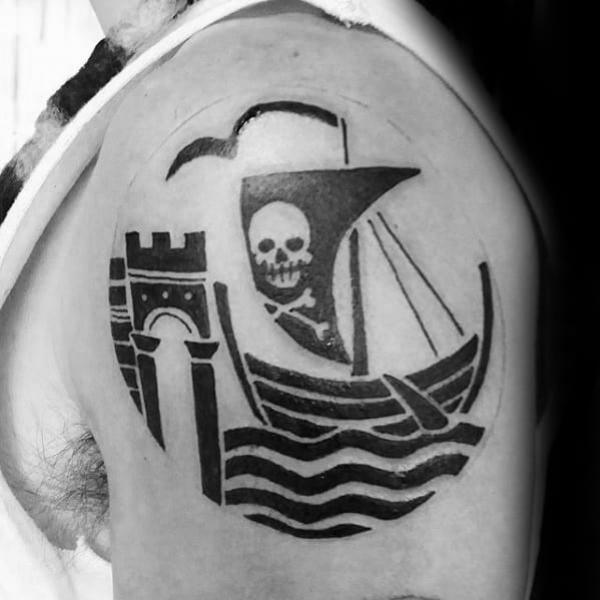 For those who prefer simplicity, a minimalist pirate sailing ship ink design can be the perfect choice. This design, stripped of intricate details, focuses on the essence of a pirate ship—its sails, masts, and hull. It's a subtle nod to your love for the sea and the spirit of adventure, wrapped in a neat, simple design.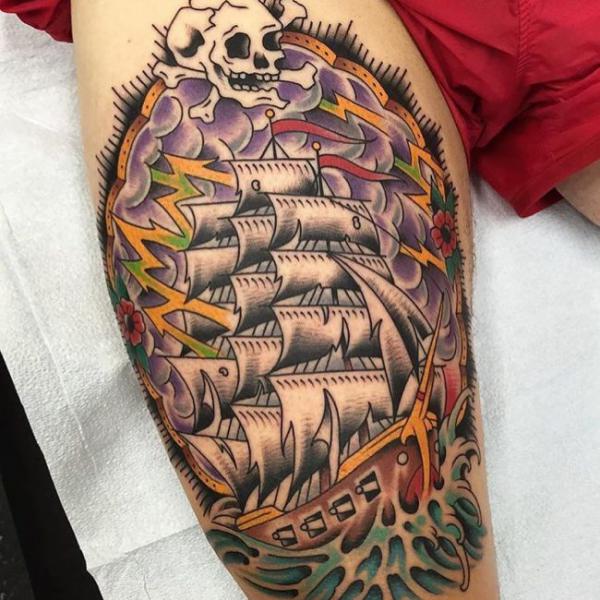 Inject a sense of drama and energy into your pirate ship design with a lightning bolt element. In traditional tattoo style, a pirate ship amidst a lightning storm symbolizes danger, change, and the ferocious power of nature. It's a design that tells a story of resilience, bravery, and the will to navigate through life's storms.
Traditional female face and pirate ship tattoo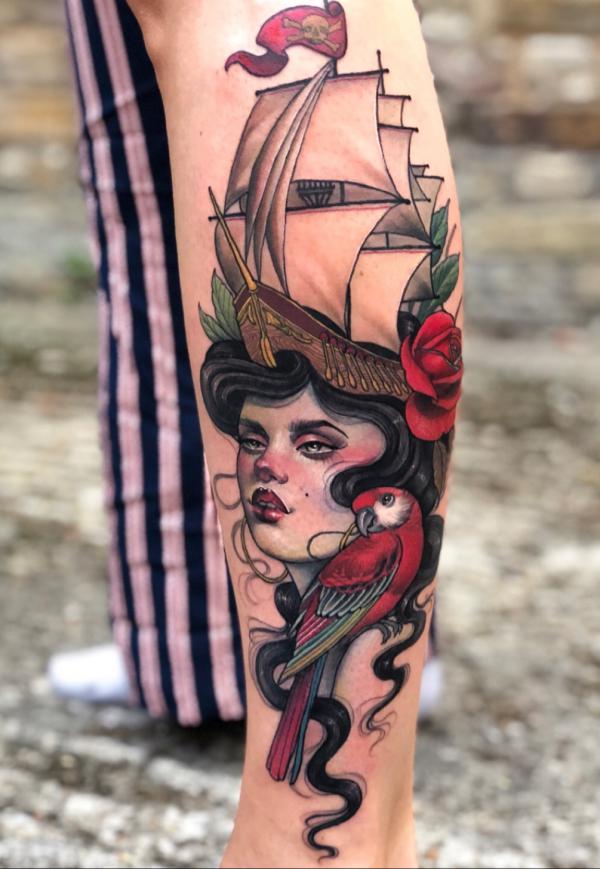 Break away from the traditional male-centric pirate imagery with a design featuring a female face and a pirate ship. This design can be a tribute to the untold stories of women pirates, a symbol of female strength and independence, and a nod to the myriad faces of adventure and rebellion.
Traditional pirate ship tattoo with quote – dead men tell no tales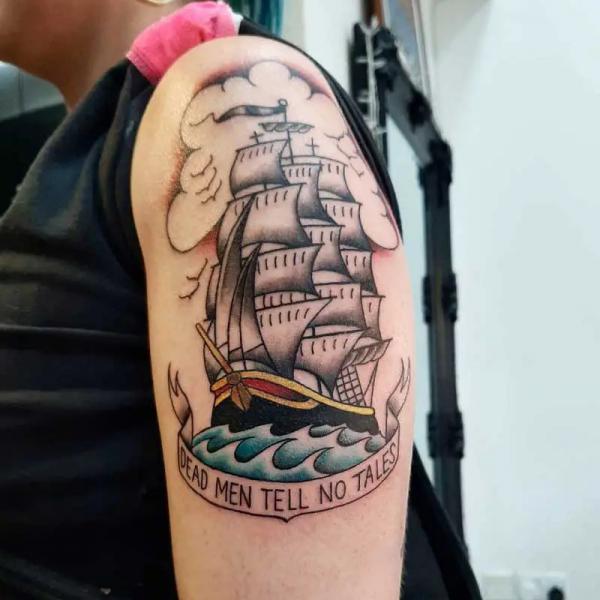 Embrace the eerie allure of pirate lore with a traditional pirate ship design accompanied by the chilling quote, "Dead men tell no tales." This design, steeped in mystery and danger, can be a stark reminder of the inescapable truth of mortality and the thrilling, unsettling tales of the pirate life.
Traditional skull captain and pirate ship tattoo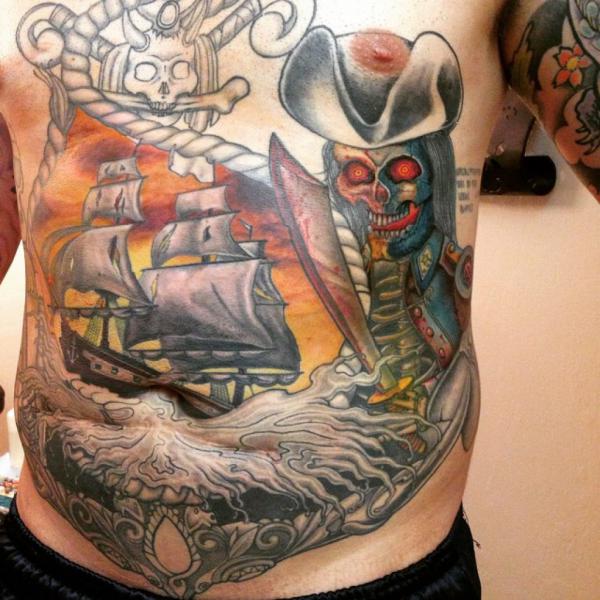 The traditional skull captain, a quintessential pirate trope, adds a grim but compelling narrative to a pirate ship design. The skull can represent not only death and danger but also defiance against authority. Combined with a pirate ship, this tattoo can serve as a bold testament to your adventurous spirit and resilience.
Vintage pirate ship tattoo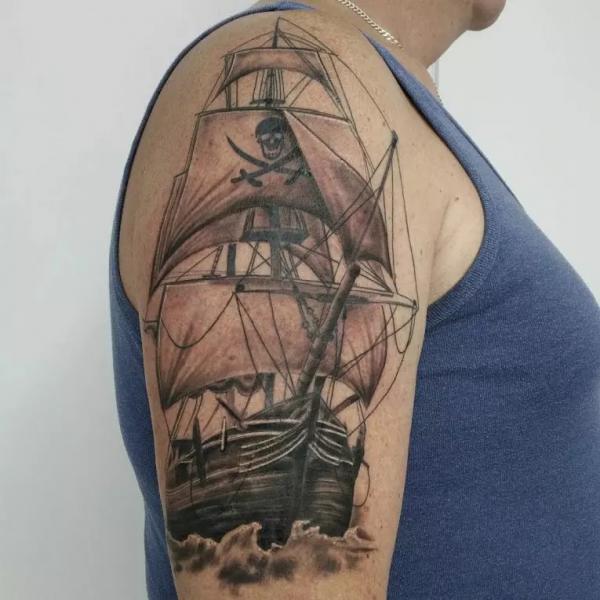 Transport yourself back to the Golden Age of Piracy with a vintage pirate ship design. Using muted colors and old-world detailing like weathered sails and ornate figureheads, this design can capture the romanticism and nostalgia associated with pirates. The vintage aesthetic adds a timeless appeal, making it a perfect choice for those who appreciate the charm of the bygone era.
American traditional pirate ship tattoo for women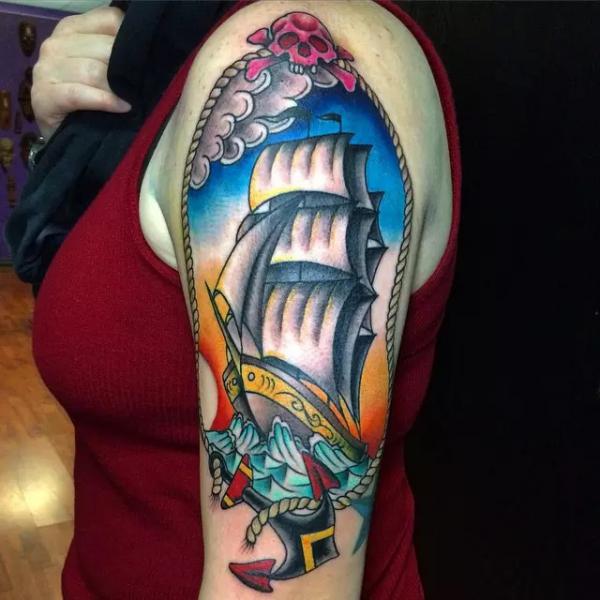 Who says pirate tattoos are just for men? Women have been equally drawn to the thrill of the high seas and the allure of rebellion. An American traditional pirate ship tattoo can be an empowering choice for women. These tattoos often feature bold outlines, solid colors, and iconic imagery such as anchors or swallows. A design like this can serve as a reminder of your strength, independence, and your audacious spirit.
Colored pirate ship tattoo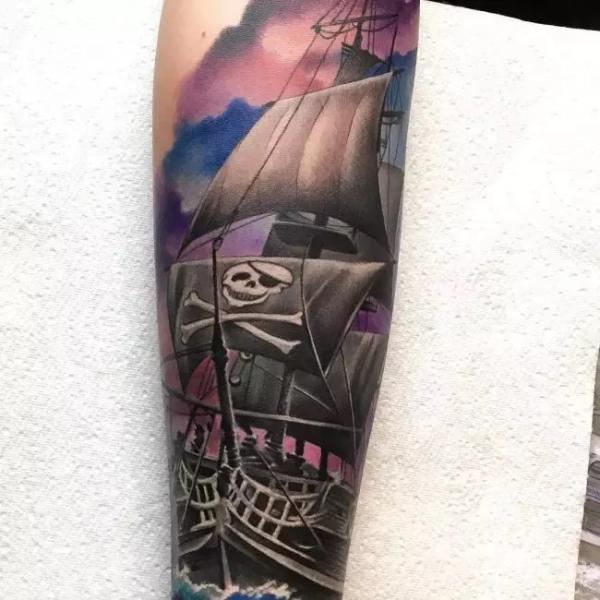 For those who prefer a splash of color, a colored pirate ship design can be an exciting option. Vibrant hues can breathe life into the ship's wooden hull, the billowing sails, and the tumultuous ocean. You could even experiment with unconventional colors for a unique and personalized touch. Through color, your tattoo can become a vivid storybook illustration of your own epic saga.
Dark ghost pirate ship tattoo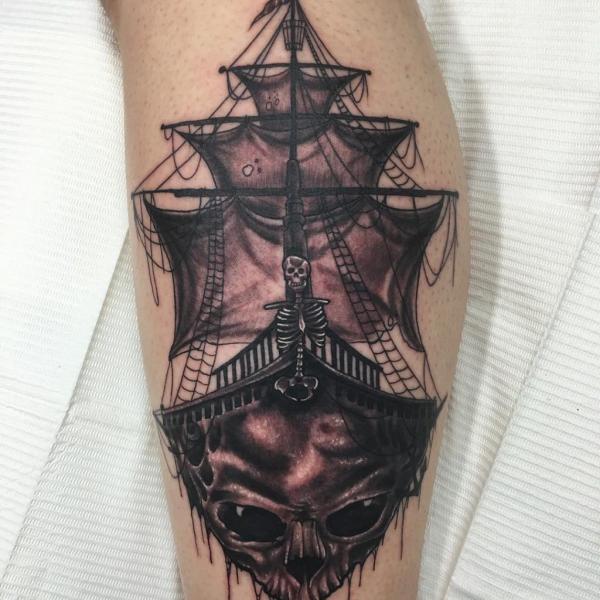 Unleash the supernatural with a dark ghost pirate ship ink design. The image of a spectral ship veiled in mist can be both haunting and mesmerizing. Whether it's crewed by ghostly figures or sails alone through the night, a ghost ship tattoo can symbolize the unknown, the afterlife, or the secrets that lurk beneath the surface of your own psyche.
Fighting pirate ship tattoo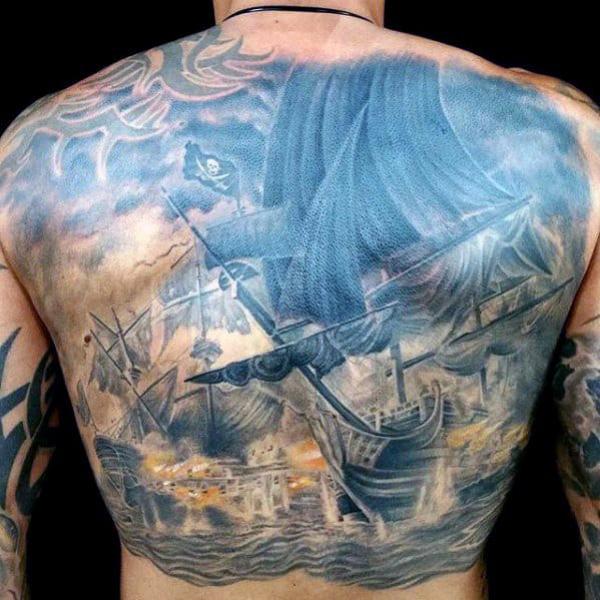 Capture the explosive action of a sea battle with a fighting pirate ship ink design. This design can depict two pirate ships locked in combat, complete with cannon fire, flying debris, and churning water. It's a dynamic and visually striking choice, perfect for those who want to wear their inner battles, their resilience, or their love for epic adventures on their skin.
Ghost pirate ship and skull captain tattoo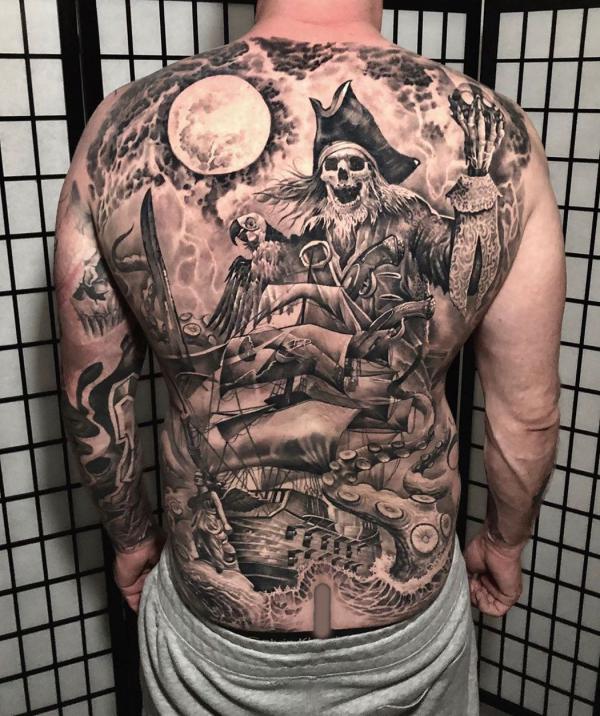 Merge the supernatural and the traditional with a ghost pirate ship and skull captain tattoo. This design can feature a spectral pirate ship and a grim skull captain, creating a chilling narrative. It's a perfect choice if you want to combine the classic pirate symbolism with a touch of the macabre, celebrating the thin line between life, death, and the eternal voyage of the soul.
Jack sparrow and pirate ship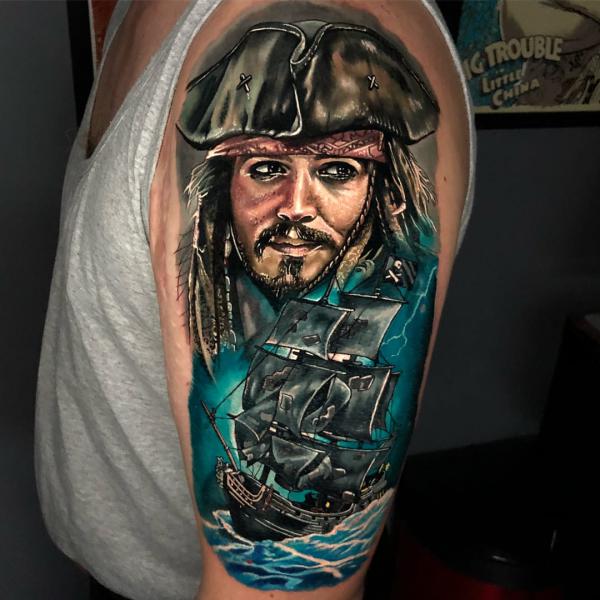 Pay tribute to one of the most iconic pirates with a Jack Sparrow and pirate ship tattoo. This design can showcase the charismatic captain in all his roguish charm, together with a pirate ship sailing under the black flag. It's a fun and recognizable design, perfect for fans of the "Pirates of the Caribbean" franchise or anyone who identifies with Sparrow's wit, cunning, and unquenchable thirst for freedom.
Peter Pan and Captain Hook tattoo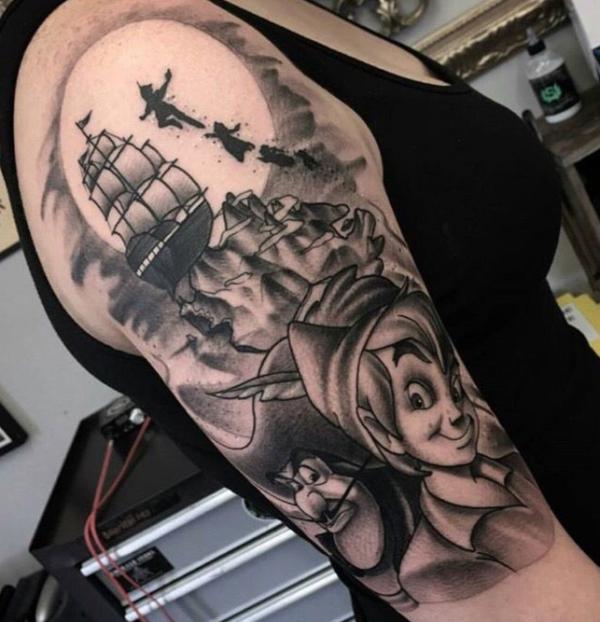 Immerse yourself in the magic and nostalgia of childhood with a Peter Pan and Captain Hook tattoo. This design, featuring a pirate ship from Neverland, can be a beautiful blend of whimsy, adventure, and the eternal struggle between innocence and villainy. It's a charming choice for those who cherish the timeless tale of Peter Pan and the spirit of eternal childhood it embodies.
Pirate sailing ship and realistic squid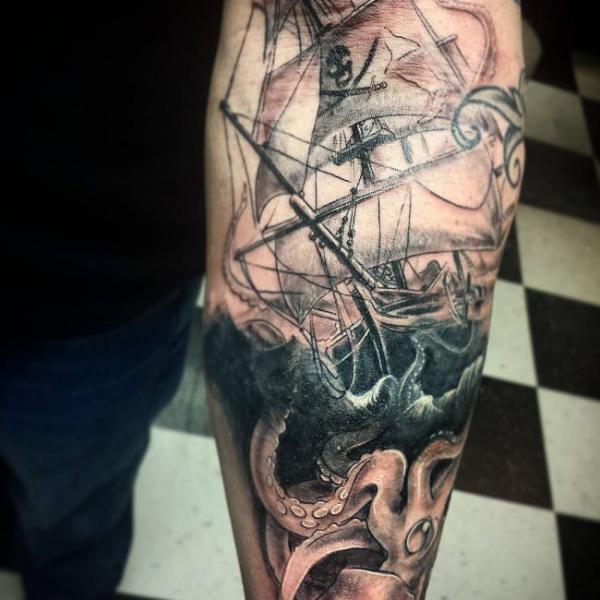 Unleash the marine beast with a pirate ship and realistic squid tattoo. This design can create a dramatic scene, with the squid's tentacles rising from the depths to entangle the ship. It's a visually stunning design that merges the adventure of pirate life with the mystery of the ocean's depths. This tattoo can symbolize the challenges we face and the power of nature that, like the sea, can be beautiful but also formidable.
Pirate sailing ship dotwork
For a textured and intricate piece of ink art, consider a pirate ship designed with dotwork. This technique, which uses tiny dots to create shading and patterns, can lend a unique aesthetic to your tattoo. The painstakingly placed dots can form a pirate ship that seems to emerge from the mist, creating a sense of mystery, allure, and the promise of adventures yet to be discovered.
Pirate sailing ship in storm tattoo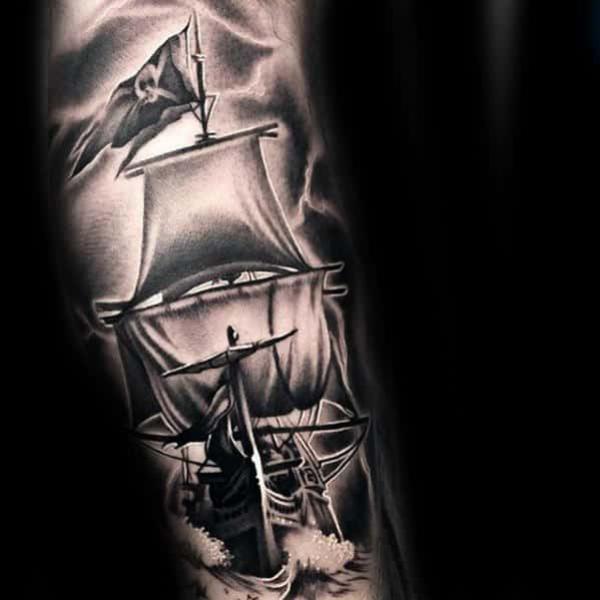 Embrace the tempest with a design of a pirate ship caught in a storm. This design can capture the full drama of a ship wrestling with towering waves and gusting winds, an embodiment of resilience, strength, and the determination to sail through life's storms. It's a powerful choice for those who see life as a thrilling, if challenging, voyage.
Pirate ship and shark blackwork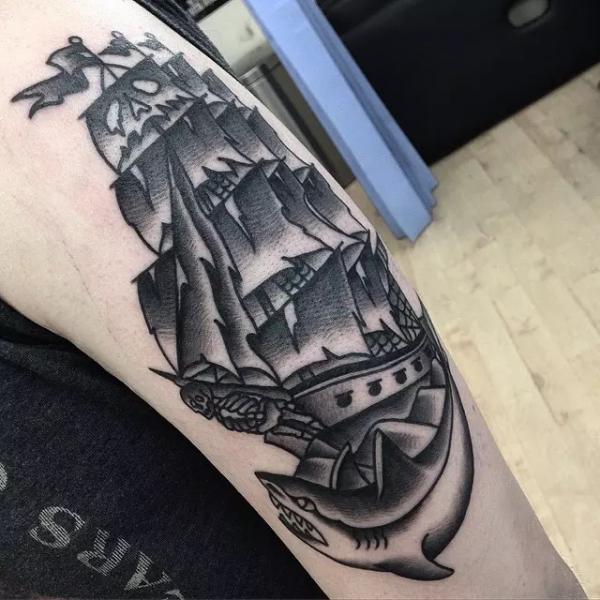 Combine the thrill of the high seas with the danger of the deep with a blackwork of a pirate ship and shark. Blackwork, known for its bold and dense black ink, can create a striking contrast that brings out the details of the design. The shark, circling the ship or leaping out of the water, adds an element of risk and the unforeseen, just as in life itself.
Pirate ship and skull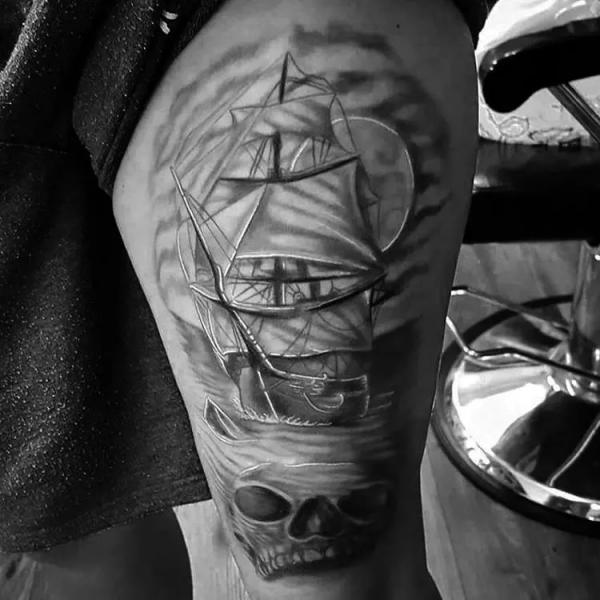 Marry the iconic pirate ship and skull for a classic pirate ink design. The skull, a universal symbol of mortality and danger, can add a touch of the macabre to your design. Paired with a pirate ship, it can serve as a chilling reminder of the risks and rewards of adventure, the thin line between life and death, and the gutsy spirit of rebellion.
Pirate ship and squid hand tattoo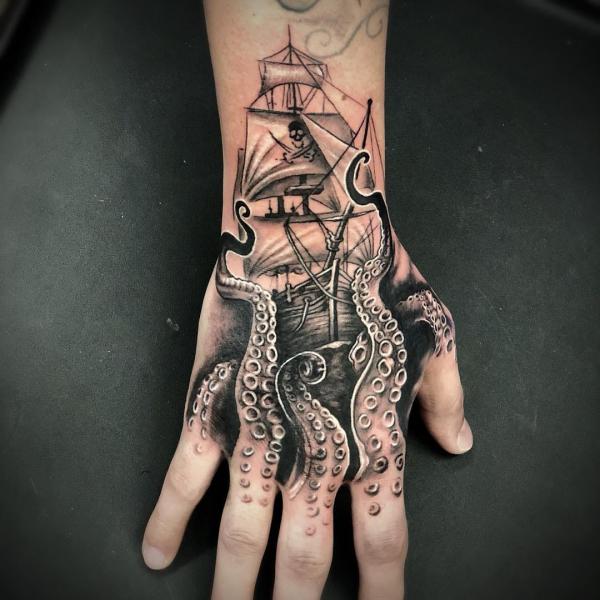 Make a bold statement with a hand tattoo featuring a pirate ship and squid. Despite the small canvas, a skilled tattoo artist can create a visually compelling narrative with careful line work and shading. This design can be a testament to your love for the sea and its mysteries, always at hand to remind you of your own adventures and battles.
Placement ideas pirate ship tattoos
Pirate ship designs, with their intricate detail, lend themselves well to larger areas of the body, providing a wide canvas for the artist to work on. Placement is crucial due to the details in the ship's design, the waves, and any additional elements like sea creatures, that might be in the scene. So the key is to select a location that complements the design and can accommodate the level of detail you desire.
Arm
The arm offers diverse placements for pirate ship tattoos. The forearm or bicep can accommodate a horizontal design, while a half sleeve allows for more intricate, layered designs.
Pirate ship forearm tattoo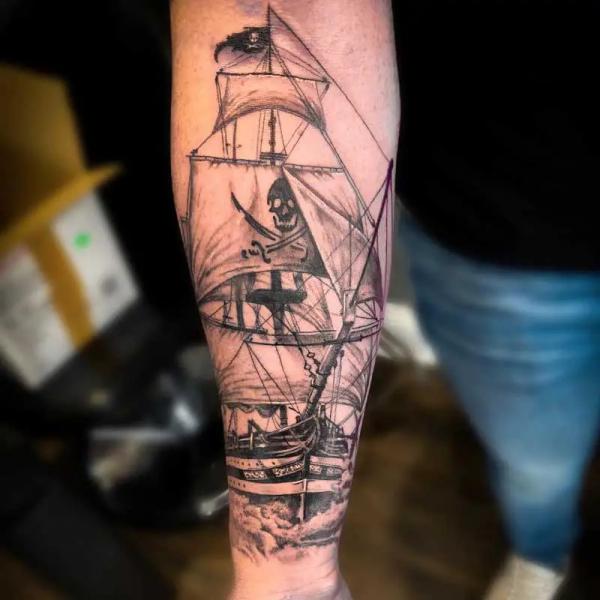 Pirate ship in lightning sleeve tattoo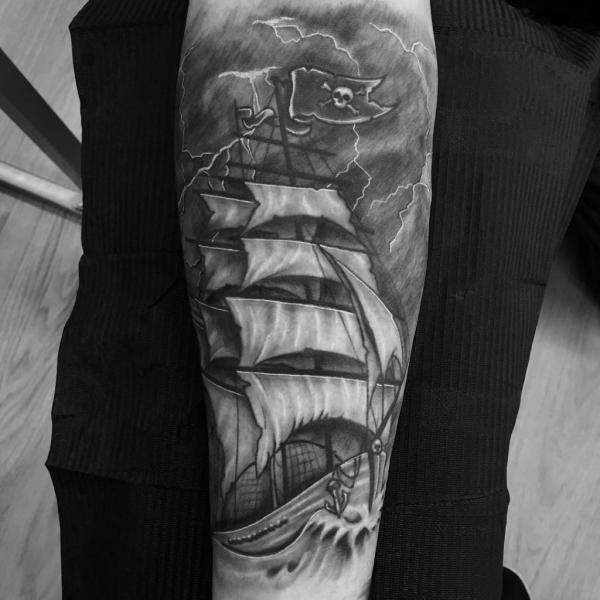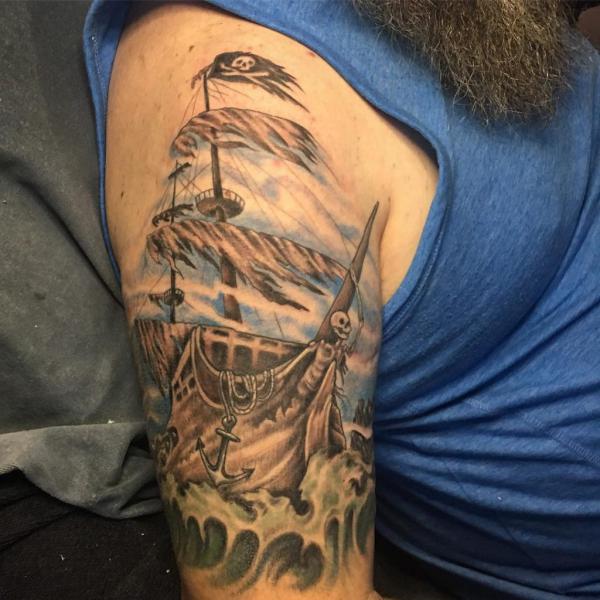 Pirate sailing ship on upper arm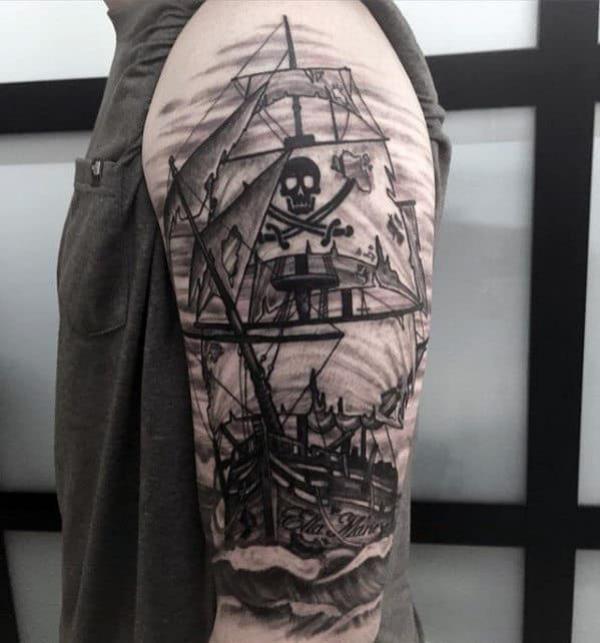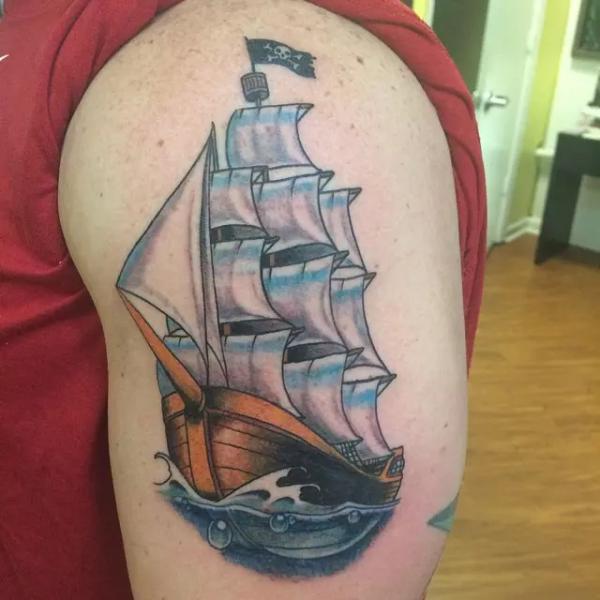 Chest
The chest provides a broad canvas, ideal for large and intricate designs. This area is suitable for detailed and large designs, allowing the ship to take center stage.
Female captain and pirate ship chest tattoo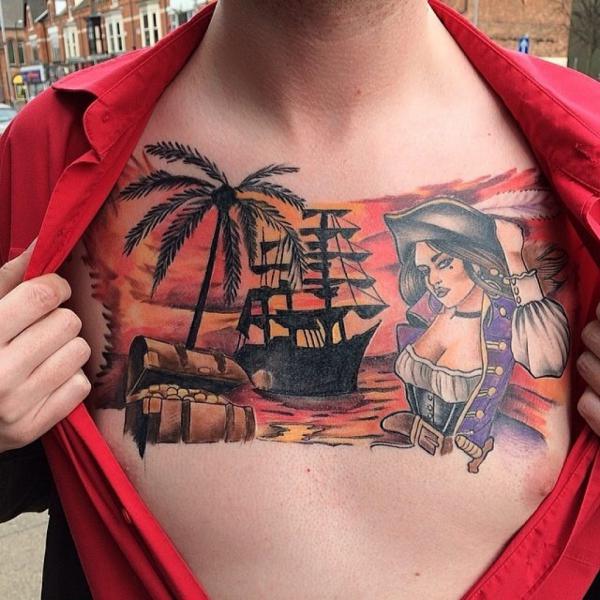 A chest tattoo featuring a pirate ship and a powerful woman not only breaks gender stereotypes but also creates a captivating narrative. This design can be a bold testament to your own strength and independence, an homage to the countless untold stories of women pirates who conquered the high seas.
Thigh
The thigh's broad and flat surface is ideal for large, detailed pirate ship tattoos. It's an excellent choice for those who want an easily concealable tattoo.
Neo traditional pirate ship thigh tattoo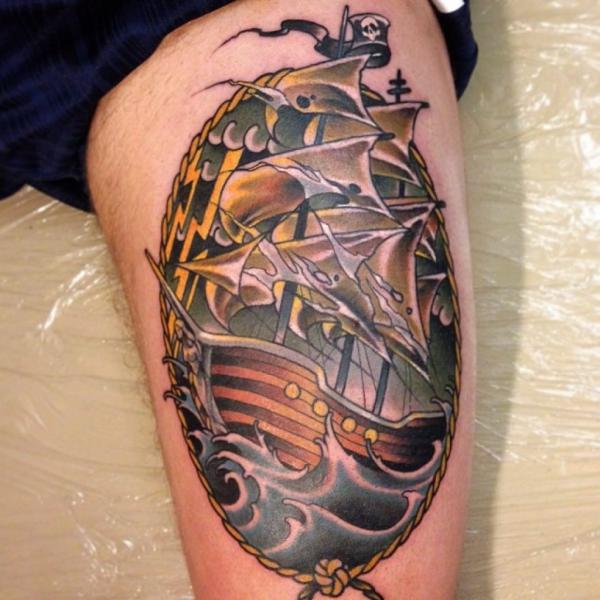 The neo-traditional style, with its vibrant colors and bold lines, lends a unique twist to the classic tattoo design. Opt for a thigh placement for a larger canvas, allowing the artist to incorporate more intricate details like billowing sails. Plus, with its hidden location, you'll have a secret piece of the ocean's mystery with you always, revealed only when you choose.
Small pirate ship above the knee tattoo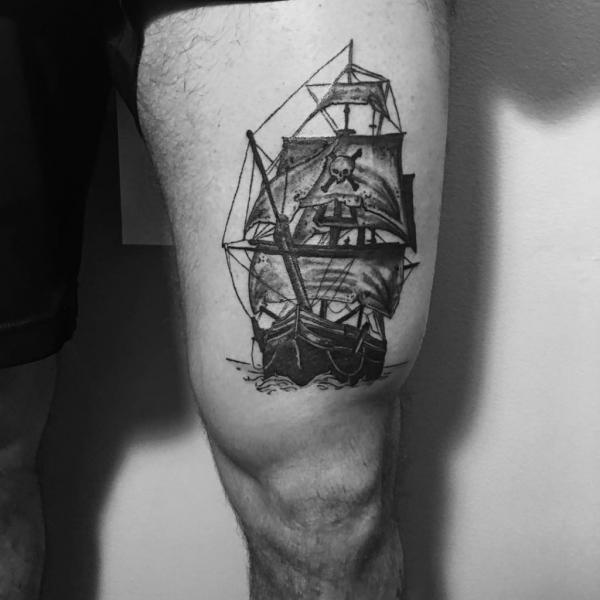 Sometimes, less is more. A small pirate ship tattoo above the knee can be just as impactful as larger, more elaborate designs. With careful shading, the artist created a miniature artwork that encapsulates the essence of the pirate life. It's a subtle nod to your love for adventure, hidden in plain sight.
Hand
While small in area, a hand can house a compact pirate ship design. Hand tattoos are often small, yet striking due to their high visibility. This placement makes the tattoo a constant visual element in the wearer's life.
pirate ship tattoo on hand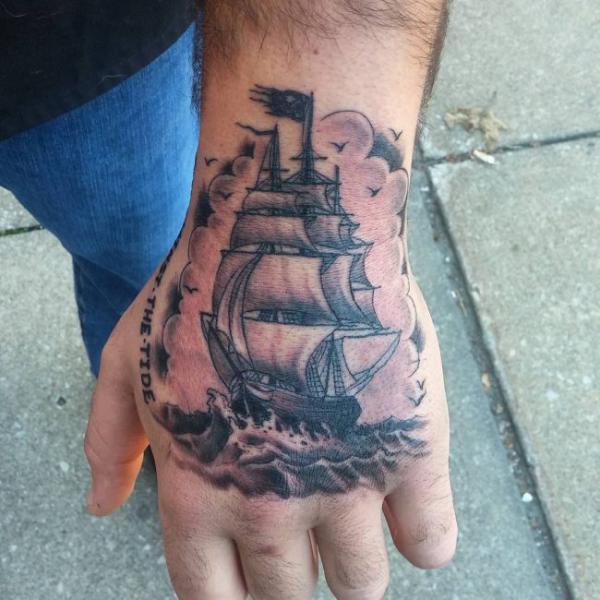 Rib
The rib cage offers a discreet location for tattoos. And this area can cater to a vertical pirate ship design. Due to the sensitive nature of this area, it's best chosen by those comfortable with a higher pain threshold.
Traditional pirate ship rib tattoo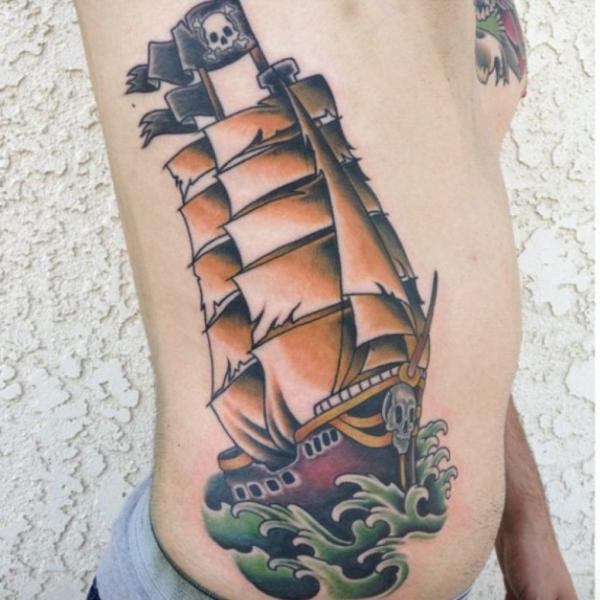 The traditional style tattoo features bold outlines, solid colors, and iconic imagery like skull and sail. A rib placement for such a design can lend a dramatic touch, the curve of your body mimicking the undulating waves. This design can be a potent symbol of your resilience, the ship standing unfazed amidst the tumultuous sea — a reminder that you, too, can weather any storm.
Back
The back offers the most expansive canvas for a grand, detailed pirate ship design. This placement allows for the incorporation of additional elements without compromising the main design.
Two Pirate ships back tattoo
Why settle for one pirate ship when you can have two? A back tattoo featuring two pirate ships locked in battle can serve as a powerful metaphor for internal conflict or the dualities within one's self. With the expansive canvas of the back, this scene can unfold in all its chaotic glory, complete with cannon fire, billowing smoke, and crashing waves.
Pirate ship and moon back tattoo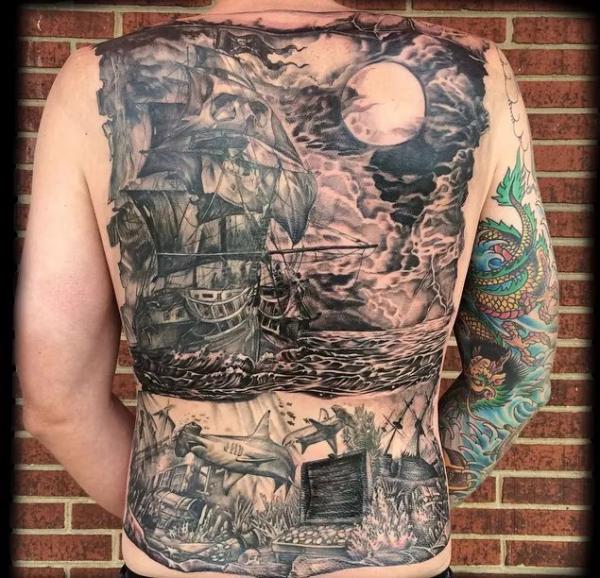 The image of a lone pirate ship sailing under a moonlit sky is both haunting and mesmerizing. A back tattoo featuring this scene can evoke a sense of mystery, solitude, and the allure of the unknown. The moon, with its many symbolic associations—from change and transition to the unconscious—can add a layer of depth to your tattoo narrative.
Skeleton and Pirate ship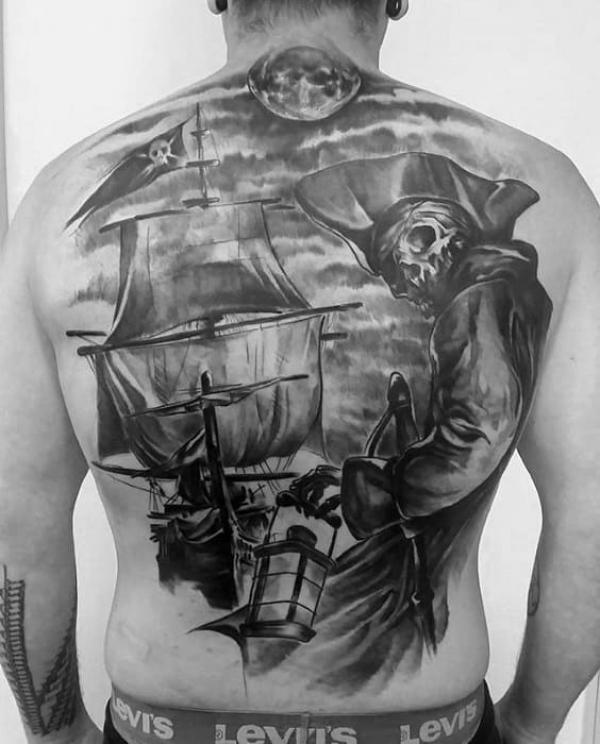 Add a dash of the macabre to your pirate ship tattoo with a skeleton figurehead or a ghostly captain. Whether it's a full ship manned by skeletal crew or a grim figure standing at the helm, this design marries the classic pirate iconography with Gothic aesthetics. It can be a chilling and yet fascinating reminder of the inextricable link between life and death, danger and adventure.
Personal Interpretations and Stories Behind Pirate Ship Tattoos
Pirate ship tattoos can hold unique personal meanings for those who choose to wear them. Some people may feel a deep connection to pirate lore or nautical history, while others may see these tattoos as a symbol of their family heritage, particularly if their ancestors had seafaring lives.
The symbolism of overcoming challenges can also be a strong motivation. Just as pirates faced storms and battles, individuals may choose a pirate ship tattoo to represent their own struggles and the strength they found to navigate through tough times.
And let's not forget those who simply embrace the rebellious spirit of pirates – for them, a pirate ship tattoo can be a personal flag of independence and non-conformity.
Conclusion
In the diverse world of tattoo art, pirate ship designs hold a special place. They're a captivating blend of history, symbolism, and personal interpretation, offering endless possibilities for unique and meaningful body art. Whether you're drawn to the romantic allure of the pirate lifestyle, resonate with the symbolism of freedom and rebellion, or simply appreciate the intricate beauty of these designs, pirate ship tattoos offer a treasure trove of possibilities for self-expression.
As we drop anchor on this exploration, remember: the enduring popularity of pirate ship tattoos is a testament to their powerful symbolism and aesthetic appeal. If you're considering getting one, take time to explore the many design options and think about what the image means to you. After all, like the pirates of old, the path to your perfect tattoo is an adventure all its own.