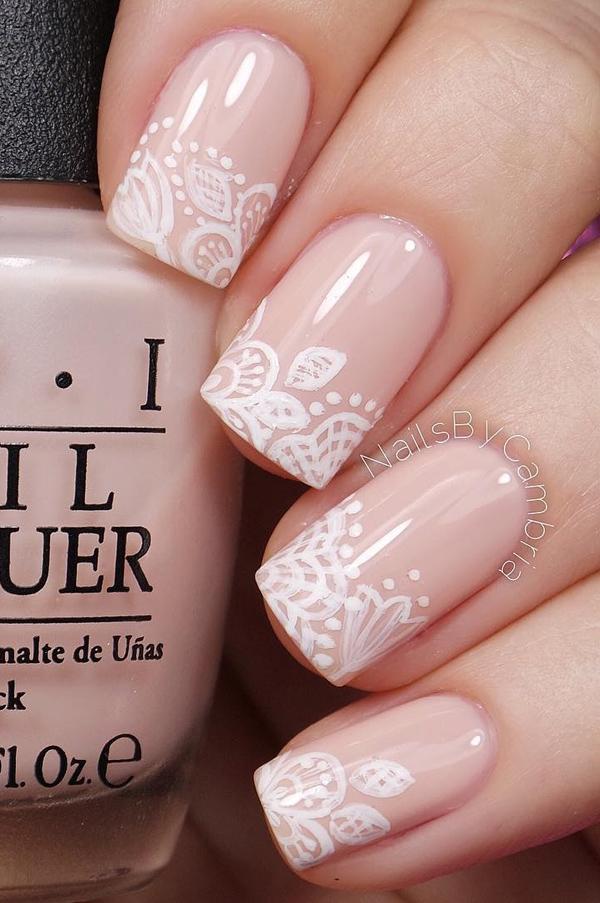 Floral inspired nude nail art. Give life to your nude nails by adding white polish on the tips with flower details on them.
Nude Nail polish: Always trending
Owing to the fast changing trend of nail art, you might find it hard to keep up with what's new for the season. However you should feel bad because there are a lot of nail art designs that can be in season everytime. Yes, there are nail art designs that are always trending no matter how many new trends enter or how many seasons go by.
One of them is nude nail art. If you look at the nude nail art, you can see that it's neat and clean. The art is elegant, well groomed and sharp. You won't even find any chipping in your nails; they are perfect all year round. So if you're tired of thinking about what type of nail art you can go with for a long amount of time, then nude nail art is the best option for you.
Before, you can barely see ads or articles about nail art. Most of the time, things like hair care, skin care, and make up and such were gracing the pages of fashion magazines as well as websites. However, nowadays that has changed drastically. You can now see theme after theme of nail art designs on magazines and online. You'd even be surprised at how many designs people can come up with in just a short span of time. Nail art design has become a healthy competition nowadays for the artists. The great thing about it is that we can get to choose from more nail art designs.
The nail art design world is getting more attention and we get to see more colors being used for the designs. Then again, it doesn't mean that nude nail art is out because of the singularity of its color, it actually does the opposite. Along with the influx of colorful nail art, nude nail art designs are starting to stand out. They are absolutely adorable and are something that you need to try on your own nails if you haven't yet.
What to love about nude nail art designs
A lot of us like to match our nails with our fashion. However there are times that this is quite hard to do and you simply don't feel like changing your nail polish soon. They are also perfect if you don't like getting a lot of nail polish for the colors to blend, nude nail polish just needs one shade and you're good to go. Nude nail art is classic and will stay that way; it's your go to nail art when you wish to look sophisticated and in style; it never gets old.
Another advantage of nude nail art is makes your legs look leaner and longer. It gives out the illusion of long and smoother legs as compared to other nail polish colors. If you are wearing open toed heels or stilettos then combining them with your nude nail polish would simply be perfect. Do this both your hands and feet and you will look like a match well made by heaven.
How to pick the perfect shade of nude
What makes nude nail polish work is the right shade of nude that you choose. You don't have to combine a bunch of colors to form the nude; all you need is the right type of shade to make everything work well. What's important is you keep it to a complementary shade to your skin color. It's kind of looking for a foundation or a concealer in nail polish form. You might undergo some testing in the first tries but eventually you will get to discover the perfect shade just for you.
Look for things like testers to determine if your choice is right. They may all look alike from afar but if you actually try them on, the difference is bizarre. This is why it is recommended to try them out rather than buying the wrong one, you can't magically change your skin color to suit your nail polish can you? That is why you need to be sure before buying a certain nude shade. If you can, try to see them in the sunlight, the natural light is your best judge. They can be tricky but you'll get used to it.
Choose a color that is a shade lighter than your skin tone. The nude shade should complement your skin rather than hide it. A good shade can help make your skin look glowing and healthy. If ever you pick the wrong shade of nude your hands will look slightly off, maybe darker in some areas, unhealthy and lifeless. The wrong nude shade can be the most horrible color you'd ever see in your life because of the way your skin tone simply dejects it. Therefore, take your time and examine the shades thoroughly before buying them.
You can use your natural nails as guide for your nude shade hunting. No you can't use clear polish to stand as your nude shade as it's just not the same. Make your natural nail color as the basis for finding the perfect shade for you. They can be slightly pinkish, or yellowish or peachy. It depends on what your nails look like and since your nails complement your skin you won't have to worry about their colors not looking good.
Keep it short
Although you would really love to paint nude shades on your long nails, they actually look better on shorter nails. When you have longer nails the nude nail polish can tend to look like French tips when the whites of your nails start showing. It's better to keep the nude shades in the shorter, cleaner and tidier look.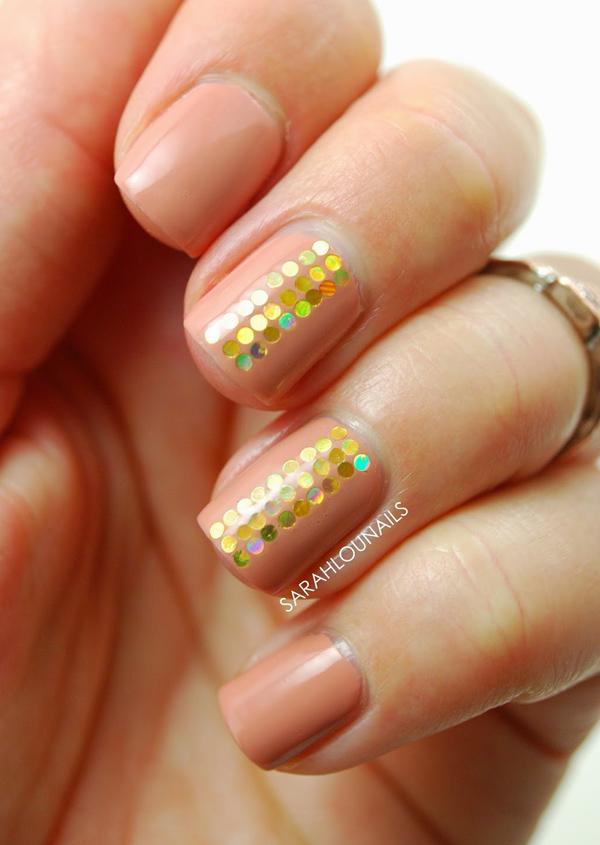 Nude nail art with sequins. Line art colorful sequins on your nails above the nude nail polish for effect,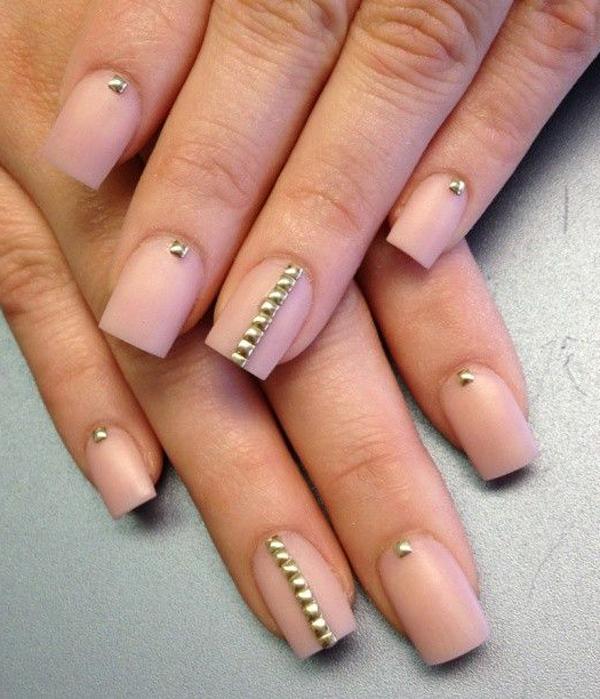 Elegant looking nude nail art with pretty gold beads on top. The beads add to the sheer elegance that the nude polish exudes.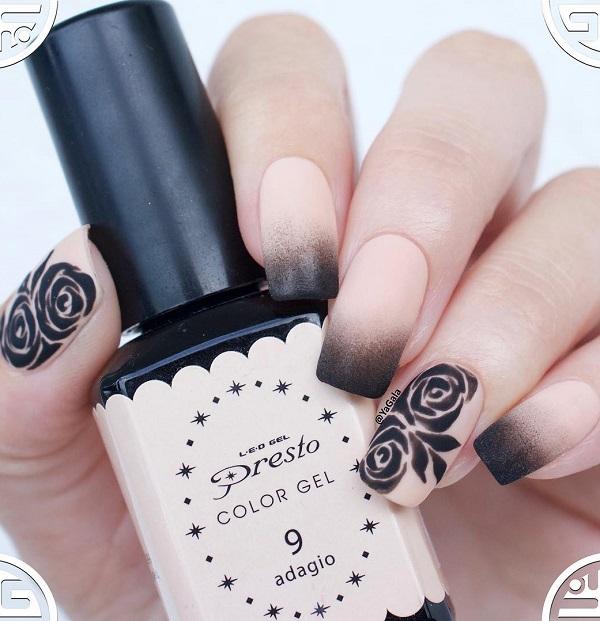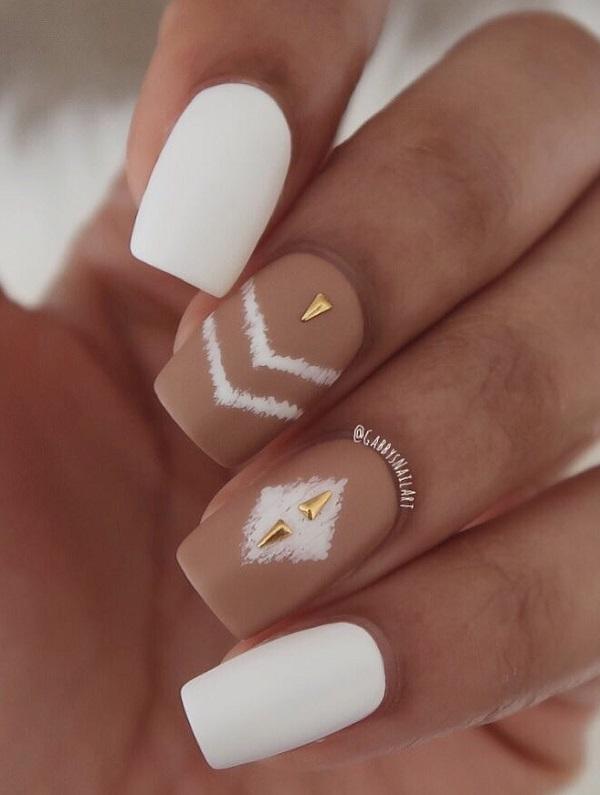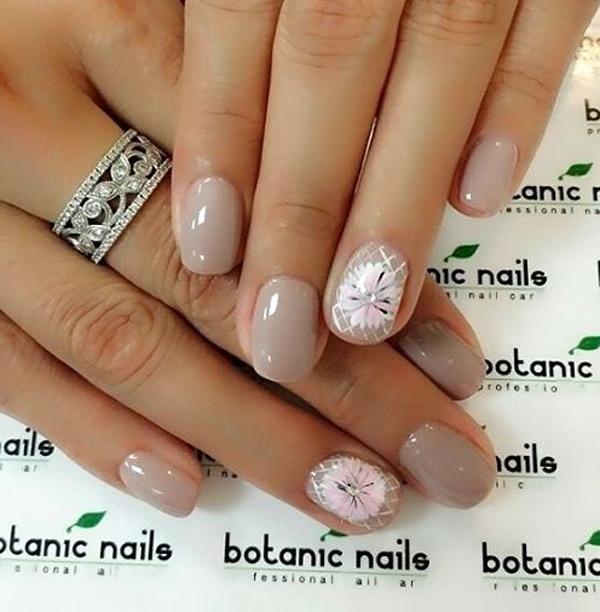 Nude nail art with flower details on top. Let your nails stand out by painting flowers and adding embellishments above the nude polish.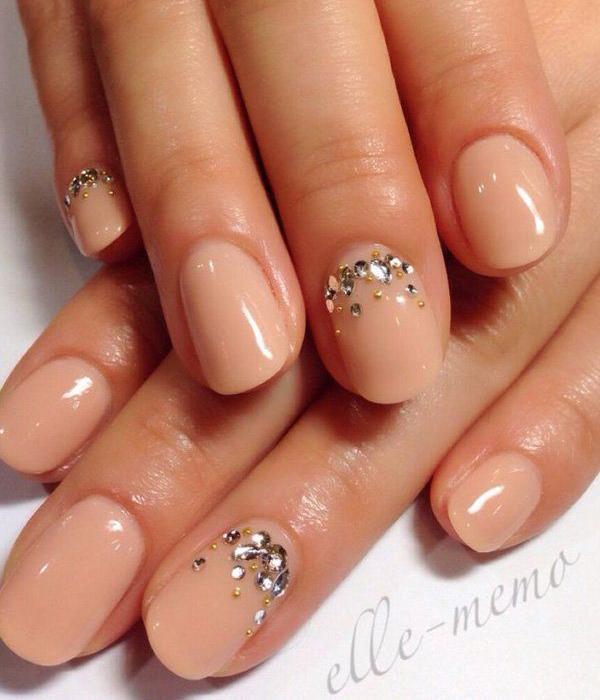 Glorious looking nude nail art with silver embellishments on top. Add embellishments to the cuticle part of the nails to give more effect to the nail art.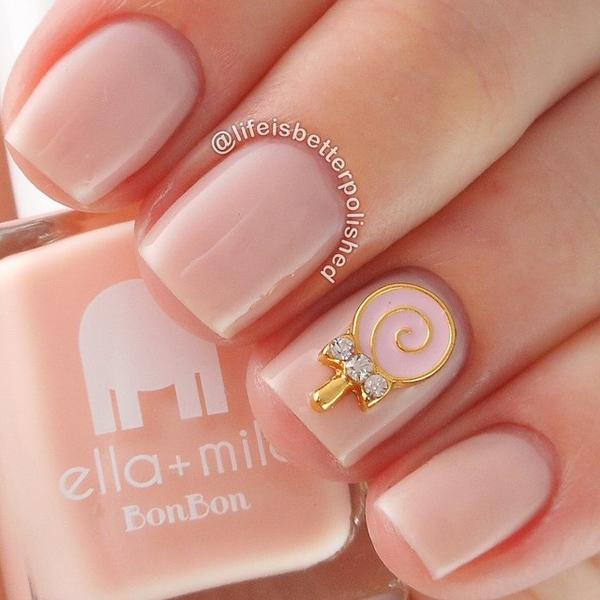 A neat and tidy looking nude nail art. Add a gold lollipop shaped embellishment on top with silver beads, making the nail art twice as sophisticated as it has already been.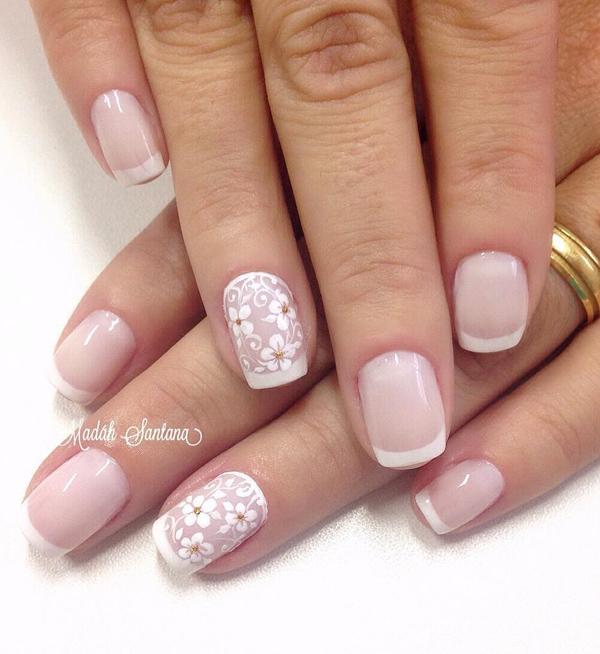 Nude nail art with floral details and French tips. Combing your French tips with floral details to make the nude nail polish from beneath stand out even more.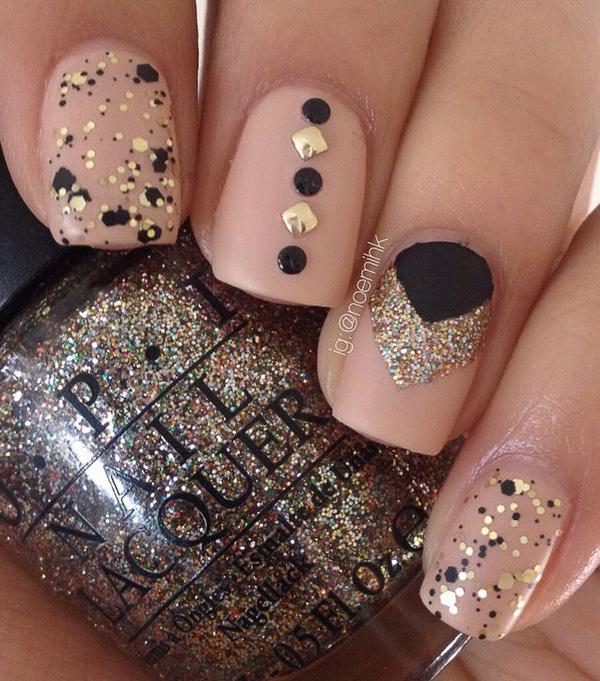 Amazing nude and black polish combination. With the help of black and gold sequins, beads and glitter, the nail art looks absolutely ravishing.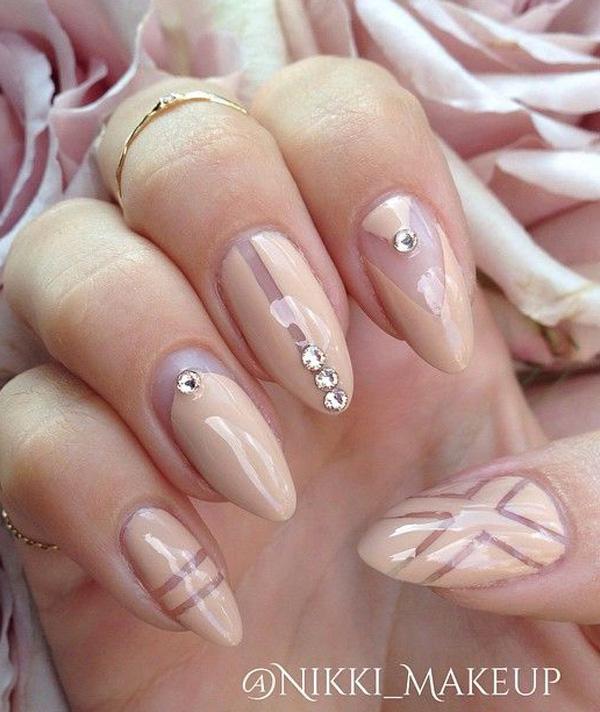 Wonderful looking nude nail art for long nails. You can add more designs when you're working on nude nail polish with long nails. Add on silver beads on top as well as geometric shapes on the polish.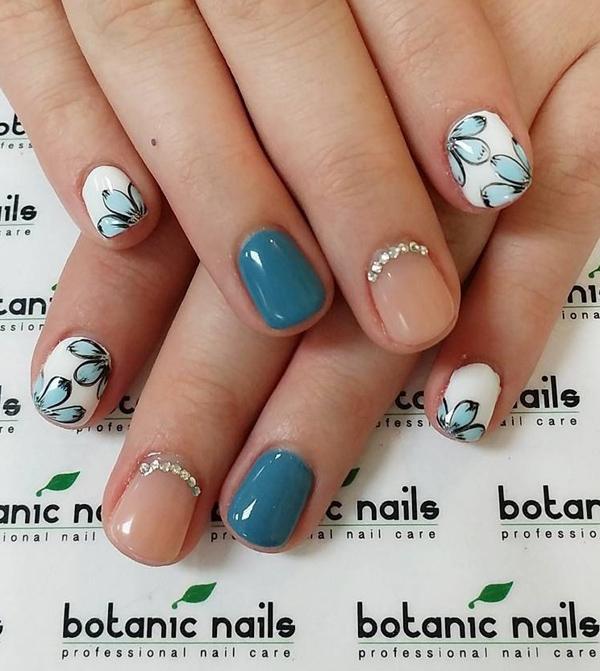 A really pretty nude nail art design with matte green blue polish. You can also see beautiful flower details painted on top of the white polish as well as silver beads aligned at the cuticles of the nude polished nails.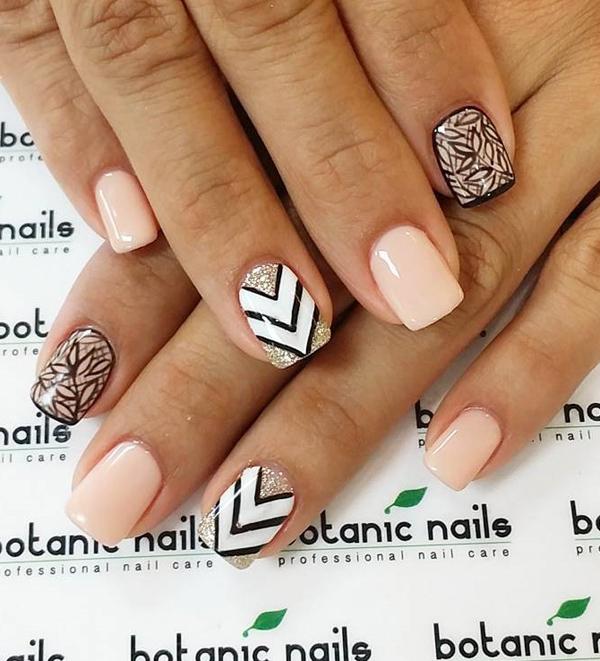 Nude nail polish in combination with black and white nail polish. Geometric shapes and leaves make this nail art design so interesting to look at. The glitter polish added help make it stand out more.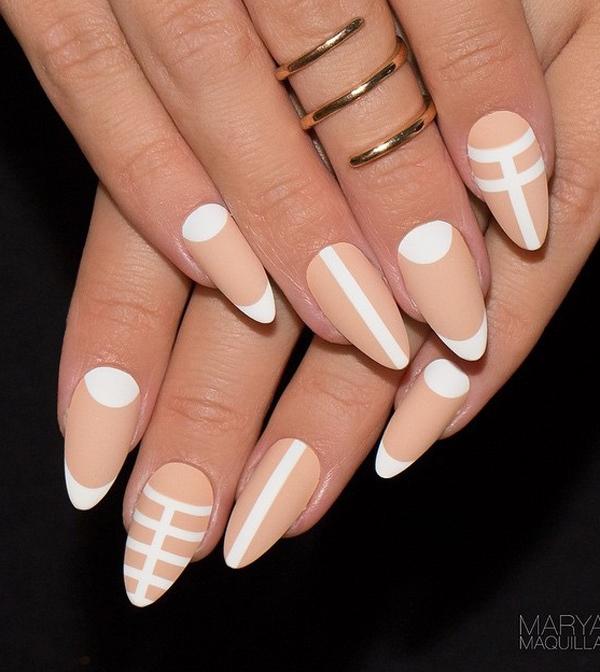 White and nude nail art design. A combination of French tips, cuticle shapes as well as diagonal and horizontal intersecting lines is painted creating a wonderful design.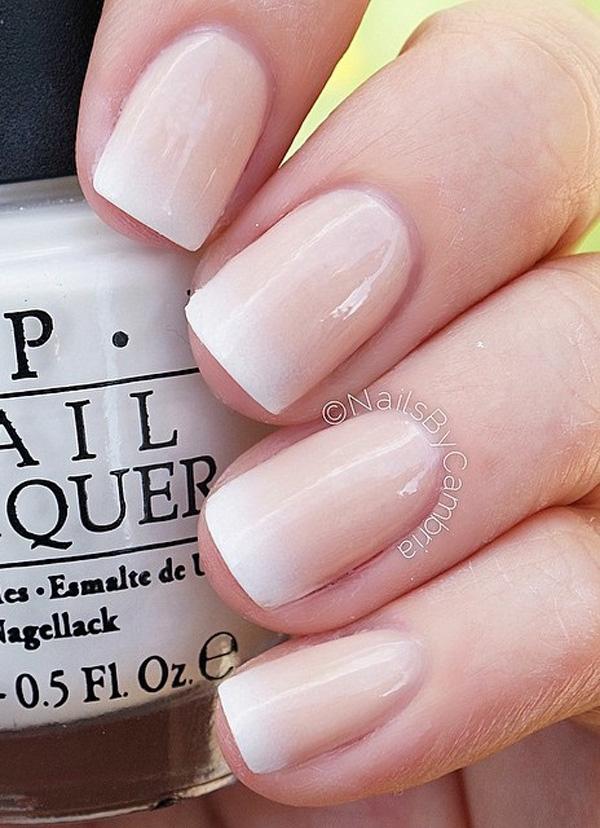 Gradient inspired nude nail art design. The gradient from nude polish to white on the tips is simply stunning and makes the hand glow so much more.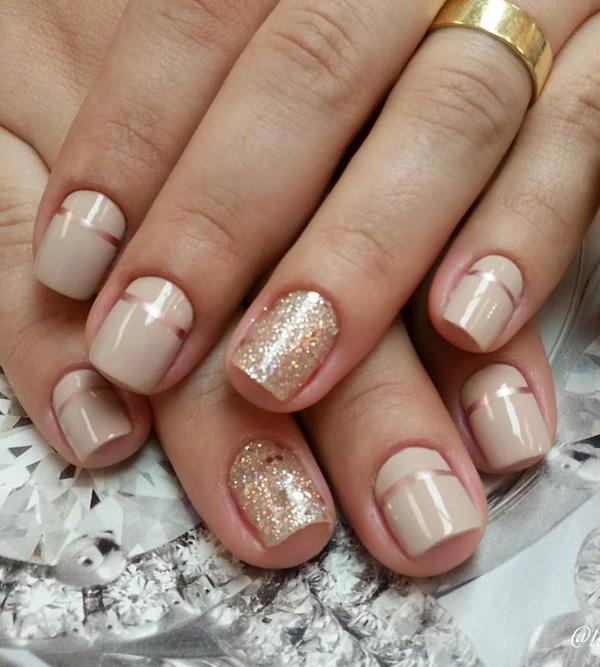 Nude and gold polish combination. What better way than to combine striking gold with the subtle colored nude polish? They look perfect with each other.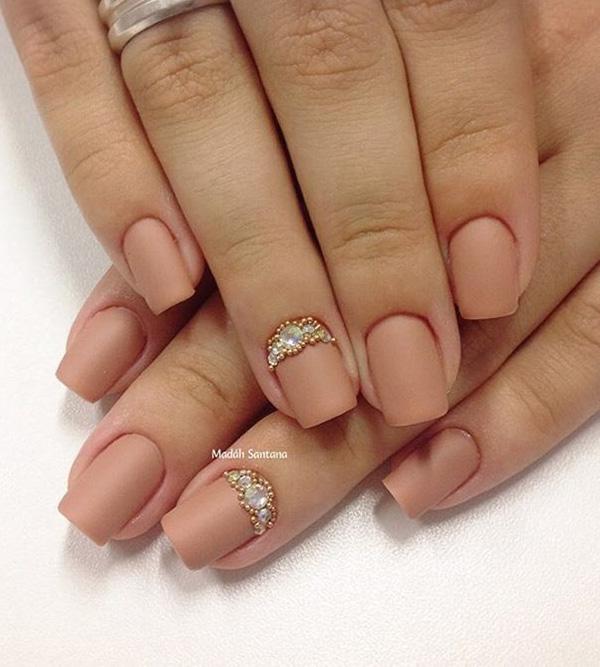 Matte nude nail art design with embellishments on top. Give your nude nails a statement y adding gold and silver beads on top to give a stunning effect.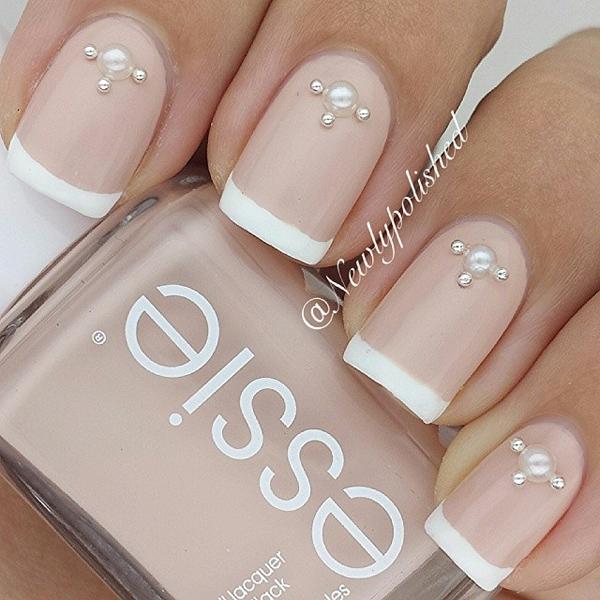 Nude and white nail polish combination. This nail art design uses nude nail polish with white French tips. Additional pearl and gold beads are also added on top for effect.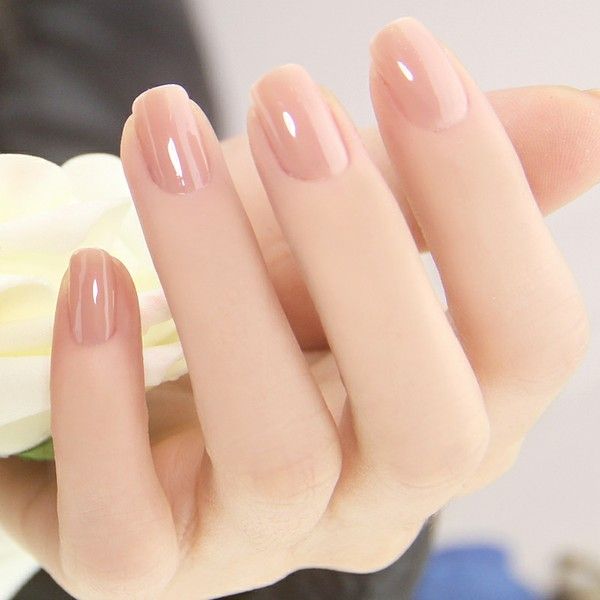 A glossy and perfect looking nude nail art. This type of nude polish makes the skin look so much healthier and vibrant especially under the sun.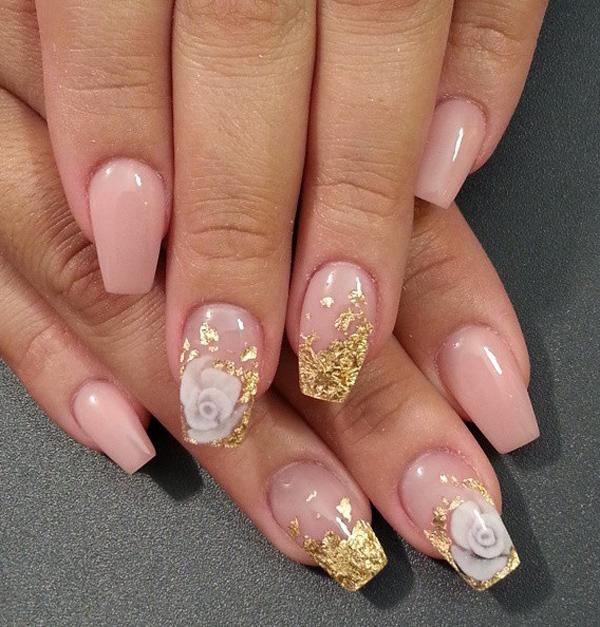 Nude and gold nail art design. Based with nude nail polish, the nails are then sprinkled with gold nail polish up to the tips and topped with flower embellishments.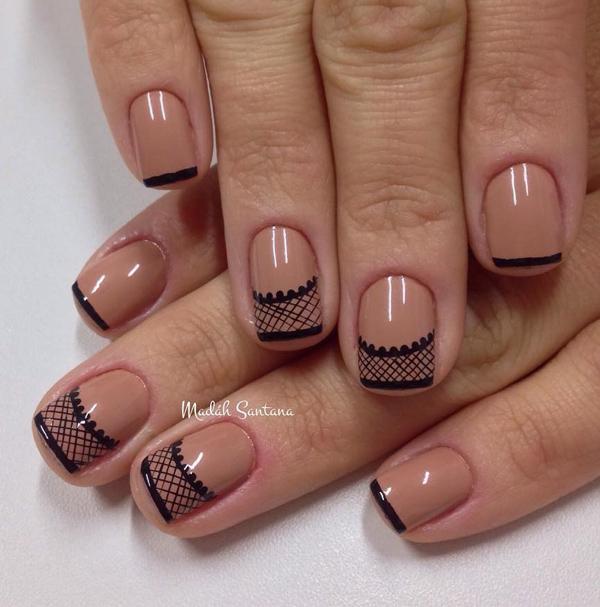 Nude and black lace inspired nail art design. Make your nude nail polish unique by adding lace details on the tips using thin strokes of black nail polish.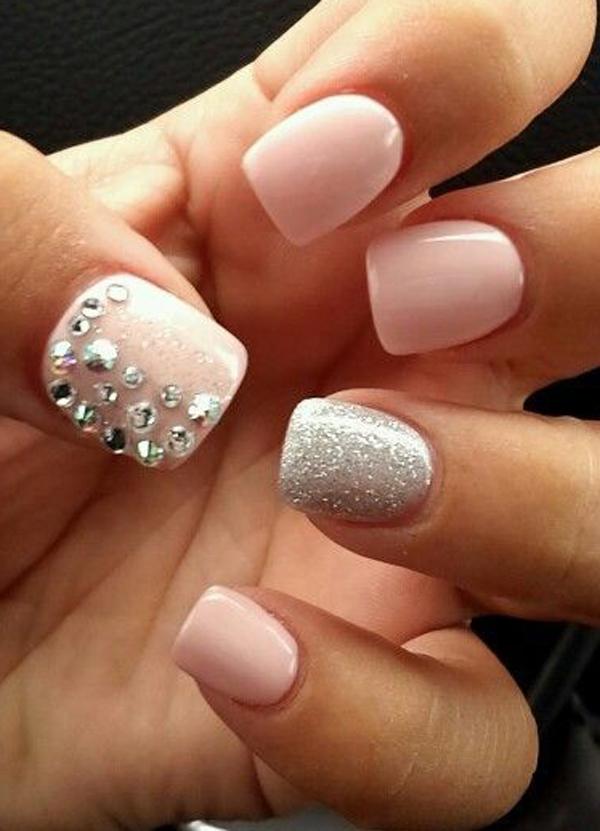 Nude and silver nail art design. Play along with silver beads and silver dust in addition to your beautifully colored nude nail polish.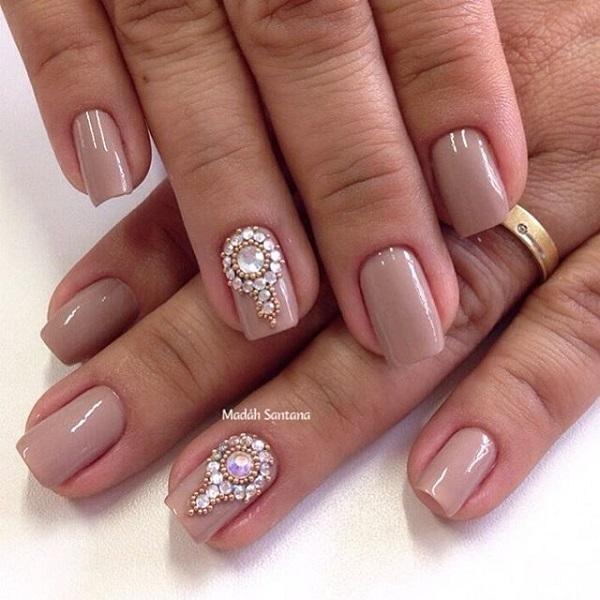 Nude nails with a rather extravagant collection of embellishments on top. If you're feeling glorious for the day why not try this simple yet very sophisticated style and add your prettiest silver and gold beads on top of your nails.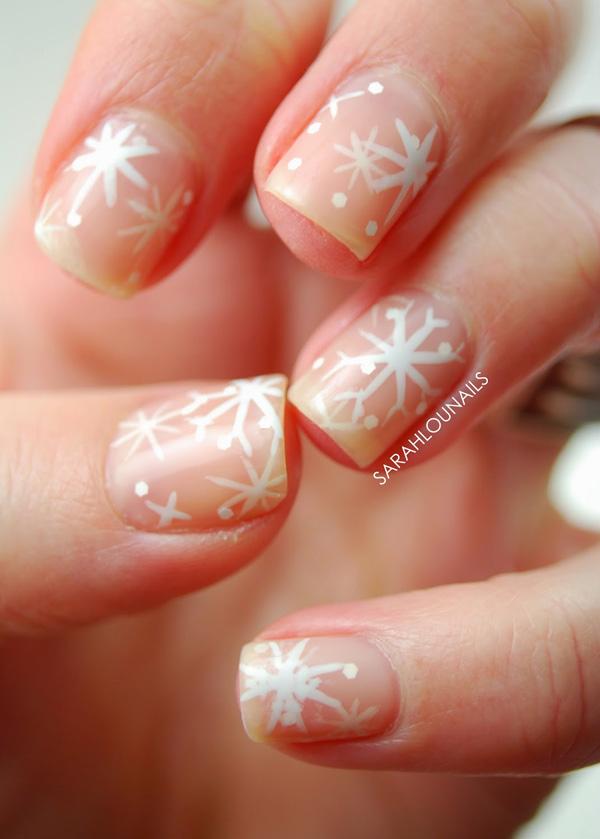 A very cute snowflake inspired nude nail art design. Give your nude nail art the winter breeze by adding pretty snowflake designs on top it in white polish.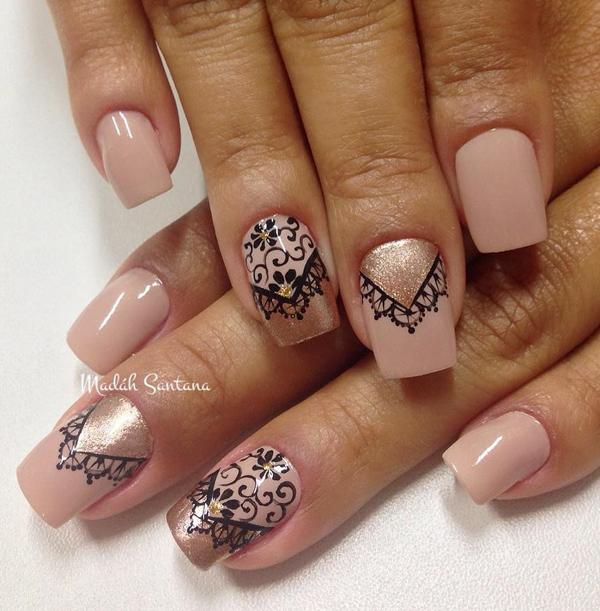 A beautiful nude nail art design with black polish and gold dust on top. Paint on intricate designs of laces on top and cap them off with sophisticated gold dust. The design even alternates from a cuticle polish to a French tip style every other nail.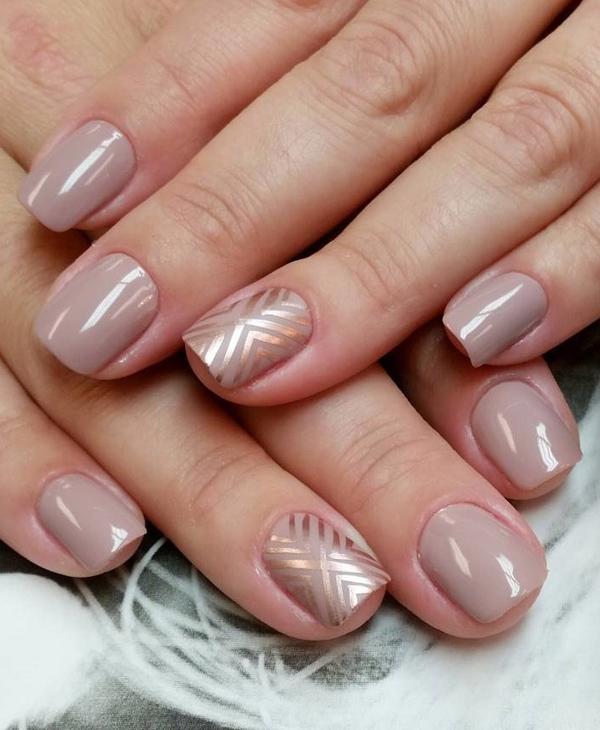 A combination of nude and platinum nail polish. In diagonal shapes, the metallic polish simply makes the nude nail polish stand out from behind.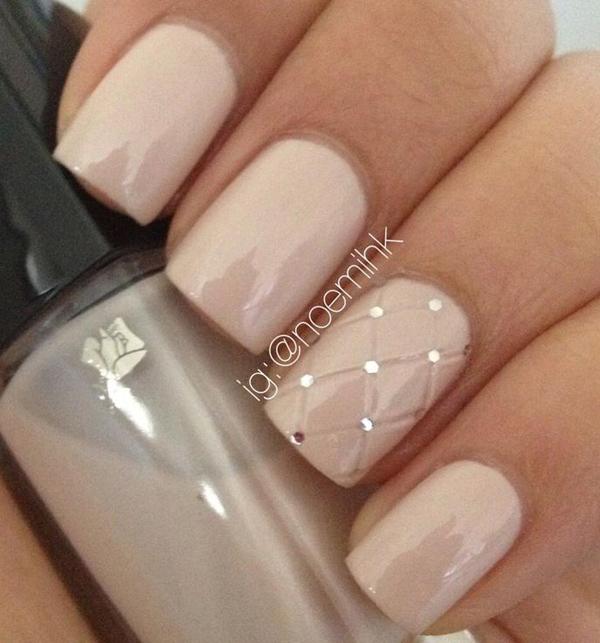 Simple but pretty looking nail art design. A single detailed nail art is painted with silver beads on top and diamond shapes letting it stand out from the rest of the nails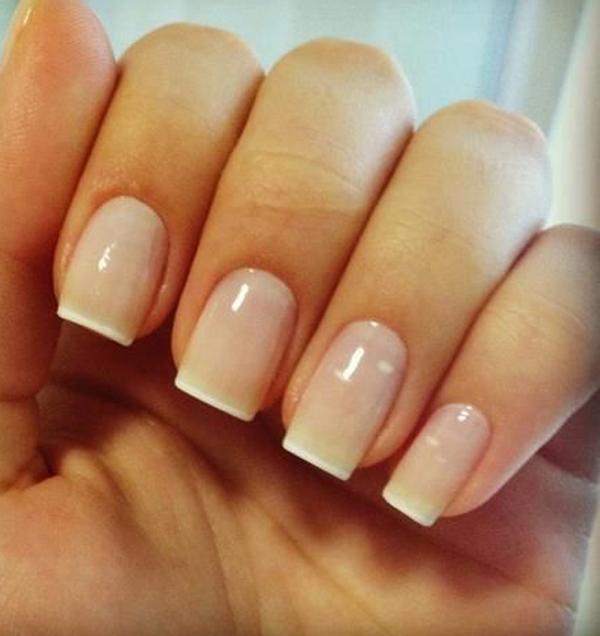 Simple, neat and tidy. Some people like to keep it simple and this nude and French tip nail art design is the epitome of minimalism and beauty.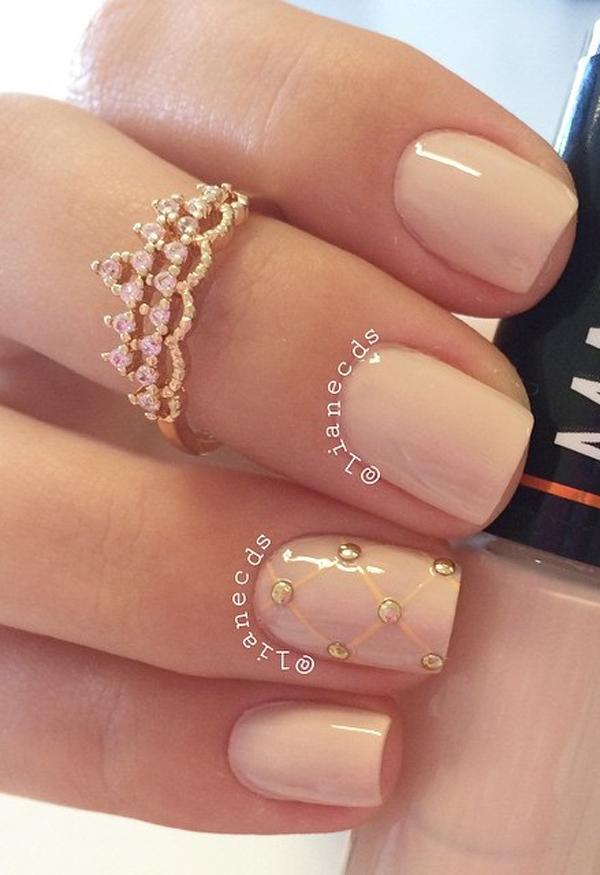 Another nude nail art design with gold beads on top. This design also has the single diagonal shaped mail which is prettily highlighted from the rest of the nails.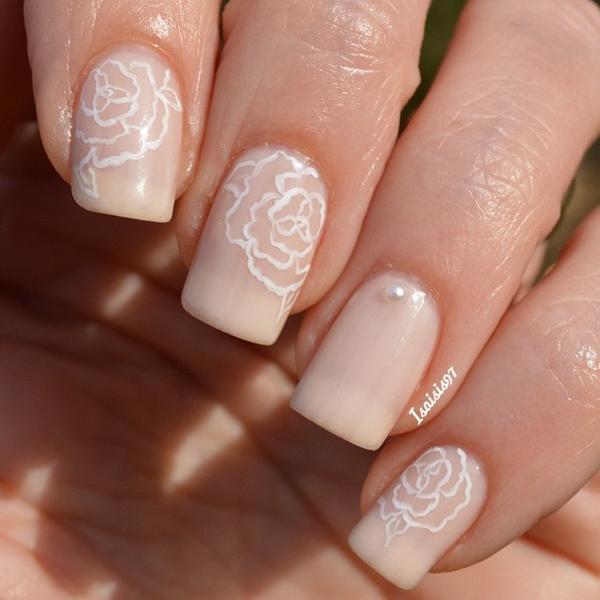 Floral inspired nude nail art design. make your nude nail art have more life by adding line details of flowers by the cuticle area in striking white polish.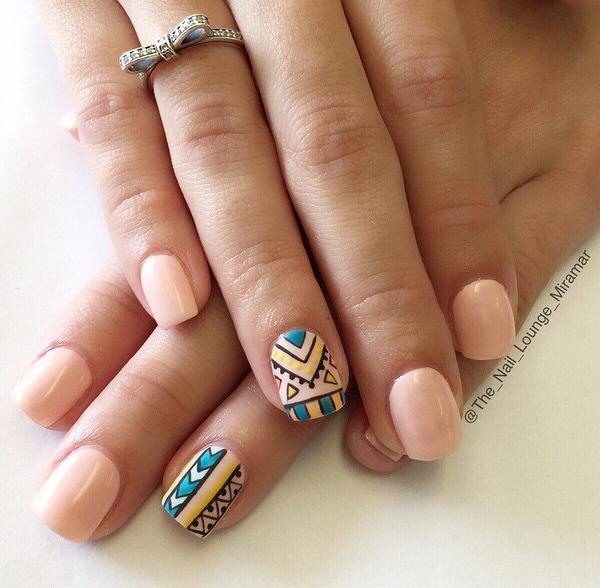 Tribal inspired nude nail art designs. This design proves that you should not be scared in using bold and bright colors together with your all nude nails.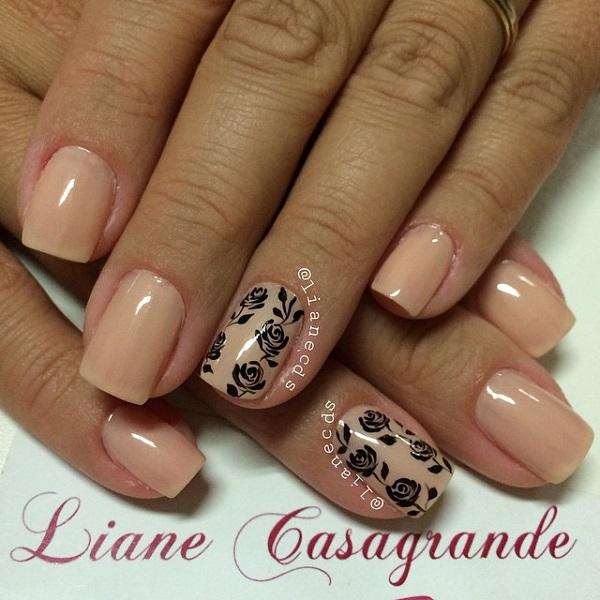 A very pretty nude nail art design with flower details on it. The flowers are painted in light strokes of black polish and they fit perfectly with the subtle color of nude as its base.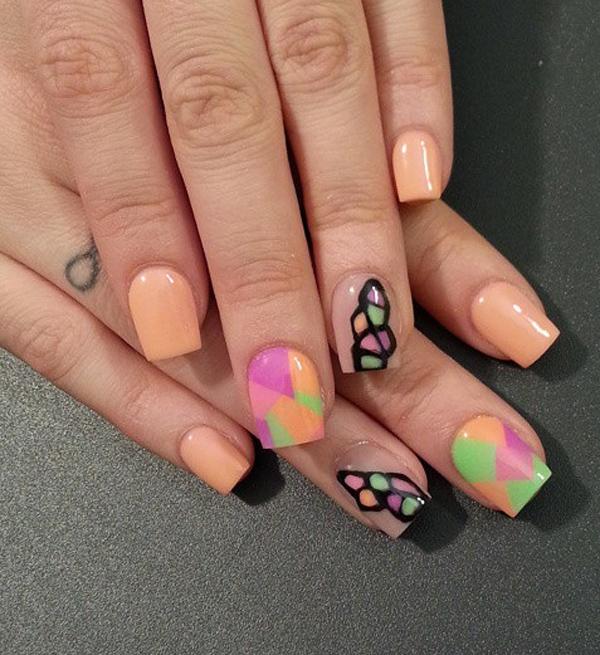 Pretty and colorful design used on nude nail polish. You can combine lots of colors with your nude nail polish if you simply have a good design and color combination.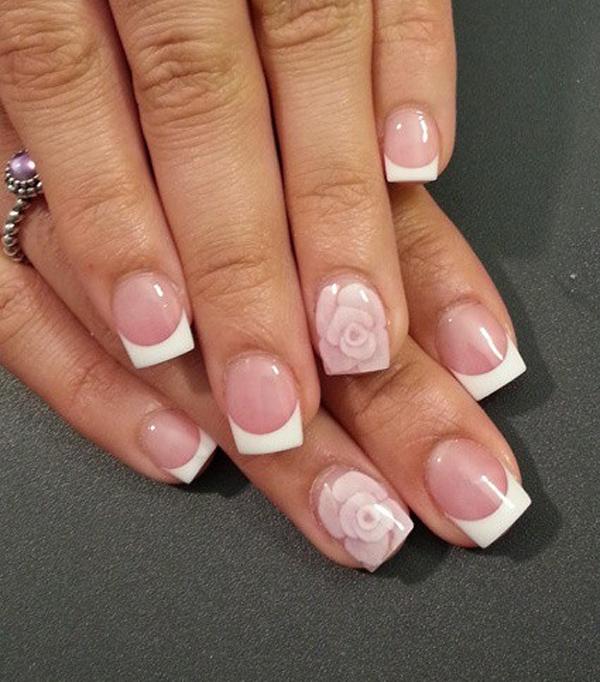 Wonderful French tips over a nude nail polish design. Let your nude nails stand out by adding cute flower embellishments on top.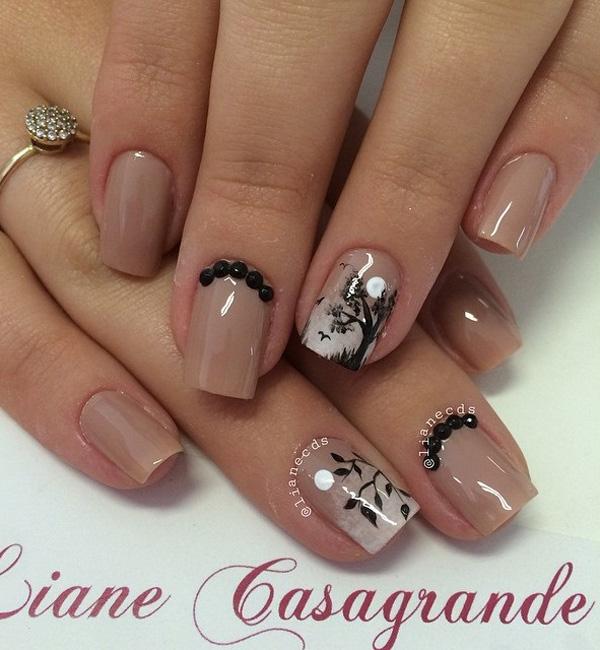 A very artistic take on nude nail design. With a whiff of white gradient starting from the tip of the nails, trees and leaves are drawn in thin black strokes with birds. Black beads are also added on top for effect.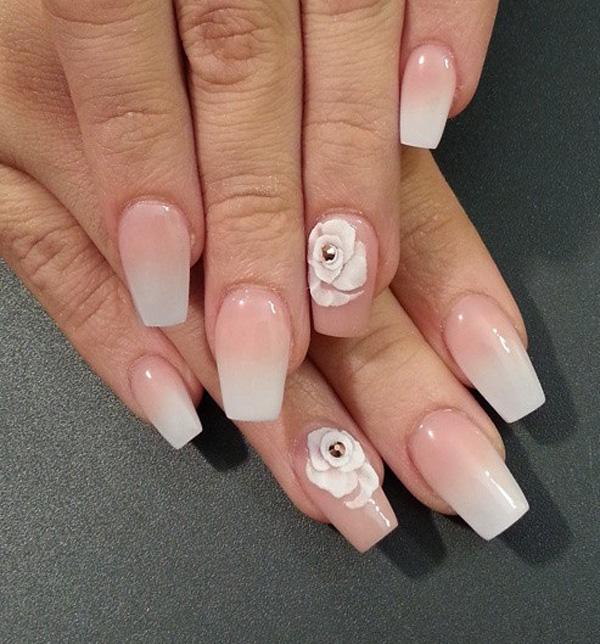 Beautiful white and nude gradient nail art. This style looks very neat and clean. Make it stand out by adding white flower embellishments on top with silver beads.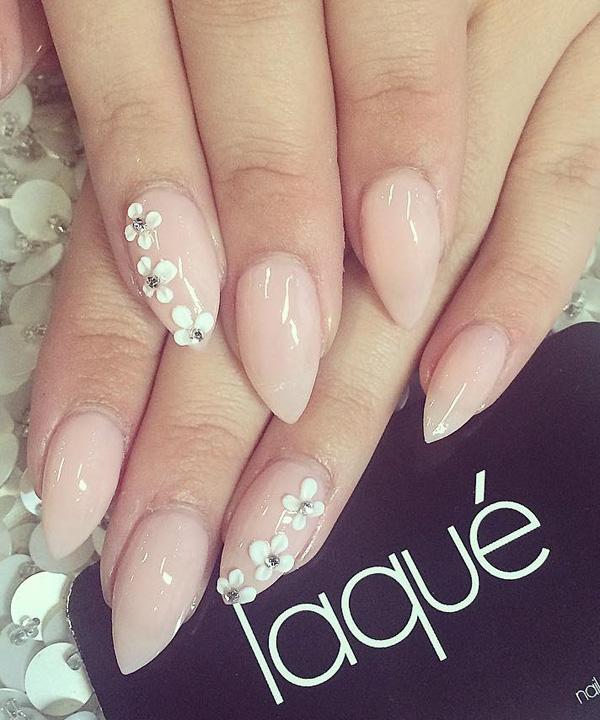 Pretty nude nail art design. A rather simple looking design that gives off a sophisticated aura, adding the tiny white flowers with silver beads on top just adds to its charm.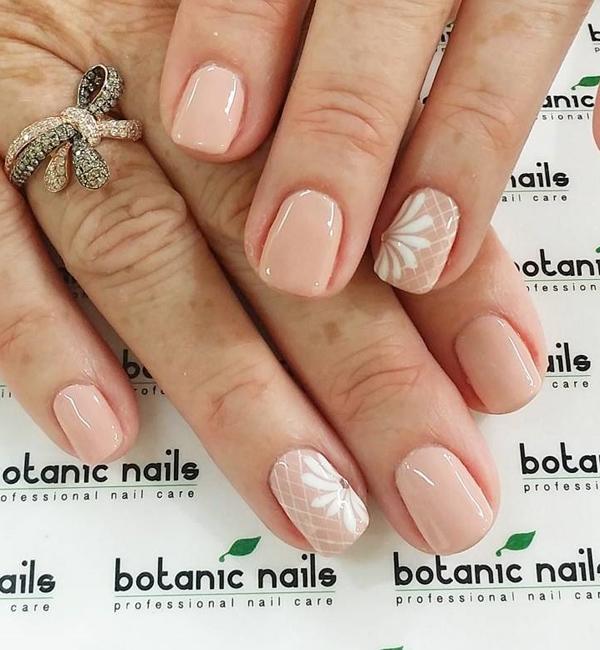 Simple nude nail art design with details on top in white polish. Keep your nails clean but pretty with nude polish and a bit of detail in white above your base color.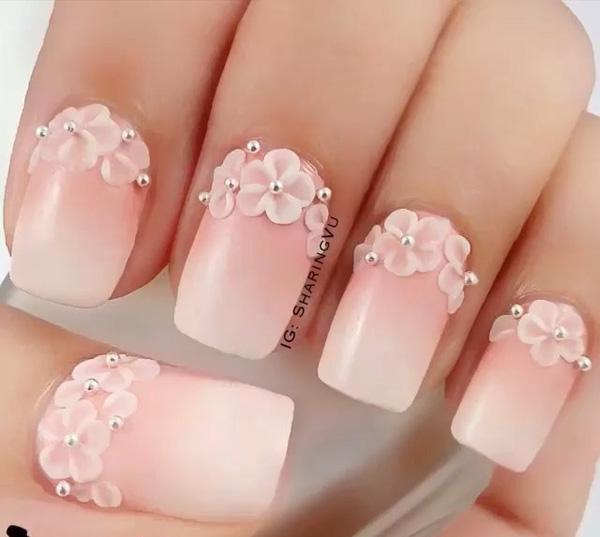 A wonderful looking gradient technique using nude and white nail polish. To make the nails stand out even tinier flower embellishments are placed on the cuticle edge of the nails complete with silver beads on top.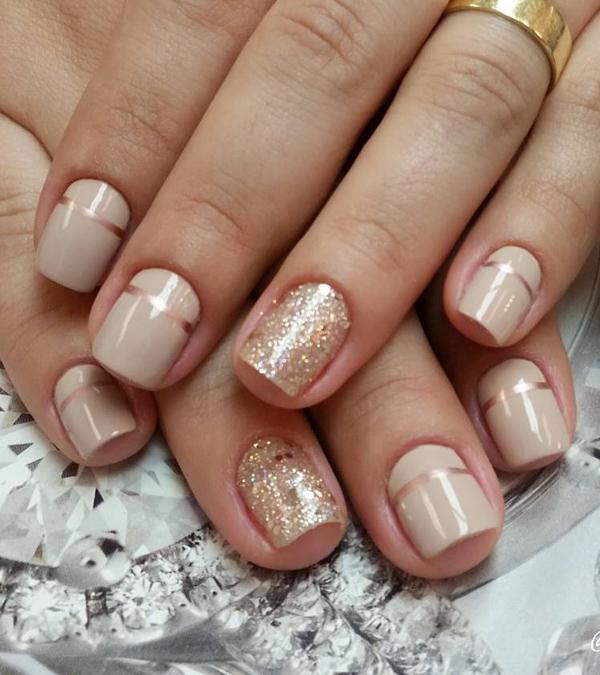 Nude and metallic gold nail art design. These two combinations of colors always go perfect with each other. Bring in gold glitter to make things even more interesting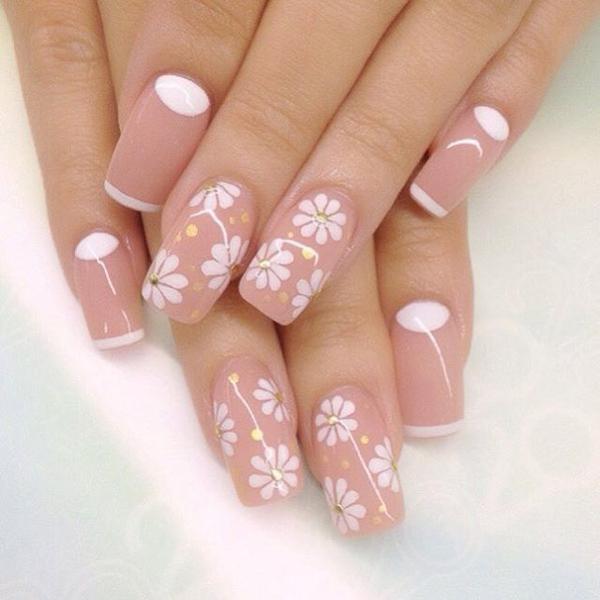 Wonderful flower inspired nude nail art design. Bring a cheery vibe to your nude nails by adding simple flowers in white nail polish along with gold sequins. You can also see a bit of French tip and cuticle paint in white.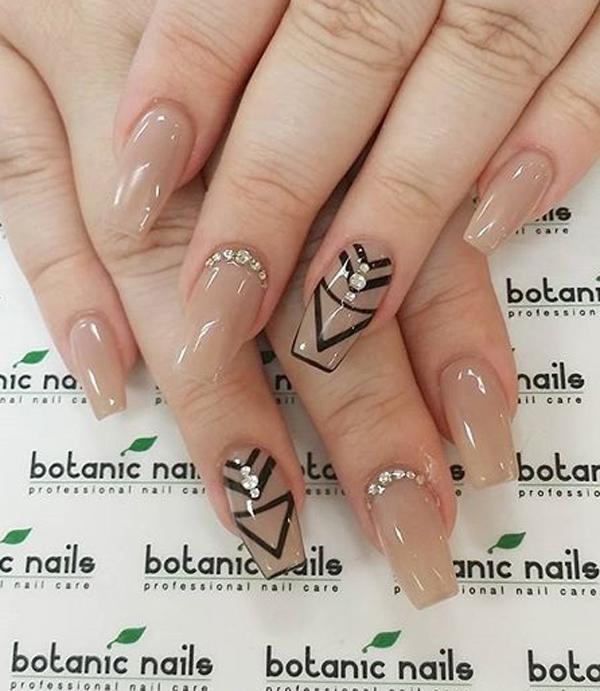 Sophisticated looking nude nail art design with geometrical shapes. Using two shades of nude nail polish and black is enough to make this design a true stand out. Don't forget to add simple embellishments on top to highlight the details.