Tattoos are more than just ink on skin. They are a form of body art that has been practiced across various cultures for centuries. Each tattoo tells a story, holds a meaning, and is a personal expression of individuality and identity. Among the vast array of designs and symbols, rose tattoos stand out as one of the most timeless and beloved choices. Traditional rose tattoos, in particular, have a deep-rooted history and a rich symbolism that transcends cultural and societal boundaries. In this article, we delve into the world of traditional rose flower tattoos, exploring their history, symbolism, color significance, design ideas, and popular placement areas.
II. The History of Rose Tattoos
Rose tattoos have a rich history that journeys back to the times of sailors navigating the high seas. Sailors, often away from their loved ones for months on end, would get traditional tattoos of roses as a reminder of the love waiting for them back home. Over time, this seafaring tradition crossed over into mainstream society and the rose tattoo began to bloom in different cultures around the world.
As time went on, traditional rose tattoos evolved and became popular in different cultures and societies. The Western traditional or "old school" style, characterized by bold lines and bright colors, often featured roses in conjunction with other symbols. Meanwhile, in Eastern cultures, roses became integrated into intricate designs, often bearing spiritual or philosophical meanings.
III. The Symbolism of the Rose
The rose is not just aesthetically pleasing; it holds profound symbolic meanings. Traditionally, the rose is a symbol of love and passion. Its lush, red petals and enticing fragrance have long been associated with romantic love, making it a popular choice for lovers expressing their undying affection.
In addition to love, roses also symbolize mystery and secrecy. In ancient times, roses were hung from the ceilings of meeting rooms as a reminder that what was discussed should remain confidential, giving birth to the term "sub rosa" or "under the rose". A rose tattoo could, therefore, represent a secret or something deeply personal.
Moreover, the rose is a symbol of balance and new beginnings. Its beauty contrasts with its thorns, representing the balance between beauty and pain, pleasure and sacrifice. And as a perennial plant, the rose is also a symbol of renewal and rebirth.
IV. The Significance of Colors in Rose Tattoos
The color of a rose tattoo can add layers of meaning to the design.
Red
First, red roses are the most traditional, symbolizing love, respect, and courage. So traditional red rose tattoos could be a passionate declaration of love and a testament to one's bravery.
Lamp adorned with red roses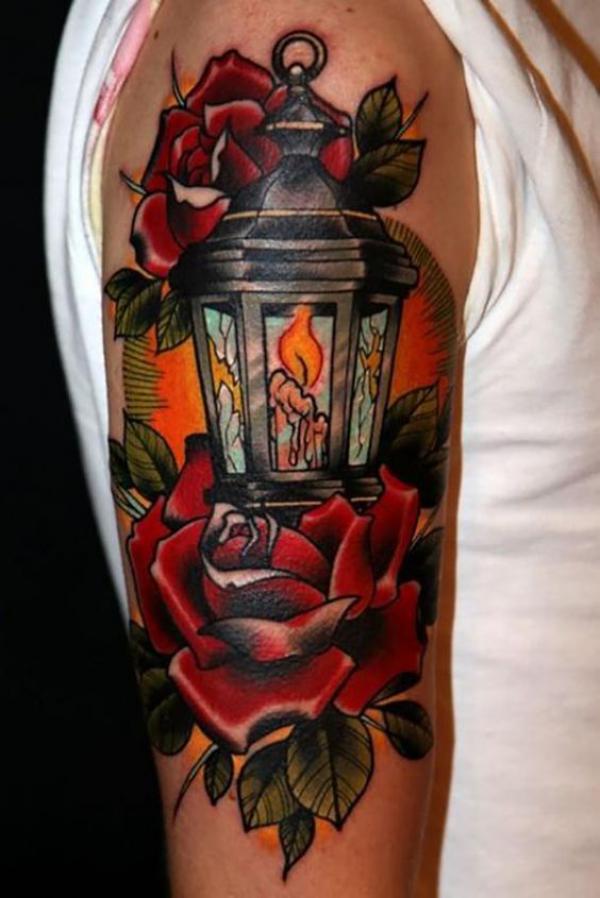 The traditional lamp and roses tattoo creates a striking juxtaposition of man-made beauty and natural allure on the upper arm. It's a symbol of light, guidance, and the blossoming of life.
White
Second, white roses, on the other hand, represent purity, innocence, and remembrance. Therefore, they're often chosen as a tribute to lost loved ones or a symbol of new beginnings.
A dagger through a sacred heart encircled with white roses tattoo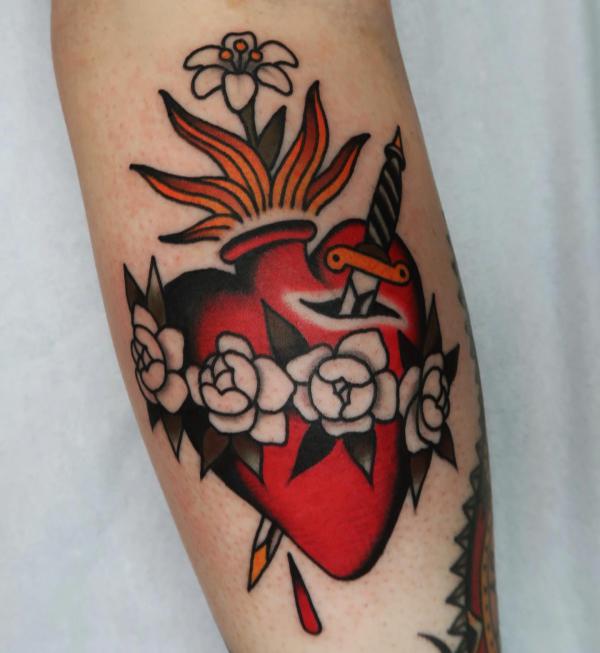 This tattoo combines the imagery of a dagger piercing a sacred heart, surrounded by white roses. It's a powerful symbol of love, sacrifice, and purity, sure to leave a lasting impression.
Black
Third, black roses are a powerful symbol of death, farewell, or rebellion. So, they are a favorite among those who have a darker aesthetic or want to convey a message of strength and resilience in the face of adversity.
Traditional black rose tattoo with white outline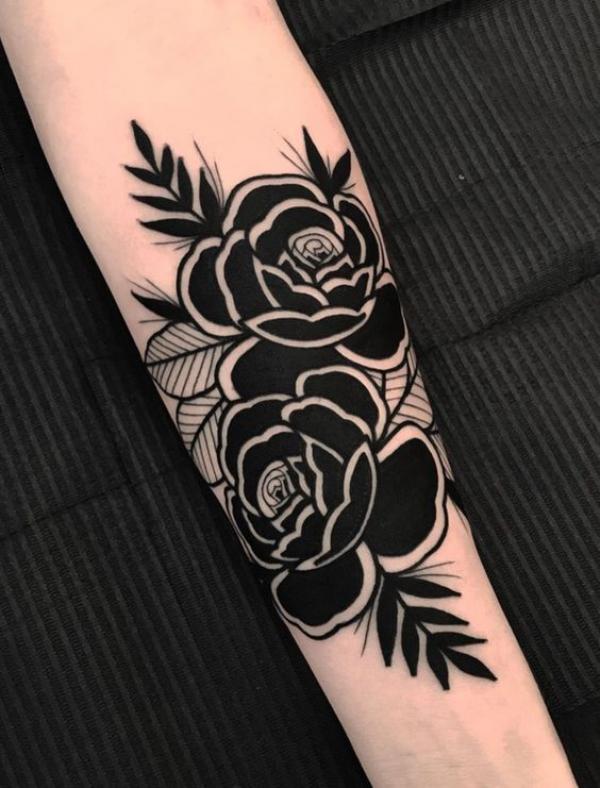 A traditional black rose tattoo with a white outline creates a stark contrast, symbolizing mystery, strength, and the unconventional beauty of darkness.
Blue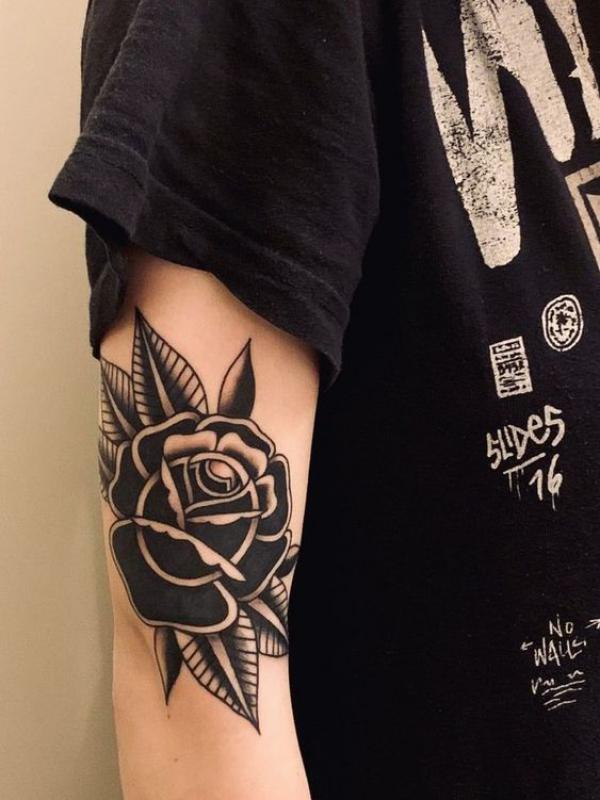 Blue roses, a color not naturally occurring, symbolize the mysterious and the unattainable. So they could represent a longing for the impossible or a fascination with the enigmatic.
Traditional blue rose tattoo with words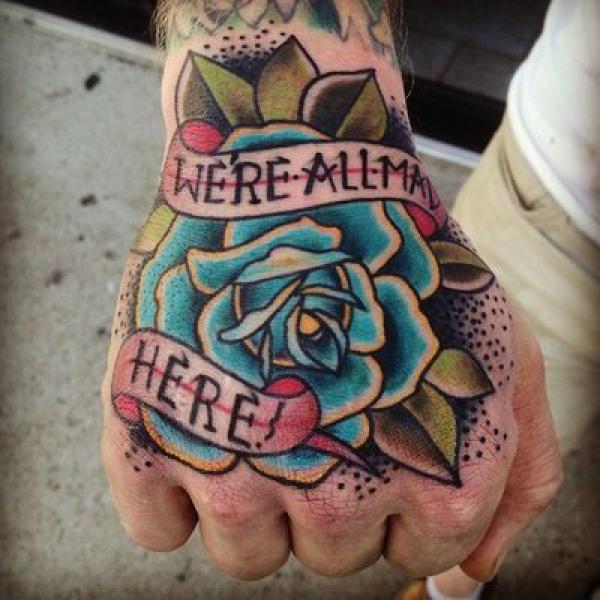 A traditional blue rose tattoo paired with words can be a personal mantra or cherished quote. The blue rose, a symbol of the unattainable and mysterious, adds depth to the overall meaning.
Blue rose with name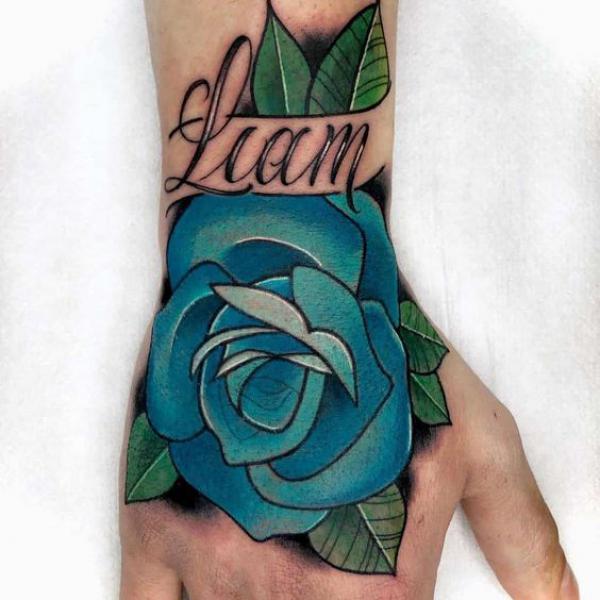 A traditional blue rose tattoo bearing a name is a deeply personal tribute. The blue rose, often associated with the desire for the unattainable, enhances the sentimental value of this design.
Yellow
Lastly, yellow roses are a symbol of joy, friendship, and new beginnings. They are often chosen to represent a positive change or the start of a new chapter in life.
Traditional yellow rose tattoo with thorns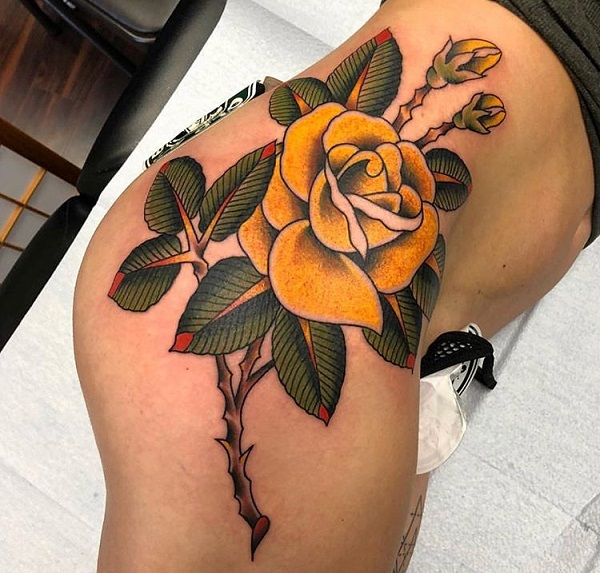 The colorful tattoo is a beautiful symbol of joy and friendship, tempered with the reality of life's thorns. It's a design filled with optimism, resilience, and truth.
V. Traditional Rose Tattoo Designs – Combinations and Additions
Rose tattoos lend themselves well to combination with other symbols, allowing the wearer to create a design that's uniquely theirs. Here are some examples.
Typewriter and rose tattoo traditional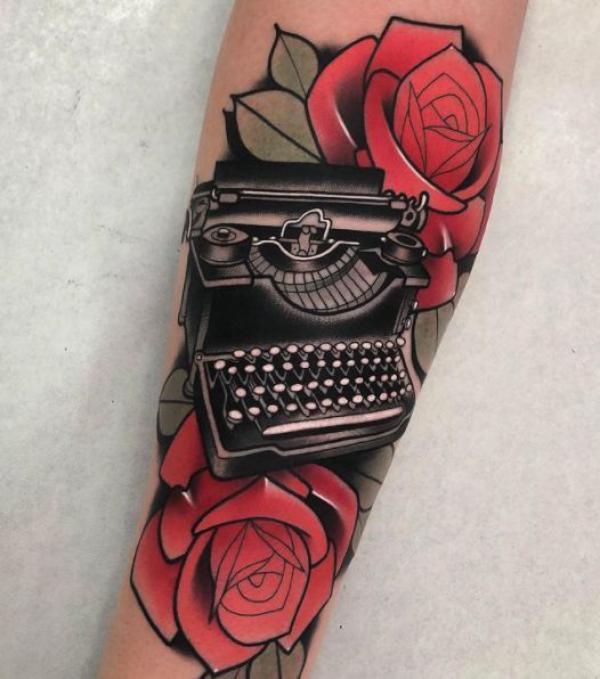 A traditional rose tattoo doesn't always have to just be a picture of a rose. Putting a rose and a typewriter together makes a powerful visual statement. This blend shows how creativity and love come together. It's a great choice for artists or anyone who loves words. The rose stands for love, desire, or beauty, while the typewriter is a sign of creativity. Together, they say a lot about the person who wears them and what they care about.
A bird perched on the branch of rose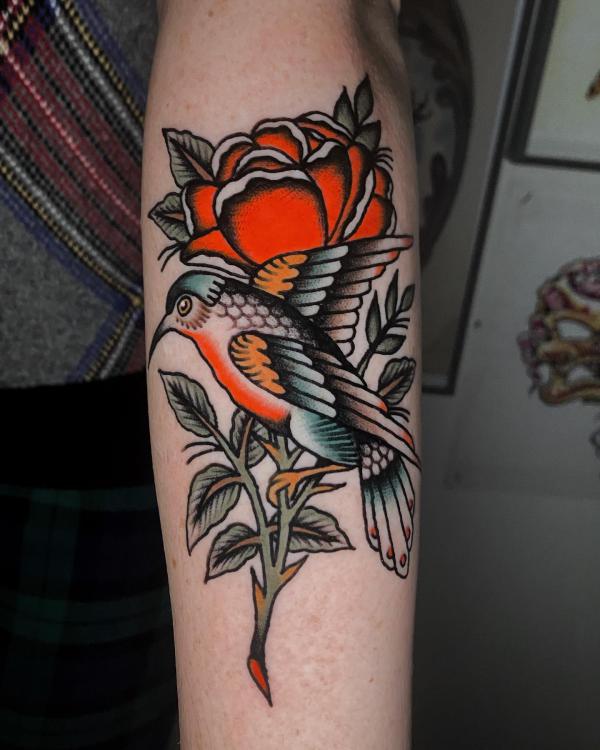 A tattoo of a bird sitting on a rose branch is beautiful and has a lot of value. Birds often stand for freedom, hope, or spiritual growth, while a rose could mean love, beauty, or even the difficulties that a person has gotten through. The type of bird and the color of the rose can make this design very meaningful to the person who wears it.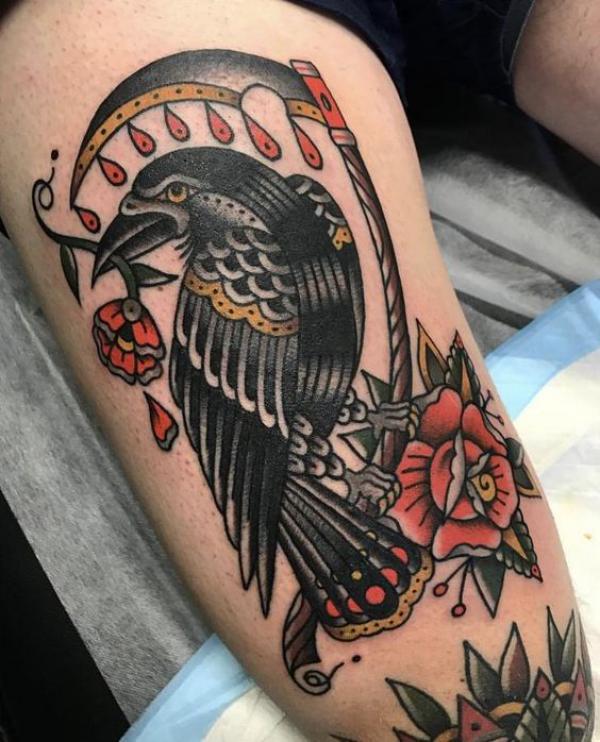 A raven sitting on the rose-decorated Grim Reaper's scythe is a very symbolic tattoo for people who like dark art or are interested in folklore and mythology. Ravens are often linked to mystery, secrets, and the unknown, while the scythe is a symbol of change and the way life goes through cycles. The roses add a touch of love and beauty, balancing the light and dark themes.
A red hand holding a black and white rose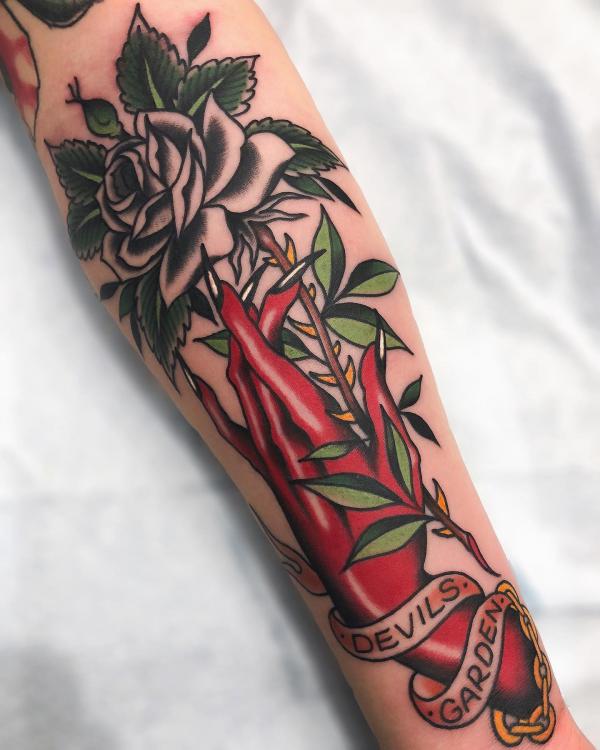 A tattoo of a red hand holding a black and white rose is a striking and symbolic design. The hand could represent human connection and action, while the black and white rose may signify balance, unity, or the coexistence of opposites. The red color of the hand brings intensity, passion, or power into the mix. This tattoo can be a potent reminder of the importance of balance and action in life.
A yellow rose entwined with a snake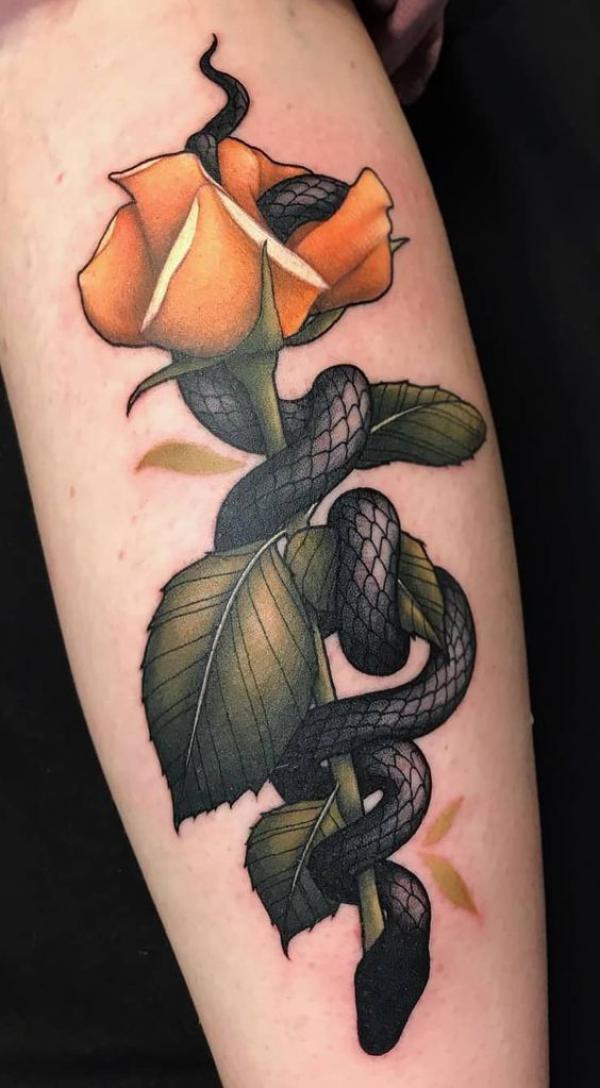 A yellow rose that is wrapped around a snake is both beautiful and full of meaning. Snakes can mean change, rebirth, or healing, while yellow roses are often linked with friendship, happiness, and new beginnings. This strong combination can serve as a lesson of how important it is to grow as a person and to have true friends.
Black traditional tattoo dagger through a rose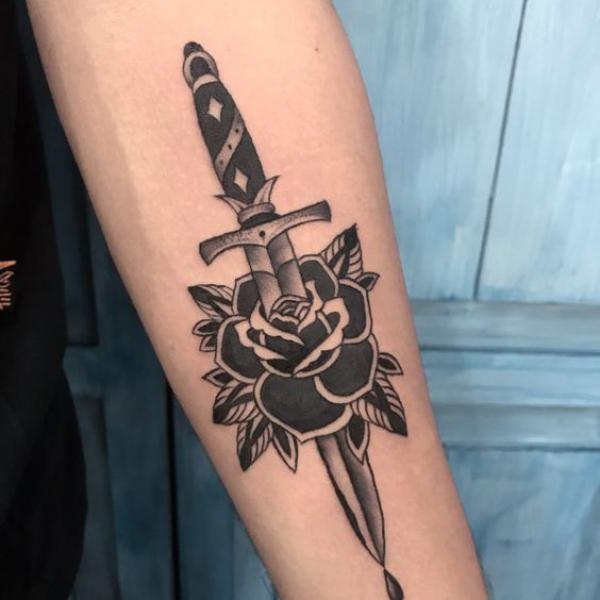 A traditional tattoo of a dagger going through a rose sends a powerful and meaningful message. The dagger is often a sign of power, bravery, or sacrifice, while the rose can stand for love, beauty, or passion. This design can show how strong you have to be to love or stay passionate, even when things are hard.
Black wolf with roses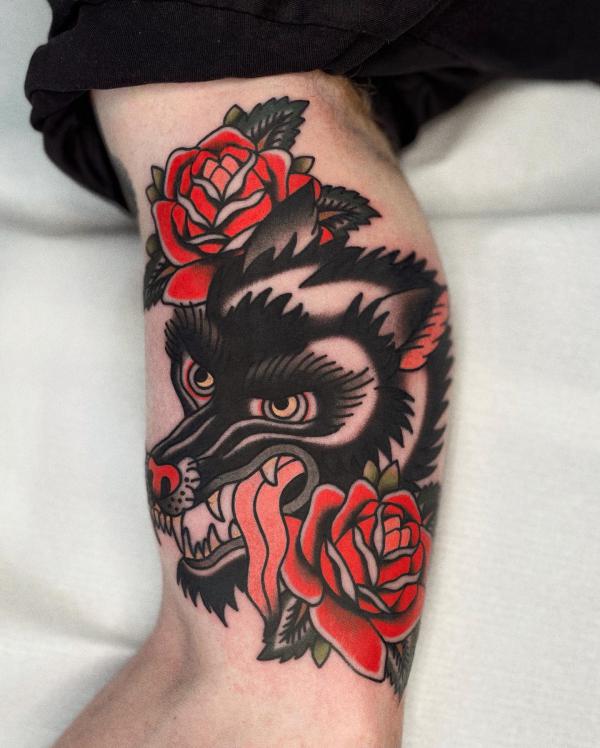 A black wolf with roses is a powerful design, brimming with symbolism. Wolves often represent loyalty, courage, or spirit, while roses can symbolize love, beauty, or the trials one has overcome. This tattoo can be a tribute to personal strength, resilience, and the journey of overcoming obstacles.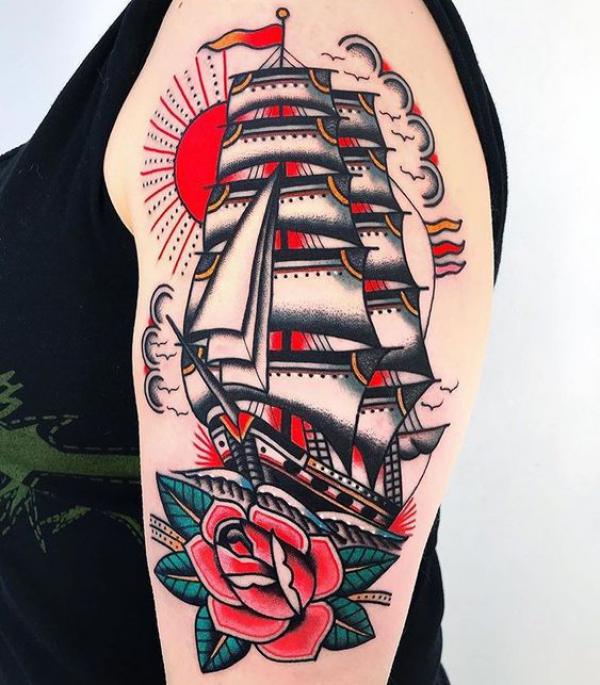 A tattoo of a boat with a rose in the sun is artistic and has a lot of meaning. Boats often stand for trips, changes, or new experiences, while the sun can mean energy, life, or rebirth. The rose adds a bit of love, beauty, or victory over hard times. This design can be a beautiful way to show how love and adventure make up the path of life.
Cherub and rose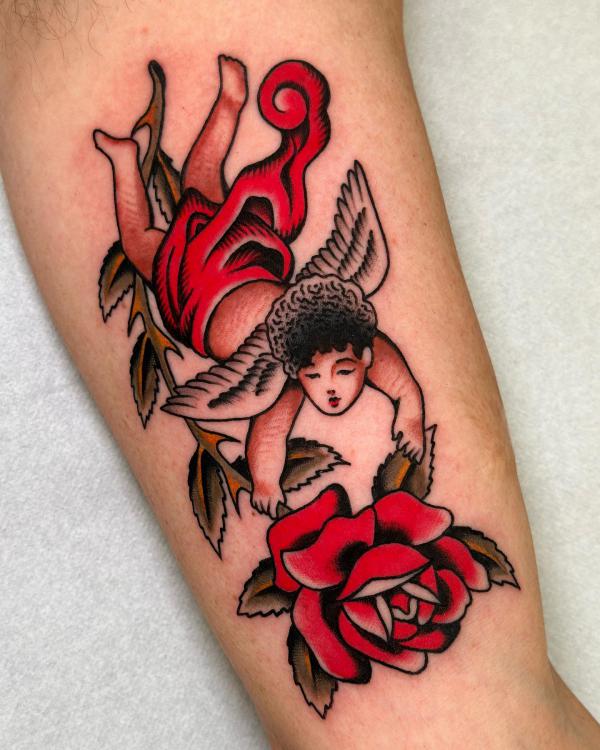 A tattoo of a cherub and a rose is sweet and sacred. Roses can mean love, beauty, or personal growth. Cherubs are often linked with love, innocence, or a connection to God. This tattoo design can be a memory of God's love or of how pure and beautiful we all are.
Dragon frame adorned with roses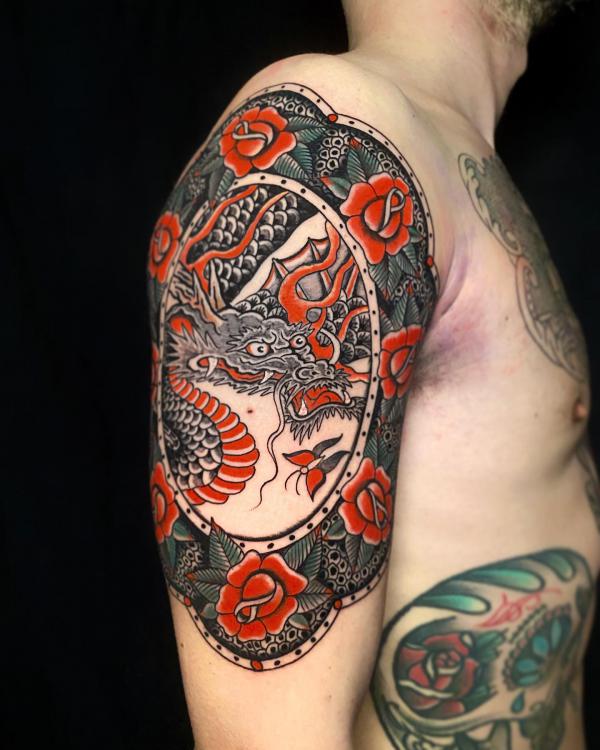 A dragon frame adorned with roses is a bold and captivating tattoo design. Dragons often symbolize power, wisdom, or protection, while roses can represent love, beauty, or the challenges one has overcome. This powerful design can be a testament to the wearer's inner strength, wisdom, and love for life.
Envelope and rose with quote Take Care and Please Dont Forget Me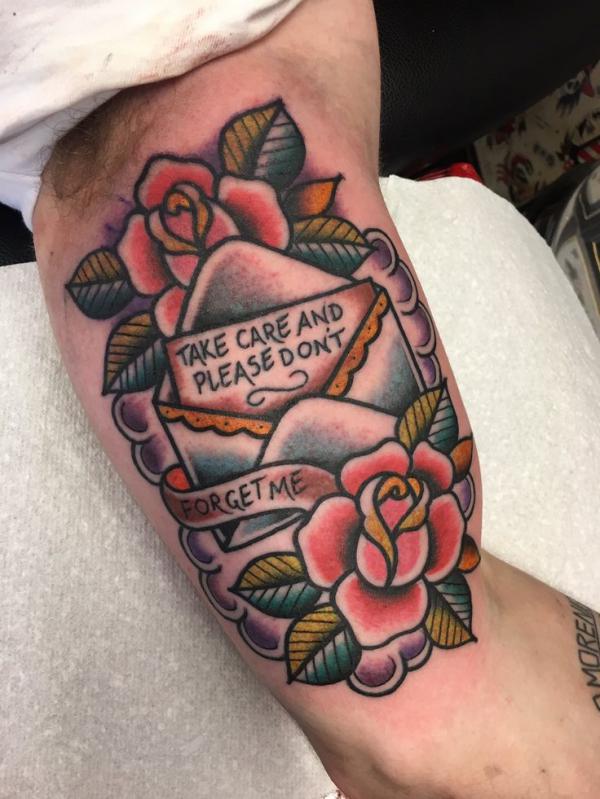 A tattoo of an envelope, a rose, and the words "Take Care and Please Don't Forget Me" is a very personal and sentimental design. The rose could stand for love, beauty, or memories, while the envelope could be a way to send or receive notes. This tattoo can be a powerful way to remember a loved one or an important time in your life.
Eye of coffin with rose and scythe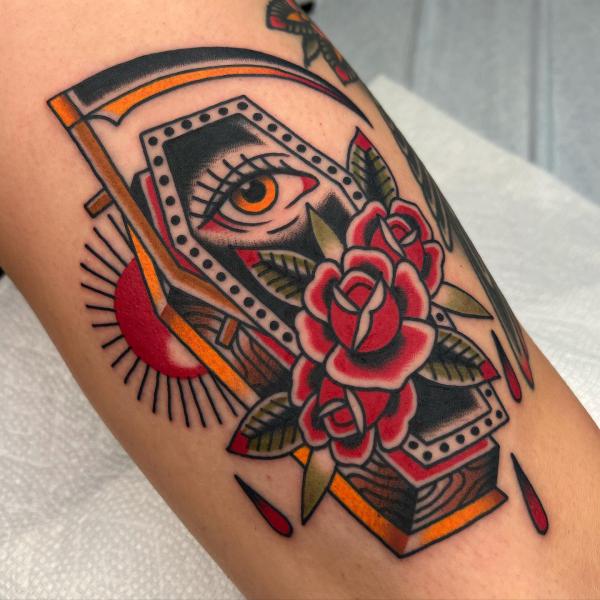 For those who favor a blend of macabre and beauty, the coffin tattoo design does not disappoint. The coffin represents mortality, the end of a cycle, or profound change, while the eye could symbolize perception, awareness, or the soul. The rose adds a touch of beauty, love, or triumph in the face of adversity. This design is a powerful statement about understanding and accepting the cycle of life and death while cherishing the beauty that exists in between.
Hourglass with rose and skull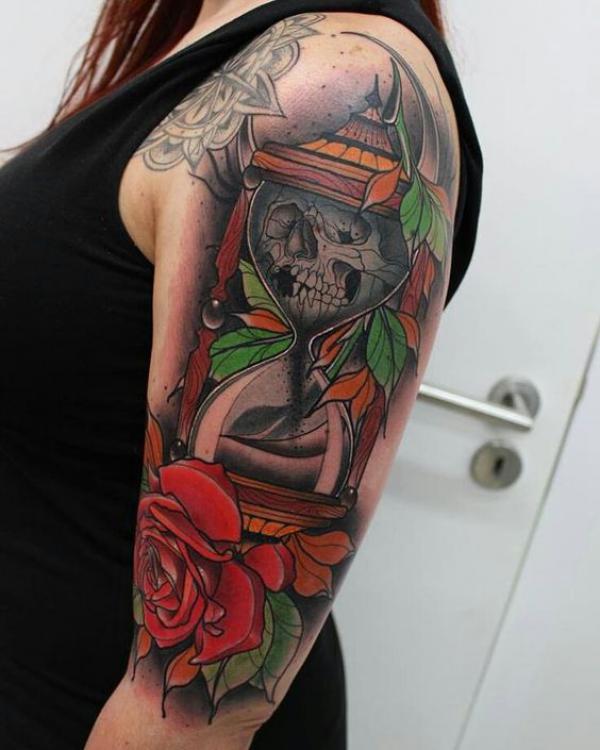 The hourglass, the rose, and the skull are all strong symbols, but when they are all put together, they make a new and powerful picture. The hourglass shows how quickly time passes, the rose stands for love and beauty, and the skull is a stark warning of death. This tattoo idea is great for people who like to think about how life, love, and death are all connected and have greater meanings.
Love hand holding a rose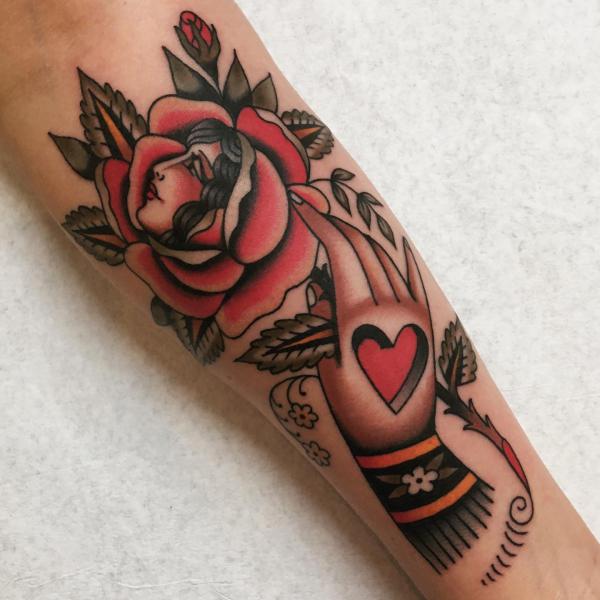 A hand holding a rose is a classic image of love and romance. This design is often stylized in the traditional American tattoo style with bold outlines and vibrant colors. The hand could be either a male or female hand, depending on the wearer's preference. This tattoo signifies love, passion, and a romantic spirit.
Owl tattoo image with swallow butterfly and rose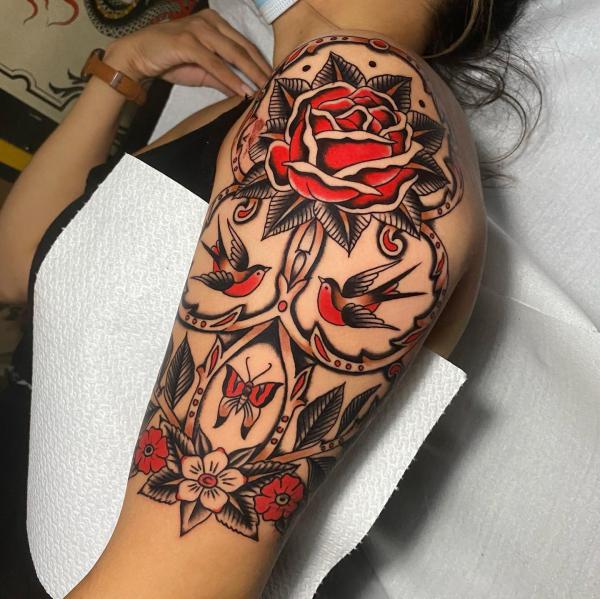 An owl, swallow, butterfly, and rose might seem like an unusual combination, but they each represent different aspects of life and spirituality. The owl stands for wisdom and knowledge, the swallow for hope and freedom, the butterfly for transformation, and the rose for love and beauty. This complex tattoo design is ideal for those who value these elements in their life journey.
Panther head embraced with petals of rose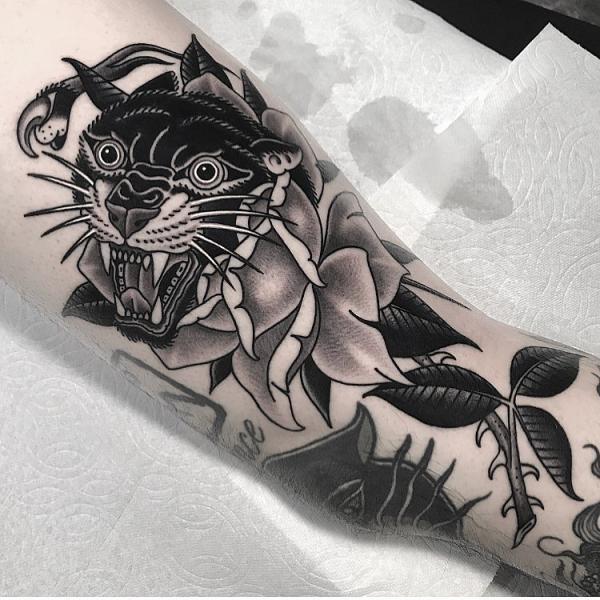 A striking tattoo pattern is made up of a panther's head and a rose. The panther is a sign of bravery, strength, and fierce independence, while the rose adds a bit of beauty and softness. This design shows a beautiful contrast between strength and vulnerability, making it a great choice for people who are both strong and vulnerable.
Phonograph and rose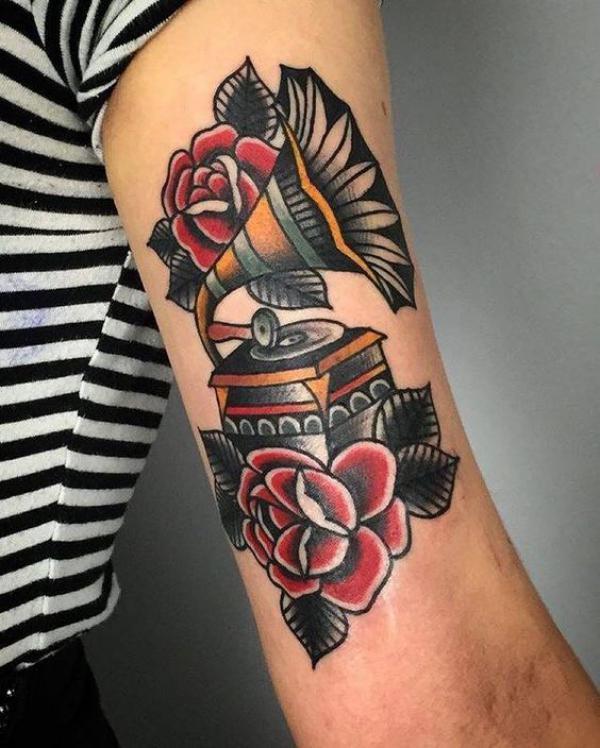 A phonograph and rose tattoo is a nostalgic nod to the past. The phonograph, an old-fashioned music player, symbolizes a love for music and a longing for simpler times. Paired with a rose, this tattoo design conveys a sense of timeless love and passion for melodies that touch the soul.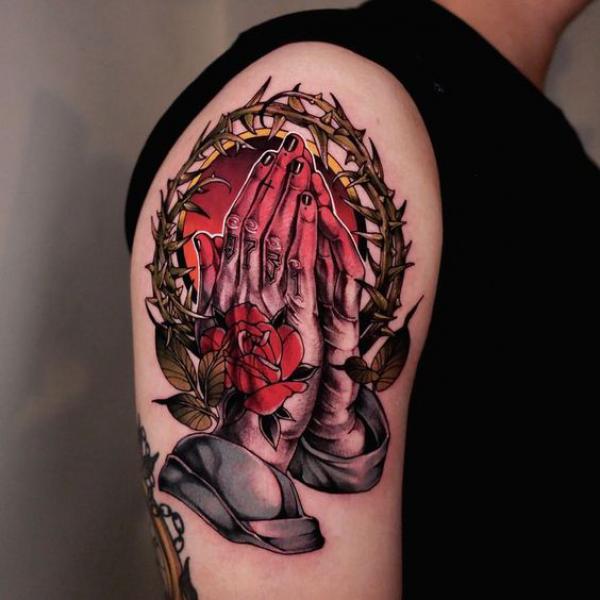 This tattoo design is steeped in spirituality. The praying hands represent faith and devotion, the sun surrounded by thorns stands for sacrifice and patience, and the rose represents divine love. This intricate design is great for people who want to show how much they care about their spiritual beliefs.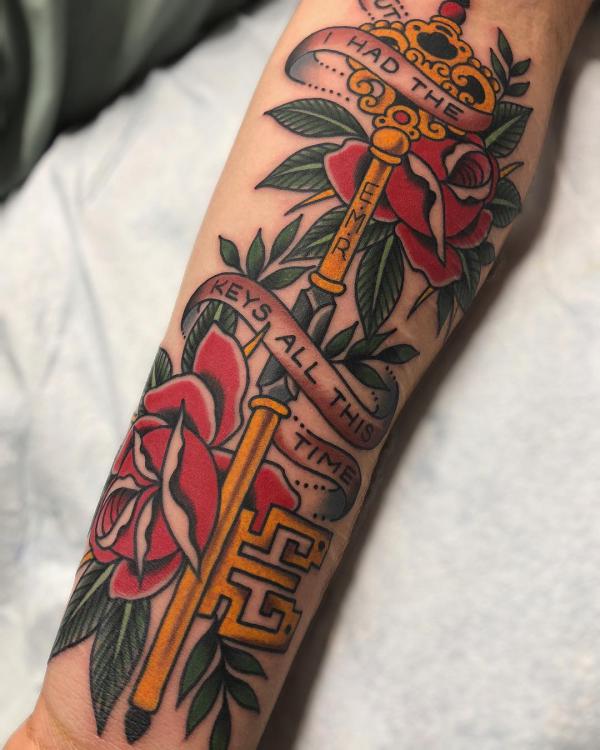 The rose and key tattoo is a potent symbol of unlocking love or understanding. Adding the quote "I had the key all this time" adds a layer of personal empowerment and self-discovery. This tattoo design is ideal for those who have experienced significant personal growth or found love within themselves.
Rise or die trying tattoo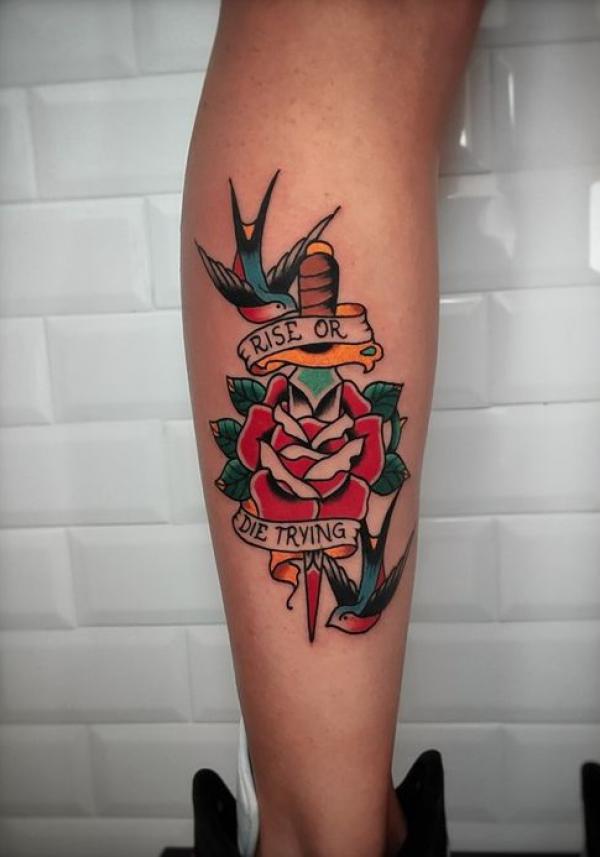 This design features two swallows flying around a dagger piercing a red rose. The dagger is wrapped with a ribbon that bears the quote "Rise or die trying". The swallows symbolize hope and freedom, the dagger signifies courage, and the rose represents love. This tattoo design embodies a warrior spirit, making it a powerful statement of resilience and determination.
Rose and Grim Reaper tattoo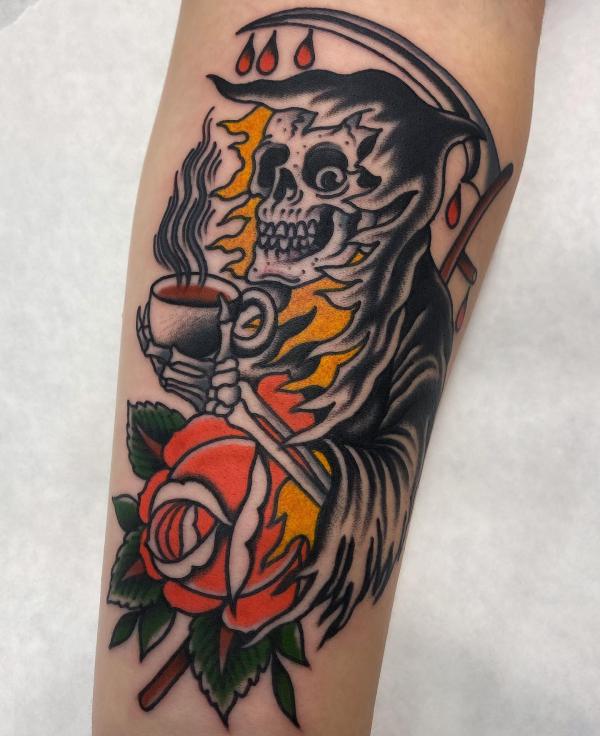 The tattoo of the Grim Reaper carrying a cup of coffee with a red rose is surprisingly funny. The grim reaper is a symbol of death and the inevitable end of life. The coffee cup adds a bit of humor and a nod to the simple joys of life. The rose adds a touch of beauty to the dark images, making this tattoo a unique way to start a talk.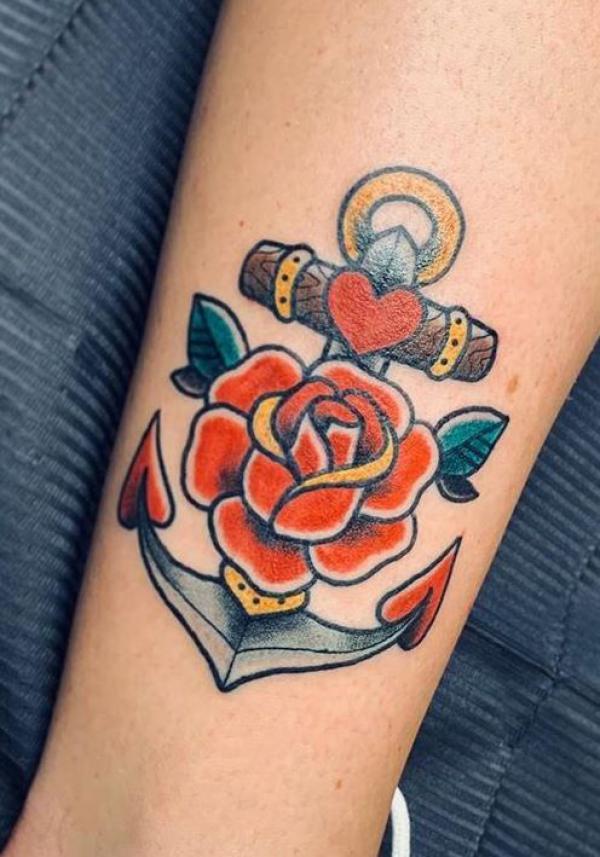 The anchor is a symbol of safety and strength, and the rose is a symbol of love and beauty. Together, they make a powerful tattoo pattern that stands for steady love or a solid base in life. This tattoo design has a classic look that makes it a favorite among people who like to get tattoos.
Rose and lunar moth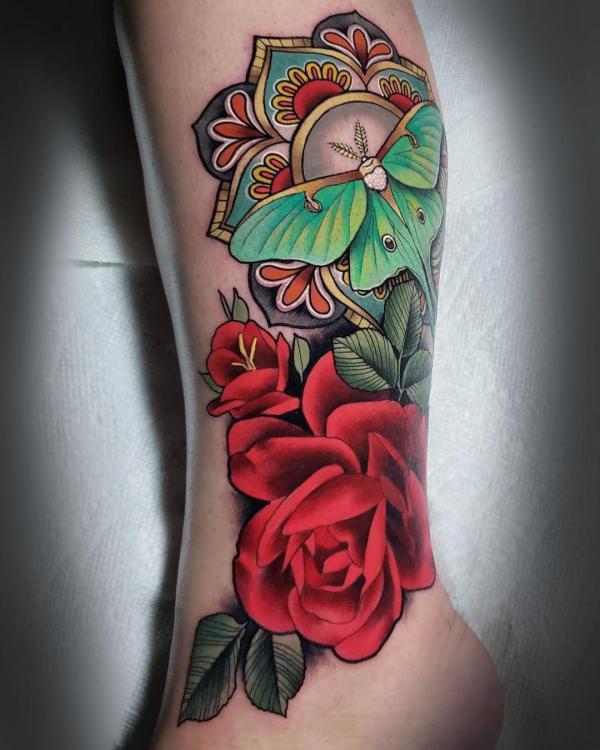 The combination of a red rose and a green lunar moth makes for a visually striking tattoo. The rose symbolizes love and passion, while the lunar moth represents transformation and the pursuit of light. This tattoo design is a beautiful representation of personal growth and passionate love.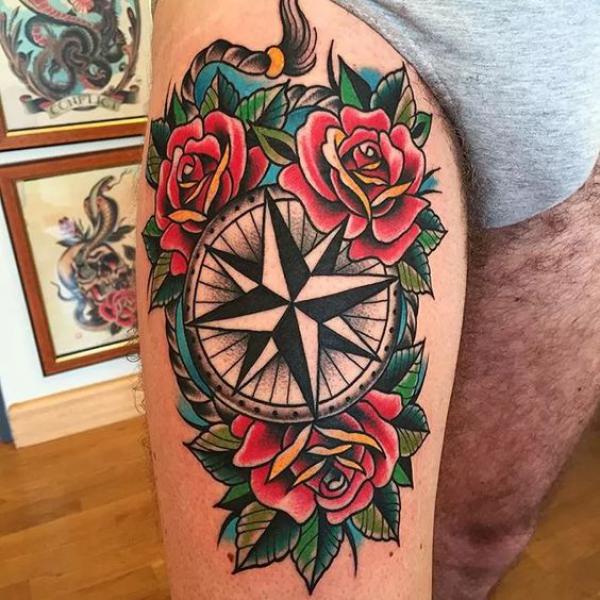 The compass is a sign of direction and discovery, and roses are a sign of love and beauty. Together, they make a tattoo pattern that shows a journey of love or the exploration of life with love as the guiding force. This style is especially appealing to romantics and people who like to try new things.
Rose and compass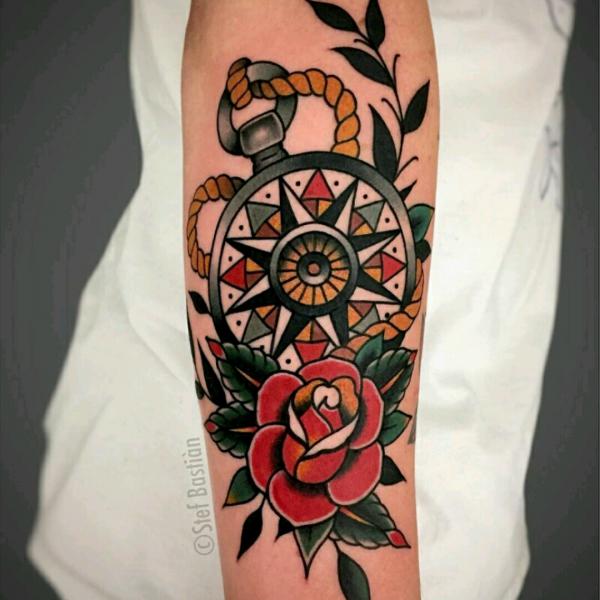 The rose and compass tattoo is great for people who love to travel or who see themselves as guides on the path of life. The compass is a sign of direction because it shows the way forward. The rose is a sign of love, passion, or beauty. Together, they can mean a trip full of passion or a way to find love. A traditional rose and compass tattoo often has strong lines and colors from the past, and it often has a nautical theme.
Scorpion and rose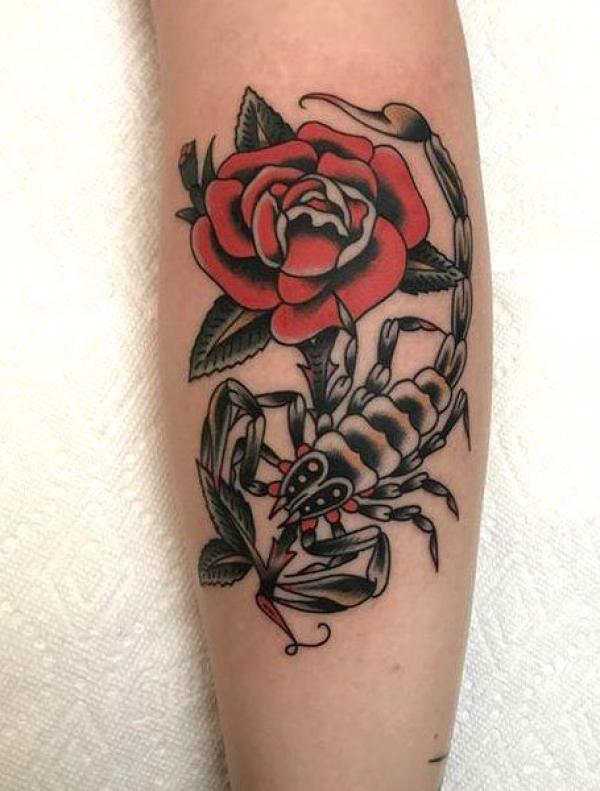 This unusual mix combines the soft beauty of a rose with the dangerous appeal of a scorpion. The scorpion stands for safety, strength, and toughness, while the rose always stands for love and beauty. This difference can mean the balance between danger and beauty, or it can mean that something important is being kept safe. The detailed shape of the scorpion and the intricate petals of the rose work well with the traditional tattoo style, making this a beautiful piece.
Rose and snake with sun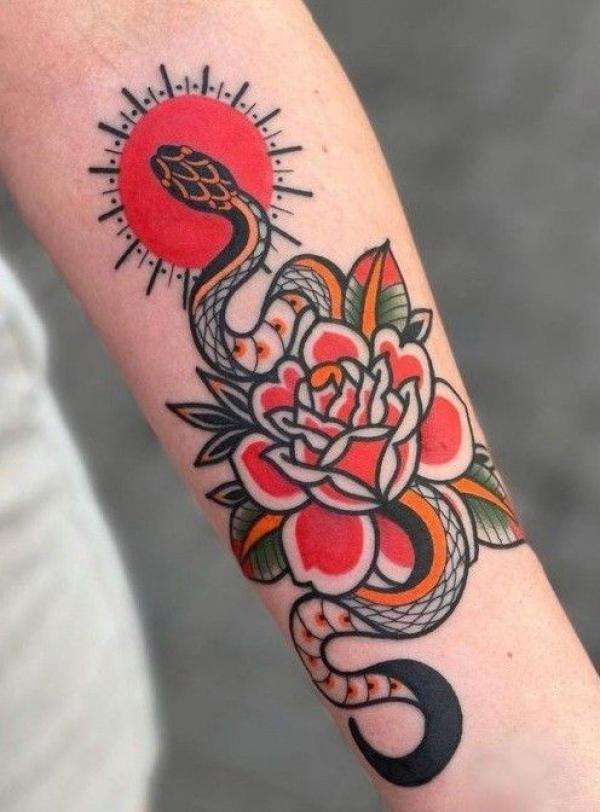 The rose and snake tattoo is a classic in its own right. It represents desire, knowledge, and the balance between good and evil. When you add the sun to the mix, you add warmth, life, and good vibes. This can be seen as a battle between light and dark, between information and innocence, or between temptation and purity. Traditional tattoos with this theme often use bright colors and big differences to show how different things are.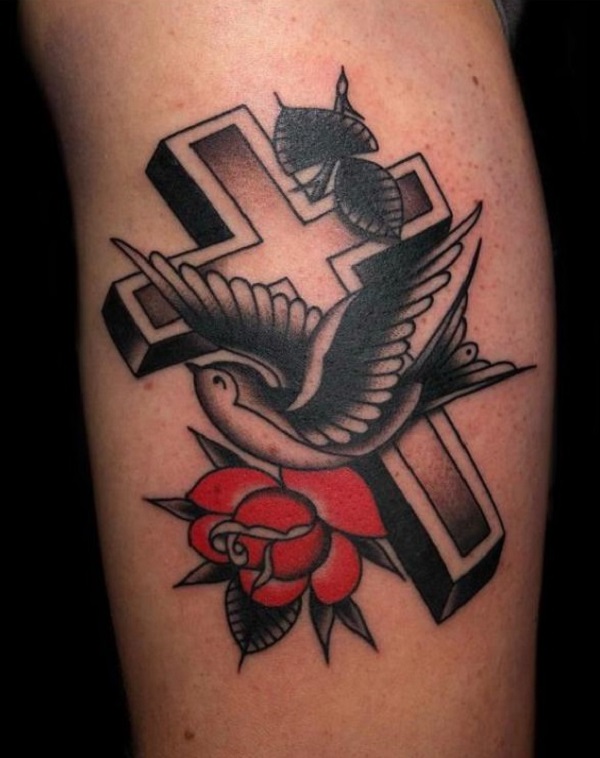 Swallows have long been a symbol of hope, freedom, and safe return in seafaring cultures. When combined with a rose and a cross, this design becomes a powerful symbol of faith, love, and hope. The bold lines and vivid colors of traditional tattoo styles make this design pop, and it can be a beautiful and meaningful addition to your tattoo collection.
Traditional heart and rose tattoo for mom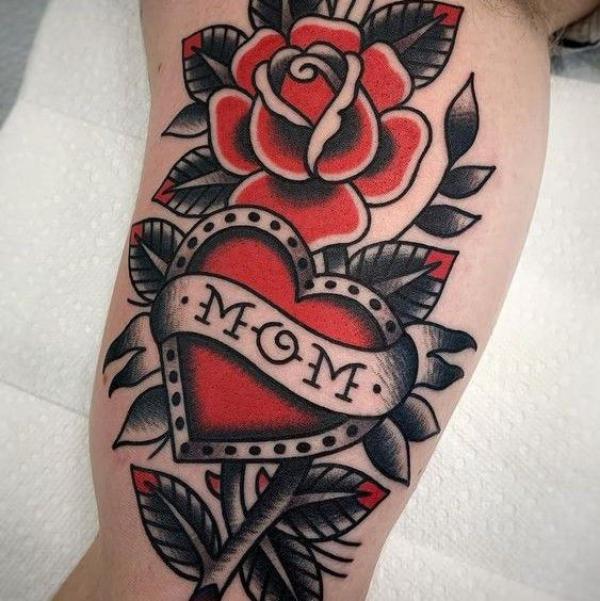 A heart and rose tattoo is a classic way to pay tribute to someone you love, and who better to honor than your mom? The heart symbolizes love and life, while the rose adds an element of beauty and tenderness. This tattoo can be a heartfelt tribute to a mother's love and sacrifice. Traditional styles often incorporate a banner with the word 'Mom' or 'Mother', adding a touch of vintage charm to the design.
Tempus Fugit tattoo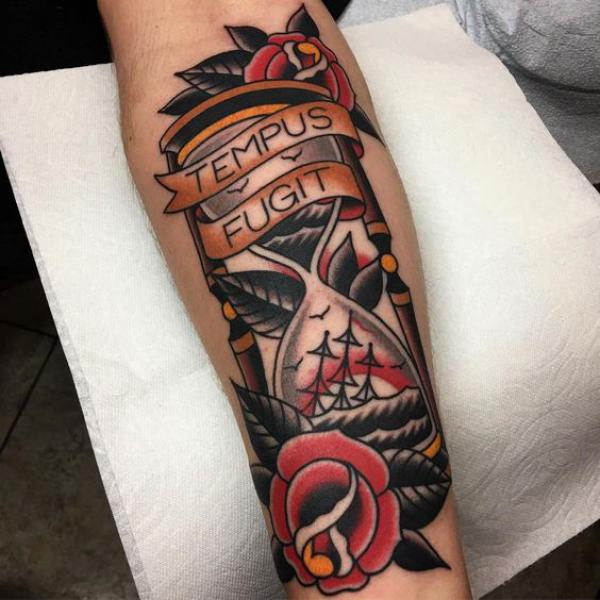 Tempus Fugit, meaning "time flies" in Latin, is a classic tattoo choice that speaks to the fleeting nature of life. Adding a rose to this design could represent the beauty that exists within our transient existence. This design often incorporates a traditional hourglass or clock face, with a rose intertwined or placed alongside. The result is a profound but beautiful reminder of our mortality.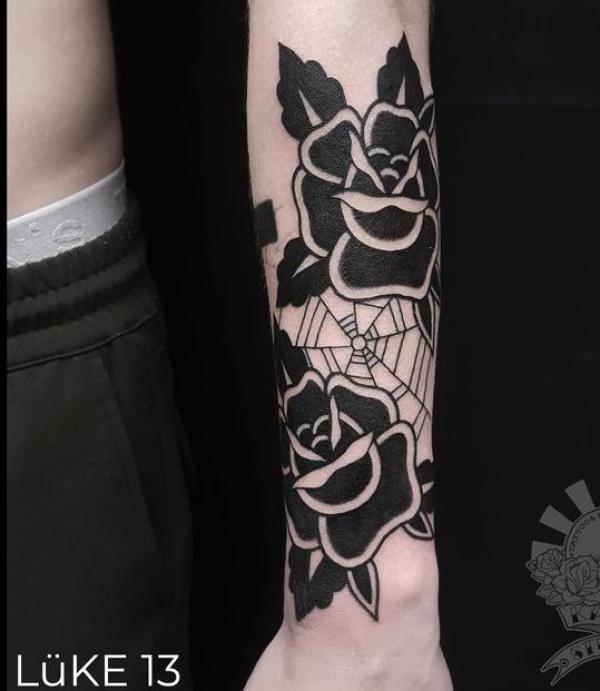 A black rose tattoo can symbolize death, loss, or rebellion. When entwined with a spider web, it might signify a trap or a tantalizing danger. This combination can make for a dark and intriguing design with a hint of gothic appeal. The traditional tattoo style's bold lines and solid black shading are perfect for bringing this design to life.
This too shall pass tattoo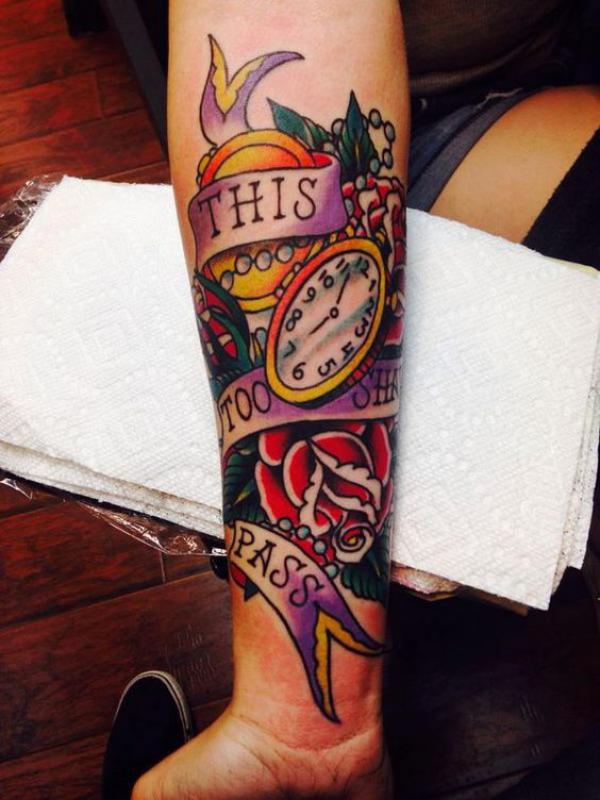 This aphorism, often attributed to Persian Sufi poets, is a reminder of life's transience, both the good times and the bad. Pairing this phrase with a rose can add a layer of beauty and resilience to the design. The text can be rendered in traditional tattoo script for a vintage aesthetic, with the rose as a colorful, contrasting element.
Traditional black and red rose tattoos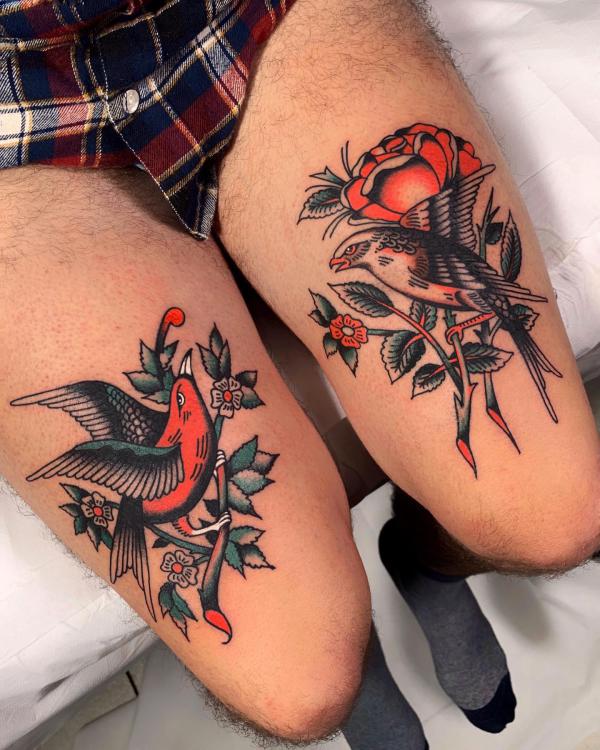 Black and red are classic colors in traditional tattooing, and they work particularly well in rose designs. The black offers stark, bold lines, while the red provides a vibrant contrast that brings the rose to life. Whether you opt for a single rose or a bouquet, this color combination is sure to make a statement.
Tiger with roses and daggers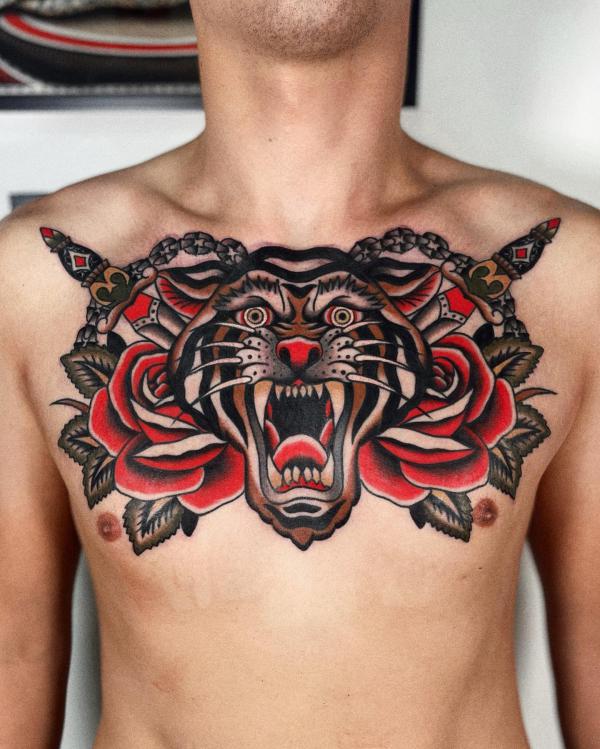 A tiger is a symbol of strength, courage, and power. When paired with roses and daggers, this design could signify a fierce protector or a passionate warrior. The bright colors, bold lines, and intricate details of the traditional tattoo style make this design a visually compelling piece. The roses add a touch of beauty, while the daggers provide a hint of danger – a perfect balance for the majestic tiger at the center of the design.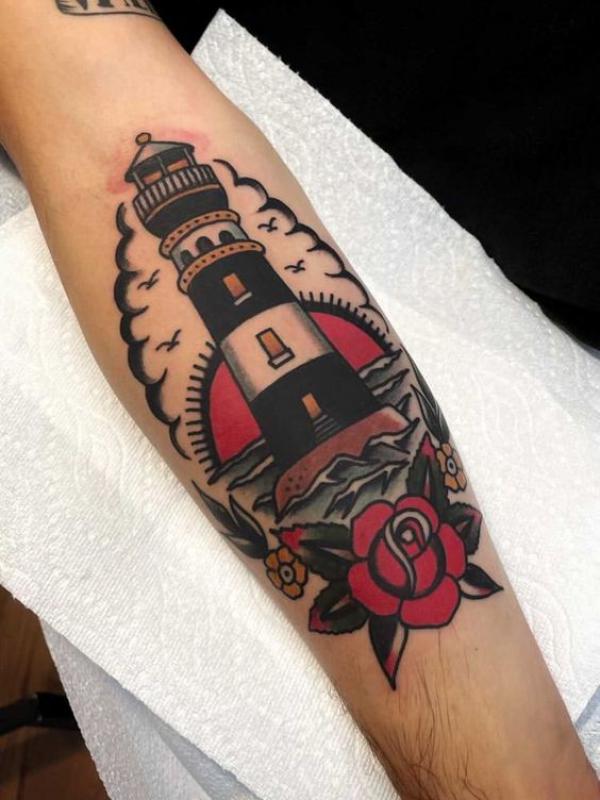 The lighthouse is a symbol of guidance and hope, often representative of a safe journey through life's turbulent seas. The addition of the rose adds an element of beauty and love, perhaps signifying a beloved guiding light. Traditional lighthouse tattoos often have a vintage nautical theme, and the addition of a vibrant rose can provide a stunning contrast to the design.
VI. Placement of Rose Tattoos
The placement of a tattoo design can greatly influence its impact and personal significance.
Traditional Hand Tattoos
A traditional hand tattoo is a bold, expressive choice. It acts as a visual representation of beauty and strength, merging seamlessly with the natural movements and gestures of daily life. It's a design that's always visible, making it a constant testament to personal courage and individuality.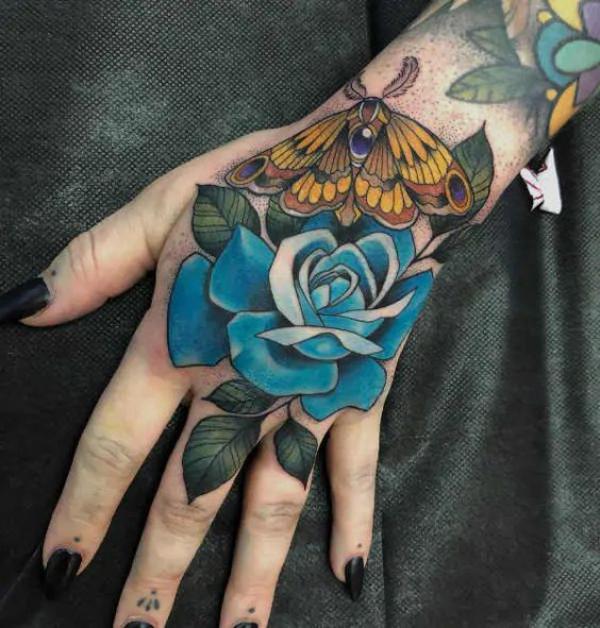 Wrist
Positioned on the wrist, a tradition rose tattoo provides a delicate yet impactful touch of artistry. This placement is perfect for those who appreciate subtle visual cues and personal symbolism. It may be small in size, but its meaning and beauty are vast.
Rose wrist band tattoo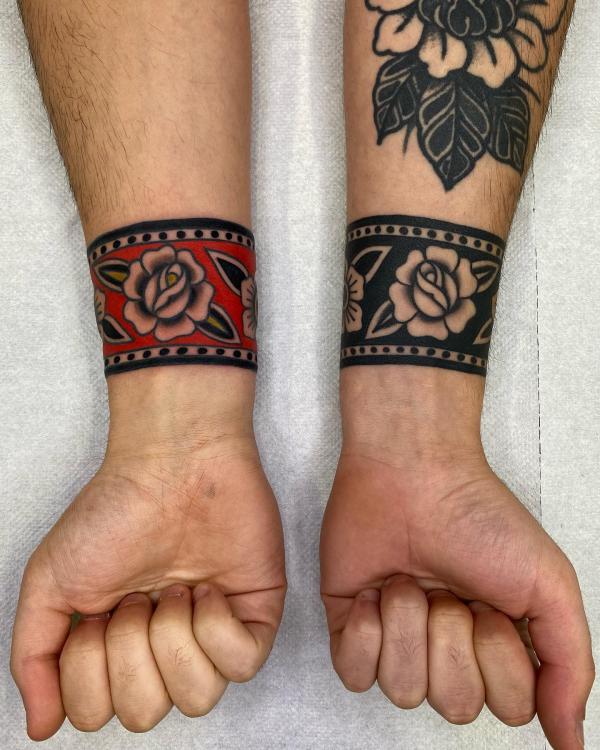 Foot
The foot, though often hidden, can become an intriguing canvas for a tradition rose tattoo. With every step, the design reveals itself, mirroring the journey of life with its intricate patterns and symbolism. It's an unexpected, yet interesting choice for a tattoo.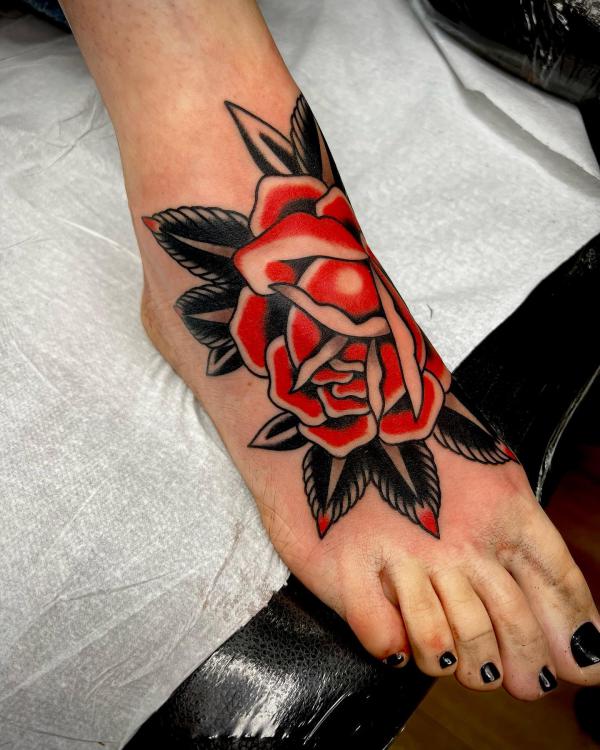 A traditional rose tattoo on the neck exudes sophistication and elegance. This placement allows for the design to subtly peek out from under your hair or collar, creating a tantalizing hint of mystery. It's a choice that balances visibility and discretion beautifully.
Traditional rose neck tattoo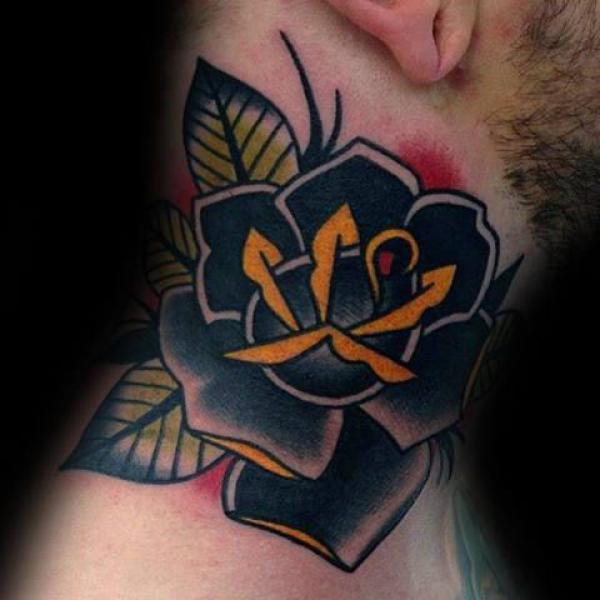 Knee
A Tradition rose tattoo on the knee is a testament to resilience and strength. Just like the knee bears the body's weight, the tattoo mirrors this structural toughness. It's a unique placement choice that showcases the wearer's boldness and tenacity.
Red and blue knee tattoo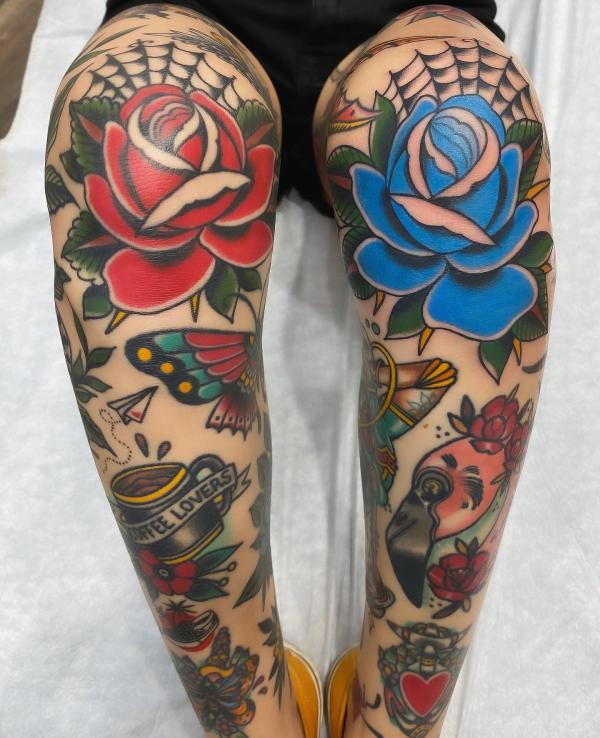 Black rose knee tattoo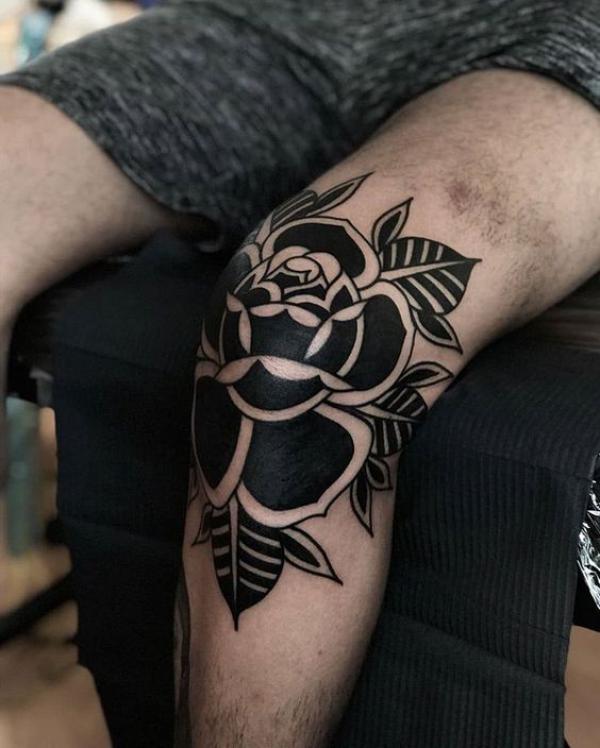 Back
The back provides an expansive canvas for a traditional rose tattoo. This placement allows for a powerful, captivating personal masterpiece that can range from the subtle to the dramatic. Whether it's a single rose or a bouquet, the design is a secret shared with those you trust.
Eagle and rose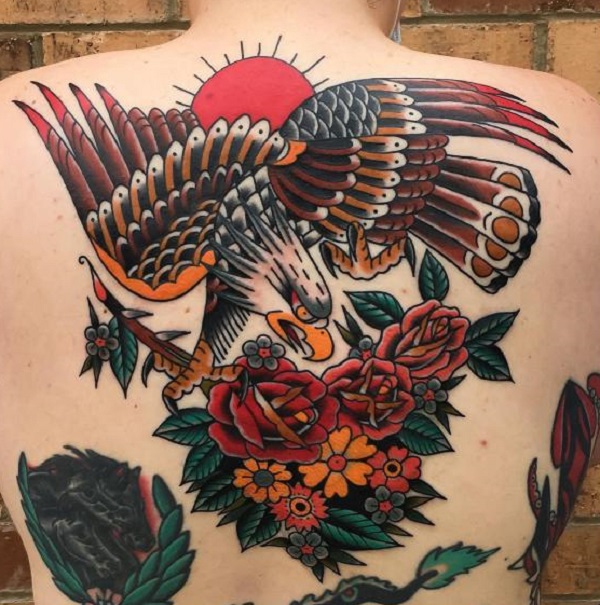 Forearm
Visible and versatile, the forearm is an ideal location for a tradition rose tattoo. This placement allows for easy self-expression, letting the wearer display their personal style and passion. It's a perfect choice for those who wish to make a statement without uttering a word.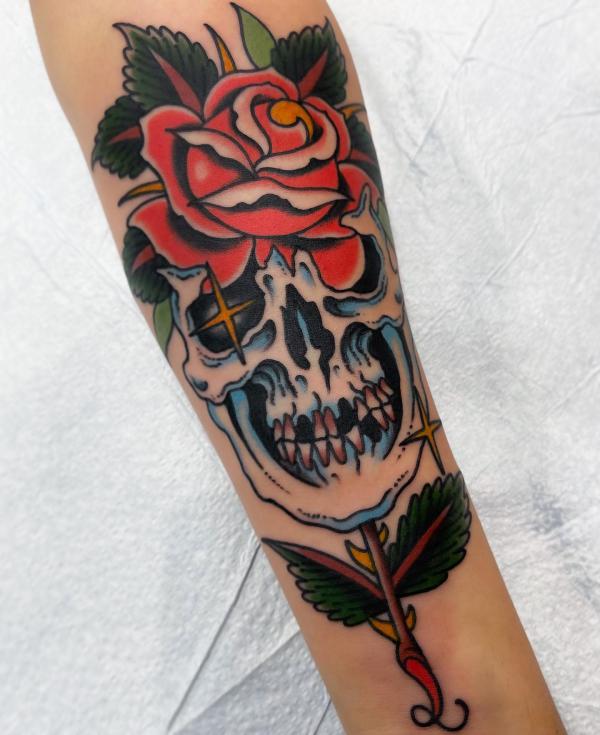 Traditional rose thigh tattoos
The thigh offers a more private canvas for a tradition rose tattoo. This placement makes the design a personal secret, shared only with those you choose. Whether hidden or revealed, a thigh tattoo is a compelling testament to personal autonomy and hidden depths.
A serpent entwined with roses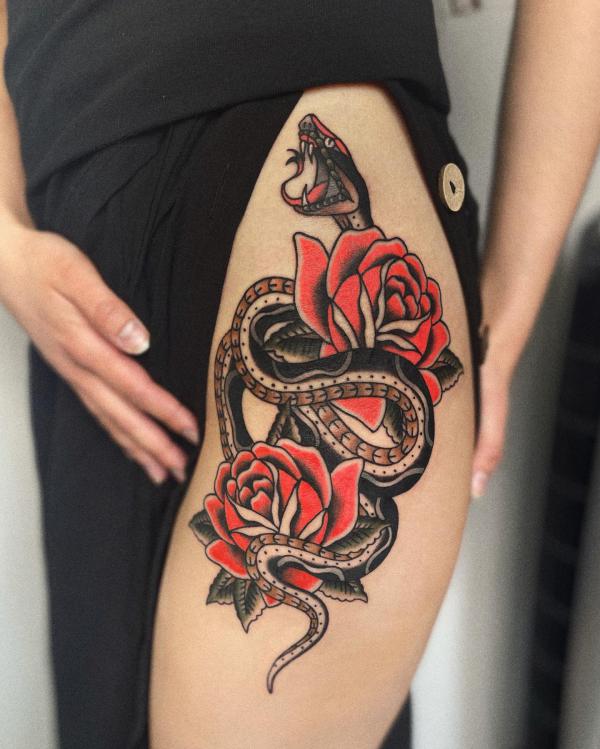 Full sleeve
Choosing a full sleeve tattoo traditional rose is a declaration of commitment to art and self-expression. This living tapestry of roses transforms the entire arm into a breathtaking work of art, a choice that resonates with both the wearer and the observer.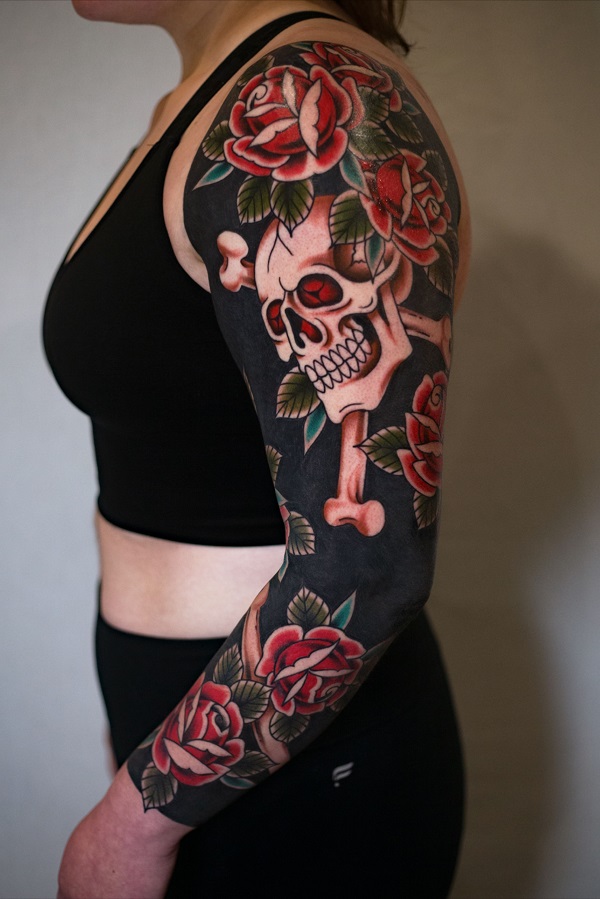 VII. Conclusion
The enduring appeal and versatility of rose tattoos lie in their deep symbolism and aesthetic charm. Whether it's love, mystery, balance, or new beginnings, each rose tattoo carries a story, a personal narrative inked in skin.
Choosing a traditional rose tattoo is more than selecting a design – it's about embracing a symbol that resonates with your personal journey. So, when you choose a rose tattoo, you're not just getting a tattoo; you're making a statement about who you are and what you believe in. Because in the end, every rose has its thorn, and every tattoo has its tale.