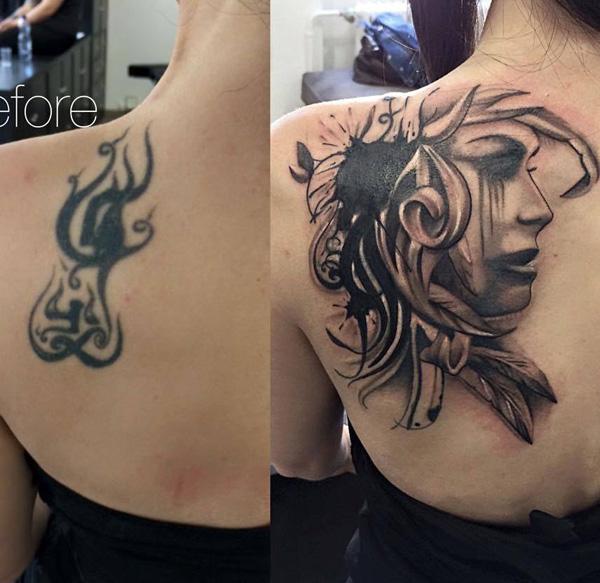 Swirls or tribal designs are much better hidden on shadows if you want it the easy way, or even an abstract design which could rather be challenging.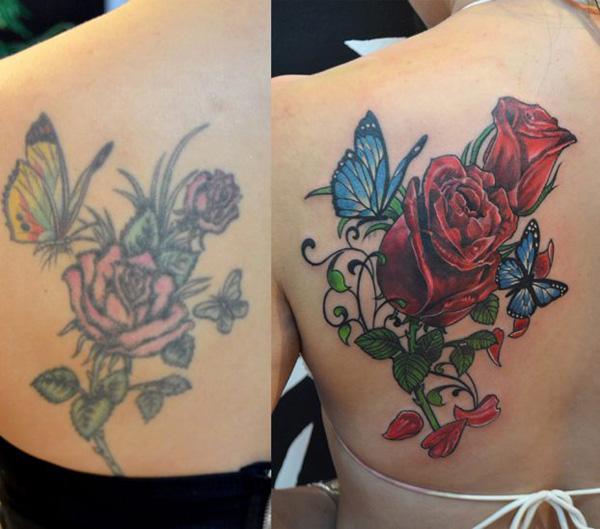 There are also instances that you won't really have to cover up a tattoo with a new one. Sometimes you can simply make it much better and here is an example.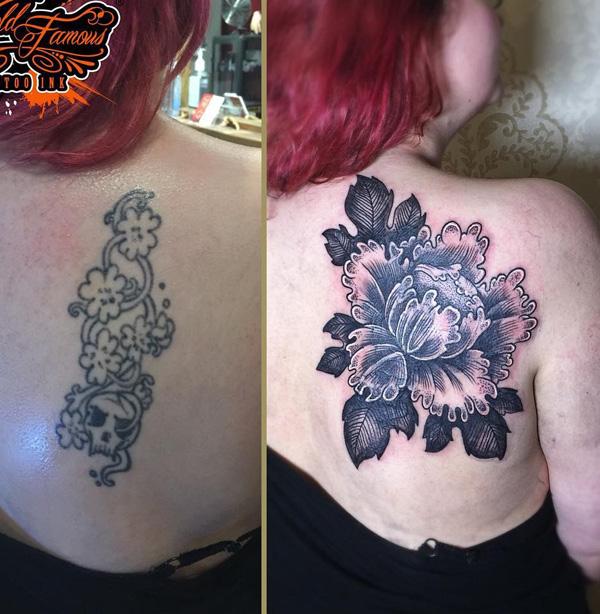 Before: A rather cute tattoo of flowers and vines and a skull. After: Hide the tattoo beneath a a beautiful flower tattoo with shadows to hide the original design.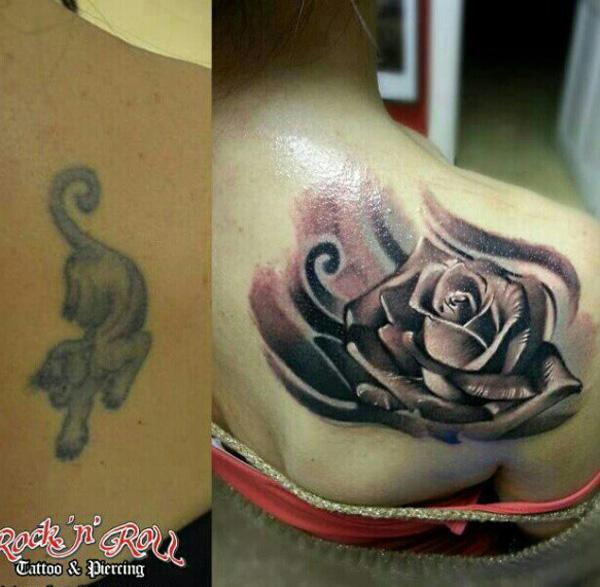 Rose cover up tattoo
A back tattoo of a tiger is now hidden under a beautiful 3D rose with amazing details.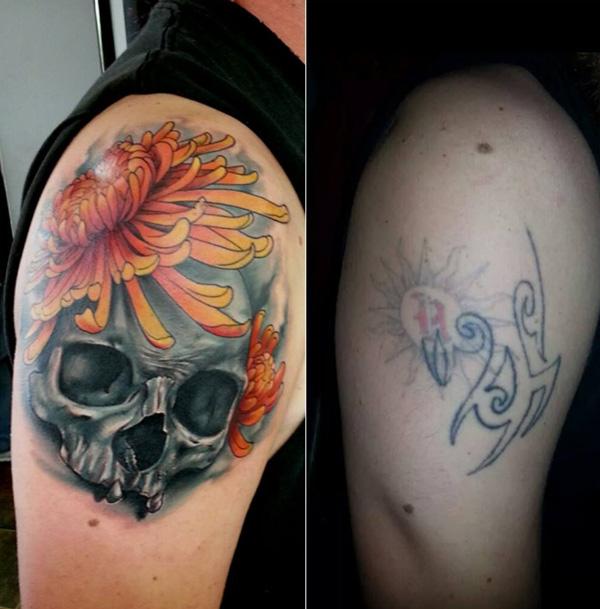 The before tattoo might have been an attempt to cover up another tattoo but nonetheless, it does look like it needs to be covered up. There isn't much color on the old tattoo so a skull (with shades for the parts of the old tattoos to actually hide) with a chrysanthemum could be the best cover.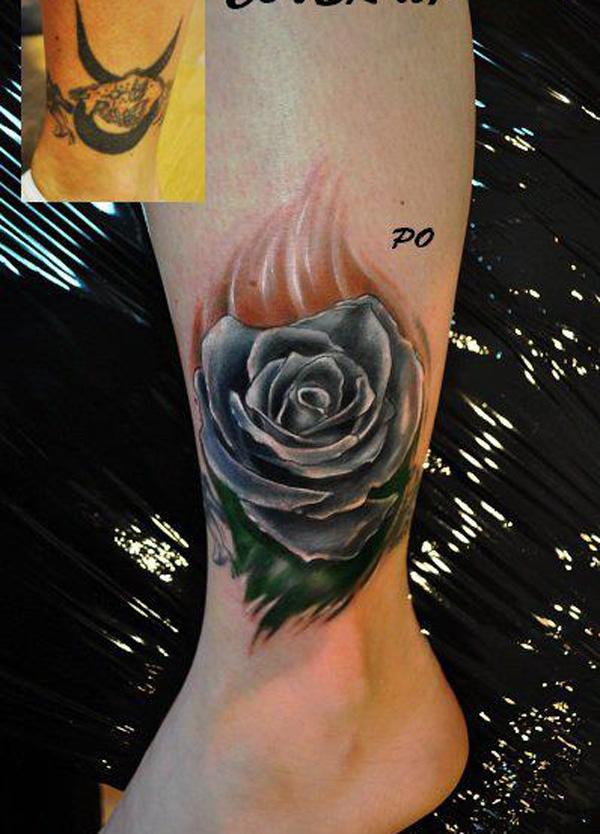 Roses are rather simple but with some coloring techniques, it would be great to the eyes and also, a great way to cover an old tattoo with around the same size and shape as it is.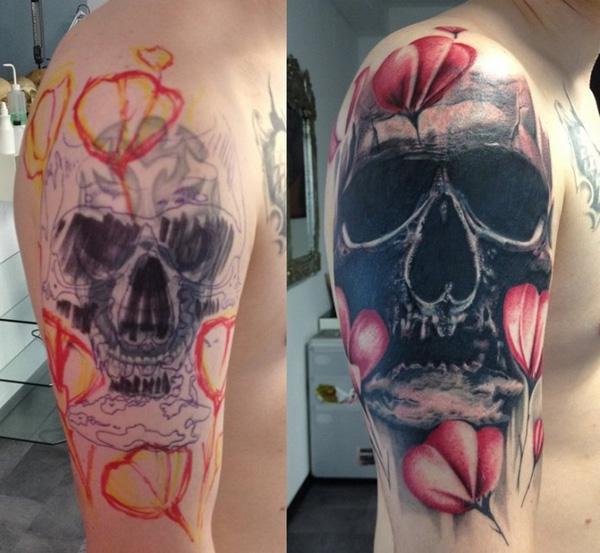 Another plan to show which parts work best shaded to cover the tattoo underneath.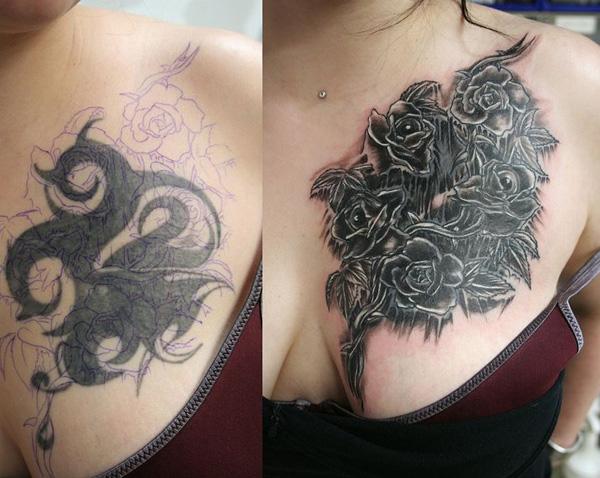 Rose new Cover up Tattoo
Tribal designs are significantly harder to cover up like the design of the old tattoo in this one. However, it's pretty much concealed by roses which were aligned and formed well to hide the edges of the older tattoo.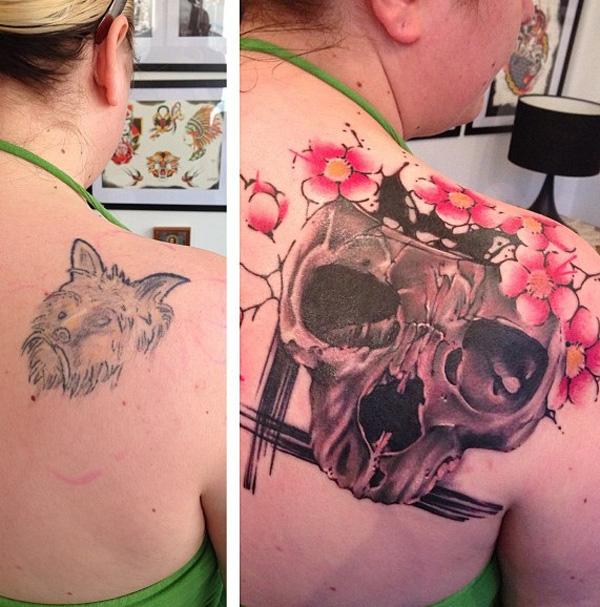 The good thing with having to cover up a back tattoo is that you would have more space to occupy so that the old tattoo can be covered well.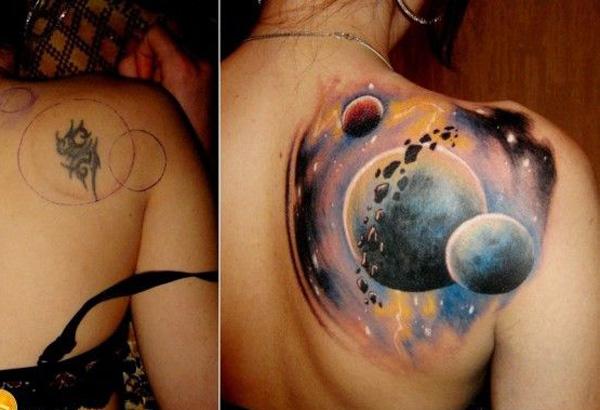 Bigger, darker and more beautiful tattoo designs are all it really takes to cover up smaller tattoos especially on the back area.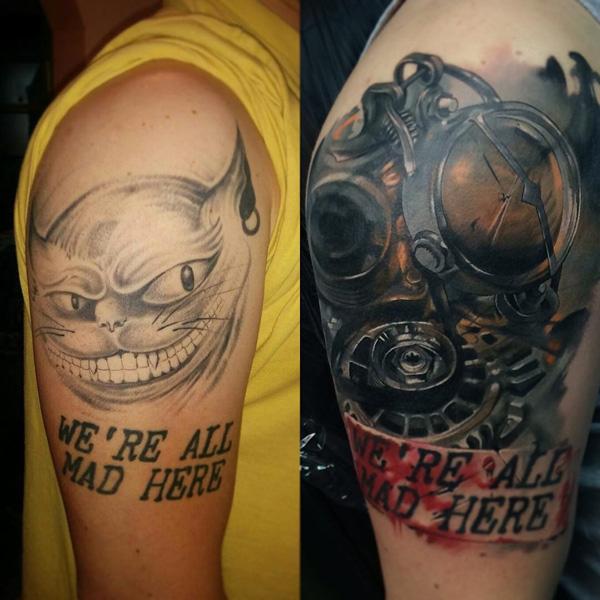 Wish you can change only a part of your old tattoo? Well here, the only covered up part was the Cheshire cat tattoo; replaced with a cool 3D gears tattoo. The quote was left behind and was improved by a few designs.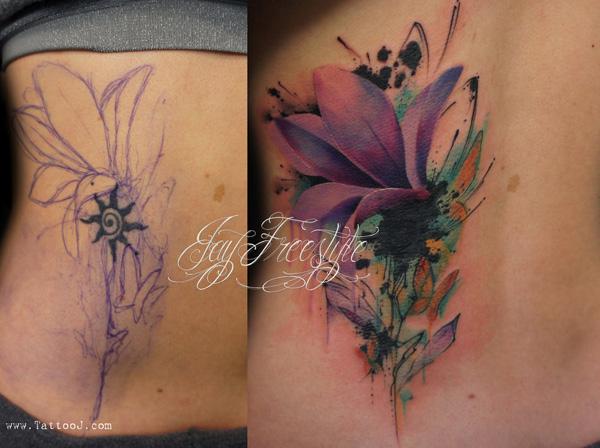 Tattoo flower coverup
When you look at the Before and After pictures, it's obvious where the old tattoo used to be. But for someone who just saw the new one, they would probably think there's no way it would conceal anything.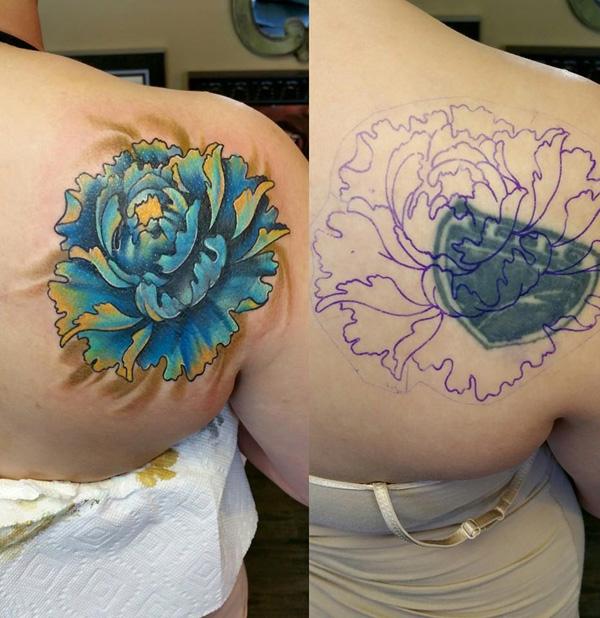 It doesn't mean that you have to hide a tattoo behind another one, you can settle with darker shades and designs. You can always have a beautiful piece of art as a cover up for a tattoo.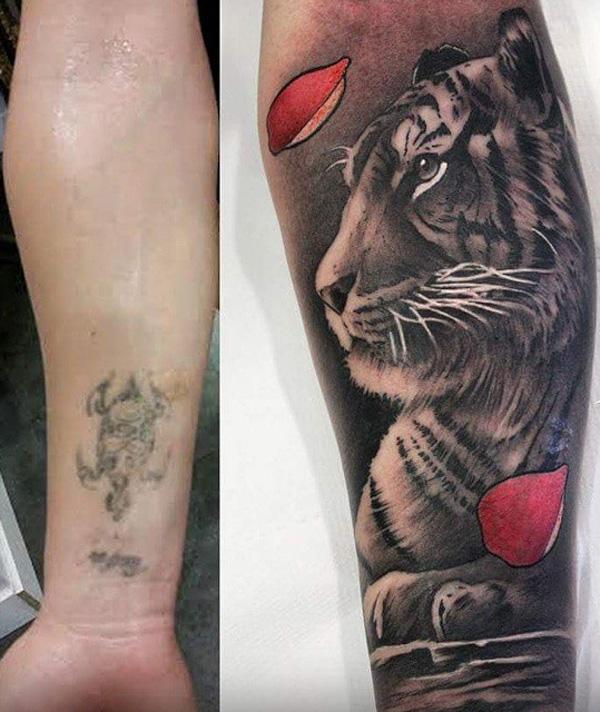 Tiger cover up tattoo
The tattoo is almost faded and more than a bad design, this one needs the more hiding. Luckily it isn't hard to do so. You can almost have any design that you want.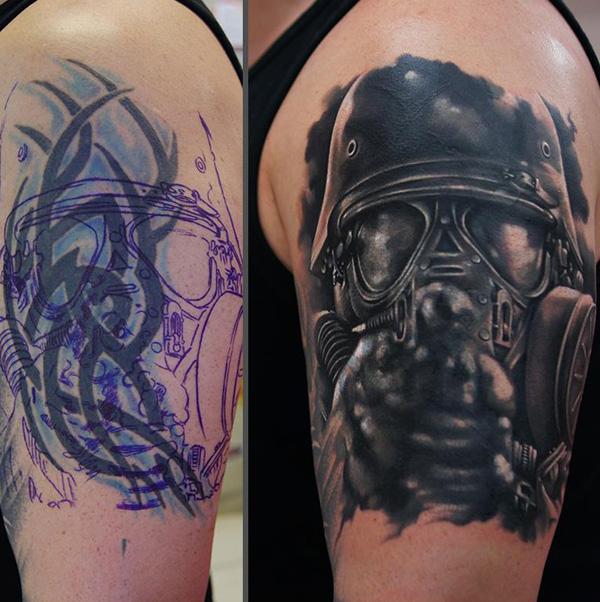 If it's quite hard to override the colors of your old tattoo, you can have it on your new one. It may not be that much obvious but some of the blue hues of the old tattoos are still seen on the new one. Somehow it easily combines well with the new design.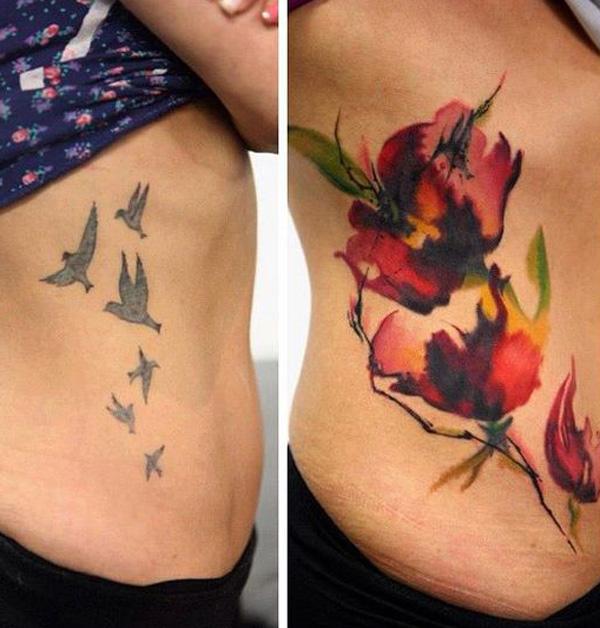 Since the birds on the first tattoo are rather far apart, it could be quite simple to hide them on a flower design. It would actually look like there's nothing beneath the new tattoo.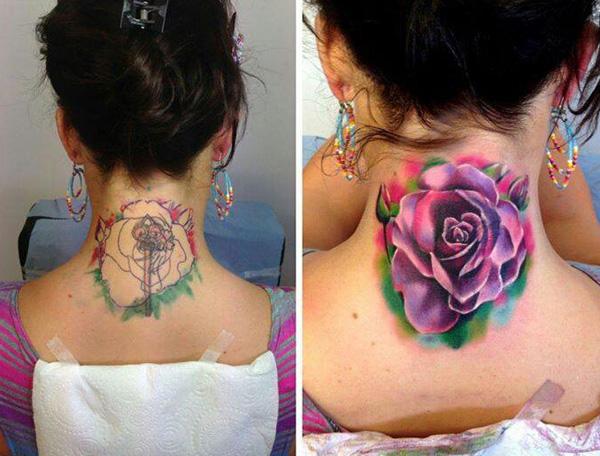 Here's another example that proves you don't need the darker colors to hide an old tattoo. However the old one is faded by time so it's rather much easier to do the new one.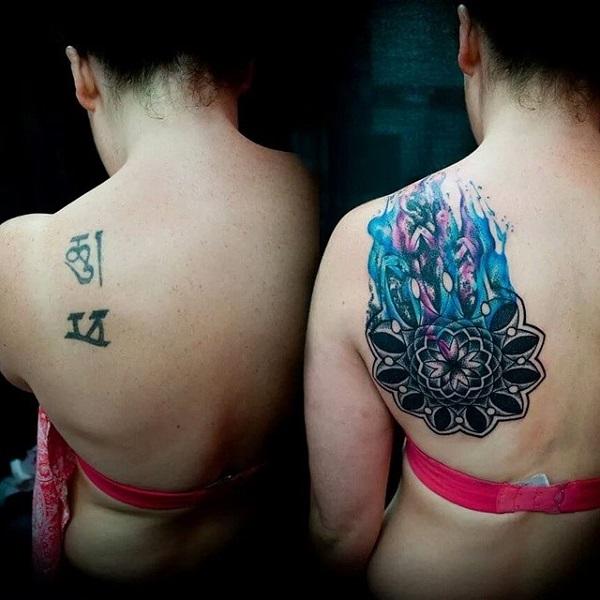 The old tattoo is rather an easy case but it doesn't mean you just have to go with any designs. Here, a mandala in watercolor style is more than just a cover up. It's also the perfect tattoo to have.