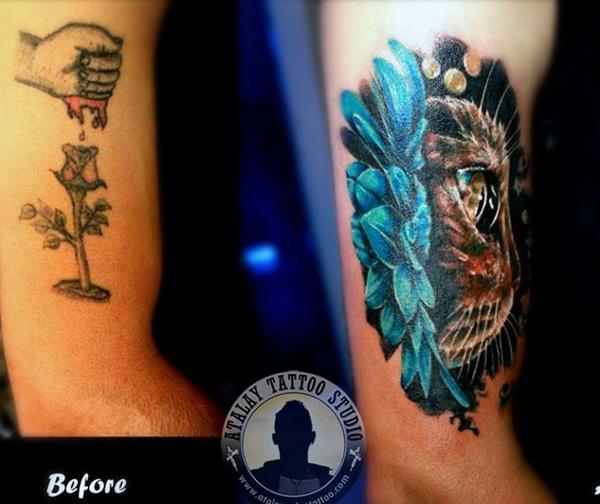 Cover up your old tattoo design with a much better one, like a hyper realistic cat tattoo with popping colors incredible detail. The colors, though not entirely dark, could definitely cover the previous one.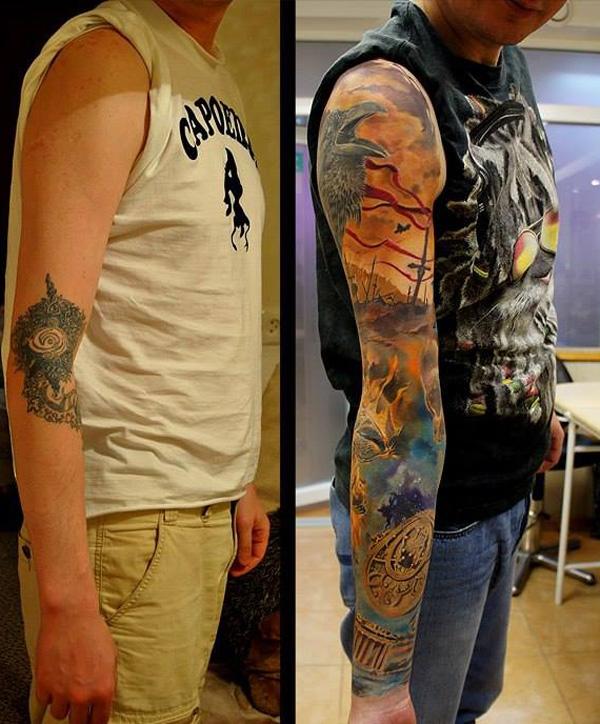 In this, the previous tattoo is based right in the middle of the arm, in the elbow section. Covering it up would require a bigger tattoo but somehow, due to placement, it would be kind of awkward. The solution? Cover the entire sleeve and the previous tattoo would be hidden behind colors and beautiful designs.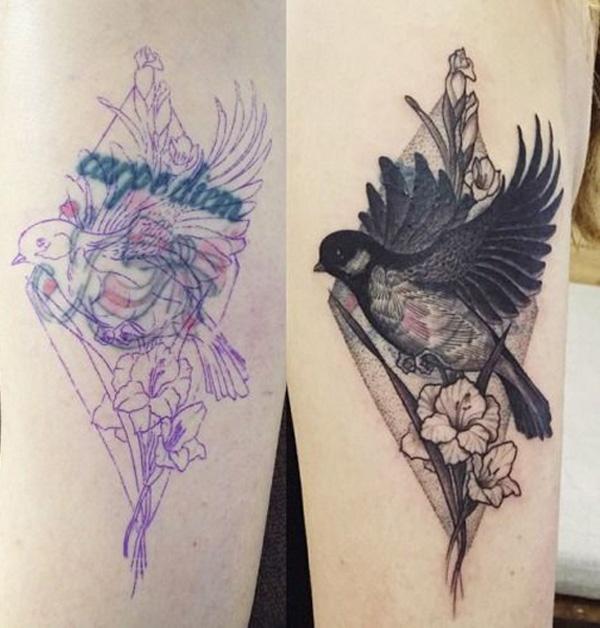 Here's another plan showing how to pull off a cover-up tattoo. You and your artist could be able to get inspiration on how to make your new design fit well with your previous one.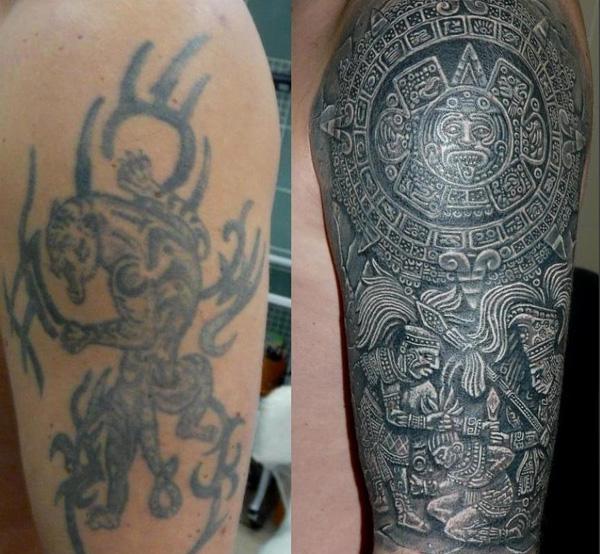 Make a design that won't simply cover up a tattoo but something you will be proud to show off. Here's a good design that could cover up old tattoos pretty well and looks awesome.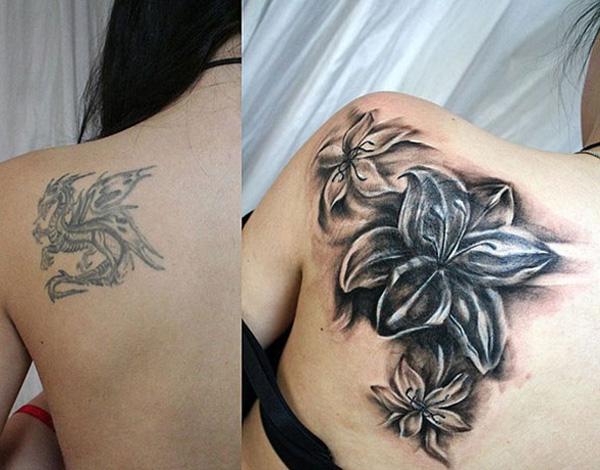 Cover up new Flowers TaT
If you don't really want to cover up your old tattoo by shadows and darker colors, you could still do it with lighter shades and softer strokes. However with further inspection, you can still see the old tattoo's outline. But with the new tattoo's design, it's actually great work.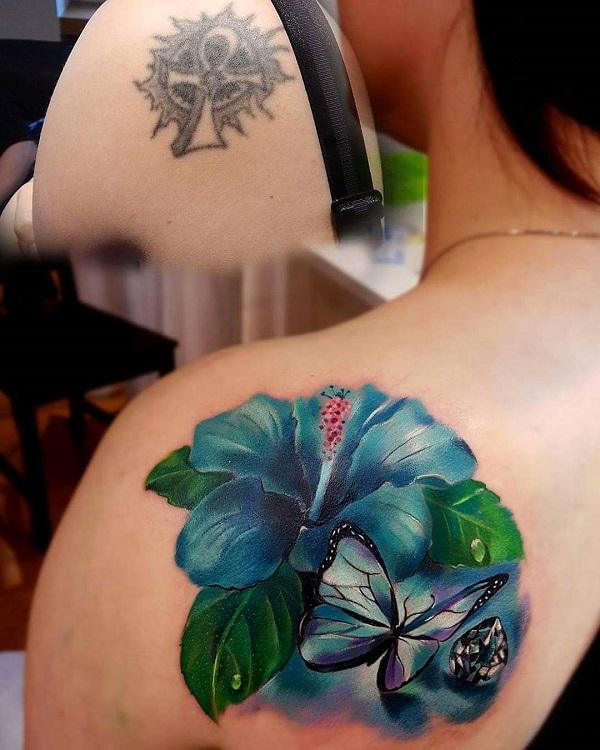 The old tattoo is rather simple to cover up, but get that opportunity to cover it up and make a much more beautiful design. Here, an old tattoo turns into a realistic and beautiful Hibiscus flower and butterfly.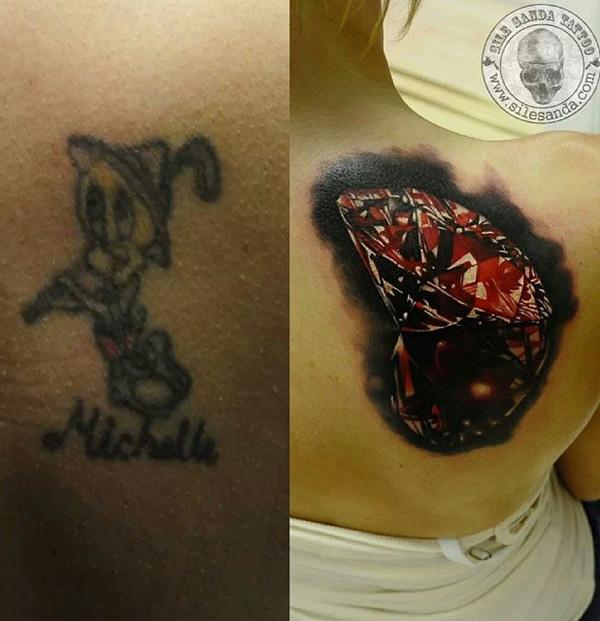 Diamond cover up tattoo by Sile Sanda
Cartoon characters aren't just for kids, but sometimes, having it as tattoo doesn't really work out. This Tweety Bird tattoo is now covered up with a shining red gem which is a hundred times more lovely.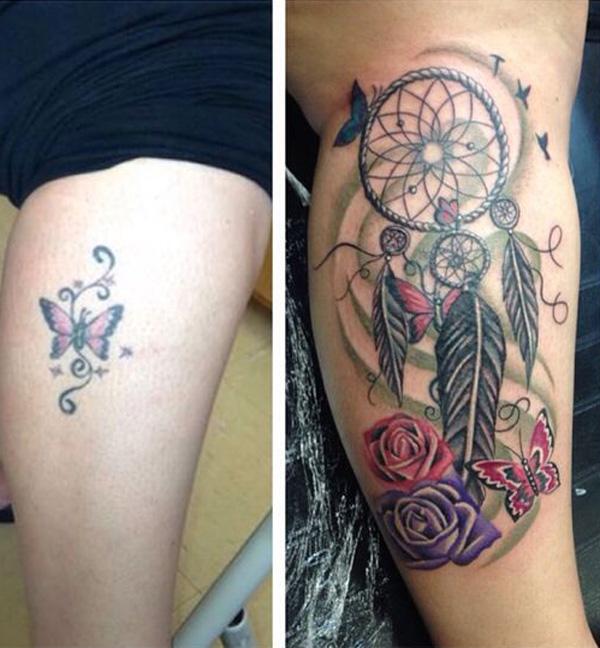 Here's another design where the previous tattoo wasn't entirely hidden behind another tattoo. Rather, it was mixed into the new one. Here, the little butterfly was accompanied by more butterflies, roses and an enchanting dream catcher.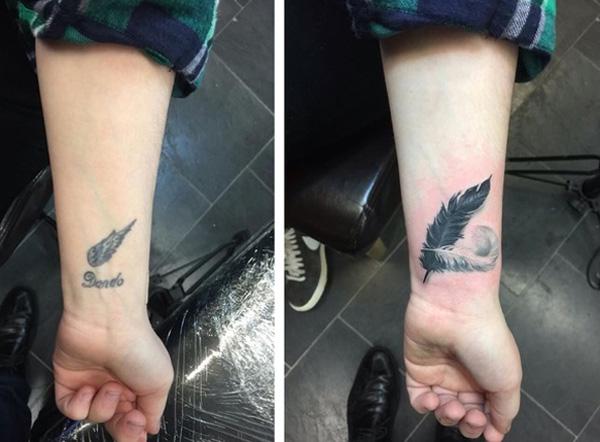 The thing about wrist tattoos is that these are smaller, and so it would be easier to cover up. The previous tattoo was a little wing and a name. Then those were covered by two feathers, one which is darker to entirely cover the first tattoo.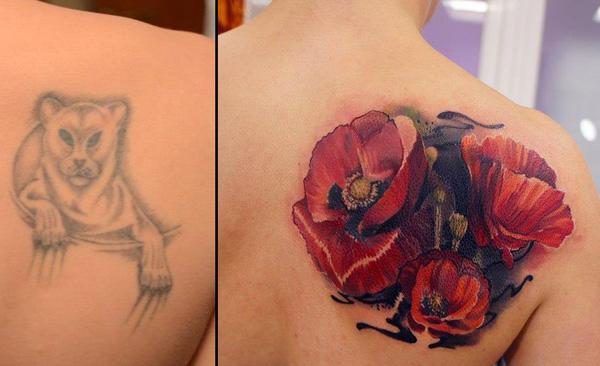 Since the lioness tattoo is fading, it's much simpler to cover it up with a colorful tattoos or those with darker shades. Women usually go with flower designs since there's an excuse to use up all the space for coloring and shading. And these are extremely beautiful.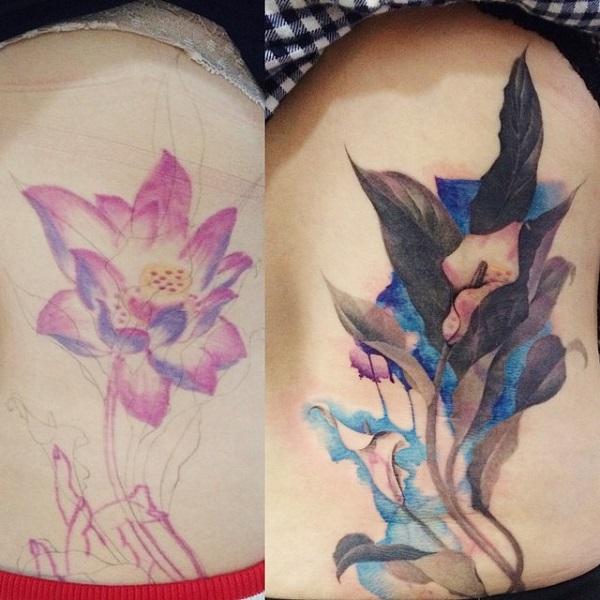 Here, the flower and the hand is molded into the shapes of the new tattoo to hide every side without having to cover much more space since the original one is slightly big. You could see the outline of the new tattoo on the Before picture.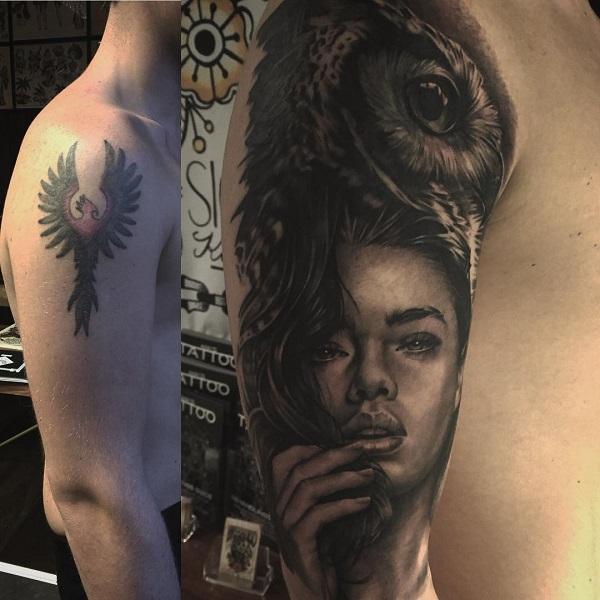 Simple tattoos were really in before but now, since artists and techniques have evolved, the designs were more detailed and complicated. Here's a Before and After cover up tattoo showcasing the vast difference on the designs.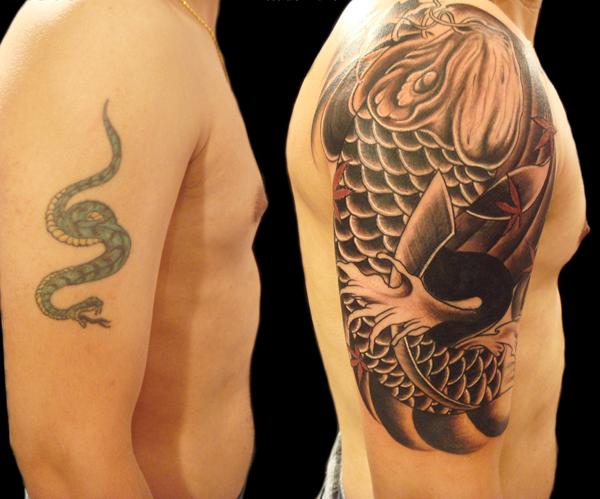 Turning a little scaly friend to a bigger scaly friend; a tattoo artist hid a snake into a big black koi fish with little elements of red. The new tattoo is much bigger so the old one was simply hidden underneath.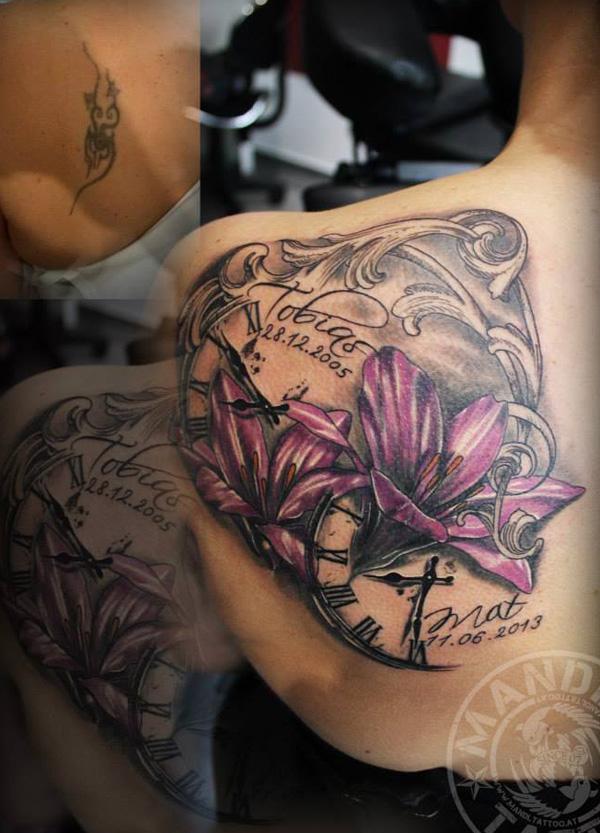 Lily's are very beautiful and also meaningful so it's not surprising to have this chosen as the cover up tattoo. The original tattoo was actually smaller and has less shades so there was no problem covering it up. The new tattoo even had spaces of skin so it's not really obvious it was used to hide another design.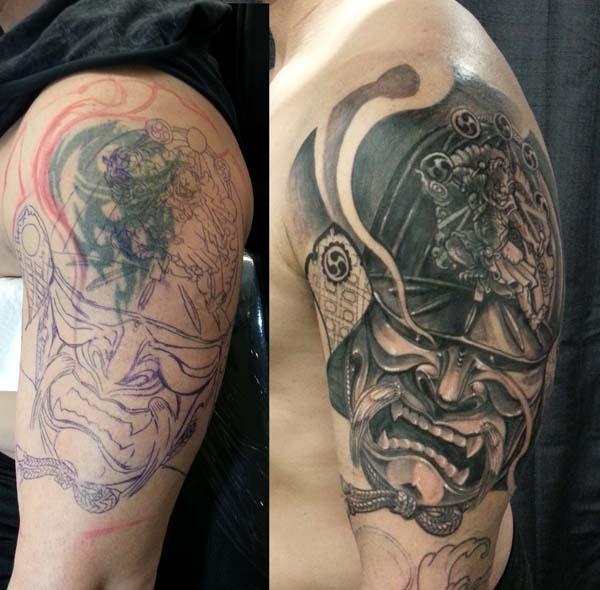 Here is another plan of covering up a tribal tattoo with a bigger and darker ancient Eastern warrior mask. The plan shows which parts would be darker to help conceal the tattoo.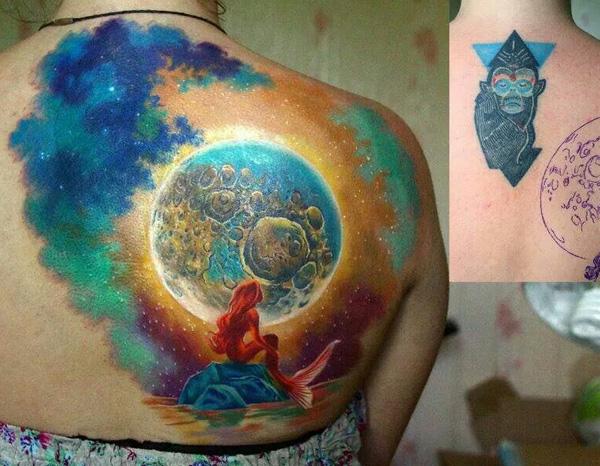 Lighter colored tattoos are rather hard to hide but here, they found a way to make it work. Since the older tattoo is more on blues, the new tattoo consisted of the same color as well especially on the part where the old tattoo was.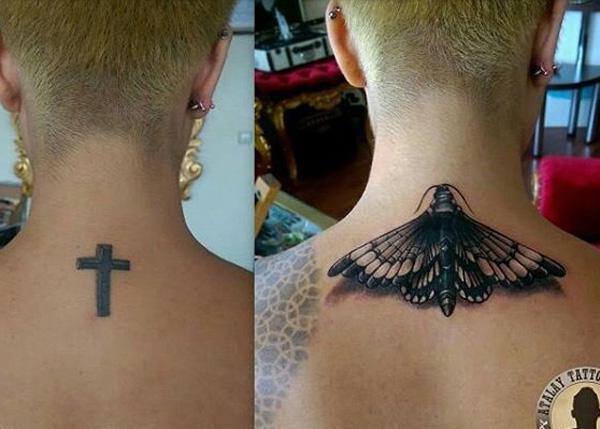 Neck tattoos are rather small so the first tattoo, which is a cross is more on the easier tattoos to conceal. The cover up tattoo was a moth which is perfect as it has its fair parts of dark and shaded areas as well as small as well. But the details on it definitely makes it worthy of a cover.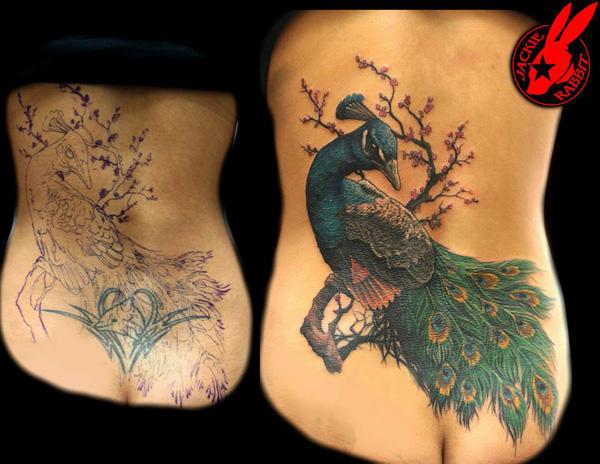 Peacock Cover Up tattoo by Jackie Rabbit
Little and simple tattoos are rather a good bunch of tattoos to cover up since there is almost no restriction on how to cover it up, just like this beautiful Peacock cover up design to instantly hide a simple tattoo.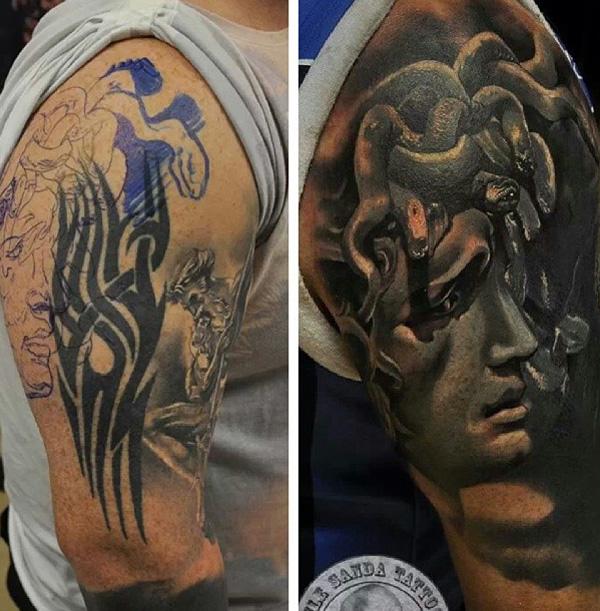 If it's hard to conceal the tattoo (especially when it's all black) on the new tattoo, then the best way is hide the tattoo behind the darker shadows and move the main subject somewhere that will not show the old tattoo.
Portraitcover up tattoo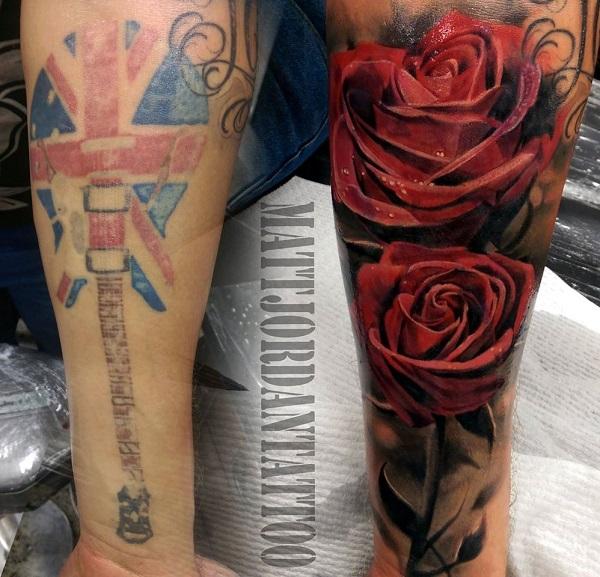 One more way of making sure a tattoo is perfectly covered up is to follow its shape. It may not be easy especially when it's tribal or abstract designs. But with this one, it's rather easy to choose roses since it's rather round in the top and the stem is smaller which is perfect to cover a guitar tattoo.